Introduction
This is the second part of my weekend trip to Memmingen and back to Finland. For the first part, see here:
Indirect Way To Memmingen: HEL-TXL-SCN/LUX-MUC
(by
FlyingFinn76
Apr 12 2011 in Trip Reports)
This part picks up right where the first part left me, asleep in my hotel room in the town of Memmingen, Bavaria.
Sunday 10.4.2011
Bavaria, being known for such varied things as Lederhosen, BMW, Leberkäse and truly excellent beer, is also known for being a stronghold of the Catholic religion in Germany. Those traditions are quite strong here, and this Sunday morning I'd rather do without them as numerous church bells ringing wake me up far earlier than I'd like to be woken up on a Sunday morning with a heavy travel day behind me...
Oh well, once woken up I find it impossible to get back to sleep, so I use the free wifi in the hotel for a while before showering up, dressing and heading downstairs for some breakfast. That having been taken care of (not that it took long, I'm not a big breakfast person and the offerings were rather modest anyway) I pack up my stuff, brush my teeth and check out of the hotel, asking the very friendly girl at reception to call me a taxi.
Oh yes, it is good old Catholicism taking its revenge on a pagan like me - the Memmingen airport has good bus connections all through out the week EXCEPT for Sunday mornings, when the first bus is only at noon. I guess the logic is that nobody should be flying around on a Sunday morning, there are more important things to do like attending a mass or sleeping off your hangover. In the case you are, you need to be punished by making it unnecessary hard...
In all fairness they DO have some sort of shared taxi service replacing the bus, but you are supposed to reserve that in advance and I just found the hassle to be too much. Besides the airport is less than four kilometers from the centre anyway, so a taxi should be quite affordable.
´While waiting for my ride I take a short stroll around the (completely deserted, see - everybody is in the church...) quarters next to the hotel, basking in the beautiful morning sunshine and tranquility: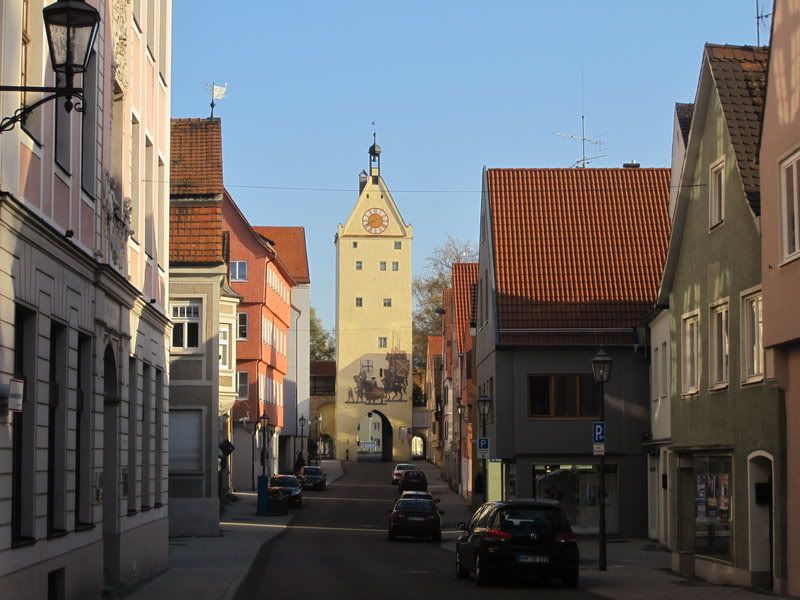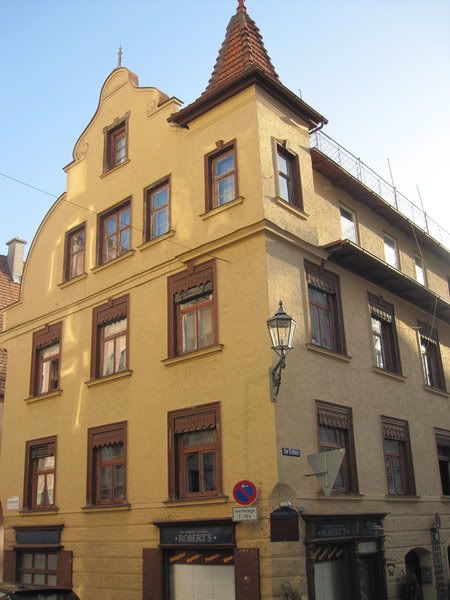 Blue and white - the colors of the Bavarian flag, which coincidentally also happen to be the colors of the Finnish flag: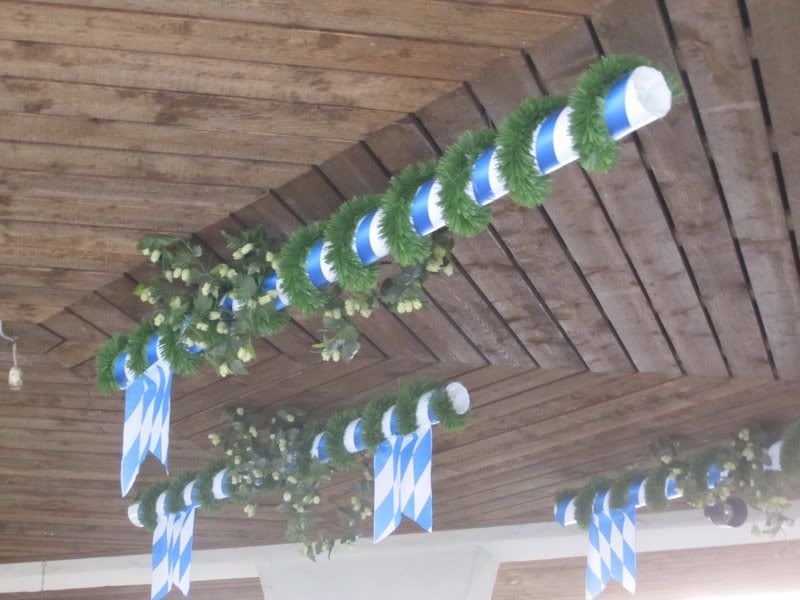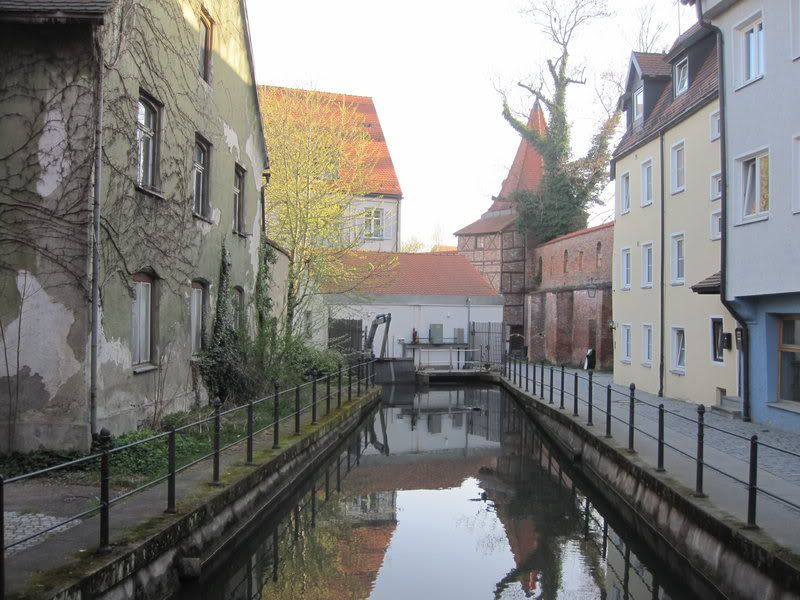 My hotel: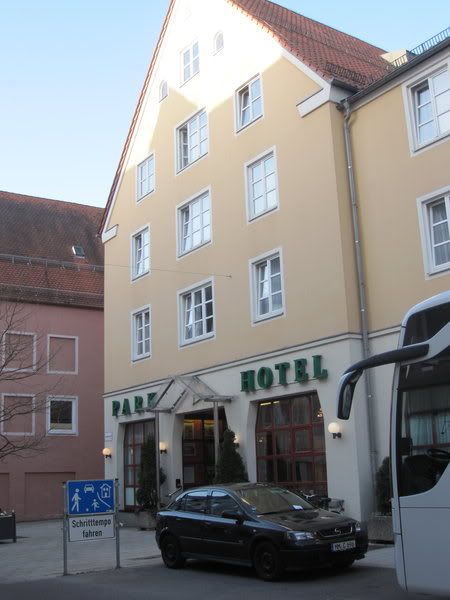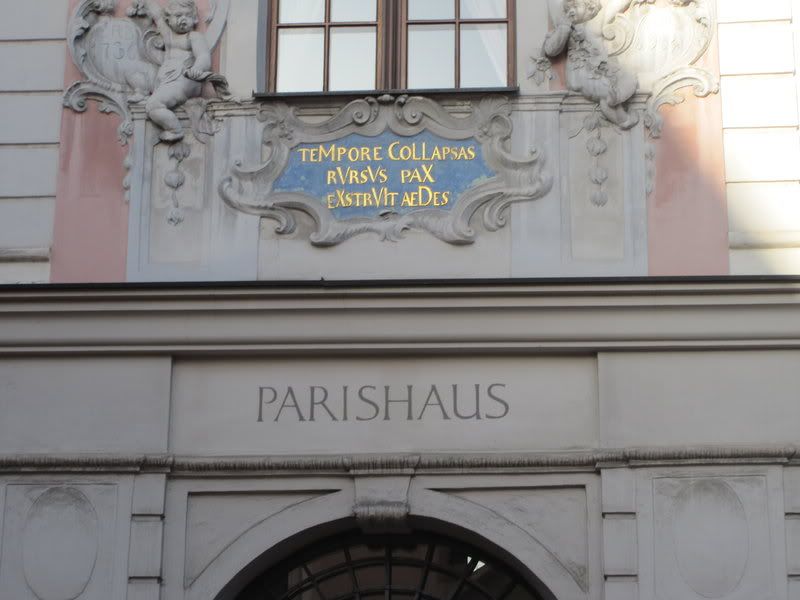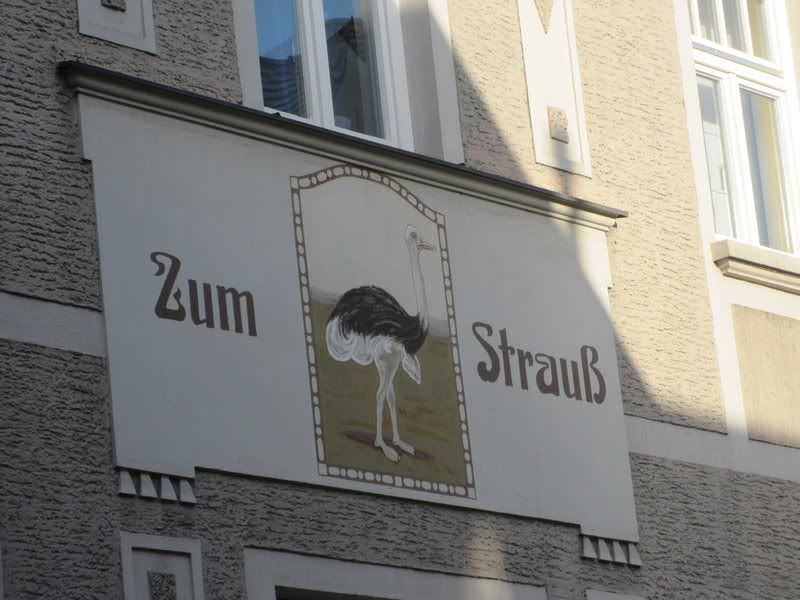 Soon the taxi arrives, and less than ten minutes later we are at Memmingen airport. The approach to this airport is very interesting as until 2003 it used to be a Luftwaffe fighter base and the road takes one past numerous barracks and other military style buildings. Reminds me a lot of the Nierderrhein (ex RAF Laarbruch) airport, come to think of it.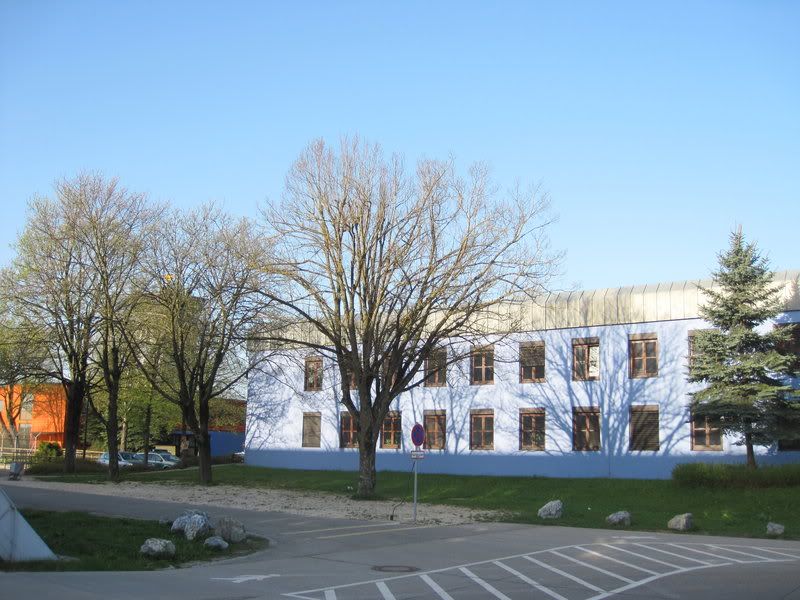 The new terminal building was constructed after the airport was converted for civilian use: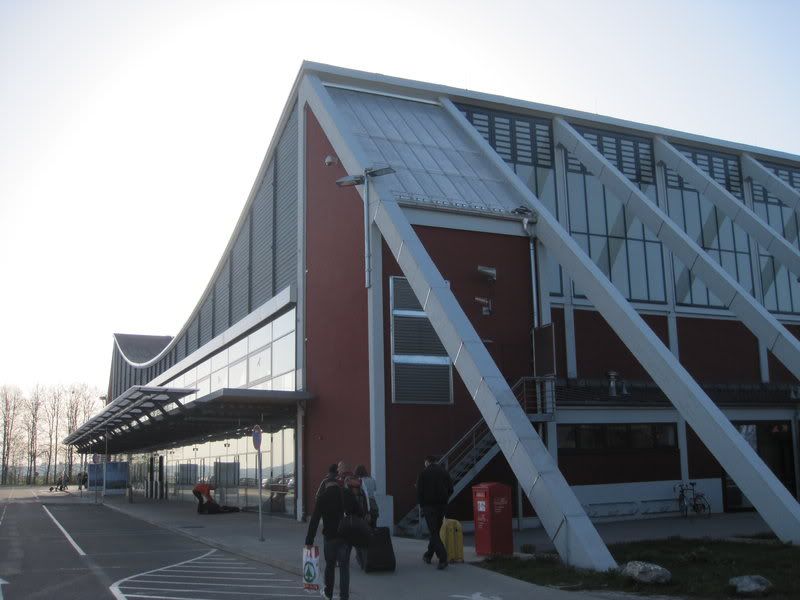 Inside there is a definitive low cost feel: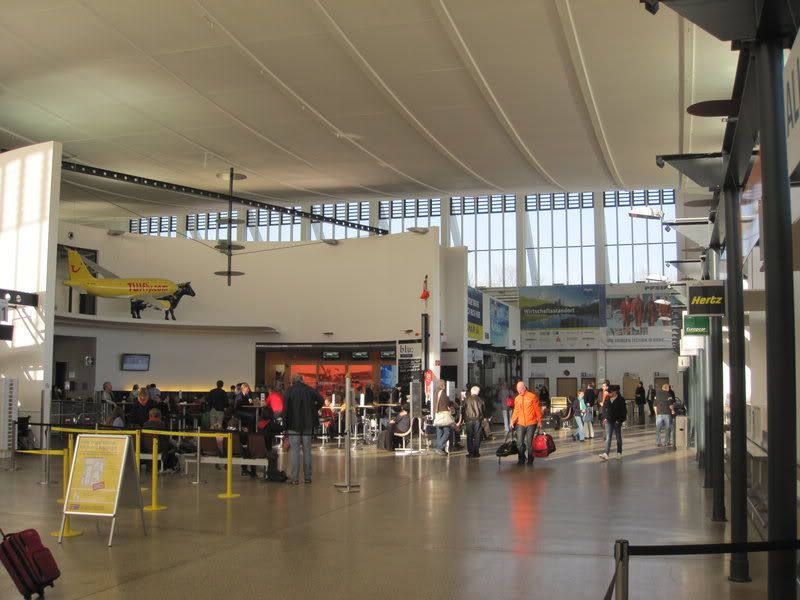 Quite appropriate - considering that the whole area smells like cow dung, courtesy of it being surrounded by farmland: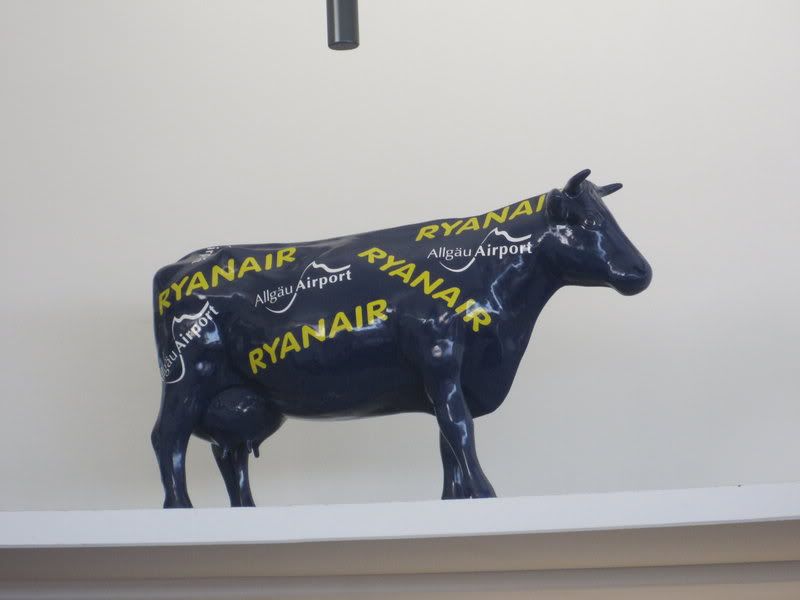 Naples seems to be popular around here: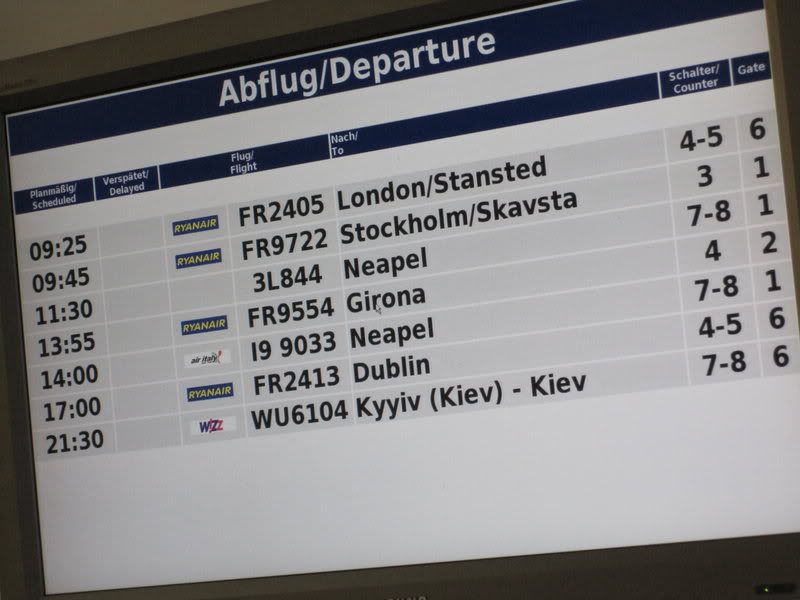 I head through security and into the airside area, which is small but quite functional. A capucchino from the coffee shop fits nicely: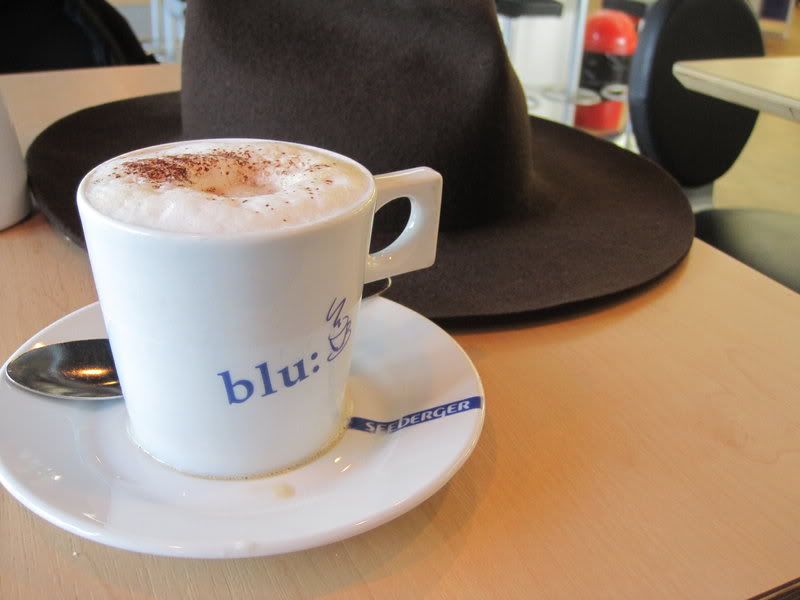 Notice the free newspapers on offer:
The inbound plane arrives from NYO very early at 8.45. Right after I head to the gate to form a one man queue in front of the priority sign, and true enough in less than ten seconds a queue has already formed after me... it's tough being a leader, I give you that!
Boarding is called around fifteen minutes after arrival, and since I'm in the head of the queue I naturally am the first one to walk to the apron and follow the quite nice FA to the plane. I chitchat with her - she turns out to be a huge fan of Finland and is a bit shocked when I mention that I don't particularly like the country that much...
EI-EBR, a new reg for me: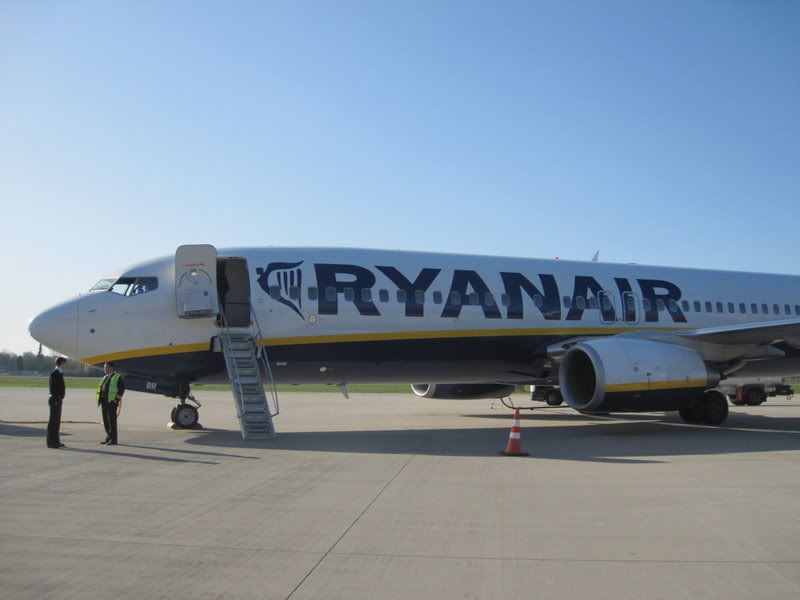 The captain is standing outside and obviously enjoying the sun. I ask him: "Working on your tan?" and he says that yes he is.
FMM - NYO
FR9722
B737-800 EI-EBR
Seat 16F
9.35 - 11.42
It's Ryanair and a flight longer than an hour, so there's no doubt where I head to - the forward exit row.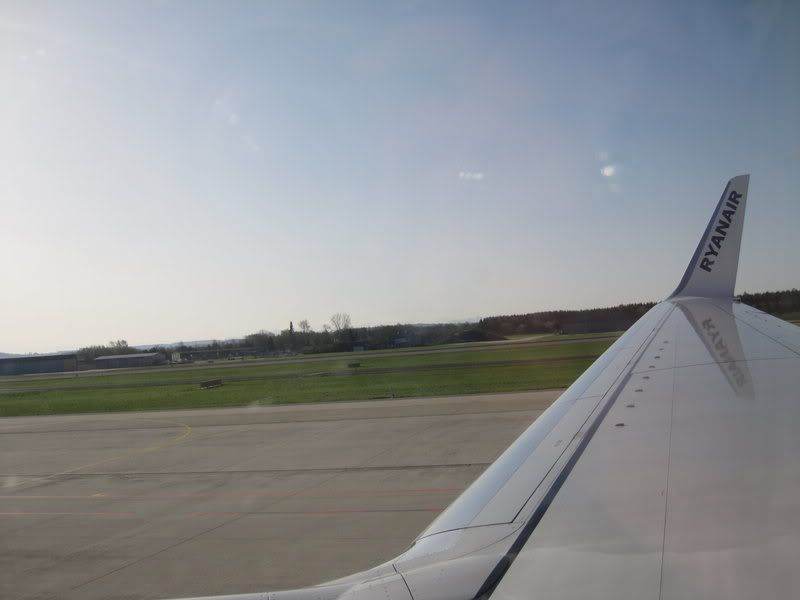 Boarding takes its sweet time, but everything is very organized - well it's mostly Germans and Swedes so not that surprising really, is it? Ordnung muß sein and all that
. Finally everybody is onboard around twenty minutes before the scheduled departure time. The load is very good, around 90%. Luckily an empty middle seat next to me.
Our flight time is announced as 2h10mins with it being plus seven degrees in the Stockholm area. Departure is ten minutes ahead of schedule: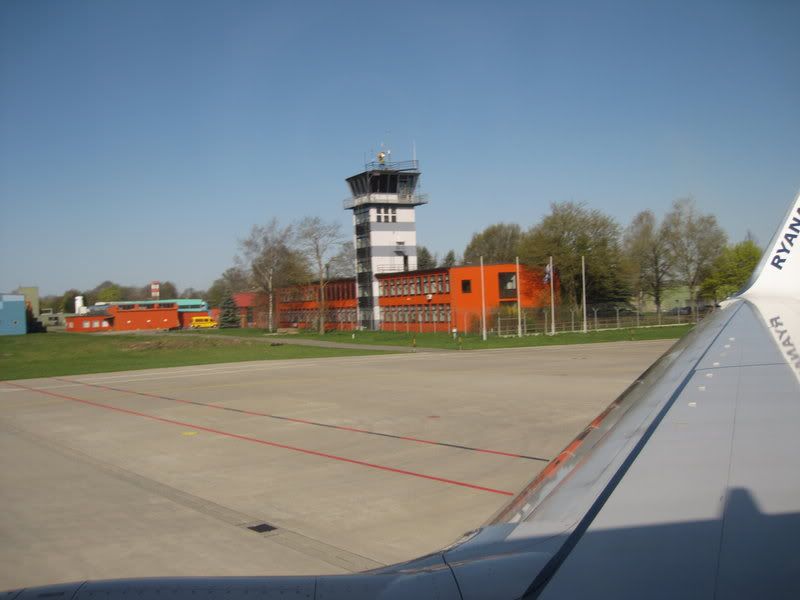 The terminal building: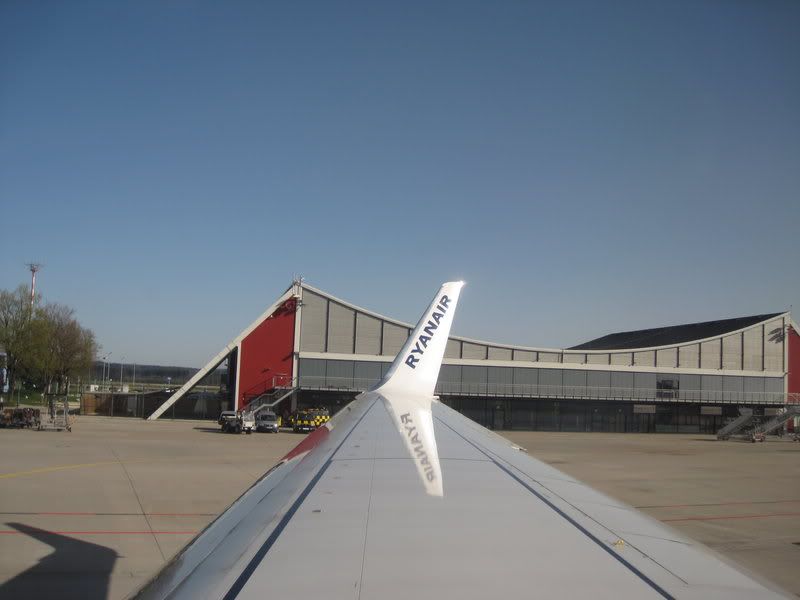 Even fuel bowsers need some love:
...as apparently do private jets: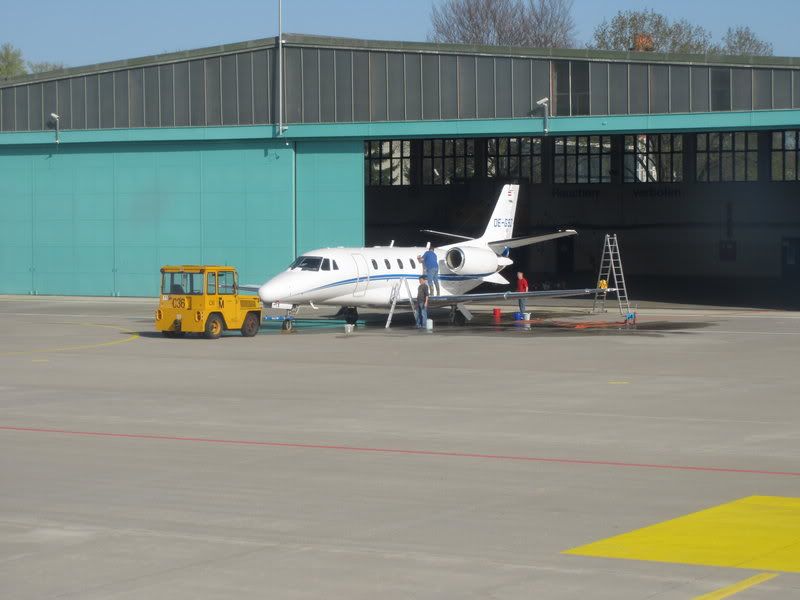 Take off from runway 06 is just three minutes later.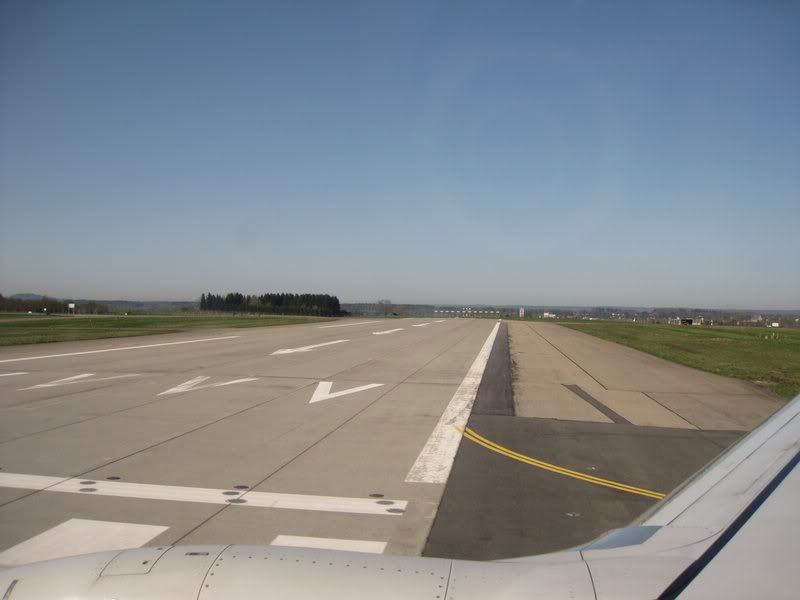 Hope he won't get much wake turbulence: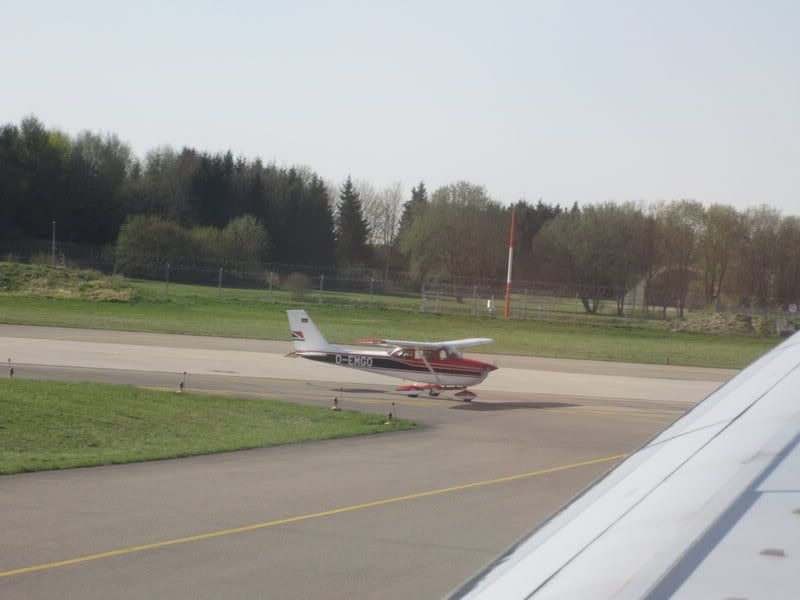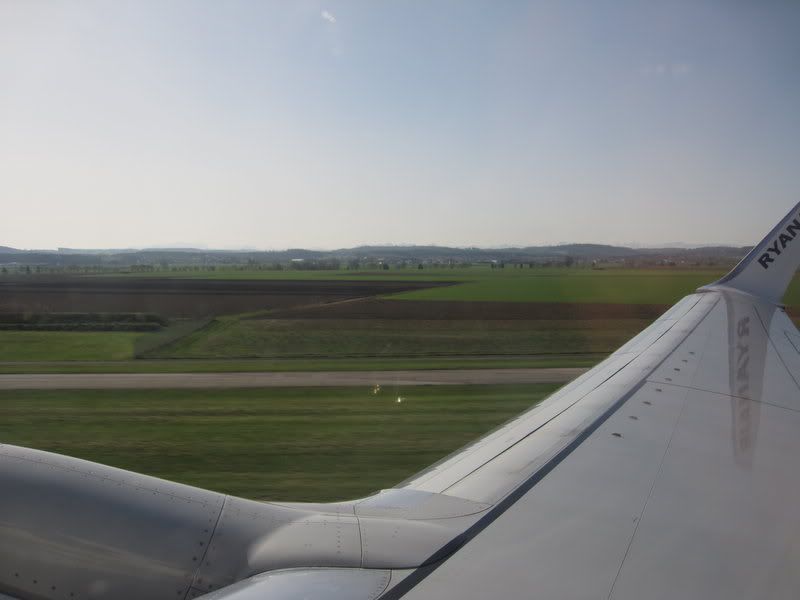 Simply beautiful: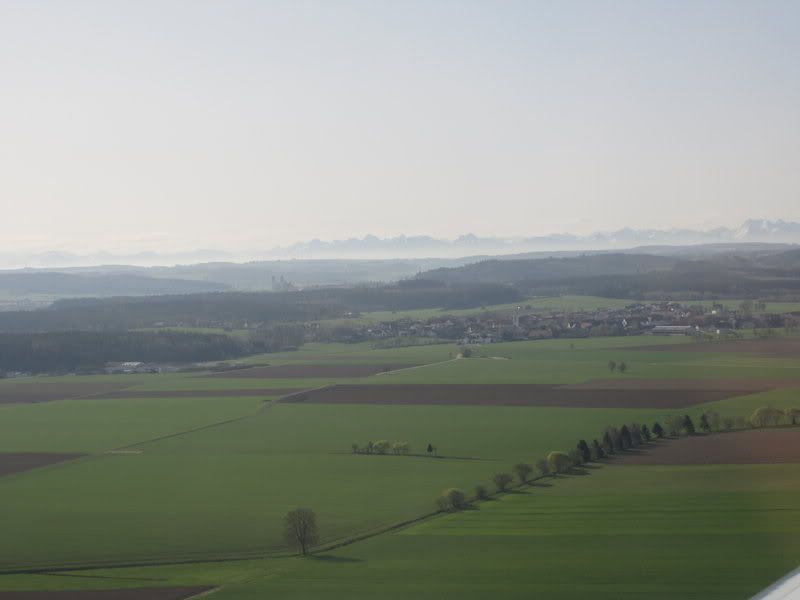 The Alps: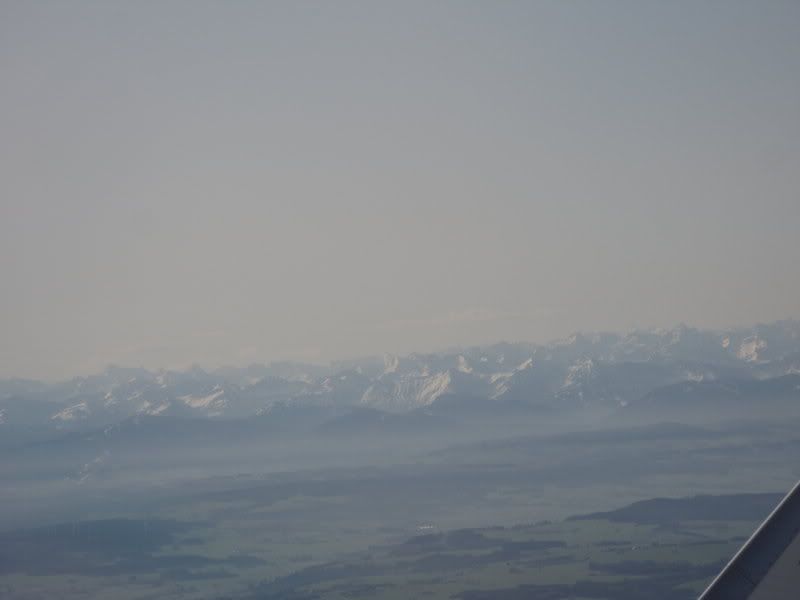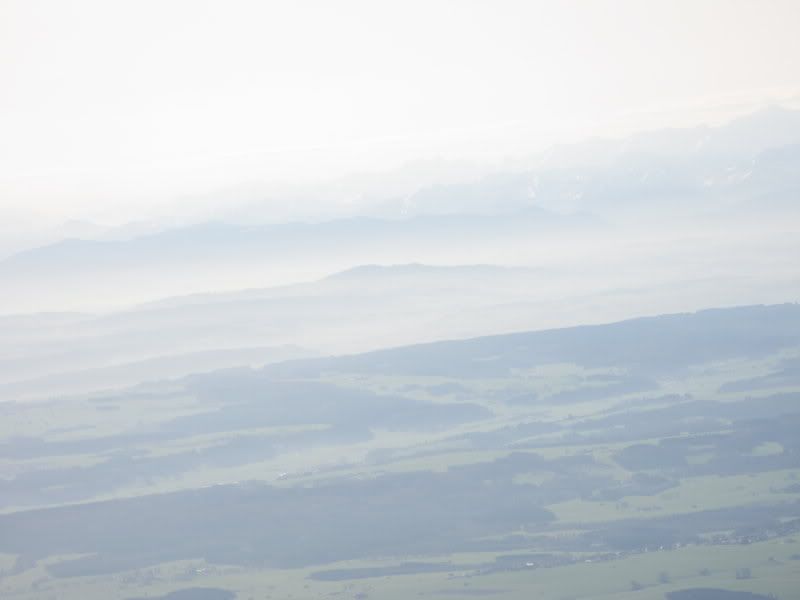 After take off a lazy left turn follows to point us towards the north. Most of Germany is covered in thin clouds and heat haze, so no good views of the ground at all - but plenty of fellow planes: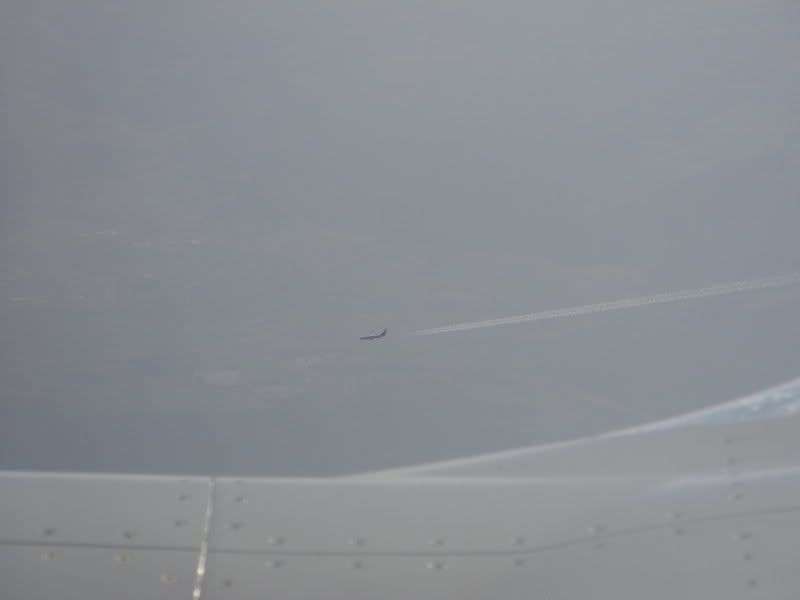 Not too long after take off our FO comes on, and describes our route in considerable detail - and does the same in English, Swedish and Deutsch, in that order, quite impressive actually! At that time we are just passing FRA, our route having been FMM-STR-FRA so far, and continuing with HAJ-HAM-CPH-NYO, with landing scheduled to be 24 minutes ahead of schedule. He also gives a special mention of us overflying the "Beautiful fields of Skåne" which makes me wonder whether he's actually is from Scania...
Leaving Germany behind - see you in four days: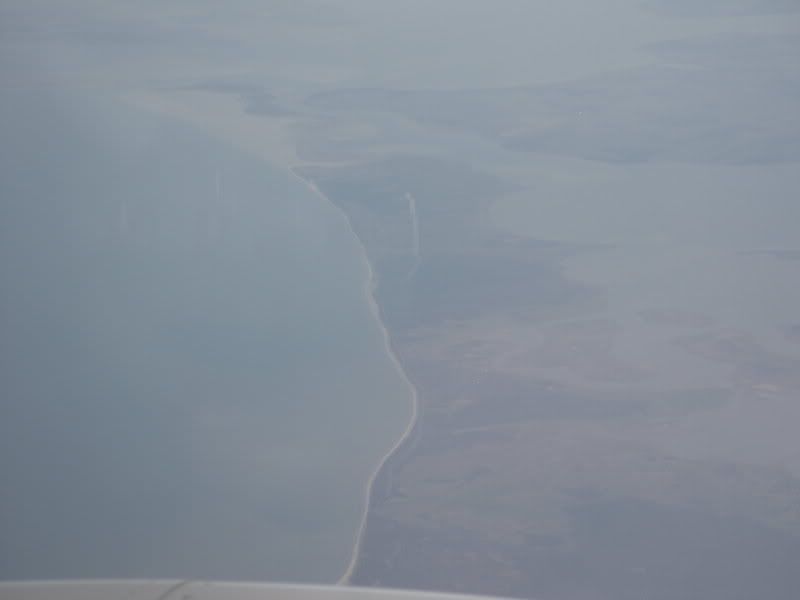 Making landfall to the FO's beloved Skåne: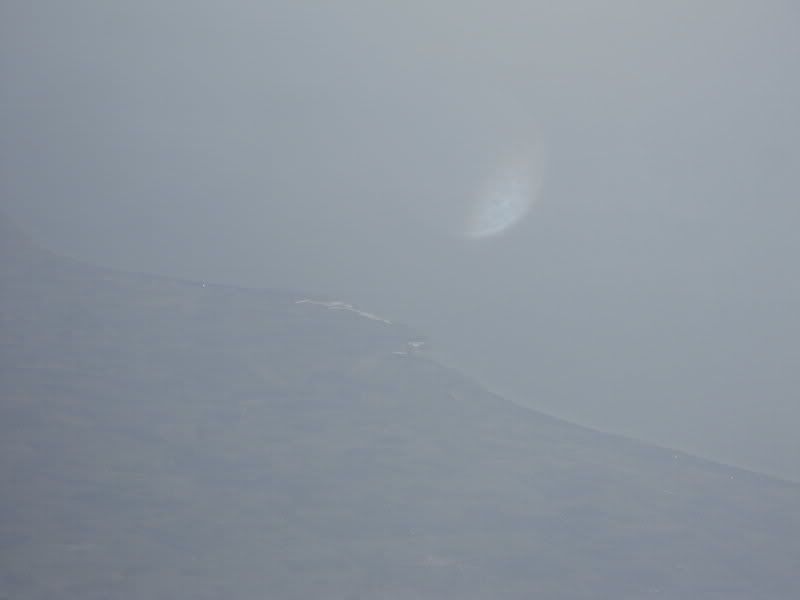 Right after this he is on the mike again, giving out another update and of course mentioning Skåne again, yep, he definitely is from around here...
The Eastern coast of Sweden with its many islands: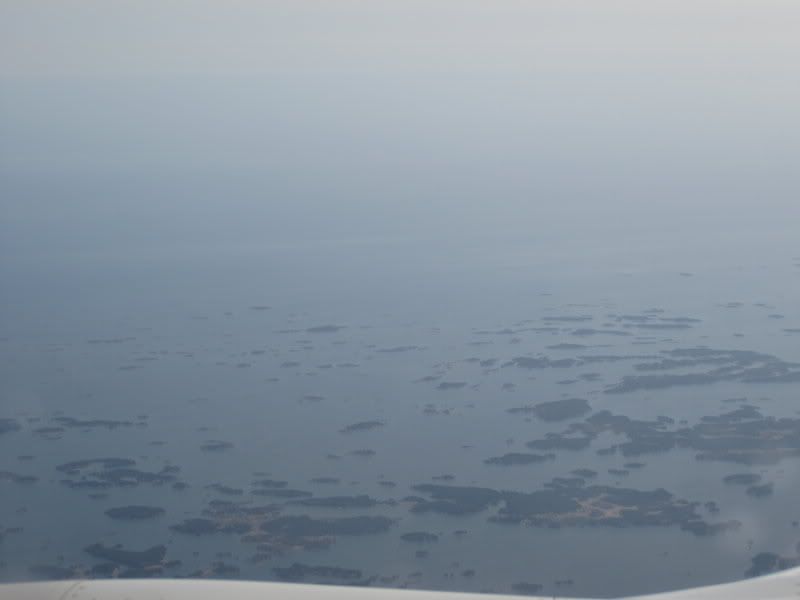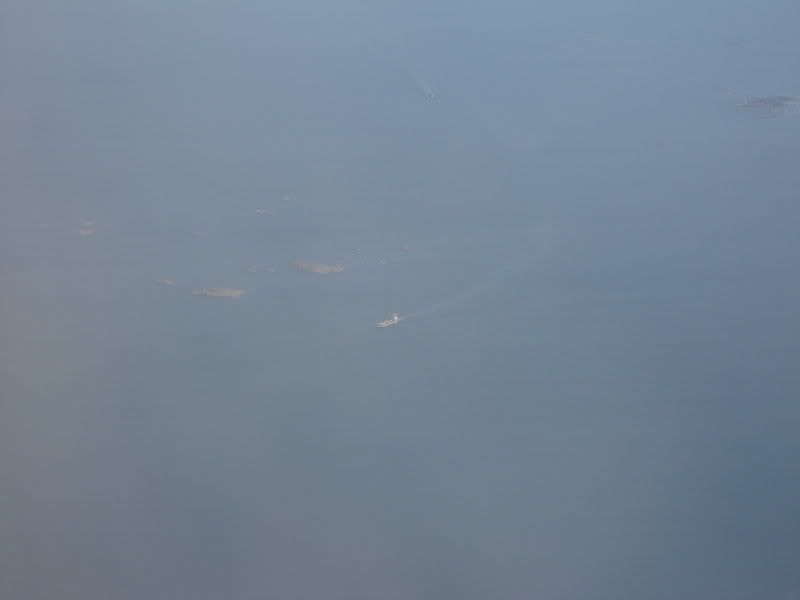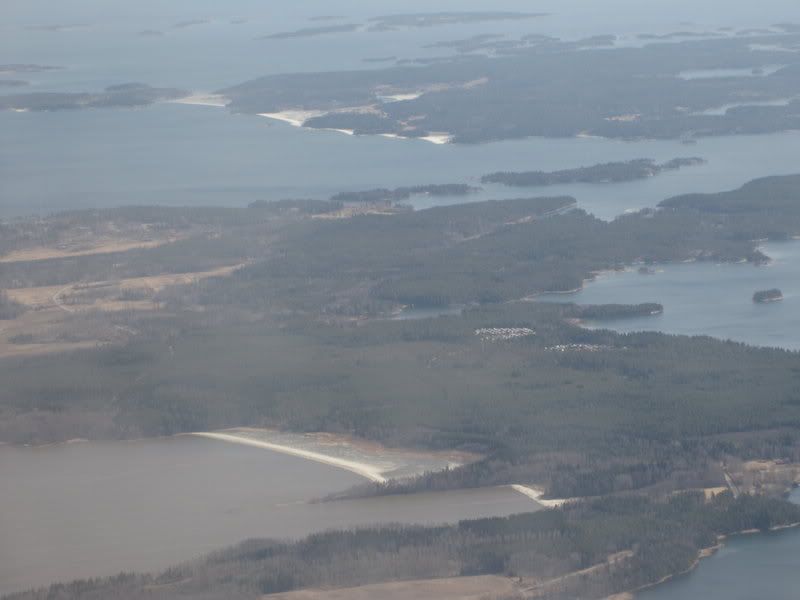 Approaching:
Spring flooding, the bane of every spring here in the Nordics: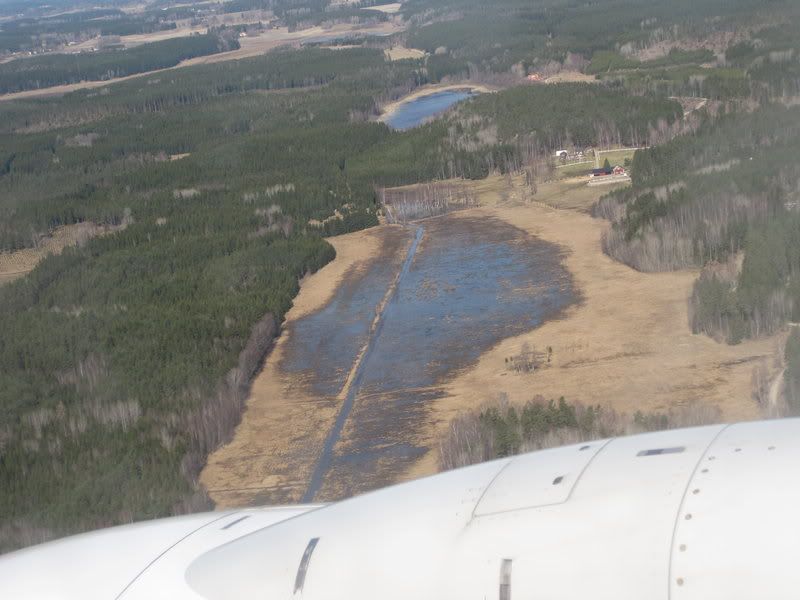 Oh, looks like the flooding actually severed that road:
Our approach and landing on runway 26 after a flight time of 2h4mins is very bumpy and hard, followed by really heavy reverse thrust. Once we turn off the runway and I see the windsock the reason becomes apparent:
The wind is pretty much at an even angle towards the runway.
A few minutes later we stop next to a couple of company planes. Bye: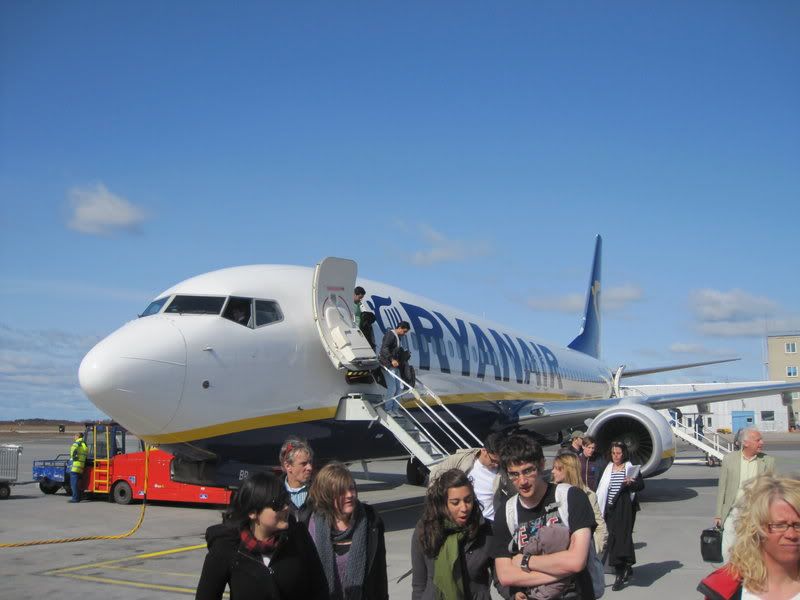 Skavsta Airport
Once inside the terminal building I decide to grab some food, feeling somewhat hungry. I end up with the most Swedish of all Swedish classics, a shrimp sandwich "Skagen":
Despite it being much much colder than in Bavaria the people are flocking in the terrace and enjoying the sunshine here as well: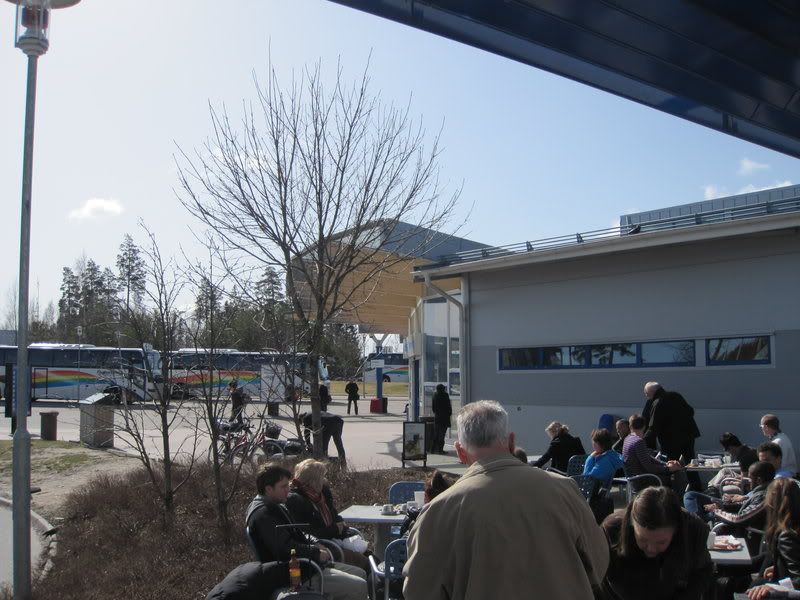 FR operates 13 out of the 14 flights on this board - the plane I just flew in with is departing to TLL next: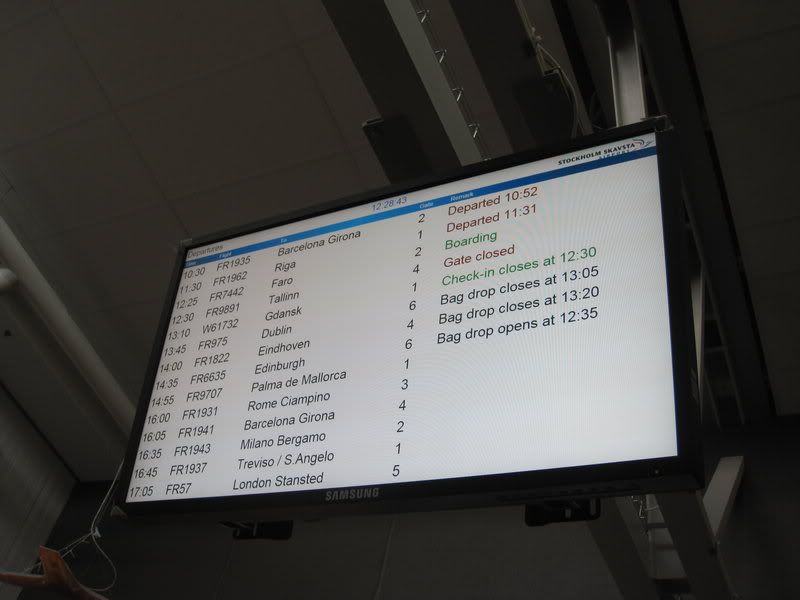 Soon enough it is time to go through security. They have set up an interesting check point half way through the queue where everybody must weigh their carry on luggage. Being a bit annoyed by this and just finding it stupid I ask the guy and girl handling it "Are you guys serious?" - "Excuse me?" - "I mean I don't see any point in doing this stupid thing." - "Well, that's your problem!", snaps back the girl, being mildly annoyed (and that's as far as a genuine Swede will go anyway, they are known as the people who are utterly incapable of being angry!). Oh well, at eight kilos my back bag passes with flying colors.
The security check is far better, and once through I hit the store to buy some snus for a colleague of mine. By that time there's already a queue forming in front of my gate, and with no priority boarding and nothing better to do I join in the fun. The queue after me keeps growing, so I guess I made the right choice: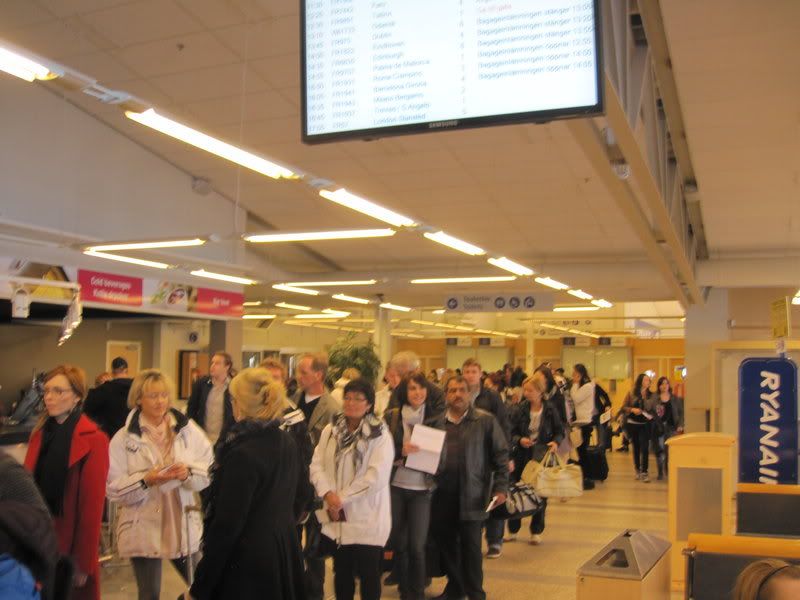 Through the windows I catch a glimpse of of the inbound bird landing around half of hour before our SDT. Right after boarding supposedly commences, but is quite chaotic and extremely slow. The young male agent on duty at the gate is quite probably the slowest gate agent I've ever seen, taking his sweet time to scrutiny every passengers documentation and even asking for both copies of the OLCI boarding pass (Wizz's home printed ones are nowadays like the ones on AB - there's a separate copy for the gate agent and another one for the pax). Maybe he is new to his job and just doesn't want to screw things up...
After a very frustrating experience I finally make it to the tarmac and can see the registration of the bird: HA-LPI "Linköping" (my name, not official of course), which is a new one for me, good going.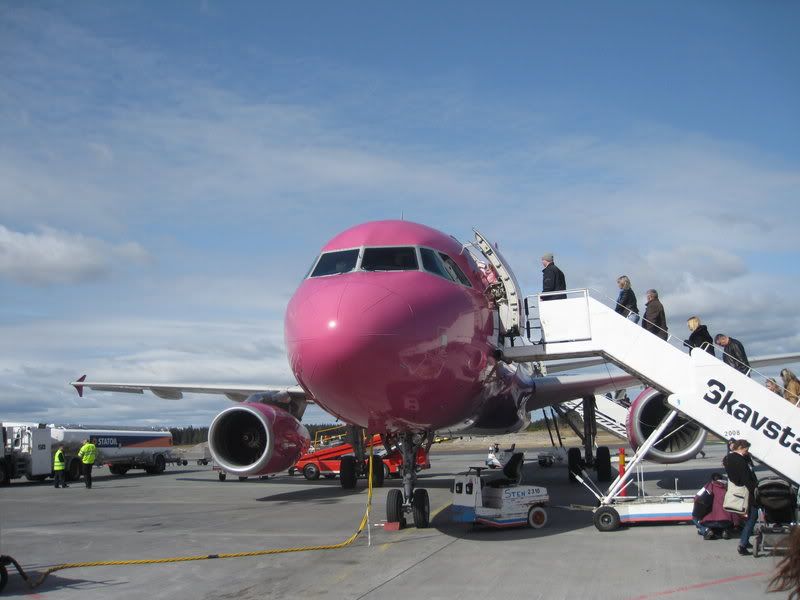 NYO - GDN
W61732
A320 HA-LPI
Seat 29F
13.15 - 14.05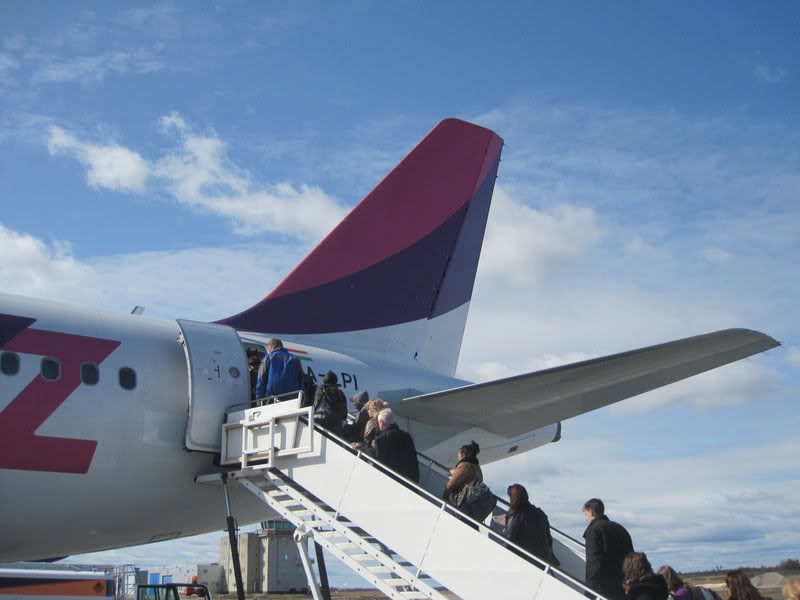 Up through the back stairs and I grab a seat on the back in the vague hope that I might get lucky with an empty middle seat. Well, no such luck, a young Polish couple occupy the seats next to me, but it's not too bad as the guy in the middle seat sleeps through the flight. The load is very good, close to 100%. Not much legroom, but for the short flight I don't care: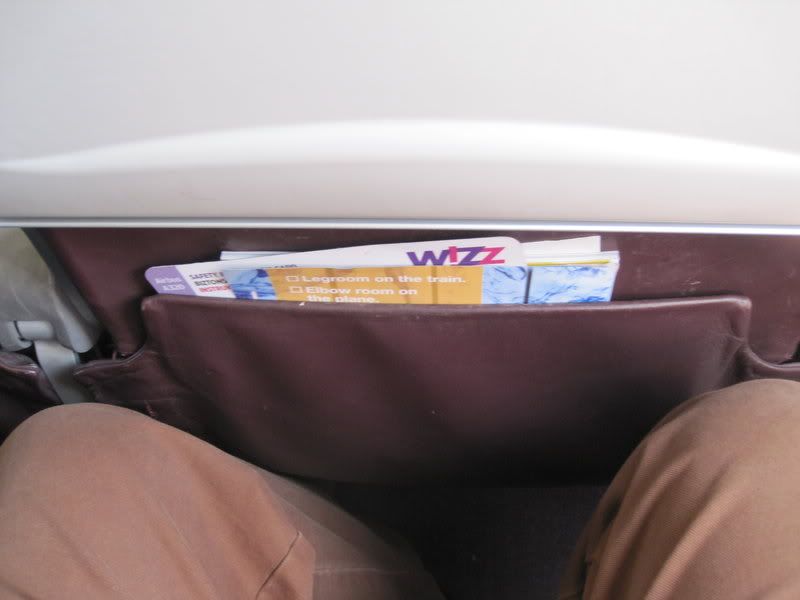 Plenty of Harps around: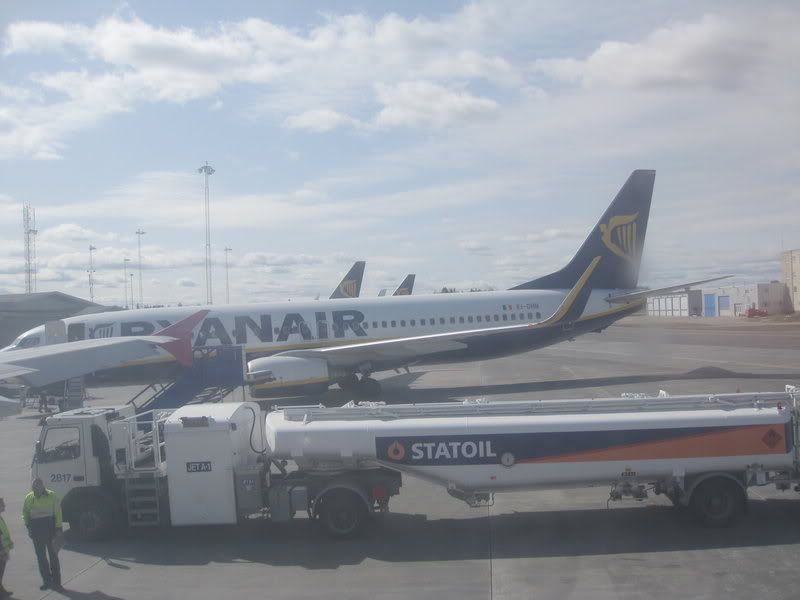 Our flight time is announced as 50 minutes. The safety demo is very funny as the FA reading it out does all the sentences alternating in rapid fire consonant heavy Polish and English with an eastern accent so thick you could cut it with a knife, somehow I doubt anyone really understands what she is saying...
Due to the slow boarding our pushback is ten minutes late.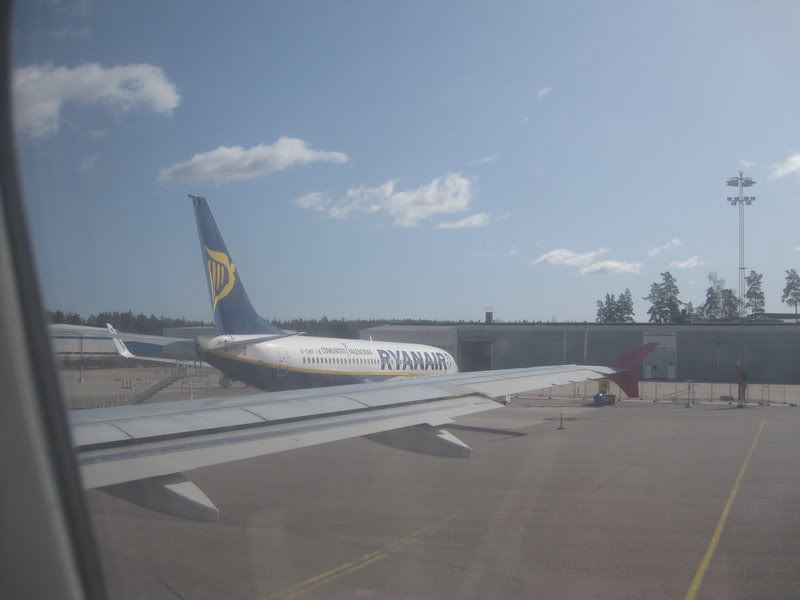 I wonder what this obviously ex-SAS Dash is doing here: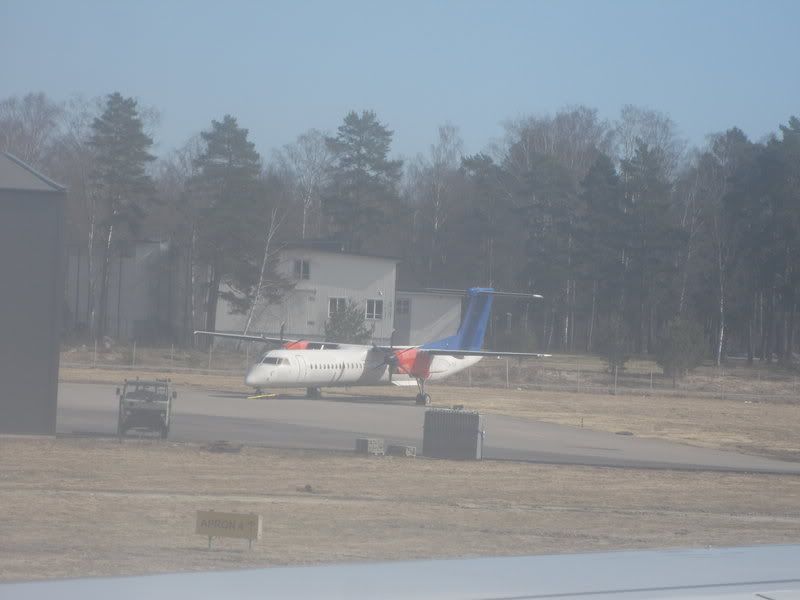 Some local spotters in action: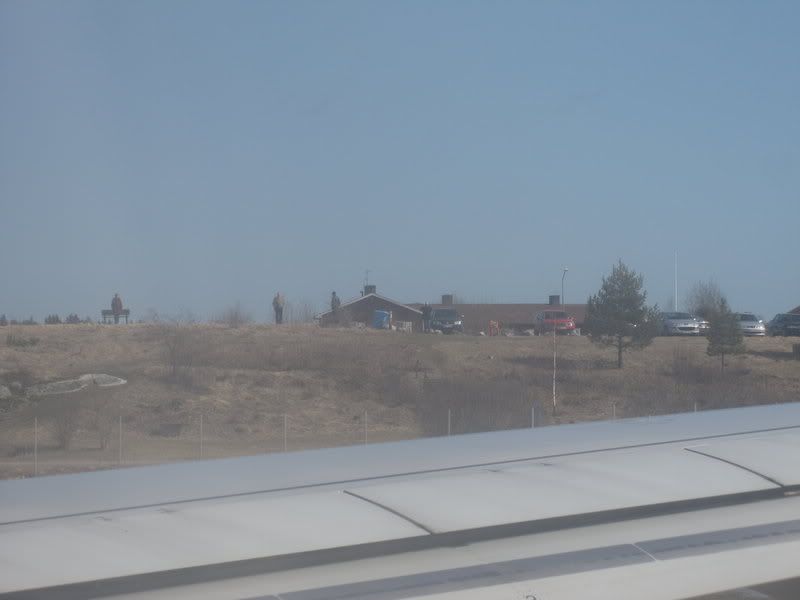 Take off from runway 26 is five minutes later.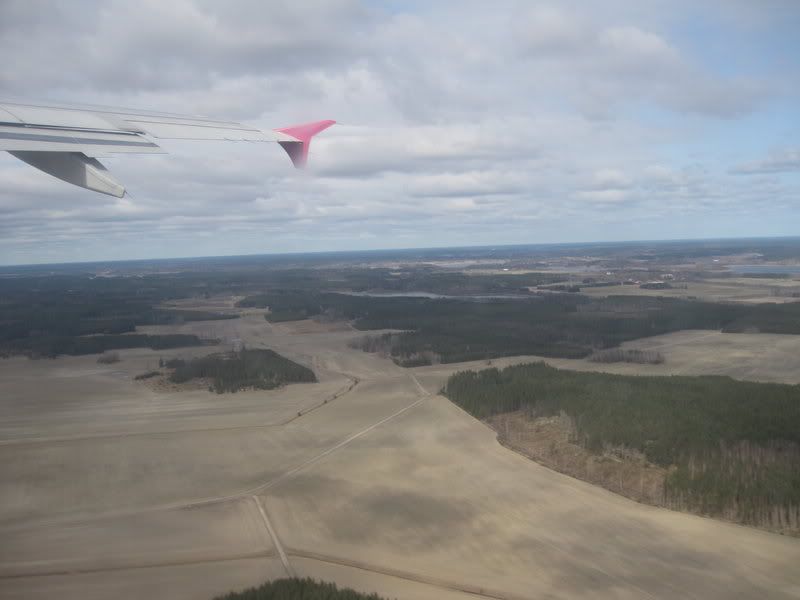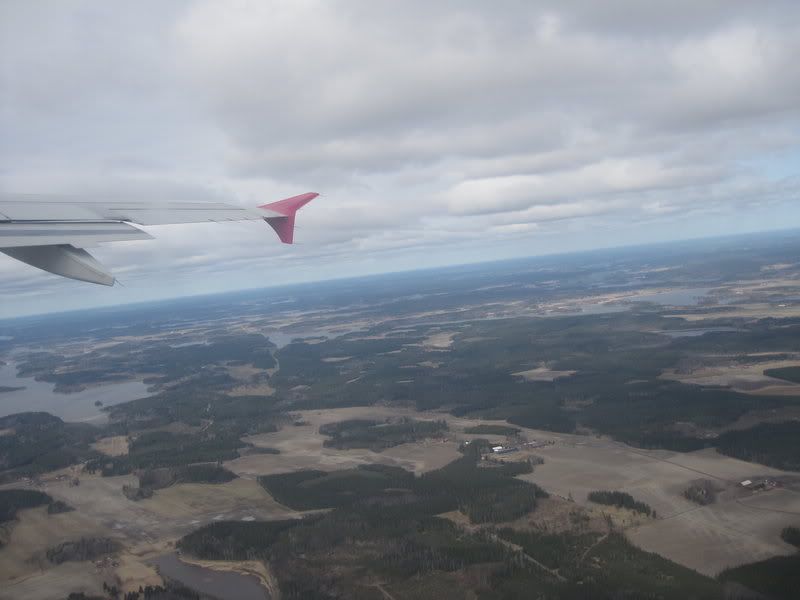 Björkvik Air Base:
Again very heavy winds and quite shaky right after rotation until we make our turn towards the left which puts the wind pretty much directly behind us.
Bye Sweden, this is the city of Västervik: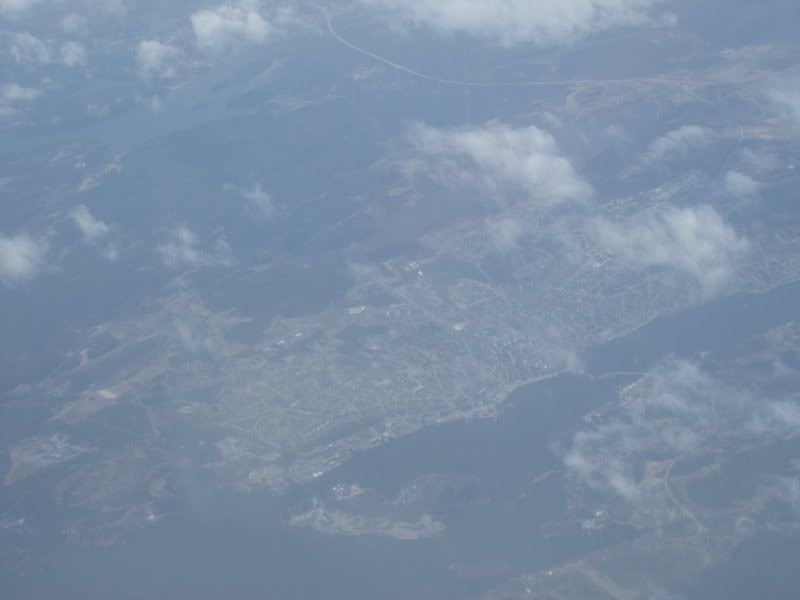 Crossing the Swedish Island of Öland - the third largest island in the Baltic Sea:
The FO is soon on the mike giving a small update on our flight - apparently we have a very impressive tailwind, our current speed exceeds 1000 kilometers per hour which will speed us up nicely and have us landing early at Gdansk, where it again is windy with some turbulence to be expected on landing. Despite being Polish he has a quite distinct British accent to his English.
In no time at all the Polish coastline comes into view: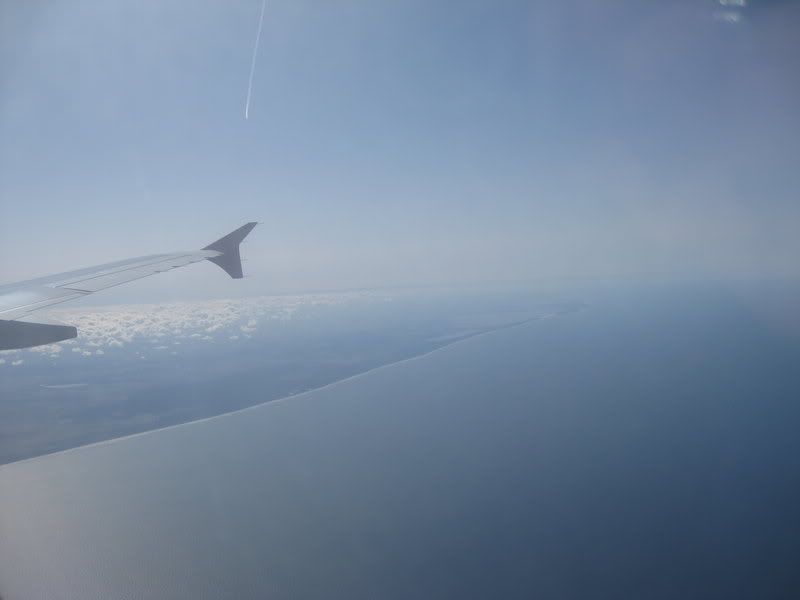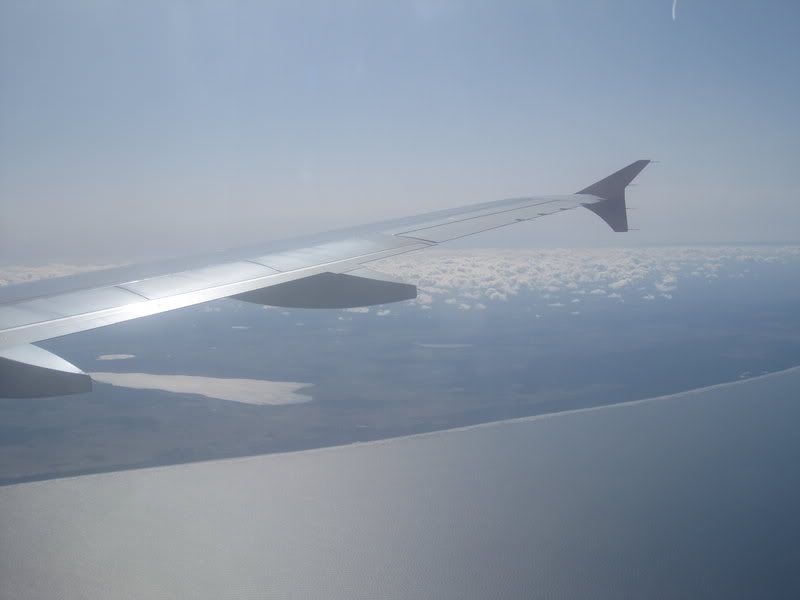 Right after we commence our descent for my favorite approach to GDN which takes us right over the three cities that make up the
Trójmiasto
- starting with Gdynia at the northern end: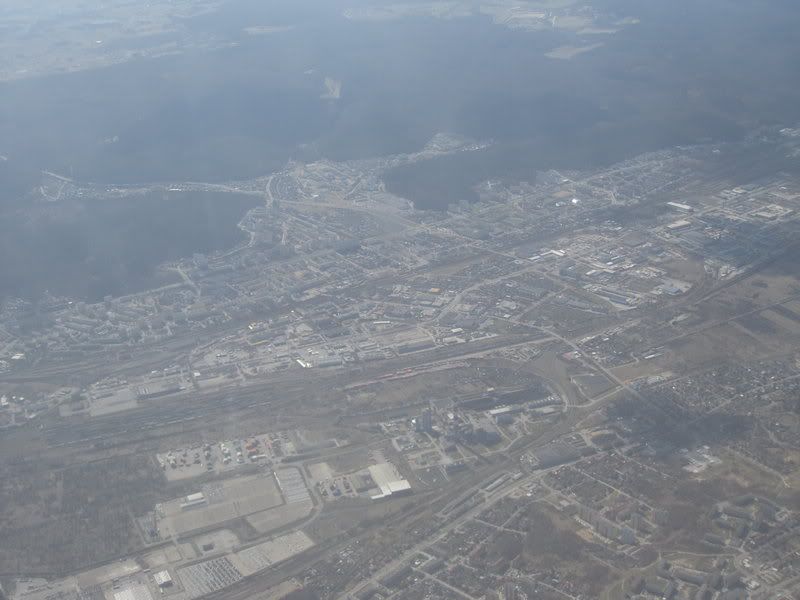 Lots of trains - Gdynia is a large industrial city with a huge port: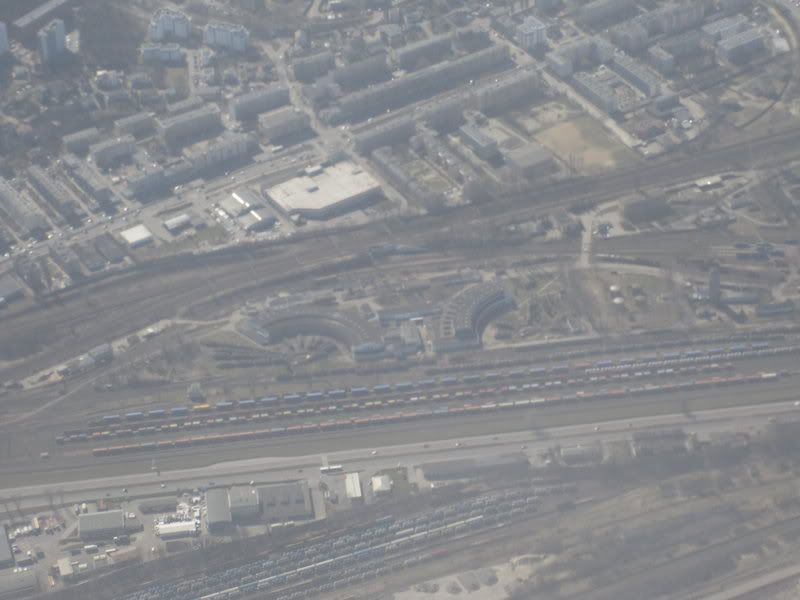 Stadiums: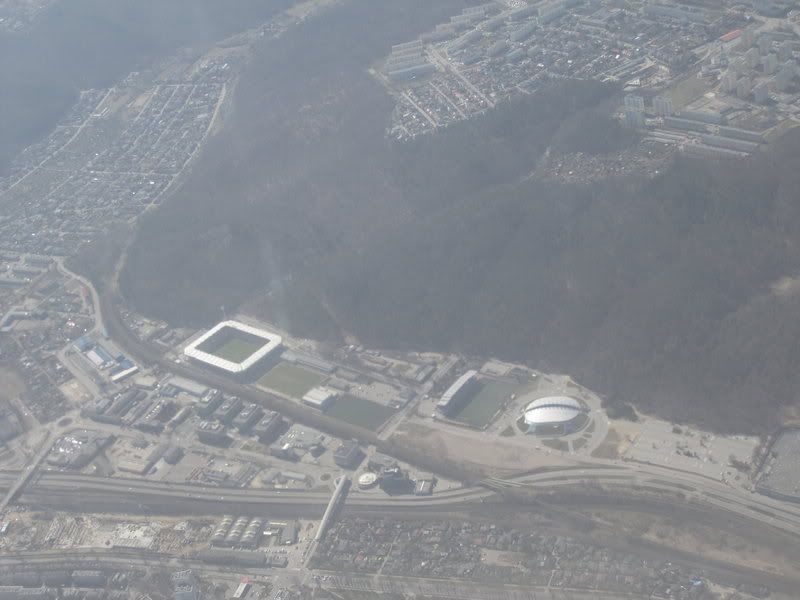 Beaches, that means we are nearing...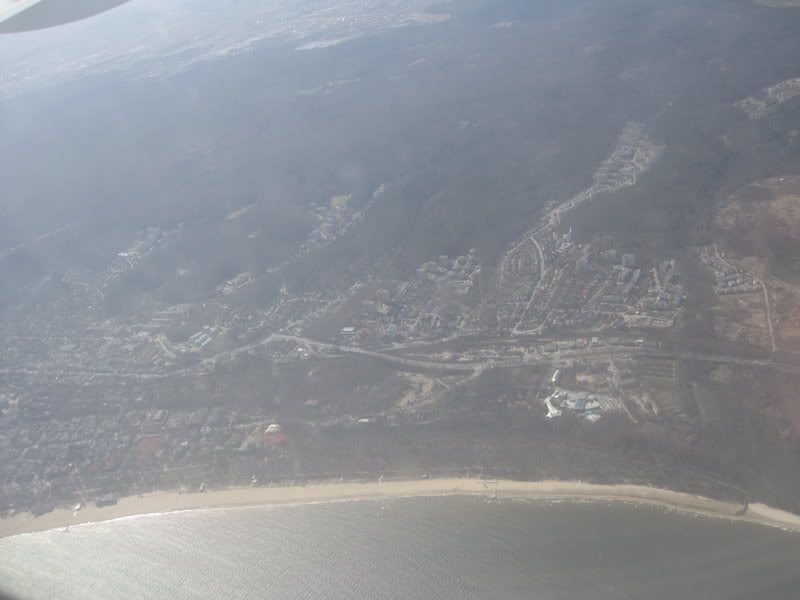 …the middle city, the resort town of Sopot where we fly directly over the famous wooden pier: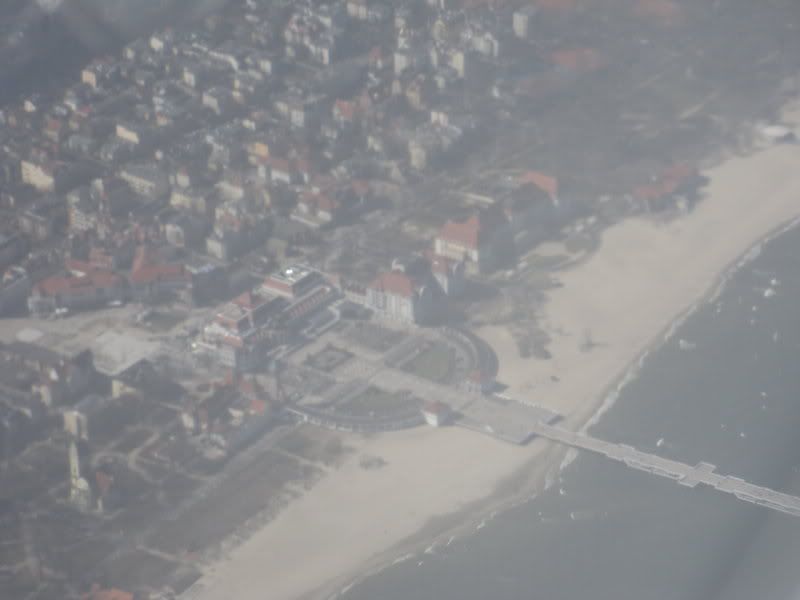 A temple of consumerism: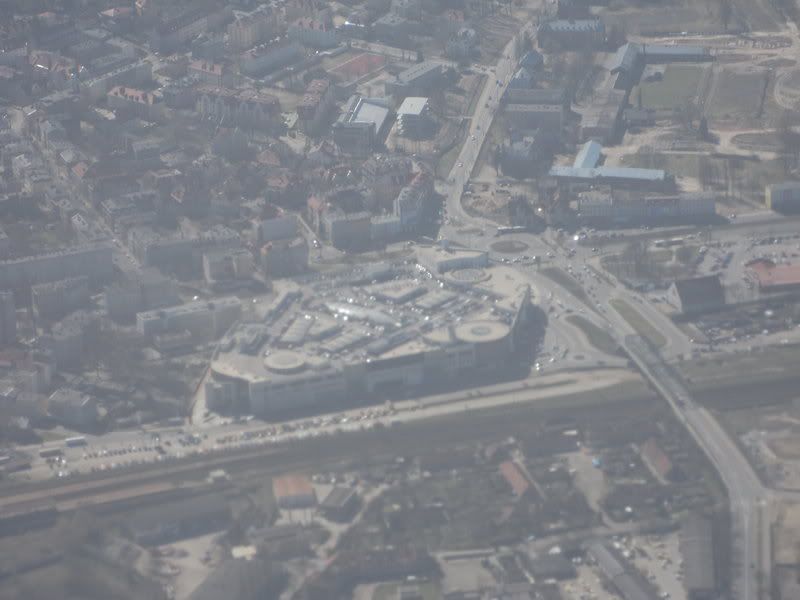 And finally the main city of the area, Gdansk: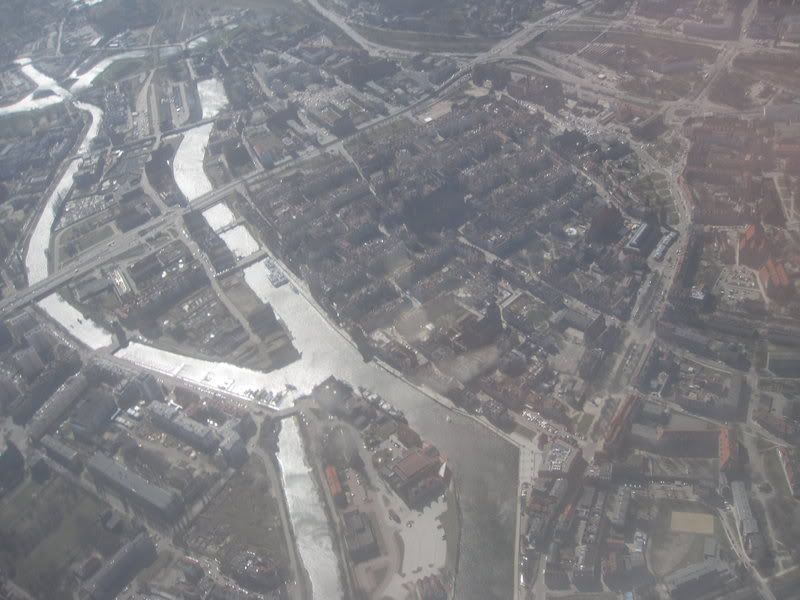 Great view of the old town surrounded by the newer parts: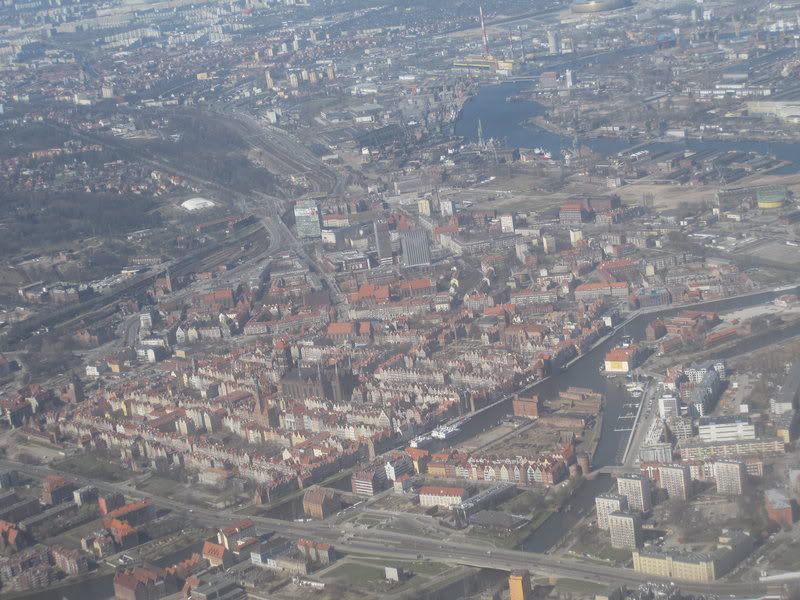 Part of the docks where Lech Walesa and the Solidarity movement started things that eventually brought down the Evil Empires of the East:
You can clearly see the moats that protected the medieval city here:
I tried to shoot our shadow but somehow ended up with this interesting photo - everything looks like a miniature scale model to me:
Oh dear, more consumerism: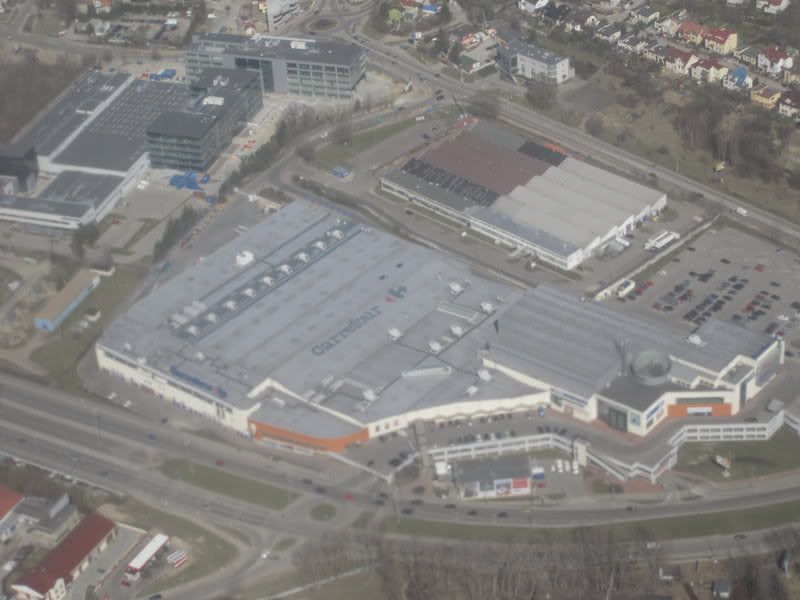 Old apartment blocks:
…and some newer developments:
And more places to spend your hard earned cash in: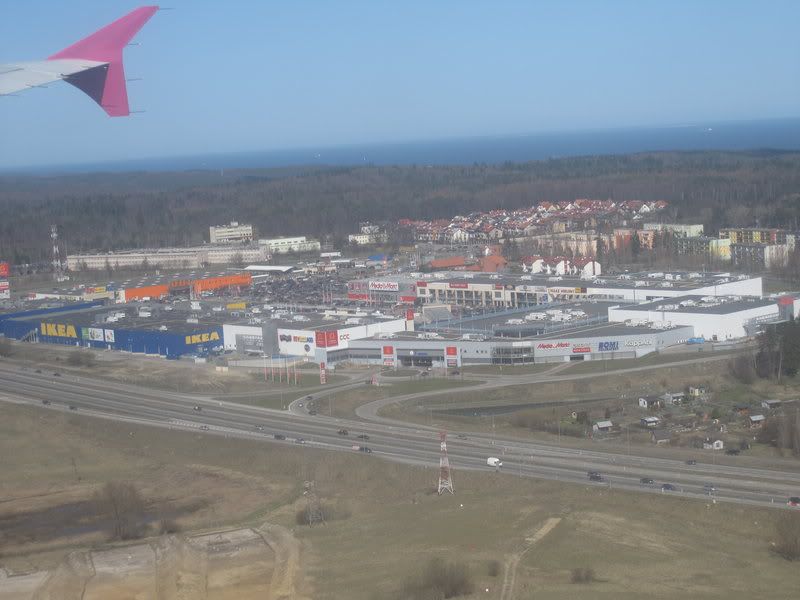 During finals it indeed is very shaky and we come in very fast for an uneven landing on runway 29 after a quick flight of 45 minutes. Very heavy breaking (and some hand clapping...) follows.
Soon we stop in front of the terminal.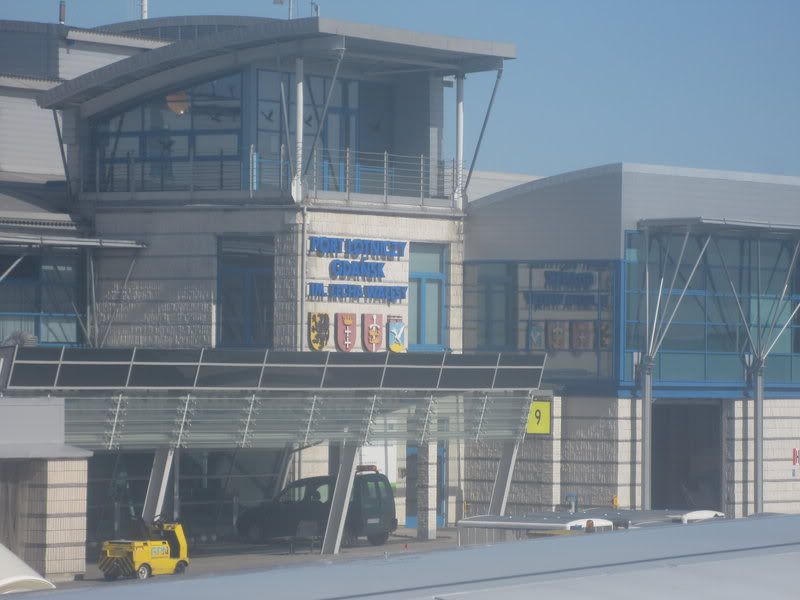 Bye, off to LBC next: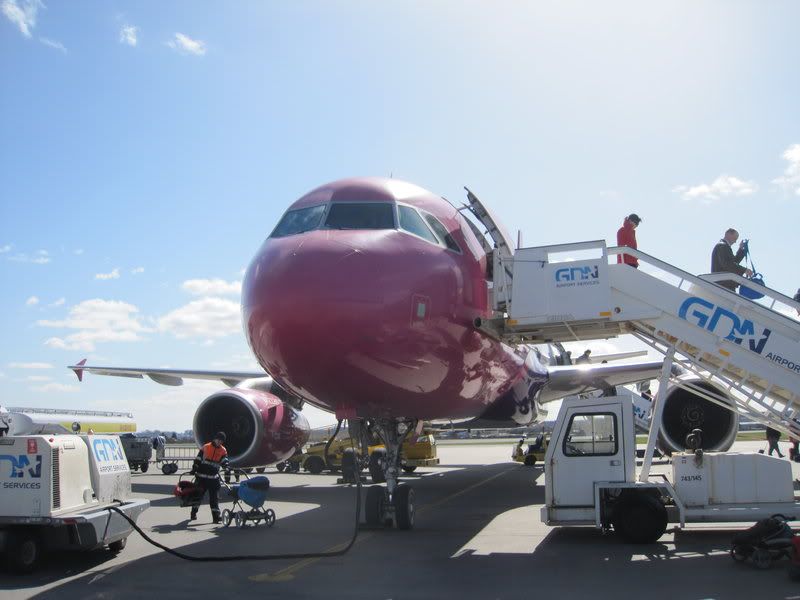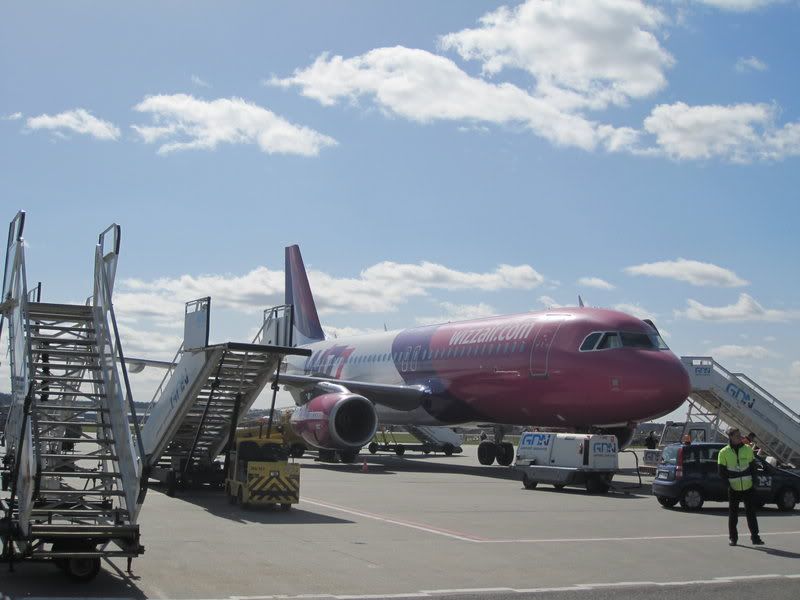 Gdansk Lech Walesa Airport
I have more than four hours in my hands here. The first thing I do is to pick up a boarding pass from a self service kiosk - I did check in online that morning but again couldn't print out anything.
I go outside, but it is far too windy for comfort so I quickly retreat back in: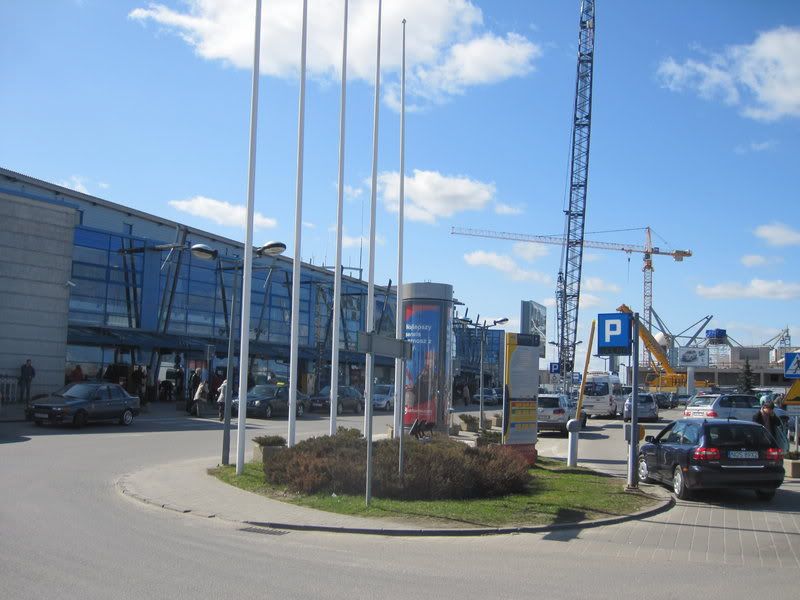 I'm pretty sure the lounge won't have anything substantial to eat, so grab a tasty snack from the land side cafe before heading upstairs and to security. Security at Polish airports is handled by military personnel, I think they are actually conscripts. Anyway it is always a bit of a harrowing experience as the staff is wearing uniforms, complete with camo pants and of course with the standard issue sidearms handing from their belts... I guess it keeps the incidents and complaints down, though.
Quite a few Finns are around - well the Wizz flight to TKU is leaving within an hour. I thought about taking that to get to Finland but the fares were a bit too high for my liking.
I raid the travel value store for some good Polish vodka - the girl at the till is very surprised after I insist that she skips the needless clear plastic security bag and just gives me a regular one instead:
"But you have connecting flight?"
"Yes, I know, but there won't be a security check anywhere so it's OK."
"Are you sure?"
"Yeah, I've done these connections tens of times, trust me!"
"I don't know."
"Listen, it's my loss if they take it away so just do it!"
"Ok".
From the store it is exactly ten steps to the lounge entrance, and that's where I head next as the whole departure area is jam packed with people. The lounge agent has her daughter of maybe six years with her - she seems to explain what she is doing to the girl as she's typing in my card details to the computer. I ask "Are you training her?" and she says yes with a shy smile..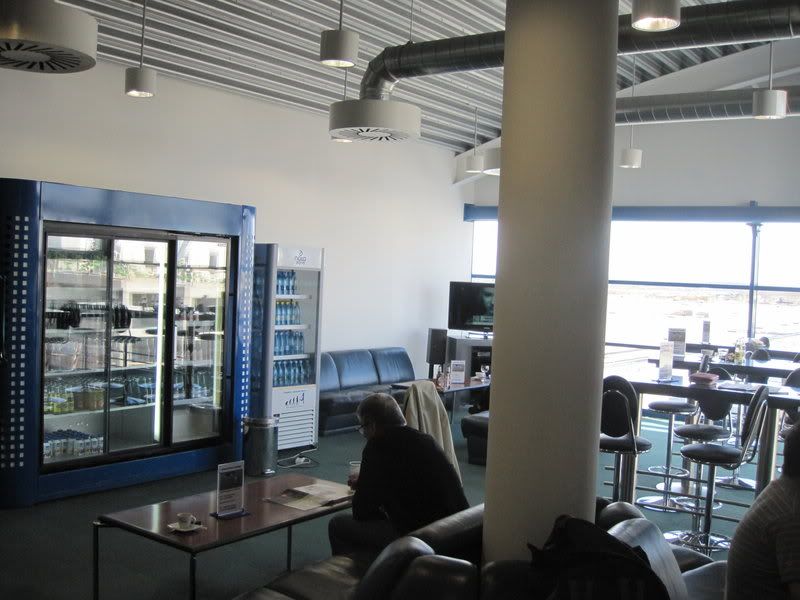 [Edited 2011-04-16 03:53:34]