Introduction
Ryanair keeps steadily introducing new flights to Tampere, their oldest (and by consequence, also the largest) destination in Finland. Oh and of course dropping certain underperforming routes as well, but you're not supposed to mention that as it would be bad publicity! This year they seem to have finally realized the full potential that offering destinations in the Med for us sun-starved Finns. It started last year with AGP, and I bet those flights had one of the largest average ticket prices across the entire Ryanair network (as a coincidence TMP-AGP is also the longest flight on the whole FR route map!) - (one way) fares in the excess of 200 EUR were more the norm than the exception!
Anyway this year the apparently lucrative theme was continued, with the introduction of TMP-ALC, resumption of TMP-AGP for the summer season and as a new development a bunch of new destinations in Italy in addition to BGY that has been seasonally served for a couple of years now. These destinations, in the order of the routes being opened are: PSA, CIA and finally TPS.
So some new airports to log and a cheap (usually) way of getting to Italy - sounds good to me so let's go!
Since PSA was the first route to be launched that was the first one I booked. Too bad I couldn't make the inaugural flight as that was one day before I was attending the DY HEL base inaugural celebrations and flights:
Norwegian Base Inaugural Day: HEL-RVN/OUL-HEL
(by
FlyingFinn76
Apr 2 2011 in Trip Reports)
So I searched around for some openings in the calendar and good fares and found the perfect combination two weeks after the route launch. The cost was 34 EUR all-in, including priority boarding.
The flight arrives just before midnight at Pisa, so it was obvious I had to spend the night there. For this I booked a B&B just a few hundred meters from the terminal.
I definitely wanted to see that tower that the city was so famous for, so any return trip would have to start in the afternoon to allow me the morning for ticking this task off my todo list. I found a nicely timed afternoon flight on Ezy to Berlin Schönefeld for 29.99 EUR and booked that.
Finally Air Berlin's late night flight to HEL would close the gap nicely, and I even managed to book it during one of their fare sales so it cost only another 29.99 EUR (interestingly these cheap fares used to be 29 EUR, now they seem to have added the 99 cents on top of that like all good retailers do...).
I have a couple of hours to transfer from SXF to TXL, so that should be fine. Here's the route for this trip: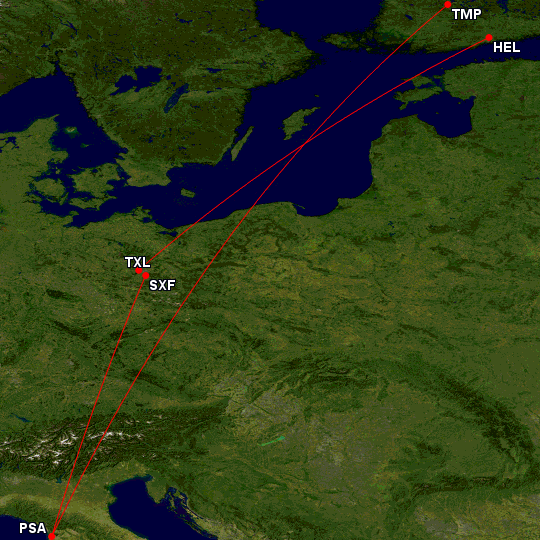 After the rest of my spring travels had been sorted out I also realized that the outbound Ryanair flight would actually be the 1000th (yes, THOUSANDTH) flight in my log. Bugger, I'd preferred it to be onboard some other carrier, but couldn't really book any additional flights before that so it'd had to do. Maybe it's a good indication of the state of the aviation in modern times - more and more low costs and less traditional carriers...
Wednesday 13.4.2011
After a normal day in the office I take a local train into Pasila station, running a few minutes late as is the norm with the shameful on time performance the State Railway company has been keeping up for the last few years now... In Pasila I have just enough time to grab a burger for dinner, buy some snacks for the train journey and finally catch the Intercity train to Tampere.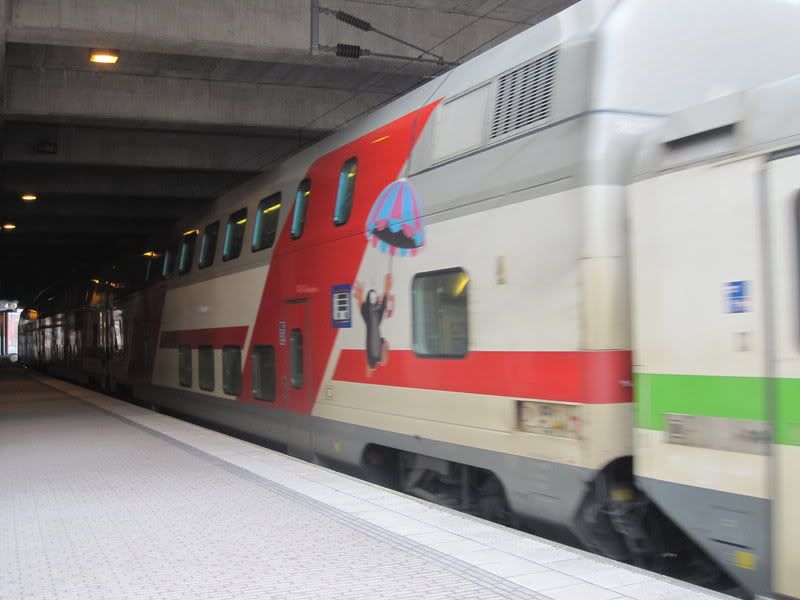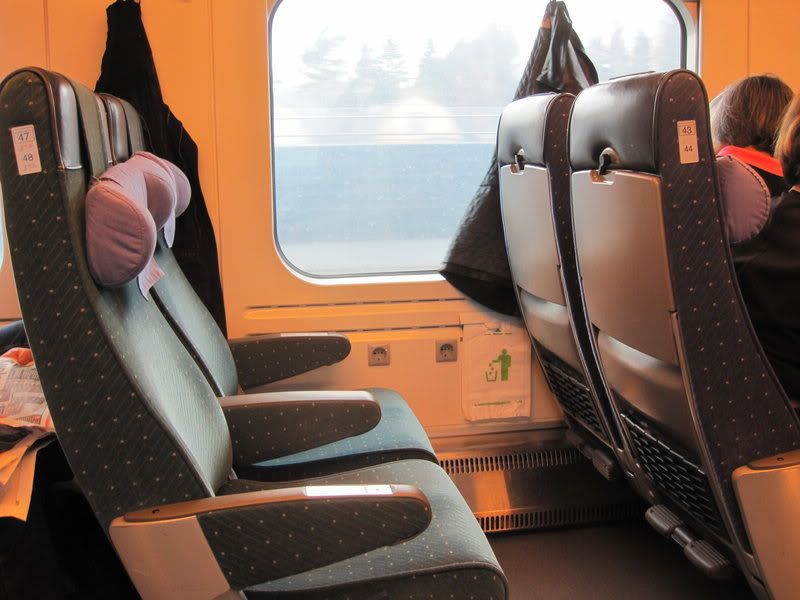 Great legroom onboard: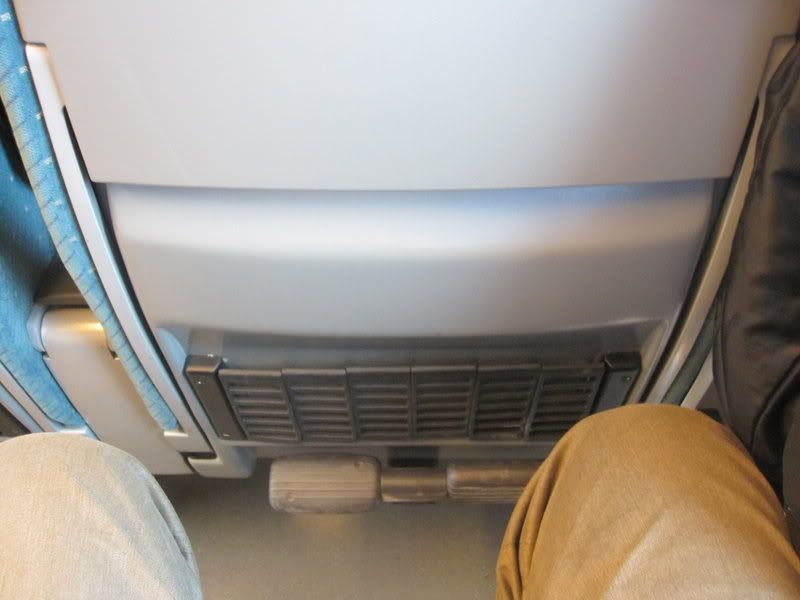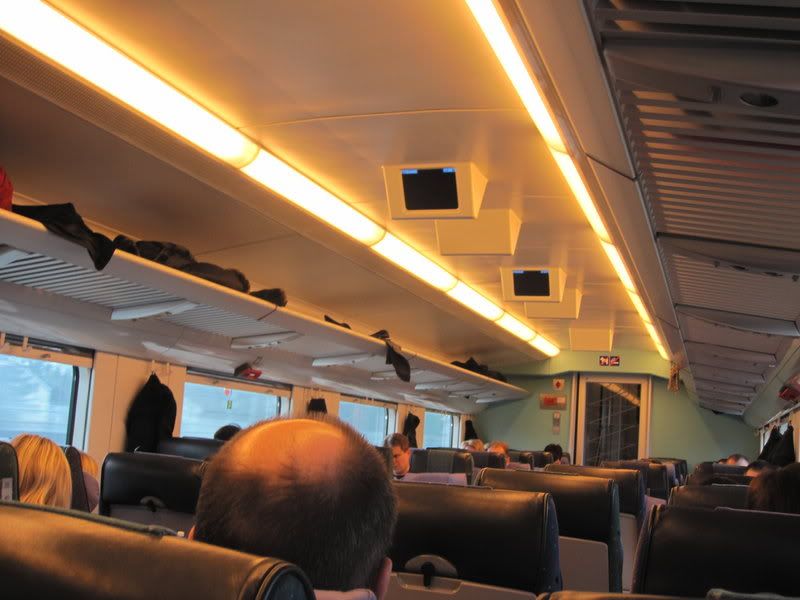 Some guy tries to kick me out of my reserved seat by claiming that he has the same seat assignment - well actually he does and we wonder about it for a while, until he realizes that he made a mistake and that his ticket is actually for May (and for a date which coincidentally happens also to be my brother's birthday - how spooky can things get?!). Not that it matters as the conductor accepts it just fine... If this is the state of the things I think I will start reserving my tickets to some random dates in the advance to get advantage of the 20% early booking discount!!
Tampere
One and half hours later we pull right on time to Tampere (oh, did I mention the departure was around five minutes late...). Having half an hour in my hands I head for a favorite watering hole of mine opposite the station to wet my whistle a bit with a cheap pint (something you just can't get in the Capital Region nowadays...) and then head back to the station to catch the 19.30 Ryanair bus to Pirkkala airport.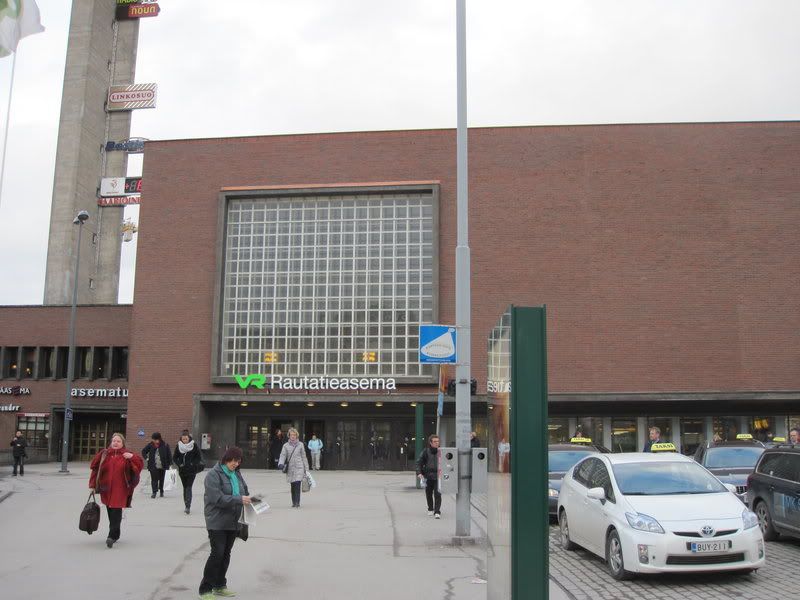 Traffic is light (and so is the load in the bus), so in less than 20 minutes we are there, but unfortunately they have a really annoying system for collecting the 6 EUR for the bus ride - the driver does not handle any money but instead somebody from the handling company is supposed to come and handle the payment when the pax leave the bus. Well, today this is not really happening - we are early but still, this is ridiculous. After waiting for more than five minutes in front of the terminal building I tell the bus driver that I really need to go to the loo (well, I really do) and that I have exact change so if he could be so kind and do the payment for me - he agrees and asks me to tell the people inside that the bus is waiting here, and I'm released from my prison. The other pax, all of whom seem to be foreigners BTW are still left in the bus, wondering what the heck is going on.
Inside I tell the infodesk (the airport facility... oh well, this joke is SO old) that somebody should really go and do the bus. Next stop is check in - they have this annoying habit of wanting to check everybody's documents at the counter despite doing OLCI and having only hand luggage - another reason to dislike this shack of an airport. The girl takes one look at my small back bag and mutters something about it looking light enough so that it doesn't have to be weighted...
Off to the security queue, where I try to shoot a picture of the dingy check in hall, but disaster strikes - I drop my camera on the hard concrete floor! I pick it up and the bloody thing doesn't turn on - panic follows. After investigating I can breathe normally again - if I push the battery cover with my thumb the power stays on, but turns off again if I take my finger off, so looks like the cover or the spring has gotten loose! Luckily it's nothing a small piece of paper jammed inside wouldn't fix.
This whole rundown terminal and annoying crowds around me are starting to get me very irked - I snap rudely at the security agent for asking for my boarding pass again ("Come on, this is ridiculous - I just showed it two minutes ago!"), but luckily she keeps her calm and just explains me patiently that it's a regulation. Sorry gal, it is not your fault I'm in a bad mood today!
Airside the place is packed, as can be expected with two 738s leaving within the next hour and half or so - the other flight is to KUN. I head upstairs to the cafe for another malted beverage, sitting in a table with a very nice Italian - Finnish couple. We chat a bit - they are genuinely happy about this new service as the guy is from Tuscany, around 50 kilometers from the Pisa airport and this is very convenient for his VFR trips. The guy must be the fist foreigner I've ever met who thinks Finnish is an easy language to learn - and very good his Finnish is, too! Oh, and I also manage to fix my camera with some paper stuffed to keep the battery in place - who needs MacGyver?!
The inbound plane arrives right on time at 20.25. EI-EBM - a new one for my log. Sorry for the bad quality image, the light was fading fast and the window extremely dirty: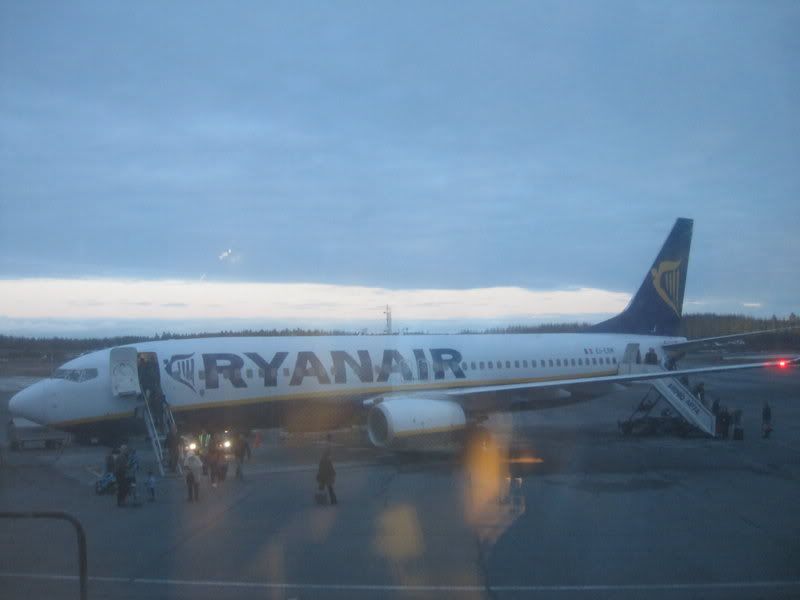 Right after most of the pax head downstairs to the sole gate, and soon I join them as well. Downstairs a complete chaos is going on - there's not much space here but lots of pax so I guess that's only natural. There are even quite a few pax with priority boarding, quite unusual I must say.
Boarding is called less than ten minutes after the inbound arrived - very efficient. And indeed we are free to board right away, instead of getting stuck in a holding pen or something.
Interestingly a police officer in full duty uniform is escorting a deportee, an African girl to the plane. He was given priority access as well. When I pass him at the 1L door I ask "Is the Finnish state too cheap to book tickets on proper airlines?" but he doesn't really answer to me, just leaves the plane, handing over the girl to the crew - I thought officers usually follow their human cargo all the way to the final destination?
TMP - PSA
FR7107
B737-800 EI-EBM
Seat 16A
21.13 - 23.04
No lie flat business class seat for my 1000th flight, just a comfortable enough exit row window seat with lots of legroom.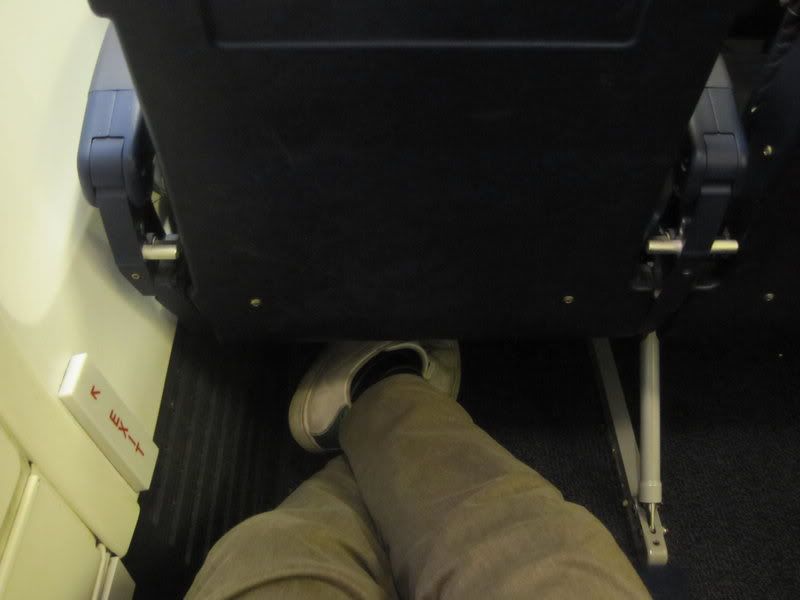 As usual, most of the pax with priority boarding pick up crap seats in the front of the cabin, but at least one Finnish couple is well informed and pick up the other side of the row 16.
All four FAs are quite young Italian females today, not the usual Eastern European staff you often get on FR. All four are also very disinterested in their job and look like they'd rather be just about anywhere else.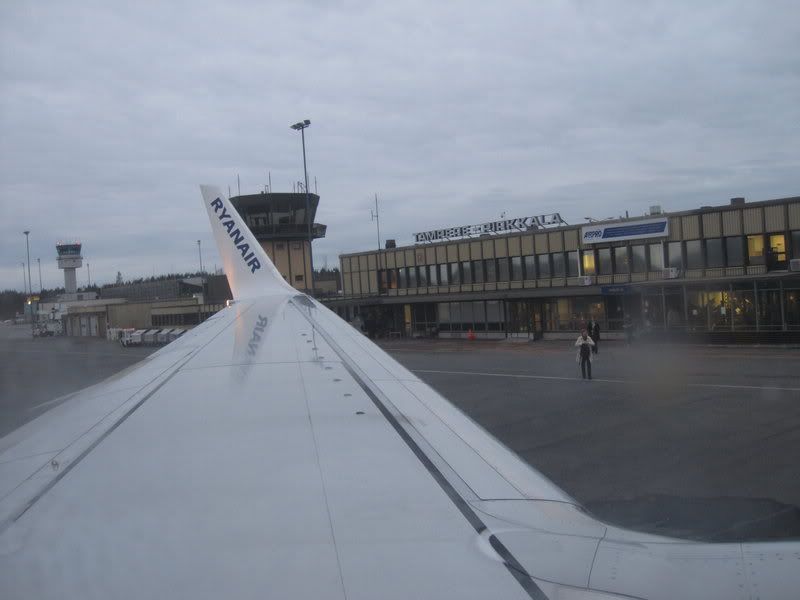 Soon enough two older Finnish women join me on the exit row - after settling in they seem to be very confused by the large legroom so I point out that these indeed are the best seats in the house. The friendlier one next to me thinks for a while and then says "So how come they were still free!?!?" - Touche, my point exactly! People just aren't very well informed at all!
Boarding and refueling of the plane takes its sweet time - while this is going on the British captain makes a welcome speech, explaining our route as TMP-STO-BER-VCE-PSA with an expected flight time of three hours.
Load is good, as usual on Ryanair, 80% or so. We are fully ready to go by our departure time, but for some reason nothing happens and we sit still for a long while, before finally starting the engines and taxing out a good 23 minutes late. Not sure what that was about - maybe an ATC restriction over Central Europe but I find it a bit annoying if the cockpit crew thinks things like this are not worth communicating to the passengers!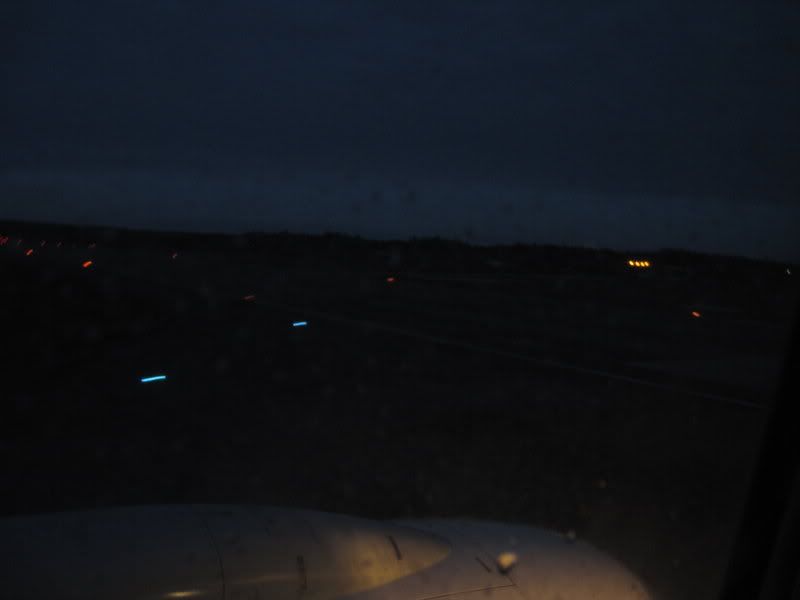 Take off is two minutes later from runway 24.
These are pretty much the only views for the whole flight - at least until we reach Italy - it is overcast and dark all along our way: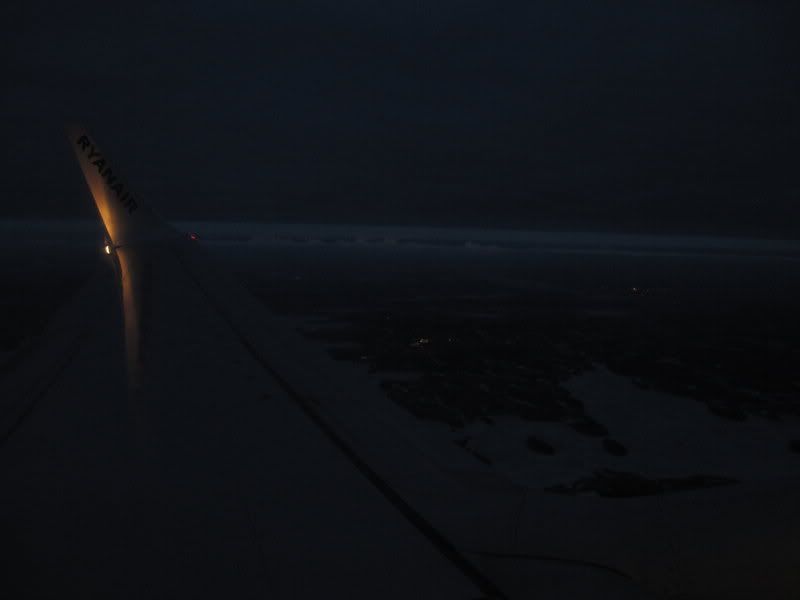 This being a special flight for me I'd planned on splurging on a (mini) bottle of champagne, but by the time the cart reaches the exit row in the middle of the plane most of the drinks have already been sold - this is a flight to and from Finland after all! The last wine bottles were sold for the ladies in the row ahead of me - so I have to make do with whatever they have left: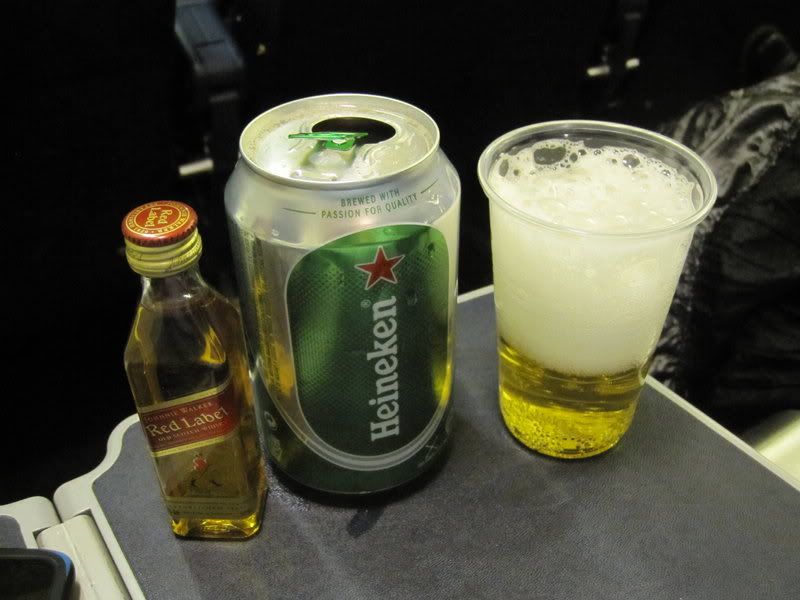 Not my idea of a celebration, but I toast anyway...
The load: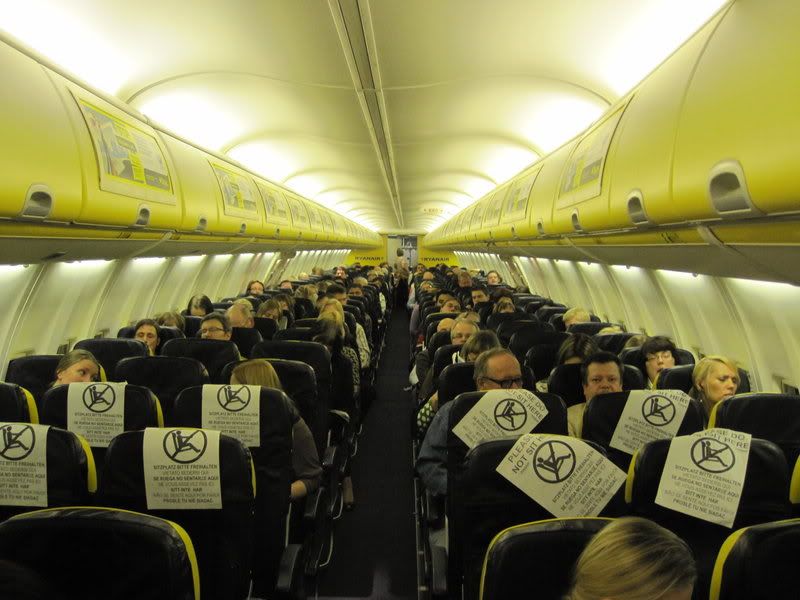 I chat on and off with the lady next to me, read some long overdue magazines and chill out with some music and the flight passes surprisingly fast. Around 2h15mins into the flight the seat belt sign is switched on and I spot the lights of Venice on our left hand side. Soon the captain announces landing around half an hour from now.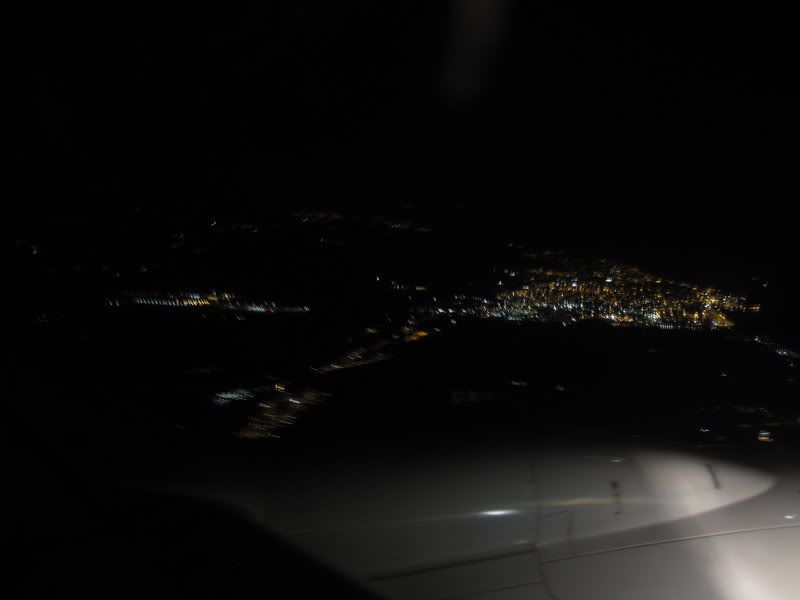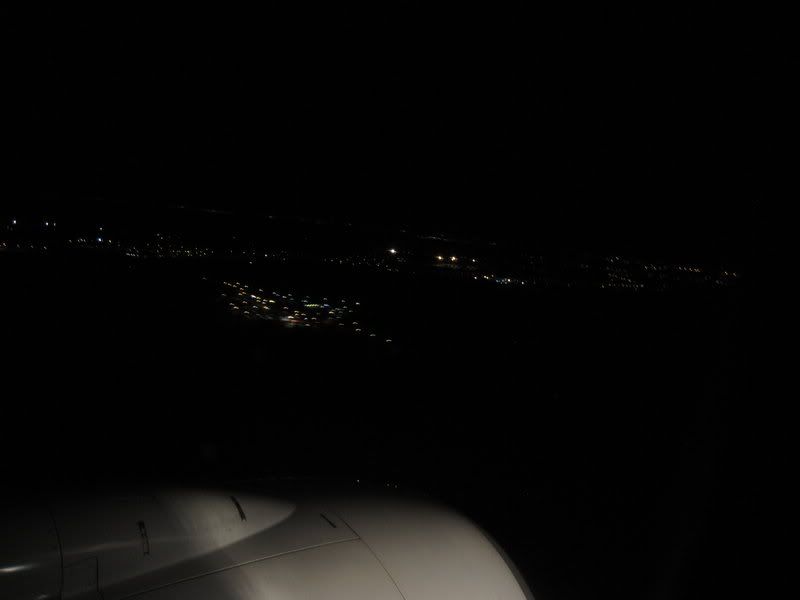 Our approach takes us right past the PSA airport on the western side and over the Ligurian Sea, where we make a 180 degree turn towards the left to line up on runway 04L, where we land after a flight time of 2h50mins.
Soon enough we park in front the terminal building - lots of FR planes are spending the night here: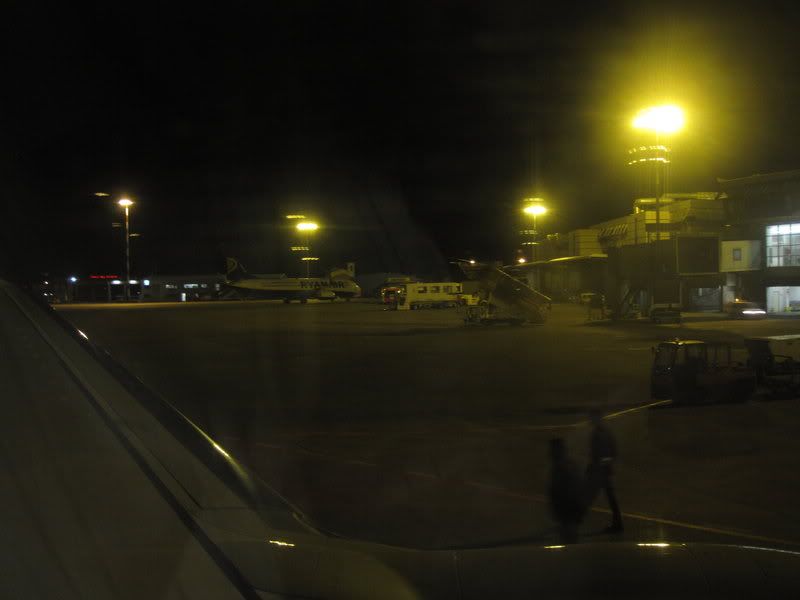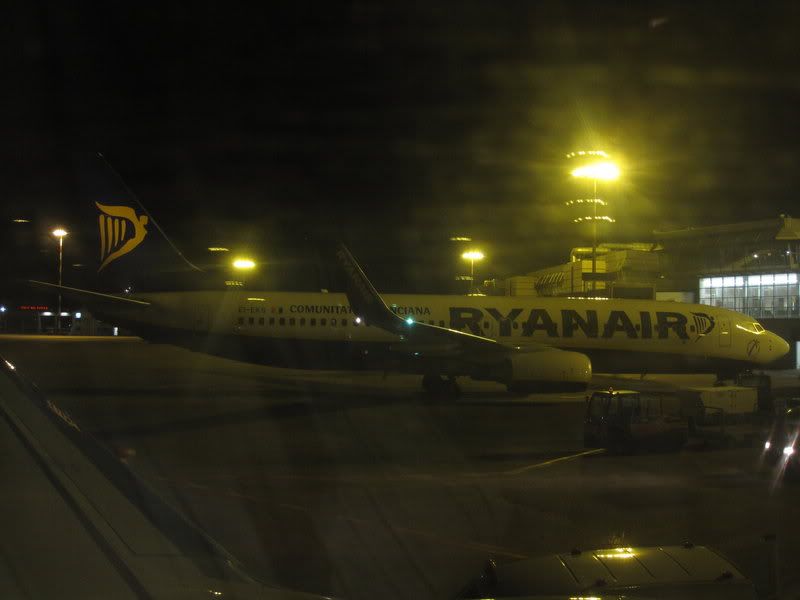 The bad part about the exit rows is that you end up being one of the last ones leaving the plane - not that I'm in a particular hurry today. Bye: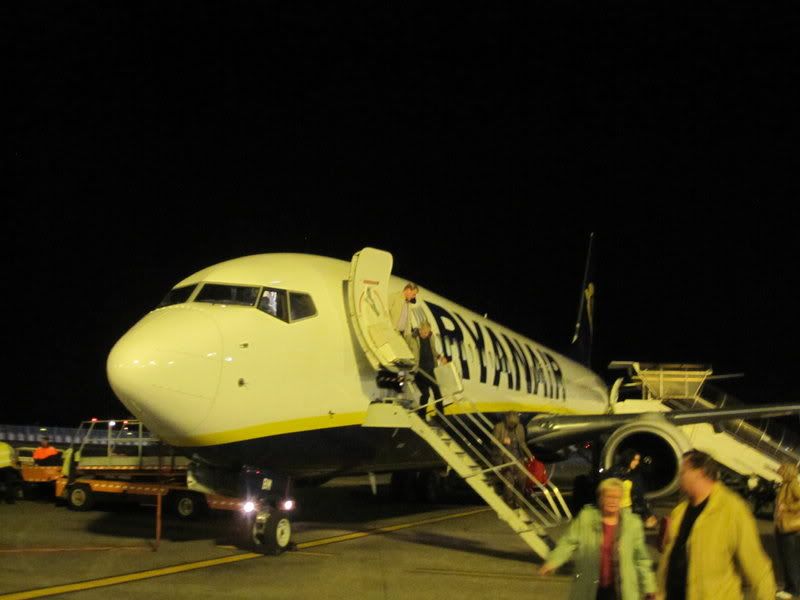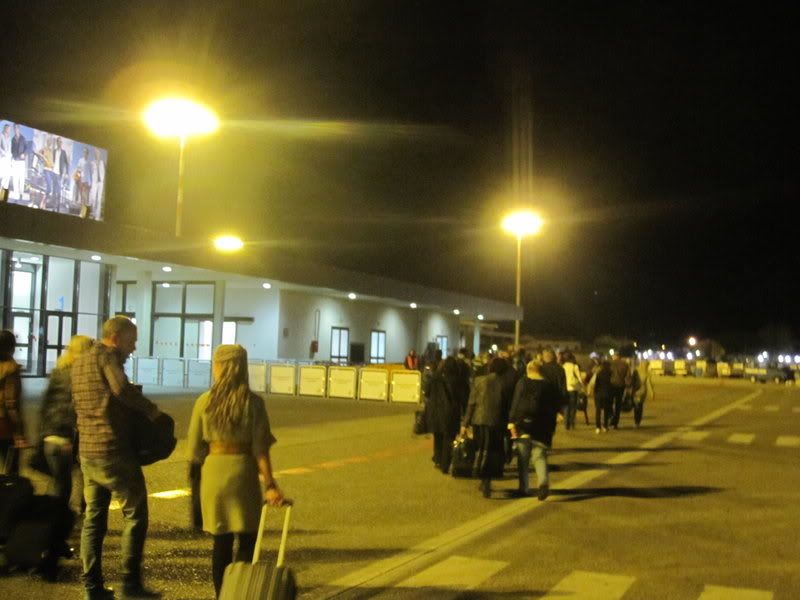 Pisa
The terminal: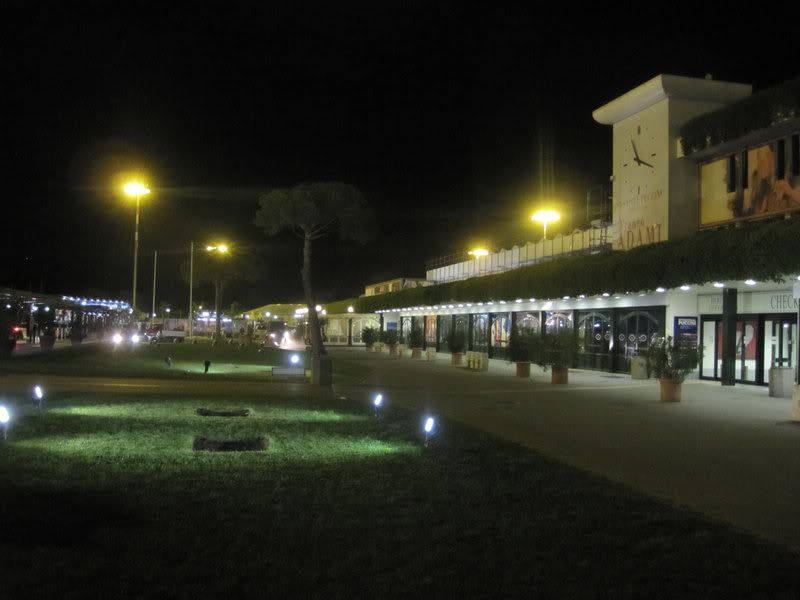 My B&B is supposedly within a walking distance from the airport - too bad the map I have doesn't exactly tell you how to get there and being a Finn and thus stubborn as hell I refuse to read the directions in my booking confirmation. I make a couple of detours via some dodgy looking streets: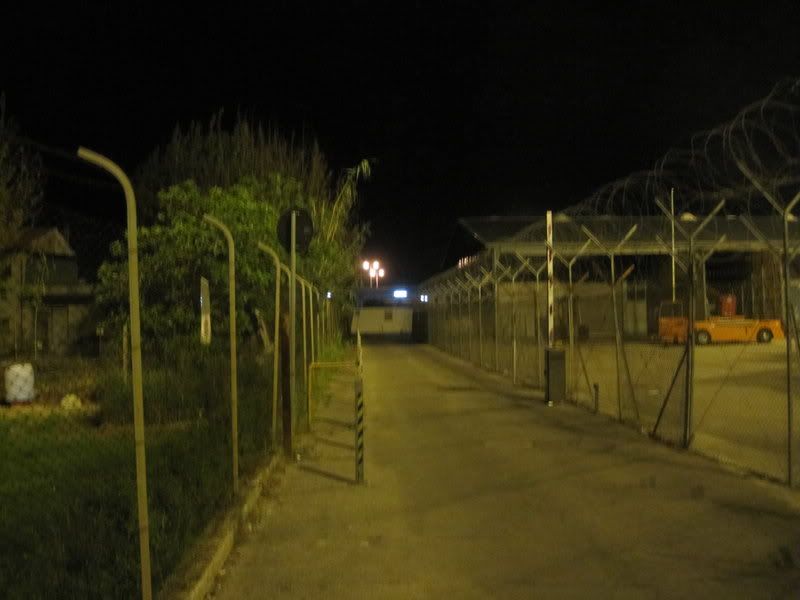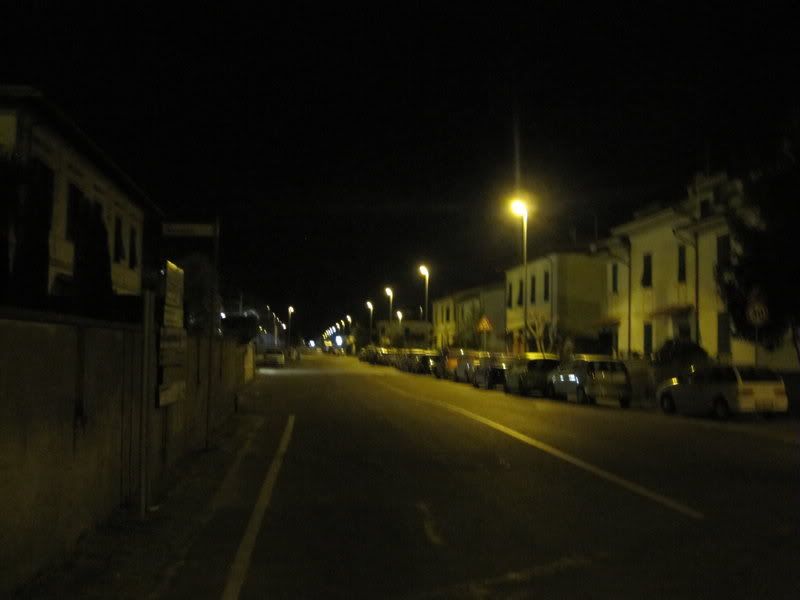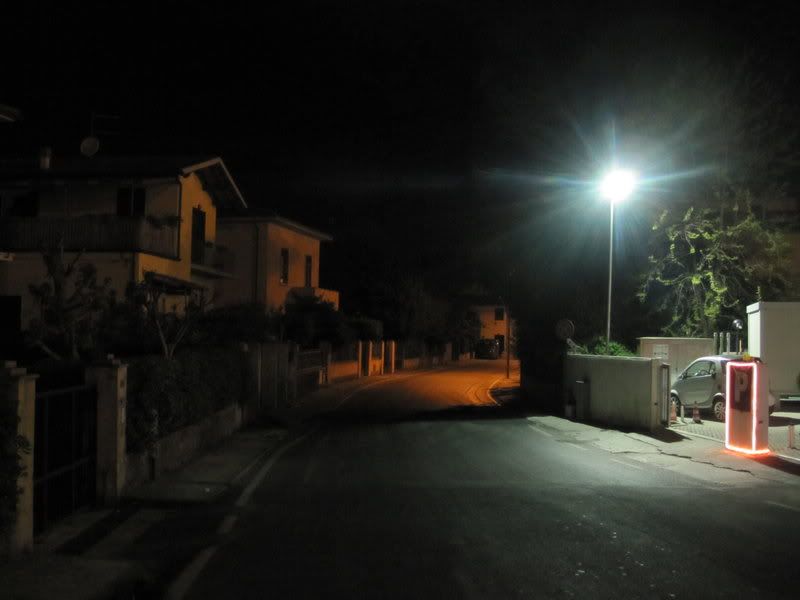 But finally reach the right house: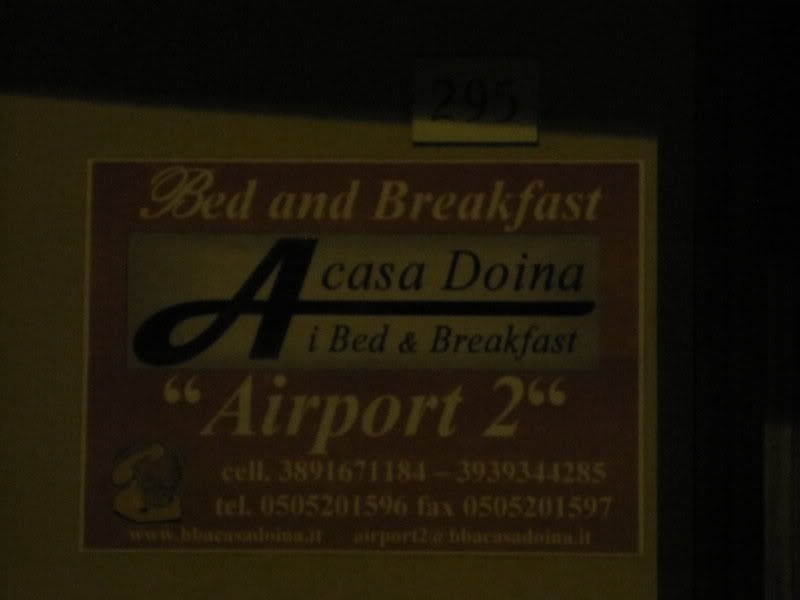 It's completely dark, so I push the door bell. Mild panic follows as nothing happens despite me pushing it many times. I'm already making backup plans in my mind and hoping that the airport stays open throughout the night and reaching for my mobile to call the B&B number when a car pulls in, the driver opens the window and asks "Mr. Flying?" (yeah, he got my first and last name mixed up
). Phew! It turns out he was actually picking up some other pax from my flight.
All the guests for the night are Finns, and all arrived on the same flight from TMP - a nice coincidence methinks!
This is my room - quite cosy: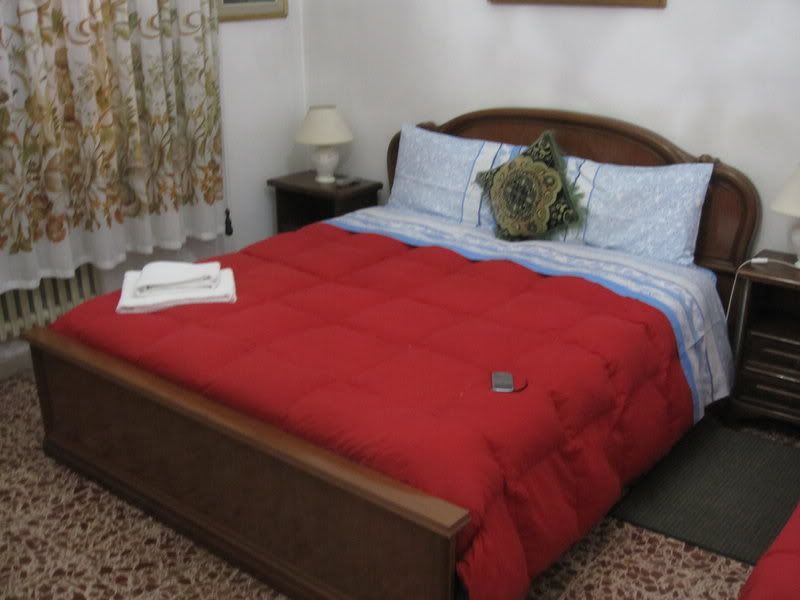 Interesting chandelier: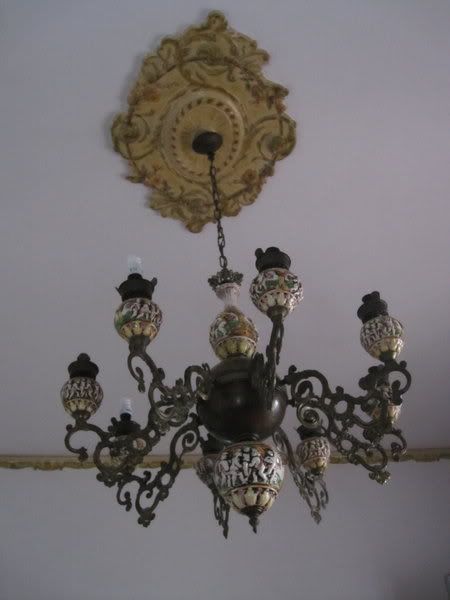 Thursday 14.4.2011
Next morning I wake up around half past seven, shower up in the shared bathroom and hit the kitchen for some breakfast which I asked to be ready at eight. A very friendly, youngish Italian girl is there, probably the owner's (the guy from last night) daughter - she's very sweet but unfortunately her English is just as bad as is my Italian so communication is a bit tough. Soon a Finnish family of four (with the teenage sons acting exactly like you'd expect teenage sons to act - i.e. obnoxiously!) joins us so the awkwardness passes (not that a Finn ever feels awkward at sitting in a silence with other people - that's our natural trait!
).
After a cup of so strong Italian coffee that it is probably outlawed in half the US states and Singapore (and therefore I like it a lot!) and some sickeningly sweet things I grazie my way out of the kitchen, pack up and hit the road again.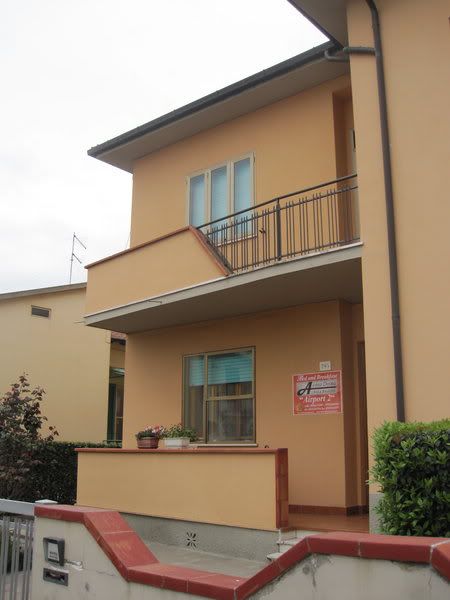 It being daylight I realize that there is a far more direct route to the terminal, only two hundred meters or so, walking along the railway station platform.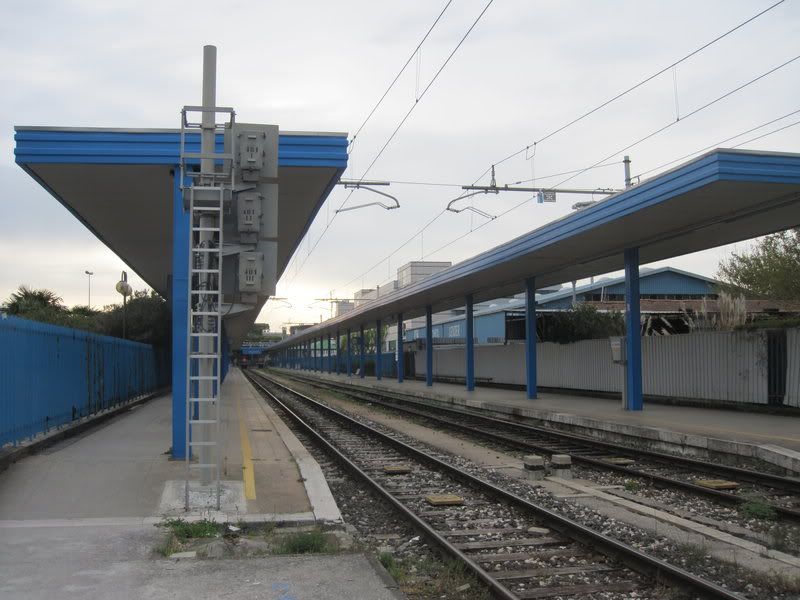 Windjet, oh yeah: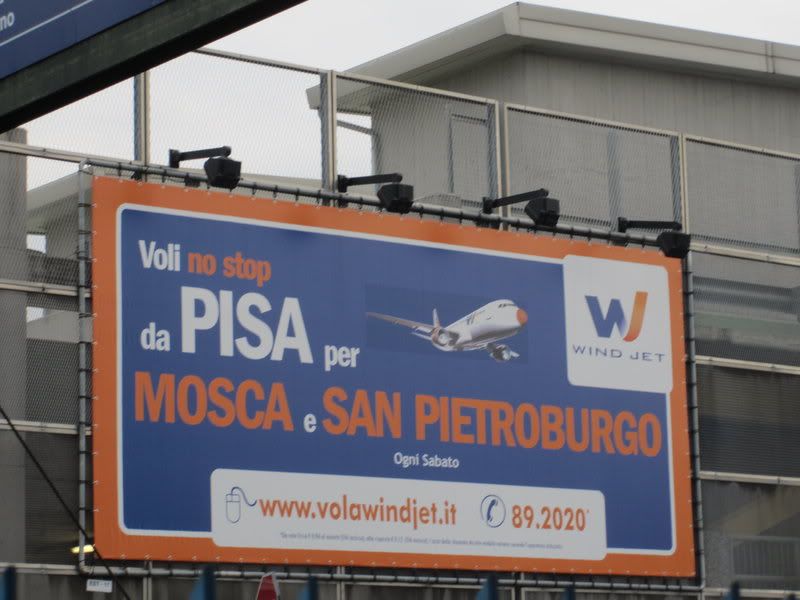 Despite being around two kilometers from the city centre this airport actually has a railway connection to the Central Station with some trains continuing to Florence as well. I'm not sure who came up with the train timetables, but they are completely messed up - at this hour you have two trains per hour, which leave within 20 minutes of each other - now what an earth is the logic behind this? A job creation scheme for the bus and taxi drivers?
The tracks stop here: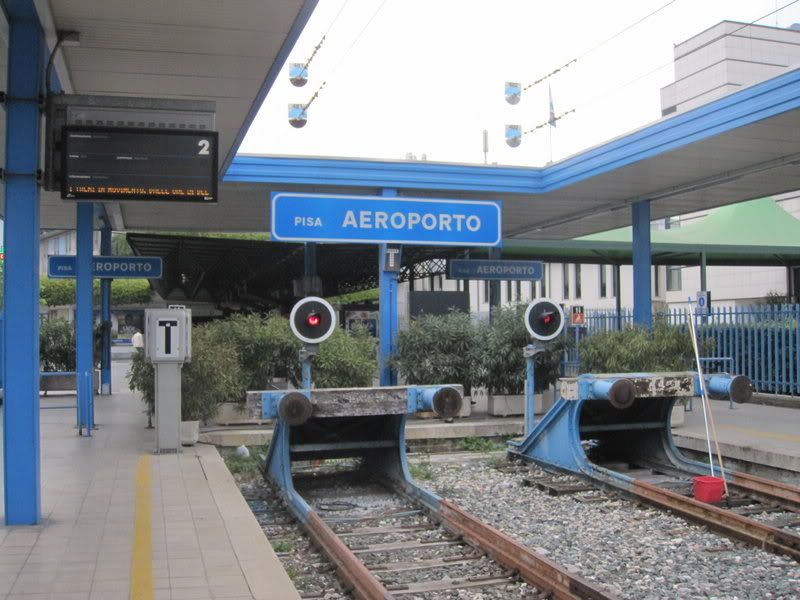 Well, it being more than half an hour til the next train I decide to take the bus instead. Buying a ticket turns out to be quite an ordeal - the ticket machine at the bus stop has a two Euro coin stuck in its slot so I'm unable to use it. With my keys I actually manage to grab the coin from the slot, but the machine still doesn't want to accept any smaller coins - at least I gained 2 EUR!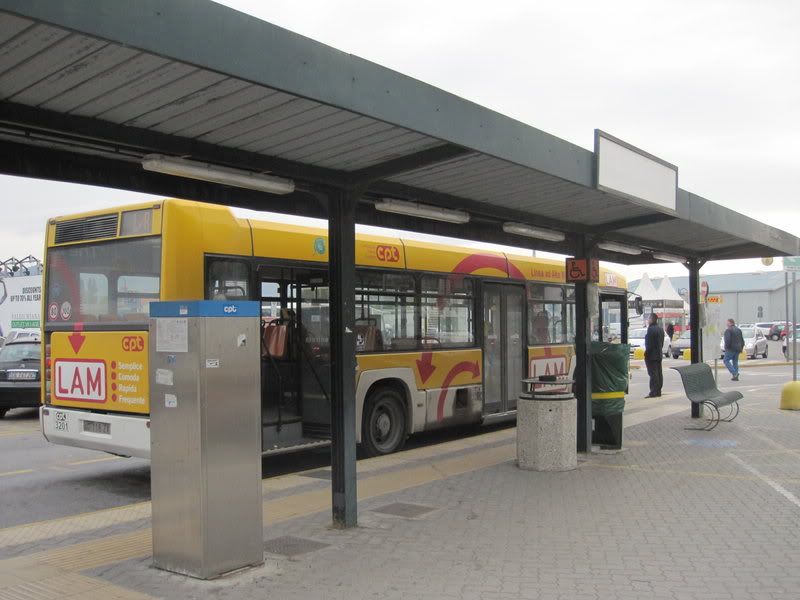 The bus driver advices me that one can get tickets from inside the terminal as well. Yes, there is a combined train/bus ticket counter but it has a long queue. No other choice than to join the queue and more than ten minutes later I finally get my precious bus ticket. 1.10 EUR, not bad at all!
Hmmm: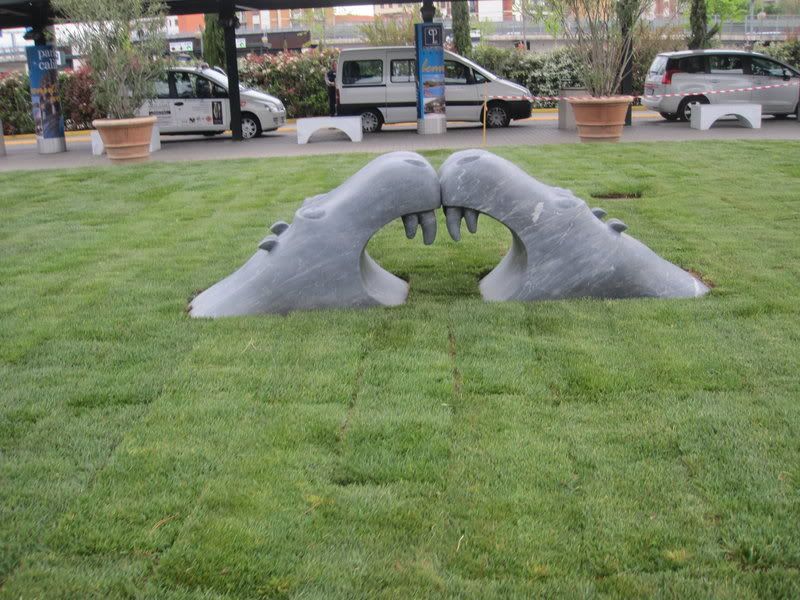 The bus ride to the Stazione Centrale takes less than ten minutes, it indeed is very nearby. From there, I head to explore the city.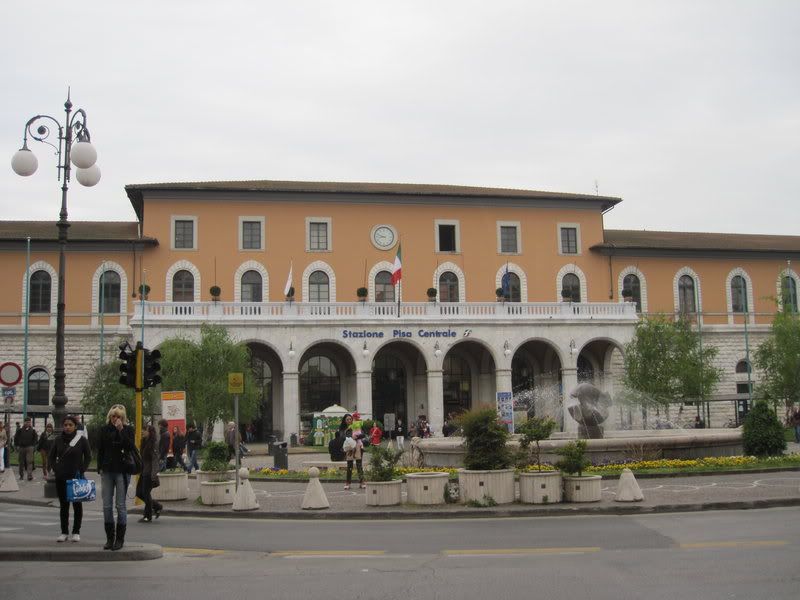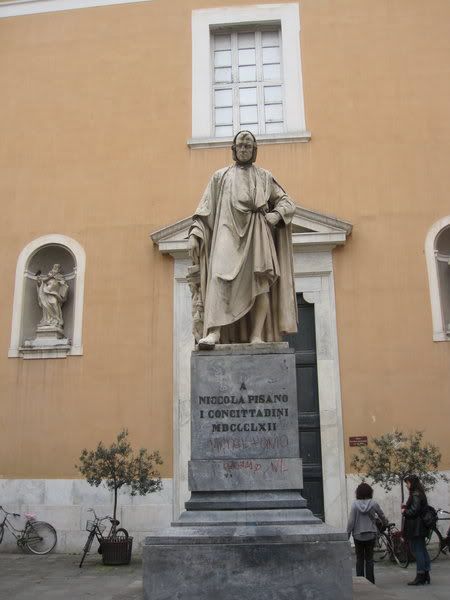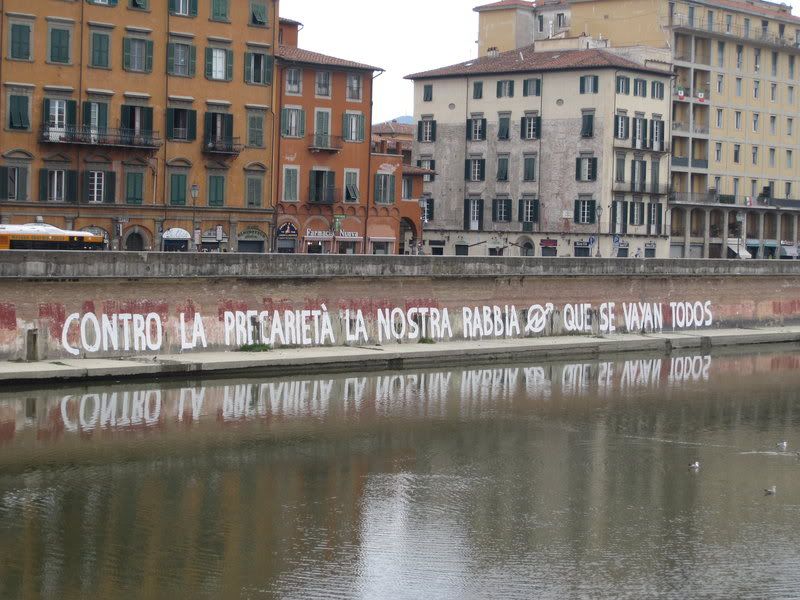 The Arno river flowing through the city (and Florence further upstream as well):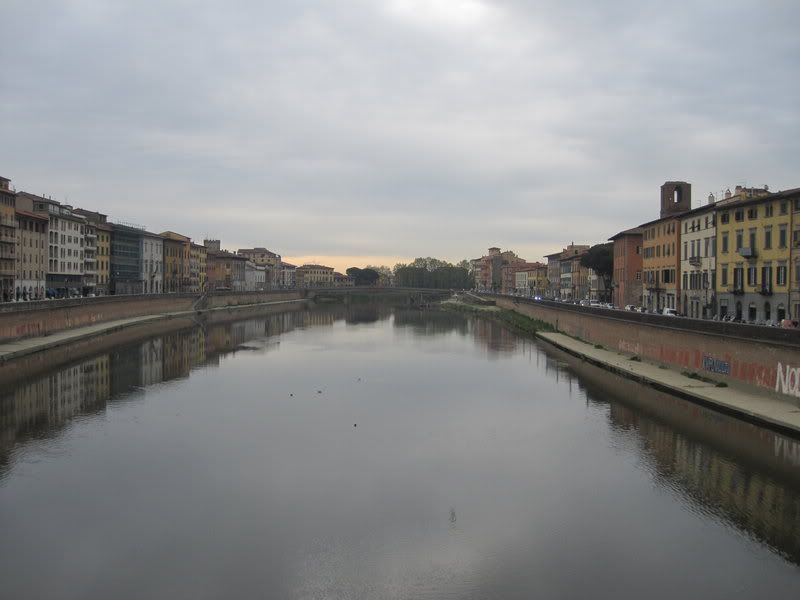 Handy, they put a target mark right in the middle of the bridge should there be a need to bomb it to smithereens from the air: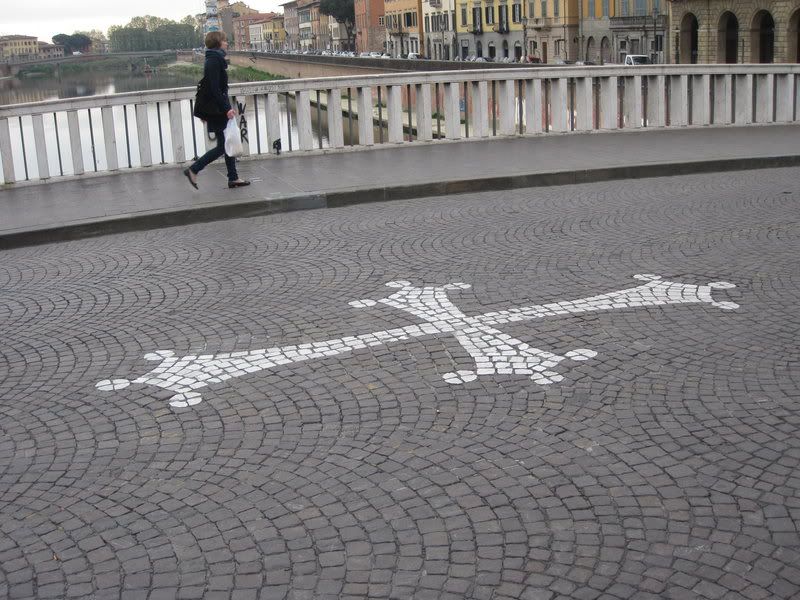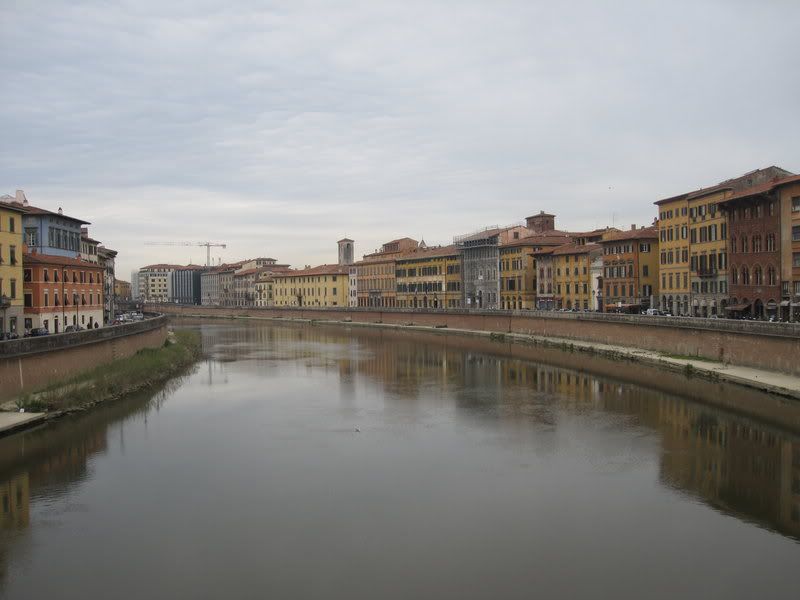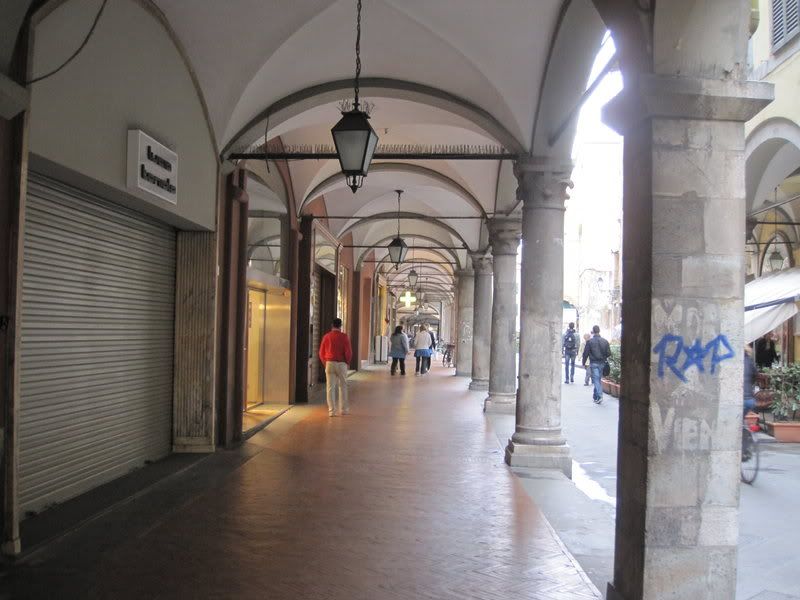 I know Italians have a thing for socialism, but this is just ridiculous: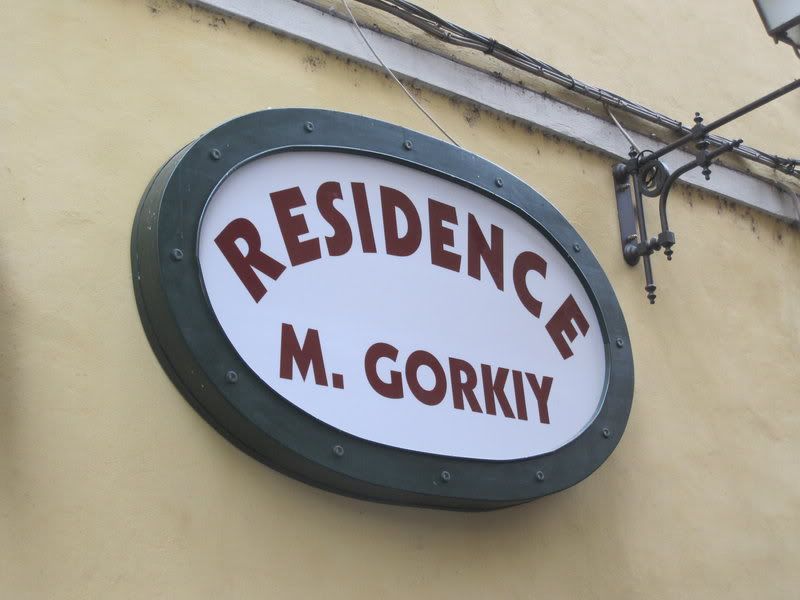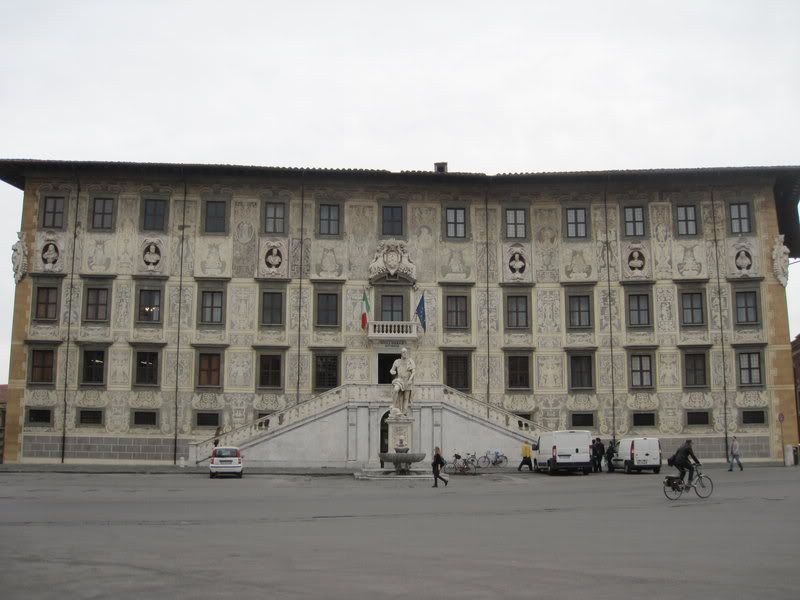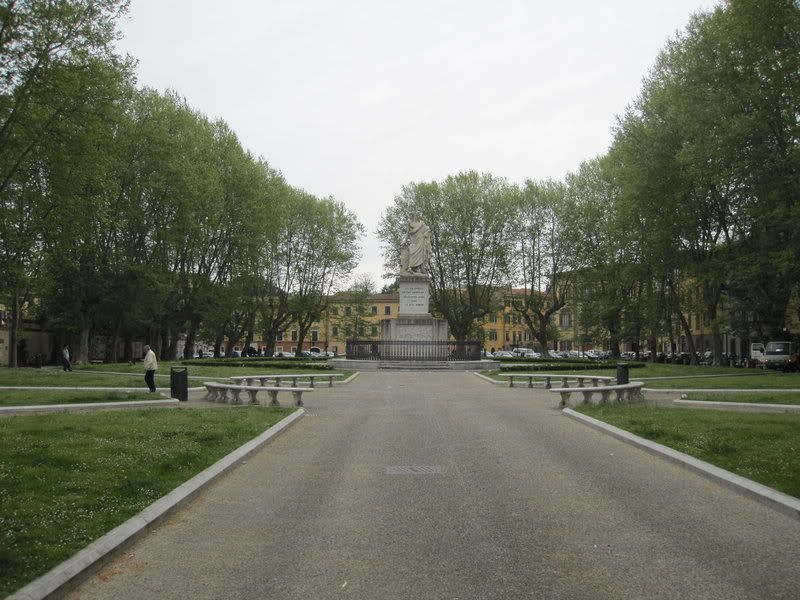 Part of the city walls from outside:
Hmm, that house is quite short: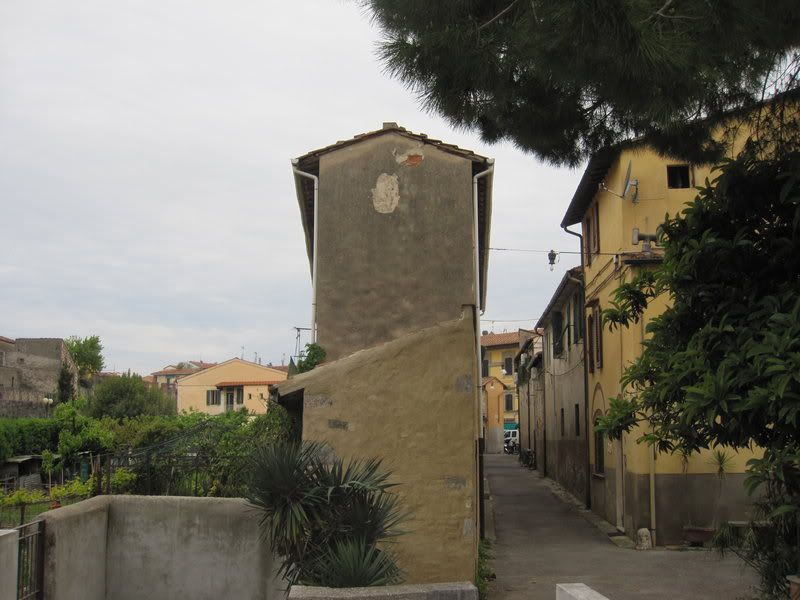 Ok, that looks somehow familiar:
Getting nearer: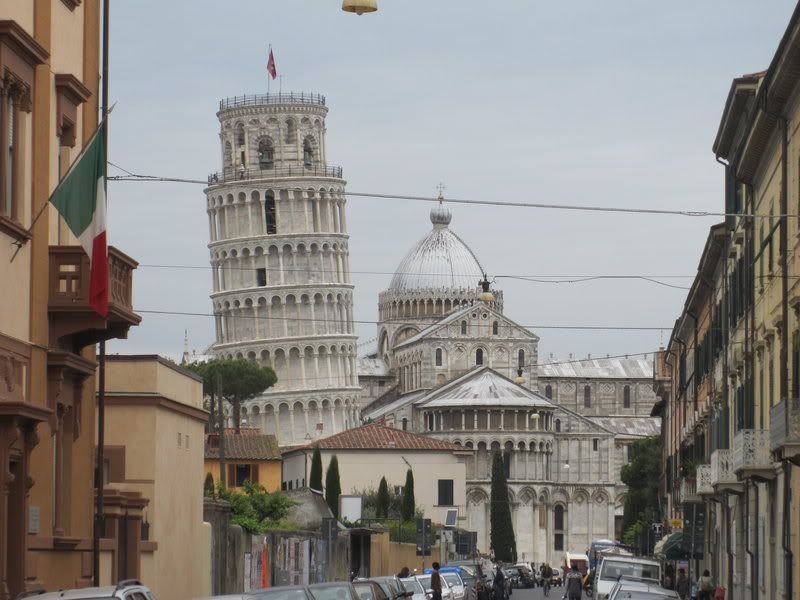 Oh yes, mission accomplished: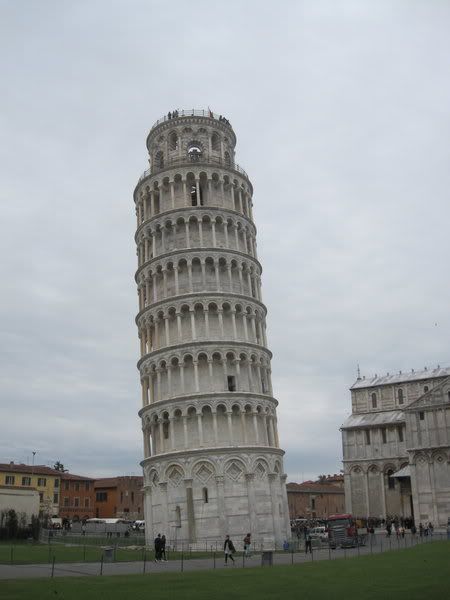 Didn't bother going up - you need to get a queuing number and the climb up the stairs scared me. Plus it is a bit pricey: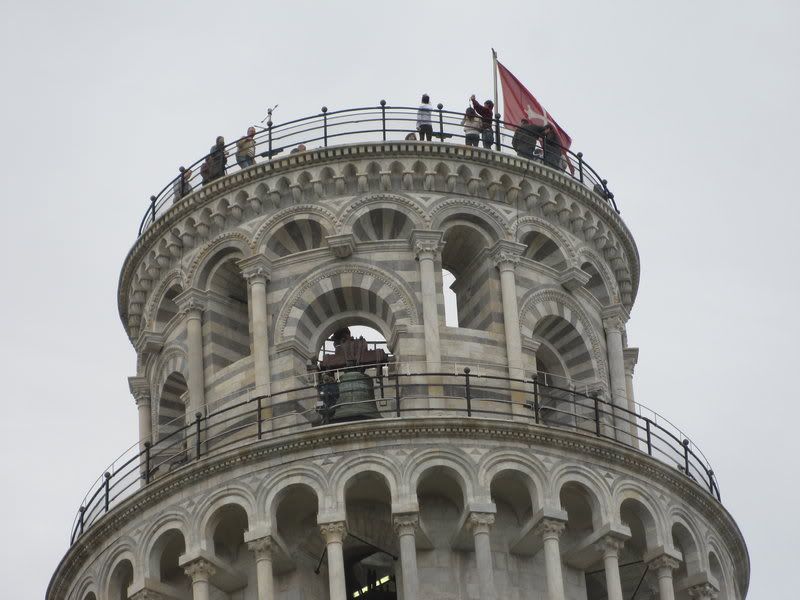 The cathedral - the tower is actually its bell tower: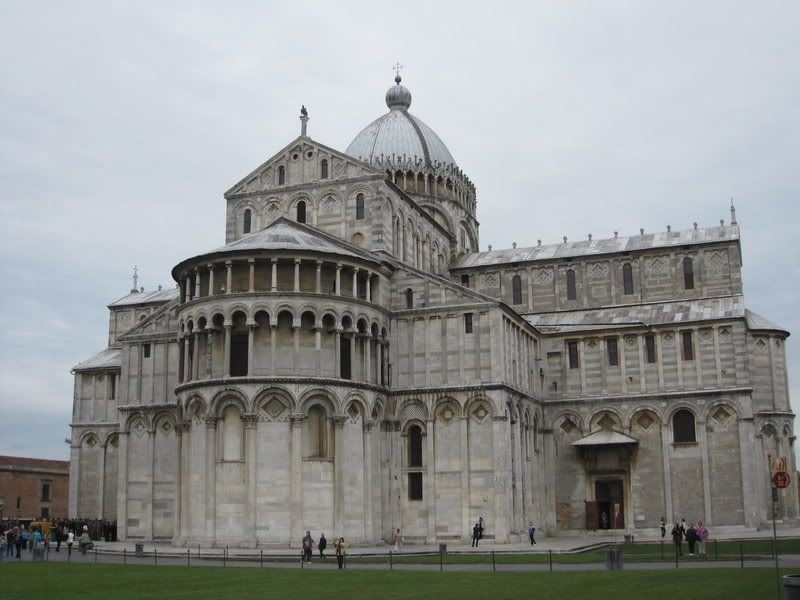 The Baptistry:
Looks like they did a better job with the cathedral - doesn't appear crooked to me: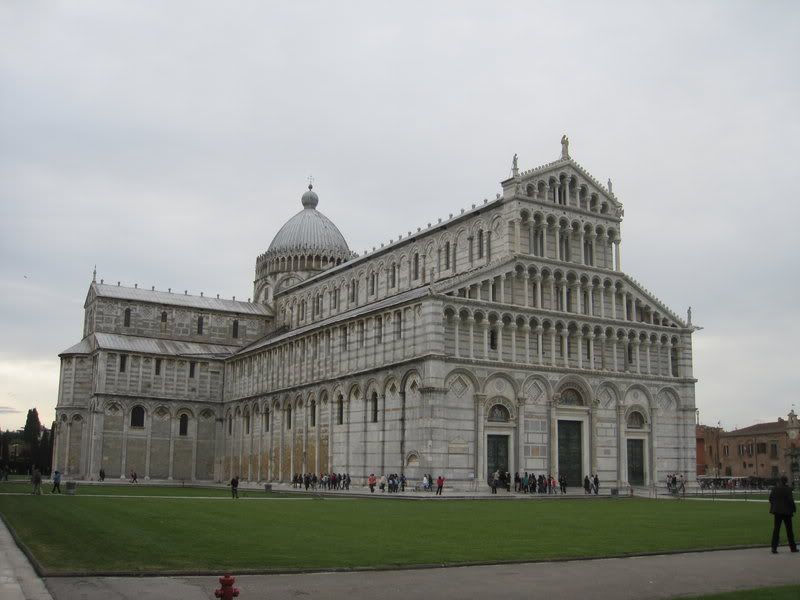 Lots of military personnel around - I guess there was some sort of thing about to start:
Posing for the most cliched of all photos: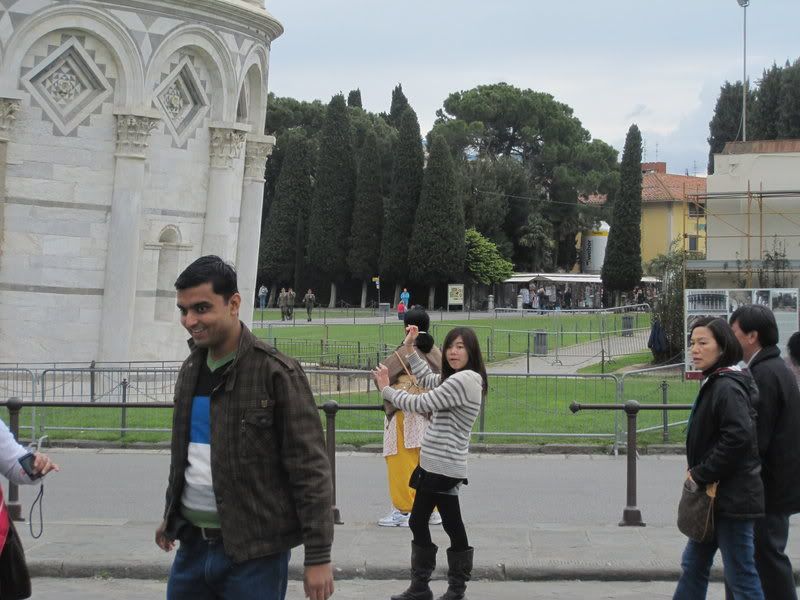 Quite a lot of tourists (and souvenir stalls!) around: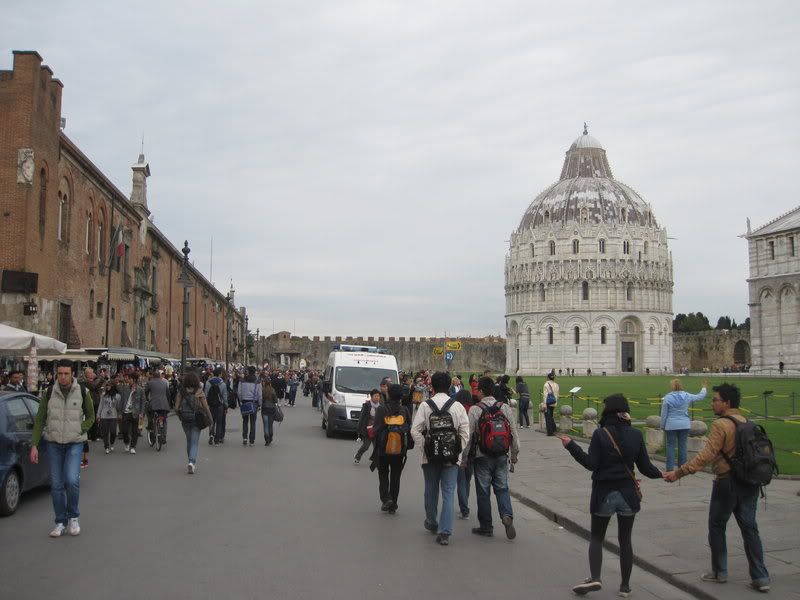 Ahh, Italy & coffee:
Palm trees, nice: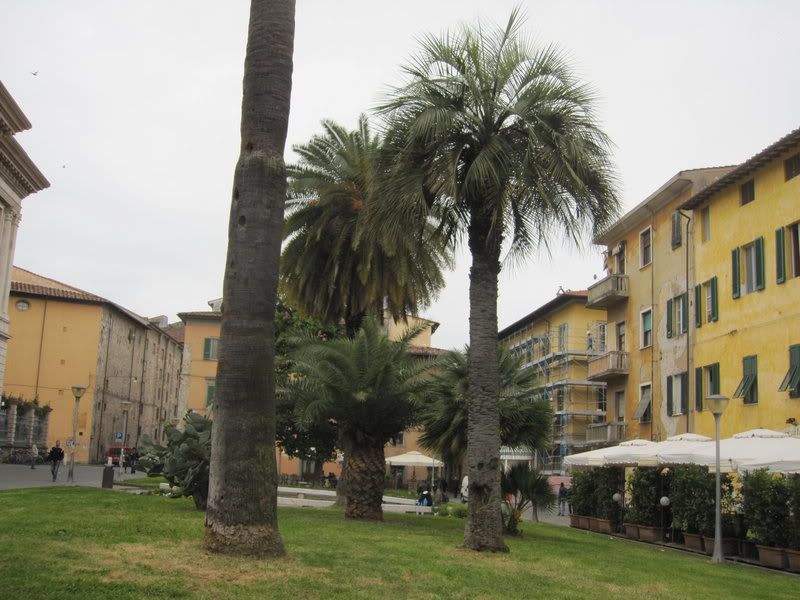 University courtyard - a number of students looked at me funnily for taking photos: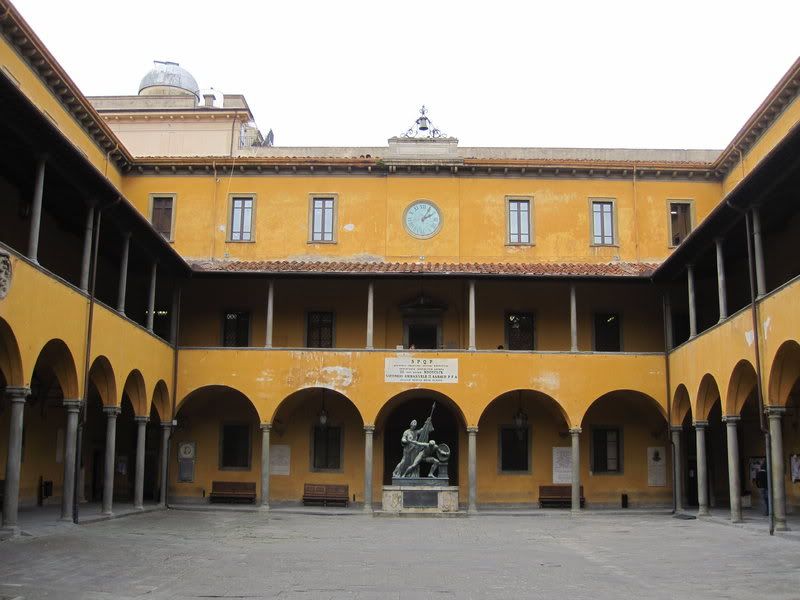 Is it still used by professors: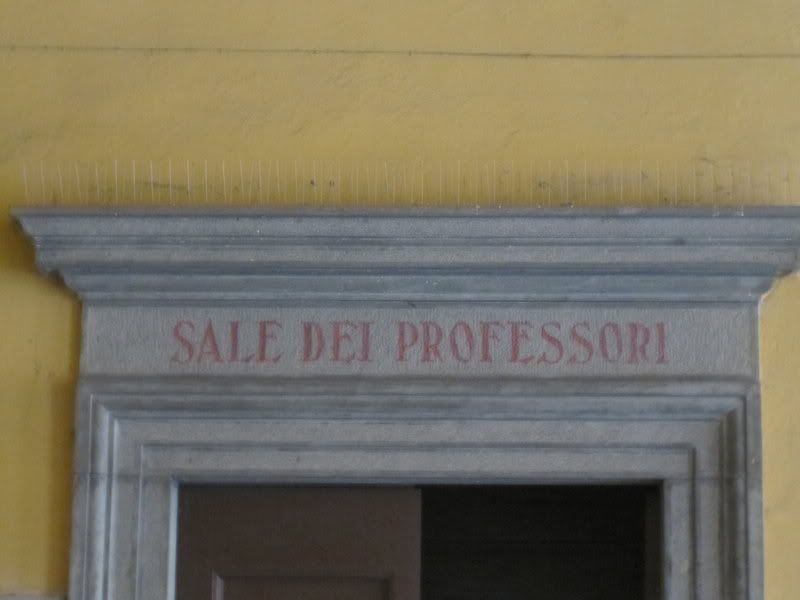 Hmmm:
What's this - a drive thru church?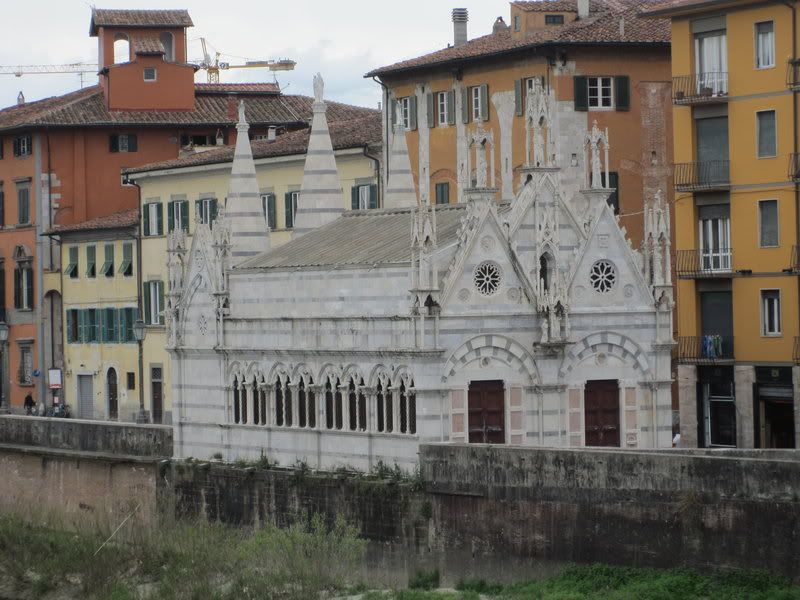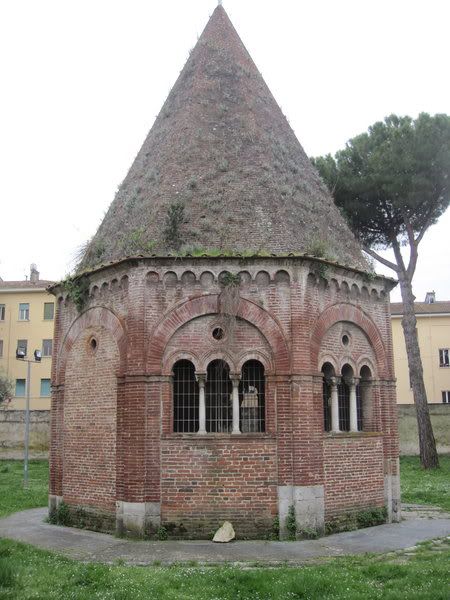 There were quite a lot of these Hercules planes taking off and flying around - I also saw quite a bunch the last night at the airport. Wonder if it has something to do with the NATO fiasco in Libya: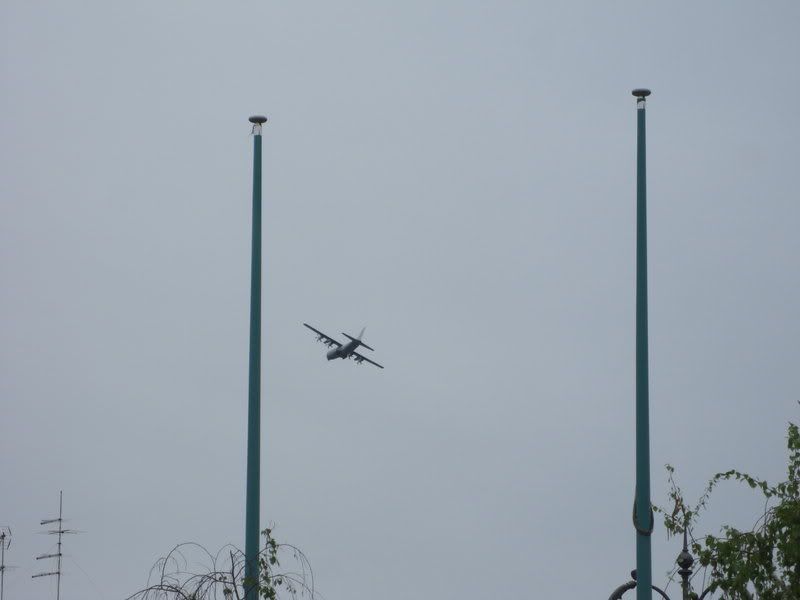 Having exhausted pretty much everything Pisa has to offer I'm back at the station, determined to ride out the train this time. For a while I thought about walking back to the airport, shouldn't take more than half an hour or so, but laziness won over (plus the fact that my feet were killing me after walking around the city for many hours).
Interesting painting inside the station: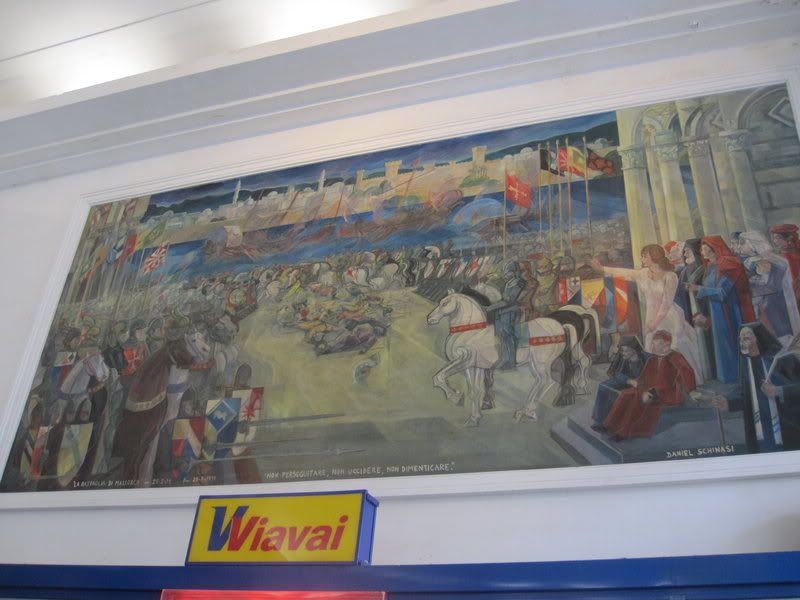 A cute small train, but quite ancient and appallingly dirty and worn out: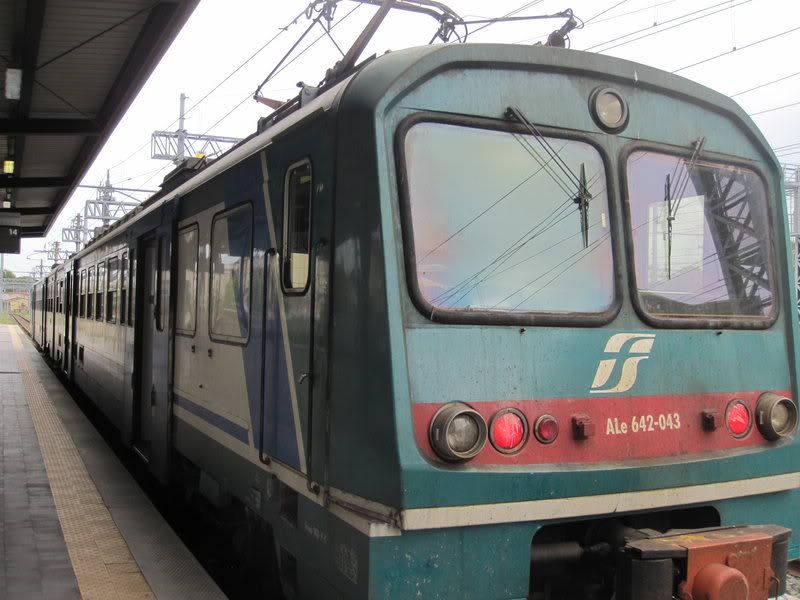 The train ride is fun, it takes around three and half minutes to reach the airport station. Fare was the same 1.10 EUR as for the bus ticket.
Pisa Airport
The terminal building feels old and quite stuffy: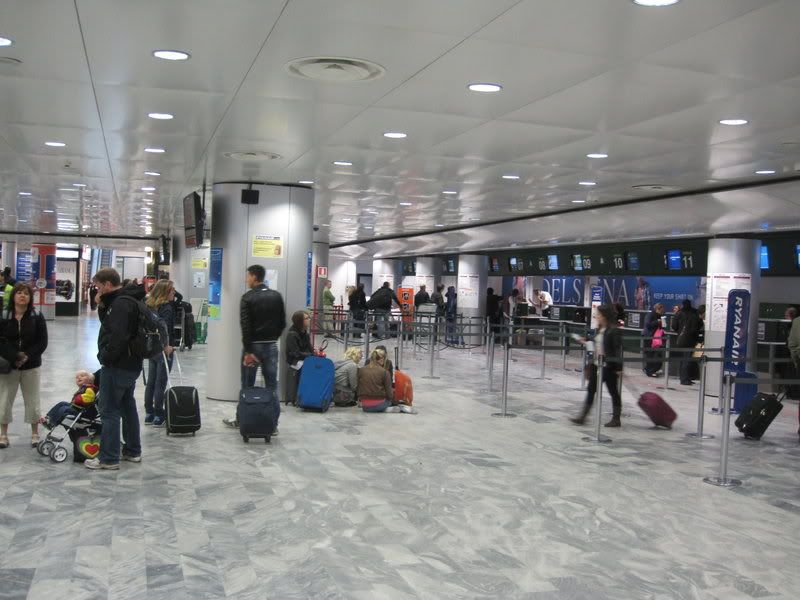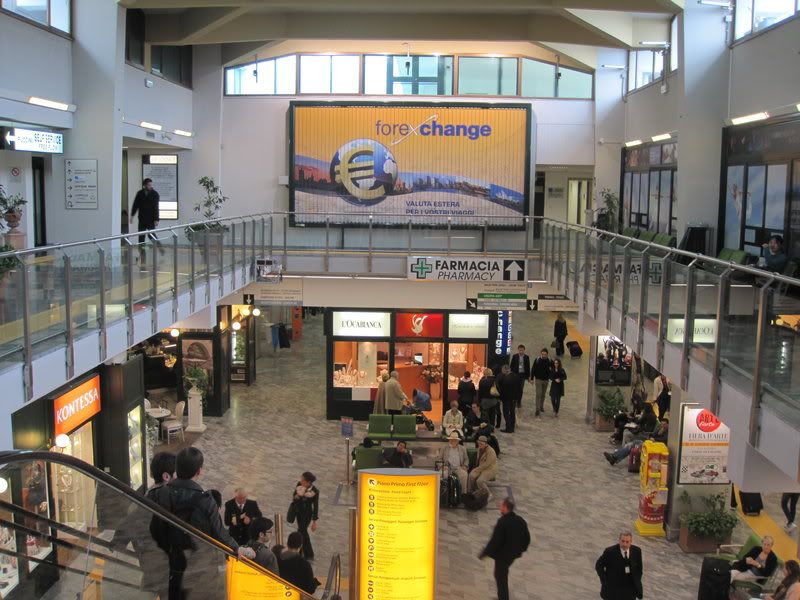 It being around lunchtime I head upstairs where there are a couple of decent looking restaurants. I end up in the one that seems to be very popular with the airport workers - always a good sign that the food should be good value for money. Indeed my gnocchi Bolognese turns out to be exactly that: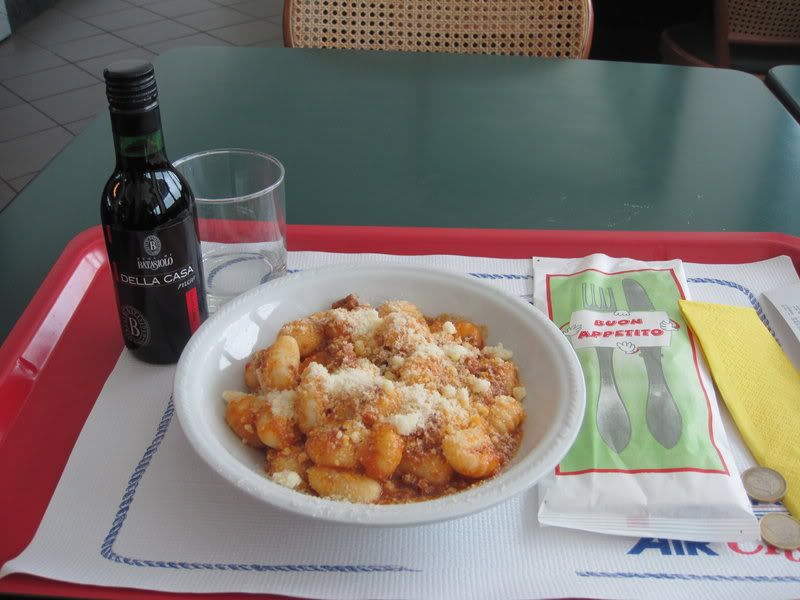 Then I'm off to find the lounge - according to my information it is landside, but where it used to be there's a sign saying it has moved a couple of months ago and is now airside, behind security. So that's where I head next. Airside looks quite claustrophobic with lots of shops and bars packed in a small area together with plenty of passengers everywhere.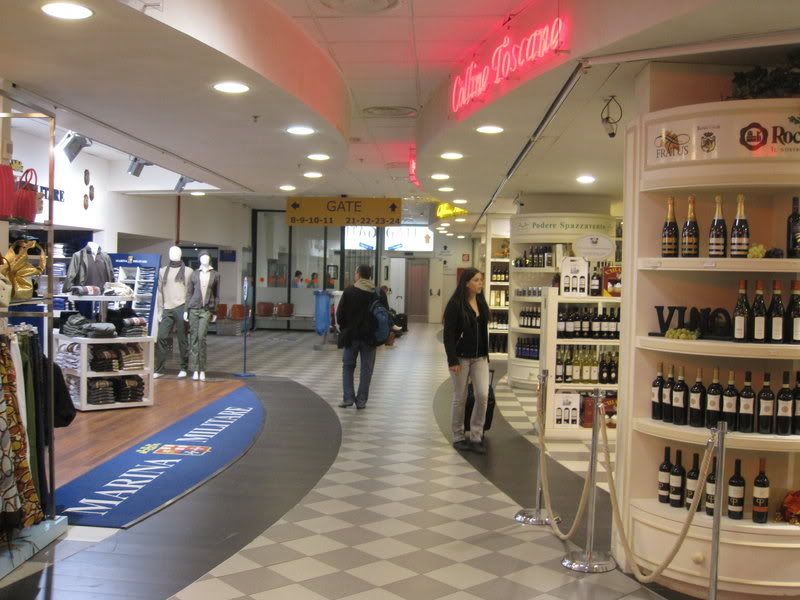 Is that supposed to be funny: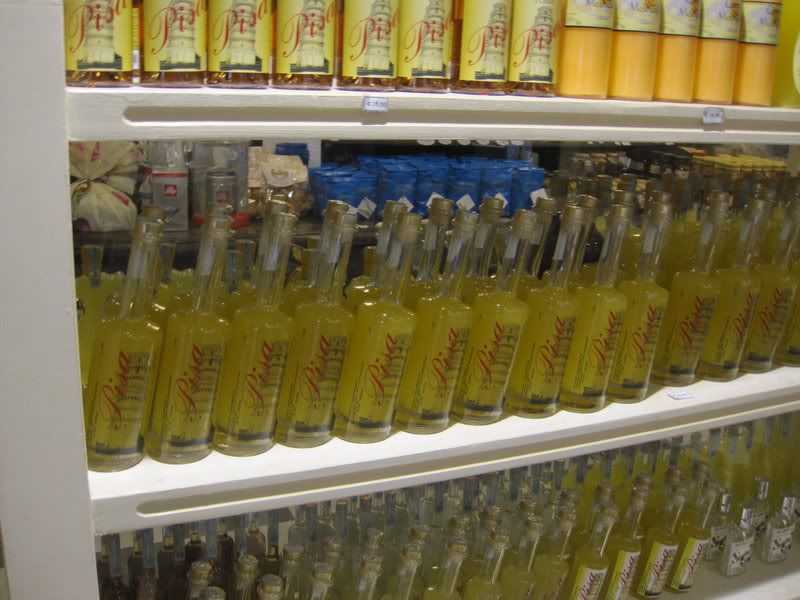 Interesting to see Edelweiss operating a flight to HEL. London seems to be a popular destination here: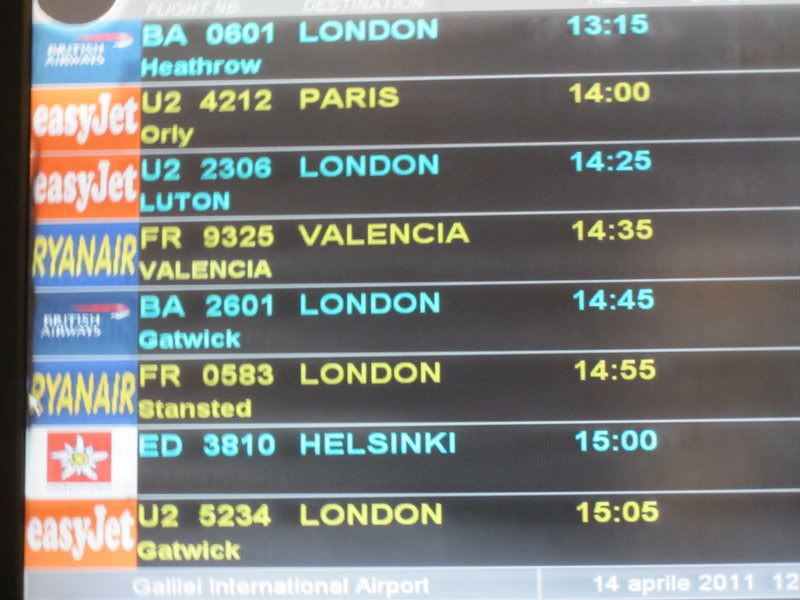 The entrance to the lounge on the second floor near the entrance to the non-Schengen gates is less than inviting: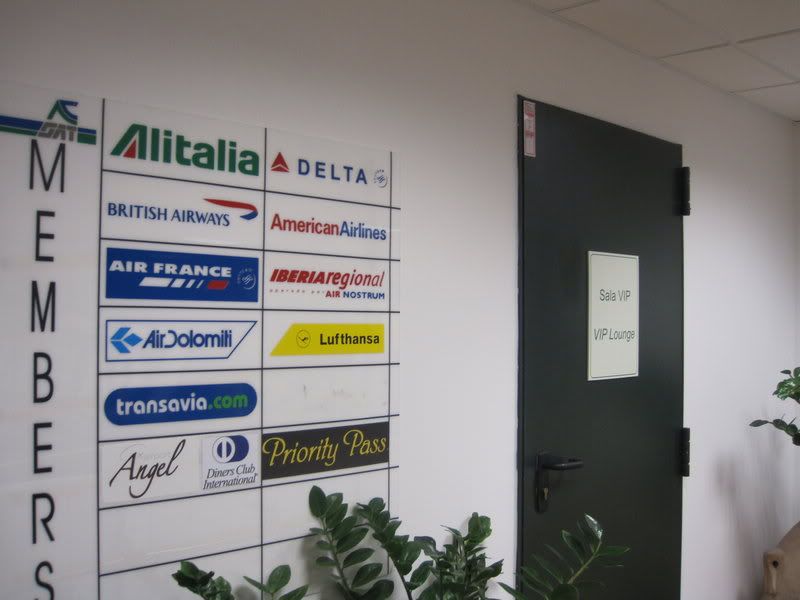 But inside, much nicer:
Some promo material for local wine growers: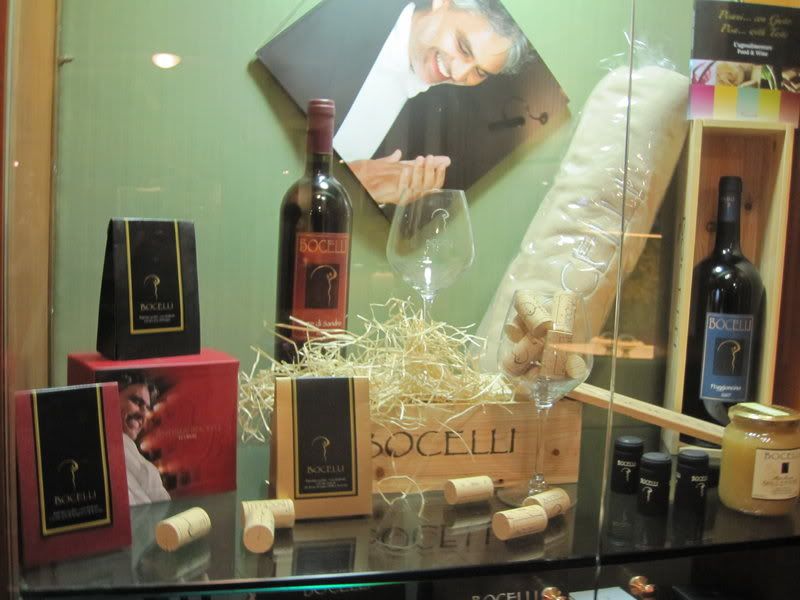 Initially it is almost standing room only, but after a LH flight to MUC and an IB/Air Nostrum to MAD depart most of the pax leave and for quite some time I have the whole lounge to myself until a couple of Brits arrive. The sole attendant has some trouble keeping up with the trash collection: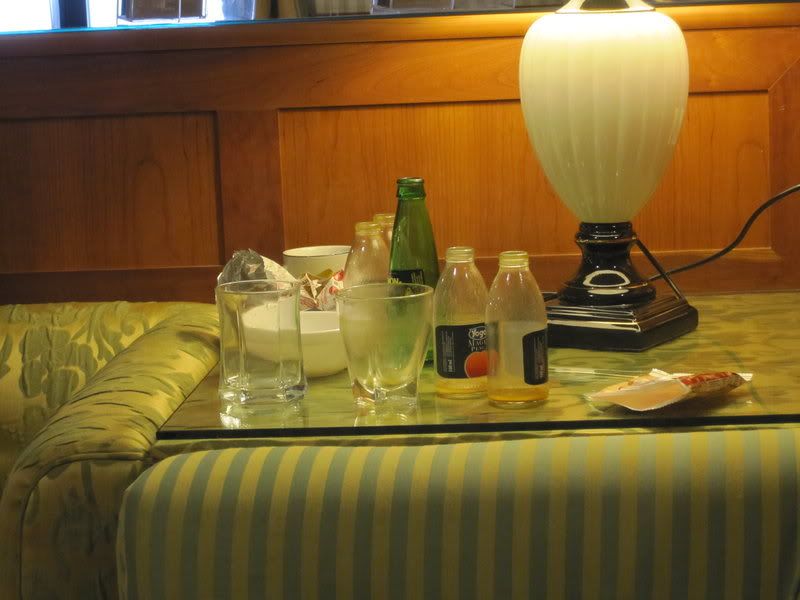 The drink offerings are quite impressive: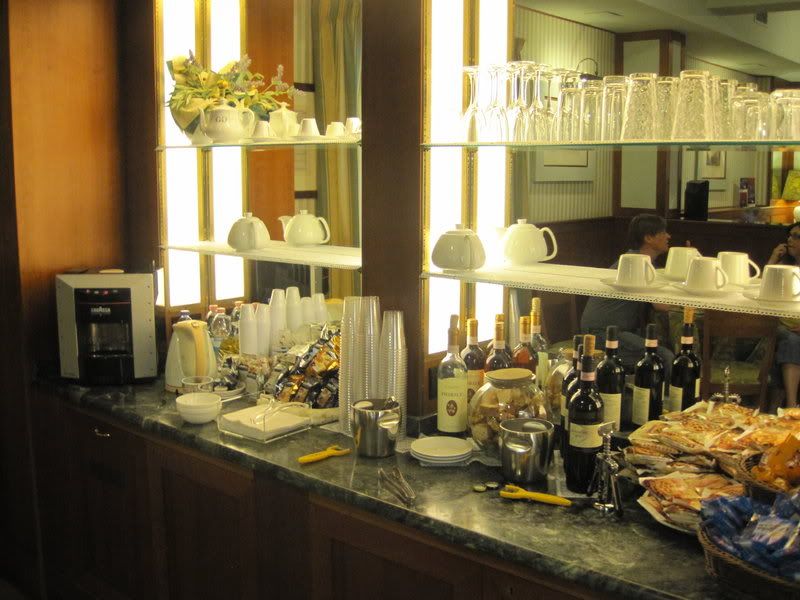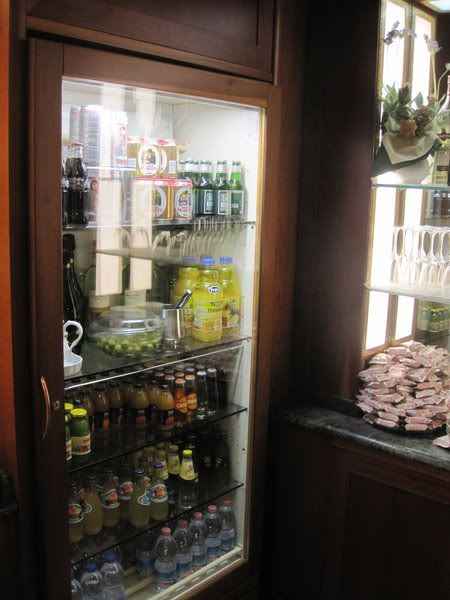 Not much food though, just some prepackaged sweet things and nuts and crisps.
Yay, more stuff more my collection (too bad these things weight a ton and take up a lot of space!):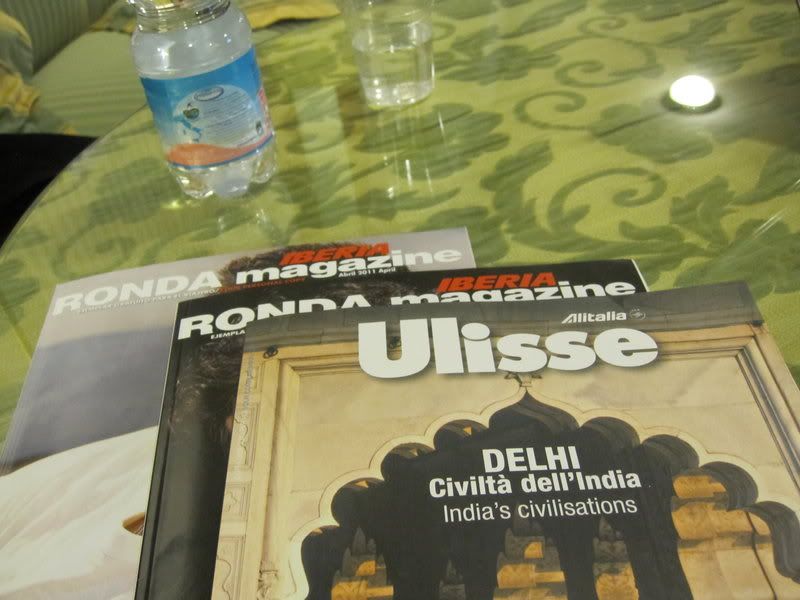 The bad part about this lounge is that there's no free wifi, so I have to spend some money for an hour of internet time.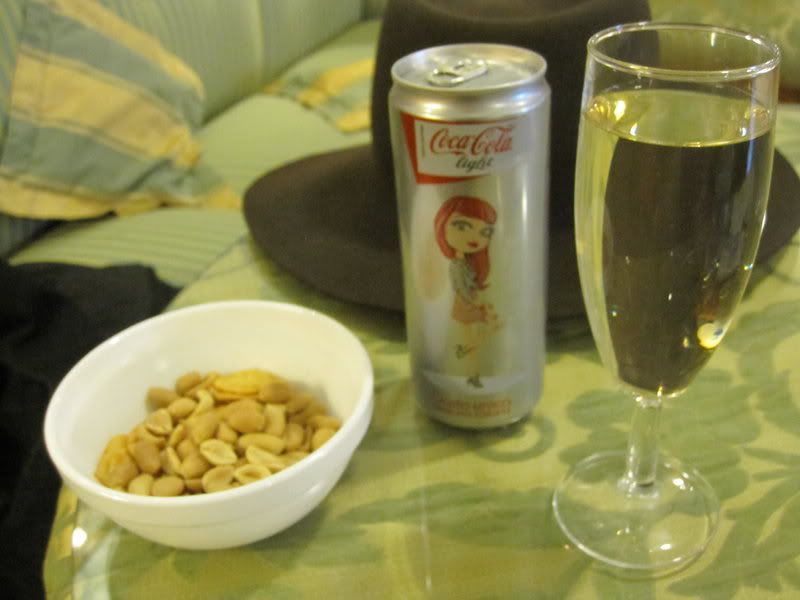 Time passes when you are having fun (or drinking free beer), and eventually it is time to head to the gate. The first thing I see in the departure hall if a mass of Finns, all looking a bit frustrated and angry and all of the "organized tour" type. The explanation is here: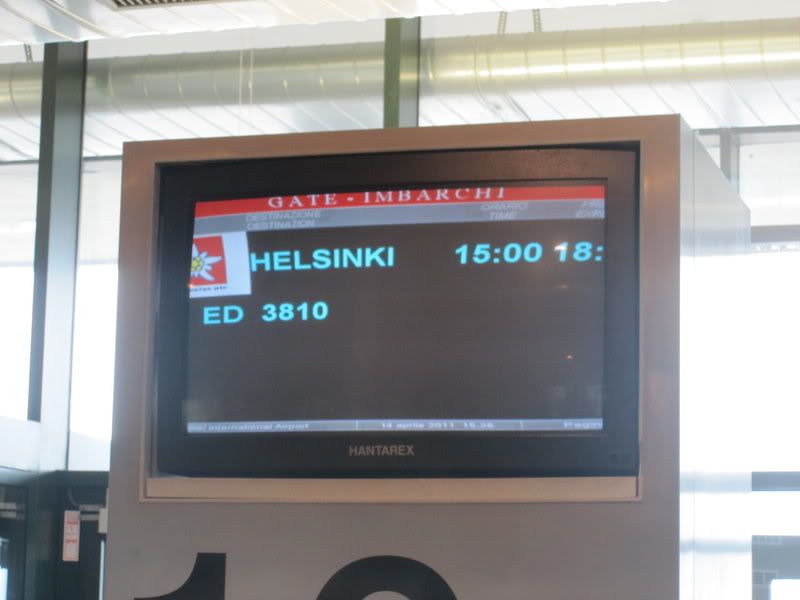 With a more than three hour delay I'd head to the city for a couple of hours, but of course these are the kind of people who would be lost and scared without the safety of their tour guide and bus, so I guess they'll just have to rough it out at the airport. I hope Edelweiss (or their handling agent) was at least decent enough to hand out some food vouchers...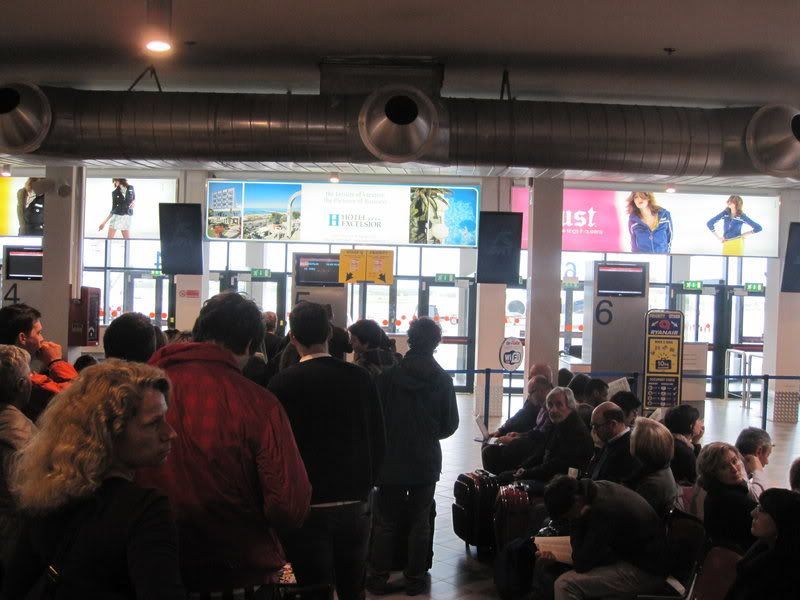 There's already quite a queue at my gate, so I decide to join it. The place is packed with people and very cramped - and everybody is of course already queuing for their flights - not very comfortable at all. I spot the inbound landing around half an hour before the SDT, and after it stops in front of our gate I see the reg: G-EZAI, your bog standard Ezy A319, but at least it's a new one for me.
They seem to have some trouble getting the stairs to the plane so it takes a while before the inbound pax can get off. At some point boarding is called, and as expected is another very chaotic affair - there are no clear queues and everybody is just pushing and shoving. What's even more annoying is that we don't really board yet, people are just crammed in a tiny holding pen between the gate and the apron and once that becomes full the progress just stops. Very annoying and frustrating.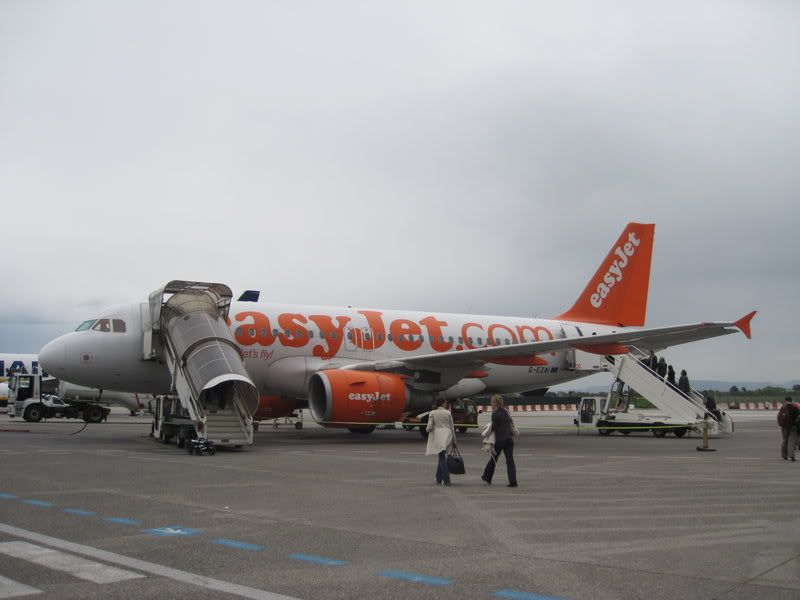 Finally after a while the doors are opened and the mass explodes out to the apron. I pick the back stairs, deciding to do without an exit row seat this time: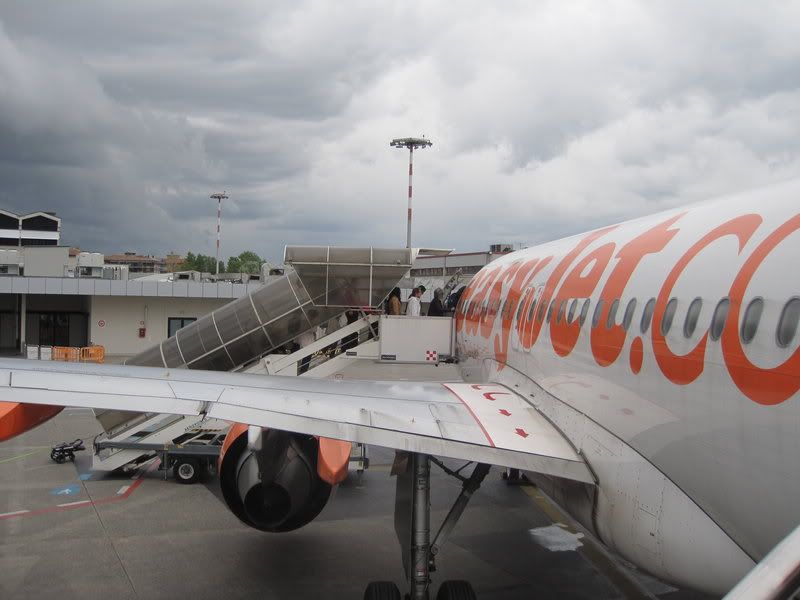 PSA - SXF
U24582
A319 G-EZAI
Seat 21A
16.35 - 18.22
The weather forecast mentioned some showers - luckily up until now the day had been dry. But it is drizzling now and these clouds look very wet: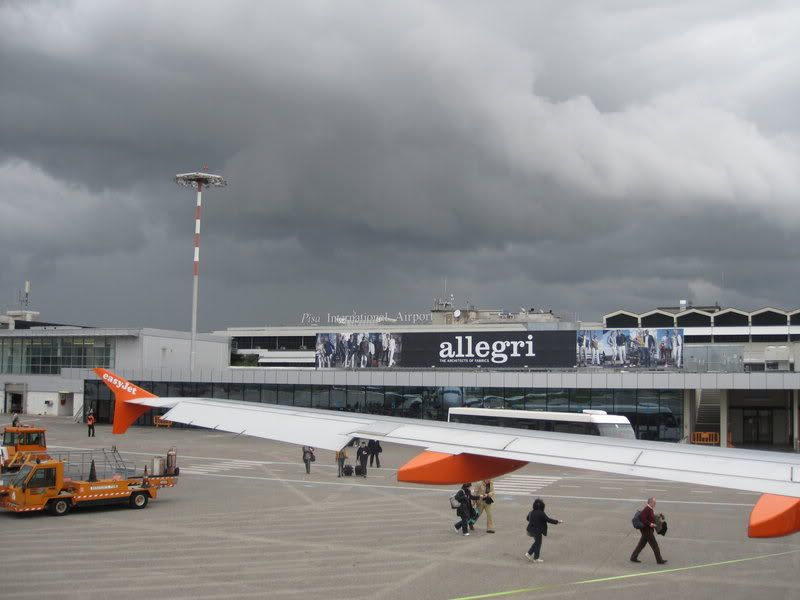 I grab a window seat somewhere in the back. I soon get an Italian young couple as my seatmates. The load is very good at 95% or so, so not many free seats anywhere, although one of them is right in front of me - yes, you read that right: the old couple in that row are sitting on the B and C seats, leaving the A one vacant. I can't really figure out why someone would want to do that, but hey, it takes all sorts. In all fairness, later during the flight the woman does move to the window seat...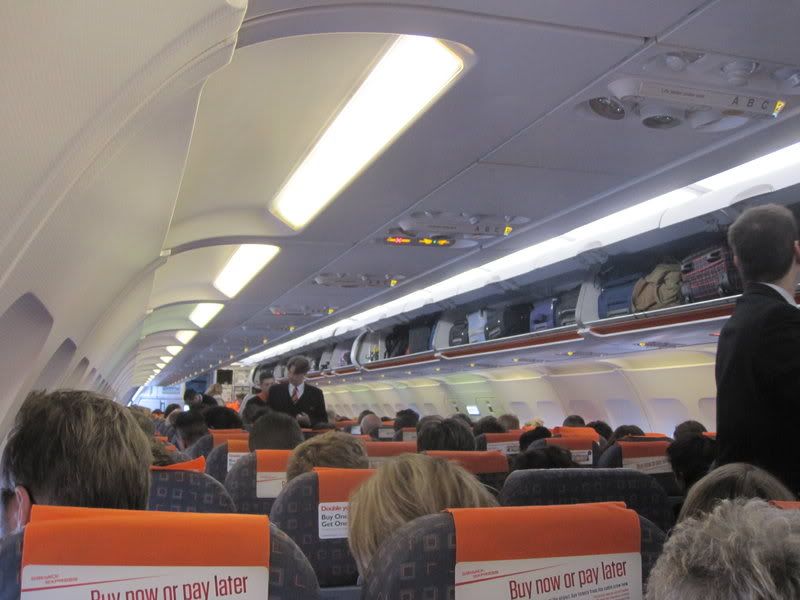 Flight time is announced as 1h40mins, with the captain explaining that we are waiting for pushback and currently number three for that as it is "quite busy here in the Pisa area". Right after this we get pushed back, ten minutes late. Are these numbers one and two ahead of us: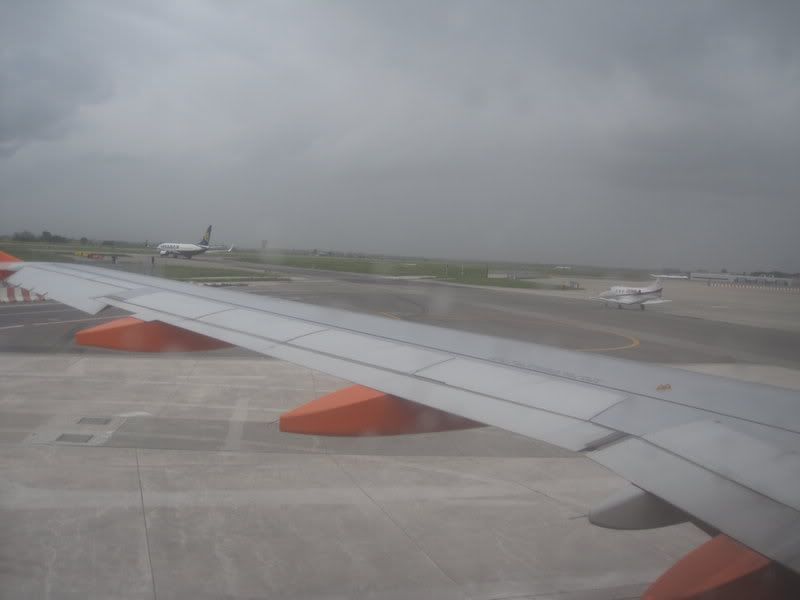 Look closely - those two FR birds are going against each other: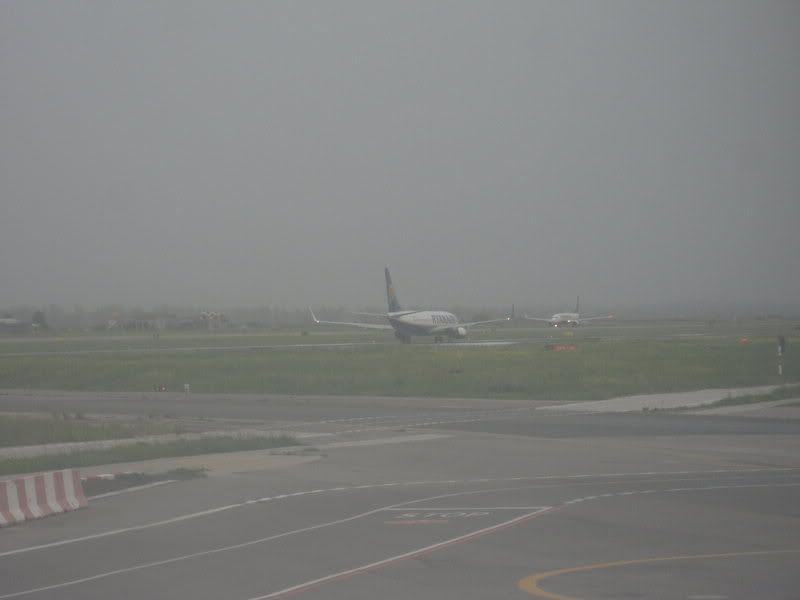 It looks like there was a runway direction switch - that first bird was taxiing to 04R for departure like all traffic before it, but was told to come back by ATC. The second one which was conveniently located at the 22R threshold got cleared right away and so overtook the prior one...
Top