TRIP REPORT

Manx2: Dornier 228 and Let 410 in one day!
29/30Mar11

Introduction
Flying the Let 410 is something that was always on my mind. It was an idea discussed with like-minded friends for a long time before it could finally be realised. From the beginning, it was always clear that the easiest way to go after the Let 410 would be on Manx2.com. Since Manx2.com also operates a second aircraft type still missing from my log, the Dornier 228, I wanted to try to include this type in any itinerary. This, however, proved to be very difficult. Several planning attempts stalled. Either the fares on Manx2.com were too high on one of the two sectors, or the flights could not be connected to flight to/from Switzerland as a day trip, or I was not available. It became clear to me that it would have to be planned as a two day trip. A friend of mine who was also missing these two types in his log decided to join. This added some pressure on both of us to actually do it and we finally found a date range on which we were both available. We soon also found acceptable fares on Manx2.com's website. We first played around with the idea to fly from Leeds/Bradford (LBA/EGNM) - which is easily accessible from Manchester (MAN/EGCC) - to the Isle of Man (IOM/EGNS) to catch the Dornier 228 and then fly back from there to Blackpool (BLK/EGNH) with the Let 410. A quick e-mail to the Manx2.com customer service revealed however, that the LBA-IOM flight was planned to be operated by a BAe Jetstream 31. This itself of course is an aircraft type you don't get to fly on everyday - but we both already had logged it previously. The courteous and quick e-mail conversation with Manx2.com further revealed that the Dornier 228 was planned on the Gloucester/Cheltenham (GLO/EGBJ) route. So we ended up booking GLO-IOM for GBP 49.95 (EUR 57 / USD 81 / CHF 73) and IOM-BLK for GBP 19.95 (EUR 23 / USD 33 / CHF 29), all taxes and fees included. I'd say these were very decent fares to fly on these unusual aircraft types.
To complete this itinerary, we needed to find a way on how to get onto the Swiss International Air Lines evening flight from MAN to Zurich (ZRH/LSZH). There was a special offer on the ZRH-MAN-ZRH route available when I planned this trip. However I wanted to try to lower the price and I achieved this by not booking ZRH-MAN-ZRH but rather BSL-MAN-ZRH as the fares from BSL were quite a bit lower. Plus the BSL-MAN flight was operated by bmi British Midland International in a code share with LX since the change to the summer timetable on 27Mar11. The LX website does not support any kind of non-back-to-back routings (and neither does it support open jaws), so I had to resort to other internet booking engines. I found the best deal on www .ab-in-den-urlaub.de which charged no booking fees, with a fare of CHF 179 (EUR 140 / GBP 123 / USD 200). A day later I was ready to book and just for the heck of it I also tried www .ebookers.ch and surprisingly, the same flights showed up for only CHF155.95 (EUR 122 / GBP 107 / USD 174), albeit on the BD instead of the LX code. It seems bmi had just loaded their promotional fares for their new BSL flights the night before. I was of course very happy and booked it. I got an e-ticket number and a 5-digit airline PNR code. My next step was trying to pre-select seats on the bmi website, but there they requested a 6-digit PNR code which I didn't have. I emailed BD's customer service about it but they never bothered to answer. Not the best service, I have to say...
Originally, we planned to book a train to get from MAN to Cheltenham. While there were was an interesting fare of GBP 17.80 (EUR 20 / USD 29 / CHF 26) per person at the early planning stage of this trip, the fares climbed up to the regular fare of GBP 49 (EUR 56 / USD 80 / CHF 72) per person when we wanted to book. We both preferred train travel over car travel, but these fares were simply too steep! So we decided to book a rental car. We found the best deal on the EasyJet website for a Europcar rental car for the price of CHF 92 (EUR 72 / GBP 63 / USD 103) including a hefty one-way drop-off fee. Interestingly, the fare at Europcar itself would have been quite a bit higher. As an additional plus, taking a rental car gave us better flexibility in choosing a hotel and we did not need to bother on how to go to GLO airport the next morning. Finally only going back from BLK to MAN was open. The trains on this route were not as expensive, so we stuck to the train. We had an option to go from Blackpool North train station and a back-up option to go from Squires Gate station near BLK airport should we not make it to Blackpool North in time. However, the back-up option would only deliver us to MAN airport train station exactly one hour before departure, which seemed a bit risky, but there wasn't really any other way.
So now we were set up to go. Two days prior to departure, I again e-mailed Manx2.com to inquire about the aircraft types on our flights and luckily, the aircraft types remained as they were, despite the troubles Manx2.com went through due to the accident at Cork (ORK/EICK) airport a couple of weeks earlier.
Flights

Date: 29Mar11
Route: Basel/Mulhouse (BSL/LFSB) - Manchester (MAN/EGCC)
Flight number: BD 300
Schedule (local times): BSL 1050 - MAN 1140
Scheduled block time: 1:50
Airline/Operator: bmi British Midland International (BD/BMA)
Aircraft type: Airbus A319-131
Registration: G-DBCJ
59th flight on subtype 319, 223rd flight on 32S family, 1st flight on G-DBCJ
Not being able to pre-select a seat through either BD or ebookers, I checked-in on-line the day before. The seat map looked quite empty and I selected a window seat in the back of the cabin. To get from my home near ZRH to BSL, I parked my car at my office, which is conveniently located near a train station in the ZRH suburbs. I then took a train to Basel SBB train station, where I changed to bus line 50 to EuroAirport, as BSL airport is dubbed. I arrived about 1 hour before departure, went to the check-in machines where I was able to once again check the seat map (still empty....) and then print my boarding pass.
BSL departures, bmi logo still missing...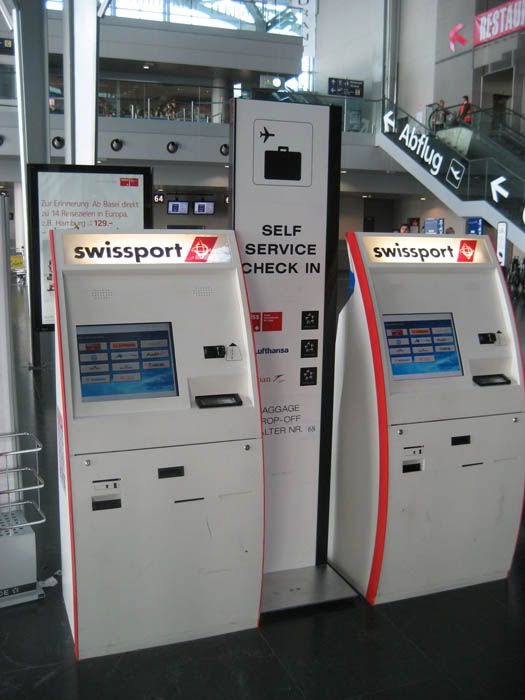 Swissport check-in machines
departure hall on Swiss side of BSL/MLH airport
I proceeded through security where I promptly forgot to remove my plastic bag with my toiletries.... not that this is usually a problem, but here they actually found the stuff on their x-ray machine! I then went to check out the LCC gates, where a lot of people were waiting for their numerous EasyJet flights. The rest of the airport was quiet. What I like in BSL is that you can take several local newspapers free of charge from the various racks located throughout the airport. I spotted a Malaysia Air Force BBJ, a brand new Air France/Brit Air CRJ1000 and a newly registered Hello A320.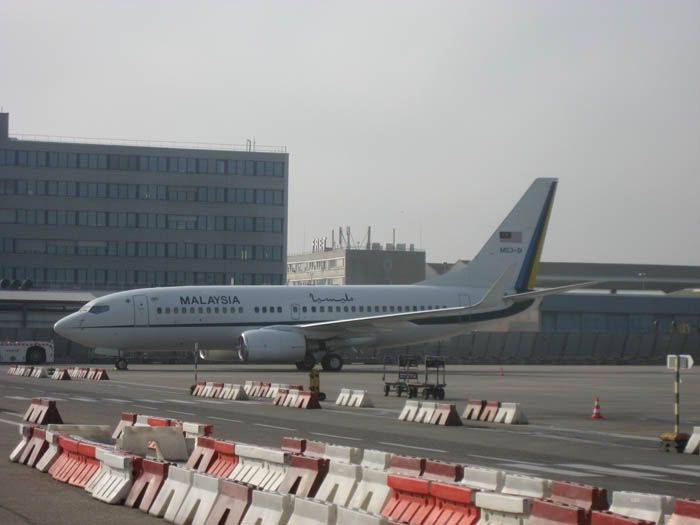 typical and not so typical BSL visitors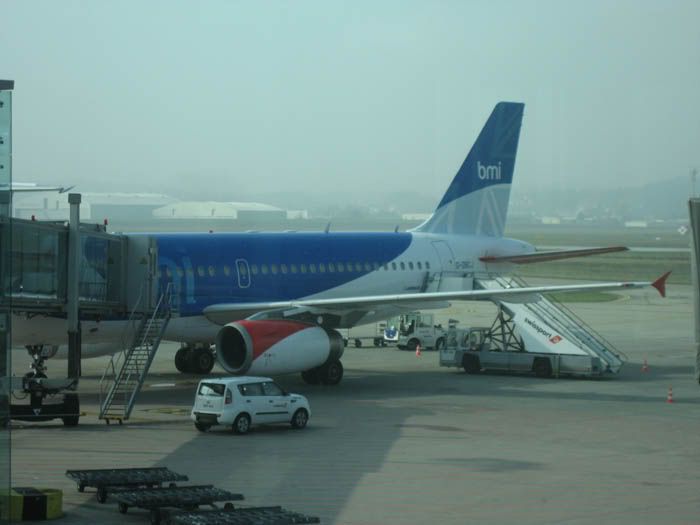 my ride to MAN
It was time now to go to the gate for my flight to MAN. There were not many passengers waiting, maybe 25 in total. Boarding was quick and after walking down the jet bridge I was greeted by a friendly crew. I took my seat in the empty back of the plane. Due to the light load and quick boarding, we pushed back about 10 minutes early. After the long taxi to runway 33 we took off towards the south before making a right turn towards the northwest. Those seated on the left side of the plane could enjoy a great view towards the Alps.
EuroAirport terminal just after take-off
plenty of biz-jets of any size
view of the Swiss Alps
the highest visible peak is Mont Blanc, Europe's highest mountain, located on the French/Italian border
almost empty bmi cabin
Service consisted of a sandwich (which I declined, as I had much nicer, hand-made sandwiches courtesy of my lovely wife!) and free soft drinks. The flight was quite uneventful and most of France was overcast. However I could see the French coast on the Channel and much of England on the way up to MAN. We landed on runway 23R and arrived at terminal 3 ahead of schedule.
I went to pick up the rental car and then drove around the airport to the south side, where you can park your car near a Holiday Inn, from where it's possible to walk through some sort of park to an elevated, grassy embankment along the runway. Unfortunately all traffic was still on runway 23R, with the exception of an Emirates Airbus 380 departure. It was great to watch this A380 take-off at such close distance! Soon it was time to head back to the terminal to pick up my friend who arrived on the EasyJet flight from ZRH. Next we went to the aviation viewing park, where there is an immaculately maintained Trident 3 in the old BEA (British European) livery to be seen. There's also a military Nimrod and the BAe RJX prototype on display. A British Airways Concorde is in a purpose-build building, which unfortunately was closed when we were there. We then made our way to Cheltenham, which took around 2 hours.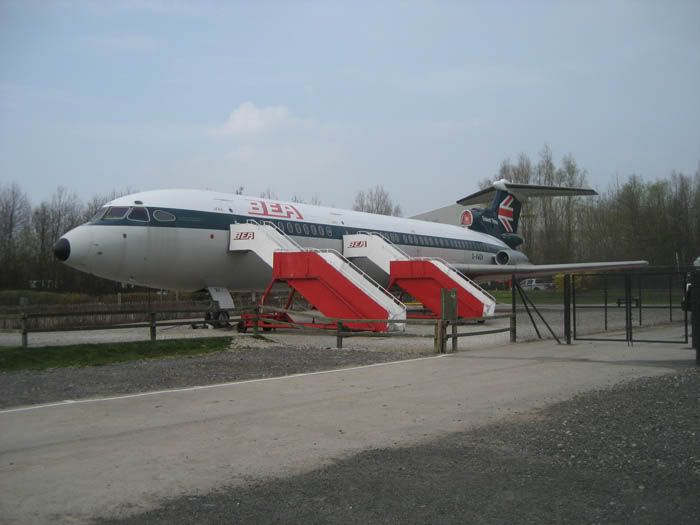 Trident 3 at MAN aviation viewing park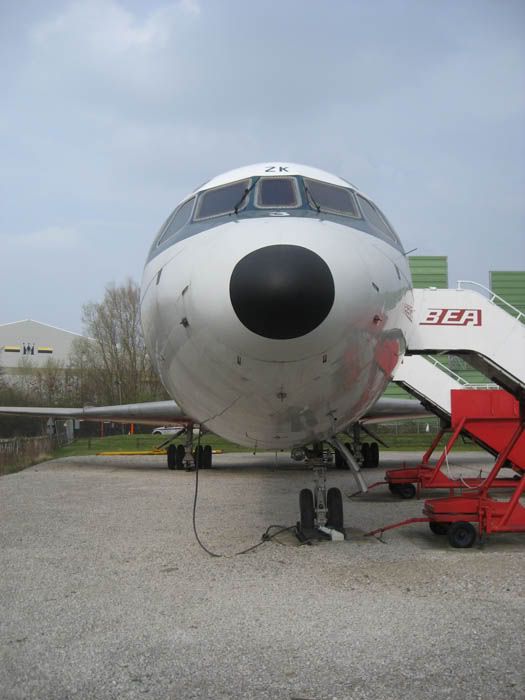 the Trident with its famous uncentered front gear
Cheltenham street scene
Date: 30Mar11
Route: Gloucester/Cheltenham (GLO/EGBJ) - Isle of Man (IOM/EGNS)
Flight number: NM 601
Schedule (local times): GLO 0855 - IOM 1000
Scheduled block time: 1:05
Airline/Operator: Manx2.com (NM/---) operated by FLM Aviation (--/FKI)
Aircraft type: Dornier 228-202K
Registration: D-CMNX
1st flight on D28, 1st flight on D-CMNX
We arrived at the airport at about 8 o'clock. As the Manx2.com flights are all free seating, we did not do on-line check in. We were handed a proper boarding pass by the friendly check-in agent. Most passengers were already in the small check-in lounge, we seemed to be the only non-business types.
Cheltenham/Gloucester (Gloucestershire) airport terminal
runway 27 as seen from the road
access road to the terminal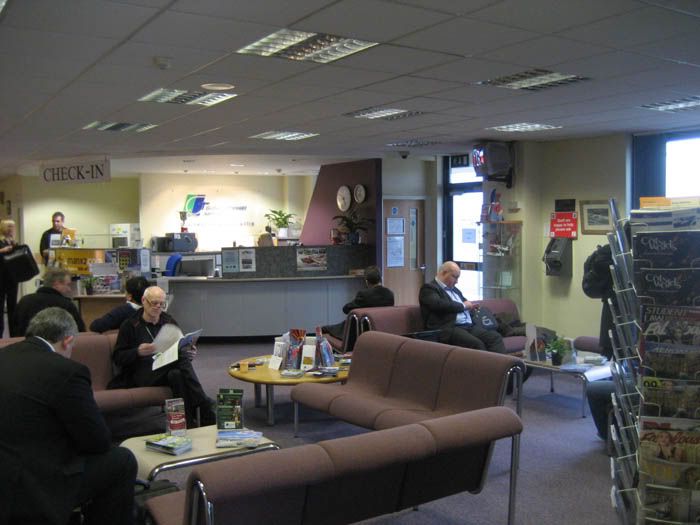 the check-in lounge
check-in counter
The incoming flight was a couple of minutes late, but the passengers disembarked quickly and the aircraft was soon ready for the flight back to IOM. However, the scheduled departure time came and went with no information as to the reason of the delay. About 10 to 15 minutes later, boarding began and we were then explained that the delay was due to ATC restrictions.
my ride to the Isle of Man
After the couple of passengers with priority boarding were called by name to board, it was our turn. As always when boarding a new aircraft type, excitement rose. After snapping a couple of pictures on the short walk to the aircraft, we boarded and took window seats in the front of the aircraft which had a 1-1 layout. The cockpit crew consisted of two German ladies. Of course there was no flight attendant on this aircraft and therefore the first officer performed the safety briefing. After starting the engines, we taxied to runway 27 for take-off. GLO actually has 3 runways intersecting each other. Apart from a Citation Excel business jet, there was no other active traffic here. After a short take-off run, we climbed straight ahead and were soon in clouds on this grey morning. From our seats we could watch the proceedings in the cockpit, as there was no door.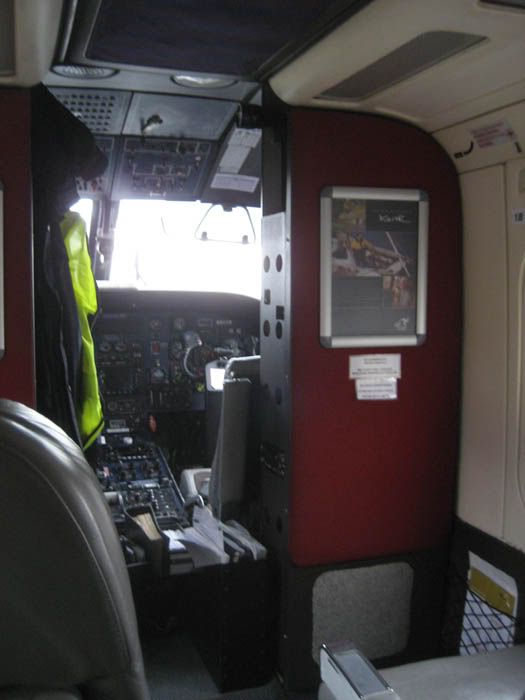 view to the cockpit from row 2
shortly after take-off
can you spot the Gloster Meteor?
As I could see on the navigation display in the cockpit, we took a more or less straight route along the England-Wales border to the Isle of Man. After breaking out of the clouds, we had a view of the capital Douglas and the east coast down to Ronaldsway, where the airport is located.
Isle of Man's capital Douglas
Isle of Man east coast
We landed on runway 26 and then quickly taxied to the apron, from where we had to take a bus to arrivals. There were two flybe Dash-8Q-400, an Aer Arann ATR 42, another Manx2.com Do-228 as well as a Jetstream 31, an Atlantic Airways BAe ATP freighter and in the far distance another BAe ATP wearing the colours of West Air. Later an all-white Dornier 328 arrived.
IOM airport
Dornier 228 cabin
nice turboprop line-up
Weather was dismal, it was windy, cold, overcast and drizzling. We took a double-decker bus to Douglas where we walked around a bit. I also went to a bank to change some British Pounds into Isle of Man currency as a souvenir (someone here on the forum would call that "funny money"....). The weather was really bad so that we ended up in a restaurant soon, where we had some old-style British meal. It was soon time to head back to the airport by bus to catch our second new aircraft type of the day!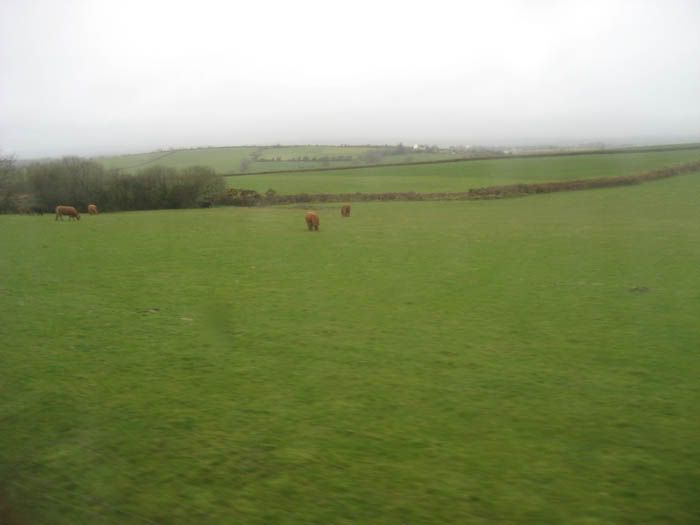 mooh!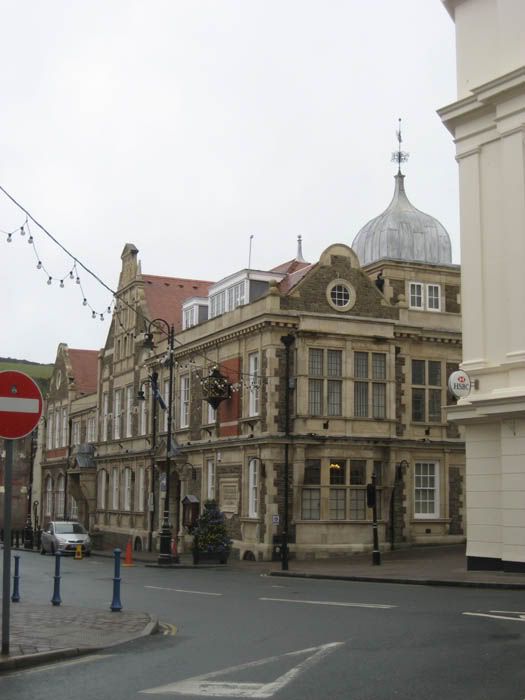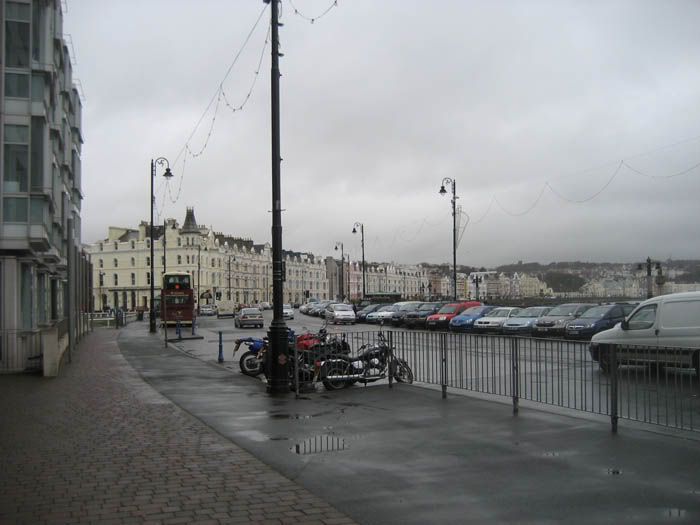 Douglas
Date: 30Mar11
Route: Isle of Man (IOM/EGNS) - Blackpool (BLK/EGNH)
Flight number: NM 114
Schedule (local times): IOM 1430 - BLK 1510
Scheduled block time: 0:40
Airline/Operator: Manx2.com (NM/---) operated by Van Air Europe (--/VAA)
Aircraft type: Let L-410UVP-E
Registration: OK-UBA
1st flight on L4T, 1st flight on OK-UBA
We arrived back at the airport a good hour before departure and went straight to the Manx2.com check-in counters, where we were issued another pre-electronic/pre-home-printed genuine boarding pass. As a collector of all my own boarding passes, I'd like to always have the traditional classic airport printed boarding passes..... so far only Ryanair made it into my collection with a self-printed A4 sheet of paper. Anyway, we then headed upstairs to departures and went through to security which again was quite efficient as they found my toiletries again.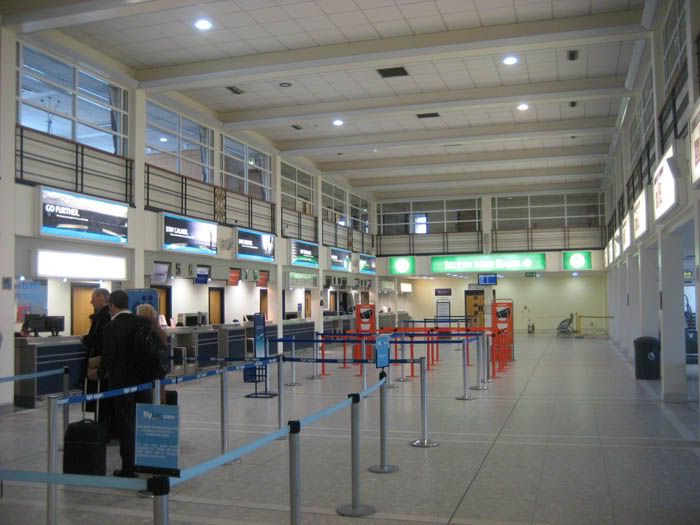 check-in hall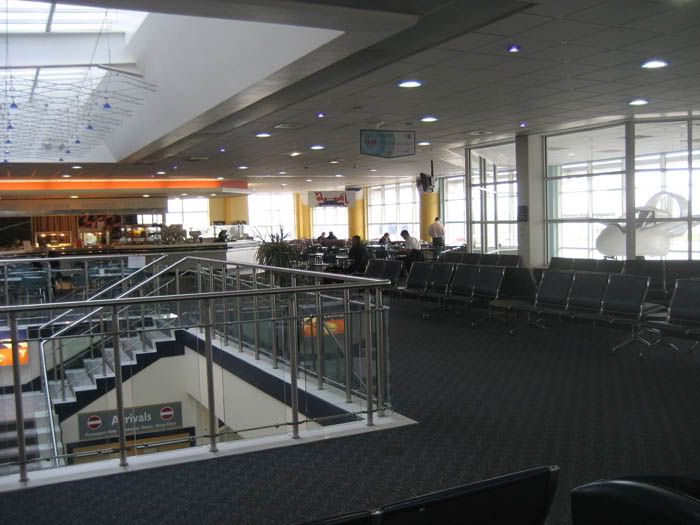 departures level
Boarding was called early, about 25 minutes before the flight. This time we walked from the terminal to the aircraft - again my excitement rose as always before boarding a new aircraft type. I guess only people here on the forum can relate to that... This was not only a new aircraft type but also a rare one. And one that I always wanted to fly with since I was a kid. One of those Let 410 stands in a children's playground on a square in my wife's hometown in Russia, but unfortunately its condition is quite bad and the engines and interior are missing. So now it was finally time to board the real thing!
can't wait to get on board
under wing shot
And I was not disappointed. The cabin was quite spacious, the 1-2 seat arrangement with soft seats quite comfortable and the large windows were simply amazing. The windows were arranged quite close to each other, so that a lot of light entered the cabin and made it even more spacious than it already was. The bulkhead between the cockpit and the cabin is in the center of the cabin and the pilots access their seats through an opening on both sides of the bulkhead. On the bulkhead wall, there was a large flat TV screen where the safety video (starring Isle of Man school children) was shown.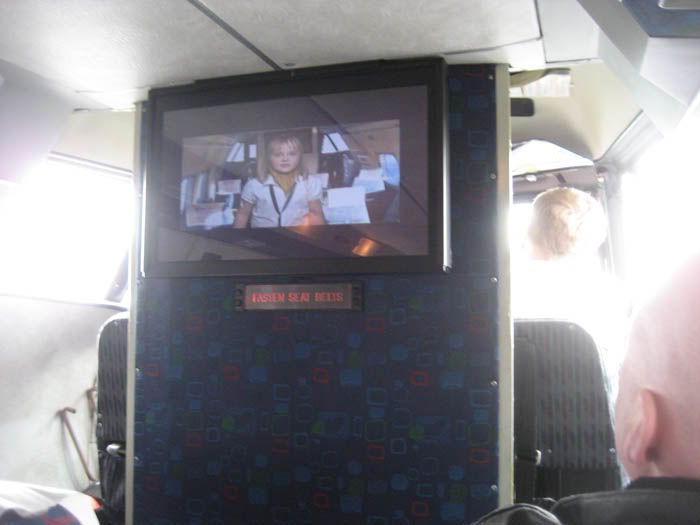 safety video show
The doors were quickly closed after the 10 or so passengers had boarded. The engines then were started by the Czech crew. It was quite noisy, maybe a bit more so than on the previous Dornier 228 flight. We taxied to runway 21 from where we took-off after a quite short distance. On the left side, we could see the castle-like building that houses King William's College. After that, much of the flight was just a little bit above the clouds.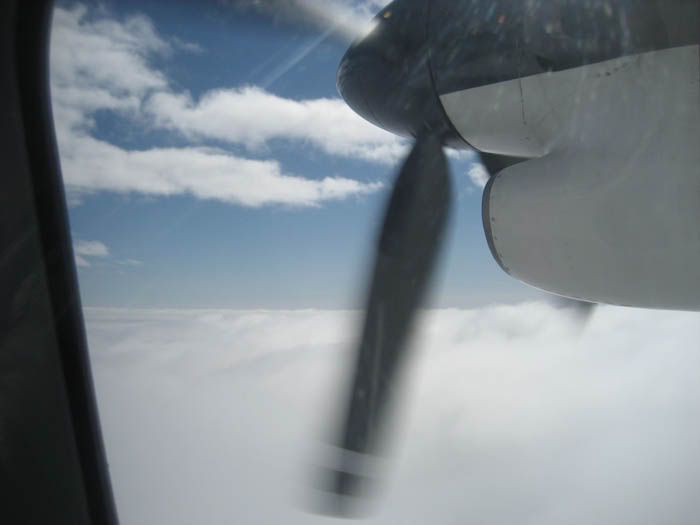 in cruise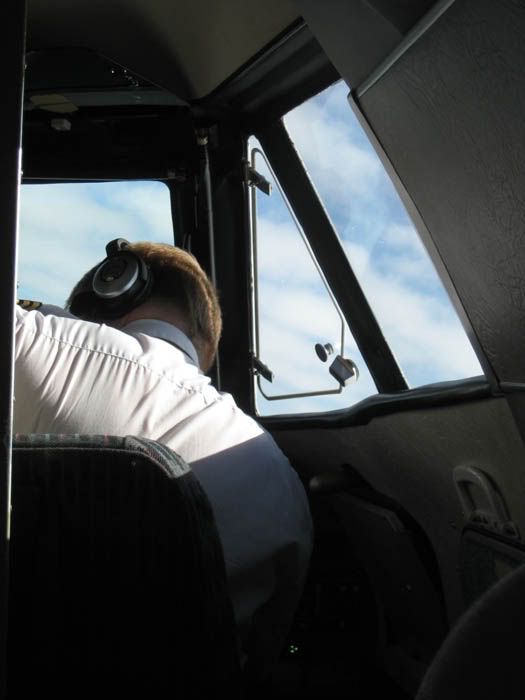 what's he doing?
Landing in BLK was over land from the east. During descend, there was some turbulence, which - despite my love of flying - made me airsick. Fortunately we landed soon and as always when the aircraft touches ground I felt better immediately. The only other active commercial movement at BLK was a Jet2.com 737-300. After parking we walked over the apron to arrivals.
the spacious Let 410 cabin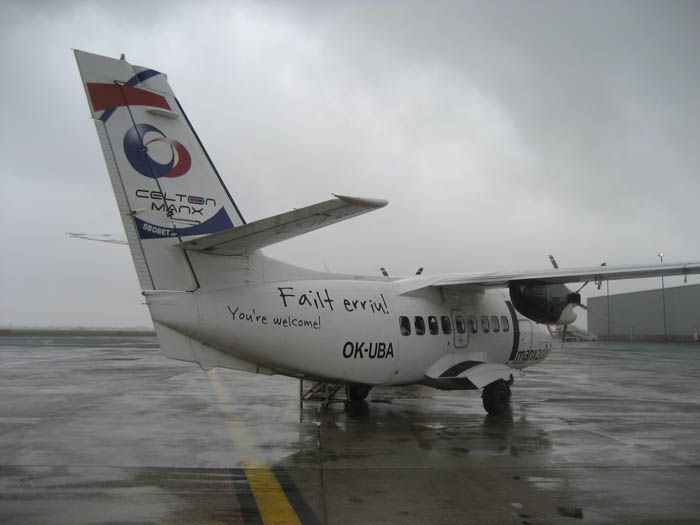 Thank you!
Blackpool airport terminal
As our arrival was a good 15 minutes early at around 14:55, we thought we had enough time to get to the Blackpool North train station for the 15:45 train to MAN. After reaching the bus station somewhere outside the airport property, we realised that the bus would be taking a full 35 minutes (according to the schedules) to get us there, so we instead tried to find a taxi, which proved impossible. We went back to the airport in the hope of finding one there.... no such luck and time was running out. Fortunately we did not buy any advance purchase train tickets which could only be used on a specific train. So in the end we decided to take our back-up solution, the 16:48 train from nearby Squires Gate train station to Preston and from there on another train to MAN. The fare for this trip was GBP 19.30 (EUR 22 / USD 32 / CHF 28). The train ride to Preston was slow and bumpy but nevertheless quite enjoyable.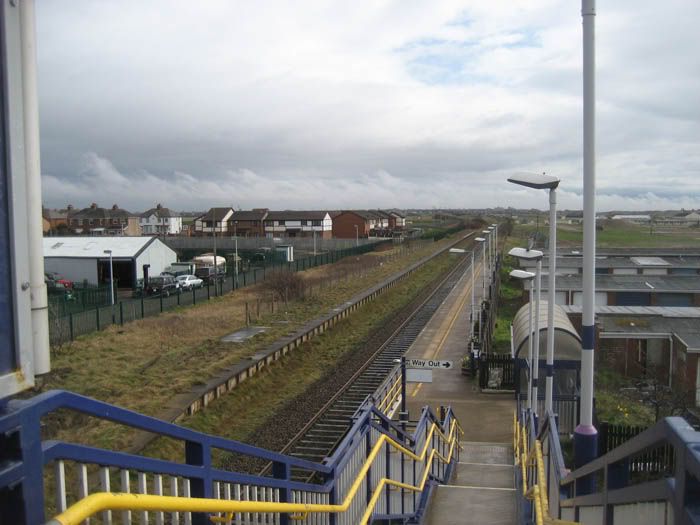 Blackpool airport station, aka Squires Gate
our ride to Preston
Date: 30Mar11
Route: Manchester (MAN/EGCC) - Zurich (ZRH/LSZH)
Flight number: LX 381 (code share flight number BD 6801)
Schedule (local times): MAN 1850 - ZRH 2145
Scheduled block time: 1:55
Airline/Operator: Swiss International Air Lines (LX/SWR)
Aircraft type: Airbus A320-214
Registration: HB-IJH
127th flight on subtype 320, 224th flight on 32S family, 1st flight on HB-IJH
The train arrived at the MAN airport station exactly 1 hour before departure of our flight back to ZRH. I normally plan to arrive earlier and usually get a bit nervous when it gets tight - tight meaning less than an hour for me. No difference today, so we made our way to terminal 1 quickly.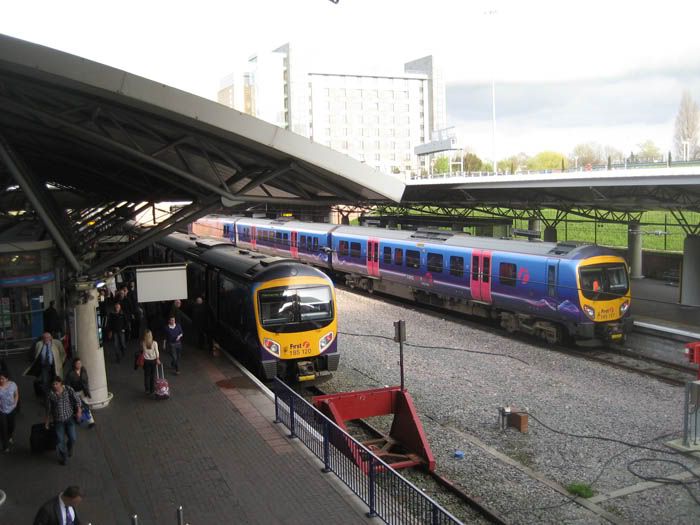 MAN airport train station
Having been checked in by a friend from home, I still needed to pick up a boarding pass, which was promptly issued. What amazed me was that the check-in counters were already completely empty with no other passengers around. It seems that everybody had already checked-in! After security, which was a breeze, you find yourself in the midst of a duty free shop and you have to wind your way through, in between racks with bottles, cigarettes and perfume. While not all new to me, I was still shocked by the fact that you find yourself in a shop even though you don't want to go to a shop! Not only that, flight information screens and directions were not easy to spot. Once through the shops, there was still time to grab something from Burger King before proceeding to the pier. To reach gate 26, once inside the pier, we had to go downstairs a narrow stairway, then go through a narrow corridor and go the same narrow stairway up again on the other side of the pier. Very strange and certainly not convenient. Boarding was about 10 minutes late and I was surprised to see HB-IJH, one of the few LX 320's I hadn't flown yet.
a new registration for me today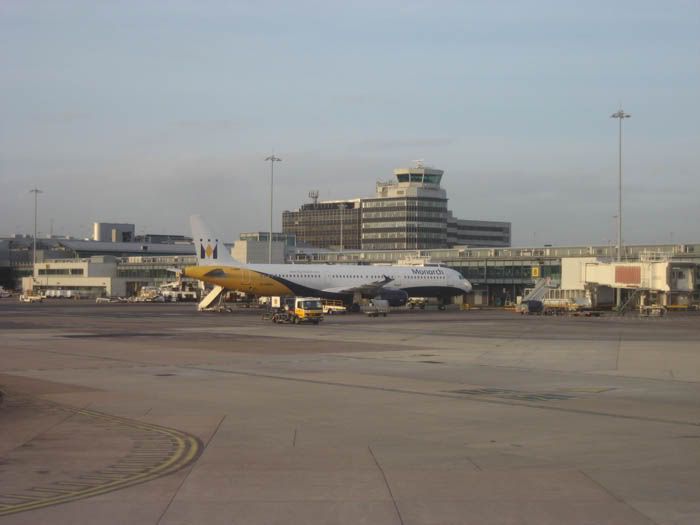 bye bye MAN
The flight was quite full, and once airborne, the flight was your standard LX flight. Something hot, resembling a pizza, was offered, but it did not at all look good so I declined. The aircraft was equipped with a new version of Airshow. While it looks fresh and new, the information itself was a bit confusing, as the view would constantly change and the aircraft would be shown from different angles.... maybe it was just me. Landing in ZRH was on-time. What always irks me when arriving in ZRH with LX on an open stand is that they only use one set of stairs at the front door. I guess it wouldn't be too hard to provide two sets of stairs for a quality airline. Kudos to local rival Air Berlin for always using forward and aft exits! After arrival, I took the next number 10 or 12 tram back to my office, from where I picked up my car and went home.
Conclusion
Flying two new aircraft types on a single day is not something that happens every day. I was glad that all went according to plan. The highlight was certainly flying the Let 410! The Dornier 228 is also quite rare and although lower on my priority list, it was great to fly on it. The new bmi route from BSL to MAN rounded off that package nicely. With the number of passengers on board, and considering that the route was previously flown only 4 times weekly with a Swiss European Airways Avro RJ100, I wonder how long this daily bmi A319 service is going to last.
Next Trip
People's ViennaLine in May from VIE to ACH.... but I hope an other opportunity for a trip will present itself before that date...... we'll see.
Previous Trip Reports
You will find my older trip reports here:
Jan 11:
The Dornier 328Jet from MUC to DLE
Dec 06:
AY to Japan & domestic flights & visiting Santa Claus
Mar 06:
Cubana Il-62, Yak-42, An-24 & Belize & Guatemala
Thanks for reading, feedback is appreciated,
LXM83