Map generated by the Great Circle Mapper - copyright © Karl L. Swartz
Background
In October 2010 I decided to make a weekend trip to Turkey and started searching for interesting flight options. SunExpress which I had missed on a trip back in 2009 offered attractive fares between Munich and various Turkish destinations in January. So I tried to find a nice combination with Pegasus Airlines which I hadn't yet flown on either. I earmarked a simple Munich-Istanbul-Munich itinerary, but when I was finally ready to book, Pegasus had raised the fare. Then I continued searching and finally decided to fly Munich-Adana on SunExpress, spend a night there and return on Pegasus via Istanbul/SAW. Making bookings on the airlines' websites was easy and convenient. I paid an extra 10 Euro for a seat reservation on SunExpress (due to lack of online check-in) and pre-ordered tasty looking meals on both Pegasus flights (breakfast for 7 Euro and lunch for 10 Euro). Here's an overview of available options (just click on the large orange button):
http://www.flypgs.com/en/fly-with-pegasus/pegasus-flying-cafe.aspx
Finally, after checking a few hotels on Tripadvisor, I reserved a reasonably priced room at the Akkoç Butik Otel near Adana's city center.
Saturday, 15 January 2011
Munich (MUC) - Adana (ADA)
SunExpress XQ431
Scheduled times: 14:35-18:55
Actual times: 14:35-18:36
Flight duration: 02:44 (hrs)
Distance: 1422 miles
Economy Class, seat 33F

Boeing 737-8CX
TC-SUH (s/n 1235)
Delivered in 11/2002
1st flight on TC-SUH
18th 737-800 flight
28th 737NG flight
53rd 737 flight
108th airline
Former appearances:
When I arrived at SunExpress' Terminal 1 check-in area about two hours before departure, many people were already waiting in a queue. However, they were all travelling to Istanbul/SAW or Izmir. The counters for my Adana flight - scheduled to depart 20 minutes after the others - hadn't been opened yet. Only few people were waiting in front of me in the Adana queue, but many of them were equipped with heavy luggage. So I still had to wait for a while until it was my turn. 20 minutes after the counters had been staffed I received my boarding pass.
Before passing security, I briefly met my friend
Satchmo
who was doing some spotting on that sunny winter day. We walked to a spot near Terminal 1 where you have good views of planes taxiing to/from runway 08L/26R. However, about an hour before departure, I returned to the terminal because I had spotted a huge crowd at passport control earlier. Unfortunately, the crowd hadn't become smaller - and the queue was moving very slowly. It was quite warm in that area and the air was bad - simply terrible!
Three SunExpress flights, an Emirates 777-300 flight and several flights to Russia (including an Aeroflot A330 and an S7 Airlines 767-300ER) were scheduled to depart within a period of two hours - so I was really wondering why the Bundespolizei and the airport management hadn't been able to deploy a few more officers and security staff members during that peak time. Lack of staff seems to be an everlasting problem at this airport, both at Terminal 1 and Terminal 2. This problem seriously needs to be dealt with!
About 30 minutes later I finally reached my gate.
TC-SUH
, delivered in November 2002, is one of 25 Boeing 737-800s in the fleet: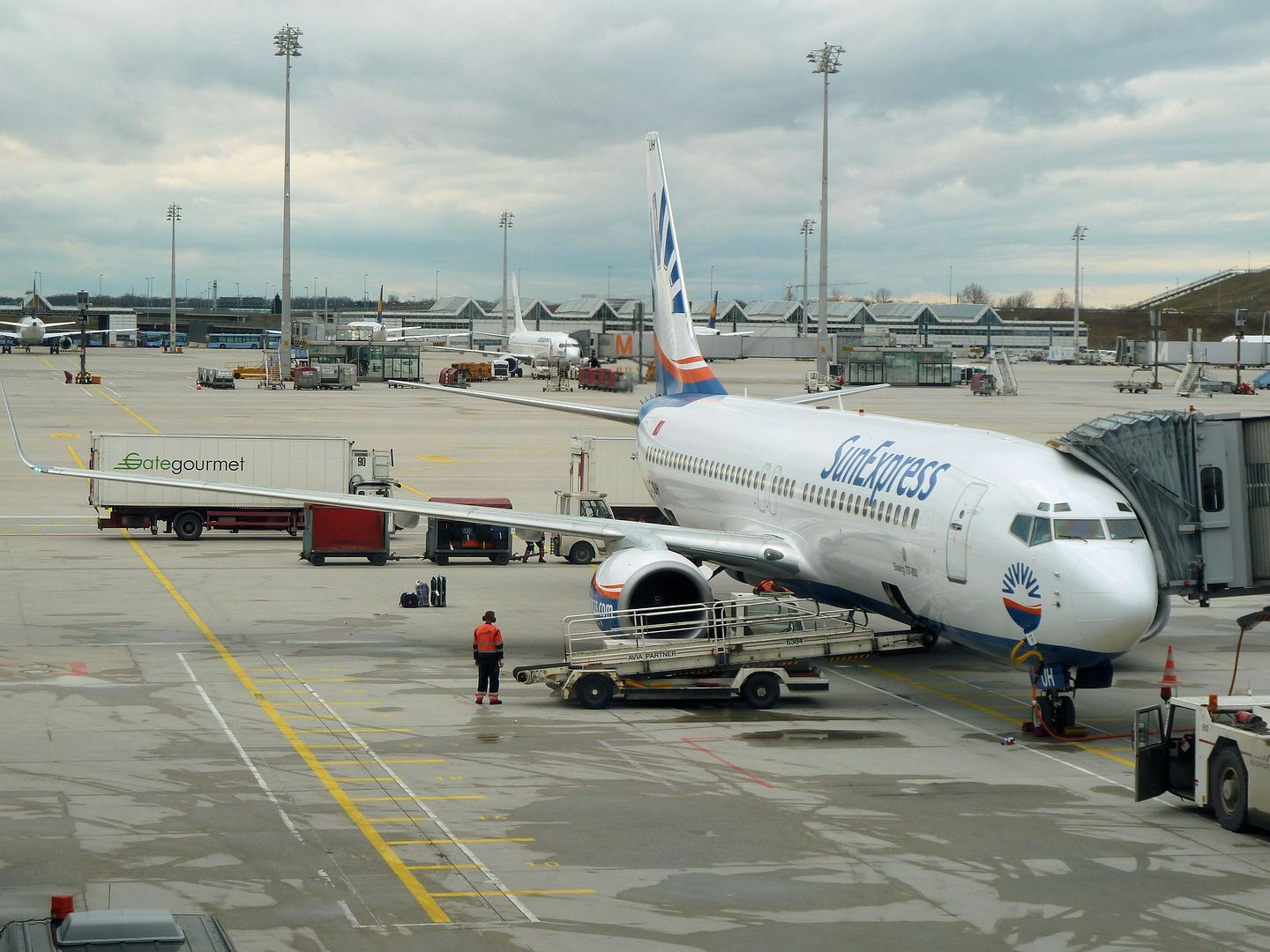 After a friendly welcome by the female cabin crew members, I took my seat in row 33. The old-style leather seat itself was okay...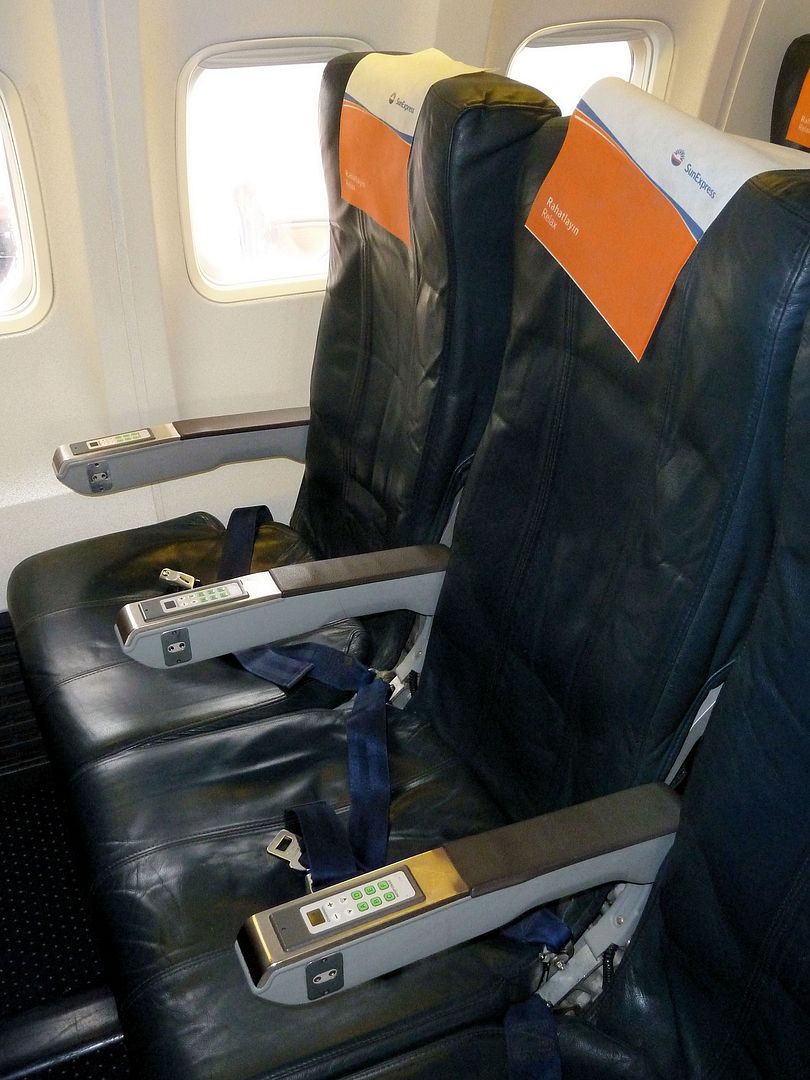 ...but legroom was tight:
While the slightly worn cabin appeared clean in general, the seatback in front was quite dirty under the table.
Both Turkish newspapers and German lifestyle magazines were available during boarding. I preferred to read the interesting and well-made inflight magazine: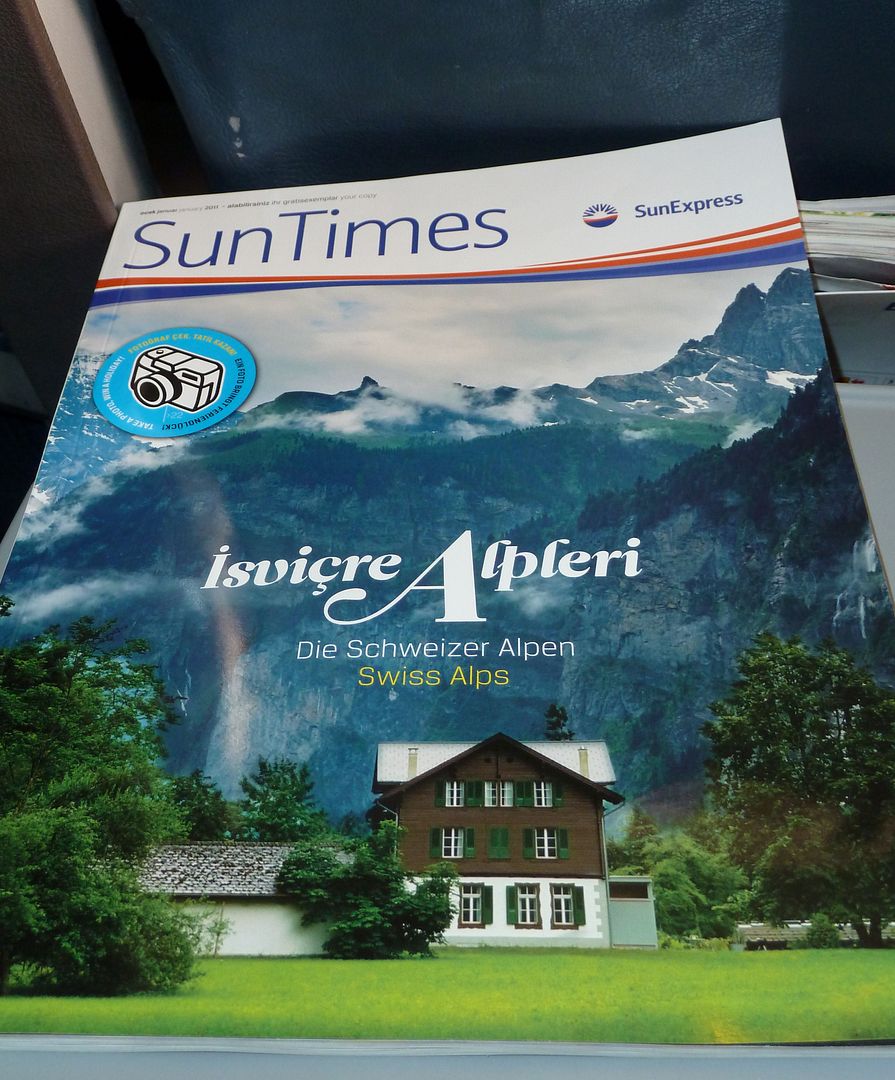 Postcards were placed in holders on the front and rear bulkhead walls:
Due to the light load (50-60 percent) boarding was completed quickly and - fortunately - the seats next to me remained empty. The purser made an announcement, but she was hard to understand due to a strong accent.
Emirates Boeing 777-300 and Air Berlin Airbus A330-200: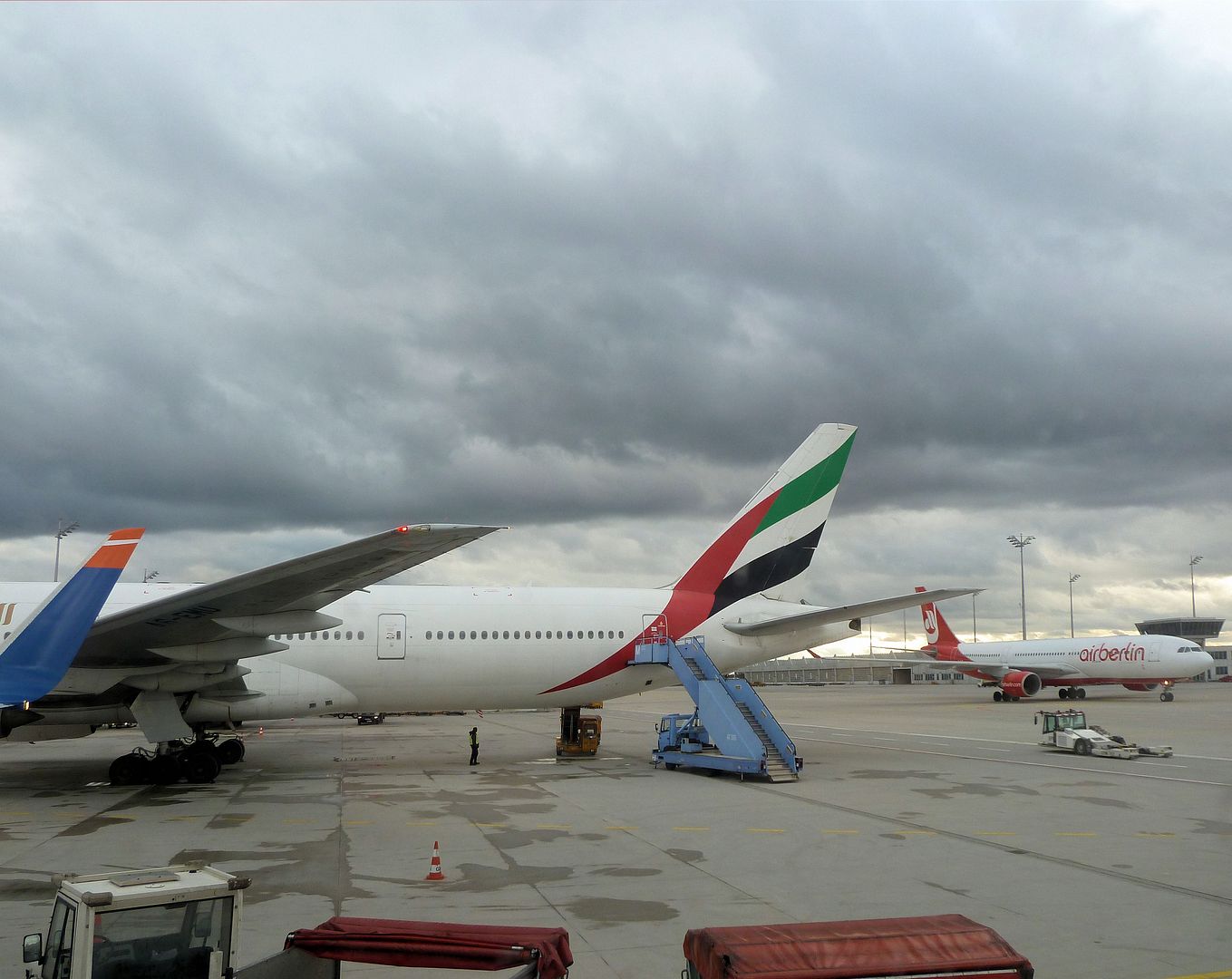 We left the gate exactly on time and soon entered runway 26L: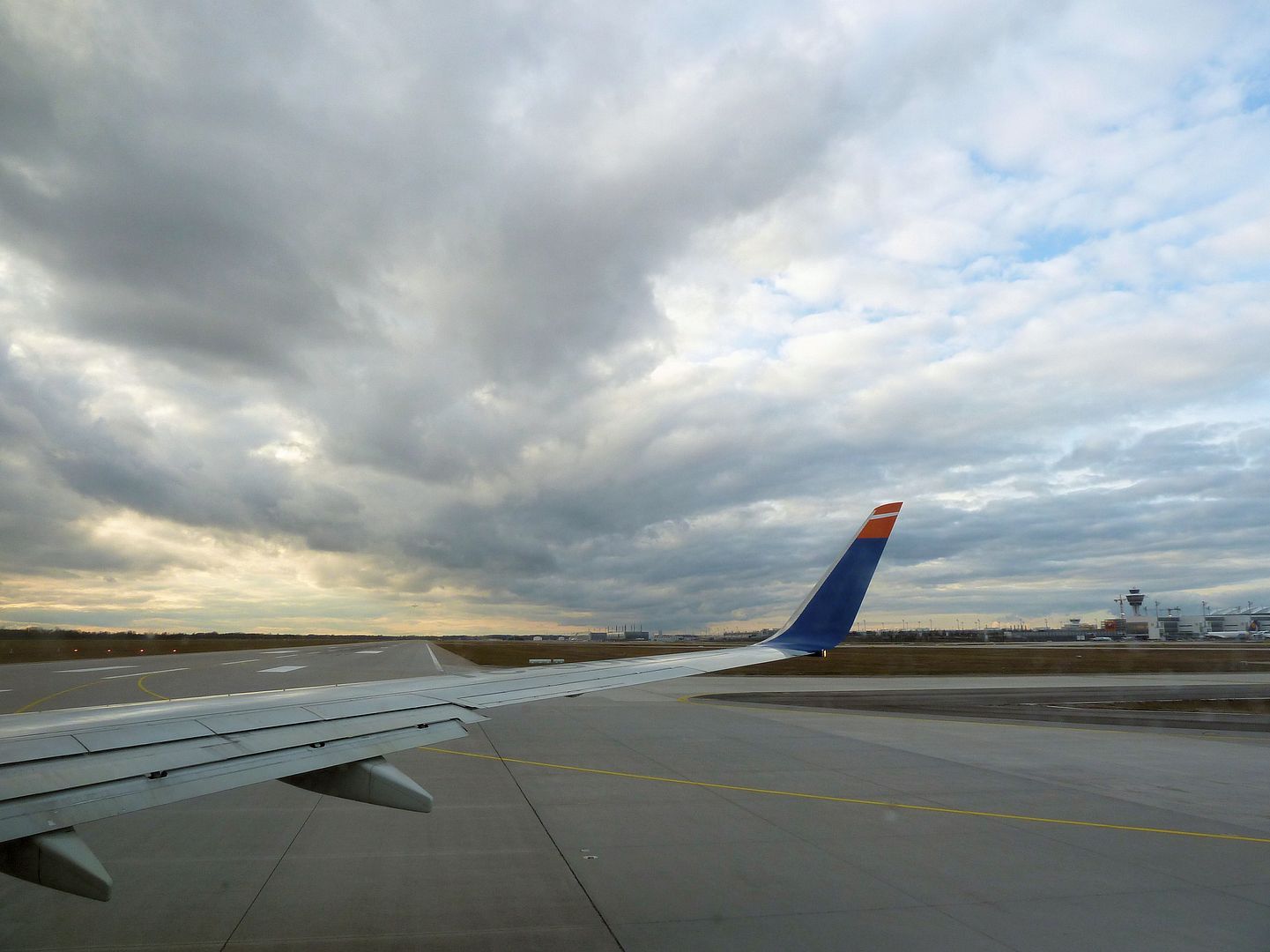 Before leaving the gate, I had sent a text message to
Satchmo
. So he knew which SunExpress plane was operating my flight and he could take some pictures. Here are the excellent results: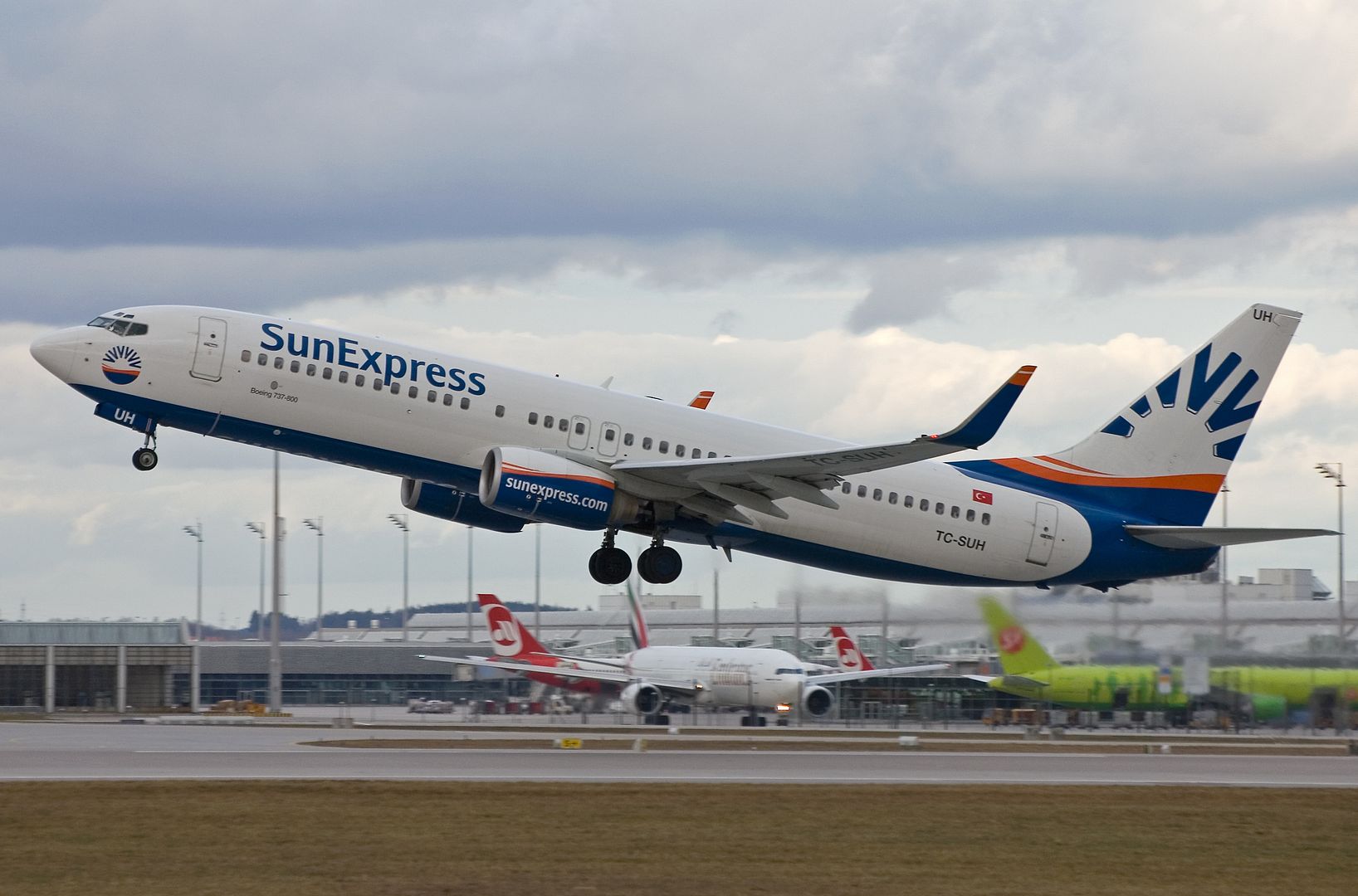 Picture by Satchmo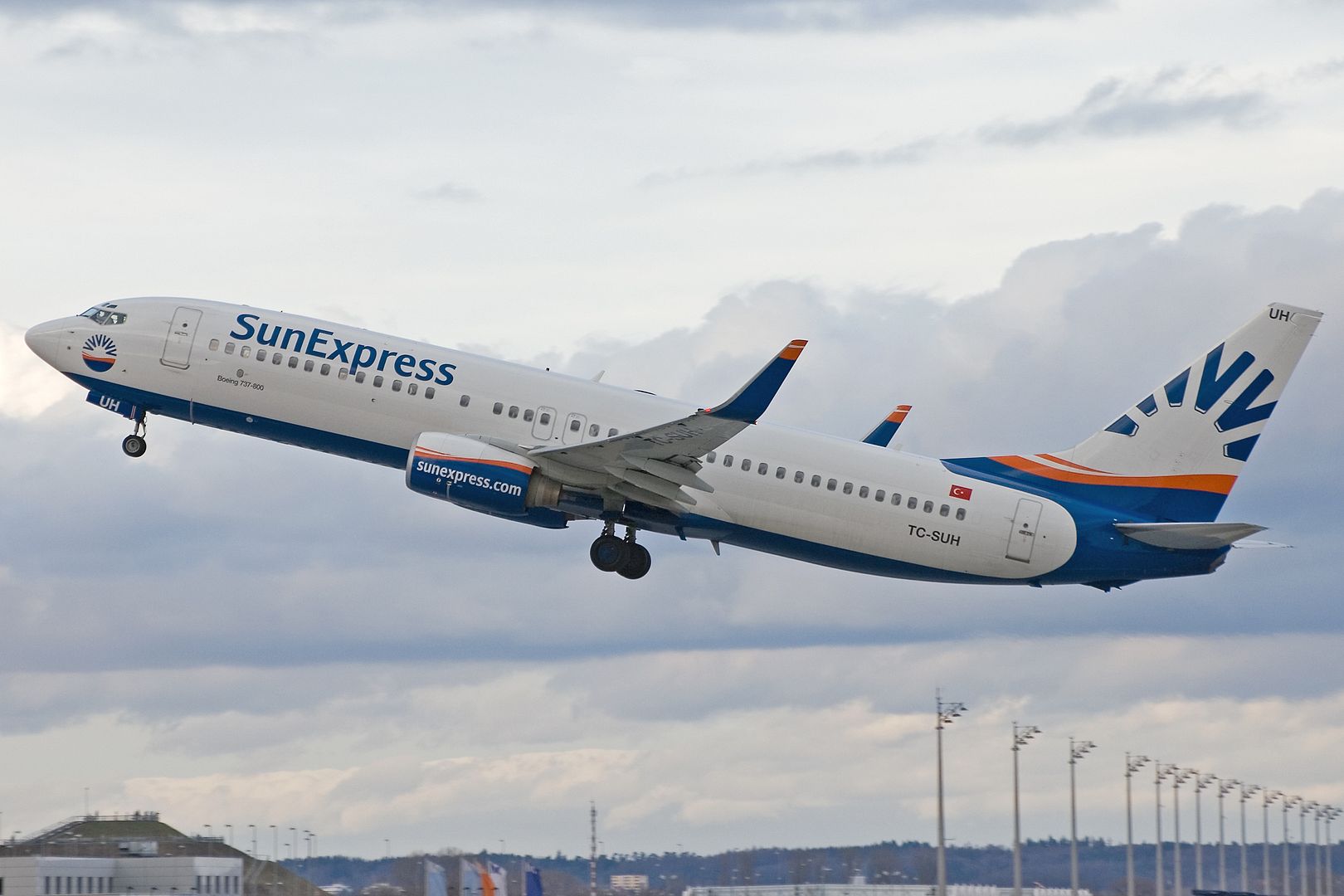 Picture by Satchmo
Let's switch back to my perspective again: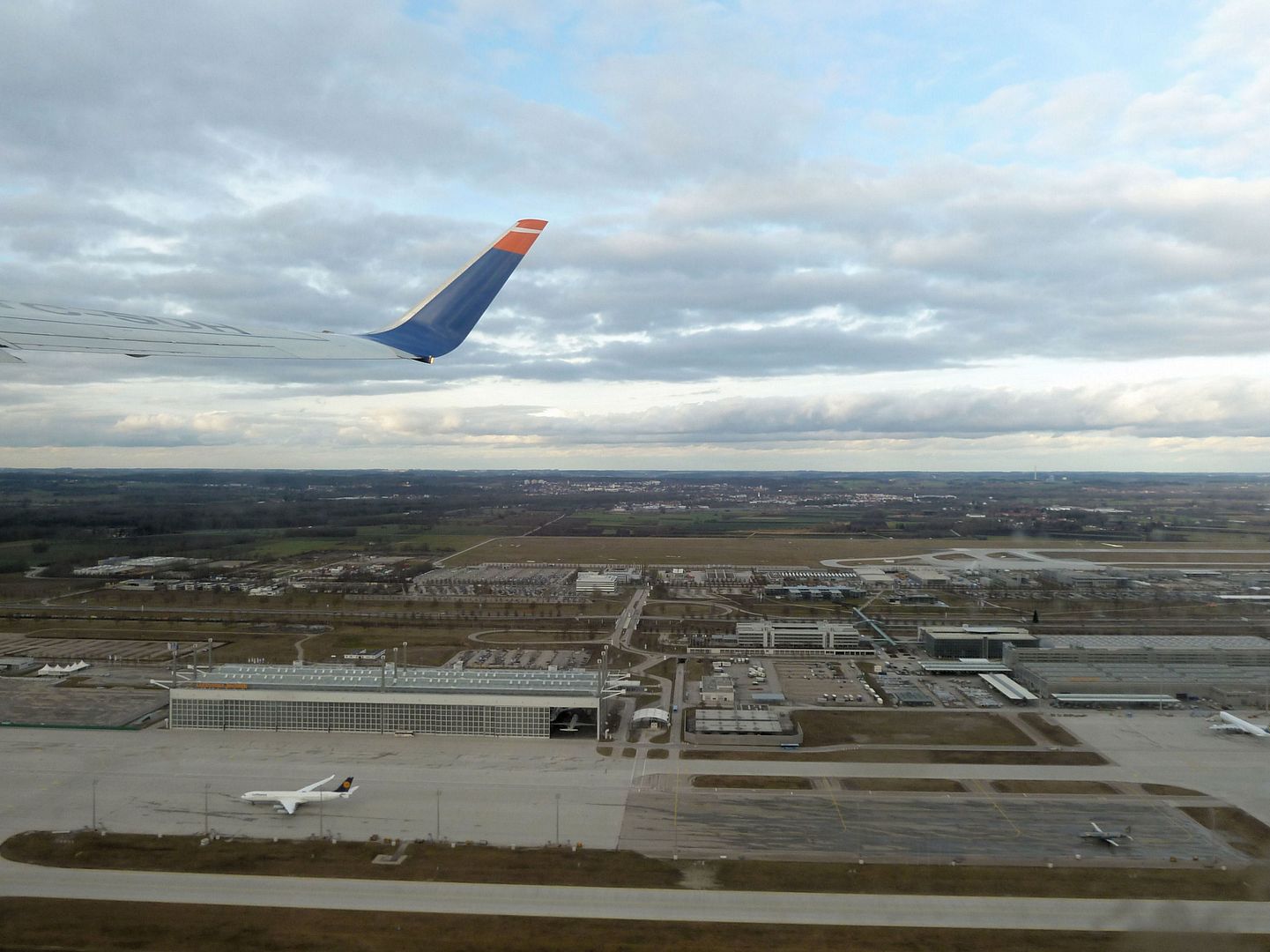 Another announcement was made, this time during climb. However, due to the high noise level, I didn't understand a single word. Probably the purser informed about the food and drink service.
SunExpress offers free meals on most flights - exceptions are domestic sectors and services to/from Poland, for whatever reason. "Chicken Vermicelli Rice" it said on the box:
The curry-marinated chicken pieces, the tomato-based sauce and the rice tasted very good - even though the portion could have been a bit larger: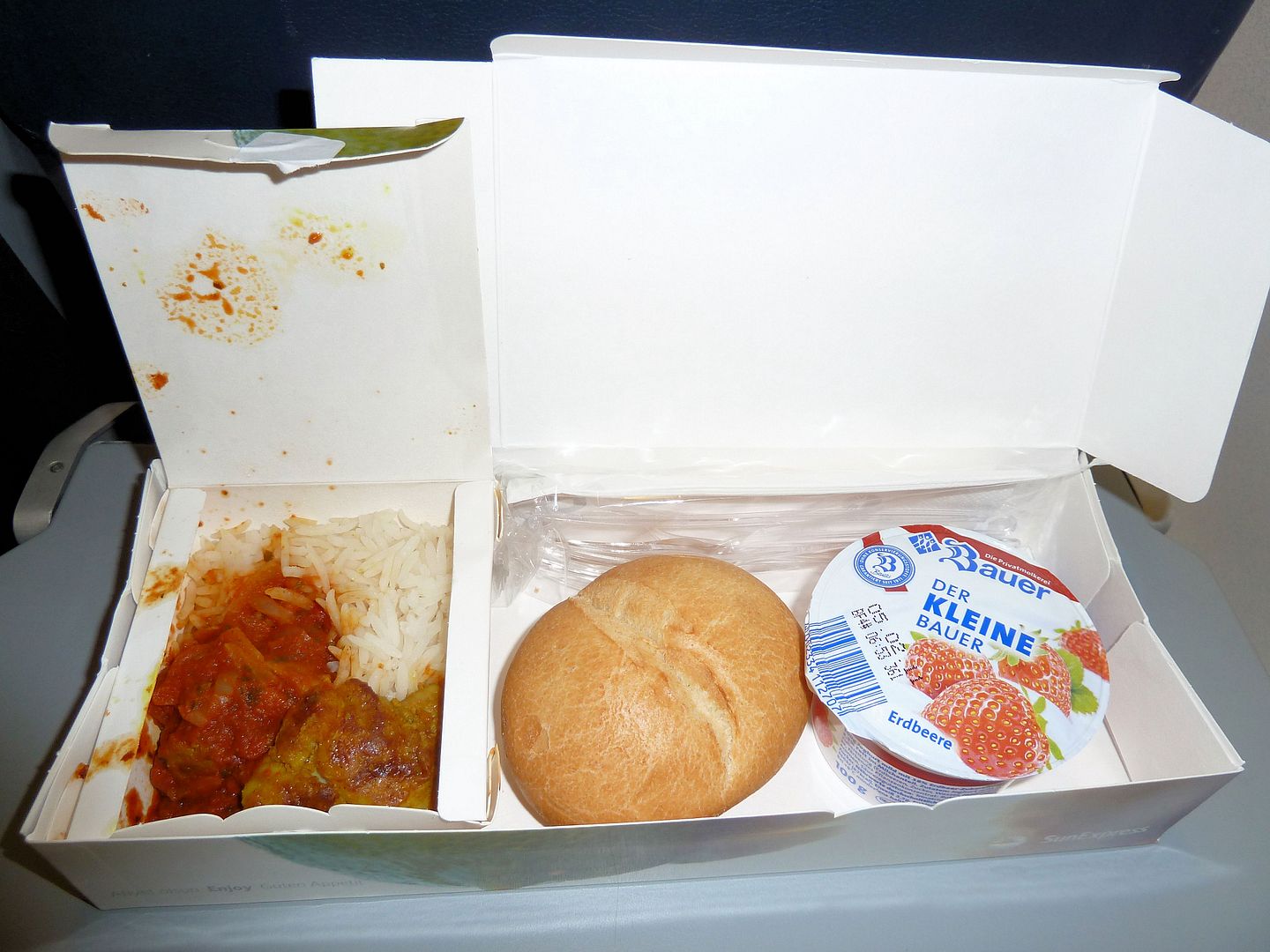 Non-alcoholic drinks were served free of charge, but beer (3 Euro), wine (4 Euro), sparkling wine (5 Euro) and other alcoholic drinks had to be purchased.
Unfortunately, the (classic) airshow was only available for a short period of time later in the flight: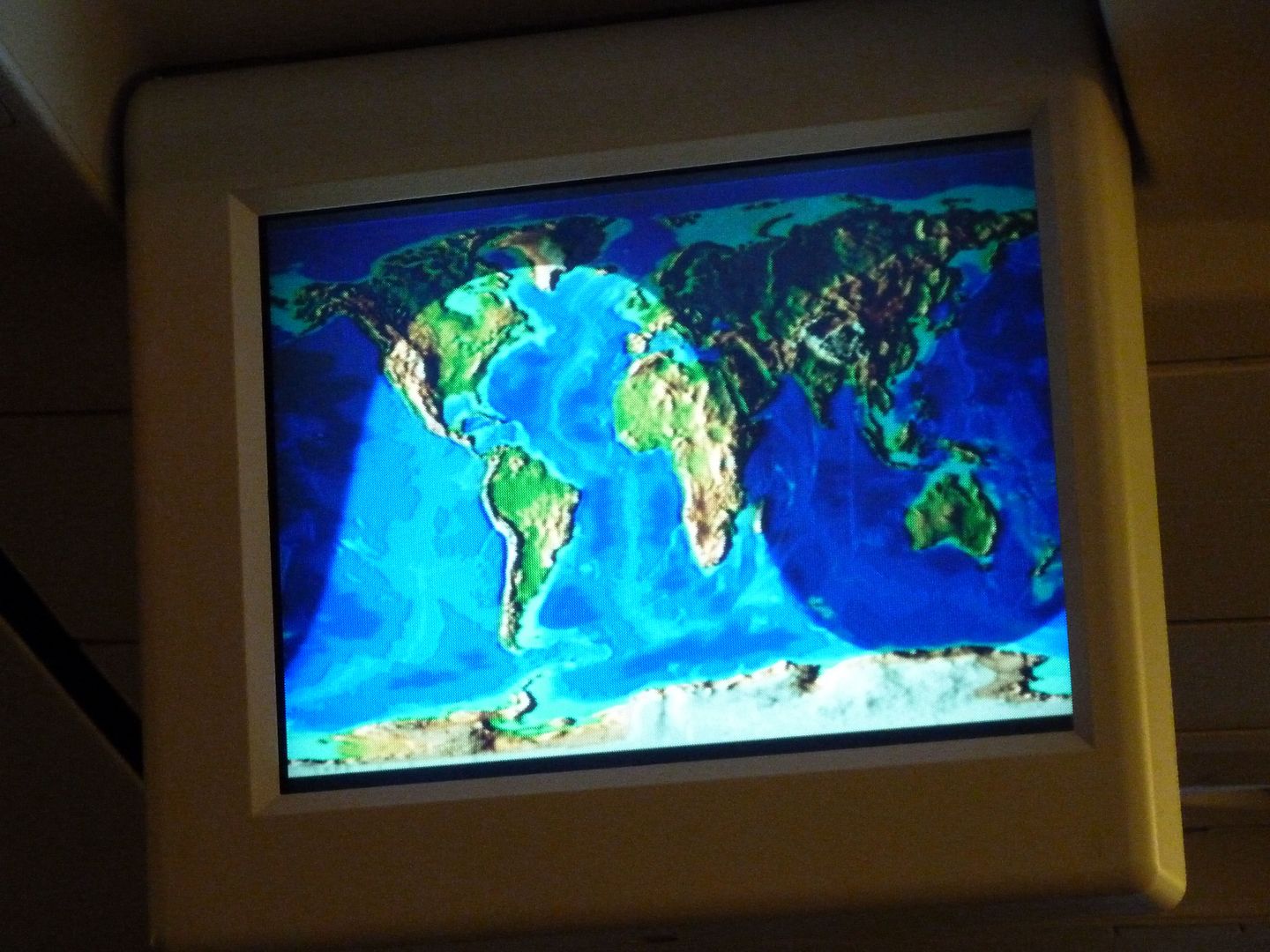 At least I knew that we would fly over Ankara, according to the captain. Who knows what else he has said - once again I had trouble to understand this (mid-flight) announcement for acoustic reasons.
Gleaming winglet tip during sunset: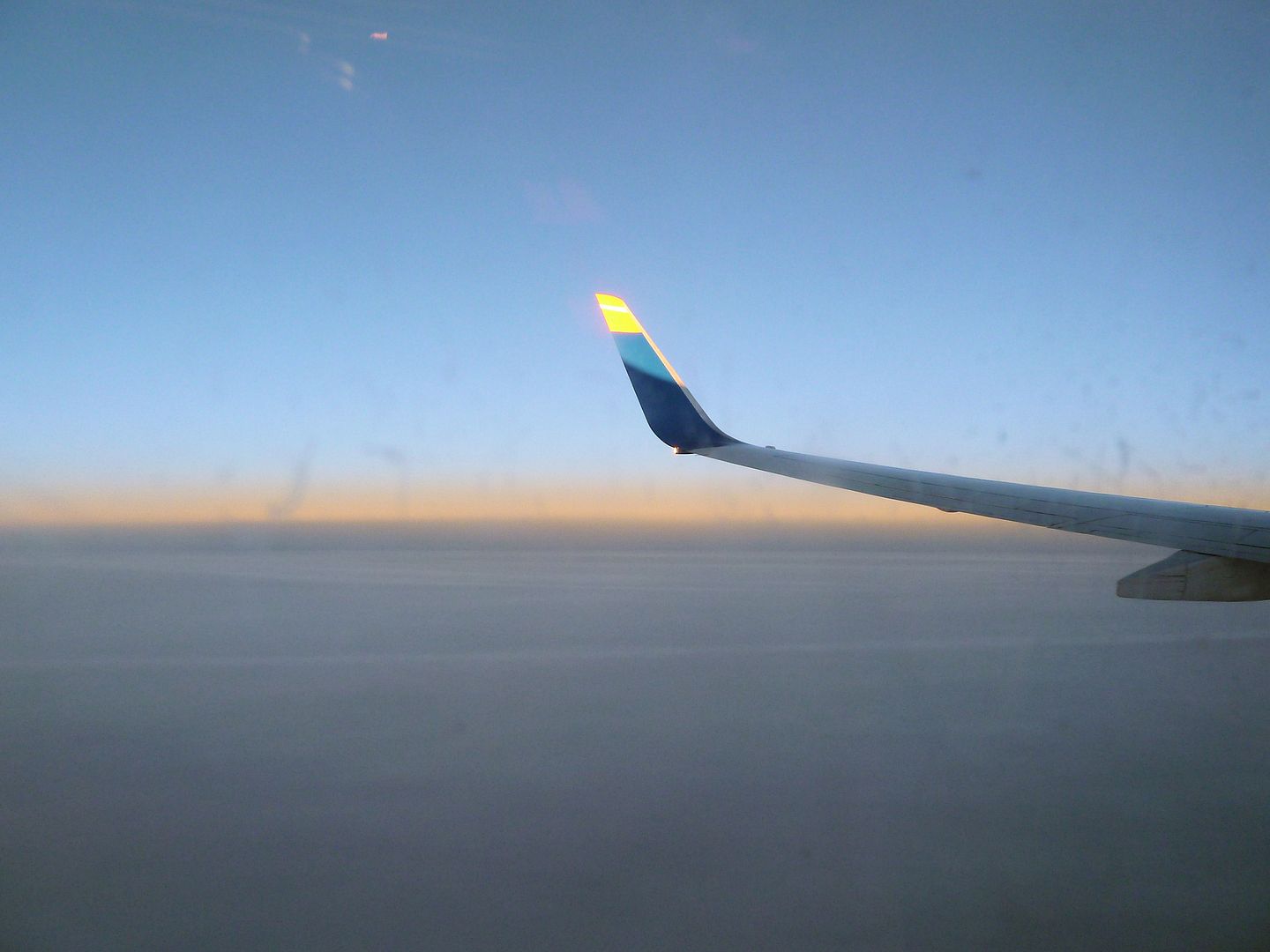 Cabin shot:
It was already dark when we started approaching over the Taurus Mountains - something to watch out for on the next day. We touched down after a flying time of 2 hours and 44 minutes and arrived at the parking position almost 20 minutes ahead of schedule. Taking pictures on the tarmac can easily cause trouble at Turkish airports, but I still tried my luck after some other passengers hadn't been stopped doing so: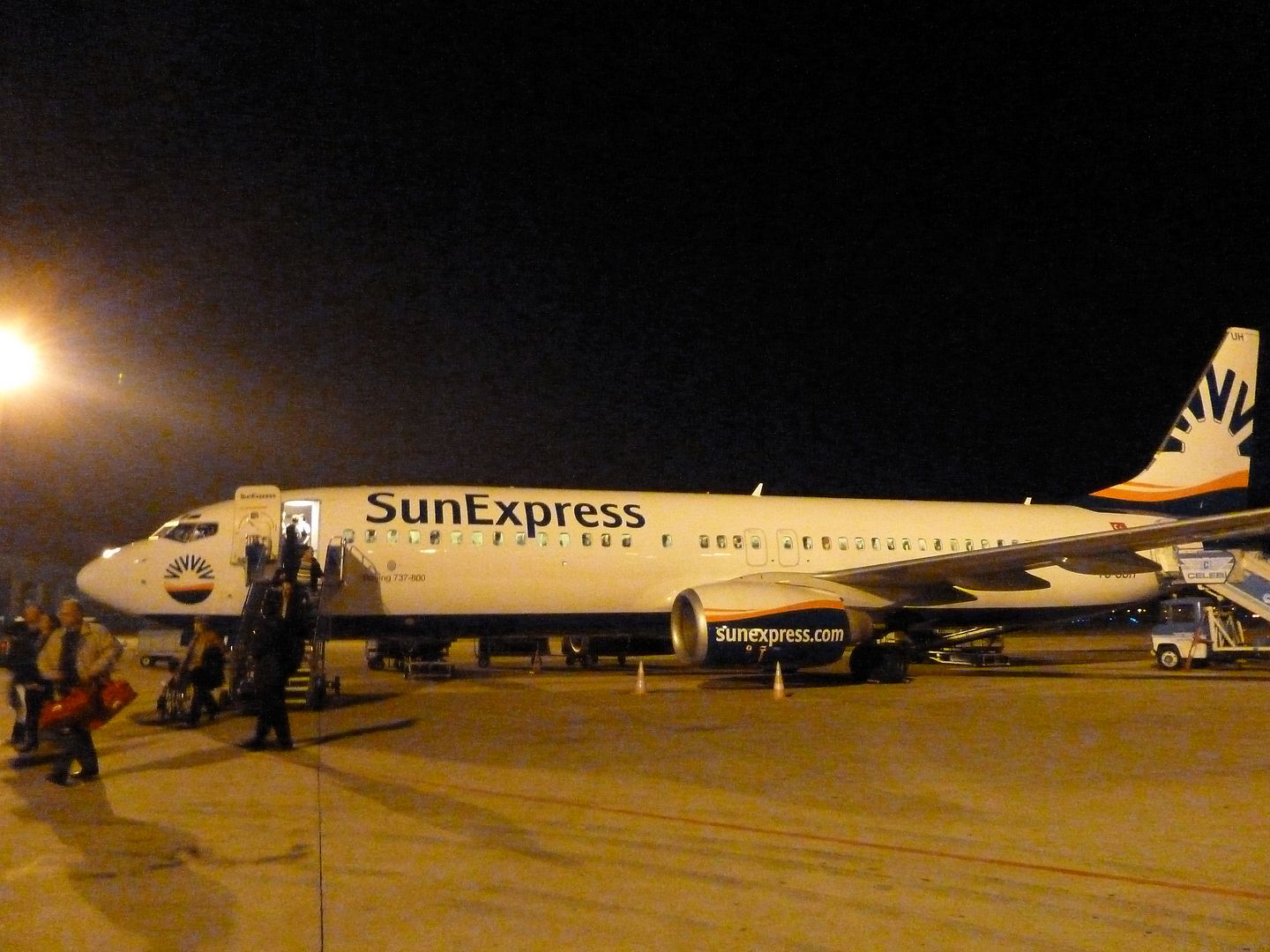 After a quick stop at passport control in the small arrival area, I went outside and took a taxi to the hotel.
Akkoç Butik Otel Adana
20 minutes later, after a rather speedy taxi ride, a very friendly male receptionist welcomed me and handed out the key. The room was quite large and clean, but the furniture was not to my taste: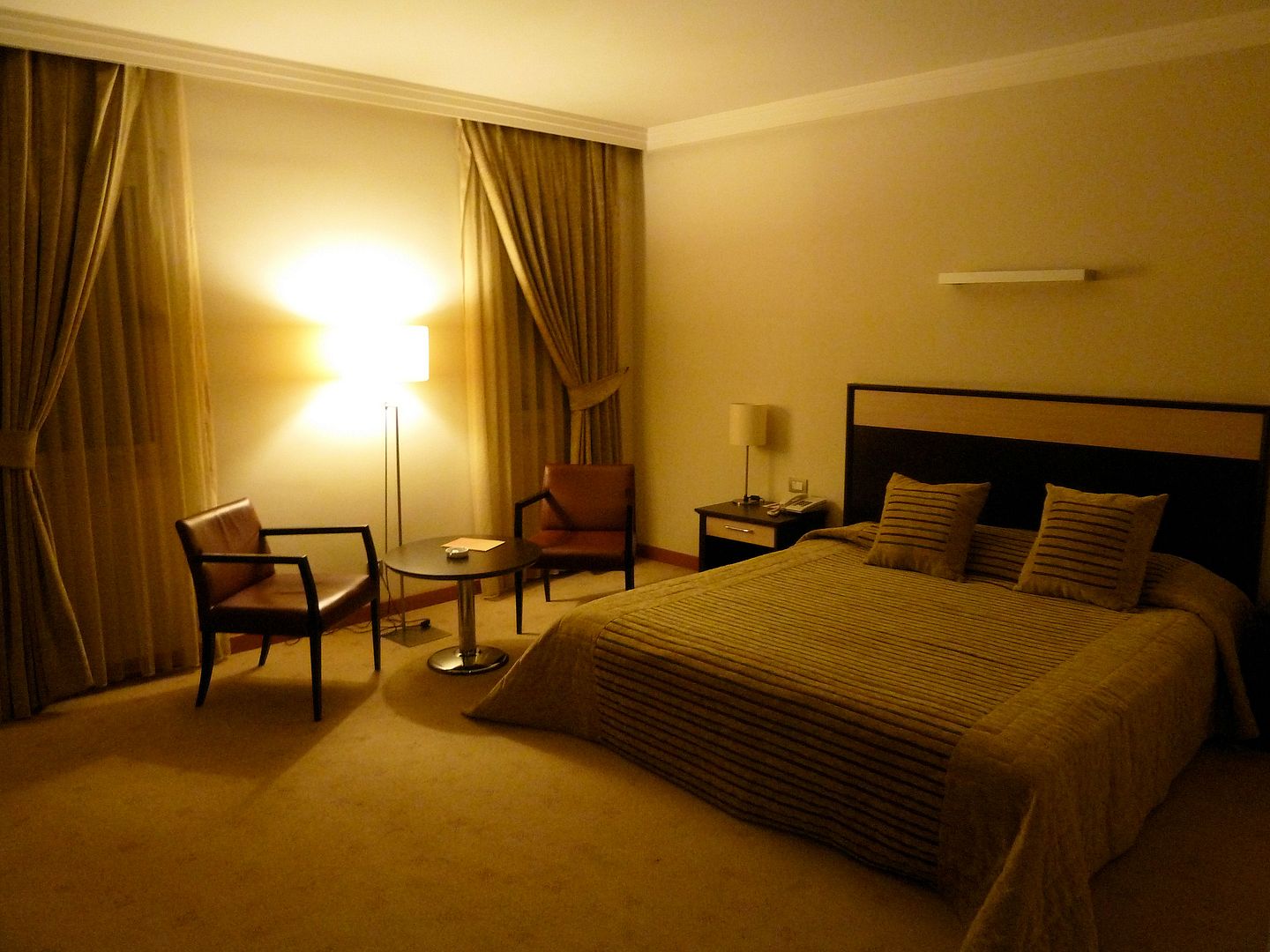 Since I wasn't willing to leave the hotel again, I went to the inhouse restaurant. However, it was completely deserted and only partly illuminated. So I went down to the reception and asked whether the restaurant was closed. The receptionist denied and immediately sent up a young waiter who he had been talking to. View from my table: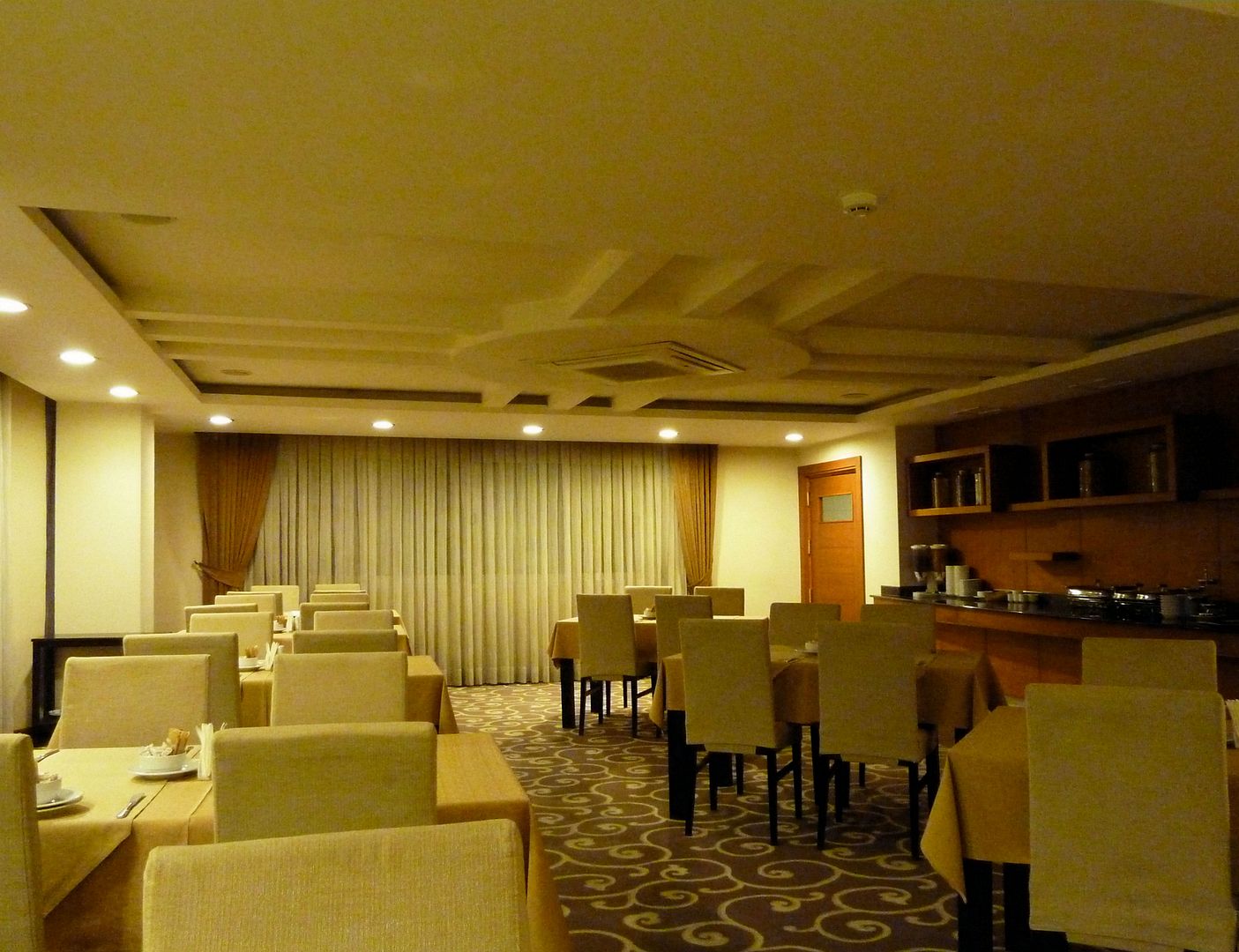 The food in general was nothing to write home about, but the freshly-made breaded chicken wasn't bad, and I also got a freshly squeezed orange juice. Anyway, I guess I would try to find a nice restaurant in the neighborhood next time.
Sunday, 16 January 2011
Adana (ADA) - Istanbul (SAW)
Pegasus Airlines PC125
Scheduled times: 07:55-09:15
Actual times: 07:48-09:06
Flight duration: 01:09 (hrs)
Distance: 420 miles
Economy Class, seat 26A

Boeing 737-82R
TC-ABP (s/n 3326), named "Nisa"
Delivered in 06/2010
1st flight on TC-ABP
19th 737-800 flight
29th 737NG flight
54th 737 flight
109th airline
Breakfast wasn't available yet when I checked out at 05:45 in the morning on the next day. However, I had pre-ordered an inflight breakfast anyway. The taxi I had ordered on the evening before showed up exactly on time and 15 minutes later I entered the small check-in hall. It was already quite busy there because a Turkish Airlines 737-800 to Istanbul was scheduled to depart at around 07:00. I had already checked in online at home on the day before, but I asked at a Pegasus counter whether I could get another seat on the SAW-MUC leg. 21F had been the rearmost window seat available, but the check-in agent couldn't offer a better one either.
Anyway, I took a seat and enjoyed the beautiful sunrise: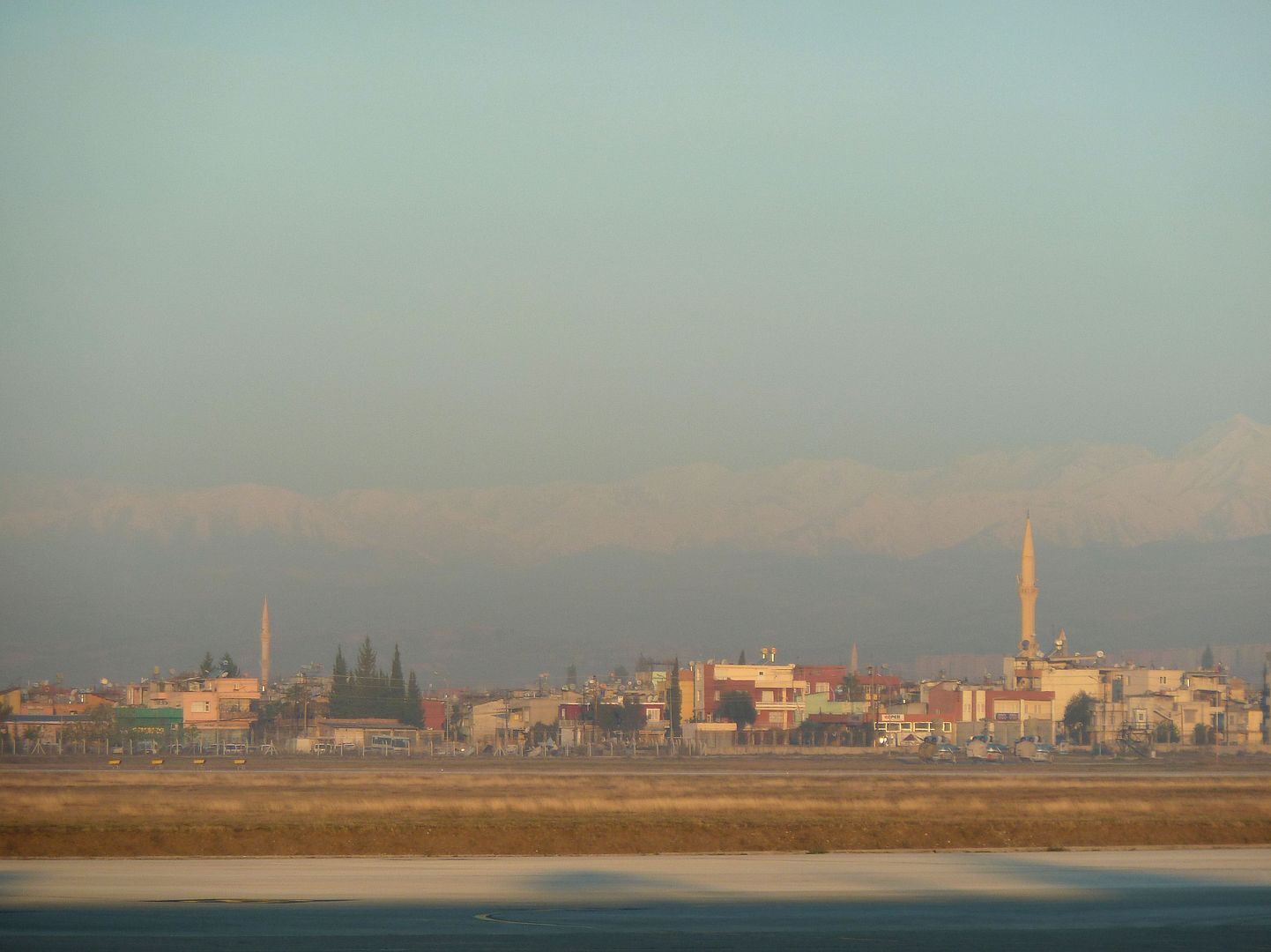 I had hoped for a last minute change to a 737-400 or an A319 or A320 operated by Pegasus Airlines' partner Izair, but it was a standard 737-800 which arrived from SAW: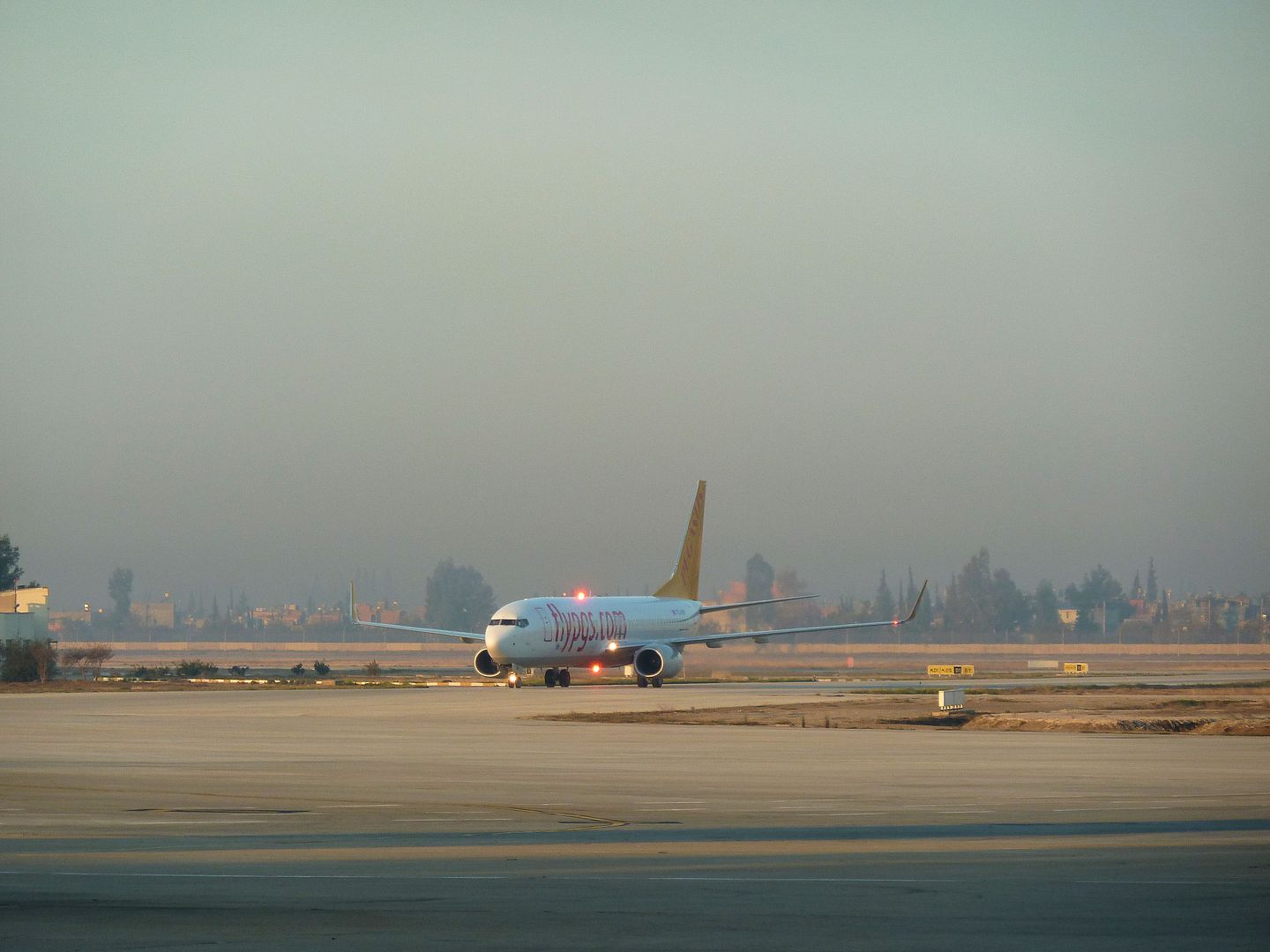 However, I was glad that Pegasus had sent
TC-ABP
, one of the newer birds, delivered in June 2010: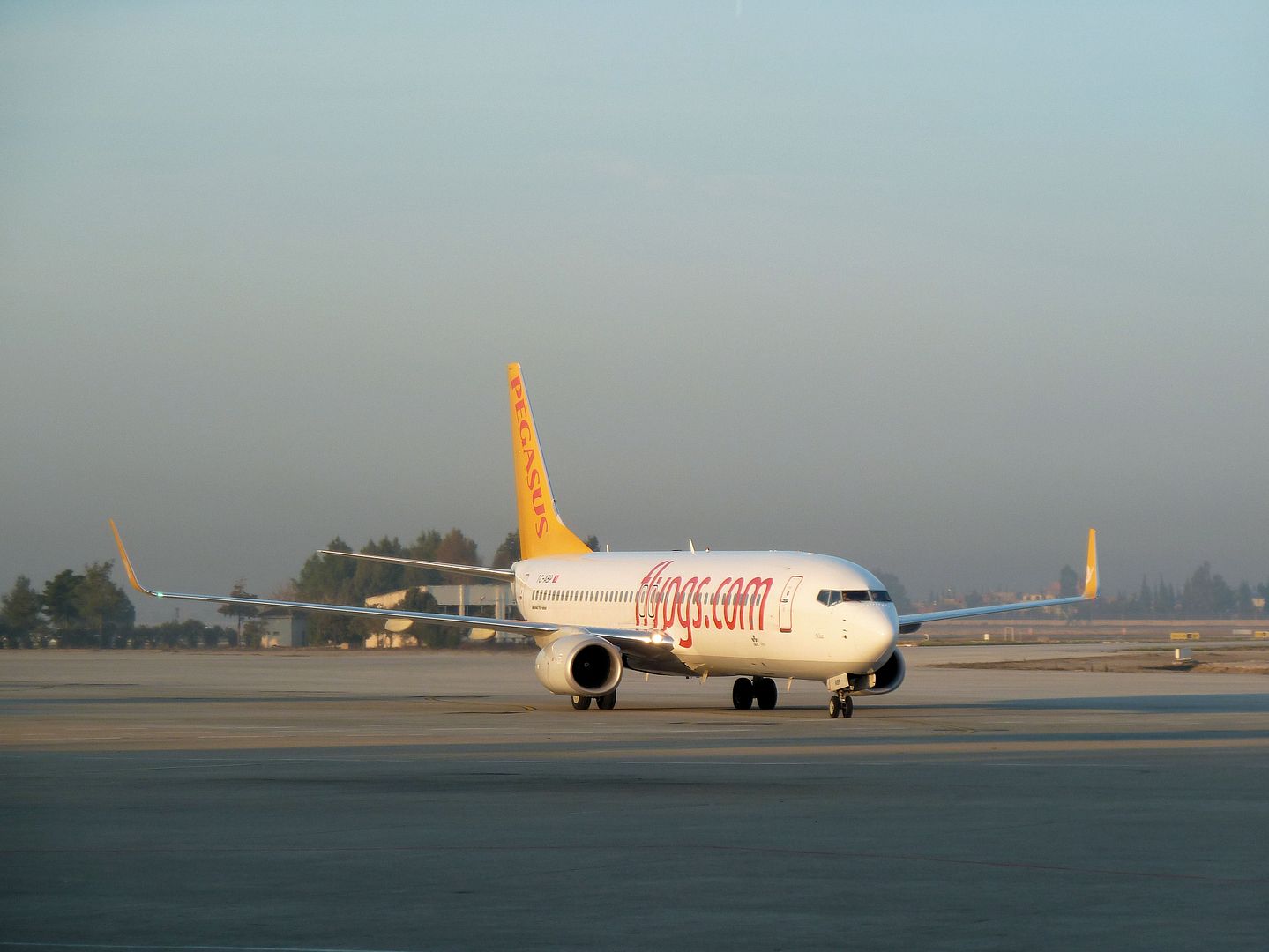 TC-ABP
is one of 29 737-800s in the fleet, including two planes leased from Izair (in full Pegasus colors):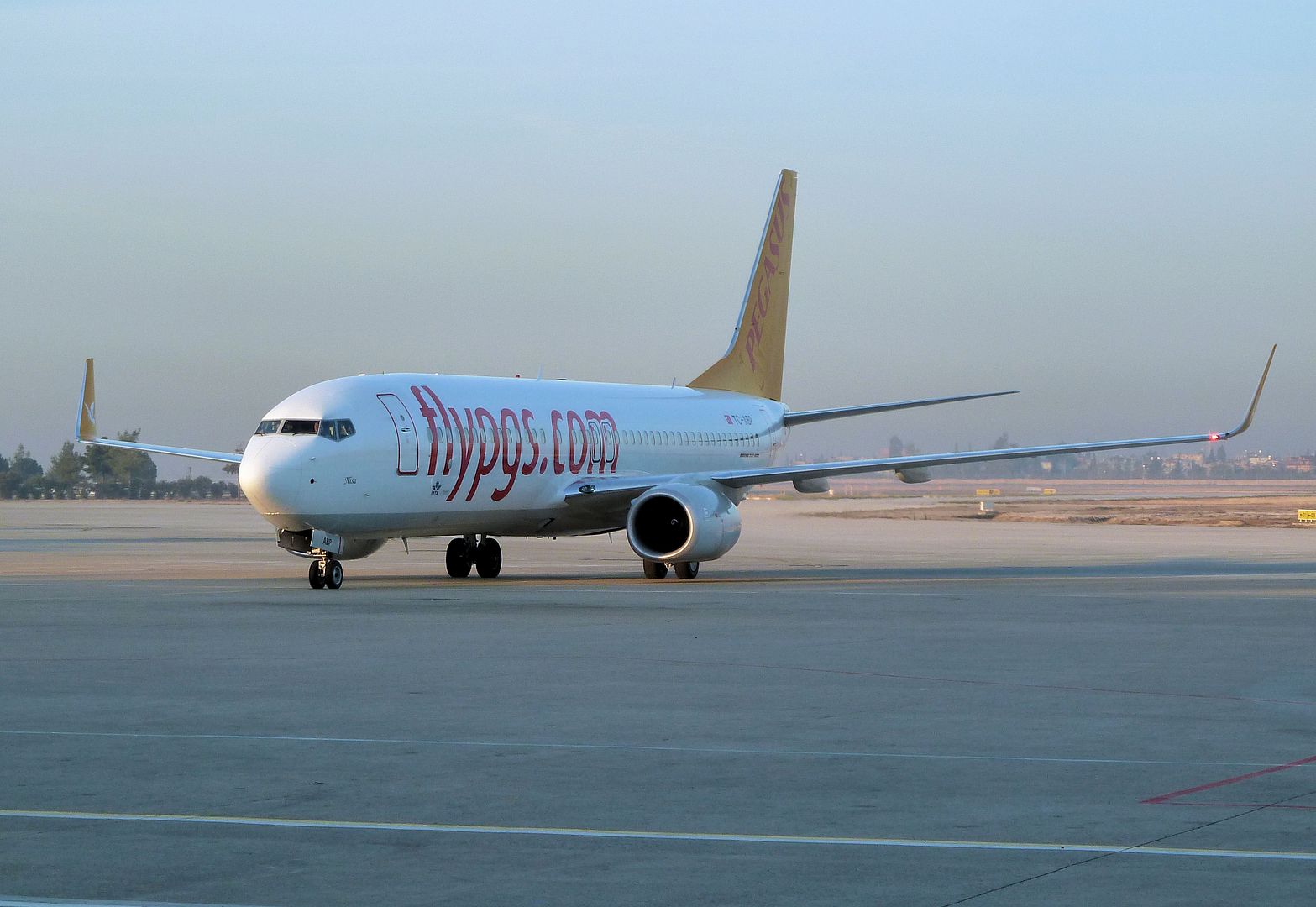 Boarding commenced early and the plane filled up quickly. I discretely took a few pictures: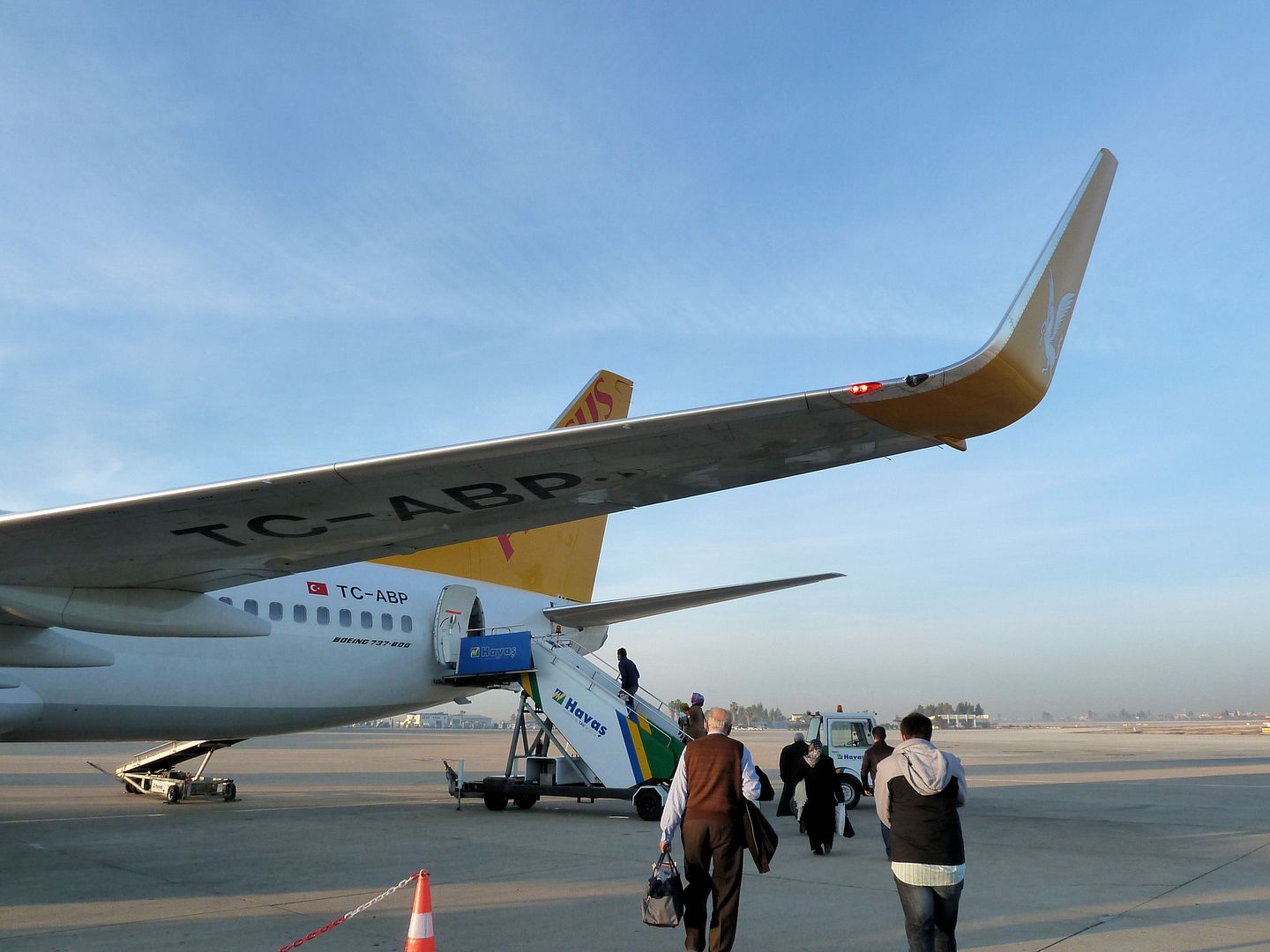 The welcome on board was not as warm as on SunExpress, but at least the cabin looked still fairly new, and it was spotlessly clean. The leather seat was comfortable...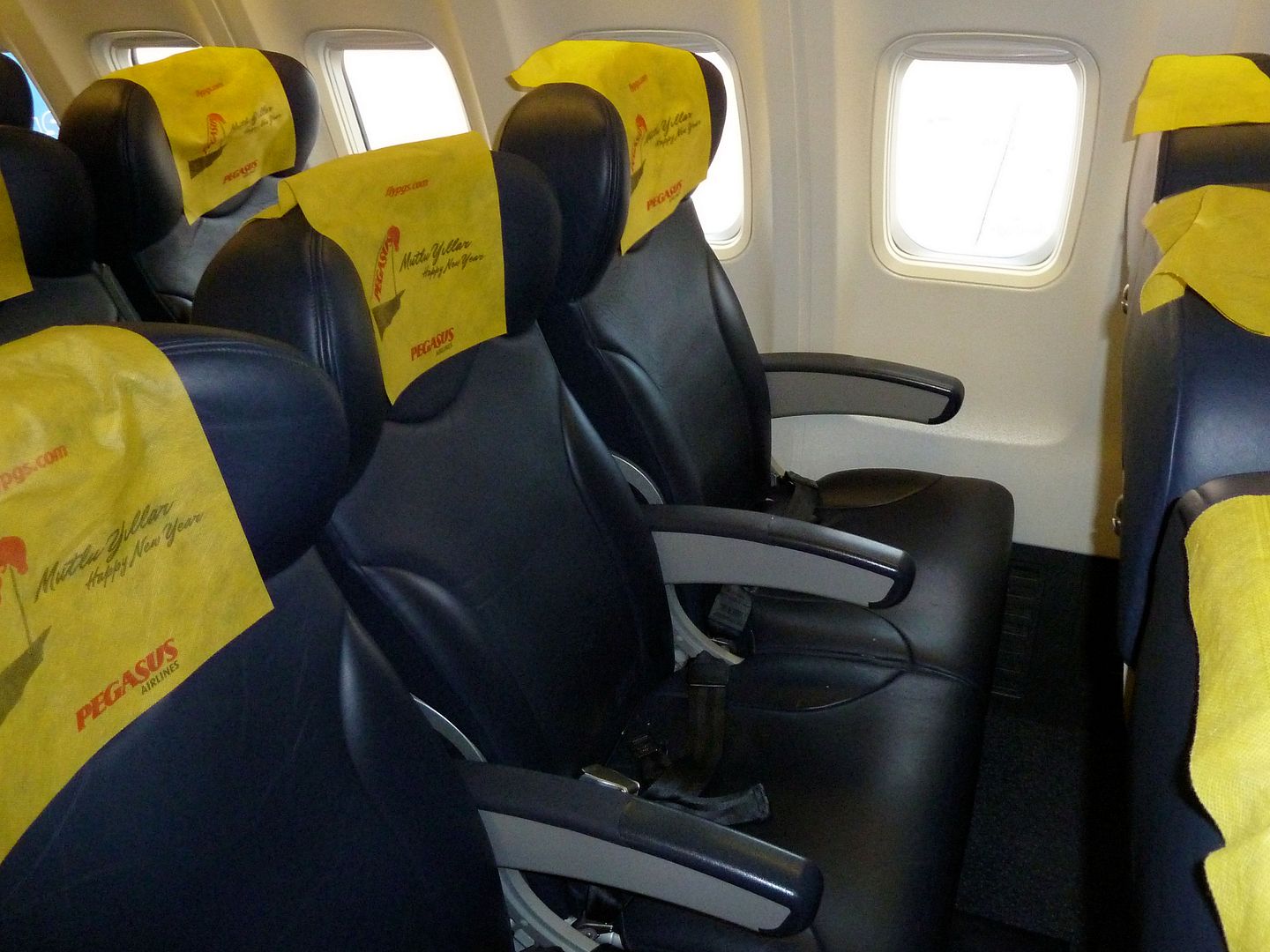 ...but legroom was as tight as on SunExpress. And, unfortunately, Pegasus Airlines decided to abolish the classic safety cards: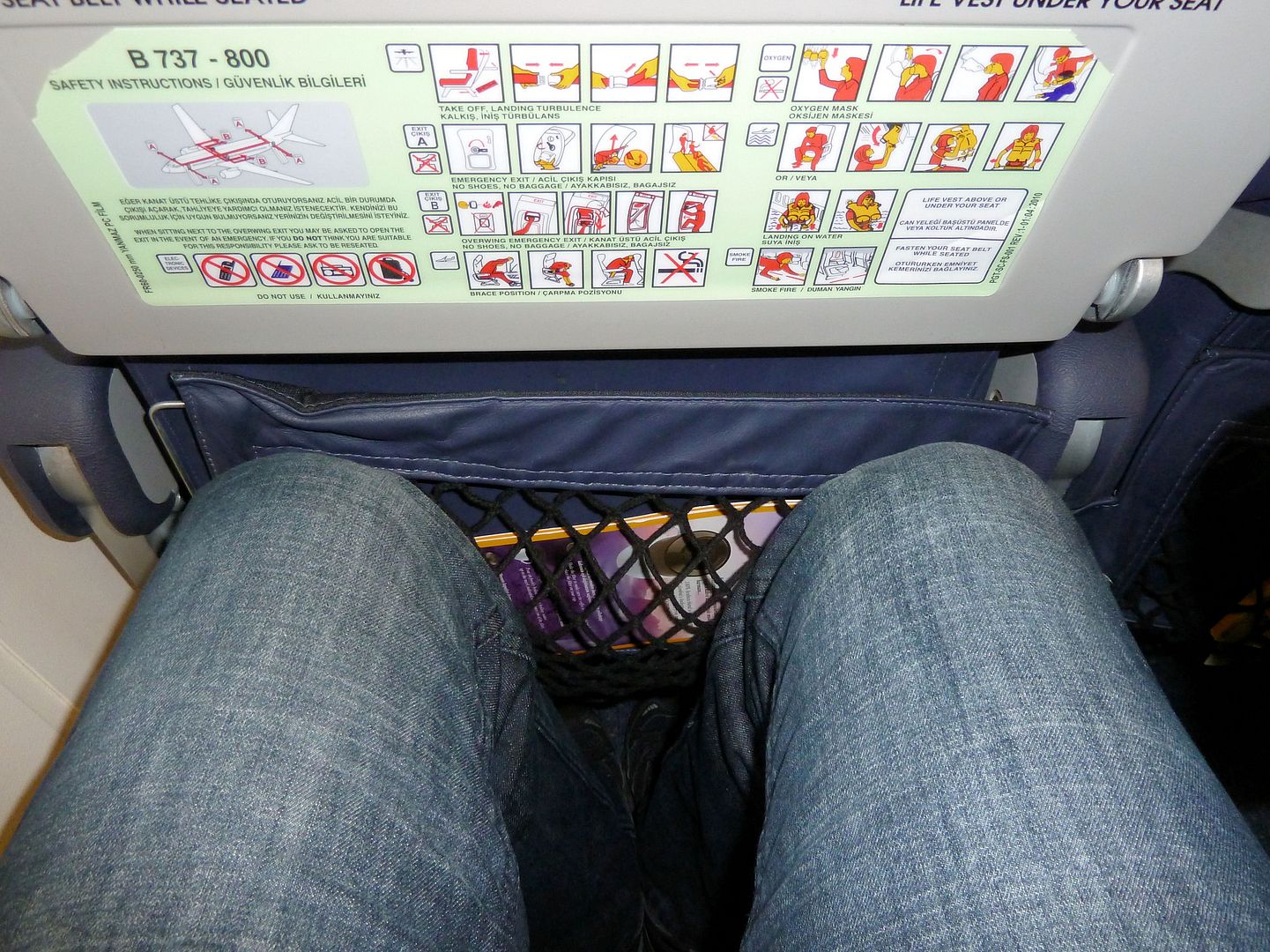 My seat pocket didn't contain an inflight magazine, so I took the rather worn one from the middle seat which would remain empty anyway: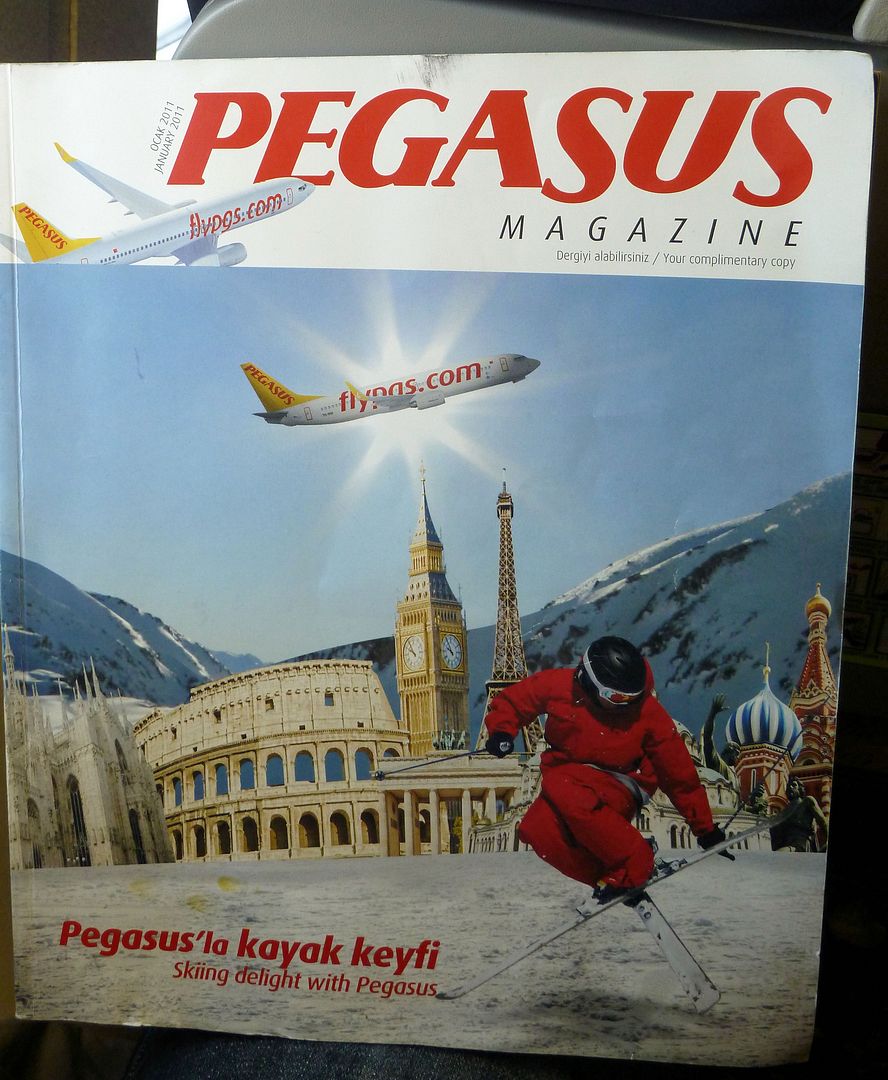 Once boarding had been completed (load factor 70-80 percent), overhead screens were folded out: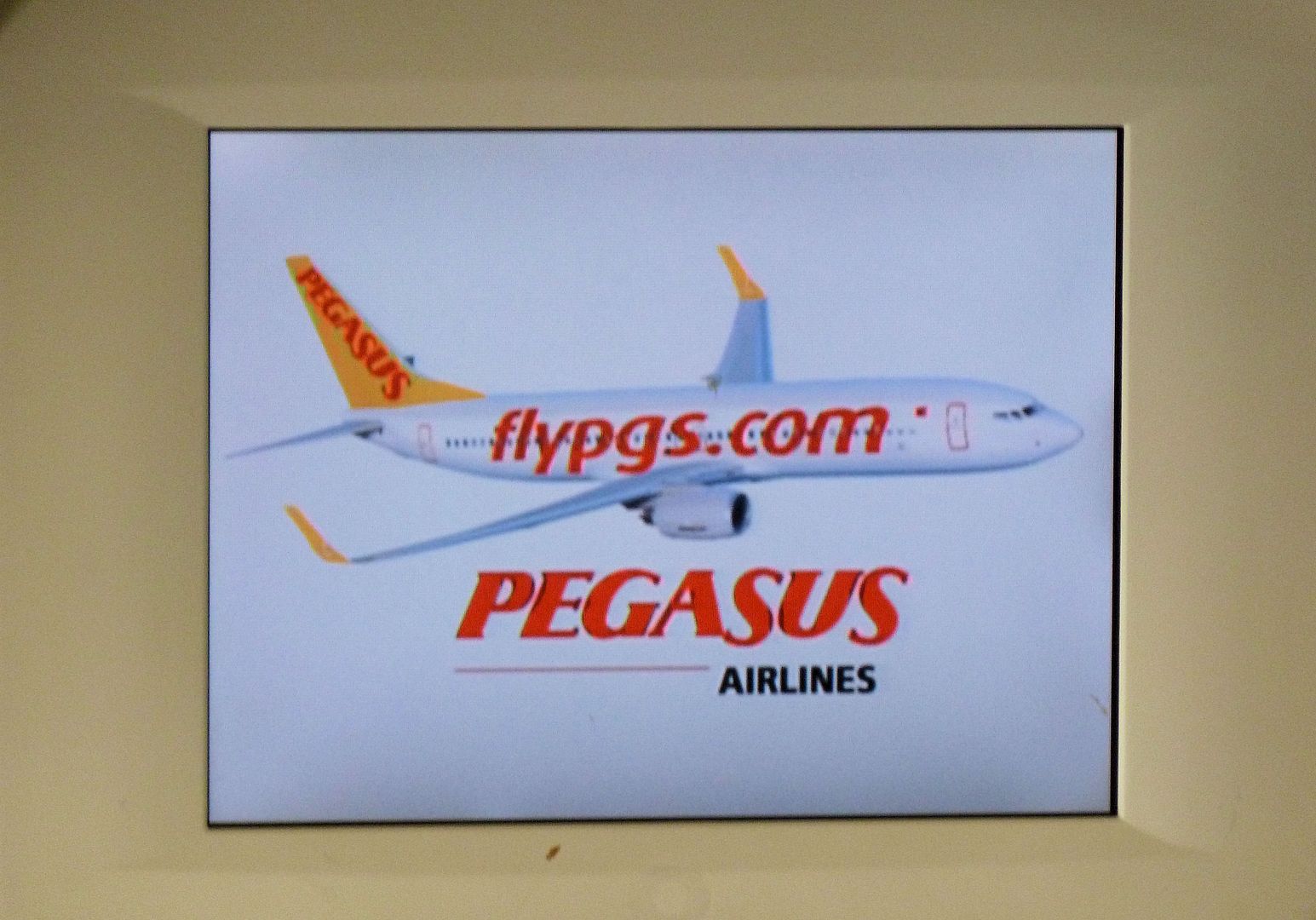 The safety video was quite funny, it definitely creates attention: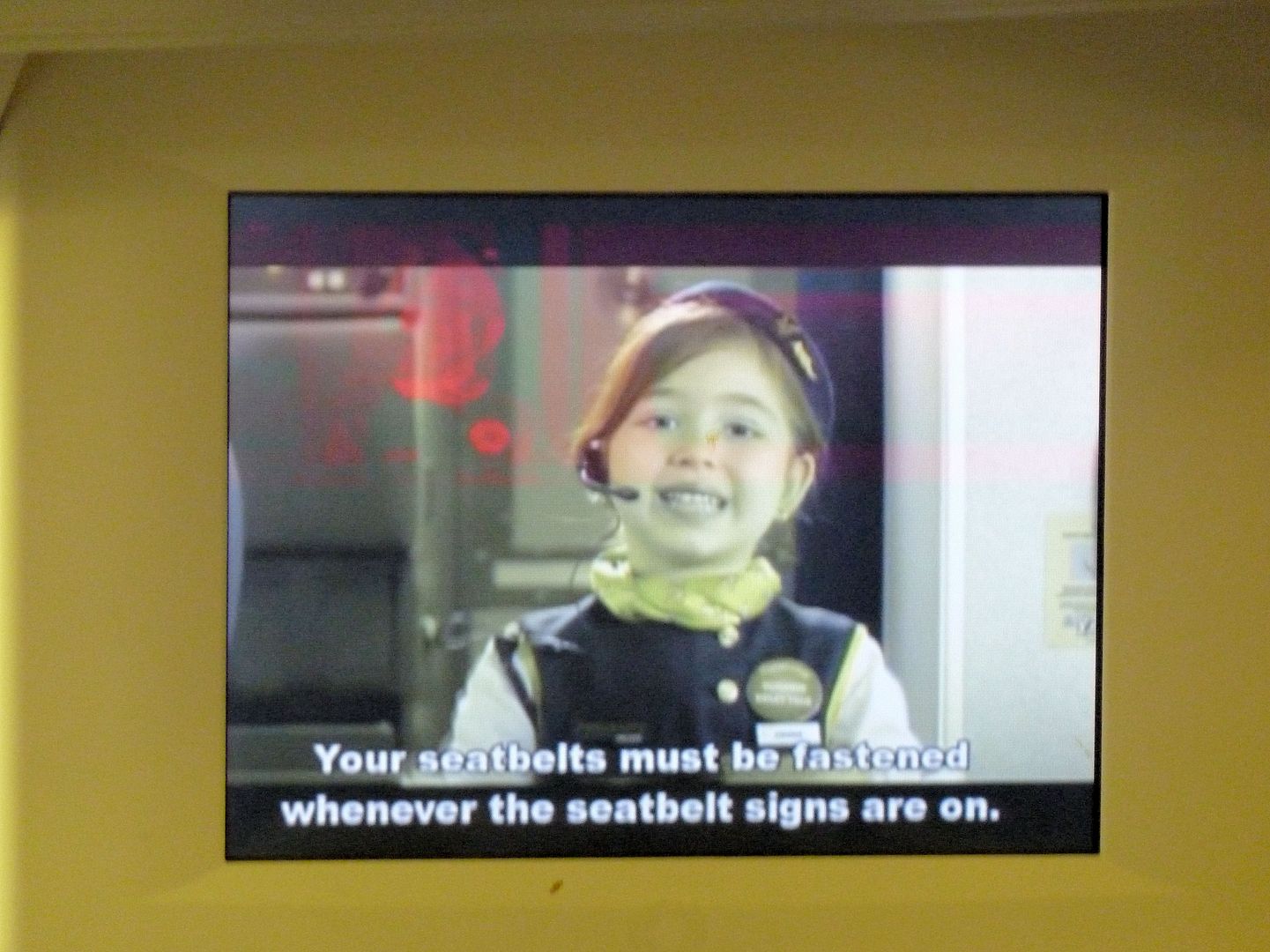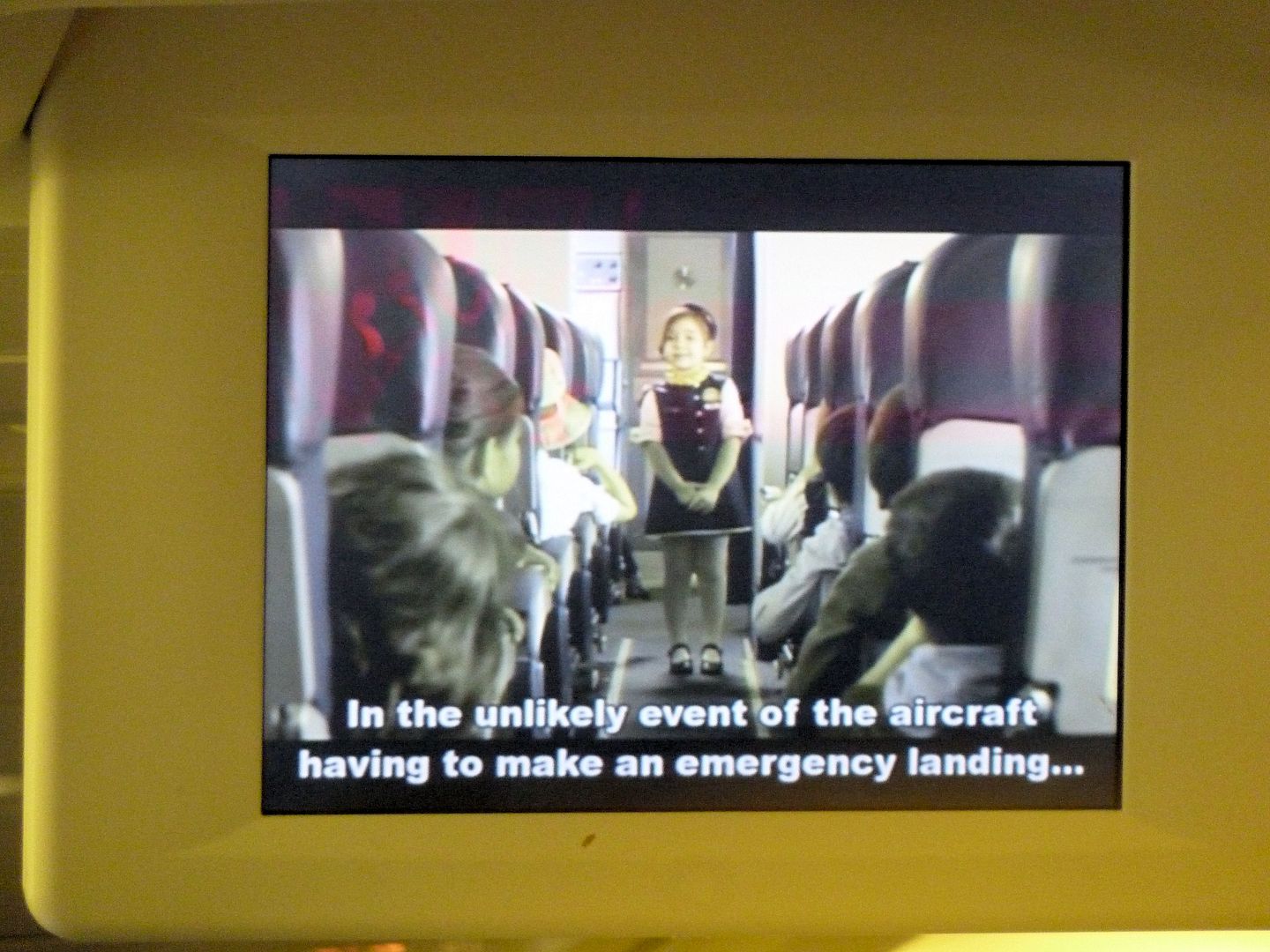 Here's a link to a shortened version if you want to watch it:
http://www.youtube.com/watch?v=IKgYqO9w-Do&feature=related
No other plane was parked on the apron: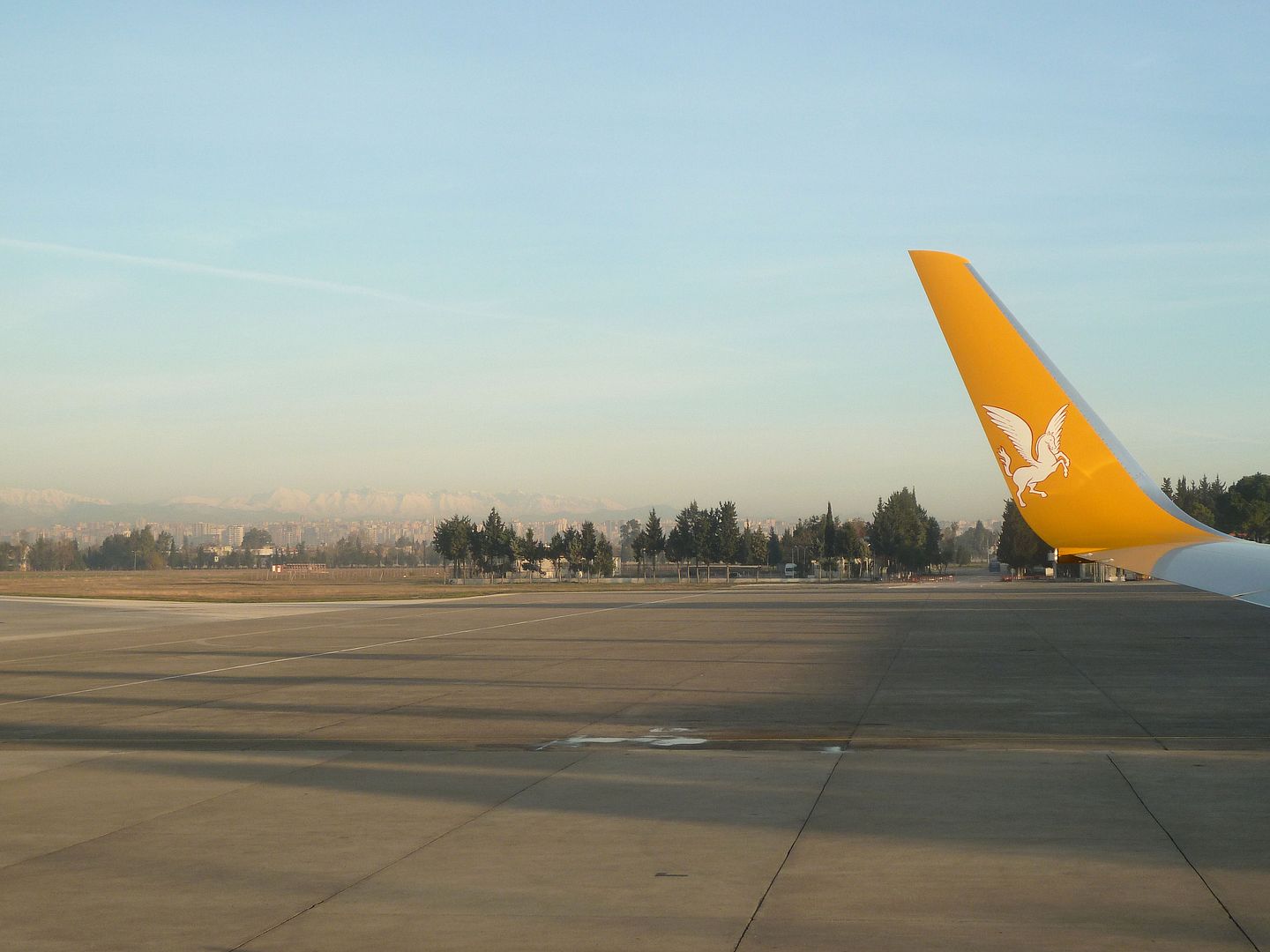 TC-ABP
was pushed back seven minutes early...
...and took off from runway 23 only a few minutes later: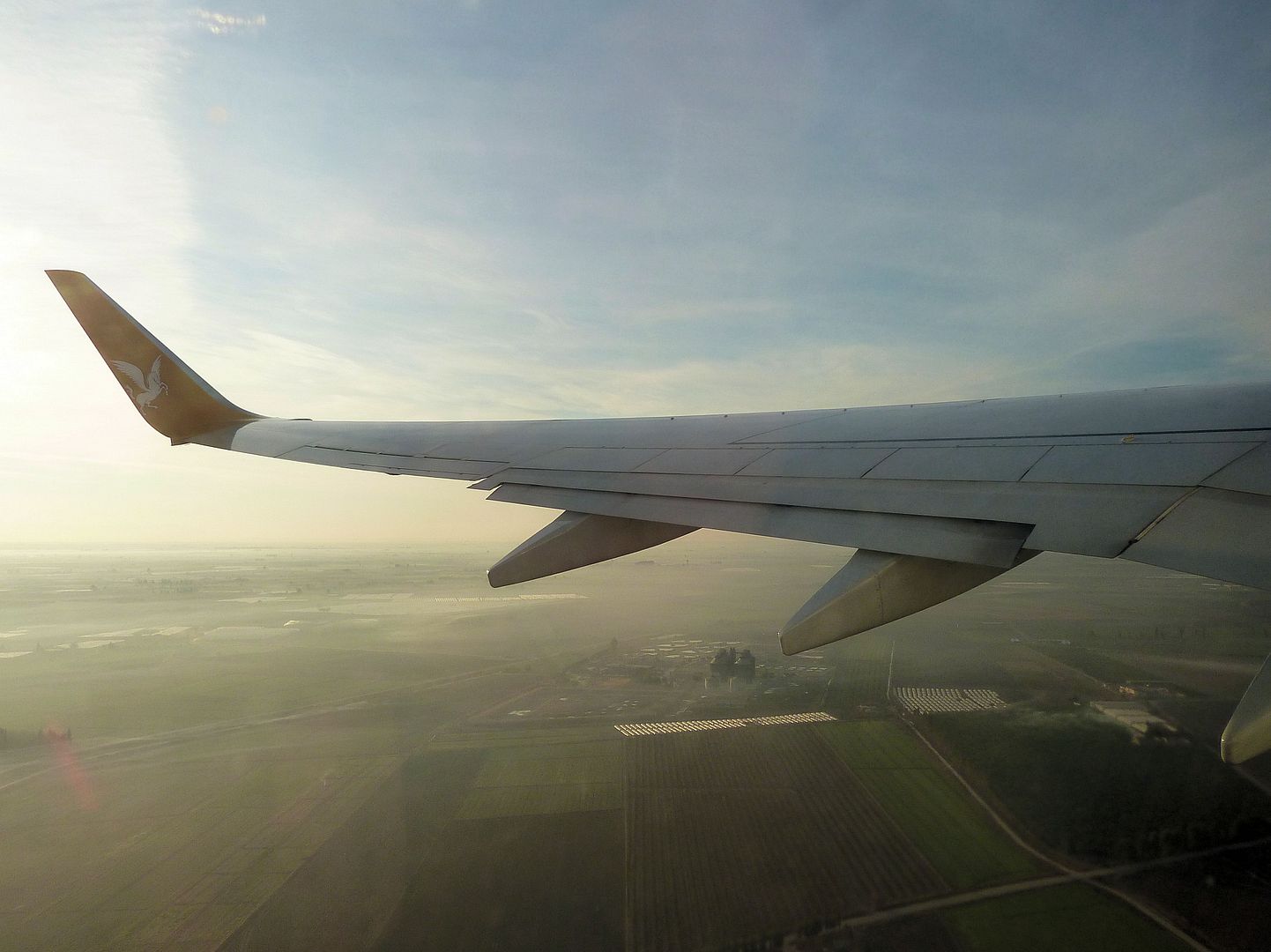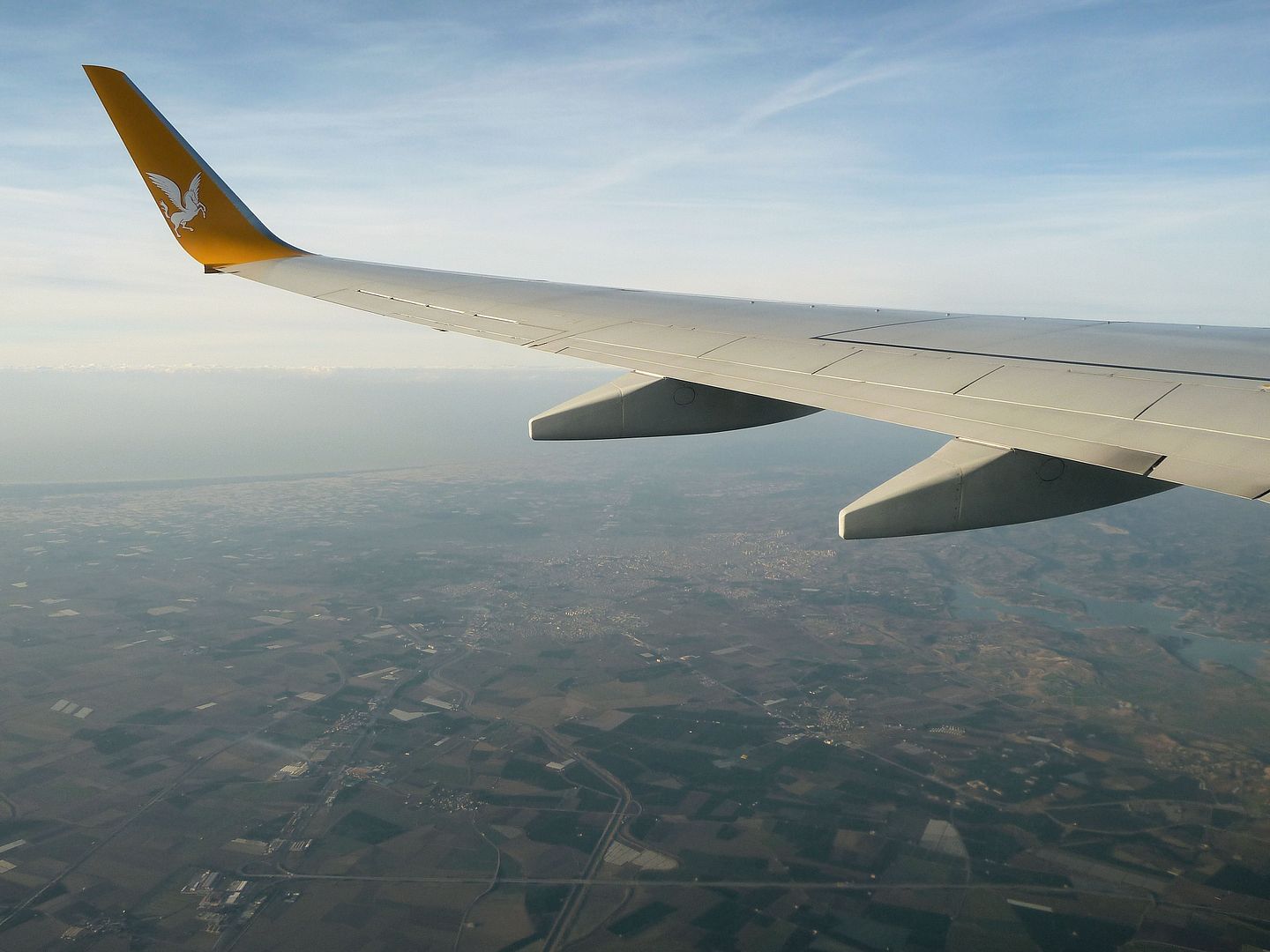 What I found most enjoyable was the 3D airshow - available during the whole flight: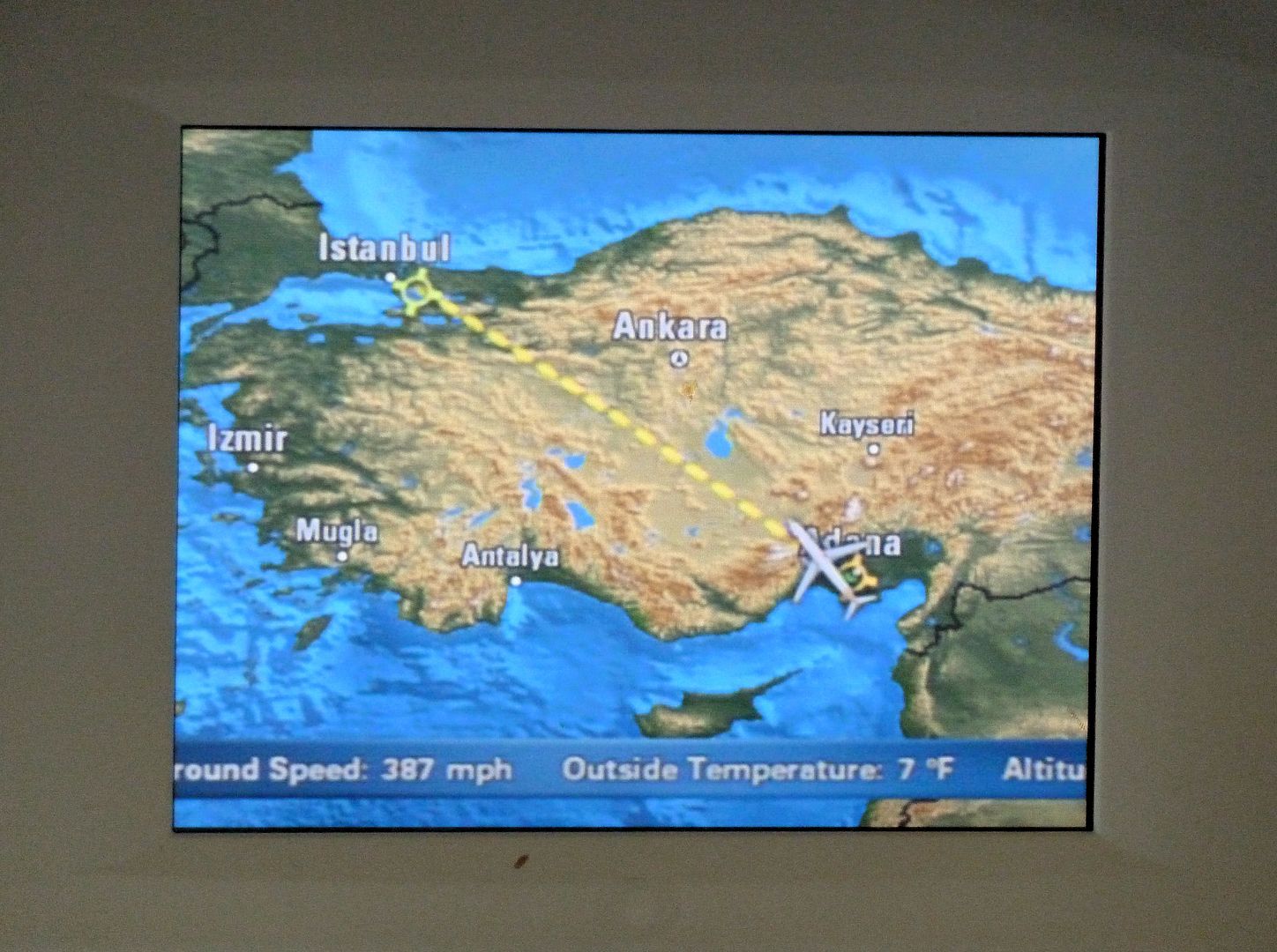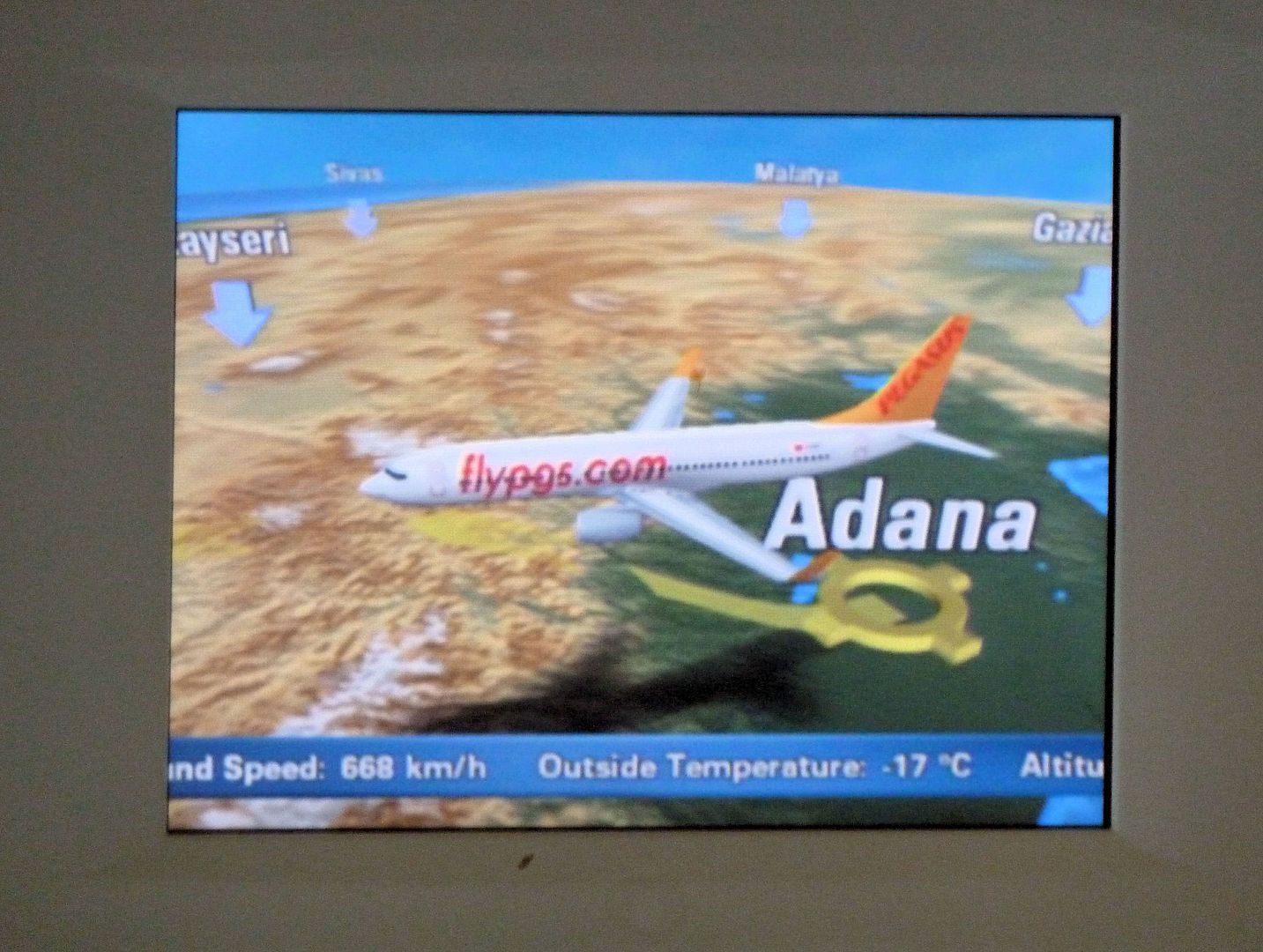 This looks like the city of Tarsus: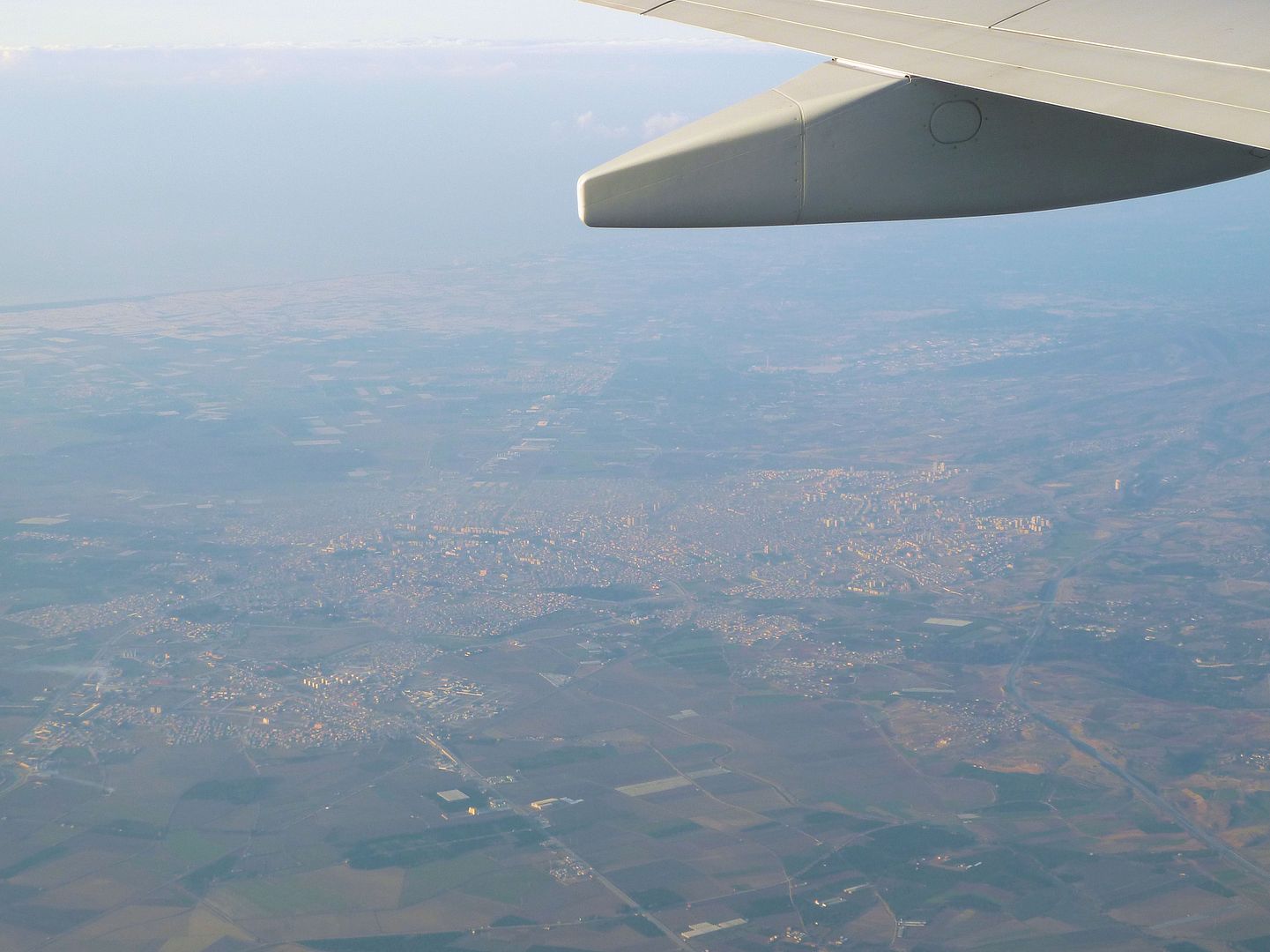 Not even ten minutes after takeoff we reached the Taurus mountain range - the views were breathtaking: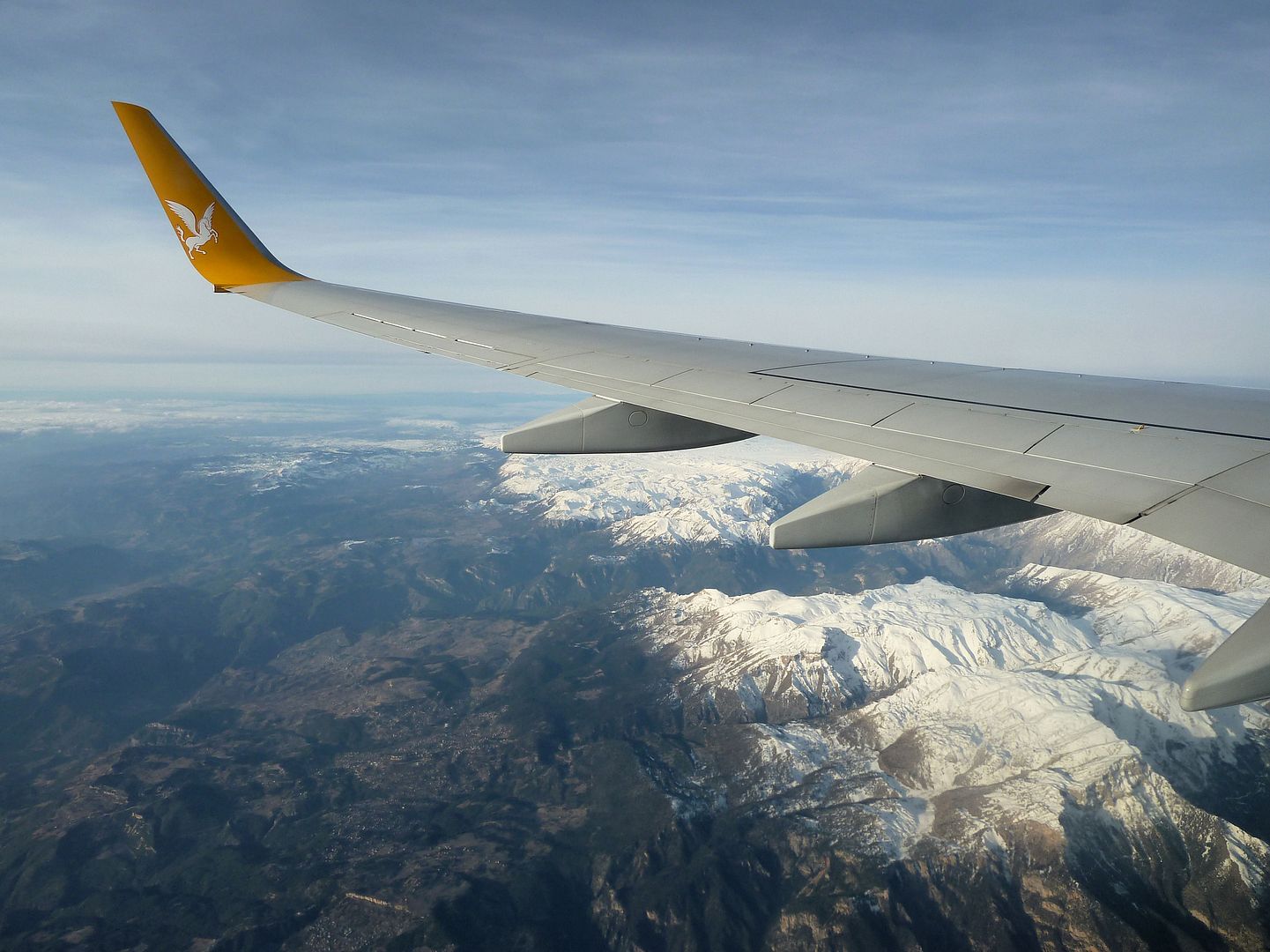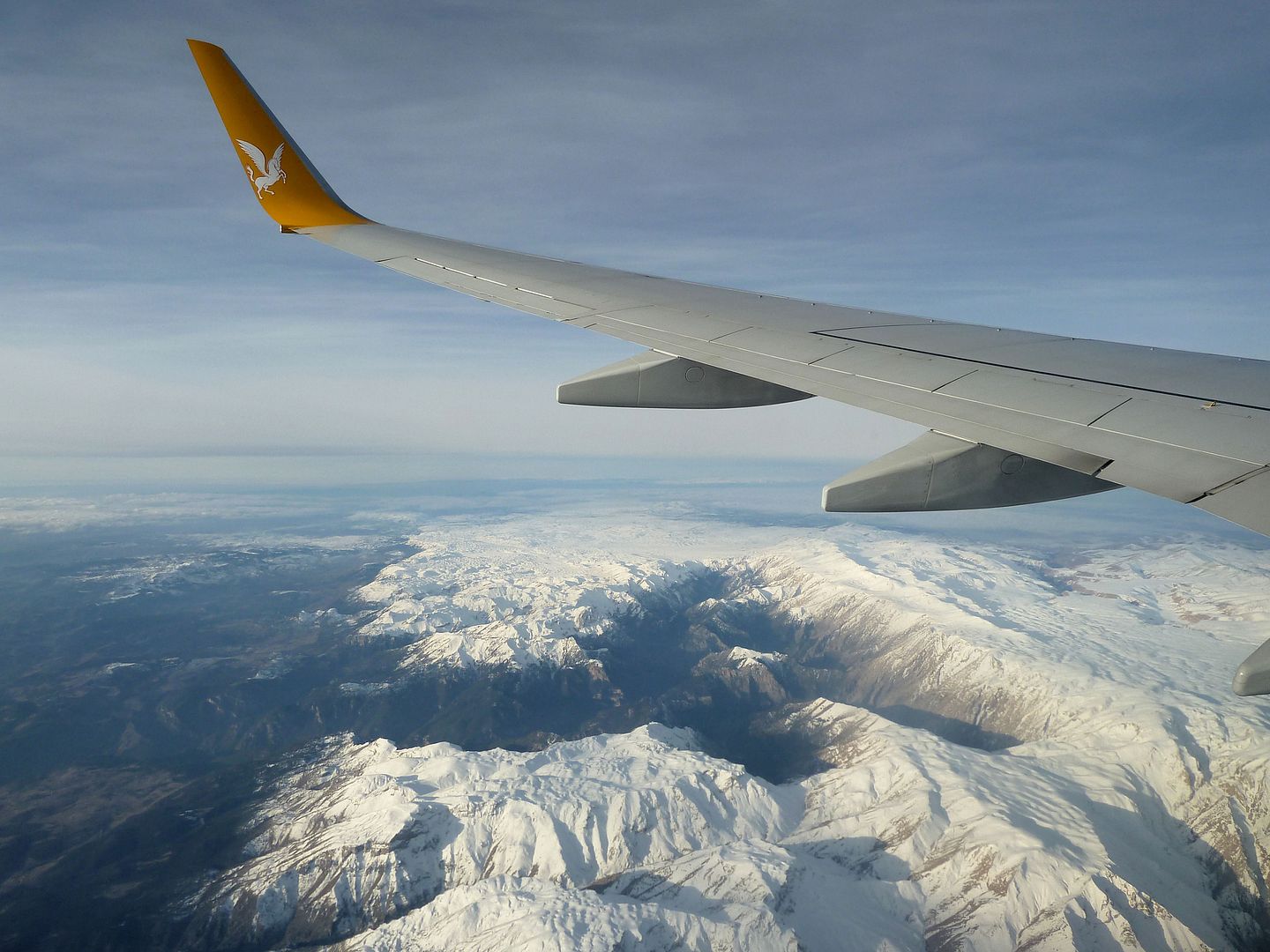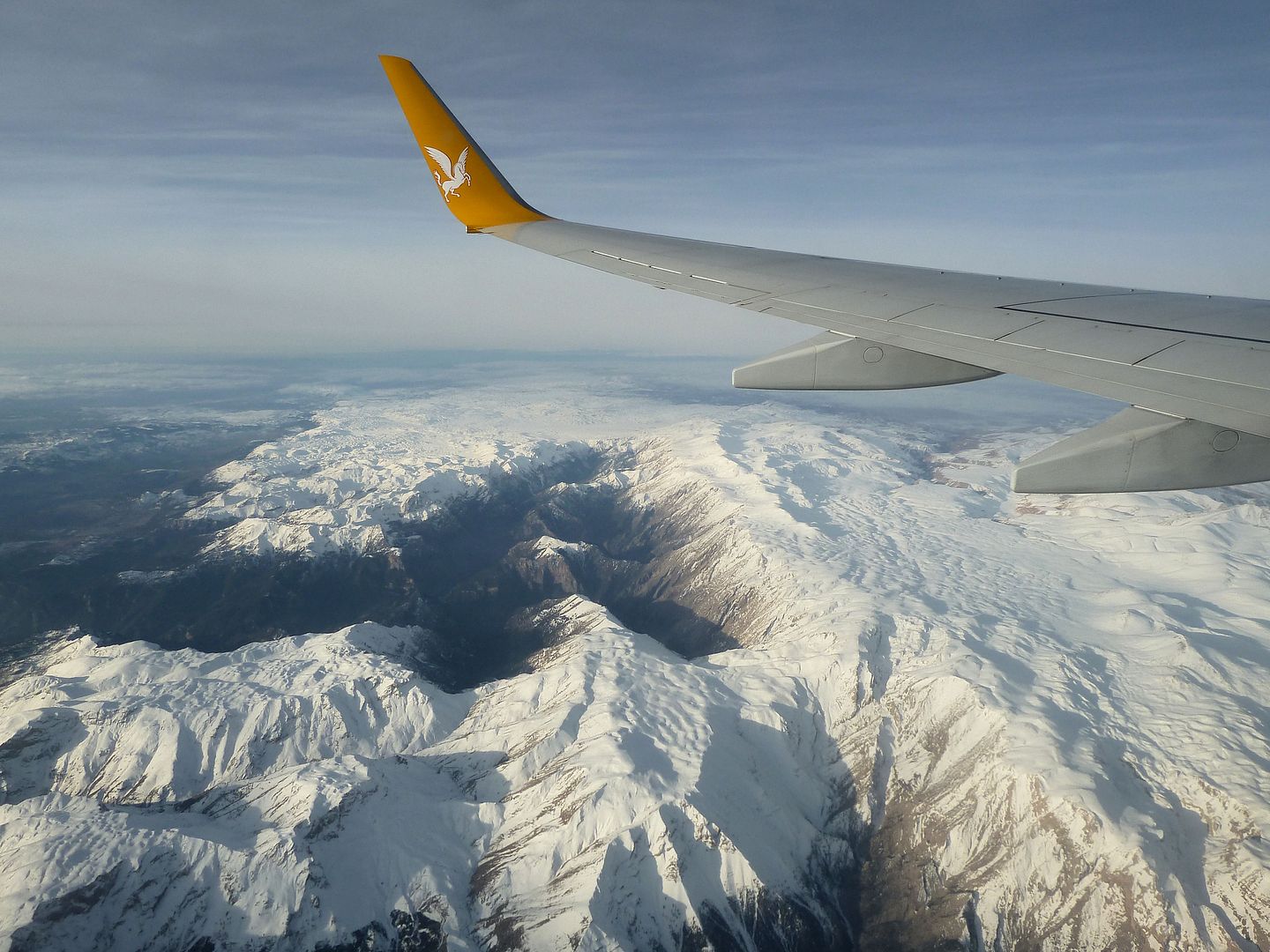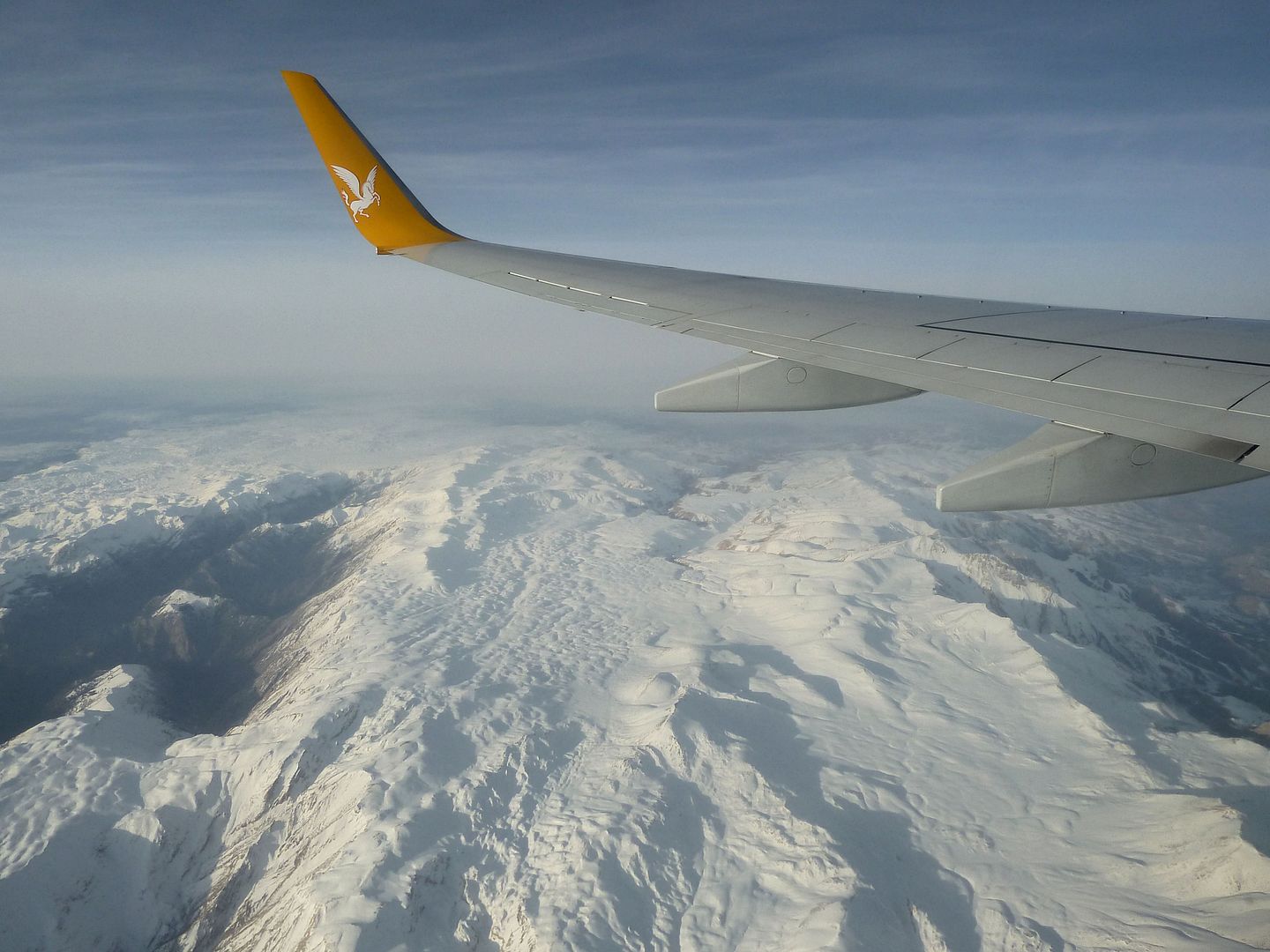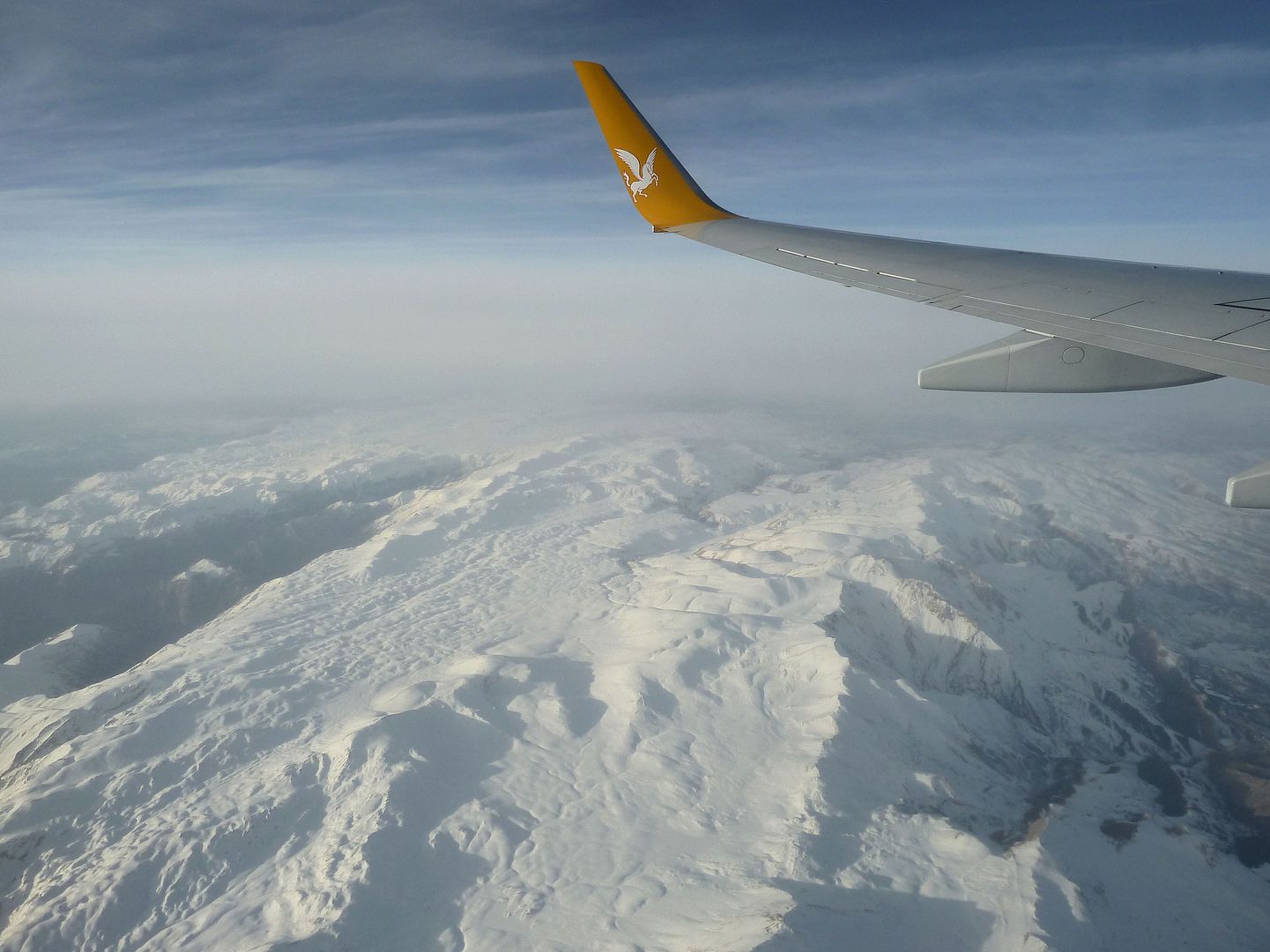 Food and drinks were offered for sale, here's the buy-on-board menu: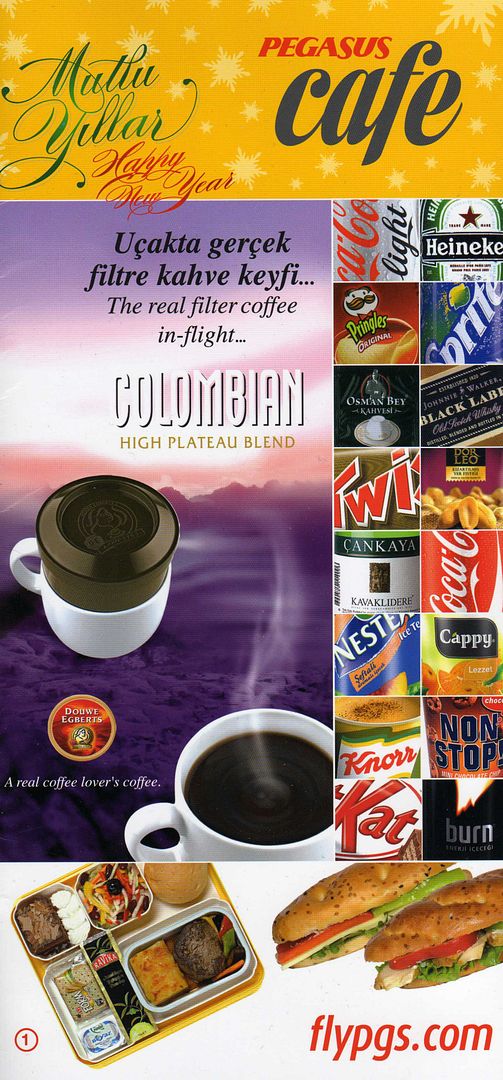 If you want to find out more about the offerings, just click here:
http://www.flypgs.com/_pdf/tr/pegasus_menu_list.pdf
When the flight attendants passed my row, I pointed out that I had pre-ordered a meal. Then the female flight attendant told his young male colleague:
"Go ask!"
Two minutes later he came back with a nice tray:
The Turkish breakfast - consisting of fresh fruit, sweet muesli and aromatic cream cheese - didn't just look very appealing, but also tasted very good. The tea wasn't bad either. I was so impressed that I didn't even notice that the flight attendant had apparently forgotten to add some bread - but I felt full anyway after finishing all the items on the tray, so I didn't complain. Btw - the guy in the aisle seat seemed to be quite surprised when he first saw my large breakfast...
Cabin shot:
The captain made a short announcement towards the end of the flight and informed about the upcoming descent. Fog and rain soon replaced the bright sunshine: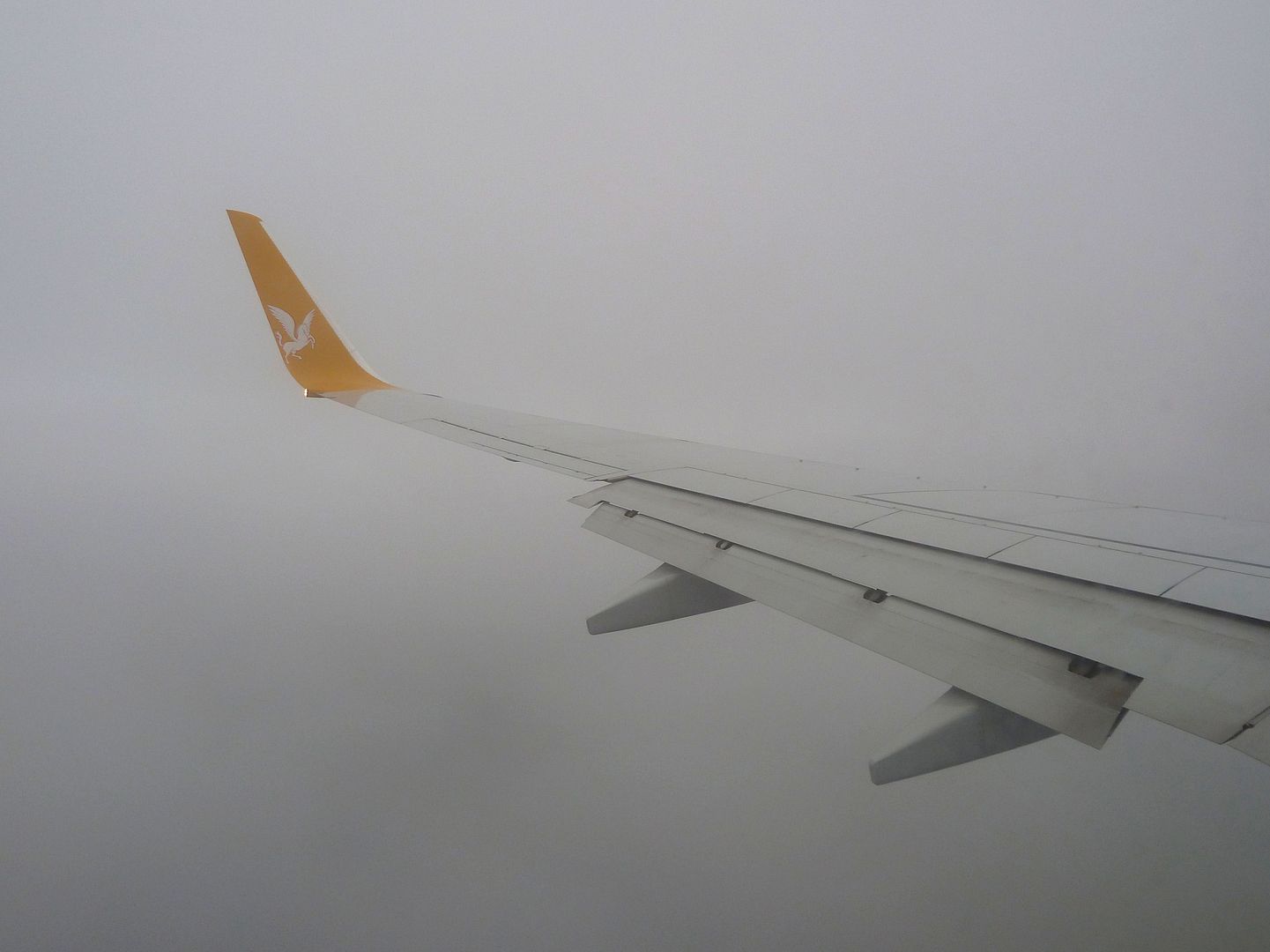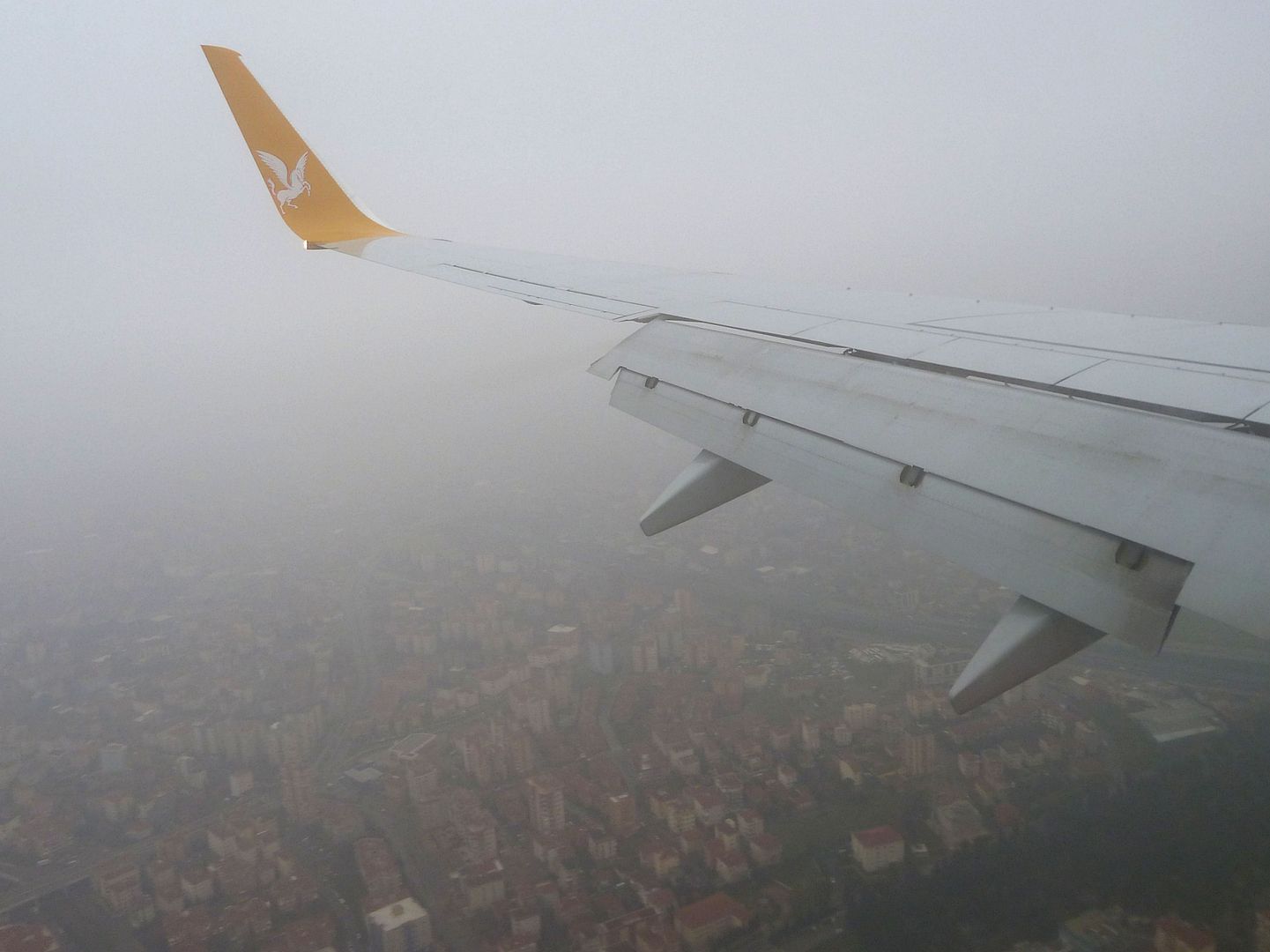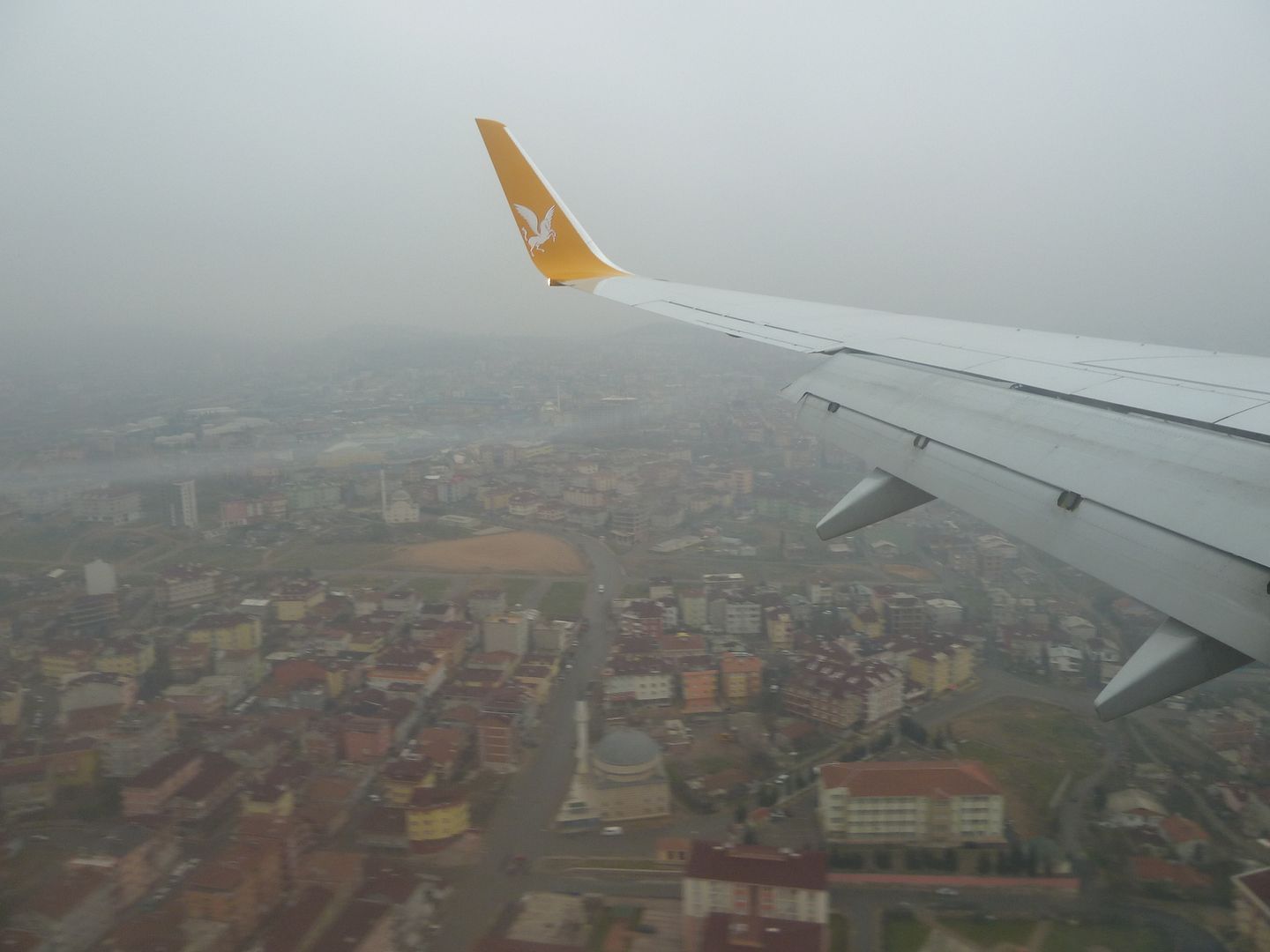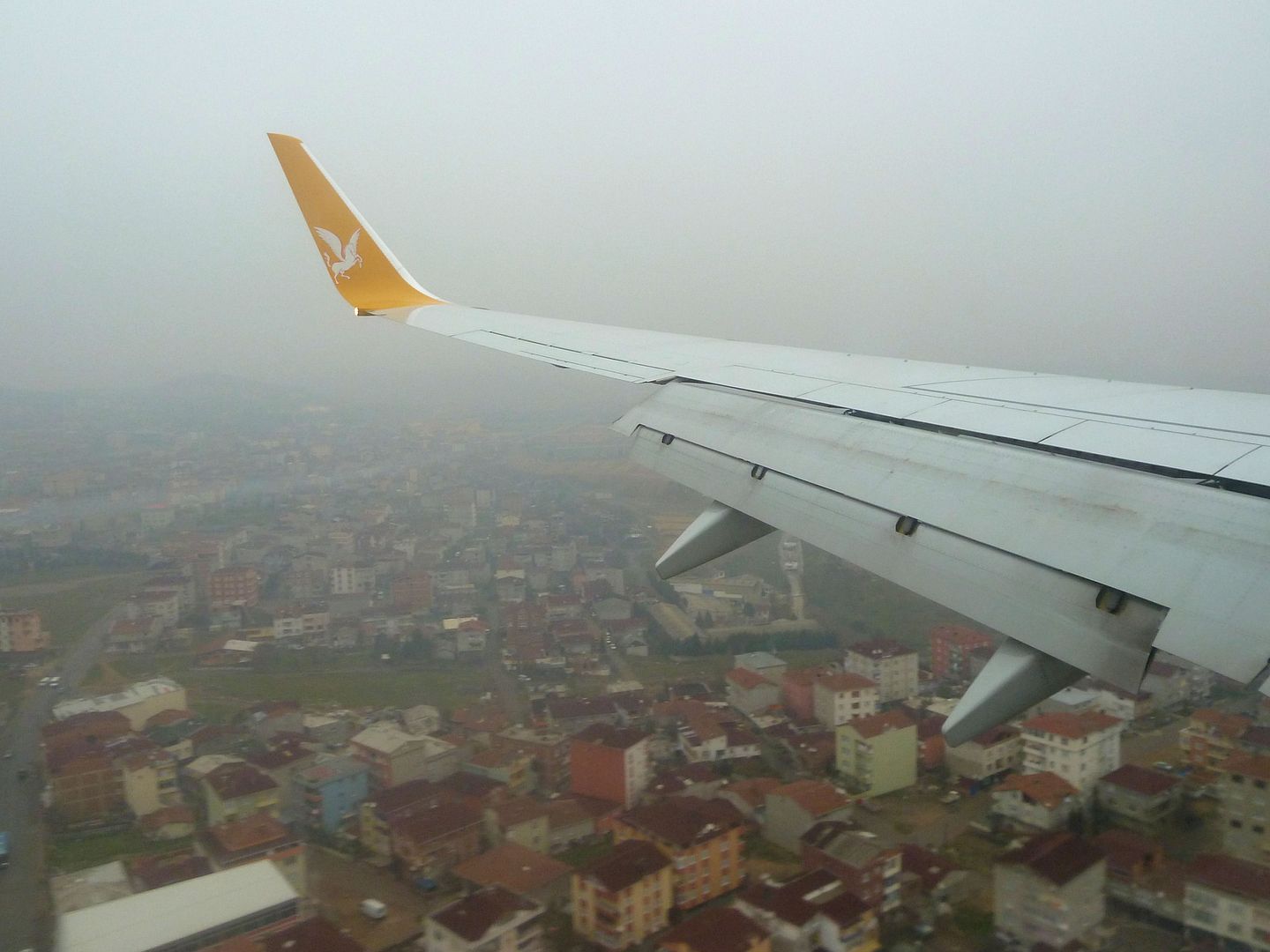 We touched down after a flying time of 1 hour and 9 minutes and taxied to a remote parking position.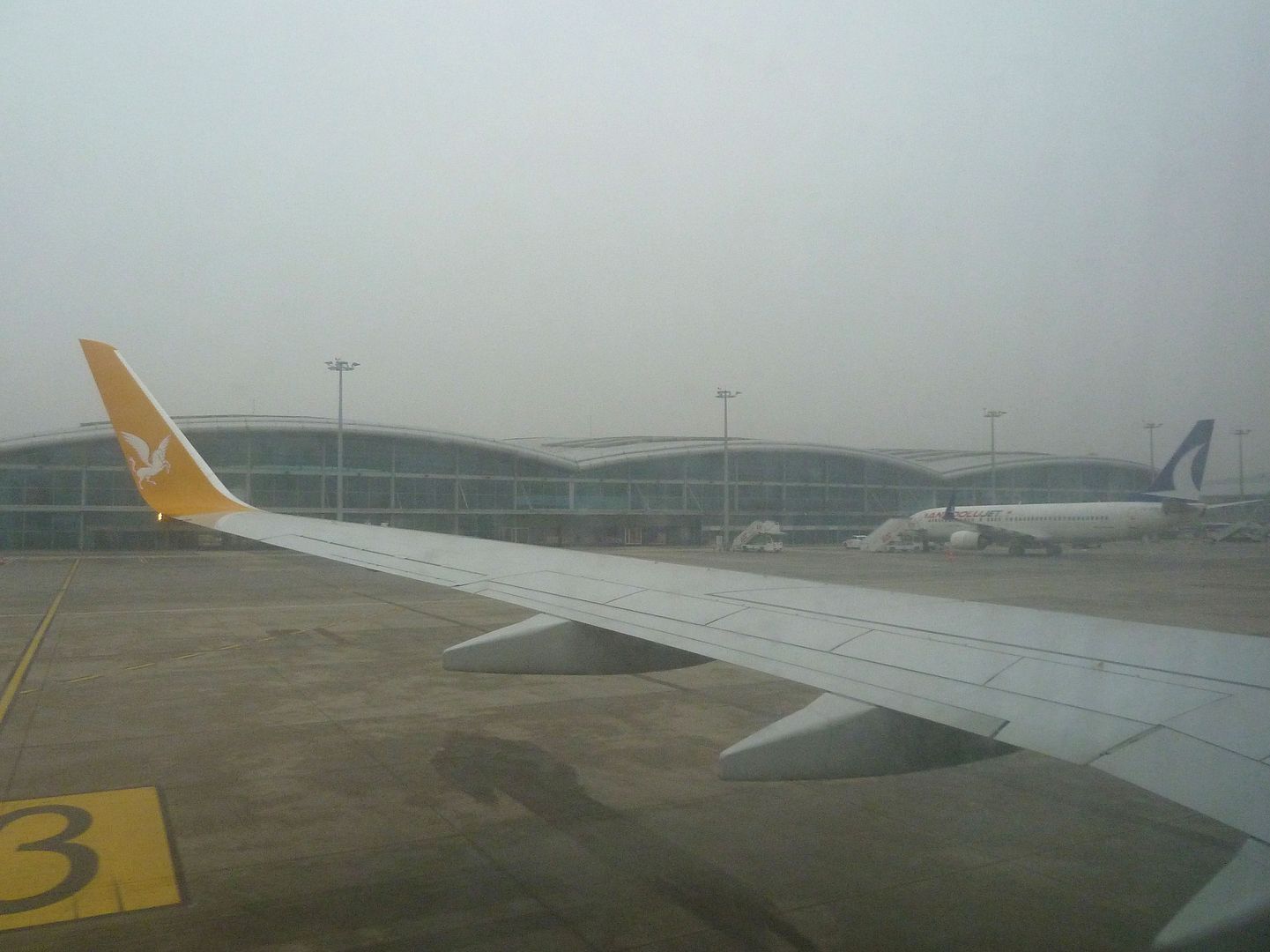 AnadoluJet is another frequent operator at SAW: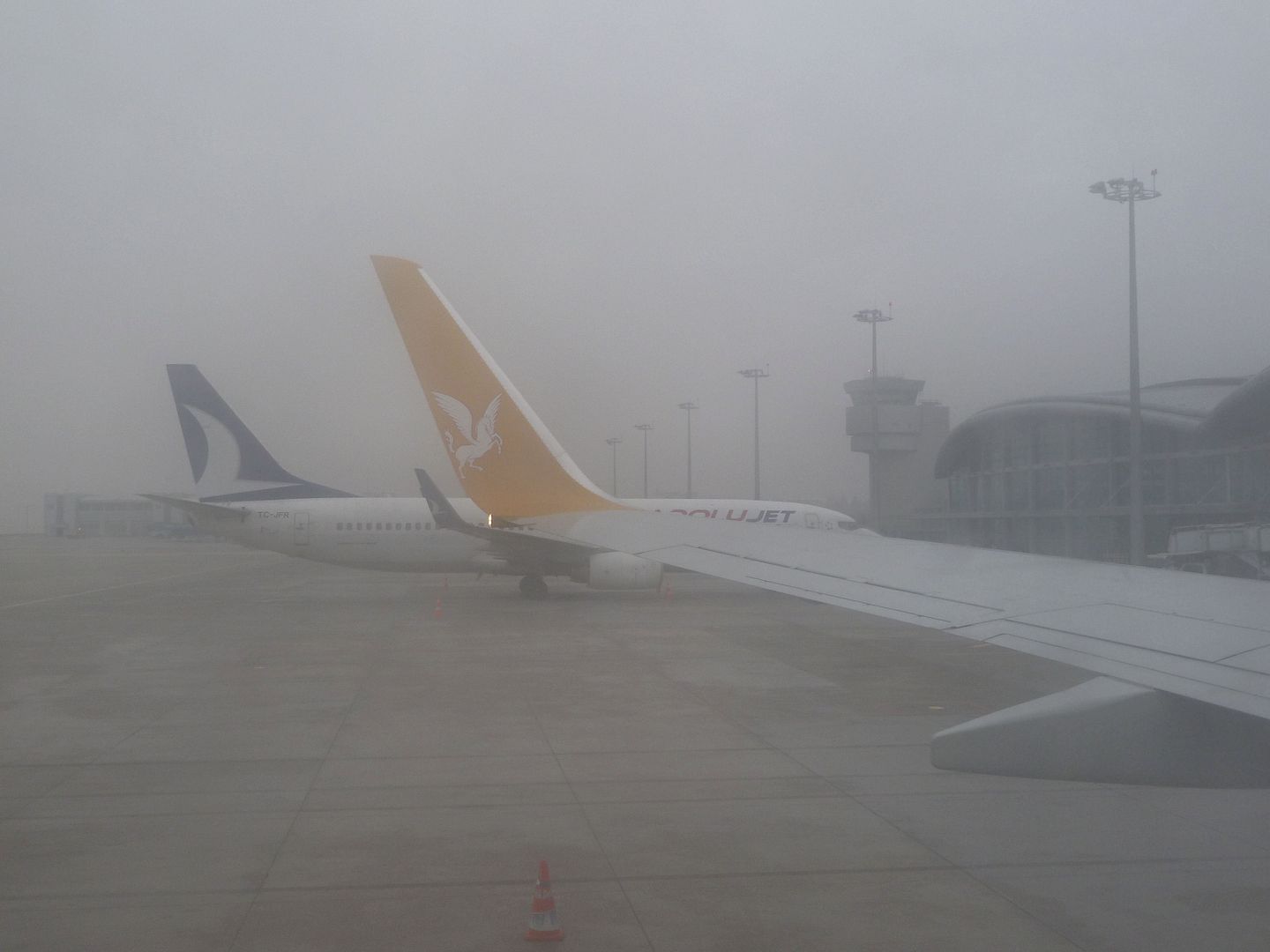 The last picture of
TC-ABP
on that day...?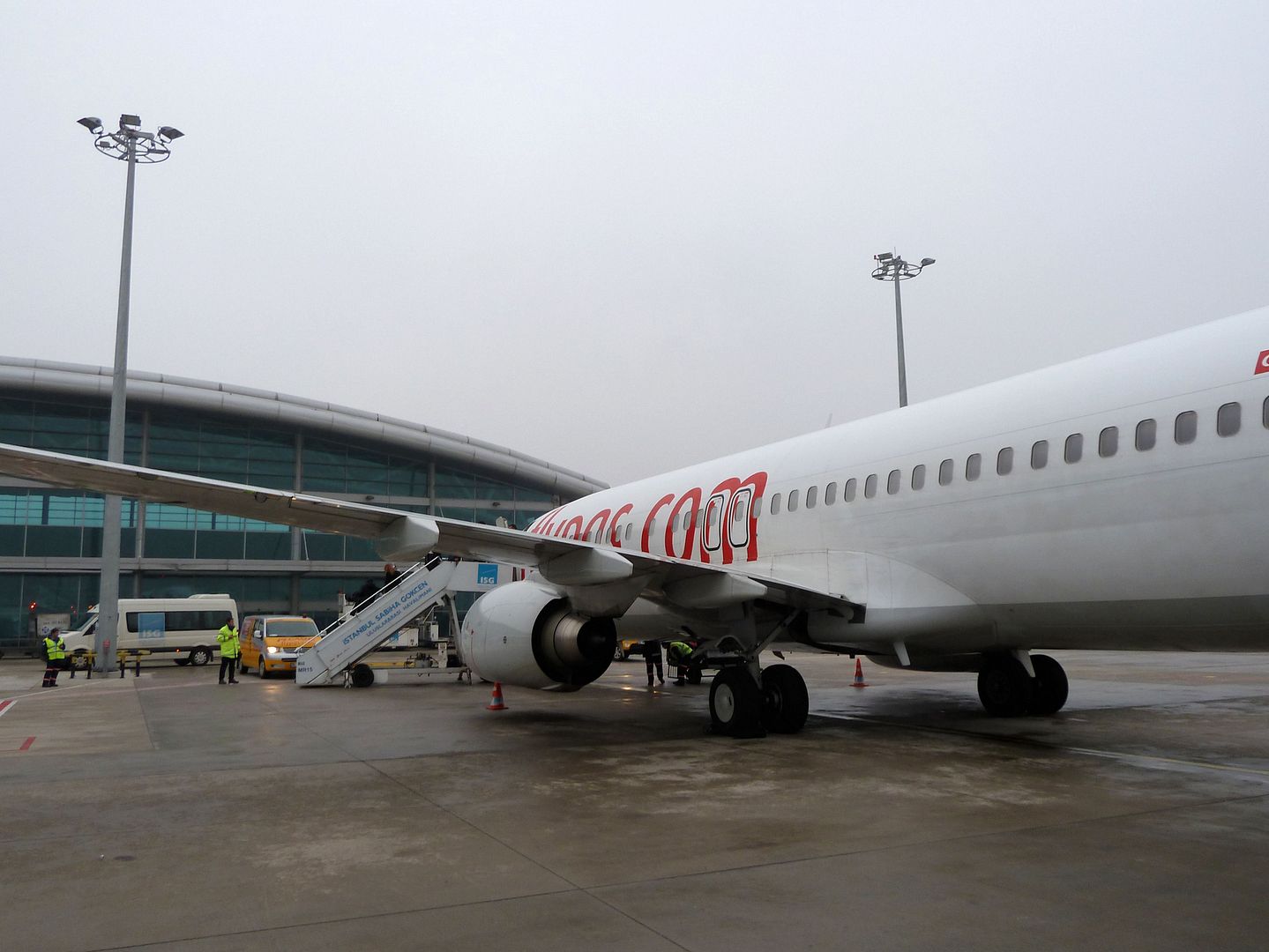 Sunday, 16 January 2011
Istanbul (SAW) - Munich (MUC)
Pegasus Airlines PC319
Scheduled times: 11:05-12:50
Actual times: 11:08-12:54
Flight duration: 02:18 (hrs)
Distance: 1002 miles
Economy Class, seat 21F

Boeing 737-82R
TC-ABP (s/n 3326), named "Nisa"
Delivered in 06/2010
2nd flight on TC-ABP
20th 737-800 flight
30th 737NG flight
55th 737 flight
Once in the terminal, I followed the transfer signs. When I passed a Pegasus Airlines transfer desk, I decided to ask about the aircraft type on the SAW-MUC sector. I was still hoping for an aircraft change considering that Pegasus has sometimes sent 737 Classics to Munich in the past few weeks. According to the agent, it would still be a 737-800. I was tempted to ask for the registration, too, but her English skills were limited, so I didn't want to confuse her. When I was about to leave, she shocked me with this remark:
"The flight will be three hours after."
What? Three hours late??? Anyway, I didn't want to continue that conversation and decided it would be better to check the flight's status on a FIDS. Interestingly, the screen showed an on-time departure - and that wouldn't change at any time. So what did the agent want to tell me?
On the way to my gate I had to line up at passport control. There weren't many people ahead of me, but it would still take more than 20 minutes. It seems I always end up in queues where the officers have to deal with special cases...
There wasn't much time left for spotting in the end and I only got 13 new registrations at SAW which was quite disappointing.
Boarding commenced on time and a bus brought us to the aircraft. I had never seriously considered the possibility of getting the same plane again - simply because the ground time would have been almost two hours. However, I was starting to get a bit nervous when the bus passed a number of other Pegasus 737-800s and continued heading to the area where
TC-ABP
was parked...
"Don't turn now!"
, I thought, but the bus did exactly that after passing
TC-ABP
...why on earth didn't that plane leave again after 30, 45 or 60 minutes?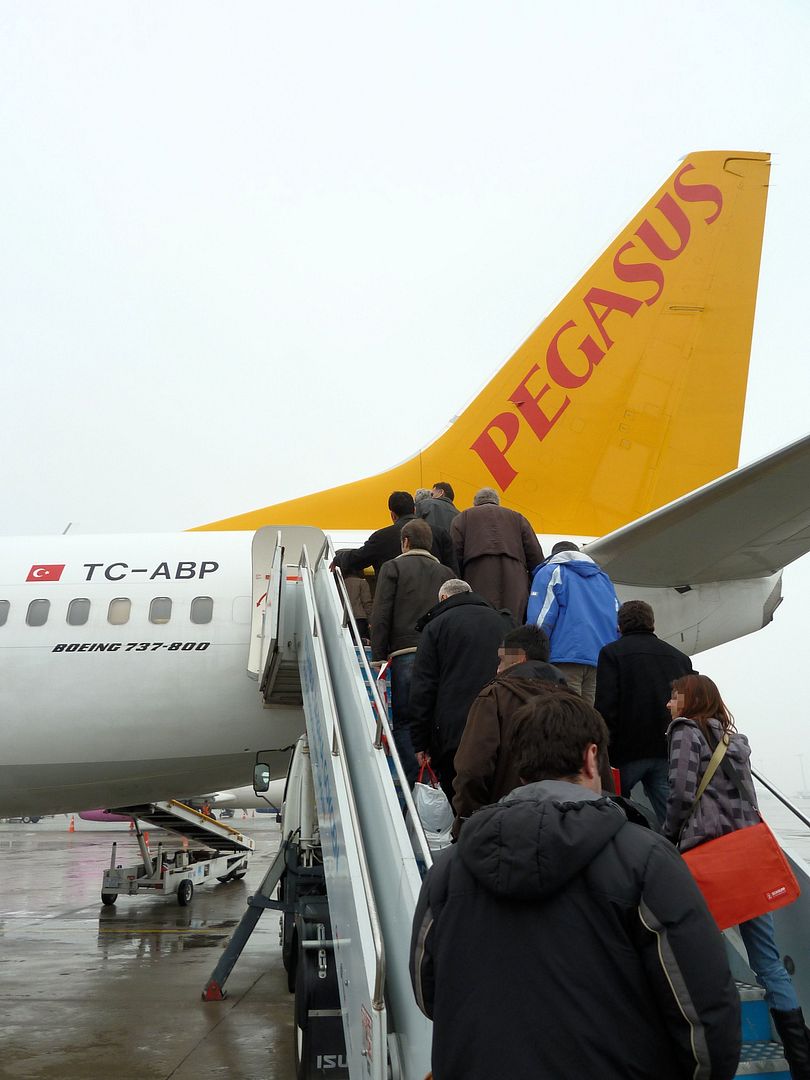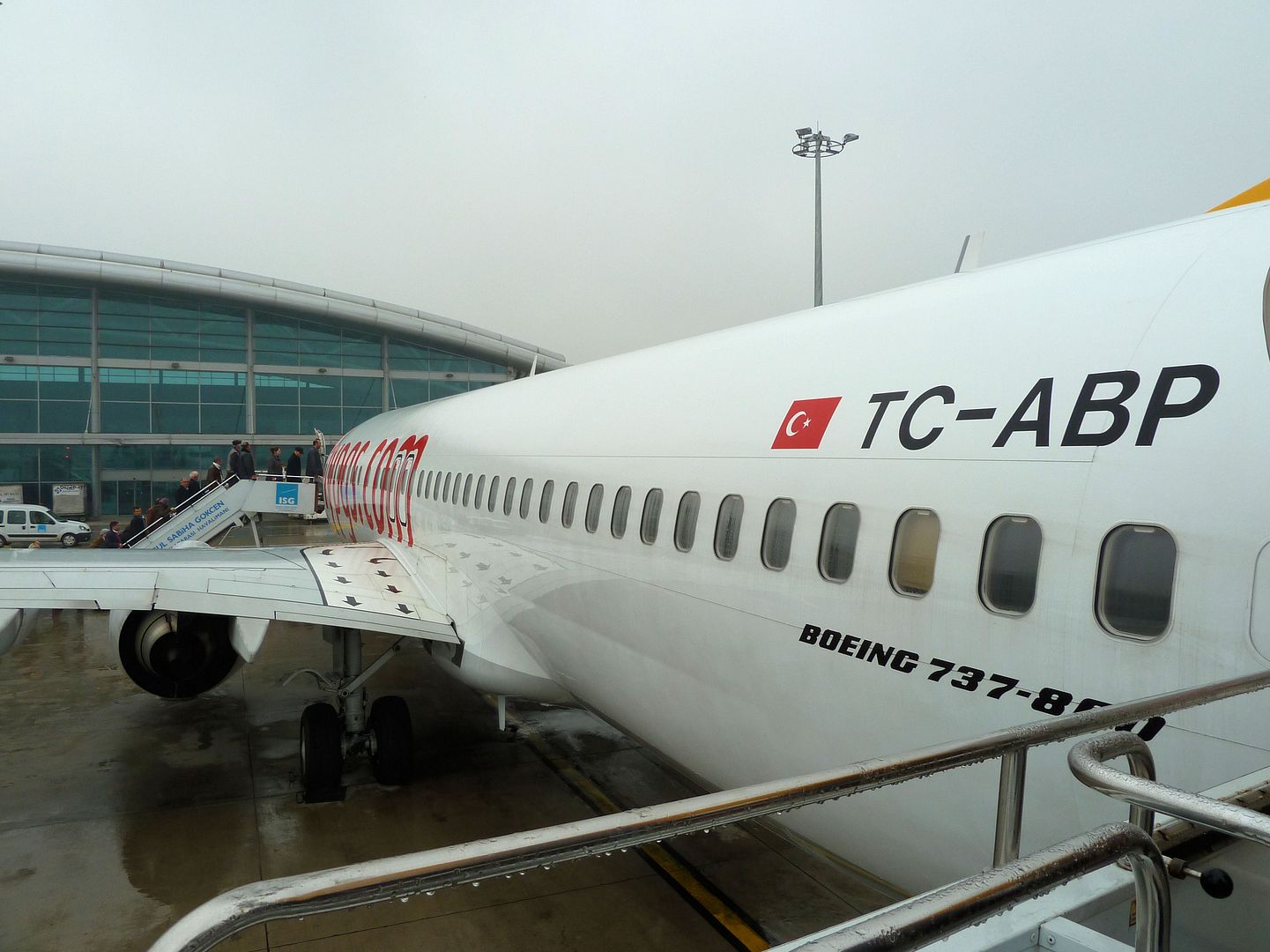 When I entered the cabin, one of the flight attendants didn't greet at all - something which I cannot stand. I took my seat in row 21 and started hoping that the middle seat would remain empty again...but then two more bus loads arrived - that flight would be packed! Both seats next to me remained empty quite long, but finally a - let's say "big" - older lady showed up, wearing a thick coat...
"Oh no!"
, I thought and desperately hoped that she would take the aisle seat. And indeed, a slim teenage girl, either her daughter or granddaughter, finally sat down next to me.
The weather had become worse - parked next to us was a Sky Airlines 737-400: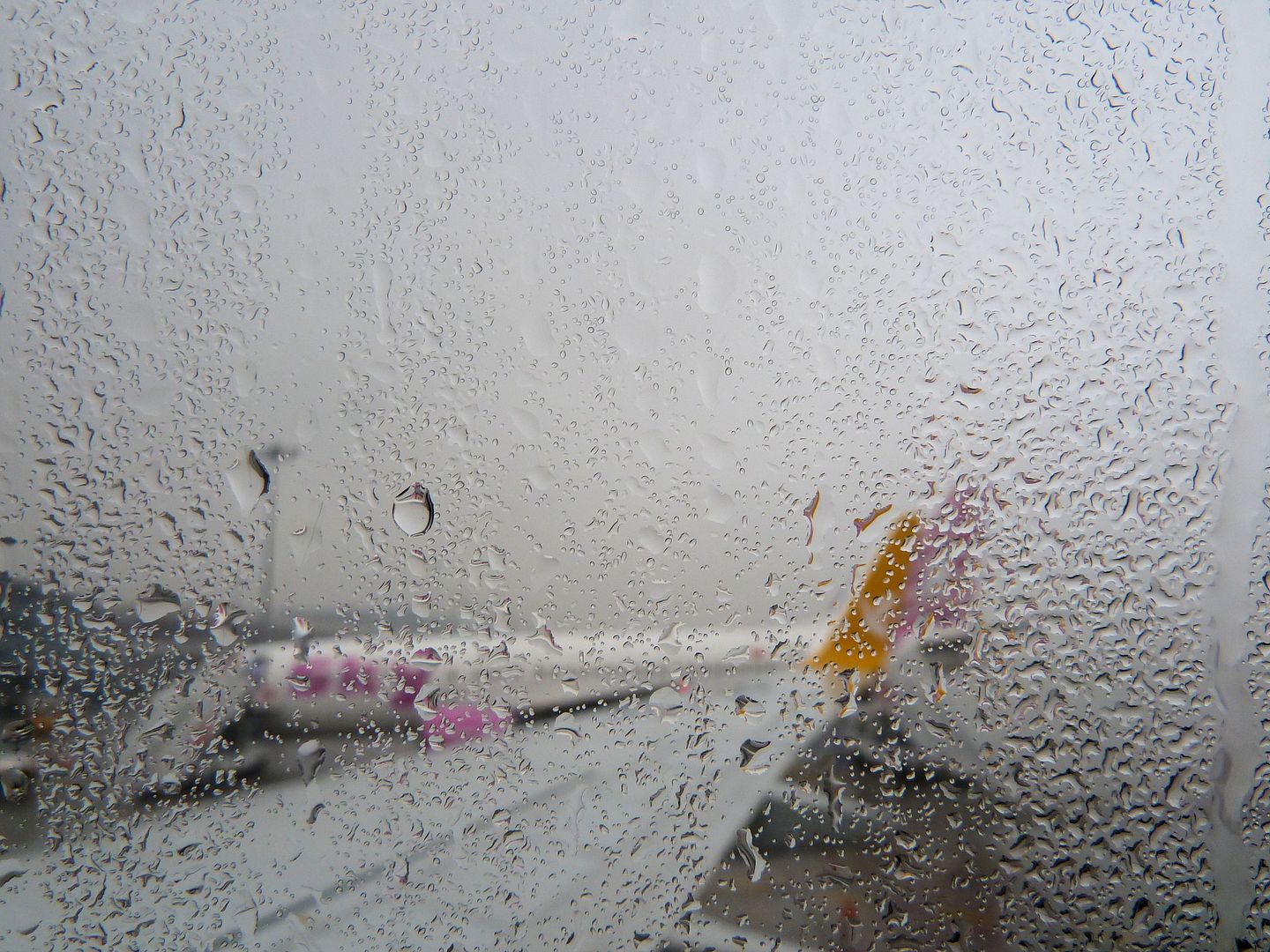 We left the parking position slightly late and soon took off into dense fog: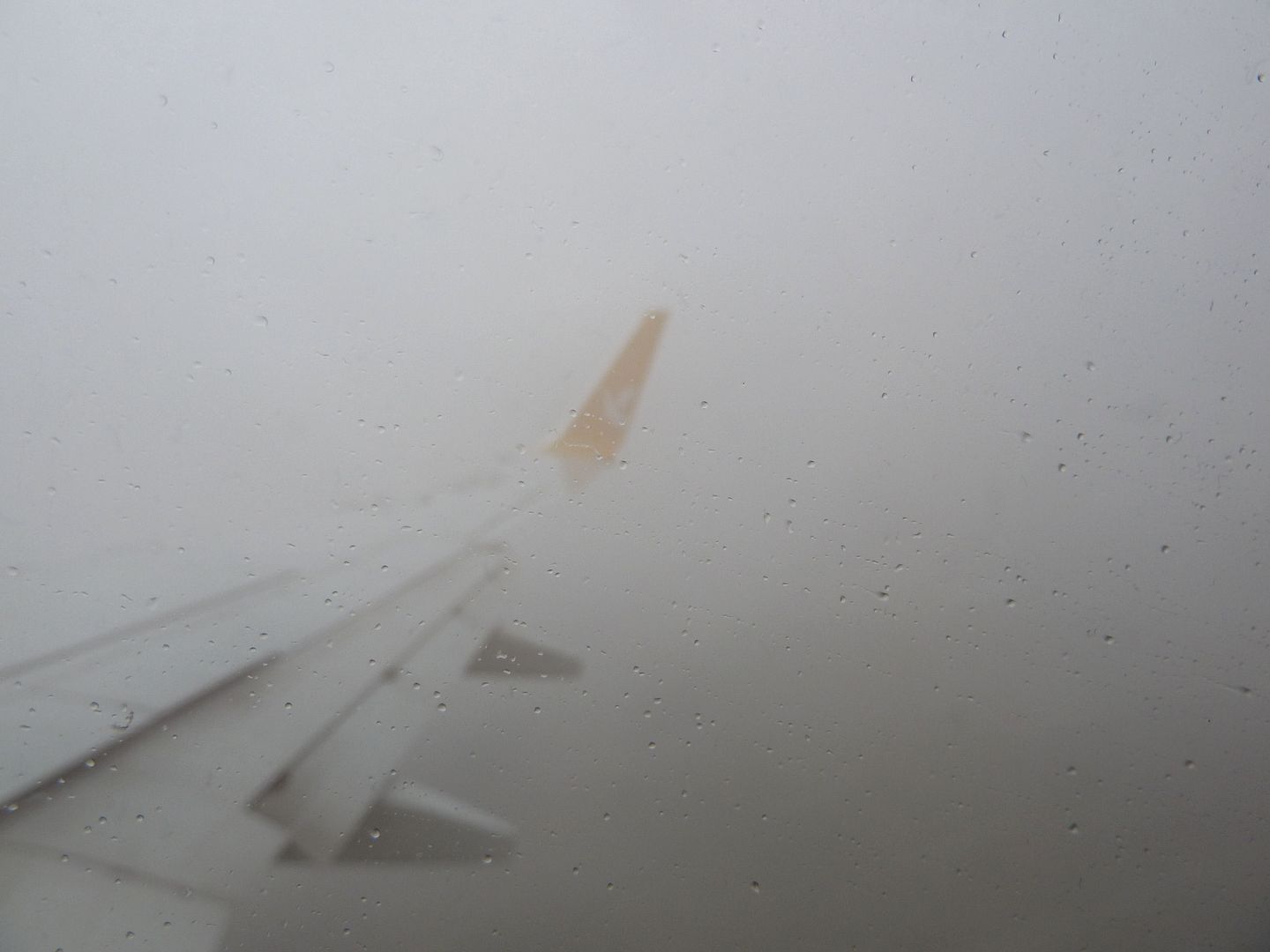 This looked much better: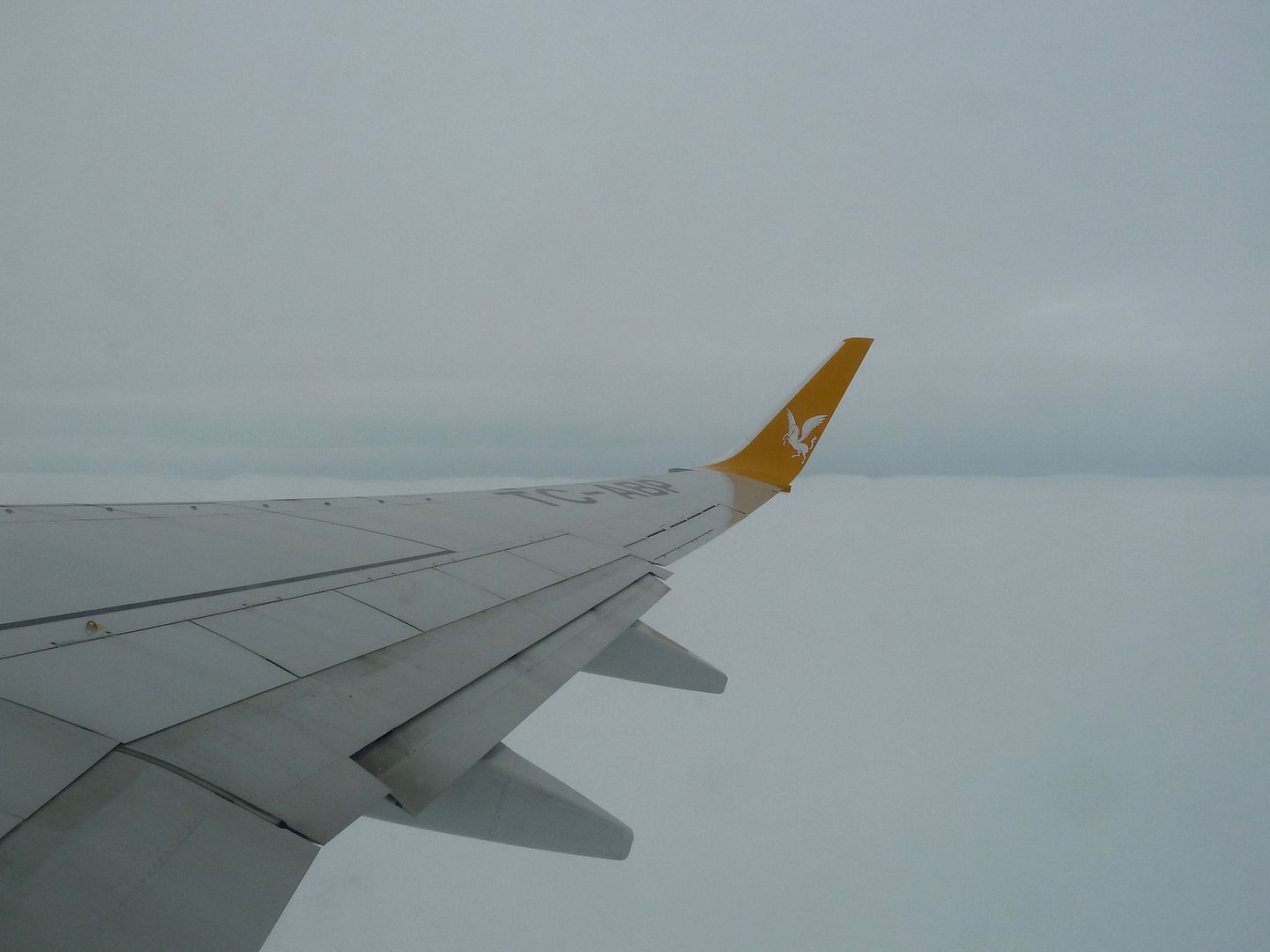 The airshow would remain available throughout the entire flight again: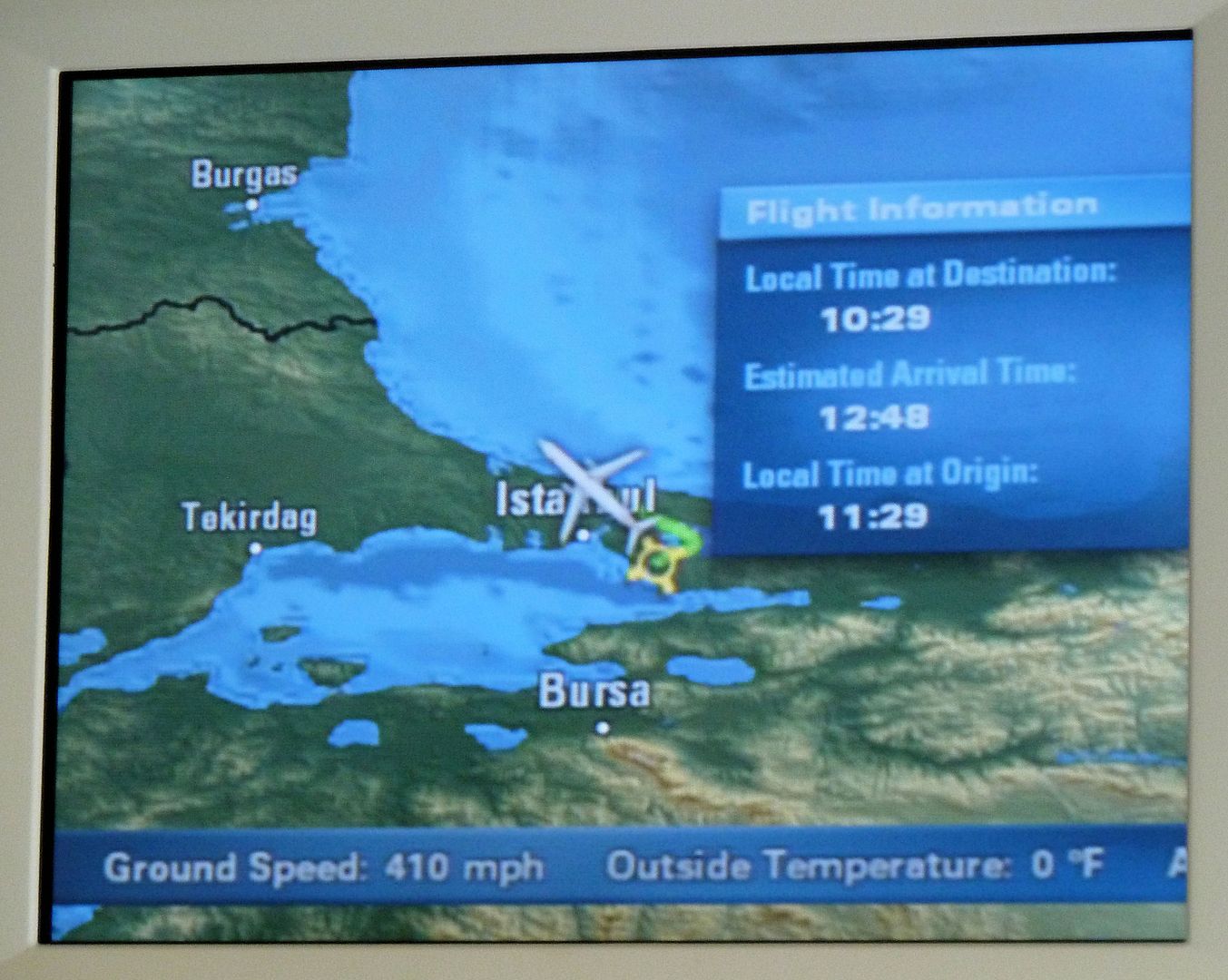 Shortly after the seatbelt signs had been deactivated, the purser went straight to my row and asked me whether I had pre-ordered a meal. I confirmed and soon got a nice tray. The purser also asked me what I would like to drink and I ordered a (free) Efes beer usually sold for 5 Euro (!):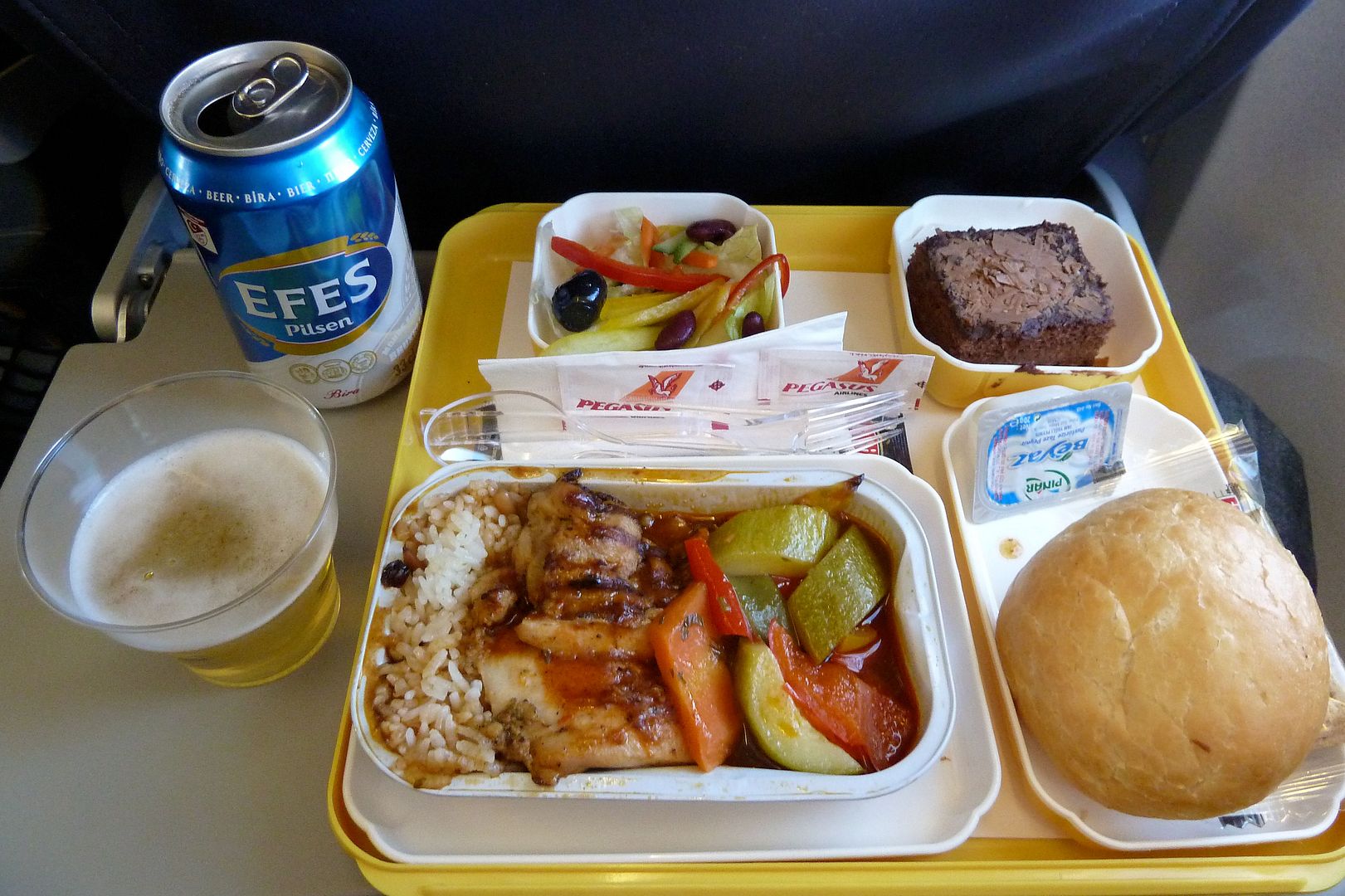 The meal was not too bad in general, but I didn't like the fatty sauce and the overcooked rice. I also missed a salad dressing. Both the chicken and the chocolate dessert tasted okay. The breakfast on the morning flight had been much better!
Finally leaving behind the clouds: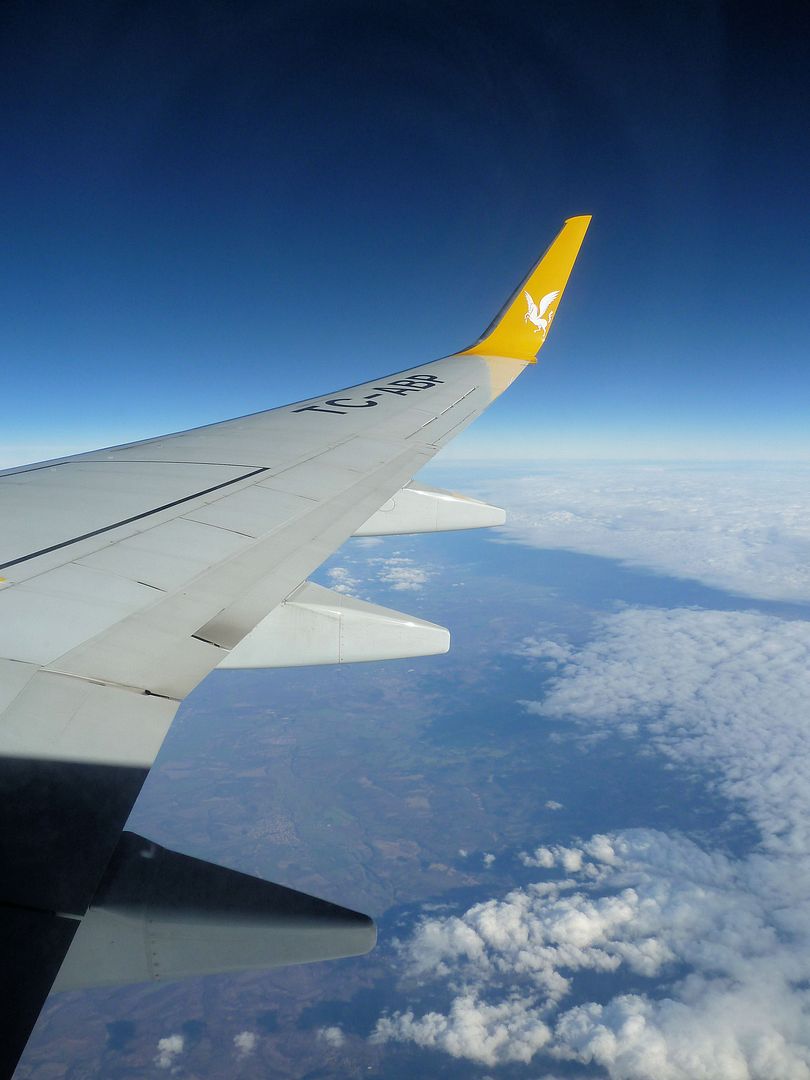 Can anyone identify this city? It's located in either Bulgaria or Serbia: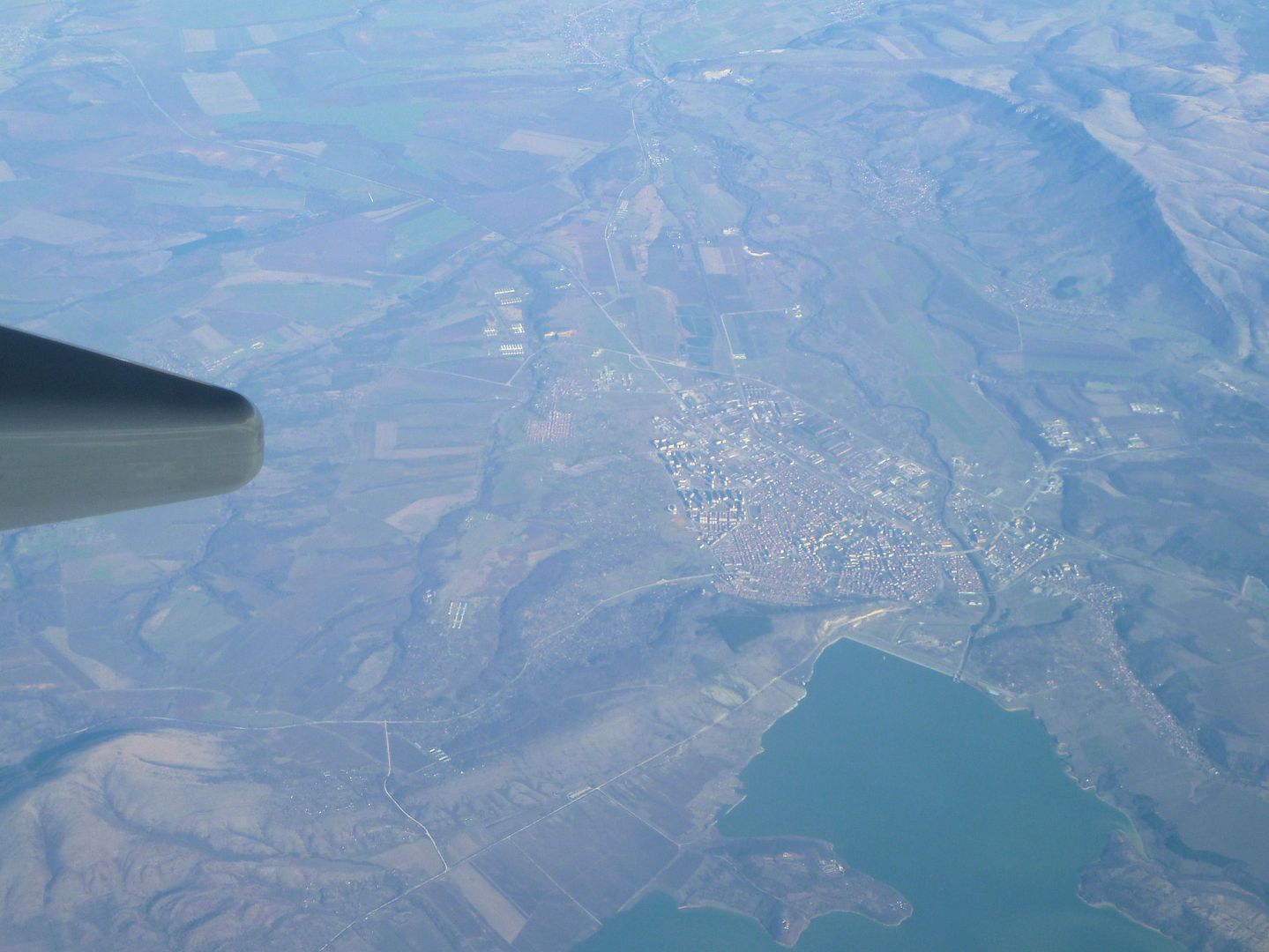 Only 37 more minutes to go: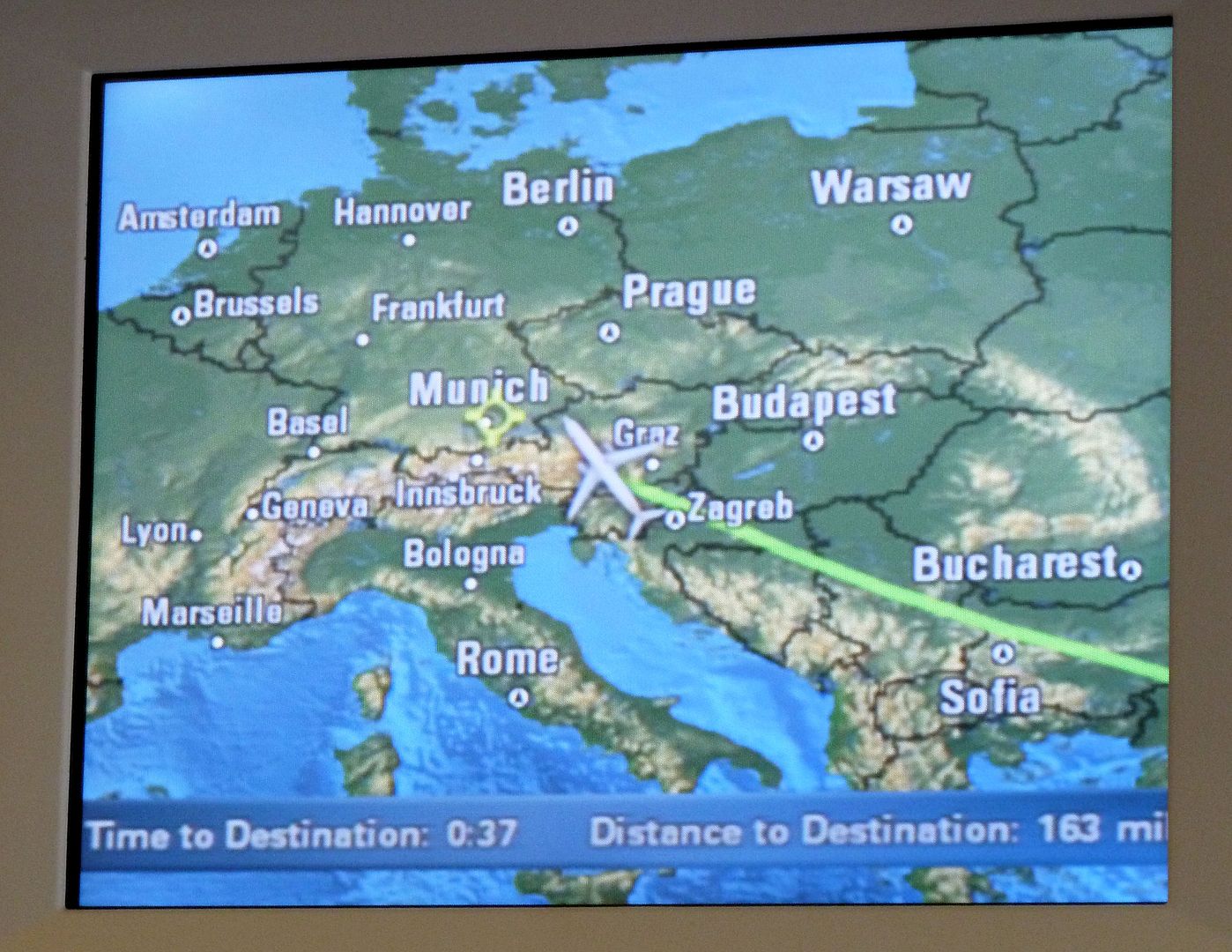 Crossing the Alps in fine weather is always enjoyable: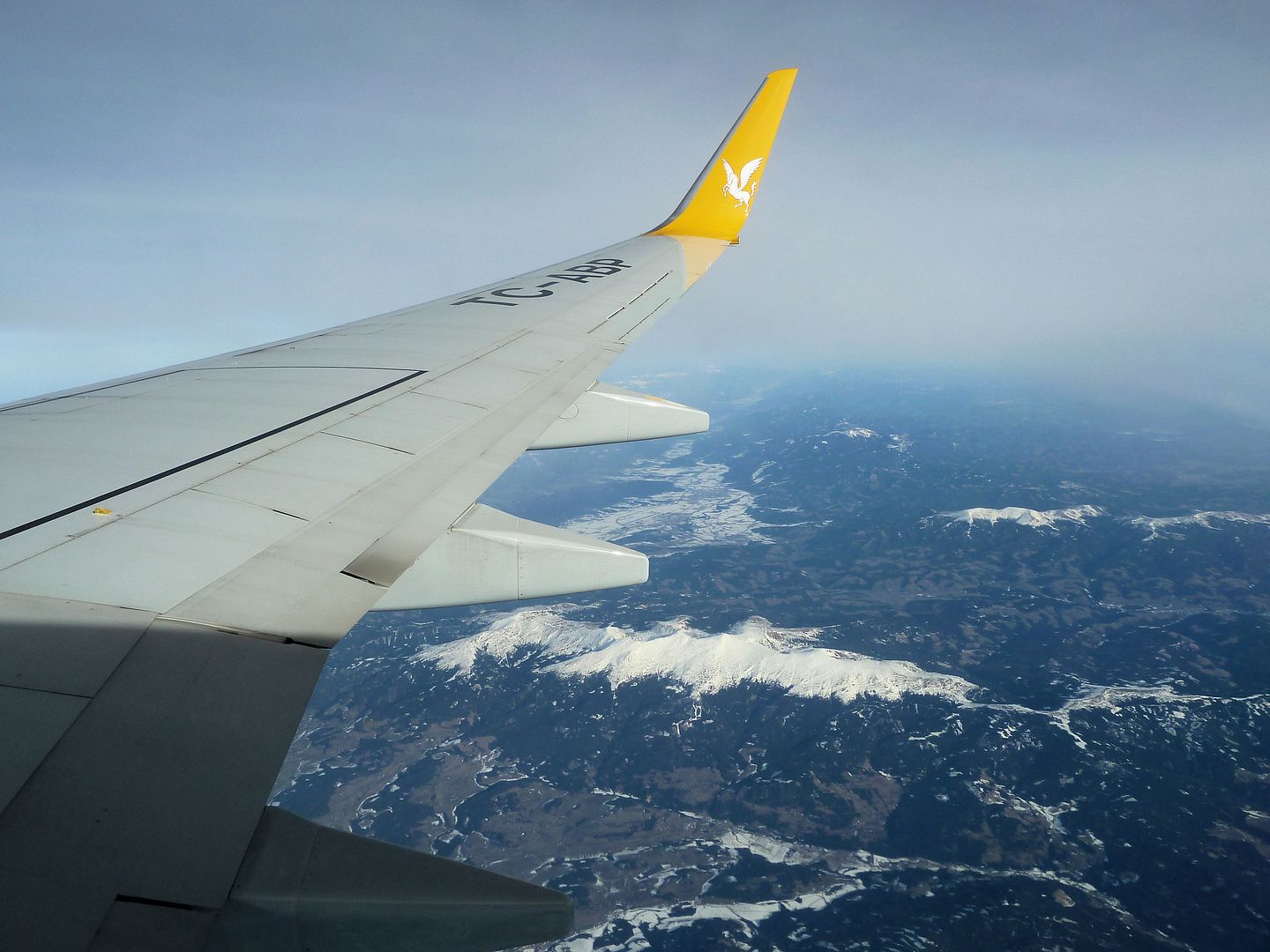 Can anyone identify this airfield?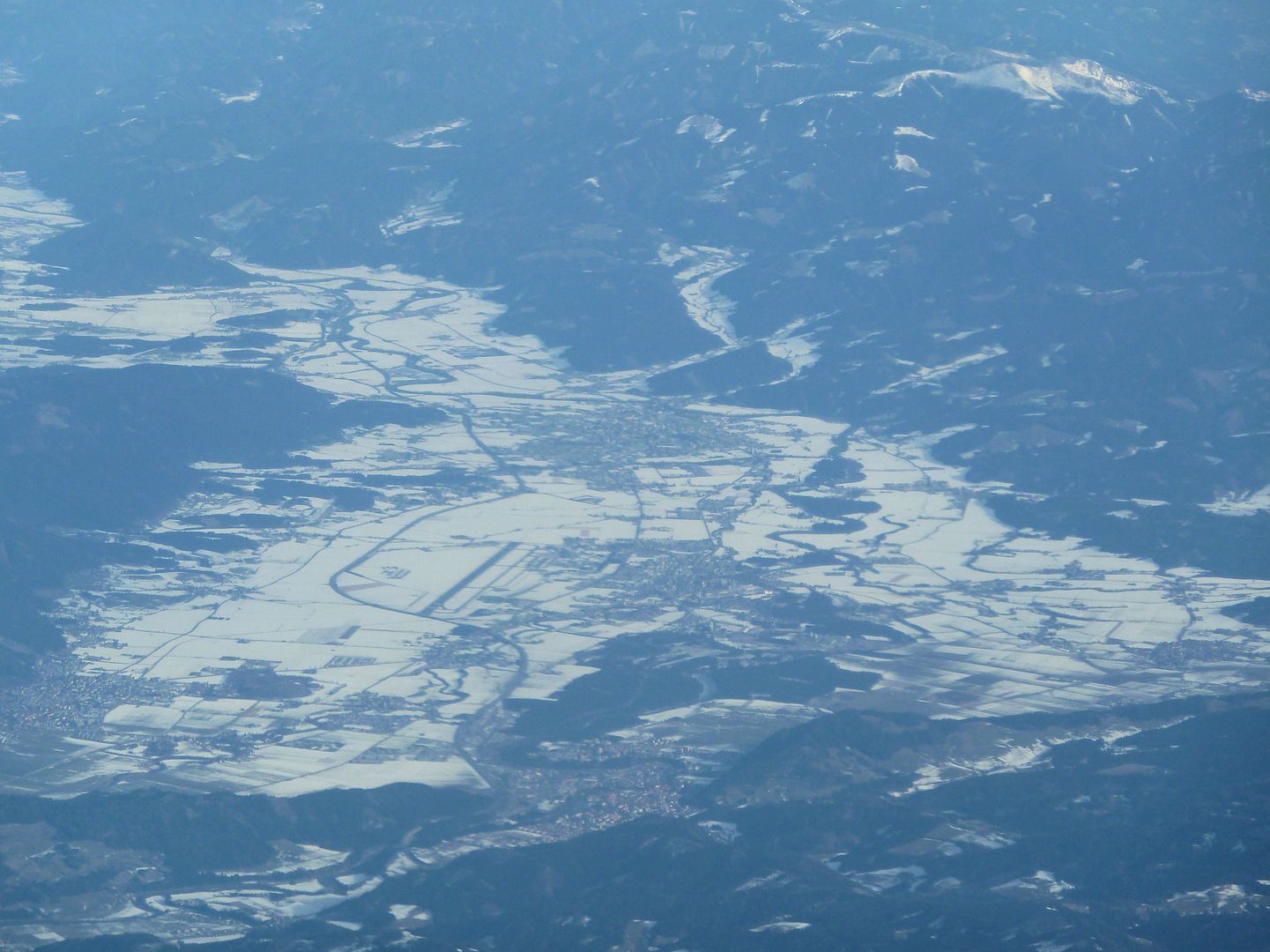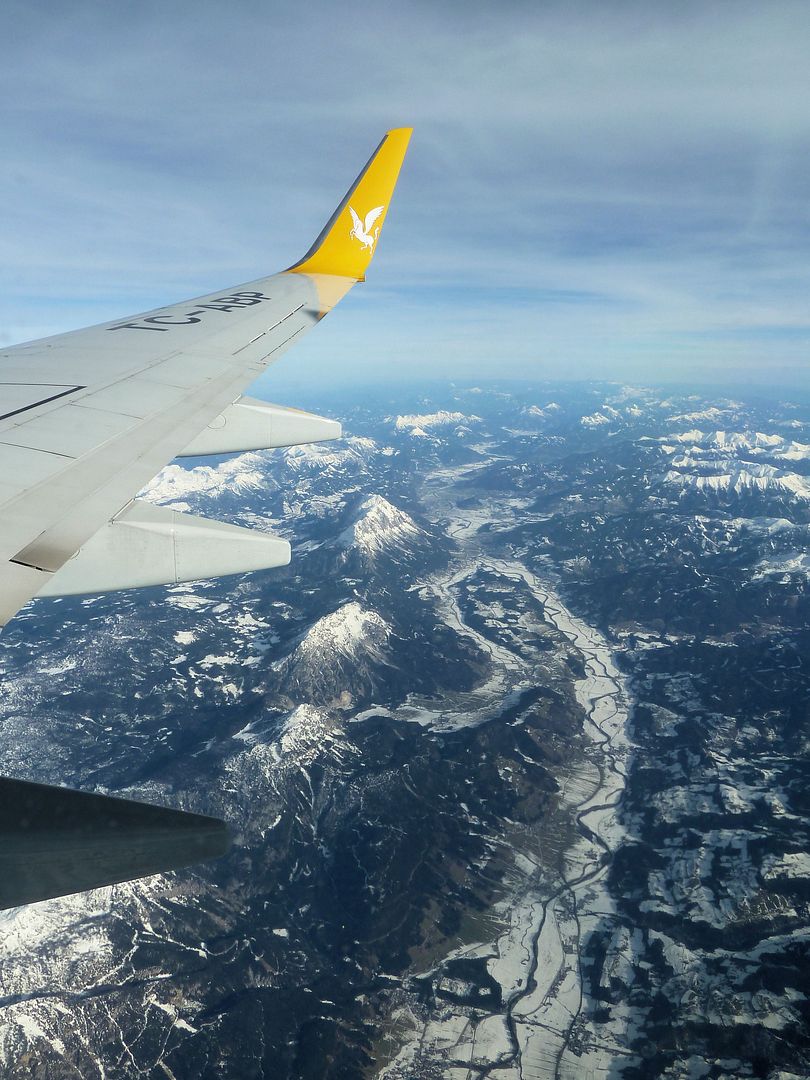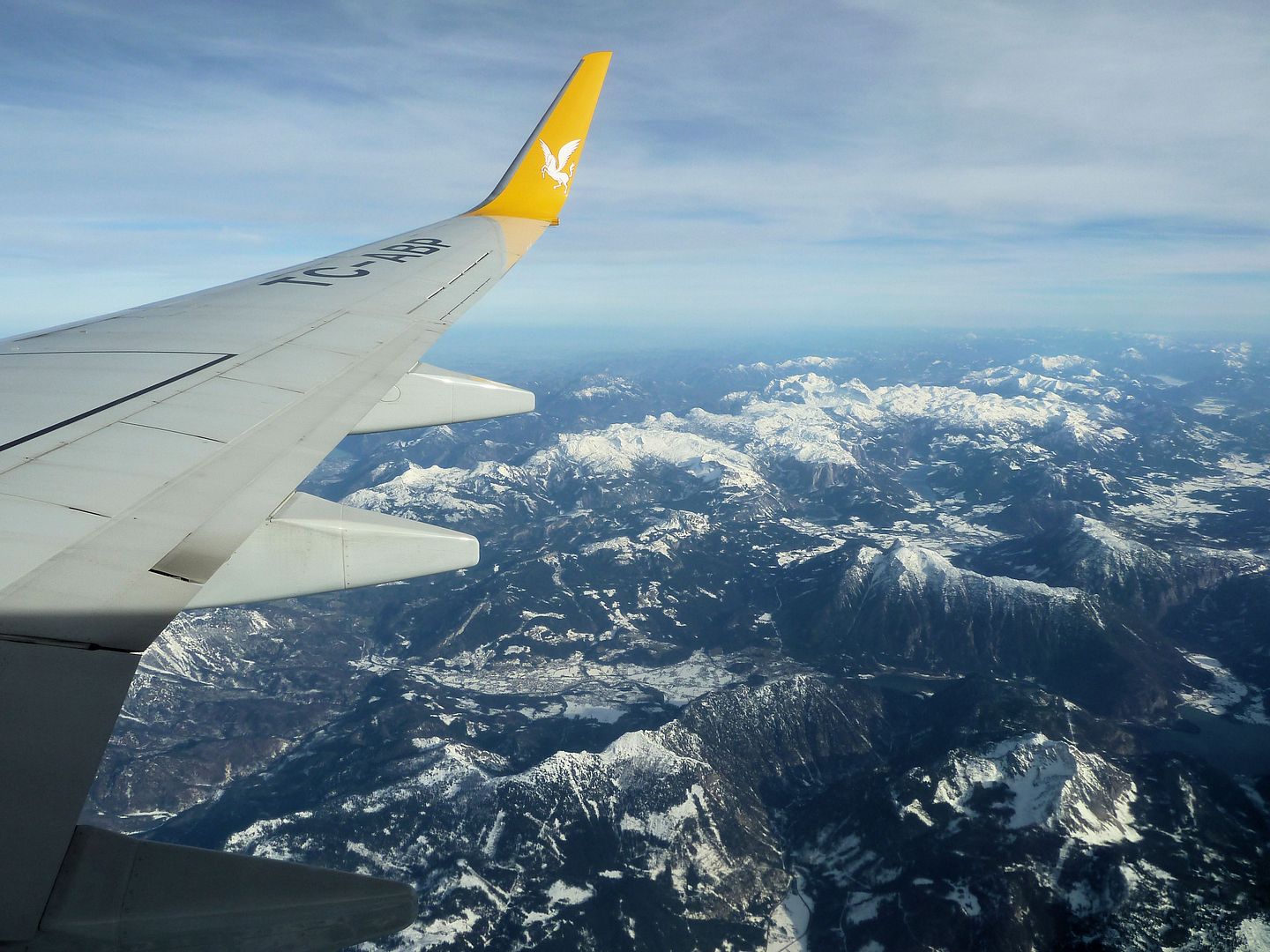 This is the
Wolfgangsee
: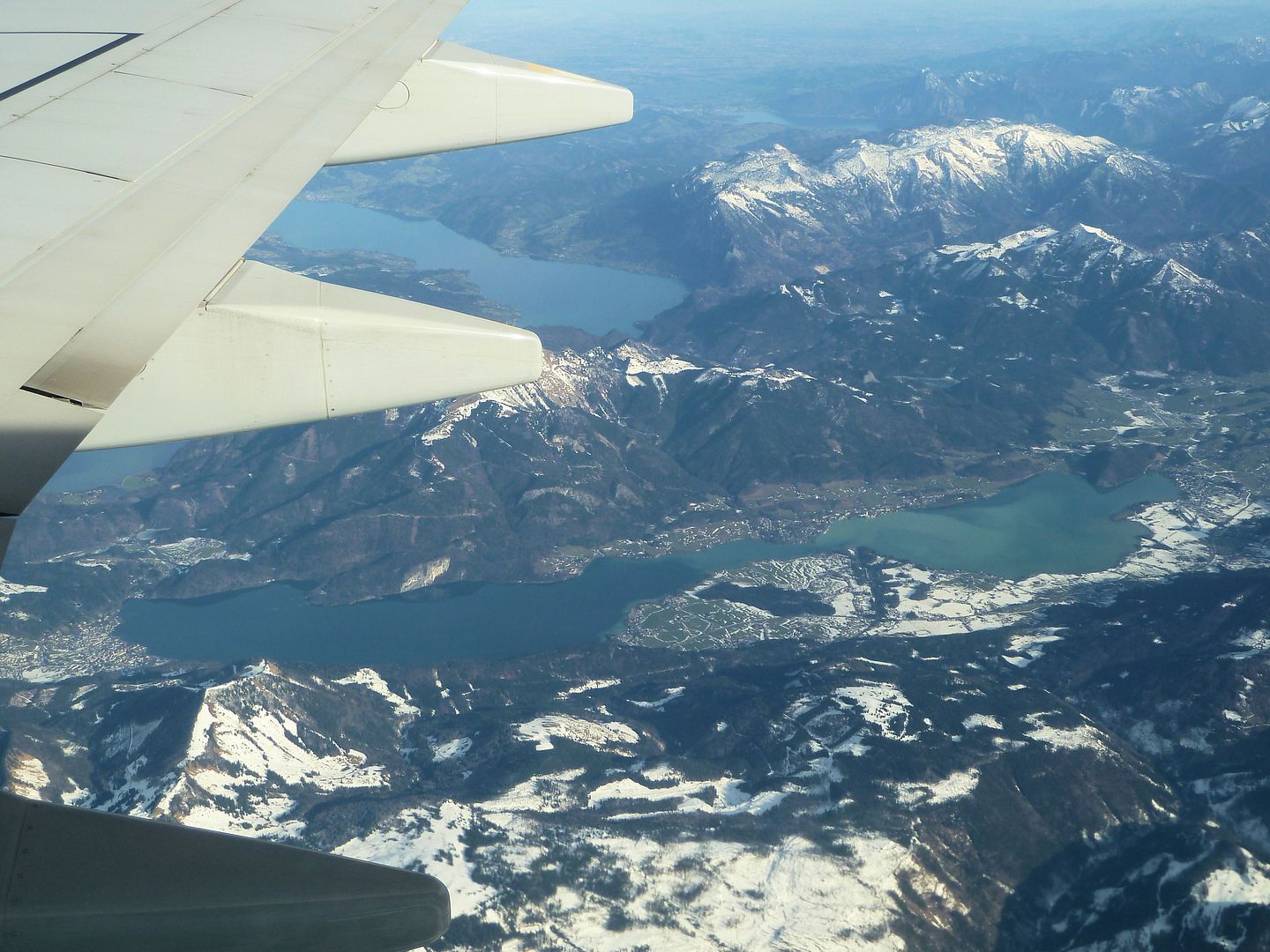 Here you can also see the
Mondsee
(left) and the
Attersee
(top):
On final approach to runway 26L: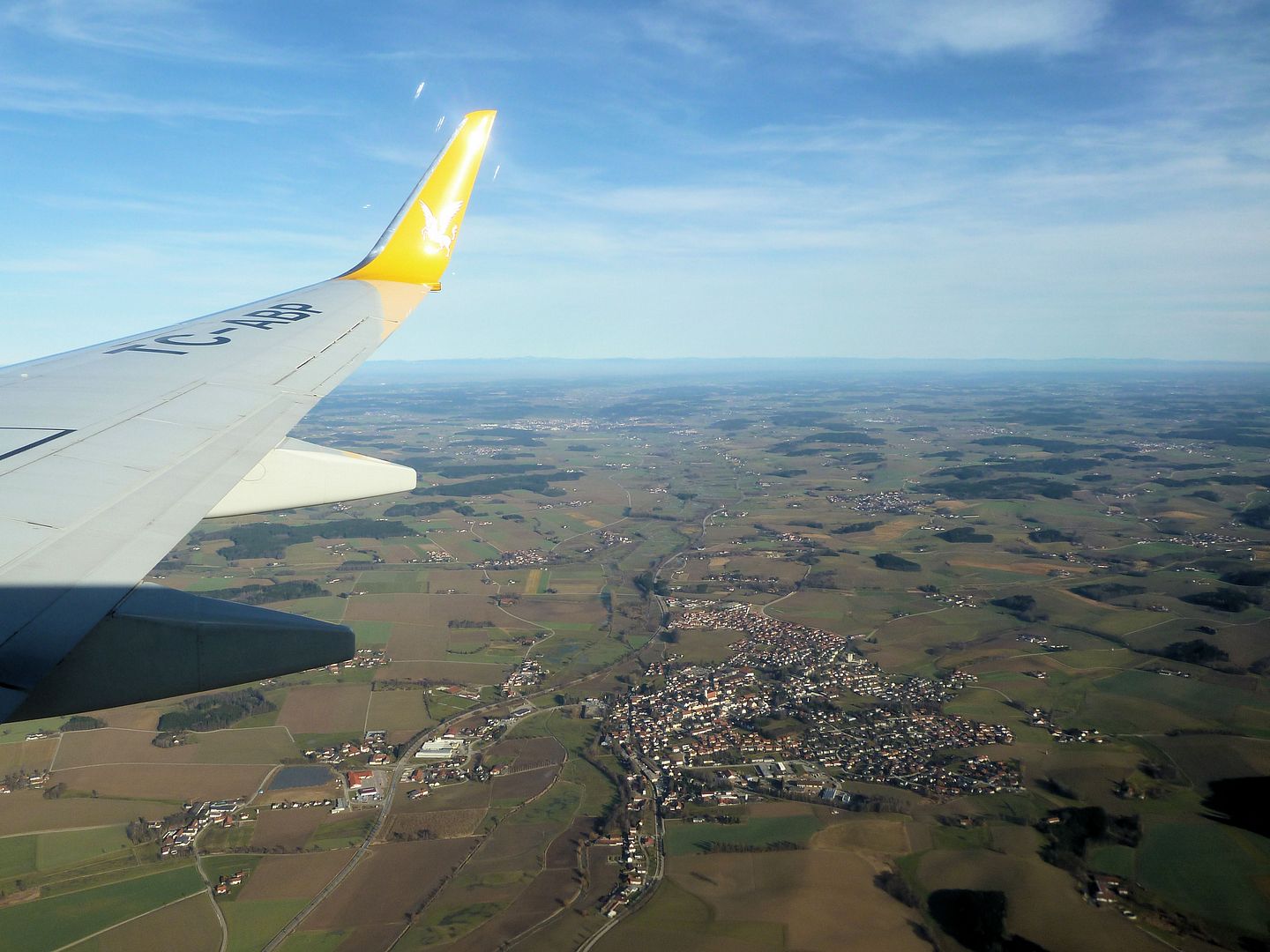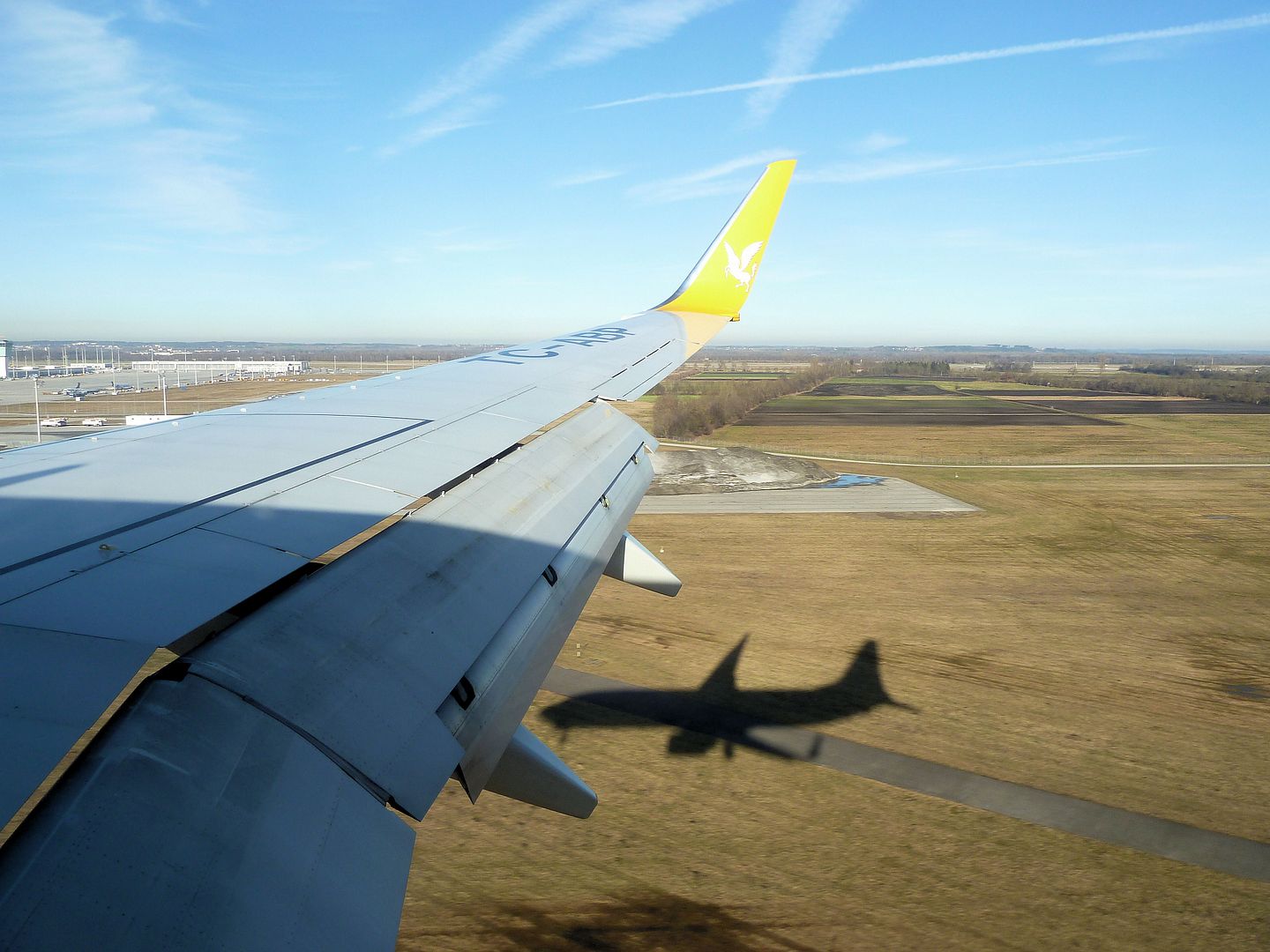 We touched down after a flying time of 2 hours and 18 minutes...
...and taxied towards Terminal 1. We suddenly made a full stop on the taxiway and didn't move any more for several minutes - I guess our gate was still occupied. Some passengers either didn't want to wait any more or hadn't realized where we were being stuck, jumped up and started collecting their stuff from the overhead lockers.
Interestingly, it took at least two minutes until one of the flight attendants showed up and clearly told them to return to their seats...
This is the last picture of
TC-ABP
- definitely: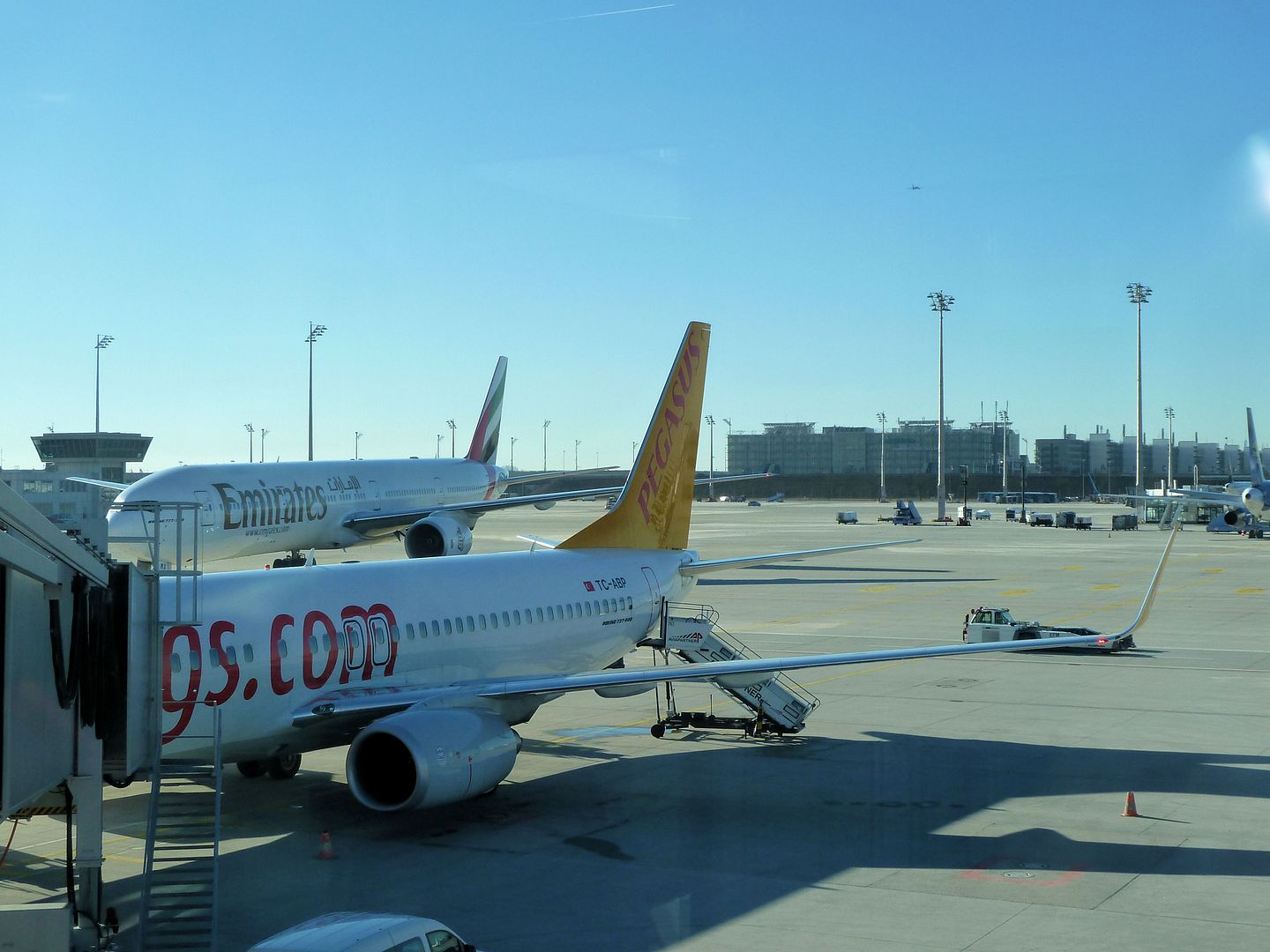 Before I could finally head to the S-Bahn, I found myself stuck at passport control for a while - as usual at MUC. Dedicated queue for EU citizens? Forget it! At least our flight had arrived before the Emirates 777-300...
Conclusion
It's hard to determine whether I would prefer
SunExpress
or
Pegasus Airlines
. Seating comfort and IFE were inferior on this particular SunExpress flight, but I just recently flew on one of the company's newer birds which was equipped with new-style leather seats and a (permanently available) 3D airshow. Legroom is tight on both carriers, no matter which kind of seats you get. SunExpress' cabin crews and ground staff were friendlier, but that may have been luck (or bad luck in Pegasus' case). The main difference is that SunExpress serves meals and non-alcoholic drinks free of charge on most routes. And the food quality was really good. However, I guess I wouldn't choose a more expensive SunExpress flight just because I get free drinks and a meal. When flying Pegasus, you can pre-order (more or less tasty) meals for 7 or 10 Euro - and that price also includes a free drink. Interestingly, you can only check-in online for Pegasus flights if the journey begins in Turkey. SunExpress even limits that option to domestic flights only. But that may change soon. SunExpress or Pegasus? There's no clear winner, I would fly on both carriers again.
Best Regards,
PlaneHunter
P.S.: Just in case you missed them - my previous trip reports:
Crossing Two Oceans: AKL-SFO-MUC, NZ 777 & LH A346
Bad Weather & Other Bad Luck: Touring New Zealand
Trans-Tasman Treat: Aerolineas Argentinas A340-200
Detours To Sydney: Wildlife, Tiger, REX & QFLink
Thai Fails To Impress: MUC-BKK-BNE On 744 & 777
Painful Delay & My 100th Airline: AF A380, VO F100
Fifth Freedom Tidbit: Kuwait Airways A300-600
Ship Vs. Plane: Porto Santo Line & Sata Air Açores
Awesome Approach, Splendid Scenery: LIS, FNC & TAP
Guernsey, Ash Cloud Alarm & Mostly Empty SQ 77Ws
Totally Thrilling: Scenic Flight On Lufthansa A380
Cirrus D38, Adria CRJ & Captain Niki Lauda On Duty
Monarch Hot Meal, E195 & More: PMI-ALC-MAN-MUC
Premium Meal & Palma Spotting: MUC-PMI, DE 757-300
The Dead Slow Transfer: PEK-MUC On Air China A332
Cancellation Brings Joy: HKG-PEK on Dragonair A330
A380 Cacophony, 777 Star Livery: DXB-SIN-HKG on SQ
The Next 5* Carrier? MUC-MCT-DXB, Oman Air A330
Turkey For 1.5 Hrs: Daytrip To AYT On Sky Airlines
CO Scores Again: ATL-IAH-EWR-FRA On ERJ, 752 & 764
Riding The Ultra Long-Haul Twin: Delta 777-200LR
Pacific Coast Jaunt: 3 Carriers, E120, E140 & Fog
The Ultimate 737: LHR-IAH-PDX On CO 777 & 739ER
Bye Bye, Hell! TRD-OSL-TXL-NUE - DY/AB/HE DH4
My Trip To Hell: NUE-CPH-OSL-TRD On Cimber & SAS
SFO-YUL-FRA: Map- & Sleepless On Air Canada's 77W
Sin City Gloss & Virgin America's Chic First Class
Seat Dilemma & Canyon Glamour: FRA To LAX, AC 763
On Par With Air France? DTW-AMS-MUC, KLM A330
Goodbye, Red Tails! DC-9-40/50 & Chicago Tour
Champagne & World Of Coke: Air France A340 To ATL
"Mission A380": Disappointing Legs On BA/BD/EI
Delights Of Doha, 773 & 77W: DOH-DXB-LHR On EK
A380 Really a Step Forward? LHR-DXB-DOH On EK
Quality & Style: HKG-LHR On Air New Zealand 744
Taiwan Trio: TransAsia, UNI Air And The Taipei 101
"The Wings Of Taiwan": EVA Air A332, 744 Combi
SHA-SZX, Shanghai 757: Delayed By The Military
PEK-SHA, China Eastern A330 & Shanghai At Night
Striking Newcomer: Berlin-Beijing On Hainan A330
Short & Splendid: MXP-MUC On Air Dolomiti's 146
3 Hours On Blue1: HEL-MXP On The MD-90
BCN-MAD-ZRH-MUC: UX Shuttle Meets Swiss Quality
MUC-MAD-BCN: Star MD-87 & The Pain Of Vueling
Low Fares, Lovely Island: AK & Best Of Langkawi
4 Stars Or 5 Stars? FRA-KUL-FRA, Malaysia 777s
First And Last Time? JFK-FCO-MUC, Alitalia 777
JFK For 1 Day: Transatlantic Hop On CSA's A310
Sardinian Sun, Shiny New 73Gs & Cramped Mad Dog
Top And Flop: KIX-HEL-MUC, Finnair A320 & MD-11
The 524-Seat Twin-jet: HND-ITM On ANA 777-300
Kobe For 1 Hour: 767-Quickie On ANA & Skymark
Rocketing To Tokyo: FUK-HND On JAL (ex-JAS) 777
Oddities & Okinawa: JTA 734 & JAL 744D(Domestic)
MUC To Nagoya: Finnair E170 & (Old) "New" A340
Mad Dog, A320 Tech Delay & Best Of Lanzarote
Canaries Prop-Hopping: Islas Airways & Naysa
Canaries And Confusion: LH CRJ900 & Spanair A321
Hubbing For 162 Miles: HOQ-FRA-STR Ret On IQ/EW/LH
BOS-JFK-AMS-MUC: SSSS-Check And KLM 777
ATL-PIT-JFK-BOS: FL B717, JetBlue E190 And Delays
MUC-AMS-MEM-ATL On NWA A332 And 40-year-old DC-9
FRA-BKK-FRA Via CMB: SriLankan A332 & A343
BNE-SIN-DXB-MUC On Emirates B772ER & B773
2 Hours In Paradise: Hamilton Island (JQ/DJ)
BNE-SYD-BNE: Domestic Run On QF's Oldest B747-400
Testing Qantas: SYD-MEL-SYD-BNE (B738, B763, A332)
Going Down Under: MUC-DXB-SYD On EK A332 & A345
9/11 Review: Failed Trip To LAX - Fuel Dump Pics
Surprised By NIKI's Newest A320 & Screw-up By AB
Leisure Vs. Full Service: Condor & SN Brussels
"betterFly" On LH: Business Class For 99 Euro
Weekend Transatlantic Trip (2): US A321 & B762
Transatlantic For A Weekend (1): MUC-DCA On US
[Edited 2011-04-23 00:45:26]