So this is my first Trip Report, Be Nice.
So this trip was because I bought my sisters car, But. She lives in Wichita, Ks and i live in Clearwater,FL. So me and my mom ended up flying to Kansas. Woohoo. Lol
The trip started out on April 19th out of Tampa International Airport at 5:00 A.m. My flight left out of Tampa at 6:45 A.m.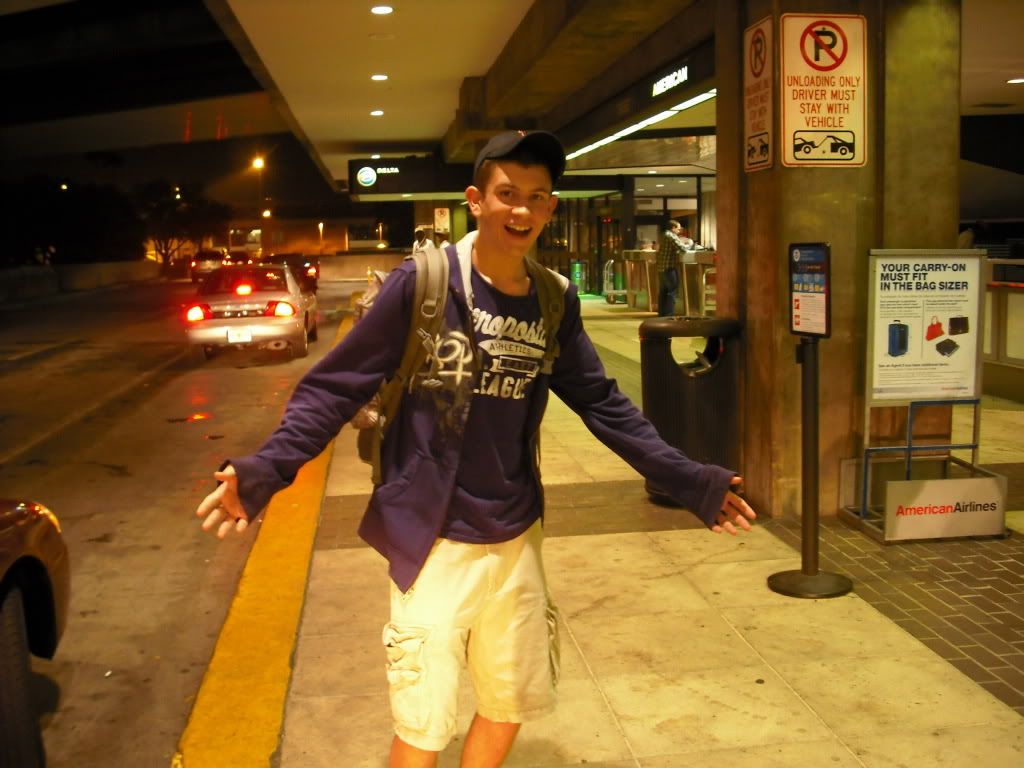 Thats me at 5:00 A.m. in front of the American Airlines curb check-in.
I decided to go ahead and check in early the night before that way I didn't have to wait in any lines. Plus I had no checked bags, all I had was a backpack. So I went ahead and used the self check-in kiosk. The stupid screen was really hard to use. I couldn't hit the letters. Lol. It took me like 15 minutes to print both of our boarding passes.
So i'm looking for gate Echo 65...
Well I found the airside tram, So I got on that. When I got there I had to go through security though. We have the full body scanners at Tampa. I guess I was one of the random people that had to go through it. So I went through it, Personally i don't have a problem with it.
Anyways, After I go through security i still had some time before my flight. I went to Starbucks and got some coffee and took some pictures.
Delta CRJ-100/200
I made it to gate E65 with a little under an hour to spare, Looks like rain in Memphis.
Here's a 757 that was at the gate next to mine, Also a Delta bird.
This was one of the birds I flew on, A320.
By the time I got done with these photos, boarding was about to begin. Of course first class went first. We were in boarding zone 3 or 4 I think. For some reason, I always get nervous when I fly. So as we are getting ready to board i start shaking as always. Im not sure what causes it.
This flight was only half full which was excellent. We ended up having a whole row to ourselves. She had the aisle seat and I had the window seat. Whenever i fly, I make sure i get the window seat.
Me sitting in 18A
I liked the A320 a lot because, Since i'm really tall I usually don't have a a lot of legroom. But on this flight i had all of the leg room in the world. It was really nice though.
We pushed back on time, but once we pushed back... We sat there for about 20 minutes due to a mechanical issue. Pilots informed us that they were finishing up the paperwork and we'd be on our way soon. Finally we continued on our way. We taxied to the runway, runway 9R. There were a couple of planes in front of us, so we had to wait a bit before we could take off. It was a pretty busy morning at Tampa.
A couple of planes were behind us.
Lining up...
And the video for this takeoff can be watched through this link:
http://www.youtube.com/watch?v=HtUg5wIqaPk
Ignore my commentary. Haha.
After takeoff, we made an immediate right turn towards the Gulf of Mexico.
About 20 minutes after departure, the in-flight service started. The usual cookies or pretzels and a soft drink, juice, or coffee. I went with Orange Juice and Biscoff.
Soon afterwards we hit our cruising altitude. I decided to browse the internet while I had it. Facebook mainly, Haha.
Me again.
Pretty boring flight to Memphis. I ended up listening to music and just watching out the window as i usually do. There were a lot of clouds below us, we didn't really hit any turbulence though.
About an hour and a half after our flight started, we started our decent. I have pictures of the decent, but it was rather cloudy.
Here's a video of the landing, again ignore the commentary. I was excited. Haha :
http://www.youtube.com/watch?v=1EqZA8fqMRo
We taxied to Bravo 10.
We deplaned and then made our way over to the next flight over in the A concourse. I saw my first MD-11, along with alot of DL regional jets.
And heres my plane to Wichita. I couldnt really get a good picture of it.
But it was a CRJ-200
This plane was also delayed due to mechanical issues (Just my luck). Haha. But 30 minutes late, we started boarding. I was seated in 11A with way less legroom then the flight before.
There was a hole in the running board or something and the A/C was blowing on my foot. My foot was numb by the end of the flight. Haha. But anyways...
This flight, unfortunately, was completely full.
Not sure which runway we took off of, but we taxied for an immediate depature.
The takeoff video can be watched here:
http://www.youtube.com/watch?v=4ySK8f0v8y4
Another right turn
Pretty uneventful flight, i got bored though. So, I started listening to music again and then I posed for pictures. Haha
Clouds, the window was really dirty.
The in-flight service wasn't much. I had Ginger Ale and Biscoff.
About an hour and a half after the plane took off, we started our descent. I didn't really take too many pictures of the descent. But heres the landing video :
http://www.youtube.com/watch?v=5U1K98D2LEg
Here's the plane I arrived in Wichita on.
This was the first time I had flown commercially in about 4 years. I was really excited to fly again. Flying is the biggest passion in my life.
And here I am at the end of my trip, at the Marriott in Wichita.
I flew on these planes:
Delta Airlines A320-212, N348NW
And,
Delta Airlines CRJ-100 N879AS
I flew on DL 2302 and DL 5449.
Overall:
I really had a great time flying with Delta, I will definitely fly them again. I got two new types and two new airports. My trip back was good. I drove from Wichita, KS to Clearwater,FL. 25 hours and 1600 miles. Lets just say, It was an interesting drive.
I really did like the A320, I had alot of legroom. And i used my first airplane bathroom. Woo. Haha
I did not really like the CRJ-100 though. It was rather old and worn down. It was ok I guess.
Once again, this is my first trip report, so It may not be the best.
Rob