Hello all,
I've posted a few times in the Civil Aviation forum here, but this is my very first trip report, so be gentle! I'll try not to leave anything juicy out. I flew down to Exuma, Bahamas on April 28th for the annual Regatta, which is a HUGE deal to most Bahamians (and quite a few foreigners as well), and it's hosted in Georgetown, Exuma. Exuma is (depending on who you're talking to) one of the most gorgeous chains of islands around, and arguably the jewel of the Bahamian archipelago. To get there, I chose Sky Bahamas, an up-and-coming scheduled carrier whose roots were planted with Sky Unlimited, a charter company based in Nassau.
Sky Bahamas has a fleet of Saab 340As and a lone Beech 1900D (incidentally, I flew on her going down to GGT and she's apparently the second 1900D off the production line, having served previously with Mesa Airlines). Without further ado, I'll get to the actual trip details.
The domestic departures lounge in NAS: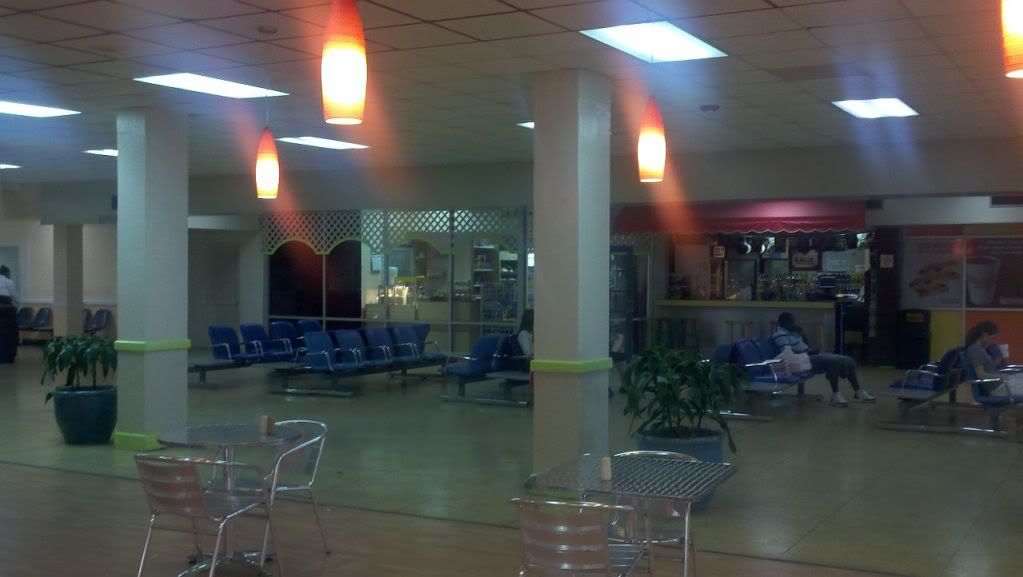 Checkin in Nassau was a breeze, and the customer service agent behind the counter was friendly, professional, and courteous. Not that I would expect any differently from my Bahamian people, but I'm sure many have heard rumors surrounding the service (of lack thereof) of one giant in the playpen (cough cough UP cough). Anyhoo, I was assigned seat 8A, departing NAS at 11.00am, and arriving GGT at 11.45am. Boarding was quick and efficient, called about 15 minutes prior to departure. We congregated outside the departure lounge, and the same agent who checked me in escorted the group of 17 passengers to the waiting aircraft.
Date: April 28, 2011
Flight number: 2350
Aircraft: Beechcraft B1900D
Registration: C6-SBF
Load: 98%
Seat: 8A
Departure (Scheduled/Actual): 11.00am/10.55am
Arrival (Scheduled/Actual): 11.35am/11.32am
Walking to our plane, catching some company (and competition in the foreground) aircraft: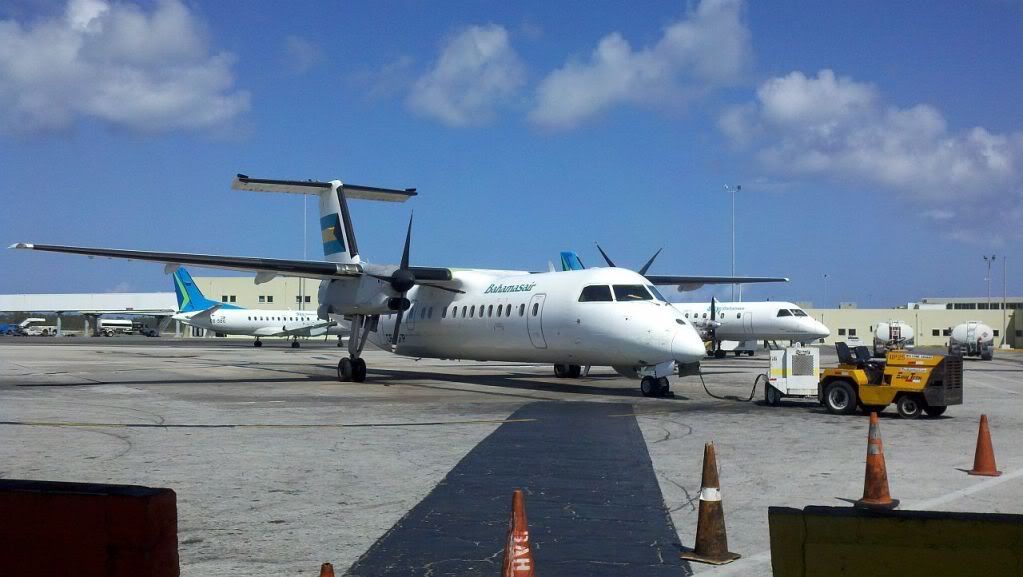 Our chariot (C6-SBF) awaits: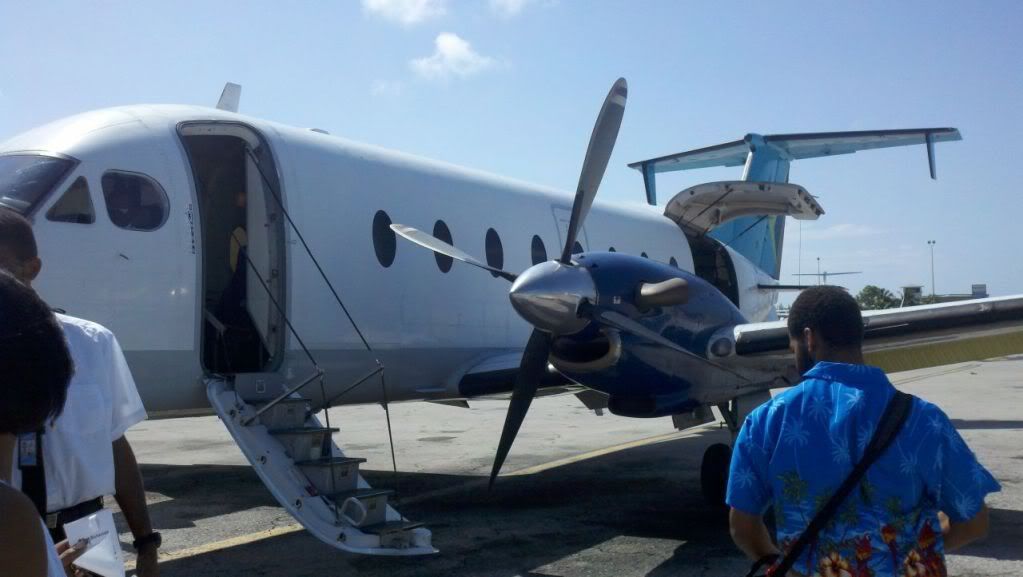 Safety Card: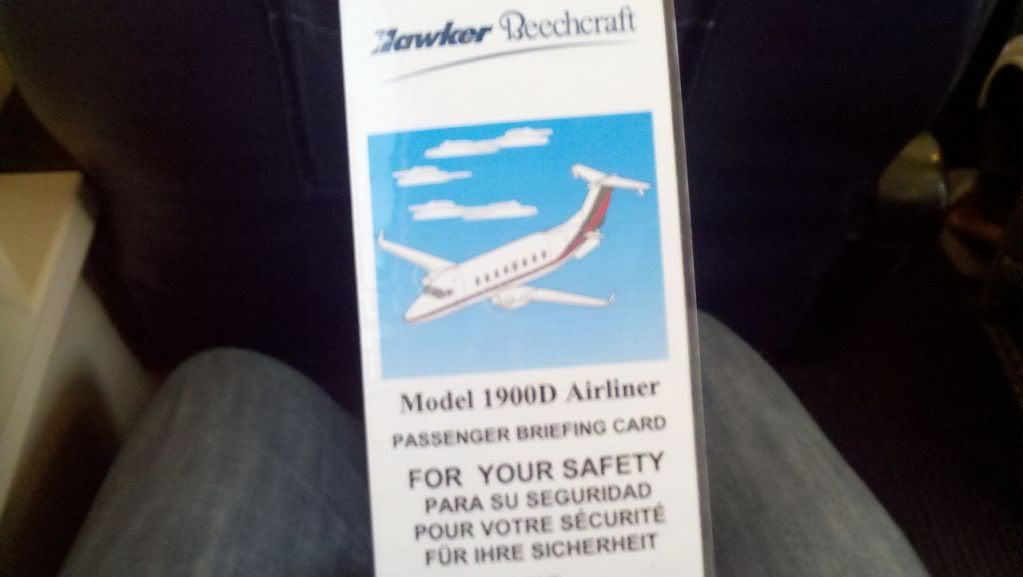 Takeoff from Nassau
Last view of the Southeastern tip of Nassau and surrounding shallows: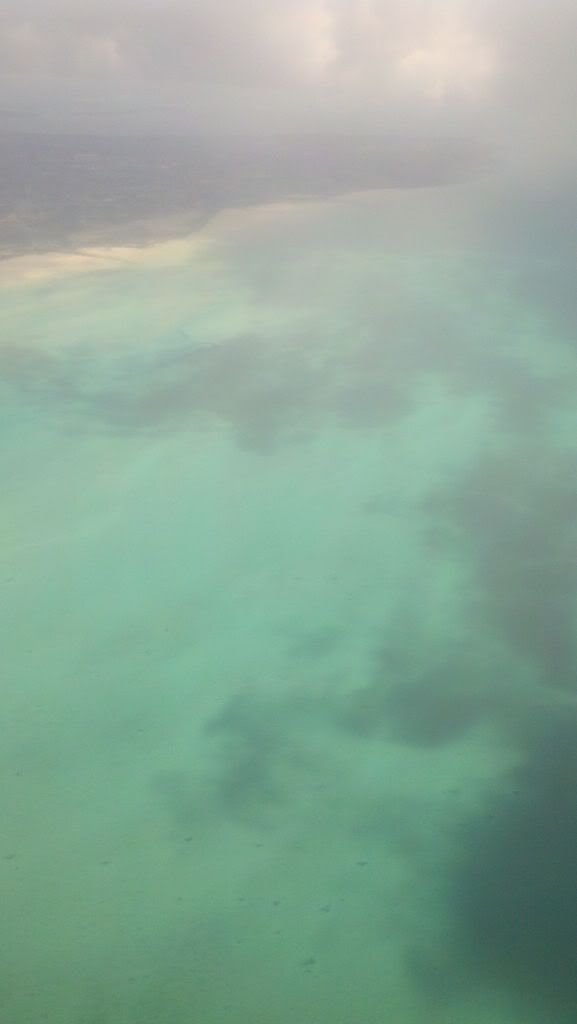 Look Ma! No cockpit door! (Yes, I know some operators of the 1900 don't have one, but quite a few do):
The unmistakable "bobby pin" shape of Norman's Cay slips by underneath: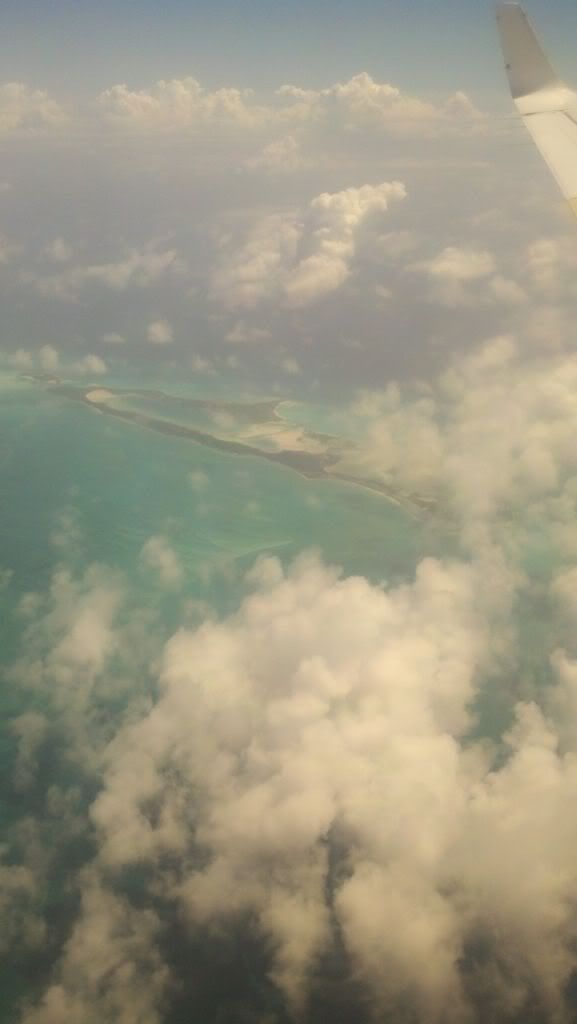 These next three are of various islands along the Exuma chain: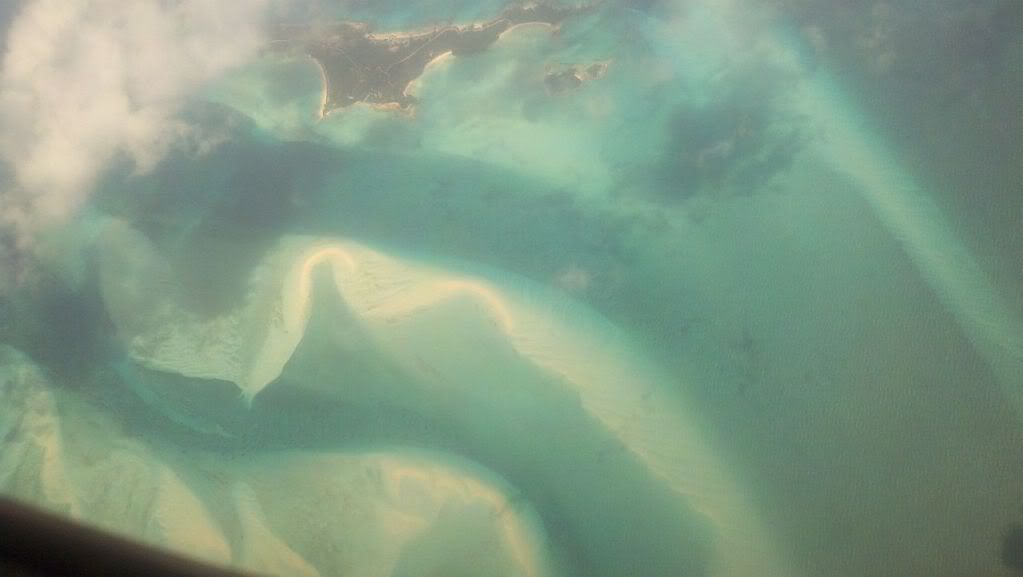 Landing in Great Exuma
Sky Bahamas has their own upholstery for their B1900: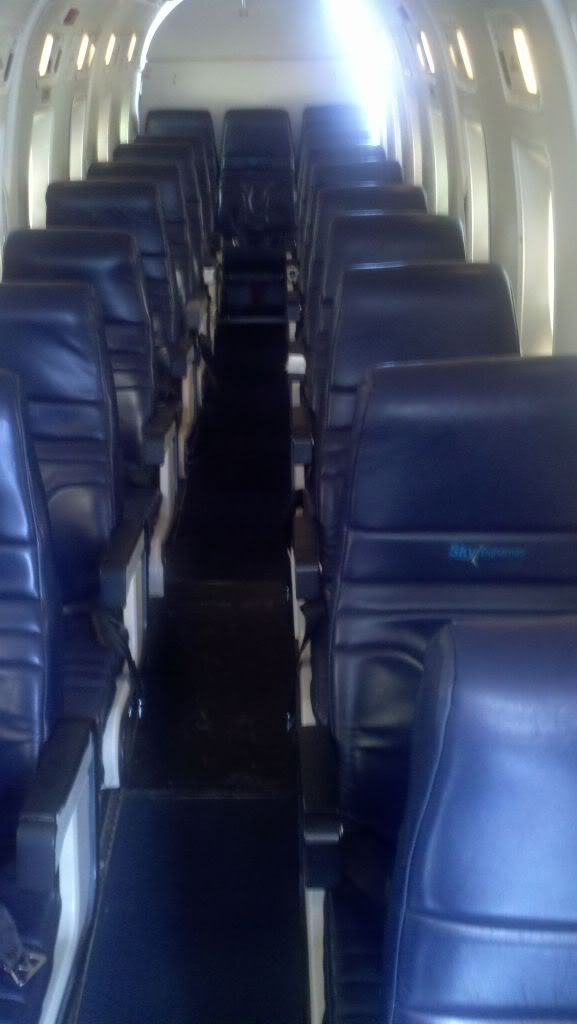 One last look at -SBF as we make our way to the baggage claim (really just an area to wait while the golf cart tugs in the luggage).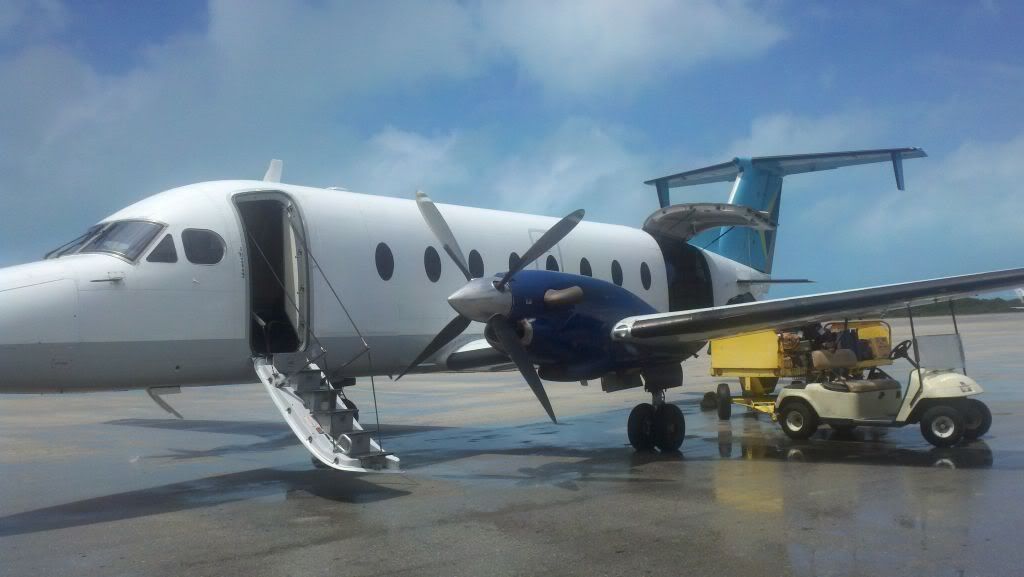 It was a great flight down; the Captain made an announcement before takeoff, greeting us aboard the short flight along with weather and arrival information. Obviously, no cabin service onboard, but for such a short flight, would anyone miss it?
The only unfortunate (and understandable) part was that my luggage did not make that flight due to weight and balance issues. Not to worry: an hour later - and a few kaliks (Bahamian beer) in at the lounge across from the terminal, my luggage arrived on the 12pm flight from Nassau.
Date: May 2, 2011
Flight number: 361
Aircraft: Saab 340A
Registration: C6-SBG
Load: 100%
Seat: 9A
Departure (Scheduled/Actual): 1.05pm/12.55pm
Arrival (Scheduled/Actual): 1.55pm/1.37pm
After a wonderful 4 days in Exuma, it was time to say goodbye (yes, there are numerous other videos/pictures from my escapades, but I'll save those for another social networking site). We headed to the airport early because we had heard that some flights had been canceled. As it turned out, Western Air (one of Sky's competitors) suffered a few mechanical issues the day before, causing major headaches for the Nassuvians who were desperately trying to get back to Nassau for work the next day. Needless to say, GGT was a madhouse, but nevertheless, between Bahamasair, Western, American Eagle, and Sky checking people in, I got a pink boarding pass (seat assignments are only done in Nassau, apparently) within 5 minutes of entering the building, with the same friendly service as was received in Nassau despite the chaos in the small terminal. Remarkable!
Due to the size of the departure lounge in Exuma, Security only allowed passengers to enter for certain flights at a time in order to prevent crowding. American Eagle had a 12.40pm flight, and so got priority. I waited until signaled by the security personnel that I could enter the metal detector 'area', and waited patiently for my flight. My Saab rolled in at around 12.30pm (nearly empty, by the looks of it), and we were boarded promptly at 12.40pm. A relative of mine I was traveling with received a purple boarding pass (he had checked in later). As I left the building for my plane, I noticed C6-SBF rolling in and realized that those with purple passes must be boarding that aircraft.
-SBG in Exuma perfoming a relatively quick turn with engine number 2 idling and feathered:
Safety Card:
Takeoff from GGT on Sky's Saab 340
More gorgeous scenery from the Exumas: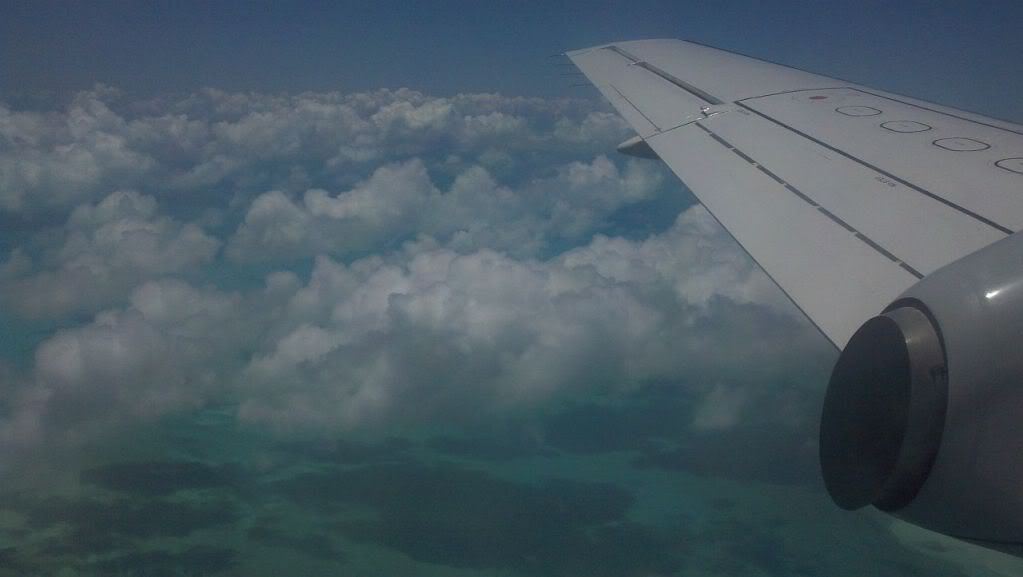 Taking the scenic route
During the flight, I spoke with the flight attendant (also a charming, friendly, and professional lady) and told her that we share the same profession. We chatted for a few minutes and she explained to me that normally they would offer a beverage service on this flight, but were unable to be catered in Nassau due to a short turnaround. I was surprised that a beverage service would even be offered on such a short flight...especially when, in the past, we were accustomed to absolutely nothing on you-know-you
.
The Saab's upholstery seems pretty new and very comfortable. Legroom was nothing to turn your nose up at, either - and I wasn't even in an exit row!
-SBG, awaiting more clients for another quick hop to FPO: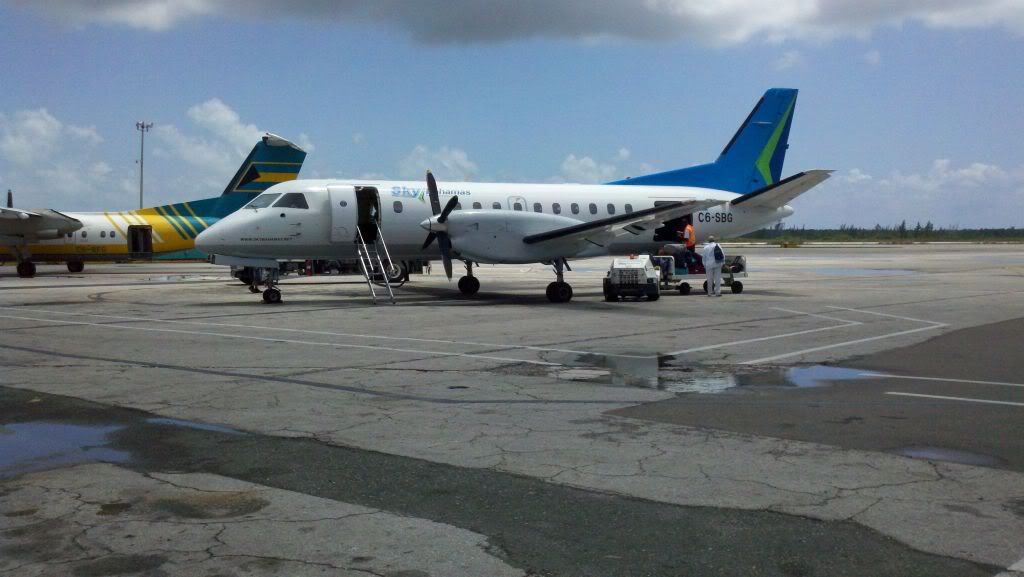 All in all, it was a wonderful trip, both in the air and on the ground. I'm definitely looking forward to Exuma Regatta 2012, and I'm absolutely sure that Sky Bahamas (their IATA code is Q7, btw) will be my carrier of choice in future. Thanks for reading, and I hope you all enjoy!
P.S. - I have a (rather lengthy) video of the approach and landing into Nassau, but for some reason I'm having issues uploading it. If I can, I'll add that in a reply.