Feedback always appreciated.
I > Background:
After an amazing vacation, it was time to leave Tunisia. As I mentioned on the first installment of my Egypt/Libya/Tunisia report (http://www.airliners.net/aviation-forums/trip_reports/read.main/187585/), the three countries I would leave behind would fundamentally change after my departure. In fact, the "story" is still being written for each of them. After arriving from Tozeur and some two weeks in Tunisia, it was time to leave. Feels interesting that I departed Tunis on December 17th, the day Mohames Bouazizi self-immolated, and ignited the revolutions that are still blazing across the Arab world.
There have been a few reports on Tunisair, but this might be the first on its J product between Tunis and Orly.
II > Pre-Flight:
a) Before Airport:
Tunisair (or, Société Tunisienne de l'Air) is the flag carrier airline of Tunisia. Formed in 1948, it operates scheduled international services to European, African and Middle Eastern destinations. From its main base at Tunis, it flies to 53 destinations across Africa, Asia and Europe using a fleet of 31 aircraft.
Flights were booked on Orbitz as I found Tunisiar's site at (www.tunisair.com) rather useless. One could search for flights, price them, select them, and then face a "time out" error. Anyways, my Orbitz generated PNR was good enough and I was able to use it to view my itinerary on the TU site. No facility for choosing a seat however.
b) At Airport:
Tunis Airport reminds me of airports created across the emerging world in the early 1980's. The rather "wanna-be" cool facade and the dark tinted windows lead to a dingy interior. In fact, the outside and the gate areas reminded me very much of Bombay's old terminals 2A and 2C ... and Amman's airport. Inside, the first thing you notice is how "green" the airport is ... and in this instance, not "green" environmentally ... but "green" lighting and effect.
Business class check-in is separate and the lady quickly issued me a boarding pass and lounge invitation card. There was not much pleasantries exchanged, and there was a level of warmth that was solely missed. Anyways, immigration and security checks were rather fast and I was soon airside. It took me a while to find the TU's "flagship" lounge, and again it wasn't much to write home about. There was a TV, some mediocre wine, and some appetizers. Again, it would suffice before a medium haul flight I guess. The lounge attendants were more busy chatting among themselves than caring about the passenger or greeting them. Like the check-in agent, they were not rude ... just indifferent. You might as well have automated the whole process for all I care.
Boarding was delayed for no mentioned reason, and like many other times in this part of the world, commenced without an announcement. Of course, everyone jumped into line and there was no real "priority" boarding.
Upon entering, I was greeted by the crew who smiled very little. J load was around 20% - with almost the entire cabin being Tunisians.
Airport - External:
(Tunis Airport)
*
Check-in:
(TU Check-In Area)
Airport - Internal:
(ALL GREEN)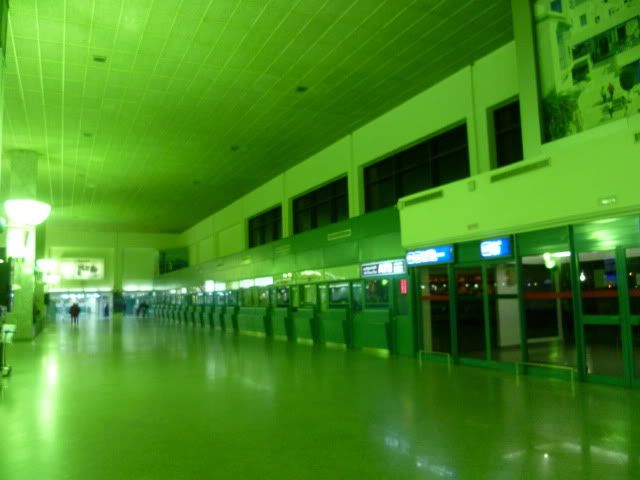 *
*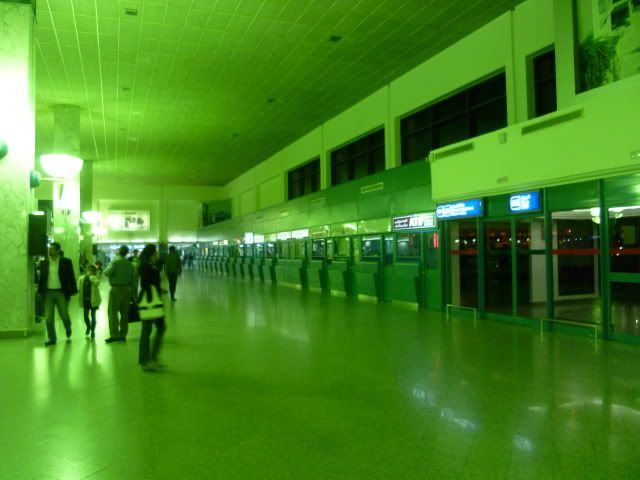 *
(FIDS)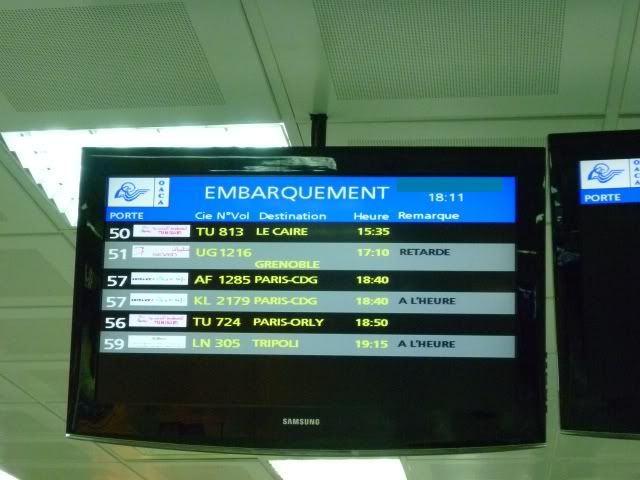 (Post Security @ TUN)
*
*
Scenes of the tarmac:
NONE
Lounge: Tunisair's flagship lounge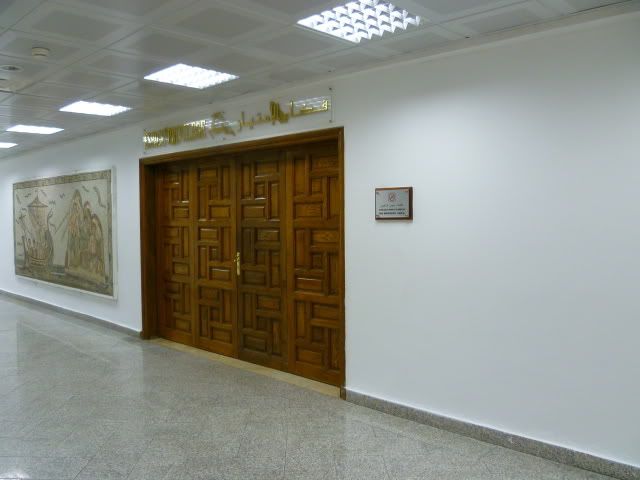 *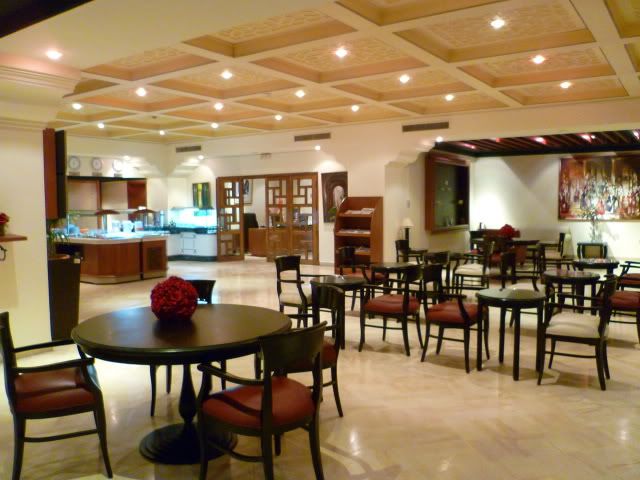 *
*
Boarding:
III> In-Flight:
a) Service Schedule + Impressions:
After take-off, moisten toilet sheets, and then dinner service.
b) Aircraft + Seats:
Tunisair's 320 is well maintained ... but generic. The J-cabin follows the annoying European "curtain" model with a middle seat blocking. The leather seats are comfortable, but both legroom and recline leave much to be desired. While the bathrooms were sparse and contained no amenities, I did appreciate that it was kept clean throughout the flight. Overall, I did not feel the entire hard product had much of a "premium" feel to it.
Aircraft:
(TU 320 - on A.Net)
Views from Aircraft:
(Tunis Airport)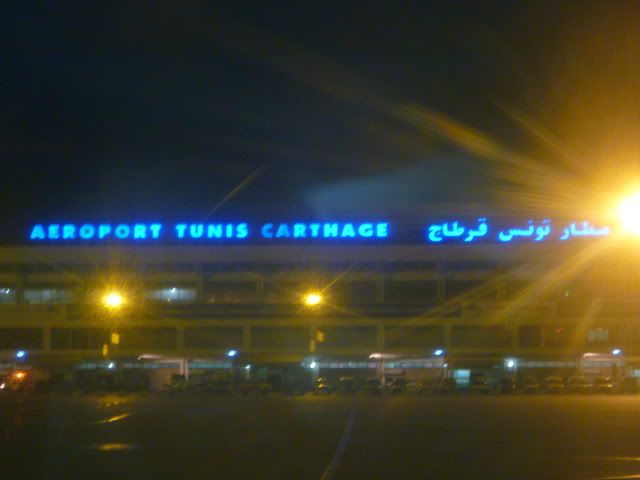 General Seat Views + Seat Legroom
(Seat)
NONE
*
(Legroom)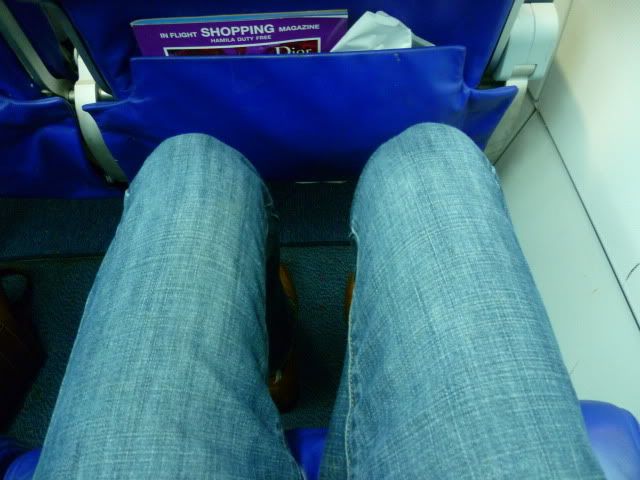 Seat Recline + Angle View:
(Poor recline)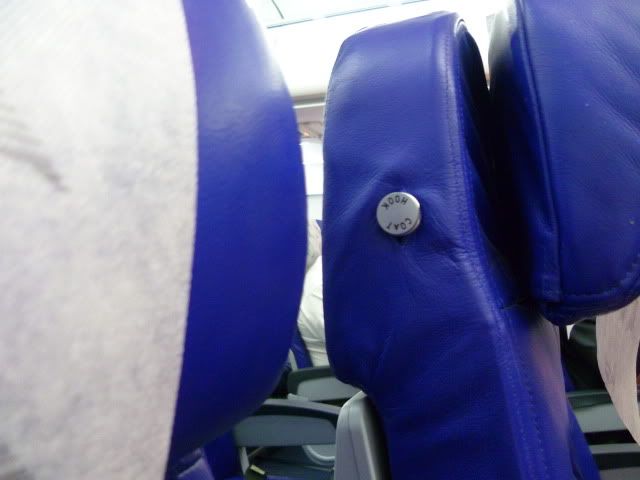 *
Cabin: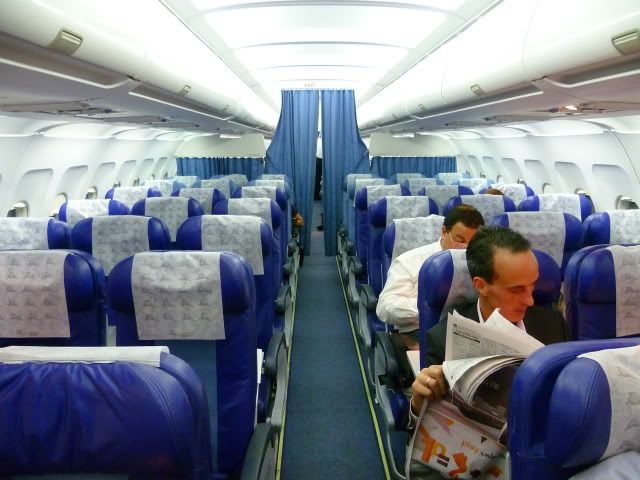 *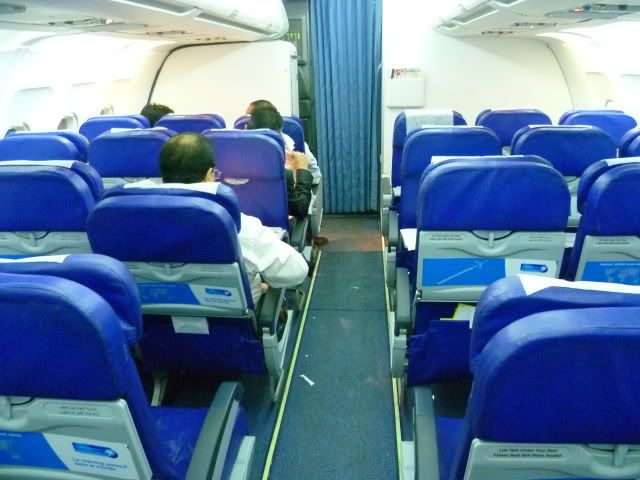 (Blanket ++)
NONE
(Bathroom)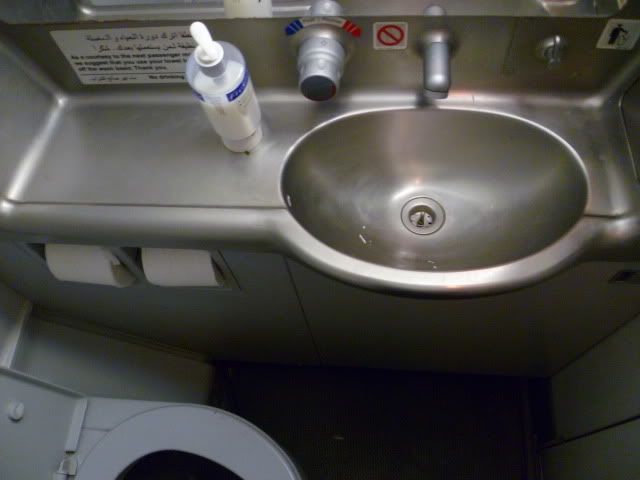 c) Meal + Beverage:
Meal service commenced soon after take-off and had a choice of entrées - shrimp or chicken. No fancy menus or anything along those lines. Service kicked off with a rather bland chicken salad, some cheese, and a fruit plate. It was accompanied by a hard cold bread roll. Is it really that hard to serve warm bread in J-class? The shrimp main course was served in a tomato sauce and served with some vegetables. Again, while the portions were satisfactory, the content was rather bland ... and the soggy vegetables did not do anything to enhance the meal.
Instead of a dessert, service ended with a pack of nuts and a piece of Valrhona chocolate - something I found to be a tad random. Overall, not a memorable meal by any margin ... but something that is adequate to justify the USD 350 premium over Y class I guess.
Oh, and the wine in the beverage service left much to be desired ... just check the color of the wine for yourself in the picture.
(Table setup)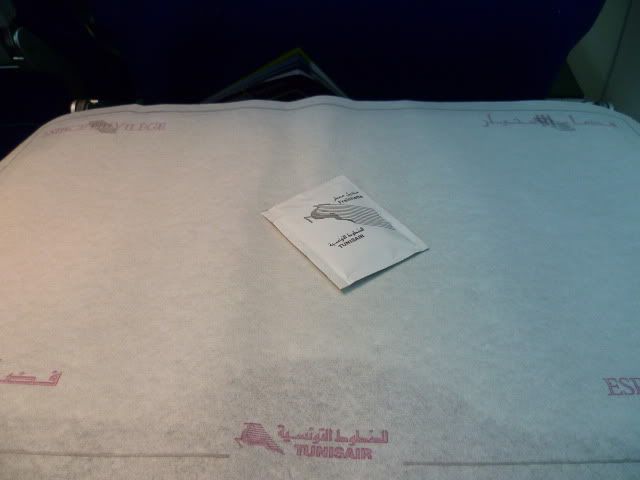 *
(Meal Service: Appetizer)
*
(Main Course)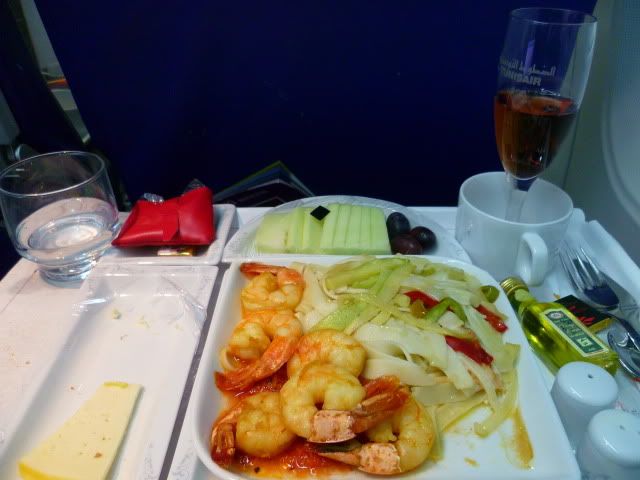 *
(Final Touches)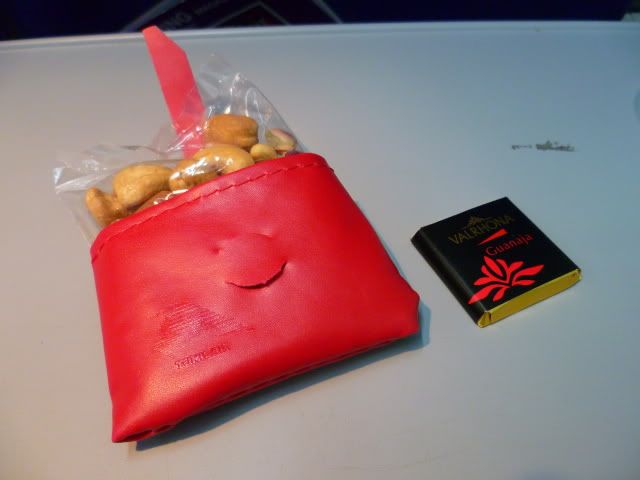 d) Inflight Entertainment:
No IFE. Duty free magazine, but in-flight missing?
("In-flight magazines", Boarding Passes, etc.)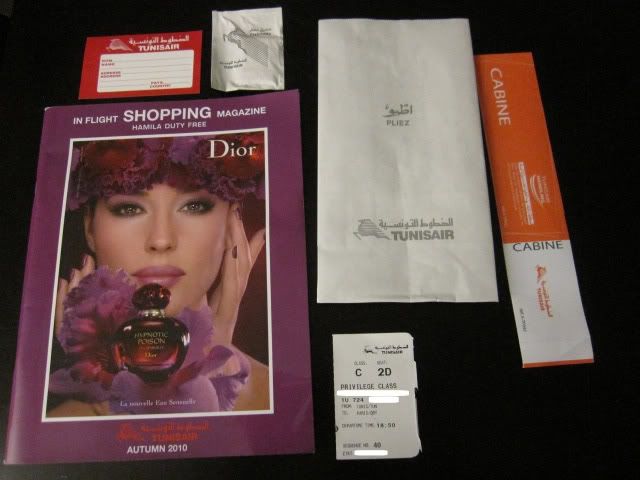 e) Crew:
The onboard crew continued the air of indifference that was the hallmark of the ground crew. I don't think I saw them smile during the entire flight. Of course they did their work, and diligently responded to all requests, but again there was a distinct lack of smile.
IV> Post-Flight:
Arrival into Paris-Orly was swift and a breeze. Can I just say how much I
LOVE
Orly when compared to CDG? Immigration (as usual) left much to be desired - the officials clearly asked a lot more questions to those of Arab ancestry ... even if they held a French passport. Kinda sad.
(Exotic-ness of Orly is always "cool")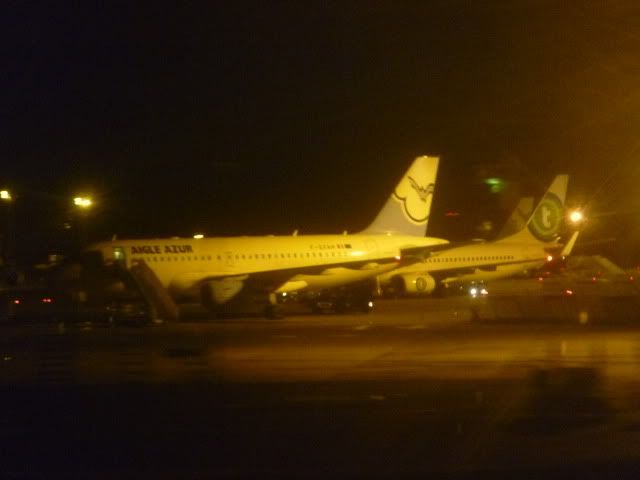 V> Impressions + Scores:
Tunisair gets you from point A to point B. On this flight, its service was perfectly adequate. None of it is going to be winning any award anytime soon. For a flight of this length, the lack of IFE option was disappointing. More importantly, what seriously is up with the people who work for Tunisair? Throughout the entire process, I did not encounter any smile or anyone with any desire to actually connect with the passenger. Perhaps, they need to go to the streets and reconnect with that famous Tunisian hospitality!
Overall, no thumps up or down ... and, of course, I would fly Tunisair again ... but the price and schedule will have to be perfect ... and in no way would I go out of my way to fly them.
VI> Other Trip Reports:
PREMIUM:
9.27: JET AIRWAYS **FIRST** (110): LHR-BOM: 10/2010
9.27: THAI AIRWAYS **FIRST** (108): BKK-LHR: 07/2010
8.66:
Brussels Airlines (93): FIH-BRU: 01/2010
8.64:
Turkish Airlines (59): JFK-IST: 11/2008
8.63:
Jet Airways (88): JFK-BRU: 10/2009
8.61:
Air Canada (49): YYZ-SCL: 06/2008
8.54:
Turkish Airlines (77): GRU-DKR-IST: 04/2009
8.36:
Kingfisher (98): BOM-HKG: 01/2010
8.30:
Jet Airways (74): KWI-BOM: 04/2009
8.23:
United Airlines (72): SFO-SYD: 03/2009
8.11:
Aeroflot (33): MOW-DEL: 09/2007
8.05:
Air India (80): CCU-JFK: 06/2009
8.04:
Korean Air (40): NRT-ICN: 10/2007
8.02:
Delta Airlines (24): JFK-CDG: 08/2007
7.82: UNITED AIRLINES **FIRST** (110): SFO-ICN: 10/2010
7.82:
Singapore Airlines (06): EWR-SIN: 09/2006
7.66:
Sri Lankan (104): DEL-CMB: 07/2010
7.64:
Royal Jordanian (91): AMM-YUL: 12/2009
7.61:
China Southern (103): LOS-DXB: 04/2010
7.57:
Pakistan Airlines (102): ORD-BCN: 06/2010
7.46:
LAN (55): YYZ-JFK: 09/2008
7.38: AMERICAN AIRLINES **FIRST** (112): LHR-JFK: 10/2010
7.38: CATHAY PACIFIC **FIRST** (109): HKG-LHR: 10/2010
7.25:
Iran Air (88): BOM-IKA: 12/2009
7.23:
Virgin Atlantic (81): BOS-LHR: 07/2009
7.14:
Swiss (52): SCL-GRU: 06/2008
7.11:
Aer Lingus (105): MAD-IAD: 05/2010
7.11:
Austrian (79): VIE-JFK: 06/2009
7.07:
Privatair (84): BOM-FRA: 08/2009
7.02:
Qatar (68): DOH-JFK: 01/2009
6.96:
Etihad (61): JFK-AUH: 12/2008
6.93:
Delta Airlines (18): SEA-JFK: 11/2006
6.84:
ConViasa (65): CCS-DAM: 01/2009
6.82:
Air Burkina (106): BKO-OUA: 06/2010
6.81:
Air Canada (17): ICN-YYZ: 10/2006
6.75:
Afriqiyah + Libyan (113): CAI-TIP: 11/2010
6.70:
KLM (32): EBB-AMS: 08/2007
6.52:
Emirates (99): LHR-DXB: 02/2010
6.39:
South African (97): EZE-JNB: 01/2010
6.36:
Privatair (60): MUC-BOS: 12/2008
6.29:
TAM Brasil (96): POA-EZE: 02/2010
6.25:
Korean Air (45): NAN-ICN: 10/2007
6.21:
Iberia (87): BOS-MAD: 10/2009
6.11:
A SKY (107): OUA-COO: 06/2010
6.11:
TAP Portugal (53): GRU-OPO: 06/2008
6.00:
Gulf Air (75): BOM-BAH: 04/2009
5.88:
African Express (89): DXB-NBO: 11/2009
5.75:
Singapore Airlines (16): CCU-SIN: 10/2006
5.64:
SATA Azores (101): BOS-PDL: 04/2010
5.64:
NorthWest (46): ICN-NRT-SEA: 10/2007
5.54:
Ethiopian Airlines (95): ADD-BOM: 01/2010
5.46:
Icelandair (83): KEF-BOS: 08/2009
5.39:
LOT (54): WAW-JFK: 06/2008
5.21:
Egypt Air (73): CAI-IST: 02/2009
5.11: Tunisair (115): TUN-ORY: 12/2010
5.07:
TACA (66): JFK-SAP: 01/2009
4.42:
Air France: CDG-JNB (25): 08/2007
ECONOMY: Long + Medium:
9.26:
Air India (48): JFK-DEL: 02/2008
7.38:
Avianca (01): BOG-LIM: 07/2006
7.07:
Sri Lankan (62): KWI-CMB: 12/2008
7.00:
LAN (94): IPC-SCL: 01/2010
6.41:
Avianca (78): JFK-BOG: 05/2009
6.41:
American Airlines (58): LHR-BOS: 11/2008
6.39:
Condor (85): SEZ-FRA: 09/2009
6.26:
Jet Blue (21): CUN-JFK: 02/2007
6.06:
Air Canada (04): YYZ-YVR: 09/2006
5.89:
USA 3000 (19): PUJ-BDL: 01/2007
5.85:
Spanair (69): MAD-LPA: 02/2009
5.79:
Air New Zealand (42): RAR-NAN: 10/2007
5.52:
Aerolineas (86): USH-AEP: 10/2009
5.46:
TAP Air Portugal (23): OSL-LIS: 05/2007
5.19:
Air Europa (70): LPA-MAD: 02/2009
5.16:
Iberia (71): MAD-BOS: 02/2009
5.11:
Air China (82): FRA-PEK: 08/2009
ECONOMY: Short
8.56:
Paramount Airways (38): BLR-MAA: 09/2007
8.56:
Kingfisher (64): HYD-CCU: 12/2008
8.24:
Kingfisher (14): IXA-GAU: 10/2006
7.87:
Indian (34): BOM-MAA: 09/2007
7.72:
Alliance Air (13): CCU-IXA: 10/2006
7.57:
Indian Airlines (10): DEL-CCU: 09/2006
7.23:
West Jet (03): YYC-YVR: 09/2006
7.15:
JetLite (37): BOM-GOI: 09/2007
6.98:
Air Koryo (100): PEK-FNJ: 04/2010
6.70:
Spice Jet (09): CCU-DEL: 09/2006
6.63:
Air Fiji (44): NAN-SUV: 10/2007
6.63:
Jazeera (67): DAM-KWI: 01/2009
6.58:
Air Tran (02): EWR-MDW: 08/2006
6.48:
Air India Express (63): CMB-MAA: 12/2008
6.44:
CO Micronesia (39): ROR-YAP: 10/2007
6.41:
Pacific Sun (43): NAN-SUV: 10/2007
6.37:
Skybus (47): SWF-CMH: 02/2008
6.33:
Kenya Airways (29): NBO-BJM: 08/2007
6.33:
Sky Europe (56): LTN-BTS: 10/2008
6.31:
Indigo (15): GAU-CCU: 10/2006
6.31:
easyJet (57): BUD-LTN: 11/2008
6.22:
Air Link Swazi (28): MTS-JNB: 08/2007
6.22:
Air India (36): HYD-BOM: 09/2007
6.13:
Adam Air (07): SIN-CGK: 09/2006
6.13:
Air Rarotonga (41): RAR-AIT: 10/2007
6.00:
Transairways (27): INH-MPM: 08/2007
5.95:
Air Canada (05): ALB-YYZ: 09/2006
5.85:
SAS Norge (22): OSL-AES: 05/2007
5.81:
LAM Mozambique (26): JNB-MPM: 08/2007
5.69:
Air Deccan (12): IXZ-CCU: 10/2006
5.67:
Rwanda Air Exp (30): KGL-NBO: 08/2007
5.52:
Sevenair (114): TOE-TUN: 11/2010
5.37:
Felix Airways (92): SCT-SAH: 12/2009
5.11:
Aero Republica (76): BOG-CCS: 04/2009
5.07:
Go Air (35): MAA-HYD: 09/2007
5.00:
Sky Airline (51): IQQ-SCL: 06/2008
4.96:
Valuair (08): CGK-SIN: 09/2006
4.78:
Air Comet Chile (50): SCL-IQQ: 06/2008
4.74:
Fly 540 (31): MYD-LAU: 08/2007
4.33:
Viva Aerobus (20): ELP-MTY: 02/2007
4.11:
Air Sahara (11): CCU-BOM: 09/2006
(Note on Codes: Y – Economy, J – Business, F – First :: I/D – International/Domestic :: SR/MR/LR – Short/Medium/Long Haul)
(Note on Date: Dates are modified to be +/- 3 days from actual flight date to not reveal actual flight pattern)
VII> Other Pictures:
NONE