This is the last part of my Great Asia Trip series which documents my travels around Asia. For the origin and to know more about the trip, I would strongly recommend reading the first 3 parts of the series.
Great Asia Trip Part 1 - Propping To Luxury
(by
Initious
Mar 23 2011 in Trip Reports)
Great Asia Trip Part 2 - In Love With Emirates
(by
initious
Mar 27 2011 in Trip Reports)
Great Asia Trip Part 3 - The Arabian Adventure
(by
initious
Apr 15 2011 in Trip Reports)
Introduction
Once again, this trip started out in a conversation…
"Would you like to come to Taiwan with us?"
"I wish to but I do not have the money."
"How about flying direct from Bangkok to Taipei?"
"Nah, I guess I'll pass. Do you want to visit me in Bangkok? We could chill out for 3 days."
"It's hard to reject your offer, which airline do you suggest?"
"Since you are doing a last minute booking, let's try Thai. They offer great fares"
"Sure!"
Little did I know, that simple MSN conversation made the best 3 days of my Great Asia Trip, a wonderful finale and a trip to remember forever. It was meant to be a simple trip; Just my best buddy, Adrian, and myself in the Land of Smiles, shopping and bargaining along the way. No rushing between destinations or arguing about which transportation to take etc.
Booking Process
As my Adrian has never booked flights by himself before, I helped him in the booking process. The TG website was as usual easy to navigate. However, I was unable to pay for the tickets for him using my card as there will be a credit card verification done during check-in. We decided to do a reservation on the TG website and head down to their office in Singapore to pay in cash.
Getting to their office was not an easy task even as Singaporeans. It is located in the Central Business District of Singapore and I tend to get lost in that area as it is so messy. After several rounds of walking and passing by the UA office on the way, we finally managed to reach the office which is adorned by a very beautiful "THAI" signage. No mistake, this is definitely the airline that touts about their Royal Orchid Service.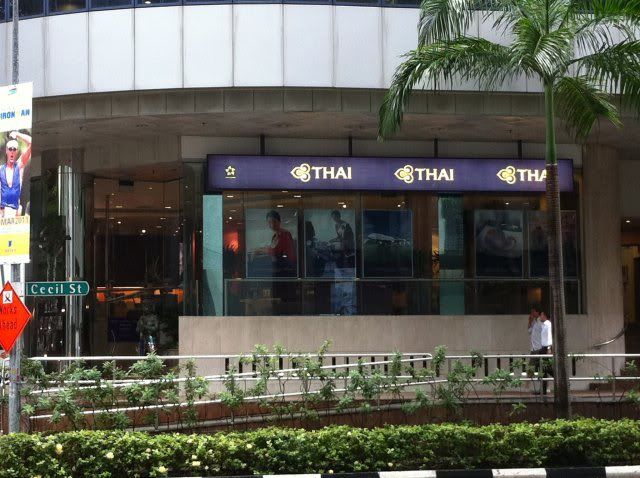 TG Singapore office
The office only had 1 other customer when we stepped in and right after pressing the machine for the queue number, we were called upon to Counter 3 where a middle-aged lady was waiting to serve us, with a smile on her face. After explaining our situation, she asked for Adrian's destination and date of departure to which I just gave her the reservation number and we paid the money while she printed an e-ticket for him. As I saw that, I requested for one too and sure enough, I got mine in just a minute, coupled with a ticket holder but none was given to Adrian. This has got me thinking again, is it the power of the magical words, "Business Class?"
I also managed to purchase an Airbus A340-600 model from their office for S$35 which was pretty cheap. It also bears the registration HS-TNA, TG's first A346.
Arrival from Dubai
Fast forward to the day Adrian and I meet in Bangkok. I arrived from Dubai on TG 517 that landed 10 minutes ahead of schedule at 8.30am. This was bad news for me as Adrian only arrives at 9.35am. Little did I know, more bad news were to arrive. As I got off TG 517, I got a series of 6 messages sent by him updating me about his plane that actually got a technical problem. Just days before, the scheduled equipment was changed from an Airbus A330-300 to a Boeing 777-200. Now, this B772 (HS-TJH) decides to be naughty while his brother that I flew in with (HS-TJE) was alright. The last message was sent at around 9.20am Singapore time informing me that the flight is finally boarding. As he guessed so, I arrived in Bangkok at 9.30am Singapore time but he only departed at 9.59am which means that he has not even taken off when I arrived. Scheduled arrival time was pushed to 10.30am according to the FIDS but has been further pushed to 11.30am a few moments later.

FIDS showing the delayed flight
This marks the beginning of an aviation freak panda roaming around Suvarnabhumi not knowing what to do while waiting. I decided to head to the handphone shop to purchase a sim card to make calls and possibly get mobile internet. The international calling surcharge was pretty cheap, 1 baht per minute. Guess getting a sim card will be the norm whenever I arrive at a new country.
I decided to look for the limousine driver that I have engaged as I was not sure if they knew about the delay. I booked the limousine service from a company known as "SPT Limousines" but I saw this signage that said "SP Limousine" so I got up to enquire about it. A guy which looked in his late 30s approached me and asked if I was a customer of his company but it turns out that both are different companies. However, he was very kind and offered to help me call the number stated on the booking I printed out. Shortly after, a young lady approached me and told me that the flight was delayed so she told me to sit down while waiting. As I waited, they tried chatting with me and asked if I speak Thai. According to them, I look like a Thai. I have always loved the Thais hospitality and was of course glad to hear that.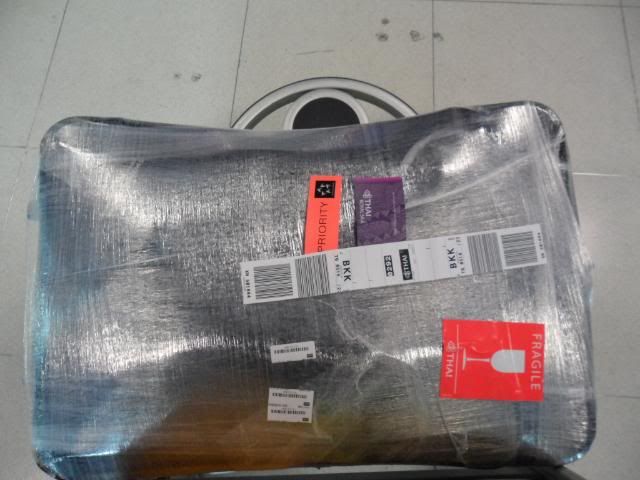 Sitting down with my wrapped luggage
I decided to utilise the internet I bought earlier on to cure my boredom. However, the internet was not cheap. It costs 250 baht an hour. However, it only managed to last me till 10.30am which means I had an hour more to burn.
Finally, the plane landed at 11.40am and I immediately contacted him to confirm that he actually landed safely. As it was around noon time, I expected the immigration to be in chaos. As Adrian told me, there was a long queue of people at immigration and the particular officer serving his row was very slow. Thankfully it did not take long and he finally came out at 12.10pm after a wait of almost 4 hours. We boarded the limousine and headed for Adelphi Grande, our hotel for the next 2 nights.
Adelphi Grande Bangkok
As our limousine pulled in at Adelphi Grande Bangkok, I was amazed by the lobby. It was beautiful and it gave me an impression that we will have a very nice stay here. Besides that, the price here is reasonable too. Despite booking just around 3 weeks in advance, we got a price of S$233 for 2 nights. We were warmly greeted at the reception desk, handed our keys and luggage taken care of.
Stepping into our 40 sqm apartment, the only word that managed to come out of my mouth was "Wow!" It is truly a wonderful and spacious room and I would not mind staying longer in this room. To add icing to the cake, they actually bothered to help us fold the clothes we threw on our beds just before leaving the room and left them neatly on the bed. Since both of us did not have enough sleep the previous night and feeling sorta tired after flying, we decided to order room service for lunch. It came in 20 minutes and tasted quite good. After eating, it was finally time for shopping!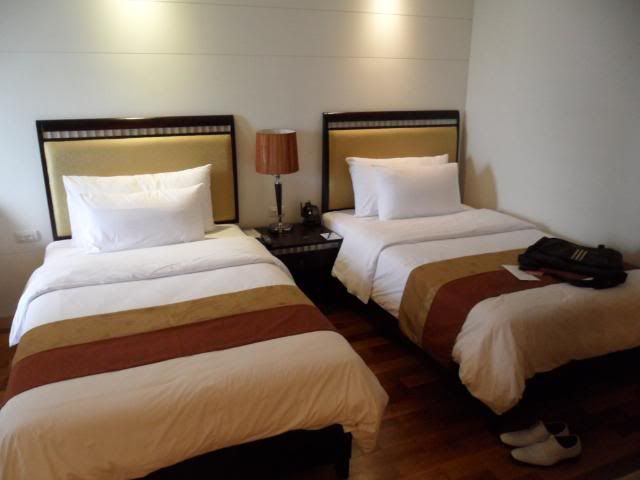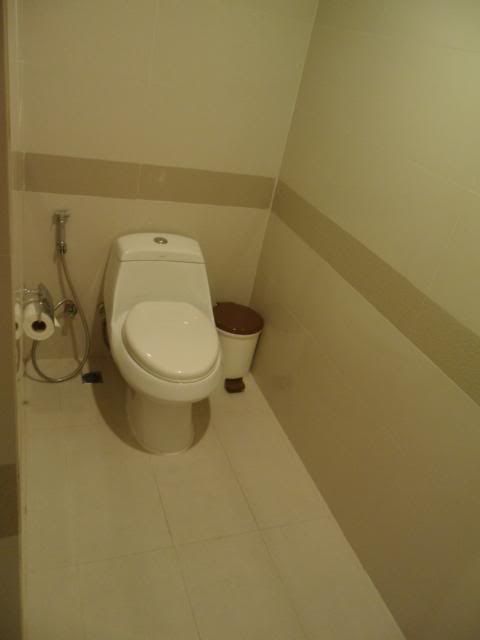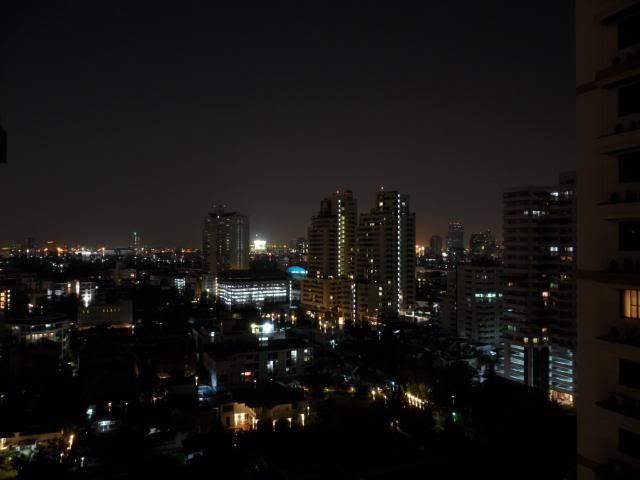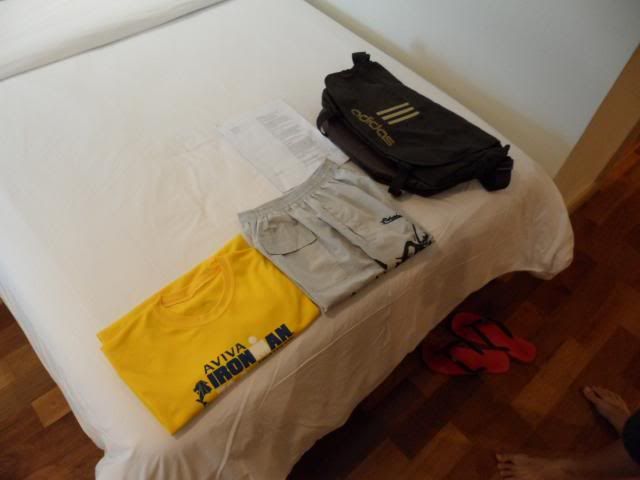 Shopping in Bangkok
As a tourist, I can say you are at least 90% sure to get ripped off if you do not bargain. Maintaining a good attitude when bargaining is crucial. Don't act like you are their boss or a demanding customer. Instead, treat them like a friend and they are more likely to give you bigger discounts. Another tip is to shop around for prices first before deciding on where to buy your stuff. Try using phrases like "I've seen it cheaper somewhere else" or "I saw somewhere else selling it for only xxx baht". This tactic is almost fool proof! However, be aware of some "clingy" shopkeepers that don't want to let you go when you don't like the price. That happened twice to Adrian and twice I had to pull him away as they did not want to let him go. To make things interesting, it happened twice in a row and the shops were just a stone's throw away from each other.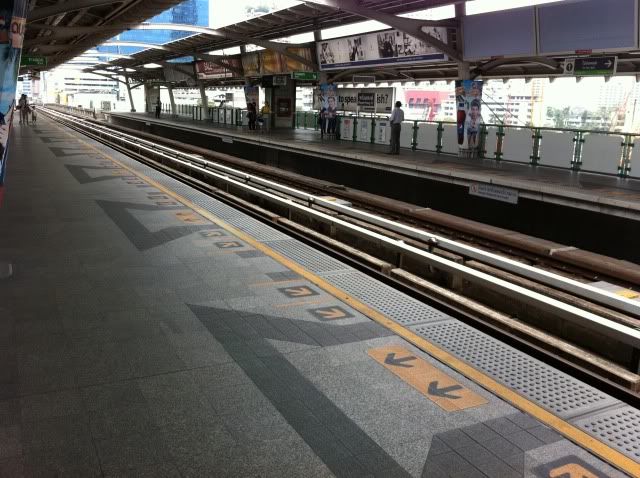 BTS Skytrain station and train view



Our usual stop, Phrom Phong
On our first night, we decided to head to Pratunam Night Market for shopping and have A&W for dinner. Getting to eat A&W is a luxury for Singaporeans as the well known brand has ceased their operations here several years ago. After dinner, we headed to MBK Shopping Centre for traditional Thai foot massage. It was cheap and good, 300 baht for 60 minutes and we feel refreshed and all the tiredness from the shopping gone. We also had a good night's sleep after that.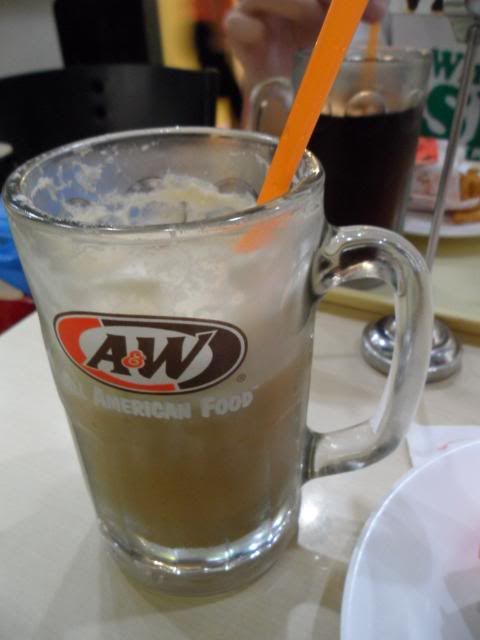 A&W for dinner
We continued our adventure on the second day to MBK once again to look for a shop we saw on the first day but failed to find it so we decided to head to Chatuchak Weekend Market. Even though it was on a Friday, it is open for suppliers but not much things were up for grab. I just bought a wallet here for 220 baht.
Time flies by. After Chatuchak, we headed to Patphong Night Market via the Bangkok BTS Skytrain and upon descending from the stairs, I spotted this shop selling airline stuffs from shirts to laptop casings. I managed to get 5 t-shirts namely SQ, EK, KA, LH and NZ for 210 baht each, sorta high but I think it's worth it. There is one thing I hate about Patphong. Surrounding the night market were countless night clubs offering "Thai Girl Shows" for "100". That's what they tell you in English and you'd think that it is 100 baht which in fact was 100 USD! Ridiculous! Another thing was that there were also lots of people holding DVDs that shows restricted materials on the streets. I am someone who stays away from those at all costs (believe it or not!) and definitely felt quite angry seeing all those people selling the stuffs. Can't they just sell it discreetly?

Chatuchak Market.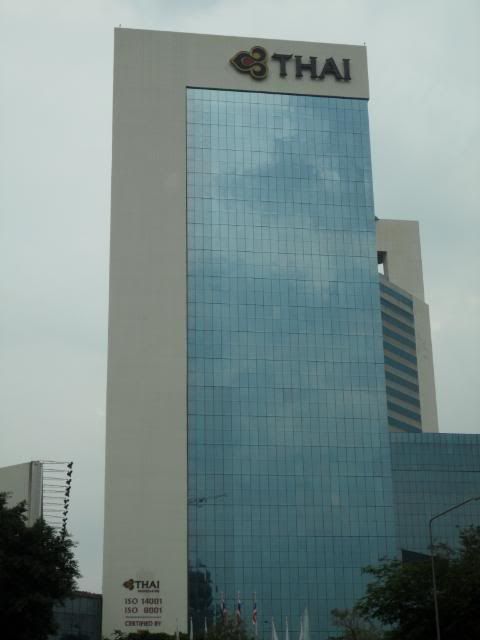 TG's headquarters in Bangkok
Time flies by when you are enjoying yourself. Sure enough, it was soon time for us to head back to our hotels for our second night of sleep and prepare for the journey home. At this point in time, I was definitely missing home but also sad that the trip is ending. After getting back to the hotel, both of us had a nice and long chat like what we would usually do over a bottle of Barcadi Breezer, a great way to end the trip. I was deadly tired from all the travelling around so I passed out like a light. Next morning, we woke up and prepared for our journey back home.