Introduction
After the introduction of their HEL base a while back (see my report here:
Norwegian Base Inaugural Day: HEL-RVN/OUL-HEL
(by
FlyingFinn76
Apr 2 2011 in Trip Reports) ), Norwegian is slowly ramping up the routes. April saw mainly destinations in Southern Europe getting introduced, and in May a couple of city destinations will follow. The first one is Copenhagen, and I managed to snatch a ticket on the inaugural flight for 34 EUR as soon as the flight was available for booking, back in October 2010.
I really had no idea what I'd do from CPH onwards, but somehow figured out this would be a nice enough chance to go for a daytrip to Bornholm island, a place which I've quite fancied visiting for a long time. Oh and May would be a much better time to go than this winter when the island reportedly was drowned in snow - to such a degree that no cars could run at all on the roads!
Danish domestic flights can be very cheap, and these definitely were. The outbound CPH-RNN was a bit under 30 EUR, and the inbound 25 EUR, both on Cimber - who right now is the only airline serving the route after DY withdrew from it.
To get back home I ended up booking SAS, as I initially still needed some qualifying segments (but in the end got them through other trips before this). The evening flight would for some reason be operated by one of their A321s that day, instead of the usual MD-82. That ticket cost 93 EUR.
The route, nice and simple: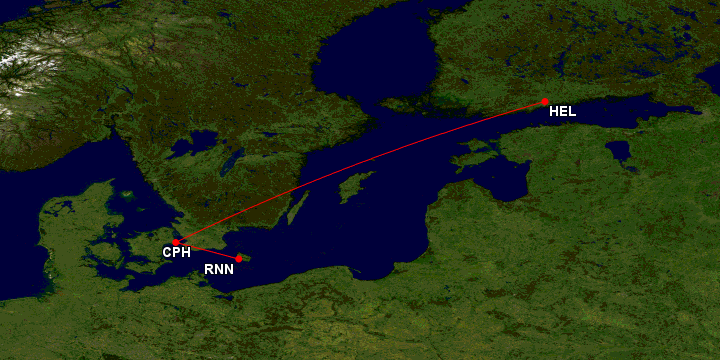 Thursday 5.5.2011
With DY still not offering any kind of OLCI possibility I actually stopped at the airport the previous evening on my way home from work and checked myself in using the self service machine. Worked like a charm and ensured good legroom and comfort at the bulkhead seat 1F. So I didn't have to go to the airport too early, but still arrive to T1 around an hour before departure on the day of travel to see whether they'd have some celebrations set up for the new route. A moderate queue at security, but at least all the lanes are open so it doesn't take too long to get through.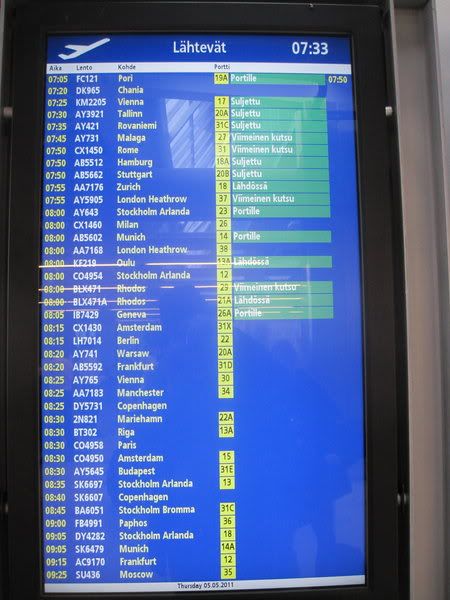 No gate is assigned yet, nor are there any DY birds around, so I decide to walk all the way to T2 to see if I can catch the incoming landing. The crew boarding the middle one of the three morning BT flights to RIX: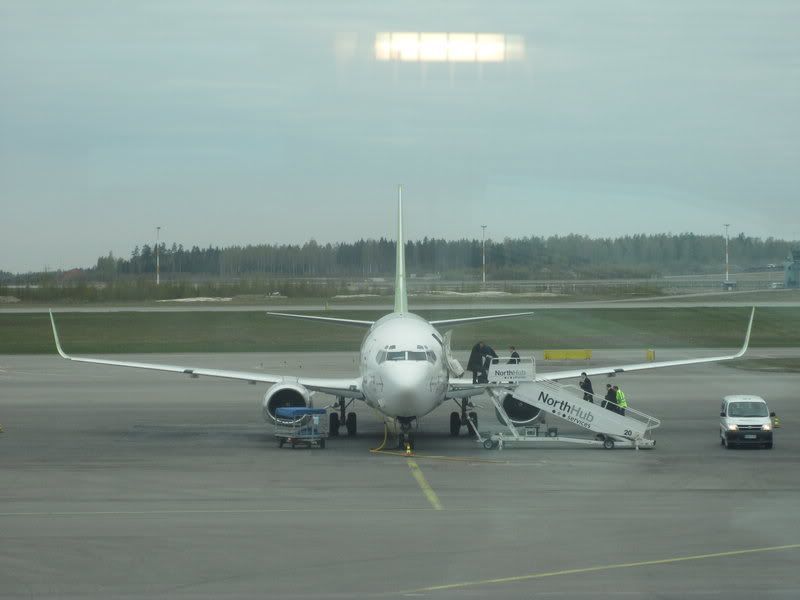 Bulgaria Air operating a charter flight - I feel sorry for the passengers who have to suffer the horrible legroom which I learned out the hard way last October: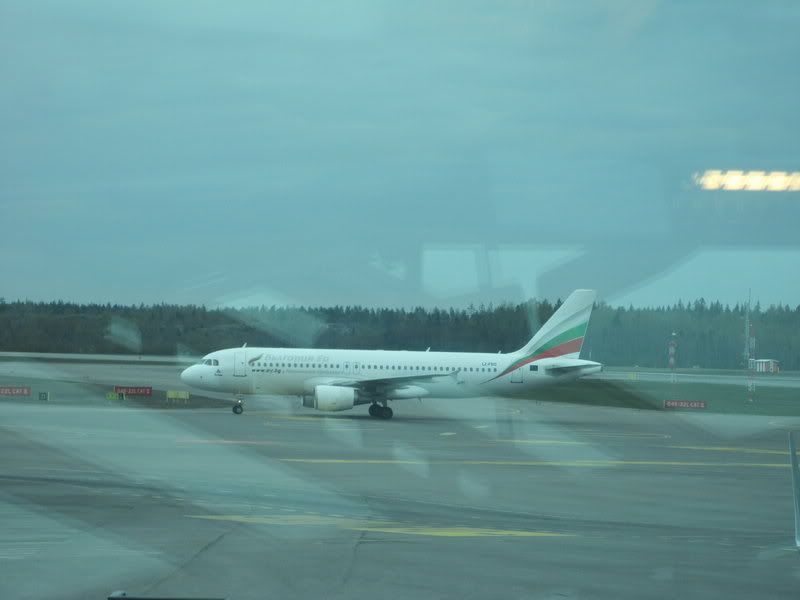 I think that's my ride: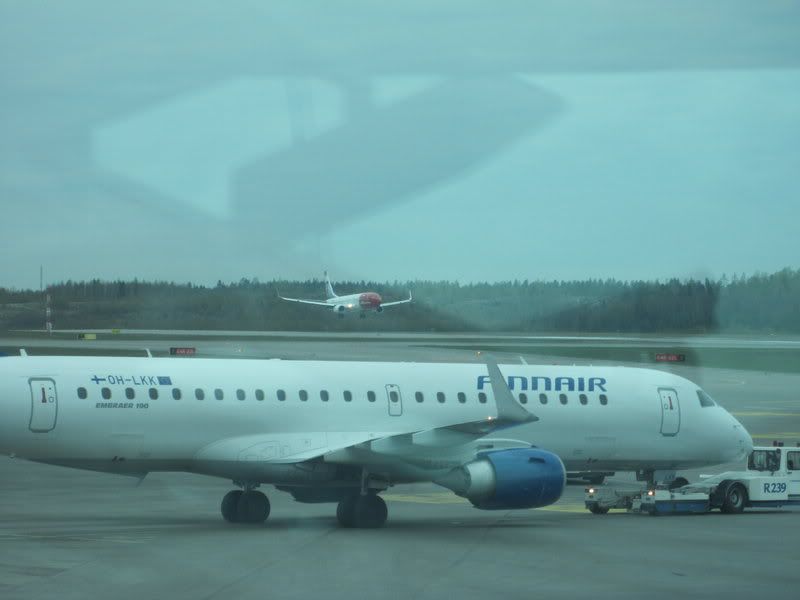 Nice to see OS sending in an Airbus for a change, usually we just get the Tyrolean Fokkers twice a day: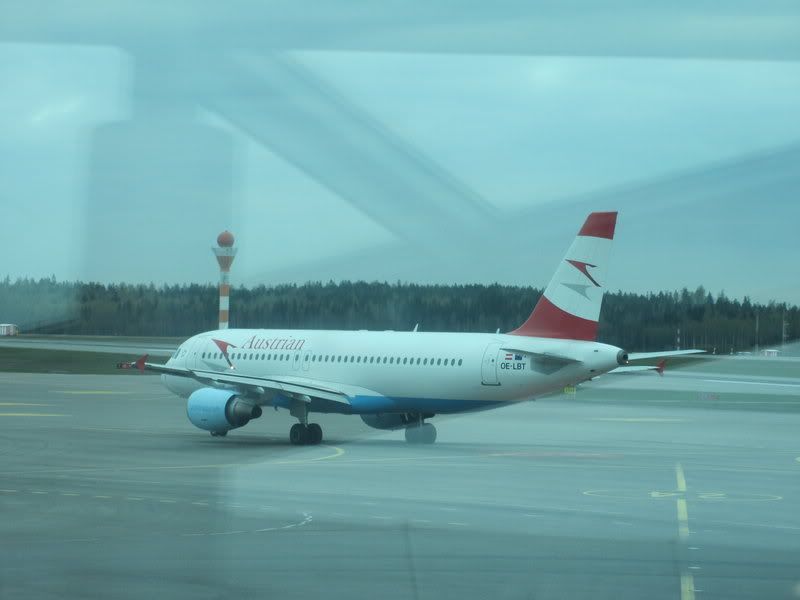 Indeed that turned out to be my ride, so I backtrack to T1 gate 16 where the plane is just discharging its inbound load of passengers. LN-DYJ will do the honors today, a rather new plane having entered service in January. A new one for me as well: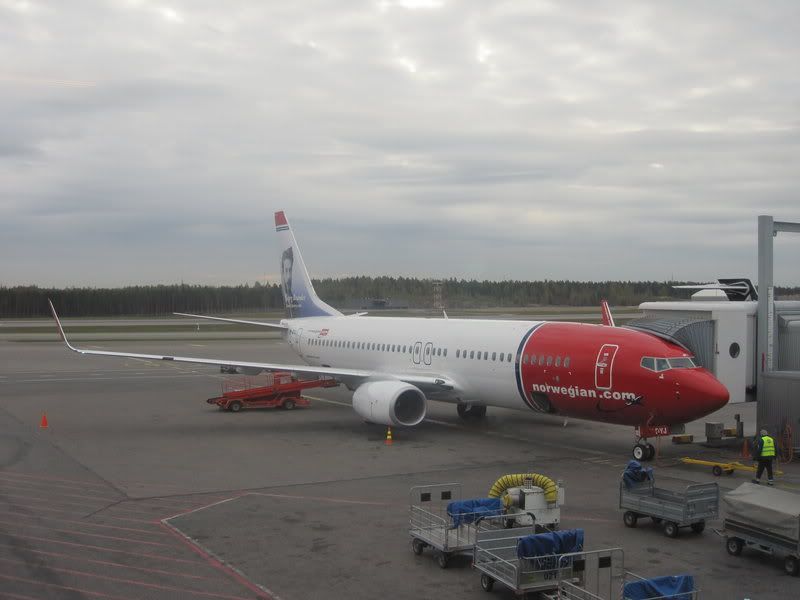 I ask the gate agent: "Where's the cake?"
She looks at me like I'm freaking mad or something: "Errr, what cake?"
"You know, first flight and all..."
"No, no cake."
Ok, I guess it would've been too much to ask for anyway... I mean they already celebrated the whole base inaugural, so why celebrate the individual flights? It only costs money, and of course carries no PR value whatsoever...
AY retrojet taxiing past: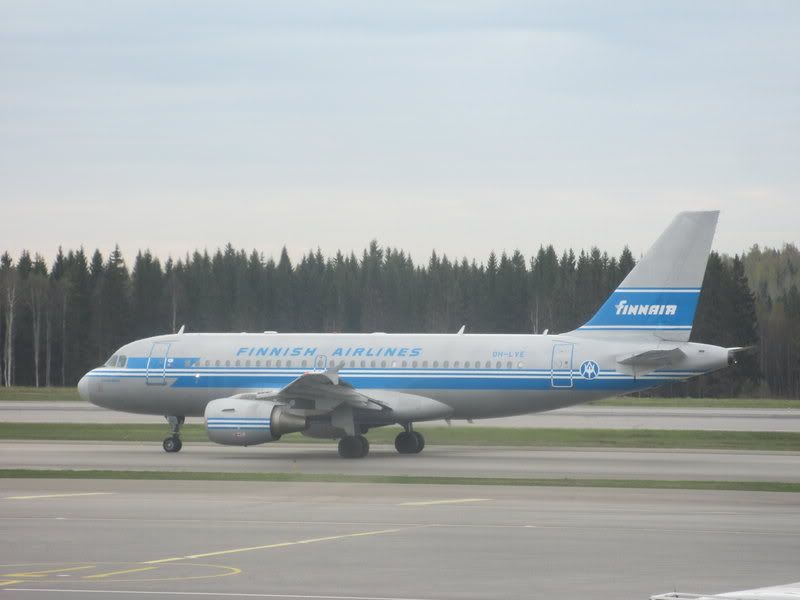 Boarding is called quite soon after. They announce boarding by row numbers, but after I see that it is not really being enforced at all (as usual in Finland) I decide to ignore it as well and board.
HEL - CPH
DY5731
B737-800 LN-DYJ
Seat 1F
8.26 - 8.54
Estonian crew on this service as is already expected. This plane also has the Sky Interior, nice. Plenty of legroom on the bulkhead row: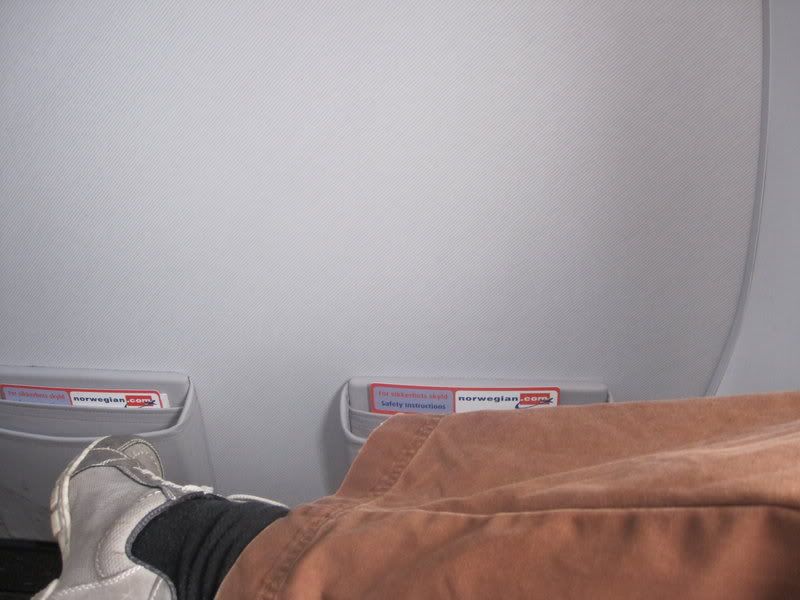 Despite the plane being only around half full boarding takes its sweet time - most of the passengers seem to be very infrequent flyers. Most of the passengers are also packed in the back, I am the only one in the first four or so rows, but after boarding is completed a number of people move forwards. Still I get the whole block of three for myself, so can't really complain, can I?
Hmm, not sure why they are drilling a hole in the middle of the apron: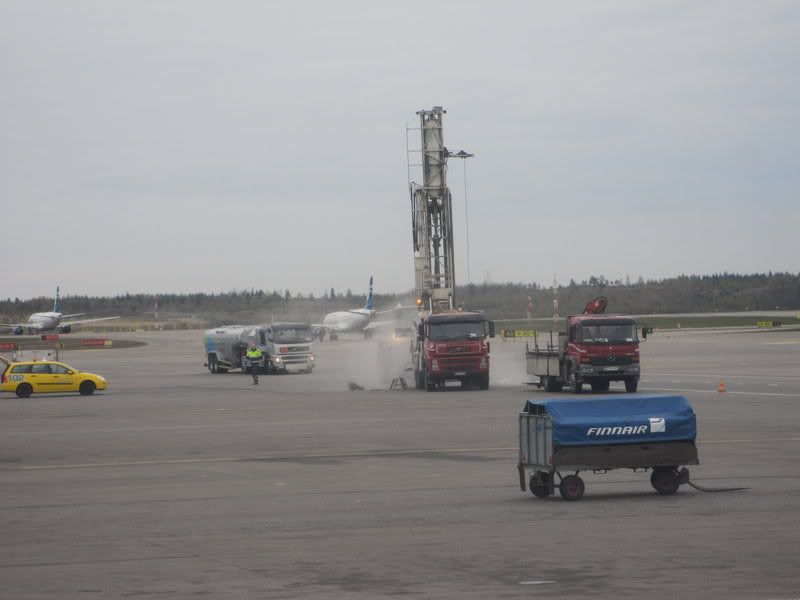 This beauty arrives next to us (bling bling!):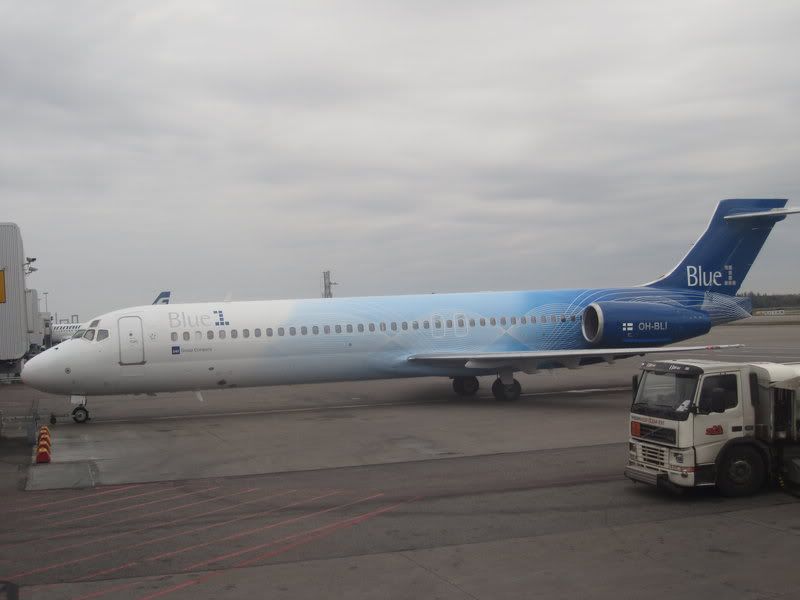 What are you doing? Go away - it's springtime:
The nice mood lighting: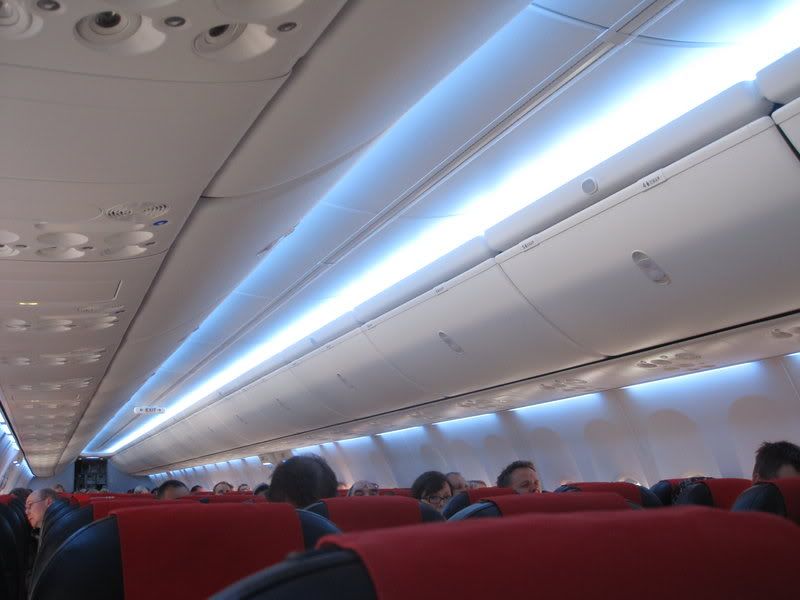 Flight time is announced as 1h30mins, with push back being pretty much on time.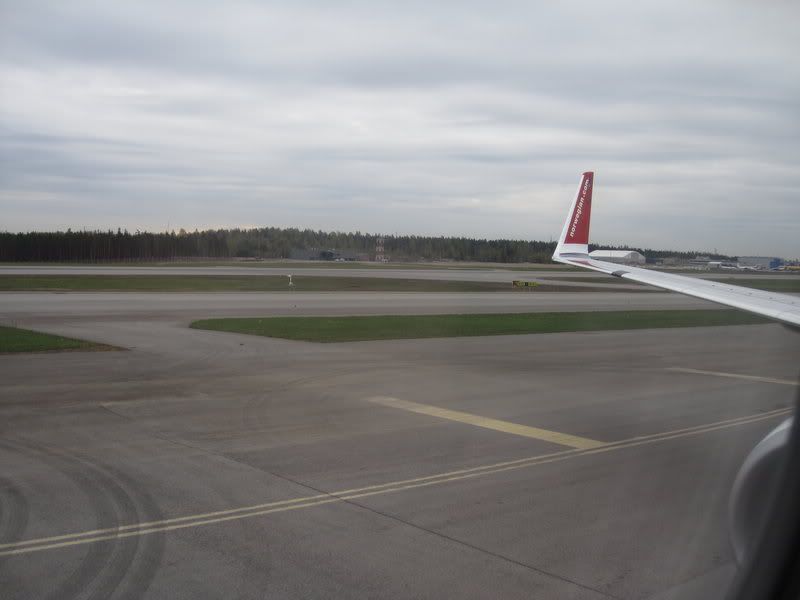 Hello, sis: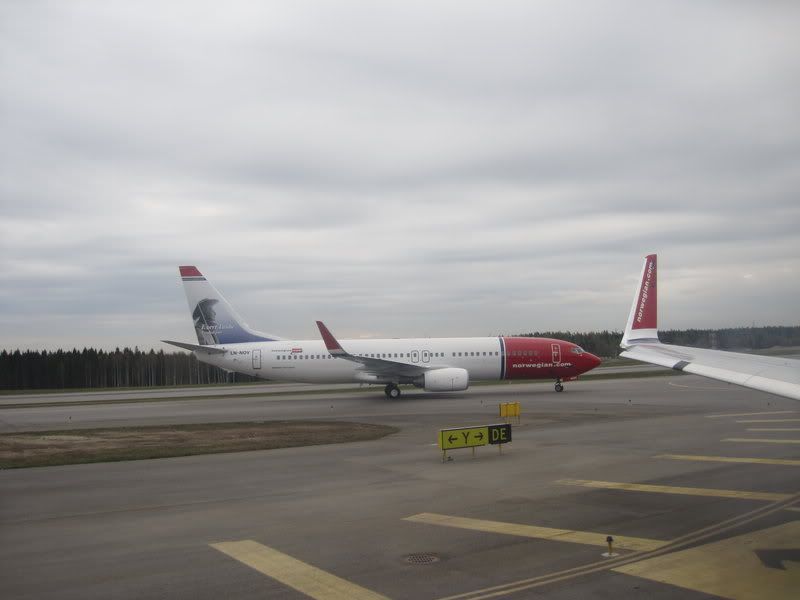 Take off from 22R is around ten minutes later.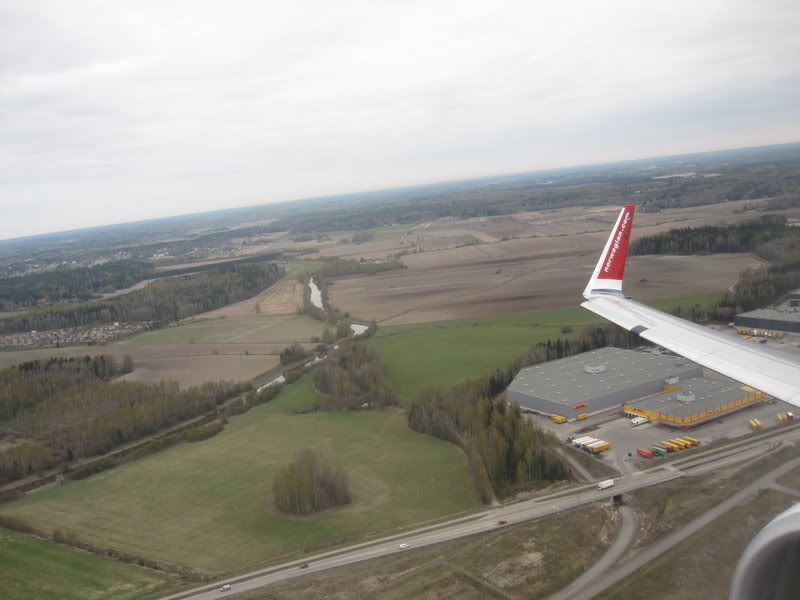 That scar on the ground is the new railway line being built, which will finally provide the airport with a train connection: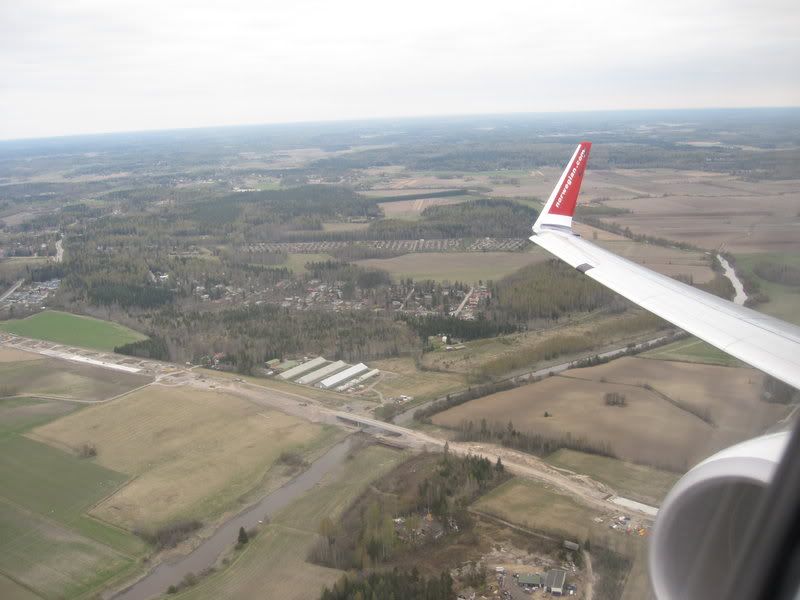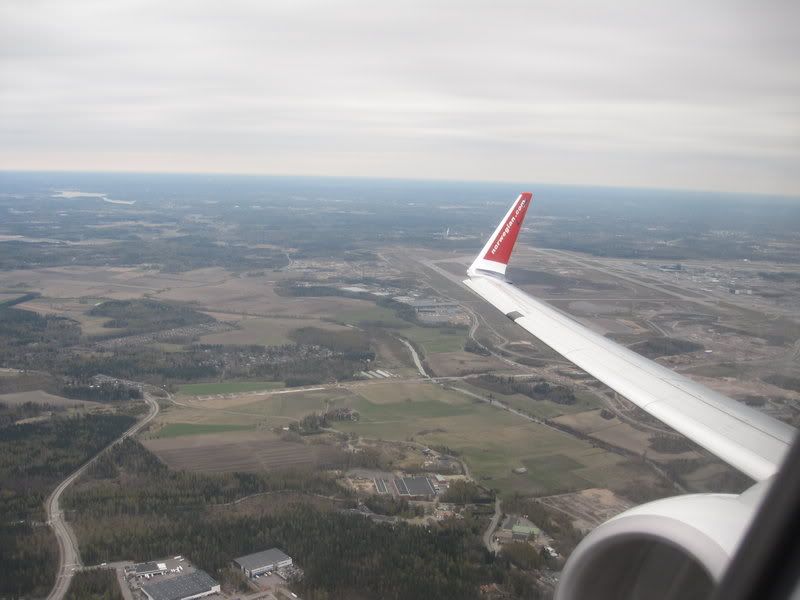 I'm dying for some caffeine, so a coffee from BOB suits me fine: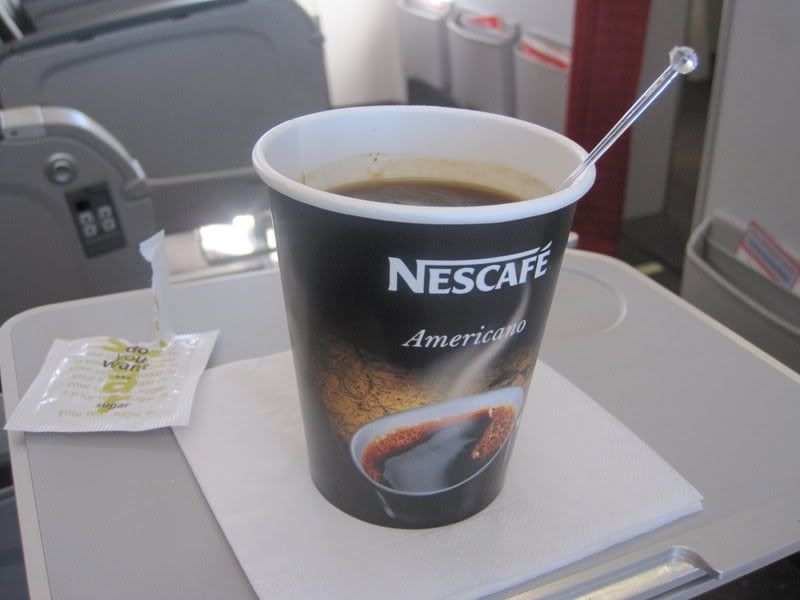 Soon after reaching the cruising altitude the Swedish captain gives out quite a detailed speech, basically explaining our upcoming approach to runway 22L at CPH (over Malmö, towards the north over the Øresund and then a steep left turn for landing), saying that it has rained at Copenhagen but is dry now with quite nice weather and eight degrees.
Hello, Sweden - this is the city of Norrköping: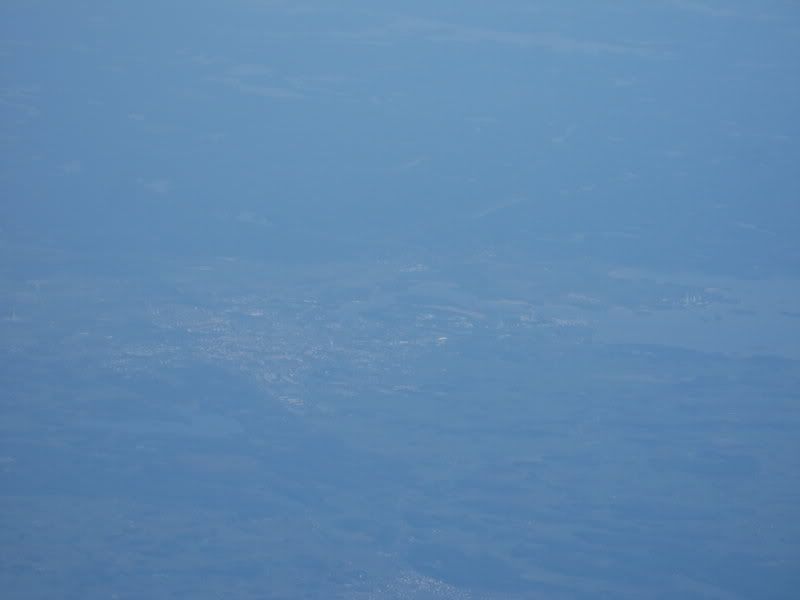 Followed by nearby Linköping - home of Saab aircraft: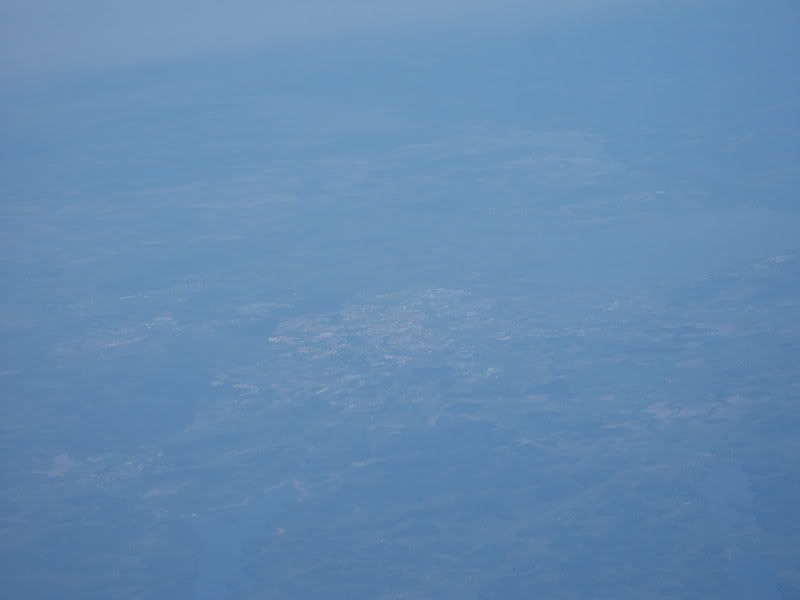 Ljungby - famous for being the place where the original Metallica bass player Cliff Burton died in a bus accident back in 1986:
We start our descent after only around 55 minutes of flight time for some nice views of Skåne. That looks like a plane in front of this service station just off the E4:
I like the way the clouds are reflected off these two lakes: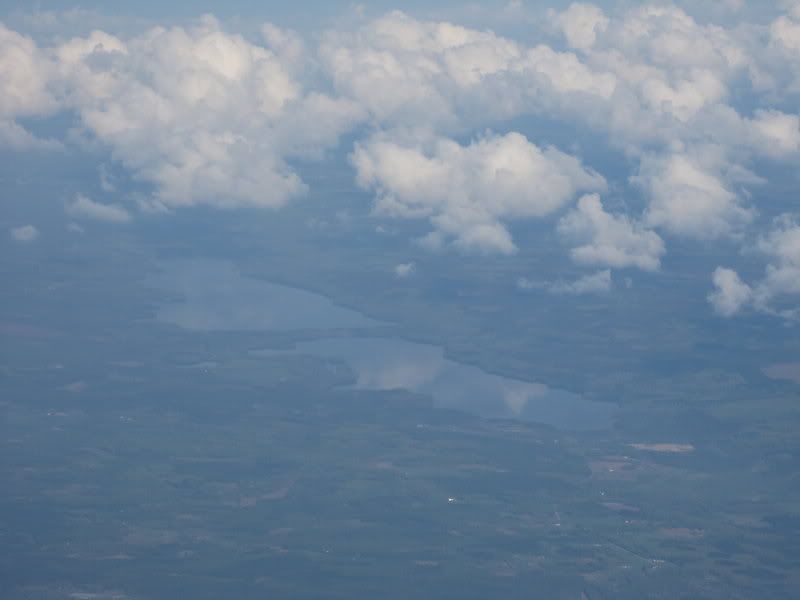 This might be the former Sjobö airbase, although I'm not sure as the runway layout doesn't really seem to match: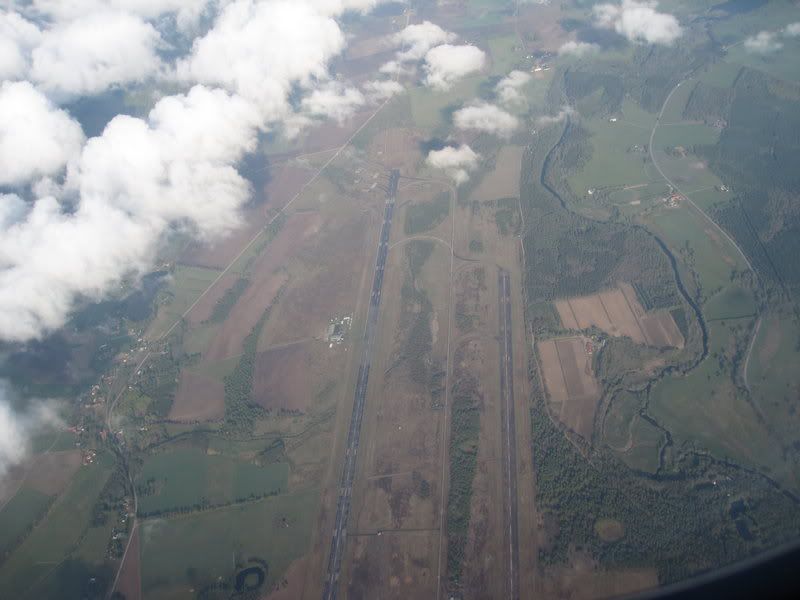 The captain very happily announces that we should be landing a good fifteen minutes early. Right over Malmö we fly through this fluffy looking thick cloud layer - makes me sleepy: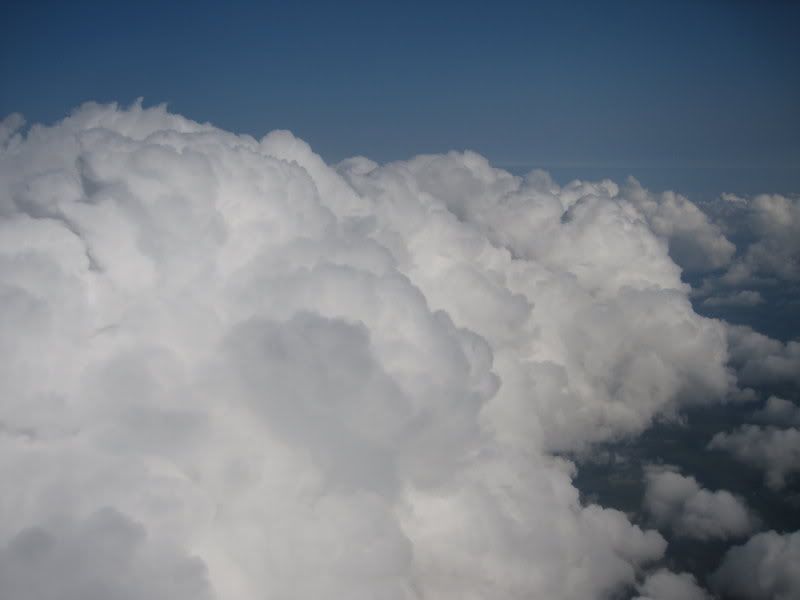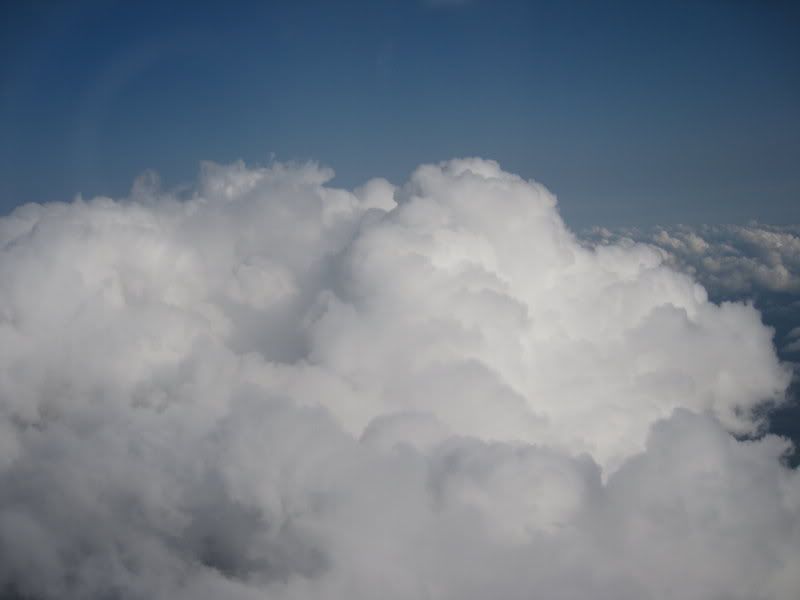 Beautiful colors: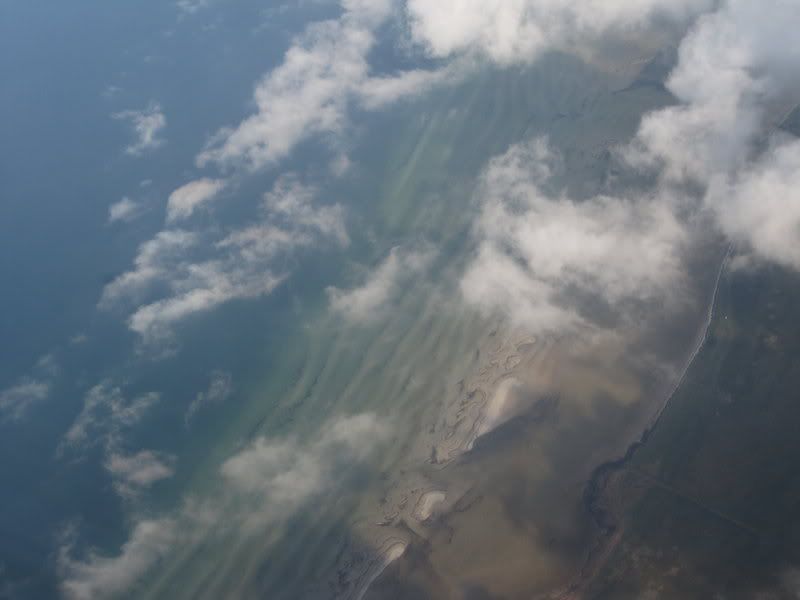 Always plenty of ship traffic in the narrow straights here: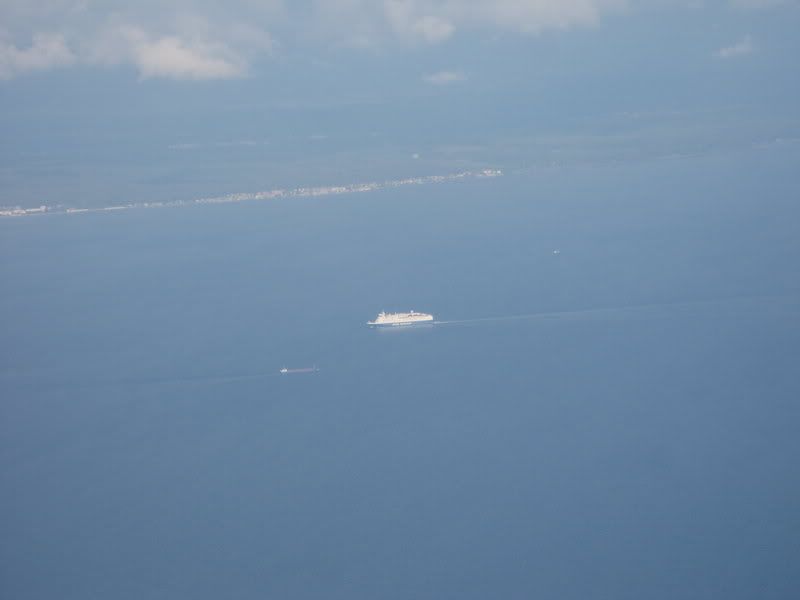 Nope, that's not an oil spill - it's our shadow: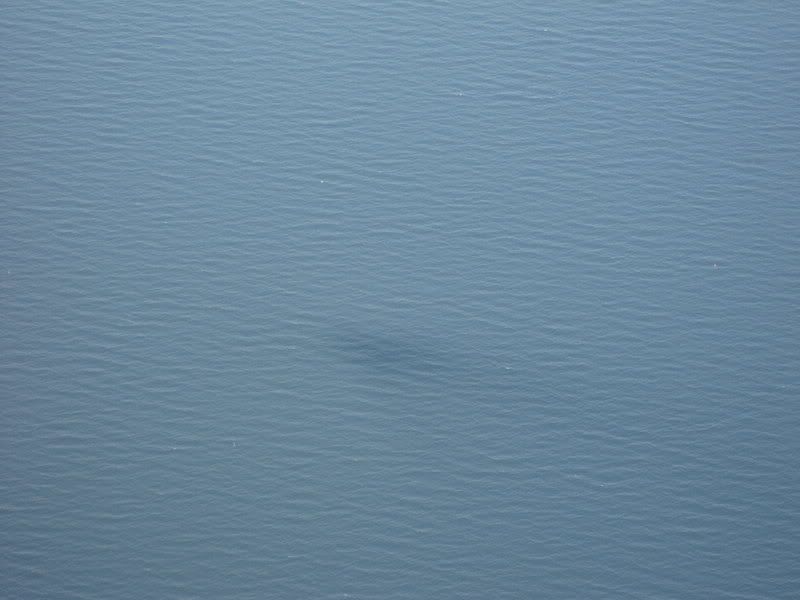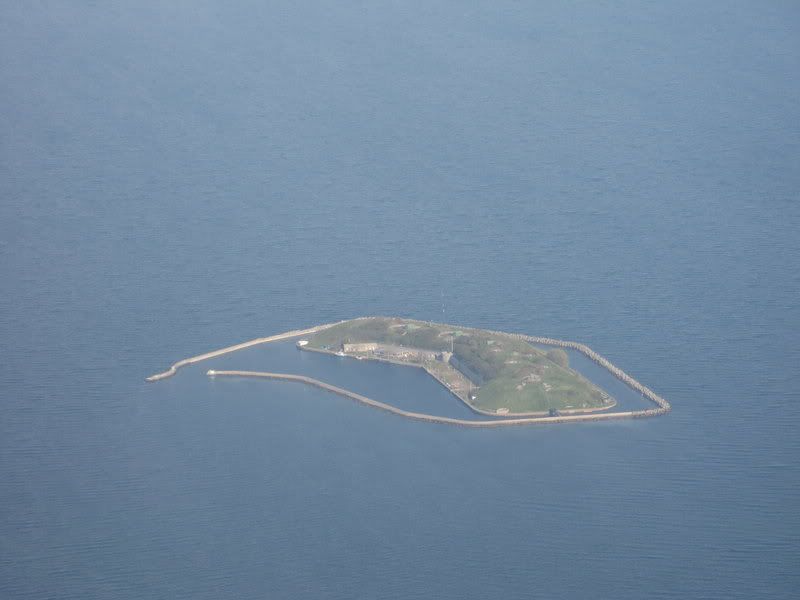 Shiver me timbers: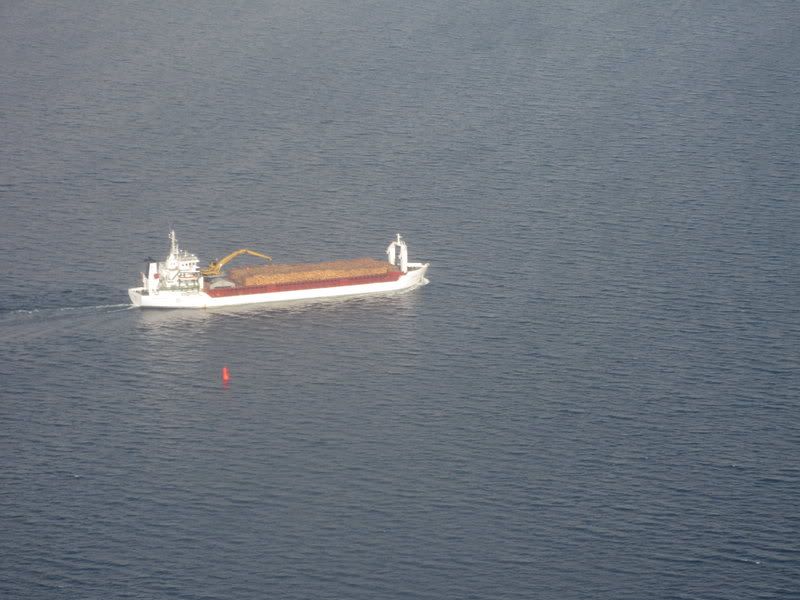 This photo is a good indication of what a flat country Denmark really is (and why they must be dead afraid of the global warming and the inevitable rise of the ocean levels):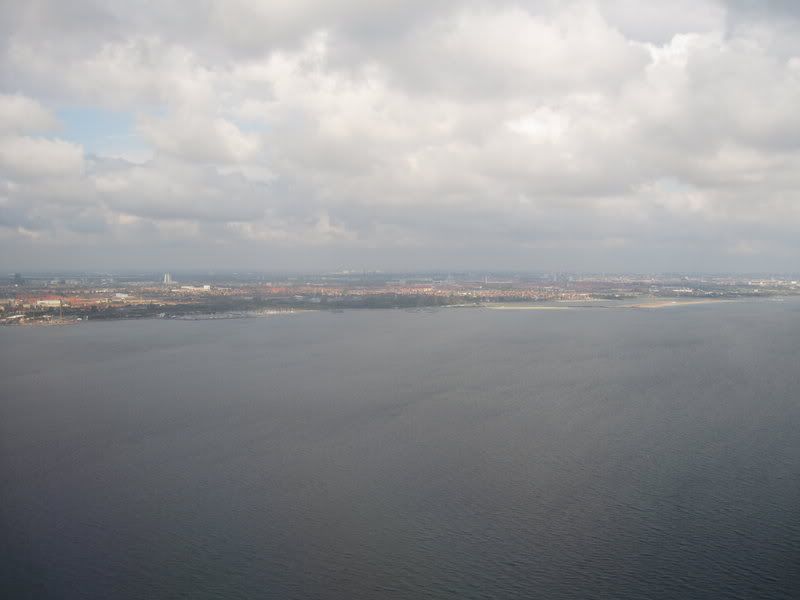 Landing is on 22L after around 1h20mins of flight.
Hmm, what do we have here: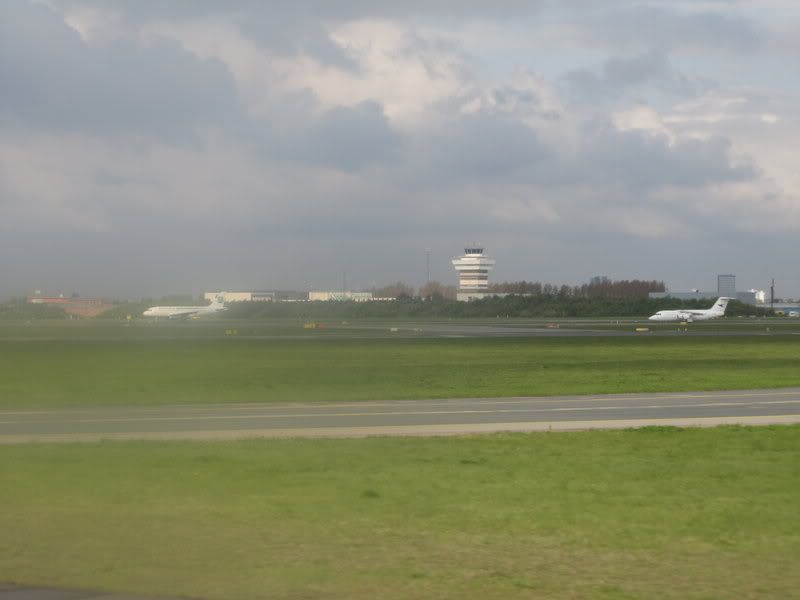 Atlantic Airways, on its way to FAE: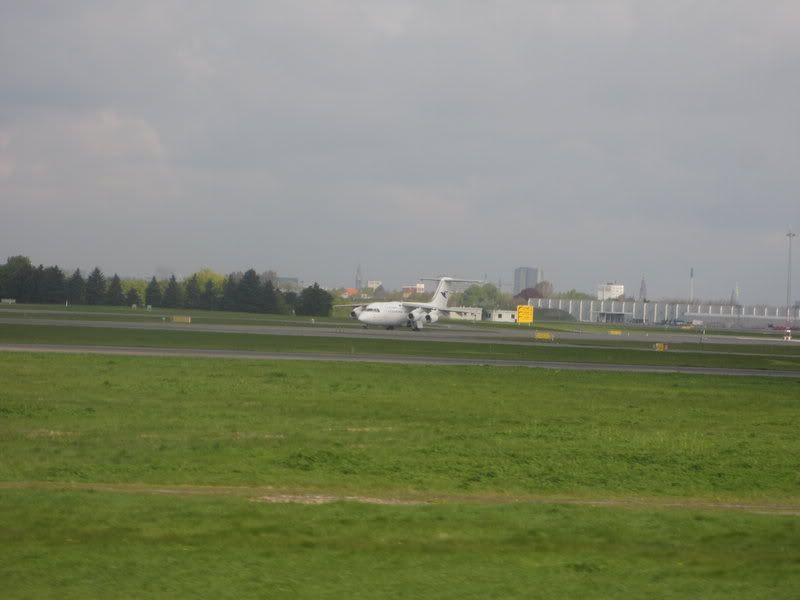 And Germania (or actually Air Berlin), presumably to TXL: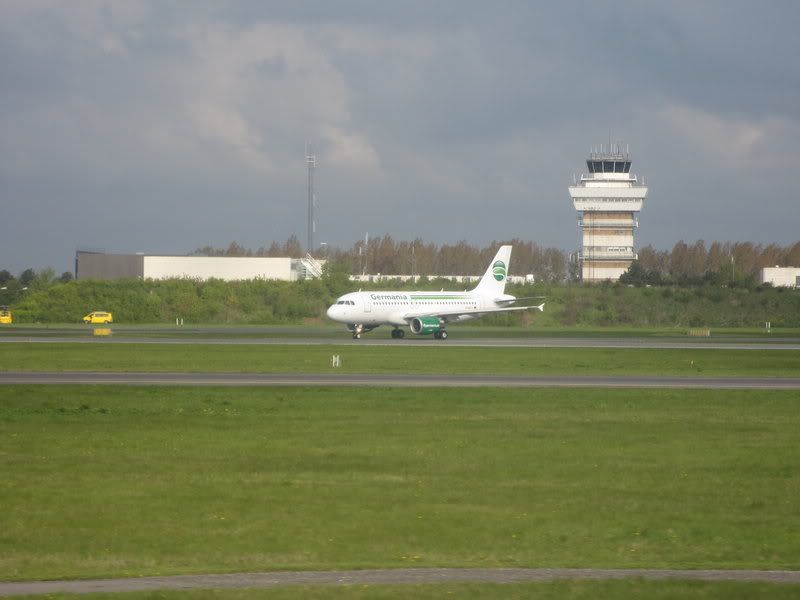 Long haul traffic: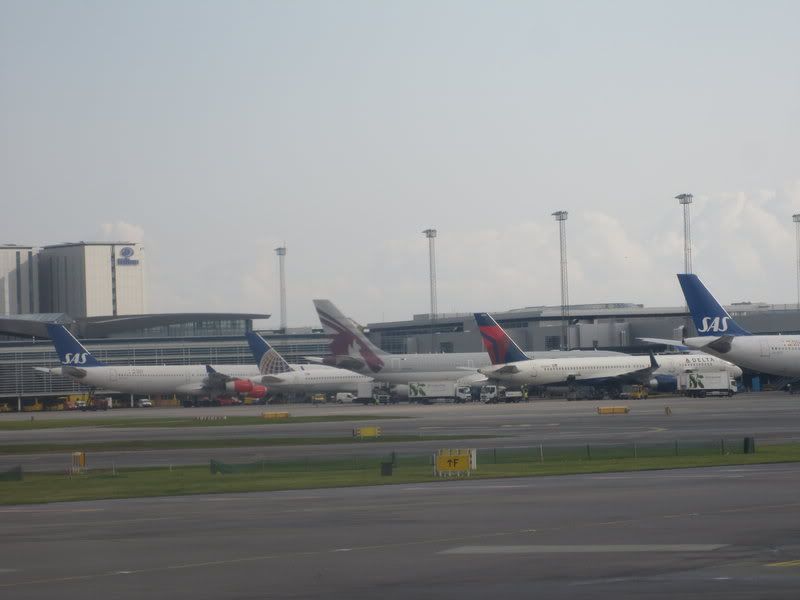 Dedicated to Infodesk: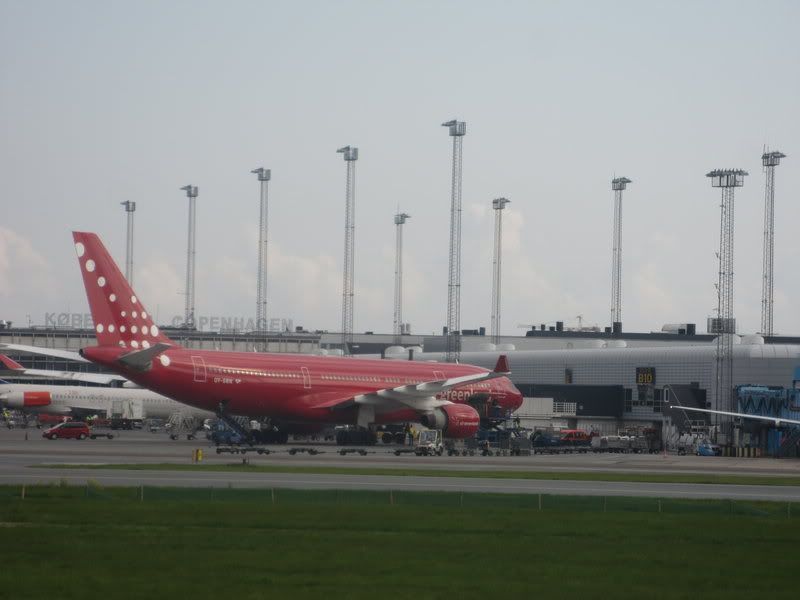 I'm finally flying on one of these OV CRJ-900s in July: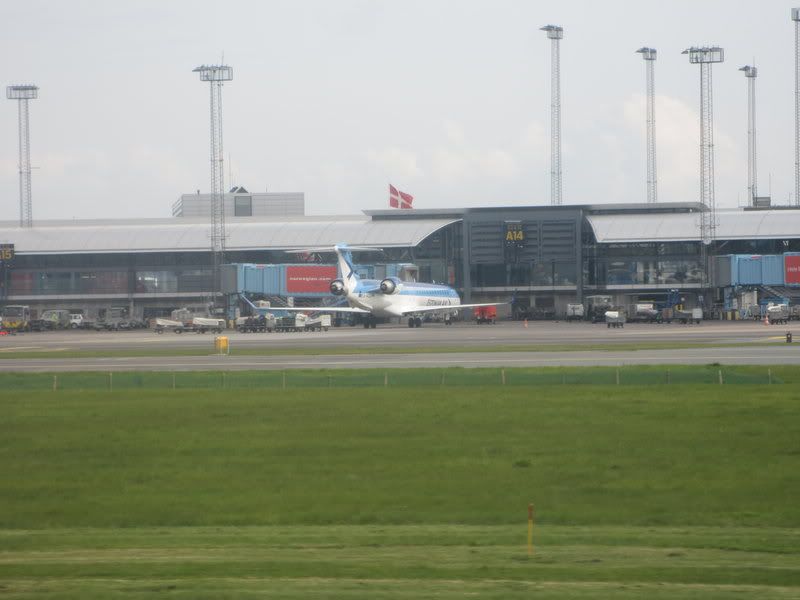 Our early arrival is spoiled by the fact that there is still a plane at our assigned gate so we have to wait for around ten minutes before a Jet Time 737 pushes back and we are free to taxi in. Not sure why they did that as there are plenty of vacant gates nearby - come on, how hard is it to change a gate a couple of gates over?
Niki E-jet next to us: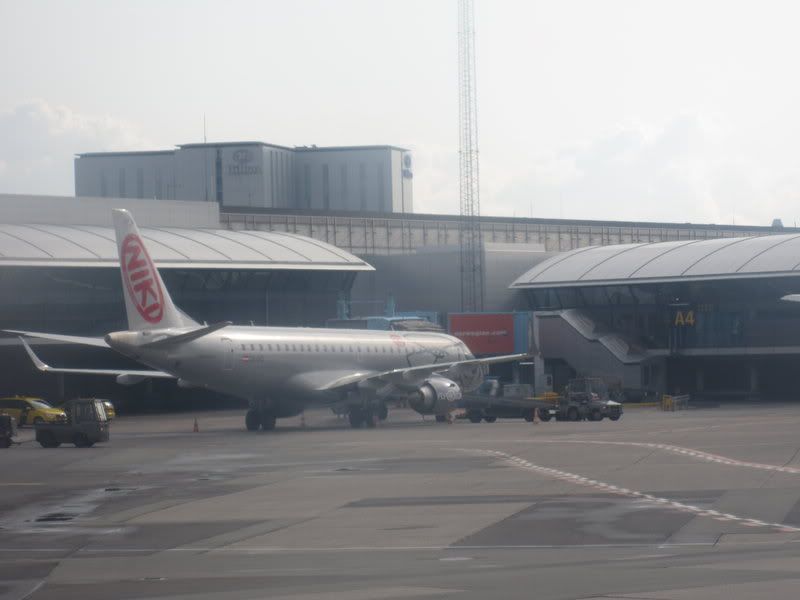 Bye: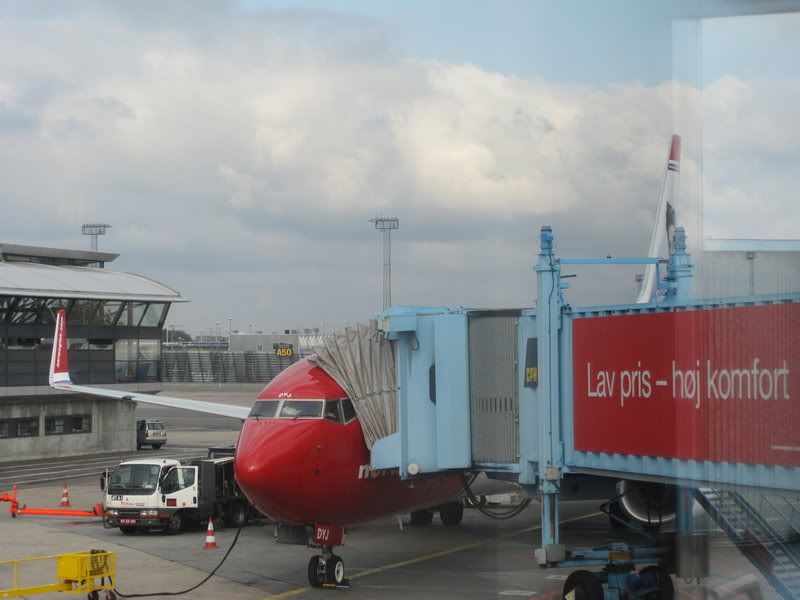 Copenhagen Kastrup Airport, take 1
I just have to shoot another photo - what a beautiful plane she is: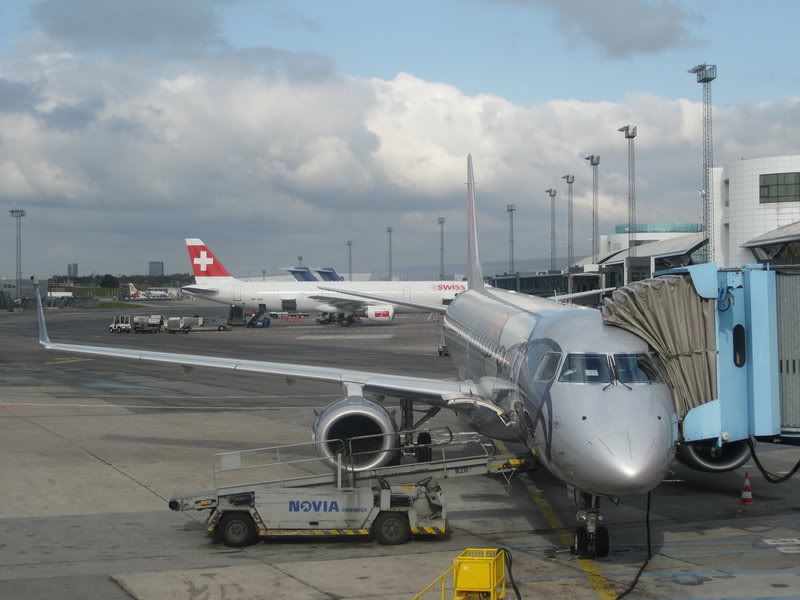 I make a beeline for the lounge, which as usual is packed to the gills, actually the only sitting place I can find is at one of the working desks. Which is actually fine anyway as I need to do some work, but not before getting some brunch - not that the spread here is anything to write home (but maybe a TR!) about.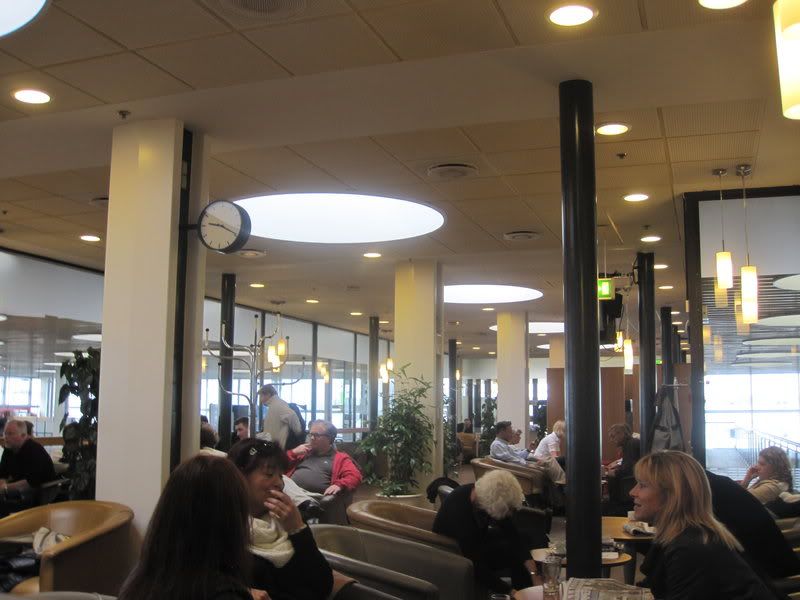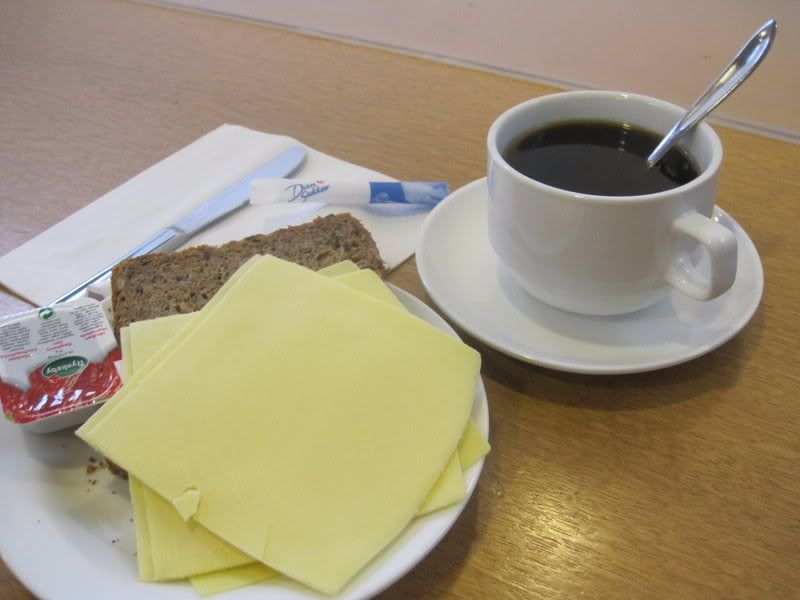 A couple of hours fly past, and soon enough it is time for the long trek towards the end of the A pier, where the domestic terminal is located. Although today the flight is not departing from the real domestic terminal, but an international gate nearby. Something Dutch: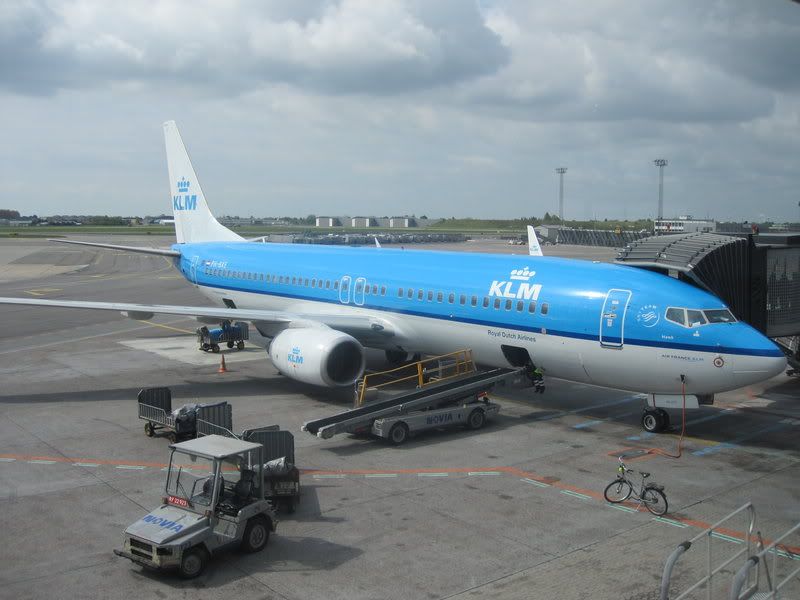 I really like the architecture in this part of the terminal: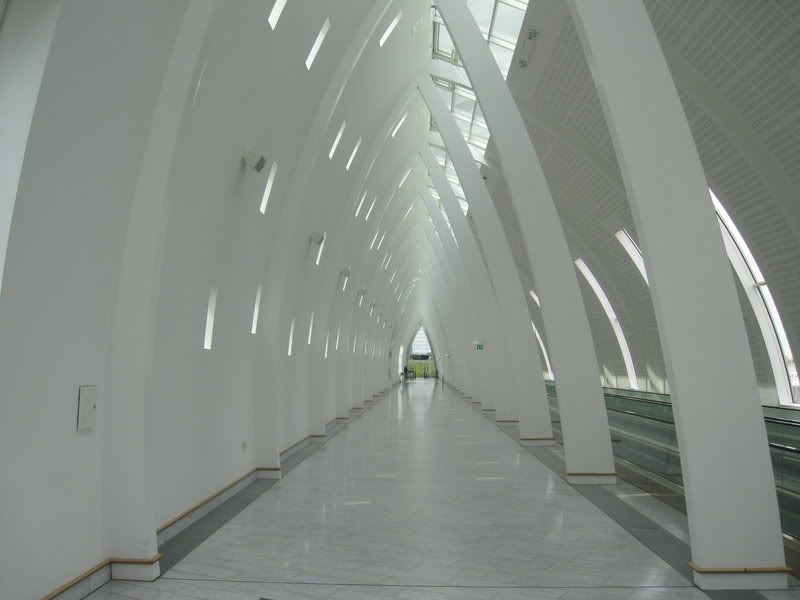 There's a large bunch of deadheading QI staff at the gate, actually on most of the domestic flights I've done in Denmark there's always been plenty of SK and QI staff in full uniforms...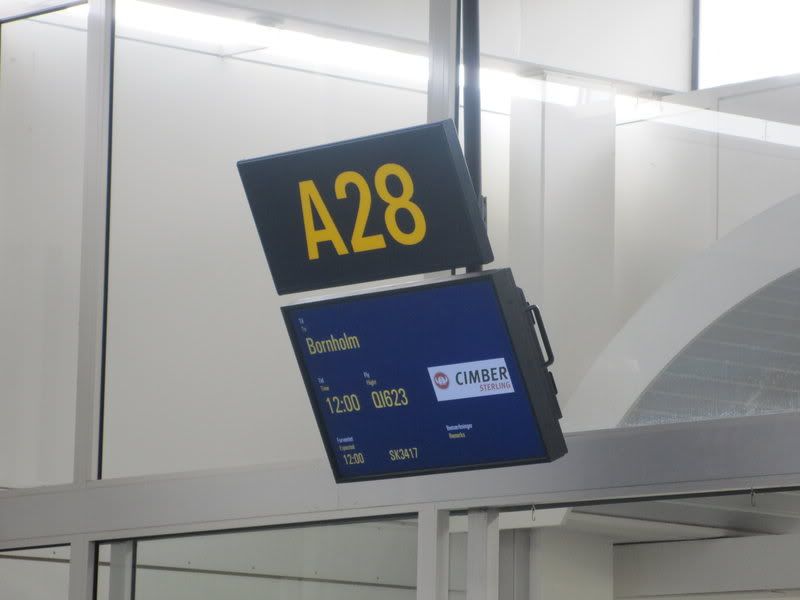 The inbound plane lands and taxies in front of the gate, allowing me to read the reg. It's OY-CIN, an old friend of mine who I've flown twice before today's flight.
Boarding is called just ten minutes after the inbound arrived.
CPH - RNN
QI623
ATR72-500 OY-CIN
Seat 12A
12.00 - 12.30
The first time I flew on this bird I was certain that it was an old -200 series, but it actually is a -500 one. Now I realize why - it's the old fashioned, thick leather seats that do give the cabin a certain old feeling - most of the -500 series I've flown have always had slimline seats, but not this one: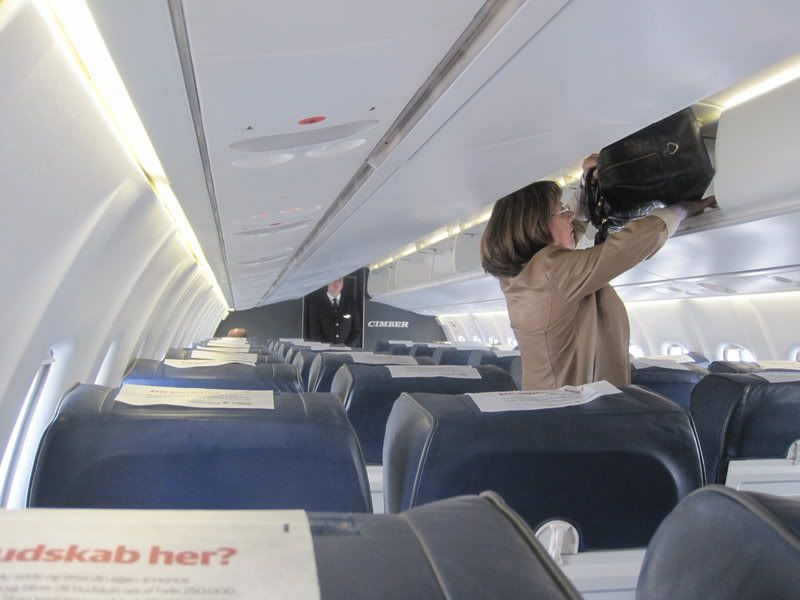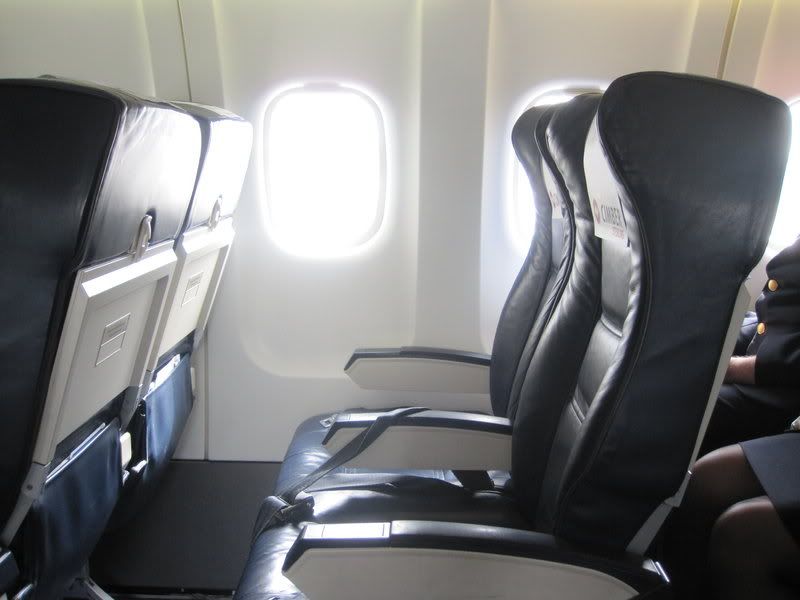 Load is very light, maybe a quarter full. Our flight time is announced as 25 minutes, and push back is bang on time.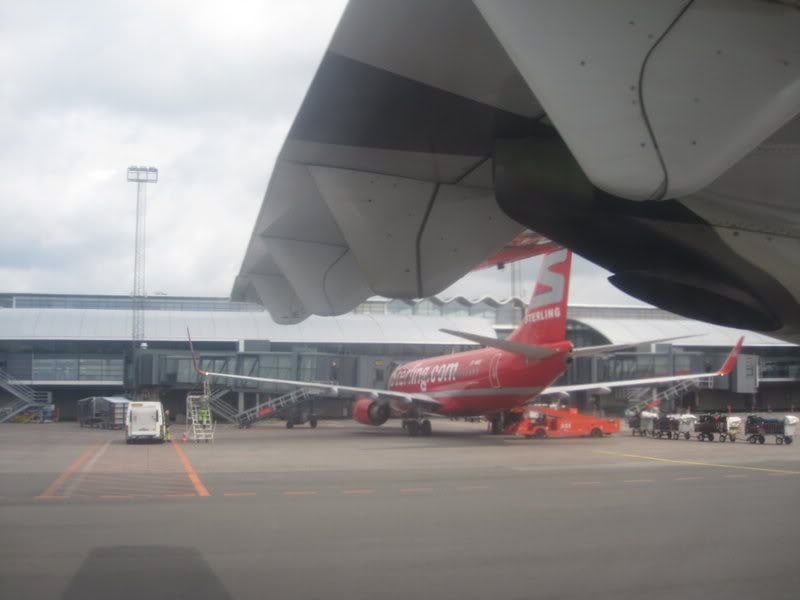 Take off from 22R is around five minutes later: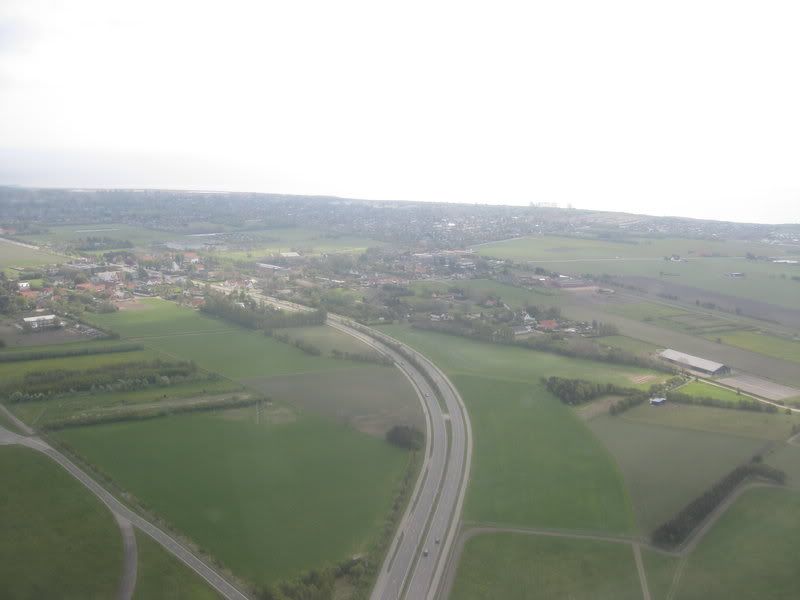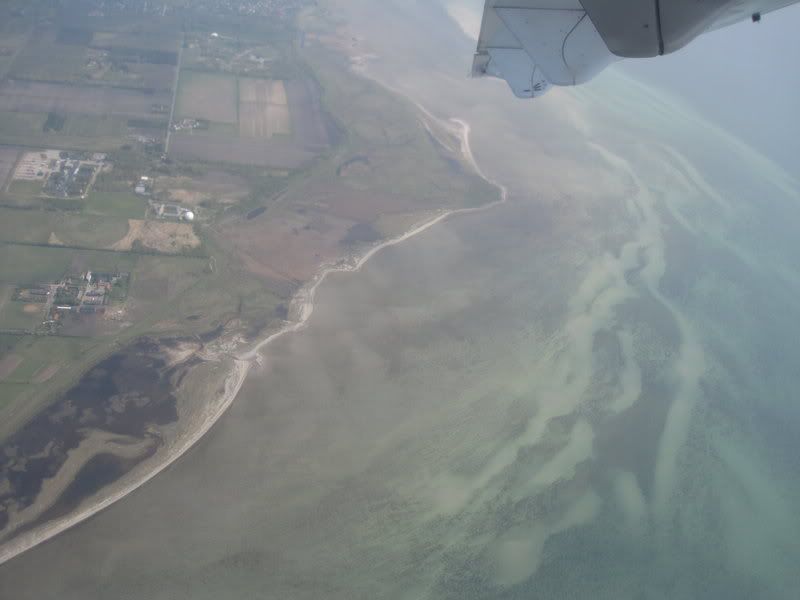 Bye, CPH, see you in a few hours: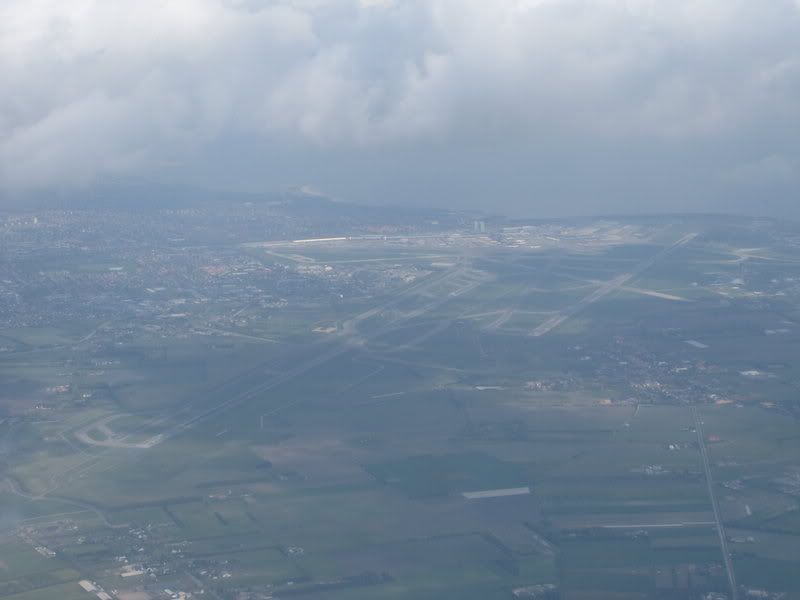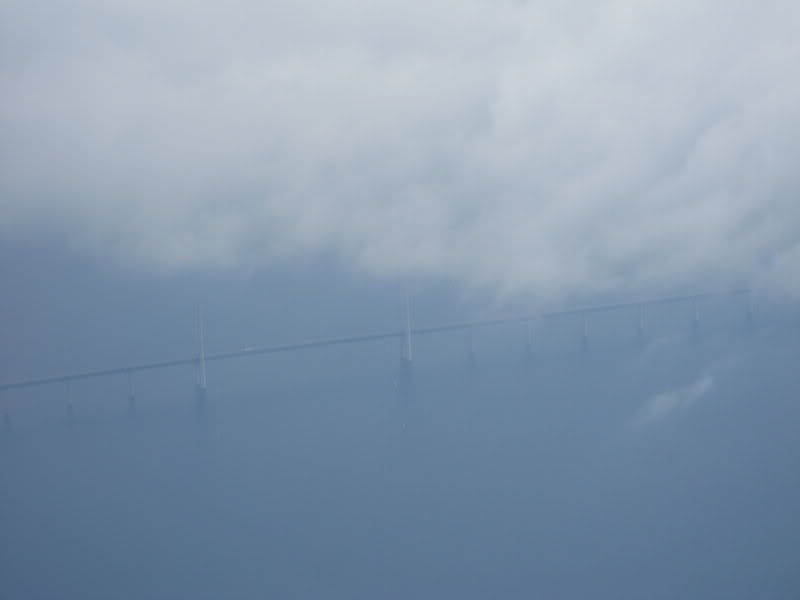 The southern coast of Sweden has plenty of good beaches: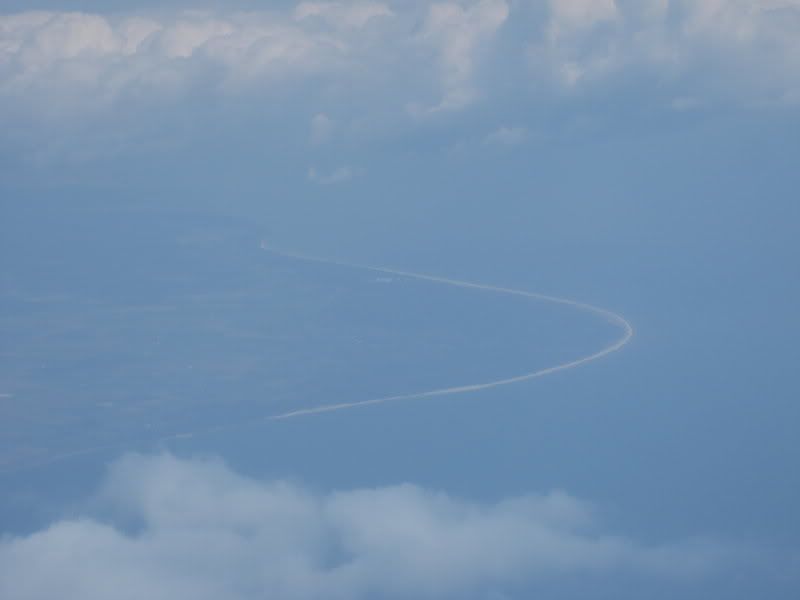 A fast ferry, heading to Bornholm as well: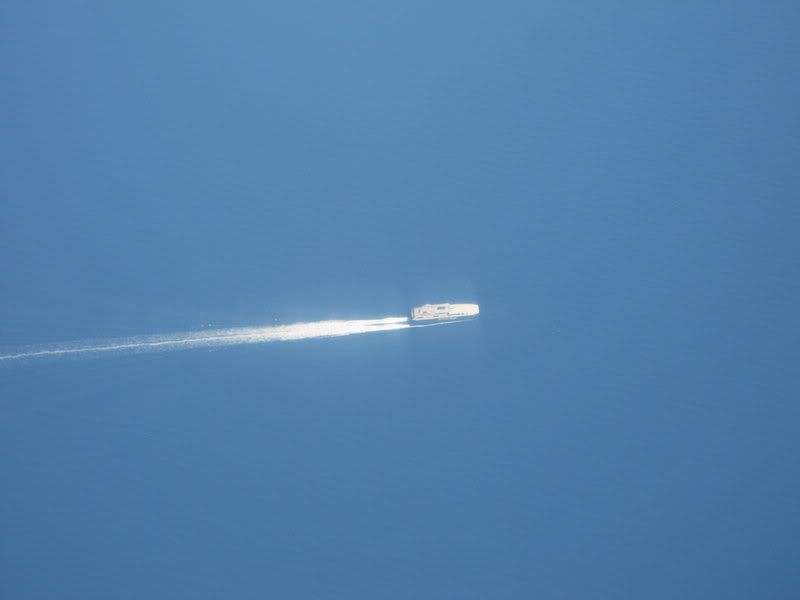 No service whatsoever on these short flights. The seatbelt sign stays switched off for maybe five minutes, and before long I catch my first glimpse of the island of Bornholm: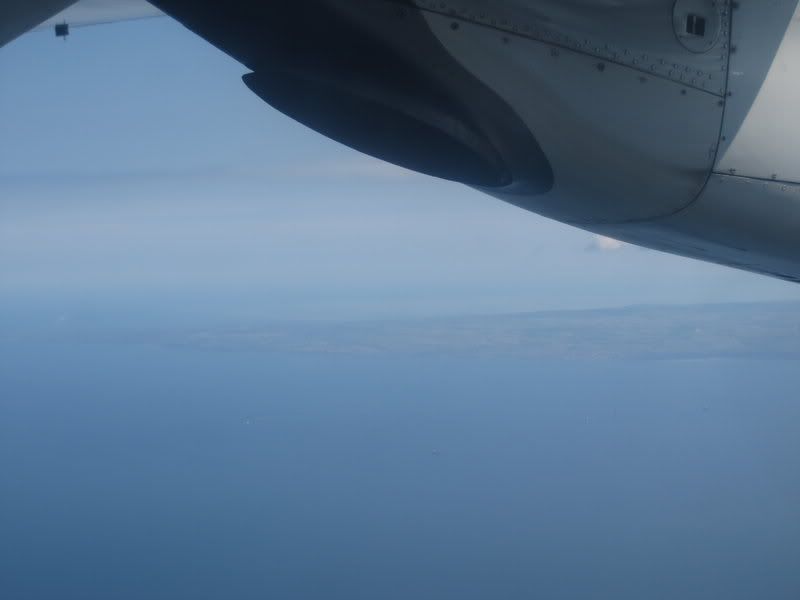 Rønne, the capital and pretty much the only real town on the island: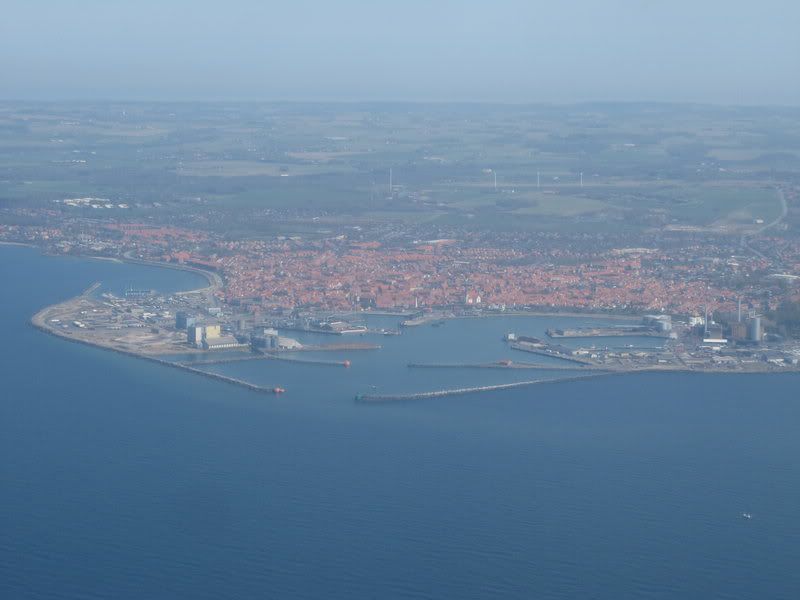 Looks like we are doing a downwind leg and landing on 29: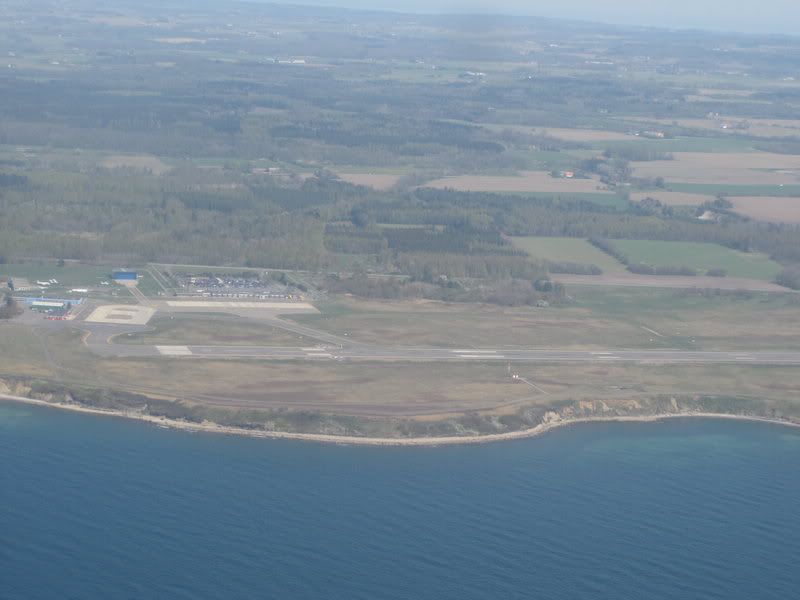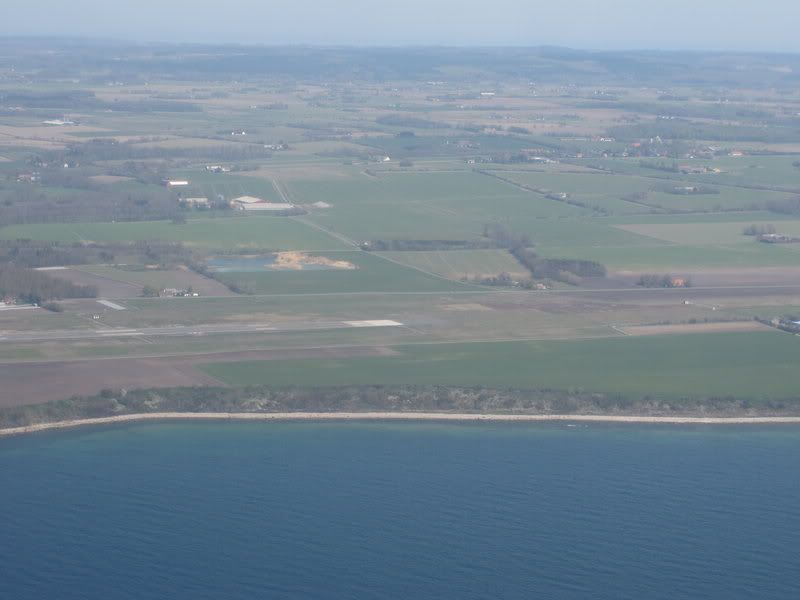 That pier would be a nice place to spot planes - a shame there's not much traffic here: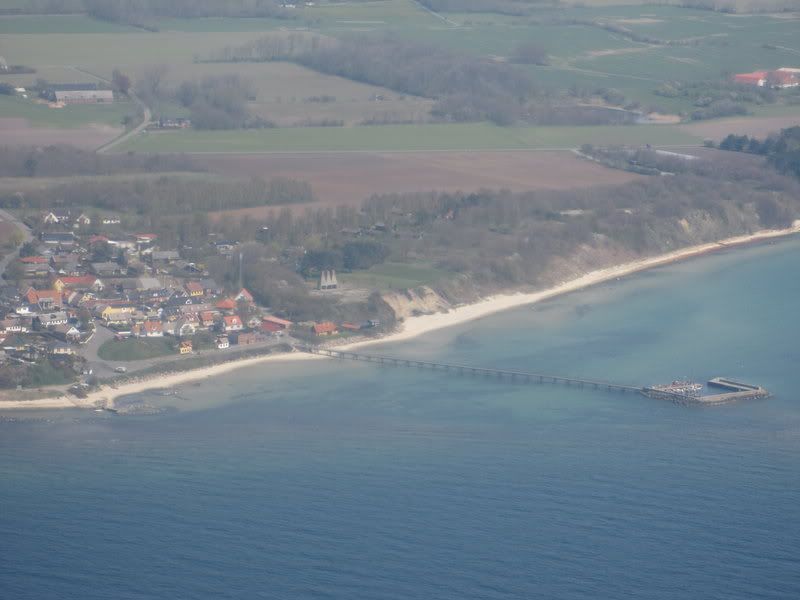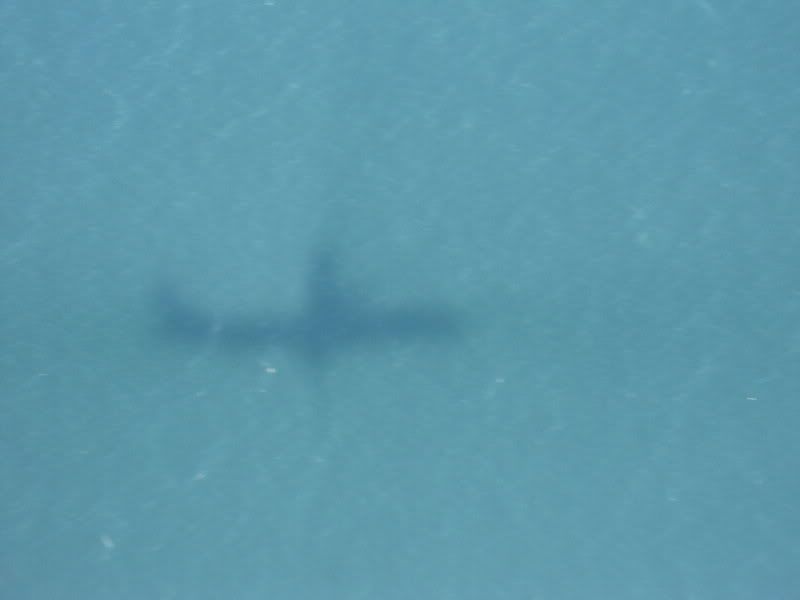 A tight turn: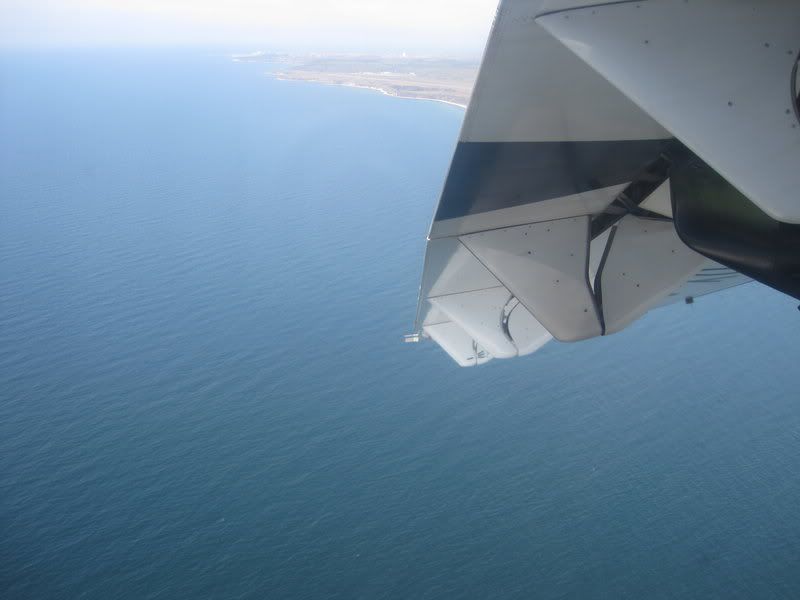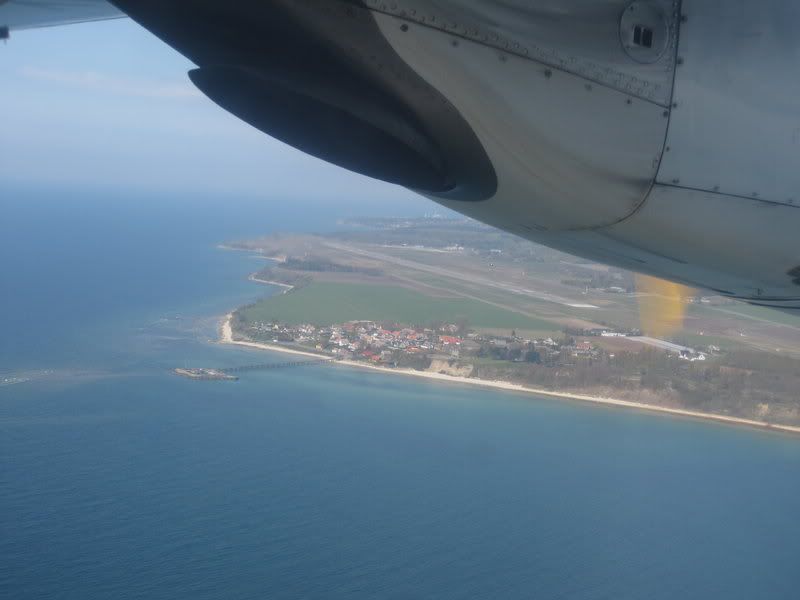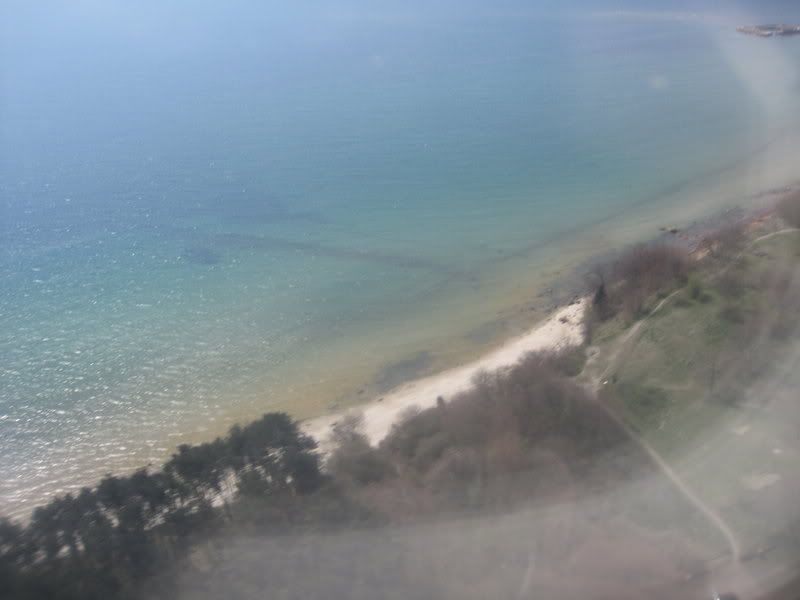 Landing on 29 is again bang on time, after a flight time of 25 minutes. This Danish Air Force helicopter landed right after - there was plenty of helicopter activity all throughout the day, actually: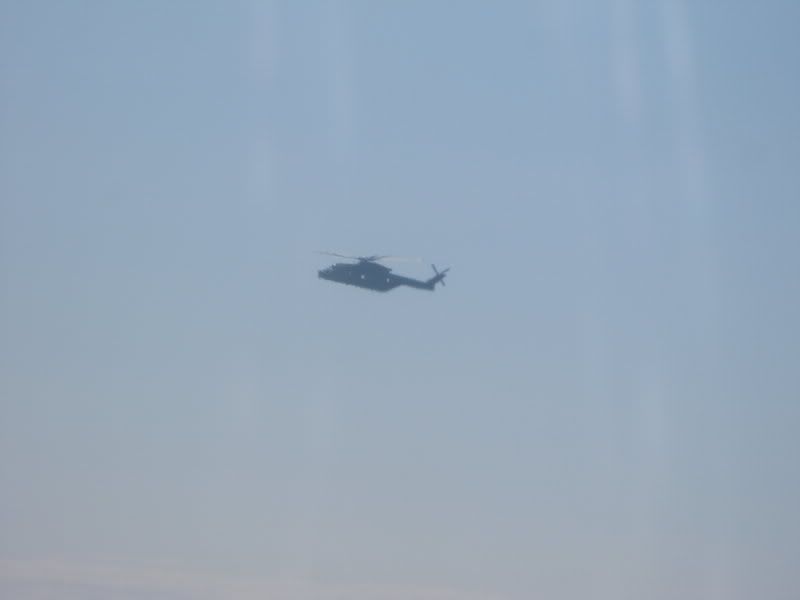 The small but not very cute terminal: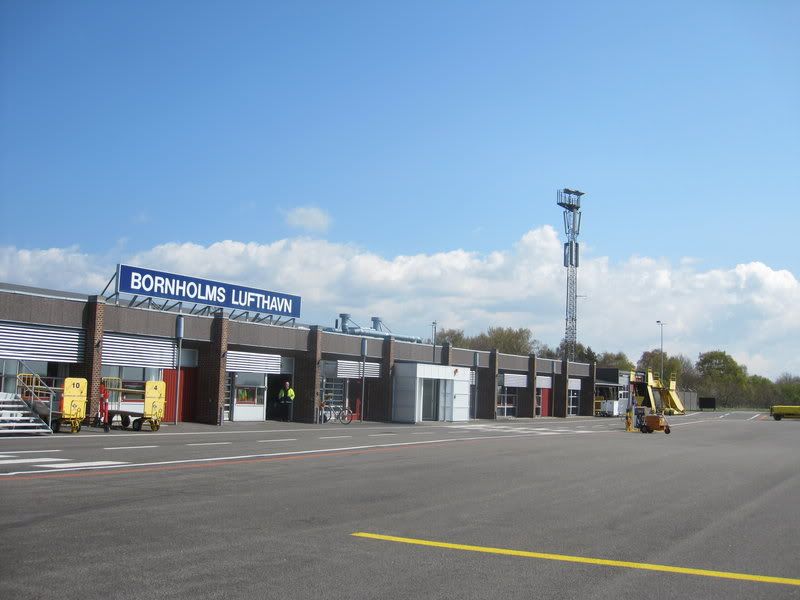 Bye: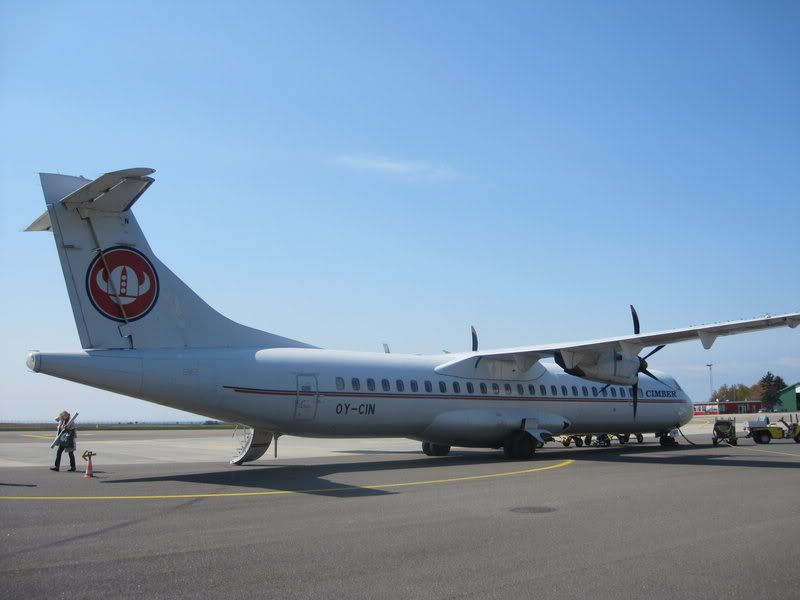 Bornholm
Timing is perfect - I have just enough time to grab some Crowns from the ATM and head outside when the bus pulls in front of the terminal. And that's pretty good actually, considering that it runs once per hour...
Fifteen minutes later I step off the bus at the center of Rønne. Some pictures: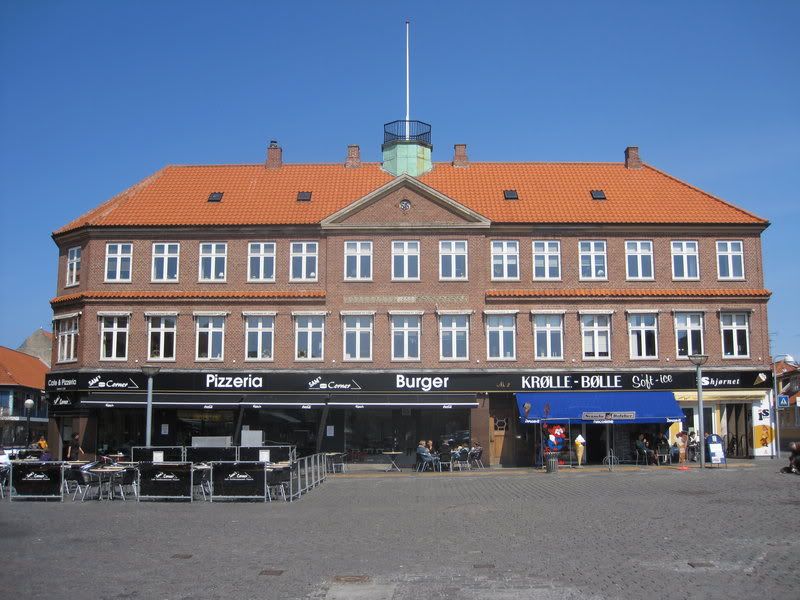 The city hall: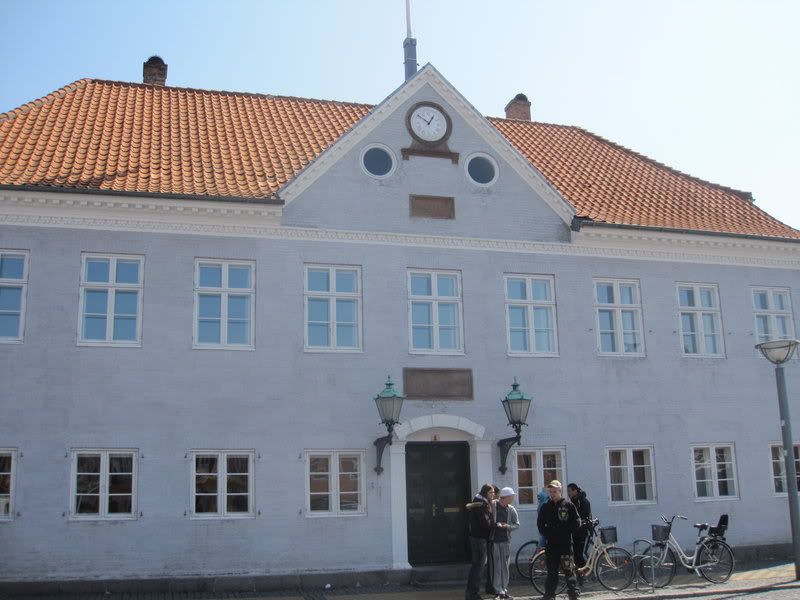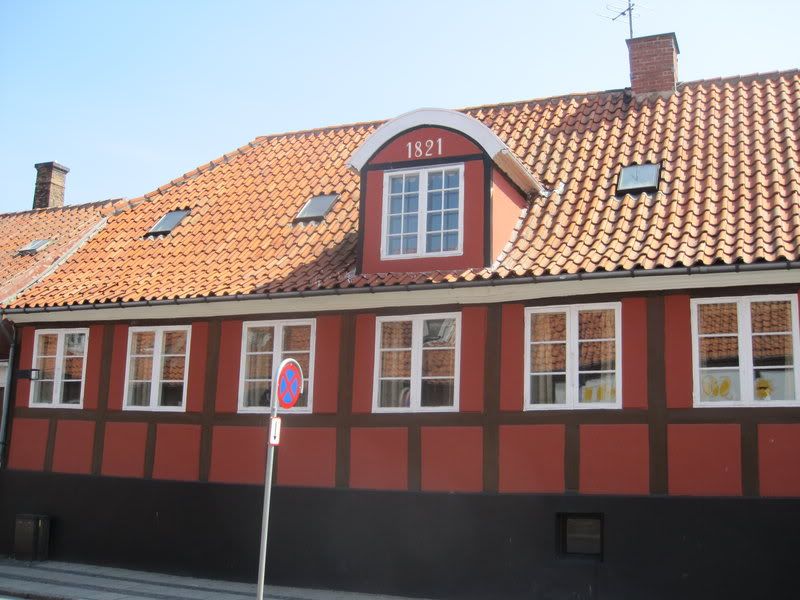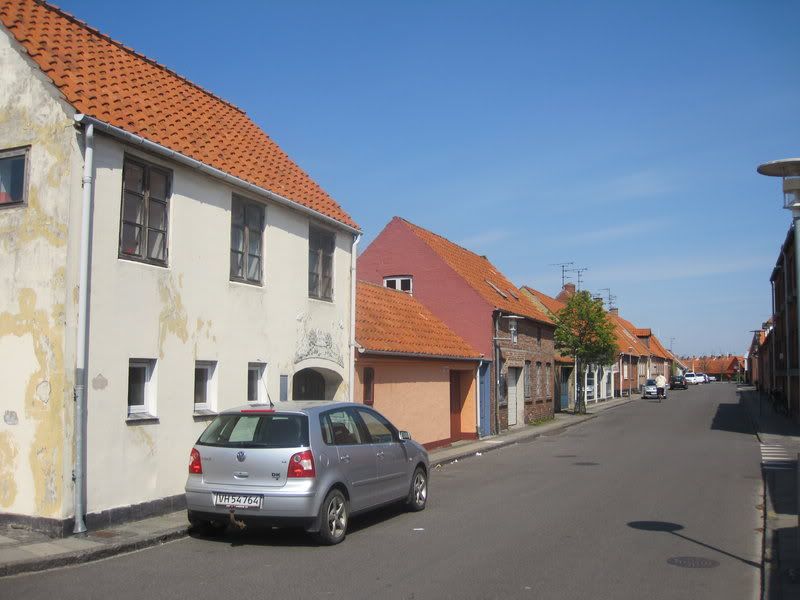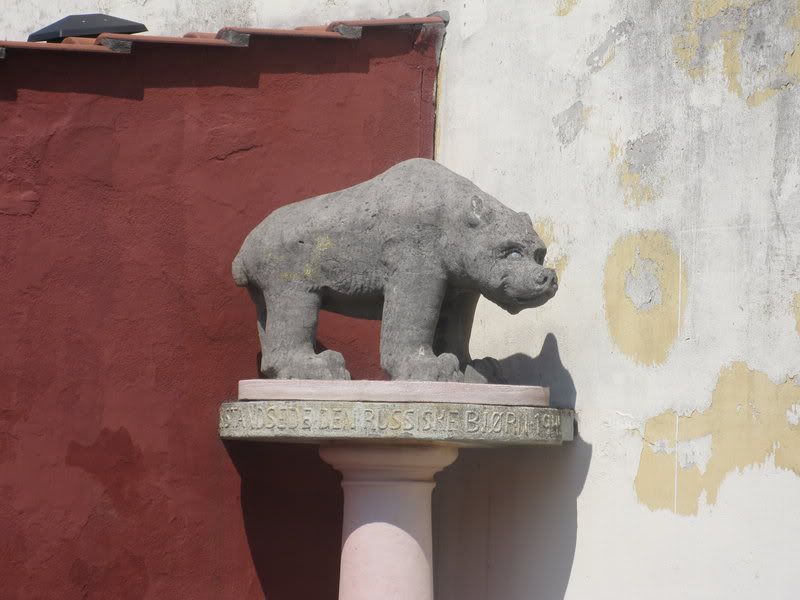 The local sea promenade, not so glamorous as in some other places: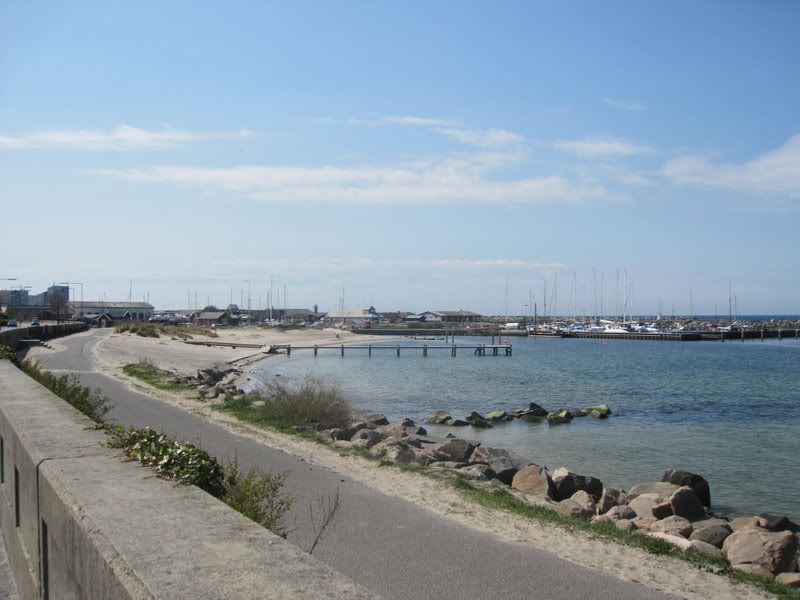 The beach: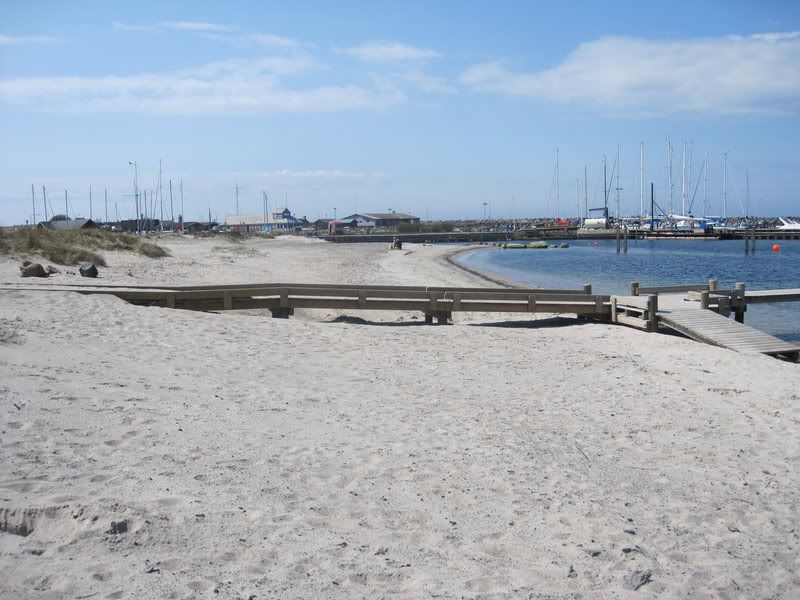 Very clear water - judging from this you'd have a hard time believing that the Baltic Sea is one of the most polluted seas in the world: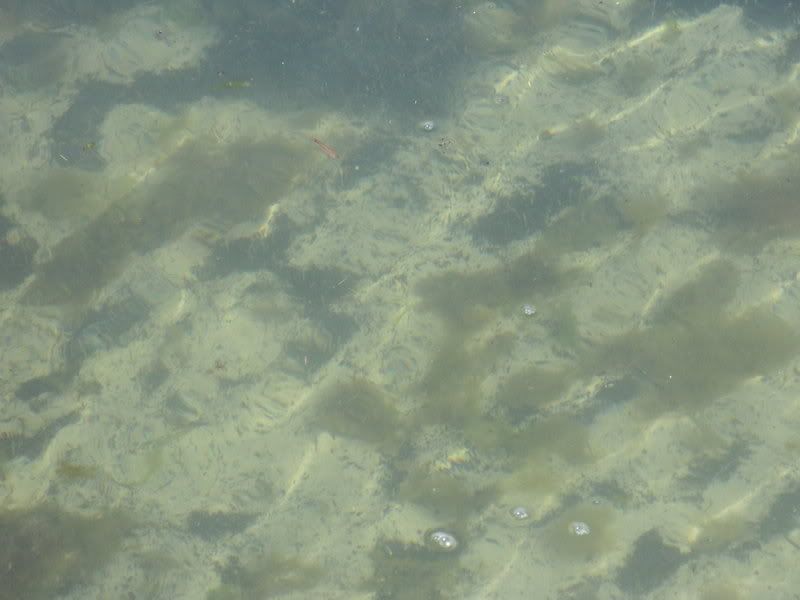 "Railway road" - yes, once upon the time there actually was a railroad on this island - but it's long gone now: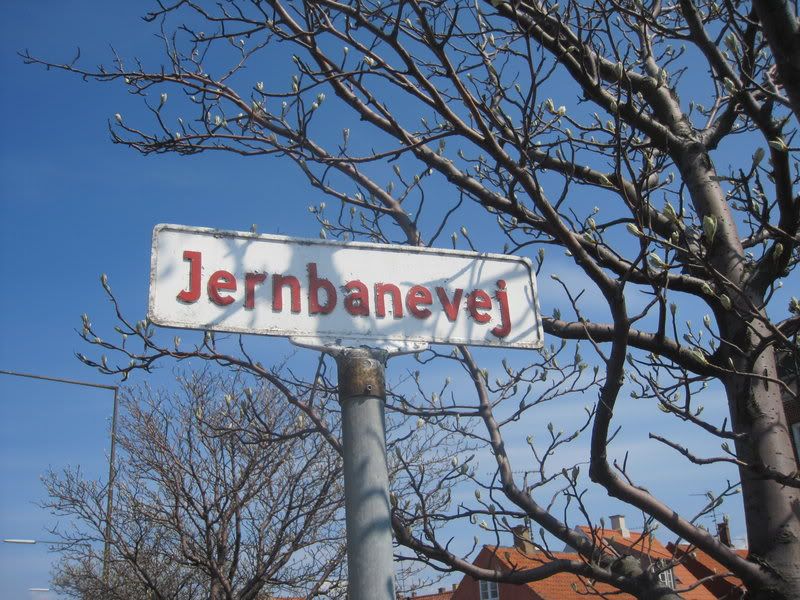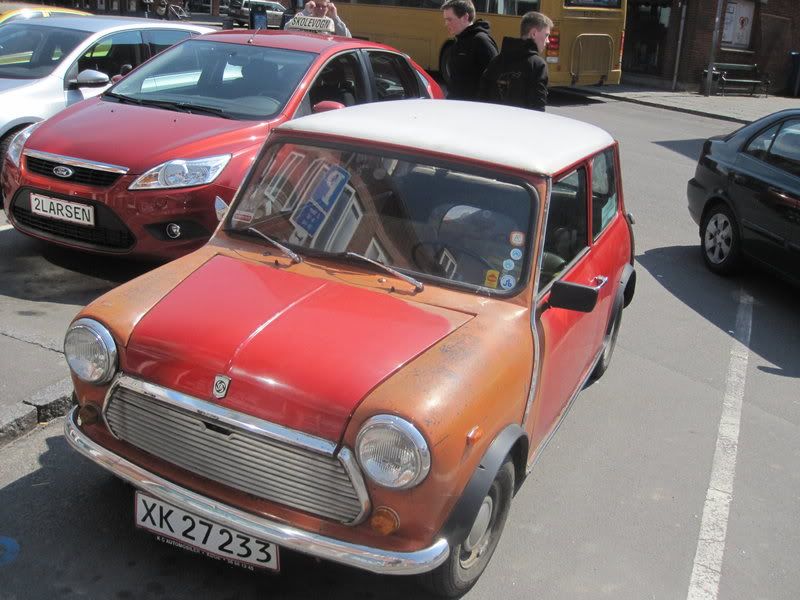 The tax office - that name is quite funny for English speakers, I'm sure: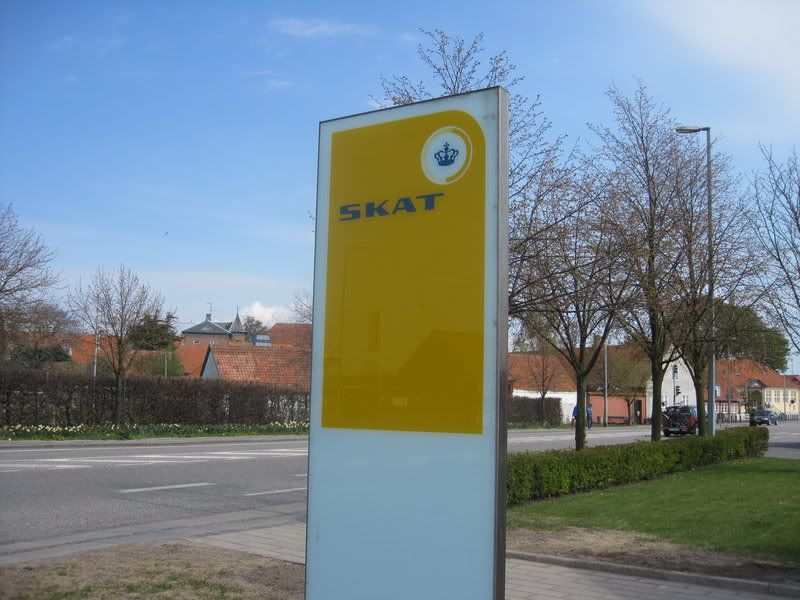 A ferry from Ystad, Sweden: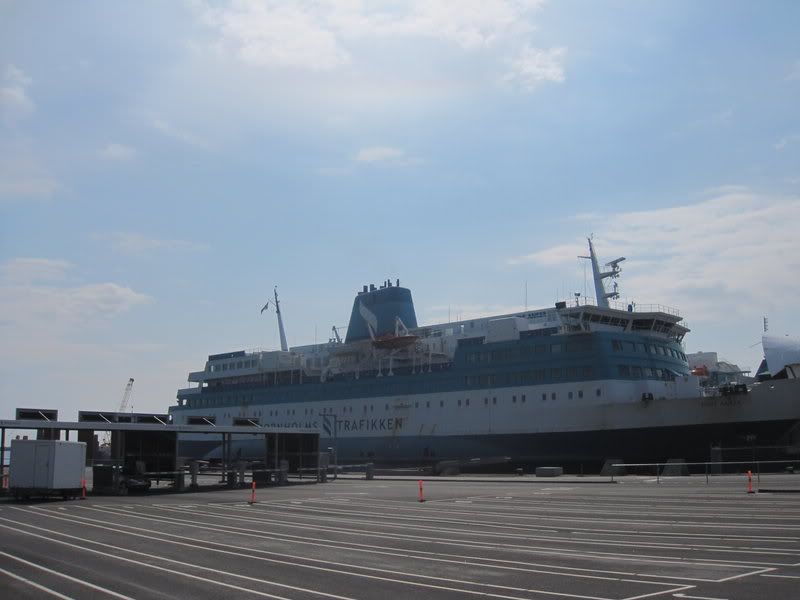 Nice to see a Finnish sailboat here: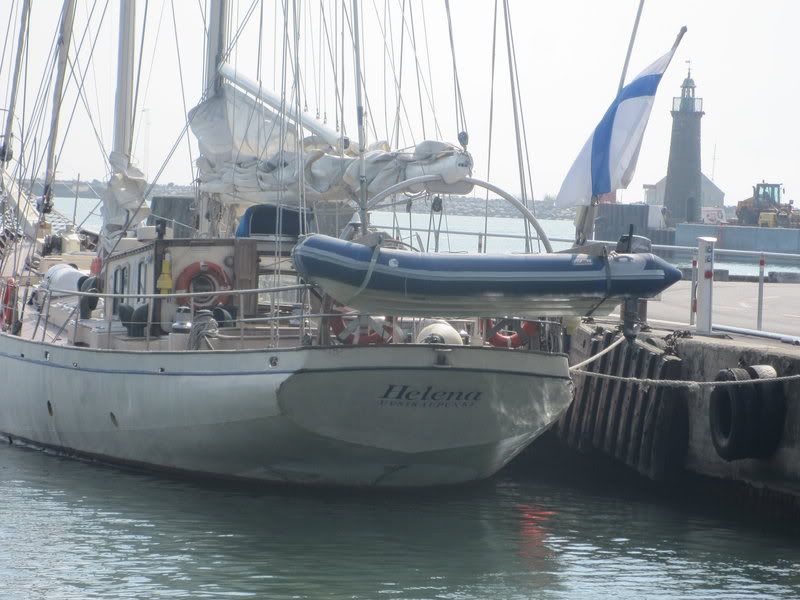 An interesting location for a light house: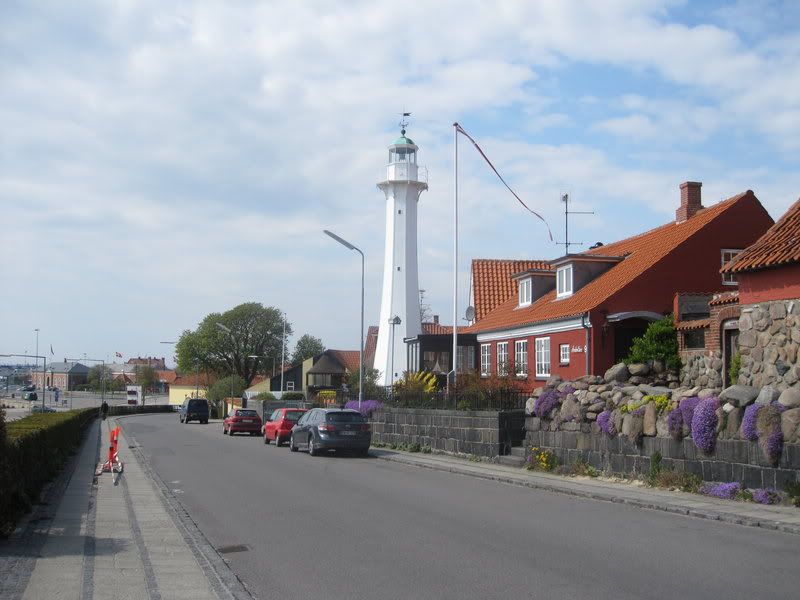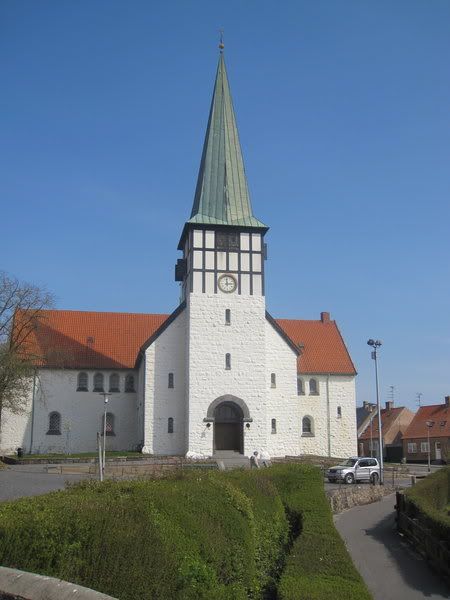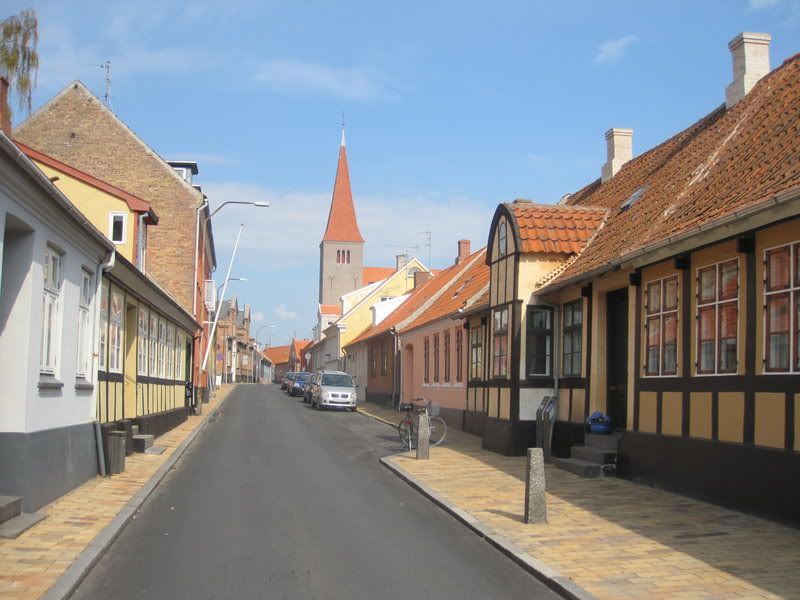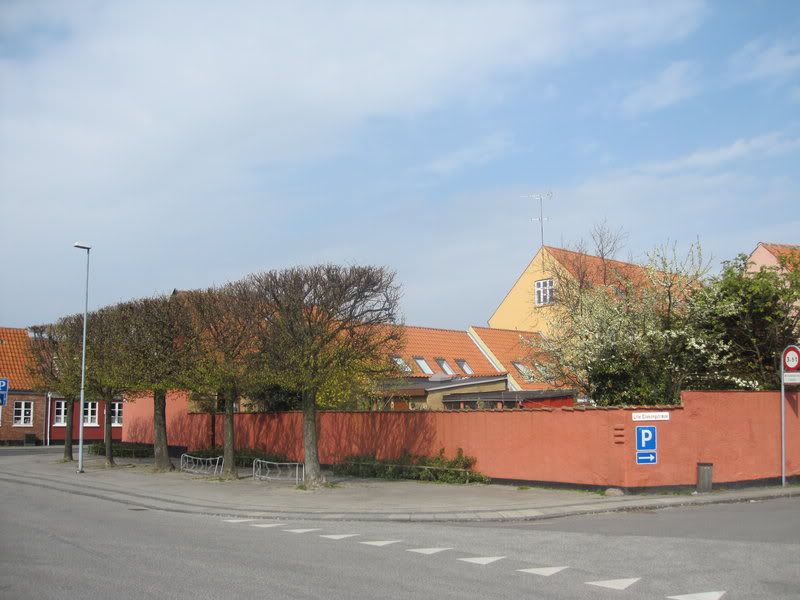 After some hours of walking around and enjoying the sunny weather I catch the bus back to the airport.
Bornholm Airport
I arrive just in time to see the earlier flight from CPH landing: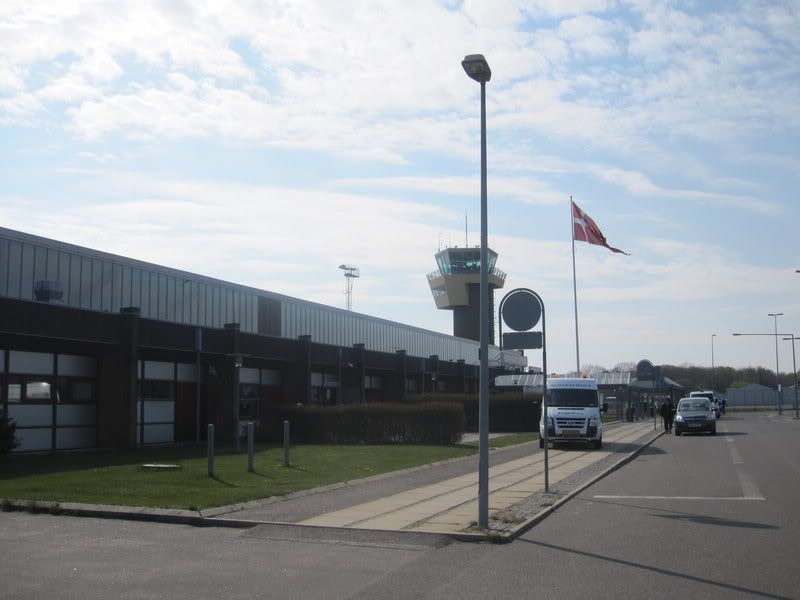 People checking in for the earlier flight: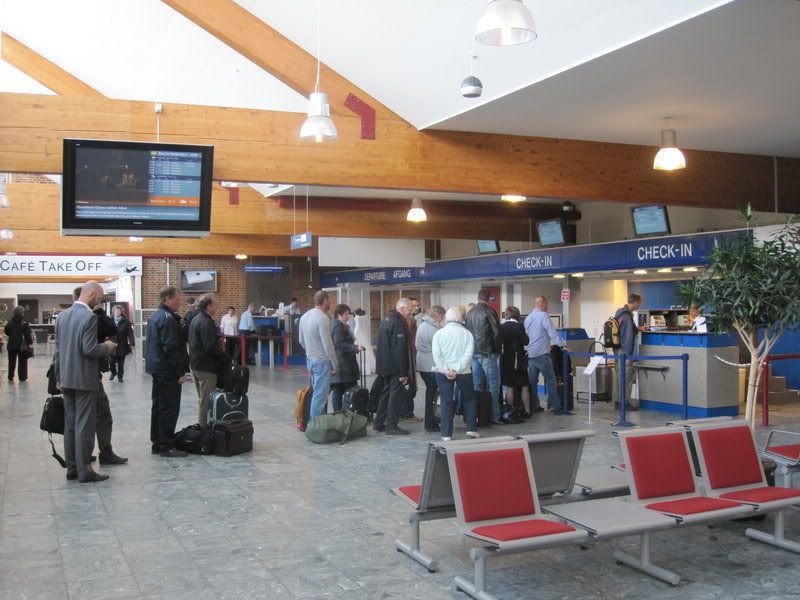 Not much to do here, so I just retire to the cafe, buy a very expensive pint of some good Tuborg brew and head outside to enjoy the sun. They have a display case set up with models from various plane types flown by the Danish Air Force throughout the years: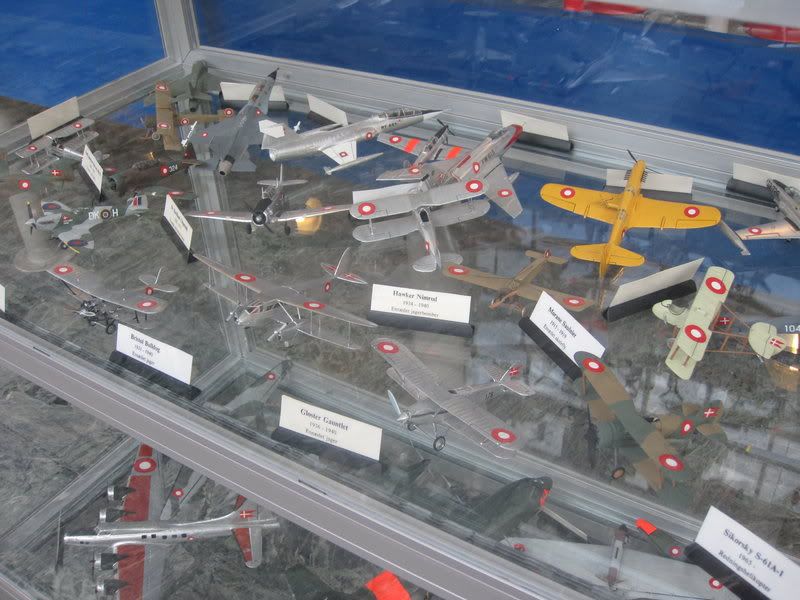 Interestingly check in only opens right after the inbound flight lands. It is an ATR-42 for a change, OY-CIL, a new reg for me: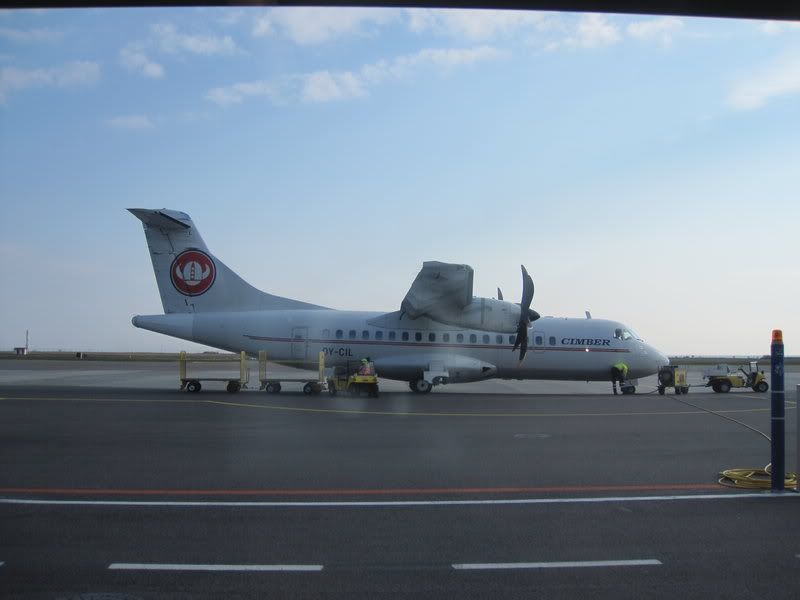 Wanting to have a proper boarding pass I decided not to do OLCI this time - besides it's free seating so no point in doing so anyway...
After getting my boarding pass I head through security to the small waiting room, where boarding is called barely five minutes later.
RNN - CPH
QI634
ATR42-500 OY-CIL
Seat 7F
18.08 - 18.38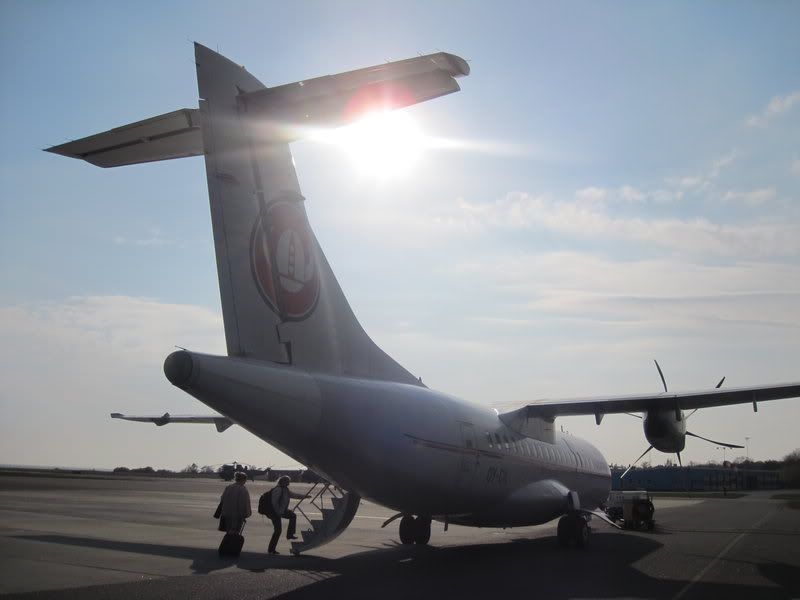 The -42s have cloth seats, but those are no less comfortable than the leather ones: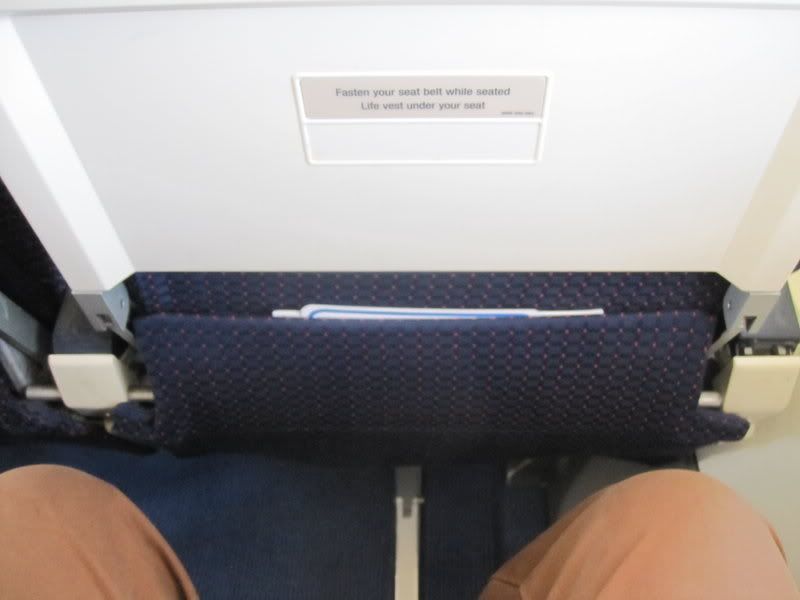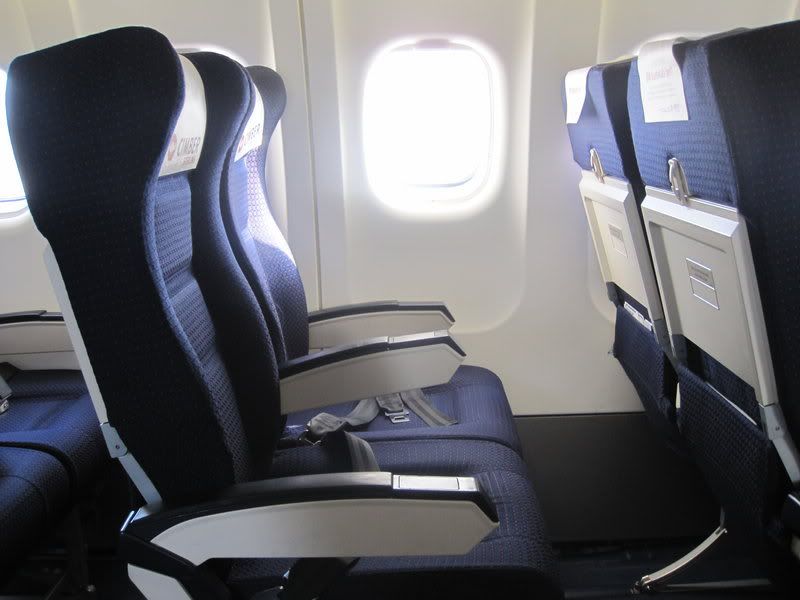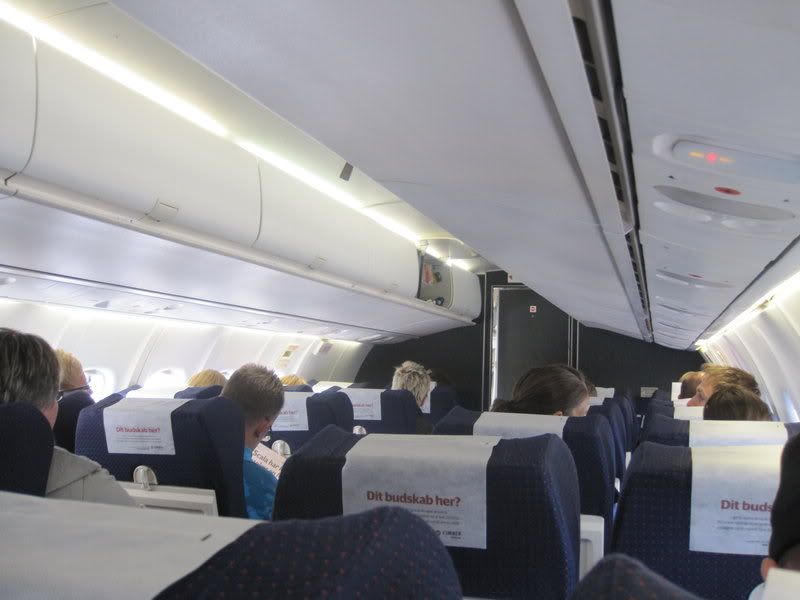 Load is somewhat better than on the inbound flight, around 60% or so. Flight time is announced as another 25 minutes and we depart seven minutes early, backtrack down the runway, turn aroun