Introduction
As I mentioned in my Pisa trip report less than a month ago (see here:
Big 1000 To See A Fawlty Tower: TMP-PSA-BER-HEL
(by
FlyingFinn76
Apr 18 2011 in Trip Reports) ) Ryanair is this spring and summer opening a few new Italian routes from TMP. After PSA the second one to open would be Rome (Ciampino of course). As usual, I was interested in trying out the new route, and luck was on my side as I was even able to book the inaugural flight for that little fuzzy feeling that goes with it. As FR has been hiking up their fares the ticket wasn't ultra cheap as one has gotten used to with them, but at 47 EUR including priority boarding still very reasonable for what is a 1400 mile flight.
Of course Finland being located where it is the flight times were far from optimal, with arrival at CIA after 23.00 in the evening. That meant I had to spend the night somewhere near CIA and then figure out something fun to do the next day. The good news was the outbound flight was on a Friday, so I would have the whole weekend on my hands. Since I would be near Ciampino anyway that was the most logical departure airport, and wanting to limit my expenses Ryanair was the logical choice! After some searching I decided on a flight to Bari, as that would be a new airport and city to me, had a convenient noon departure allowing for a bit of a lie in and was available for 20 EUR - at least the shorter routes can still be cheapish on FR!
From BRI, I focused on searching flights in the evening so that I would have enough time to visit the city. As there's quite a bit of competition nowadays in the Italian market fares are generally very cheap, and I soon found a very nice fare of 27.50 EUR on Air One to Malpensa. For some strange reason it was only available on the Italian language Air One website and nowhere else, but with the help of Google Translate I managed to book it anyway.
This meant I had to spend another night in Milan and then fly home the next day. More searching followed, and in the end I found an early afternoon Wizz flight to good old GDN from Bergamo for 25 EUR including extra legroom (read: exit row) seat. That was good enough for me, so out came the credit card once again...
To close the final gap the recently introduced Finncomm flight GDN-HEL was perfectly timed and the deal was sealed by the fact that they were having a sale to celebrate the new route (which is a resurrection of a seasonal AY route from a couple of years ago) with one way tickets available for a very reasonable 69 EUR.
The route map:
Friday 6.5.2011
This is another trip that starts with train rides, first a local train from the office to Pasila station in Helsinki, and then a Pendolino high speed train up to Tampere:
Well, theoretically "high speed" - as usual they are having some problems and congestion and we spend quite some time trundling along at 30 km/h instead of doing over 200 as we are supposed to... The good thing is that the wifi connection works much better on slow speeds than when the train is going faster, go figure. Luckily they manage to catch up along the way, so in the end we are at Tampere only a bit late.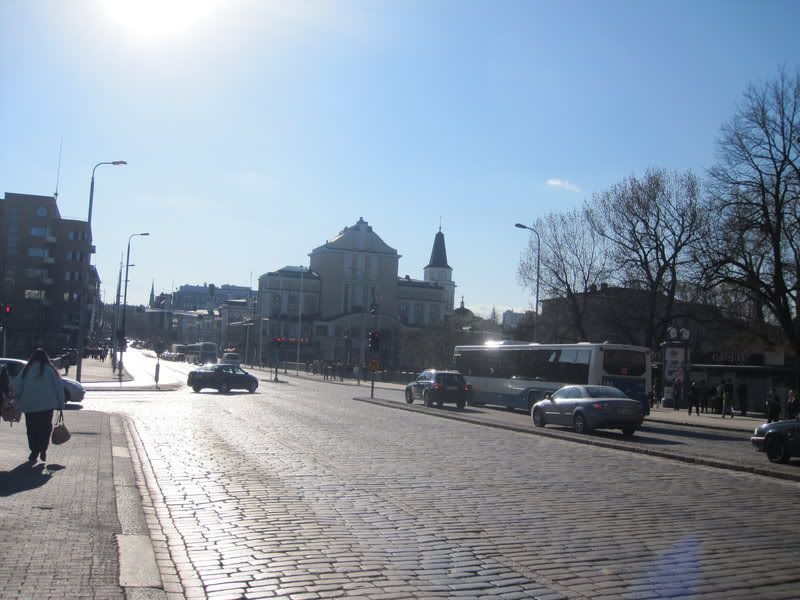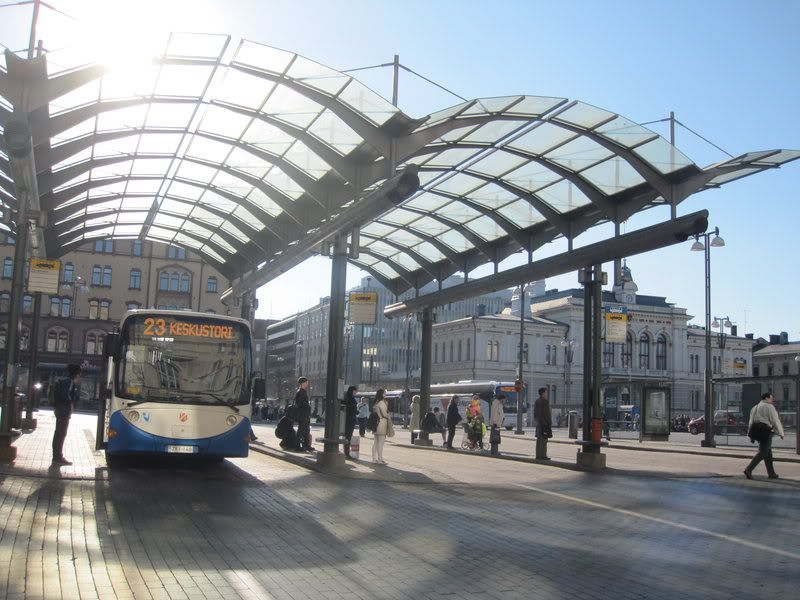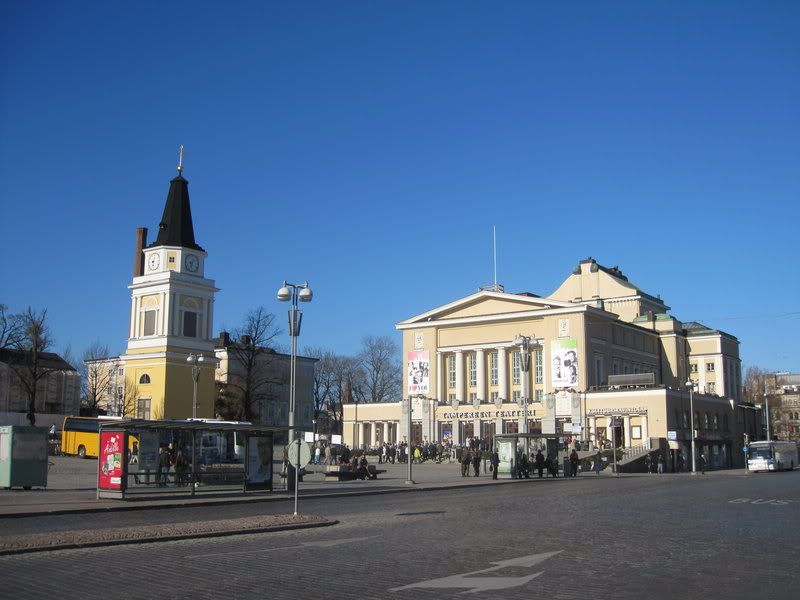 The weather is gorgeous for once - sunshine and warm temperatures, and Tampere city sure is alive with people, and a surprising number of tourists as well. I walk through the city's main artery to the local bus station to catch the public bus to the airport. I have some time to spare, so some noodles for dinner sounds like a good idea: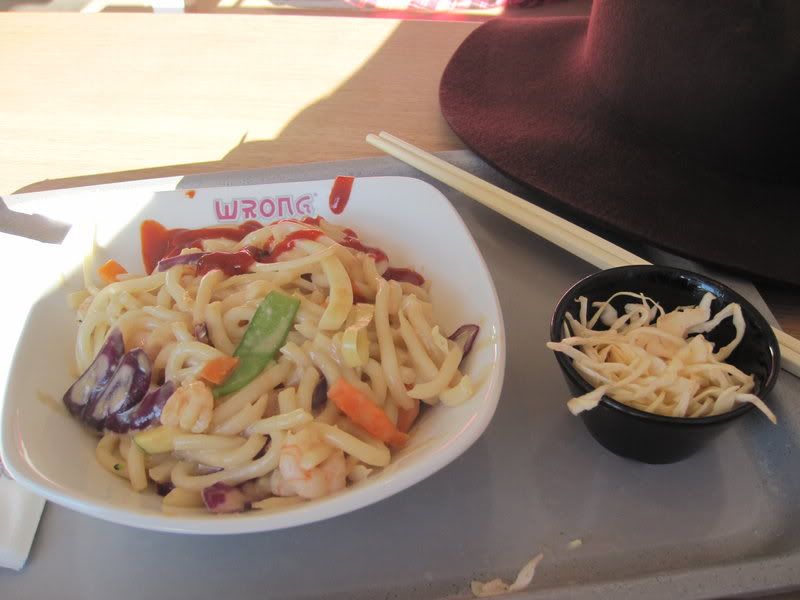 The bus finally appears a bit late, and a frustrating and long (why do these buses always have to make detours via every residential area on the way?) ride we reach Pirkkala airport. Well, Terminal 1, so it's another couple of hundred meters to reach the low cost Terminal 2.
Hmm, you know they are in the business of nickel and diming you when the actual terminal entrance boasts these credit card stickers: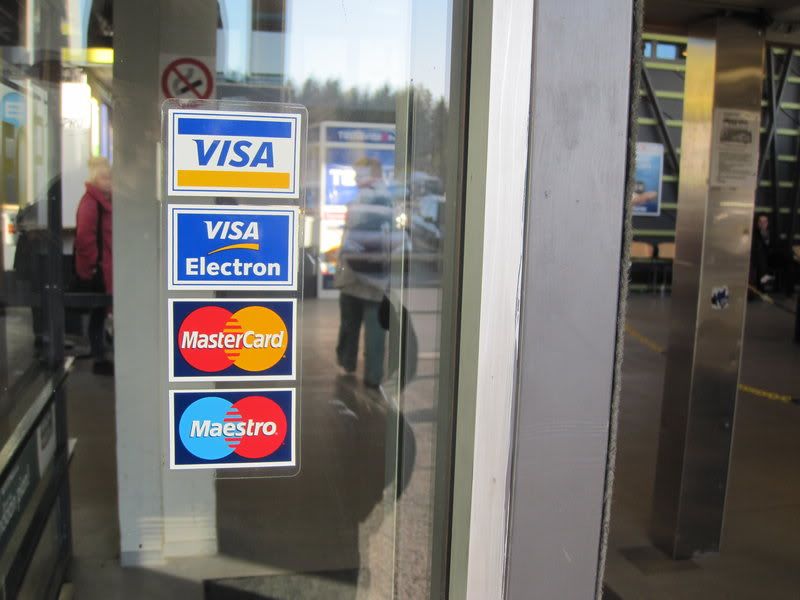 Up to the desk to get my documents checked (still annoying) - I again ask about any celebrations for the inaugural flight but it looks like the girl doesn't even know this is the first service - she just shakes her head confusedly and says "No, that's all".
Airside it doesn't actually look too packed, so I'm anticipating the load to be quite low. A good number of Russians are around, as usual on these flights. I head upstairs to the cafe for a pint, chatting with some people, managing to scare them a bit by telling them my opinion on Rome (and let me tell you, it's not a flattering one!).
The inbound arrives a good 25 minutes early - EI-EKH, another new reg for me. The inbound load doesn't appear too good. Ten minutes later boarding is called, quite a few people with priority boarding today.
TMP - CIA
FR7097
B737-800 EI-EKH
Seat 16F
20.22 - 22.26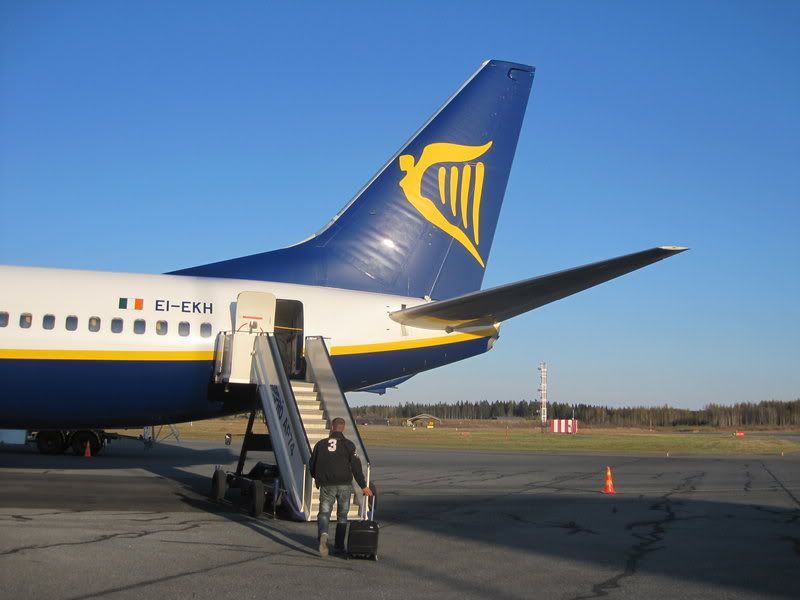 As usual, most of the pax with priority are completely clueless about the good seats, so no problems snatching an exit row seat - it's a three hour flight so I definitely need some legroom. The boarding is your typical Ryanair raffle, and despite the terminal appearing to be quite empty the load ends up being very good - around 90%. Luckily an older man sits on the aisle seat quite early, which discourages anybody from claiming the middle seat, whee. The man is quite good for conversation as well, we talk on and off about various things during the flight.
Somehow I don't think they are filling her with biofuel: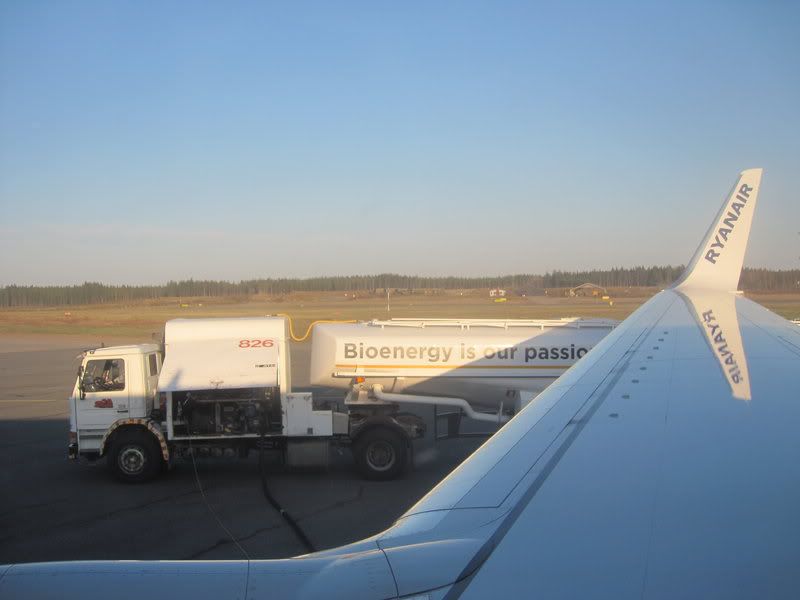 Our Italian captain announces that ATC permitting, we will be departing early for our flight to Rome which should take around 3h10mins in good weather conditions. Sure enough, departure is 13 minutes early, with take off from 24 four minutes later.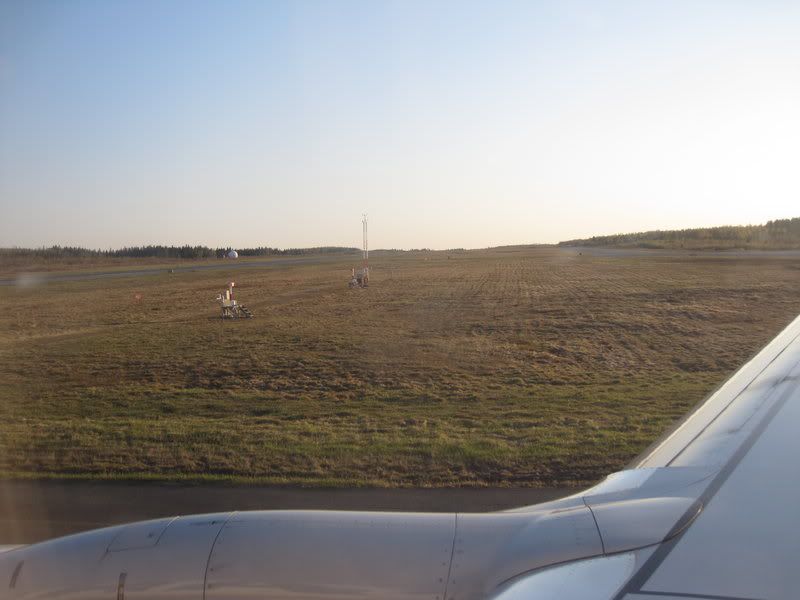 No ice in these lakes anymore: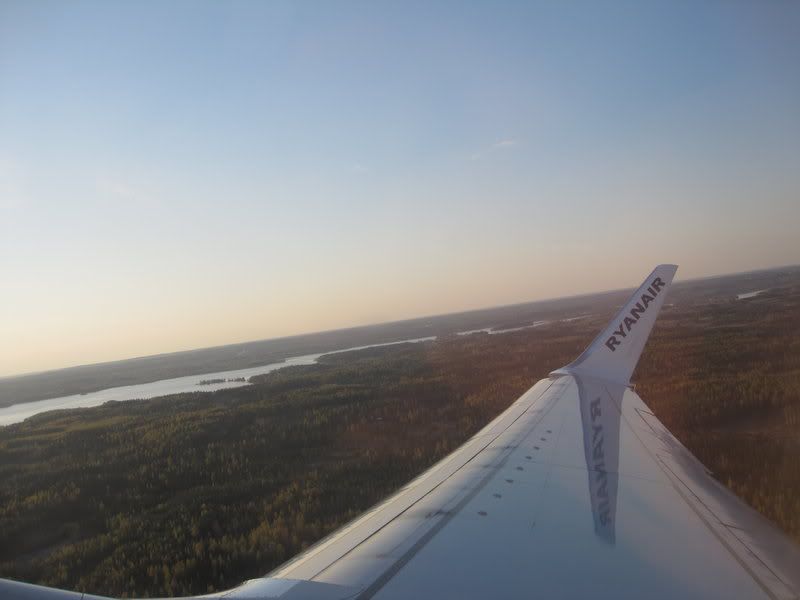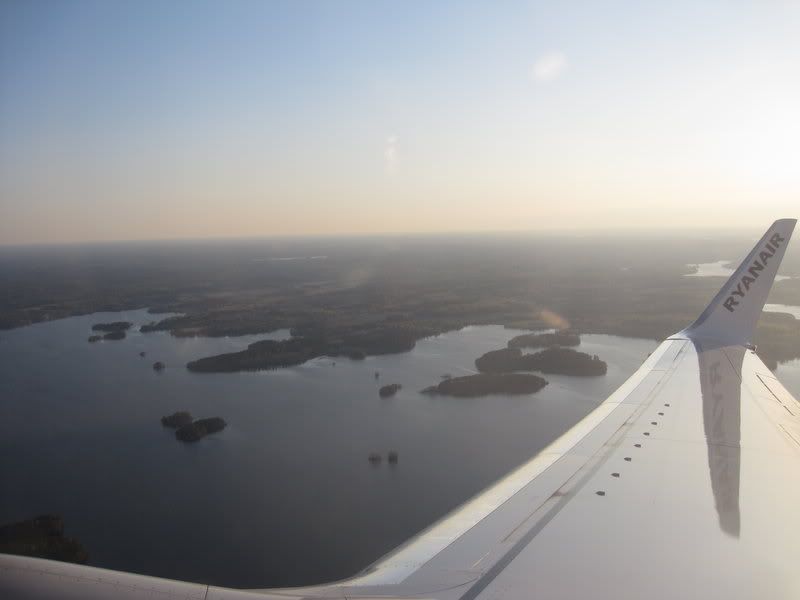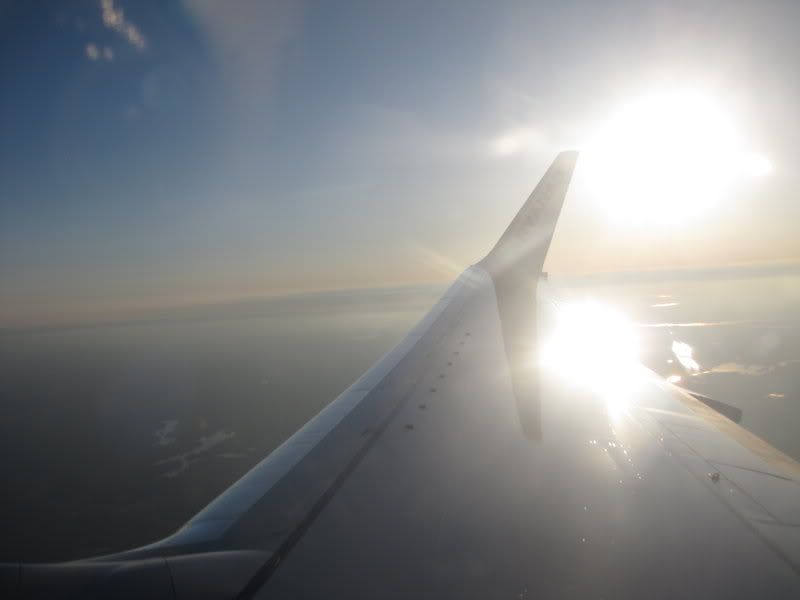 The city of Turku in the distance: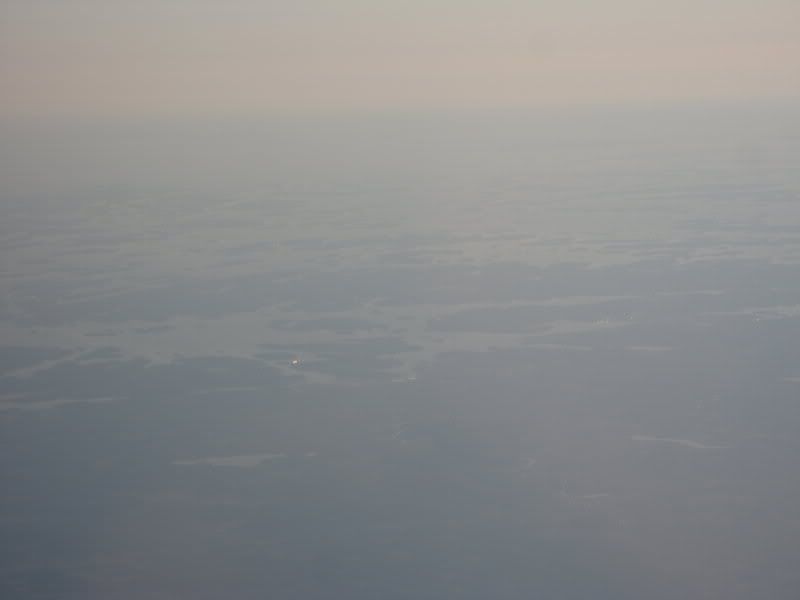 Quite nice Italian crew on this flight - too bad it takes a good hour for the BOB cart to reach my row (that's the bad part in sitting at exit rows in the middle of the plane), but at least they still have beer left: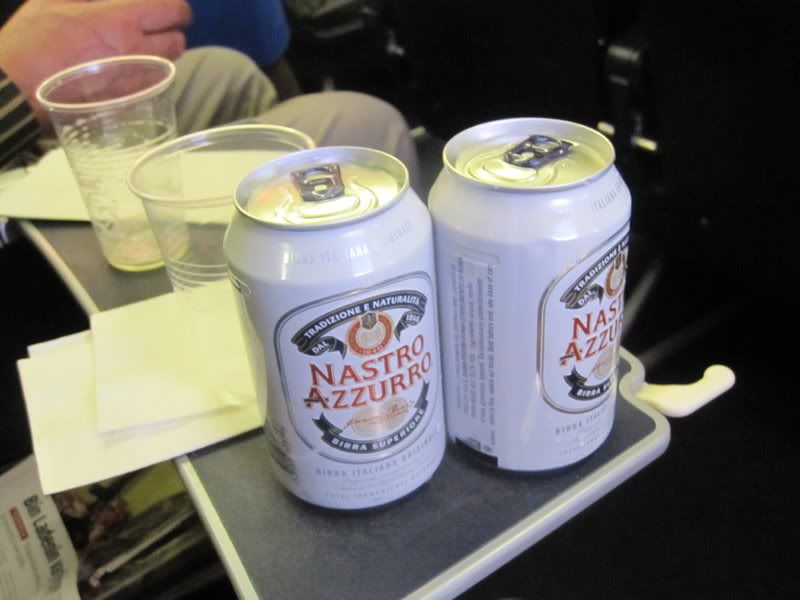 It appears that recently I've been doing quite a few flights during dusk - this flight being no exception: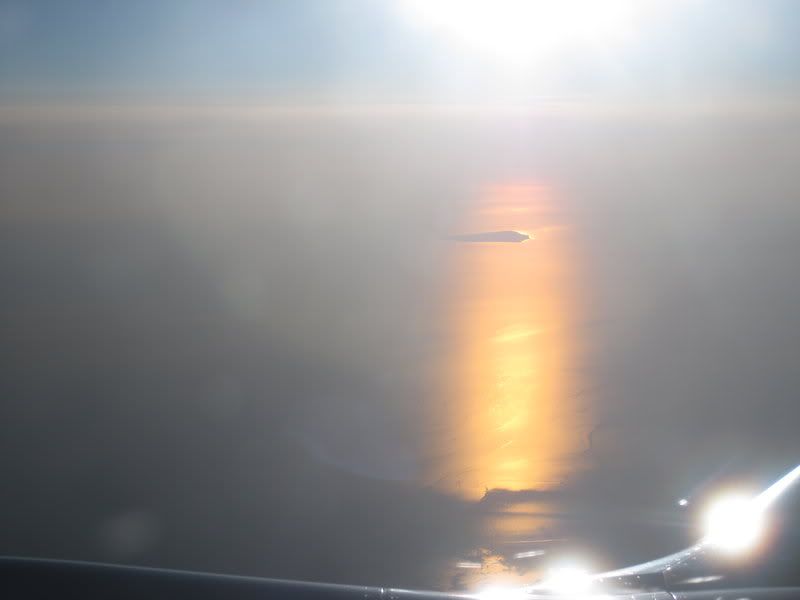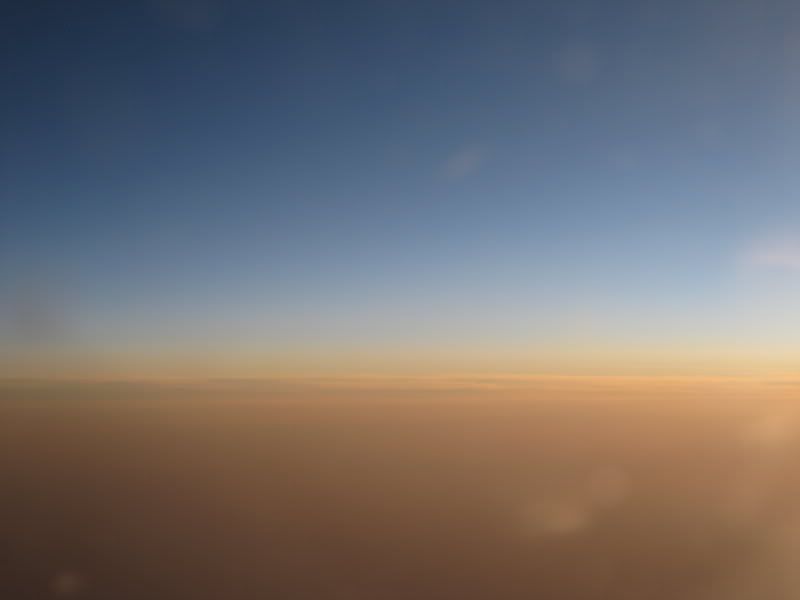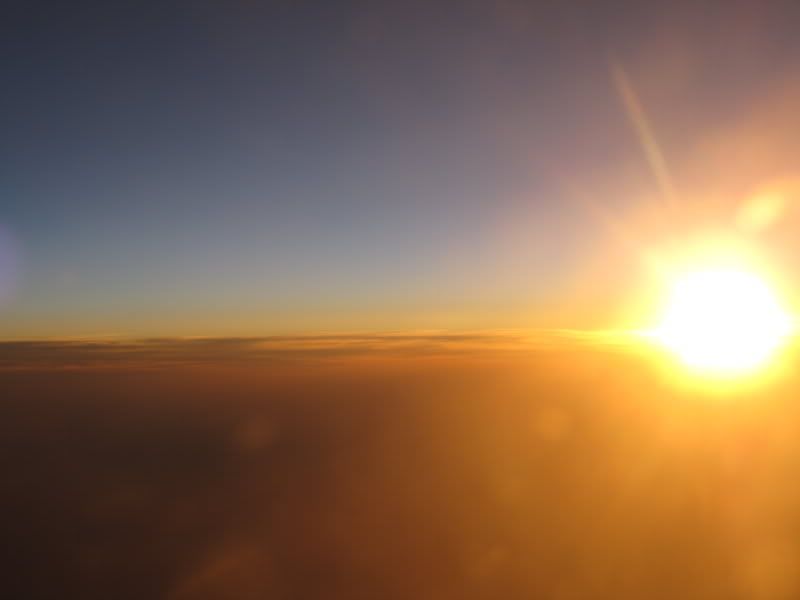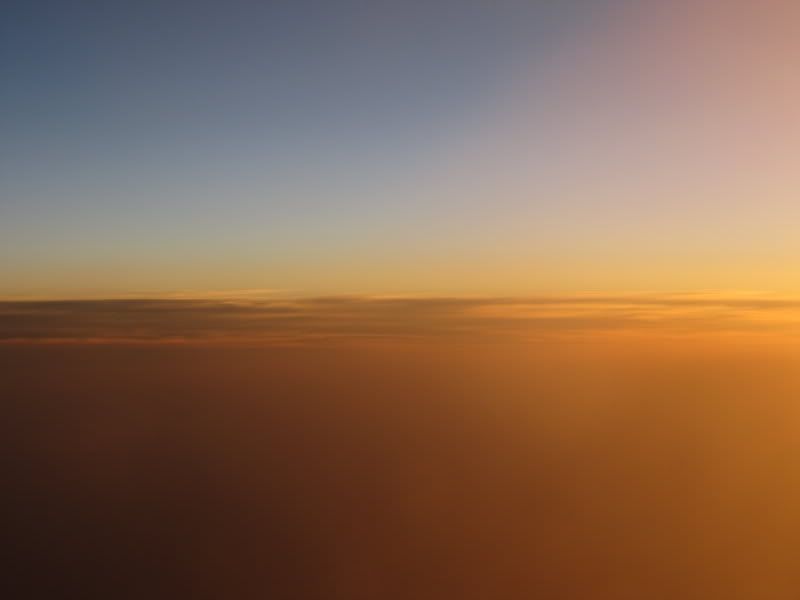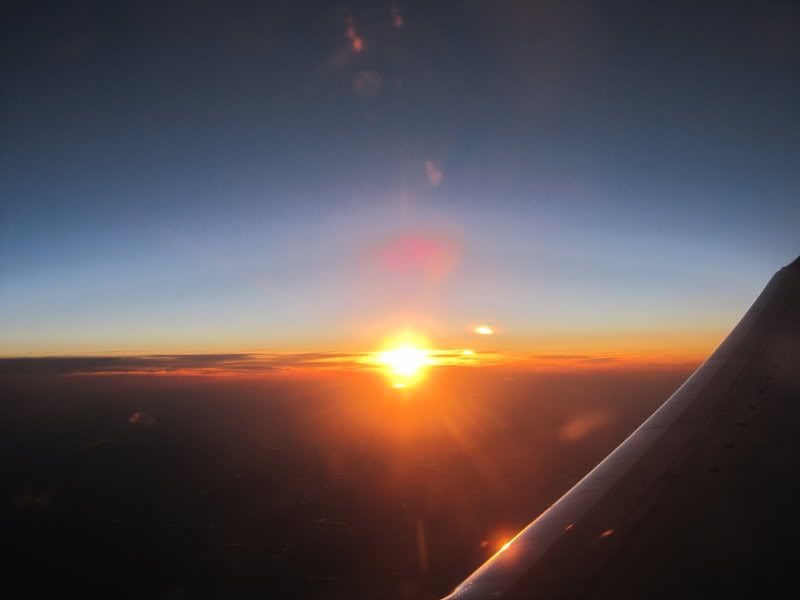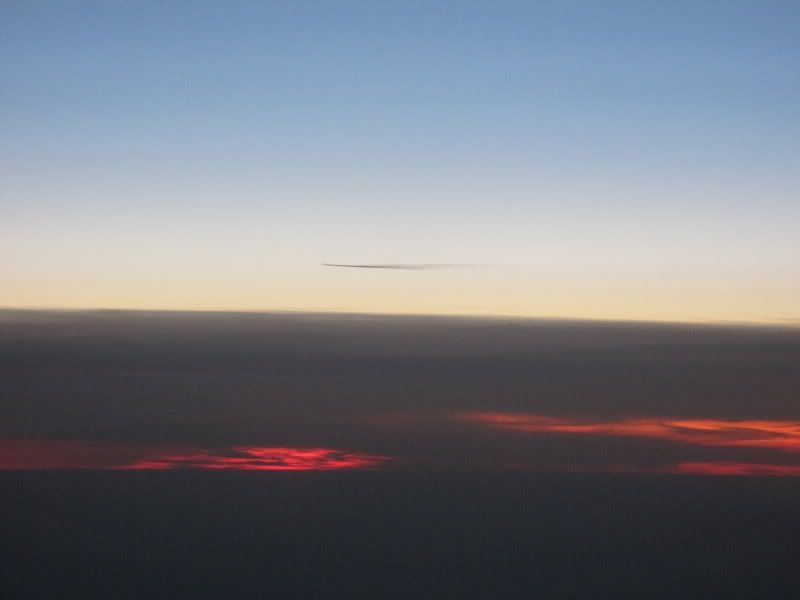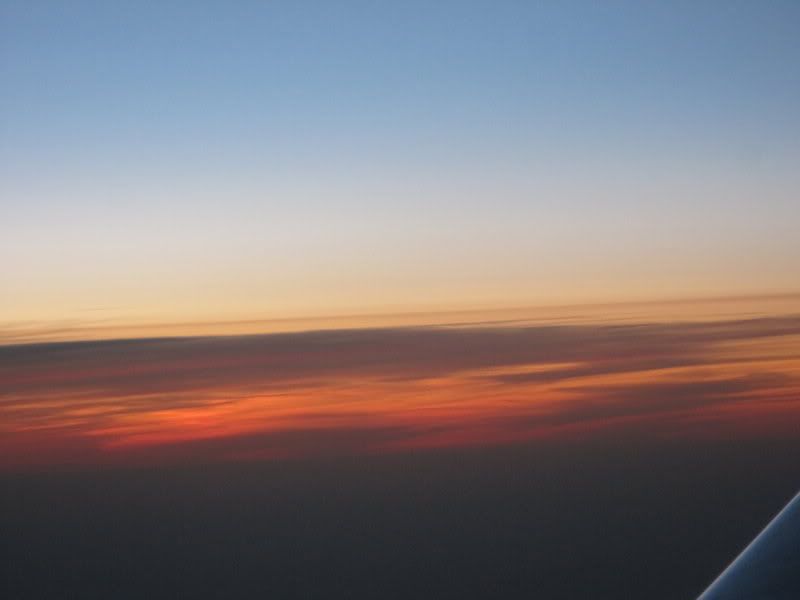 I fall asleep for the last half an hour of the flight, and wake up when we are already low over the endless lights of Rome, approaching Ciampino, where we land on runway 15 after exactly three hours of flight time. The crew happily welcomes us to "Rome Ciampino an hour early" (well, it is true) - and of course the good 'ole Ryanair fanfare is played, which always causes some laughter in the cabin. Oh, and I think there's some hand clapping as well!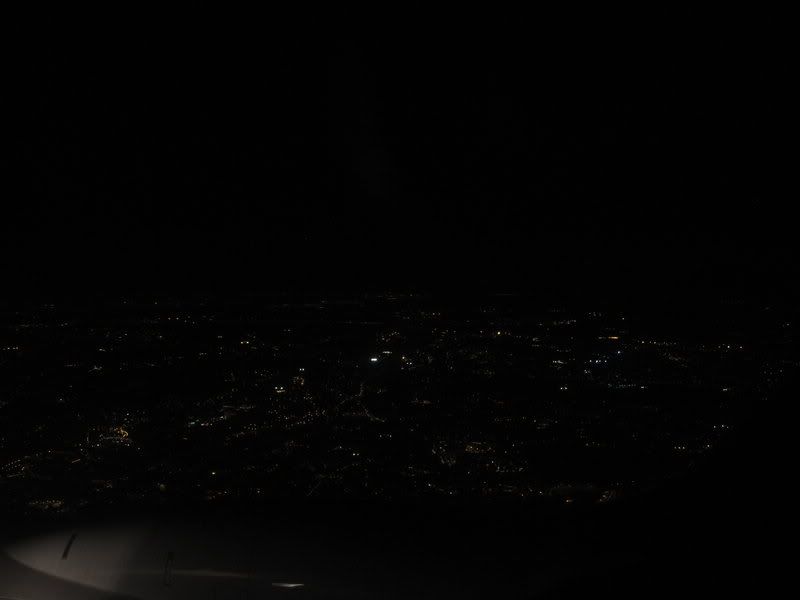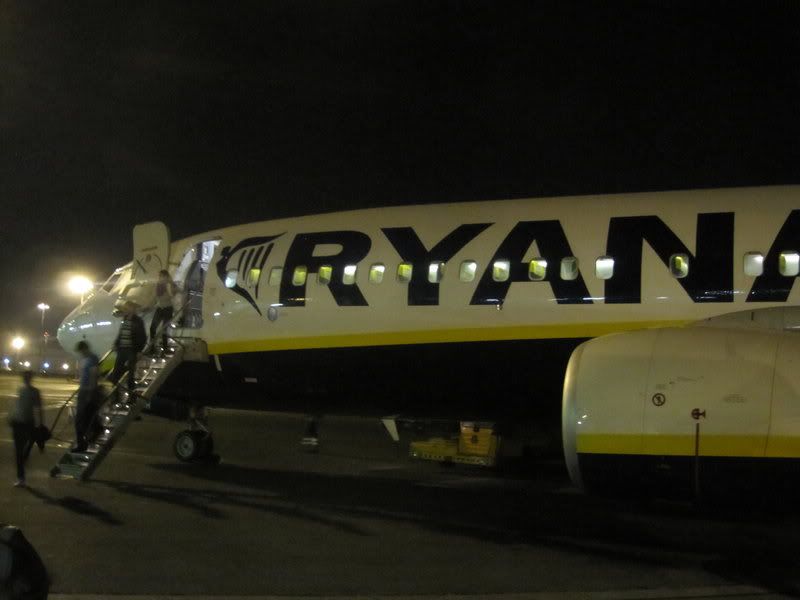 Apron position in front of the terminal, but in what appears to be another job creation scheme we still get bussed the 50 meters or so to the terminal entrance. A number of passengers try to enter the non-Schengen arrivals ramp (it's right next to the Schengen one, a certain recipe for confusion), which causes some Italian style shouting and head shaking from the officials.
Ciampino
My hotel for the night is not located far from the terminal, so I decided to walk there. They have some sort of shuttle service, but apparently charge money for it and I'm cheap. What I failed to realize was that the road there is basically a very busy four lane highway with no sidewalk and very few streetlights. With the Italian style of driving, cars are constantly whizzing past me - a bit harrowing experience, let me tell you. Along the way I pass somebody who looks like a transvestite prostitute, trying to bum me for a cigarette - not that I have any as I gave up that habit a long time ago...
Ok, I'd better not stray there - don't wanna get shot at: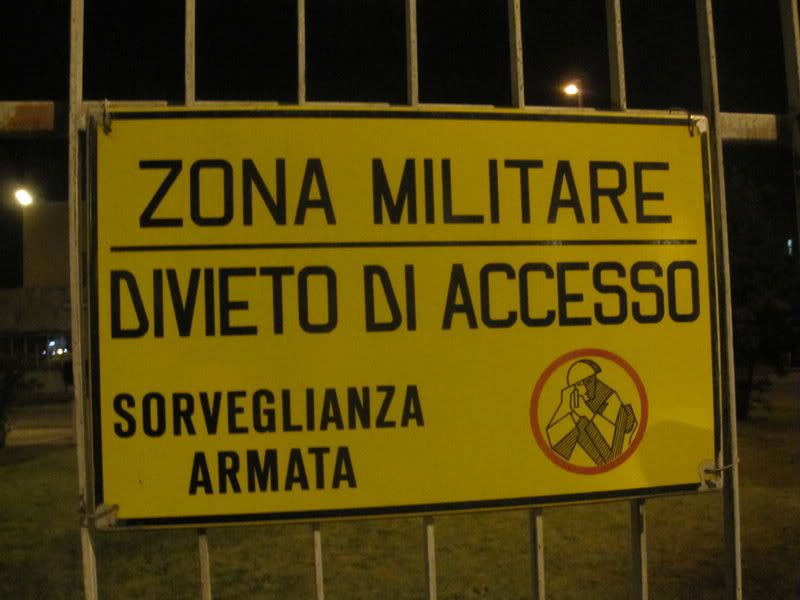 Benvenuti in Italia: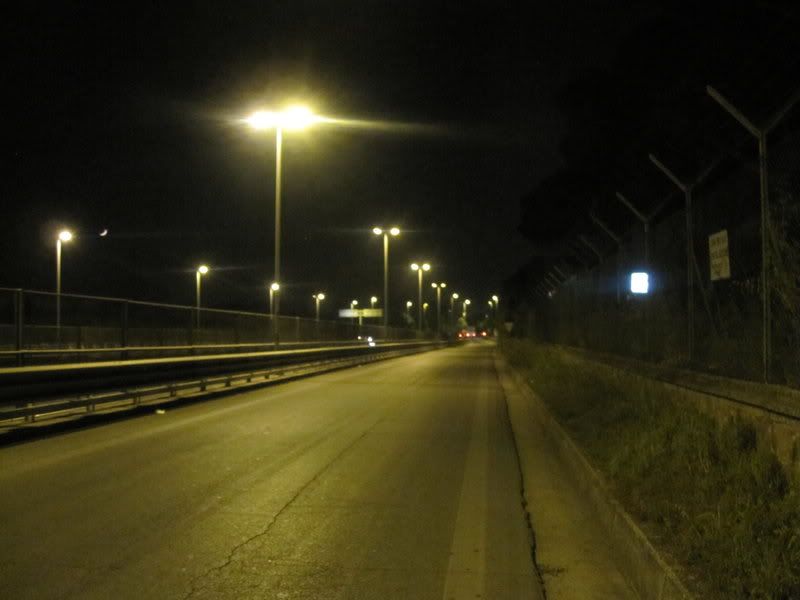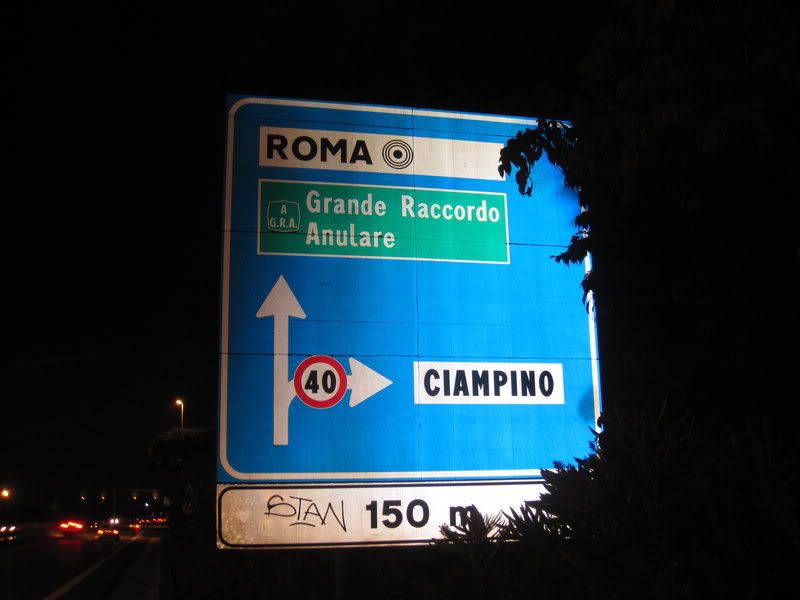 Just when I'm almost giving up hope as it gets even darker after I turn off the highway to a side road I spot the hotel's sign a few hundred meters away - I made it!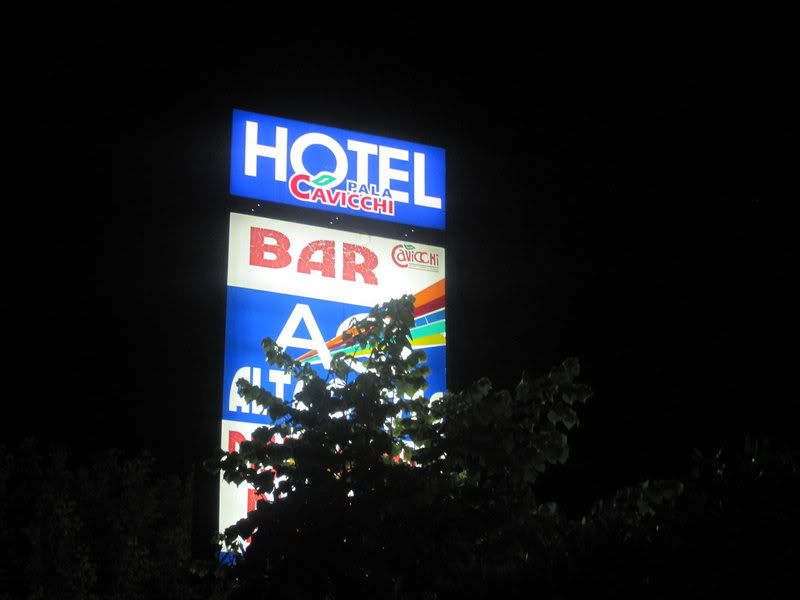 The Hotel Palacavicchi is the closest hotel to Ciampino airport, and although it is more like a motel than a real hotel it is surprisingly nice for the one night stay, and at 70 EUR not too bad value either. I grab a quick drink at the bar (which for some reason never made it to my final hotel bill, not that I mind it!) and retire to my room, which is almost half way back to the airport - the hotel might not have more than a single storey, but they sure make that up in the other dimension...!) and call it a night.
Very long corridors: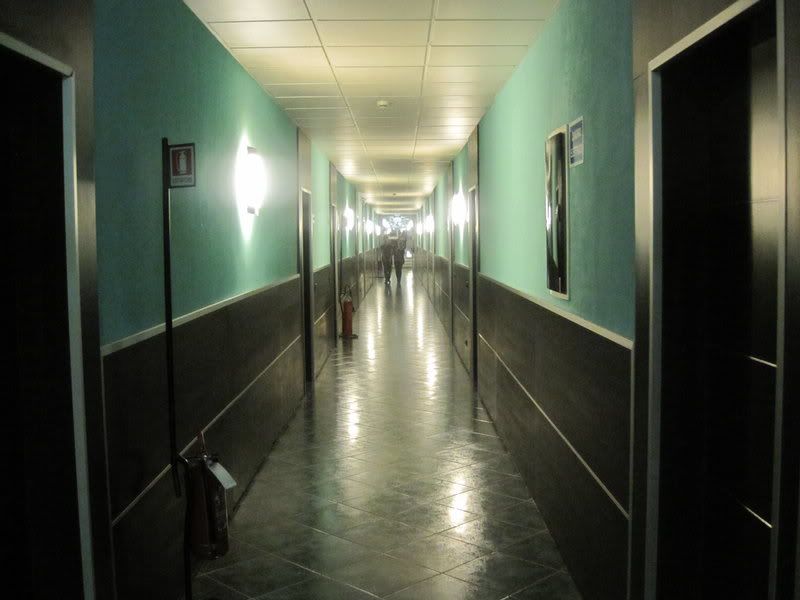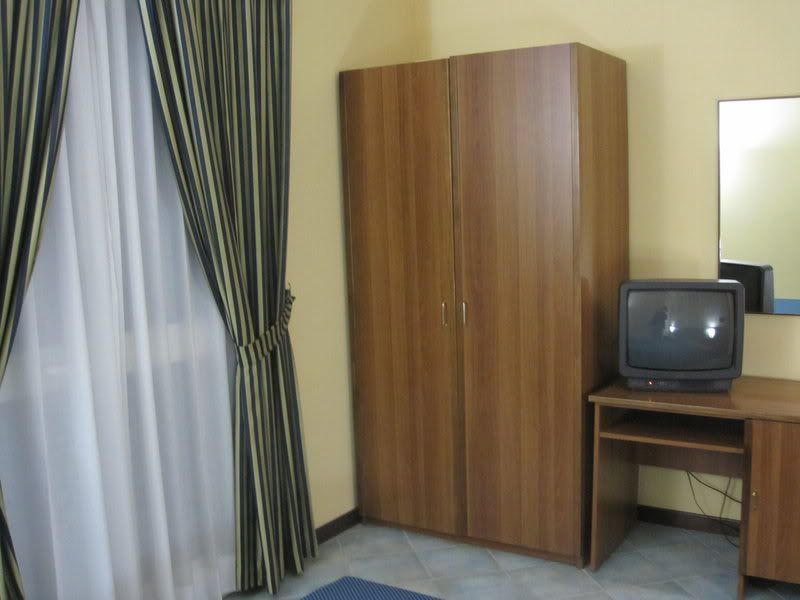 Saturday 7.5.2011
Ahh, don't you just hate it when you could still sleep for a good few hours, but wake up far too early and can't really get any more sleep. Once again this Saturday morning has that effect on me - the one hour time difference and the sound of departing (Ryanair, presumably) jets wake me up at six, right after the night curfew at the airport is lifted. Well, at least it is a gorgeous sunny day outside, which immediately perks me up.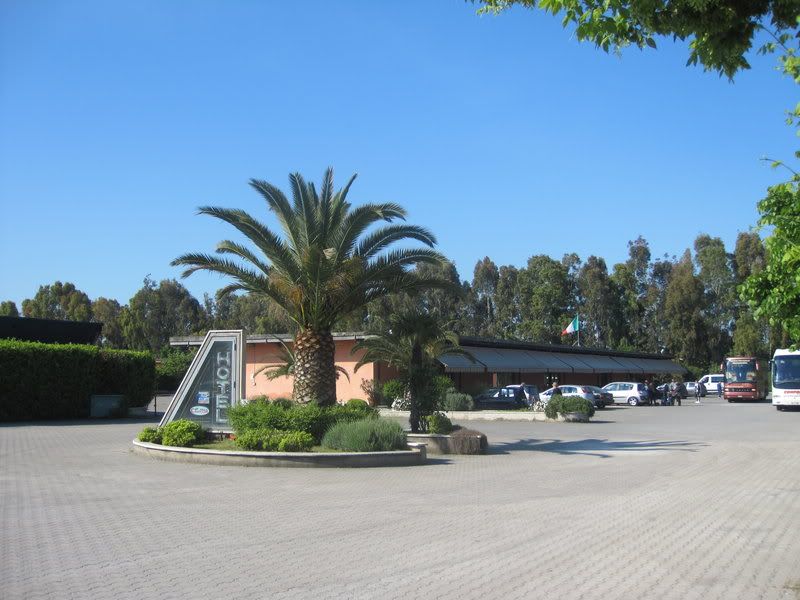 I lounge around the room for a couple of hours, before hitting the restaurant for a quite minimal, Italian style breakfast. Afterwards I check out, and decide to walk back to the airport. There's actually some sort of parking lot right next to the hotel which seems to offer a free shuttle bus, for a while I think about sneaking in and catching a ride with them, but decide against it as I'm in no particular hurry and the weather is so good. This time the walk is much easier - at least I'm able to see where I'm going!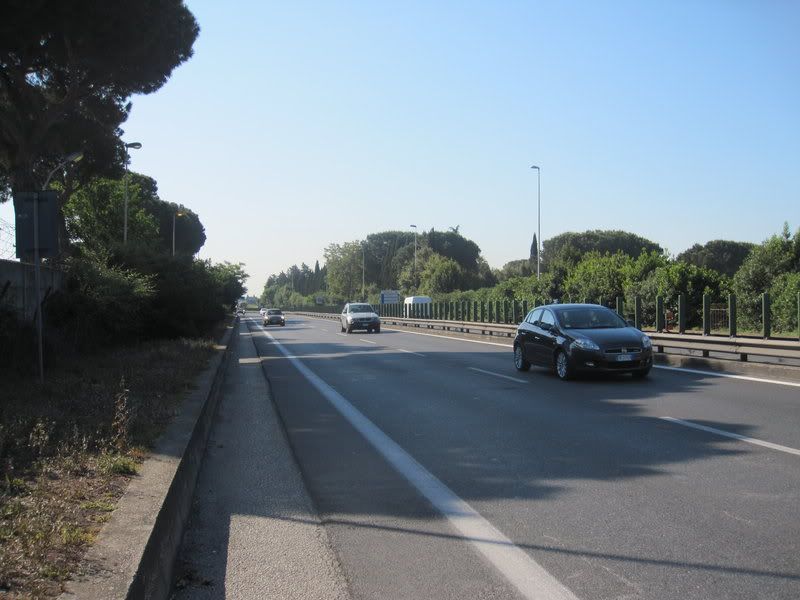 20 minutes later I'm back at Ciampino airport and sit in front of the terminal in the sun for a while before heading inside.
No easyJet flights right now, so quite peaceful here: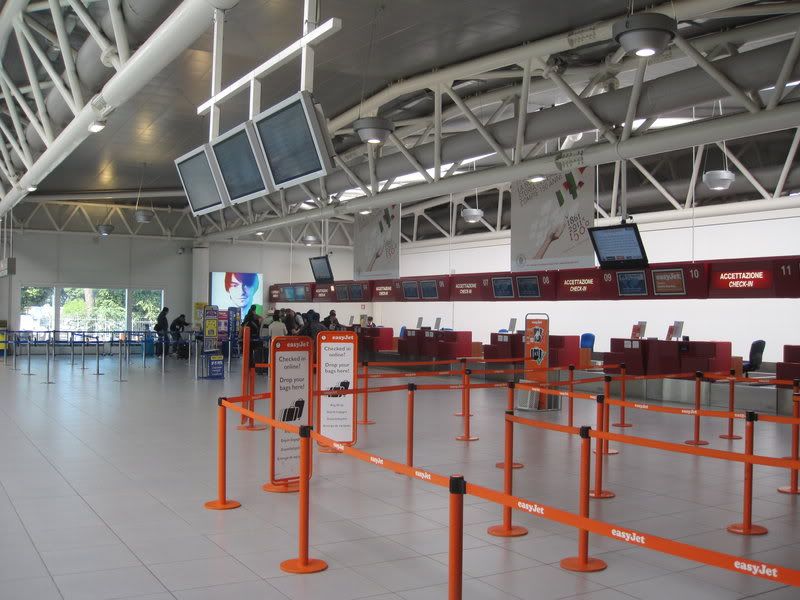 Guess which airline's bag drop desk this queue is for: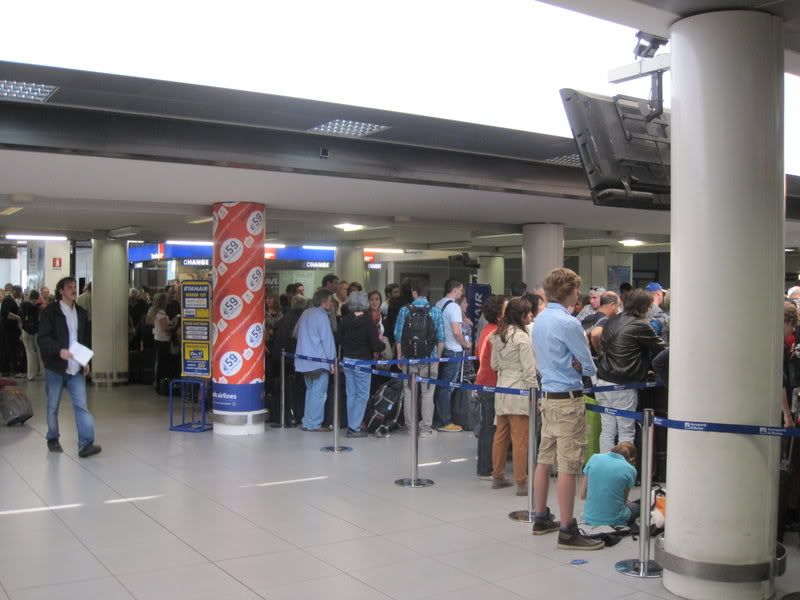 Interesting to see that SN operates multiple daily flights here - I guess that route is inherited from Virgin Express.
Not much to landside, so through the security to airside it is. Security is your typical Italian affair - lots of shouting, pushing and confusion, but not too unpleasant. Airside I realize there really is not much to this airport at all - there's not really much to do here either. Well, I buy a soda from a cafe and sit down to read my book and watch the antics of my fellow low cost travelers.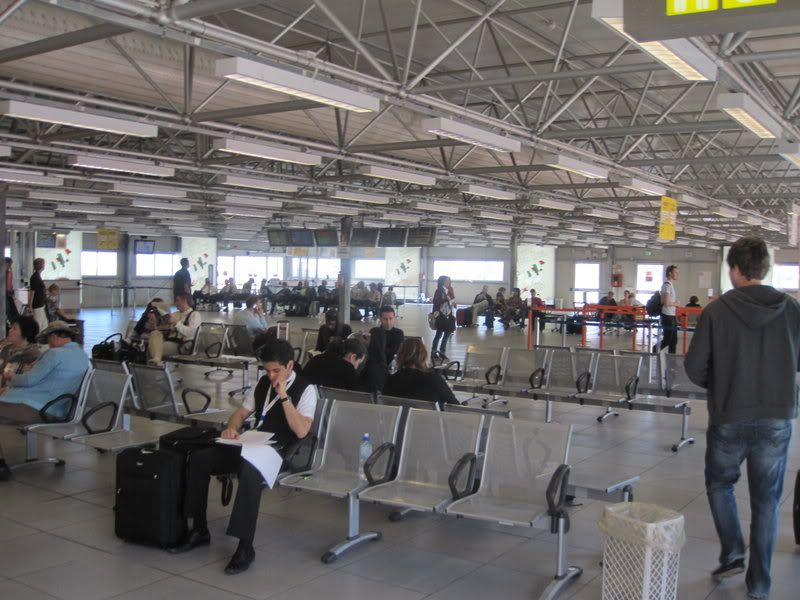 No doubt who's the boss: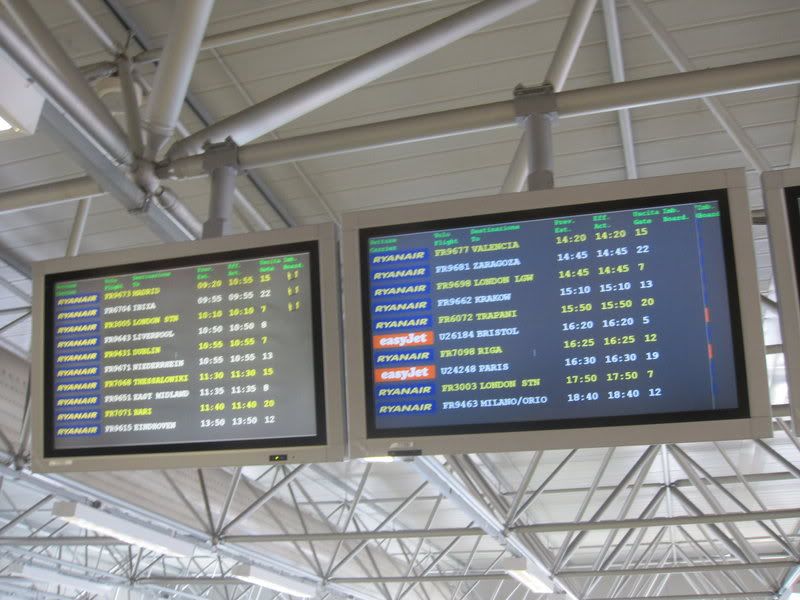 Interestingly at one point I see a CSA A319 landing - not sure what it is doing here. It parks somewhere away from the normal apron, so maybe there's some sort of maintenance facility here.
In true Ryanair fashion a large queue starts to form in front of my gate almost an hour before the departure time, and it soon mingles with another queue for a flight to SKG on the opposite gate which causes some confusion. Boarding is finally called quite late, only around fifteen minutes before the scheduled departure time. It appears to be another job creation scheme as they use far more buses than necessary, they could easily cram all the pax in two buses but appear to use at least five, well it means that there's plenty of room in the bus, though.
Today's ride is EI-EKJ, and is another new one for me.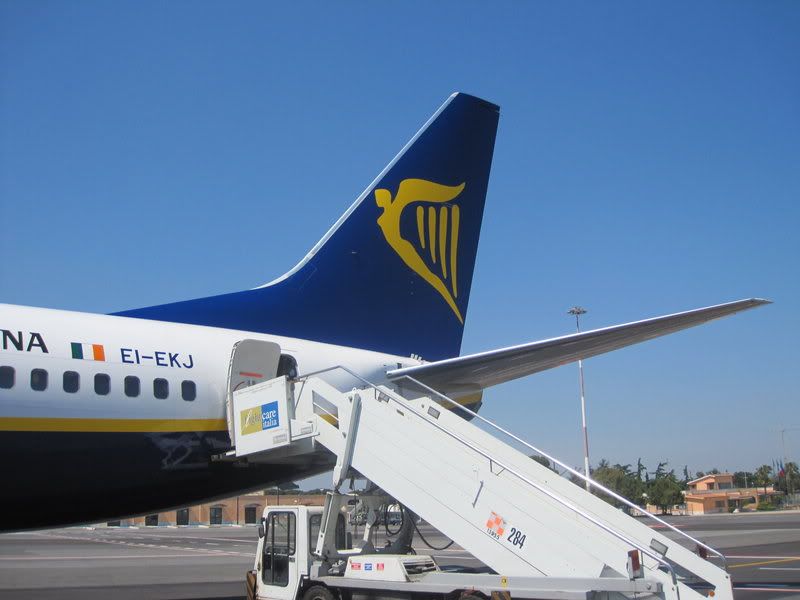 CIA - BRI
FR7071
B737-800 EI-EKJ
Seat 30F
11.50 - 12.38
It's a short flight so I don't bother with an exit row seat, instead I grab a window seat in the last rows. Load is again good in Ryanair style, maybe around 80%. Three for me, though, so no problem.
Our captain announces the flight time as 45 minutes, with sunny weather and seventeen degrees in Bari. Despite our pushback being ten minutes late he expects us to be landing on schedule.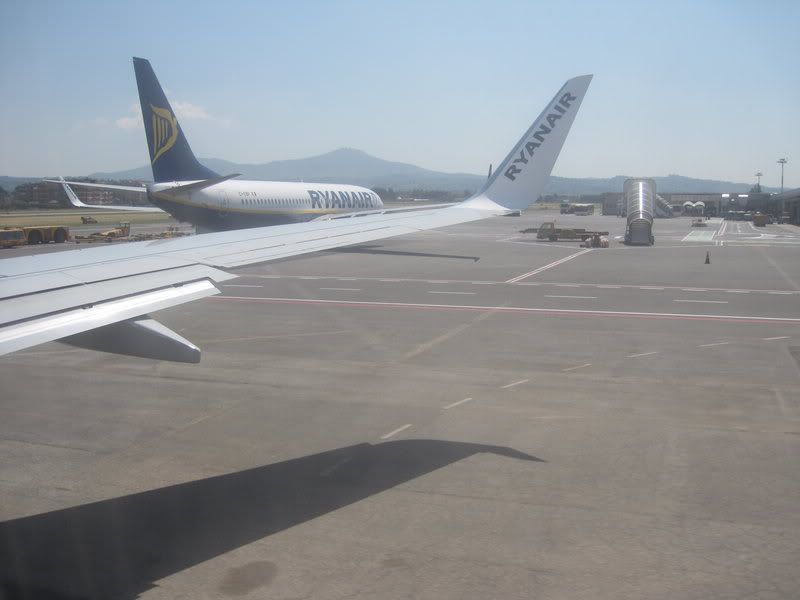 I remember these firebombers from my last visit here. Saw one of them taking off and returning a bit later - surely it is not yet forest fire season?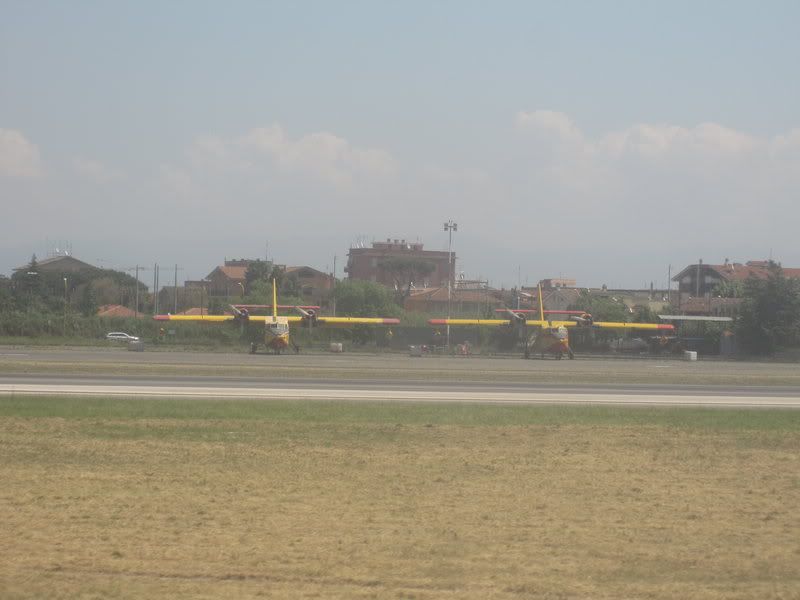 Take off is from 15 nine minutes later.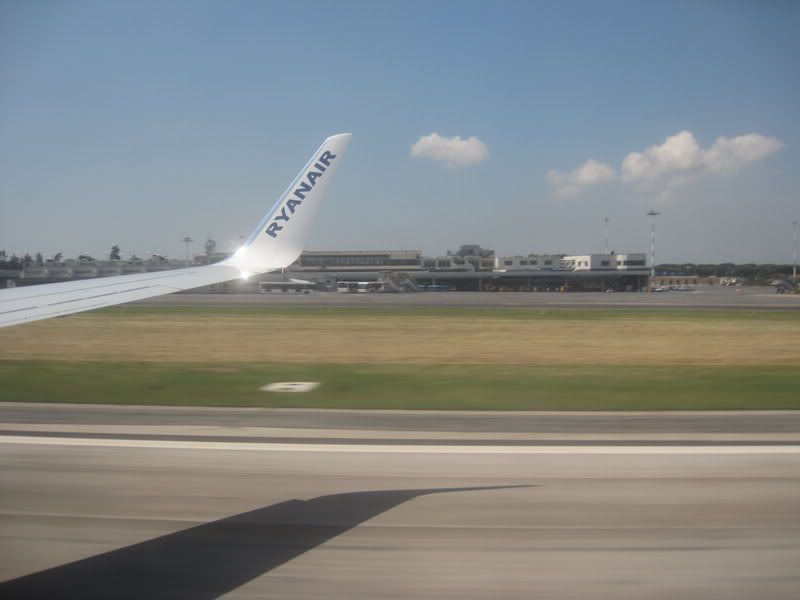 Notice the OK Airbus: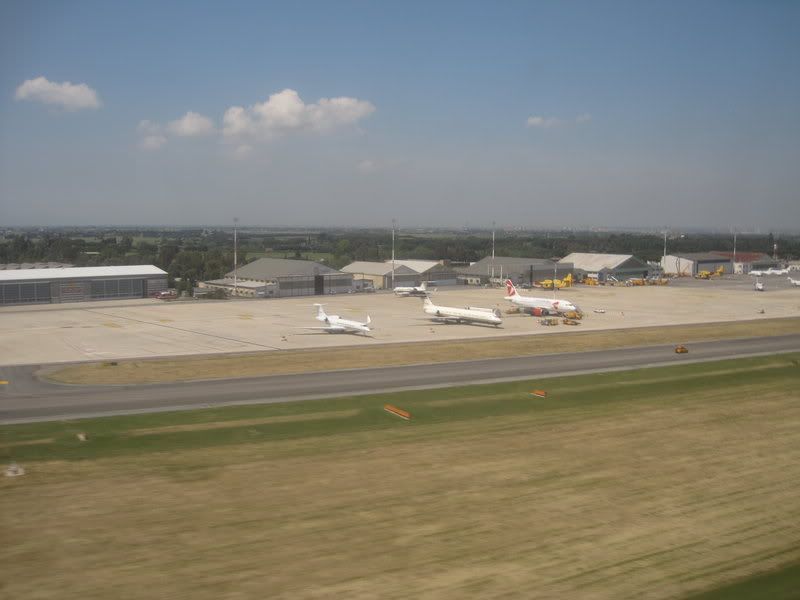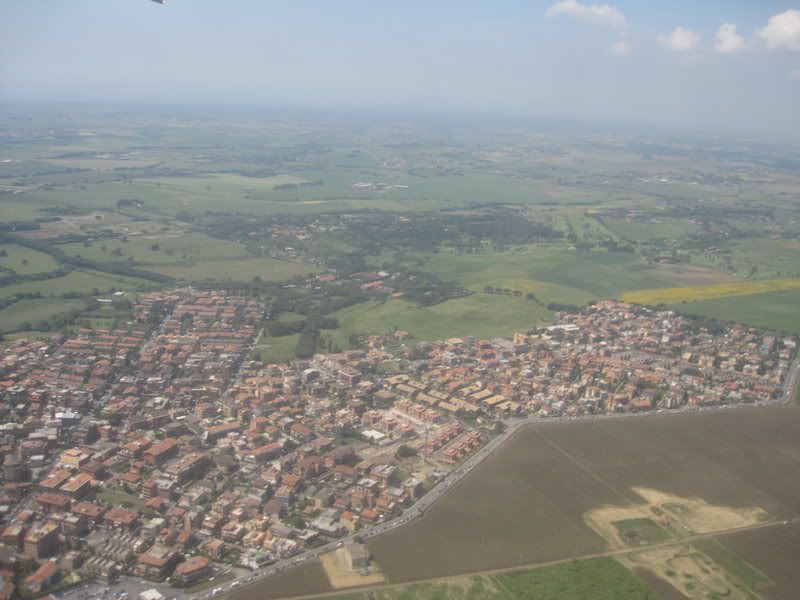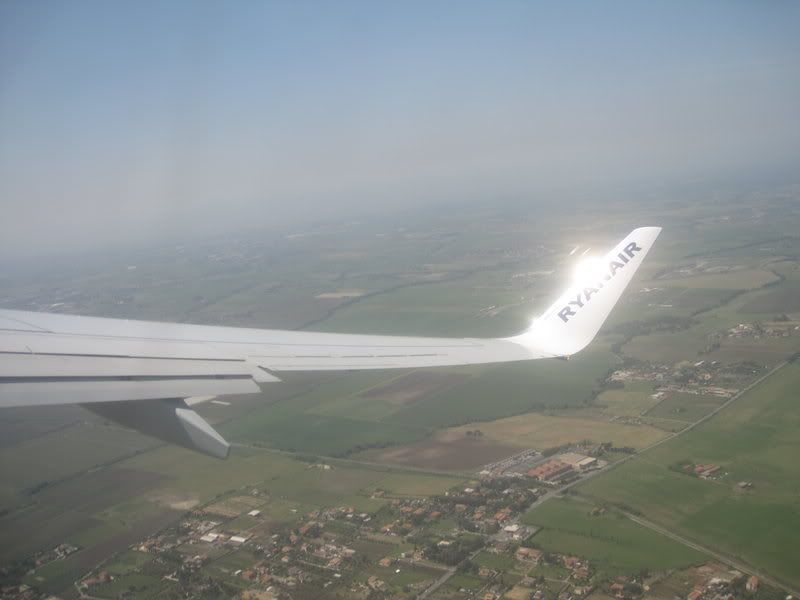 Bye, CIA:
FCO in the distance: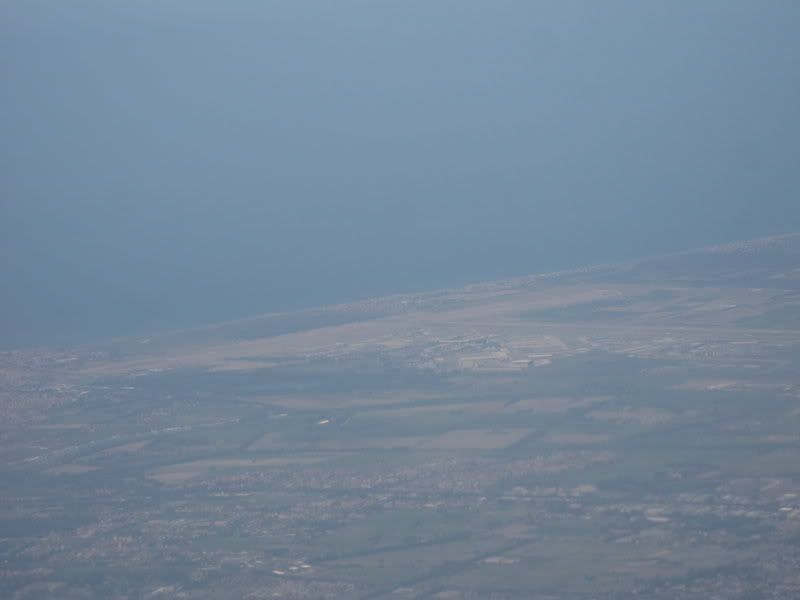 The town of Fiumicino on the right and Ostia on the left: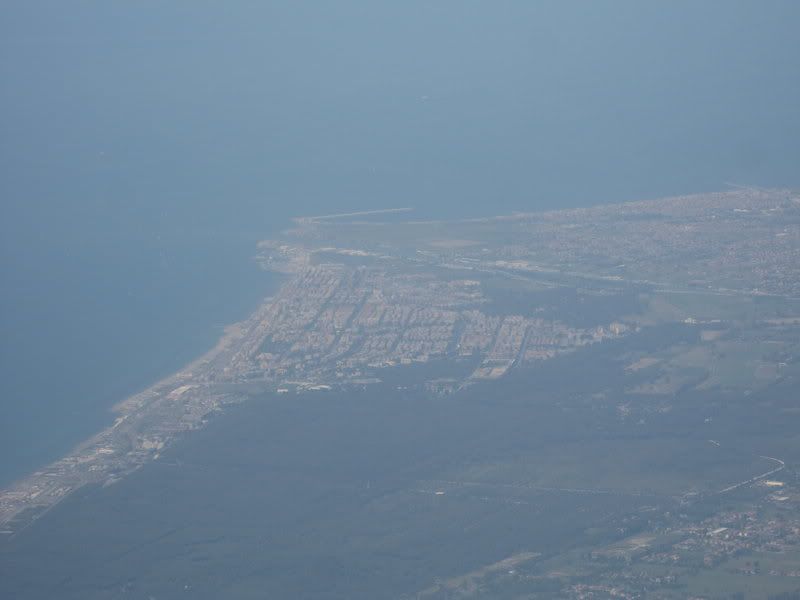 Pratica di Mare Air Force Base - the largest one of the Italian Air Force: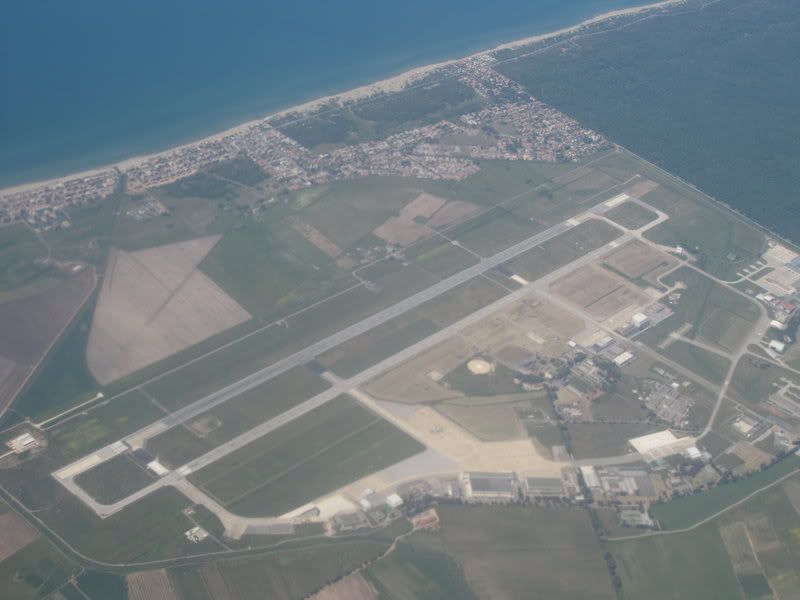 Nice beaches - notice the water park on the right. Would love to be there with fighter jets taking off nearby: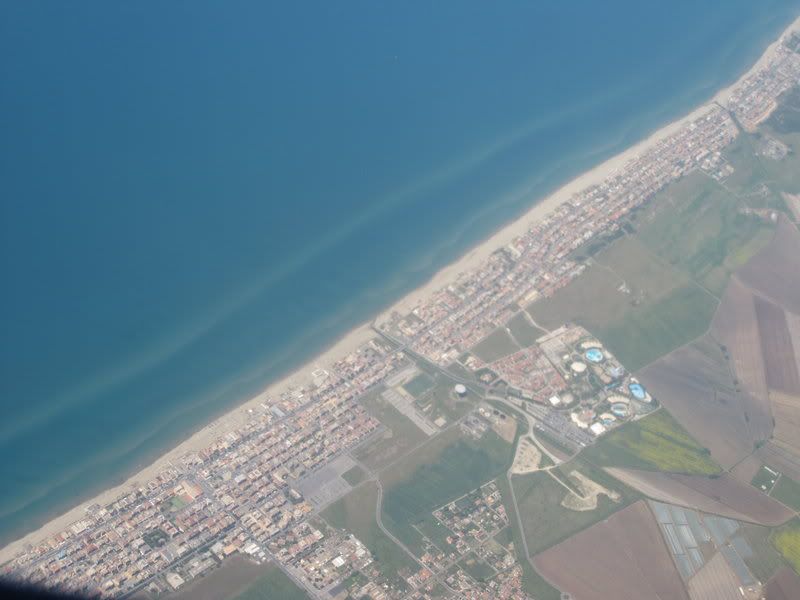 This flight affords some great views with the clear, sunny weather. First we fly down the Tyrrhenian coast - this is the Ponza island (Isola Di Ponza):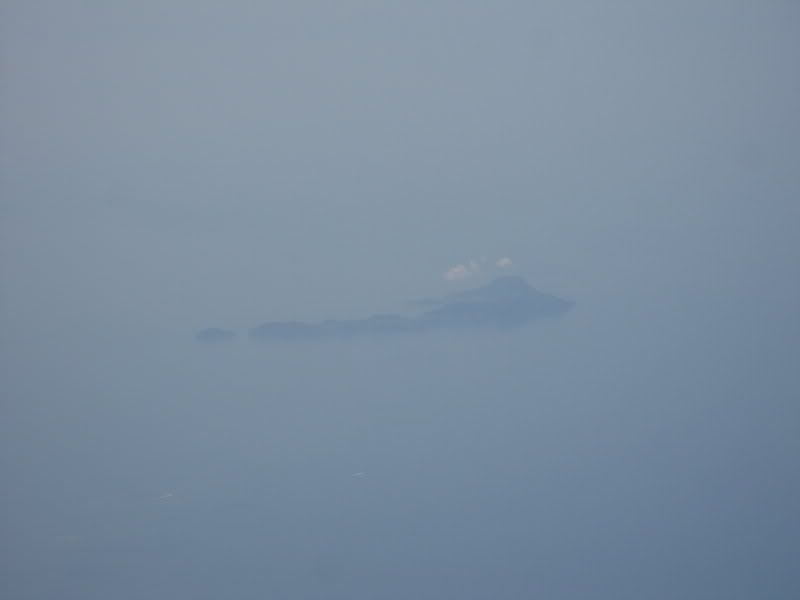 No, it's not a tax paradise and no, it's not home to any Ponzi schemes as far as I know
.
Gaeta, Formia and Torre di Orlando along the Gulf of Gaeta: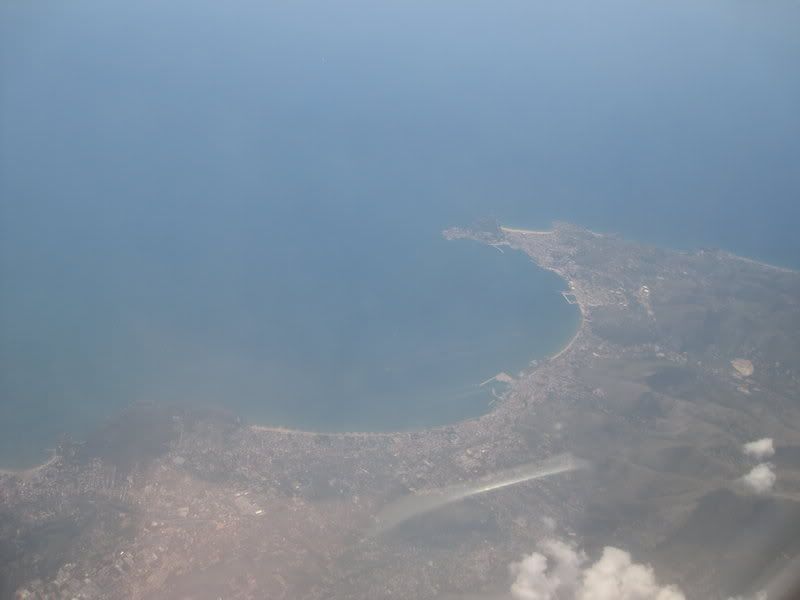 Just north of Naples a turn towards the left follows to point us directly towards Puglia. This is Grazzanise airport, some 30 kilometers north of Naples: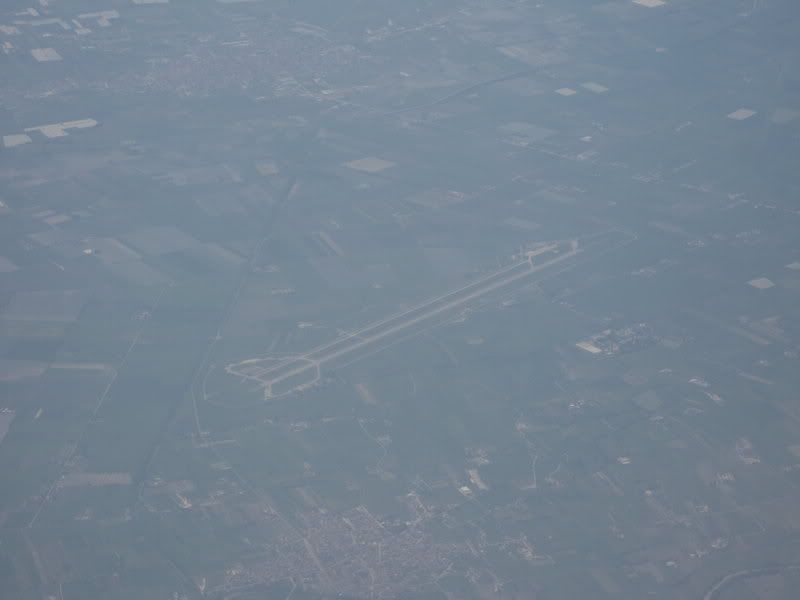 Northern part of the greater Naples metropolitan area: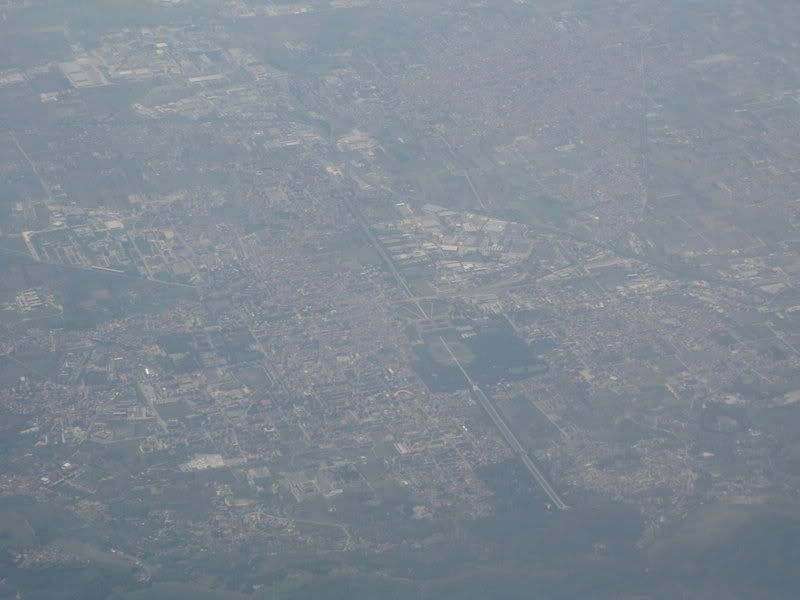 Soon beautiful, lush, green hills come into view as we cross the Apennines: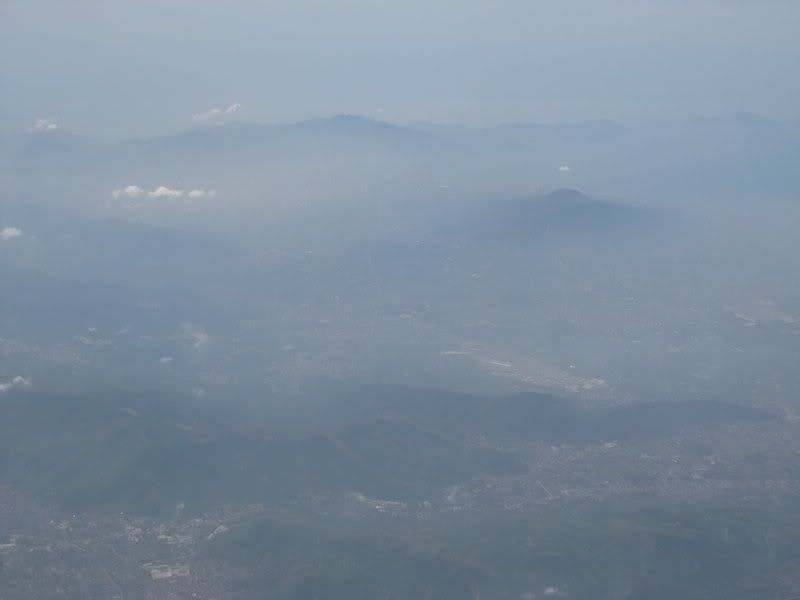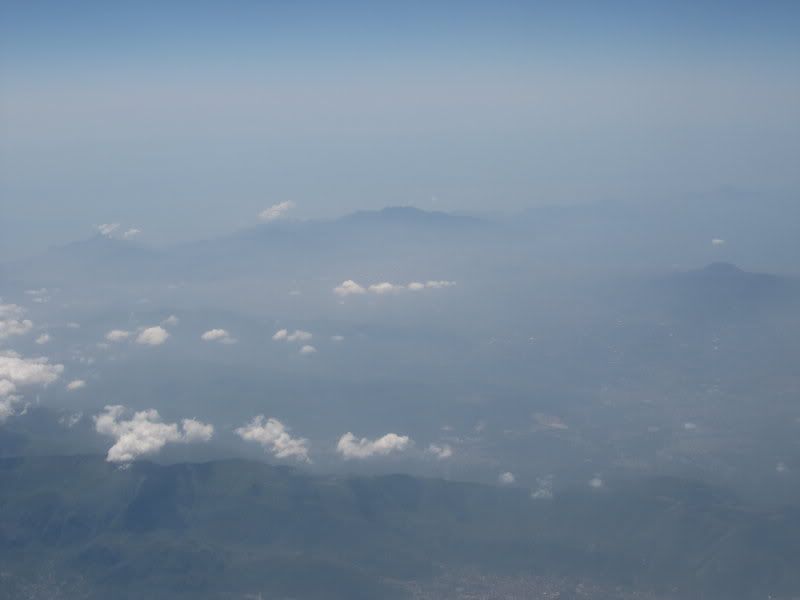 The BOB service must be the quickest ever on Ryanair, I think exactly one person buys some coffee and that's it. Well, the "duty free" (anything but) service takes considerably longer as quite a few ladies seem to be interested in the perfumes they have.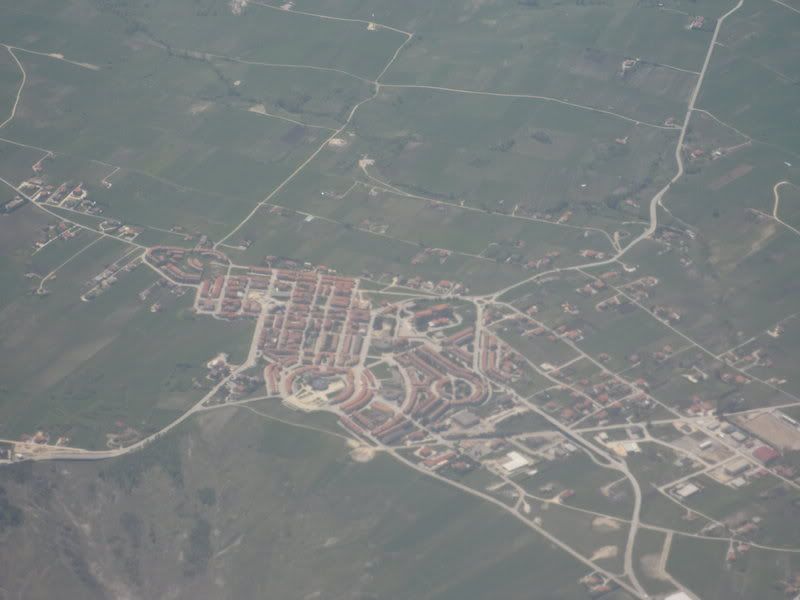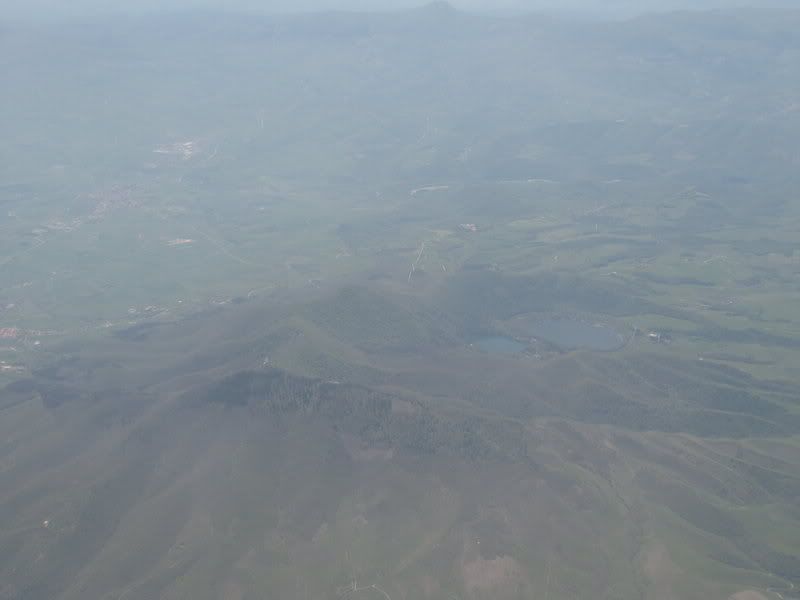 25 minutes after take off the seat belt sign is switched on again and we commence our descent. I think those things make electricity out of sunlight: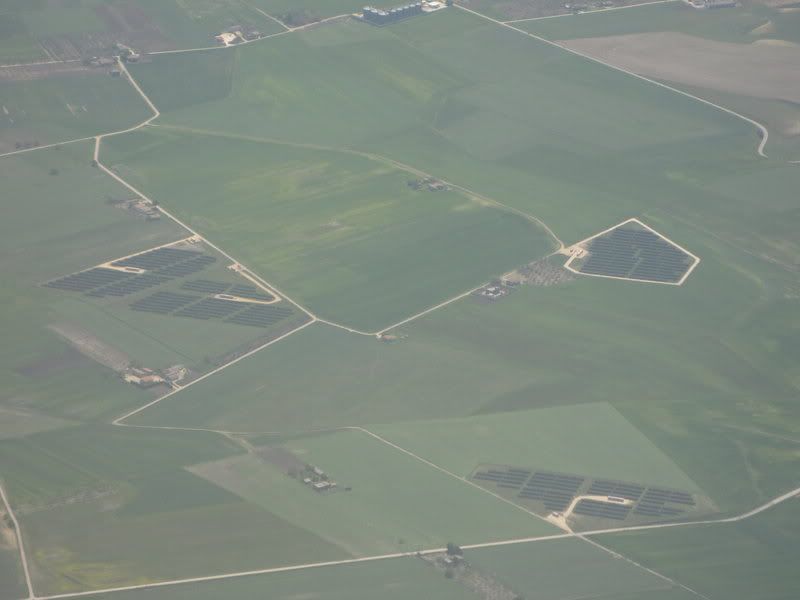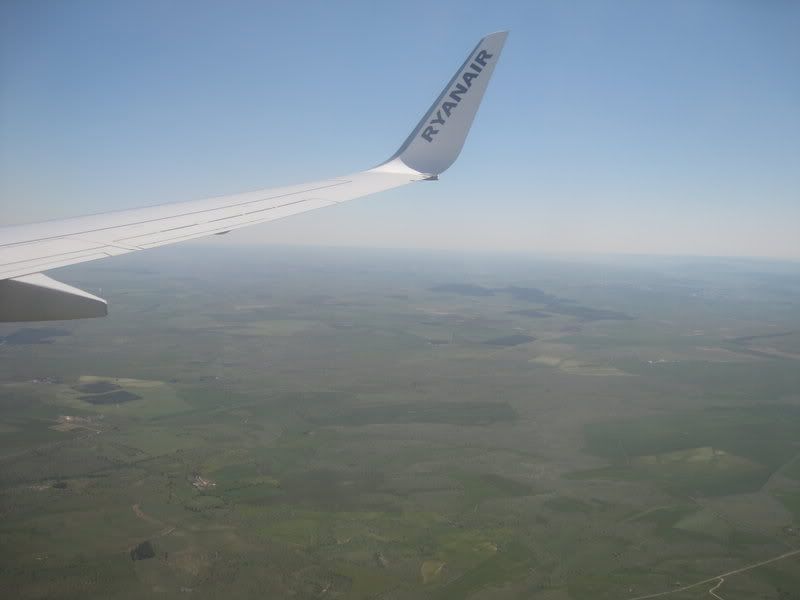 I've never seen so many olive trees before - this region must be a top producer: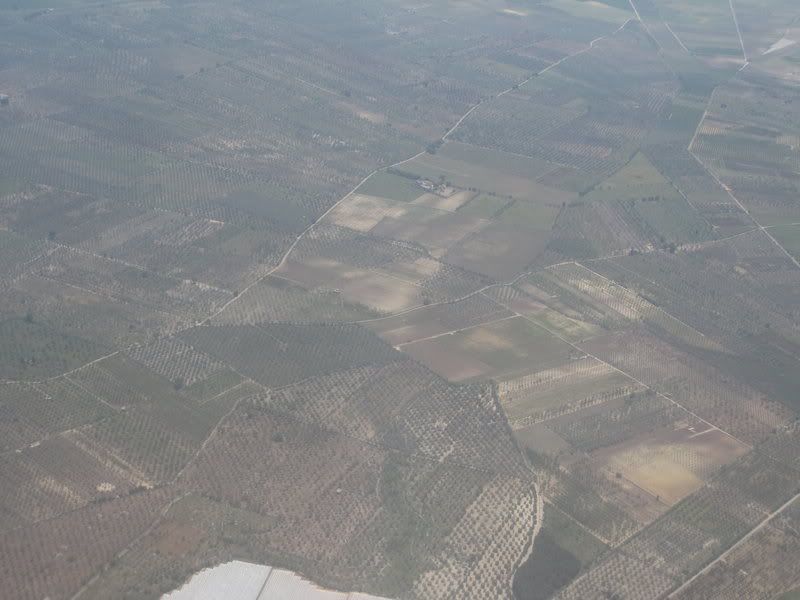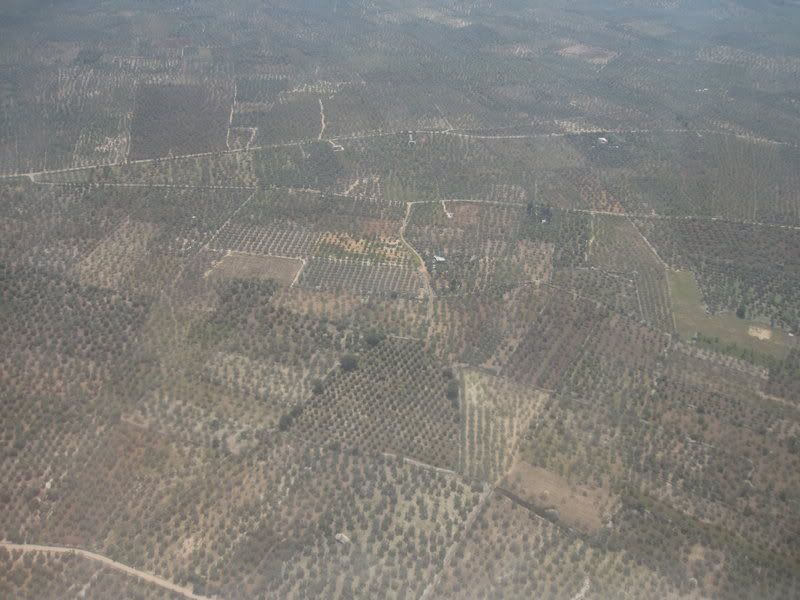 Soon the olive groves give way to urbanization: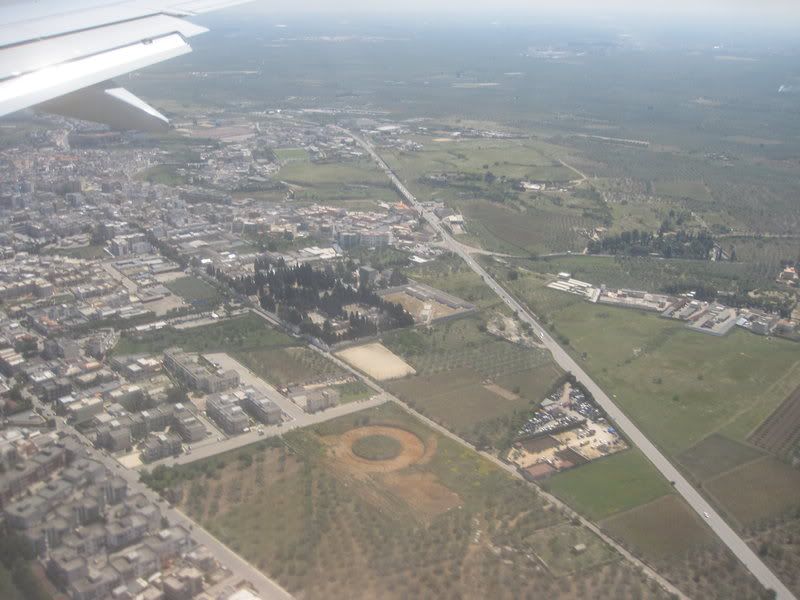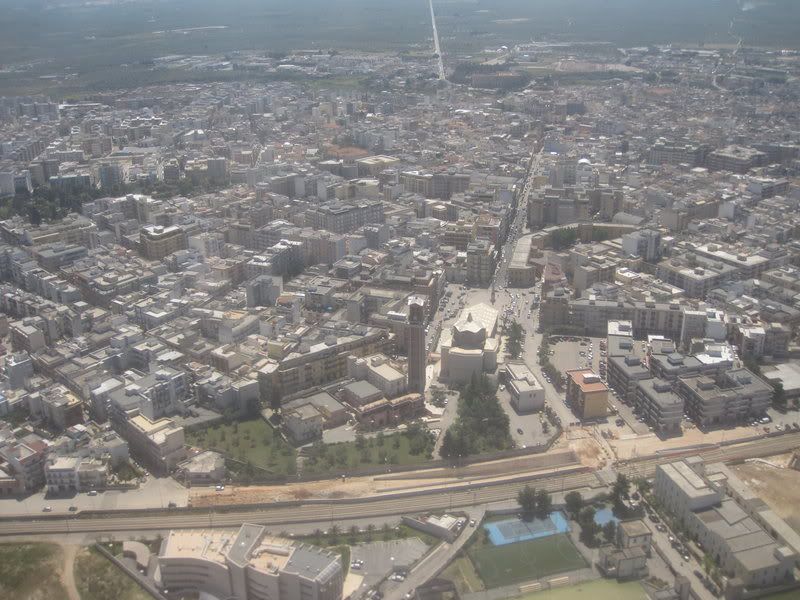 The weather is gorgeous: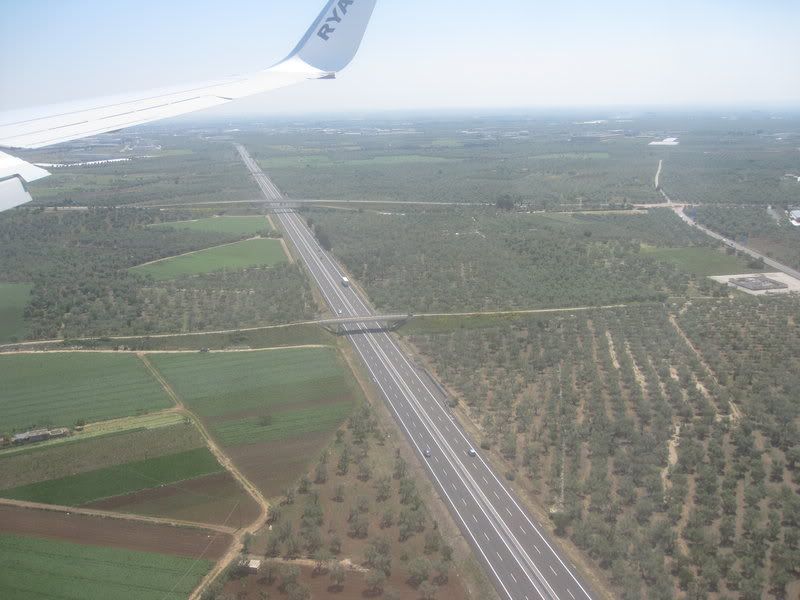 Looks like they are building a rail connection to the airport: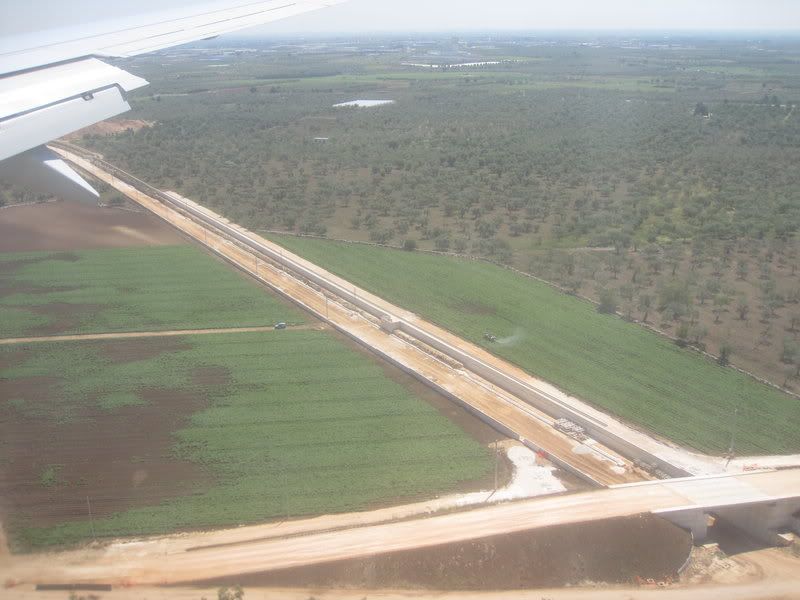 We touch down quite hard on runway 07 after just 39 minutes of flight time.
This picture reminds me of some old Iron Maiden lyrics "Sunlight, falling on your steel..." (although it would be aircraft grade aluminium in this case):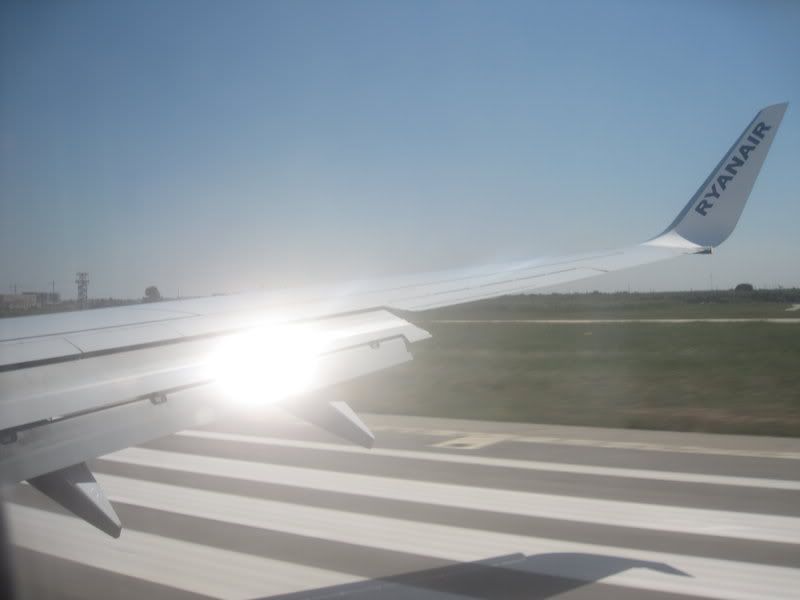 I bet the Skiteam is not here for skiing today: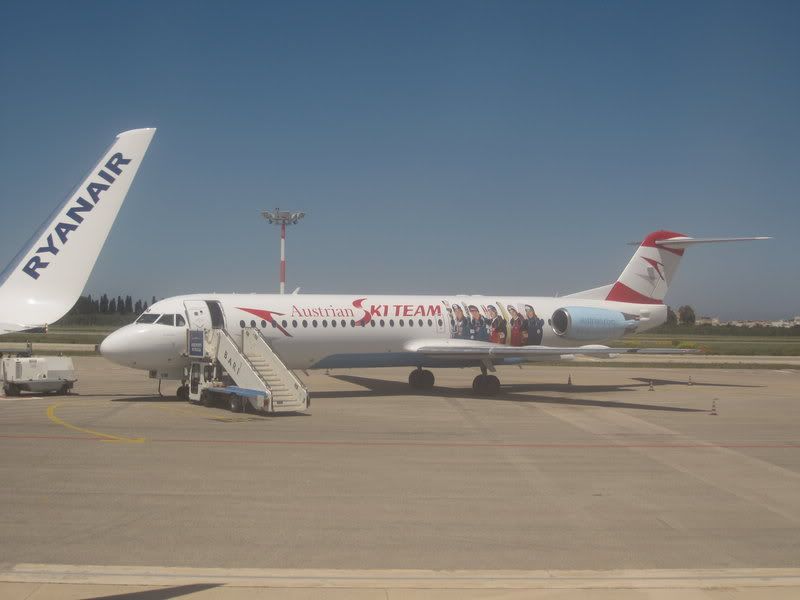 I should be flying one of these babies in August: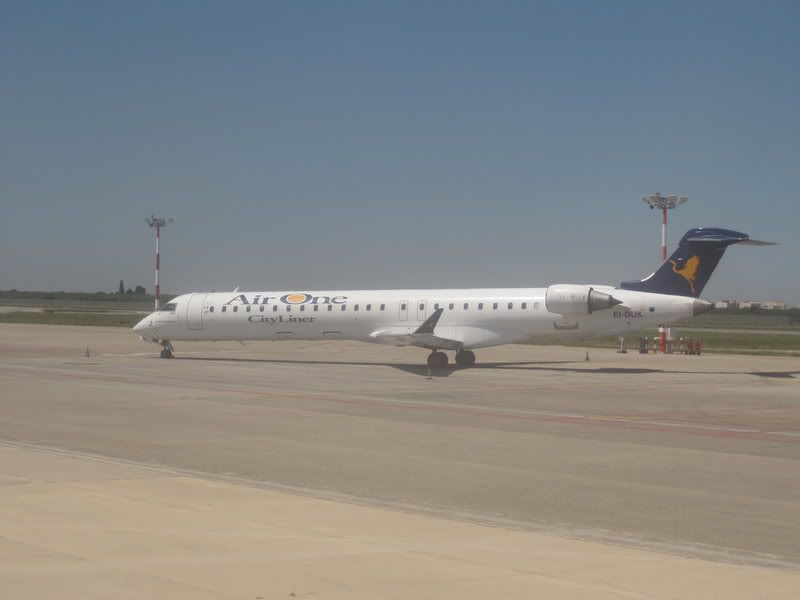 AZ from Linate and BA from Gatwick: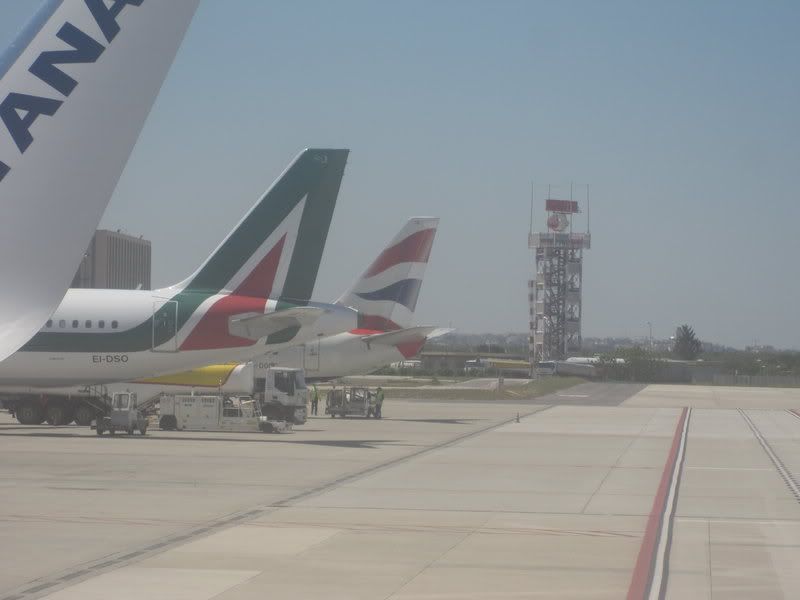 Wizz looking great in the sunshine - who's that behind the Air Italy 757?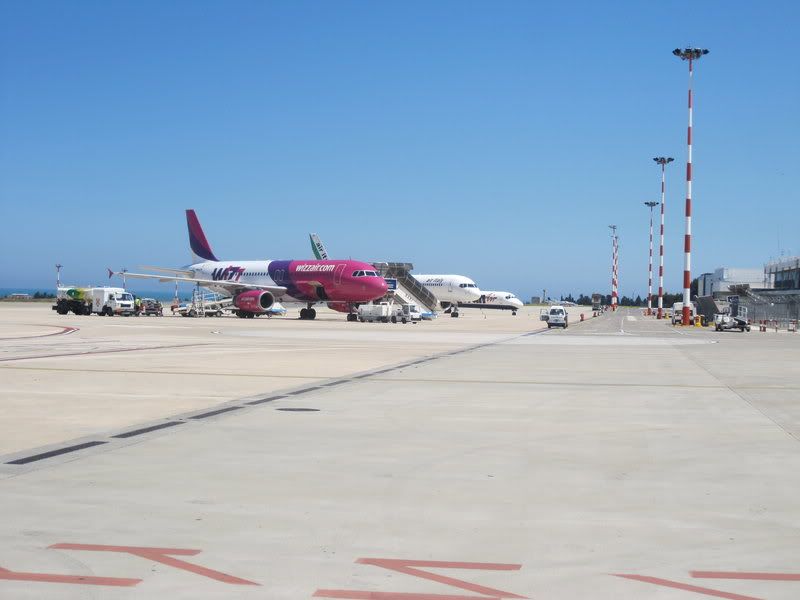 Oh, it's JetTran Air - never heard of 'em before: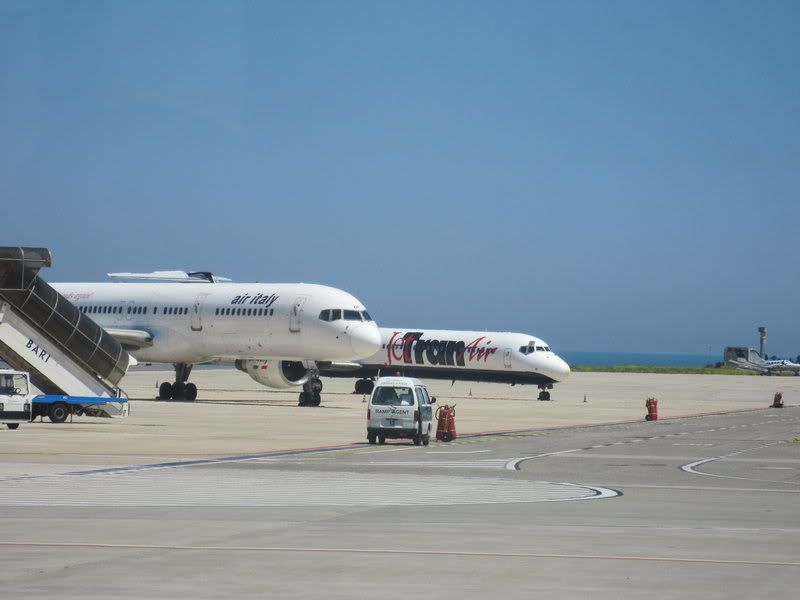 Bye:
An FA definitely sees me taking the above picture, but doesn't say anything. However an Asian guy snaps another shot right after me and she proceeds to yell at him that taking photos is not allowed - do I look that intimidating or is she just being racist?
Another short bus ride and we are free to enter the terminal, a new one constructed in 2005 and surprisingly nice.
Bari
I just miss the public bus to the city (which at around 90 cents offers unbeatable value!), and the next one is around 50 minutes away so decide to take the express shuttle service, which costs a bit over four Euros, goes to the same place (the main station) and is only marginally faster. Well, it turns out to be quite a frustrating experience - for some reason the driver collects money from all the passengers individually, which is dog slow. As a bonus point he somehow decides to ignore me, and despite me waving a 5 EUR note at him he never charges me so I get a free ride in the end. Then again I get what I pay for - the half hour ride is absolutely miserable, the minibus has the worst legroom I've ever experienced in a bus and is completely packed, with a rather burly man sitting next to me...
Finally we reach the train station and I'm freed from my agony. The "new" part of Bari is quite boring and sterile, so I head towards the waterfront and the old town which is much nicer.
Bari Centrale: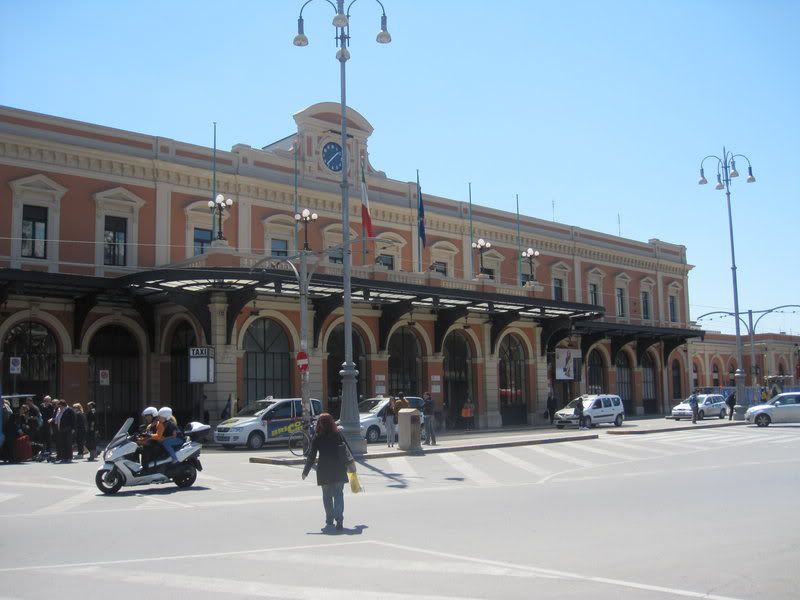 The university: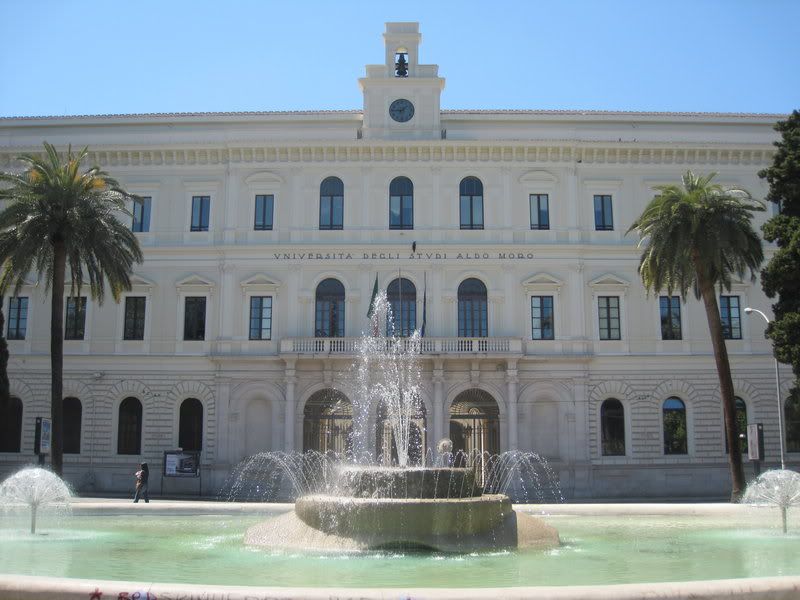 Dedicated to all you Nespresso fans: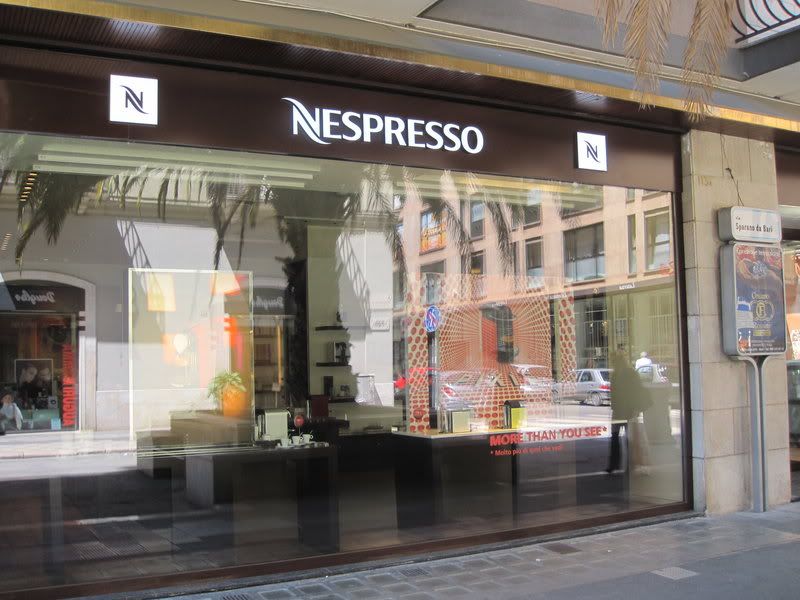 "Pleasure's a sin, and sometimes Sin's a pleasure":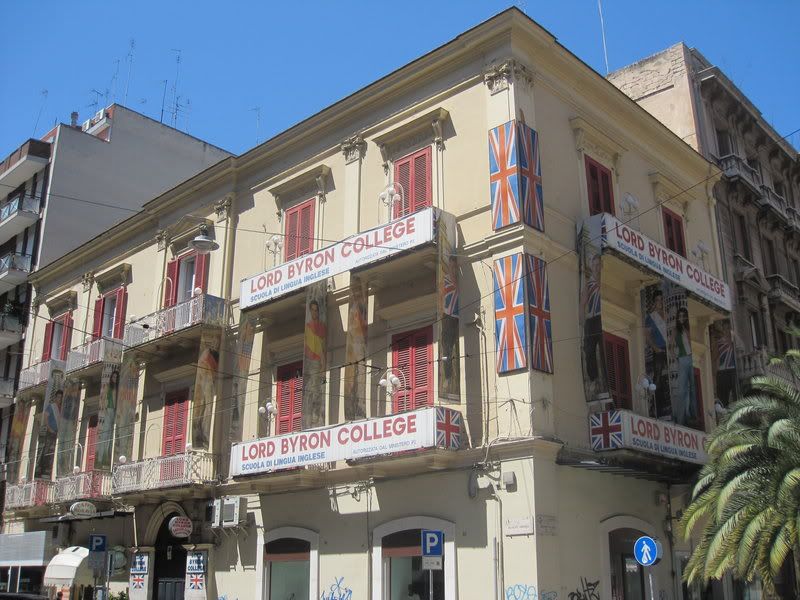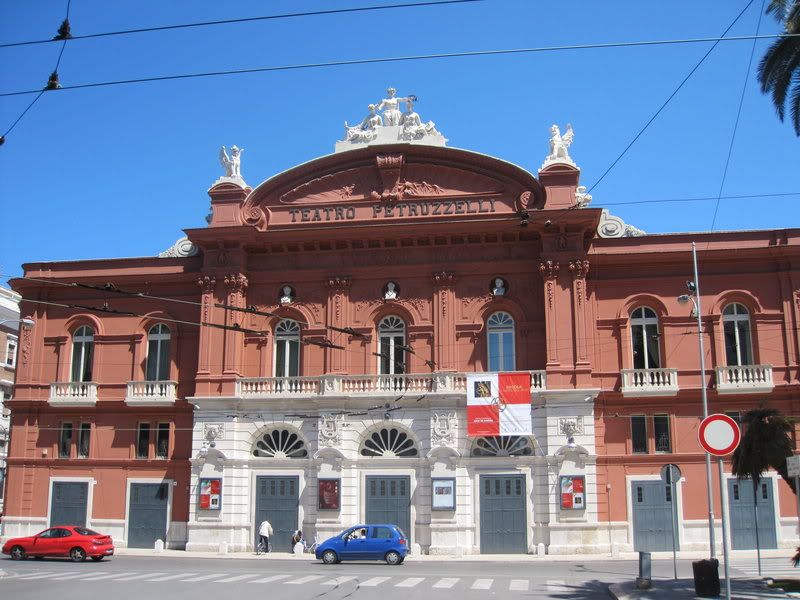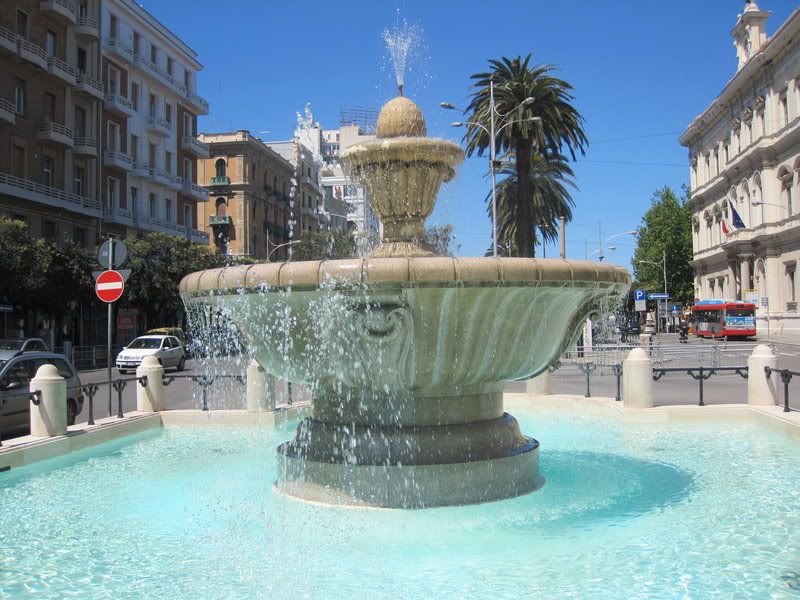 The covered area that can be seen in the background reeked of fresh fish - the fish market had just finished and all the fishermen were sitting around, drinking beer: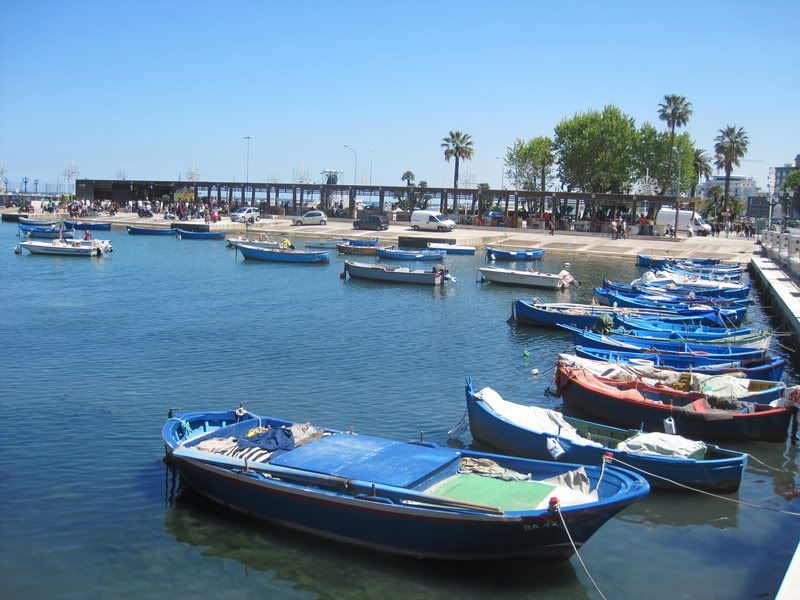 Extremely fresh and yummy: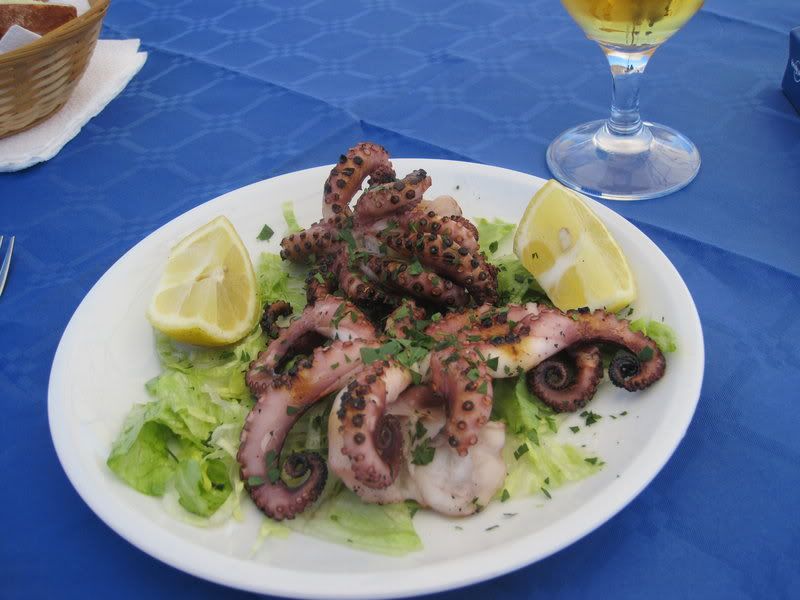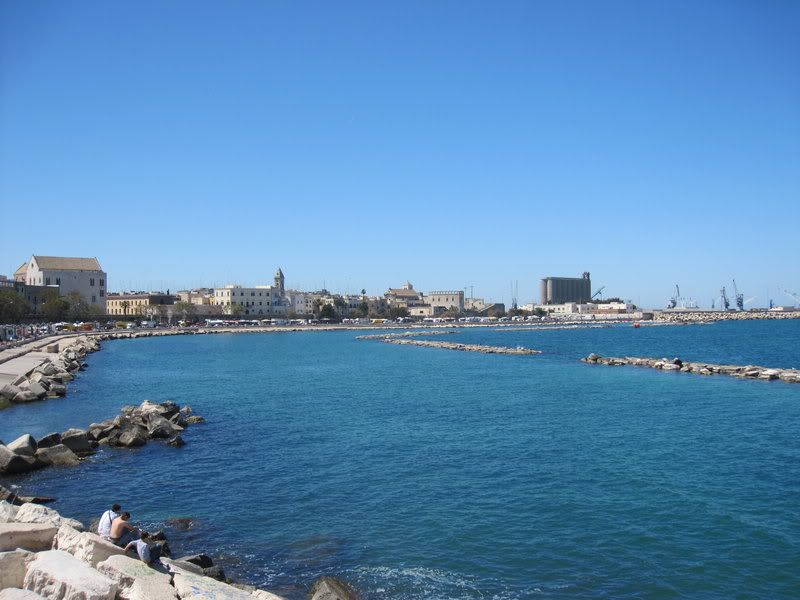 I don't think he's going to get much tan that way: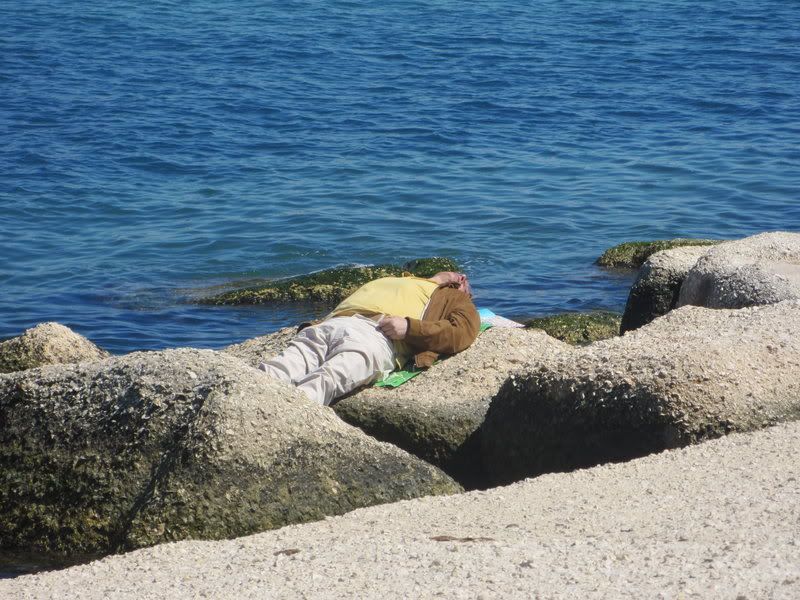 When I first saw this:
… I was thinking that these guys must be really lazy to still have their Christmas decorations up in May. But then I saw these fair stalls all around:
… and realized that something was up. Some consultation to my Lonely Planet book and it turned out that Bari is actually the burial place of St. Nicholas (or more familiarly: Santa Claus) or what is left of him (the remains were brought from Turkey of all places to here - everybody knows's that Santa is Finnish so maybe the Turks stole them from Finland!). More importantly this very weekend hosts an annual fair where he is celebrated - so all this is connected to it (see - Santa Claus - Christmas decorations - so clever!). Looks like once again I've stumbled upon another local festival - completely randomly of course! I seem to have a habit for this (or maybe I just should do my background research a bit more diligently!).
The whole festival is actually quite my kind of one - all along the stalls there are people selling ice cold beer from ice boxes for 1 EUR a bottle - I could spend a whole day here and not spend any serious money...
This is the church where the remains are buried in: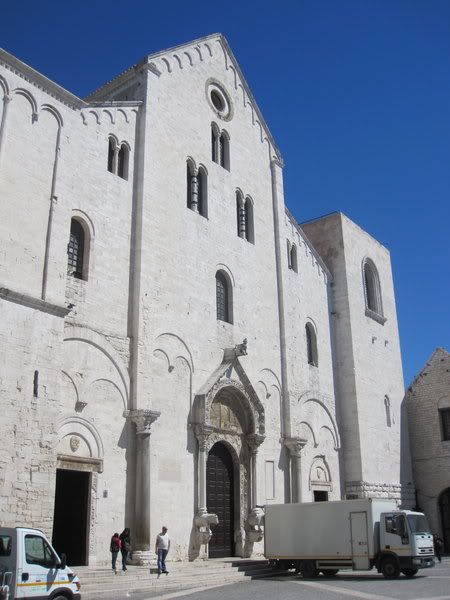 The man himself - is he giving out a Victory sign: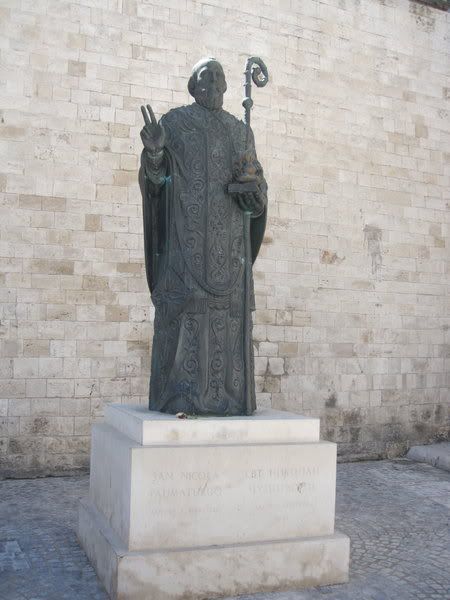 Sticking out of the church wall - gives a whole new meaning to the expression "Holy cow":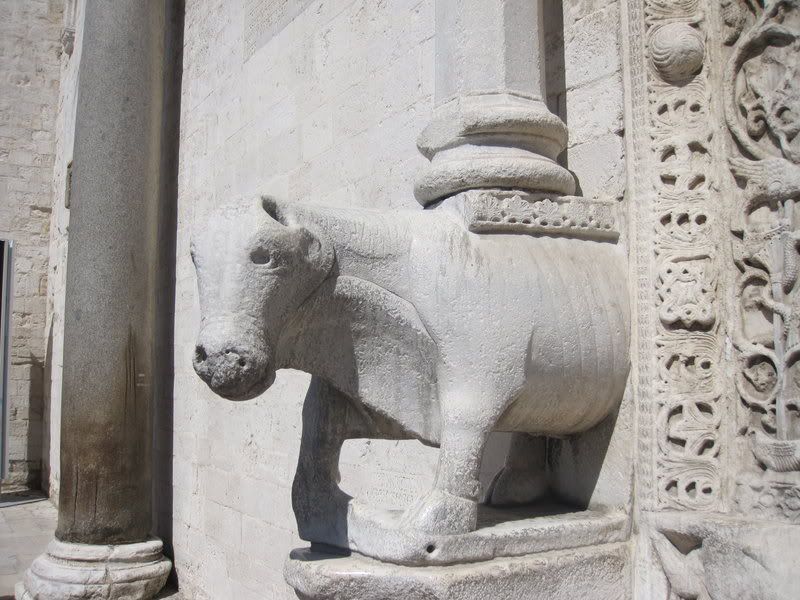 Narrow lanes in the old town: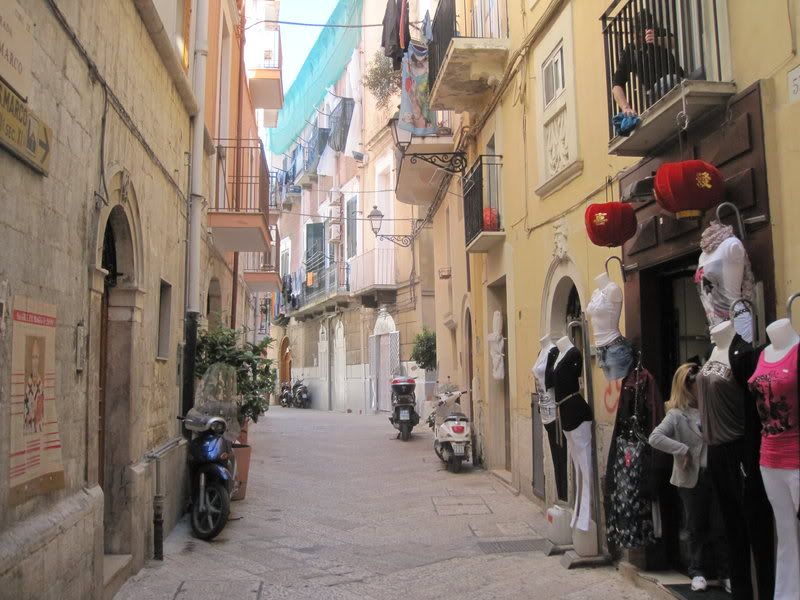 All part of the celebrations:
It is quite hot: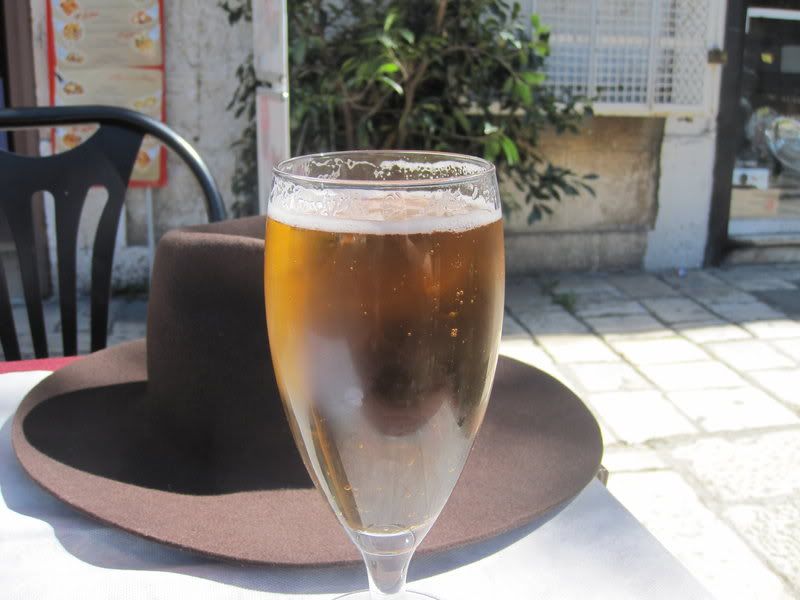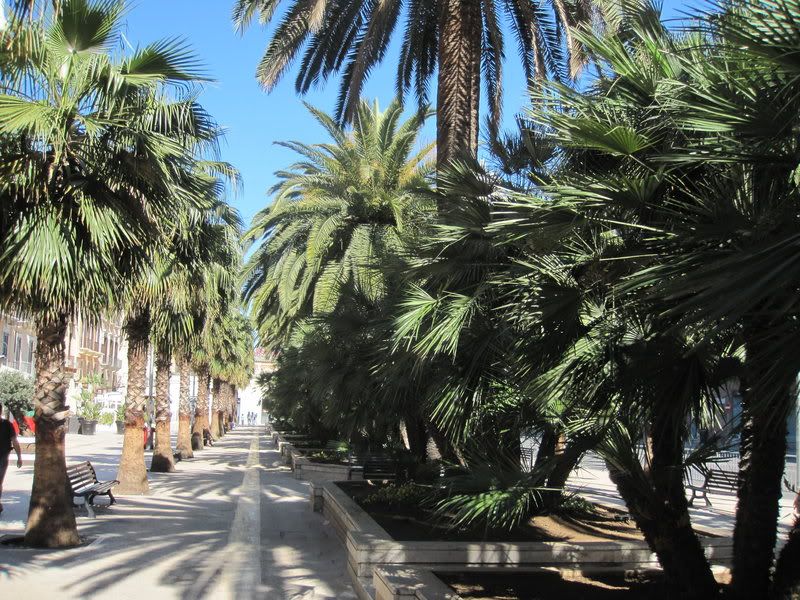 Eventually I get back to the station, again I just manage to miss the public bus so it's another shuttle ride for me, this time the driver charges me properly upon entering the bus. I have just settled in my seat when I hear some loud jet engines nearby, and glancing out of the window I see this: