This report is dedicated to fellow a.netter Sandeep Das (AI151) whom has passed away on 20th May 2011. RIP Sandeep.

For more details about my trip to China, please refer to the follow trip report which dictates my outbound flight from Singapore to Shantou.
Flying The Orange Star Monopoly - SIN-SWA On 3K (by initious May 18 2011 in Trip Reports)
Introduction
China Southern Airlines is one of the largest airlines in Asia and forms the "Big 3" of Chinese airlines together with Air China and China Eastern Airlines. Back in January 2011, the airline reached a milestone by becoming an official
Skytrax rated 4-star airline
. However, complaints for the Chinese carrier were still streaming in and some were not convinced that the airline should get a 4-star rating.
China Southern operates a wide variety of Airbus and Boeing from the A300, A319, A320, A321, A332, A333 and the upcoming A388 to the B733, B73G, B738, B752, B772, B77E and the upcoming B788 in addition to a small fleet of ATRs, Embraers and McDonnell Douglas. It is a dream airline for aviation enthusiastics alike to sample various types of aircrafts although the onboard service might not be the dream kind of service one would expect. The airline's main network is flying domestically in China. Besides having a large hub at Guangzhou, it also maintains a smaller hub in Beijing with focus cities in Changsha, Changchun, Dalian, Hangzhou, Shantou, Shenyang, Shenzhen, Urumqi, Wuhan and Zhengzhou. The "Southern" name does not apply to the airline anymore as it has networks spread throughout the whole of China. This also means that you can fly with China Southern from almost any first-tier or second-tier city in China.
I decided to give the carrier yet another chance to prove themselves to see if they really deserve a 4-star rating. They tout themselves as "your home in the skies" although I have never felt that day and have always wished that my flights with them will end as soon as possible. Despite all that, they manage to offer good fares for domestic flights in China which made me fly them time and again, causing them to become my 3rd most flown carrier behind Thai Airways International and Singapore Airlines.
This report will cover China Southern's service on the short route from Shantou to Guangzhou. This intra-province flight is popular among locals as it provides a link for Shantou citizens to connect to the various international flights that China Southern offer out of their main hub.
Due to the huge amount of people travelling between both cities, locals will usually choose to take a bus over a plane as taking the bus only costs 110 yuan while flying may cost anywhere from 400 to 1000 yuan. Not forgetting to mention, the average salary of Shantou citizens are just around 4000 yuan.
Join this crazy foreign man that chooses to fly on this short route between Shantou and Guangzhou. At the end of the report, I will also give a verdict if China Southern deserves a 4-star rating based on this flight and my previous experiences.
Booking Process
Booking was again done on
www.ctrip.com,
where I always engage them to book domestic flights in China as their fares are pretty attractive. Since China Southern operates both the Boeing 737-300 and Boeing 737-800 on this route, I wanted to get on the Boeing 737-300 which flies majority of the routes except for the 2nd last flight of the day.
The flight was booked quick and easy. I was issued with my e-ticket a few minutes later for CZ 3857 departing Shantou at 5.30pm and arriving at Guangzhou at 6.30pm, just in time to join my relatives for dinner in Guangzhou. A few days later, I was met with an email stating that CZ 3857 for the day was cancelled and I was booked on CZ 3859 departing later in the day at 9.10pm which happens to be the only Boeing 737-800 flight of the day. Of course, I declined that offer and enquired if I could change to CZ 3581 departing at 4.40pm instead and that request was settled within a day. This has got to be the reason I am ctrip's loyal customer.
My Life in Shantou
Shantou is still a very unfamiliar city to many a.netters. It is a city located just 400km east of Guangzhou although in reality the lifestyles of both cities are completely different. Shantou citizens take the motorized tricycles which resembles that of Thailand's
tuk tuk
to work or school which is a sight that is not seen in any major cities in China. Besides that, they also take the conventional transportation like taxis and buses. However, you will not find any metro in the city; all transportation modes are on the road.

Wonderful home cooked meal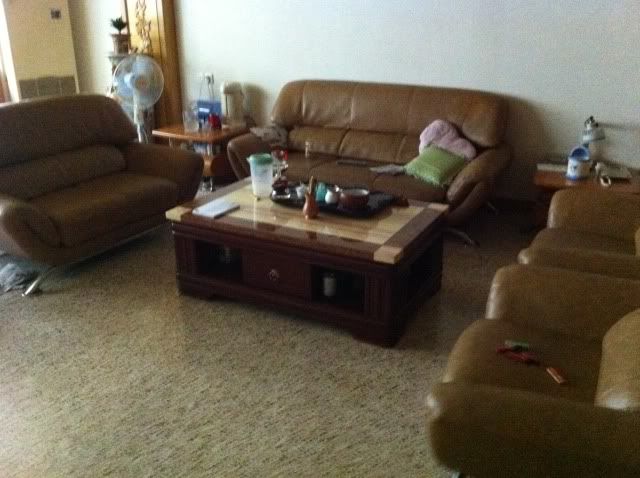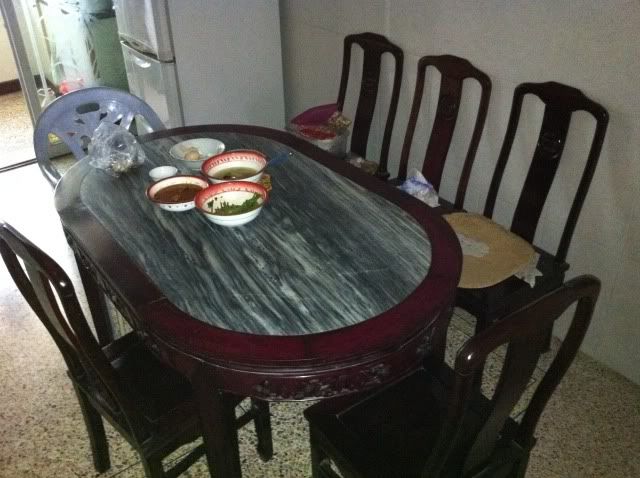 The house I stay in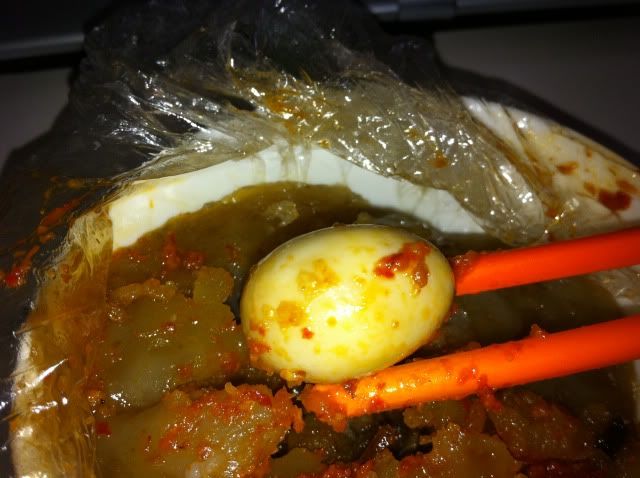 A local delicacy. It costs only 3 yuan (0.46 USD) for this whole packet and it consists of delicacies such as quail's egg and prawns!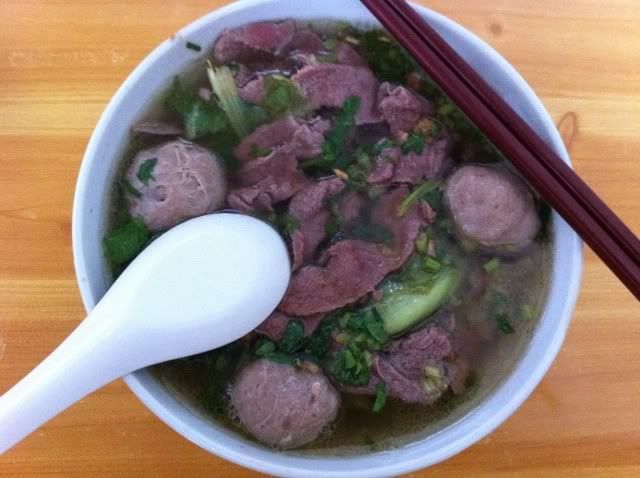 Beef kway teow, another delicacy. A big bowl for only 5 yuan (0.77 USD)!
Supermarkets may be aplenty in the modern cities we are used to but Shantou citizens will rather visit the wet market and conventional stores to get their daily necessities much like in the olden days. Restaurants are considered a rare treat for most citizens and they choose to visit shops that are family owned which gives a sense of home and the prices are cheaper.

A local family owned eatery
I had the privilege of staying in my relative's house for my 10-day stay in Shantou. What made me keep coming back here was the wonderful home cooked food and Teochew dishes that I do not get to savour in Singapore plus the wonderful atmosphere of having dinner together with your family members. Sit back and relax as I bring you through my journey in Shantou, China.

This madam has big guts. Her house is on the fifth floor!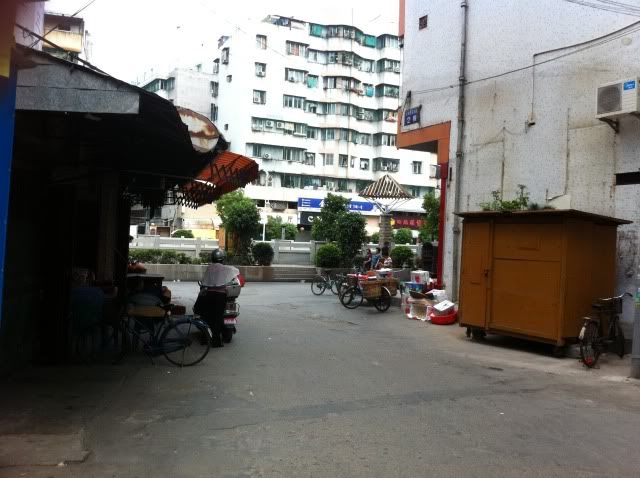 Shantou surroundings. Notice how different it is from the likes of our modern cities?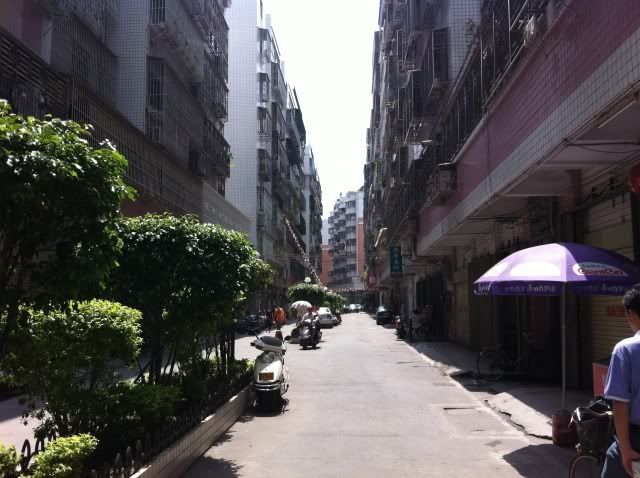 The way home



Almost all flats are equipped with this for security reasons
Shantou Waisha Airport
Shantou Waisha Airport is by no means a modern airport. Right after reaching the airport, you can feel that it is in the 1980s with old style decorations. Check-in counters are indicated by the red marquee texts showing the flight and time when the check-in for that particular flight will be closed. The only modern gadget in the terminal would be the 4 China Southern self check-in machines located right at the entrance.

CZ check-in machines
I got dropped off at the airport at around 1.30pm just after lunch which was 3 hours before my flight. A quick farewell later, I was left all alone to wait at the airport. As I stepped into the domestic departures hall for the second time, I can't help but to notice the huge difference between this airport and the other airports I have been to. What greets you is a stall selling some traditional tea sets and books and a small café on the other side which is only just as big as a hotel room.
I decided to check in using the self check-in machines to print my boarding pass and choose my seat first. To my astonishment, the row number starts from row 31 which made me think if CZ has sent an A330 or B777 as a substitution. However, the configuration remains as 3-3 so I believe it is still a B737. To test the ground staff's reaction, I decided to head to the small ticketing counter located at the other corner of the airport to enquire about an upgrade to Business Class for the flight although I am sure that the B733 is in all-economy class layout. As I expected, the ground staff were uninterested in providing information and answers were given with their eyes on their computer monitors like it will be stolen if they take their eyes away from it for just a second.

My boarding pass
After getting my boarding pass, I decided to explore the airport further. As you head further into the airport, you will arrive at the mini domestic arrivals section which is linked together with departures, unlike most airports where both are at different levels. A small duty free shop is present selling the usual but with some uniquely China potteries and tea sets.

Link between domestic arrivals and departures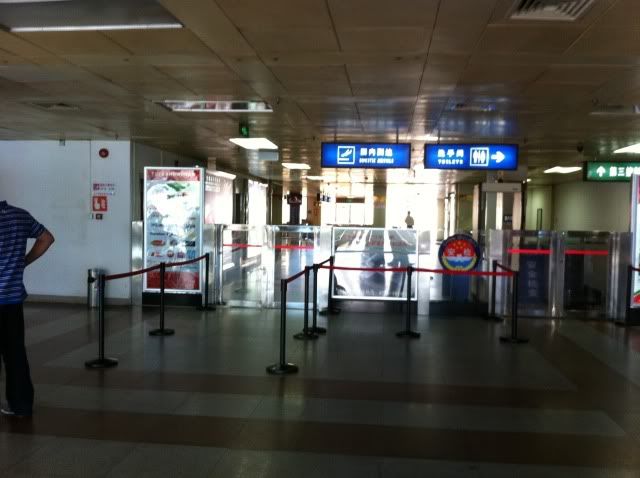 Where I arrived last time



The proposed airport that is opening in 2014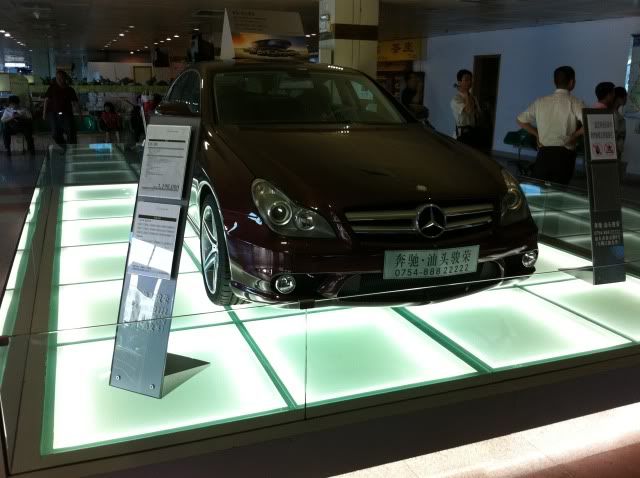 Selling a Mercedes in the airport. Any takers?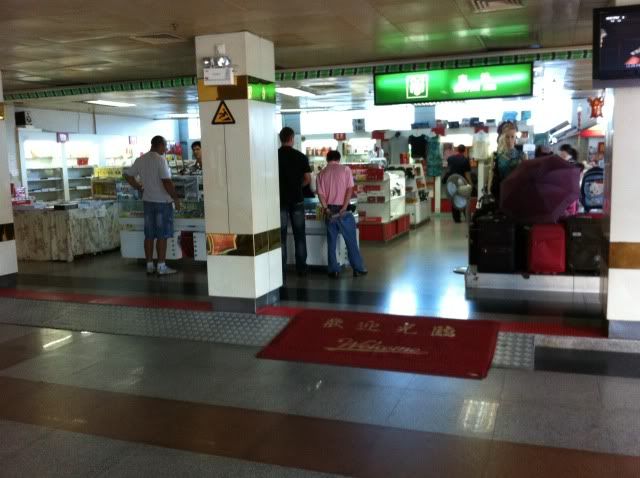 Duty free shop
The timeframe between lunch and dinner time seems to be the rush hour for the airport with several flights departing close to each other. Despite being my 4th time flying through the airport, I have never seen such a crowd in the airport. The PA was kept busy announcing the check-in, boarding and last calls for various flights to domestic destinations. The international terminal, on the other hand, was not even open due to the lack of flights today.
To help pass time, I went to the mini café at the corner of the airport to sit down and have a drink. I also tried searching for a wifi network but to no avail. Despite being small and unattractive, the prices in the café were expensive. A small 350ml bottle of orange juice that would have been sold for 3 yuan (0.46 USD) is being sold for 15 yuan (2.31 USD) here! However, I had no other form of entertainment so I just decided to sit by and let the time pass by.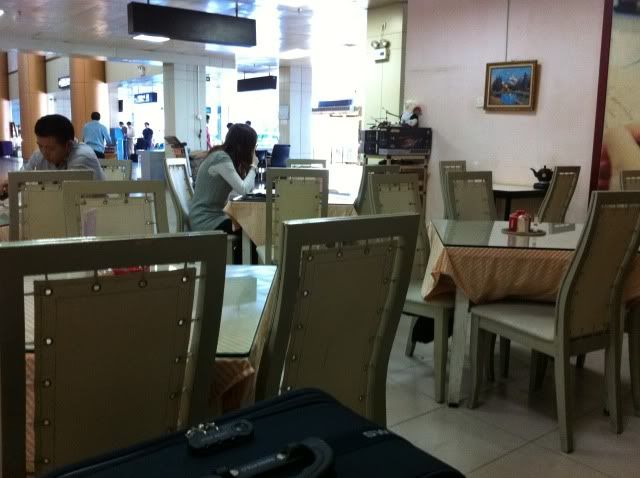 View from my seat in the café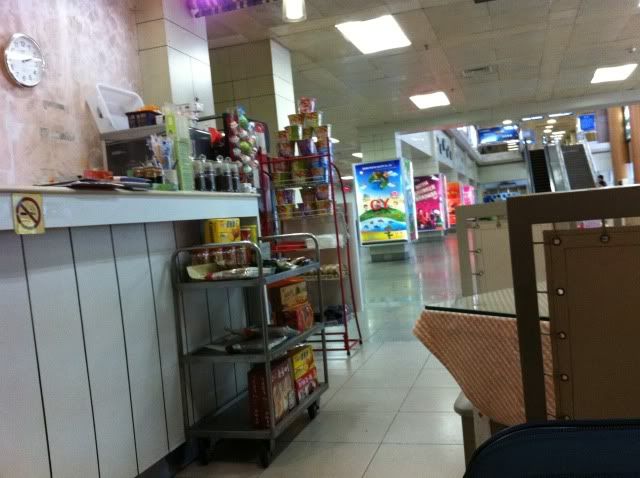 Food and snacks on sale
After more than an hour in the café, I decided to walk around the airport as check-in will open in just 30 minutes. However, being such a small airport you can finish walking the whole domestic terminal in just 3 minutes which left me standing by the check-in counters and waiting for check-in to open while watching the action going on. Lots of Chinese were queuing up for flights to various destinations like Shanghai, Beijing, Changchun and Wuhan… etc.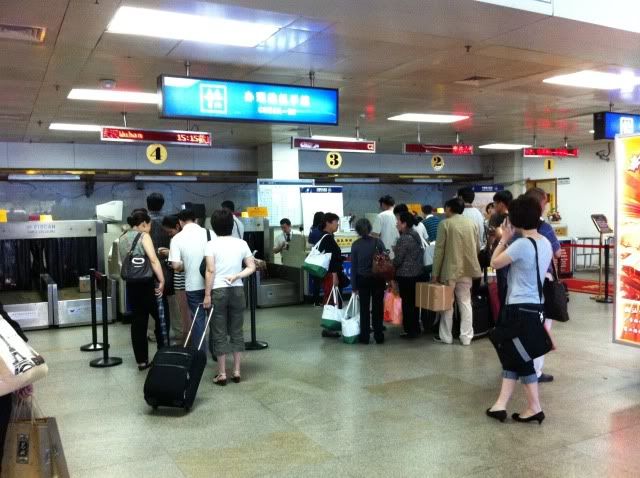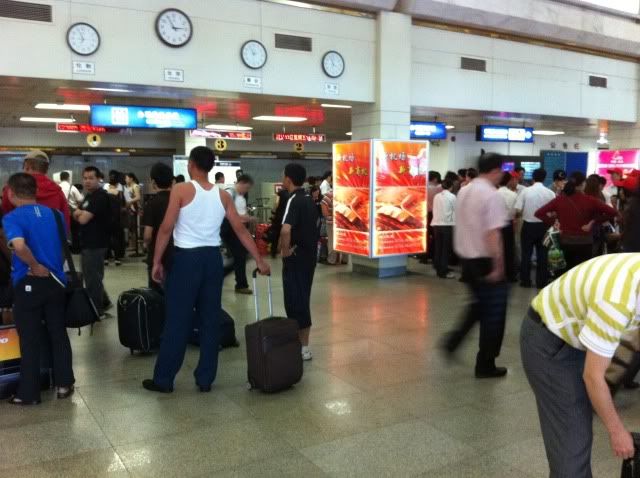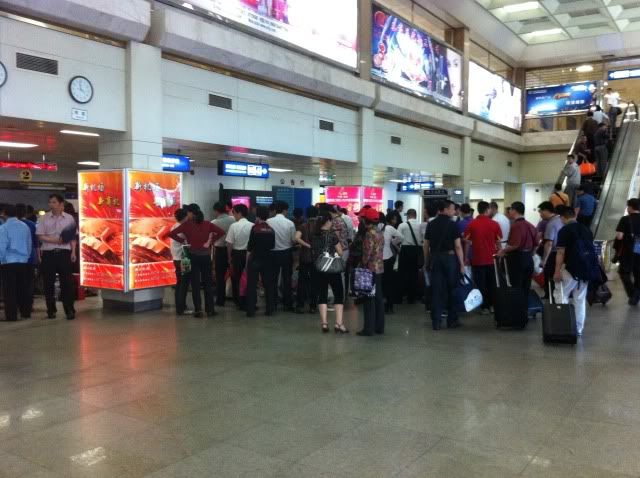 Queuing for check-in
I guessed that counter 4 will be assigned for my flight as the check-in for the previous flight closes at 3.15pm and my flight check-in opens at the same time. Sure enough, the check-in was opened and I made a beeline to the check-in only to be beaten by 3 other passengers by 2 seconds. Man, they are sure very fast! However, the agent was fast and I got my baggage checked-in within 3 minutes.
Since there was absolutely nothing more to do landside, I decided to head airside for more exploration since I did not have the chance last time.
[Edited 2011-05-21 07:19:39]
[Edited 2011-05-21 07:25:36]