College Search: JNU-KTN-SEA-PDX-SEA-JNU on AS and QX
Background
As a junior in high school, the time has finally come for me to decide what college I want to go to. The best way to do this is to actually visit the colleges, but living in a town with no roads to the rest of the country can make it an adventure. Of course, when that adventure means flying, I have no complaints.
Tickets were booked on Alaska Airlines' website during their PFD special. Alaskan residents get a yearly check of about $2000 from the Permanent Fund Dividend. This was set up when our oil pipeline was built to share the wealth it generates with all Alaskans. Once a year, Alaska Airlines put up a sale for Alaska residents to try and get them to use their PFD to fly somewhere. I thought this would be the perfect opportunity to get out of the state and look at colleges. We decided to fly into Portland and start a road trip around Washington, Oregon, and a little bit of Idaho from there. With the tickets bought, I could hardly wait to begin the trip and, of course, finally have the opportunity to write my first trip report.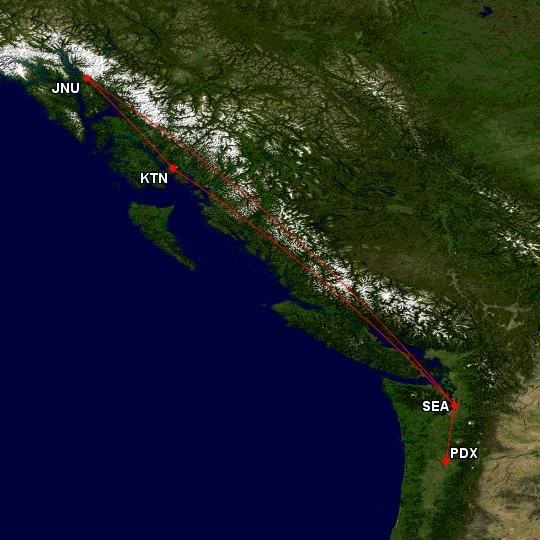 Copyright © 2004-2011 Karl L. Swartz. All rights reserved.
Saturday, March 19, 2011
Juneau (JNU) to Ketchikan (KTN)
Alaska 60
Boeing 737-400
N713AS
Seat: 10F
Scheduled: 7:15AM-8:15AM
Actual: 7:38AM-8:19AM
Flight Time: 41 minutes
Distance: 258 statute miles
Check in and security screening went smoothly. The Juneau (International) Airport has just been through a much-needed renovation; it looks much more modern and is also a little bigger. They also added a long-awaited down escalator! The security screening area is still a little cramped for my tastes, though I don't think I've ever seen a spacious one. As soon as we got through security, boarding was called for "Alaska Airlines Flight 60 with service to Ketchikan and Seattle". I quickly went over to the window to catch the registration: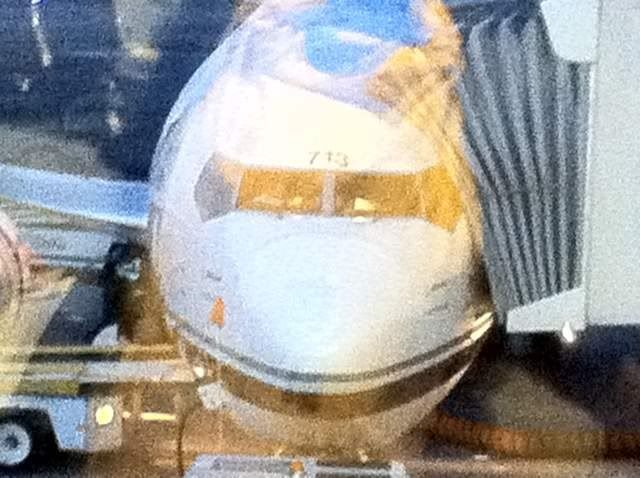 AS and QX both make it super easy to get the registration by painting it above the cockpit windows. It's much easier than trying to walk around the whole terminal to get the right angle! I don't think I've seen any other airline with this, does anyone know of any?
At 5 minutes before our scheduled departure time, someone made an announcement that the APU was not starting. I guess they got it started, because 5 minutes later, we were pushed back, de-iced, and the engines were started.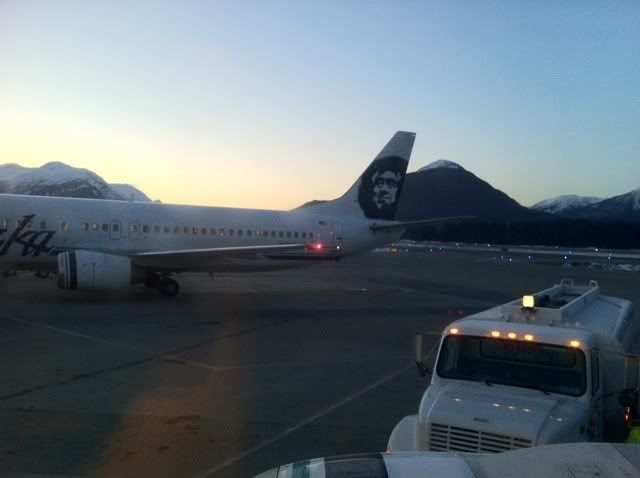 The taxi from the terminal to the Runway 08 end of Juneau's sole runway (we also have a float pond) takes just over a minute. Just before we turned onto the runway, someone up front came on and told us that we would be taking off from Runway 26 instead of the planned 08. We turned onto the runway and taxied its full length to the other end. The pilots tuned the plane around and quickly throttled up. The takeoff was quick and powerful; it was a light load down to Ketchikan this morning. Once in the air, we turned south and headed for Ketchikan. Shortly after passing through 10,000 feet and on our way to our 29,000 foot cruise altitude, a quick drink service began, with a choice of water, coffee, or orange juice. A small packet of cranberries, soy nuts, and pretzels was also passed out.
"What can I get for you sir?"
"Ah, just a water please."
"Ok, here you go."
"Thank you."
We shortly began our decent into Ketchikan, flying past it and approaching Runway 29 from the South. This was the first time I had ever landed on Runway 29 on a southbound flight, so it was certainly a unique experience. Click on the image below to view a video of the landing:
Ketchikan (KTN) to Seattle (SEA)
Alaska 60
Boeing 737-400
N713AS
Seat: 10F
Scheduled: 9:00AM AKST-11:55AM PST
Actual: 9:14AM AKST-11:51AM PST
Flight Time: 1 hour 37 minutes
Distance: 728 statute miles
The stop in Ketchikan was short, only long enough to let a couple passengers off and take on the new ones.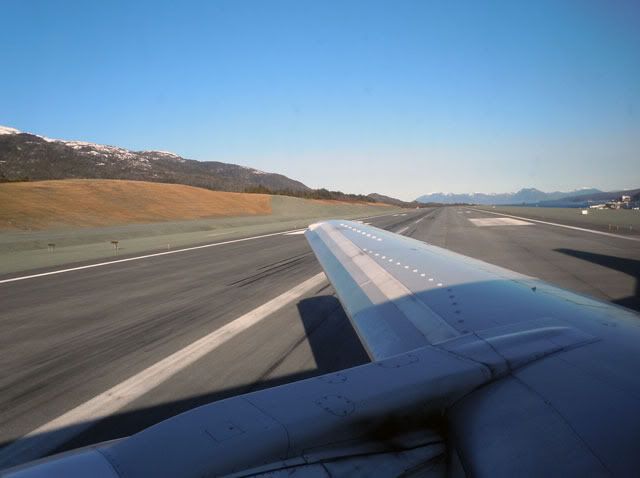 Click on the picture below to watch a video of the takeoff and the long turn South: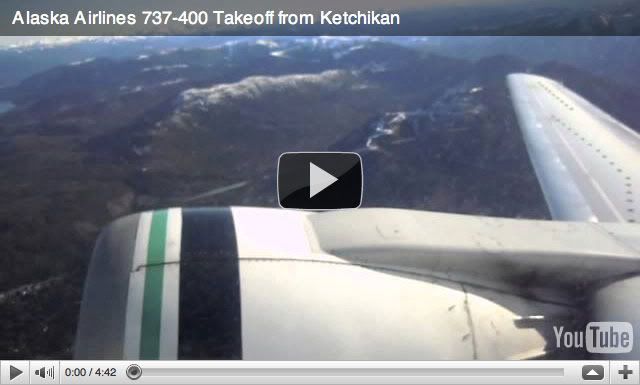 We were back in the air quickly, climbing through a little turbulence on our way to cruising altitude.
A full drink service commenced shortly after passing through 10,000 feet.
For the rest of the flight I read my book, as there was nothing to see out the window now due to clouds. We descended directly into Seattle and landed on Runway 16C. Click the picture below to watch a video of the landing:
Seattle Airport (Sea-Tac)
Sea-Tac has always been my favorite airport, especially airside. It's well laid out, with great access to the windows for pictures. After gating at D7, we walked to the Pacific Marketplace–also known as the food court–for lunch. Seating is always a huge issue here. Even when you're lucky enough to find a table, the seats are often missing. After splitting up and waiting for a table to open up, we finally found one, with four seats to boot. I grabbed a burger from Wendy's and sat down to eat. Other eating options include Anthony's Restaurant (upscale seafood cuisine), Ivar's Seafood Bar, Makai of Japan, Kathy Casey Dish D'Lish (upscale deli), Pallino Pastaria, Dilettante Chocolates, and Qdoba Mexican Grill. I like to get a pizza from Pallino's when we have more time. The one lovely thing about this area is the huge window-wall. The windows are tinted just enough to make looking through them pleasurable, but not too tinted for spotting. I didn't try any photography, but the windows are probably too tinted.
After lunch, we took a stop at the Alaska Airlines board room in the D concourse for a post-lunch snack and some quiet time. We have been yearly patrons of the Seattle board room for a number of years now, and it's been better each time we visit. Seating can be a little tight sometimes, but people sitting alone in one of the 4-seat units are always nice enough to move for us. The NASCAR Nationwide series race at Bristol was on one of their two televisions in the upstairs area (there is a quiet area downstairs), so I sat down and watched the rest of that. Shortly after the end of the race, it was time for us to head down to gate C2G to catch our flight to Portland.
Seattle (SEA) to Portland (PDX)
Horizon 181
Bombardier Q400
N407QX
Seat: 4F
Scheduled: 2:00PM-2:32PM
Actual: 2:22PM-2:52PM
Flight Time: 30 minutes
Distance: 141 statute miles
Shortly after arriving at the gate, the boarding time, and therefore the departure time, were delayed by 10 minutes. Good thing too, as it gave me a little time to do some spotting!
Unlike the rest of the Seattle airport, access to the windows and the Horizon gates is blocked by a low glass wall. This, combined with the small Q400's, makes it hard to take pictures from the gate. I knew to be on the lookout for one of the Q400's painted in the new Alaska livery. I spotted one out of the corner of my eye and walked down the concourse to get a better view:
As you'll read later, I ended up having a surprising number of encounters with these new eskimos.
"Welcome to Horizon flight 2181 with service to Spokane." As expected, some people turned to those next to them with a panicked look on their face, others called out "Portland", and the Horizon regulars just laughed. We jumped in the MVP lane, got our boarding passes scanned, and headed downstairs to the tarmac. For the Horizon gates at SEA, once out on the tarmac you follow a covered walkway out to your plane. As soon as I saw that our plane was parked at the end of the walkway, I pulled out my camera to begin the fun.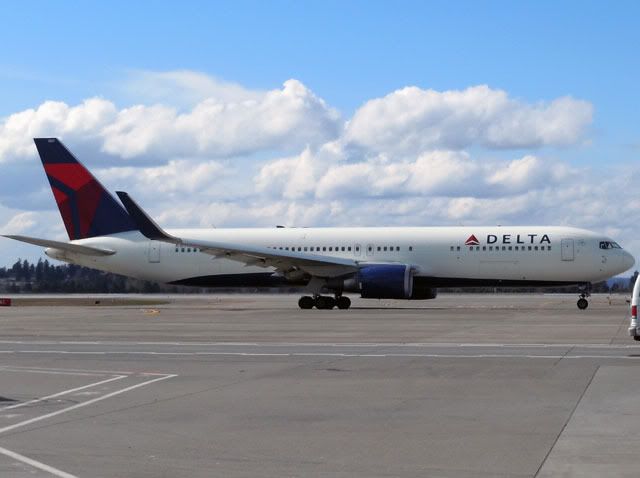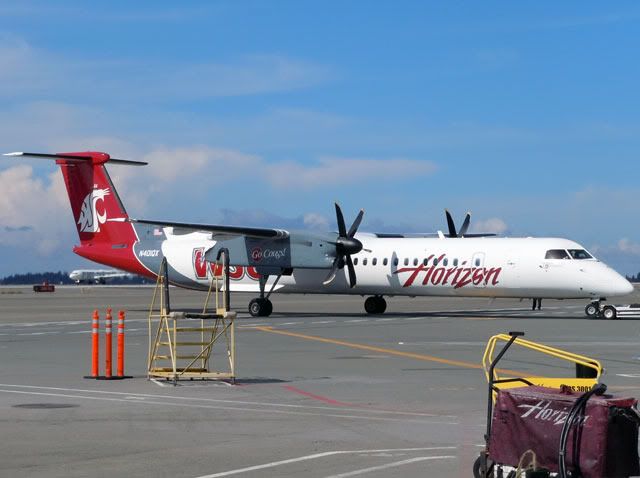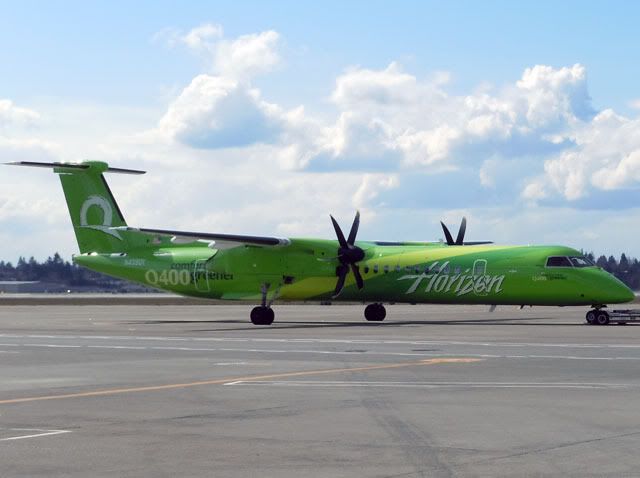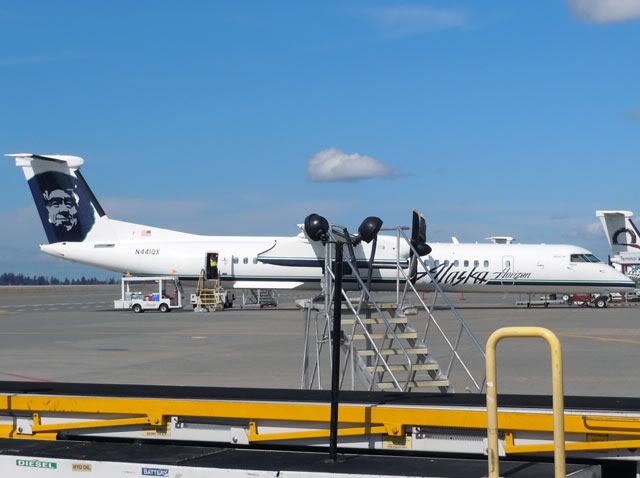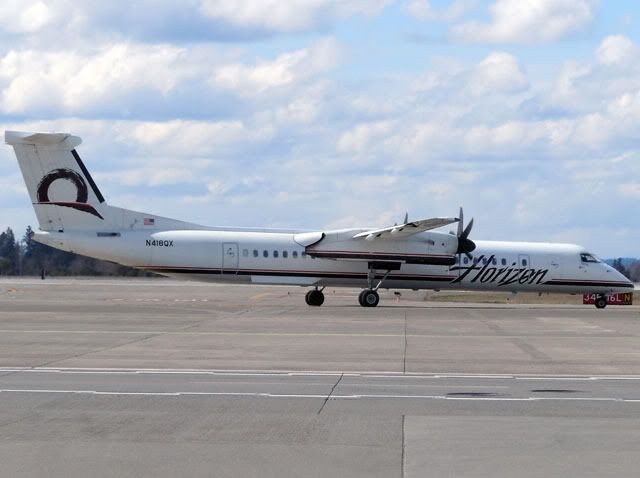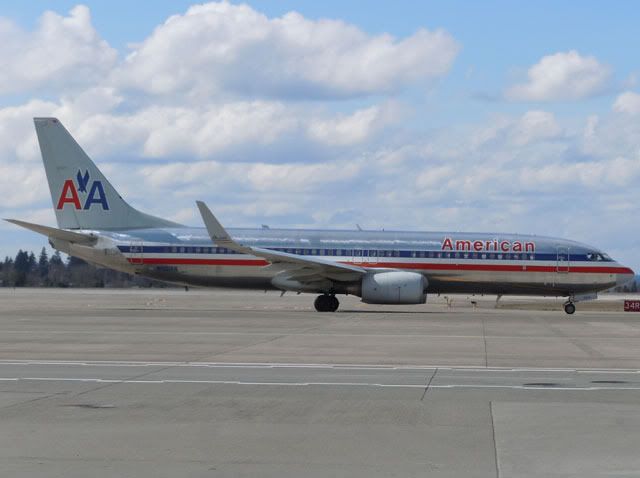 Our ride today would be Q400 N407QX, pained in the University of Oregon livery.
I may have been in the first five scanned for boarding, but I think I was the last one on the plane. This is definitely a rare experience for me, and one I hope to have more often if I decide to go to school down here. All of you who fly these flights often are very lucky!
In my seat, I was surprised by the knee room, but the curvature of the fuselage restricted legroom and the lack of a full headrest could get annoying on one of Horizon's longer flights. For this half-hour hop, however, the seat was sufficient. As you'll see in the following pictures, the legroom is what you make it, depending on if you are sitting up straight or not: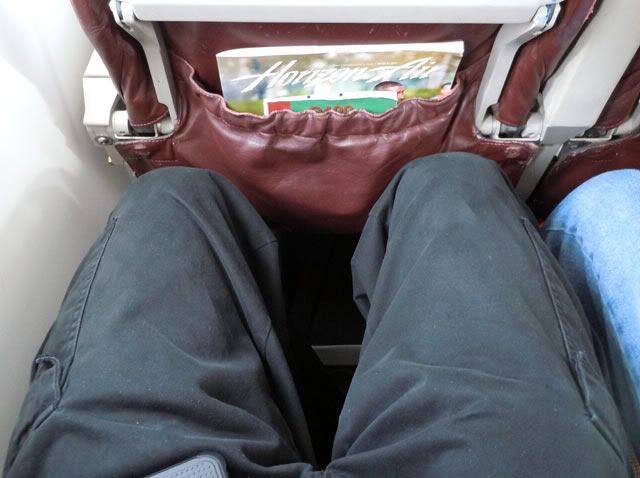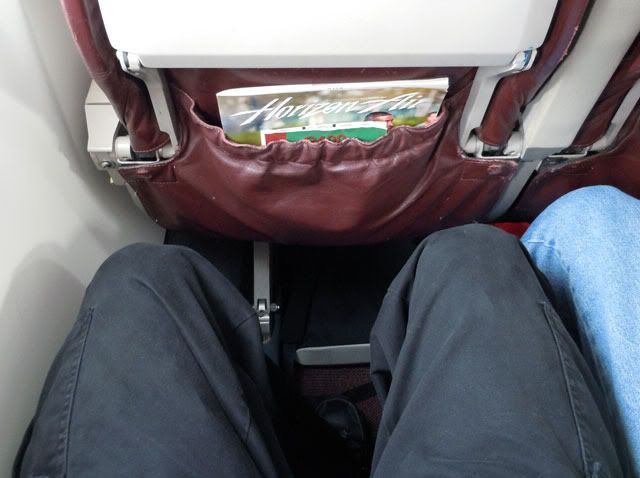 Soon, the flight attendant came on the PA and informed two passengers that they would have to get off, as the plane had more fuel on board than expected. Both were airline employees, dressed for work. I guess it's easier to take people off than fuel. After a quick taxi to the runway, the pilots preformed a very powerful takeoff from Runway 16L. Click the picture below to view a video of the takeoff filmed by my younger brother (he'd really appreciate it):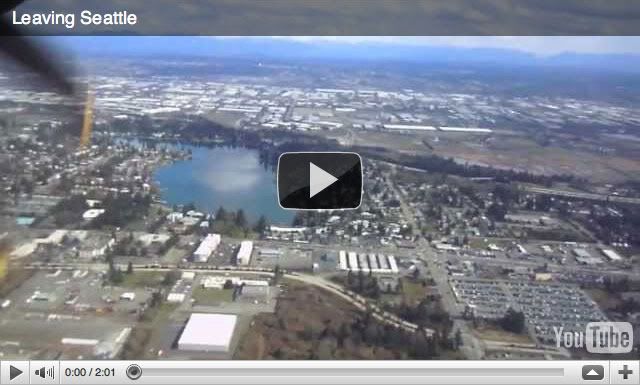 There was a bit of chop on the later climb to 15,000 feet, but not enough to stop the flight attendants from beginning a short drink service of water, orange or apple juice, or one of their wines or beers as soon as the ding for 10,000 feet went off. After a long decent along the river, we touched down in Portland on Runway 10L. Click the picture below to view a video of the landing, filmed by my brother: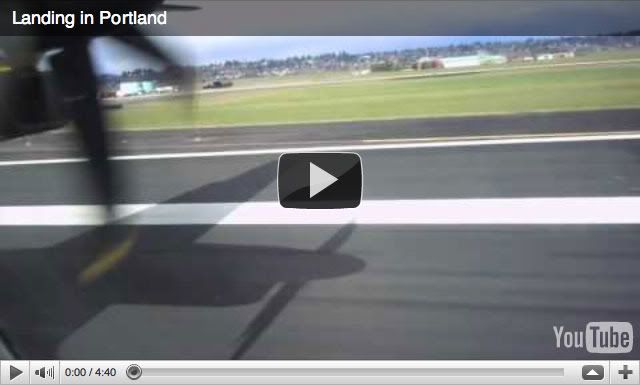 Again, the taxi to the gate was very quick. We were informed that we should wait on the ramp to pick up our bags. There were a few people confused by this, thinking that they could get their checked bags. No such luck, sorry people! I'm not sure I'd want to anyway, as the walk from the gate to baggage claim was ridiculously long and included at least 3 escalator rides. The only place I've had a longer walk was in Minneapolis. I guess the only upside to this was that our bags were already riding the carousel when we got there. After picking up our bags, we headed to the car rental desks to pick up our rental. Usually these are right behind the bag carousels, but in Portland, we had to take more escalators and walk quote a bit longer to get to them. I'm very glad I don't travel here often.
___________________________________
Mid-trip Spotting
While we were in Pullman, I was able to grab the registration of the 737-200 that had carried the Oklahoma team to play the WSU Cougars. Shame I didn't have my actual camera, I had to use my iPhone: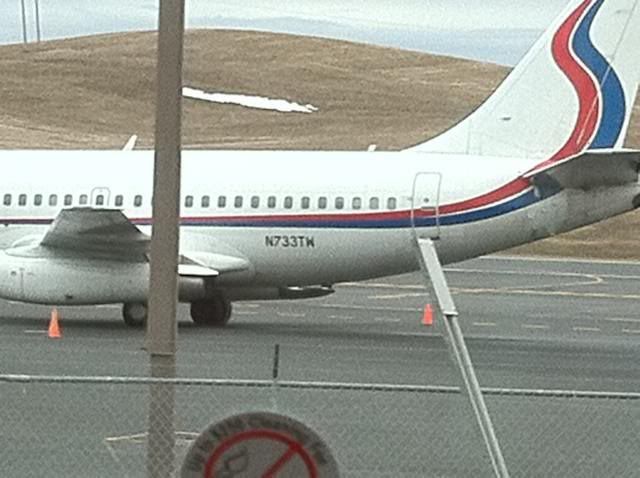 I also had the surprise of seeing a new AS-branded Q400 on approach to the Pullman airport during our walking tour of the campus. No time for a picture, sadly.
On the drive back to Kennewick, there was this little airport in the town (if you could even call it that) of Dusty. I haven't been able to find out if it has an FAA identifier, hopefully some here knows. It had these two planes and a C172 that I missed the registration of: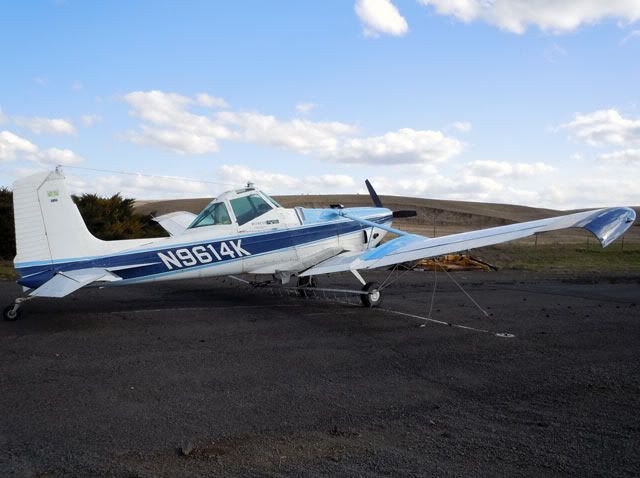 The house we stayed at in Portland our last couple nights was right under the approach path to runway. My camera is certainly not for taking pictures of moving planes, but I did manage to grab a half-decent picture of a new AS-branded Q400:
___________________________________
Portland (PDX) to Seattle (SEA)
Horizon 2044
Bombardier Q400
N409QX
Seat: 4A
Scheduled: 9:00AM-9:50AM
Actual: 9:07AM-9:46AM
Flight Time: 39 minutes
Distance: 129 statute miles
We had a 7:30AM shuttle to the airport, so I woke up an hour early to get packed and eat breakfast. It was almost like a normal school morning. On the drive in, there were two United EMB-120s and a A320 with the new livery very close to the road. I didn't have my camera out, but it was probably too dark anyway. At the airport, there was almost no line for check-in. The agent informed us that the board room was next to gate C4. Tickets in hand, we headed for security, which was also a short and painless process at this time of the morning. The walk to the board room was fairly short; as we stepped in we were greeted by two smiling agents. The agents in the board room are nearly always Alaska's best, and today was no exception. We had a great conversation about the schools I had visited and which one was the best. The Portland board room is a lot smaller than the Seattle one, and a little smaller than the one in Anchorage. The room is long and skinny, with one of the long sides being a window-wall looking out over the tarmac. There was only one other person there at this time of the morning, as I assume Alaska doesn't have very many flights out until later in the morning. I grabbed a seat by a television to watch the news, there wasn't much going on outside. After a glass of juice, we had 10 minutes left until we needed to begin to head to our gate, so I stepped back into the C concourse for a walk. There was too much rain on the windows for pictures, but I spotted two Hawaiian 763s, a Southwest 737-700, and either a Frontier A320 or an A319, I don't see them often enough to be able to tell the difference. All too soon, it was time to head down to our gate in A concourse. Upon arrival, boarding had just begun; they were calling first and MVP. The whole gate area was a bit of a mess, with one group of people coming into the terminal and another two flights boarding. Everyone was going in and out through the same door. Definitely not a very good design. We got in line, had our passes scanned by an unsmiling agent, and walked out the door.
We boarded the Q400 through door 1L and I took my seat in 4A. The rain put a damper on the spotting while we were taxiing, but my brother took a few shots for me regardless: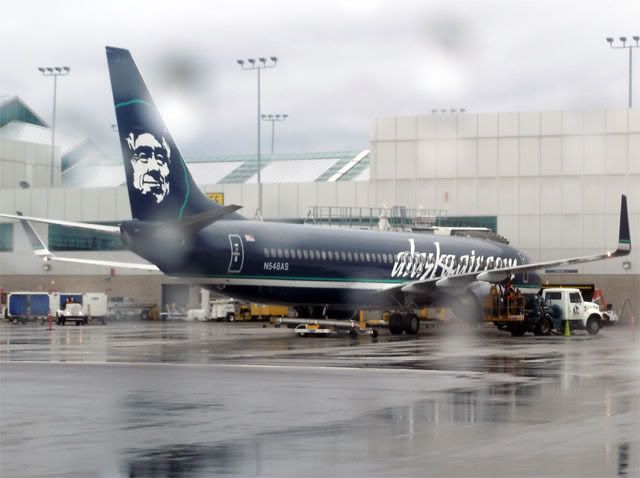 How did I get this lucky, to see these new liveries so many times?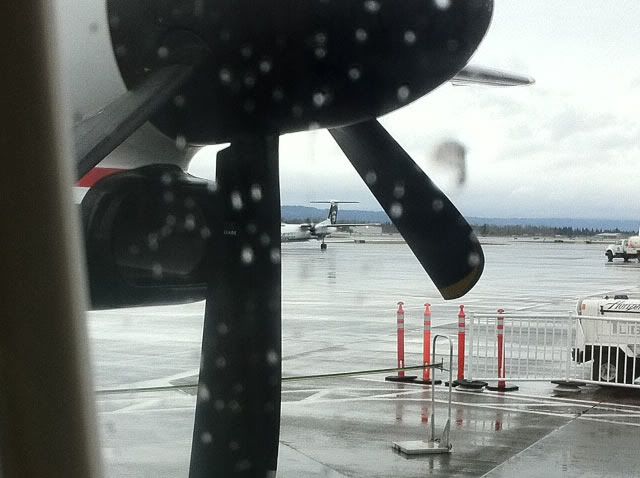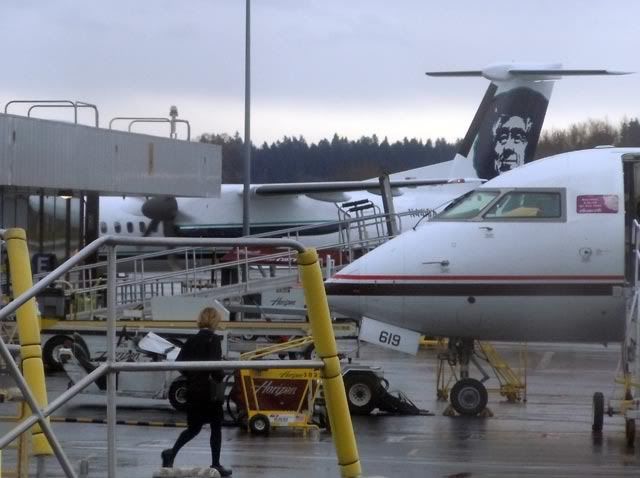 We took off from Runway 10L and climbed quickly away from the airport. Click on the picture below to view a video of the takeoff filmed by my brother:
We encountered a bit of light chop on the way up; nothing bad really. As is usual on these short flights, a beverage and snack service began shortly after passing through 10,000 feet, while we were still in the clouds.
"Juice or water for you this morning sir?"
"Water please."
"Here you go."
Again, no smile from the male F/A. Oh well. At least the Biscoff was amazing.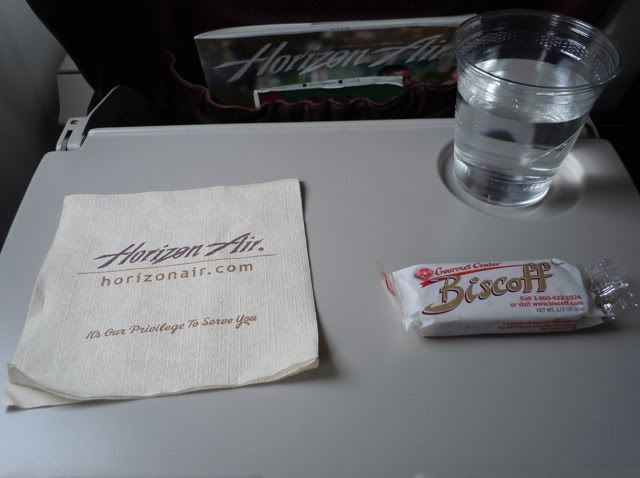 We began our decent shortly after the beverage service was completed. The approach brought us around the East side of the airport before making a couple left turns to land on Runway 16C. Click on the picture below to see a video of the landing, filmed by my brother: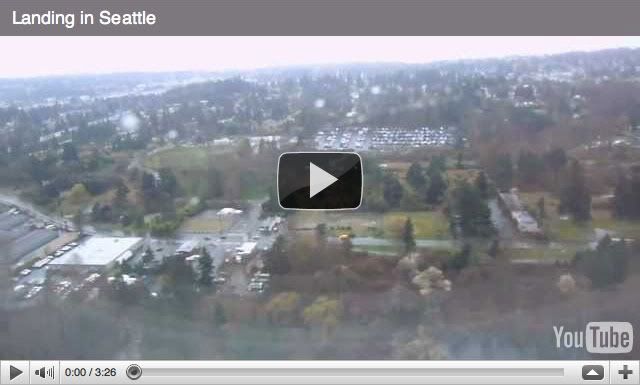 It was again a quick taxi to the centrally located QX terminal. And look who we ended up parking next to: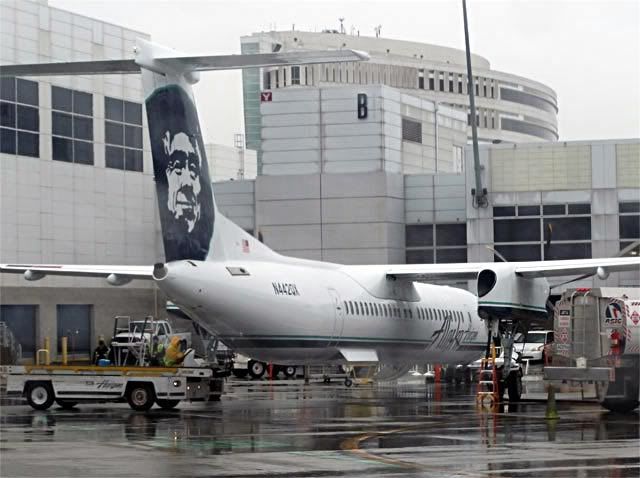 Door 1L was opened; we exited there and rushed across the tarmac to the covered walkway to wait for our bags out of the rain. The bags were quickly unloaded from the plane and were soon in our hands. We climbed the stairs to the terminal and headed straight for our next flight at the end of the C concourse.
Seattle (SEA) to Juneau (JNU)
Alaska 75
Boeing 737-900
N302AS
Seat: 9F
Scheduled: 10:50AM PST-11:57AM AKST
Actual: 11:00AM PST-11:59AM AKST
Flight Time: 1 hour 59 minutes
Distance: 948 statute miles
The waiting area at the gate was already full; boarding was set to begin about 10 minutes after we got there. I took a quick trip to the window to catch the registration:
(Ahh, thanks again AS. Wasn't that easy?)
N302AS was the first 737-900 built and was used for testing by Boeing before being delivered to AS. It is the only 739 in the AS fleet without winglets. First/MVP was called shortly; we boarded the plane and I took my seat, 9F. Legroom was certainly sufficient: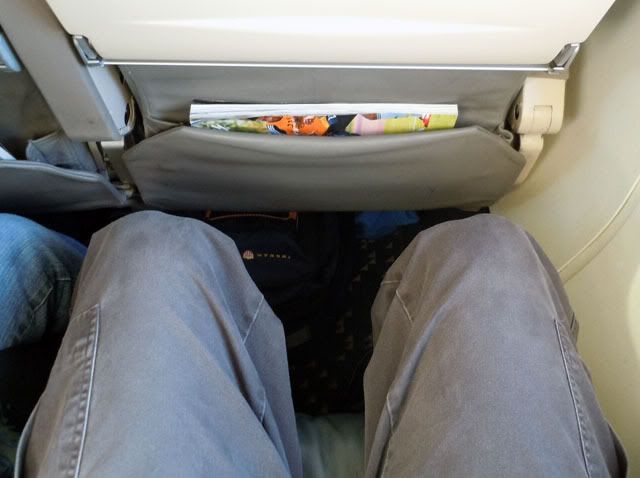 Flights home are always fun, because you know half the people on the plane. I saw classmates, teachers, family friends, and even a builder who recently worked on our house. We pushed back, taxied to Runway 16L, and climbed into the sky after a long takeoff roll. Click on the picture below to see a video of the takeoff: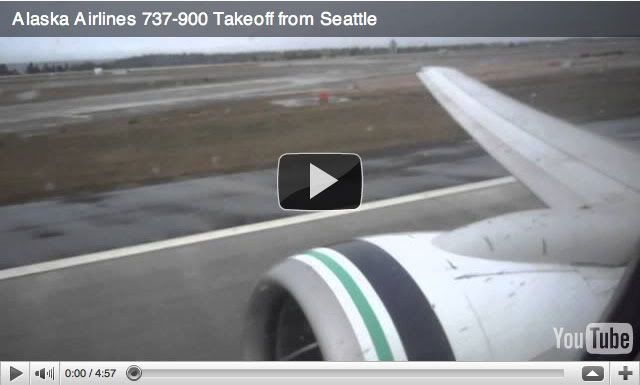 After we reached our cruise altitude of 35,000 feet, there was a beverage and snack service.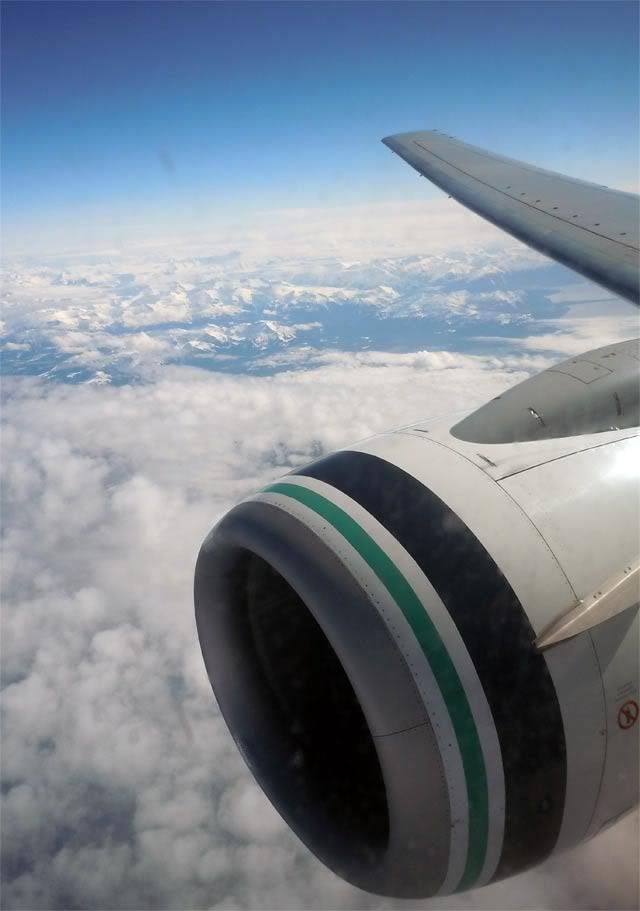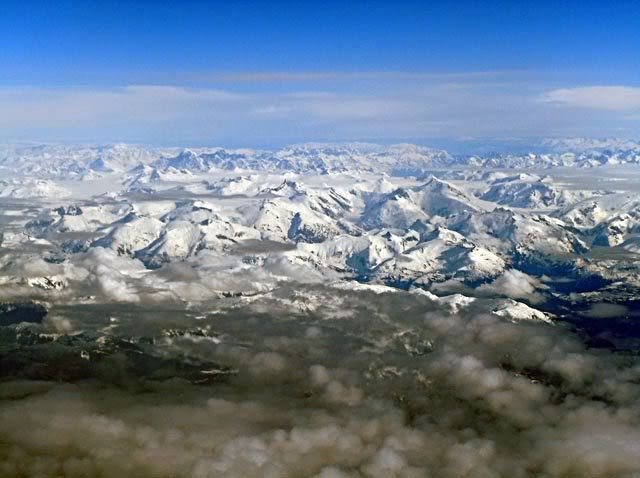 The SEA-JNU flight always has great views, but they are simply stunning on the late evening flights when you get to see the mountains and the sky turn orange and fade to the semi-darkness we get this far north in the summer. I missed out this time, sadly.
The approach into JNU is always fun, from any direction, in any weather conditions. Today we'd be approaching Runway 08 from the North. I'll let the video give you the experience:
Conclusions
I don't know if I was unlucky for these four flights, but I wasn't happy to see the "average" F/As. One thing I always remember about flying on AS in the past is the great, friendly, smiling F/As. Maybe the lack of a smile is because I'm not a kid anymore. Maybe AS thinks they don't need to put their best F/As on these routes because there's no competition. That would certainly explain the wonderful F/As I had on my SEA-OGG-SEA flights last year. Whatever it is, I hope I don't see it again. AS doesn't offer some of the same things in their hard product as other airlines do, but they'd always been able to make up for that with great F/As and customer service. We all know this is a very competitive time in the airline industry, and while AS is at the top now, a lower quality soft product would drop them down the list quickly.
Despite the low points, there was one wonderful highlight: the employees behind the desk in the board rooms, especially those in PDX. The way they acted was the way I remember AS's F/As: happy, smiling, and always willing to strike up a conversation. Hopefully that's what I see next time I fly AS in early June. I'm looking forward to the experience and being able to share it with all of you through another trip report.
Thanks very much for reading; I would really appreciate any comments, questions or suggestions you may have so I can better share my experiences in the future. Thank you!
[Edited 2011-05-27 15:55:42]
[Edited 2011-05-27 15:57:19]
[Edited 2011-05-27 16:01:21]