Continued From


Part One: Summer Wandering Pt.1 - Yak42s; An140; & Chernobyl

Part Two: Summer Wandering Pt.2 - Yak42, An24, An140, & B732

Part Three: Summer Wandering Pt.3 – Flying the Il-86 & Tu154M in C with Aeroflot Don & Aeroflot

Part Four: Summer Wandering Pt.4 - Domestic Tu-154Ms and ATRs in Azerbaijan, and Overland to Georgia



Summer Wandering; Part Five:

The Long Way Home

Welcome to the fifth and final installment of my summer adventure, dating from 2008, which picks up the story in Georgia. This report documents my return to the UK, flying on seven legs from Tbilisi to Plymouth on a variety of airlines and equipment.
Overall Route Map:
.
Flights Covered in This Installment:
23.07.2008 ... TBS-GYD ... Azerbaijan Airlines ... ATR 72-500 ... 4K-AZ65
24.07.2008 ... GYD-RIX ... Air Baltic ... B737-300(W) ... YL-BBK
24.07.2008 ... RIX-LPX ... Danu Oro Transportas ... ATR 42-300 ... LY-ARI
24.07.2008 ... LPX-RIX ... Air Baltic ... F50 ... YL-BAU
25.07.2008 ... RIX-FRA ... Lufthansa ... B737-300 ... D-ABXO
25.07.2008 ... FRA-BRS ... Eurowings ... BAe 146-300 ... D-AQUA
25.07.2008 ... BRS-PLH ... Air Southwest ... Dash 8-300 ... G-WOWC
Day 29; Wednesday 23rd July 2008:
I spent my final day in Georgia exploring more of Tbilisi, taking in the atmosphere and relaxing, before kicking off the journey home by hailing a cab. The section of road which leads from the city out to Tbilisi International Airport is named
George W Bush Street
, in honor of his 2005 visit to the country, and sports large glossy posters of him at interchanges, much to the bemusement and occasionally indignation of locals. Today all of those interchanges, over-bridges and bus stops were flanked by dozens of police who were keenly monitoring anything which dared to move. I knew that the security situation with Russia had been tense, so I began to wonder if there had been some 'developments' I hadn't heard about, but upon reaching the terminal all was quiet so I guessed not.
I'd reached the airport quicker than anticipated; check in didn't open for almost another hour, so I killed time by wandering around the many small gift shops selling a variety of weird and wonderful souvenirs. There was also a substantial architectural model of how Tbilisi's city centre is masterplanned to look once redeveloped; an impressive work which must have taken thousands of hours to put together, I hope they see it through: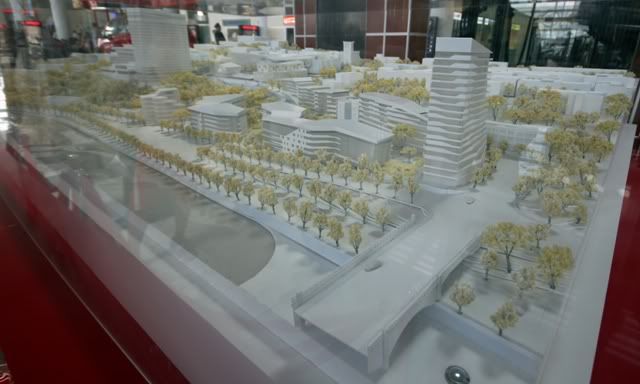 .
Like many airports these days there was barely any seating inside, so instead of hanging around check in like a lost fly I took a walk outside. The airport was upgraded in early 2007 with the opening of the present 25,000m2 terminal, featuring three airbridges and modern facilities capable of handling 2.8 million passengers a year. It's certainly a smart and presentable building from the outside.
The upgrade also created a new station and rail link, resulting in one of the strangest buildings I've ever seen. The irony is that despite the overpowering gold glitz and polished marble floors, nobody seems to know when the trains actually run –
if
they run - although everybody I spoke to accepted that they definitely
did
run six times a day. (Maybe).
.
.
Once I'd walked back across the car park to the more harmonious terminal my flight was ready for check in, by chance I happened to walk past the counter just as it opened meaning I didn't have to queue at all. The polite attendant spoke a good level of English and I was promptly assigned a window seat, but unfortunately he wasn't able to check me in all the way to Riga, as I had understood was possible from contacting Air Baltic, although my bag would be checked straight through. My onwards boarding pass would apparently be issued in Baku, at the transit desk, yet somehow the ground staff at GYD would know where to send my bag regardless even though it was only tagged so far as GYD…? That sounded naively optimistic to me, and I realised it was bound to cause me some headaches once in Baku because I was only planning to transit, thus avoiding another expensive visa. There was nothing either he or I could do about it though, so I took the assurance that it would all be fine as he handed over my boarding pass… 'check screens' he said, 'there will be a delay'. Looking at the information screens this seemed to be true for all flights, which again made me wonder if something was amiss in the wider scheme of things.
So far as I could work out at the time, Air Baltic flew to Tbilisi and Baku on alternate days, but enabled both cities to be served seven days a week by code sharing on certain Azerbaijan Airlines flights between the two. All very clever in principle, but in practice Azerbaijan Airlines hadn't (at the time of booking) loaded those flights into anything other than their own internal system, meaning you couldn't ticket on them if you weren't an AZAL representative, and even they didn't seem to know how. In other words, it wasn't possible to utilise the code share at all, as you still had to make two separate bookings. But, according to Air Baltic, so long as you did this it was still possible to use the transit system at Baku Airport without having to get a visa. It was this which persuaded me to book with AZAL instead of Georgian Airlines, who didn't code share but were cheaper.
Ironically by the time I travelled all this should have been possible to ticket in one go; I'd booked the Air Baltic flight in January and presumed I would have to wait until I was in Azerbaijan to buy a ticket on the TBS-GYD 'code share' flight (I phoned AZAL's UK office but they couldn't sell me a ticket full stop, apparently). However on the 1st of July the flights were finally made available as part of Azerbaijan Airlines' revamped website going live, which now enabled online booking. Fortunately I found out thanks to an email mail shot whilst I was waiting for my connection at SVO, and booked it straight away, although unfortunately they took the payment twice.
The omnipresence of Police officers earlier contrasted with their total absence now, so I was able to take a few photographs of the terminal interior without attracting unwanted attention. Inside it's split into two main levels; check in and arrivals on the ground floor, and security and departures on the upper floor, reached by escalator. Despite the veil of modernity it was already starting to look shabby in places when you looked closely, with tell-tale signs of shortcuts having been made during the construction, a shame really as apart from being a bit grey the terminal had a nice feel.
.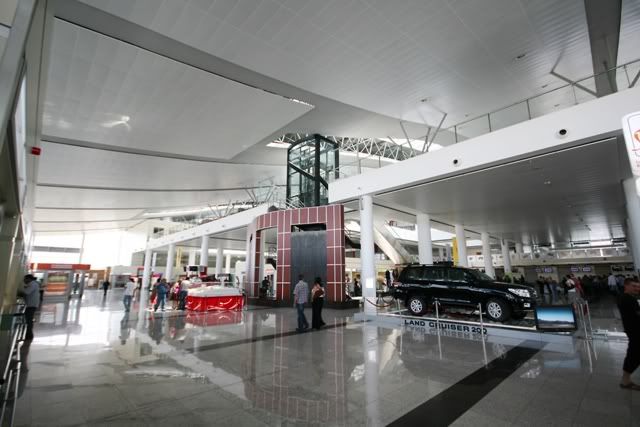 .
.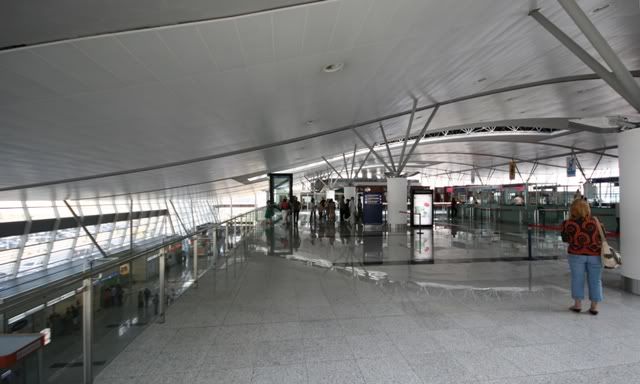 Arriving on the mezzanine departure floor you find passport control, but no security lane as this is carried out at the gate. It wasn't a quick process, even for Georgian standards; the immigration officer casually read each individual stamp in my passport with a benign interest, only then giving me an exit stamp and smiling broadly as he handed it back. He didn't care one bit about the customs form which I had painstakingly filled in back on the train, or that somehow the fragile tissue paper it was printed on hadn't shredded itself – oh well.
Once in the departure lounge there was relatively little to do; a handful of bars and restaurants provided sustenance whilst some very expensive shops offered to clean your wallet out of any remaining Lari. The food and drink on offer was expensive even compared to airports in Europe; an ordinary 500ml bottle of mineral water was fifteen times more expensive compared to the price I had paid for the exact same brand in Tbilisi earlier that day – they know when they have a captive market that's for sure! Unfortunately seating outside of the gate area was at a premium, so if you wanted to sit down there was little choice but to buy something. Still, on the plus side the departures area is spacious and well lit by natural light which floods in through the glass walls, the byproduct of which happens to be some excellent ramp views, meaning I didn't really care for sitting down anyway.
The control tower and former terminal, built surprisingly recently in 1990:
A security guard chilling out under 4L-AAJ, a Tu-134A-3 belonging to Tbilaviamsheni: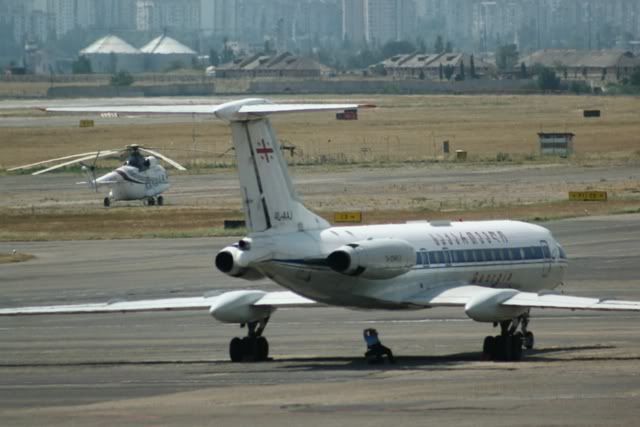 Here is my 'last picture'… in the words of the Policeman who had just appeared behind me. Still, he was helpful enough to explain that this was only because Georgian President Mikheil Saakashvili was due to fly out of the airport at any minute, and that as a result everyone was enforcing a high level of security – which also explained the police lining the road out of the city. Roughly translated, what 'high level of security' actually meant was that the airport was completely closed to movements until he had ordained to arrive and was safely boarded. His plane is the CRJ-200 of Georgian Airways, surrounded by Police, in the bottom right of the picture. In the background is the standard dumped Tu-154 (Air Georgia), Tu-134 and An-24 variants which it is obligatory for any airport in the former Soviet Union to have:
As I wasn't able to take any more photos, here are a couple of pictures sourced from the Tbilisi Airport official website, which show the general feel a little better: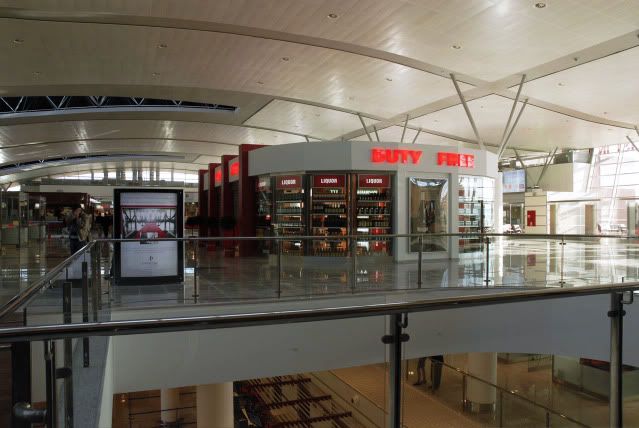 .
Although there was still no sign of the inbound flight being on the ground, boarding time had arrived, so I thought it was best to enter the small gate lounge so I was ready, just incase the ATR was already on the ground and parked out of sight. The airport has four gates, each with their own security lane; No. 101-103 which lead to airbridges, and a single bus gate labeled 201, from which my flight would depart. These glass sided crèches contain a few dozen seats, but have nothing in the way of facilities, not even a vending machine and more annoyingly no toilets, meaning you have to be rescreened by security if you need to pay a visit. Hardly a sensible design when you consider that delays inevitably occur when passengers are already at the gate, maybe they are meant to be in the white cube in this picture?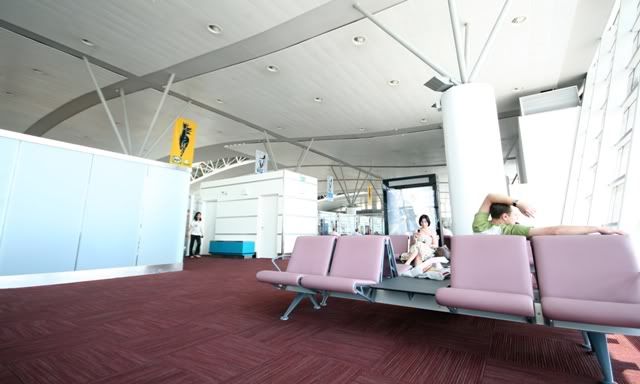 Almost an hour after the flight should have closed, a muffled roar signaling an aircraft throttling up filtered through the thick glazing, followed by the distinctive shape of a CRJ aiming skywards. I couldn't see that part of the ramp from the gate, but presumably it was the president departing as a couple of minutes later the Azerbaijan Airlines ATR touched down, followed by another couple of aircraft. It makes me wonder if the inbound flights had spent the entire time holding somewhere over Tbilisi, or if their respective departures had been timed so they would reach the airport to coincide with its expected re-opening. Either way, things were finally moving and my flight was called for immediate boarding.
Airzena – Georgian Airways pulling into Gate 101. After a total hiatus on operations there was a sudden flourish of ground movements.
Georgian National Airlines' sole DC-9-50 under tow:
.
TBS-GYD
Tbilisi to Baku Heydar International
Carrier:
Azerbaijan Airlines
Flight:
J2 226
Aircraft:
ATR 72-212A (-500)
Registration:
4K-AZ65
Date of First Flight:
21.04.2008
Seat:
7A
Block Departure Time:
16:10
Take off Time:
17:21
Block Arrival Time:
18:30
Touchdown Time:
19:31
Distance Flown:
279 miles
Total Flying Time:
1 hour 10 minutes
Fare:
209.00 Georgian Lari (£76.57) one way
Everybody was already present at the gate, so boarding onto an awaiting bus took less than five minutes. It turned out that the aircraft had parked next to the position where the President's flight had been and the ramp was still crawling with Police and military personnel, none of whom liked the look of either my camera or mobile phone, so no pictures during boarding I'm afraid.
A male steward stood in the galley, giving passengers a sincere welcome to the flight. It was clear the crew wanted to get a move on; no fuel or provisions were loaded during the ground stop and the doors were shut moments after the last passenger had climbed aboard. The clean and tidy cabin interior was identical to AZAL's ATR-42-500s in every detail bar length, configured for 70 economy class seats with a comfortable 31 inch pitch. During start up and taxi a short safety demonstration was given, both in Azeri and English, the crew only taking to their seats as the plane swung onto the runway.
http://www.youtube.com/watch?v=tgPeVKsaNtw
There was no need to backtrack for the full runway length, the pilots instead beginning a rolling start from the first intersection along runway 13 and utilising just 900m of runway before lifting upwards with a slight jerk. Although the aircraft was only about two thirds full, that's still impressive performance considering Tbilisi's 1,600ft elevation and 30 degree late afternoon heat.
During the initial climb we flew past the Vaziani Airforce Base, at which a Turkish Airlines flight bound for Tbilisi landed by mistake in 2009. At first I wondered how on Earth they managed it as there is no visual resemblance between the two, but looking on Google Earth I saw that there are in fact three airfields with the same heading; this one 5km along the glide path to runway 31, and another military airfield 2km due the South. No doubt if you are flying VFR it could get confusing, which still makes me wonder why they weren't using ILS, plus if the conditions were suitable for VFR, how they didn't realise they were landing at a practically deserted military base when they were still on final approach. I would be interested if anyone has a link to the final report on this incident?
A snack and drinks service passed through the cabin as the aircraft neared its cruise height of 22,000ft, offering a choice of sandwiches; chicken or cheese, and a selection of soft drinks. I went for the chicken, which was nice but no more than a mouthful. Outside the scenery changed rapidly from green to a desolate brown as we flew back towards Azeri airspace, whilst the landscape became contorted as it twisted upwards into the Caucasus Mountain range.
Dali reservoir in North Eastern Georgia:
.
.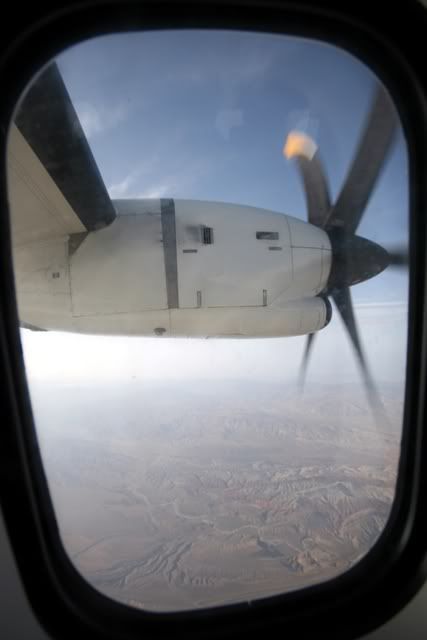 This aircraft was even younger than the ATR 42-500 I had travelled on to Ganja, having first flown just a few months earlier, something reflected by the pristine nature of the cabin. The delivery of these ATR aircraft saw the complete replacement of AZAL's regional fleet, which had previously consisted of the An-140, Tu-134 and Yak 40.
Less than an hour after leaving Tbilisi the engines throttled back and a gradual decent towards Baku began, plotting a course over the city and bay, enabling another glimpse of the post industrial mess left over by the oil boom, which is now being exasperated by the rising level of the Caspian Sea.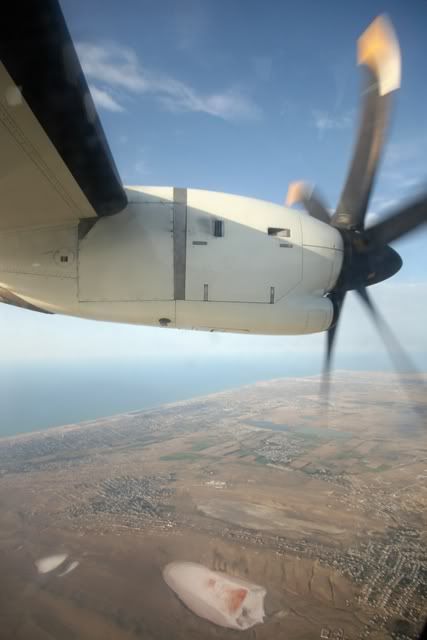 .
The majority of infrastructure on the Caspian was built in Soviet times during a protracted period of low sea level, but the waters have now risen by around three meters, making it an interesting precedent for predicted global sea level rise:
This kind of sight angers me; oil extraction shouldn't be at any cost to the environment. Plus as many people's first sight of Baku and Azerbaijan upon arrival, it hardly paints a good picture: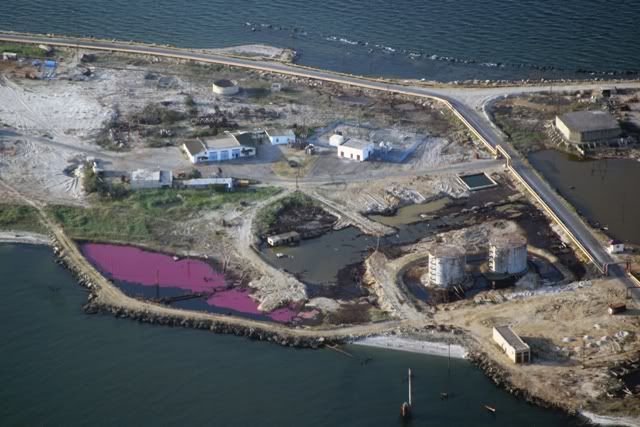 .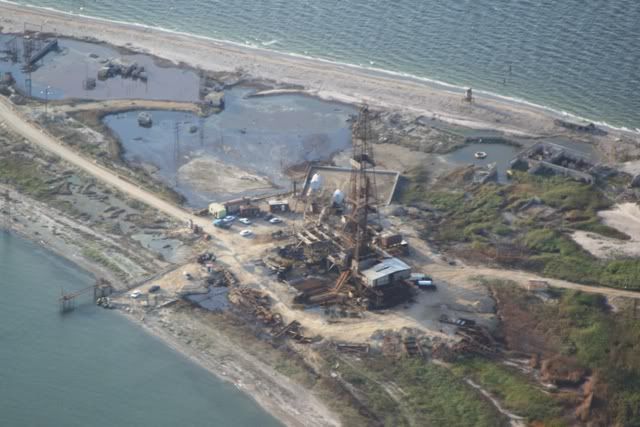 The original offshore oil platform network is still standing… just about, whilst the oversea roadway is still in use:
.
During final approach the nose was forced steeply downwards several times as the aircraft encountered updrafts and turbulence as a result of transitioning from cooler air over water to the warmer thermals rising off the land. Touchdown on Baku Heydar's runway 36 was gentle, reuniting with terra firma a little over an hour after leaving.
http://www.youtube.com/watch?v=PlxRsmwro3U
There were some pretty interesting relics and visitors around this side of the airport, so I made the most of being able to shoot freely out of the window as the plane taxied back onto the regional apron, situated to the East of the domestic terminal, which is where the ATRs seem to park regardless of their destination.
Derelict An-32 of Azerbaijan Hava Yollari, the Azeri name for Azerbaijan Airlines:
A group of abandoned Tu-154s and B727-200s in Azerbaijan Airlines' old livery sit beside the maintenance facility and hangers, with an inactive AZAL Cargo Il-76 in the background:
.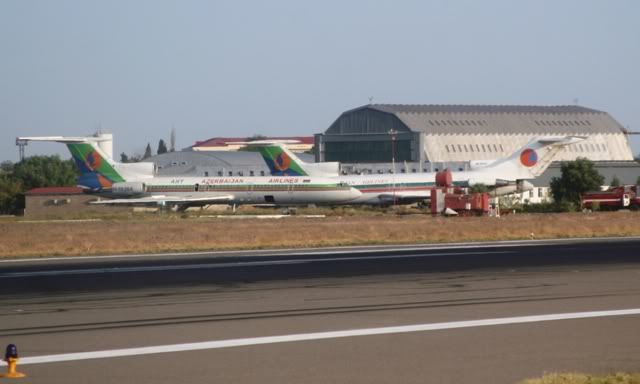 A couple of parked up Tu-134s flank a very rare glimpse of AZAL's sole remaining An-140-100. After the other active aircraft crashed into the Caspian Sea en route to Aktau in late 2005 the airline refused to accept delivery of their final two orders, for which they had paid $9.1 million each. They also demanded that Ukraine (Antonov) take back and presumably refund them for the other aircraft which they removed from service and the remaining frames they didn't accept. Sources I read when trying to find out if they still flew the type anywhere suggested that it had indeed been returned to Antonov, so this sighting was quite unexpected:
Another rare type; this Beriev Be-200ES multi purpose amphibious aircraft, registered FHN-10201 (ex RF-32769), was delivered to the Azerbaijan Ministry of Emergencies three months earlier on April 25th 2008:
.
By now the aircraft had taxied onto stand, although the usual scrum for the door had begun somewhere between touchdown and exiting the runway, followed by an inevitable argument. Because of this half the passengers were sat waiting on the bus before those at the very front of the cabin even left their seats, resulting in some disapproving stares as they sauntered off the plane. Still, it meant I could risk a quick picture of my aircraft from the bus door – the Il-76s in the background belong to Aviacon Zitotrans, now Aviacon Air Cargo.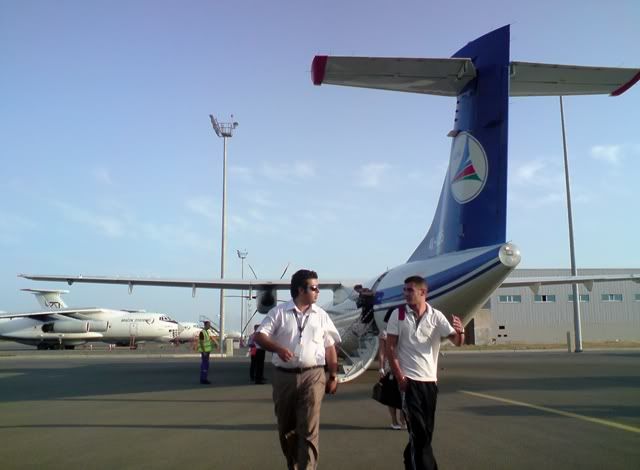 After being bussed to the terminal began the fun process of trying to transit at Baku Heydar Airport. Despite the assurances in Tbilisi I knew very well that my bag wouldn't be checked right through, so if I didn't somehow get hold of it I would be leaving it in Azerbaijan. Probably forever. The problem was that baggage reclaim is of course after passport control and the transit desk didn't exist, but I didn't particularly want to pay another £100 for a second visa just to recheck me and a bag! If I'd known in advance that it wasn't necessarily possible to through check my hold luggage then I would have gone to the Azerbaijani embassy in London and applied for a double entry visa, but when I contacted Air Baltic they said it would be fine to transit without a visa between the code share flight and their flight. Therefore it was cheaper to get a single entry visa on my initial arrival from SVO because, despite paying a higher price on face value at Baku airport, it was still less than the cost for a single entry visa issued by the embassy and two sets of courier postage or train tickets to drop off and collect my passport in London.
The first step was finding someone who spoke English, because my pigeon Russian wasn't going to stretch this far and nor was sign language. As luck would have it I could actually see my bag on the reclaim belt beyond the border control desks, which made things a lot easier. The person I spoke to remembered me from when I arrived a week ago and didn't seem particularly phased by my situation; I got the feeling that it happens quite a lot. He directed me on to another man who asked for my passport, onward ticket details to Riga, the ticket for my flight from Tbilisi with baggage receipt attached and a $50 dollar airport transit fee. 'A what?' I replied? 'A $40 transit fee please' he said meekly. 'Pardon?' I blanked him, feigning confusion. 'Do you have $20?' was his final shot. 'I'm afraid not', I said, and with that he unlocked the 'secure' elevator which acts as a transit route, and up I went to the departures' lounge on the floor above. $50 to unlock something and push a button is a bit of a joke! I've found that it's always worth questioning the amount of a fee when it's quoted verbally. If the amount changes in your favor when it's repeated, then you can be pretty sure that it's not actually a real fee, or that it's been hugely inflated. I was pretty sure of the situation on this one, considering I'd phoned both Air Baltic and the Embassy of Azerbaijan in London before leaving England, who confirmed there wasn't a charge for transiting passengers.
Some time later, I'd say almost an hour, the man returned with my documents and a boarding pass for the next flight. I thanked him profusely and was in two minds about giving him some of the tip he still seemed to be after, because he had been pretty helpful, but after quick consideration I decided against it. Otherwise I'd just make it even more difficult for the next person in my situation - I would have been more inclined had he not attempted to rip me off in the first place.
So I had a boarding pass (albeit an aisle seat at the back of the cabin) for the flight to Riga and a baggage receipt too, which suggested my backpack would be leaving with me. Excellent! Now I just had to wait nine and a half hours for the onward departure... time which quickly dragged into infinite boredom. It wasn't supposed to be quite such a wait as the original departure time was pushed back from 04:20 to 06:40, although I was at least notified of the change straight away. A single bar remained open until about 11pm, so I grabbed a beer and chatted with an Australian guy waiting for a late running flight, but after that the entire terminal seemed to close down; at one point I thought they were even going to turn the lights off!
I think the functionality and appearance of the terminal and airport on a human level is best summed up by the architect Pirouz Khanlou when he said that
"local architects don't understand the basic principles of airport [and hotel] design"
as part of a critique on Baku's development and masterplan which I'd read before leaving home. He's right too; the design is fragmented, foreboding and incredibly disorientating to the point that I had no idea which way I was orientated in relation to the outside. A Soviet design relic which imposes its overbearing presence on the traveler quite strangely, it wasn't something I'd experienced before in an airport. I've spent nights in some odd places whilst waiting for flights, but this pretty much topped my list of uncomfortable places to do so. It was impossible to sleep, even if your body forgot how unforgiving the metal seats were long enough for you to nod off, the Police would wander around now and again and come and stare intently at you until their voyeuristic presence woke you up. I was glad I'd brought a book to keep me occupied.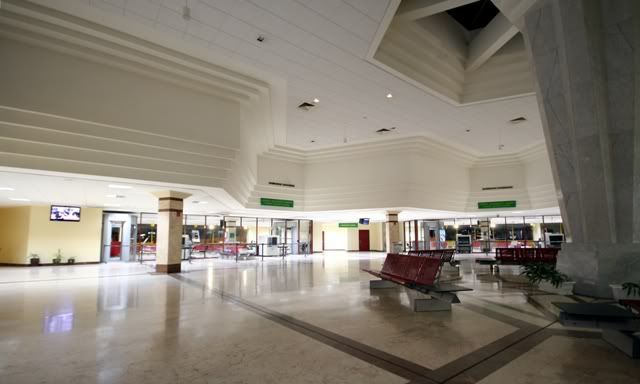 .
Day 30; Thursday 24th July 2008:
One small eternity later and my flight to Riga had a gate assigned, just opposite where I had sat overnight in fact, and it didn't take long for a small crowd of passengers to muster around the entrance to the security lane. The gate lounges aren't terribly big, so the screening team only started allowing passengers through once the aircraft was ready for boarding – a method Tbilisi airport could perhaps adopt.
Baku's airbridges are windowless and the aircraft wasn't visible from the lounge, so until I stepped onboard I could only presume from my assigned row number that the scheduled 737-500 had been replaced by something larger, although unfortunately it turned out to be a 737-300 and not one of air Baltic's new 757-200s. I filed down the cabin, the first few rows of which were configured for Business class, and found my aisle seat in the penultimate row. Not exactly the best place to sit, but as boarding concluded I noticed the row to my left at the very back was still empty. I asked a crew member, who was fine with me moving, so I switched to the window seat. Not that there was much to be seen outside, just an AZAL 757-200 and the paling pre-dawn sky.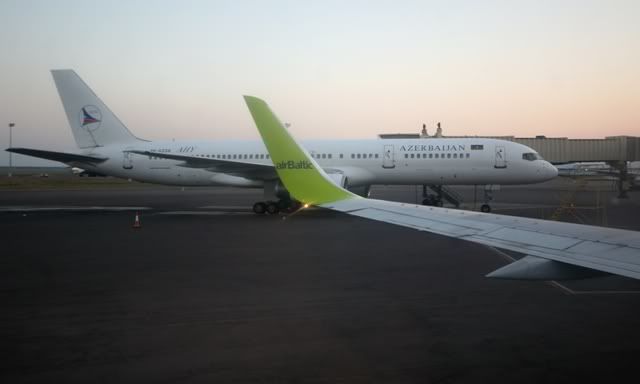 Pushback took place right on time as the crew began running through the safety briefing and the engines span into life. After flying such a variety of interesting types it was quite a come-down to be back on a humble 737, but my options were limited by cost and Air Baltic certainly represented the best value; they were hundreds of pounds cheaper than the nearest other option, and I think that was AeroSvit on similarly common equipment.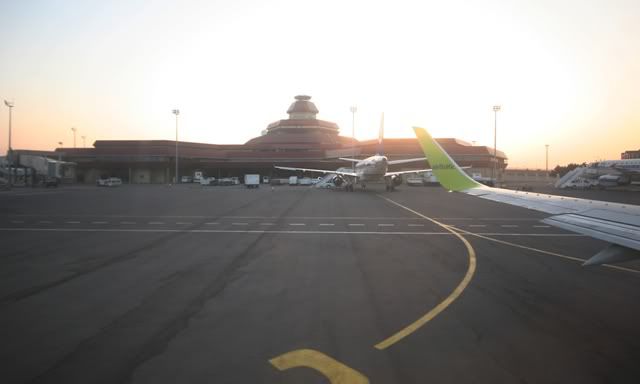 .
GYD-RIX
Baku Heydar International to Riga
Carrier:
Air Baltic
Flight:
BT 733
Aircraft:
B737-33V(W)
Registration:
YL-BBK
Date of First Flight:
31.08.1998
Seat:
23D assigned, 24A taken
Block Departure Time:
06:40
Take off Time:
06:48
Block Arrival Time:
08:45
Touchdown Time:
08:33
Distance Flown:
1,629 miles
Total Flying Time:
3 hours 45 minutes
Fare:
93.20 LVL (£102.16) one way
Runway 34 was in use for departures this morning and we were second in line, behind what looked like an AZAL Airbus. Now it might be boring and average, but one thing a 737 can guarantee you that a Tupolev can't is climb performance. Despite tanking a sizable quantity of fuel for the near four hour flight and around an 80% passenger load, the aircraft roared down the runway and leapt healthily into the misty morning skies covering the still sleeping city like a blanket.
.
Zabrat military base and helicopter facility:
Baku city center:
.
I watched the suburbs and vibrantly coloured salt lakes slip beneath and become absorbed by haze and pollution, whilst ahead the high ground leading towards the Caucasus Mountains became more pronounced. On the flight down from Moscow I'd been both asleep and on the wrong side of the aircraft, so I was glad to have a second chance at a decent view of the highest mountain range in Europe. I wasn't disappointed either.
.
.
.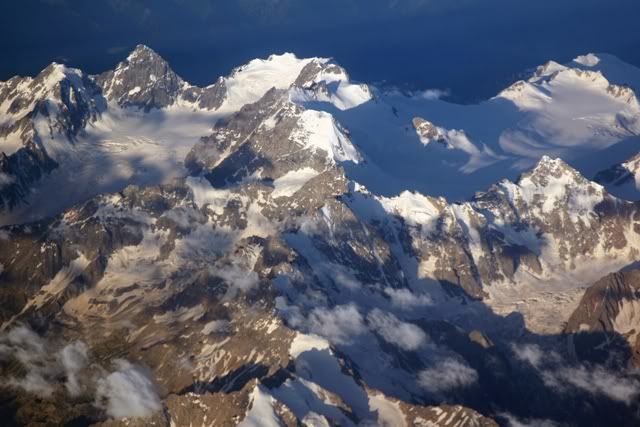 .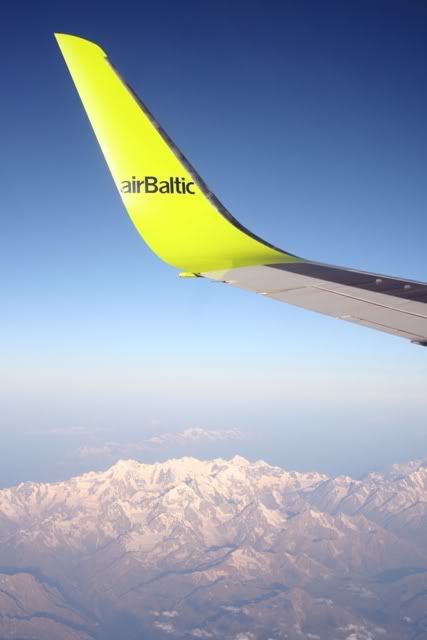 .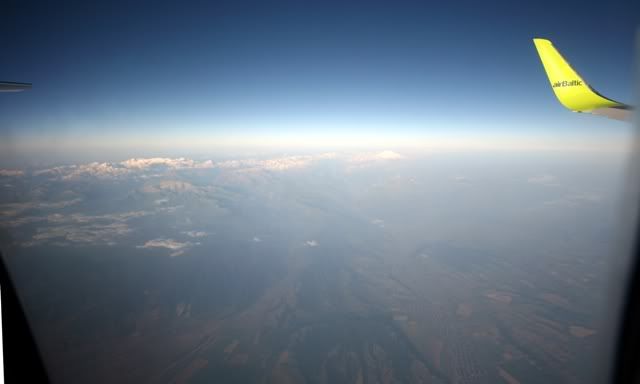 The rugged beauty casts a serene light on the landscape below, making it easy to forget that in reality what you are looking at is Dagestan, Chechenya, and Ossetia, some of the most dangerous places on Earth. In the distance the twin peaks of Mount Elbrus were clearly visible, at 5,642m they are the highest points in Europe.
One thing I didn't expect to see was these lines; four perfectly regimented bands of what looked like vegetation marching in parallel through the landscape. They were intriguing, so once home I traced the flight's course on Google Earth and eventually found them. I was completely blown away by their scale; they are indeed made of trees and each band of planting is 50m wide, the space separating them is 300m across for a total width of 1.1km and they extend virtually uninterrupted for 160km through the Russian countryside. It appears very little is known about their purpose, so in Easter 2010 I travelled to the exact area depicted, on some fine Russian metal too, which will hopefully be the subject of a later report now I have more time to write.
Despite offering Business class up front, Air Baltic conscribe to the LCC model for passengers flying in economy, meaning there was a charge for my hold luggage and for refreshments. Having not eaten a proper meal since Tbilisi I was pretty hungry, so the quenching smell of the food service being prepared was most welcome! I ordered the fish meal, which included a small bottle of wine and a desert for €7.50 – very good value I thought, considering the meal was reasonably sized, tasty and served just a few minutes after I placed the order.
The Captain announced that a moderate headwind was being experienced for much of the journey, so we would be arriving fairly close to block time after almost four hours in the air, easily making flight BT733 my longest flight on its namesake aircraft type. There was nothing in the way of electronic IFE on offer, so it was either a case of bringing your own or making do with the view outside, which after the initial spectacle of the mountains became pretty bland and flat so I was asleep in no time and didn't wake up until the aircraft began its descent into Riga. The seat was average with acceptable pitch, it could have been slightly more supporting for my lower back, but still good enough for short to medium haul.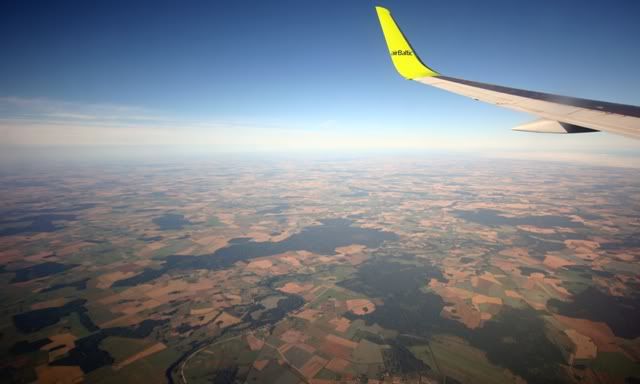 .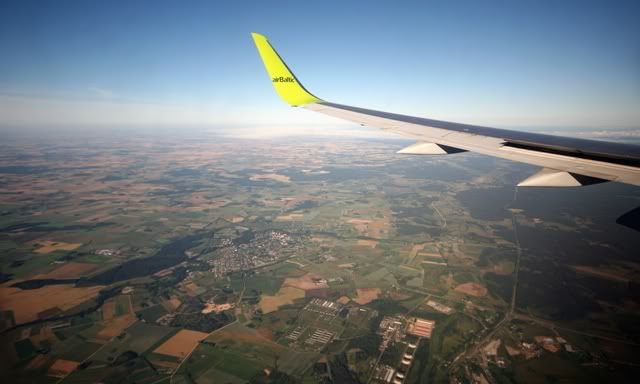 .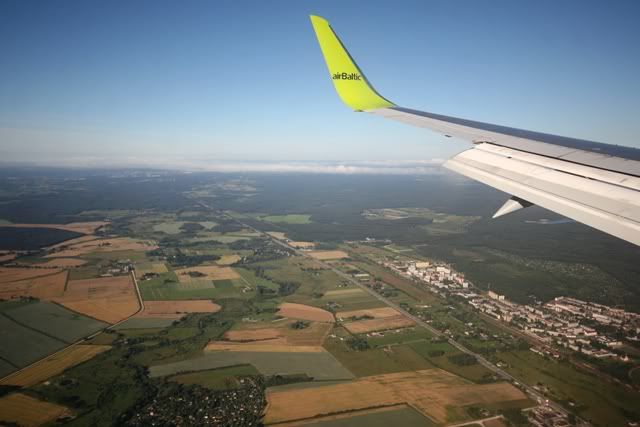 .
.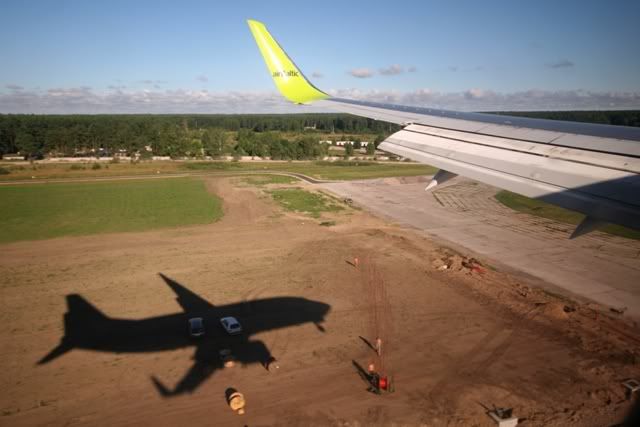 Approach was smooth, drifting gently over the workers lengthening Riga's runway 36 to touch down some twelve minutes ahead of schedule. The airport seemed pretty quiet, not the bustling hub I had expected, but then again most flights had probably already departed that morning, which on the plus side meant that a stand was available right beside the non Schengen arrivals area and baggage hall. The cabin emptied quickly and being at the back I was last off for the short walk across the apron to the terminal, followed by the crew who had been on duty for the entire RIX-GYD-RIX rotation and were understandably keen to get home.
.
There were just a couple of border control points open and many passengers were trying to use the EU lane with non EU passports, which slowed things down a little and meant my bag was already orbiting the belt when I entered the reclaim area. I was very pleased to see it - my faith in the Baku airport transit 'system' was restored!
To sum up the flight, I cannot understate what excellent value for money it represented. The fare itself was just 90 Latvian Lats – under £100, and the fee for a checked bag was only 3 Lats at the time. Even factoring in the cost of my flights onwards to the UK, travelling via Riga was at least half the price of the nearest other fare offered back to the UK out of GYD – most were in the £500-700 bracket for a single. I found Air Baltic to be friendly and professional, the only problem had been confusion about the code-shared flight between Tbilisi and Baku, which is forgivable.
Air Baltic offered GYD-RIX-LGW for about £220, but I wasn't keen on paying quite a lot extra to fly into Gatwick when I could make my own way back from Riga to an airport nearer to home, the most direct being with Ryanair to Bristol for £50, plus bag fee. However that didn't leave until late the same evening and, along with all the other options, arrived too late for me to get home by public transport meaning either somebody would have to drive up from Plymouth to collect me, or I'd have to wait until the next morning for public transport to start again. Having already spent one night in an airport, I wasn't planning on another disrupted night's sleep, so when booking my flights I decided an overnight stay in Riga was best as a buffer. Also, by flying out the following day I would be able to take a quick domestic trip to Liepaja. An advert for this service had caught my eye when I was looking at different Caucasus-Riga options on Air Baltic's website, especially as I noted one of the rotations was being flown by an airline called Danu Oro Transportas, which I thought would be an interesting carrier to add to my log.
By the time I had reclaimed my backpack it was just gone 9am, and the flight to Liepaja departed at 14:40, so I still had plenty of time to go into the city and drop my bag off at the hostel - I didn't plan on paying 6 Lats to fly it there and back with me. I checked in for the Liepaja flight before leaving the airport, so I already had my boarding pass in case I got delayed on the way back from the city, then I walked across the car park in front of the terminal and waited for the local bus, which costs a fraction of what Air Baltic's shuttle bus charges and seemed to run more often.
A quick walk around the city and a shower at the hostel did me good and I was feeling much fresher when I returned to the airport around midday. By now the terminal was heaving with passengers and the queues for both check in and security were several hundred feet long – checking in earlier had definitely been a good call. Thankfully at the same time my GYD-RIX flight had been rescheduled back two hours, the RIX-LPX one was also pushed back by two hours, otherwise I'd have been pushed to make it into the city and back in time. The apron was busy too, with most of Air Baltic's fleet being present.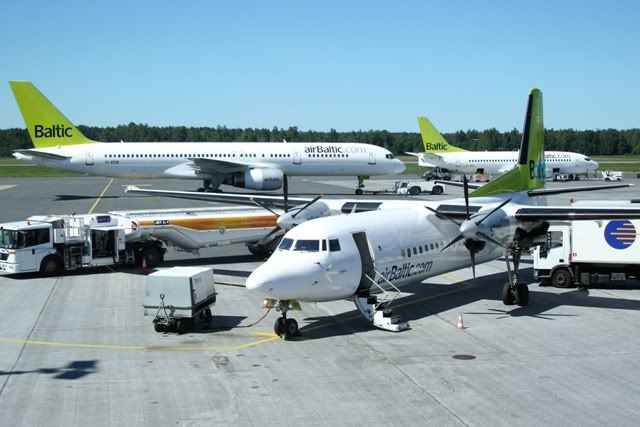 Riga's terminal appears modern and clean, but it was struggling to cope with the quantity of passengers passing through at this peak time – I can imagine this is going to be a limiting factor on the continuing expansion of Air Baltic because they really need a hub which can cope with a large spike of movements during their main arrival and departure bank.
As I expected the flight to Liepaja was leaving from a bus gate, which happened to be the only reasonably quiet part of the airport, so once there I stayed put. Ground staff arrived in good time and the handful of passengers waiting were boarded onto the bus early and driven out to the remote stand where the ATR was waiting. Too early in fact, as the aircraft was still being prepared to accept passengers.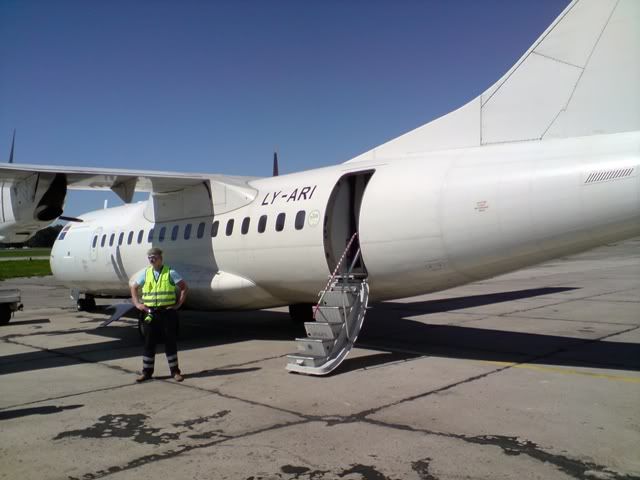 As I stepped onboard I was greeted in Latvian, which I didn't understand, but the accompanying broad smile traversed any language barrier. Only a dozen or so passengers were flying, meaning boarding formalities were complete in minutes and a run through of the safety demonstration could begin while the engines sauntered into life.
RIX-LPX
Riga to Liepaja
Carrier:
Danu Oro Transportas operating for Air Baltic
Flight:
BT 003
Aircraft:
ATR 42-300
Registration:
LY-ARI
Date of First Flight:
04.04.1986
Seat:
9A
Block Departure Time:
14:40
Take off Time:
14:50
Block Arrival Time:
15:20
Touchdown Time:
15:23
Distance Flown:
112 miles
Total Flying Time:
33 minutes
Fare:
16.80 Latvian Lats (£18.41) return
Right on block time we moved off stand, taxing towards runway 36 along with several other Air Baltic aircraft. The little ATR didn't require anywhere near the full length available, so as the 737 that had been in front backtracked away to the left, my flight followed it onto the active and turned right. There was no hanging about; after a slight pause the throttles were pushed forwards and the aircraft skipped down the runway and into the air.
.
Crossing over the coastline during climb out things got a little bit bouncy, but after that the air and cruise was smooth. This aircraft, manufactured in 1986, is one of the oldest ATR-42s still flying and was assigned the construction number '012A' to avoid assigning a frame to number 013. However I'm not sure if this worked, because sadly 012, which was actually the 13th ATR to fly, crashed into a mountain with the loss of all onboard.
Although the flight was short (Liepaja being only 112 miles from Riga by air) the crew still found time to produce a complementary hot and cold drinks service. Considering this wasn't offered on my previous longer flight I assumed that it was a fortunate quirk of the flight being operated by another airline - I wasn't going to complain at a free caffeine shot, put it that way! Cruise lasted barely fifteen minutes before a gradual descent began, banking sharply over the Baltic Sea to make a bumpy approach, skimming the piano keys for an even bumpier landing on Liepaja's runway 07.
.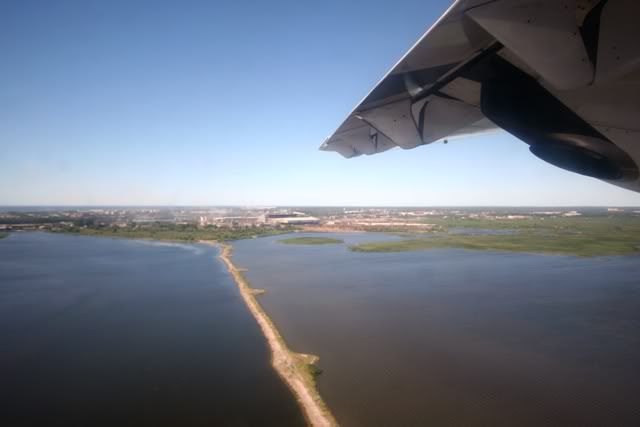 .
The cabin was still smart and well presented, hiding its age well:
.
I now had just over three hours until I needed to be back for the return flight, not exactly enough time to make it comfortably into the city and back, but also far too much time to just sit around in the small terminal. Like many former Soviet airports it was established as an air defense base that also handled civil flights, however the collapse of the USSR rendered it surplus to requirements, although a couple of curious reminders linger in the far corner of the ramp.
I figured I might as well go for a walk and ended up finding a sort of nature reserve come allotment area where I could sit down and chill out with a book. Plus it was still close enough to the airport for me to watch any movements, the first of which was LY-ARI departing onwards to Hamburg, followed later by LY-LWH arriving from Copenhagen, also operated by Danu Oro Transportas on behalf of Air Baltic.
.
.
.
One chilled out afternoon later and it was time to walk back to the modern terminal, which had been re-constructed in 2000 to help access the Liepaja Special Economic Zone. The main blue/grey and cream building handles departing passengers and the airport offices, with arrivals being dealt with in a separate small grey building (well, Portakabin) opposite, however the rest of the infrastructure still relies on what the Airforce left, including the approach roads.
.
Obviously a lot of effort had been put into designing the interior which was light, spacious and had plenty of seating. The check in area more closely resembled a hotel reception desk with its bespoke counter, a nice touch which added identity, whilst the staff's friendly attitude made the process all the more pleasant. Interestingly check-in was an entirely paper process; my reservation was cross-referenced with a printout of passengers booked on the service and then the blank Air Baltic boarding pass was written out by hand. At a guess I'd say the electronic system was down, because it did look like the equipment was there but just not functional.
.
The inbound service was running late but I stayed landside until the Fokker pulled on stand so I could photograph its arrival. No high fences to contend with here, so I could comfortably shoot straight over the top of it.
.
It didn't take a minute to pass through security into the departures lounge, which is only separated from the rest of the terminal by a glass wall, then I was directed straight onto the apron where the boarding queue was being held until the crew were ready to accept passengers.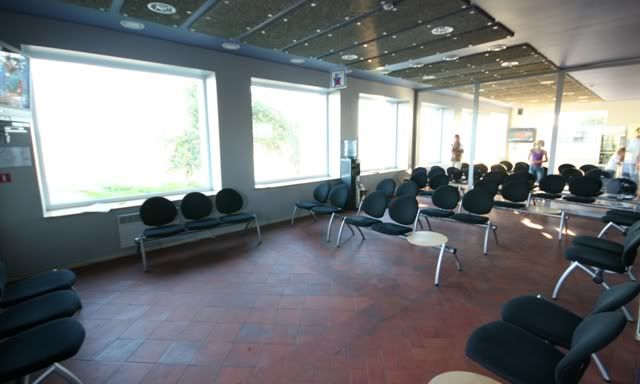 .
.
LPX-RIX
Liepaja to Riga
Carrier:
Air Baltic
Flight:
BT 006
Aircraft:
Fokker 50
Registration:
YL-BAU
Date of First Flight:
22.06.1988
Seat:
8D
Block Departure Time:
19:50
Take off Time:
20:40
Block Arrival Time:
20:30
Touchdown Time:
21:16
Distance Flown:
112 miles
Total Flying Time:
36 minutes
Fare:
16.80 Latvian Lats (£18.41) return
There were a few more passengers on this flight than my outbound, still not more than a 50% load though, of which I was the last to board. The crew were obviously keen to make up time and had the aircraft starting its engines barely a couple of minutes after I'd sat down, then as the stewardess ran through the safety briefing the aircraft was taxied quickly to the threshold. Liepaja's runway isn't the smoothest out there, aptly demonstrated by the shock absorbers being given a workout during the take off roll.
http://www.youtube.com/watch?v=eyQtm1A1D64
Flying time was announced as being an expected 35 minutes with a cruise of 10,000ft, although no explanation was given for the delay – presumably caused by knock on delays throughout the day. To my surprise there was again a complimentary drinks service; I later found out that this is the carrier's policy on all intra-Baltic flights, which is good, but a little back to front considering that you get nothing for free on the longer flights where I think it would be more appreciated.
Even without the drinks these flights were excellent value at 10.80 LVL return, plus two lots of booking fee. I'm not 100% sure of their accuracy, but I remember reading some reports stating that Air Baltic were paid a subsidy by Liepaja council based on the number of passengers flown (i.e. tourists/investors brought in presumably) on the RIX-LPX route, IIRC this figure was an almost unbelievable €300. In fact I wouldn't believe this could be true if it didn't explain why the flights were so cheap (even for same day bookings) and why there were three daily flights with relatively low demand – I'd be interested to know if this was true or what the circumstances were?
The flight back to Riga passed quickly; it seemed just a few minutes after take off that the gear clunked back down beside me in anticipation of the landing. By now the land below was illuminated in golden light, permeated by long shadows which signaled the day was drawing to a close, much like the flight which touched down with a soft puff of smoke three quarters of an hour late.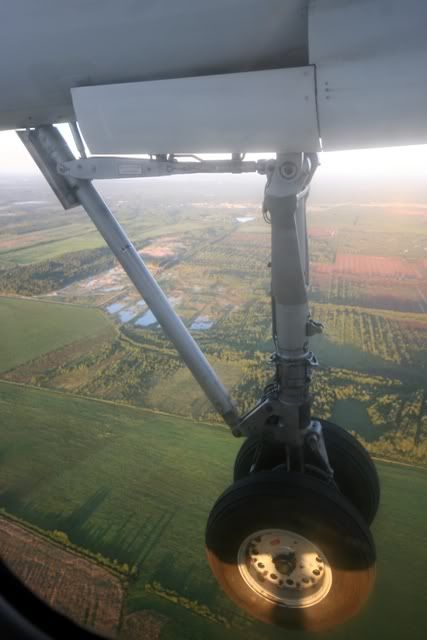 .
http://www.youtube.com/watch?v=SdSUno5w4V4
.
By now I was feeling pretty weary, but the side trip had definitely been worth it if only to log an interesting carrier and another Fokker 50 flight. With no luggage to wait for I was back outside the terminal and waiting for Bus 22 into the city within a quarter of an hour of landing, where I still found enough energy to do a little more exploring before returning to the hostel and crashing out for a great nights' sleep.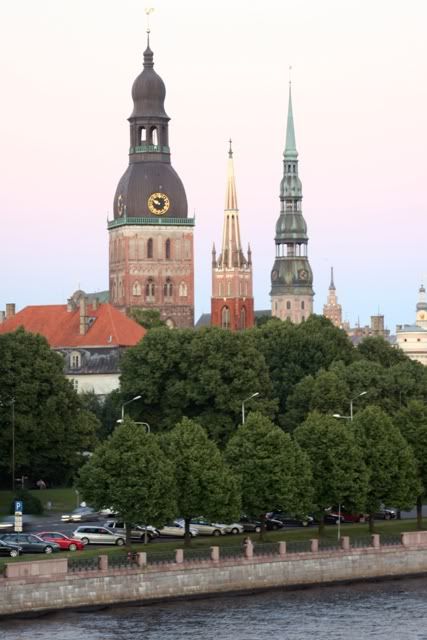 .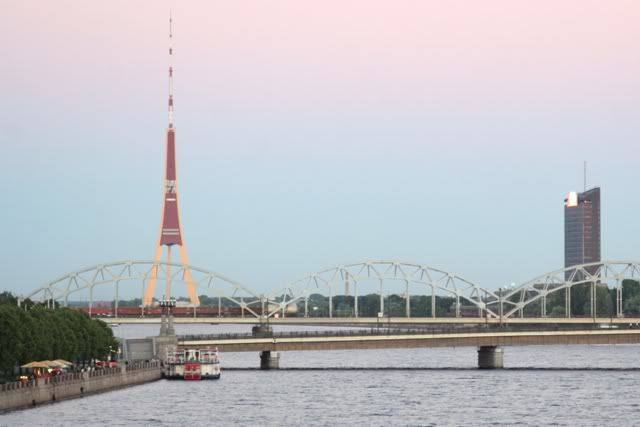 .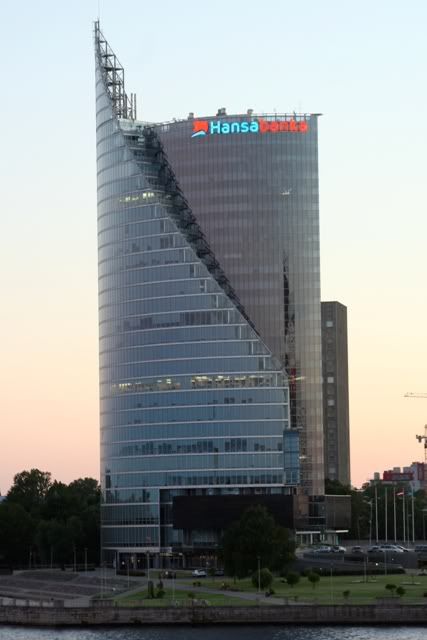 .
.
Day 31; Friday 25th July 2008:
After a month away, the last day of my trip had arrived and it was time to go home! I'd specifically avoided flights requiring me to be up ridiculously early so I could enjoy a quiet breakfast in the city and take it easy before making my way out to the airport by late morning. Ultimately Lufthansa offered the best deal on a return flight into Bristol with perfect timings, there was no point getting to BRS any earlier than late afternoon because I would still have to wait until almost 9pm for the evening flight down to Plymouth.
The airport didn't seem quite as busy compared with the previous day and there was virtually no queue for the Lufthansa check in. A friendly representative soon had me booked into window seats on both flights and my luggage checked right through to Bristol, after which there was still time to kill so I took a walk to the open air aircraft museum. Unfortunately I found that it's only open on weekends and the high concrete walls surrounding it meant you couldn't see much, so I headed back to the terminal and joined the long queue for security. The terminal itself, built in the 1970s, still retains many original characteristics when viewed from certain angles.
.
.
.
The flight to Frankfurt left from the new B Pier's Schengen gates where, to my surprise, passengers were already filing down the walkway as I approached, well ahead of the scheduled boarding time. There were a huge number of bags waiting to be loaded aboard the aircraft too; seven wagons piled high plus what looked like cargo being loaded in the rear hold.
As seating is pre-allocated on Lufthansa I didn't see the point of standing aimlessly in line, so I waited until the queue was almost gone before joining the back of it. I'm glad too, because the airbridge felt more like the inside of an oven and the sanctuary of the cool cabin couldn't be reached soon enough, where upon I was given a quick fire welcome in Latvian, German and English – a novel way to cover most options I suppose!
RIX-FRA
Riga to Frankfurt
Carrier:
Lufthansa
Flight:
LH 3245
Aircraft:
B737-330
Registration:
D-ABXO
Date of First Flight:
14.12.1987
Seat:
9A
Block Departure Time:
13:45
Take off Time:
13:55
Block Arrival Time:
15:10
Touchdown Time:
14:39
Distance Flown:
790 miles
Total Flying Time:
1 hour 44 minutes
Fare:
£77.70 one way
Despite completing boarding early we still pushed back a little late as it took longer to fuel the aircraft than expected, followed by a quick taxi and backtrack to use the full open length of runway 36, which was in the process of being extended to a length of 3,200m. I'm guessing politics were at play for it to have been constructed with just a 2,550m runway in the first place, considering the ample space available when it was designed as a replacement for Spilve Airport.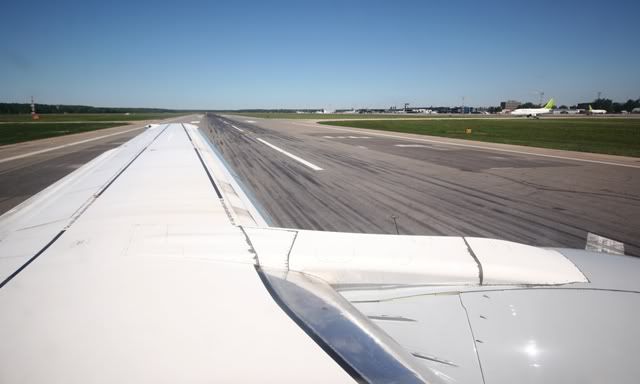 .
The nose was still swinging into alignment with the centerline when the engines roared into life, accelerating the aircraft aggressively down the runway and lifting it breathlessly into the sky, a left hand bank revealing all of Riga behind.
Choosing Lufthansa was a complete no brainer really; Ryanair were no cheaper by the time a bag fee had been taken into account, Air Baltic wanted £120 to fly me into London Gatwick, and KLM would have used 10,000 airmiles plus about €80 in taxes. Anyway, I was keen to try LH's new FRA-BRS service and I'd not flown the 733 with them before, so for under £80 one way the fare was a total bargain.
When it comes to legacy airline food I find that the 'average' sandwich/roll seemingly gets smaller each time I fly, but Lufthansa's chicken salad offering was well sized and tasted alright too. The usual selection of drinks were available to wash it down, so I took my normal combination of black coffee and orange juice, one to keep me awake and the other to energize me.
Maybe the coffee was decaf, because it failed to keep me awake and the next thing I knew our descent had begun towards Frankfurt. Still, I don't mind missing boring bits of flying like that. Even though we left Riga slightly late the flight touched down on 07L over half an hour ahead of block arrival time, which I think is impressive for a relatively short European sector.
...love is just a camouflage for what resembles rage again...