Going Solo, Baby



Getting that private jet feeling on WW 2186 from MAH to CWL
Introduction:
I don't normally bother writing reports for ordinarily mundane trips like this one, but as it turned out this trip back from Spain was quite individual.
Whenever I fly between Menorca and England I check which airlines are running their first or last services of the holiday season, as the ultimate and penultimate legs in the opposite direction to the main flow are normally dirt cheap. I needed a flight to the UK towards the end of May and, sure enough, bmi baby were offering their initial CWL return on the 27th for just €1.30 plus taxes. The bargain outweighed CWL's inconvenient location and the unfavorable times, so I booked myself onto the flight for a very economical £20.39 including all taxes.
Friday 27th May 2011:
As normal a trip out to our house in Menorca is never a really holiday, because I'm the only one in our immediate family who has either the skills or muscle to take care of jobs like painting high ceilings or other DIY jobs. As a result, by the time Friday evening came I was quite looking forwards to just sitting down and doing nothing at all on the flight back to Cardiff!
I'd flown out the previous Tuesday on Monarch from BHX along with my grandparents, so they drove me the short way to Mahon Airport for 21:30 and accompanied me up to the entrance to departures, just incase any of the things I had in my hand luggage were not allowed through security. Namely the nozzle of a pressure washer we'd sent over from England had started to malfunction so I was taking it back to exchange it for a new one with the shop, but it did look pretty gun-like, so I was concerned they wouldn't let it through. All was well however; the contents of my bag didn't even have cause to disrupt the screener from his conversation with a fellow worker. I gave my grandparents the thumbs up and a wave goodbye, and walked into the empty terminal.
There were just three flights left to depart that evening; an Air Nostrum ATR to Palma which was already taxing for take-off, an Air Europa Embraer to Barcelona and lastly my flight to Cardiff, which arrived about fifteen minutes after I sat down.
.
By the time the Barcelona flight had been called for boarding the terminal was totally deserted, it was quite eerie to walk through a space which is normally so busy and transient and see it completely silent and empty.
.
.
.
The flight to Cardiff left from Gate 12, which is in a section of the airport that is closed off during the low winter season, as there are insufficient passengers to warrant the space. Boarding time had come, yet I was still the only one sat at the gate when the dispatcher arrived. She smiled at me and said it looked like I was the only one onboard, another person was apparently booked to travel but hadn't turned up. The first clue that the load could be quite light was when I'd checked in online earlier that afternoon and been given sequence number 001, considering check in had opened several days earlier.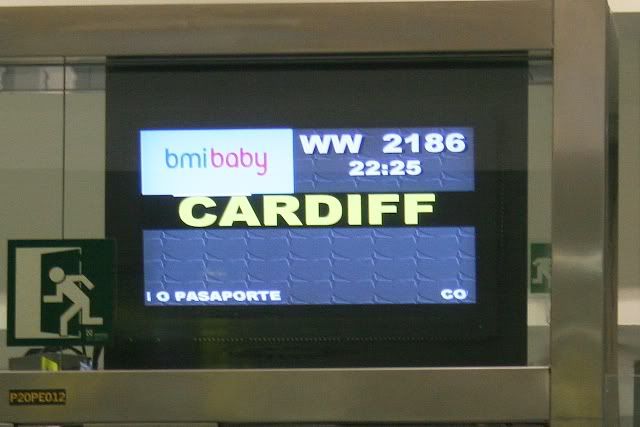 The inbound flight from Cardiff had been 100% full, so it took a little time for all these passengers to be dealt with by immigration, before one of the border control police could make his way upstairs and check my passport. He was pretty amused at it just being me and told me to enjoy my private flight.
A couple of the cabin crew had made their way to the gate to see what the terminal looked like, which was also a sort of informal boarding call and we walked back down the airbridge together. The rest of the crew were sat around the front of the aircraft chatting and were really welcoming and friendly, we talked for quite a while before it was time for them to get ready to leave. The lady captain flying us home tonight asked me if it would be alright to skip the PA announcements and just keep me updated via the cabin crew, which was no problem to me because I'd have felt a bit daft in that situation too. I took the opportunity to ask her a few details about the route, as I suspected it took us along one of the airways I can see from my house.
Pick a seat, any seat. I chose 14A, which is the over-wing exit row with a seat missing in front, meaning lots of leg room.
With just me onboard there was no cause to do a full safety demonstration to the empty cabin, so instead one of the crewmembers ran through the instructions at my seat. He realised pretty quickly that he was preaching to the converted, although I had forgotten to put my bag in the overhead. Well to be honest I didn't think I needed to as there was nobody else on the plane to be obstructed by it, but rules are rules I guess.
Pushback was bang on time by my watch, nudging backwards simultaneously with the Air Europa ERJ-190 a couple of stands down.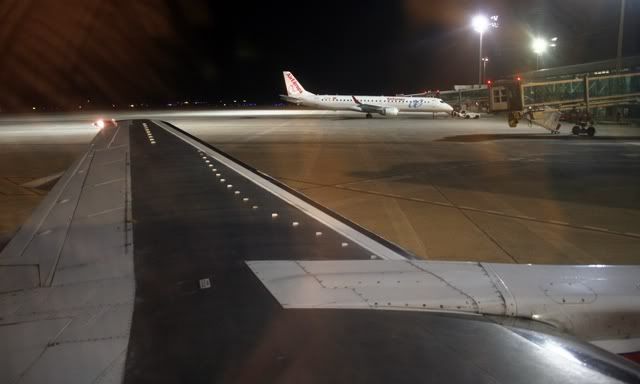 .
.
MAH-CWL
Mahon Menorca Airport to Cardiff Airport
Carrier:
bmi baby
(3rd time on carrier)
Flight:
WW 2186
Aircraft:
Boeing 737-36N
(14th time on type)
Registration:
G-TOYH
Date of First Flight:
07.03.1998
Seat:
14A
Block Departure Time:
22:25
Actual Take off Time:
22:28
Block Arrival Time:
00:05
Actual Touchdown Time:
23:49
Distance Flown:
877 miles
Total Flying Time:
2 hours 21 minutes
Fare:
€22.49 (£20.39) one way
Booking Fee:
None when using Visa Electron
Once the tug had been disconnected there was no hanging about, making a quick taxi to runway 01L for a rapid rolling start. It felt and sounded like quite a low power setting was used, but even so the 737 was quick to rotate and pulled back into a steep ascent after a roll of what looked like only 1000m or so. The climb rate dropped again pretty quickly and a left bank was made, flying across the North of the island towards Girona on mainland Spain, from where the route would take me across the Pyrenees and over Western France towards the Brest Peninsular.
A little way into the flight one of the cabin crew came by to check I was alright and ask if I wanted anything from the service. I figured a coffee would be a good choice, which at £2 is about average these days for LCCs I think.
I reclined my seat back and stretched out for the rest of the flight. The seat was comfortable and the cabin looked well presented and clean, if a little worn in places. Several times the crew came by to have a chat – having just one passenger on a flight this long was a novelty; it had never happened to them before on a flight to the Med. Likewise it was a first for me; several times I've been accompanied by just one or two other passengers, but only on very short flights of under a hundred miles or so.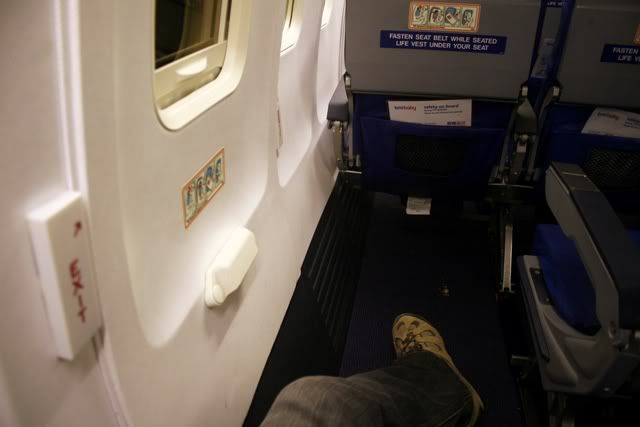 .
I was surprised to find out that this aircraft had only been built in 1998 and was just 13 years old, at that age it seems a little premature for the type to be called a 'classic'. It was originally delivered to SATA International and then passed to BA's Go before being inherited by EasyJet. I'm not sure where the seats came from, although the various shades of blue do remind me of SATA, so perhaps they are the originals?
Throughout the flight the pilots passed details of the flight's progress to the cabin crew, who in turn passed it onto me. They let me know when Plymouth was just to the left, and sure enough I could just about make out the lights of my village to the North of the city… although it would take me almost another 11 hours to get back there.
By now the descent into Cardiff had begun, dropping down over the Bristol Channel until the runway lights were visible in the distance, making a quick turn to line up with runway 30. Touchdown was firm and fifteen minutes ahead of block time with both reverse thrust and braking used.
It took the ground crew several minutes to manually drag the air stairs into position, so again I chatted with the crew and thanked them for a great and laid back flight. There was just time to take a quick shot of the classic 737 cockpit before disembarking into the chilly Welsh air. It had been 21 degrees in Mahon, so 12 and a stiff wind was a bit of a shock.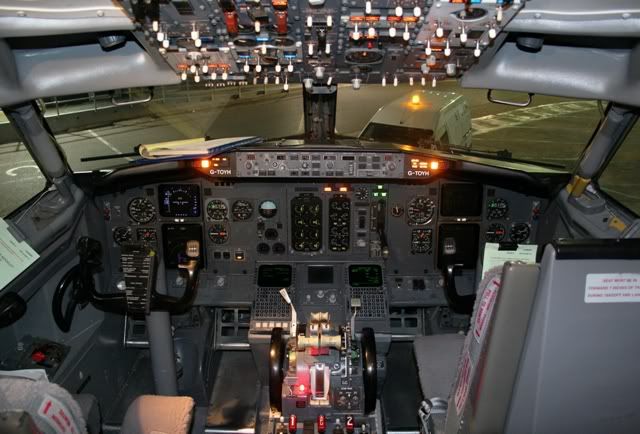 .
Two members of bmi baby ground staff were waiting at the bottom of the steps to walk me through the deserted terminal, they were apparently still expecting two passengers and didn't realise there had been a 50% no-show rate. I felt sorry for the border control staff on duty that evening; I got the feeling they hadn't been told the load was so light and two of them had turned out in anticipation of a 737 load of passengers, they took it lightheartedly but didn't seem very amused that there was only me until the next flight arrived in two or three hours – I can imagine it gets very boring even if they can chill out in their staff room in between flights.
I also had a boring overnight wait until the first train left at just gone 6am from the nearby station. Initially this put me off booking the flight, but in the end I reasoned that five hours or so sat in an airport was worth saving £70 for and mitigated the inconvenient location of Cardiff Airport. I'm glad I stuck with the economic option though, because I don't expect to repeat the novelty of having a flight entirely to myself anytime soon. Value for money goes without saying on this one (I mean how much does it cost for a 737-BBJ per block hour?
) , but the friendliness of the crew deserves special note because it was very open and genuine. My previous flights on baby were so-so and left me pretty nonplussed by the crew and cabin, but this trip certainly changed my opinion of them.
Thanks for reading and I hope you've enjoyed this short report,
Dan
[Edited 2011-05-30 10:20:56]