Hello all, it's been a while since my last TR, so here's a little domestic hop that I just flew this past weekend. I've flown quite a bit since my last report a few years ago, but having a child and dealing with them takes precedence over pictures / etc… Regardless, having 1 less toddler to worry about opened up my mental resources to actually remember details here. I hope you enjoy and please feel free to ask questions.
:Full Disclosure – I am a US Airways employee, and fly non-revenue standby.
-Background – My wife and I had 2 weddings to be at on the same day in Chicago, looking at flights on US, we were a bit dismayed to see that everything was full, but we were able to get to Chicago from PHX thanks to a ride on Southwest. (I love station agreements!) We were given 3 seats and paid for our yap 'er lap dog at the gate, and took the last three seats in the rear of the aircraft with our almost two year old daughter. Normal flight PHX-MDW on WN 1405, nothing really TR worthy there. After the receptions and much alcohol was consumed Saturday, my Mother in Law agreed to drop me off at the US Airways check-in area at T2 of ORD Sunday morning. I listed in F via the new employee travel site, Travel US and went to bed for a about 4 hours of rest. We left their Naperville home at 530 am, and after dealing with no traffic and some heavy fog along the entire route, arrived at 6 am with no issues.
-Flight Info-
US Airways #4
ORD-PHX
Aircraft – A321
Reg – N510UW
Seat – 2C (moved to 3A when boarding was complete)
Picture of US check in at 6 am.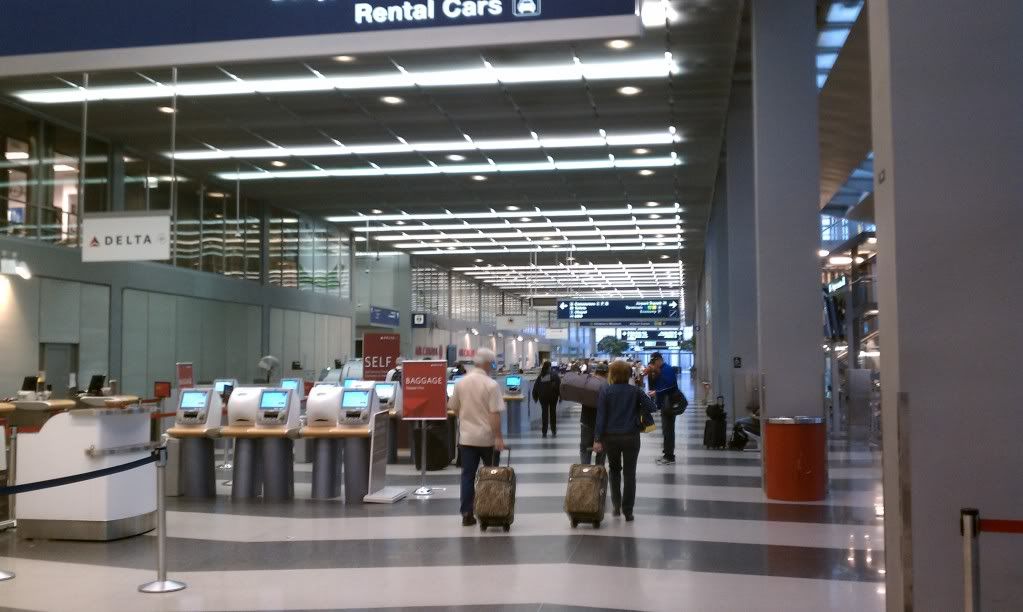 Check in, security, and overall traffic in the T2 gate area was very light at this time of the morning. And I was able to breeze right up to a kiosk, check in with my PNR, and get a security pass to get me through security. I was able to walk right up to a TSA agent, and was 2nd in line for the XRay (Traditional). After collecting my belongings, I made my way directly to gate F10, since the pax loads looked extremely light and I assumed they would be releasing standby seats early, I had to forgo my normal Starbucks Grande White Chocolate Mocha.
I arrived at F10 and asked the gate agent if any non-rev seats had been released, she had already printed out the seat and handed me my hard backed boarding pass.
What everyone loves seeing on their boarding pass.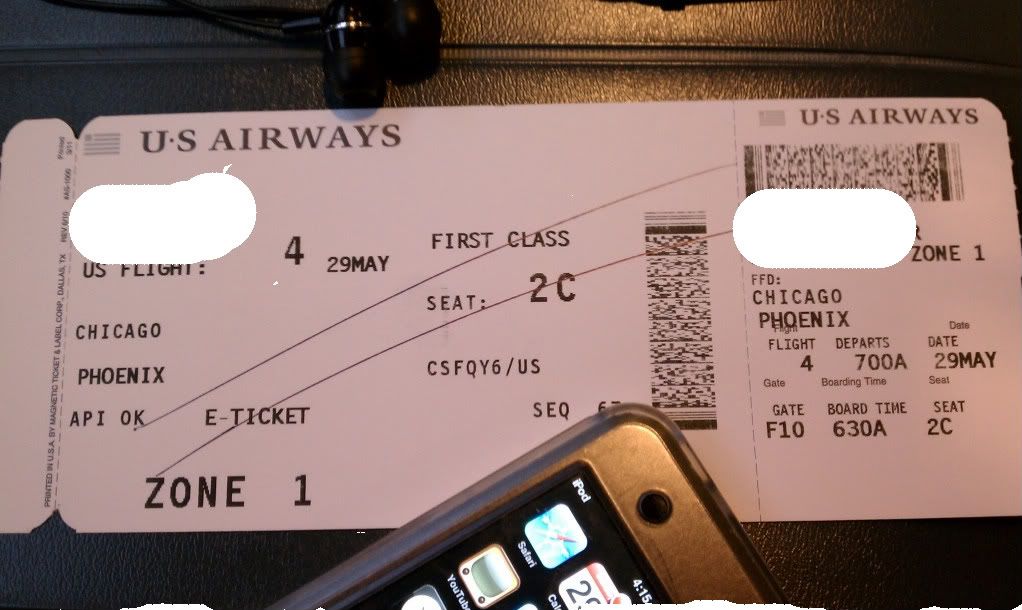 I noticed that United had already upgraded all their signage at ORD while waiting for boarding.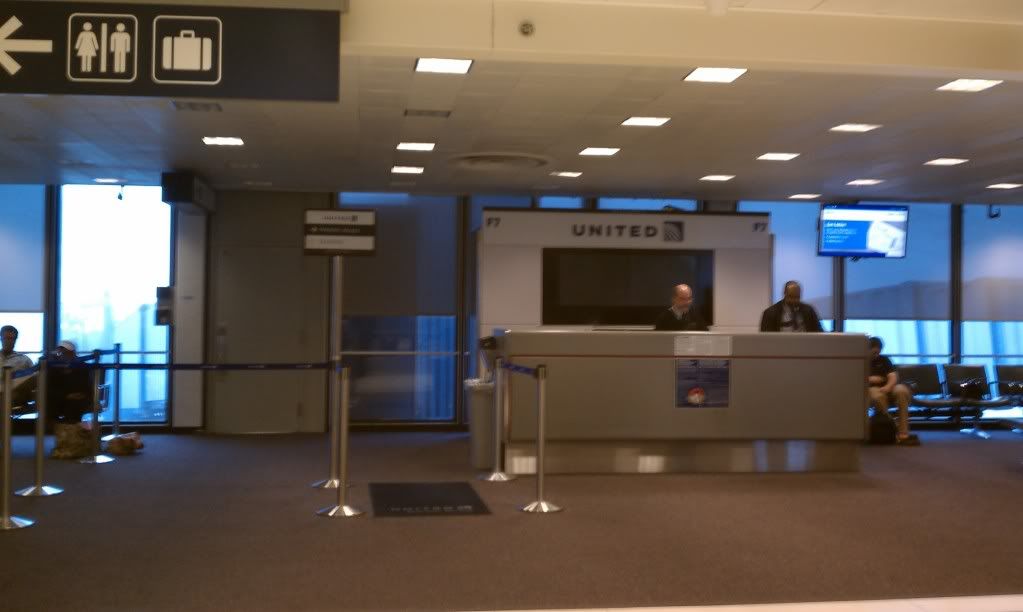 I passed the time by checking the news on my phone and snapped a few pics of my aircraft for this flight.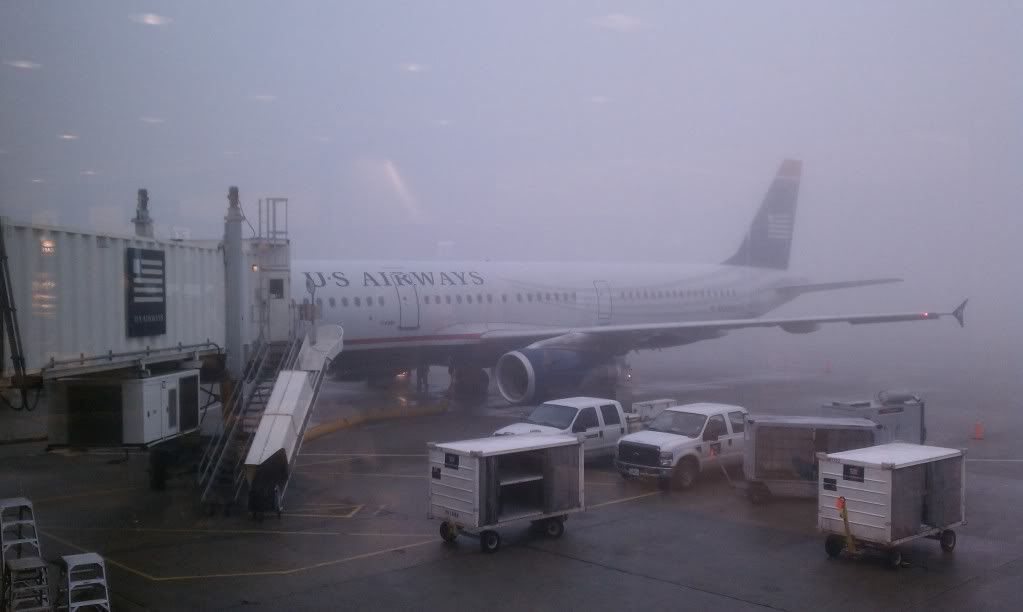 -Boarding began right at 630 am, and I went ahead and boarded with the F class pax. I was welcomed on board by Linda, who took my coat and wished me good morning. She also took my pre-departure beverage. I took the opportunity to catch up on my coffee fix. Pre-departure beverages are still served in the plastic cups and Styrofoam for coffee, which I think is completely acceptable, given that most people are unable to finish before takeoff anyways.
Boarding was complete by 650 am, and indeed it was an empty airplane. Of the 16 F class seats, only 6 were occupied, myself included. Y class had over 100 open seats of the 167 available. I then moved back to 3A from 2C, wishing my seatmate in 2A a pleasant flight. We pushed at about 700 am onto a very foggy horse-shoe ramp. We taxied out past T2, T3, & T5 towards 22L.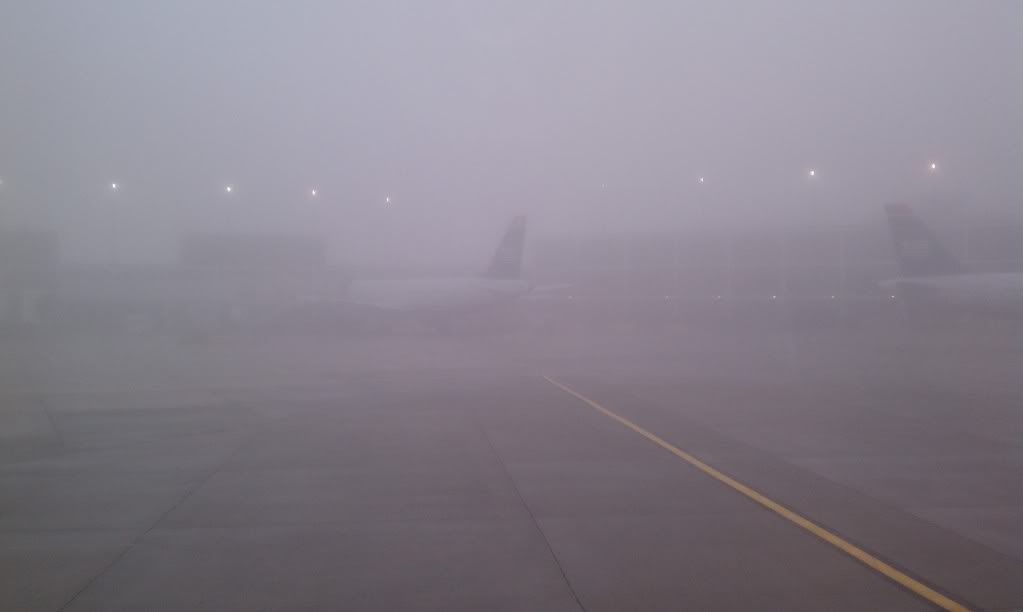 The AA concourse supposedly passed by…This is an AA767 with winglets from what I could tell.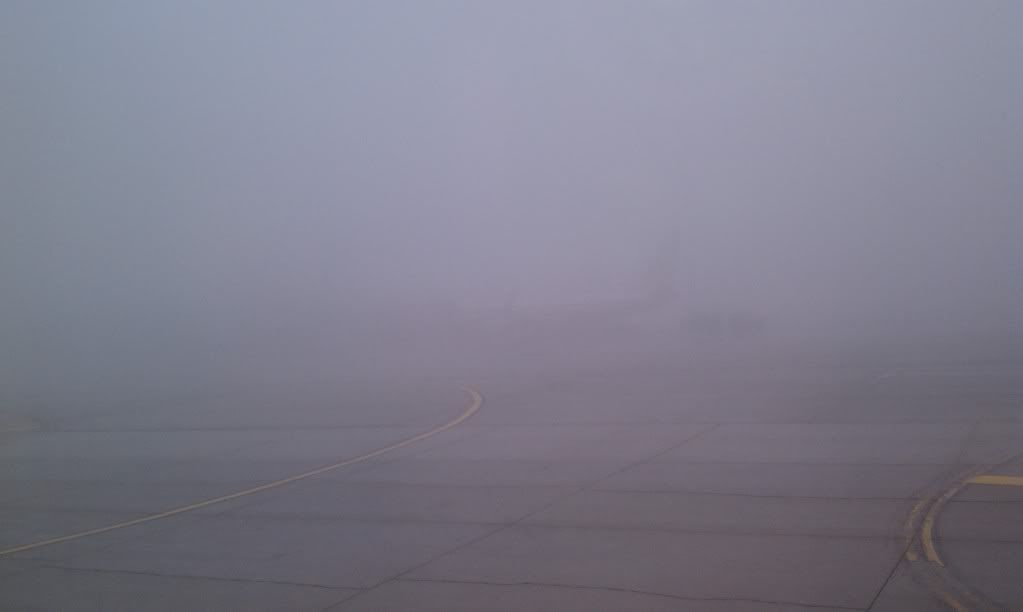 UA Trip 7 in *A colors.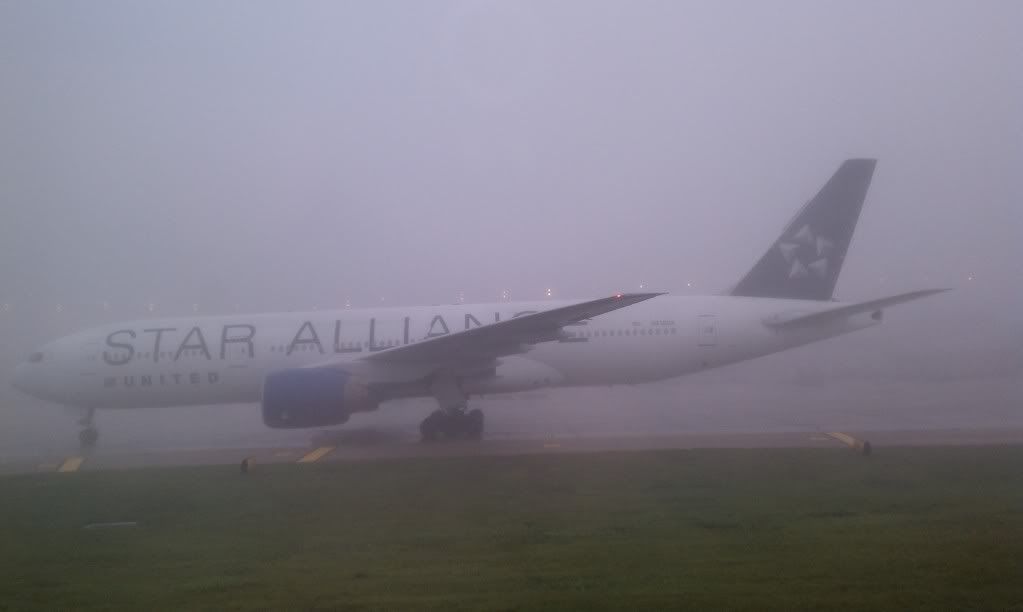 AM pushing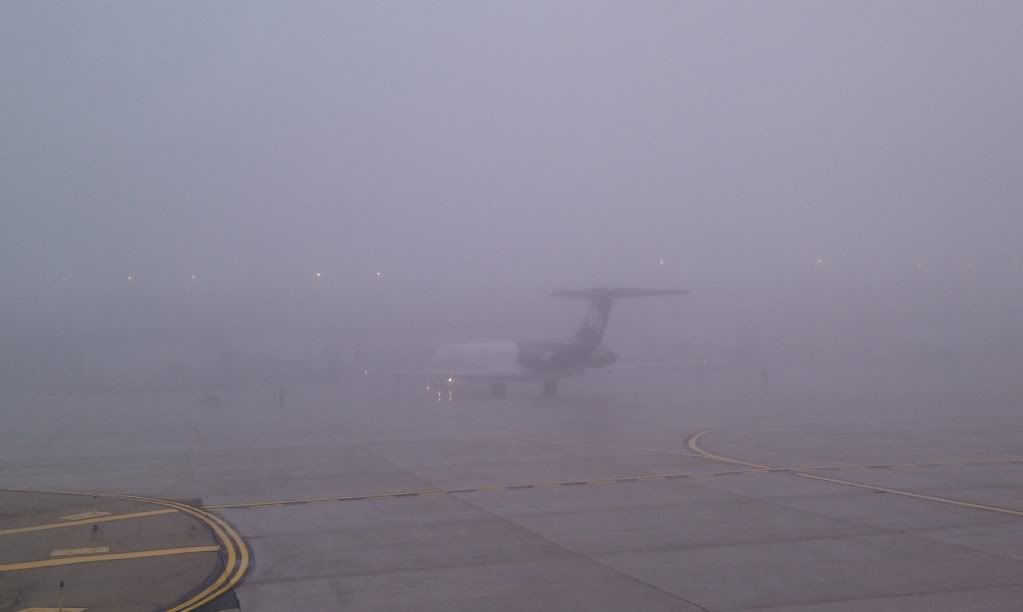 Yup, definitely a day for ILS procedures.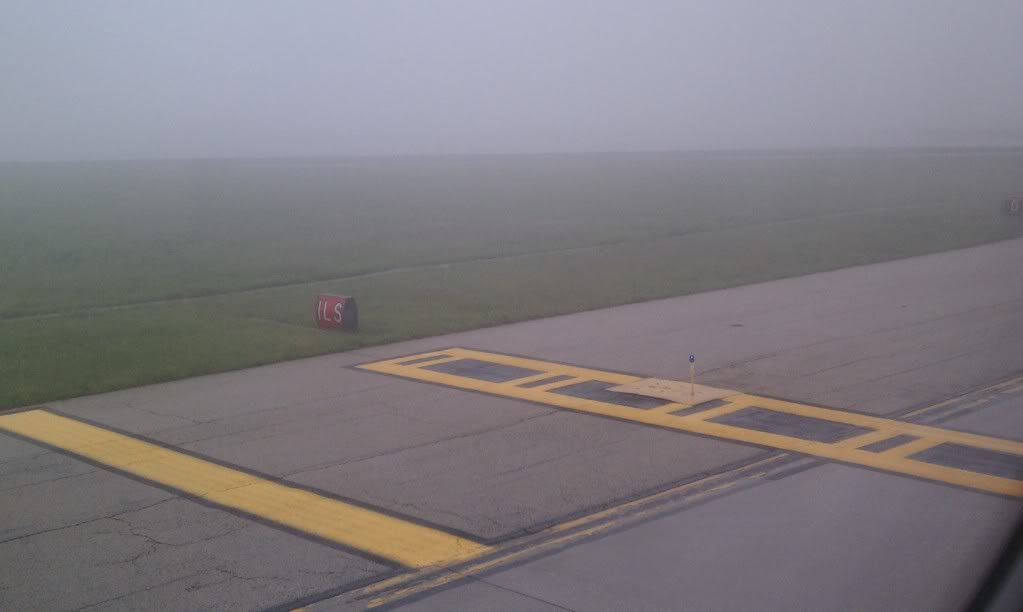 After the fact, I found out that nothing was arriving, only departing due to the fog, and at the peak saw 2 and a half hour arrival delays. I was very glad I decided to take the early flight despite my wife's objections, since standby travel after the first two flights became much more difficult.
Takeoff power was applied at 710 and the very lightly loaded A321's IAE engines spooled up into one of the snappiest takeoff's I've ever experienced. We broke out on top within a few hundred feet into a beautiful blue sky, and turned Southbound to avoid storms in our Westward path.
http://flightaware.com/live/flight/A...4/history/20110529/1200Z/KORD/KPHX
Linda, our FA up front immediately set off to work and took our breakfast orders, which luckily were a part of the new, upgraded offerings for domestic F on US. The two choices were a cheese crepe, or spinach & tomato quiche. I went with the quiche which came with 2 sausage links, country potatoes, & broiled sweet potatoes for the main dish. On the side came a nice fruit bowl and a very satisfying biscuit with butter and jam. I Aside from the quiche being a bit soggy for my liking, I was very happy with the meal. I had a bit of orange juice with breakfast and coffee for the rest of the flight. The most noticeable thing for me was the upgraded glassware which felt very sturdy in your hand, and coffee was served in a proper coffee mug.
Cloud tops after breaking out.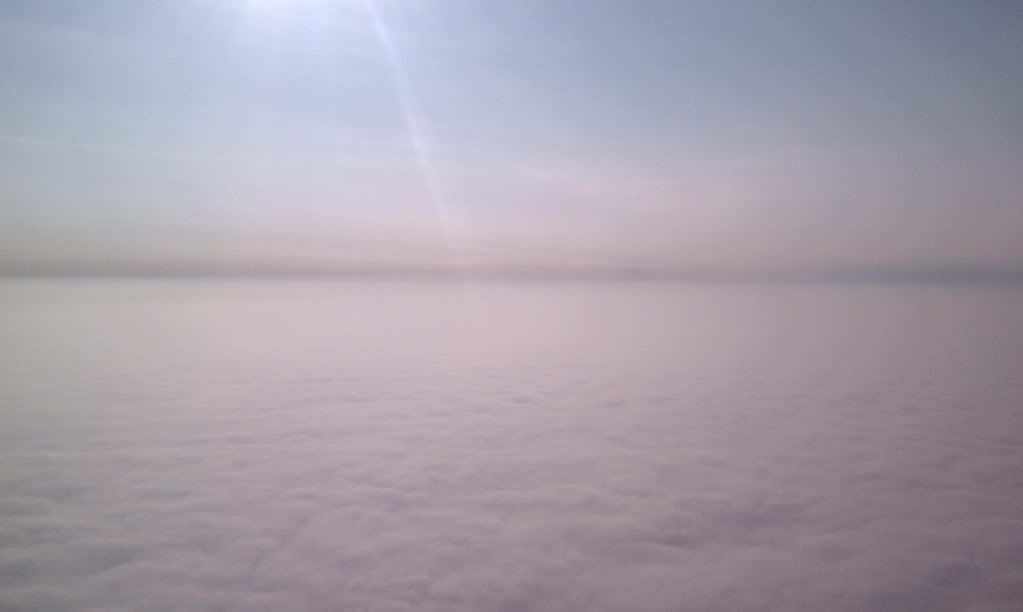 Interesting cloud formations.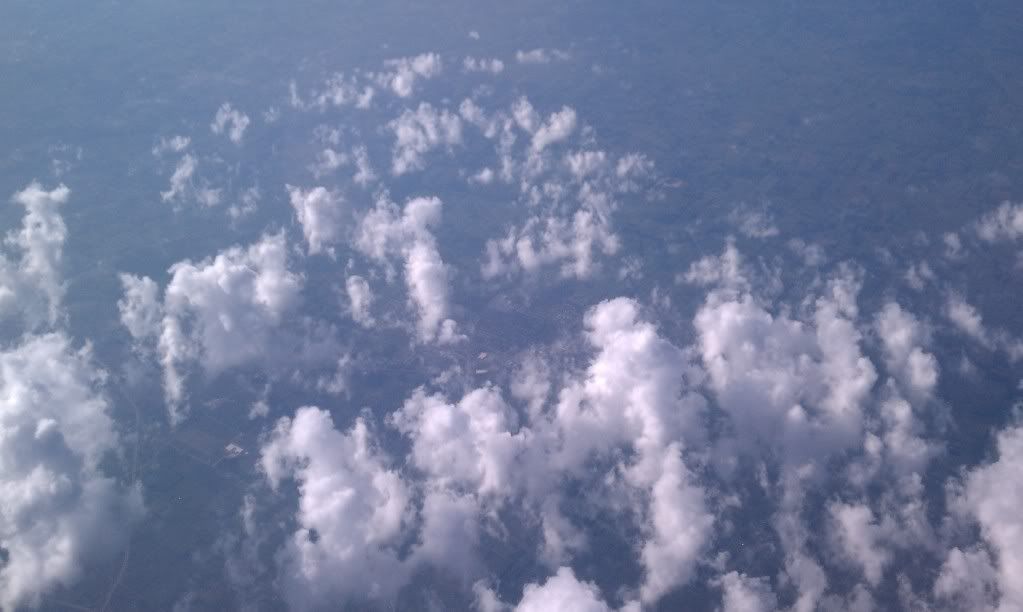 The obligatory lavatory shot…
OJ and snacks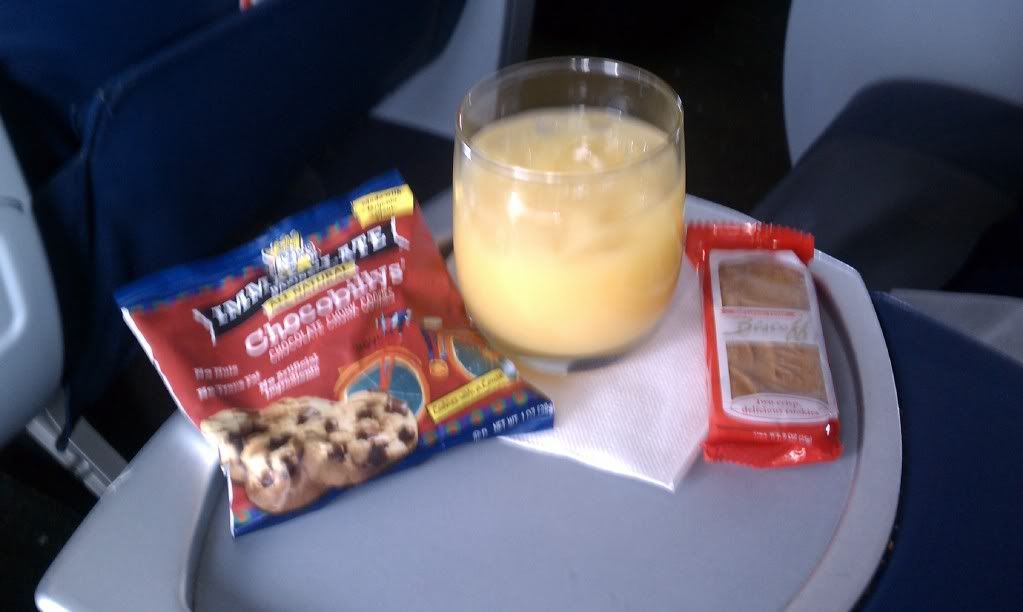 Wifi equipped aircraft, I did not partake.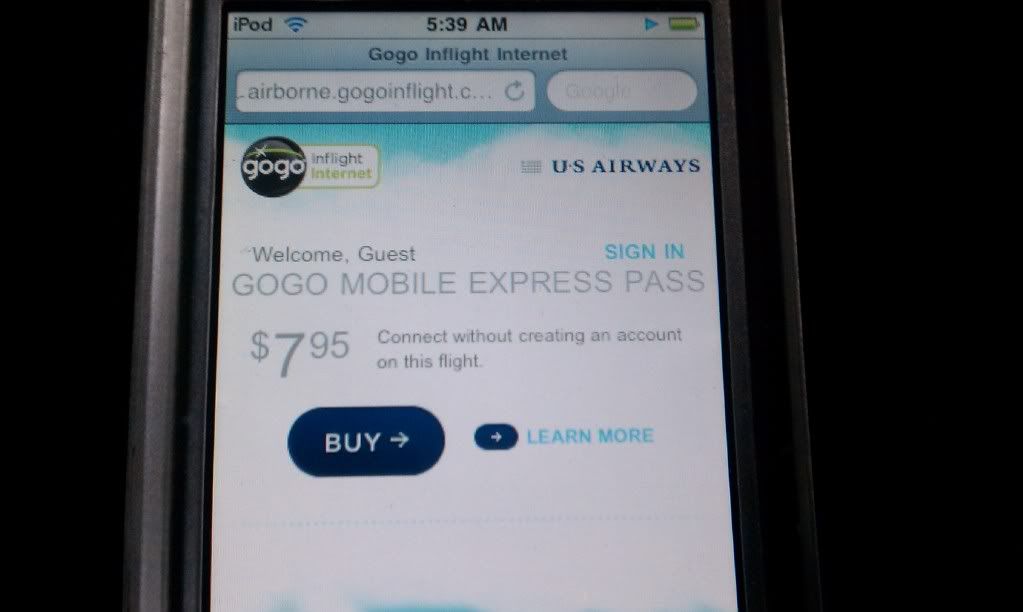 The full meal service presentation.
The current cabin bulkhead.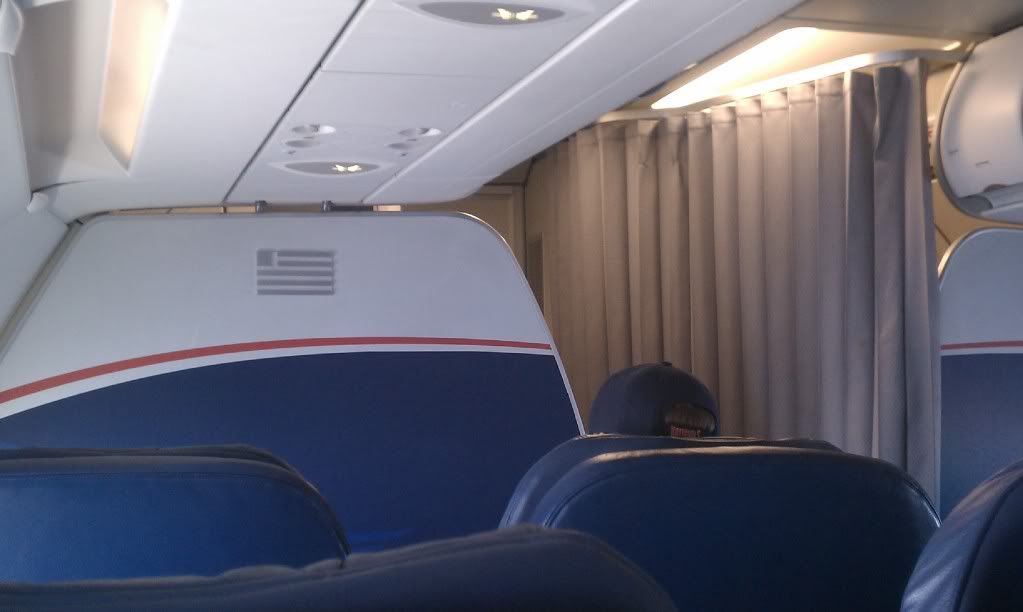 Due to our Southerly routing for the weather to the North, near the end of breakfast, the Captain came over the PA announcing that Joplin, MO was just off the aircraft's starboard wing. Most pax got up and took a look, not that much could be seen from FL380.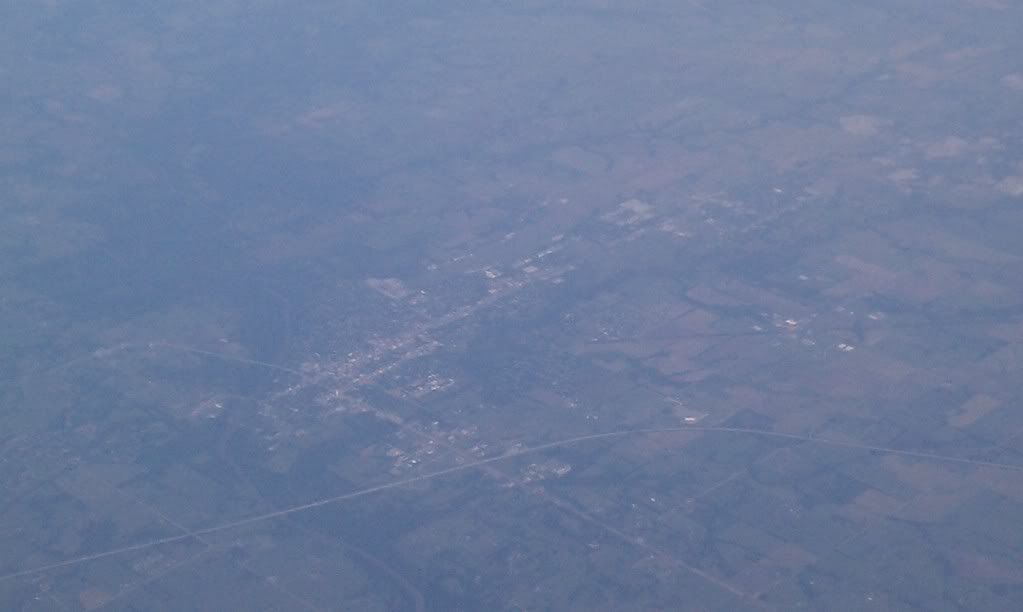 My legroom and the empty seat next to me in row 3.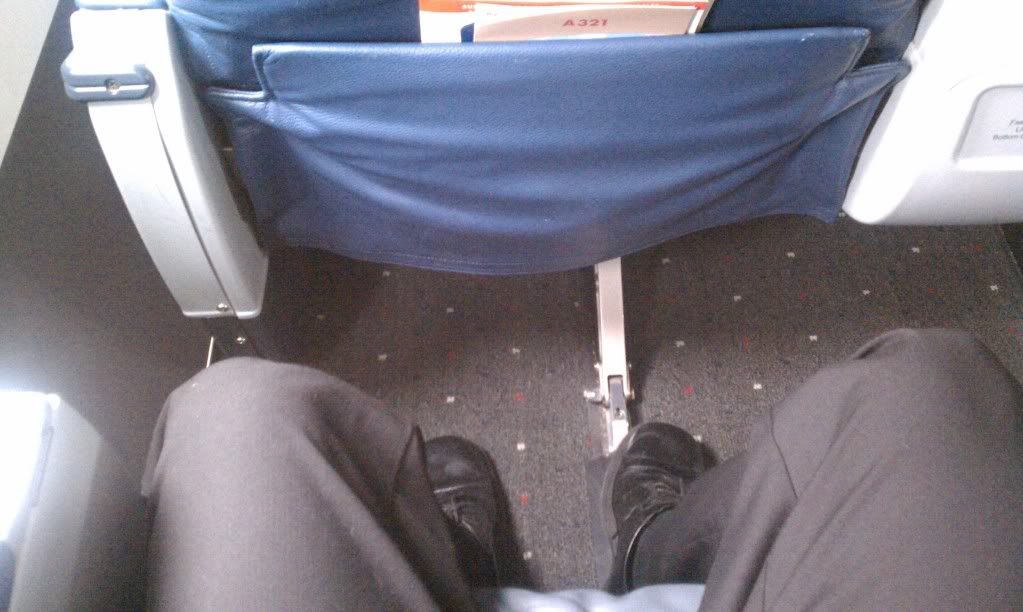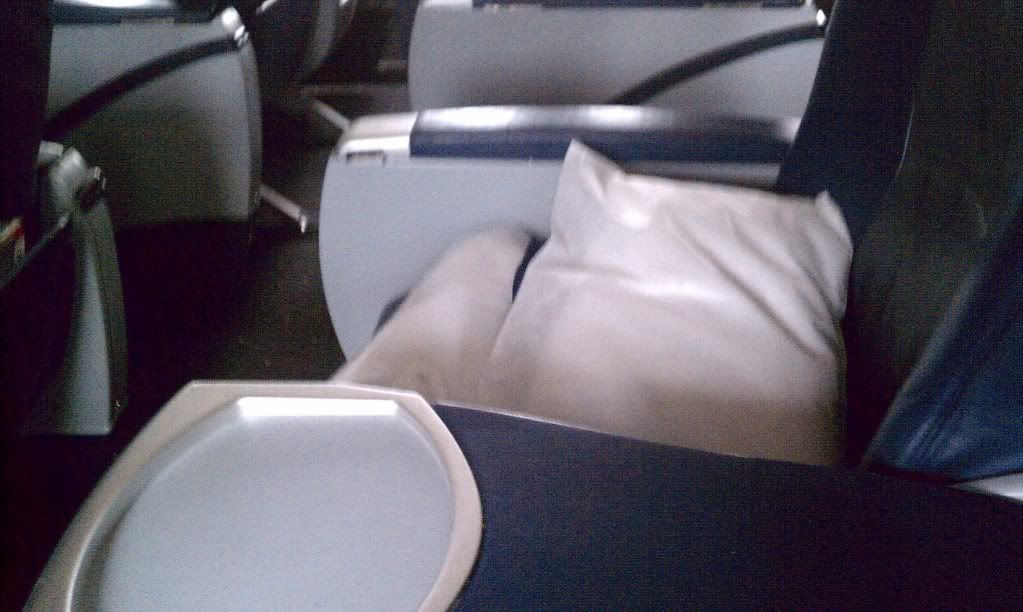 I passed the rest of the flight by listening to my iPod and was able to catch about 45 minutes of shut-eye.
I woke up to the brown landscapes of Western Texas and New Mexico. Soon the IAE's spooled back and within about 5 minutes the Captain announced the beginning of our descent into PHX via the Eagul 4 arrival.
The top of Four Peaks in the Eastern valley.
Superstition Mountains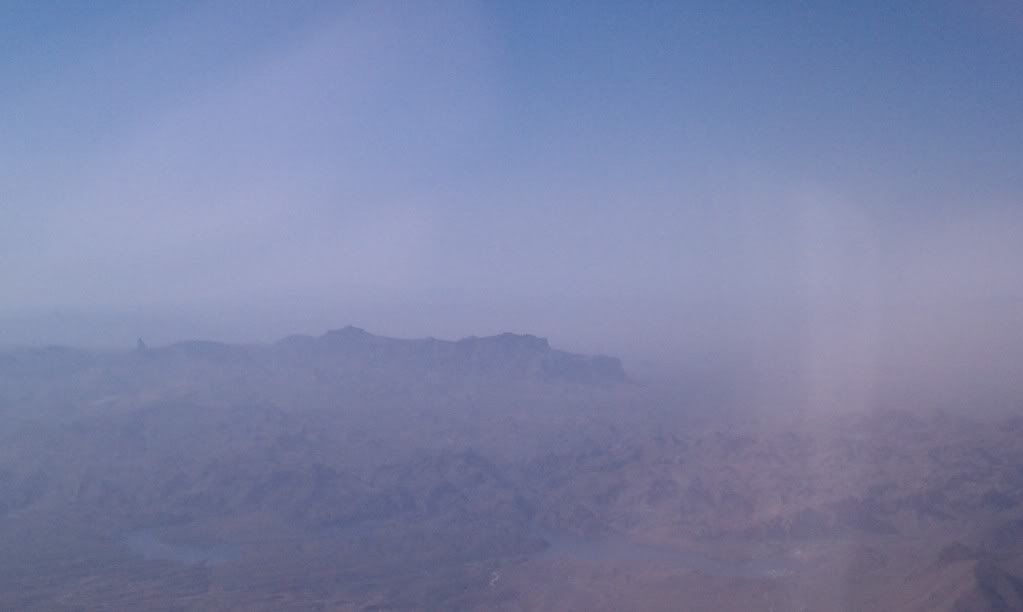 KFFZ – Falcon Field in Mesa.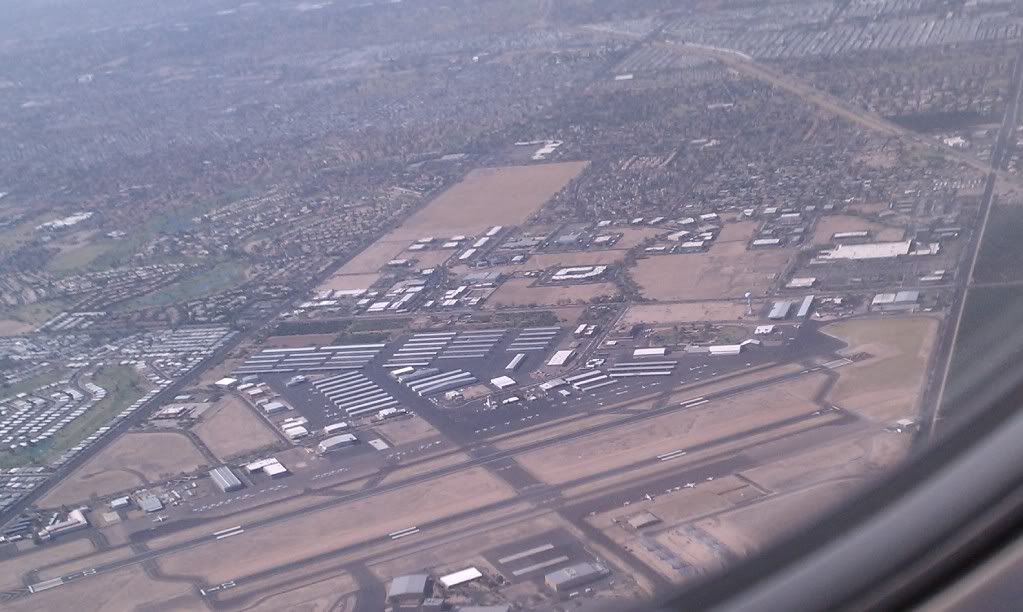 US Airways Corporate HQ as seen on the visual to RWY 26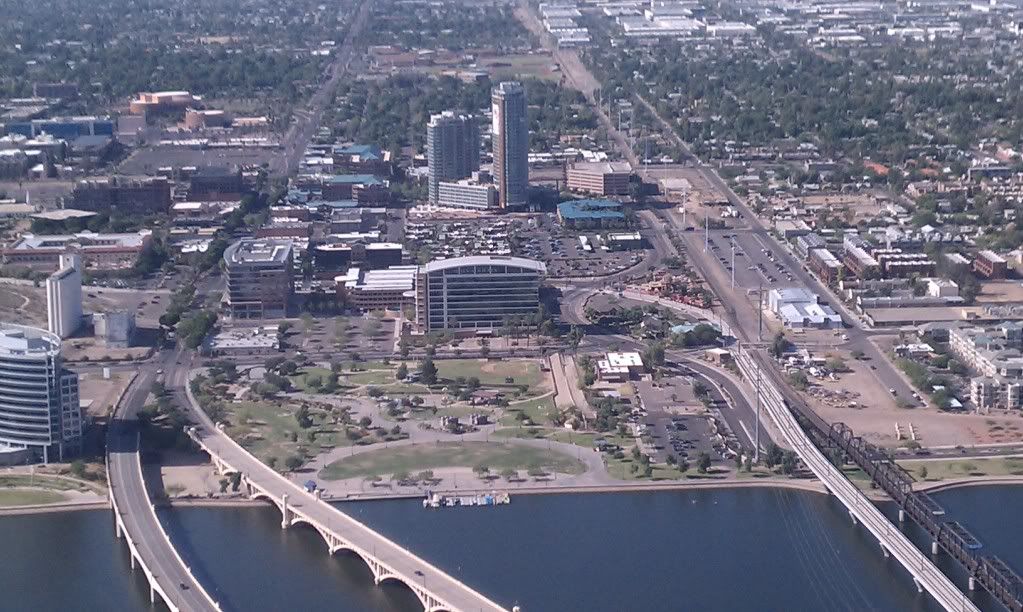 The PXR VOR, just East of the field.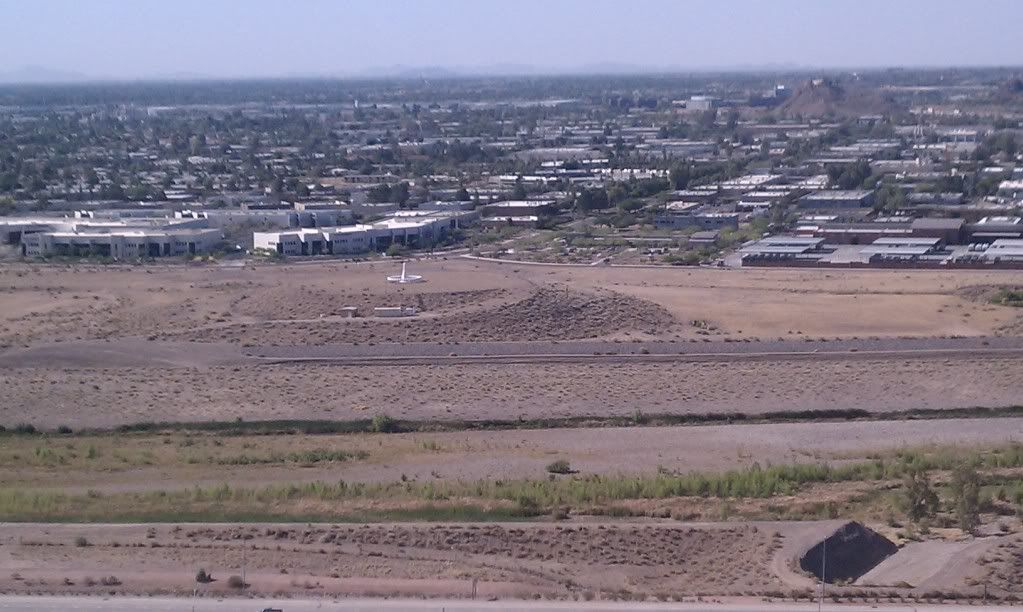 We landed over 25 minutes early on the North runway, right in the middle of the morning psycho bank of departures for US. There is always a group of aircraft waiting for gates, and today was no exception. We rolled out on 26, and instead of turning left one we exited, we turned right and taxied all the way down to the Ragsdale Executive Terminal. We passed over 15 company Airbii also waiting for their gates to open.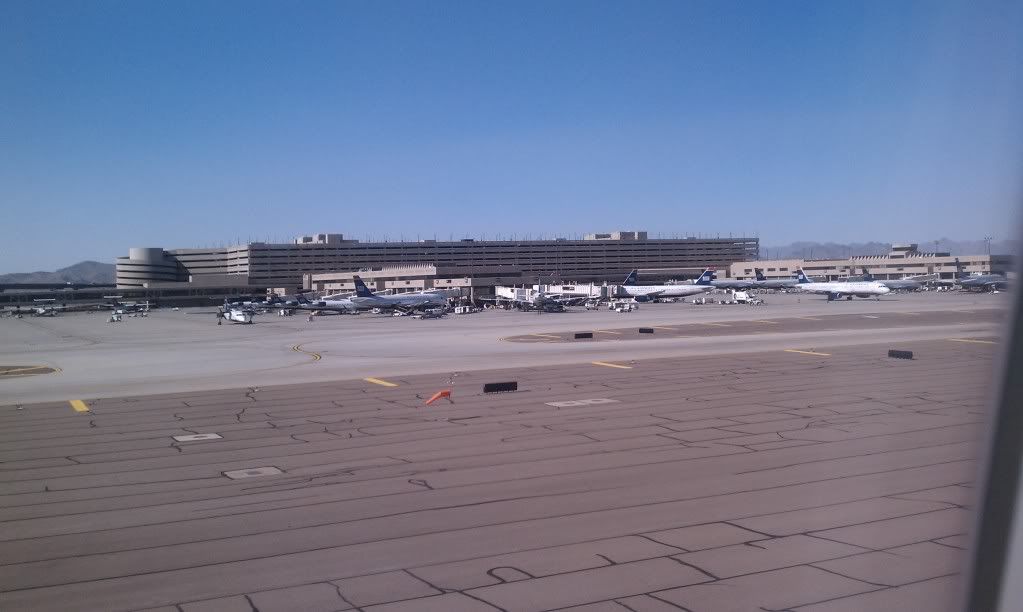 Passing our destined arrival gate, A22 on the West end of the "N1" concourse with reversers deployed.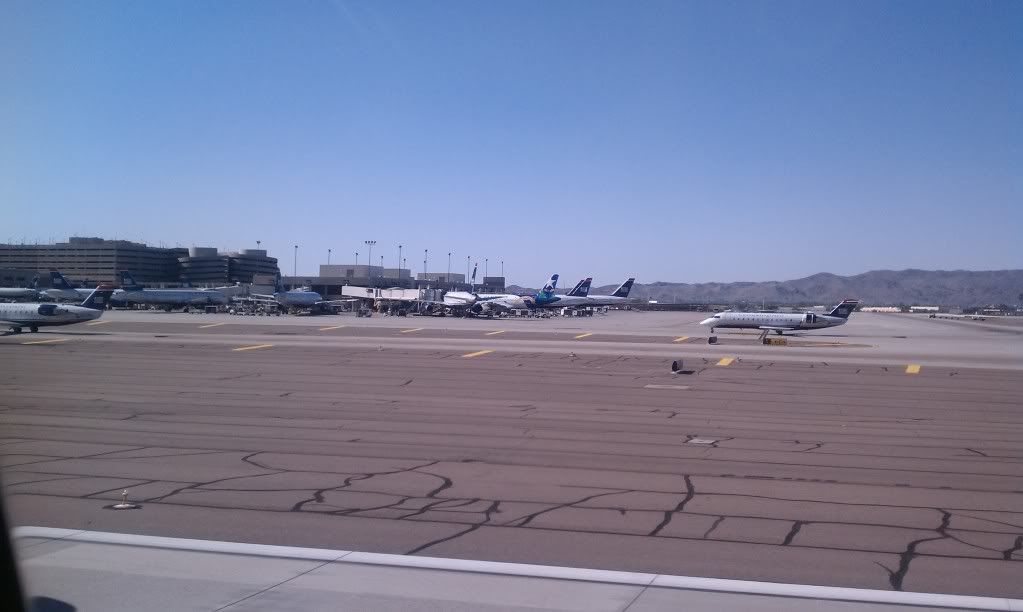 Line of other early arrivals on the West end.
After about 15 minutes, we began moving again, but this time only to the small penalty box between T3 and T4. We took up position on the West end of the box, next to 4 other US Airbii. Here you can see the front of the first line down towards the Exec. Terminal.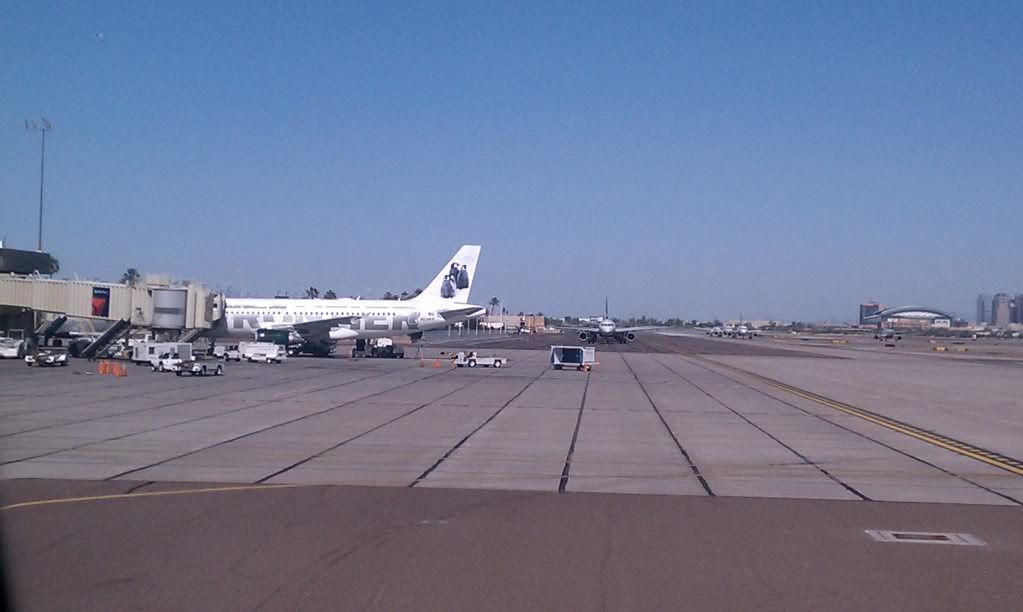 Won't be seeing any of these in PHX come December…
Slowly, approaching 9 am, the hold line's members began to trickle out towards their gates that were finally open as the departures made their way to 25R. This parade of Busses stopped to allow our exit.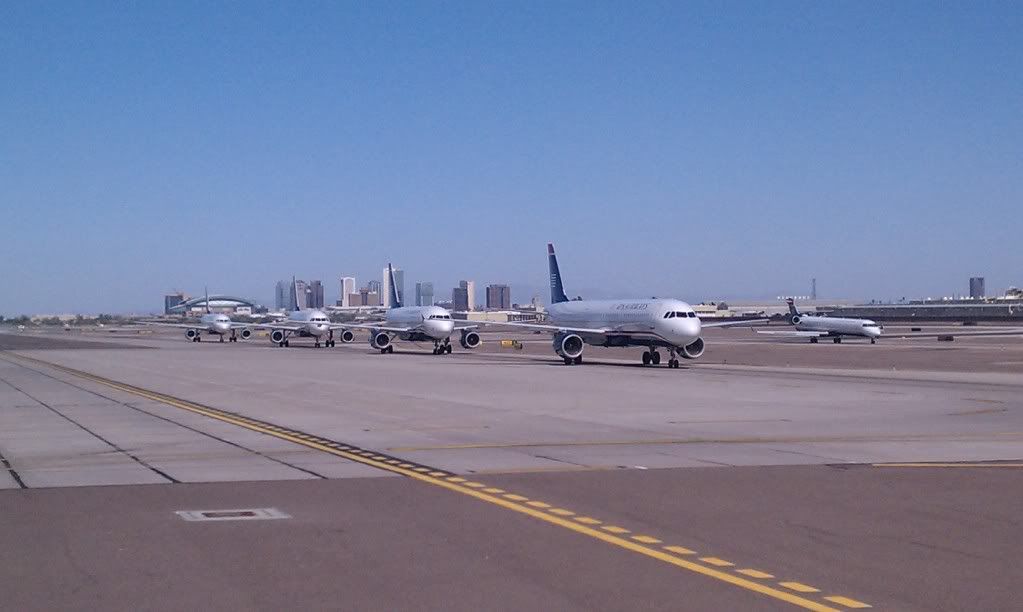 Company 320 which just cleared our gate, A22 waiting clearance onto Taxiway Charlie.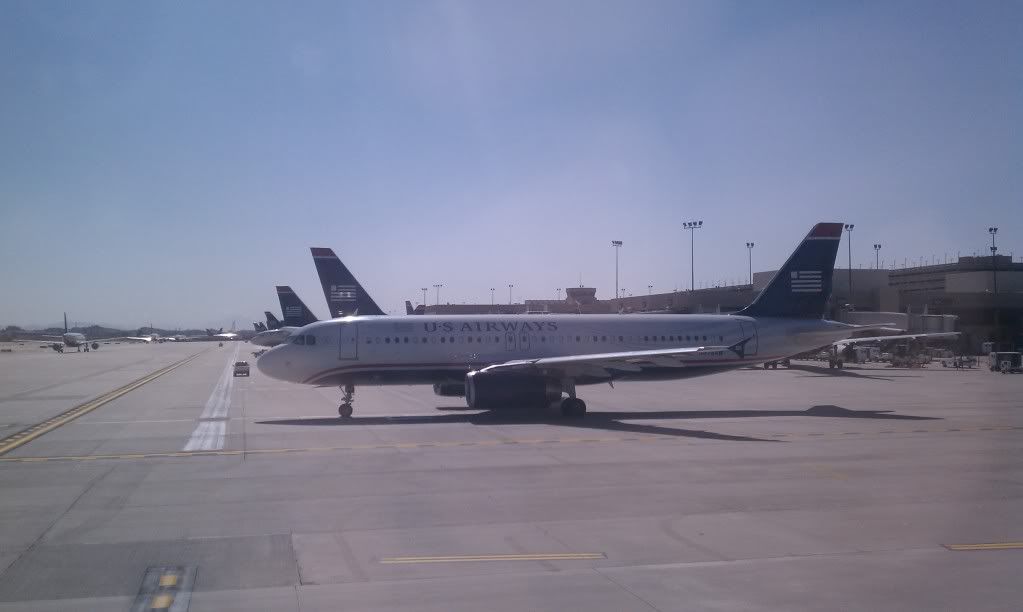 Our gate, the FIDS screen shows this aircraft is destined to head back East to CLT.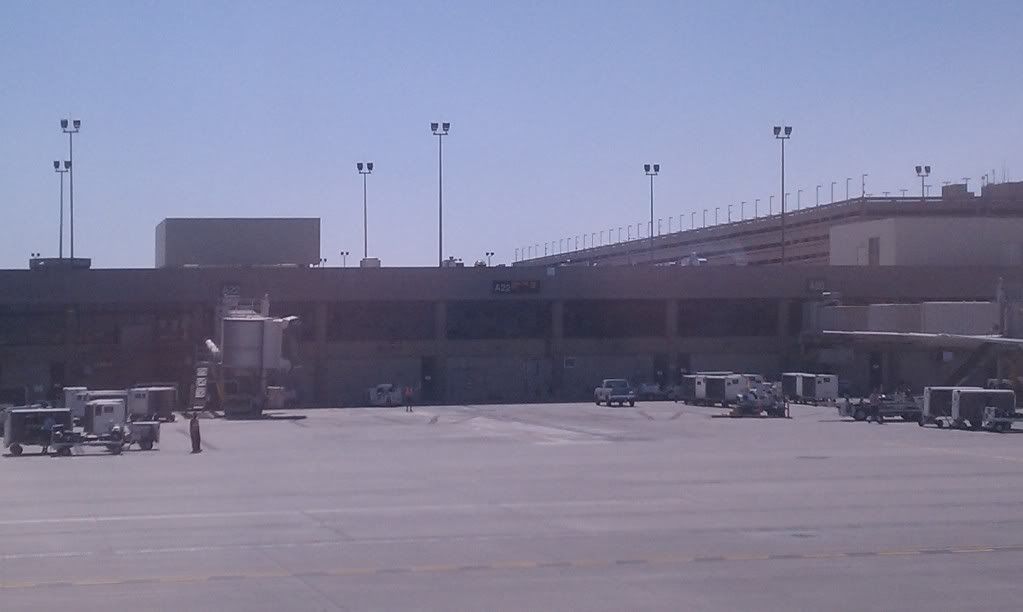 Nevada themed A319 at A26.
3A, my home for the last 4 hours.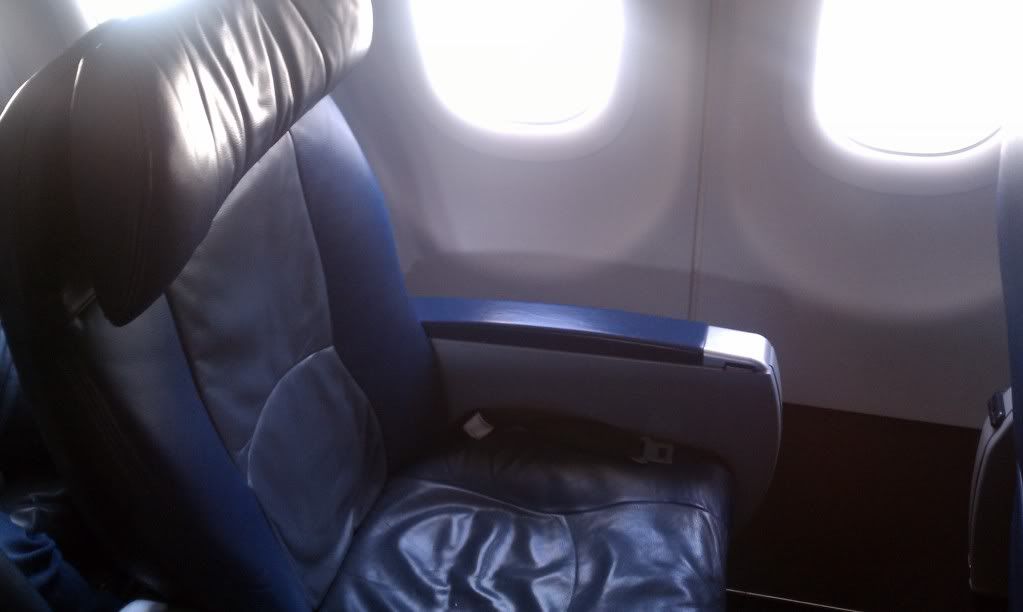 We were spit out onto an extremely busy concourse full of connecting passengers. I went downstairs and verified my work schedule and flight data for this TR.
-Conclusion – I think US tends to get a bad rap on A.net for a lot of things that are out of their control. On board service was also noted upon, and that being in their realm of control, the company has taken measures to improve in this area, upgrading F class meals and hardware, installing First class in select Express aircraft, and I think the DCA slot swap will be a great opportunity as well, seeing how a lot of the LGA flying is Express anyways. The crew on this flight were superb, the flight deck kept us well informed, the food was great, the seats comfy. The only issue was the hold for the gate, but that was only because of our early arrival, so had a gate been open, I don't think one would have complained.
That's it for me, thanks for following along.