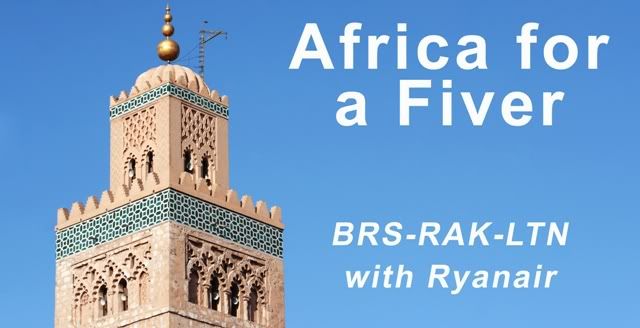 .
Introduction:
Come the beginning days of 2010 and it was already looking like a bleak year for flying. I was in my final year of an under-grad degree at University and yet, five months into the academic year, the Student Loans Company still hadn't paid me a penny thanks to numerous cock-ups on their part, meaning all my funds had to go on study materials and travel to and from lectures, racking a nice bill up on my credit card along the way.
Still, I really wanted to go or fly somewhere (anywhere) towards the end of January for my birthday, but it had to be on a very tight budget. Coincidentally Ryanair were having one of their trademark sales with certain flights at £5, so I browsed their site and drew up a list of all their cheapest destinations from Bristol; Belfast City; Dublin; Marrakesh… I did a double take and got very excited… yes, £5 to
Marrakesh!
I quickly formulated a plan. Although I studied in Birmingham I was actually living in Plymouth during my final year, meaning a long commute by train (460 mile round-trip) every day that I was in. This wasn't as bad as it sounded as I was mostly in studio just one day a week thanks to the nature of the course. But the end of January was going to be my last day for a while and afterwards I was heading down to see my girlfriend in Oxford, so I only needed a one way ticket to Birmingham which, at £55, was objectionably just a few pounds cheaper that a return. I decided to set that as my budget for all transport and accommodation during the trip; Plymouth to Birmingham via Marrakesh for less than a walk-up single on the train. The challenge was on…
Now I've got to admit that it only took me a week to flunk out on part of the challenge, because that's when the SLC eventually paid me and I decided to book a flight from Plymouth to Bristol at a cost of more than half my budget. But in principle it would have cost me just £8.20 on the coach/bus from my house right the way to Bristol Airport, so I allowed myself one cheat and that's what I'm going to run with… for illustrative purposes of course.
Tuesday 26th January 2010:
The morning began with my alarm rousing me into life at 5am. It was dark and wet outside, but I hauled myself up and into the shower, and by quarter to six I was in the car being driven to the airport by my mum. She was surprisingly happy at this, I suppose because the airport is just around the corner from our house whilst the station I would otherwise have been going to is five miles away and I'd have needed to be there by just gone 5am for the first train to Birmingham.
Plymouth Airport was awake and busy with the three morning departures to Gatwick, Newcastle and my flight to Bristol which then split onwards to Leeds or Manchester, with reasonable loads all round. I arrived 35 minutes before the flight left, so check in was quiet and I had been saved 2D, my favourite seat on the Dash 8, by a kind member of staff who saw my name on the passenger list. As the departures lounge is rather small passengers are only called to pass through security and enter it when their flight is almost ready for boarding, and it wasn't long before an announcement was made for mine to Bristol so I headed on through.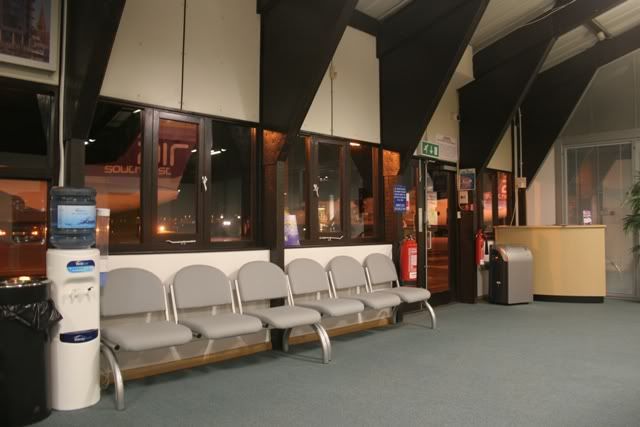 .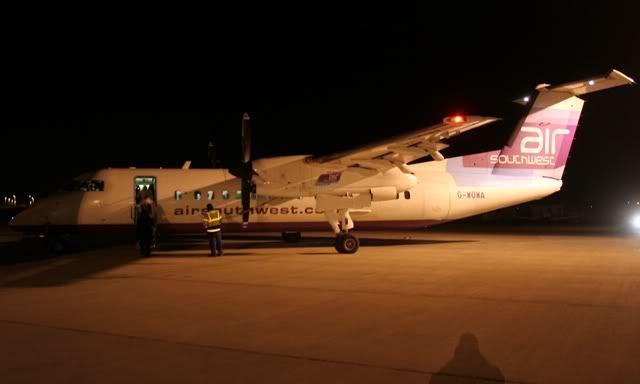 The flight was being operated by G-WOWA today, sitting patiently at the rear of a three Dash line-up on Plymouth's ramp. I had a warm welcome into the chilly cabin, placing my rucksack in the overhead and just keeping my camera beside me for the flight.
.
PLH-BRS
Plymouth City Airport to Bristol International Airport
Carrier:
Air Southwest
(80th sector on carrier)
Flight:
SZ 302
Aircraft:
Dash 8-311 (Q)
(79th sector on type)
Registration:
G-WOWA
Date of First Flight:
23.03.1991
(6,884 days old when flown)
Seat:
2D
Block Departure Time:
06:30
Actual Take off Time:
06:42
Block Arrival Time:
07:05
Actual Touchdown Time:
07:14
Distance Flown:
90 miles
Total Flying Time:
32 minutes
Fare:
£29 one way
Booking Fee:
£1 with Visa debit.
Take-off was the normal maximum power springboard, seeing the Dash catapult itself down the runway and up over South Devon in a matter of seconds. A few minutes later we broke through the thick cloud-cover to reveal a beautiful pre-dawn sky.
After a spectacular show of colour pre-empting sunrise, the plane dived back into the cloud for a textbook touchdown on Bristol's runway 27, where it was still pitch dark. Only a handful of passengers were getting off in Bristol so the ground staff chaperoned us through the covered walkways to reach the domestic arrivals entrance, passing a TUI 752 awaiting its next mission.
.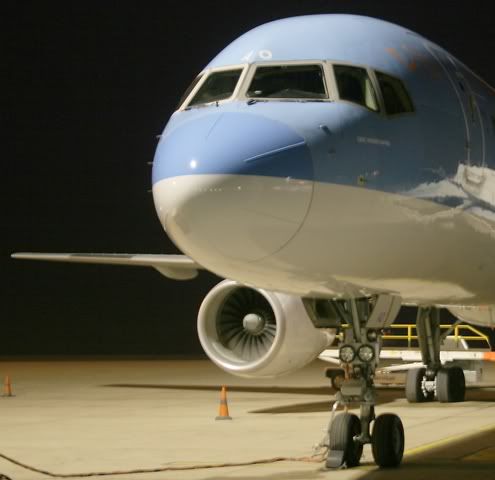 I was only carrying hand baggage so I did a quick loop of the terminal and was back upstairs in the departures lounge just a few minutes after stepping into arrivals. I knew there would be a long wait before the flight left, so I grabbed breakfast and sat down with a book to while away the hours. Various bits of the terminal were still a building site, with large sections of metal framework protruding in all directions. I took some pictures of this as half constructed bits of building are a useful reference for when I'm drafting my own plans but unfortunately, discrete as I was, this garnered the attention of the airport police and I had to delete them. Ahh the joys of being on a high terrorist alert…
By chance I happened to have sat down right opposite the gate, so quite by accident I found myself almost at the front of the queue when boarding was announced. The aircraft was parked on stand three, right in front of the terminal, so it was only a short walk across the tarmac… until the procession of passengers was halted, just as we were about to start filing up the aircraft steps. After a few minutes of total confusion between cabin crew and ground staff it was decided that boarding was cancelled, then after a bit more confusion all those passengers whose boarding passes had already been scanned were issued with a laminated transit pass and sent back into the terminal. Apparently there was a fault with the oven, which interestingly the engineers were trying to mend by accessing the APU...
The delay was estimated at two hours and, sure enough, two hours after boarding had first been called the fault – whatever it was – had been mended and passengers were hurried out to the plane. EI-EFY had only been delivered a couple of months prior to my flight, so perhaps the tech issue can be put down to 'teething problems'.
The cabin crew were not hanging around now; they must have already been on duty for two to three hours and still had a 7-8 hour block day ahead of them, although surely the cockpit crew must have been relieved – is a near 11 hour duty time legal, even for Ryanair? A rapid taxi to runway 09 followed pushback, passing the new pier still under construction.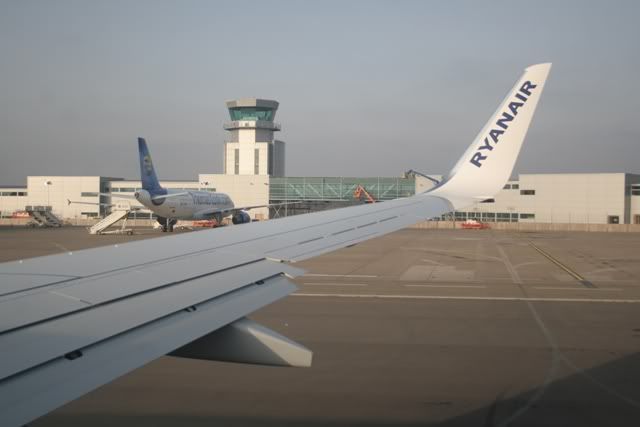 .
BRS-RAK
Bristol International Airport to Marrakesh Menara Airport
Carrier:
Ryanair
(27th sector on carrier)
Flight:
FR 8218
Aircraft:
Boeing 737-8AS(W)
(31st sector on type)
Registration:
EI-EFY
Date of First Flight:
22.10.2009
(96 days old when flown)
Seat:
Free – 24F Taken
Block Departure Time:
12:30
Actual Take off Time:
14:40
Block Arrival Time:
16:05
Actual Touchdown Time:
17:36
Distance Flown:
1,392 miles
Total Flying Time:
2 hours 56 minutes
Fare:
£5 one way
Booking Fee:
None with Visa Electron
After pausing to let an arriving aircraft clear the runway power was applied, forcing me backwards in a way Ryanair take-offs don't normally manage. With about 400m of runway spare the 737 hauled itself skywards, climbing steeply for a for minutes before making a long 180 degree turn to fly back past the airport, by now far below.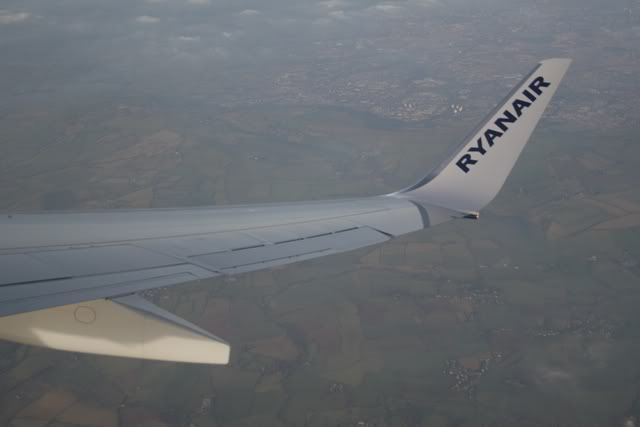 .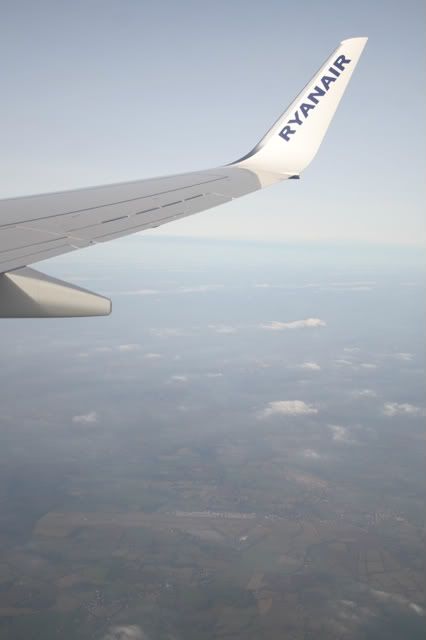 The aircraft hadn't even reached cruise when the commercial jingles began to play over the PA system. Still, not a problem, because I'd come armed with headphones and an MP3 player full of heavy metal, which even the infamous 'bull's-eye baggies' cannot compete with. The view outside was my IFE, even if it was stuck on cloud setting for most of the flight.
From Bristol the route progressed down over the South West of England and across the Bay of Biscay and Spain where we picked up a good tailwind, before passing over the Sierra Nevada Mountains and leaving the Iberian coast just East of Gibraltar. Then as Rabat and Casablanca on the Moroccan Atlantic coast came into view the descent towards Marrakesh began, carefully twisting a course between the giant cumulous hanging like sinister behemoths over the land.
.
.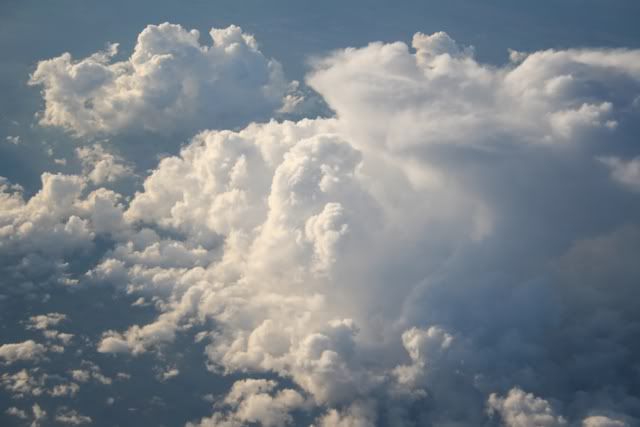 I presume this is what open-cast phosphate mining looks like from the air:
The plane dropped through the cloud in a steep left bank to approach runway 10, revealing a spectacular sunburst ahead, and bouncing down a few minutes later onto Moroccan tarmac an hour and a half behind schedule.
.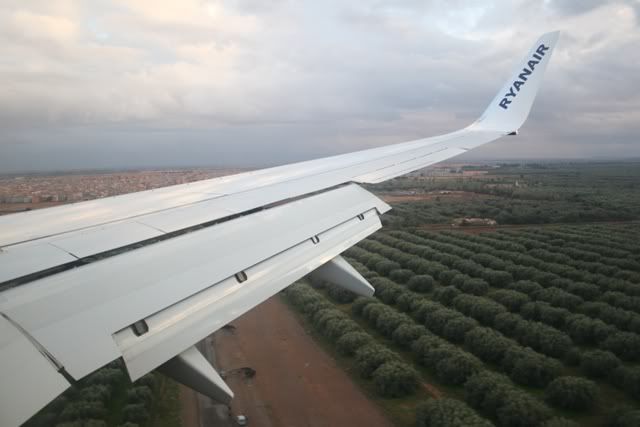 .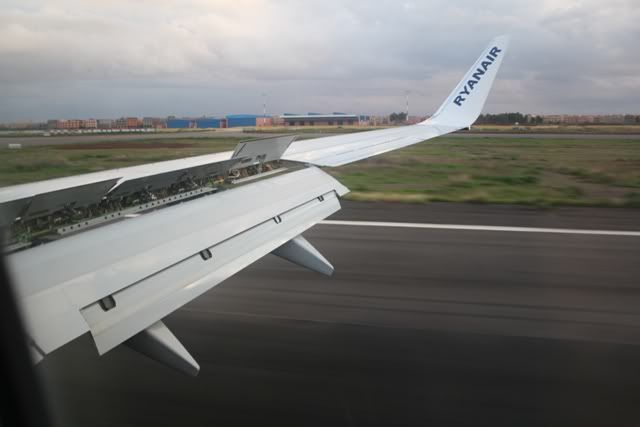 Since Morocco liberalised its skies in late 2006 numerous European LCCs have moved to take full advantage of the new market, meaning Marrakesh airport and others in the country have been flooded with new routes and destinations from the likes of Ryanair, two of whose sister ships were already parked on the ramp.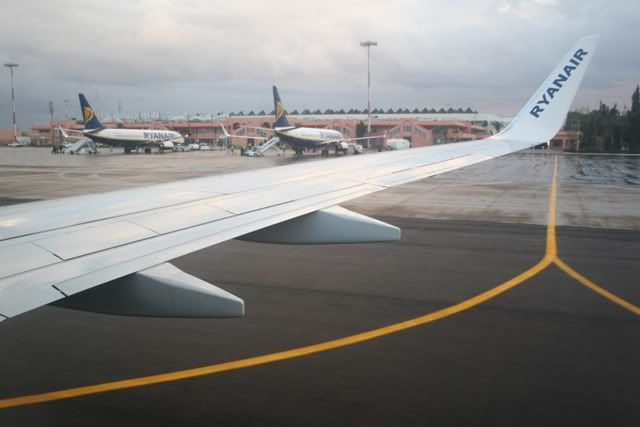 .
RAM had completed their purchase of Atlas Blue a few months previously, it looked like this pair of A321s were parked up as a result: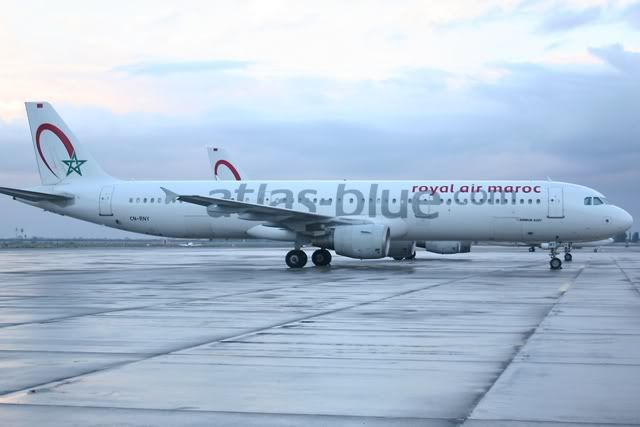 .
.
There was relatively little guidance directing disembarking passengers towards the immigration hall; it seemed to be presumed that enough passengers would know where they were going and that the rest would hopefully follow them.
Inside the immigration hall was packed with passengers trying to find somewhere to fill their arrival forms in. I'm not sure why they didn't just take one and fill it out whilst stood in line to reach the border control desks like I did, because there was ample time and my passport provided an adequate rest to write on. Even with a huge volume of passengers it only took me fifteen minutes or so to reach the front of the queue, then I was stamped into the country and made my way through the fantastically light and airy reclaim hall and into the equally impressive terminal. I really love this design, it's simple and yet very beautiful.
.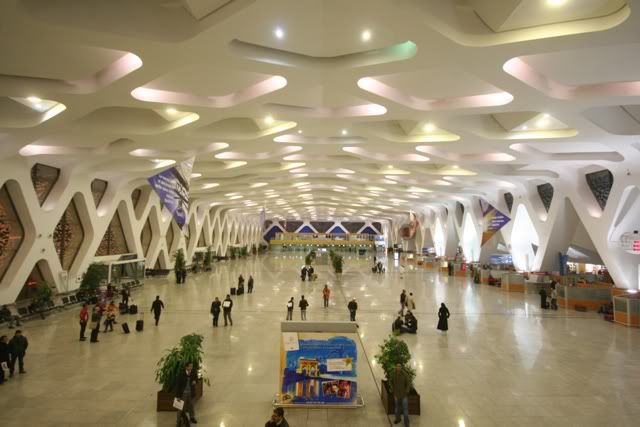 I didn't buy anything on the plane, so I grabbed a coffee and snack in the terminal before catching the airport express bus into the city for a pretty reasonable 30 dirham return – that's about £2.40 according to the exchange rate at the time. It leaves from just outside the arrivals area and a return was valid for up to two weeks.
Once in the city I made my way to the main Jemaa el-Fnaa square and reverted to the directions provided by my hostel. I'd used Google Earth to memorise the route as best I could, and on the first attempt I managed to navigate my way down the correct sequence of alleyways to its door. Considering the Souk and old city is known for being a maze, I was quite impressed at that.
The hostel itself was chilled out and comfortable, great value too at £8.78 a night – I was making sure I kept to my budget from now on. As usual there were a couple of friendly Australians (a hostel isn't a hostel without at least a couple of Australians) who I went out with in the evening for a drink. They had arrived that day from the desert in the far South and, talking over dinner at a food-stall in the square, their interesting experiences set the wheels in motion for a trip I'll shortly be taking. I find the best advice is always from someone who's been there already…
Wednesday 27th January 2010:
I had a pretty unplanned day set aside for exploring, in fact the only thing I did plan on doing was getting lost in the old city, which didn't take long, but by mid morning I found myself back in the noisy and bustling souks and decided to head on to the Majorelle botanical gardens for a bit of peace.
.
I study Landscape Architecture, so wherever I visit I normally find myself drawn into botanical gardens and parks – I can't seem to help it. These were very ordered and immaculately maintained, the gardens used to be owned by Yves Saint Laurent and I believe his ashes are scattered within the grounds.
.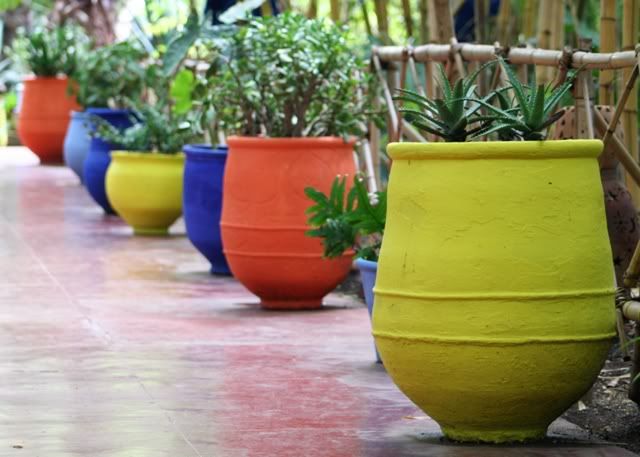 .
.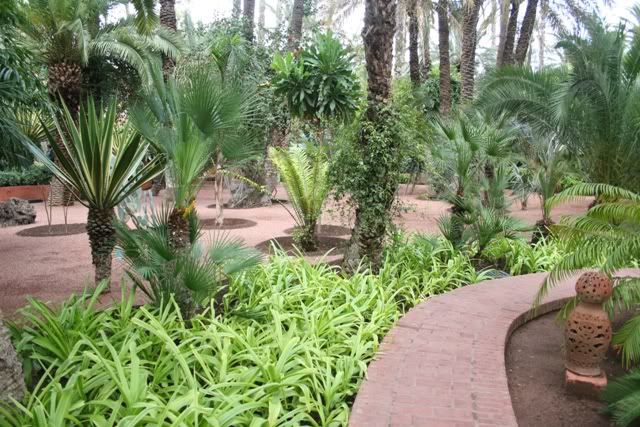 .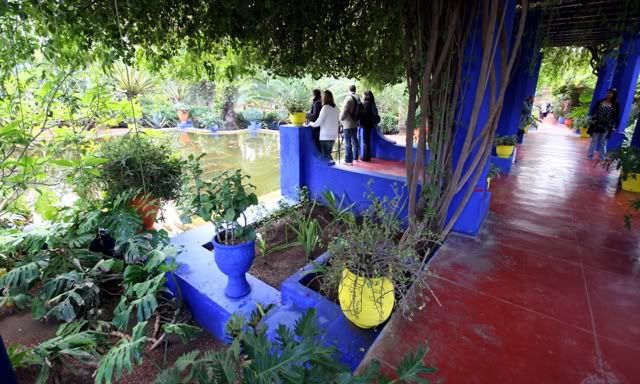 .
I spent the rest of the day walking between as many places as possible that my city map suggested might be interesting – I think in the end I walked about 15 miles in one day across the city. Walls containing the old city: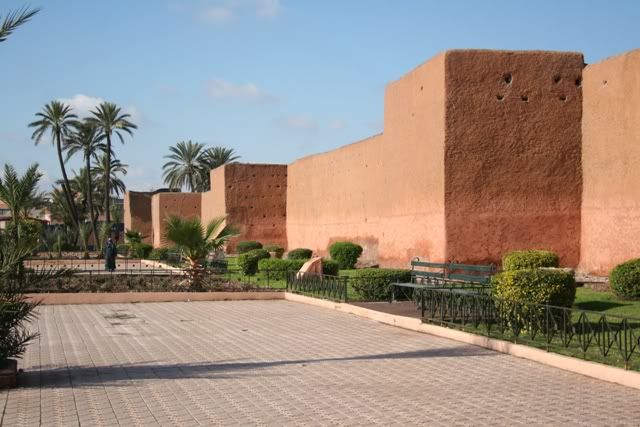 The Koutoubia Mosque, whose minaret is one of the most influential and iconic of its kind:
.
Bab Agnaou city gate: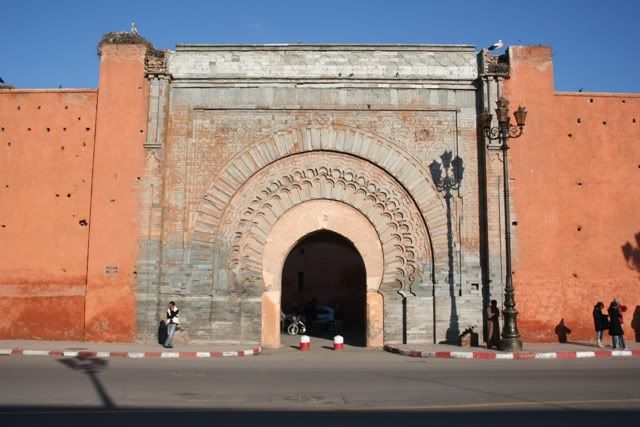 El Mansour Mosque:
Mosaic work in the Saadian tombs:
Several of the cafes and restaurants surrounding the Jemaa el-Fnaa square allowed you to take photographs from their roof-terraces, if you paid an entry fee or bought a drink. Once I got up there though it was late evening and I realised a meal wouldn't cost much more, so I had dinner looking out over the square as the sun went down. It is a fantastic vantage point even after dark; the sights, smells and sounds filter up and tease your senses with rich and unusual aromas whilst the eye can feast on a hive of activity and spectacle.
.
.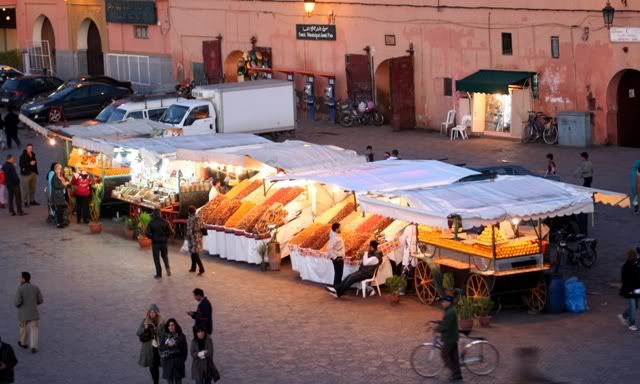 .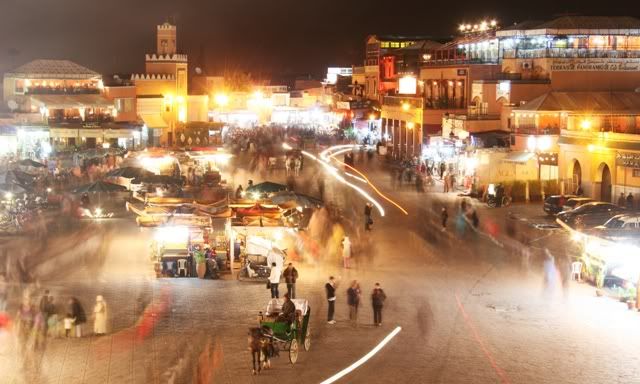 .
.
Thursday 28th January 2010:
Back to reality, my flight to Luton left at 10am, so I made sure I was up for just gone 6am because I had no idea where the bus back to the airport picked up from, it was apparently quite random where they would stop. The city was still sleeping and the square was now empty of both people and stalls, it was chilly too as the air had yet to warm up – a reminder to me that it was still January after all. It took a bit of searching but I located the bus stop - what wasn't clear from the signage is that the airport bus operates in a loop around the city and only runs around this in one direction.
Thirty minutes later and I was back at the airport, a little early, but I figured that was best. Presumably this building next to the terminal used to be the headquarters of Atlas Blue, although the dumped airbridges in front of it intrigued me. Did the airport used to have them in operation but took them out to make more stands/room for the LCCs, or are they 'stored' there in anticipation of being installed one day?
The main terminal with its impressive canopy and frontage: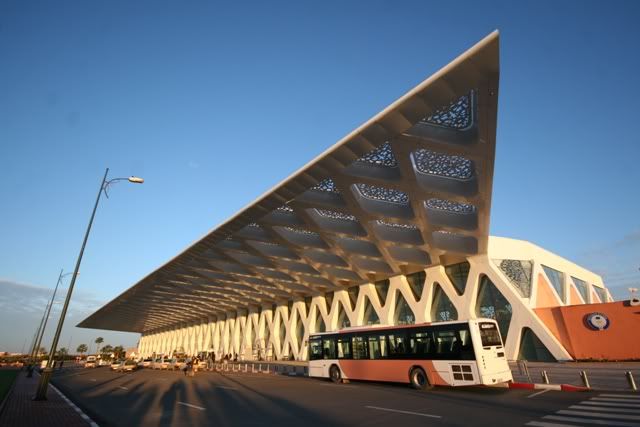 .
.
.
.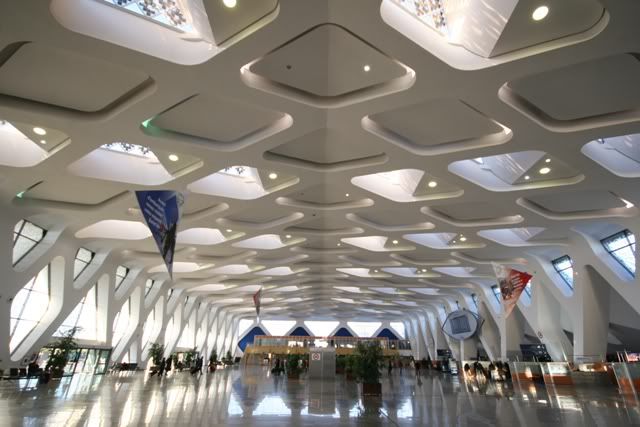 .
.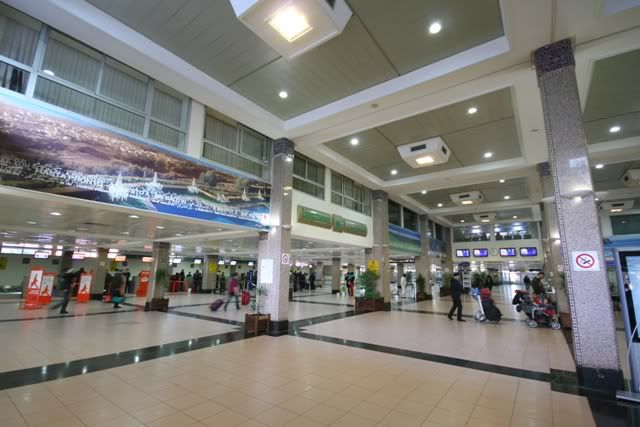 Passing through security was a breeze, which I was pretty glad about because I'd managed to fit a couple of porcelain/animal skin drums into my quite small rucksack and I wasn't sure if they could be construed as a 'lethal weapon'. I guess they've seen it all a thousand times before though, and I wasn't even made to unpack them. The departures lounge is considerably less grand than the main hall of the terminal, but it provides a good view out over the ramp.
Transavia 737-800(W):
A gate was assigned for my flight to Luton a good hour before departure, meaning people didn't have to rush across the terminal at the last minute, although even as boarding neared there wasn't much of a queue.
Before the first passengers had even stepped off the inbound service from Luton we were herded down the stairs and penned into a small holding point, poised to walk across the ramp and board the second the crew were ready. It didn't taken them more than five minutes after the last passenger was off, where-upon we were released from our pen and everybody dashed out towards the aircraft – straight towards the front steps oddly, whilst I headed for the rear door alone.
.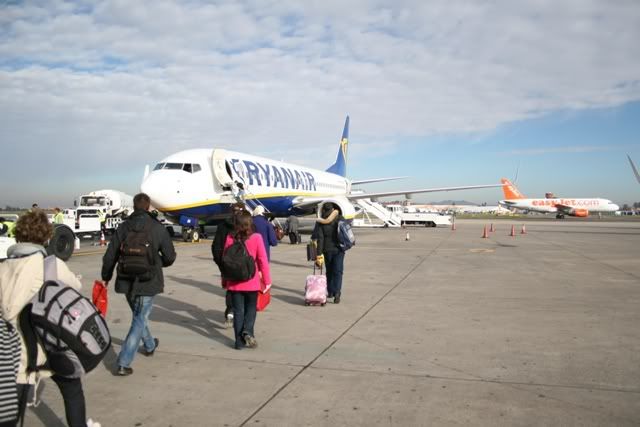 .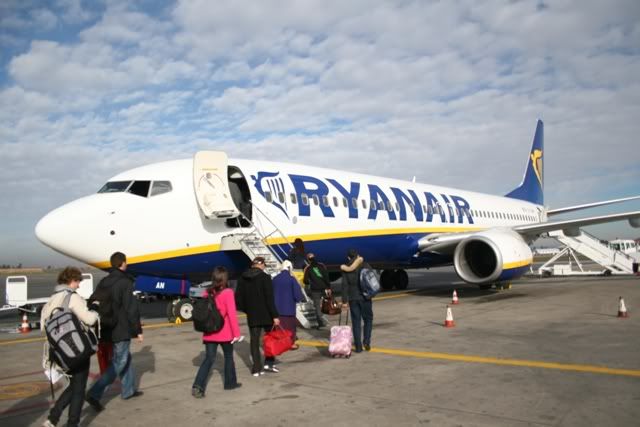 I think there must have been some kind of show or aviation trade event taking place on the opposite side of the runway, there certainly seemed to be a large selection of marquees and demonstrator aircraft – mostly military from what I could see during the pushback and taxi.
.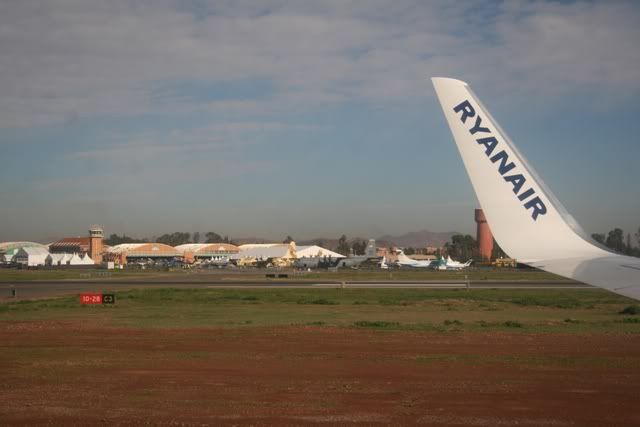 .
.
RAK-LTN
Marrakesh Menara Airport to London Luton Airport
Carrier:
Ryanair
(28th sector on carrier)
Flight:
FR 3507
Aircraft:
Boeing 737-8AS(W)
(32nd sector on type)
Registration:
EI-DAN
Date of First Flight:
27.07.2003
(2,377 days old when flown)
Seat:
Free – 24A Taken
Block Departure Time:
10:00
Actual Take off Time:
10:16
Block Arrival Time:
13:40
Actual Touchdown Time:
13:43
Distance Flown:
1,453 miles
Total Flying Time:
3 hours 27 minutes
Fare:
169 MAD (£13.71) one way
Booking Fee:
None with Visa Electron
We were third in line for take off, after an EasyJet A319 and the Transavia B737-800, swinging onto runway 28 fifteen minutes behind schedule and throttling up into a leisurely take-off role down RAK's ample 3,100m length. The view during climb-out was fantastic; leading away to the Atlas Mountains in the misty distance.
.
.
Slowly a gentle bank to the right aimed the aircraft in a North Westerly direction as it gained height over the Moroccan interior. It looked very sparse and no doubt the green tinge to the planes which stretched away to the coast was deceptive of the heat experienced in the summer. I sat back, plugged my headphones in for the first time since landing, and watched North Africa slip by.
.
.
More open cast mines:
The flight was smooth and uneventful, except for the rather opinionated and I suppose slightly radical guy who was sat in the aisle wanting to talk to me. He had some genuinely interesting things to say and was obviously interested in travel, but a few of his viewpoints on certain topics were a little archaic, to say the least, so I attempted to find interesting things to watch from the window instead – with mixed success.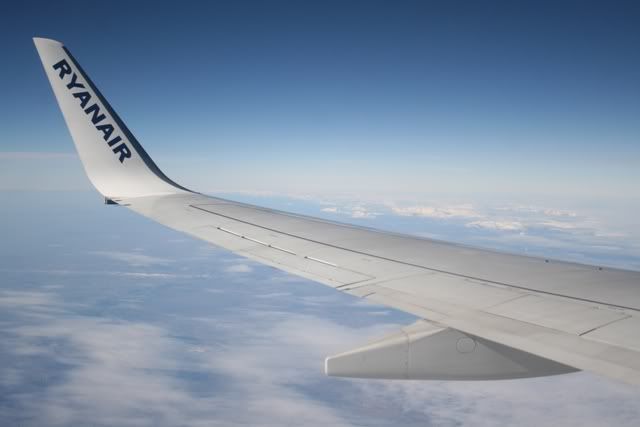 We were flying back into the same considerable headwind which had expedited my flight down a couple of days earlier, adding about 30 minutes to the flying time according to an announcement from the cockpit. Still, after a very bouncy descent through a bunch of cumulous, the touchdown on runway 26 at Luton came only three minutes behind block time.
As normal a variety of business jets were present, including a Kuwaiti A319CJ:
Disembarking the aircraft lead to quite a trek around the outside of the terminal to reach the immigration hall, which was relatively quiet, taking no more than a few minutes for me to be stared at unconvinced and told that I really should consider getting a new passport with a more up to date photograph.
.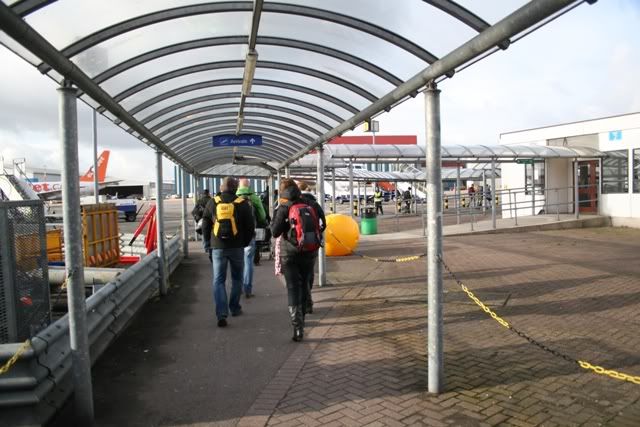 These are getting to be a rare sight now:
I know a lot of people complain about Ryanair and ask how on Earth people can stand flying them for any more than an hour, but really I don't see what the problem is. I was sat down for about four hours onboard and it didn't kill me, in fact I hadn't even got DVT or snow blindness by the time I reached Luton. But in all seriousness they offered me two flights which were excellent value for money; going out I paid just £0.004 per mile, and coming back wasn't much more at £0.009, easily making them the cheapest flights I have ever taken on a per mile basis.
But, I still had a challenge to finish; next I had to get from Luton to Oxford where I'd be stopping overnight with my girlfriend. National Express had some excellent advance fares available, costing me just £5 single to Oxford, then just £1 early the next morning onwards to Birmingham, both with their 'Funfares'.
Conclusion:
So, had I managed the £55 challenge? Well, my necessary travel expenditure broke down as follows:
Flights:
… £18.71
Accommodation:
… £17.56
Land Transport in the UK:
… £14.20
Land Transport in Morocco:
… £2.40
Total:
… £52.87
Of course I did cheat and fly up to Bristol from Plymouth but, even including that minor extravagance, the total amount was still only £74.67. However it's worth noting that the budget was only £55 because I have a student railcard that automatically saves me 1/3 off practically all fares, without which the budget (rail ticket) would have been a little over £80.
But essentially what this proves is that, with a little imagination, determination and forward planning, it's possible to take a three day detour to Morocco for less than the price of a walk up single on the train between Plymouth and Birmingham. It also demonstrates the beauty of Ryanair; yes they are cheap, unforgiving and gaudy – but none of this would have been possible without their aggressive cost saving mantra which enables them to offer such low lead in fares. Put it simply; I'm one happy customer!
Marrakesh itself was a very pleasant destination oozing with history and culture. Two nights and one full day definitely wasn't enough time to comfortably see everything, but I'm not sure it's a destination I could be kept busy in for any more than three or four days. Like the flights though it represents excellent value for money, especially since the Euro swung so unfavourably against the Pound.
I hope you've enjoyed reading about my challenge, I figured that even though the equipment flown was pretty bland, it was driven by something quite unusual. Please feel free to ask any questions,
Thanks
Dan