Intra-European Adventures on SK/QI/Sun Air
May 30, 2011
Just another short trip report on a number of interesting European airlines that I flew this past week! For the European readers, these flights might be quite ordinary but for a US based traveler, it is quite interesting to fly to all these new airports and to experience all these new airlines. Of course the excitement is towards flying into two new airports: Berlin Tegel and Billund, as well as flying two new airlines, Cimber Air and Sun Air of Scandinavia. (Well technically three, I flew Air Berlin from Milan to Berlin the evening before. Despite flying an A320 with new interiors, the service was only average and there was plenty written here about AB. However, I would say that Niki, its Austraian partner, is way ahead of Air Berlin, in terms of flight attendants and catering.) Most importantly I have been trying to catch a flight on the Dornier 328 Turboprop and Sun Air offers a good option. I actually have flown the Dornier 328 Jet previously with Midwest Connect, and just missing the turboprop version. After looking through various options, flying to Billund and Sun Air is my best option. Nevertheless things did not quite go the way I have planned and let start this adventure now!
For those who want to look at the whole album, there is a direct link below each flight to the shutterfly album!
SK 1674 TXL-CPH Lv0935 Arr1035 Canadair CRJ-900 "Karl Viking"
http://share.shutterfly.com/action/welcome?sid=8QbNHDNy5bqTQA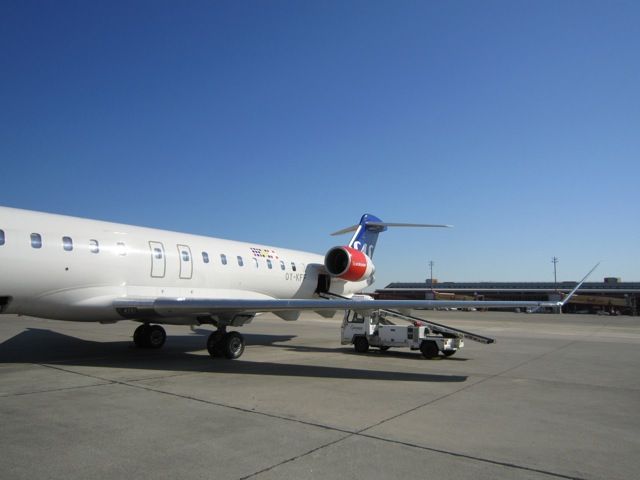 Booking:
I found a decent fare on this through flight from Berlin Tegel to Billund via Copenhagen on SAS own website. I like being able to pay in US dollars through SAS USA website and no need to deal with foreign transaction fee and fluctuating exchange rate charged by credit card. The second flight was operated by Cimber Air but booked as a SK flight.
Check-in:
I used SAS online check-in 22 hours prior to flight because I want to get an exit row seat. SAS is actually quite good with seat assignment and you can any seat on the plane and there is no blocked seat for premium passengers. Berlin is one of the airports that require you using the airport's own system to complete the online check-in. I was able to change my seat to the exit row but my Star Gold status won't be recognized by the system. However, I was unable to print out the boarding passes, but it did not give me any issues the next day. I presume it has happened before. Anyway, I did not care much as long as I got my exit row seat.
Berlin Tegel Airport:
It is quite an interesting airport –a typical city airport, which was quite compact and can be crowded especially Monday morning. I arrived the evening before on Air Berlin, which used a structure that looked like a shack more than a proper terminal. It was quite late at night so the airport was very quiet. However it was quite interesting in the daytime and it was all busy. It took me a while to locate the check-in counters, as the arrangement was quite unique and spread out. SAS uses Terminal D, along with SN Brussels Airlines, Finnair, Luxair, Czech Airlines, and a number of other non-LH and Schegen airlines. Check-in line was quite empty despite being a full flight and there was an ARN flight departing twenty minutes after us. Agents were efficient and every one just followed the rules. Boarding passes were printed out seconds late and baggage was checked through. There was even a smile and a nice "thank you for flying SAS". With my Star Gold card, I was able to use the fast track line, and the agent was quite familiar with all these elite programs. Gotta love the Germans – no nonsense and I was through in minutes and the security personnel were actually pleasant to deal with, and these folks definitely knew what to do. I did not use the Star Alliance lounge, as it was all the way back at the A concourse!
Not too many pictures of Tegel because it was very crowded, but I manage a few later!
Lufthansa Land – number of LH narrowbodies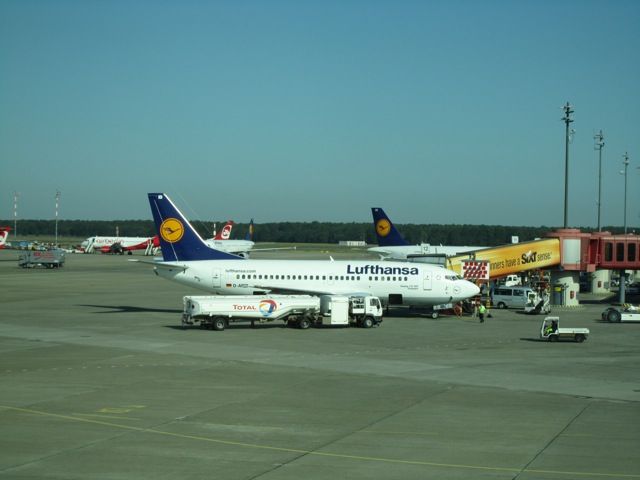 Continental Boeing 757-200 Winglet in updated United's motif heading back to Newark – love the close up shot!
Luxair Embraer Jet – high on my list to fly but unfortunately, not this year though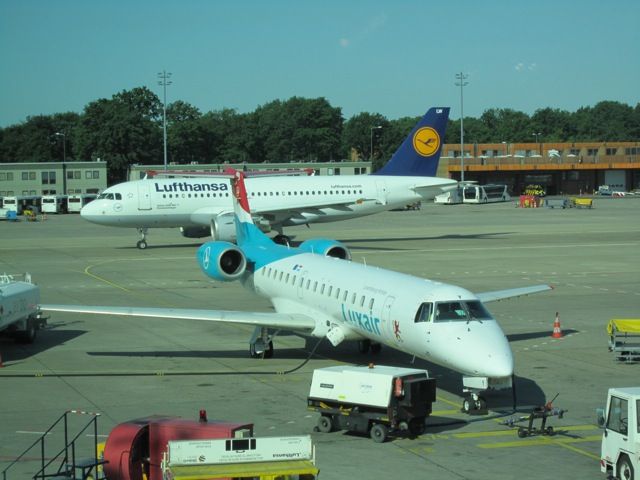 SN Brussels Avro Jet – OO-DWD heading to Brussels – also high on my list and will happen later this month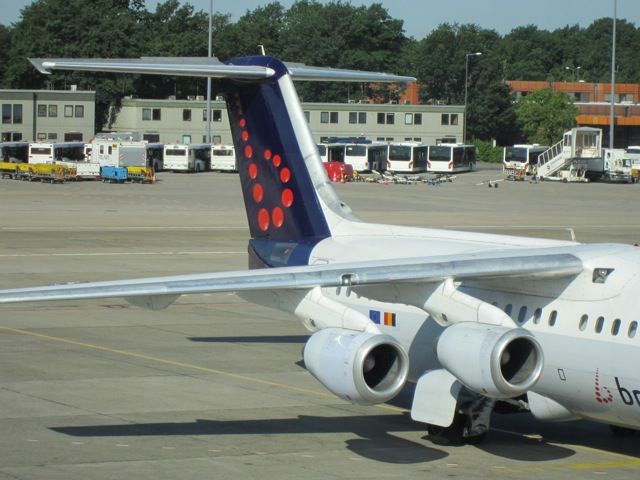 Lovely plane and pushing back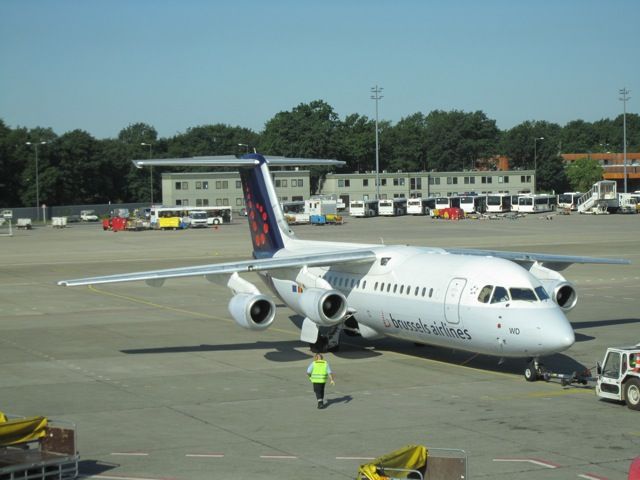 Air Berlin Dash 8-Q400