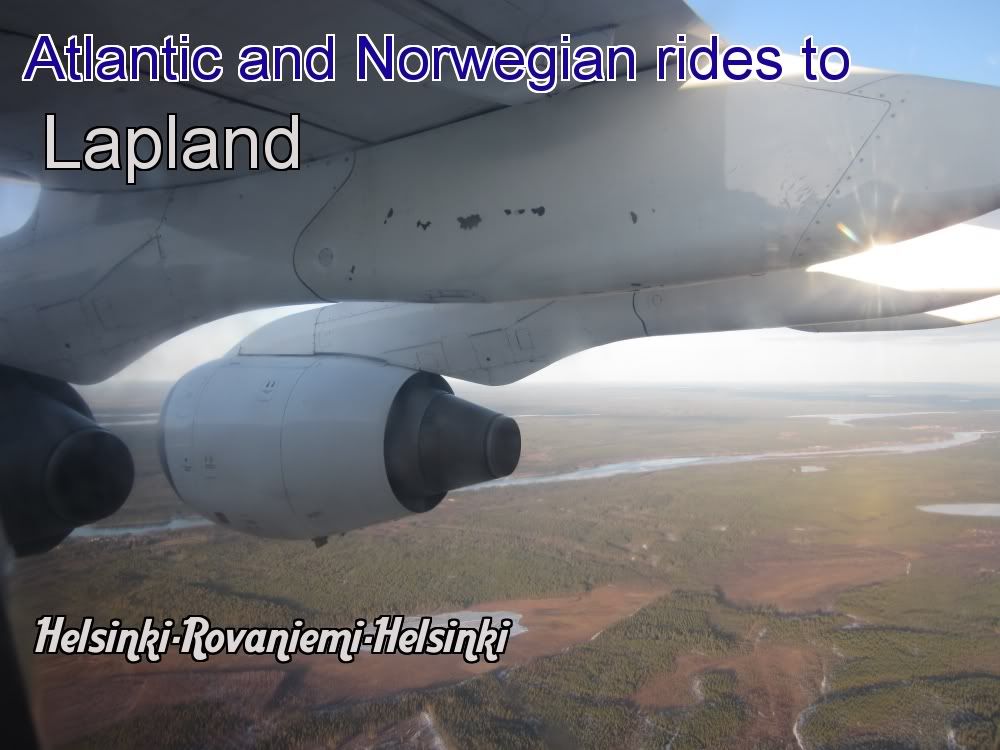 Welcome to my first ever trip report!
Dear all,
After I had been reading the wonderful aviation world of Airliners.net for many years, it is not until today that I decided to finally register. As much as I have loved all the wonderful trip reports I have read during these years I am now trying to myself start putting together something.
As I am new writing here I am sure something has gone wrong - then do not hesitate to let me know.
Please enjoy my trip report. I am sorry for the limited number of photos and the bad quality of some of them - my digi camera can not make very big wonders.
I promise to be better on this point in the future.
Sit back and enjoy reading.
This trip report will cover the following flights
a) Helsinki-Rovaniemi on Blue1 flight KF273, Avro RJ85, 21.04.2011,
b) Rovaniemi-Helsinki on Norwegian Air Shuttle flight DY 5623, Boeing 737-800, 25.04.2011
Background
As I have some family relatives living close to Rovaniemi in Finnish Lapland I try to visit them as often as possible. This Easter was no exception - I was looking for flight options already in November. Even if I love making detours while flying I tried to find a routing as straight as possible this time as I wanted to spend as much time as possible with my friends and relatives during my holiday.
While browsing the options for flights from Helsinki (HEL) to Rovaniemi (RVN) I came up having three available airlines: Air Baltic (BT) (via Riga) , Finnair (AY) and Blue1 (KF). Finnair was immediately thrown off the list because of their high fares as I surely wasn't in the mood of paying more than 200 EUR for a return ticket to Rovaniemi. Air Baltic was not flying on my desired dates and the uncomfortable flight timings (late evenings and early mornings) made me leave them out.
As you may have understood there was only Blue1 left know. Everything however got a different turn as the Norwegian low-cost carrier Norwegian Air Shuttle (DY) announced its intentions to open a base and start many new nonstop routes from Helsinki, one of them to Rovaniemi in the end of March 2011 - there has been many great reports on Airliners.net on many of these inaugural flights!
Never wanting to travel twice on the same airline, I decided to book my outward flight on Blue1. The scheduled departure time of 18.15 fitted in perfectly in my schedule and the added bonus of a second ride on one of their new Boeing 717's was also a positive fact. The fare was perfectly acceptable at 69 EUR (a little bit on the pricey side - but what the heck).
My return flight on Norwegian was quickly booked for their bargain fare of 36 EUR and with no seat selections and check-in baggage plus paying with bank card I did not end paying anything more than that.
As i kept checking the flight times and aircraft types once in March the schedule for my Blue1 flight changed; departure time moved from 18.15 to 18.20. I was never notified of this – but I guess it was not an all too big issue
More excitement was though to come as the equipment soon changed from Boeing 717 to Avro RJ85 and the remark
Operated by Atlantic Airways
was added. The thrill of flying with the carrier of the Faroe Islands really was a happy surprise.
Now let's go already, follow me on this short trip!
Thursday 21.4.2011
As my flight was not leaving until 18.15 I really did not have to hurry at any moment that afternoon. After school I proceeded home and after saying bye to my friends I hopped on the airport bus that took me from my house to Helsinki-Vantaa Airport in approximately 30 minutes.
I got off the bus at Terminal 1. This small part of the airport used to be the domestic terminal. Nowadays Blue1, SAS, Lufthansa and other Star Alliance airlines are operating trough this part of the airport together with other airlines such as Air Baltic.
This time one could really feel how small the terminal was. As this was the beginning of the Easter holidays in Finland, all flights were of course fully booked and the departure area was completely cramped. Because of some strange reason, the queue to the standard check-in desks were very long while no one was in line for the check-in kiosks. As I had no luggage to check in I used one of those and quickly proceeded towards security with my boarding pass in hand. I was happy to note that
Operating airline: Atlantic Airways
was written also on the boarding pass.
Airside it was time for some aircraft spotting although the views from the windows were somewhat limited.
McDonnell Douglas MD-87 (OY-JRU) of DAT (Danish Air Transport) operating for Blue1. This aircraft was operating the Blue1 evening service to Zurich and was 20 minutes delayed due to late incoming aircraft.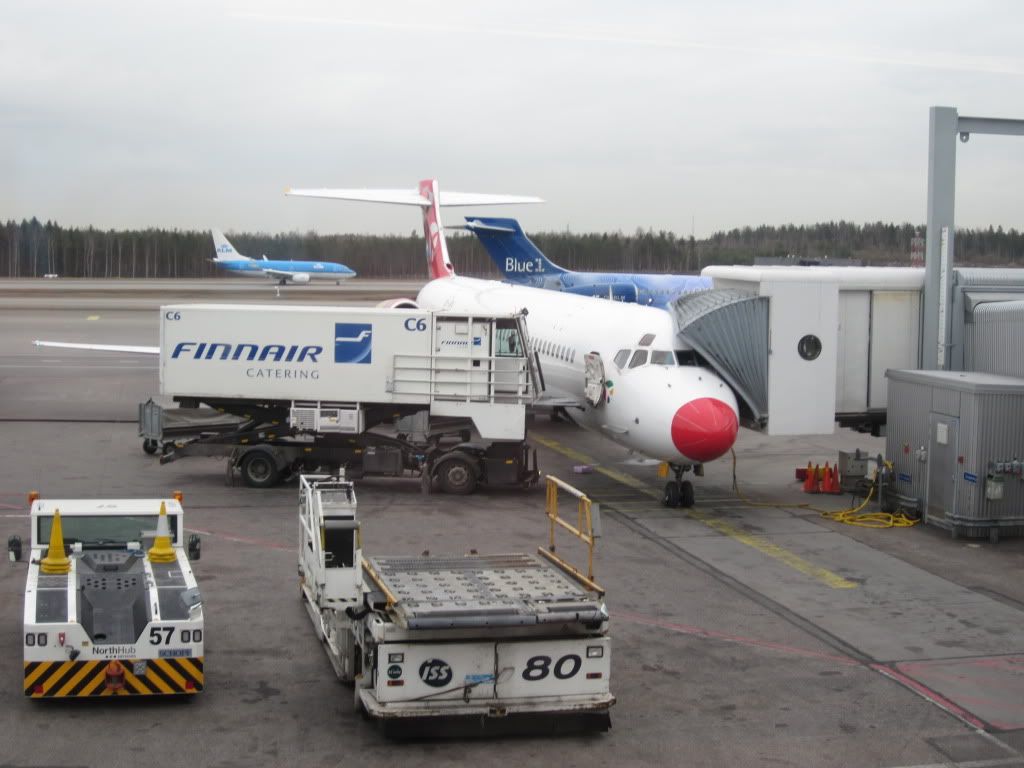 Really a shame I won't be flying on you today: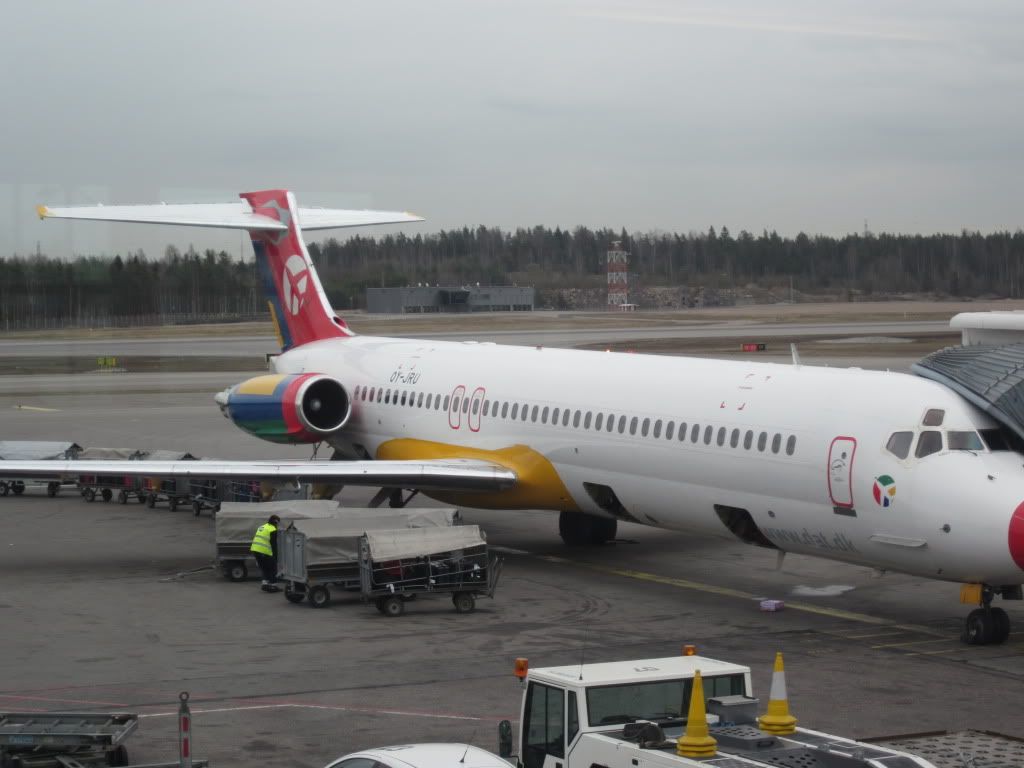 Well hello, two beautiful aircraft in the same shot - would fly either of them anytime:
A very standard view in Helsinki, arriving from somewhere in Finland (sorry for blurry photo)
KLM B737-700 (?) departure to Amsterdam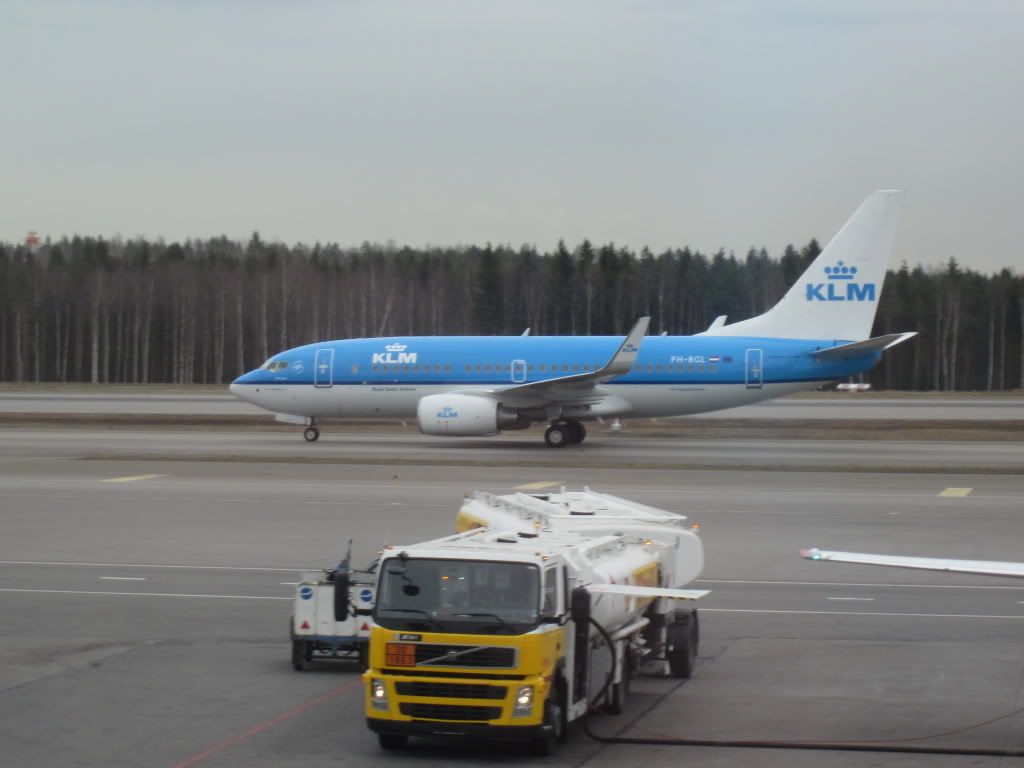 OH-BLH pushing back for an on time departure to Oulu: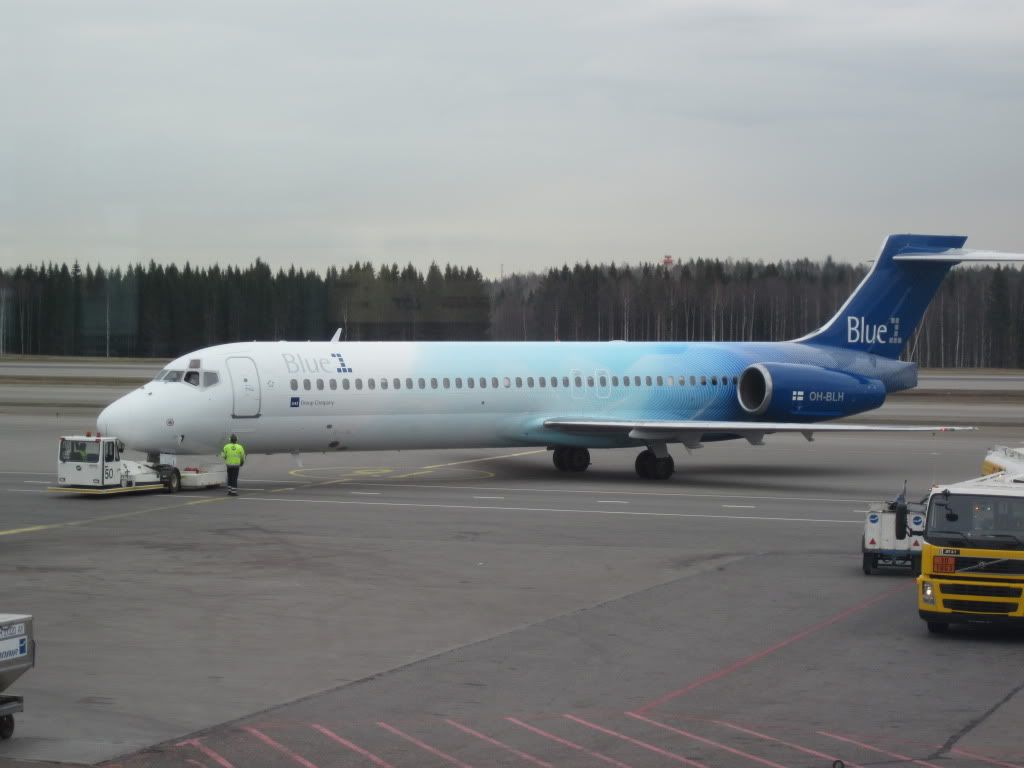 OH-BLM leaving for Paris: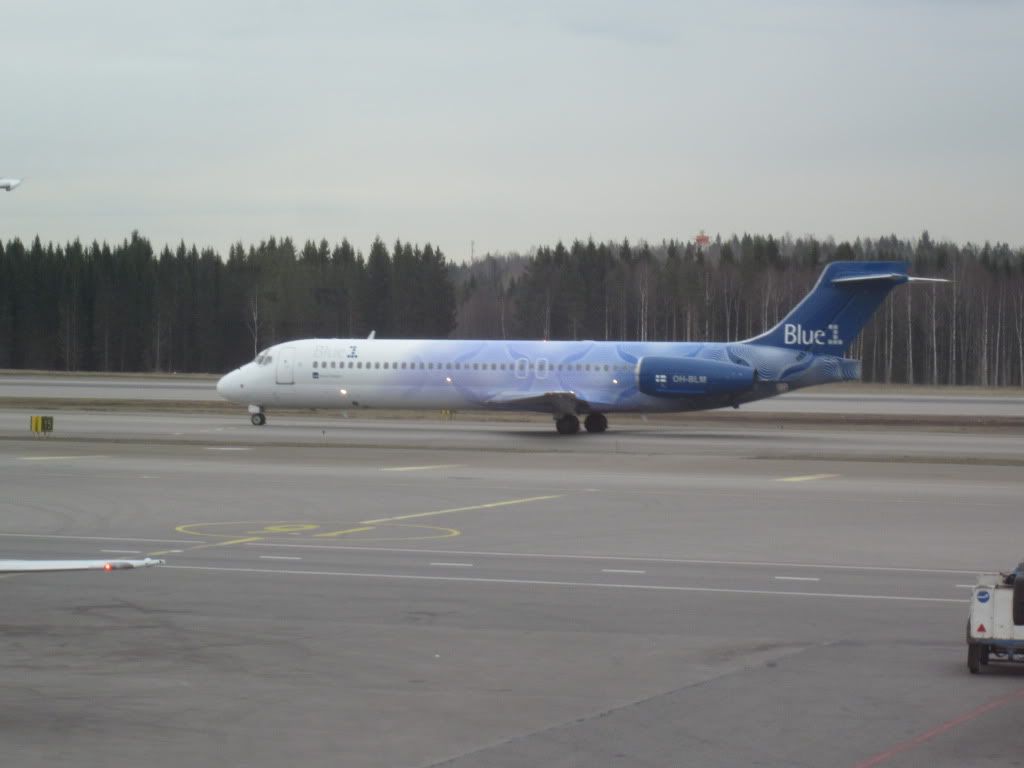 My waiting time was well spent spotting and I also met some old friends of mine. Soon it was time to proceed to the departure gate that today was 12 at the far end of the airport. As I arrived there boarding was yet to start and I had time to observe the happenings at the opposite Gate 13 where a Blue1 flight to Stockholm (ARN) just finished boarding. There were apparently two missing Italian passengers and four (!) announcements were made to call them to the gate. Finally, about a minute after the fourth call the two Italian girls arrived WALKING while chatting with each other. As the gate agent started to explain to them in English that 'congratulations, you just made it to your flight, we held it for you' the girls really did not say anything they just continued as their boarding passes were scanned. However they did not turn left for the jetway, in the opposite they turned right but when they faced a wall and after asking the gate agent they laughed and finally walked into the jetway.. Quite amusing if you ask me. The flight with scheduled departure time 17.30 then pushed back at approximately 17.45. I think it was generous to wait for them for this long but, who knows...
I had checked earlier that the Atlantic Airways aircraft had also operated an afternoon service to Kuusamo (KAO) and could easily calculate that the flight arriving 17.45 would then depart 18.20 with me onboard for Rovaniemi. The incoming flight was slightly late with estimated arrival at 17.58 but that was of course nothing to worry about. I counted approximately 50 passengers deboarding from the Kuusamo flight and in only a matter of minutes we were called to board.

FLIGHT INFORMATION
Flight number: KF273
Airline: Blue1 operated by Atlantic Airways
Equipment: Avro RJ85
Reg: OY-RCD
Departure: Scheduled/Actual: 18:20/18:35
Arrival: Scheduled/Actual: 19:35/19:48
Duration: Scheduled/Actual: 1h15min/1h13min
Seat: 11F, window
Load factor: 100 %
The aircraft
The particular aircraft, 'OY-RCD' took its first flight in June 1993 as it started operating for Crossair one month later. Later transferred to Swiss it was then transferred to Atlantic Airways in October 2007 and has been operating with the airline ever since. After operating its last wetlease flight for Blue1 on April 28 this year it has been operating regular flights for Atlantic Airways but is however flying for BA Cityflyer at the moment. But now, back to my flight!
The flight
Boarding was called at approximately 18.00. There was quickly a long queue formed so I decided to sit down for a little bit longer. There was almost only Finnish pax around and the confusion was big when discovering the almost all-white aircraft waiting at the gate.
When most passengers had boarded I joined the queue. Just ahead of me was a young Finnish girl that was very nervous. As we boarded the aircraft, we were greeted in English by an Atlantic Airways cabin crew member. I am afraid I do not remember her name anymore..
Anyway she saw that the girl ahead of me was in some kind of panic and asked her 'Are you afraid of flying?'. The girl apparently did not spoke a word of English and as she asked the flight attendant in Finnish were her seat was located there was a problem of the two understanding each other. Therefore I jumped in and explained the situation to both the flight attendant and the girl. In the end everything worked well. The flight attendant gave the girl a friendly pat on the shoulder and so the girl continued down the aisle of the aircraft. Soon it was revealed that the girl was actually sitting next to me. We had some nice chatting during the flight and I think it also calmed her down a little bit.
You gotta love the 'wing view' from the Avro:
Soon our captain came on the speakers with information about our flight. All information was first made in Danish which made all the passengers laugh out loud. The crew apparently did not understand this and just continued the announcement in English. Because of his hard accent, it was hard to understand what the captain was saying, but I did get words such as "1 hour", "soon on our way" and "welcome onboard".
Soon we pushed back, only a couple of minutes later than scheduled and after a rather longuish taxi to runway 22R (if I remember correctly) the speed was increased and a standard Avro takeoff was performed.
Soon reaching our cruising altitude: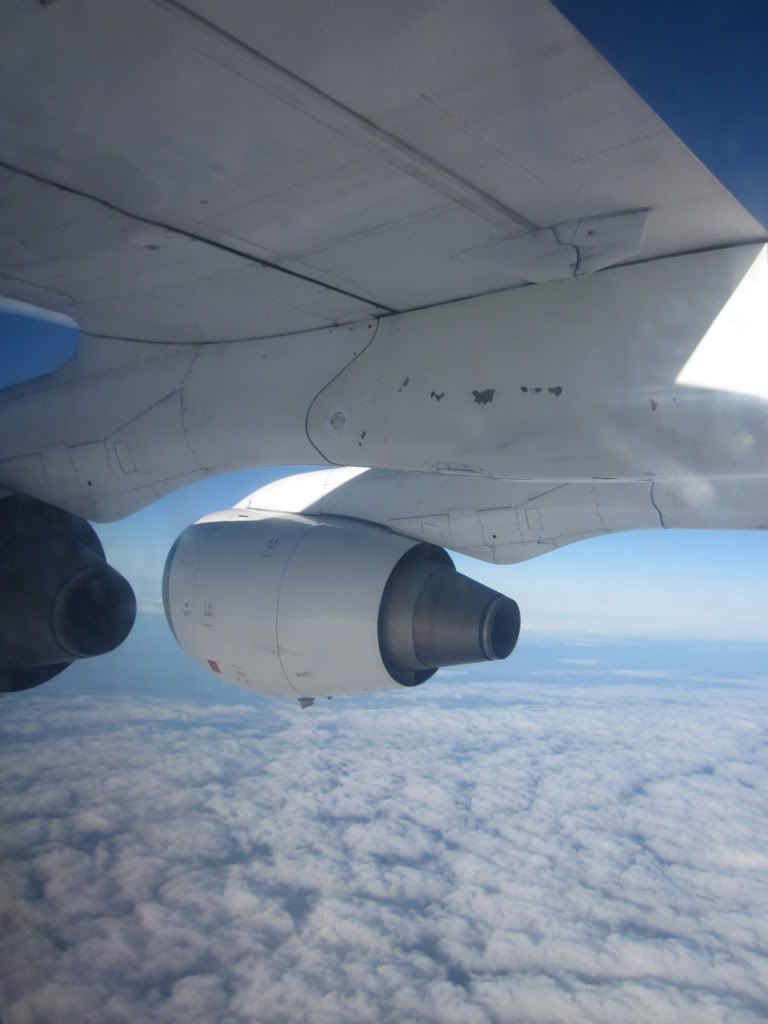 The flight was completely full and although I prefer the 2-3 seating on Blue1's own Avro aircraft the 3-3 configuration was not as tight as I had expected. Unfortunately I completely forgot to take a legroom shot but a cabin shot was taken.
Next it was time for a mandatory "seat pocket check" and the following content was found:
The safety card gave some interesting read and the ultimate chance to learn a couple of words of a foreign language.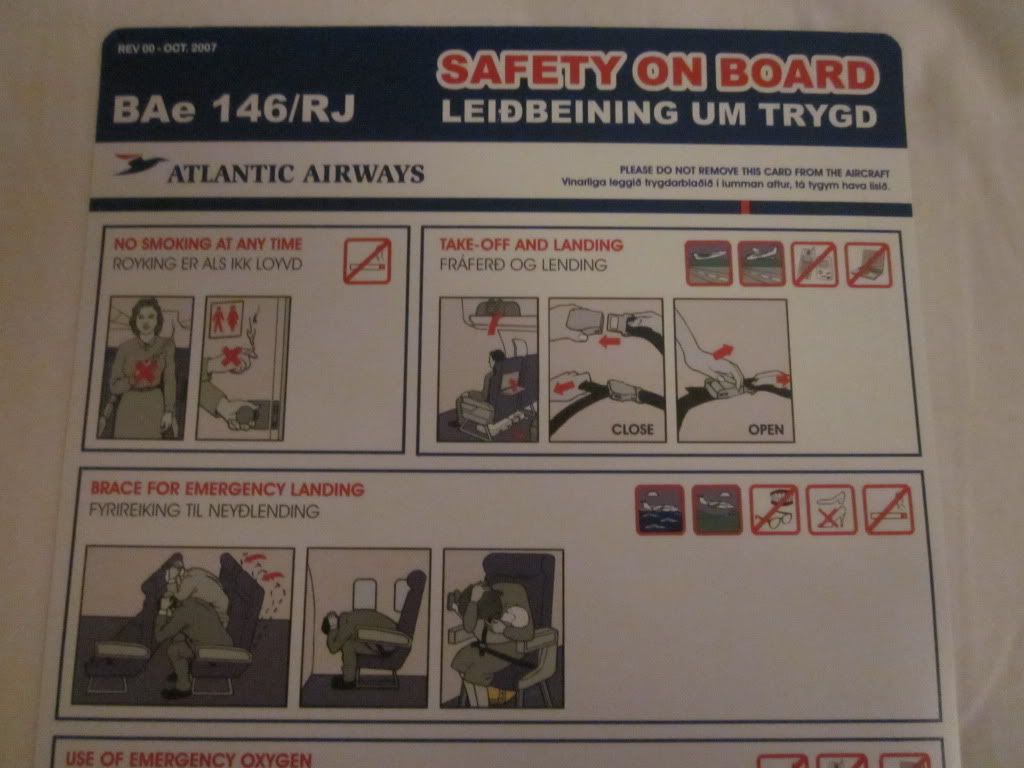 ... and was just as interesting also on the other side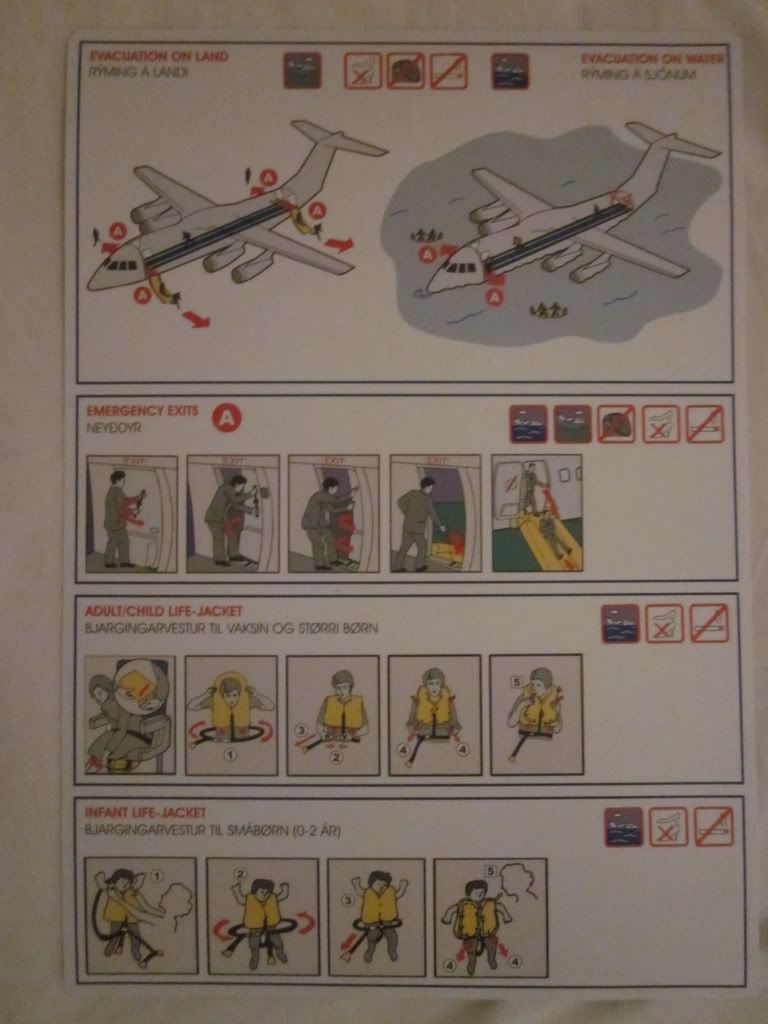 The Atlantic Airways inflight magazine "Atlantic Review" did not contain much text (at least in English) but many beautiful photos of the Faroe Islands. I hope I will one day travel there.. (sorry for blurry photo)
The two Faeroe (can you say so?) flight attendants were really friendly and were constantly joking as there was difficulties to understand the passengers every now and then. As a plus we got a free sandwich together with drinks. It was a choice between two different types of sandwich. As a true Finn I of course opted for the rye bread option.
I forgot to take a picture, but the sandwich was big in size and very good, probably the best airline sandwich ever. You can see a photo of it in the Blue1 Buy onboard-catalogue:
http://www.blue1.com/Tiedostot/Palvelut/Cafe1Menu2011.pdf
That's an advantage with these Blue1 wetlease flights that you get free meals...
Soon we started our descent towards Rovaniemi: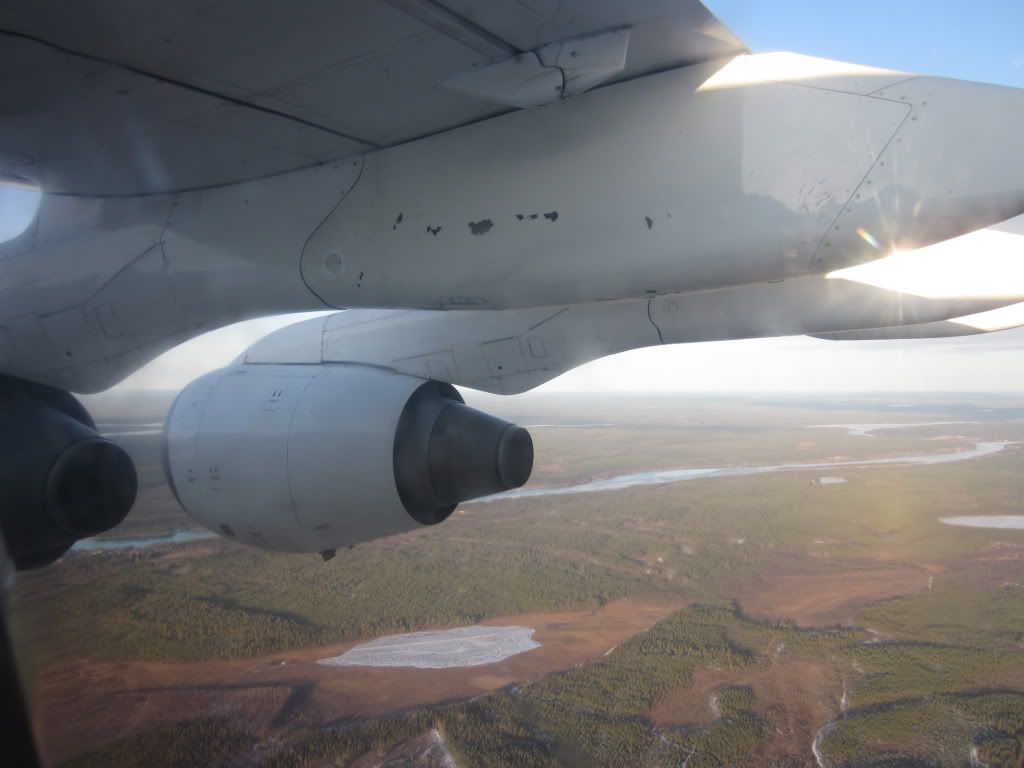 From a different angle: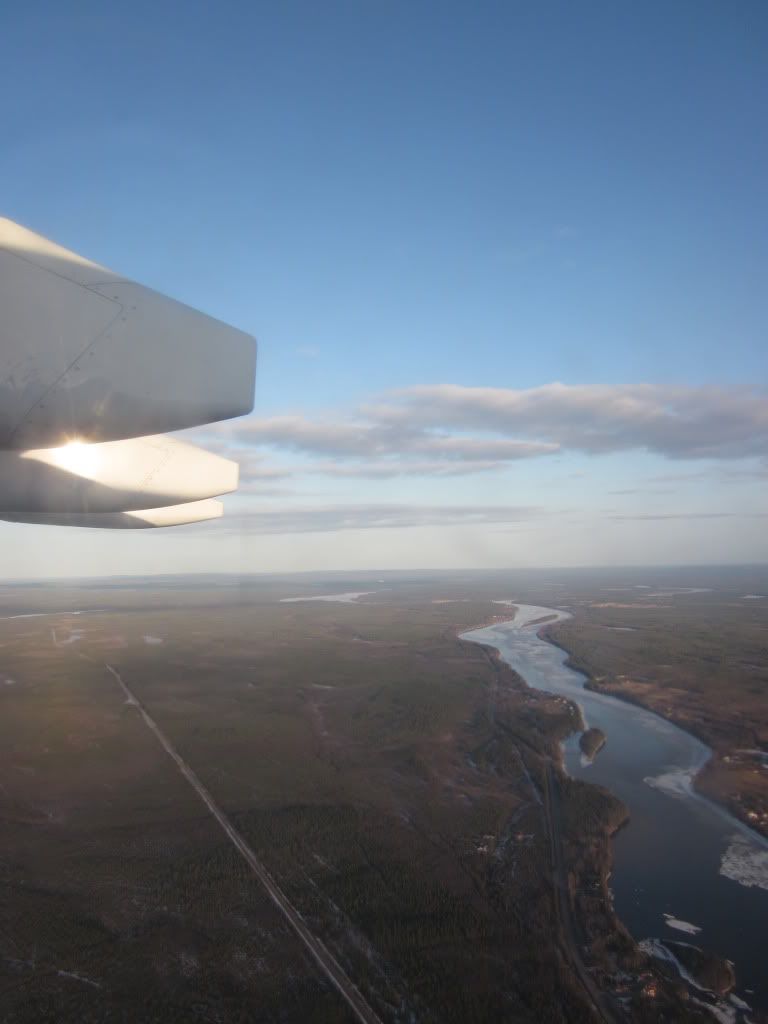 The Finnish river of Ounasjoki together with window scratches:
Soon touching down: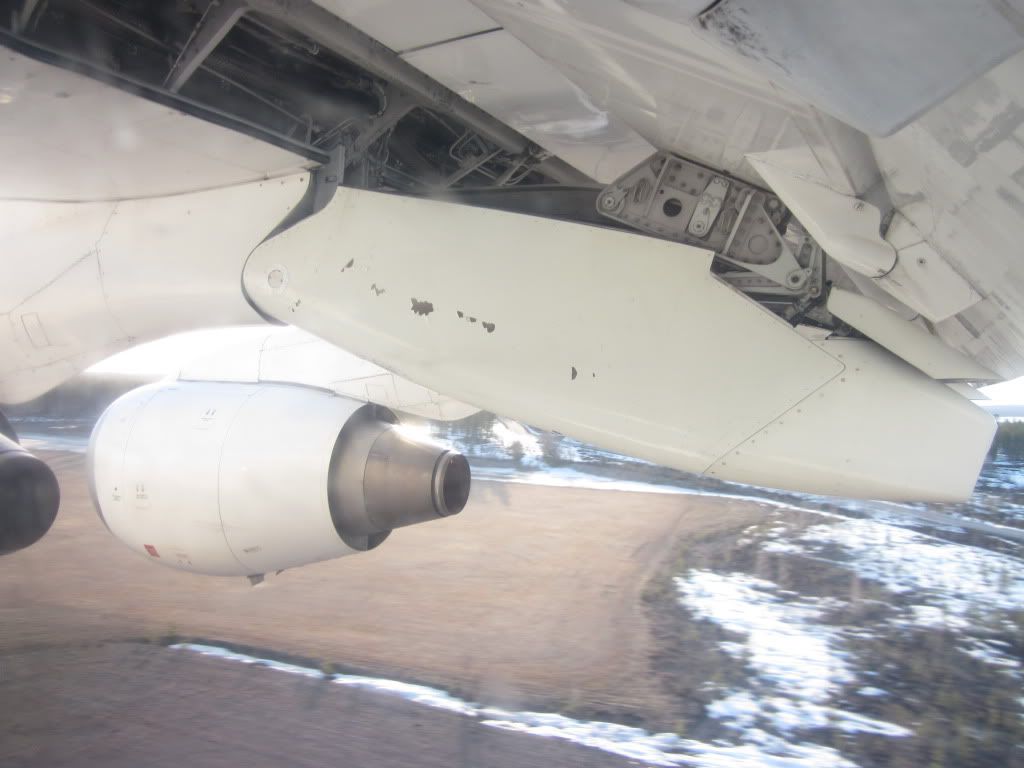 Soon we touched down at Rovaniemi Airport. The landing was quite hard and a round of applause were given by the passengers when we had come to a stop. I always found that as irritating..
Arrival was 15 minutes late and I was soon exiting the aircraft and thanked the cabin crew for the flight. I was however disappointed that we had connected to an airbridge and no decent shots of the aircraft were possible. Rovaniemi is by the way the only airport in Finland (besides Helsinki) that has airbridges. That is quite interesting taking into consideration that 20+ flights arrive to OUL each day while Rovaniemi only has 4-5 daily departures.
Without any checked-in baggage I was out of the airport building in less than five minutes and found my friends waiting outside.
I truly enjoyed my stay at my relatives house in Rovaniemi and despite the short time being there it really became a memorable weekend for me. All too soon it was time to head home again.
Monday 25.4.2011
After a 45-minute car drive I reached Rovaniemi Airport at approximately 10.30 - almost a little too early for my 11.50 departing flight. I thanked my friends a last time and waived goodbye.
As I entered the terminal there really was not many passengers in queue for check-in and the procedure was very smooth. The agent double-checked that I had no luggage to check-in and weighed my carry-on bag. Never seen that before on any other airline - but I guess this really is low-cost travelling.
The inbound flight was spotted arriving pretty much on time, however I was once again unable to gate a decent photo. Soon boarding started and I was one of the first ones to board the aircraft.
At the gate I took a closer look at this piece of paper. A supermarket receipt? No? A boarding pass???

FLIGHT INFORMATION
Flight number: DY5623
Airline: Norwegian Air Shuttle
Equipment: Boeing 737-800
Reg: LN-DYI
Departure: Scheduled/Actual: 11:50/12:05
Arrival: Scheduled/Actual: 13:10/13:11
Duration: Scheduled/Actual: 1h20min/1h06min
Seat: 11F, window
Load factor: ~95%
As I entered the aircraft a young Estonian cabin crew member was standing in the front of the aircraft. My 'hello' was answered without any eye contact - seems she would rather have stayed in bed that day...
The aircraft
Not much to tell about this aircraft, a standard new Norwegian 737-800, though not one of those with free WIFI onboard. Delivered to Norwegian only in October 2010 and only 0,7 years old in contrast to the Atlantic Airways Avro with approximately 18 years of age.
The flight
The young age of the aircraft was clearly visible and the cabin was in very sharp condition.
Pushback was approximately 10 minutes late with no reason given and takeoff soon after.
View from seat 25A before pushback: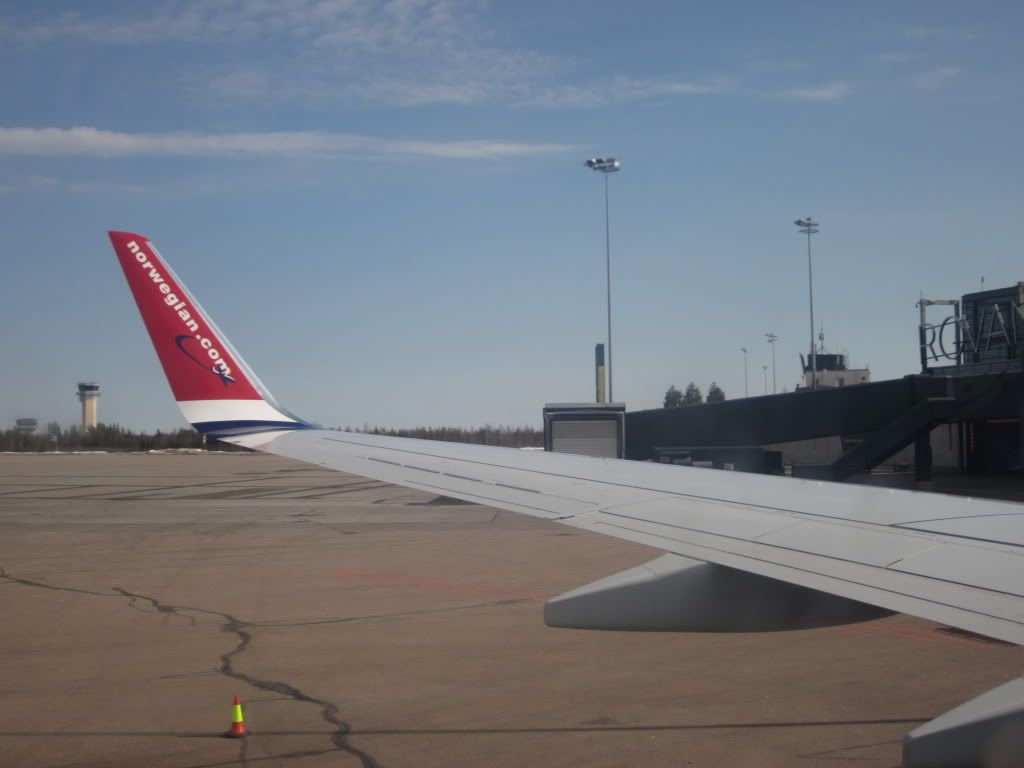 Bye, bye: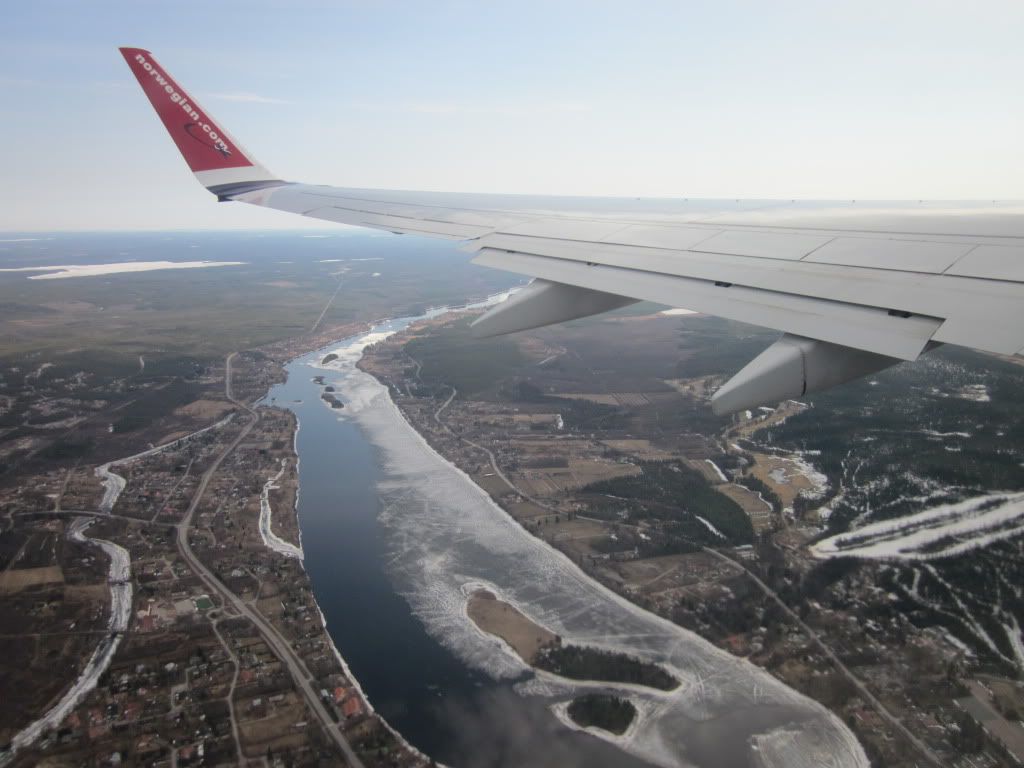 A pretty full cabin. Note the commercial on the headrests: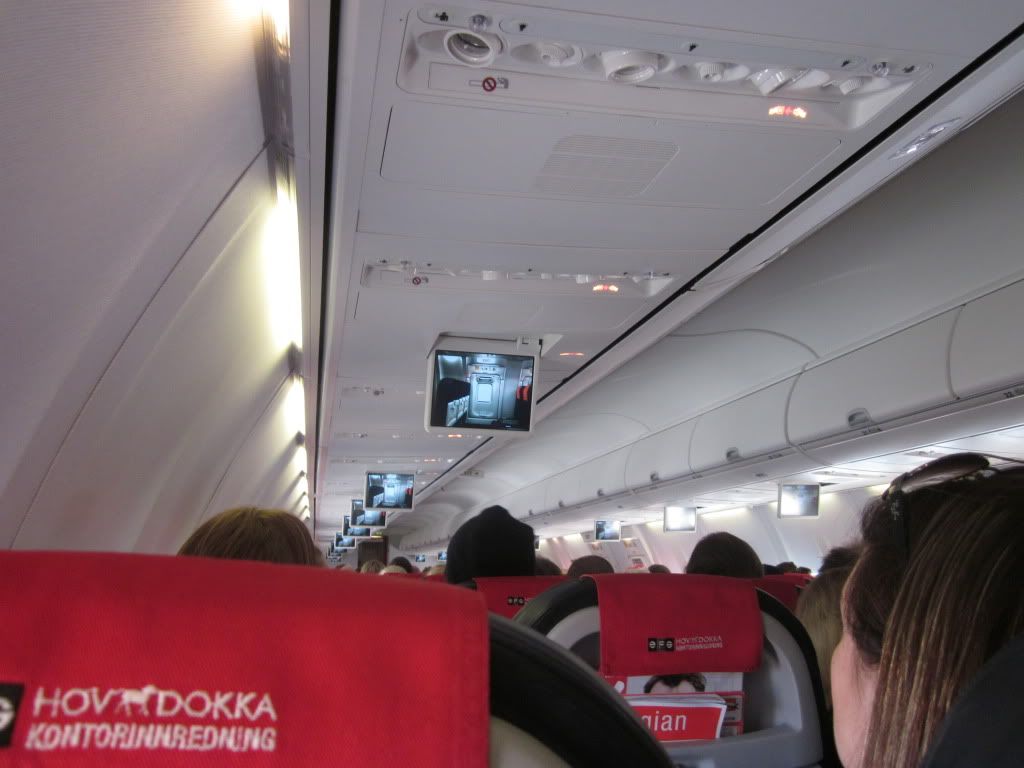 Once inflight there was nothing special to attend to. Nothing for free - only your own cold hand
The crew announcements were a bit hard to understand. The Finnish version was somewhat understandable while it was almost 'mission impossible' to understand anything of the English announcement. The limited language knowledge of the crew also slowed down the "buy on board"-process. I did not buy anything though. ("I bought this flight for 36 EUR and that will be")
With nothing else to do I started exploring the contents of the seat pocket. First I saw the Norwegian inflight magazine with its boring title
Norwegian
. Truly couldn't they have been a little bit more imaginative while creating it?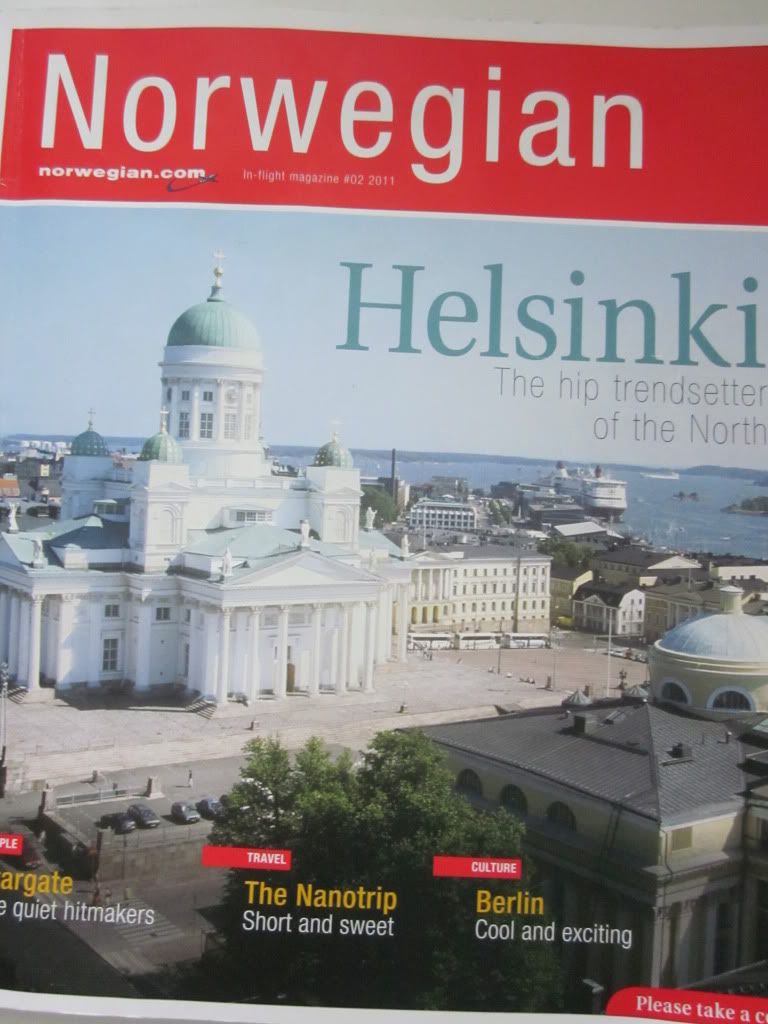 On the other hand it was amusing that I for the very first time were actually travelling to the destination featured on the first page! Well, Helsinki is a beautiful city, I admit.
Exactly as after the Atlantic Airways, by some very strange reason, I found the Norwegian safety card in my backpack while home. Wonder who may have put it there?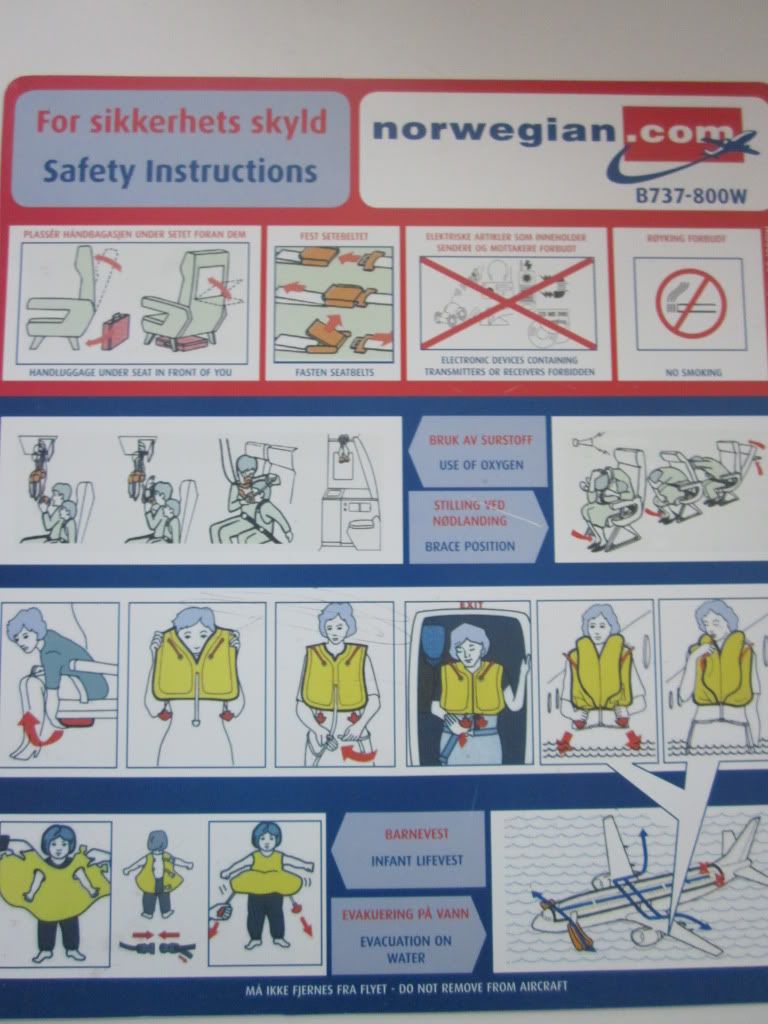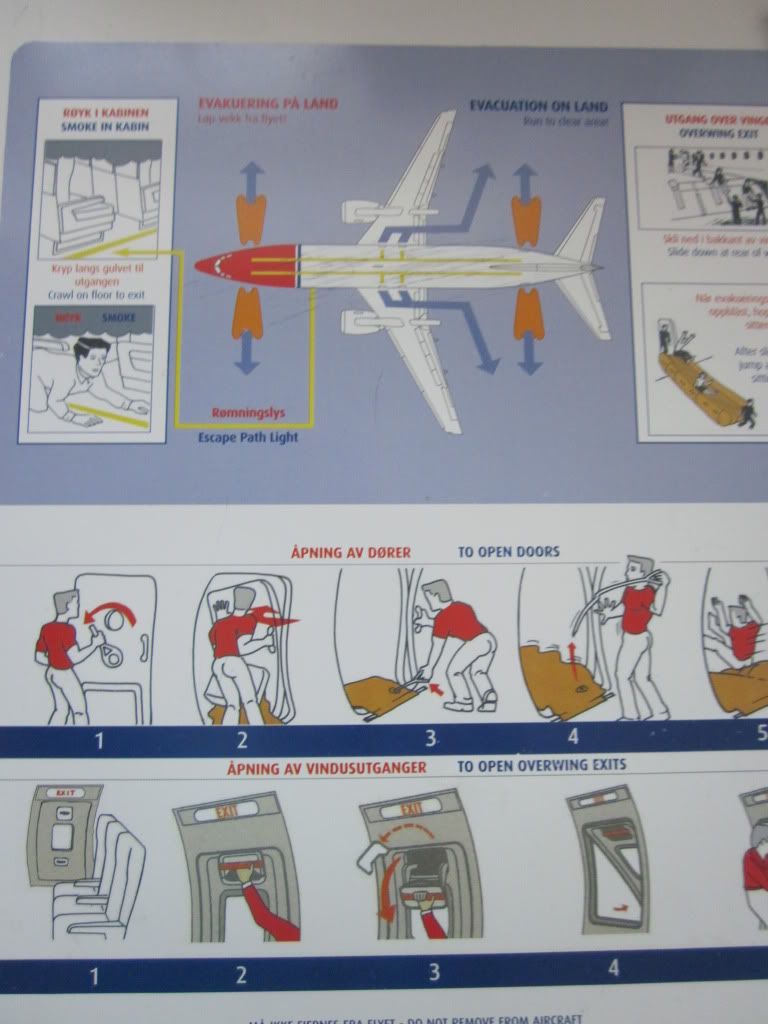 Our Norwegian captain was on the speakers later inflight with a very short announcement and that we would soon start our descent towards Helsinki, arrival expected on time.
Some pictures while approaching HEL:
And moments from our touchdown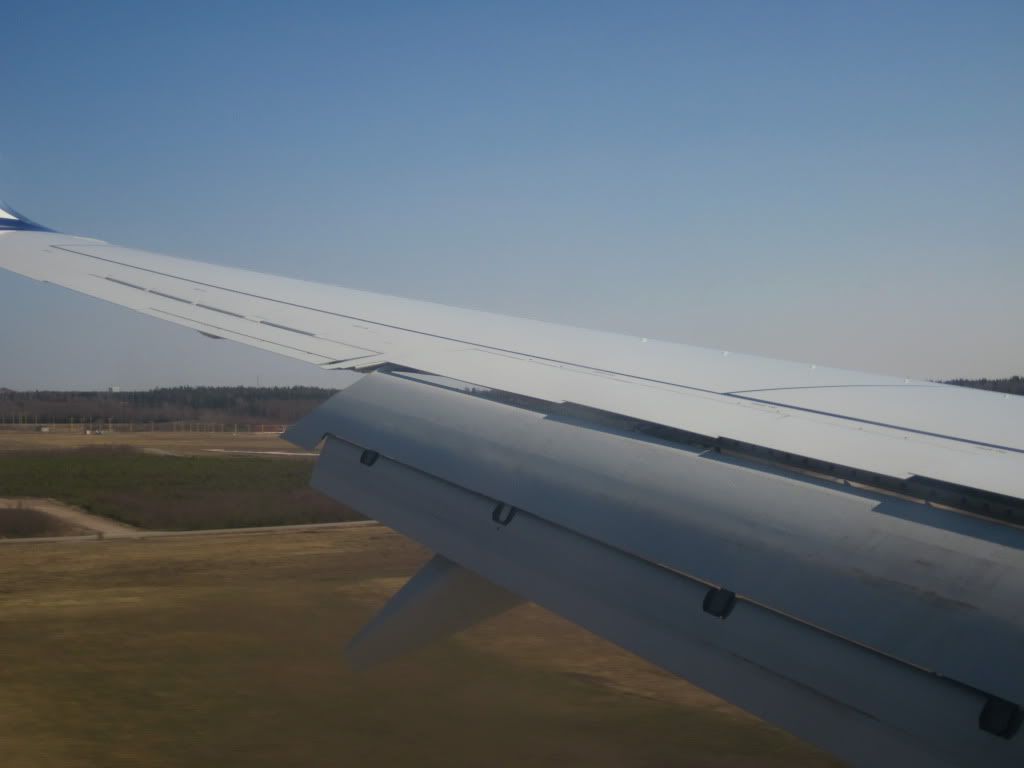 Almost there:
If the landing experienced on Atlantic Airways was hard then I do not how to make justice in words of how bumpy and hard this landing was. Let's just say it definitely is in the top 3 of hard landings. And once again lots of applause from the passengers, this time also from me.
While taxiing to our arrival gate I had time to watch some traffic from the window:
OH-BLM just landed from London: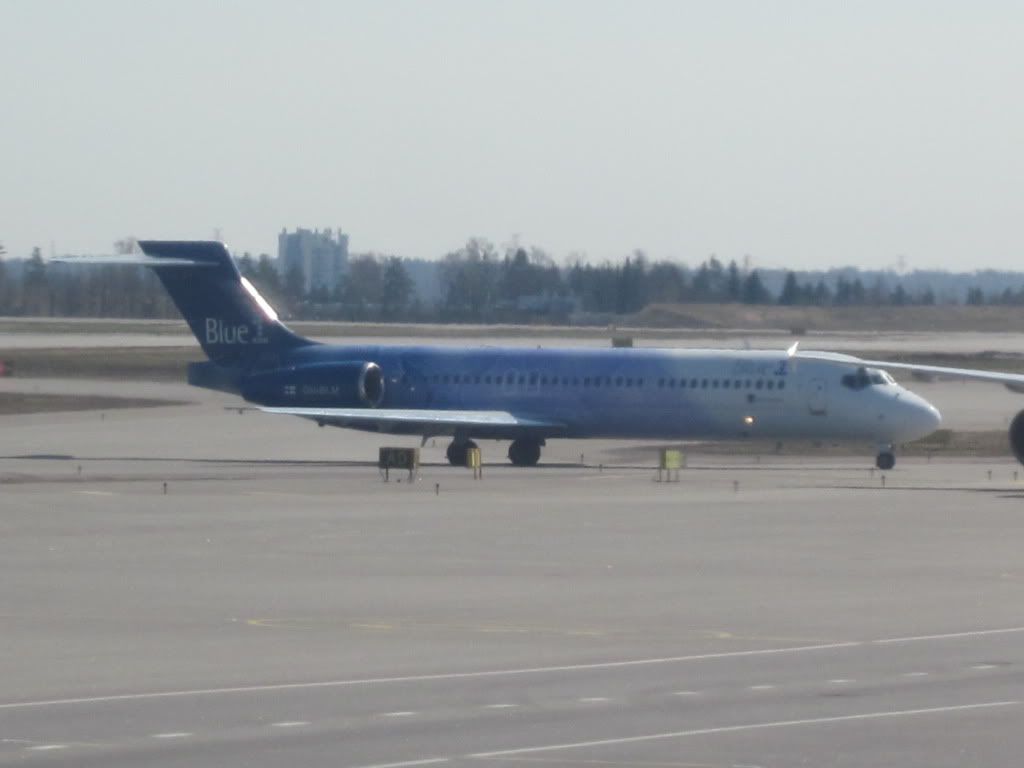 D-AISP, Airbus A320 of Lufthansa preparing for departure to Munchen:
Here is another company bird, awaiting a delayed departure to Málaga (well not just any company bird, but LN-DYH):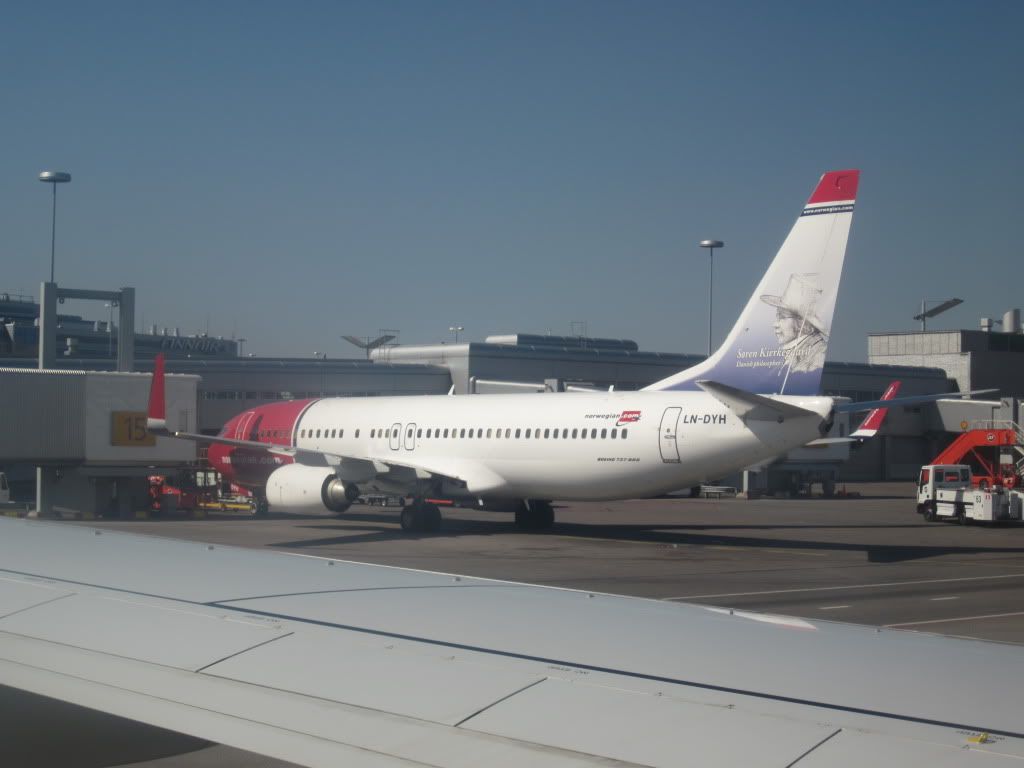 Now, everything comes to an end, so also this trip. What colorful thing is it wishing me welcome to Helsinki if not OY-JRU, ironically preparing departure on the Blue1 flight to Rovaniemi...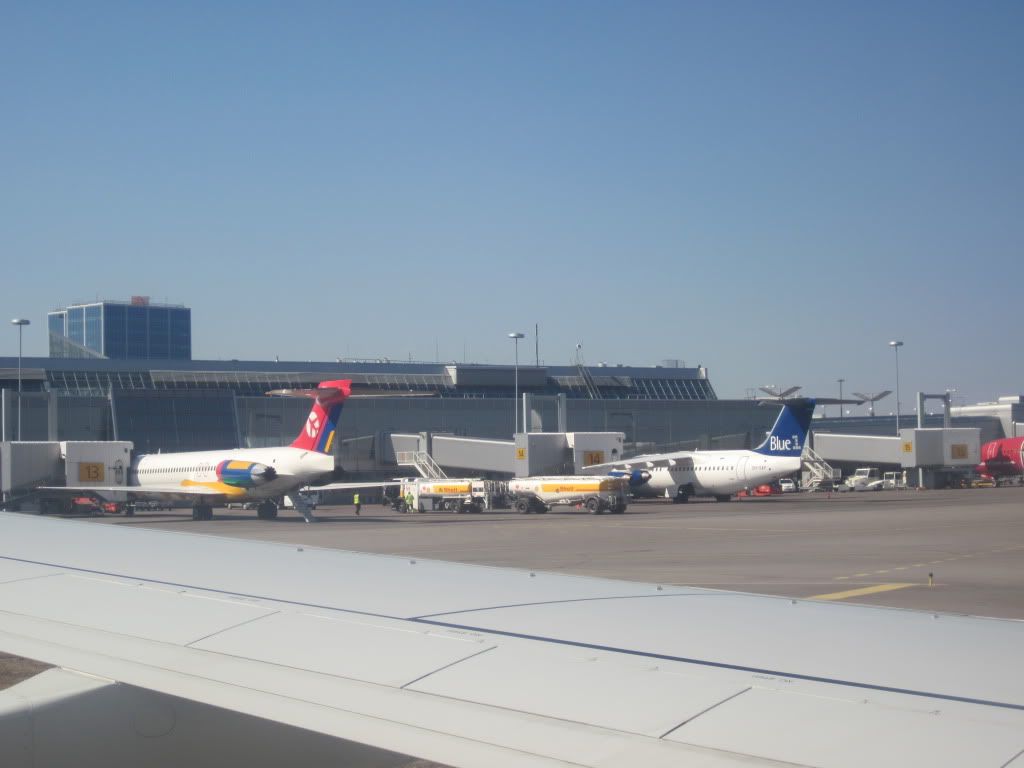 Final conclusions
Regarding my flight with
Blue1
: I really enjoyed the short Avro flight. The small 15 minute-delay was compensated by the friendliness of the crew and the experience of
Atlantic Airways
was certainly an advantage. The service onboard (sandwich and drinks) was perfect for a flight for this duration and I would definitely try Atlantic / Blue1 again.
As
Norwegian Air Shuttle
is offering fares as low as 25 EUR on domestic routes in Finland I can of course do nothing else than thank them. Thinking of the low price the value was excellent: I got on time to my destination (and as one piece). The fact that the crew was Estonian and their poor language skills were a little bit disturbing and of course I did not feel good for them as I've read that their job contract is not very nice...
And what's up next?
I will perhaps be trying to write trip reports on some other flights I have taken this year, we'll see but there's also a new trip coming very soon:
Well, next week I am leaving on a weekend trip to the wonderful landscapes of Switzerland. HEL-CPH-GVA-CPH-HEL is the routing with three different airlines. Stay tuned!
Sincerely,
717Flyer