This will be a shorter photo heavy trip report as the flight was on a boring airline – Easyjet – and as such was uneventful. However the dramatic scenery around Innsbruck airport on a brilliant day produced some stunning pictures that I think might well be worth sharing.
Growing up in Munich I have visited INN airport regularly since my interest in aviation started but never managed to fly in or out. Since I moved to London I always looked at options to fly INN on a visit home but somehow flights were always not suitable, too expensive or package only. Finally this Easter EZY had a good offer on the morning flight out of LGW as the winter season drew to an end while flights to Munich were actually already quite expensive. So a perfect match.
A 7.10 departure, at least an hour later than my usual 6.10 EZY departure to Munich, required an early start on good Friday. I reached well in time and joined the long queues at security. As expected LGW was pretty busy before the two consecutive long bank holiday weekends for Easter and the Royal wedding. Quite a few people got delayed in the queues and weren't allowed front by LGW staff even if their gate was closing in a few minutes. Not sure if everybody made it o their flight. I still had time for a breakfast before heading to the gate.
EZY A319 G-EZFL
Passengers were a mix of Austrians and Italians from nearby South Tirol, predominantly students and others living in London on their way for a Easter at home rather than tourists and tourists looking forward to the Alps. The flight was probably 85% full however there was another flight from LGW to INN a few hours later which must have had a better load judging on the ticket prices.
Apologies in advance for the spots in the pictures but unfortunately I didn't realize and didn't clean my sensor before the trip.
MON with extra titles for the Royal Wedding a week later.
TCX in the special Egypt advertising colors.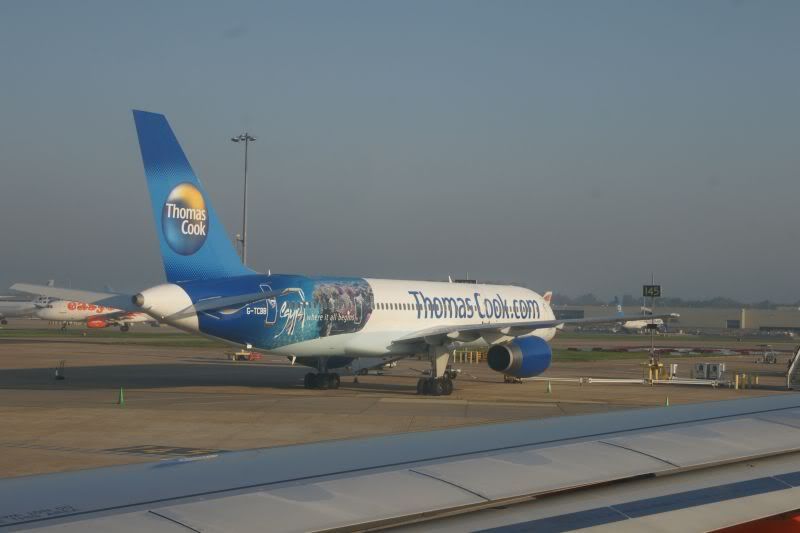 Monarch's long haul fleet.
A few former BA B757 returned to LGW after a few years of absence awaiting their fate.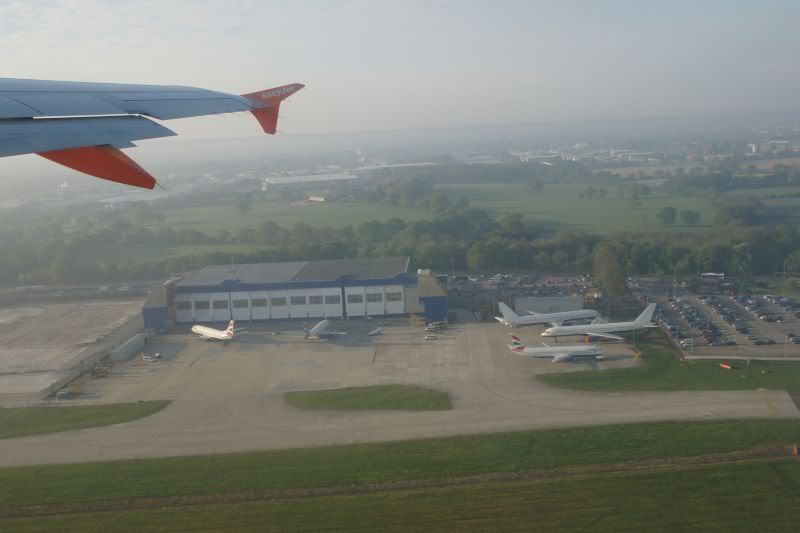 The rest of the flight was uneventful. We passed west of Munich over Augsburg.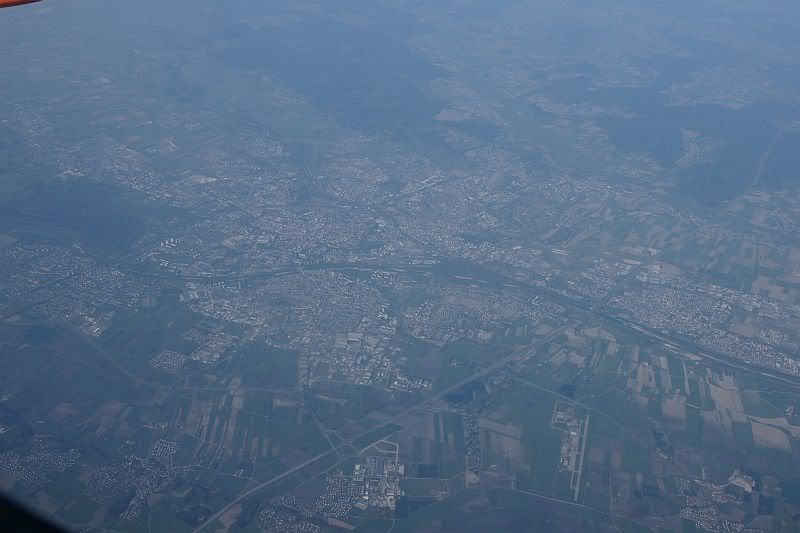 And its Airport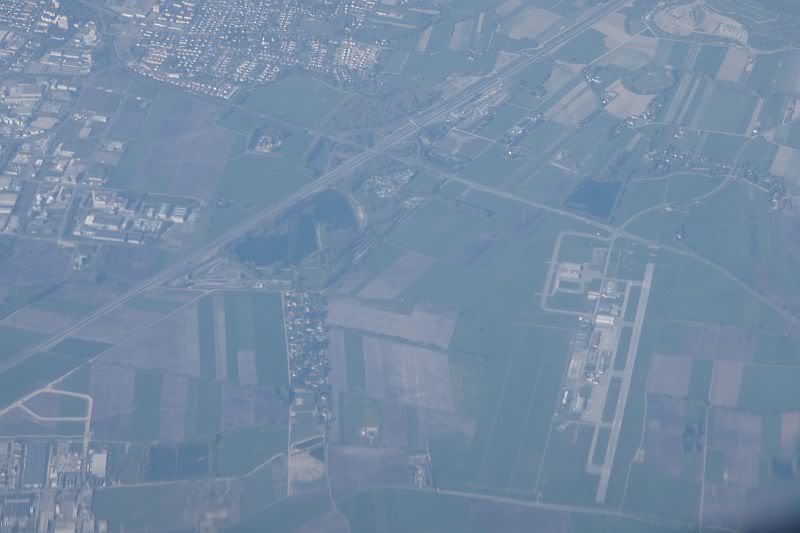 Starting our descent over the lakes south of Munich to reach the alps and enter the Inn valley in which Innsbruck and its airport are situated. I checked the winds the day before to select a seat on the right hand side, and as expected we approached straight from the East. Easterly winds would have meant an even more spectacular approach as aircraft tend to fly in through the Inn valley from the East and then pass the airport to perform a spectacular U-turn in the valley. Well something for next time.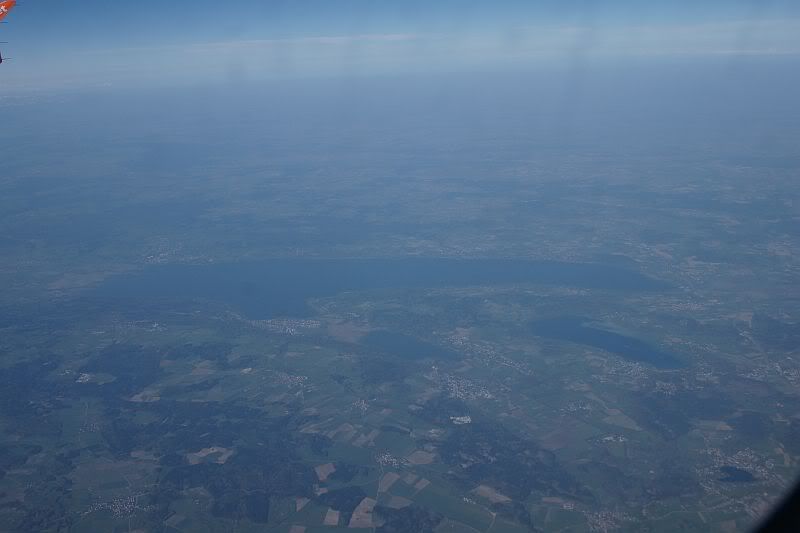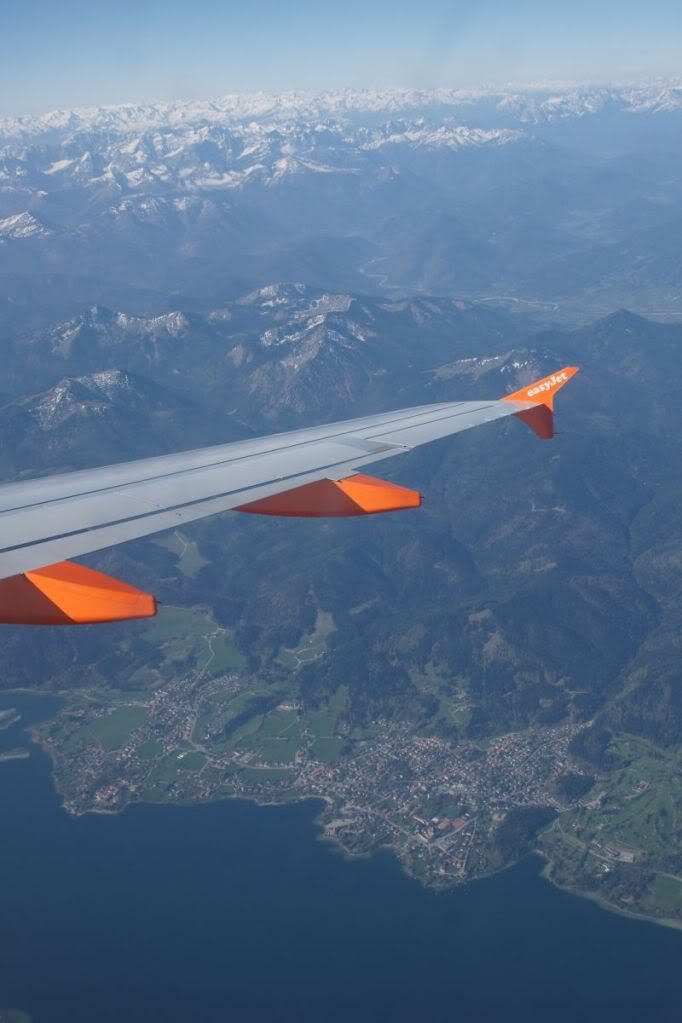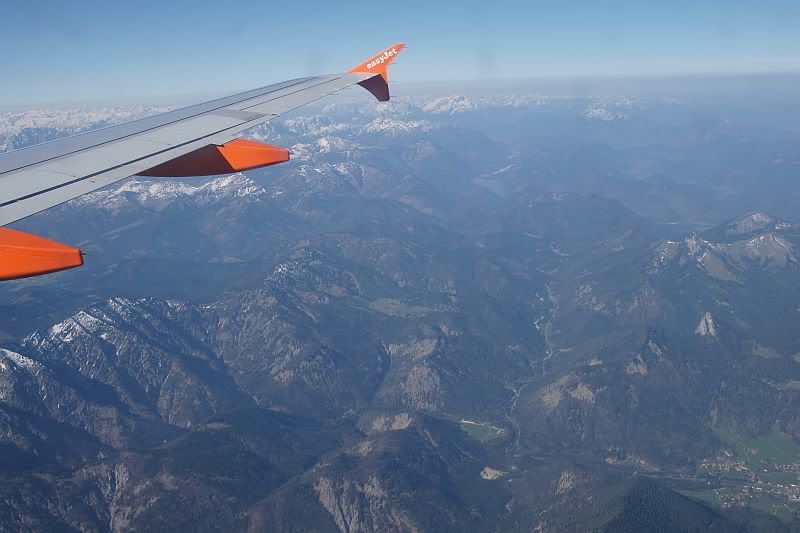 Entering the INN valey.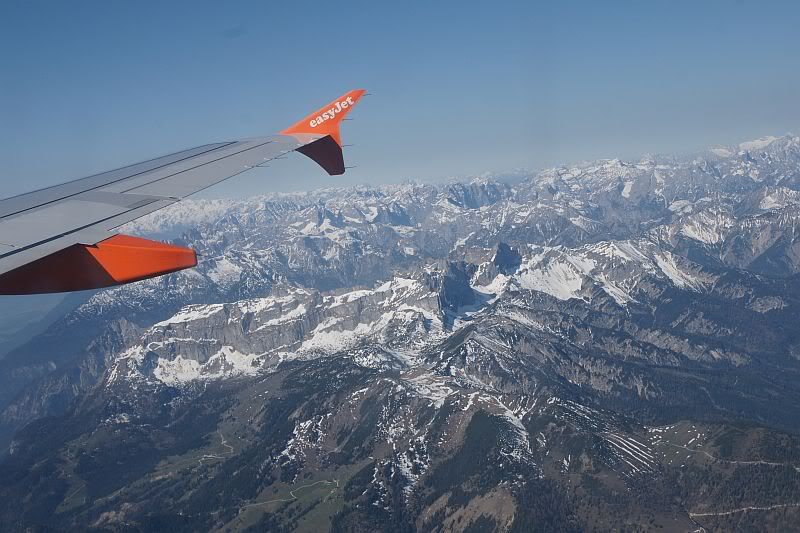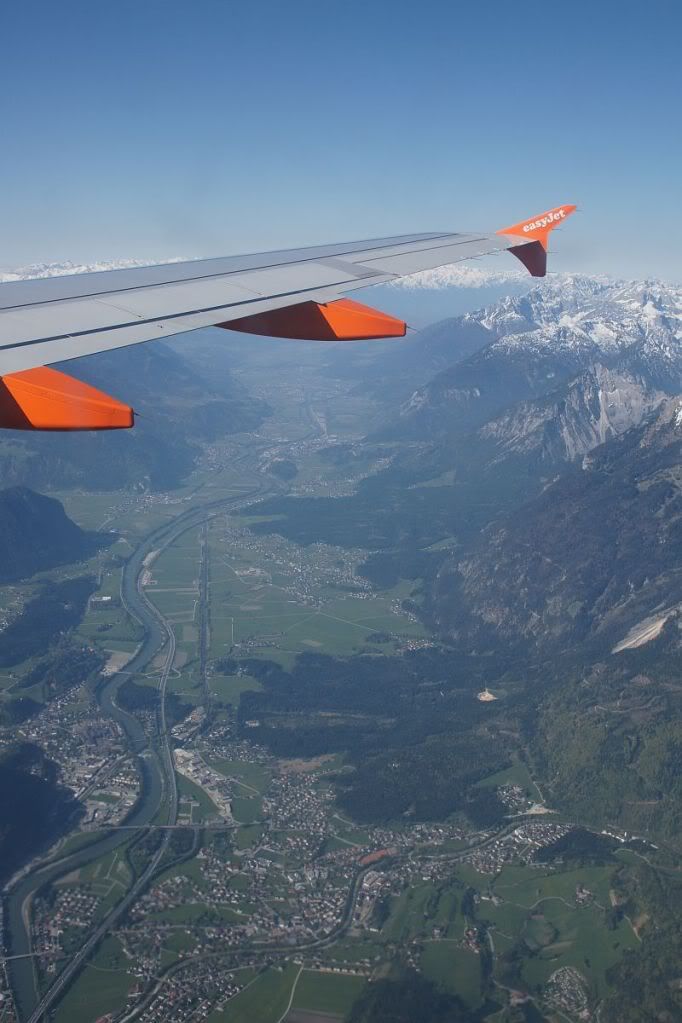 The mountains are coming closer and closer. Not much too say just enjoy the scenery.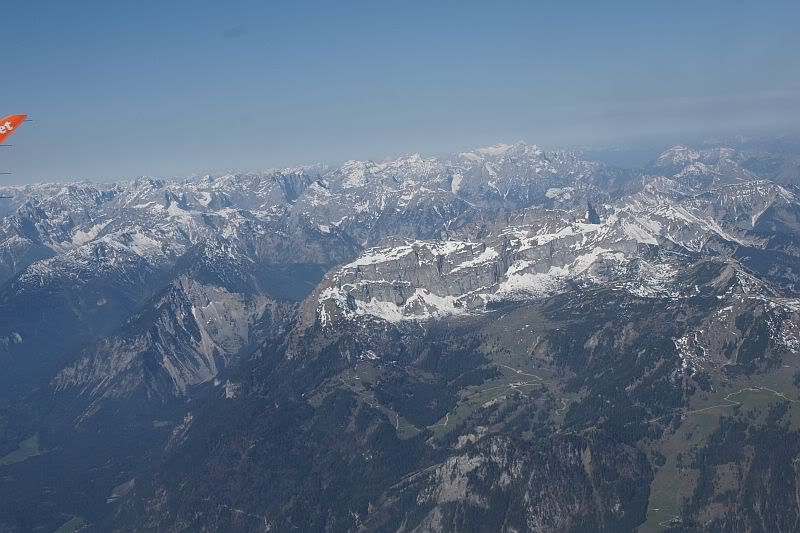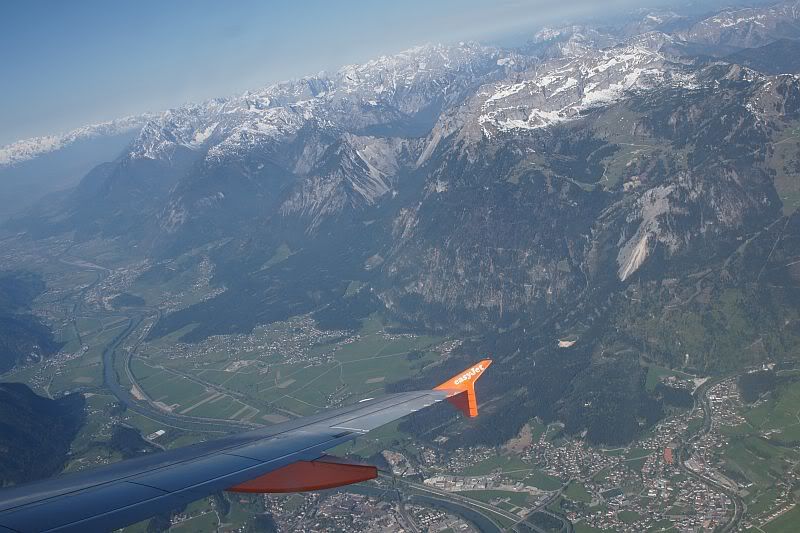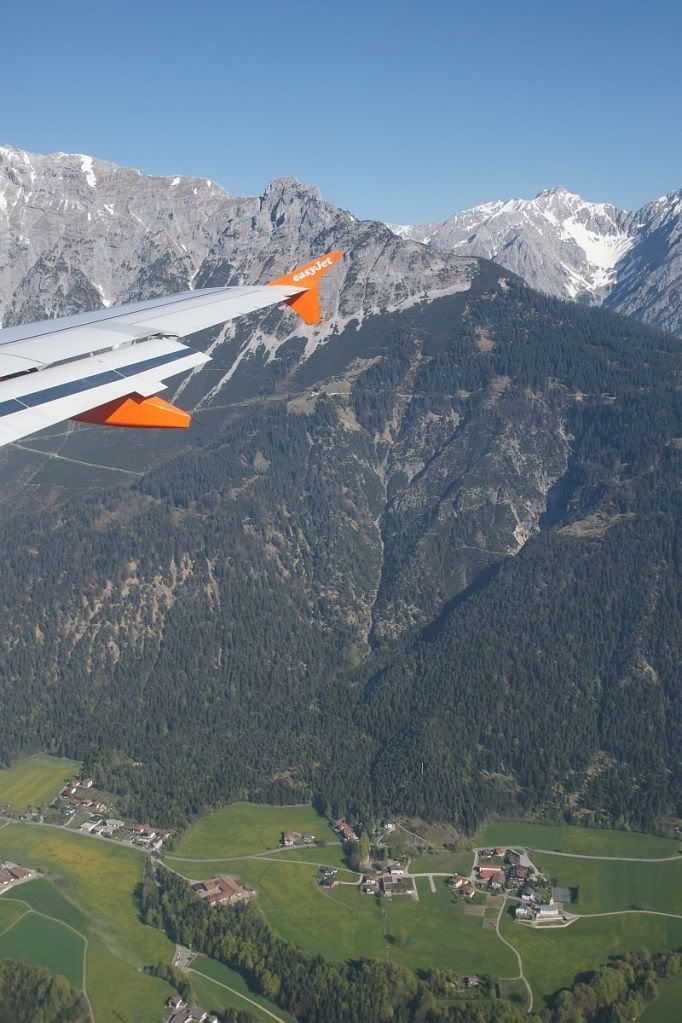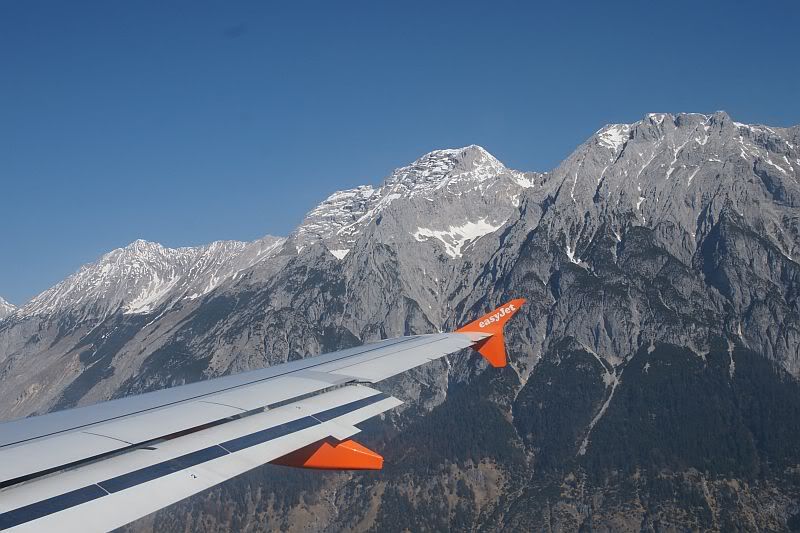 However when approaching from the East the final approach leads straight over the city center and its sights. Due to lack of space in the narrow valley houses are built right up to the airport fence offering some spectacular views.
Although the eastern outskirts are not that scenic.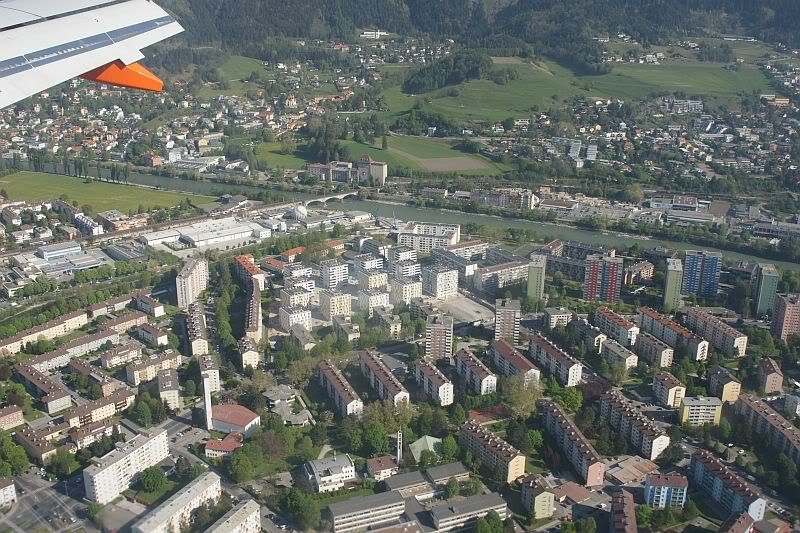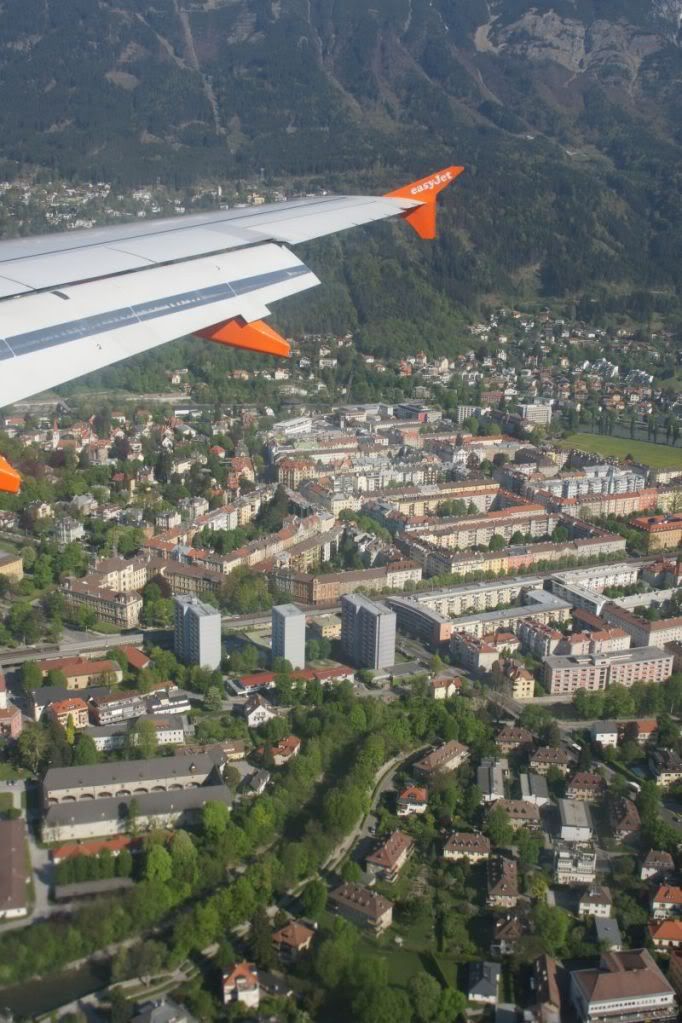 The main attraction of Innsbruck "Goldenes Dachel" (Golfen Roof). (on the bottom right near the church tower)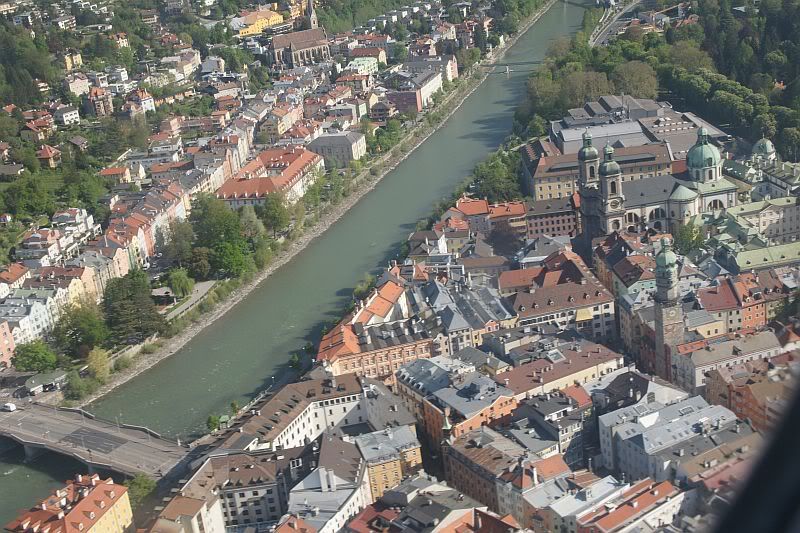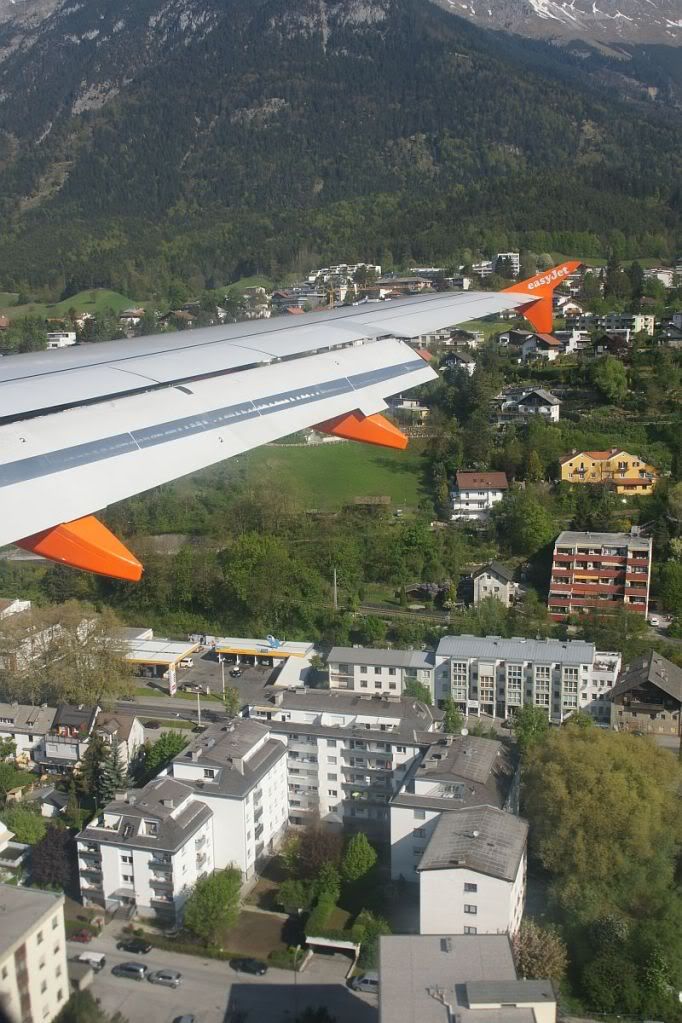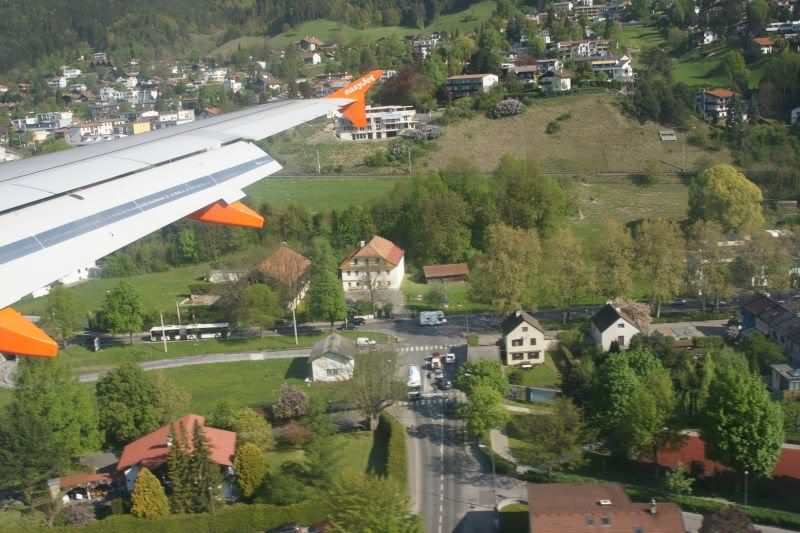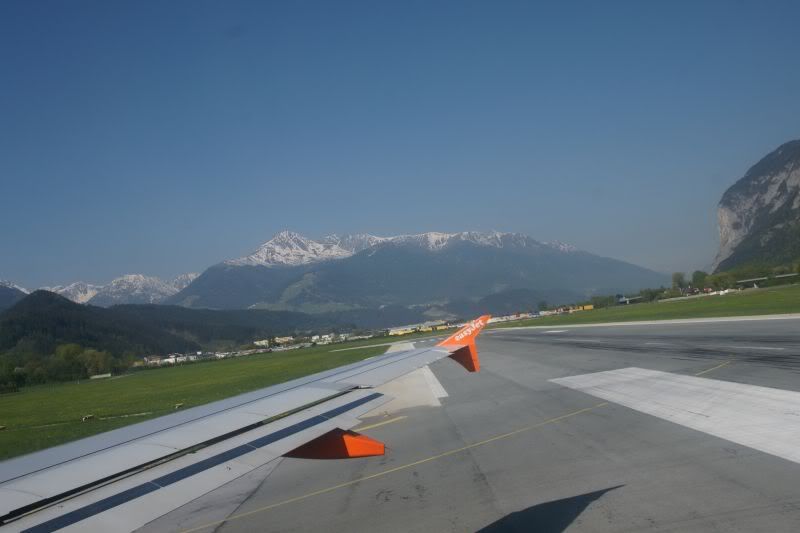 Former Austrian Arrows Dash 8-300 outside the Tyrolean hangar.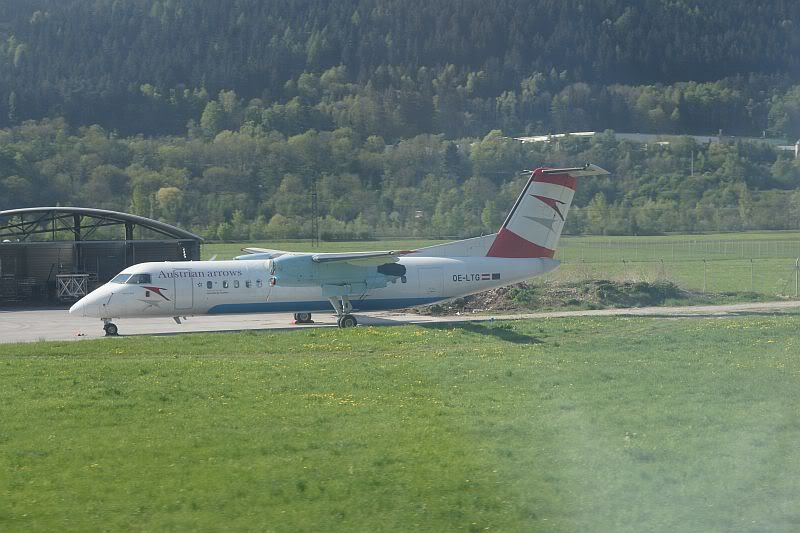 Local airline Welcome Air.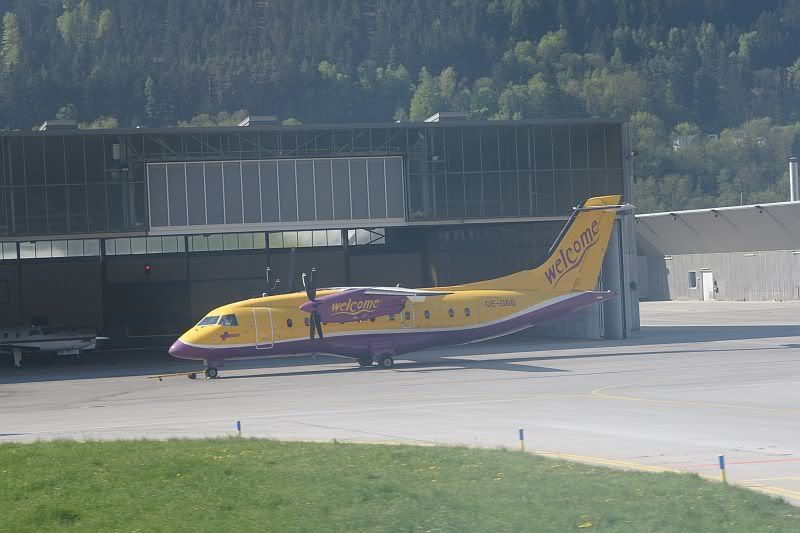 As you can see already INN is quite popular with business jets.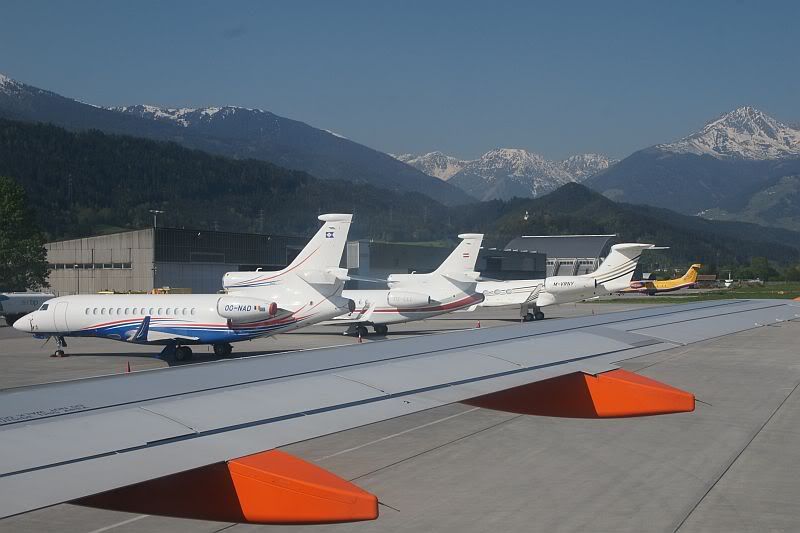 After deboarding I could notice that quite a few fellow passengers were impressed by the stunning surroundings as well and started taking photographs of the plane, posing in front of it etc. In the process they walked off quite far on to the apron but nobody seemed to mind. So I used the chance for a few more impressions as well.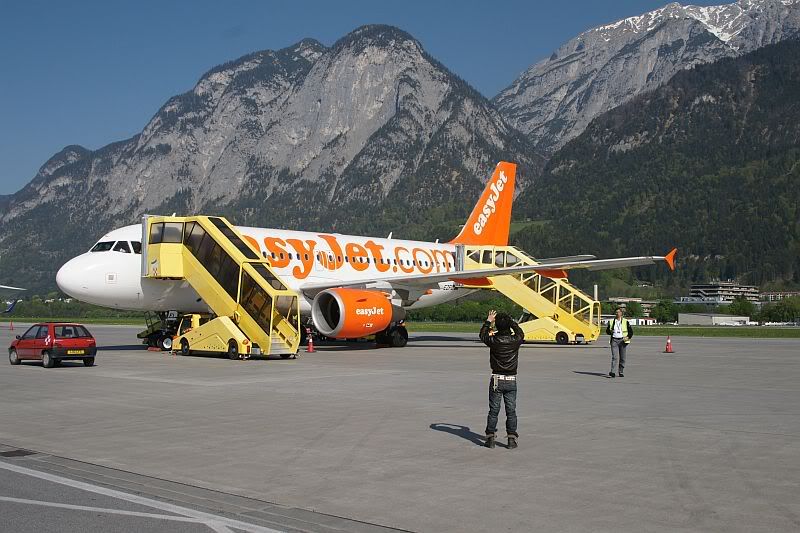 Note the British registered car of the EZY station manager.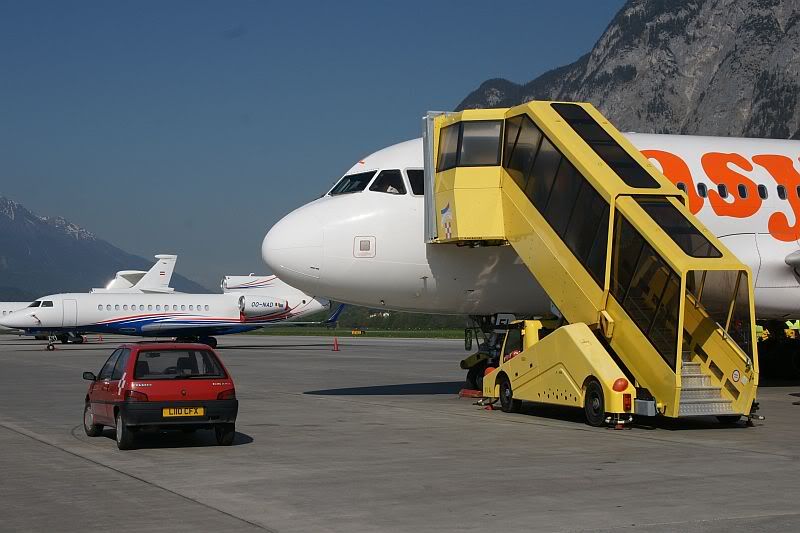 Nice touch to welcome guest in several languages.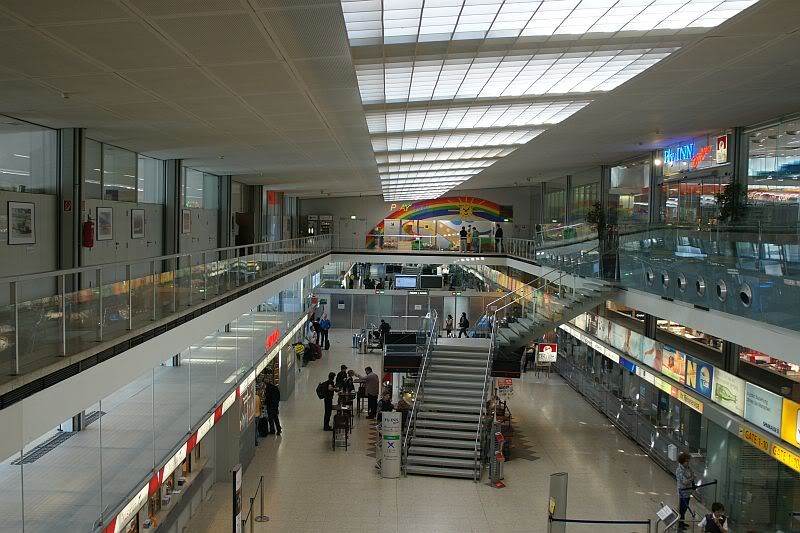 Some aircraft models were displayed in the first floor of the terminal building.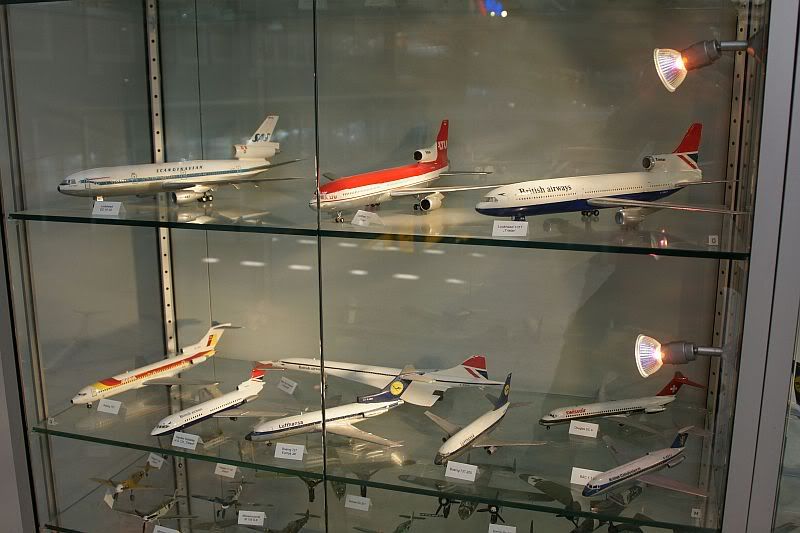 After arrival I went onto the viewing balcony for a bit to take pictures of a few arrivals and departures.
EZY leaving back to LGW.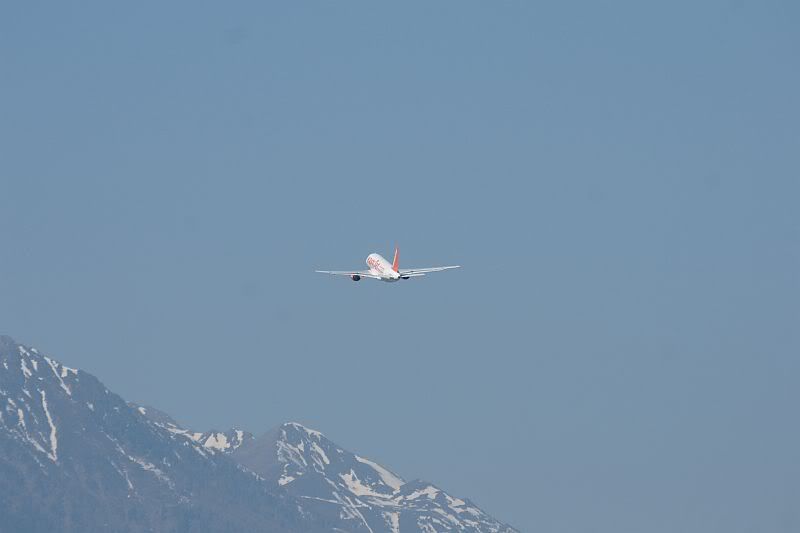 Austrian to Vienna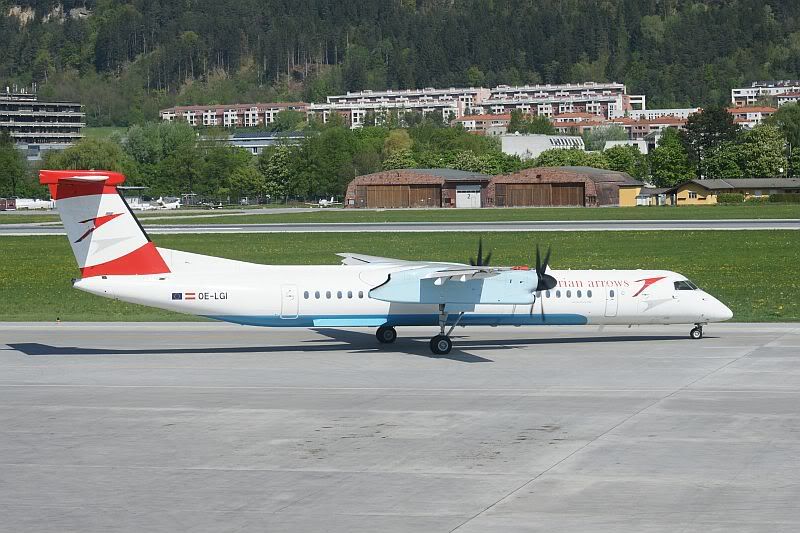 Air Berlin from DUS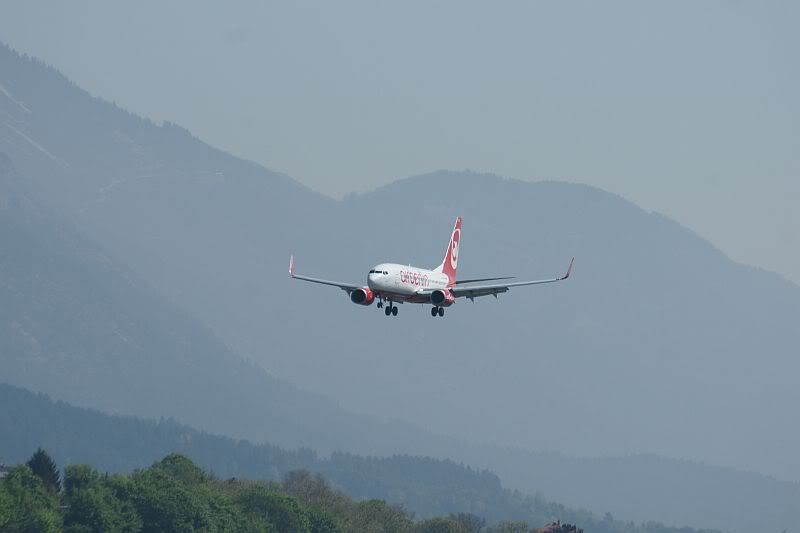 And quite a few private jets …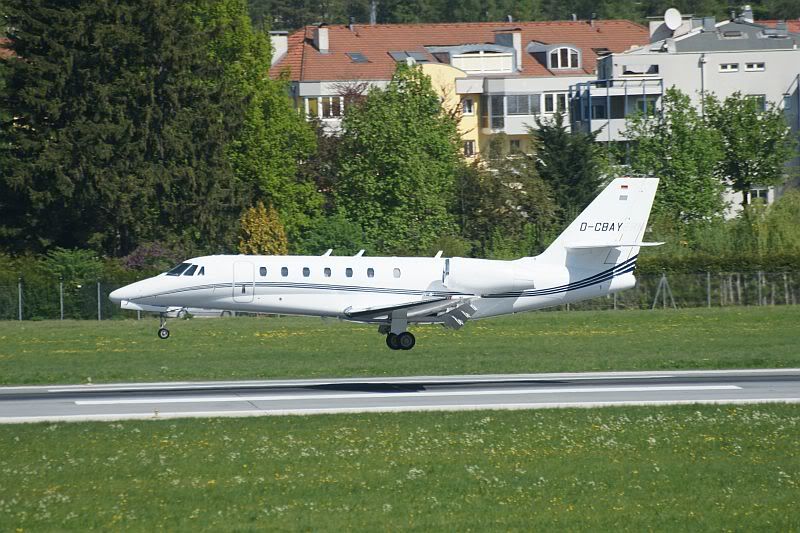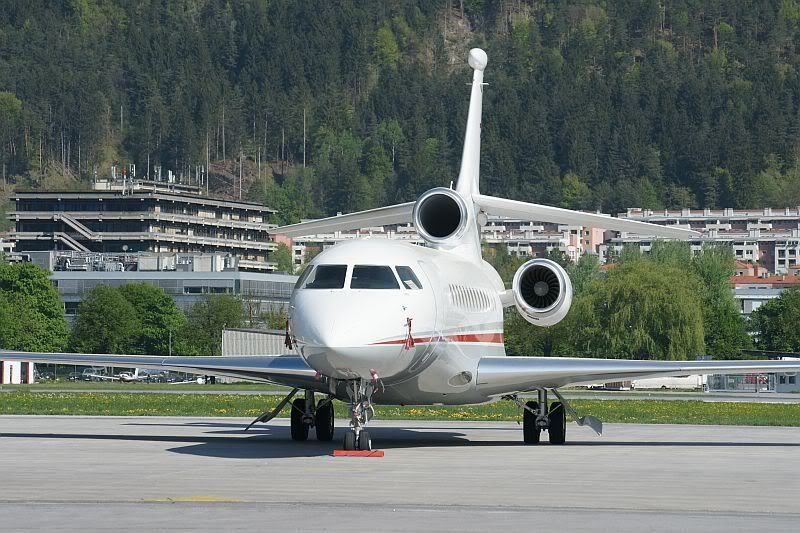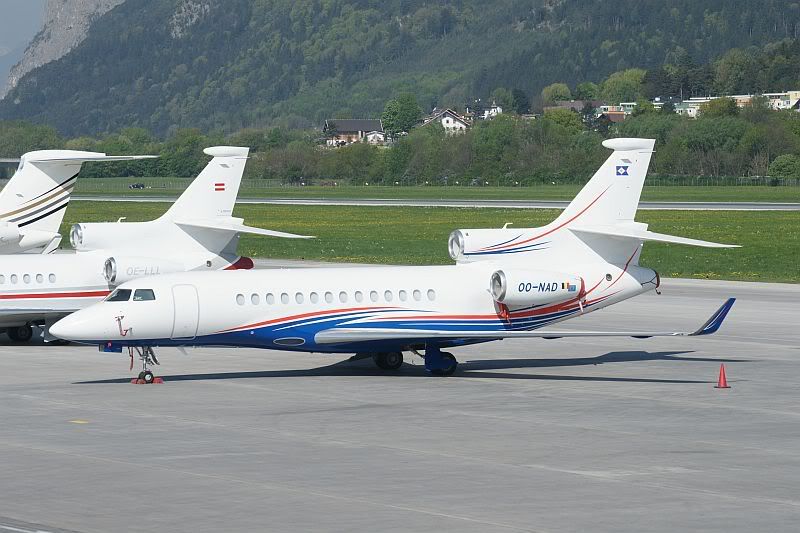 Unfortunately a new building extension makes photography a bit harder now from the viewing balcony. But for anybody spending more time in INN there are plenty of scenic spots to take pictures along the perimeter.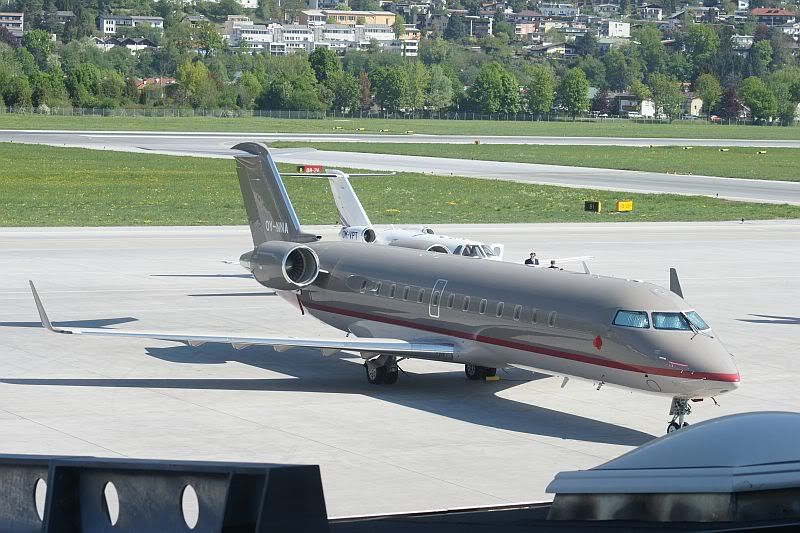 For the first time the way back to London was by car rather than by plane so there won't a report about a return flight. However I couldn't resist a few short stops on the way so here a few aviation related photos.
Tiny Zweibruecken Airport near Saarbruecken which now handles the majority of charter flights in this area since TUifly moved its operations from Saarbruecken due to the longer runway. This former military airfield had one of the most basic terminals of any conversion airport that I have ever seen. The departure hall is literally an old army barrack fitted with cheap carpets and a few check in counters. The toilets are in porta cabins attached to the building. Well in a way I prefer this low cost approach as far too many airports in this category, especially in Germany, build a fancy terminal for millions and end up with a few Ryanair flights a week, which doesn't really pay the bills.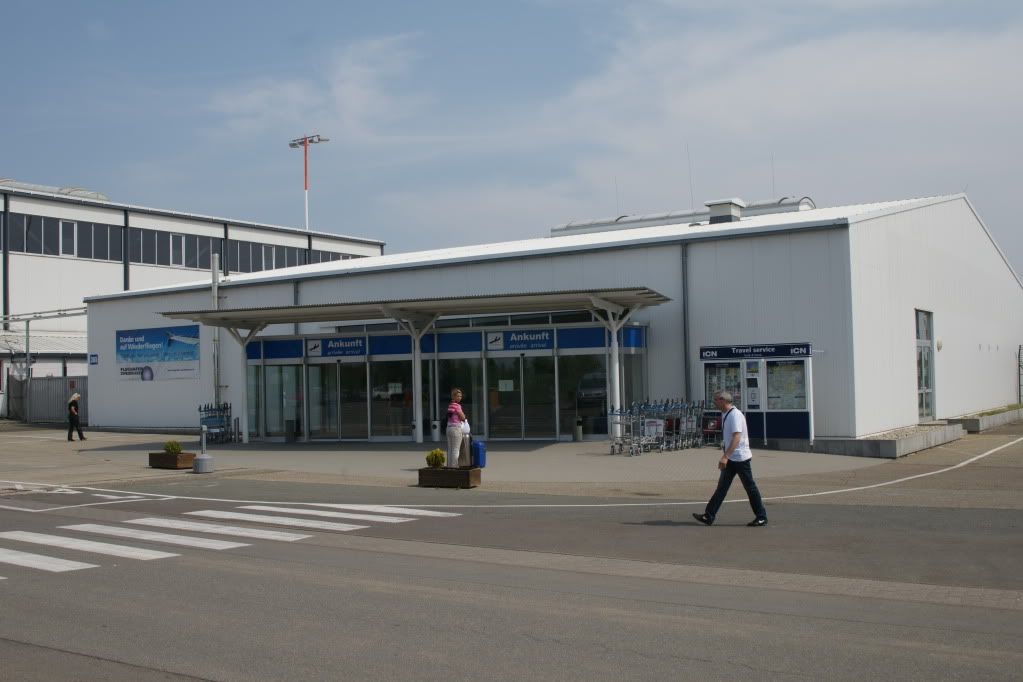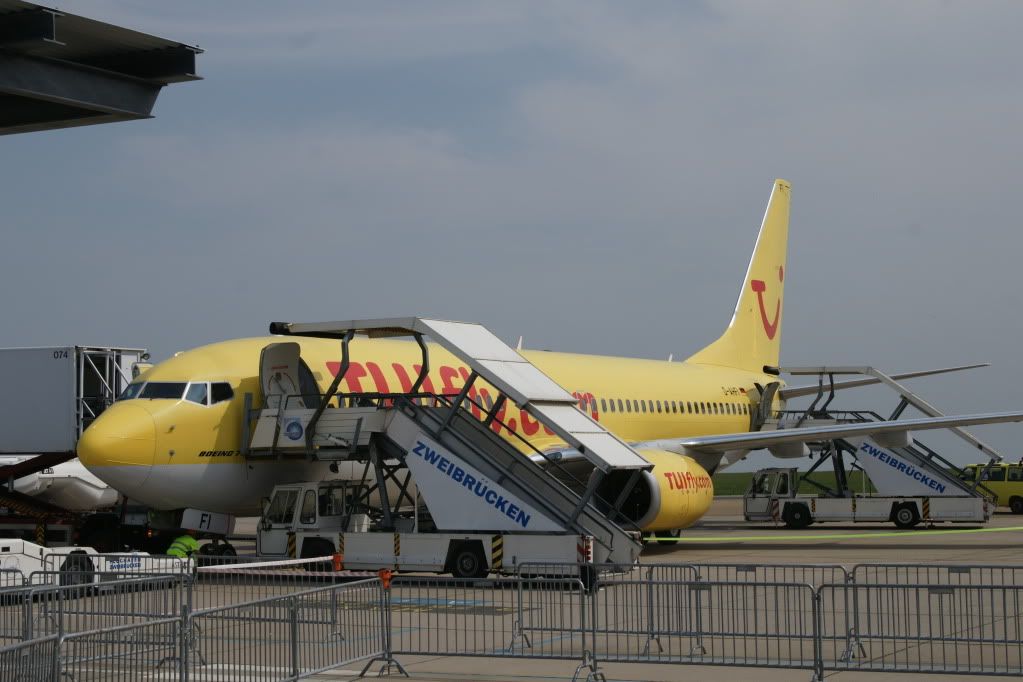 Tuifly seems to have a lot of those A310 models in the latets Tuiflly livery, that actually never existed on an Airbus. Memmingen has one as well and now Tuifly doesn't even fly there anymore.
A few freighters in LUX.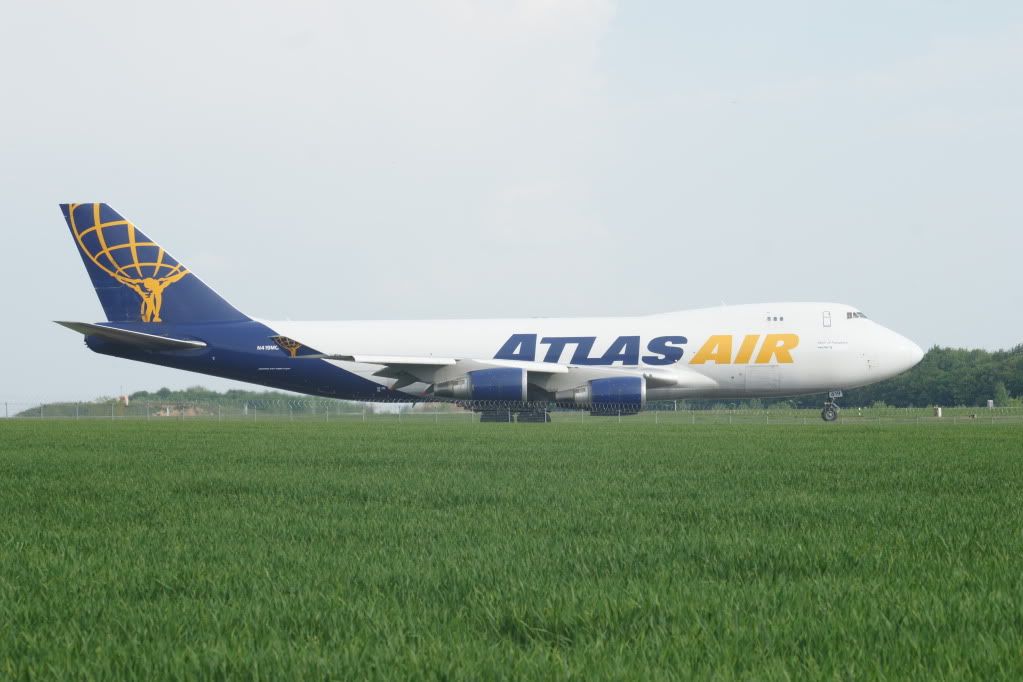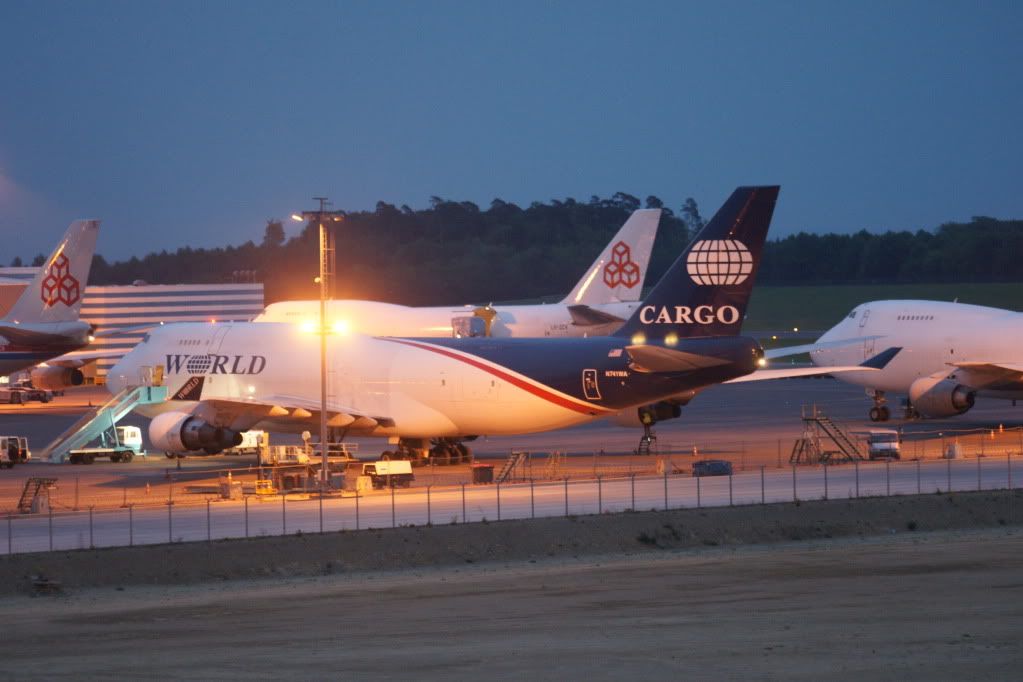 Finally I always wanted to visit the small airfield of Merville in North Western France between Lille and Calais. This remote airfield is home to a few stored classic airliners thanks to the IAAH maintenance and flying school. When we arrived all gates were open but signs indicated that it was forbidden to enter the property. The reception building was deserted on a Easter Monday but after a few minutes a car with a flying trainer and 2 Chinese students arrived to get their meteo information. He indicated that I should enquire across the road in the bungalow. After ringing a few times a nice lady opened the door and photography was "pas de problem".
So here we go. It looks like the Viscount is now on display rather then used for training.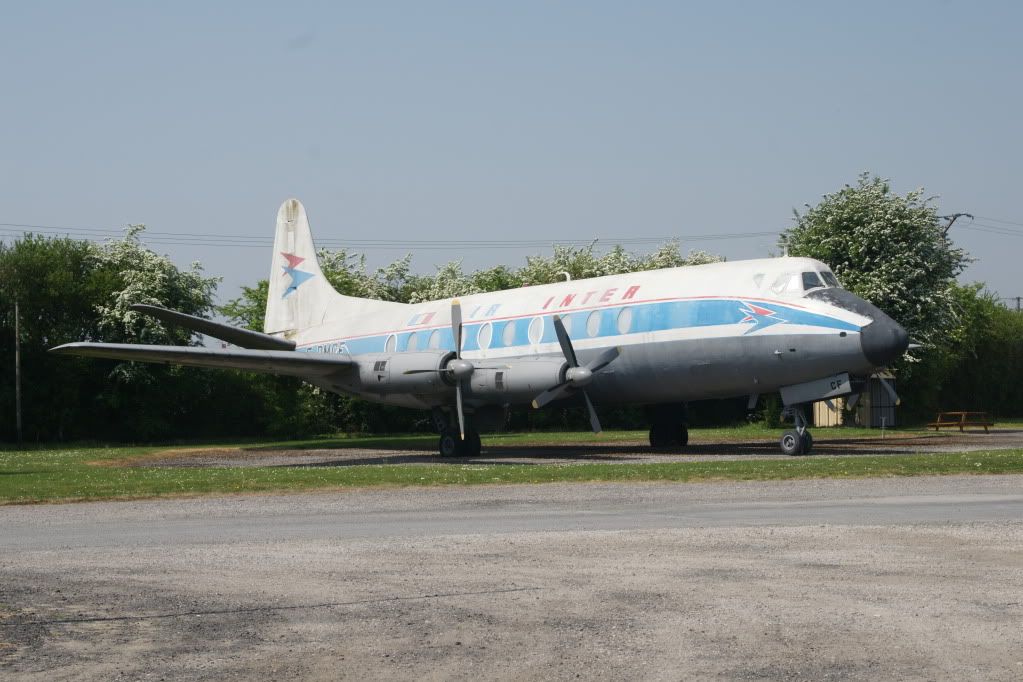 The Air Inter Super Caravelle still looks quite good.
While the former AF B727-200 looks a bit faded.
And the Nord Atlas misses a few bits.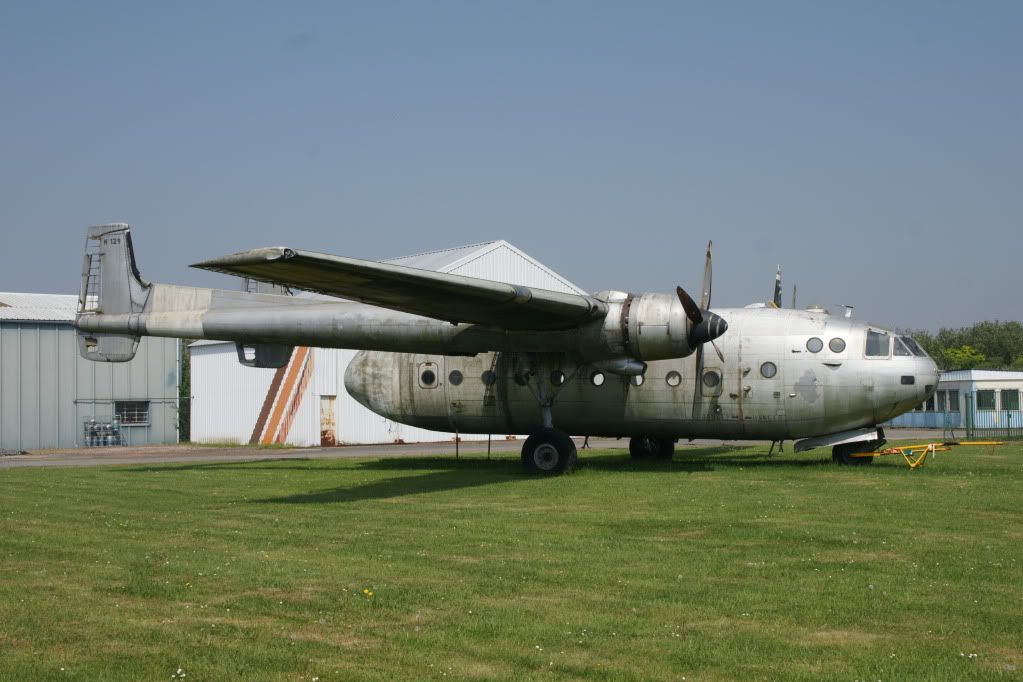 Apparently there is another former Air France Caravelle in one of the hangars but since they were all looked up I didn't bother to ask. Across the runway in the grass were the remains of a former AF B747 cockpit section.
And finally arriving back in the UK. This time not via LHR, LGW, LCY or STN.
I hope you enjoyed the beautiful scenery of Innsbruck airport. I certainly can recommend a flight and don't think it was my last flight to INN.
Thank you for reading.
Feel free to ask questions and give any feedback or comments.