Introduction
While searching for Wizz flights for an earlier trip of mine (
Bavaria To Finland In 4 Flts: FMM-NYO-GDN-CPH-HEL
(by
FlyingFinn76
Apr 16 2011 in Trip Reports) ), I noticed some really cheap fares ex-NYO with them. After looking for some nice destinations I hadn't yet been to and suitable openings in my calendar I ended up booking a flight to Poznan in Poland for a Saturday afternoon in early June for the grand price of 99 SEK (around 11 EUR) all-in.
To get to Sweden in time for this flight it was a choice between the morning flight to ARN on KF or the horribly early morning flight on BT via RIX. Unfortunately on Saturdays there's only a single flight with DY at noon, which was too late to make it to Skavsta on time. I'd of course preferred the KF option as that left at a far more humane time, but that was a bit pricey so I had to settle for the BT one, which for under 60 EUR was good value for money.
The next thing I booked was the flight home from Poland - BT recently made the WAW-RIX flight double daily, and the evening flight on Sunday was perfect for me (even though it meant another flight on the notorious "Midnight Fokker" to HEL), and available for around 70 EUR so that was booked as well.
After looking at options to connect the dots I noticed that Polish domestic flights on LOT and EuroLOT are very cheap (especially when booking via the US Expedia site), so I couldn't help but adding a detour to Katowice, another new airport for me. The morning POZ-WAW flight was not as cheap, it cost around 60 EUR as I hesitated too long, but the WAW-KTW-WAW roundtrip ticket cost only around 40 EUR.
Having booked all that that I was set for another weekend trip with the following nice itinerary: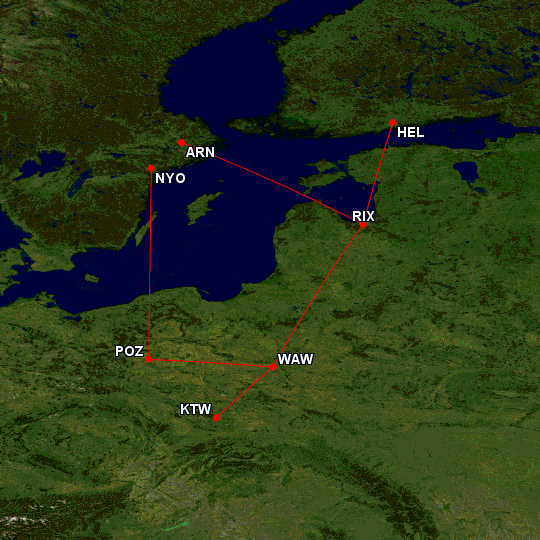 .
Saturday 4.6.2011
It's been a while (a year actually) since I've last taken this horrible "Early bird Fokker" flight, nowadays departing already at 5.05. BT has slowly been moving the departure time earlier and earlier, I think it originally departed at 5.45 when it was introduced three or so years ago... At least I was pretty sensible and went to bed very early, so waking up at the markuslike hour of 3.30 is surprisingly painless - of course the fact that it is summertime in Finland and thus already daylight outside helps a lot! No wonder many foreigners suffer from insomnia in the Finnish summer...
A quick shower, glass of juice (far too early for eating) and packing the rest of the kit together and out to catch the bus to the airport - luckily they nowadays run all throughout the night. Well, this is June in Finland, 4 AM: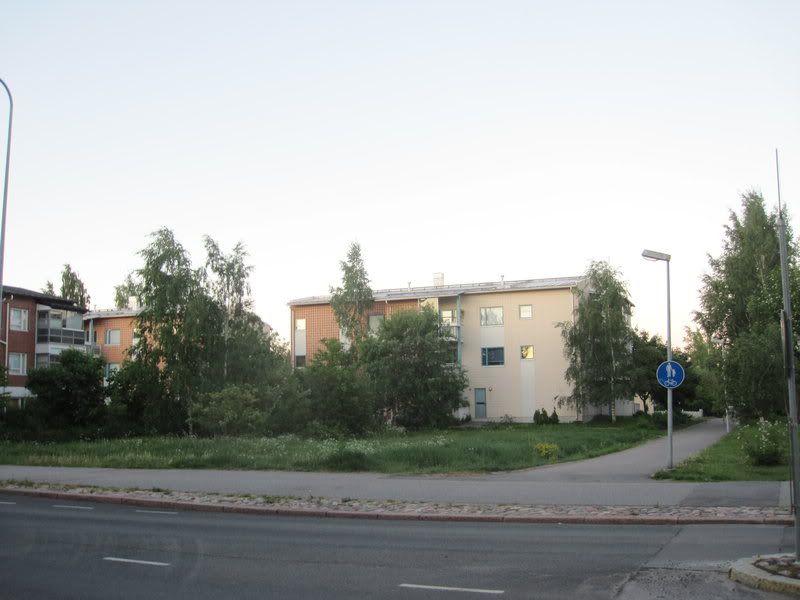 At T1 some 20 minutes later, there's a surprising number of people there already - most of them seem to be queuing for the Norwegian check in (with the kiosks standing empty...). Security has only one lane open, but only one or two people there, so no problems. By the time I'm gathering my stuff I already hear them announcing "Final call" for my flight - looks like they want to get us on our way ASAP since there's around half an hour to go until the scheduled departure time. Well, the lounge only opens at six so it's not like I want to hang around the terminal anway.
I ask the very perky (at this hour!) gate agent at the bus gate 15A: "You really want to us to leave early, do you?" - She says that yes, so I remark: "Well, all the better for me as it means more lounge time at RIX!". Most of the passengers are already waiting in the bus downstairs, and two or three more arrive after me and then we set off for the short drive to our Fokker, looking good in the morning light: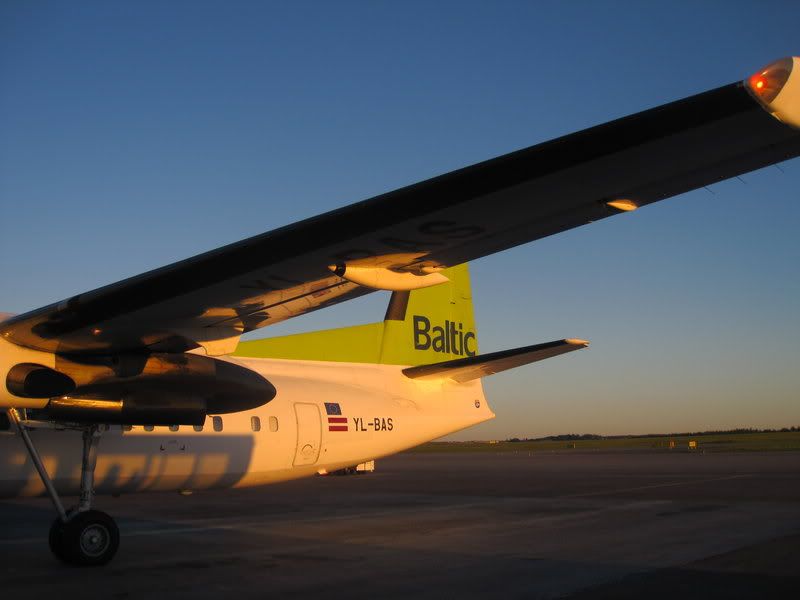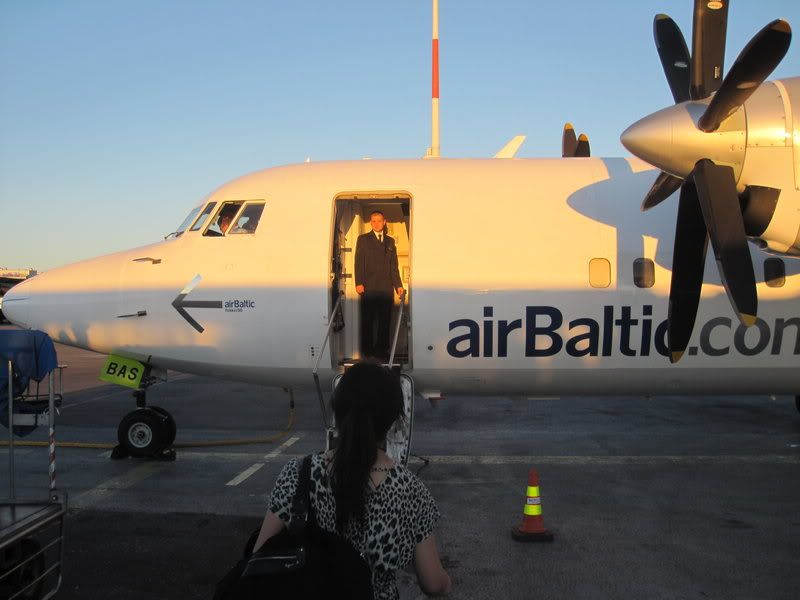 YL-BAS this time, my eight flight on this bird.
HEL - RIX
BT330
F50 YL-BAS
Seat 11A
4.53 - 5.49
Another BT Fokker, another musky smell - the seats should really be thrown out and replaced with new ones if BT is going to stick with these Fokkers in the years to come. Who knows what kind of alien lifeforms live inside the padding and what kind of nasty things have been spilled on them over the years.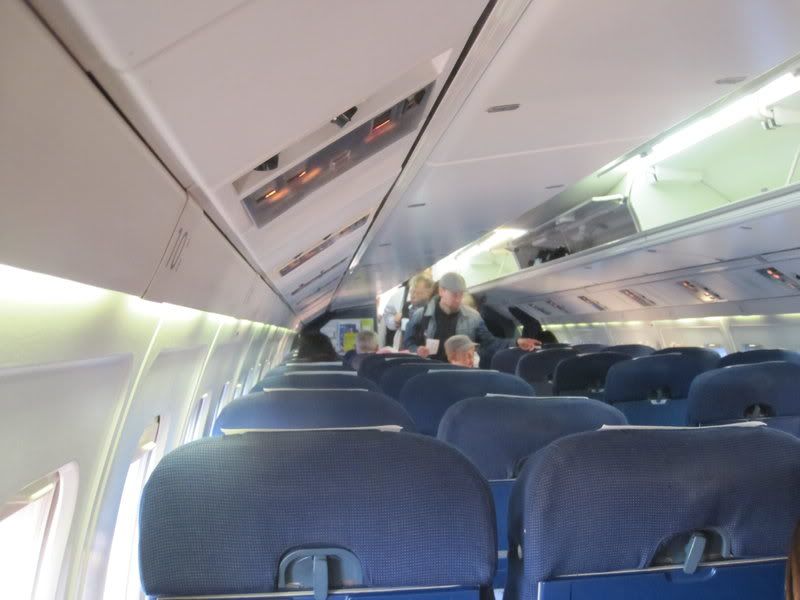 While settling for my seat on the last row I remark how perky the cute young back galley FA is looking - she surprises me by telling that she hasn't slept at all - in fact the whole crew took this bird to HEL as the Midnight Fokker less than four hours prior. I knew that the plane comes from that particular flight, but I never knew that even the crew is the same! Apparently they only operate BT329/BT330, have four hours off in the middle and can then go home to sleep after arriving at RIX. These BT crew shifts are really weird!
Disaligned windows on this particular row: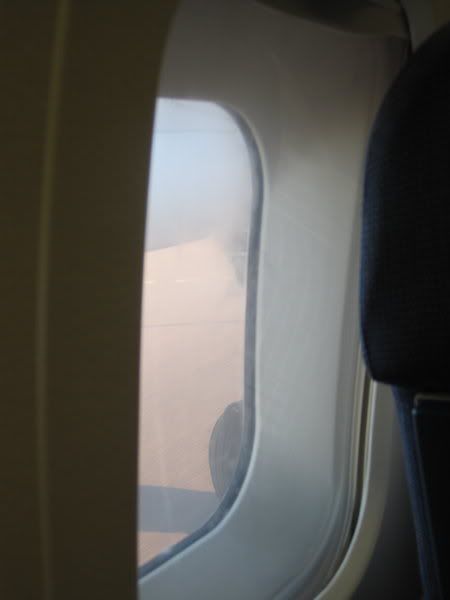 A rather good load for this early flight - 80% or so. The single row of business class is of course empty, as expected. Once I flew this flight with only four pax onboard, so the loads have definitely improved. Flight time is announced as 1h5mins with "beautiful weather" en route by our cheery captain. Departure is a nice 12 minutes early, with take off from 22R somewhat later.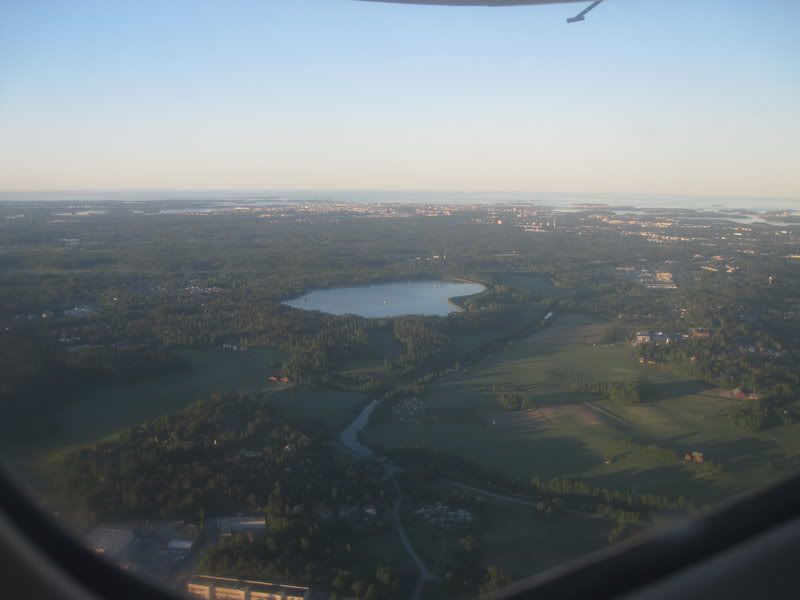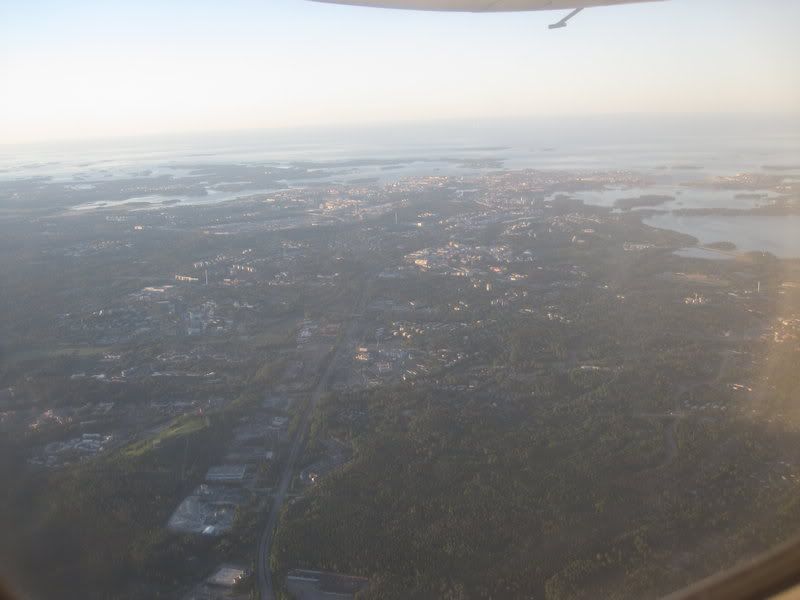 I doze through this flight, only snapping some photos on our approach: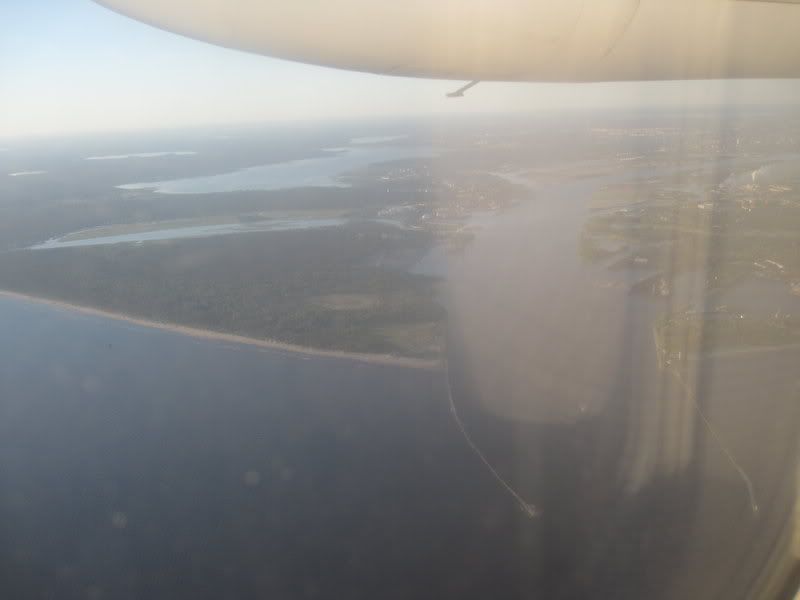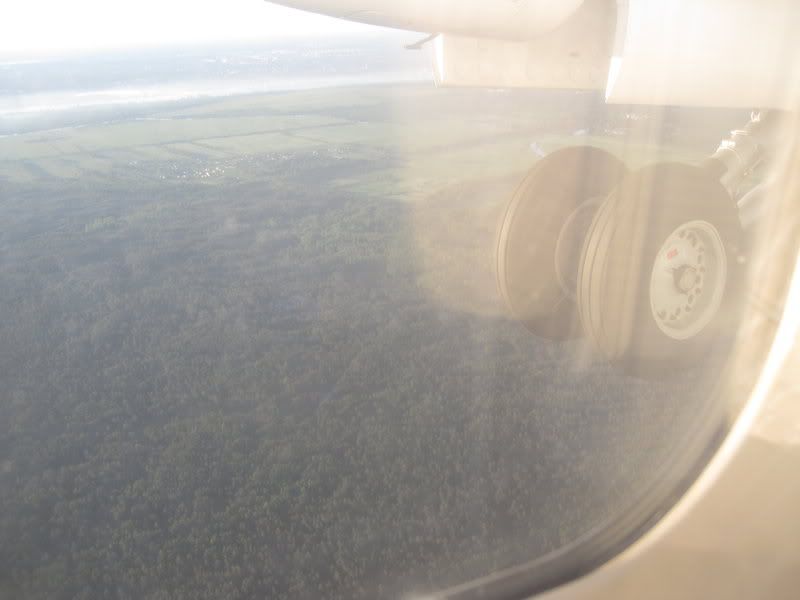 Just before landing connecting gate information is read out as has become the norm on BT lately (and something I like a lot - SAS usually does this at CPH as well). Cnnections include HAM, KBP, ARN, TXL, CPH and BRU.
We land on Riga's runway 18 after around 55 minutes of flight time, and end up in the parking place in front of the arrivals door.
Nice visitor from VKO: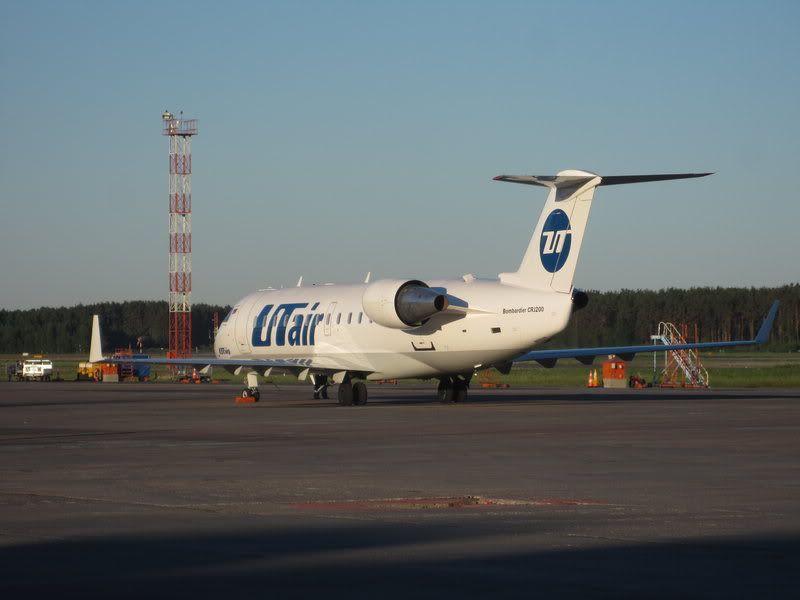 Bye:
Riga Airport
With a nice early arrival and an unexpected bonus of not having to bus it to the terminal I have plenty of time for a lounge visit. My plane is the one in the middle, sandwiched between a SmartLynx A320 and a BT 733: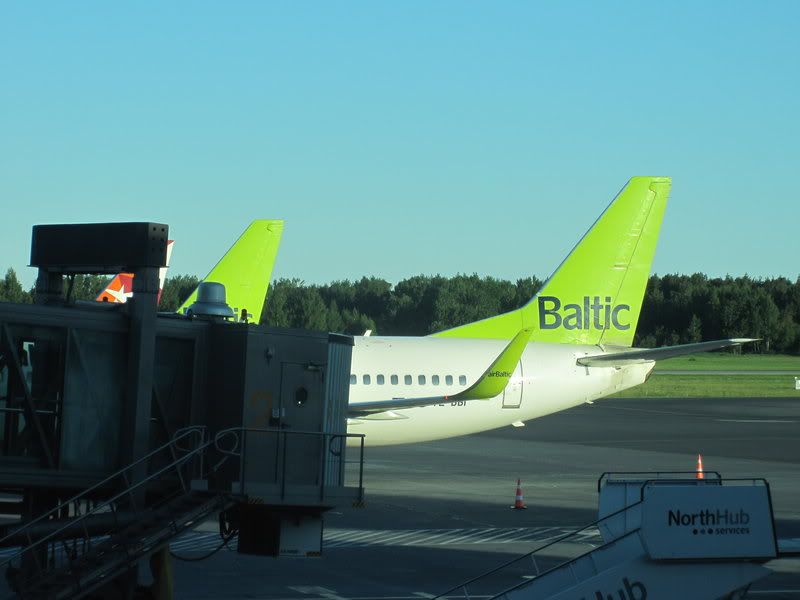 They have some sinful looking donuts, so I fix up a breakfast of champions, plus some excellent reading material: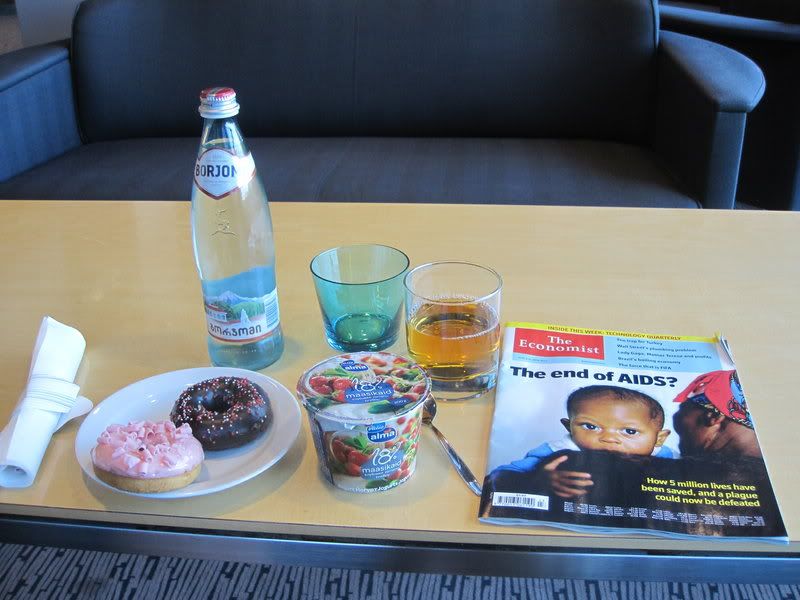 One of these donuts would've been enough, with that sweet Estonian yogurt I almost overdose on sugar and am not really feeling very well!
The flight is surprisingly late boarding, despite the plane being there and looking ready: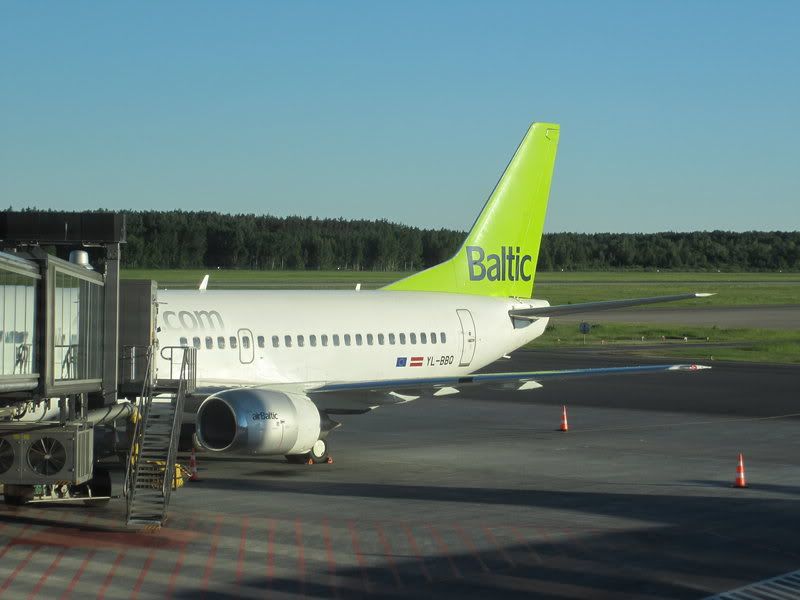 This flight was originally scheduled on a Dash, but at some point got changed to a 735, which it remains today. YL-BBQ, Bar-be-cue, yummy - my 4th meal... err, flight with her.
This flight now carries a JZ code as well as per the recently announced co-operation agreement with Skyways (which resulted RIX-GOT being operated only by JZ nowadays):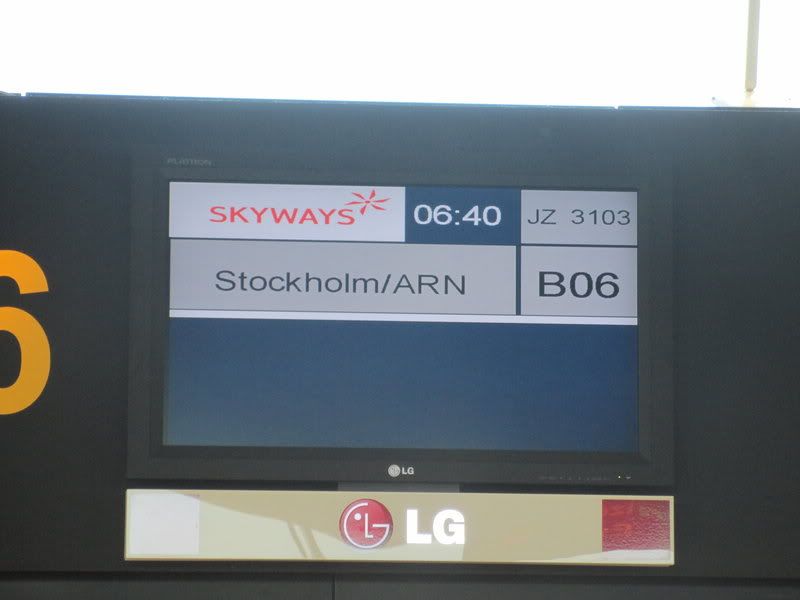 RIX - ARN
BT101
B737-500 YL-BBQ
Seat 21A
6.59 - 7.03
Being in the penultimate row I chat some with the back galley FA - she informs me that we will be waiting for 20 minutes or so for a number of pax connecting from the slightly delayed TAS flight. Still, the load is very low between 30 and 40 pax and she suggests that if I want to sleep I could just lift the armrests - yes, the whole row for me today. The load on the flight back will be slightly better with some 60 pax, still they could've easily use the originally scheduled Dash for it...
YL-BBI, still not going to BBI but OSL instead next to us: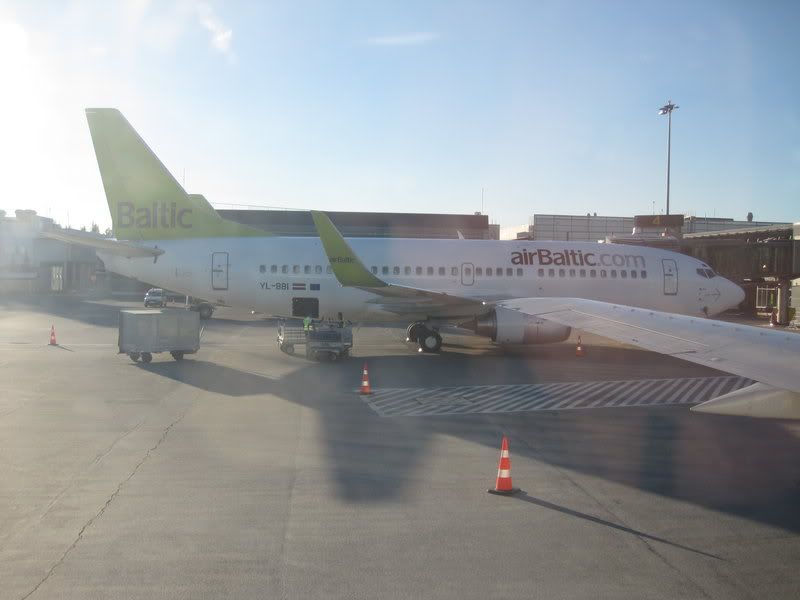 In the meantime our captain welcomes us onboard to this flight to "Stockholm Arlanda
International
Airport" (never heard that one before), informs us of the slight delay and an expected flight time of 50 minutes and a temperature that is "the same as here".
Soon a bunch of passengers arrive, most of whom seem to be French actually. The low load: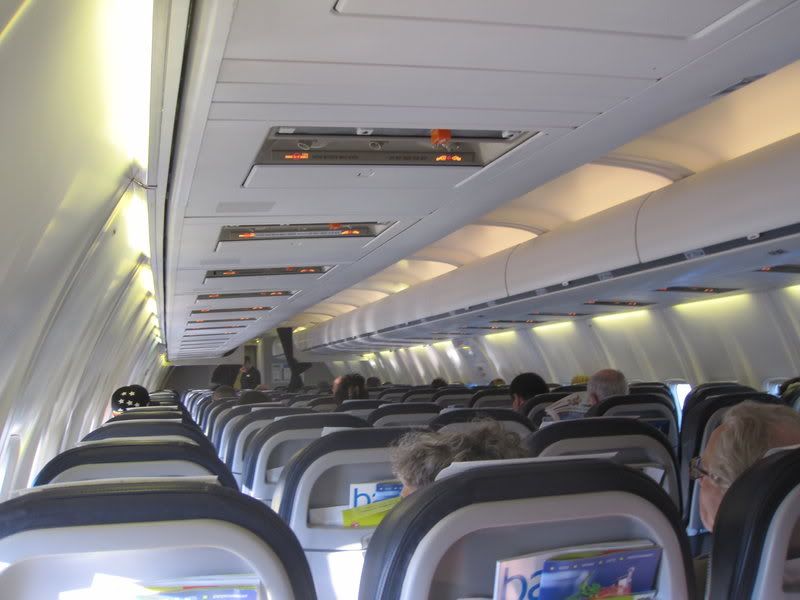 Soon after we push back, 24 minutes late, taxi to 36 and perform a fast rolling take off.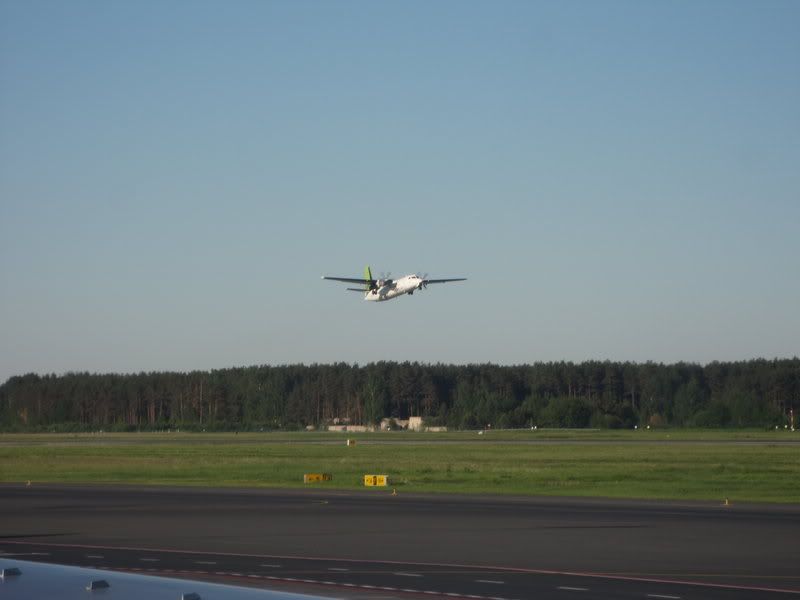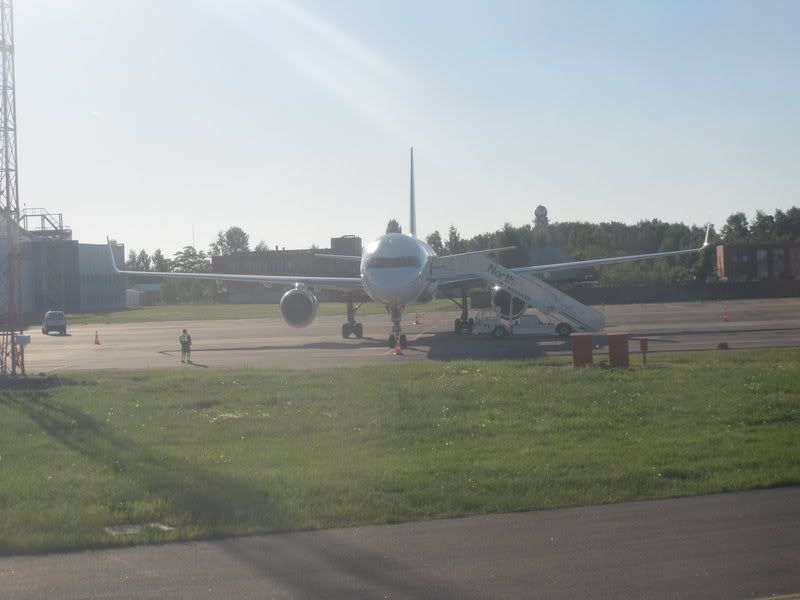 Some pretty views of the Jurmala beaches and western Latvia after take off:
The beach season has started: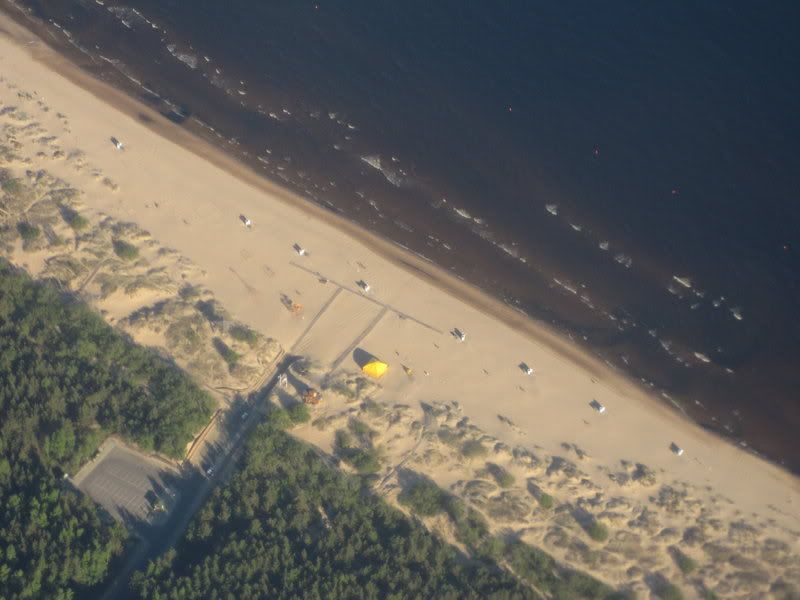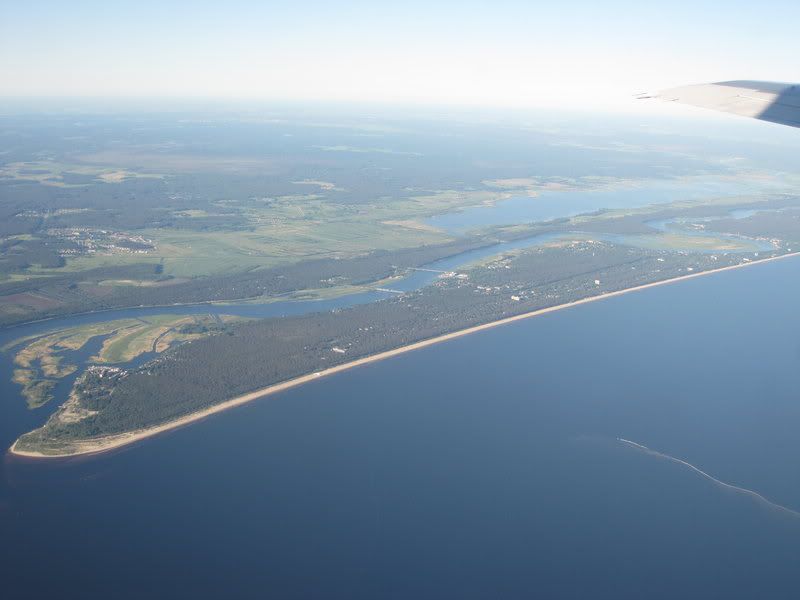 Tukums airport - at the height of the overheating of the Latvian economy they were talking about introducing low cost flights there. Come on, FR paid a turnaround fee of 1 EUR per 738 at RIX so I wonder how somebody could go lower than that: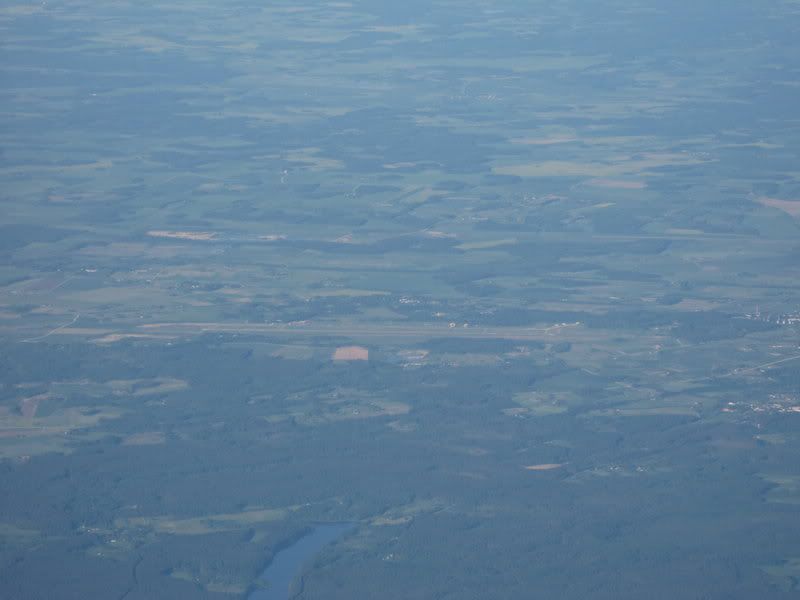 Leaving Latvia - this is Ventspils, Latvia's richest city, thanks to its harbor shipping Russian oil to the world - VNT airport can be seen on top, sadly nowadays without any scheduled flights: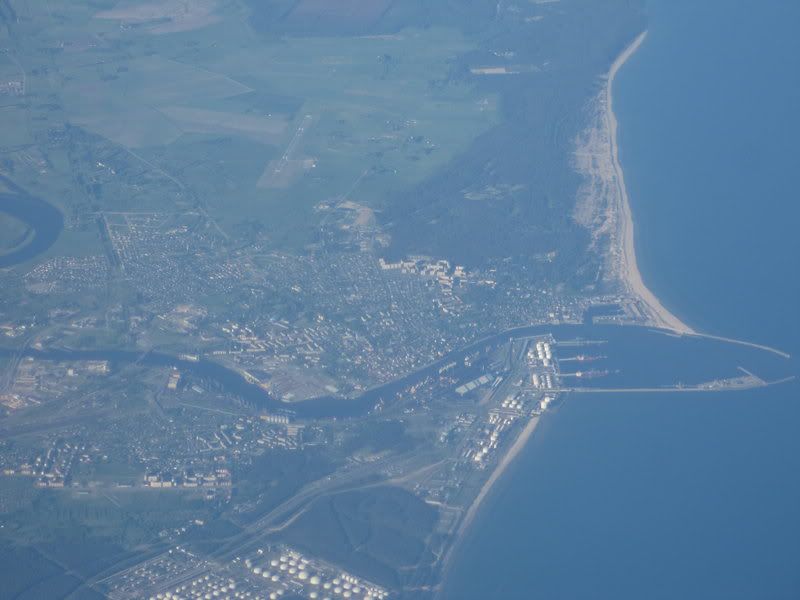 I listen to some music and doze some more, and in no time at all Stockholm comes into view and we commence our descent towards ARN: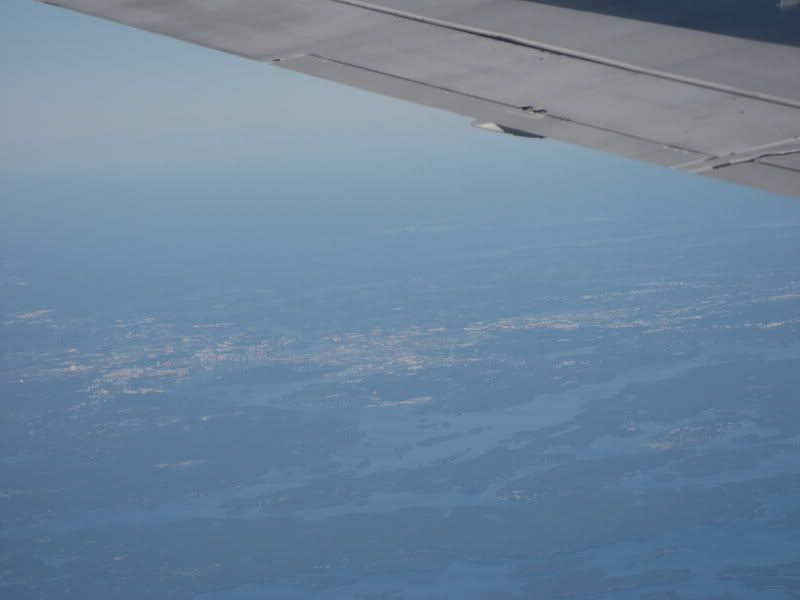 Three ferries heading into Stockholm, one after another:
ARN in the distance, looks like the 19s are on use today: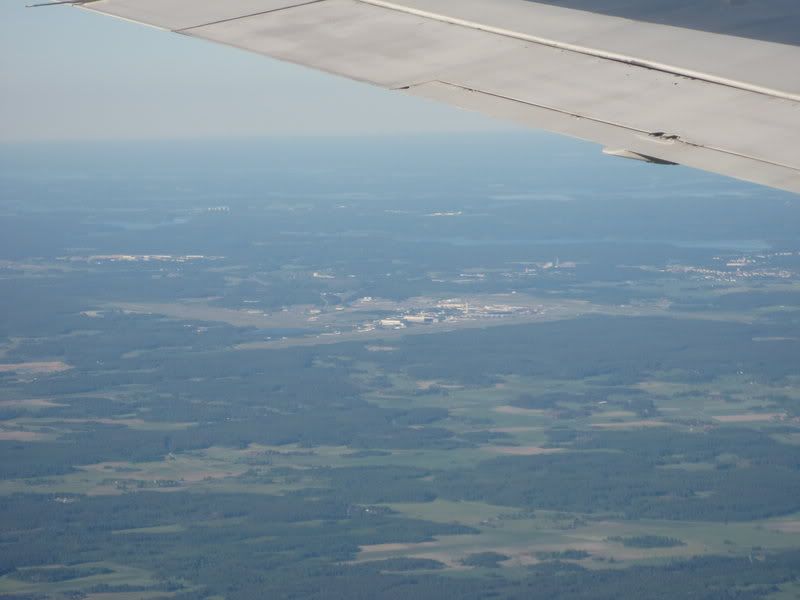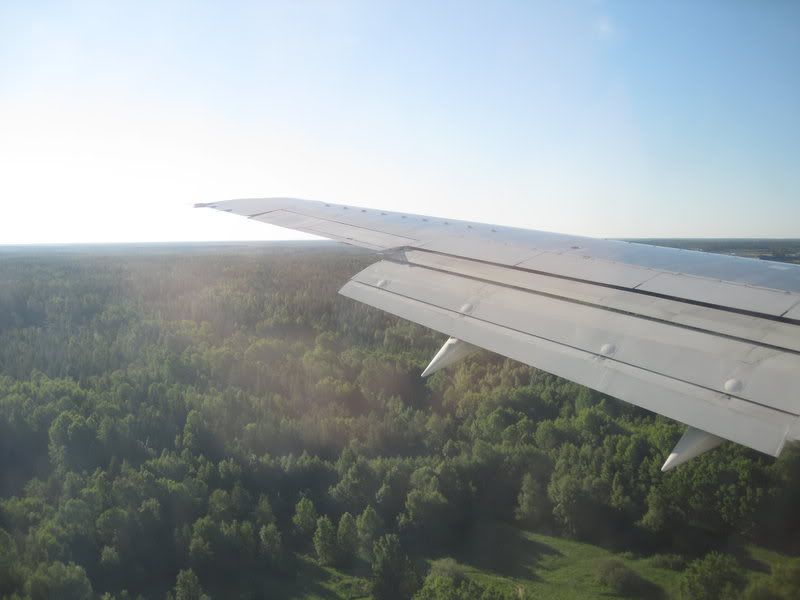 Landing is on 19R after 58 minutes in the air (it's a bit of a detour to approach the 19s from the north!). Plenty of traffic here: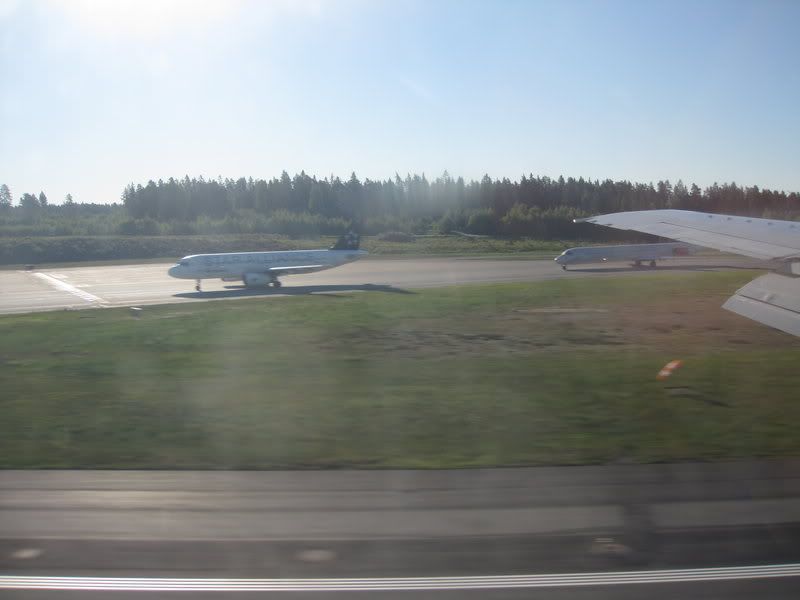 I still can't get used to this sight - what should I call the company - "Continented" or "Unitental"?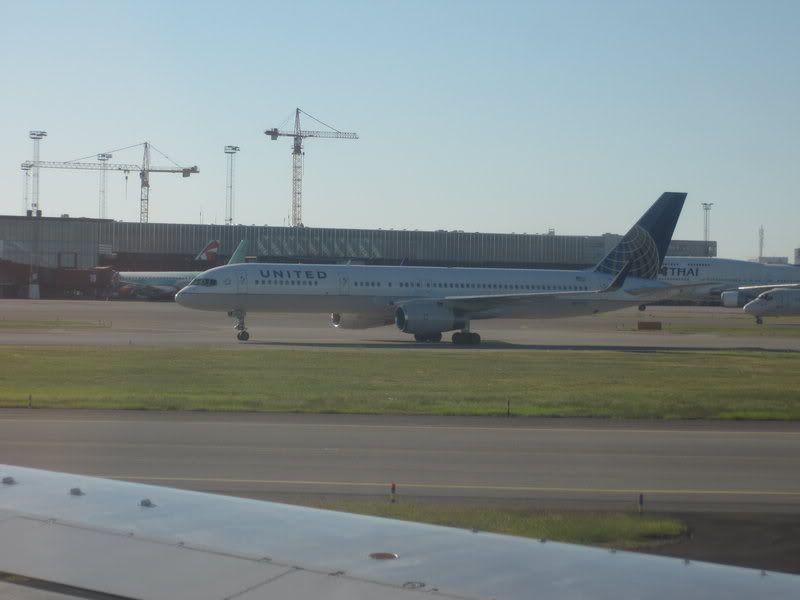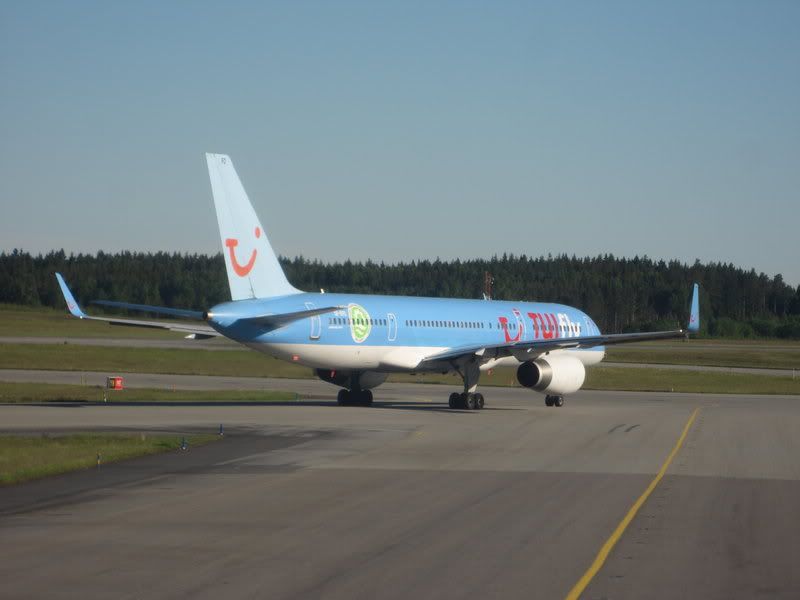 What's a TF Avro doing here: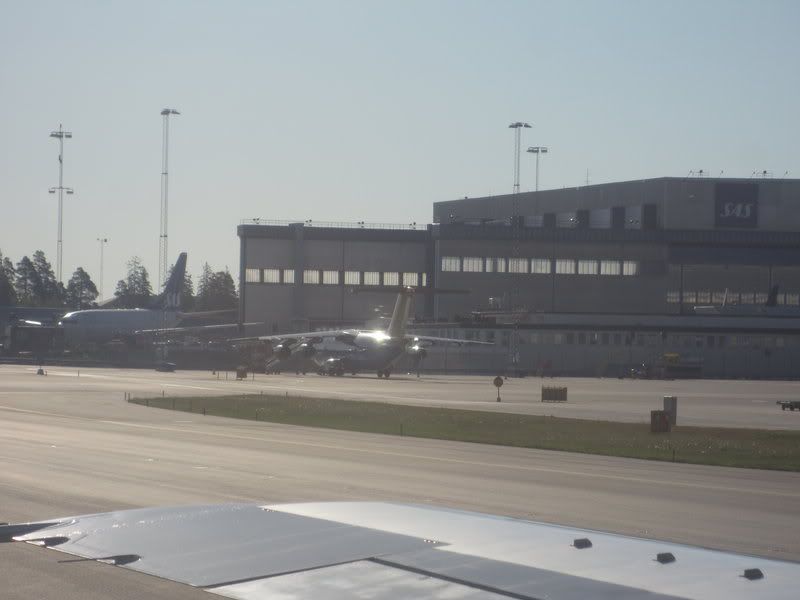 Interestingly we arrive to a jetway at the F pier, my first with BT as usually they use the two gates next to Starbucks in Pier B. Cityflyer to LCY: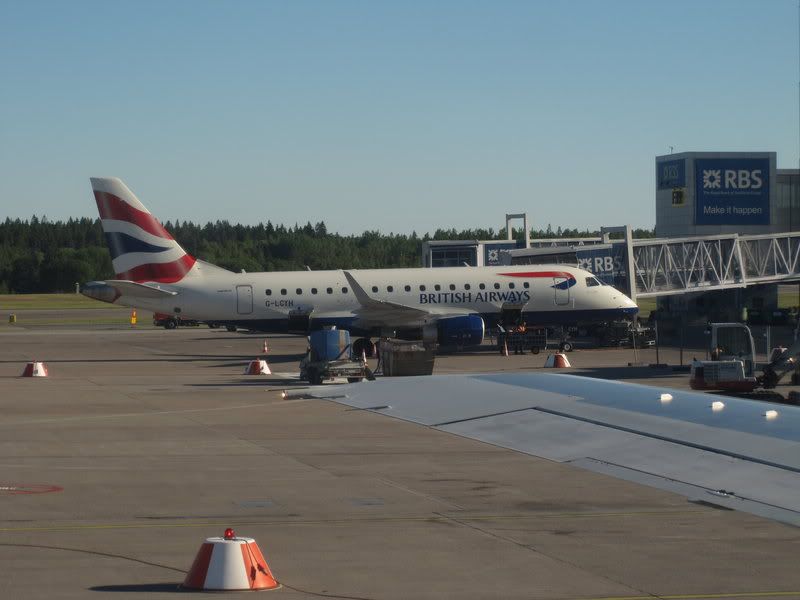 Bye, baby:
Stockholm Arlanda Airport to "Stockholm" Skavsta Airport
I have plenty of time so decide to head to the Menzies lounge for some coffee and Internet - they don't nowadays ask for a boarding pass so one can use it as an arrivals facility as well - very handy. I drink a few cups of coffee, fix me a sandwich and surf away while watching the activity in front of me. Interesting patchwork on this Thomas Cook A330, still showing through the "Garuda Indonesia" titles and the orange of MyTravel: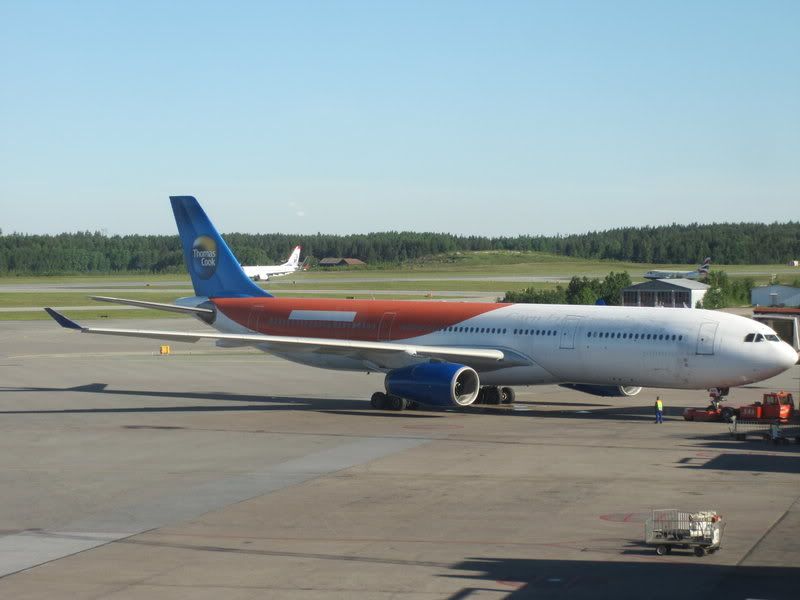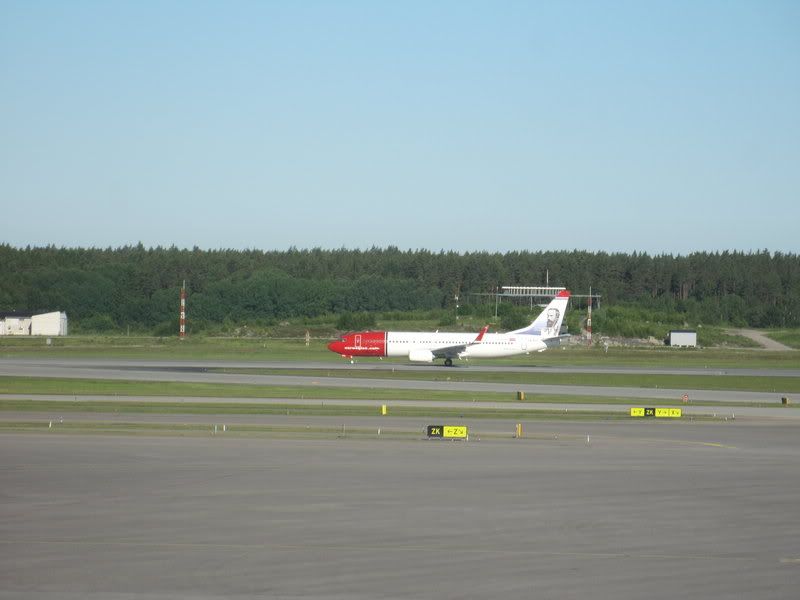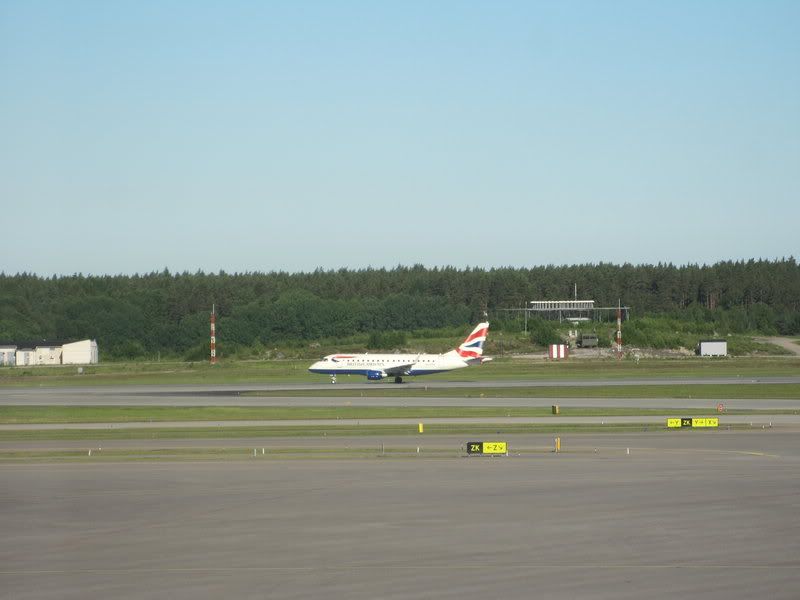 An hour later I decide to head to the city - as a coincidence fellow Finnish a.netter AYA333 is passing through Stockholm today and we agreed to have a quick meet in the city. He sends me a message that he is already in his bus from NYO to Stockholm Cityterminalen, so I hop to the next Flygbussen. Of course ARN being half the distance away from the city than NYO I'm there much earlier, so spend some time looking around the quite nice bus terminal:
Tracks leading to the Central Station, Stockholm C, right next door: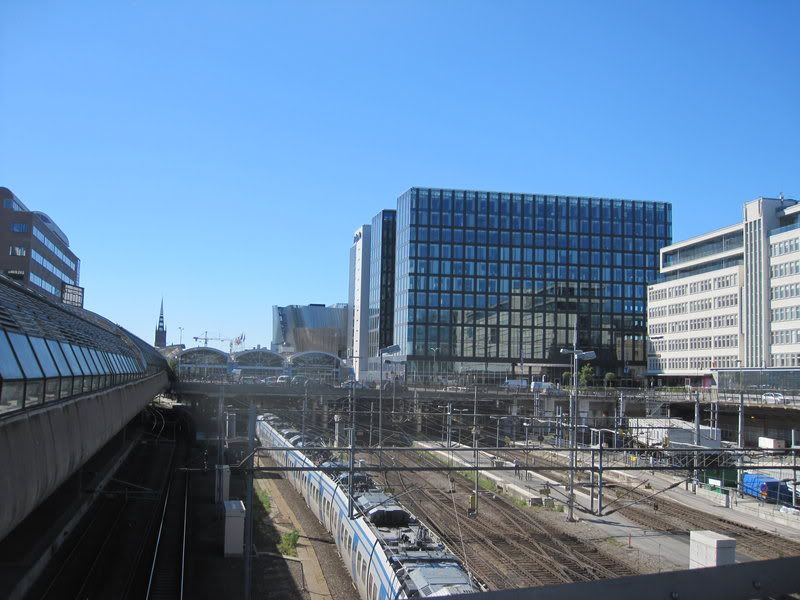 Finally he arrives, and we head to find a nice enough outdoor terrace (did I mention the weather is just gorgeous?) for some coffee and chat.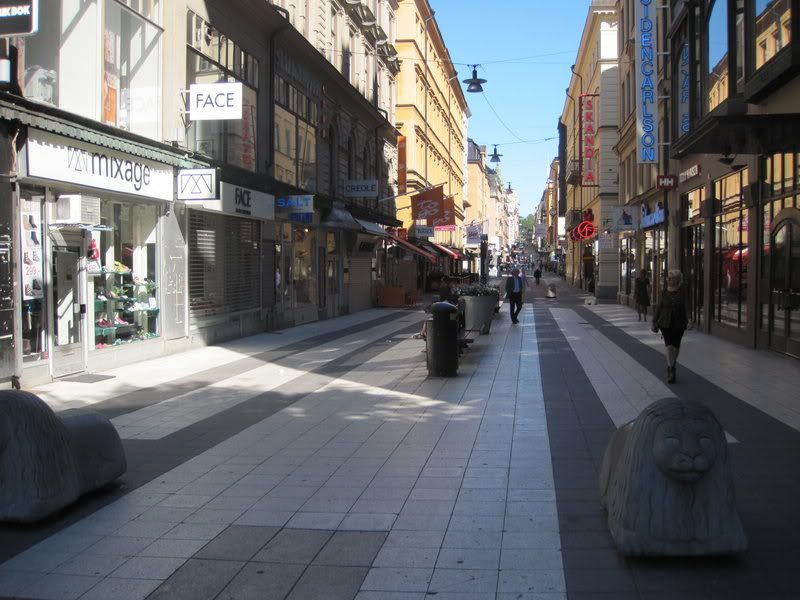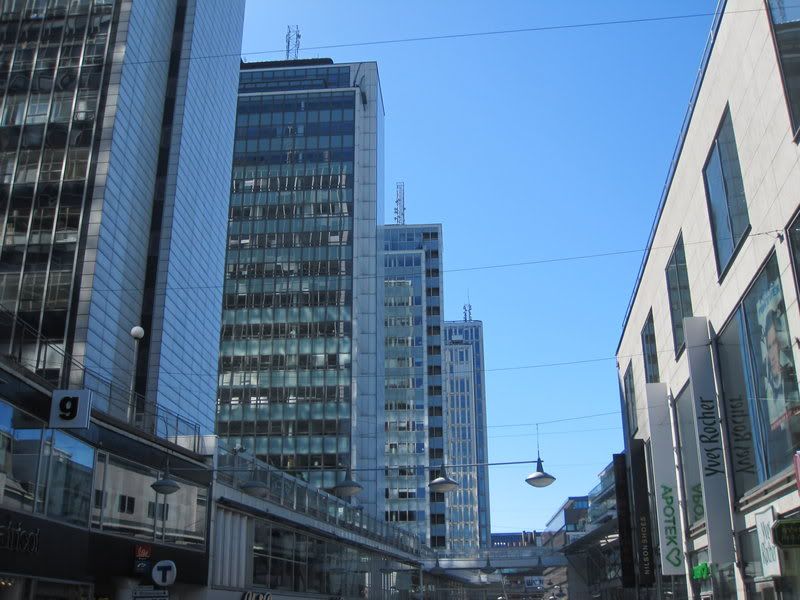 Far too soon it is time to start the long journey to Skavsta, so I bid AYA333 farewell, walk back to the bus terminal and spend some confusing time trying to figure out where the bus leaves as their displays are saying something completely different than the actual timetable.
There's a huge scrum at the gate and for some reason they have this very stupid system where the gate has two doors and a holding pen in-between. The outer doors only open if the inner door is closed, but thanks to the heaving mass (with quite a few Polish ladies, yep, NYO is a large Wizz destination and Sweden is very popular with them!) of humanity people keep pushing against them and the outer doors cannot open. Some frustration later somebody starts finally yelling some sense into people and somehow I end up with one of the last seats in the bus - I think around half the pax were left to wait for the next service half an hour later (and one which would've been quite a close shave for me!).
An hour and a quarter later (there were some roadworks causing congestion around Södertälje) we finally stop in front of the Skavsta terminal - this place really should not be called "Stockholm" airport being this far away: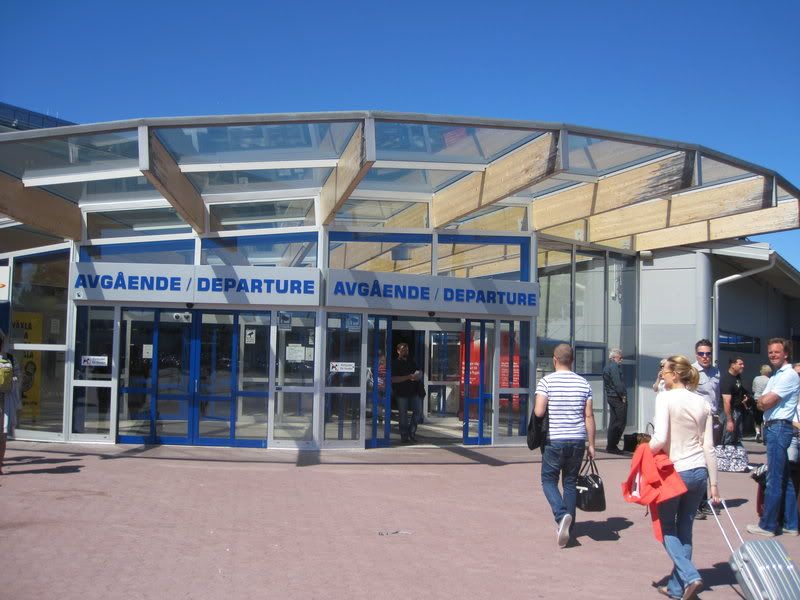 Skavsta Airport
Quite a queue at security: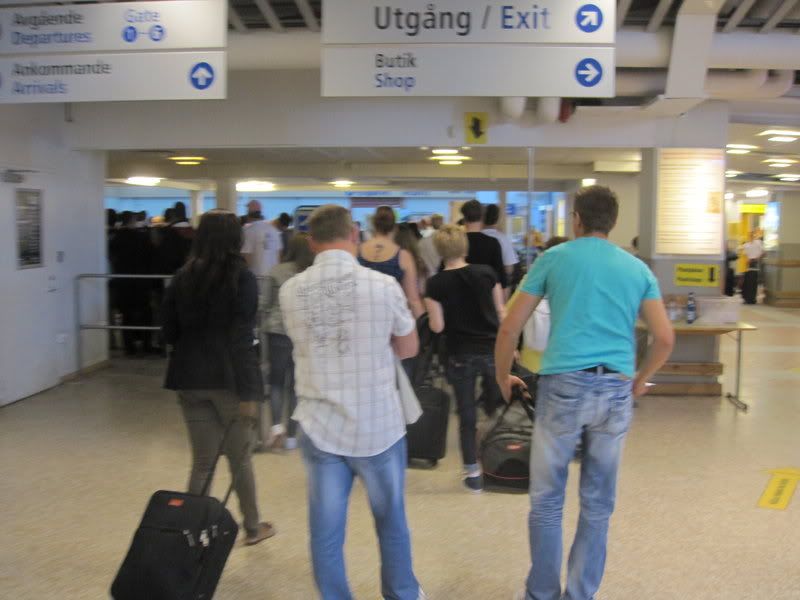 The are three Wizz flights to Poland within 20 minutes, and of course all good Catholics must have some babies with them so there are lots of screams and baby buggies around. They still have the stupid system where they weight your hand luggage half way down the queue - well at least they seem to be somewhat sensible with it as they just skip several people whose luggage doesn't look that heavy - luckily this includes me. Interestingly the weighting is a actually the bottleneck, not the actual security screening as right after this the pace picks up a lot and I am through in no time at all.
I buy some Swedish stuff I always need to bring to the office and head to the bar and tell the guy there "I need a beer!" - he misunderstands my point and asks whether I'm afraid of flying - "Not at all, it's just the stupid queue that made me thirsty!" - He proceeds to tell me a story about once queuing for two and half hours at an US airport right after 9/11 but my mind is already fixated to the beer.
Well, it better be as the flight status changes to this right away: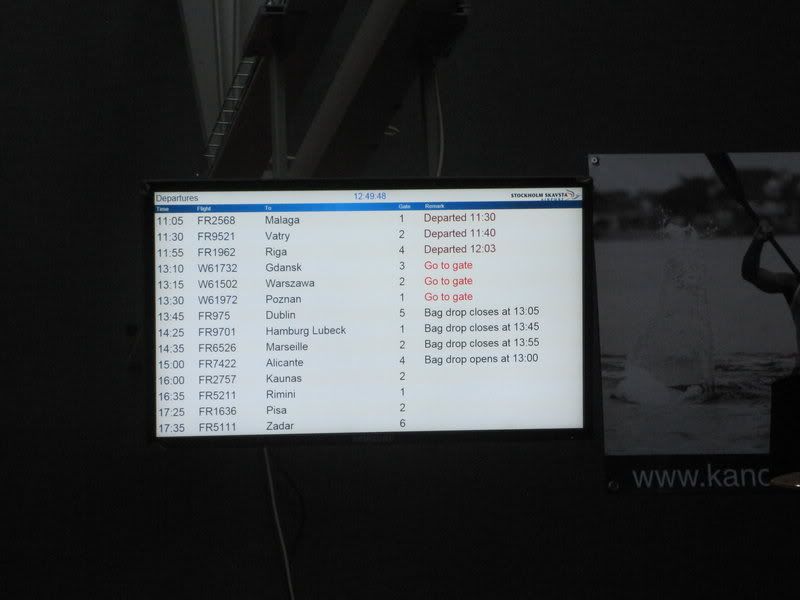 I perform the heroic (but foolhardy) act of downing my beer in three huge gulps and head to the gate to fix me a nice place in the queue - I got thrifty and decided to forgo priority boarding or extra legroom seat (it's a bit too short flight for that).
Hmm, that flight number would be far more appropriate for a flight to MUC (or actually FMM as it is Wizz...):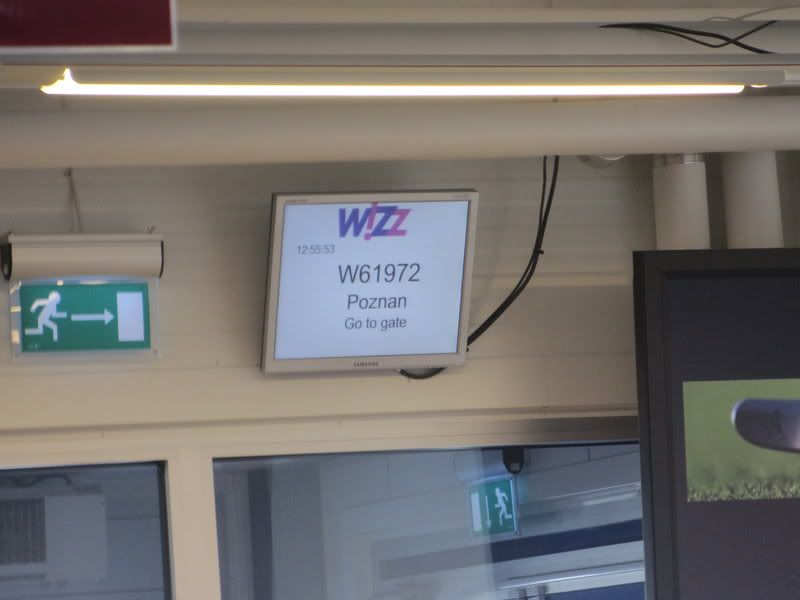 Some confused old German guy tries to repeatedly enter the gate - and refuses to believe that this is not his flight. He is holding a Ryanair boarding pass for a flight to LBC, yes, the gate is indeed the right one but his flight is an hour later... By the third time the expression on the gate agent's face is quite priceless!
Queueing, frustration, queuing, frustration and some more pushing later I finally find myself out in the open air walking towards our ride. Interesting to see the signs in Polish: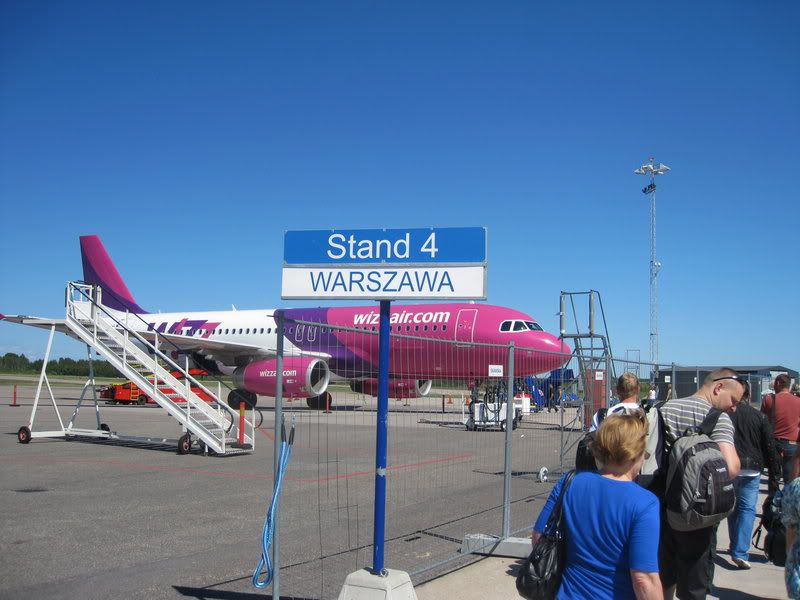 HA-LWC, a year-old bird and a new one for me.
Interestingly only the front doors are used today - maybe they have a shortage of airstairs: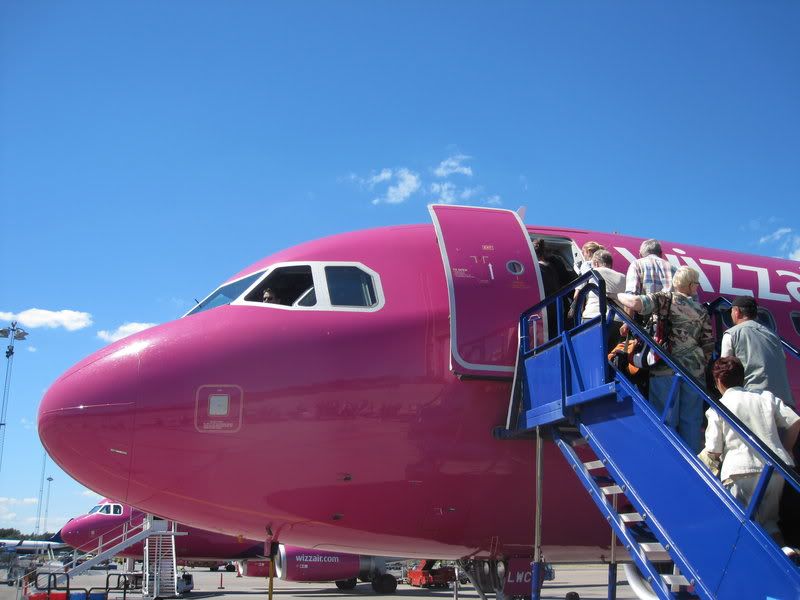 NYO - POZ
W61972
A320 HA-LWC
Seat 29A
13.31 - 14.43
I head towards the back, hoping to score an empty middle seat next to me, but, alas, that doesn't happen. Load is good as usual, around 90% - mainly Polish with just a few Swedish pax around. The two seats next to me are occupied by a young Polish couple - the girl spends the whole flight reading her Bible (not exactly my choice of reading material, let me tell you that!) whereas the guy focuses on his two cellphones...
Push back is pretty much on time, with take off from 26 after holding short for a while for some traffic (but why is it going the wrong way?):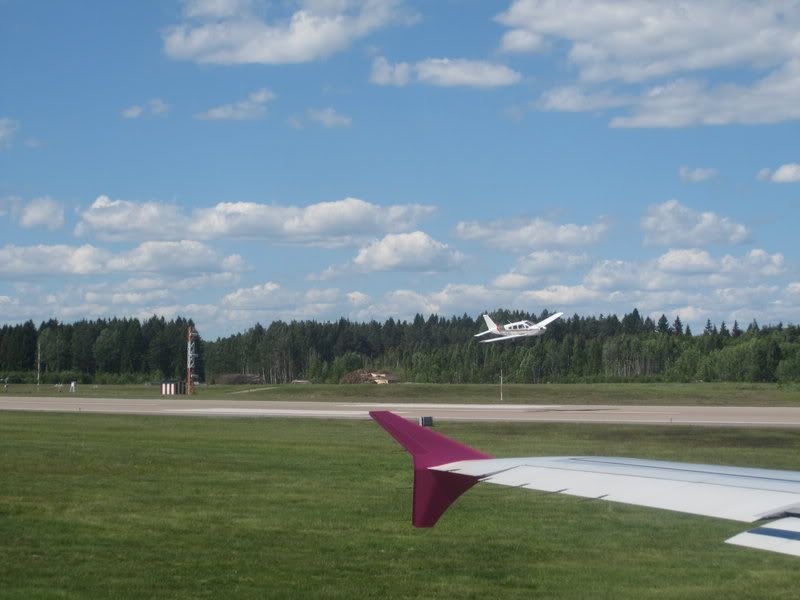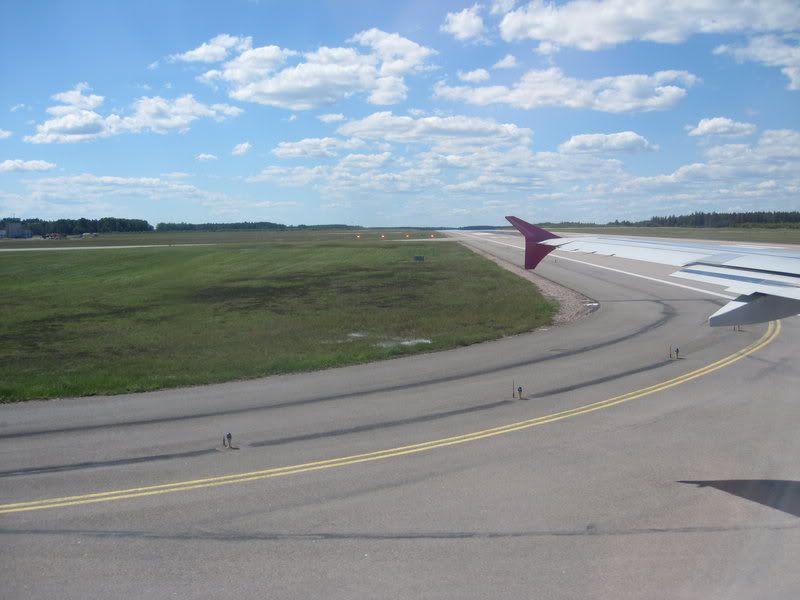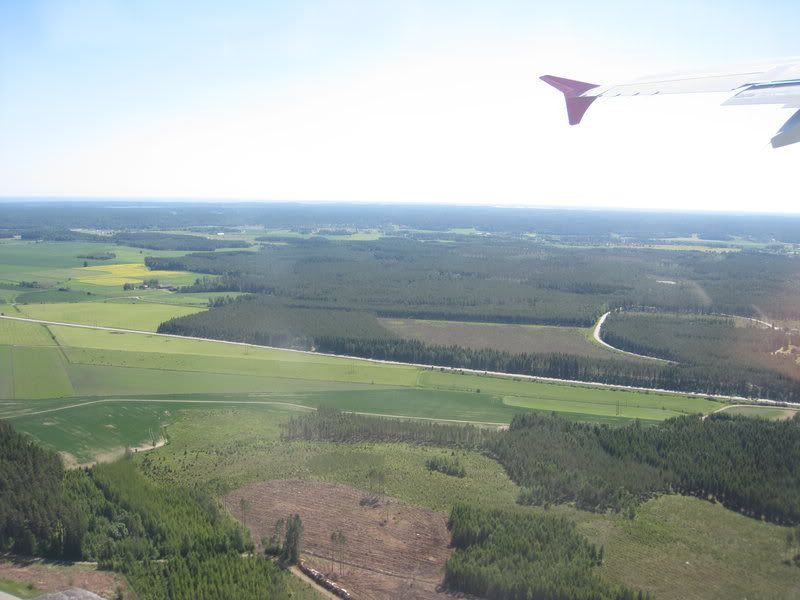 Oxelösund - "The Arse of Sweden":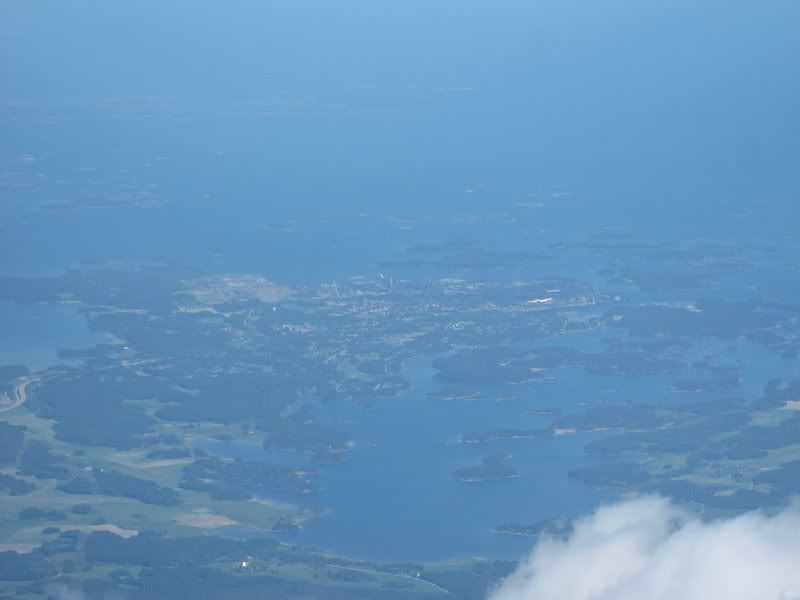 The route is down the east coast of Sweden: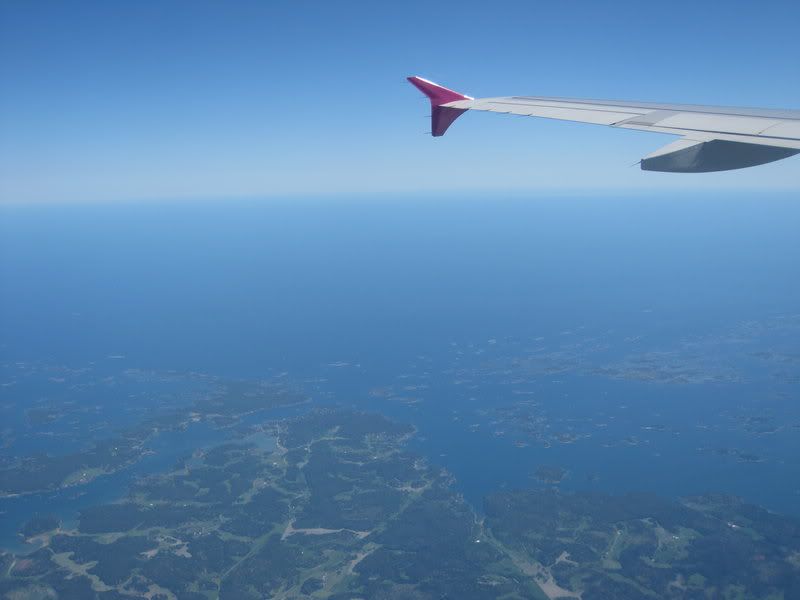 Gotland, with capital Visby just barely visible: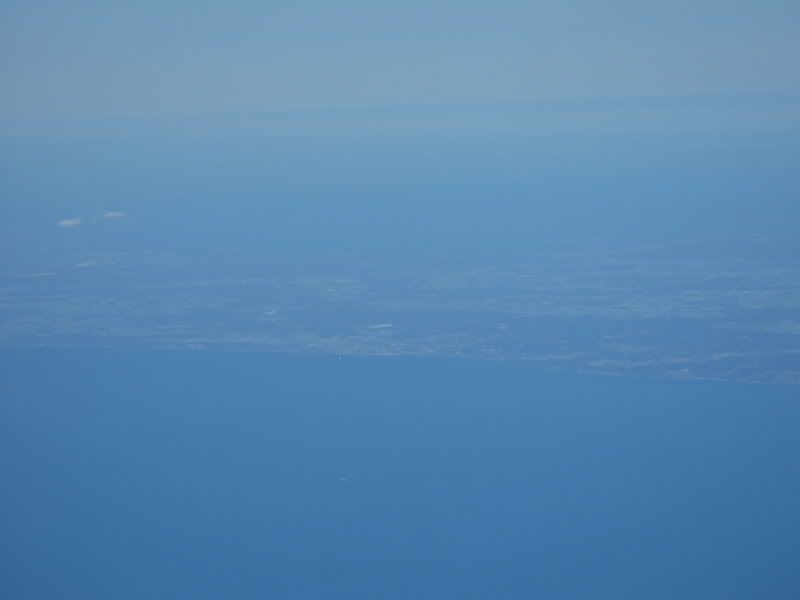 Over the island of Öland: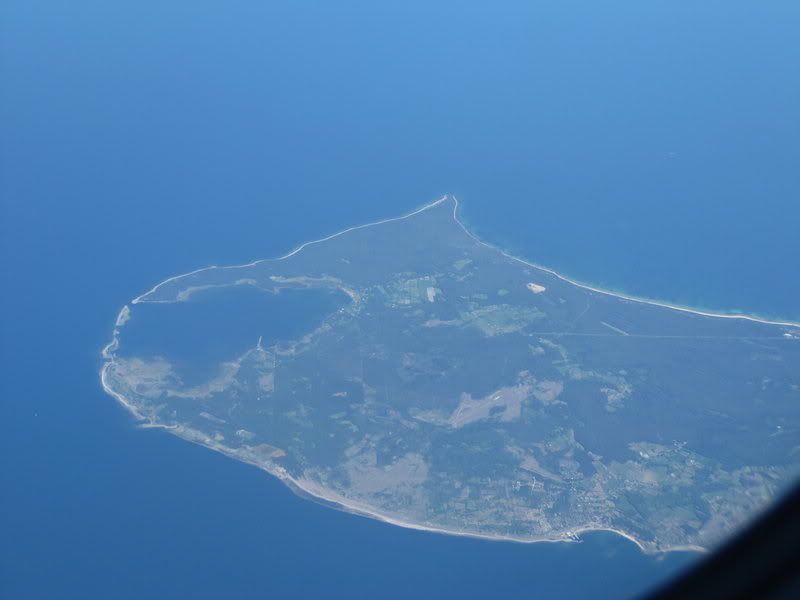 Across the Baltic Sea to make landfall to Poland: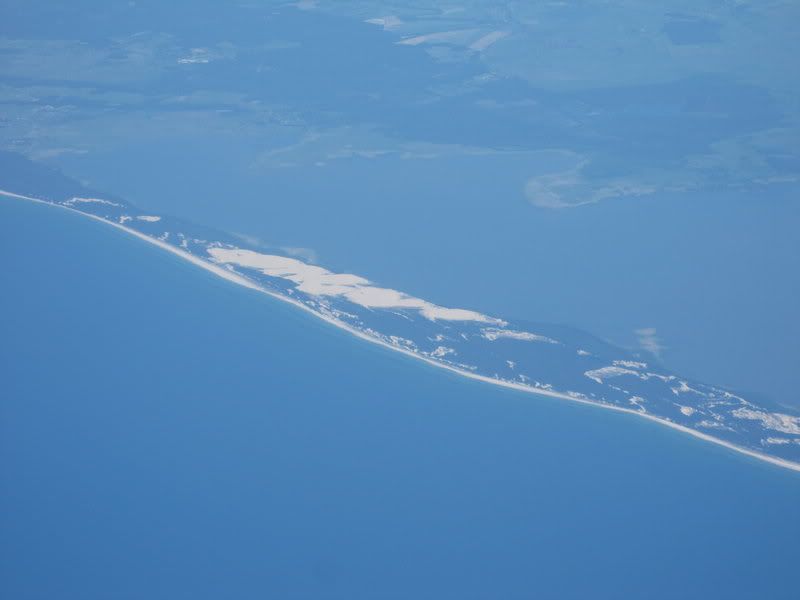 Slupsk (gotta love that name) with the Redzikowo airfield which was supposed to be a site of the planned US missile defense project, later canceled: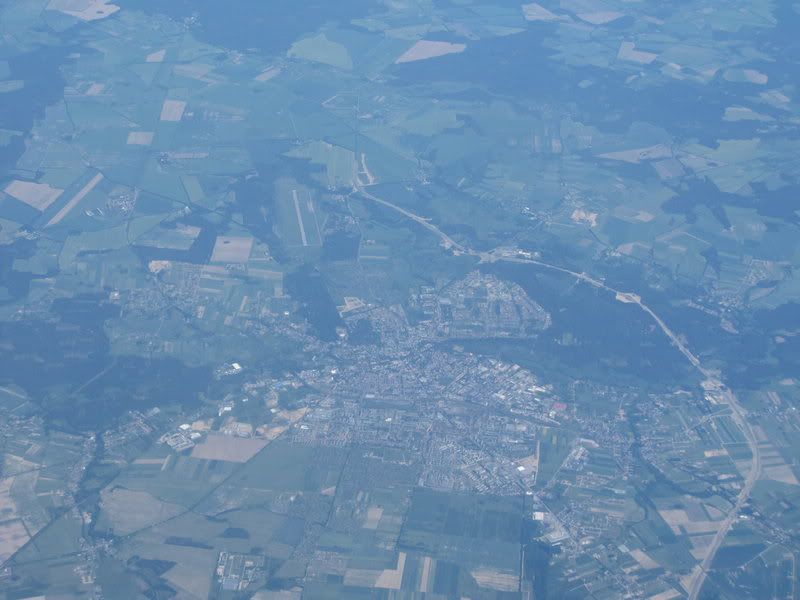 Another city with interesting name - Pila and its airfield: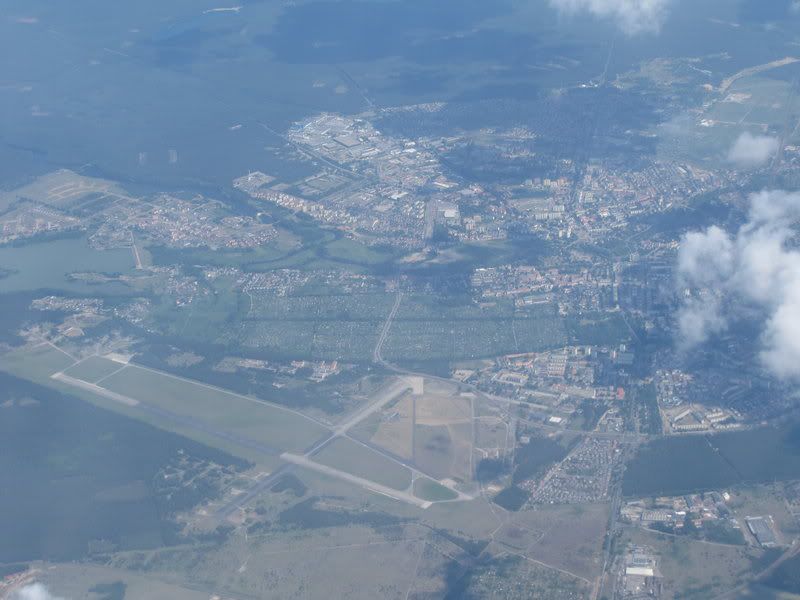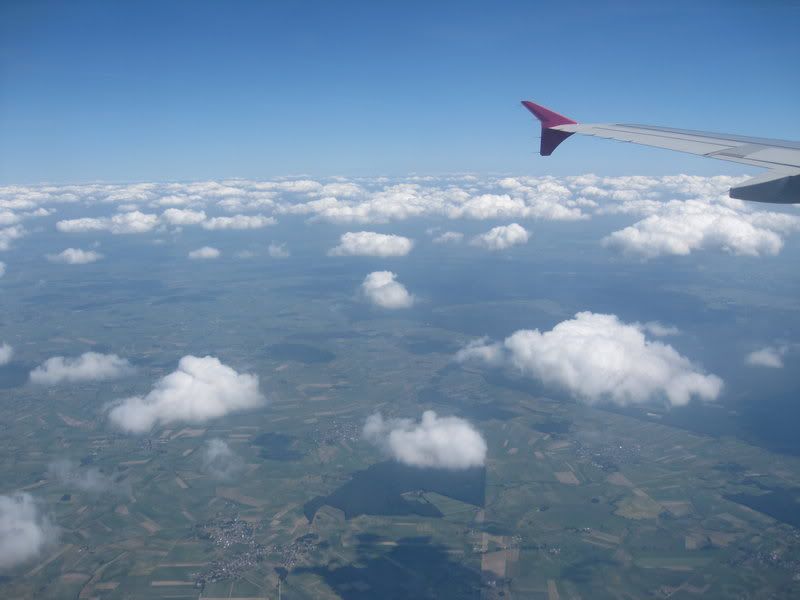 The flight feels very short, with our descent starting just 40 minutes into it, followed by a lazy left hand turn which suggests that we are landing from the west.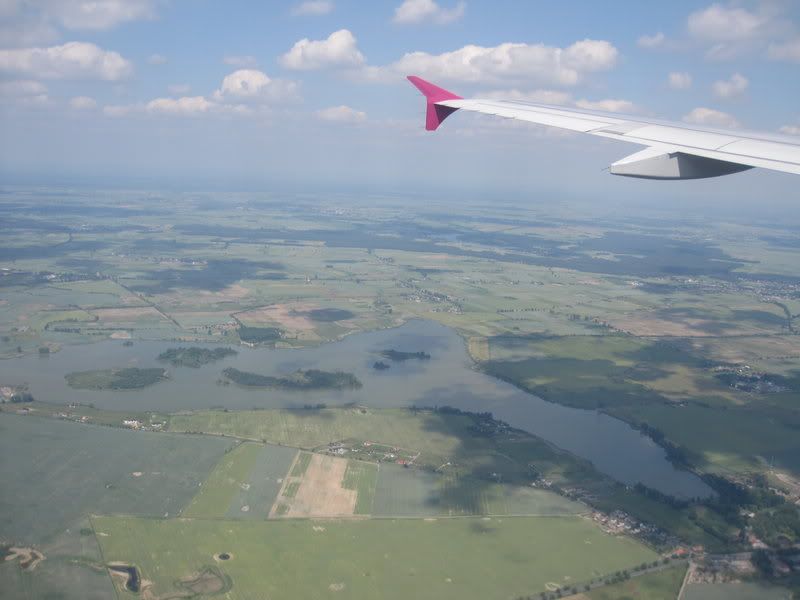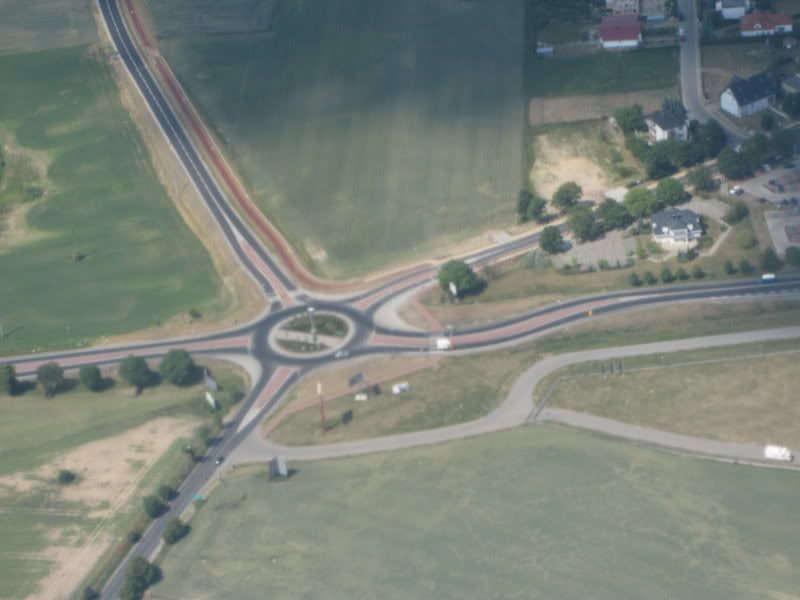 The Poles seem to be on a motorway building spree at the moment - no doubt buoyed by the EU and the rather well performing Polish economy: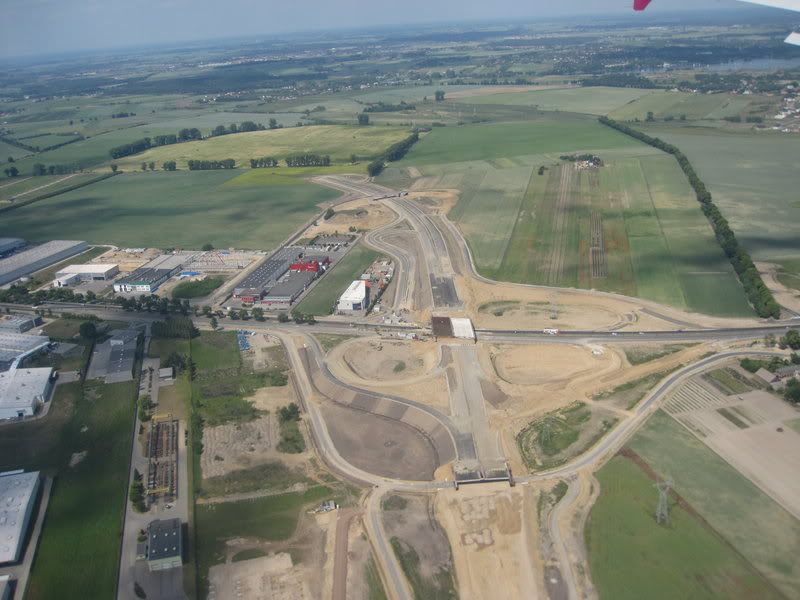 Sailboats: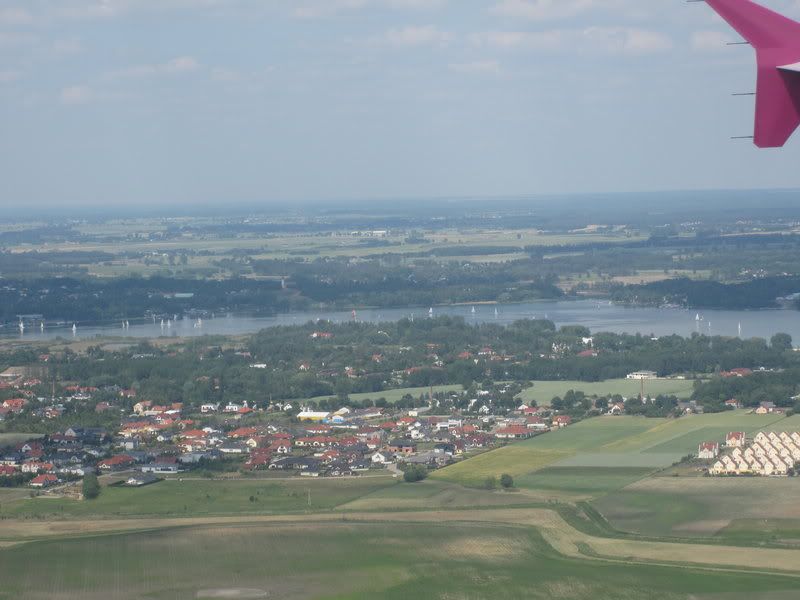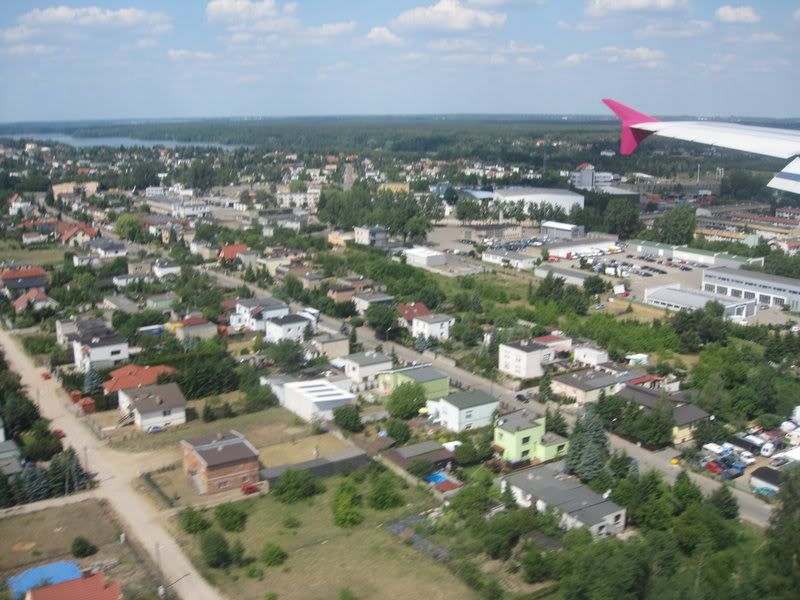 Touch down is on runway 10 just an hour after take off: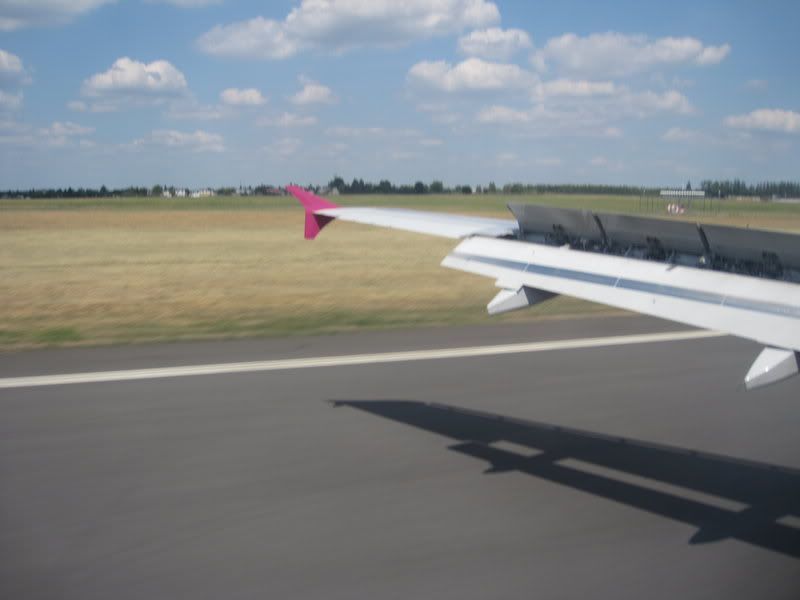 I recently read about POZ starting an terminal expansion program - when I saw this I thought "Well, they sure need it":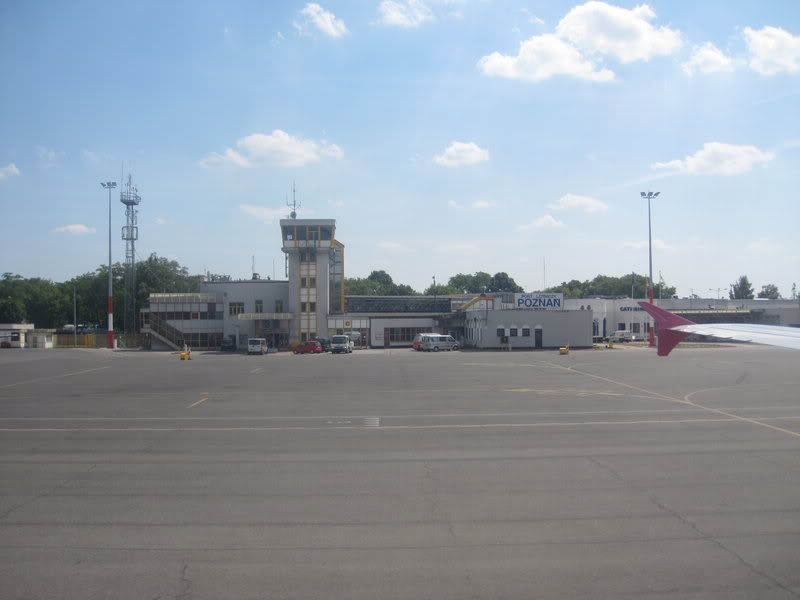 At least they have back stairs here: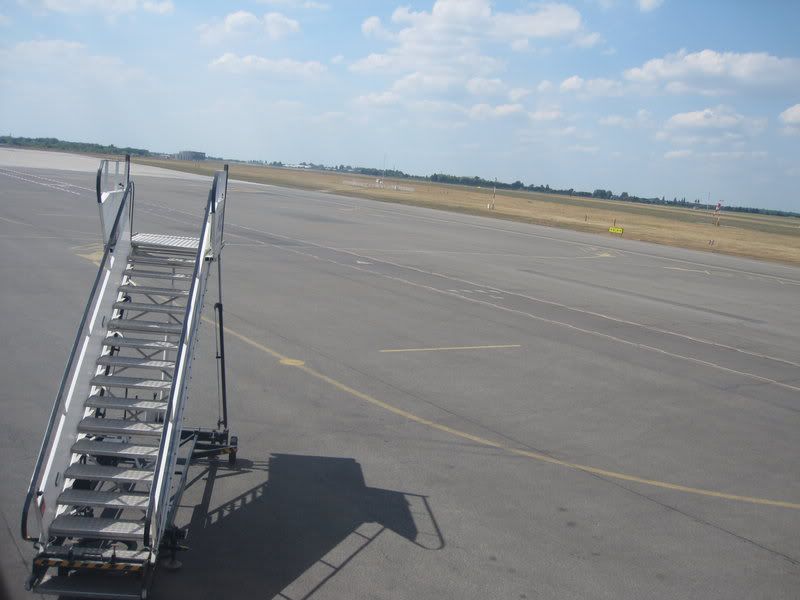 Bye: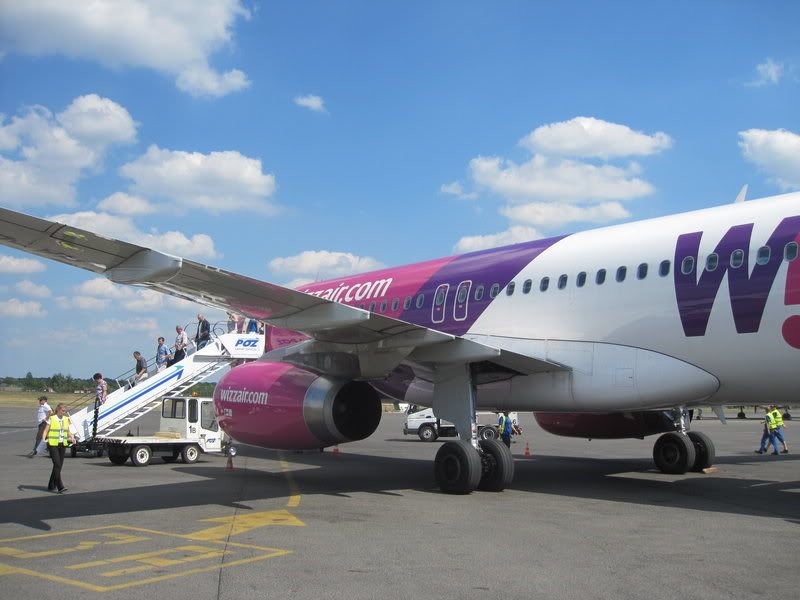 A bus ride follows - for such a short distance, seriously? Oh, there IS a new terminal already - but why did we park so far away:
But yes, they indeed are building a new expansion next to it.
Poznan
After exiting the baggage claim hall I buy some bus tickets from the kiosk and head out, where the next bus is just arriving. A hot, packed and somewhat frustrating ride later on the express bus L I step off at the terminus, the central station - well this looks more like an old, rundown movie theatre to me: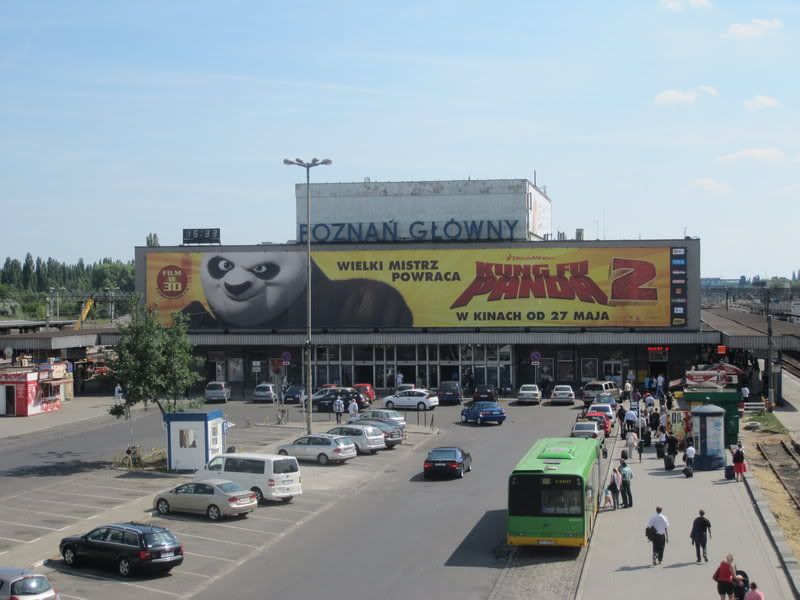 Ok, it actually appears to be station after all: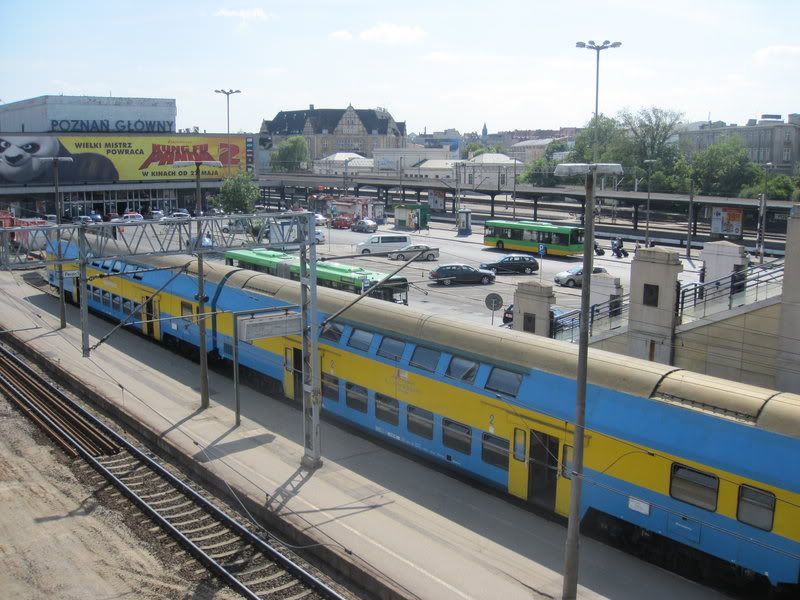 Some confusion follows trying to find my hotel, some two kilometers away. The streets are most definitely not in a grid pattern here, which confuses the heck out of me and my map printout doesn't have any hint to its scale so something which I think was half a kilometer was actually just half a block... Finally after crashing a couple of wedding parties (seriously, they were quite a few of those, and I walked right through one reception in front of the church!) and walking through a creepy cemetery I end up in my hotel - an interesting relic from the communist times, Orbis Hotel Polonez. Orbis is the company having the Accor concession in Poland, they have a few hotels with their own name - I guess Accor was a bit too afraid to have these kind of hotels diluting their own brands (I still booked it through the Accor website, though...):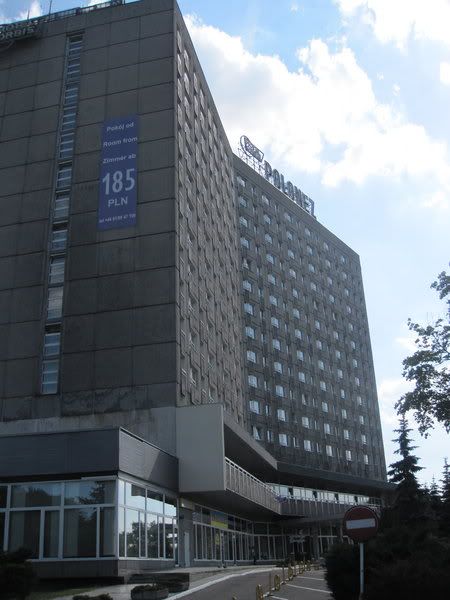 Still, it's not a bad hotel, quite OK from the inside and for 40 EUR per night good value for money: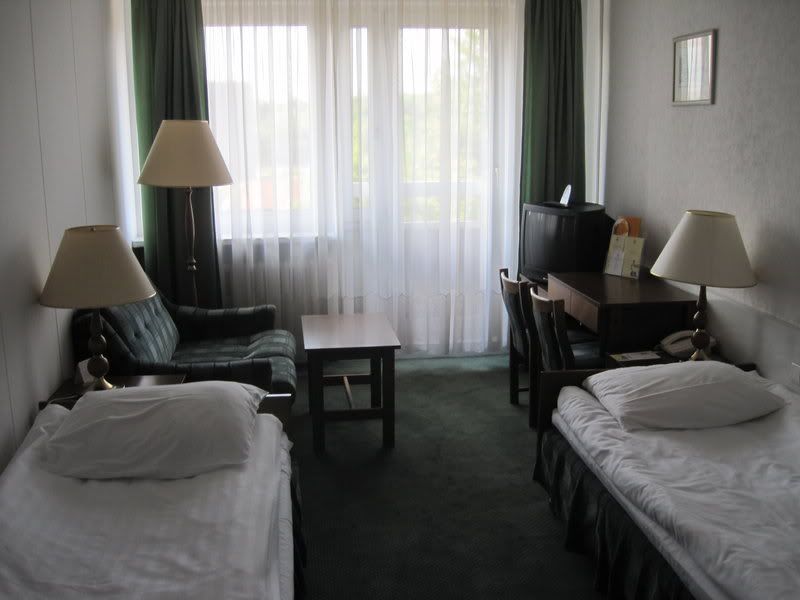 Nice sunset from my window - lots of overflying traffic: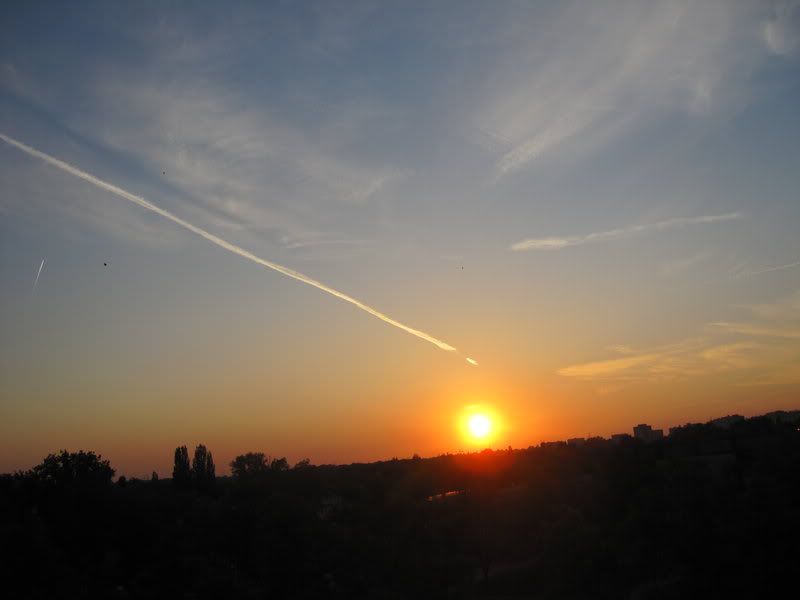 I head to the city for some sunshine, beer, sightseeing and food: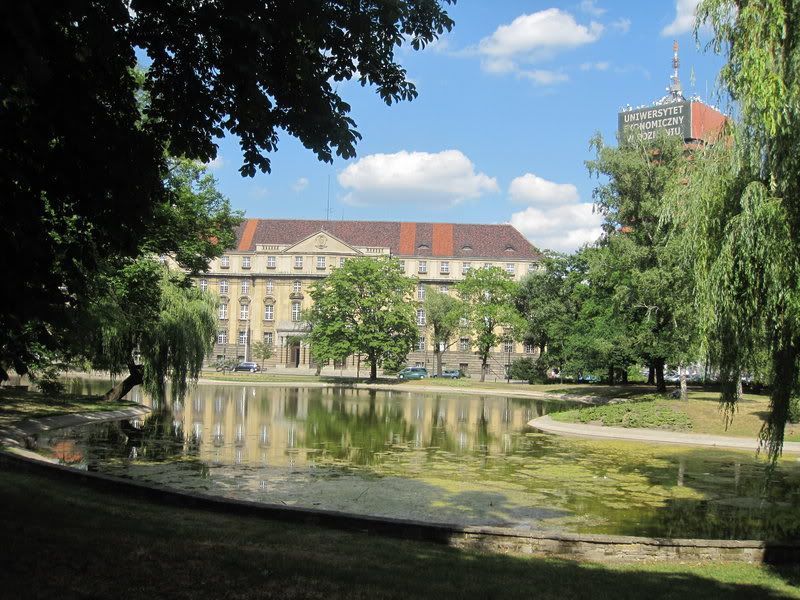 Interesting wooden belfry on this church: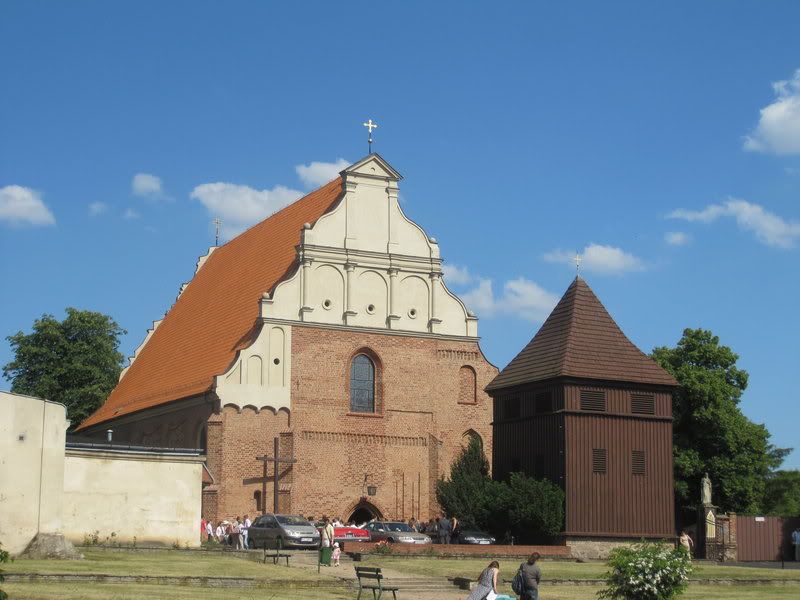 The Rynek - or old town square - a feature found in any self respecting Polish city: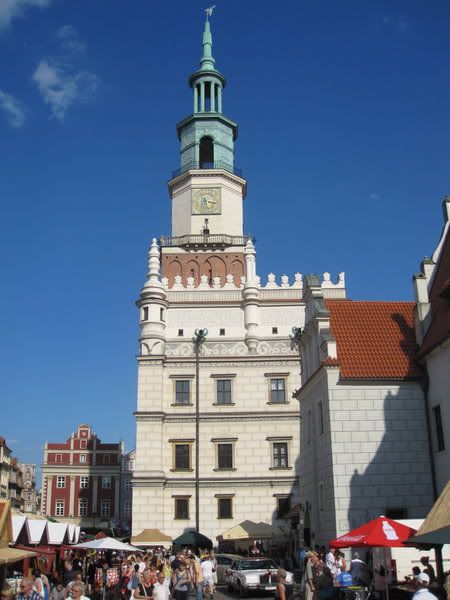 Packed on this beautiful Saturday evening: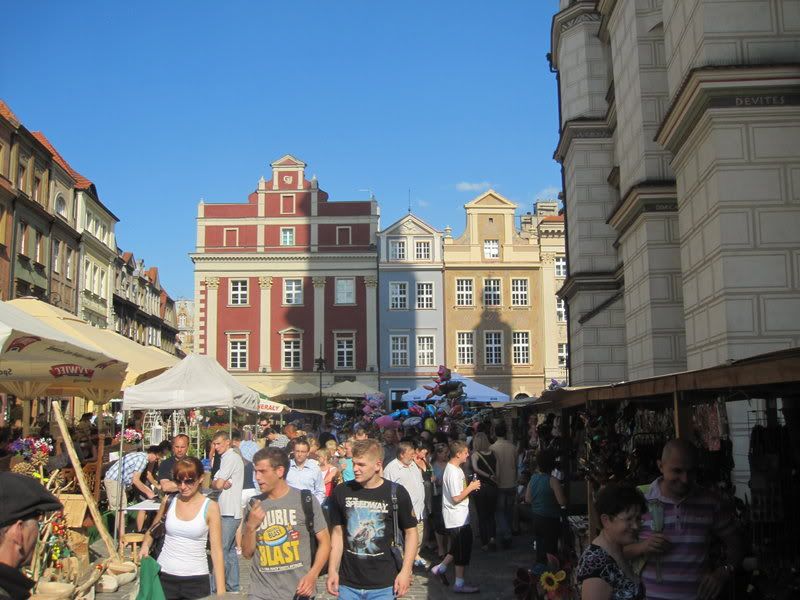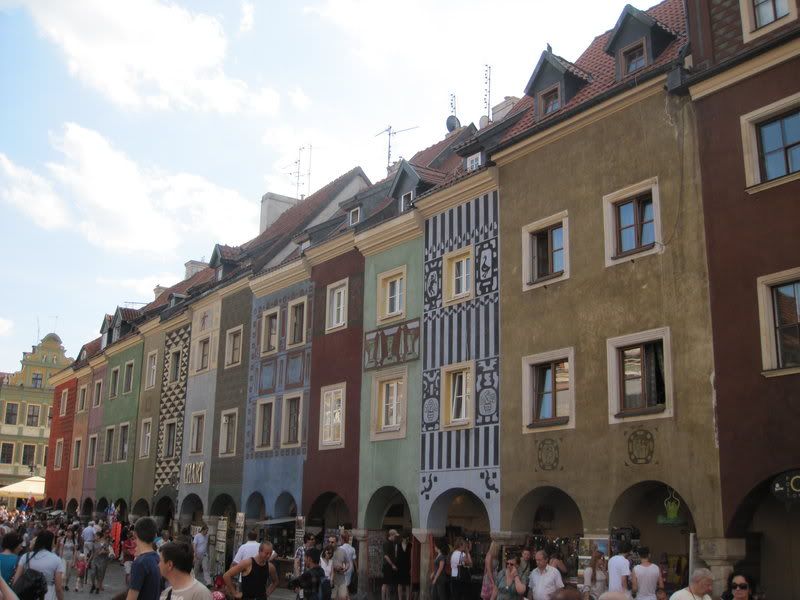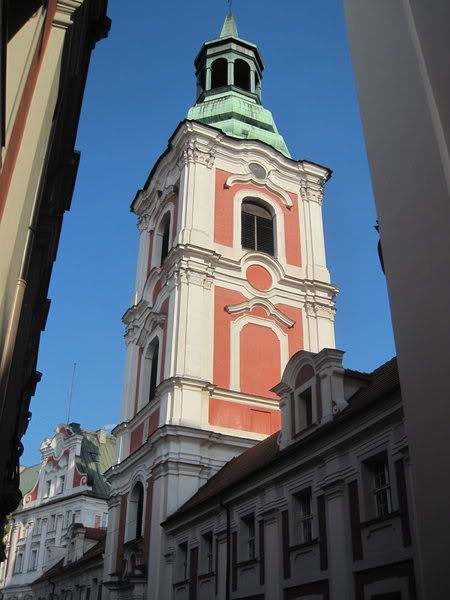 These sign post thingies are somehow very fascinating - although they could've chosen a nicer place in Finland than JKL: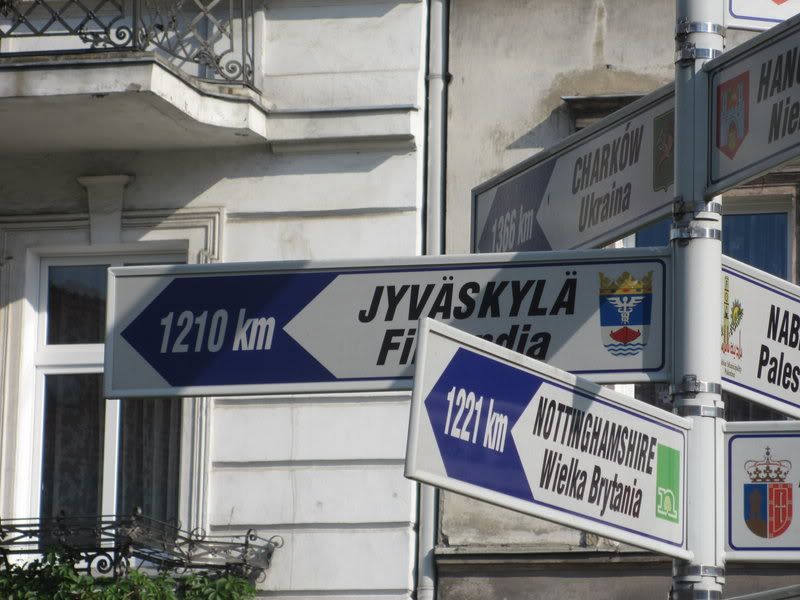 These run down old apartment buildings remind me of NYC and other older American cities: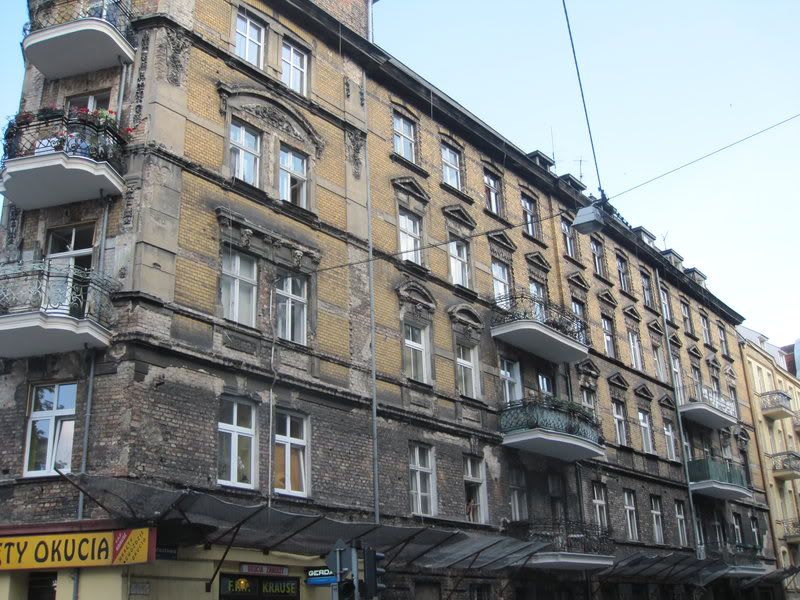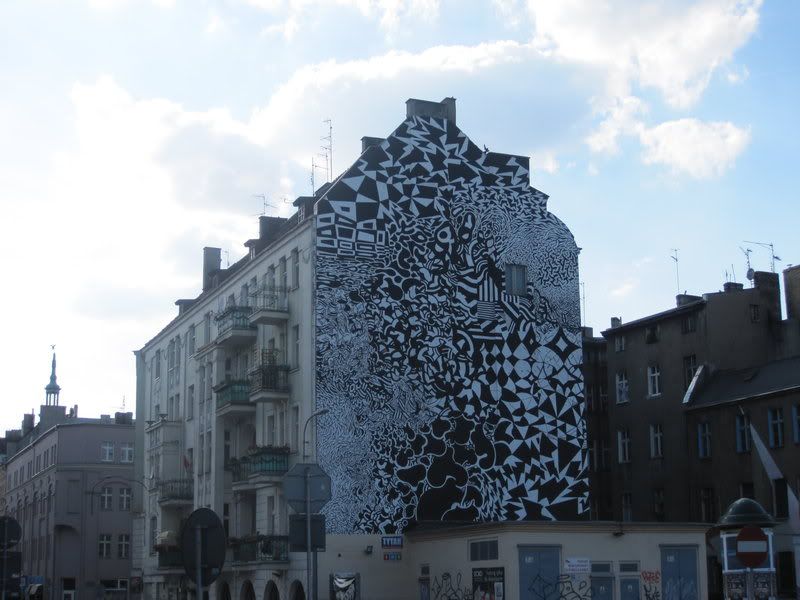 The Warta river: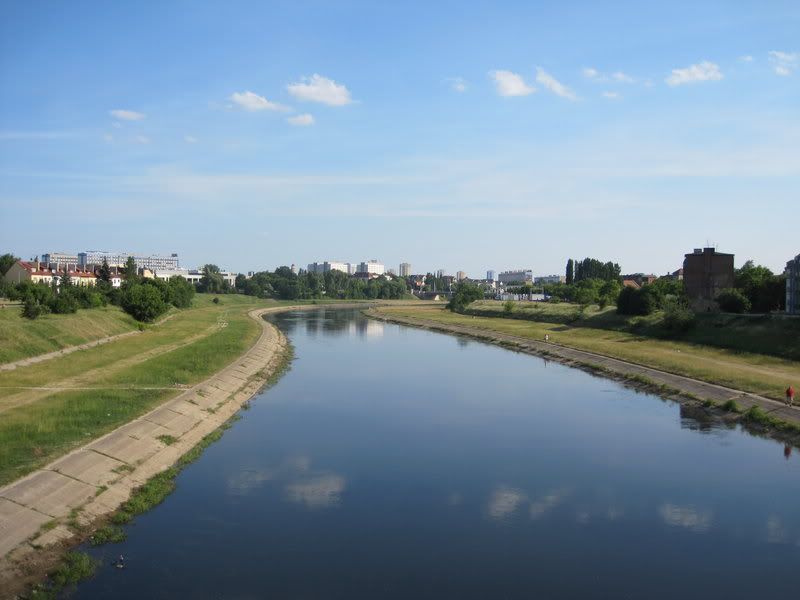 Ostrów Tumski or "Cathedral Island" where the city was founded on: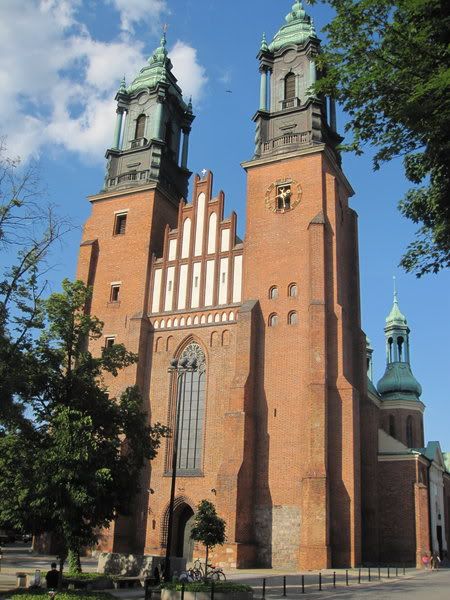 Yes, they were quite a few wedding ceremonies around the city that day: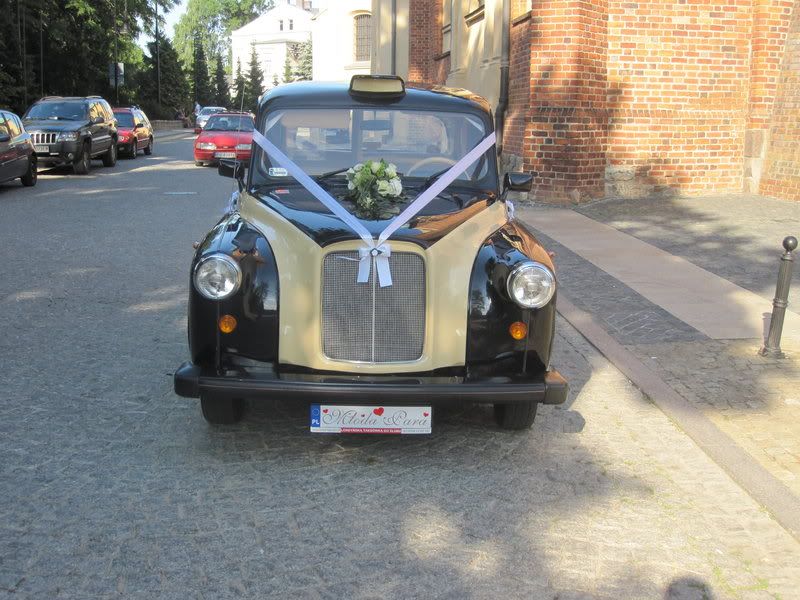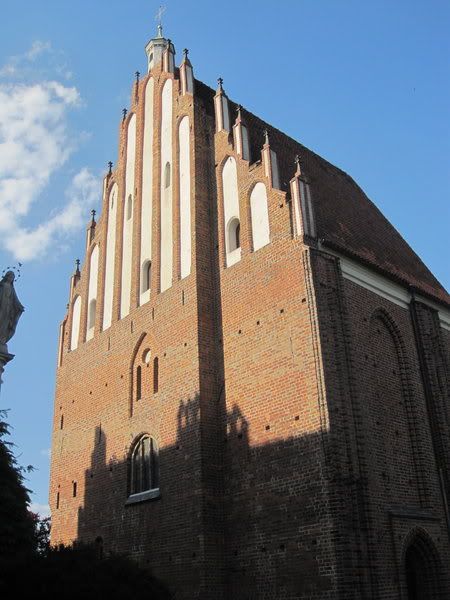 A bit too hot for my traditional choice of headgear: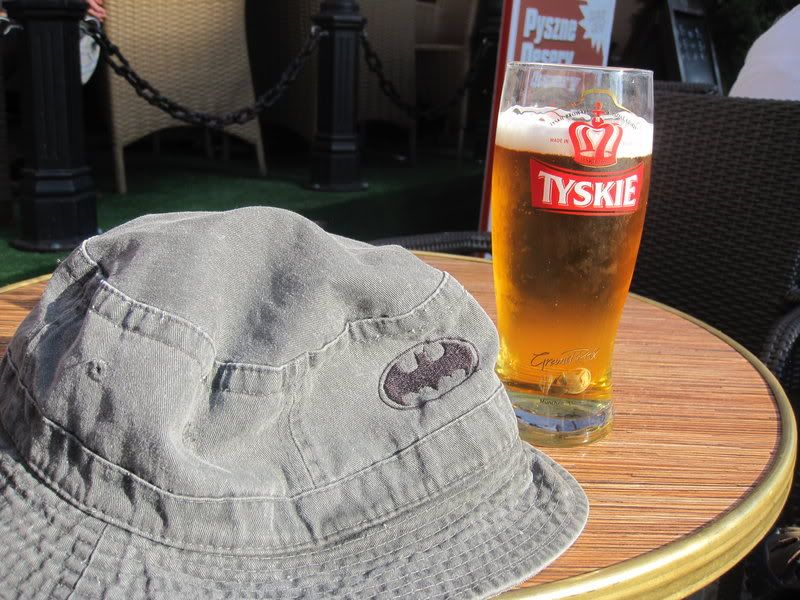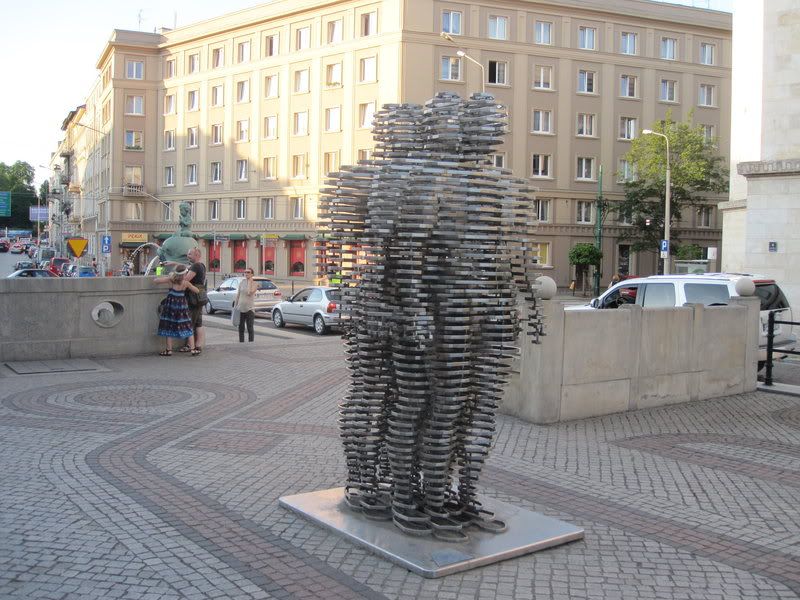 Sunday 5.6.2011
Another morning when the earth's (or should that be the bed's?) gravitational pull seems to have doubled overnight so getting up is difficult - the lack of air conditioning and crap mattress made the night a rather restless one. After a while of gathering courage I jump the gun, shower and pack up and head downstairs to check out. The idea of walking all the way to the station for the (dirt cheap) bus back to the airport does not really apply to me, so I have the nice girl call me a taxi instead, which gets me there rather more comfortably and quickly and at 10 EUR including a decent tip is not that bad value for money either.
Poznan Airport
I did OLCI the last night from the hotel and even had a mobile board