Hello dear readers, welcome to the third instalment of my travels to Mexico and down into South America.
For those new to this series, here is the trip route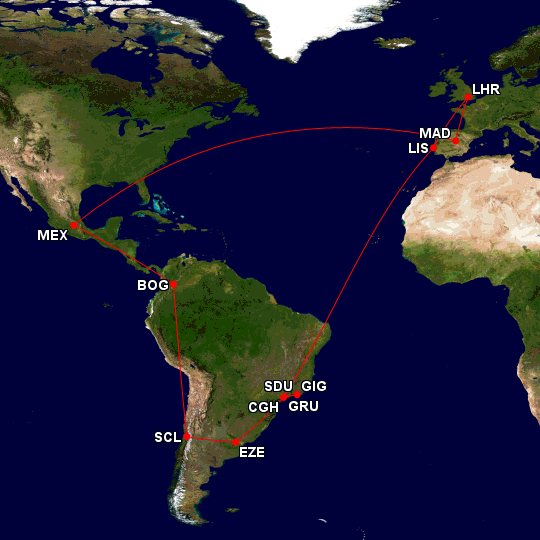 There are many options when travelling from SCL to GRU, rather than take a direct flight, why not take 2 flights for almost the same money and go via EZE?
So, I took a LAN 767-300, this would afford some 3 hours or so of spotting in EZE, it seemed a good idea at the time, the connecting flight was operated by a TAM under a LAN codeshare, so there arouse the opportunity for fly a TAM A330.
The LAN 767 would also be my first flight on a 767 with winglets, seems the entire LAN 767 fleet, including the freighters have them - they must deem the fuel savings worth the cost.
The flights were booked on the Ebookers website, easy to use and my e-mail confirmation came back a few moments later with a confirmed seat allocation for the first leg and more importantly a PNR number, something I've not been given when using Opodo in the past.
Using the PNR I checked my booking on the LAN website and changed the seat on the first sector to the last row in the cabin, attempts to change the seat on the TAM operated second sector proved fruitless, this needed to be changed as it was an aisle seat.
A call to the local LAN office also proved fruitless in changing the seat, so I had to search the web for a number for TAM, the website was not much help, in the end I found a number via a forum, the call was answered quickly and the agent changed the seat for me, sorted!
So join me now as we fast forward a few months!
As you may know I arrived early the day before, the entire day was spent spotting from the outside of the terminal, I managed 50 odd new machines and a nasty sun burn despite just a 2 or 3 hours in the sun, it's strong this time of year, I do suggest lot's of cream, wearing a hat or staying in the shade!
Re the Sky Airlines 737-200, these are being replaced by A320's to get them whilst you can, wish I'd had an extra day and taken a trip on one, my last 737-200 flight was in 1997!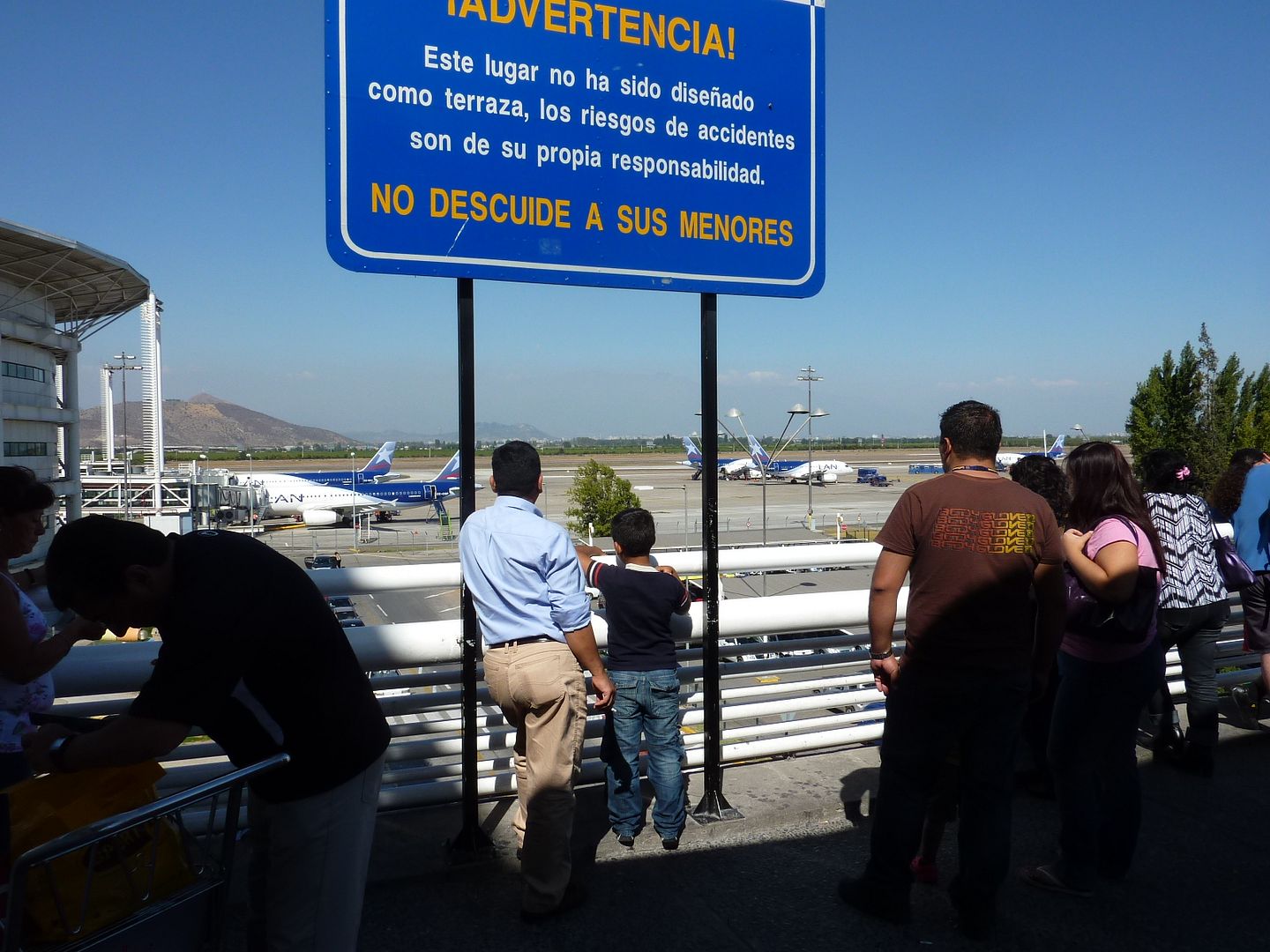 01-03-2011
LA405
SCL-EZE
767-375/W CC-CRH Built 1992
Seat 5A Business Class
1st Flight on this aircraft, 34th 767 flight - 1st 767 flight with winglets
Sch Dep 07:30 Sch Arr 09:30
Act Dep 07:29 Act Arr 09:15
View Large
View Medium


Photo © Ben Wang
View Large
View Medium


Photo © Bruno Guimaraes Orofino
I left the hotel around 6am, it was just a short walk to the terminal building, a few shots en-route.
Entering the building I approached the LAN agent guarding the entrance to LAN's check-in desks, he advised me to use the self service machines before returning to check bags, hmm, seems you have to use the machines, no choice here!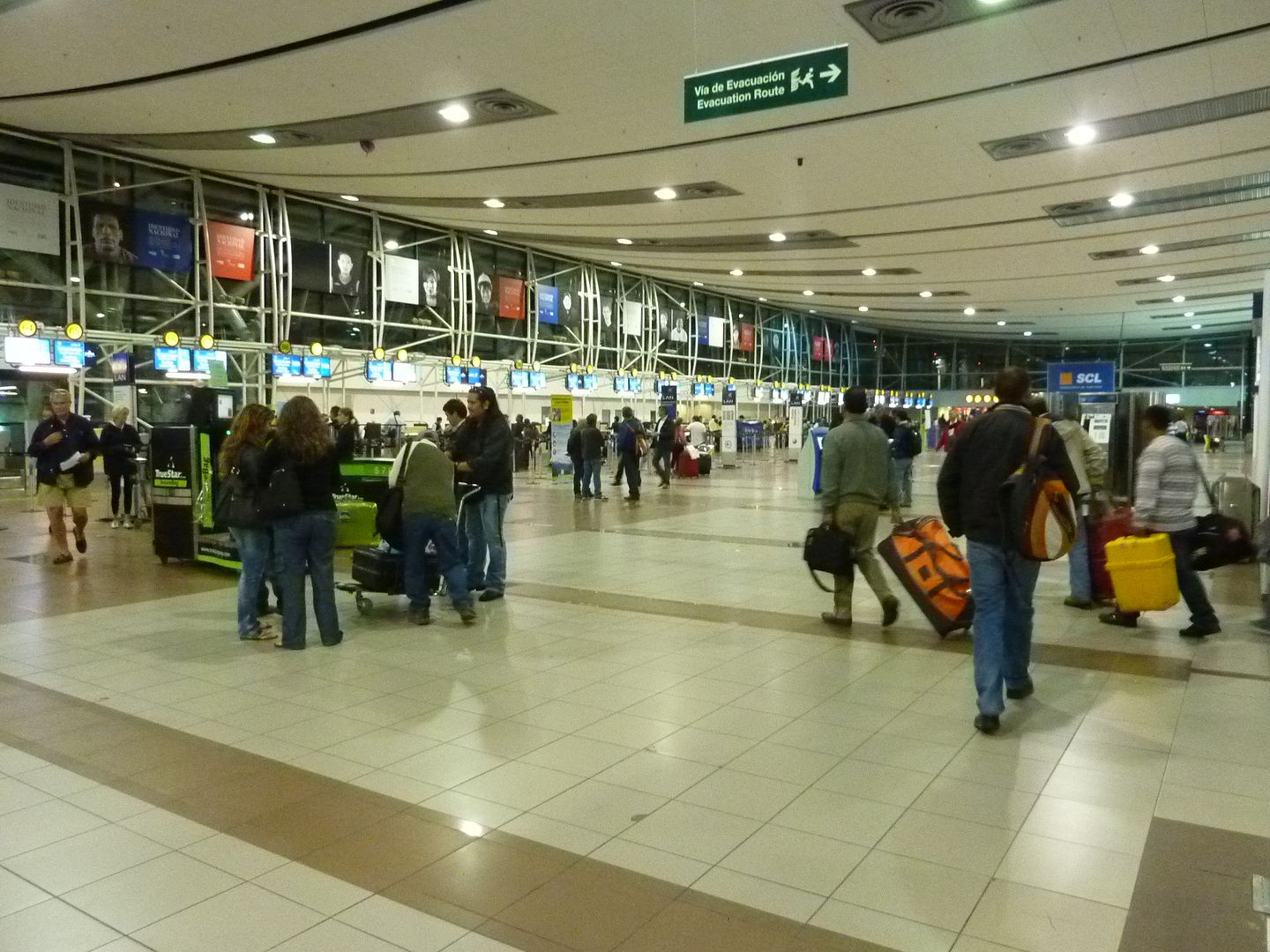 I found a free machine and tried using the passport ID option first, no luck so I dug out the PNR off of the documents, glad I brought copies with me, that worked fine, though each page on the machine was in Spanish, there might have been an English language option though I must have missed that, so I just kept going, though one of two of the questions were causing me to scratch my head trying to guess what it meant, I can order beer and a few other bit's but Spanish is not my strong point - in the end the machine spat out the two boarding passes of the paper variety.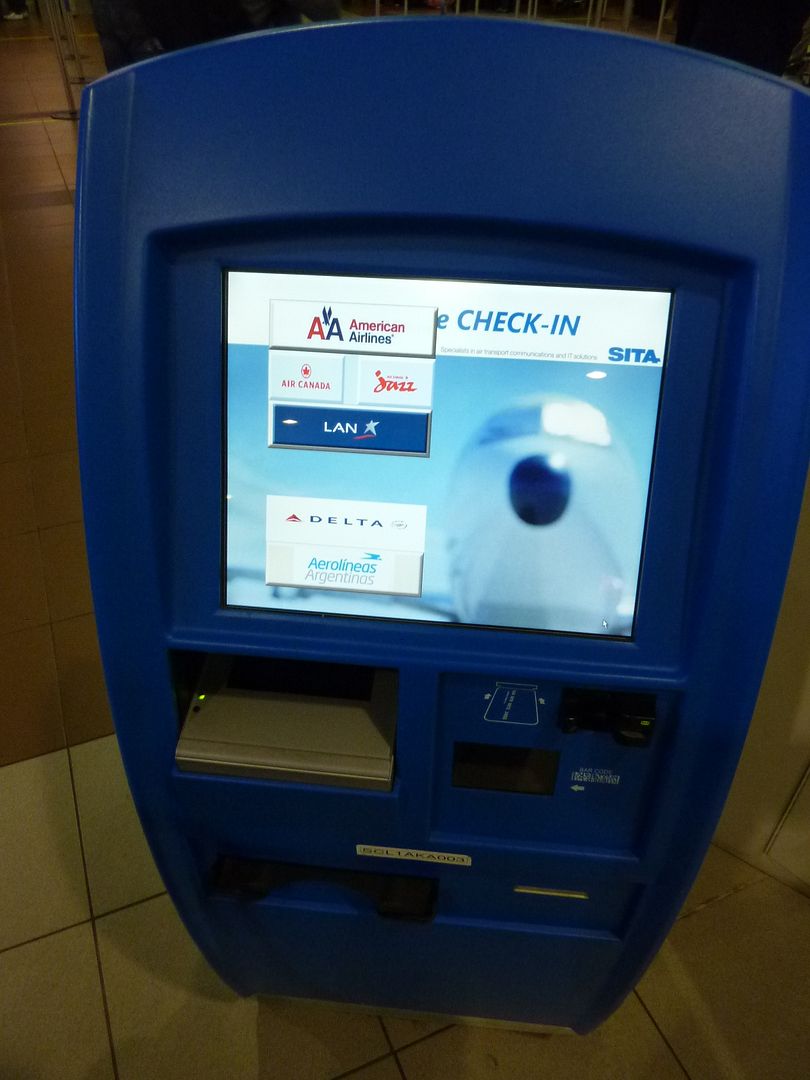 These guys do brisk business
Terminal shops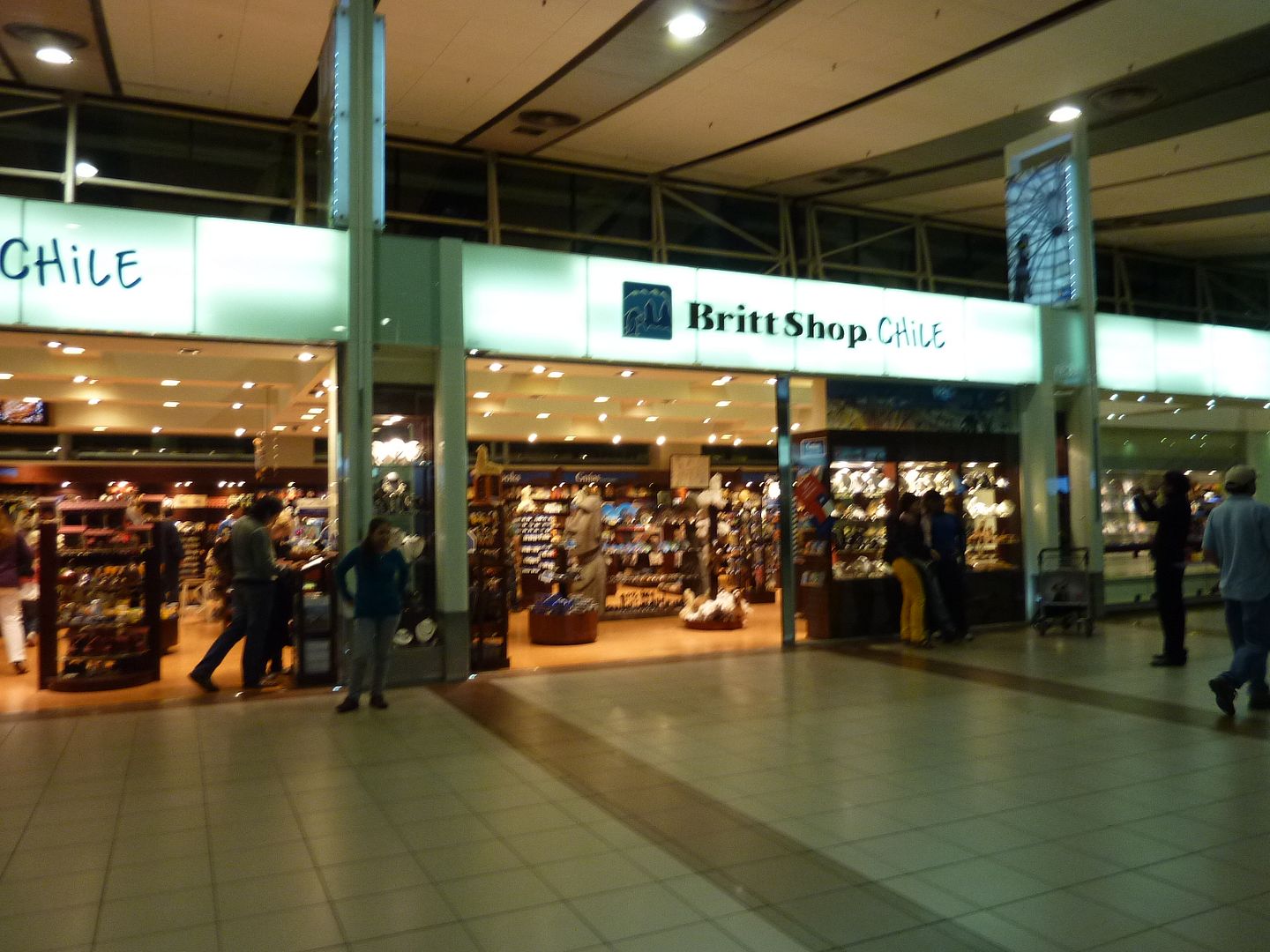 Next stop passport control and security.
Passport control was a painless affair if a little slow, the flip side was security screening was a breeze as there were no lines.
As with many airports these days, you arrive airside in the middle of a duty free shop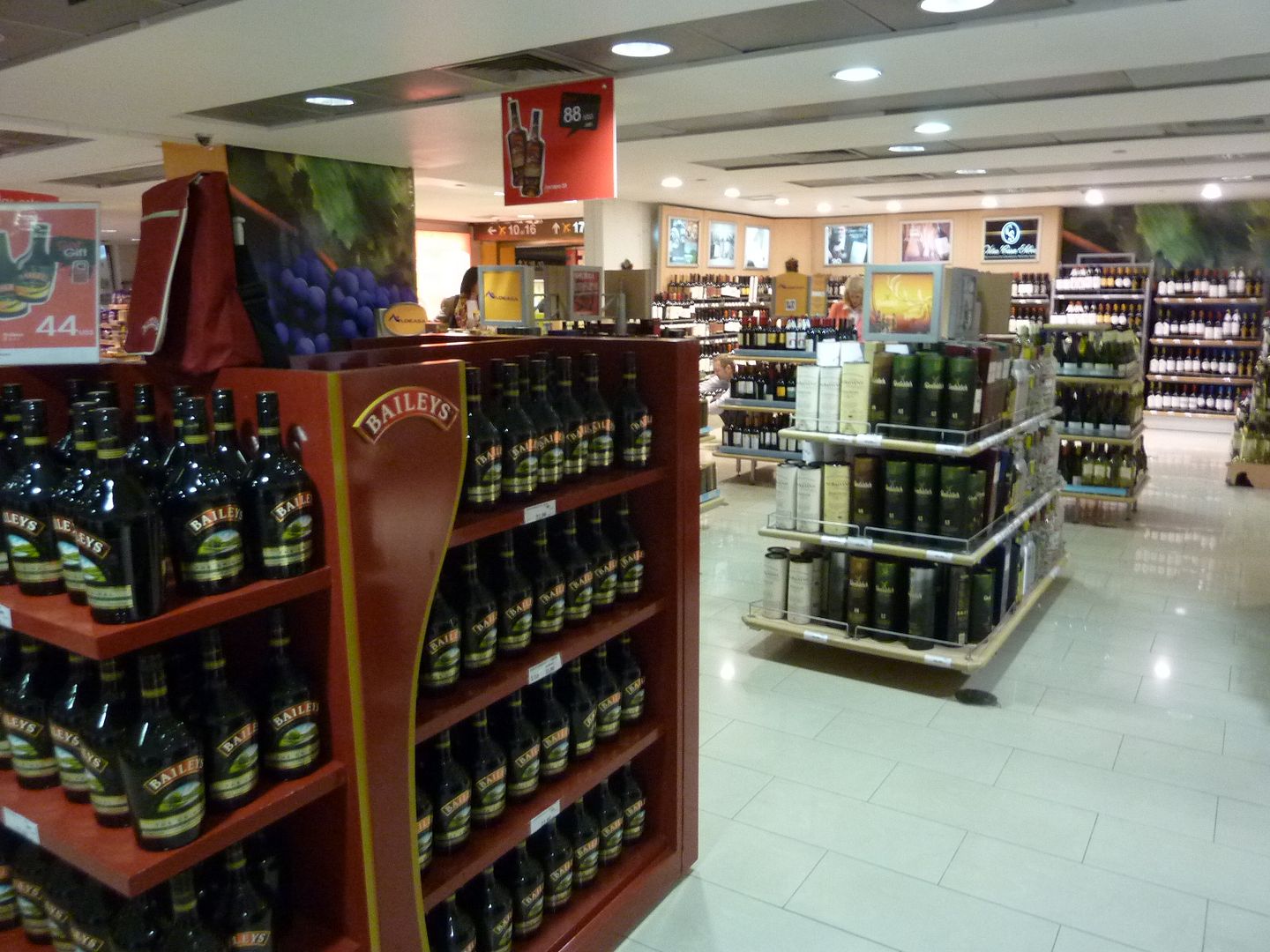 not needing or having the space for anything else I kept going.
According to my boarding pass, boarding would take place from gate 19 at 06:45, that gave me plenty of time to walk the terminal for a couple of pictures and check out what was parked on the ramps, any opportunity for a few new registrations!
Airside shots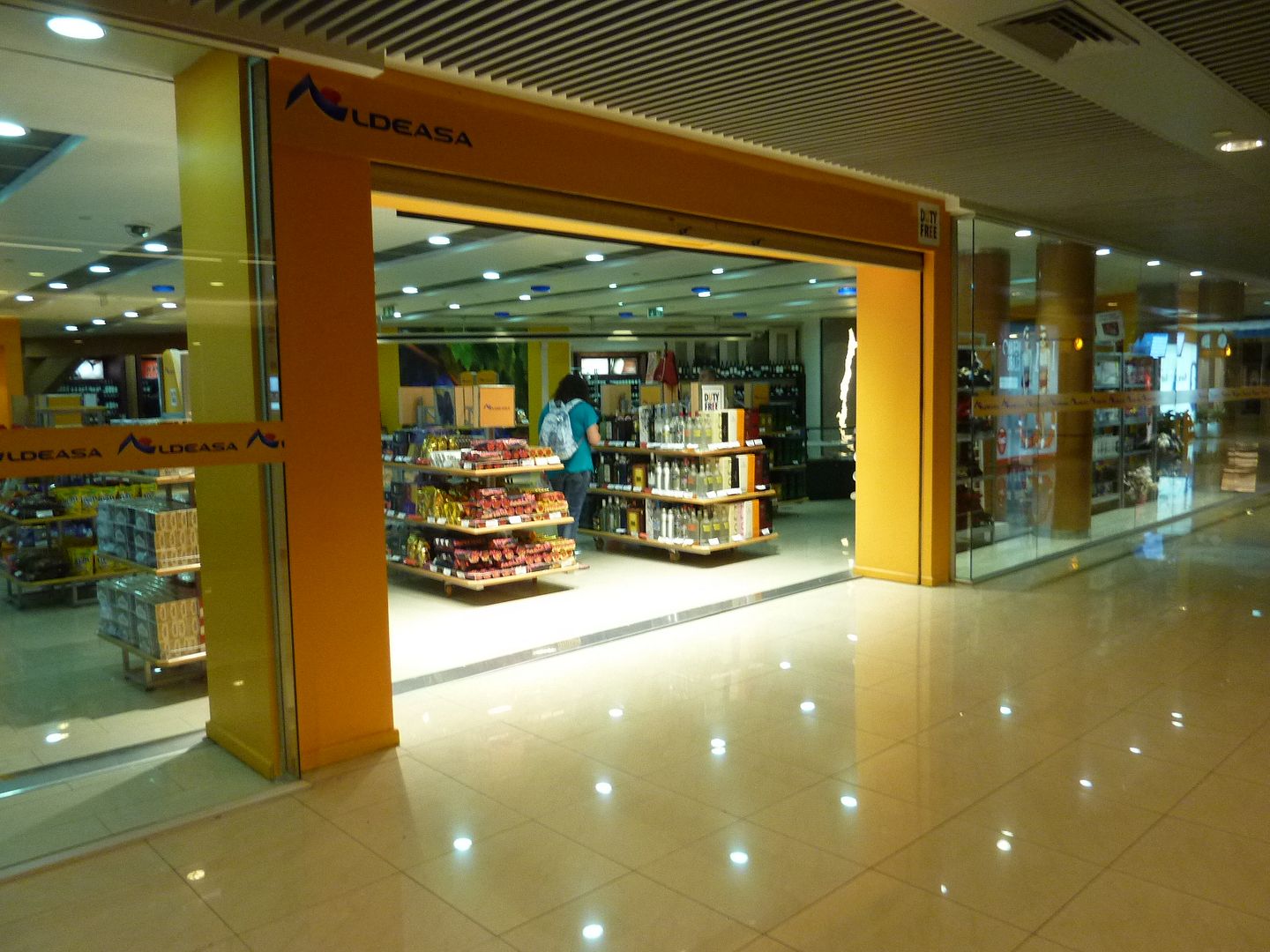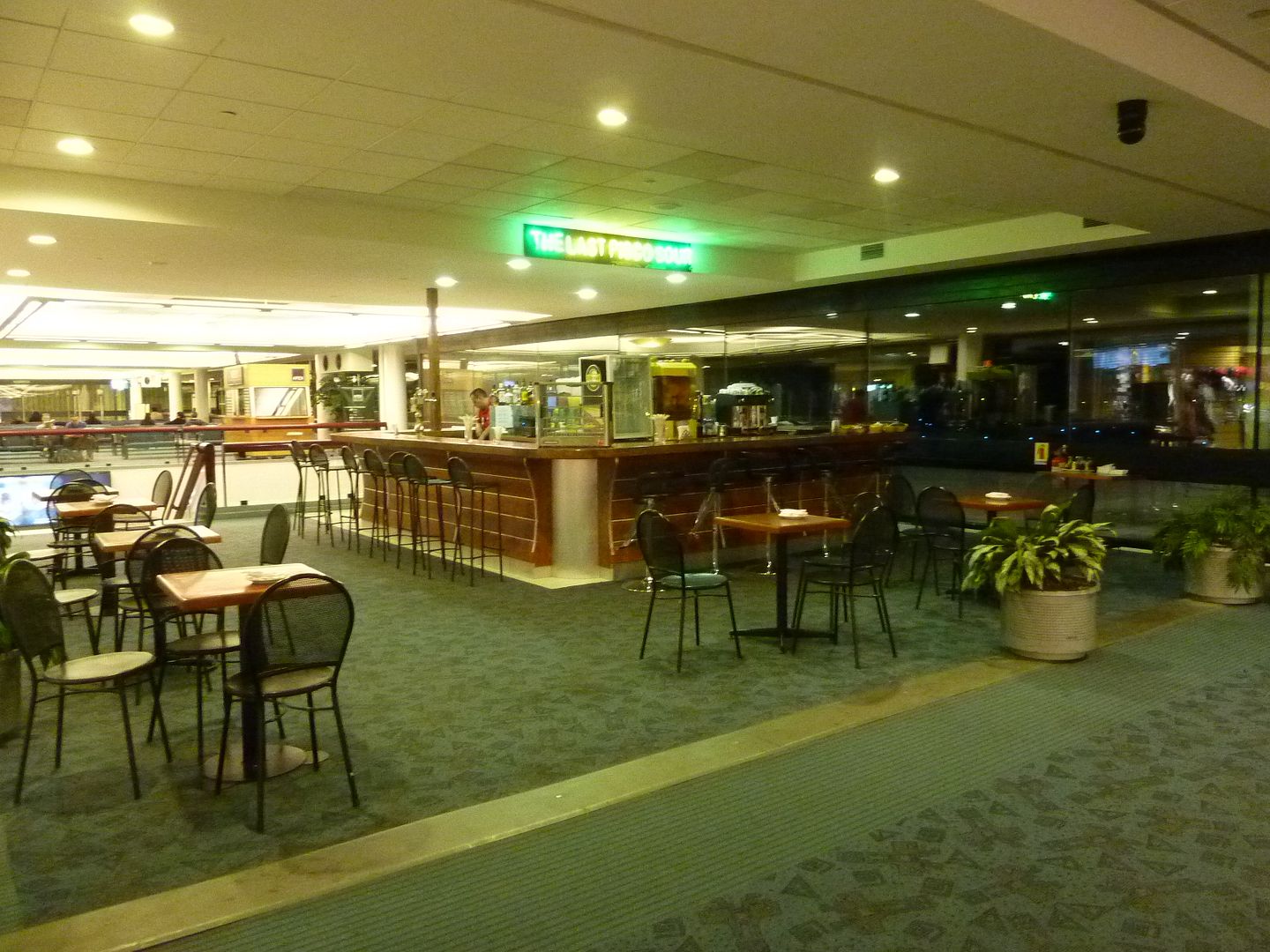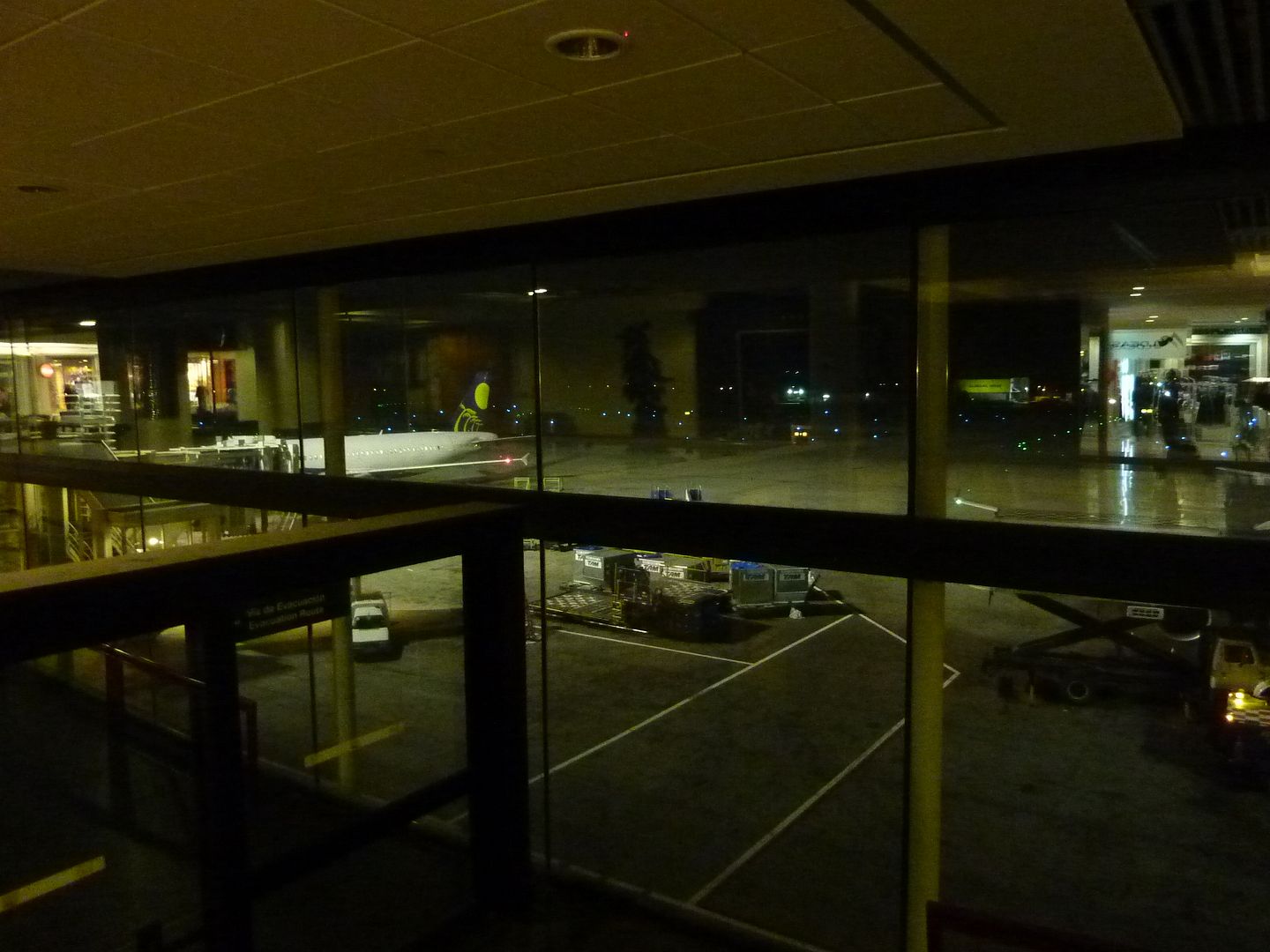 From the outside, the terminal building gives the impression of being bright an modern, however once airside it is all rather drab and very corridor like.
I managed to collect a few new planes on my walk, a planned stop at Starbucks for a coffee was dropped,a rather large queue of at least 15 people, so I decided to head to the lounge instead, I figured I had perhaps 10 minutes or so to grab something.
LAN Lounge
The lounge is either down the stairs or via the lift to the level below, when you greeted you are greeted with with some nice pictures of LAN's history, they sure remind you how much this airline has grown over the years.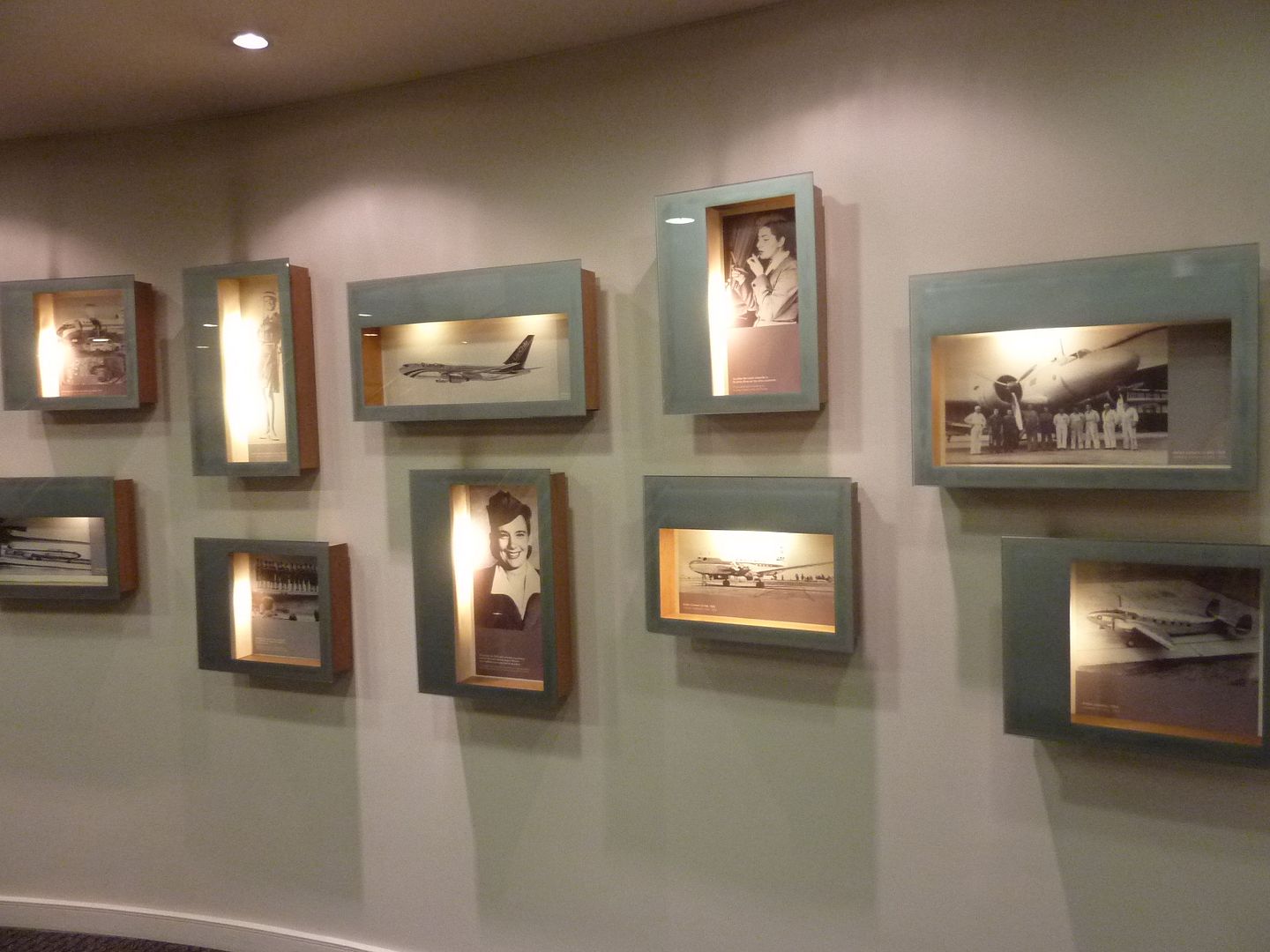 I've not given it much thought, but looking back LAN has indeed come a long way and grown to be a major force in South America.
Credentials checked by the lounge agent and I'm free to enter the lounge.
Views are limited to the outside, at this time and I expect much of the time, the blinds are down to help keep the heat out.
Enough comfortable seating spread over several areas including a hard wired PC section, the connection was very slow when I had a quick peek @ A.NET.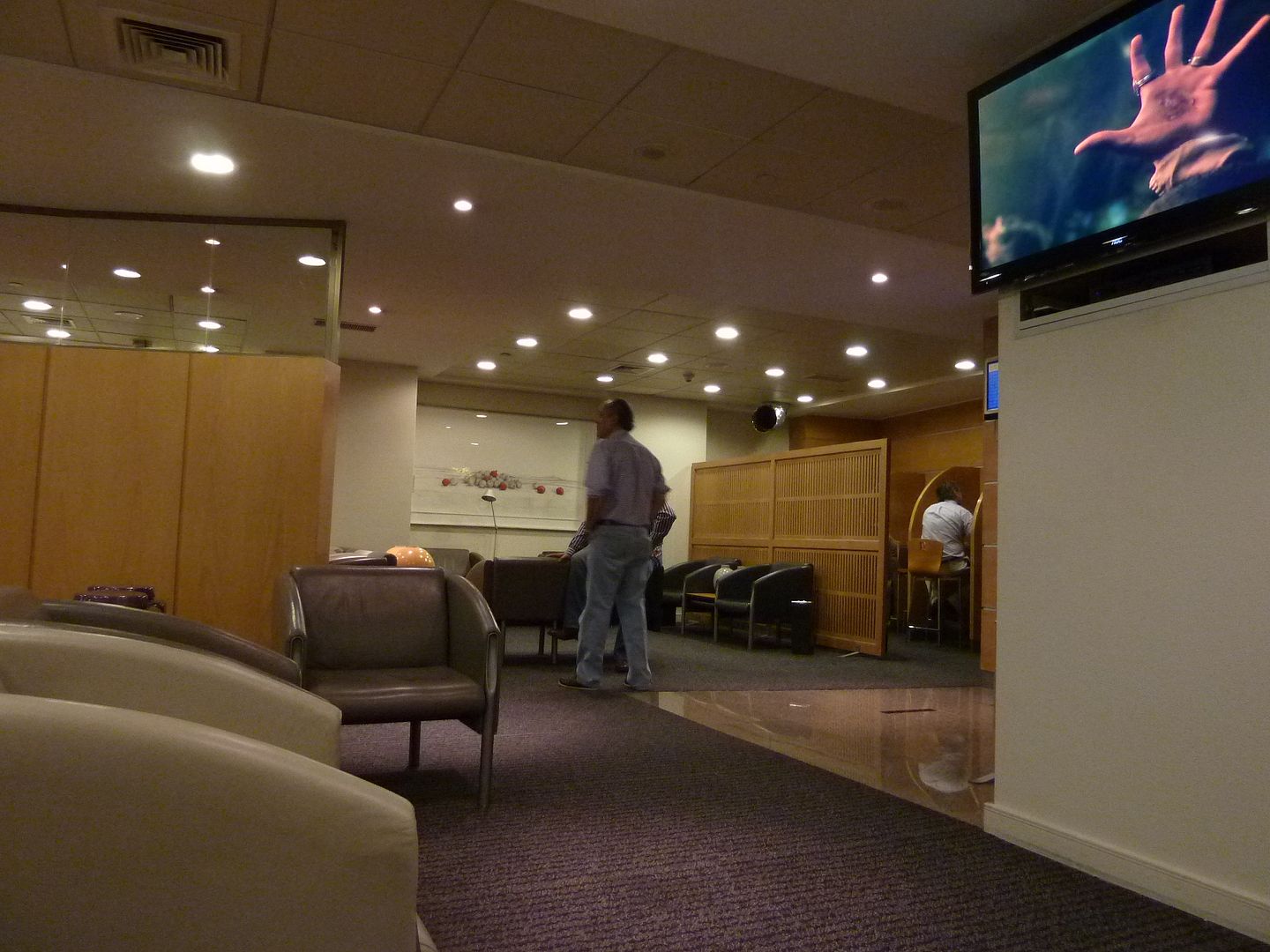 Two areas had identical F&B offerings, some fruit, sandwiches and pastries were set out along with OJ, mango and Rasberry juice, the latter very tasty.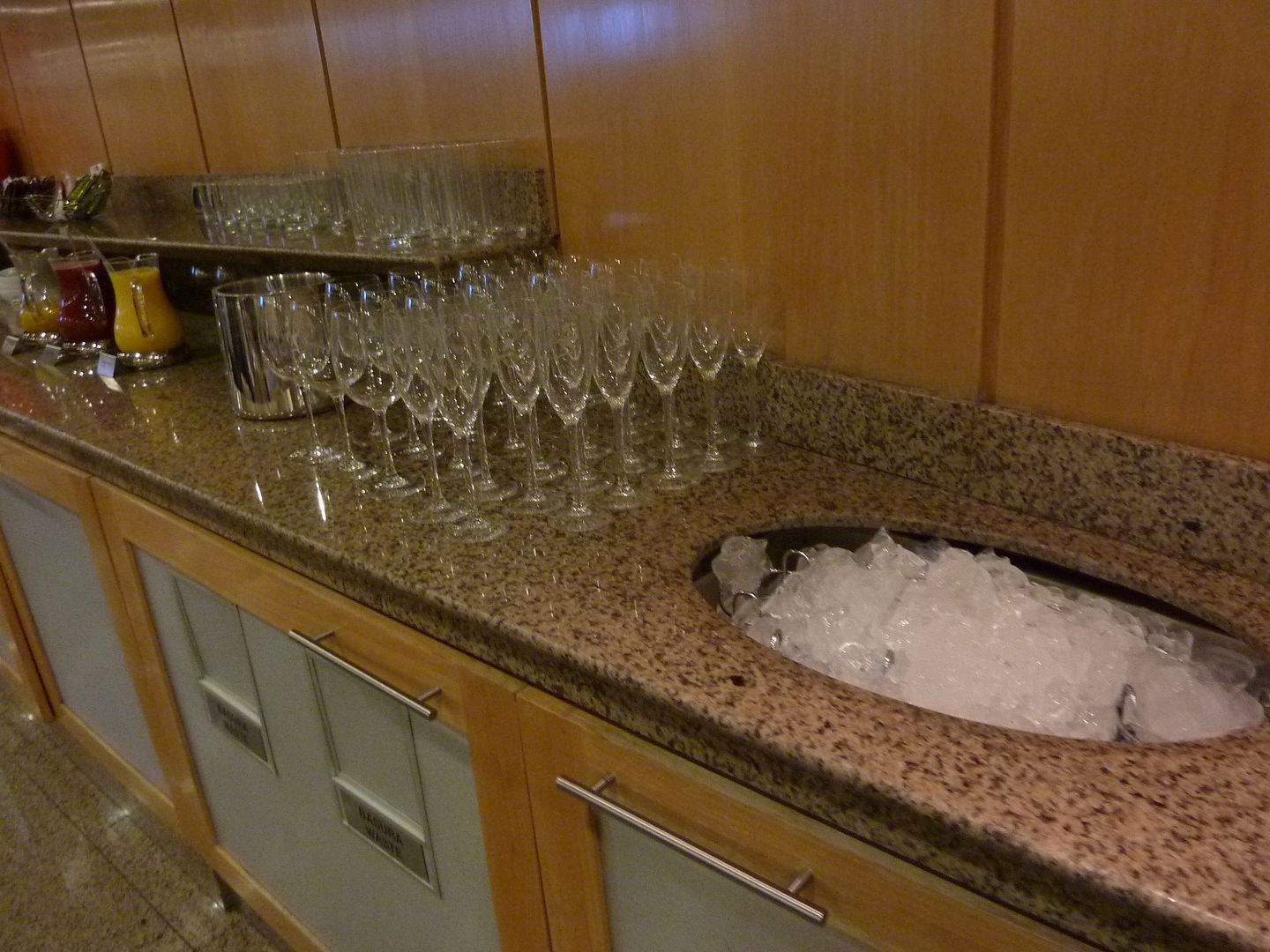 I had a quick sample just because I could, well would be rude not to sample right?
Flight 405 was announced for boarding just before 7, arriving at the gate a few moments later begged to differ, however a moment later a boarding announcement was made, the masses in the seating area took to their feet.
Situated To the right of the gate podium are 3 stands, one indicating priority, one for rows 1-14 and the last for rows 15 onwards, I think this is a pretty good way of organising things, if you have thee space of course.
A few moments later and the priority line started to move forward, boarding passes checked but the passport hardly glanced at.
Here's my bird for the flight to EZE.
CC-CRH has an interesting history, originally ordered by Canadian but NTU, sold to GPA and leased to Malev as HA-LHC, further to China Southern as B-2652 before joining LAN in 2004. Despite a couple of different homes before it, the aircraft is in excellent condition internally. Not directly related to this trip, but Malev seemed to have operated 2 different 763's with the HA-LHC reg, c/n 426 & 738.
Boarding was via door L1, greeted at the door by a smiling LAN FA, boarding pass checked and directions are offered as to the aisle for your seat.
My seat
View from my window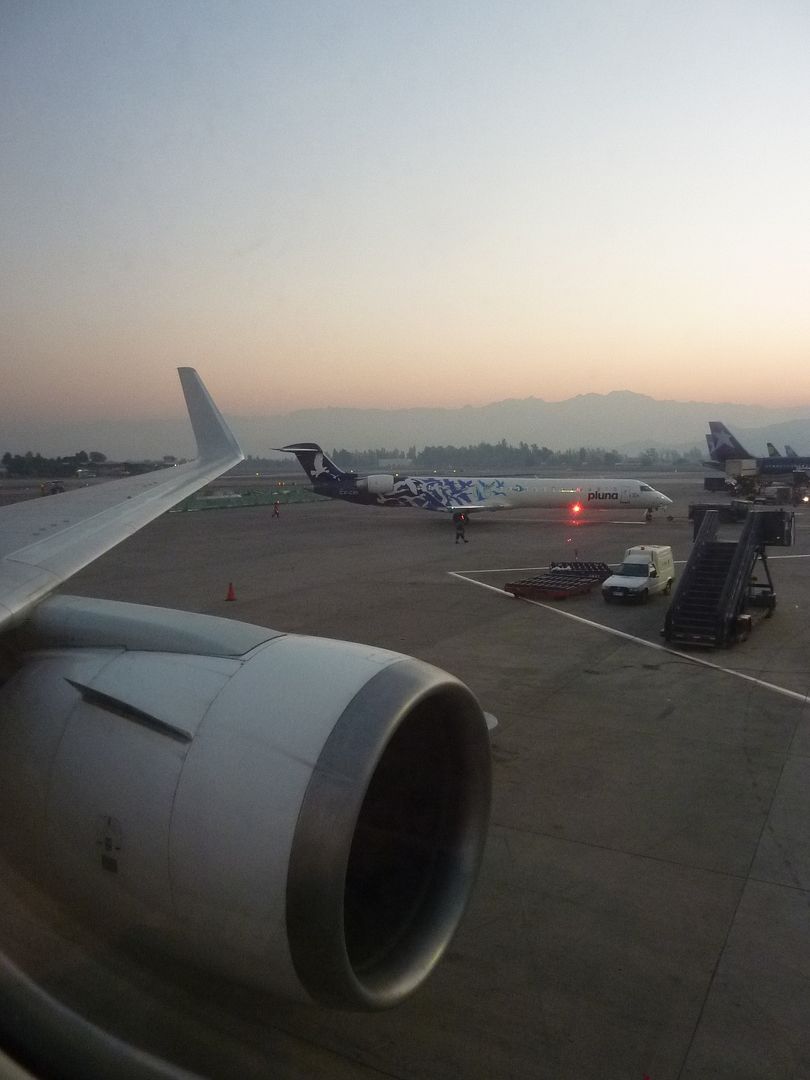 Today's load was pretty light in both classes, J ended up with just 13 seats occupied out of a possible 30.
The seat was pretty comfortable though it's design prohibits any stowage of luggage during departure or arrival, a negative point, apart from that it's all good, legroom is excellent at 74".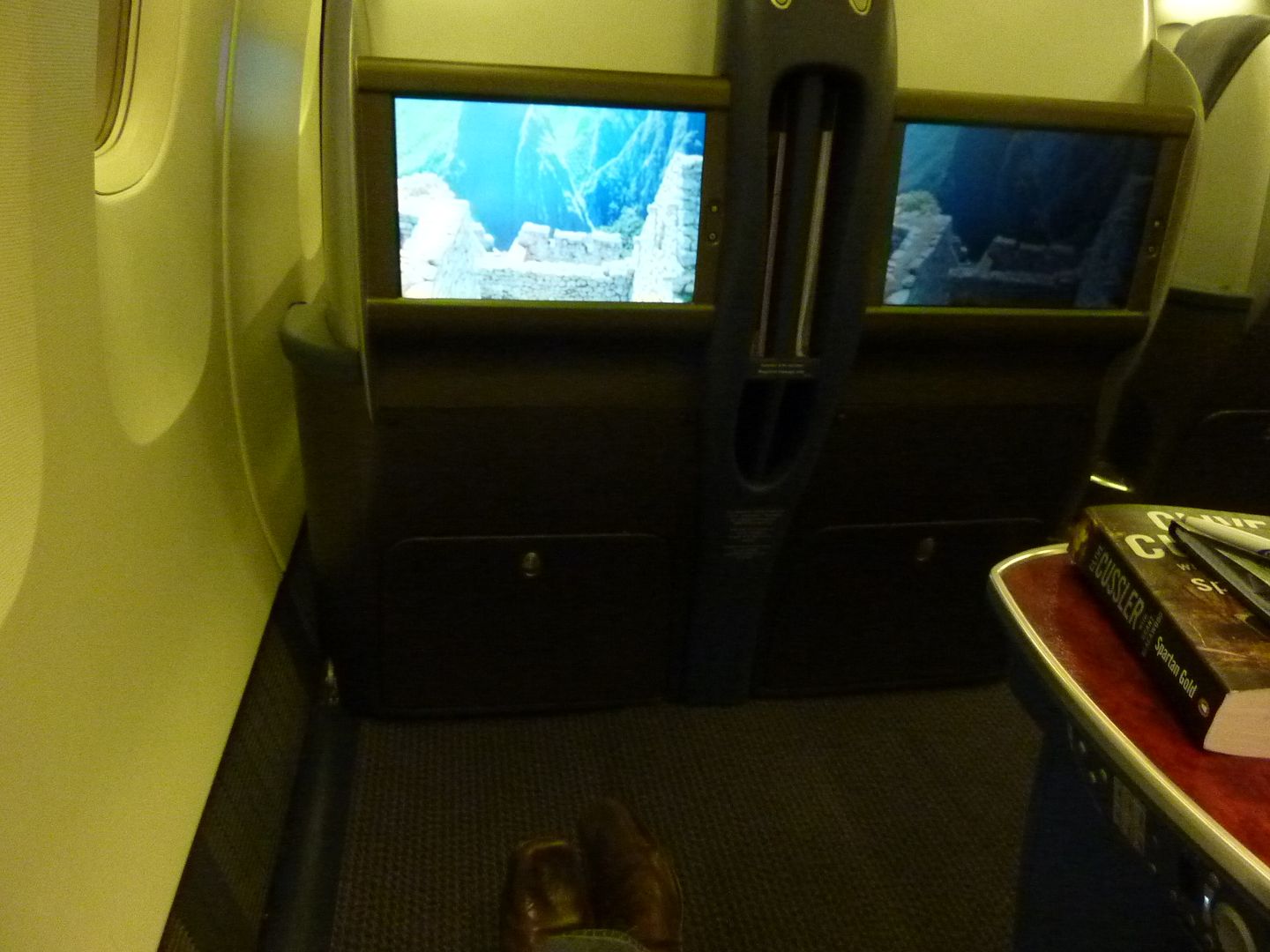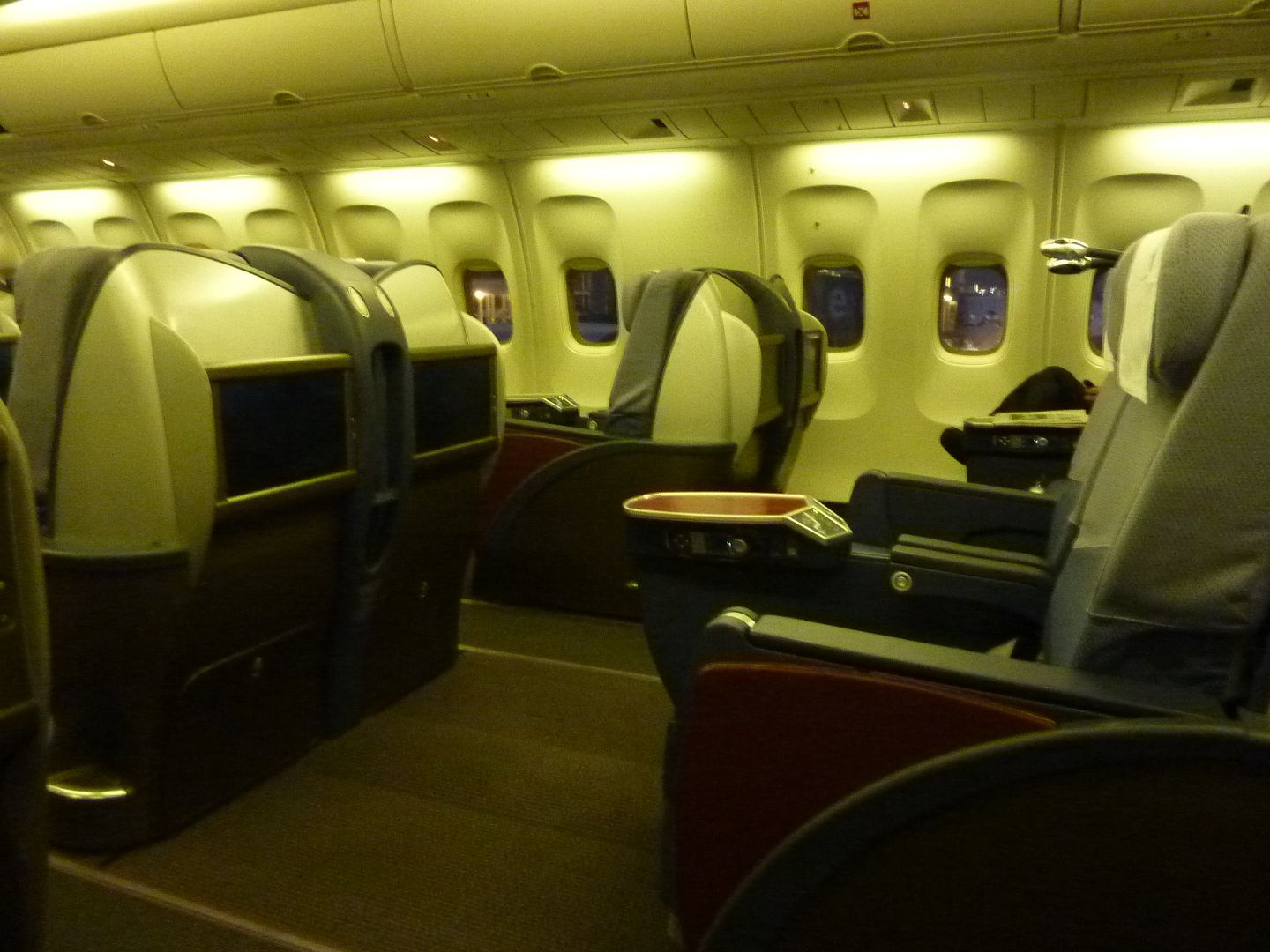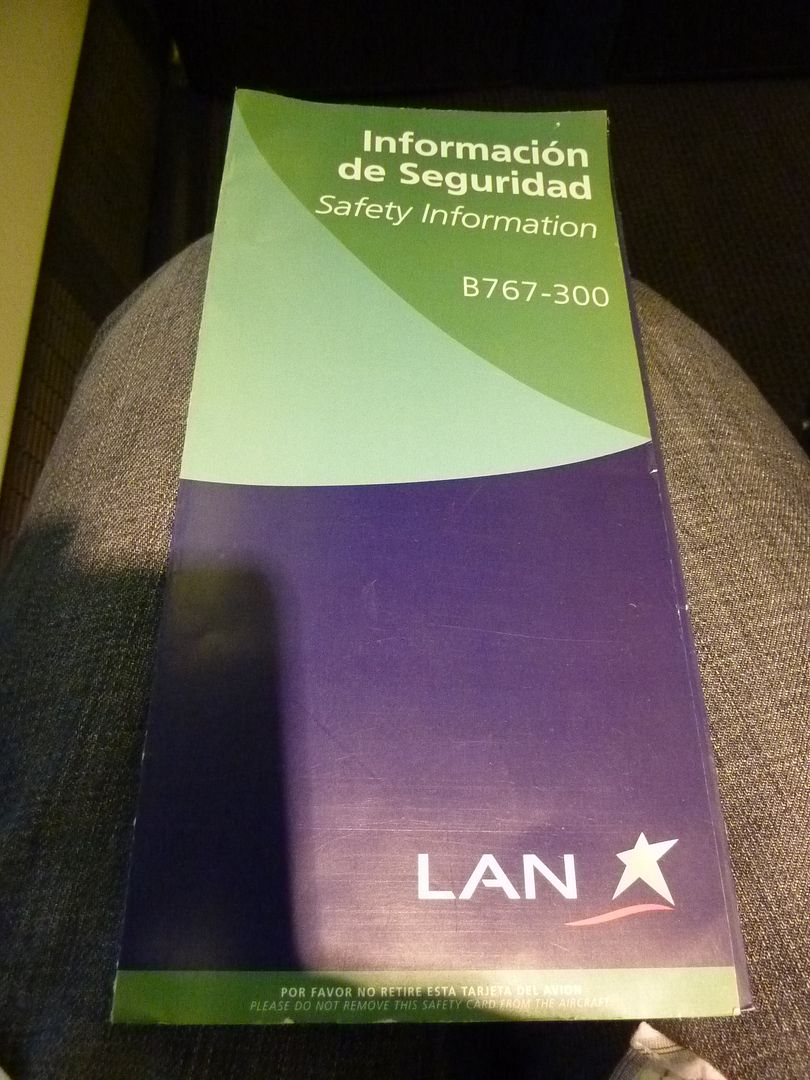 Charging points and USB connections are all a plus when you have power hungry apple products, or a long flight ahead of you.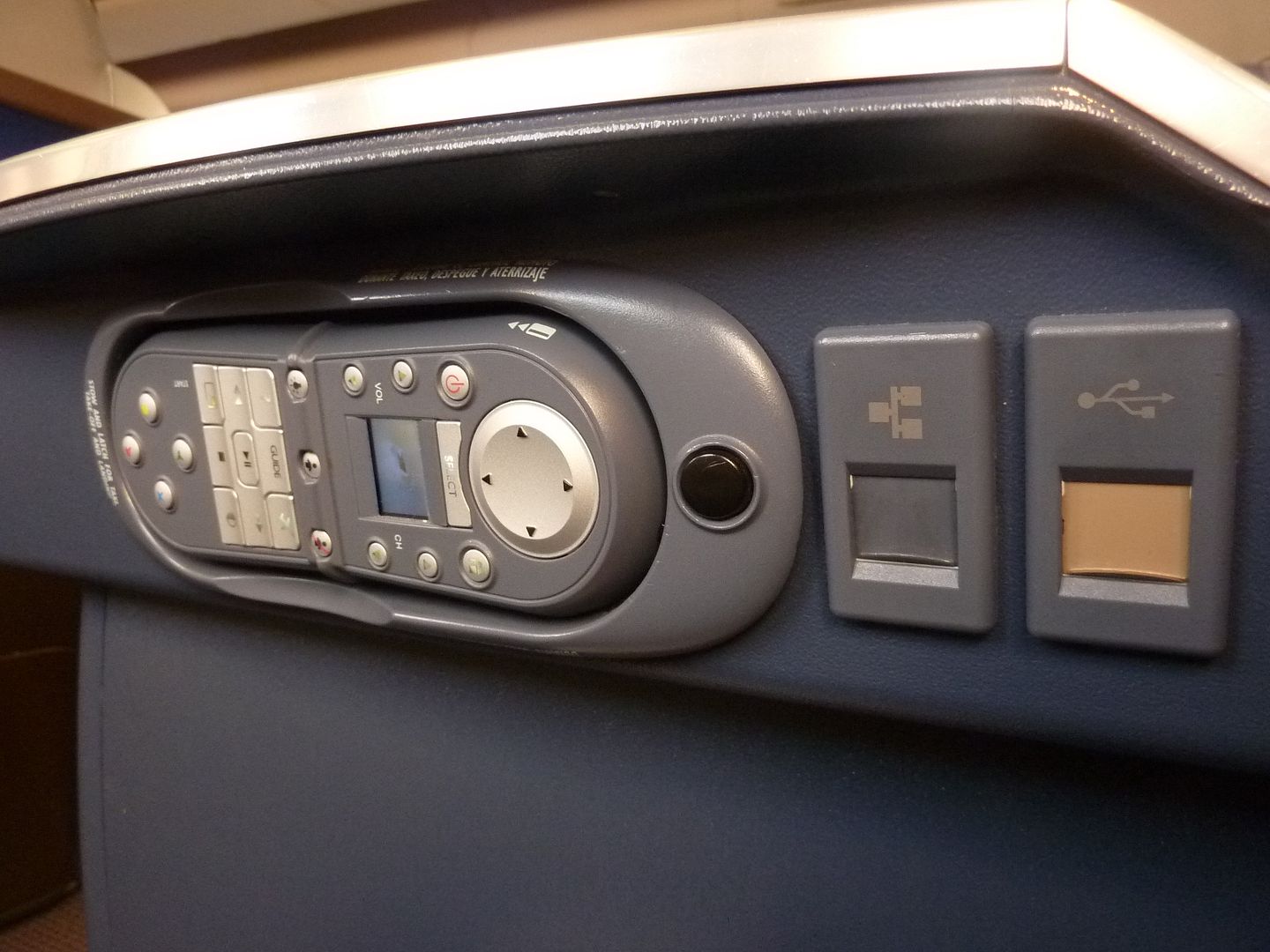 One of the downsides of the last row of J is the proximity to economy, and right behind me was a screaming child, whilst I appreciate you could hear this child in 1A and likely the cockpit, it's even worse being so close.
Stunner outside!
Pre-departure drinks of either OJ or water were offered, followed by offerings for newspapers, magazines and a pre-order form for duty free should you require it. The magazines and papers were offered from a trolly in a similar fashion to Iberia.
Whilst looking out of the window, I noted both of the windows I had easy access to were were not that clean, especially the one nearest to me, so apologies in advance for some of the picture quality.
Push back occurred at 07:29
followed by a slow taxi out to the active runway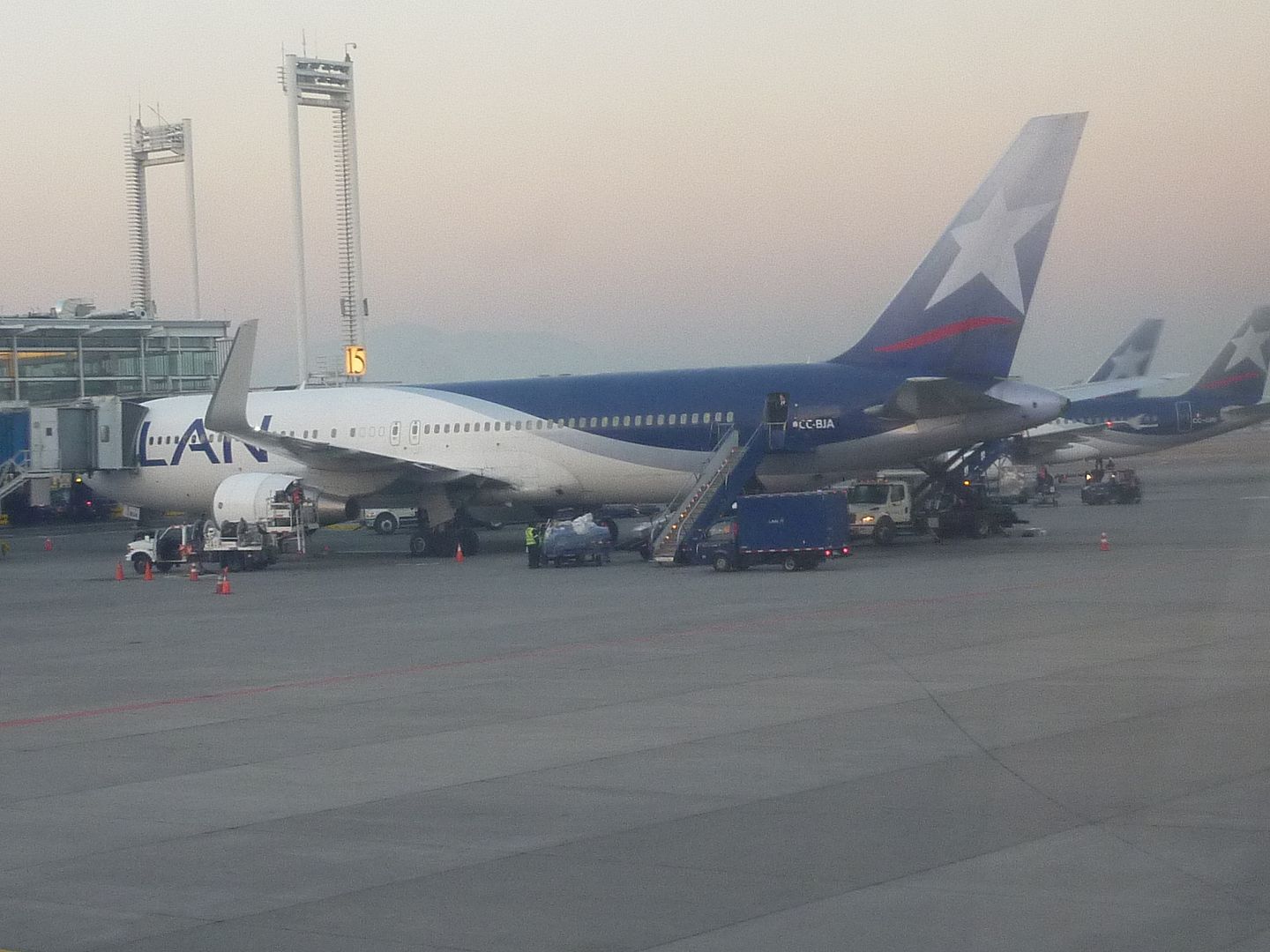 whilst en-route an AA 763 touched down after it's long flight, nothing else touched down during out taxi, at least on this runway.
With no other traffic ahead of us CGH had a rolling departure, note the mist down the field.
given our light load we blasted off the runway at 07:45.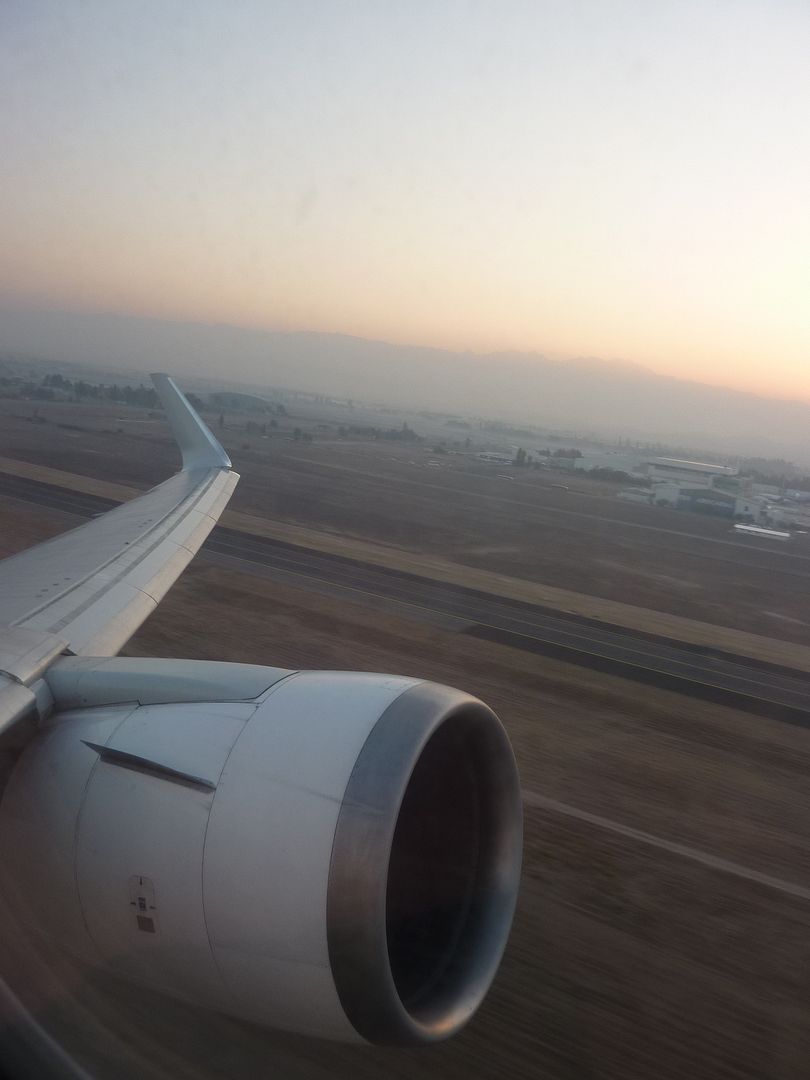 Once again I was on the wrong side of the plane, so the sun and the dirty windows were affecting my views and pictures.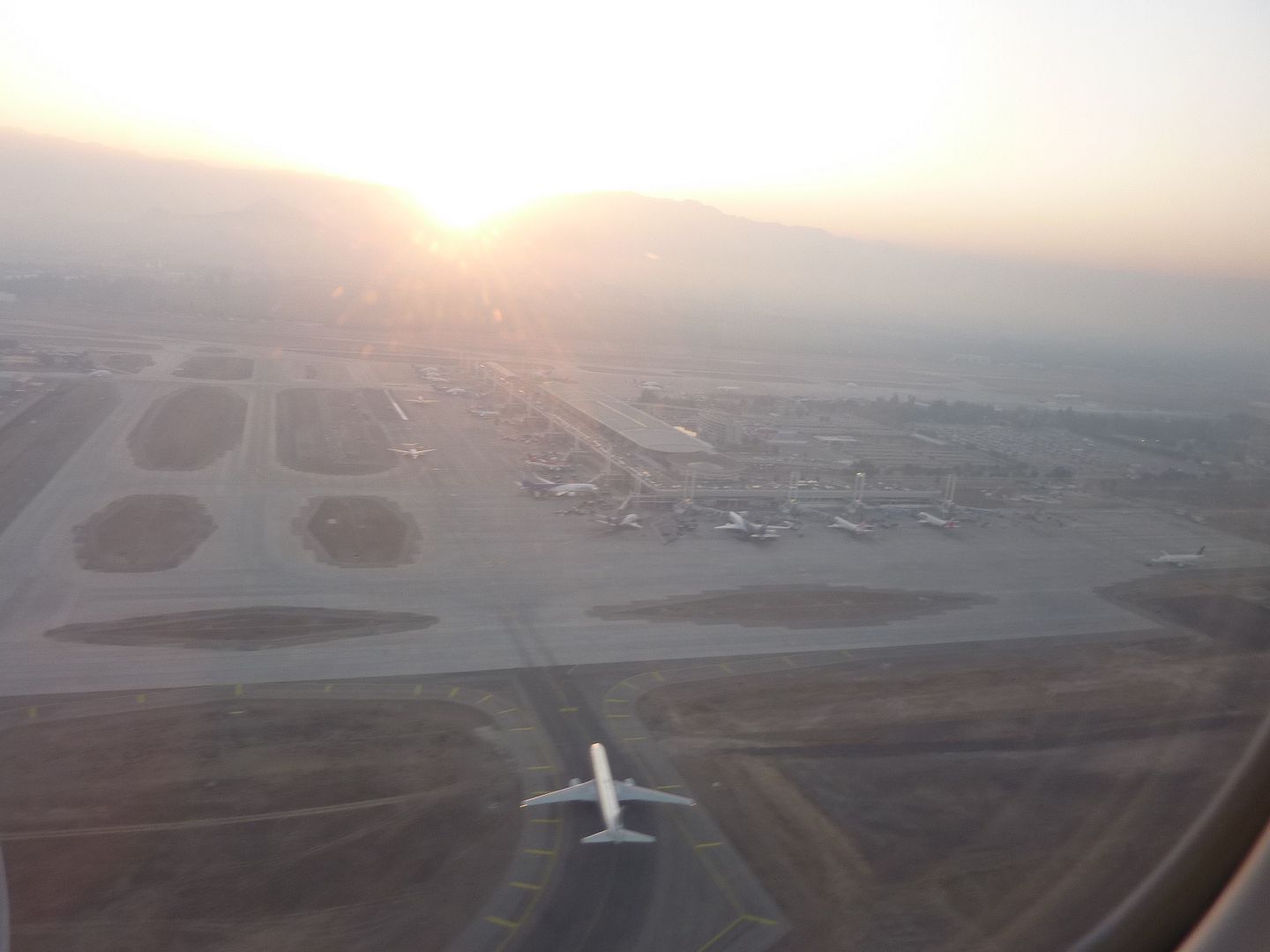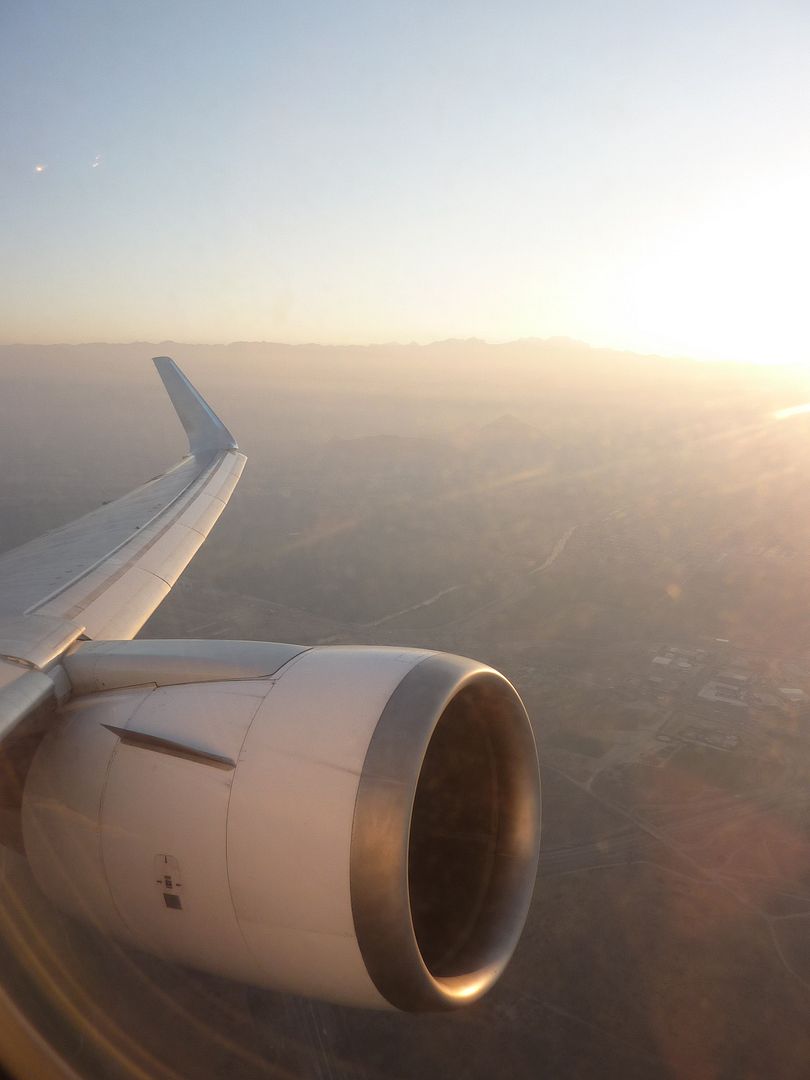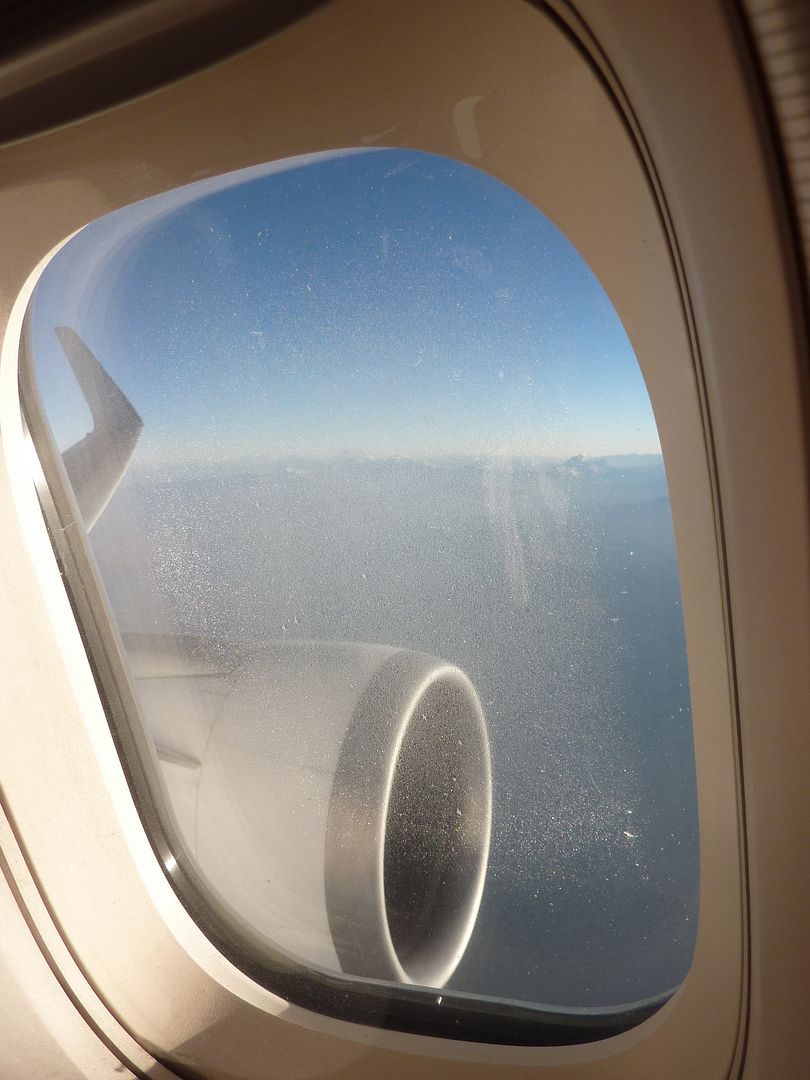 Scratched and dirty window
The aircraft climbed quickly, the captain advising he would be leaving the seat belt sign on until we had cleared the Andes mountain range.
At this altitude the condition of the windows got even worse, picture taking became nigh on impossible, looking across the cabin I noted the windows on the other side were in a similar condition, a real shame since the view was spectacular, well what I could see of it!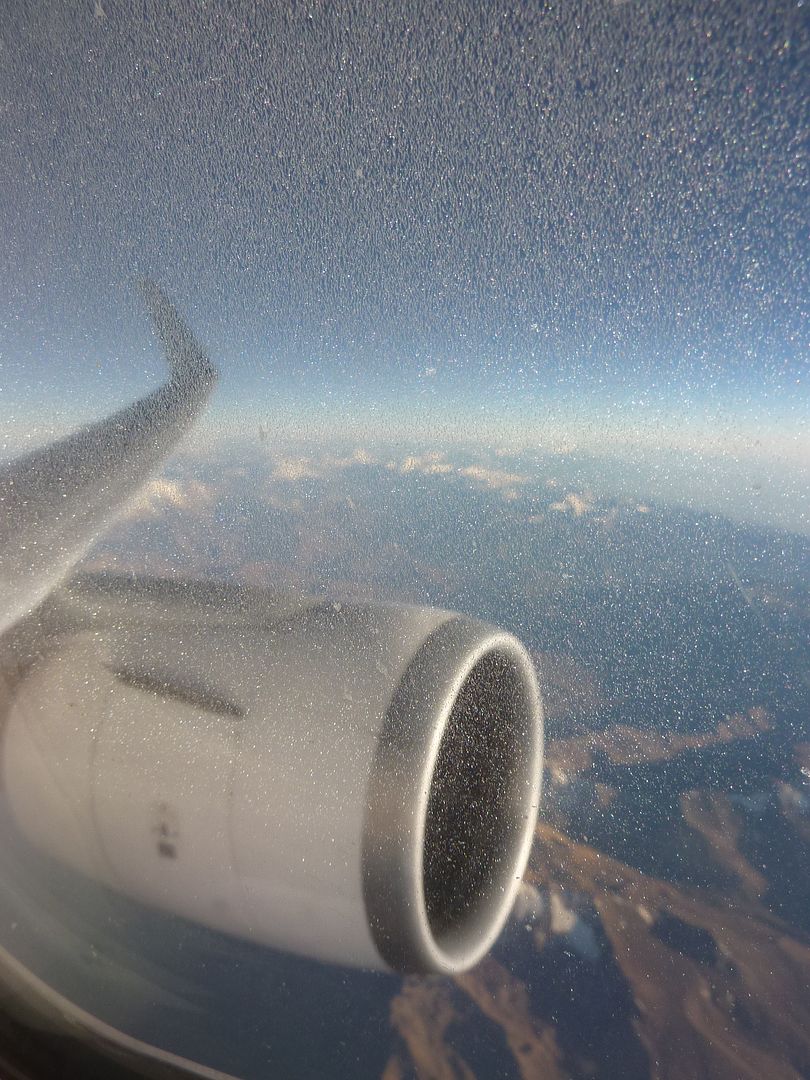 IFE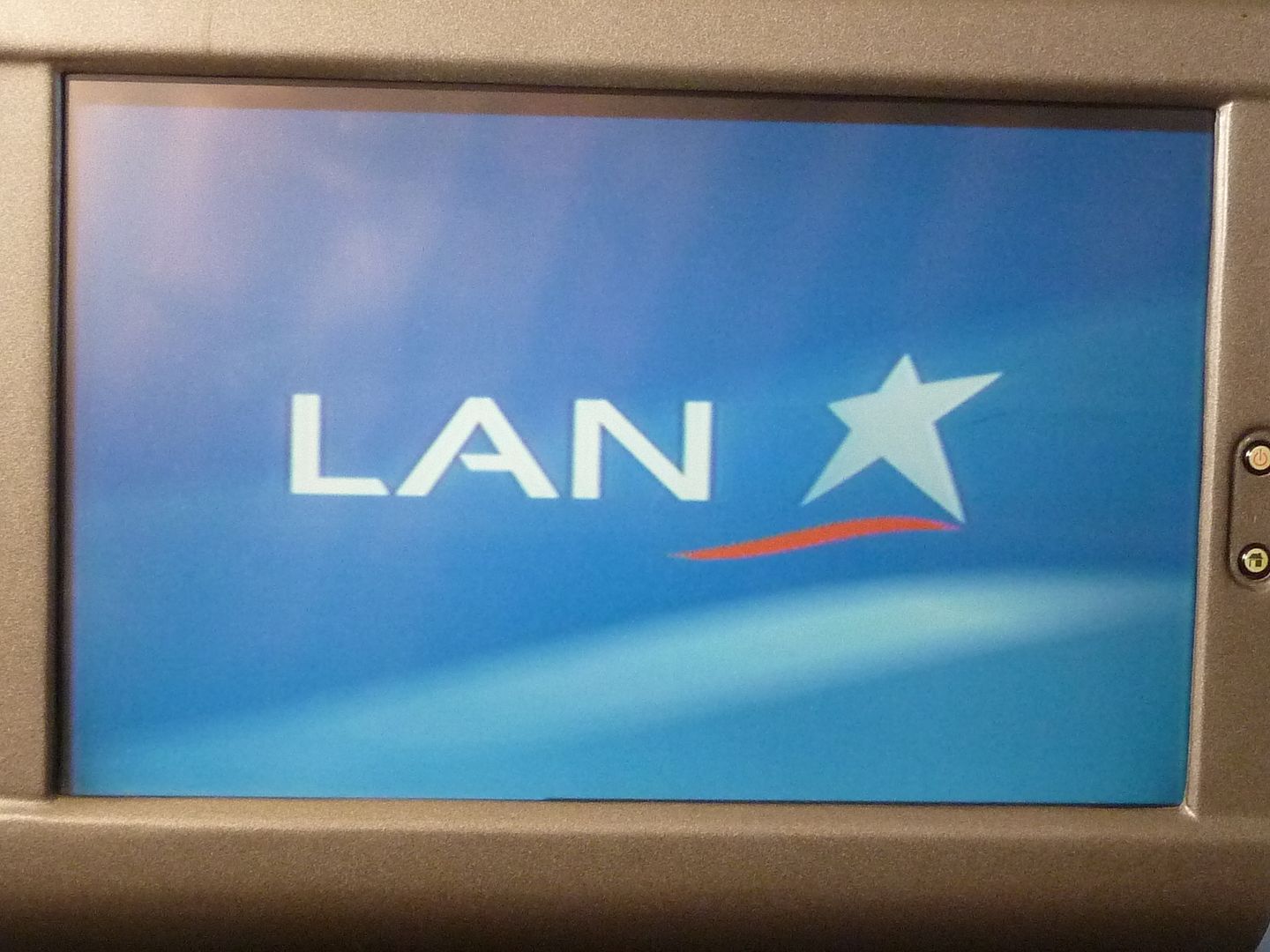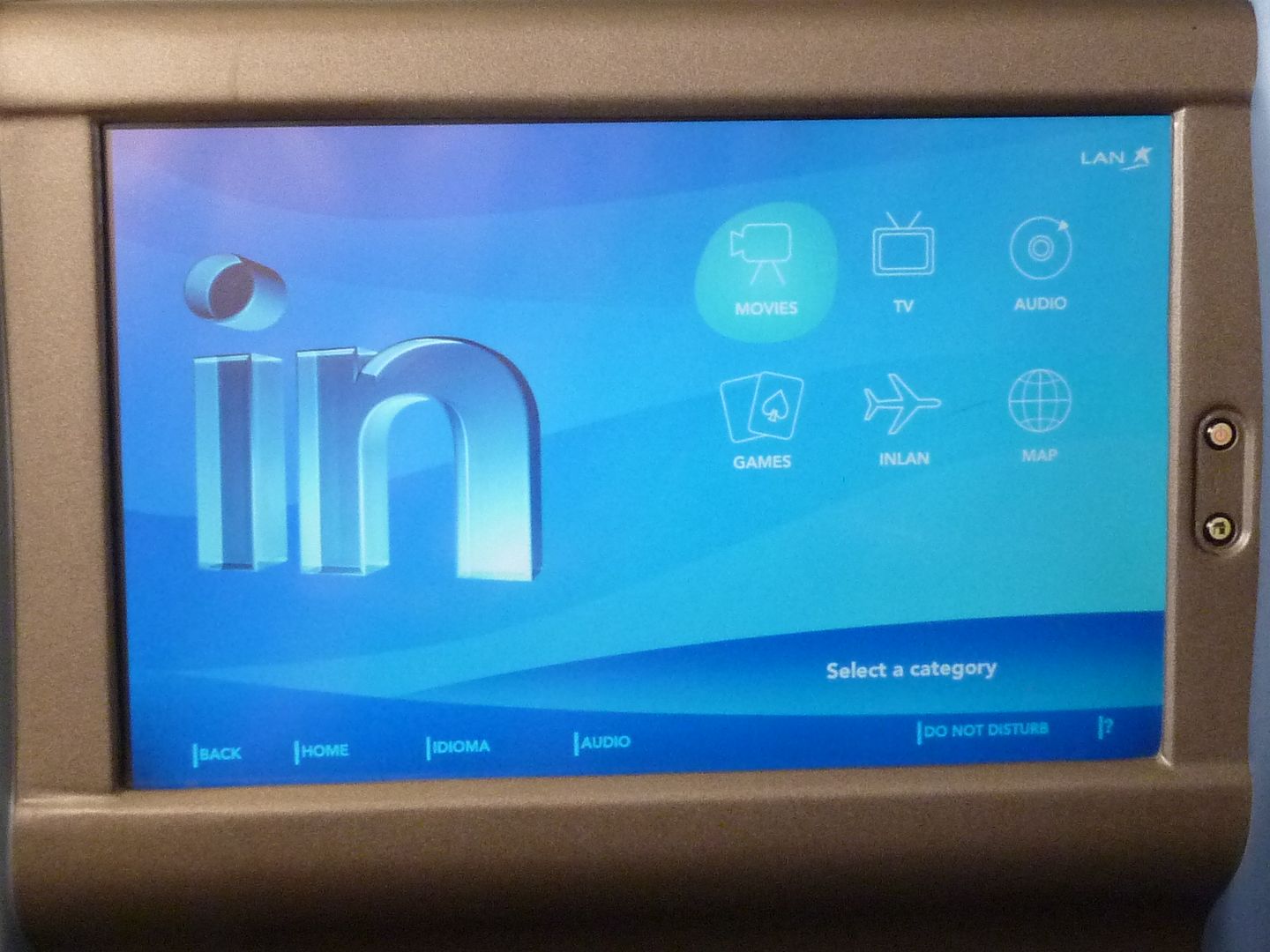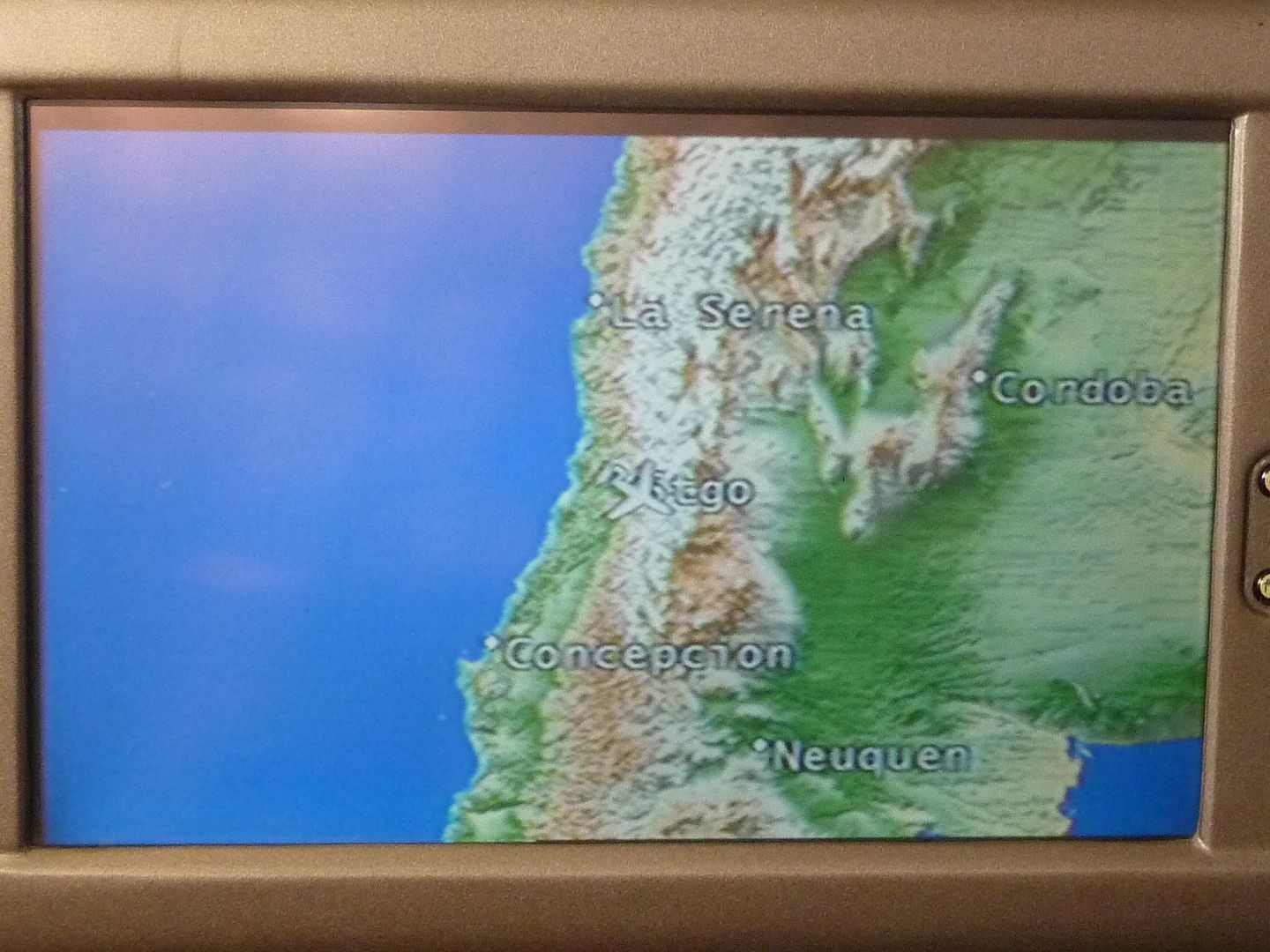 Lighting had improved now, so better legroom shot.
Once clear of the mountain range,the seat belt light was extinguished, I must add the ride across them had been as smooth as silk, not a single bump.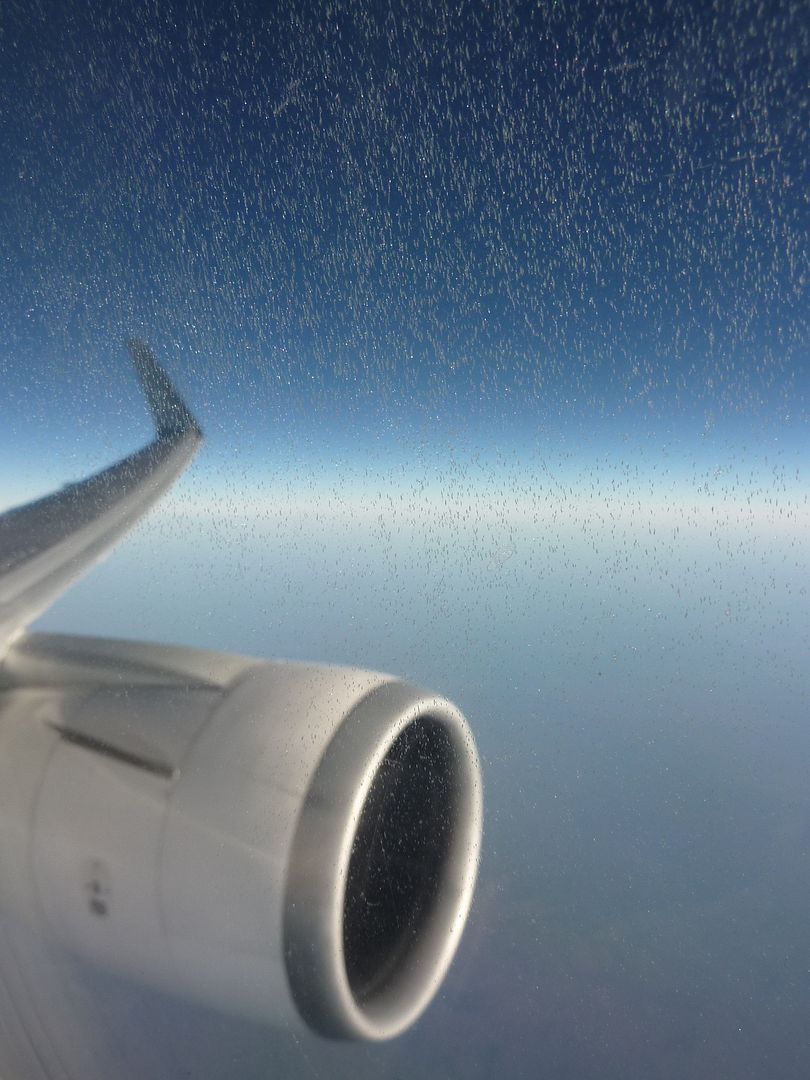 Breakfast service started approximately 45 minutes after departure, a simple tray with fruit, a muffin and a plate with cold cuts of meat, cheese, a slice off egg and half a cherry tomato. Small but perfectly adequate for this length of flight. In addition pastries we served from a tray along with tea/coffee and fruit juice and water.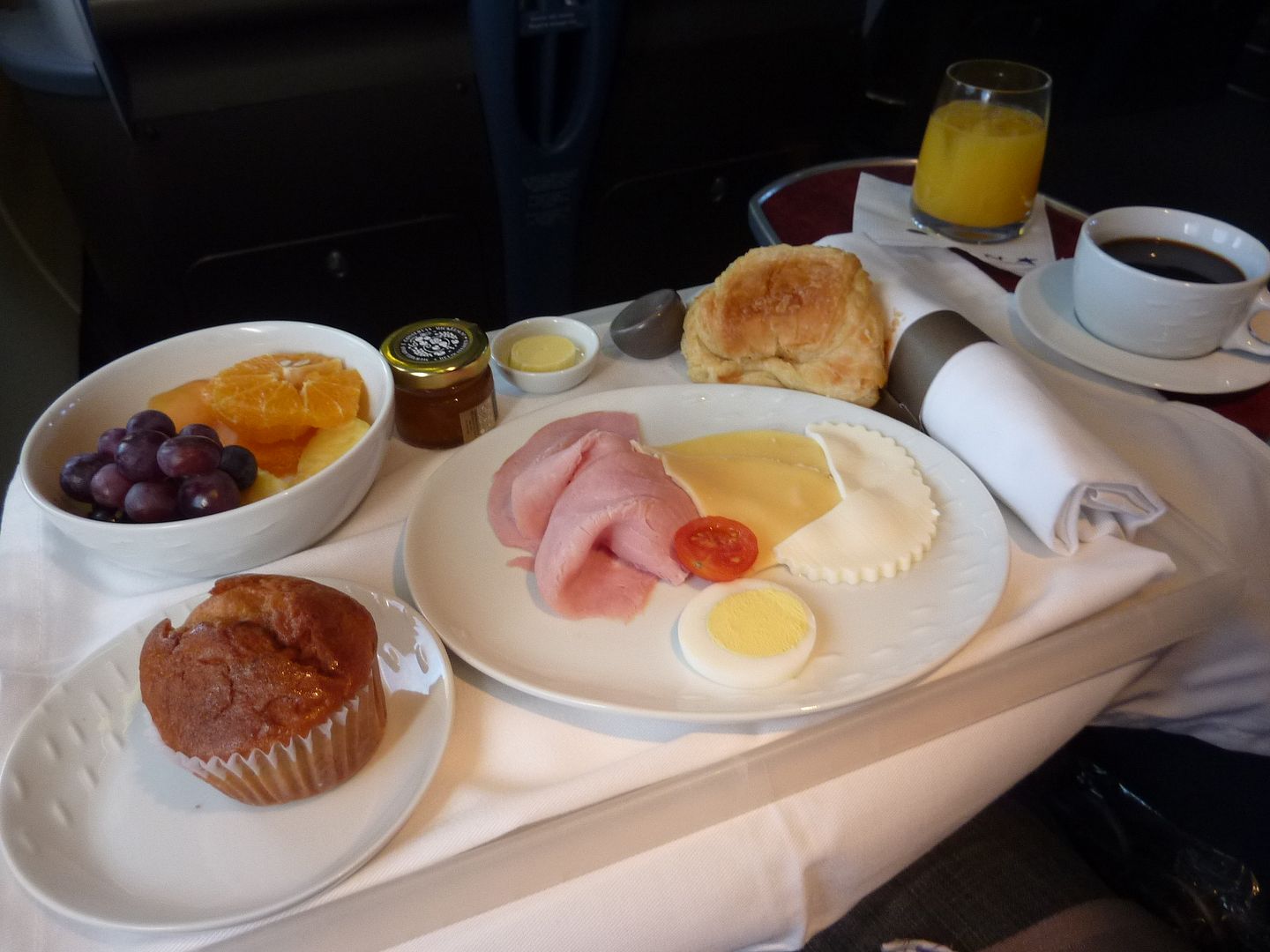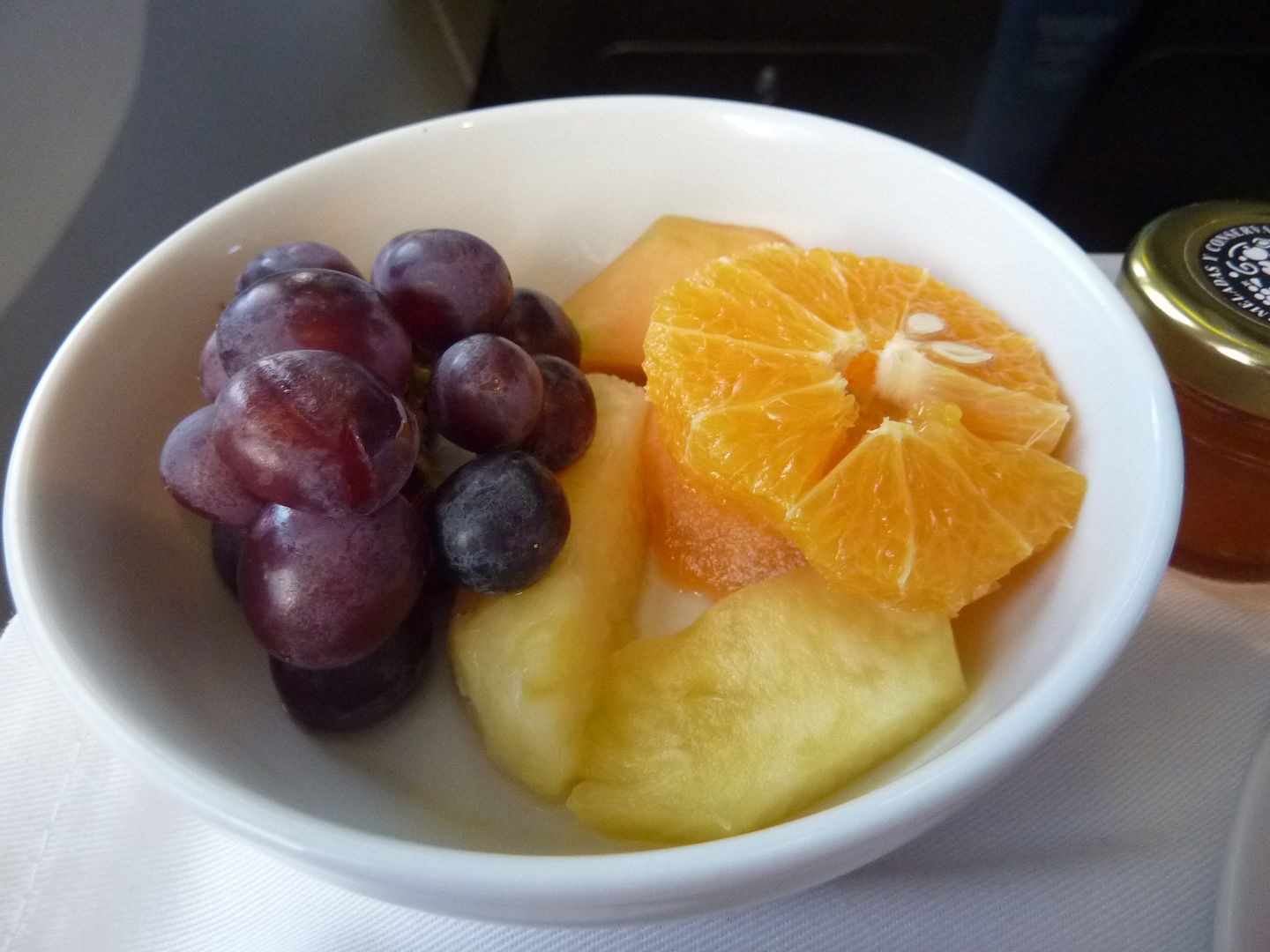 It might be a simple meal, but at times this is all you want and I must admit by the time it was finished I felt quite full. I had a second cup of the coffee, that was excellent, the best I've had since leaving London a few days ago.
Gazing out of the window over the flat lands of Argentina is quite relaxing, just a shame the windows don't allow a good shot.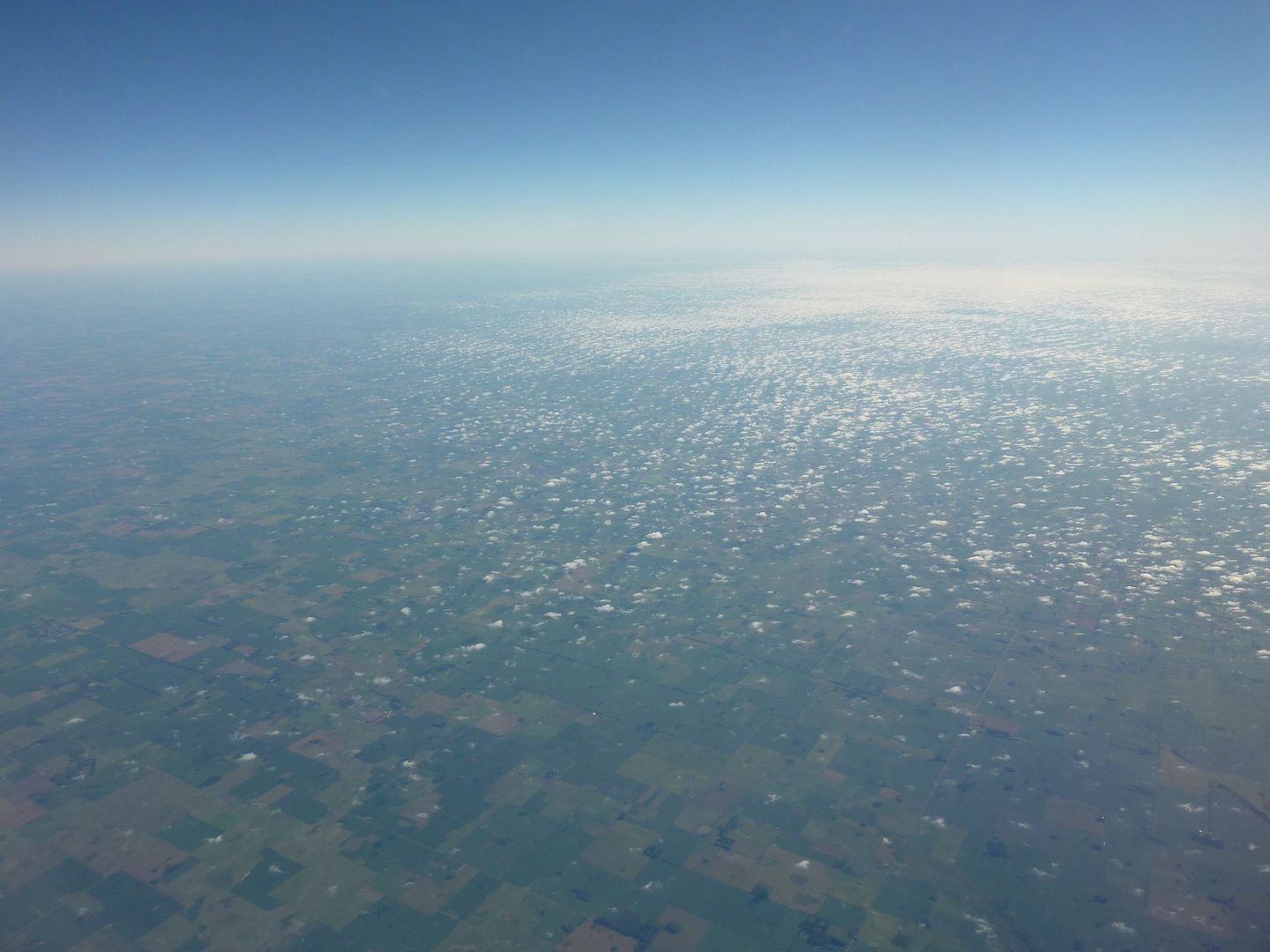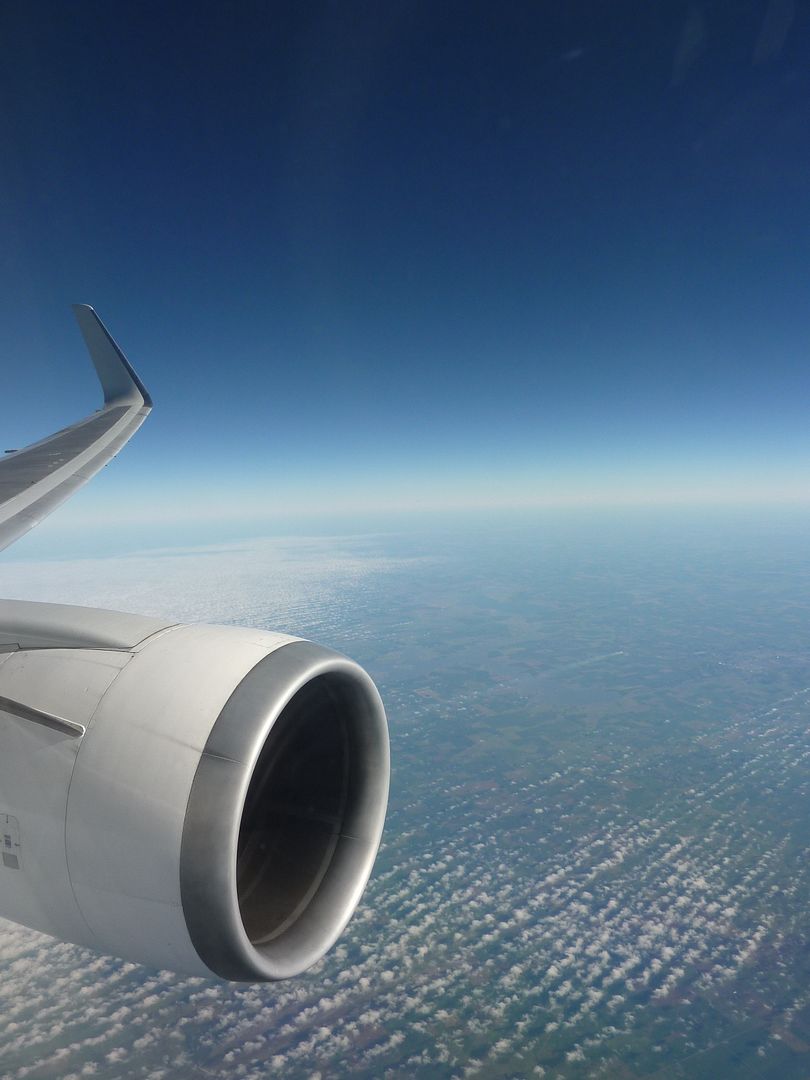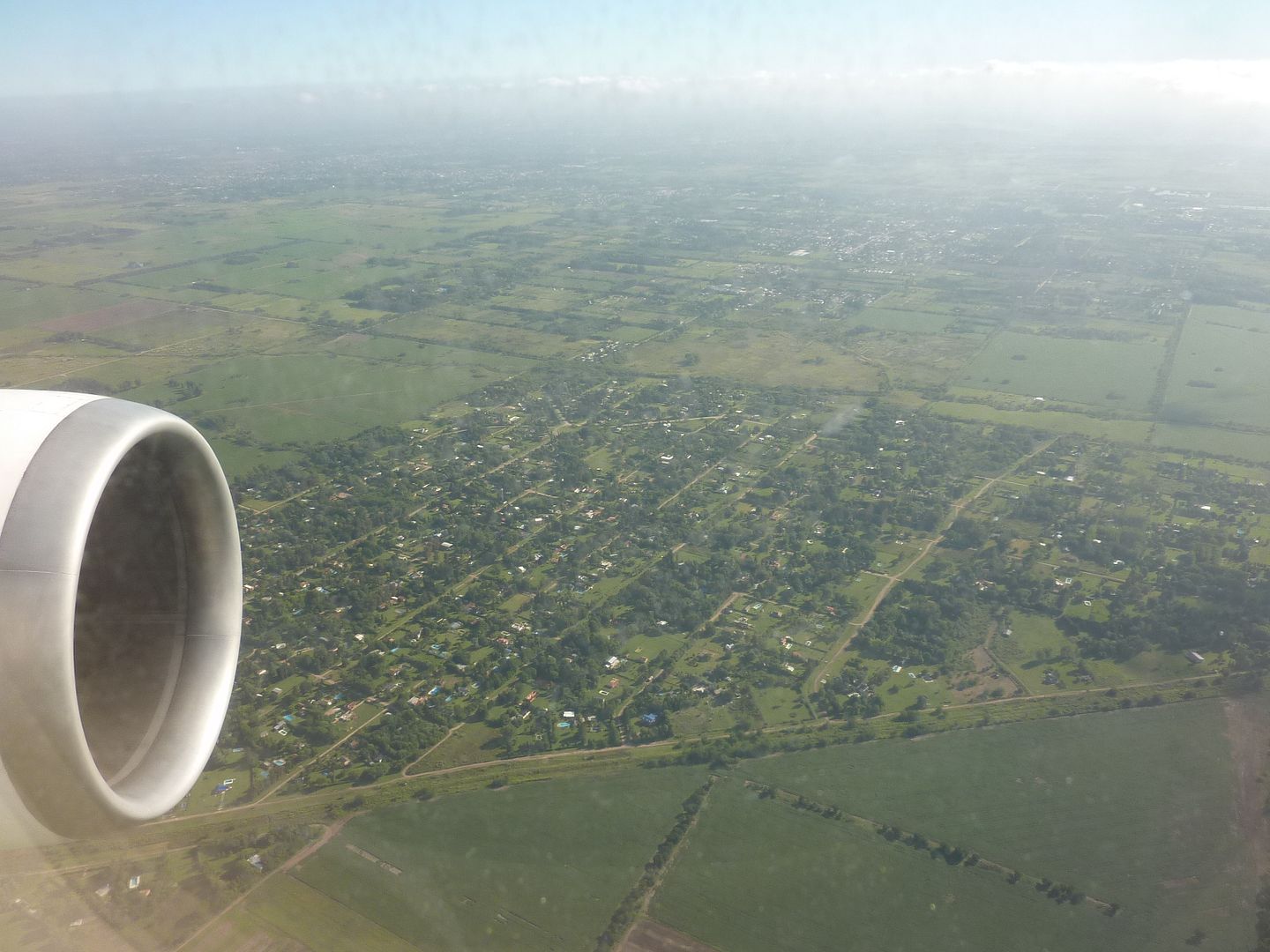 Another seat shot, I really like the seats and legroom, would love to do a transatlantic hop with LAN, perhaps one day.......
I can feel the plane begin descent, it's almost 10 to 9 in the morning.
For the first time in the flight we hit a little chop though light enough for the seat belt signs to stay extinguished.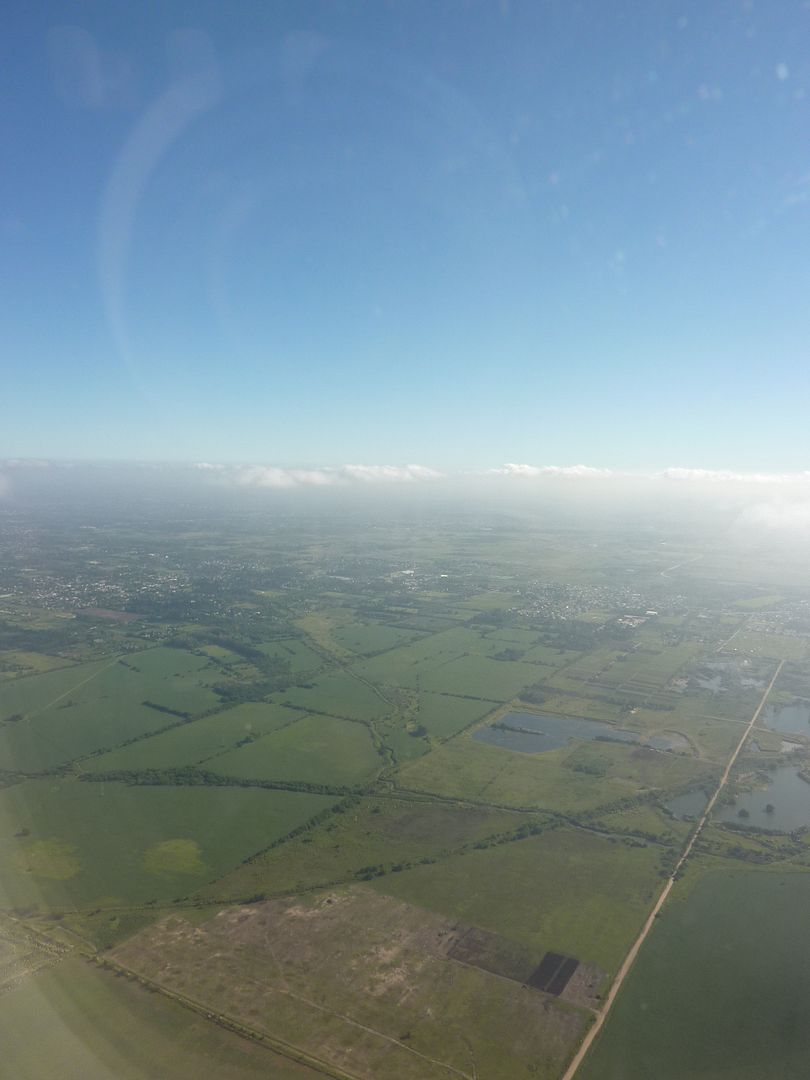 In inflight announcement is made, appears the cabin needs to be sprayed prior to landing to comply with regulations, it won't affect our health they say, once done it smells more like some kind of deodorant.
After a trip to the bathroom revealed bottles of lotion and the like, nice.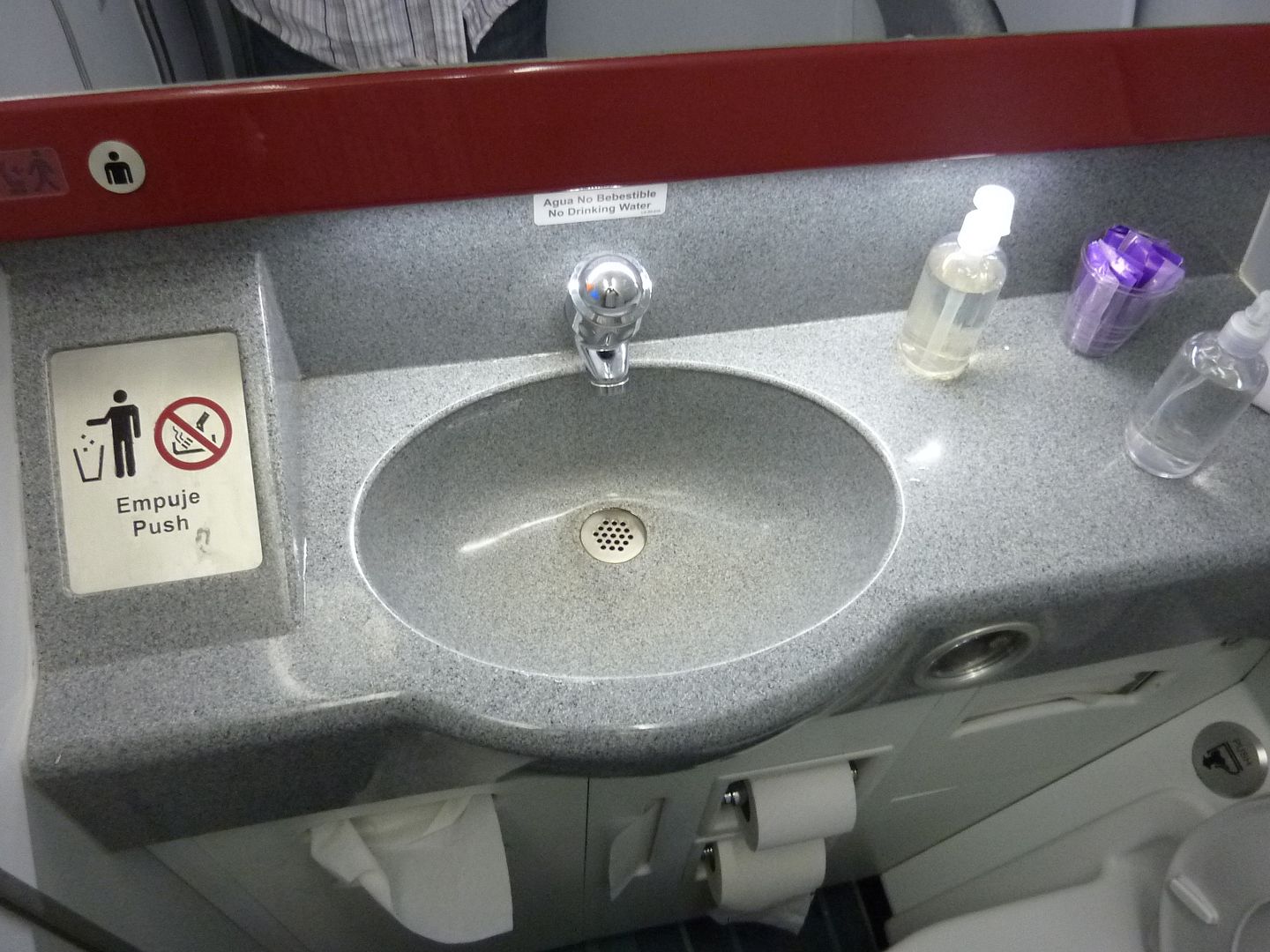 I discover my third window is in pretty good condition, just a shame I noticed so late in the flight and that once seated I can't reach it, though a later discover if I open the seat belt to the largest possible size I can lean forward from the edge of the seat and take pictures.
The ground continues to get closer as approach continues.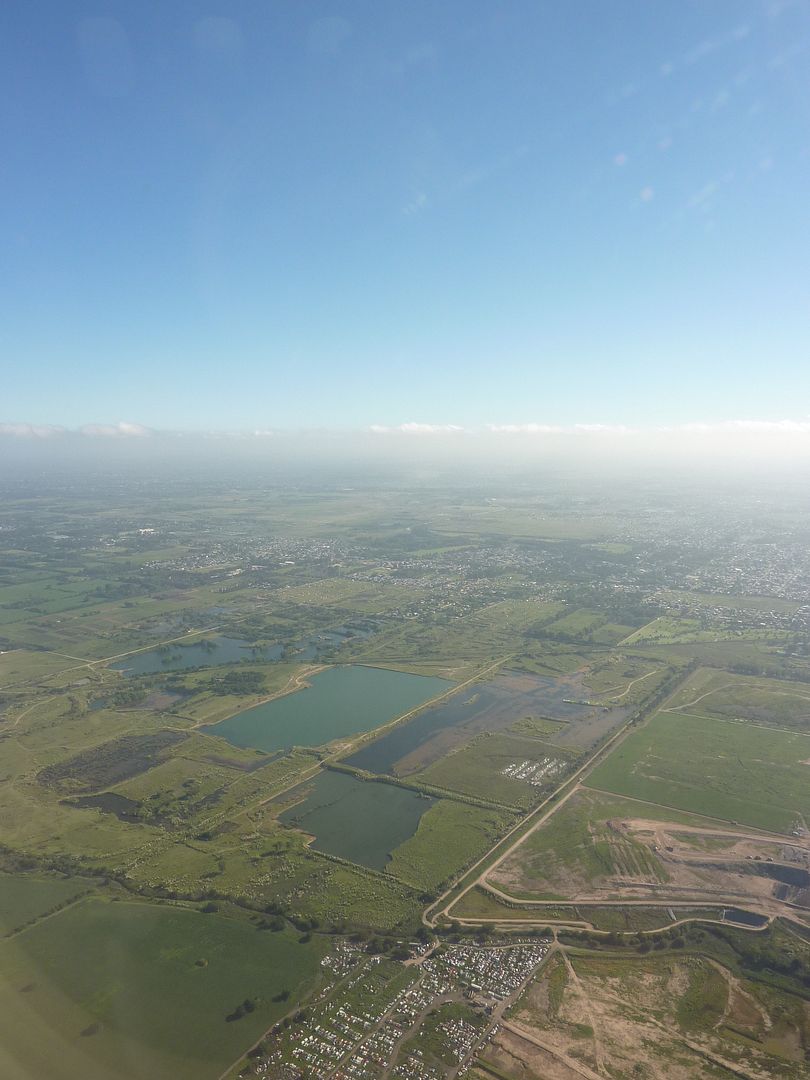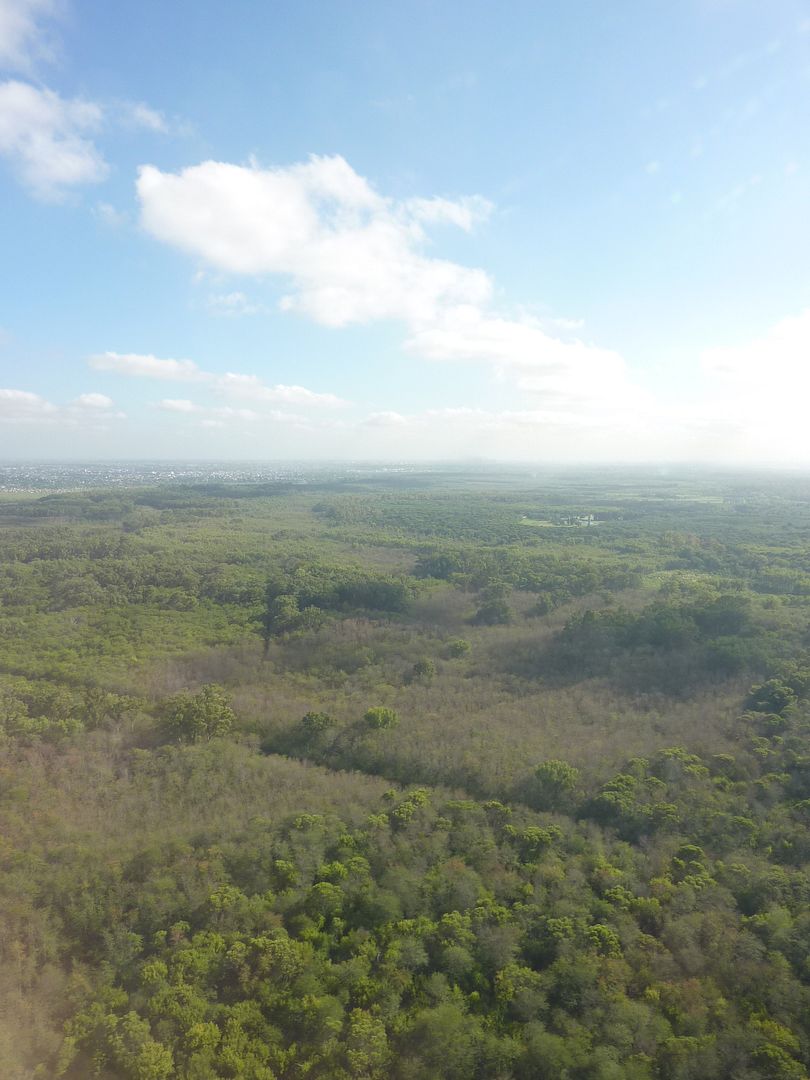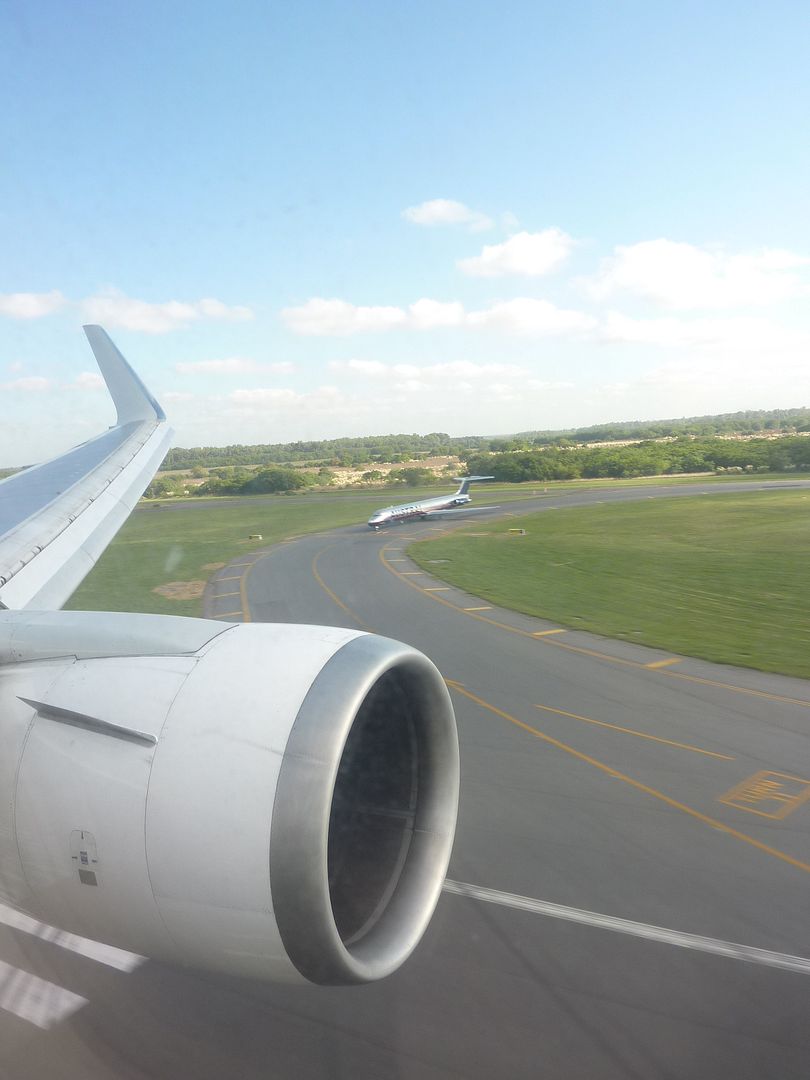 Wheels touch down @ EZE 09:15 some 15 minutes ahead of schedule.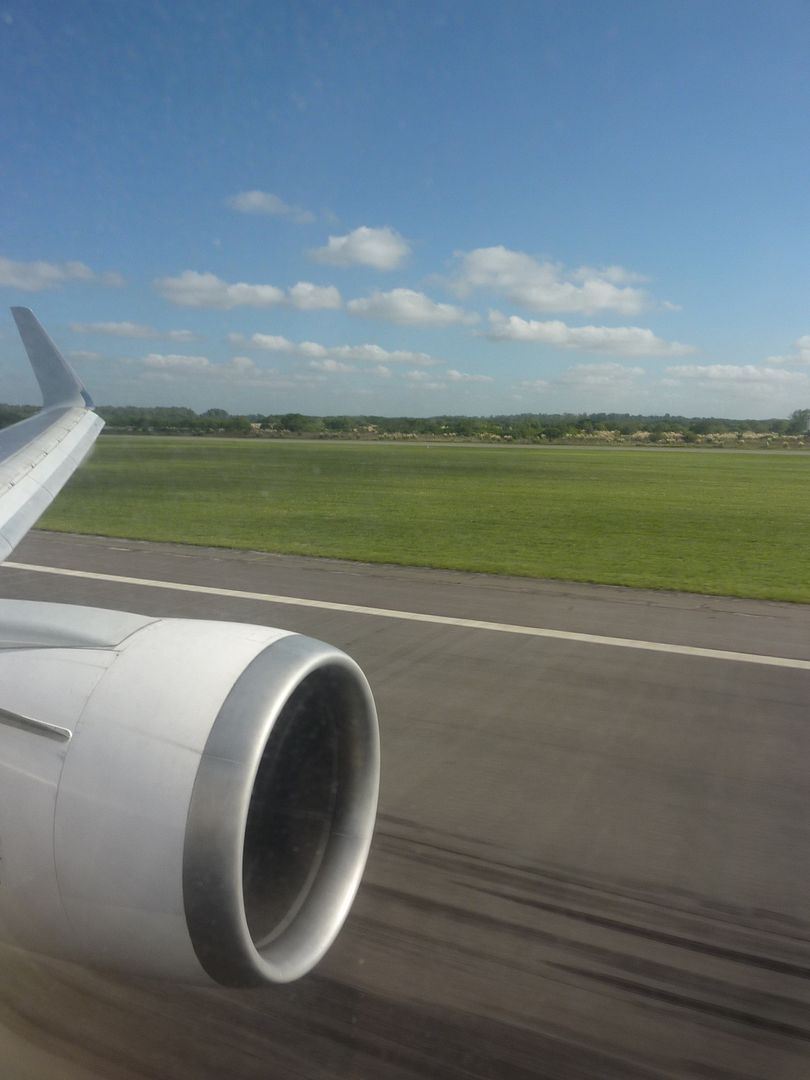 Taxi to our gate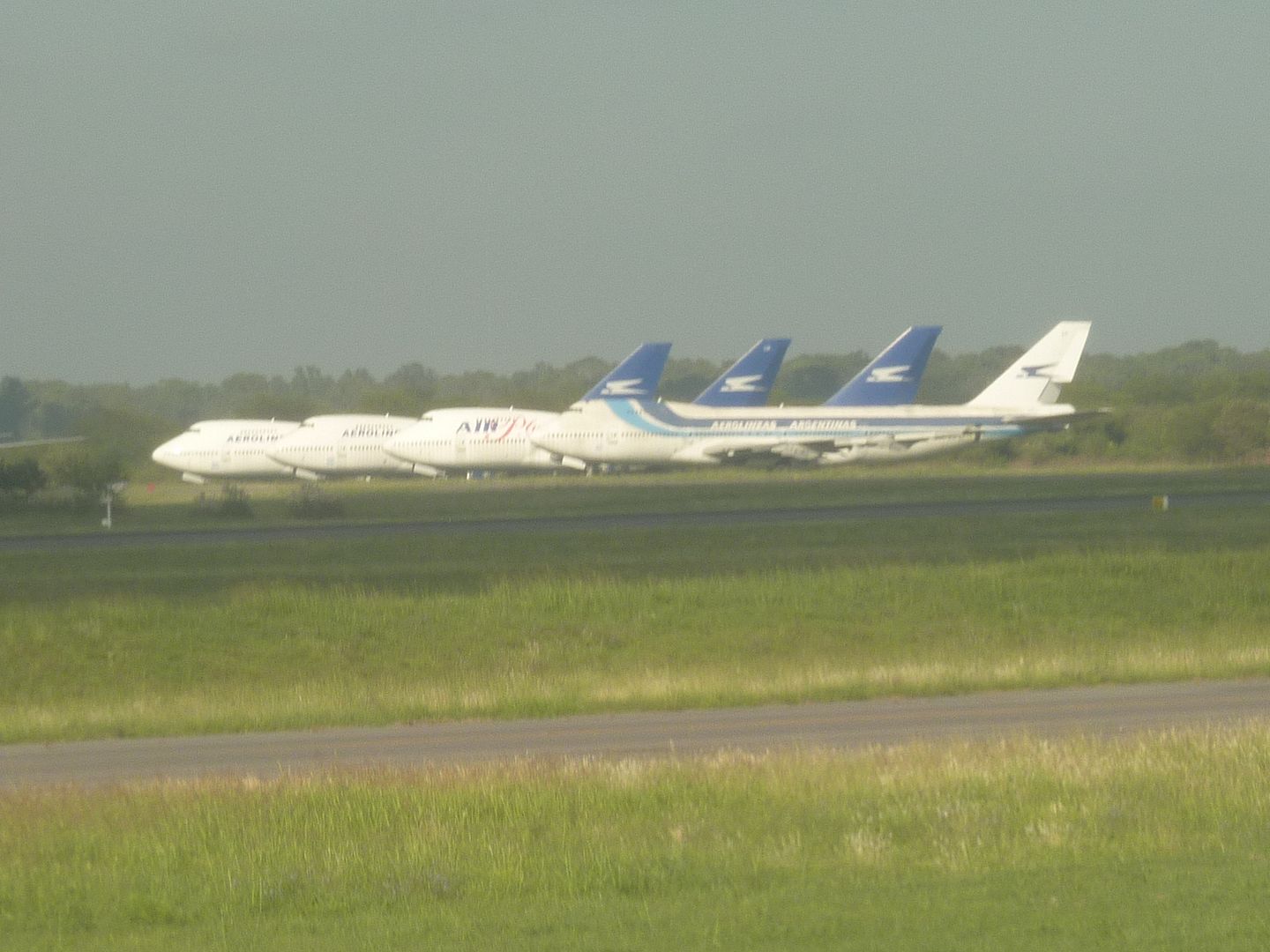 Heading on to stand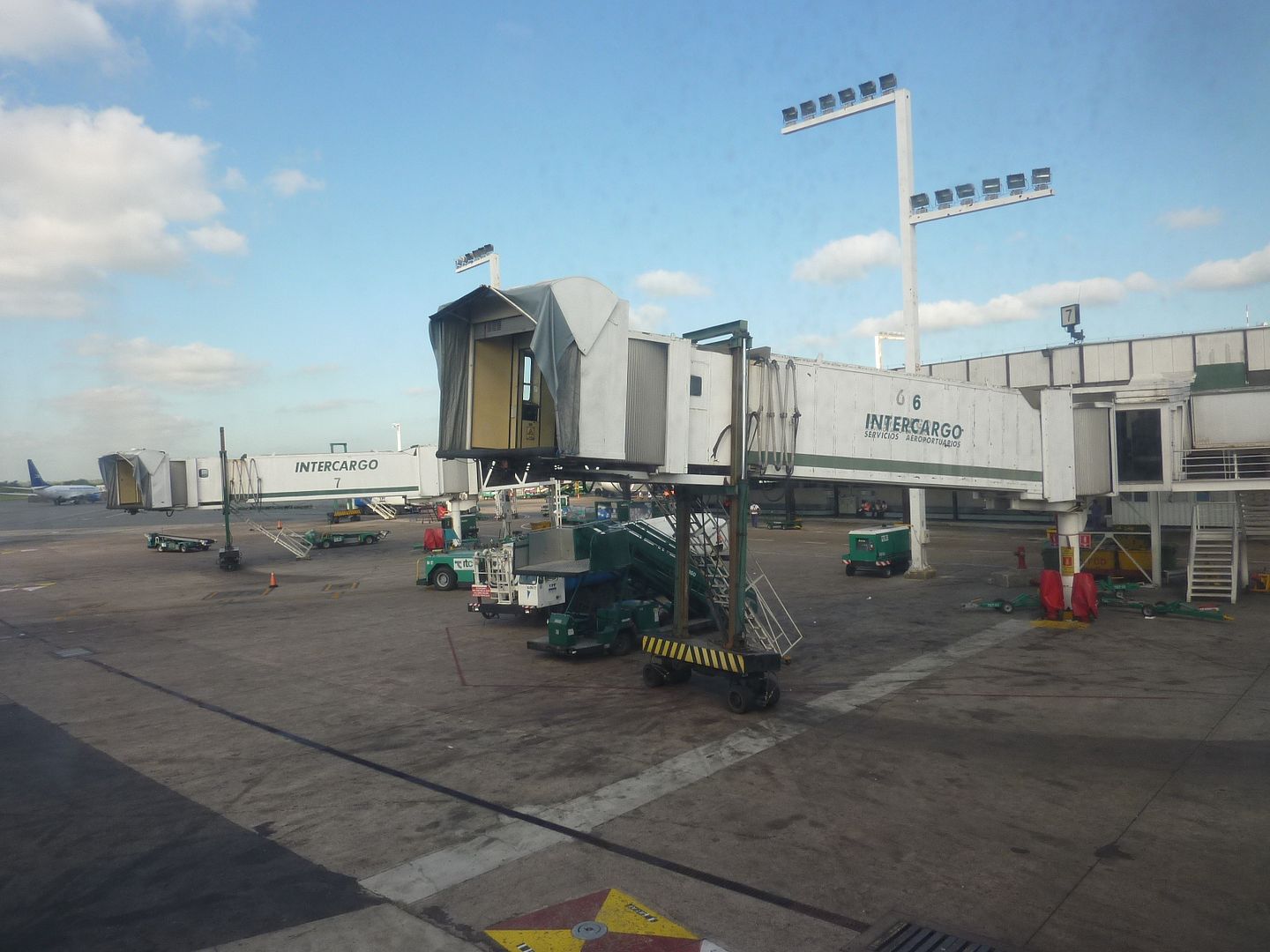 Prior to the front door opening, two of the flight attendants placed themselves between the cabin divide to stop economy passengers trying to flood into business class, nice touch.
All in all it was an enjoyable flight, I hope to have the need and opportunity to fly LAN again in the future.
Once off of the plane, last shot, not great.
Terminal time.
I followed the connecting flight signs, seems I was the only person connecting off of the flight today, everybody else was ending their flight here in EZE.
In the middle of a corridor sits the x-ray equipment and a tensa barrier, it seems the barrier is to stop people getting to what I assume is the domestic or at least AR part of the terminal, the x-ray equipment is of course for connection passengers to pass through, I asked if liquids needed to be removed, the woman advised no.
I have to say the exterior of the old original terminal building looks superb, old, in need of repairs and full of character, great looking, full of history! - sorry no picture, was not in the right place to take one.
Once in the airside section there is not much to do and because of the layout taking pictures of the traffic must be done through two sets of glass and you might have to avoid disembarking passengers too.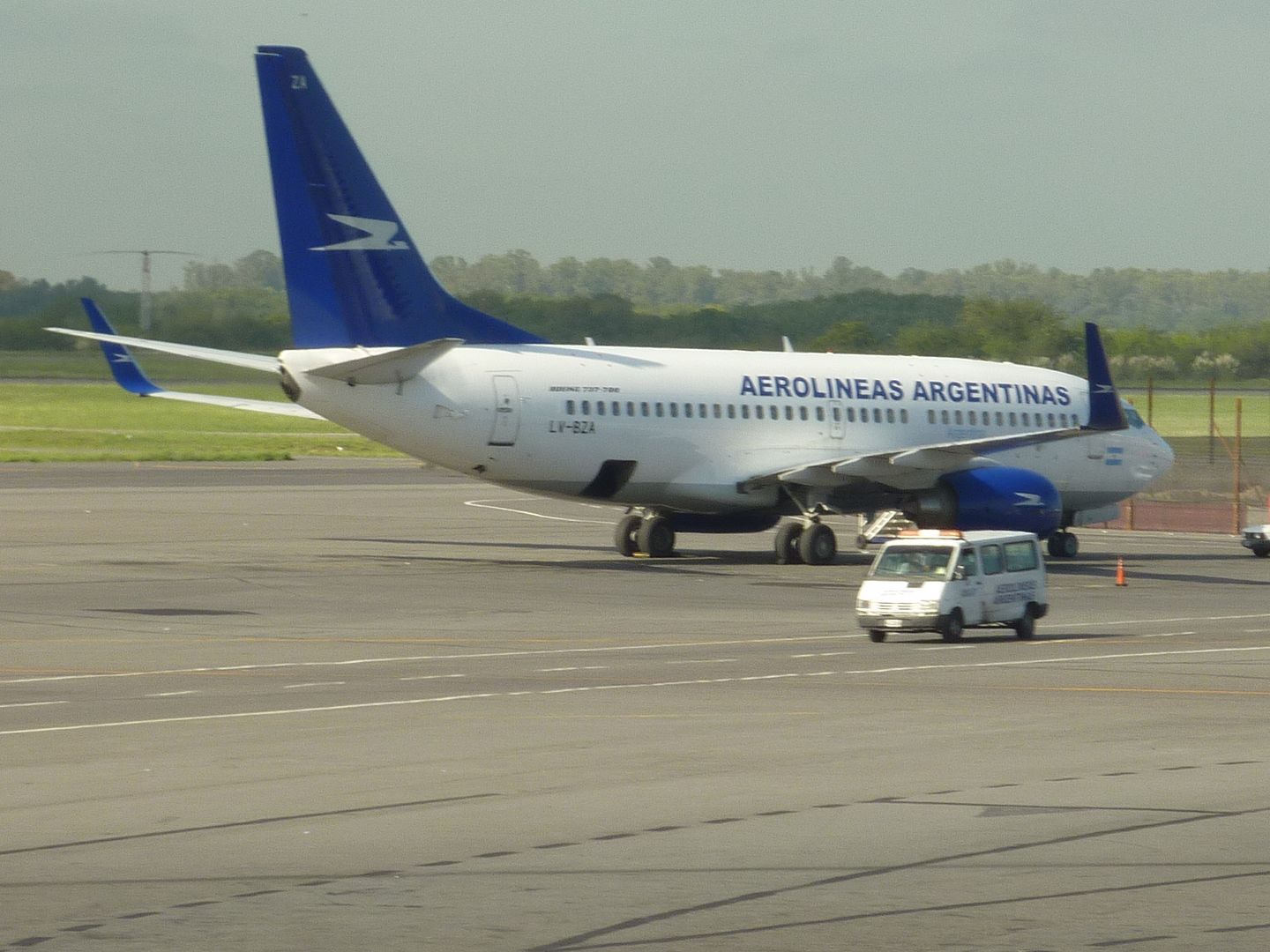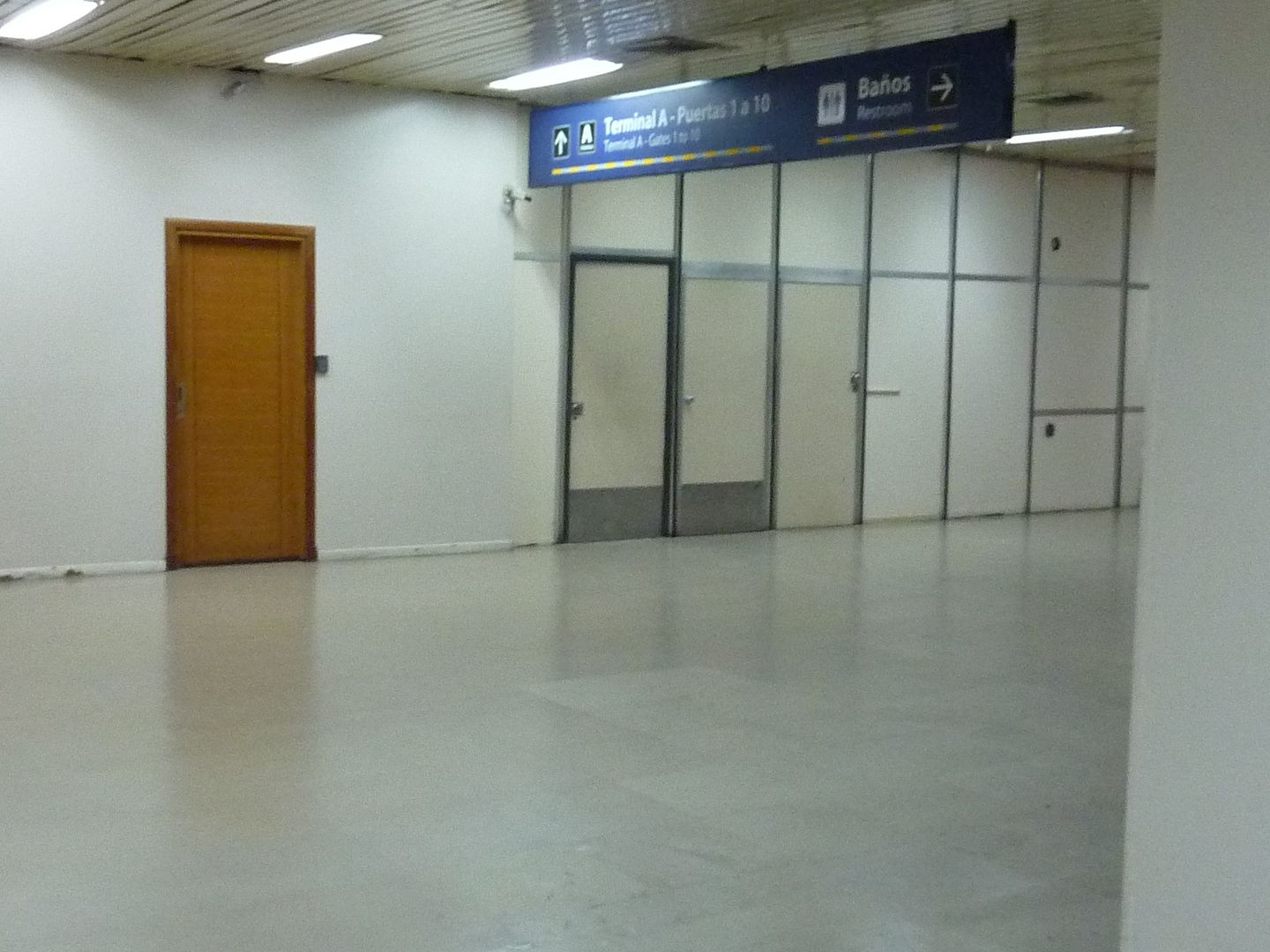 The duty free area is just huge, once in it you could actually get lost!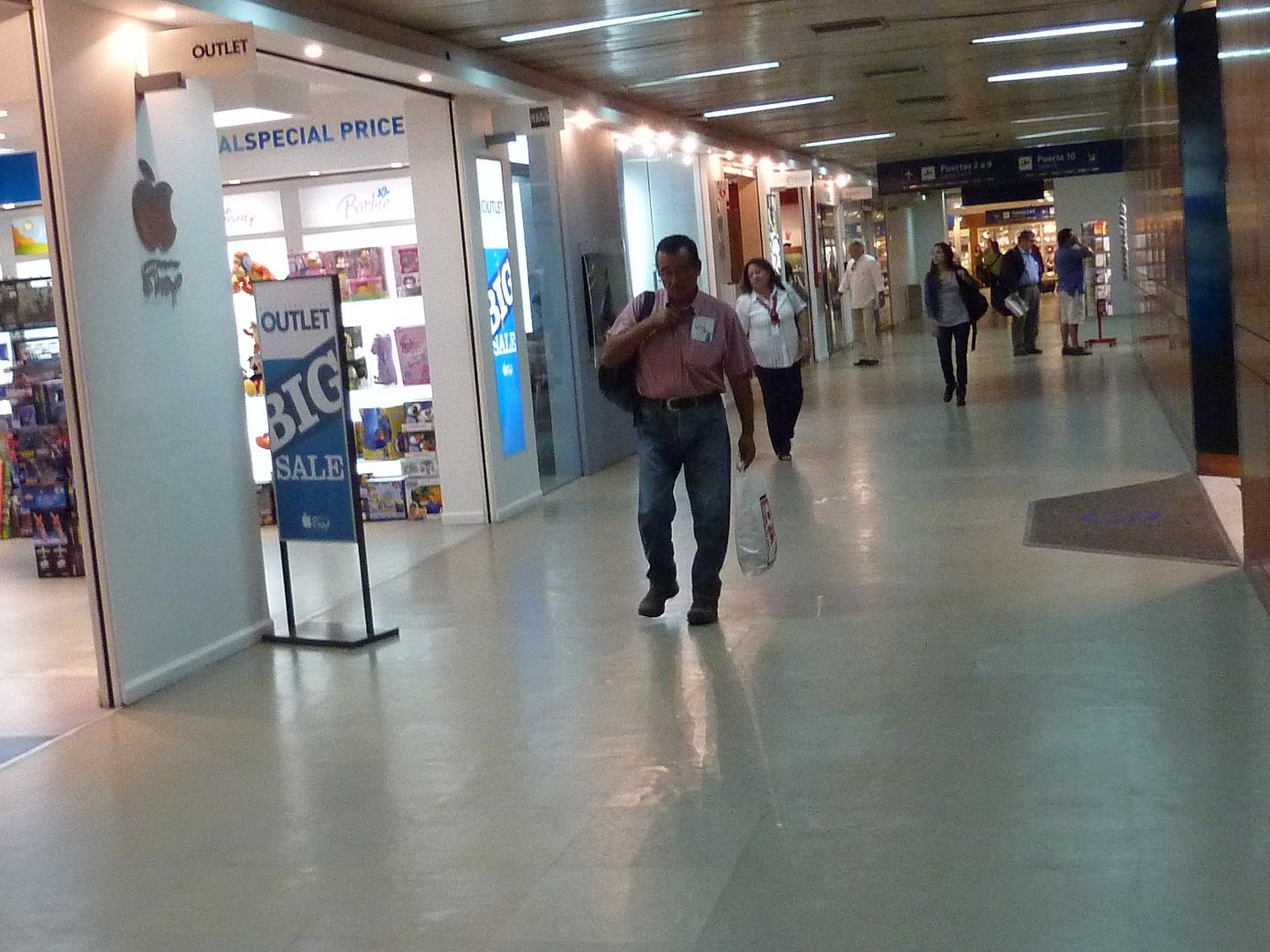 The terminal has 10 gates and it's quickly walked, with little to do and minimal traffic I thought I'd look for a lounge. The United Red carpet lounge opens at 14:45 so not that's no use. I tried the AA Admirals lounge too, however despite the ticket being a code share with LAN they would not allow me access since the next flight was on JJ metal, I didn't bother trying the Iberia lounge, figured it would be the same story.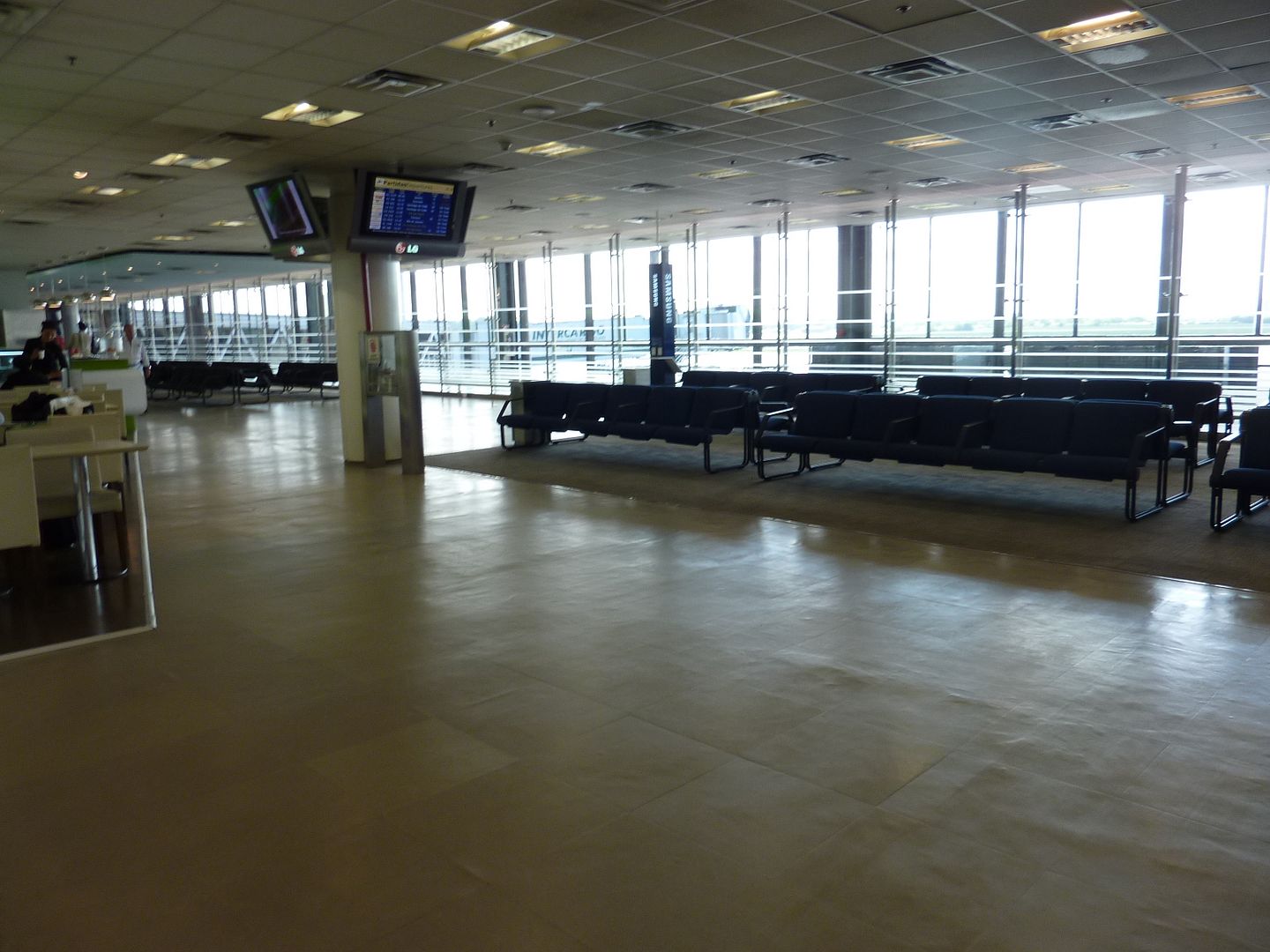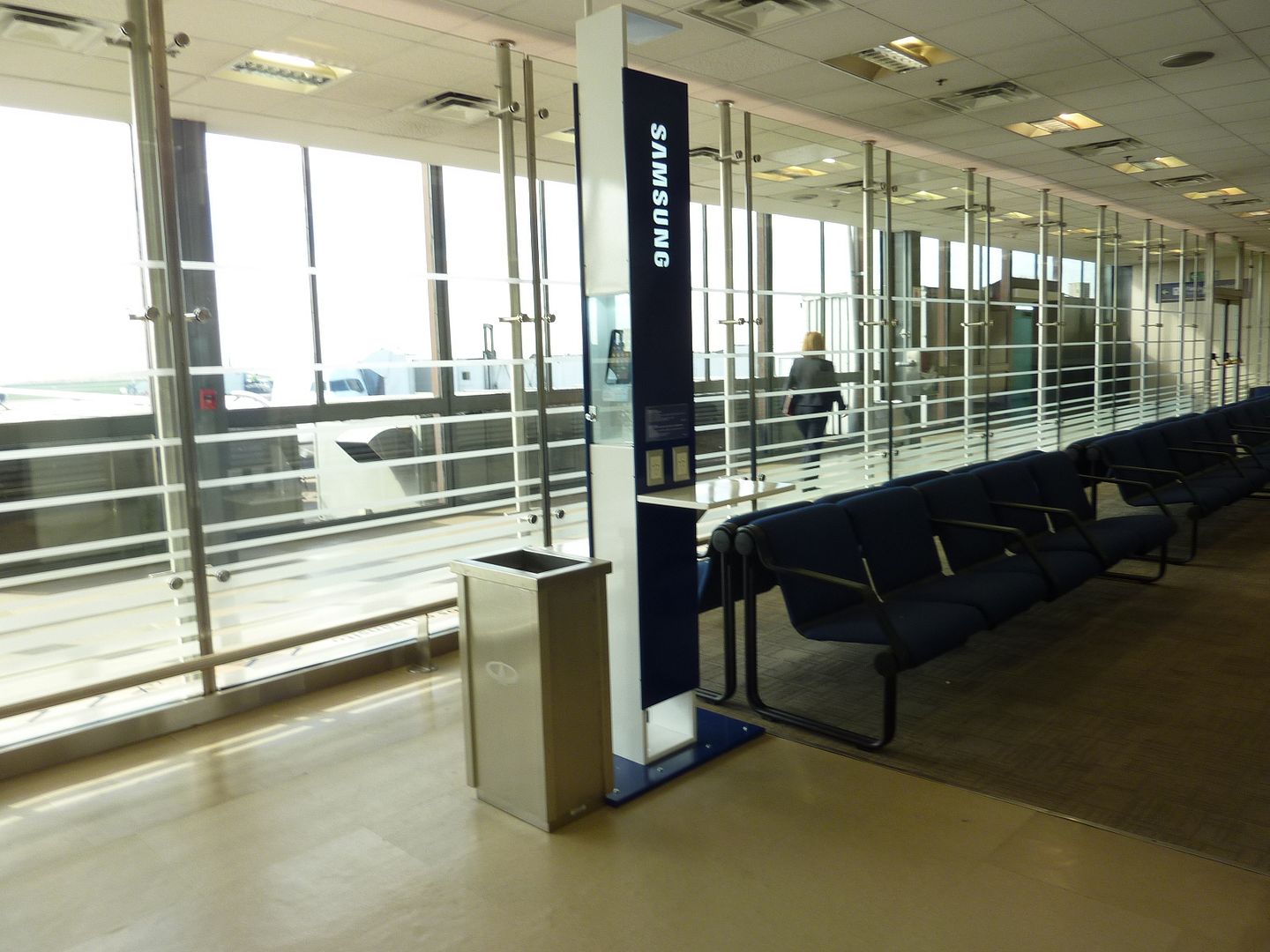 I took another walk of the facility to kill another few minutes before getting a coffee. The coffee was awful but I finished it, they give you a cup of water, I guess it's to wash the taste of the coffee away, the water was awful too, yuck!
Coffee experience over I wandered around the waiting areas with a view towards the runway, hoping to snare a few more planes on the Argentinian register.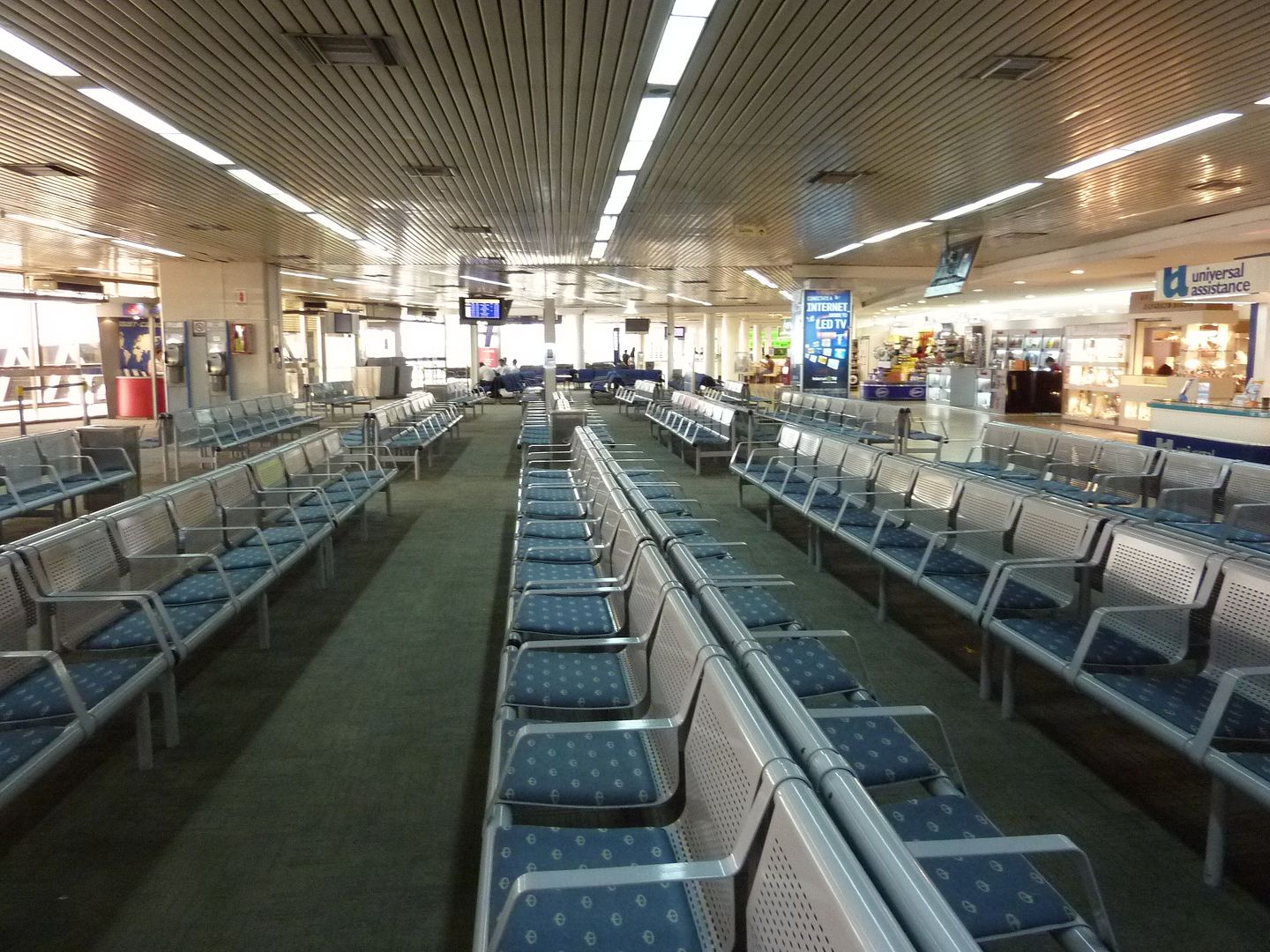 I have to say traffic levels are dire, I know AEP is busier, but i never realised how slow EZE is, in hind site, not a great choice but time had not allowed for a trip to AEP, perhaps I should have planned the trip a little better.
GOL arrival
I killed time with a little lunch, I had planned to wait until the flight but was getting a bit hungry.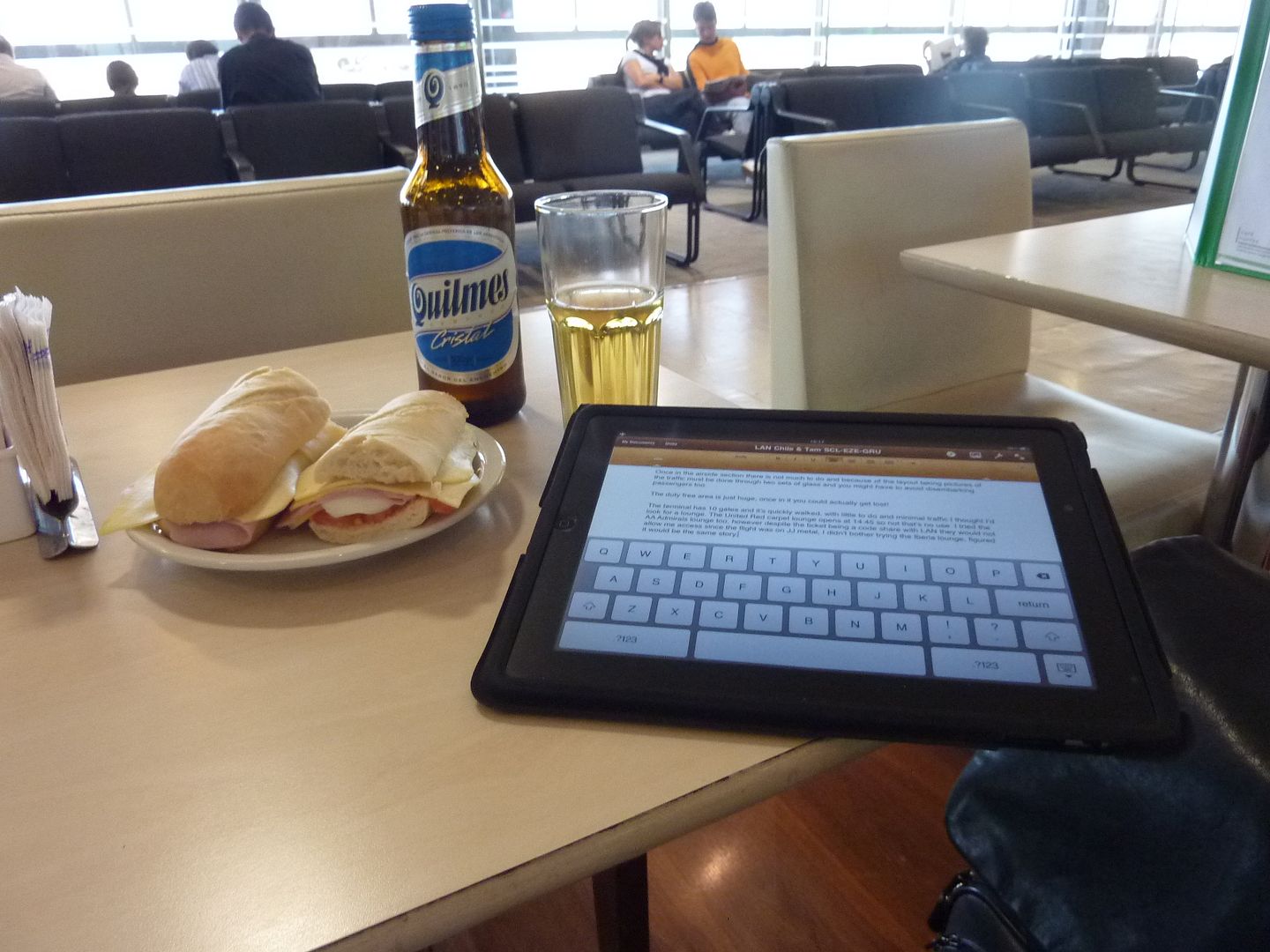 Initially I assumed I would be flying on PT-MVS, however MVQ arrived and parked at gate 4 around 13:00.
Continued below......