Introduction:
Welcome to my latest report for A.NET
Well, there seems to be something of a buzz going around Manchester (MAN) airport at the moment. I have read on a few discussion boards about a real upsurge of interest from various airlines wanting to tap into this airports potential. What will come of this remains to be seen, but with some interesting carriers being mentioned like Sri Lankan, Alwafeer Airlines and Air Asia X things could get a bit more interesting to say the least. A couple of "rumours" did however turn into something concrete. EK have now gone x3 daily using a 77W an A380 and a A330 on the DXB-MAN-DXB service, quite some capacity there then. The news I was interested in came in the form of TP announcing a direct link with Lisbon starting on the 1st of June. Why the interest? Well, anything that gets a new route into the books and a new line on the Flightmemory (and more recently FlightDiary) map is reason enough for this guy.
Making Plans:
I was hoping to make the inaugural flight on the 1st of June but unfortunately just couldn't get my free time to match up with this mid-week departure. I would have to settle for the weekend and forgo the pomp and ceremony of the inaugural and just hope I didn't miss out on too many slices of cake.
I was only really interested in making the journey in one direction so set about fixing things up with that in mind. My idea of FTL status on LH was at the front of my thoughts so any qualifying segments that could be incorporated into this trip would be preferable.
Expedia, as usual was where I went first and, as usual came up with the goods I needed. Nothing too crazy this time, just a simple Euro-Triangle with the outbound routing through FRA giving two more FTL segments and two new routes for the books coming from the FRA-LIS-MAN legs.
Here is the route I settled on displayed courtesy of GreatCircleMapper.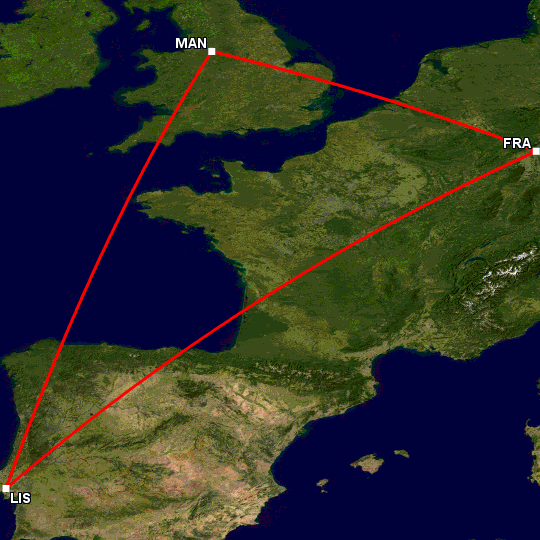 An overnight was required in Lisbon so the hotel was the next thing on the to do list. Whats the price this time? Nothing to worry about here, i'm not in Roma. Holiday Inn Express, 2km from the airport, £49...SOLD!!!
04:06:2011
Right then, time to get moving. Nothing too drastic this morning in terms of early starts. A 13:10 departure from Manchester means I can have a bit of a lay in. We have been treated to a nice spell of weather here in the U.K over the last few days, today is no exception. I decide to catch an earlier train than I would normally to have a bit of a walk around Manchester in the sun. Its a rare thing to experience you know.
I phoned a taxi for 08:45 to get the 09:15 train.
Well, as usual Northern Rail insisted on sending one of there oldest, crapped out trains. These things are knackered with a really odd seating layout meaning there is only a small number of seats but hardly any room to stand without blocking the aisle/doors. Only two coaches as well, this old ramshackle filled up fast as we neared Manchester and I was looking forward to getting off it.
Things were just starting to get going on the streets. Still fairly quiet though so it was nice just to have a walk around and browse a few shops without the usual crowds.
After a quick fuel stop at Burger King I headed to Piccadilly Gardens for the tram passing this fountain.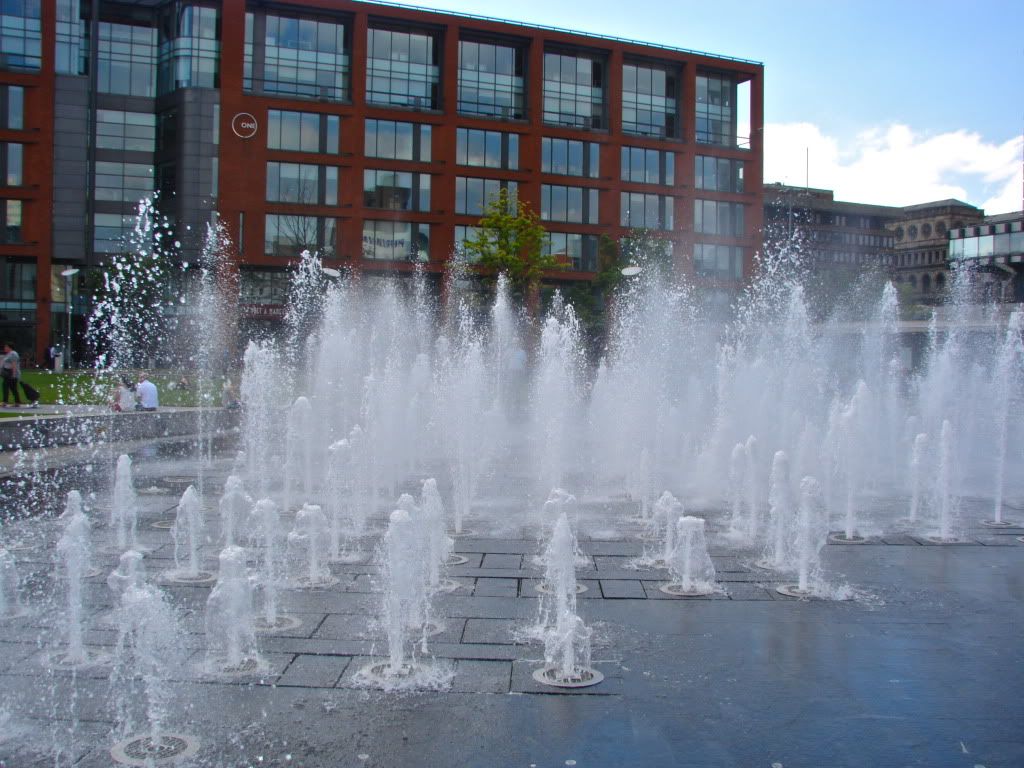 And here is one of the older style trams running the city streets.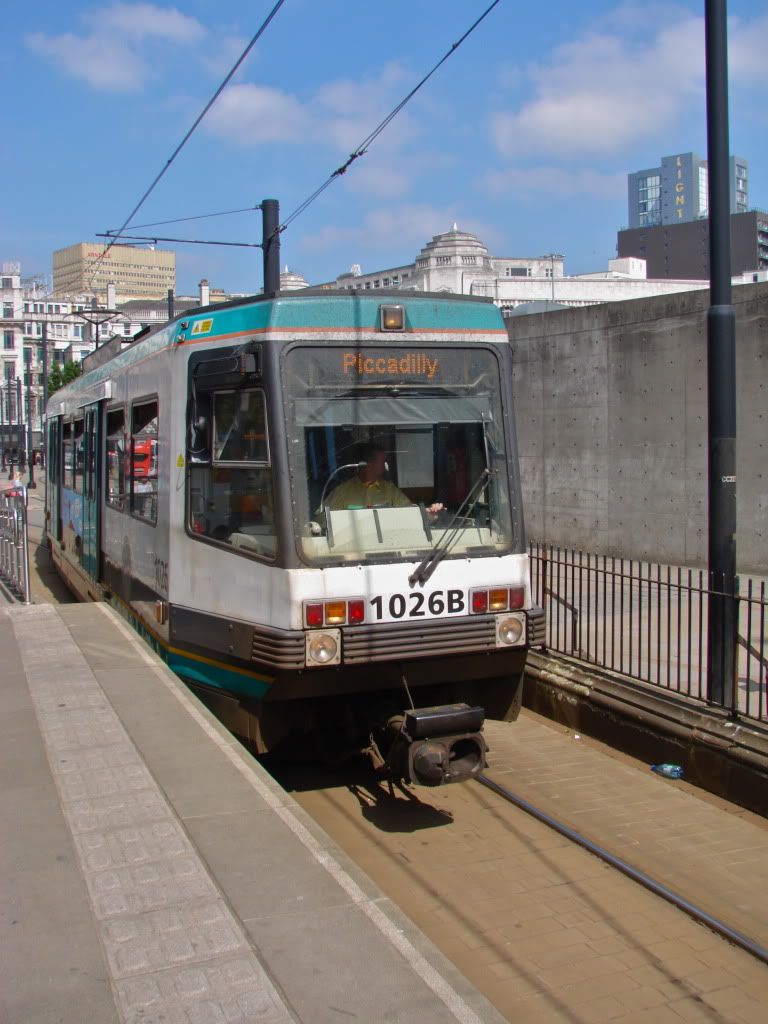 A short ride into Piccadilly station for the airport train. Here is the main area inside the station.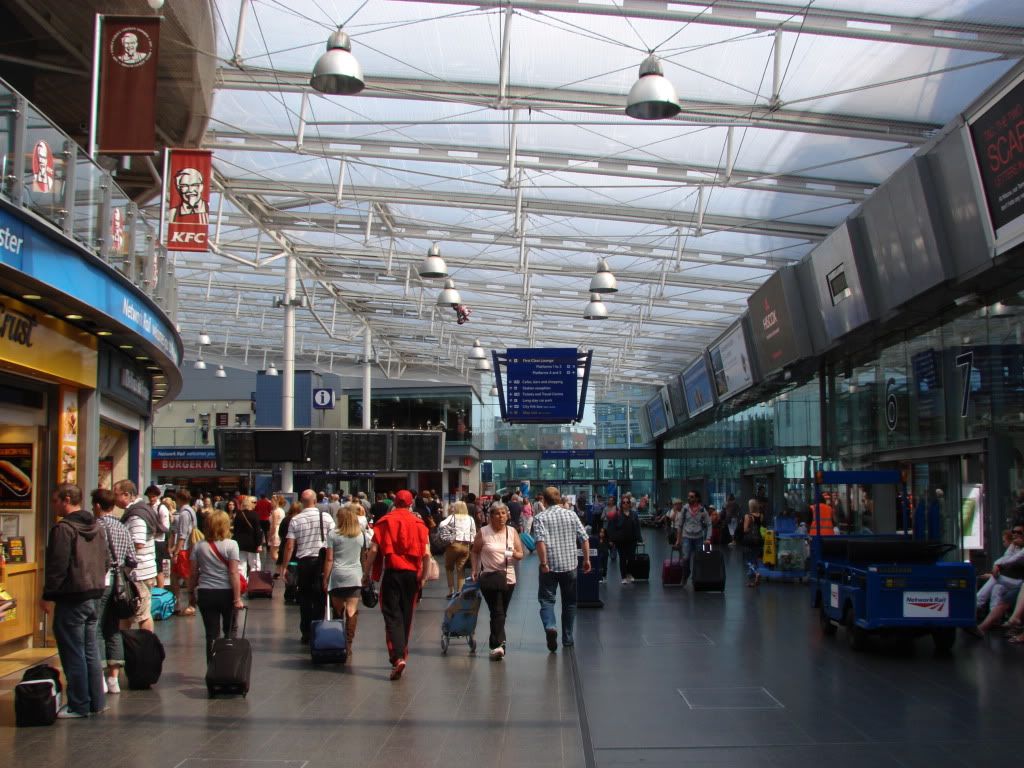 A direct run up to the airport took about 15 minutes and I was soon walking down the tube connecting T1 and T2.
I didn't check in on-line so went directly over to the LH desk to get this sorted out. Nothing going on in terms of queues here so no waiting around. No waiting at security either until I had put my bag/liquids on to the tray. It would appear the random selector that dictates if you get a body scan or not had sent the last 5 or 6 people that way and the line had backed up until the door would not close preventing the green light coming on to allow anymore people into the check zone. After a few minutes the guy at my station said "just use another lane mate". I did, and didn't get selected for a scan.
Gate 25 was showing for me today so I headed over that way to find G-MIDO parked up. Well I was expecting this aircraft anyway as it's flying the MAN-FRA-MAN for LH. No new reg here then, in fact this was the last aircraft I flew on, stepping off it just 2 weeks ago.
Here she is getting the catering. "hey, don't forget those sandwiches".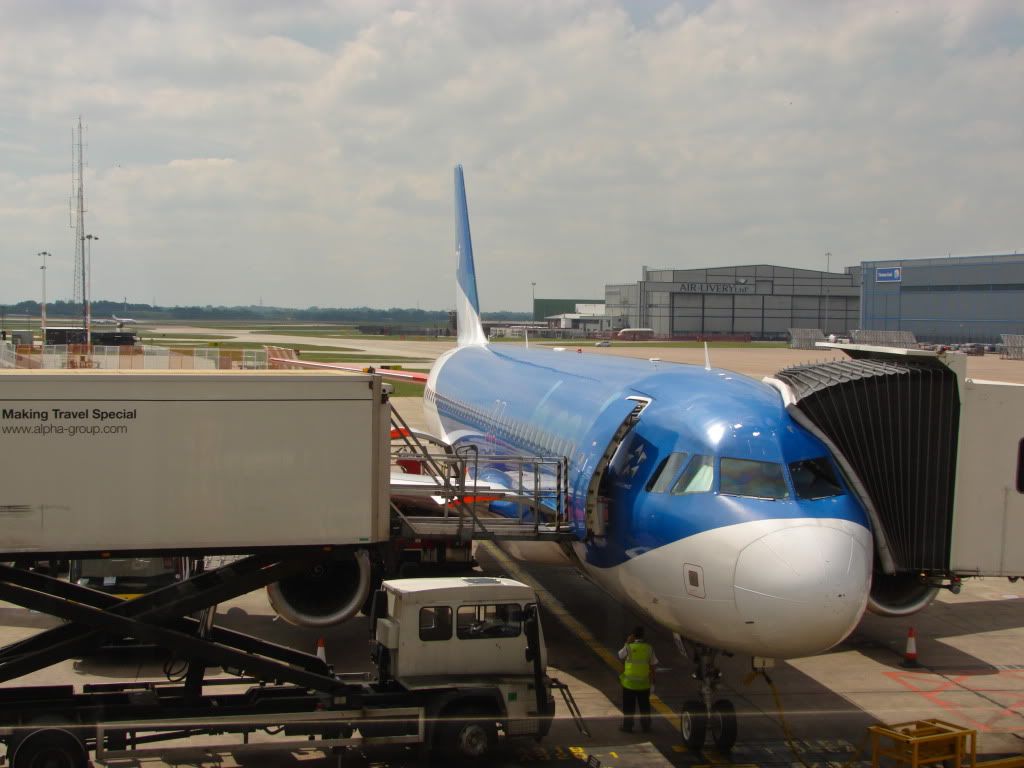 Flight No: LH 943
Route: MAN-FRA
(4th time flying this route)
Airline: bmi
(15th time flying with this airline)
Aircraft: A320
(27th flight on this type)
Reg: G-MIDO
(2nd time flying on this aircraft)
Seat: 27A
Duration: 1hr:17min
Once boarding was announced a crazy rush ensued to get around the podium. The situation was made worse due to this coinciding with a gate announcement for the air transat flight next to us. People everywhere, blocking walkways and fighting through with BIG carry on's to get to the gate. Ah, lets just sit here and laugh at it all. I will get on last thank you very much.
Well, the plane didn't leave without anyone so I don't know what the rush was? Here is the AT A310 next to us.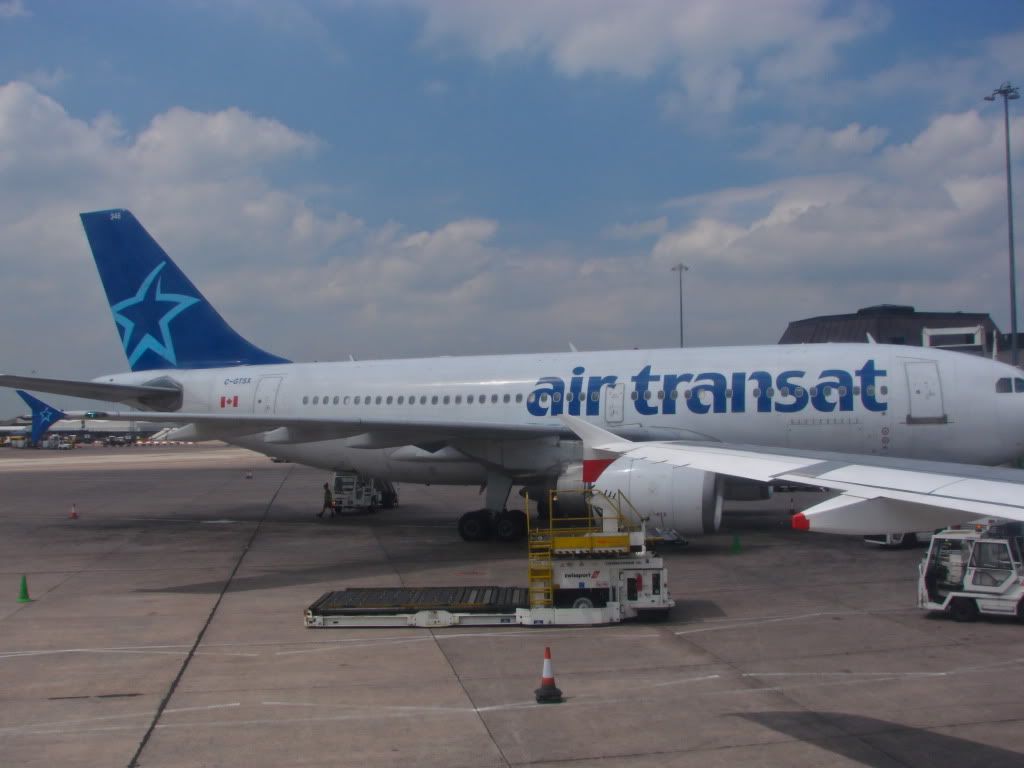 No time to wait now really before push back and start. Following this we made our way out to 5L via taxiway A, A1 with a KLM 737 in front of us.
Holding short for a Jet2 737 just about to touch down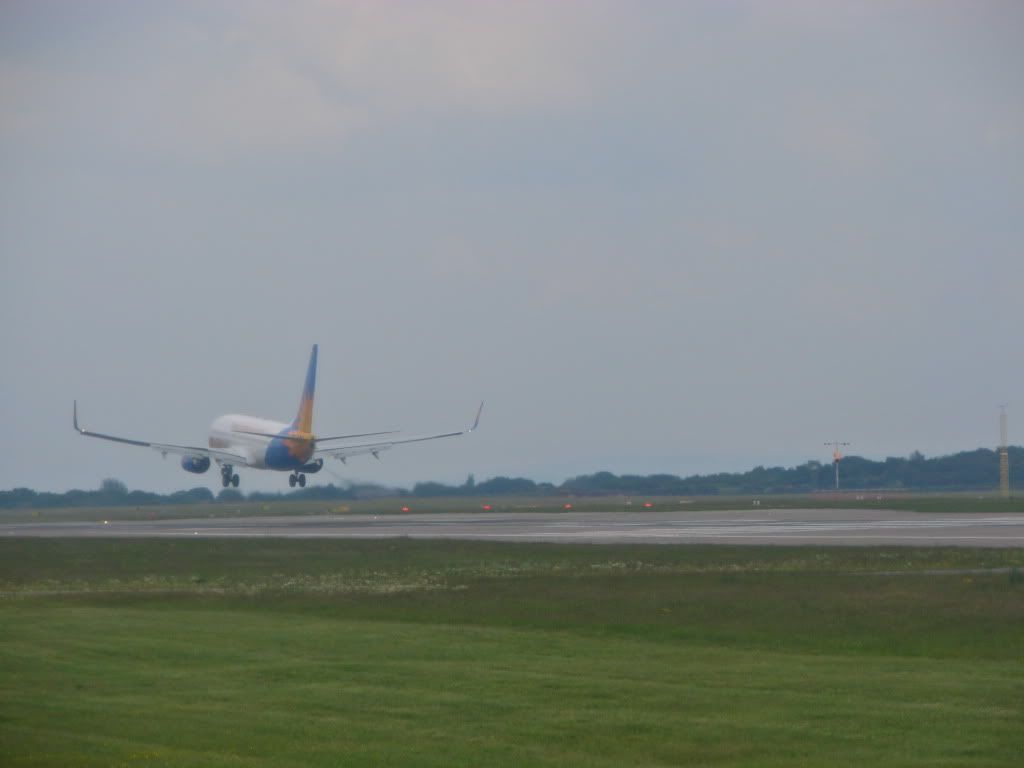 Time to line up on 5L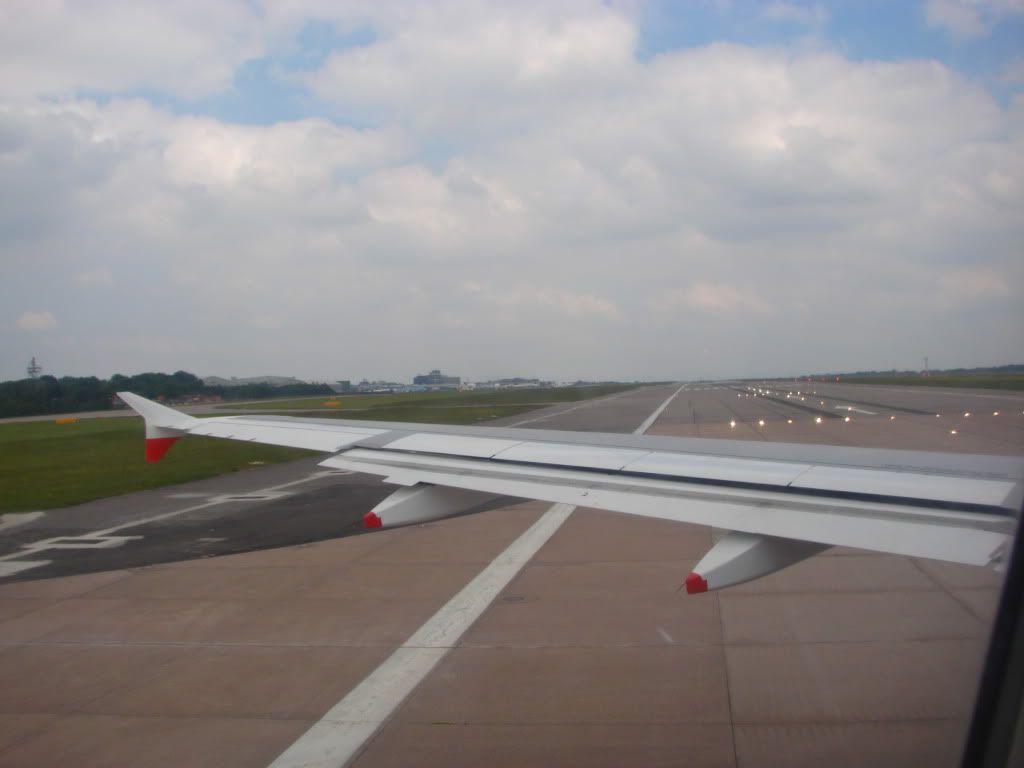 With a load of about 95% our take off roll was nothing too powerful but a good chance to get an overview of the airport. Thomson Airline keeping things blue over at T2.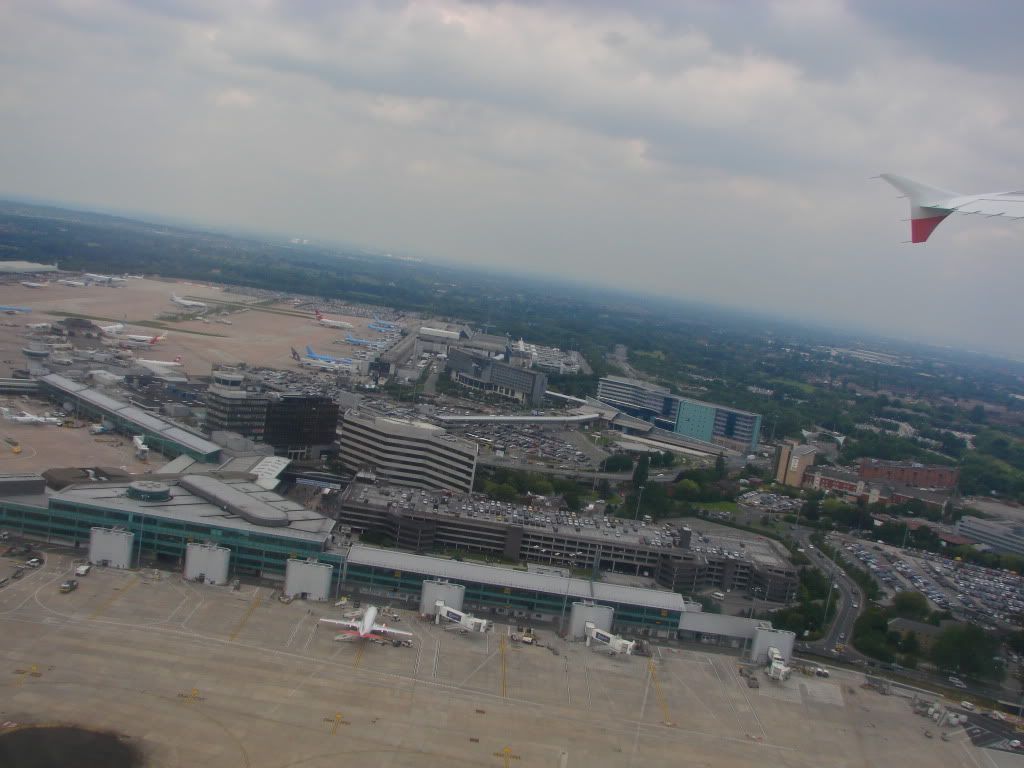 A couple from the climb out.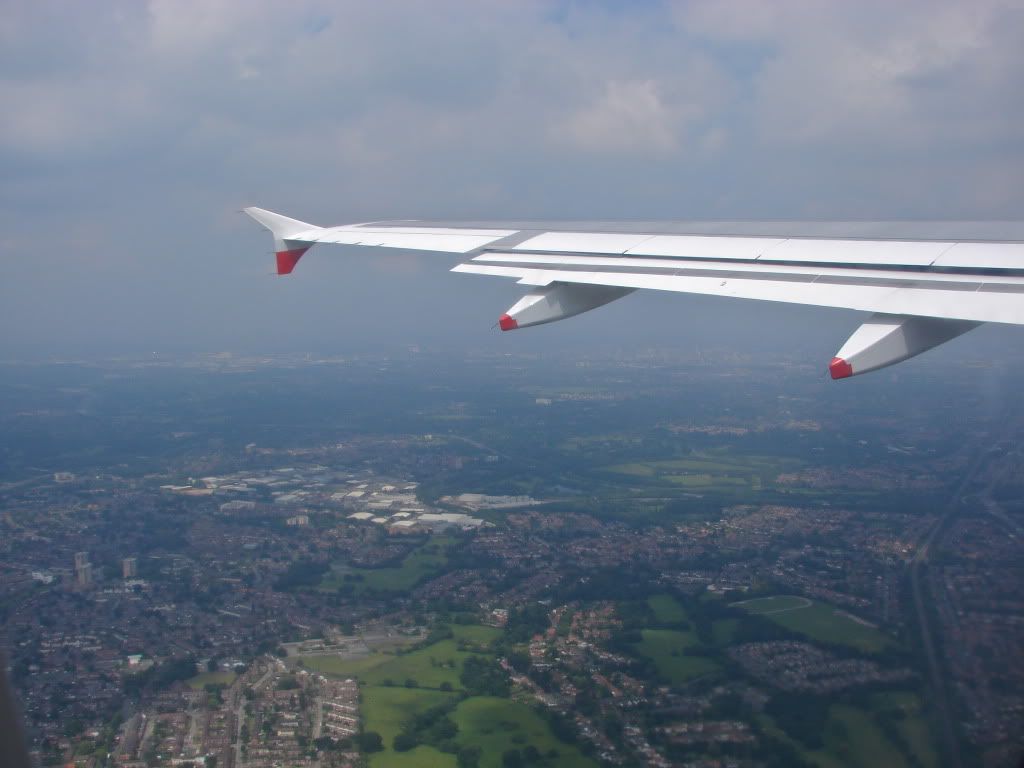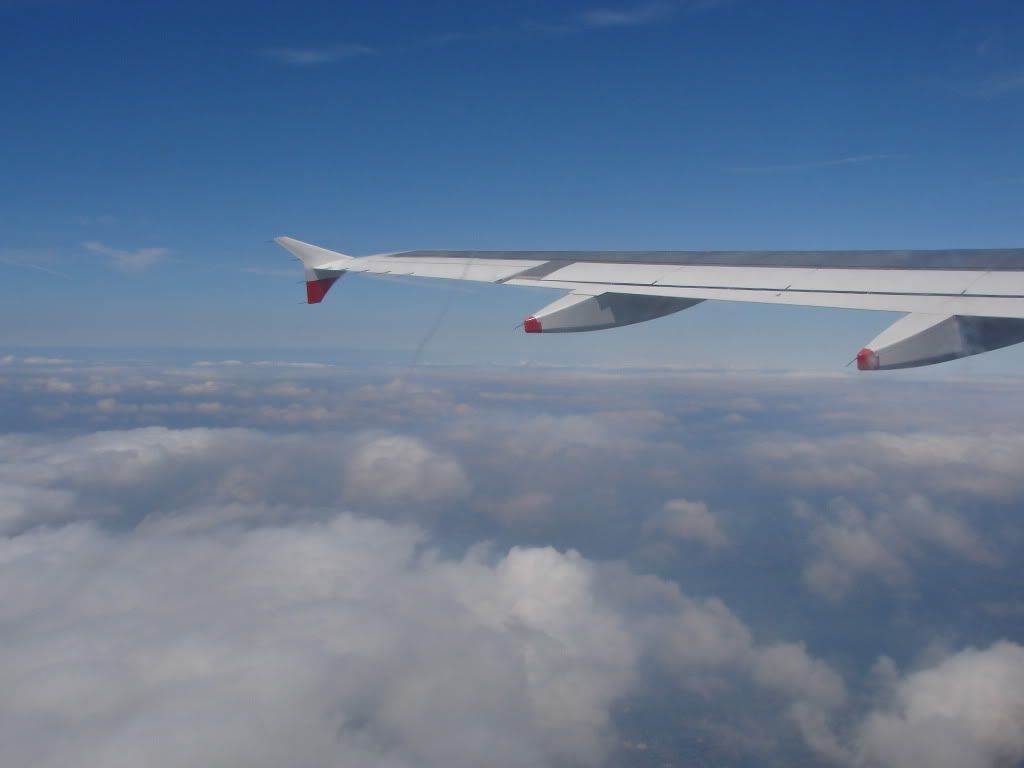 Wing tip close up.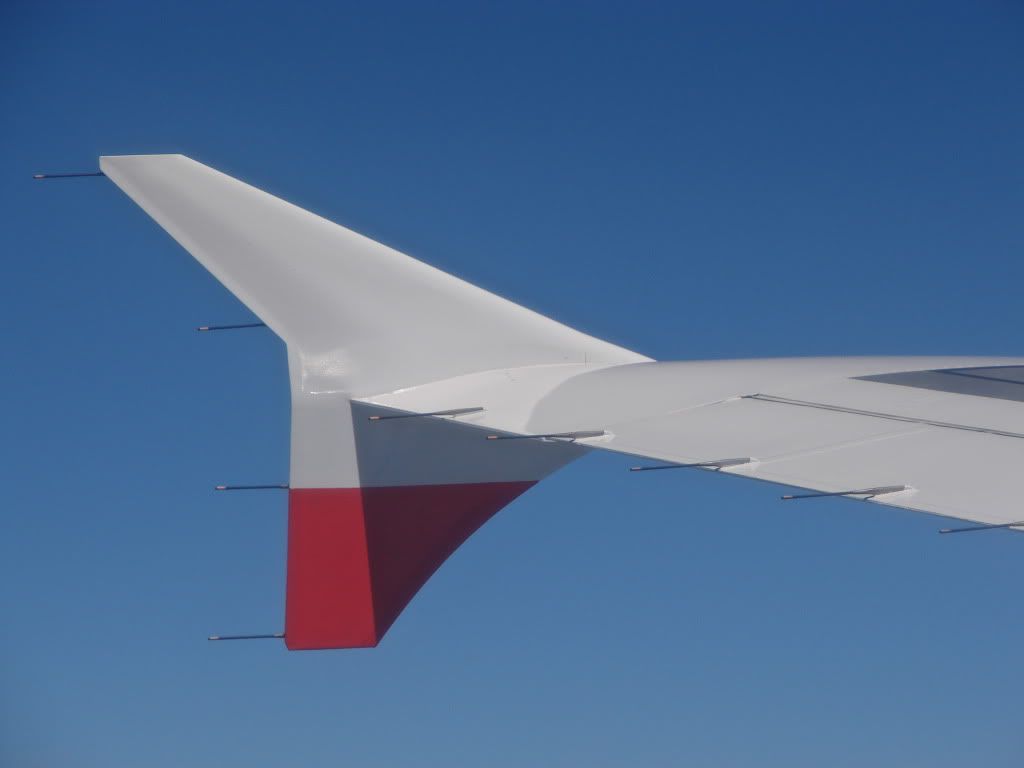 Into the cruise before the snack service.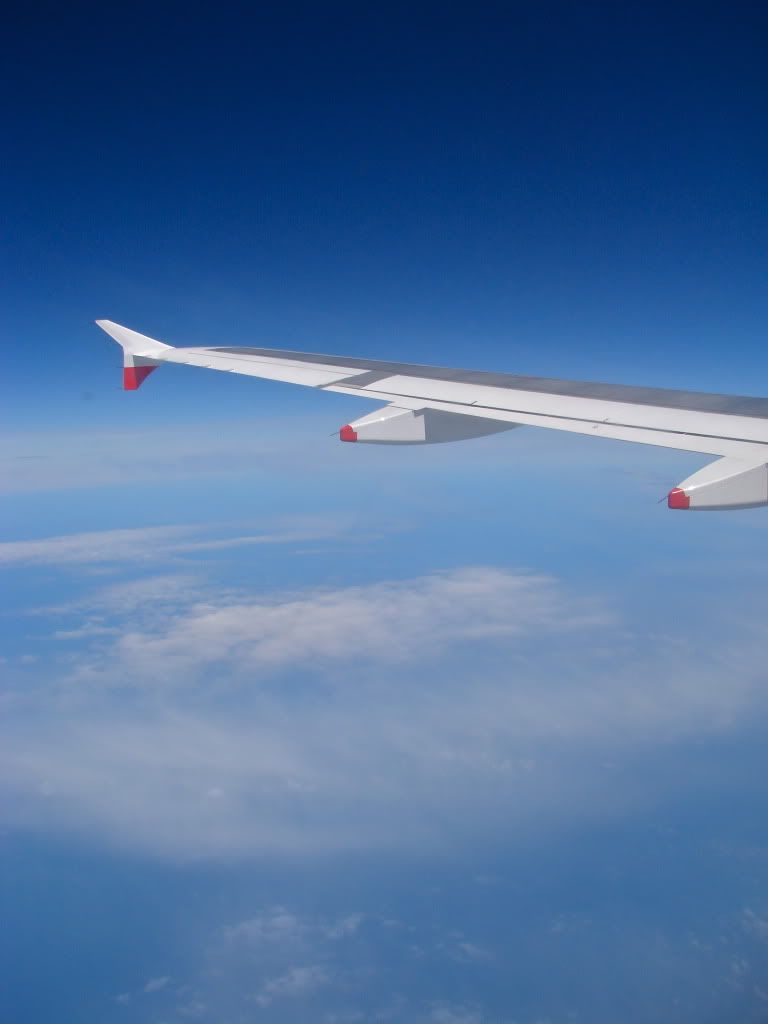 After about 10 minutes a couple of crew members came flying down the aisle with a trolly. Time for that sandwich then? Yes, here they come. I have never seen a crew hand out food so fast. To be honest it looked and felt a bit rushed, almost passing them to the window passengers like a rugby ball. Strange then that the drinks run was taken really easily. Here are the offerings. I hope they don't hand out too much STELLA, don't want anyone beating there wives up onboard.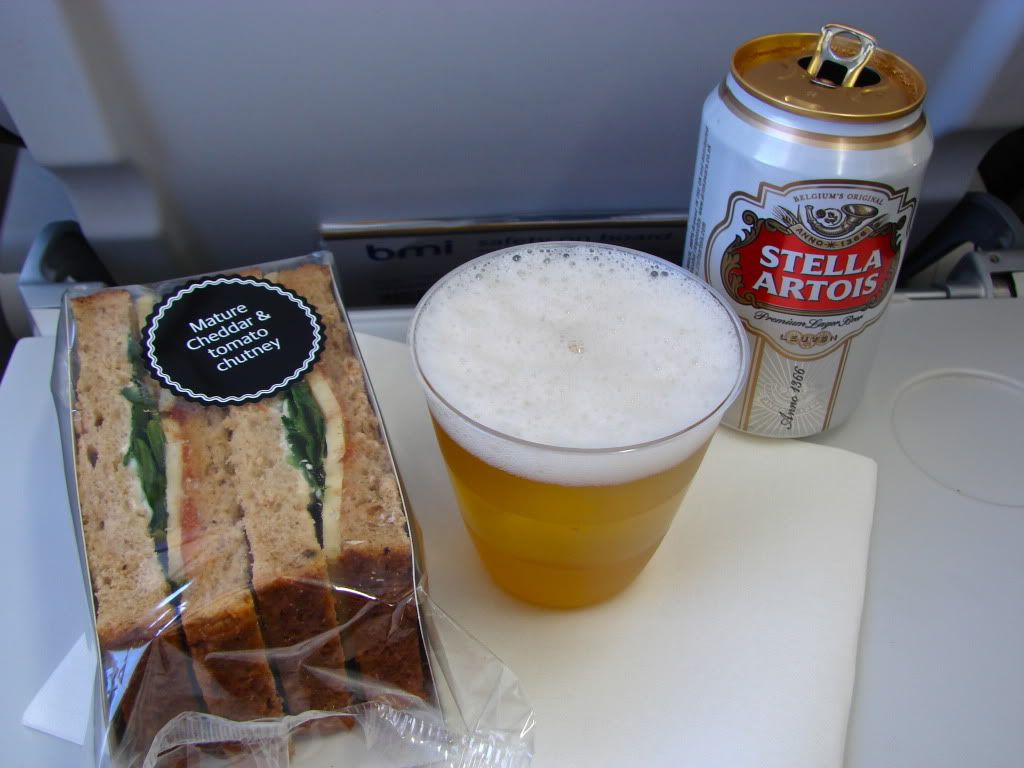 We made landfall somewhere over Rotterdam I believe.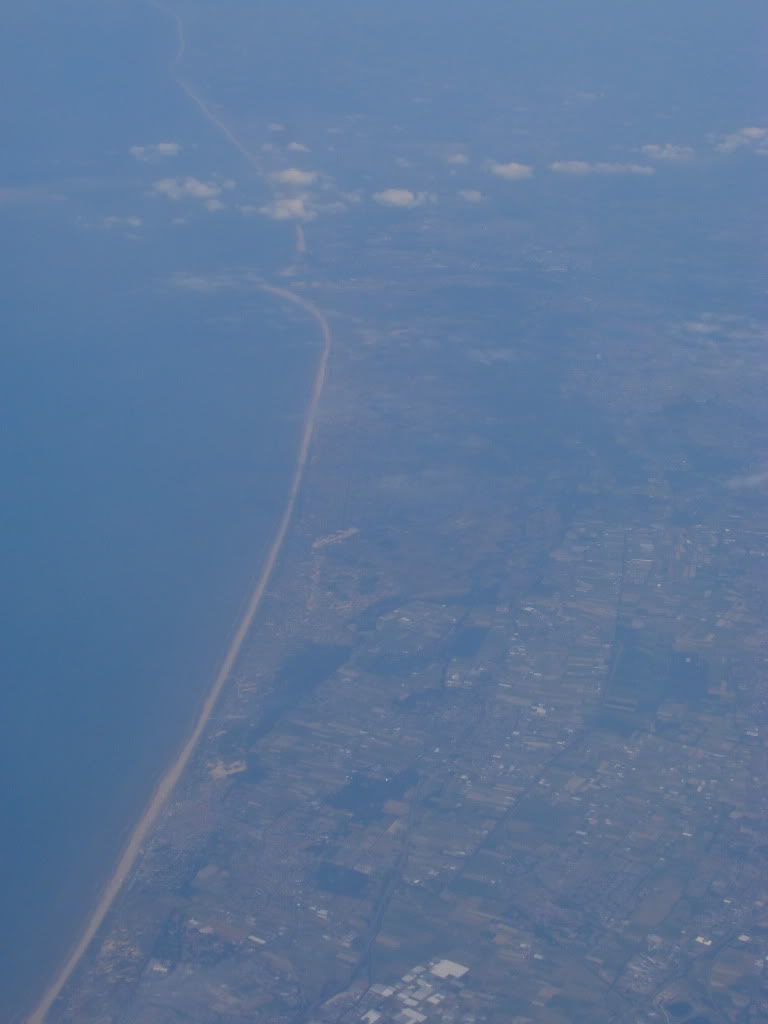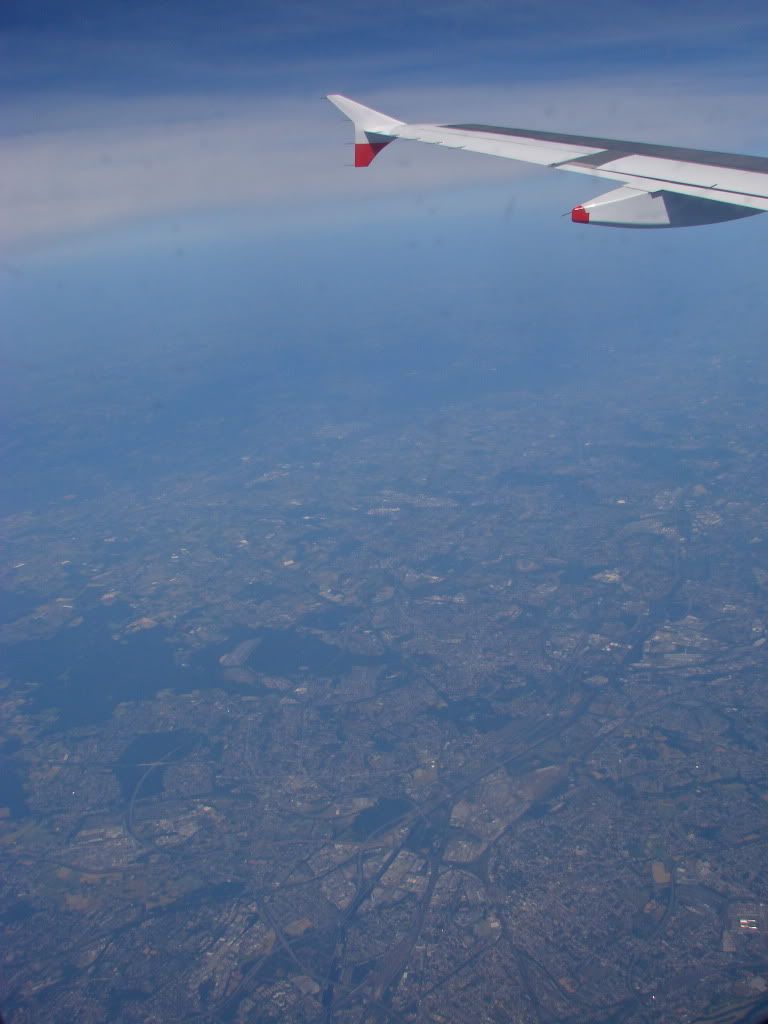 Heading South East and starting a steady descent.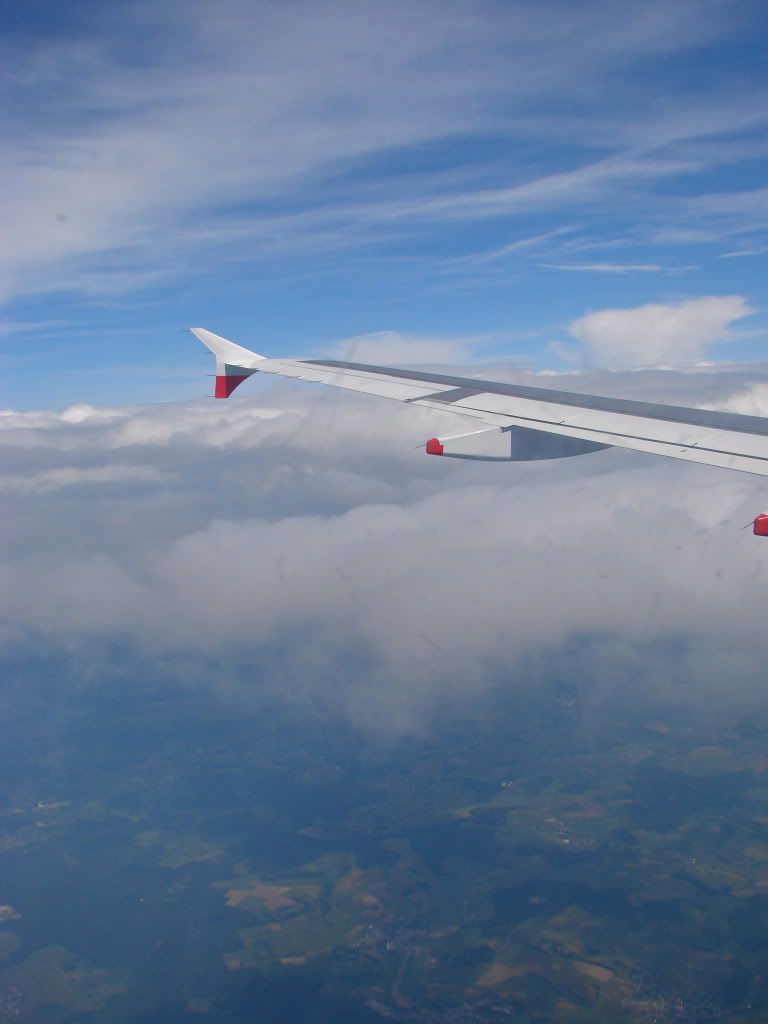 Before I left the house I had a quick check of the weather in Frankfurt. Some big storms were forecast for the area, in fact quite a large area of mainland Europe was expecting some storms.
First evidence of an accurate forecast.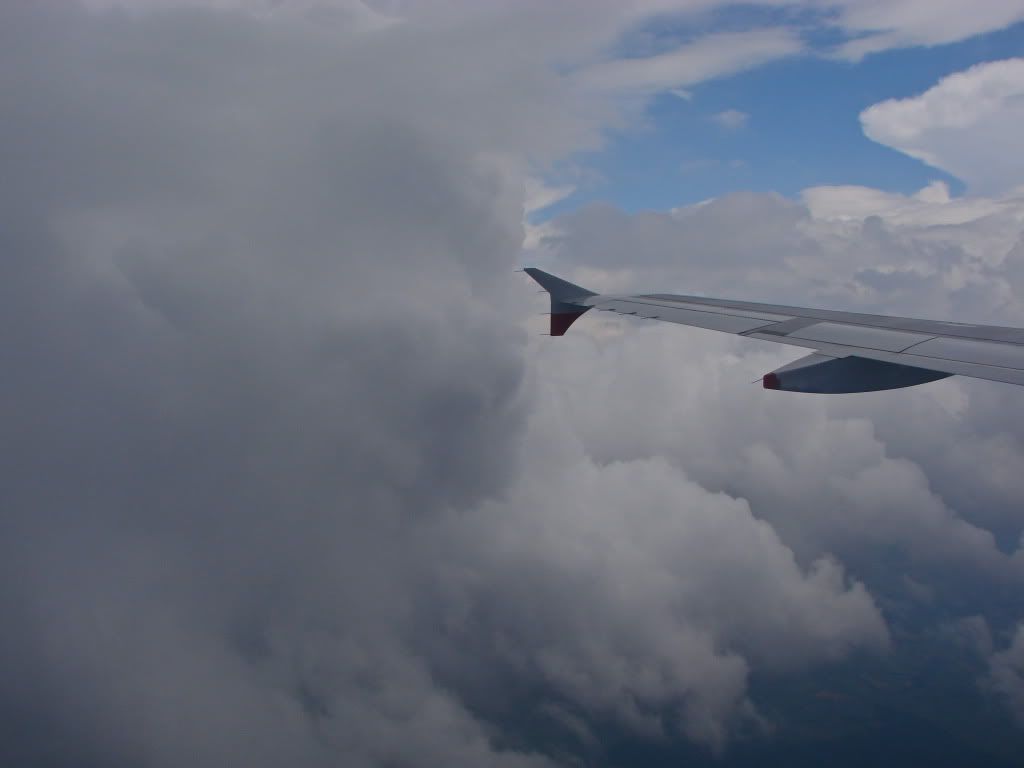 Nothing too lumpy so I guess we were routed around the worst of the weather.
Here are a few approach shots as we make our way down to 07R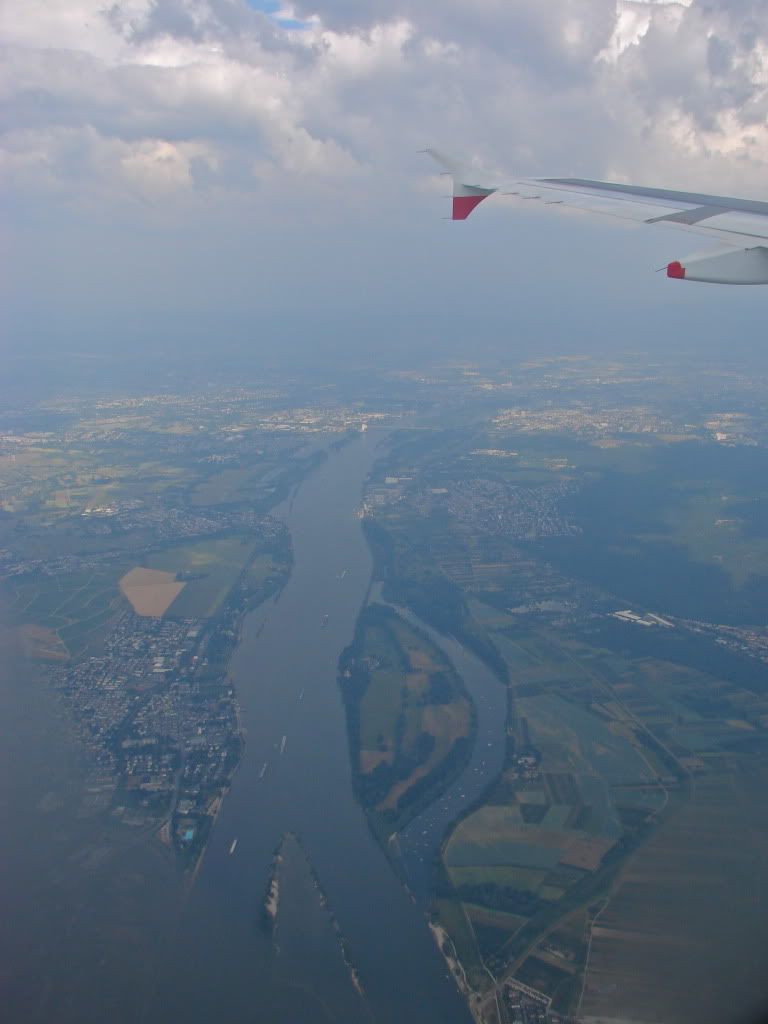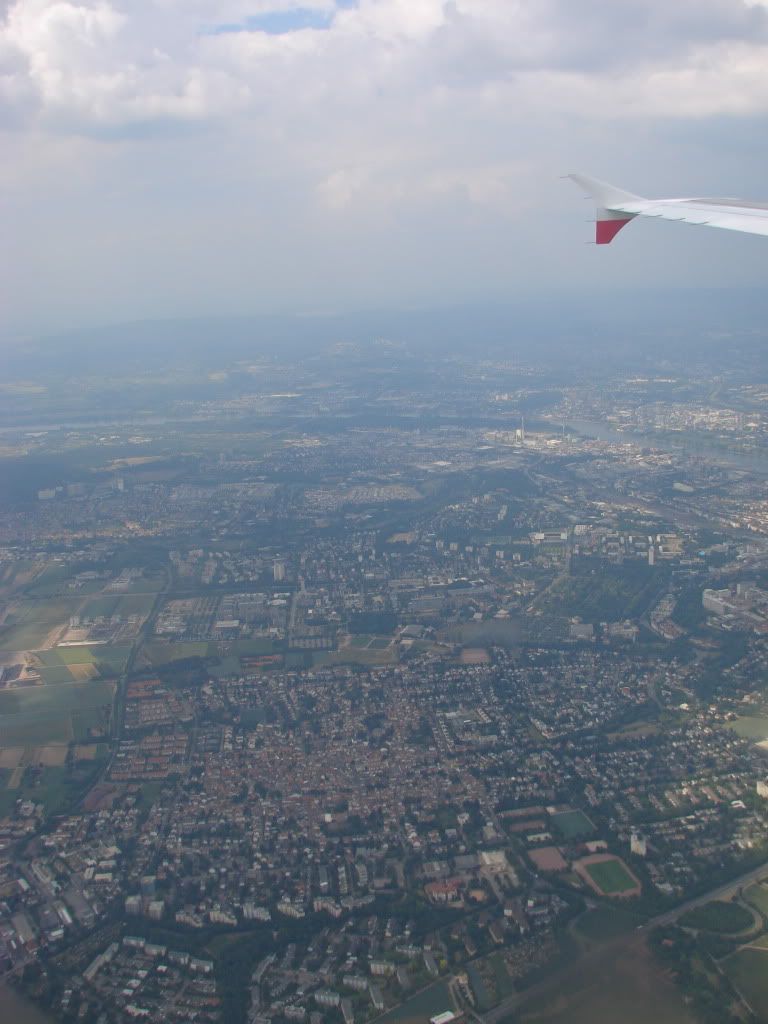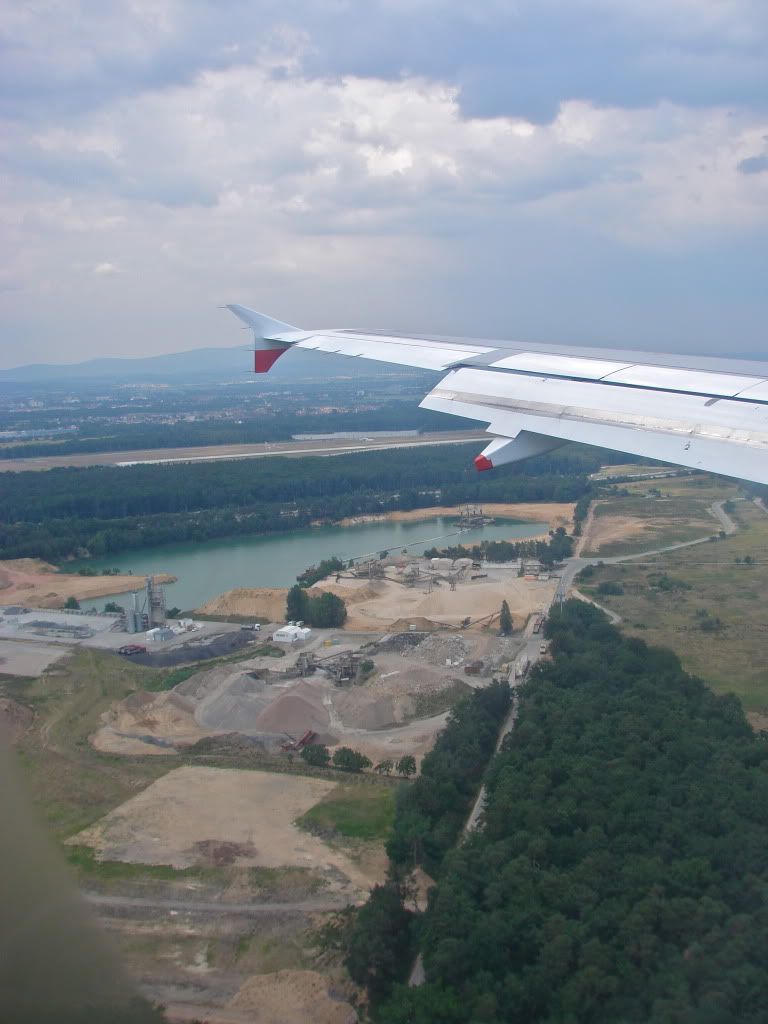 A nice smooth touchdown was made and after vacating the runway I spotted this LH 744 starting its takeoff roll on 07L as we wait to cross.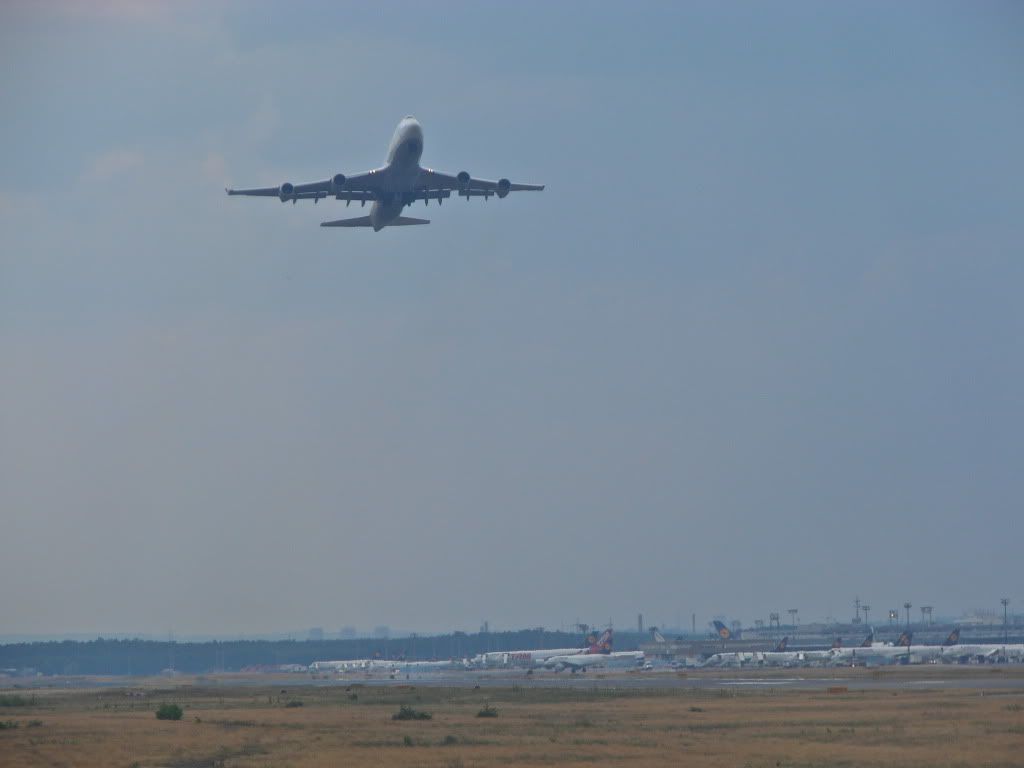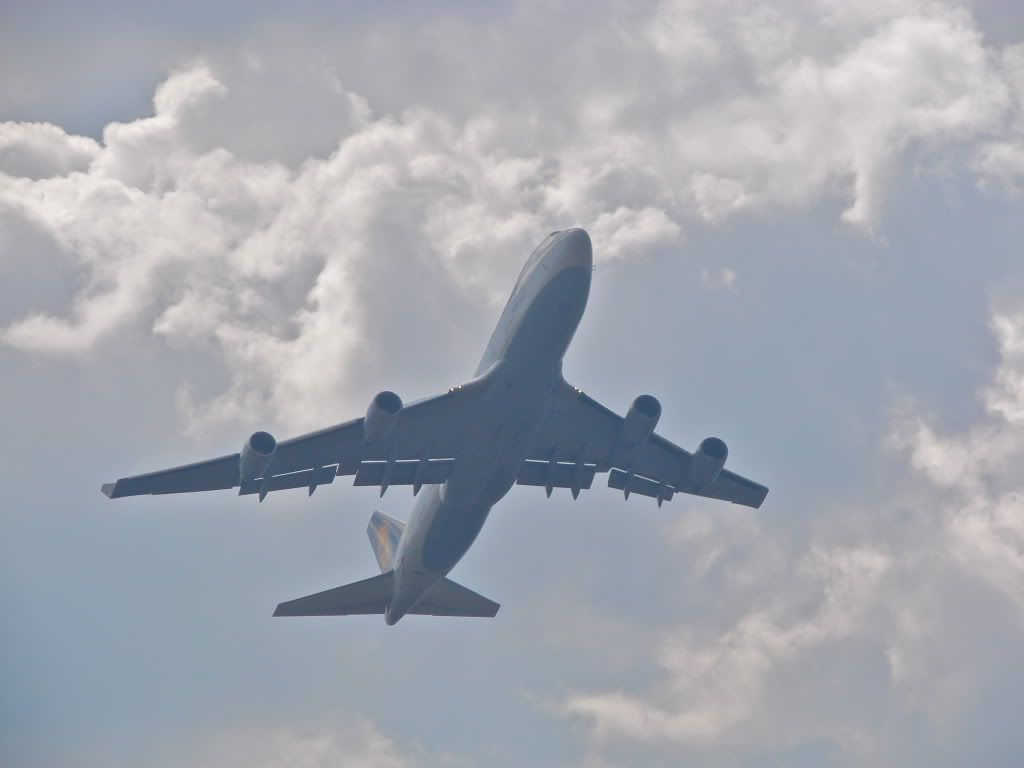 We parked at a remote stand and the buses swooped in to pick us up. A 3hr layover in hand here so nothing to rush for in terms of connections.
A couple of pictures of MIDO as we de-plane.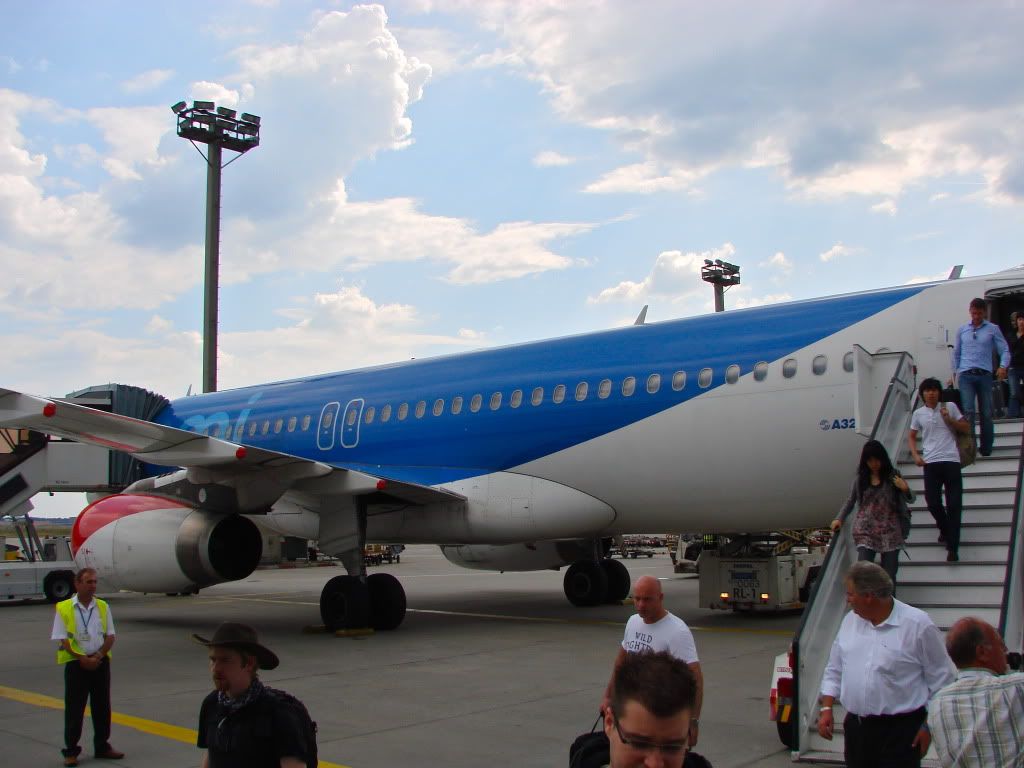 As we made our way over to the terminal I saw something (or the aftermath thereof) I have never seen at an airport. A car crash. Looks like a baggage truck and a dispatchers car had made contact at a junction. A lot of head in hands action going on.
Into the terminal and no good news for me either. Looks like my flight to LIS is already 1hr delayed. A 3hr connection is not too bad but 4hr is a bit tedious. Ah well, what can you do?
Time to get the passport checked over and then head out through the 282m long passenger tunnel.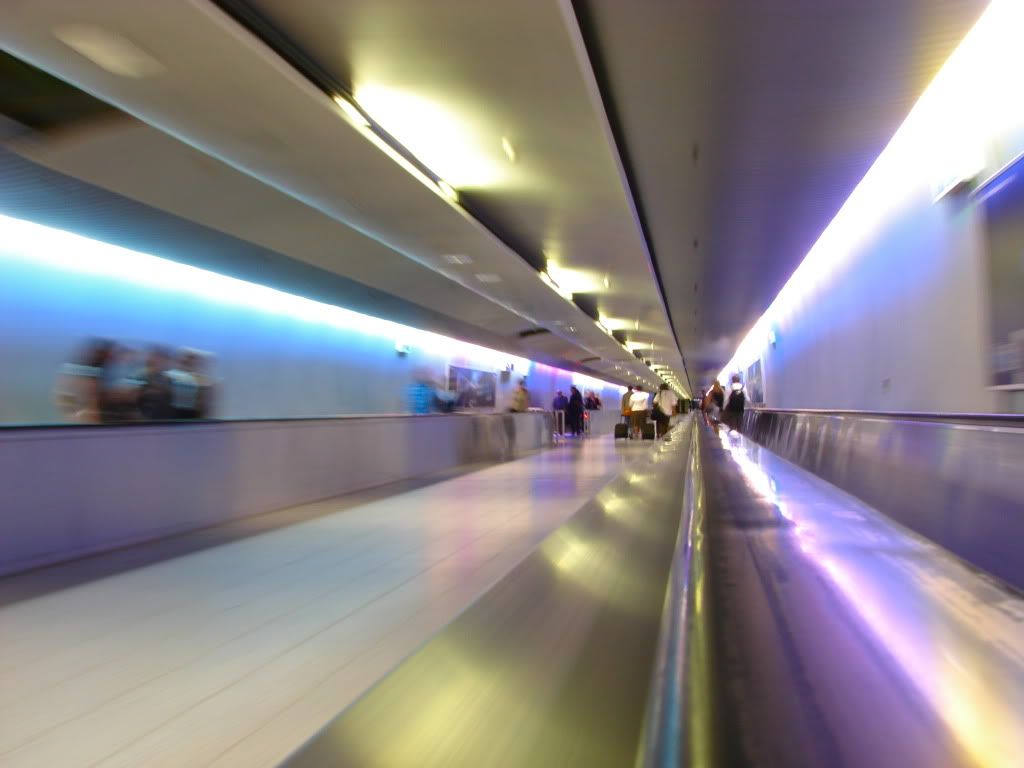 What to do for 3 ½ hours then? Well I guess there are some good window views at FRA for sure. I just walked around for a while and grabbed some lunch. Here are some pictures from the layover.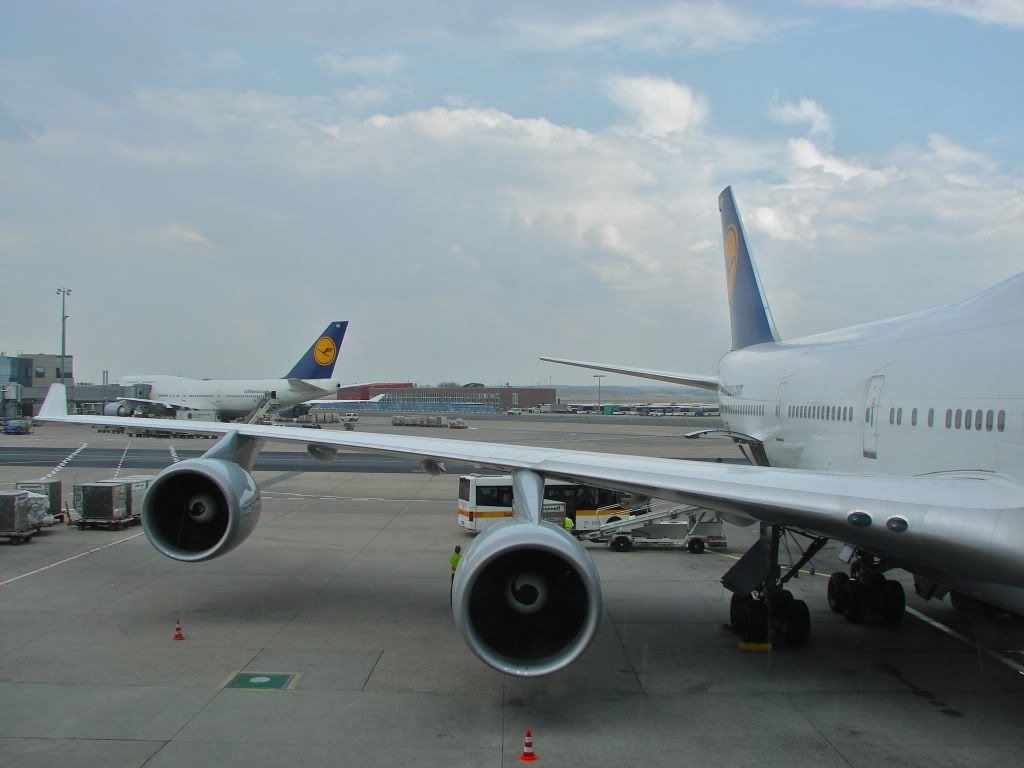 Getting up close and personal with the 744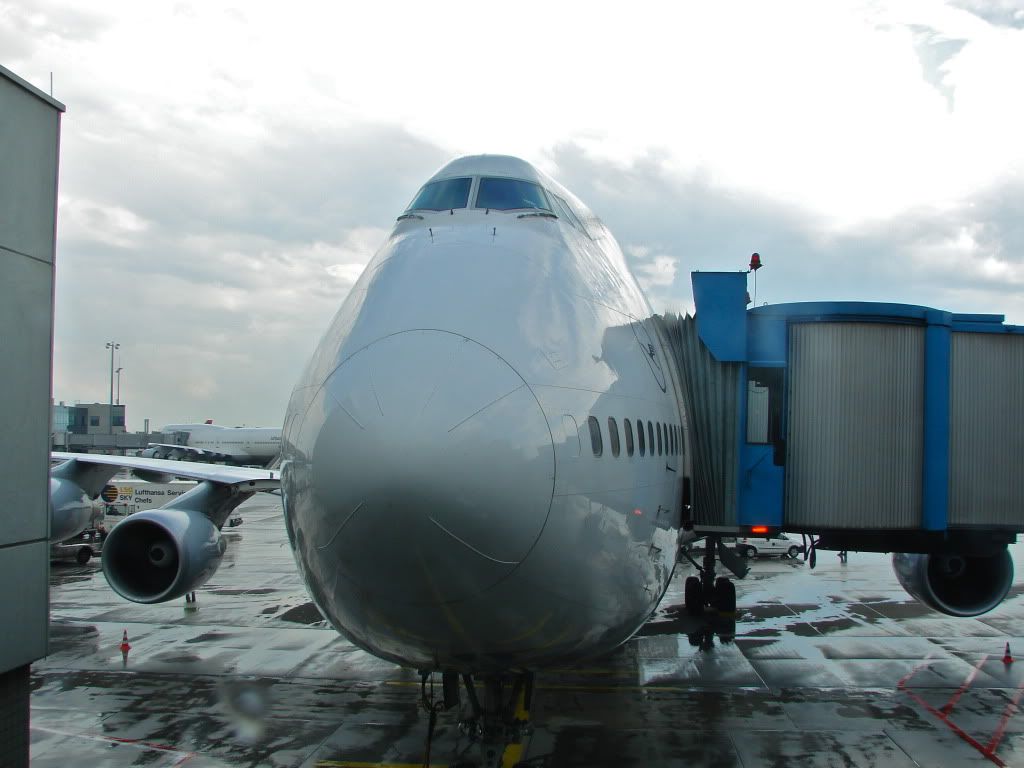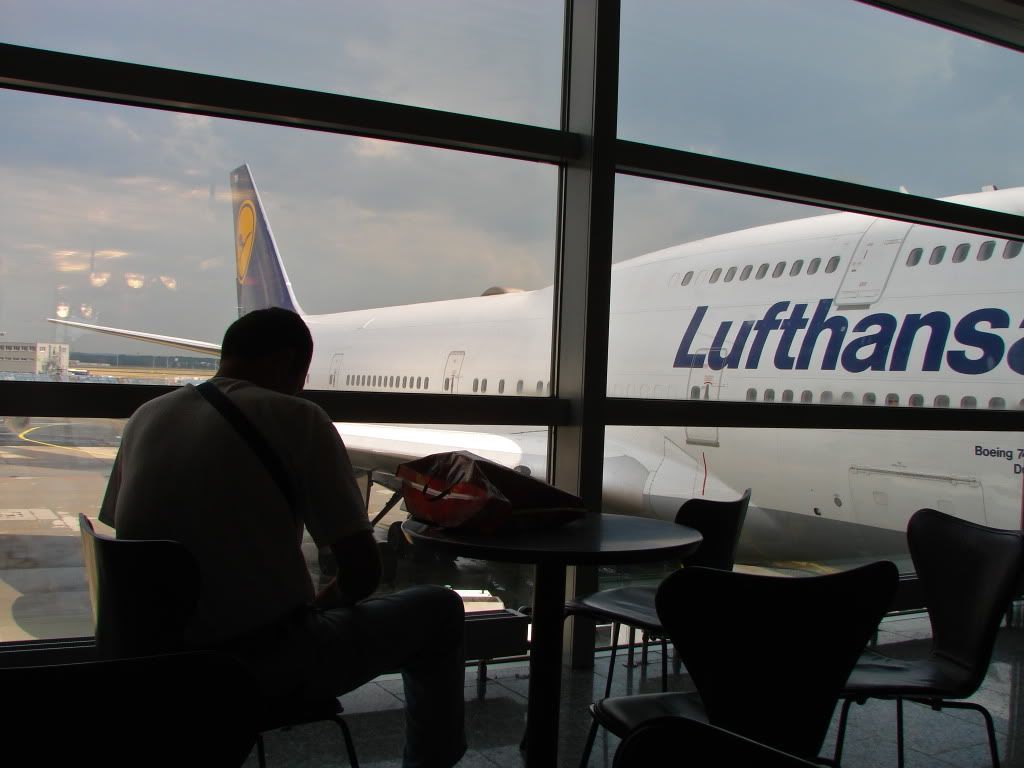 As time ebbed away I made my way to the next gate and waited to see my next bird arrive. Eventually CS-TTD rolled up onto stand.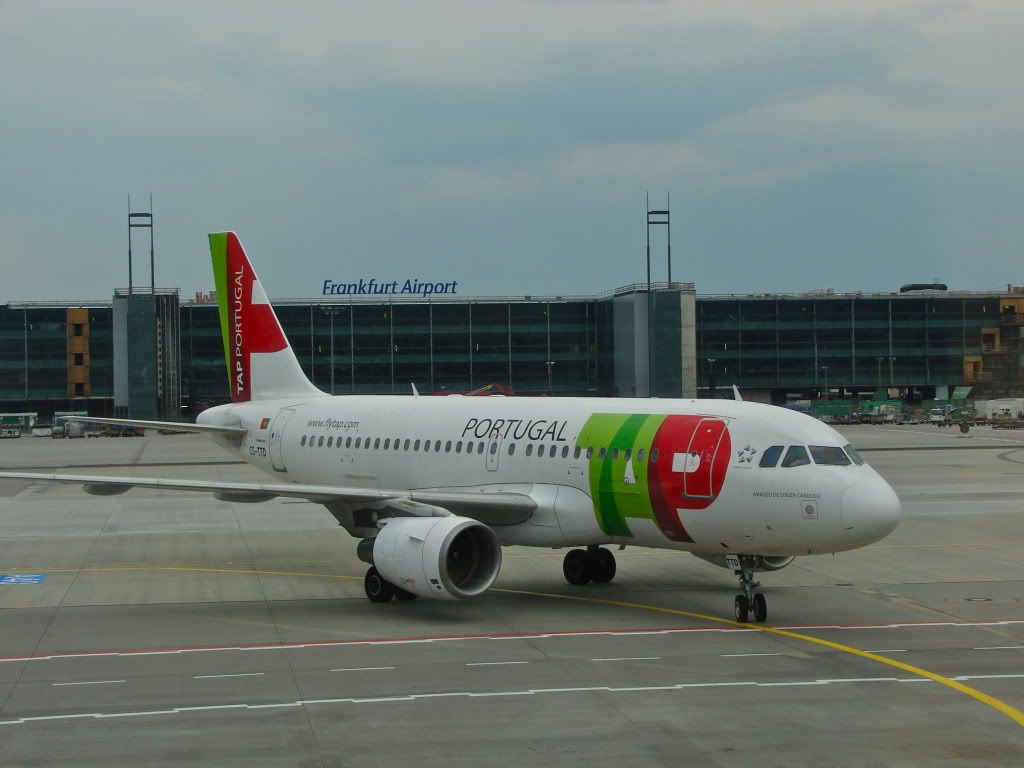 I have always quite liked this latest TP livery.
After around 30 minutes boarding was called. I hung around for another 10 minutes to let the line disappear and to watch with interest the next storm that was passing through. Some brilliant lightning scenes accompanied by heavy rain. Perhaps not too good for the time of departure though? Lets see.
Flight No: LH 6956 operated as TP 579
Route: FRA-LIS
( 1st time flying this route)
Airline: TAP
(3rd time flying this airline)
Aircraft: A319
( 16th time flying on this type)
Reg: TC-TTD
(1st time on this aircraft)
Seat: 5A
Duration: 2hrs:45min
I was welcomed onto the aircraft and made my way to 5A. It was good to find some big old comfy leather seats. I was soon joined by an older guy, he took 5C and the middle seat would remain empty on this flight.
Hey, the weather isn't getting any better.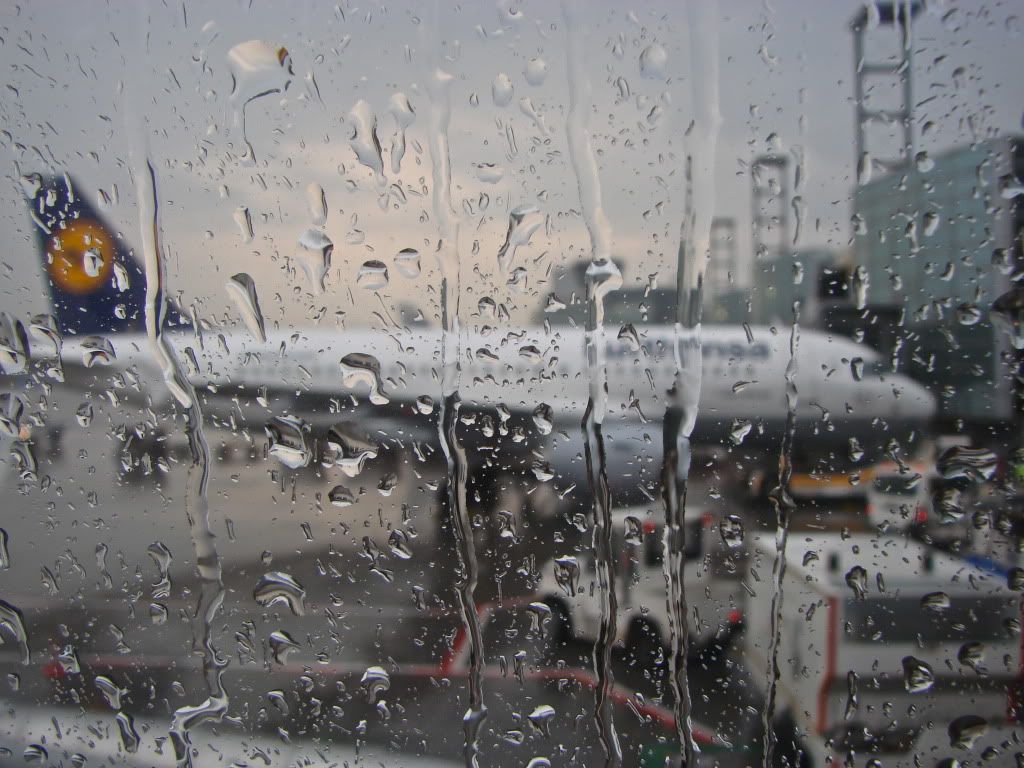 Well, something more of a delay now. The word from the flight deck was that of a weather delay but no real explanation of the late arrival. I may have missed something but the speakers were really of a poor sound quality. Door 1L was closed and the air bridge moved away, but still we sat there. A guy shows up with a diesel generator and hooks a pipe up to the aircraft. This seems to only offer A/C to the cargo hold as it sounds like there is some movement going on down there. After some 40 minutes the guy with the generator clears away and the cargo door closes. Weather delay or something else? Who can say, but we start push back right after he goes away.
We taxi out to 7L and depart without any hold. Im hoping for some big turbulence here in this stormy environment. You know the deal, just something to spice up the bog standard departure. Well, it doesn't get too bad. A couple of moderate hits but its all over too soon.
Some scenes from the climb out.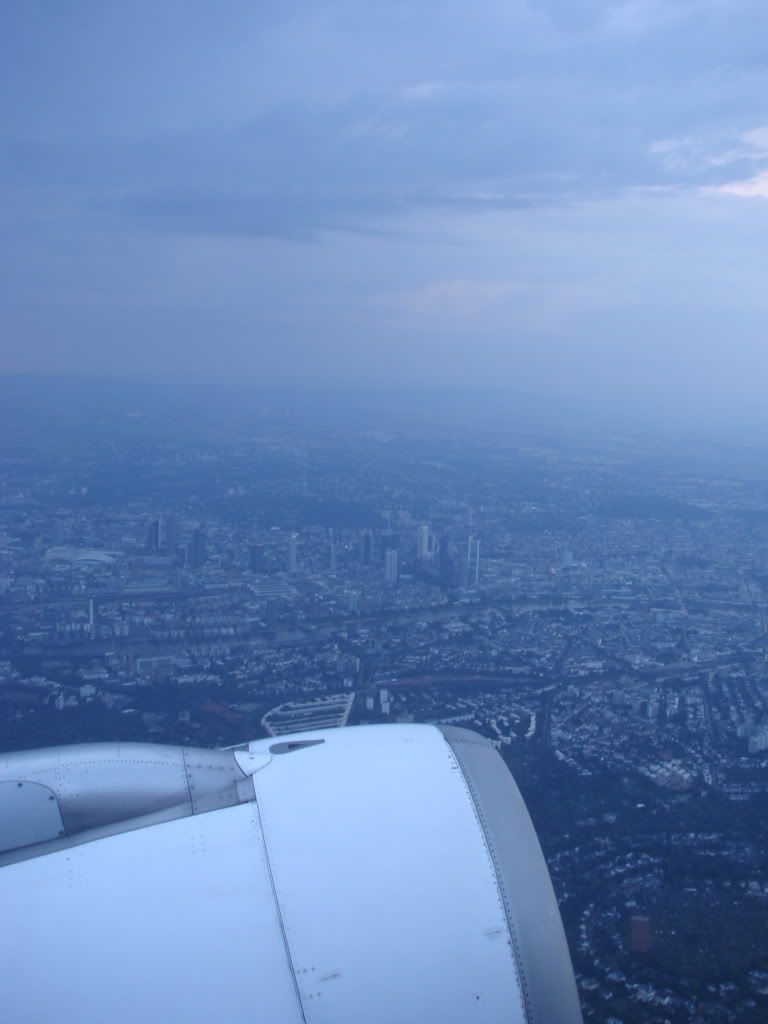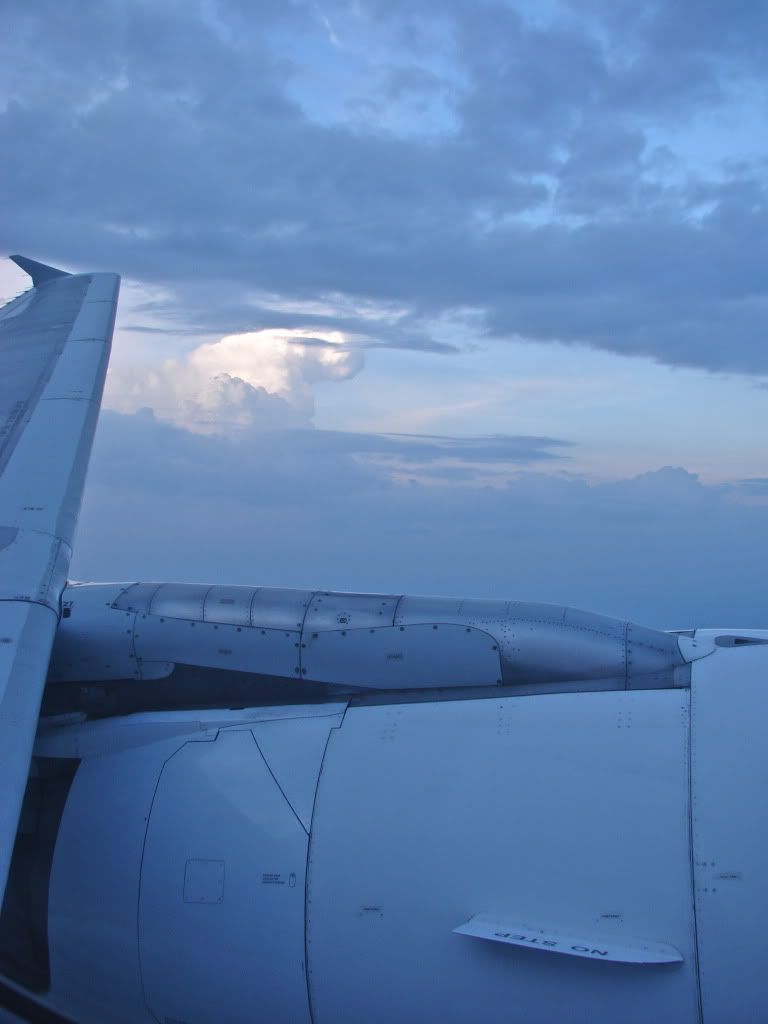 There are however some interesting cloud formations going on. I will share some views with you.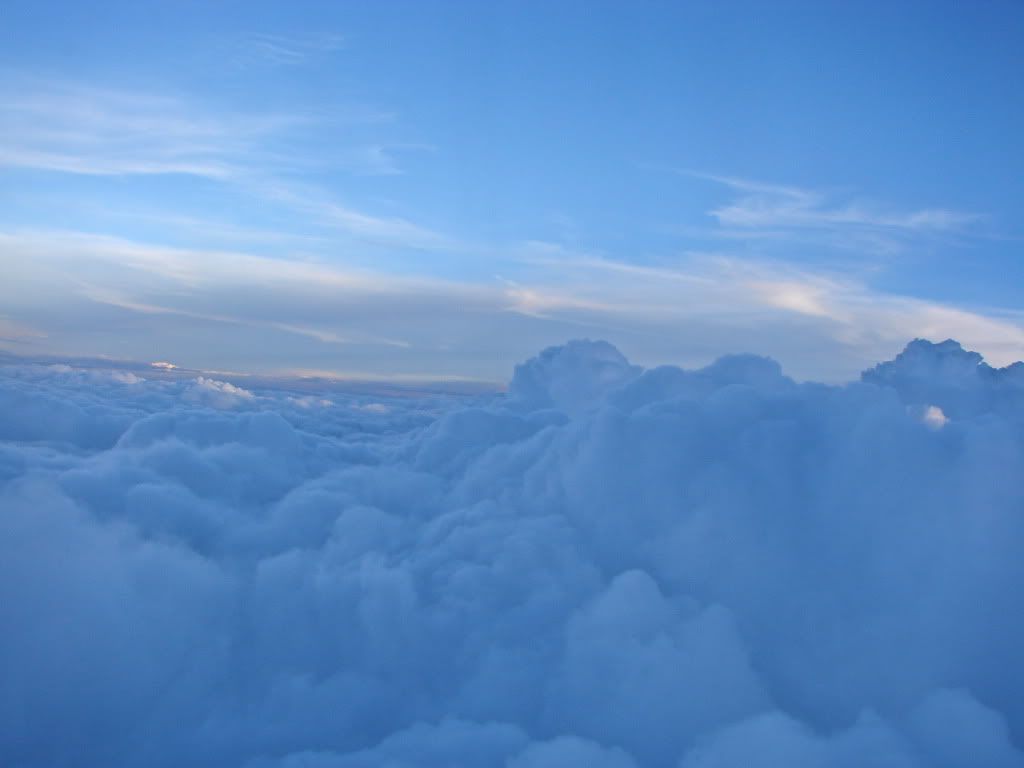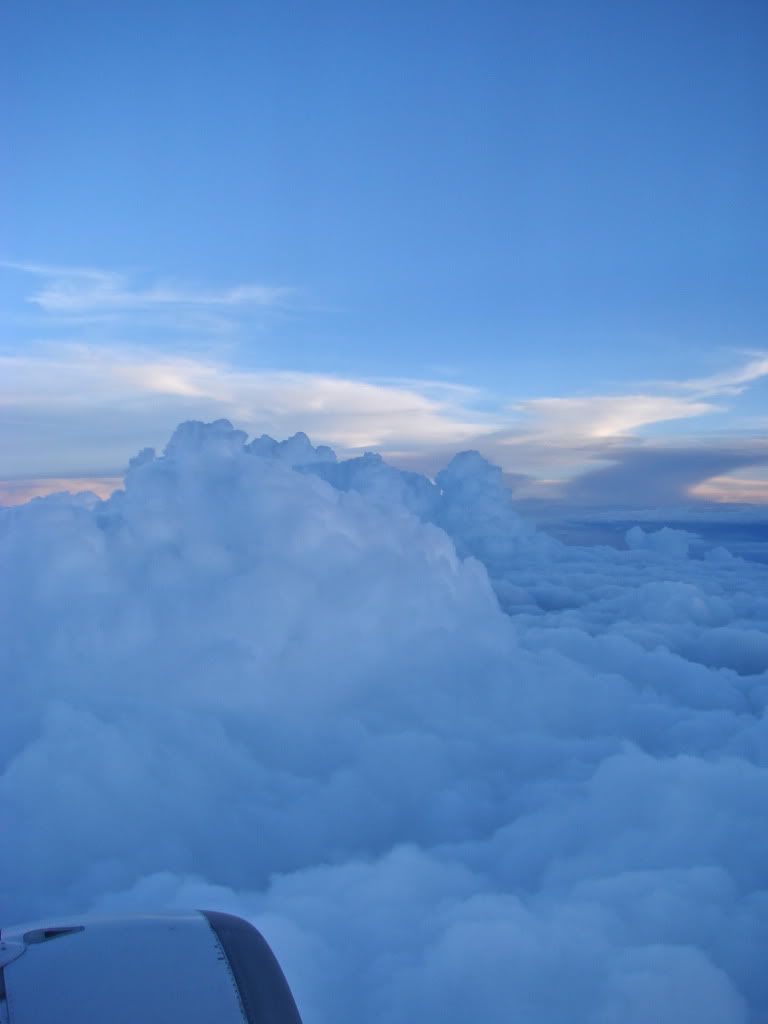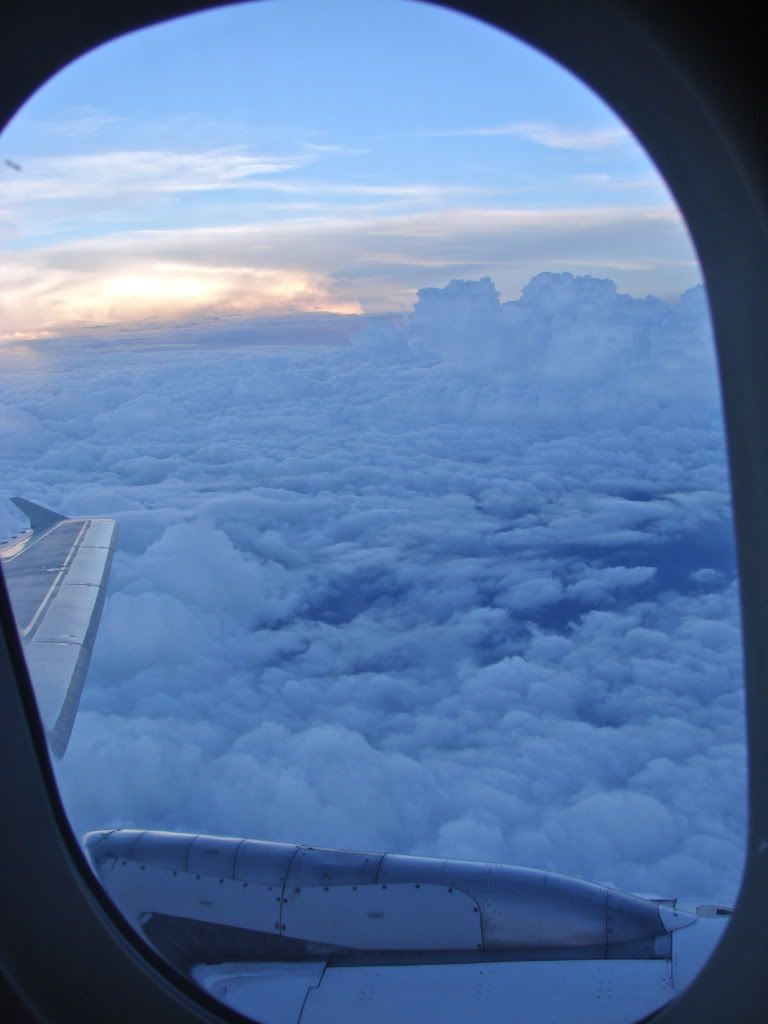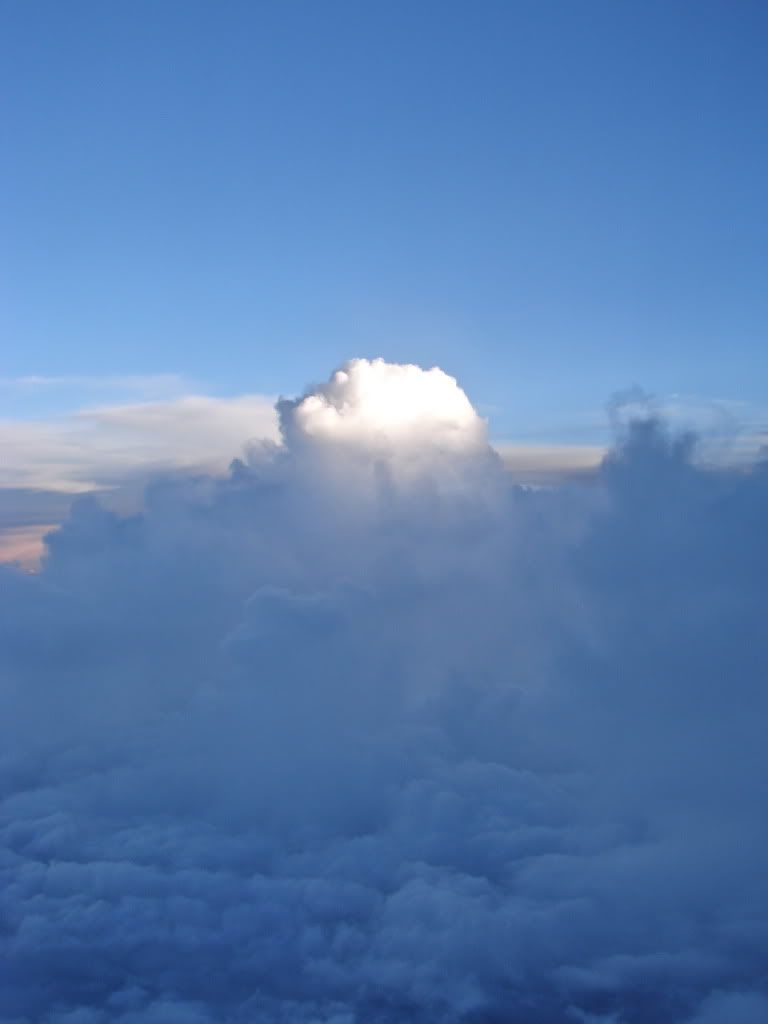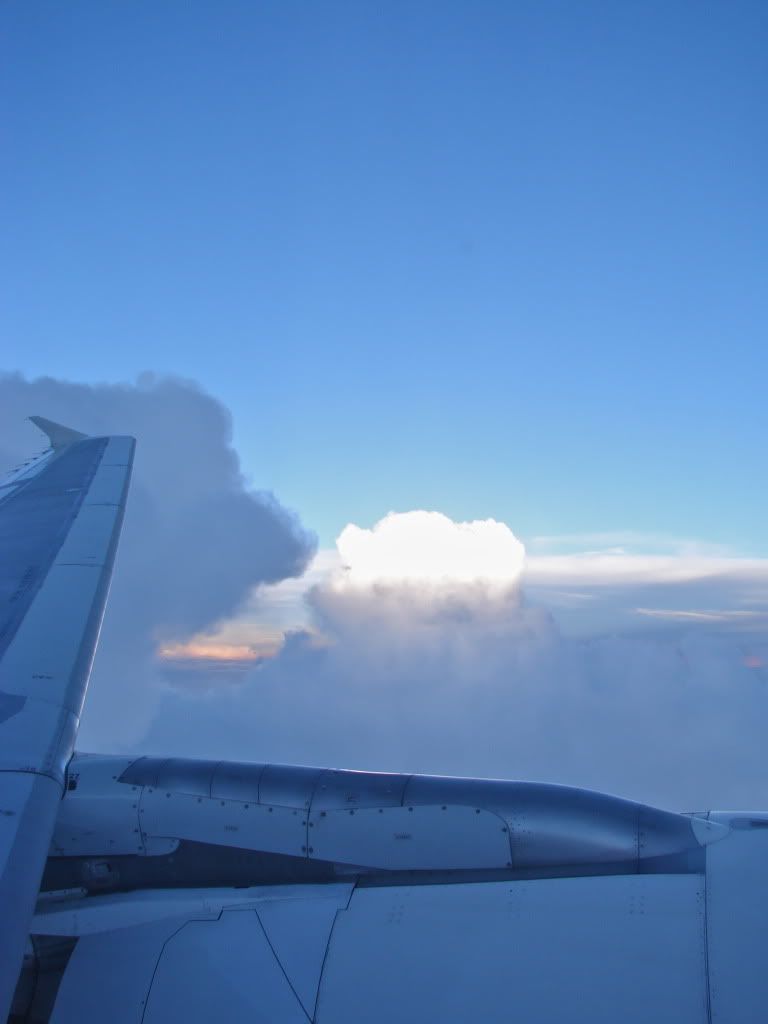 We make a track directly over Luxembourg then onwards to Paris and out over The Bay Of Biscay.
Once clear of the worst of the weather the seatbelt sign is switched off and the cabin fills with the smell of food being warmed. I wasn't sure if a warm snack would be served but it would appear so.
Here is the offering which was quite nice actually. A warm cheese and turkey roll and a small dish of Pineapple. The beer was a bit sweet for my taste but good to see anyway.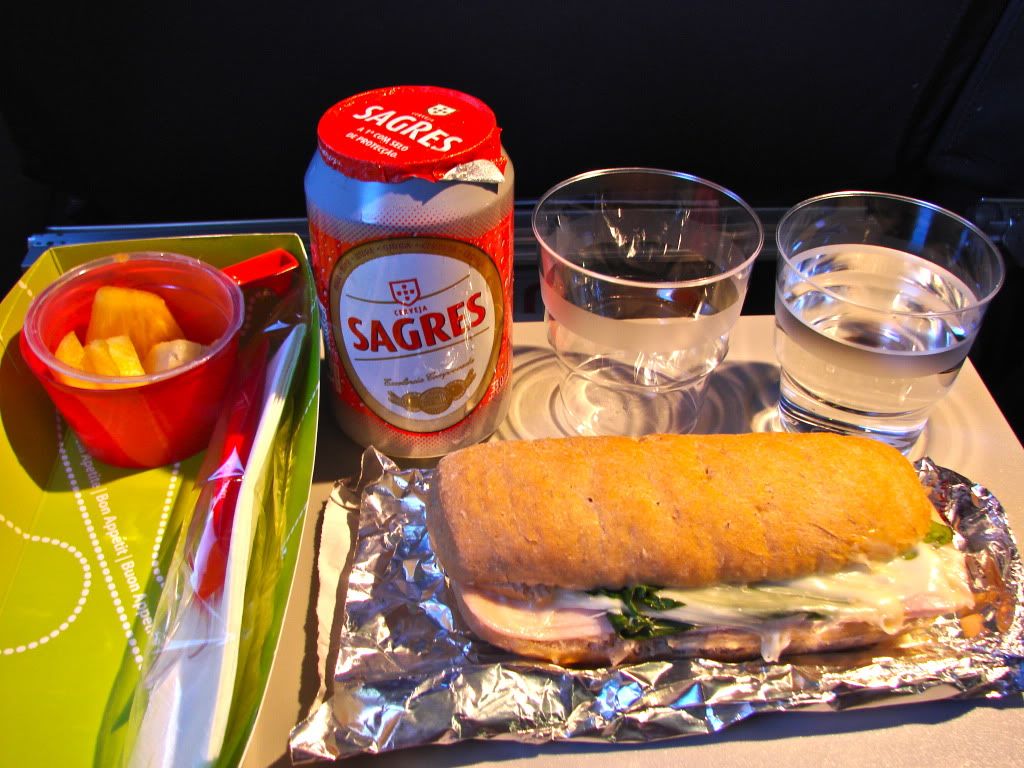 Not much in the way of views here. Thick cloud over the route.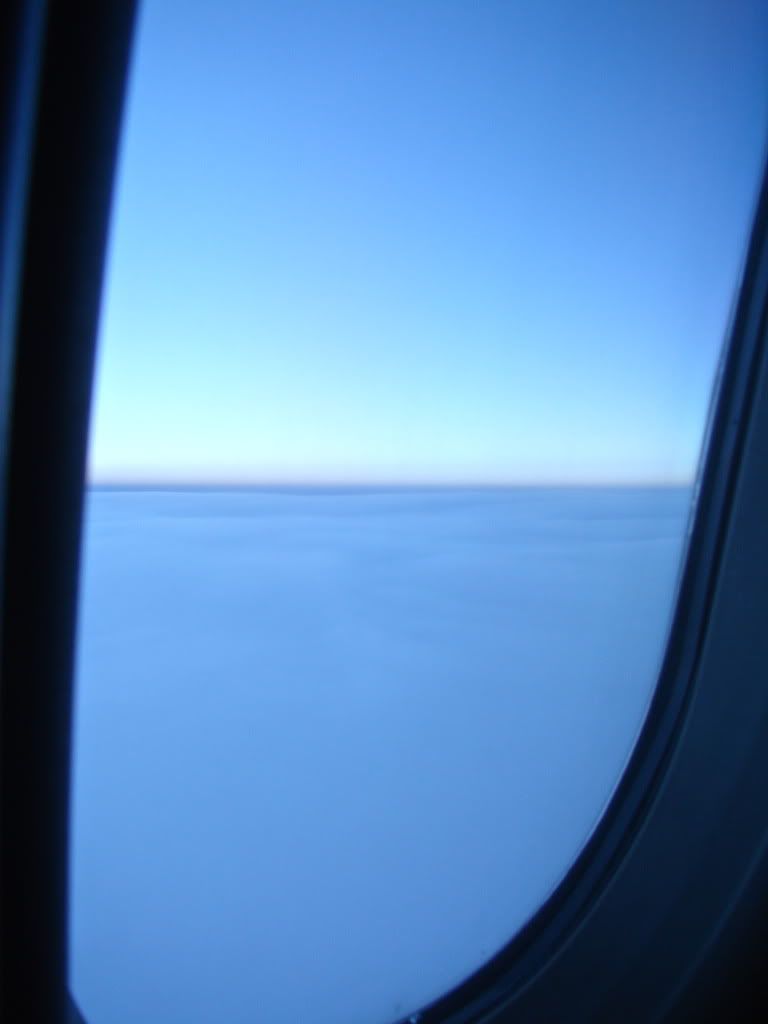 I played some tunes on my I-POD as the sun started to set on the other side of the aircraft. Not that my side would miss out on this spectacle. Mother nature puts on something of a light show for us before sundown.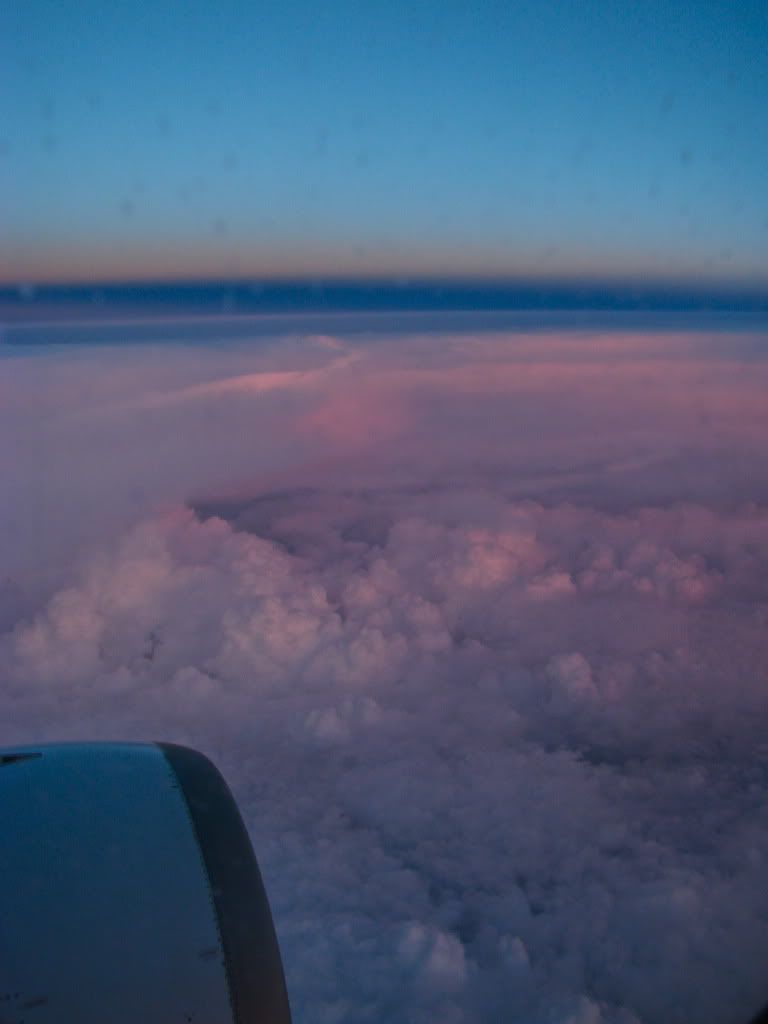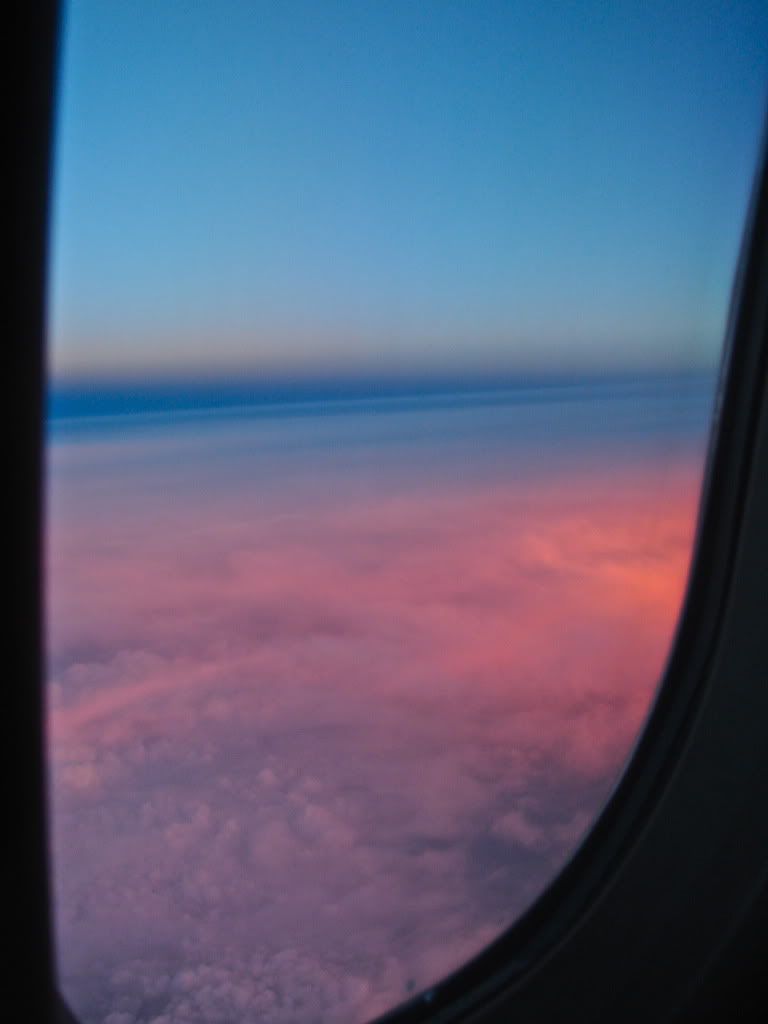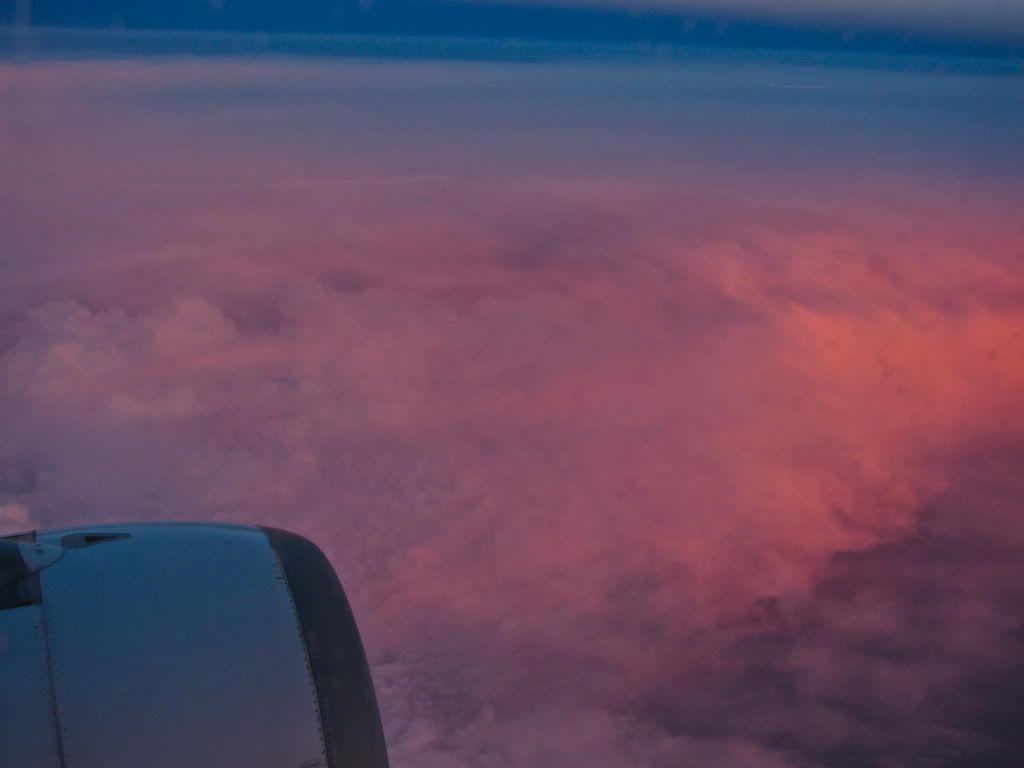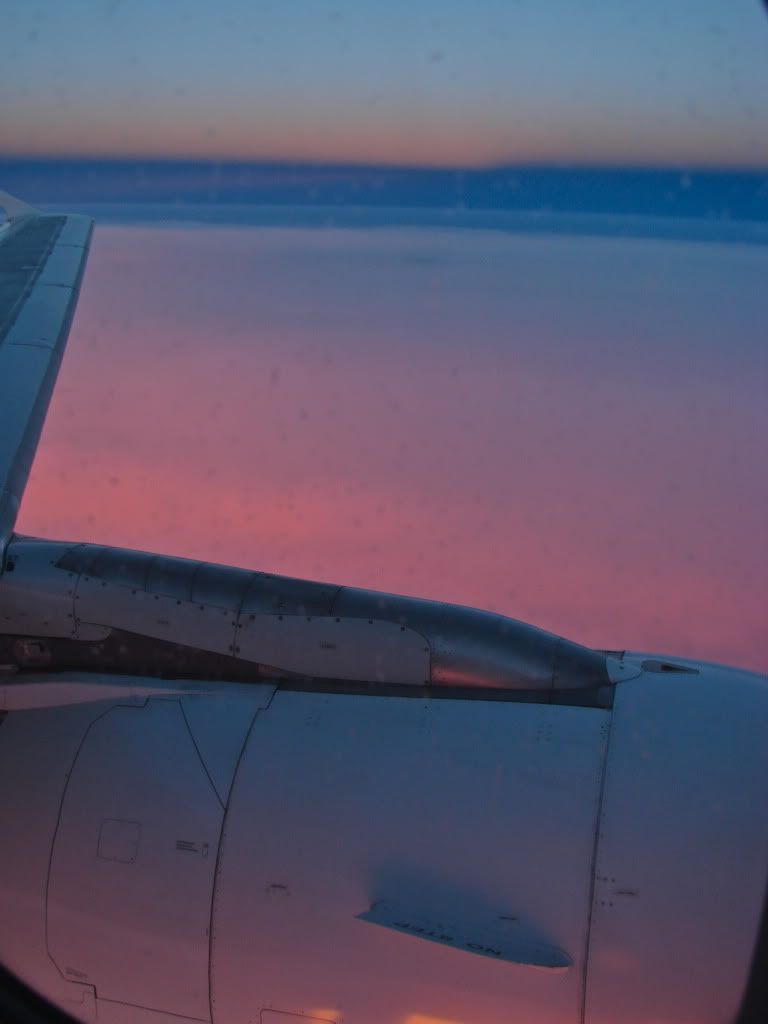 I try and catch a quick nap but as usual this wont happen for me. Just a few minutes here and there. Im offered another beer which impresses me about the service.
The cloud starts to clear as we begin our descent into LIS. I can't however get a good outside shot of the approach. Just a blurred mess. We make a descending 180 degree turn to line up with the runway and a smooth landing follows soon after.
Again, we are getting the bus treatment and this seems to concern some passengers who have connections, already pushed close by the earlier delay. It takes ages for the ground equipment to be put in place. Seriously, close to 10 minutes from parking brakes on until the steps are even moved to the aircraft. Once off the plane we took a tour of the airport to make our way to the terminal.
The connecting passengers were met at the terminal by a staff member but it wasn't clear what the outcome was. Probably a forced overnight as it was now nearly 23:00. I just made my way out of the airport and into a taxi for the trip to the Holiday Inn Express. I was hoping to get something to eat but its a bit late now. The taxi ride was €15 so I felt a bit of a rip-off here. Not the worst amount in the world though.
The hotel looked like it was is an Industrial Estate area. Pitch black outside so hard to tell really. Anyway, the entrance looked ok as I entered the lobby to check in. The guy at the desk was a bit grumpy and abrupt so not the best of first impressions. The room however was way above my expectations. Very pleased with the set up here with a new feel to the place.
Couple of room pictures.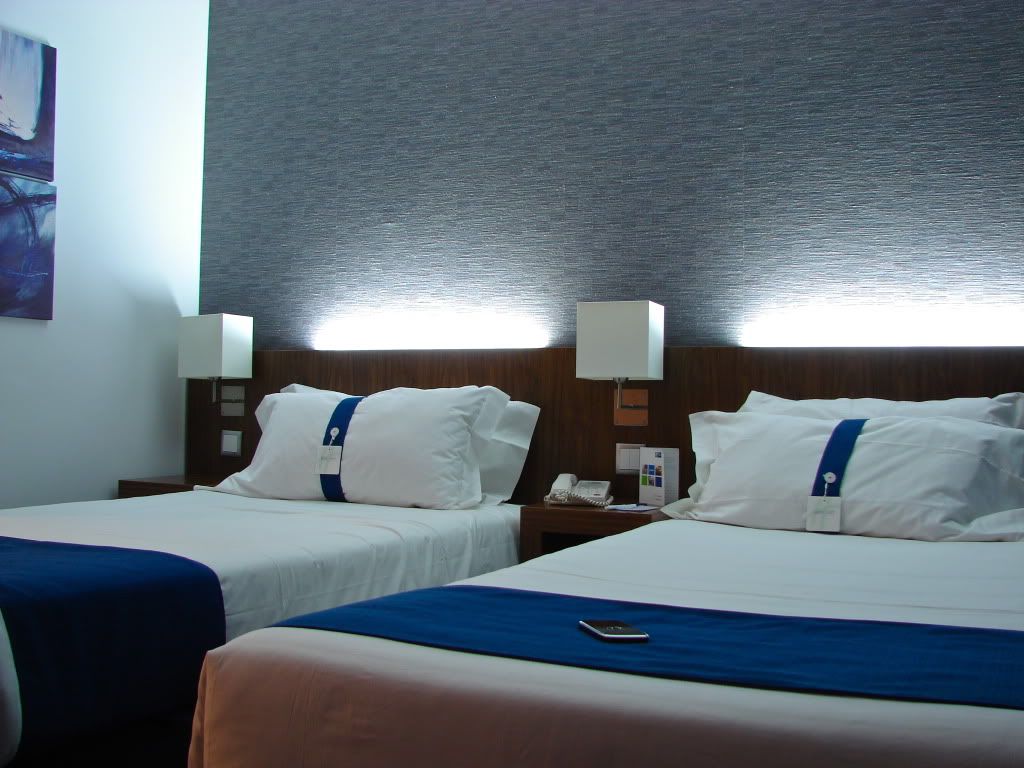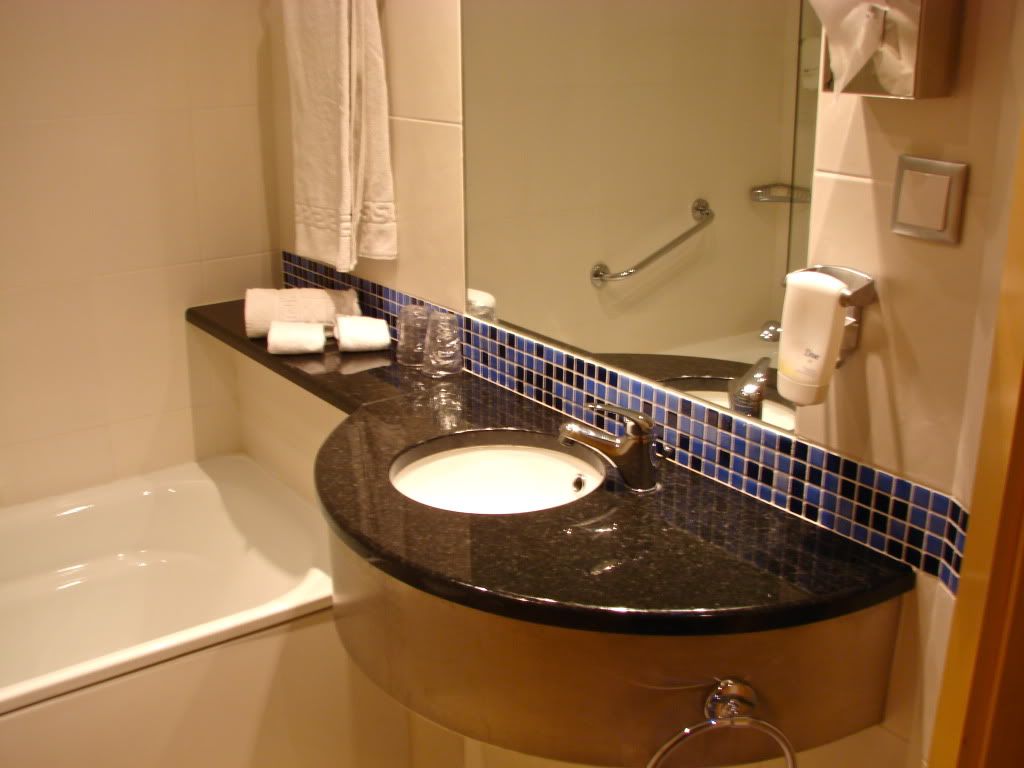 Nothing going on at this hour so I decide to crash out for the night. Maybe the best idea with an early(ish) departure in the morning.
05:06:2011
I had a really good 5hrs sleep so that says something good for the beds in this place. I didn't realise until the morning that there were two choices of pillow in the room (hard or soft). Time to grab a shower anyway and head out back to the airport. I spoke with the guy at reception and he wrote me out a ticket for the courtesy bus back to the airport. €5... SO, I was ripped off last night. Taxi drivers know how to make a living eh.... About 2 minutes later a bloke appears and takes me out to a black Merc Vito van converted into a small 8 seater bus. Nice piece of kit and blacked out in the back. Just needed some 22'' chrome rims and he would be the daddy of all airport shuttle drivers. He drops me right at the door.
Boarding pass in hand already from yesterday so I head right over to security. No lines here and I was through in just a few minutes. Right, lets get some breakfast and lets keep tradition here and not worry about calories or health.
Probably not most peoples idea of a breakfast, except the juice.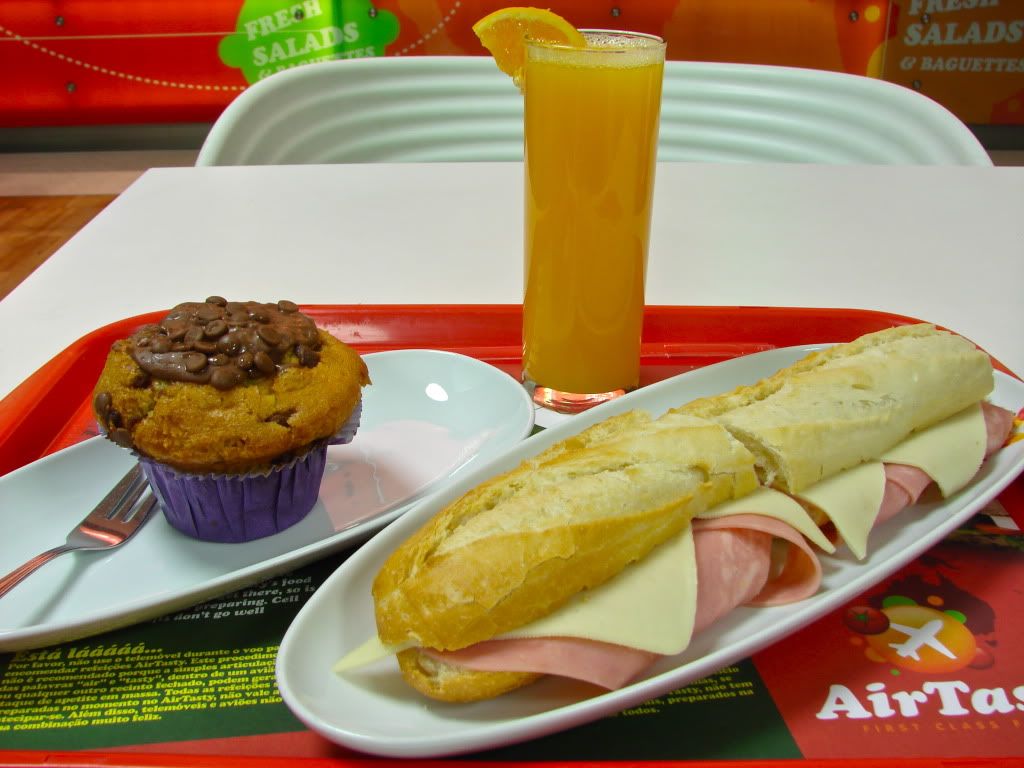 I headed over to the gate after eating. Passport check completed for the non-schengen departures and through into this new looking but deserted part of the airport.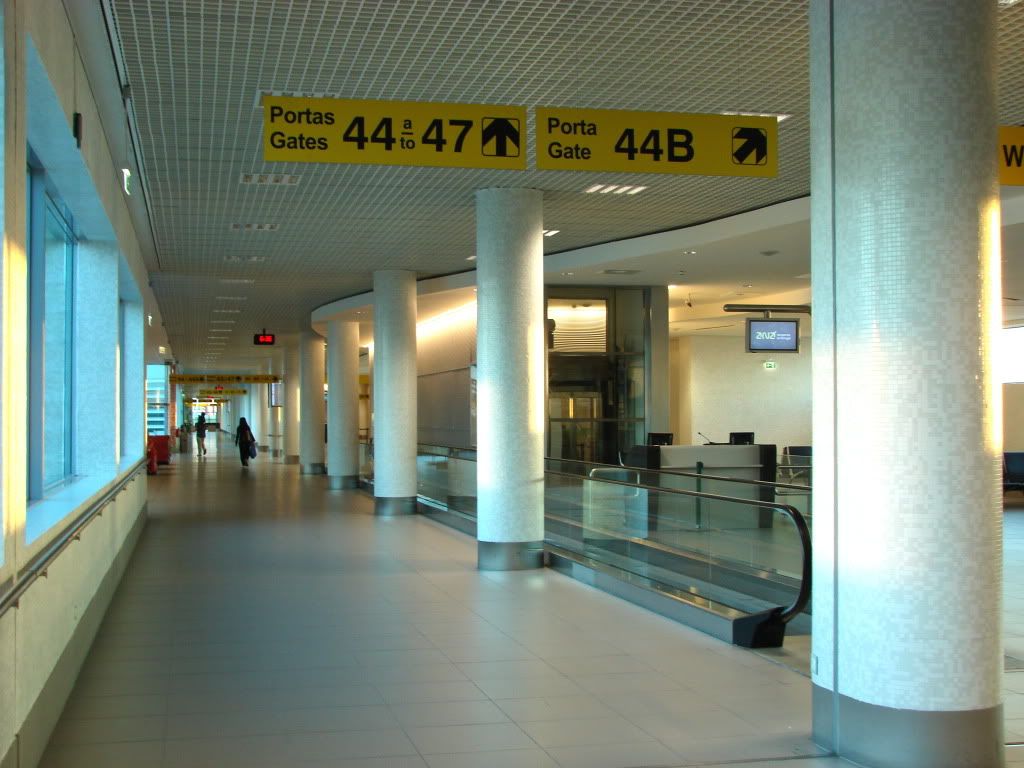 Just about 30 minutes to wait at the gate. I was called over to the podium as no API was collected about me. The friendly lady at the gate thanked me for my passport details and wished me a pleasant trip. Nice to see a happy face.
Flight No: TP 324
Route: LIS-MAN
(1st time flying this route)
Airline: TAP
(4th time flying this airline)
Aircraft: A319
(17th time flying on this type)
Reg: CS-TTG
(1st time on this aircraft)
Seat: 10A
Duration: 2hrs:24mins
Quite a low passenger load at the gate but soon after general boarding was announced people started to appear from different places. Looks like a good load on this new service. I joined the line about half way through expecting a bus journey out to the waiting aircraft. My timing was perfect as I was the last passenger allowed onto the first bus.
Time for a quick registration check as we pull alongside our ride.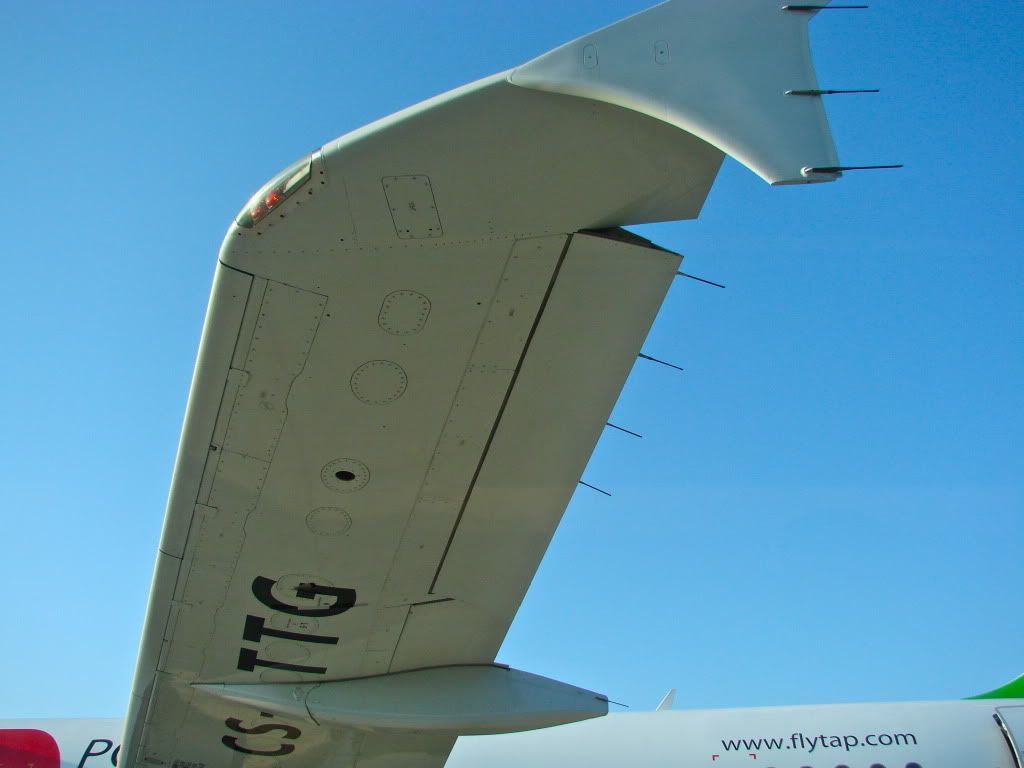 A quick shot as the bus doors open.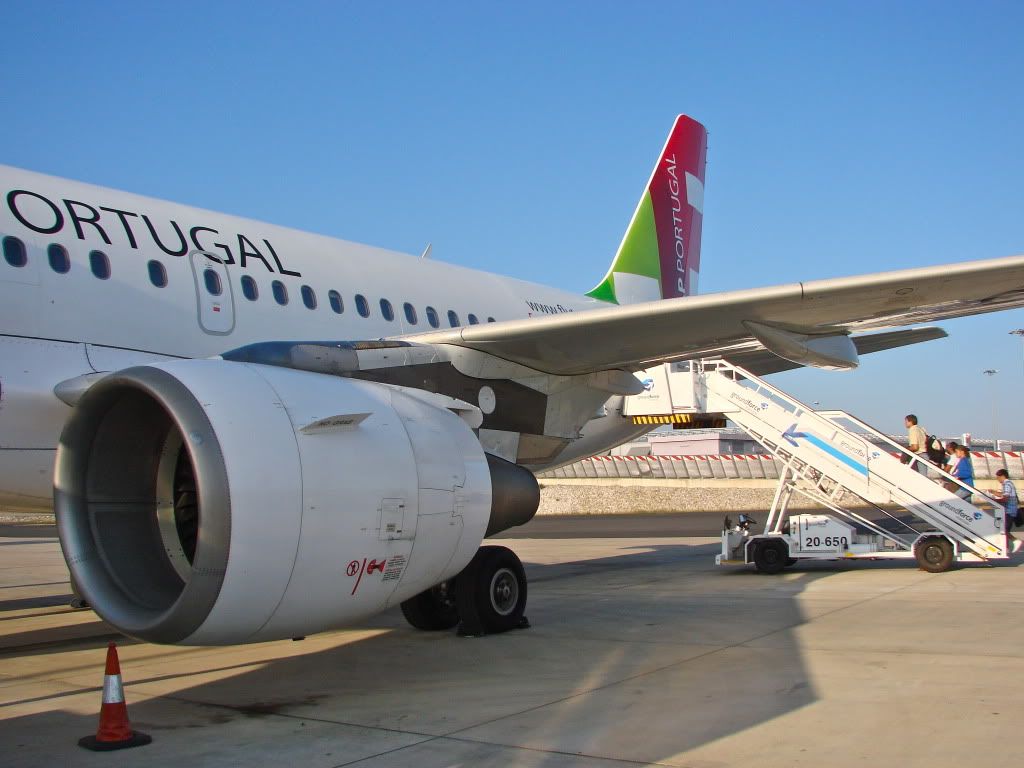 Legroom shot here at 10A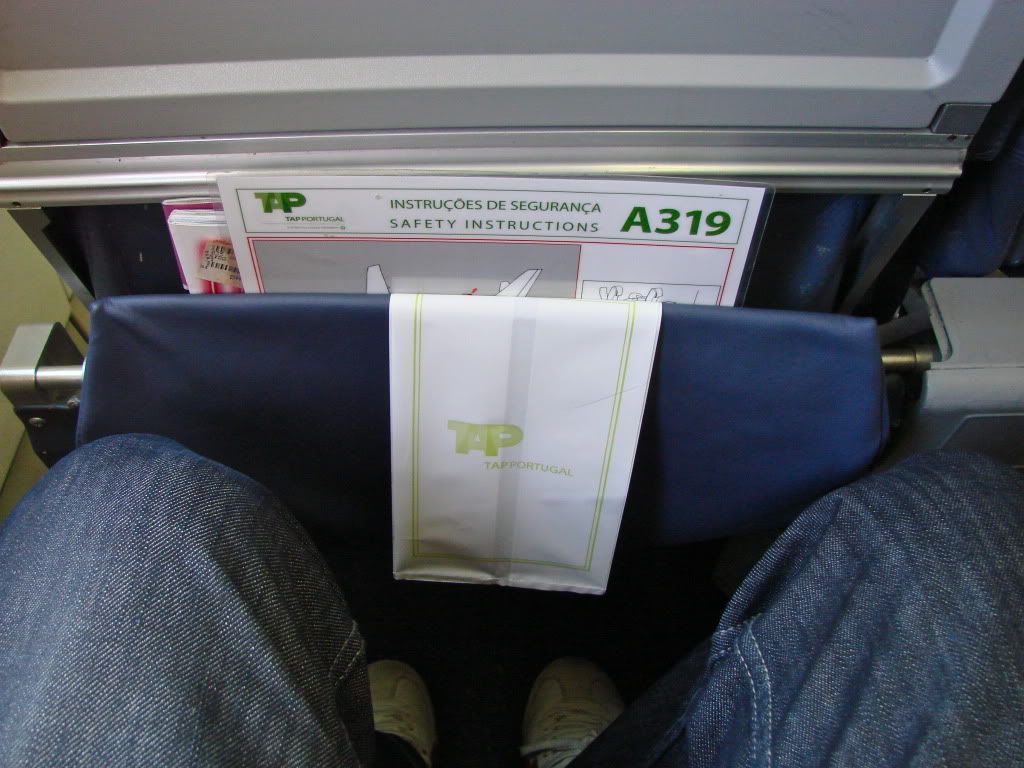 Once everyone was onboard I noted a load of about 70%. Not too bad really. Even better was a empty middle seat again. Room for my bag under the middle seat then.
No delay this time. Bang on time for the departure. I quite enjoyed the funny flight safety video. Some wooden characters doing stupid stuff with seat belts and so on.
We taxied out to the runway for a rolling take off. A few departure shots as we power skywards.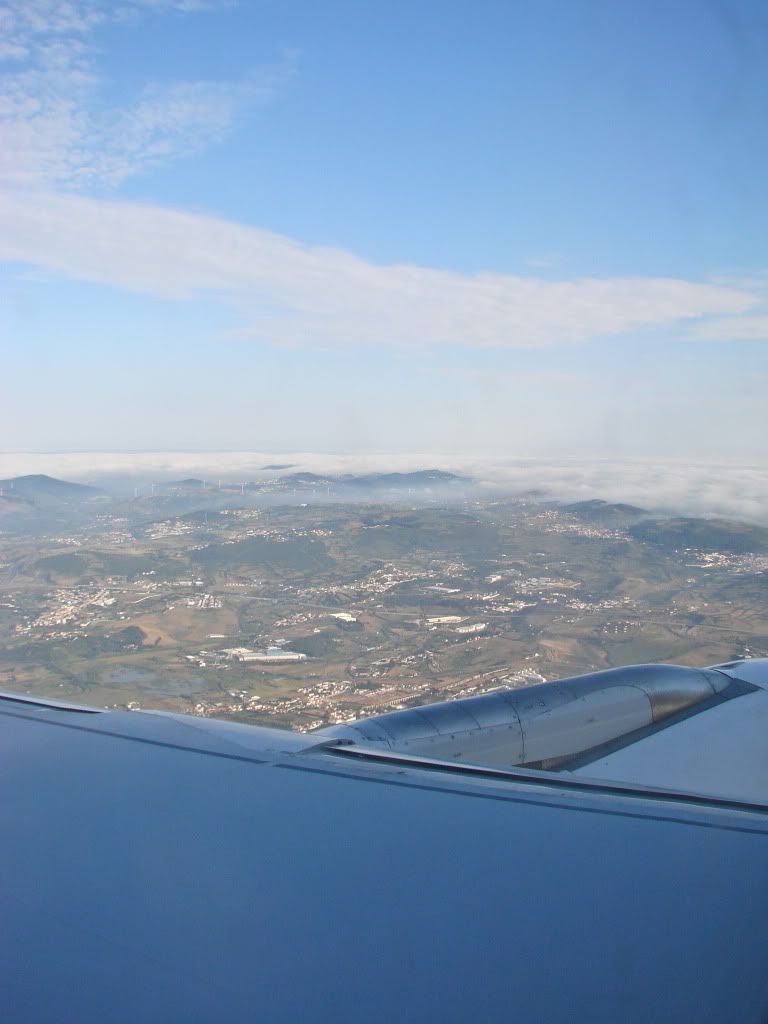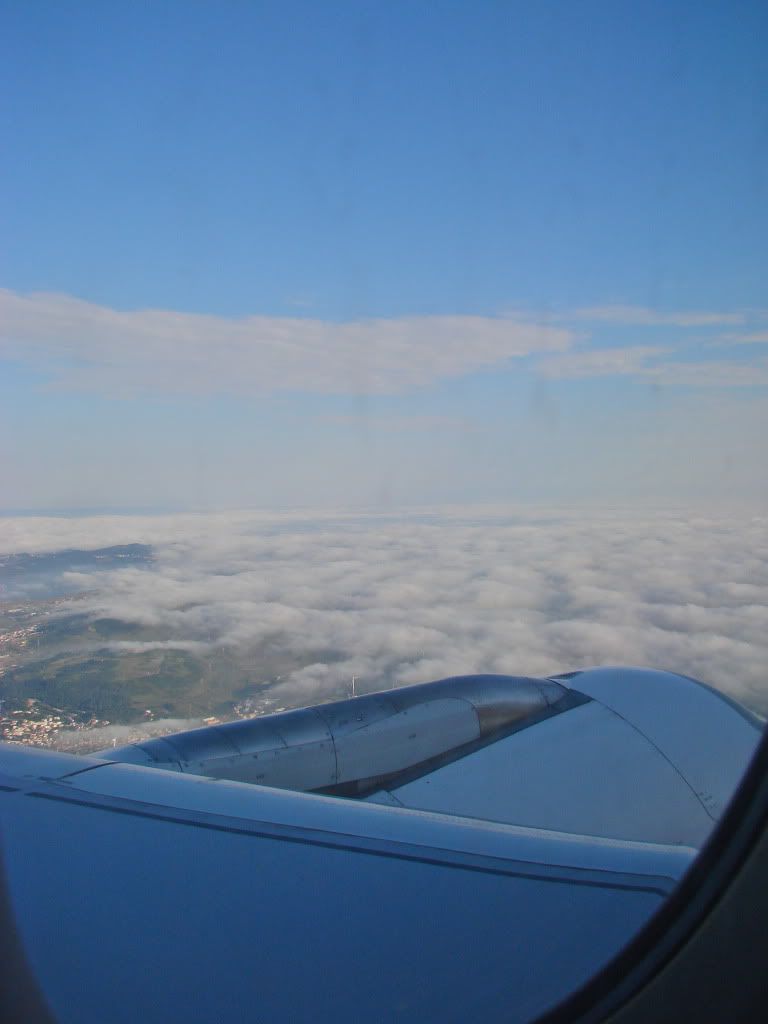 Here we go with that warm food smell filling the cabin. Perhaps something we don't get too much these days on intra-Euro flights. In fact, lets take a moment here to talk about the good old days of flying. These flights with TP have me recalling some memories about my flying days. The first time I can remember being on a plane was at 4 years old, flying from Faro to Manchester with my parents. We were on a TP 727. How I wish it was still easy to find these birds plying the airways of Europe. I can remember walking out to the plane and my Mum voicing her concerns to my dad about how "the back of the plane looks like it has been on fire". Well, not really but they did look a bit sooty from the reverser clamshells directing exhaust gases over the tail as can be seen here.
Anyway, I digress. Lets have a look at the food. Not looking too appetising but it tasted ok.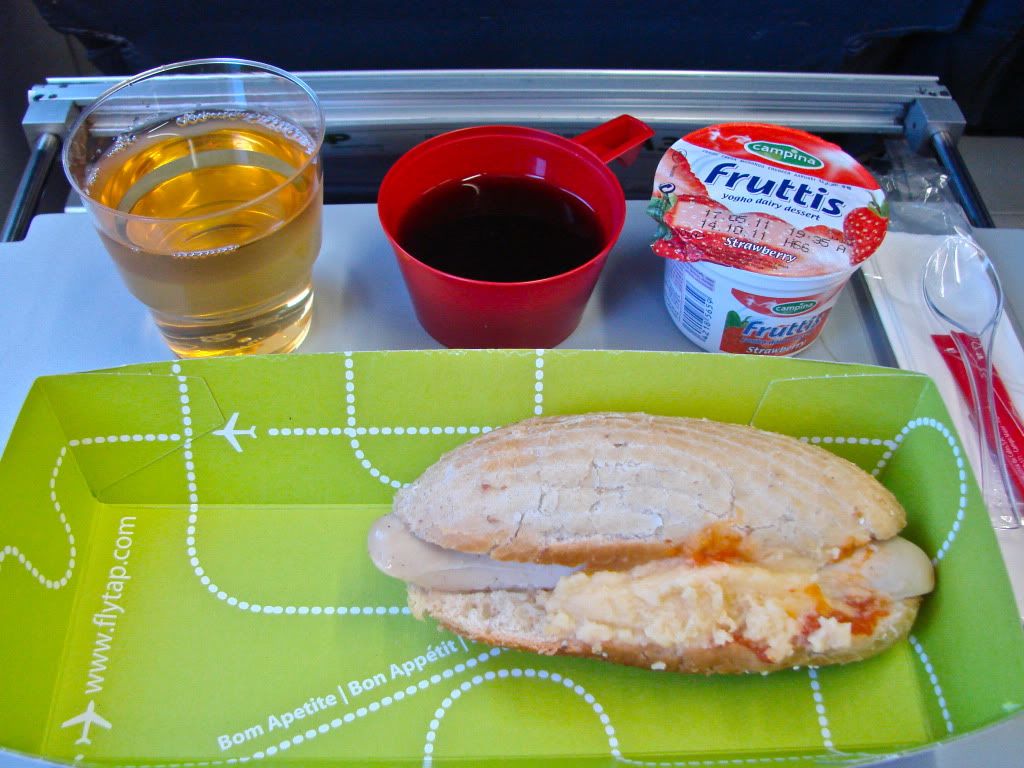 Time to sit back and admire the view for a while. Frost forming on the window.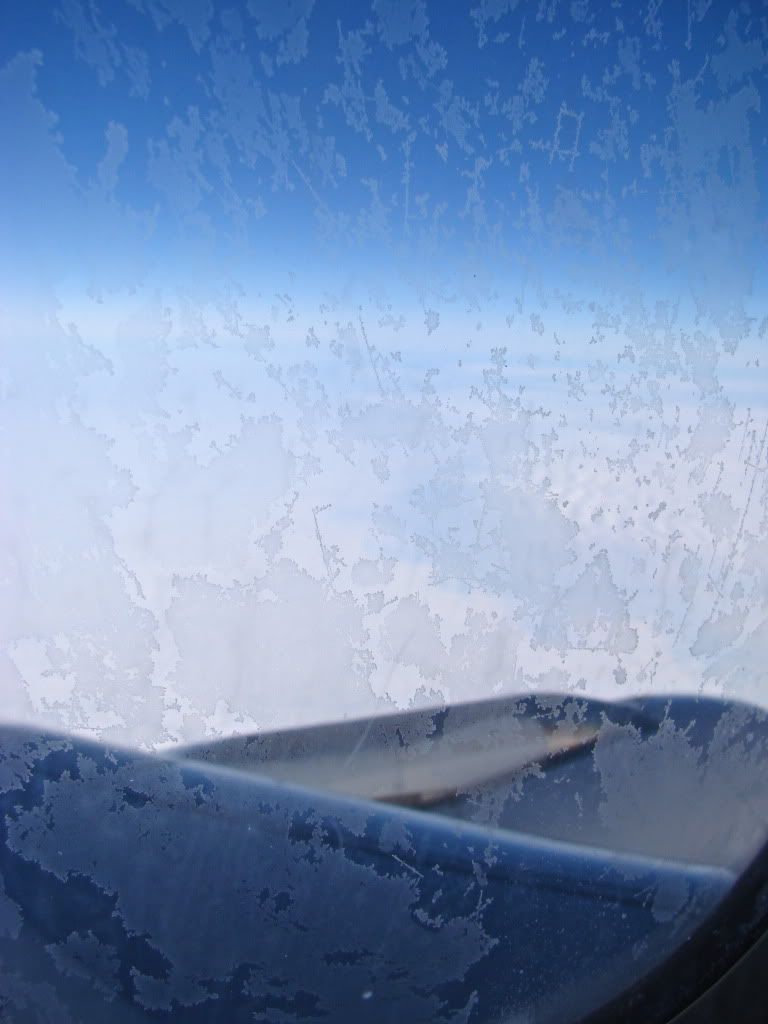 Not much happening on this flight. Occasional appearances from the crew but no second drinks run this time.
After a couple of hours we reached top of descent and started on down into Manchester.
A few pictures of the descent.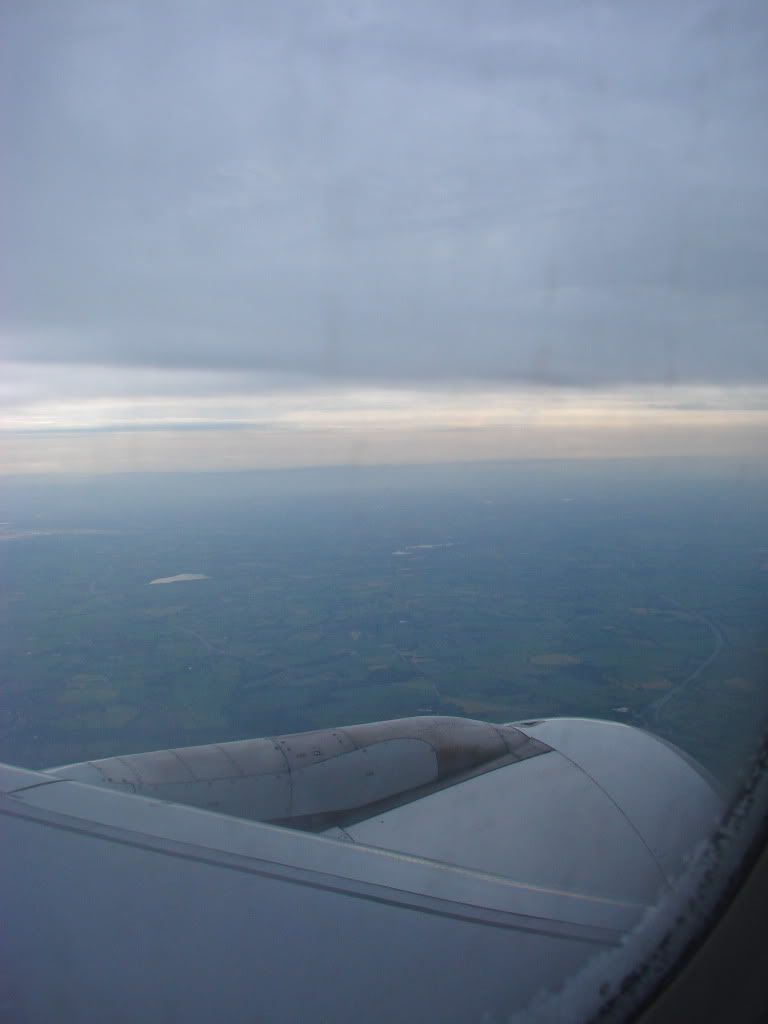 I knew the good weather wouldn't last. This is Manchester after all.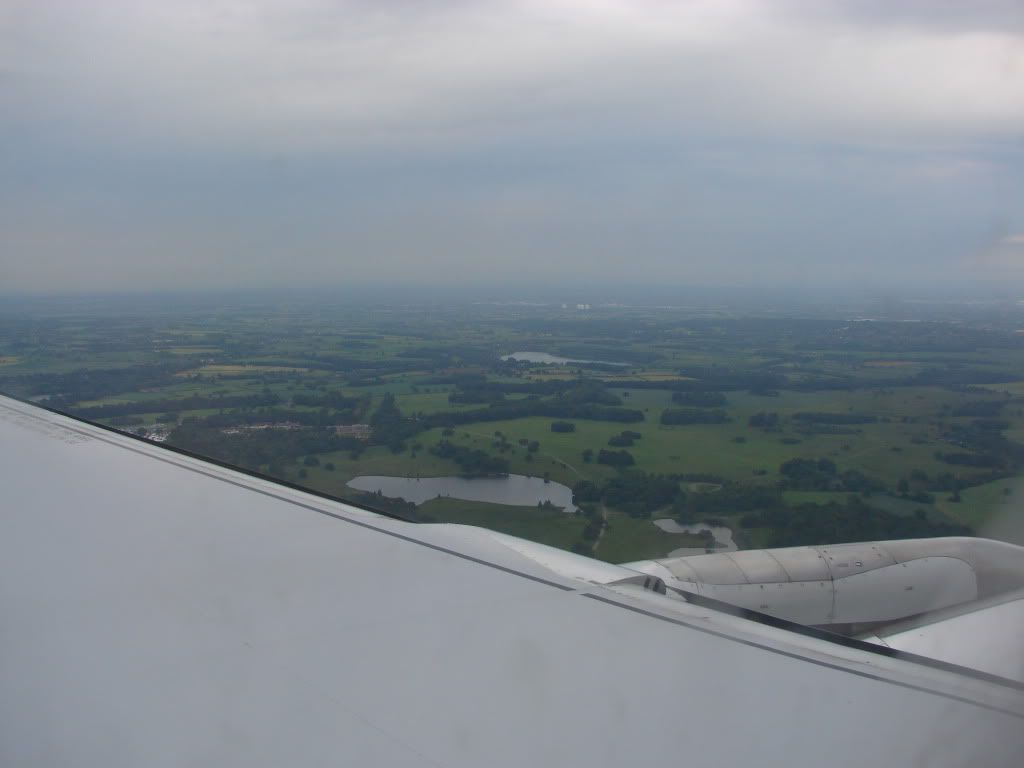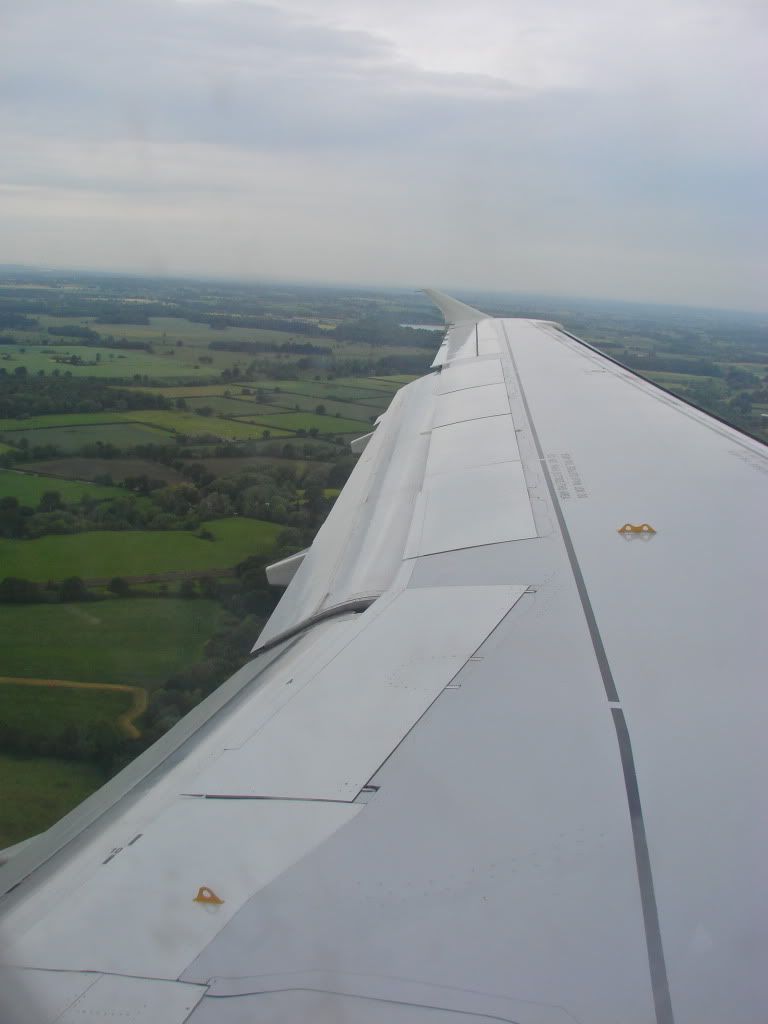 Nearly down on 5R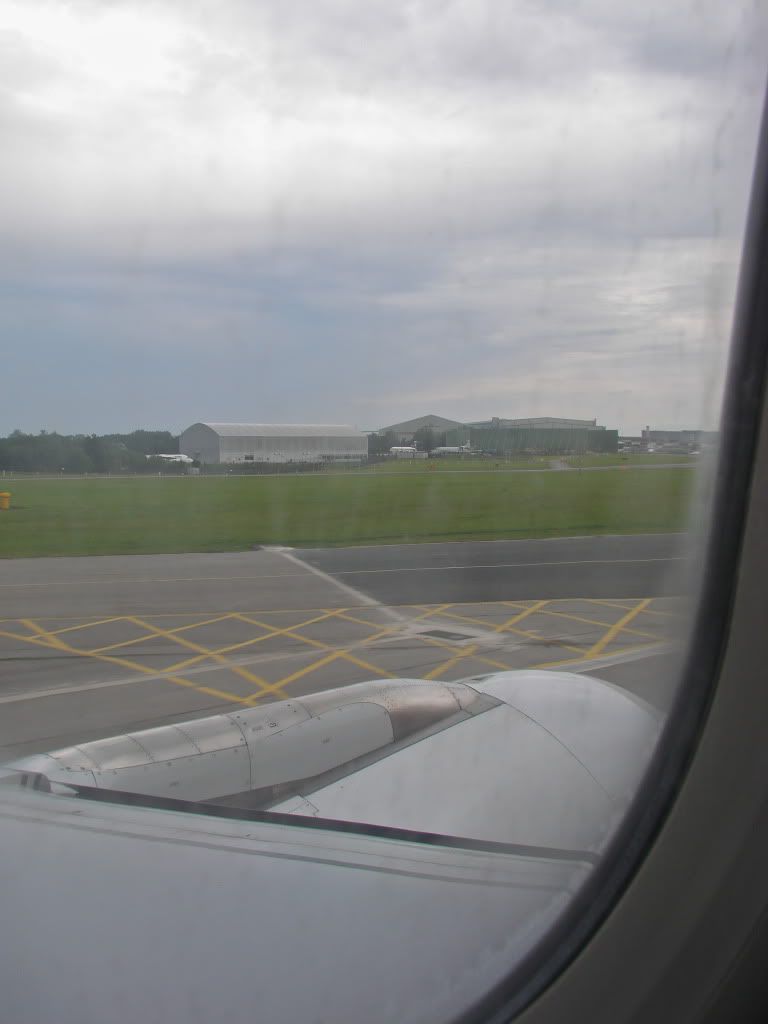 Slowing down.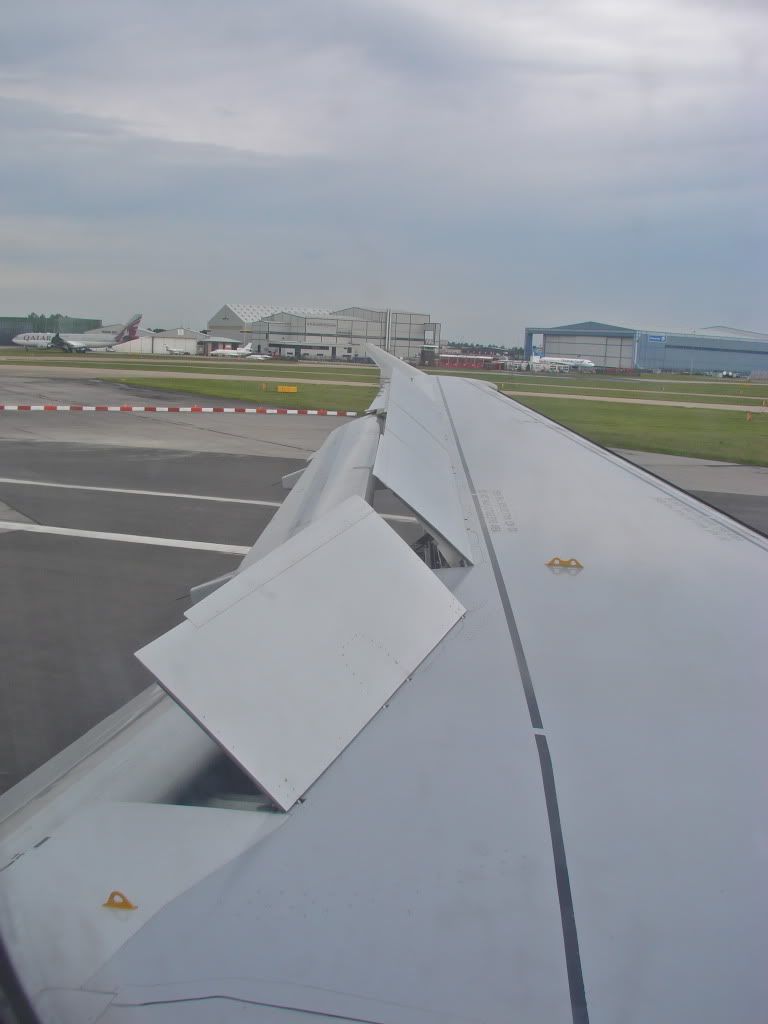 And so ends another adventure. A quick taxi over to T1 to park up and thats that.
I made my way home the same way I got here. 2 trains and a tram.
Conclusion:
bmi:
A good flight with them. The sandwich was as good as ever and the beer is always a welcome addition. Aside from the rushed food distribution I can't find fault with this flight. More of this to come and no doubt more trips on MIDO over the coming months.
TAP:
I was very impressed with the legroom along with the comfort and size of the seat. The meal service was above my expectations and the double beer on the FRA-LIS leg was a welcome gesture.
The delay was a fly in the ointment and I never really felt the reasons were communicated satisfactorily. I can't be sure, but I believe there was something going on in the cargo hold to cause a late departure from FRA which was blamed on something else, in this instance the convenient storms passing overhead.
Holiday Inn Express Lisbon Airport:
Very good rooms, comfy beds and a reasonable price make it a good option for anyone looking to be close to the airport. My experience of the reception staff was slightly below par in terms of friendliness.
Next up is a 6 segment LH run with a welcome 24hrs in Cologne.
See you then.
Cheers, Lee.