This is the third and last trip report depicting my trip to China in May 2011. For the other 2 trip reports, please refer to the links below.
Flying The Orange Star Monopoly - SIN-SWA On 3K
(by
initious
May 18 2011 in Trip Reports)
China Southern SWA-CAN - Do They Deserve 4 Star?
(by
initious
May 21 2011 in Trip Reports)
Introduction
Singapore Airlines is one of the most admired airlines in the world. Ever since its formation in 1972 after the demise of Malaysia-Singapore Airlines, it has since expanded into a world-class airline with the service that "even other airlines talk about".
In the 1970s, the airline saw a large expansion in its fleet and network with flights added to the Indian subcontinent and Boeing 747s, at that time the world's largest passenger airliner, added to the fleet. The addition of the jumbo allowed flights to places as far as the United States and Canada.
In 2004, the airline made history again by offering the world's longest non-stop flights from Singapore to Los Angeles and Newark utilizing the Airbus A340-500 aircraft. Operating with only Business Class and Premium Economy Class at its launch, the flights are now flown with only 100 of the airline's newest Business Class seats which is touted to be the largest in the skies.
A chapter in aviation history was once again made by the airline on 25 October 2007 when the first Airbus A380-800 flight was flown from Singapore to Sydney. The day marked the entry by the world's largest airliner into commercial service. All the proceeds of the flight were donated to charity.
Today, the airline operates various Airbus and Boeing aircrafts ranging from the Airbus A330-300, A340-500, A380-800 to the Boeing 747-400, 777-200ER, 777-300, 777-300ER with orders for the Airbus A350-900 and Boeing 787-9. Most long haul aircrafts now feature the newest KrisWorld which is one of the leading In-Flight Entertainment systems among the airlines in the world.
Singapore Airlines is also a SkyTrax rated 5-star airline.
First and Business Class onboard the airline is certainly one of the best experiences one can get in the air. However, the premium classes are also infamous for their extravagant prices which can be as much as up to more than 2 times the normal price for other airlines (for e.g. S$3400 for SIN-PVG on SQ compared to S$1500 SIN-BKK-PVG on TG with better inflight product). For most people, it can only be a dream and for some they will realize their dream by redeeming miles instead which is what I will be doing for this trip.
Booking Process
I had intended to fly SIN-HKG on SQ with the Boeing 777-300ER which is one of my favourite airliners and I have never flown on it before and returning with SQ's newest addition to the fleet, the Airbus A330-300 from CAN-SIN. When trying to check for mileage redemption tickets for CAN-SIN, I stumbled upon the 50% offer for selected flights and SQ853 from CAN-SIN was one of them, despite the departure at an ungodly time of 1.20am and arriving into SIN at 5.20am. However, I had just enough miles for redeeming a one-way Business Class ticket for 12500 miles so it was a no brainer to go for it and experience one of the world's most award airline's Business Class offering for a short overnight regional hop.
Pre-Flight
I was dropped off at the airport by my relatives at around 9pm, more than 4 hours before my flight as they have work the next day. This left me with nothing to do at all as most of the shops were already closed for the day with the exception of some selling local snacks and other miscellaneous stuffs. (P.S. They do sell very fake airplane models :P)
I was left with doing rounds and rounds around the airport looking for a bag for my new DSLR which I got from my relative for just a little more than S$300. Not bad for a Nikon D40 I'd say. Some long haul flights were departing at around this time with LH to FRA, MS to CAI and QR to DOH. There was a pretty long queue for the QR flight to DOH despite having lots of counters open for Economy Class which makes me wonder if it was the ground staff that was processing too slowly or most of the passengers had too many bags.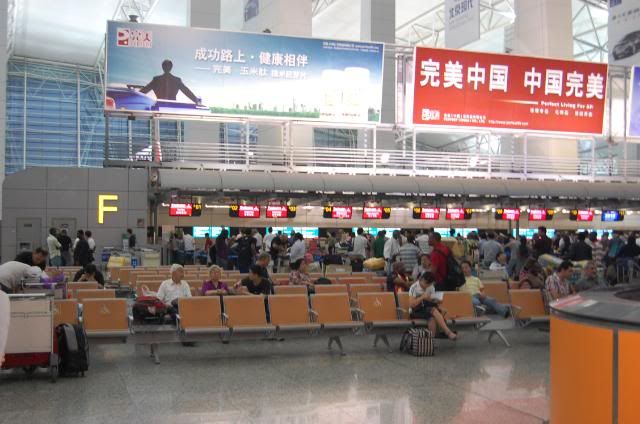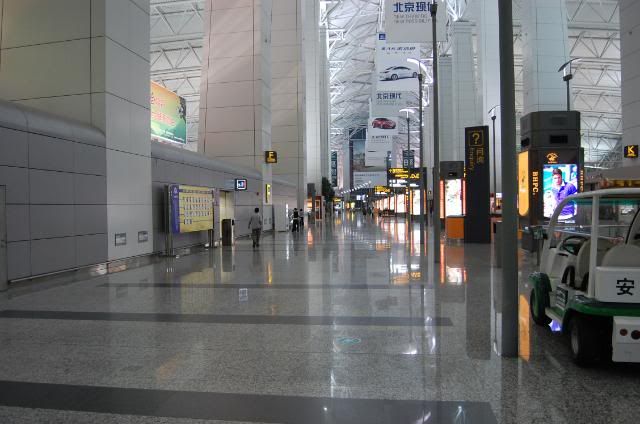 CAN landside pictures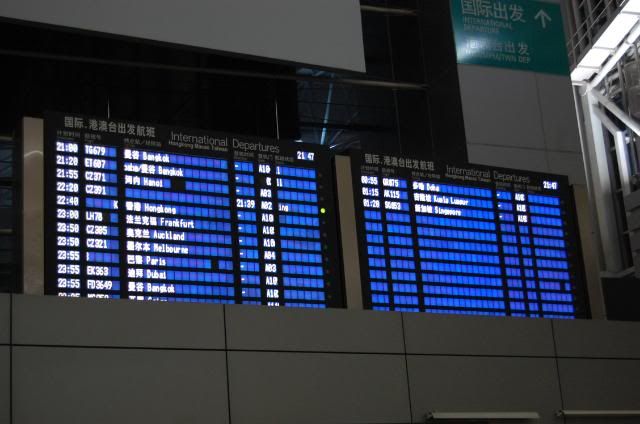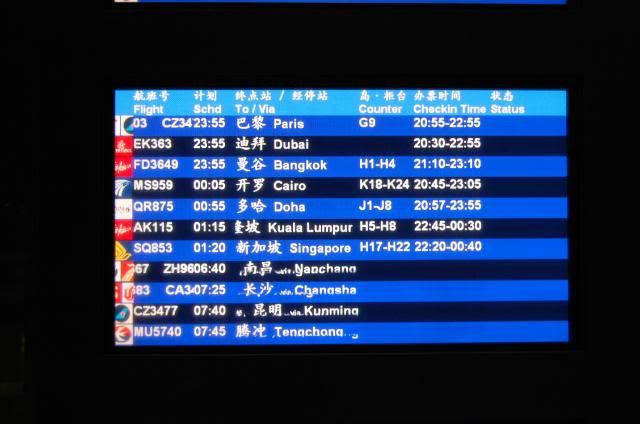 2 versions of FIDS, the big and small brother
Check-in for my flight finally opened at 10.20pm, 3 hours before departure and I went to queue at the Business Class check-in desk. Funnily enough, the agent was taking very long to set up the counter and the Economy Class queue was moving even faster than us. However, we did not have a long queue at our end since the load for Business Class today was only 9/30. No wonder there is a 50% redemption offer for this flight! Not forgetting to mention, this flight only operates twice weekly on Wednesdays and Fridays.

SQ Business Class check-in
Upon reaching the counter, I was greeted by a very kind CZ ground staff. It seems like there is a huge difference between CZ ground staffs and flight attendants as most of the ground staff I interacted with were great and the flight attendants were the opposite. I had to wait for her to load the boarding pass papers into the machine and get my boarding pass printed before getting my lounge invitation which was on a small thin slip of paper. I would have expected something better from a world-class airline than this small slip of paper as a lounge invitation. Even the FM lounge in PVG has a proper lounge invitation printed nicely on a card and this simply looks like it was typed in MS Word or Excel.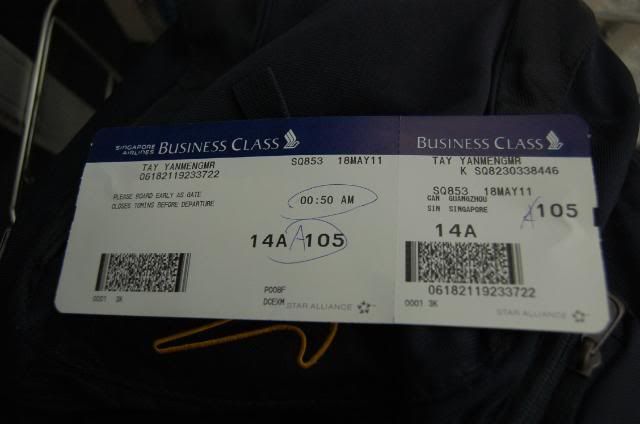 My first SQ J boarding pass, with a matching sequence number 1!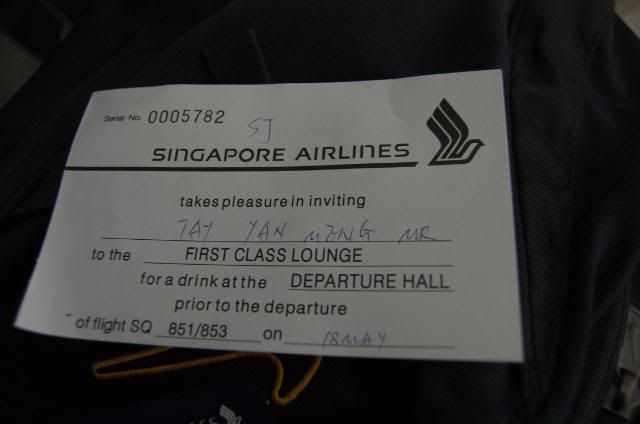 The cheap looking lounge invitation
Airside
Walking around in CAN is very BKK-ish although the terminal is not as huge as BKK. However, you need to walk a great distance before reaching the immigration counters and another great distance after clearing immigration with lots of shops awaiting your business at both sides. My tiredness certainly did not help as I did not have a good sleep the night before but more on that later.
Upon reaching the immigration counters which I assumed was for international flights, I got told that the counters were only for domestic flights and I had to walk a long way back to the terminal before making a turn to the next aisle for the immigration counters that I was actually headed too. They should've made a walkway between the domestic and international counters as lots of passengers were getting confused like I do.
Thankfully, there was a line dedicated for First and Business Class passengers at the immigration counters but that was just for checking of boarding passes and security checks. You walk a small distance to reach the long queue for passport control. This certainly did not impress me since I was getting sleepier as time ticked by. After at least 30 minutes, I finally got airside.
China Southern Airlines First Class Lounge
The words "China Southern" and "great" has never matched up together since my first experience with them so I have never expected anything good for their lounge. As I entered the lounge, I passed my invitation to the agent at the counter whom kindly let me know there is a separate section for First and Business Class passengers. However, I do not get why they call it a First Class lounge since it's actually a First and Business Class lounge but probably because of their Domestic First Class offering.
The lounge is simple with a small selection of food which included dry sandwiches and pasta which tasted disgusting. There is also a room with desktop computers and massaging chairs should you require them. I got myself a can of coke and headed over to the computer room to surf a.net and chat with some friends on MSN before heading over to get some food from the buffet counter and surf the net using the wireless connection in the lounge on my laptop.

Using the computer on a.net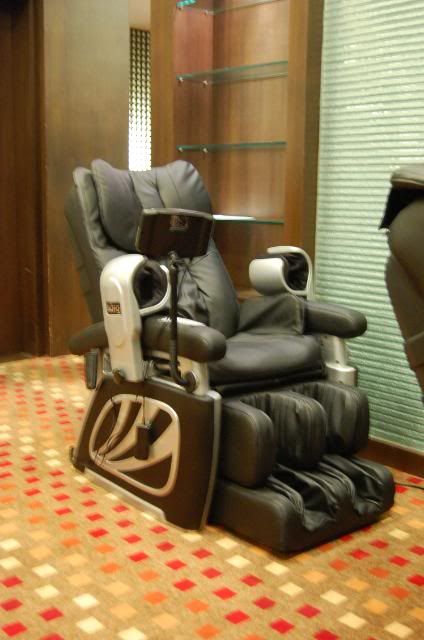 Comfortable massaging chairs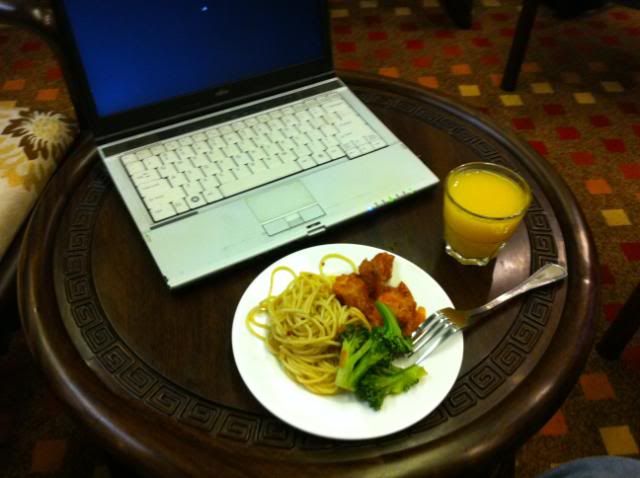 Food in the lounge



A sneaky picture
I could not wait for boarding to begin since I was absolutely bored in the lounge. The last 30 minutes in my lounge was disturbed by a group of Singaporeans whom I assumed to be on the same flight as me coming in and making lots of noise with their chatter. I wondered how they managed to get in as I did not see them in Business Class at all and I would assume even if one of them was a SkyTeam gold member the airline would not allow him/her to bring more than 1 or 2 guests into the lounge at once.