Background:
This 6-days Taiwan trip was a unscheduled one, I've so many travelling plan this years that I can hardly squeeze in anytime for this; but however, since the HKG-TPE round trip ticket is a free welcoming gift from my Credit Card issuing bank, I'll be more than happy to take a few days off and once again explore the already very familiar Island. But this time with a small different, I'm heading south.
Let's begin the journey to Southern Taiwan!
Flight 1
From : Hong Kong International (HKG)
To : Taipei Taoyuan Internaitonal (TPE)
Airline : EVA Air
Flight : 892
Type : Boeing 747-400M (Combi)
Class : Business (J)
Seat : 22A
Depart : 09:50
Date : 02 Jun 2011
Loading : 100%
My southern Taiwan trip begins with this Boeing 747 Combi flight, to my understanding, there are only 2 operators left of this type: EVA and KLM (I might be wrong). But nevertheless, I'm excited to have the chance to be on the Combi and of course any flight on the Queen of the Sky is welcomed! I checked in online on EVA Air's website without a problem; and to my surprise, they've opened up the Business Class Section for Y class ticket holder to choose them, I quickly snapped up Seat 22A in the J section.
I often wonder what is the purpose of checking in online @ HKG, as self printed boarding pass are not allow pass security anyway. Got to the Airport, headed strict to the EVA Air check in counter to drop off my bags and get a "Real" boarding card to get pass security.
My Boarding Pass: Although it said Y on it, I was actually checked into the OLD EVA Air Business Section.
Once cleared immigration, I head to the Pizza Express located immediately after the food court. I my personal opinion, it has the best breakfast in the airport and with a spectacular view of the apron too. Very comfortable seats and live news with a huge breakfast, why do you need a lounge? The best part is, the huge breakfast only cost HKD$99, I'd not complain at all!
Free Wifi, Live News, Excellent Italian Breakfast, Plus excellent view of the apron, PERFECT!
After spending about 45mins at Pizza Express, I started moving towards my gate. My flight has been located at Gate 65, boarding was no problem. I asked about my weird upgrade at the gate and found out that they allowed elite members of the airline to check-in to the OLD business section for free as a compliment, but the system somehow messed up and let me get in there.
The aircraft on duty today is B-16408, one of the four remaining B747-400 Combi in EVA Air's fleet. I'm not too sure where are they deploying these aircrafts, but they all looked very tired from both the outside and inside. The aircraft is still fitted with the old products throughout all classes and it is in a desperate shape. HKG-TPE is known is the Golden route, it generates so much revenue, all CX, KA, CI and BR deploys wide bodies on this route and with over 100 daily flights departing and arriving between this 2 airport. Beside passengers, air freight plays a very important part in contributing revenue to this route, hence the 74M is not an uncommon sight for HKG.
Any flight on the 747 is always welcomed!
As this is really the J section of the aircraft, sit width and leg space is more than adequate for a 90mins flight. The J section is located at the front of the aircraft with about 40 seats or so. Although it is serving as Economy on this leg, the normal J class decoration such as flowers are still in place with all the PTVs working. FA are also dressed in J cabin uniform too. We're greeted by last name as we board the aircraft. Not once in my life have I been greeted "Welcome aboard Mr. Wong" flying economy. The journey itself is excellent; we're served with 2 rounds of drinks, a full hot meal (Tasted terrible) and service concluded with duty free sales within 90mins. One side note is that our flight was delayed for 35mins due to runway congestion as informed by our pilot, we were apparently number 11 for takeoff at the time, a 3rd runway is desperately needed here in HKG! Once arrive at TPE, we were given the Priority disembarking treatment, which is another delight as this flight is completely free of charge for me!
Arrived in TPE about 50 mins behind schedule, the airport was literally empty, we were the only aircraft parked alongside T2 of TPE. Immigration is a breeze as no one is around, luggage was waiting for us before we arrive at the baggage claim. But as the main International Gateway of a nation, sight like this doesn't look very good. I wonder is this normal for TPE.
Once I've got my luggage, I head to the Public Bus station to catch my connection to the High Speed Rail station. From TPE to the THSR Taoyuan Station is only a 15 mins bus ride away. Since THSR started it's operation, all domestic flight between TPE and the southwestern part of Taiwan almost come to a complete stop. The only remaining flight is the once weekly TPE-KHH flight. But I can see why, the train ride from TPE to Tainan is only 60mins, it only costed me TWD$800, it was comfortable, it departs every 30mins, so why fly?
Connecting Bus Between TPE and THSR Taoyuan Station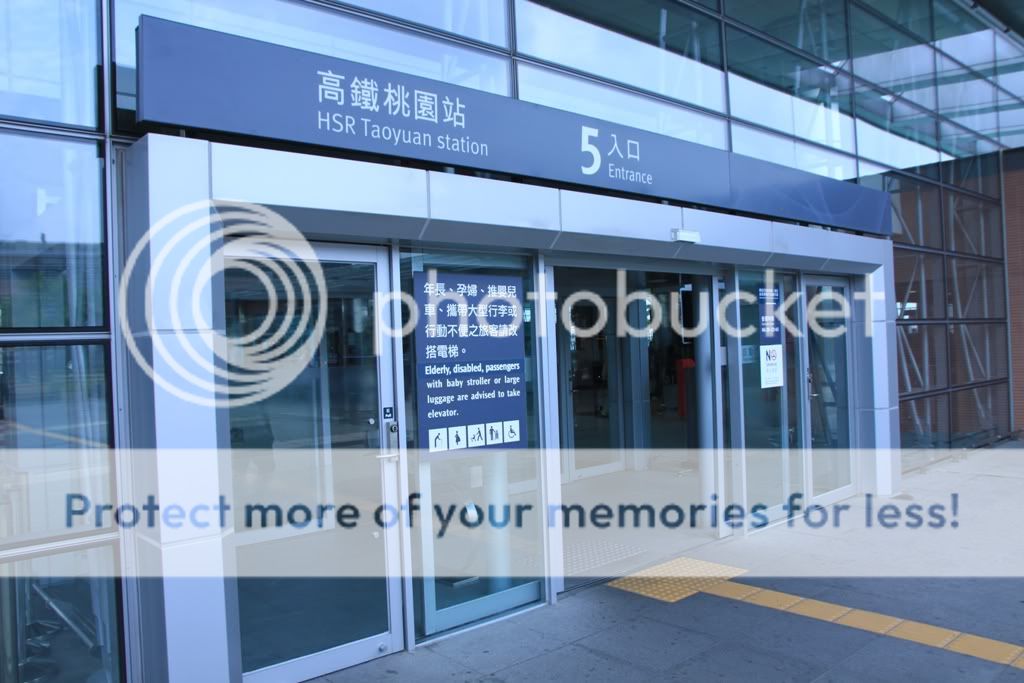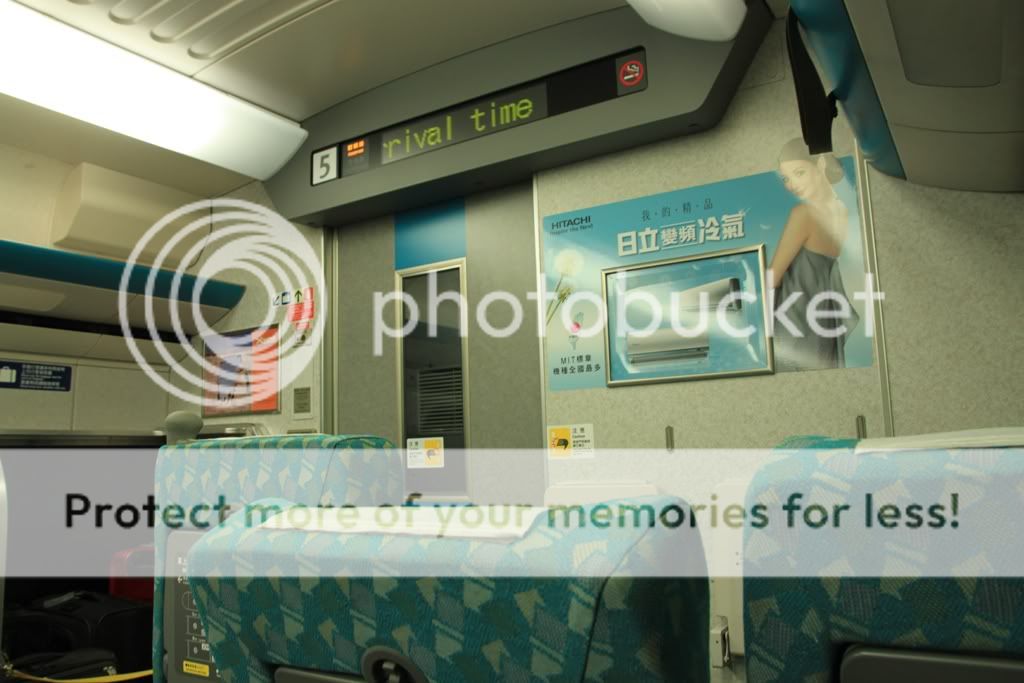 Some random snaps from the Taiwan High Speed Rail. North America should have one of these system, it is way more sustainable than air transportation network.
Spent 3 days hanging out with my friend in Tainan, it is time for me to move on. I took the old Taiwan Railway from Tainan to Taitung and spent a night at the Zhiben Hot Spring resort to get myself recharged before heading down to my next destination.
Flight 2
From : Taitung Airport (TTT)
To : Lyudao (Green Island) Airport (GNI)
Airline : Daily Air
Flight : 7303
Type : Dornier Do-228-212
Class : Economy (Y)
Seat : 9C
Depart : 12:05
Date : 05 Jun 2011
Loading : 70%
TTT-GNI is one of the shorted scheduled commercial routes on the planet according to Wikipedia, with a distance of only 38km. Green Island (GNI) is a small island located east of Mainland Taiwan to the Pacific Ocean with a population of about 2,000, it is a popular holiday destination among the locals, but foreigners are of the rare bunch here. GNI is only served by Daily Air's 3x daily Do-228 flights from TTT during peak season, it reduce down to 1x daily during winter where there are hardly any tourist around. I was very excited to have a chance to fly on this route and on this aircraft, and Do-228 is exactly the type of aircraft I'd like to avoid if I'm flying anything more than 15 mins, LOL.
Arrived at TTT early in the morning, the airport was pretty quiet. Checked in at the Daily Air counter, was told that the flight wasn't full. The airlines only allow 10kg checked in luggage and anything over that will be charged 10TWD/kg, and that's pretty cheap, after I got my boarding pass, I head to the Central Baggage Drop off area to pay my luggage fee and to check in my luggage. The one way fare from TTT to GNI is TWD$1000 tax-in, which is around USD$35, the route is heavily subsidized by the Taiwanese Government essential air service scheme to maintain its operation.
All domestic boarding passes in Taiwan looks like this, regardless of airlines.
Snapping around Taitung Airport.
Once passed security, I entered the waiting rooms. There are a total of 4 gates at TTT, catering the needs of a handful of operators out of this domestic airport. TTT does see occasional International charter from HKG and other parts of Mainland China, but that's rare case. Gate 3 at TTT is designated to Daily Air, the gate counter is unmanned with a 15" TV looping the safety demonstration. There is NO safety demonstration onboard the aircraft, all passengers are asked to pay attention to the demo at the gate area prior to boarding. Once it is time to board, the auto door at Gate 3 will open and passengers start heading down to the escalator, NO boarding announcement were made.
With only 12 passengers onboard, the boarding was pretty fast. I'm 5"11 and weight 220lbs, getting onto the Do-229 is actually quite a challenge for me, but I did managed to sit down, shut up and buckle up in no time. The cabin of this Do-228 is very very very tired, with cracks visible everywhere inside. This little bird operates 12 daily shuttle services between TTT and 2 outlaying island on a daily basis, it is no surprise that the aircraft itself looked like this. The cracks dones't worry me so much as I know the cabin is not pressurized, our cruising attitude is only 3,000ft. I swear to God that the A/C on this a/c is not working at all, everyone onboard is sweating their ass off as soon as they boarded the aircraft, it was 38oC outside when we boarded, and the 15mins flight seems to take forever due to the heat!
No FA onboard means no service, and what would one really need for such a short hop. We landed in GNI on time and it was funny that the runway is stormed by tourist taking pictures of the aircraft. Locals waving at our aircraft as we land.
I asked the pilot If I could visit the cockpit after we land, but he told me that they only have 8 mins to turn the aircraft to turn the aircraft around, so it is not possible. But they did pose for a picture, that's nice of them! I disembarked the aircraft and walk towards the rather big for a small airport terminal under 38oC heat….
Green Island is the Hidden Treasure on the Pacific Ocean.
It can make you forget about reality for a moment. Enjoying the endless scenery, cruise around the island with scooter, dive if you wish, a hot spring that opens until 2am, a sky fill of stars and no light pollution what so ever. On this island, time is not a factor, you eat when you're hungry, you play when you're bored, it is a place to relax yourself and get some self-thinking done.
Locals on this island is very friendly and helpful, don't be afraid to ask around should you need help, everybody on this island is ready to help. Do not forget to ask you hotel for a night tour of the island! They will take you up to the hill in complete darkness to look at wild life and the gorgeous sea of stars. A picture say a million word:
After spending 3 magical days on the Green Island, it is time to head back to reality.
Flight 3
From : Lyudao (Green Island) Airport (GNI)
To : Taitung Airport (TTT)
Airline : Daily Air
Flight : 7302
Type : Dornier Do-228-212
Class : Economy (Y)
Seat : 1C
Depart : 08:50
Date : 07 Jun 2011
Loading : 100%
Arrived at the Terminal 30mins prior to departure, I was the last one to check-in. The counter staff told me that if I were to check-in 5 mins later, they would have already given my seat to the stand by passengers. Flying domestically in Taiwan is quite different from other places, you can show up to any airline counter and write your name on the waiting list and start sitting around the airport and wait. I learn from the locals that sometimes they sit all day (8am to 6pm) just to stay by for a seat, since time is not really important for them, if they can get on, they go, if not, they go home. Haha.
After I checked in, I again pay my baggage fee and dropped off my baggage, the bags than immediately go through X-ray screen. A security was sitting at the screen with a local little boy (5 yrs old maybe?) showing him how does the X-ray works. 2 mins prior to departure, we'll allow to board the aircraft through the only gate at the airport. Security was minimal, even the metal detector sounded, the security guard didn't stopped me for a search.
Once the aircraft door closed, the 2 ground staff waved good bye to our aircraft until we took off they are still waving, since their next flight will be arriving some 3 and a half hours later, there is not so much to do other than waving?
Again, Safety demo at terminal before you board the plane.
Everyone can just walk up and write down their name for stand-by. You'll get on the next flight if you're lucky, sometimes you'll have to wait for days.
It is the Pacific Ocean, when there is server weather, they will write down weather info here.
I'm sitting on the first row on this leg, as Do-228 doesn't have an cockpit door, so I get to see every action from take off to landing, that was pretty amazing! I was boarded onto the exact same aircraft from my previous leg too!
Smoke in the cockpit!!! Just prior to our landing into TTT, not sure what is it.
Arrived at TTT, took the 5 mins walk back to the terminal building and came across a Mandarin Airlines ERJ-190 on the way preparing from TPE.
After arriving from GNI, I checked onto my next connection flight from TTT to TSA (Taipei Songshan), I'll have a 4 hrs layover at TTT before heading out.
Flight 4
From : Taitung Airport (TTT)
To : Taipei Songshan International Airport (TSA)
Airline : UNI Air
Flight : 856
Type : Boeing McDonnell Douglas MD-90
Class : Economy (Y)
Seat : 25A
Depart : 01:30
Date : 07 Jun 2011
Loading : 100%
After arriving from GNI, I immediately check-in for my next flight to TSA. UNI Air and Mandarin Airlines both operates a few flights to TSA daily from here. TTT is not exactly a very busy airport, so the whole check-in process was flawless. I got my-self an emergency exit row seat too, that was a bonus!
Once passed security into the waiting room, I realize this is gonna be a full flight with the amount of people waiting for this flight. I'm glad that I checked in early to secure the emergency exit row although it is only a 70mins flight from TTT and TSA. There was only 1 gate agent on duty for our flight, so the boarding process was snail slow, but we did managed to get off the ground on-time. According to Taiwan Civil Aviation Regulation, from the moment the door is closed until it was reopen again, ALL electronic devices are prohibited on domestic route, hence no pictures of me enroute.
Arrived into TSA on time. TSA is a MUCH busier airport than TTT for obvious reason, we were parked next to a JAL 767 waiting to bound back to HND. Go my baggage in a timely fashion and I head out to the check-in area to snap a few shots before going to the Bus Stop. I need to catch the TSA-TPE connection bus to catch my TPE-HKG fight. The travelling time between TSA and TPE is approx 60-70mins including traffic jam, I have absolutely no idea why did they split operation into 2 airports since with the traffic they're getting, 1 is more than capable in my opinion. The bus ride from TSA to TPE was very comfortable, seats are comparable to CX regional business class, It also comes with a PTV too! I slept through most of my 70mins journey tho as I was very tired.
Hong Kong is not China. Not better or worse, just different.