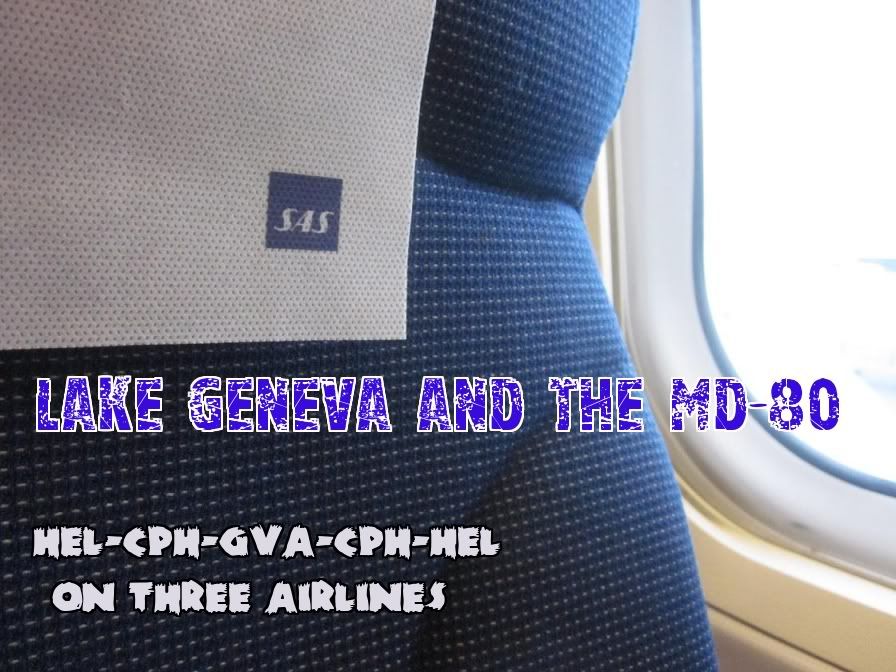 Welcome to my second trip report!
Hi all,
If you have not yet read my first trip report featuring a Finnish domestic run on Atlantic Airways, the airline of the Faroes, please feel free to check it out here:
Atlantic And Norwegian Rides To Lapland
(by
717Flyer
Jun 5 2011 in Trip Reports)
Now let's go, follow me on this trip to beautiful Switzerland!
Background
Wanting to do a smaller weekend trip to some European city in the very beginning of the Summer holidays in June I started looking for options already in February. I of course also wanted to add some new airlines and airports to my log and travelling on a budget as tight as possible was also high on the wish list.
By accident I started looking for low-cost airlines operating out of CPH. Even if the list of real low cost carriers from there is limited I discovered easyJet is offering quite a number of destinations from Copenhagen including LON, CDG, MAN, GVA, SXF and BSL. Out of these six destinations, Geneva was the clearly most interesting option for me. Alright, I settled down and looked for their flights from CPH to GVA.
I found a perfectly timed easyJet flight CPH-GVA leaving on 13.10 a Friday afternoon. As I had never flown easyJet before I also decided to book the return GVA-CPH on them. Another nicely timed flight on Sunday the same week with departure at 11.45 was quickly booked. With no check-in luggage, priority boarding or other 'extras' the price ended up very reasonable. The outward flight was only 25 EUR and the return flight was also a very reasonable 31 EUR.
So - how to get from Helsinki to and from Copenhagen? I did not even bother to check what ridiculous fares AY wanted and started my search from Air Baltic, however with limited success. With nothing special to offer I continued to browse trough Blue1's flight offerings. For 45 EUR I booked HEL-CPH on their 08.40 flight the Friday. I was happy to score another ride on the Avro RJ85 before they are phased out by KF.
Finally, after some thinking, the return was booked on a SAS flight operated by the MD-80. That also gave me six hours between the flights on my way home and so I had time to make a quick city visit to CPH.
A couple of weeks before the trip I decided to check how much it would cost to upgrade the KF flight to Blue1 Premium via Optiontown.com. I do not know if the fault was in my computer or in their database but always when entering my details on the Optiontown I only got an error message. Anyway online check-in for my flight worked fine so I figured out everything with my booking was okay.
This is what my itinerary looked like
1. Helsinki-Copenhagen on Blue1 flight KF649, Avro RJ85, 10.06.2011
2. Copenhagen-Geneva on easyJet Switzerland flight DS1468, Airbus A319, 10.06.2011
3. Geneva-Copenhagen on easyJet Switzerland flight DS1467, Airbus A319, 12.06.2011
4. Copenhagen-Helsinki on SAS flight SK714, McDonnell MD-80, 12.06.2011
Our simple routing this weekend (almost a little bit too straight for my opinion):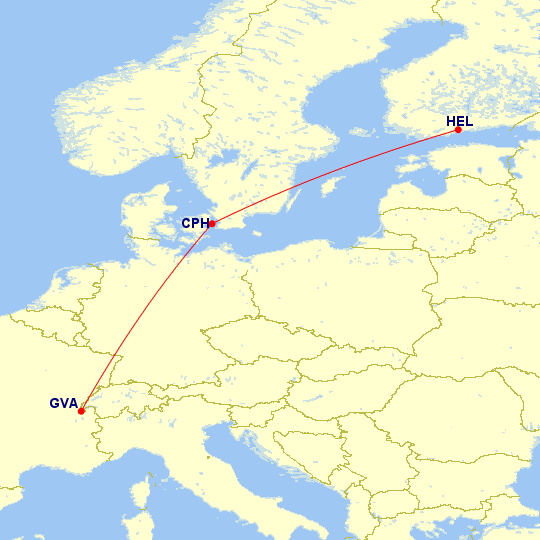 The question mark in the headline for this report will be explained later - so read on to find out what happened
Friday 10.06.2011
With the first flight of the day leaving at 08.40 the wake up call was not all too early. While taking public transportation to the airport takes about 45 minutes from my house I thought arriving about 1 hour ahead of departure was enough as I was travelling with hand luggage only.
My "lovely" wake up call went on at 06.15, a quite acceptable time remembering all the times with wake up at 4.00 or something like that.
This time wanting to try a different routing to the airport, instead of taking the bus going straight to the airport I first took a bus from my house to Pasila station from where I took a regional train to Tikkurila and from there I jumped on the airport bus nr 61.
Soon we left Pasila station and the journey had begun: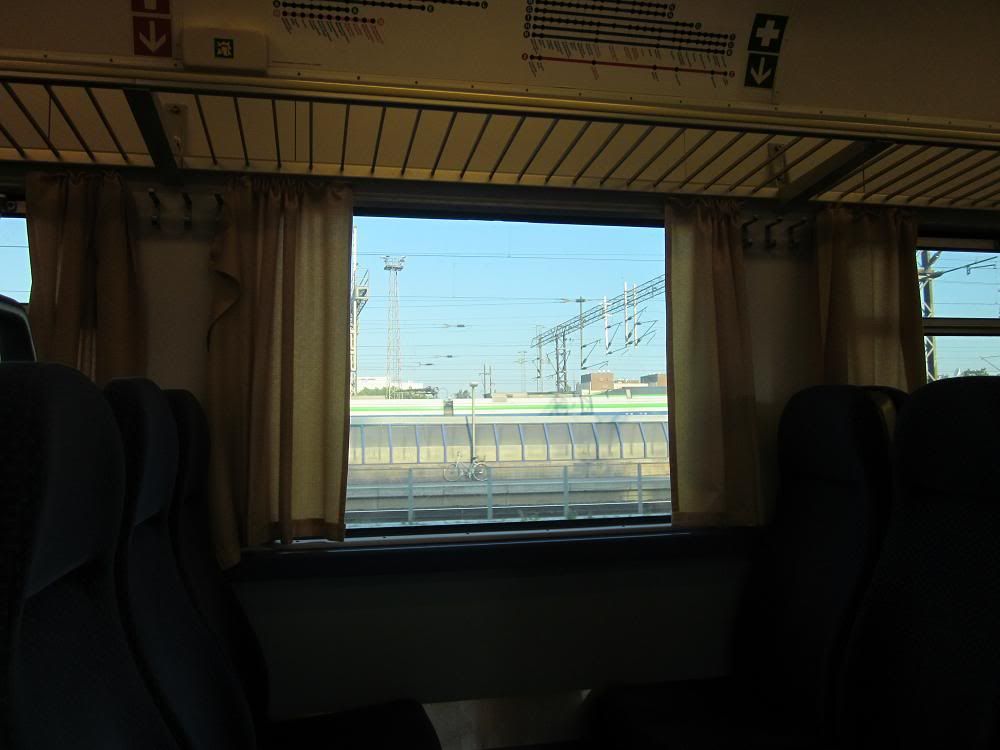 The train was empty that morning:
At Tikkurila station a man from Ghana came to talk to me. He turned out to speak excellent English and we had a really funny conversation. He lived in London and had spent a few days in Helsinki before visiting some relatives in Germany. I explained to him which bus to take and when to get off.
I hope there would be more people like him - he was a genuine friendly man and his beautiful laughter really made my day. Afterwards I realized I really should have taken a photo of him - he took a picture of me and some other Finns in the bus.
Most of all I remember how much he said good things about Finland - most of all about how organized all things are here. On the other hand he said it is too cold in Finland and the people is too quiet for his liking.
The man was travelling on BT from HEL to RIX and then continuing his journey to some place in Germany with BT. We left the bus at Terminal 1. As I had checked-in online the day before I could go straight to security so we said goodbye - and with a smile on my lips I continued my way to security control, met by a tired officer not even wanting to answer my greeting. Phew..
Soon I was airside, time for some limited aircraft spotting on the way to the gate! Because of some odd reason there are some kind of 'curtains' that are closed at most gates and making photos impossible. There was Boeing 717 after 717 and no photo...
Anyway, the curtains did not cover every gate and I got some decent shots.
OY-KBL, Airbus A321 of SAS, spent the night in Helsinki and left on the 07.20 departure for CPH:
OH-LKR, an Embraer 190 in the new AY livery (really not in my taste), arriving from Joensuu: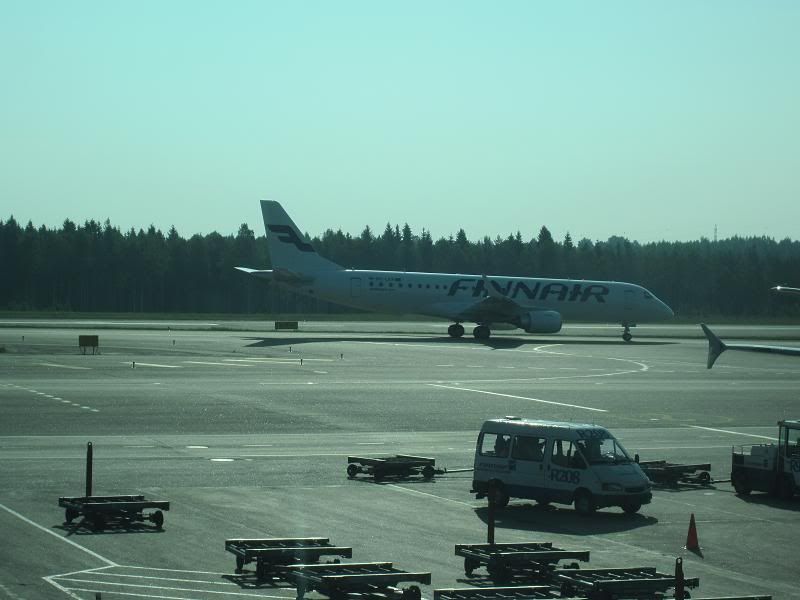 A much better looking AY livery; OH-LZA operating a delayed flight to FCO:
LN-NOI, Boeing 737-800 of Norwegian arriving from OUL:
Our 08.40 flight seems fine: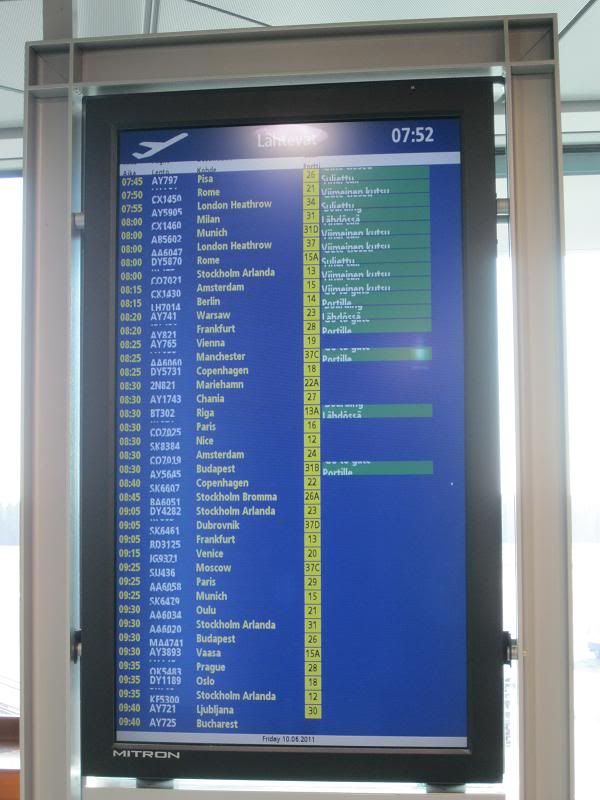 Oh no, can't even see the reg. The best possible view of my ride to CPH:
Our crew arriving at the gate at 08.00, also note the stand of free newspapers, there was quite a range of them available, definitely a nice touch:
FLIGHT INFORMATION
Flight: KF649
Airline: Blue1
Equipment: Avro RJ85
Reg: OH-SAP
Departure: Scheduled/Actual: 08:40/08:38
Arrival: Scheduled/Actual: 09:20/09:16
Duration: Scheduled/Actual: 1h40min/1h38min
Seat: 10A, window
Load factor: 95 %

Our flight routing, as seen from Flightradar24.com:
OH-SAP
made its first flight in April 2002 which makes it approx. 9,1 years old. While flying for BAe Systems it had the reg G-CBMH. Transferred to Air Botnia (that became Blue1 in 2004) as OH-SAP in November 2003.
Not exactly a new reg for me, actually my seventh flight with OH-SAP.
As an interesting fact this particular aircraft had arrived from Copenhagen the night before. The flight, scheduled to arrive from CPH to HEL at 01.20 arrived at the delightful hour of 04.00 in the end. The reason behind the delay was a last minute aircraft change and late arrival of the "changed" aircraft.
Our aircraft was parked at Gate 22 as I arrived there and boarding begun right at the indicated time of 08.15. At first I thought there was a very little number of passengers at the gate, but in the end the boarding queue ended up pretty long and indeed I could only spot a few vacant seats while onboard.
This was quite interesting taking in hand that a number of other flights to CPH had left/were leaving close to our 08.40 flight: Blue1 had another 06.40 which had economy fully booked while SAS had flights at 07.20 and 09.40, both being fully booked. Norwegian had an 08.25 departure and Finnair left 07.35.
You can only assume that CPH is a profitable route for KF/SK, perhaps because all of the connecting flights available. And if you ask me, CPH is of course also a very beautiful city.
Boarding the aircraft, ahead of my was a bigger party of some older ladies keeping up a loud discussion during the whole flight about what to doo and see in CPH: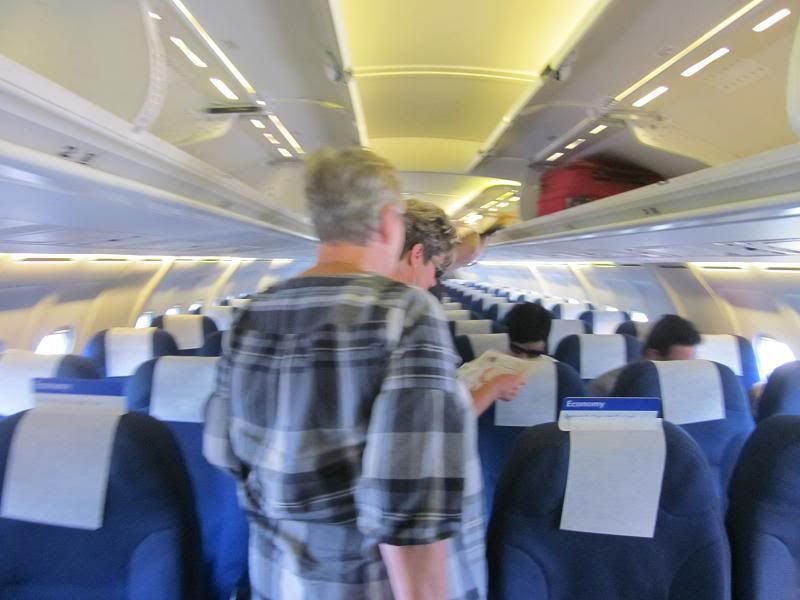 Legroom was good: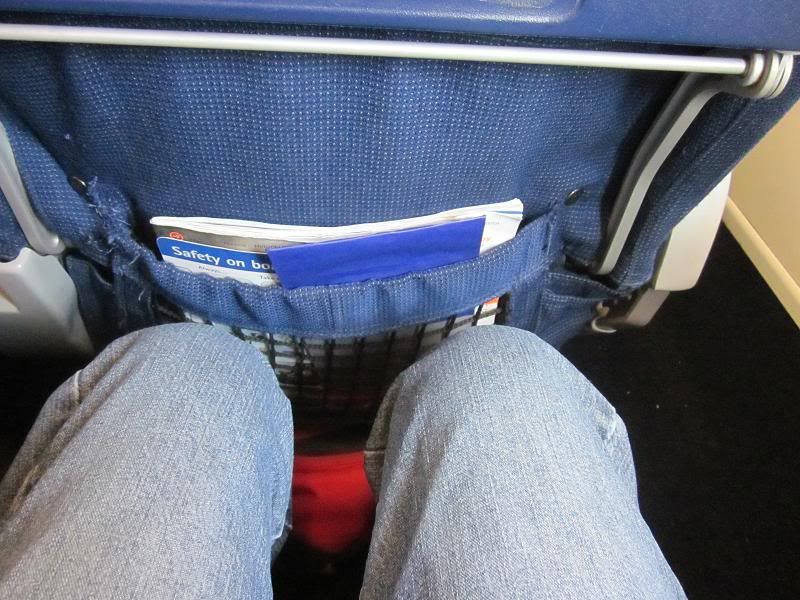 And a must, the cute "wing view" only possible in an Avro: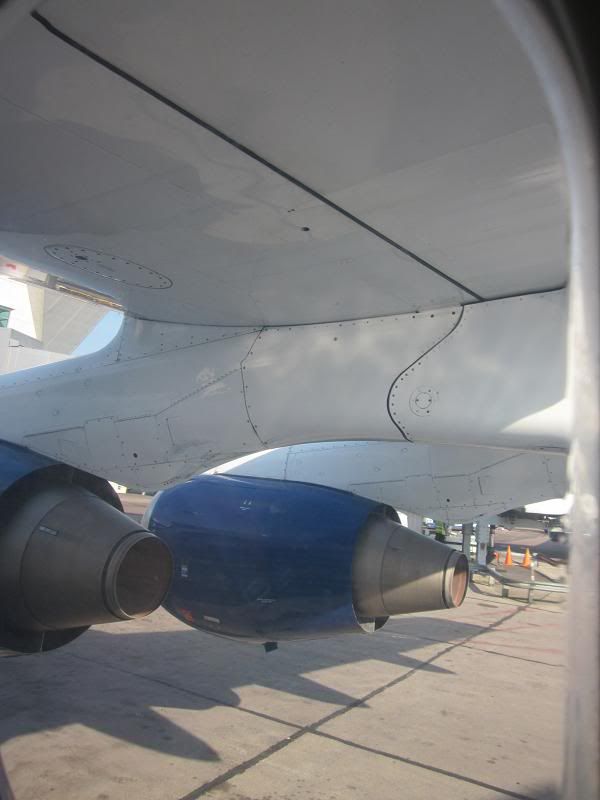 LN-NOV arriving from ARN: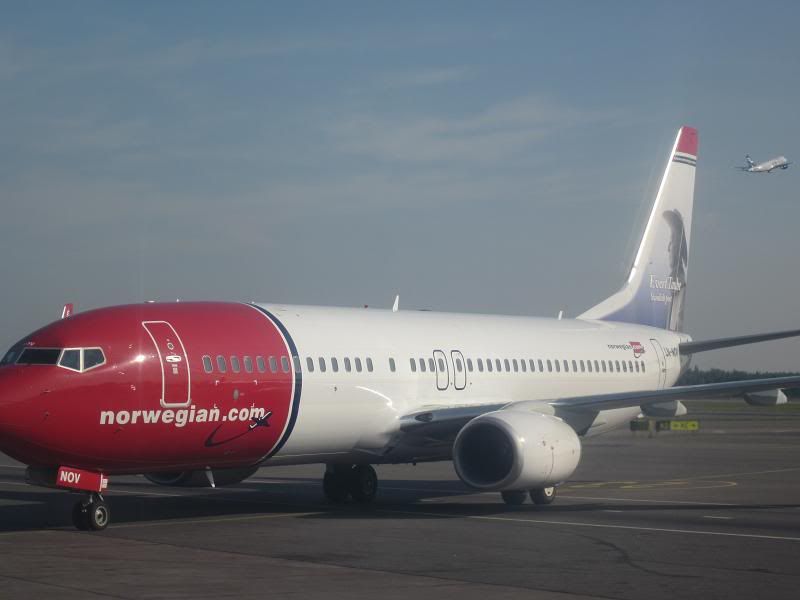 No question which one is better - definitely feeling good here on KF: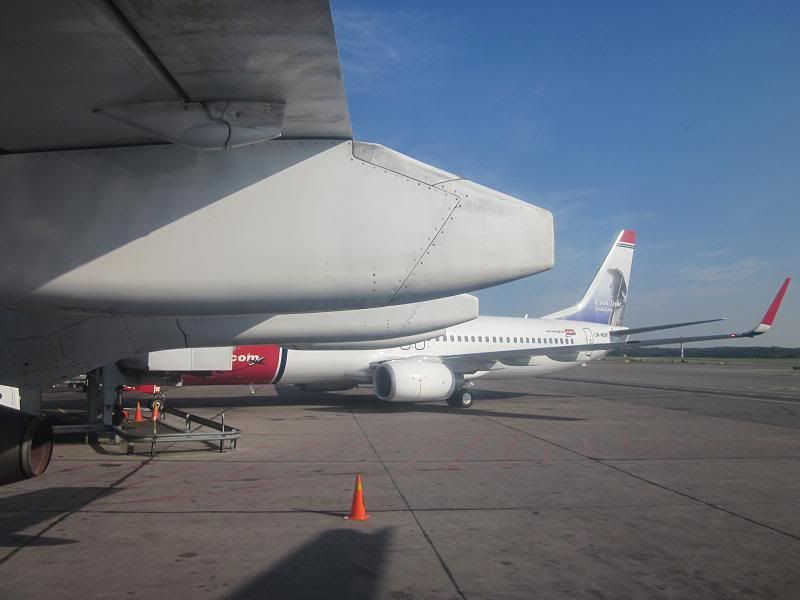 "Boarding completed" was announced at 08.31 and pushback two minutes early at 08.38. A welcome announcement was made, flight time 1h 30 minutes and a welcome by captain Jari Lohtala. The cabin crew members were also introduced by name. Anne and Leena were serving us on this flight. Compliments to them for their language skills - all announcements were not only in Finnish but also in fluent Swedish and English. It is not often that you hear so 'clean' language on a flight.
A view of the cabin, load factor approx 95 %, only spotted 3-4 vacant seats in the back of the aircraft. Two rows of Blue1 Premium, fully booked.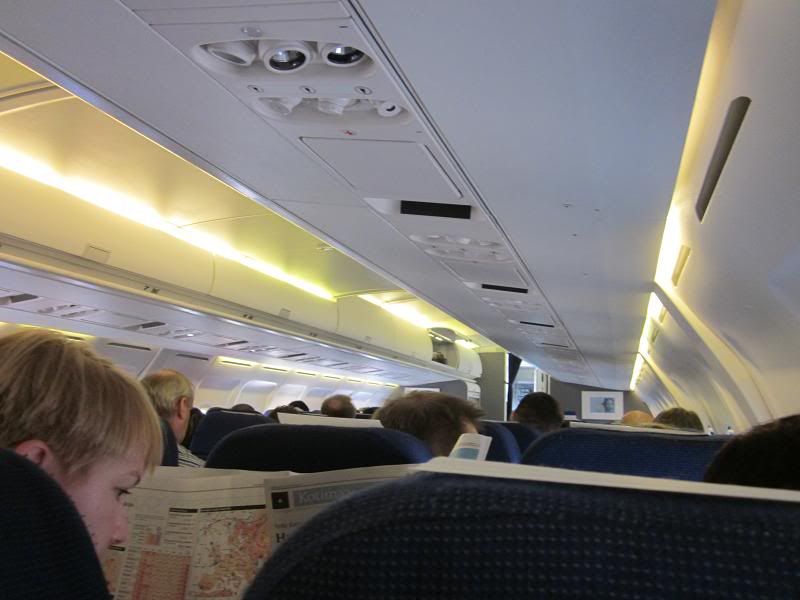 Trying to be artistic.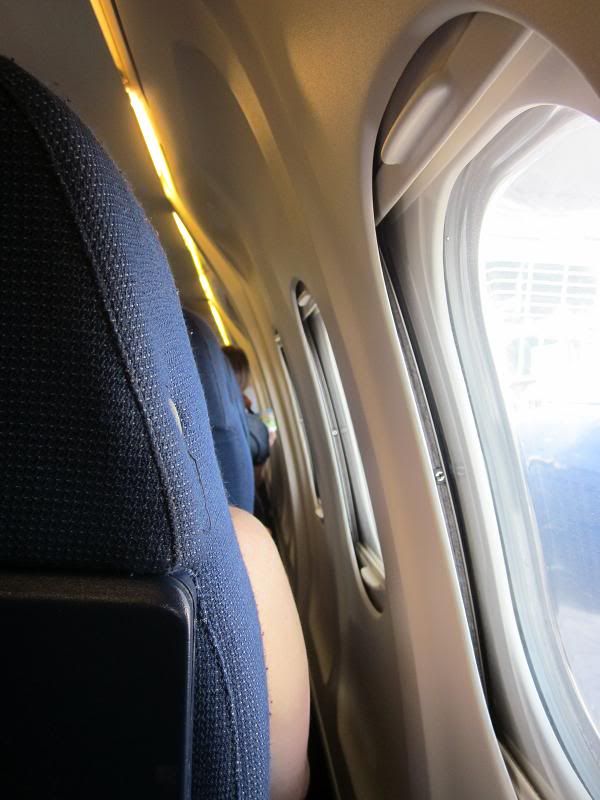 Soon we started our rather longuish taxi and took off from runway 22L as standard in HEL: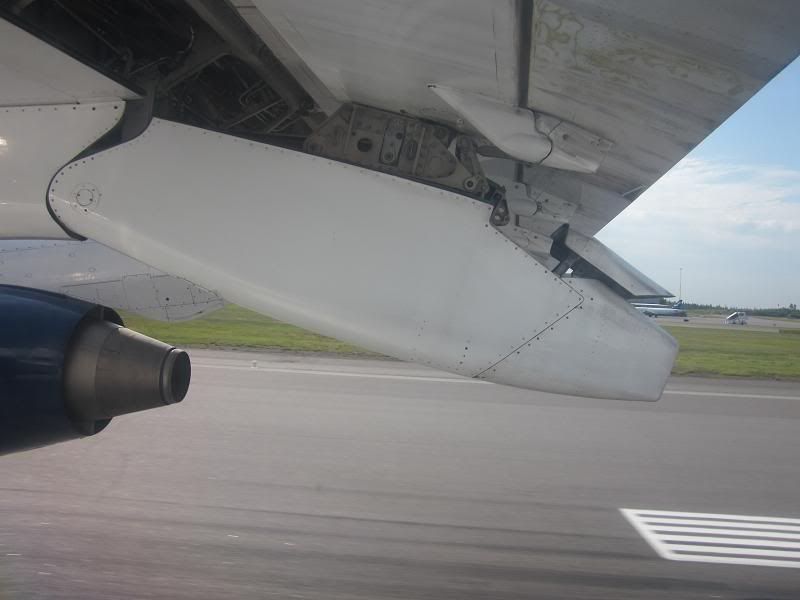 Bye Helsinki, see you in two days:
Soon after takeoff we made a lazy turn to the right and, to quote the captain's words "flying straight for CPH".
Exploring the offerings of the seat pocket:
The Blue1 Dream magazine, containing interesting features on EDI, MRS and some other destinations.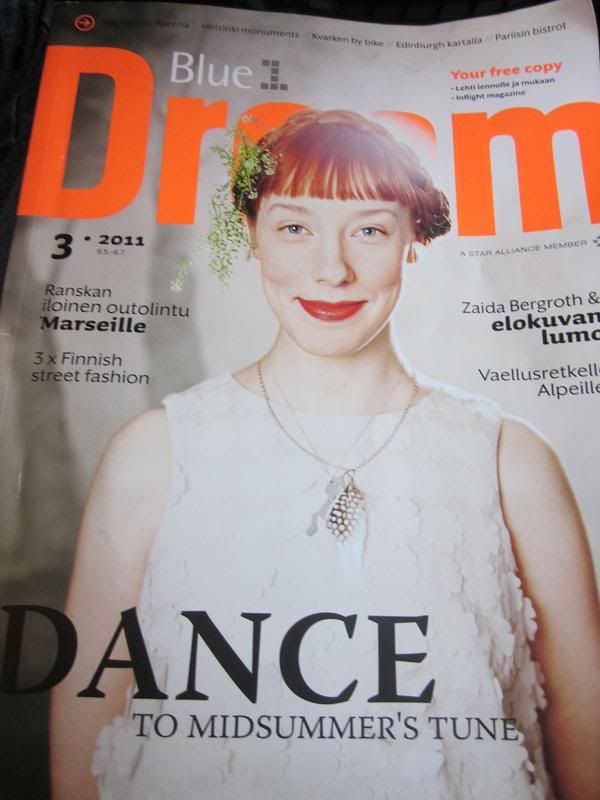 The safety card, still indicating that there would be Avro RJ100's in the KF fleet: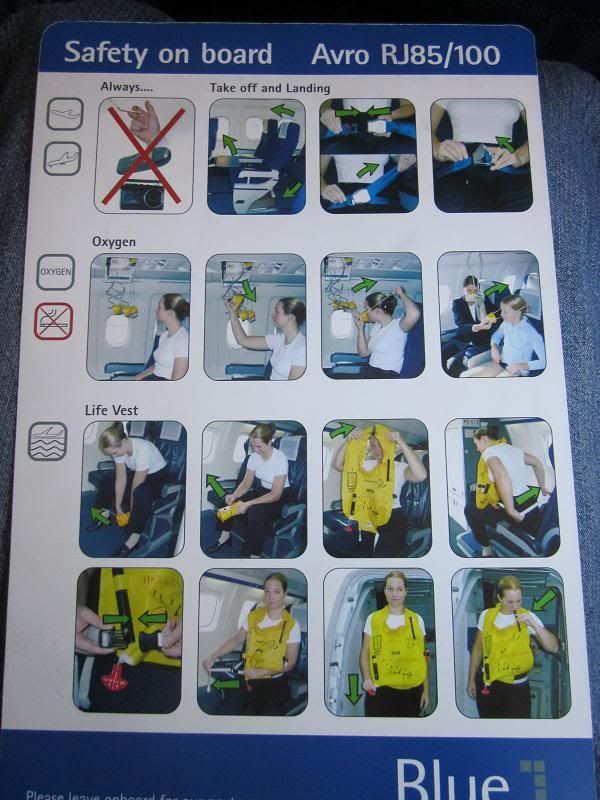 Soon the Cafe1 service started, and, seeing the new layout of the menu card I could not resist taking a photo of it, I think it is very cute: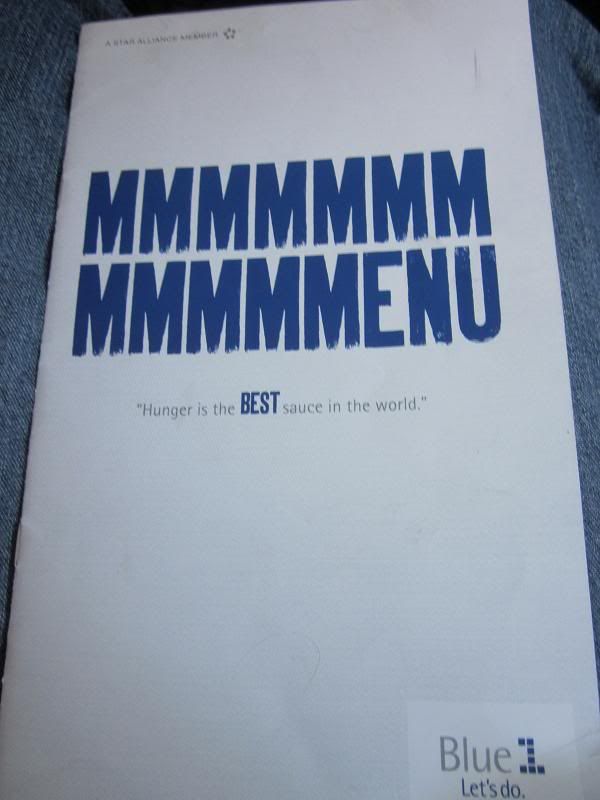 Also it contained some nice 'did you know that' - facts about the history of the sandwich etc. So very nice!
Free coffee (really good!)
followed by another drink run, water this time:
Oh, those clouds:
Cruising altitude was 32 000 ft: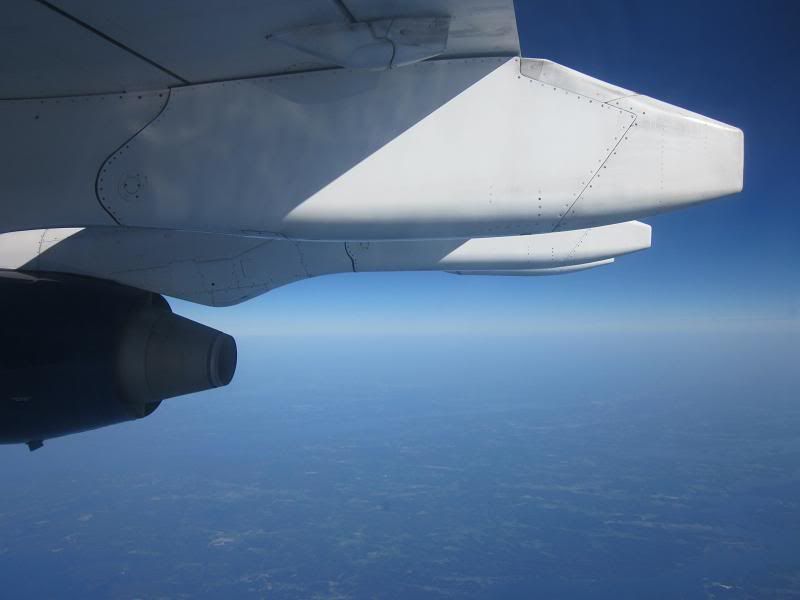 About one hour inflight we started to experience some turbulence. The seat belt sign was switched on and the captain made an announcement about the situation.
Soon after that another announcement from the flight deck containing route and weather information. Flying straight towards CPH, weather at CPH half cloudy, + 14C, arrival estimated five minutes ahead of scheduled.
Swedish coastline: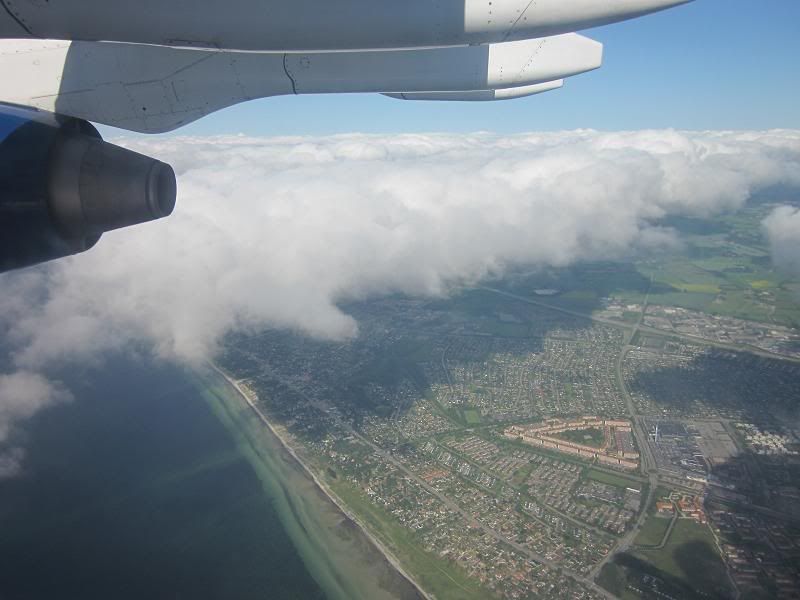 Starting our descent: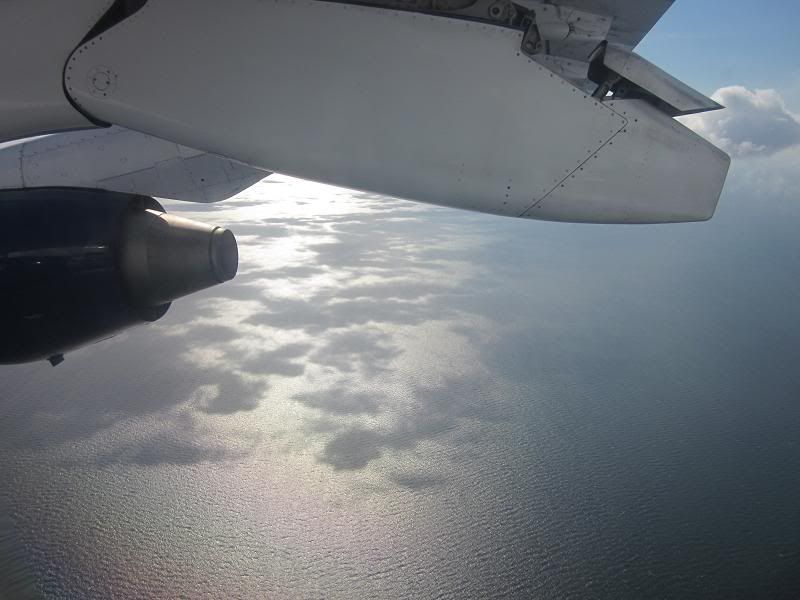 I guess an important number of passengers on KF flights to CPH are connecting on other Star Alliance flights to CPH, so also on this flight. During the descent an announcement was made with gate information for connecting passengers. From our flight, passengers were connecting to at least AAR, BLL, FCO, PLQ, TXL and VIE. My connection with easyJet, was because of some odd reason, not announced
A little boy sitting on the row behind me started to be worried and asked his mother "Are we going to land on water"?
Top