2011-06-09
Flight Number: 351
GGT-NAS
Schedule Departure Time: 9:30am
Actual Time: 9:11 am
Schedule Arrival Time: 10:10am
Actual Time: 9:40 am
Equip:Beech 1900D
I woke up about 6:30 am or so for this early flight i was schedule to take, i woke up slightly earlier than usual because my sister was dropping me off at the airport then heading to work. The weather that morning was overcast and raining lightly so it the commute into George Town was slower than usual, we stopped Downtown George Town to fill up on Gas which is currently about $6.20 per gallon. Afterwards we proceed to Moss Town where the Airport is Located. I said goodbye to my sister and went into the Terminal it was pretty quiet at that time as the flight i was traveling on was the only flight leaving at that time.Other flights leaving later in the day was Air Canada(AC) flight 1764 from Toronto operated with a E-190 the which largest aircraft operating into Exuma International Airport(GGT), American Eagle(OW) from Miami, Gulfstream(3M) out of Fort Lauderdale, Westernair and Bahamasair(UP) out of Nassau.
Check-In was pretty quick as I was the only person in line took about 2 minutes since it wasn't much to do in the area before security checkpoint, so i decided to just go in the back to the departure lounge past security, similar to check in security was a breeze being the only person in line at that time. As i went to take a seat i was surprised to see about 4 passengers already in the lounge while waiting a few other passengers.About ten minutes later the plane touched down and taxied to the gate(Sidenote: there is two gates at Exuma's Airport Gate I & E). The Beech 1900 took about 5 minutes to get unloaded and loaded and next i knew we were Boarding out of Gate I,the load for the flight was about 70% that morning. Since the beech 1900 doesn't have a flight attendant the captain passed out small water bottles to each of us, that was a nice touch, as we taxied to the runway 30 we had to hold short because 2 planes was on final to land on the single runway(12-30) as soon as they exit the runway, we made quick taxi to the end of the runway and after a powerful takeoff we were in the air.There was a slight light chop as we climbed to our cruising alt. of 10,000 feet the flight was pretty uneventful and it was so cloudy that there was nothing to look at outside about 28 minutes later we were over Nassau lining up to land on runway 14 after a pretty smooth touchdown we taxied to the domestic terminal and deplaned and waited at the baggage claim to get my bag to start my trip to Nassau.
2011-06-12
Flight Number: 360
NAS-GGT
Schedule Departure Time: 12:00pm
Actual Time: 12:35 pm
Schedule Arrival Time: 12:50pm
Actual Time: 1:05 pm
Equip: Saab 340A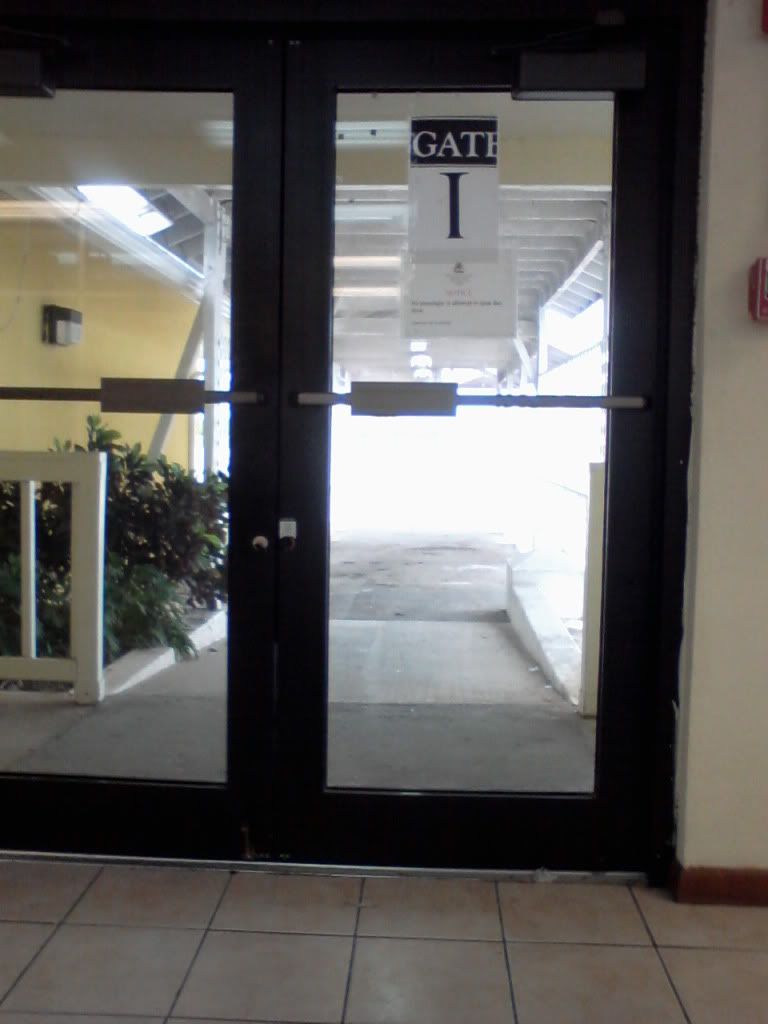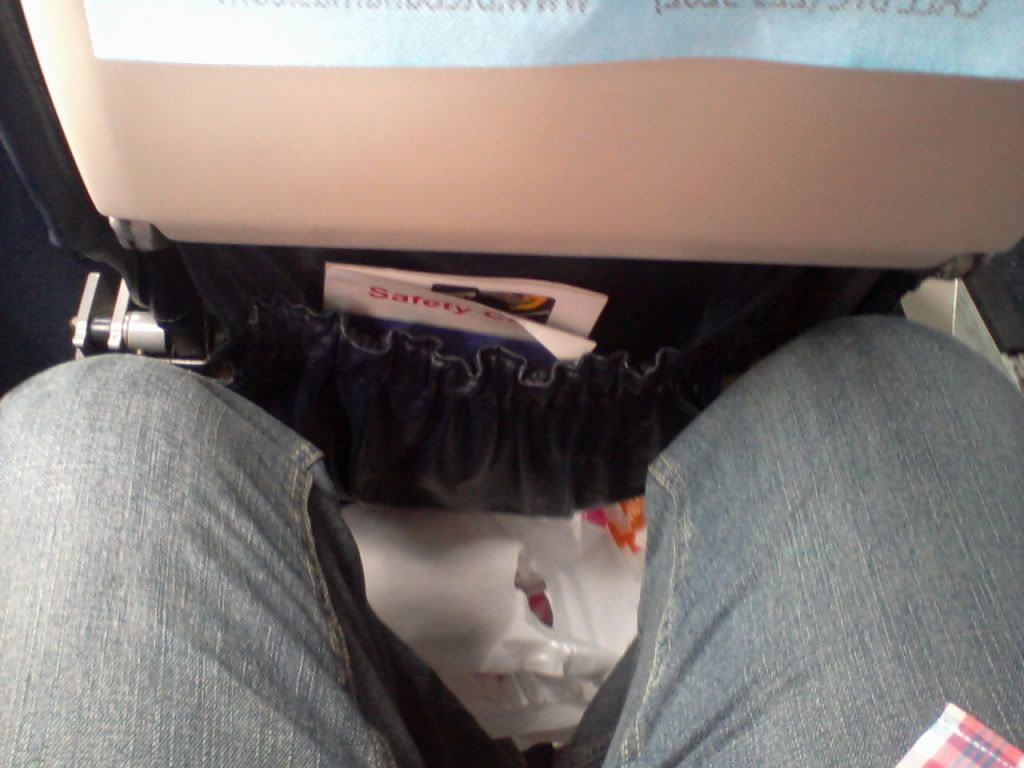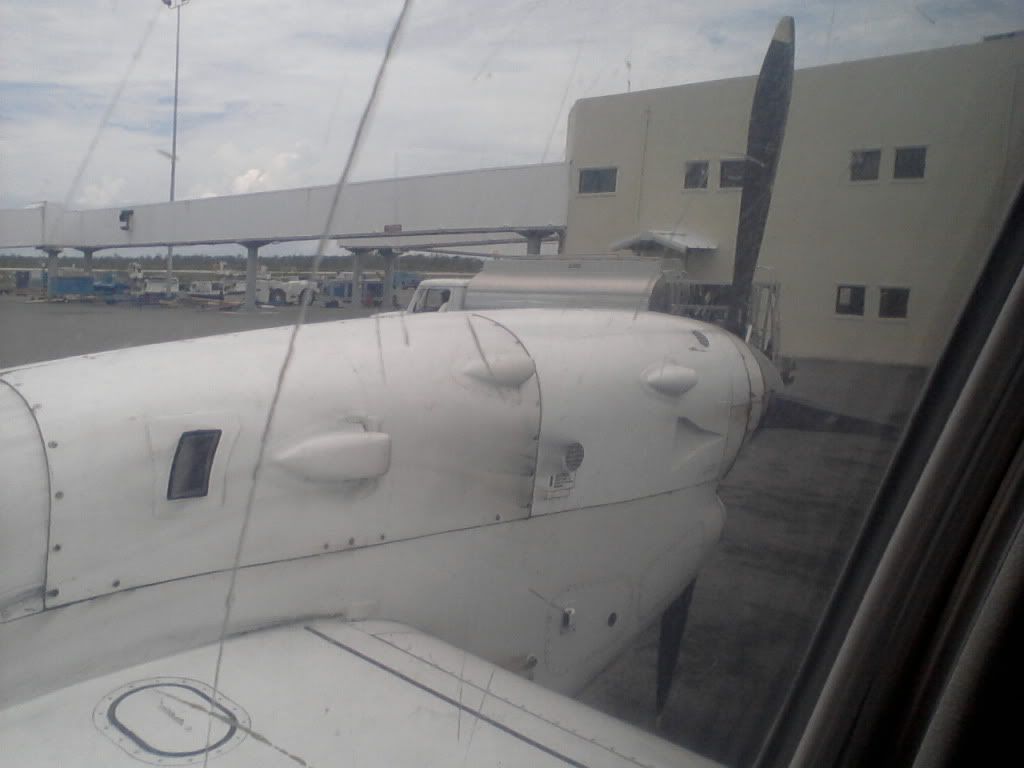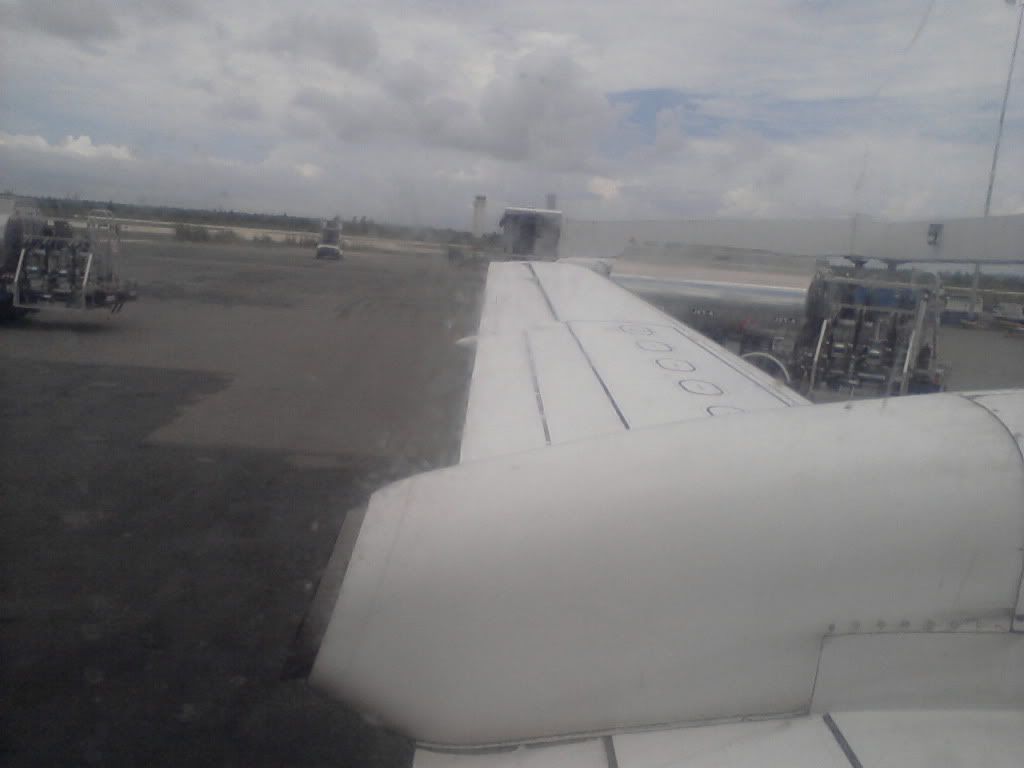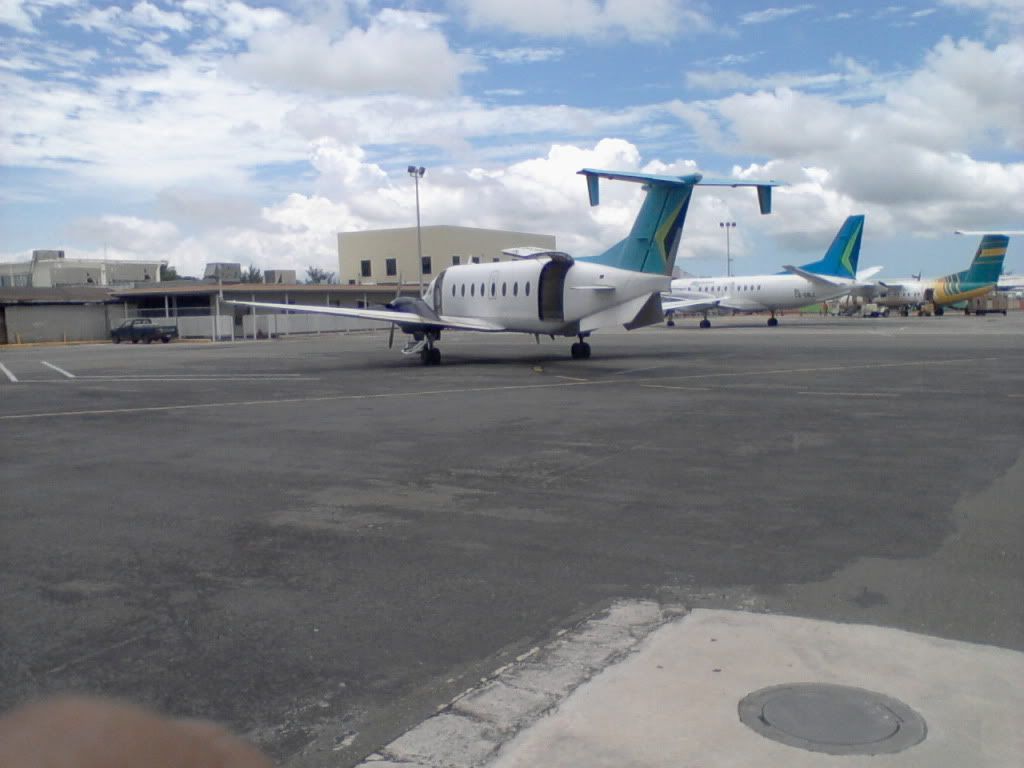 http://www.youtube.com/watch?v=qj2KhBkWuXQ&feature=related
http://www.youtube.com/watch?v=forQsAawKC0&feature=related
On the Return flight i got to the airport at about 10am there wasn't really a line at the SkyBahamas check-in counter so that was a breeze afterwards i went to get a bite to eat from Wendys then went to through Security to go to the Departure Lounge i went to buy some donuts from dunkin donuts to carry home.It was kinda busy that day a few Bahamasair,Westernair,SkyBahmas,Pineapple Air flights leaving in like 5 minute intervals.While waiting for my flight i saw Sunny Anderson from "Cooking for Real" on The Food Network going to Eleuthera on Pineapple Air. Not long after that we boarded our flight around 12:20pm it was a quite a walk to the plane took about 4 minutes.It was my second flight on a Saab 340 where we were welcomed by our beautiful female flight. She closed the cabin door and began her manual safety briefing. The pilots briefed us that the flight down to George Town would be 35 minutes at an altitude of 9,500 feet. The load was about 11 passengers out of the 33 seats aboard the aircraft.In no time we taxied to runway 14 waited for a Westernair Saab 340 to exit the runway, and we lifted off and cruised the exuma cays down, the flight attendent came around about 10 minutes into the flight to serve us a round of drinks being a choice of water or apple juice, i chose water.After cruising for another ten minutes we started our descent around staniel cay soon after were downwind of runway 30 as we got closer to the airport we hit a bit of turbulence nothing to bad but unexpected after such a smooth flight, we turn turrned to line up for the final approach and we had a hard landing with heavy breaking action.As we backtracked the runway Atlantic Southeast Airlines d.b.a Delta Connection was on hold of the runway departing to Atlanta. As we parked at Gate E behind Air Canada Flight 1765 also was getting ready for its departure to Toronto, so it was a busy day at Exuma International Airport. After deplaning it took no time to get my bag and was on my way home.
Thanks for reading, its my first trip report so be easy on me plz.
[Edited 2011-06-20 20:40:41]
[Edited 2011-06-20 20:48:34]
[Edited 2011-06-20 20:56:14]
[Edited 2011-06-20 20:59:11]