Compare Transavia.com & Vueling AMS-BCN-TFN and back.
This next instalment covers our holiday trip to Tenerife taken last October.
Finally time had come that we could go on our summer holiday. Yes, I know, it is already October, but since we moved during the summer, we simply had not the time to go away.
We really wanted to hit some sunlight and warmth after a relatively bad summer in The Netherlands. We both agreed to go to an island, preferably in Europe, since we only could stay away from work for about a week. So after some searching and scrolling we decided to head for the Canaries, but which Isle? Well, on this occasion we decided to aim for Tenerife, since this Island, is besides the largest, also the most diverse nature wise. That being done, and the hotel found, it was time to find some flights. This is where I come into action. Direct flights, hmmm, very convenient, but also a tad boring. Via MAD, to catch the 340-600, too expensive for our dates. Well, how about transferring in BCN, comparing two terminals and two airlines….hmmm, that is nice, also good for writing a TR. Let's see.
VY to BCN and onwards to TFN was not an option timingwise, so I looked at HV, also new for my log. Timings were OK, with 2hrs on our way down, and 4hrs during dinnertime on the way back. Prices were right. Check check double check, let's go for it!
Hi, it's me again, and I'll come with you…..again!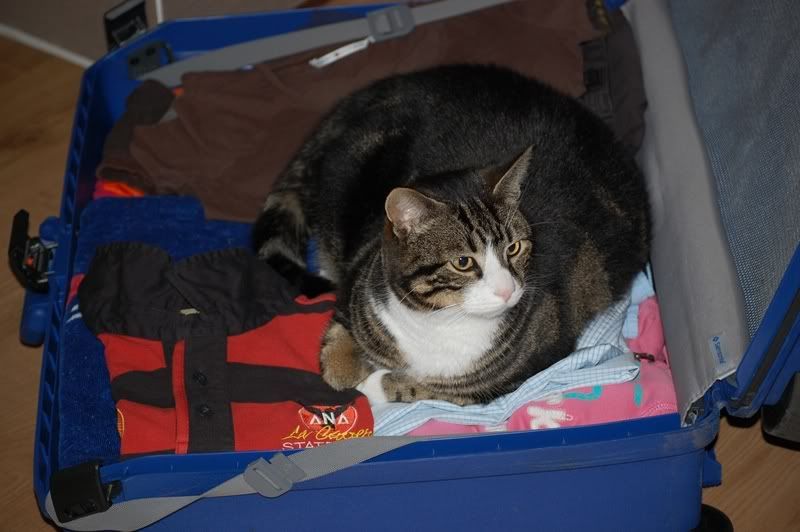 Booking for our flights were made on the websites of the respective airlines. Making a booking with the Transavia booking engine, reroutes you to the KLM booking engine, which can be seen in the URL :P. The system works perfectly, and payment via ideal was free of charge, which is very good.
The Vueling system was also very friendly to book with, easy system, payment via creditcard also easy. Some charges for this method of payment, but no problem.
Then on to the online check in, where at HV we could select seats, window or aisle, without extra payment, and at VY at an extra cost of € 2.00 per person per leg, which we did not do.
Window for the HV segment was selected and we printed our boarding passes for seats 20 A & B.
For VY we printed our passes with 28B and 29A, so not together. I'll come back to this later.
Finally our day of departure came, and our alarm sounded goodmorning at 03.00hrs. Way too early for my liking, but with an 06.10hrs departure and 1hr drive to the airport just about enough time to prepare ourselves and hit the roads to AMS airport. Traffic was light, as to be expected at these times, and soon I parked our car at the my office. 5 minutes with the bus and we were at the terminal building of AMS airport. A quick scroll over the screens, where to drop of our sole suitcase and through security toward the C-pier where several HV 737's were docked. Since I had never flown with HV so far, a new reg was certain. Our gate was at the very end of the C-pier and awaiting us was a 737-700, which is highly welcome in my log.
I only had 1 single ride before on a -700 ( SK ).
Random early morning (bad) picture at AMS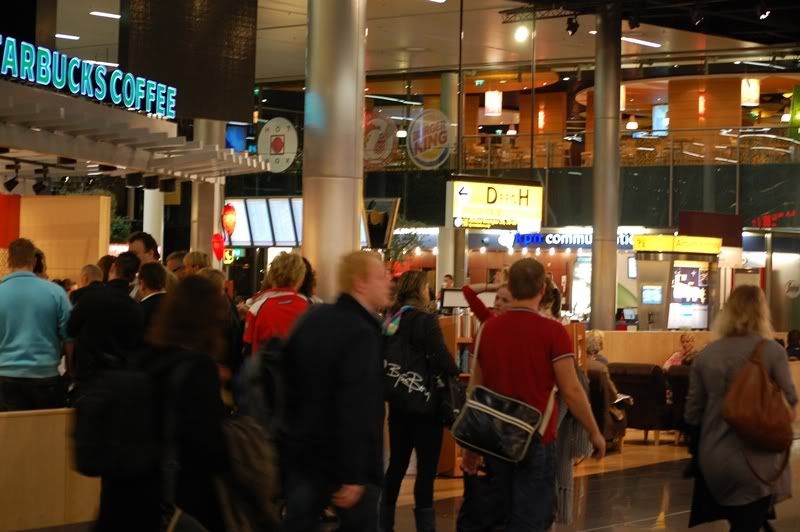 Way too early for this!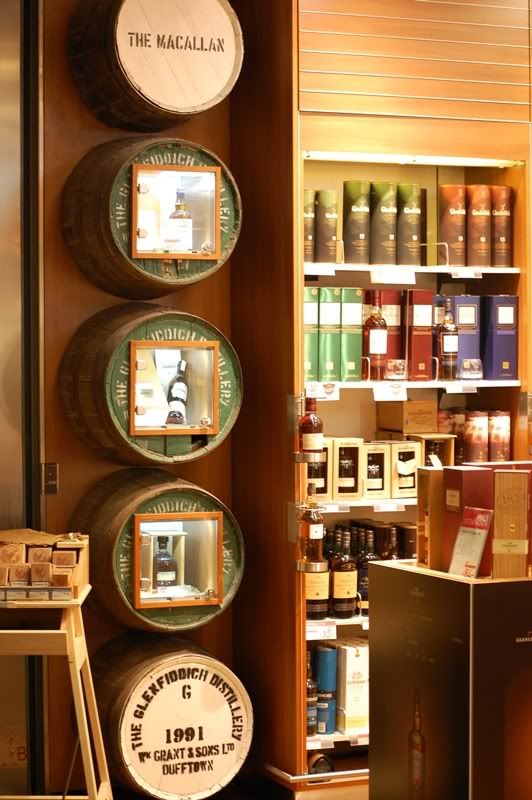 Flight : HV 5131
Stretch : AMS-BCN
Date : 29-SEP-2010
Aircraft : Boeing 737-7K2
msn : 33464
Registration : PH-XRX
Delivered :31-MAR-2003 to HV.
Seat : 20B (LATER 17E)
Load : 60%
25th flight on the 737, 2nd on the -700 and the first on this machine
Boarding soon started after the arrival of the cockpit crew. Apparently the cabin crew was already on board, since we didn't see them enter the aircraft.
We took our seats and as agreed with by girl she had the window seat on this flight.
The load on this flight was approximately 60% which is not bad for a flight with this early departure. The seats were Kermit-green and quite worn and above all very ugly.
Comfort of the seats was good, and legroom was royal for a low cost airline.
With 191cm height not the worst I've encountered
The plane did smell nasty, but soon after take off we knew why!
Push back followed and the, in the meantime well known, long taxi time to the active runway 36L started. 36L is the better known as the 'Polderbaan' a runway no single cockpit crew is happy with, since it usually is 15 to 20 minutes worth of taxi-time. Not on this morning, as our PIC happened to speed up, and after only ten minutes we were lining up for take-off.
The take-off roll was shortish and we soon banked right and turned above the city of Amsterdam. We could easily spot the central station and the 'grachten' of Amsterdam. All very nice! Our cabin crew this morning existed of 2 female and 1 male flight attendants, with a very friendly and professional attitude. Despite the time of flight, two guys in the row in front of us, ordered 2 cans of Heineken each ( 06.30hrs! ) and instantly we knew what the bad smell was. With the ordering of the beers, we could smell their breath, which was not only a bit alcoholic, but they were simply drunk! The cans were all empty within minutes, and one of the guys moved to some empty seats across the aisle. The other one started sniffing loudly, and all sorts of gasses exited his body. So we could not stand it any longer, it was really bad. We moved some rows up front and to the other side of the plane, where the air was clean and fresh .
Cabin shot from the fesh seat 17E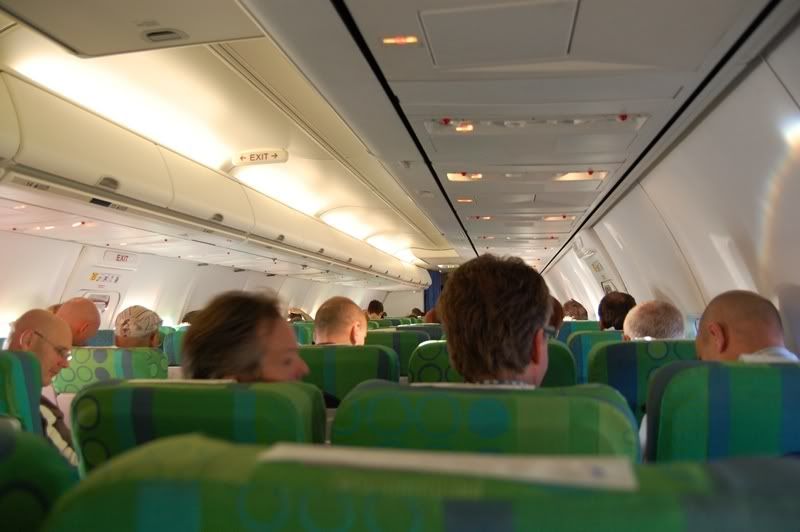 Yuck! This is really something you don't want at that hour of the day ( or any other hour).
We bought a very good quality Tea and a Coffee at € 2.50 each, which was good value for money. The coffee was of good taste, and the Tea was besides the good taste also of good quantity. So thumbs up for HV on this. Soon our captain took the PA and informed us about the situation in BCN, with weather, arrivals, and also important, the fact that they did not know if our bags would be handled at BCN. It was the day of the national strikes in Spain….
My girl, taking nice pics but forgetting winglet esthetics
The port of Barcelona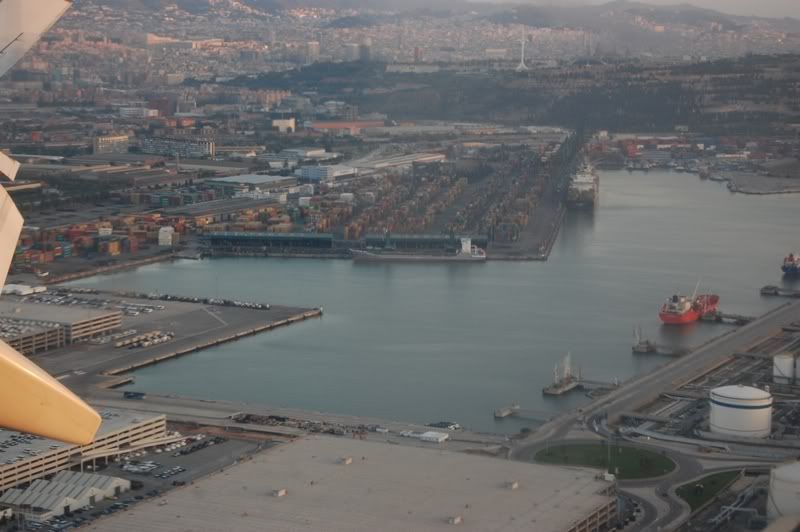 Braking action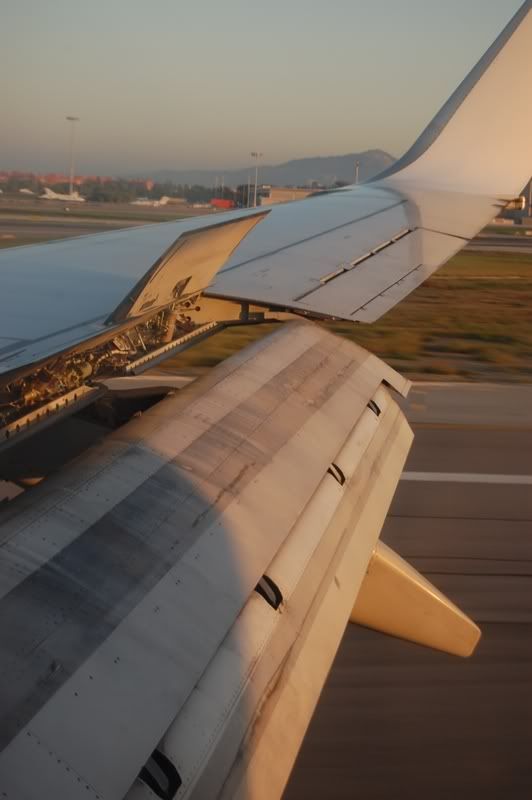 Flaps deployed, obviously 3 greens in the office upfront, and touch down on runway 25R, some medium brakes and reversers deployed, and turn right almost directly into the docking area of our gate in the old terminal building, now called T2.
We followed the nice Salida signs and went to the baggage reclaim area to see if our bags would come out. It was only a 5 minute wait before the belts started moving and our suitcase was nr.3 for pick-up. So all went good here! Since I was never at BCN before, and my girl only once, some 9 years ago, we both did not know how to get to T1. Signs were nowhere mentioning T1, so I asked a very friendly Guardia Civil officer where the busses for T1 would leave. Now the fun started, since he said that today no busses and no taxi's would run, due to the strikes. No way, not today. But the bus-stop was just outside and perhaps you are lucky, he saidin his best possible English.
Outsides there were some small roadblocks and demonstrating people singing or shouting, and 3 busses of the right color….hmmm…Bus 1, moved without stopping, Bus 2, idem, and Bus 3…………stopped, opened the door, and the busdriver shouted : "quickly, enter here for T1". Before we sat down he already put the pedal to the metal and took off. We saw that our little conoy was actually was guided by 2 police cars, and they opened the roadblock for a minute, and closed it directly behind us again. Pfffffff………This is quite some airport stress, I can tell you!
The driver was very nice, and apologized for the situation and drove us safely to T1. We thanked him a lot for his service, in taking us with him. I honestly do not know how other pax that morning came off the airport, it was a mess at T2!
Anyway, T1 here we are! What a beautiful building this is! I really liked the architecture of this terminal! Very light, open and calm atmosphere! Really stunning!
Random T1 pics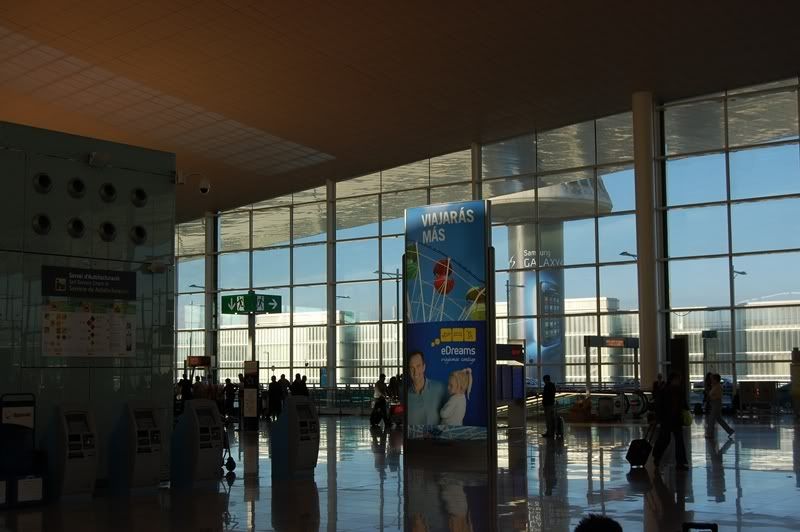 VY counters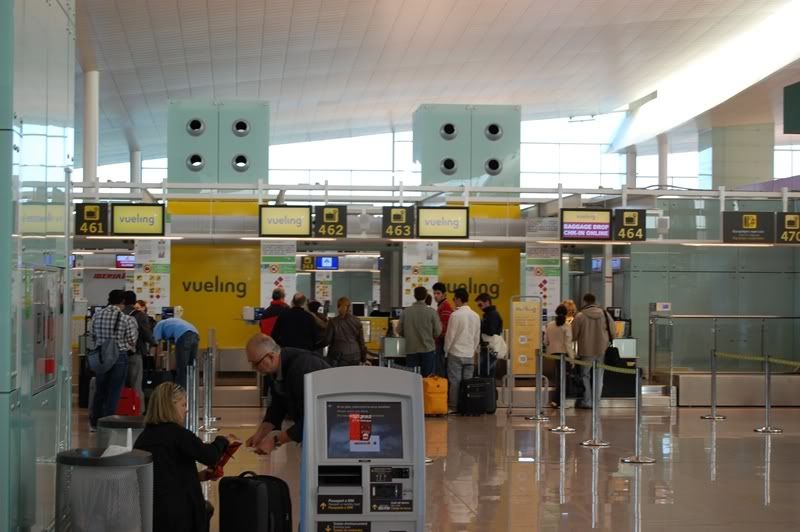 Closed bar due to the strikes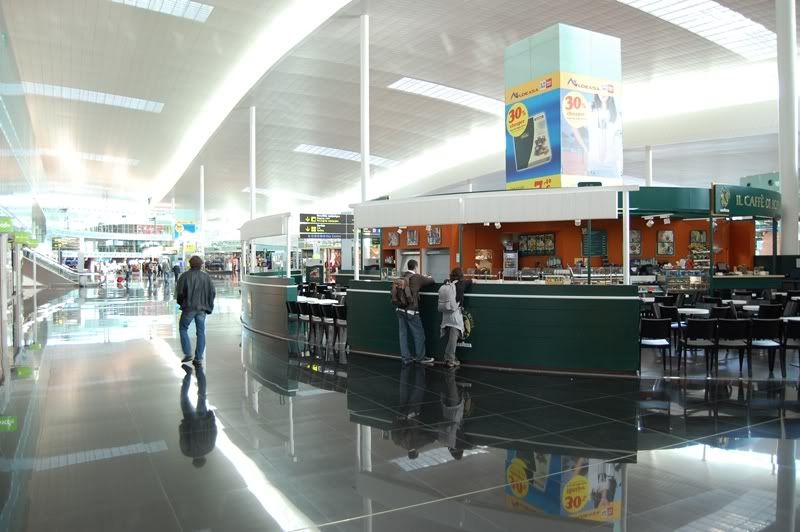 But 1 staffmember taking a coffee for himself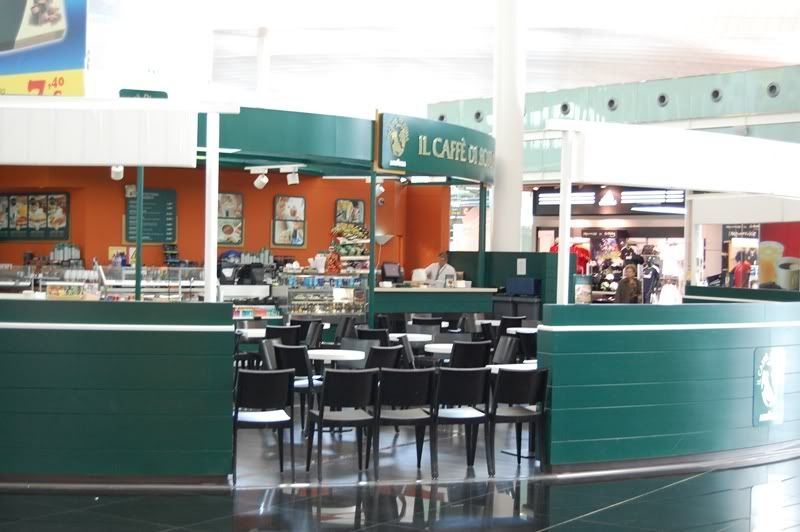 Even McD was closed here ( we found another one open in a far corner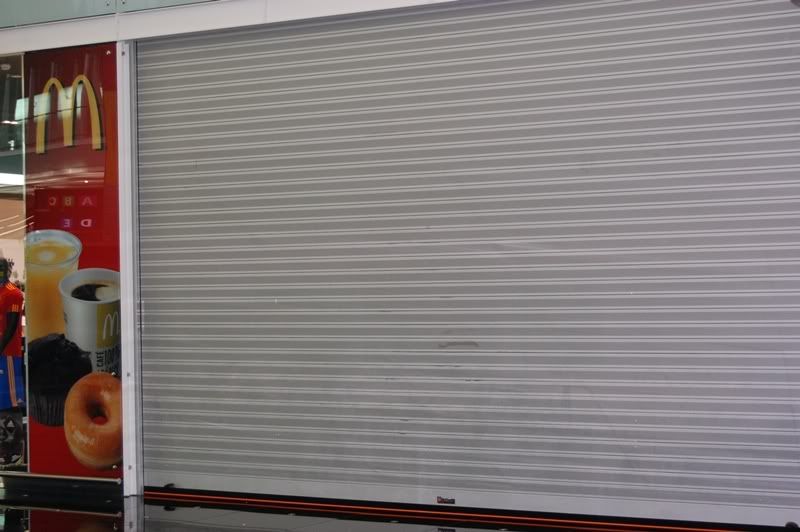 But we have a plane to catch! So we went to the drop-off desk of Vueling to drop our bags.
Since we decided not to pay the extra money for seat selection, we did not mention the fact we were not sitting together, but anyway the attendant noticed that we were not together and reseated us to a window and middle seat next to each other! Very good service here!
I was already impressed by the customer service of VY, since they send me an SMS 3 day before our flight, that our flight was operating despite the strikes in Spain. So pro-actively they confirm their customers that a certain flight will operate! Very good!!!!
Also they published a list on their website with all flights that were operating and not subject to the strikes. Superb service!
Security at BCN was a breeze, with no queues whatsoever. Perhaps the reduction of flights today was the reason. The whole terminal was practically deserted!
After security BCN looks like a very modern shopping mall, only today with little customers and some shops closed due to the strikes! Even McDonalds was closed!
In the far left corner of my eyes I say a VW Touareg in a glass box, and instantly all my internal alarm bells went off. I have read a report here stating that some animals which I am very very afraid of are living in that box, so I told my girl to go ahead and look at those snakes. I would wait somewhere far away from there! She went to look, and I made sure that my camerabag was with me, so that she could also not take pics of those things in there!
I felt so lucky that I read reports on here!!!! As you can see, snakes are my biggest fear, so please don't be funny and post any pictures of those animals in this report!
The mention Volkswagen in the back, no close up from my hand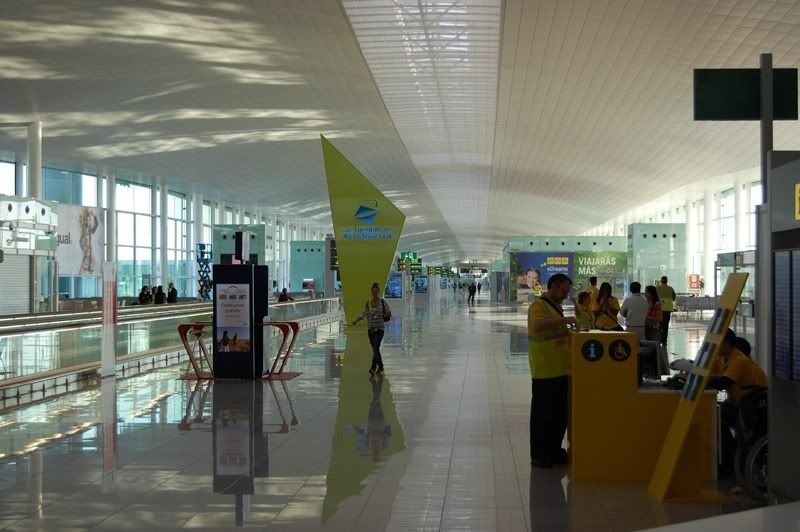 Anyway, back to our trip! We found a nice spot to wait for some 30 minutes before boarding, and I saw my company serving BCN today with a nice A320, being push backed for her flight back to ZRH.
Nice colours at BCN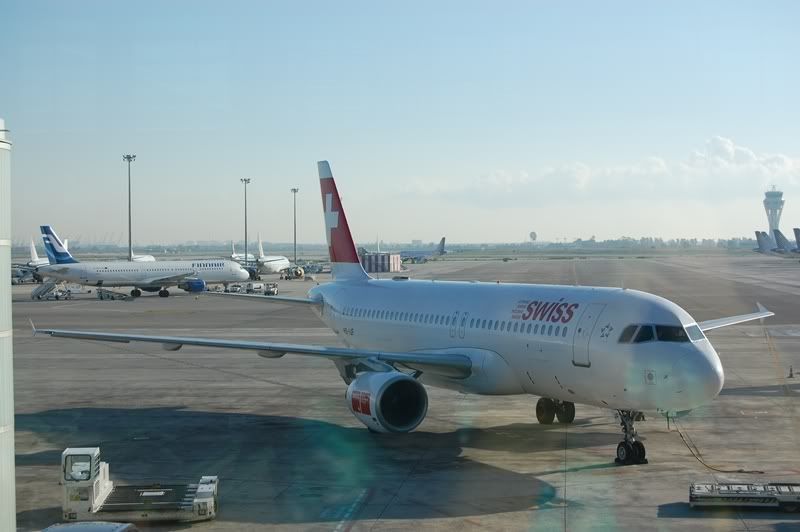 Our bird to TFN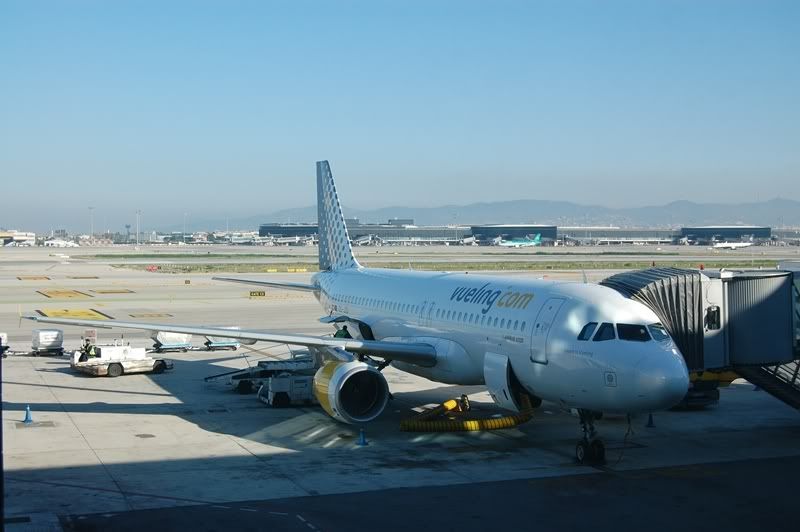 Soon our flight was ready for boarding from gate ……
Flight : VY 3210
Stretch : BCN-TFN
Date : 29-SEP-2010
Aircraft : Airbus A320-214
msn : 992
Registration : EC-JZQ
Delivered and History :
• 26-MAY-1999 to IB as EC-HAD
• 18-JUN-2004 to TK as TC-JLE
• 01-DEC-2006 to Clickair as EC-JZQ, since 2009 repainted in the VY livery.
Seat : 21F
Load : Y-class 30% at max
18th flight on the 320 and the first on this machine
Boarding was a little chaotic, despite the flight being far from full, whole rows remained empty on this flight to TFN. We took our seats and I noticed that my seat was broken.
After boarding was completed I asked one of the 4 female flight attendants if I could swap one row back, and mentioned the seat being broken. This was no problem and she did close the seatbelts of the broken seat, and noted the seat-number down on a piece of paper. Again good service here! Apparantly she would advise the MX department about the seat.
Dirty window, but a nice neighbor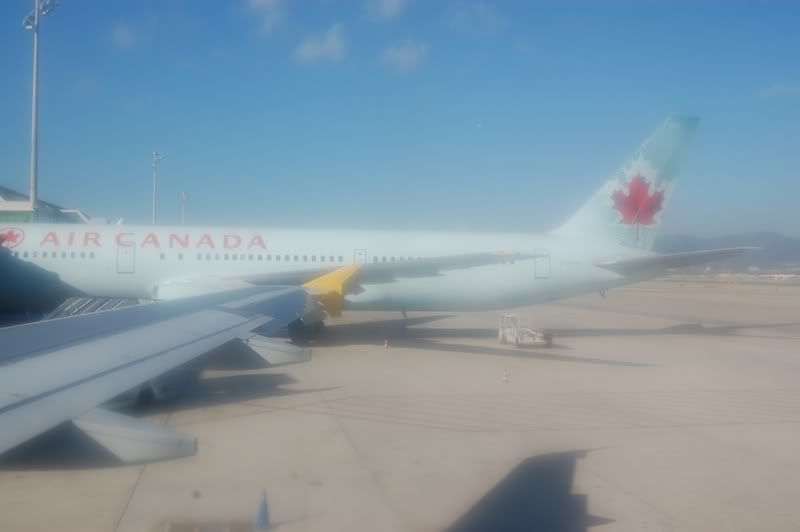 When boarding was completed, a short announcement was made that push-back would take a bit of time due to, surprisingly, the strikes. But after a couple of minutes, 5 or so, we were pushed back and taxied to the active runway which was 25L this time.
Who's the boss here?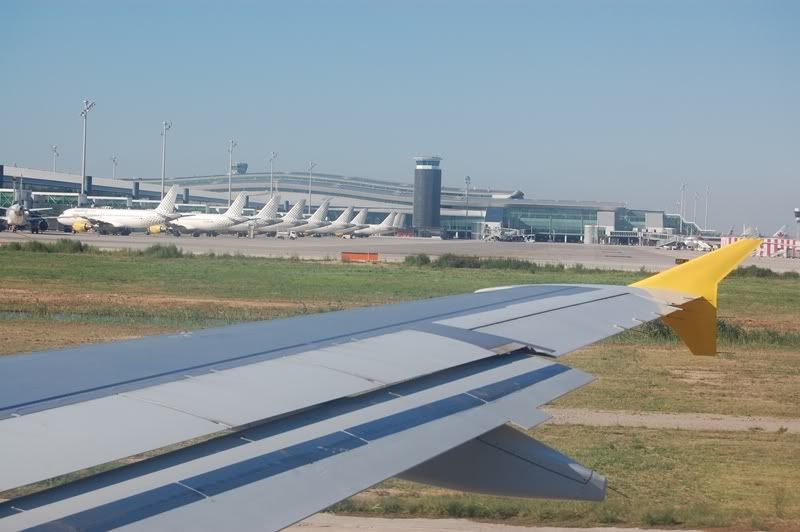 Or….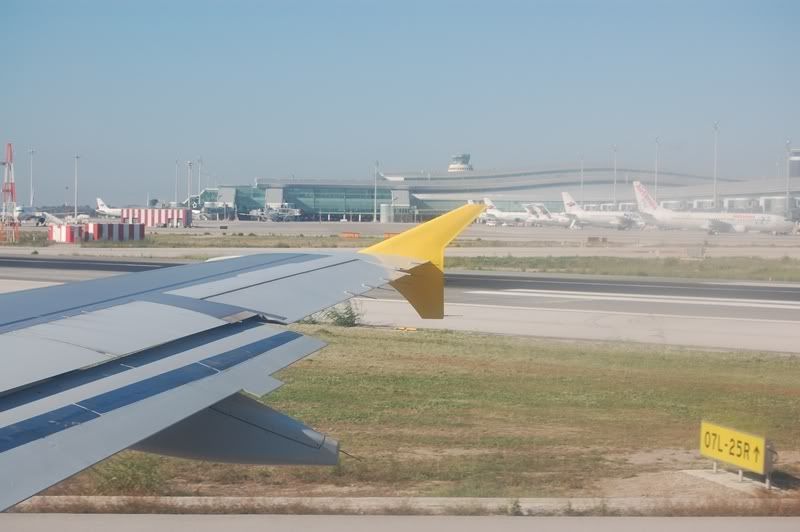 The guys upfront were in for a little jolly, with such a low load, our take off roll was very short and it seemed like we were heading for the moon. A steep climb and a short left, followed by a right turn was our share. Legroom was tight but ok, this is standard on LCC's. No problems here.
Legroom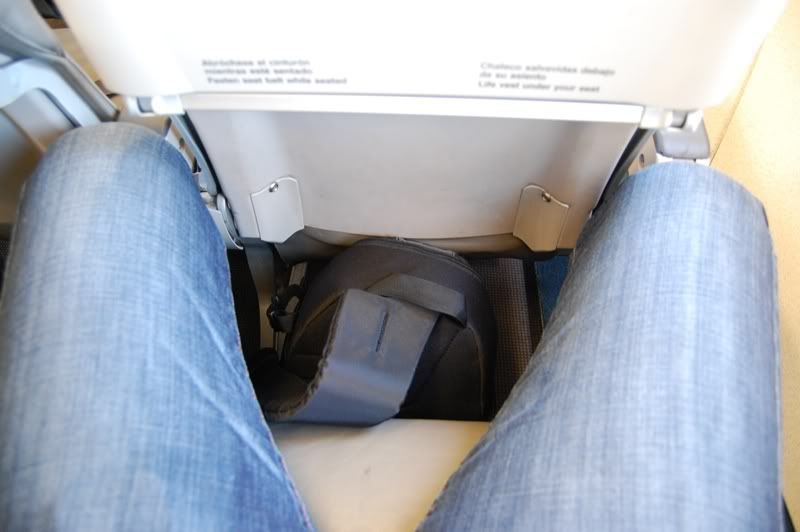 Announcements were made is Spanish only, until they discovered that we were not speaking Spanish at all, so after that point also English announcements were made. Safety demonstration was done in both English and Spanish, I should add.
After an hour or so, the sales began, and I ordered a sandwich and a can of Coke zero, my girl opting for some orangejuice. And relaxed we enjoyed our flight with nice scenery below us. The Spanish coast, Gibraltar, Maroc and a lot of water!
Spain from above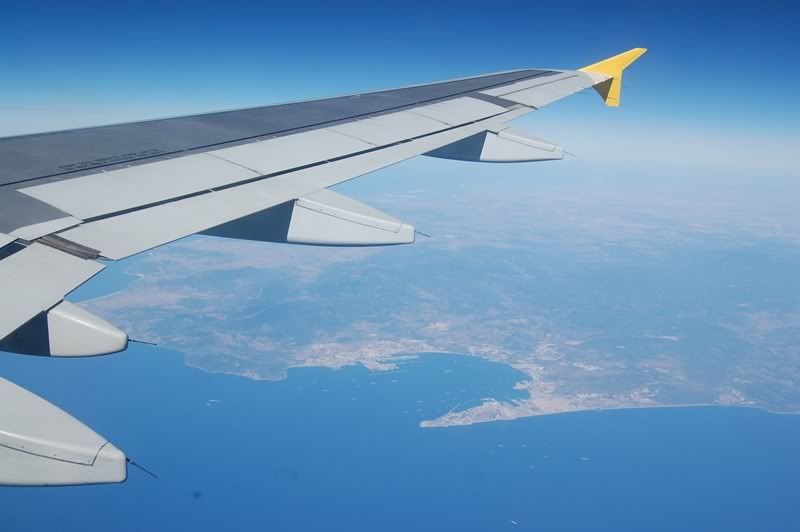 Where Africa and Europe meet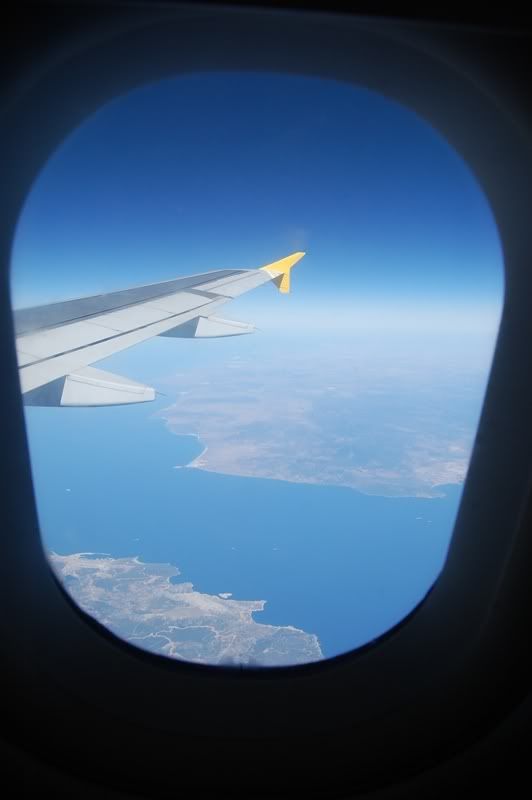 Cabin shot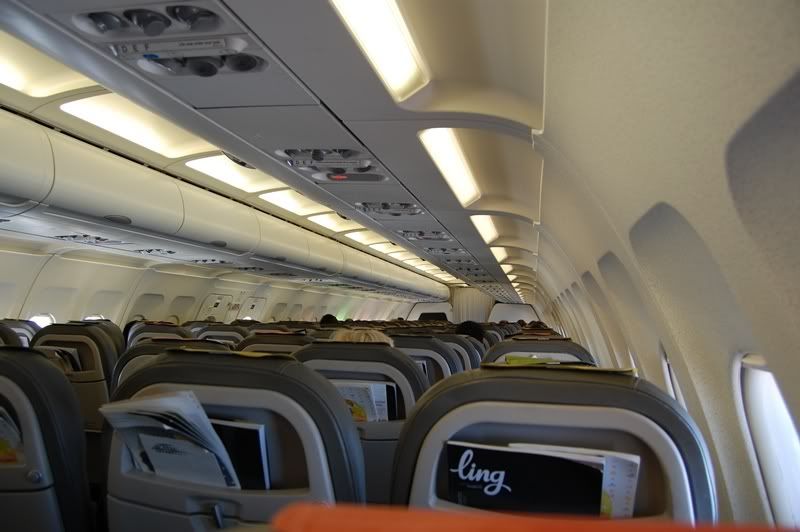 And suddenly we saw some land, Which turned out to be Lanzarote and Fuerteventura. Soon descent started and we saw big ships and the port of Santa Cruz de Tenerife. Although we were quite high we touched down and braked hard. Hey, this airport is not on sealevel, like the one I am most used too 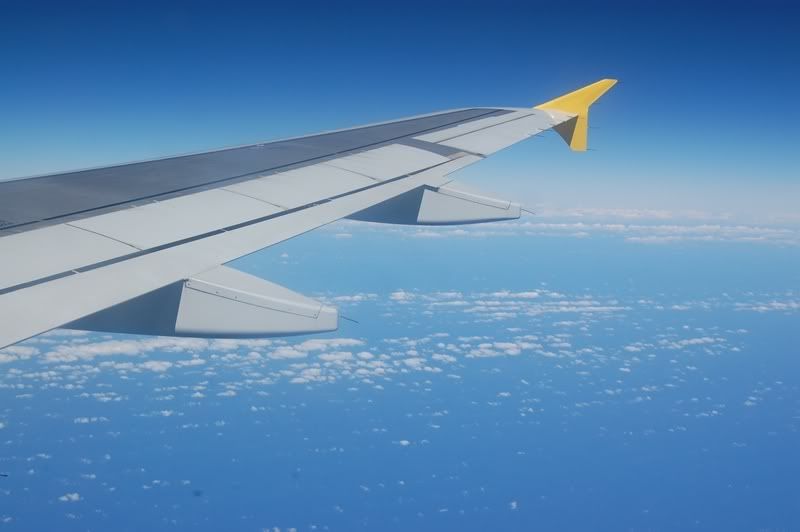 Some slight braking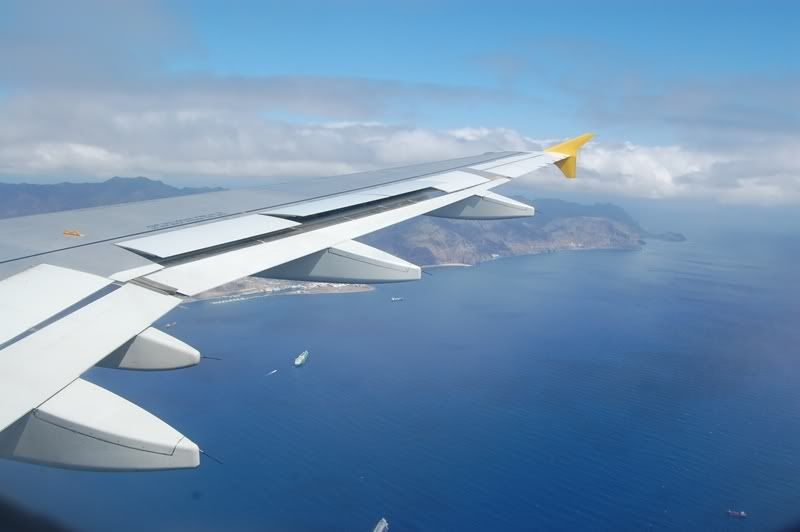 Flaps
More Flaps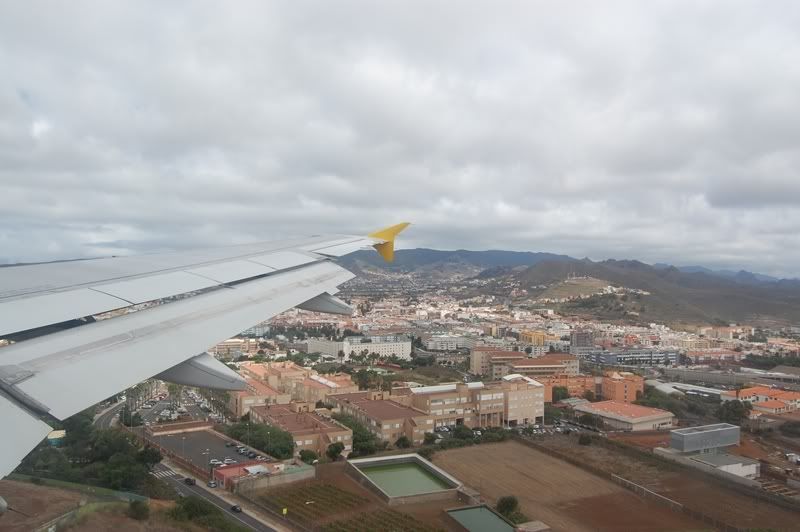 And speedbrakes deployed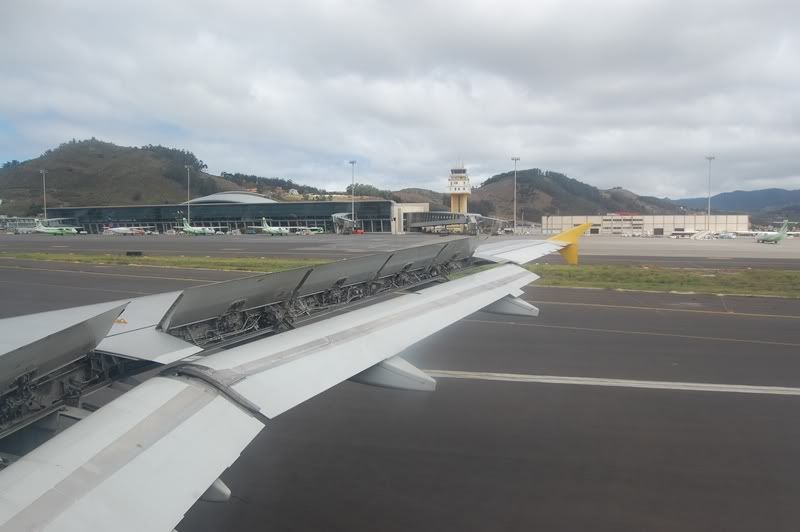 We docked at one of the few fingergates here and thanked the crew for the pleasant flight with their company.
Our suitcase was also available within 10 minutes and we went to the Hertz desk to collect our rental car. We hired a Toyota Auris, but were upgraded somehow and got a nice red Seat Leon instead.
And we were heading for our Hotel which was located in Puerto de la Cruz, some 25km away from the airport.
Puerto de la Cruz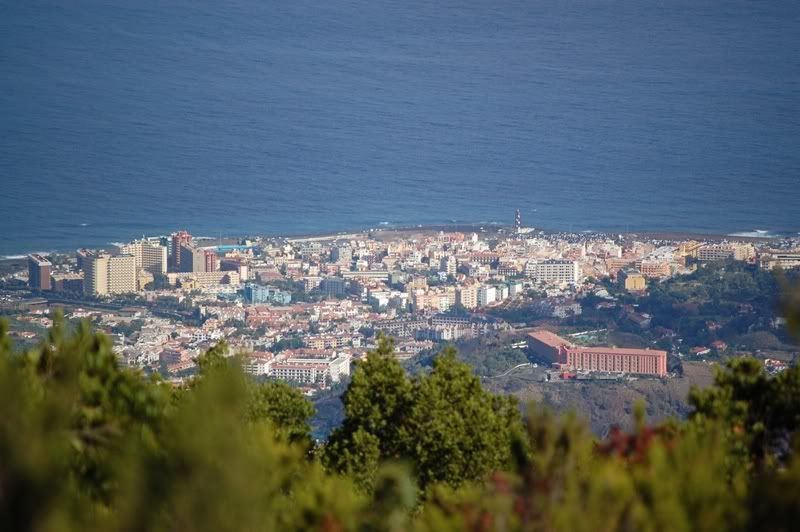 During our stay in Tenerife we have seen the most beautiful nature and it really was a tremendous island to stay. El Teide was the highlight being the highest point of Spain, but also the forest in the North, the rough nature surrounding the Volcano ( El Teide ).
For the lovers of nature, it's a good place to stay!
Some random pics selected :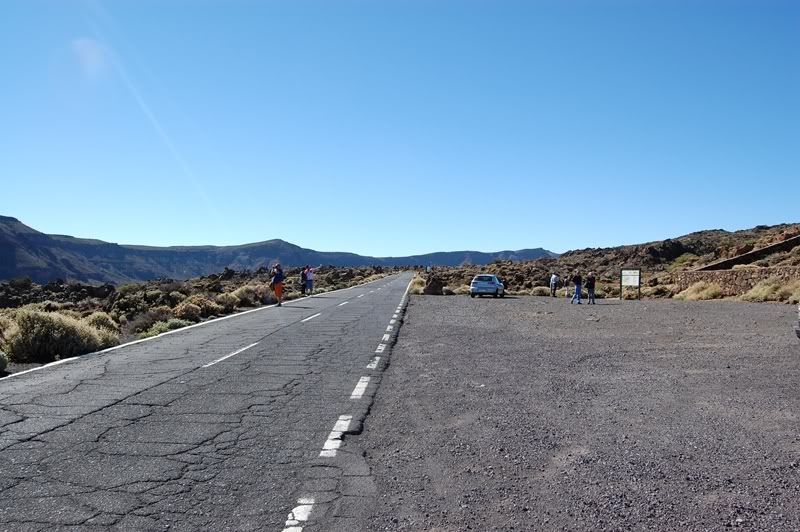 Our rental car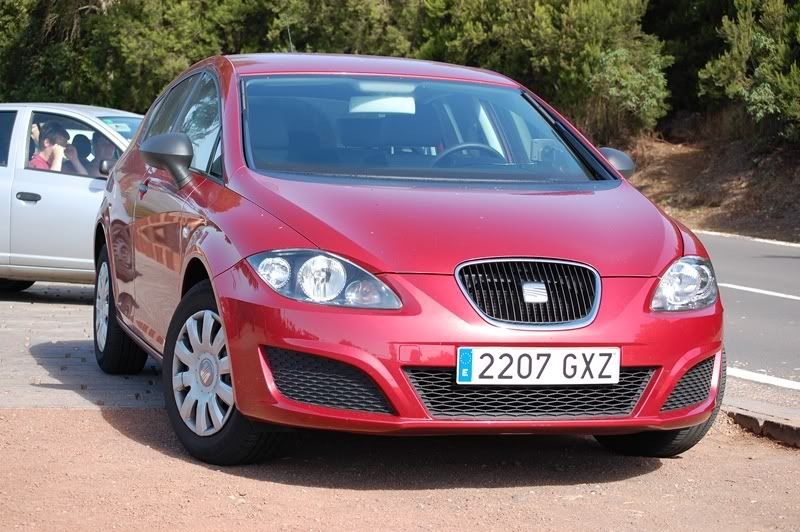 Hmmm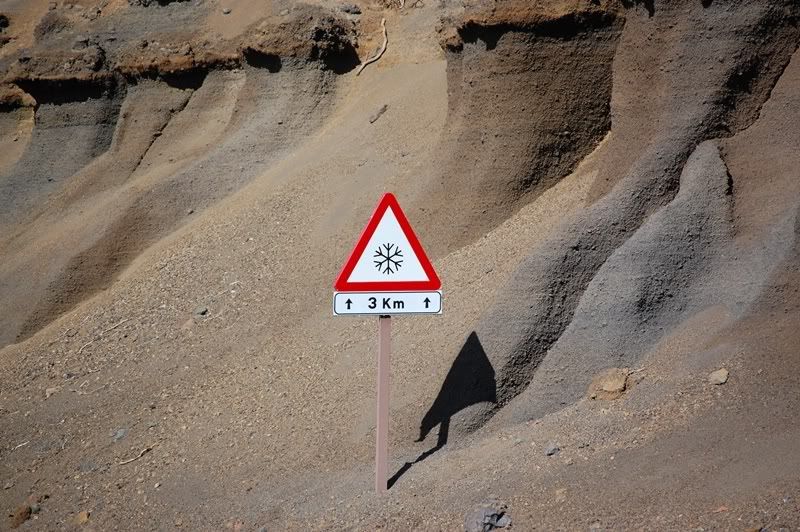 Little bird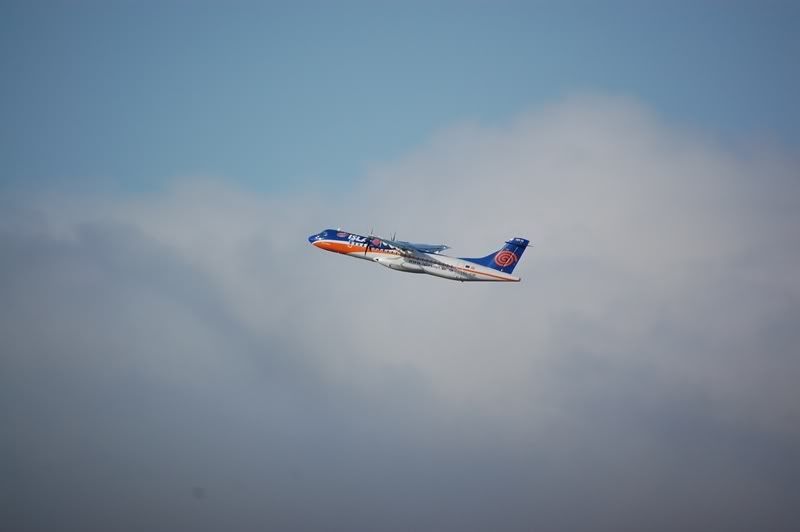 TFN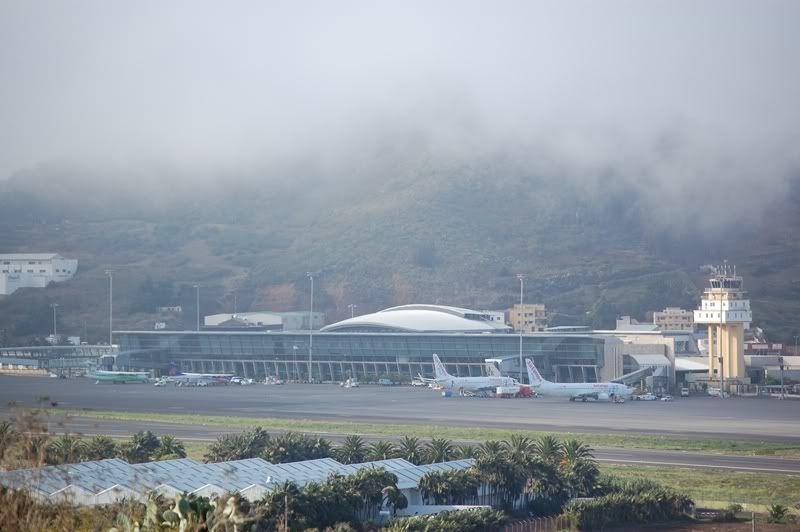 Kamov Helicopter???? Anybody??
La Orotova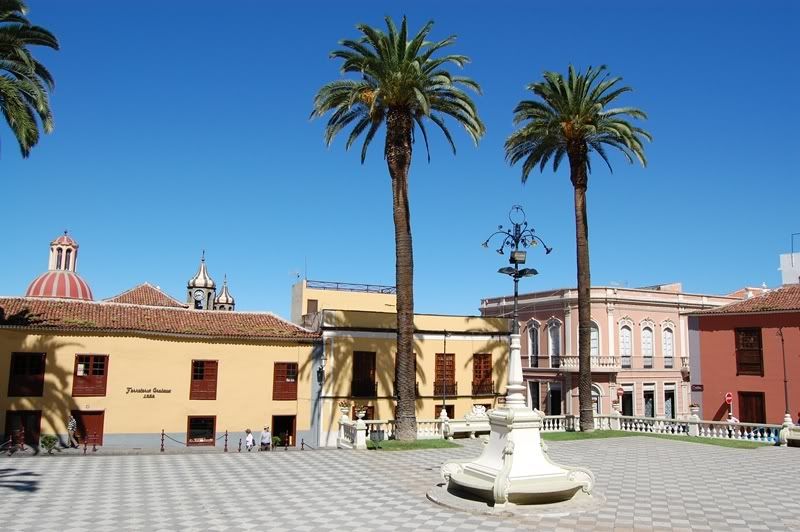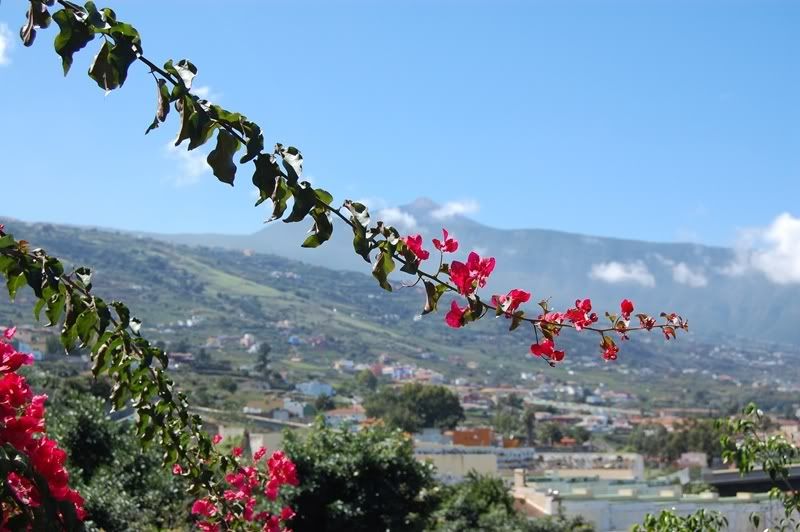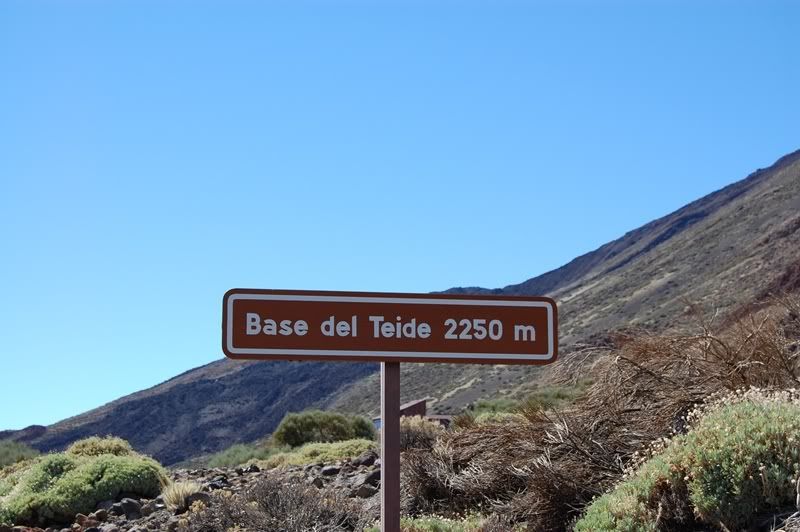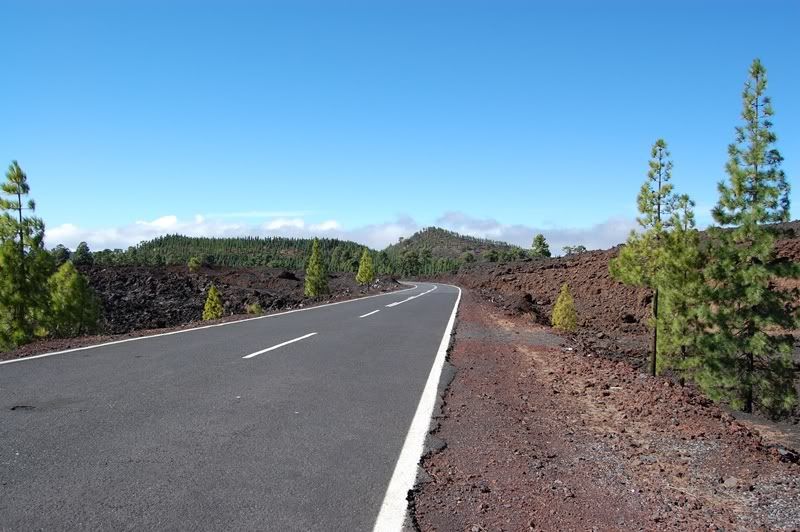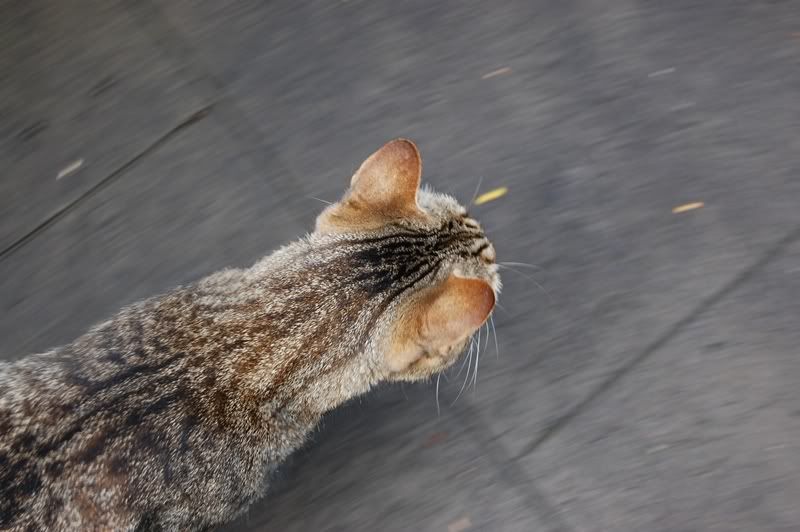 Our week passed very quick and soon it was time to go again.
We went to the airport in time and passed security, and waited for our flight, which was a tad delayed, but no problem. I have my SLR, and planes are of my liking, so waiting at an airport is not that big of a deal ( for me though ). A JK 320 from MAD came in, soon followed by a JK 321 and our VY 320.
Islas ATR being serviced
Apron overview
Our bird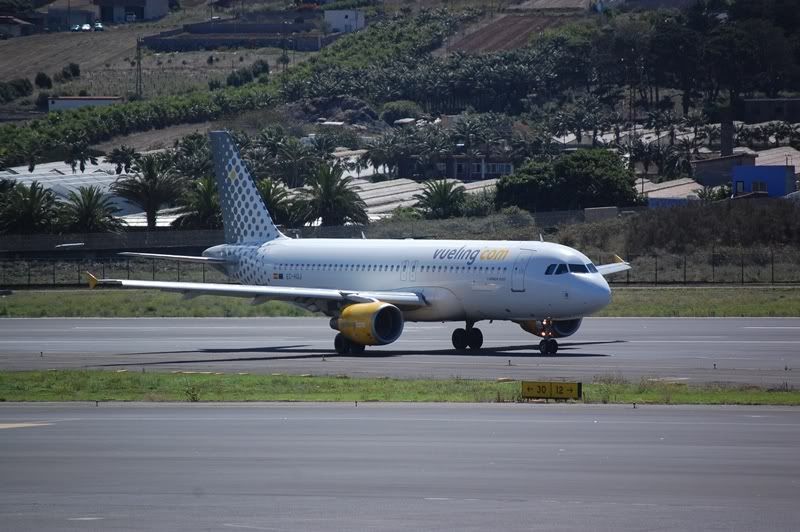 Closer
Very close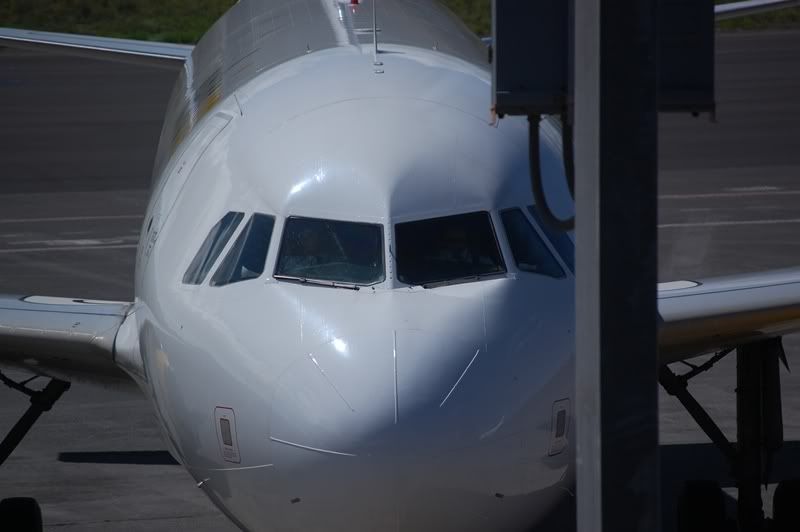 Some quick unloading and preparations were done and we were ready to board.
It went by rownumbers, but only in Spanish. We proceeded as I guessed the back of the plane was boarded first, which turned out to be correct. Seatrow 1-16 or so were actually send back in the line. But we could proceed to our seats being 22E & F.
Flight : VY 3211
Stretch : TFN-BCN
Date : 06-OCT-2010
Aircraft : Airbus A320-214
msn : 1430
Registration : EC-HQJ
Delivered and History :
• 27-MAR-2001 to IB
• 01-JUN-2007 to Clickair and since 2009 repainted in the VY livery.
Seat : 22E
Load : Y-class 99%
19th flight on the 320 and the first on this machine
A middle seat was my share this time, since I had the window on our way down here.
Legroom seemed quite a tad tighter on this machine, but the big guy in the aisle seat contributed to that feeling too. We were all hoping for some seat remaining empty, but we got a full load on this flight. I saw only one seat empty some rows further back. Good business for VY this day. 4 female attendants served us, one of which ( the most gorgeous one ) I remembered from our flight to TFN the week before. She also recognized us, and said friendly hello to us. The JK 320 to MAD went first, than a ATR of Binter taxied to the active, and nr 3 in line were we in our Airbus 320. During taxi I noticed the JK 321 behind us, also bound for BCN. The take off roll was long and sturdy, but we managed to get airborne in time 
One last view on El Teide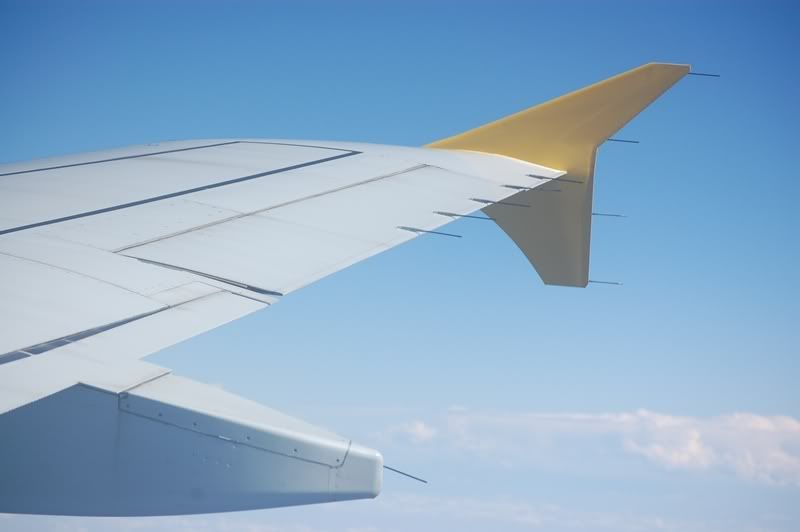 As soon as the seatbelt signs were switched off, my big seatmate stood up, and went chatting with his friends in the row behind us. He must have felt crampy too. He was a nice person!
The flight was quiet and started to become boring after a while, so I took my book about the Battle of Britain and started reading. My GF dozed off in the mean time.
Above mainland Spain the scenery started to become more interesting and I woke her up, which she was thankful for. Descending and some sharp right turns between VLC and BCN, since we were in a holding patern. Then the final approach took place with some nice view of the harbours of Barcelona and we touched down on rwy 25R again. A short taxi to our remote stand and we were all bussed to the main terminal.
Approaching BCN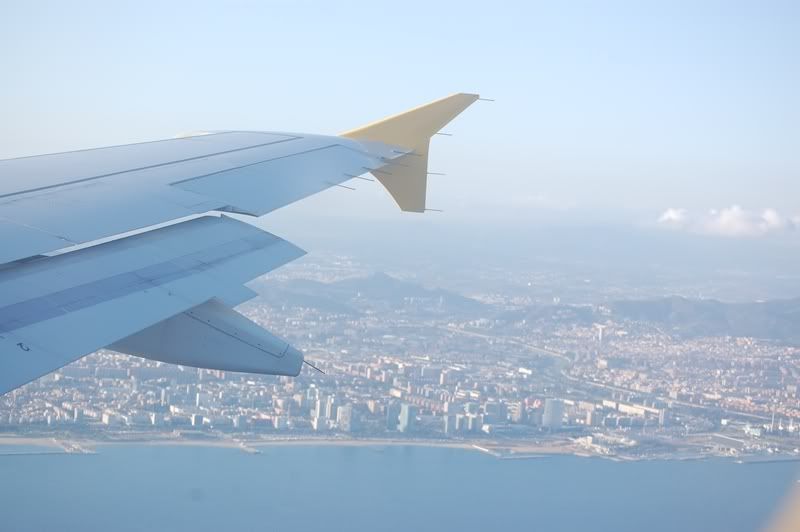 Container ship……not exactly….well ok, a nice cruise vessel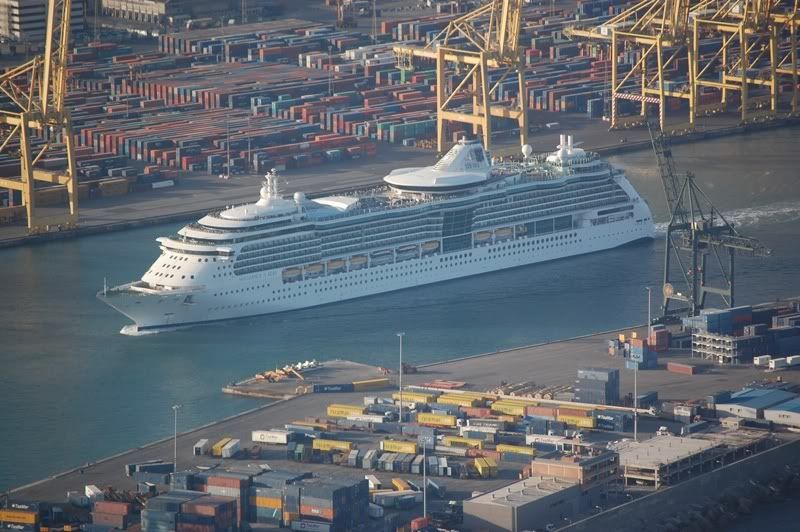 Flaps down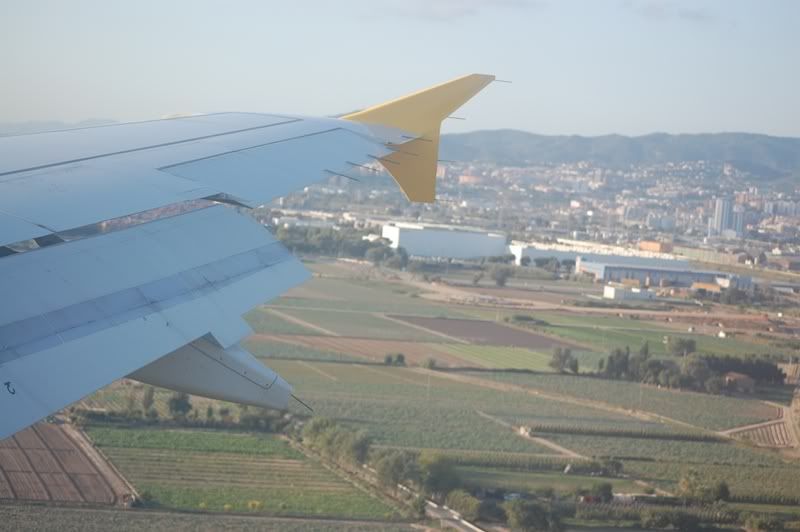 Brakes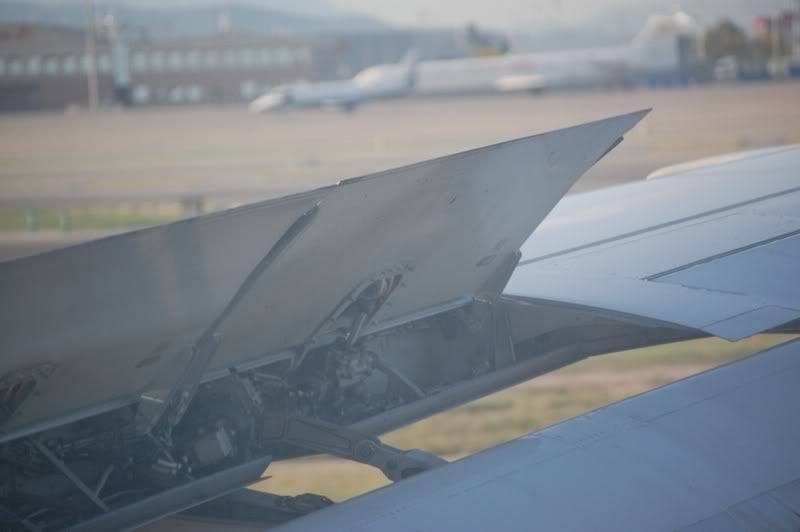 This time our baggage was already waiting for us by the time we were at the belt, so a big thumbs up for BCN here!
We went outside to the bus-stop for T2 and within minutes a bus stopped. After arrival at T2 we went to the HV check in where we confronted with a lot of Dutch pax…..Ohhh, I always feel ashamed when I am amongst a large group of fellow countrymen….. The behaviour is really bad!
Anyway, we had to check our bags and queued up. After a short while another desk was opened and the queue was handled very quickly.
Deserted T2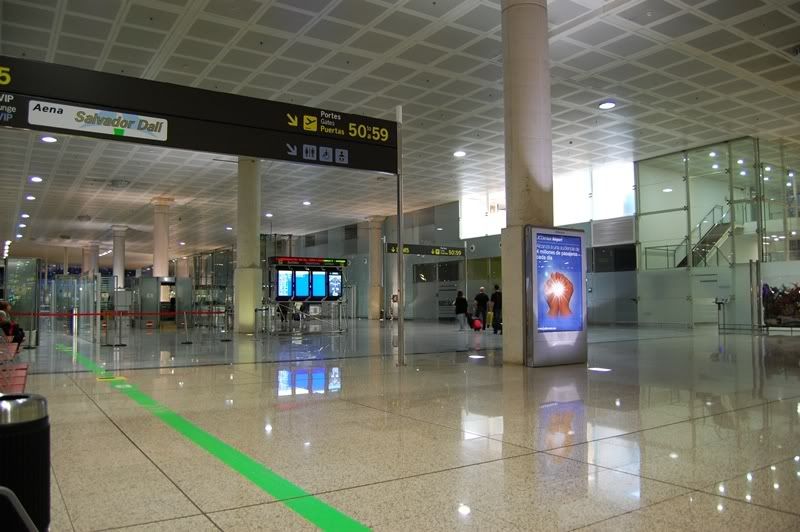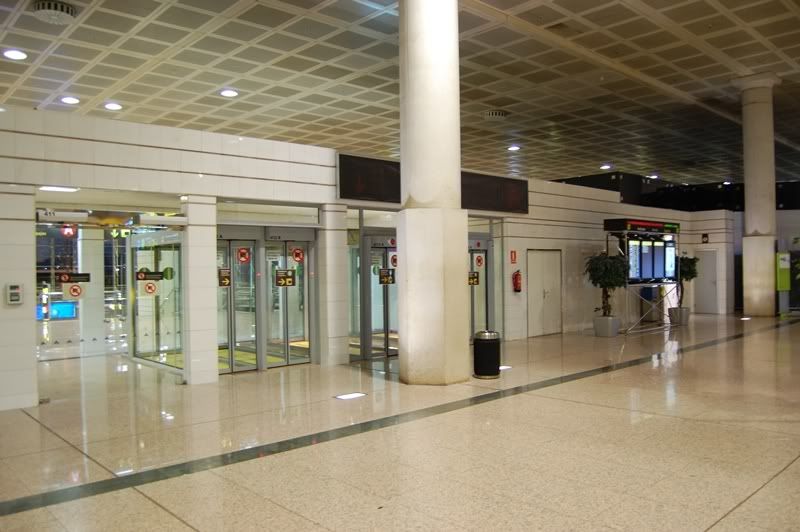 Shops not closed, but simply moved to T1 not to re-open again anytime soon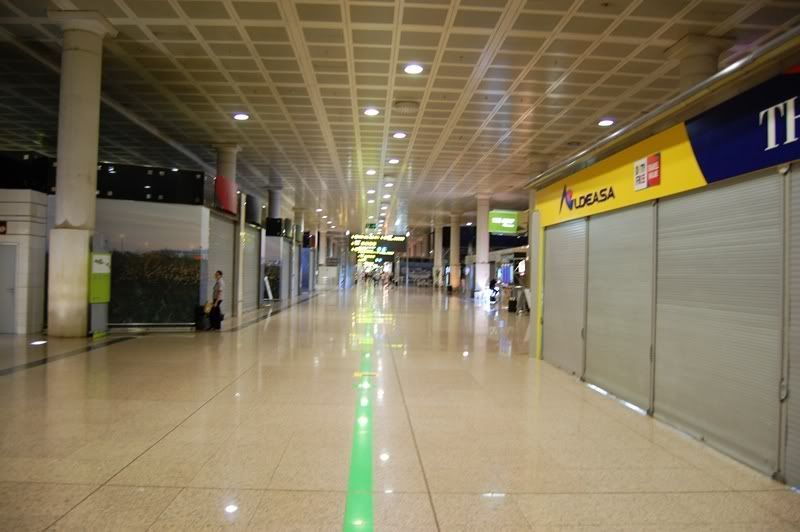 Now we had some 2 hours to spare, and went looking for something to eat in T2. This was not the easiest task, since there was only 1 buffet restaurant, with not one single seat free and a huge queue. And one or two café's where one could buy a sandwich. Hot food was simply not available besides this busy buffetrestaurant. There was also not really sufficient time to go back through security and back to T1, so we settled with some chips and sweeties from the tax-free shop. This is bad for T2, since a lot more money can be earned there!
Also the general feeling with all the deserted and closed shops felt to me like walking in Call of Duty Modern Warfare II ( Airport map ).
Mainly low-cost at T2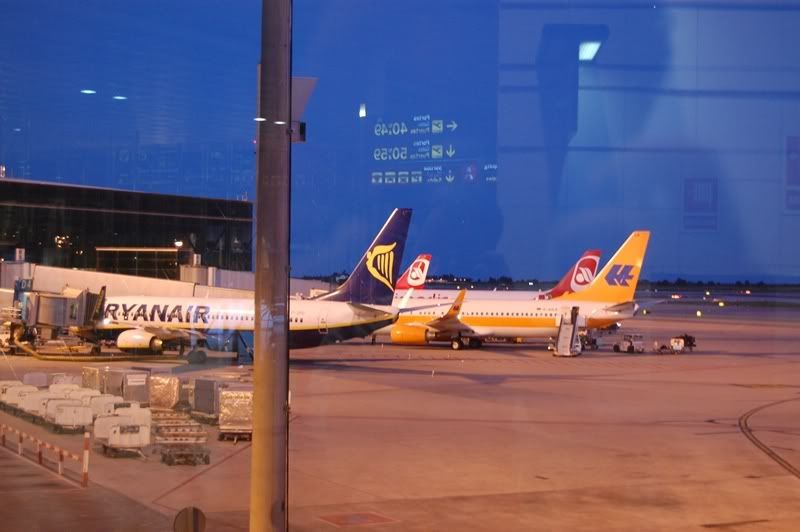 Also on the FDS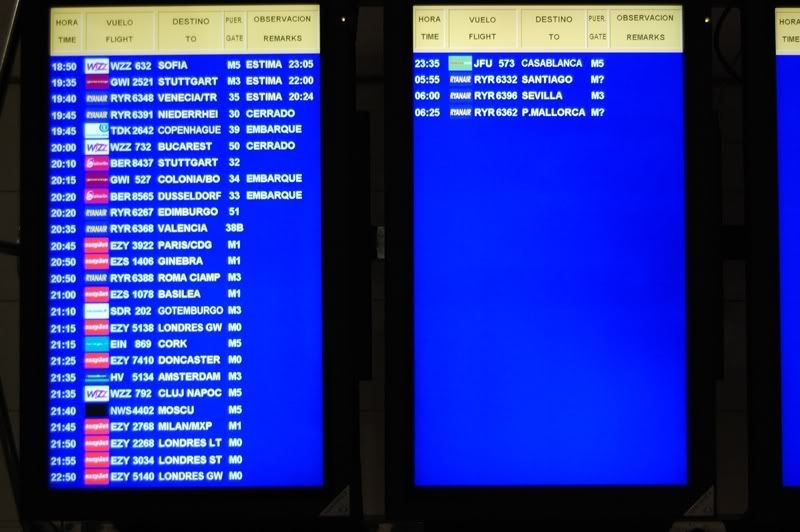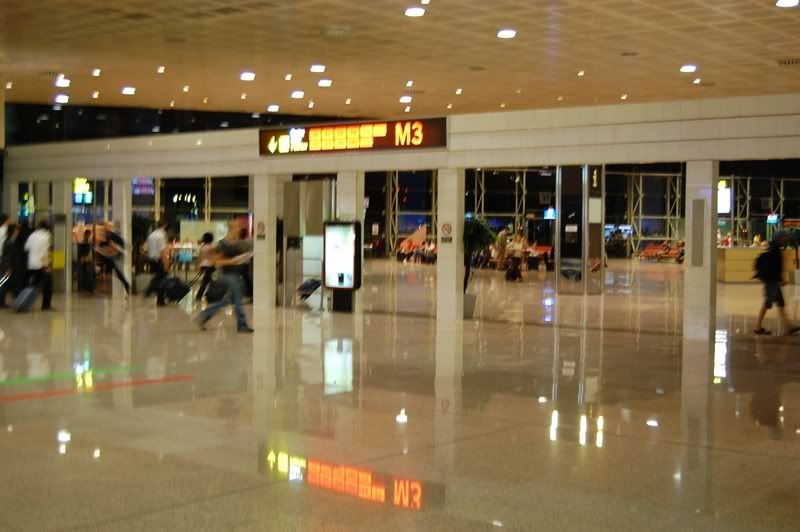 It was not busy anyway, and time past by slowly, but we saw our 737 arriving and she pulled up to the gate. I saw it was another -700 type, so I just hoped for a new reg for the log.
I was lucky enough, so happily we queued the boarding queue and entered another 'green machine'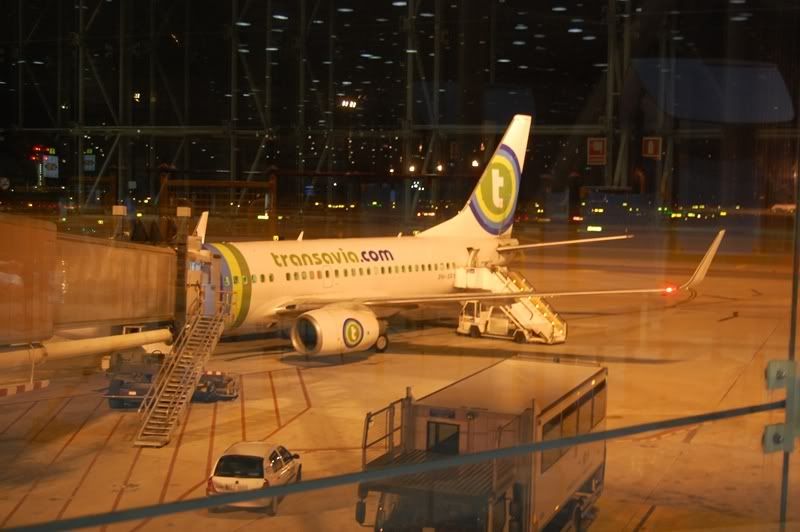 Flight : HV 5134
Stretch : BCN-AMS
Date : 05-Oct-2010
Aircraft : Boeing 737-7K2
msn : 33463
Registration : PH-XRY
Delivered :12-MAR-2003 to HV.
Seat : 12A
Load : 75%
26th flight on the 737, 3rd on the -700 and the first on this machine
We entered the 737 as said, and were not surprised to see the green seats again.
The seats looked a bit tired, and seemed also dirty. The general feeling was just not too good on this machine, but walking up to our seats, we were happily surprised when we saw that our seats were actually at the exit row. I was very thankful for the check-in agent to give these seats to us.
Soon boarding completed and we were pushed back from the gate. In the mean-time it was dark outside, so no real good views ( and the SLR in the overhead-bin ) made me just staring out of the window.
After a longish taxi to the active runway 25L we made a rolling take off into the dark skies over Spain.
That is about the same moment I fell asleep not waking up any earlier than touchdown at AMS. After touchdown I somehow managed to sleep even further until we were parked at the gate. Honestly I still don't have a clue which runway we landed at….
Comparing these two low cost carriers I must say they both are doing a good job.
Booking and checking in was rather easy with both HV as VY. Strange is that VY charges you extra if you want to sit together, whereas at the counter it is changed free of charge.
VY did very good with pro-actively informing us via email and sms about the status of our flight due to the national strikes in Spain. HV could not provide us any information at all, even not after calling the evening before departure. We simply got the reply to head to the airport in time to see if the flight is operated.
The flights themselves were more than ok for both parties, but our overall impression gives VY again the advantage over HV. We would not hesitate to fly again on both HV and VY because they are simply performing the way you expect them to do.
Thank you all very much for reading my little write-up and feel free to flame me or comment on the TR!
Also I promise not to let you wait too long for a new TR from my hand.
Cheers,
Joost (D-ALCE)
[Edited 2011-06-21 06:32:41]