Introduction
Business travel... that's usually an alias for "utterly boring". Sure, I love to fly so flying between HEL and ARN for the third time within a week is fine with me and I still enjoy it. But still, sometimes it just gets a bit... tedious. I've had my fair share of these moments, including a disastrous trip to Duisburg, the most boring city in Germany in the middle of January when I flew none of the four flights I was originally booked on - there was an SAS strike at CPH which was well known in advance, yet corporate travel policies forced me to book SAS via CPH anyway... And there was the week in July I spent in Basel, where the day temperatures were around 40 degrees all week long, yet the office building I worked in did not have any air conditioning and the guys were smoking inside... And even that trip to Malaysia where the project manager suddenly got sick and there was nothing to do for the week I was there as he was sitting on top of it all... Oh yeah, business travel at its best - and did I mention that one time I flew to ARN three times within a week?
So when a last minute (aren't they all?) need for a business trip to Zaragoza, in sunny Spain in the middle of June came up I was thinking that I was on a winning streak here and something good might come out of it. Sure, it's not on the Med coast, and sure, it will be hot as hell as Zaragoza just happens to sit on the arid plateau that makes up most of the Spanish inland where it never rains and sure it would mean that I would most probably be yelled at by people I've never met before and be blamed for all the problems in a project I have no particular knowledge of up until now. But that's who I am - when they send me in, the proverbial shit has hit the (equally proverbial) fan, and all means to an end are acceptable. I am the problem solver - whatever I do is not pretty, but I sure as hell get the job done, with minimal casualties. So the gauntlet was let down and it was my duty to redeem it - and of course log some nice flights in the progress.
The plan was to fly down to BCN on Tuesday with the customers, take the AVE train to Zaragoza (it just happens to lay smack in the middle of the high speed rail line between MAD and BCN, which means that there are no flights from either city any more - as a matter of fact the biggest operator at the ZAZ airport is Ryanair - who else), do whatever the job takes and come back on Friday.
After some fiddling with the horrible booking engine our corporate travel agency forces us to use I came up with a decent itinerary: HEL-CPH with another KF 717, CPH-BCN on a JK A320 - the same flight our clients were taking, followed by BCN-RIX-HEL with airBaltic a few days later. Bonus points were awarded from the fact that BCN-RIX was scheduled on a 757! The rest of the entourage were coming back with the direct JK BCN-HEL flight, but I figured out spending four hours in the cramped confines of their A321 was really not an experience I was looking forward to I booked the BT flights. The fact that these were around half the price of the JK one of course made it all the easier to get them approved by the corporate beancounters...
Here's the route for this little trip: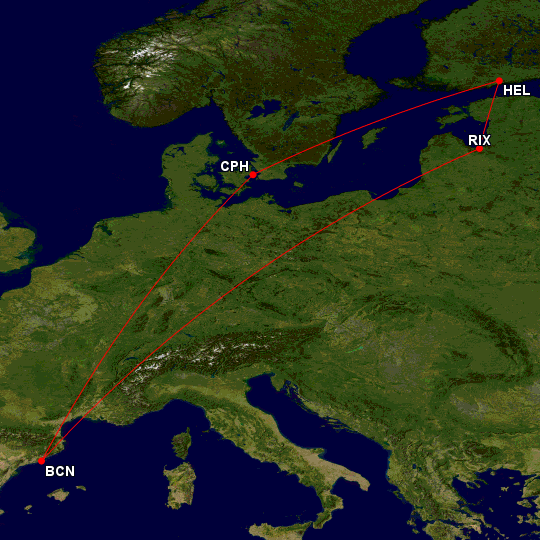 Optiontown was offering an upgrade for the JK flight for only 49 EUR (plus their 3 EUR fee). As JK economy isn't exactly a very comfortable place to be in I entered my credit card details as soon as I saw the offer, hoping to get lucky. They also offered a business class upgrade on the BT BCN-RIX flight for 90 EUR, but I thought that was a bit too much. BT business class service is very nice, but for that kind of money I can buy their hot meal, half dozen cans of their tasty Latvian beer and still pocket at least 50 EUR. Digiplayer, who needs a digiplayer when you got beer and your Ipod?
Tuesday 14.6.2011
The flight times were quite weird as they basically wasted one full working day on each direction - but hey, I was with the customers and if there's one golden rule in customer driven business it is the fact that the customer is the king and is always right. If you ask me, it would've been much more efficient to fly there the previous night after a normal working day, but hey, that's just me! Anyway I had a 12.00 departure, so didn't bother going to the office before it, just worked in my home office and run a number of errands during the morning. Having taken care of most of the stuff I needed to do I take advantage of one of the perks in travelling on somebody else's dime - a taxi ride to the airport! With no checked luggage for me and having done OLCI beforehand I head straight to the security, take advantage of another perk offered by my Star Gold status and use the priority security lane at T1. Not that I really need it as there's nobody on the regular lines either, but you know - earned perks are hard to give up! Off to the very empty lounge for a coffee and some watermelon slices (yeah, I know - a strange combination):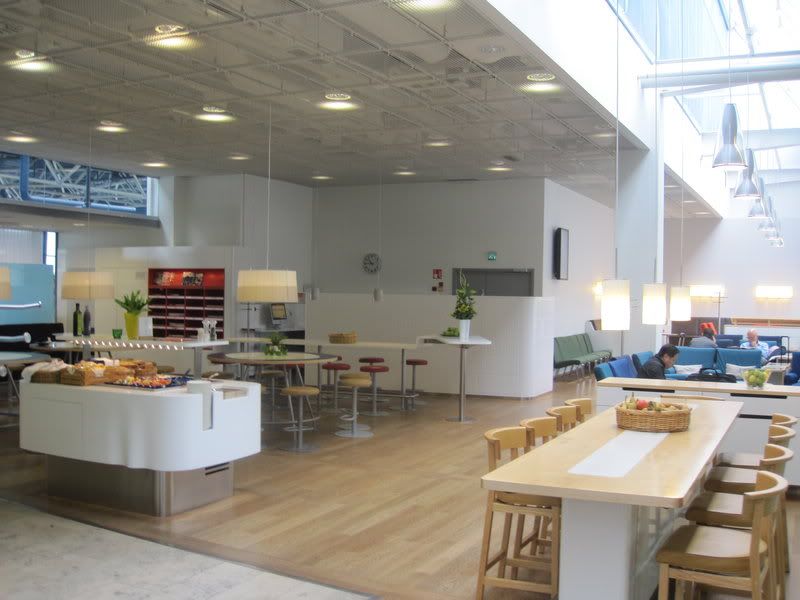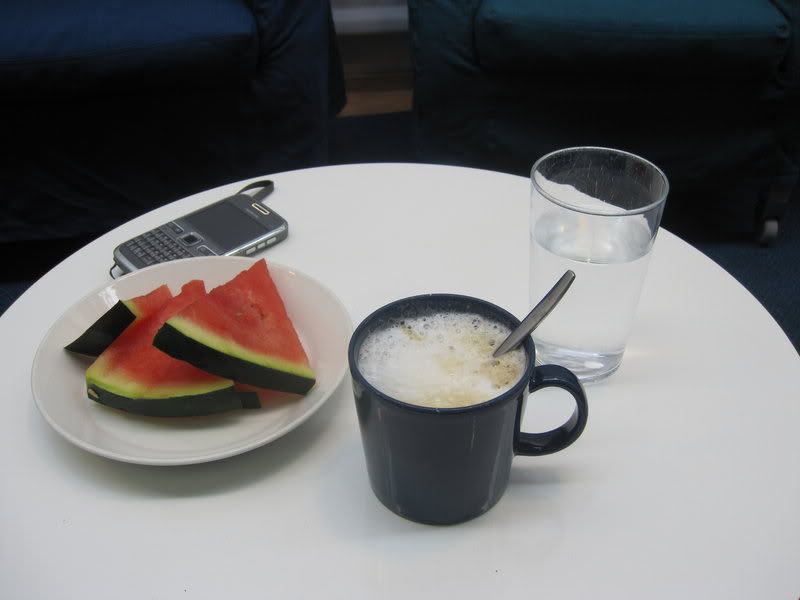 Far too soon one of the guys from the customers calls me to notify that they have arrived and will be airside in a few minutes - this means the end of my short lounge experience, bugger. I meet the guys and gals after security, and we head for some coffee (the "pay for it" kind), breaking of the ice and chat. Well, these guys seem nice enough, but then again these aren't the people who are upset, they are in the same boat as me...
The others are flying down to CPH on the SK flight 50 minutes later than me, I could've booked that one but was more interested in doing another 717 ride, and it was around 50 EUR cheaper so that's enough justification for me and the controllers. Boarding is called bang at the indicated time at 11.35, so I bid the guys adios, tell them I'll be in the lounge at CPH if they need me and agree to meet at the gate for the BCN flight.
A longish queue has already formed at the gate - by the time I reach the podium I'm hoping for the tell tale red light and beep from the machine that would signal an operational upgrade (or in a worst case scenario just a seat change) as the OLCI seatmap showed a very full flight and I figured I had a decent chance of scoring an upgrade. Well, no such thing happens, it's just a green light and a "have a nice flight!" from the friendly male agent. Oh well, 4F is still a decent seat so no problems.
Today the honors are being done by OH-BLJ (that registration always makes me feel so dirty, wonder why?), a 717 I haven't flown on before.
HEL - CPH
KF651
B717 OH-BLJ
Seat 4F
11.50 - 12.16
Upon boarding the cockpit door is open, the first officer looks like Spanish so they still have a few of those around. The captain is a genuine Finn, though. I recognize two of the FAs on this flight from my previous flights. Not that they recognize me, or at least do not show it in any way. 4F in the first row of economy today has a decent legroom, something which can't be said for the seats further back: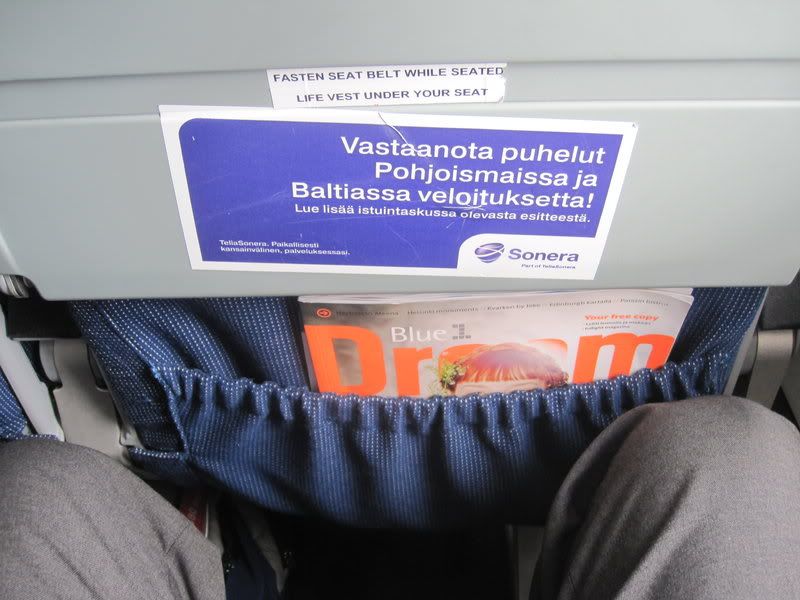 I don't know what the OLCI seatmap was all about as the flight is far from full - a decent load of maybe 80% in economy and three passengers in Premium, but full it ain't. At least this means I get a free middle seat next to me - whoopee. The flight time is announced as 1h20mins and we manage to push back a nice 10 minutes early - KF's on time record is quite questionable, but one thing they try to make sure is that the trunk feeder flights into the SAS hubs run on time. Well, the ARN flight and hour before us was running late, but that's just a one time exception, I'm sure.
The recent spell of hot weather is long gone and the skies are again looking like they usually do in the Finnish summer:
I kinda like this shot of a landing FC ATR: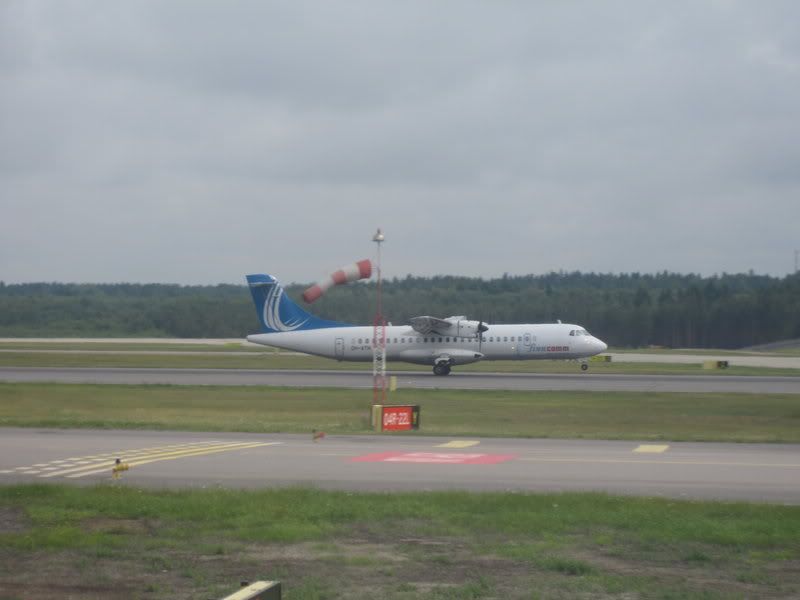 Take off is from 22R, meaning a taxi time of around ten minutes, so we take off around noon.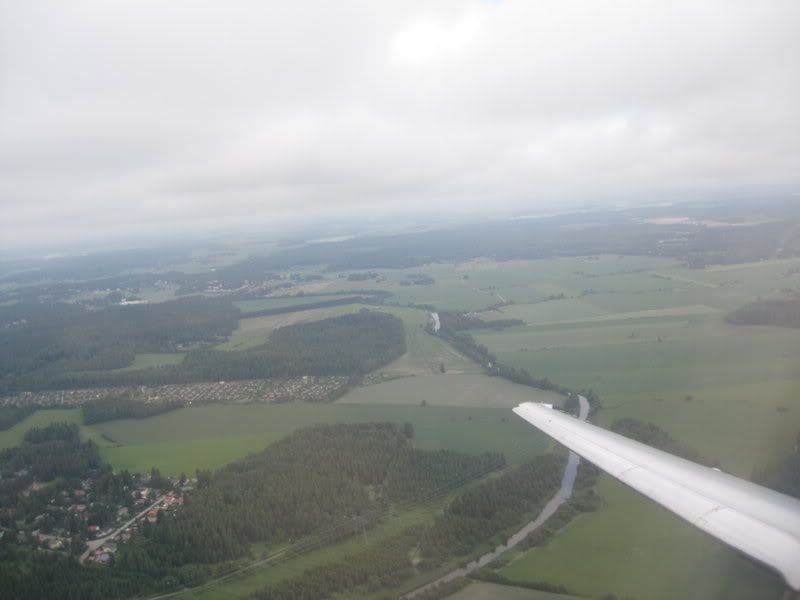 The artificial hill at Pitkäsuo, made from excess groundmass removed from various construction projects (and still growing):
Coffee will do nicely, thank you. My seatmate's white wine can also be seen: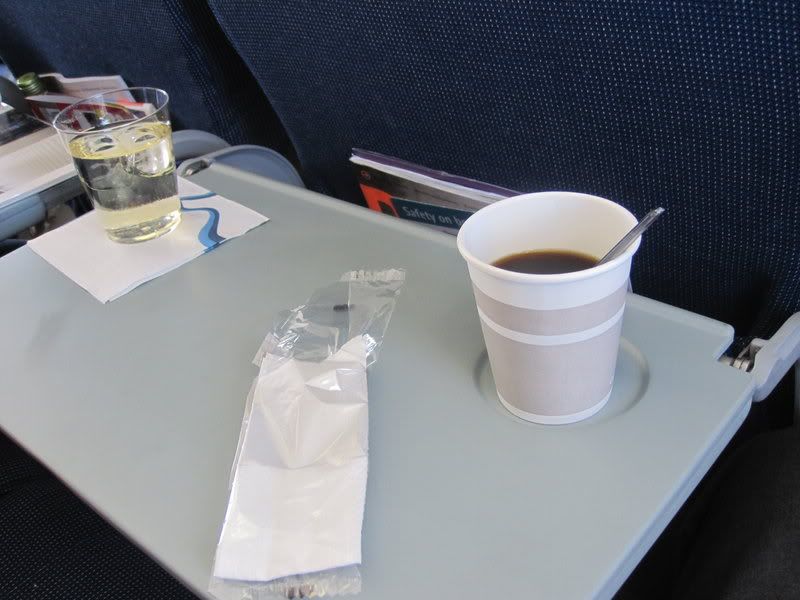 It's another very quick but cloudy flight, already less than an hour into the flight we leave the cruising altitude and head through the clouds. Here are the first views of Skåne, the Texas of Sweden: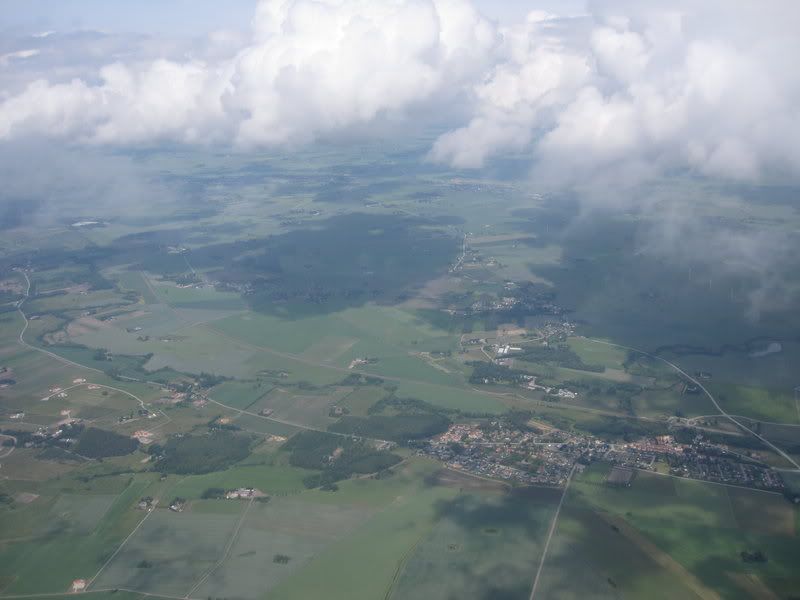 Subdivisions and golf courses: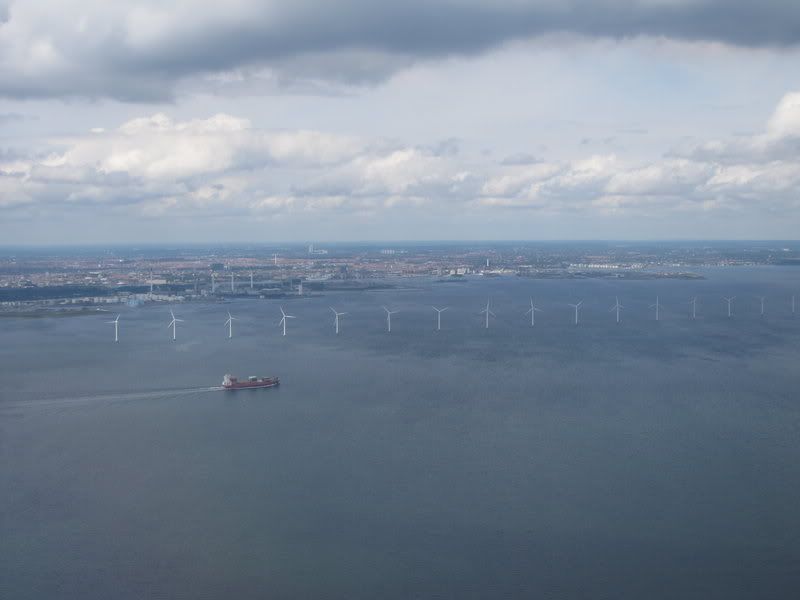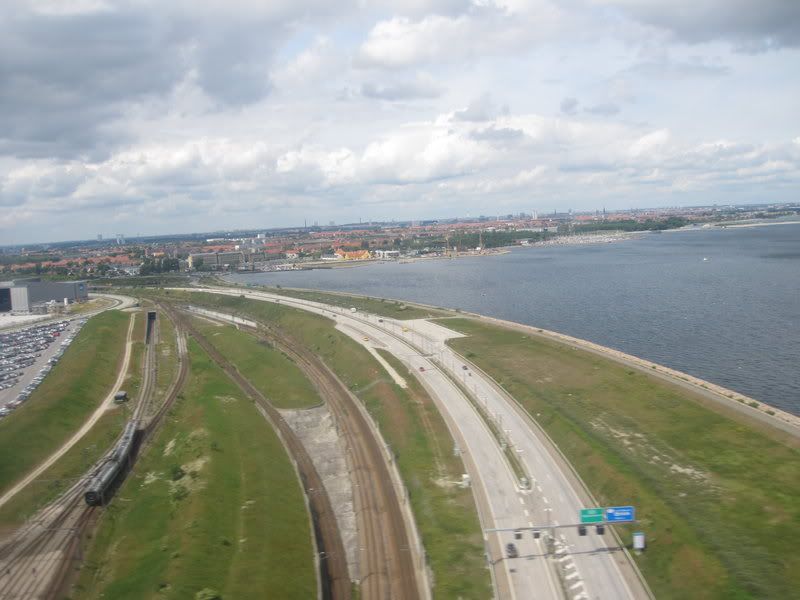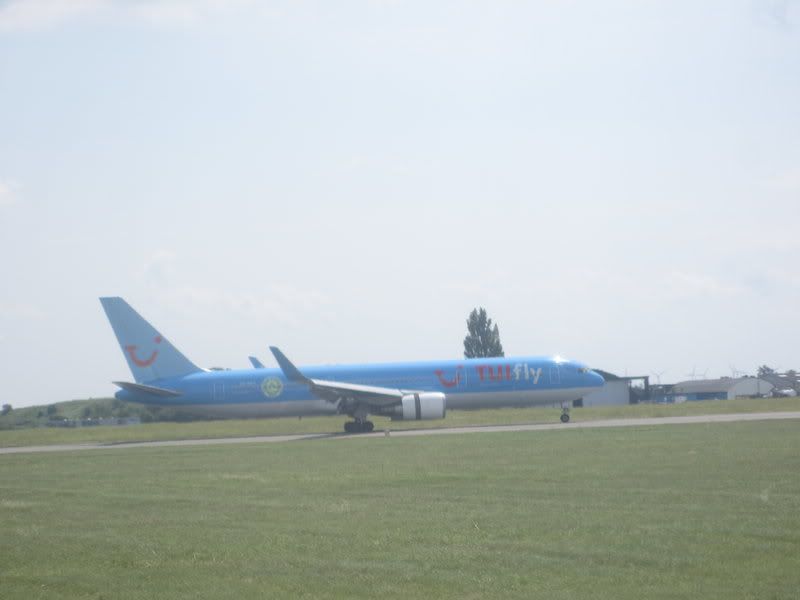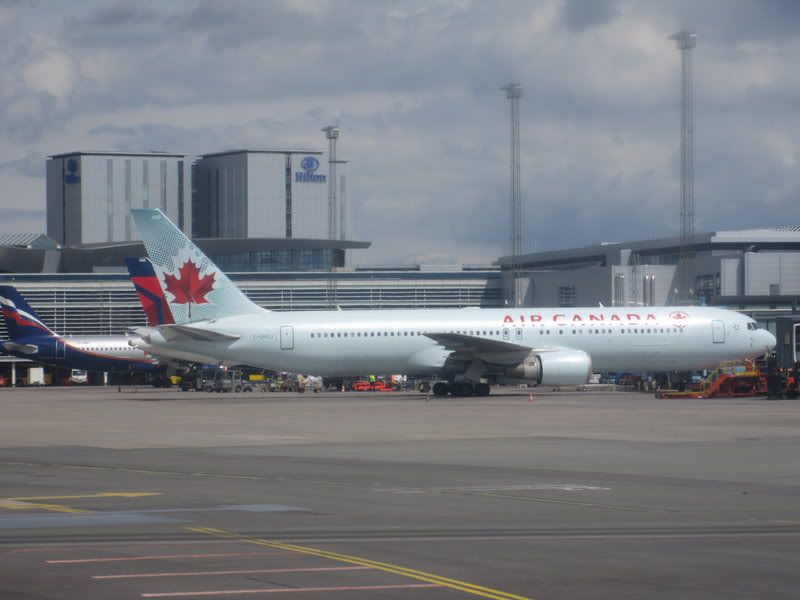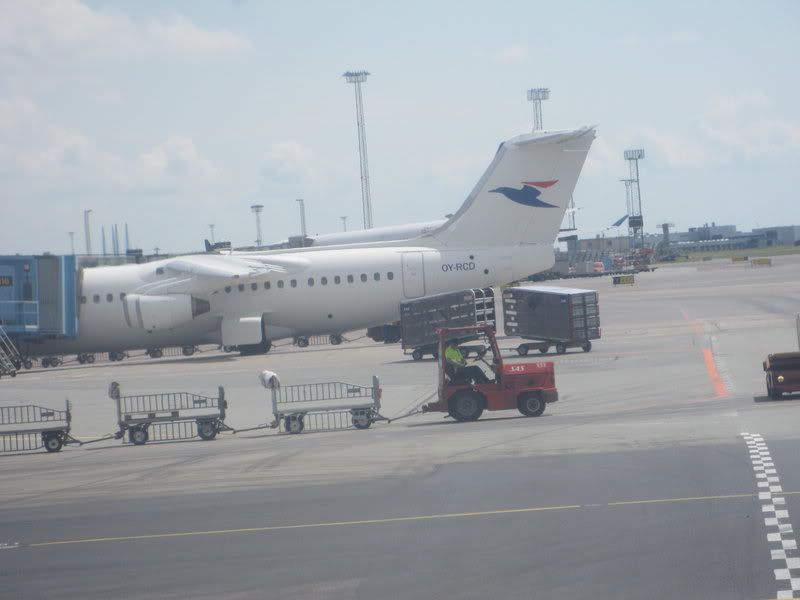 Landing is on 22L after a quick flight of 1h15mins and we dock to a jetway at the end of the T-shaped part of the A pier which once upon a time was non-Schengen but not anymore. It's a bit of a hike to the Scandinavian lounge, but then again with the promise of visiting one of the best lounges in Europe for the first time I'm eager to go.
Copenhagen Kastrup Airport
Interesting - they have opened an H&M store in the shopping area - must be the first one in an airport anywhere (yet somehow I'd assumed that honor would have gone to a Swedish airport):
They have the business class lounge downstairs - I've been there a few times and the Scandinavian lounge, accessible only to Star Gold upstairs. So for the first time ever I walk the stairs up to heaven: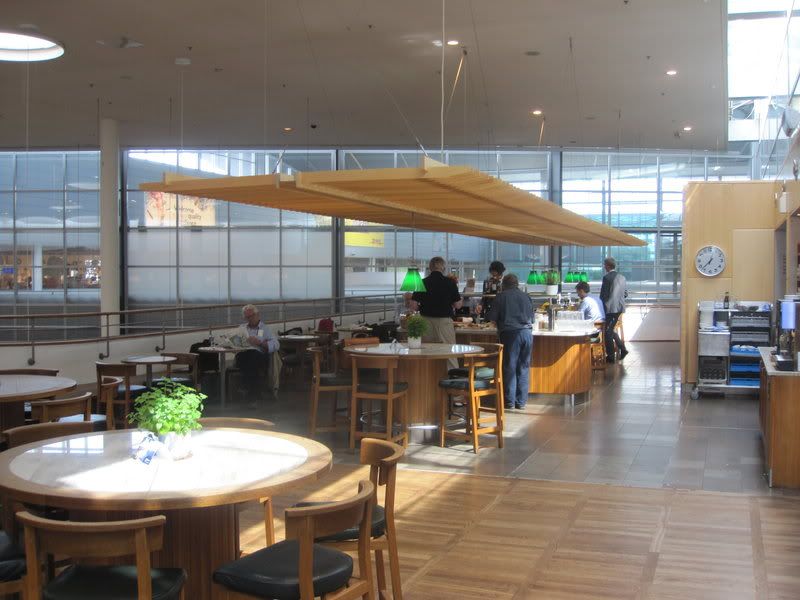 Yummy food spread - this alone makes it totally worth it: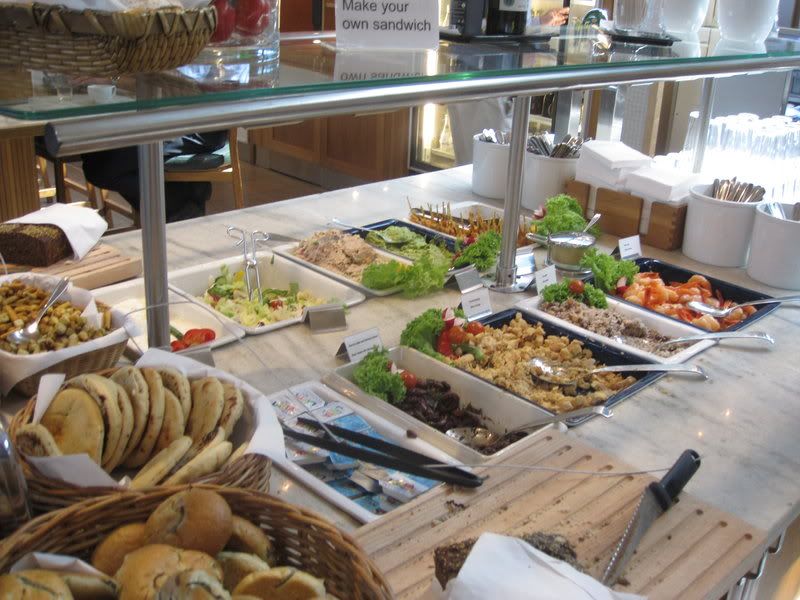 Lunch - well I ate lunch before leaving home, but hey - those jumbo shrimps just are SO good:
View downstairs to the business lounge: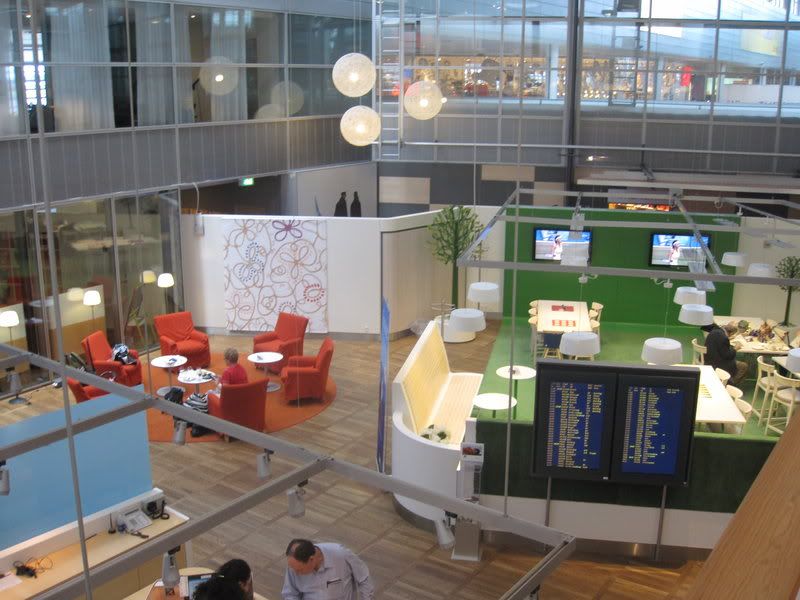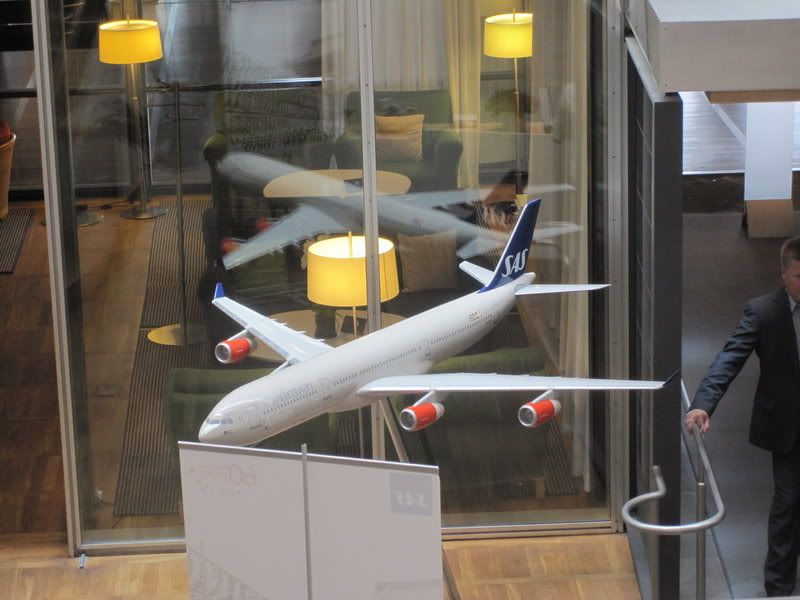 Coffee and calvados: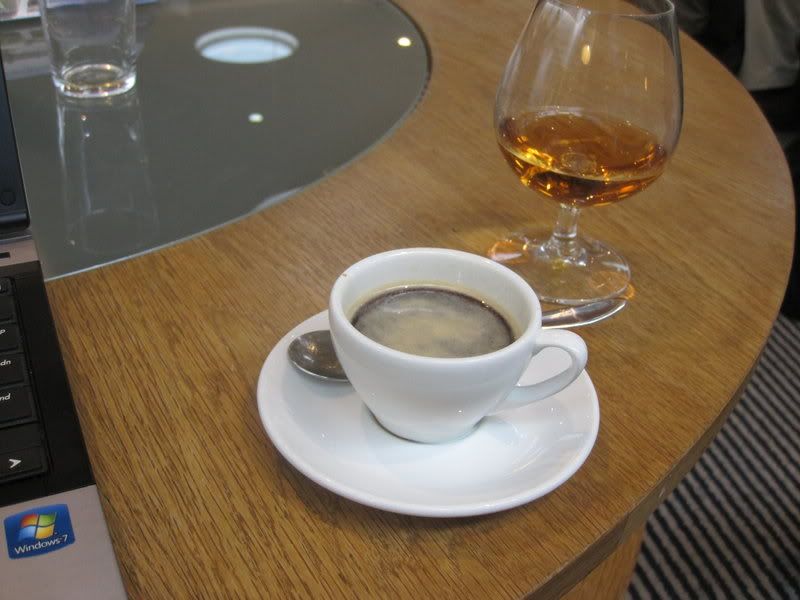 I just have to nick a copy of this new magazine - it's a full magazine version of the SAS inflight one which they are nowadays selling via newsagents in Scandinavia. I think that the Scanorama magazine has some of the best writers in the industry - I always enjoy reading through it: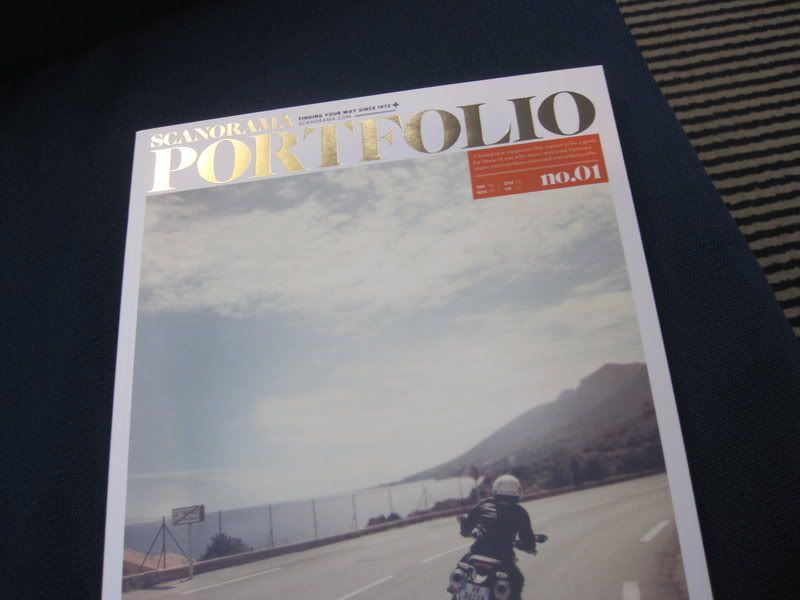 When heading to the gate I decide to grab some Starbucks - this must be their most expensive outlet in the world - 11 EUR for my Grande Vanilla Latte: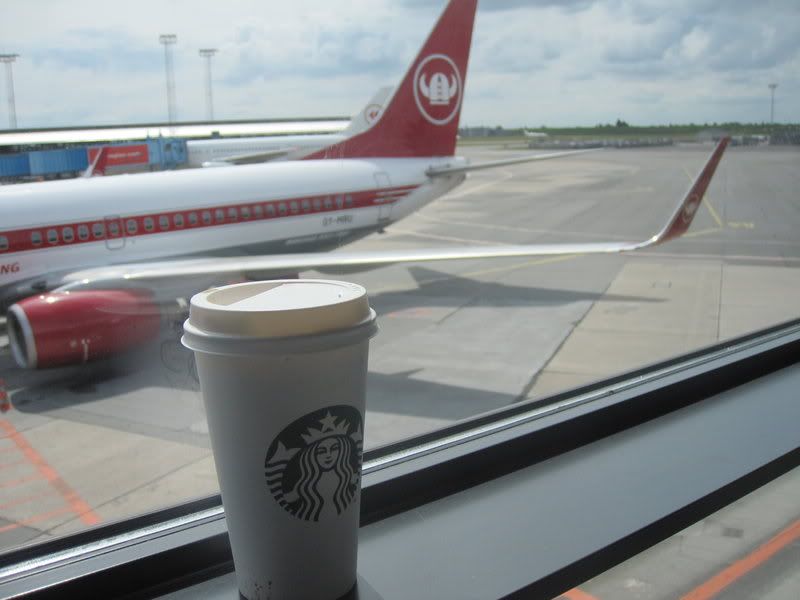 Astraeus operating for Iceland Express: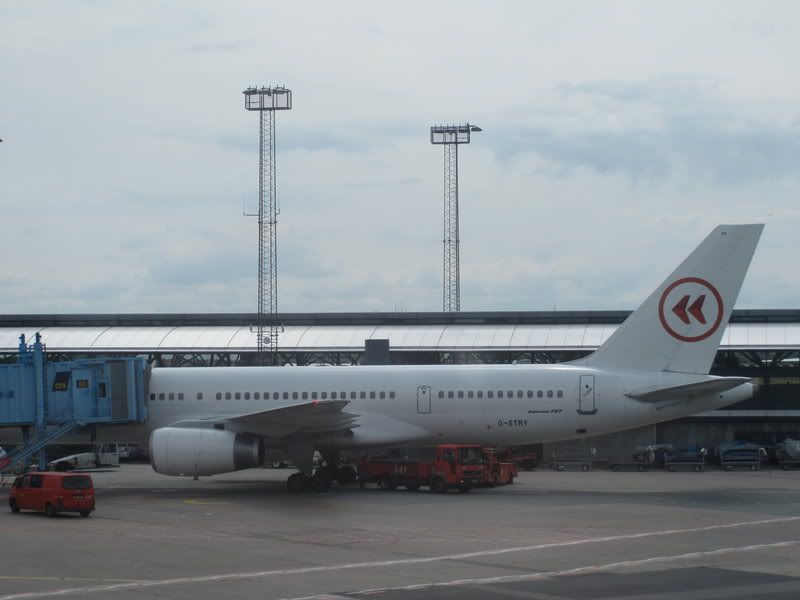 Ok, looks like I'm getting treated to a *A special livery today: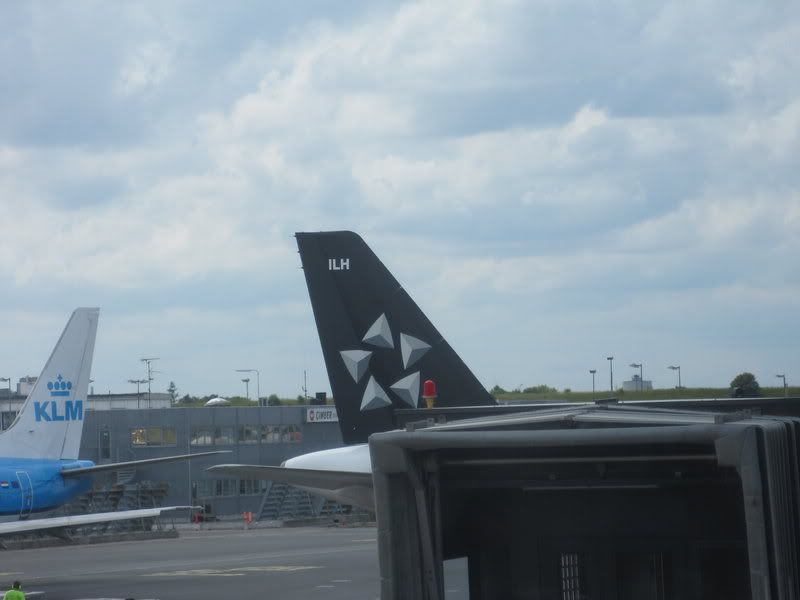 Over at the gate I quickly spot my companions, plus tons of other people - looks like a very good load on this flight today. They look at me a bit funnily after I excuse myself to take this photo of our chariot of the skies (by the time we commence the journey back they certainly know that me and planes have a special relationship...):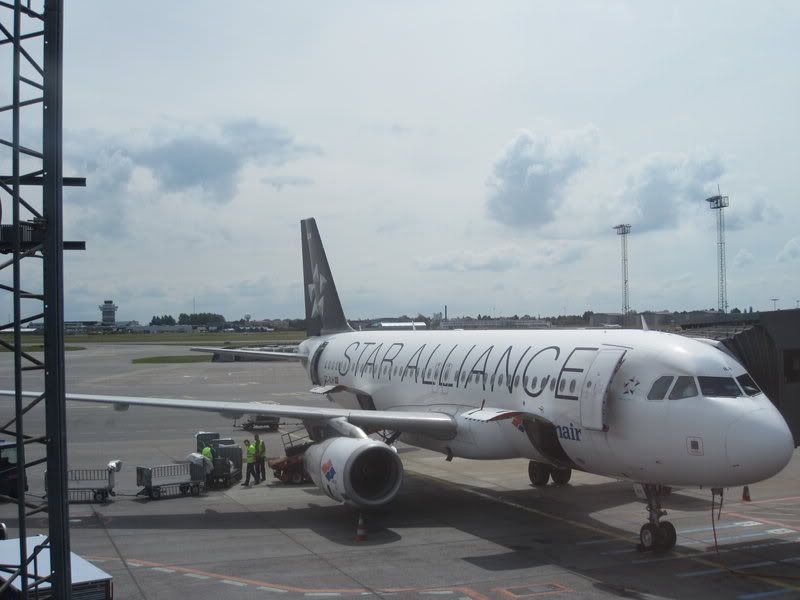 EC-ILH, a new ride for me since I've only flown a Spanair Mad Dog and 717 before.
Ok, here we go again - 25 minute delay: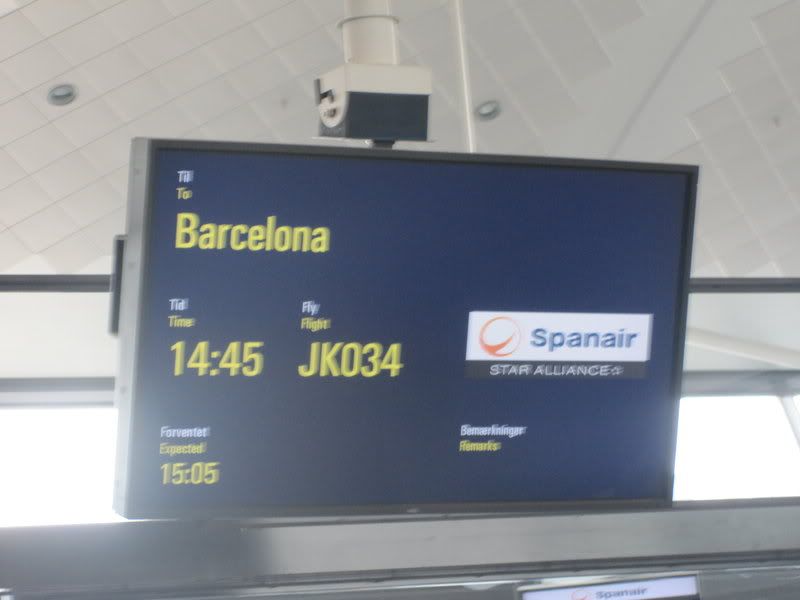 To my surprise priority boarding by status is actually called - since there are so many people and I really want to fit my rollaboard into the overhead lockers I decide to roll with it. Not that it is really enforced as the boarding passes were already scanned upon entering the holding pen so pretty much any Tom, Dick and Harry could just enter when Elites and Premium class (or whatever they call that class where I was trying to upgrade to nowadays) passengers are called. But Scandinavians being of the obedient sort (and most of the Spanish passengers probably not understanding the English announcement) it is a very orderly process.
Oh yeah, while checking my emails in the lounge I found the dreaded email from Optiontown advising me that my upgrade did not clear. Bugger.
CPH - BCN
JK34
A320 EC-ILH
Seat 28F
15.08 - 17.40
Very disinterested crew on this flight - being the first passenger onboard I have to loudly announce "Hola!" to get some of them to turn their heads and make a half assed attempt at a smile and some sort of grumpy greeting. Well, apart from the blonde Swedish guy in the back galley who is friendly - but after all it's in his genes so what can he do. Last row, window seat - wonder who taught me that - leg room is quite abysmal: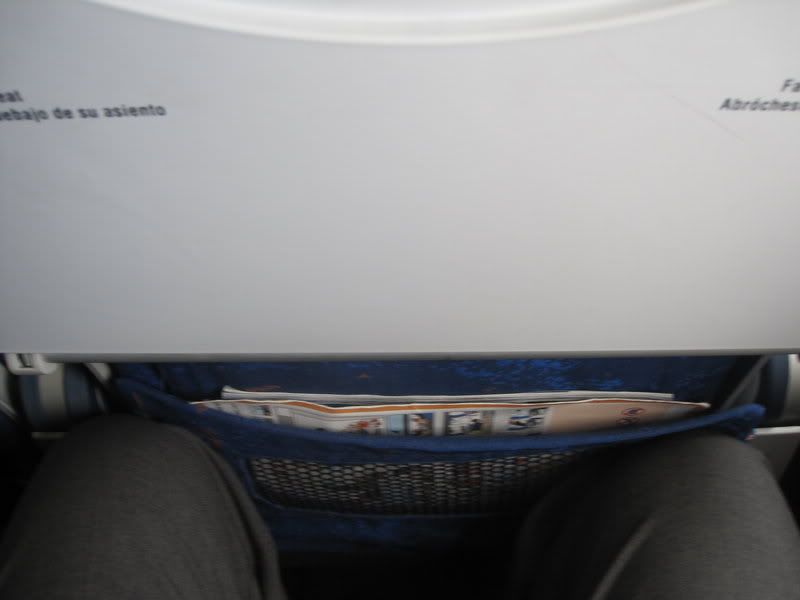 I don't like the seats at all - they look quite ugly to me: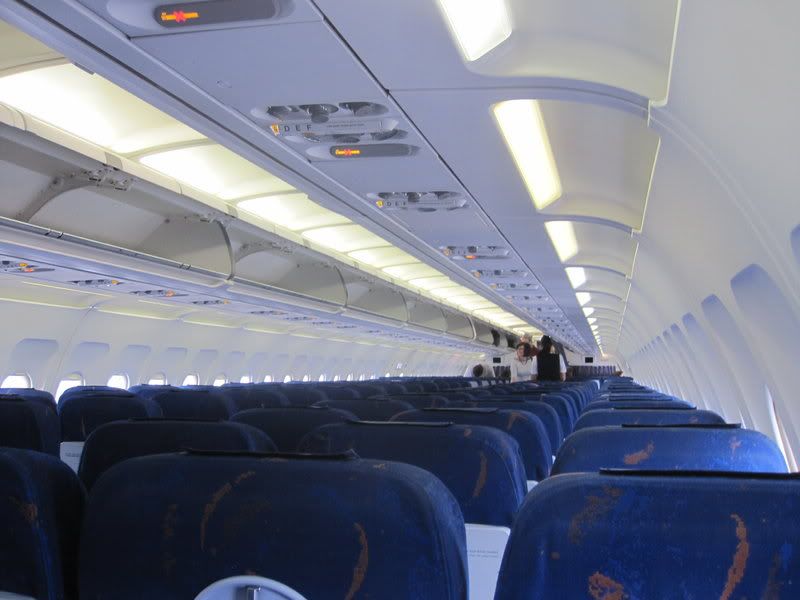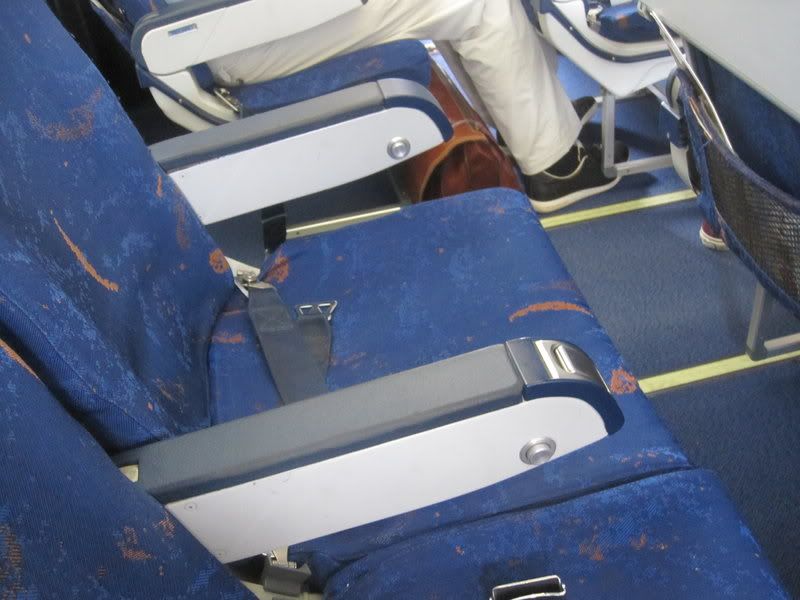 The last row rule worked fine again - I think the only empty seats in economy are the two next to me - well the large Swedish guy from 28C moves over to D as soon as boarding is completed, but as he is asleep for the whole flight and we still have an empty middle seat between us it doesn't bother me too much...
AF Babybus next to us, with a company bird to MAD behind it: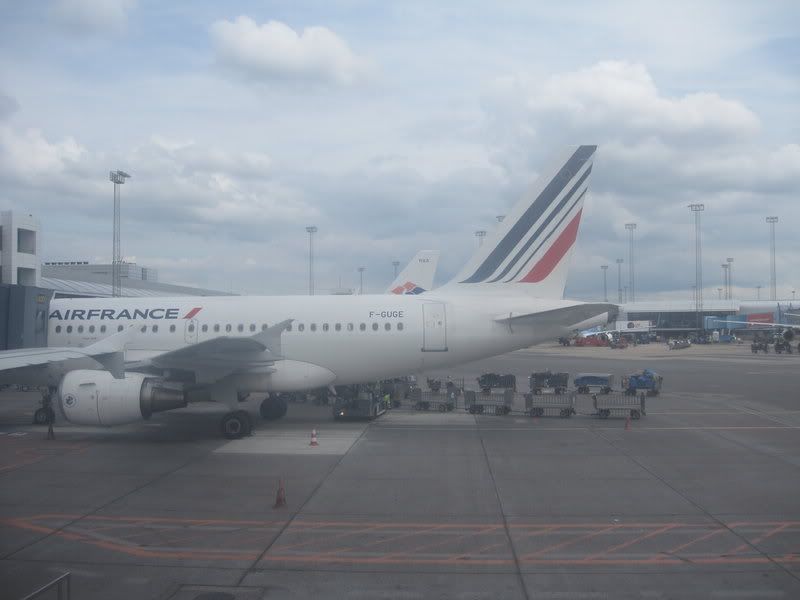 All the announcements are made in rapid fire Spanish, bad English and some bits are repeated på Svenska by the Swedish guy. The captain explains our delay by "late arrival" (well, that's not really true - according to the CPH airport website it landed only eight minutes late) - announcing a nice tailwind for us today, with good flying conditions and 25 degrees over at Barcelona with a few clouds around. The cabin crew announces our flight time as 2h30mins.
Push back is 28 minutes late, with take off from 22R ten minutes later. Pegasus, the flying horse (or maybe it's a Boeing):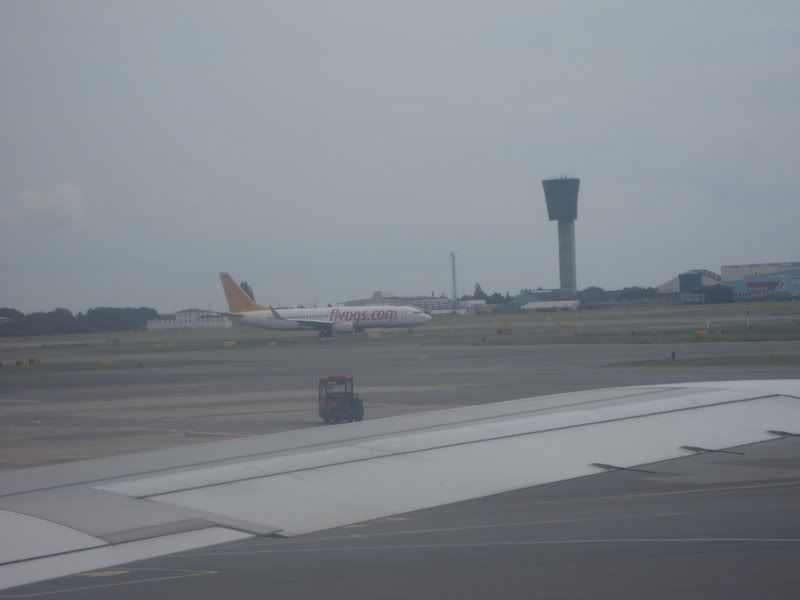 Tailing a LH E195: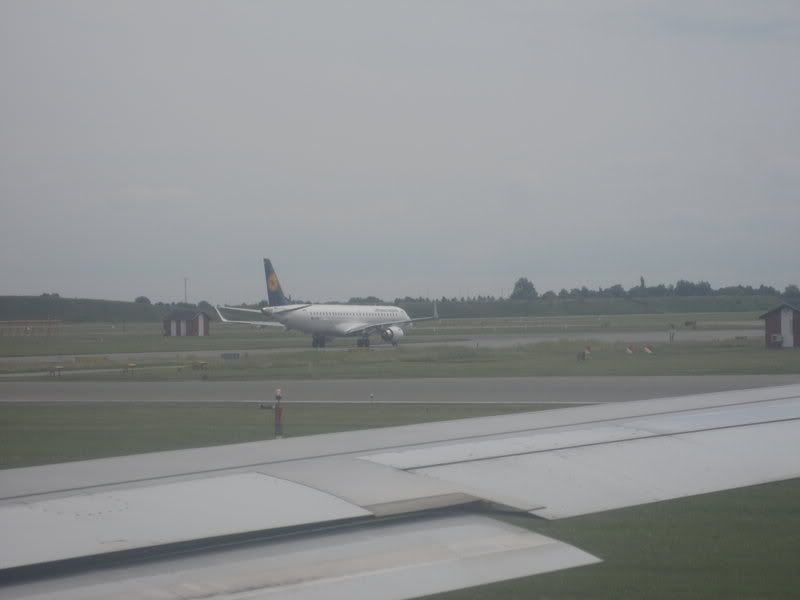 Urban sprawl, Danish style: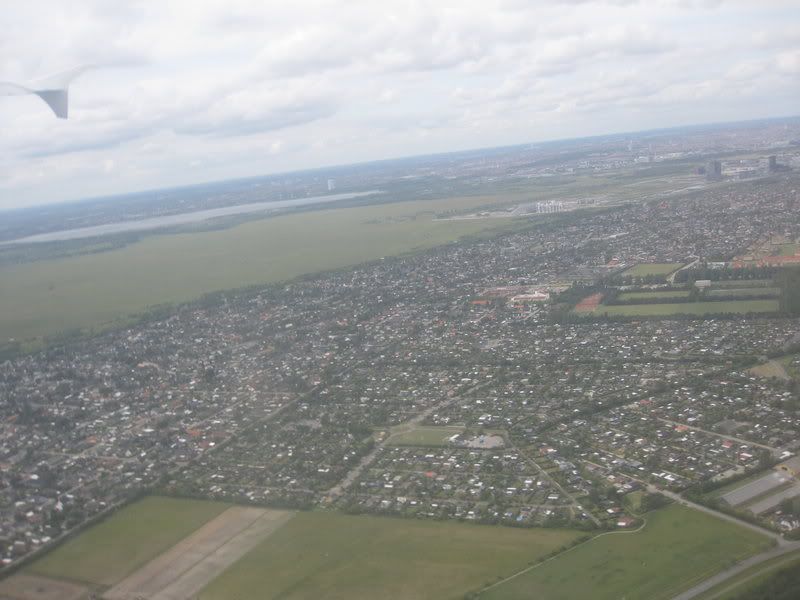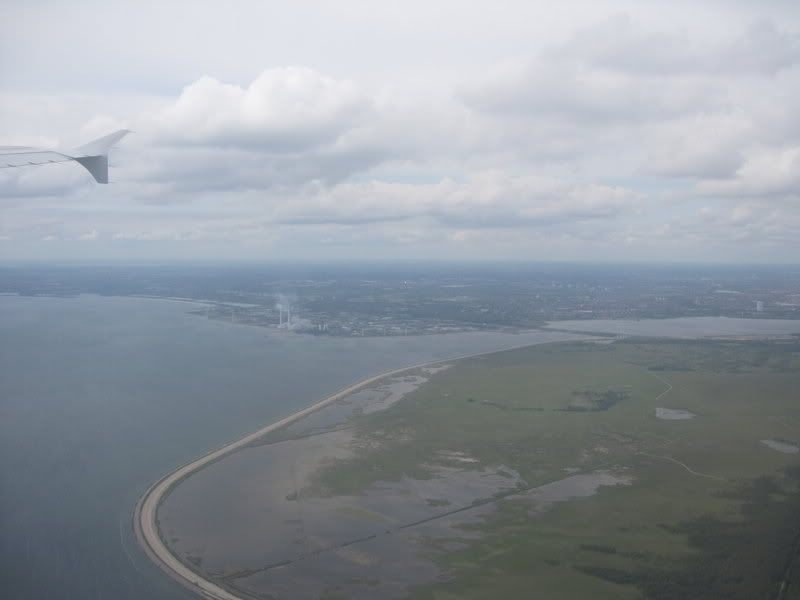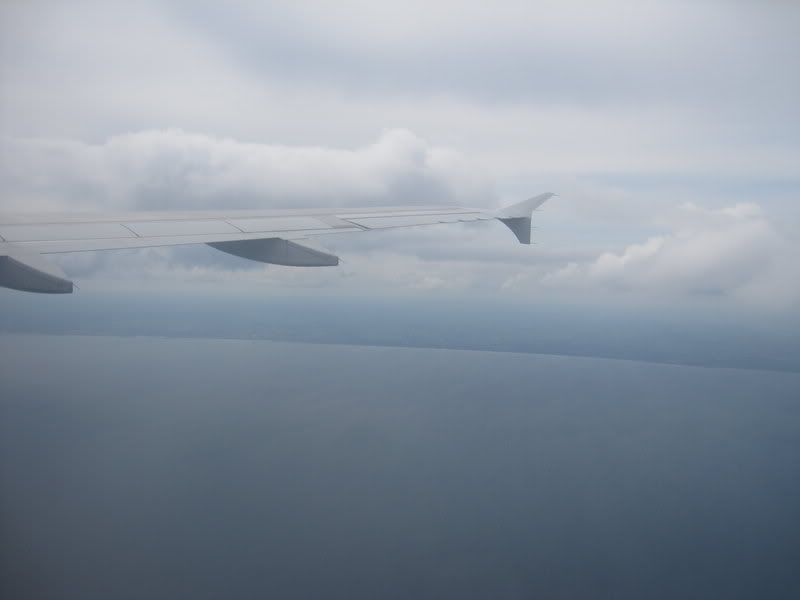 The BOB menu: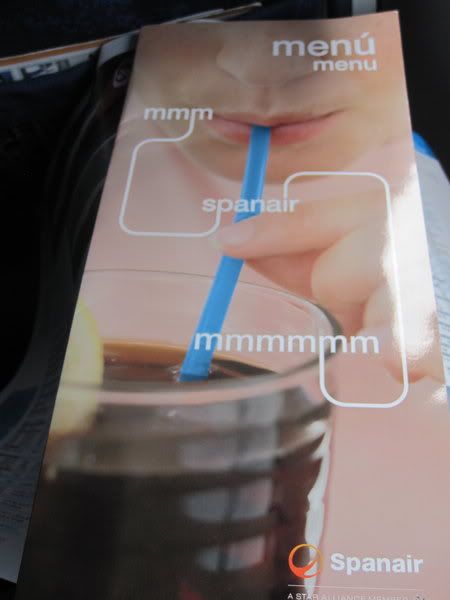 The inflight mag - SAS has Scanorama, JK has Spanorama - that's very clever (no it isn't):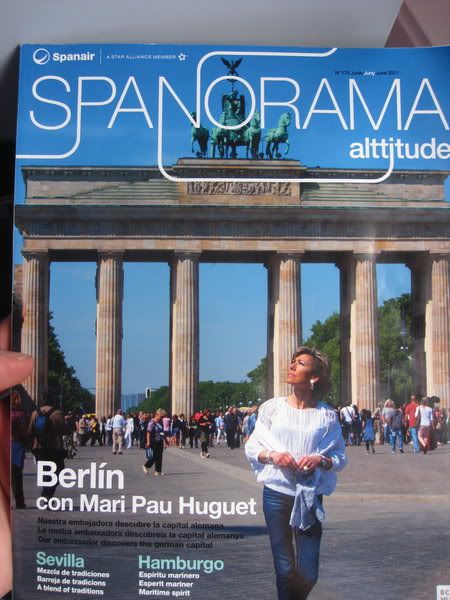 As a side note I kinda like the way how they use both Catalonian and Spanish (Castillian) everywhere - even the magazine is fully trilingual (with the requisite English there as well). They really are trying to be a Catalonian airline.
Hola, Alemania: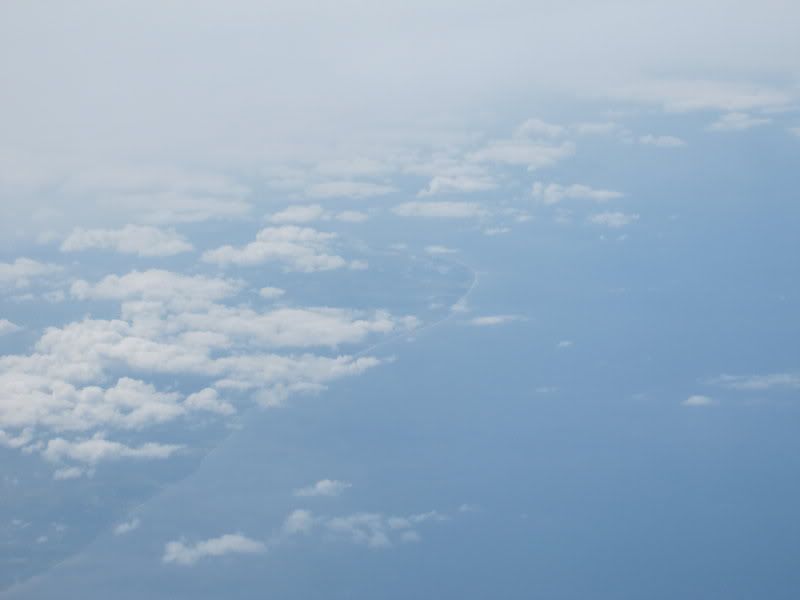 A hazy shot of HAM: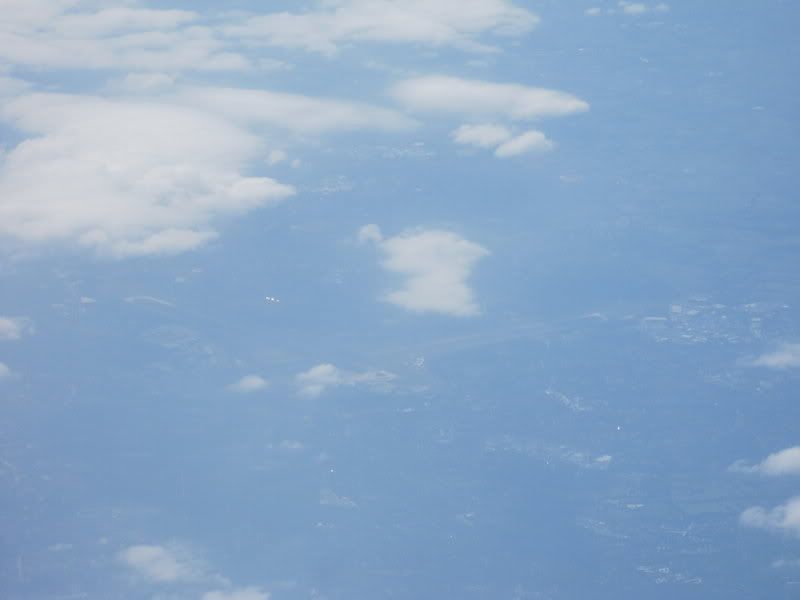 Followed by the port of Hamburg on the Elbe: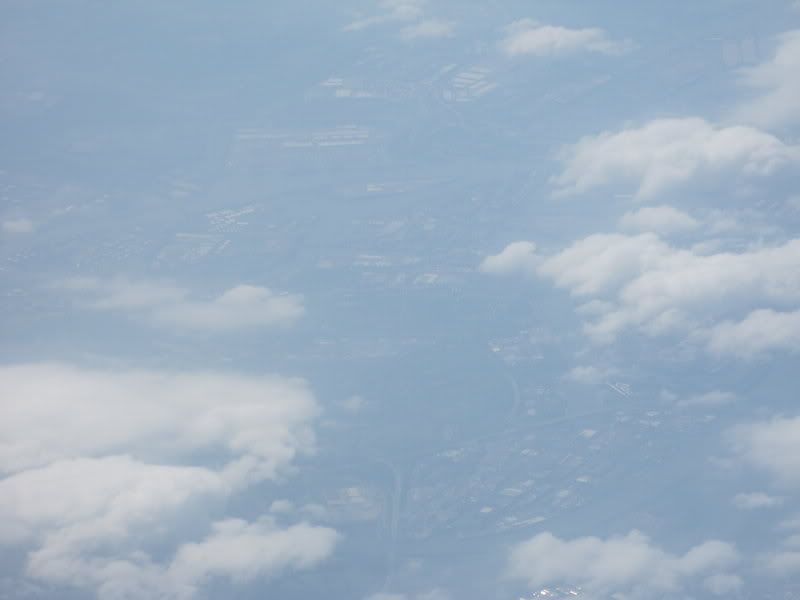 Semi cloudy over Europe on this day: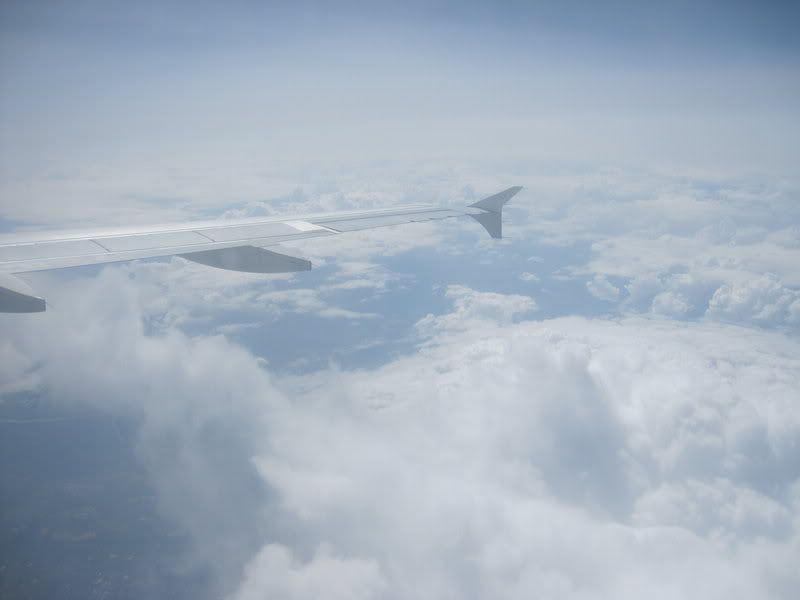 FKB: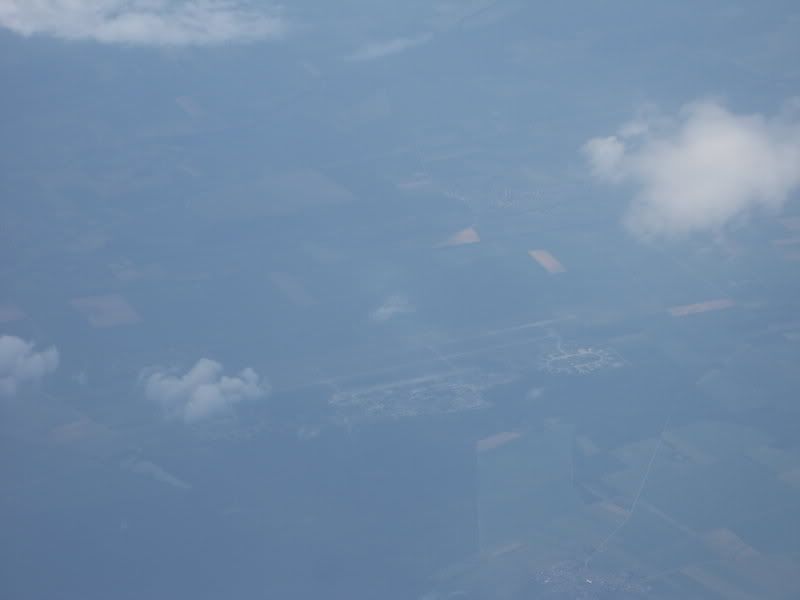 GVA: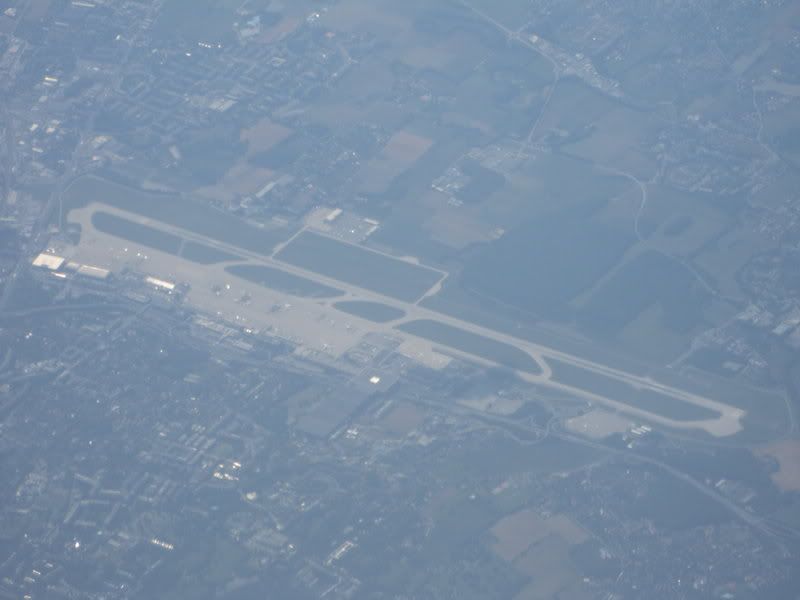 And Geneva city: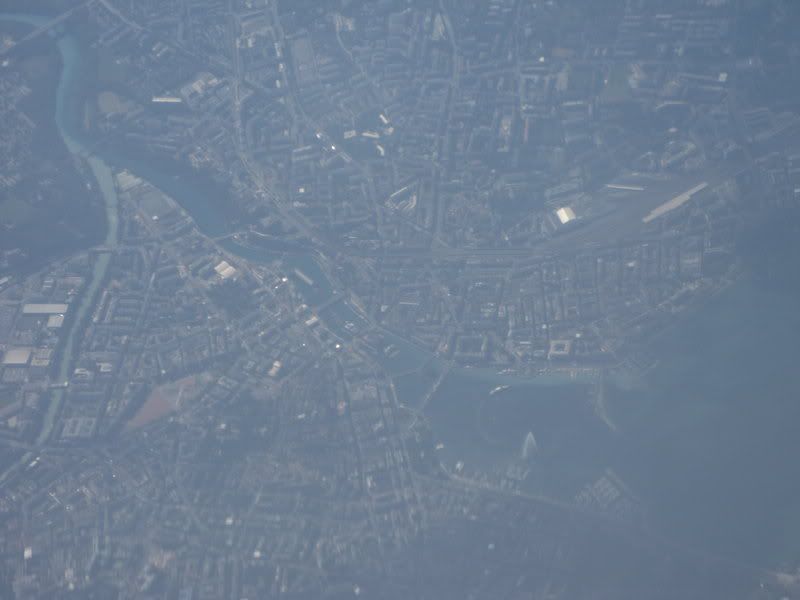 Chambéry Airport: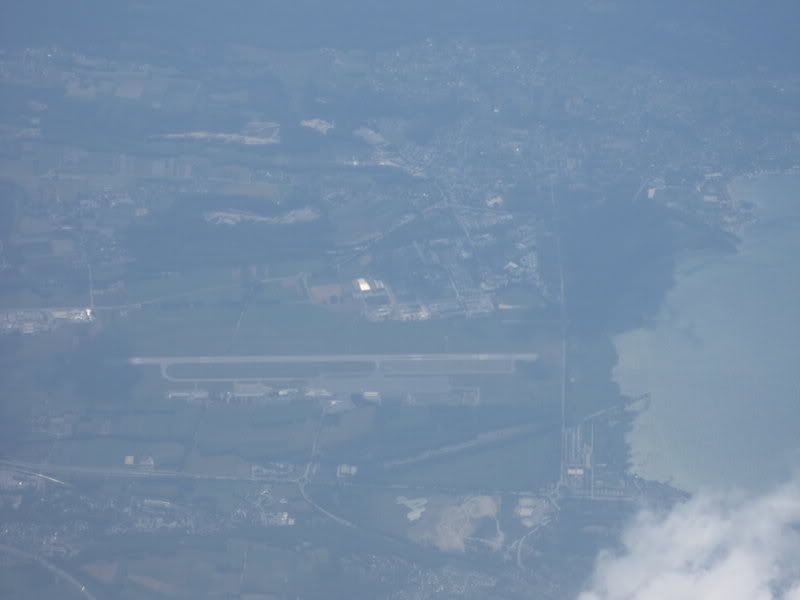 Grenoble - always easy to recognize thanks to the large ring that is the European Synchrotron Radiation Facility: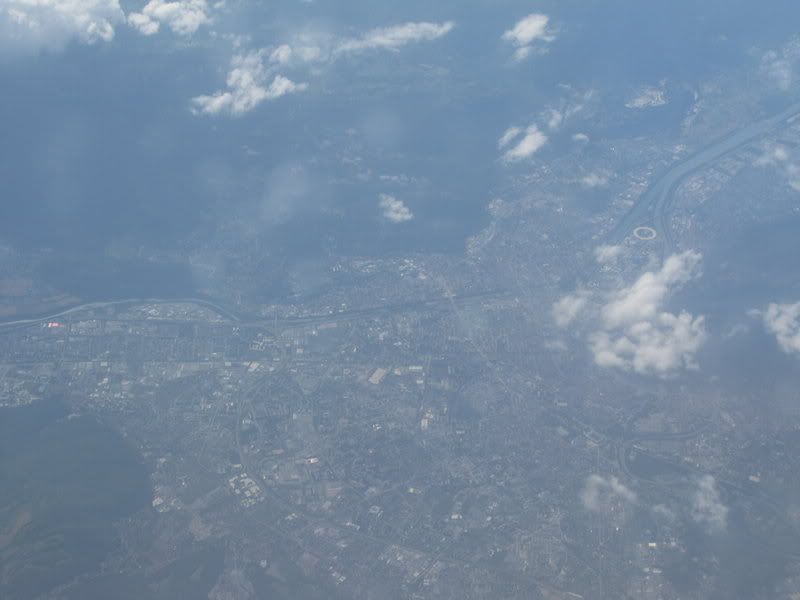 Avignon on the Rhône river: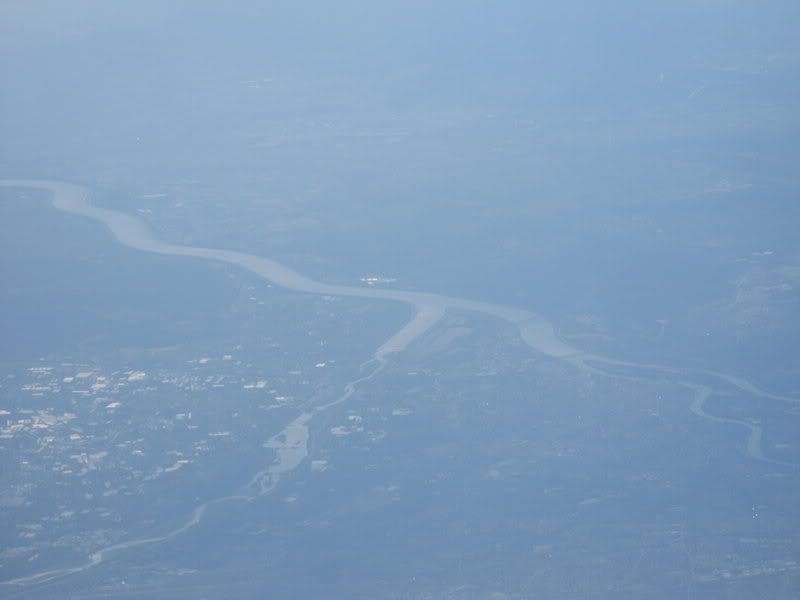 Avignon airport in the foreground: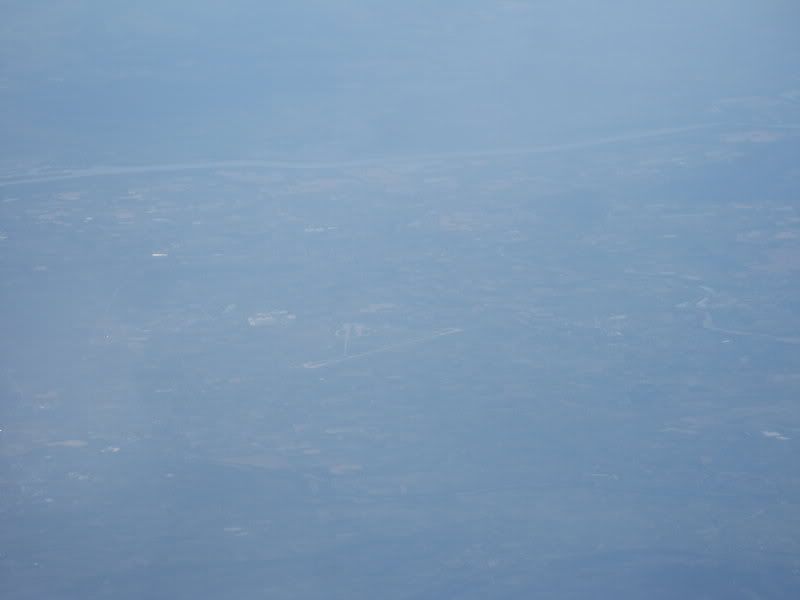 A bit more western route than usual, instead of overflying Marseille we pass it somewhat to the west - this is the Port-Saint-Louis-du-Rhône, basically a huge port extension to the main Marseille port at the mouth of the Rhône river: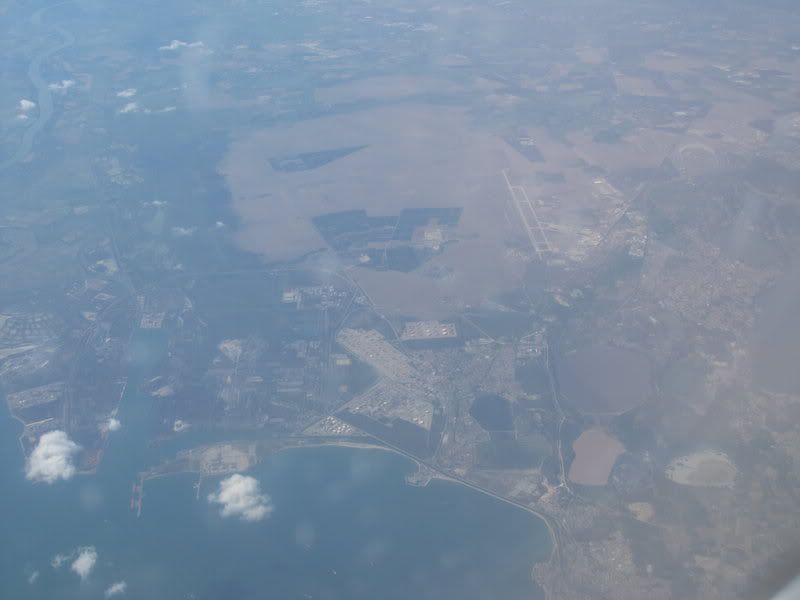 Istres-Le Tubé Air Base - I just love these French names: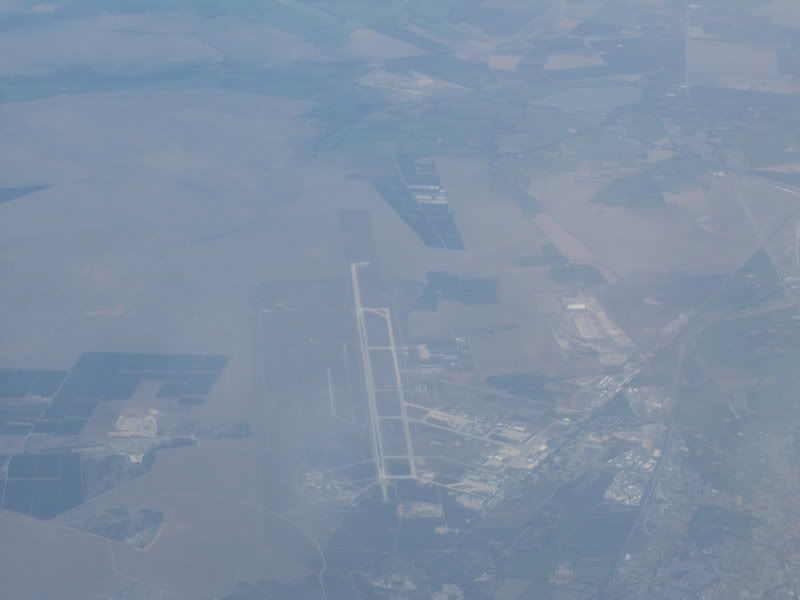 Hello, Med: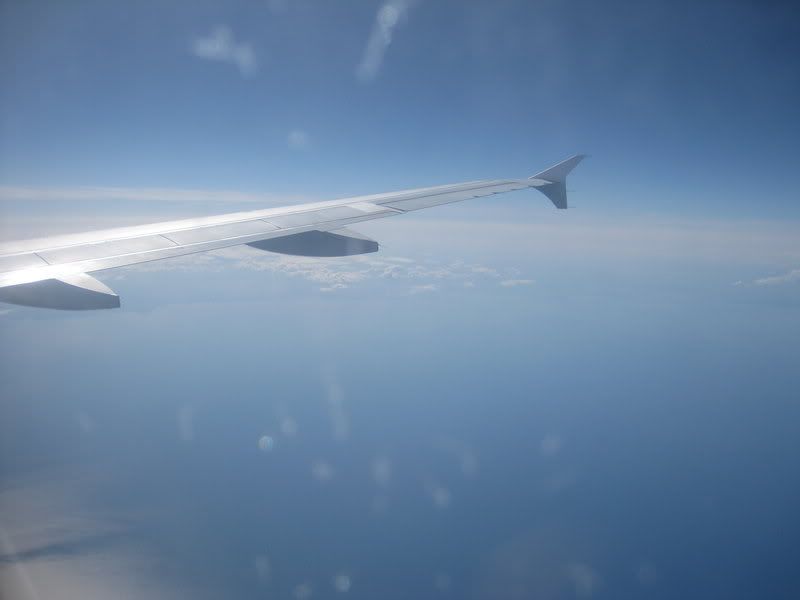 Spanish coastline coming into view: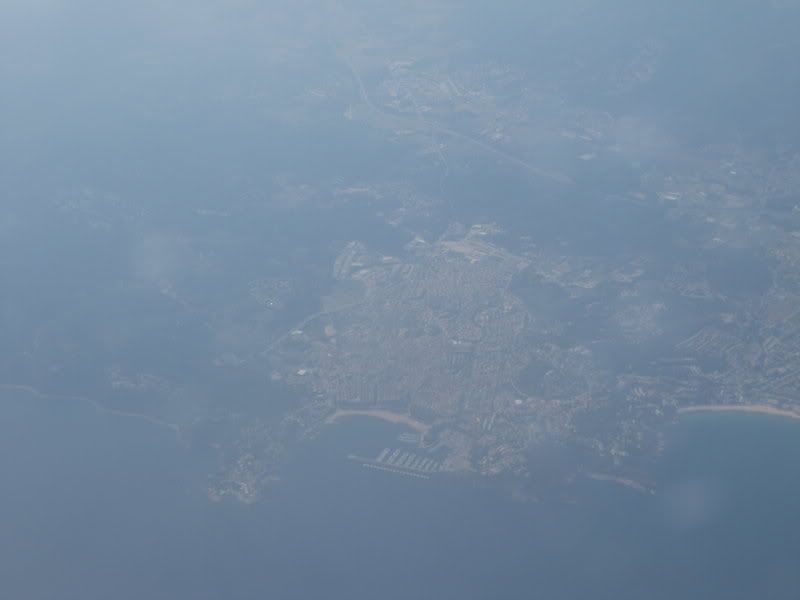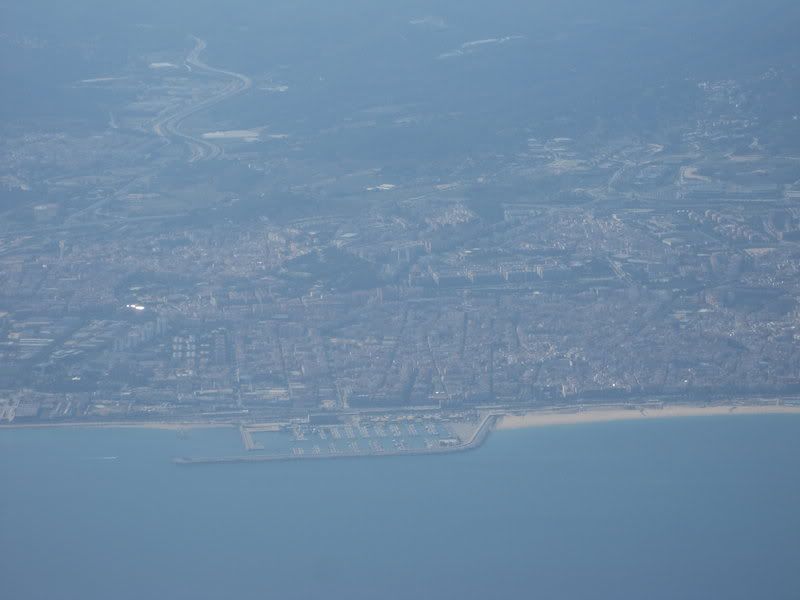 I'm happy to get my favorite approach into BCN - from the east over the Med and past the city for a landing on the 25s - that's why I'm sitting on this side today: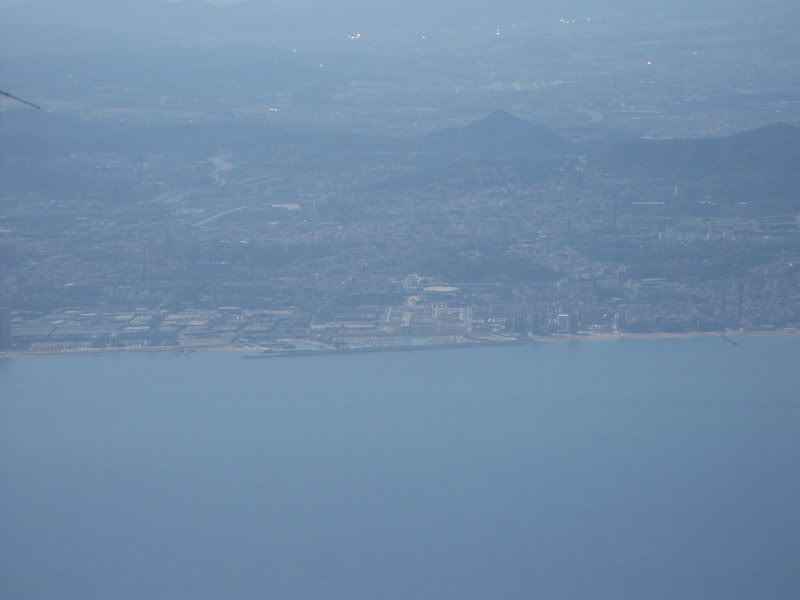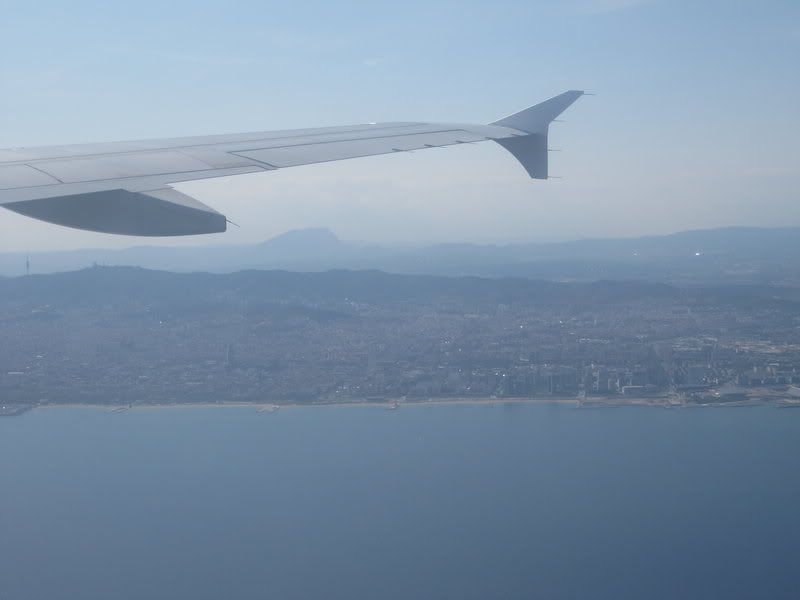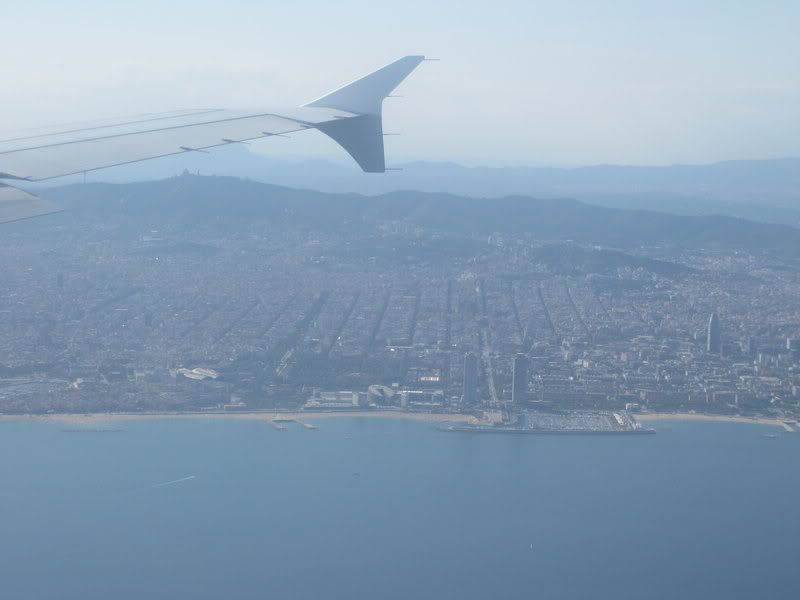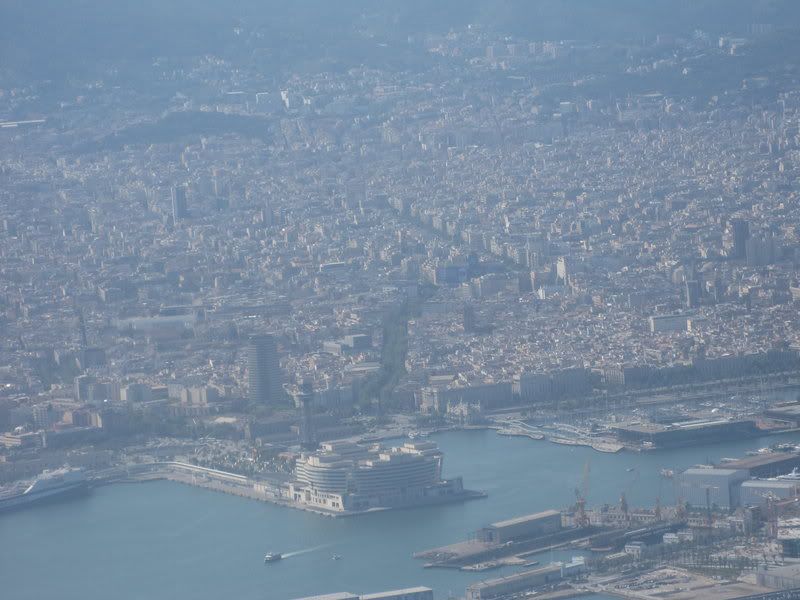 Montjuïc - dedicated to my favorite Zionist: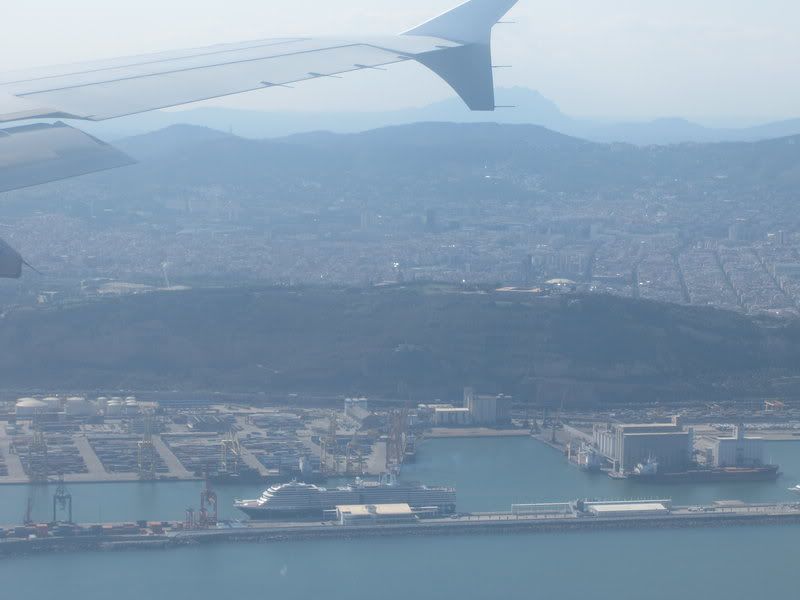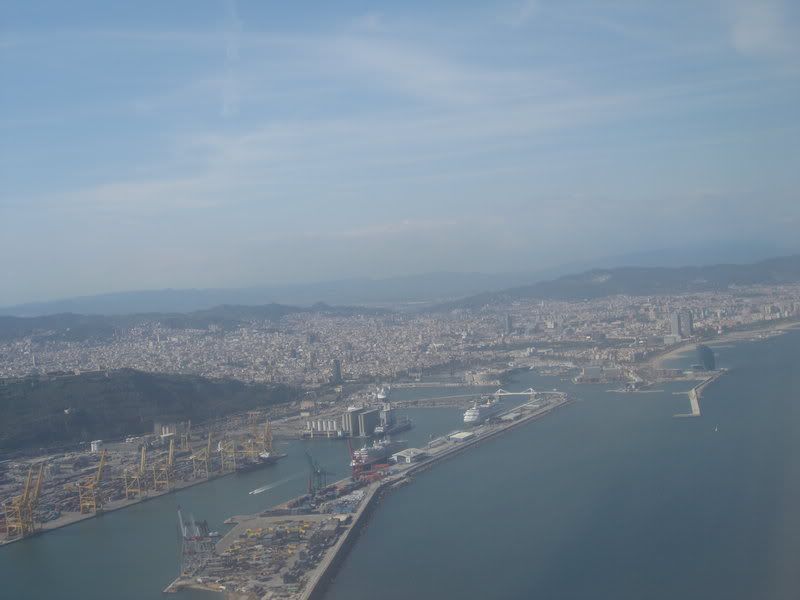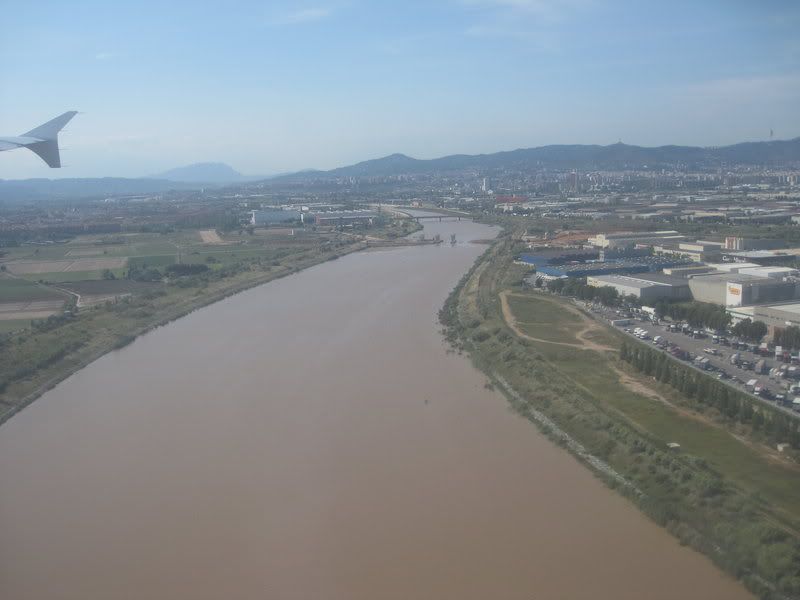 We land on 25R some ten minutes late, after a flight time of 2h20mins.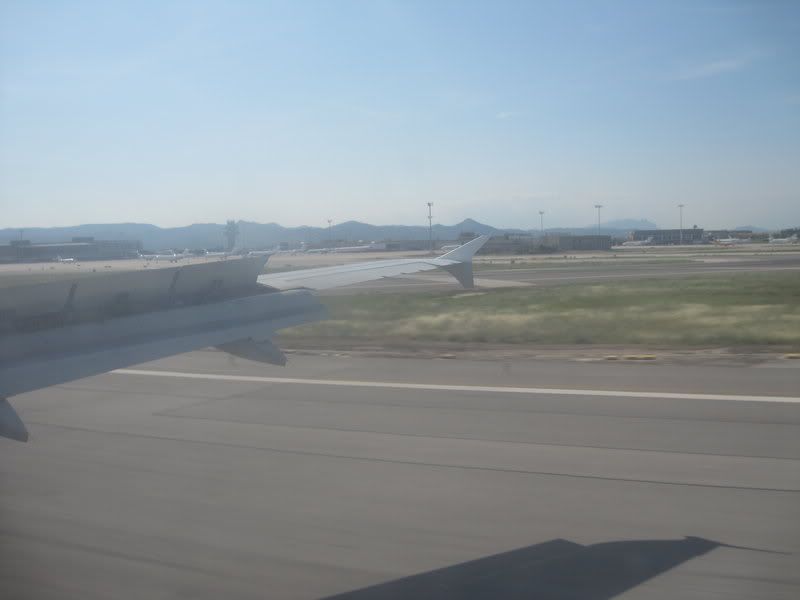 I still have a hard time getting used to the fact that Mr. Ryan nowadays operates from here: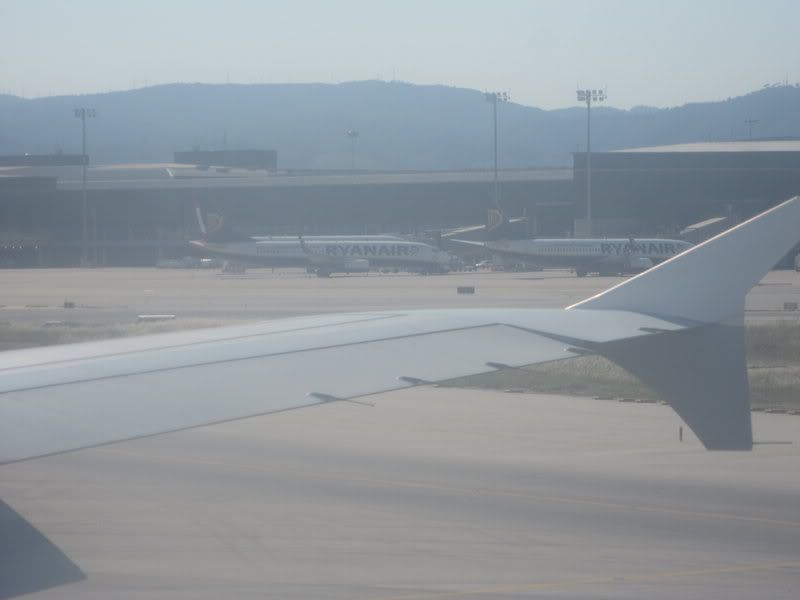 T1 - much more civilized: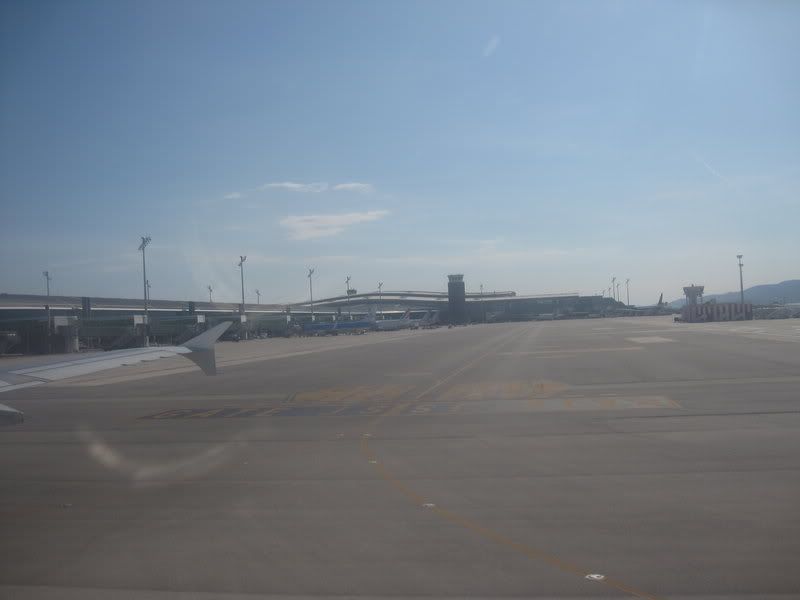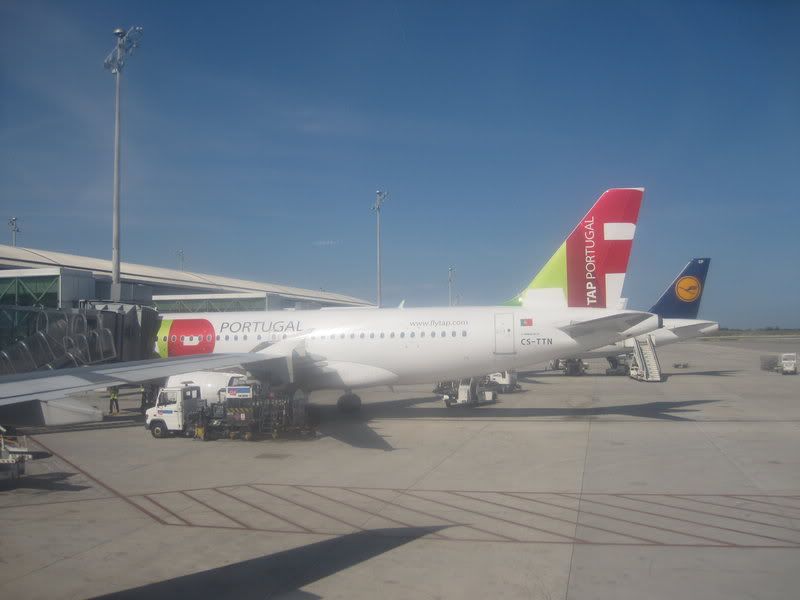 Barcelona to Zaragoza
Being in the last row I'm of course one of the last ones to deboard. A bit of a wait for luggage as some of the guys have checked their bags in and then a taxi ride to Estacion Sants for the AVE train. Except that things aren't exactly that smooth - at Plaza Espanya there's a demonstration (like in many places around Spain these days) which has blocked the traffic in the circle and caused some massive traffic jams. The police are there to direct the traffic, but it still is very chaotic. Because of this the taxi driver has to get creative and drive down some small streets instead of the main arteries, causing enough of a delay that we miss the planned train by about five minutes - I so much wish they would already have the train connection to the new T1!
So with an additional hour in our hands we buy the tickets and do what a bunch of Finns would always do on a sunny, hot evening - head to a nearby bar for a nice cool beer outside. Then it is time for the train ride - there's a security check before entering the platform but it appears quite casual to me.
This is my first time traveling with the AVE train - I wanted to do it before but I always found the tickets rather expensive, this time is no exception, roundtrip between Barcelona and Zaragoza is around 100 EUR! Anyway it is a damn nice and impressive train: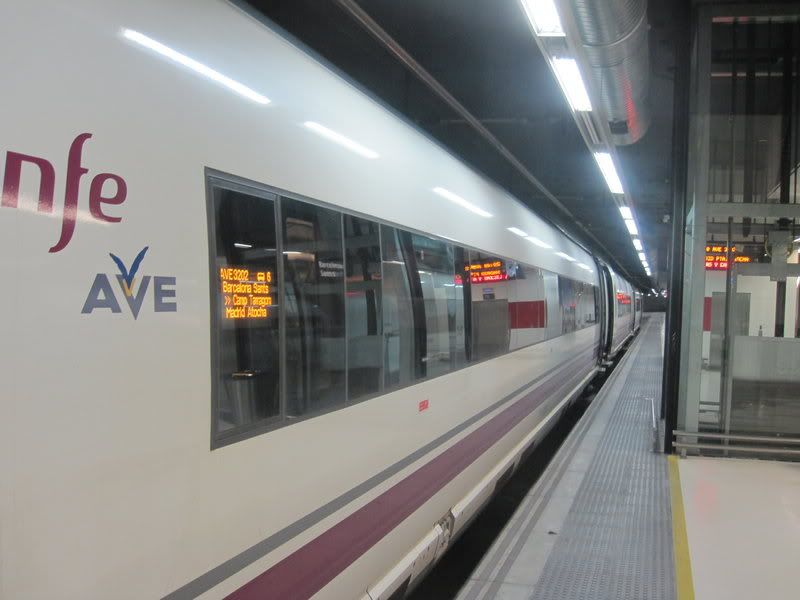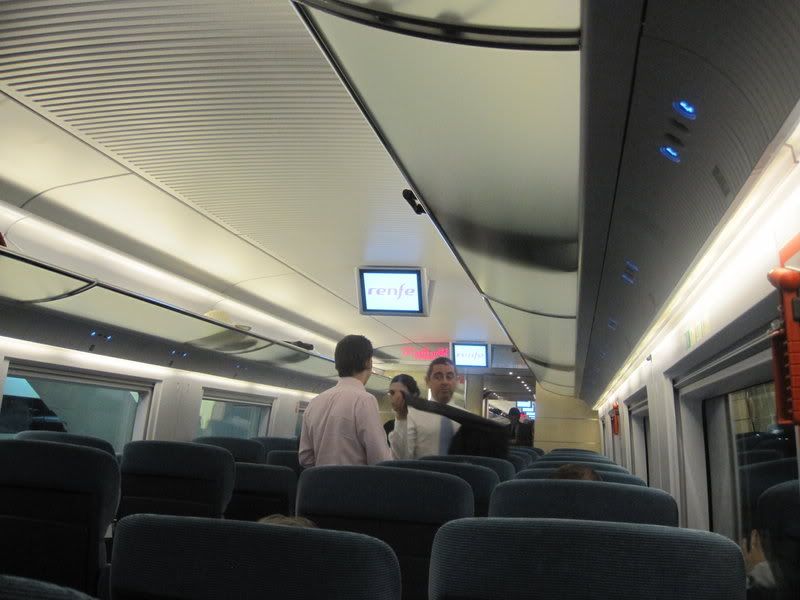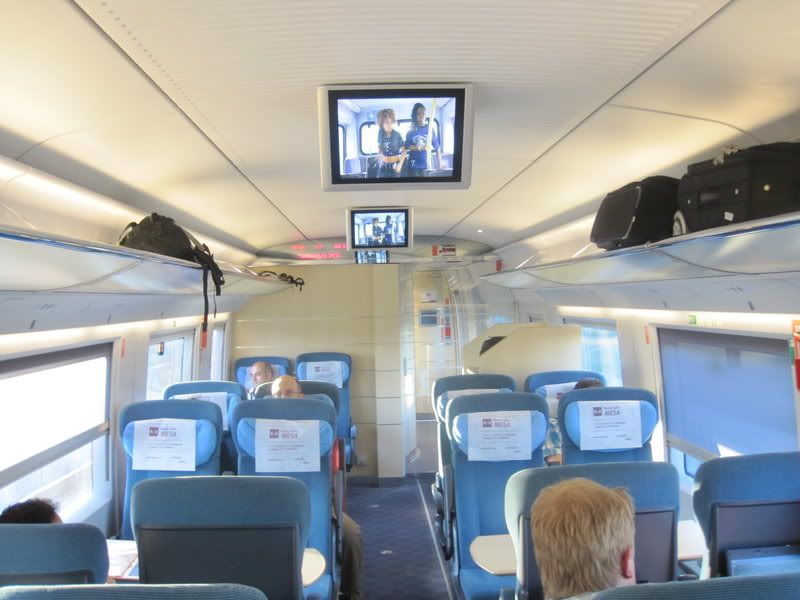 Restaurant car - reminds me a bit of the corresponding car in the TGV although not as futuristic: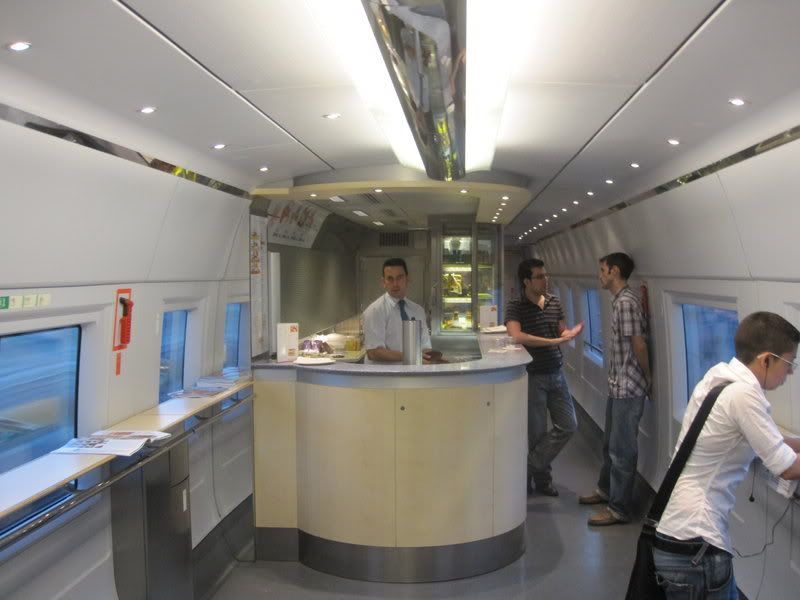 It got up to 299 km/h: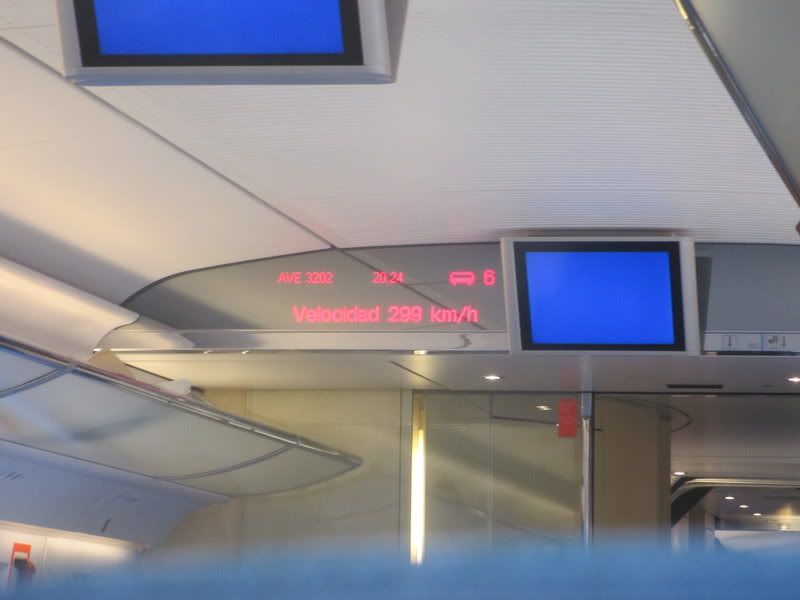 Cruising through what appears to be the main wine country of Catalonia: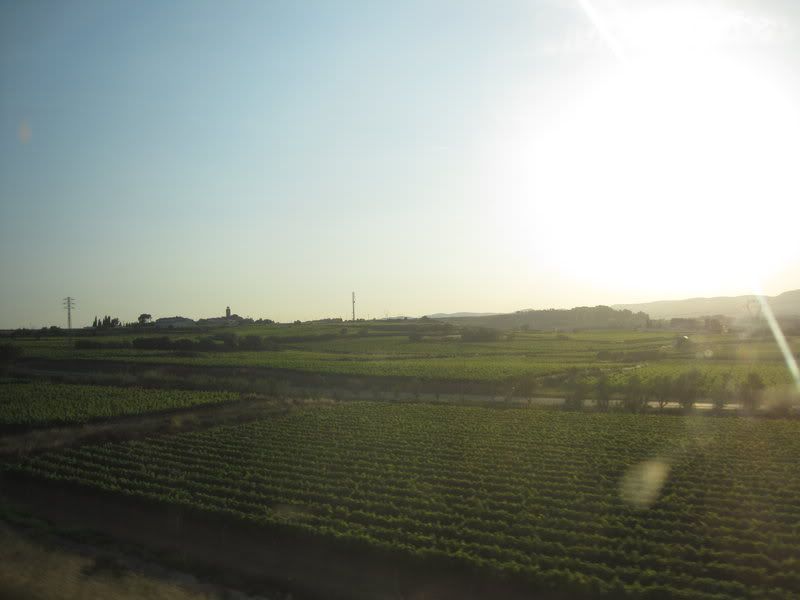 Halfway through the journey the landscape gets much more arid and desolate: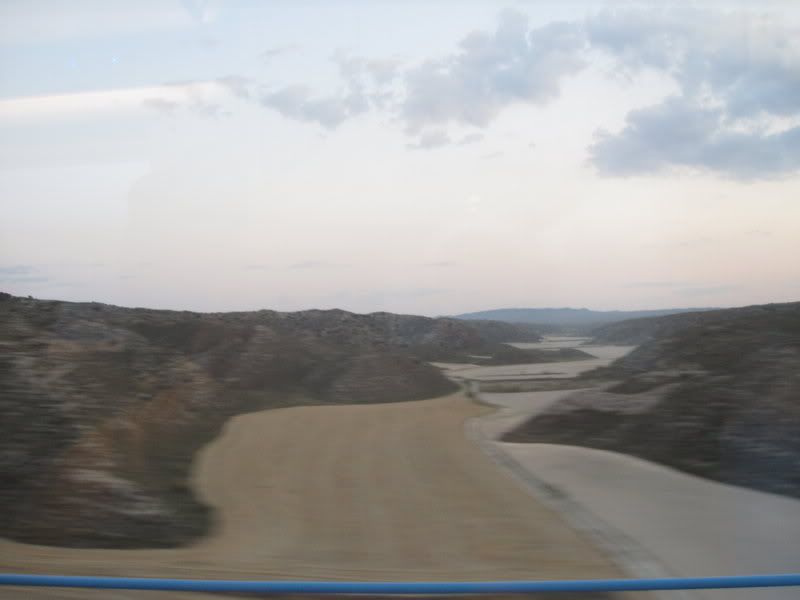 We pull to Zaragoza bang on time, and after a short taxi ride are in the hotel, the Hotel Oriente. An OK hotel for the price, only 50 EUR per night: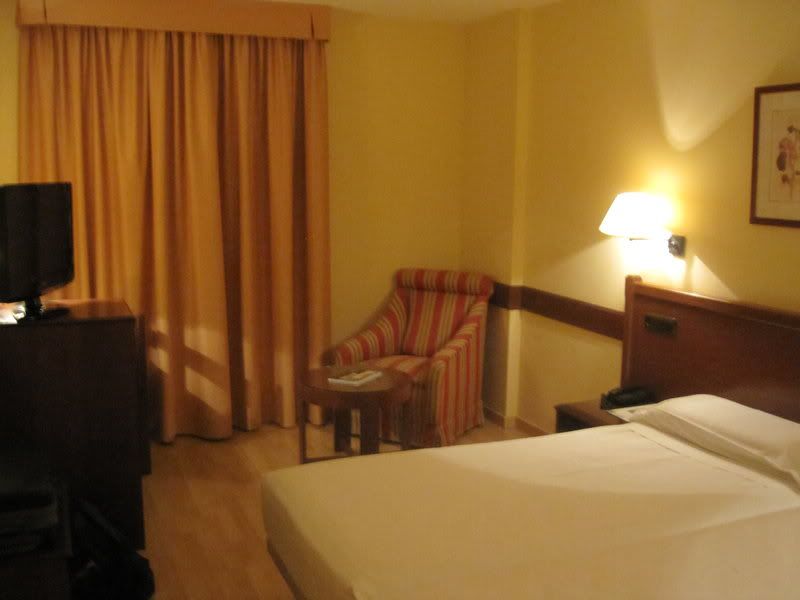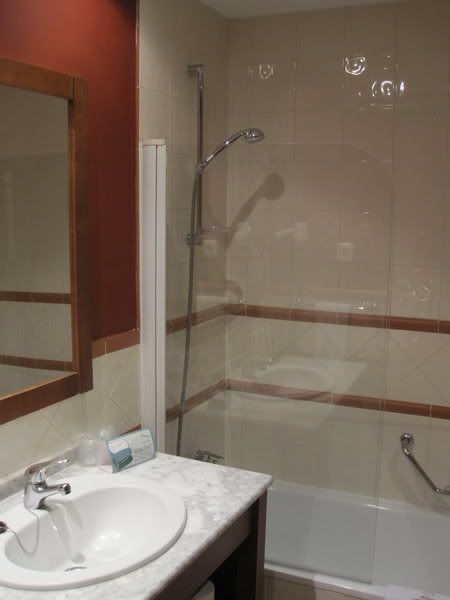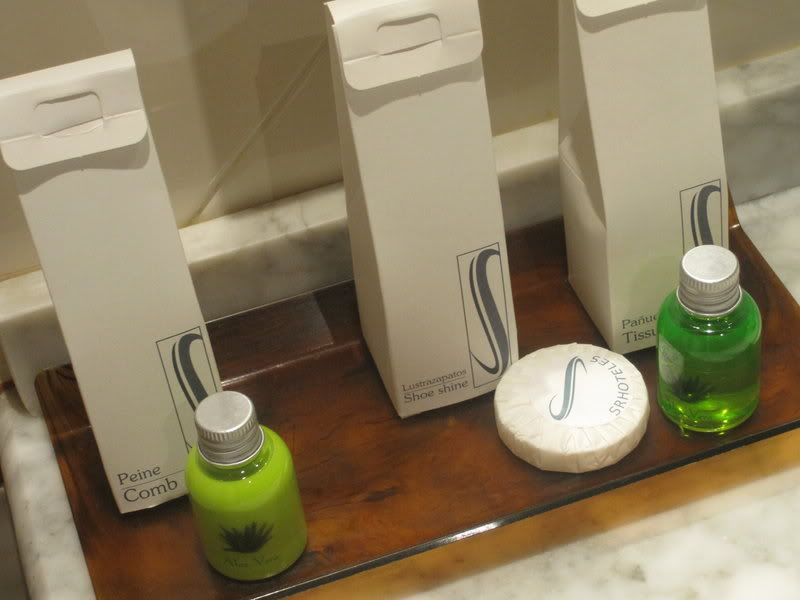 Zaragoza
Work, work, frustration, more work, waiting (after all, this is Spain where the "Manana" mentality is still strong), frustration, some more work and several cervezas in the evenings follows. The two days pass in a whim - it indeed is very hot, it got up to 36 degrees one day. Luckily I still have time for some short walks around in the evenings: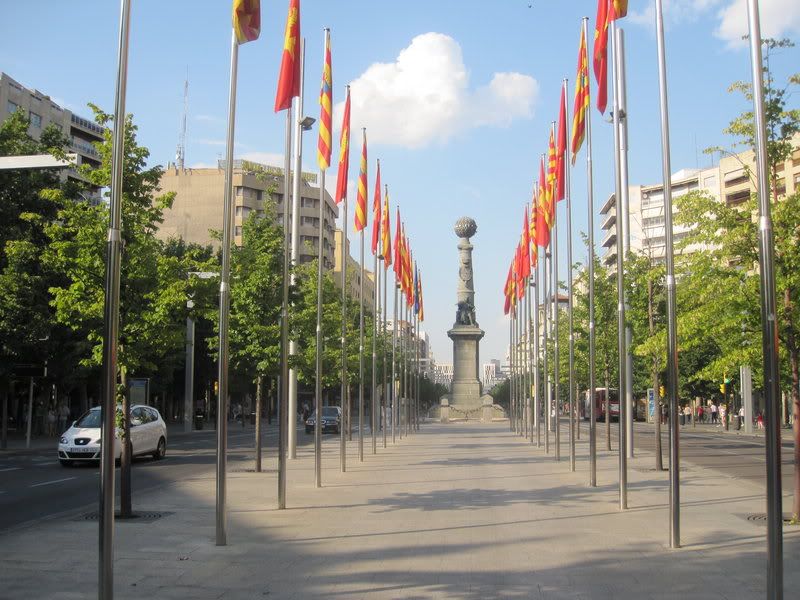 Why does this guy look like he's surfing: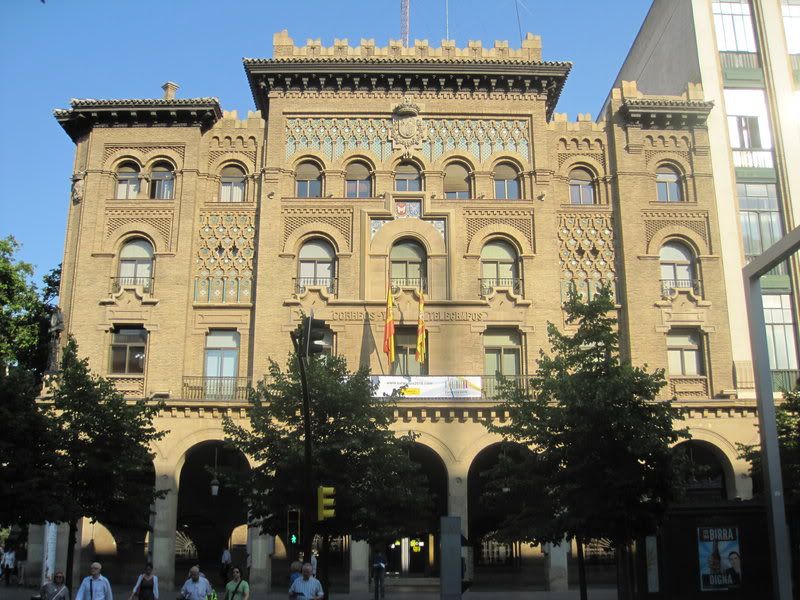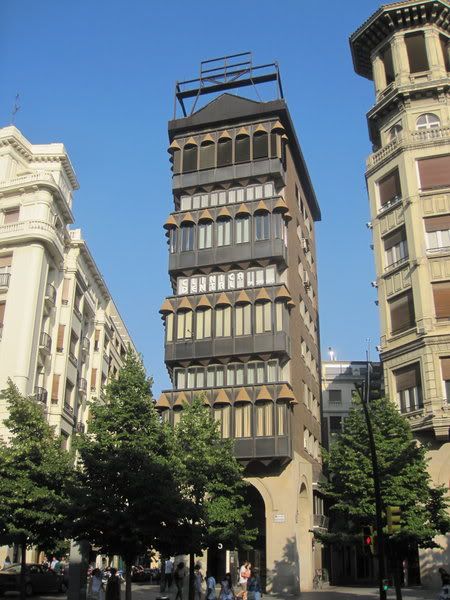 I tried to shoot a picture of this thermometer showing 36 degrees but unfortunately digital cameras and digital displays rarely agree: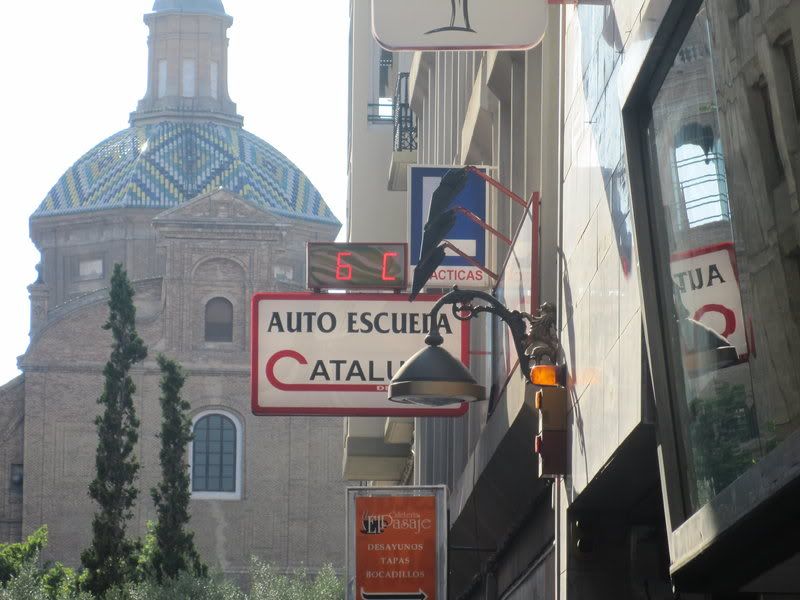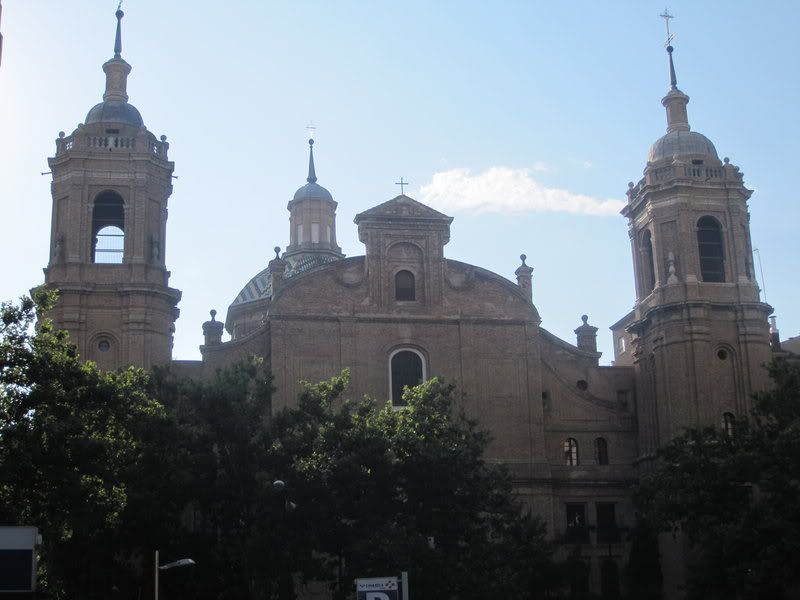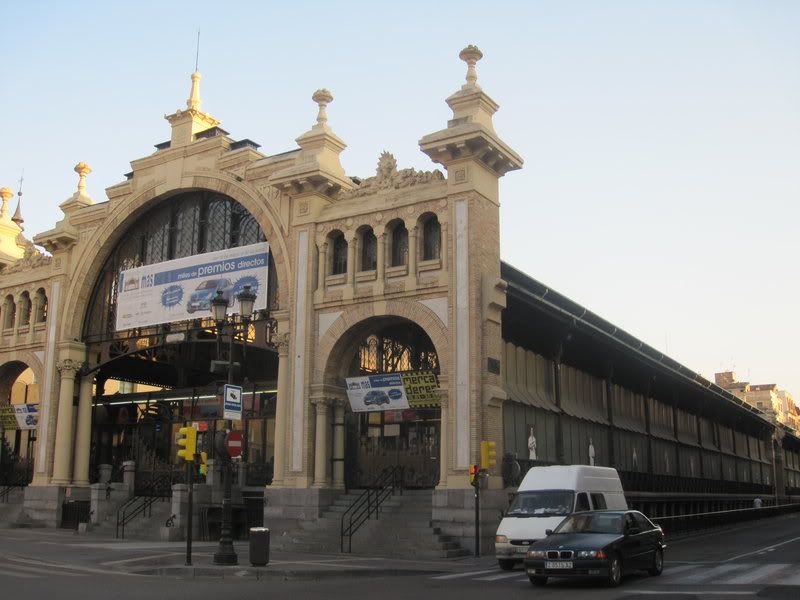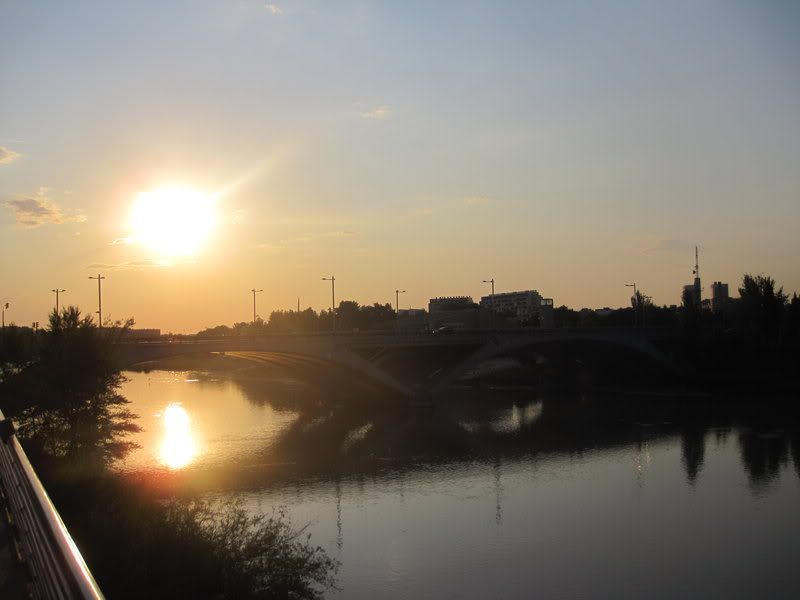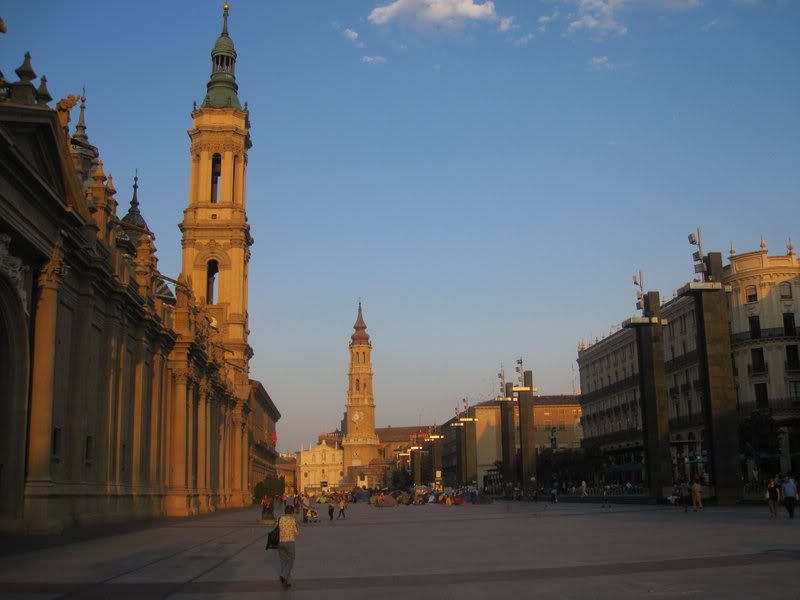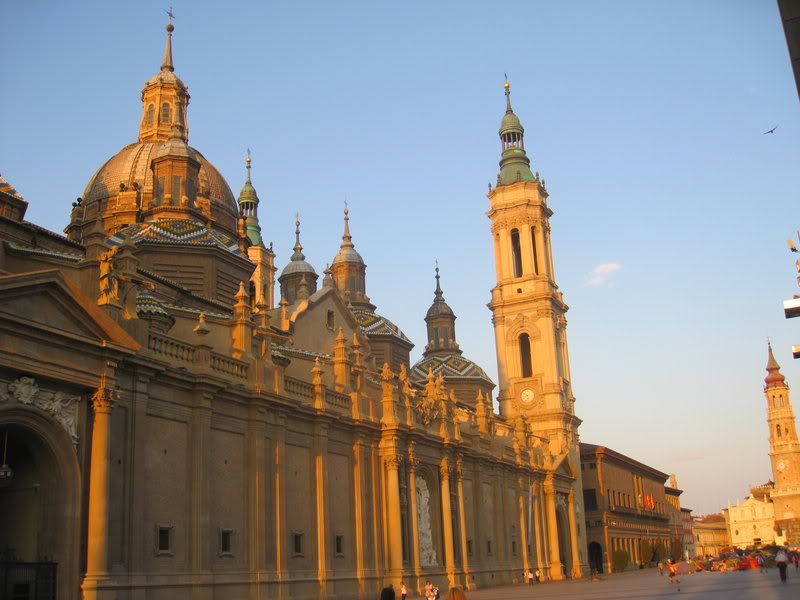 I love seafood: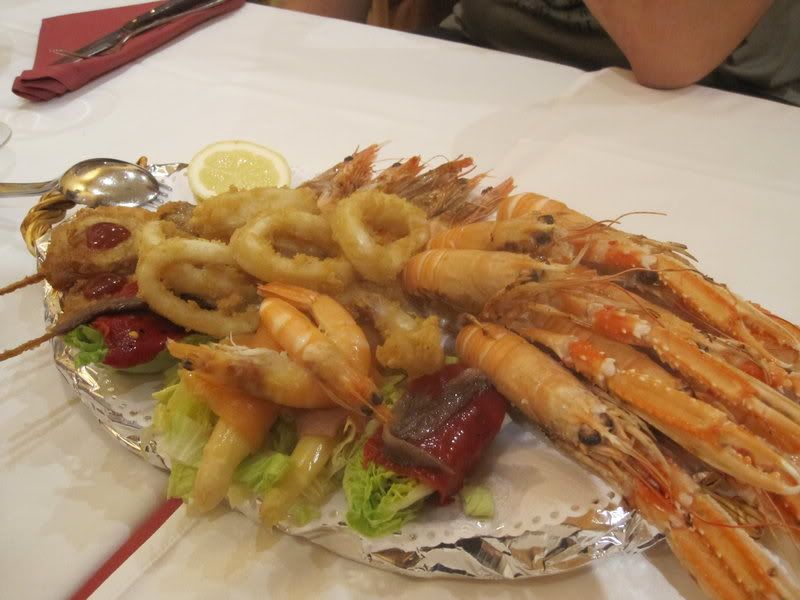 Very cunning advertising from SAS - maybe they should start flying CPH-ZAZ:
Top