Introduction
In the last few years Eurobonus, the SAS frequent flyer program has had their special summer campaign where all the bonus trips within the Nordics are half price. As these reward trips already represent some of the best value in the industry this side of BMI Diamond Club "Cash + Points" awards there are some incredible deals to be had and this year I was especially looking forward to the campaign as I had a larger than usual point amount to burn.
I have taken advantage of this offer in the last two summers, here are two older reports about those trips:
Norway In A Day: HEL-ARN-TRD-BOO-TOS-ARN-HEL
(by
FlyingFinn76
Aug 5 2009 in Trip Reports)
Danish Day: HEL-CPH-AAL-CPH-HEL
(by
FlyingFinn76
Jun 22 2010 in Trip Reports)
So this is the first trip in a handful of reward trips this summer, the rest of them will follow in August when I have my summer vacation. For my first trip, I found some nice flights to Trondheim, a city where I've never been to - despite flying through the airport a number of times. A nice weekend there was booked for 10000 EB points plus around 50 EUR in various airport fees, routing HEL-OSL-TRD-OSL-CPH-HEL. Only business class rewards were available for these flights, even though only one of them (CPH-HEL) offers business class. I'd be in Economy Extra for HEL-OSL and OSL-CPH and in the single economy class cabin offered on domestic Norway. Still, very good value for money and points in my opinion.
The route: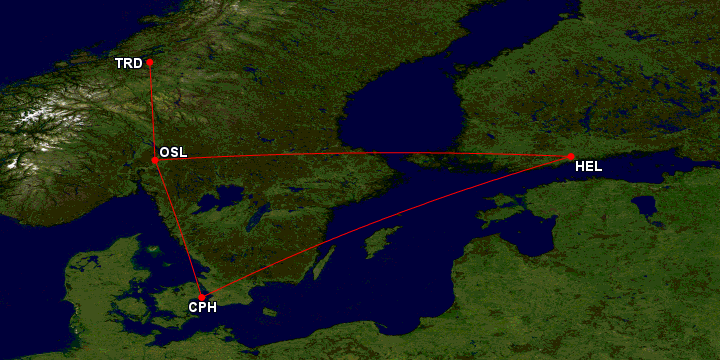 Finally I fixed up a short meet with Frank, an airline pilot who works as an instructor for Norwegian, who I briefly met back at HEL during the inaugural day of the Norwegian base:
Norwegian Base Inaugural Day: HEL-RVN/OUL-HEL
(by
FlyingFinn76
Apr 2 2011 in Trip Reports) . As luck would have it he was around the airport during my three hour layover there, so we agreed to have a meet for some chat and war stories.
Saturday 18.6.2011
So, the plan was simple - with an 11.25 departure this is the perfect opportunity to repay some of the sleep debt I seem to accumulate during the work week, have a long lie-in and head to the lounge for a nice brunch. Well, lady Fortuna decided that things would not go exactly as planned (for explanation, see here:
AVE, Zaragoza: HEL-CPH-BCN-RIX-HEL
(by
FlyingFinn76
Jun 21 2011 in Trip Reports) ), so I found myself arriving home from my PREVIOUS trip around 8.15 that Saturday morning. Well, the usual post-trip and pre-trip stuff followed and two hours later I decide it is time to head back to the airport. I wasn't exactly in the mood to mess around with the bus, so decided to splurge and call a taxi. 15 minutes later I step off the taxi in front of HEL T1 after having a very nice conversation with the young chap. Deserted at this hour: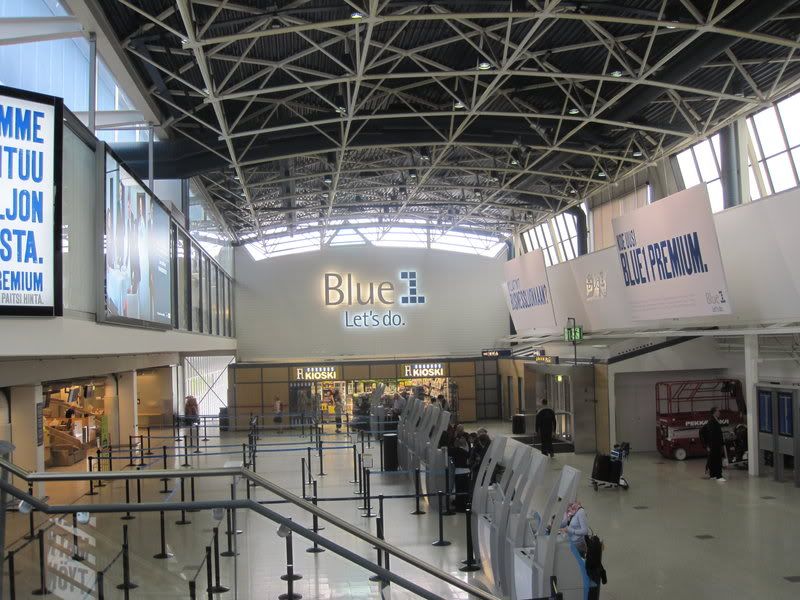 I hit the lounge for some nibbles and the newspaper:
Boarding is called around 25 minutes before departure, very conveniently from gate 13 just opposite the lounge. Can't see the reg of the Avro from here, though: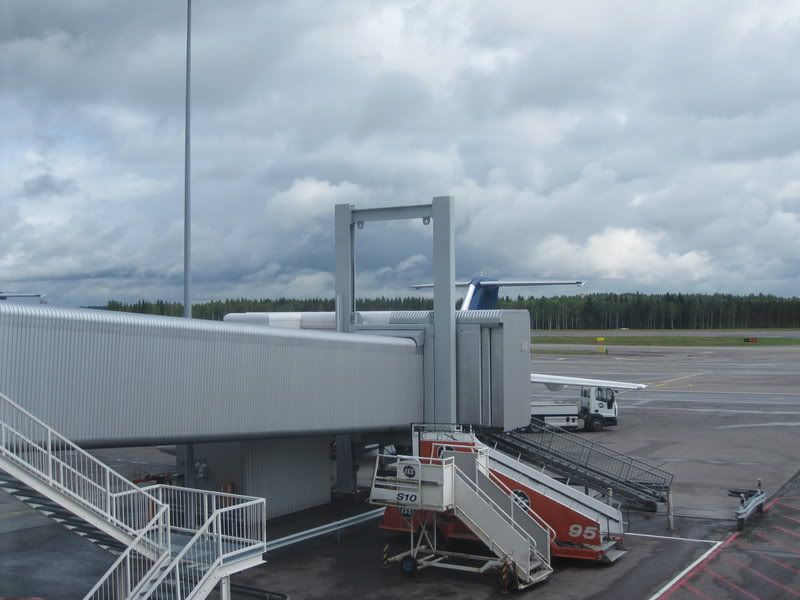 At OSL I saw it was -SAP, my sixth flight with this one.
HEL - OSL
KF511
ARJ-85 OH-SAP "Pielinen"
Seat 2A
11.25 - 11.53
A very senior but friendly FA is welcoming passengers at the front door, her younger colleague is further back the cabin. Three rows of Premium class today - with only two passengers.
Economy looks around half full:
Our flight time is announced as 1h25mins. The captain makes a small announcement that even though we are ready to go about 10 minutes before the SDT we have a small ATC restriction requiring us to wait for a while. This turns out to be exactly ten minutes, so we push back bang on time. Hello, sis:
Take off is from 22R a bit later: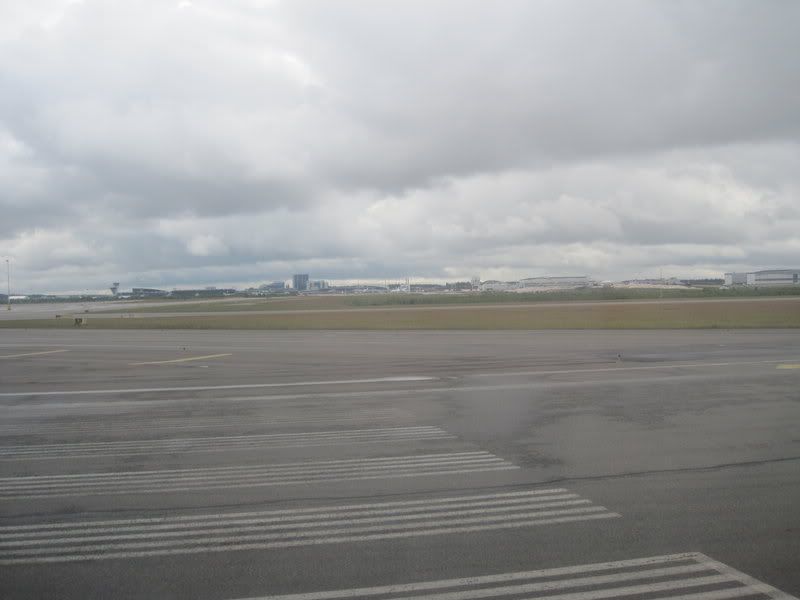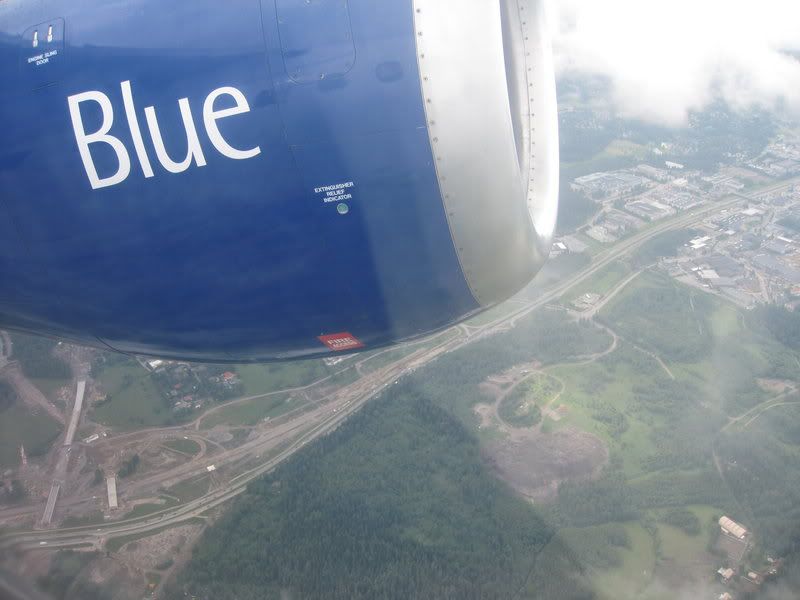 Ahh, yucky weather down there, but much nicer up here: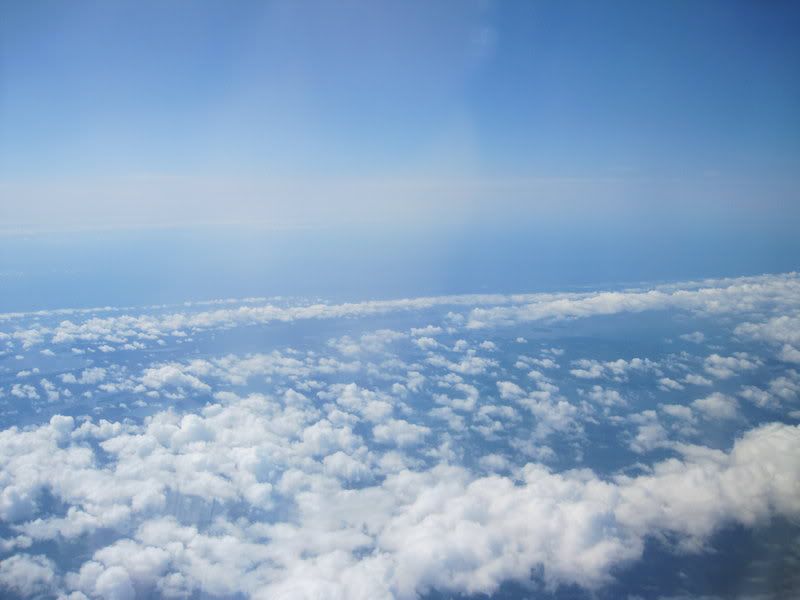 Service soon commences - on this lunchtime flight the Premium service consists of of a rather sizable chicken wrap with some cucumber salad and greens, and a small piece of coconut chocolate for dessert: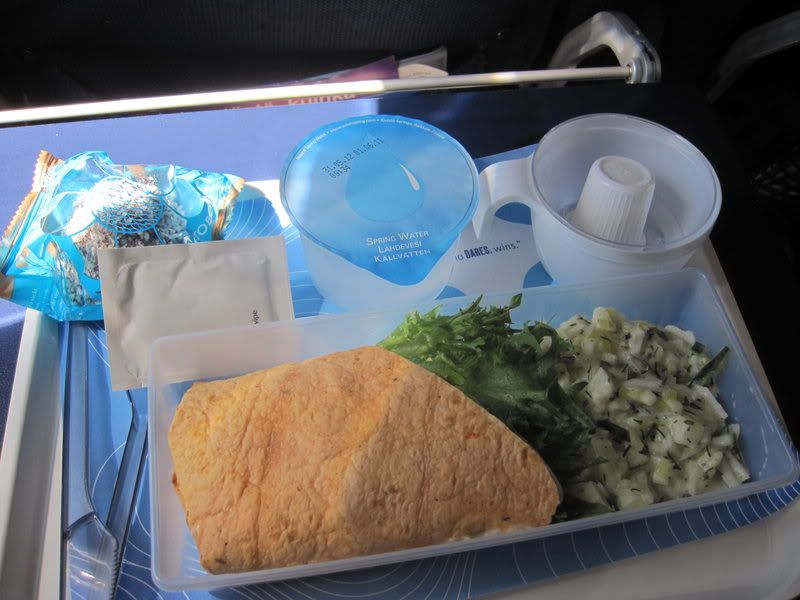 I'm really glad that both KF and DY nowadays have my favorite beer: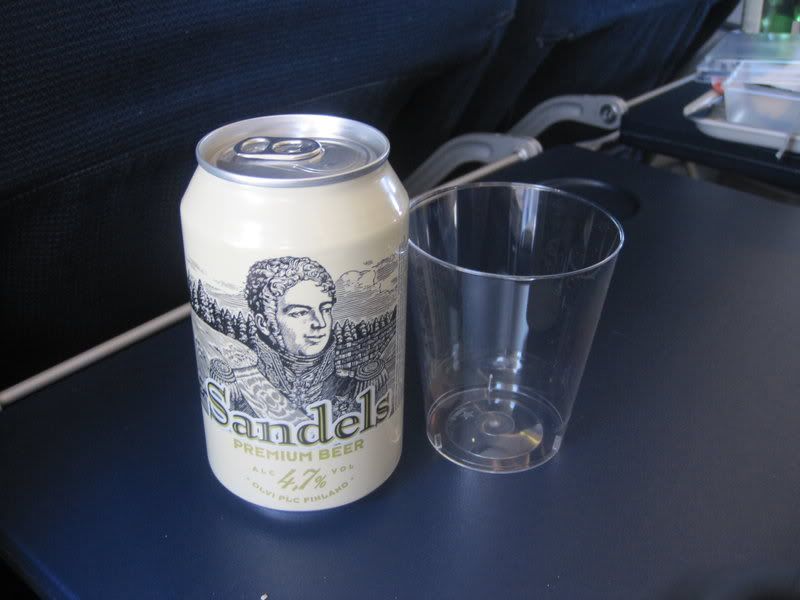 Passing ARN: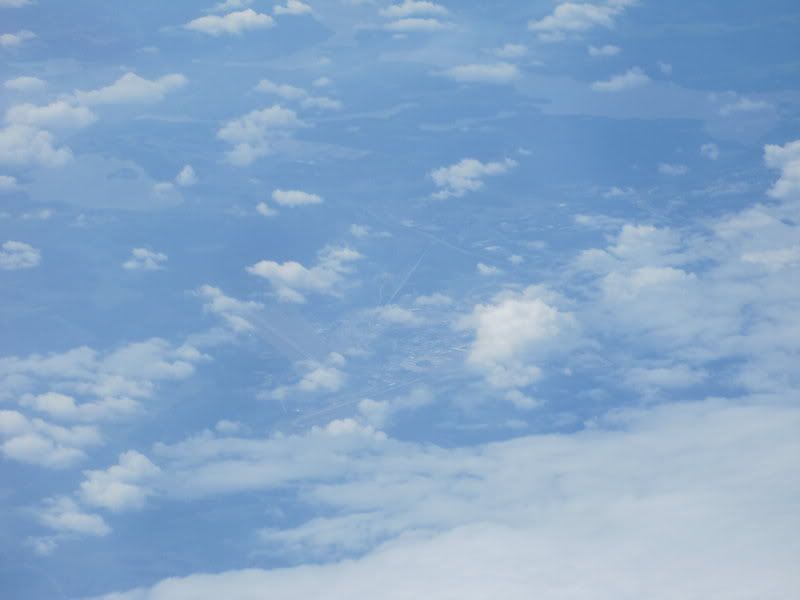 Rest of the flight is spent reading the newspaper - in no time at all we commence our descent into OSL where the weather looks less than inviting: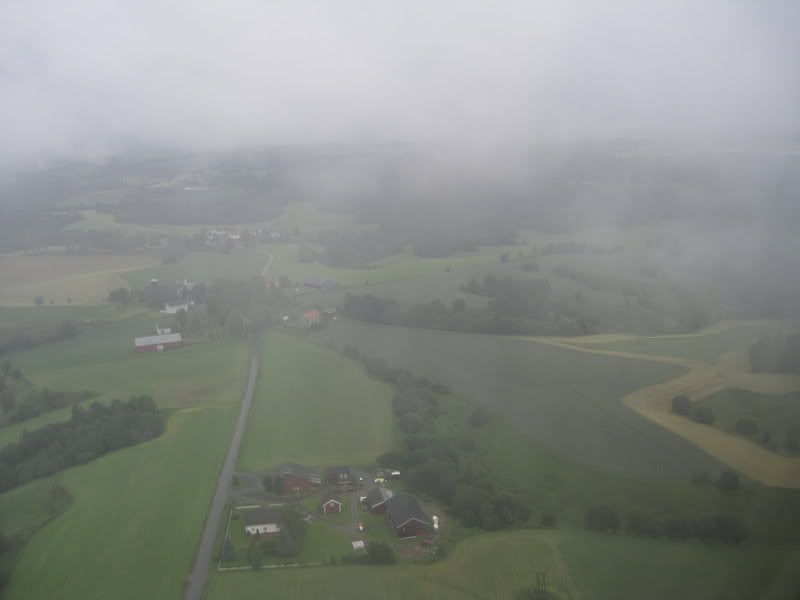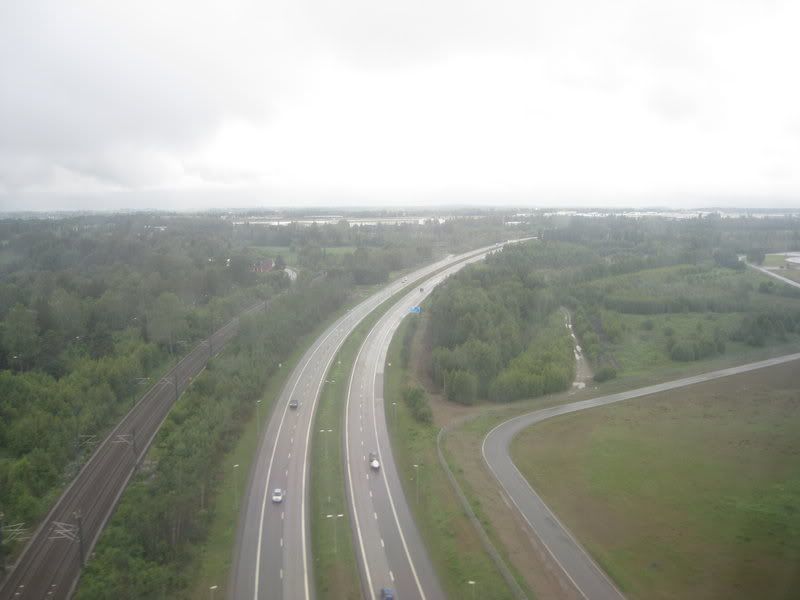 Landing is on runway 01R after some 1h15mins in the air:
Bye: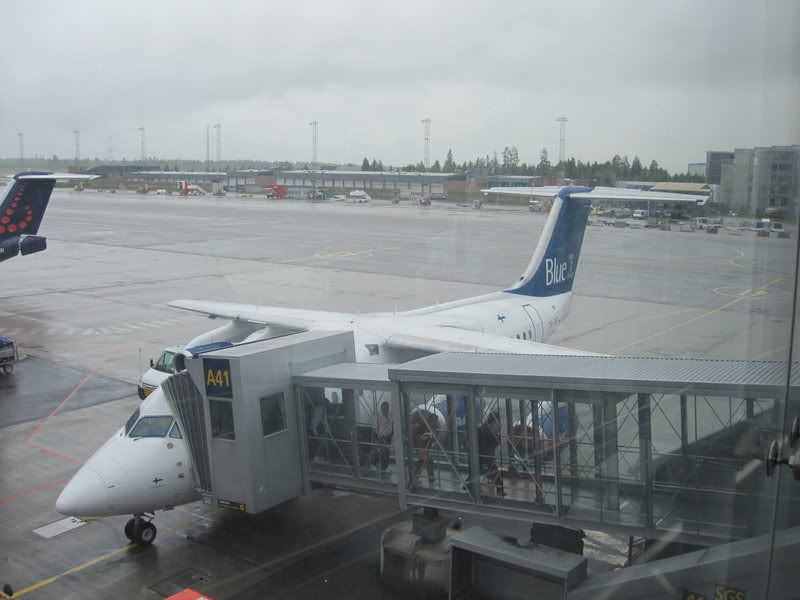 Oslo Gardermoen Airport, take 1
Upon exiting the baggage claim hall Frank is already there waiting for me. We proceed to a bar at airside (being an airline employee he has access) to have some nice chat about various things, mostly aviation related... Time of course flies when you are having fun, so far too soon it is time to split ways - my plane has conveniently pulled on the gate right next door: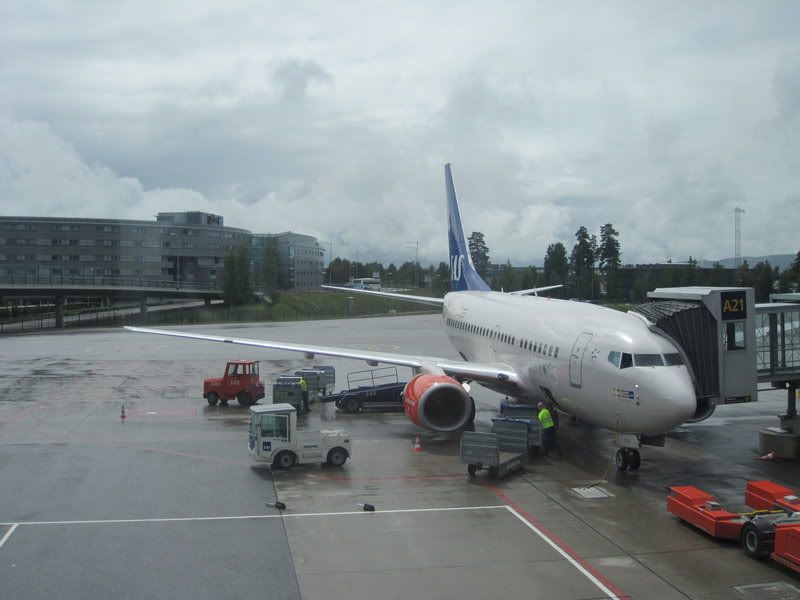 So we bid our goodbyes (thanks for the beer, next time I'm buying!), I do a quick pit stop and head to the gate where boarding is about to start.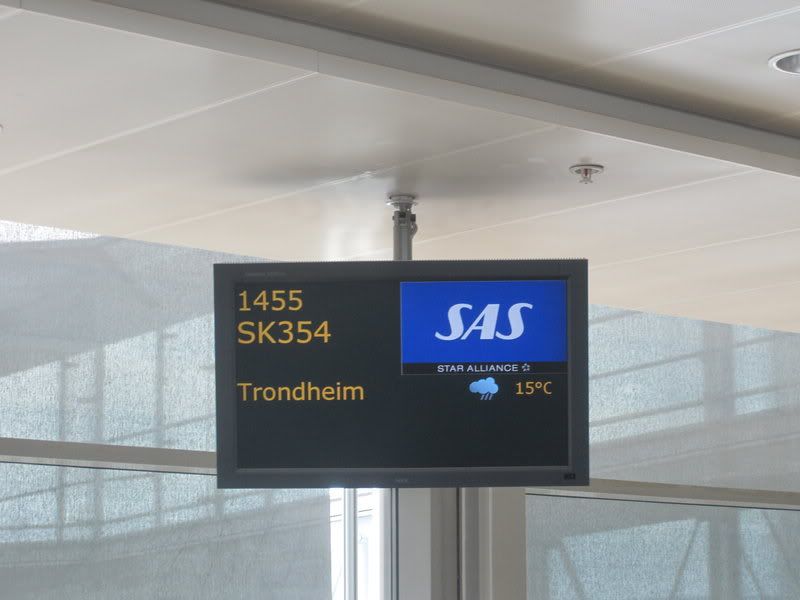 It is the expected 736, LN-RCW "Yngvar Viking" which is even a new reg for me, so nothing to complain.
OSL - TRD
SK354
B737-600 LN-RCW "Yngvar Viking"
Seat 22F
14.45 - 15.35
I had booked a window seat on the last row as the two seater there is a bit more spacious than the regular rows towards the back. A lady is sitting in the aisle seat, but as soon as she sees me she moves a few rows up - I guess that was her original seat.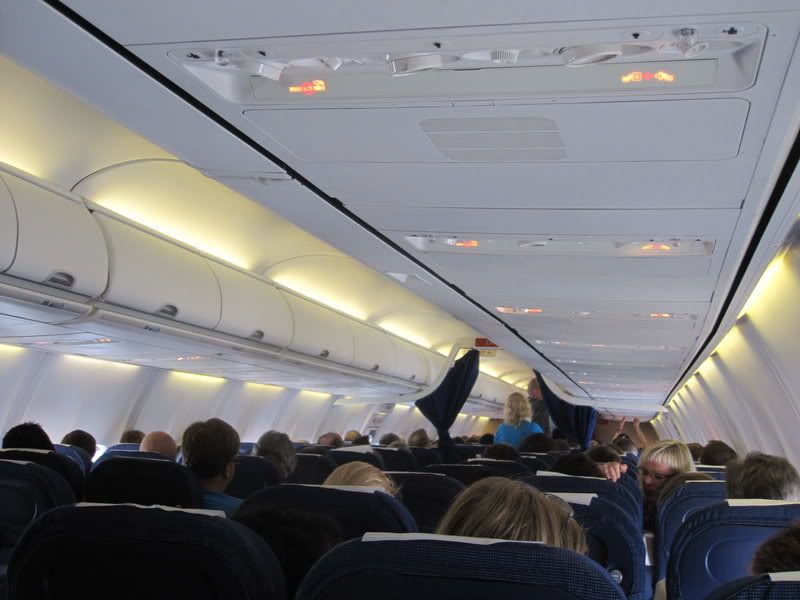 I really like this two seater, many of the SK 736s are in very tight configuration but there is always a bit more legroom here: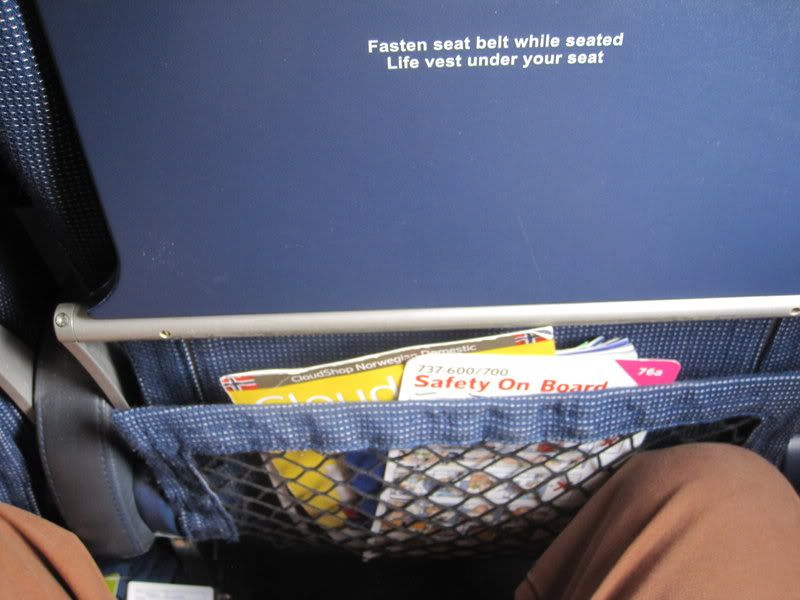 Load is maybe 70%, the whole two seater for me. The boarding process is very smooth, and we end up pushing back ten minutes ahead of schedule.
Passing a couple of WF Dashes - picture dedicated to palmjet: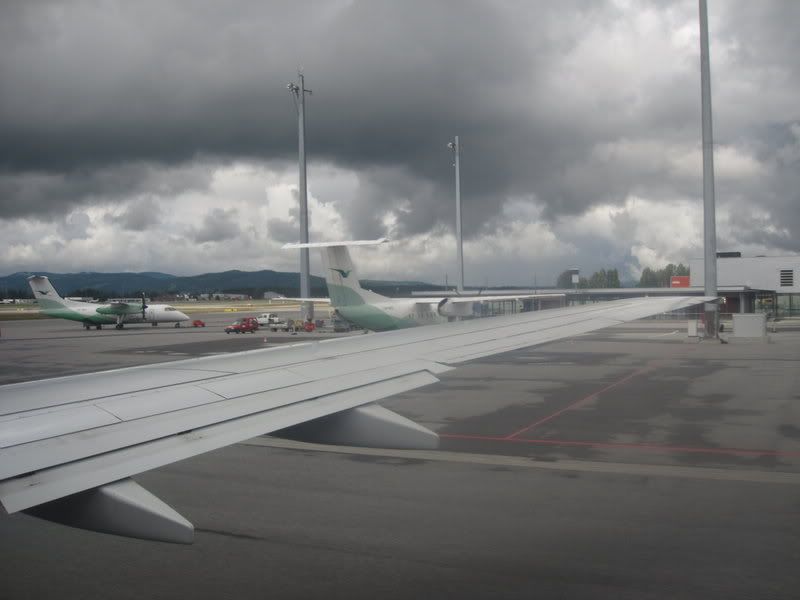 Take off is from 19L this time.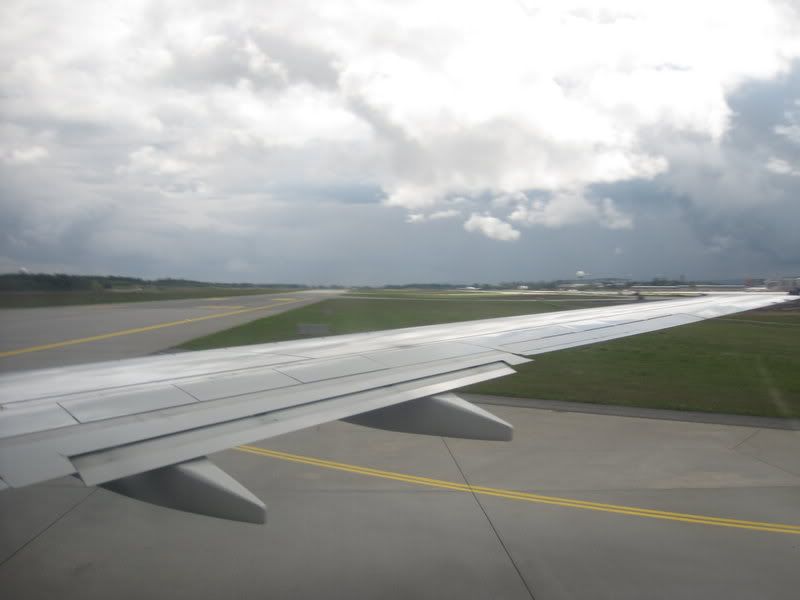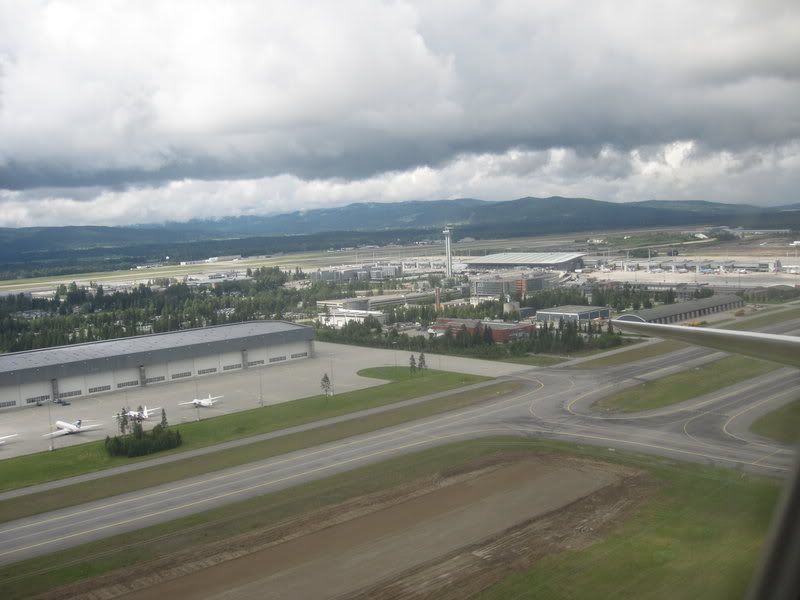 Right after take off I nod off, and only come back when we are breaking through the clouds and commencing our approach to TRD: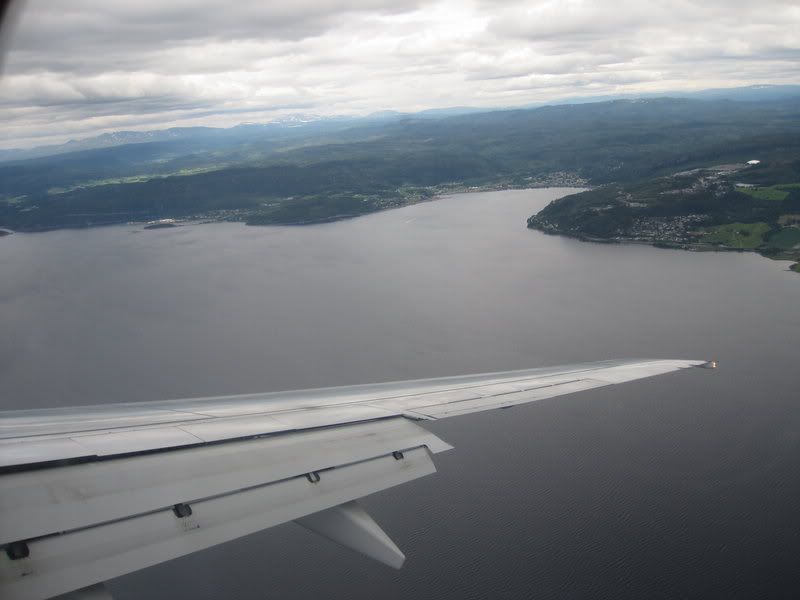 There are many airports with far more stunning approaches in Norway, but I like the one for TRD runway 09 a lot - you fly over the fjord for quite some time until at last moment the runway approaches underneath you out of nowhere and a second later the main gear makes contact with it. Too bad my camera's battery ran out during the critical moments and it took a few precious seconds to replace it, thus I failed to capture some of the nice views: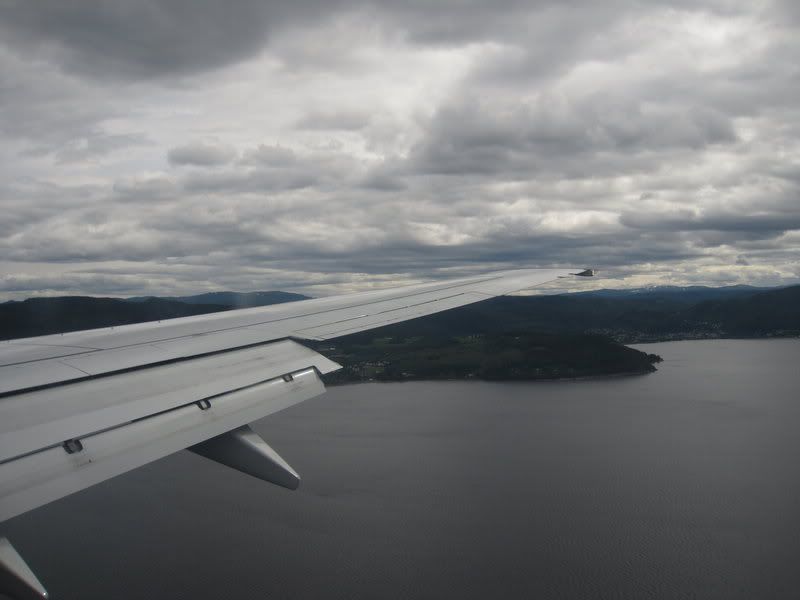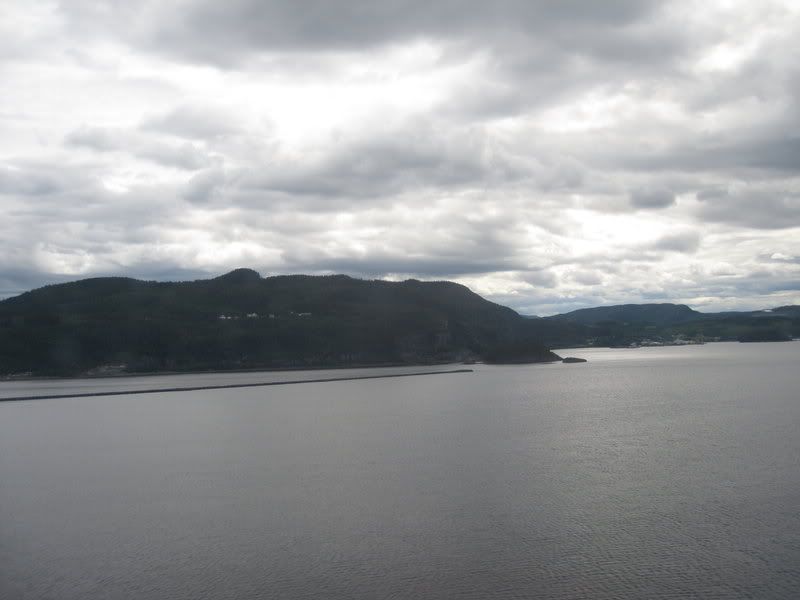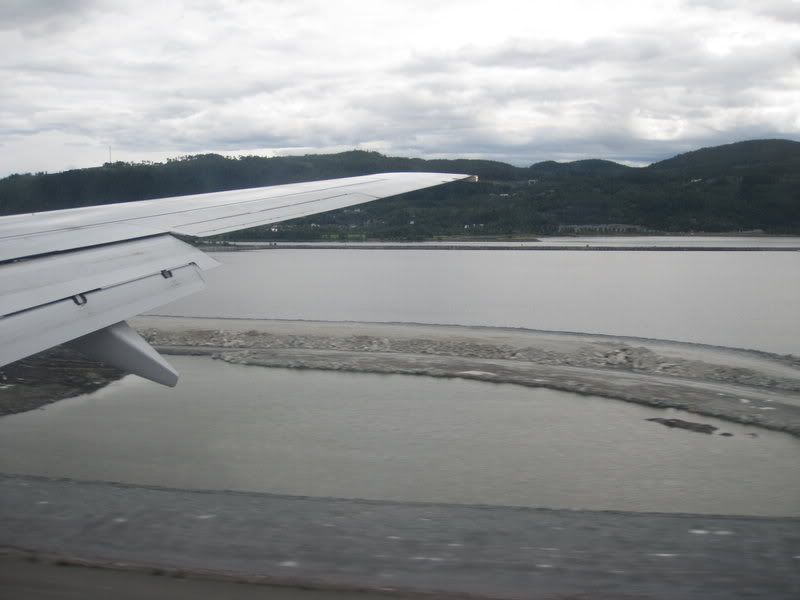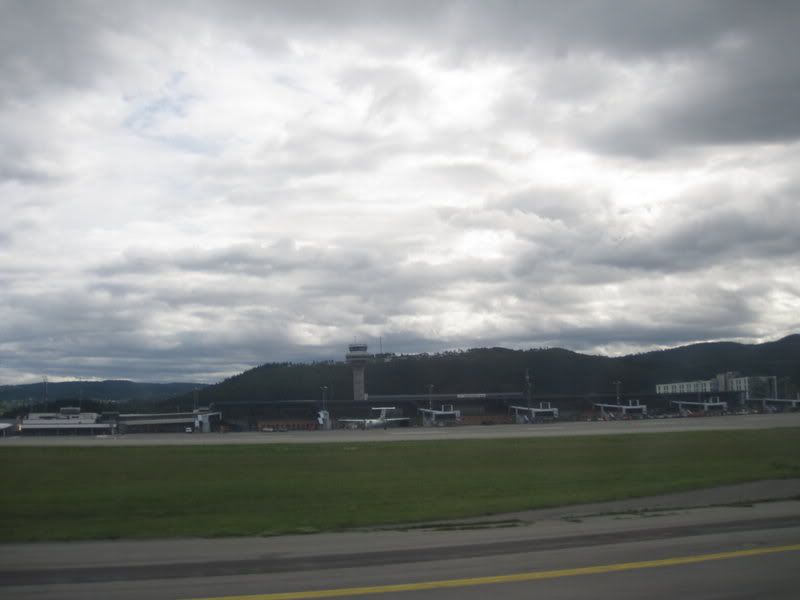 Flight time was less than 45 minutes today, and landing is 15 minutes early. Not bad at all.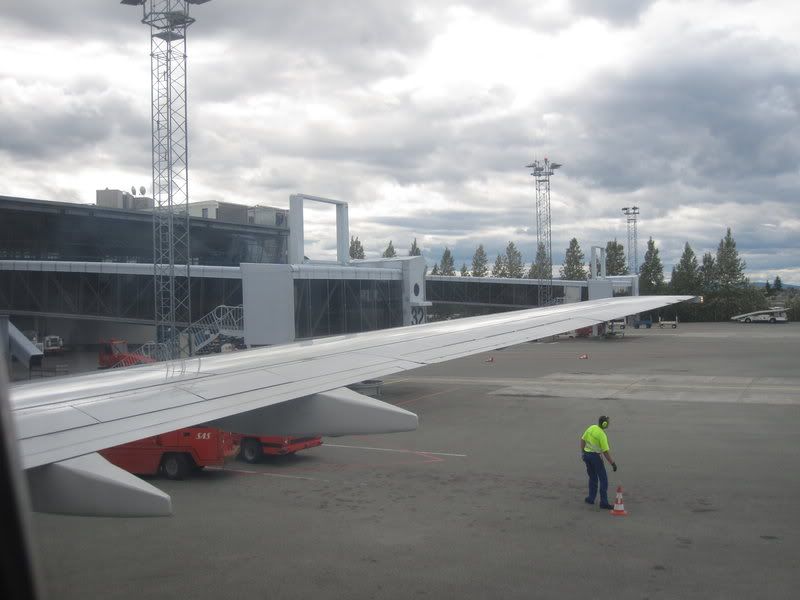 "Yngvar Viking":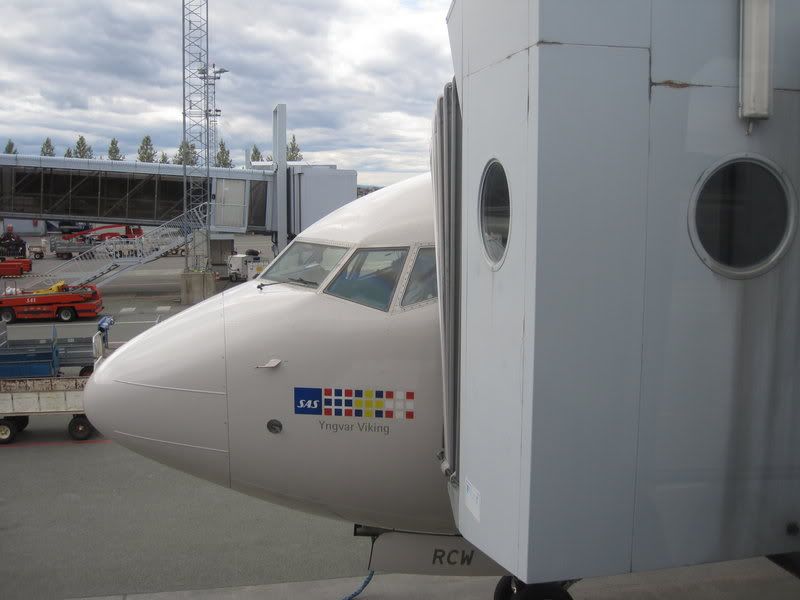 Trondheim
The Trondheim airport actually has a train connection - the
Nordlandsbanen
from Trondheim up to Bodö runs right through (well, underneath) the airport. I really want to try the train - too bad the connections aren't exactly frequent at least on weekends, so I have more than an hour until the next train. I buy a nice hotdog from 7-11 at the arrivals area (the only remotely affordable thing to eat in Norway!) and head towards the station. I don't think I want to do a wrong turn here, I might end up in Hell: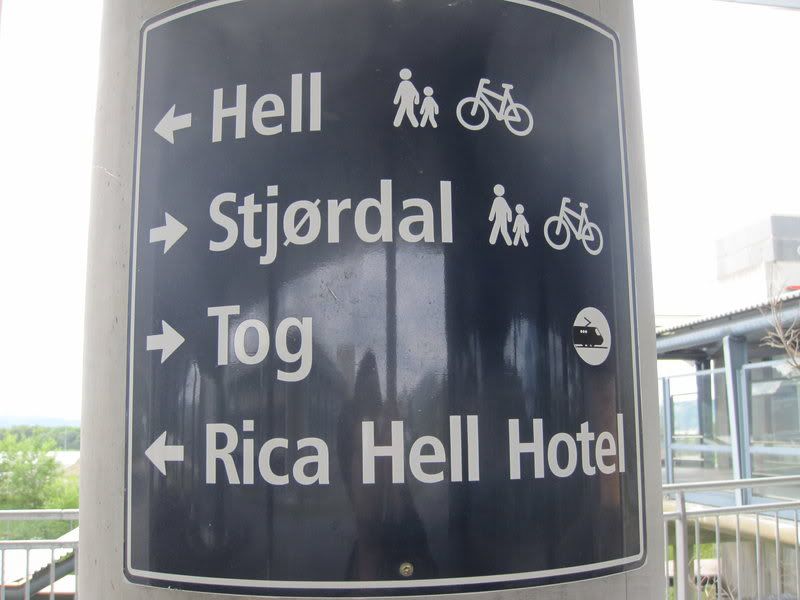 The station from above: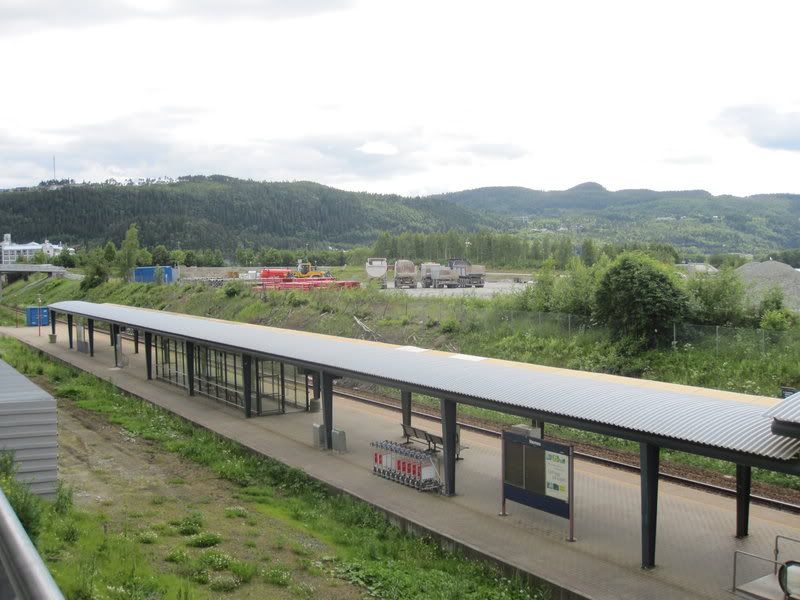 My ride departing again - it is doing TRD-AES-BGO next (I learned this from a cabin crew member when waiting for deboarding). Notice the tracks going underneath the taxiway and the runway further up: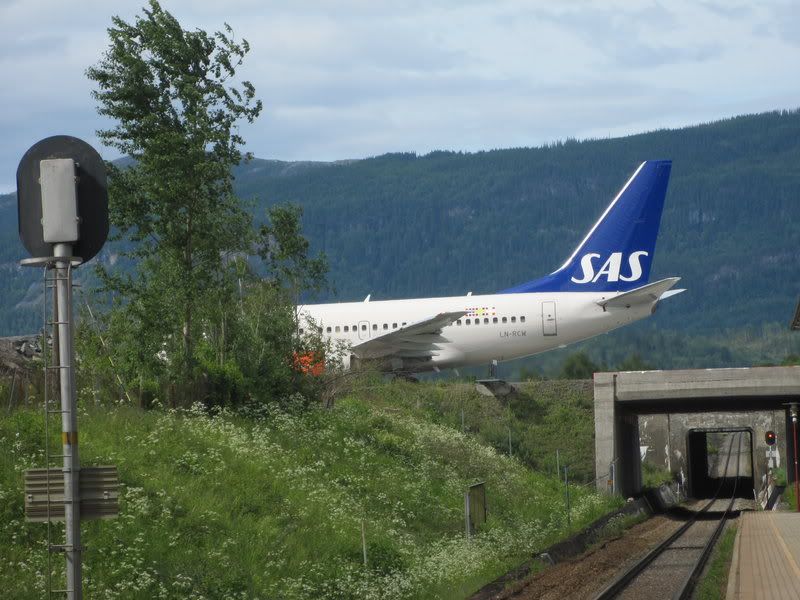 Finally the DMU pulls in: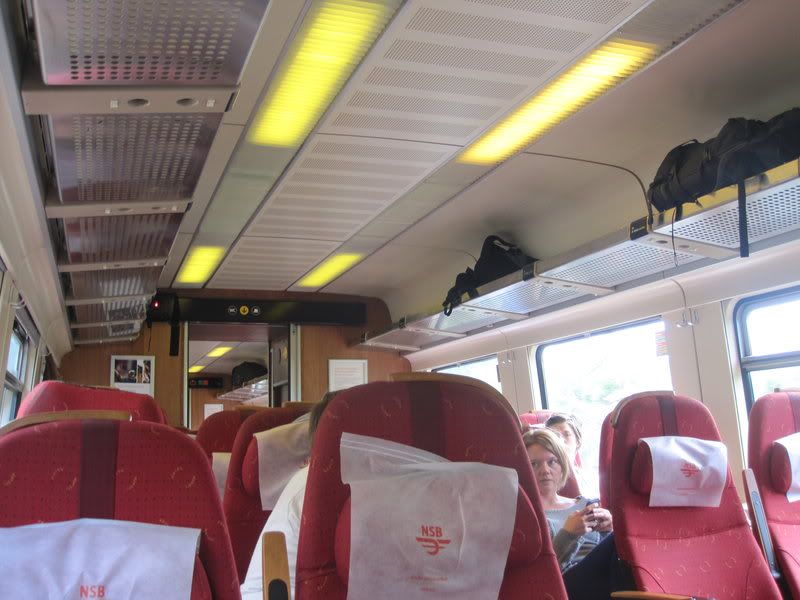 The next stop certainly has an interesting name: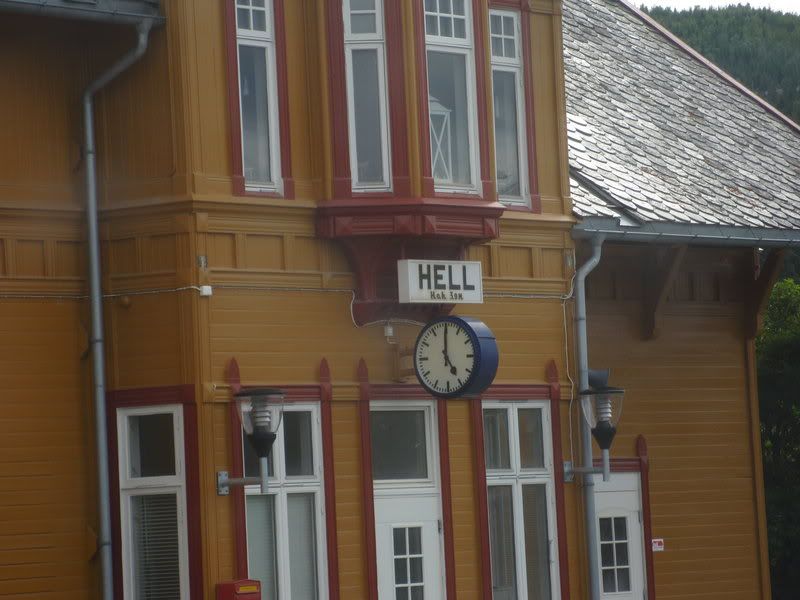 In Trondheim I walk from the station to my hotel, the Thon Hotel Trondheim right next to the central square. Ok, it is a budget hotel, but you don't need to rub it in my face: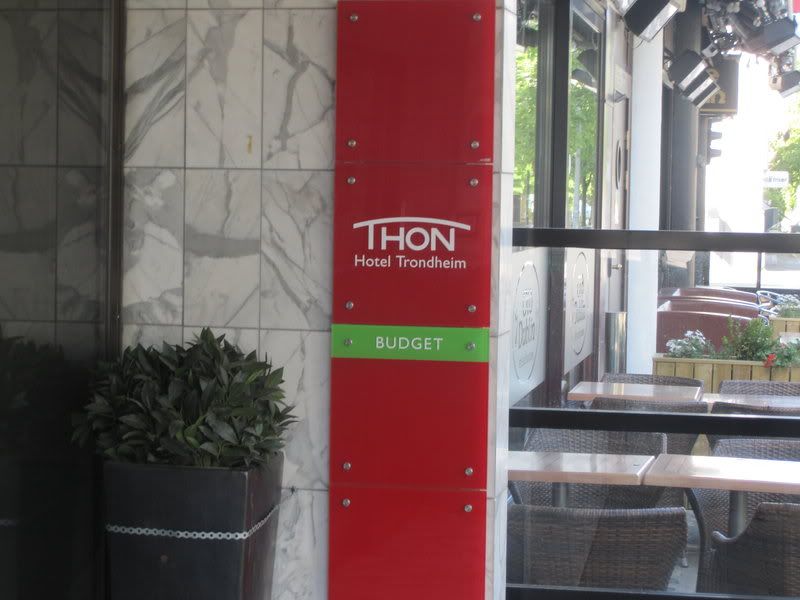 My room, small and very oddly shaped: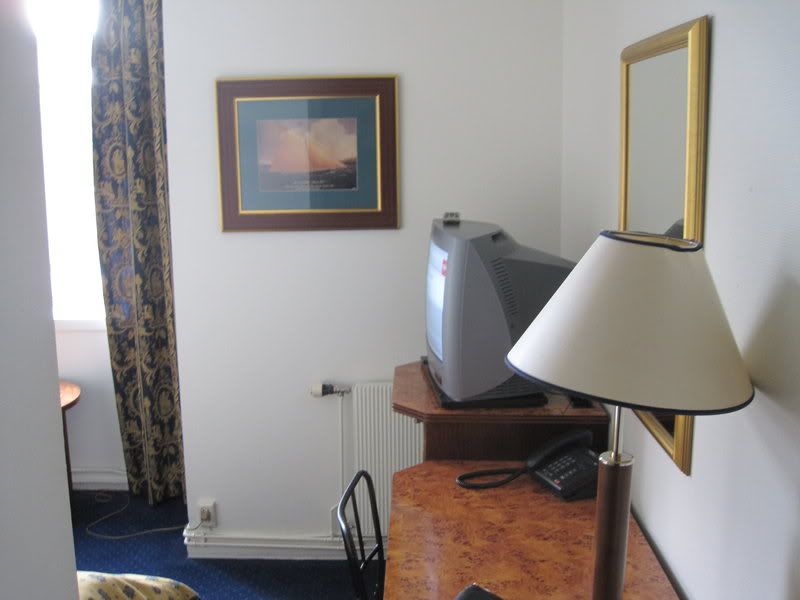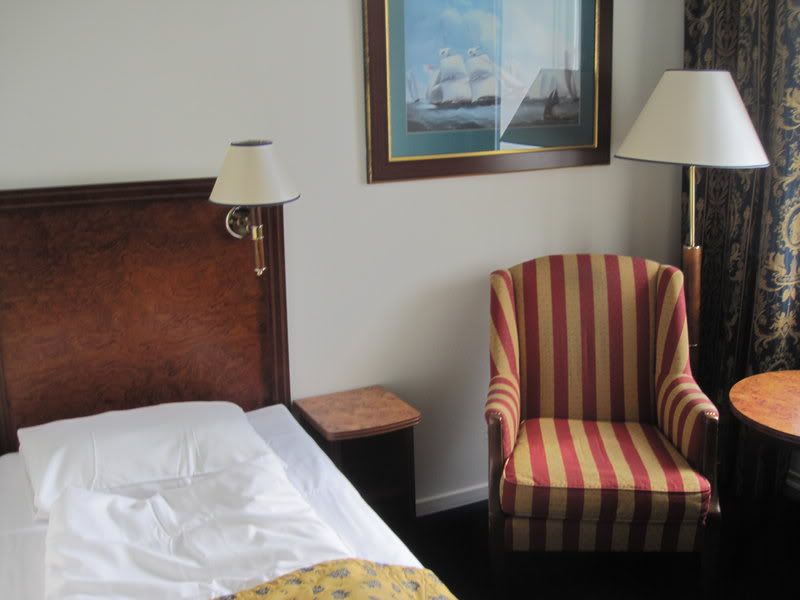 Once I get to my room something funny happens - I decide to have a bit of a lie down and the next thing I know is that I wake up at midnight! Well, dang - looks like I indeed was very tired from the week before and especially the rough last night! Well, the evening was wasted, and there's nothing to do any more this day, so I just make myself a bit more comfortable and sleep again...
Sunday 19.6.2011
After some 13-14 hours (!) of sleep I finally wake up. Still not feeling exactly like a king I decide to take it easy - I limit my sightseeing of Trondheim to the main sight around here - the magnificent Nidaros Cathedral and some of the central streets around the main square. At least the weather is much nicer than the previous day: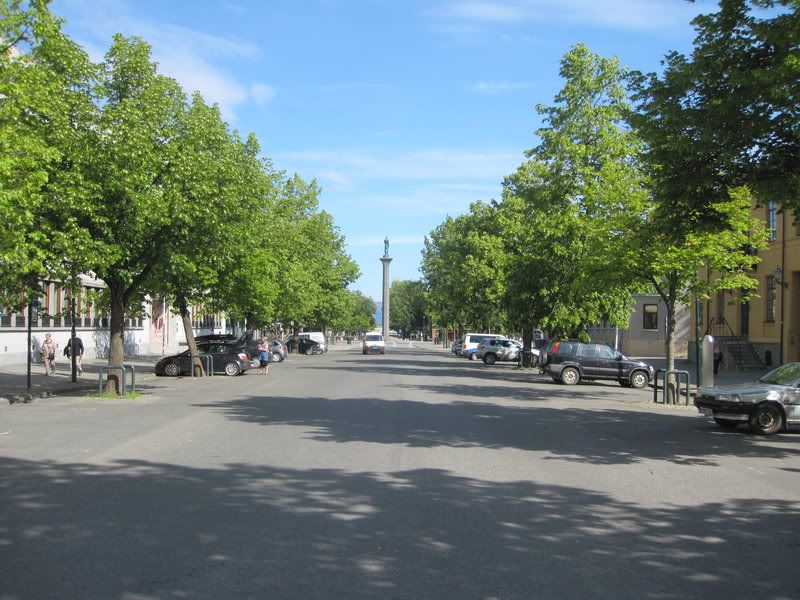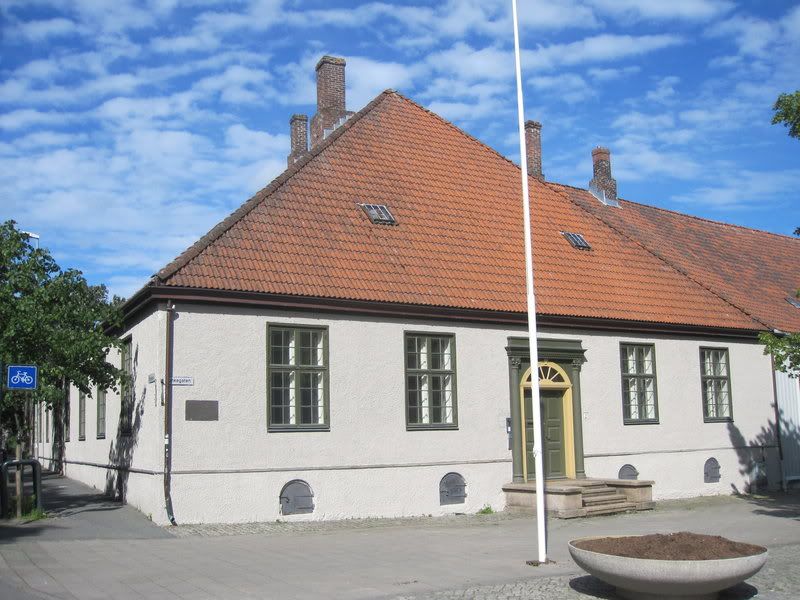 The magnificent Cathedral: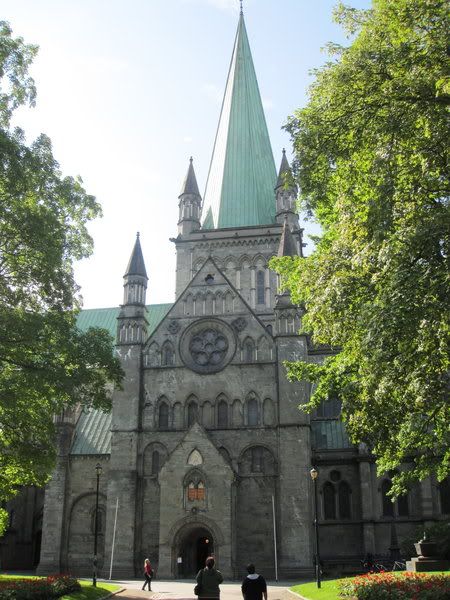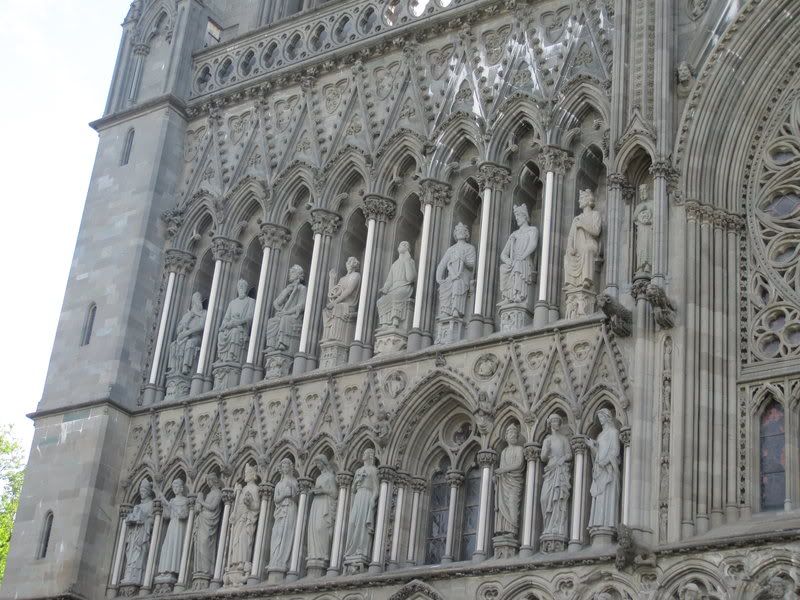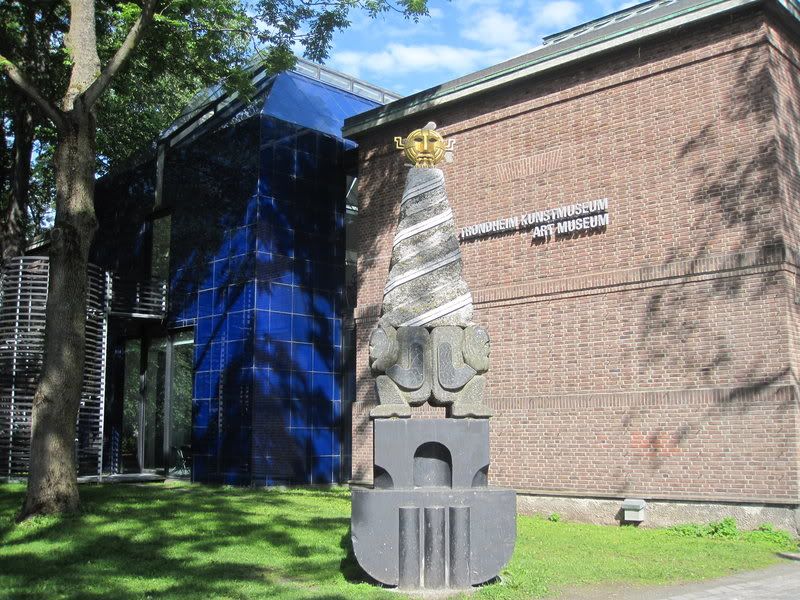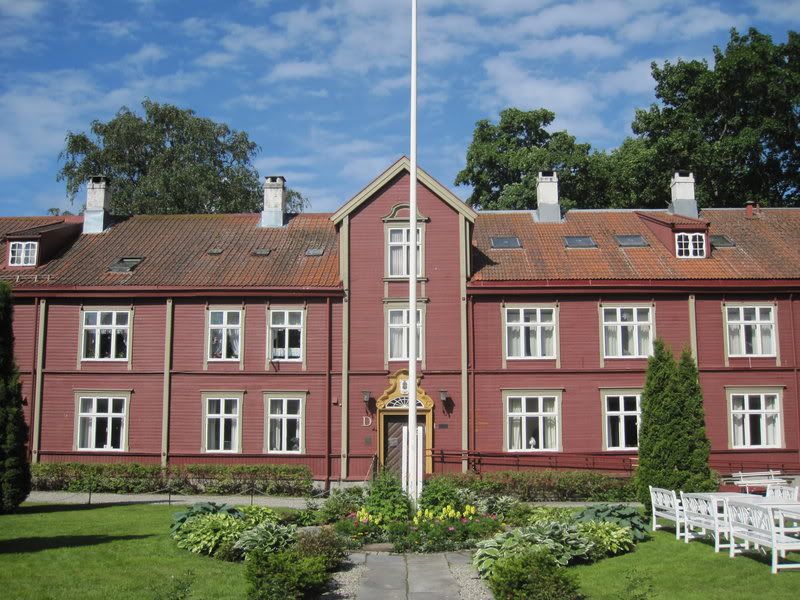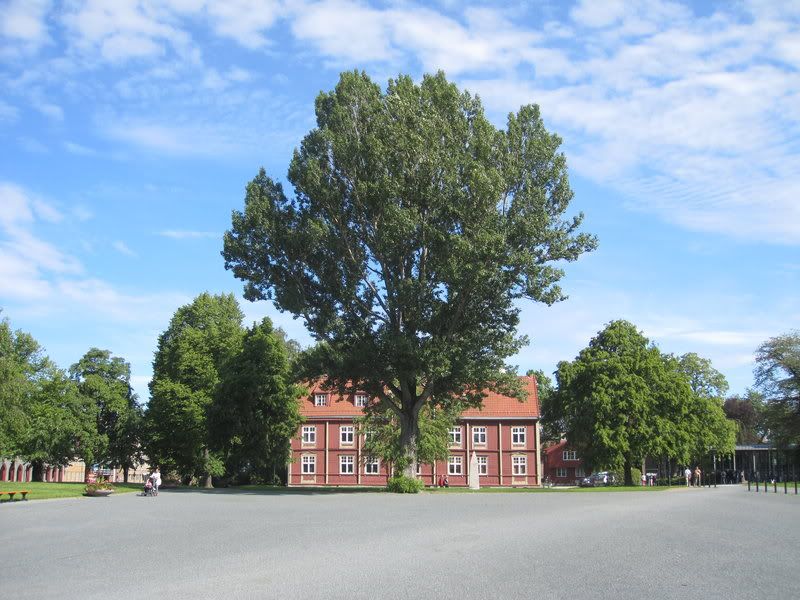 The Nidelva river: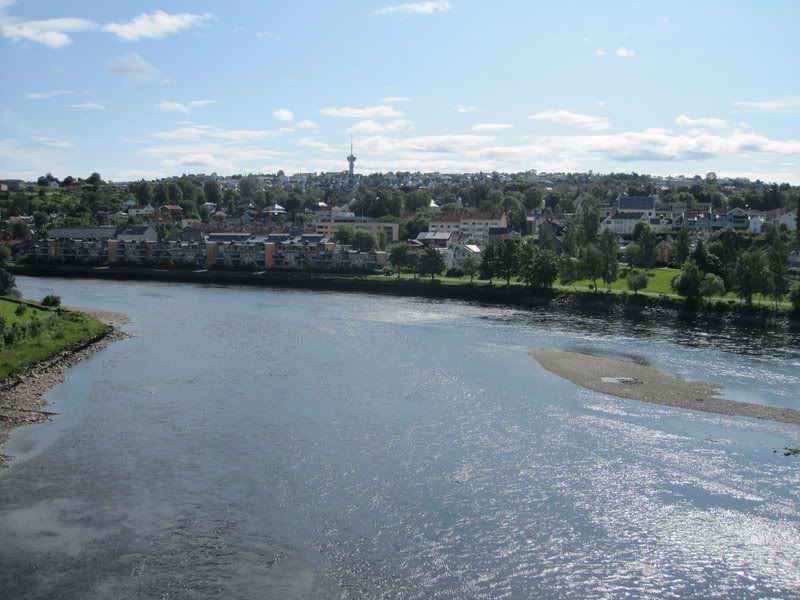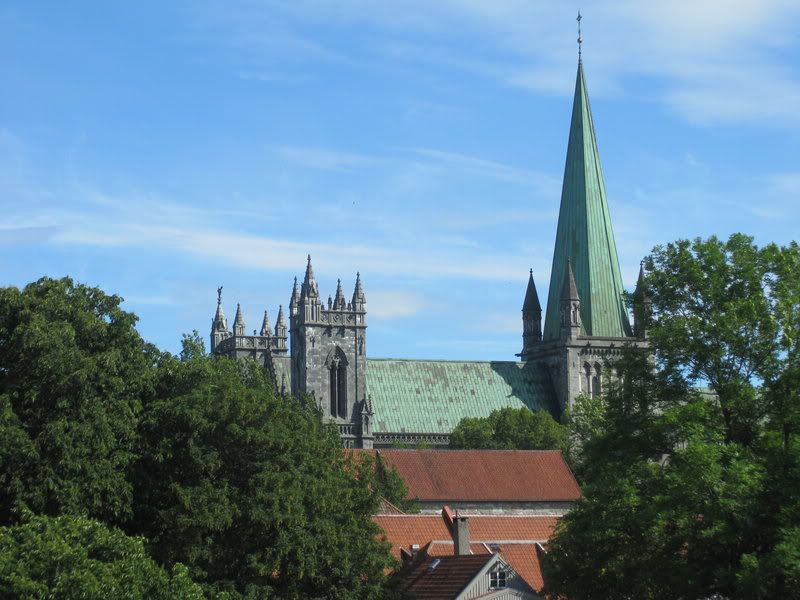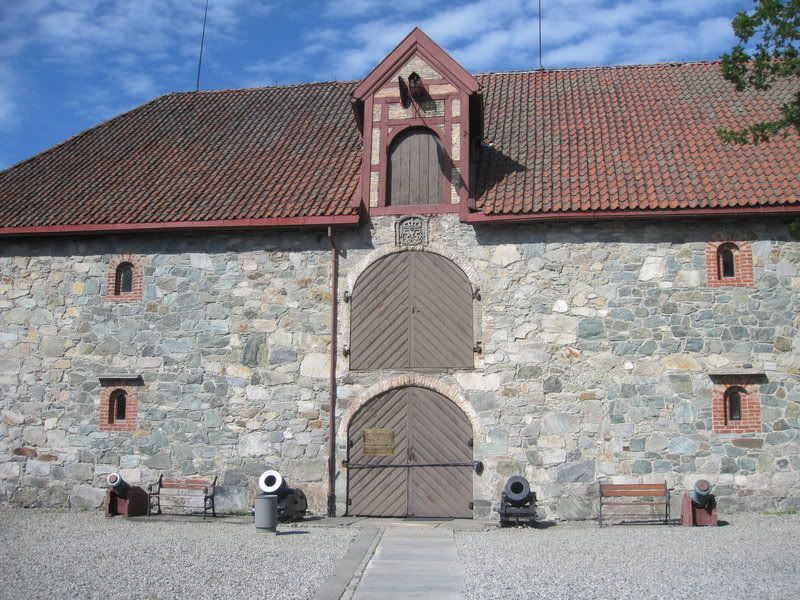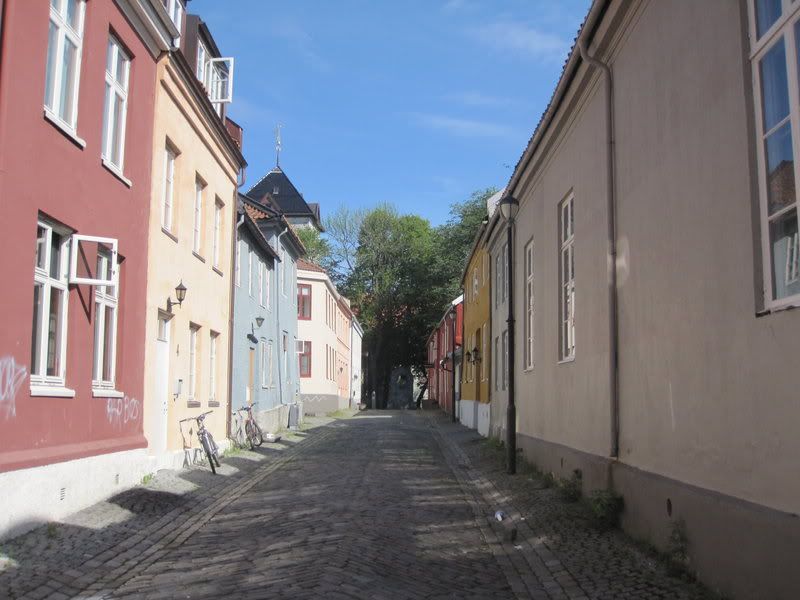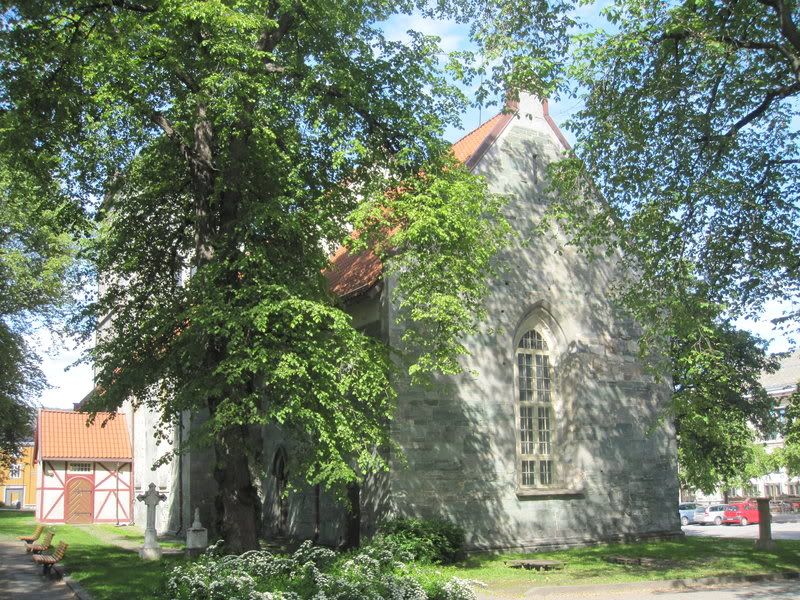 Skating, anyone?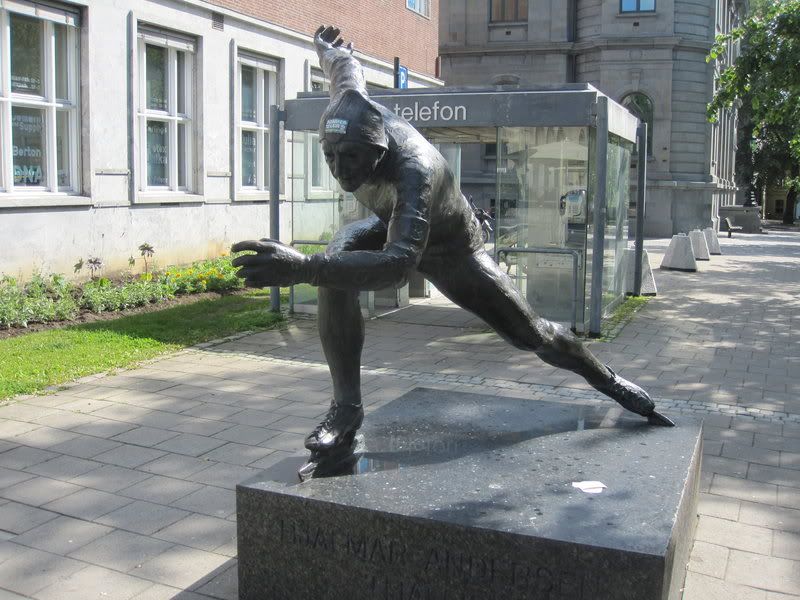 The central square: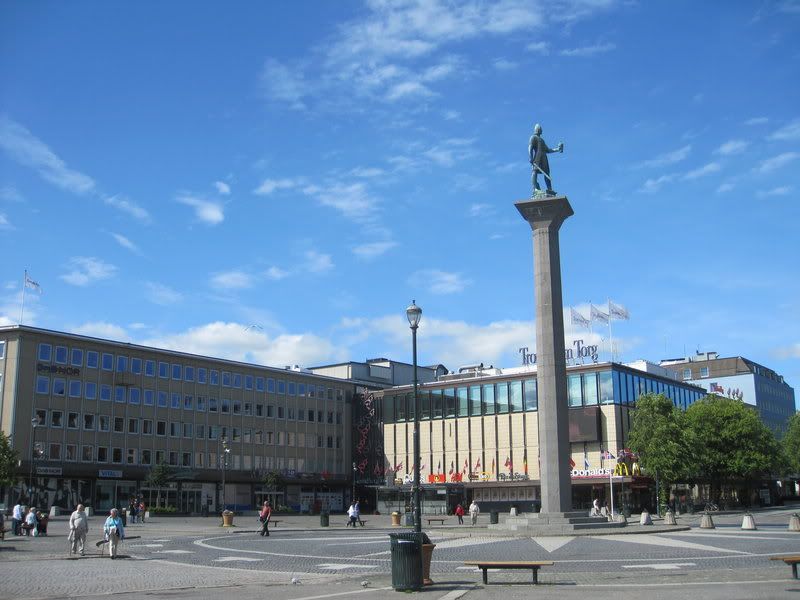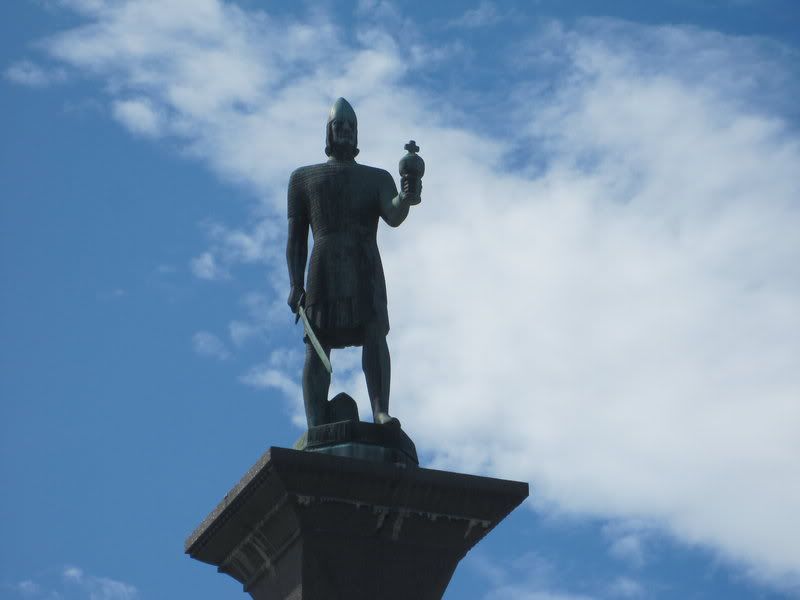 Luckily they granted me a 14.00 late checkout so I spend a couple of hours in my room enjoying the free (well, included in the 87 EUR room price) wifi.
9 EUR pint, at least it is a local brew: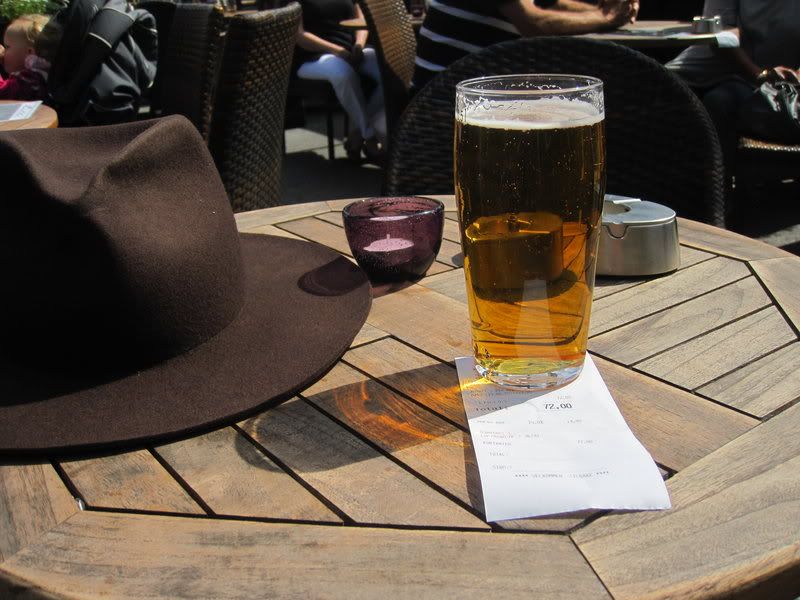 Soon enough it is time to catch the bus back to the airport. I really would have preferred taking the train again as it is both cheaper and faster, but the schedules on Sundays are even more scarce so the bus is the only viable option.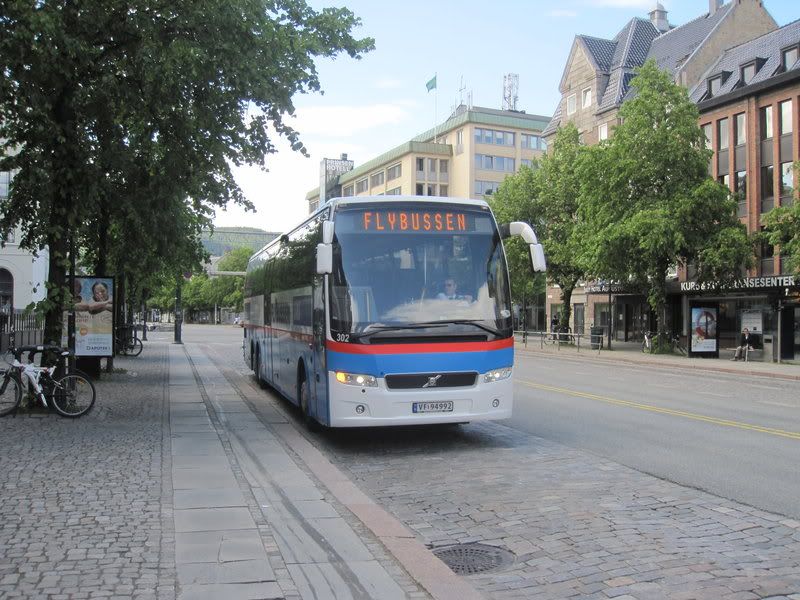 An hour later we arrive at the Trondheim airport.
Trondheim Airport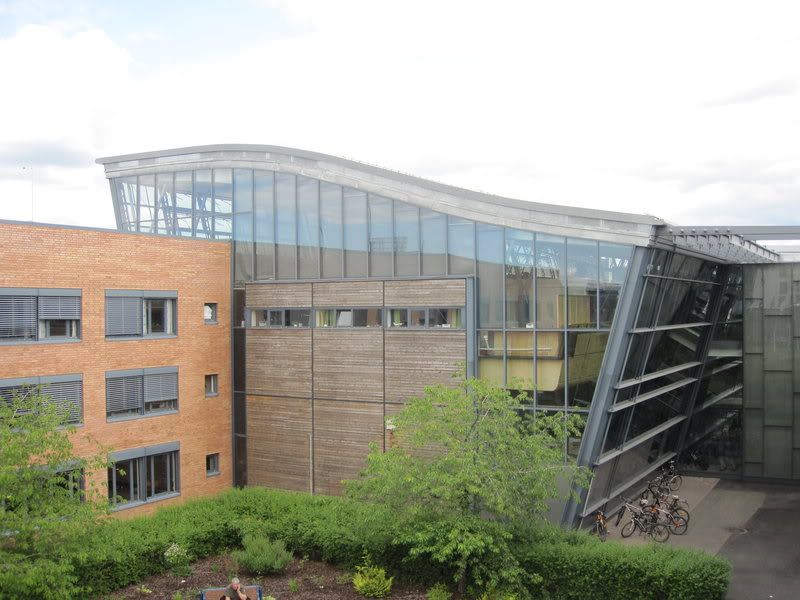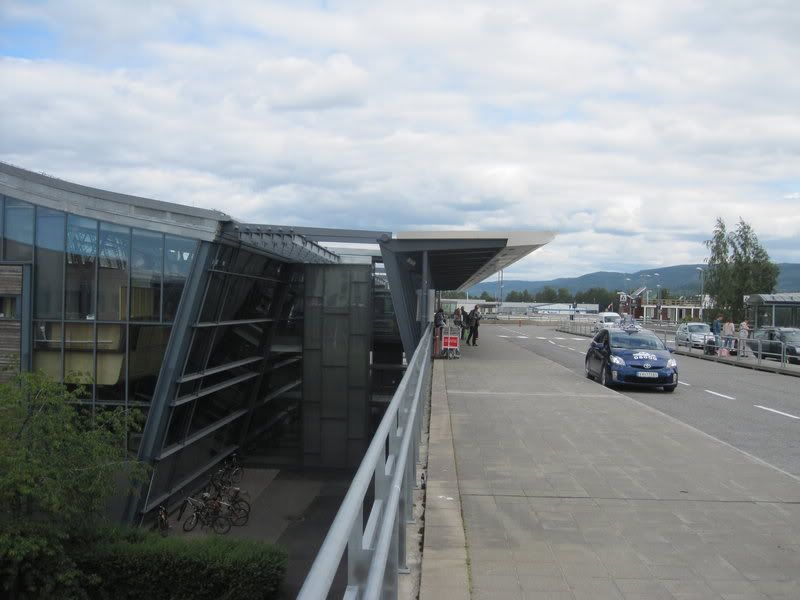 I check in using a self service kiosk. Not too busy this time at all, so security is rather swift as well and airside I walk up and down the area a couple of times before settling down with a sitting place near my gate-to-be.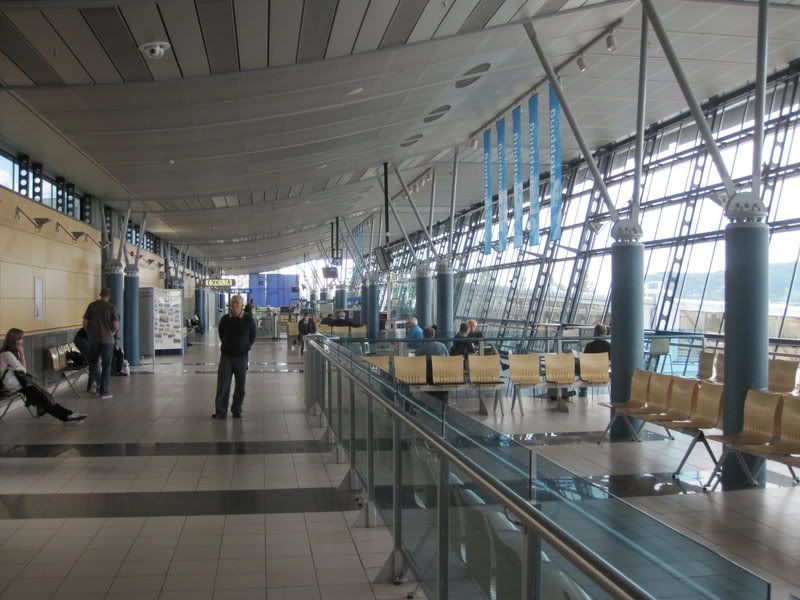 Another baby Dash: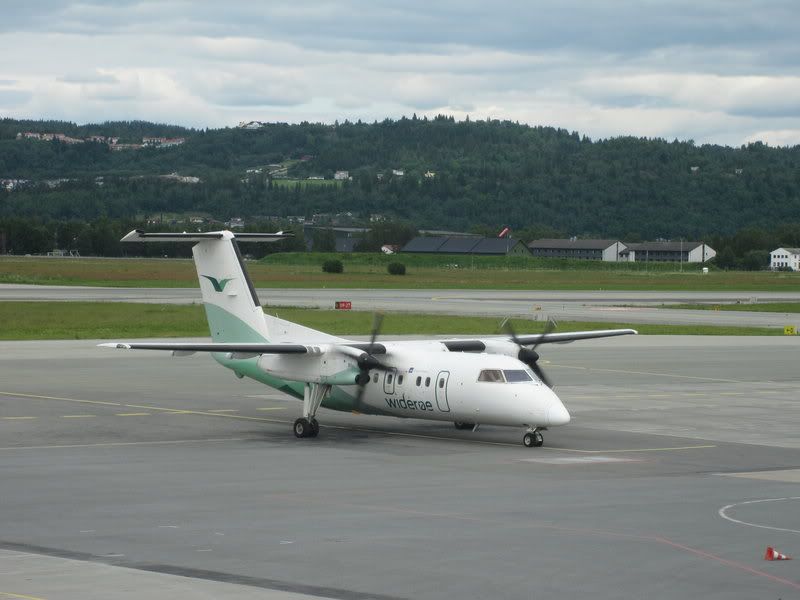 This is the fourth busiest airport in Norway: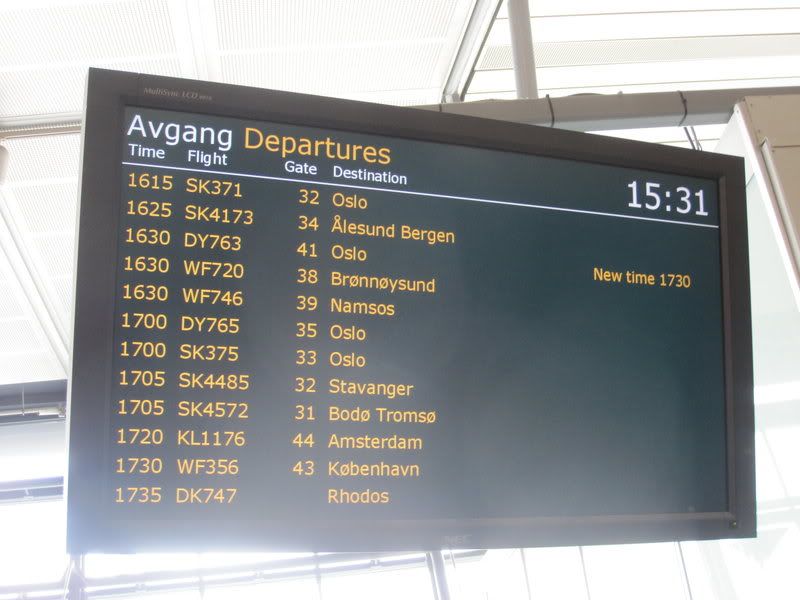 Another hybrid livery SAS bird lifting off: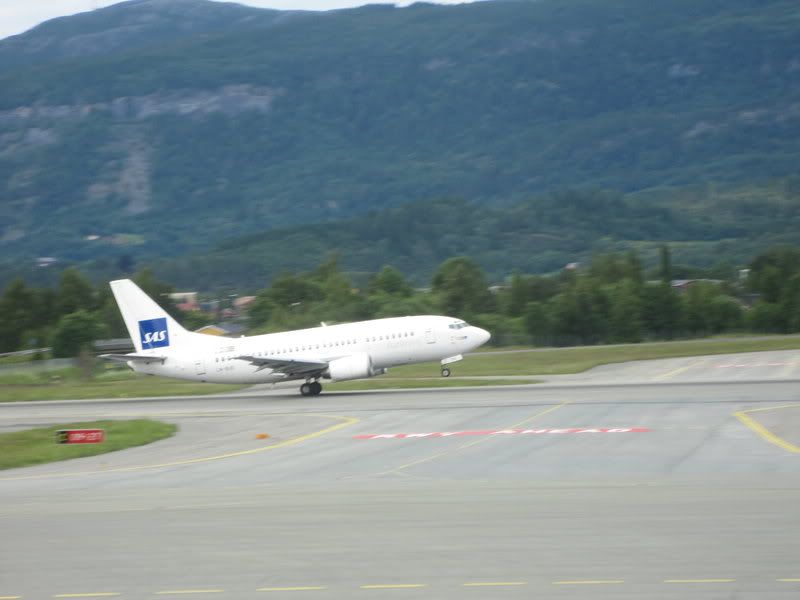 I think this is my ride arriving: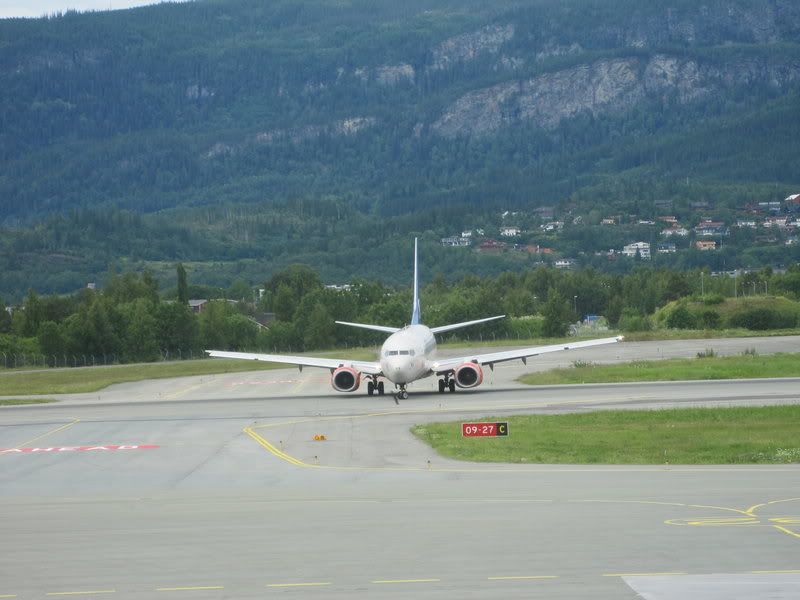 Oh yes, pulling to my gate: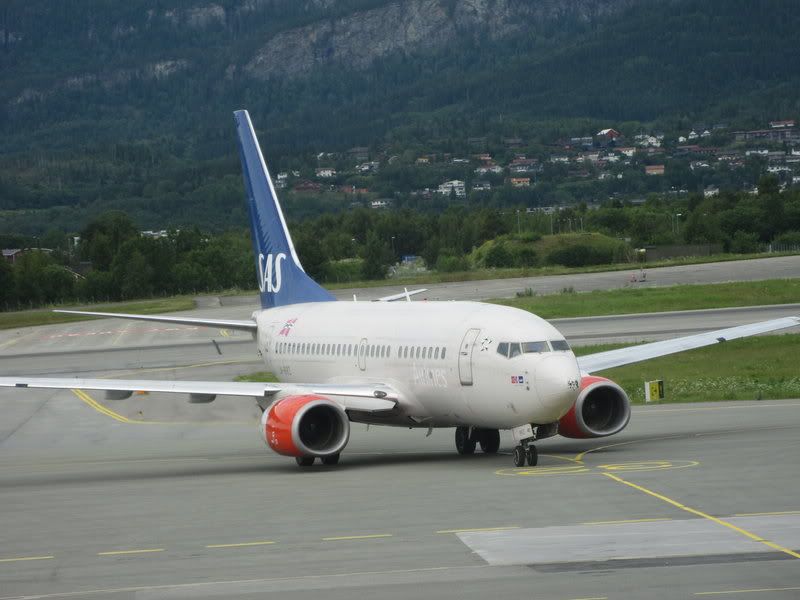 Hmm, that nose looks quite worn. Maybe some bird strikes: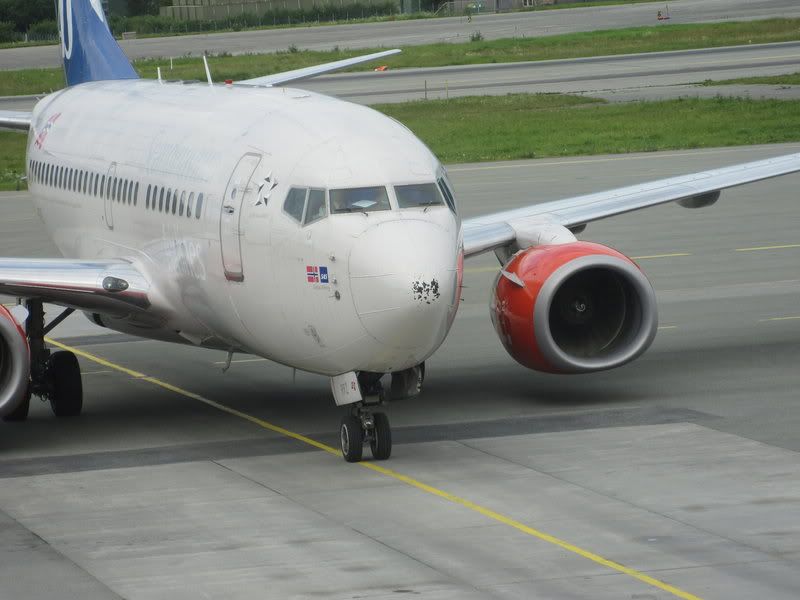 LN-RRZ "Gisla Viking", another new acquintance for me - and as expected another 736.
In a very efficient fashion the gate opens some ten minutes after the inbound arrived, although that is only to a holding pen, with some more time before we are allowed down the jetway. Along the way I pass a couple of technicians and a wheelchair passenger, it looks like the wheelchair has gone tech...
TRD - OSL
SK371
B737-600 LN-RRZ "Gisla Viking"
Seat 2F
16.08 - 16.58
I picked a seat towards the front of the cabin since I really want to make most of my short transit at Gardermoen (read: spend as much time as possible in the lounge!). The load is half full, so I get the whole block of three for me, nice. Legroom on this one is quite okay:
The flight time should be around 45 minutes today, and push back is a nice seven minutes ahead of schedule. Taxiing over the rail line: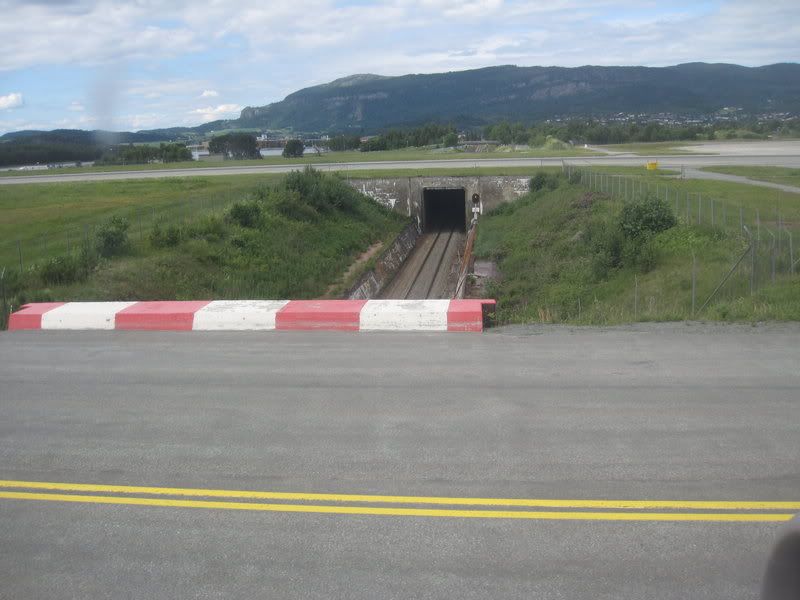 Take off is from 09 again for some nice views: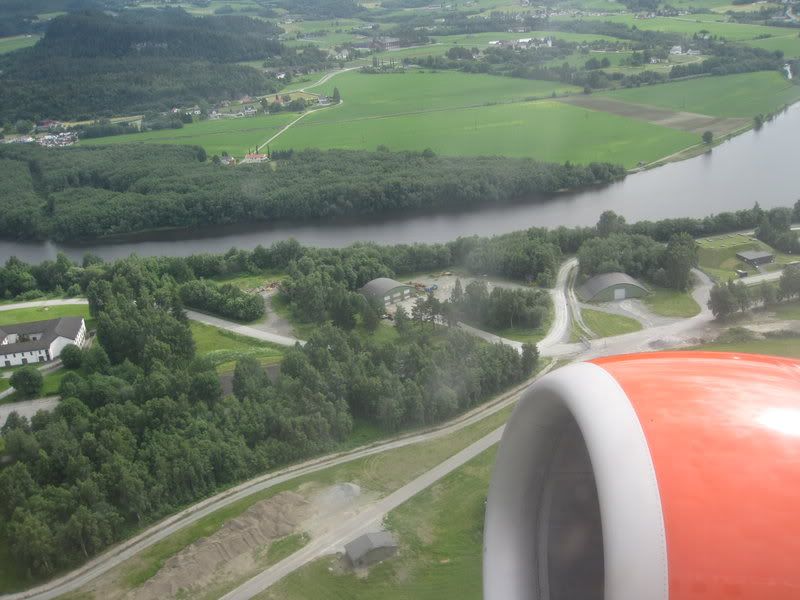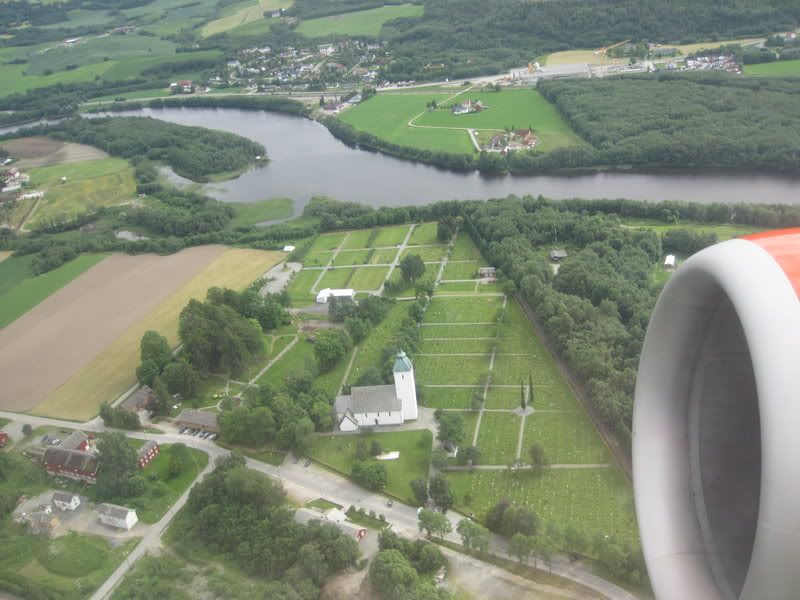 Bye, TRD - see you in August: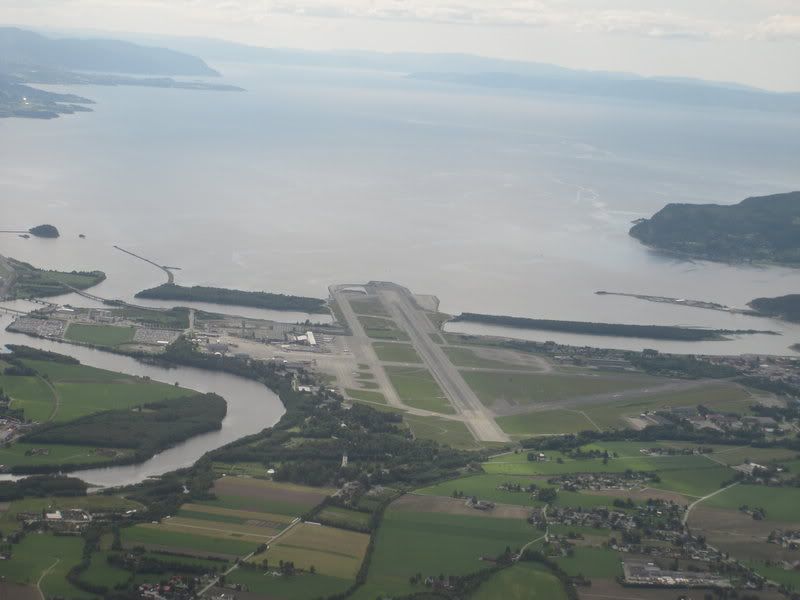 Trondheim in the far distance: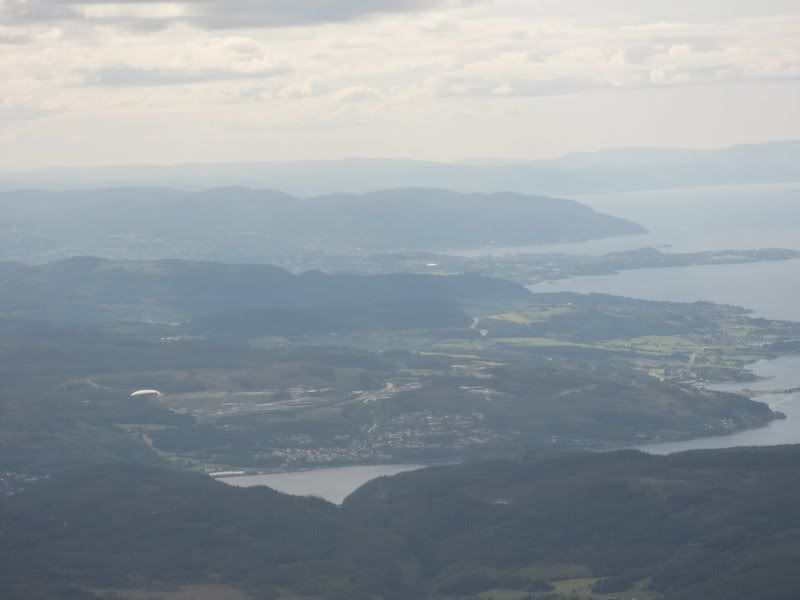 Soon we are above the clouds again: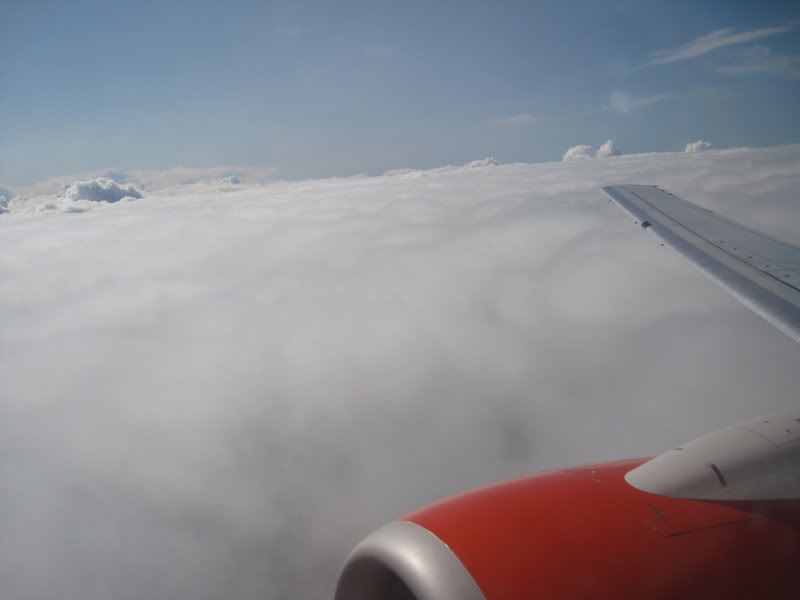 Service is the standard one on Norwegian domestic routes - free coffee/tea and BOB for everything else: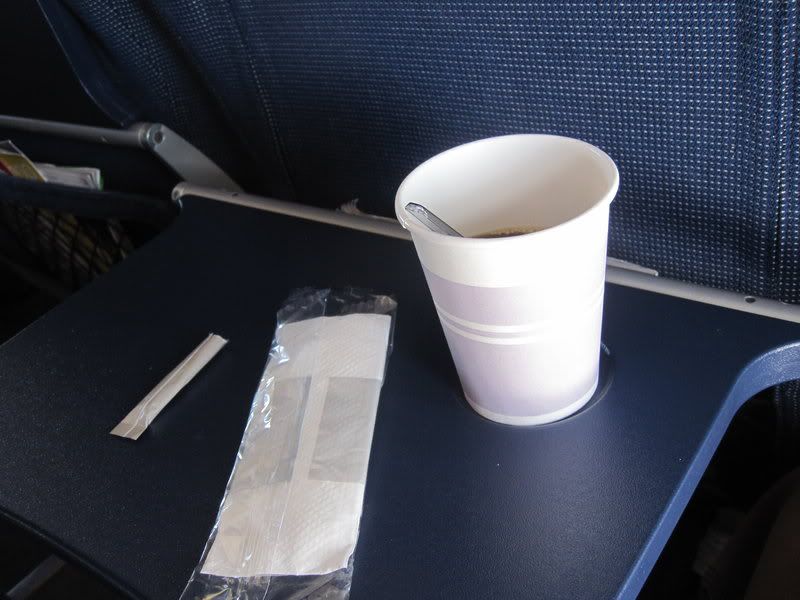 Through the opening in the clouds I spot some ice and snow down below in the mountains: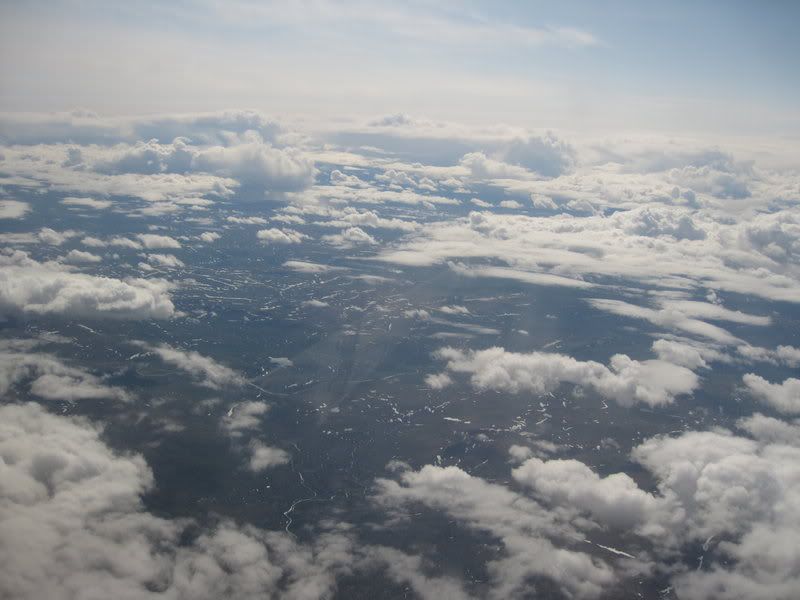 Barely 25 minutes into the flight I feel the engines spooling down and we commence our slow descent towards Oslo. After we break the clouds it soon becomes clear that we are landing on the 01s today as we are fly over the city of Oslo and perform a lazy 180 degree turn to line up with the northbound runways - the views of course are very nice: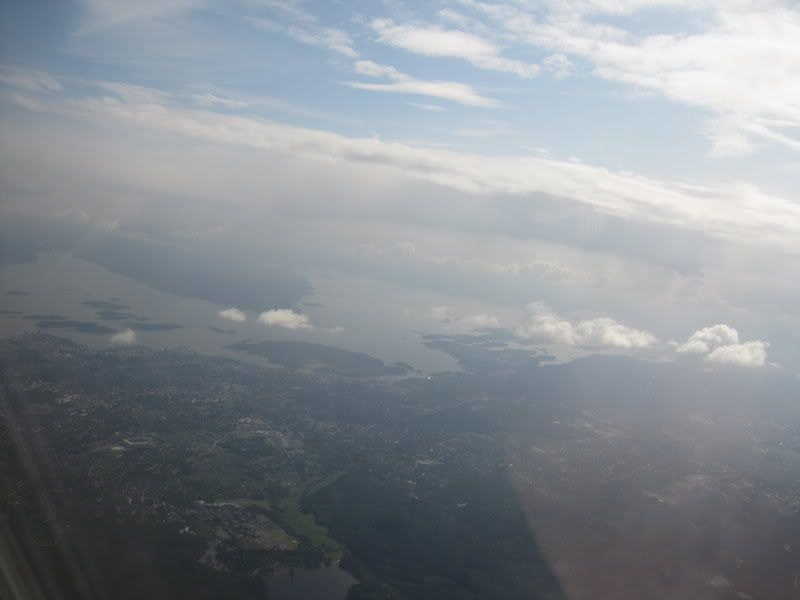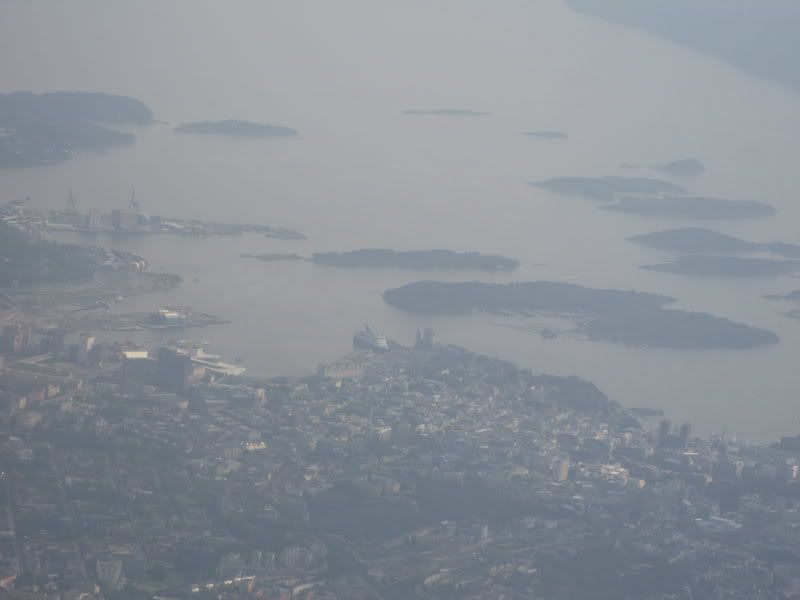 Lillestrøm: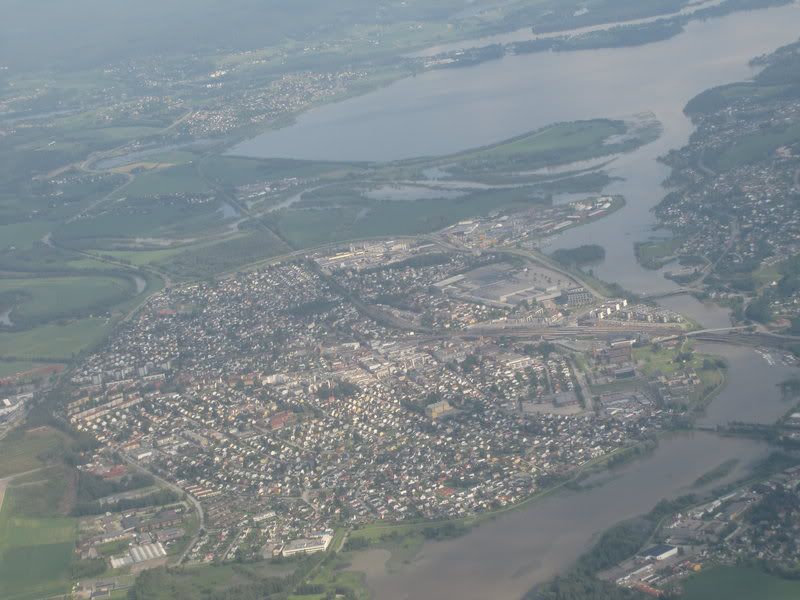 Kjeller military and general aviation airport: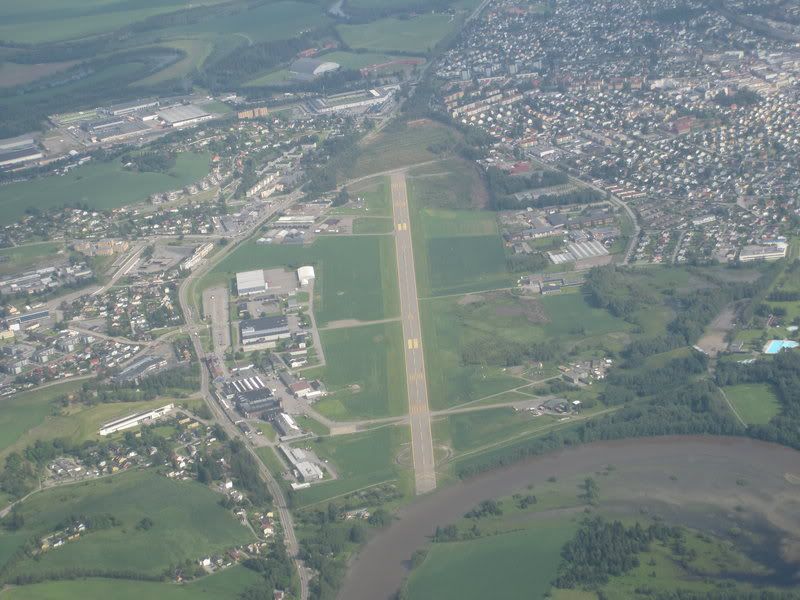 The weather down here is also much better than yesterday: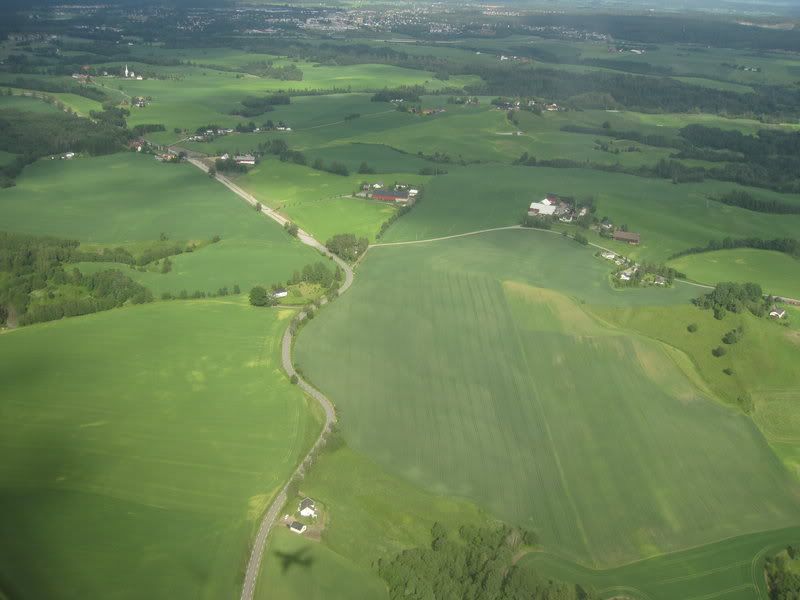 Our shadow:
We touch down on runway 01R after a bit over 45 minutes of flight time. Some heavy breaking: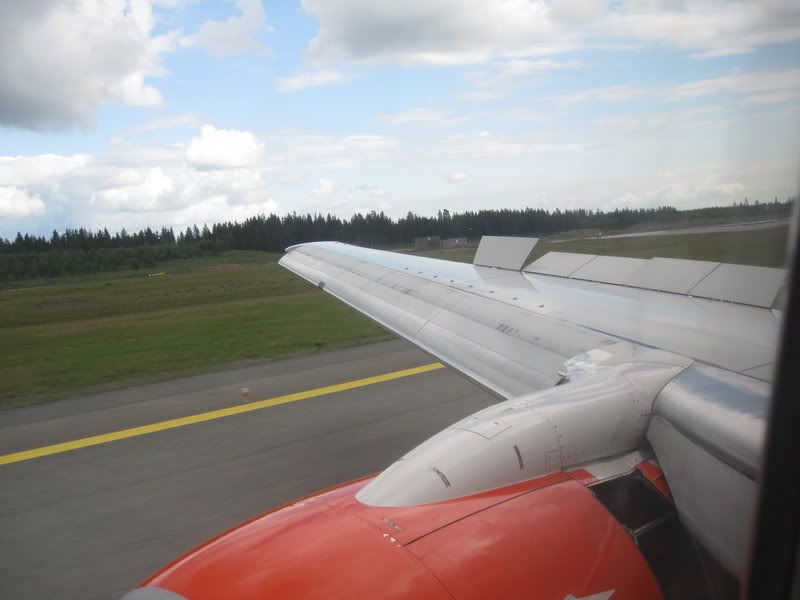 A couple of minutes later we dock to a jetway relatively close to the midpoint of the terminal (which is also marks the boundary between the international and domestic pier - thus not too far to walk for me):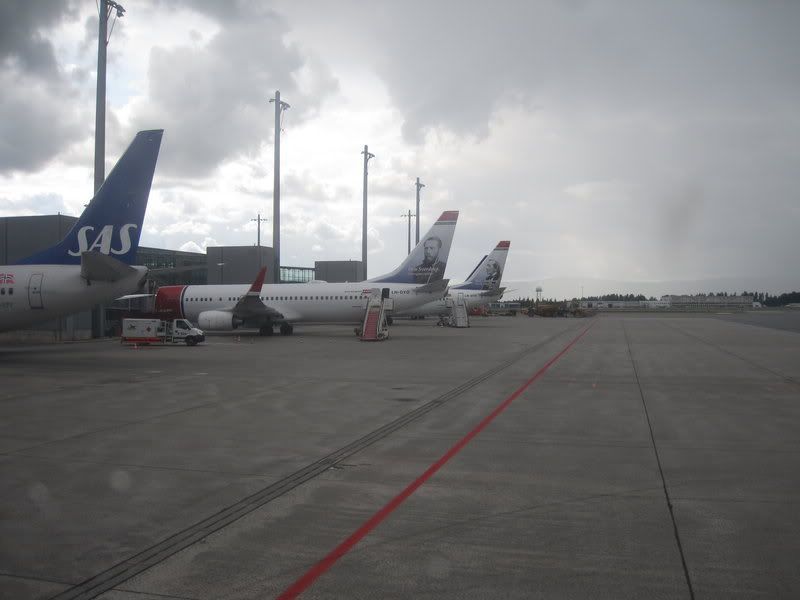 Oslo Gardermoen Airport, take 2
To my surprise there's no security rescreening when connecting from a domestic flight back to the departure area - just go down the stairs marked "Transit" and that's it. Has it always been so - it's been a while since I last did such a transfer here? At least when doing an international to international transfer they rescreen you.
Anyway that's good for me, so I fight through the throngs of people at the domestic pier - have I ever mentioned that this airport is ALWAYS extremely busy and packed. I guess that's why they have some interesting plans for expansion. The international pier is no less packed - I decide to skip any duty free shopping sprees and just follow a pair of SAS captains in full duty uniform to the lounge: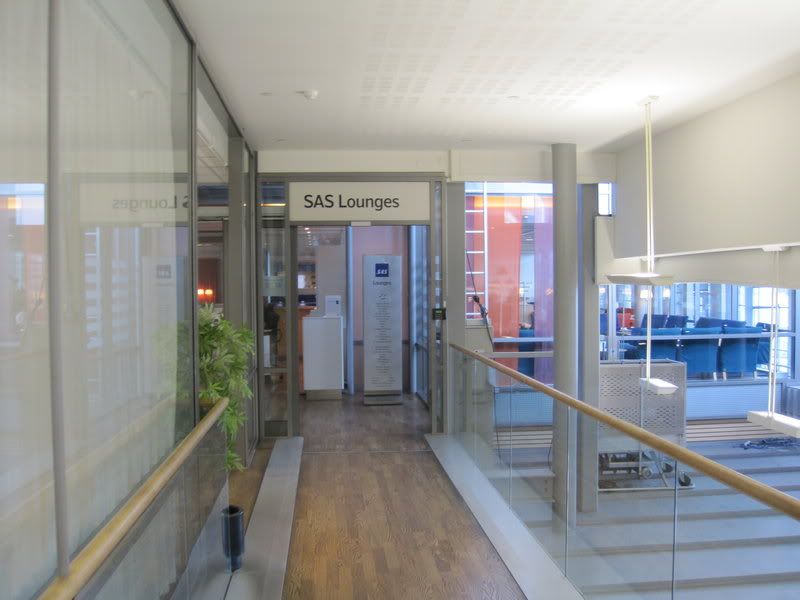 Two ladies working the reception - the other one compliments me on my nice hat.
I say: "Well, the summer is cool enough in Norway so that I can actually wear it!"
- "It makes you look like... some kind of... professional!"
- "Well, professional flyer, that's what I am!"
- (chuckle)
With that I head through the great unwashed in the business lounge into the sacred inner sanctum of the *G Scandinavian lounge.
A very nice lounge, although very packed, as a matter of fact I have a hard time even finding a place to sit.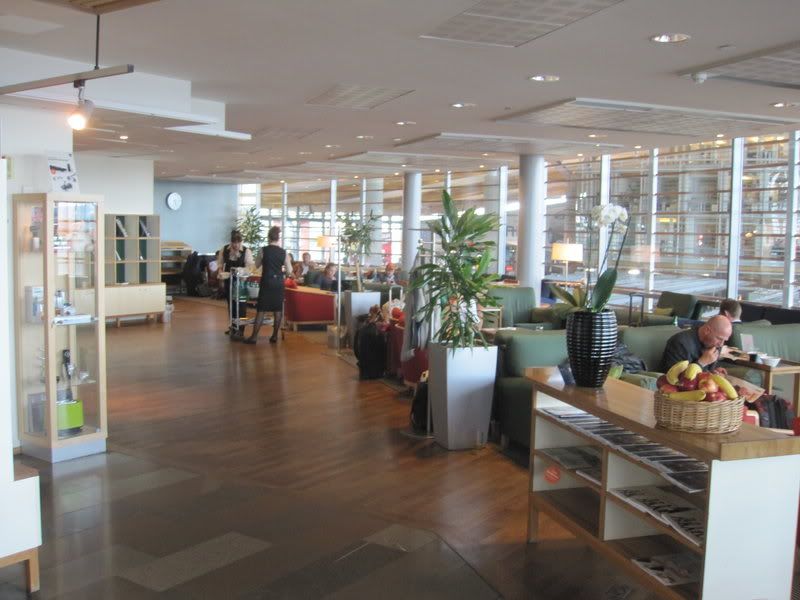 Decent food offerings, although no match for the great buffet at CPH: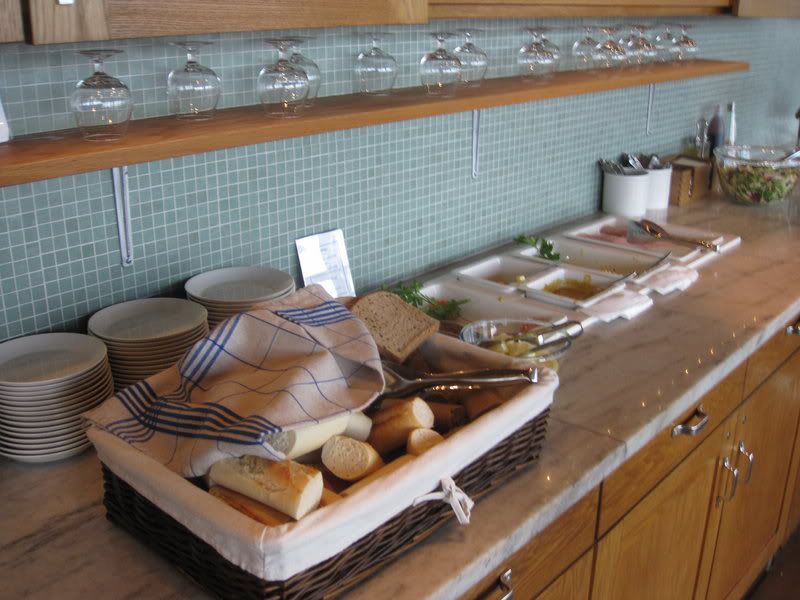 Good drinks selection, seems to be pretty much standardized across the ARN/CPH/OSL lounges: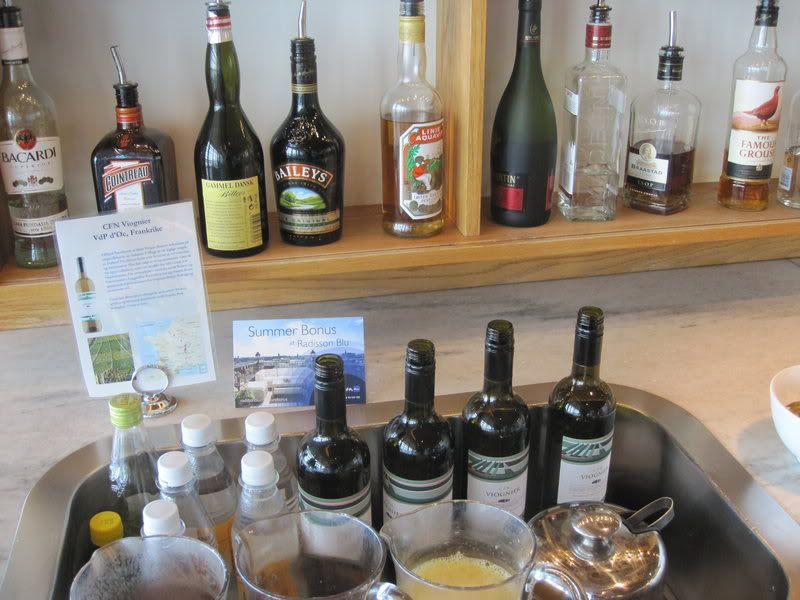 Salad and bread. I like the fact that they have the water in glass bottles instead of plastic ones - makes them feel a bit more classy (and of course makes it harder for people to nick them to drink them in the plane!):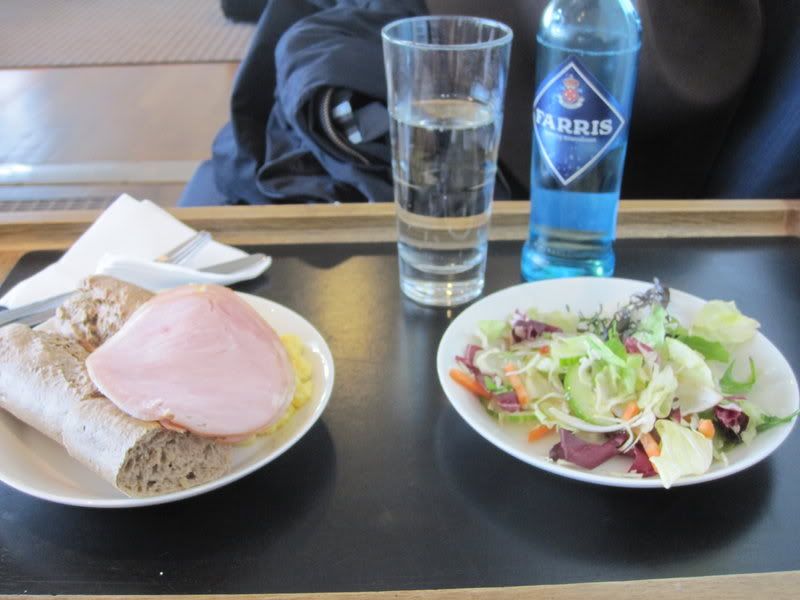 Not too much time to spend here until my flight status changes to "Boarding". When leaving the nice agent wishes me a nice journey and welcomes me back soon.
The gate is quite a hike away so by the time I get there it is already showing "Gate closing".
Looks like the expected ex-Braathens 734. "Harald Hårfagre" - or more familiarly known as Harald Fairhair or Harald the First, the first king of Norway: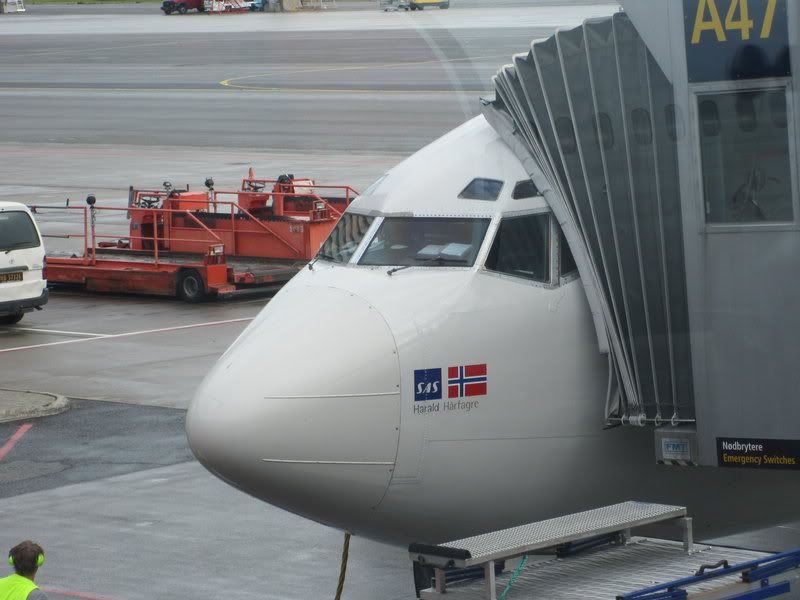 LN-BRI, another new reg for me - looks like it'll be a successful trip from my log's point of view:
Top