An ad for the DC-8 in
Life
magazine (April 1, 1957):
What will it be like to fly in a jet?

Your first jet flight will add a most meaningful dimension to your life—a new measurement of time and space.

You settle in your deep, soft seat in the graceful plane with the swept-back wings.

A short, swift run—and you are airborne. The nose points up eagerly and the earth drops away below you.

You climb steadily, serenely, quietly. The muted sound of the jets falls quickly behind, for in the DC-8 you move almost as fast as the speed of sound itself.

The splendor of the stratosphere

Up you go—up, up beyond the limits of today's planes. Up seven miles from the earth, and now almost eight.

You level off in the stratosphere. And even though the DC-8 puts half a mile behind you with every breath you draw, you feel no sensation of speed or flight.

Just outside your window the temperature in the thin air is 60 degrees below zero. But the air in the cabin has the soft touch of a June day, fresh and sweet and comfortable.

The view of the earth moving lazily and distantly below is exhilarating, with glimpses of fields and towns and mountains in miniature, or silver stretches of the seas.

Up this high, too high for the longest fingers of weather to touch you, you sense a tranquility, a detached peacefulness, a freedom of spirit. You share a feeling of majesty with the sun and moon, often seen hanging in the sky together.

During the day, the sky is an ocean of shining blue. In the evening, the blue deepens into dark velvet. The moon sends forth its milky light. The stars loom larger and brighter, and you are enthralled by the ghostly radiance of the night sky.

Witness to a miracle

Now, almost unnoticeably, you are descending from your secret corner of the sky—down to earth again.

On the ground, you realize how far you've come in how short a time. Realize, too, that you have witnessed—and even played a part in—one of the miracles of our age…the miracle of commercial jet flight through the stratosphere to distant places; so swift, so convenient, so beautiful and rewarding as to leave all other ways of travel in its wake forevermore.
Those words, put to paper more than a half-century ago, sought to capture the imagination of a public who, at that time, had only turboprops to use for jet-propelled travel. Today, with all of the advancements of technology, those words still ring true. The first time I read them in full was on a flight from San Francisco to Denver—one that I hope you'll read about later on. I read that, glancing out the window every now and then across the endless landscape—stubby foothills, snow-capped mountains, meandering rivers, farmers' fields, crisscrossing roads, and numerous cities and towns, occasionally hidden by a layer of white clouds. I'm not afraid to admit that the experience made my eyes well up. I've been on dozens of flights over countless mountains and fields and cities, but that perspective really put it all together for me. I knew I liked the experience of flying, but I'd never come close to that kind of realization of what I was a part of. This experience has been much maligned by a multitude of factors, but I stand firm in the conviction that we should be damn grateful for the opportunity to step aboard an airplane for our travels, whether it's for a short hop within one's own state or to an exotic locale on the other side of the planet.
Without further ado, I welcome you, fellow A.netters, to my first trip report! You may be wondering what the whole "Top Ten" thing is about. Well…I thought it would be a hoot to fly through the 10 busiest airports in the United States. A few of you may think that this is incredibly silly, but I love the airport experience. It also helps that I haven't yet been stung badly enough to hate the experience. In short, I'm visiting them because they're there. Some previous travels had taken me through DFW, DEN, and LAX already, but those three also deserved a fair chance at a presentation.
After determining that I had enough free time to do it, I started stringing together itineraries. I based the list on the total passenger count from 2009, as those were the most recent final results available at the time. (Some 2010 numbers came out and CLT gave PHX a run for its money, but was still behind by about 400,000. I seem to be in the clear now, if only just.) I wanted to fly the list in some sort of order, but that would have been a grievous inconvenience. I hope you find what follows to be somewhat interesting. It'll be laced with random observations and other stuff I tend to notice, so I ask you to bear with me! (A few notes: Only one presentation for each airport; all scheduled/actual flight times taken from airlines' websites—some use pushback time, others use wheels-up time; all times are local; after the first leg, some pictures will be omitted, with the remainder available through links.)
Leg 1: Texas Two-Step (or, Silver Bullet Jet Set) –March 26, 2011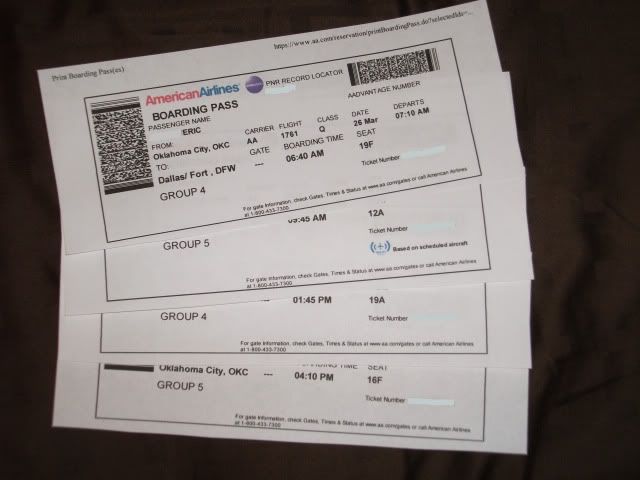 As you may well have guessed, the day would feature two Texas airports: Dallas/Fort Worth International and George Bush Intercontinental in Houston. However, I tempted the fates and used American Airlines for the whole trip! I know, right? Flying a Mad Dog into IAH, the UA/CO fortress? Unthinkable!
That Saturday morning got off to a textbook start. I woke up when my alarm told me to and I was through the door at 6:07 AM on my way to the airport. Traffic was light at that dark hour and I was in the security line in 30 minutes. There were no bells, whistles, or latex gloves, so I proceeded to Gate 4 to wait the few minutes for boarding to start. (Side note: there were a handful of uniformed military personnel on this flight. I noticed one of them had an interesting name: McVeigh. If you are familiar with the 1995 Oklahoma City bombing, you'll recognize that name.)
That's my ride to DFW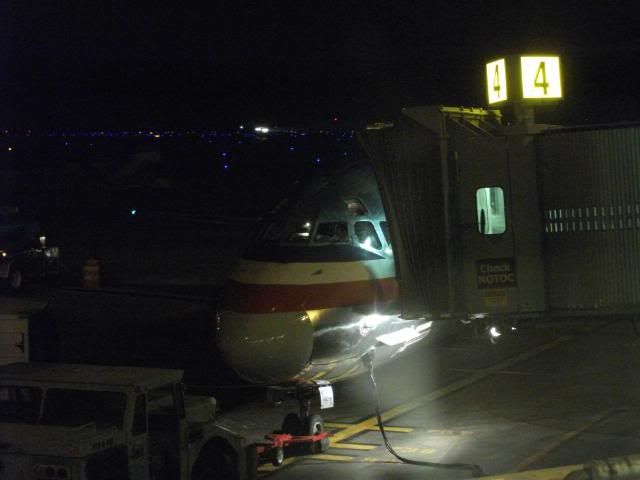 There's a Jungle Jet (N931AE) about to go to ORD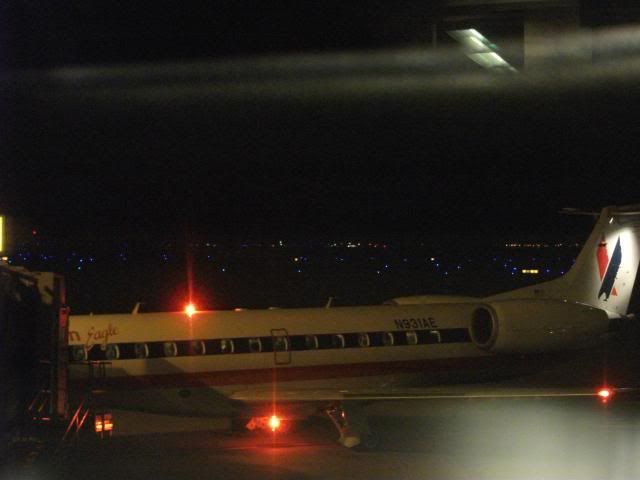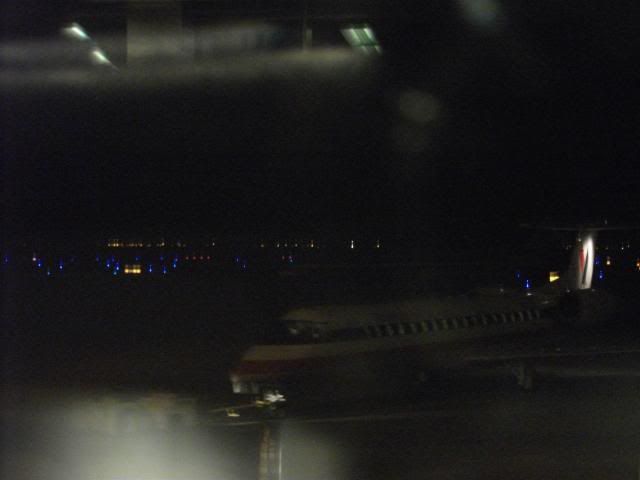 There's a little activity to make out in the pre-dawn darkness: a Colgan Dash 8 and a few WN 737s.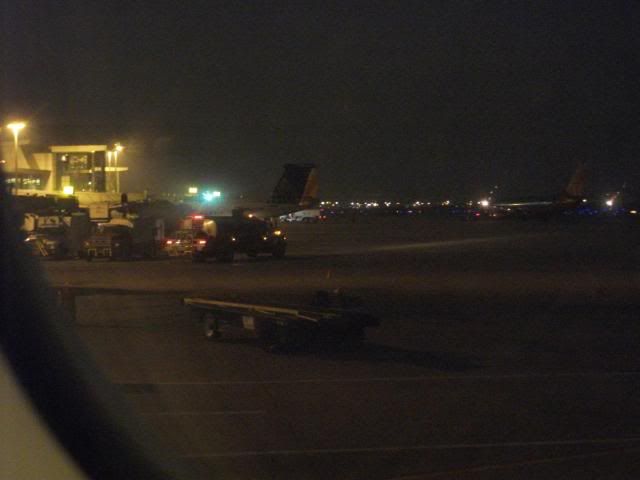 Here's what it looked like before we pushed back. Look down the wing and you'll see another MD-80.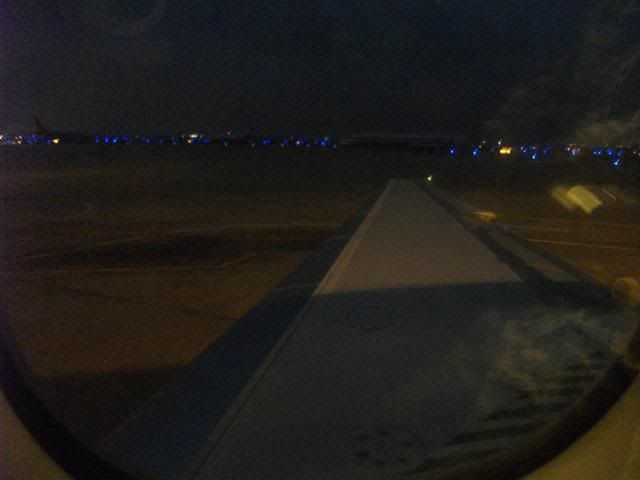 American Airlines 1761 OKC-DFW
Scheduled: 07:10-08:10
Actual: 07:15-08:03
McDonnell-Douglas MD-82 (N460AA)
We pushed back and began the taxi to runway 35L after the requisite safety briefings. Soon enough, the pilots guided the jet into a rolling takeoff, and thus began my first trip on AA in almost six years. Incidentally, those long-ago flights were my first flights ever. I remembered being pushed back in my seat on that first takeoff; you never get tired of that feeling provided by a plane that dead-out sprints to wherever it's guided.
Everything went quickly on this flight; it had to, as it was only 31 minutes. The plane was full in coach and there were maybe two empty seats in First. It's a bit of a testament to the AA flight attendants to be able to give beverage service to 138 (or so) people in such a short time window. Add the fact that they were quite friendly and willing to help, and AA got started on the right foot. Three flights remained, however. As I typed this paragraph, descent started. A little while later, we touched down on runway 13R…and then we taxied. I thought we were taxiing back to OKC, but we got to gate C7 after crossing two runways and three bridges. It's not quite as scenic as the long taxi in DEN, but that doesn't mean there's nothing to see.
Climbing…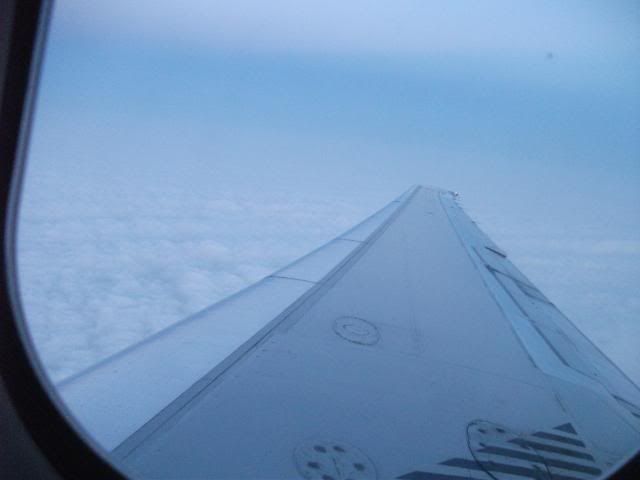 Skies were cloudy in OKC, but they cleared as we flew south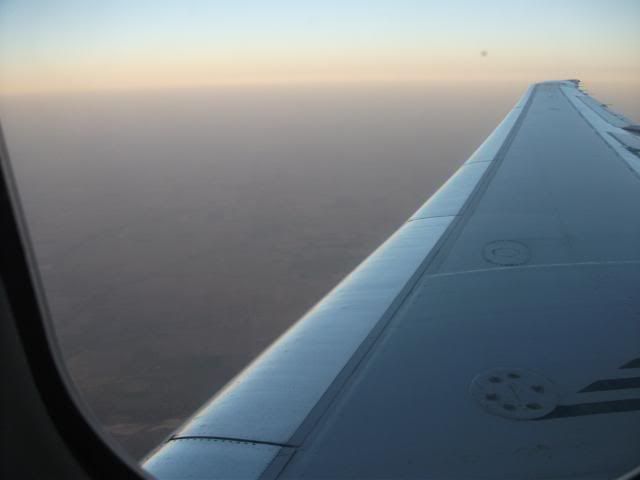 Wow, it's orange juice!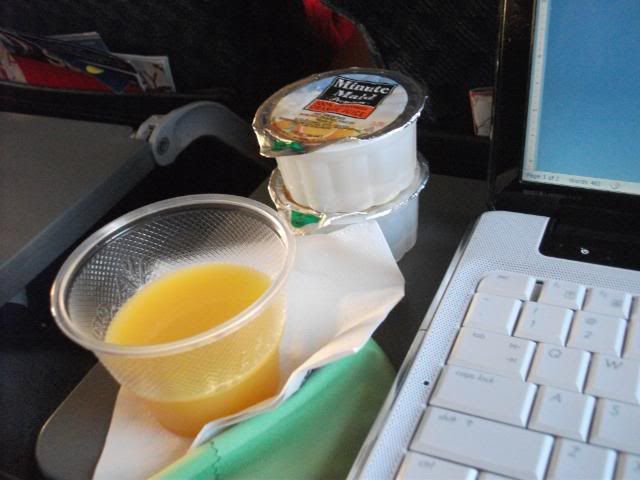 A bit of sun on the wing as we turn
Cliché legroom shot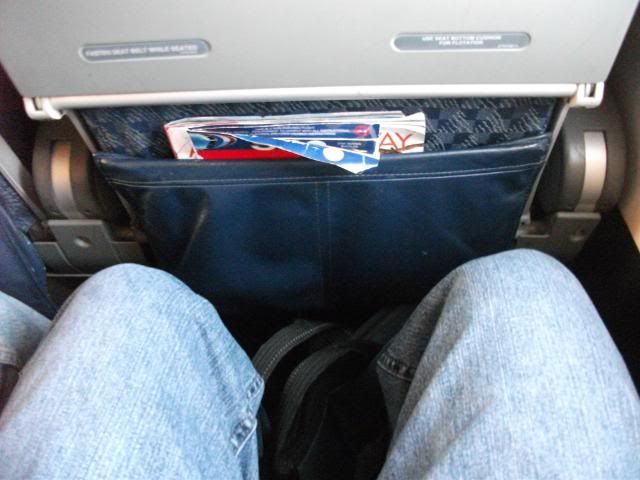 The beautiful view from seat 19F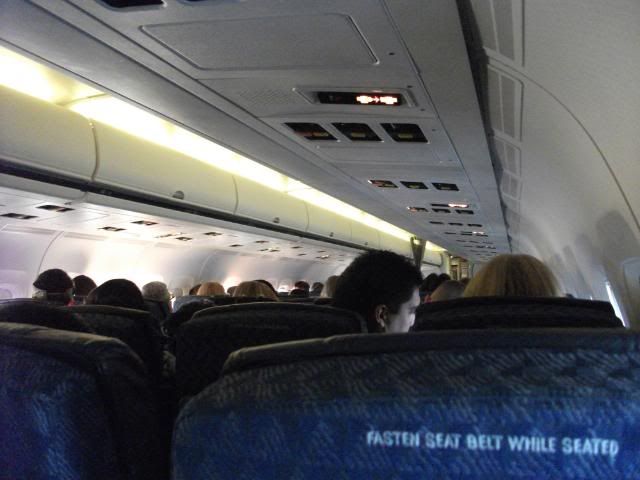 Touchdown!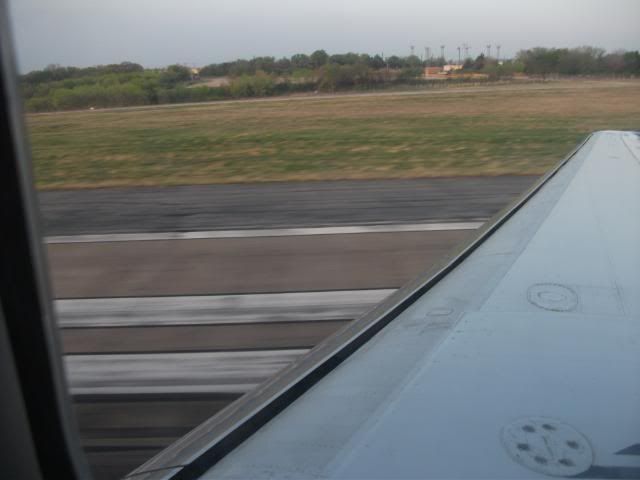 A tower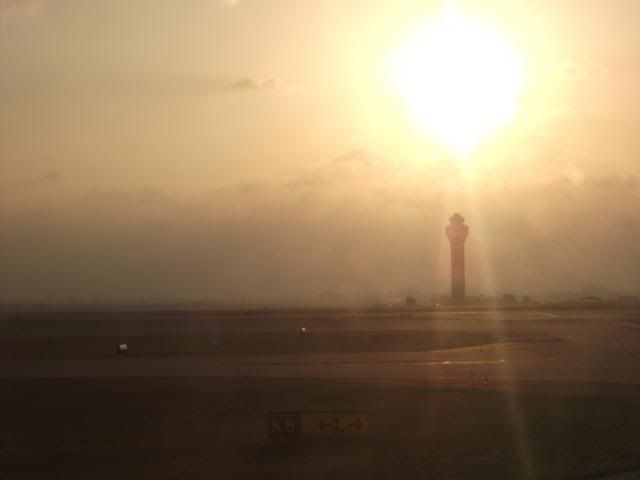 N7540A passing in the opposite direction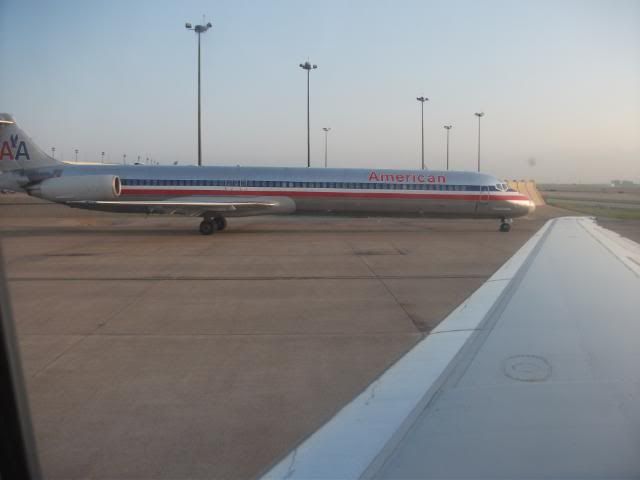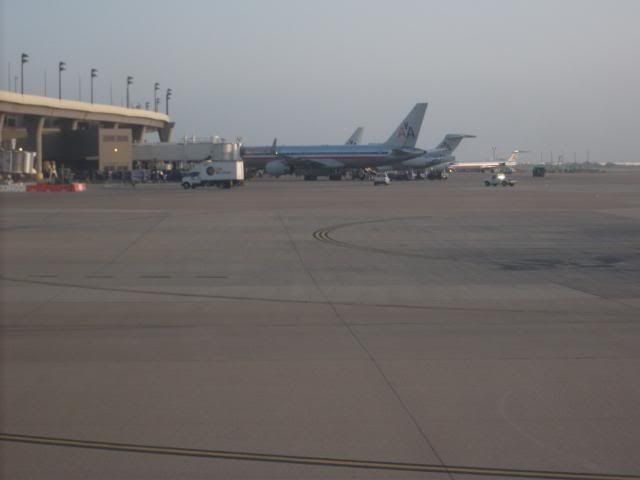 Here's N7547A, featured in a trip report I read a few months ago.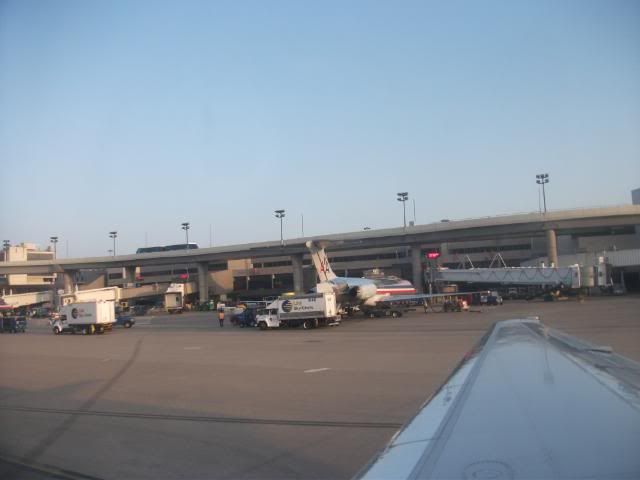 For the Love of our Country, For the Love of our Industry, For the Love of American Airlines.
And what should happen during my first trip to DFW in a long time? I run into a college friend, of course. In fact, said friend was returning to OKC on the plane I came in on. Ain't life funny sometimes?
Anyway, I noticed that I had almost a couple of hours to burn, so I roamed around the airport. Incidentally, it didn't take long to find a person wearing a cowboy hat.
Terminal C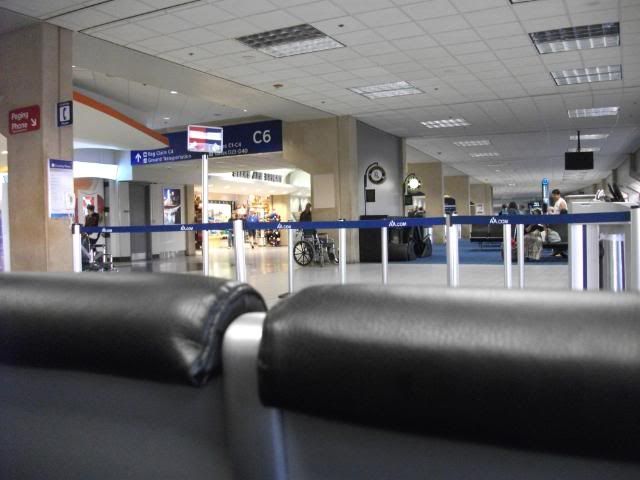 There's my plane going back to OKC. Have a safe trip, college buddy!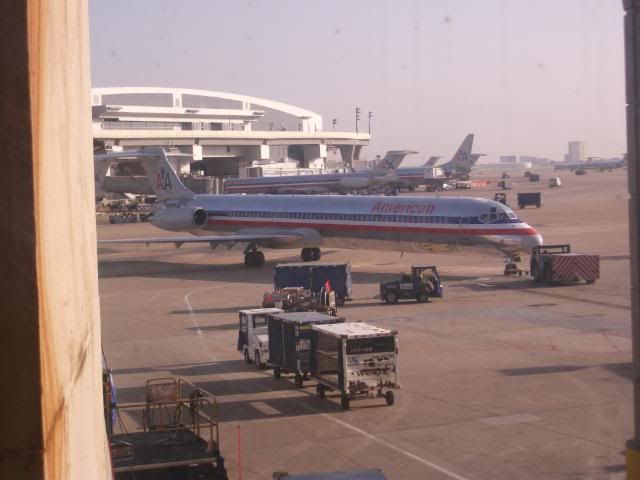 There are two things that usually hold true: you can learn a lot about a person by what's on their iPod, and you can learn a lot about an airport (if not the city) by how the bathroom looks. Long story short, this one looks nice. It's clean, and it doesn't smell like poo. And where would a bathroom be without a throne? (I'll spare you the "after" photo.)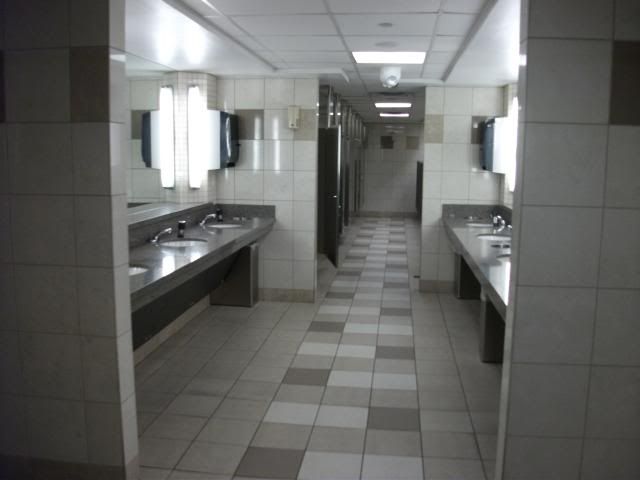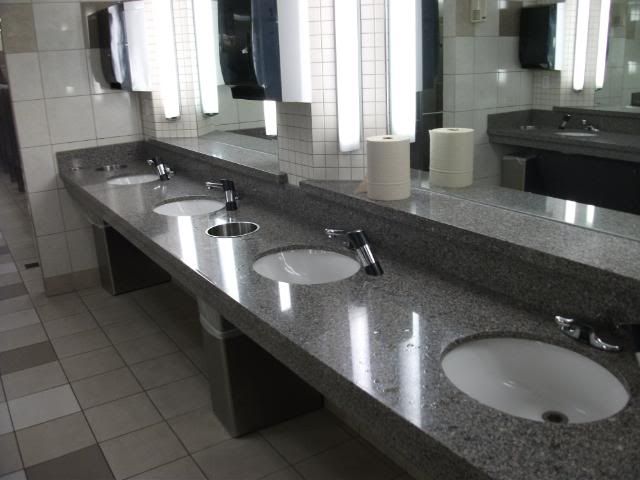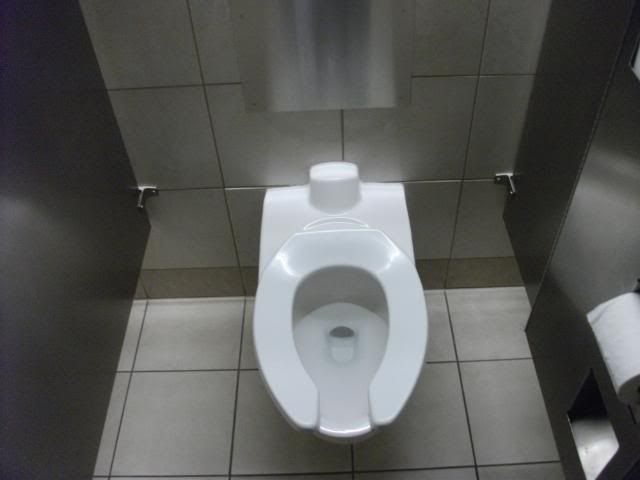 Walkway to Terminal D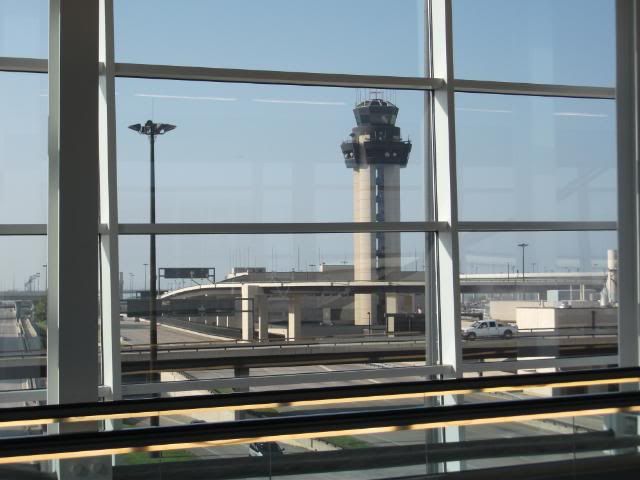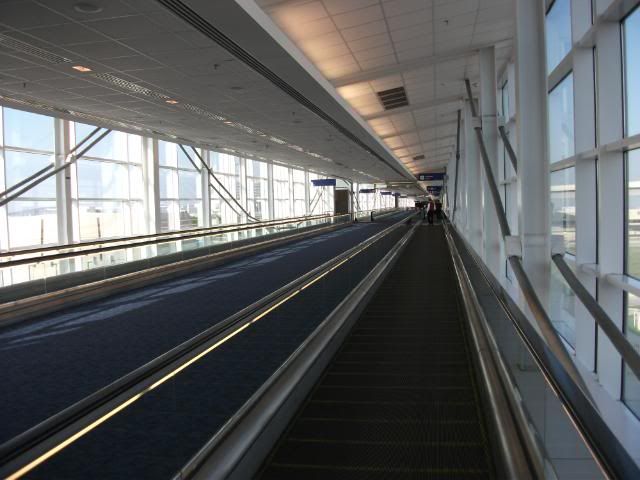 I guess that's where they keep the Jungle Jets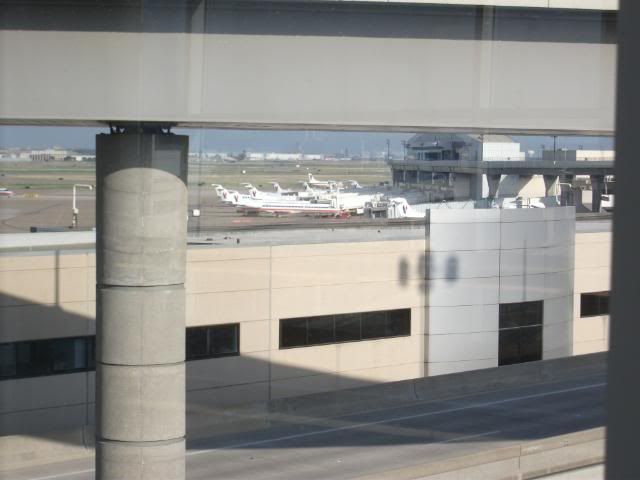 Terminal D. If they could get the rest of the airport to look like this, I would be more than happy to rate it as a "kick-ass airport".
A 772 about to go to NRT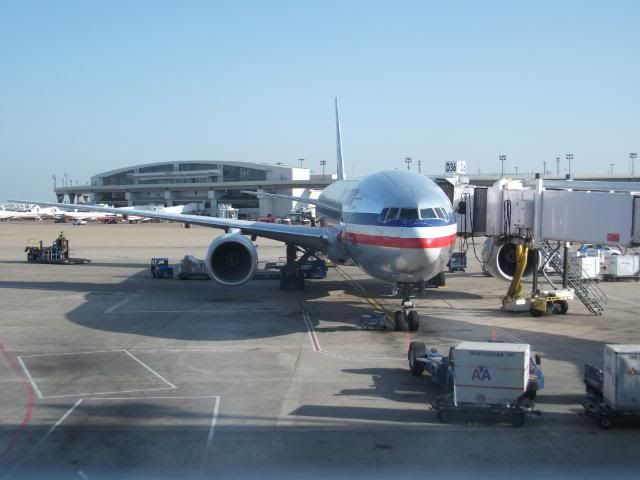 That, my friend, is a dark cashew bear. It came from the Rocky Mountain Chocolate Factory. I grab one of those when I go through DEN, so it surprised the heck out of me to see one here, geography aside.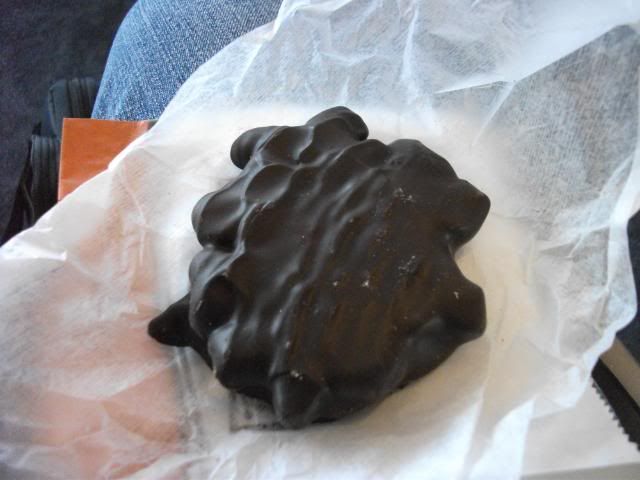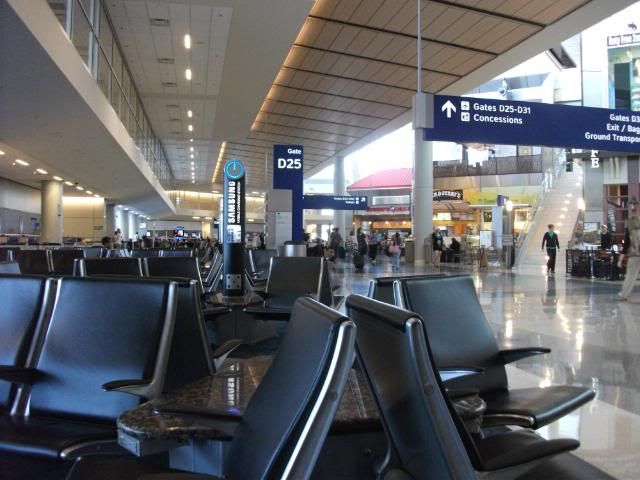 Riding the Skylink! This is definitely one of the best airport experiences around, and it's not necessarily the ride itself. There aren't many places where you can look down on the planes as they sit at gates and cavort around the taxiways. If you have a camera and a sense of balance, you can see a lot. Such as…
A Skylink station
Looking down on D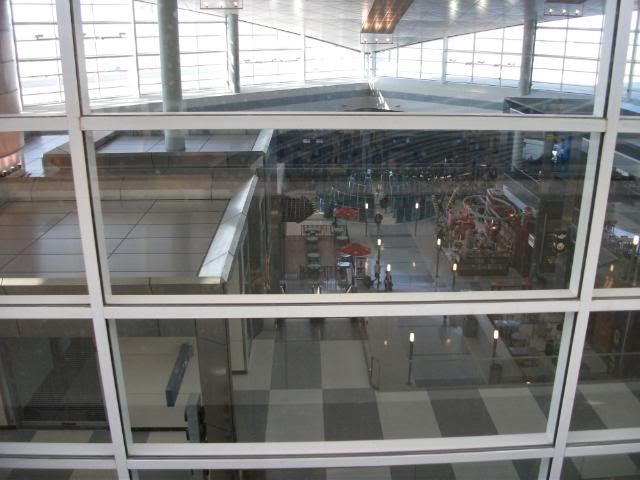 See that big blue thing? It's a KE 744. The other things are children's toys, I think.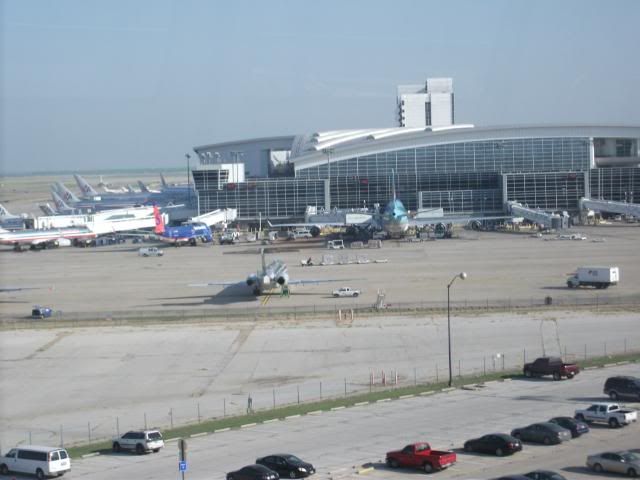 How to fly above the eagles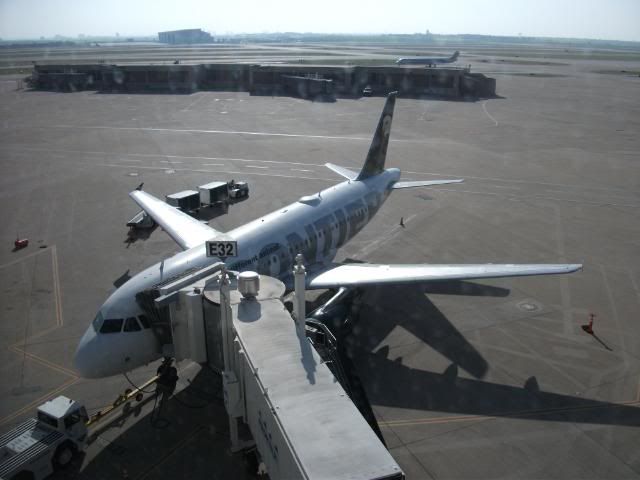 Unfortunately, there was a gate change for my plane to IAH. I didn't figure that out until I got out of the Skylink station, which turned into the wrong station during my roaming. I might've caught the change if there were a few more FIDS screens around, but that wasn't the case. I decided to walk from C16 to C29…it was more of a trek than I'd anticipated, but nothing I couldn't handle. Still…'twas a lot farther than you'd think 11 gates would be. (No, my math's not wrong; C18 and C23 don't exist.) The gate change was because there was some sort of snafu with the plane. I couldn't tell you if they merely patched up our ride or had to procure a replacement. I wasn't at the gate to hear the full explanation, but they announced our jet was making its way from the hangar and would be at the gate in a few minutes. At 10:11, our plane pulled up to the gate (no TriStars in sight, however).
Boarding commenced a little over 30 minutes behind schedule. I got to my seat about ten minutes after our scheduled departure time. I whiled away the time before takeoff watching a baggage handler at the plane next to us. He seemed to be body-slamming luggage onto the concrete. Lesson: if you have an object you'd like in one piece, put it in a carry-on. As I watched, I listened to the best music soundtrack of all: the thundering of jets unseen shooting into the sky.
American Airlines 1599 DFW-IAH
Scheduled: 10:15-11:25
Actual: 11:01-12:03
McDonnell-Douglas MD-82 (N505AA)
The flight attendant giving the safety talk didn't seem quite as chipper as the first. It might have been the Texas drawl that made her sound ho-hum, but that's the way it was. We taxied to runway 17R and waited our turn. It came, and we went. The beverage service on this long-haul flight of 44 minutes went just like the first one. (Imagine a picture showing the cup of water I had.) I was glad that the flight attendants weren't nearly as sour as the first one sounded. As we made our way south, the clouds thickened up again. I took the opportunity to contemplate what it would be like to go from a crapload of MD-80s to a crapload of 737s.
The legroom was exactly the same, so imagine a copy-and-paste of the first legroom shot. The scenery was much the same as before, so imagine looking down on farms and neighborhoods from 27,000 feet…at least for a couple of minutes. Soon enough, we were greeted by more clouds: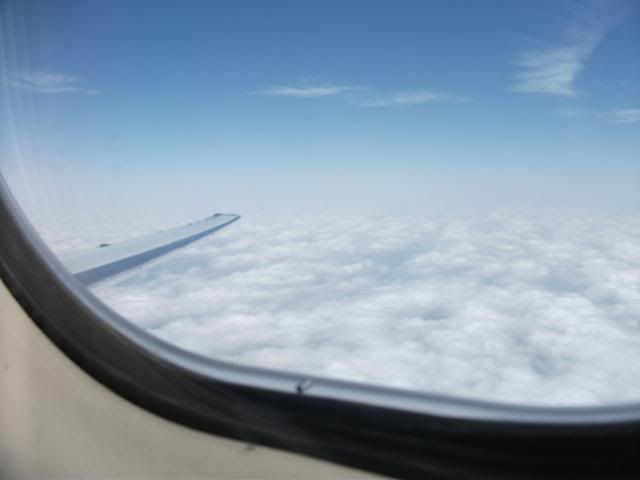 As we started our descent, we got the scoop from the pilot regarding the delay. Our original plane decided it didn't want to go to Houston, so it threw a mechanical hissy fit. Cue the call to the hangar for a replacement plane. All told, we departed 34 minutes after the scheduled time, with a goal of arriving 20-25 after the scheduled time. (Never mind that the AA website said differently.) As we neared landing, a Jungle Jet appeared outside the window to accompany us to the ground, as shown below. Cue the smooth landing and taxi to the gate. Welcome to Houston!
Using the buddy system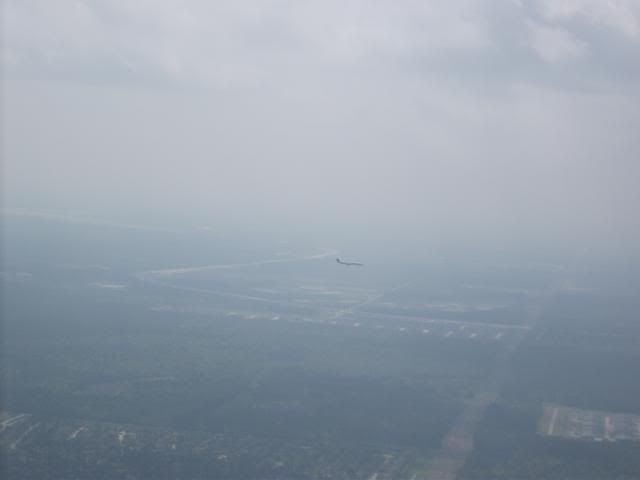 There's a runway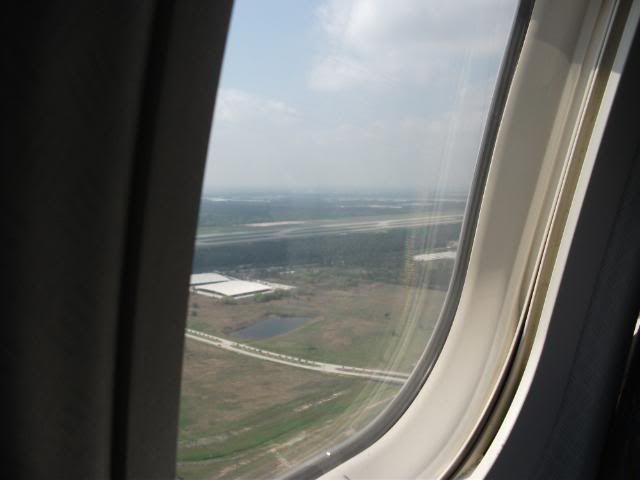 See our reflection in the window?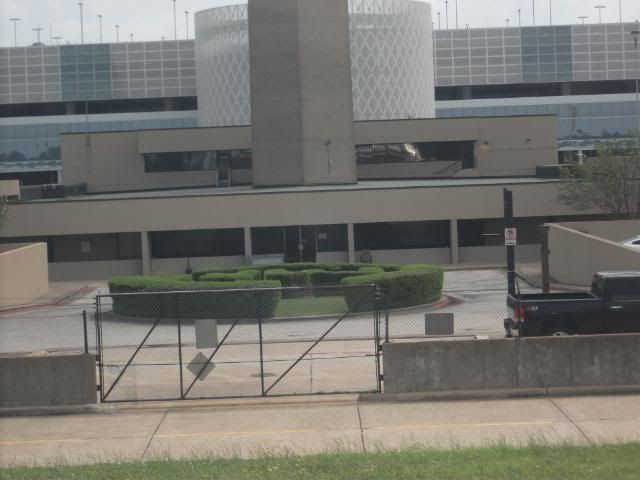 I felt the humidity the very instant I stepped out of the plane. The air conditioning of the building mitigated this somewhat, but I still needed a knife to cut through the air. As I said before, there were enough 737s to last a lifetime, and plenty of examples of the new UA livery. Ever since I saw it in LAX a few months ago, I've got to say that it's really growing on me. It still isn't perfect by any stretch, but at least it's a heck of a lot better than the first version. My first impression of terminal A: plain. A photo or two will tell the story. An excellent view of the runways was a redeeming quality.
There's our plane waiting to go back to DFW.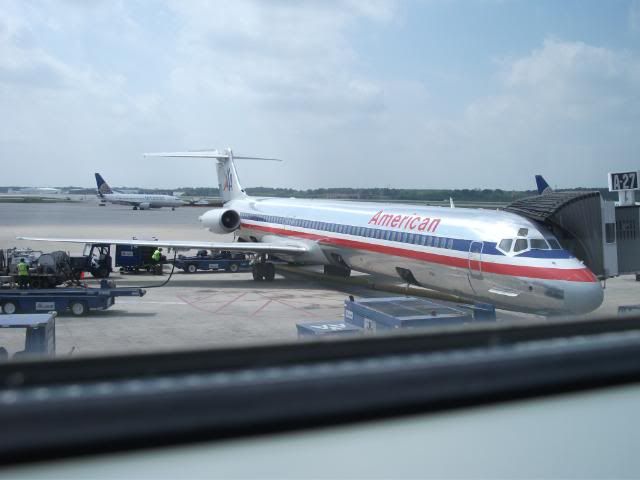 Plain-Jane Terminal A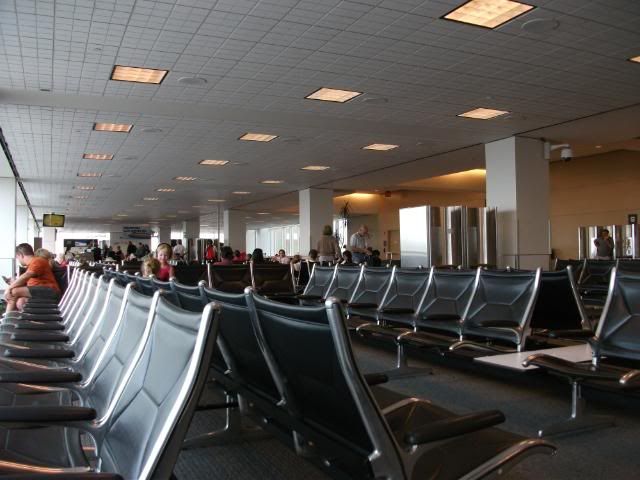 A freshened-up 737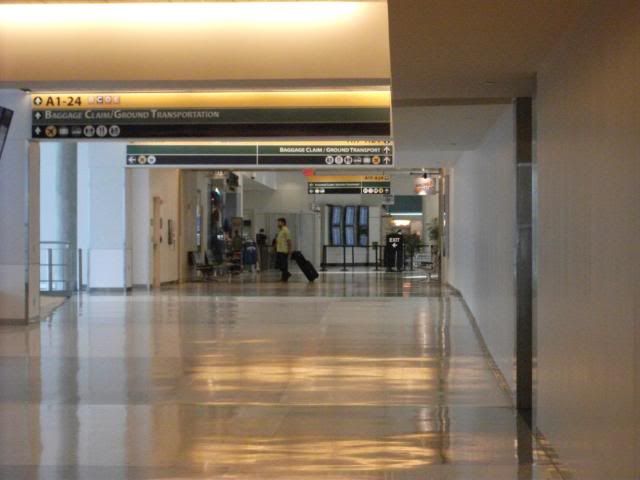 The all-important first bathroom shot. This one wasn't quite as sparkling as the one I went to in DFW. Were there nicer bathrooms to be had at IAH? Probably. But people who need one aren't going to run for the nicest one—they're going to run for the first one. I didn't have to "go," so I left.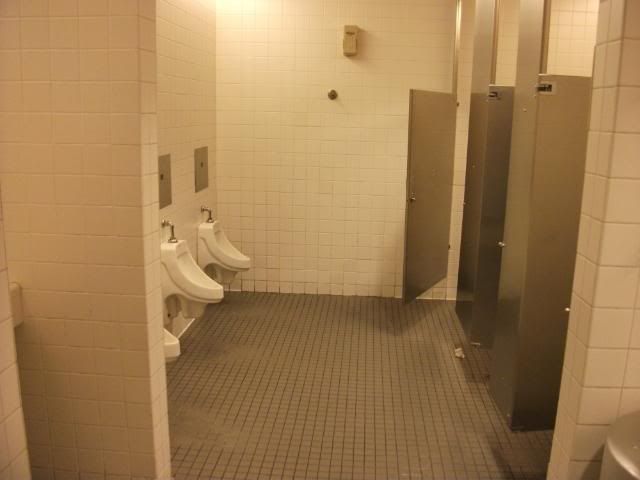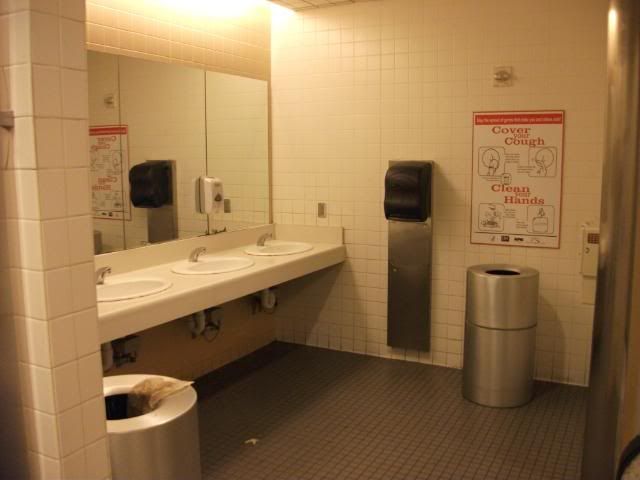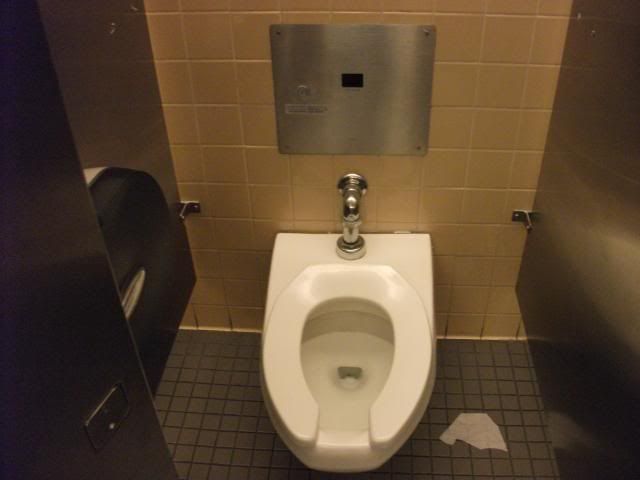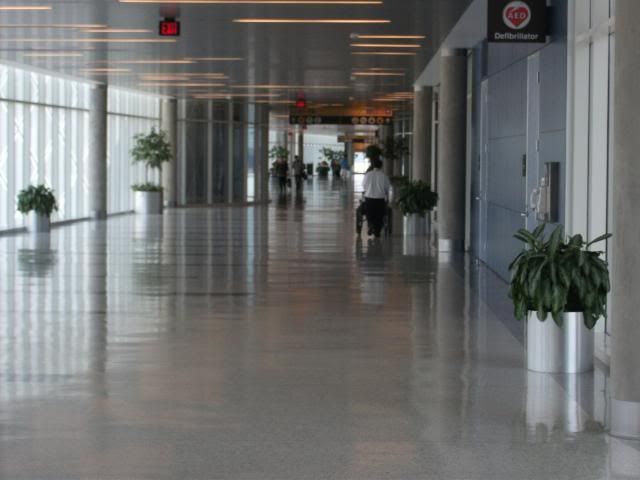 They're gonna have a lot of rebranding to do…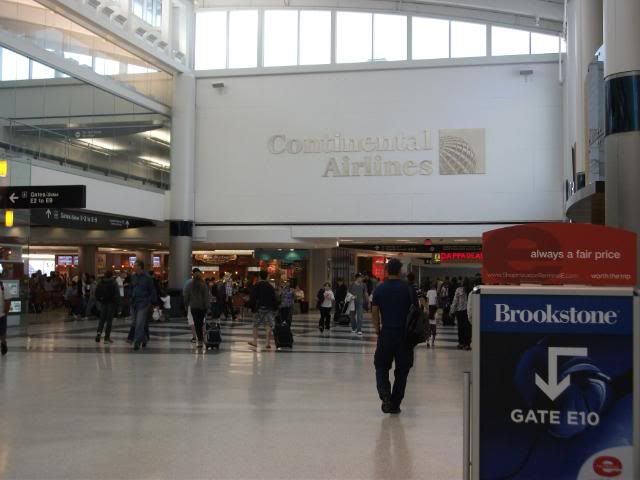 I decided to test another area that any airport must excel at: feeding the hungry traveler. By this point, I had been awake for 6.5 hours. All I'd had was a cup of orange juice, a cup of water, and the dark cashew bear. I began my search for something to munch on, something more than McDonald's or some other chain. I went to the Terminal A food court, and what did I find? A McDonald's, of course. Neither that nor its neighbors sparked my interest, so I decided to take the TerminaLink straight to Terminal E. At this point, IAH sorely needed points on the scoreboard.
Upon arriving in E, I determined that if the rest of the airport looked like that, I would also probably rate it as a "kick-ass airport". In addition to those pesky boarding areas, there was a nice mix of food offerings. Someone was apparently out to tempt me by putting a Panda Express and a Pappadeaux in close proximity. Instead of going to one of those places where I would probably eat too much, I settled on something called the Bon Bistro. You'll see below what I had: a turkey pita sandwich, a banana, and a slice of Italian crème cake. The sandwich was alright. The cake was a touch on the dry side, but the coconut and the icing were quite good. As bananas go, that one was good as well. I paid $11.88 for the lot; such is the way of airport food.
Here be the food. I assume you can tell the difference between cake, a sandwich, and a banana.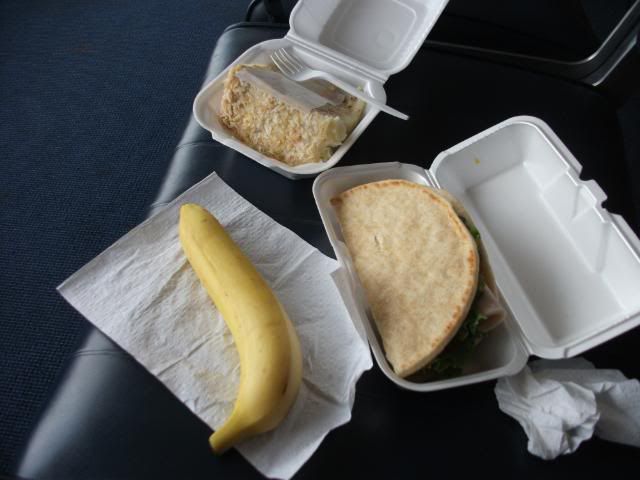 Yet another freshened-up 737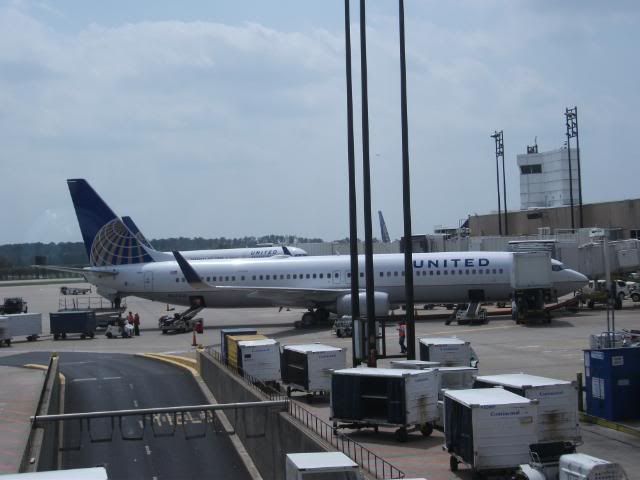 Fed, but not watered (I eventually spent $2 on a bottle of water
…), I felt like exploring the airport. Lucky for me that terminal maps were few and far between. I kinda knew where I was going as I made a point of it to look at a map before I left home, but it can be confusing if you're totally unfamiliar with the place. Thus, I spent much of my time walking around looking for things and riding on the TerminaLink. (About that train: there's a lot more shakin' and bakin' than the DFW train, meaning that picture opportunities are reduced. On the other hand, the trains were nice and cool; they felt better than anywhere else in the airport.)
The Eco-Skies 737. I would have zoomed in on it, but there was another 737 making like a banshee for the gate next to it, ready to block it from view.
A little bit of Terminal C, which looked slightly better than A.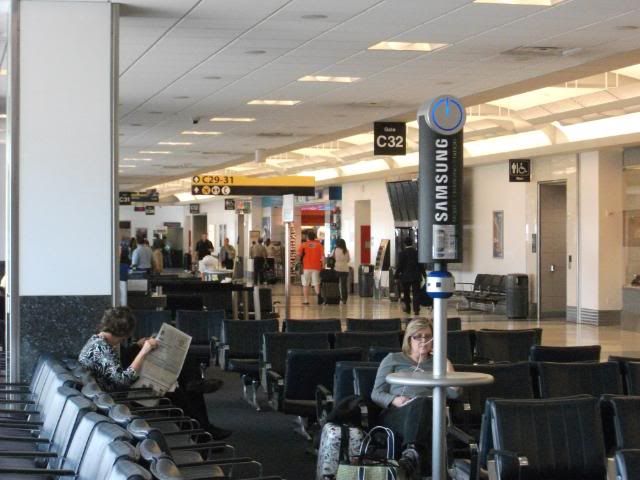 Walkway to Terminal D
Here's the statue of George H.W. Bush. I think he was named after the airport.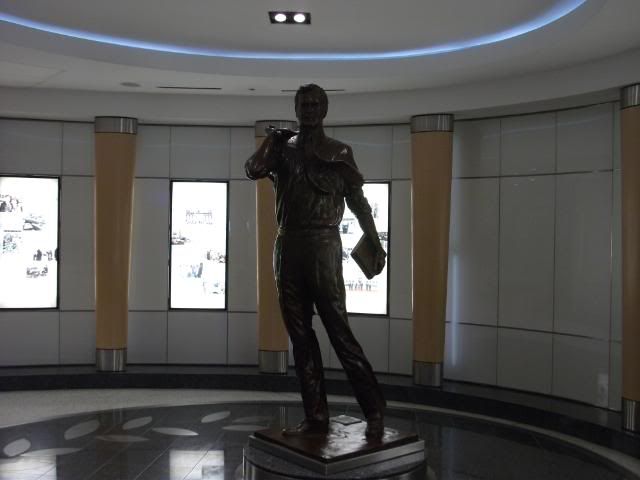 Looking down on the international check-in area.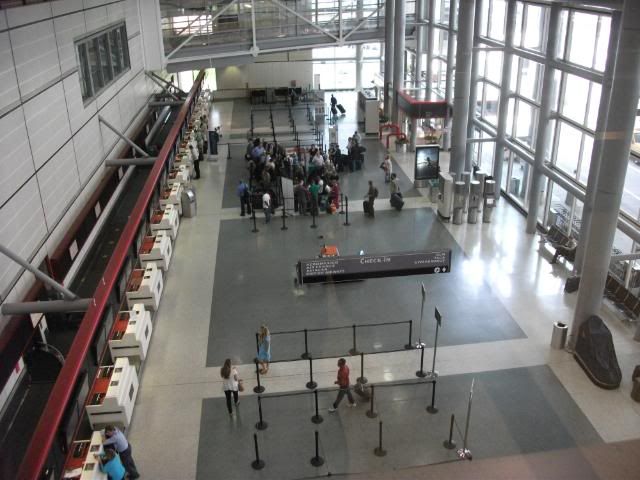 A deserted boarding area.
Aeromexico Connect, headed to Cancun
The TV rotunda (that's what I call this neat little area between Terminals D and E.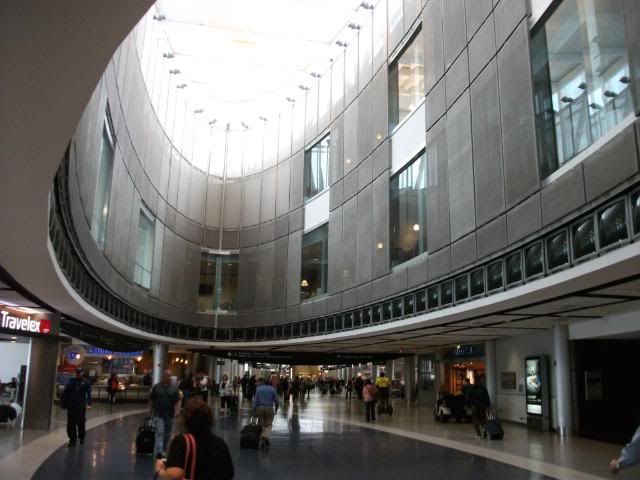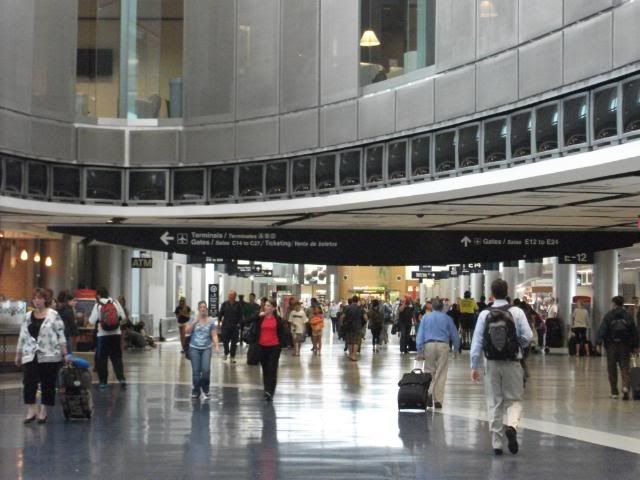 The big thing is an EVA Air Cargo 744.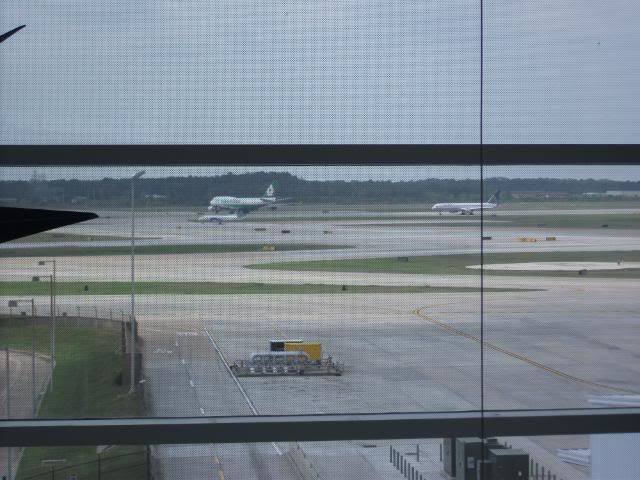 So you're saying this isn't a hub for AA?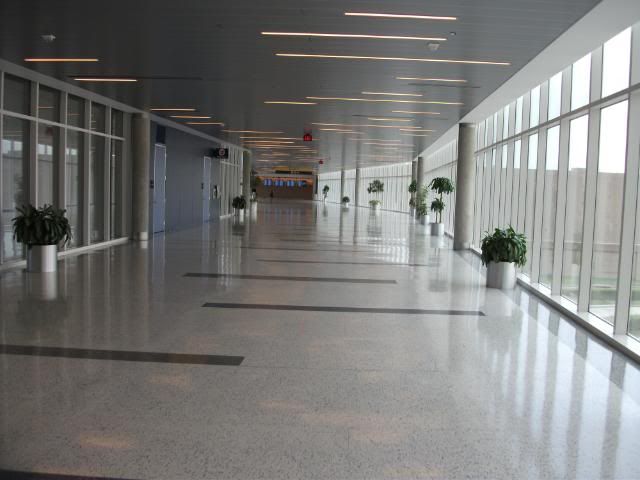 Hey, it's our ride back to DFW!
American Airlines 1298 IAH-DFW
Scheduled: 14:15-15:25
Actual: 14:28-15:15
McDonnell-Douglas MD-80 (N7512A)
Not a whole heck of a lot to speak of here. There was another noticeable Texas accent during the safety info (big shock, eh?), but this one was a more bubbly sing-song variety. Due to a hunt for empty seats during check-in this morning, I managed to have an empty chair next to me. Alright, room to spread out! We taxied out without incident and waited our turn to take off. We were fourth in line, behind this guy…
…and this guy…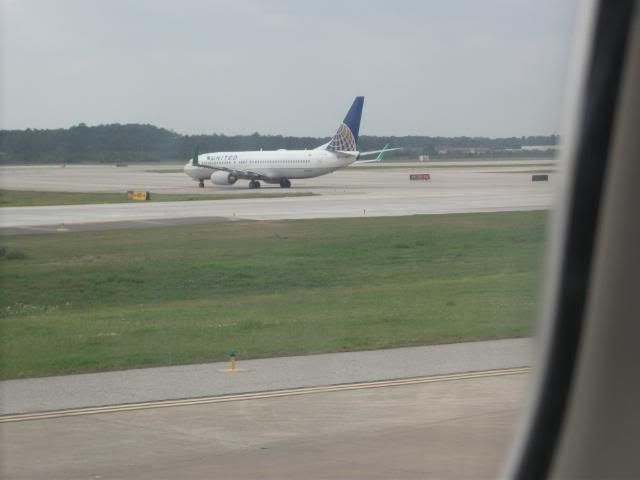 …and this guy.
A Jungle Jet is watching our back.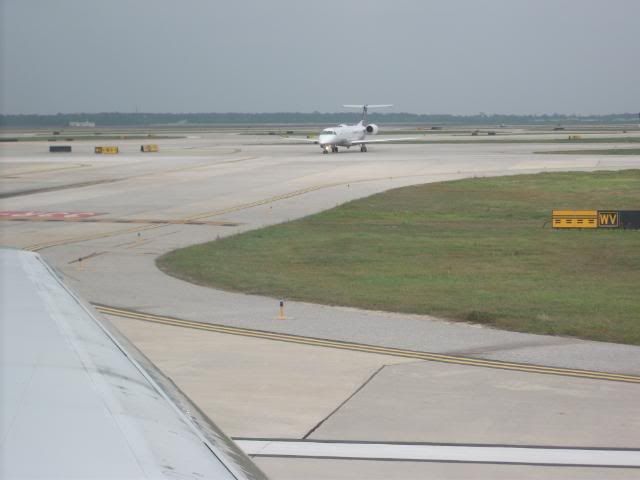 Another leg shot. Getting the idea?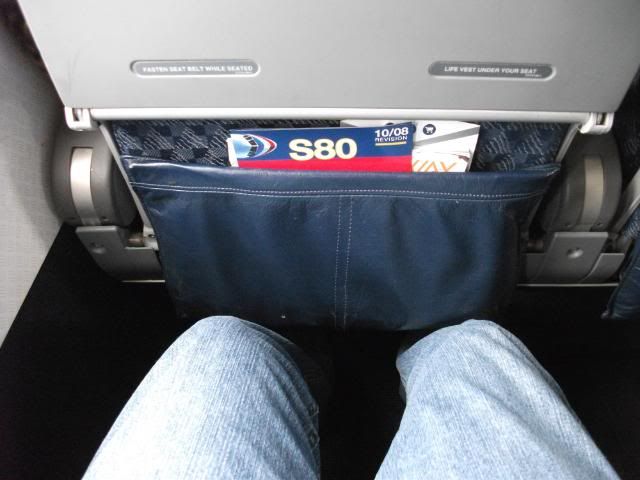 A last look at Houston.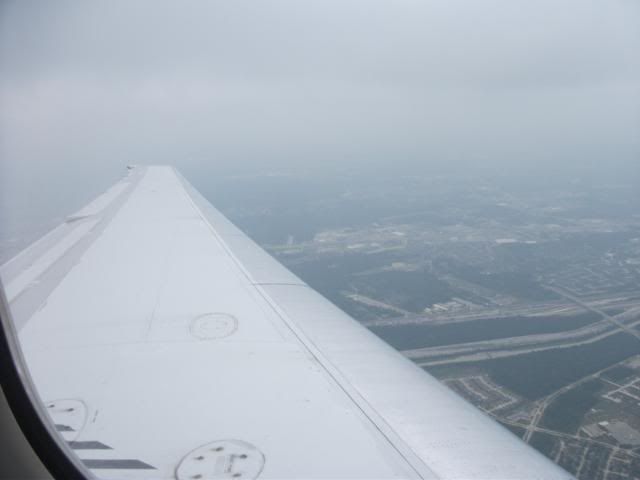 A cup of water.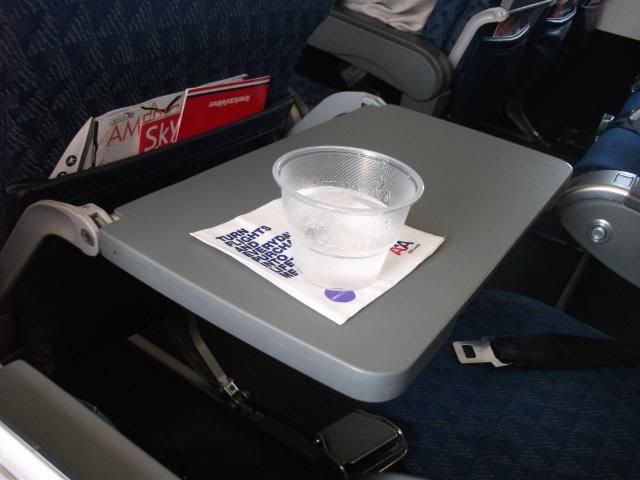 The blob in the middle of the frame is Cowboys Stadium…we must be in the Dallas area.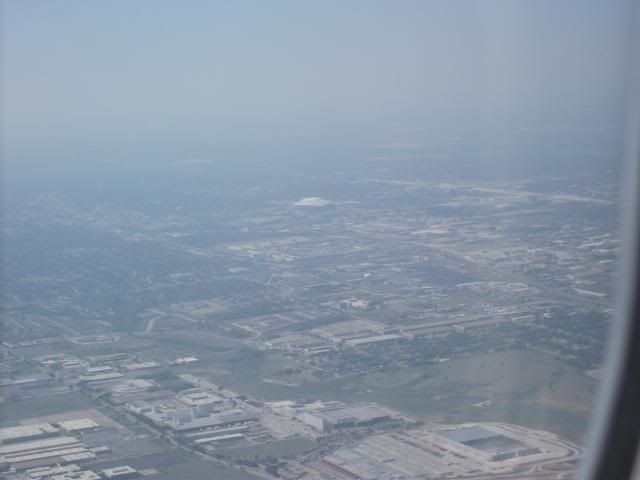 And we've got another landing buddy!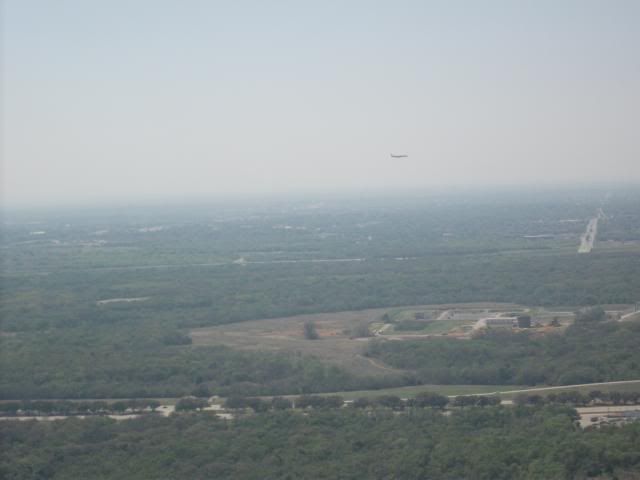 Landing was on 31R. The pilot prudently decided to look both ways before crossing two busy runways. We stopped to let these four speedsters get to where they were going:
AA 1720 to IAD
AA 1428 to TPA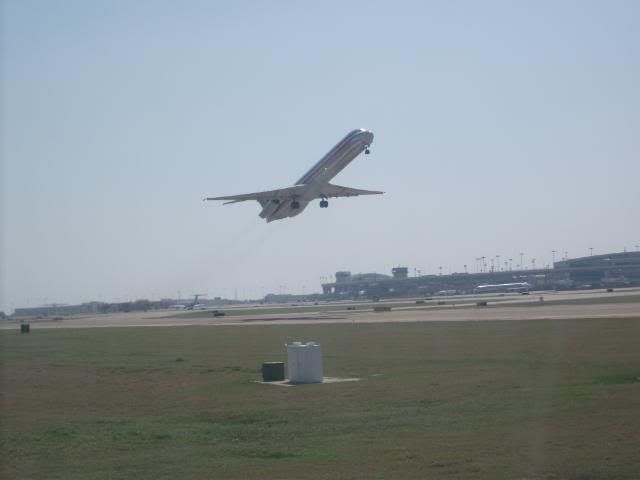 AA 1548 to DCA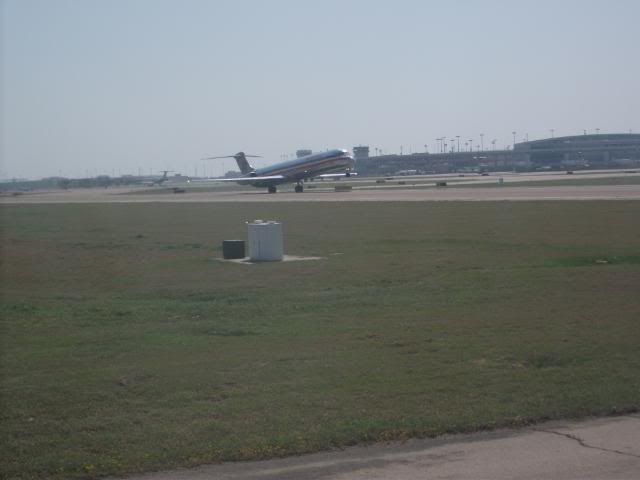 AA 1374 to BHM
Of special note: we passed MD-82 N7537A as it was heading out to the runways. I include it because N7537A is the first plane I ever had the pleasure of flying on. It was with a bit of research and a bit of luck that I was able to find that registration this past February, about six years after the fact.
On my second rodeo of the day in DFW, I had about an hour to go before boarding, but I resolved to spot a little more and drop by Terminals B and E.
BA 193 from LHR
Omni Air International DC-10-30 ER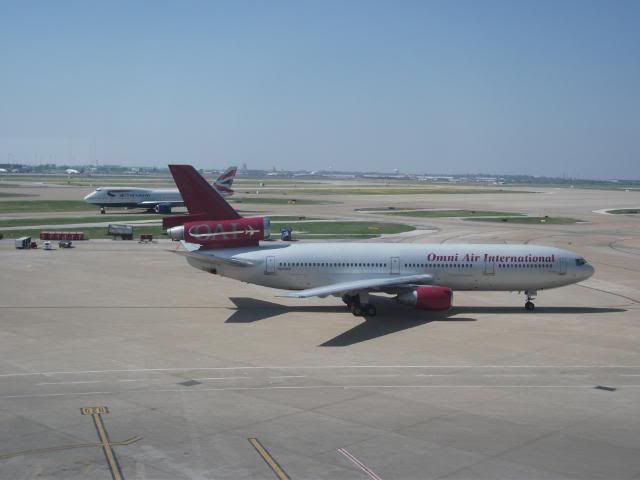 A shot of Terminal B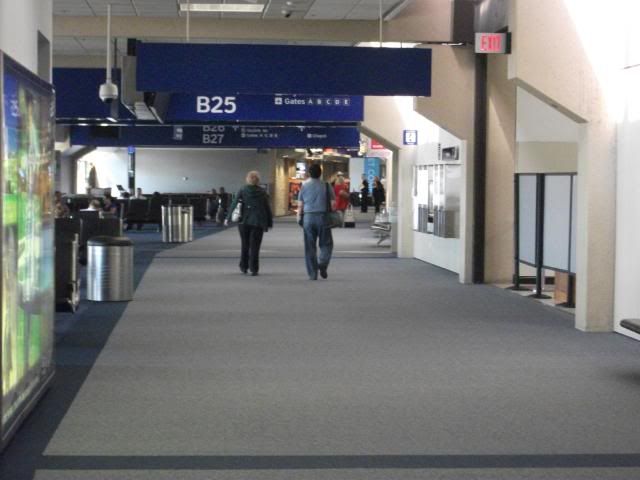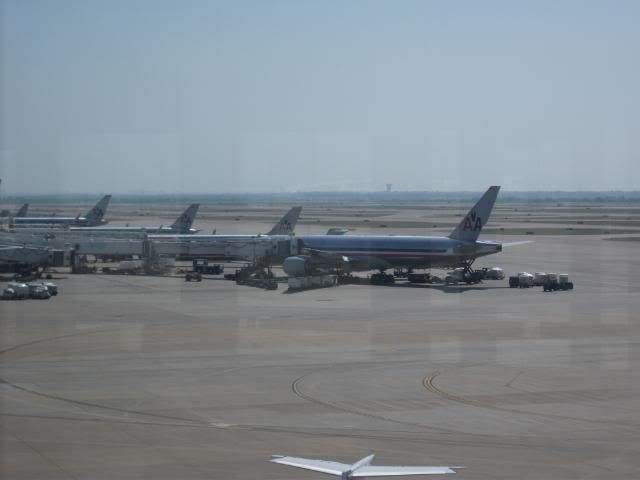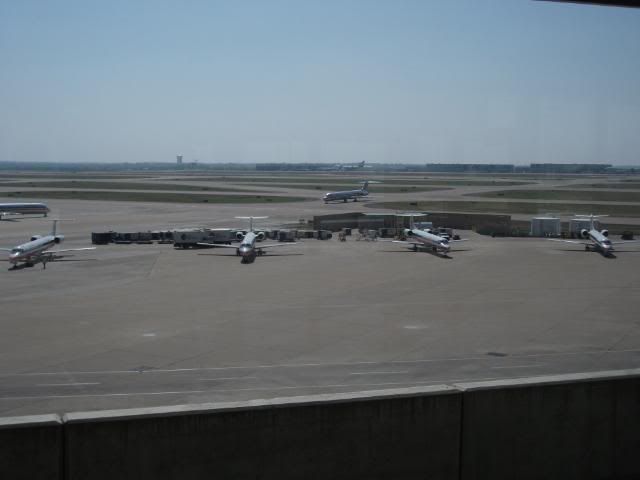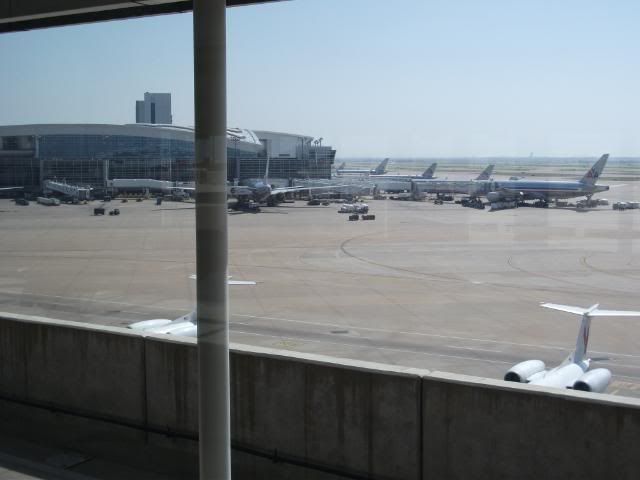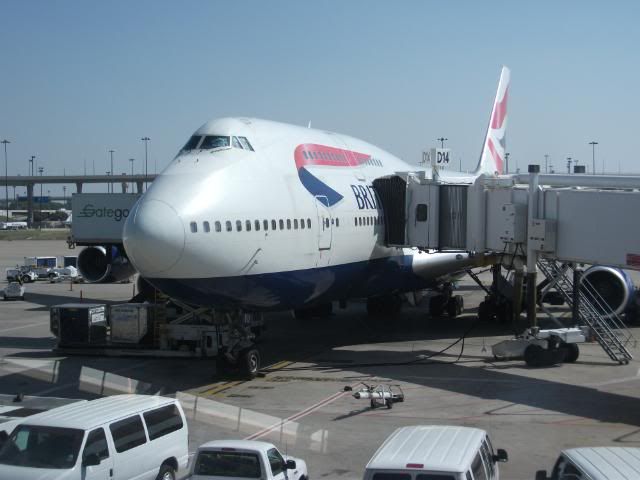 LH A333 hiding behind a jetbridge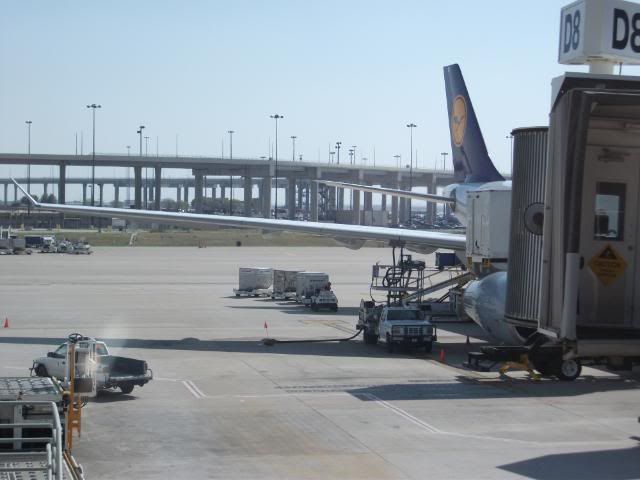 Escalator to the Skylink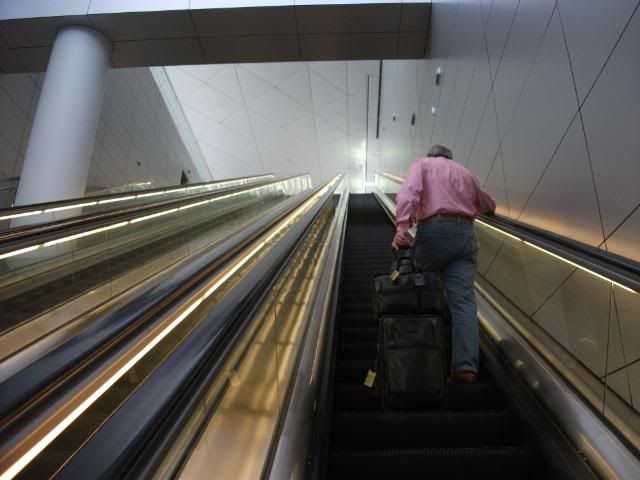 A shot of Terminal E (I passed by the Virgin America boarding area and saw the people waiting to enplane…it's certainly a different breed of cat that VX caters to. Sure didn't see anybody like that waiting on an AA flight…younger and hipper were the first things that came to mind.)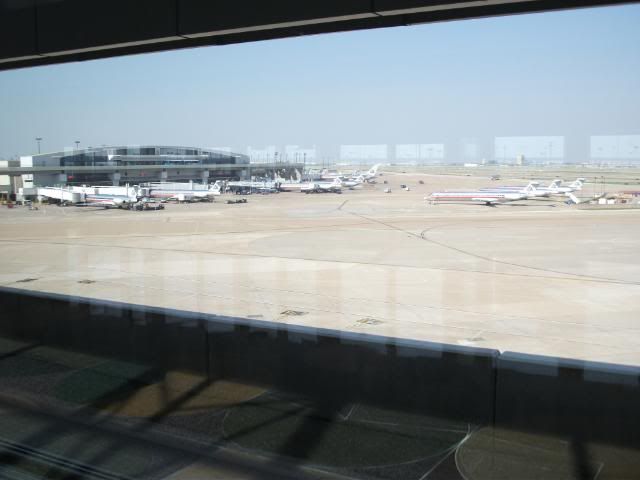 Whoa, we're airborne again! How'd that happen?!?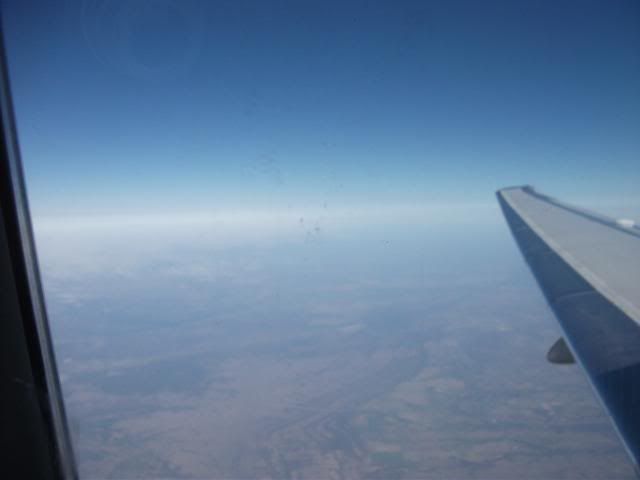 American Airlines 1289 DFW-OKC
Scheduled: 16:40-17:35
Actual: 16:48-17:20
McDonnell-Douglas MD-82 (N468AA)
Essentially like the other trips: quick service and nothing in the extreme. An empty middle seat was a nice touch. My water didn't have any ice in it, if you're looking for something to nitpick over. And now, allow your mind to be struck by the profundity of this picture:
A shadow riding on a cloud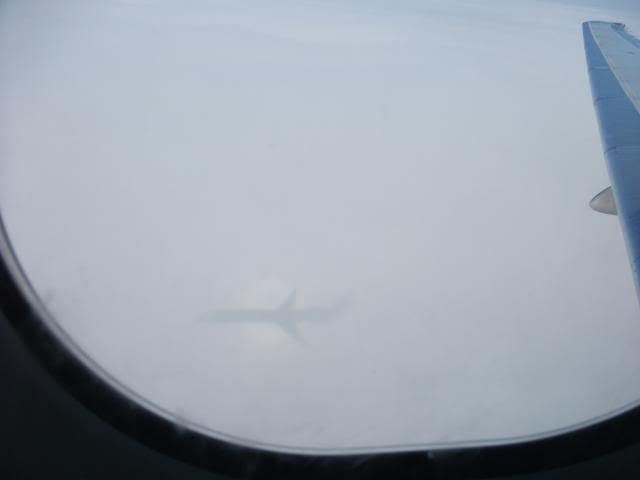 We touched down on 35L in OKC and pulled into the gate. As if the day wasn't exceptional enough, I realized that this flight was my first landing in OKC on a Mad Dog. (My last AA arrival was an Eagle ERJ from STL.) Thus ends the first leg of my Top Ten trip. I have successfully committed the great heresy of flying American Airlines into and out of IAH, where MD-80s stick out like sore thumbs. The penalty? The temperature in OKC had dropped to 45 degrees Fahrenheit, down from the upper 50s and low 60s from 10 hours earlier. It was a small price to pay for riding on a plane that makes a lot of noise and looks good doing it. What could be better than shooting into the sky and being at cruise for all of twelve seconds before descending again? (I took a look at FlightAware and total cruise time for the four flights was about 18 minutes.)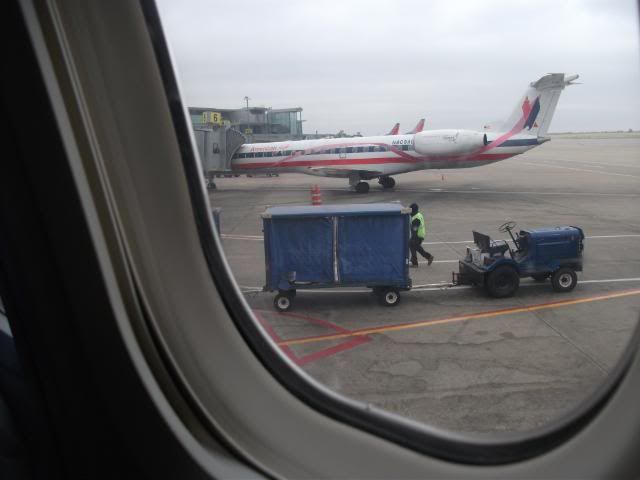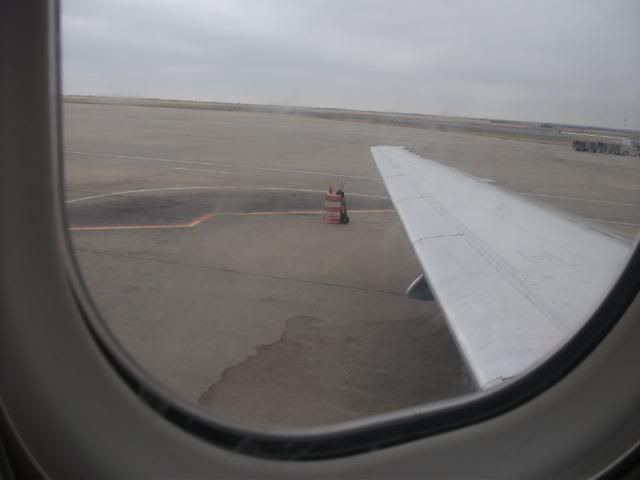 Airport Conclusions:
DFW—they're ever so close to being a proper airport. Although the layout is centered on getting from your car to the plane rather than from gate to gate, the trains run frequently enough that any walk won't be a terribly long one. Even the less flashy terminals were clean and looking good enough for the task set to them. (I wonder what they'll be like once the renovations are over…) It's no surprise that Terminal D is the nicest of the lot—you want to make a great impression on foreign travelers, yes? I'd say that it does just that. Beyond the ultimately passenger-friendly experience, there are plenty of opportunities to look around and see some planes. You can be nose-to-nose on the departure level or look down on the gates from the Skylink. My only gripe was not seeing as many arrival/departure boards as I would like. Perhaps the time I've spent going through DEN has spoiled me…
IAH—well…I liked Terminal E. Somehow, this airport seemed too spread out for its own good. Looking back on it, though, I remember having a similar feeling after arriving at Concourse B in DEN for the first time. Once I went through there a few more times, I knew what to expect, so it doesn't seem as bad. Perhaps I will feel differently if I ever go through IAH again (there's something to be said for familiarity with one's surroundings). As I mentioned before, the facilities could use a face-lift. Of those, Terminal D surprised me the most in terms of how it looked. As international gateways go, it reminded me of a doctor's office waiting room, only bigger and with a handful of stores. If this is to be one of the jewels in the UA crown, they've got some work to do. To be fair, I didn't get by Terminal B before I left. They can't help how bloody humid it can get, so I won't hold that against them. If there was one simple pleasure to be had, it was being able to eat my lunch while watching 737s and 757s (and an EK 772) race down the runways. The people who stayed in the food court sure missed out!
Coming up next: How to Book a Guilt-Free Trip (or, Fun and Done)