Leg 2: How to Book a Guilt-Free Trip (or, Fun and Done) –April 2, 2011
Some photos have been omitted for your convenience. The full album may be found here:Slideshow for Leg 2.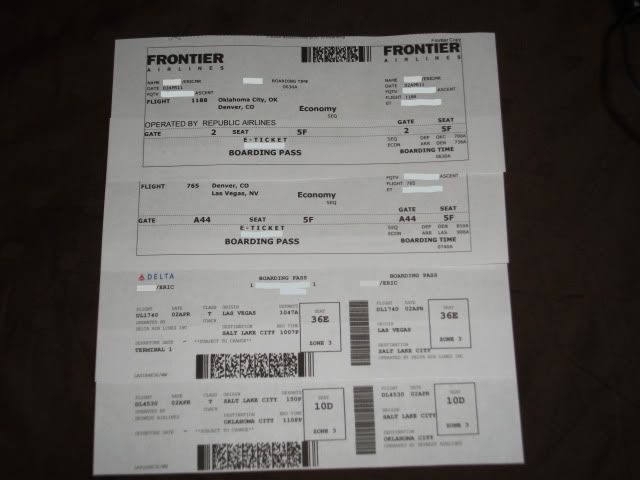 This leg of my trip series took me out west. I was briefly at Denver International Airport before catching a quick connection to Las Vegas and McCarran International Airport. Frontier Airlines got me to Vegas and Delta got me back. Why DL, you ask? We'll get to that later.
As it turned out, the start for this day was much the same as it was the previous week, save for the fact that I got up a few minutes earlier and left a few minutes earlier. Once again, there was a quick drive and a stay in the security line. Unfortunately, there were considerably more people in the line, which made me lament the lack of a priority line for elite frequent flyers. Being a newly minted Ascent member gave me a fresh perspective on things.
How the west part of the terminal looks when you accidentally have the flash on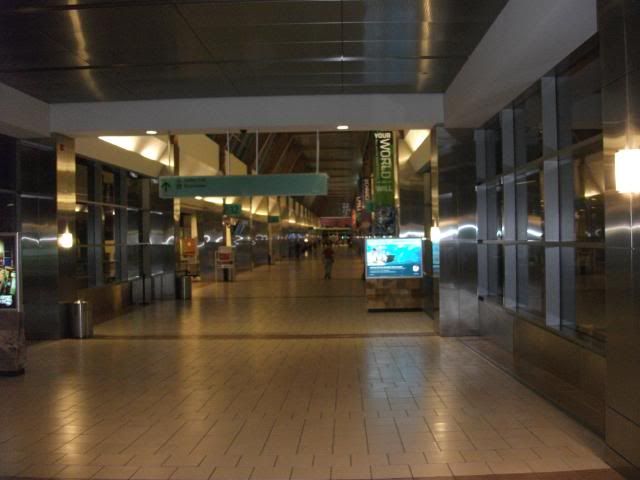 Despite the increased amount of humanity, I made it through the line with no problem. I was getting closer and closer to another beloved date with Frontier Airlines. At Gate 2, the door was open and the agent was tending to his screen in preparation for boarding. I chose that moment to utilize the perks of having high-powered frequent-flying elite status. The attempt went as follows:
Me: "Excuse me, but do you have any Stretch seats available?" (Those are the first few rows on various F9 aircraft, including the E-170 I was about to board. High-powered frequent flyers can obtain them at the gate for free, if available.)
Agent: *refers to computer screen* "Yes, we do."
Me: "Any windows?"
Agent: "Hmmm…no, there aren't."
Me: "Ah, well, never mind, then. Thank you."
Drat! That didn't go at all like I had planned. Looks like I'll be in my (more often than not) usual seat of 5F. Moving on…
I then set about the task of trying to take a picture of my plane sitting at the gate. Unfortunately, there were a few people sitting in the way of the picture, so I decided against snapping a pic. Double drat! I took a seat and waited for boarding. The call came for military personnel, people with expensive tickets, and high-powered frequent flyers to board. I arose from my seat, handed my boarding pass to the agent, and made my way onto the plane. I was about to experience the great feeling of being the first passenger on the plane…except for the two small children and two other people further on back. Triple drat! At least I was the first person on the plane without a special reason. I took my seat and looked out the window: there was an AA jet sitting next to me. I thought, 'I was over there at this time last week.' I didn't know how close I was to the mark. As the outside world brightened, I was pleased to find out I was sitting next to N7512A, the jet that took me from Houston to Dallas. Other than that, there wasn't much to see.
The aforementioned N7512A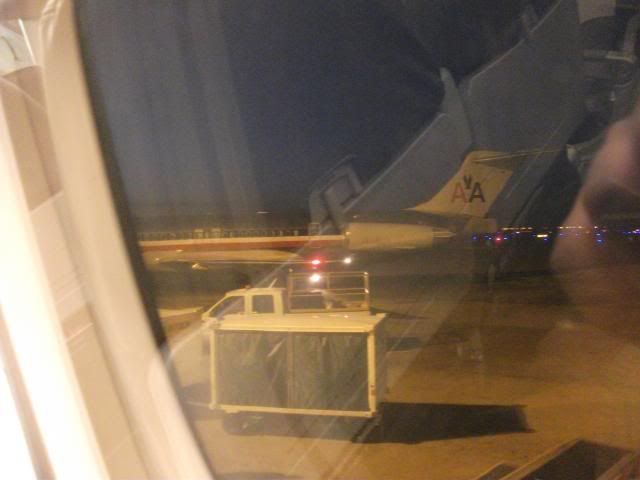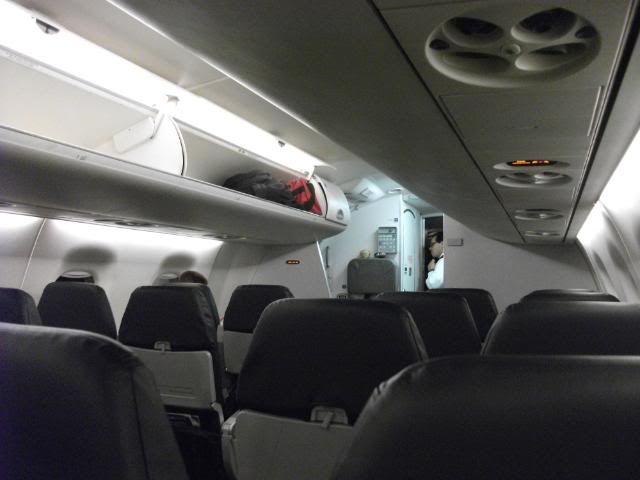 Legroom shot. Stretch would have been nice, but this is more than adequate. (No, I'm not a werewolf.)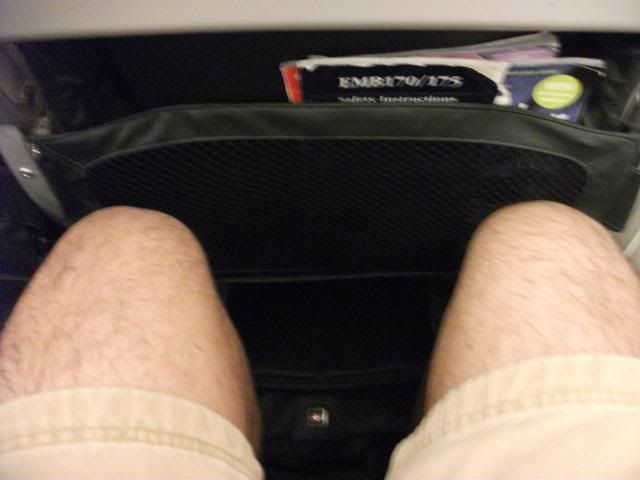 Frontier Airlines 1188, operated by Republic Airlines OKC-DEN
Scheduled: 07:00-07:36
Actual: 06:58-07:33
Embraer ERJ-170-100SU [E-170] (N815MD)
This flight was nearly full; there were perhaps four or five empty seats. Takeoff was smooth and painless, though there were a few bumps here and there. Here's what I saw:
Turning just after takeoff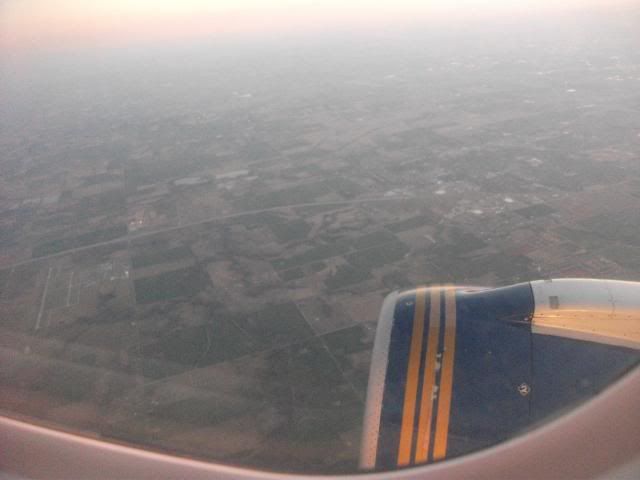 Sunrise and a winglet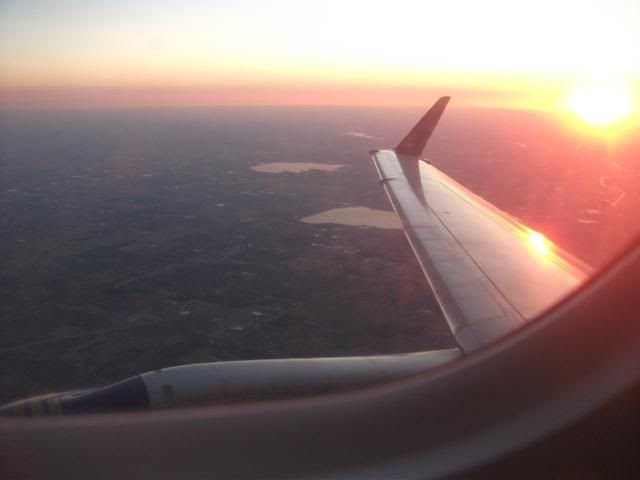 A frosty window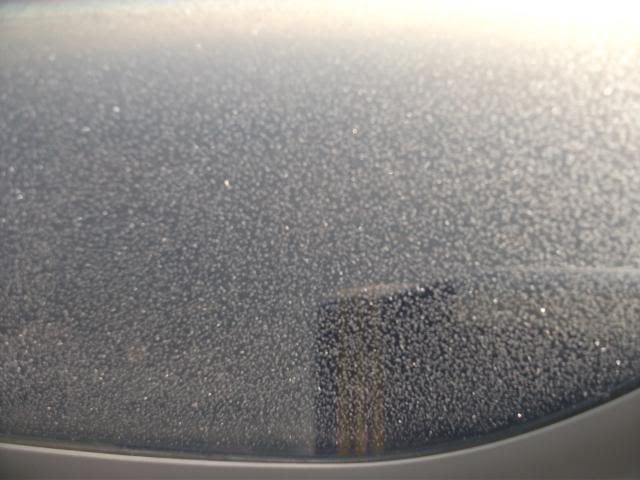 A cup of water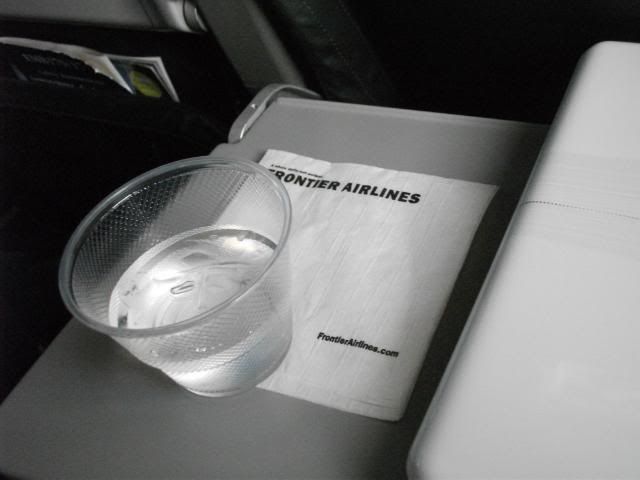 Close to landing…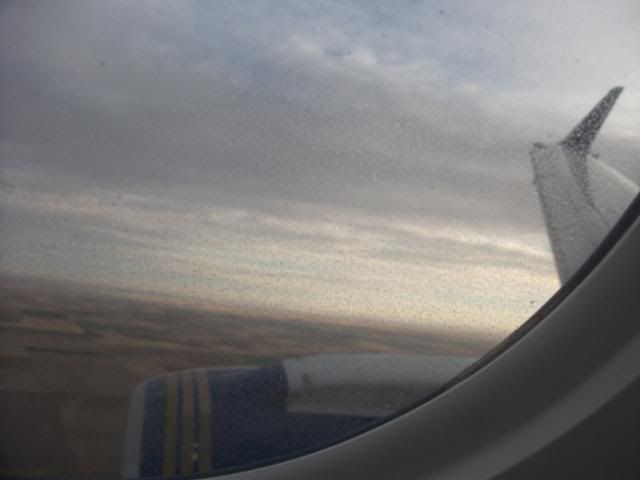 And here it is.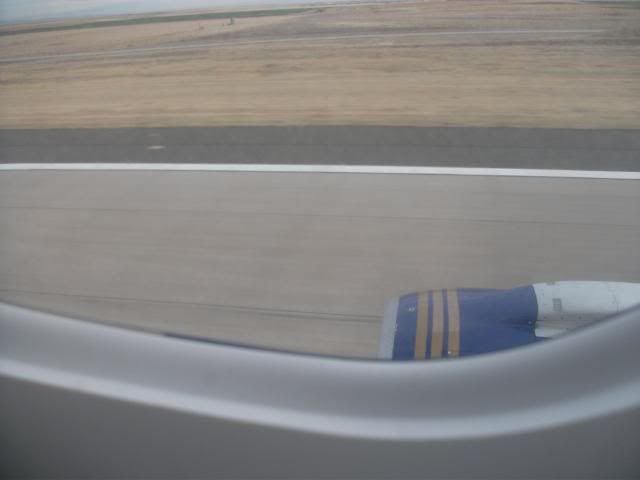 Yay, thrust reversers!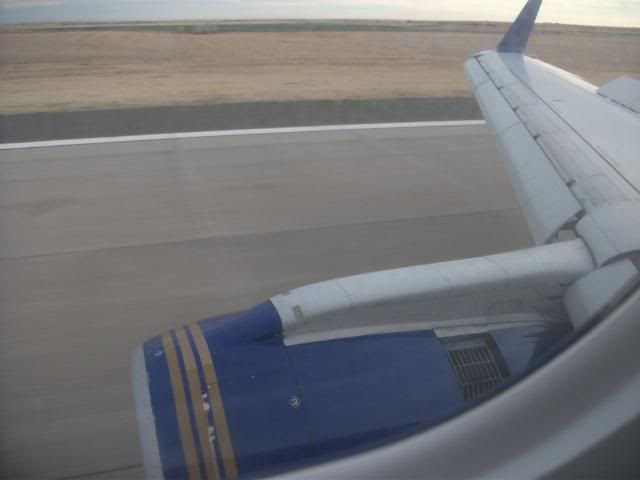 A WN jet waiting for us to pass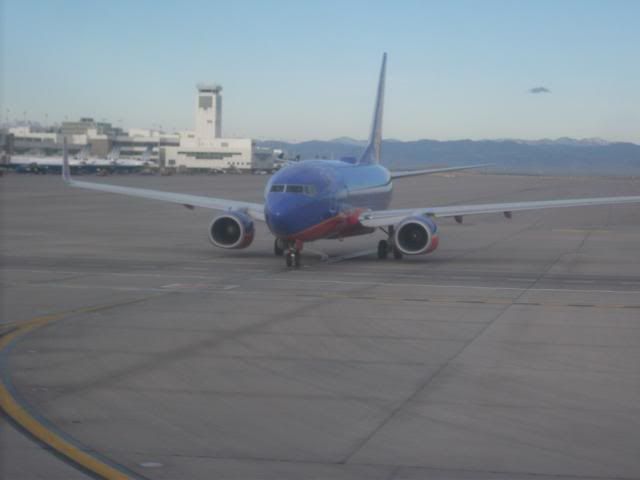 'Twas a smooth flight, it was. We touched down on Runway 26 and proceeded to gate A24, which features one of the longest jetbridges in modern human history. I didn't mind, though, because I could already taste something I hadn't had in about four months. However, it wasn't going to be quite as simple as strolling to the counter and getting it…
As I exited the gate, I had already resolved to get to Caribou Coffee before I left DEN, just like always. In a spot of great convenience, I saw that my gate to LAS was A32, just a short walk down the way. It was just before 7:40 AM, so I figured I had plenty of time to complete my mission. As I passed the gate, the agent made the announcement for priority boarding. It was then that I thought a few four-letter words and quickened my pace to the center of Concourse A. Now, not many people would risk missing a flight just to stop by a coffee shop, even if it is one of the most awesome places ever. Breaking news: I'm not most people. So, what should I find when I get to Caribou Coffee with the clock ticking? A line, of course: ten adults, four kids, and two baby strollers strong. I steeled my resolve and joined them. We slowly marched forward. Luckily, a fellow ahead of me apparently felt the crunch of time and left the line. I eventually got to the counter and placed my order: "a large Mint Condition." (Hot or cold?) "Hot." (Milk, white, or dark chocolate?) "Dark." I paid and waited for the prize. As soon as it was handed over, I thanked the employee and made for A32 once again. I was able to get a few photos and make my way onto the plane; a few others trickled in behind me. In my rush, I forgot about asking about the front seats, but I later saw the pickings were slim.
Caribou Coffee! (Concourse A)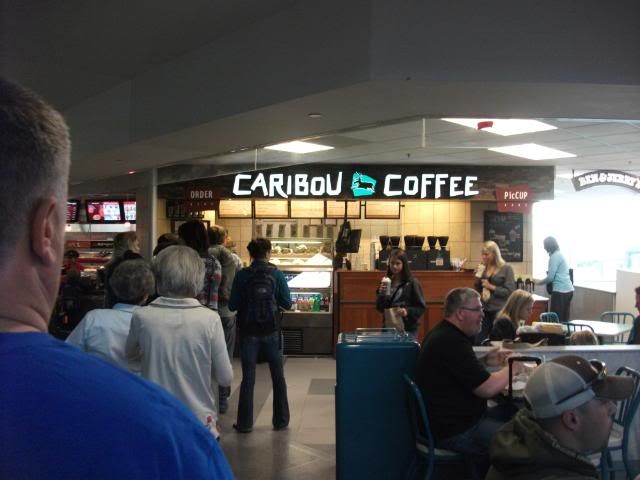 You may be wondering: "Oy, where are the pictures of the airport?" Well, I didn't take any. My scheduled connection time was 36 minutes. A few of those minutes were eaten up by taxi time, and the rest was eaten up by Caribou Coffee. However, I shall have mercy on you and present some pictures from a trip that would happen about two months later.
Can you spot the big blue horse?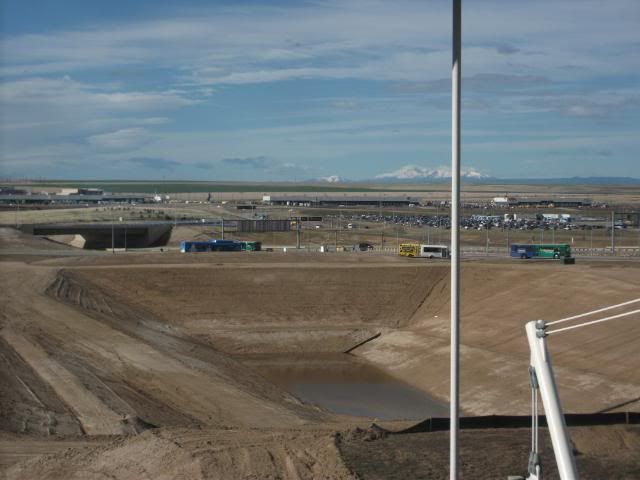 Jeppesen Terminal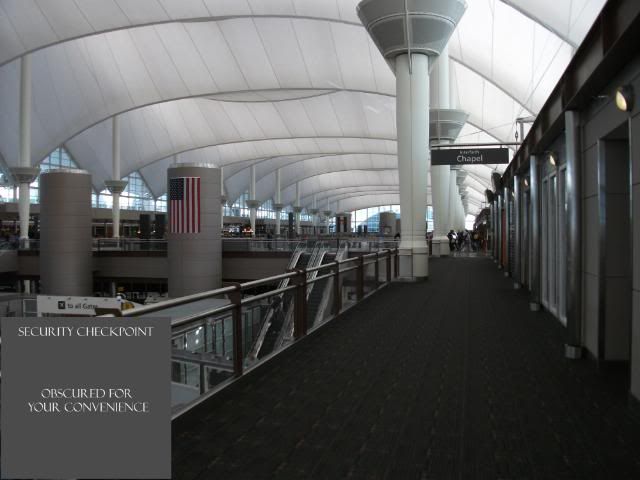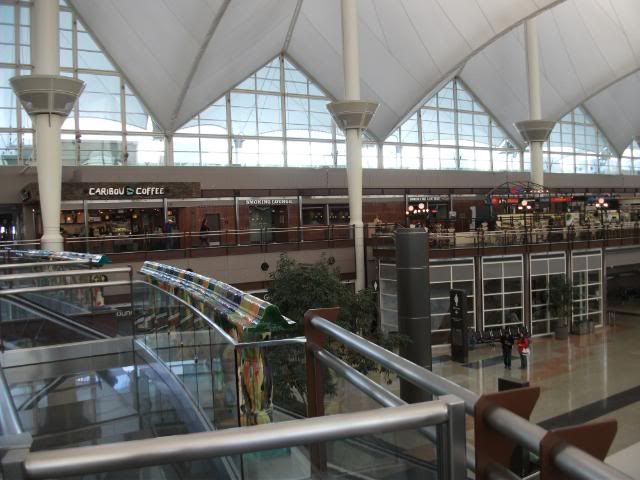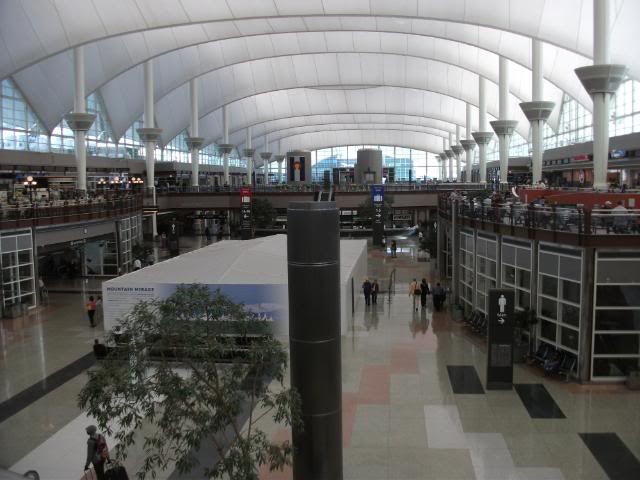 Baggage claim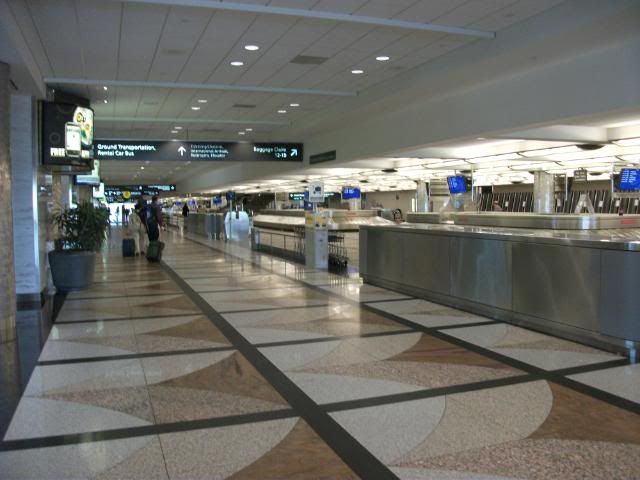 Ticketing/check-in counters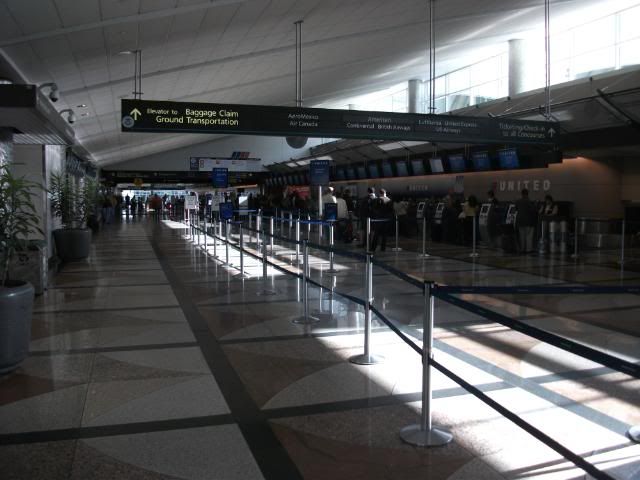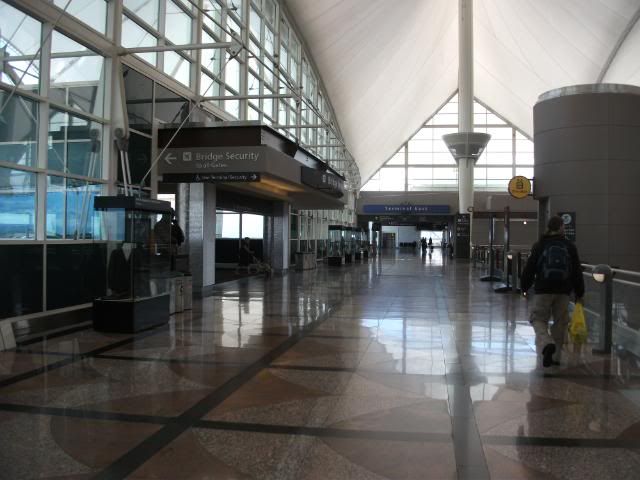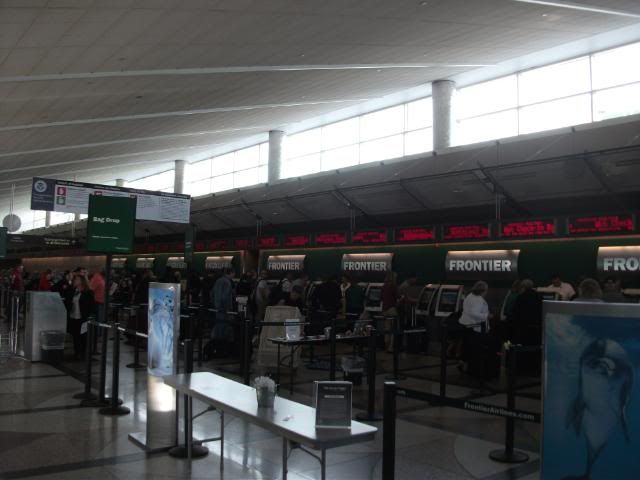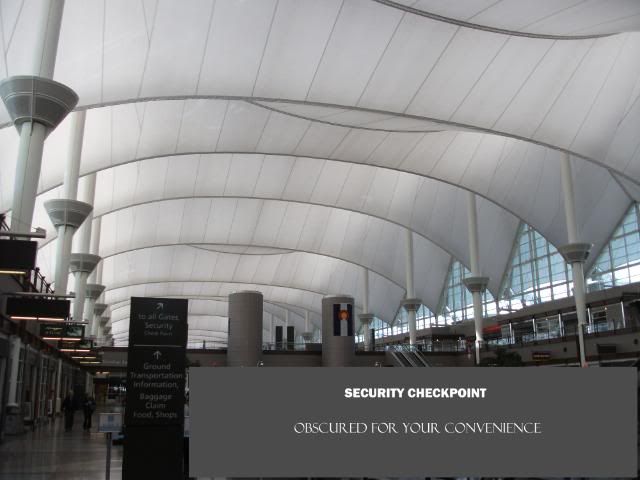 Terminal train station
Back to the present day: my ride to LAS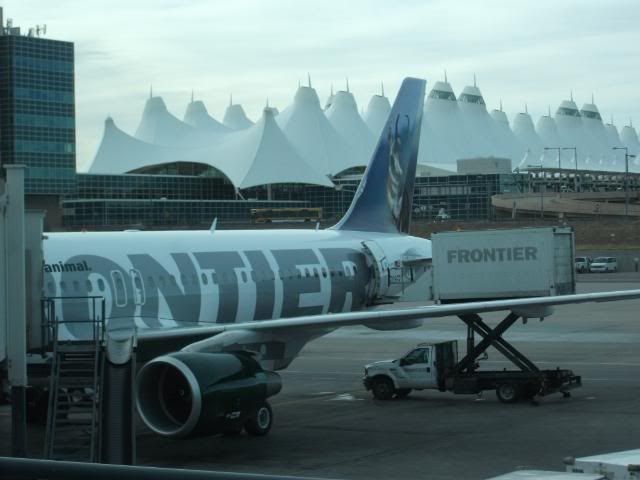 Frontier Airlines 765 DEN-LAS
Scheduled: 08:10-09:06
Actual: 08:05-08:52
Airbus A320-214 (N209FR)
I noticed that I had a treat in store. My ship to Vegas would be N209FR, delivered to F9 on March 18 and the one dedicated to the murdered son of a F9 employee. (Quoted from
http://www.flightglobal.com/blogs/fl...rontier-ceo-bryan-bedford-cle.html
.):
Quote:
Bedford was particularly touched by Sue, the energetic and always-laughing "aircraft appearance" team member (read: aircraft cleaner). Underneath her exuberance, however, was grief for her murdered son, Andre. Bedford gives Sue a holiday and tells her Frontier will name an aircraft after Andre, and Sue will select which animal goes on the tail. (She later chooses an antelope.)

It is an act that should remind everyone in the industry that buried in quarterly reports, fleet listings, and worldwide timetables are the people who bring aviation to fruition. Sue, like many Frontier employees, never asked for much and found herself enjoying the small carrier ethos. Her voice becomes hoarse--but her smile remains--as she reflects on Frontier naming a jet after her late son. "Every time I see that plane I'm going to say, 'There go Andre. There go Andre.'"
Not long after I sat down in 5F, we got a message: "Welcome aboard Frontier Airlines flight 765 with service to Las Vegas. We have gotten a few questions about the video system. Although the screens have been installed, the satellite system that makes it work has not, so unfortunately, there will be no TV or movies for this flight. We apologize for the inconvenience. But you are on the newest airplane in the fleet, so you can enjoy that!" They made a few remarks about the new plane, including, "Again, you are on the newest plane in the F9 fleet, brand new off the showroom floor. It even still has that new plane smell!" (It kinda did.) A few more pictures:
There go Andre, indeed…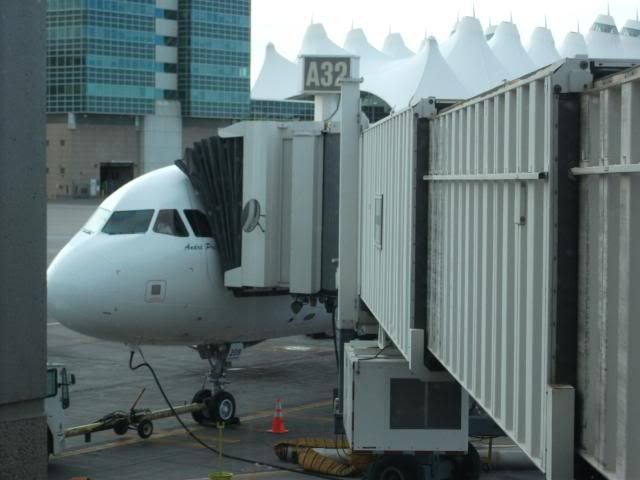 Ladies and Gentlemen, a cup of but one flavor of awesomeness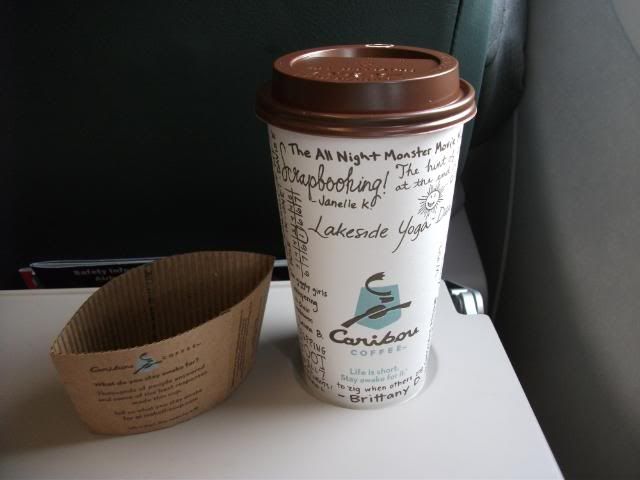 She walked up to me and she asked me to dance
I asked her her name and in a dark brown voice she said Lola
L-O-L-A Lola Lo-Lo-Lo-Lo Lola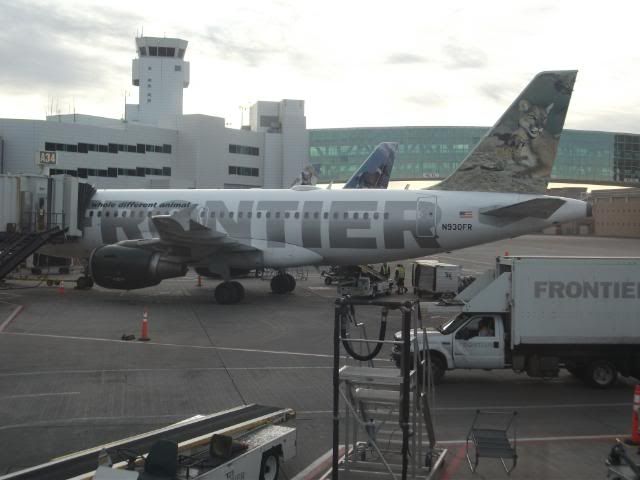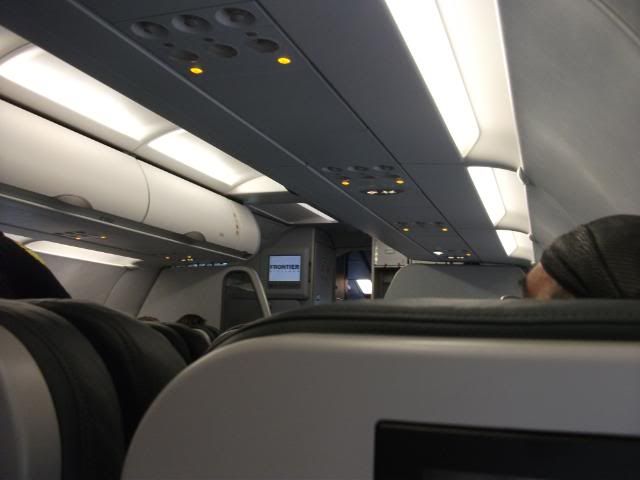 Legs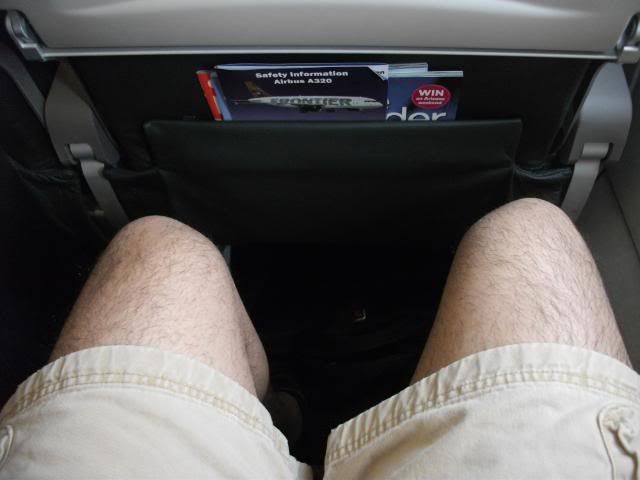 My blue bird from OKC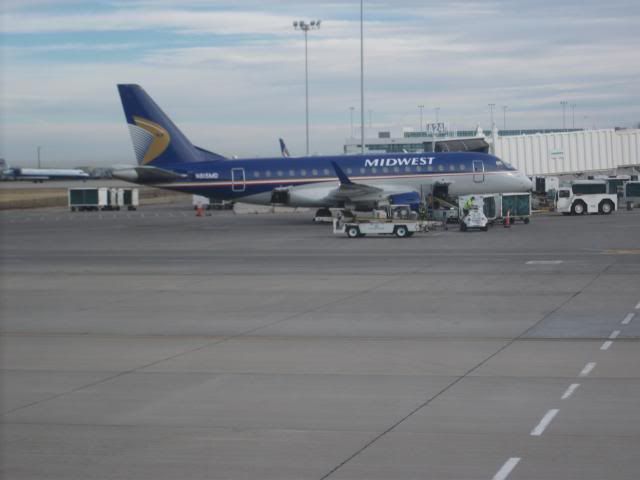 A United Express CRJ staring us down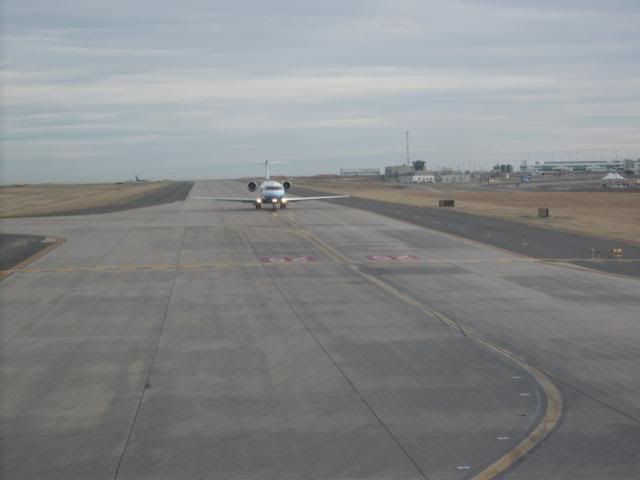 Takeoff from Runway 25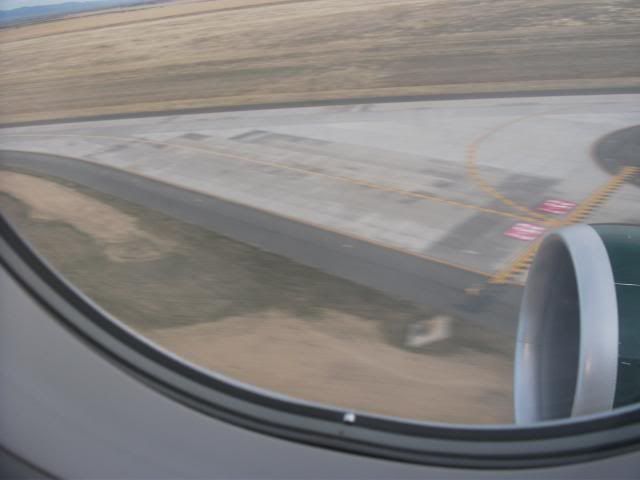 A patch of burnt grass that looks like a tea kettle (a bit of foreshadowing)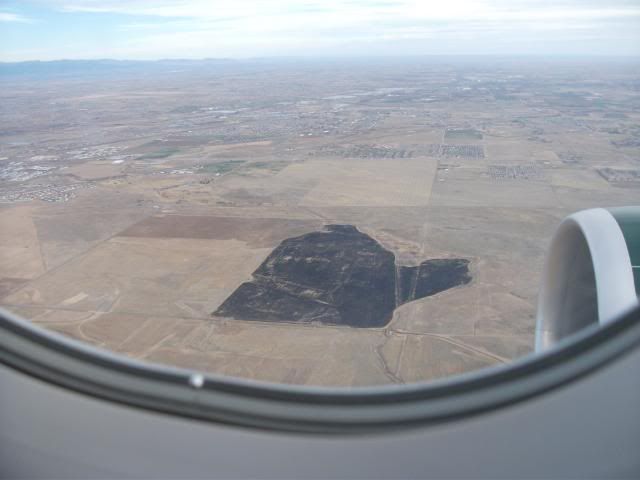 At this point, I sat back, relaxed, and engaged in a game of Name That Airport.
Rocky Mountain Metropolitan Airport (BJC, KBJC)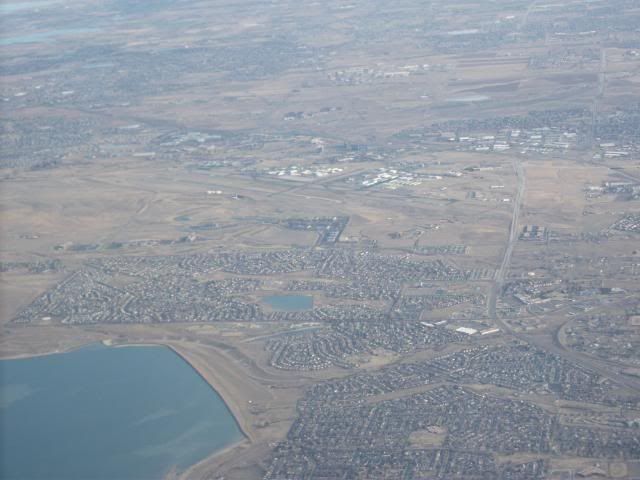 Some big rocks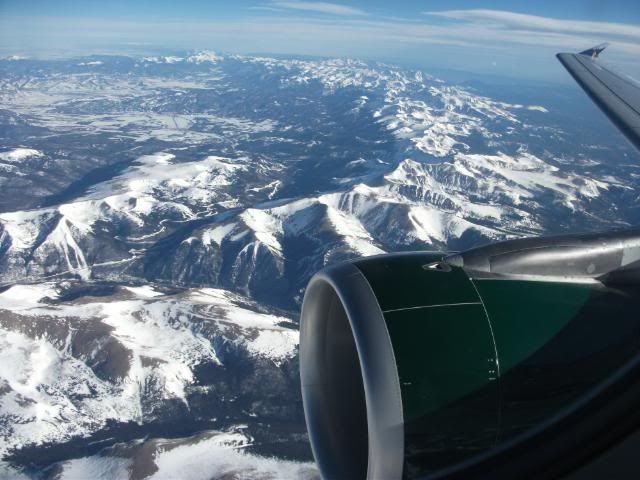 Sierra Mist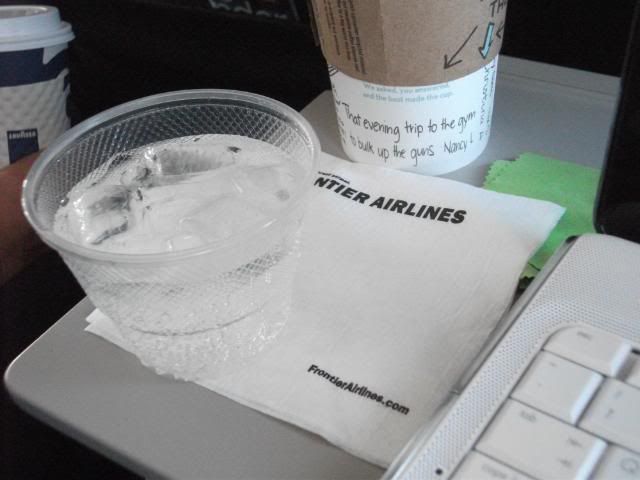 Grand Junction Regional Airport (GJT, KGJT)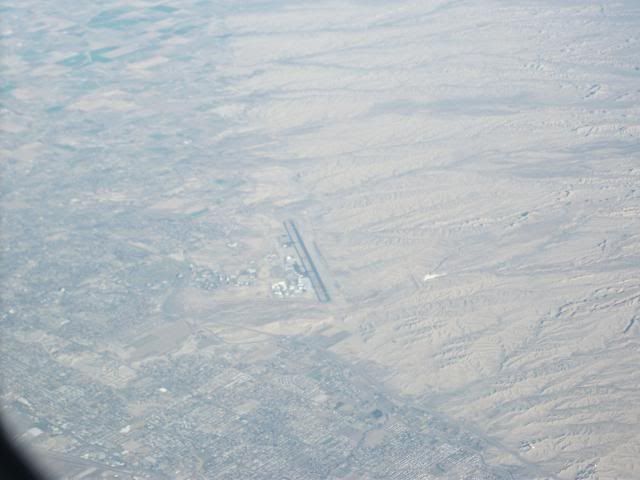 What looked like a UA Airbus in the new livery. The way the light hits the contrail makes it look like it's trailing thick smoke like the airliners of old.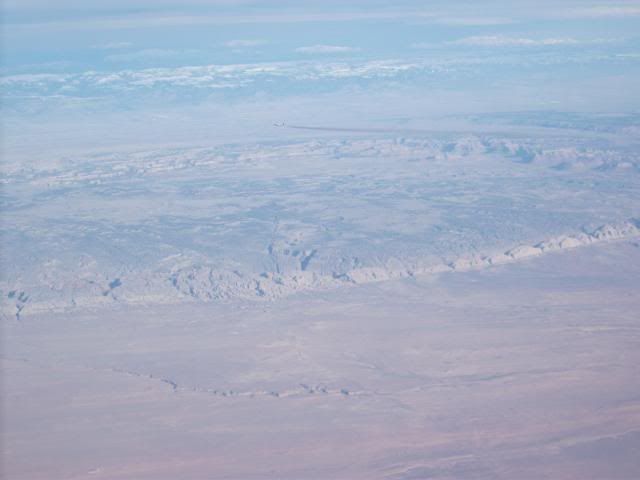 Another airliner. In the brief moment before I got this shot, my guess was DL.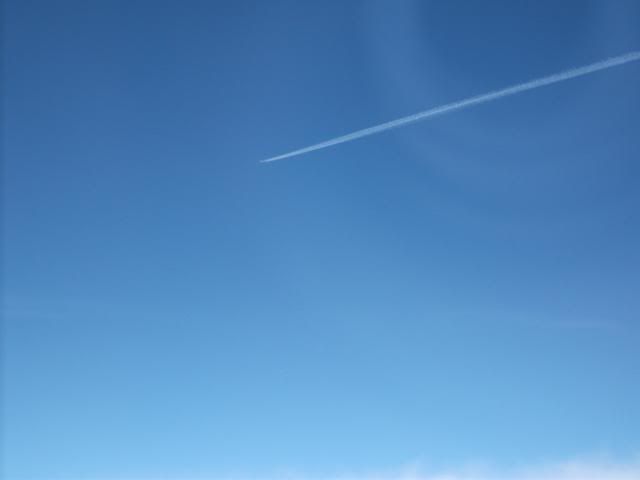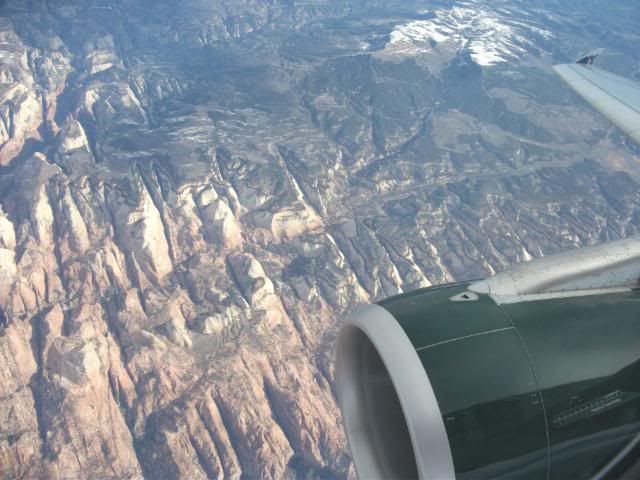 St. George Municipal Airport (SGU, KDXZ)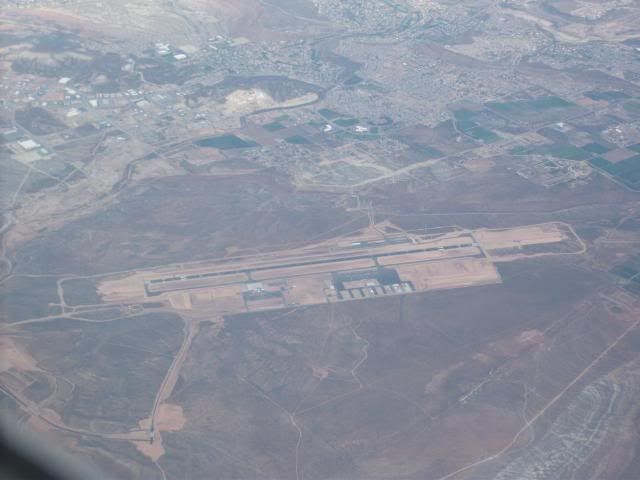 Overton Municipal Airport (also known as Perkins Field)
Passing over Lake Mead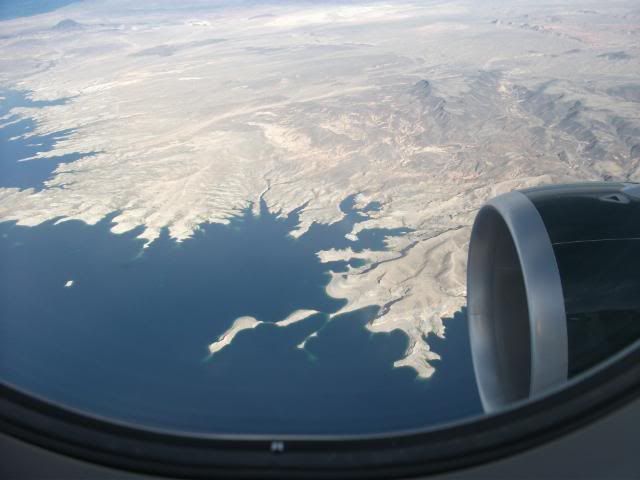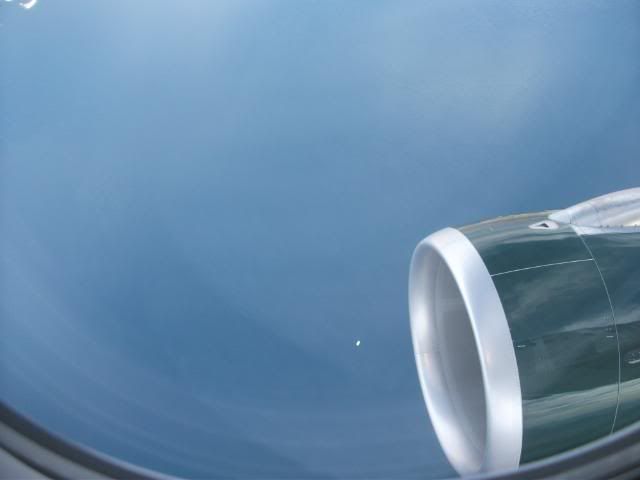 I see casinos and hotels…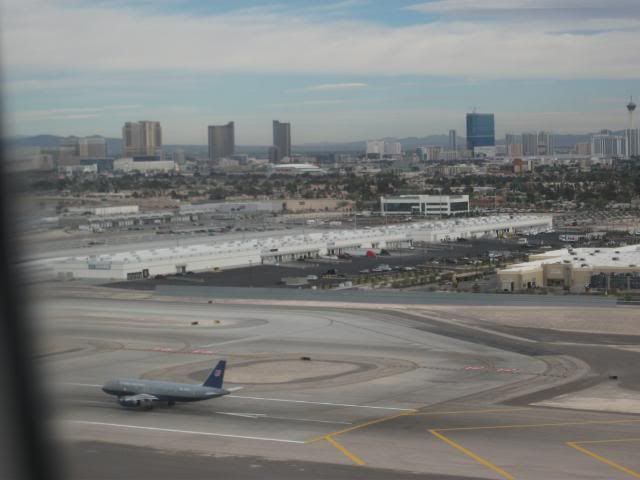 And we're down on Runway 25L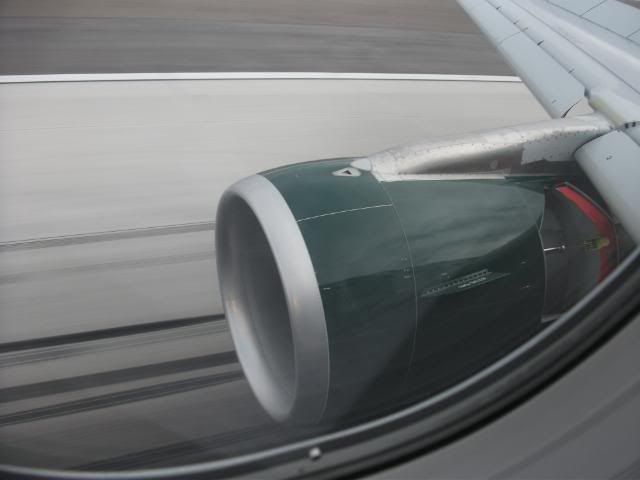 Pledging Allegiant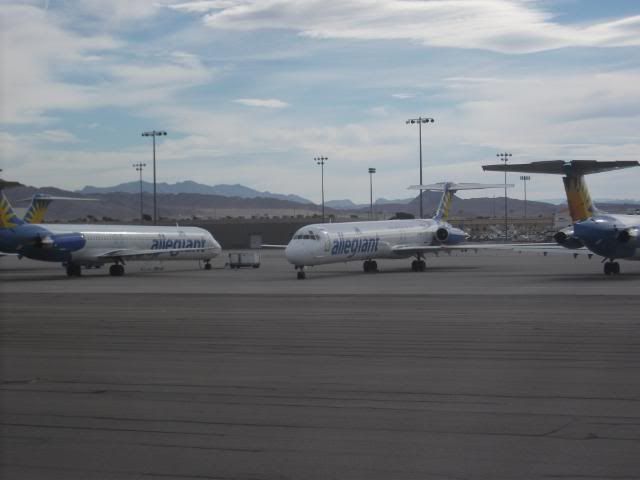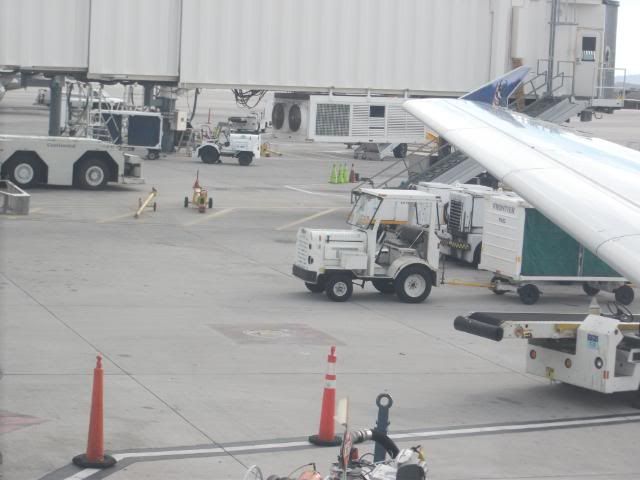 We got in to LAS safe and sound, and I had a brainwave as we taxied. Since I was on the belle of the ball, I stuck around afterwards and asked if I could take a picture of the flight deck. Add an awesome captain and first officer, and see the results: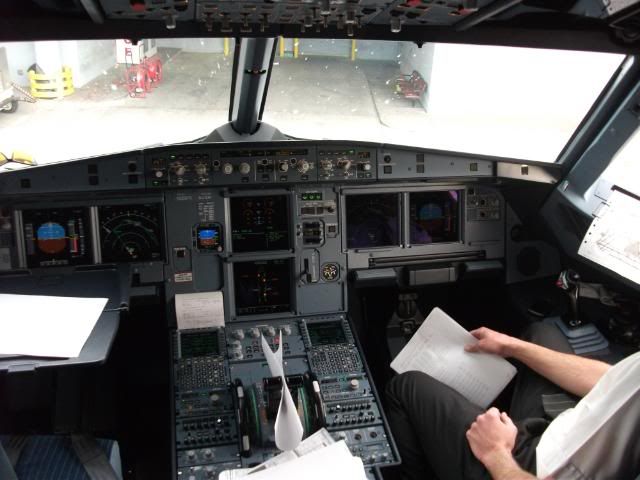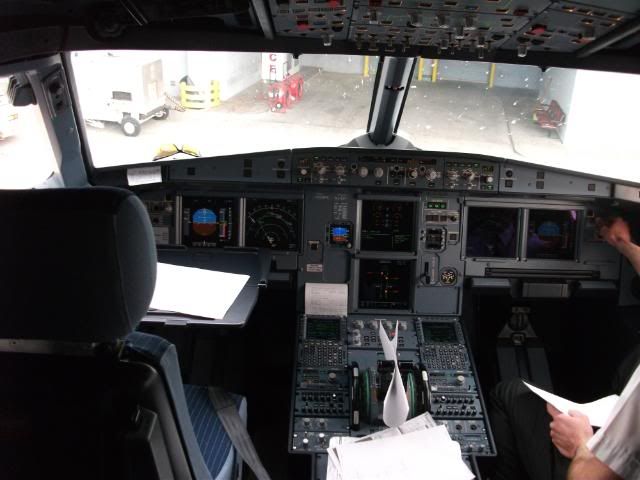 Tigerguy + Antelope Airbus = a goofy looking picture that made my day, to say the least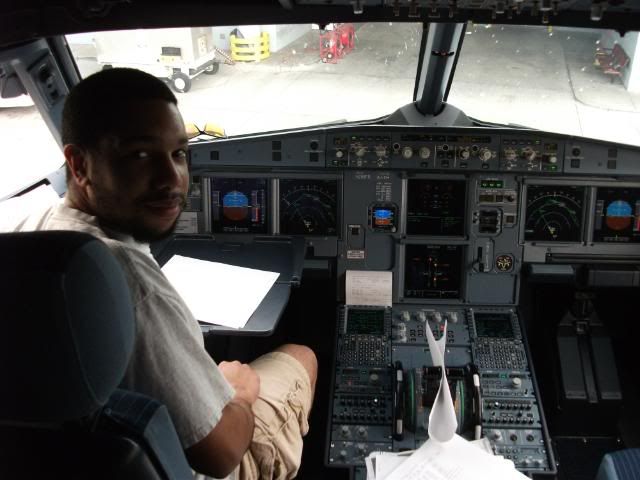 Following my magnificent coup, I decided that anything else after that would be gravy. I went to the first bathroom in an attempt to get a picture, but there were too many people inside, so I stowed the picture machine. I found it to be nice, but a picture would have done it justice. You'll just have to extrapolate a mental image from the entrance shot.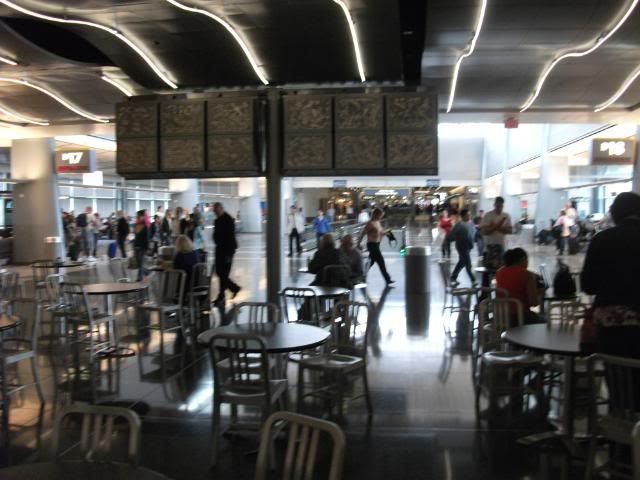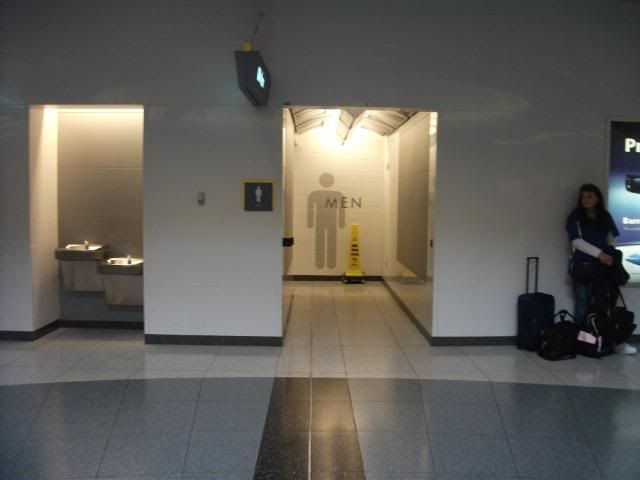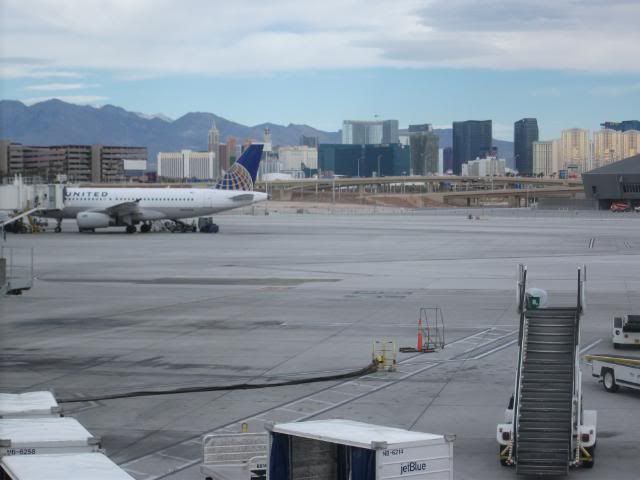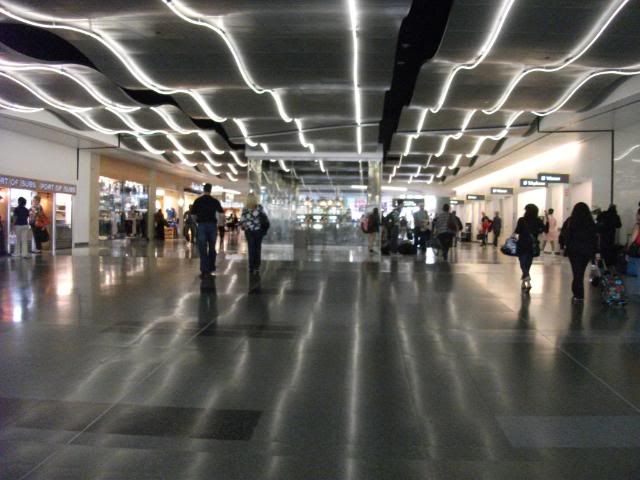 Some airport slot machines. I resisted the temptation to find one and give it my money.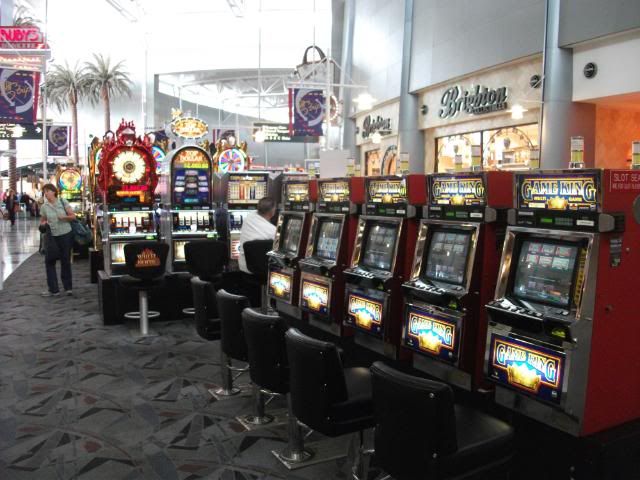 Oh, I'm in Las Vegas? I had no idea…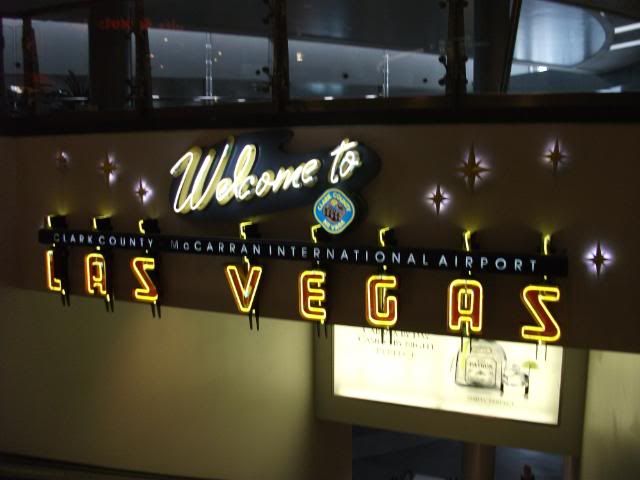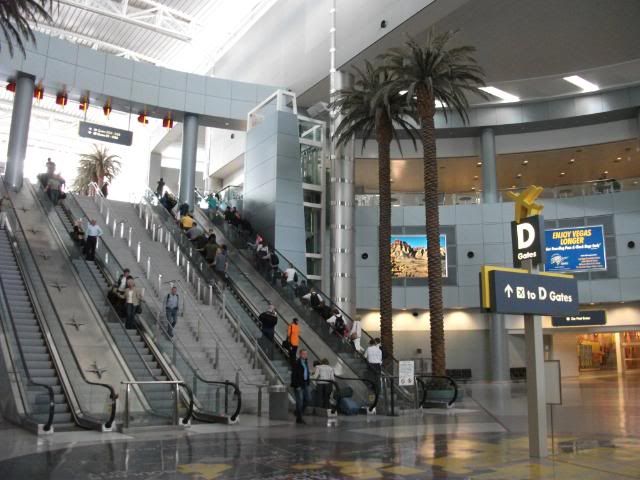 Train station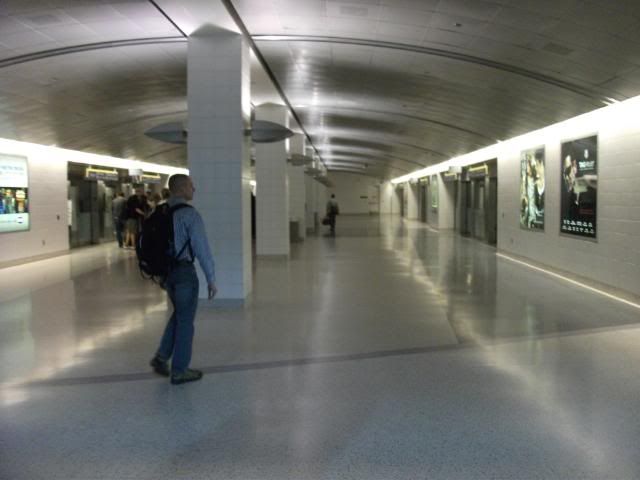 I took the train to get to the A, B, and C gates. At this point, my preliminary look at the airport map a few days earlier failed me. Out of a great group of people on the train, only one woman and I turned off to get to the other gates. We were greeted by the end of the security checkpoint—a dead end. We talked a bit about how we didn't know what the devil we were doing, so I approached a TSA agent about the best way to get to the A gates. She told us what to do (the woman passenger was looking for the B gates) and we followed the trail outside security and across the airport. As I didn't have a ticket for A, B, or C (F9 and DL are both in D), I went as far as I could before I had to turn back.
Ticketing/check-in hall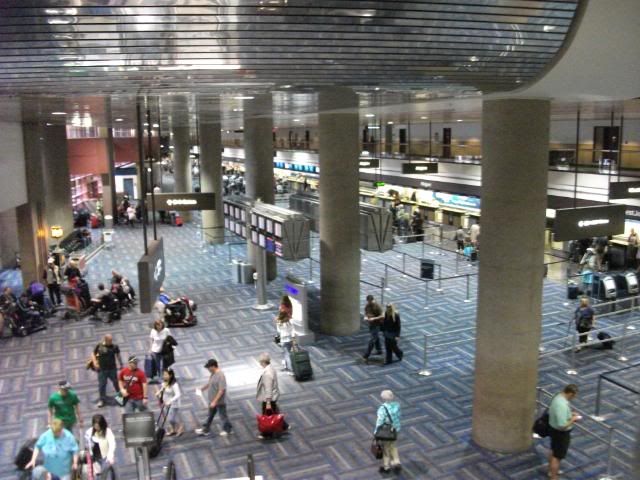 In lieu of the first bathroom pic, here's the second, in the ticketing/check-in hall. Not quite as posh as the one I went to in D (not that you'd know, what with the no pictures…)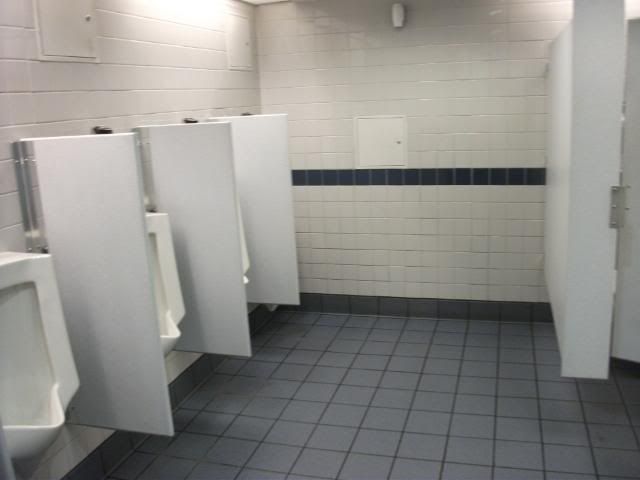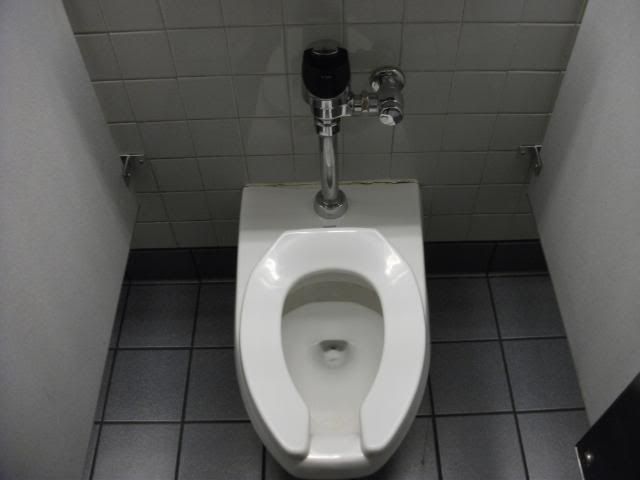 Ahh, fresh air and a parking garage.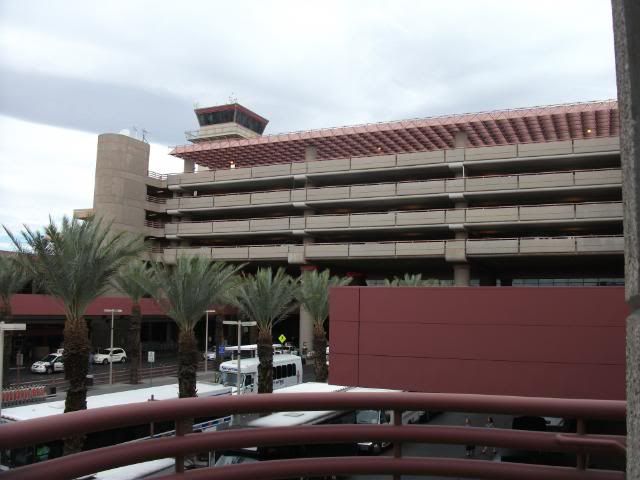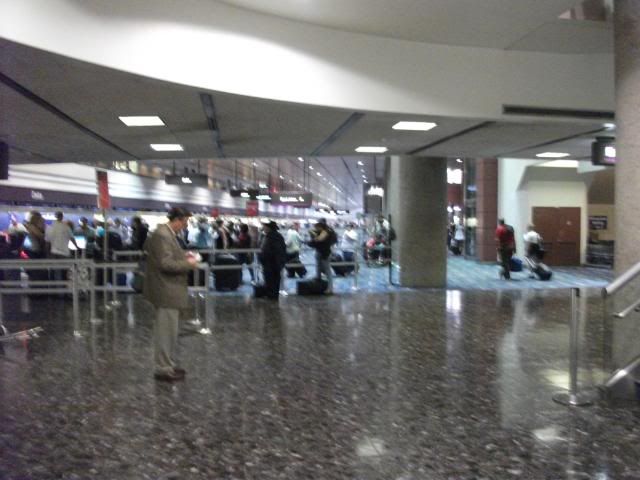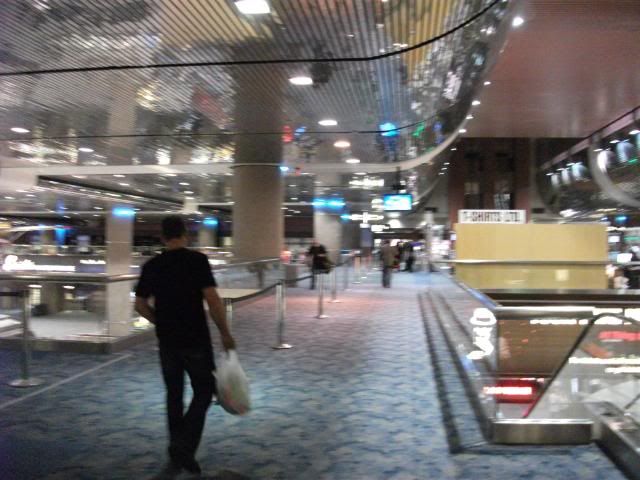 Quite possibly one of the flashiest baggage claims in existence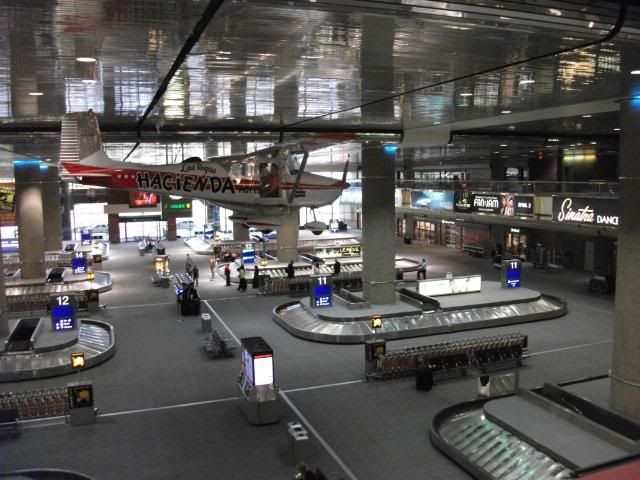 The tower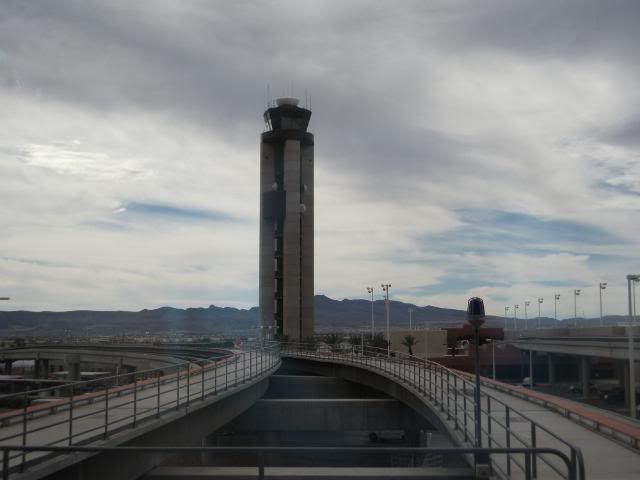 An Eskimo, assorted Disney characters, and
Idlewild Blue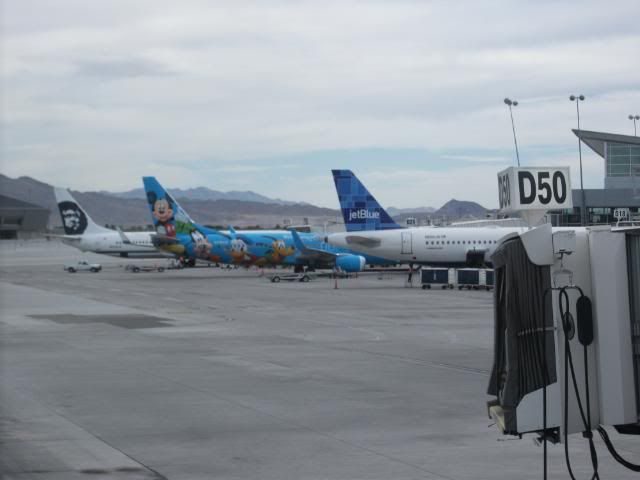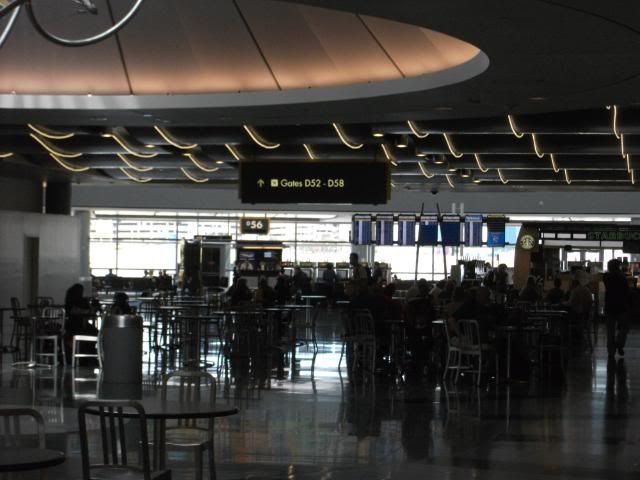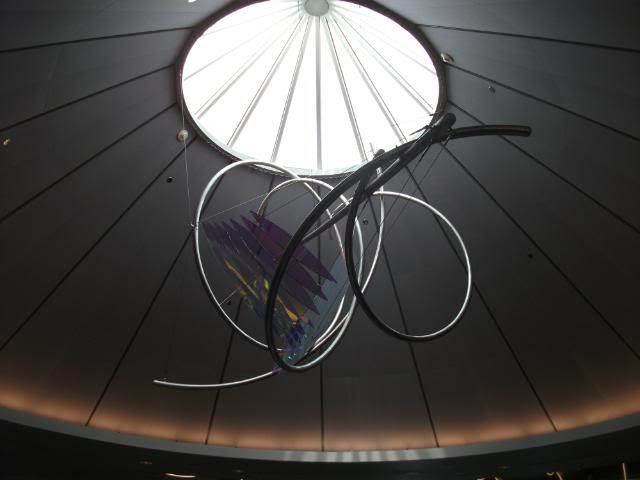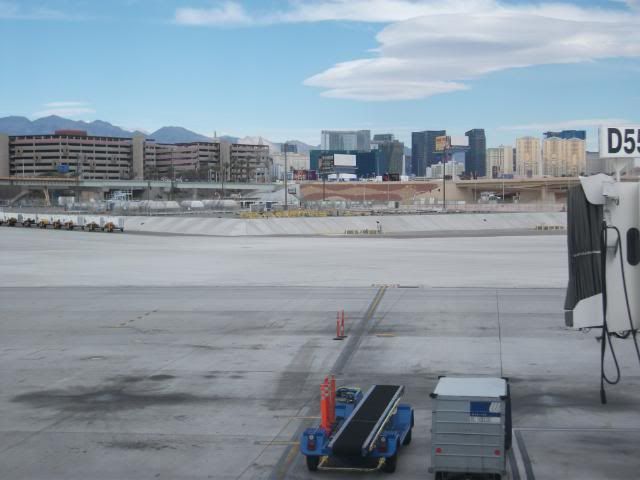 Huh, kinda reminds me of the Central Terminal at SEA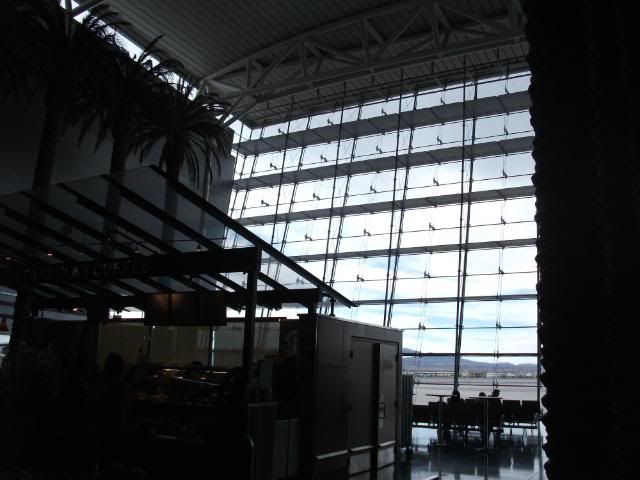 Back in D, I discovered that my mindless roaming had left me with but a few minutes to find some food and get to my gate. I settled on Burger King. It wasn't a total loss, however. Here's my plane…and a bonus for you! It's the 21st busiest airport in the USA (depending on who you listen to)…Salt Lake City International Airport!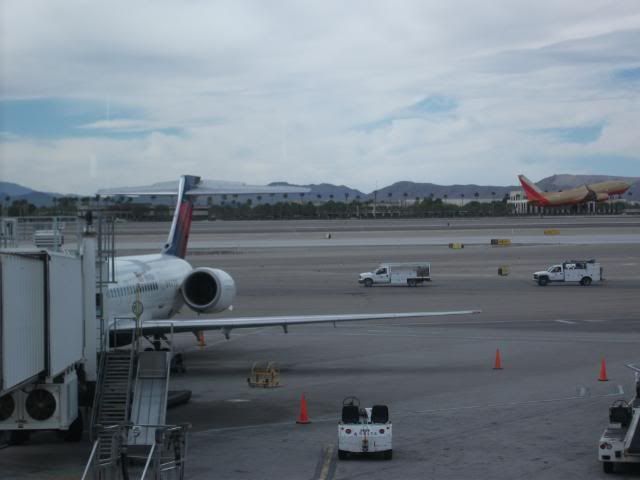 Delta Air Lines 1740 LAS-SLC
Scheduled: 10:47-13:10
Actual: 10:42-12:56
McDonnell-Douglas MD-90-30 (N901DA)
I originally wanted to fly F9 on the return trip, but that plan didn't work out as well as I would have liked. In my search for a suitable return leg, I noticed a DL itinerary, reasonable in schedule and price. Not only that, but I would be headed to another new airport! As if that wasn't enough, it would add another notch to my "planes flown on" list and it would be the first time I've tried DL. There was just one teensy little concern: a connection time of 40 minutes in an airport I've never been to. Here's where my research came in handy. The LAS-SLC flight consistently arrived at Concourse C, and the SLC-OKC flight consistently departed from Concourse B. I was hoping that there would be no delays and no surprise run from E85 to B18, probably the longest possible trek. Hence, I took the deal. Fast forward a little, and I saw the weather forecast for SLC: 60 percent chance of afternoon thunderstorms. (That was the good news; Sunday's forecast brought temperatures in the 30s and 40s with possible snow.) I was in and out before the crappy weather rolled in, so I was grateful that the weather held.
The blurry jetbridge of doom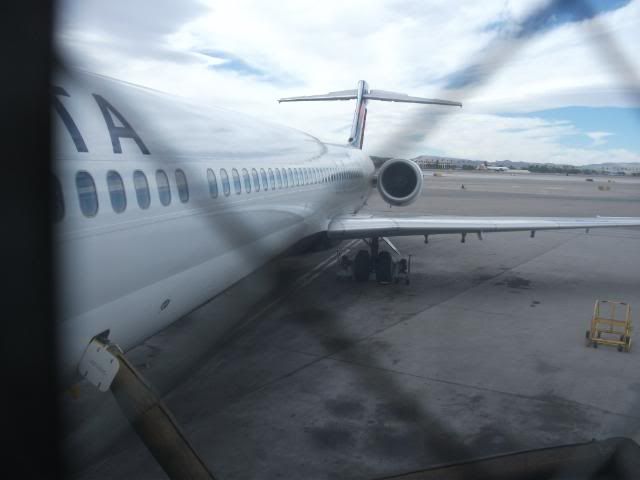 There were only a few people ahead of me, and I was in seat 36E, so I took the opportunity to shoot this cabin pic:
Okay, I might have some werewolf blood in me…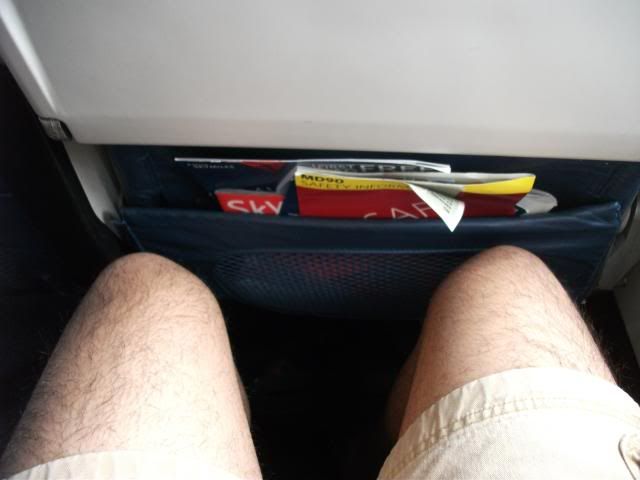 A new experience for me: sitting in the back of a rear-engined aircraft. I didn't have a whole lot of choice when I booked the ticket because there were a precious few seats left, and even fewer window seats. Looks like I got the sweet spot!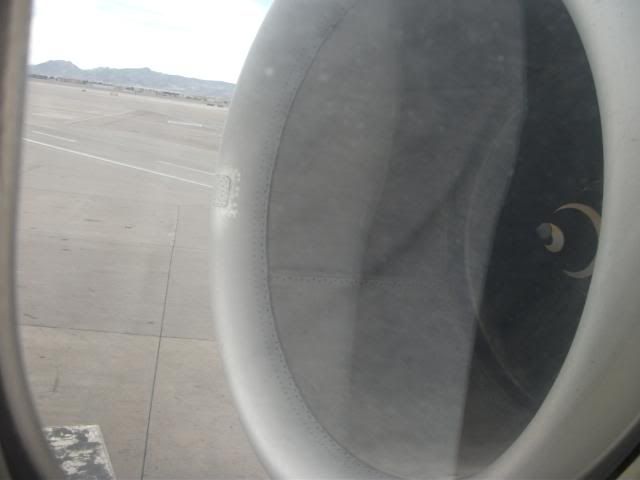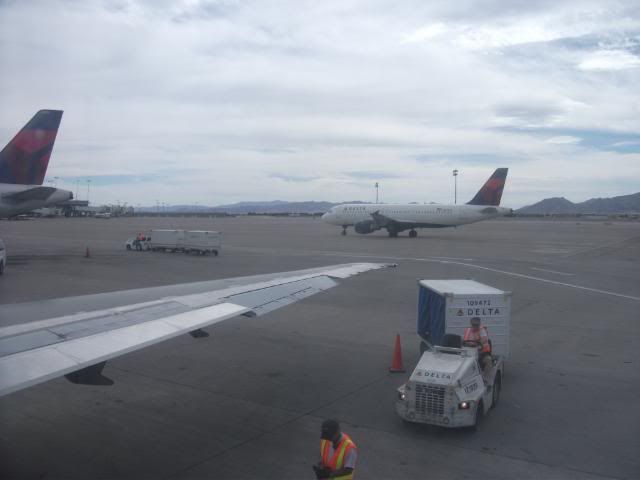 Behold the gaping maw of the mighty IAE V2528-D5 as it roars to life for takeoff and devours everything that dares to stand in its path! Muahahaha! (sorry, got a little carried away…)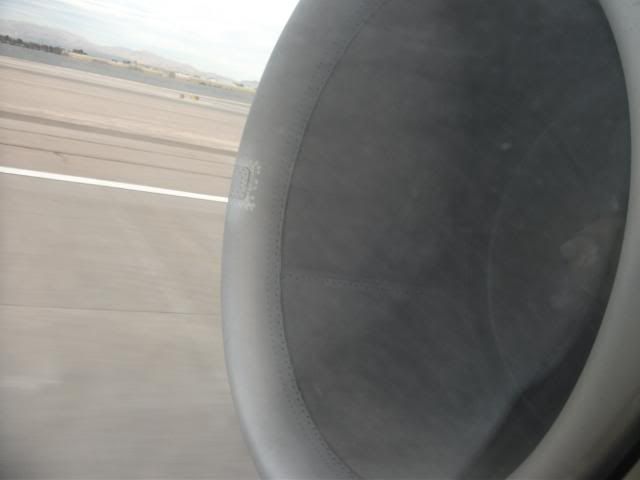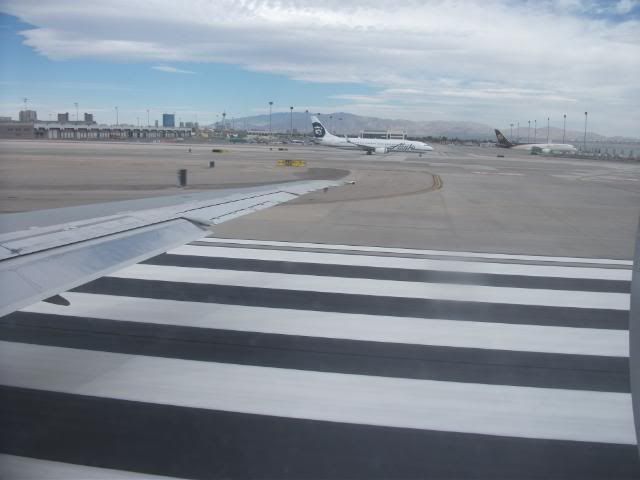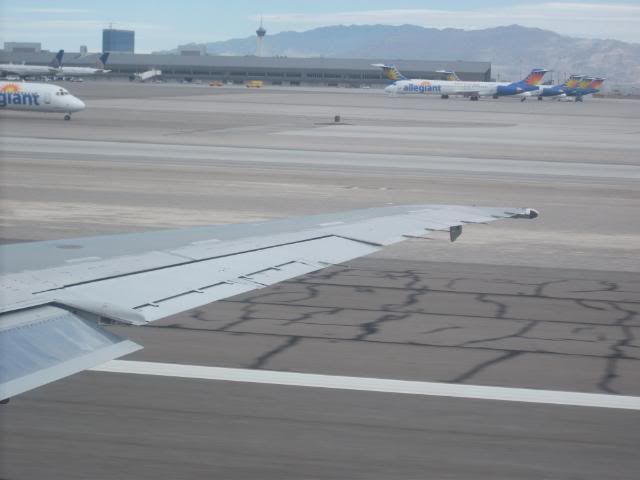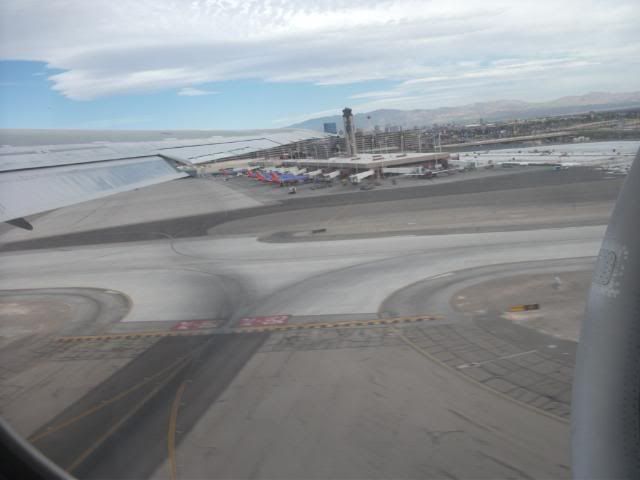 Ooh, the 747SP!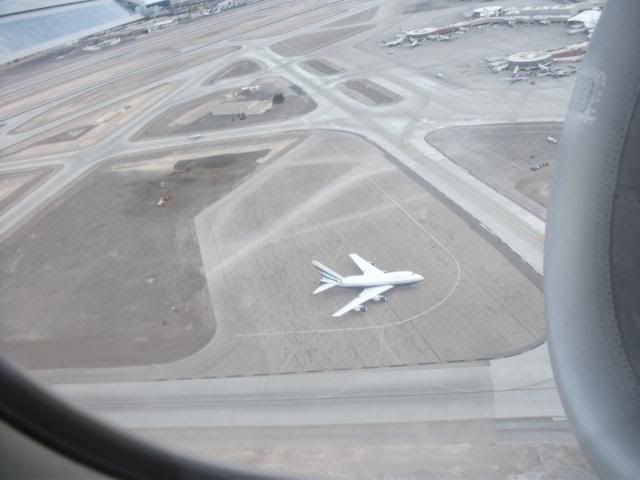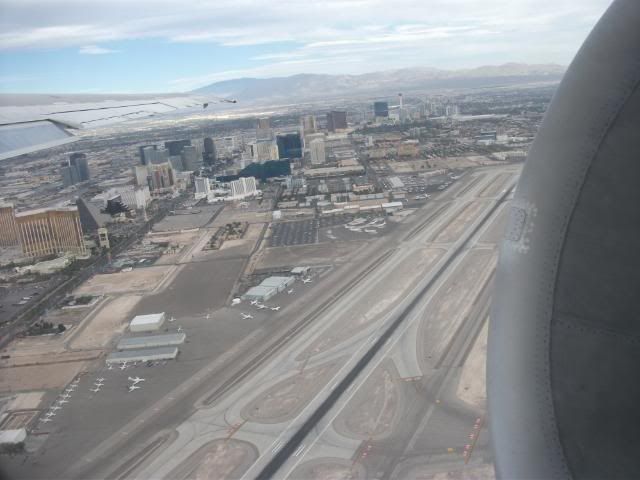 A last look at LAS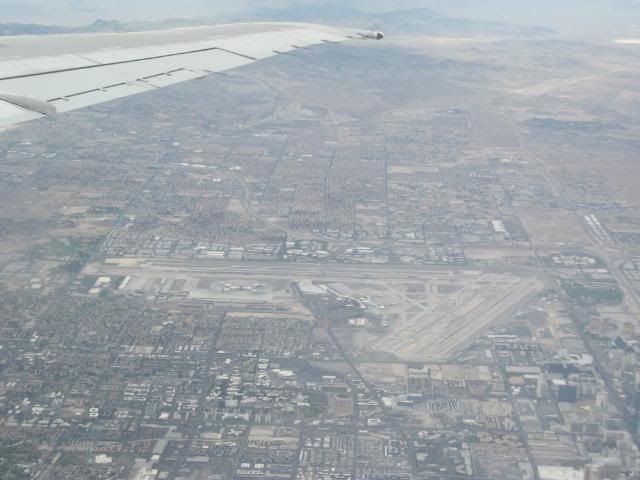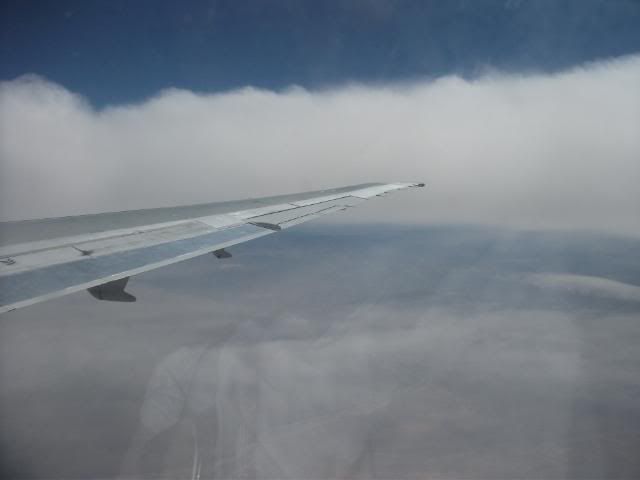 The snack for the flight. Where are those Biscoff cookies I've heard so much about?!?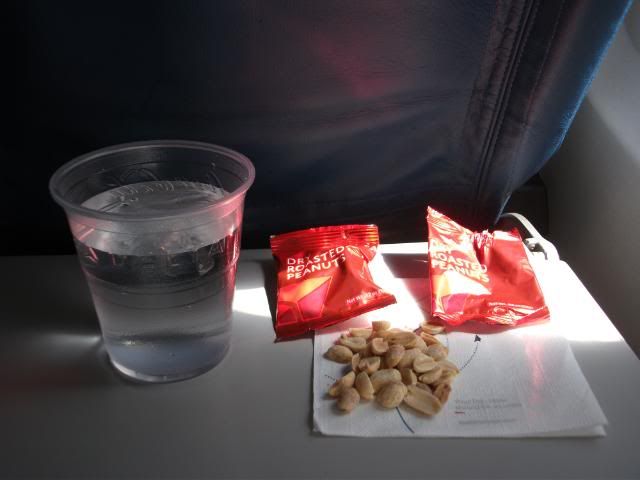 This was a flight in the style of my travels a week ago: relatively short flight on a packed Mad Dog. Food service came and went with friendly flight attendants. One tiny gripe: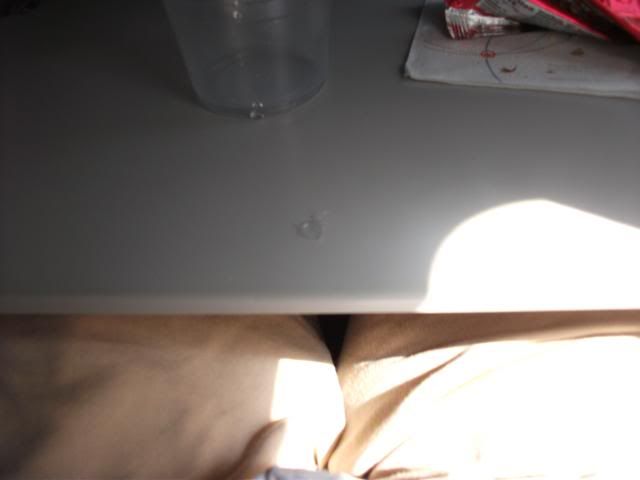 See the object on my table in the middle of the frame? It's a little piece of a plastic wrapper, about the size of my pinky fingernail. I didn't know it was in my water until I felt it swimming across my tongue.
Another traveling buddy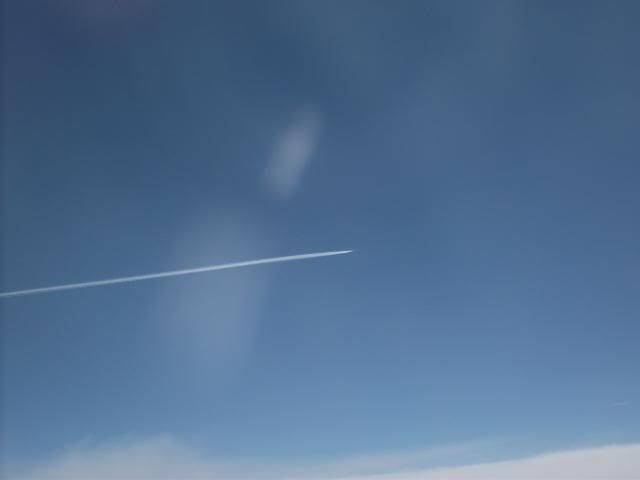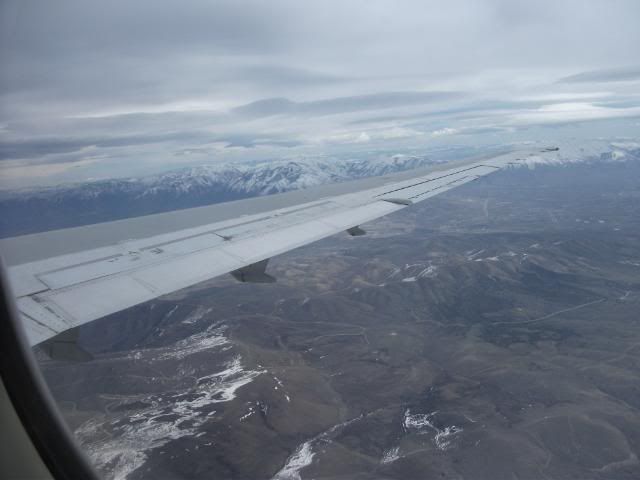 South Valley Regional Airport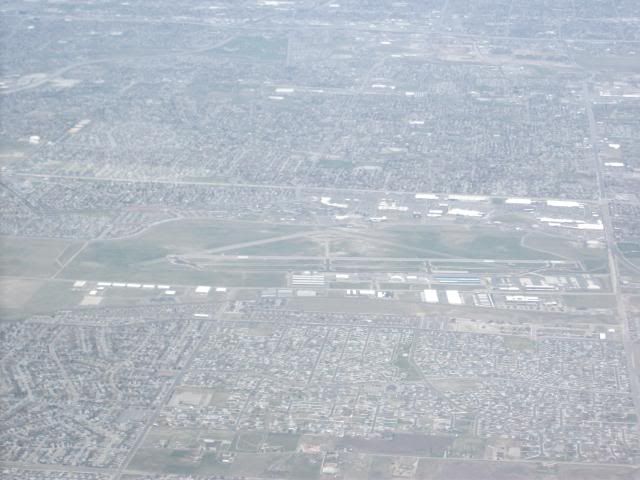 Hey, it's SLC!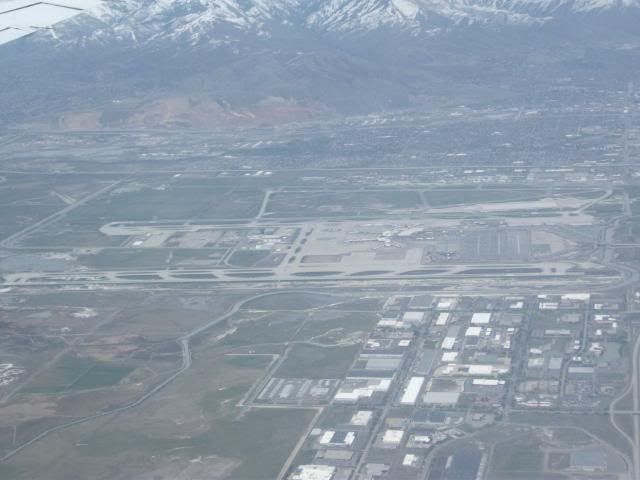 Now, I find it appropriate that after wallowing in the debauchery of Sin City that I should go to the city where the LDS Church is based. What better place could there be to repent of my myriad sins and avoid a trip to the burning pits of hell? Imagine the irony, then, when I discovered that the bloody place was on fire.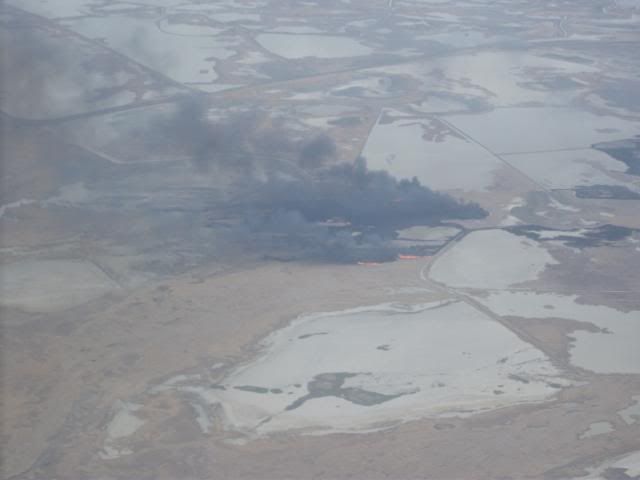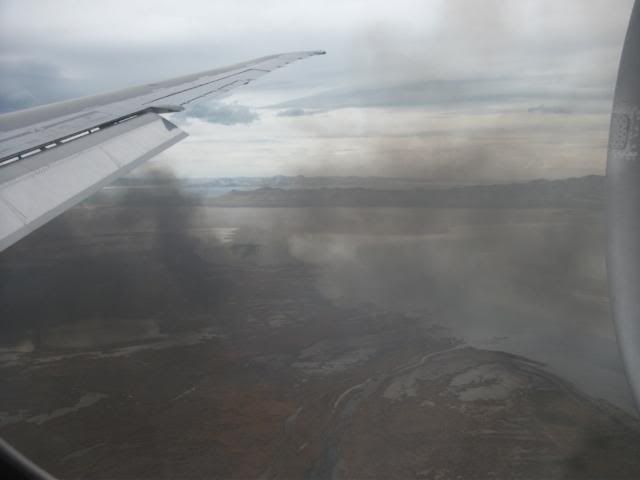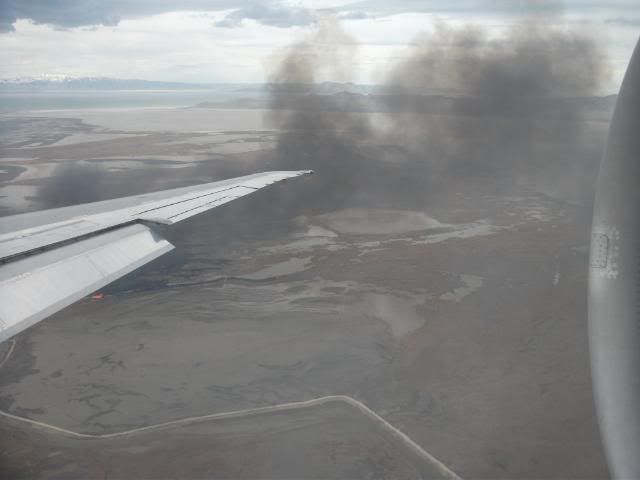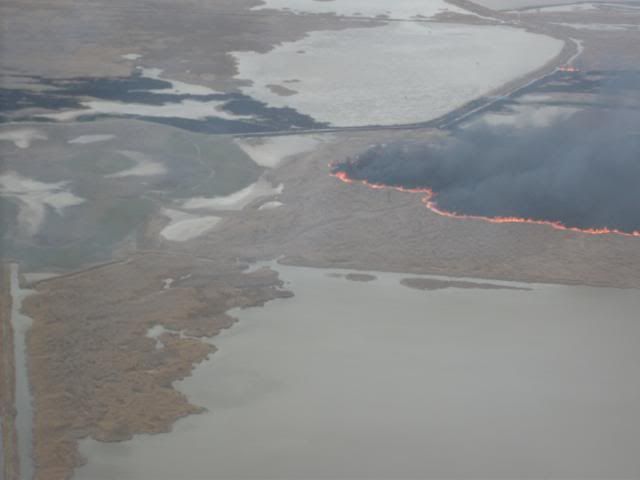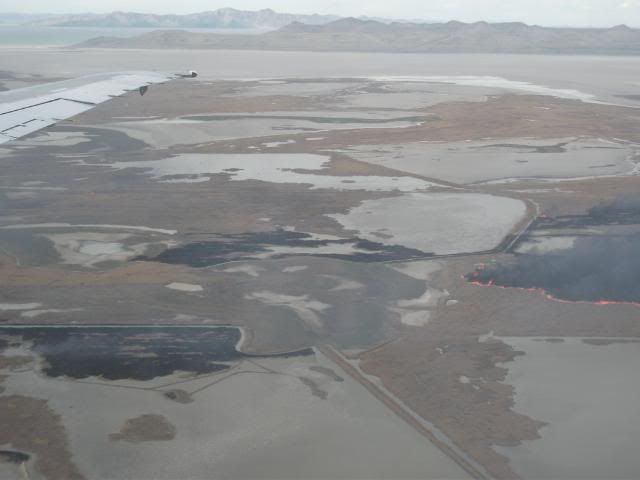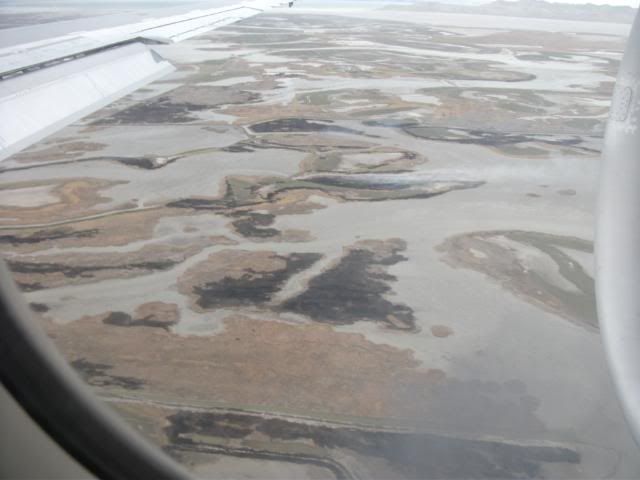 Another touchdown!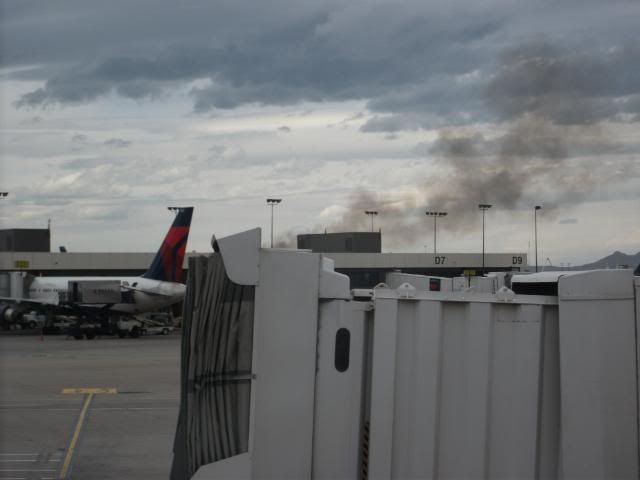 As it turned out, someone was looking out for me. Not only did we arrive a few minutes ahead of schedule, but I had one of the softest marshmallows of an unknown airport connection a person could get: C3 to B4. With that worry behind me, I calmly took what pictures I could: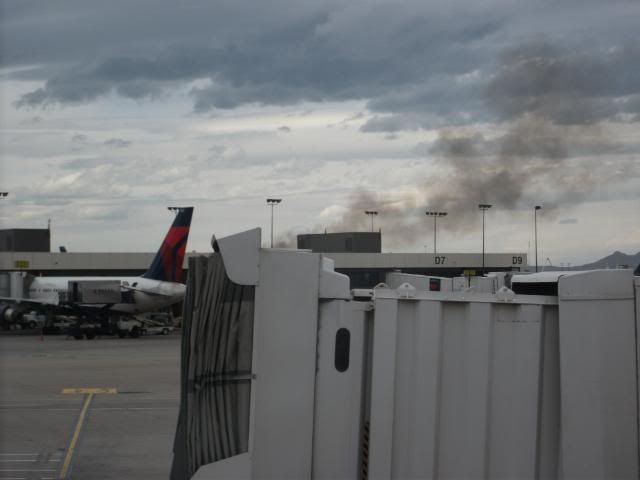 Concourses B and C: meh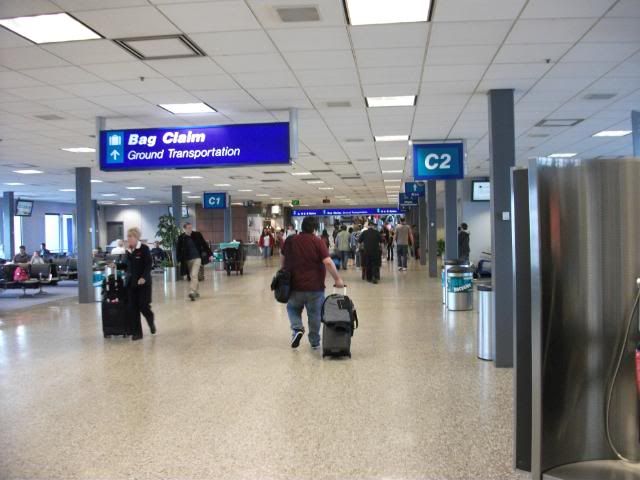 My ride to SLC
My CR7 to OKC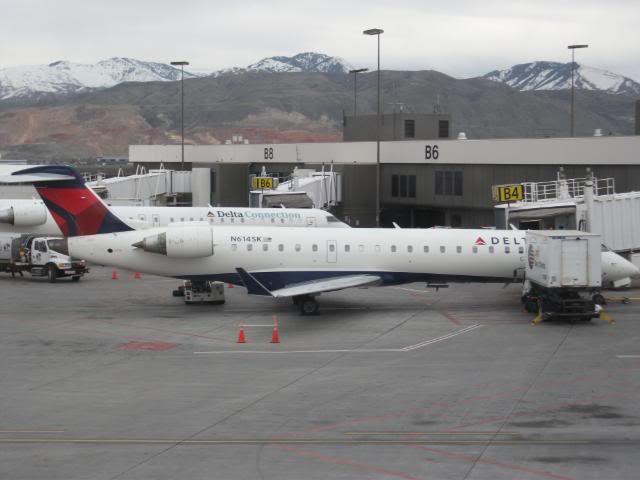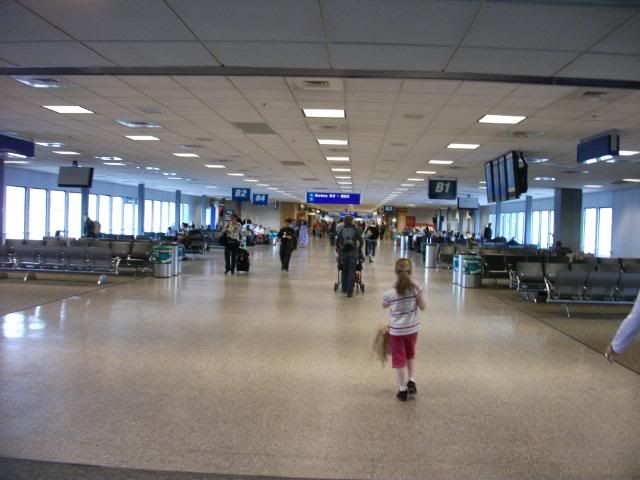 And here are both of my rides in the same shot: MD-90 on the left, CR7 on the right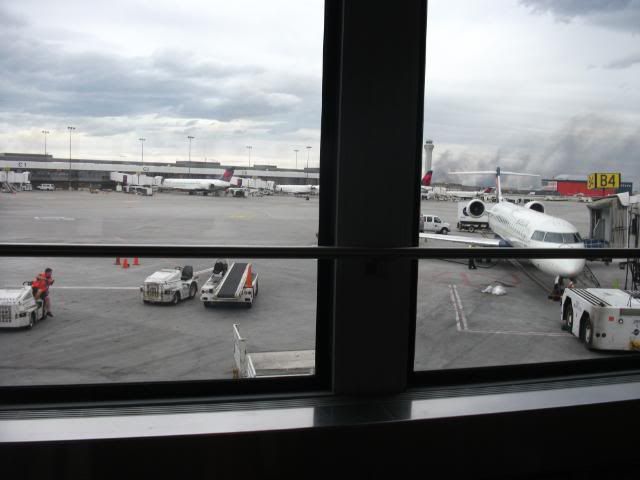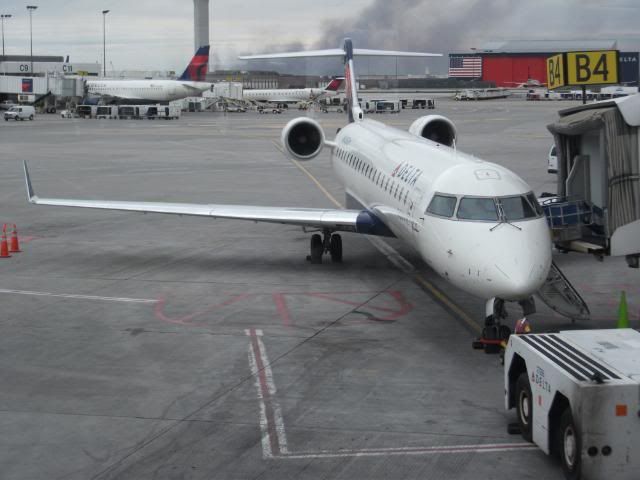 Delta Air Lines 4530, operated by SkyWest Airlines SLC-OKC
Scheduled: 13:50-17:08
Actual: 13:45-16:55
Canadair CL-600-2C10 [CRJ-700] (N614SK)
At this point, all was well with the world. The gate agent called for first class and frequent flyers, then called all rows, all passengers. They were warned about the reduced space on the CRJ, so some of them checked their bags at the door. I was looking forward to a nice end to an already hugely successful day when I entered a situation that would prompt some people to dive into a GE90. I got to my seat, 10D, and there was a man sitting there who was a couple of shades on the large side. He didn't absolutely need two seats, but it was a tight fit for a CR7. I informed him that that was my seat. Now, I imagine it would have been fine if I'd just taken the aisle seat, but I decided that it wouldn't ruin my day. He got up and I took my seat. He sat down—we were a little close, but I could handle it. He turned out to be a nice fellow.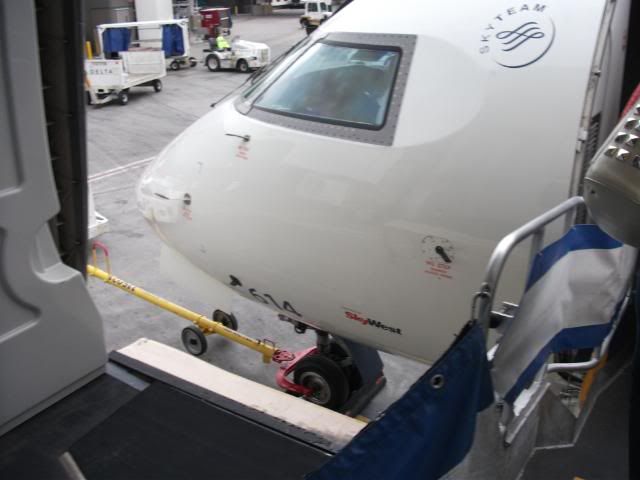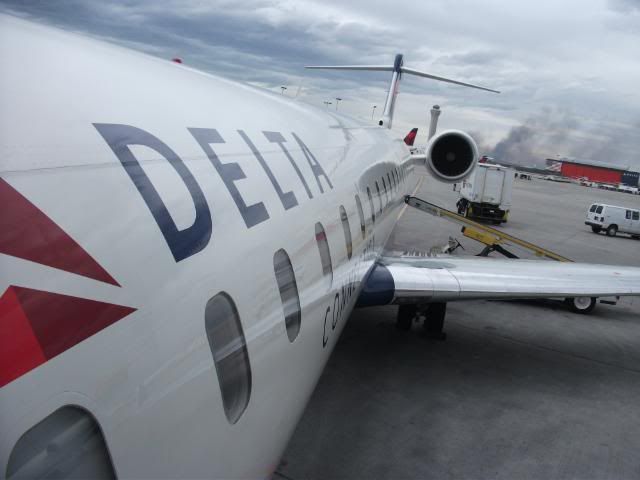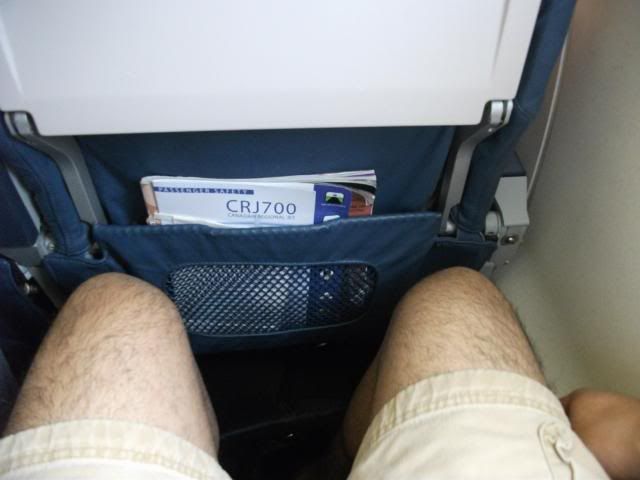 As is often the case, I took a few snapshots as we made our way to the runway. Although we were first in line for takeoff, we held short. I wondered what the holdup was—I figured we were waiting for someone to land. Then a DL 737 came whizzing by. We left right after he cleared the way.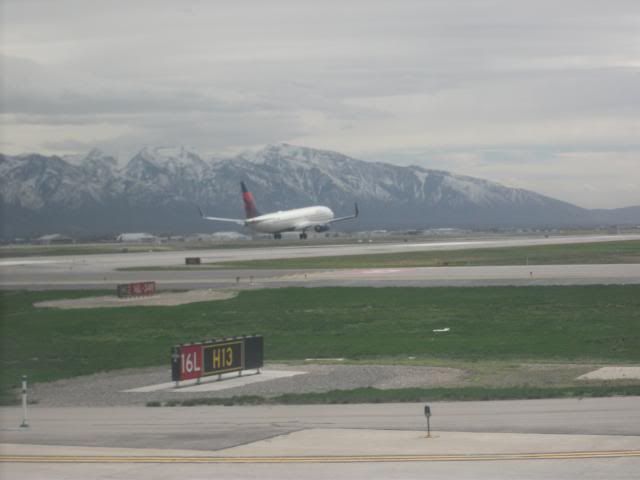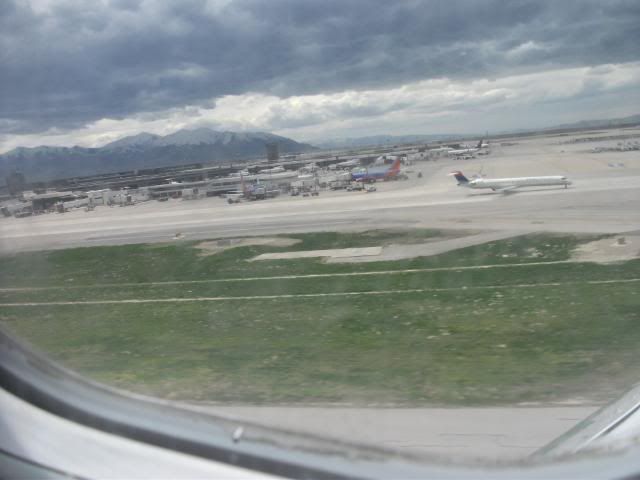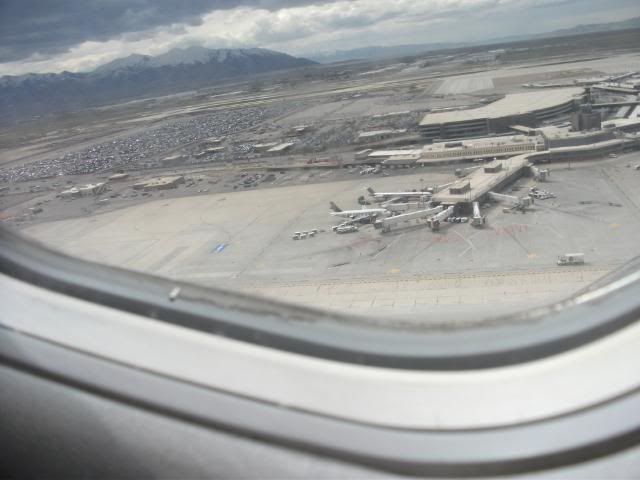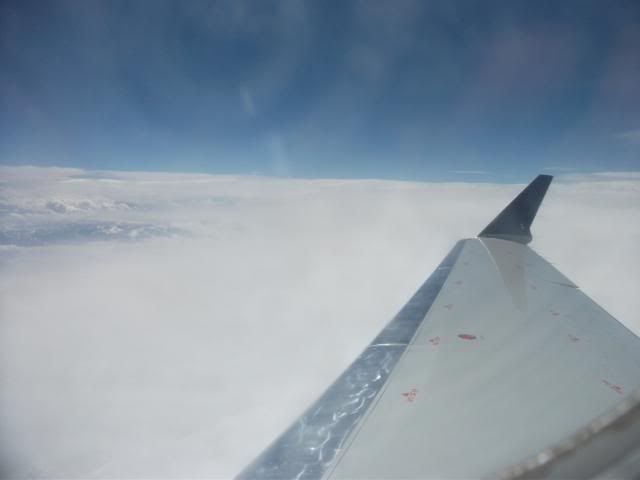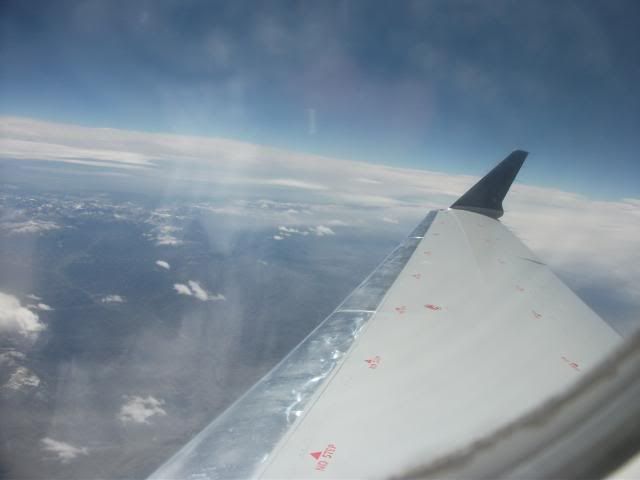 Fortunately, SkyWest had their act together—the Biscoffs soon found their way to my tray table. Even so, I was feeling a bit hungry, so I bought a Travel Treats snack box. (I wonder what the flight attendant thought when I gave her my F9 credit card.) You'll see the assortment of goodies (salami, garlic rosemary crackers, cheese spread, cheese crisps, dried fruit, and a Toblerone) below. At $5, the price wasn't outlandish. I found it to be rather good.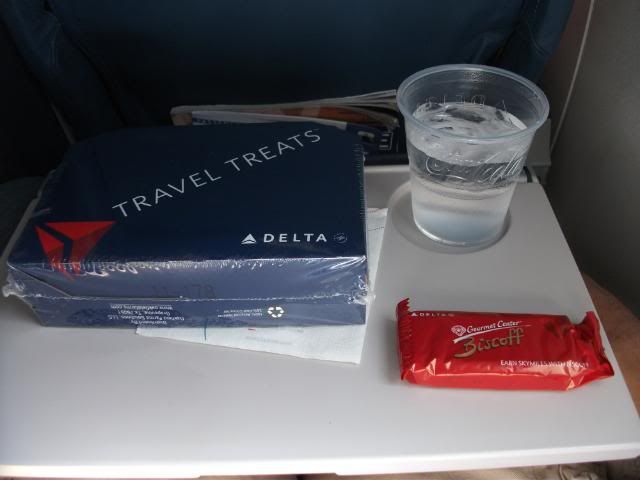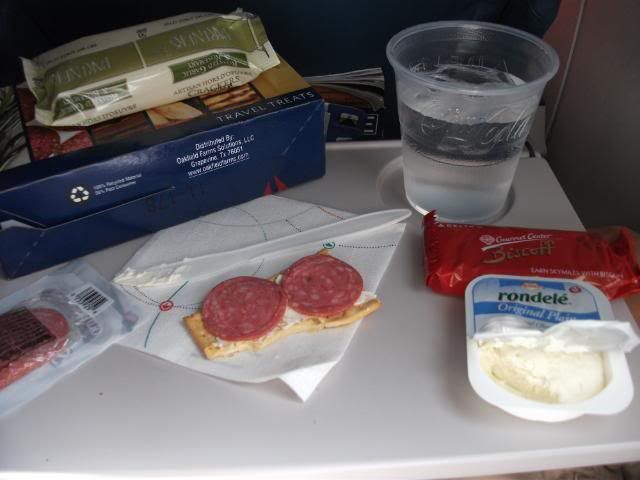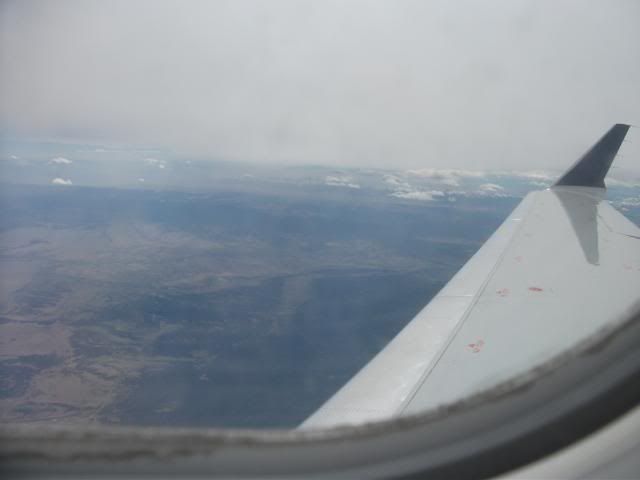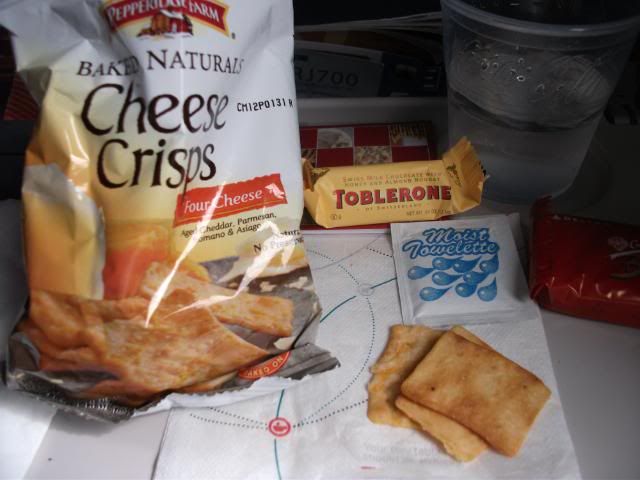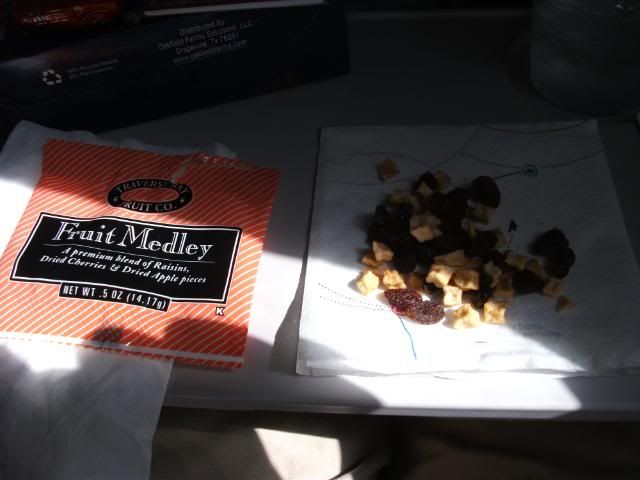 After the nom nom session, I relaxed for the rest of the flight.
Wiley Post Airport (PWA, KPWA)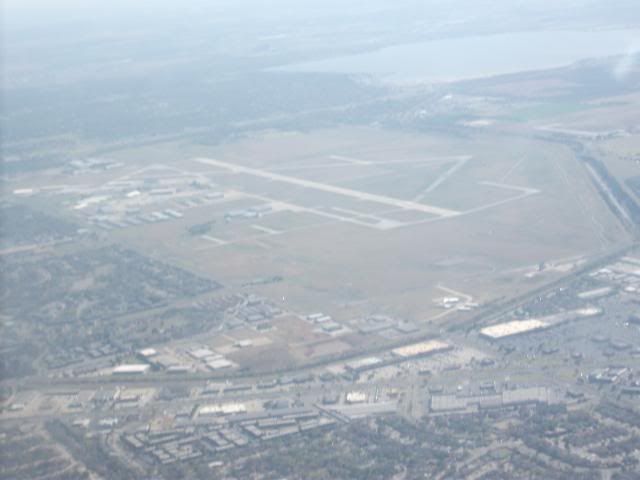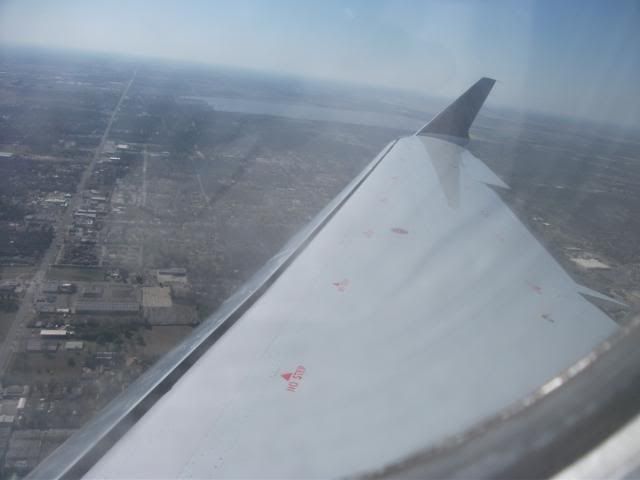 The Barbie Jet has landed!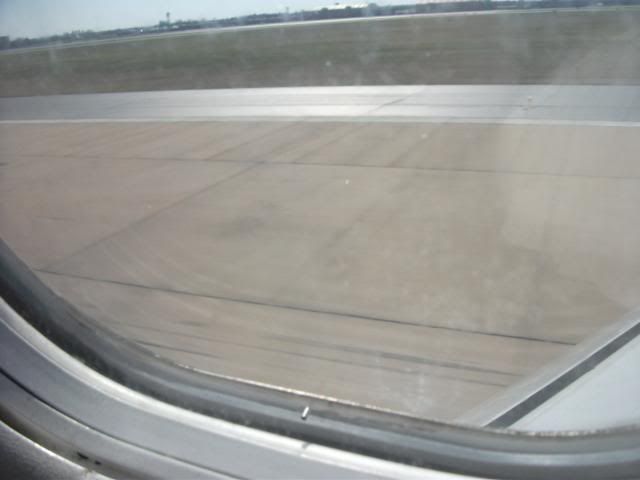 A grounded 733, perhaps? (remember the WN jet that suddenly sprang a sunroof?)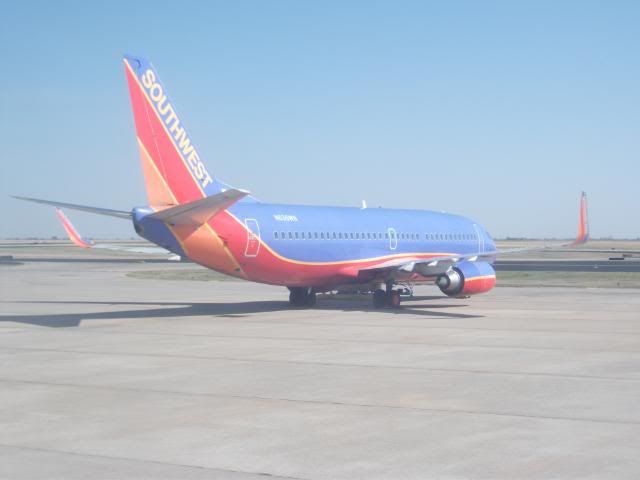 The captain informed us that we had arrived a bit early, hence our gate was still occupied. We waited a few minutes for the gate to clear; the culprit can be seen below: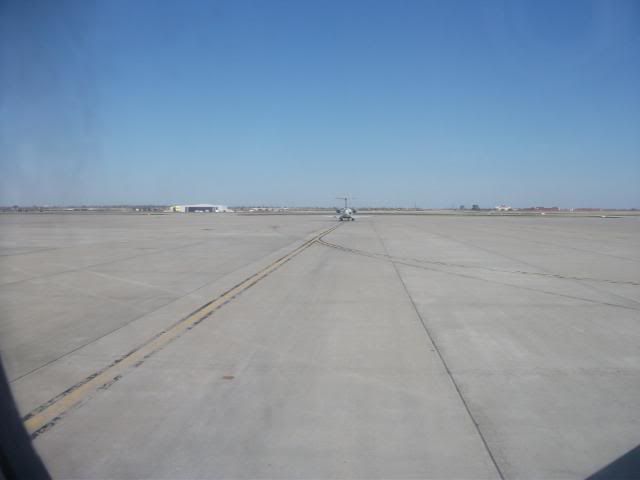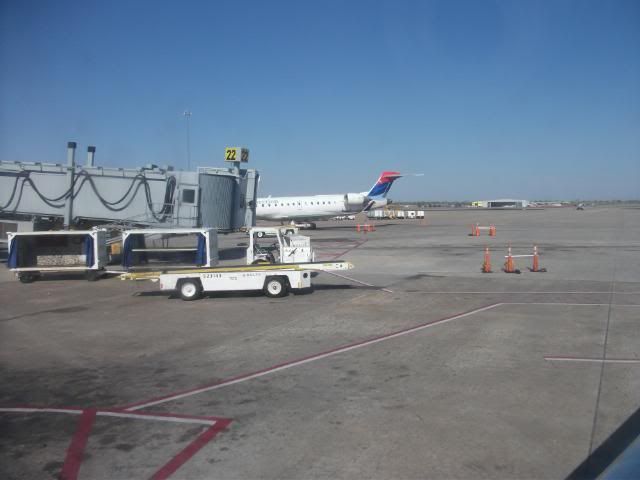 I've got to say that I was pleased with the service from DL. I found the flight from SLC to be more enjoyable, but it was the longer of the two, by far. Mainline DL will soon have about five more hours to make a good impression in the air.
Airport Conclusions:
LAS: Well, the fact remains that I left a good deal of the place unexplored. I was naturally dismayed that there wasn't an airside connection to the rest of the airport. I don't often fly WN, so I probably won't be in some of those places anytime soon. However, what I did see was certainly different than any other airport I've been to. I think that LAS is what casinos would be like if they did give you some windows, natural light, awareness of time, etc. Terminal D certainly had its share of neon and slot machines, which adds to the uniqueness. It was easy to navigate, save for the little snafu I encountered trying to get to A. Overall, not bad.
SLC: I was there for less than an hour, so what can I say? Quite a lot, actually. As first impressions go, the airport didn't help itself. It probably couldn't help that it was on fire, but the place was rather dull. I thank them for the simple layout…and that's about it. What I saw of B and C seemed to be out of a small regional airport rather than a hub for a major airline—a recipe for disaster if you've got a few hours to burn between flights. The experience and atmosphere were neither negative nor positive, just blah.
Coming up next: Masochism for Dummies (or, Applied Insanity 101)