Introduction
Long distance friendships are hard to maintain. Once in a while, you will have to meet your friend who lives in another continent should he be transiting or visiting a place near you. This time, I was slated to meet Ish (777ish) in Kuala Lumpur after 3 months upon ending our Great Asia Trip. Initial plan was to spend a leisure day in Kuala Lumpur before he heads to Colombo.
As fate would have it, Ish contacted me 2 weeks before the trip and told me that his leave was cancelled. Therefore, I decided to go on this trip myself. Ish had very generously let me have the hotel room he booked at Dorsett Regency Kuala Lumpur for the night. Thanks, Ish!
Flying on LCCs in Asia is getting cheaper and cheaper, especially to the likes of Malaysia. Having a night flight home on the second day and getting tired of Kuala Lumpur since I have just spent 5 days there in March, I decided to hop onto AirAsia for a short flight to Penang, a city I have been to but not been to the airport. The final itinerary was decided as SIN-KUL-PEN-KUL-SIN with the SIN-KUL leg on Jetstar Asia and the others on AirAsia, the world's best low-cost airline.
Booking Process
Jetstar Asia's website encountered a small problem when I was trying to book a one-way flight from SIN-KUL. The "continue" button did not work after I had chosen my flights and therefore I was unable to continue with my booking. The problem was swiftly settled after making a call to their call centre to have my call answered by a sweet lady who processed my booking quickly and only charged me at the online booking fee instead of the call centre booking fee. After several encounters with Jetstar's call centre, I have to say they are much better than the likes of other legacy carriers like TG, EK or even SQ.
AirAsia's website was also easy to use and there were no problems at all while processing my payment. However, their call centre staff seems disinterested in assisting with my booking enquiry and there was a very long advertisement of an already expired offer being played while you wait for the call menu. The most frustrating thing was that you cannot choose your option before the advertisement finishes, unlike other call centers.
Pre-Flight
I got myself a taxi and arrived at Changi Airport Terminal 1 where Jetstar operates from, 3 hours before departure. Once there, I made a beeline to Jetstar's counter and checked in at the web check-in counter since I have already checked in the night before. The male agent seems disinterested in his work and did not talk much to me, not even a thank you or goodbye! This is a huge minus for Jetstar's ground service which is where they need to improve on as their ground staffs were also pretty poor, service wise, when I had my last flight with them in May.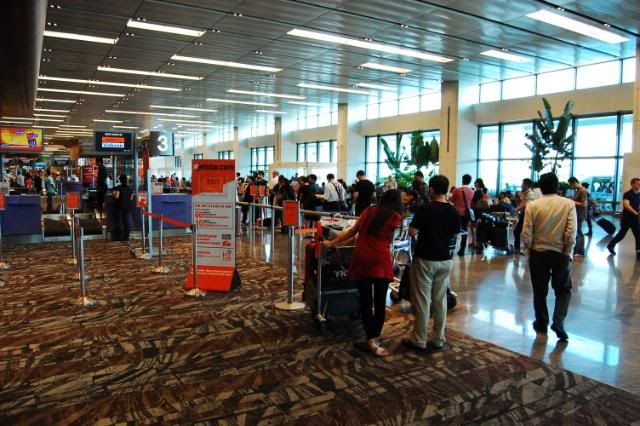 Jetstar's empty check in counters and long queue at payment counter
My proper boarding pass got handed to me and I decided not to go airside immediately which I normally do and I headed to the new Terminal 1 viewing gallery to have a look at the apron. Since the renovation, this is the best viewing gallery for viewing and is also where you can really see planes, unlike those in Terminals 2 and 3 where your view is blocked here and there despite both of them are facing the runway.

Jetstar 9V-JSC preparing to head to another regional destination
I stood in front of a group of elderly also viewing planes and heard some funny comments from them and the most memorable was that the China Southern Airbus A320-200 that just came in could take more than 200 people at one go. Despite having the ultimate urge to correct them, I held myself back and told myself not to be a busybody.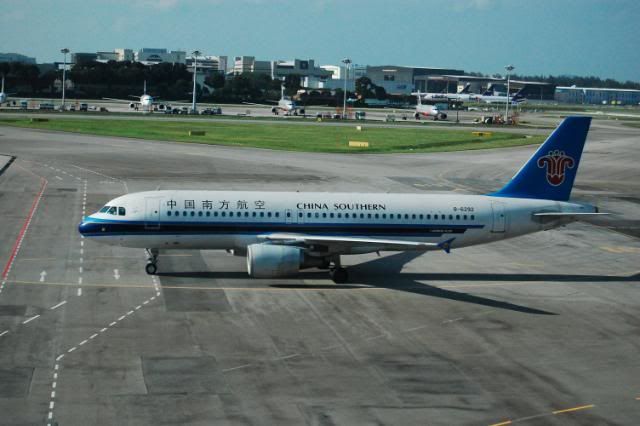 The "200 seater" Airbus A320-200 from CZ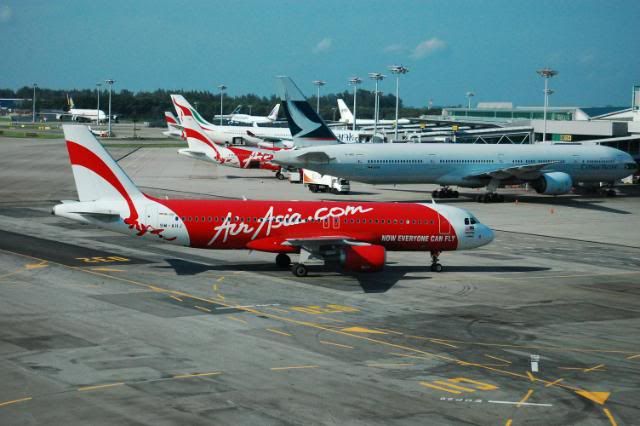 AirAsia arriving from a regional destination



View of the new T1 viewing gallery



My boarding pass
After a satisfying spotting session landside, I decided to head airside for some snacks before going on the plane. There was a resting lounge just beside Harry's Bar that offers an even clearer view of the apron and the planes are so close like as if you can touch them! At this time, lots of movements were around the terminal 1 apron and planes can be seen taxiing for departure or coming in for parking.

Beautiful T1 airside
I decided to head to Delifrance for a light dinner but upon reaching, I was disappointed to see that it was 100% full so I headed over to Dunkin' Donuts which was just a stone's throw away. The service here was pretty bad. I ordered a "Meal Deal" which consists of a sandwich, donut and drink. I was asked my choice of donut and drinks but was told to get the sandwich myself at the back with the staff busy with their own work all the while. Besides that, their food was just average. I can safely assume that they will not be getting my business in a while.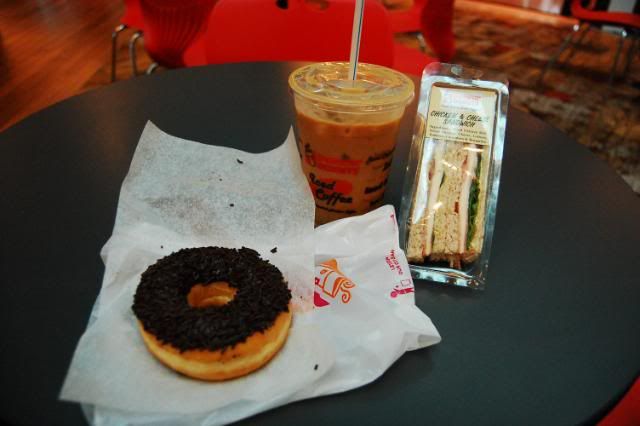 Light snack at Dunkin' Donuts
As I finished my meal, I noticed a great outdoor garden which is even closer the apron and gate C11 was just right outside. It was great having a fountain nearby so while enjoying yourself in the engine and APU sounds from the aircraft, you get to enjoy some sounds from the water which is brilliant. However, one thing I disliked was that people were smoking right next to the non smoking sign and the Changi staff did not do anything to stop them. One guy even looked at the sign, shrugged and ignored it! As much as I hate smoking, I would appreciate if they went over to the smoking area which is just less than 10 metres away to have their puff and not pollute the air around me.

Indonesia AirAsia parked just right in front of me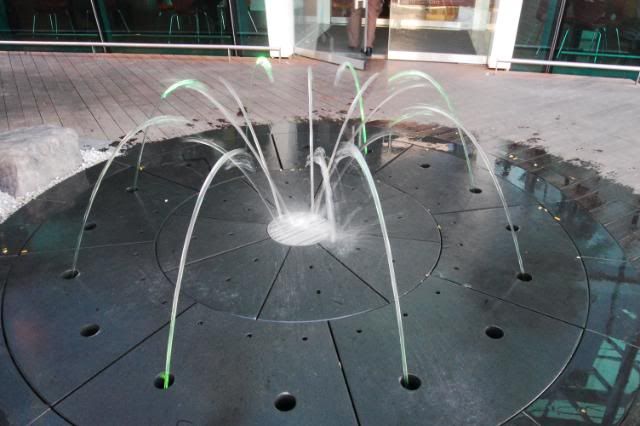 The fountain



Smoking right next to the no smoking sign!
Time passes by so quickly when you are enjoying yourself and soon enough, it was time to head to my boarding gate. Seriously, who needs a lounge when flying from Changi?