2011 Trip Report
I had to visit the UK in May 2011 for some business, and so I went about planning my trip. We decided that we might also like a stay in Europe doing a short cruise from Copenhagen. I was hoping to use my Qantas Frequent Flyer points, but as is the usual situation, getting out of Perth or back to Perth from the main hubs is extremely difficult if you
want premium seats. I am getting a bit too old for long haul in economy. In the end we settled for a mix of FF seats and paid seats I will let you decide which was which.
PER-KUL - AirAsiaX Premium Seats A330
KUL-HKG - AirAsia Exit Row Seats A320
HKG-LHR - British Airways First 747
LHR-CPH - British Airways Club Europe A319
CPH-LHR - SAS Economy MD11
LHR-HKG - British Airways Club World 747
HKG-SIN - United Airlines Business 747
SIN-PER - Qantas Business A330
Early Morning Check in at Perth Airport
We arrived with 15mins to spare, and the premium queue was empty. The staff were friendly and efficient, and our bags being under the purchased baggage limits were whisked away without further ado.
Immigration was a little slower with only 3 officers on duty, but it only took 10 minutes and it was over to security screening. Bags were checked within moments, but as is the usual custom, they picked me, and surprisingly, my wife, for drugs and explosive testing. Maybe we look like we came from the swinging sixies or something.
Air Asia boarding is very civilized with women and children first followed by the rear of the economy cabin, with warnings to stay seated away from the gate for those with low number seats. Premium of course can board when they want.
Sunday is a good day to leave this early in the morning as there are less domestic flights to hold up the take off queue.
The seat belt sign went off quite quickly this time, and before we knew it, our pre ordered meal was delivered. Chicken pie for me and the vegetarian option for the wife. The chicken pie was passable and reasonably tasty, let down only by the veges, They seemed to be crisp enough but were surrounded by water rather than sauce. The vegetarian option was passed over by the wife, in preference for a paid cup of noodles. Why they do not have a breakfast option for a 7am flight I do not know. Apart from the bottle of water provided, all other food and drinks are paid for. The cost re so cheap that nobody could really complain.
We take my iPad and my media player for entertainment, and the flight passed very quickly. Landing into KL was smooth and uneventful. The staff were both pleasant and efficient, so it is always a pleasure to fly with air Asia on this route.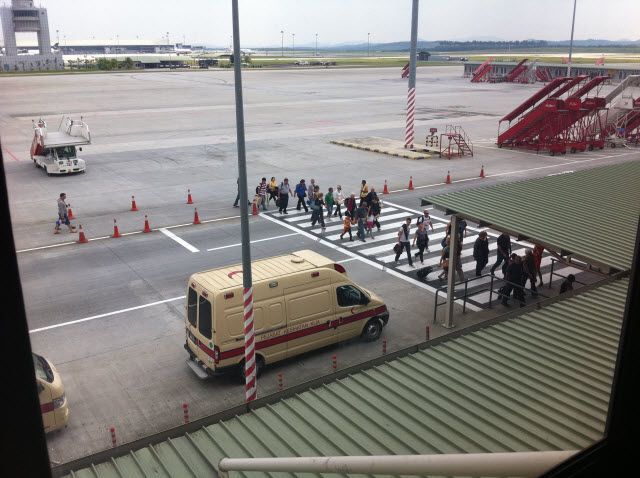 No Air bridges at the KL loc cost terminal, and the walk to the terminal was quite long. For those not used to hot temperatures and high humidity might find it a bit uncomfortable. Immigration was very quick, far quicker than other times we have done it, and priority baggage was there waiting for us. Within 20 minutes of disembarkation we had our bags and had checked in at the LCTT Plaza Lounge.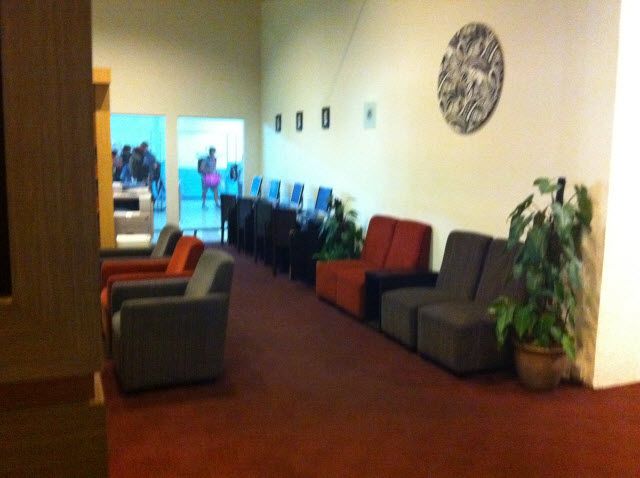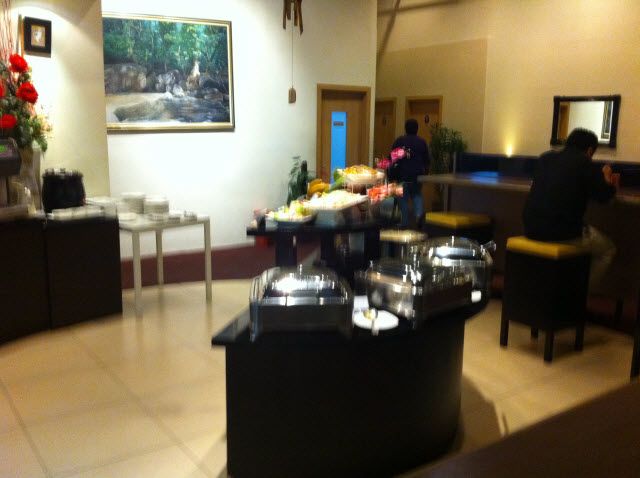 The lounge has two parts, one landside and one airside. The land side is small, with capacity for probably 40, with a small buffet, internet stations, wifi, and a couple of massage chairs. The general feel of the lounge is somewhat dated with dull colors, and the toilets continue in that vein. Why they chose old fashioned furnishings I do not know, simple bright colors and themes could have made it a bit more inviting. Mind you, a lounge in any low cost terminal is a bonus, so I am not complaining, just making observations. We used our Priority pass to get in, but you can just pay a fee as well.
Onward to Hong Kong. Closer to departure, we did a bag drop, which was a breeze taking less than 5 minutes. Immigration outbound was a lot longer with long queues of about 30 minutes. They are using finger scanners as well, which for outgoing seems strange, I would have thought that inbound would be where you would gather info. Security screening was smooth and only 2 minutes to get through.
The flight from KUL-HKG was pretty much as expected. The exit rows mid aircraft provided ample space even if the seats are not that comfortable. The pre ordered chicken satay sticks were very good. A nice spicy peanut sauce went with them.
I must say that I was impressed with Air Asia's staff for keeping other passengers out of the hot seats when they had not paid for them. They even moved a family that had paid for exit rows but had children with them. They were moved closer to the front.
Hong Kong airport immigration was slower than expected, but within 20 mins we were on our way to the baggage claim area. I have seen a welsh comedian doing a item about his luggage being lost and all that was left on the conveyor belt was the handle
http://www.youtube.com/watch?v=tvo9-UA1HD8
.
He spoke about how every one had a laugh as it went around, but as time went by, he was the only one left waiting.
Well I was the last one waiting on this occasion. One of our bags was delivered quite early in the process, but then the other failed to appear. I located the baggage services and they took a report, but said there nothing more they could do, but to ring them at 11:30 the next morning. The problem was that the missing suitcase had my cpap machine, and my diabetic medicine.
Fearing the worst, I phoned the insurance company about what to do it the suitcase was lost, rather than delayed. The cpap machine costs about $1000, but I would also have to see a doctor to procure some more
medicines, and go shopping for a bundle of new clothes. I could not ring Air Asia in KL until 9am as that was the starting time of the lost luggage section. When 9am came and I got through, they told me that the
bag had been found and was being shipped on the first flight of the day and to ring the airport handling agents about 11:30. I did not get through to their phones until about 13:30, and I was able to pick it up at 18:00..
In my original planning, I was planning on a same day connection to the BA flight to London, but I thought it might be nice to stay a night in Hong Kong, for just in case...Great forward thinking on my part. Had I not had the extra day, I dread to consider what my predicament may have turned into. Anyway, with bag picked up, we went back to the Airport
hotel to freshen up until our check in time of 21:15. The Regal Airport Hotel has a 24 hour stay policy, meaning you get 24 hours from the time you check in. A wonderful policy for our timings.
The Airport Express takes you into Hong Kong from the Terminal, and the Star ferry takes you to Kowloon - note the excellent seat pitch in the upper deck seating.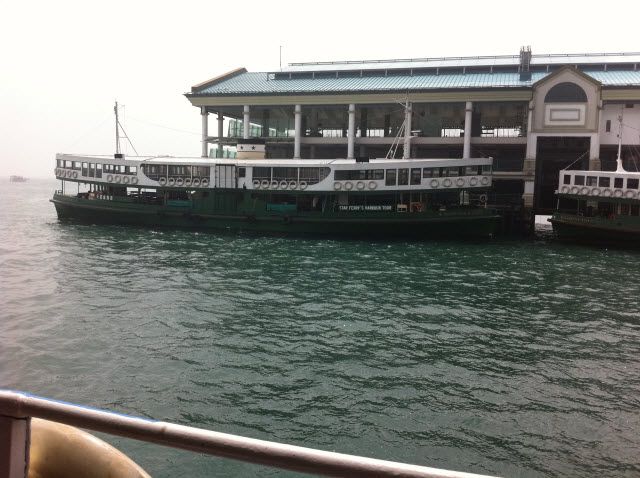 Check in at the BA First check in desk was painless with a very pleasant staff member. Immigration outward was very quick, and security even quicker, and next thing we know we are amongst the shops of Hong Kong airport, not something I relish, but I make a point of staying with my wife, for two reasons, one to make sure she does not spend too much, and second to make sure she does not make us miss our flight. With 30 minutes to boarding, we visited the QF First Lounge. Not much too say really, it is rather boring compared with other offerings, I should not be surprised, as our last visit to this lounge a couple of years back, was the same.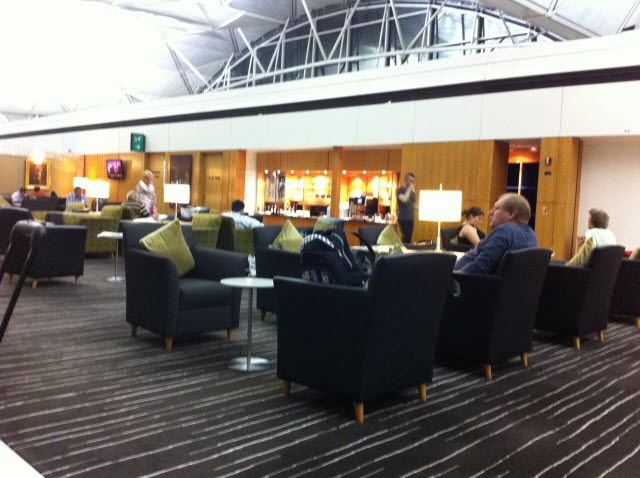 Our flight today incorporated the new first cabin. Much has been said about the new cabin, and some think it is just a minor spruce up. This is not the case. The number of people entitled to savor the delights of First has been retained at 14, but in some respects privacy has been improved. The whole ambiance of the cabin ha been improved.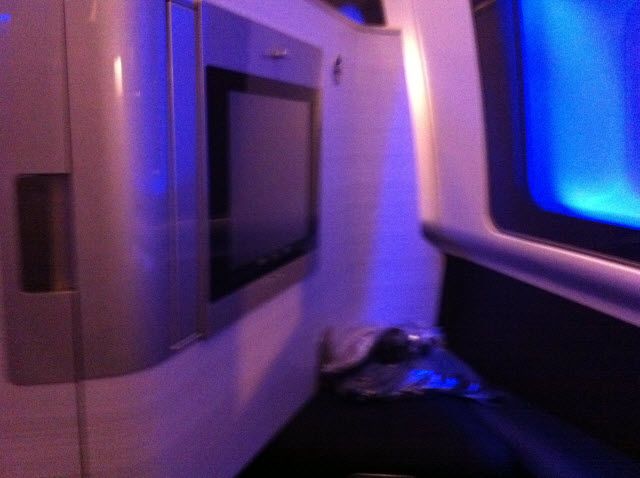 The seat is an improvement on the old one, and allows greater comfort in the take off position. Gone is the bolt upright, and a much more comfortable reclined position has been used. The seat feels much more like an armchair, and to be honest, if I were not going to sleep, I would not have altered the position except to do some work where the
table was required.
Sleeping was another improvement. The seat reclined flat like the old one, except that the arm rests now also lower themselves out of the way, to provide a noticeable improvement in the width of the seat at shoulder level. I slept for 6 hours, and then had a lay in for another hour, so much was the comfort of the new seat.
The cabin has also incorporated mood lighting, which is fine, except it may have been a little bright when the lights went out. I used the provided eye shades, which were very comfortable. The pajamas are always comfy as well. One thing I did notice is that the centre seats now have to share overhead lockers with the A and K seats. This could
be a problem if every one had lots of hand luggage, but there is ample space under the buddy seat. Seats 1A and 1K also are without an overhead locker.
The food on this flight was excellent. The smoked lamb was cooked just to perfection, and the English Breakfast must be the envy of other airlines. Some have said that there has been inconsistency of services from the BA staff, but I found the staff to be of the highest level.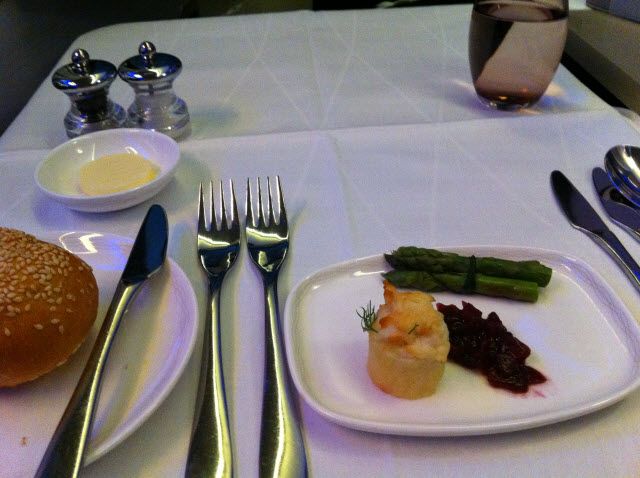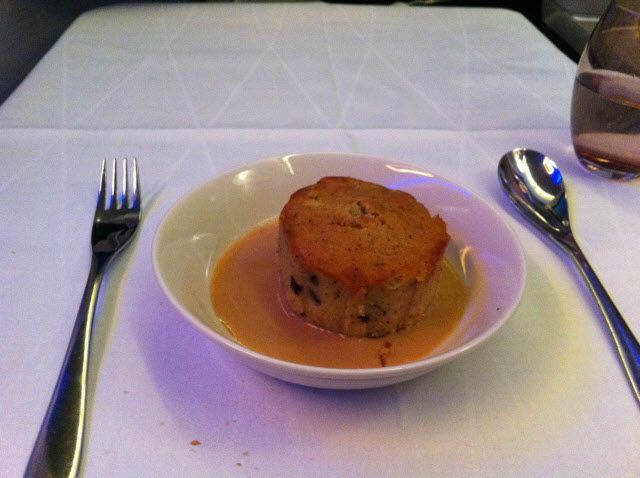 The transfer to the next flight was quick and smooth. Because we arrived into London on a First flight, we were entitled to use the Concorde room, while we waited for our onward connection to Copenhagen. Time was tight and we could only spend a few minutes there. Never the less, it was a very pleasant looking room, with an old world,
gentleman's club feeling.
The A319 to Copenhagen was in Club Europe, seats 1A and 1C. Both very comfortable. The breakfast was a full cooked breakfast, and very tasty, the fruit salad was very fresh and sweet.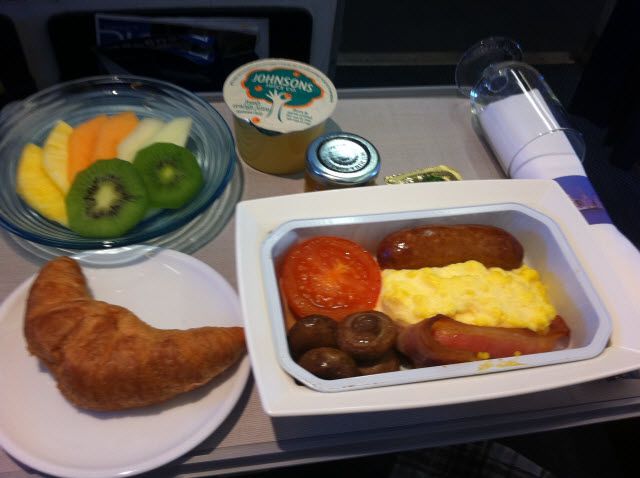 The staff on board were very pleasant with a kind greeting to everyone as they boarded.
After our short sojourn on the Baltic Sea, we had to return to the UK.
After clearing security at Copenhagen, we stayed a while at the Novia Lounge, which had been repositioned due to renovations. It was therefore very basic, and the food offering was also basic. A full range of drinks including beer on
tap was available. No other amenities due to the situation, but free wifi worked well for the most part.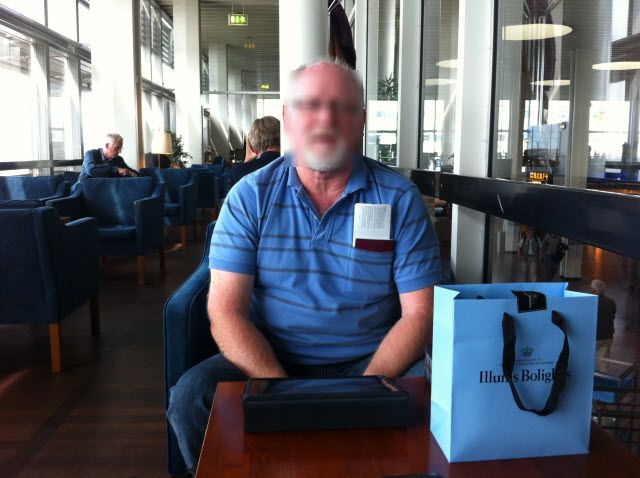 Our SAS flight was a code share with BMI, in a MD11. I have not flown this plane before, and even though if was an older aircraft it was very comfortable. You had to pay for everything in economy, but for a 90 minutes flight, I did not bother. The flight was 100% full, it left on time and the staff were pleasant. Row 25 A and C.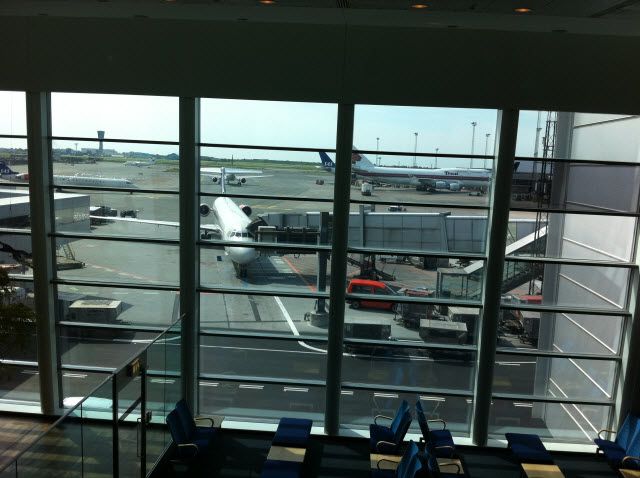 After leaving the lounge we had to go through passport control, which was surprisingly fast despite the length of the queue. Same with the security, lines were long, but within a few minutes we were done.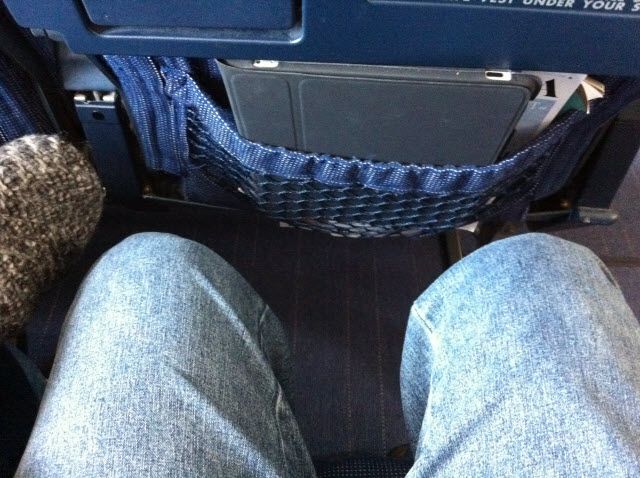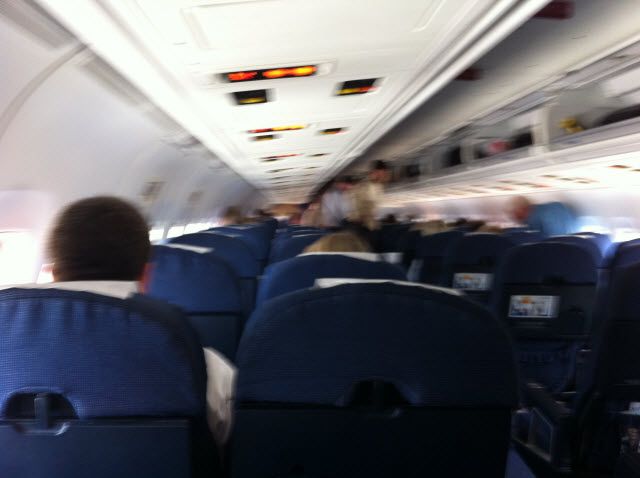 This was the first time on a MD11 but the layout of 2-3 was interesting, and luckily we had seats in the 2 seat section. The seat pitch was excellent in row 25, and for an older aircraft the seats were very comfortable.We received no meals, snacks or drinks as we were in economy. You could purchase something if you wished but for such a short flight it was not missed.
We have UK passports, so UK immigration was a breeze and only took a few minutes. Baggage took a while longer, but after a 15 minute wait our bags were retrieved.
The Heathrow express took us to London Paddington in it's usual efficient manner. The taxi queue was yet another thing taking nearly 20 minutes....

The Trip back...


Heading back to Perth was to be via Hong Kong and Singapore. 6pm is not a great time to get to Paddington by taxi from central London, to catch the Heathrow express, but once at Paddington, it was a breeze. Jump on the train, and 20 minutes later we arrive at terminal 5. We had completed our check in on line, to make sure that we got some decent Club World seats. Charging 60 pounds to reserve seats, and 80 for upper deck, seemed somewhat
excessive. Anyway we secured 20A and 20B, and printed our boarding passes at the kiosk machine and presented our bags to the bag drop counter. There was no queues, and then it was off the security and immigration. Again, we must have just chosen an ideal time, as this was over in minutes.We proceeded to the Galleries Lounge South, and found a
very pleasant surprise. Plenty of food, drinks, snacks, the lot. The lounge was not crowded and they even had some cocktail waiters there on behalf of a major alcohol distributor.


This was our first trip in Club World. It left us with mixed feelings, but overall we would travel that way again. The first thing that we had to overcome was the idea of back to front seating. We chose seats 20A and B, but as the flight was not full I took over 19A after takeoff. I am not sure of the etiquette of the lift up barrier between seats A and B, but I should imagine one only has it lowered for take off and landing, and at all other times it is raised to provide privacy. It was obvious that the cabin crew do not like them, as at meal times, they lower them. Whether this was because I had no one next to me, or if it is usual behavior I am not sure.




Meals were a level down from First, obviously, but were enjoyable none the less. The cabin crew could not be faulted and were always pleasant. I think the senior attendant in the cabin was suitably impressed when I asked if I could change seats, as I understand it to be a pet peeve, when they lose track of a passenger, and she was extremely willing to accommodate my request. Sleep was easy in these beds, even if the eye shades are not First quality, I managed another 6-7 hours with ease.


Landing into Hong Kong was uneventful, and before we know it we were checking in at the United Airlines check in desk (we had to go through immigration and customs first). We had already selected our seats up on the upper deck as it seemed to be the most private area. We headed off to the Red Carpet Lounge. This is a good lounge. Plenty of food, plenty of drink, plenty of space, and just has a nice cozy feel about it. It puts the BA Qantas First lounge to shame.




United Airlines has a different configuration to most business seats on other aircraft, with forward and rear facing combinations of 2 seats. In the aisle seats, I found that privacy from the opposite side of the cabin was not that good, but a window seats would have been great. The seats are both comfortable in the seating and sleeping positions. The
trip was only 3 hours, so we did not actually go to sleep, just tested the position.




Meals were acceptable, but I thought the choice was a bit limiting. Other than that, it was a nice short hop to Singapore where we stayed the night at the Crowne Plaza Airport Hotel. An unusual hotel, with a glass wall between the bedroom and bathroom. Funky you might call it. I would stay there again.


The Qantas flight left at 09:30, so at 08:50 we fronted up to the gate, to find it was empty. We went through the security and haded in our boarding passes, and strolled down to the plane. The purser met us at the door, and greeted us by name, without looking at our boarding passes. There is only one situation in which that can occur, and that
is being the last passengers to board. Normally it is a bit of a bun fight when there is still 30 minutes to departure, but everyone was seated and ready to go. We did not leave until 09:30, so I should not have felt guilty.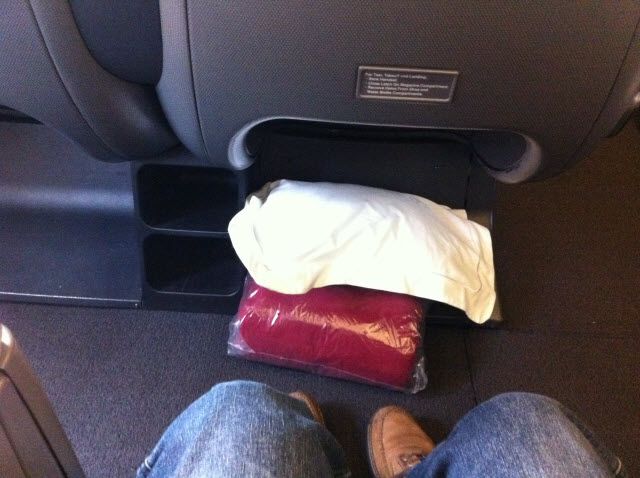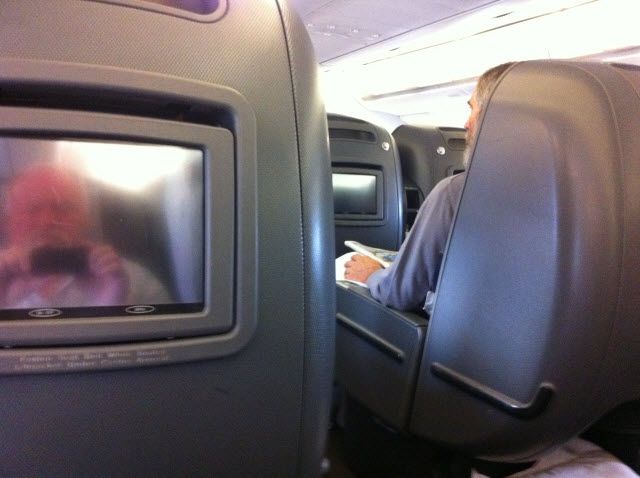 The service on the final leg to Perth was not quite up to scratch. We had no menus, so we had to listen to the FA for meal choices, which can be difficult with the noise of the cabin, and it does not give you lots of time to make your mind up. Other than that, the older style of skybed was comfortable for watching the movies, but
being day time, we never reclined them all the way to see what sleeping may have been like.


We arrived back in Perth suitably refreshed, and immigration and customs were a breeze, and living close to the international airport, we were back home in no time at all.


I hope you enjoyed this report, and apologies for the lack of photo quality, which all came from my iPhone, and for the lack of others, which was down to my wifes dislike of my taking photos in aircraft.

[Edited 2011-07-01 23:16:29]