Leg 3: Masochism for Dummies (or, Applied Insanity 101) –April 9, 2011
Some photos have been omitted for your convenience. The full album may be found here:Slideshow for Leg 3.
I should think that I will remember this April 9th for some time to come. Will they be positive or negative memories, though? After all, there's only so much one can do to plot one's course. I made sure to book ample connection time to allow for these notorious airports. I checked and double checked the weather in the destination cities. This is easily the most ambitious leg of the journey, one that should be a rite of passage for any traveler. If you can survive ORD, JFK, and ATL all in one day, you can survive anything.
Let's be real: there aren't many events that would make me get up at an hour beginning with "4". Since this was one of them, I found the motivation to drag myself out of bed. Of course, the advantage was that I was able to walk right up to the checkpoint and breeze through security. It was the third departure of the day from OKC, after all.
Look through the lady and you'll see my plane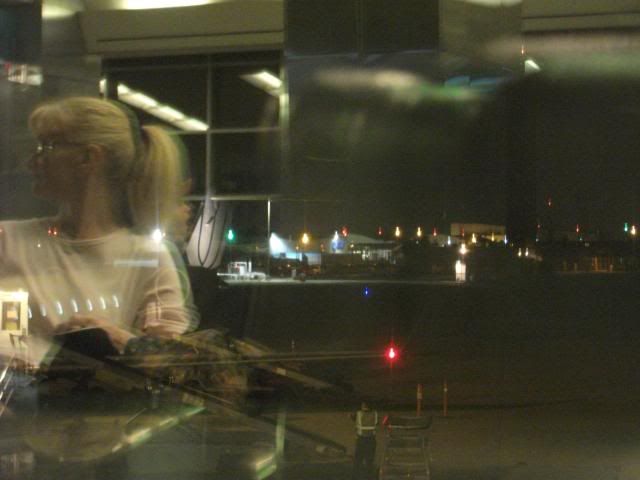 United Airlines 6993, operated by SkyWest Airlines OKC-ORD
Scheduled: 06:00-07:57
Actual: 05:50-07:46
Canadair CL-600-2C10 [CRJ-700] (N792SK)
I suppose it's the CRJ that causes some confusion for people. I got to my prescribed seat, 13D, and guess what? A guy was sitting there. What followed:
Me: "Ah, here's my stop, and there's my seat."
Him: "13C?"
Me: "No, 13D. D is the window; C is the aisle."
Him: "Oh, sorry about that."
Not long after that, another gentleman came and asked Mr. 13C if he was sitting in 13B. We informed him that B was on the other side. As you can imagine, lighting was just about wretched, so only a few pictures. Nothing remarkable happened (to my knowledge), so it's just as well. Weather in Chicago was foggy, so I didn't see the city until a few seconds before we touched down. There was one near-event, though...
The FAs came by with the cart and I asked for orange juice, which I dispatched without any trouble. About the time we started our descent, I started feeling a little off. I don't get airsick, so it seems that a can of OJ on an empty stomach wasn't the best of all possible ideas. (I later read about why that was the case.) I felt the heat, and worse, that feeling in your throat that you get when you think something's about to come up. It slowly climbed, so I took some deep breaths and turned on the air to relieve the discomfort. A few tense minutes passed, but I was able to avoid blowing chunks. We got to ORD a little early, which afforded me a little more time to roam the airport. This was the worst looking weather forecast of the lot, so it looked like one of the biggest hurdles was behind me.
Werewolf legs in jeans this time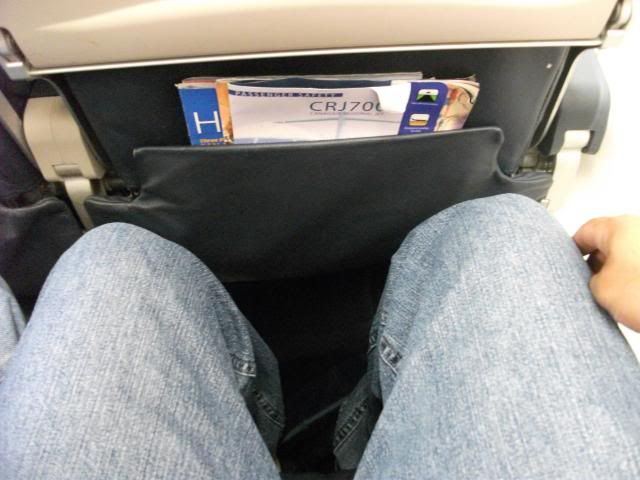 The sun peeking up from behind the horizon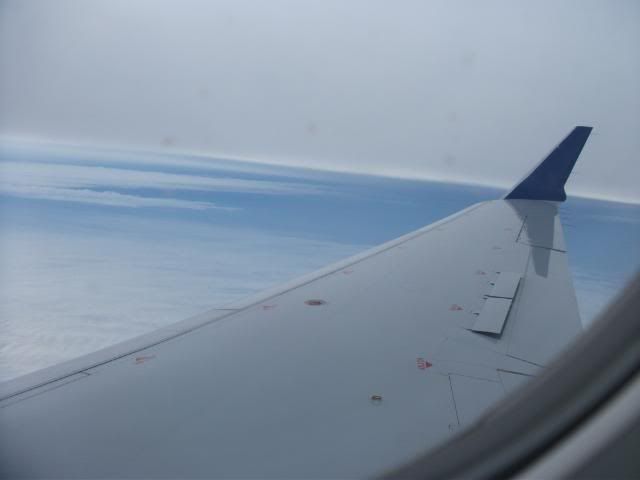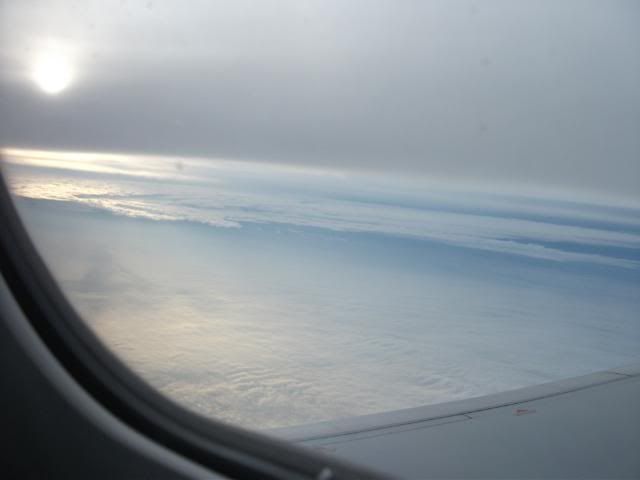 It's Chicago…finally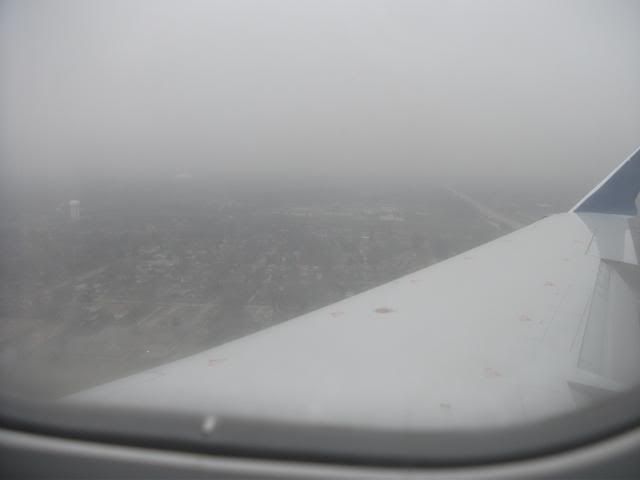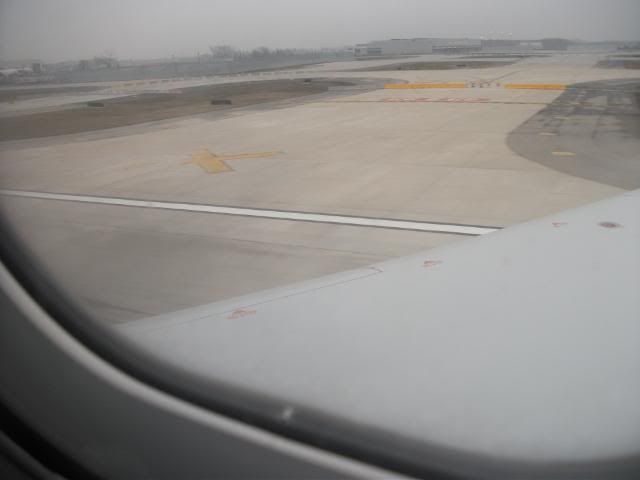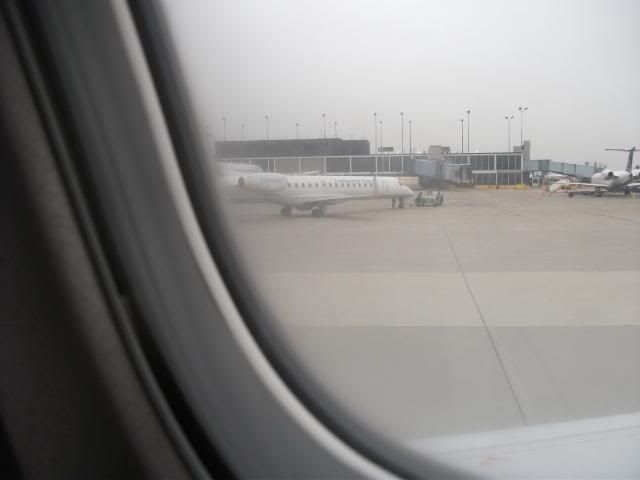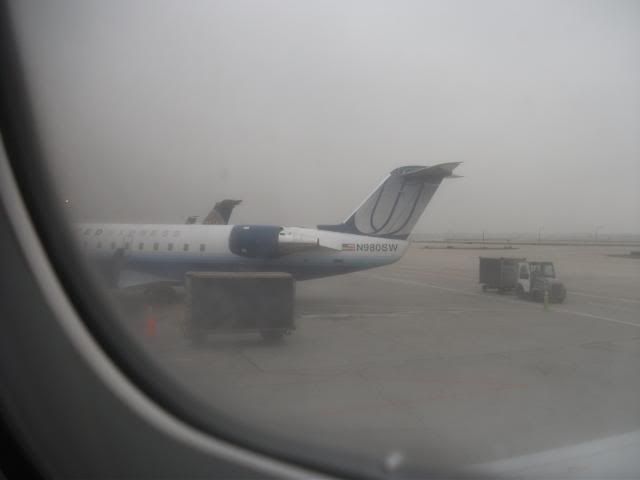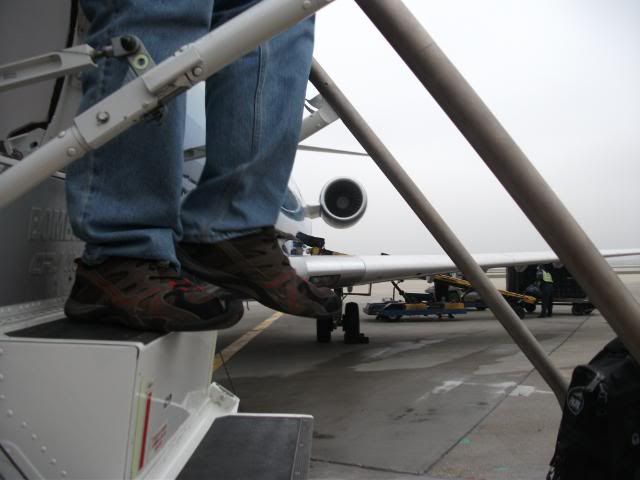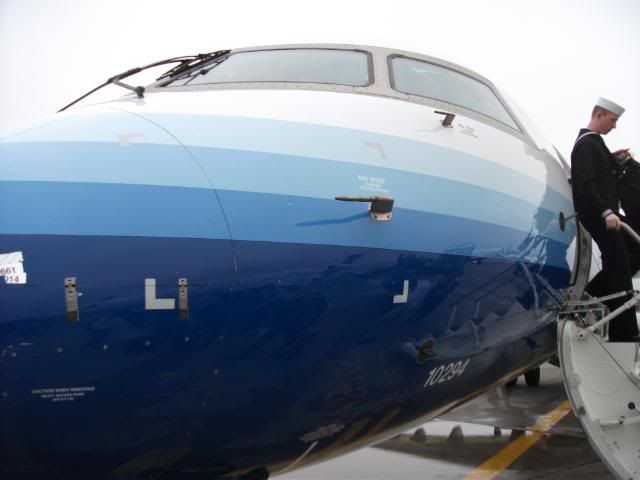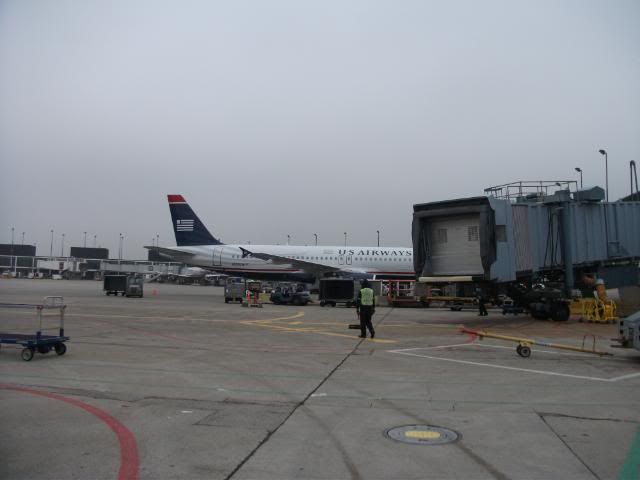 After some circuitous taxiing, we pulled in at F12C. It was the first time I'd exited a CRJ via the stairs. It was steeper than I imagined, but I avoided the dreaded Gerald Ford moment. I walked about in the refreshingly chilly air and took in my surroundings. I was enjoying the total sensory experience I was presented with: the chill of the mist, the smell of exhaust, the sound of APUs and engines. Unfortunately, the ramp agents were somewhat insistent that we keep walking. Inside, I was greeted by another one of those low ceiling, hallway-type concourses. Certainly not hideous, but not eye-catching, either. (Hideous would come about five hours later.) As befitting a major airport, the coveted first bathroom shot was foiled by a steady stream of people. The design was as expected: nothing special. With that out of the way, I had a little over two hours to walk around. Here's what I saw:
Concourse F (no pics of E, which is the same as F)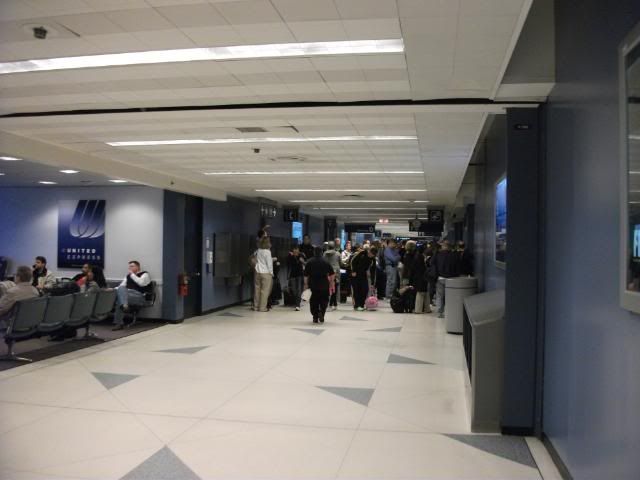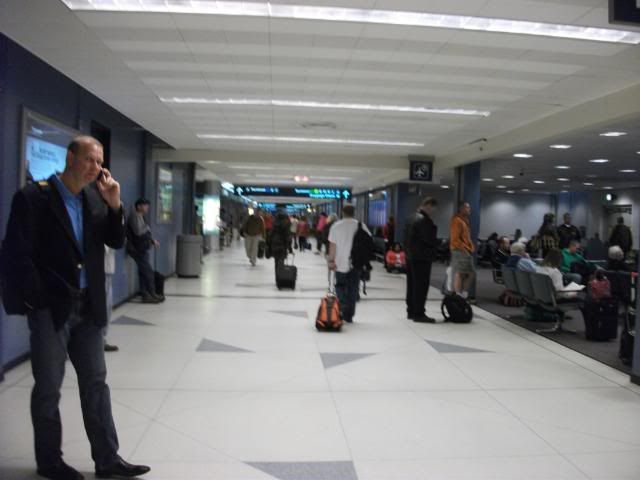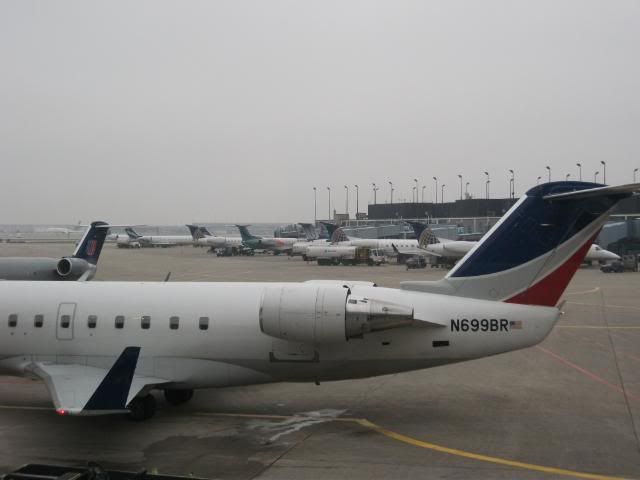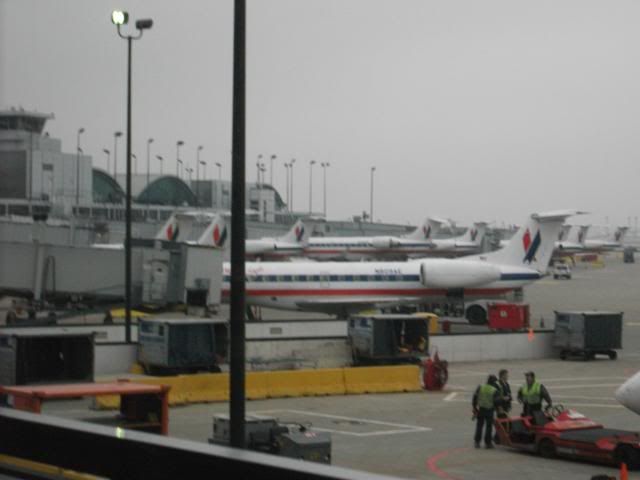 Between Terminals 2 and 3 (I wanted a slightly more scenic shot, but there was a woman who was…uh…feeding her child in the natural way.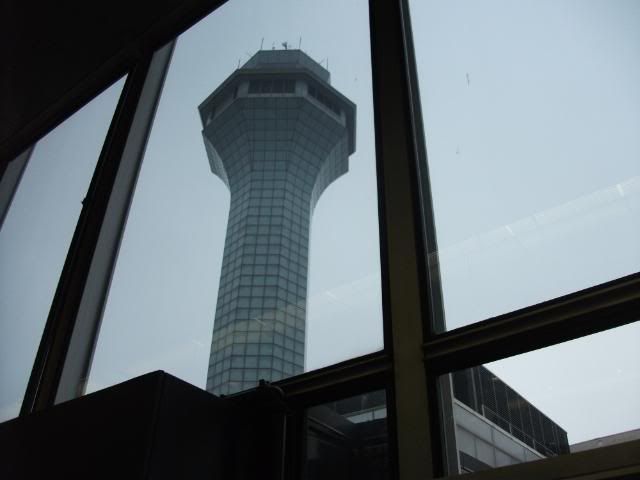 Concourse L. Reminiscent of a subway station; I thought it was rather neat.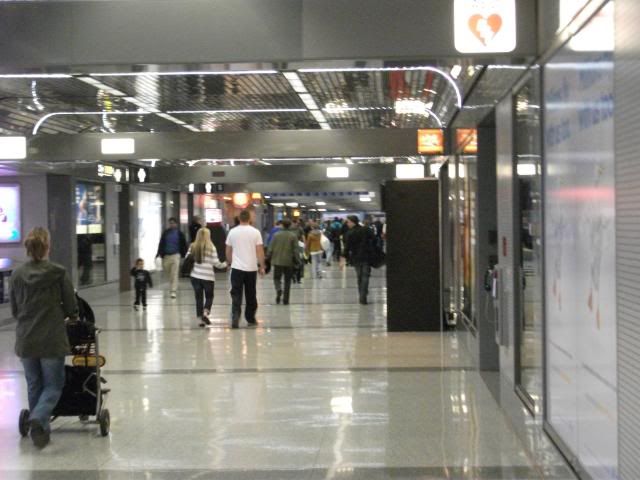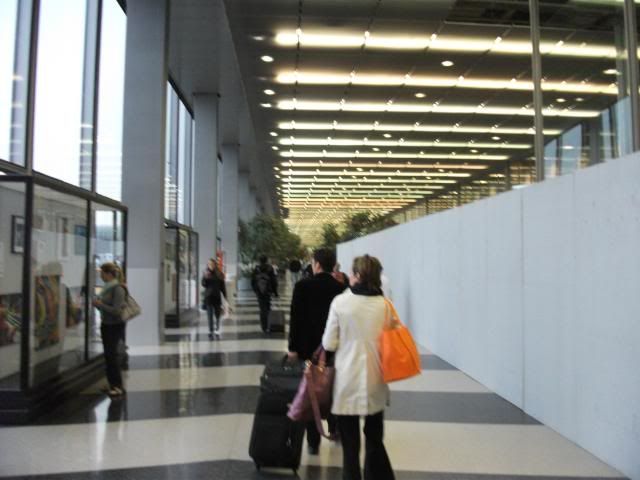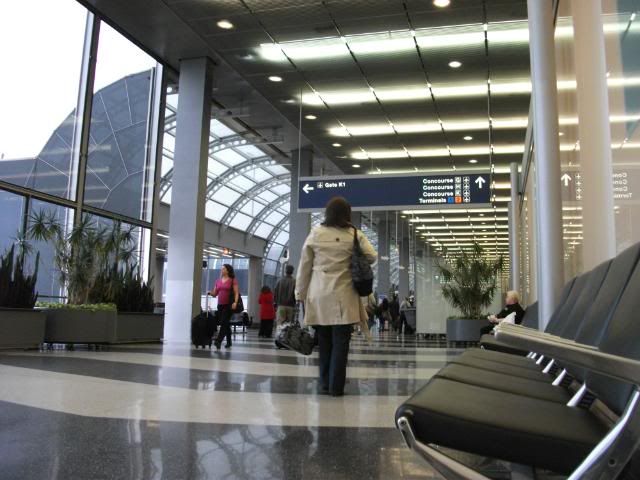 Concourses H and K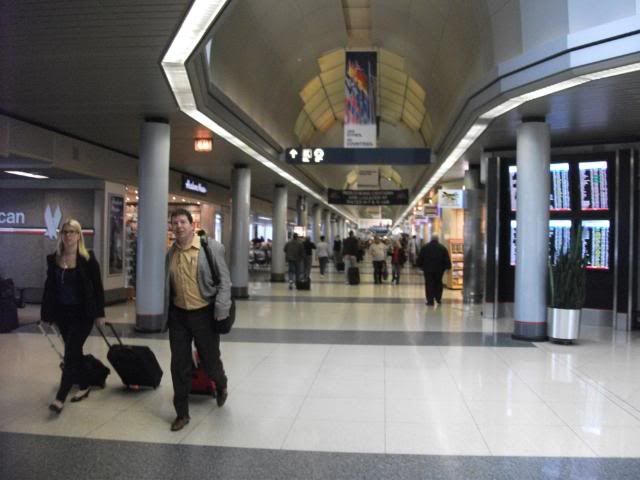 Another Rocky Mountain Chocolate Factory? These things are all over the place. Another pleasant surprise—and another dark cashew bear.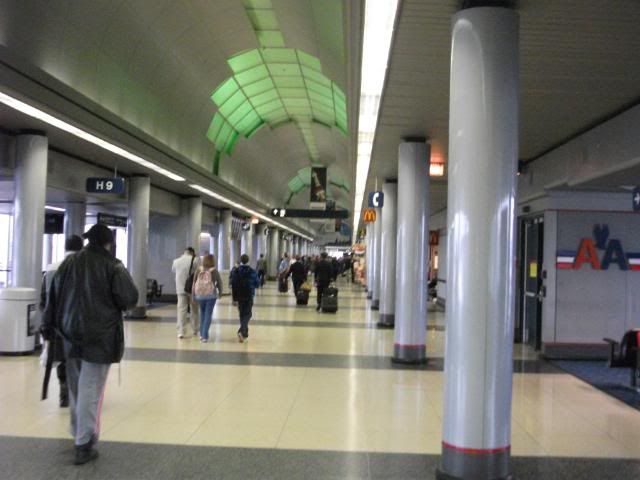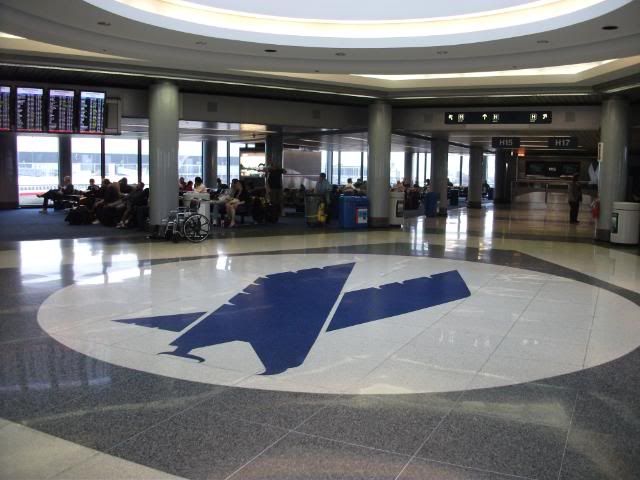 AA oneworld 772; also a JAL tail to the far left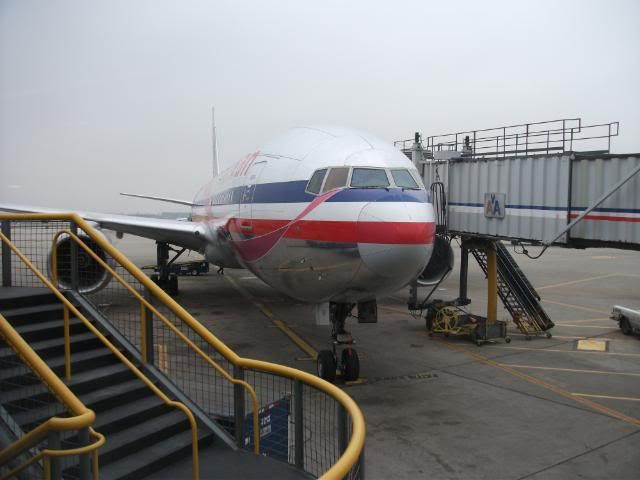 I took a pit stop at a Wolfgang Puck for breakfast. I had a spinach, mushroom, and mozzarella breakfast sandwich, which came with seasoned potatoes. It cost me less than the food I ate in IAH. It was also pretty good. (I later passed a Cinnabon and caught a whiff of something good. I went back and bought something. There were a lot of places that smelled really, really good.)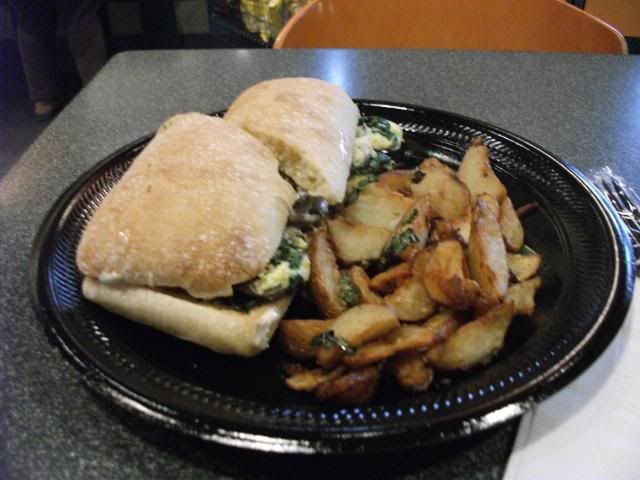 Hall-O-Flags, entrance to Concourses H and K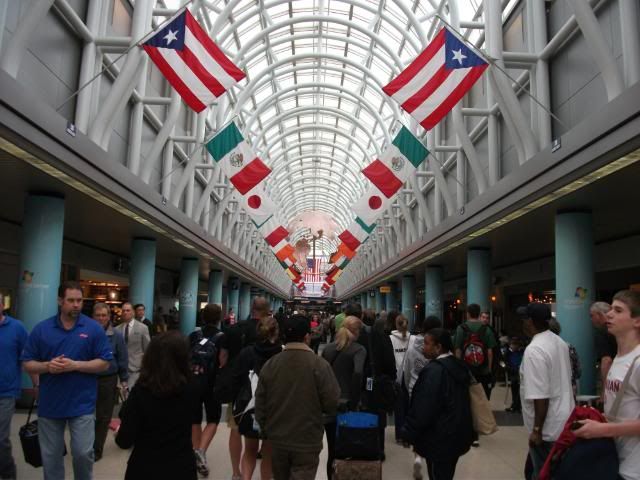 Concourse G and rotunda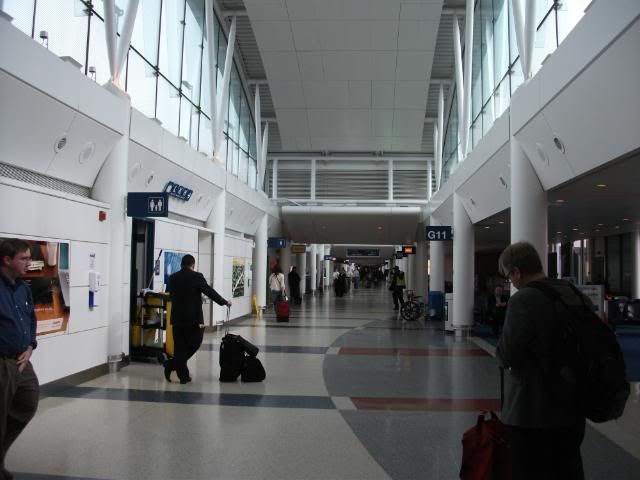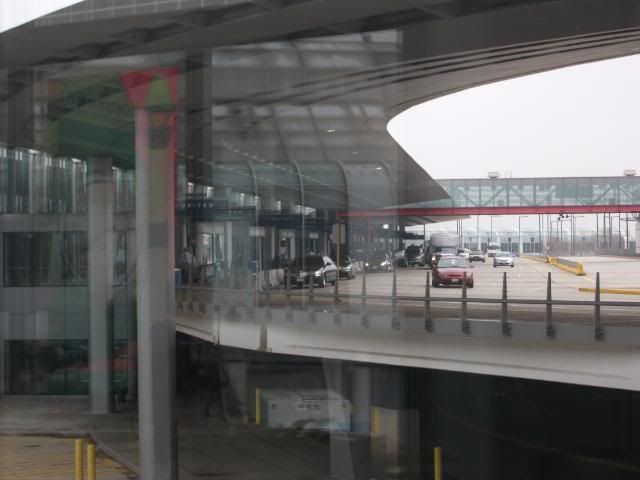 Walkway to, and, Concourse B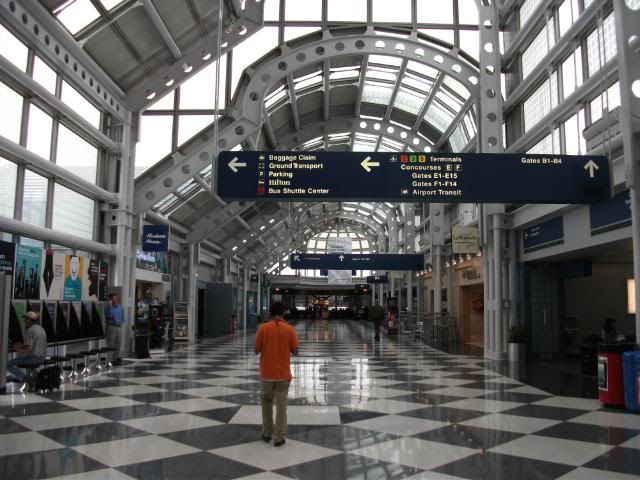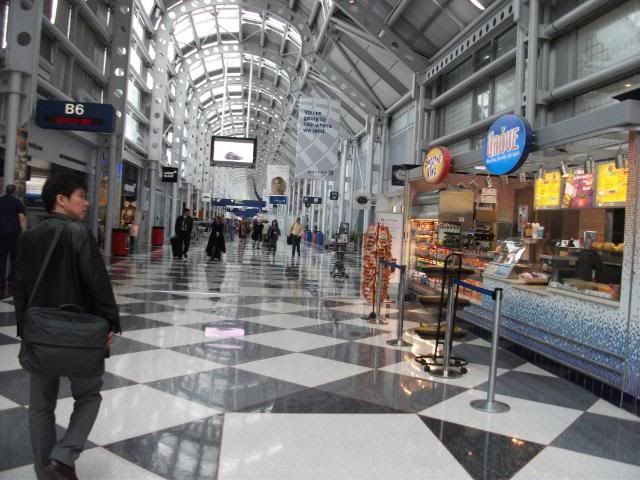 Underground walkway to Concourse C
ANA 777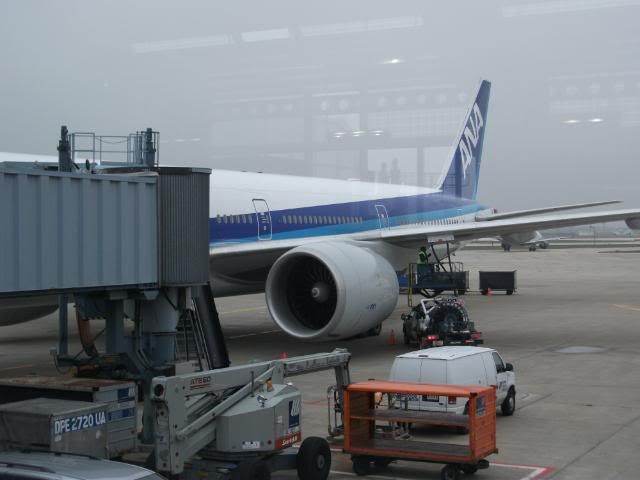 A bathroom in Concourse C which was just empty enough to snap some quick shots. Probably high on the list for bathroom designs that airports should aspire to.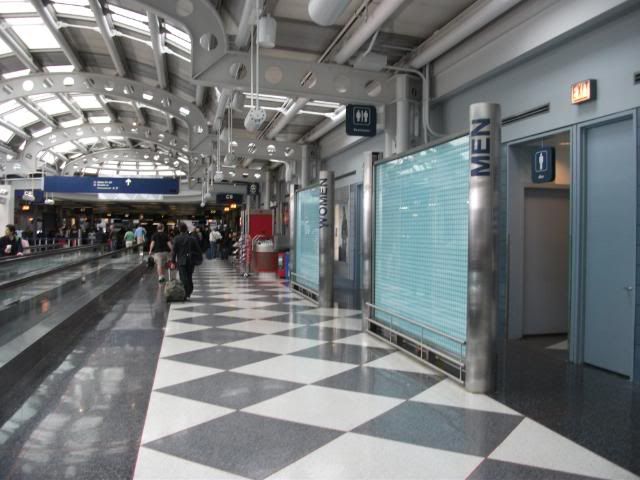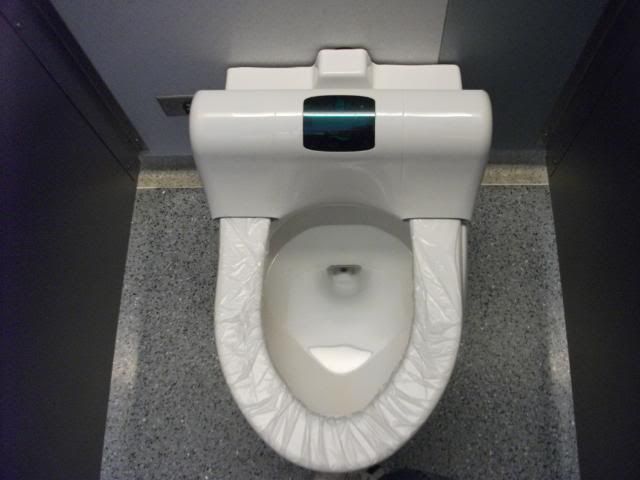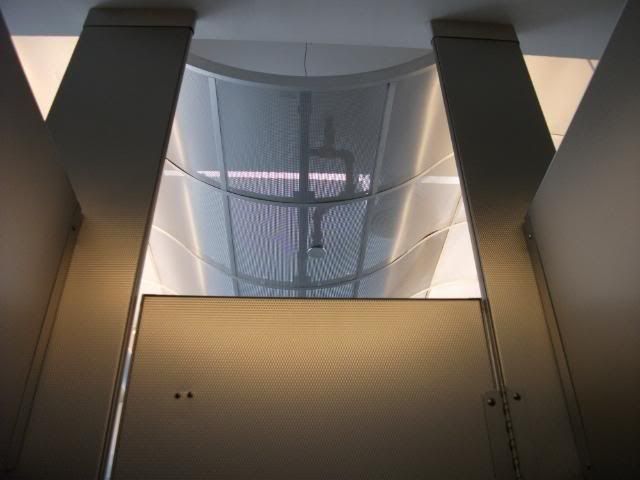 My wandering complete, I made my way to B20 where my next fight was to depart. The plane hadn't arrived yet, and it was about 10:10. At 10:30, the scheduled boarding time, the announcement came that the plane would arrive in about ten minutes. I was hoping the gate agent was right and I wasn't about to be a casualty of the air traffic monster. About ten minutes later, I could see the ground crew beginning to stir from my seat in the gate area. Not long after, the plane came around and parked at the gate.
Fortunately, we weren't delayed too much. Before I forget, there's something else around the corner as well—another bonus airport!
United Airlines 7580, operated by Shuttle America ORD-LGA
Scheduled: 10:50-13:54
Actual: 11:09-13:58
Embraer ERJ-170-100SE [E-170] (N636RW)
When I was putting itineraries together, I noticed this combination of flights could be had for a good price. Hence, it was UA to LGA and DL from JFK. That gave me an opportunity to do something else, and we'll get to that later. As for this flight, a plus was that one of the flight attendants was an absolute fox. There was more than one way to enjoy the view, I tell you what.
Anywho, the flight went nicely, a few bumps aside. We took the Hudson approach going into the city, which gave me a nice view of the buildings. (There were no Airbusses in the water, by the way.) I tell ya: you see the skyscrapers in pictures and on TV, but you just don't appreciate them until you see them for yourself.
Legs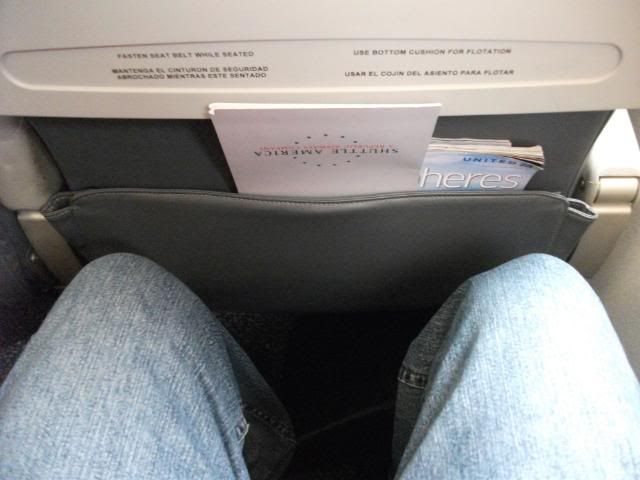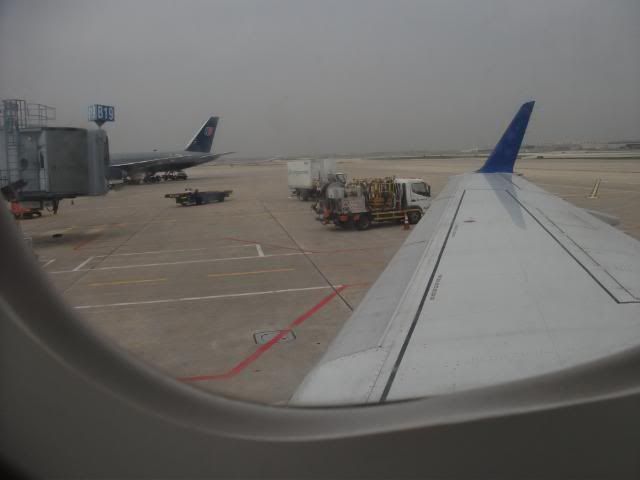 It was also rather interesting to see the antennae of the buildings poking through the cloud cover.
Lake Michigan, I suspect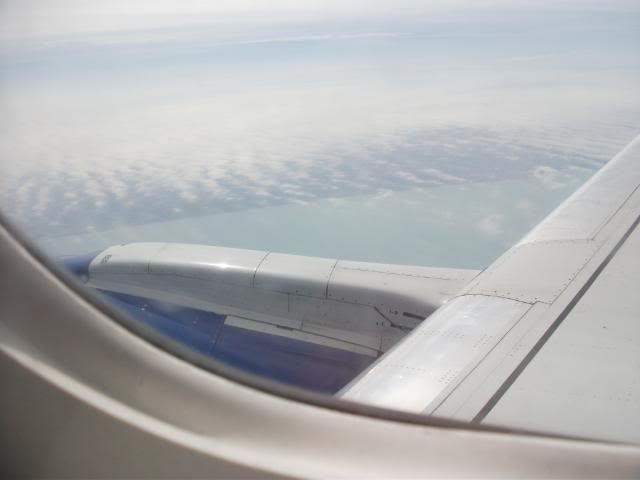 Through the clouds and into New York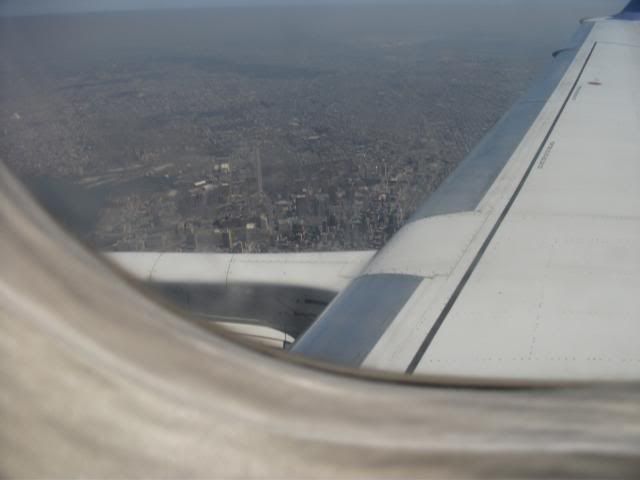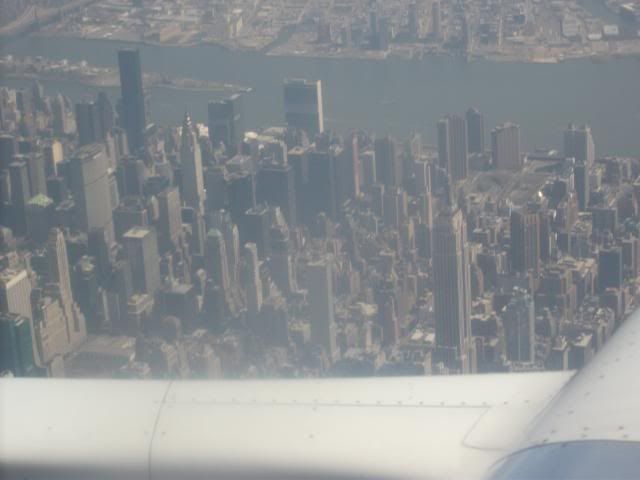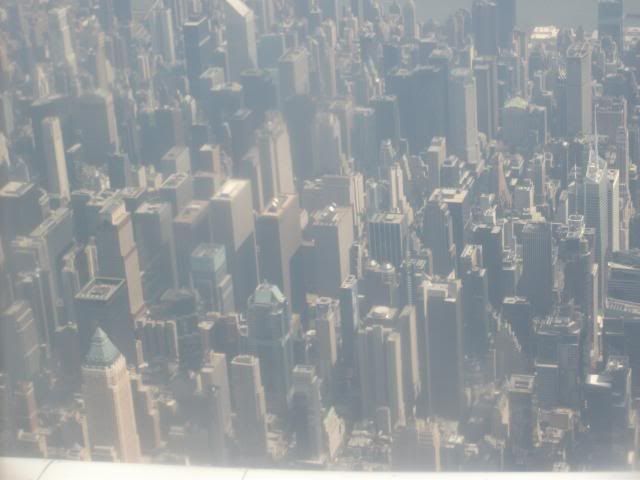 There be LGA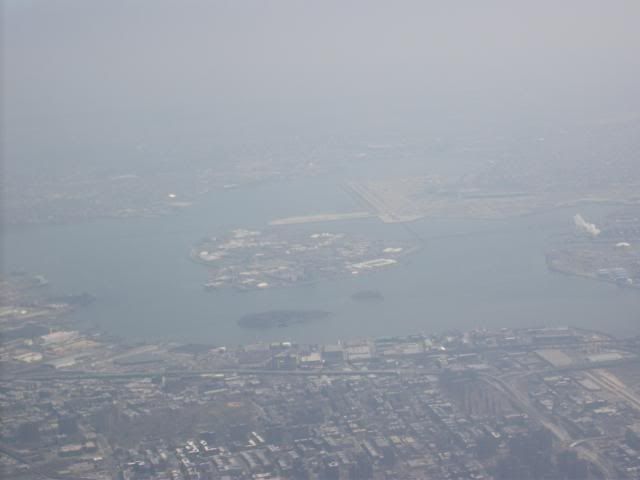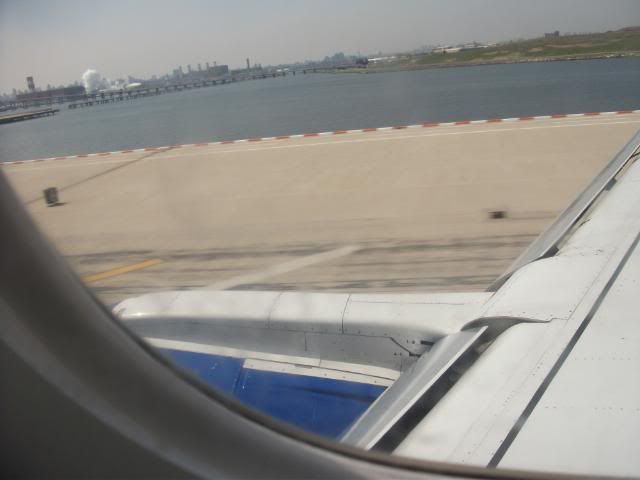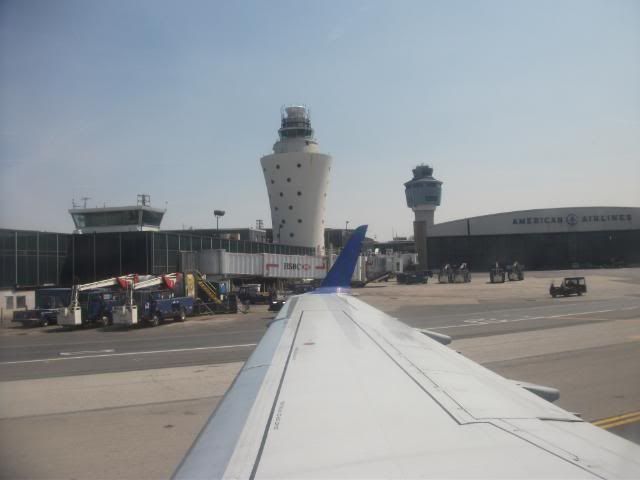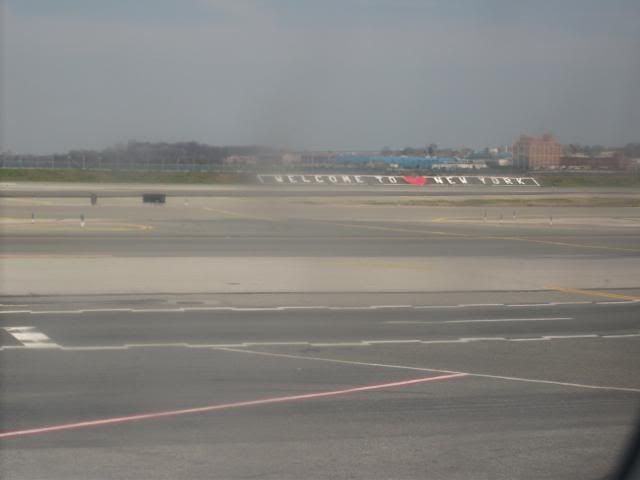 A look at the LGA terminal map showed that each concourse had a security checkpoint at the entrance, preventing exploration of the whole place. That turned out to not be a problem. I didn't want to bash the whole airport based on one concourse, but they made it really hard for me to reserve judgment. US Airways looks like they're ahead of the curve, but I'll save that for when I fly US to LGA. I wanted that first bathroom shot, but I took a brief look inside from the concourse and I didn't really want the shot anymore. If they're looking for suggestions on what to do, I would suggest a bulldozer first of all. I was already in a New York state of mind: think fast and walk faster.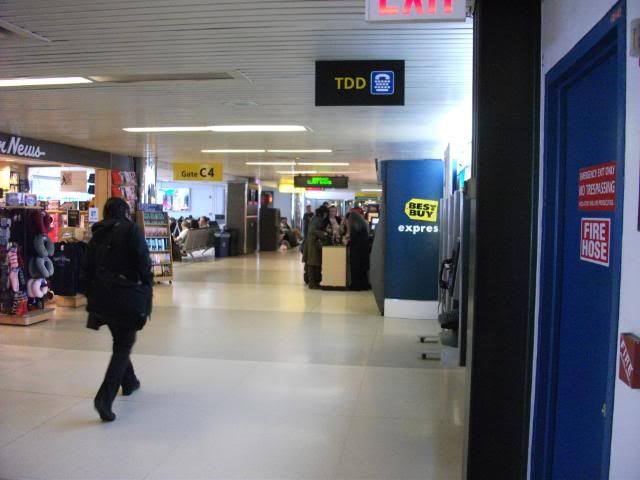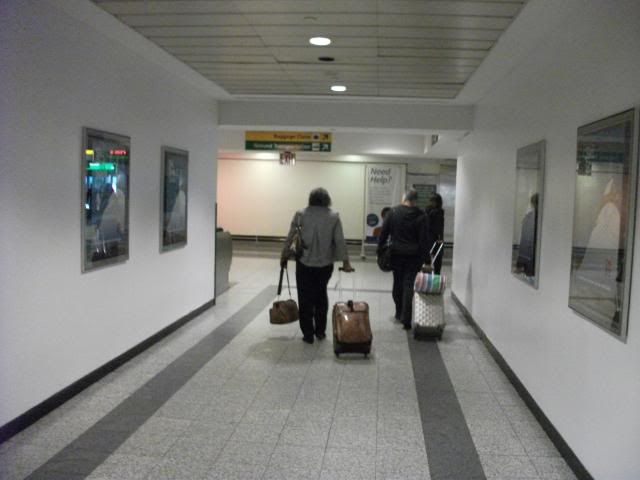 After getting out of that…place…I set about doing something else anybody going through New York should do: take a taxi. Of course, I made a beeline toward the first taxi I saw, only to have the driver tell me to go to the taxi station and wait in line. I did so and got in my yellow cab. I told that driver I was going to JFK; he nodded and we sped off. The ride took about 20 minutes and cost me about $27, not including the tip. The driver made some maneuvers that I probably wouldn't do in my car, but I made it to Terminal 3 in one piece. Long story short, I didn't fear for my life, and I would gladly take a taxi in the future. I tried a few pictures, but unpredictable trees and unpredictable movements foiled me. I did see the US terminal, Citi Field, and a hospital with "Trump" on it.
A boarding pass, of sorts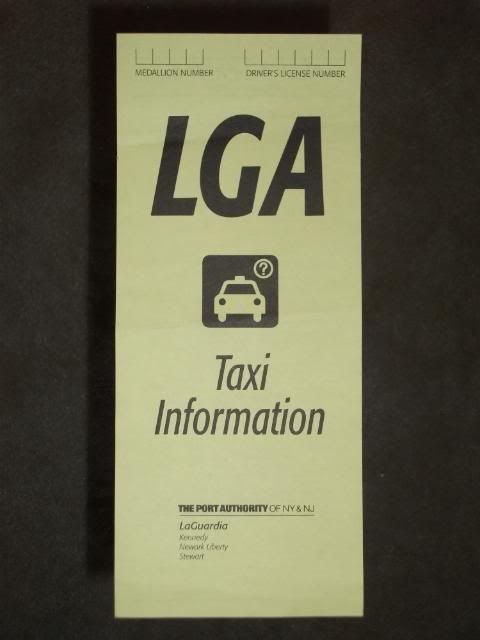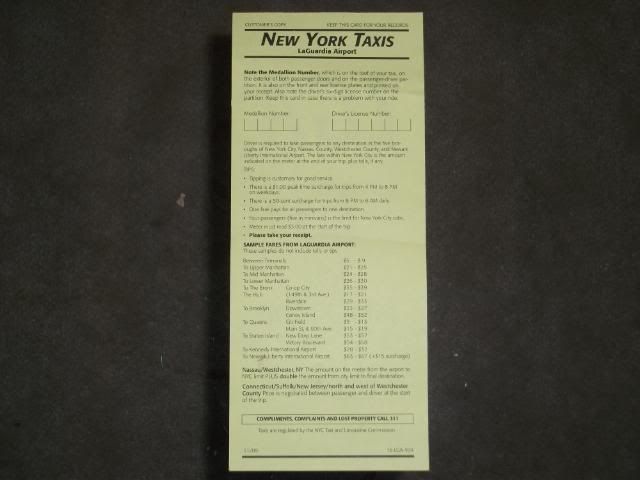 The taxi: a bit more legroom, but any safer?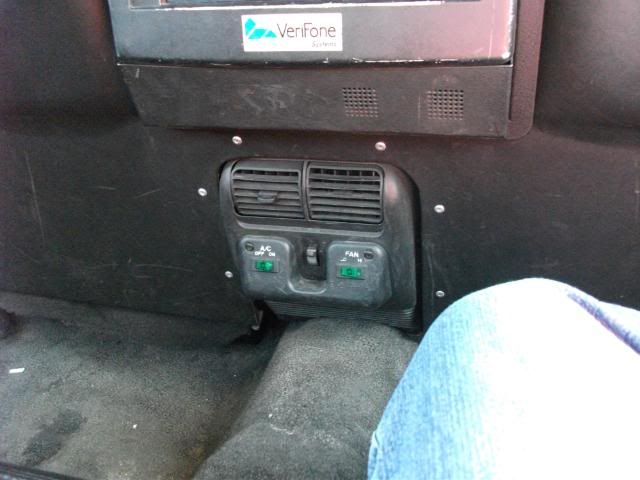 An early look at JFK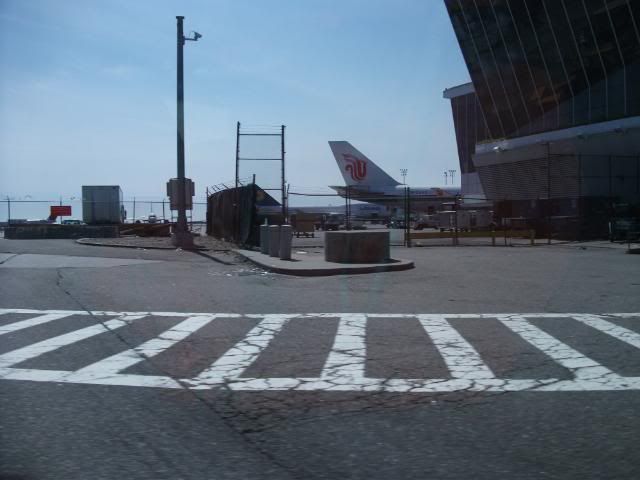 I cleared security, which went a whole lot better than I expected. There was even a little comedy:
TSA agent: "I'm sorry sir, but you can't go through the checkpoint wearing that sweatshirt. You're going to have to put it in the garbage."
Man behind me: "What?!"
TSA: "Sorry, but it's the regulation."
Man: *reluctantly starts to remove his sweatshirt* "Why can't I wear this?"
TSA: "Well, you see, it's a Boston Red Sox sweatshirt, and you can't wear that here."
*Laughing*
TSA: "I can't believe you almost fell for it, too!"
(Moral of the story: the boys in blue aren't all evil and waiting to irradiate you beyond belief and go through the undies in your luggage.)
So, I went through the hallway and anticipated my entry into the historic Terminal 3, the Worldport of fame, and former home of Pan Am. The place was a dump. When I first saw DL's plans to get rid of it, I had some doubts. Now I'm thinking, 'Be quick about it.' I don't know what kind of attention has been given to it over the years, but it's quite a ways from where it began. I guess it was the initial shock combined with seeing a lot of people that looked like they didn't appreciate cameras that made me only take one picture of it. With the mild shock out of the way, I went to see what I could see. I could see quite a lot, it turns out, which certainly helps the "kid in a candy store" mentality.
Speaking of the above, there was no shortage of big planes to look at. In particular, there was a DL 744 that I got a few shots of, but I couldn't get the best ones because someone had put a store right in front of the window. Pfft.
T3 ticketing/check-in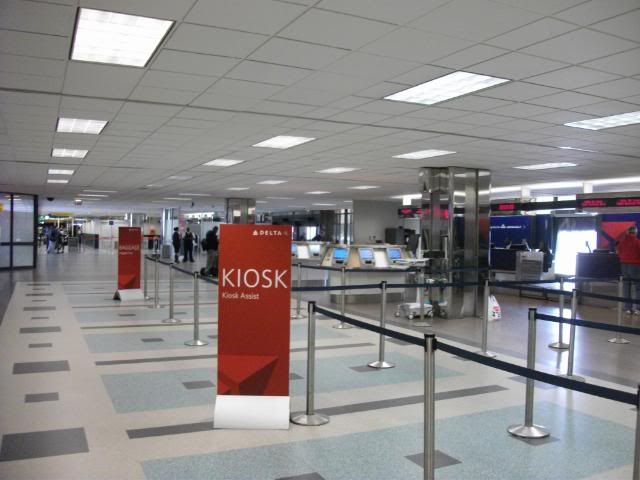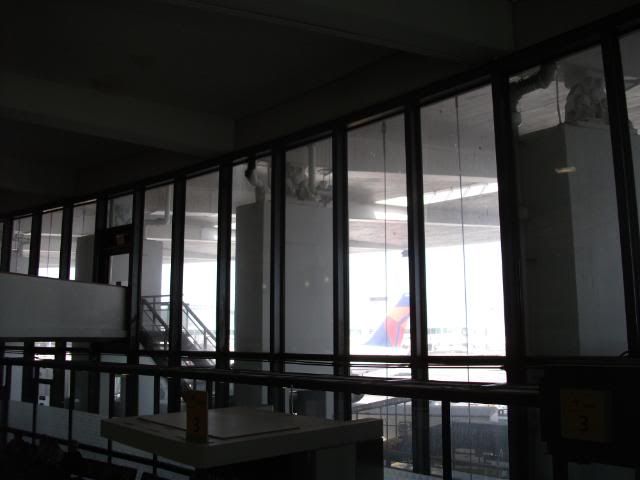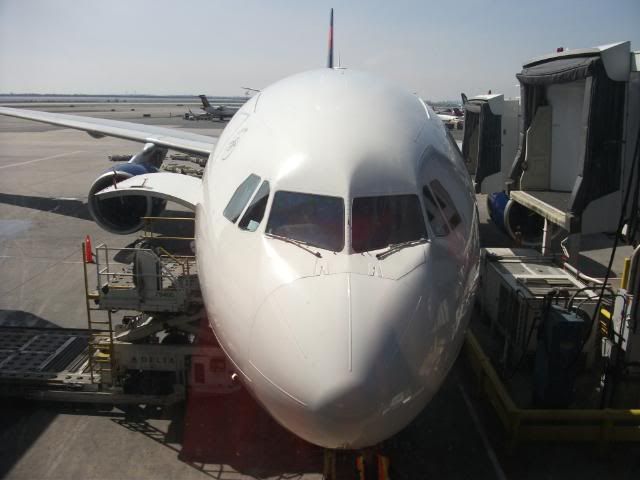 Airline medley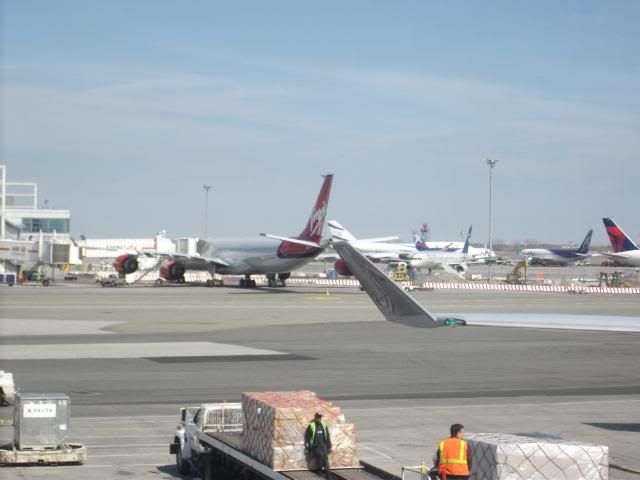 There's my plane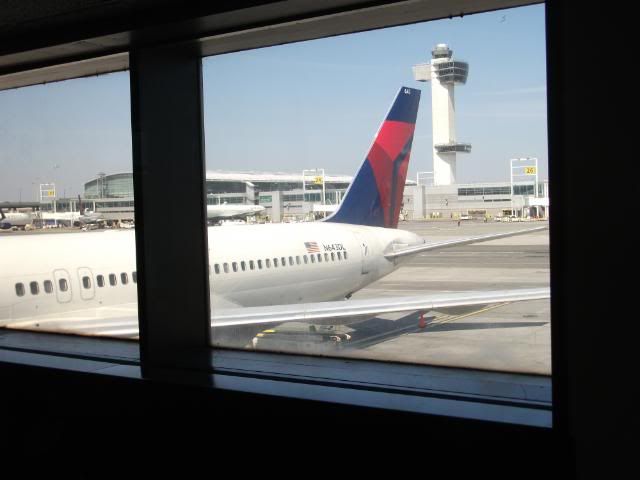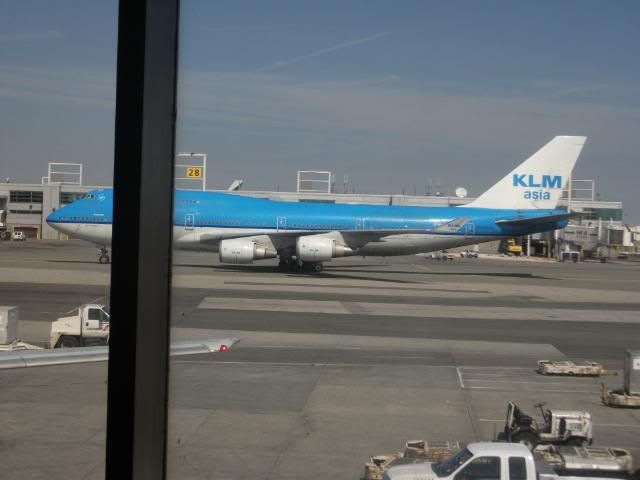 Believe it or not, the Tigerguy was not done munching on people. Food! I mean food! (For the record, I typed a good deal of "Masochism for Dummies" on the JFK-ATL flight—this paragraph included—and I can say what it's like to type while sitting in a moon bounce. Also, I'm pretty sure I saw lightning. Either that, or the sun became a yellow and pink strobe light while we were in the clouds.) I looked around T3 and decided on Cascata. That was mostly because of the view, but anyway…
Would one of these CRJs have a fateful encounter with an A380?
I had the fresh fruit salad, a slice of red velvet cake, and a glass of Sauvignon Blanc. What more could one want than to eat fruit and a piece of cake while sipping champagne and looking at a bunch of planes? From my restaurant seat, I could turn my head and could see up to 19 airliners of various sizes and nationalities. That may not seem like a lot, but it was still impressive to see such activity in such a small frame of view.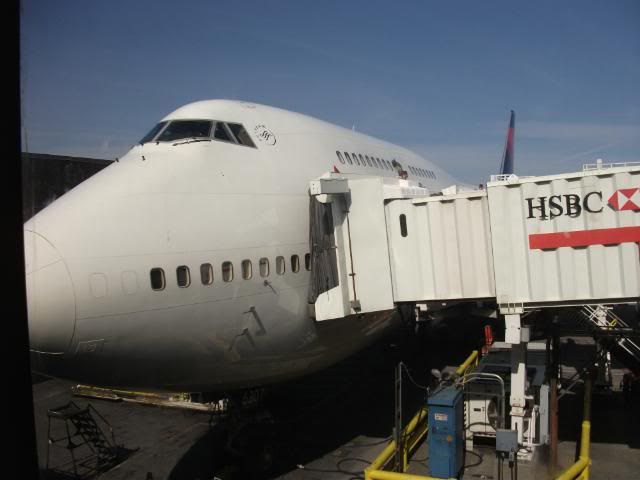 Dining completed, I went to Gate 5, another dimly lit affair with a bunch of people waiting to spring aboard the Boeing.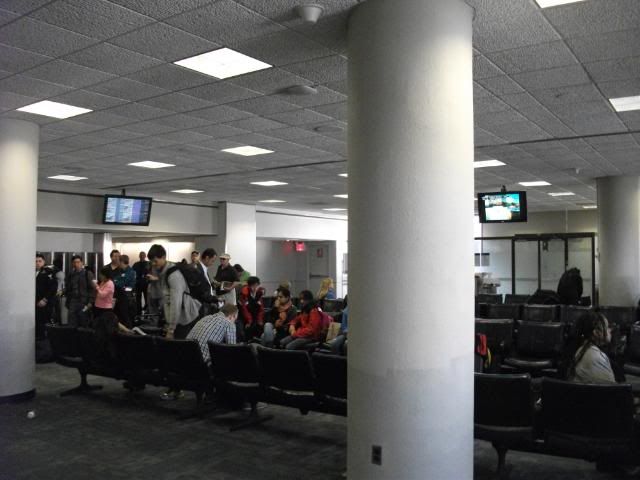 Delta Air Lines 1109 JFK-ATL
Scheduled: 16:05-18:50
Actual: 16:06-18:42
Boeing 757-232 (N643DL)
The ride to the runway was of the true NYC experience: back up, turn here, turn there, and do a lot of waiting: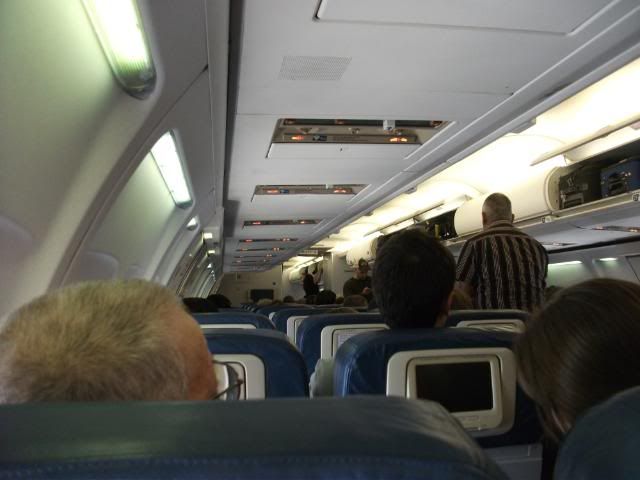 VS A346 G-VOGE
Cover Girl
A DL 738 between two A346. Hello there, little boy. Are you lost?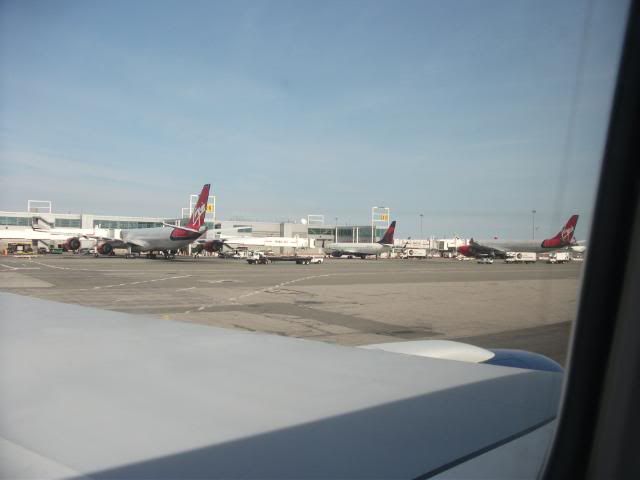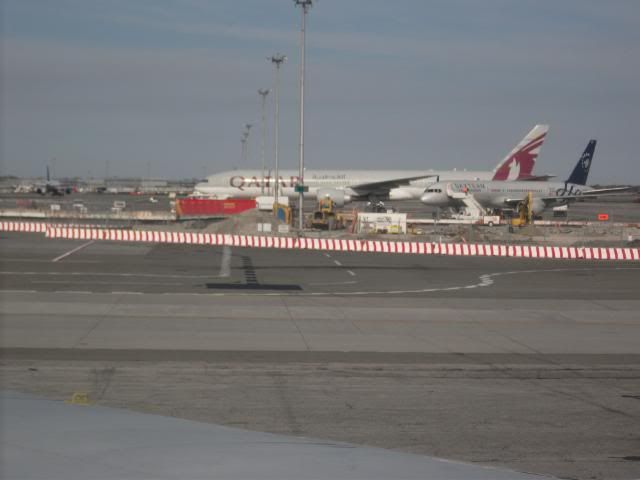 Off we go!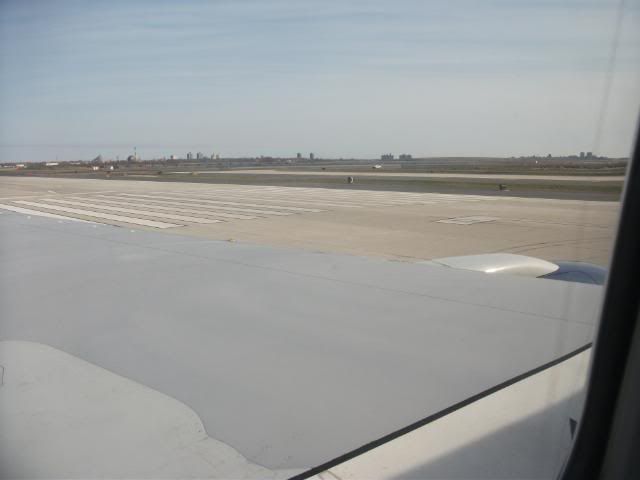 There was one matter of slight concern. There was an older gentleman in a neck brace sitting in the seat directly in front of me. While we were still in climb, he got up and made his way to the forward lavatory. An FA came on the horn and reminded everyone that the seat belt sign was still on and to remain seated. The man continued forward, right when we throttled up and nosed up again. He didn't take a tumble, but I was somewhat worried about how he'd get along.
The Pond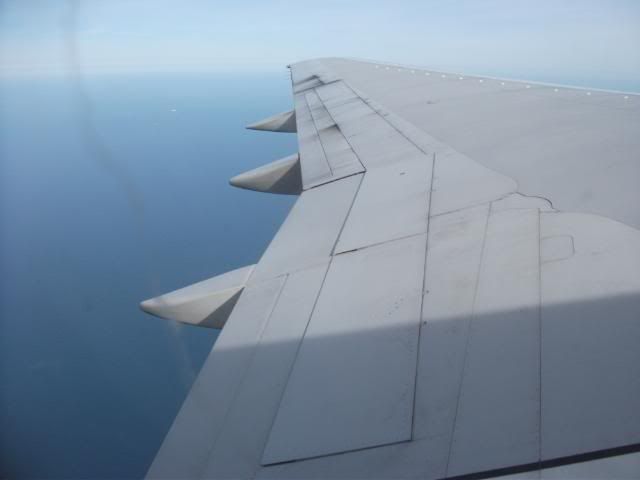 Thirty or forty minutes into the flight, the plane started to shake and shimmy. Nothing terrible, but definitely bumpier than normal. The pilot then informed us that ATC said it was like that at all altitudes most of the way to ATL, so food service was discontinued and the FAs would take their seats. Not great news for me back in 30A, but safety comes first. They did attempt to serve water to those who requested it as we neared our initial descent. (They gave out quite a few cups; I imagine it went like a herd of antelope at a freshly filled watering hole.) The turbulence abated for a bit, so the captain had mercy on us and briefly turned off the seatbelt light.
I didn't fiddle with the IFE much except to check the map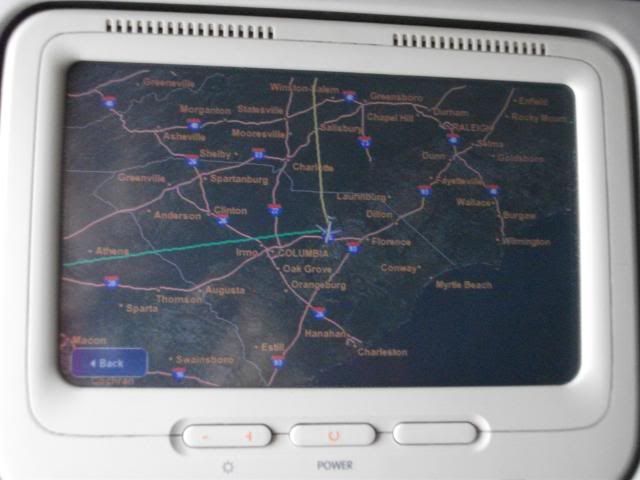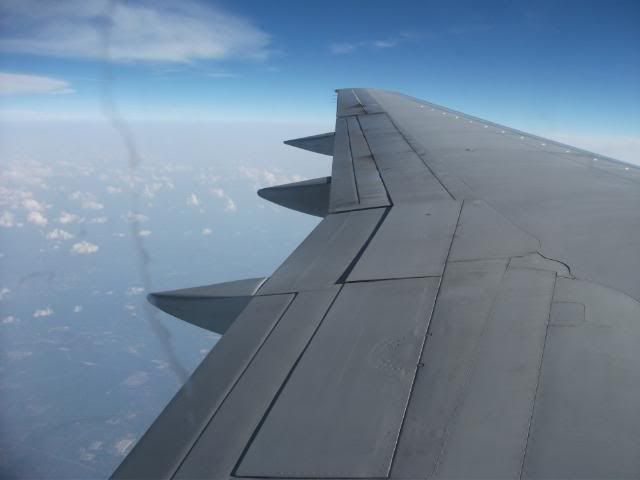 One of the best parts of the flight was when I happened to see a CRJ fly beneath us. I unfortunately couldn't get a shot as I saw it too late and it was at a crappy angle, but I thought, 'This is how Toruk Makto must feel!'
More legs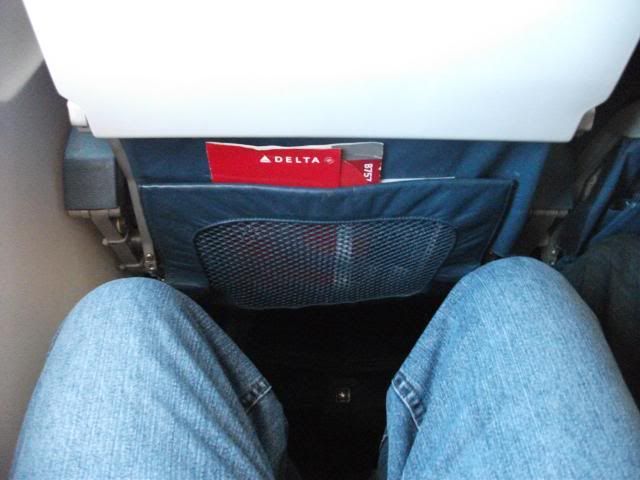 Close to another arrival…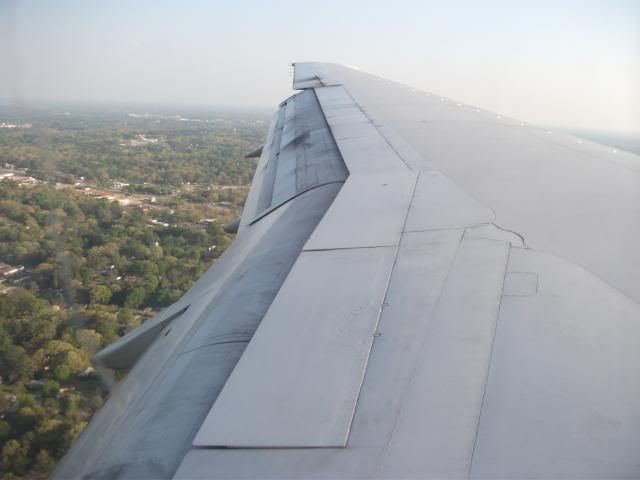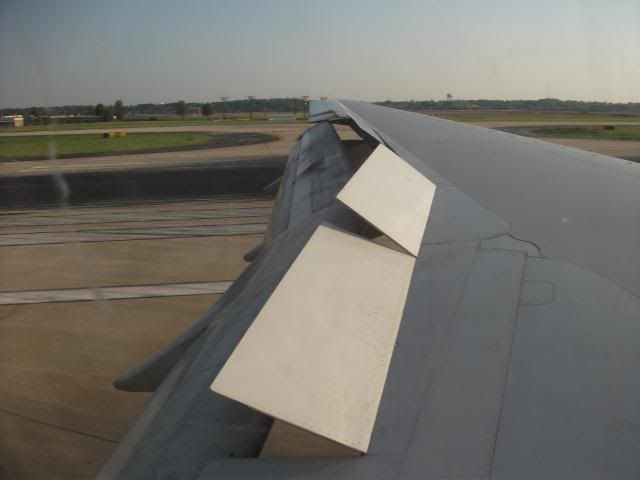 You're welcome!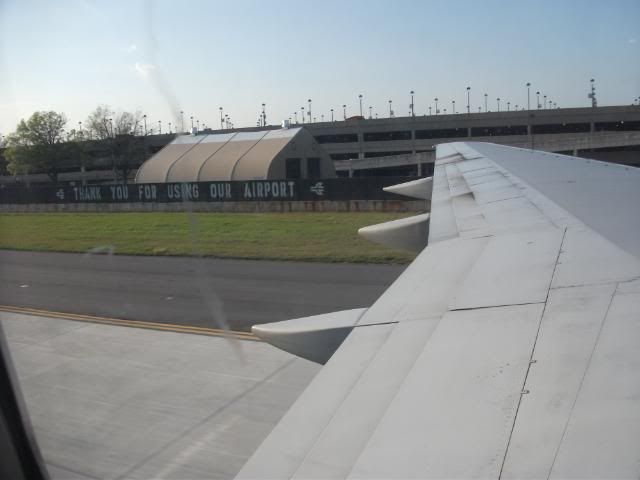 Upon landing in ATL, I had no idea what awaited me. Lo, and behold, Concourse B didn't wow me at first, but it didn't take long to see that it was prettied up rather tastefully. In fact, most of the airport was uniform in appearance, in contrast to ORD.
There's the 752 I flew in on. Eskimo kiss!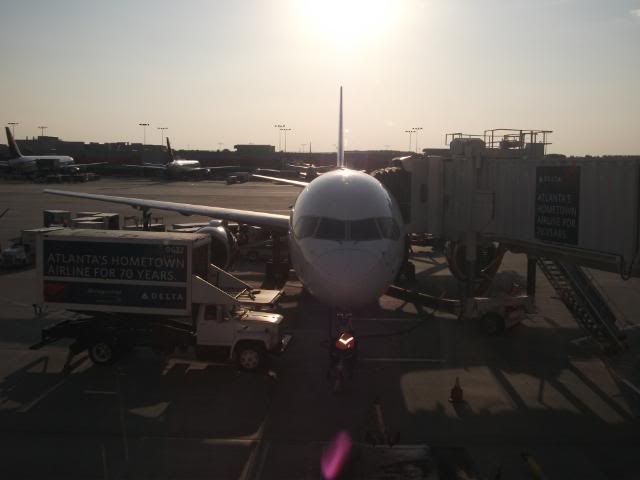 Concourse B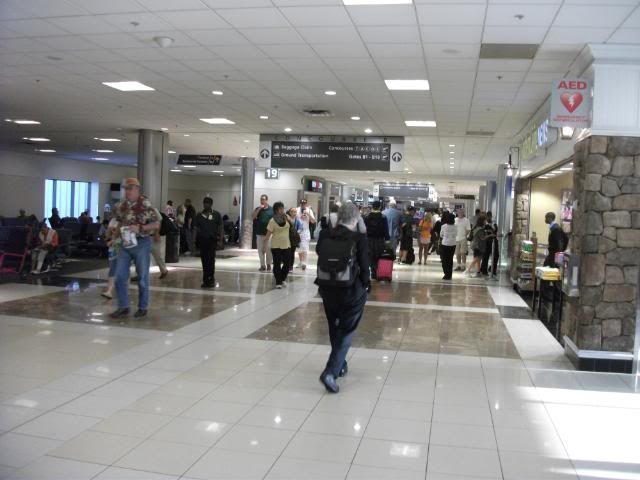 Underground walkway between concourses (with some eye-catching art)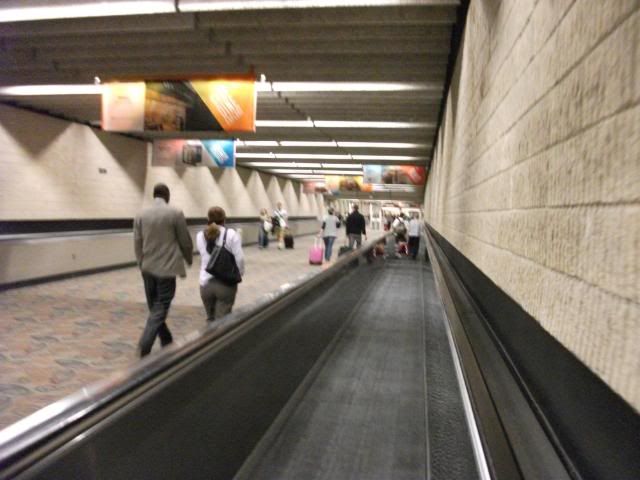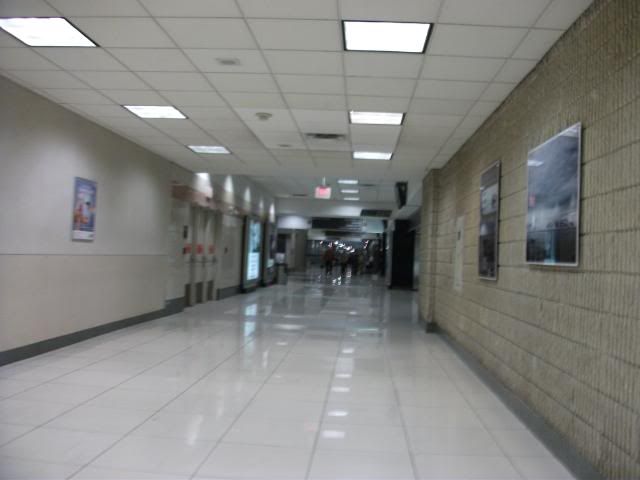 Concourse T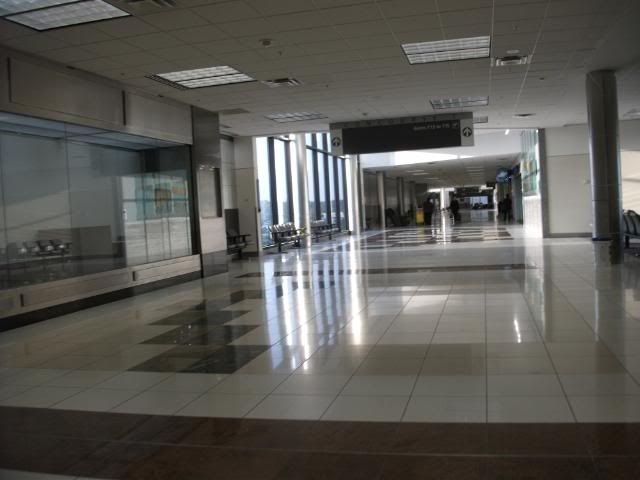 UA passengers waiting down at the end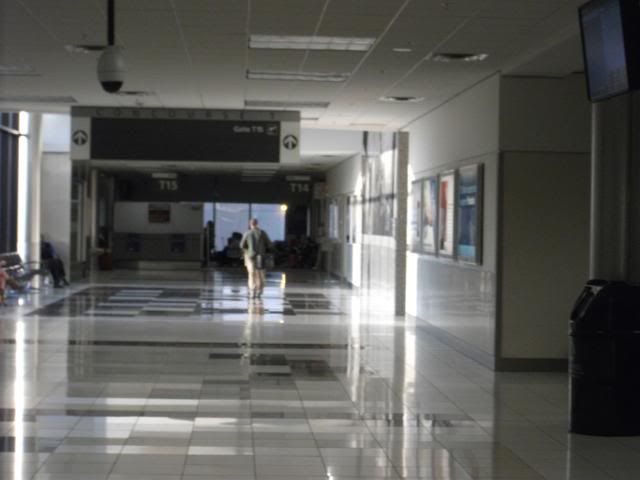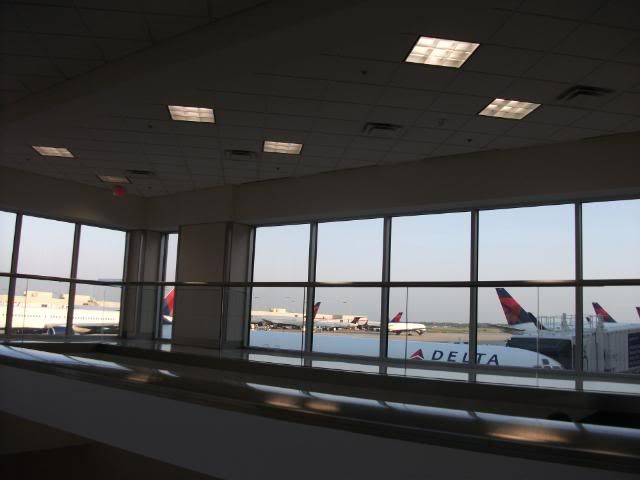 Concourse A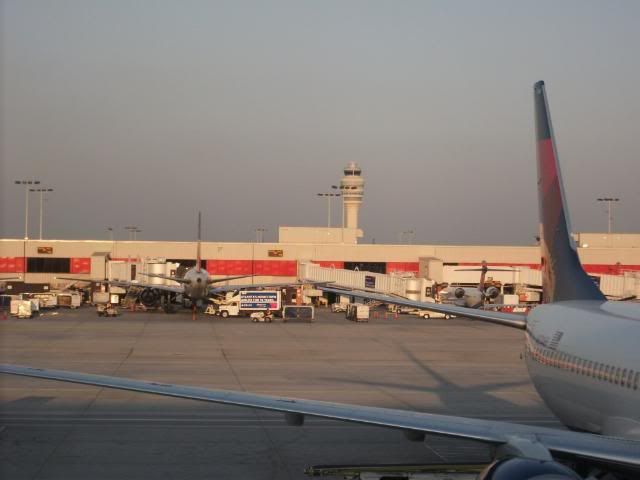 I stepped out of the tunnel and into Concourse E, and I was instantly impressed. In the end, the whole thing could have been filled with Richard Simmons and Justin Bieber clones in their birthday suits firing poison arrows at passengers as they ran on a floor embedded with rusty nails and landmines with trapdoor pools filled with box jellyfish, because I looked ahead and to my left, and said aloud, "Yes! Caribou Coffee!"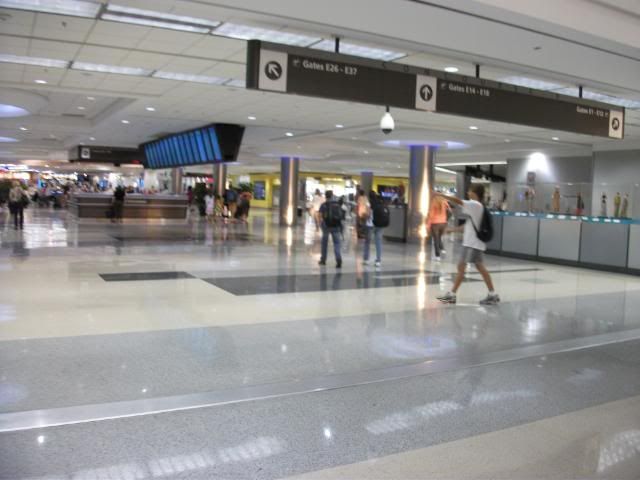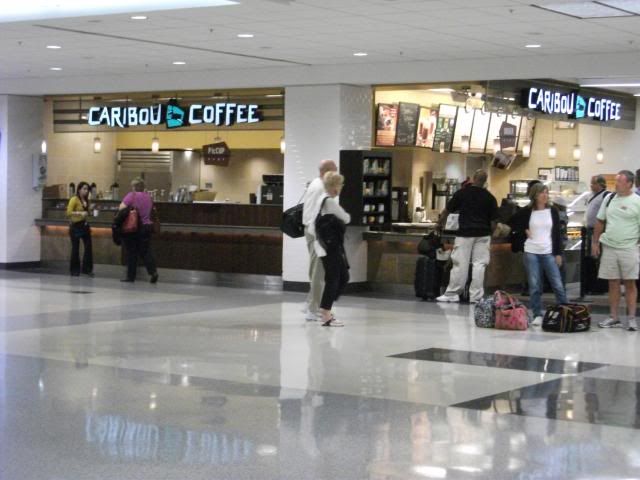 It was honestly the biggest and best surprise of the day; I had no idea ATL had one of those. Given that it was too hot for something hot, I went for something cold instead. I declared the day a smashing success and continued my self-guided tour:
Hey, I know you…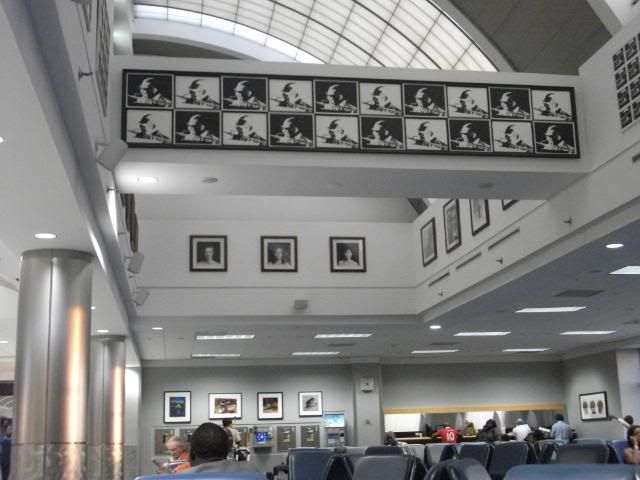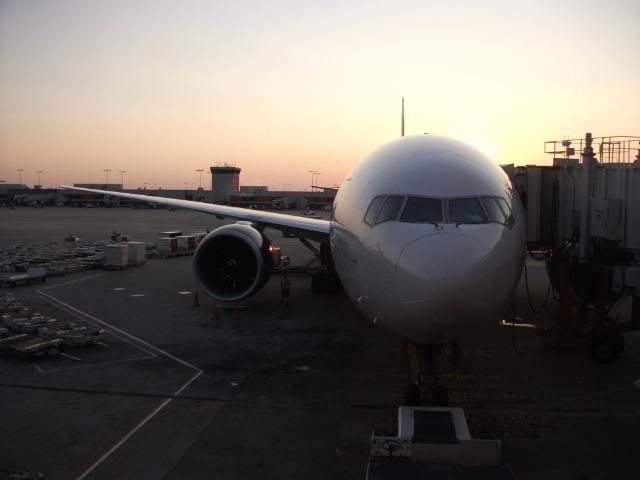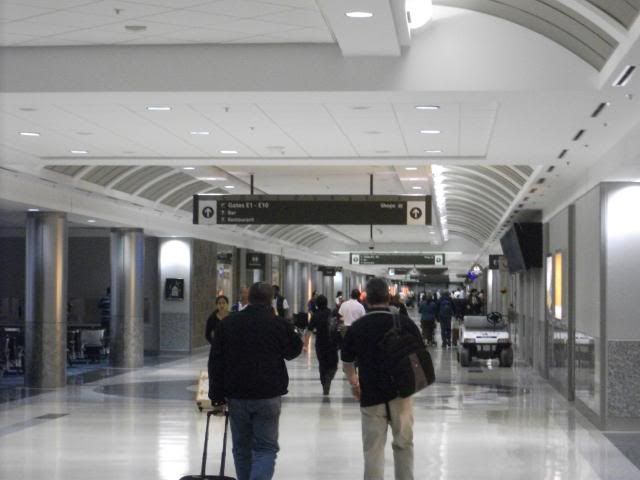 It's rather nice knowing when the next train will arrive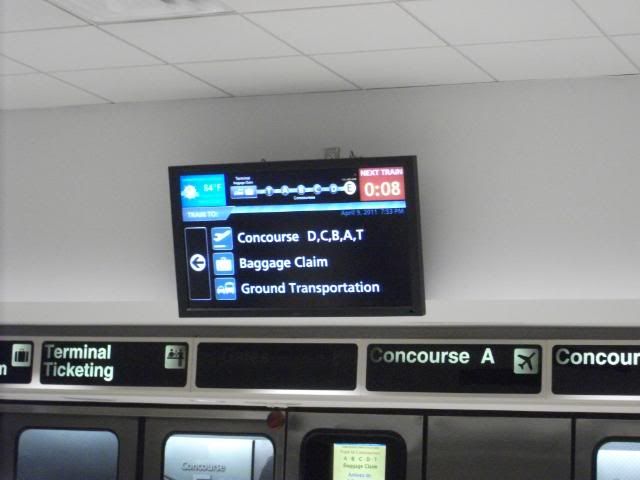 Concourse D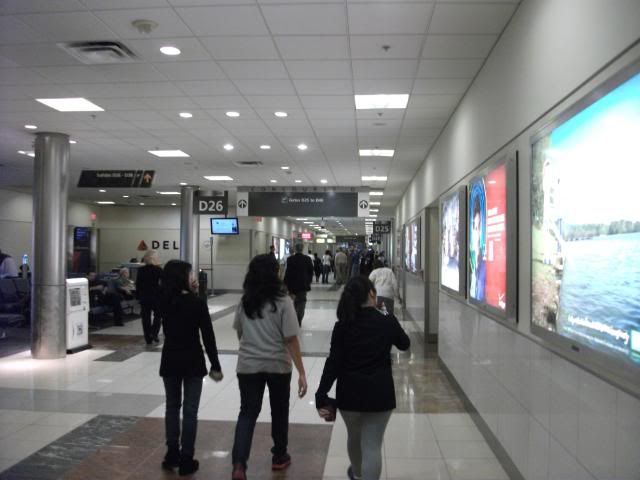 Probably the first shabby plane associated with DL I've ever seen, and I've been around quite a few of them lately. Imitating a certain SkyTeam partner, perhaps?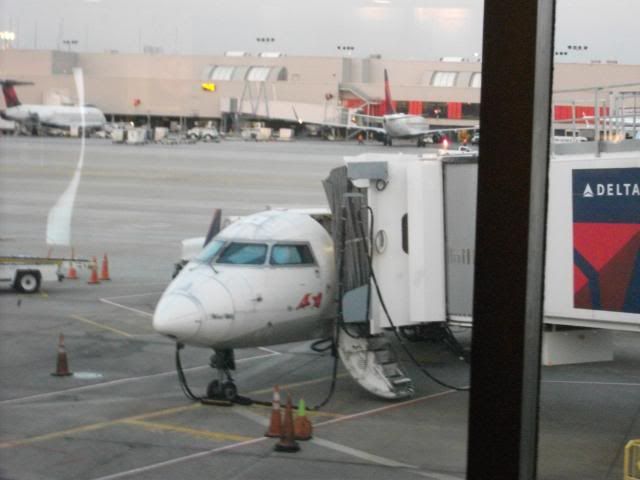 Concourse C station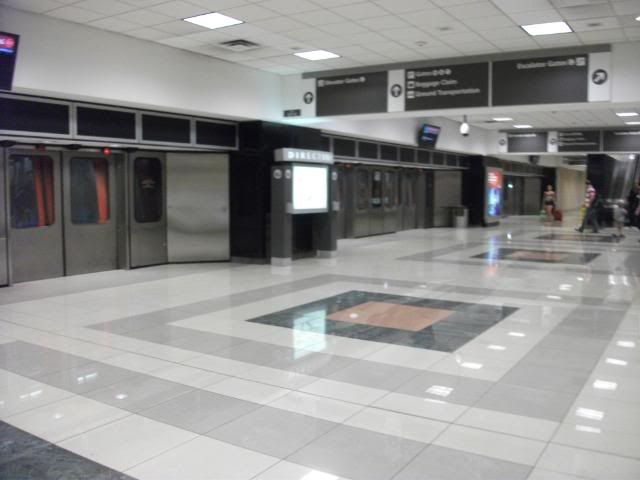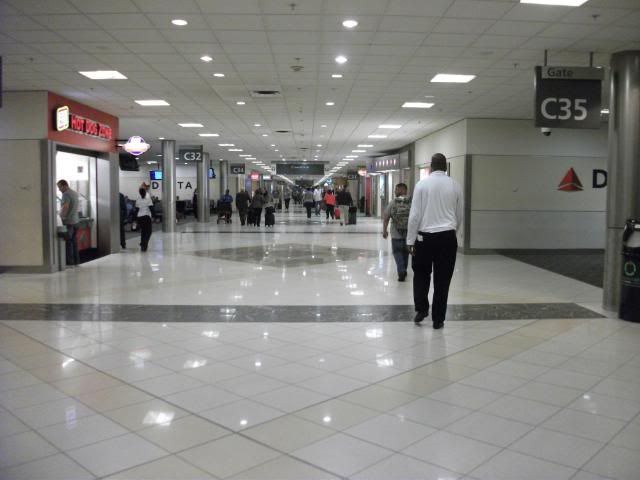 A bathroom in C. Had to be fast here, as you can imagine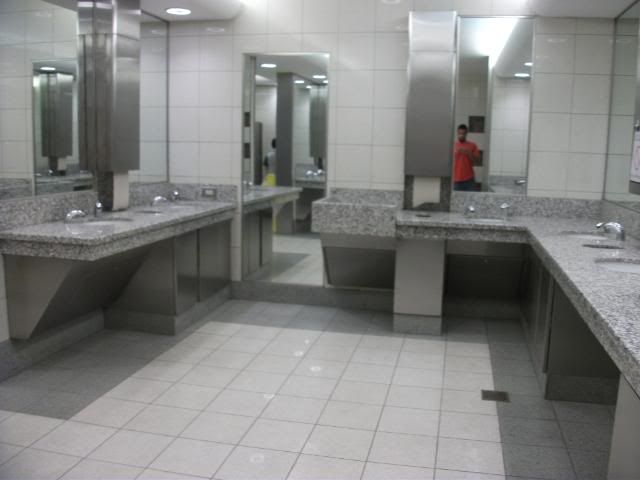 Concourse B again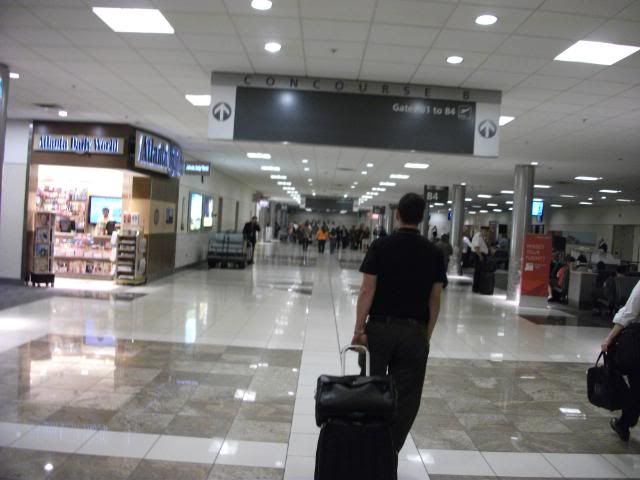 The MD-88 to OKC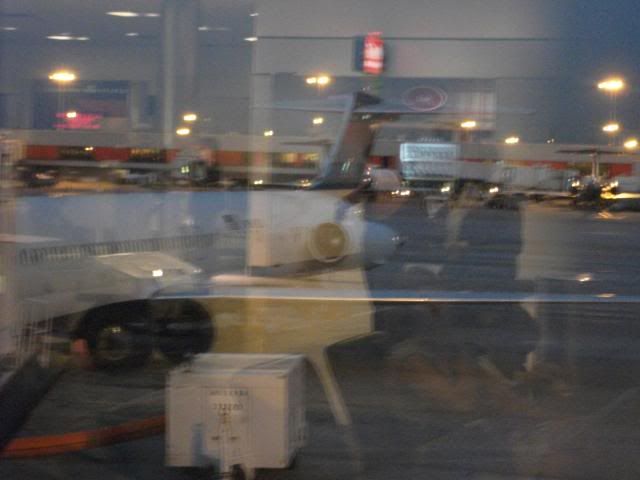 Delta Air Lines 1283 ATL-OKC
Scheduled: 20:55-22:23
Actual: 20:50-22:01
McDonnell-Douglas MD-88 (N961DL)
In a stark change from the other three flights, this one had quite a few empty seats. There are good and bad things about this, obviously. The aviation nut in me wants these planes to be full, because there is a point where you want to see more than cute little jets from Brazil and Canada. I fully understand that my airport of call is OKC and not ORD. But still…
Legs again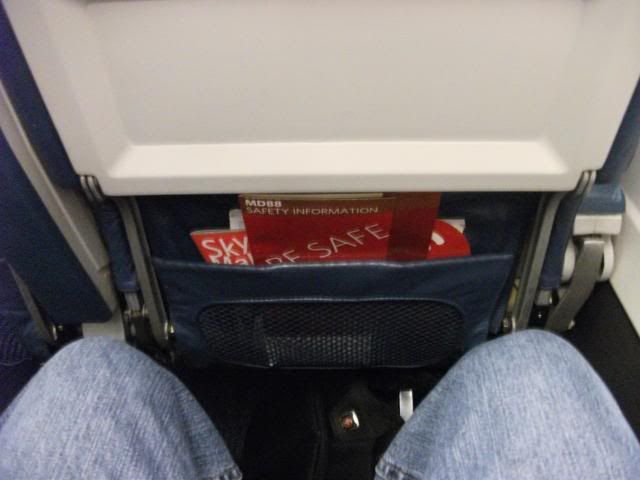 ATC tower at night
A hangar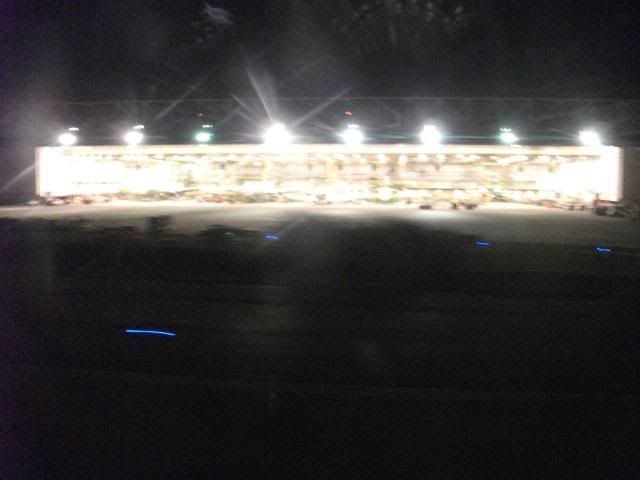 A departure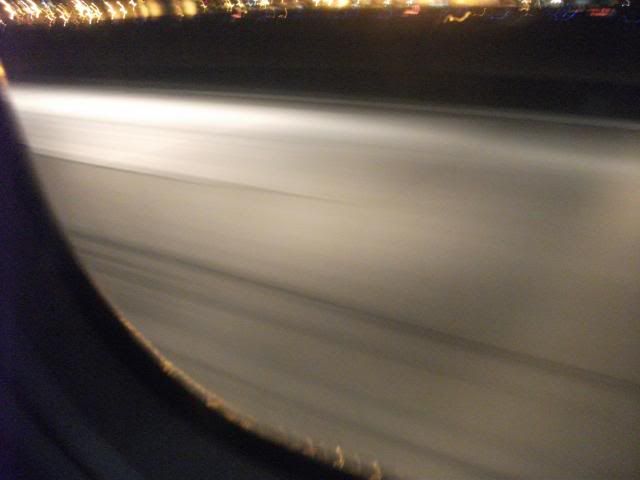 Darklanta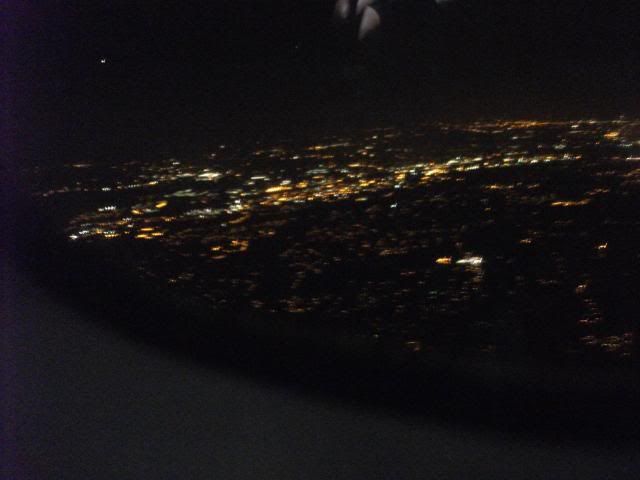 Again, the only Biscoffs came on a flight to OKC.
Darklahoma City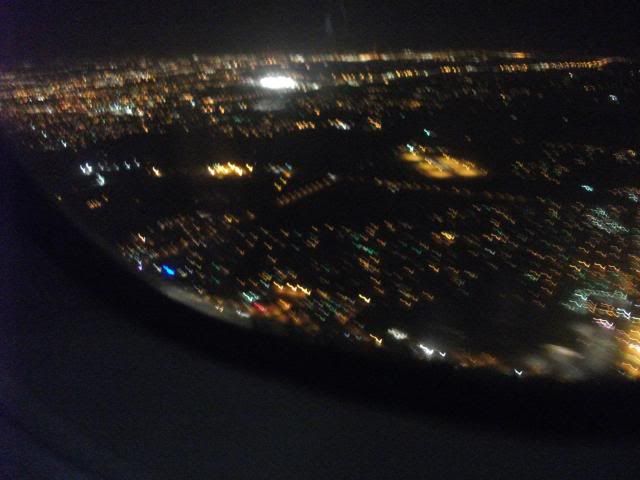 A bit of downtown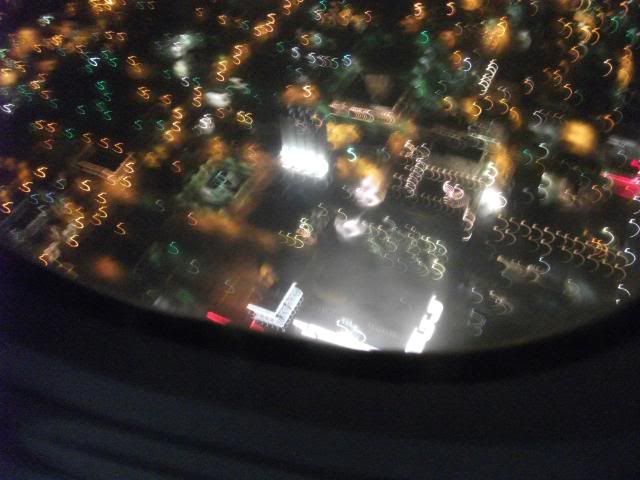 On the ground…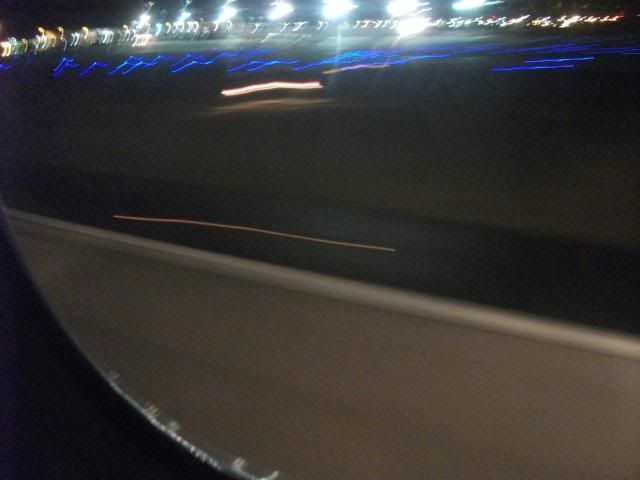 Cabin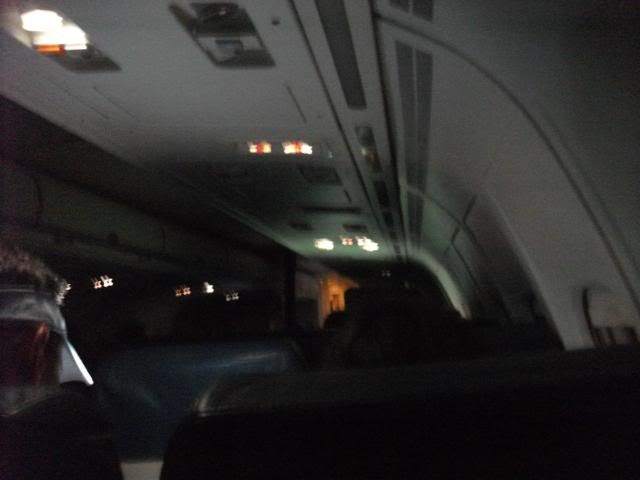 OKC departures level at night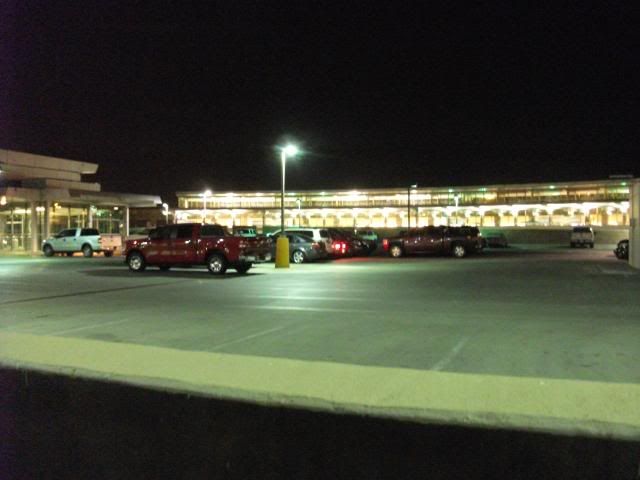 As was the case in the morning, the lack of sunlight means that some of these pictures came out very blurry at best. Just as well; it gives me the chance to reflect on the day that was. I was able to survive three notorious nightmare airports with only a slight departure delay from ORD, plus the world's busiest. I never had reason to become angry or discouraged. I didn't get lost. I didn't get mugged or accosted. I certainly didn't go hungry. Nobody was rude or unhelpful. Perhaps it shows that with the right attitude and the proper amount of planning, things will go alright most of the time. It also shows that someone turned off the "grievous delay" switch.
As a side note, you may remember how I said that DL would have about five more mainline hours to make a good impression. I'd say they knocked it out of the park. Virtually every interaction I had with the airline was clean, crisp, and professional. People, planes, buildings, you name it; they were spot on with it. (By contrast, we all know of the issues with the UA battleship gray livery [which I like]. I saw two examples that were simply ridiculous.) That said, I am not likely to change from UA to DL for my big-network flying needs, but they have certainly become an excellent option B.
Airport Conclusions:
ORD: Compared to most else that I saw, Concourses E and F were a bit of a dud. I was more and more impressed the longer I went on, however. It turns out that the rest of the airport is a really nice place. Best of all, I didn't see a credit card representative until I got to Concourse C. In most cases, brighter and airier is better. Just about every concourse apart from E and F take that architectural philosophy. The terminals are distinct puzzle pieces—and they are well put together. There wasn't a moment when I didn't know where to go next. It can take some searching to look around for a good place to watch planes, but this might have been the first time when I didn't notice it that much—I was too busy looking at the insides. Oh, and did I mention that the food choices are good, too?
LGA: No.
JFK: As I've said before about other places, I won't bad-mouth the whole airport based on one part of it. From what I've read and seen, there are plenty of nice places to be had at JFK—AA and B6 spring to mind. It also didn't help that my plane departed from the part they're going to demolish. Despite that, I felt that there was some character about JFK; there wasn't the sort of negative vibe I got from LGA. Even though I was stuck in the doomed Terminal 3, I enjoyed my time there. Make no mistake: it wasn't the most impressive of experiences, but I wasn't trying to claw my way out of there, either. At least they're working towards making the experience better.
ATL: Pretty damn good airport, if you ask me. It certainly doesn't have all of the glitz and glamour of certain other airports, but for the world's busiest and super-mega-ultra fortress for DL, it hits the mark. We know that it's similar in layout to DEN, and I've been through DEN many, many times. Allow me to say that the contest is over; ATL has won. They got around the boringness of low ceilings by spending some time and money to make the whole place look good. I made a point of it to visit the far-flung places where DL banished the other airlines, and they didn't look like the ginger stepchild's room. The underground connection between concourses was pretty neat, especially the sections with the artwork. (Why they didn't include a pedestrian option for DEN, I don't know.) The trains were on time and ran frequently. I could go on and on. Even the airport employees seemed friendly and easygoing. Regardless of whether ATL can hang on to its title of world's busiest, it's definitely one of this country's best.
Coming up next: Phoenix Rising (or, Runnin' in the Sun)