Upgraded by KL and "Pink" to PRG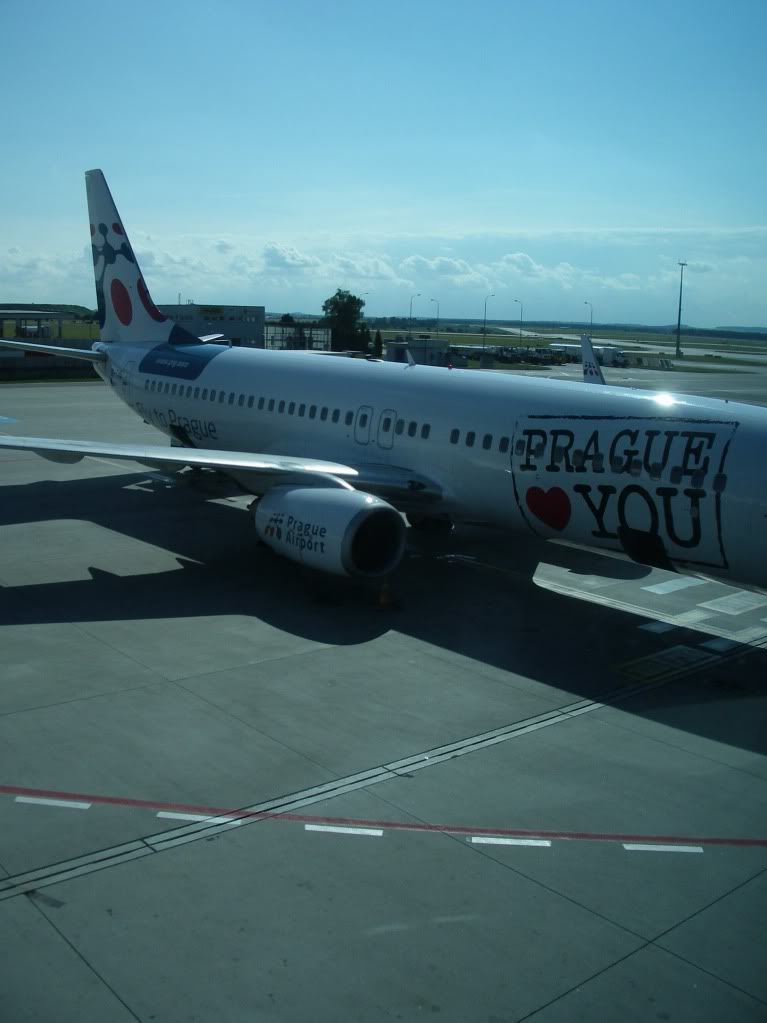 Ahoj, dear readers,
my schedule shows me a heavy upcoming travel month.
8 trips, 27 legs to go, we will see how it all works in the end.
Anyway this is the first story around these series.
Let me show you a new airline and a new departure airport.
An upgrade on the very first leg comes in also handy.
This is the latest routemap
Tripreporter´s Flüge
auf einer größeren Karte anzeigen
and also the new sheet with all departed from airports
Departure airports
auf einer größeren Karte anzeigen
It´s close to three weeks ago after my latest experience in Switzerland
There Is Some Skywork To Do Ex Berne
(by
FLIEGER67
Jun 1 2011 in Trip Reports)
everything is fixed and I´am ready to go.
Sunday, 12.06.2011
.
.
.
.
Service KLM KL 1866 operated by KLM Cityhopper
Scheduled: 06.05 // 07.30
The cellphone alarm is set for 03.00 am, as a good friend told me, nothing else expected!. On the road at 04.00 am and at the airport at 05.00 am. Such a lovely Sunday morning. Only some fog around. Well, it´s spring here, not autumn, clear sky beside that and freshly 11 degrees.
Booking is done with KL directly to catch a good fare without fees.
45.00 Euro´s secured together with the return AMS-STR later in the week.
OLCI works perfectly fine with KL´s website.
AMS on schedule from gate 316, note XG to Kayseri, that´s the recently started German registered Sun Express division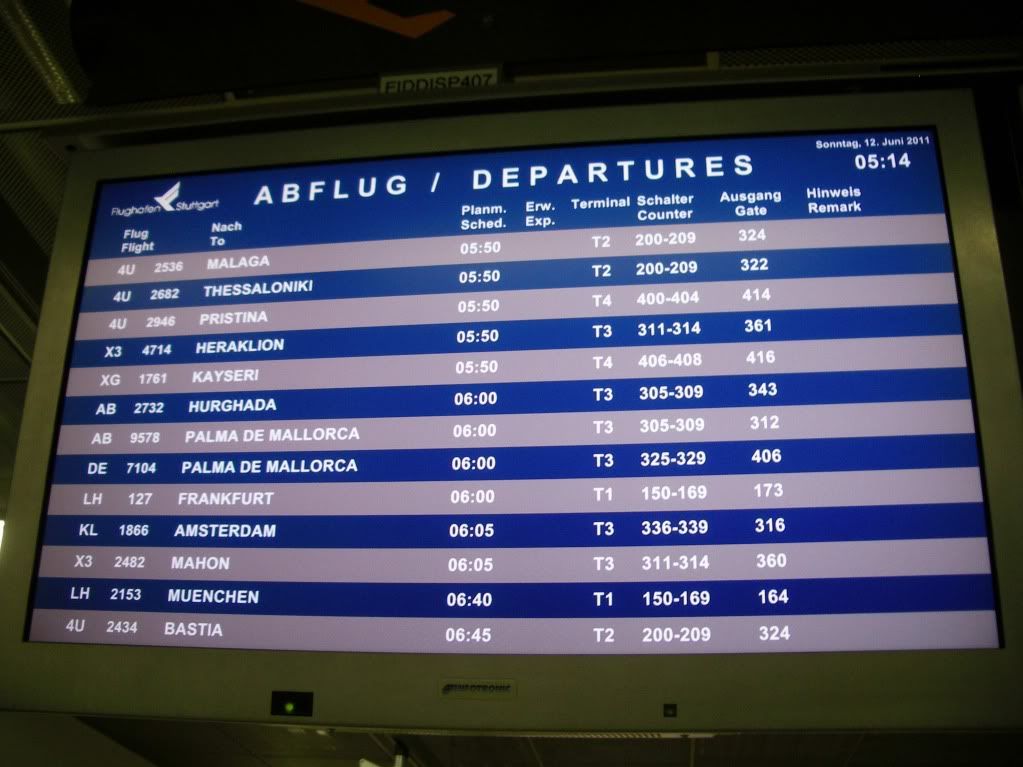 It´s Whitsunday, top vacation time in southern Germany and when I look around, I see the expected pax today.
No biz people, but thousands of less experienced holiday travellers.
Like these couple with a number of kids scolding to each other from one side of the terminal to the other, unbelievable.
Thanks god, most of the early flights leave from Terminal 3, so T1 security is open for me.
Boarding is printed for 05.35 am, well enough time to hit the lounge, collecting some of these delicious cakes and cookies to cater me around the day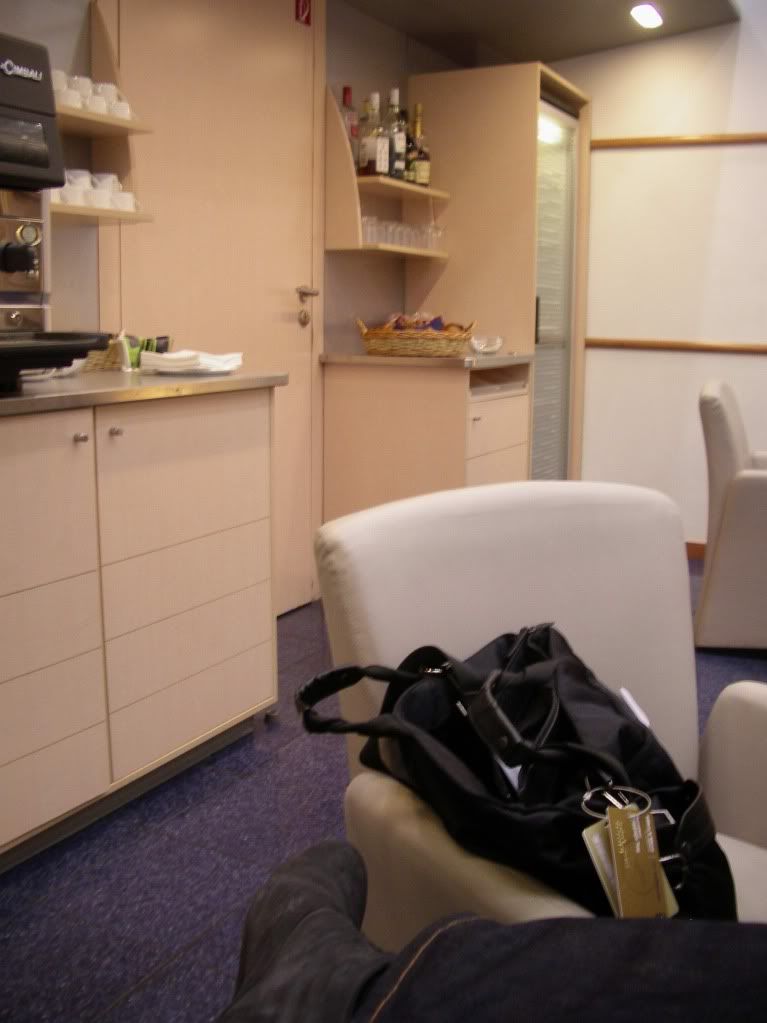 The lounge is surprisingly well used this early morning, looks like a good load on my flight.
Anyway a nice welcome from a goodlooking young female agent.
Let´s go for a view from the lounge to my plane at the gate, it spends the night here, with a number of Germanwings machines in the background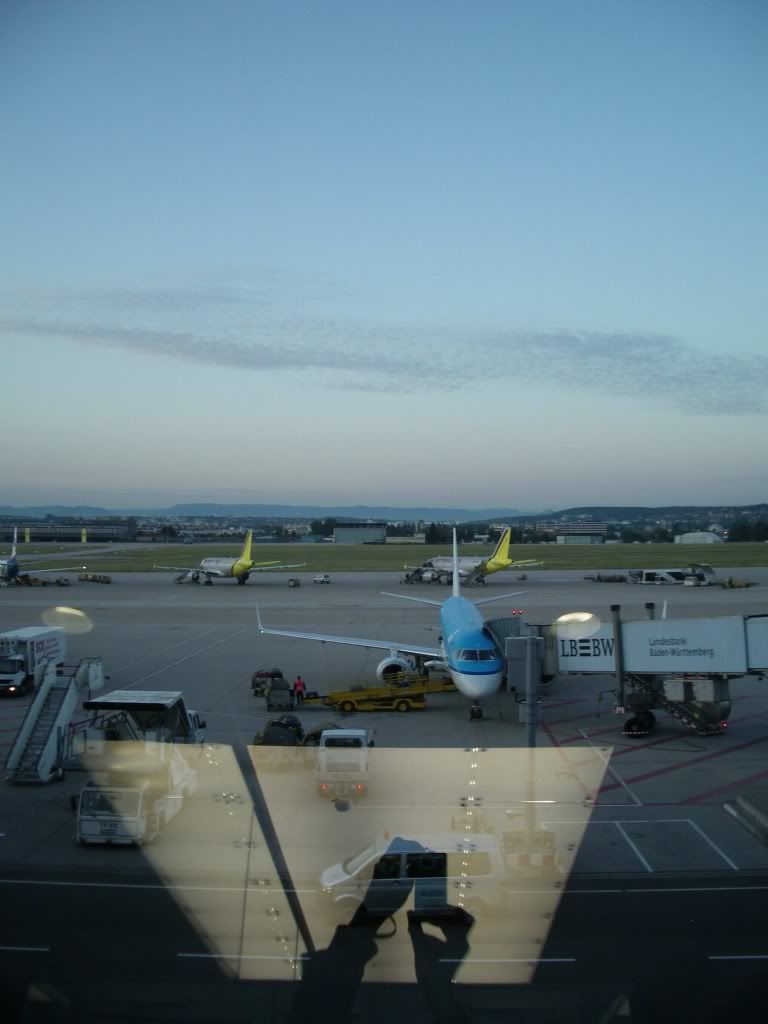 Time to leave the lounge as boarding is on the screen, down to the upper gate level and the steady stream of searching passengers for whatever they only know.
PH-EZE is the registration with my plane.
It´s the scheduled Embraer 190, in service with KL Cityhopper since 27.06.2009.
One of 17 examples in the actual fleet.
Leg no. 6 on type and a warm welcomed new registration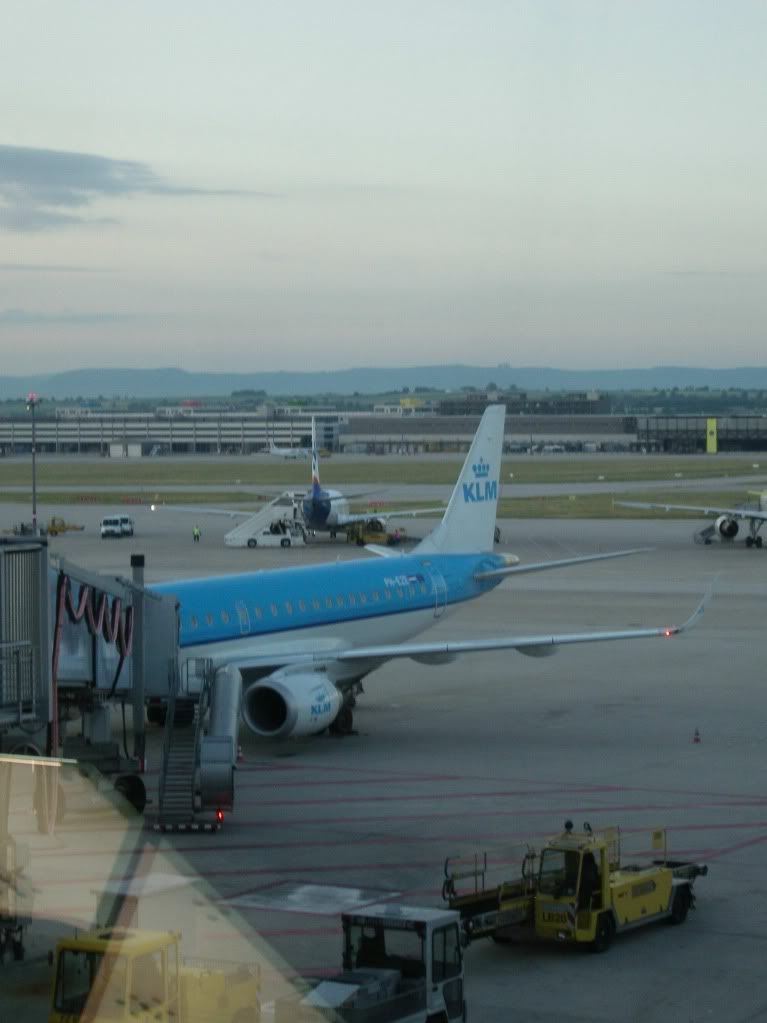 Boarding hasn´t really started when I´am there, but wait, this sounds like my name on the speakers?.
"Good morning, you´re called me actually".
"Ah, Mr. Felger, welcome, there is a seat change for you".
"Hopefully a good one".
"Sure, is seat 1F and an upgrade ok for you?".
"Well, in this case!".
Boarding is in process and I´am one, if not the last pax, not that far to go this time!.
The captain is on the mike short after boarding is completed. We see some late luggage loading due to a lot of departing flights at the same time this early Sunday morning, but nothing serious for the connecting pax.
It´s 06.05 am, ontime, taxi now for a runway 25 departure.
1 hour, 5 minutes to AMS.
Sun Express Germany boards a little late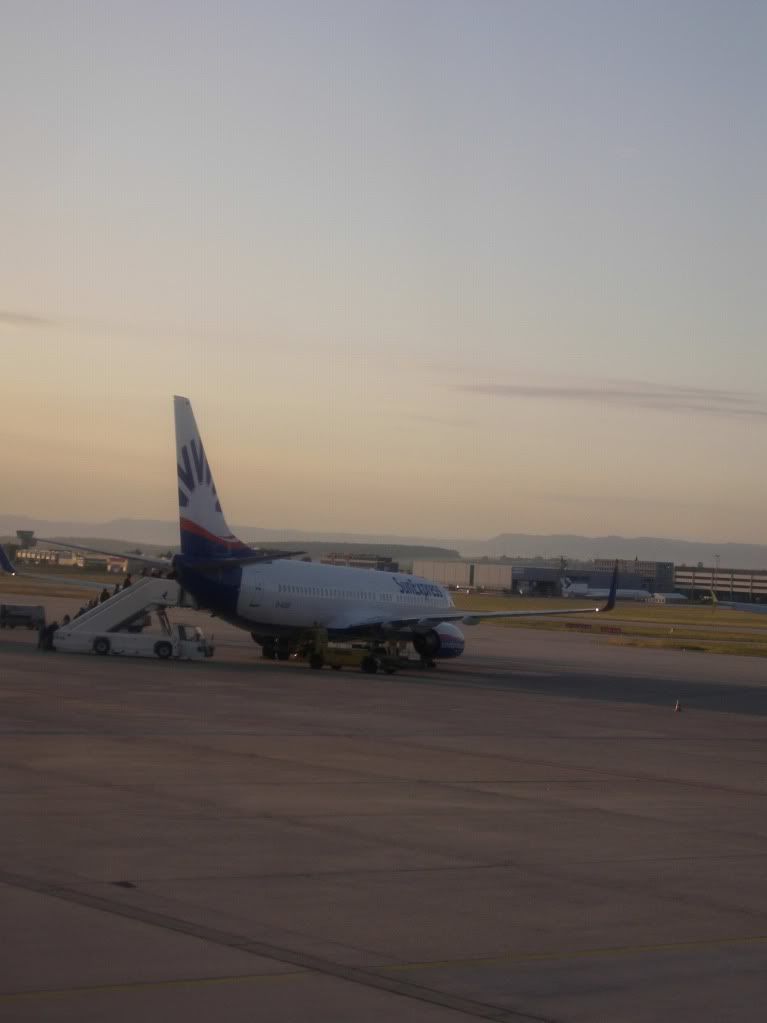 The view from my seat, definitely warm welcomed and no legroom complaints here. Dark grey leather, clean so far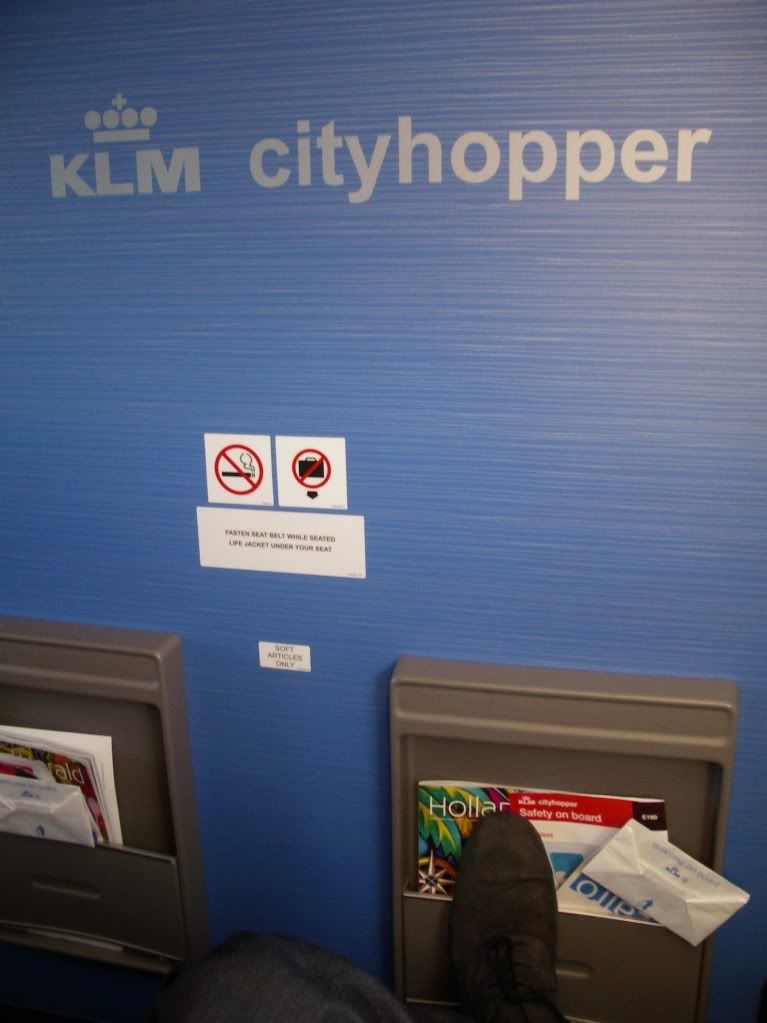 That´s an somewhat unusual wing view for me from seat 1F, should I do this more often?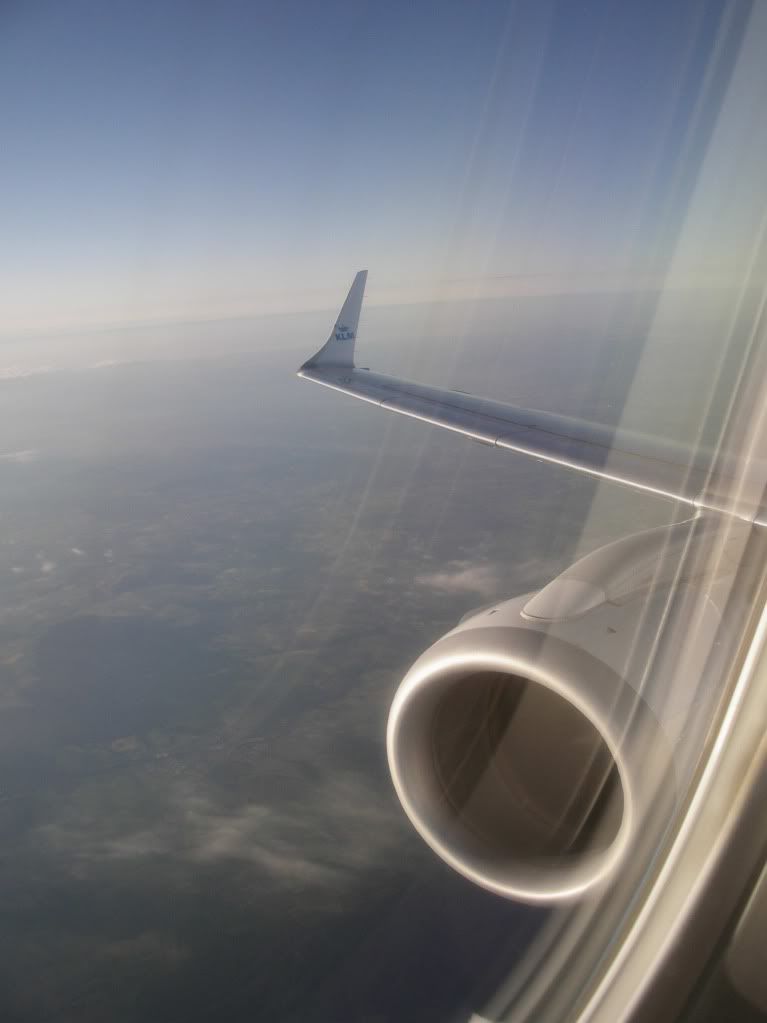 The aisle is also taken by an middle aged male.
The load is 100% or at least very close to 100%.
It´s quiet here, how I miss the noise!.
Holland Herald´s well coloured actual issue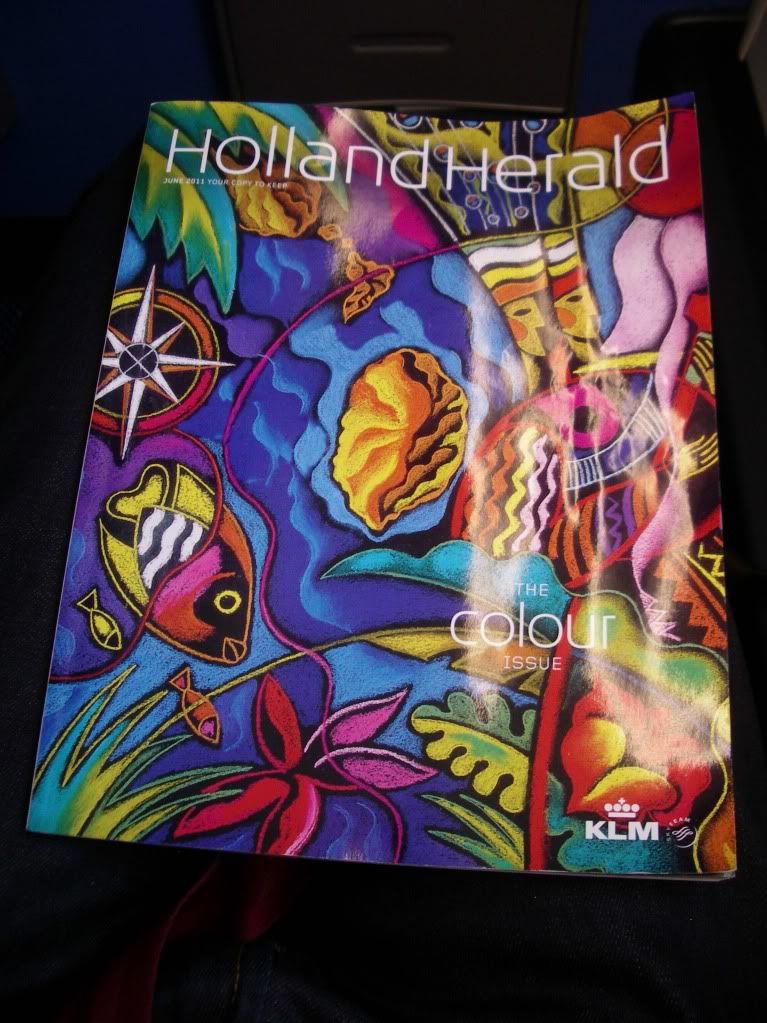 Cabin crew is one nice young male serving biz and one also young and nice female in eco.
The E90 safety card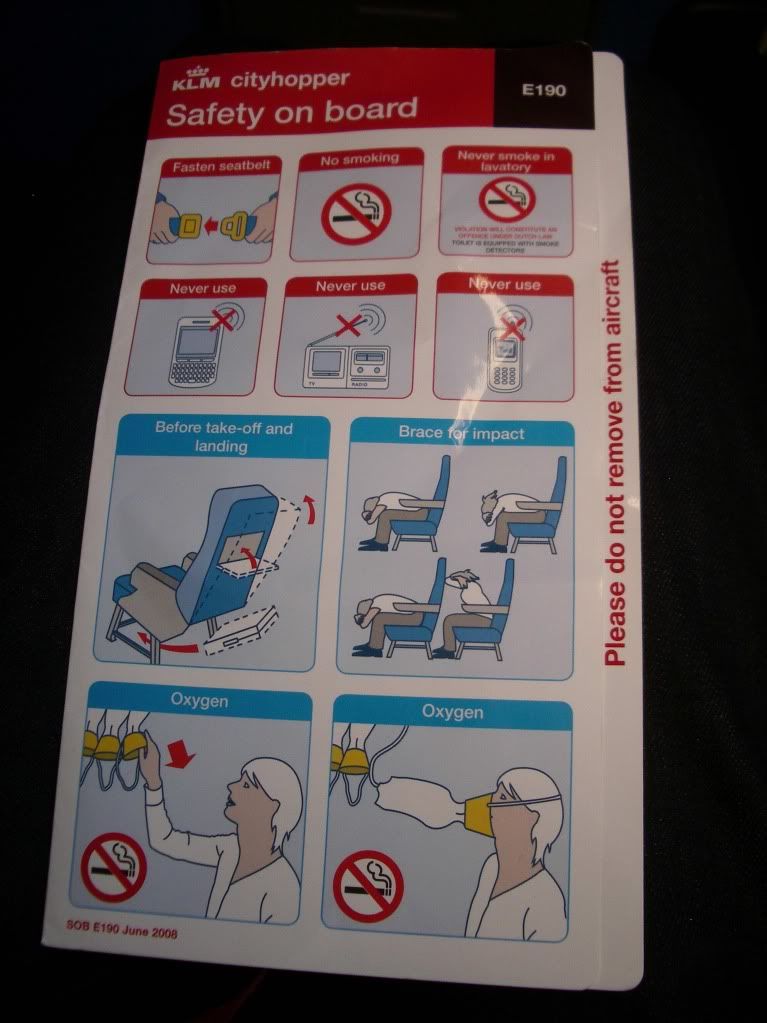 Well, these box looks good from the outside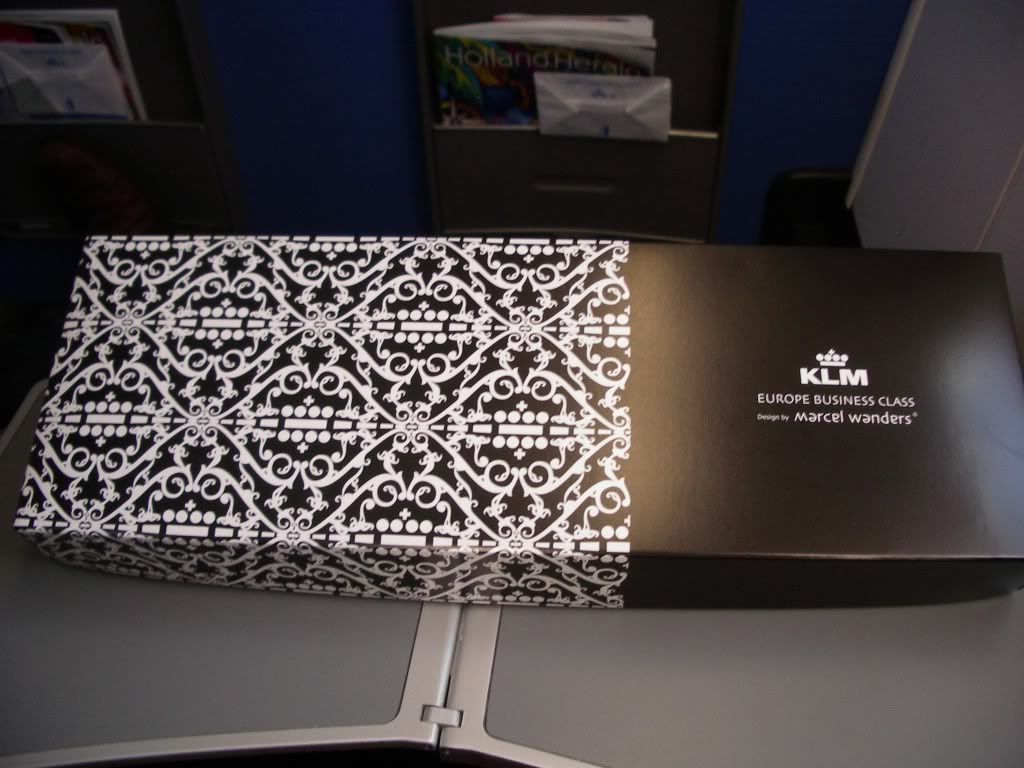 Wanders tableware and the breakfast menue card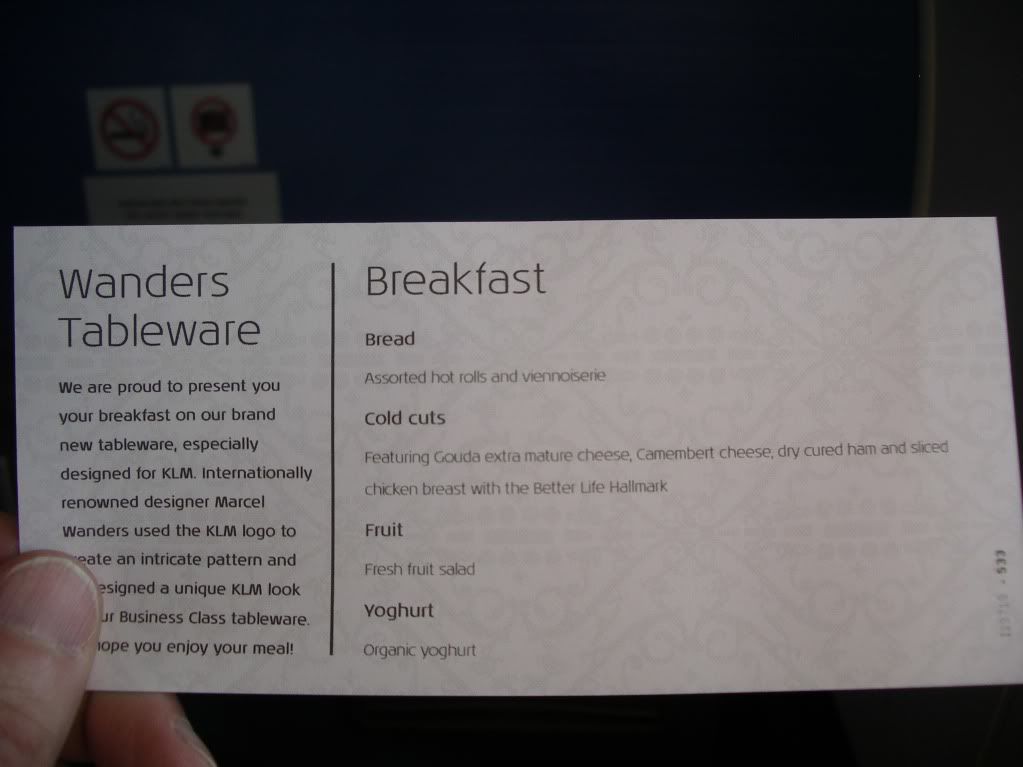 Also inside, well done KLM this morning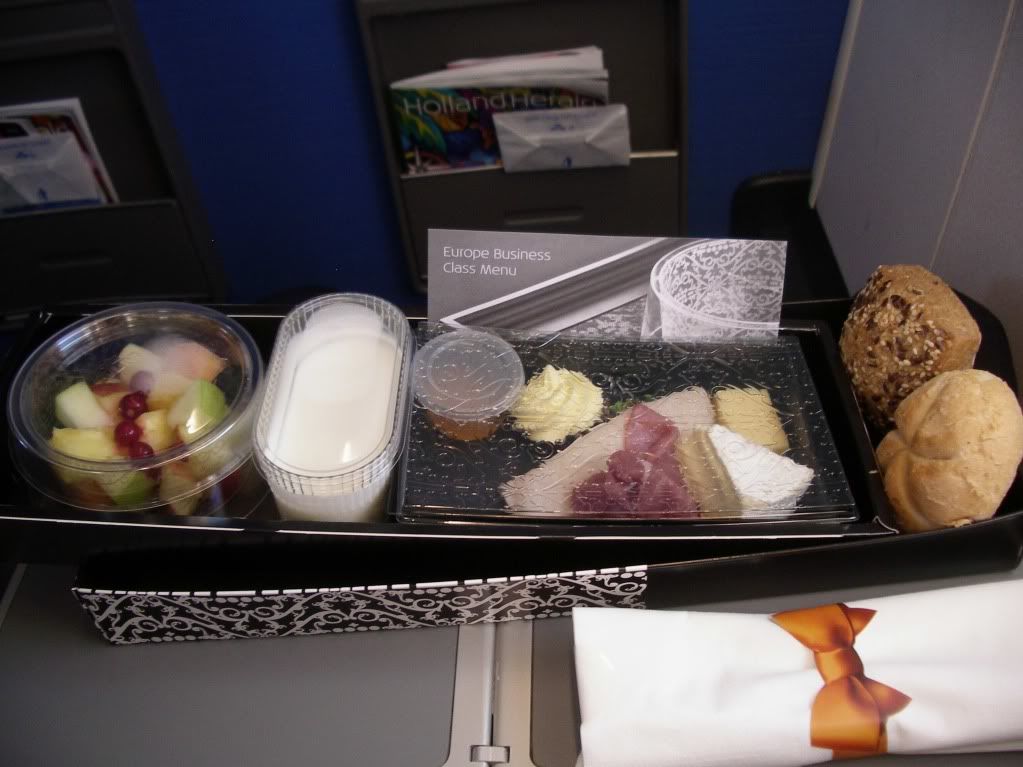 The captain is on the speakers again with detailed arrivals informations during approach, but no route or flightlevel announcement.
Touchdown on the 3800 meters "Polderbaan" 18R. It´s 07.25 am, close ahead to schedule, clear sky and some fog, 9 degrees, should be a nice day in AMS.
Parked at the gate, it´s blue territory here, definitely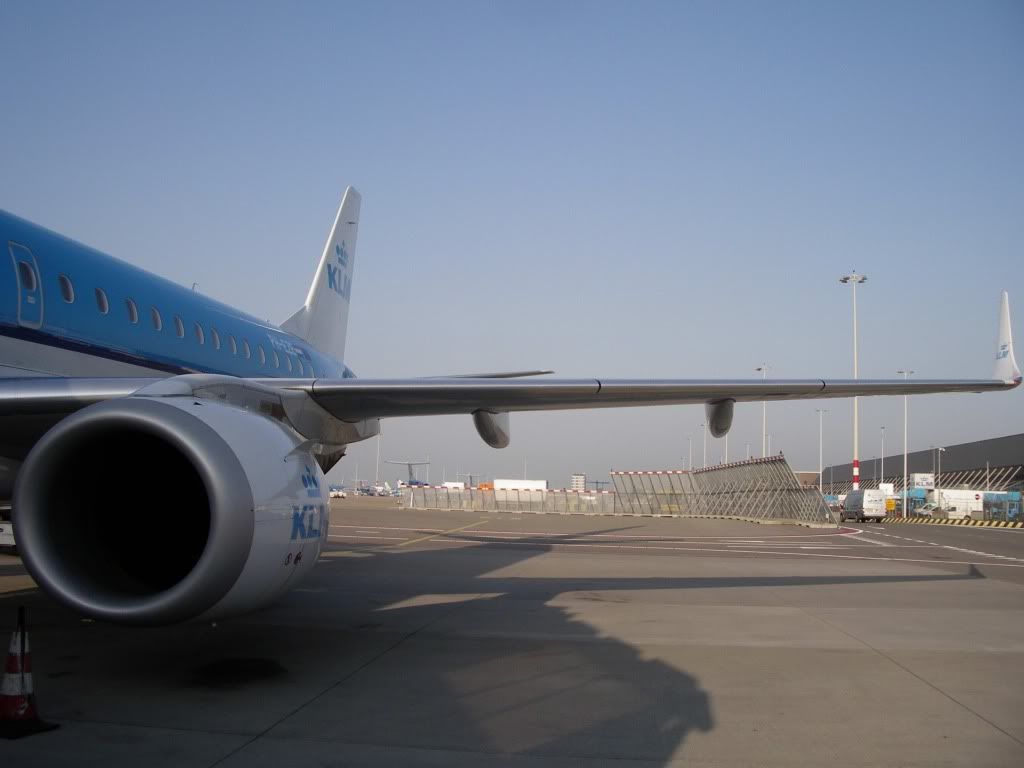 The captain is at the planes door during disembarking,
nice, he´s not that old, seem´s the norm here.
Cityhopper, yes I know, but anyone else on the plane noticed it also?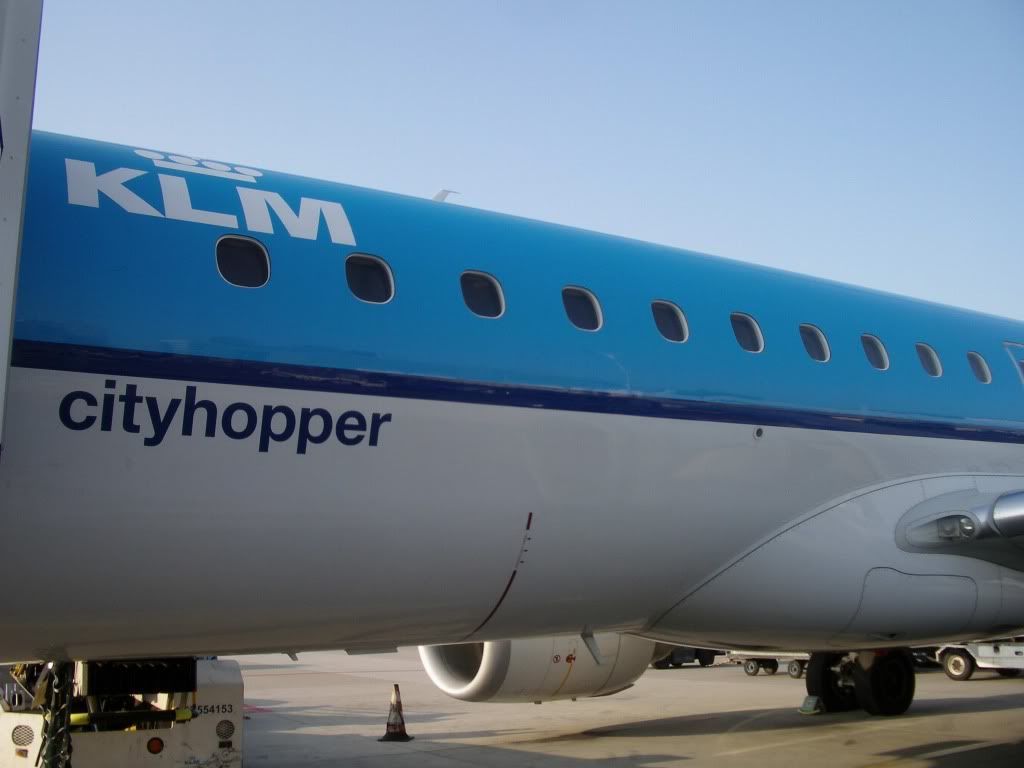 Engine view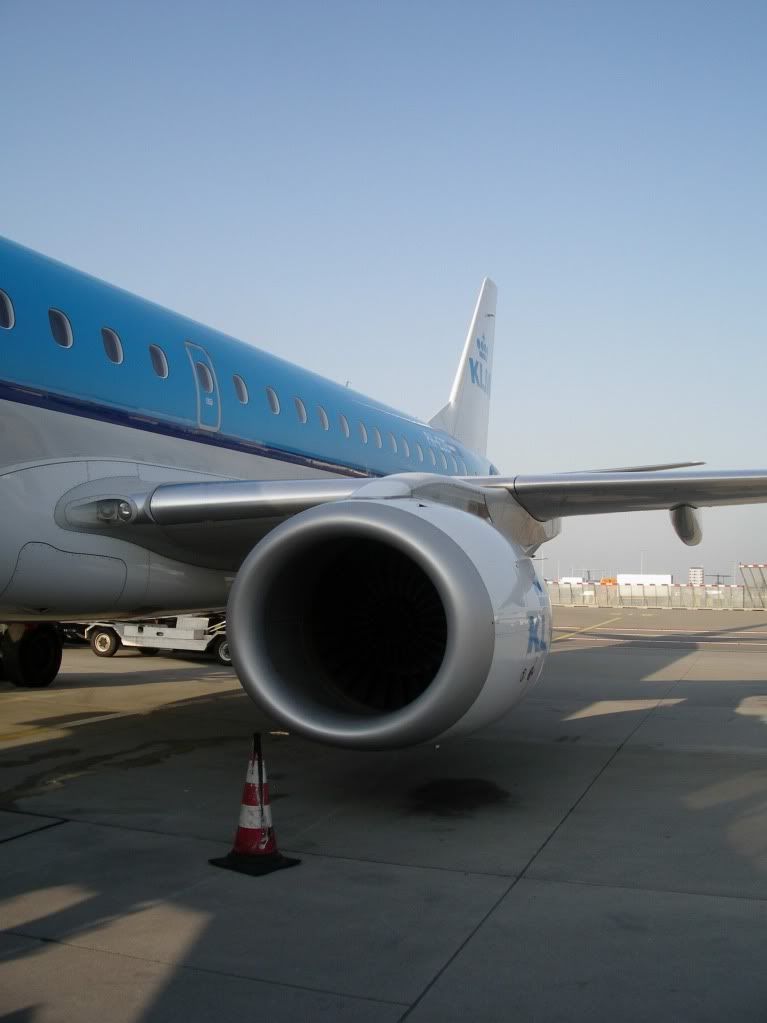 No bus ride, simply up the stairs, a good couple of meters to walk and out in the public.
Let´s go for the next step, how to reach Eindhoven, the departure airport for the next leg?.
"Nederlandse Spoorwegen", the dutch railway runs directly from the AMS airport station to Eindhoven Central, so far, so good.
It´s only possible to buy online tickets from the NS website with a dutch registered credit or bank card, that should be improved soon.
The ticket machine at the station works with my german maestro card, lowered my account with 15.00 Euro´s, catched the ticket and down to the tracks.
No train change, departure 08.14 am, arrival 09.43 am.
Beside some drunk young lads on the way back home after a night in the city, an enjoyable ride through the dutch countryside that early Sunday morning
Arrival at Eindhoven central ontime.
There is a direct bus link to the airport, no customers at the ticket desk, lost another 3.00 Euro´s and a minute later I´am on the way to the waiting bus, called "Phileas", a somewhat strange modell, nothing seen something like this before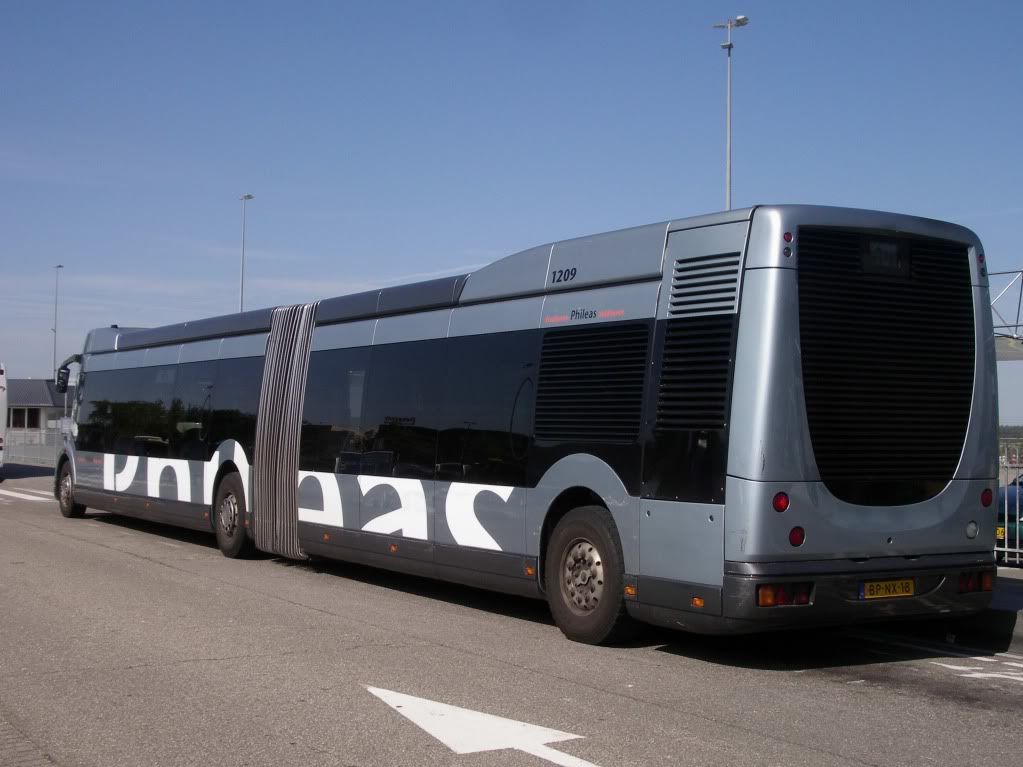 Sunday, 12.06.2011
.
.
.
.
Service W6 2642 operated by Wizz Air
Scheduled: 11.55 // 13.15
This flight is booked via the company´s website. The fare
45.00 Euro´s, a bit steep for my personal liking with a so called low cost airline, but anyway, the chance to collect a new airline and also a new airport for my log now.
OLCI works fine with Wizz´s website.
What about a view around the terminal?.
Modern and well designed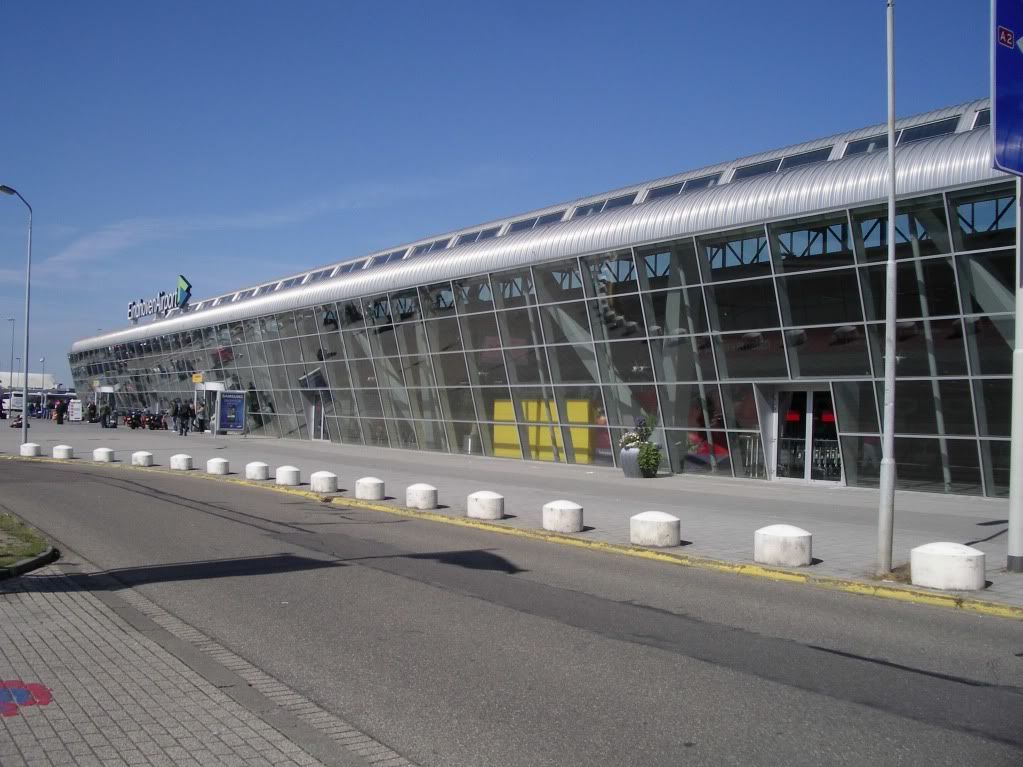 Also inside airy and spacious
Ryan, Transavia and Wizz on the board for the next hours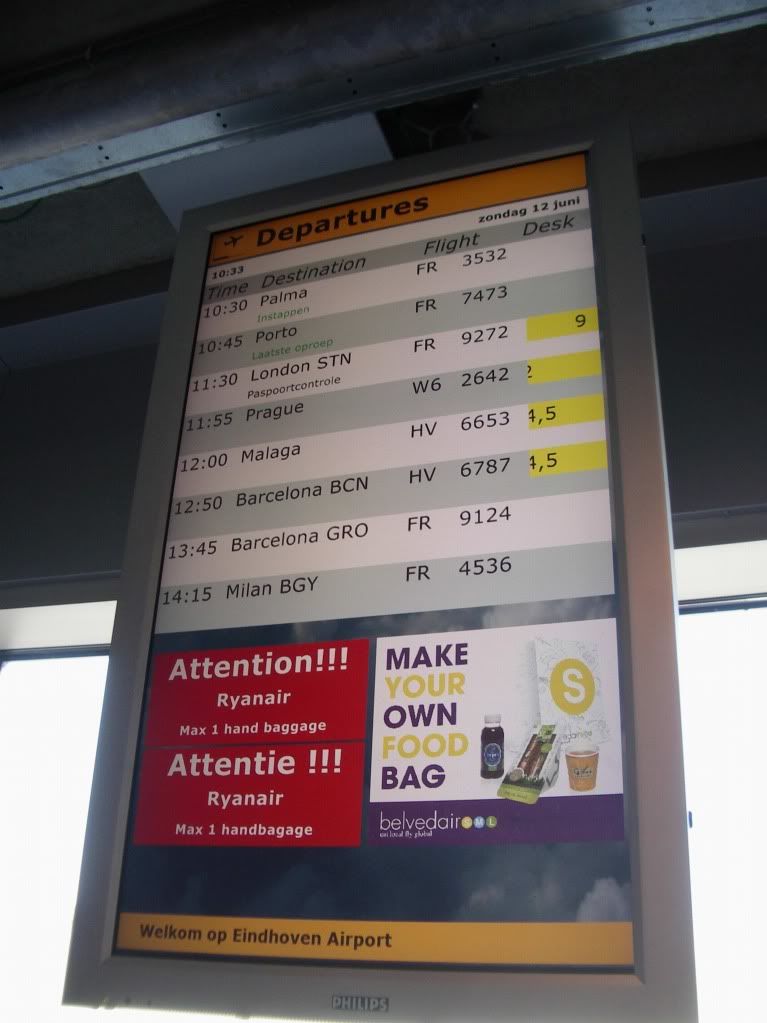 No action around these Cityjet F50, it seems parked for the day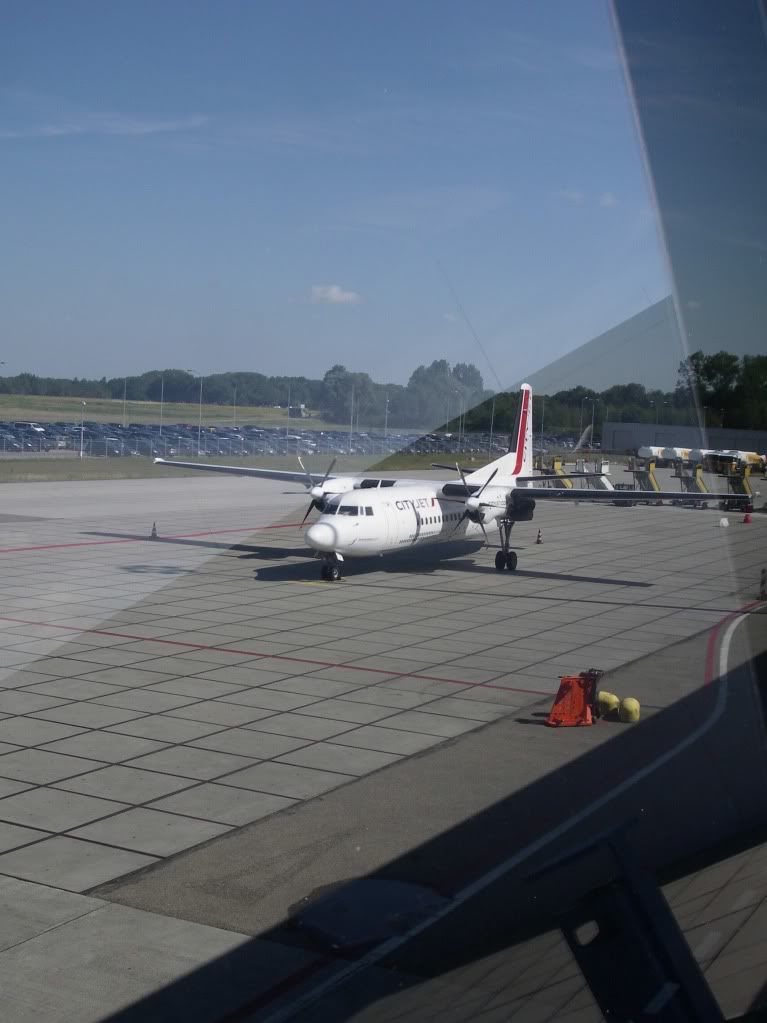 The main visitors registered in Ireland, pictured from the open deck at the upper level, well done at Eindhoven Airport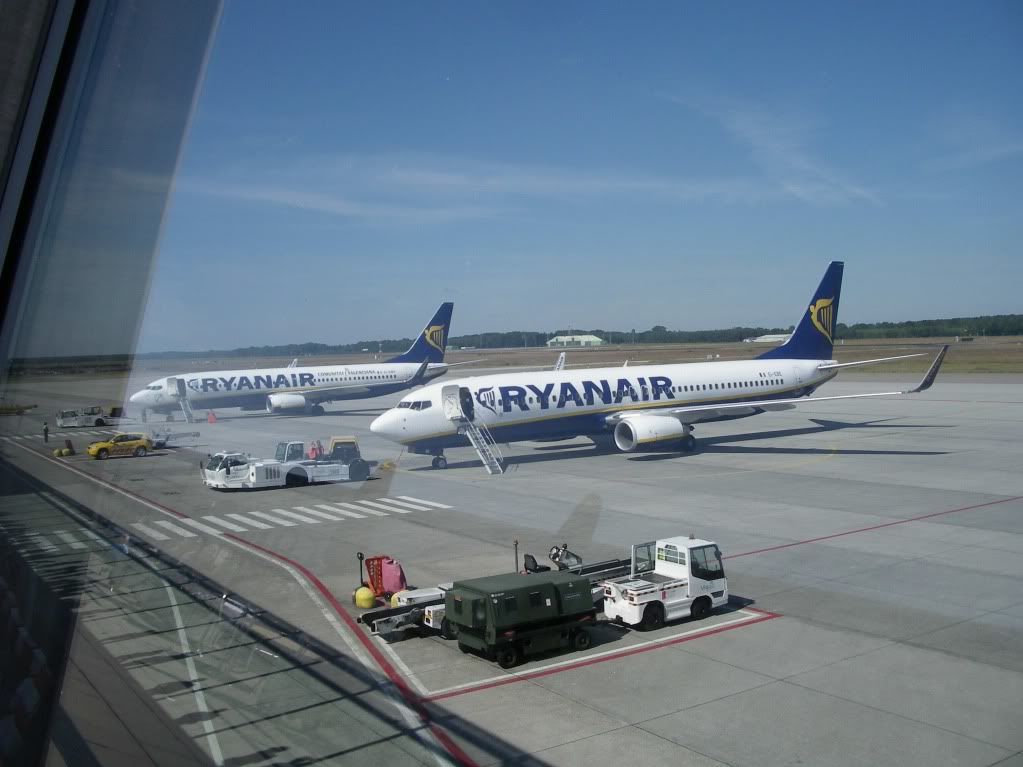 Some check-in desks and the main hall
I´ve catched a quiet moment, through security in no time.
Short thereafter in the gate area, also airy with an somewhat industrial style
Well, also Ryanair looks nice with these colours, by the way this plane is also in my log
Something pink coming in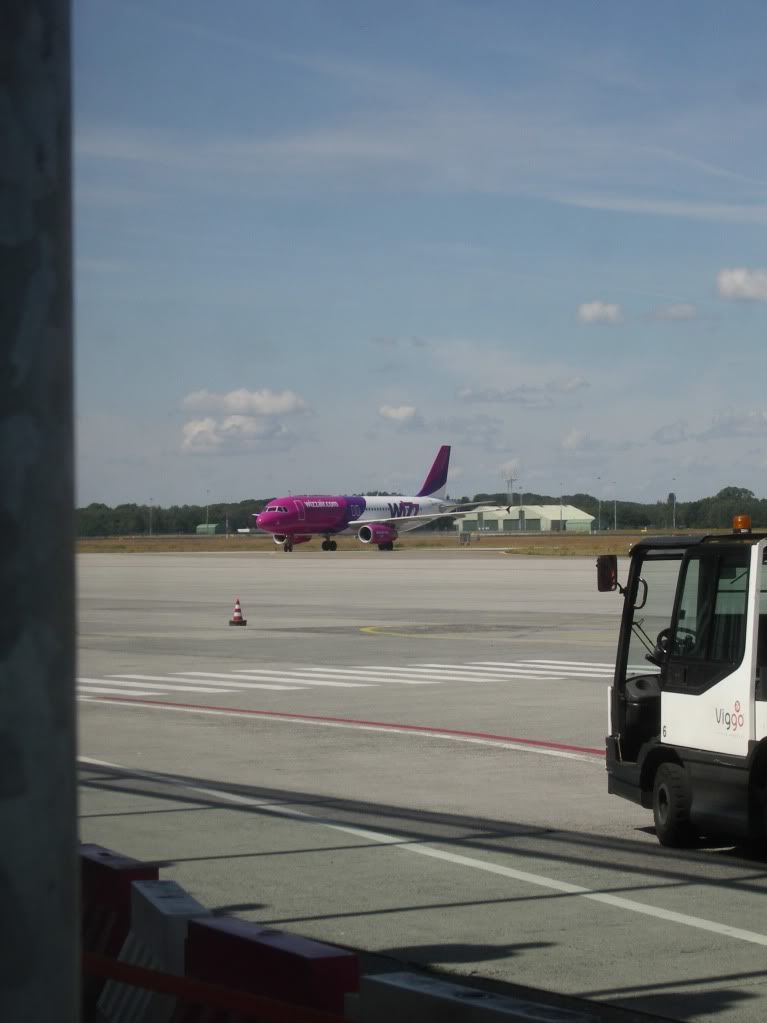 The 738 from behind
Ground handling action around my machine
That´s definitely dutch style with the bike on the apron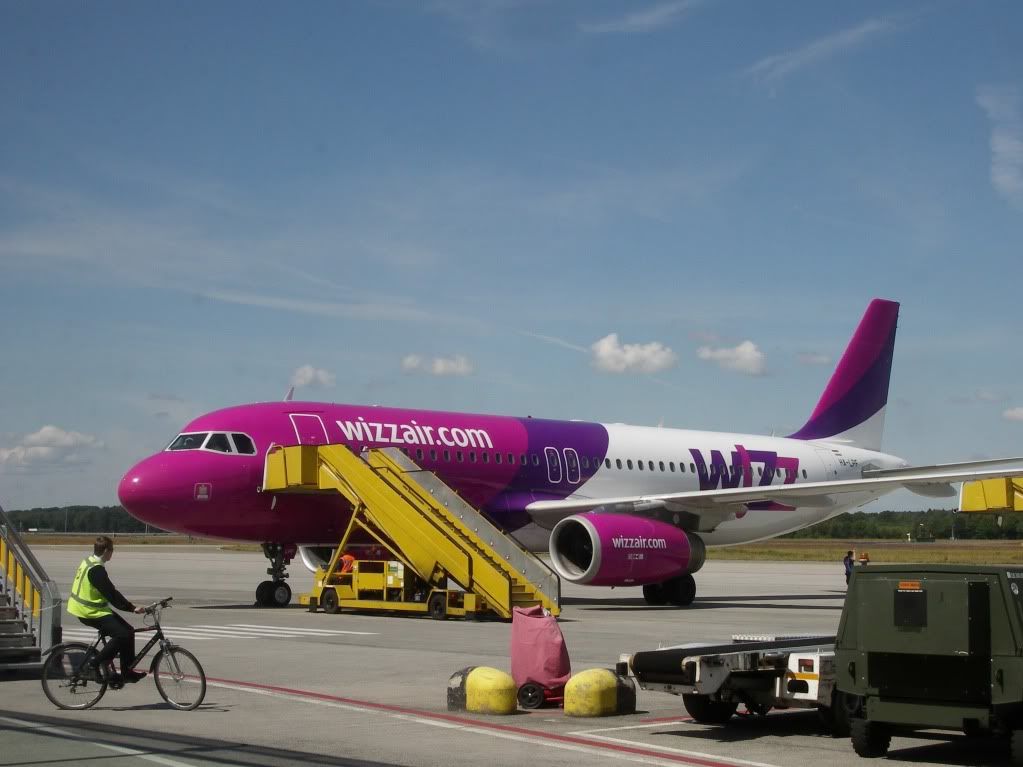 Transavia parked beside
As soon as gate 4 is announced to PRG, people running for good positions.
Originally I´ve booked flight only, but after some remarkable airport scenes with free seating airlines lately, I´ve decided to go for a little extra.
Right hand side from a strap priority boarders, left hand side all the others.
Well, it´s a somewhat catwalk feeling, not that it is a problem for me, but I am simply the only one to use the right hand part, some 150 people queuing on the left hand side.
They waited for me to open the gate and I´am the first inside, again with a separate waiting area for the priority boarders.
Two dutch guys join me finally, that´s it, everyone else on the other side.
...................................