I had been planning a long awaited return to Southern California and I had read so many good things about Air New Zealand that they were in pole position to get my business. What really caught my attention was when they released details of the new economy Skycouch because I would be travelling with a seven year old and a 22 month old infant. As we had booked three seats the price for the skycouch was £79.00 each way on top of the economy fare.
We arrived at Terminal 1 around 1pm. There were about five people in front of us so we cleared check in about 20 minutes later, I did have some reservations about ANZ not having online check-in but they had five people checking in the economy section of this afternoons flight to LAX so I was happy we didn't have to wait very long. BAA have been trailing a special families line in Terminal 1 over the school holiday periods this year so we were ushered past everyone without small children and straight through security.
We made our way to gate 48 where ZK-OKM ANZ's first 77W was waiting to take us to LAX



We pre-boarded and made our way to our seats 46 A,B and C.




View Large View Medium


Photo © Jonathan Rankin




The airplane filled up quite quickly, the economy section had around 50 seats spare that meant that I was able to take 46D as it and 46E were unoccupied, although all of the skycouches had been pre allocated. We had resereved our seats when we had booked our flight online. We had kept checking to see how many skycouches had been occupied and there were only about four sets taken, the rest were allocated by ANZ about 24 hours before departure, this wasn't a surprise because I had read about this on flyertalk. I think this is a fair policy by ANZ to stop a massive race to get the seats once the seatbelt sign is switched off. I did overhear a few people say they had been upgraded. Push back was at 4.15 and we lined up on 27R for departure around 4.35. Flight time would be around 12 hours because of a strong headwind and also a slightly different flight path due to the Ashcloud created by the Icelandic volcano.

The legroom was acceptable for me.

My legroom shot




Skycouch

The Skycouuch seems to me a brilliantly simple idea that really fitted my circumstances travelling with small children.

For those of you who are unfamiliar with the skycouch each seat in a row of three has a moveable leg rest, it can move from a vertical to a horizontal position inline with the seat base to make a flat cushioned area with the two centre armrests fitting flush with the seat back. These are located on the outside sets of seats in front section of economy. You have to book all three seats to get the skycouch option so if like me you book all three seats the upgrade cost is £79.00GBP each way but if just one for two of you want a skycouch it considerably higher. As I had moved across the isle to a spare 46D both of my daughters had room to stretch out and sleep some of the way. The economy seats also feature a two-way moveable headrest with a pillow that fits over it. The pillow was a little difficult to stretch over the headrest but I got it to fit eventually.



Skycouch legroom shot





The cup holders have been disabled pending a redesign so they work properly

IFE

I the new IFE is great with a good size touch screen and resolution. ANZ start the IFE running for film and TV from the gate so you can start watching as soon as you sit down. I have a few photos of the system below.

IFE shots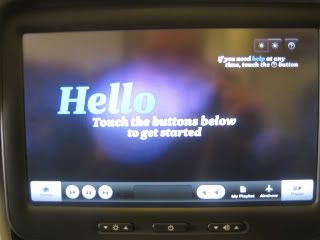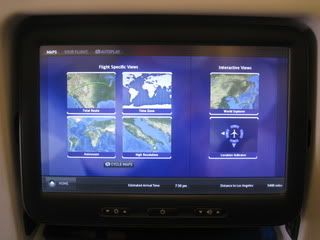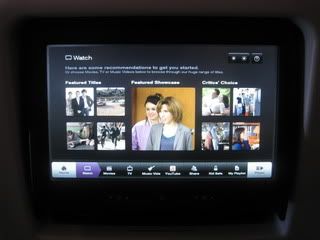 I watched Tron :legacy, Ratatouille quite a few of The Simpson's and played a few of the games and listened to some music on the system. There could have been more films though, the selection was ok but there was a lot of multiple TV content like 24 episodes of The Simpson's and American Dad etc. Personally for me I would have preferred it if they had some newish release films e.g Toy Story 3 and Inception and less multiples of TV programmes, having said that though the system kept me entertained the whole way and the music library was huge, I found this good as I could listen to music I wouldn't normally listen to.

The children's entertainment was really well thought out, they had there own home page for the system and lots of choices of film, TV and games. The Jet Cadet packs were also very good as shown in the photos below.








The Jet Cadets pack from LHR to LAX






Food and drink
The food and drink service was very good for economy. The service started about 1.5 hours into the flight. The menu was listed on the IFE screen, they did have three choices listed but only the top two were offered. I had the curry (below), which was nice although the portion wasn't big although it was good quality for economy airline food. They had a good selection of wine 2 different reds and whites and sparkling wine all from New Zealand and a selection of spirits. The best feature of the flight was the snack service once the meal service had finished. There was an option on the screen to view the drinks and snacks available. I just selected what I wanted and the cabin crew delivered to my seat. I could choose from soft drinks, beer, wines and spirits, crisps etc.







About 2 hours before landing they served the snack I had the tart (below) that I thought was excellent and it was full of flavour.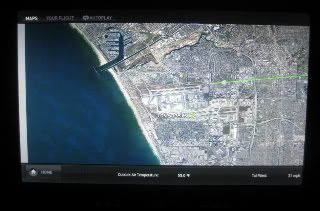 We arrived about 9.30 local time on 24R. Immigration took around 45 minutes as they only had to process our flight and our bags were waiting for us on the carousel.




After my holiday it was time for our return flight but we needed lunch close to the airport before we returned the car and made our way to terminal 2. There was only one place to go for any A.nutter, the famous In-N-Out Burger on Sepulveda Boulevard!

The burgers and fries were fantastic and the staff were full of enthusiasm. If you eat burgers In-N-Out should not be missed. I was there around 12.00pm so I saw the first wave of European arrivals, LH, AF, BA, AZ I also saw EK and CI (below) as well as a few WN and AS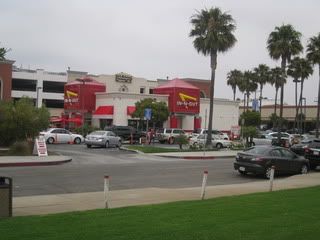 CI 744




The Jet Cadets pack for the return leg


View Large
View Medium


Photo © Je89 W.






We dropped our car off and made our way to terminal 2 for our flight back to LHR. There were again five or six check in agents for the economy section of NZ2 so it took us about 30minutes in total to get into the departure lounge. We boarded ZK-OKN from gate 23A and then we made our way to seats 46 HJK as we had booked them prior to our journey.


The IFE was much the same as the outward journey I watched the Adjustment Bureau Gnomeo and Juliet and The Social Network.



Over the Californian desert. I was admiring the shape of the 77W wing with is swept back wingtip, much more of an elegant design than a wing tip sticking up I think.



Flying over Nevada, the Hoover dam is in the centre of the photo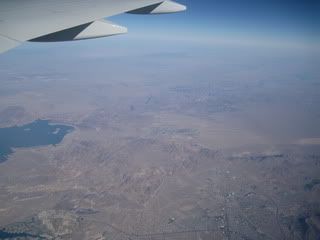 Dinner menu from IFE screen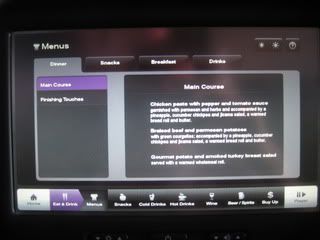 Braised beef and Parmesan potatoes






The breakfast, wasn't brilliant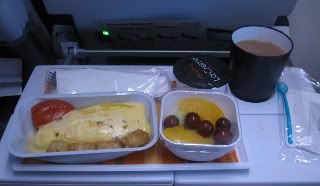 Wembley Stadium



Buckingham Palace



Hyde park and Knightsbridge

[img] http://i1121.photobucket.com/albums/l515/pjack94/1106109.jpg [/img]

The Thames and the Fullers Brewery home of the great "London Pride" beer

[img] http://i1121.photobucket.com/albums/l515/pjack94/11061012.jpg [/img]

Conclusion

I thought the ANZ economy service is really a quality product. I haven't flown VS or AA so I cannot comment on their service but of the other competition that flies on the LHR-LAX route they beat them hands down.

The crew were excellent, very attentive and did everything with a warm smile and nothing was too much trouble. There were a large number of British crew on board and they were totally different from BA's crew.

Thanks for reading I hope you enjoyed the report.

Pjack