5 Countries, 5 Flights, 5 Days, with Ryanair (FR)
Ryanair is normally not my airline of choice. It's true, I've never been fined for not checking in online, or having a bag a cm too big. I've never been delayed for hours (with FR), or left abandoned in the middle of a rural airfield. The truth is, I like the included benefits of 'proper' airlines like BA . I like not having to worry about being penalised for not played FRs ridiculous game. However, at the same time, if you DO play the FR game, you can definitely get excellent value for money.
So, fully knowing the challenge that faced me when flying the airline the World loves to hate/love, I spent a frustrating afternoon coming up with a sensible itinerary, incorporating a couple of necessities:
- All new airports
- Less than GBP25/flight
- Places that I actually want to go
- Enough time between flights to see a bit of what the cities have on offer
- Decent, affordable accommodation
- At least one route crossing the Mediterranean, as this is a 'black hole' in my Flight Memory map.
With these conditions in mind, I came up with the following itinerary:
London – Fez (Morocco) – Pisa – Malta – Bologna ….. Rimini – London
Stansted is not my preferred airport. In fact, of the main five London Airports, STN is the worst positioned. However, STN is FRs main London base, so it was to STN I was headed. I caught the train to Kings Cross, then took the Victoria Line to Tottenham Hale, before getting the Stansted Express up to STN. The journey was reasonable value, and fairly quick.
STN station
Surviving Ryanair, Lesson 1: Check in online, and print out your boarding pass
With my five boarding passes in hand, I was able to bypass the queues at the checkin desks, and head to security. I did notice quite a number of machines, resembling SSCI machines. Closer inspection revealed these to be "self service payment machines" for those that hadn't printed their boarding passes etc.
Departures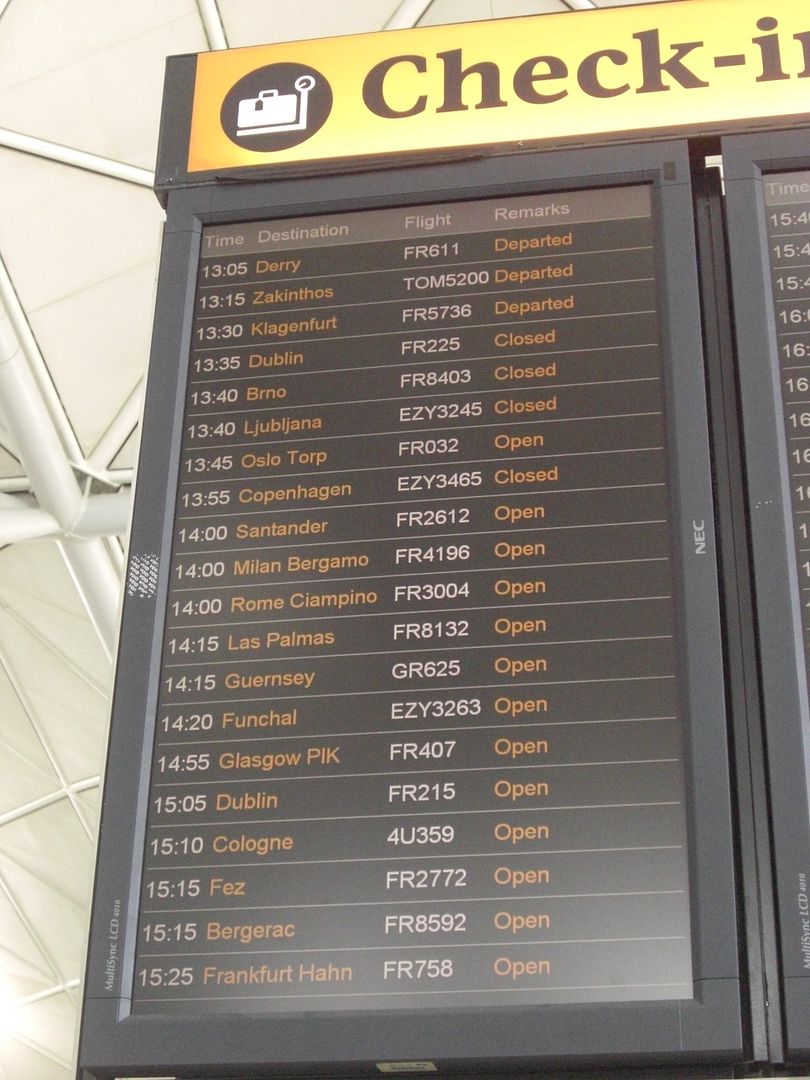 Despite STN being a BAA airport (owners of LHR amongst others), bags for liquids at security were on sale (4 for a pound?). Stupidly, the machines selling them were located behind the security area, not before. Despite the small number of people waiting, security was slow. The guy in front of my had a tube of lip moisturiser (very small, and not really a liquid). The BAA woman bad a big deal about letting him through without using a bag. She went over and specially told the guy operating the x-ray that this was going through the machines….. seemed a bit odd.
Views after security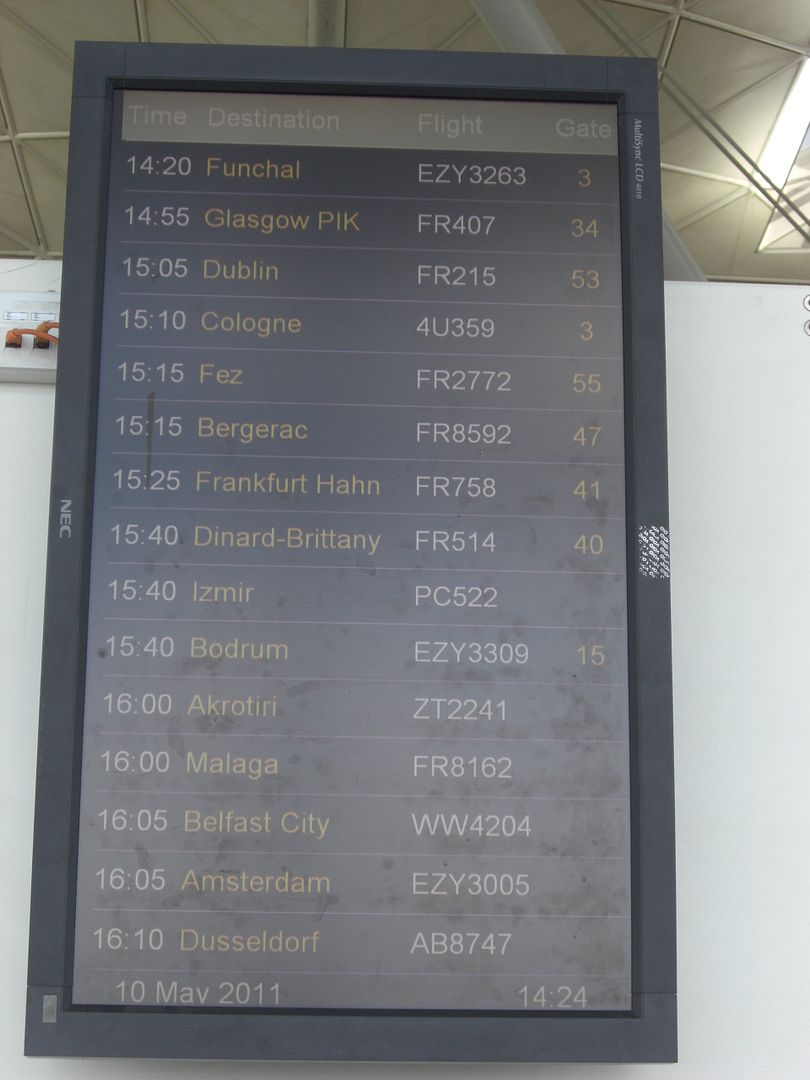 Surviving Ryanair, Lesson 2: Make sure your bag fits in the bag sizing thing, and weighs less than 10kg
Before this trip, I had specifically looked for a suitable carry on bag. I bought a 'cabin max' bag from Amazon, which seemed perfect at first. It fit the sizing thing perfectly, and weighed less than 1kg. the quality turned out to be terrible, and it was returned after the trip, but that has nothing to do with FR!
The pier that the Fez flight would be leaving from was characteristically no-frills.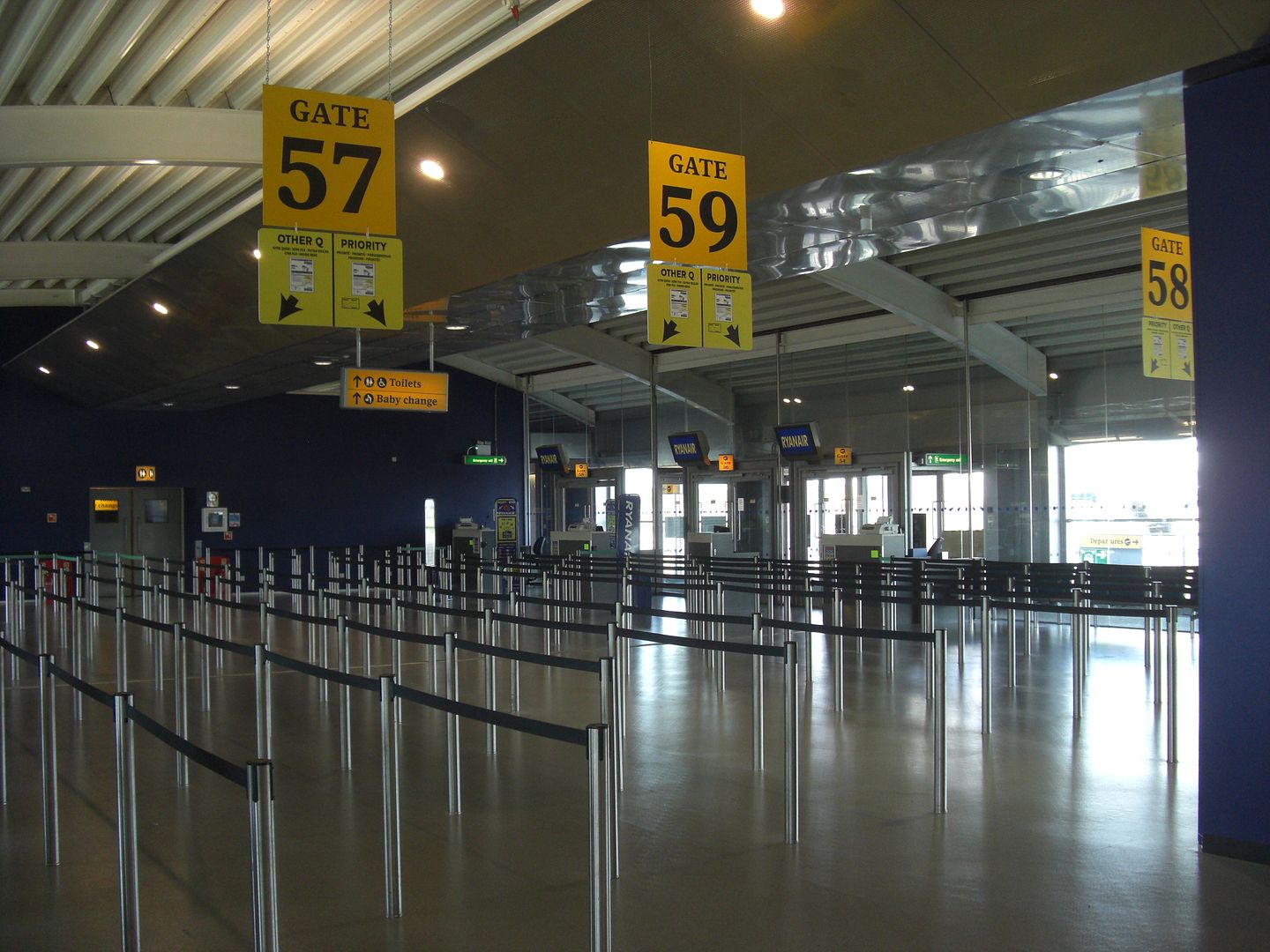 I managed to get to the gate area just as the queue started to form, and so I managed to get near the front of the queue. There was one FR check in woman speaking VERY patronisingly to a Moroccan lady who hadn't checked in online, and had three carry on bags, and was struggling to come up with GBP 120 for the bags. This was the FR that we all love to hate! Before long our boarding passes were checked, and we were sent out onto the tarmac to queue. It was nice in this sunny weather, but being made to wait (we were there for about 10 minutes) can't be nice in the winter.
A US aircraft landing ahead of Obamas visit (I presume that was the reason)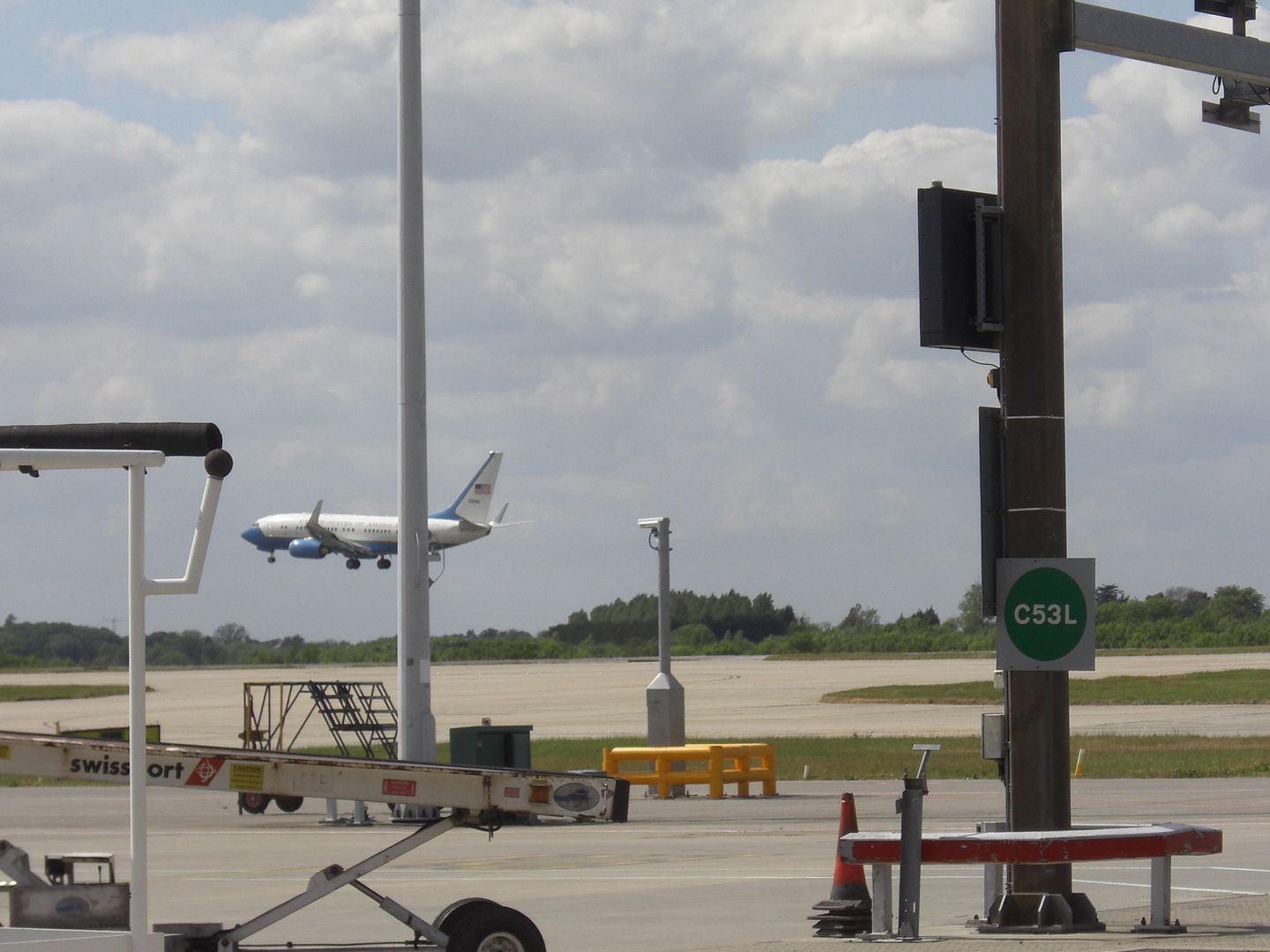 May 2011
London Stansted (STN) – Fez 'Sais' (FEZ)
Ryanair FR 2772
Scheduled: 1515-1855 (3h40m)
Actual: 1519-1820 (3h01m)
B737-800 EI-DPW
Boarding. I was lucky enough to get a row to myself. The load was about 60%.
Views from the plane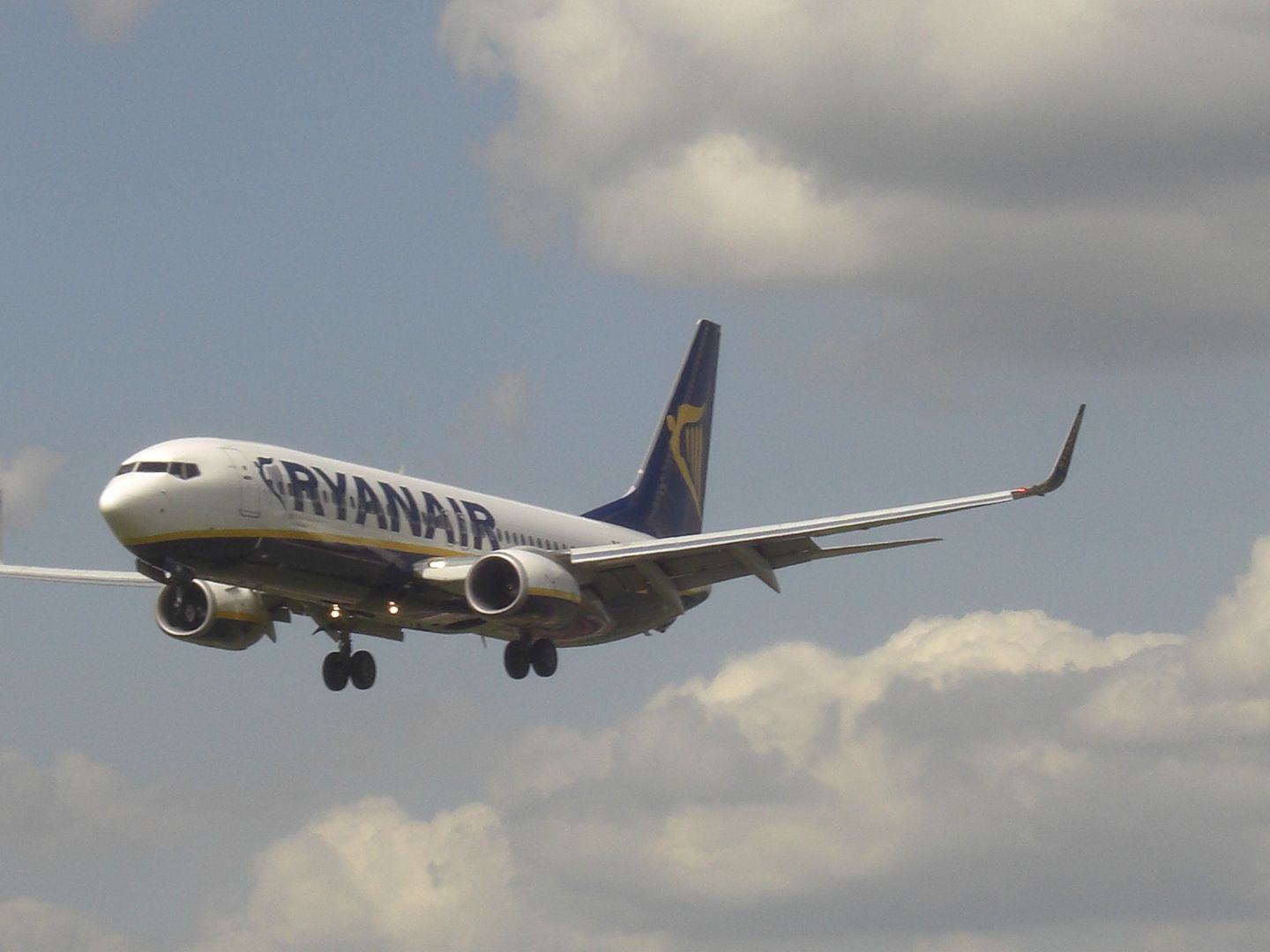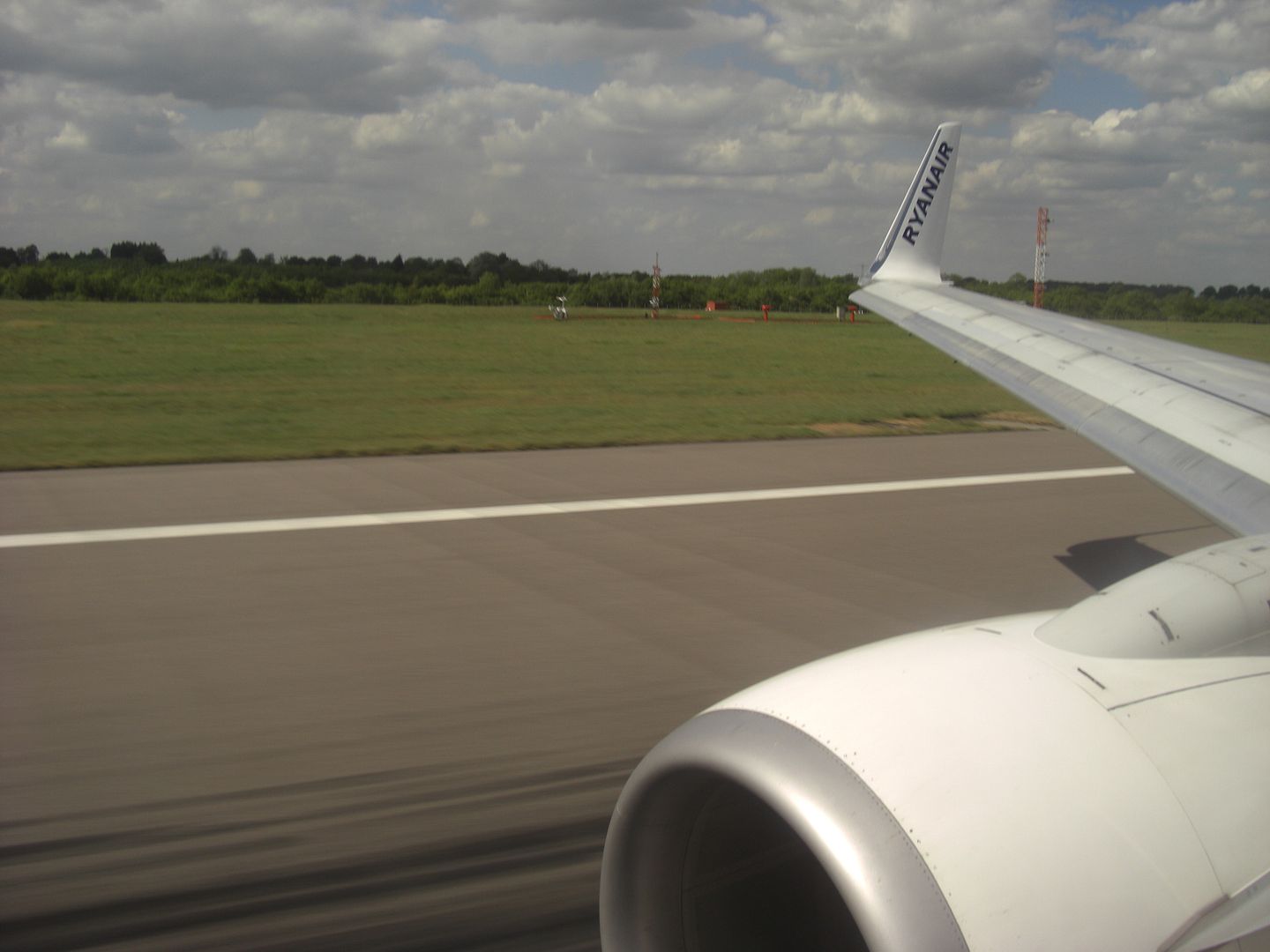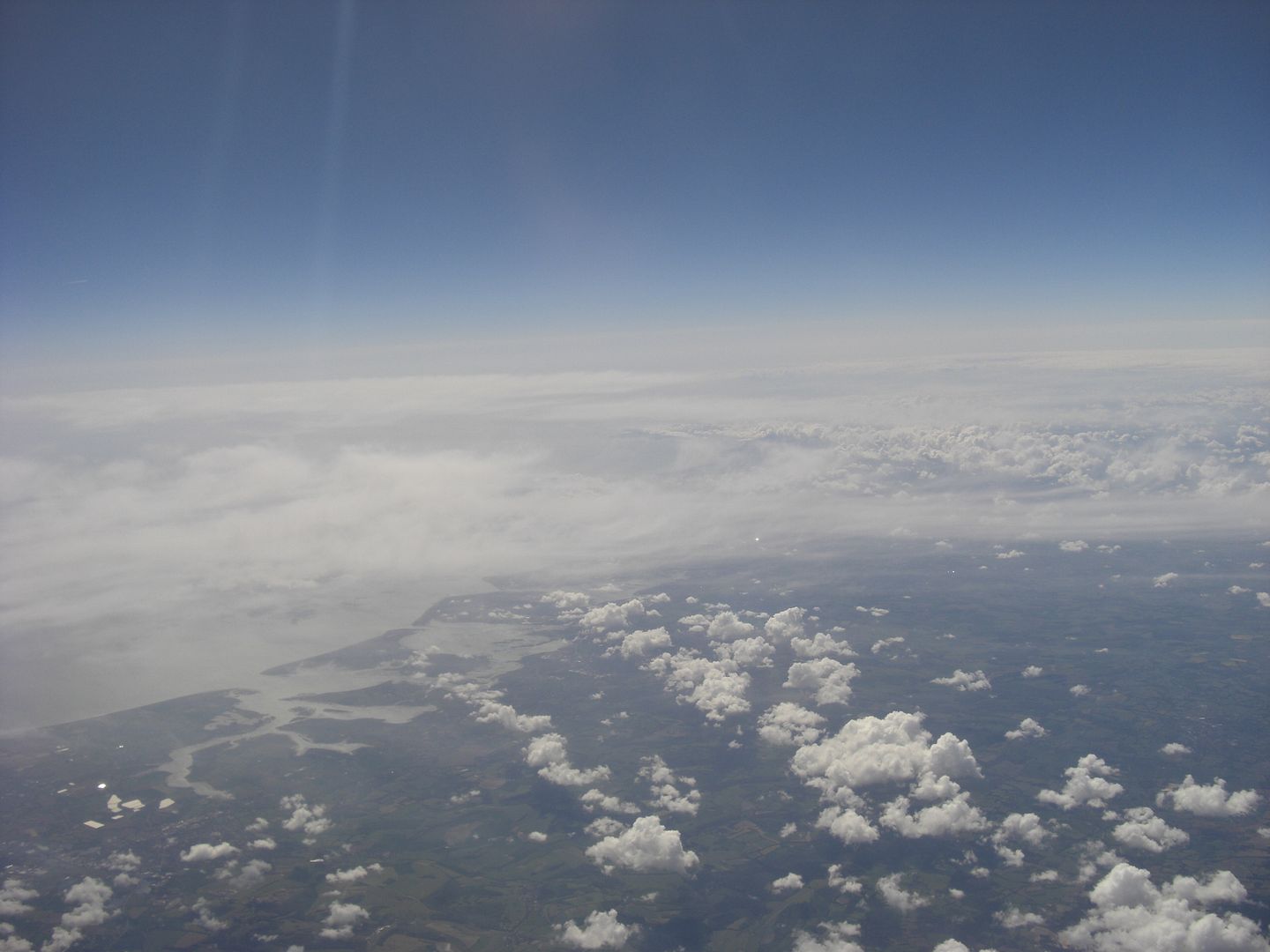 5* catering and IFE, FR style
I decided to bring along my own lunch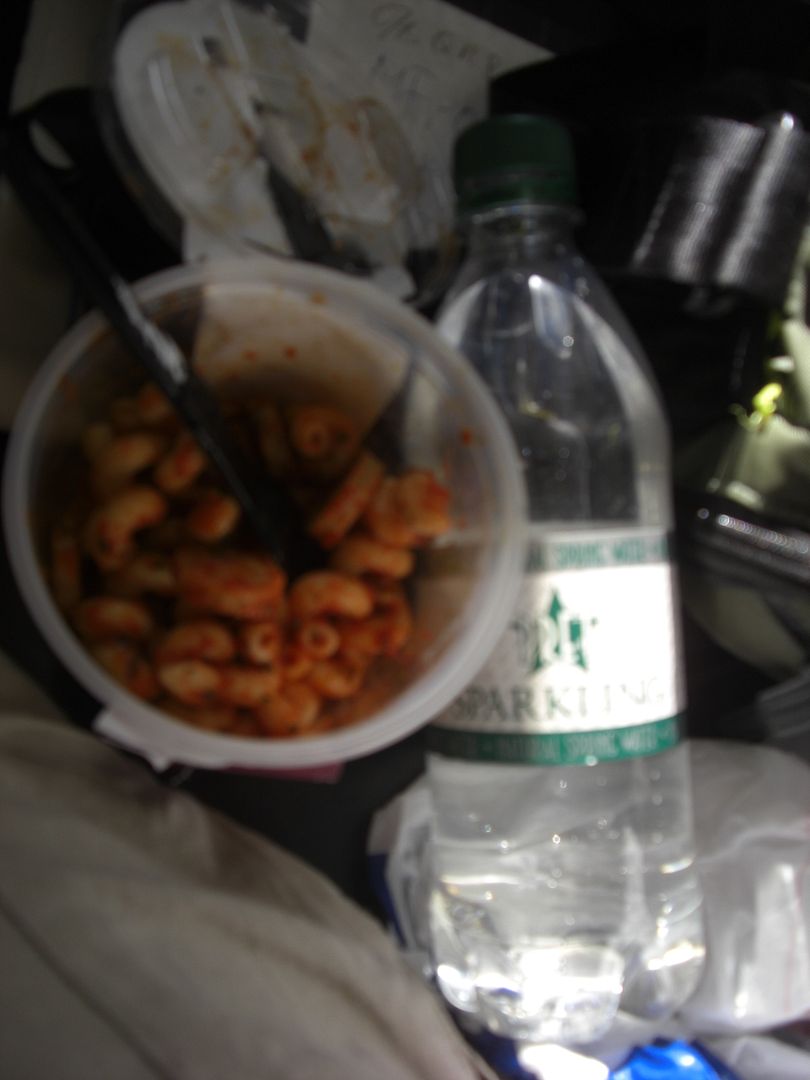 Nice, clean and yellow cabin. In contrast to the nasty FR staff on the ground, the cabin crew (on all my flights) were great. Friendly and approachable. The crew did two rounds of the trolley, although I didn't participate. There was some excellent value duty free (1 litre vodka or gin for GBP12) – I couldn't buy any though, as I was travelling with hand luggage only for the next 5 days.
Views enroute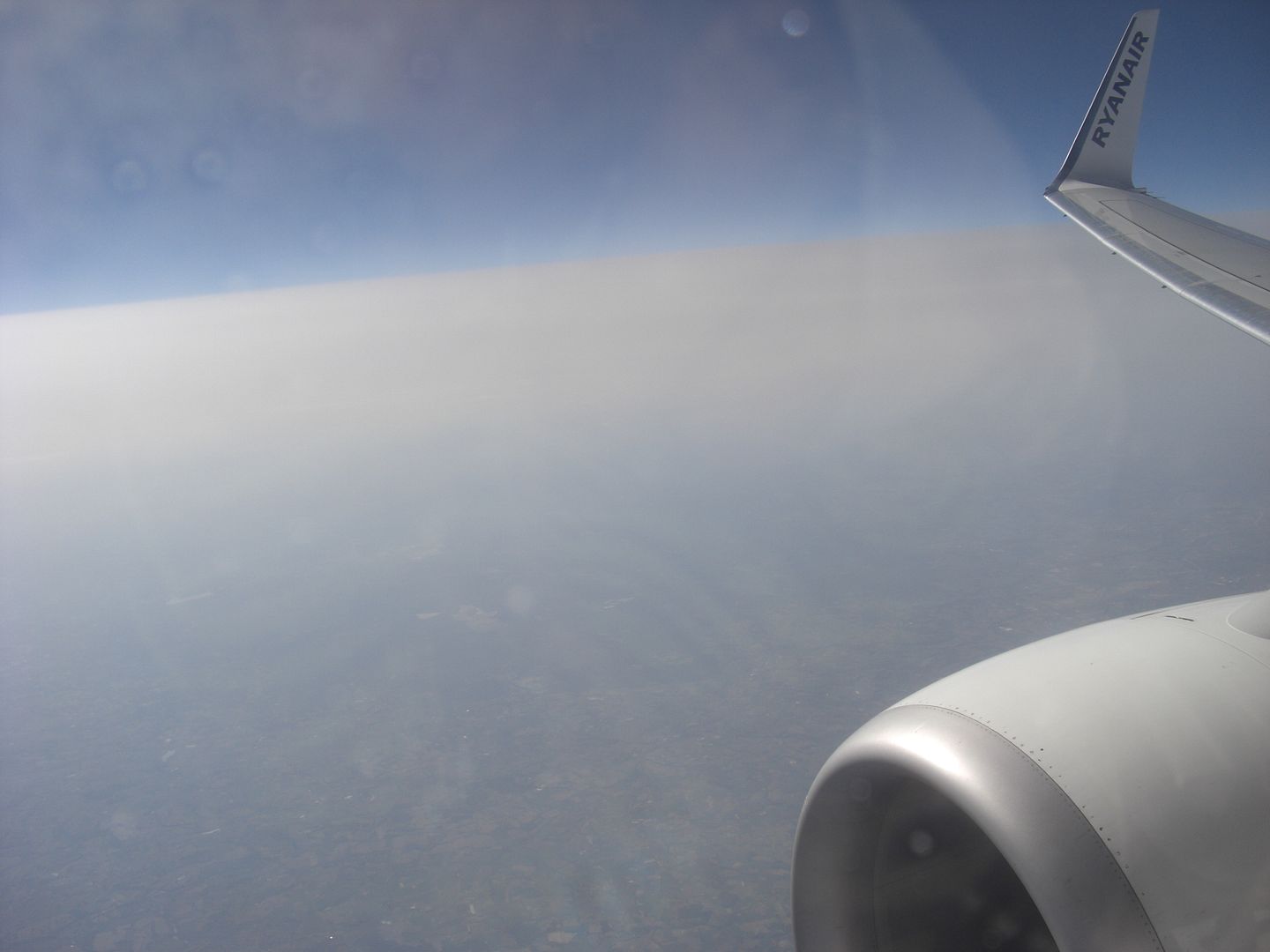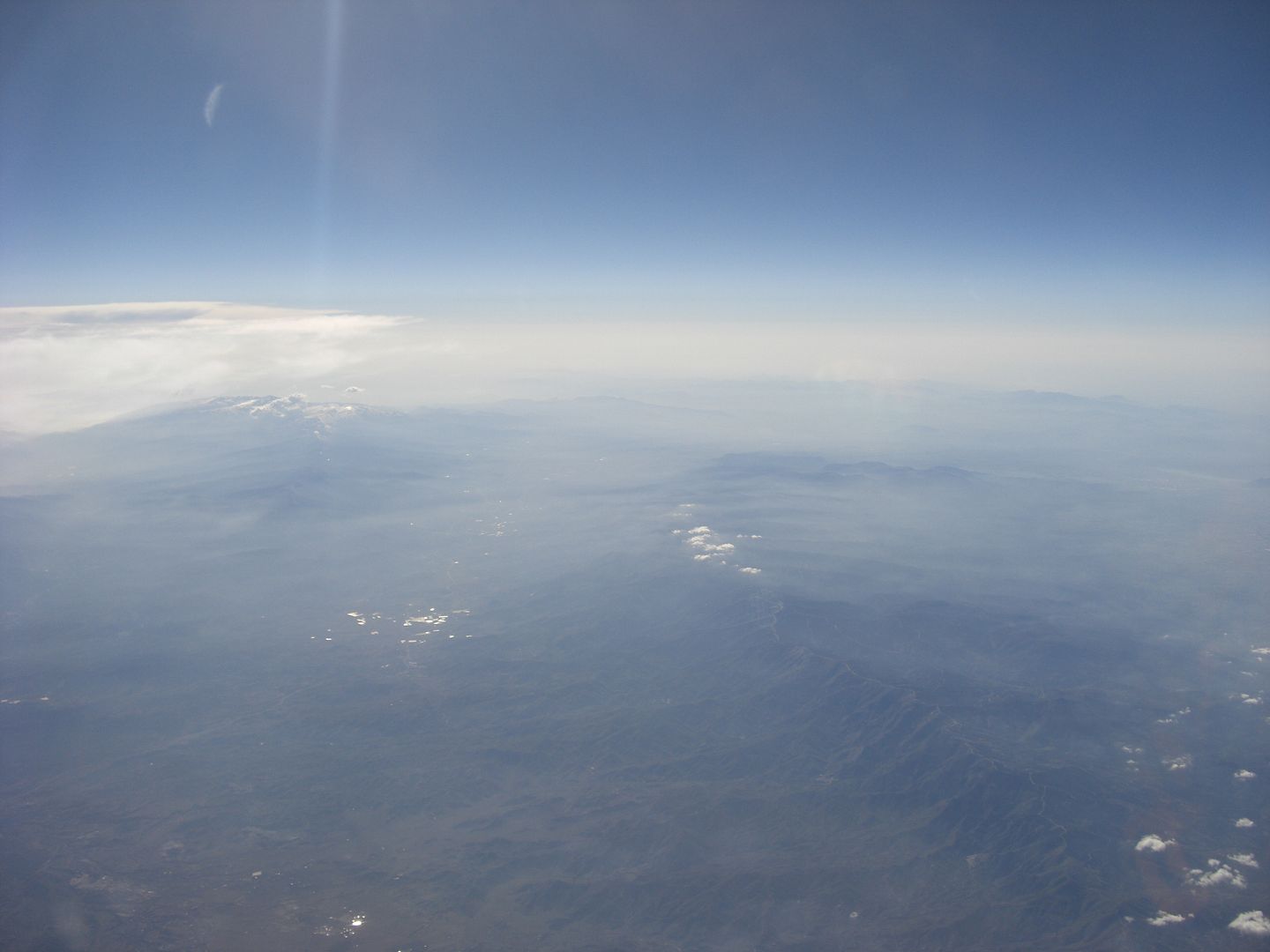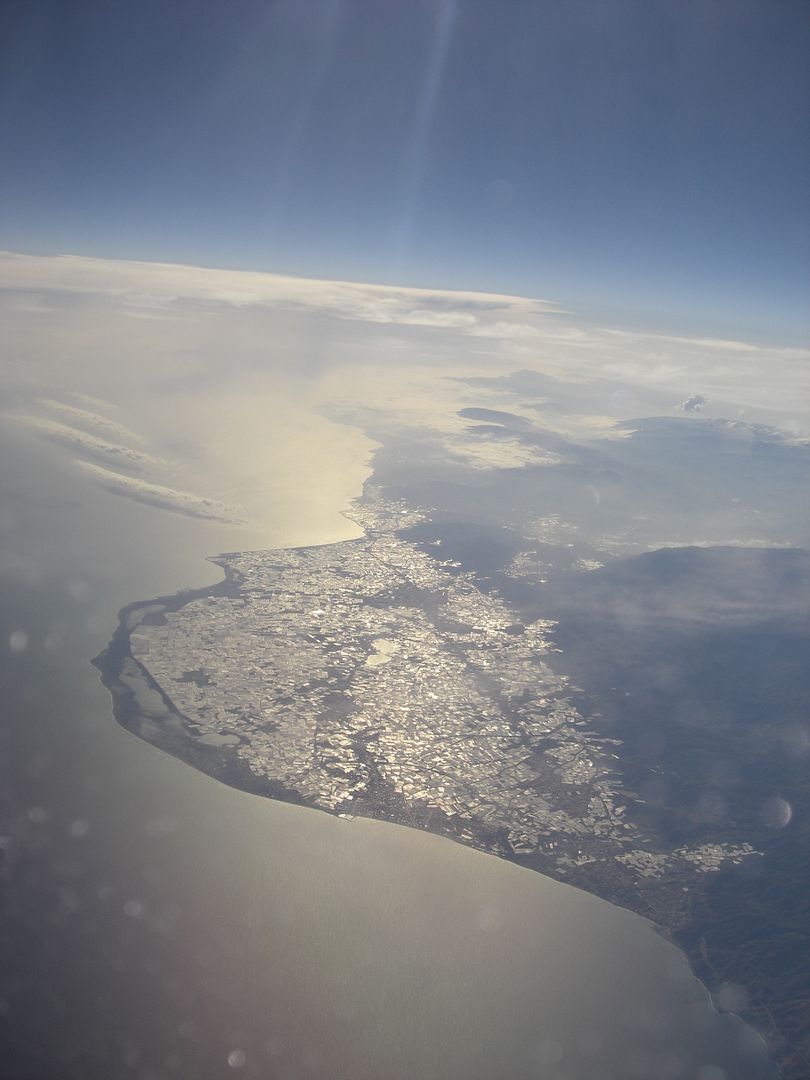 Approach into FEZ was dark, wet and stormy. Seems like there were a lot of thunderstorms in the area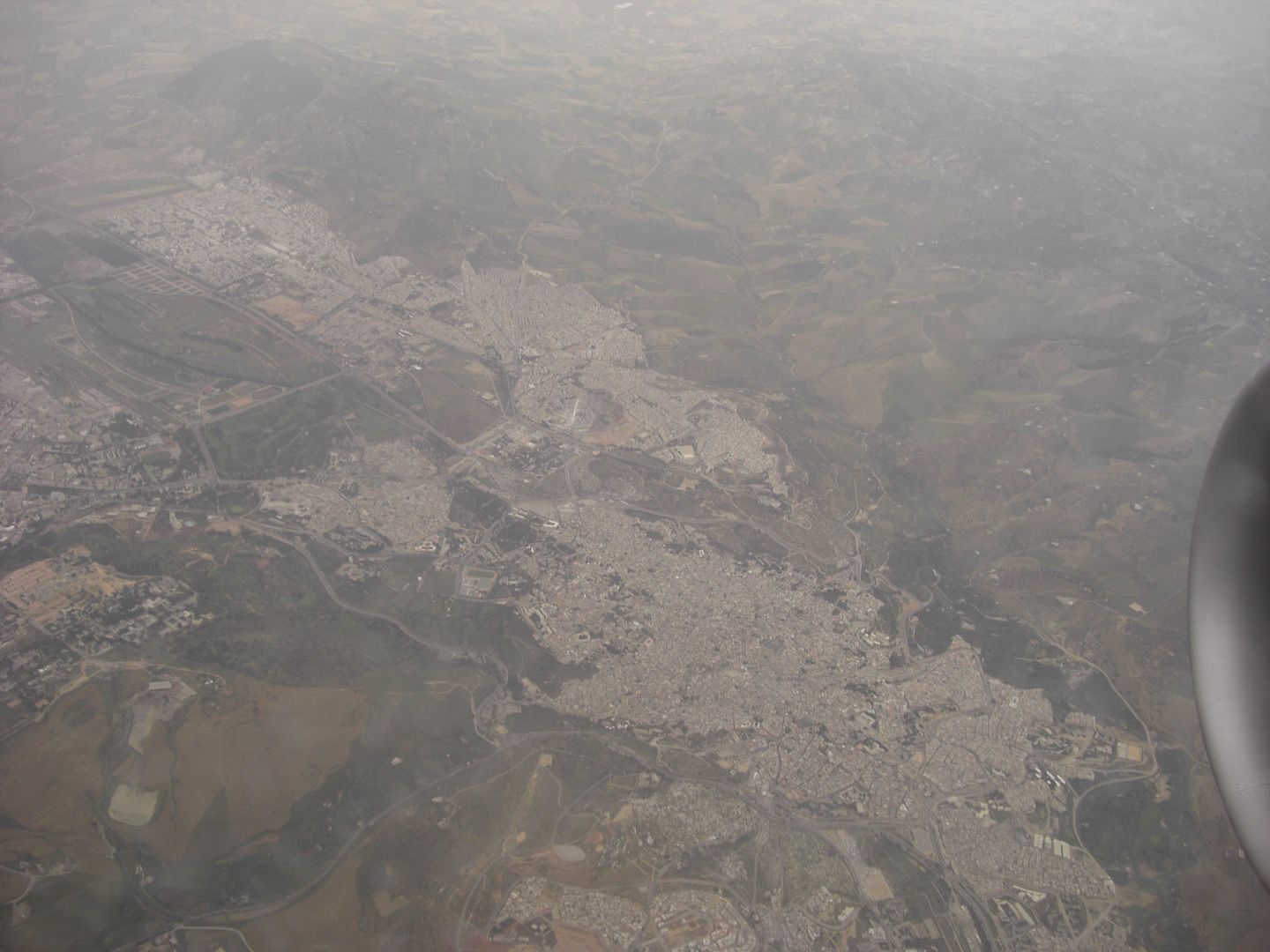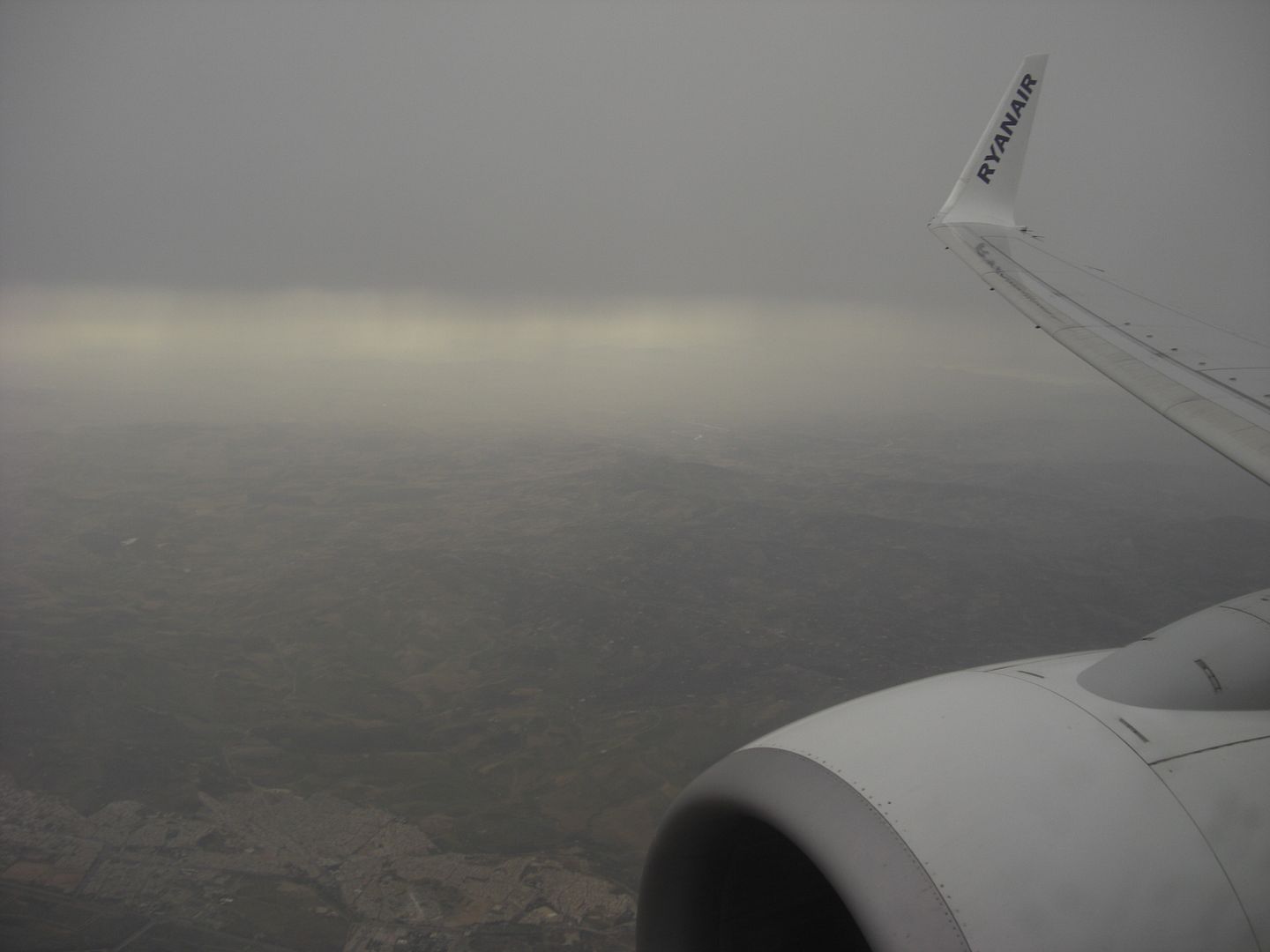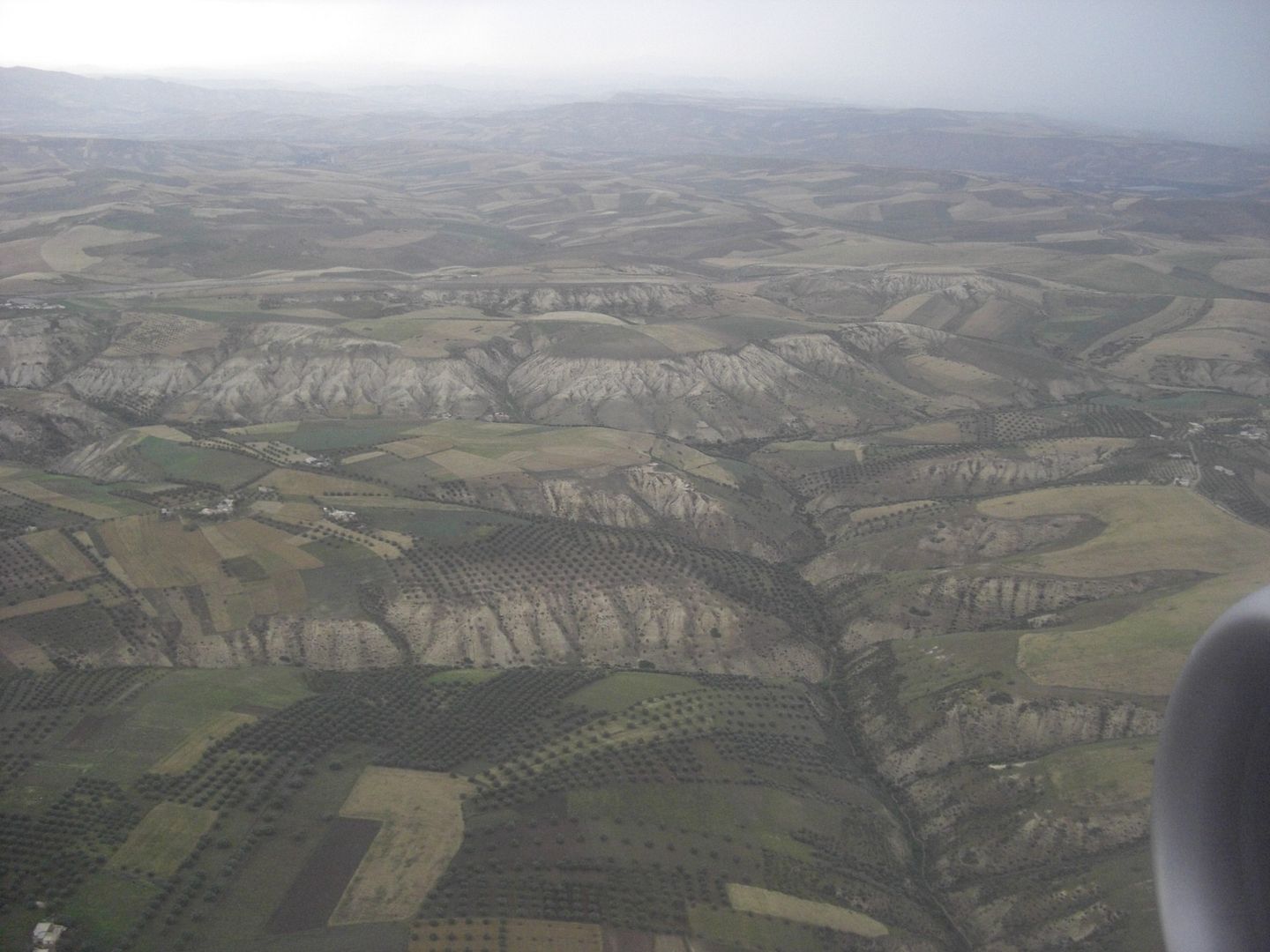 We arrived at Fez airport a good half an hour ahead of schedule. Excellent timekeeping! Of course, padding your schedules helps. There was another FR and a RAM B737 on the tarmac.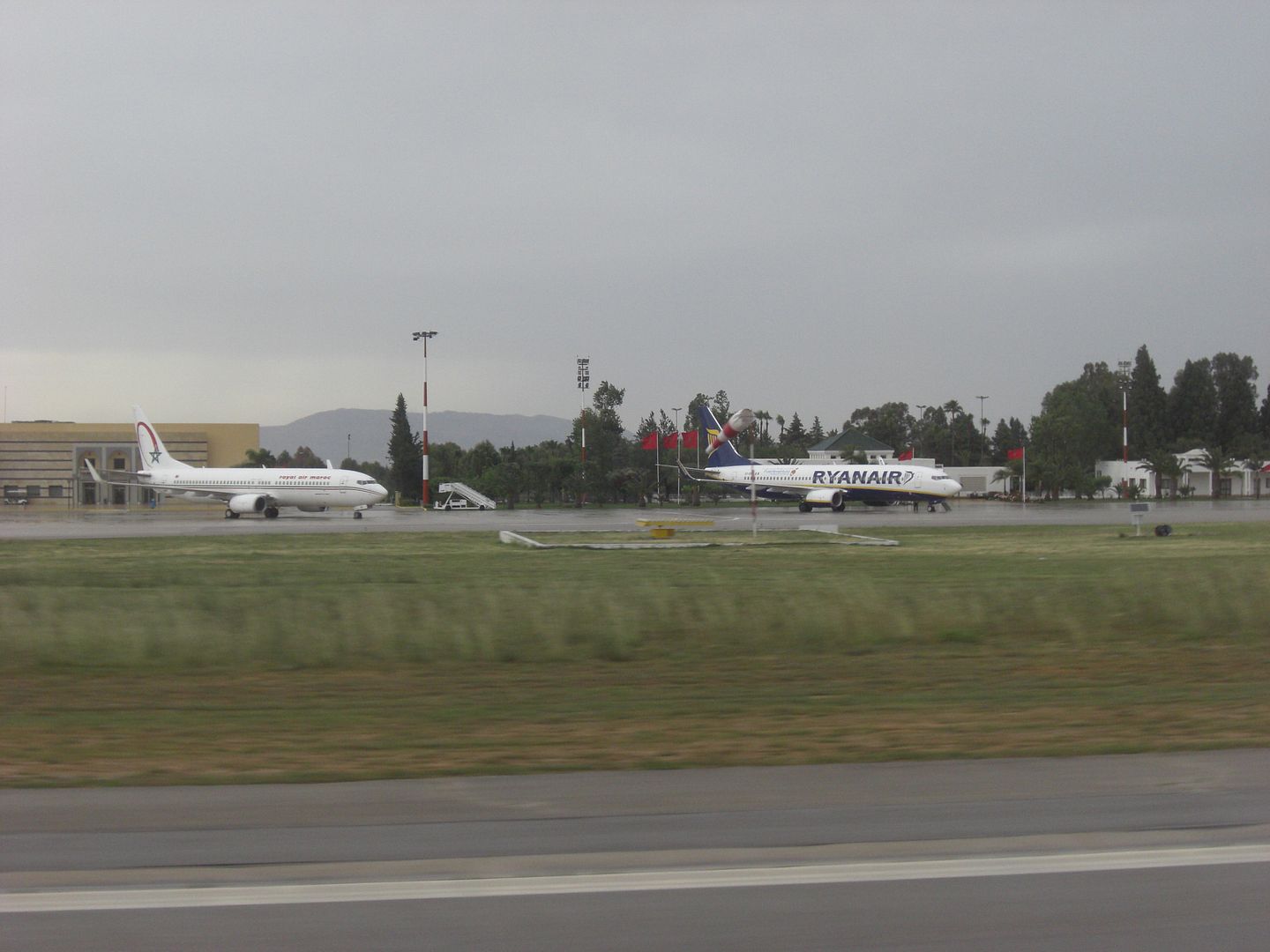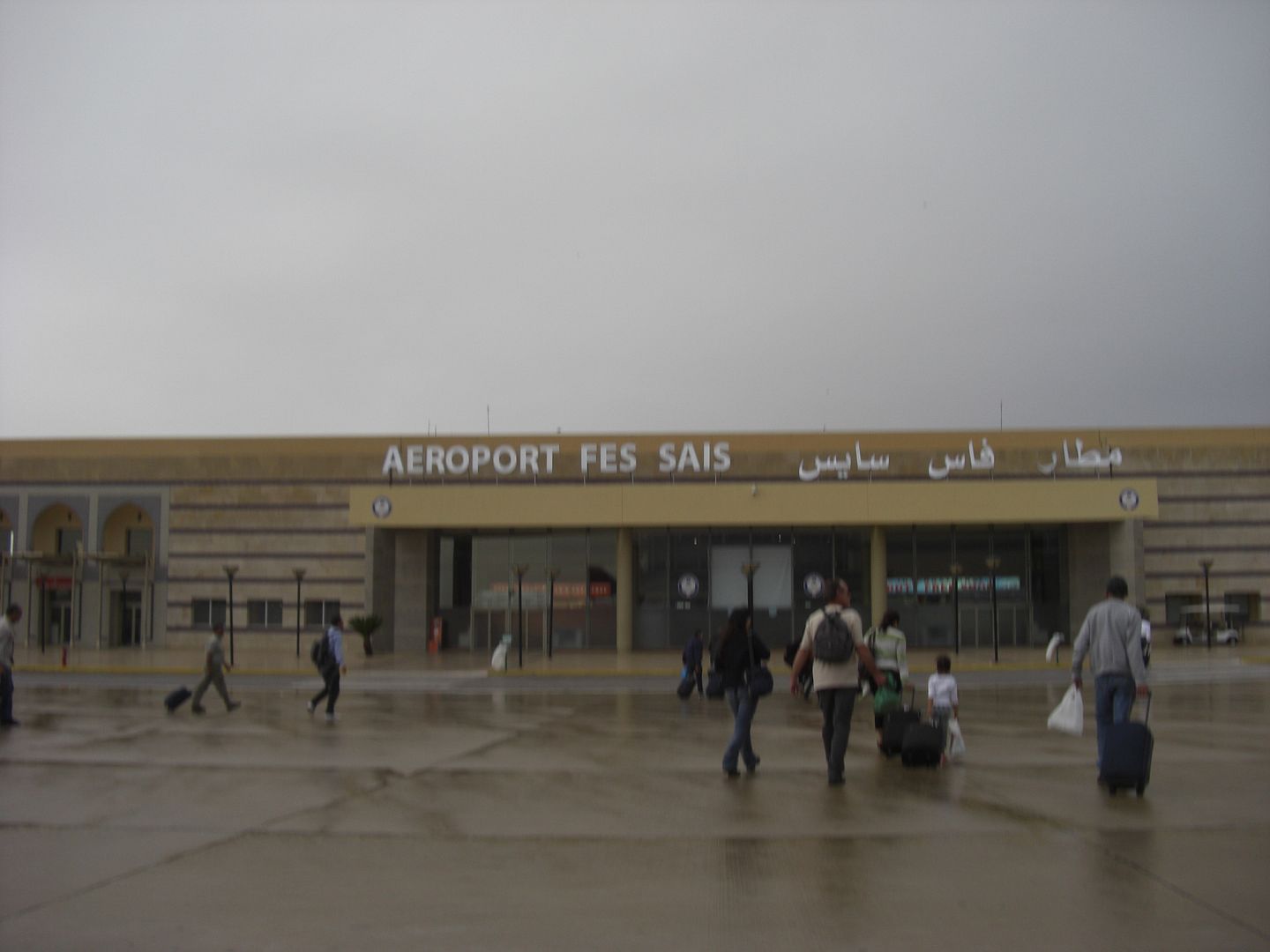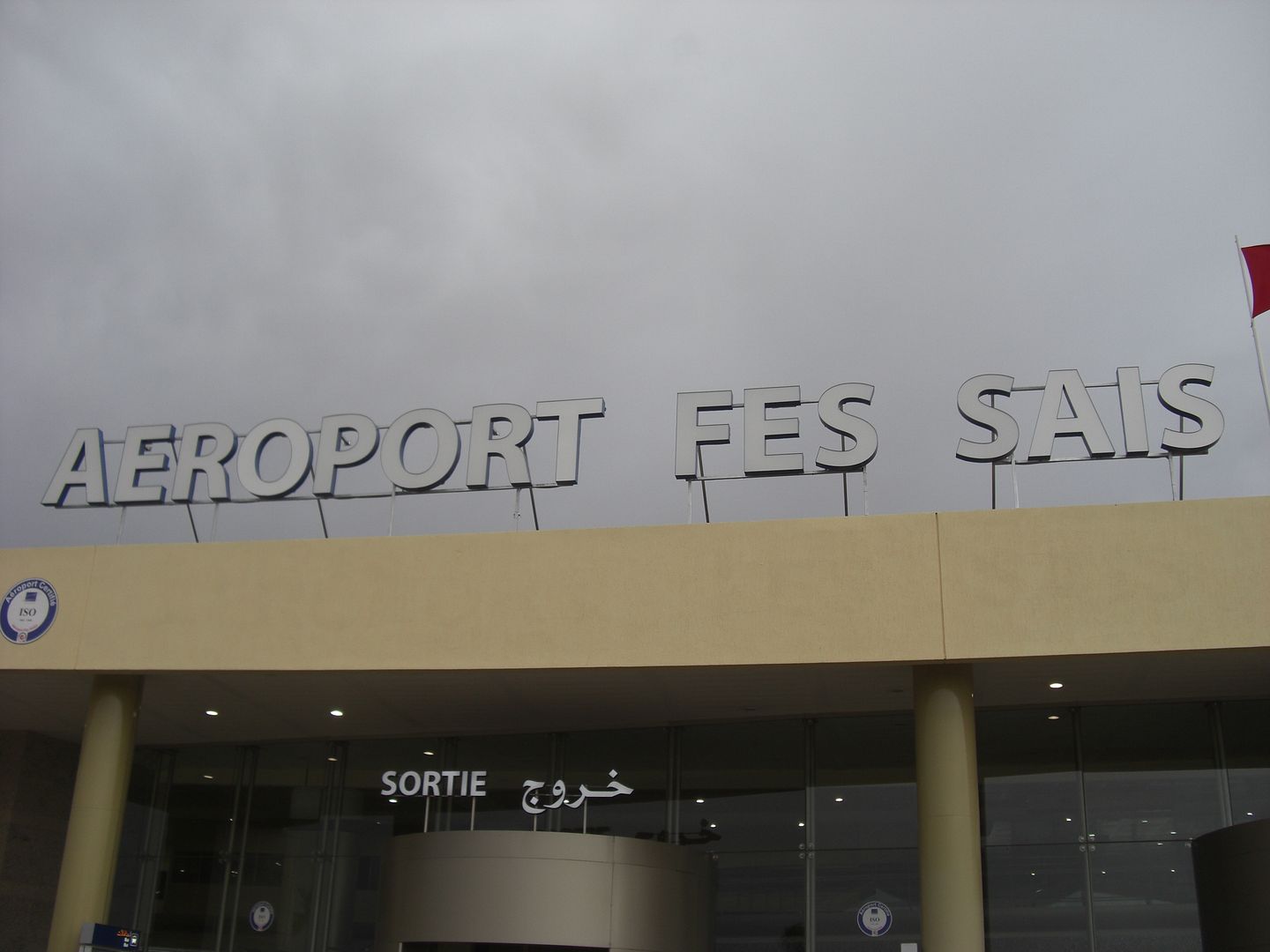 Immigration was fairly quick, and before long, I was in my pre-arranged taxi to my hotel (Dar Houdou, which I would thoroughly recommend) in Fez.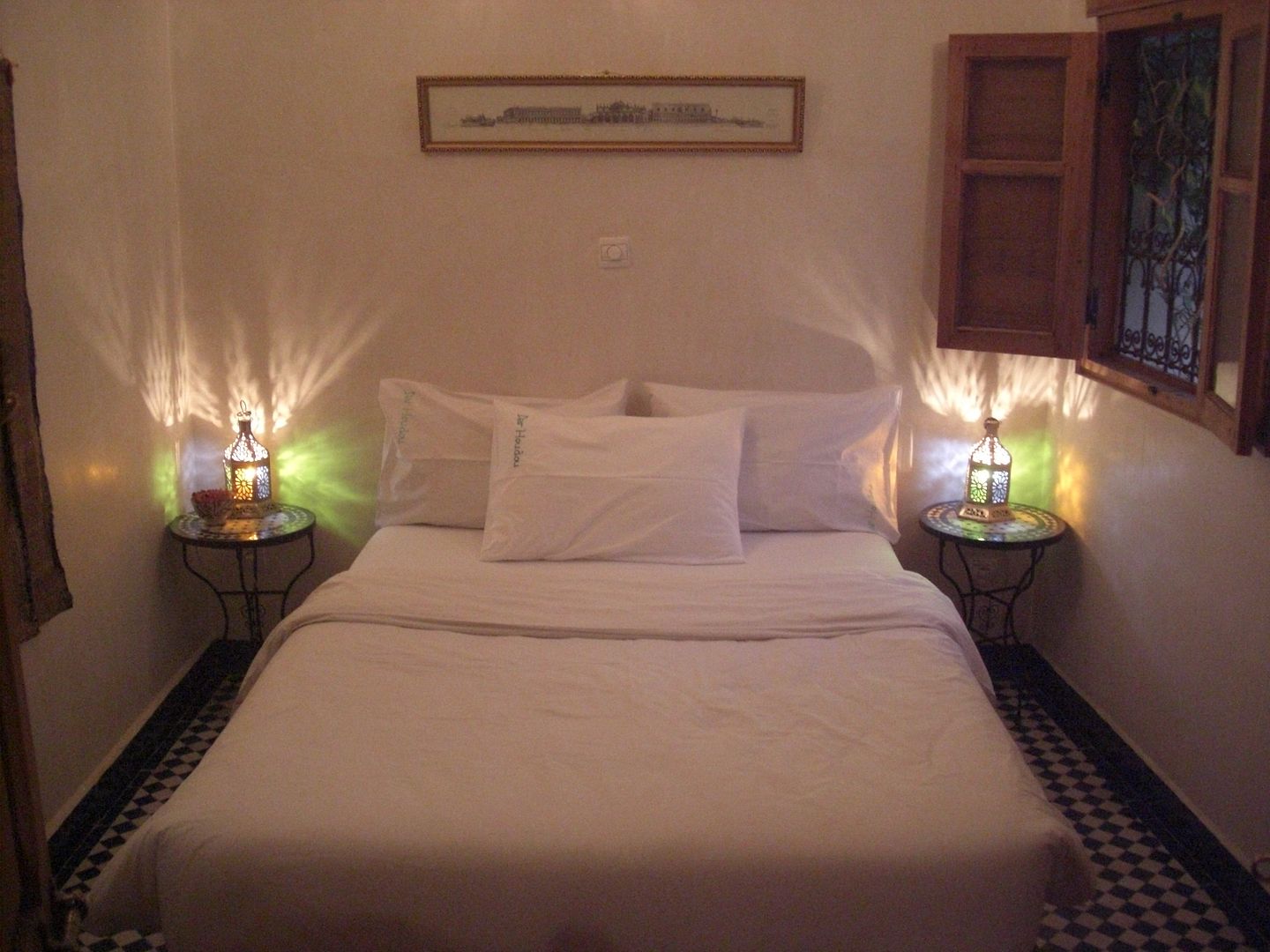 A few photos from Fez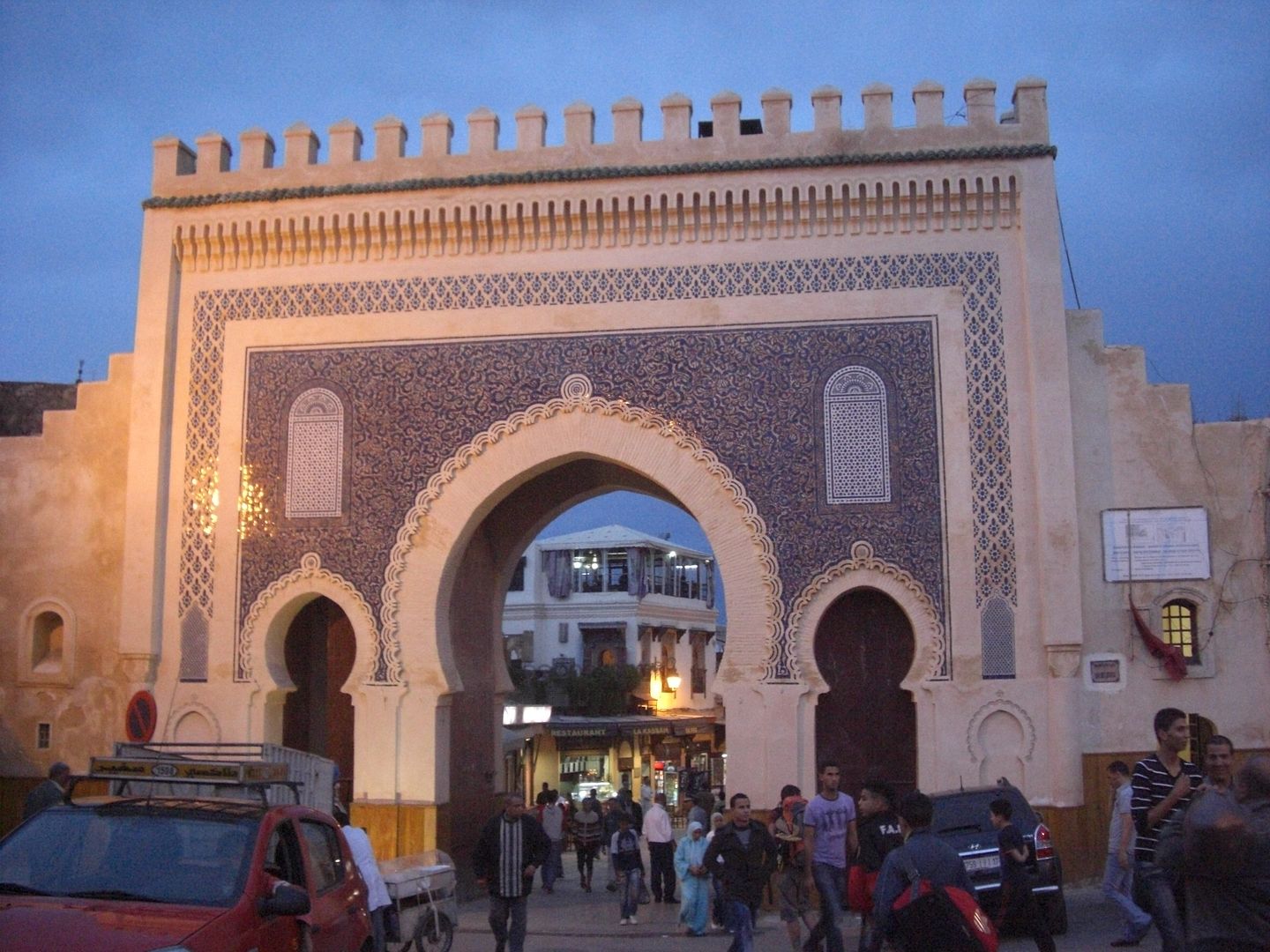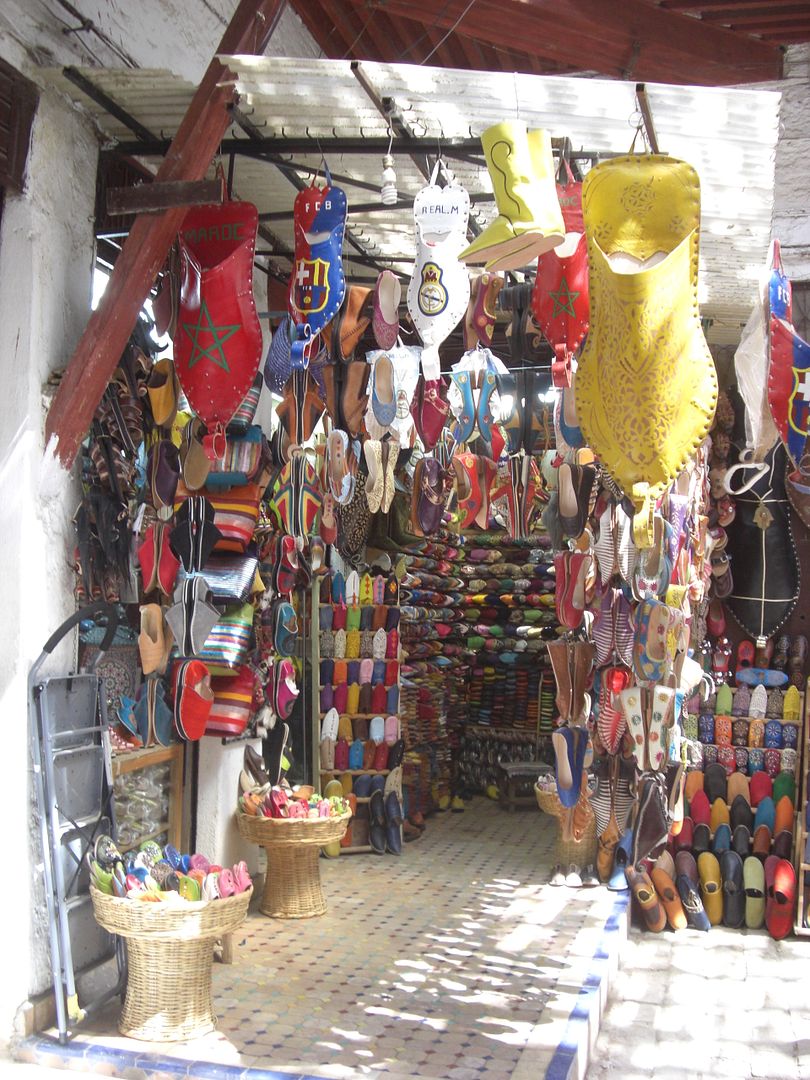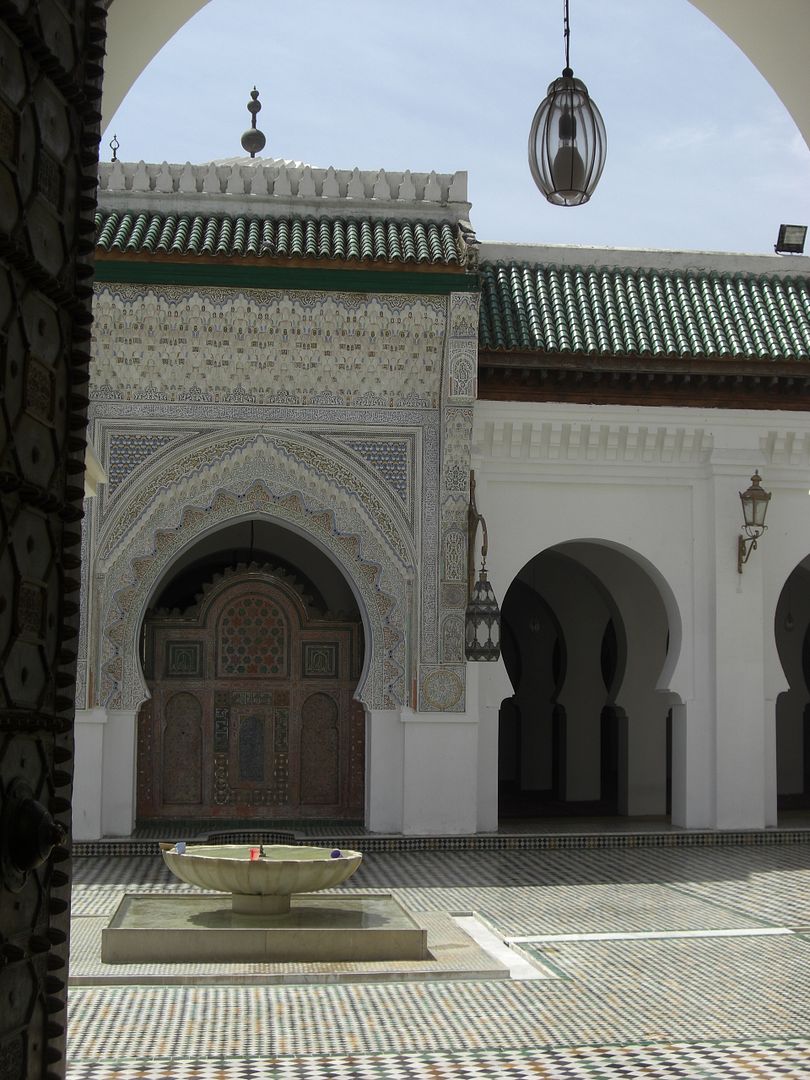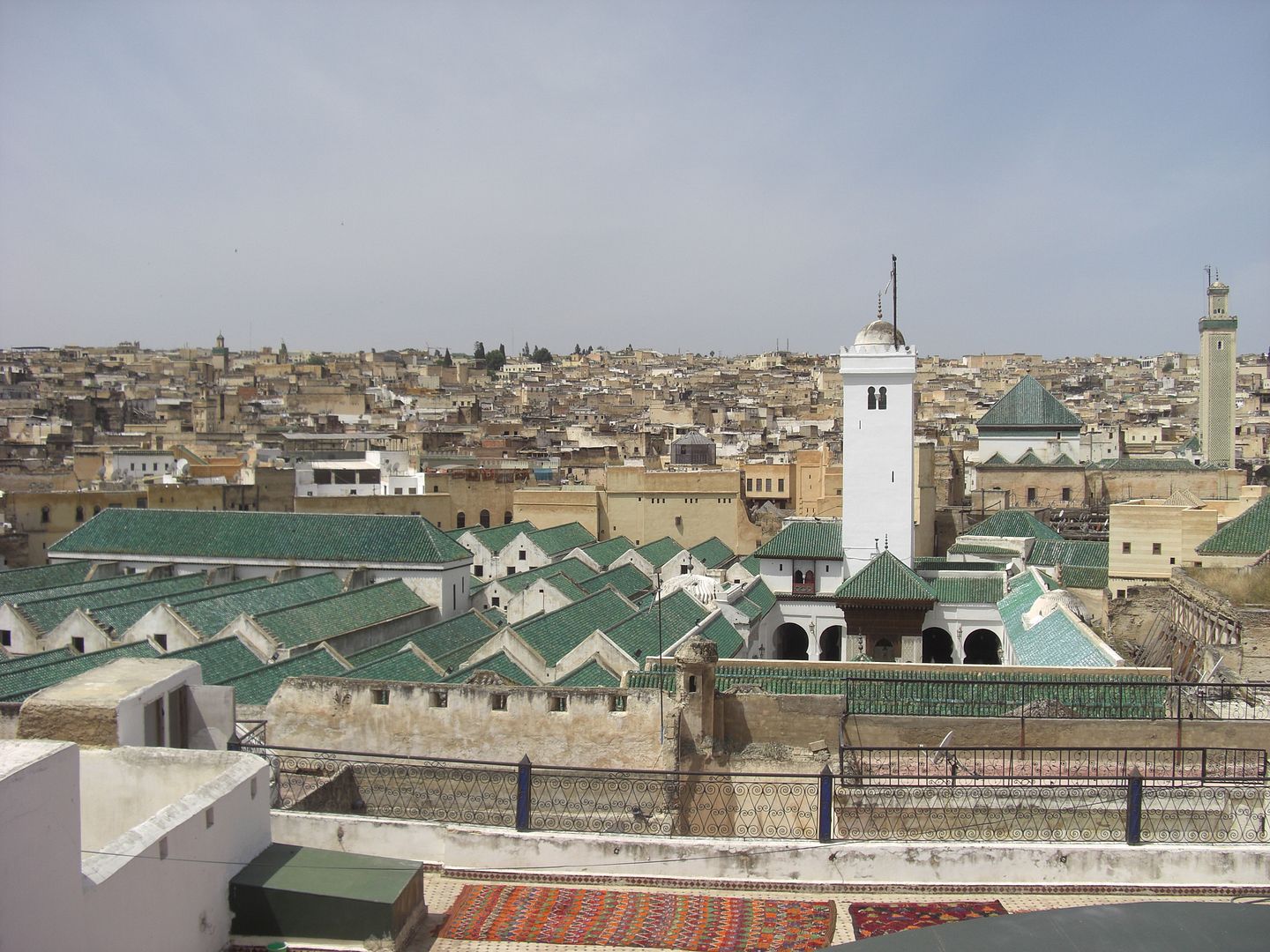 After a pleasant 24 hours in Fez, it was time to head onto my next destination, Pisa. When I was organising these flights, I was a bit concerned that I only had 12-odd hours in Pisa, most of which would be at night. After a bit of investigation, I decided that I'd just have enough time to fit in Pisa's most famous sight, before heading back to the airport.
The drive back to Fez airport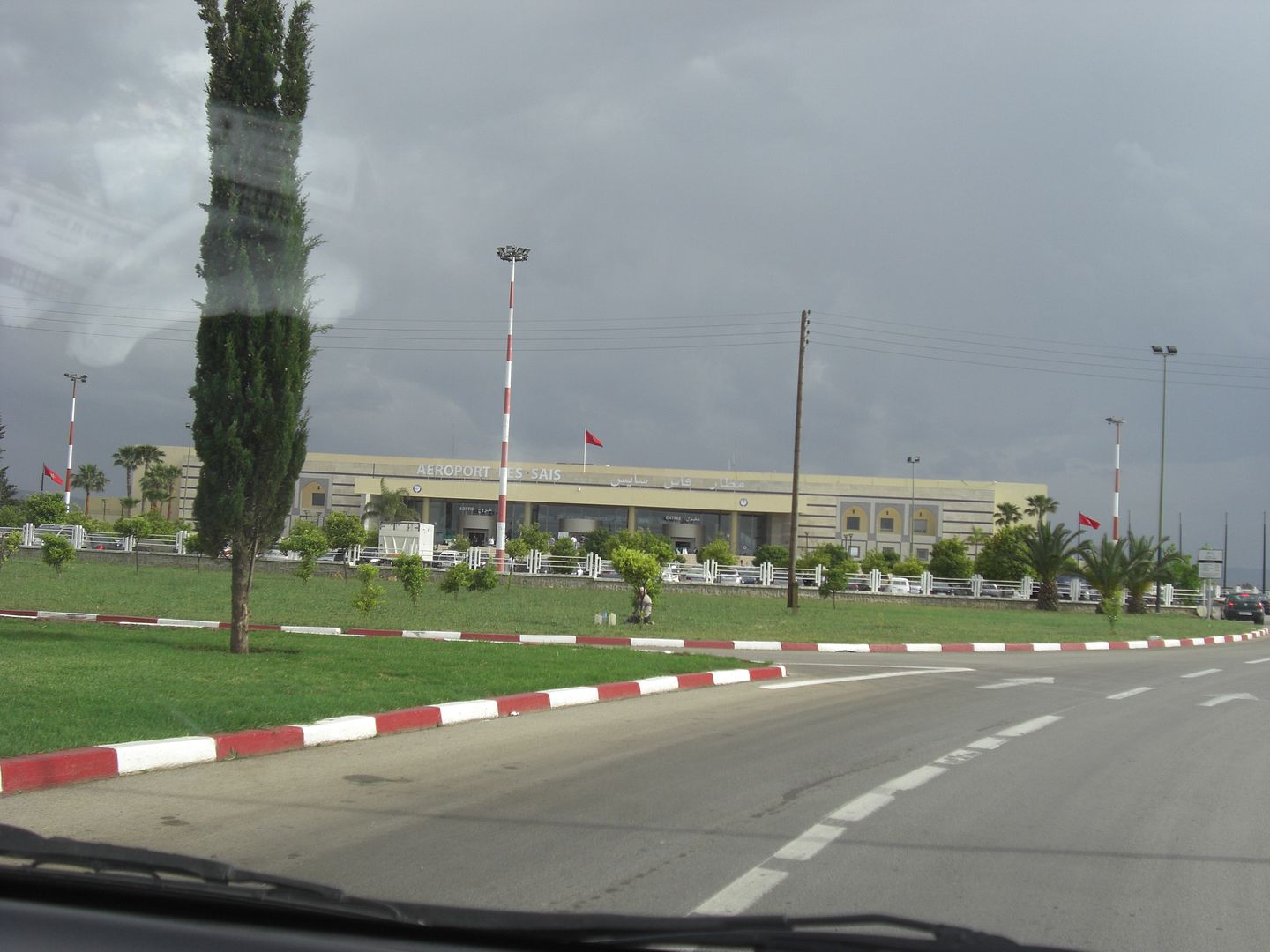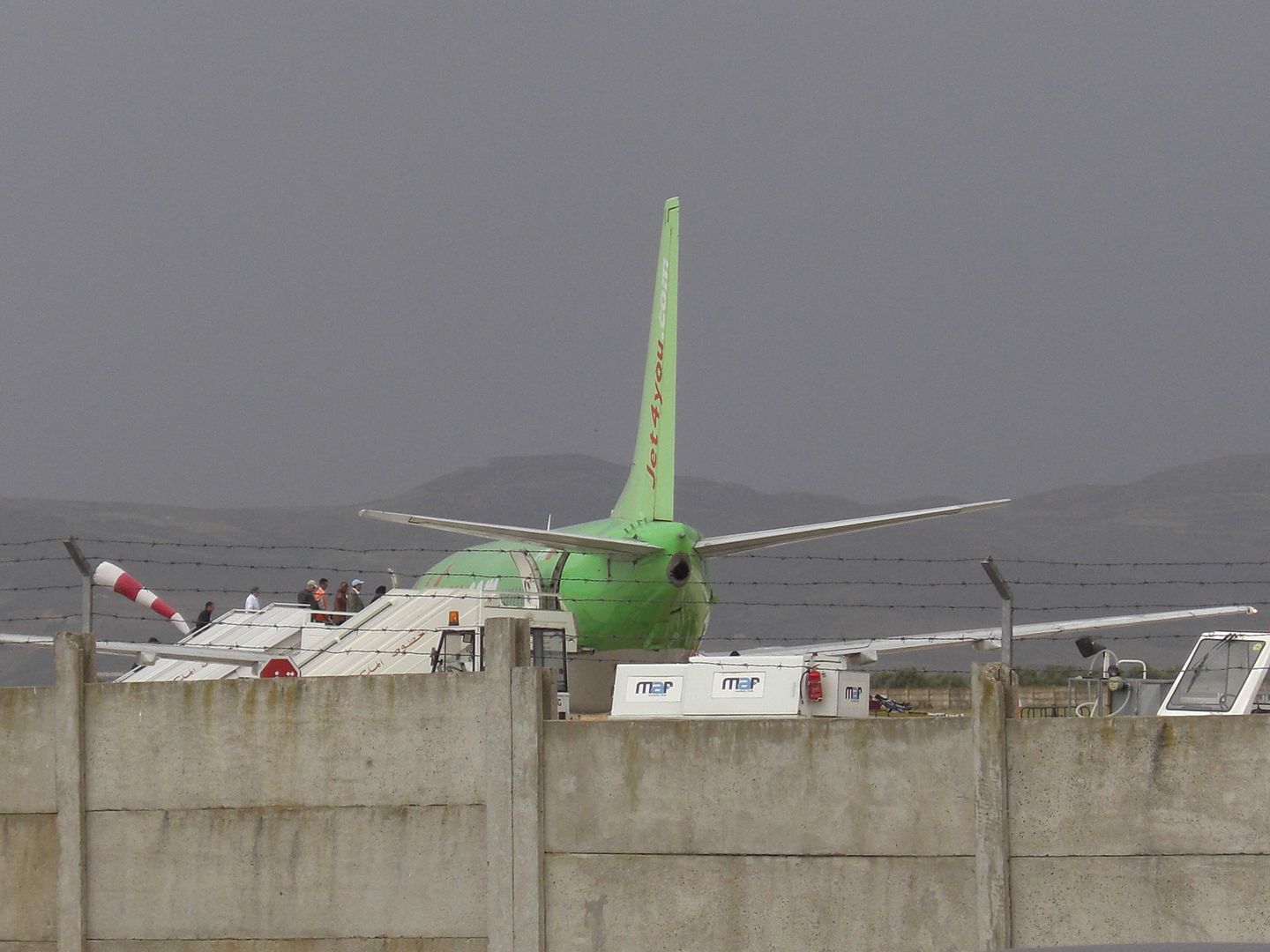 The terminal buidling
It's good to see someone encouraging the next generation!
An FR arriving
Fuzzy photo showing tonight's departures to Madrid, Düsseldorf and Pisa.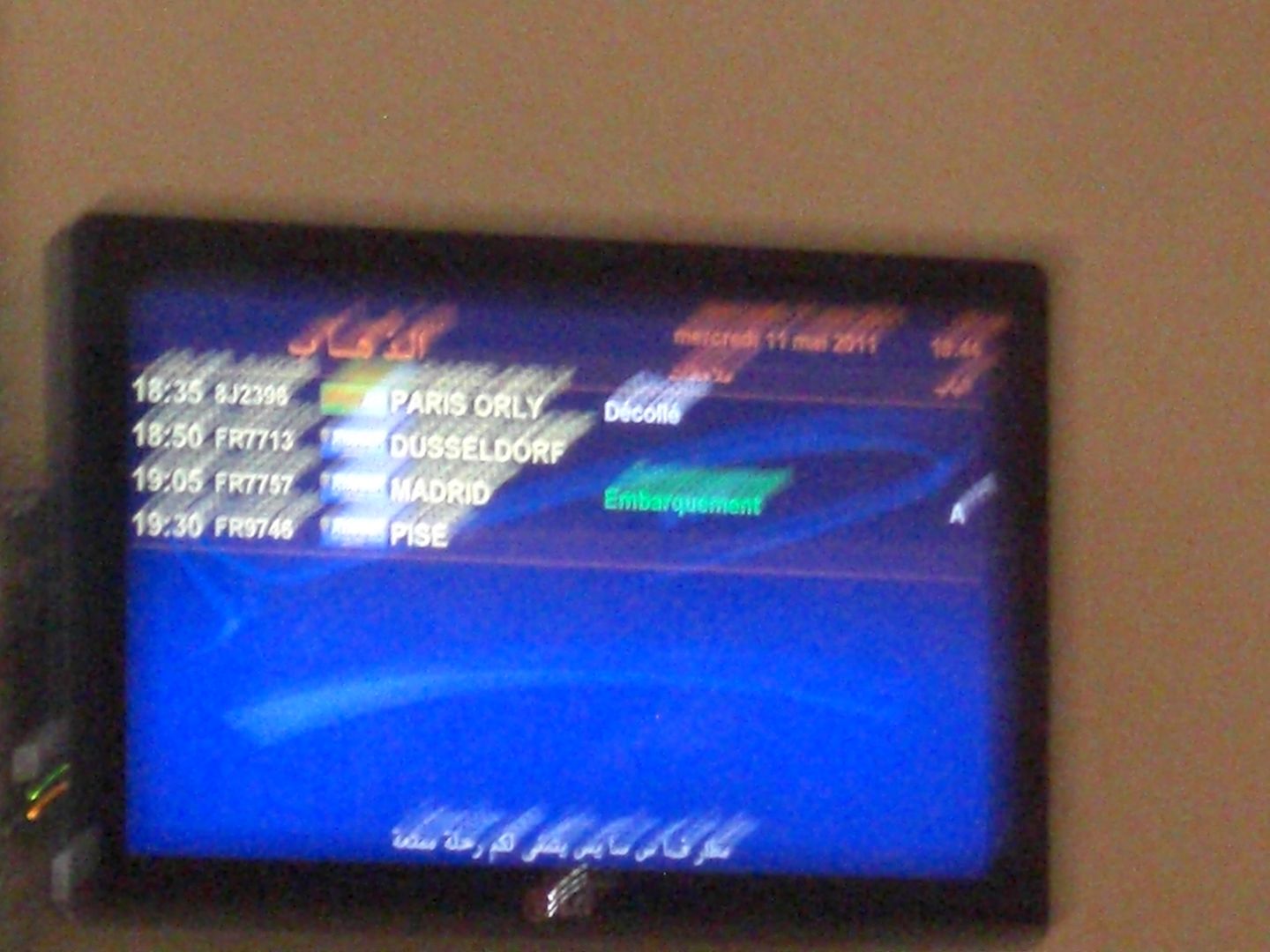 Departure lounge
I luckily ended up at the front of the queue for this flight as well. Unfortunately, the heavens had opened, and it was absolutely bucketing with rain outside, as well as strong winds.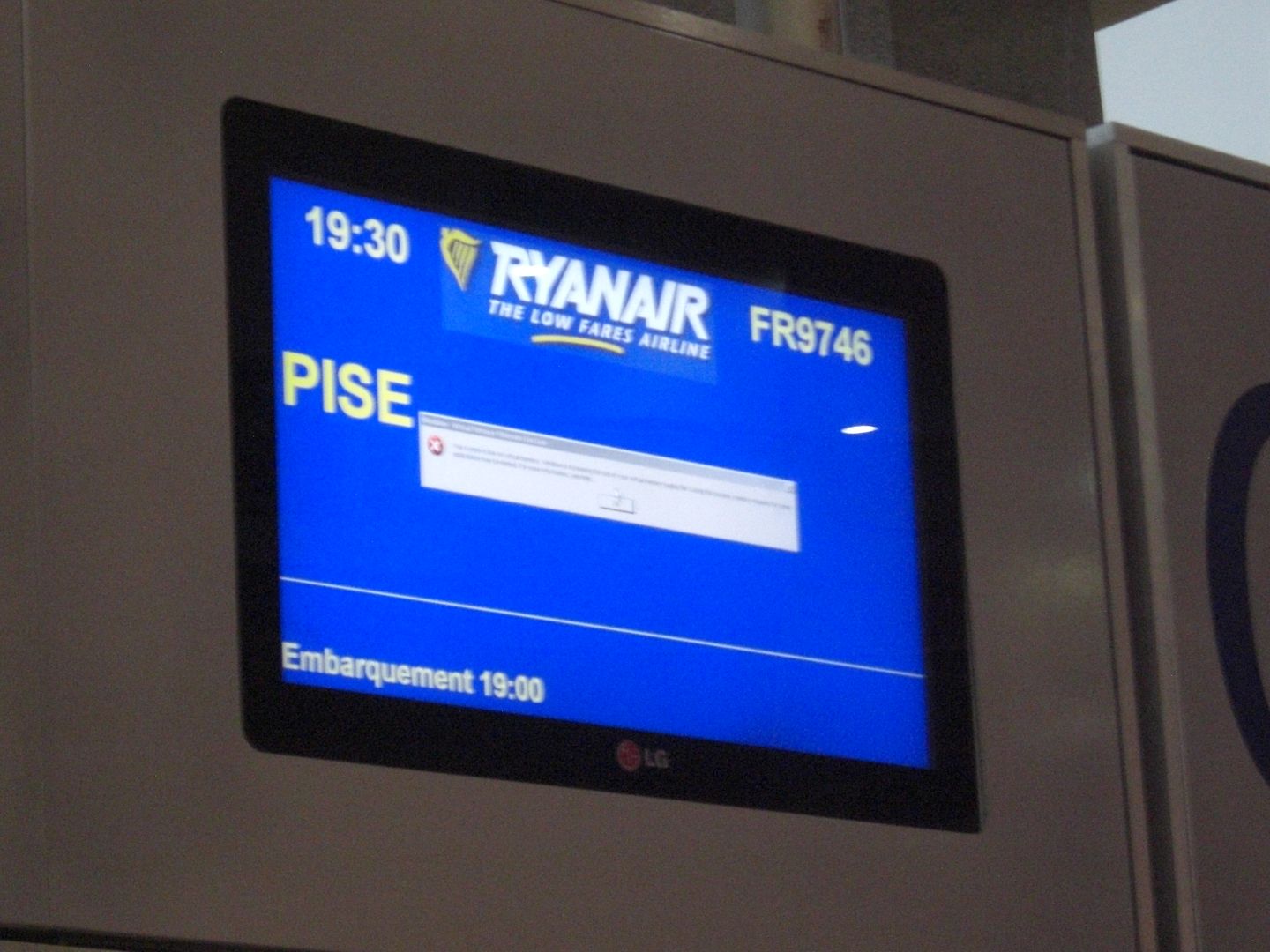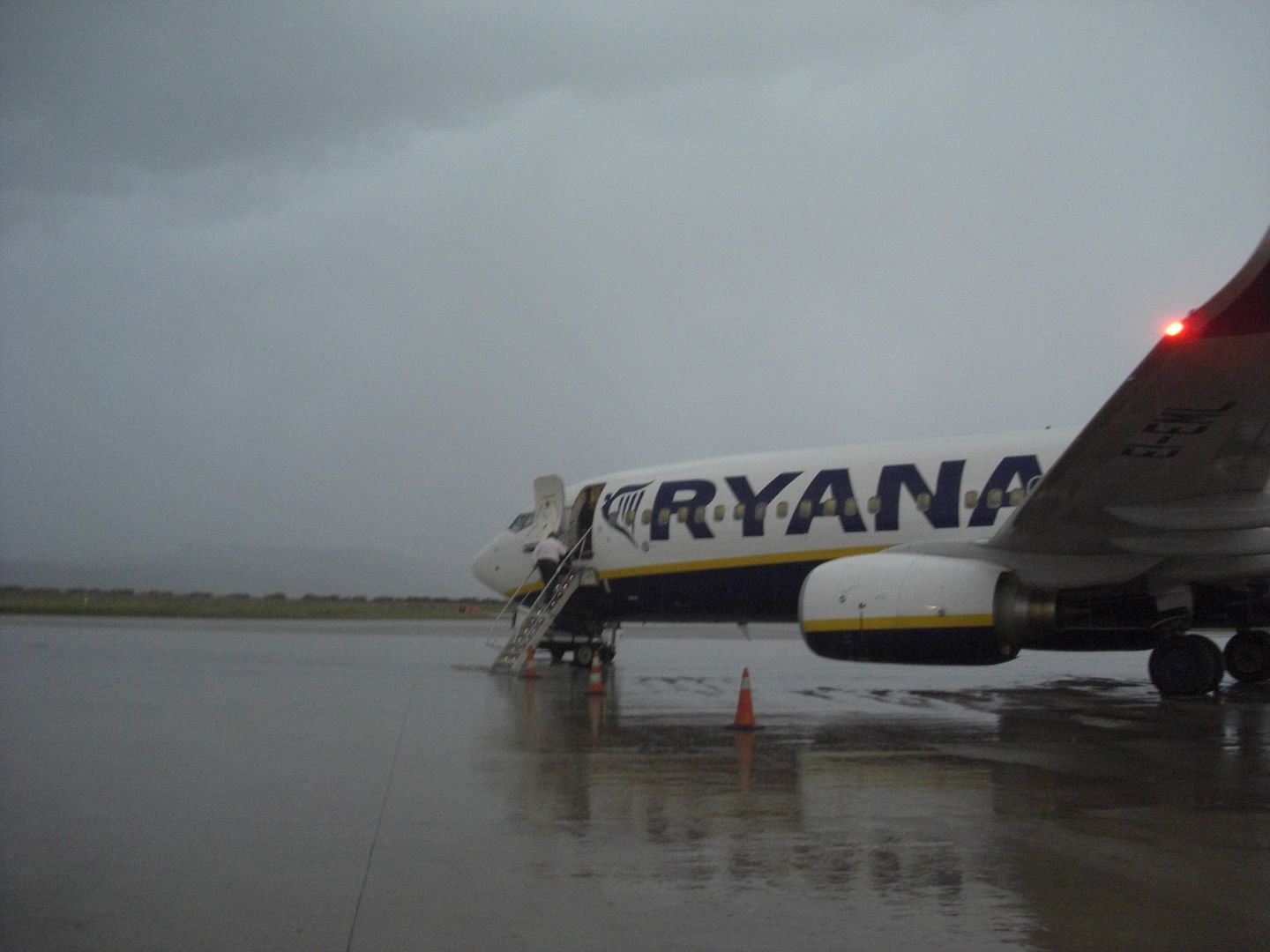 I made it onboard without drowning, and managed to get a window wing exit seat.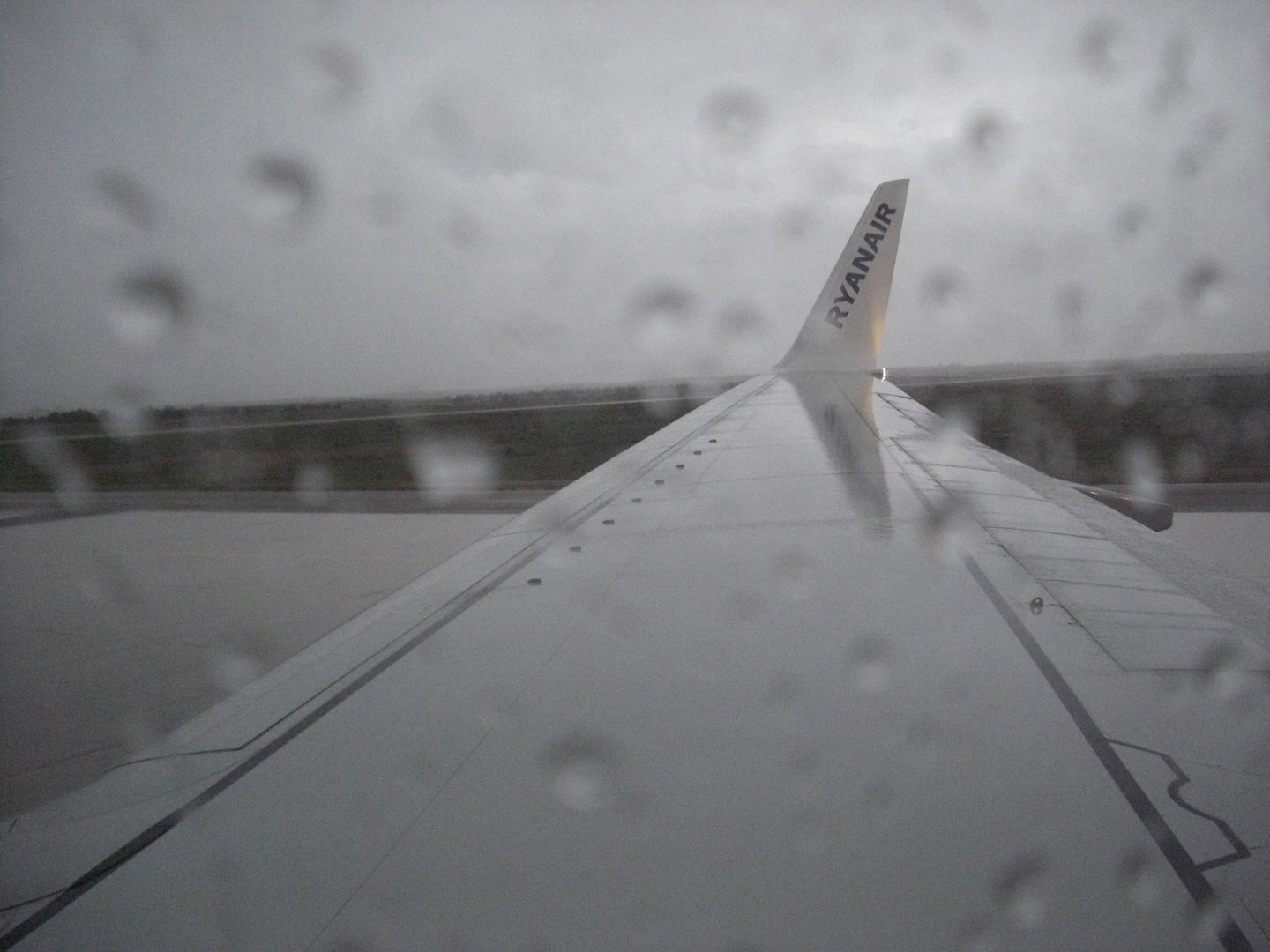 May 2011
Fez 'Sais' (FEZ) – Pisa 'Galileo Galilei' (PSA)
Ryanair FR 9746
Scheduled: 1930-2330 (3h00m)
Actual: 1938-2256 (2h18m)
B737-800 EI-EML
The cabin filled up slowly, and we eventually left with a load of around 70%, mostly concentrated at the back. We took off into a stormy sky, and not long after leaving experienced some pretty rough turbulence.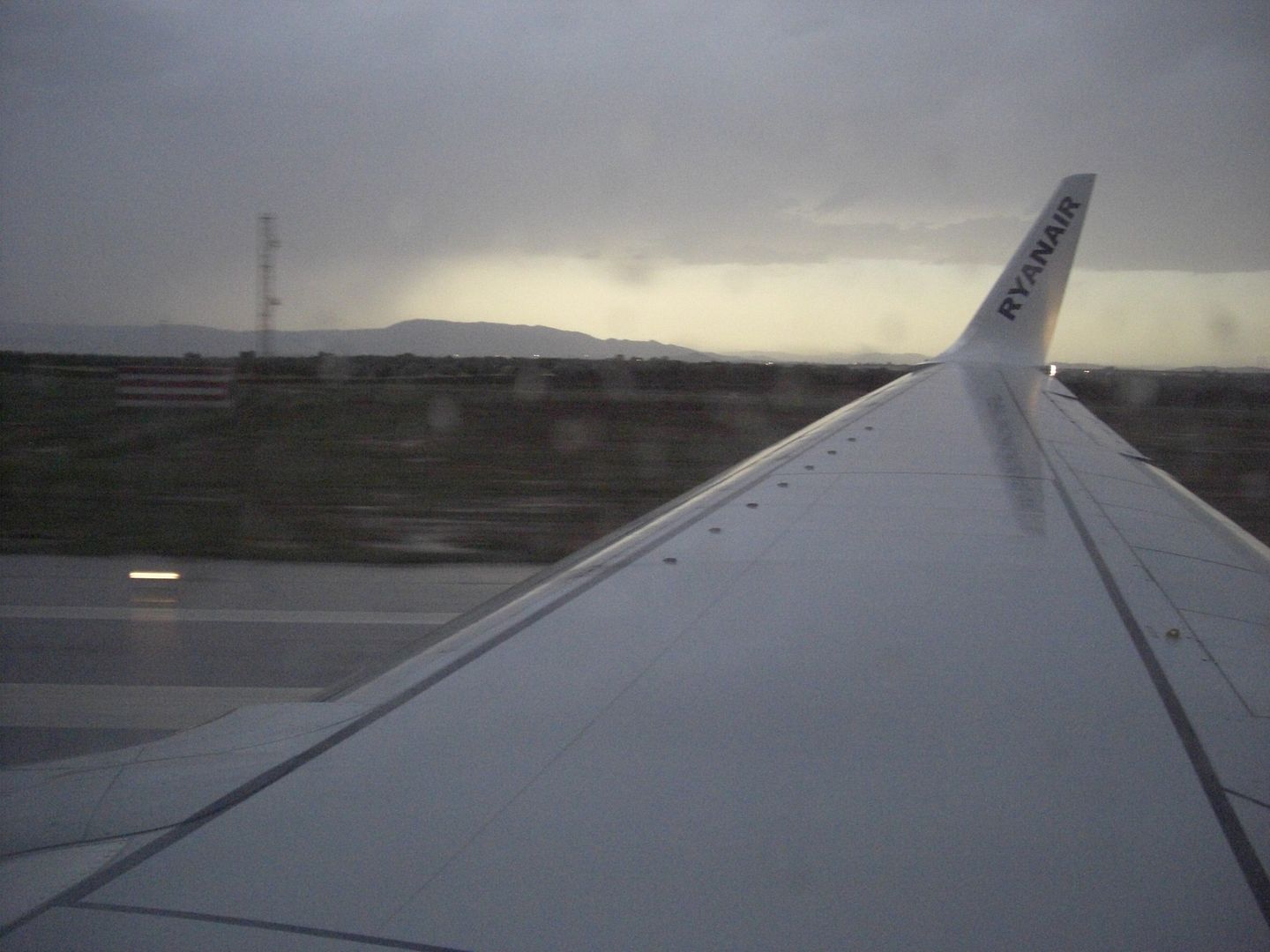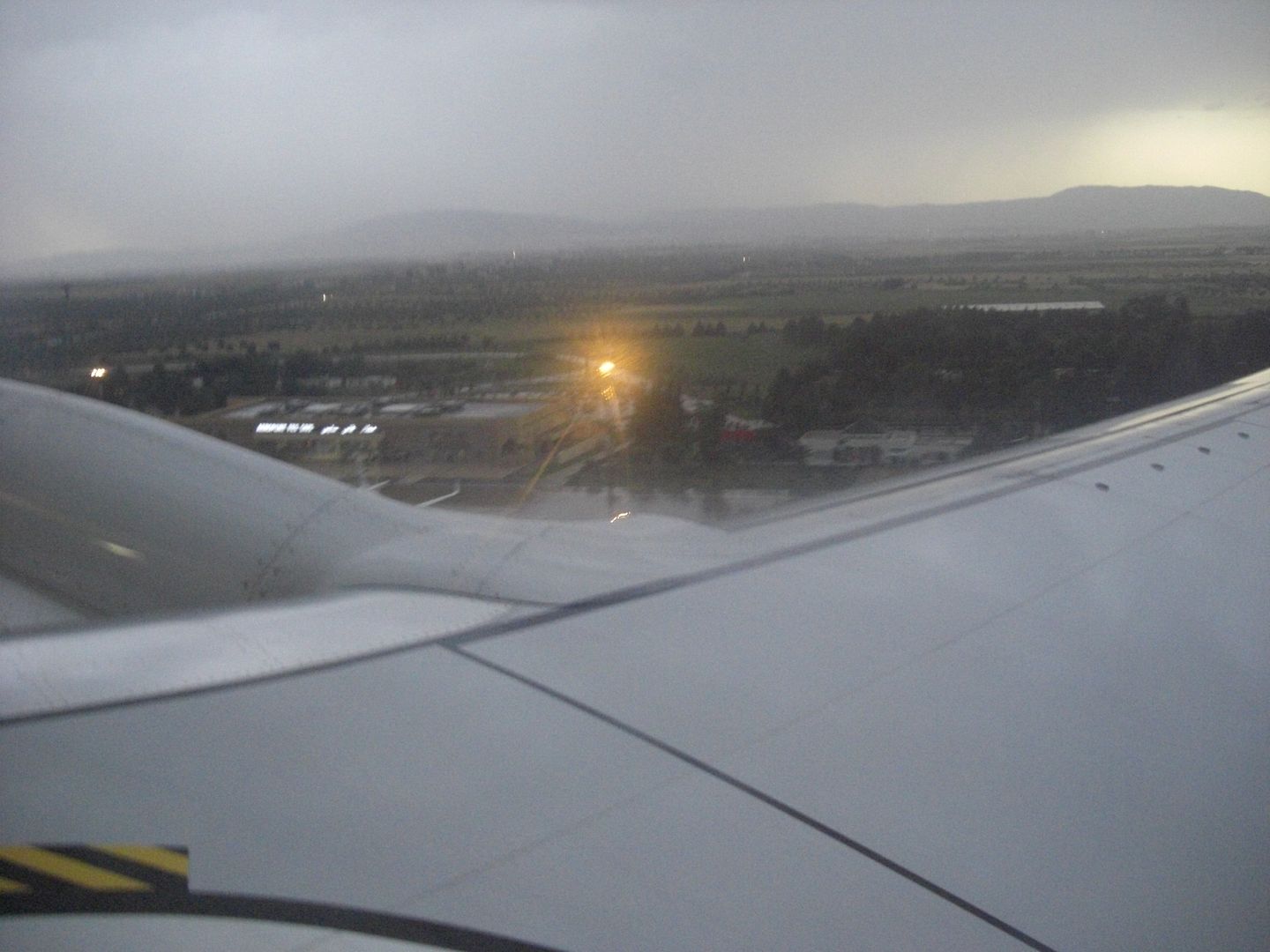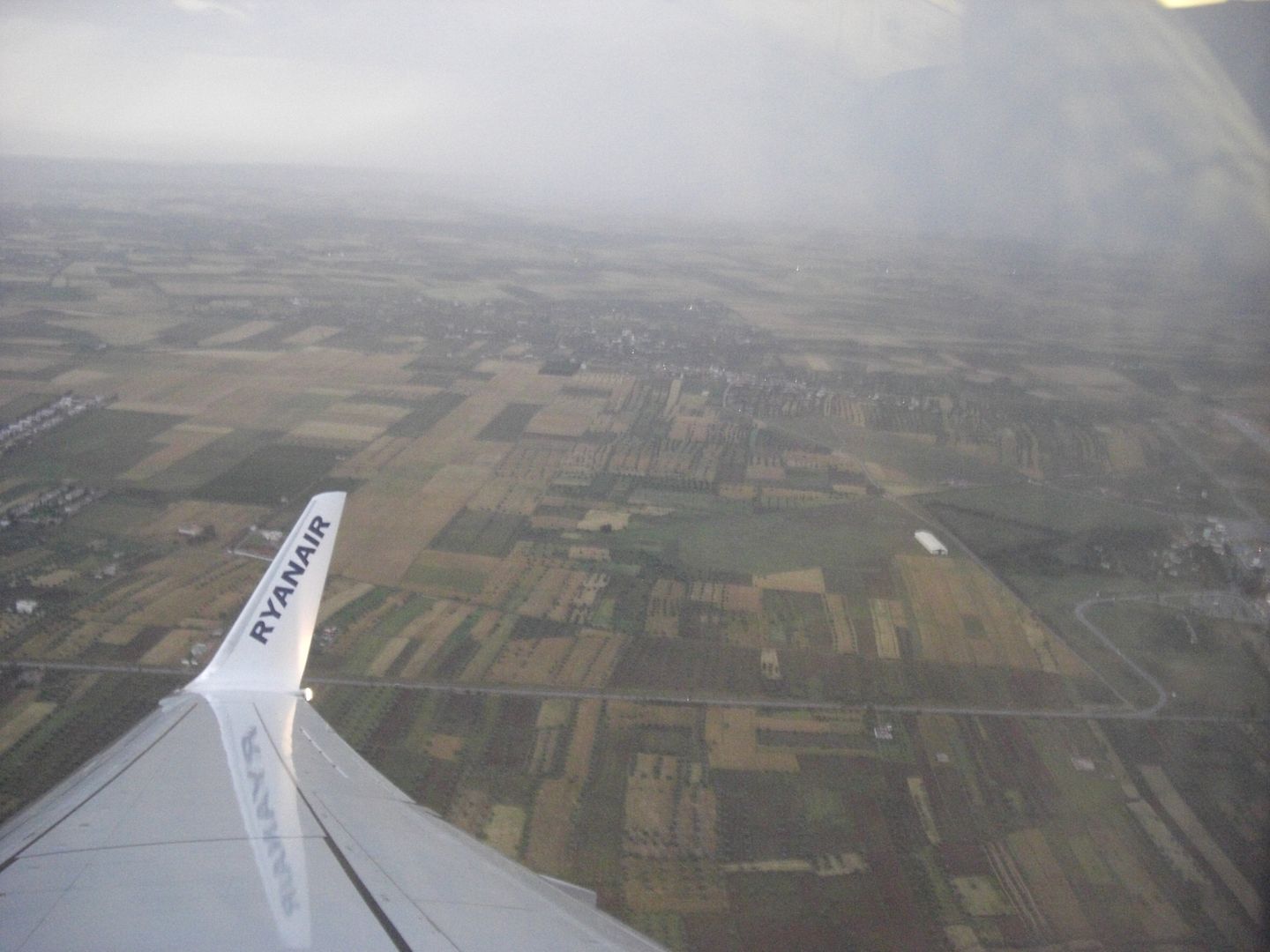 Not long after the seatbelt sign went off, I went to use the toilet at the front. Bizarrely, the first six or seen rows were completely empty. I asked the crew if I could moved to row one, and they said it wasn't a problem. I decided that seat 2F is the best seat on FR. Great legroom, good view, seat back (well, wall mounted) pocket, and not viewable by the cabin crew. Perfect!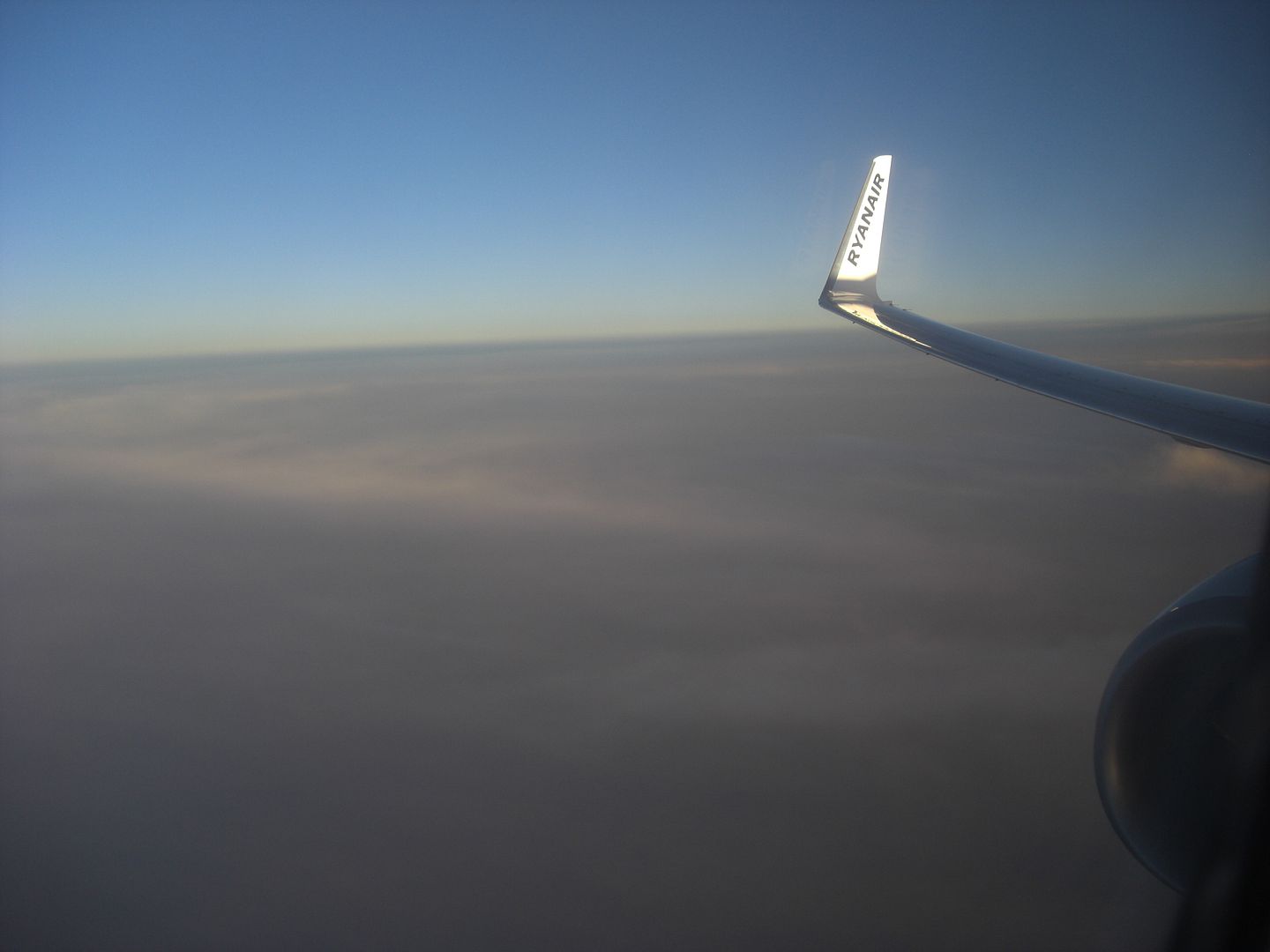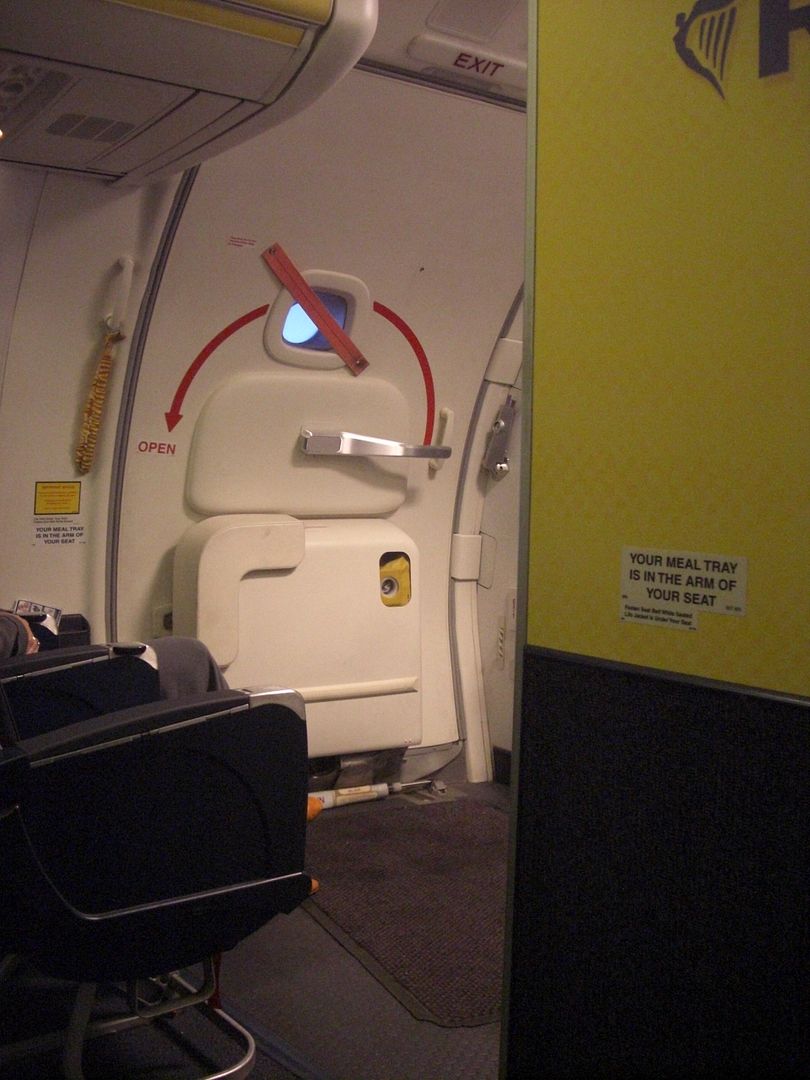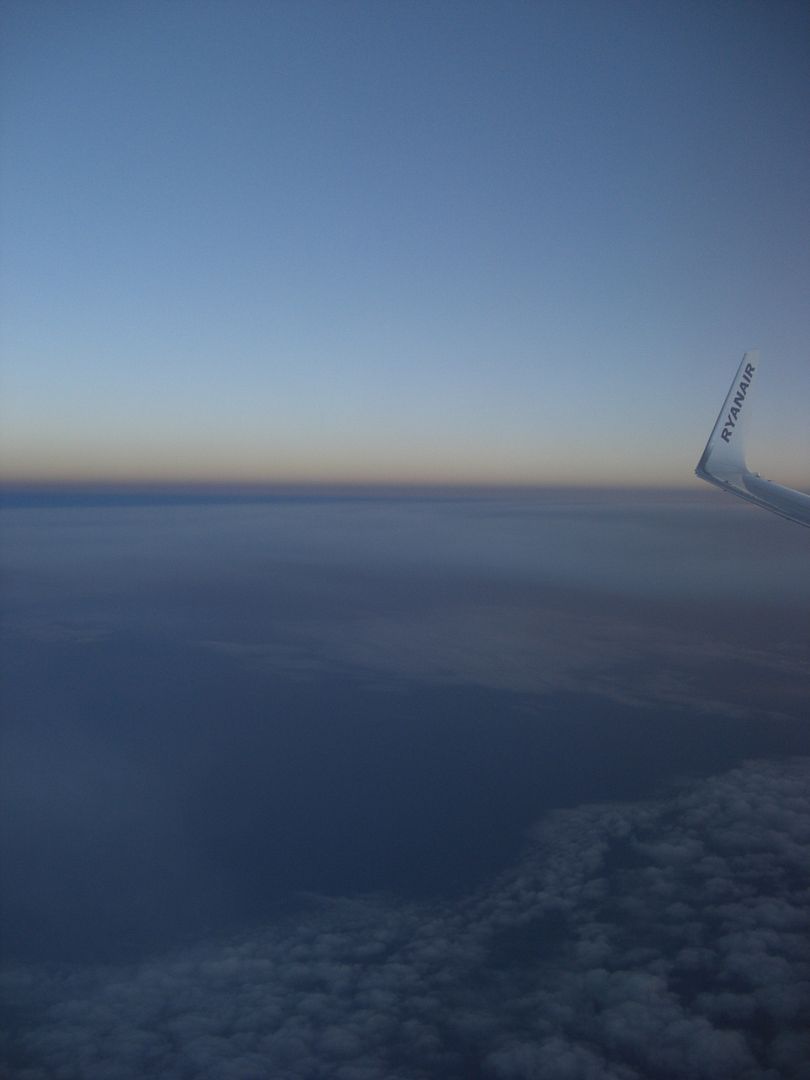 Againt my usual protocol whislt on no-frills flights, I decided to buy a beer (Euro 4.50!), pretty pricey for a can of not very cold beer, but I thought a beer would be nice.
As we begun our approach to Pisa, a couple of people moved to the front for easier disembarkation. Annoyingly, an Italian couple decided to squish themselves next to me, even though there were plenty of open seats nearby. The guy in the middle then spend the whole approach leaning over me to see out. Get a window next time!
Once again, we arrived early, over 30 minutes early in fact. We were bussed to the terminal. I was the first person through immigration. Given the late time, I decided to take a taxi to my hotel. Pisa Airport is very close to the city. I was in my hotel lobby 17 minutes BEFORE the scheduled arrival time. Not bad!
A few shots of Pisa. I managed to be the first tourist of the day to climb the famous tower. It was a beautiful day – Pisa seemed like a great city.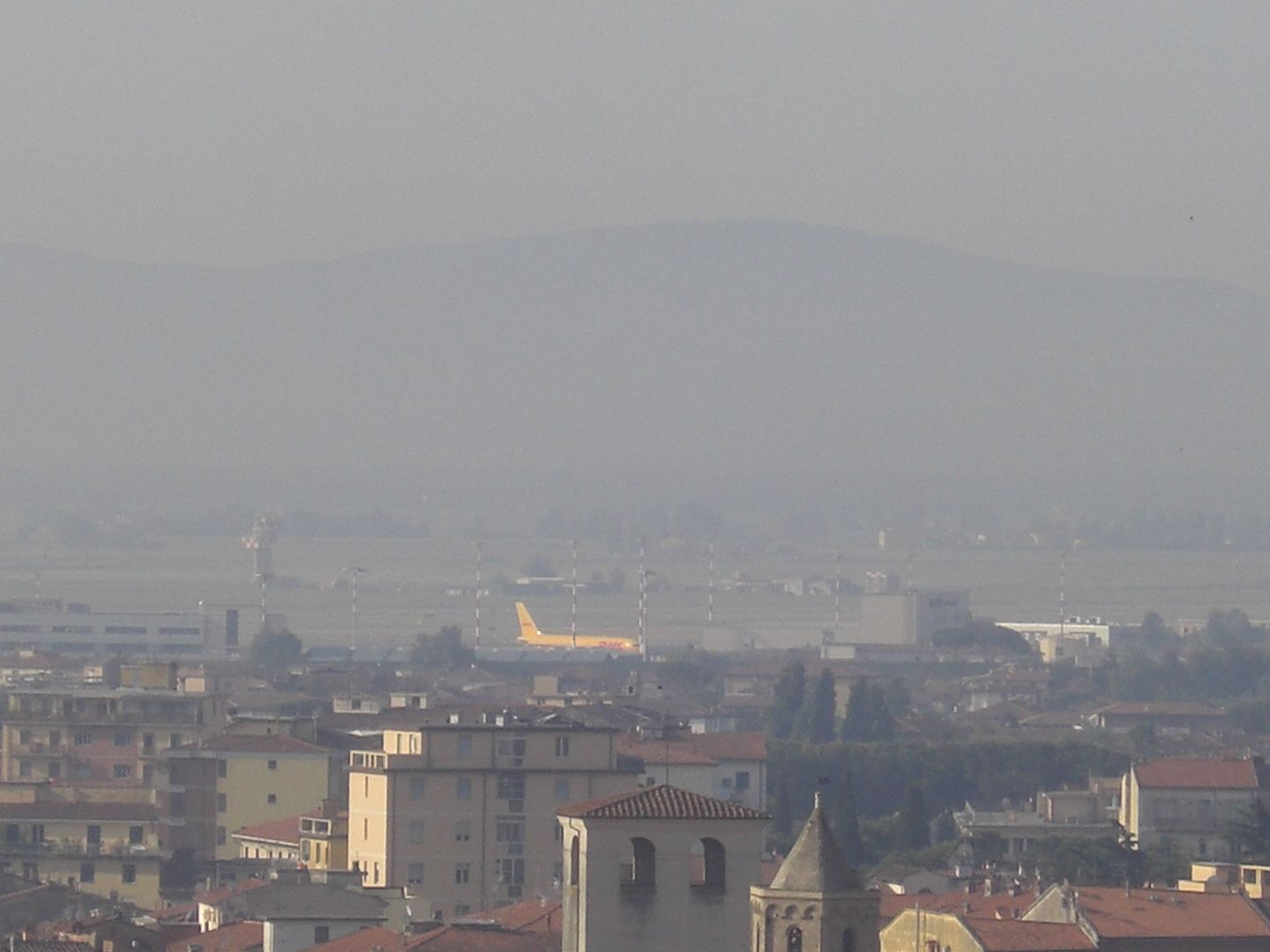 I took one of the frequent red busses back to the airport, where I arrived just over an hour before the flight. With no bags to check, and no boarding pass to print, I headed through security, and had a browse of the shops. I bought a mini bottle of limoncello for Euro 2.50.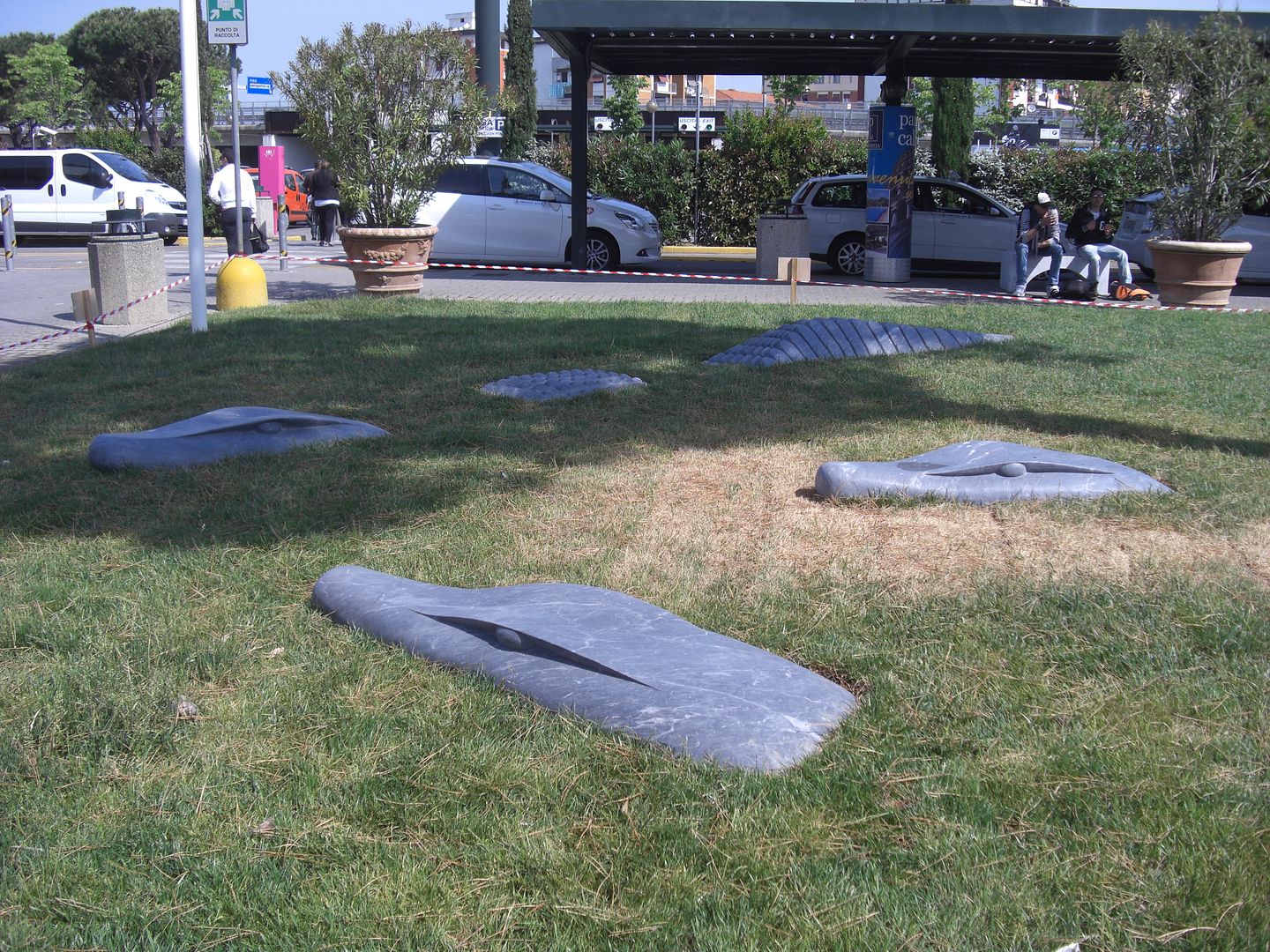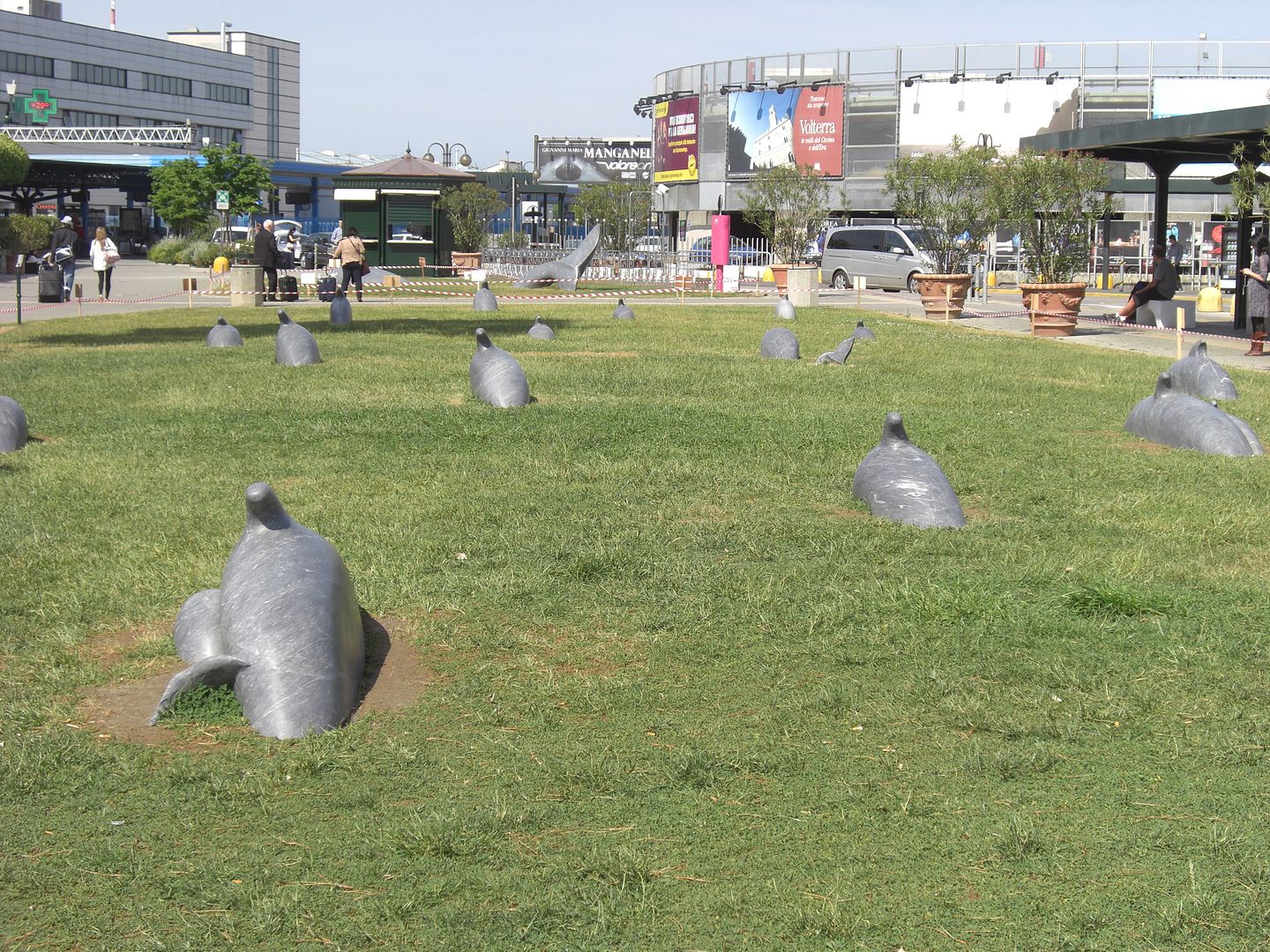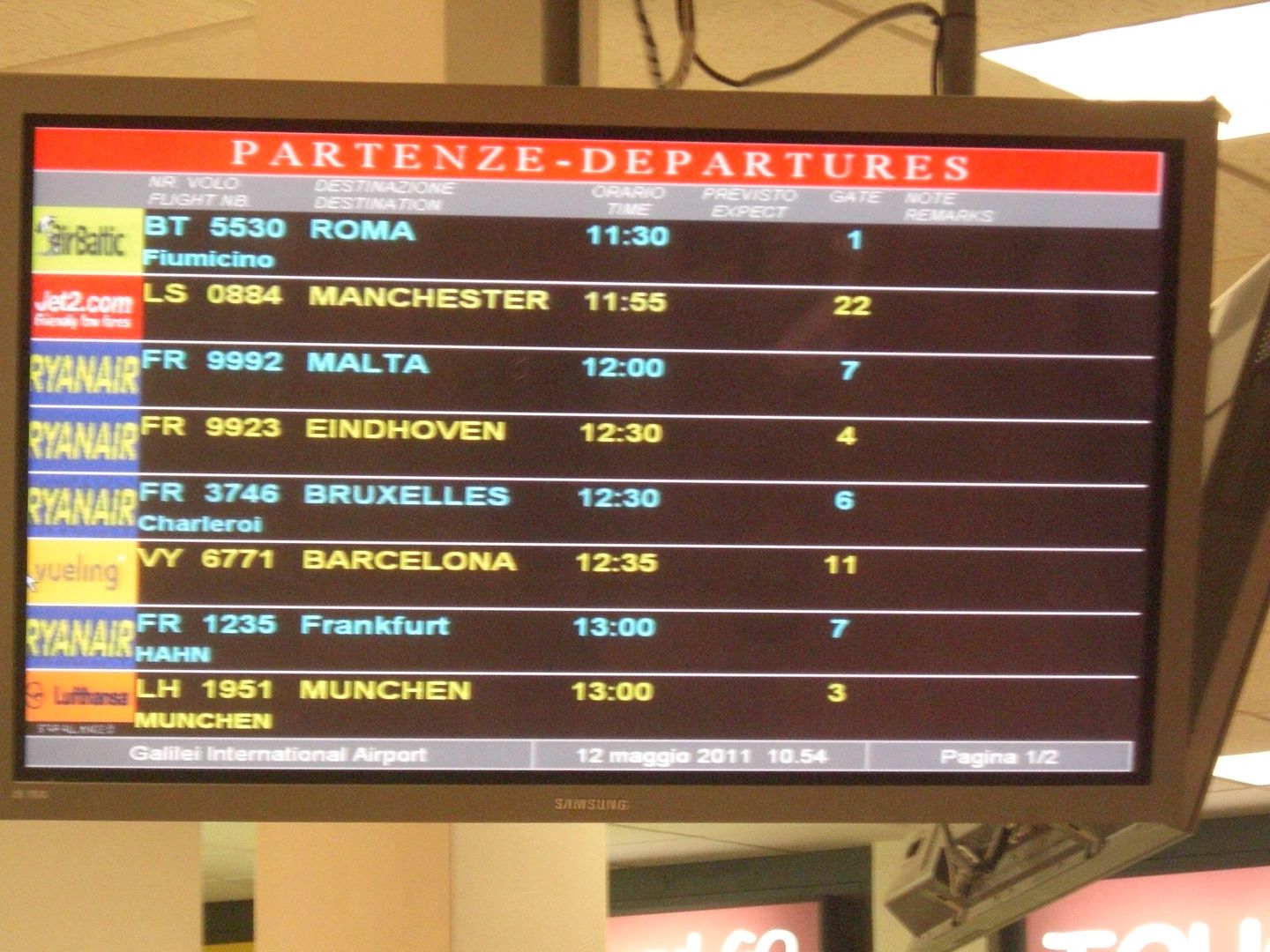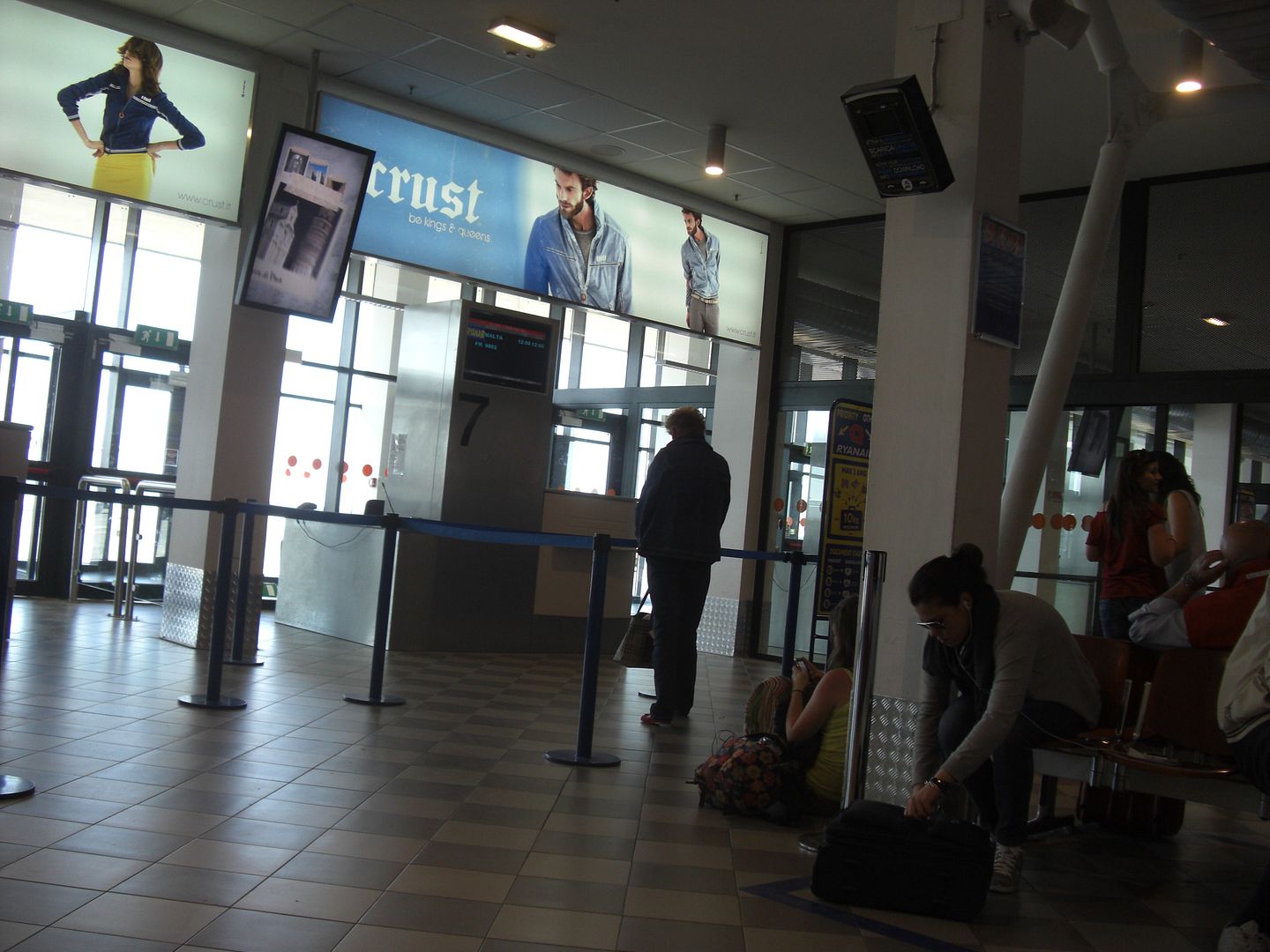 There was quite a large crowd gathering around the gate, and seating was very limited. Once the gate opened, everyone surged forward. I didn't get on the first bus, but made the second.
I was very disappointed to see that I'd be flying on the same aircraft that brought me over from Fez last night.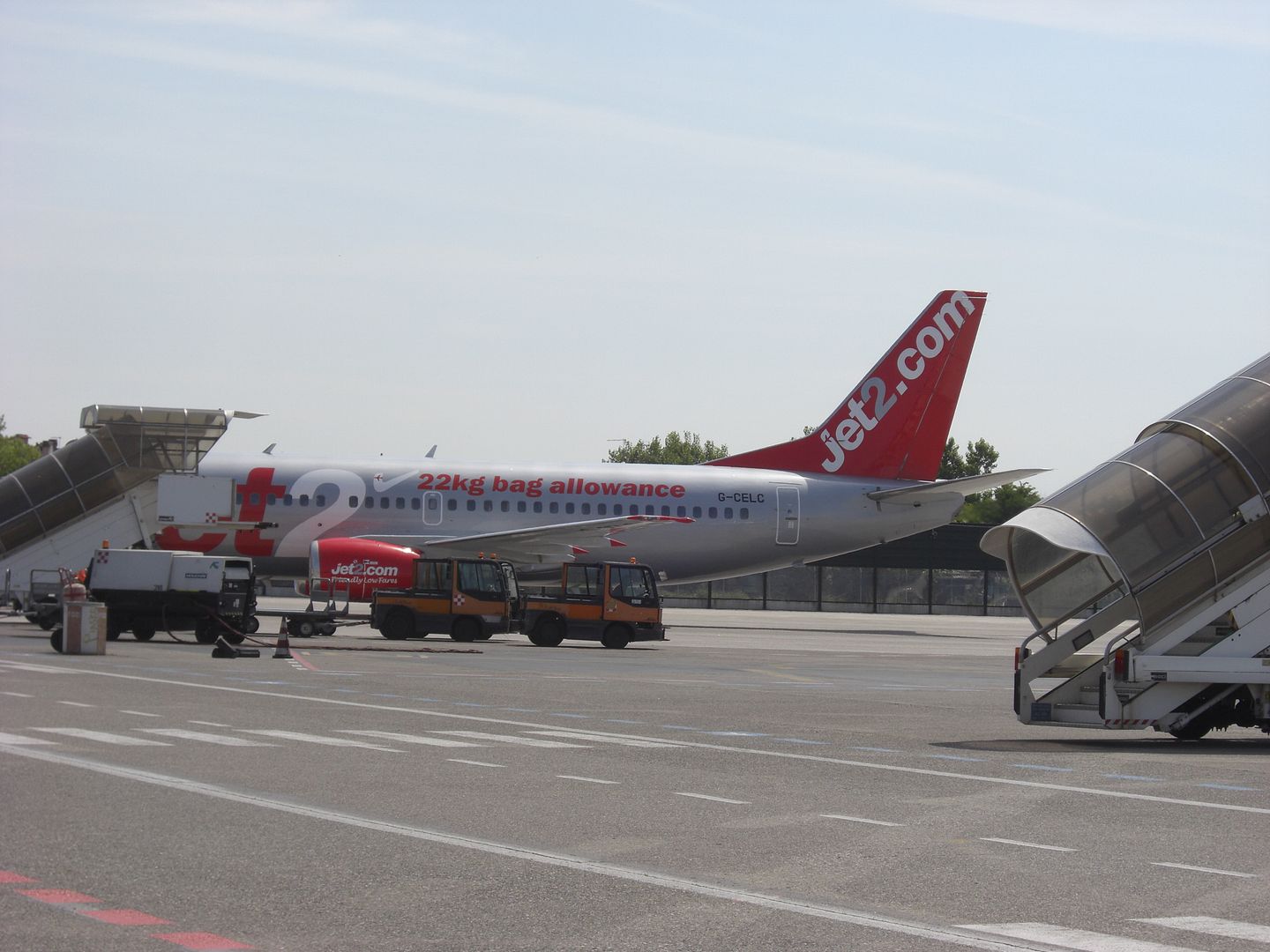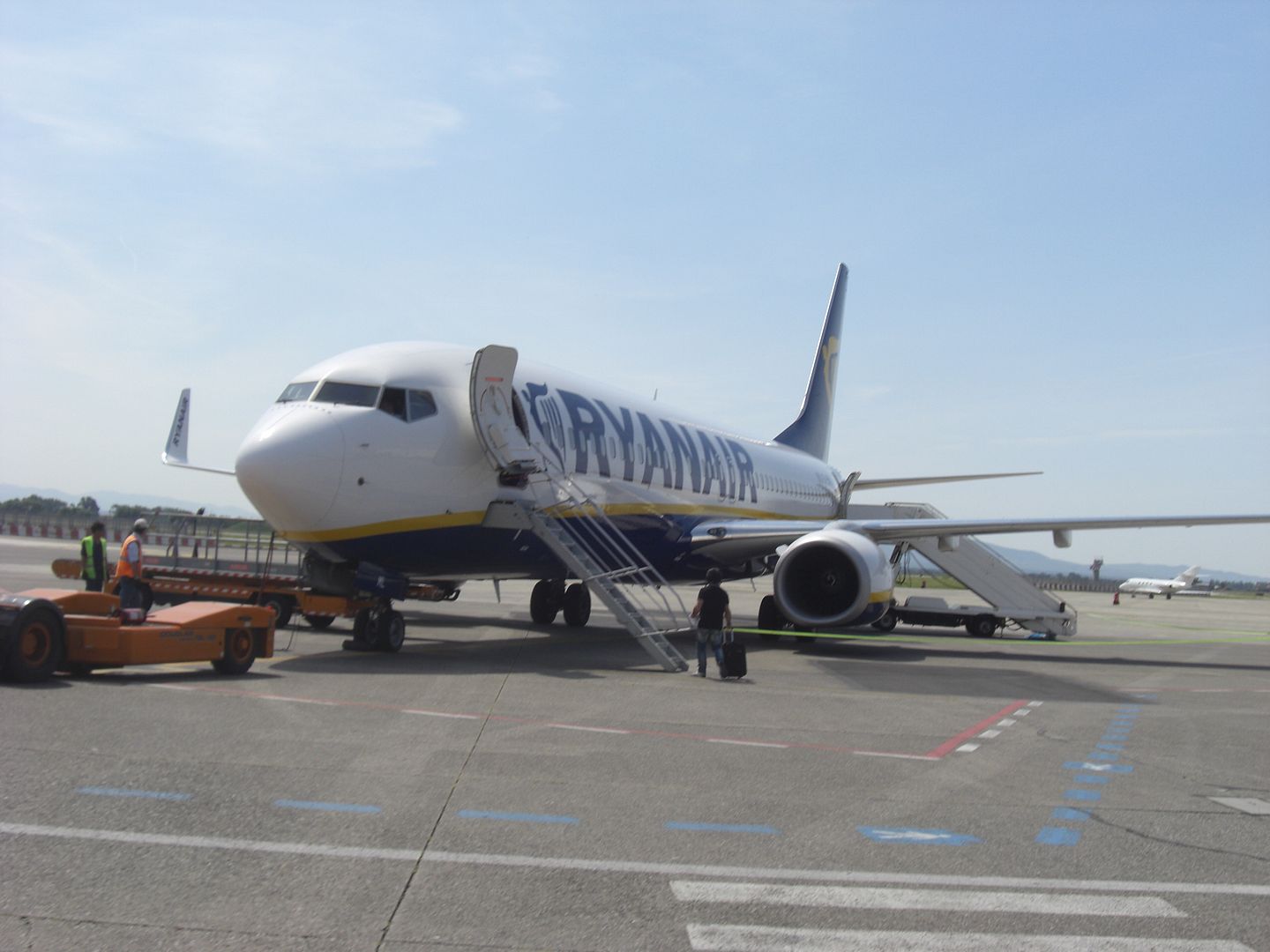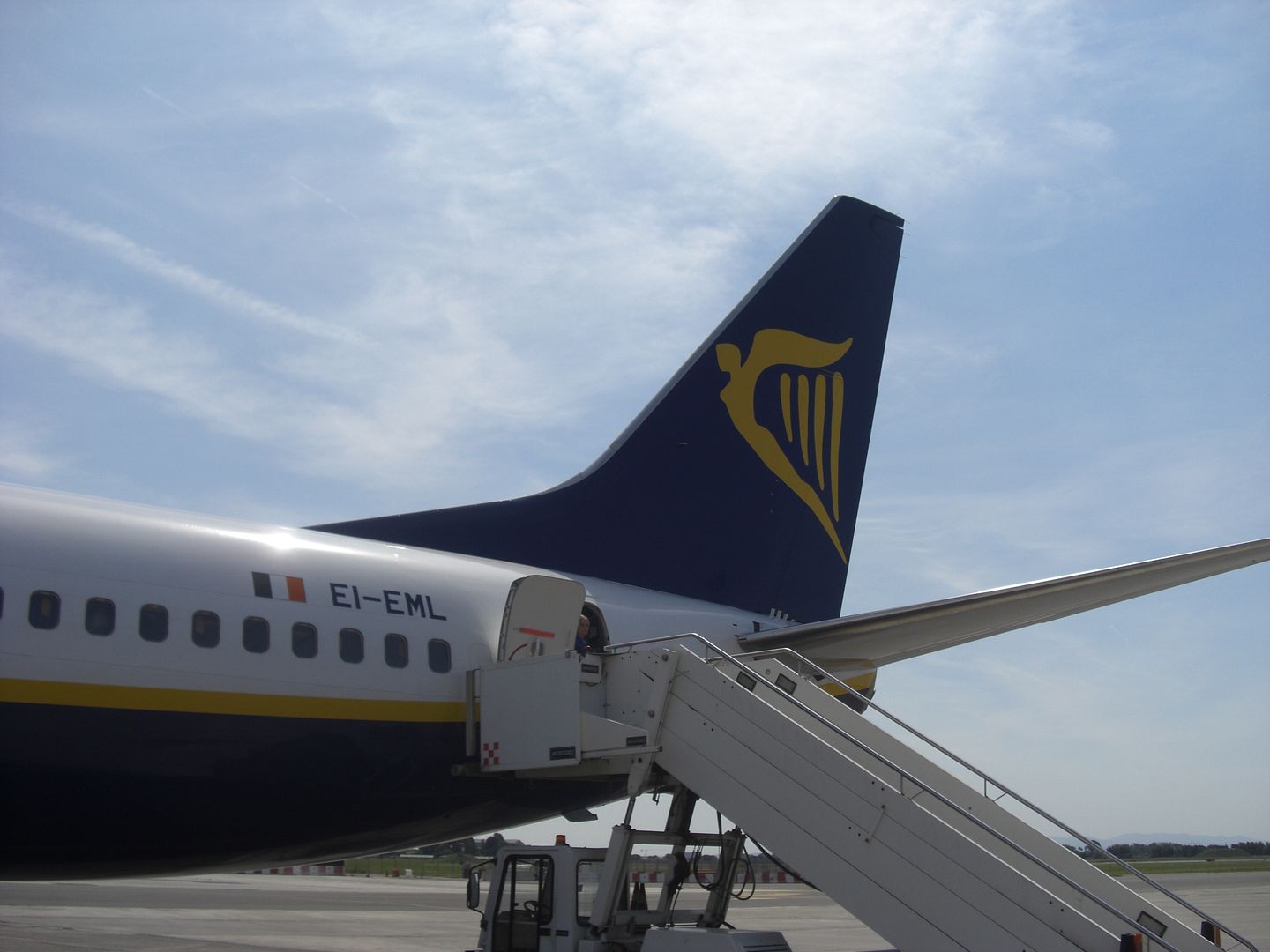 May 2011
Pisa 'Galileo Galilei' (PSA) - Malta (MLA)
Ryanair FR 9992
Scheduled: 1200-1340 (1h40m)
Actual: 1213-1330 (1h17m)
B737-800 EI-EML
Most people were sat towards the front, and once again, I managed to get an empty row at the back. I was trying to work out which side would offer the best views of the city, and ended up moving from an F seat of an A. Good choice!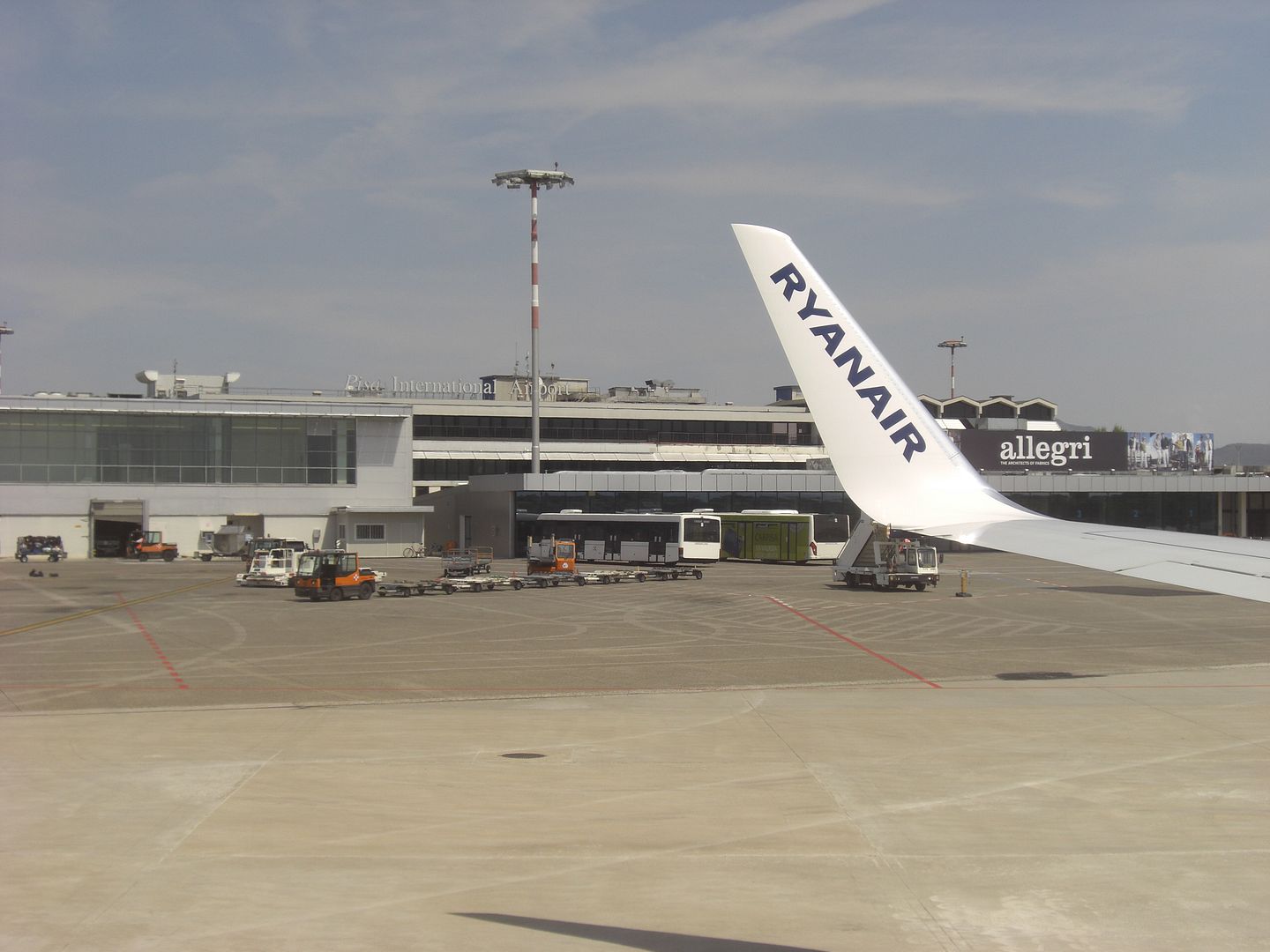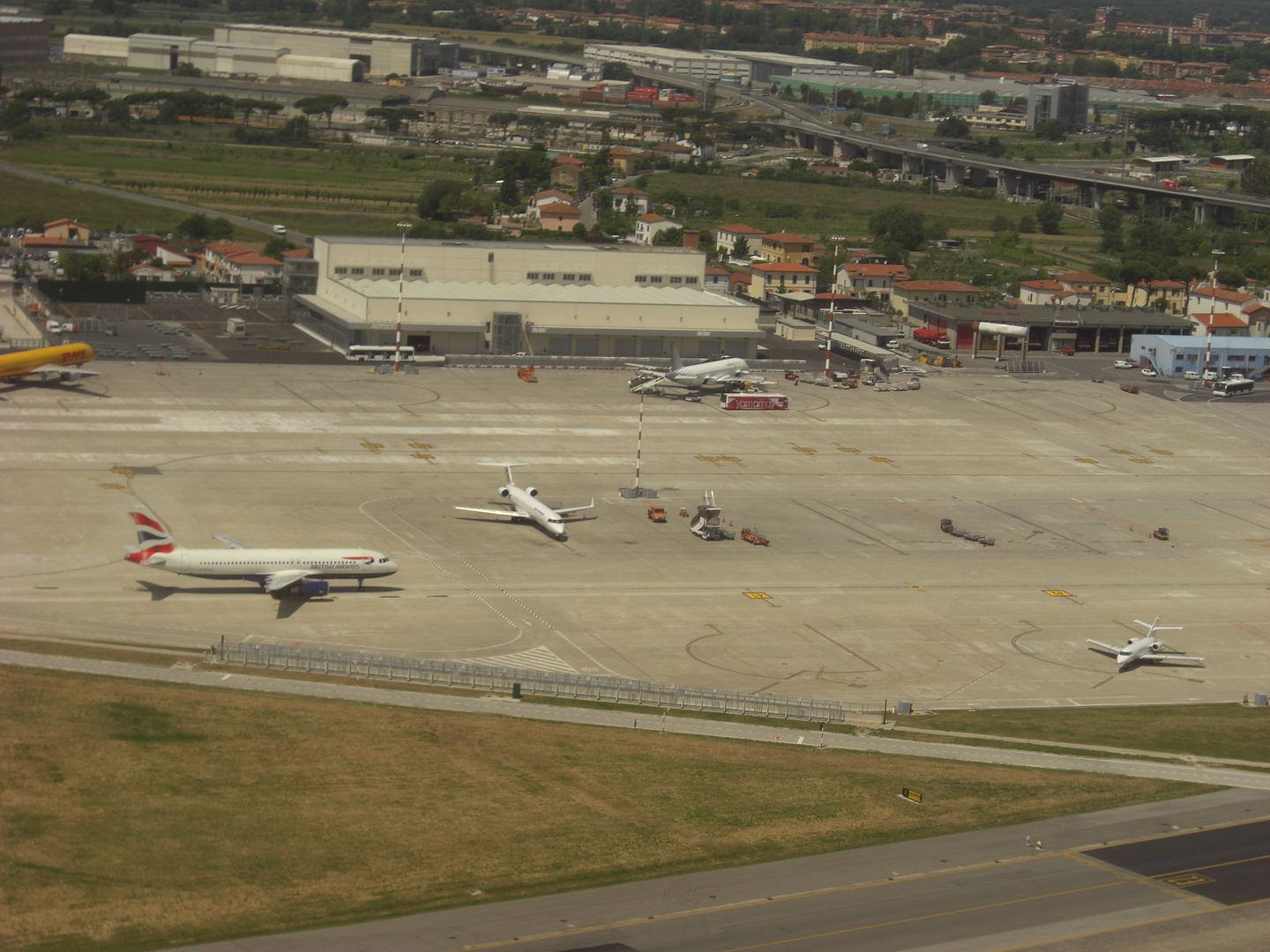 My move was rewarded with some great views of the city and tower.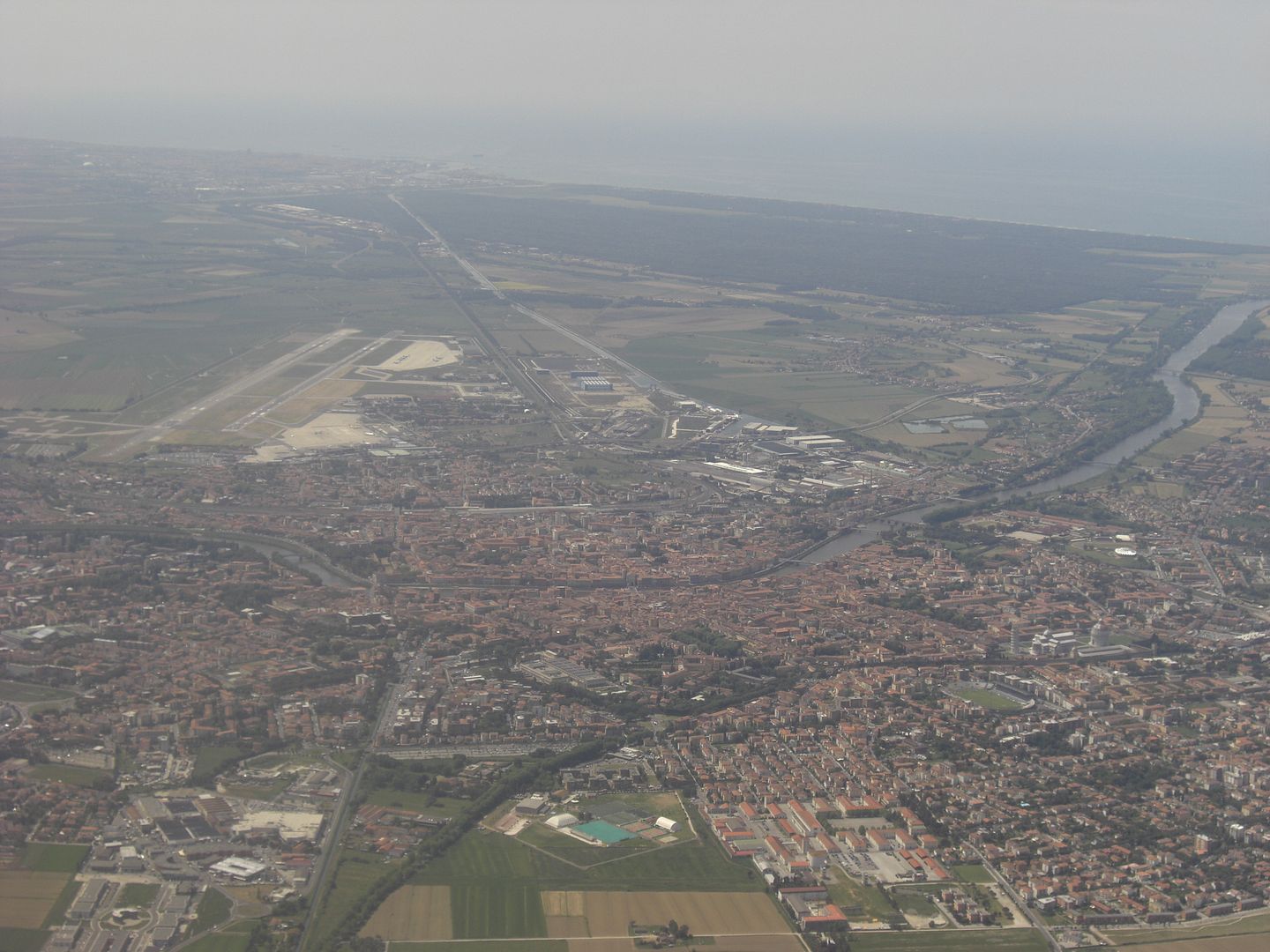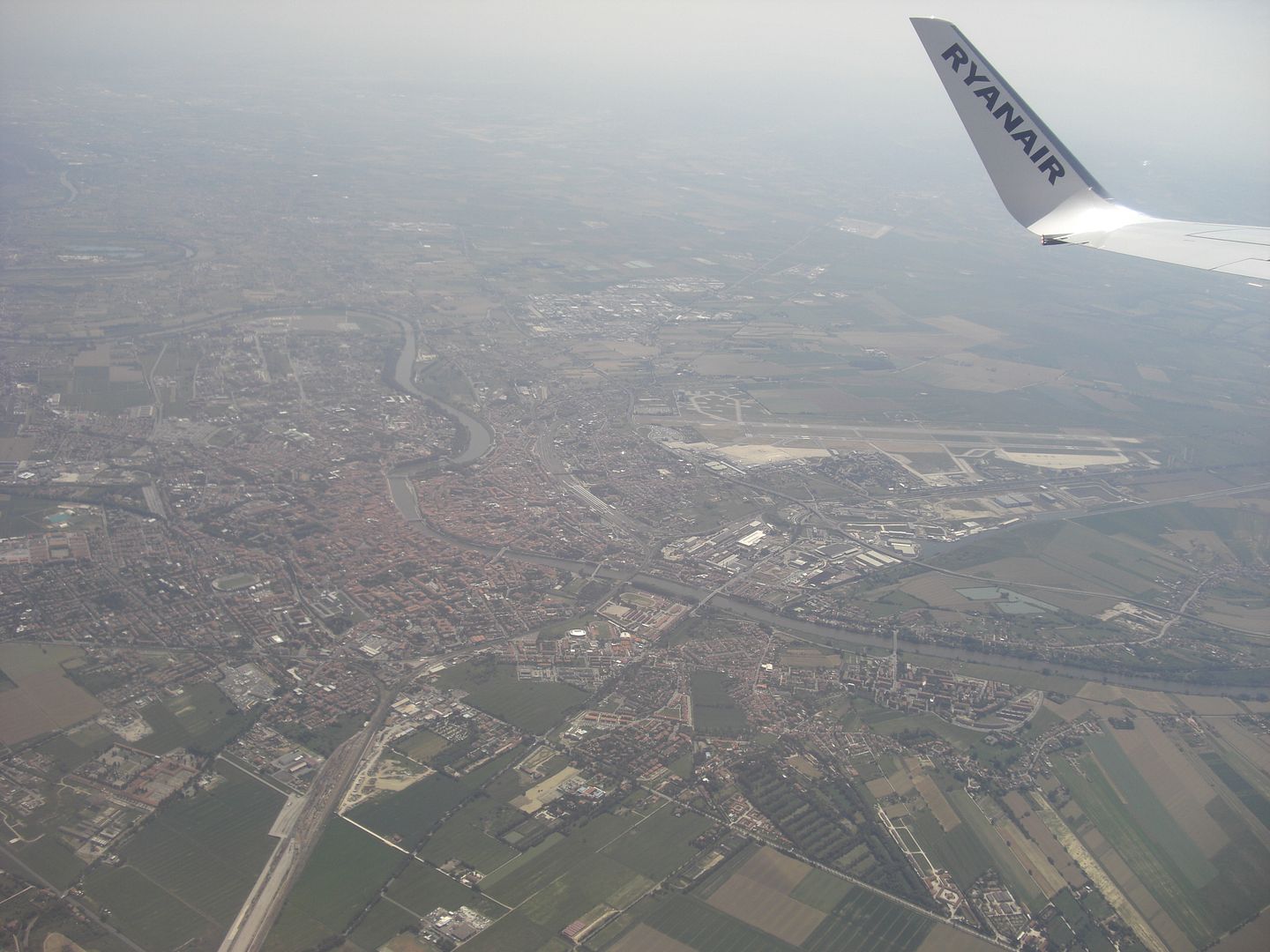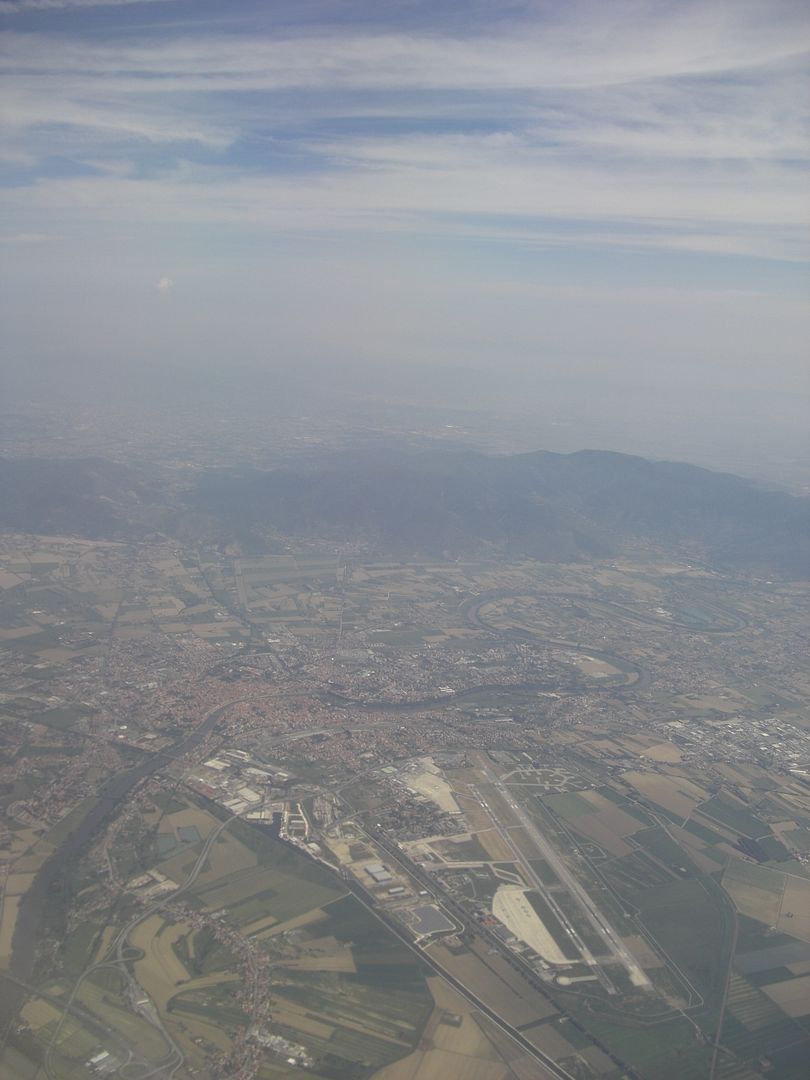 The Italian, Sicilian and Maltese coasts
Unfortunately, being on the "correct" side for departure mean that I was on the "wrong" side for arrival. No views of Malta for me!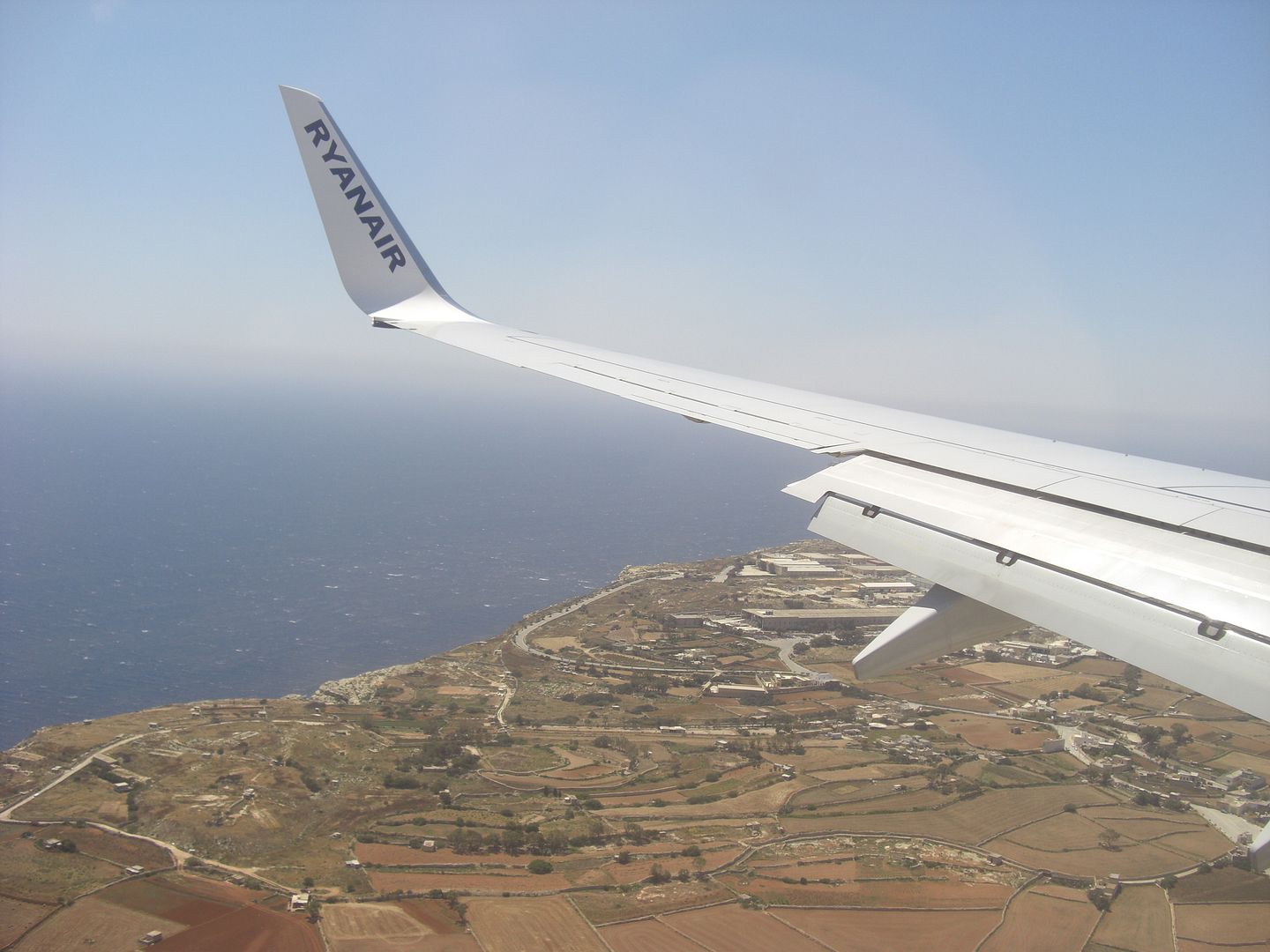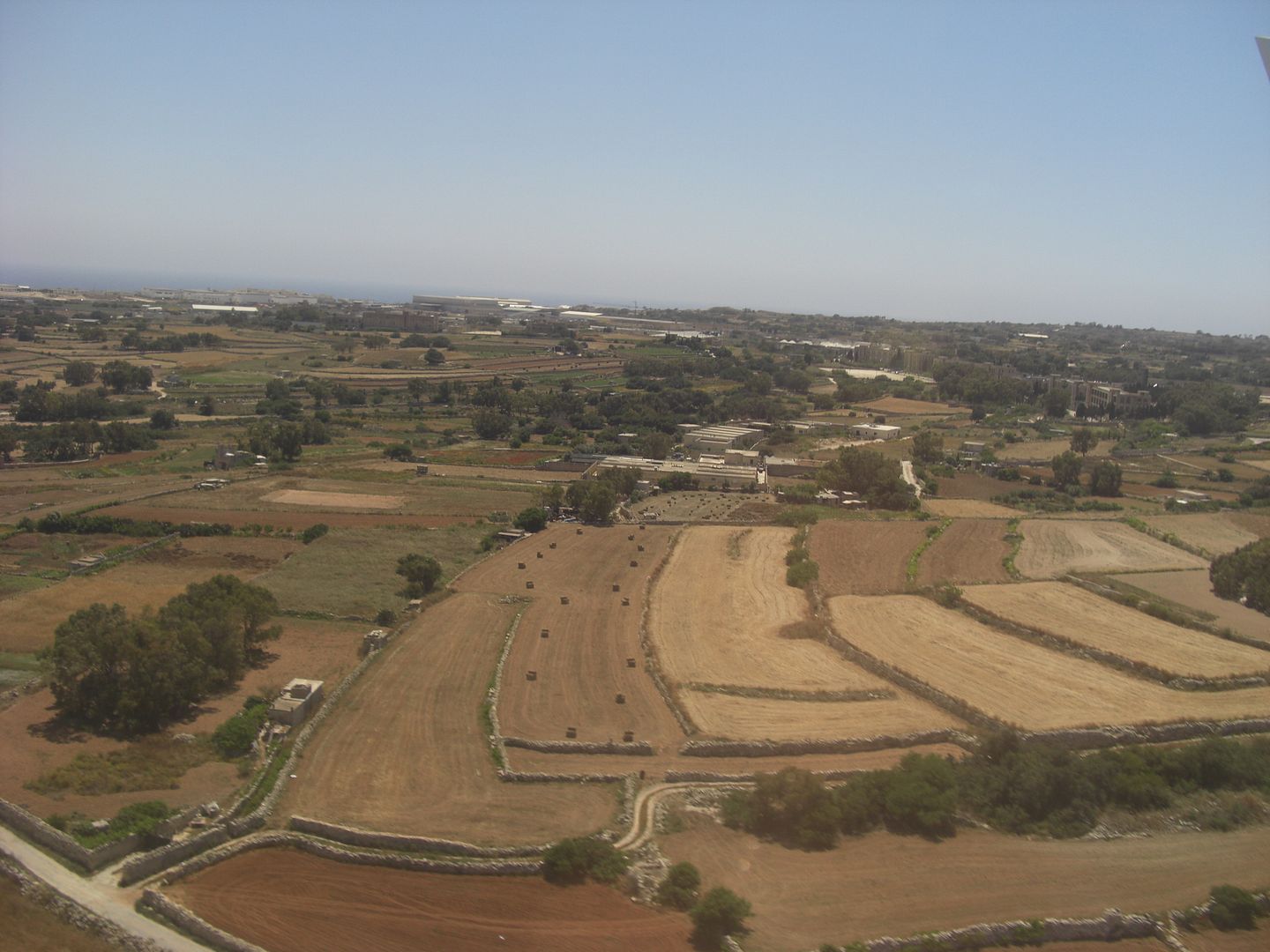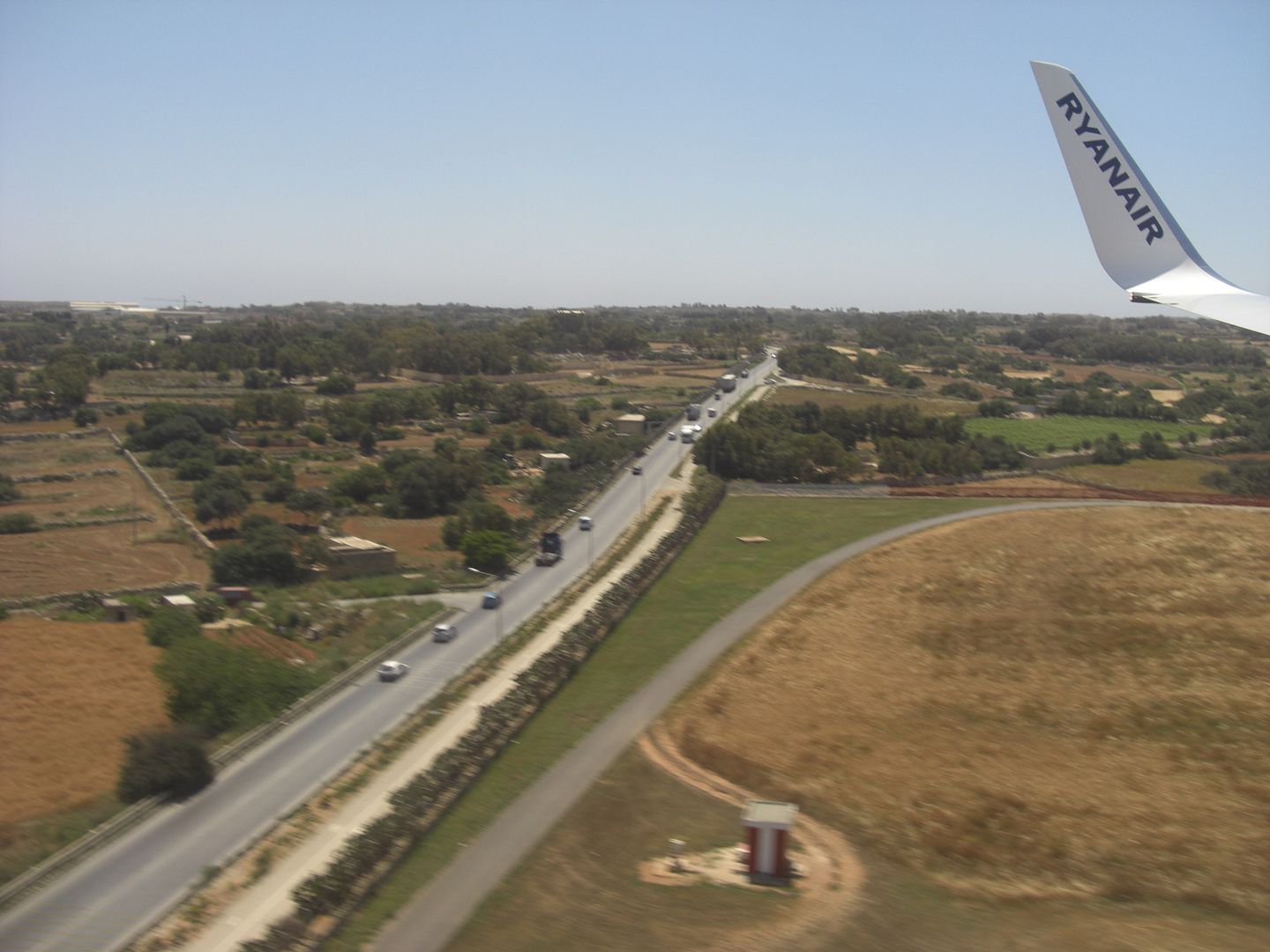 Malta's Luqa airport wasn't terribly busy. There was an AZ Airbus, and a couple of other FRs around, but otherwise deserted.
I had prebooked a shuttle to take me to my hotel in Sliema. Malta was very nice, hot and sunny, but with a plesant sea breeze. Costs were low, and the place was quite charming.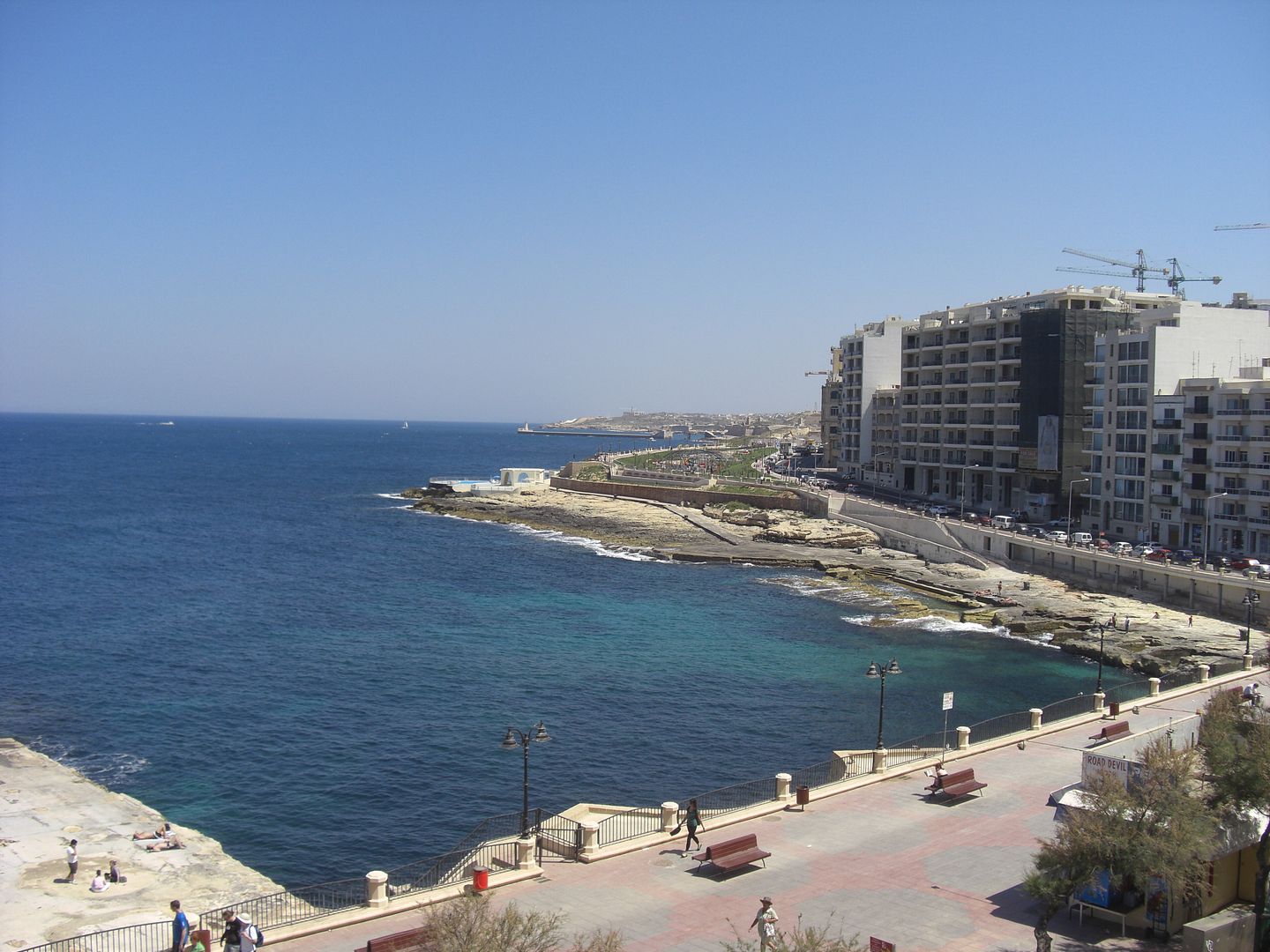 Traffic coming out of MLA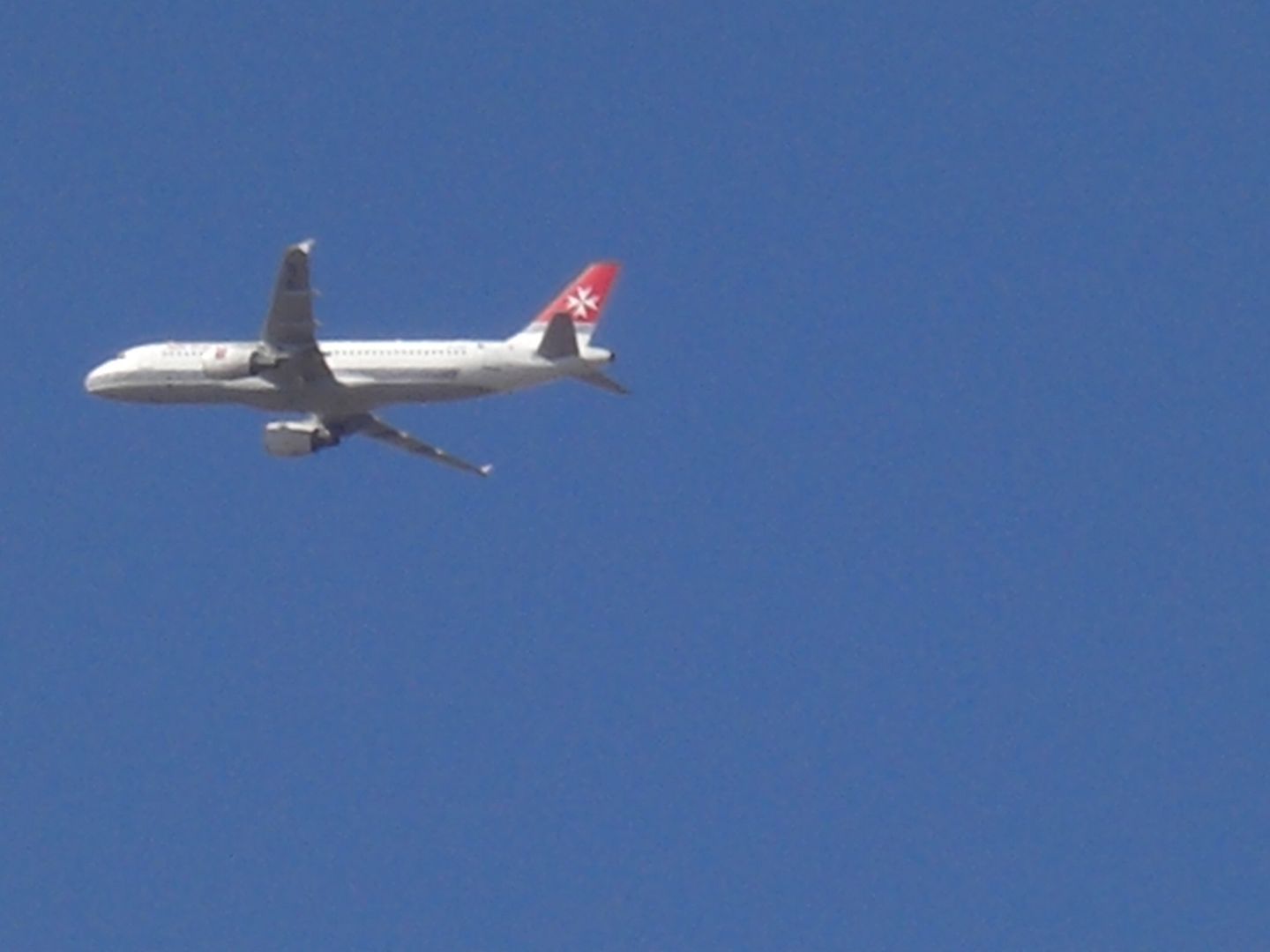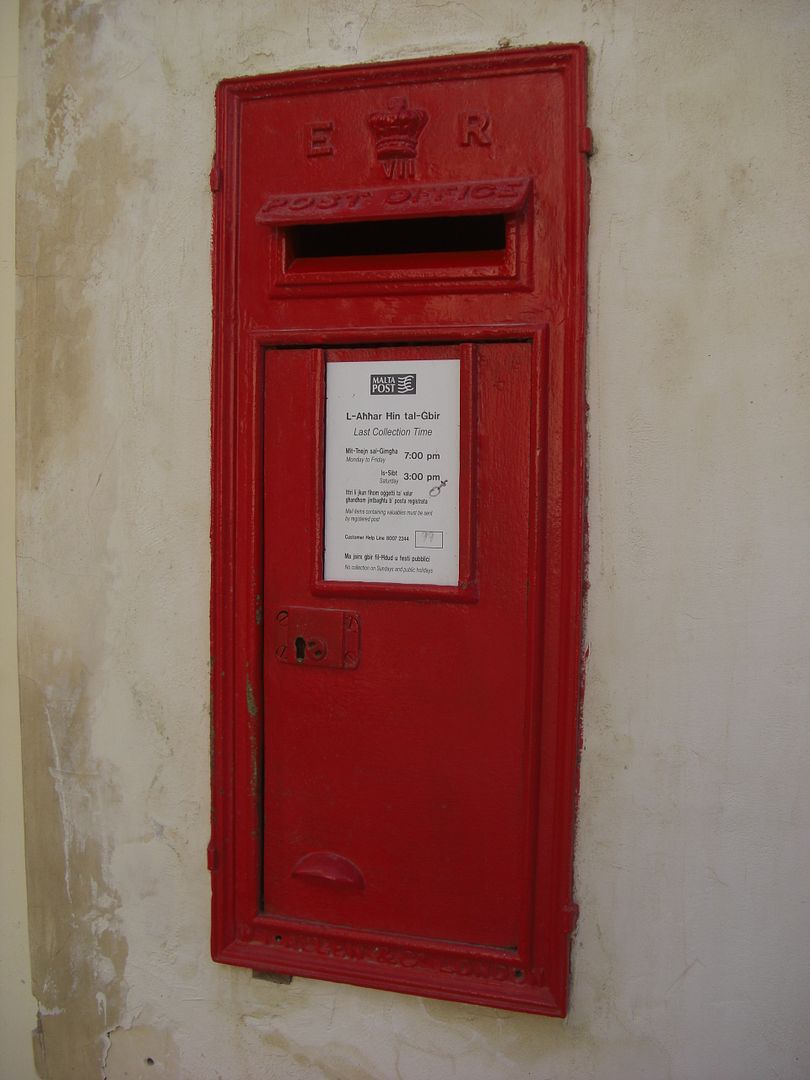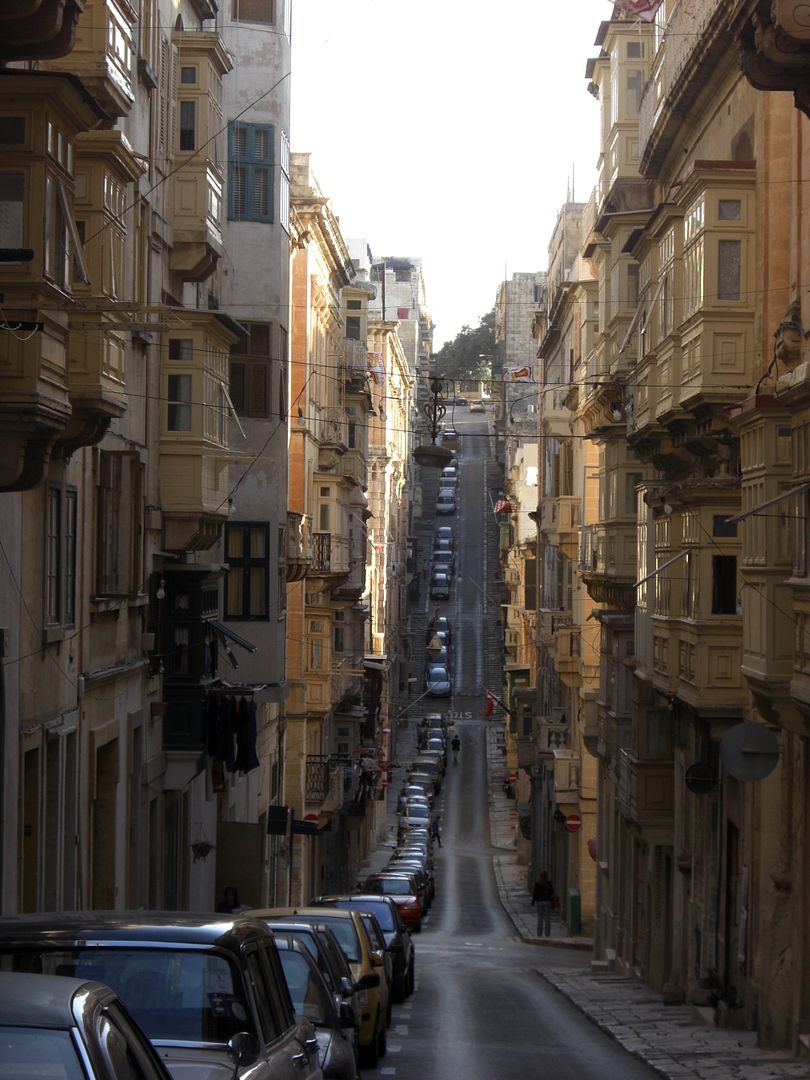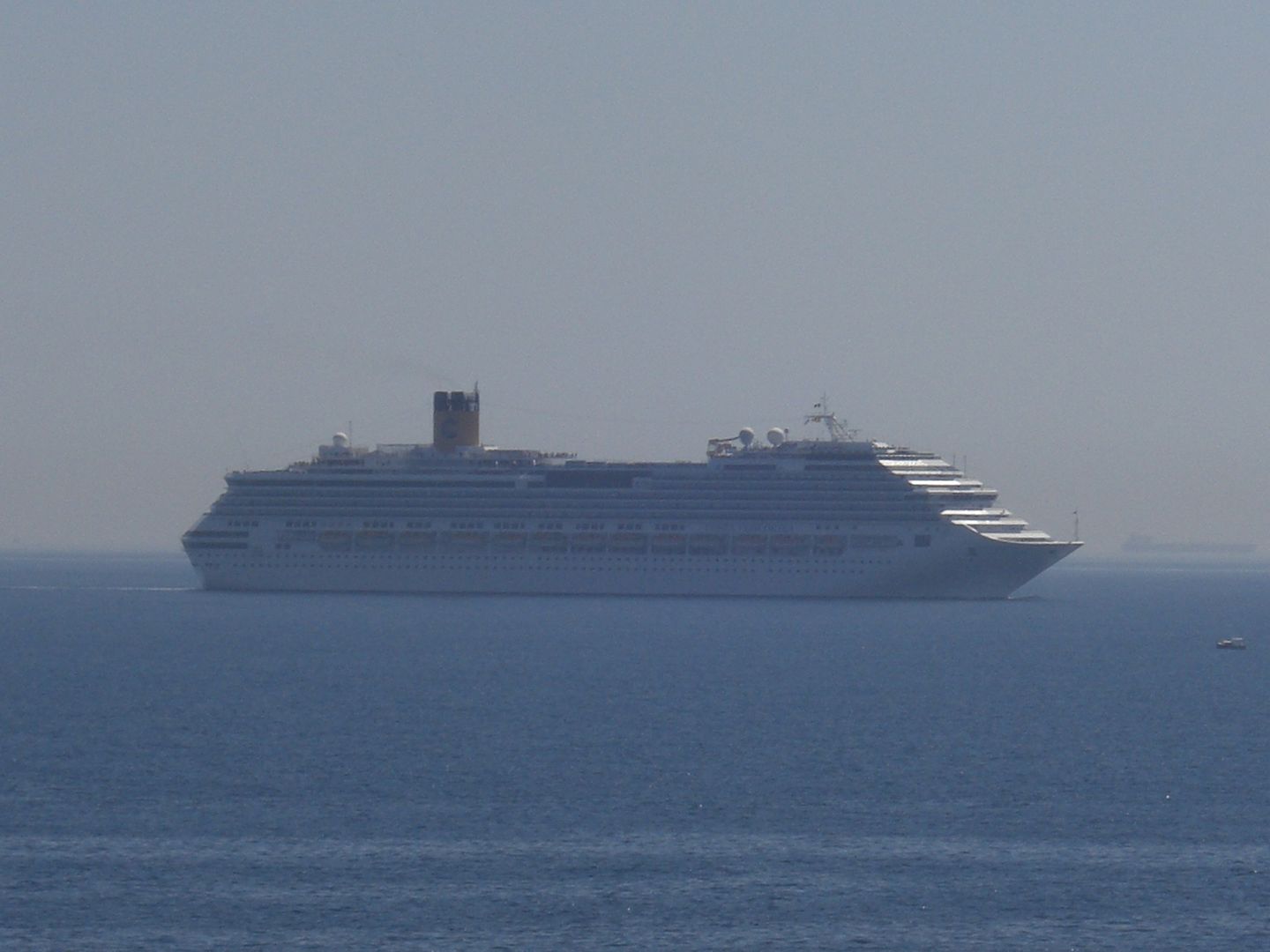 I decided to save my Euros and took a public bus back to the Airport from Valetta. It took a while, but was cheap. It was interesting to see the backwaters of the Malta. I arrived 55 minutes before the flight, allowing me time to get through security, and join the back of an enormous queue.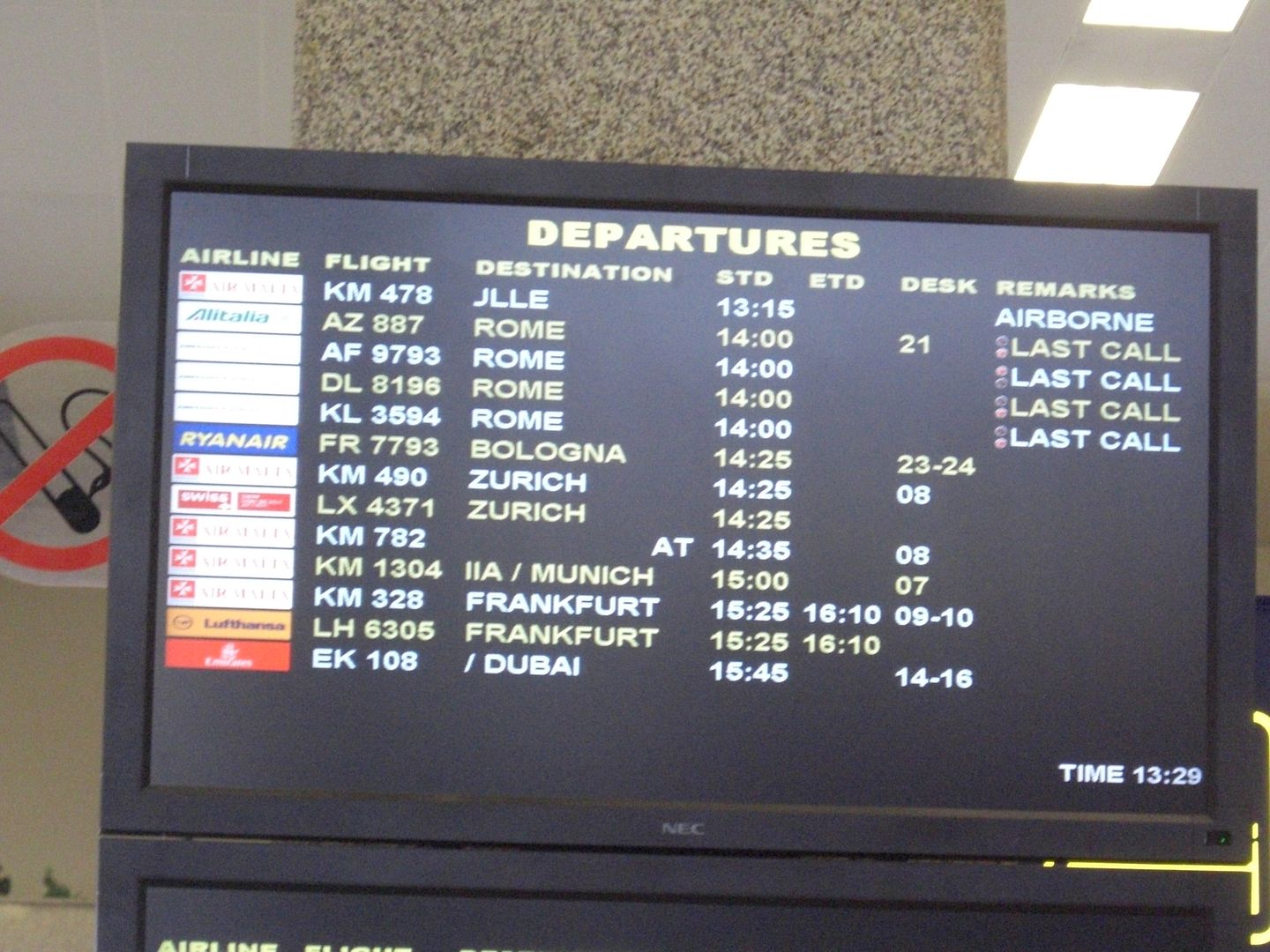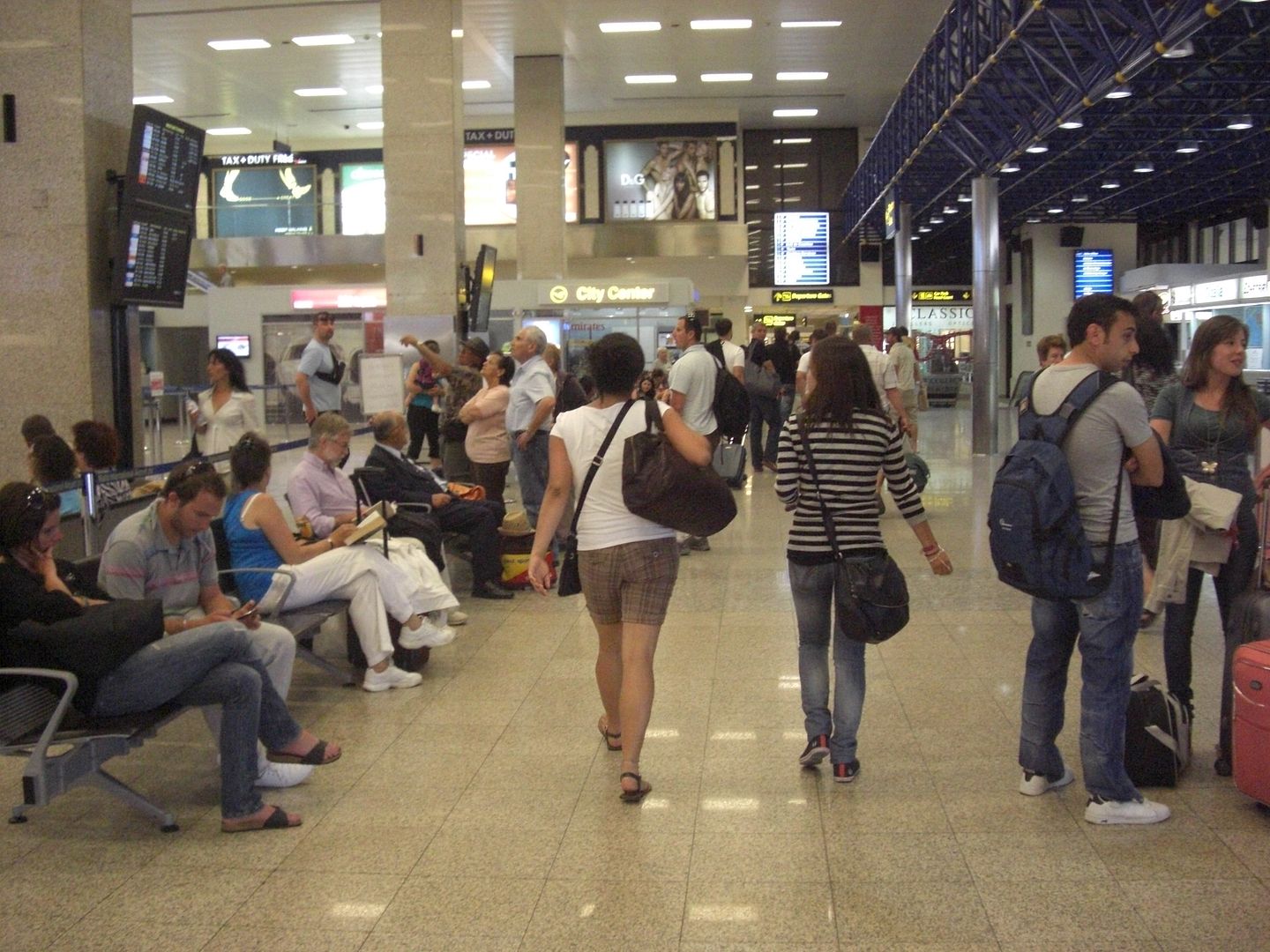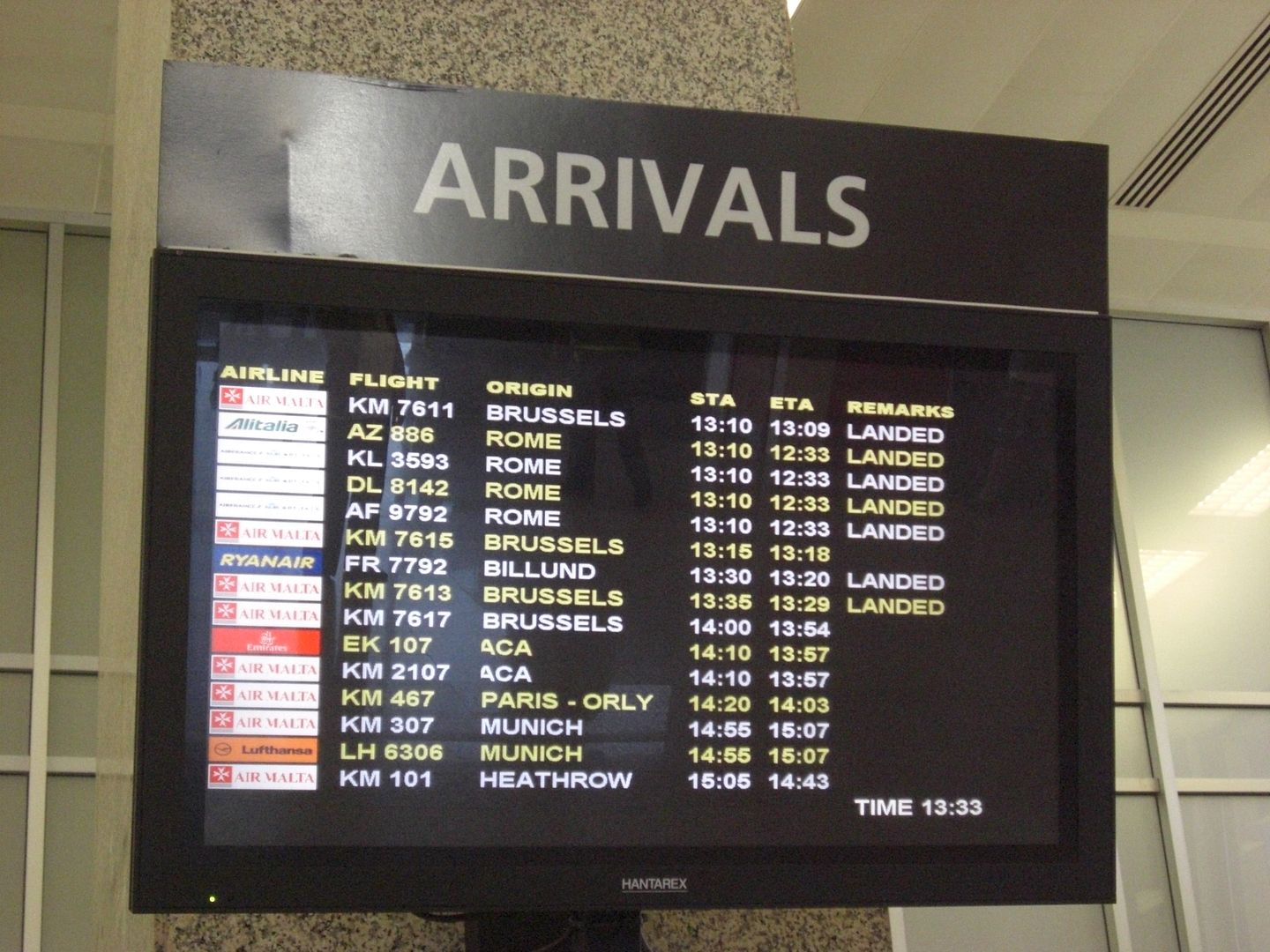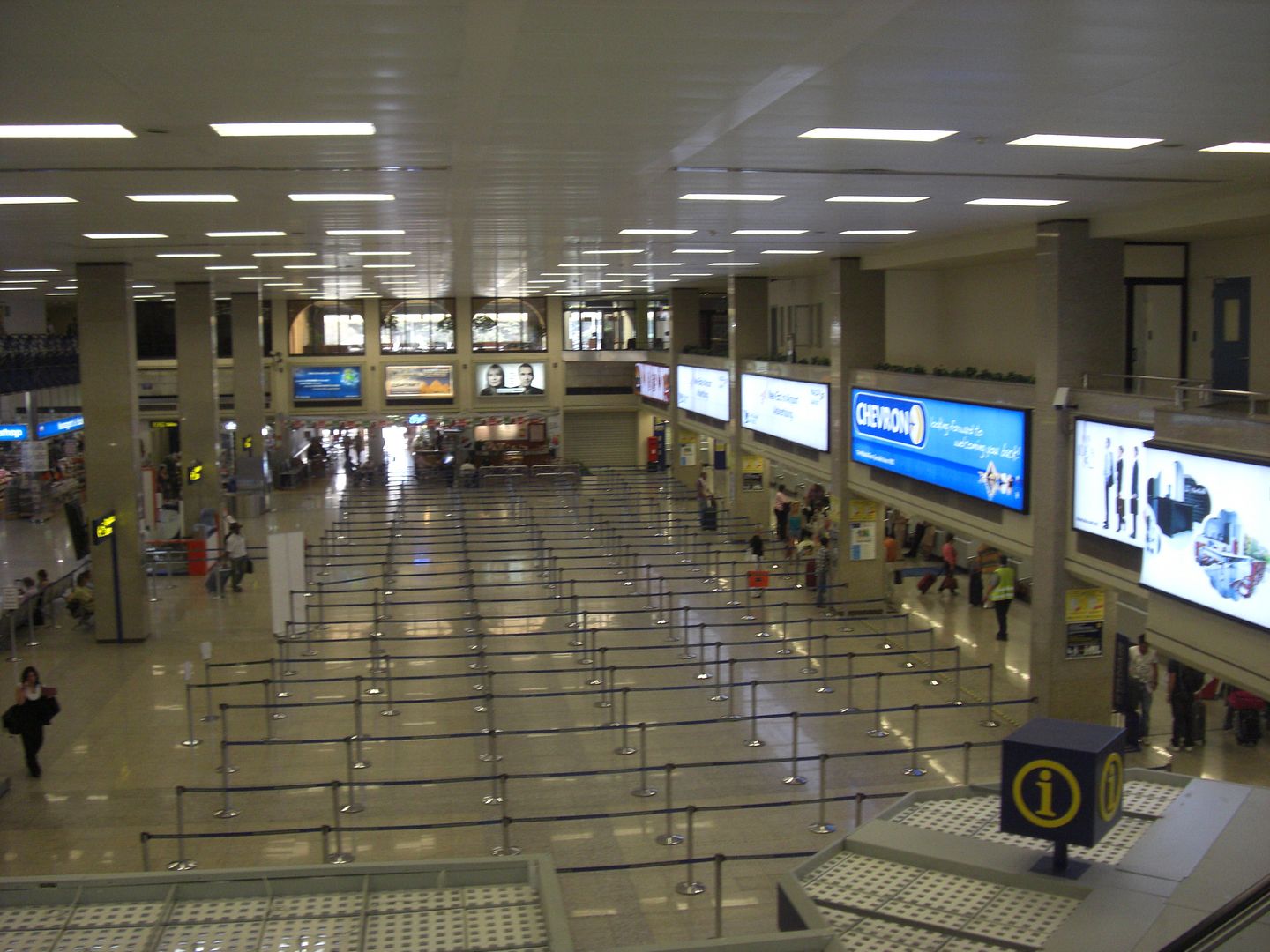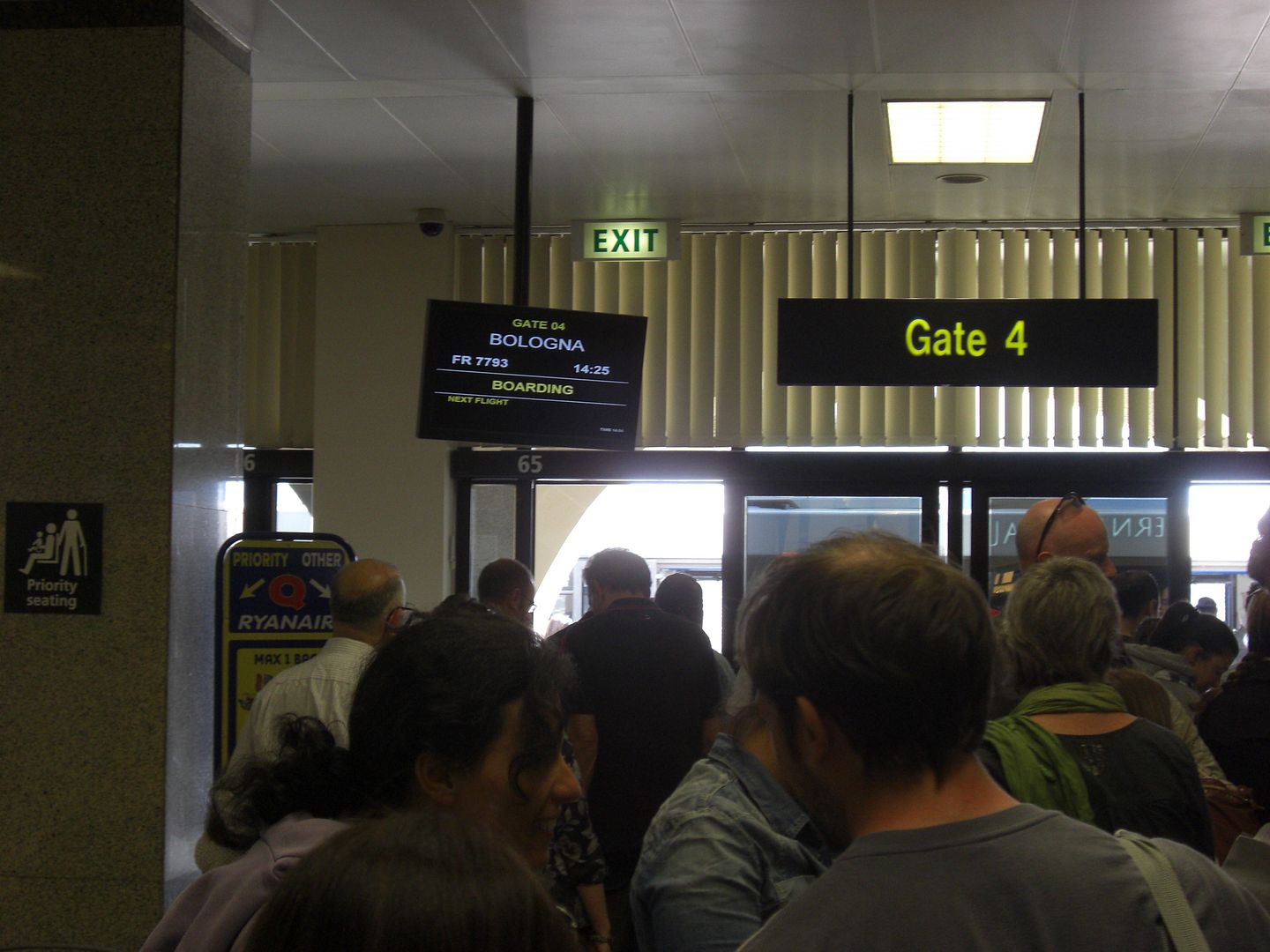 This would be a full flight. Once again, I missed the first bus, and got the second. I managed to get a window seat though, so all was not lost.
The interesting EK flight routing DXB-LCA-MLA
May 2011
Malta (MLA) – Bologna 'Marconi di Bologna' (BLQ)
Ryanair FR 9992
Scheduled: 1425-1615 (1h50m)
Actual: 1443-1618 (1h35m)
B737-800 EI-ENM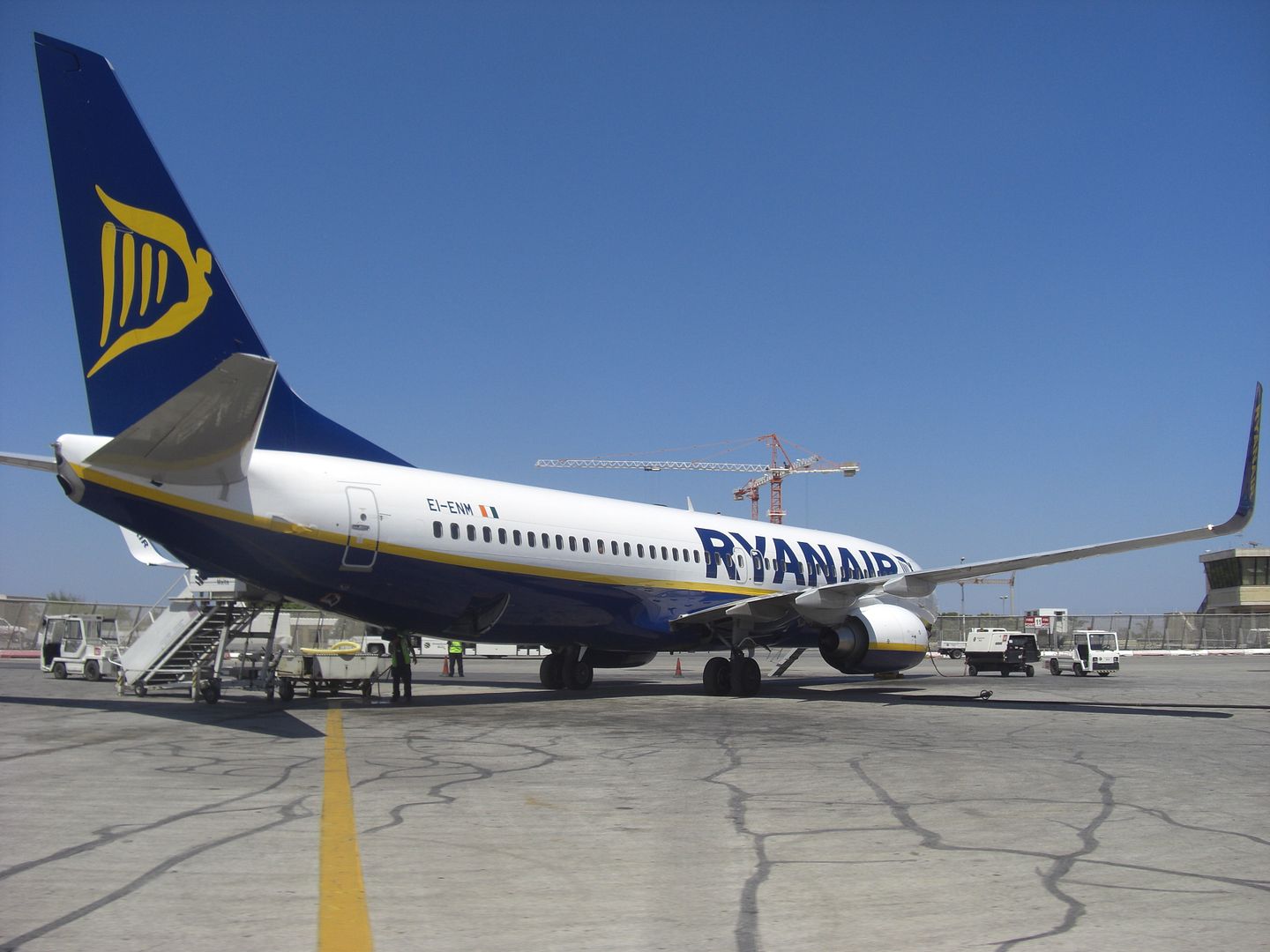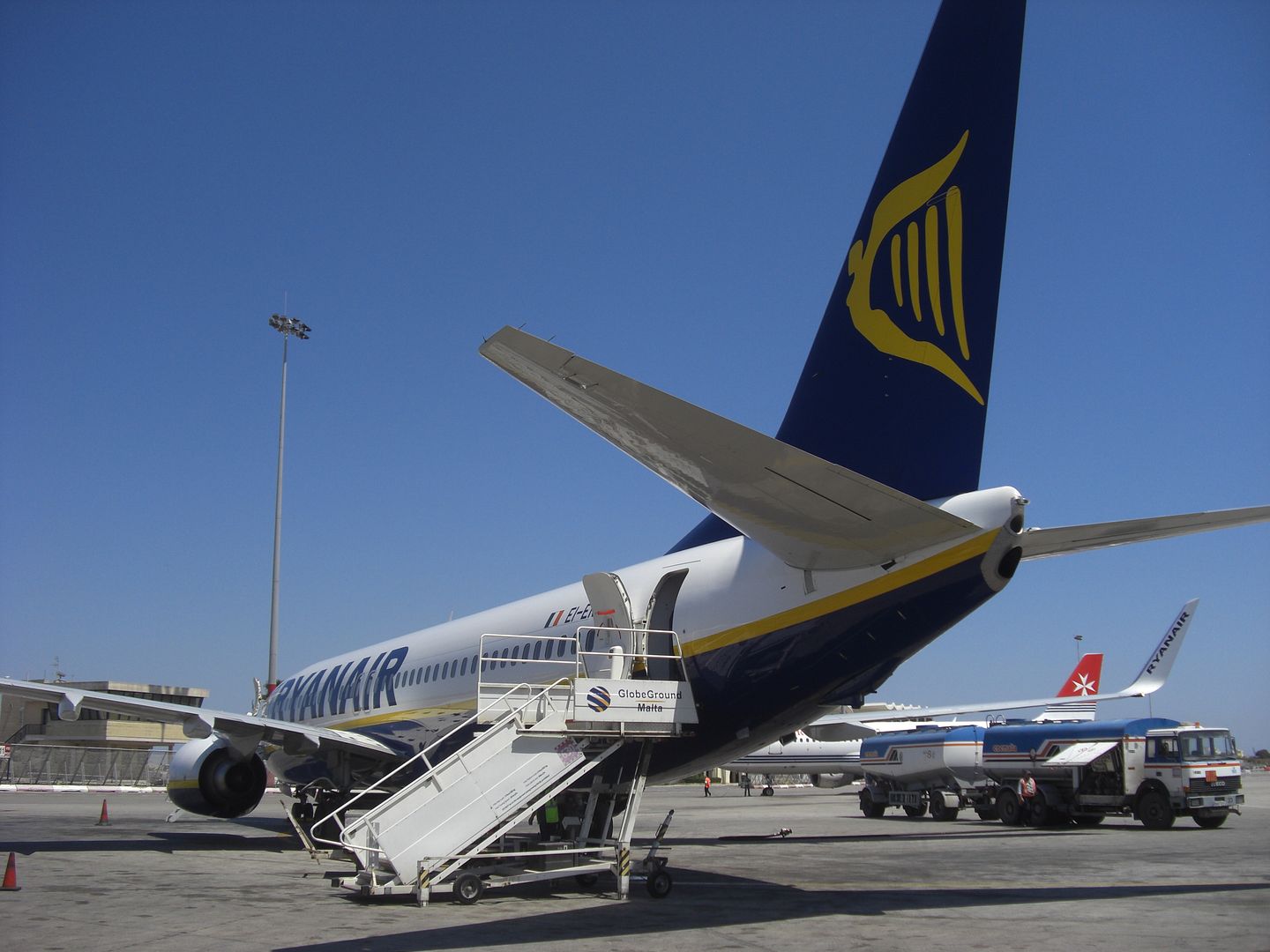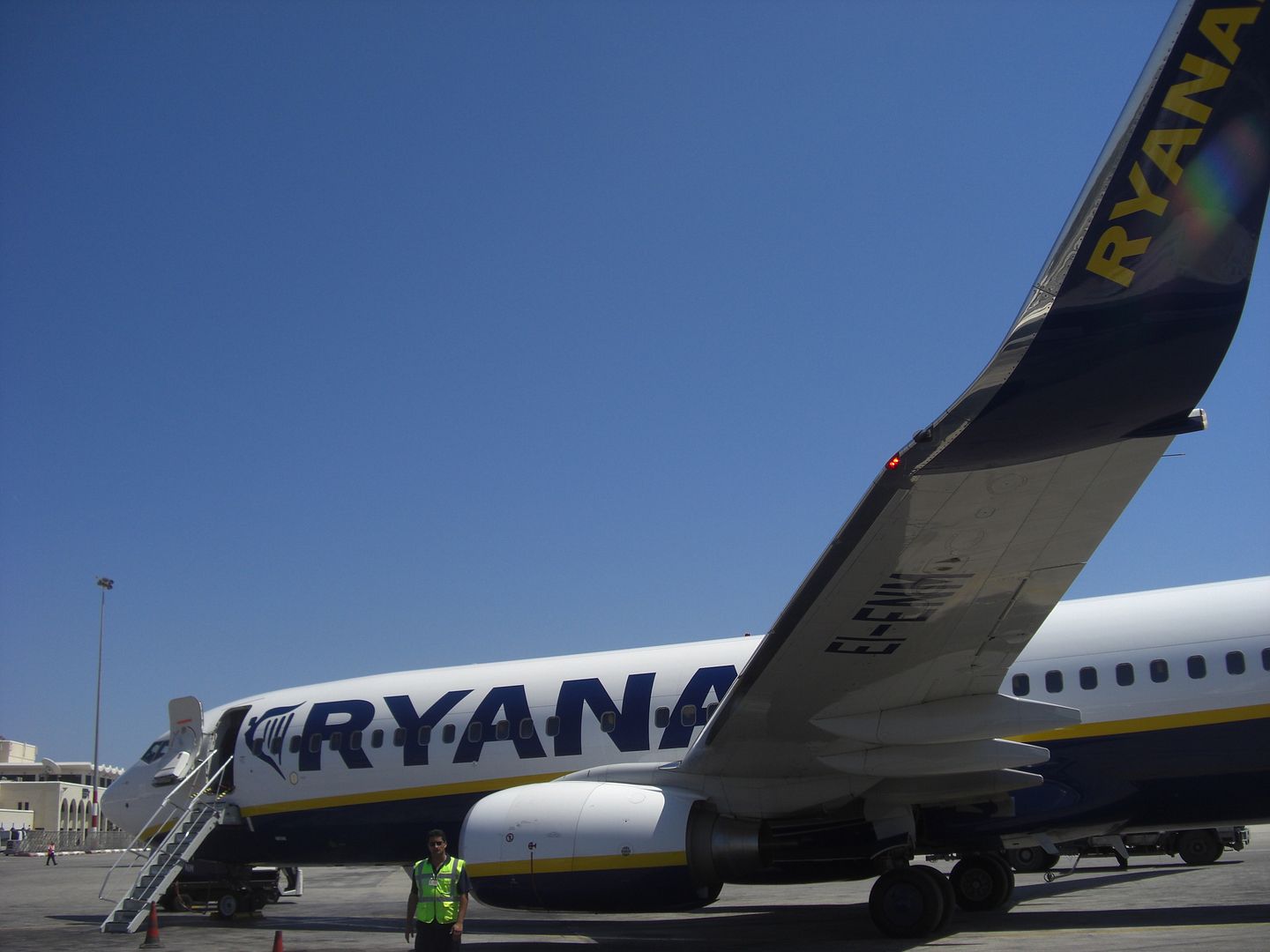 http://my.flightmemory.com/shefgab
Upcoming flights: AMS-RIX-BUD-VDA,ETH-TLV-FCO-LHR,STN-TXL-LCY,LTN-CPH-LTN,LGW-SZG,MUC-LHR