The Quest for Saab 2000 – intra European KF/SN/LH/AF/AY/DC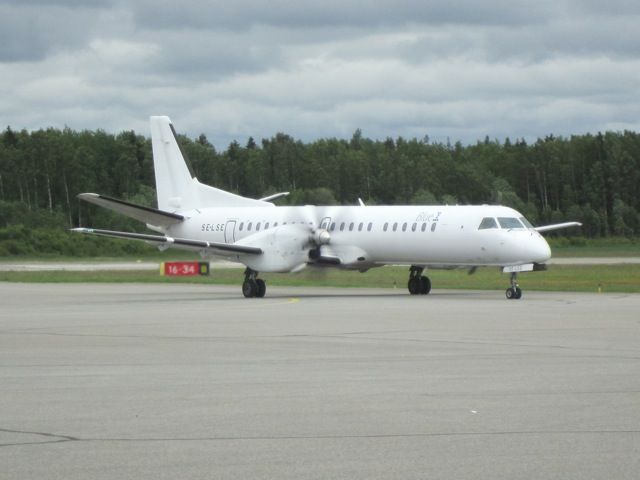 Dear all,
Here is another series of trip reports that I have taken in the past few days in the European continent. It is definitely not an exciting trip report as other more glamorous inaugural flights or unmatched luxurious first class experiences. However, I personally enjoy flying all these new airlines and experiencing all these new airports and new aircraft types. I am not going to report on all of them, but on a few airlines that I find quite interesting. Helsinki is my main port of entry, since American Airlines has released a very reasonable I fare to celebrate its new seasonal Chicago to Helsinki nonstop flights, and the additional incentive bonus miles make it a doable flight. I did not write about the AA flights as I really hate those business class seats and the service was typical, but the return HEL-ORD was actually very good. Linda, the Chicago based F/As, and an empty seat next to me, made the return flight quite nice. I have posted the meal pictures at
www.airlinemeals.net
and you can find them over there.
Full album:
http://share.shutterfly.com/action/welcome?sid=8QbNHDNy5bqTcw
June 19, 2011
KF 805 HEL-BRU Lv1130 Arr1320 RJ-85 OH-SAJ "Pyhäselkä"
Blue 1 is long known as the Finnish branch of SAS, and I select this flight because I get to ride on RJ-85, which is a new aircraft type for me, and the convenient connection to Brussels. Helsinki Vantaa airport is actually one of my favorite airports with easy navigation and abundant of shops and restaurants plus nice glasses for plane spotting.
Booking:
My uncle has generously donated some of his United Airlines' miles for this one-way award trip all the way from Helsinki to MXP via Brussels. The booking was rather straightforward through the 1K desk, and despite providing the correct reservation codes with KF and SN, I could not manage to get an assigned seat through its website. I am just too lazy to call and figure that J cabins won't be full on a Sunday mid-morning flight, which is somewhat true.
Check-in:
I arrived on time on my American Airlines' flight from Chicago, and after going through passport control, which was quick, as the Finnair's JFK flight arrived later than us this morning, I followed the transit sign and arrived at the Schegen area within fifteen minutes. With no luggage, I tried to locate the Blue 1's transit counters, which were all the way at the other end of the terminal building, known as T1. The transit desk was not manned this morning and there were no kiosks. So I tried my luck with the SAS lounge and the agent saw my Star Gold card and told me "no problem and she could check me in here"! After asking for my seat preference, I got 1A on both flights, and I was welcomed at the lounge.
Lounge:
Some pictures of the lounge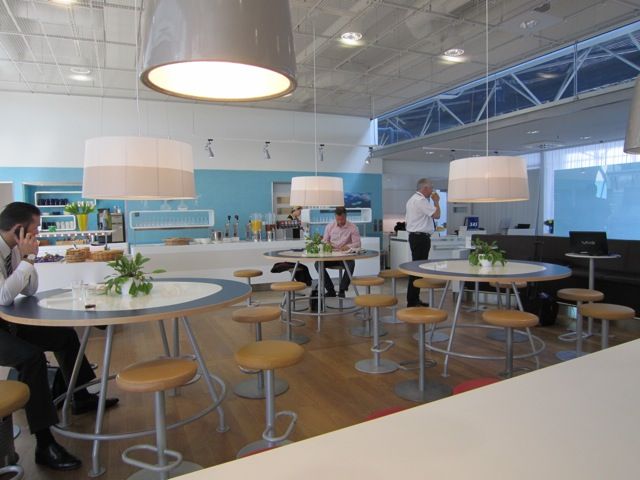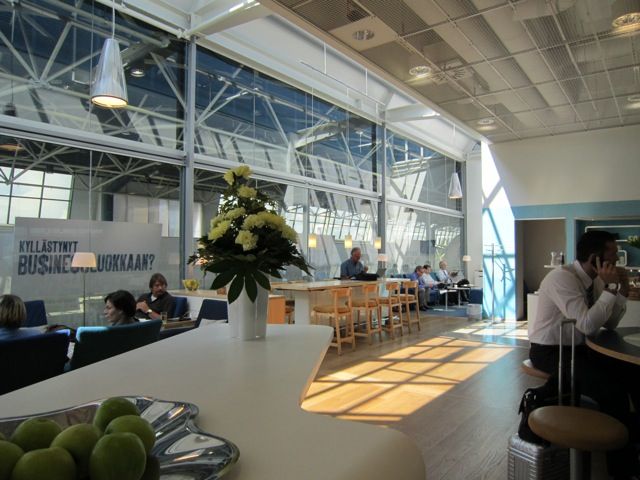 A typical SAS lounge and like a mini IKEA showroom with simple furniture and sofas in all areas. There are plenty of power outlets and a small business center with five Apple computers.
The food offering for lunch was Tortilla chips with salsa and guacamole, and a watermelon salad with some vegetable dishes. Here are some pictures!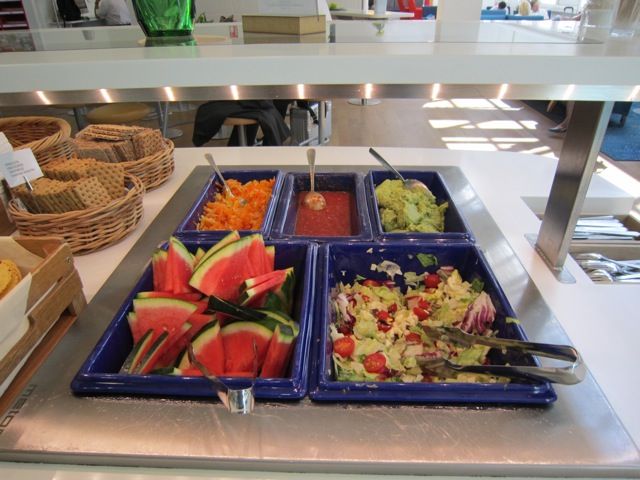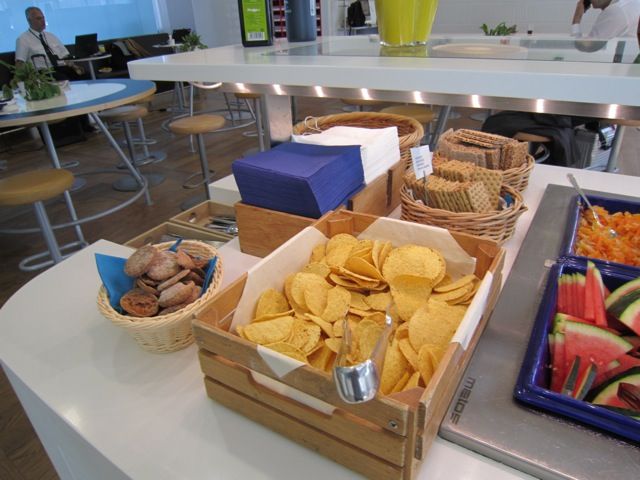 There is a self-serving beverage stations - coffee machine, soda dispensing machines, and various beers and wines.
I spent about two hours in the lounge before heading towards the gate. Of course I am also concerned with last minute aircraft change.
Pictures of this beautiful RJ-85 OH-SAJ "Pyhäselkä" at Helsinki Airport – not really good pictures due to the angle, but still nice:
OH-SAJ arrived early form Copenhagen and has already worked a roundtrip to CPH this morning before another roundtrip to Brussels. Boarding began at 11:08am and there was no priority boarding – well it was announced but never enforced. The loading was 2 in business, a few more in economy extra (full fare economy), and 60% in regular economy. The F/As welcomed us on board and newspapers were available after passing through the boarding gate. A typical European airline experience!
RJ 85 is quite nice when the airline puts in a five abreast seating arrangement (rather than six used by BA Cityfler and City Jet). Overhead bin can handle my roller board suitcase, and I have three seats all to myself. The seats use the same fabric and upholstery as SAS, and really is no difference, except a Blue 1 magazine and Blue 1 F/As. Even the meal trays and utensils are SAS, so the connection is obvious. Boarding completed at 11:15am, and we pushed back early at 11:21am. We took off from R/W22R two minutes prior to our scheduled departure time of 11:30am. The pilots actually made a few announcements throughout the flight and our cruising attitude was 34,000feet this afternoon, and we had a smooth flight all the way to Brussels.