Introduction
In June, my wife, myself and her parents flew to Europe for a much awaited trip that we had been planning since January. We formulated a plan to visit Greece, Rome and Budapest in the space of 12 days. While my wife and I were not opposed to the idea of visiting Greece, we were not too enthused about the prospect of seeing Athens again (we were there the previous year). However, her parents really wanted to see the Greek capital so in the end we decided that we will split for part of the trip: While my in-laws will be visiting Athens my wife and I were to stay in Thessaloniki and use it as our base for some daytrips to Mt.Olympus, the magnificent Meteora region (a must see) and the lovely beaches of the Halkidiki peninsulas.
The (hands-down) best deal that we found online was with Malev Hungarian Airlines who not only offered the best price but an itinerary that matched perfectly our plans.
Our final itinerary was:
ORD-BRU (operated by AA)
BRU-BUD-SKG (Malev). At this point my in-laws flew from SKG to ATH (and back) with Olympic
SKG-BUD-FCO (Malev)
FCO-BUD (Malev)
BUD-BRU (Malev)
BRU-ORD (operated by AA).
Check-in
There was one check-in line for all international flights of AA at ORD, but despite its relatively short length, we were ushered to the automated self check in machines. In a somewhat chaotic manner, we got our boarding passes, and with the help of a nearby AA employee we tagged our luggage and handed it over at the bag drop off. Despite having selected our seats at AA's website months in advance, we were given completely different seats. This did not surprise me at all but I have to say that it ticks me off when airlines give you the option to preselect your seats and then completely ignore your selection. Not a big deal but it would have been nice if all 4 of us were seating near each other like we had chosen.
The security check was relatively uneventful and we proceeded to our gate. We had about 2 hours to kill so I decided to go for a hunt of a hot dog, which in T3 of ORD is harder than it sounds. Boarding was uneventful (we were all on Group 4). Legroom on our seats was minimal, but no surprise here either. The 767 was showing its age too. The armrests were somewhat dirty and so was the table, which had seen better days.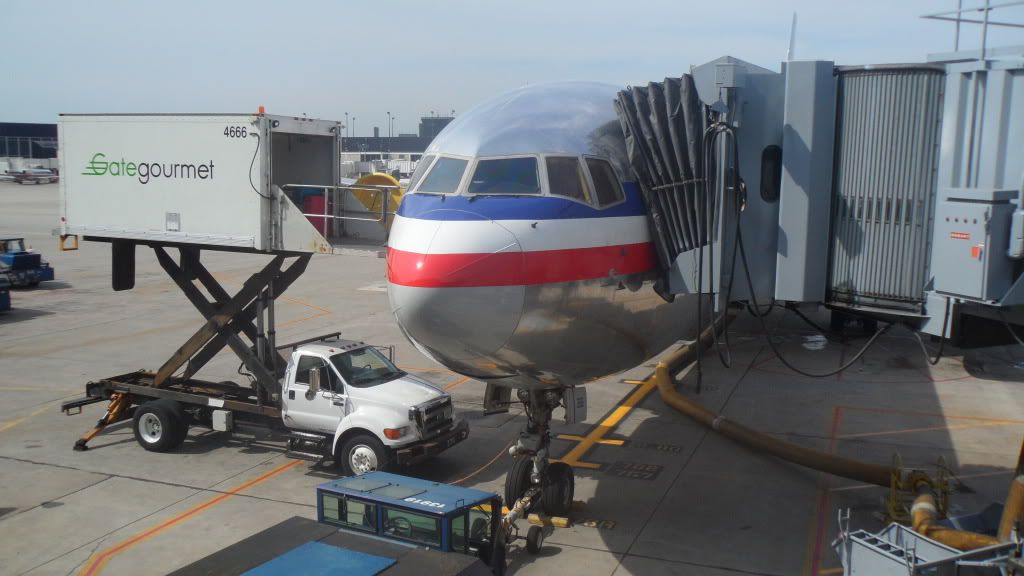 Our bird at the gate
No personal IFE on AA's 767, but overhead screens instead. The selection of movies (The Company Men and Charlie and the Chocolate Factory) brought tears of... boredom to both myself and my wife. Add to this the completely unacceptable quality of sound and you had a perfectly good reason to find something else to do. I chose to read on my kindle. Thankfully I had downloaded a couple of very interesting books the week before so they came in handy.
Rather tight legroom
About an hour into the flight we were served a gourmet snack mix, which was followed by drinks and the meal. We were given the choice of pasta or chicken, and we both chose the latter. Not a bad meal by any means, not quite as good as what most European carriers offer for TATL routes, but better than what I've had on United at least (and perhaps on par with Delta).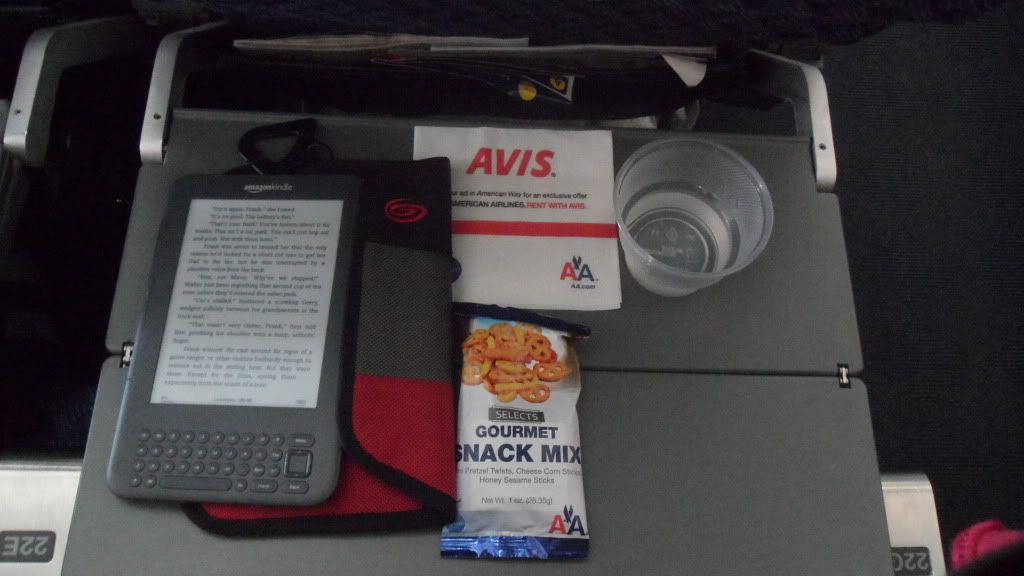 Pre-meal snack
Our main meal
At some point both my wife and I decided to get up, stretch and visit the restroom. We made our way to the back of the cabin but just before turning into the restroom a male flight attendant stopped us and in a semi-serious manner told us: "One by one in the restroom, not together. This is not... United" and winked. We laughed and followed his orders.
An hour before landing we were served a light breakfast of croissant, yogurt and OJ, a very standard breakfast tray for a TATL route. For some reason breakfast was served in total darkness, hence the terrible quality of the photo below.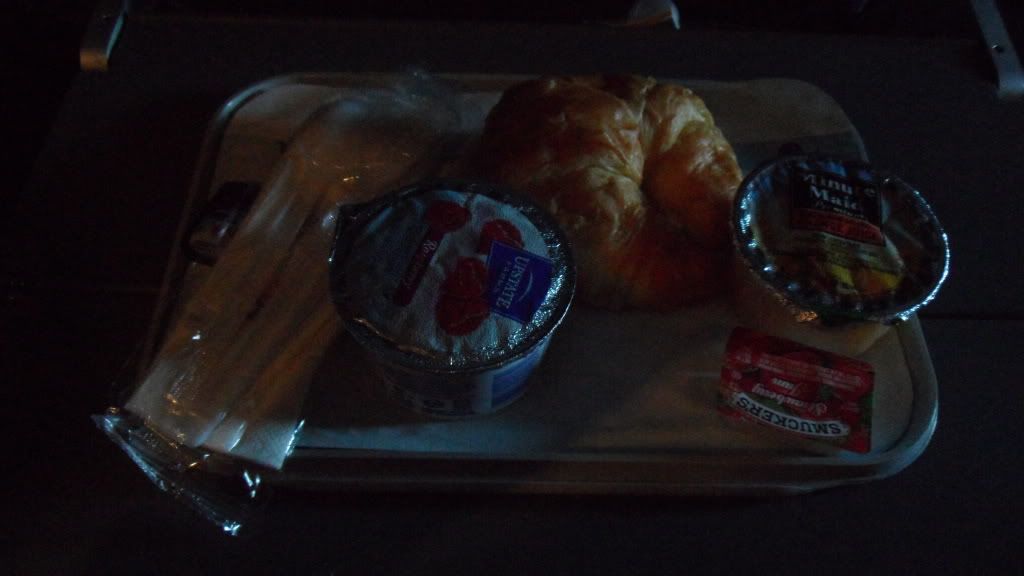 Breakfast
Despite the bad reputation of AA's ORD-BRU route with regard to delays, we made it to Brussels on time. This made us falsely think that we would have no problem making our connection to BUD. However, at the passport control we were met with a long and seriously slow moving line. There were 4 or 5 passport control counters but each had its own line. This meant that if you happened to be waiting in a line that contained a "problematic" person ahead of you, you could be stuck waiting there for a while. This is exactly what happened to us. The immigration officer serving our line spent close to 15mins on a single lady and close to 5 mins on another, while other lines at the same time let through tens of people. I personally prefer it when there is a single line at immigration, at the end of which you are forwarded to one of many immigration officers (as it is done in all the US airports I've flown to from abroad). At the end we spent well over an hour at immigration which left us with less than 15 minutes to clear security and make it to our gates. Fortunately we made it but we were the last ones to board the plane. As a consequence of all this I did not have the time to check out the airport. I had been there once before (I had flown in with TAROM from OTP and flown out to ORD with AA) but again I had a tight layover (plus some problems with my boarding pass) and had seen very little of the airport.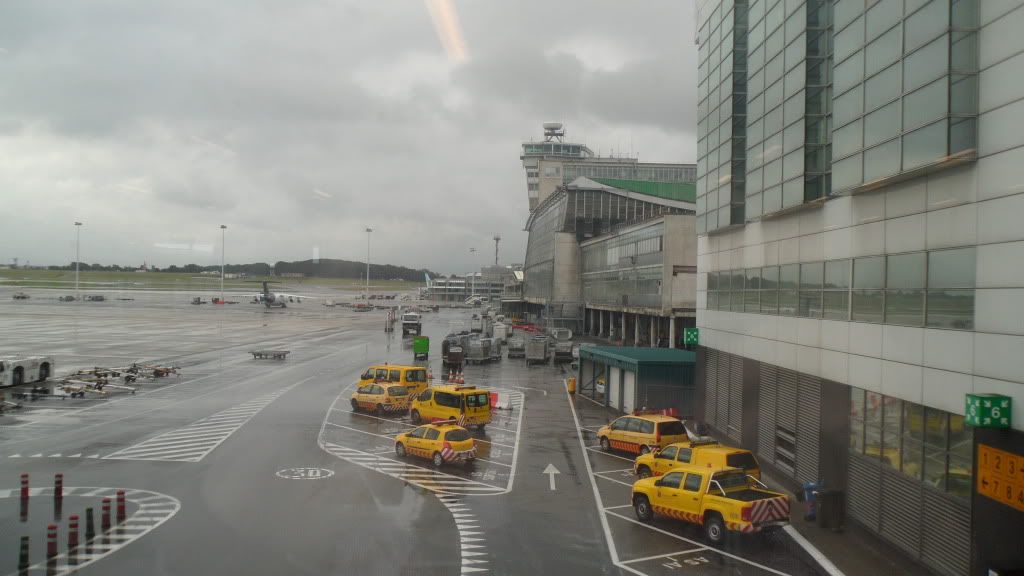 A look outside the window, just past immigration at BRU
This was my first ever flight on Malev (there were 5 more to follow in the next 10 days or so) so I was excited to add another carrier to my list, even if it had to be one with a terrible livery. Maybe if they stopped painting the nose of their aircraft... It makes them look like a character from Angry Birds.
As for BUD, I had been there before on one occasion, en route from LTN to SOF with W6 (Wizz Air) back in 2004 or 2005. Back then however I had used T1, which is a far cry from the much newer and more modern T2.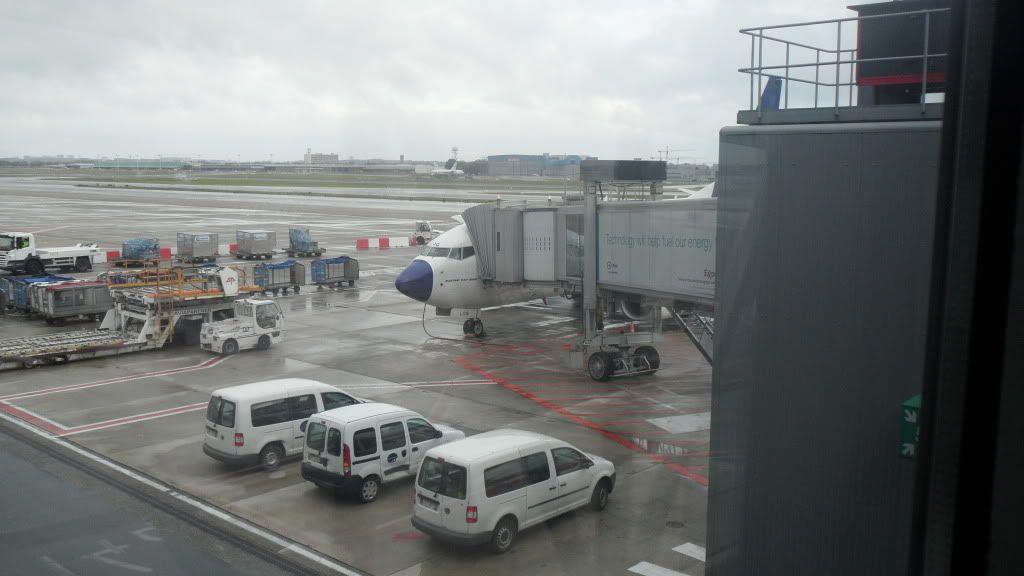 Our 737 already full and waiting for us to board
The interior of the 737 had touches of bright green which Malev has been using as their trademark color. The safety demo was displayed on the overhead screens in the form of a CG cartoon, accompanied by some very nostalgic electronic music from the 90s. The meal consisted of a salami sandwich (we were given the choice of salami or cheese) which was tasty but rather small. On multiple occasions during the safety demo or the goodbye announcement after arrival, we were reminded that MALEV is a "Ewead" member; I think they meant "One World". I should be the last person in the world to make fun of accents but I would have never guessed that what they said was OneWorld. The flight attendants were overall very professional, albeit a bit cold, something that was the case in most of our 6 flights with Malev.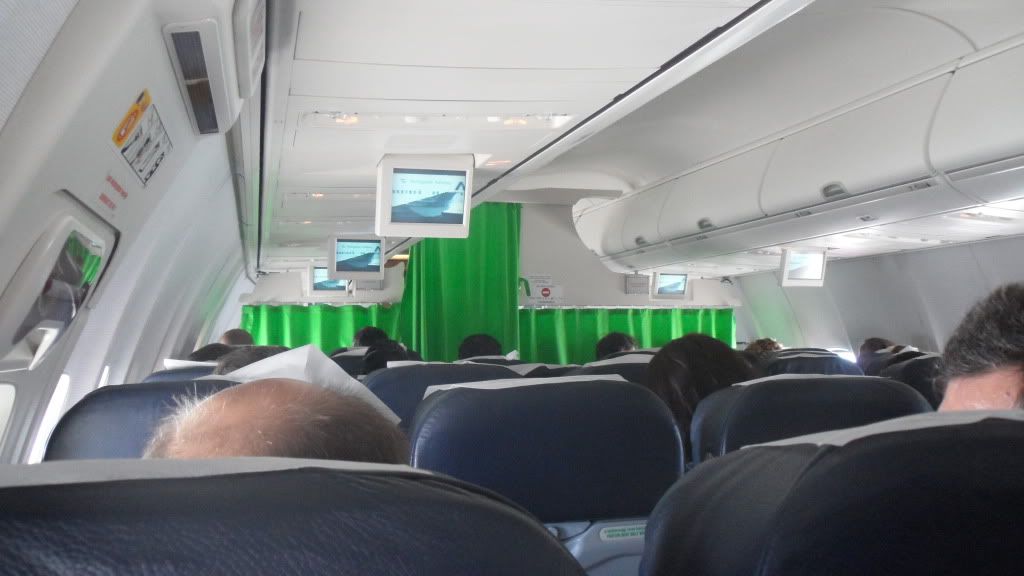 Cabin view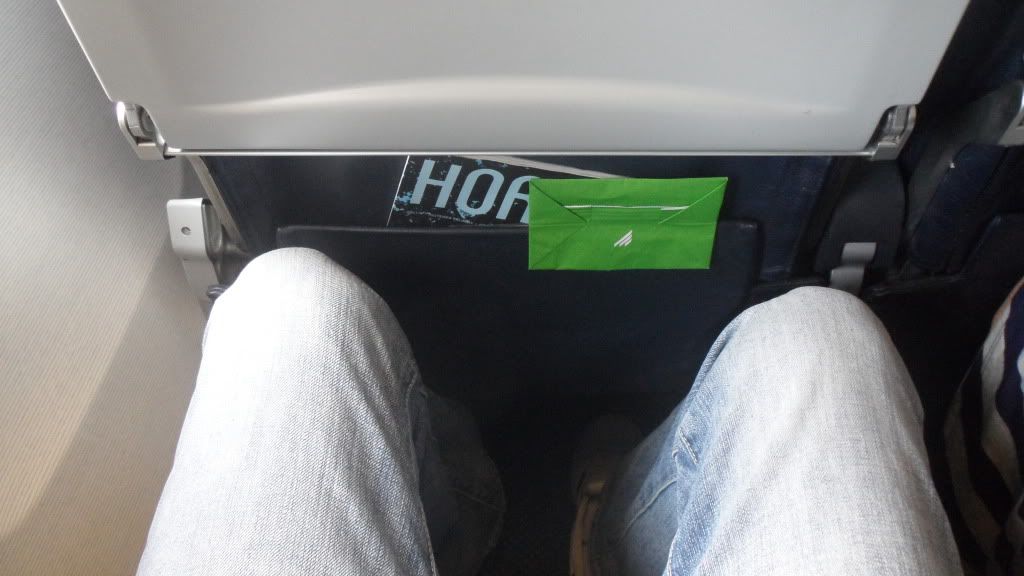 Legroom was OK
Our lunch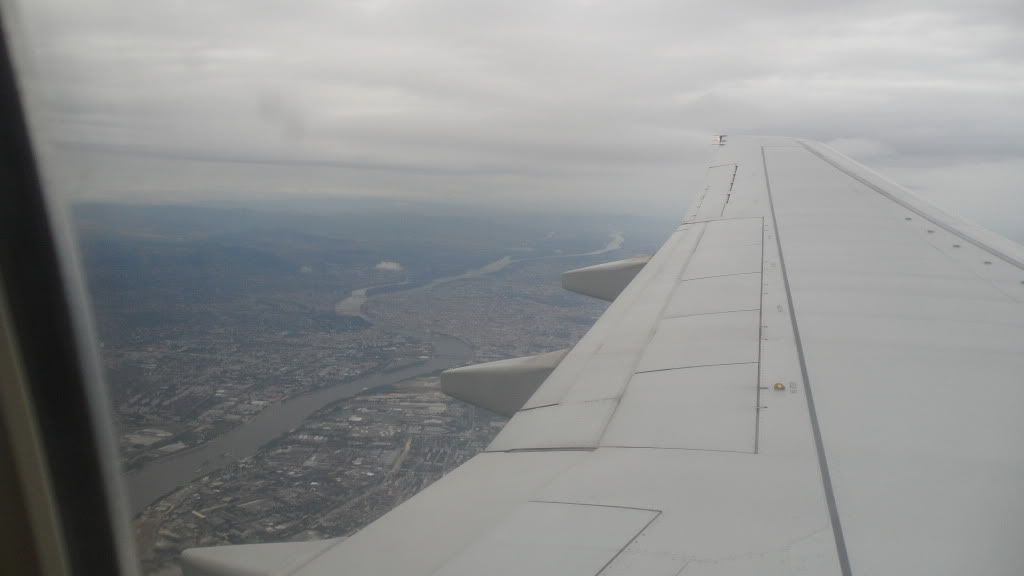 A view of downtown Budapest while landing. We were to check it out a few days later.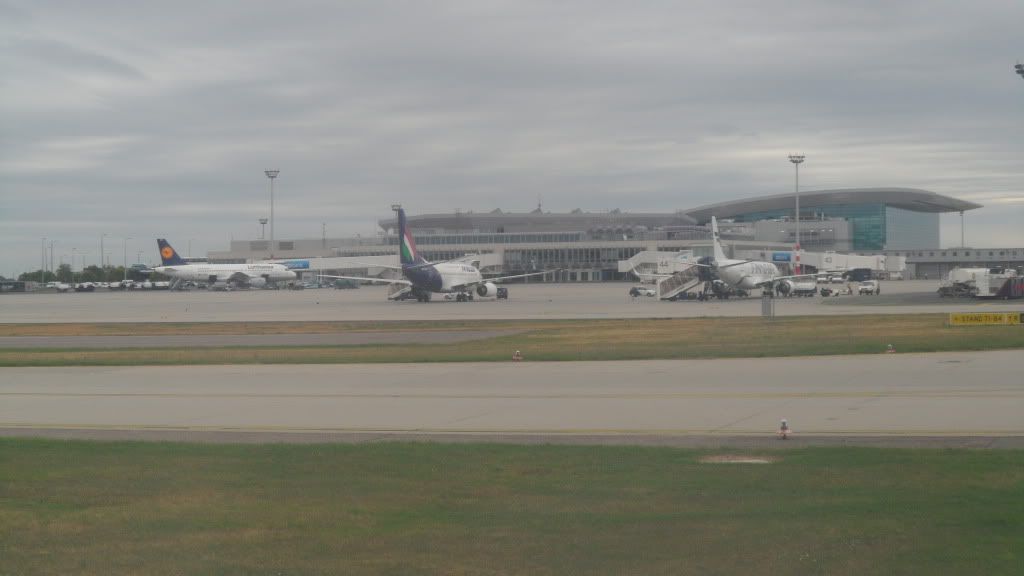 The main terminal building at BUD
We arrived at BUD and a bus took us to the arrivals area from where we took the stairs to the upper level and the gates. At Budapest we were met with a number of athletes on their way to Athens for the Special Olympics.
The main departures area at BUD
A look outside toward the traffic control tower
The layover in BUD was rather short so before we knew it we had to get ready for our next flight that would take us to Greece. The waiting area of our gate was surprisingly quiet which indicated that our flight was to be rather empty. However, when boarding was announced, people started showing up from everywhere and before you knew it a "Balkan-style" line had been formed around the gate.
We were delighted to have exit row seats (I wish we had these on the transatlantic leg!). Announcements were made in Hungarian, English and Greek (recorded). This time we were served a choice of peanuts or chocolate wafer.
My kind of legroom
Chocolate or Peanuts?
I had flown into SKG many times in the past but this was the only time I could remember that I arrived during daytime so it was nice on approach to look outside and see more than just the city lights. As we were approaching the city of Thessaloniki we flew over the Pikrolimni lake (I had heard of it but never seen it before). The name of the lake means "Bitter Lake" and at its shores there's a therapeutic mud and clay bath spa resort. Finally on final approach to SKG one could see the progress on the extension of one of SKG's runways into the sea.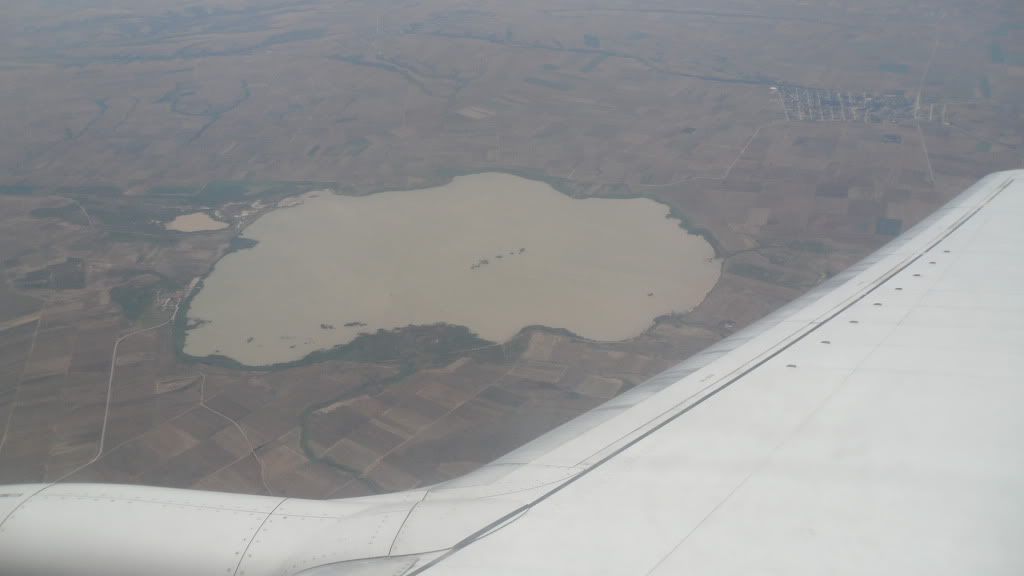 The muddy Pikrolimni Lake
The construction of the new, expanded, runway is in full progress
This is how the runway will look like upon completion:
After our arrival, we were picked up by a bus (no jetways at SKG yet) and got dropped off at the terminal. A very kind male flight attendant helped a couple of elderly passengers down the stairs and all the way into the bus, which I thought was very nice. The luggage from our flight was to be picked at a carousel in the main hall of luggage reclaim, but after waiting there for 15 mins and having not seen our bags, we were told by an airport employee that if our original departure was outside the EU, our luggage was to be delivered at a different carousel down the hall.
Quite a few interesting birds at SKG at this time of the day: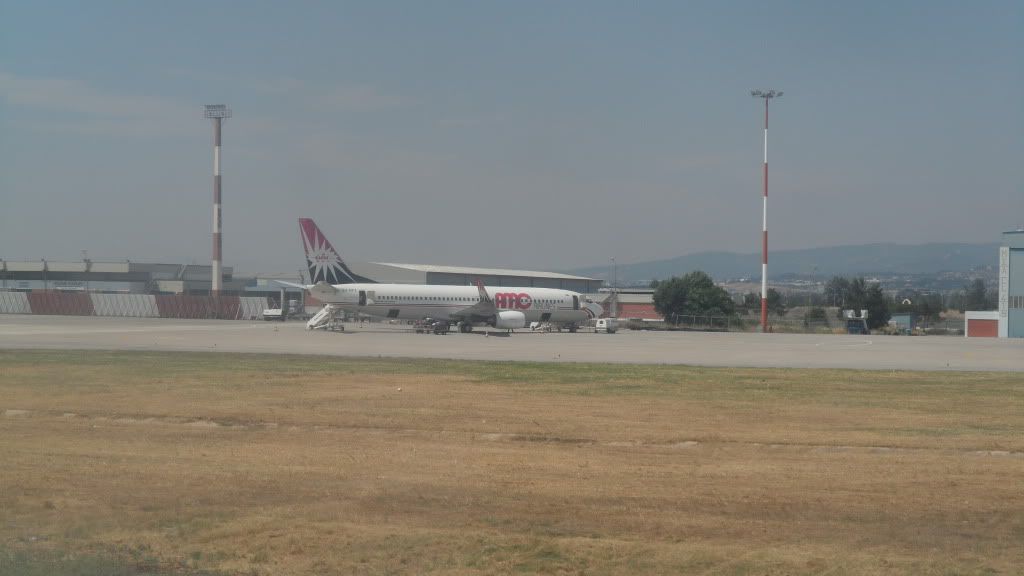 An AMC aircraft, wet leased by Thessaloniki-based Astra airlines (or so I hear).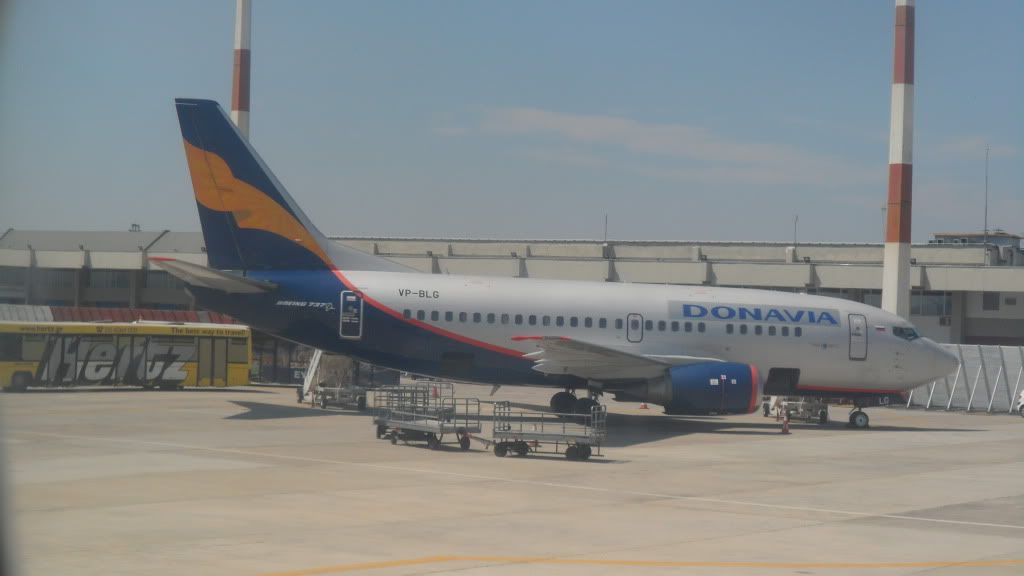 Donavia 737 getting ready for its departure to Rostov-on-Don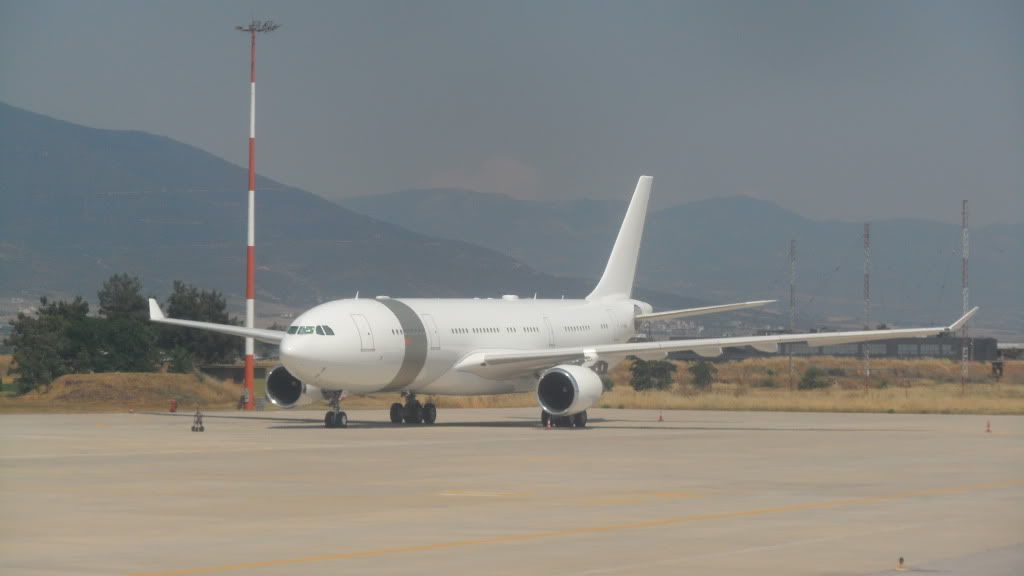 An A330, used here by the Qatari royal family, I am being told.
As mentioned above, my wife and I used Thessaloniki as our base and in addition to the city itself we visited Halkidiki, Meteora and Mt. Olympus. In the meanwhile my in-laws flew to ATH with OA, to visit Athens, Piraeus and the island of Aigina. Overall our stay in Greece was very enjoyable and notwithstanding the brief power and water supply cuts (due to strikes), we were not affected at all by the situation in the country. We were also very lucky, as the day after our planned departure there was a general strike that kept most flights in and out of the country grounded.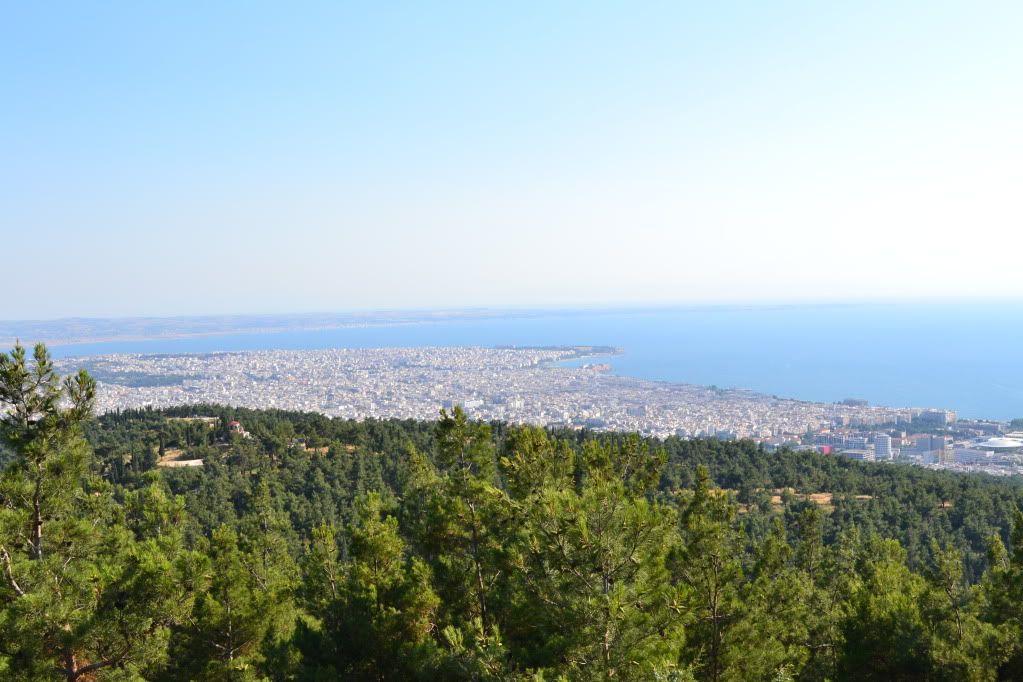 On a hill overlooking Thessaloniki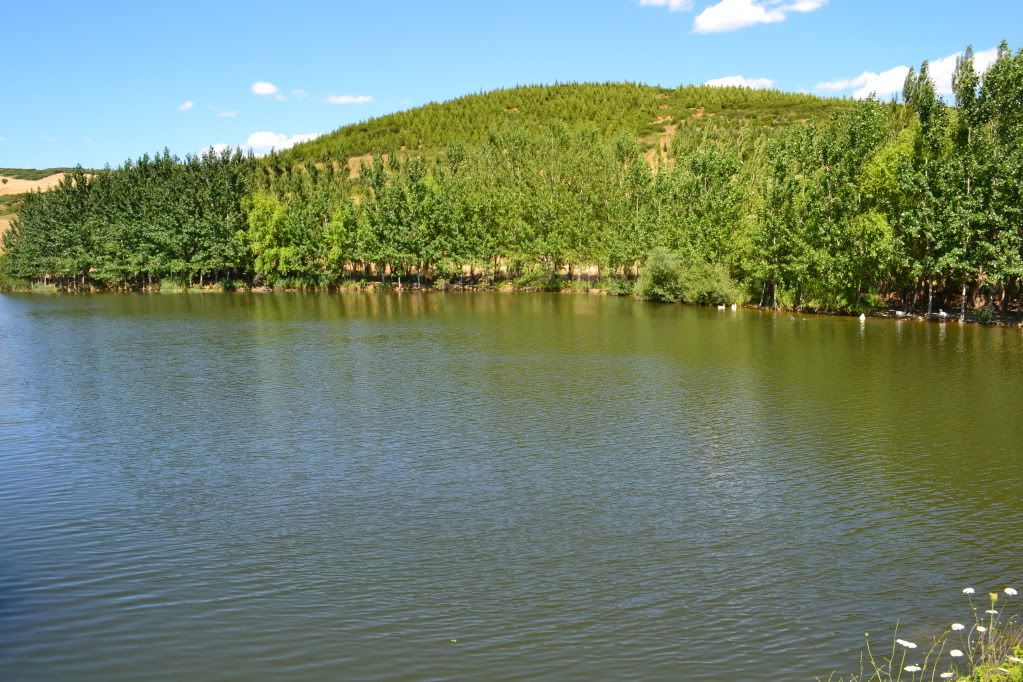 The little-known Oraiokastro lake on the outskirts of Thessaloniki
A power plant near Ptolemaida, on our way to Meteora
Meteora:
Mt. Olympus and the town of Litohoro:
.
Halkidiki beaches
.
.
Retsina: A local wine infused with pine resin. A very unique flavor.
...and of course Ouzo. The anise-seed flavored aperitif, that is to die for (especially when accompanied with seafood). My favorite brands are Plomari and Sans Rival, but at this restaurant they were only serving "Mini" which was in fact pretty good.
We really enjoyed our time in Greece. We got to see tons of places and charge our batteries for the rest of the trip. Too bad the country is in such a bad shape at the moment. All one can hope for is that this whole thing will put Greece on the right track and prevent them from going through a similar scenario in the future. Not an expert on the field, but that's all I can hope for.
On the day of our departure from Greece we had to get up brutally early given that our flight to FCO (via BUD) was at 5:45am. We were the first to check in and we cleared security easily. Our 737 was parked at a remote location on the southeast side of the terminal. The flight was less than 50% full so boarding took no time and we were on our way right on time.
Boarding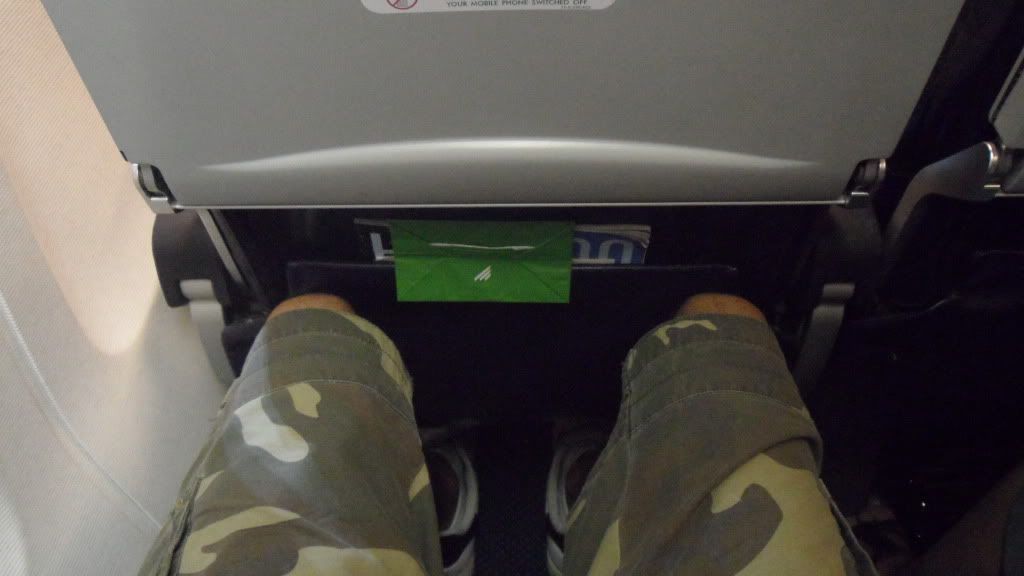 Legroom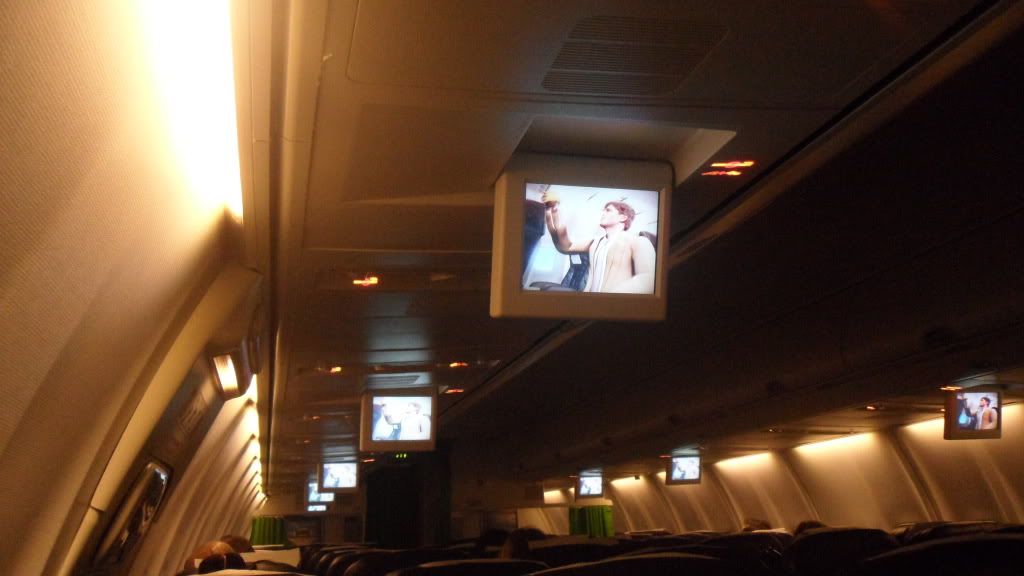 Cabin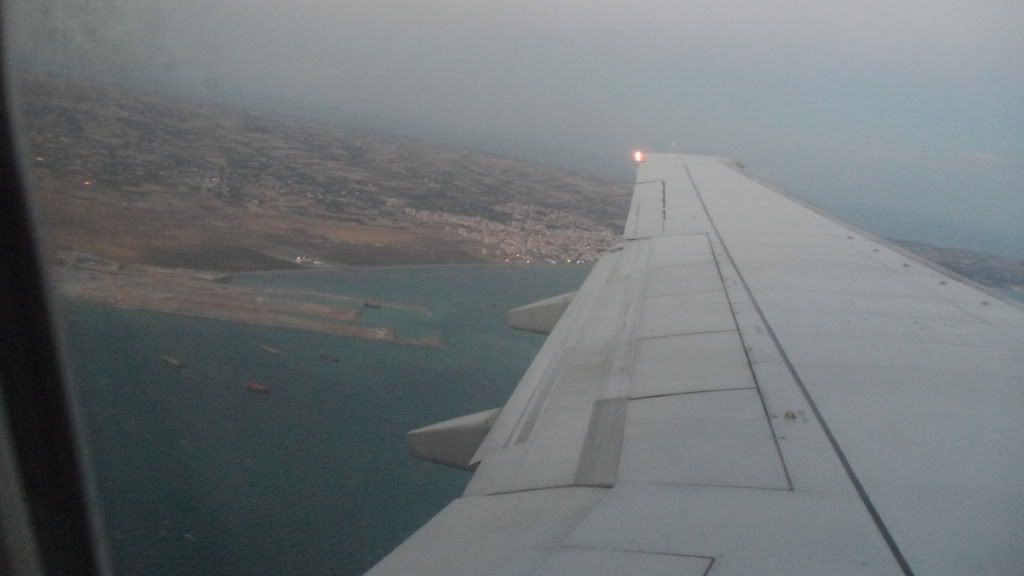 Another look at the peninsular runway in the works
Announcements were made once more in 3 languages. The taped announcement in Greek was still playing when we were taking off, which I found rather bizarre. On take off I got an even better look of the runway extension at SKG. Not sure when it's supposed to be ready, but when so the airport will be able to receive heavy widebodies. Breakfast consisted of a very dry raisin bread and juice.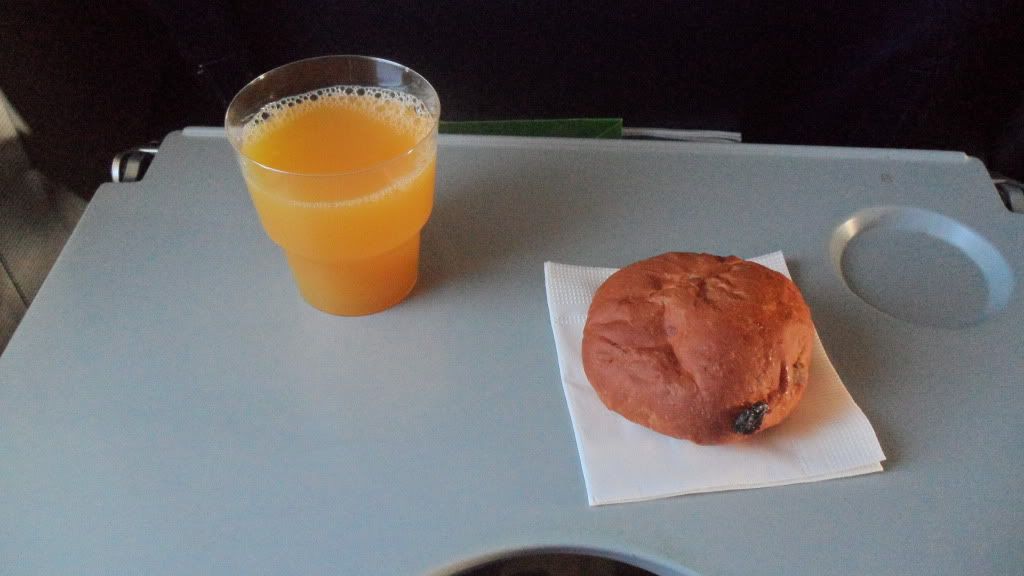 Had better breakfasts
Arriving at BUD
In BUD, we spent our short layover by changing some money into Hungarian Forints (so that we didn't have to do so when we returned; little did we know that one can pay for virtually anything in Euros in Budapest these days). The boarding for our flight to FCO was very unusual, given that we were picked up by a bus, taken to an aircraft that was anchored to a jetway, and boarded through the back door. No idea why it had to be done this way.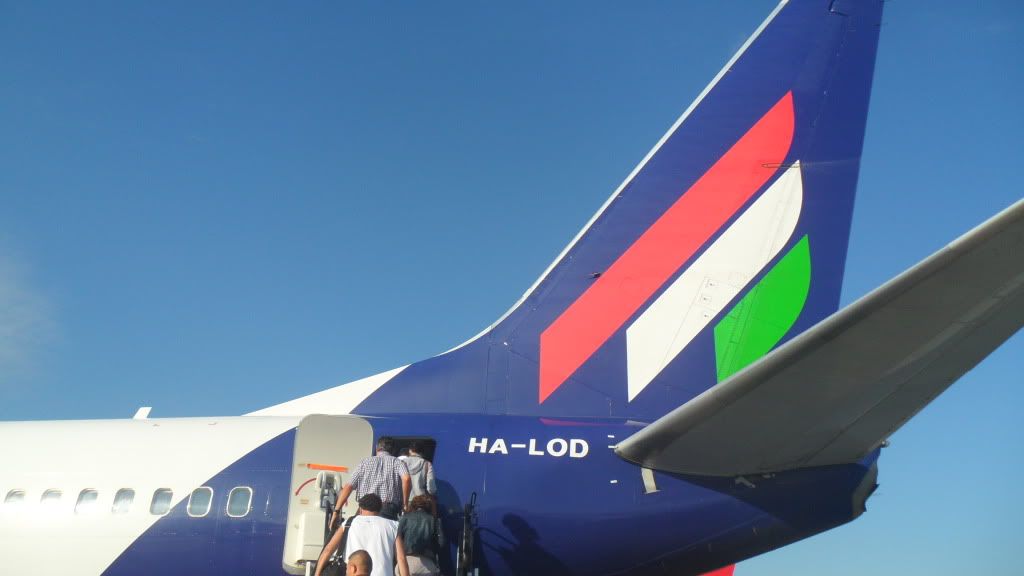 Boarding from the back door...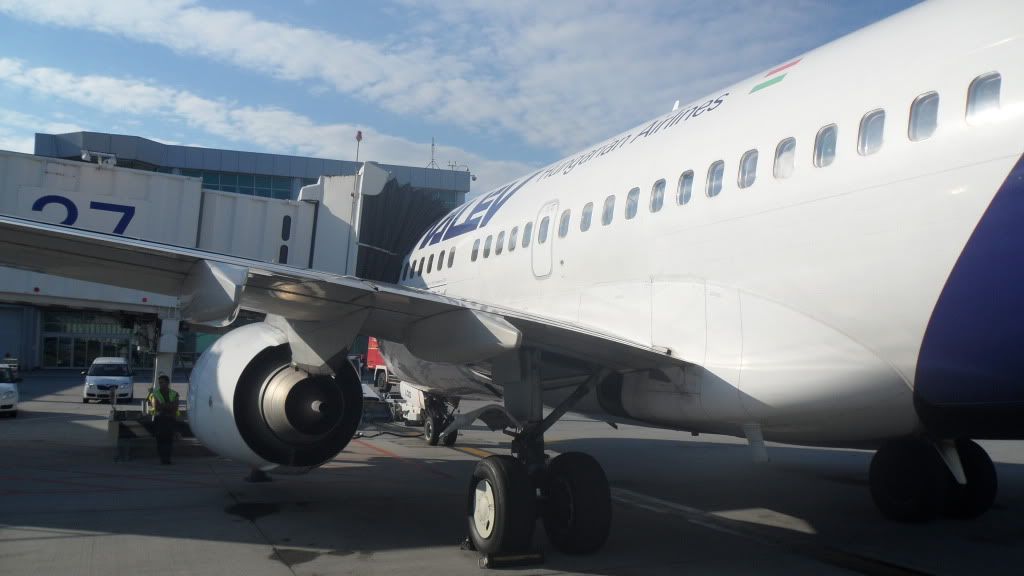 ...while the front door is taken up by the jetway.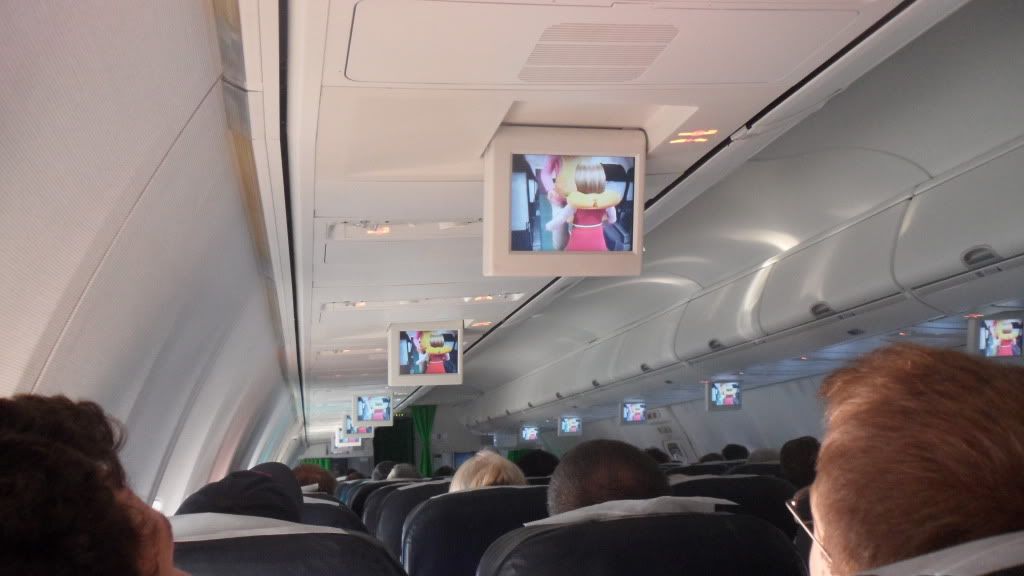 Cabin view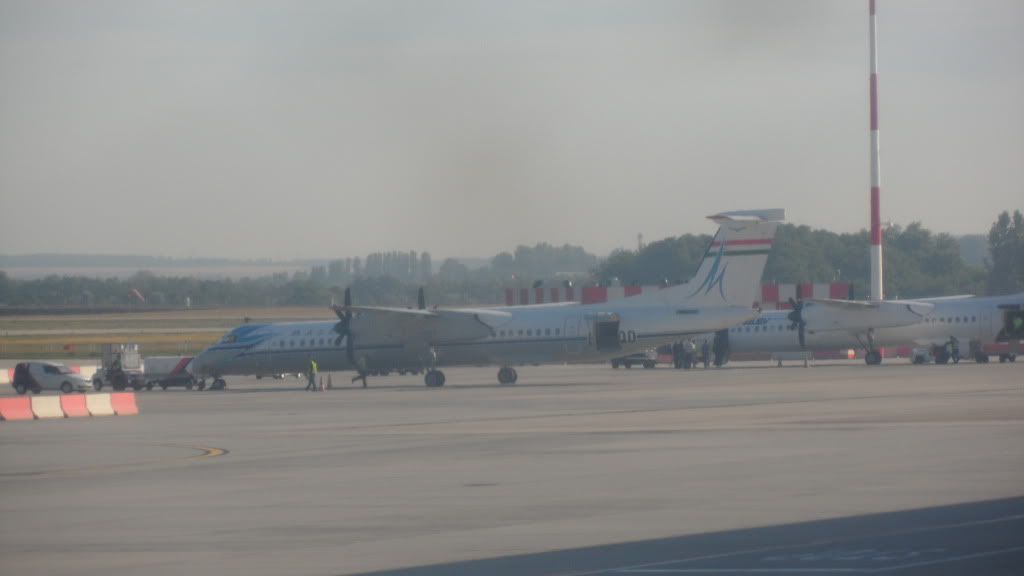 Some retro?- alternative?- livery of Malev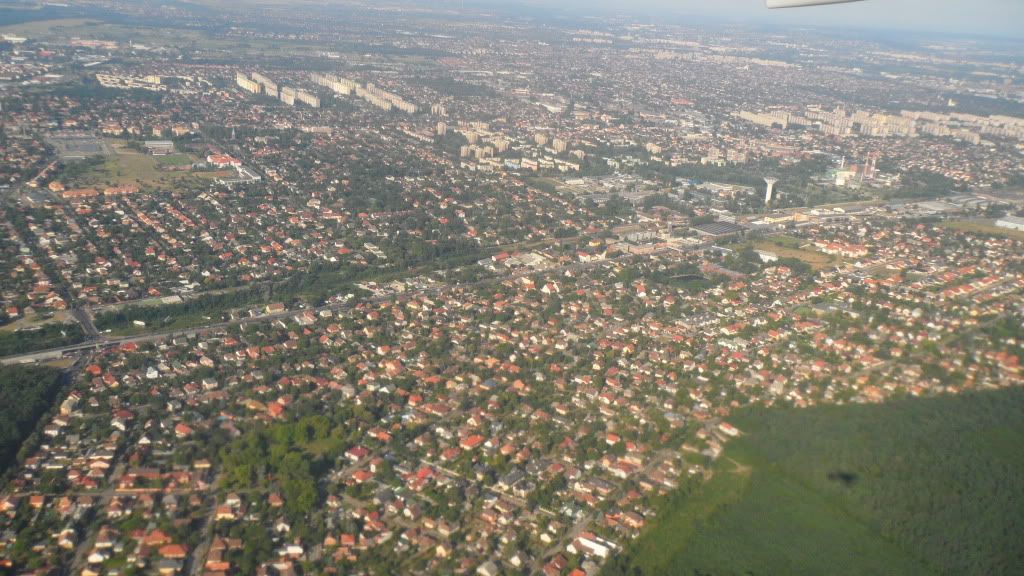 East Budapest from above
We were offered the usual choice of peanuts or chocolate wafer (99% of the times I choose the savory option over the sweet one, while it's the opposite for my wife). We flew over a very scenic landscape (too bad it was cloudy at times) that included the Dalmatian coast.
This was to be my first visit to the Eternal City (even though I had visited FCO 3 times in the past: once on AZ, another time on an AA-AZ combo, and once more on an AZ-FB combo).
After collecting our luggage we got a taxi (40Euro flat fare to downtown) and made our way to Rome. We stayed at the Hotel Arcangelo in the Prati area of town, literally a stone's throw away from the Vatican. A very nice hotel, at a very convenient location and with a roof deck that offered views of the St.Peter's Basilica. If they didn't insist on charging us for room minibar drinks that we never consumed, our stay there would have been a solid 10 out of 10.
Here are some images from Rome and the Vatican City:
Tasty gnocchi (potato dumplings)
The view from our hotel rooftop patio
Rome was great. I went there with low expectations (friends who visited had told me that it was very chaotic and that people were rude) so I was pleasantly surprised when I realized that all I had heard (while true to some degree) were not interfering with my ability to enjoy my time there. The architecture was great, the weather was superb and while the drivers were indeed pure lunatics I found them to be much more courteous and self-contained than those in Greece or my native Bulgaria. We all purchased a RomaPass, which allowed us to skip the lines at the Colosseum but we still had to suck it up and wait for several hours to enter the Vatican museums. The Vatican was never in my list of places I wanted to visit, however I am very glad I got to see it: The museums were magnificent, the Basilica extremely beautiful (especially the interior) and on top of it all I added another "country" to my list. Our RomaPass gave us unlimited access on public transportation and we did use the metro on a couple of occasions. However, after a pickpocket unsuccessfully attempted to get into my wife's handbag during a crowded metro ride we decided that it would be better if we just walked.
Favorite eating place in Rome: Ristorante L'Eccellenza in Via Plauto in Prati. Excellent food and one of the best and most enjoyable service I have ever experienced. Our waiter Giovanni was just adorable. A man no taller than 4'11, in his 70s that never stopped moving or teasing the customers. However, I found some eating places in town to be extremely expensive (especially the alcohol). In one place that looked like nothing more than an open-air pizzeria, a big beer would set you back 15 Euros. I had cheaper beer in high end restaurants in Tokyo.
Another taxi ride for a morning departure out of FCO for BUD. Once more, we were the first to check in. Security was busy and slow (as it often is at FCO it seems). We got some breakfast and waited at our gate until we were told that we had to move to a new gate. Once there we got onto our very familiar by now 737 and took our seats. We got offered (yes you guessed it) peanuts or chocolate wafer and yet again I chose the former.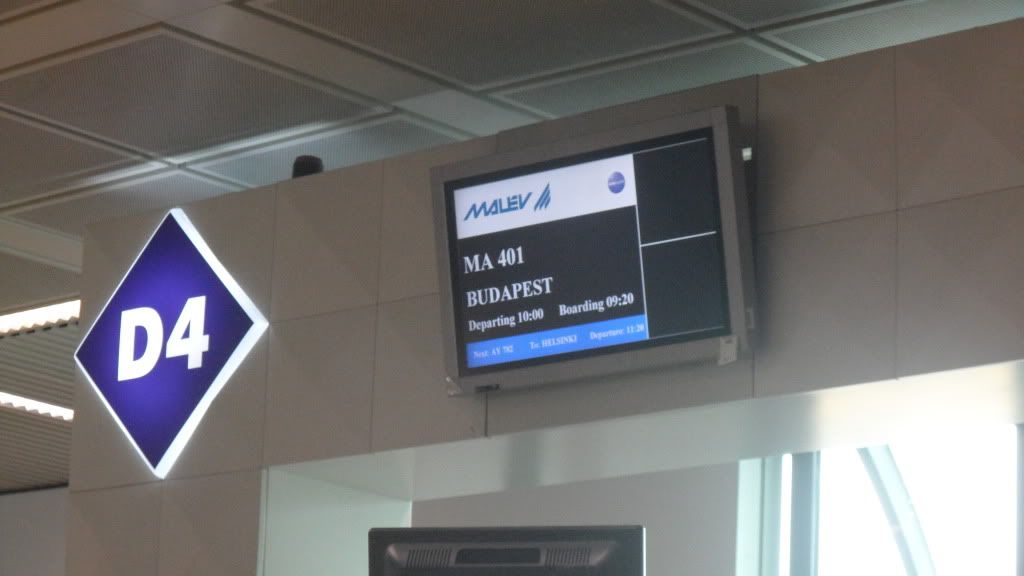 Our gate
Cabin view
A local aircraft still in AirOne colors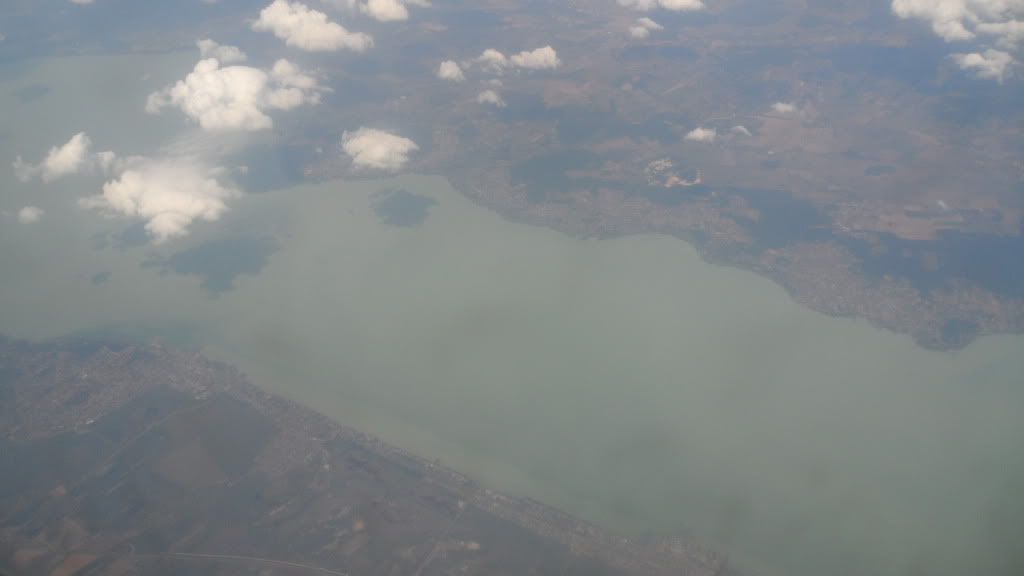 Lake Balaton, the largest lake in Hungary
After we collected our luggage at BUD we were approached by several people offering taxi rides but I have learned to never go with them (for obvious reasons). Instead we went to the taxi counter outside the arrivals area and got a taxi to our hotel for a fixed price of 21 Euros. We stayed at the Ibis Aero Hotel, fairly far away from downtown but right next to a metro line (Határ út) and sufficiently close to the airport which would make our escape from there the next morning easy.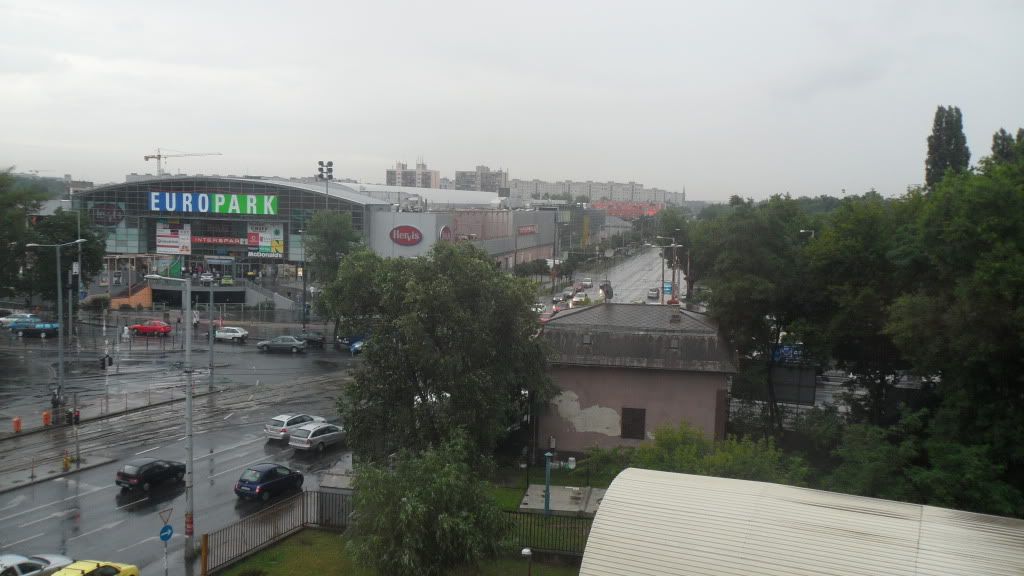 The view from our 4th floor hotel corridor
And the view from our room. Nothing but forest
Budapest was great, but we got unlucky with the weather, as we got stuck in thunderstorms and a lot of rain. Nonetheless, we managed to visit a number of places and shoot some half-decent photos. We ate at a place near the Parliament called Biarritz (on Kossuth Lajos ter) and we would highly recommend it to anyone. The service was immaculate and the food really tasty. One has to try the goulash, the ox cheek and the fermented cucumber salad! I regret taking no photos of the meal.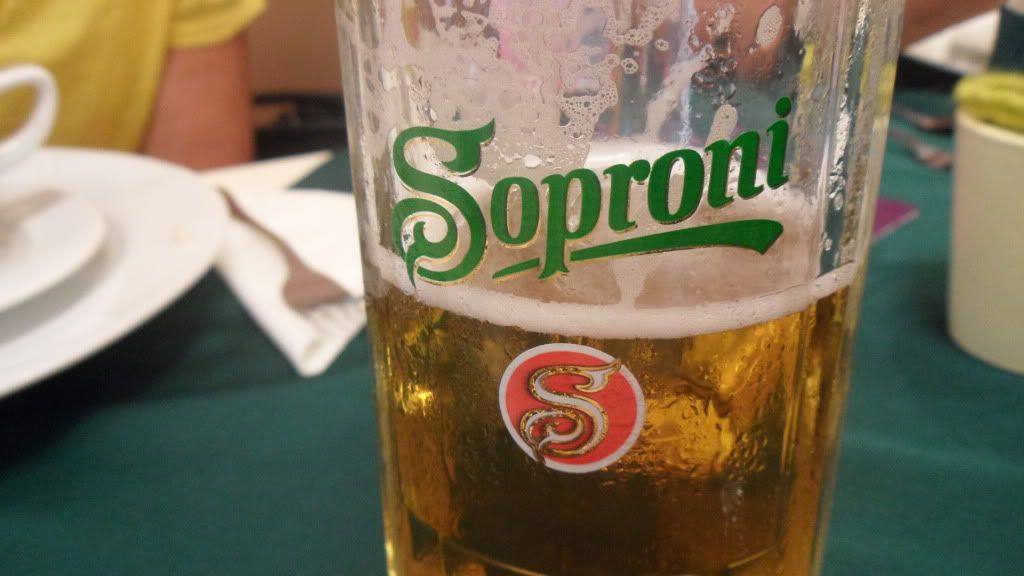 Some nice local brew we tried at our hotel restaurant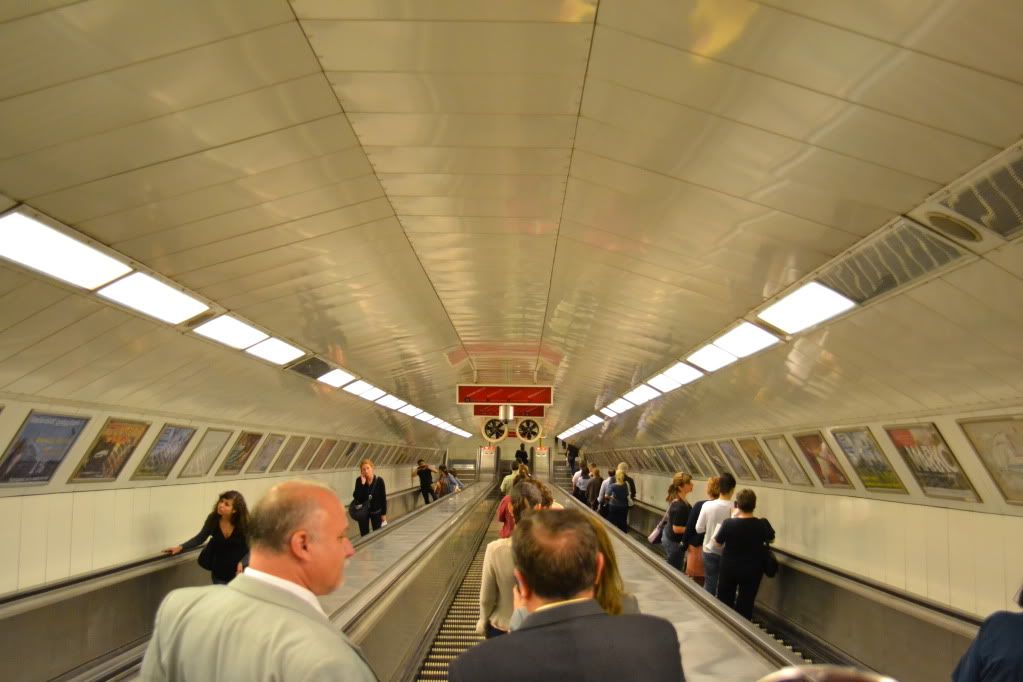 Descending into Budapest's Metro, on one of the fastest escalators I have ever encountered.
Yet another early departure for the 4 of us. A taxi picked us up and dropped us off at Ferihegy where we checked in our luggage and got our boarding passes. Before boarding I made a last desperate attempt to get rid of all the forints I was left with, so I purchased a couple of cartons of Kinder Buenos (why don't they massively export those bad boys in the US?) and some Hungarian salamis, which would come in very handy on the transatlantic flight, when I got ravaged by a vicious attack of intense hunger.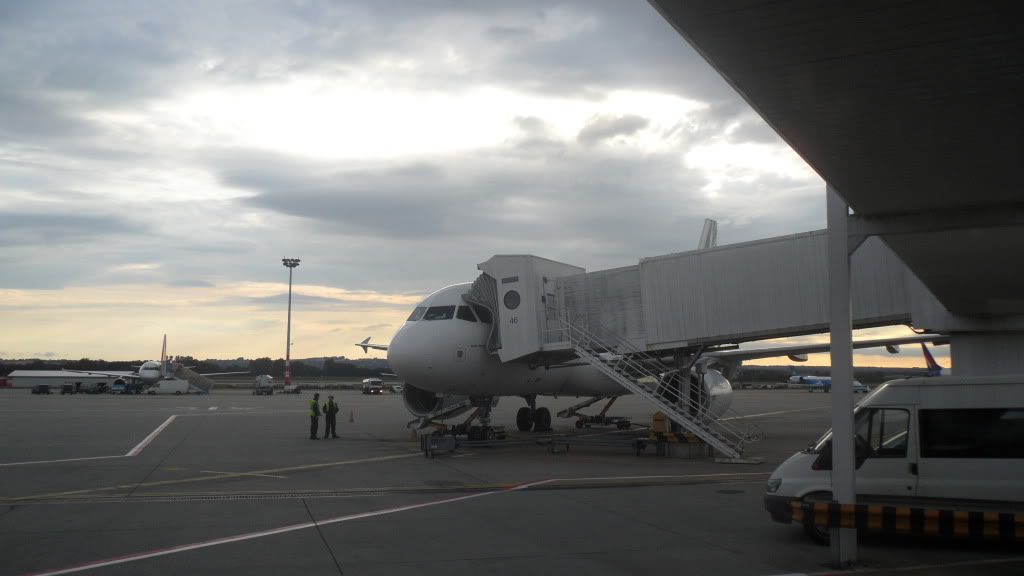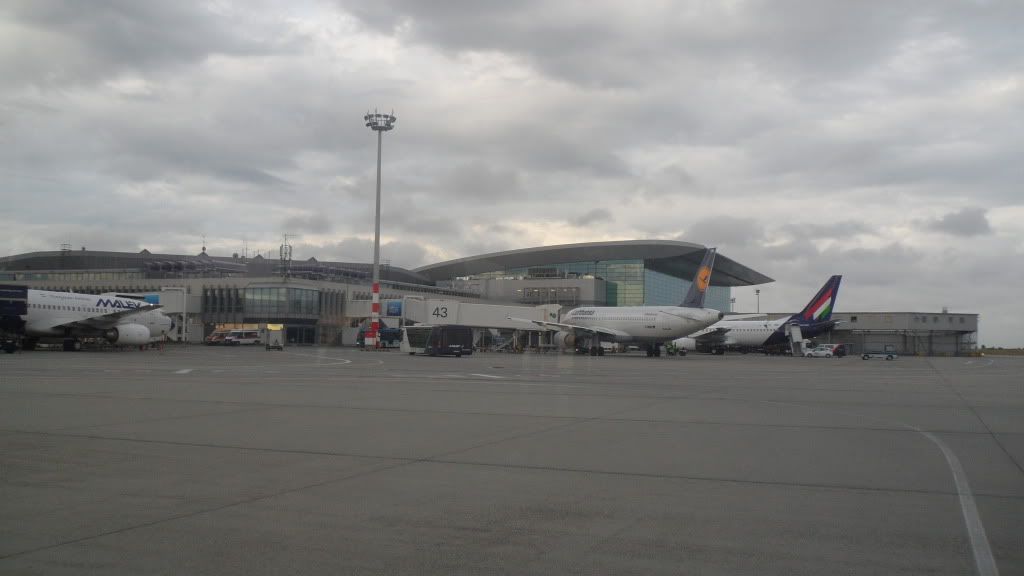 Our 737 waiting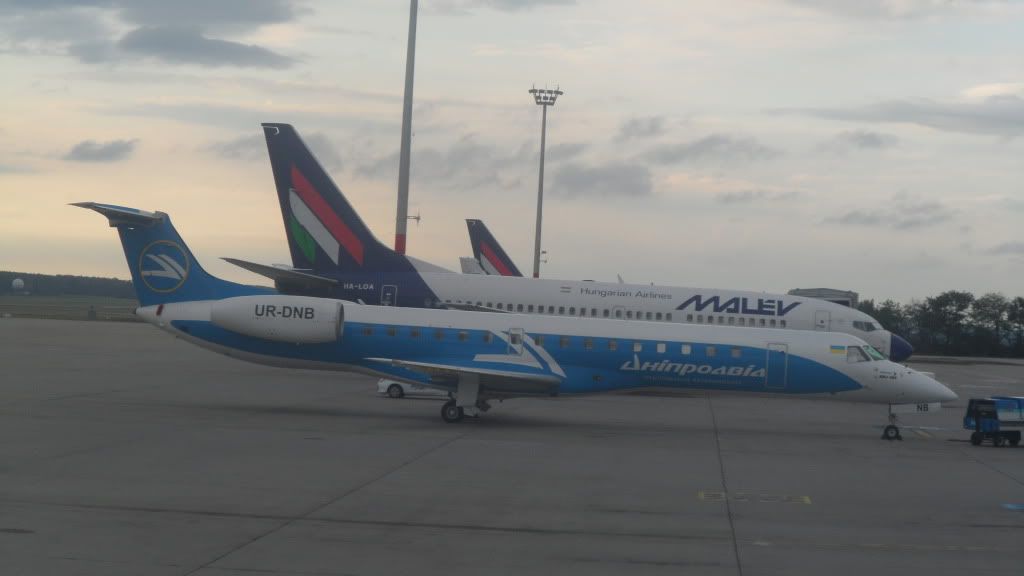 An exotic eastern euro bird
Another standard hop on the 737 (we were offered a choice of salami or cheese sandwich again, just like the inbound from BRU) and an another on-time arrival to our destination.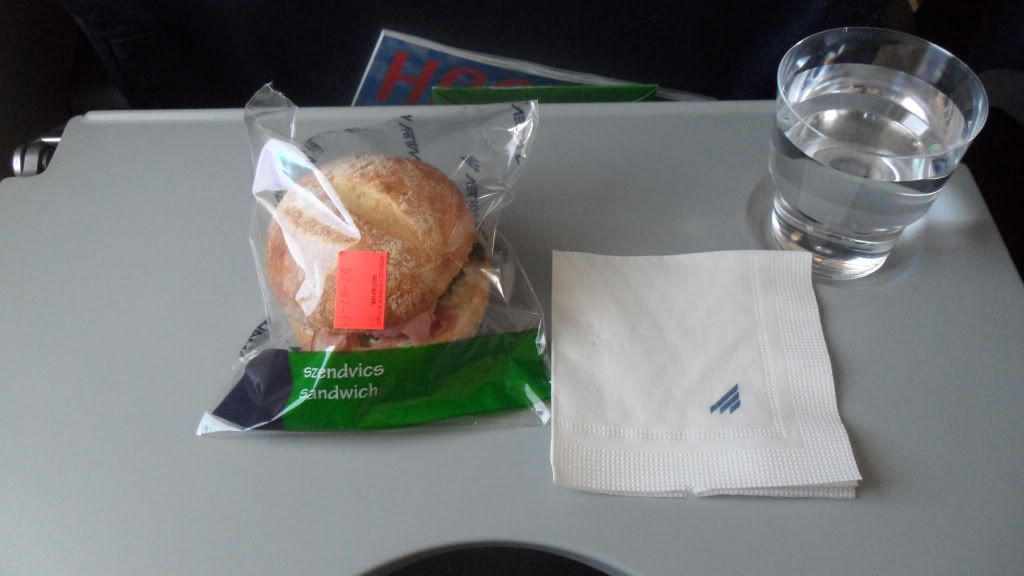 The sandwich
Now, for some reason Belgium and I don't get along very well. It's hard to describe why, but every time I travel through the country (either by plane or train) I manage to find myself in a sticky situation that involves the inability to find an ATM when urgently needed (Bruges train station), finding oneself in the wrong train platform due to poor platform labeling (Brussels Train station), while on one occasion - while on transit at BRU - I somehow managed to get stuck with no boarding pass prior to security. Add to this 10 months of sharing a house with a fellow college student from Namur, who happened to be a christian fundamentalist and another 15 months of sharing an apartment with a completely messy and unhygienic colleague also from Wallonia, and you get the picture. At least Belgium has redeemed itself by producing awesome beer, and also my wife, who traces her ancestry back to Flanders (B) and Zeeland (NL).
Yet again, the order of things in BRU got me thrown off. After clearing security, we proceeded to our gate (Gate 10) and took a seat in what was already a crowded area of the terminal. True to tradition, the inbound flight from ORD was late so our departure was to be delayed for 45 mins. The same was the case for the ORD-bound flight of UA in the gate next to ours. About 20-25 mins prior to boarding I decided to go for a walk in front of our gate, at which point I saw a (not so big) sign resting on the counter that urged passengers en route to ORD or JFK who are on transit to visit AA's connection center near Gate 1 for pre-clearance. Long story short, the 4 of us run there, got our papers checked, got issued new boarding passes and were sent back to the gate. I admit that I am to blame (I knew that there was going to be a paper check prior to boarding, but given the layout of the gate I assumed it was going to happen there just prior of us getting on the plane - it worked that way in CDG on a couple of occasions in the past) but I cannot help thinking that they should have done a better job of letting passengers know of the order of things. We were not the only ones to get confused about this, as a number of other people had to run to the connection center after we let them know of the protocol. In other airports (ATH, ZRH, MAD, FCO, MAN, EDI, LHR, etc) one cannot even reach the gate before undergoing paper pre-clearence. Not sure why they have chosen a different way at BRU.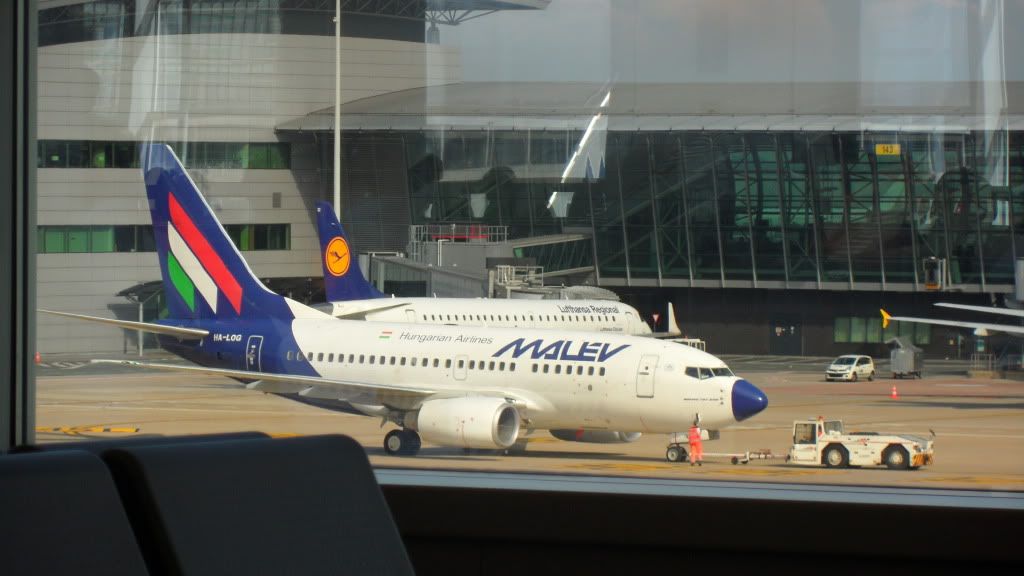 The Malev 737 that brought us to BRU getting ready for its return to BUD
The indian Jet Airways uses BRU as its European hub
Our 767 waiting at the jetway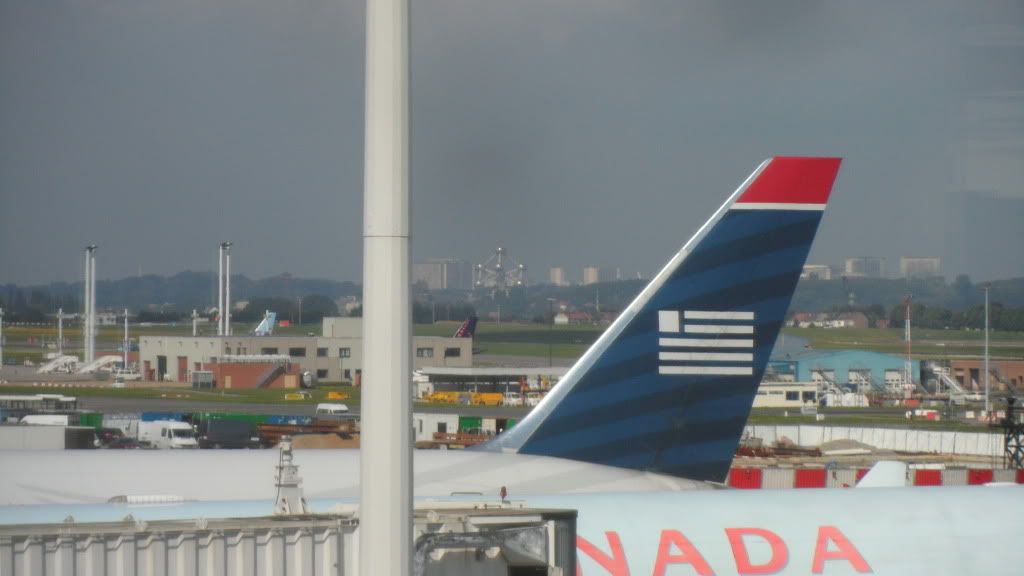 Despite the upcoming rain, the atmosphere was clear enough to allow a look at the famous Atomium
Boarding was the most chaotic I have experienced in a very long time. There was hardly any space to form lines, people ignored (or pretended to not understand) the idea of boarding groups and all in all, the whole procedure was laughable. Too bad because we were on Group 2 for boarding.
My wife and I got seats 40J and H which despite their initial innocent appearance, were pure evil. There was no space for the carry-ons (the overhead locker was taken up by some equipment and no luggage was allowed in) and there was very limited leg room under one seat due to an entertainment equipment box (there goes your second option for your carry-on). Despite being on the tall side (6'3'') I hardly ever recline my seat more than a tiny bit (out of consideration for those behind), but on this occasion I refused to even do so, as I knew that the guys behind us had seats with no recline whatsoever.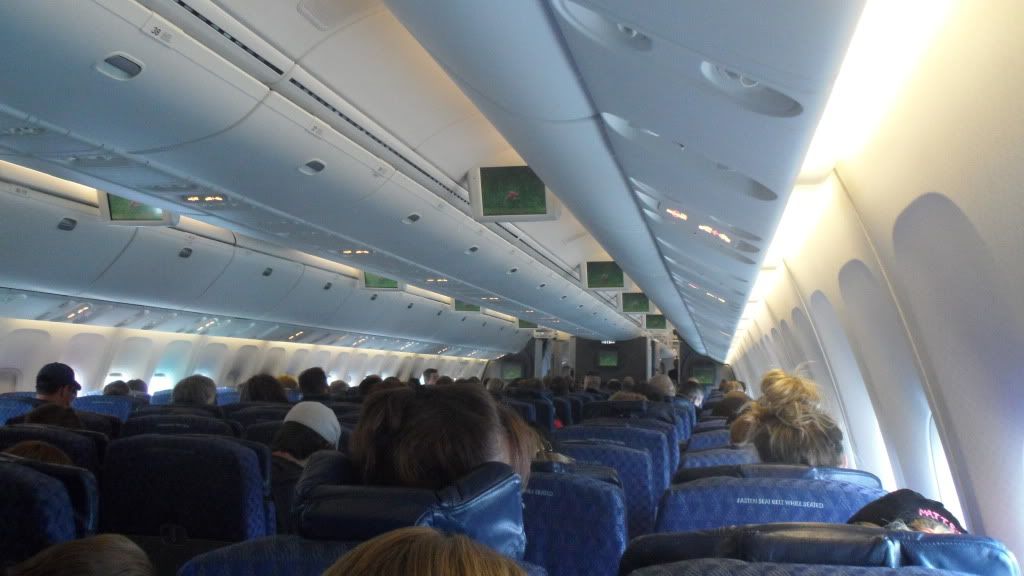 Cabin view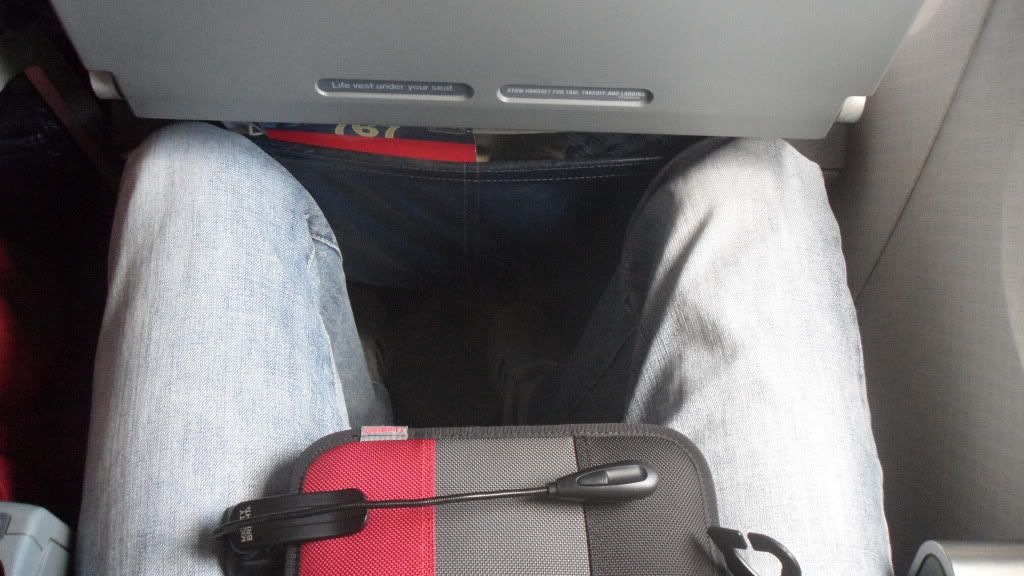 Legroom
Taking off over Brussels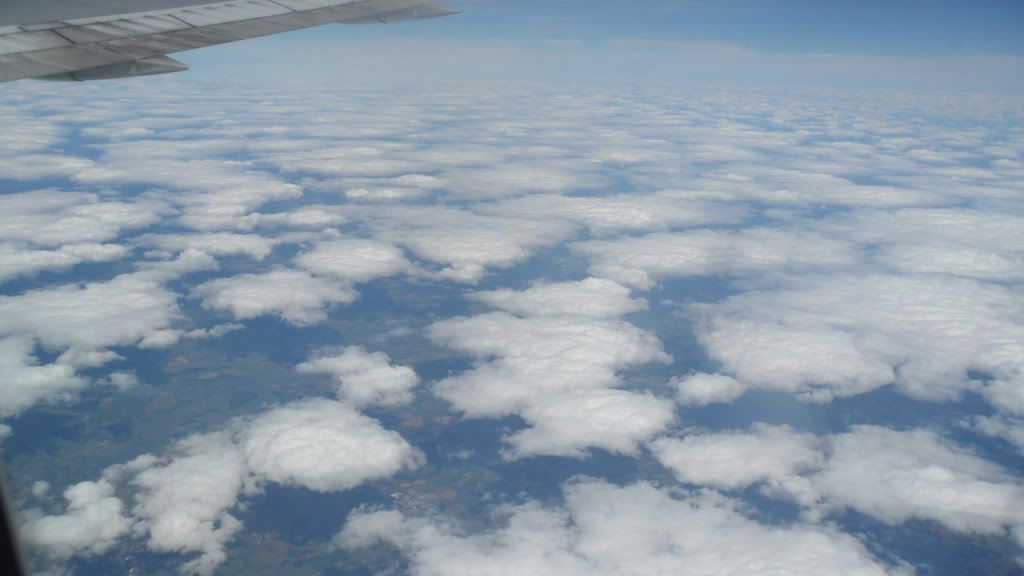 Another couple of boring movies (it didn't matter how interesting they were, the sound on the headphones rendered them unwatchable) so I turned again to my kindle for some reading.
Being seated so far back, we of course had no choice of meal (they had ran out of pasta and only offered Beef Stroganoff - good thing I'm not vegetarian). Very decent meal overall. The same goes for the snacks (Tex Mex Nachos made in... the UK) and the warm pizza we were offered before landing.
Glorious life-saving salami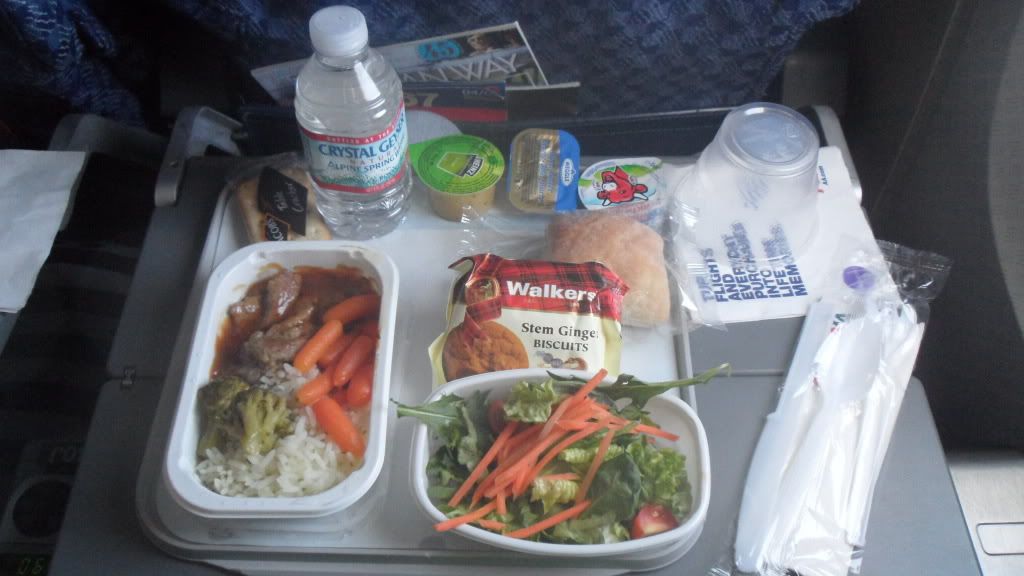 Meal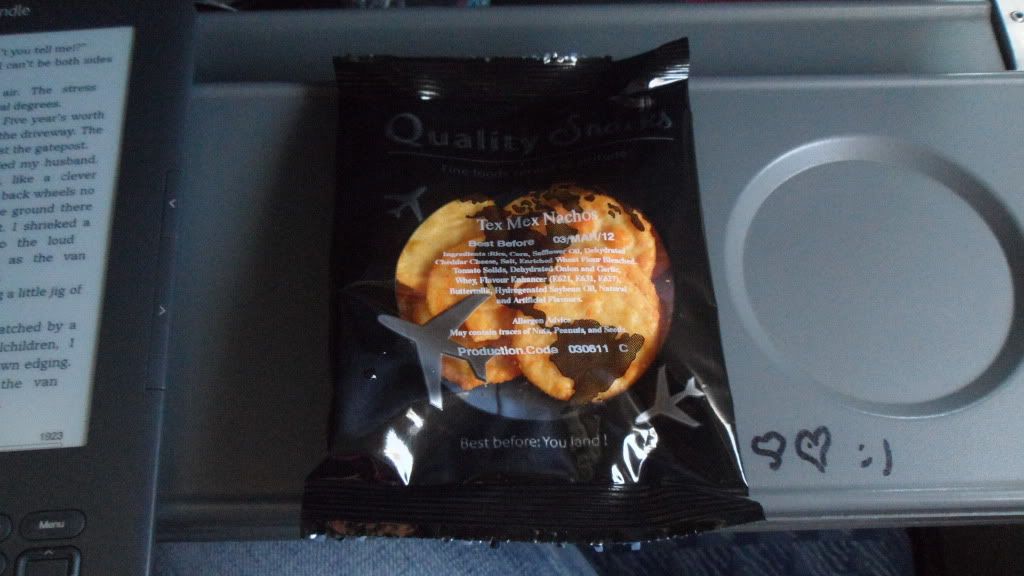 Snack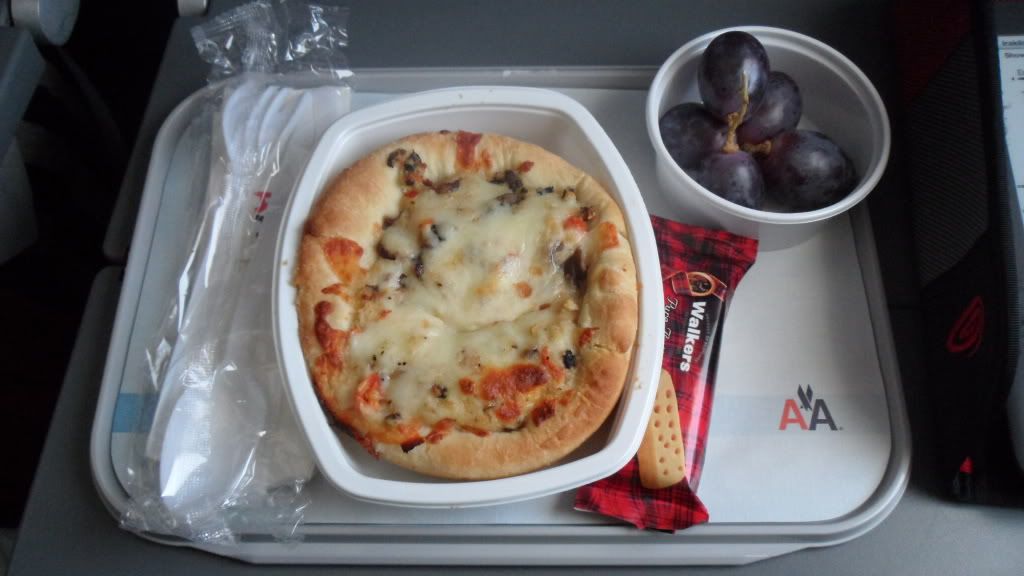 Pre-landing pizza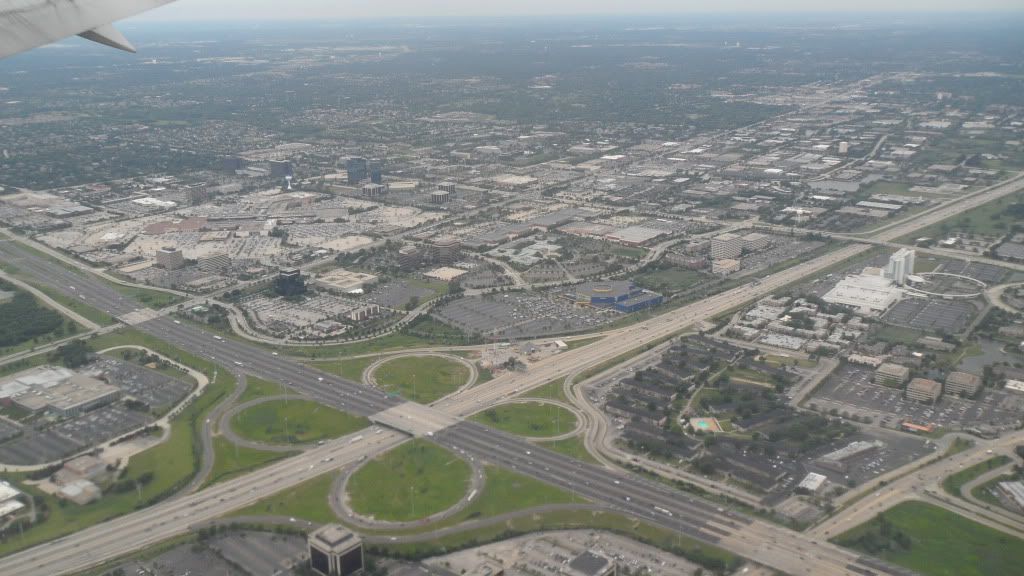 Landing in Chicago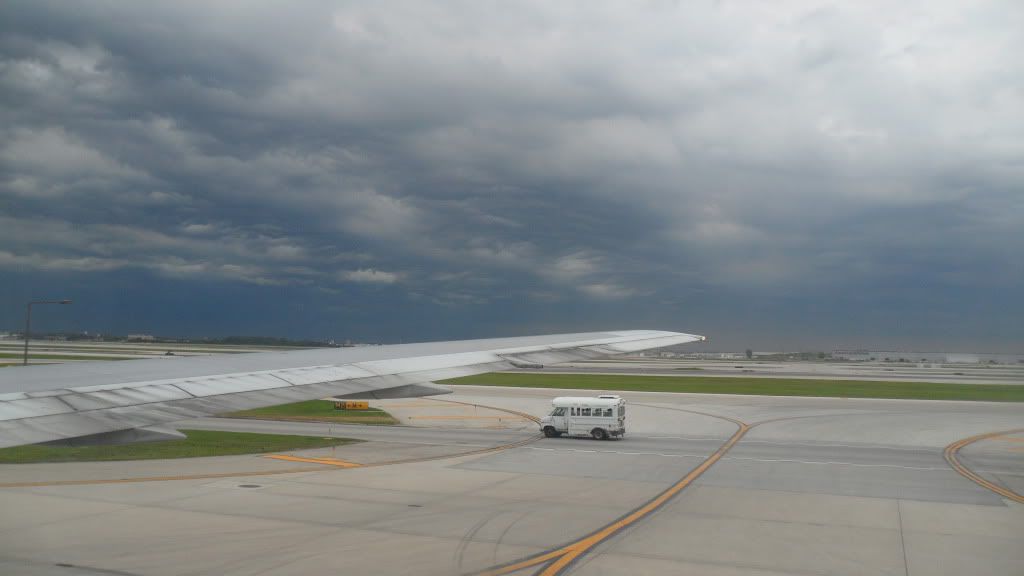 Chicago bracing itself for a thunderstorm
Final impressions:
We flew 6 times with Malev and every single flight left and arrived exactly on time. The aircraft were showing their age but were overall well maintained. The crew was very professional, if a bit impersonal. BUD was a very pleasant airport to be in. Overall a good experience with them, even though at the end it was a bit boring having to fly with them so many times in such a short period of time. Also: Please change your livery! (I know that many will disagree with me though).
No surprises regarding AA. I have flown TATL with them plenty of times before so I knew what to expect, which was not a terribly great deal more than the very standard for a route like the one we were on. I will be flying with them again later this Fall on a business trip to DCA.
Many thanks for reading. Comments would be greatly appreciated!