Introduction
A free weekend and no plans? How is that possible? Well, let's go and fix it! The possibilities are of course endless, but somehow I fancied going to Estonia again. I recently noticed that Avies, a regional Estonian airline nowadays has flights on their PSO service between Tallinn and Kärdla also on Saturdays - I have wanted to fly this nice short hop for a long time, but the schedules never worked for me (plus the fact that they didn't have online booking, the only time I flew with them getting the paper ticket
in situ
at TLL was a major hassle - now they do!). But with Saturday flights now available it sounded like a good opportunity, and after I saw that the ticket only cost 19 EUR, courtesy of the Estonian taxpayer I really didn't need to think twice before booking it. Too bad Avies got rid of their Turbolets, this would be another flight with their Jetstreams which I've flown before.
To get to TLL in time before that morning flight there were two realistic options: go there the previous night or catch another flight on the notorious "Early bird Fokker" down to RIX and connect back up to TLL. Since BT was willing to sell me a ticket for 59 EUR for that option that is what I of course booked.
KDL isn't exactly the center of the aviation universe, as a matter of fact the only scheduled flights are the U3 services to TLL, and I didn't fancy coming back on the same flight or spending the night there. So the logical thing to do would be to take the bus back to Tallinn (there's a ferry connection to mainland as Kärdla is the capital of the island of Hiiumaa) and fly out from there the next day, overnighting somewhere on the way.
After looking at the bus schedules I decided that Haapsalu, a grand old spa town very much favored by the Russian aristocracy once upon a time on the mainland was a good place to spend the night in. I've always wanted to go there but never had gotten around doing it, and it is at its best during the summer so here we go.
To get home I could of course do something as banal as TLL-HEL with KF/DC or TLL-RIX-HEL with BT, but that didn't exactly tickle my fancy. The new OV CRJ-900s were still missing from my log, so the next logical choice was to look for opportunities to fly one. I found a flight to ARN with one for 59 EUR - it departed a bit too early (so I had to leave Haapsalu much earlier than I'd wanted to), but no other passable options popped up so I decided on it.
From ARN to home I was ready to book one of the SK/KF nonstops or even DY, but I still decided to give BT a look and in the end I was glad I did! I found a perfectly timed ARN-RIX-HEL for 63 EUR, okay if nothing special compared to DY, but the real killer was the fact that RIX-HEL was scheduld to be a 757! Well, BT is the king of equipment changes, but that still sounded like a reasonable chance of scoring another ride with the Boeing and the price was acceptable, so that connected the dots quite nicely, thank you.
Here's the itinerary: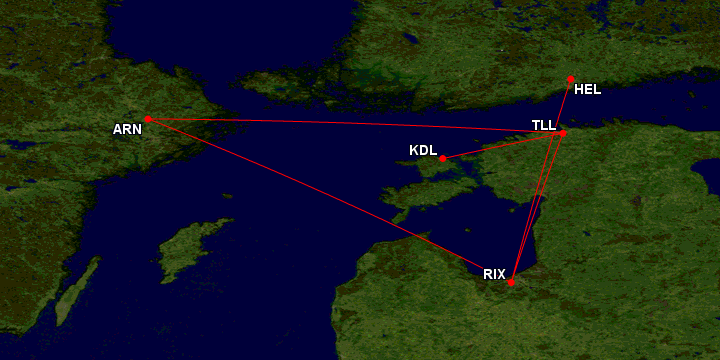 Saturday 2.7.2011
Ahh, another lovely 5.05 departure. I had arrived to HEL to previous night around 20.00 (no trip report, just a boring, quick and delayed KF domestic Avro flight) made my way home, slept and here I am again, around 4.30... A surprising number of people at the Norwegian counters - why do people show up so ridiculously early?!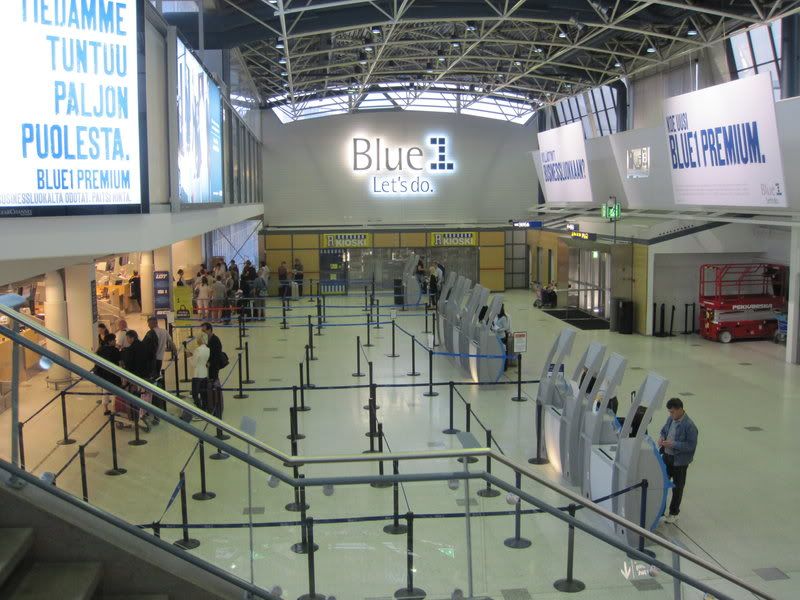 Anyway just a handful of people at security, which is good as there's only a single lane open, a quick pit stop to "wash my hands" and it is already time to board. My attempt at a moody sunrise shot: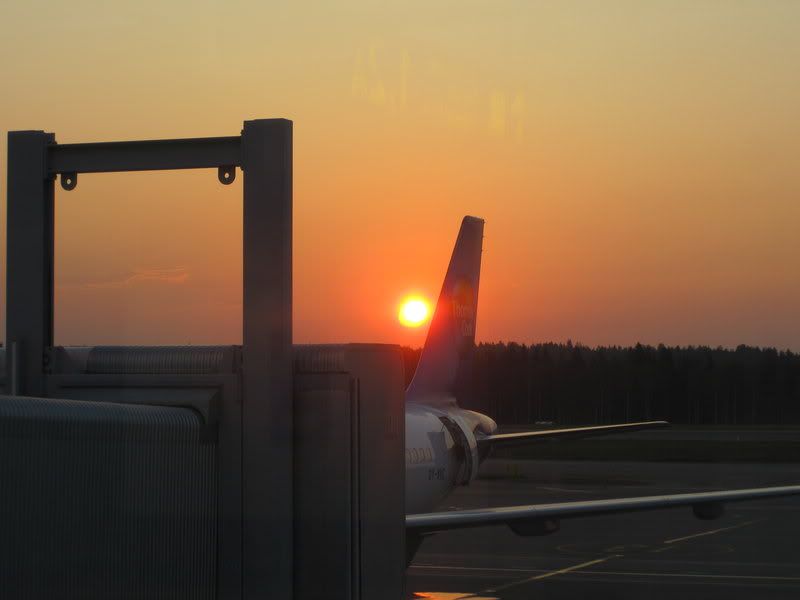 Bus gate 15A as seems to be the norm with this flight, downstairs to the bus and surprisingly we depart almost immediately with no long waits for any last minute pax.
A short drive to the parked Fokker reveals that today the honors will be carried out by YL-BAS, actually the very same plane that served me my previous "Early bird special" a month ago. 9th flight altogether with her.
HEL - RIX
BT330
F50 YL-BAS
Seat 2A
4.58 - 6.05
Another BT Fokker, another musky and bad smell. I even get a Russian guy as a seat mate, but luckily he moves to 3A (Спасибо!) after boarding is completed and that block of two seats stays empty. Quite a good load on this flight, 80% or so. Even the first row which is usually left empty is occupied, albeit those are economy passengers. A flight time of 1h10mins is announced, with departure being seven minutes ahead of schedule.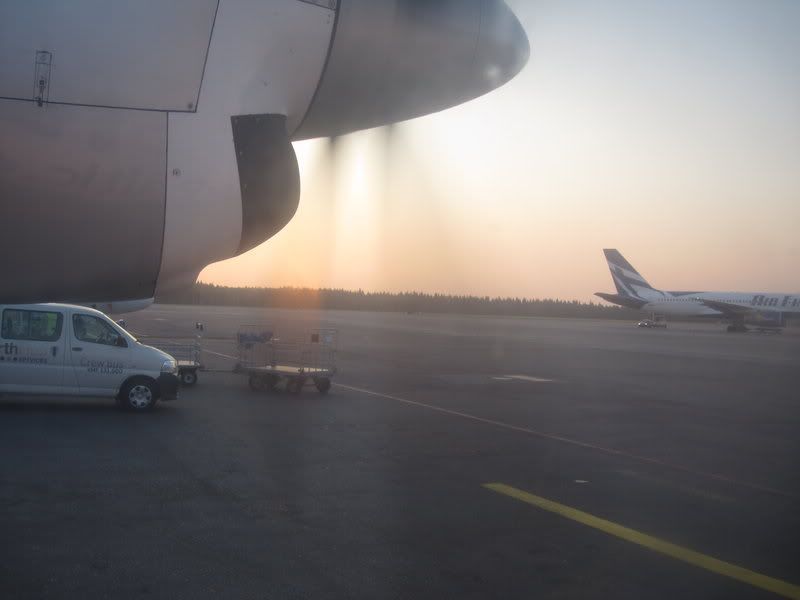 Passing the other overnighting BT plane - this 737 will operate the much more civilized (timewise, that is!) 8.30 departure: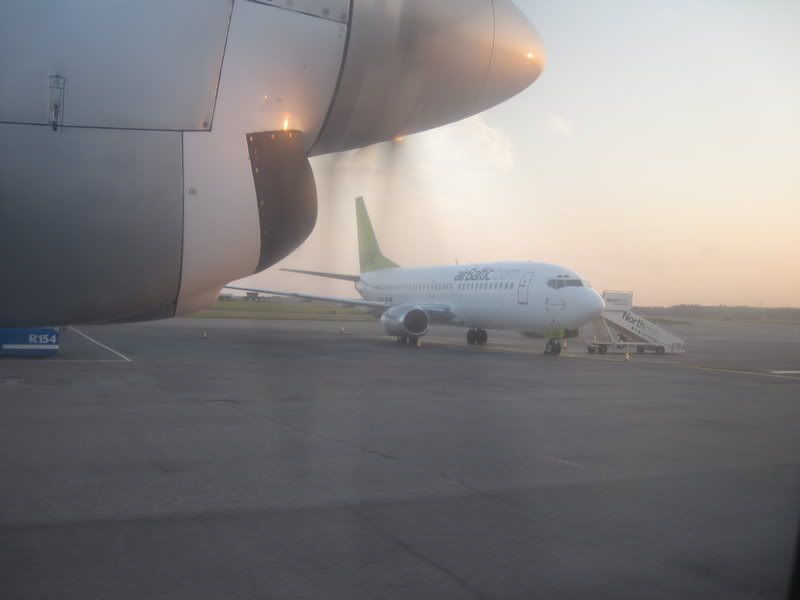 Take off from 22R is very sluggish, for a while I think I'm in a A340 instead. Must have something to do with noise abatement since we skip the usual right turn after departure and head straight towards the coast over the industrial outskirts of Vantaa and the not-so-industrial inner areas of Espoo:
Early morning tranquility - I pass through this busy shopping and commuter hub of Leppävaara twice per day on my daily commute: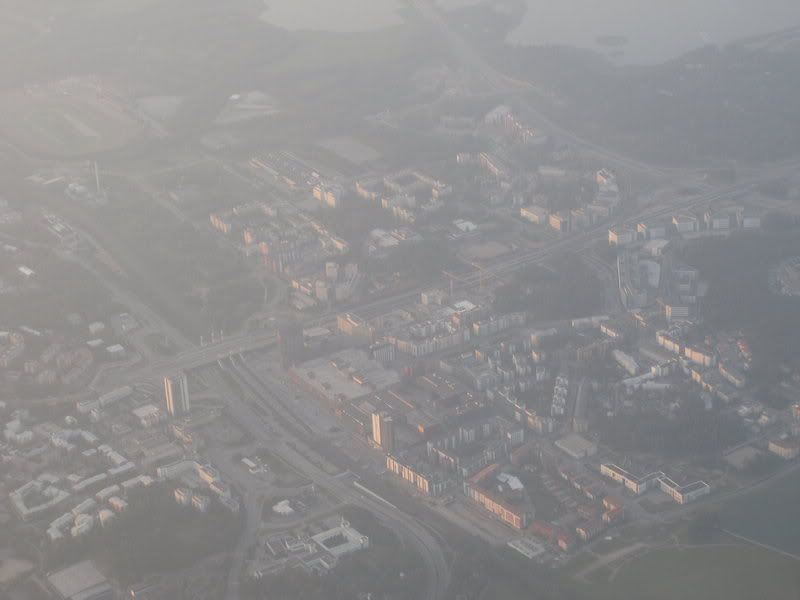 I'm unable to sleep but feeling rather hungry so I decide to give BT some much needed revenue and get a coffee and a roast beef and cheese wrap: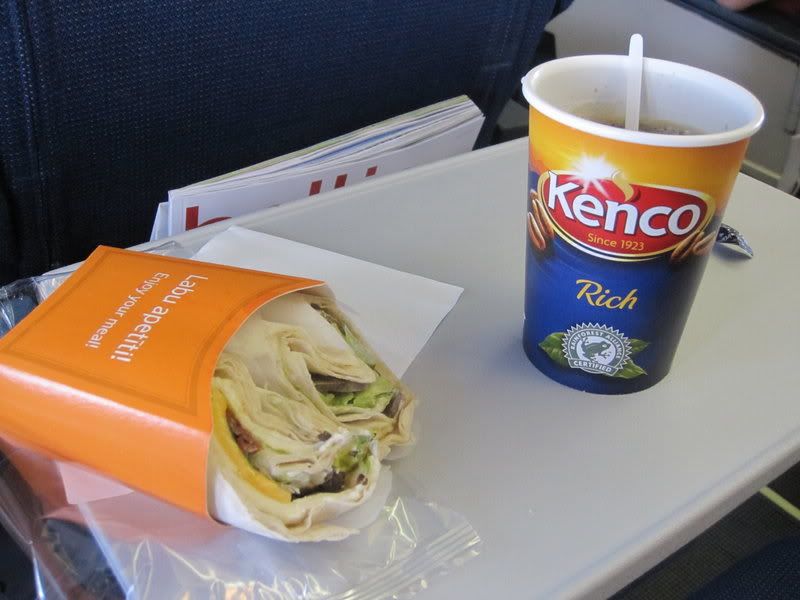 Quite okay actually, and not bad value for money for around 5.25 EUR.
I doze and chill out with some music and in no time at all we start our descent over the Gulf of Riga. Heading for the Port of Riga: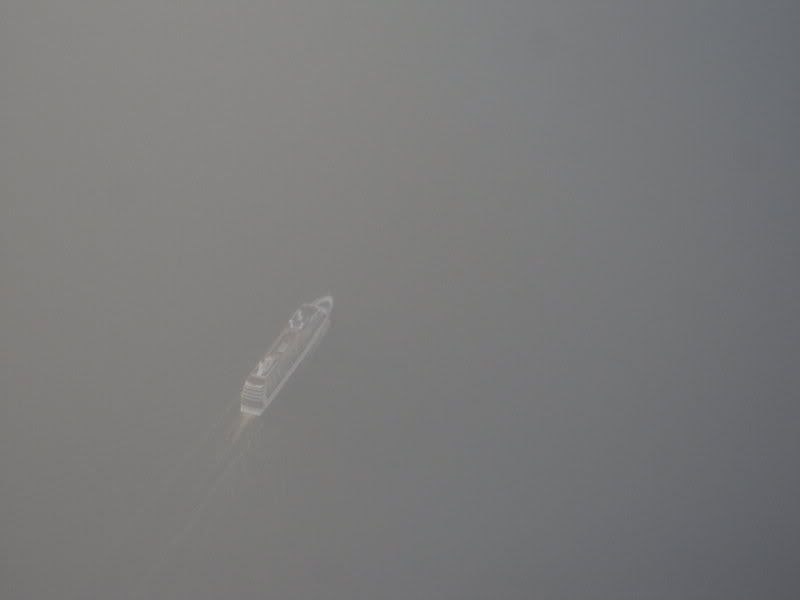 Once I see we are overflying Jurmala it becomes clear that we will be landing on runway 36 today, hence the slightly longer than normal flight time.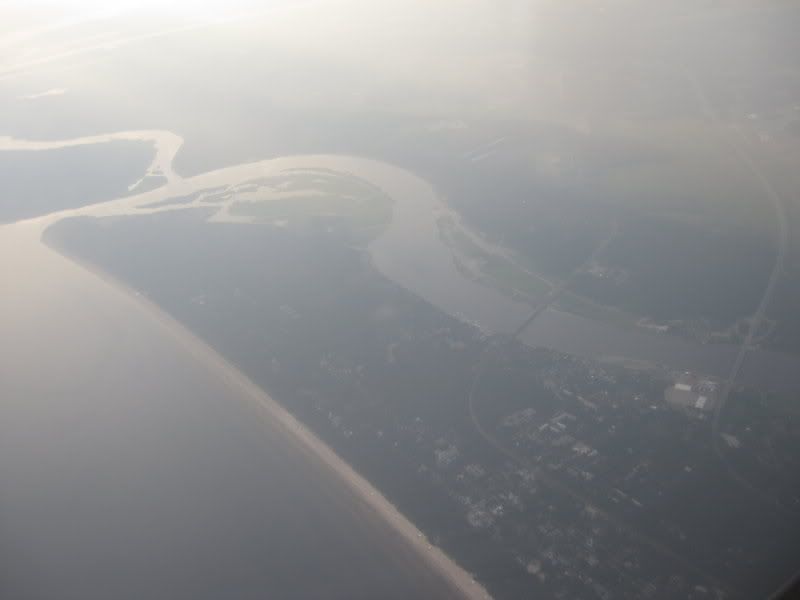 We land after a bit over an hour in the air. Luckily we get a parking position in front of arrivals (I think they do it because most of the pax on this flight have connections) so no waiting for a bus.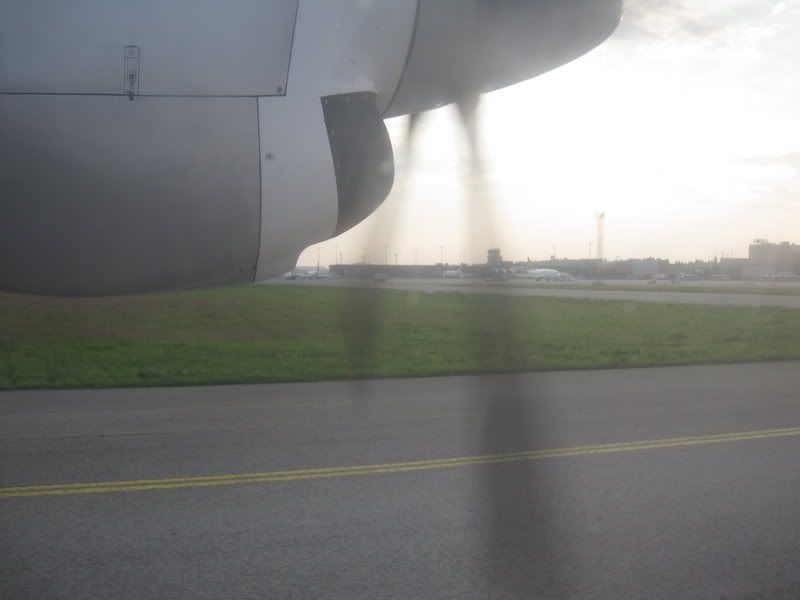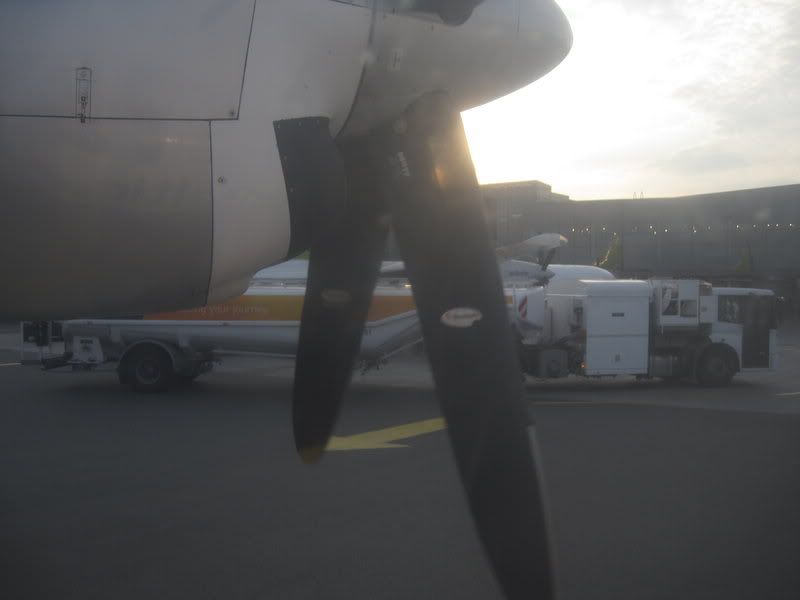 Riga Airport, take 1
With our early arrival I have a bit of time so off to the lounge I head for some coffee and reading material. I also noticed that they now had added "Airports of the World" to their magazine collection - I'm quite tempted to nick it but decide to wait until next week to pick up a copy when I pass through the UK again...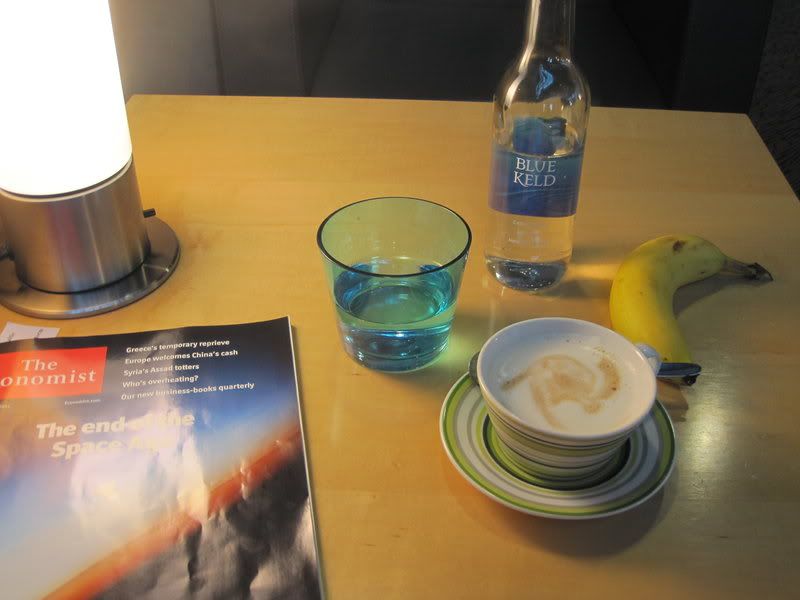 Just enough time to finish the coffee and the lounge attendant comes to tell me that my flight is now boarding. Bus boarding from the A gates - I count 11 pax in the bus including one deadheading BT FA plus one wheelchair passenger who is driven to the plane in a separate van. This registration always makes me hungry: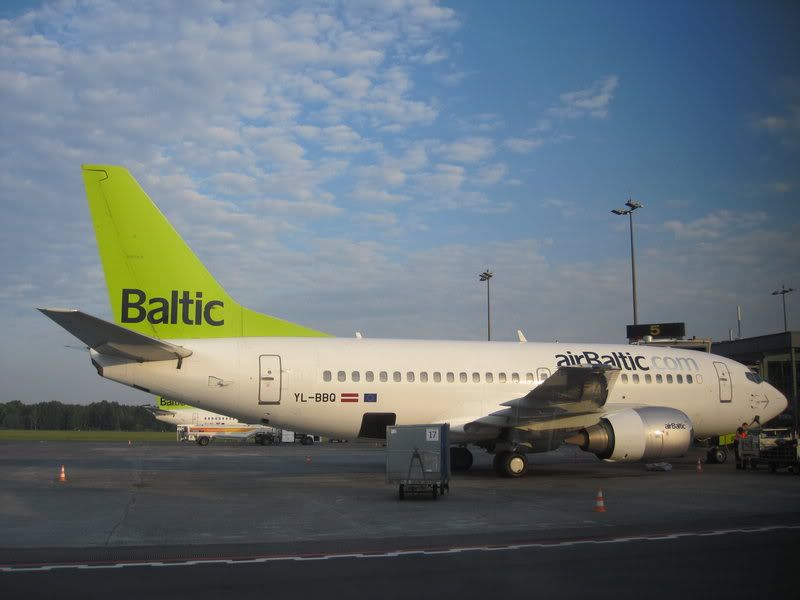 After a short drive we stop in front of YL-BAR (I really like that registration!), 11th flight with this particular bird.
RIX - TLL
BT311
F50 YL-BAR
Seat 14A
6.43 - 7.33
I had picked 15A, the last row window from OLCI. Well, when I get there the back galley FA's duty trolleybag is there. She asks if that indeed is my seat - so I answer that I'll gladly take 14A as the load is so light. She seems to be happy with this - until the next passenger who comes actually has 14A assigned. The FA asks whether 13A is OK for her - and she moves there (must not be a superstitious person - come to think of it BT is not a superstitious airline like SK who don't even have row 13 on their planes!). I comment to the FA "Gee, I wonder what the odds of that happening are!" - She looks a bit confused so I add "Well, that's courtesy of Mr. Murphy and his law!" - finally she gets the point, chuckles and says "Oh yeah!".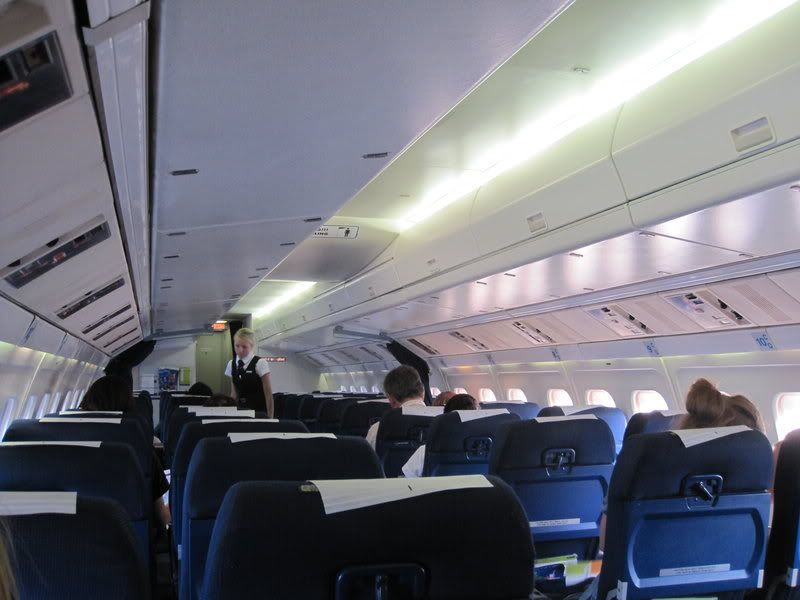 Flight time today should be 50 minutes, and we push back (under our own engine power, love it!) seven minutes early. Take off is from 36 a few minutes later.
Wonder what happened to this Dash which is parked on the other side of the runway, a part of apron which is never used. Notice the push back tug: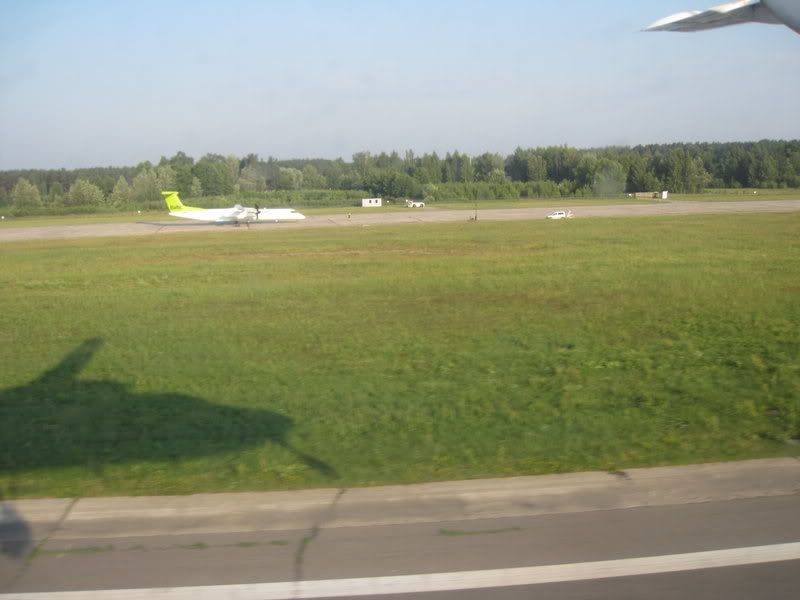 Suburban idyll, Latvian style: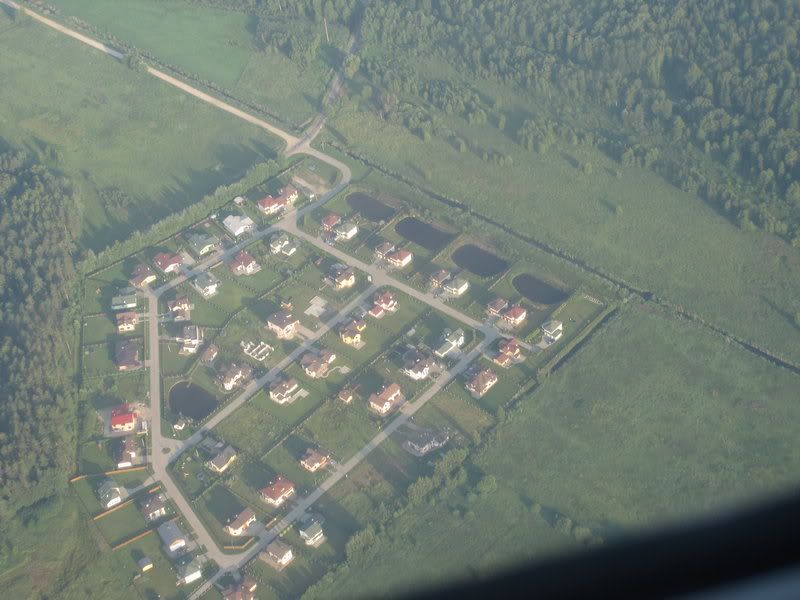 Another flight where I just chill out and enjoy the bright early morning sunshine, and soon enough we are descending towards Tallinn. Our Italian (now that's new - I've never had an Italian captain with BT!) gives a small speech before our final approach.
Mining pits - due to Estonian's rich deposits of oil shales and their use in power generation the country actually ranks among the top greenhouse gas producers worldwide (per capita, of course, after all it is a nation of 1.5 million people):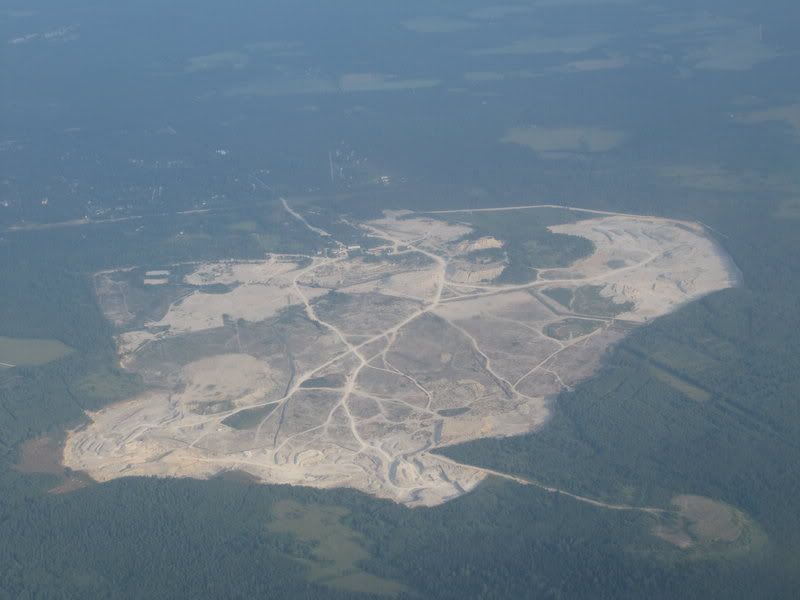 Nice idea - wish I had a longer BT flight scheduled for July, but unfortunately I'm only doing these short hops with them - the BT business class food has always been very good: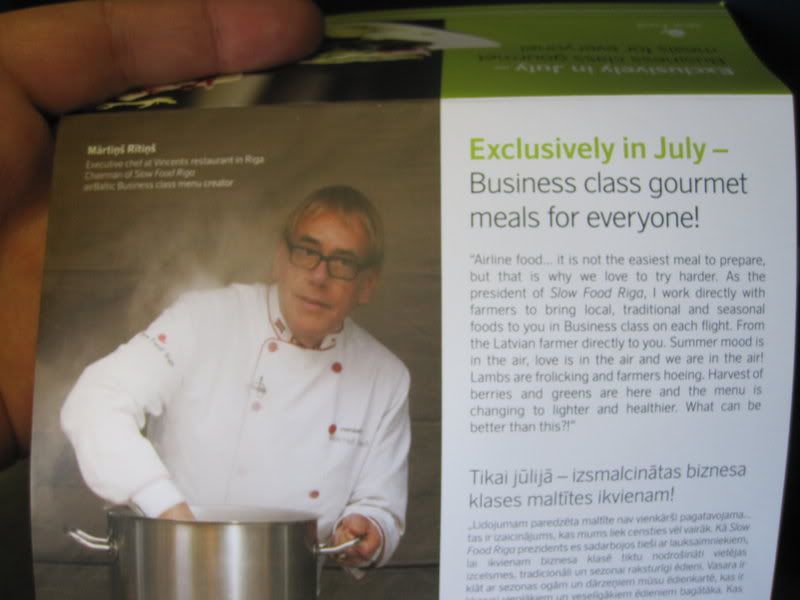 This menu sounds yummy: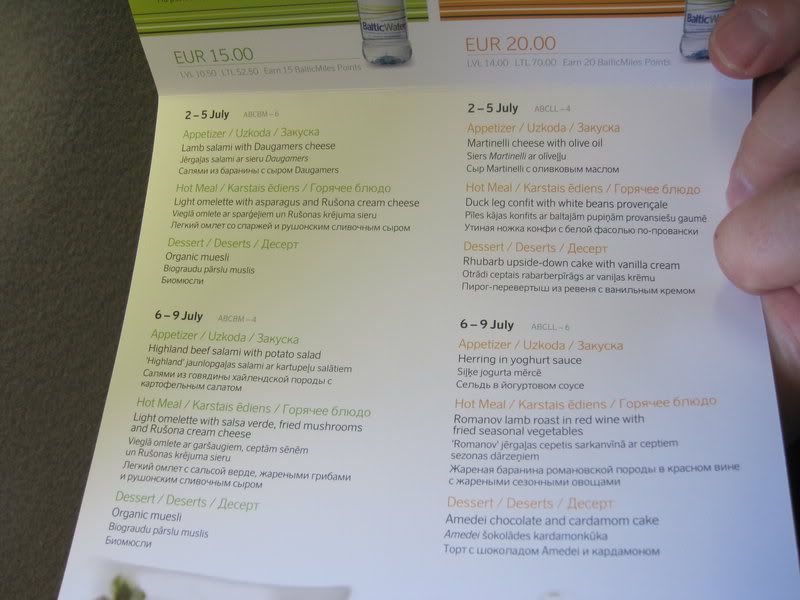 At this point I realize that we are getting my absolutely favorite approach into TLL - the one where you fly directly over the city centre and the reason why I'm sitting on this side: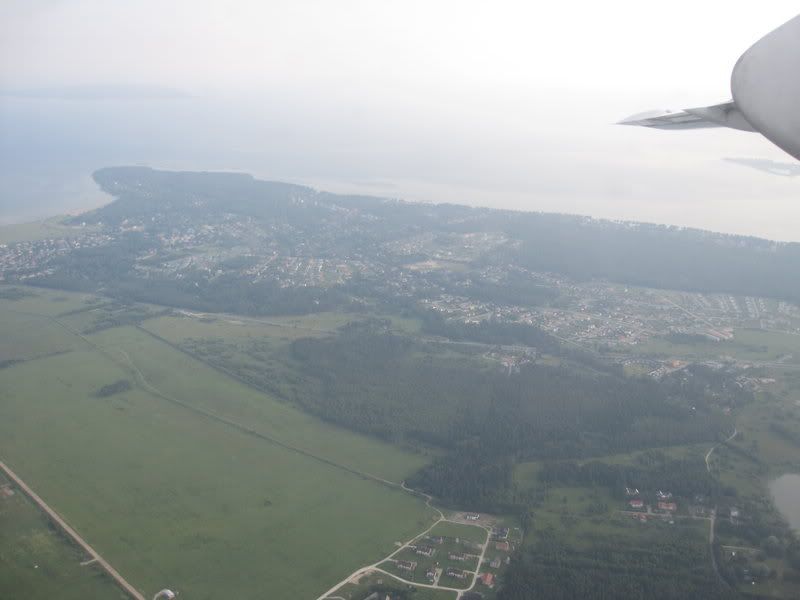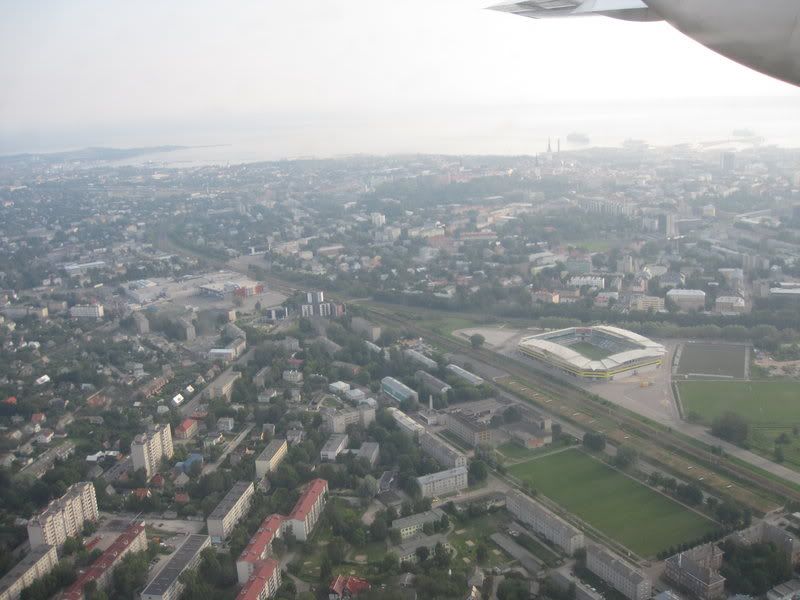 The old town: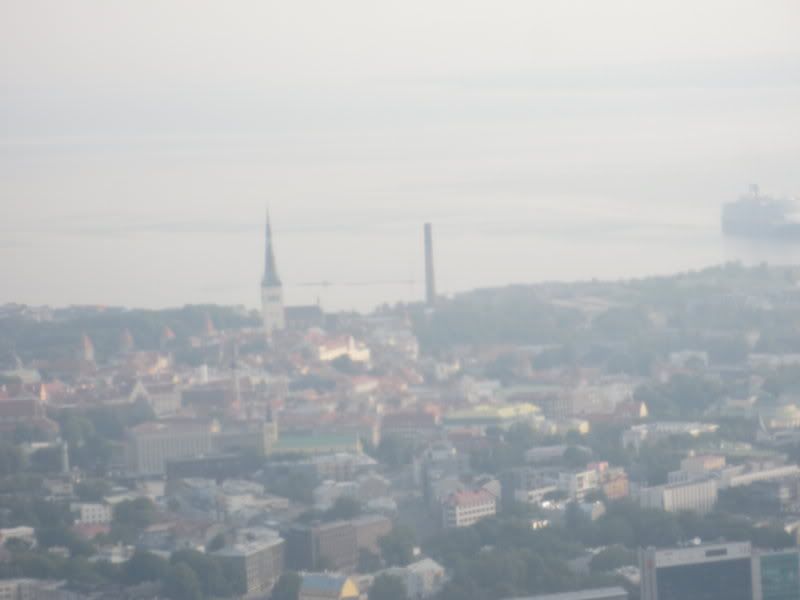 The new CBD: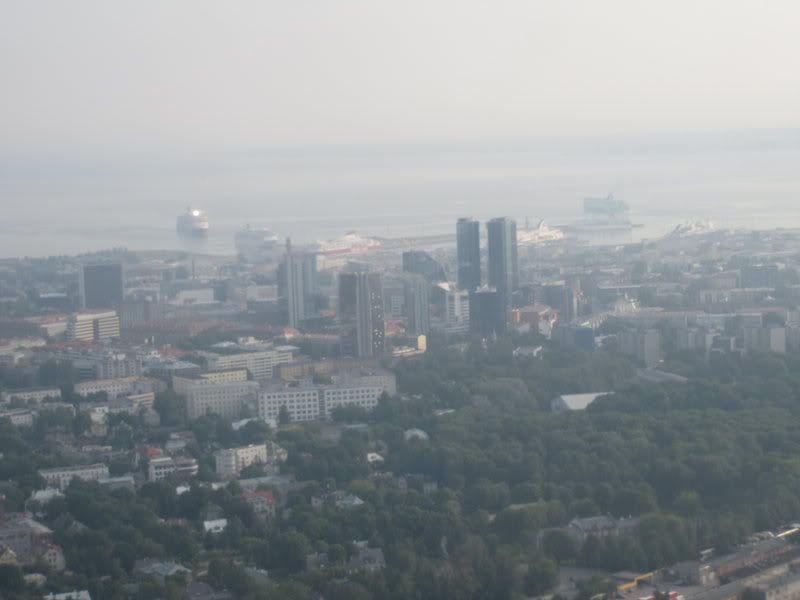 The Lake Ülemiste, which supplies Tallinn most of its drinking water, although that brown color doesn't look very fresh to me: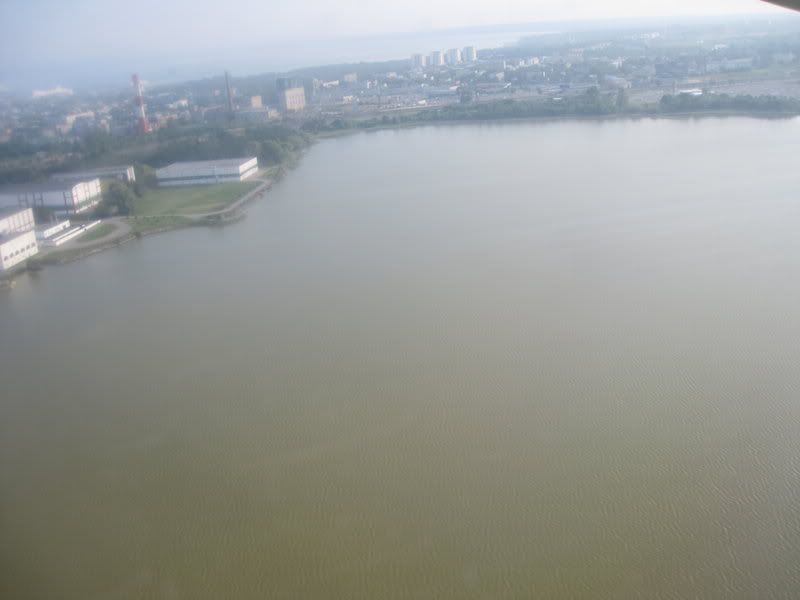 Lindakivi, a large boulder which is mentioned in the Estonian mythology - according to it Linda dropped the rock there and was so disappointed that she cried and her tears formed the lake (I've seen blue pee in diaper commercials, but never seen brown tears, though):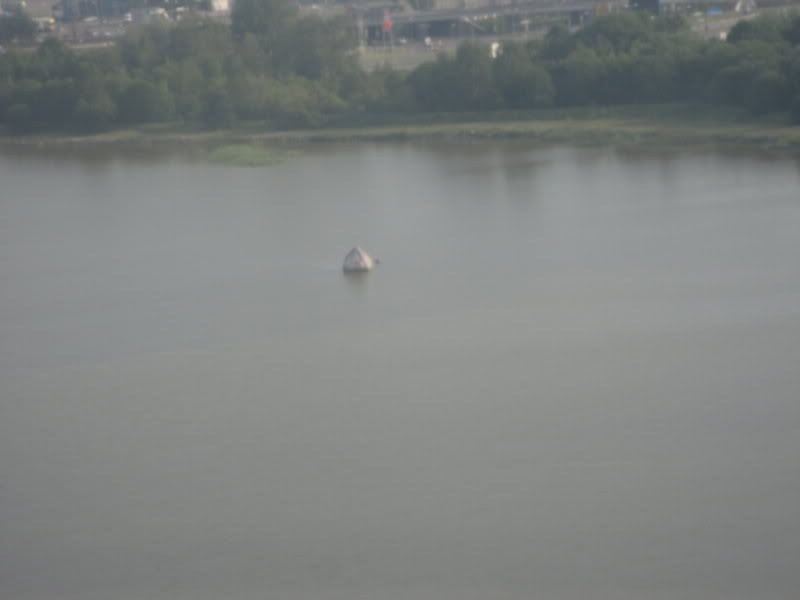 The terminal looks rather nice nowadays: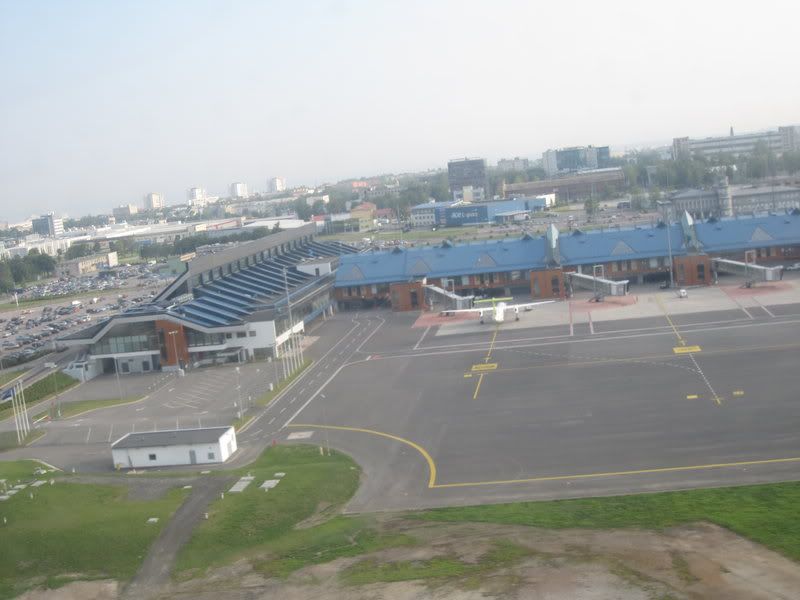 Landing on runway 08 after some 45 minutes of flight is definitely a greaser, maybe the captain is trying to impress the ladies in the cabin?
Some minutes later we stop next to this company Dash - the Estonian version of the "Midnight Dash":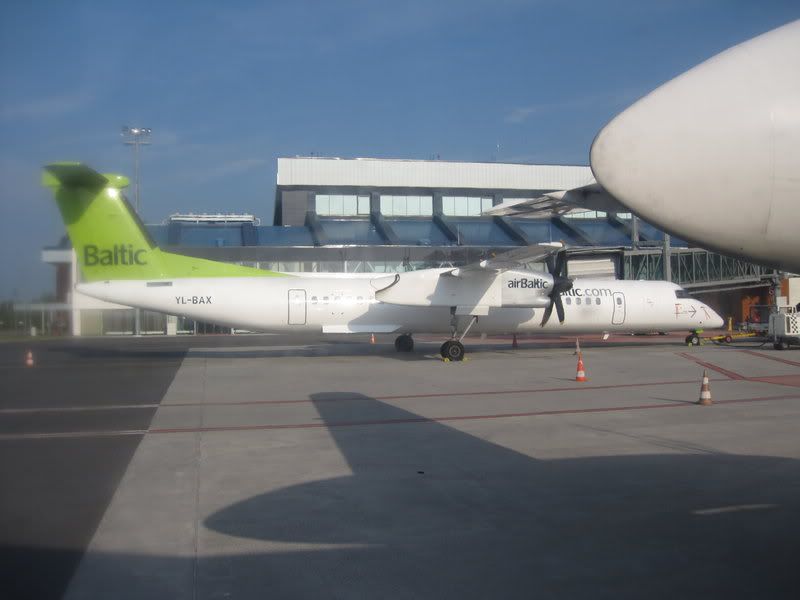 Bye: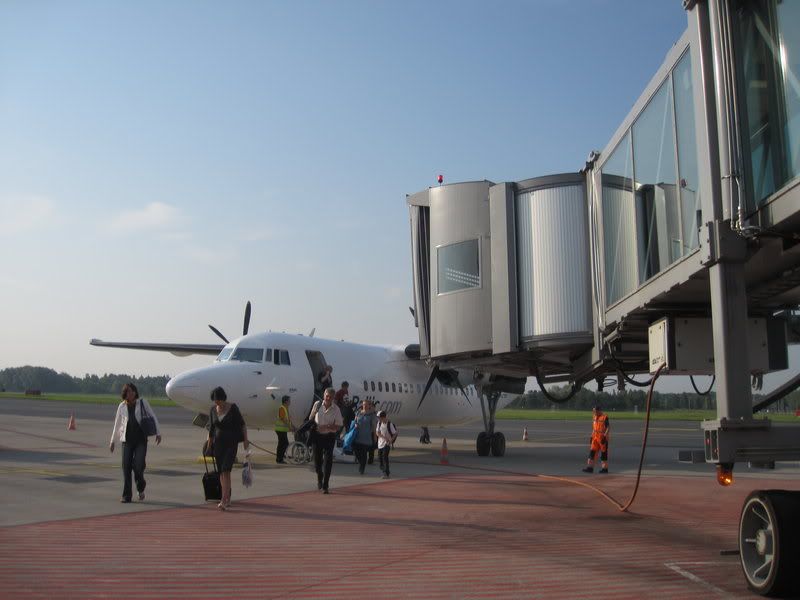 Tallinn Lennart Meri Airport, take 1
I say to the waiting ramp agent "What a beautiful morning in Estonia!" - somehow this makes her beam in a very proud fashion. I know Estonians are proud folk, but it's the weather, for crying out loud!
Up the stairs and to try my luck at the transfer desk - needless to say that an airline like Avies doesn't exactly offer OLCI (although in E-stonia that wouldn't be TOO surprising!). Nobody at the desk, but soon a girl arrives and I ask whether it is possible to check in for Avies here. She makes a phone call and tells me to hold tight for a while while an agent comes to help me. A few minutes later a very nice girl arrives, checks my ID, asks me to show her my hand luggage calls somebody, probably her colleague at the real check in desk, mentions my name and "4-5 kilos" as a reference to my hand luggage weight (I think it is a bit more weighty, though) and finally hands me a laminated, reusable boarding pass. I comment on that, and she says "Flights to Kärdla are special" - "I know, I know. Aitäh!".
"Business Lounge Club" - sounds interesting:
The Linda Lounge nowadays allows access with Diners as well, so that's my next stop. The girl there tries to turn me away at first after I point out that my combined Eurobonus Gold card just happens to be a DC credit card as well, after which she apologizes and welcomes me in.
A statue of Linda, some interestingly colored chairs and Estonian kids programs on the TV:
Some nice cookies and my reusable boarding pass: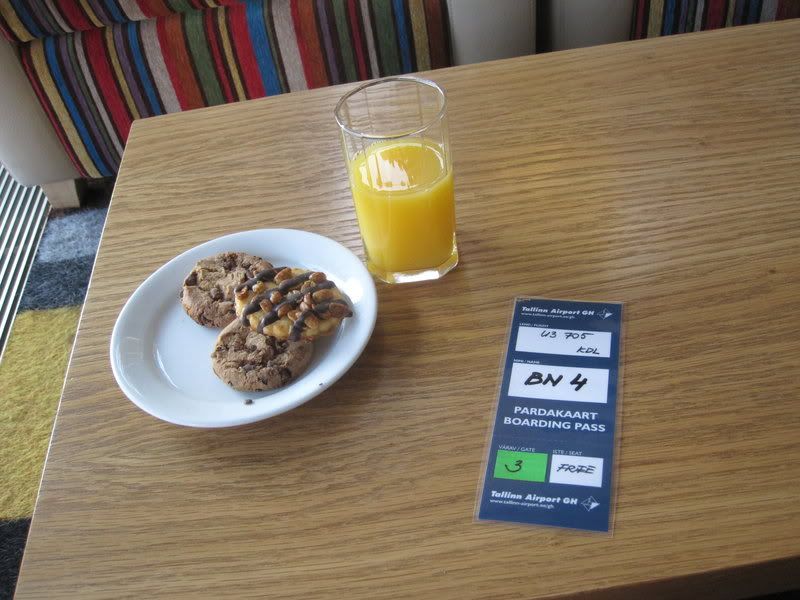 After some quality online time in the lounge it is time to head to the gate. On the way I pass this nice gate - hey, that's my flight tomorrow: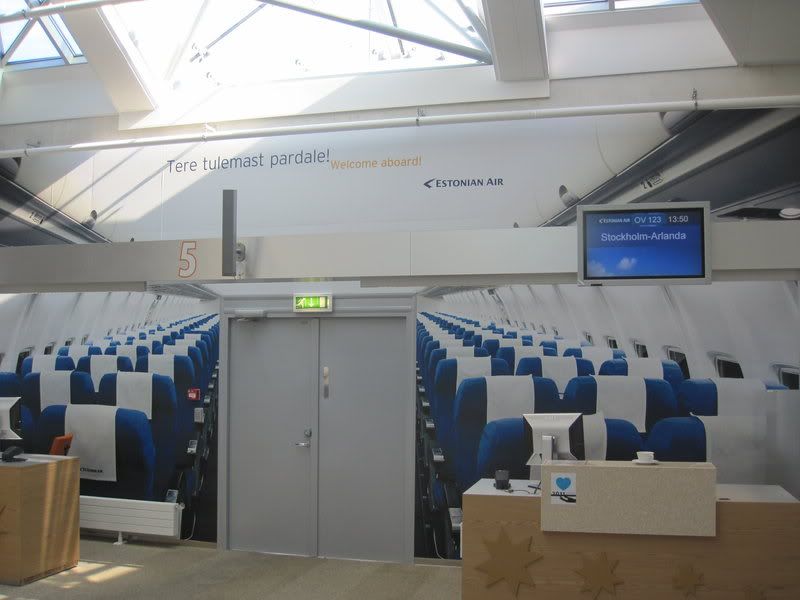 A surprisingly large bunch of people are waiting at the gate, and boarding commences right after I get there. Downstairs a minivan (instead of a proper bus) is waiting - well, the Jetstream isn't exactly a large plane...
I count 15 passengers in the car. It is also uncomfortably hot in there, but luckily the drive is short. Today's ride is Jetstream 31, ES-PJG, luckily a new registration for me as I've flown with her sistership previously.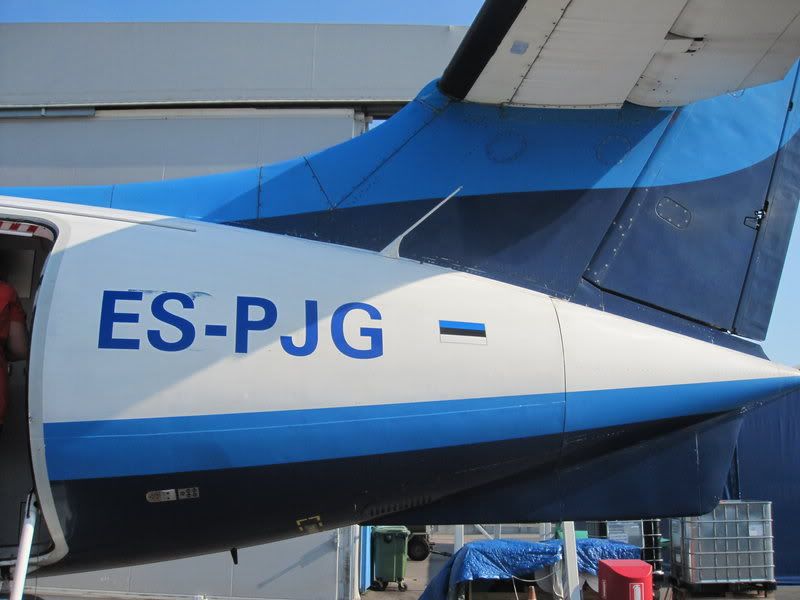 Outside the hottest FA ever (something which Mark would definitely call "Cross the street hot") is waiting and assisting passengers onboard.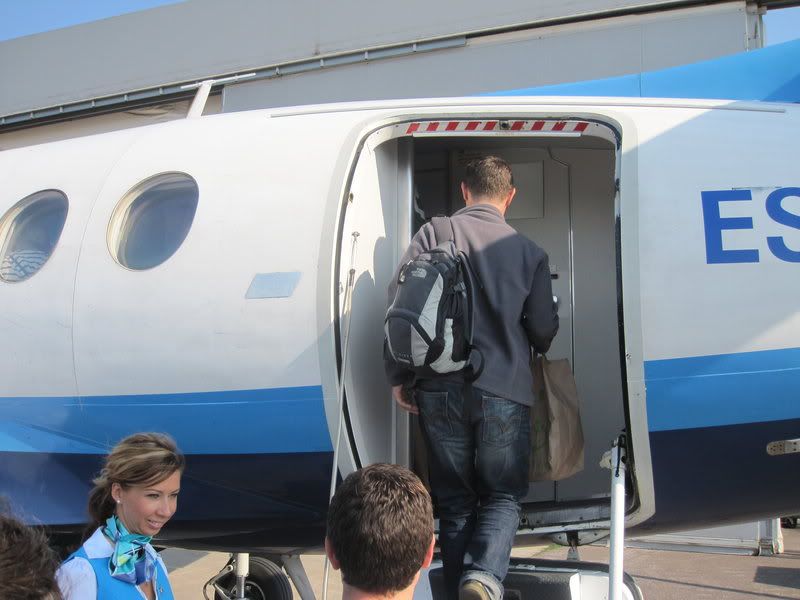 TLL - KDL
U3705
Jetstream 31 ES-PJG
Seat 3A
9.08 - 9.31
Free seating, so I grab one of the single seaters. No room anywhere for my back bag, so after I grab a few vital items from there (logbook, notebook and camera) I hand it to the hotter than hot FA who stores it somewhere in the back.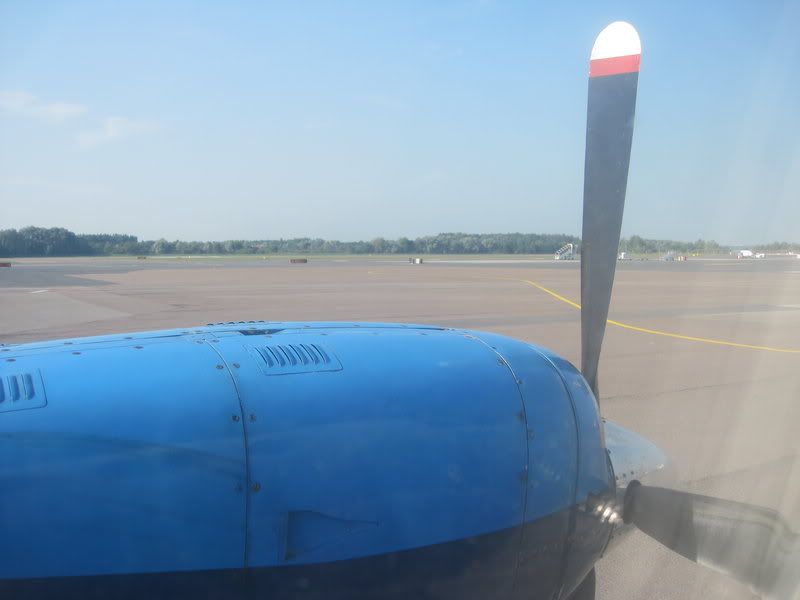 Not much legroom, but then again not much is expected: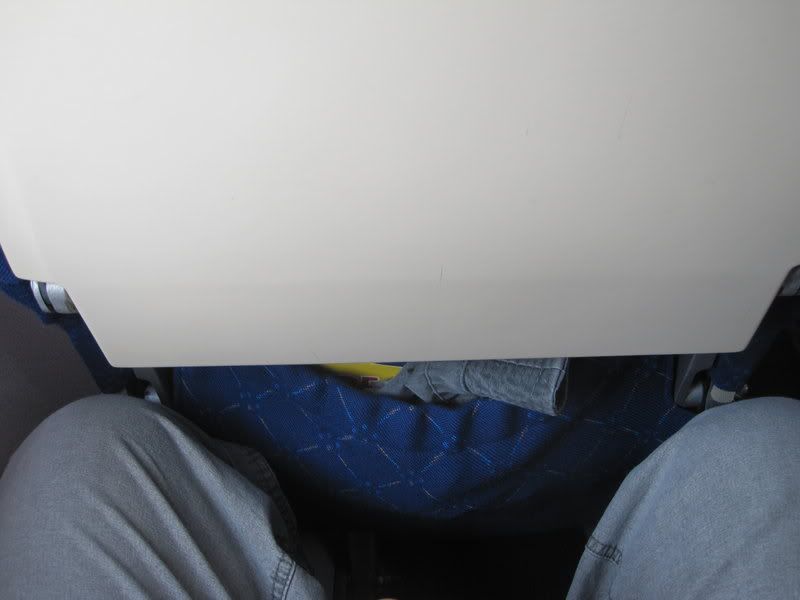 Nice idea - although why aren't they using it today - they could have the phone number of the hot FA in there:
SunAir of Denmark has the same thing on their JetStreams as well...
The Estonian welcome speech an security briefing sounds so funny to me as the word for plane is "Lennuk", which is basically the same word you use for a model plane, drone or such in Finnish. Before take off the FA hands out candies: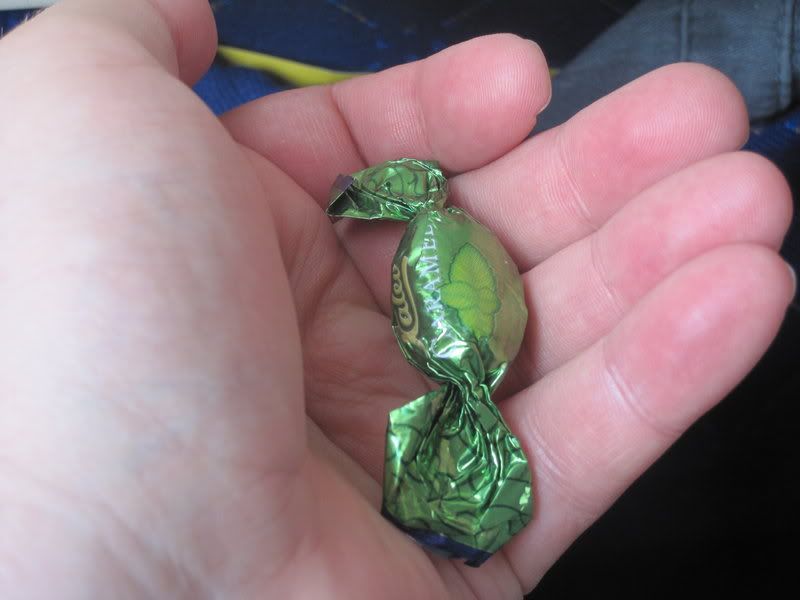 Our flight time is announced as half an hour and departure is eight minutes late, no real reason apart from the rather late boarding.
Take off from 08 is very interesting, as we use a very short strip of the runway before rotating. Quite noisy as well, but that's to be expected.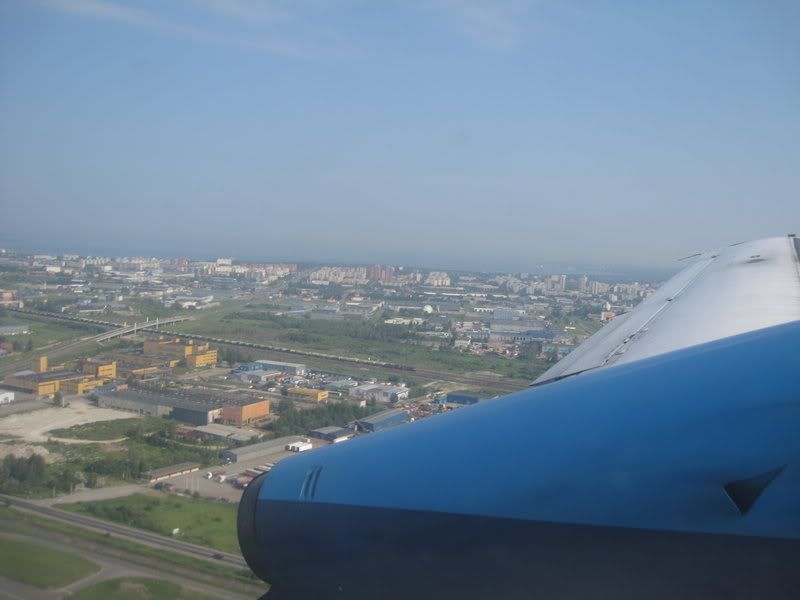 Crossing over the Tarto - Tallinn highway: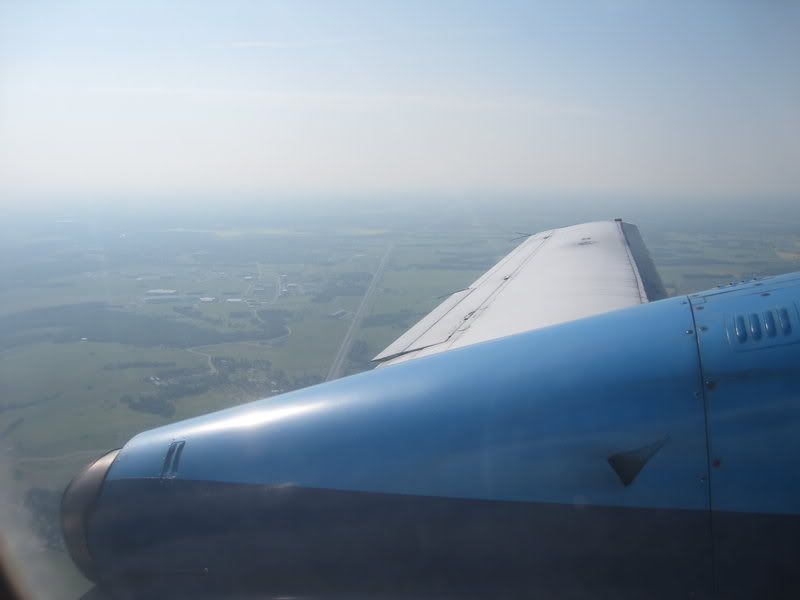 In the seat pocket there's a leaflet advertising their special deal with a supermarket in Kärdla - spend enough money there and you get discounted or even completely free flights: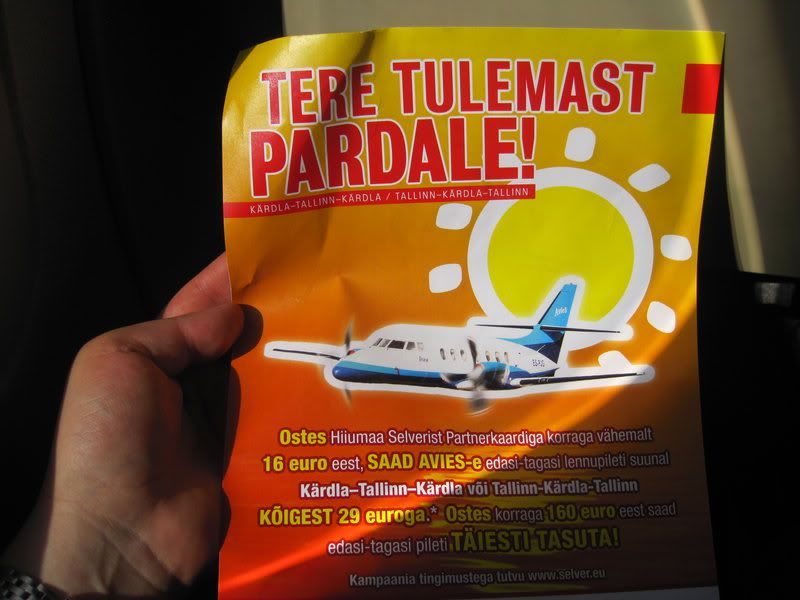 Leaving Estonian mainland behind, at this same moment we also start our descent, after spending around seven minutes at our low cruise altitude: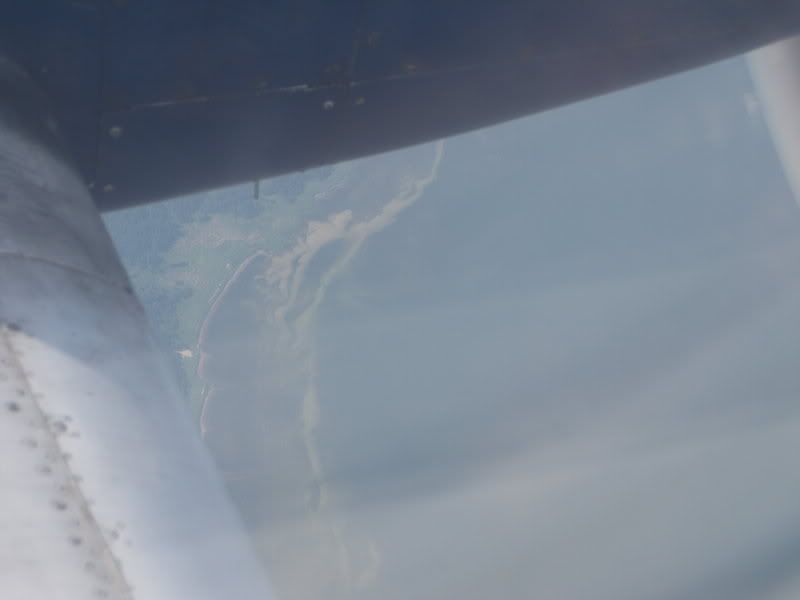 Another round of candies is handed out before landing - last time I flew Avies on URE-TLL the service was much better with large chocolate bars, cartons of juice and candies handed out during multiple service runs, but that's the way it is nowadays. Of course this fight is around half the length of that one...
The island of Haapsalu in sight: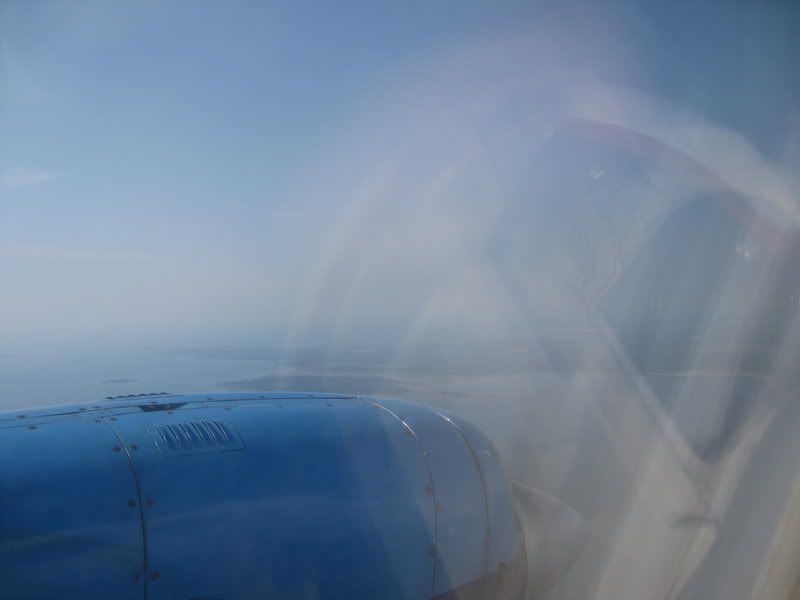 Our shadow: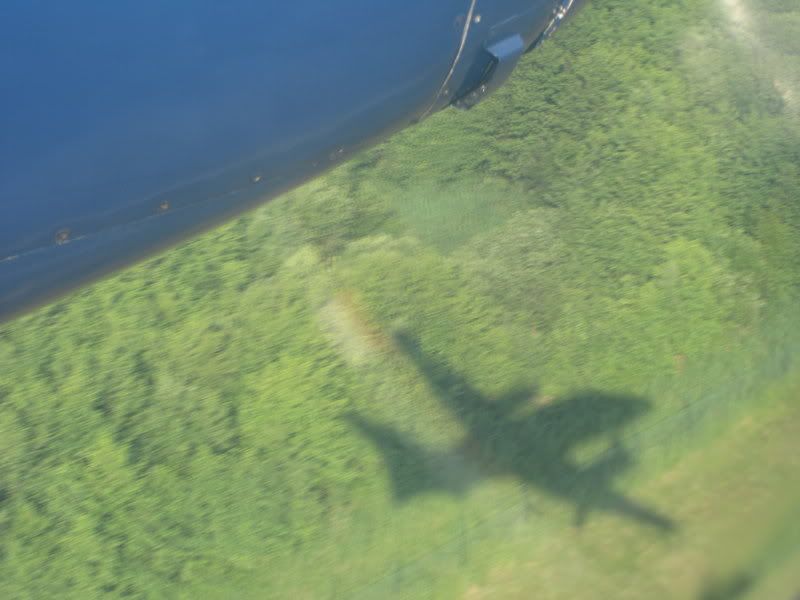 The landing is interesting as we come in extremely fast on runway 32, touch down and the PF slams the brakes very hard to stop the plane. Total flight time was less than 20 minutes.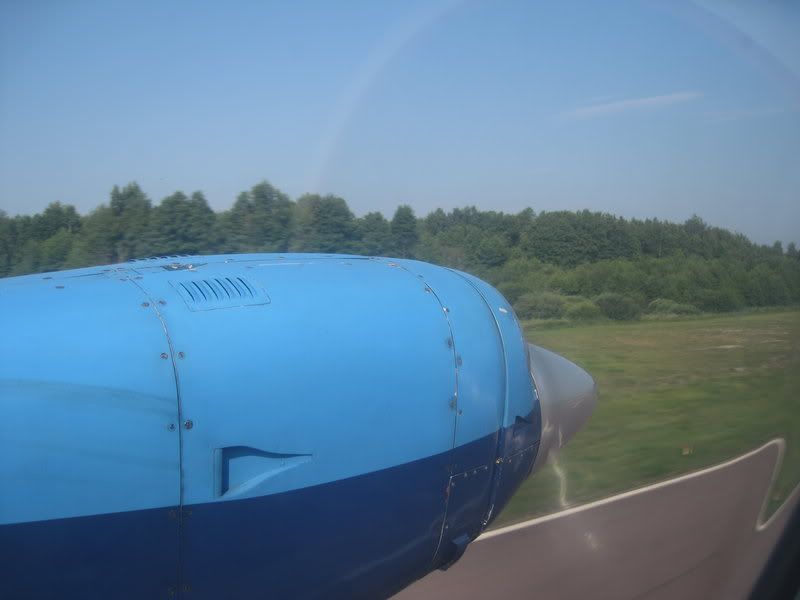 The cute little terminal building: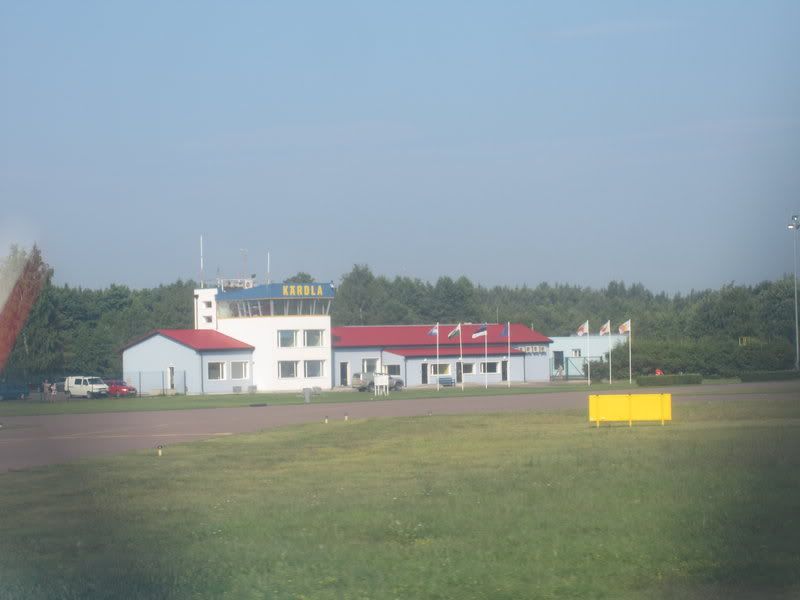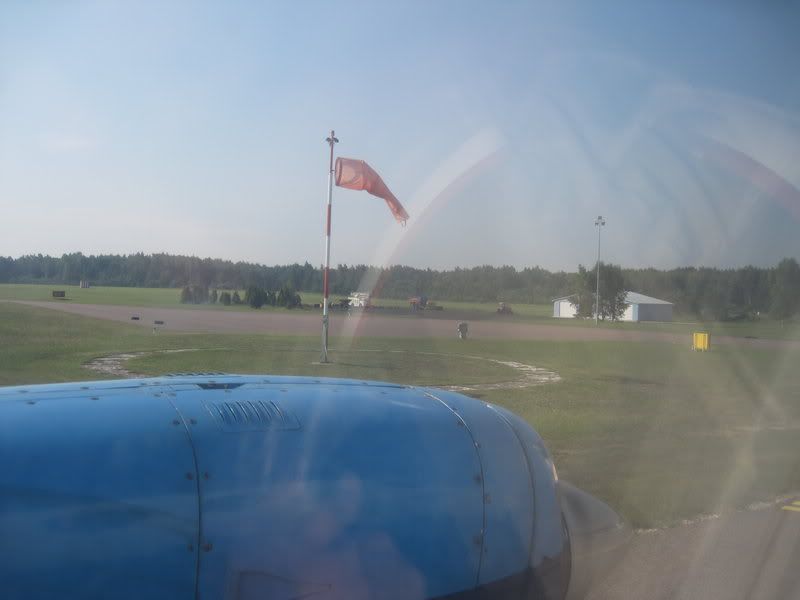 Good place for spotting - only if there was something to spot!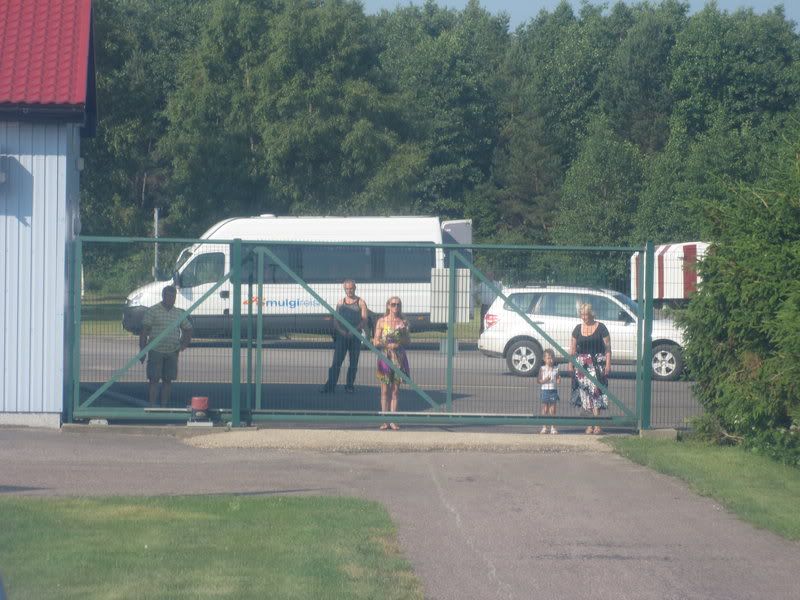 I am the last person to deboard, the captain comes out of the cockpit to do the walkaround and I chat a bit with him, although his English is quite limited, just like my Russian...
Bye:
In to the tiny terminal. I think that plural form is a bit megalomaniac:
Terminal from outside: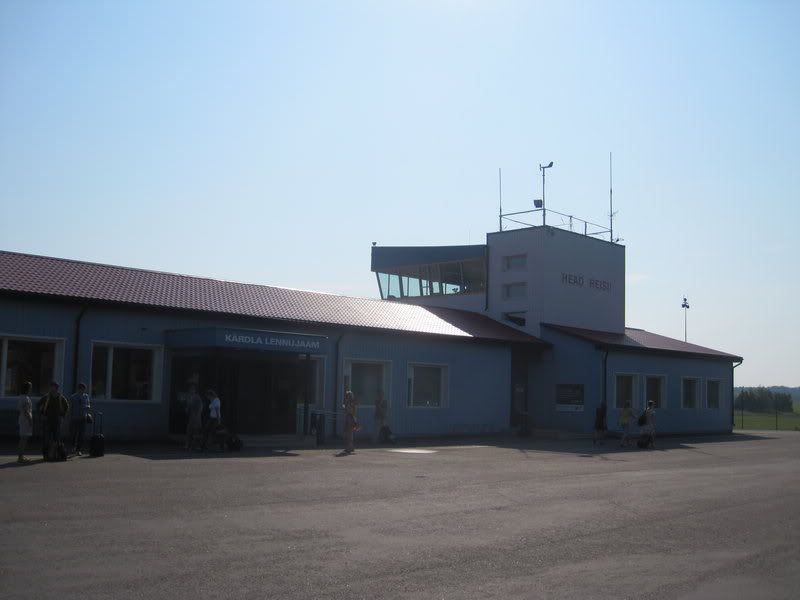 Outside I'm really surprised to find a minibus waiting - my research didn't mention anything about this and I was mentally prepared for a taxi ride to town. Well, that's certainly good news, so I go to the bus and almost get a shock when the driver mentions the price - 65 cents! Yeah, you gotta love the Estonian taxpayer!
A girl from the flight joins us an then we set off for the short drive to Kärdla. I chat some with the nice girl, she is really surprised that I'd come to Hiuumaa for just a couple of hours and suggests that I really should come back here and spend some proper time touring the island and the nice beaches around it (she is a native of the Island - and the Estonian pride is again there!). Anyway in less than five minutes we are in the sleepy town centre, so I hop off and wish her a nice day.
Kärdla
The very tranquil main street: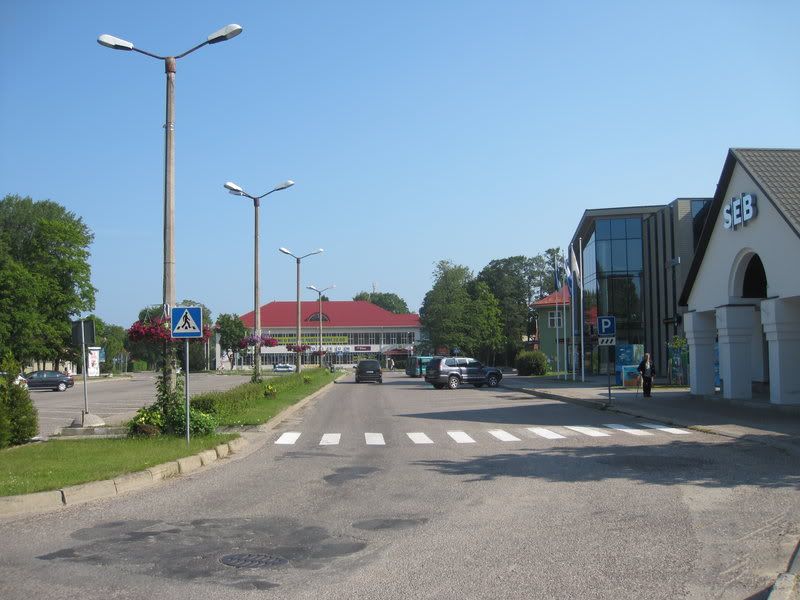 Looks like so many Estonian small towns - some delightful wooden buildings around: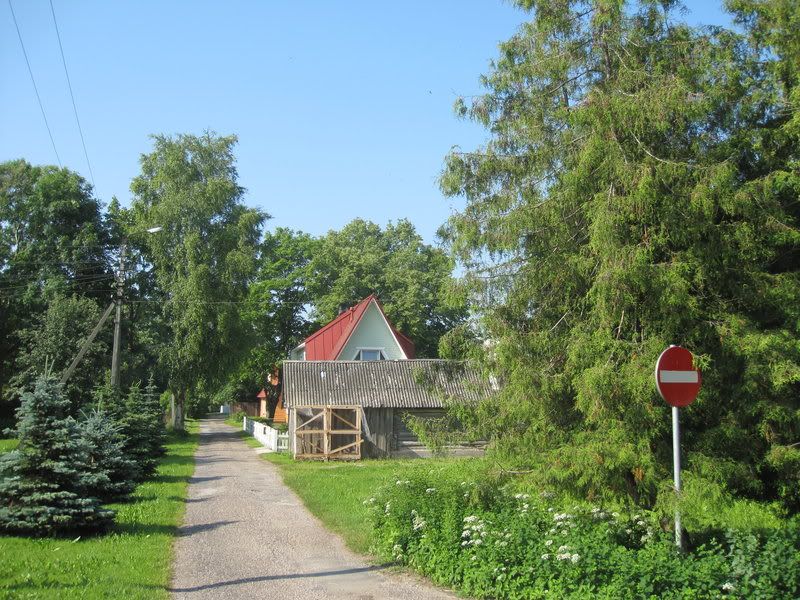 But just to remember it's not all so pretty, there are some concrete (pun intended) reminders of the past:
The cute bus station where my bus will depart in 5+ hours, closed of course right now: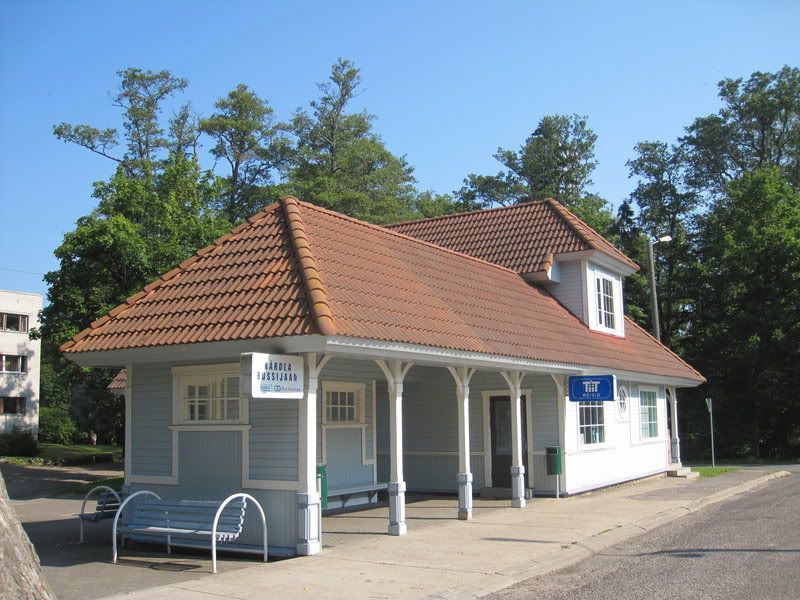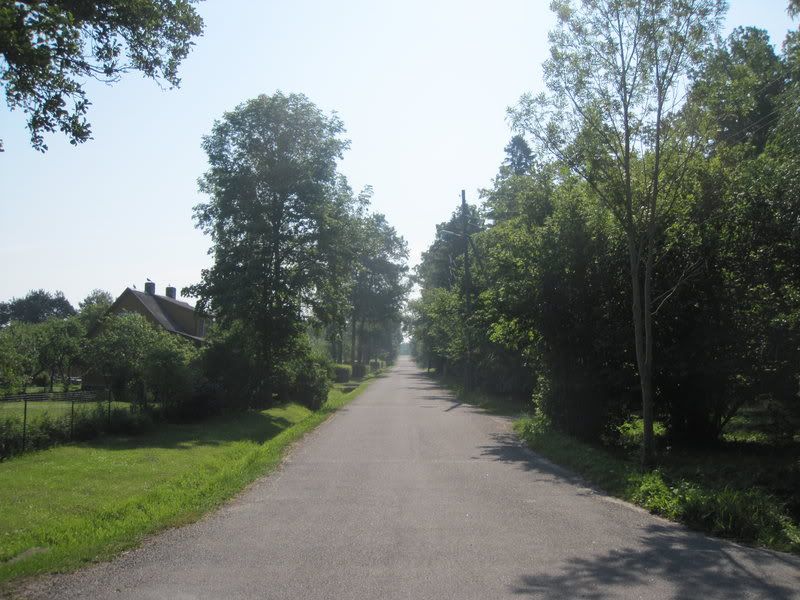 With the very nice weather (the weather forecast had rain, wonder what the meteorologists had been smoking?) I decide to head to the beach for some relaxation and sunshine. Beach art: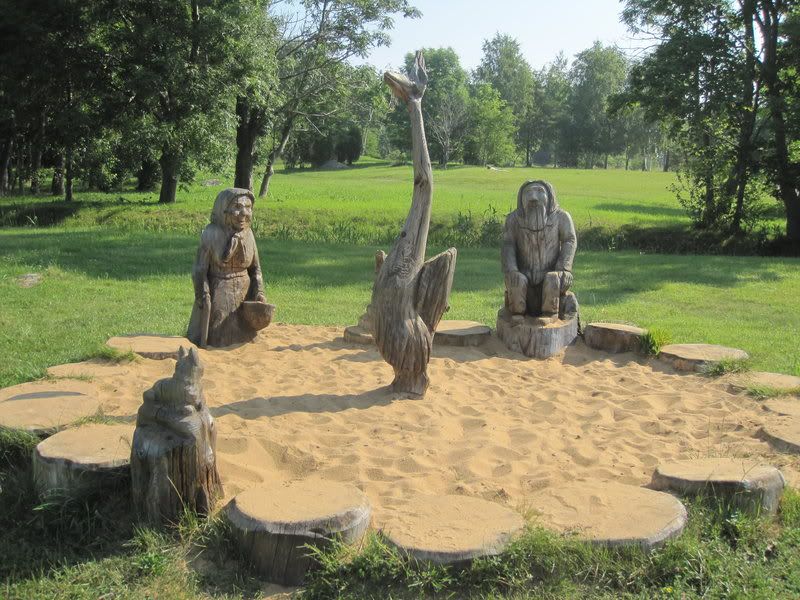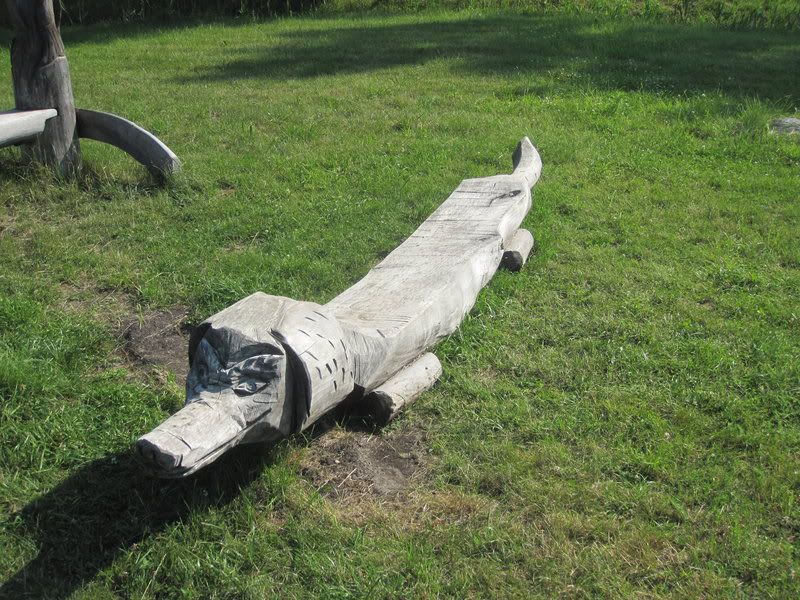 The town beach - not exactly Riviera style but quite okay and not many people around yet: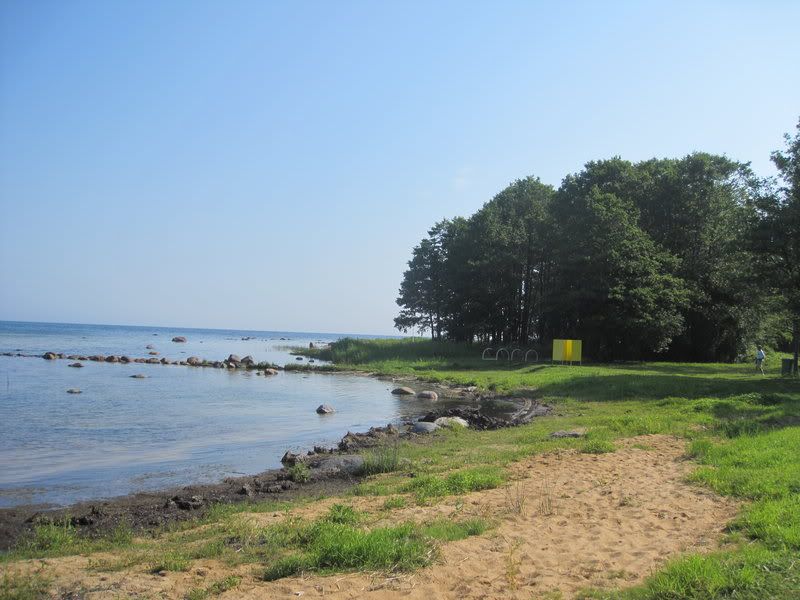 Algae, the bane of the Baltic Sea: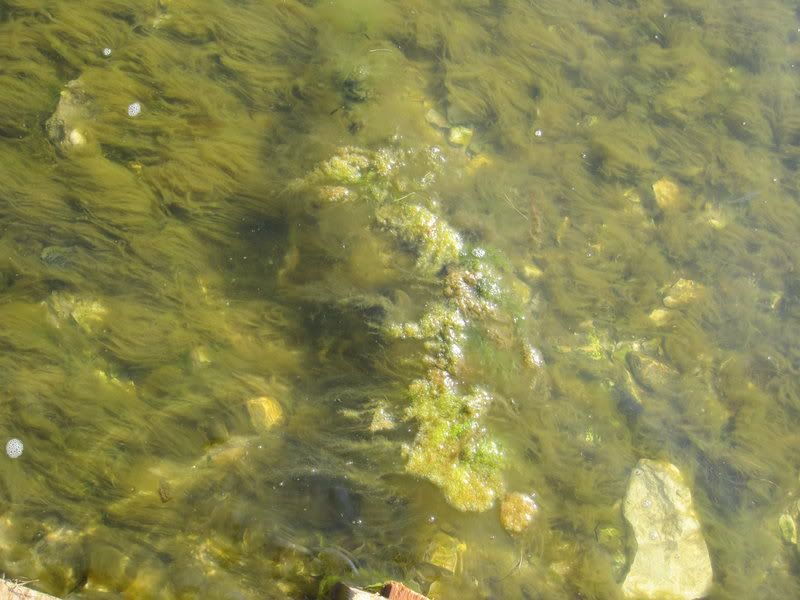 After a couple of hours of chilling, reading and working on my tan I am getting hungry (and thirsty!). Luckily the beach restaurant had just opened so I head there for some grub and beer: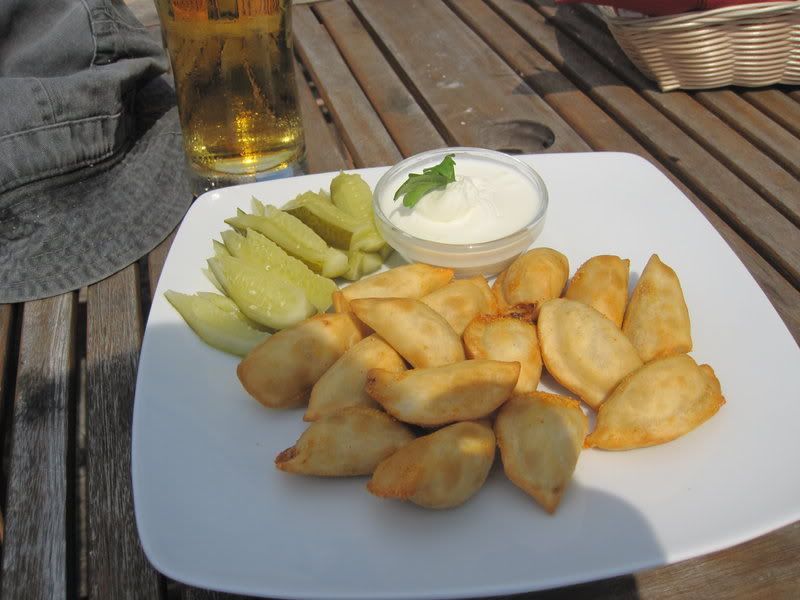 Oh, did I mention that free wifi is available all throughout the beach?
After a long lunch I go back towards the city. This house is called "The Long House", quite appropriately! It houses the local museum: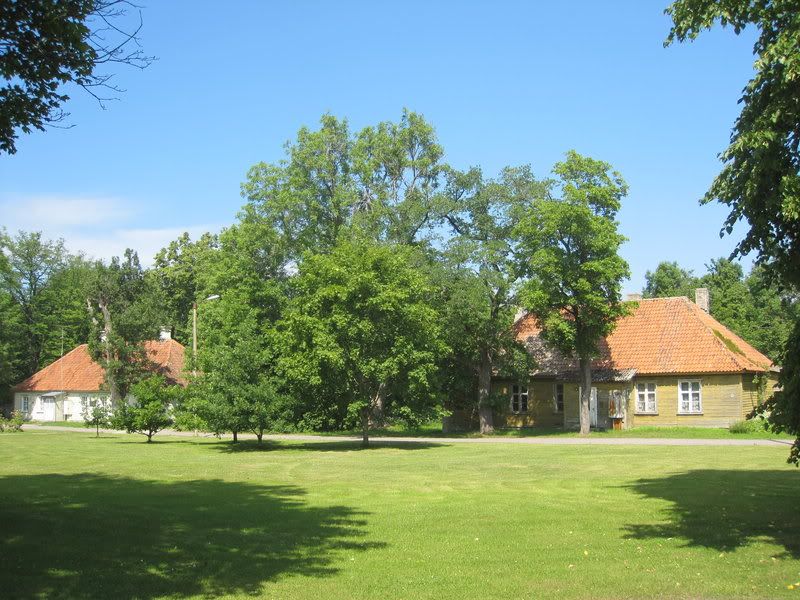 To balance things out after my recent expensive pints in Norway here's a 1.60 EUR one: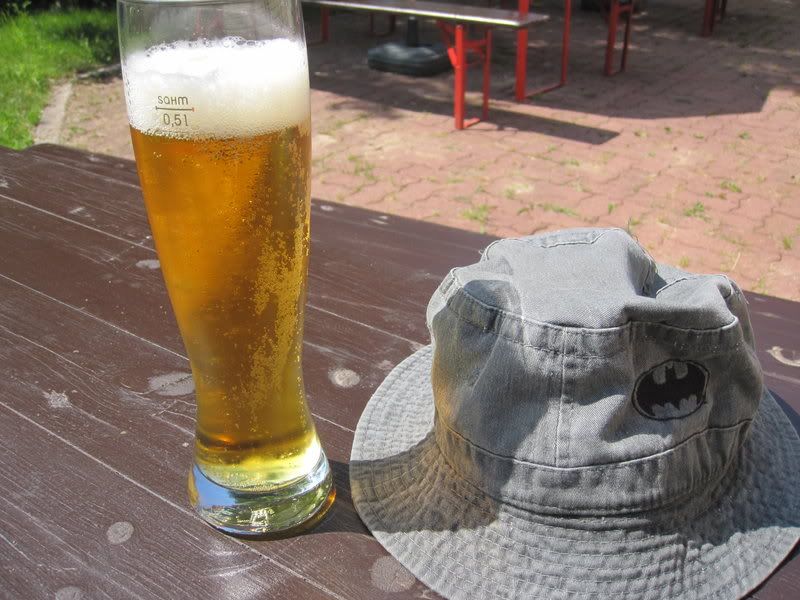 An Interesting Ferry Journey
After a very sunny and relaxed day I catch the bus to Haapsalu. By the time I sit down in the bus the early wakeup, hours in the sun and the beers do their magic and I fall asleep - I always seem to do this in buses nowadays, they just are so good for sleeping! Well, then something interesting happens: once I wake up around an hour later I realize four things:
1) I'm alone in the bus and the doors are locked.
2) It is dark, and the bus is not running. I think we are inside the car deck of the ferry.
3) It is EXTREMELY hot and stuffy in the bus.
4) I need to pee. Like right now.
Instead of panicking I try to figure out how to get out - after a bit of fumbling around I notice there's a button with a lock image on the driver's console, so I decide to try that. It doesn't seem to do anything, but then I realize that I can now actually force the doors open, so I do that and escape my hot prison.
I wonder what an earth was going through the bus driver's mind when he decided not to wake me up in time for our stop. It really was so hot in the bus that somebody could die in there if they had to spend the whole one and half hour journey inside!
After the much needed toilet break I head up to the sundeck where everybody has gathered, and spend the journey getting slighly sunburned while trying to replenish my liquid balance...
Hiiumaa shrinking on the horizon: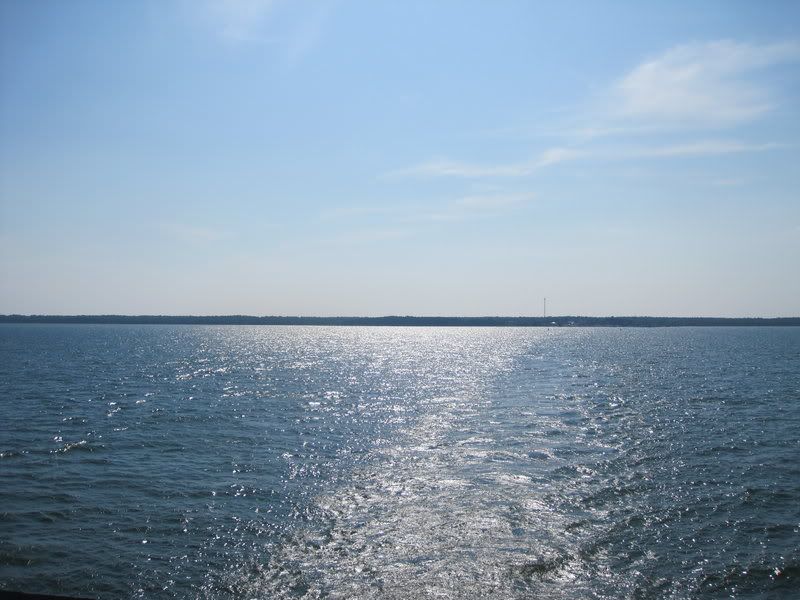 Passing sistership on the other direction: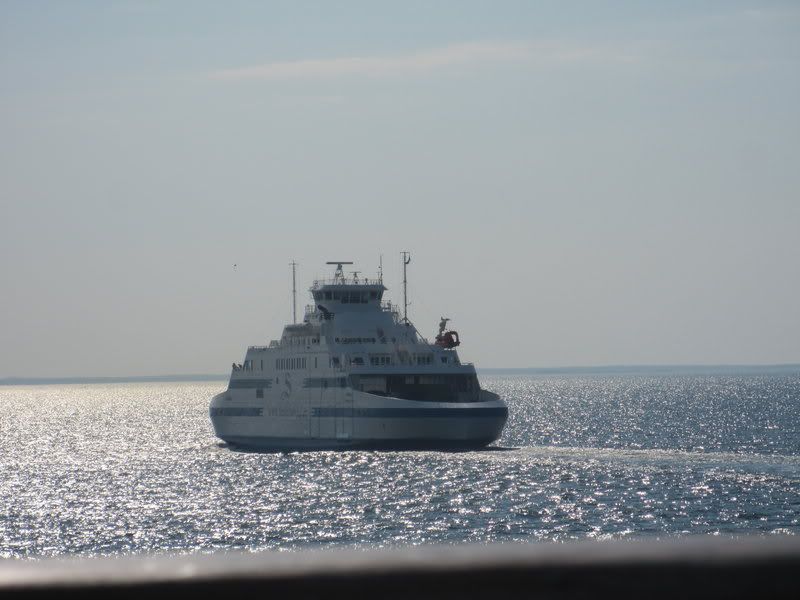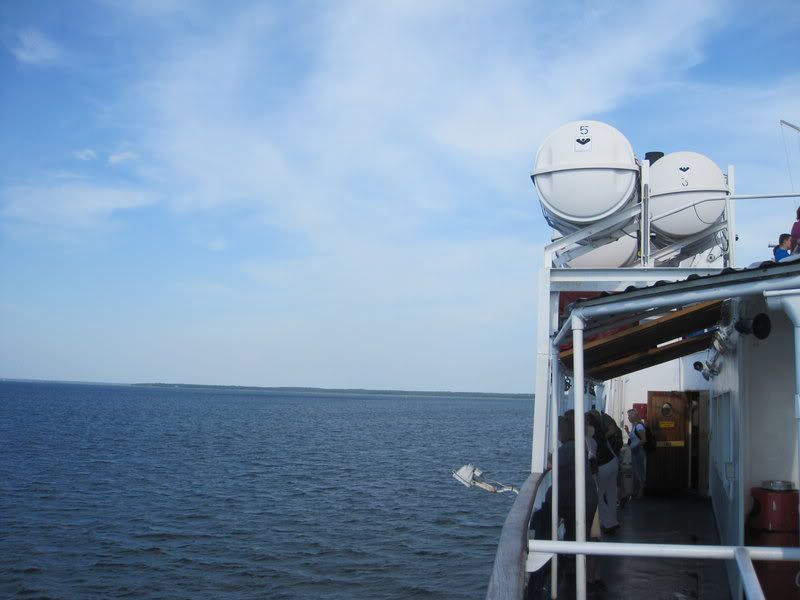 After around one and half hours we reach the Estonian mainland. Upon reboarding the bus the driver doesn't look like he realized there was anything wrong with me, even though I give him quite a stare. Well, language barriers and all, so I decide to drop the matter.
Ten minutes later we stop at the bus station at Haapsalu and I get off.
Haapsalu
It's a bit of a hike to the hotel which is on the other side of the town. The hotel, Spa Hotel Laine doesn't look too inviting from the outside:
...and it doesn't get much better from the inside either: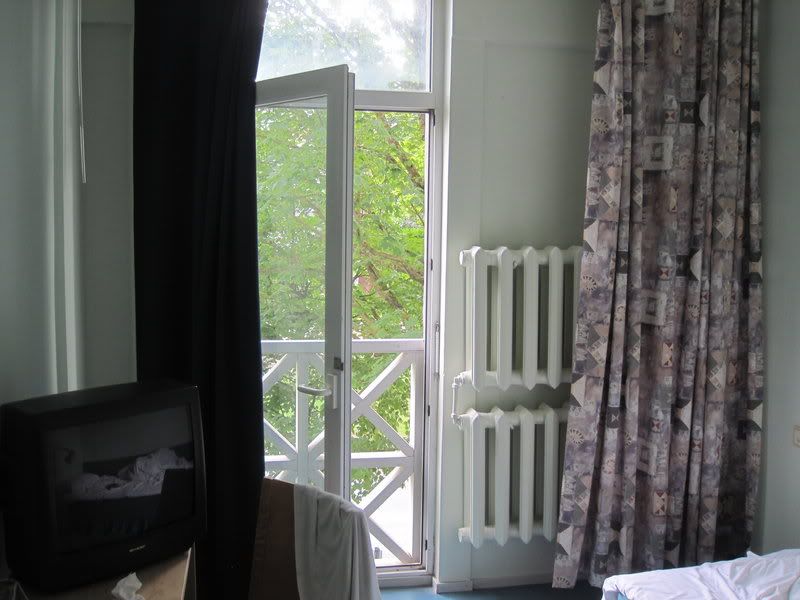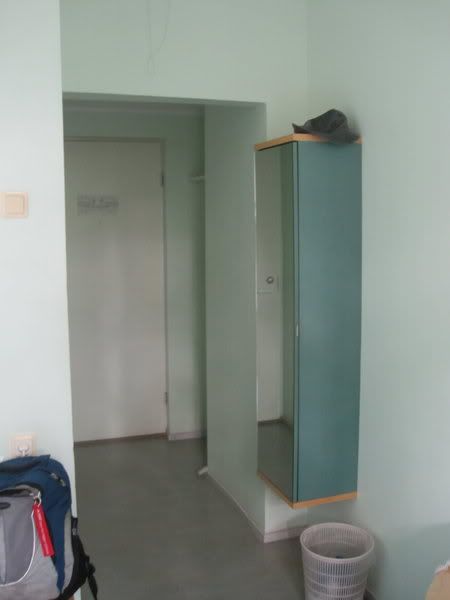 Even the advertised free wifi is not working, so my 50 EUR room rate is far too much for this dump. Maybe if I'd used the spa and pool facilities, but I didn't bring my swimming pants with me...
The tiny shop in the hotel lobby was packed full of booze - yes, they cater for Finns:
Some pictures of Haapsalu follow. Nice name for a bar - "Lennujaam" is Estonian for "Airport":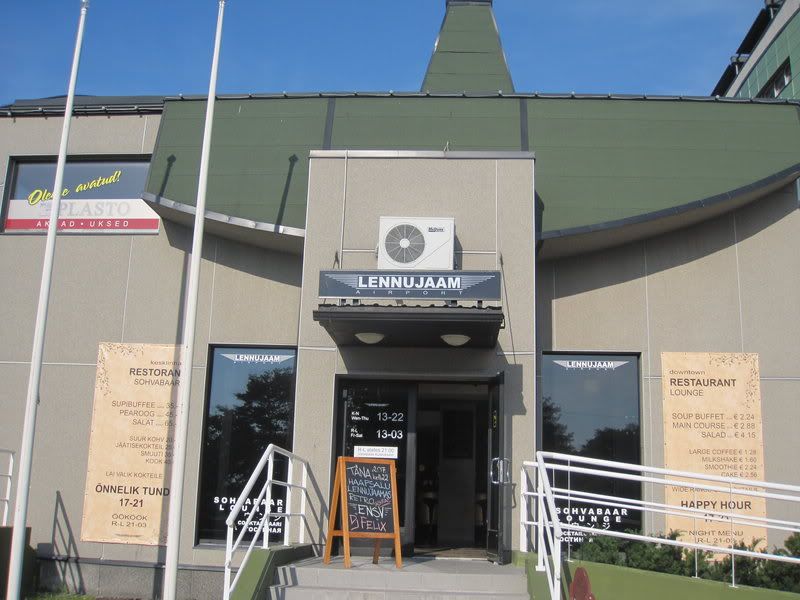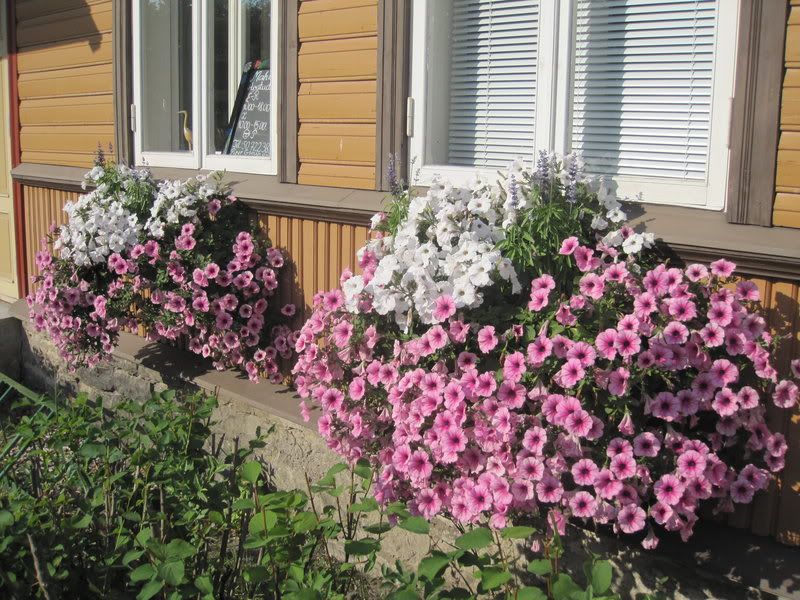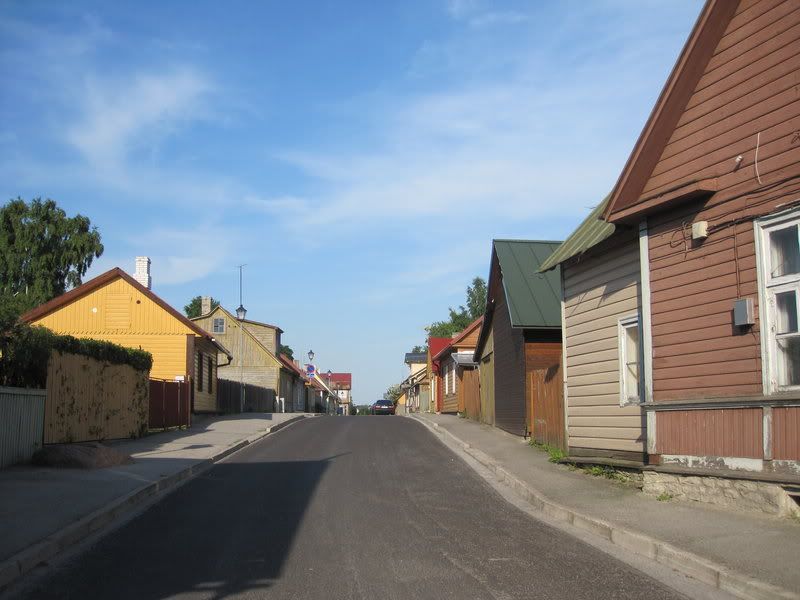 The ruins of the castle, nowadays a playground: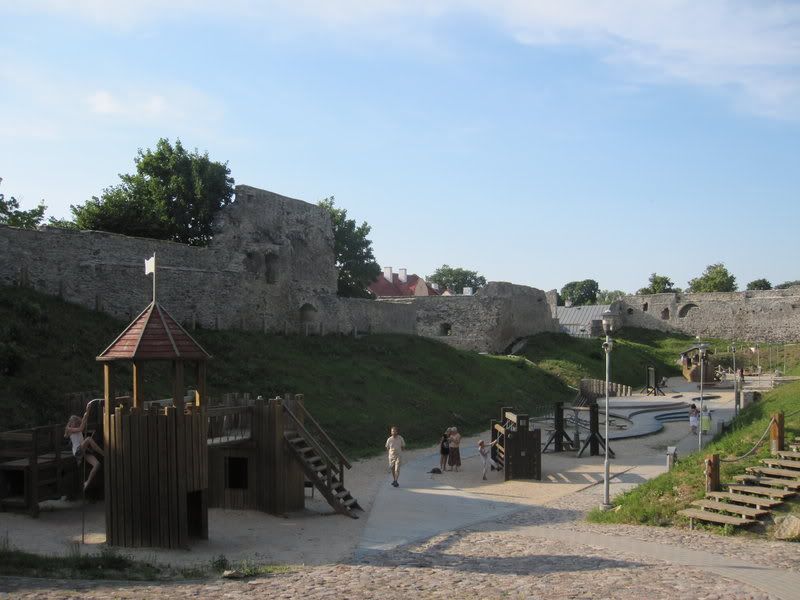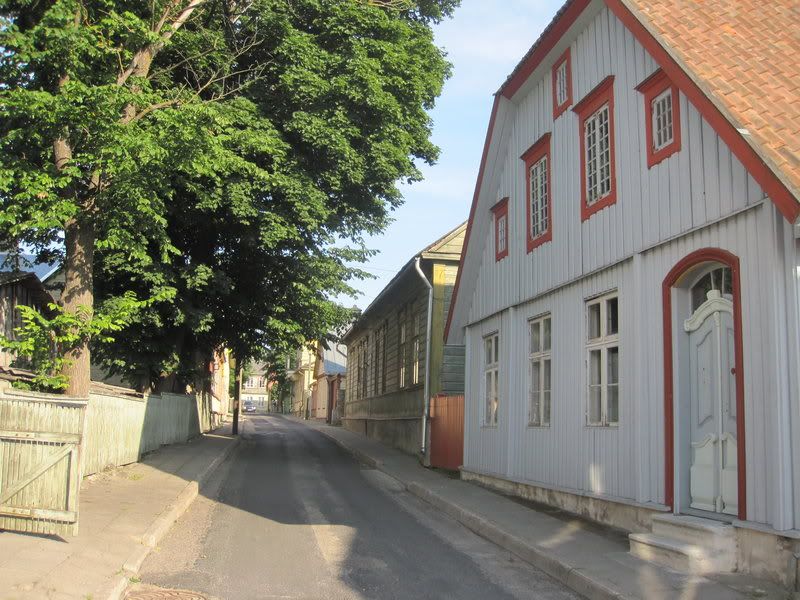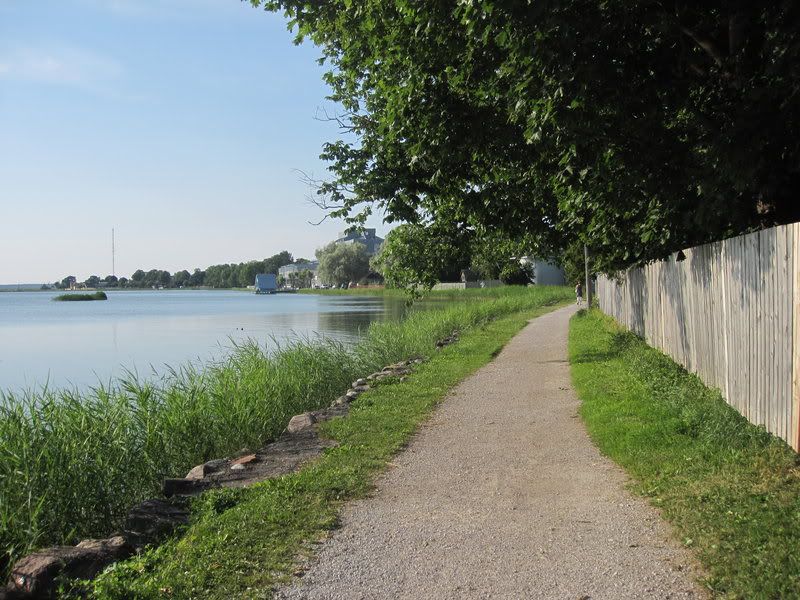 Local attractions: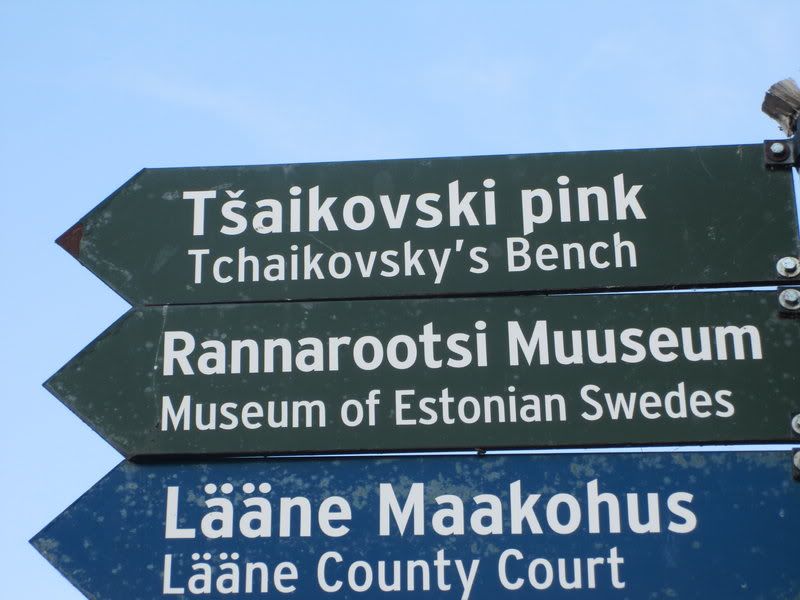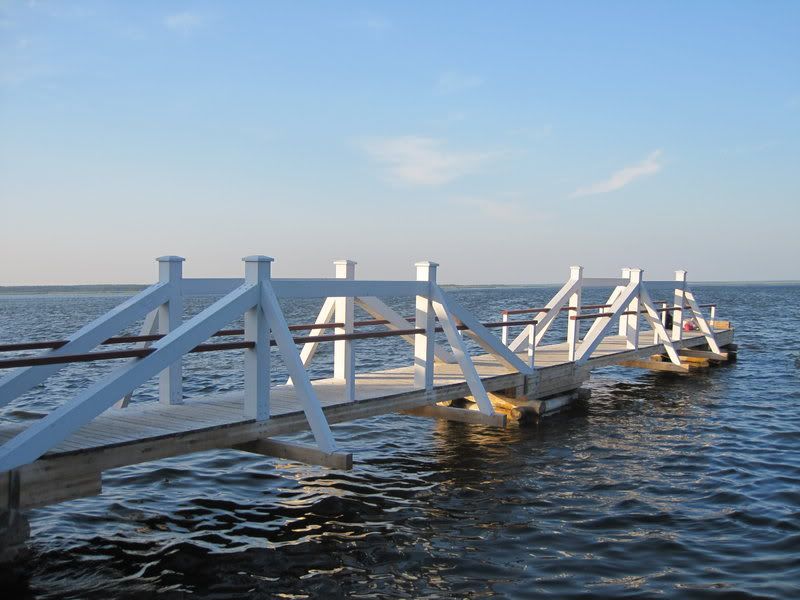 Top