Revisit of Virgin America July 2011
Because of a recent July 4th sale on Virgin America, I am able to find a relatively affordable last minute first class fare to Dallas Ft Worth from Los Angeles. The flights cost about $619.40 with all fee and tax included. I have a $300 credit previously and expiring soon, so this is a good opportunity to get acquainted with VX again. I also decide to write a short report and see how VX is up-keeping its service. This DFW service is still considered medium haul so meals and services are similar to Seattle flights.
Here is the full itinerary:
July 5, 2011
VX 882 LAX-DFW Lv1715 Arr2220 Airbus A319-100 N527VA "Tubular Belle"
July 6, 2011
VX 879 DFW-LAX Lv1415 Arr1535 Airbus A320-200 N641VA "Dotscomsecrets Air"
Booking:
Virgin America's website is pretty user-friendly and you are able to preview the seats before booking the tickets. All the upgrades can also be done on the website under "manage my booking" section. I was able to use the credit easily on the payment page. The only thing that is lacking is a good app to be used on i-phone/Android/smart phones.
Check-in:
I arrived pretty early on both the inbound and outbound flights, as I wanted to spend some time looking at planes – something I missed doing.
LAX – of course a much larger operation is happening here. V Australia shares this check-in area as well. The setup is pretty typical of all VX operation – a first class/main cabin select priority line, a web check in baggage drop off line, a full main cabin service line, and then the lines of self-check-in kiosks and baggage drop off lines. All the lines are well staffed, and there is a staff assisting passengers with kiosk check-in as well. I used the first class check in line, since I did not want to bother with kiosks. F line was pretty busy, and an agent in main cabin saw me and escorted me to his counter. Very good service! The agent was efficient and polite.
Entrance to T-3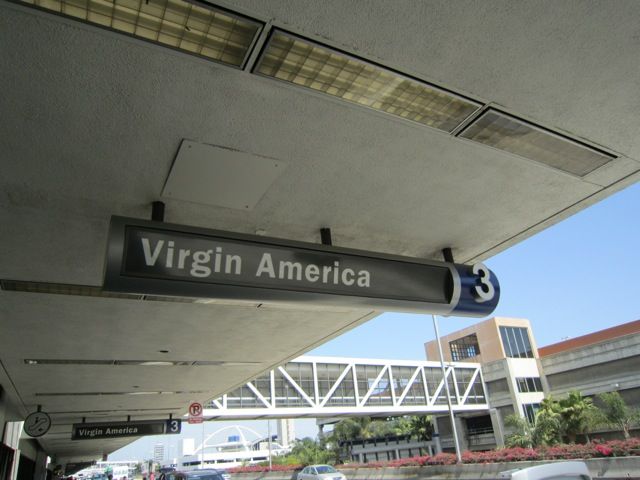 Check-in areas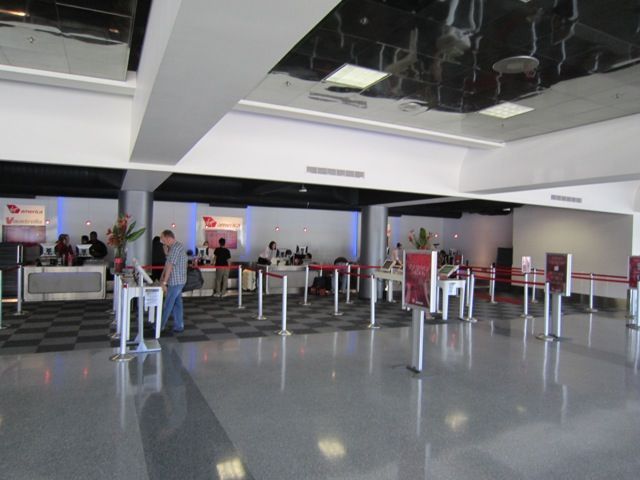 First class priority line
Nearby V Australia section – when will I fly you again?