Leg 5: Dash to the Rockies (or, Taken Off the No-Fly List) –April 17, 2011
Some photos have been omitted for your convenience. The full album may be found here:Slideshow for Leg 5.
So, what's the reasoning behind this Palm Sunday afternoon add-on trip? Well, I was looking at the F9 flight schedule and I saw that OKC-DEN would be served by the Dash 8 for a few weeks. Up to this point, I didn't hold turboprop planes in the highest of regards. They have the perception of being cramped, noisy, slow, and possibly unsafe. For a long time, I said that I would steer clear of them if at all possible. My stance has softened considerably since I've begun to act on my interest in aviation. Thus, I thought it would be a good idea to actually fly on one and judge for myself.
I was getting more and more jazzed as flight day approached. By that morning, it was one of the few things on my mind. Given the magnitude of this flight, I decided to check in at the airport and get a proper boarding pass.
I was walking through the terminal when I saw a turboprop plane lining up for landing. It wasn't outlandish for the plane to not be there yet, and I figured any delay would be minimal at worst. On the other hand, it gave me a good opportunity for some pictures before it pulled completely to the gate.
Proper boarding pass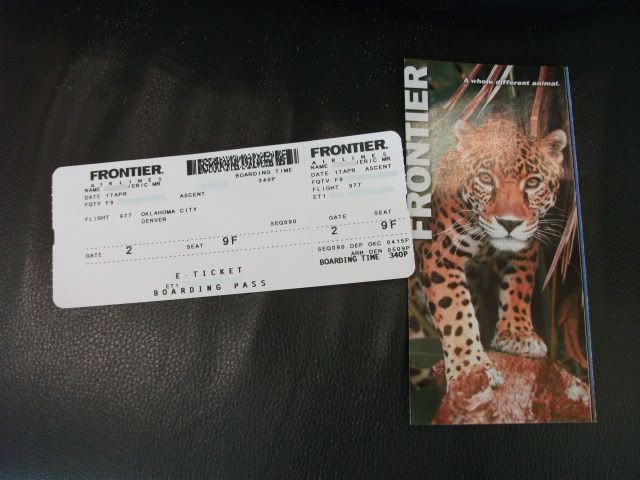 Hey, what kept you?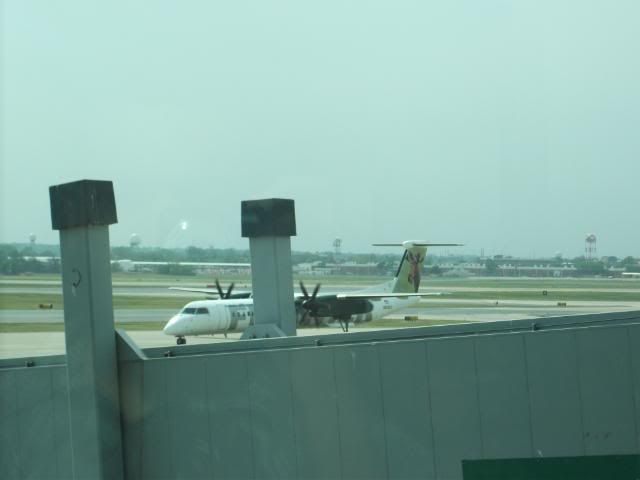 With that out of the way, I watched the people file out of the door and waited for boarding to begin. It was a few minutes behind schedule, obviously, but the situation was still alright. At 4:02, the gate agent informed us that boarding would be delayed until 4:20 and departure until 4:40. This was because of high winds in DEN affecting traffic. Still within my acceptable delay limit, though.
Frontier Airlines 977, operated by Republic Airlines as Frontier Express OKC-DEN
Scheduled: 16:15-17:09
Actual: 16:41-17:32
De Havilland Canada DHC-8-402Q [Bombardier Dash 8 Q400] (N504LX)
I got to seat 9F and looked out the window. I was pleased with what I saw. It looked as though row 10 might have afforded a slightly better angle, but 9 was still quite nice. There was one of those Dash 8 moments where a person a row or two behind me got up and *whack!*--the sound of a head against an overhead compartment.
My arrangements worked out quite well, as there was no 9D sitting next to me, giving me precious space. That said, I was surprised at how much room I had before taking the empty seat into account. What's more, the tray table seemed to provide the perfect space for my laptop, almost as if it was made for it. Easily among the least cumbersome computer setups I've had.
Cabin shot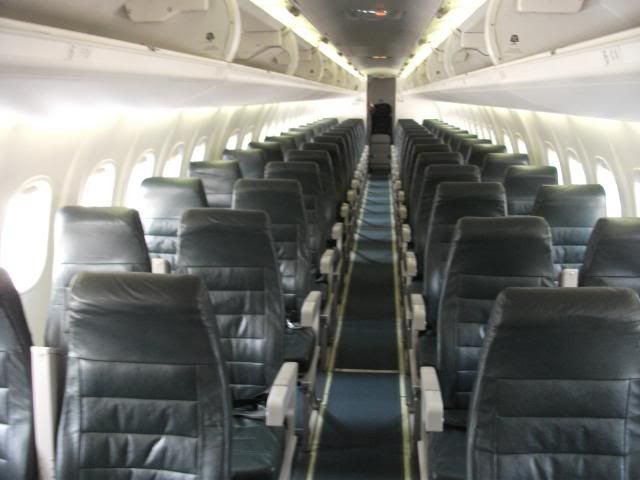 Legs—roomier than I expected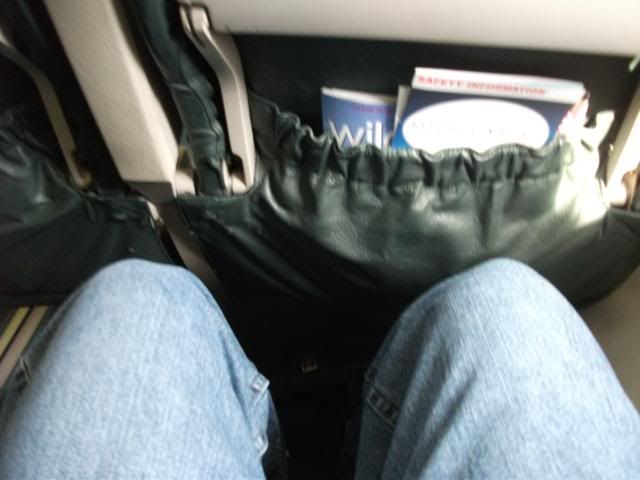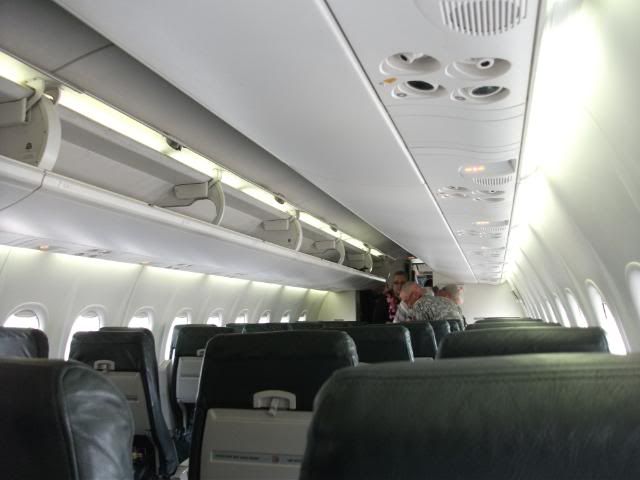 Dash 8 buckle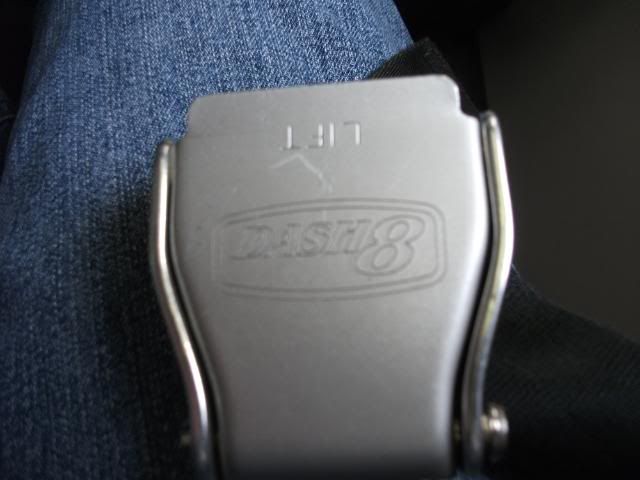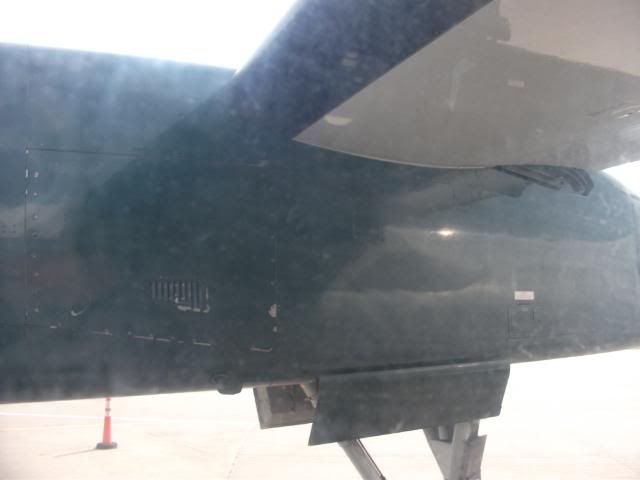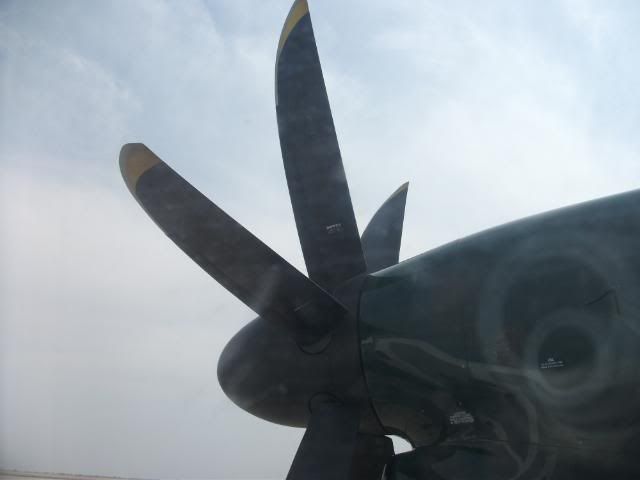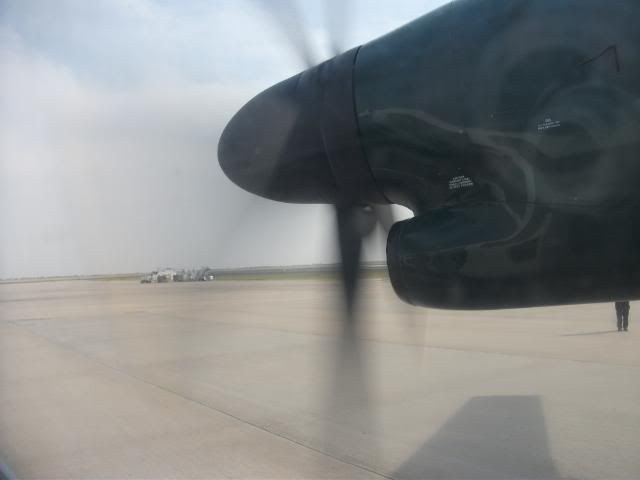 Away we go!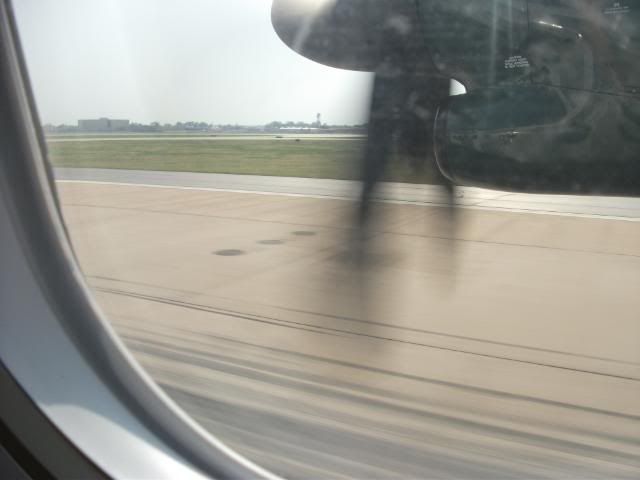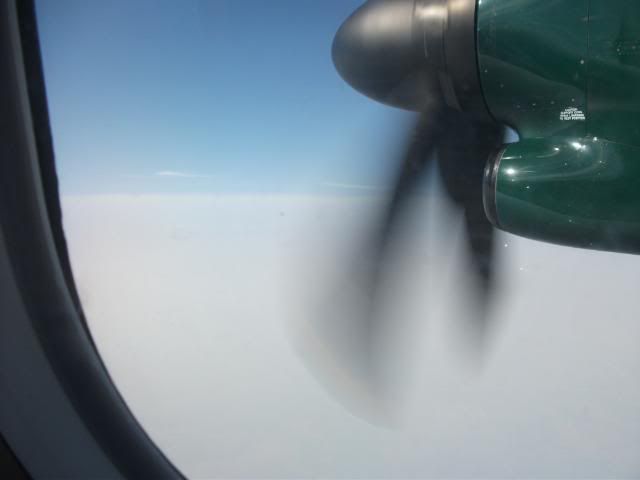 Another cookie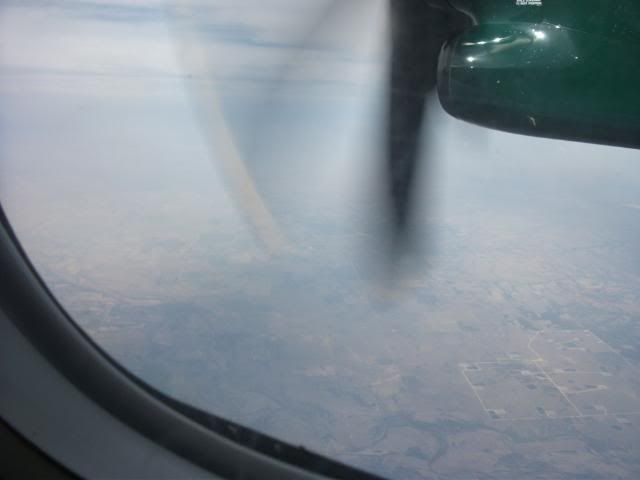 The next thing that surprised me was the noise. Sitting next to the engine, I kinda expected to hear droning and rattling for the next three weeks. On the contrary, the hum of the engines was nothing I couldn't handle. Certainly quieter than sitting next to the engine of an MD-90. (Not that the latter is an unpleasant experience, mind you.)
With most of the formalities out of the way, I spent the rest of the flight with pictures, music, and Peggle. Not even the turbulence, which was the most I've felt in a while, took my attention away from Peggle. So much for the damn things being unsafe.
Blocked in by the beverage cart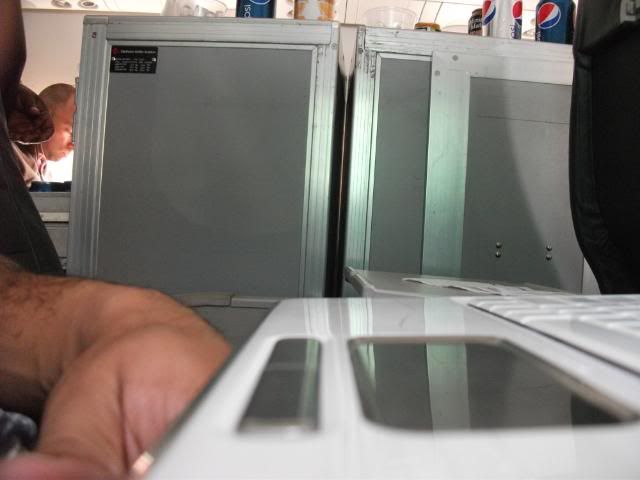 Ulysses Airport (ULS/KULS)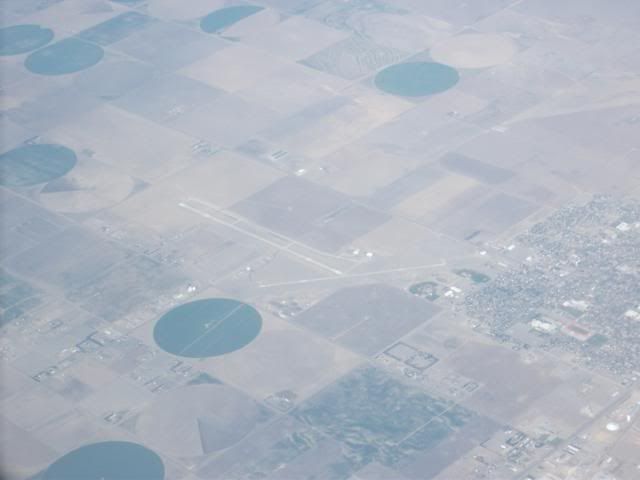 Limon Municipal Airport (LIC/KLIC)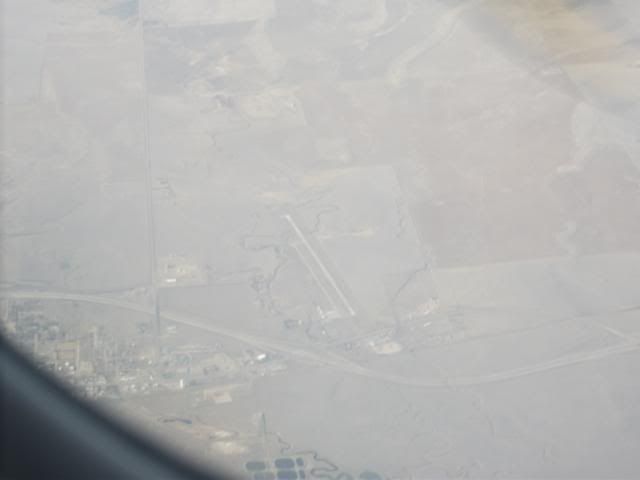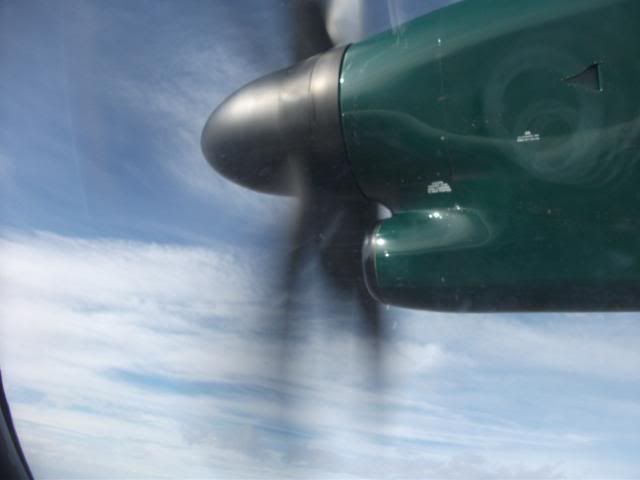 Gear coming down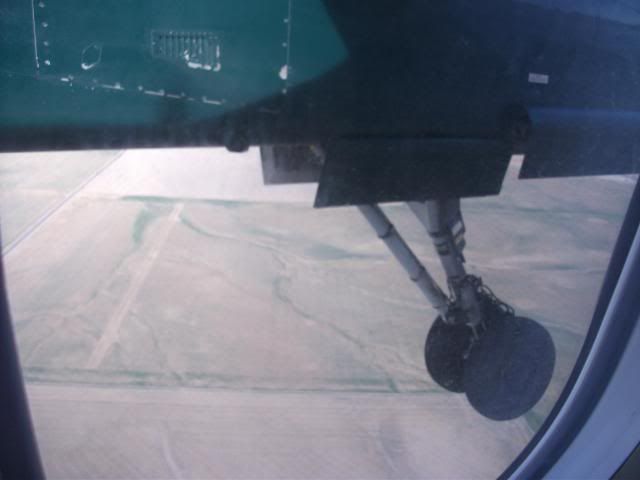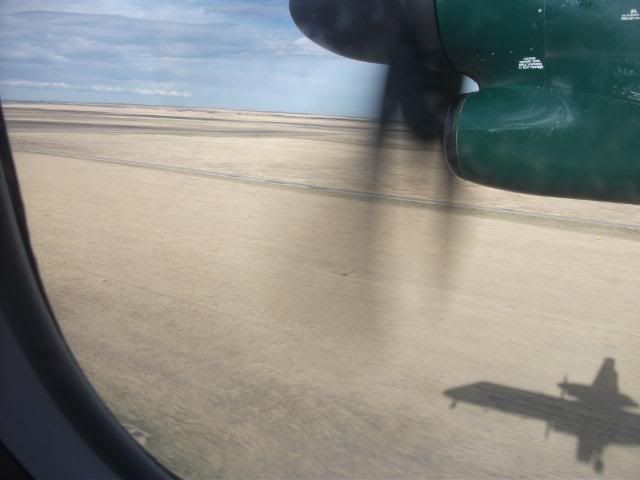 Seeing the wheels hit the ground: one among many cool things you see on a turboprop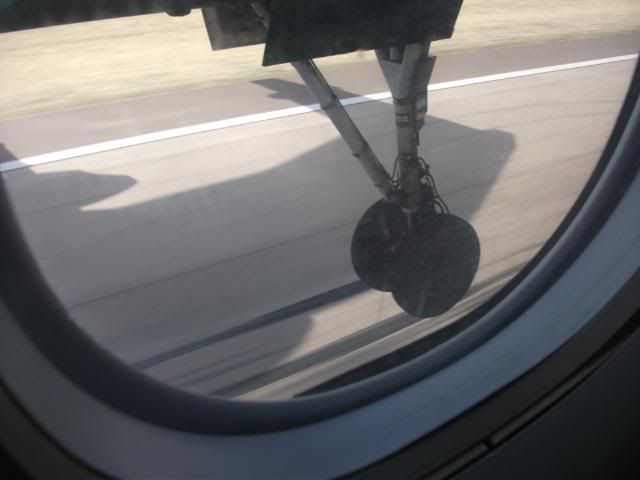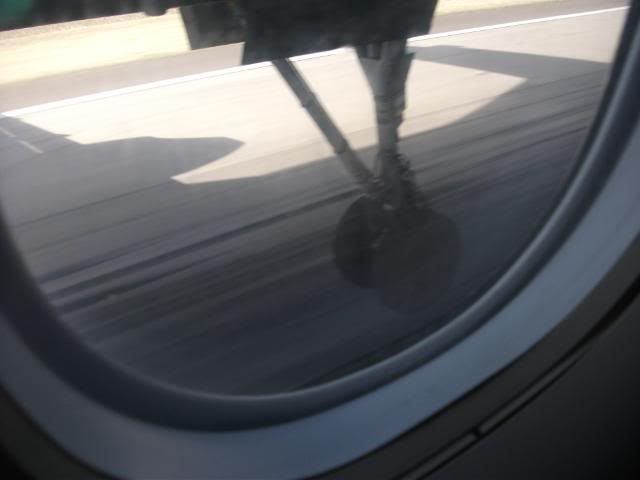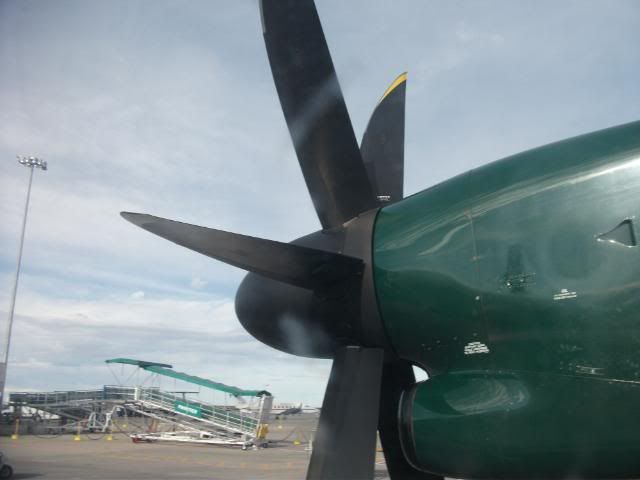 Deplaning was naturally by stairs. Passengers who had larger bags stood in a group while they were unloaded. This gave me an excuse to take my sweet time and get as many shots as I wanted. And so, with the Dash 8 behind me, I proceeded to Concourse B to give it its day in the sun.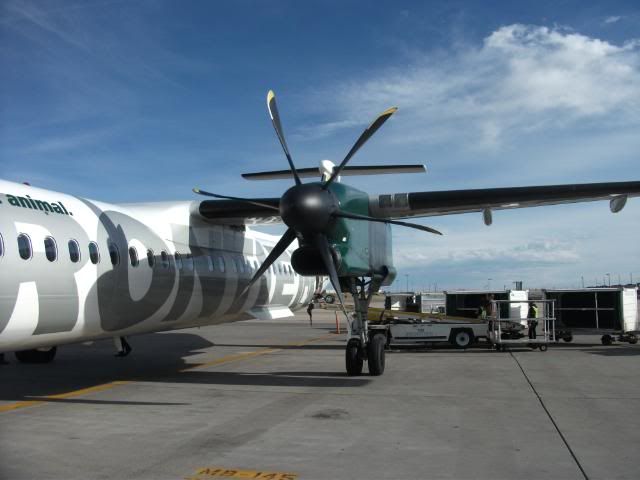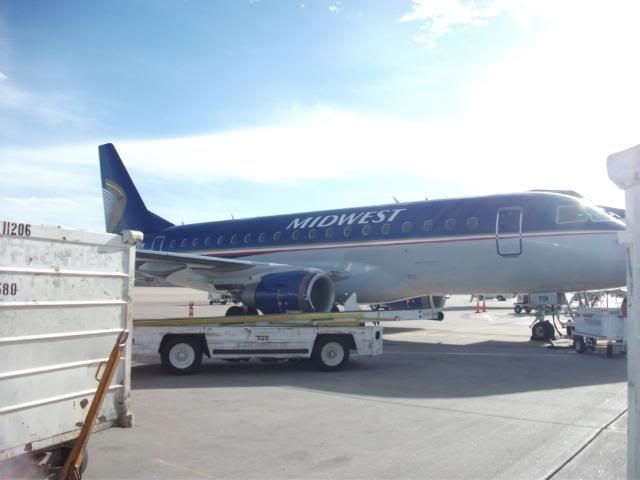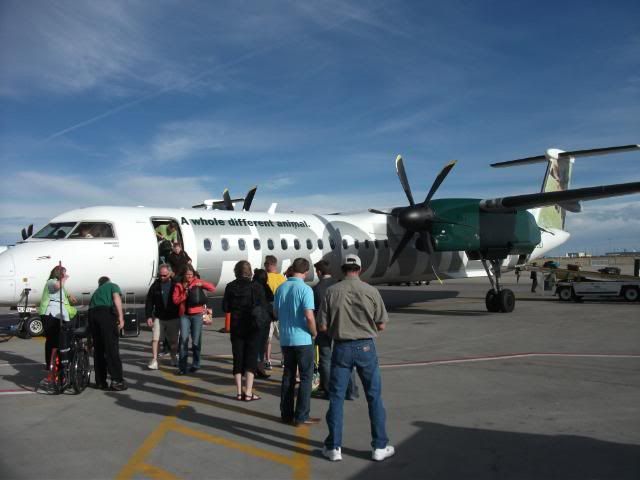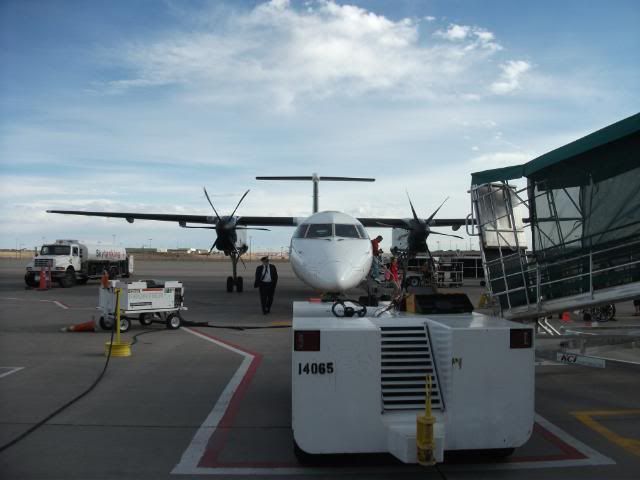 Sub-Cave dwellers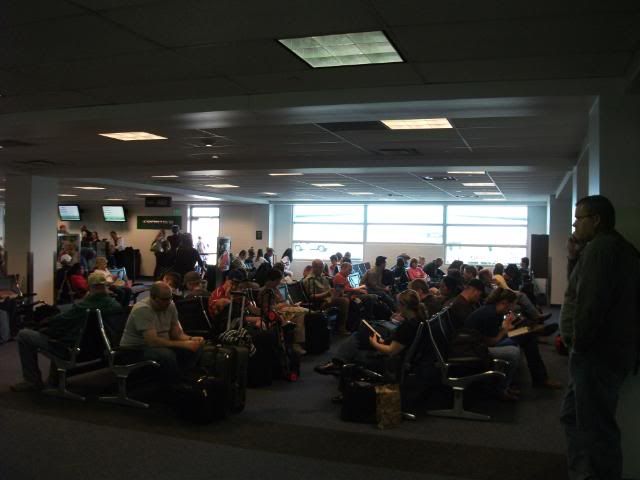 A last look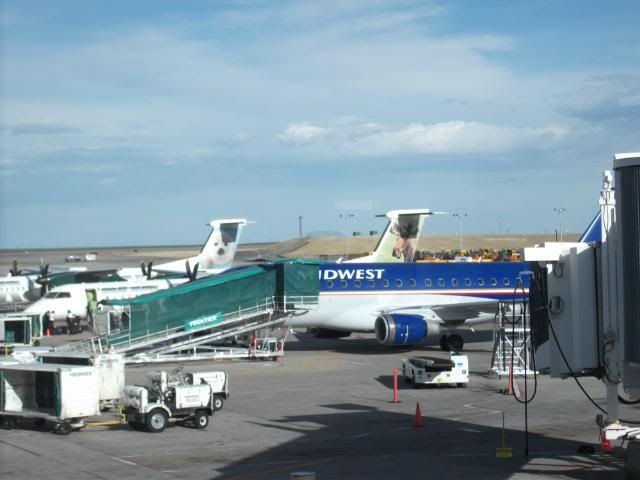 For the win…yes!
Face to face with a CRJ? I can only be in one place…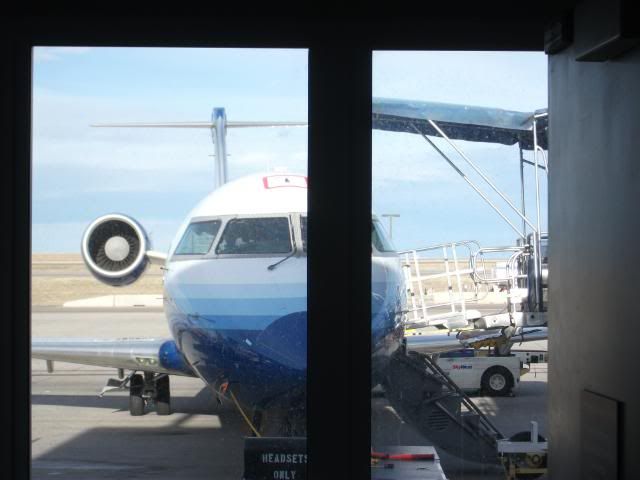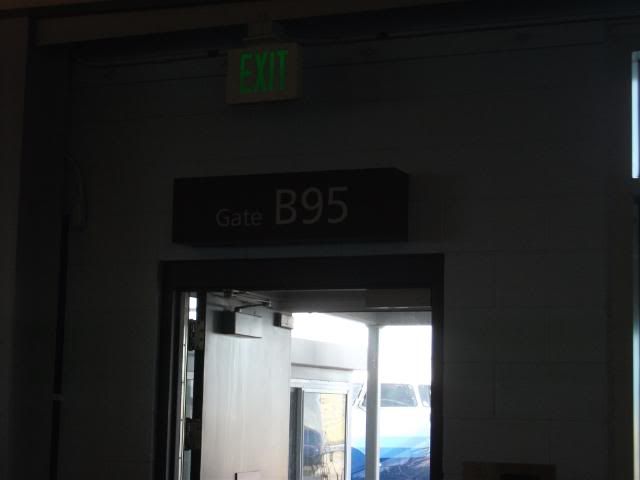 Gate B95. Ladies and gentlemen, welcome to The Cave. It's the end of the line for all things United. Whenever I have time during a layover in DEN, I always pay a visit to Concourse B and walk from one end to the other. I took a seat and finished my Caribou Coffee and ate my dark cashew bear. I then went over to B95, started my cell phone stopwatch, and started the trek. The walk was nonstop at a normal pace. I used the moving walkways except for the one in the center of the concourse. Some extra time was taken to steady my hand to minimize blurry pictures. When I touched the wall at the other end, the elapsed time was 15:36.7. Here's what one sees from wall to wall.
Ready…set…go!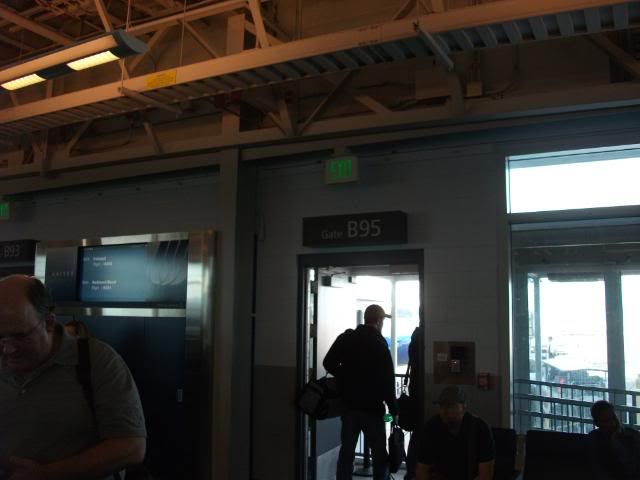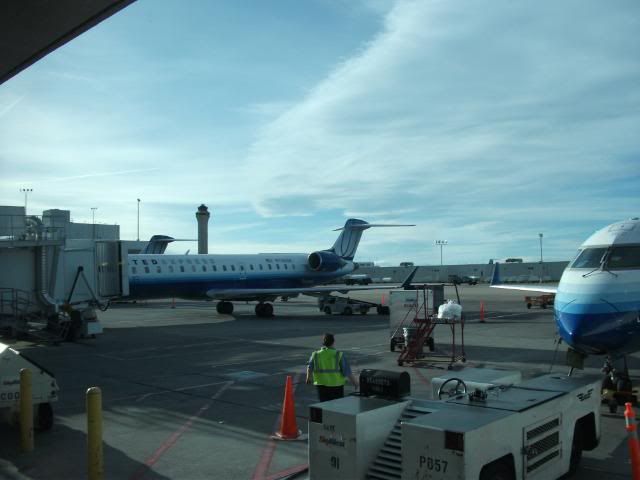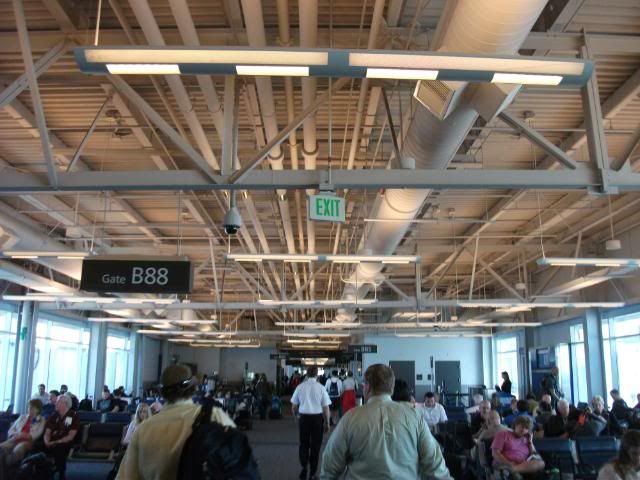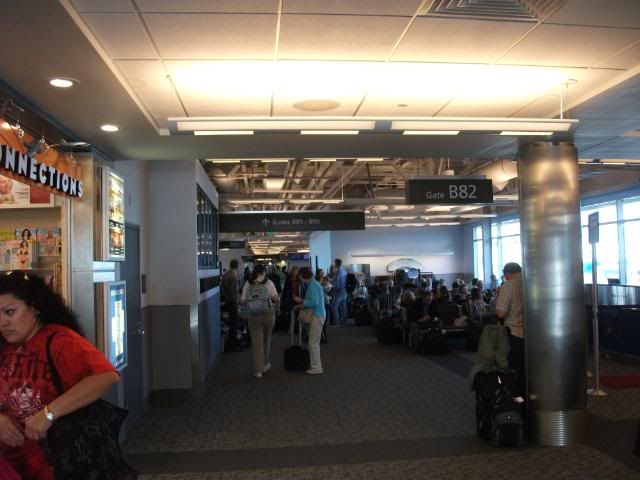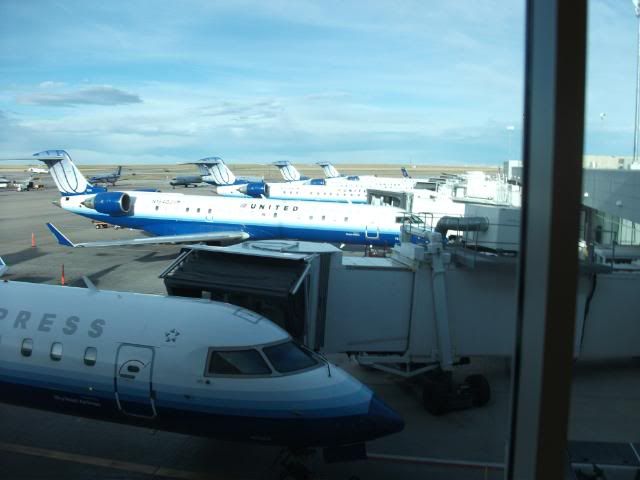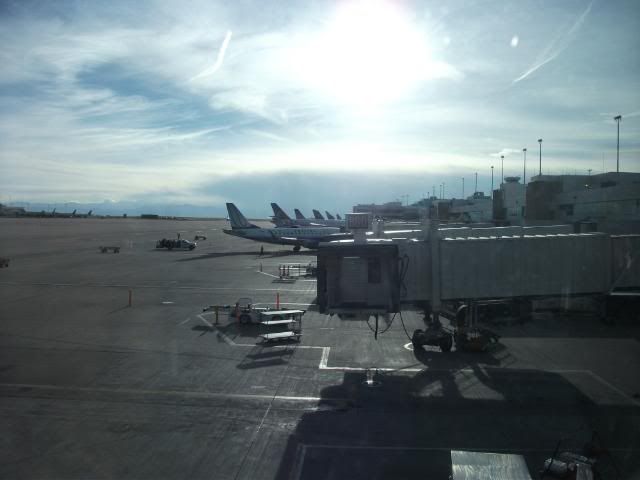 That's a lot of Barbie Jets…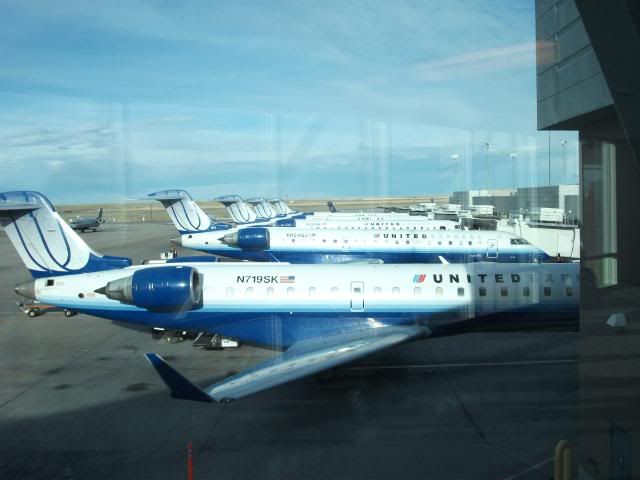 The Sub-Sub-Cave. Admittance only for those arriving/departing through there.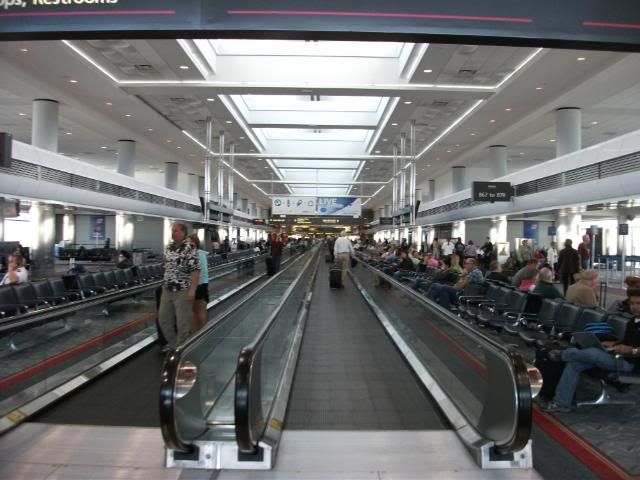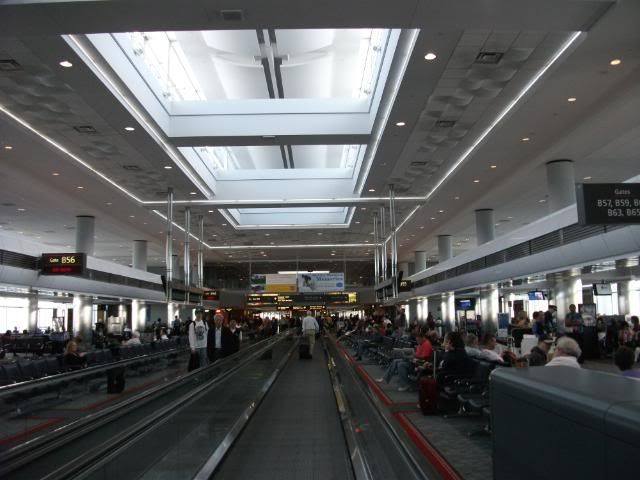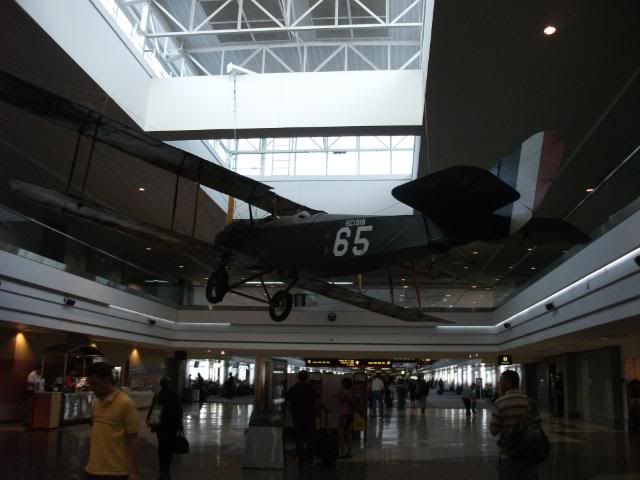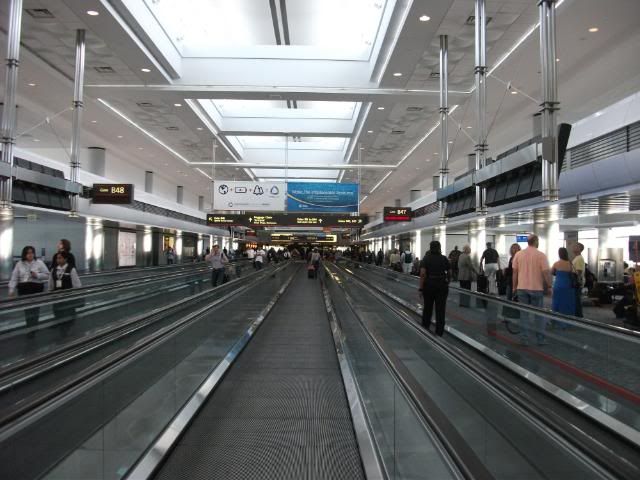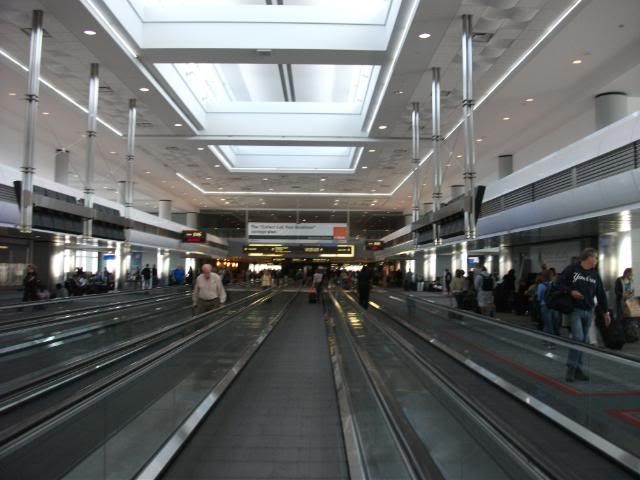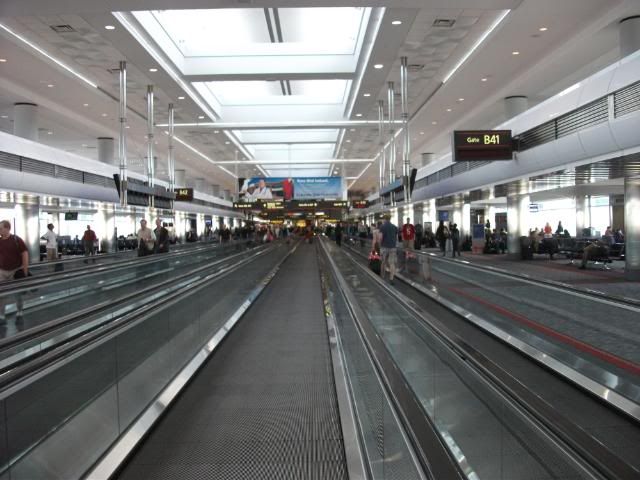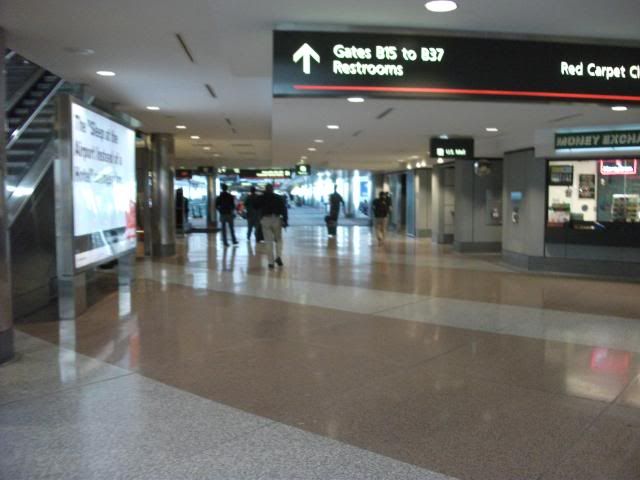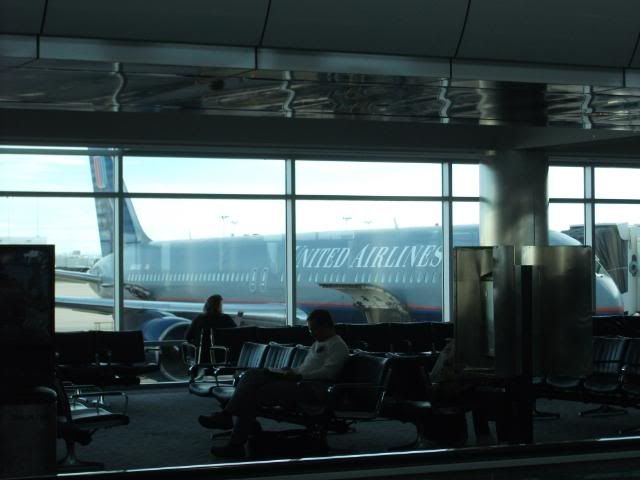 Red Carpet Club West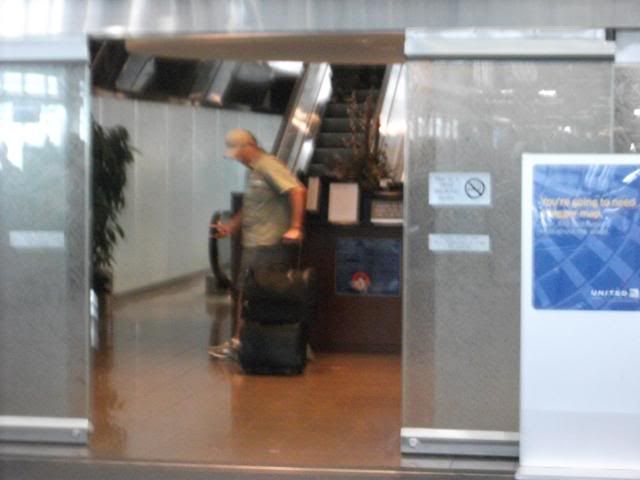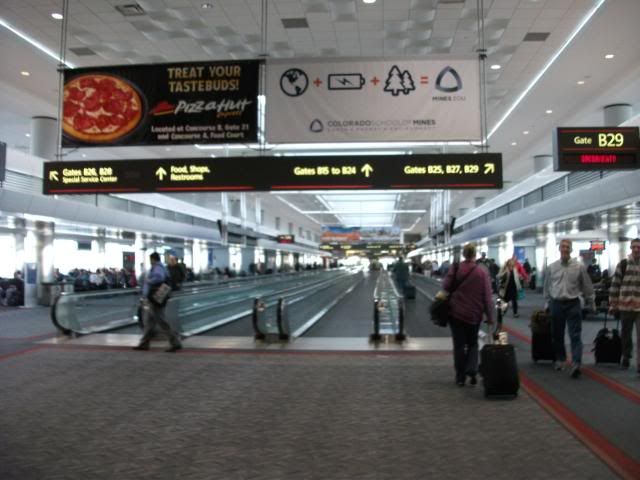 Phoenix? I was there the day before!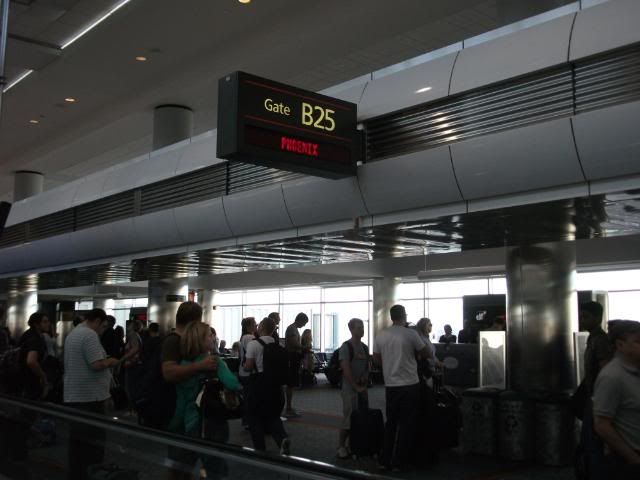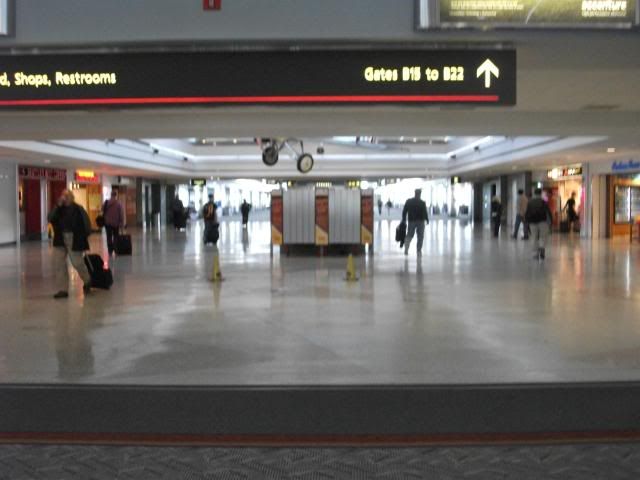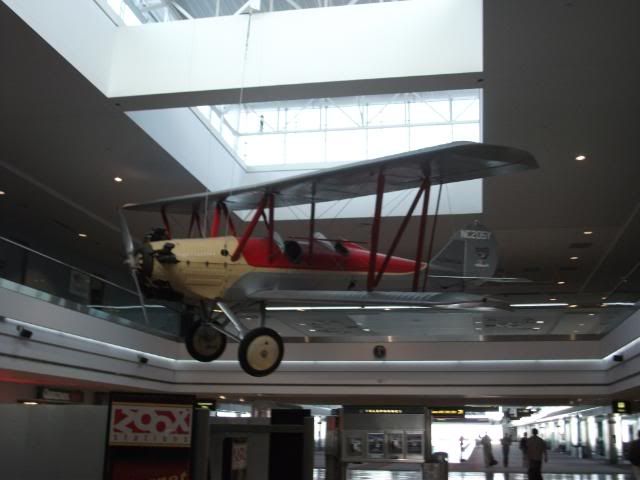 And that's the gate I was at the day before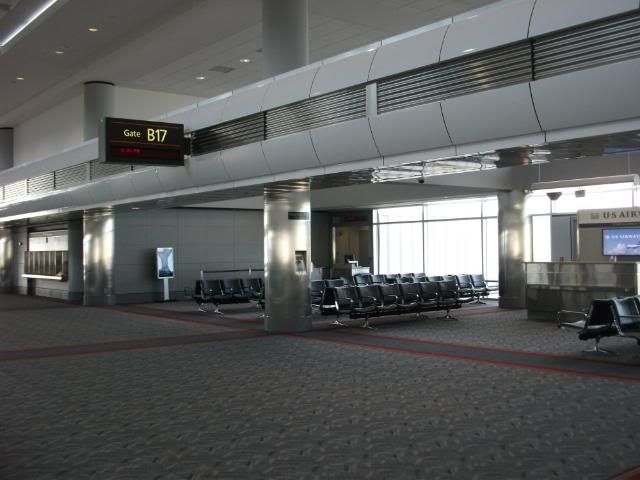 Walk into the light…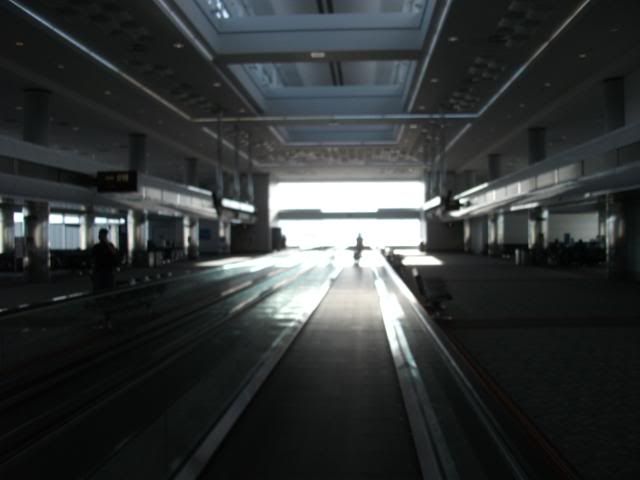 The end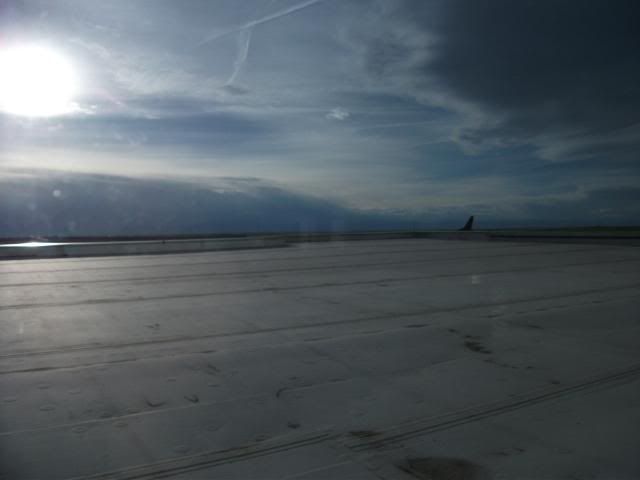 Back the other way
As promised, the peaceful B15 bathroom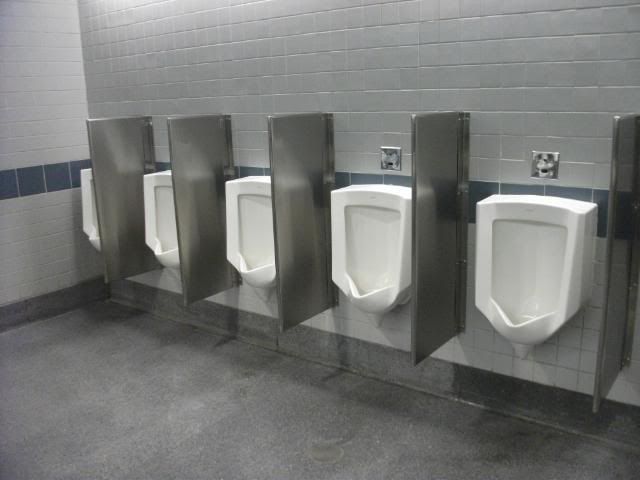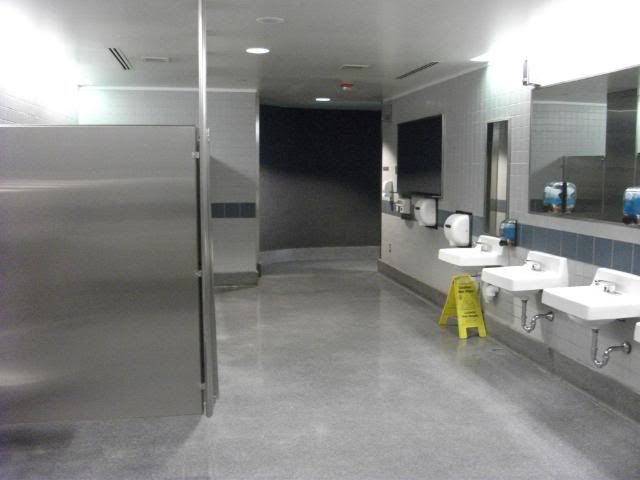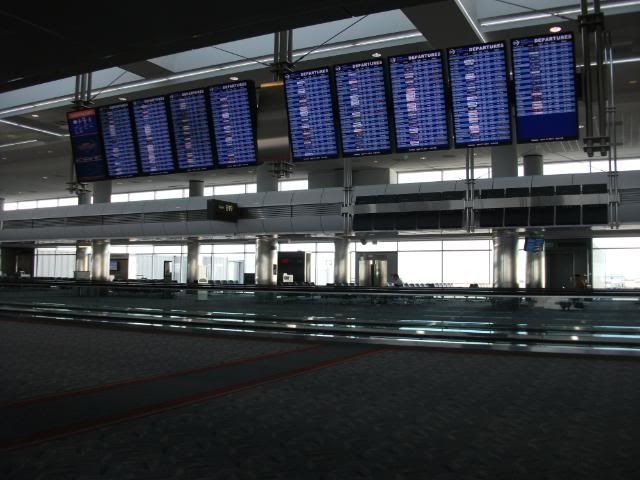 Time to go!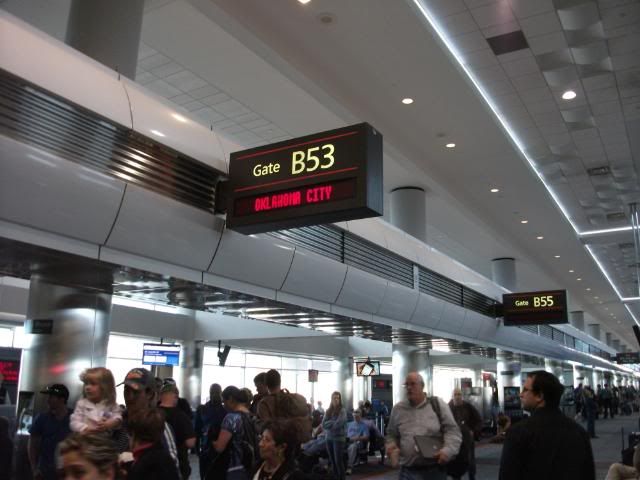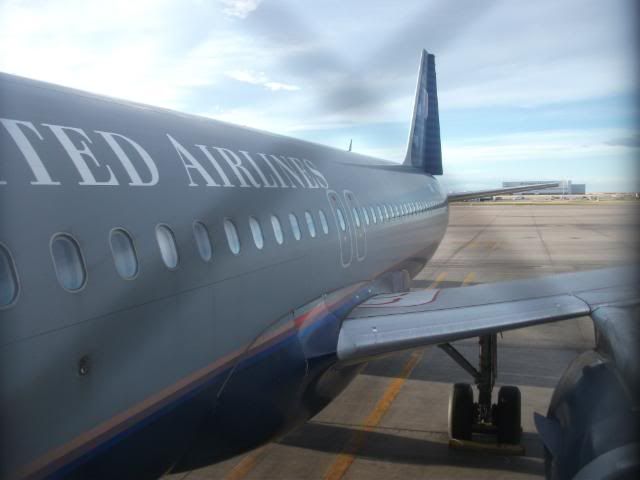 United Airlines 377
Scheduled: 19:26-21:54
Actual: 19:19-21:41
Airbus A320-232 (N416UA)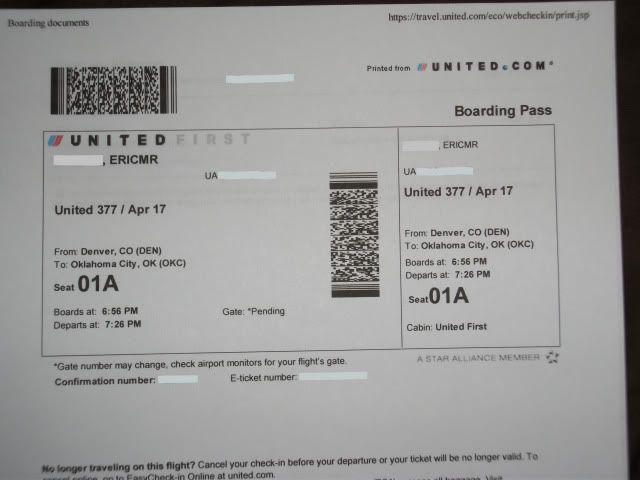 The return trip would feature another first: it would be my first time in first class. Yes, I know that domestic F is little more than a bigger seat and some free food. On a tiny 1.5 hour segment like this, it amounts to little more than a free snack. Nevertheless, it's a baby step towards a significantly different cabin experience. I decided to take advantage of UA's upgrade option after I bought the ticket. Here be life as seen from 1A:
Wait, am I on the right airline?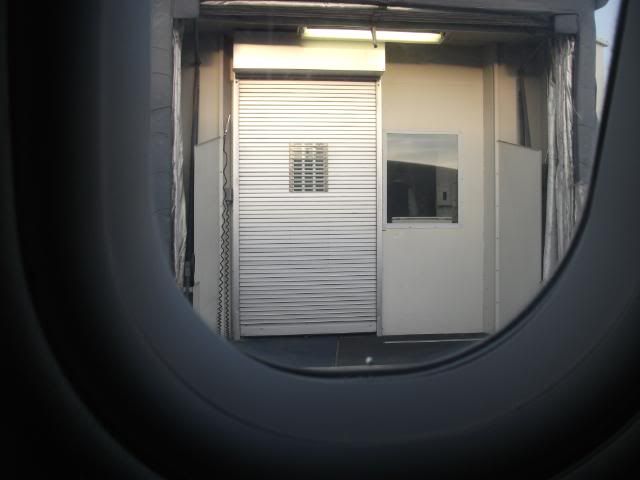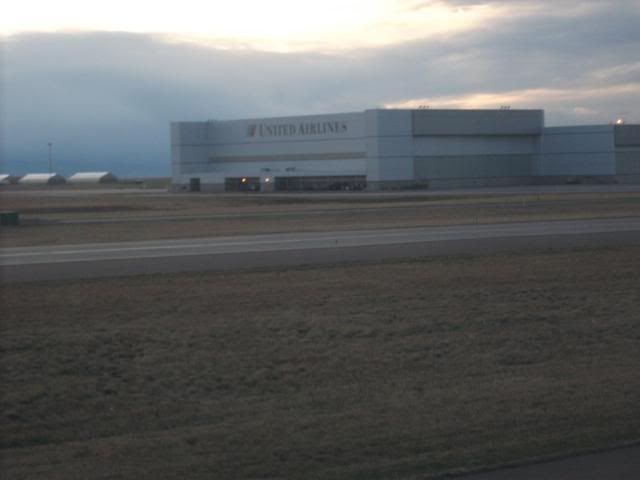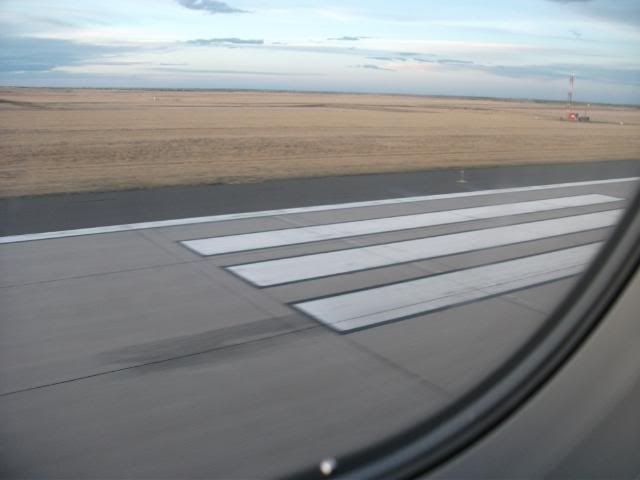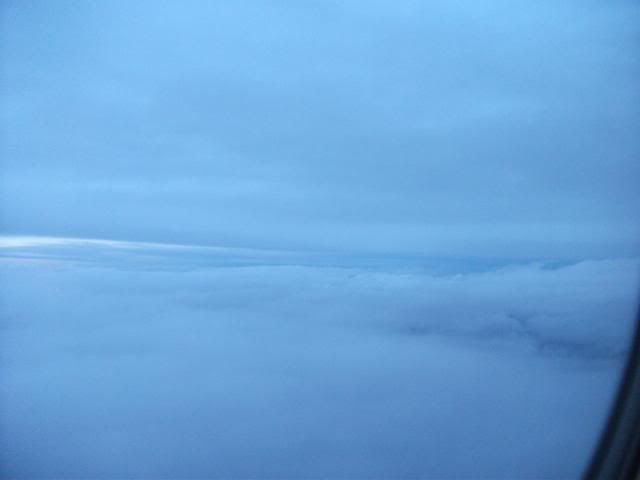 OMG, a real glass! (You'll notice I was on channel nine, but it was in vain—I suppose the captain chose not to activate it. The IFE was
The Simpsons
, so there was a measure of forgiveness.)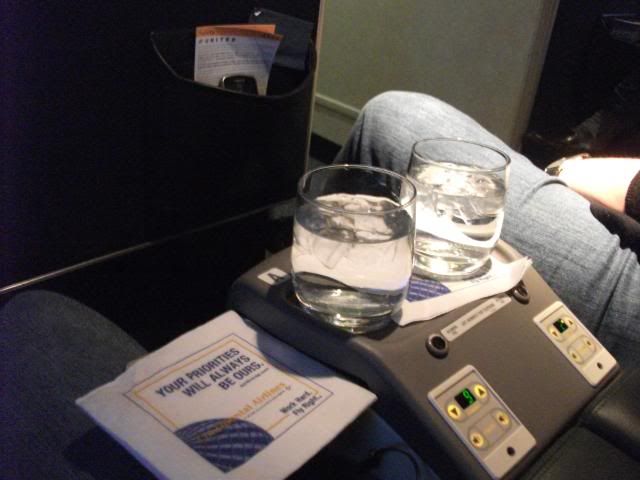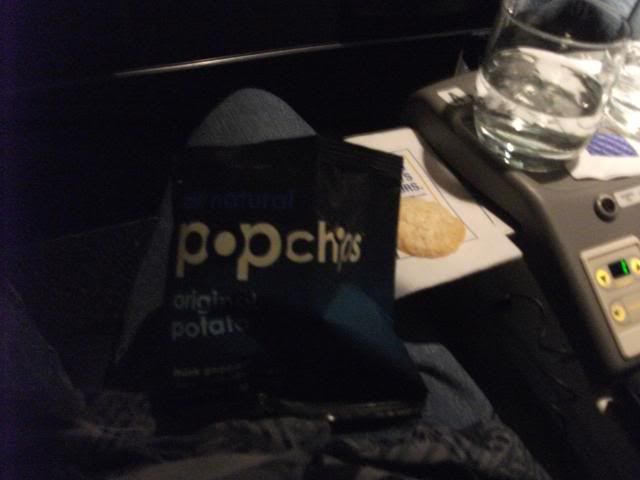 Over Lake Hefner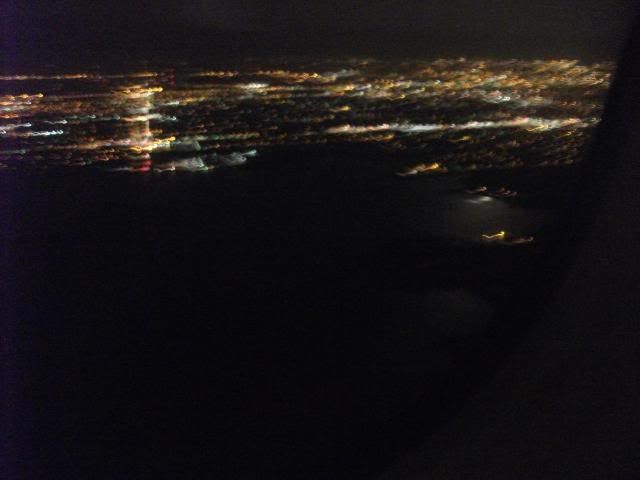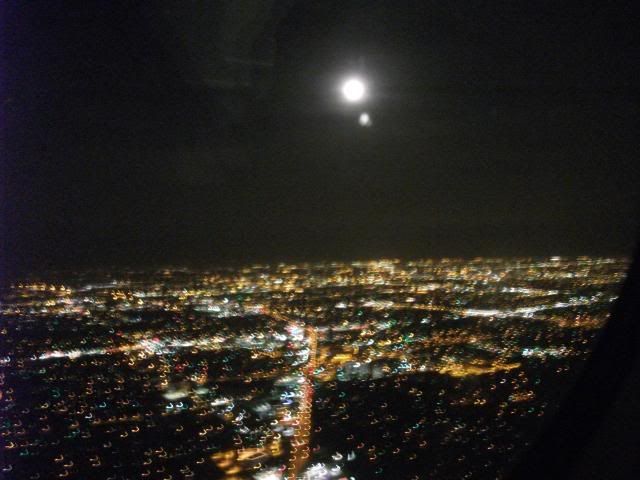 On the ground
The seat
Now here's my confirmation that this is more than just a hobby: when I got to my car, I remembered one critical thing: I had forgotten to note the registration of the plane.
The A320 was in easy sight, but the gray livery combined with the darkness meant that I couldn't make it out. Therefore, I did the only logical thing: I went home, grabbed my camera and lens, and went back.
I was fortunately able to get what I needed with the extra firepower.
In the end, both flights were enjoyable. From low class (for some) to first class, I was pleased with what I got. In the case of the latter, I can't see myself shelling out the full F fare for it, especially on such a short segment. But if the upgrade option comes along again, it will definitely be worth considering. (The opportunity would come along again, but you'll have to read on.) The Dash 8 worked hard to get on my good side, and it did quite nicely. In short, it exceeded all of my expectations. Will I sing a different tune if I have a seatmate next time? Perhaps. Will I sing a different tune if I'm on one for twice as long? Perhaps. Until then, I see no reason why I should avoid them any longer.
Airport Conclusions
DEN: Now that I've wrapped up my official visit, I can say that I really like it. Although I've rated its counterpart in Atlanta slightly ahead of it, DEN holds a special place with me. I've been there umpteen times, but I enjoy it each time. Though the general color scheme is in gray, there's enough light and space to keep it from looking like a giant cubicle. If you've got time to kill, there's plenty of space to walk and plenty of quiet places. Even when you go outside, it's surprising how quiet it is. From the parking lots, you only hear power for takeoff and reversed thrust after landing. Even then, it's so big that the sound is hardly overpowering. Of course, the layout means that you have to be careful with your connections, but it doesn't take long at all to get the hang of the place.
Supplement to the Record: Raised up on Judgment Day
What follows are just random observations about a trip not associated with the Top Ten. I would have left it out, but it was so interesting that I had to comment on it.
I had to go to Kansas City on May 21 for a little business, so I booked the trip three weeks prior. The most sensible option was F9 (OKC-DEN-MCI), so that's who I booked with. If you know me, F9 is almost always the most sensible option.
In addition to the business aspect, I was able to shoehorn in another flight on one of their A318s before they're all gone. Although I had my camera, this trip wasn't intended to be reported, so there's not a titanic gallery of pictures. Also, some of them were integrated into the main course.
Anywho, flights 1188 and 825 were both completely full and both went well. You may have heard about the whole Judgment Day hullabaloo, and I've got to say that it went swimmingly, especially on the first flight. I would have been in seat 5F, but a woman asked if she could have 5F so her son could sit next to her in 5D. Lucky for me that the son was in 4A, so I got a nice, spacious seat out of the deal. The forward flight attendant was excellent in service (she was obviously MKE-based—the northern accent gave it away). She even gave me an unsolicited lime wedge with my water. The aforementioned woman also had two young daughters in the other two seats in row 4, and the little one—between eight and ten years old—was a hoot. She mentioned how she liked my shoes (I was wearing sandals, but anyway…) and asked me where I was going. I told her, and she responded that they were going to Disneyworld. The best part was when the FA said that they had enough cookies to serve everyone, so they served them despite it being before 10:00 AM.
Between all of colorful personalities present, it was about the most fun a person could have at the front of the plane!
I had a long layover in DEN, so I did what I normally do. While in the walkway between main Concourse B and the regional jet portion, I stopped to take a picture. A woman came up and asked me what I was taking a picture of. My first thought was, 'Crap, it's security! Run away!!!'
She ended up being a regular traveler. There happened to be three UA tails posing for a photo op. I told her that I was taking a picture of the three tails side-by-side and explained the UA paint situation. (Hooray for the A.Net moment) I also saw what was probably the most immaculate example of the UA battleship livery in recent memory. You'll see a pic of the plane below. It's a bit of a shame that it'll be gone sometime. (Or, if their painting performance is any indication, maybe it won't.)
Would it be such a crime to have all three?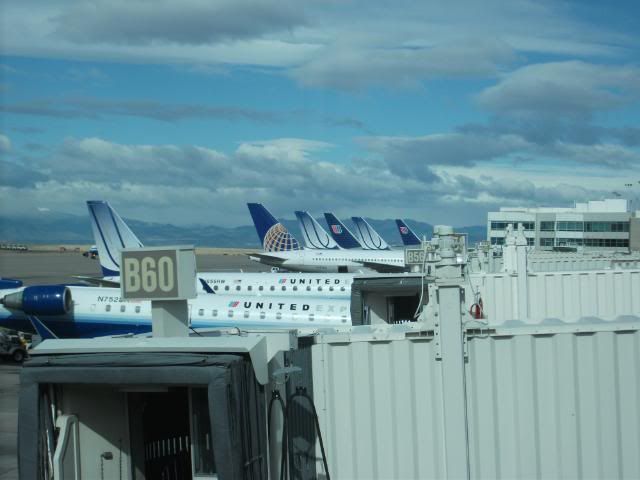 Still looking good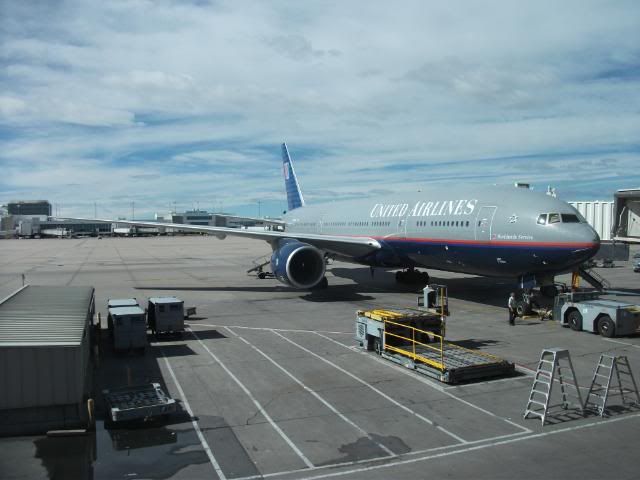 I happened to be first on board the second flight, so I settled into seat 6F and basked in the quiet of the empty cabin. From there, it went much like the first flight. Later on, a woman asked the person sitting in 5D if she might switch seats with her companion so they could sit together. Miss 5D asked if it was an aisle seat, as she was pregnant. It wasn't, and the woman looked toward me and asked me the same. I obliged and took her companion's seat: 7E. I could abide by the middle seat given the short length of the flight.
Empty baby bus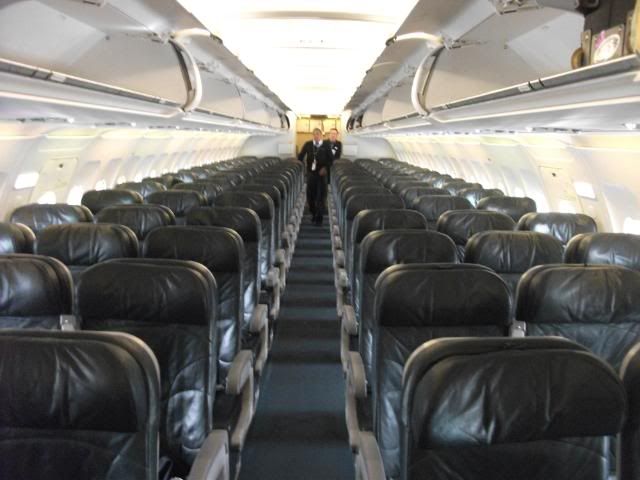 Rabbit Stu
I got to MCI and decided that there were great and awful things about it. It's nice that families can be right behind the wall at the gate, but it's not so great that the layout is like the beta version of DFW. I wanted to look around a bit before I exited, so I killed time by walking around and riding the shuttle bus. (Waiting for the red bus meant desperate searches for fresh air—the stations were at or near designated smoking areas.) An interesting thing was being by the windows in the Terminal B food court, where a bird was busy smacking into the windows in a vain attempt to get outside. It stopped after a while and scavenged for food. Also, a couple at the table next to mine were looking at some WN jets and discussing how the "wings went up at the end" on one of them. I politely butted my way into the conversation and told them what they wanted to know about winglets. Another teaching moment came when, as I was talking, a DL 319 passed by, so I told them about wingtip fences as well. They at least faked interest and asked me afterwards if I flew. I gave a simple "yeah, I do" and a smile.
They thanked me for the information, and that was that. (Hooray for another A.net moment)
MCI bathroom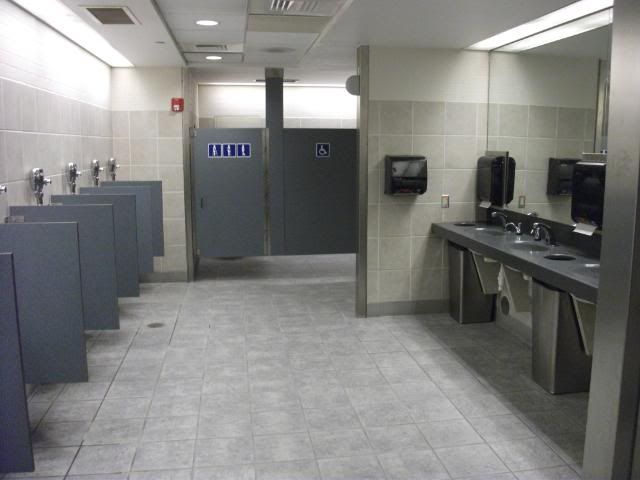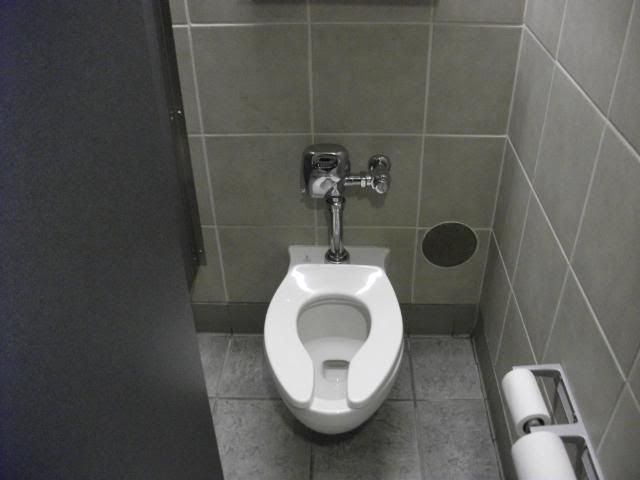 Terminal 3; the emptiness was a recurring theme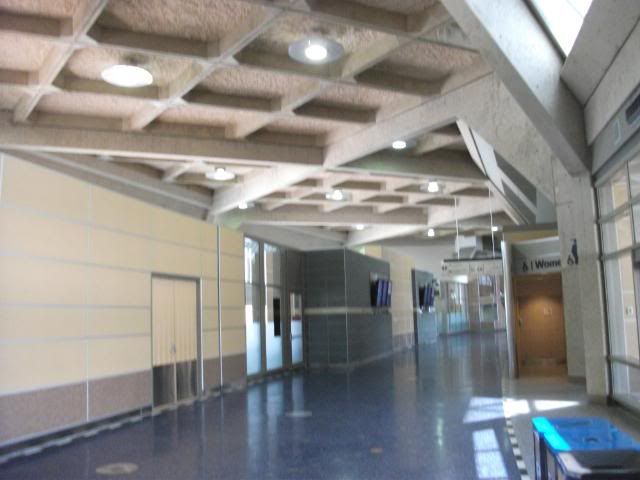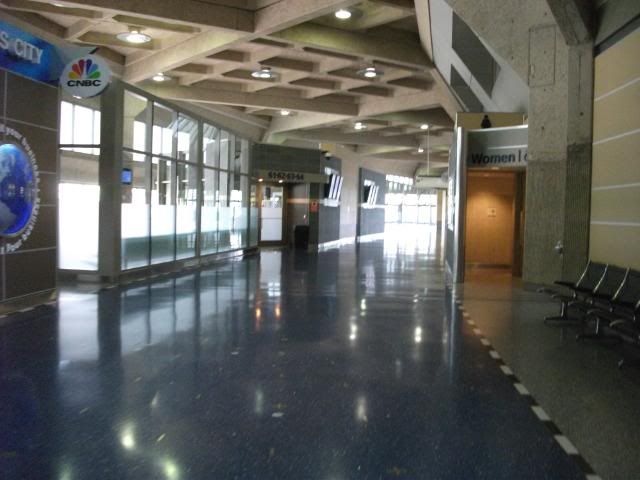 Look-alike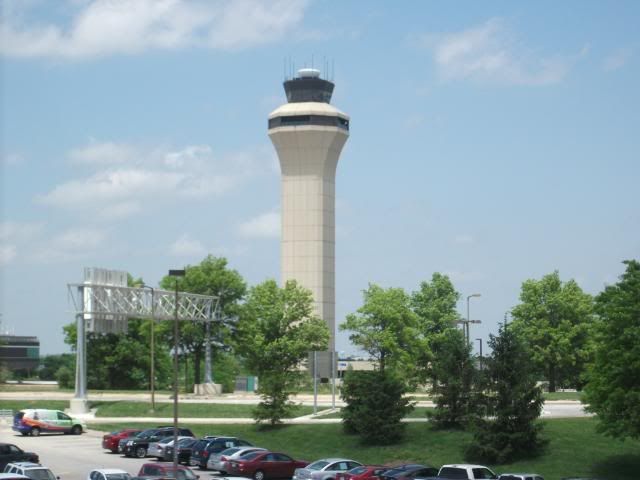 Outside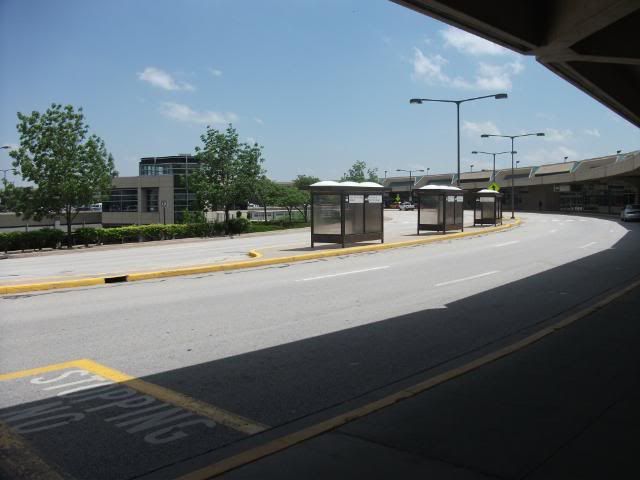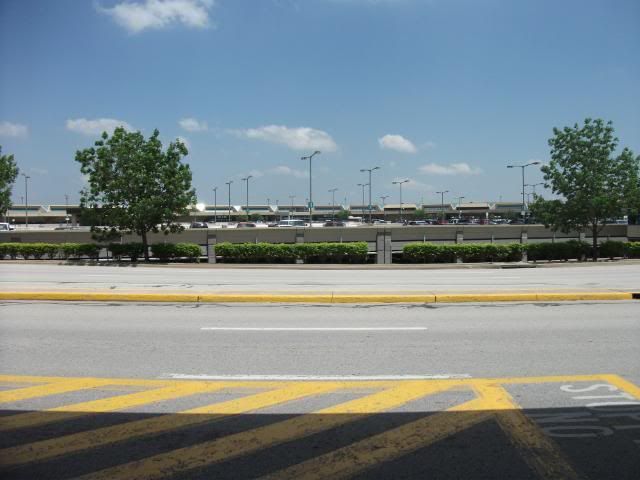 Another interesting thing was how the MCI ATC tower looked exactly like the one in DEN. (As I thought a little more on it, DFW and IAH joined the list, and MEM wasn't far behind. Not only that, but the old MEM tower looks like the one in OKC. I'm sure there's a simple common bond to be found.) Overall, it was the best Judgment Day I've ever had. I was definitely in heaven for that one! As a side note, I was wearing cargo shorts on that day. I've worn them before, but that day was the first where a security agent patted down the big pockets. They didn't do it at OKC, but they did at DEN (I exited the secure area to pay a visit to the Caribou Coffee in Jeppesen Terminal—the only one in DEN I hadn't been to yet) and MCI (for my subsequent return trip). OKC wasn't left out, though: my laptop was taken aside for a random screening.
Coming up next: SoCal (or, There's an Airport in this Mall!)