Welcome to my third trip report!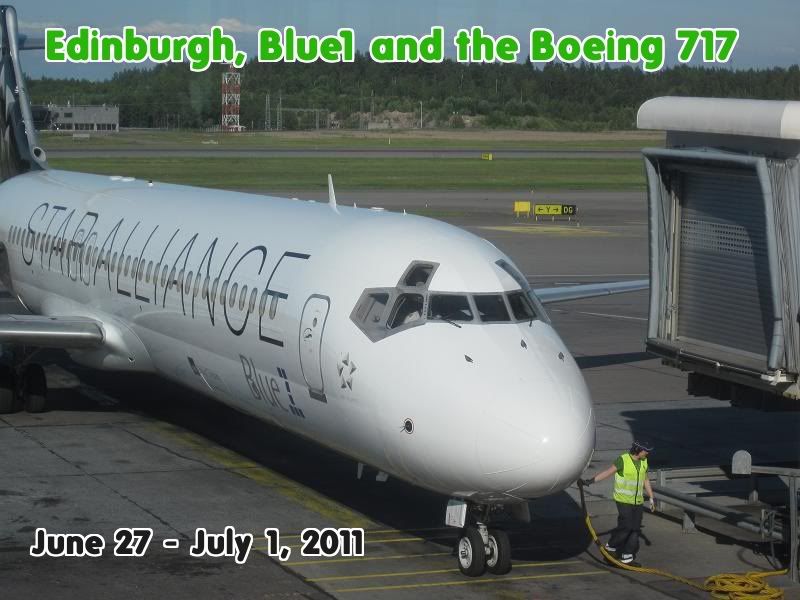 Background
The worst nightmare of a true flight enthusiast is to fly the same registration twice during their journey. Another golden rule is to never fly the same airline twice during a trip. My flights this time broke both of those rules. As the aircraft type was the Boeing 717 and my flights on Blue1 turned out special I decided to write a report anyway.
Although travelling a lot on my own, I have a tradition to leave on a summer vacation with my parents. During the last years, we have been to many fascinating destinations; last year we made a tour of Croatia visiting Dubrovnik, Split and Hvar.
Many times our holiday destinations have been according to the new summer-only routes Blue1 have been introducing. KF has been flying to ATH and NCE for quite a number of years. Two years ago they started flying to Biarritz, Dubrovnik and Split (that time we flew to BIQ) and this summer it was yet three new destinations: Edinburgh, Marseille and Pula.
We decided Edinburgh and Scotland would be the destination for this trip. I started searching flights and asked my parents whether we could fly HEL-ARN and then ARN-EDI on Norwegian, returning EDI-HEL on the nonstop Blue1 flight.
"If there is a nonstop flight, then we take it" was the answer and despite all my efforts trying to convince them for a little change, we ended up booking HEL-EDI-HEL on Blue1 during a special promotion. The return trip costed approx 140 EUR per person, not very bad but not spectacular either.
Surely a straight routing, but anyway scoring two rides on the Boeing 717, as you may understand from my username, an aircraft type I like a lot. Before this trip I had only flown the 717 once, falling in love with it on Blue1 RVN-HEL in January.
717Flyer is ready for the 717, let's go!