Hello everybody
After reading many, many trip reports here, I'll try to make one myself. I wont have many pictures, because I was travelling with my 2 children (2 and 5 years) and they wanted to sit at the window. And the pictures I've taken from the inbound flight were with an Ipod, so bad quality. But, here we go.
Background
Around 5 years ago my mother moved from Belgium to Finland (Pietarsaari/Jakobstad). So every year we try to make a trip to this beautiful country. She lives in the western (Swedish-speaking) part of Finland and I have two airportoptions: KOK and VAA. And two airline options: AY and KF. We choose to fly during the summer holiday and then there is a reduction in flights on the domestic market. Blue1 flights from VAA to HEL are discontinued after the 4th of July, so that's no option because we're staying until the 8th of July. So AY/FC then. First I was looking for flights to KOK, but they were way overpriced so I choose the flight to VAA. A week later after I've booked the tickets, KOK-flights were also cheaper
.
Wednesday 29.06.2011

Airline: Finnair
Route: BRU - HEL
Flight: AY 811
Equipment: A319 OH-LVI
ETD: 11:40
ETA: 15:15
Economy row 14
Load: 100%
We arrived at 9:30 at the airport so well ontime. It was a very busy day at the airport but no line at all at the check in for AY. Our bags were sent through and I asked the checkin agent if the flight was full and she told me that it was overbooked by 4 in economy. That's a surprise for me, because I've never had a full flight with AY.
After that we started our morning walk to the A-gates. People who have travelled to BRU may know this "famous" problem. So, 1 escalator down, another one down and then a long walk under the tarmac. There was a long line at security but it all went smooth. 10 minutes later, we were through. Then 2 escalators up and we were in the spacious terminal.
At 11:05 boarding started and at 11:40 doors were closed and pushback commenced. We taxied to 25R and we had a smooth take-off. I sat in the middle seat on this Airbus A319 and I noticed that those seats are narrower then the aisle and window seat. After a while it felt strange. As far as I know, these seats are only used on the A319.
Dinnerservice started after 30 minutes in the air. Still free drinks and a sandwich wich tasted good. It was a brown sandwich with chicken honey on it. After 2h we started our approach into HEL. We flew south of HEL and then parallel to rwy 33/15 and then we made a 180 degree turn to land on rwy 15 and we arrived at gate 24 at 15:15.
HEL approaching from the south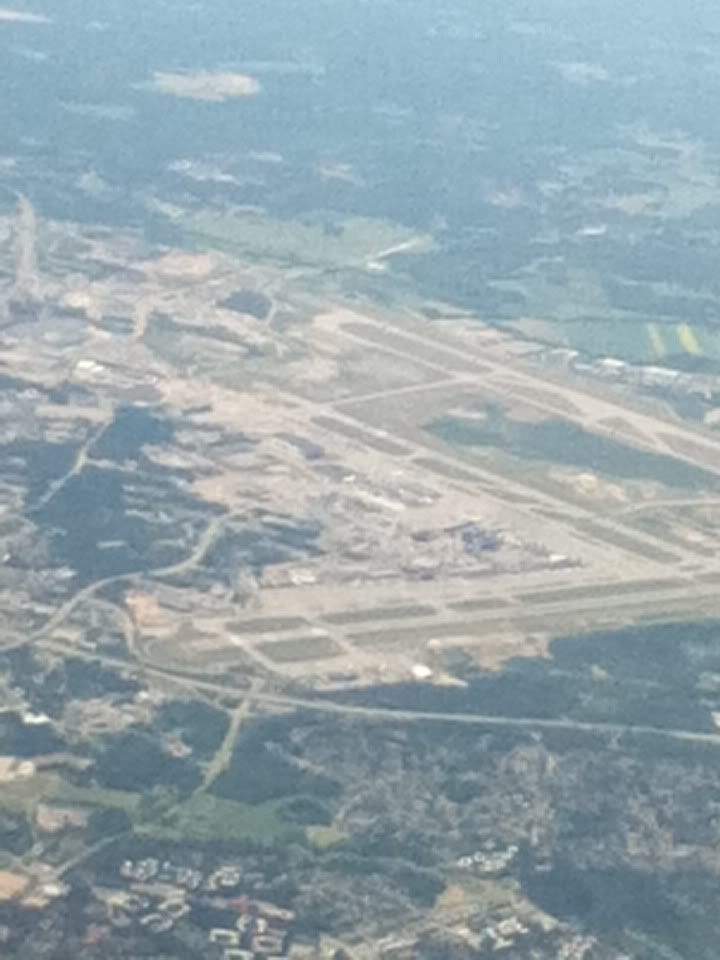 Parallel to rwy 33/15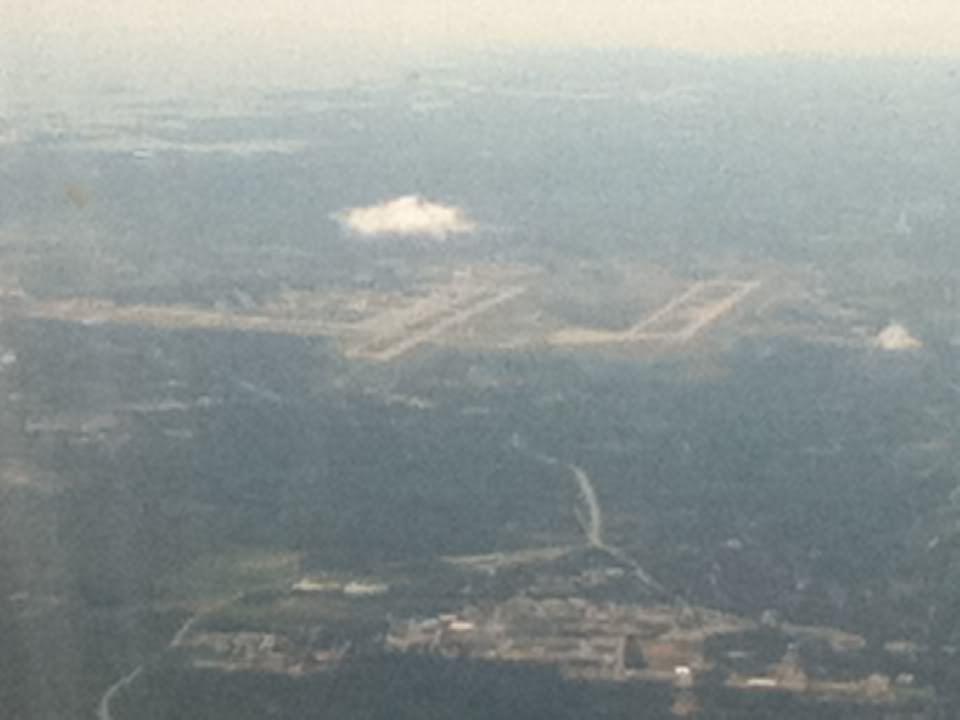 We had an hour to spare at HEL and what do you do with children. Yes, you go to a playground and there are 3 of them at HEL. We sat at the playground around gate 20. As you can imagine a lot of fun for parents...........woehoe!!!
45 minutes later it was almost time for boarding so we went to gate 18A for a bus boarding.......woehoe again!!!
Airline: Finnair operated by Finncomm
Route: HEL - VAA
Flight: AY3895
Equipment: ATR72-500 OH-ATL
ETD/ATA: 16:35/17:20
ETA/ATA: 17:35/18:15
Load: 100% again
Economy, free seating


We immediately started boarding the bus, so no holding pen. Push all those people in one bus, close the door and off you go. We drove to our waiting ATR and the doors opened and everybody rushed to the bus. And when I mean rush, that was understatement. People were thinking that flight would leave without them. So what happened we were one of the last to board and the only seats free were the one in front of the ATR (boarding in the back, exit seats in the front). The flight attendant told us in Finnish and after that in English that we couldn't sit here. And I was thinking: do you have an alternative??? So we, the non-Finnish speaking tourists, had to ask people if they wanted to switch seats and the flight attendant was standing there doing nothing. (but she was for the rest of the flight a very friendly flight attendant) All those friendly Finns didn't mind to switch seats of course.
When everybody sat, doors were closed............or not. The pilot on the mike to tell us there was a problem with the door and the mechanic had to fix it. Bye bye, ontime departure. So 20 minutes later that problem was fixed. Pilot again on the mike, door can be closed now but we lost our slot and ATC told we had to wait another 20 minutes. 5 minutes later, pilot again on the mike, he misunderstood ATC, we had to wait 2h20 min. Not so fun anymore. He said that Finncomm office was going to call with ATC for a new sooner slot. Never knew that was the procedure. Water was distributed. 5 minutes later, pilot on the mike (never heard a pilot talk so much), we had a confirmation for a 17:20 departure...........woehoe again!!!
Off we were. Taxi to rwy 22R and smooth take-off and flight. We were served juice, water, coffee or tea and a cheese sandwich. Also good. One hour later we arrived at sunny VAA. Picked up our bags and our vacation started.

After 10 days of good weather and fun, we had to go back home. Back in the car to VAA.

Friday 8.07.2011

Airline: Finnair operated by Finncomm
Route: VAA - HEL
Flight: AY3838
Equipment: ATR72-500 OH-ATH
ETD/ATD: 14:25/15:05
ETA/ATA: 15:30/16:10
Economy, free seating
Load: 90%

We arrived at the airport 45 minutes in advance. Domestic flights, don't rush. We saw that our flight was delayed. We had a short connection in HEL of 1 hour. She told us there was an ATC restriction so the flight had to wait in VAA. And she told us if we were in time at the gate we could get priority boarding. (kids, remember) At 14:15 we went through security to the gate, were the flight was allready waiting.

Our flight (new to this, so tilt your head a little bit and everything looks normal)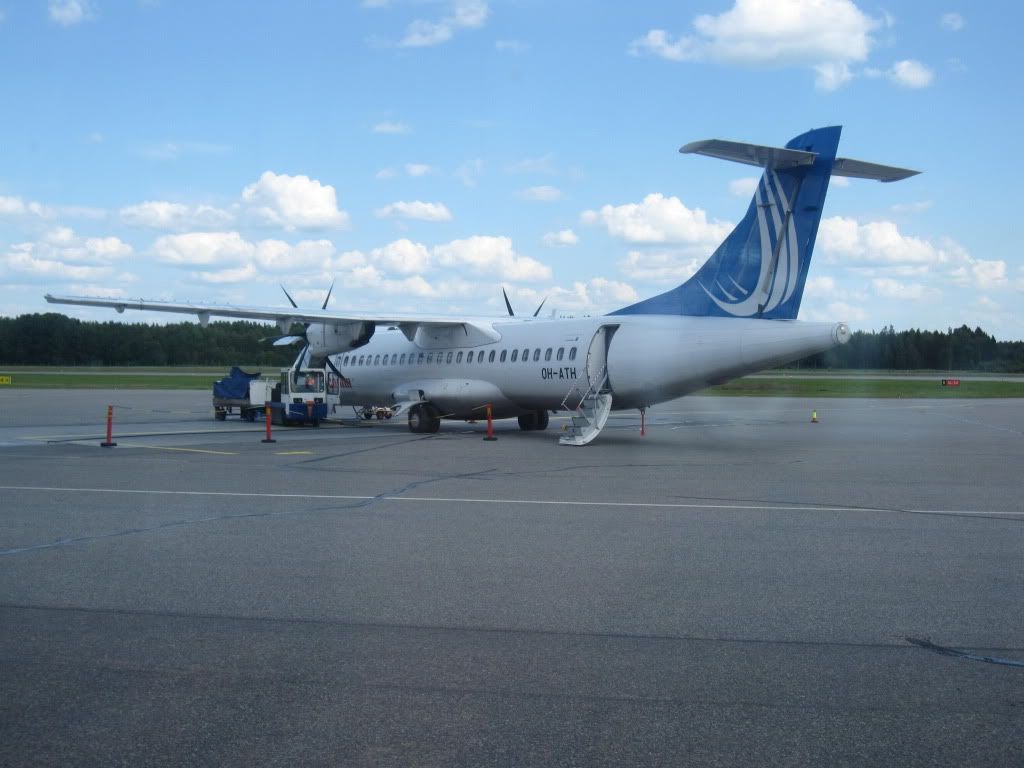 At 14:45 the agent walked over to us and told us that we could allready go on board. That was a smooth boarding procedure and at 14:55 everybody was on board but we had to wait another 10 minutes untill we could depart. Our connection time became shorter. We took off from runway 34. A straight out departure. We were up in the air at 15:10 and service started after the seatbelt sign went off. Again a sandwich with ham this time and the same drinks. We asked the flight attendant if we're going to make our connection and he told that they were going to call and ask if they want to wait for us. 5 minutes later he told us it wont be a problem.

Flying above the clouds

Airline: Finnair
Route: HEL - BRU
Flight: AY817
Equipment: Airbus A320 OH-LXH
ETD/ATD: 16:40
ETA/ATA: 18:20
Load: 50%
Economy, row 25,26 EF





Our neighbour waiting at the treshold of runway 22R (new to this,....)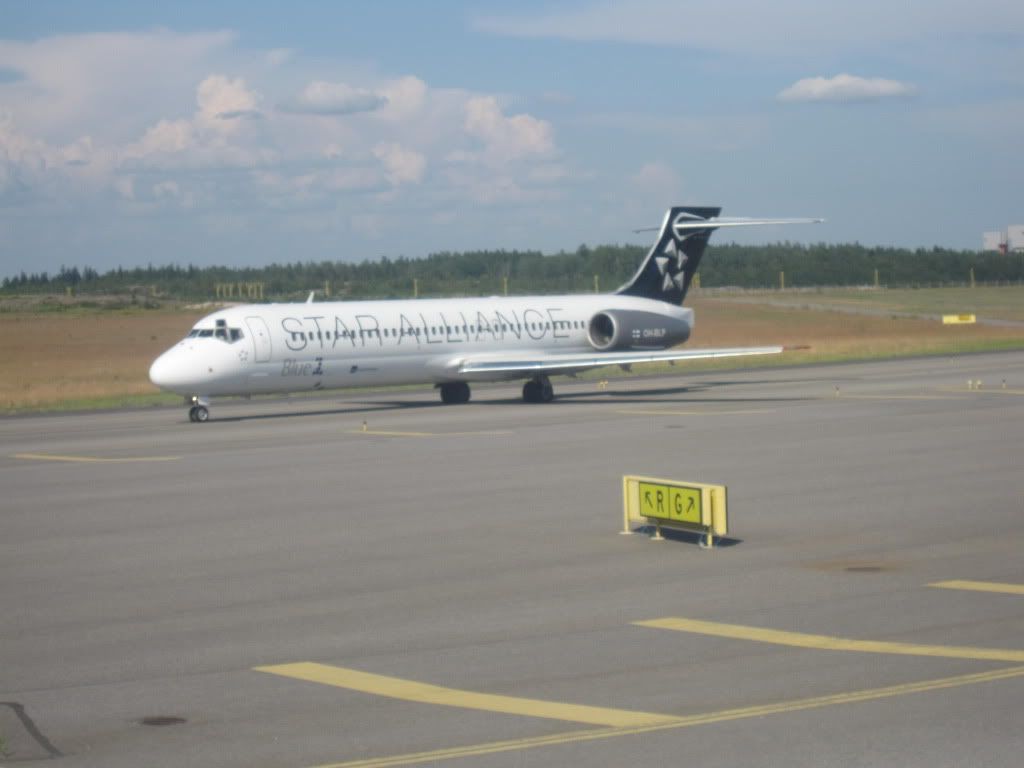 When we arrived at the gate there were only 5 people waiting, but we were told we had to wait for a second bus. We drove to stand 124 were our Airbus was waiting. We were the last one to board and took our seats. Last row (read something about that) and 4 rows for us. There is on the other side (abc) a row 27 and there was 1 person sitting at the window. The other places were free untill row 21. So enough screaming and playing (kids....) room. But they were calm. Doors closed and taxi to runway 22R. A finncomm ATR42 in front of us and we're the next one. Smooth take-off and very fast rotation. About the seats; they were better, I had again the middle seat and it was the same as the aisle and window seat. Dinner and drink service started 30 minutes into flight. Non-alcoholic drinks were free and we got some tapas for dinner (real Finnish food
). Wich was very good. (Some meat balls, Feta cheese, Tortilla and a sandwich).

During our approach, it became bumpy because we were flying through some rainy clouds. But when the runway came in sight, skies were clear. We landed on runway 25L around 18:20. Taxied to gate A59 and made our long walk back to the bagage belt. And we already assumed that our luggage wont be there. We've already experienced this once with Finnair (also short connection) but we were sure that our luggage would arrive the next day.

Saturday 9.07.2011

Our bags had another AY flight to BRU. They were onboard AY 811 (A319 OH-LVB) and at 13:30 they were delivered at our door.

Conclusion

Very good flights with AY and FC. Only those terrible ATC restrictions. Something to do with the closure of runway 04R/22L at HEL?? Would fly them again next year probably or maybe sooner
.

Greetings
Ralf