Welcome to my latest adventure. This is a new first for me, a work trip report, and also a first for the British Airways Boeing 777-300ER I believe. Please note however, the views expressed here are that of my own and not that of my employer
Background:
In February 2011, I started work for British Airways as Cabin Crew on their new Mixed Fleet based out of London Heathrow. One of our routes is Tokyo Haneda, which came online in mid-February. The route was cut for a month or so after the March 2011 Japanese Earthquake and only came back online at the start of June. I'd been wanting one for a while, as Japan is a country I've had on my list for a long time. Thankfully, when rosters came out at the end of May, I saw a Tokyo trip there, but to make it even better, I was positioning outbound in Club World. So, with June just around the corner, the countdown to the 15th had begun...
Wednesday, June 15th 2011
I woke up around 7:30am, the light was streaming in through my window and that all to familiar feeling of "oh, my god, is it that time again?" Then suddenly it was the day I'd been waiting for, I was about to passenger out to Narita and enjoy a two day stint in the Japanese capital. I hopped out of bed and ran for a shower, getting ready in record time!
An hour later I was standing on the balcony with a cup of tea and a cigarette in hand when my taxi called to say he was outside. I quickly ran back inside, threw my jacket on and made my way downstairs, picked up my cases and I was off!
My train from Gatwick Airport to London Victoria left shortly after 9:30 and I phoned my friend Jackie (who was also on the trip with me) to say I'd be meeting her in about half an hour. She was already en route to Victoria train station. I tuned into my 'Travel to Work' playlist on my iTunes and zoned out with a copy of Heat magazine until we pulled up to the platform at Victoria.
After meeting Jackie, we made our way onto the Tube Train, initially a district line bound for Barons Court, and then changed onto a Picadilly line service to Heathrow Terminals 1, 2, 3 and 5. Jackie and I discussed our plans for where we'd work on the return flight, and also for things we wanted to do once we had arrived in Tokyo. Before we knew it, our tube train pulled into Heathrow Terminal 5 and from there it was off to check in and begin our briefing at 1155.
15-June-2011
British Airways; BA005
London Heathrow, England (LHR) - Tokyo Narita, Japan (NRT)
Scheduled Departure Time: 1325
Actual Departure Time: 1350
Scheduled Arrival Time: 0905 (+1)
Actual Arrival Time: 0900 (+1)
Departure Runway: 27R
Arrival Runway: 16L
Aircraft: Boeing 777-300ER
Registration: G-STBA
Cabin: Club World
Seat: 11F
After briefing we headed for crew bag drop to check in and say goodbye to our bags until we picked them up in Narita. I was presented with my boarding card and was happy to see I was confirmed in Club World (as positioning cabin crew are technically on standby so can end up anywhere on the aircraft, but have Club priority)
Our gate was C56, so it was the furthest away of two satellite piers on Terminal 5, and our CSM (Customer Service Manager) Chris asked us to just make our way to the gate as soon as we had our boarding cards. There had been a bit of an issue with my check in so I had to wait around 10 minutes to get my BP, but as soon as it was issued, I merrily made my way off to South Security.
One of the perks of travelling in a Premium Cabin, even on duty travel, is that one can use the Fast Track security. My colleague Clive and I made a beeline for this service and were through in around 10 minutes. (Security at UK airports, especially in London, can take a long time) We were then soon off to the Underground train which takes around 5 minutes to board, stop at the B Pier and then onwards to the C Pier. We left the train and met a couple more of the crew and wandered towards Gate 56 where boarding had begun for BA005 to Narita.
A large crowd had gathered at the gate and were moving slowly to the boarding pass scanners. My crew had joined them when I piped up; "Guys, we're in Club, let's go through fast track again". And so we did, 12 positioning cabin crew made their way up the empty fast track line and straight towards the stairs leading to the jet bridge.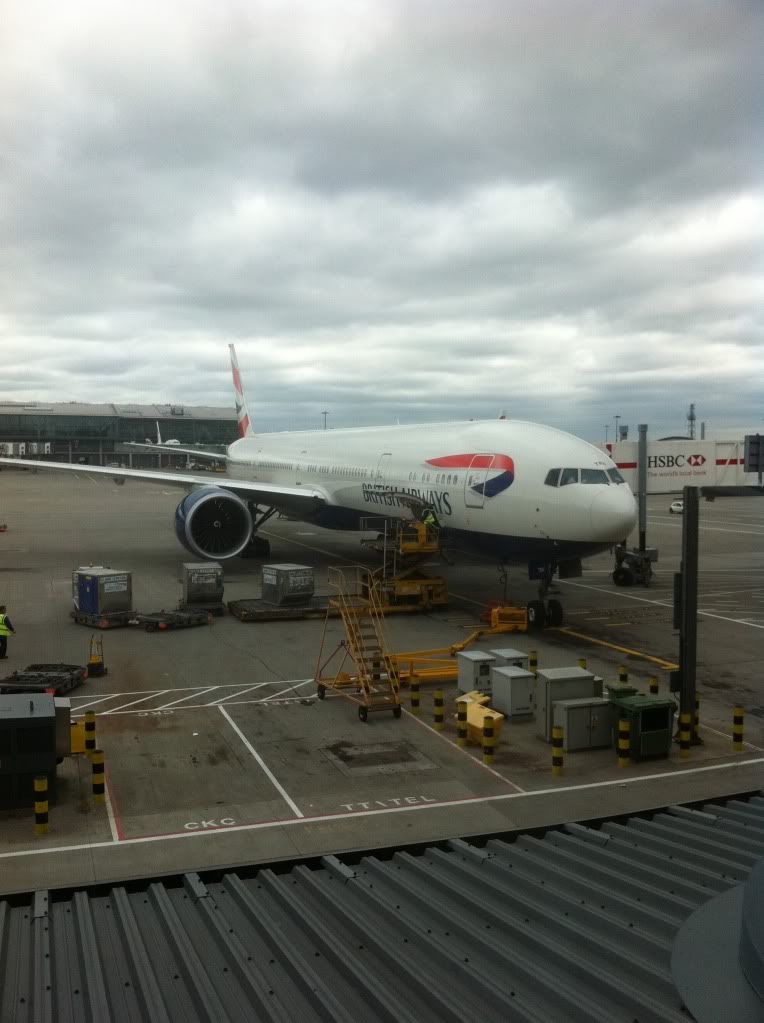 G-STBA being loaded for the flight.
I made my way down the jetbridge with my colleagues and we soon arrived at Door 2 Left, where two very happy Cabin Crew (including one International Cabin Crew Member (ICCM) ) took our boarding cards and directed us to our seats.
I crossed over to the right hand aisle and made my way to the second row and sat myself in 11F. Having never travelled in Club in a middle seat before, I was astonished at the privacy in there. When the privacy screen is raised, no one can really see in there, unless walking past in the aisle. I would thoroughly recommend these seats to any couple travelling together on a night flight.
Boarding was a slow process as many customers took a while to settle. I had already stowed my belongings upstairs in the hatrack, and the posessions I needed before the seatbelt signs were switched off after take off (namely my phone, a book and my camera) were stowed neatly in the drawer at floor level. I took note of the fasten seat belt sign and clicked the two ends of my lapstrap together. Whilst waiting for boarding to finish, I took some photos to pass the time.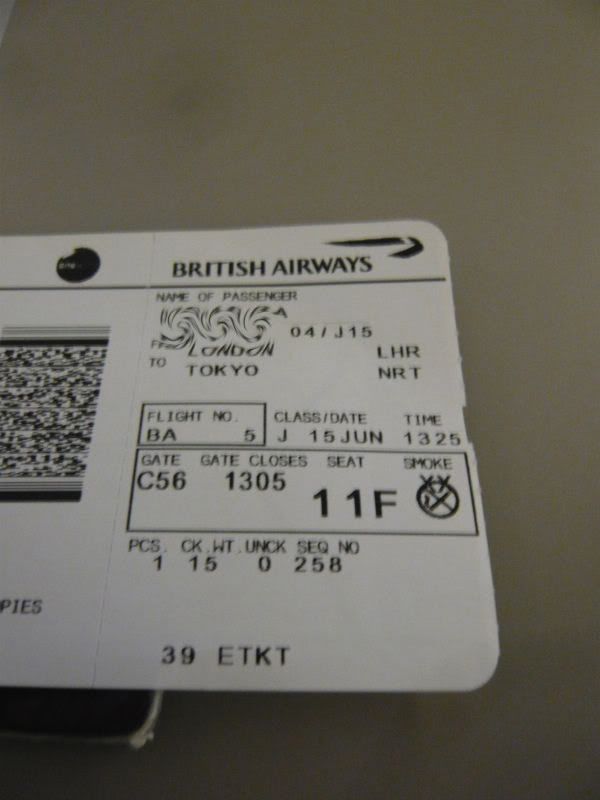 My boarding card with POSCAB/BA instead of my name. Standing for Positioning Cabin Crew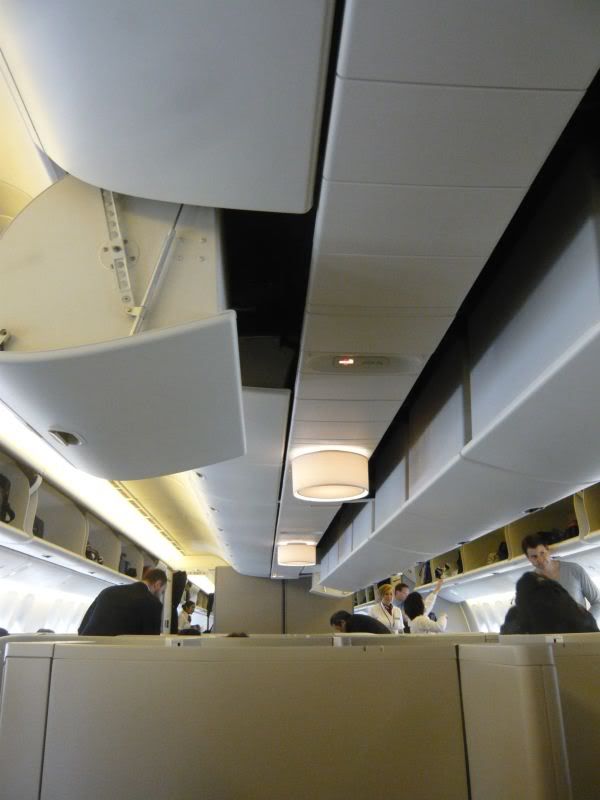 View of the central overhead locker area
Very soon after I had sat down, one of the Cabin Crew working in Club came past and offered me a welcome drink, with a fantastic smile. Being the 'sophistigay in training' that I am, I opted for Champagne. We offer Lanson 2004 and Ayala Brut in Club. Today's offering was the Lanson. And in my honest opinion, the better choice.
My welcome aboard drink. Please note, the second glass was for my friend Jackie, sat next to me
British Airways' Boeing 777-300ERs are fitted with the new IFE system 'Thales'. This is a much better offering over any of the systems we have just now (GMIS and AVOD/Rockwell Collins). The screen is much bigger and the controls far easier to use.
The control just behind ones' shoulder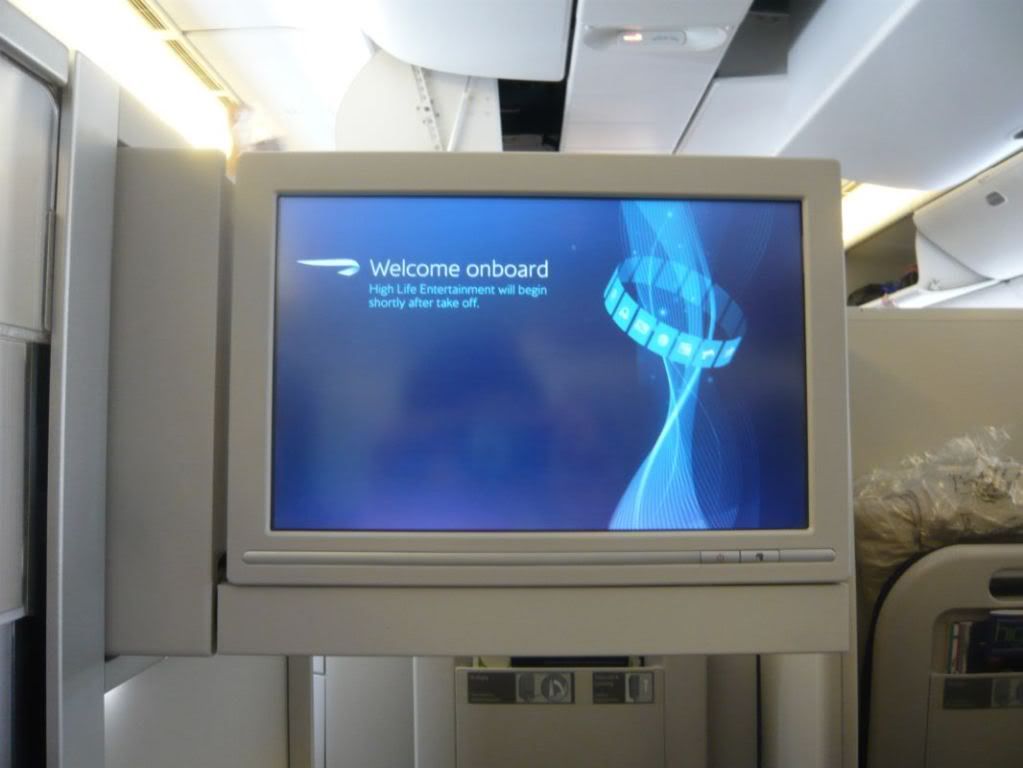 The newer, larger, brighter screen offered in Club World
Soon enough, the doors were closed and we were en route to the runway. The safety demonstration was performed on video and the cabin secured for take off. Bravo Alpha made a long journey to Runway 27R.
At 1350 local time, we turned onto the active and sat idle (presumably to let an aircraft infront of us clear enough space). The GE-90s powering this beast began to spool up, louder and louder until that amazing whine of the fan blades was audible. We picked up speed and I could imagine looking at us from the outside, watching those wings flex as more and more lift was generated. After around 25 seconds of rolling, the nose lifted up and that momentary sense of weightlessness was felt. Speedbird Five was airbourne.
We climbed out into the cloudy London skies. I felt us bank to the right and watched out of the windows (visible across the cabin when the screens are down) as we turned around, putting us on a course for Tokyo. Once we had levelled out, I reclined my seat ever so slighty and pulled out the PTV, waiting for the High Life! Entertainment to be switched on; which took around 15 minutes.
In the meantime, cabin crew came round with hot towels, followed by Elemis Washbags and the Menu for today's flight. When on Duty and Staff Travel, one is supposed to politely decline the washbag, which I did (I already have a personal one I take with me on trips anyway which was stowed away in my bag)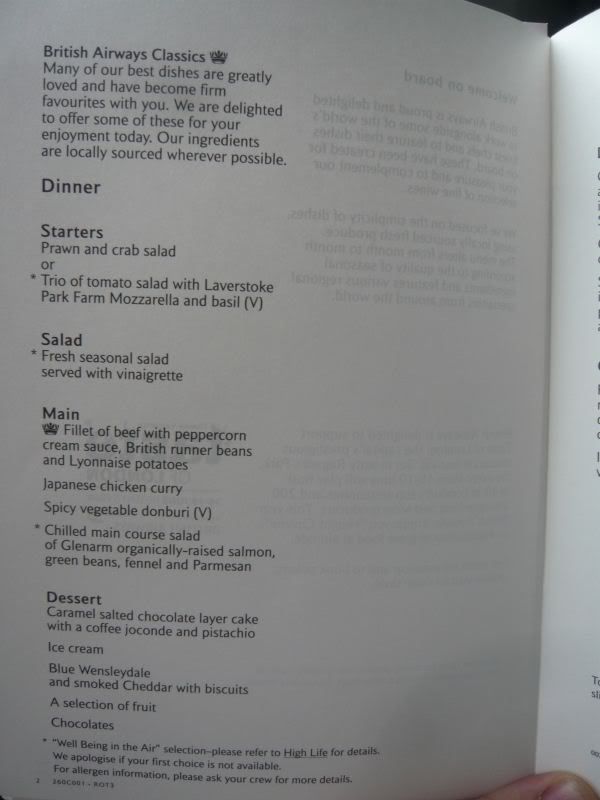 Today's dinner menu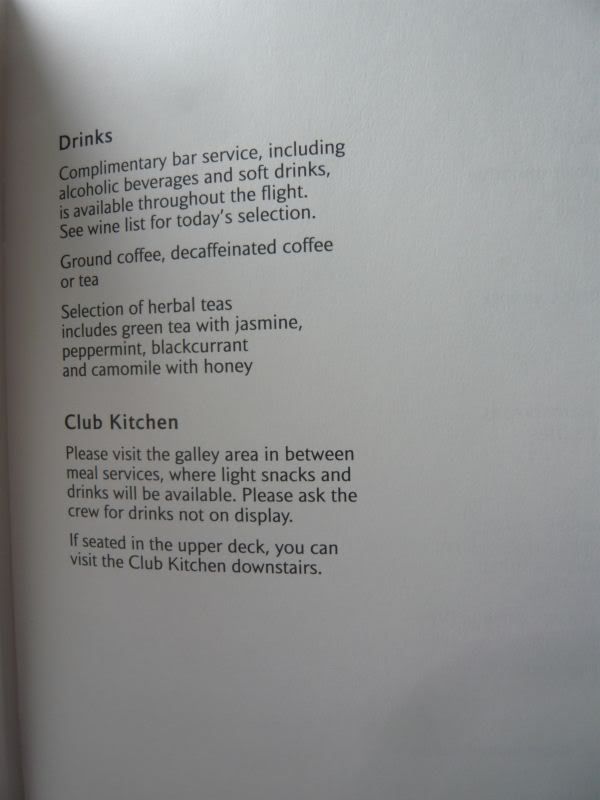 Further Information Contained within the Club Menu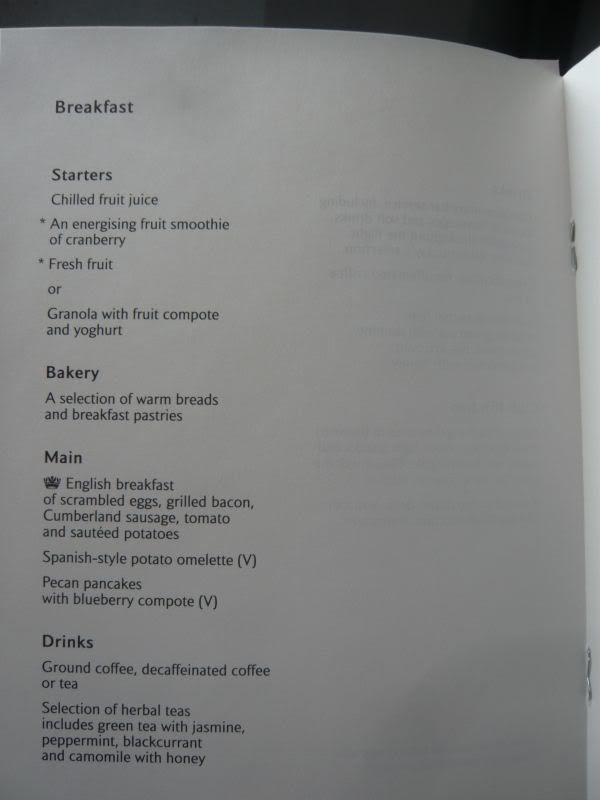 And the options for tomorrow morning's breakfast service
Afterwards, the cabin crew came round with the first drinks order. I opted for a Kir Royale (Champagne and Creme de Cassis). We were also given a small pack of 'Out of Africa' Organic Macadamia Nuts. I love these, and could happily go through packs and packs of them at work
After the first bar round is a second, where I opted for another Kir Royale - having finished the first one very quickly - along with a glass of sprite. Following the bar cart, one of the ICCMs passed by with a meal order form. I had originally opted for the Prawn and Crab salad, but unfortunately, there was not enough for everyone in the cabin, and being on Duty travel, I was asked if the Trio of Tomato Salad was okay, which I was more than happy to take. I didn't think I was a fan of tomato or cheese, but tastebuds change at 35'000ft, so I took the plunge and had that, which turned out to be a good idea as it was gorgeous! For my main I took the Beef option.
Kir Royale and those Macadamia nuts
After the meal order was taken, I decided to try out Thales whilst waiting on my starter arriving.
View of the moving map
They have this neat new option; The BA Channel. With lots of 15 minute long videos about the history of the airline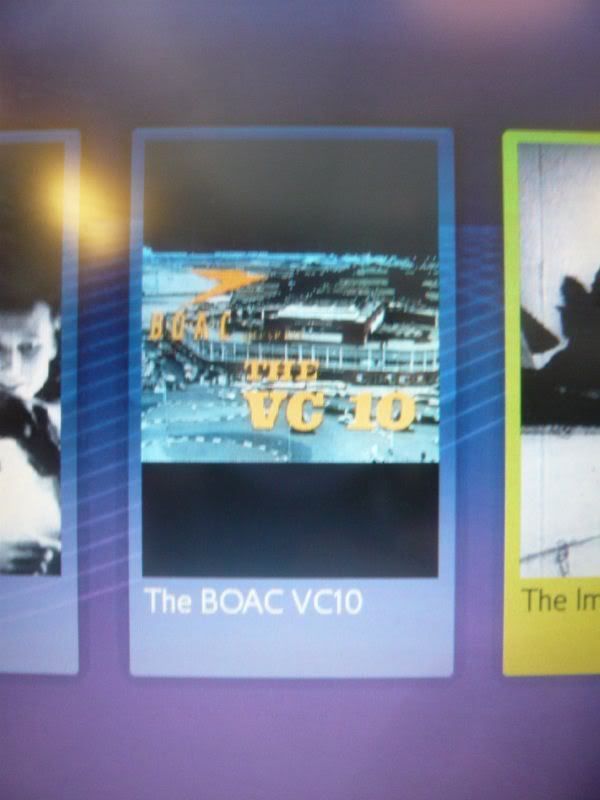 This one was especially good, and I took this photo as my better half loves the VC-10 and I thought I could make him jealous
The controller out of the stowage. Note the little button with the plane; this takes you straight to the map instead of having to navigate through the whole system again
Just before dinner was served, I took a trip to the washrooms to get changed into my 'comfy gear'; namely sweatpants and a t-shirt. En route I took some photos out of the empty window seat windows.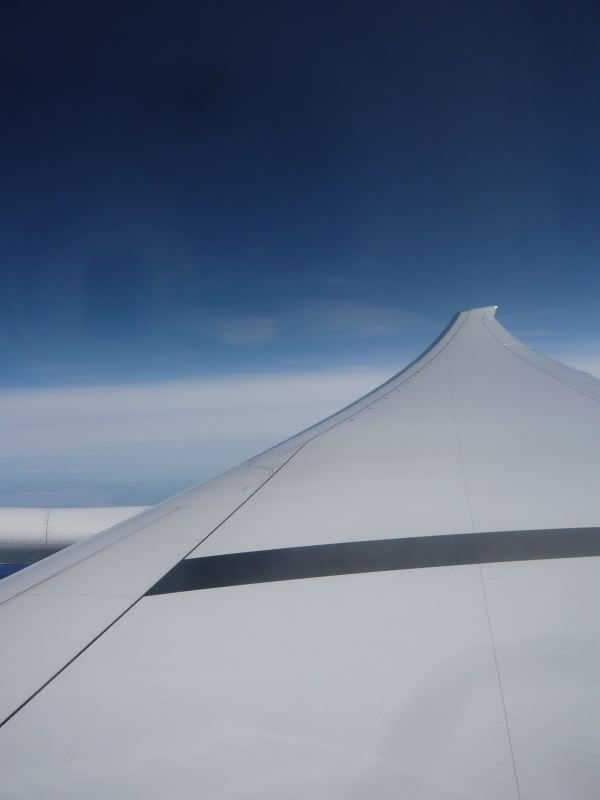 Flexing wing with that awesome raked wingtip at the end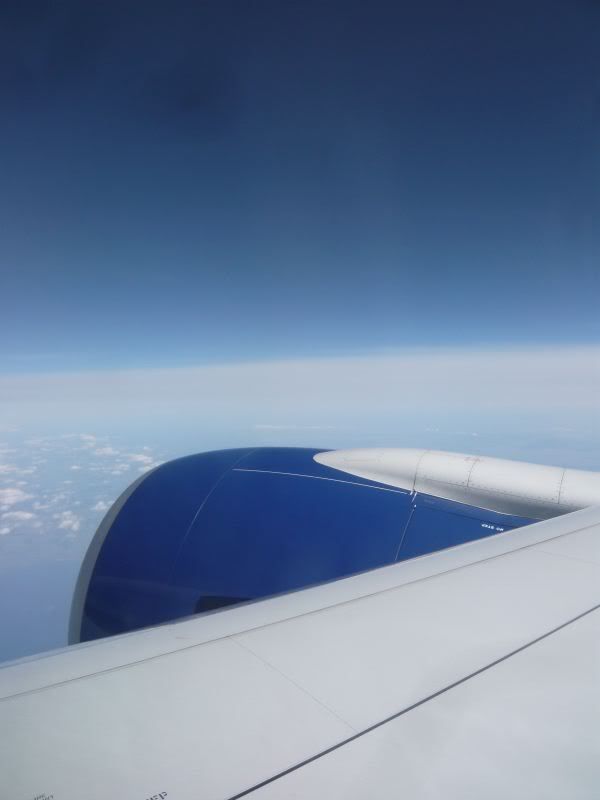 Big Blue GE-90 powering us through the sky
Once changed, I returned to my seat to view some more of the Thales system, and found that my favourite artist had her first album on there
Branded Champage Flute
Soon enough, the tray with my starter arrived at my seat.
Trio of Tomato Salad with Laverstoke Park Farm Mozzerella and Basil
Cruising high over Helsinki, soon to be leaving the EU
Just before the main arrived, I decided to watch a movie. Thales has a list of hundreds to choose from, and I settled for an old favourite; Finding Nemo.
I know every word to this movie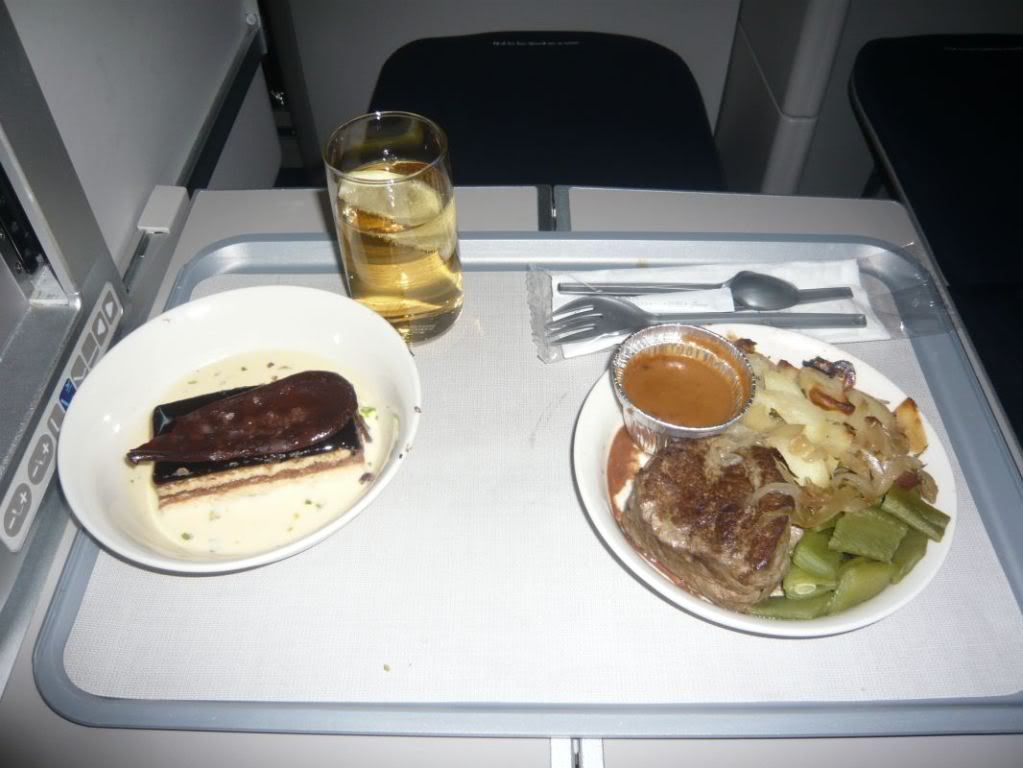 Main and Dessert. I took these later on in the flight when I woke up from a nap hungry and was offered another of each
Dessert finished. Yum!
After dinner was over, I decided to stretch my legs and take a wander around the aircraft. British Airways' Boeing 777-300ERs are split into 4 classes; First, Club World, World Traveller Plus and World Traveller. The latter two have been updated with a new seat, which I feel looks a lot fresher, bringing a whole new light to the cabins and a glimpse of the future!
After my tour, I returned to my seat to watch the end of my movie and explore Thales some more.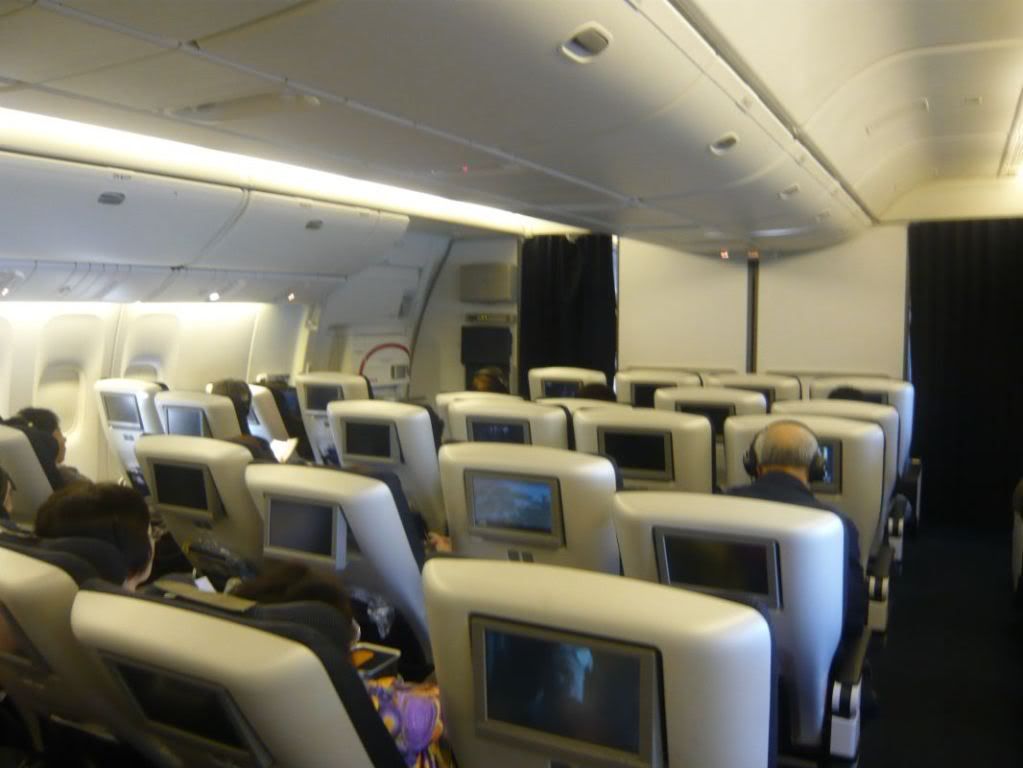 World Traveller Plus
World Traveller
The big wing viewed from the window over Door 3R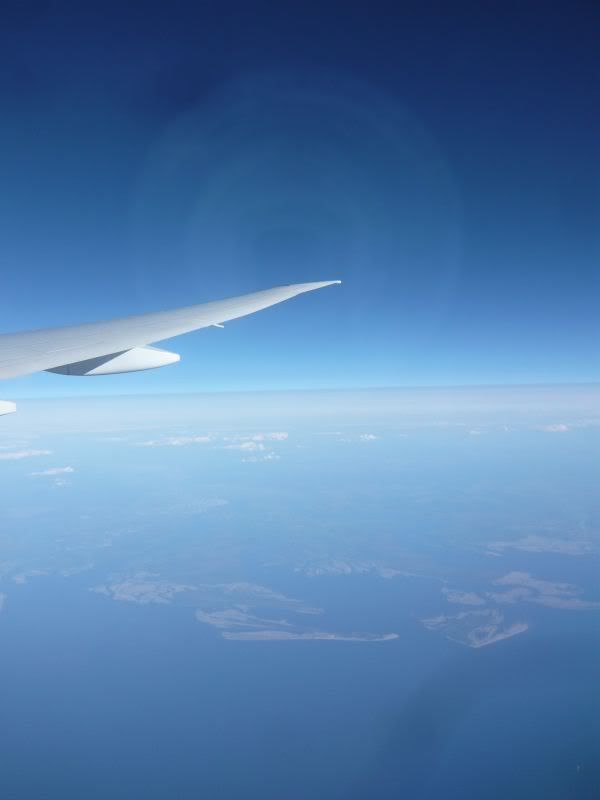 And Door 4R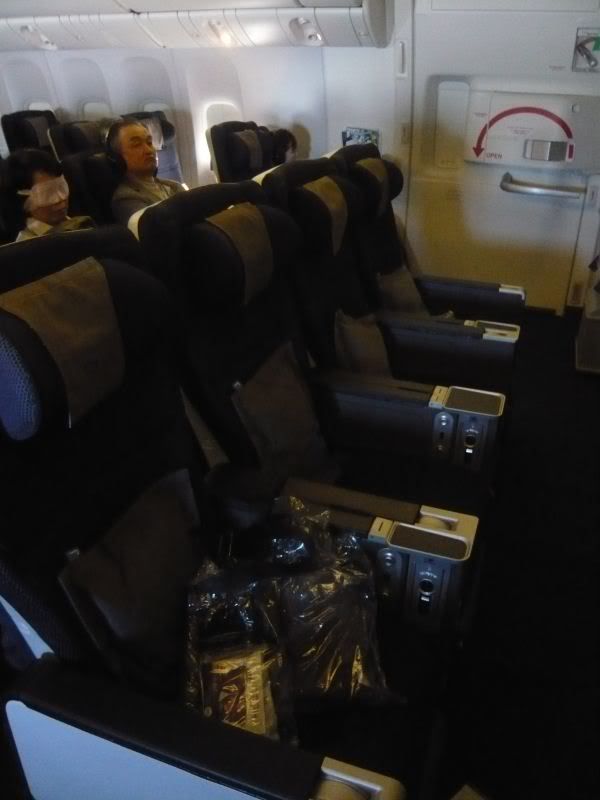 Another view of WTP - I think this seat looks incredible
Engine No. 2 viewed from Door 2R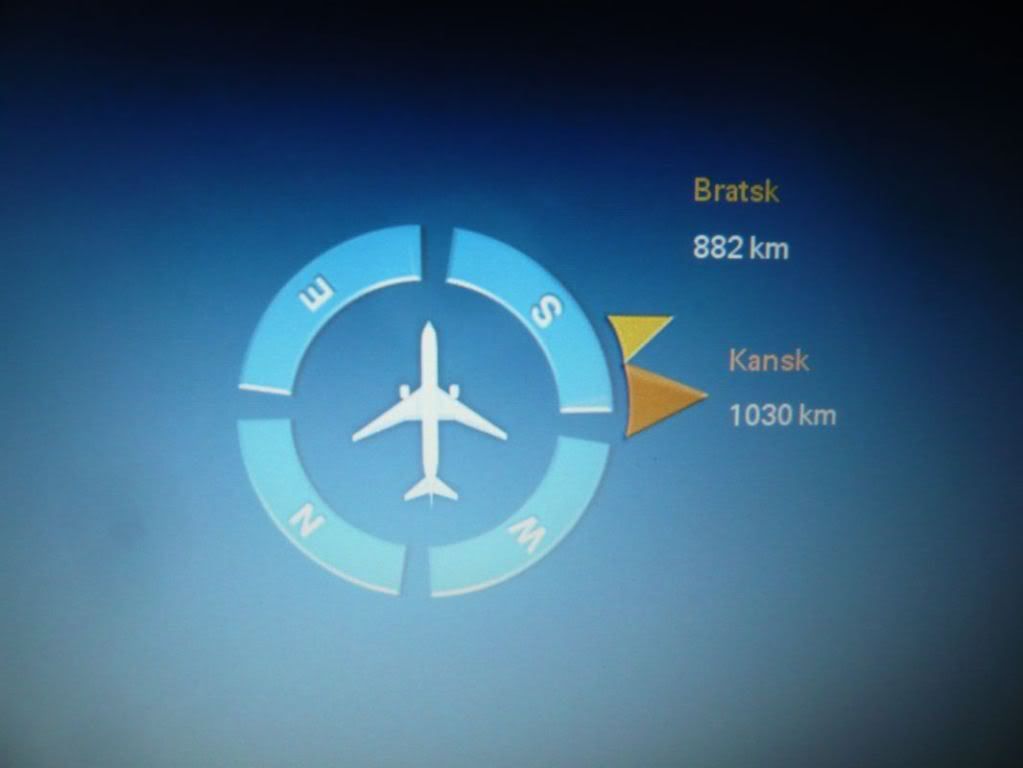 A fancy trick in the moving map, showing the nearest two cities. As you can see, we're somewhere in the middle of nowhere
I attempted to dose for a while, but it was somewhat broken sleep as I'm never too good at sleeping on aircraft, but with the dark cabin and some music in my ears, I relaxed and unwound for a couple of hours
When I came round fully. I took another look at the moving map and noticed we were now over half way through the flight. Tokyo was getting closer and I was getting more excited about the prospect of a new city.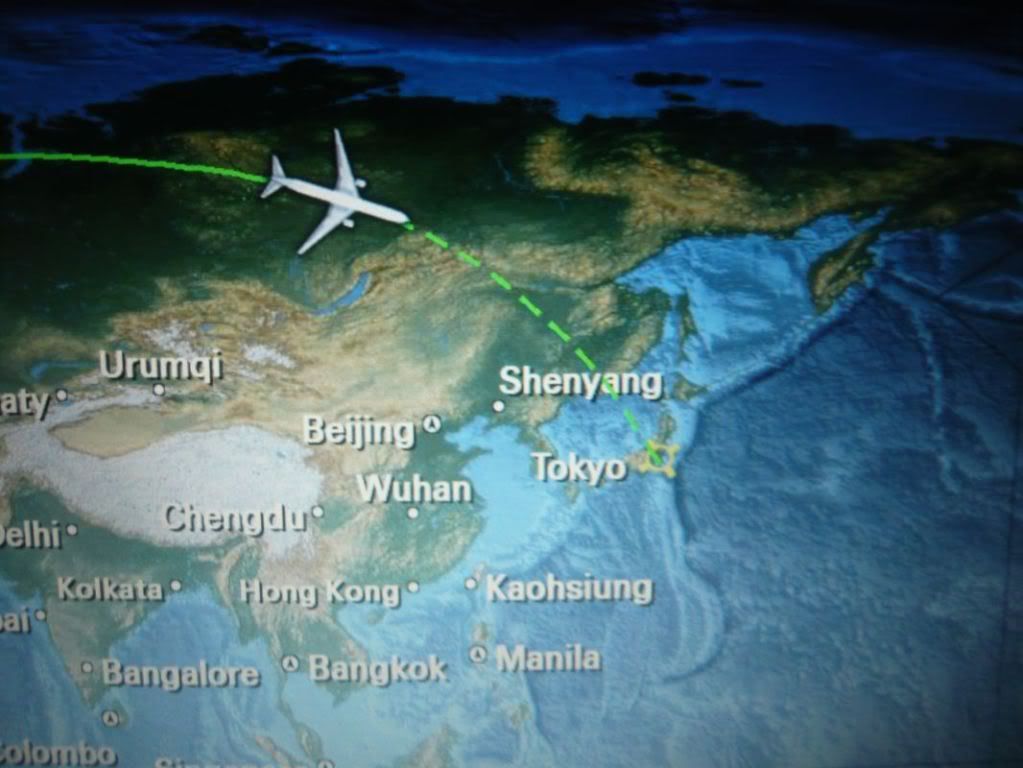 Somewhere over Russia, with around 3.5 hours left to run
I love this photo, it shows how we skirted the split between night and day perfectly!
I took a trip to the Club Kitchen for a few mid-flight snacks, and returned with a Kir Royale, a Galaxy bar, and a Virgin Mary. The Club Kitchen is a fantastic offering and I am always surprised that more customers do not take advantage of it.
Mmmmm, Champagne, Tomato Juice and Chocolate. Three of my favourite things
I thought this photo was quite arty
Snuggled up with my Duvet
About to leave the Russian Coastline, nearing Japan
Around 2 hours out of Tokyo, I watched the first Terminator movie, remembering that I used to have the hots for one of the characters; the one that came back in time that wasn't Arnie. I saw around half an hour and then started watching some Simpsons.
Breakfast service began around 90 minutes out of Narita, starting off with a fruit plate and a smoothie. Then the main was brought out and I chose the English breakfast. It looked appetizing, but my eyes were bigger than my stomach it seemed, and I stuggled to eat it all. None the less, it was very tasty.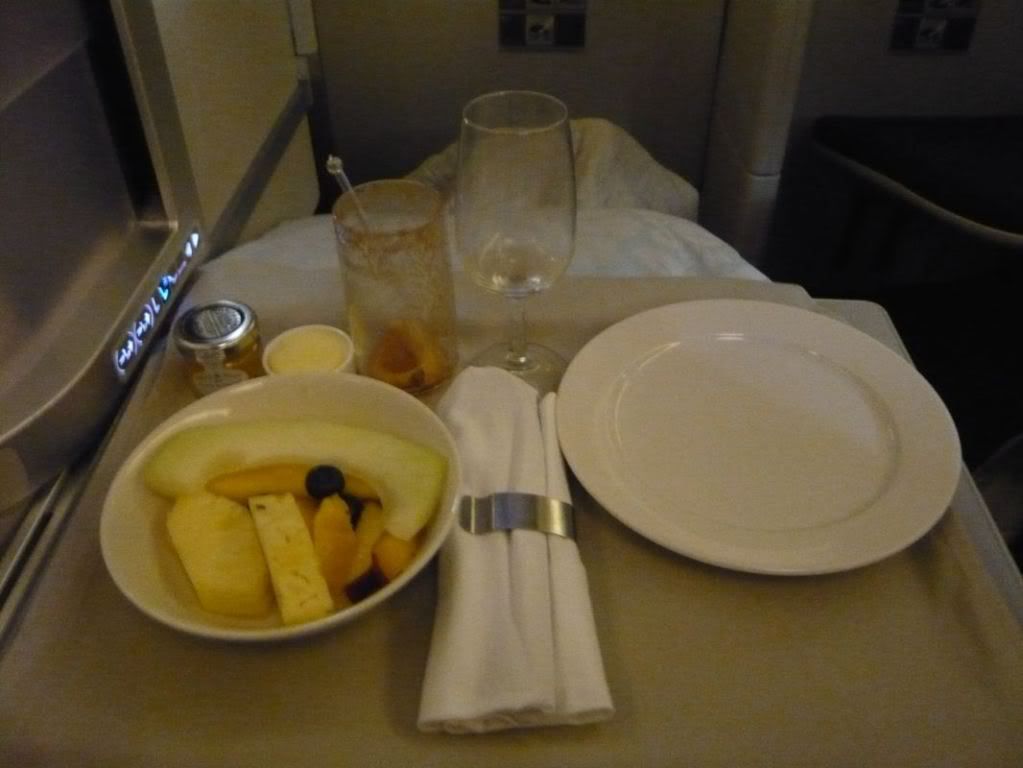 Fruit plate
Smoothie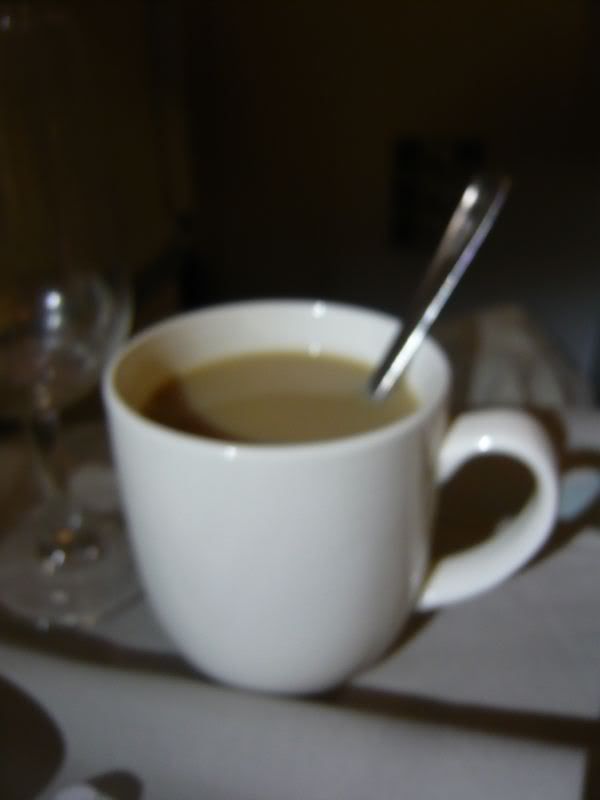 A great cup of English Breakfast tea - no other way to start the morning
And finally, the main. A lovely English Breakfast!
40 minutes out from Landing, the 40 minute call was given to prepare the cabin for arrival, passing out landing cards and tidying things away. I took this as my call to get changed back into my smart clothes, and freshen up in the washroom.
Getting very close
The now empty drawer at floor level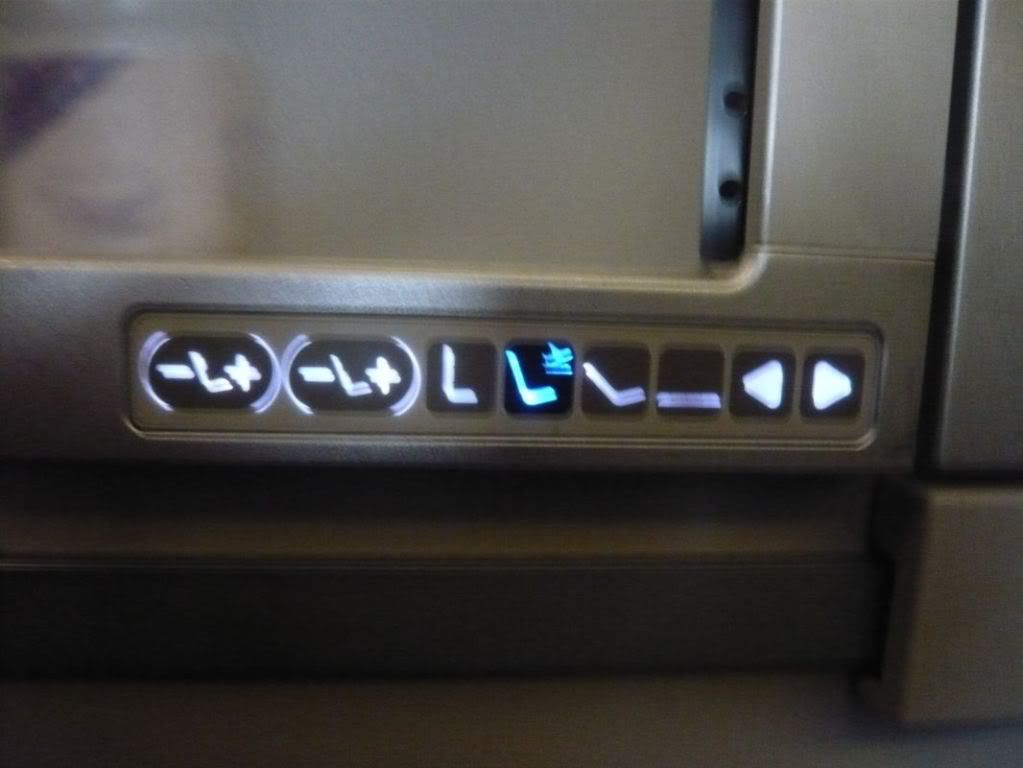 Seat Controls
The USB and Video ports to view your own material on the IFE system
Just before the 20 minute to landing call was made I moved to 16K, which I had only just realised was empty, to view landing from the windows.
This was taken at top of descent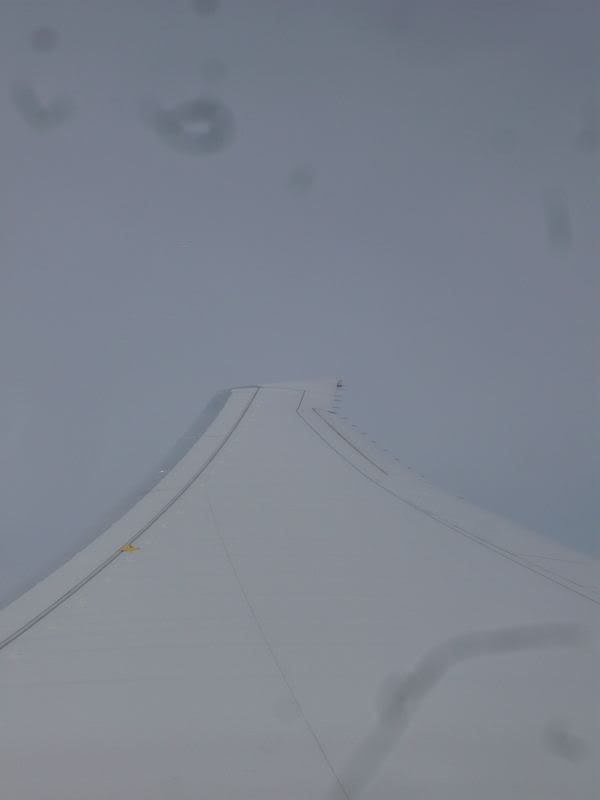 Gorgeous Raked Wing tip
Leg room in 16K
Big Wing
The over-the-shoulder lights in Club. That slider at the back controls the intensity of the light
We descended through the clouds, causing some wicked bumps as we went, and came closer and closer to Narita. The turbulence got pretty strong at one point and I watched as the wing bounced up and down, the wingtip being thrown around like a ragdoll. It was pretty fun!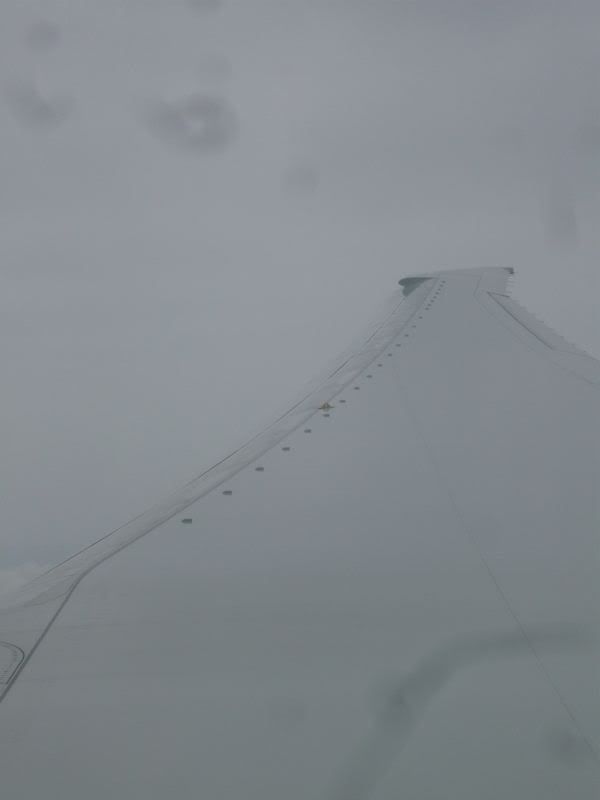 Slats extended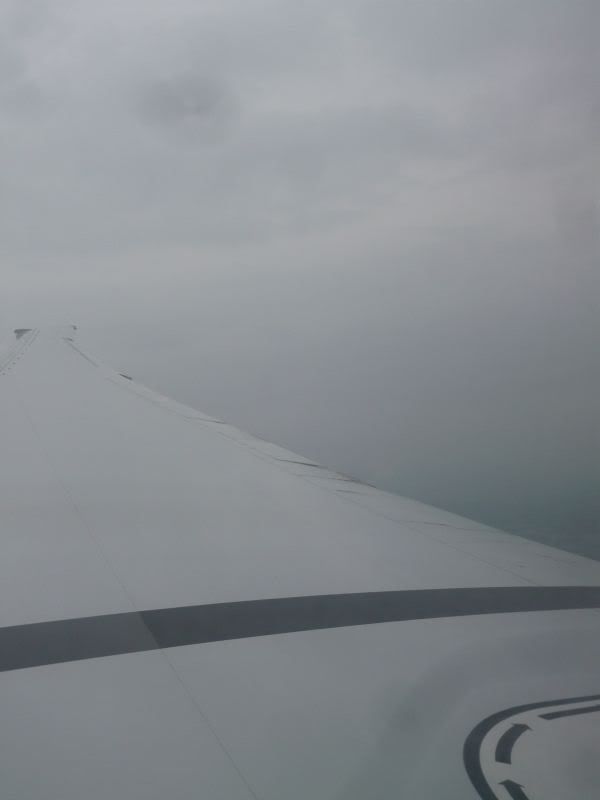 Looking back over the wing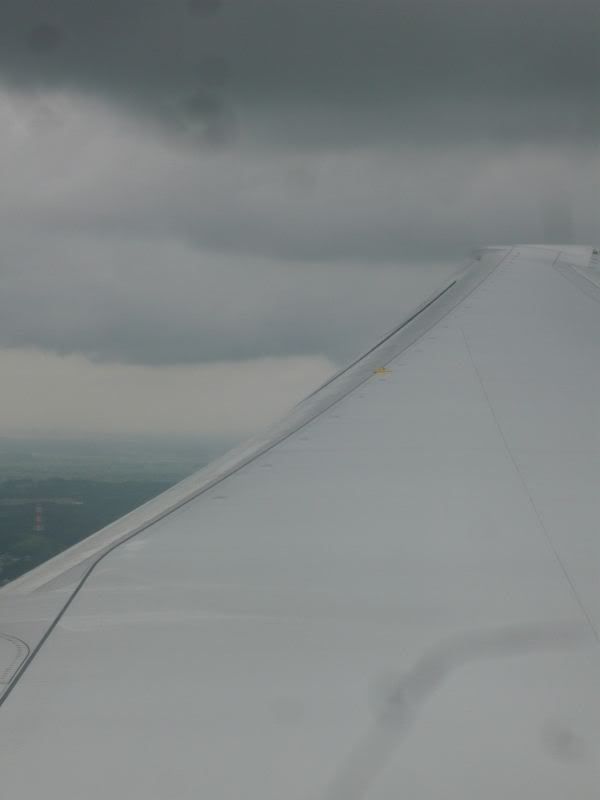 Flaps set for landing config, as indicated by the leading edge slats extending to their fully down position
I took a video of us coming into land on my phone, which I have uploaded to youtube and you can view it here;
http://www.youtube.com/watch?v=hpS56vtUr10
After a long roll out, we turned off at the very end of runway 16L and took a short taxi over to our gate at the Terminal, passing by some interesting traffic, including the Phillipines 777-300ER which we'd later park next to.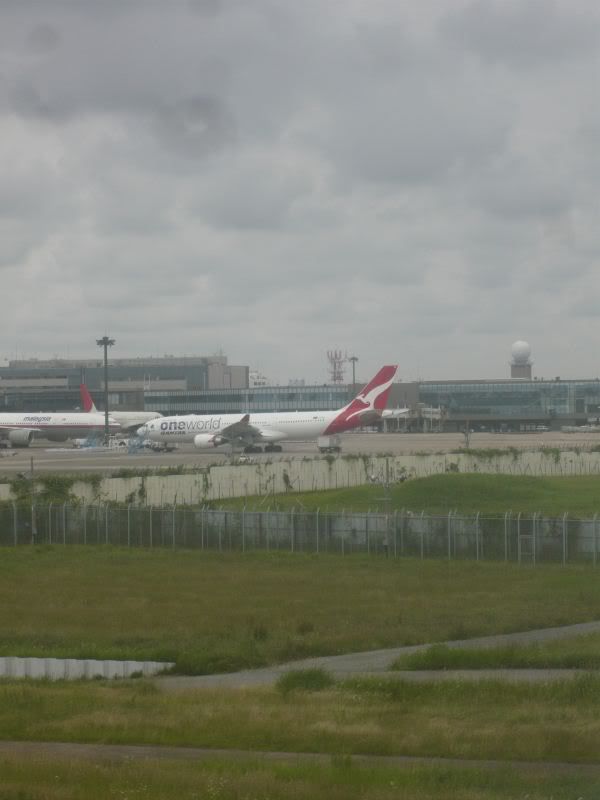 Qantas A330-300 in OneWorld colours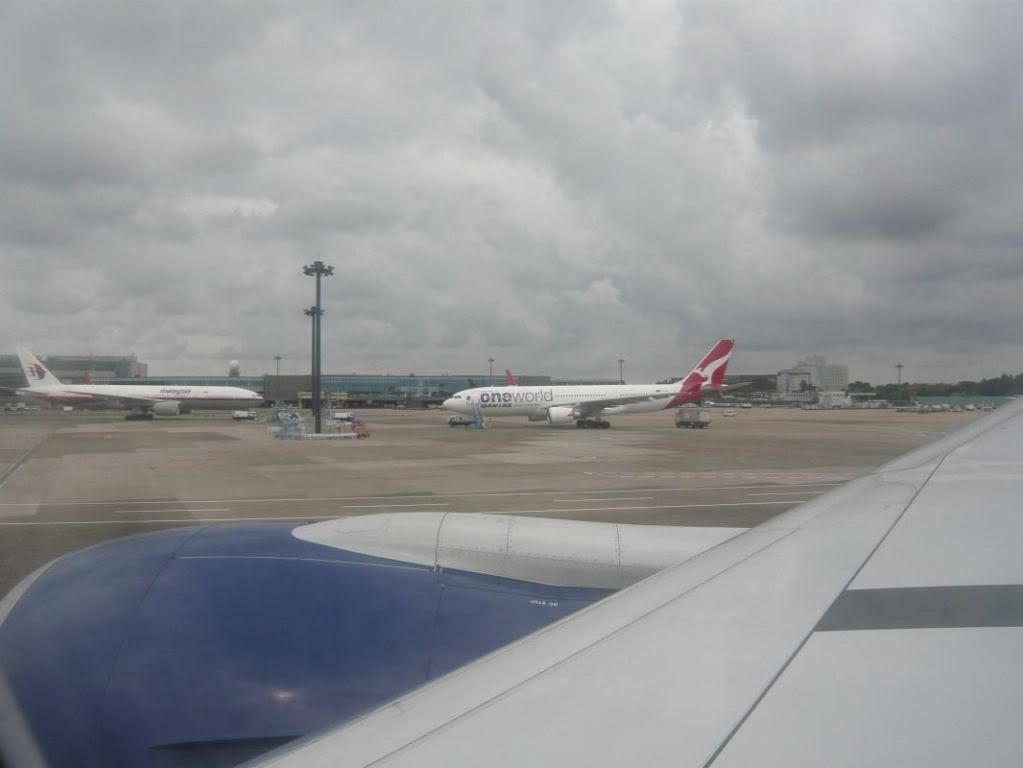 And again with an MH 777-200ER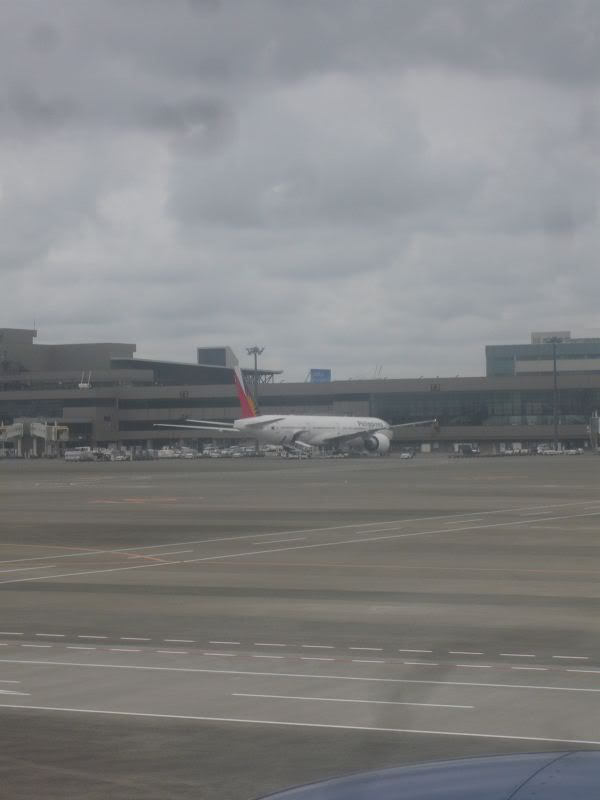 The Phillipines 77W that we'd soon park next to (on the left)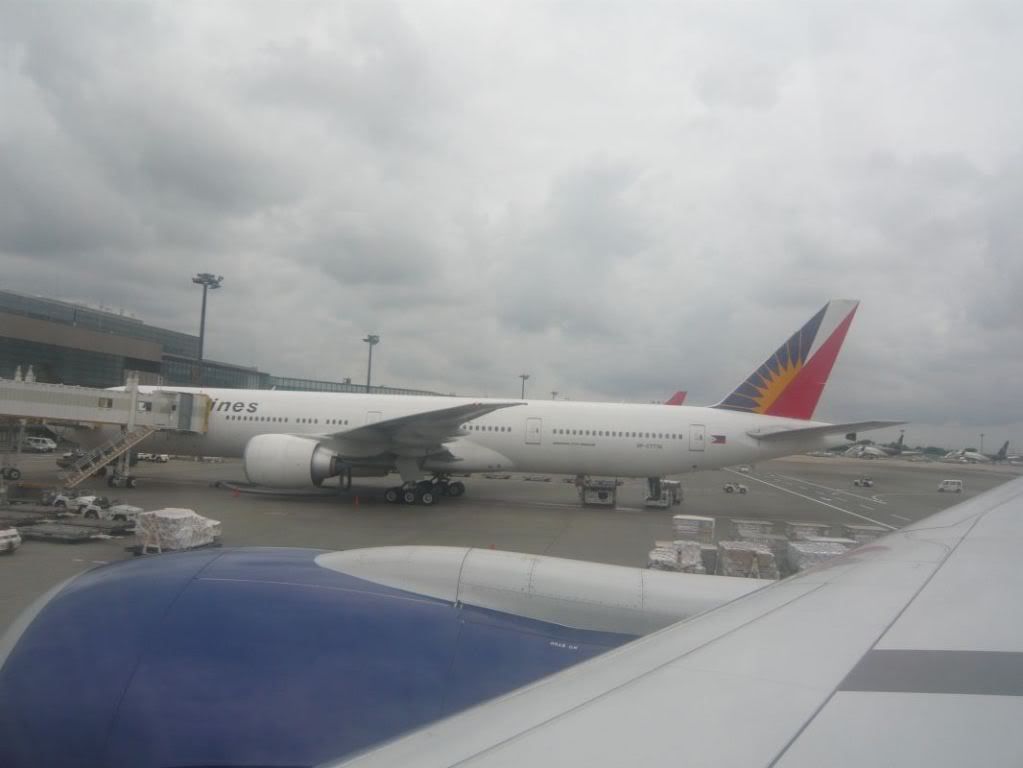 Pulling up on stand
We soon disembarked the aircraft and made our way to Customs and Immigration, we were through quite quickly and jetted off to get our bags. Being the only smoker on the crew, I felt bad about asking to go for a cigarette, but our CSM asked if I wanted to jet off for one quickly before jumping on the bus down to Yokohama. This I took full advantage of
We were soon enough underway to Yokohama on the bus, a journey which took around 1.5 hours. I was desperate to get into my room and change into something.
Upon arrival at the Yokohama Royal Park Hotel we checked in and received our welcome packs. The crew who were operating the BA008 HND-LHR the next morning were also in the lobby and a couple of them were friends of mine so we made our way to the smoking room in the hotel - as smoking outside is banned in Yokohama. A couple of hours later, a few of the crew made our way around Yokohama to have a look at what was on offer, stopping off at Starbucks and Krispy Kreme.
Smoking room
Chandelier in the hotel lobby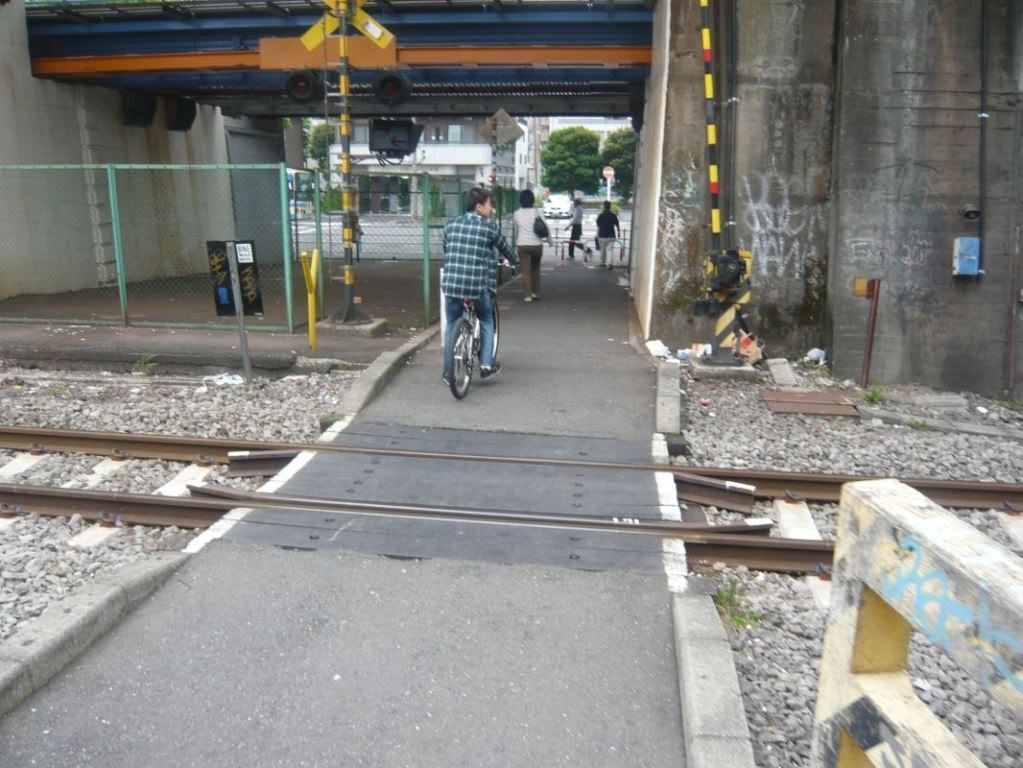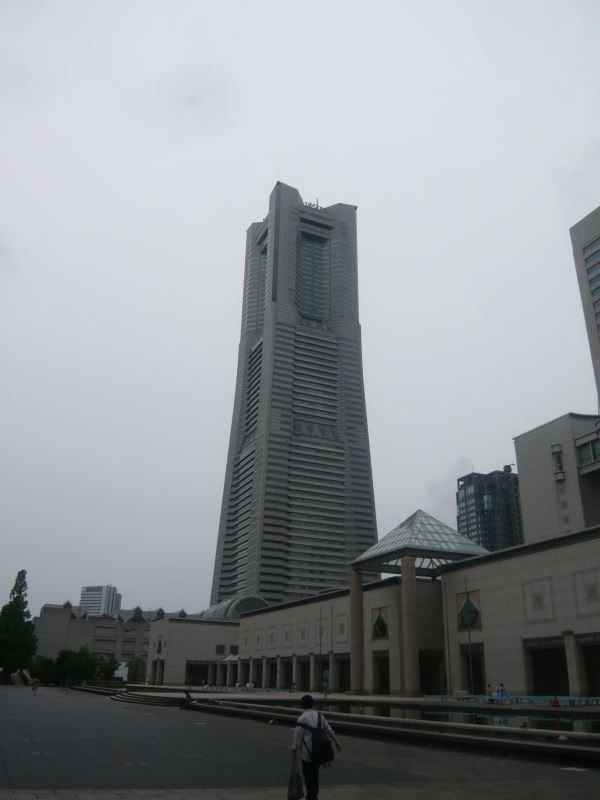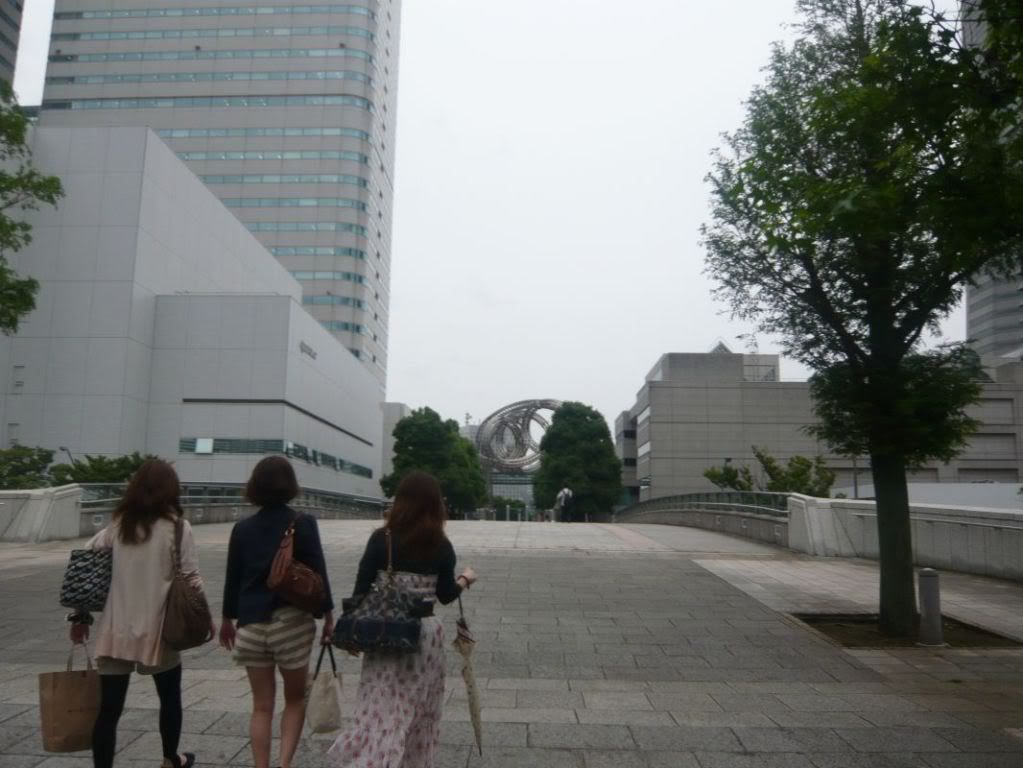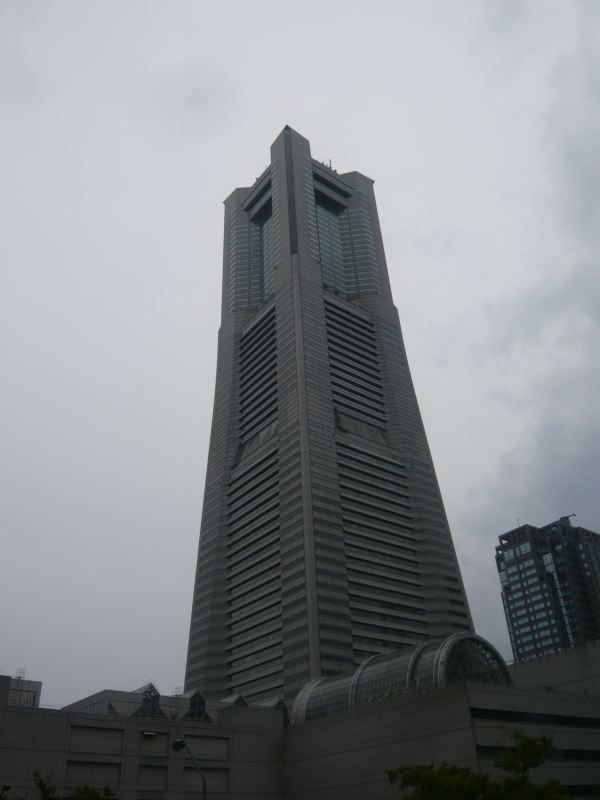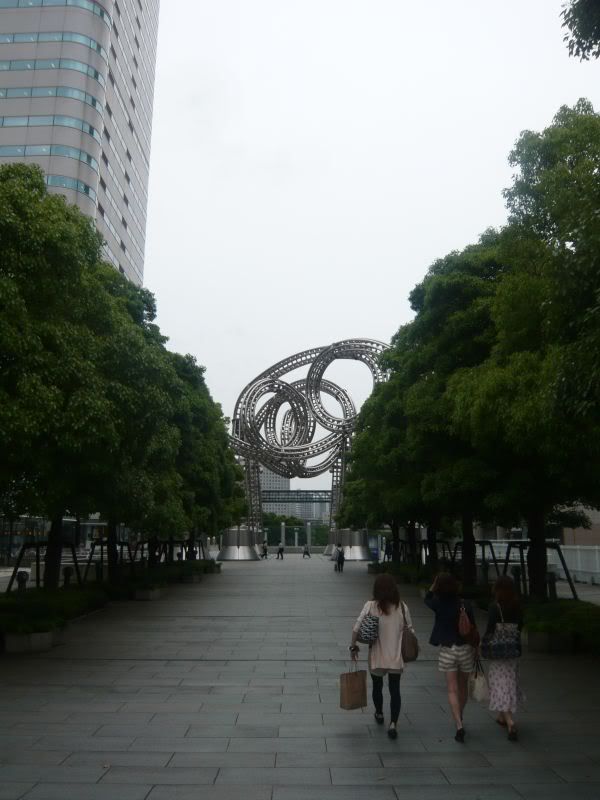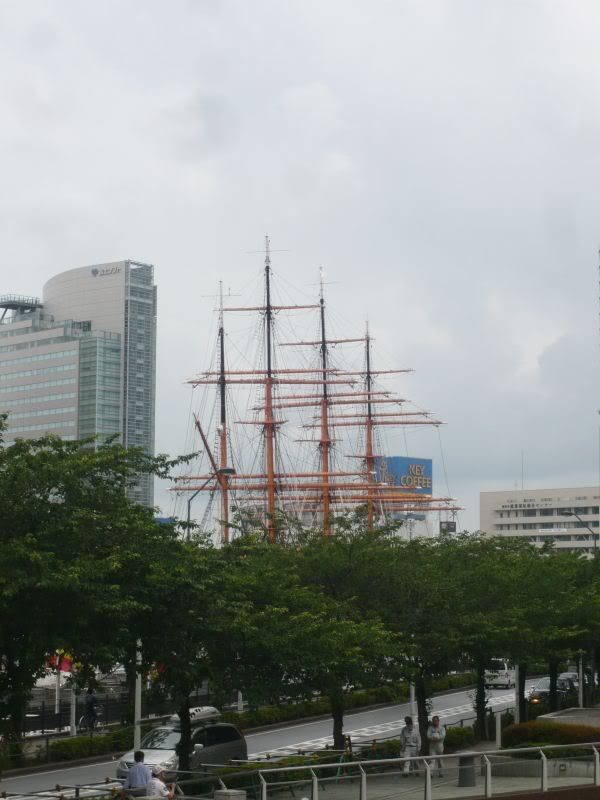 Out and About in Yokohama
That night was spent at the English pub during Happy Hour, before heading back to bed as we were going to hit Tokyo the next morning....
....However, this was the view that greeted us upon waking up
The weather slowly worsened over the day and it soon became apparent that our trip into the city was going to have to be abandoned.
I did however take a trip into Tokyo at the start of July on my second trip out there, so all was not lost.
I spent the day relaxing in my room, with some movies on my laptop, music and a long bath. What a lovely way to relax and unwind downroute.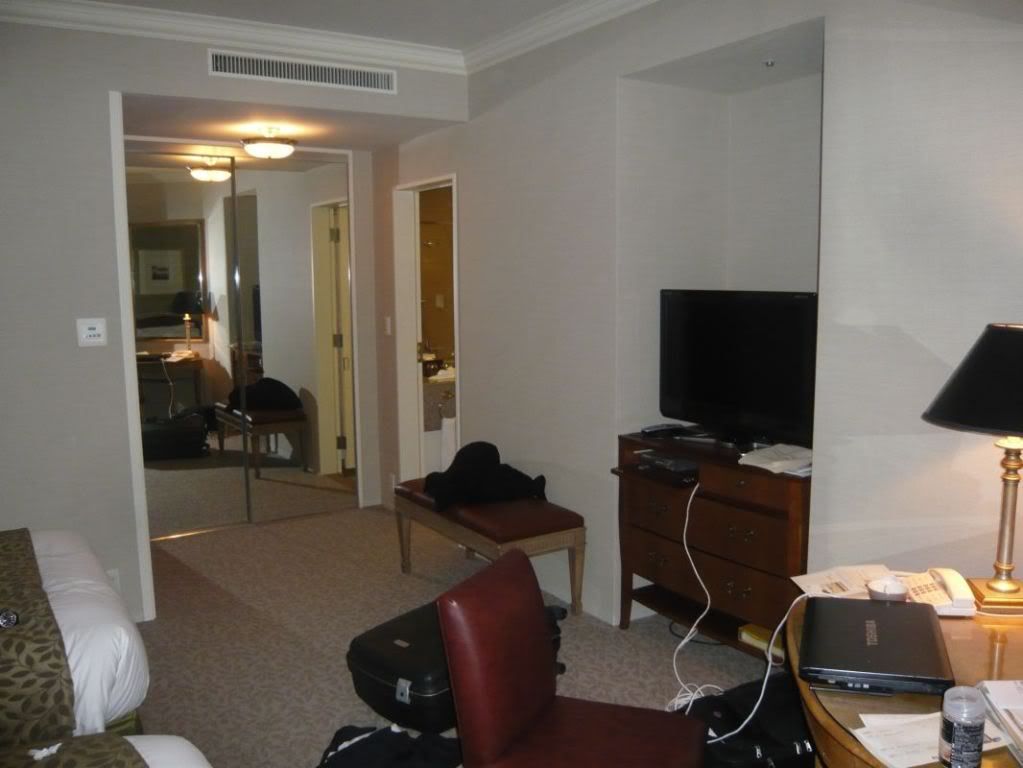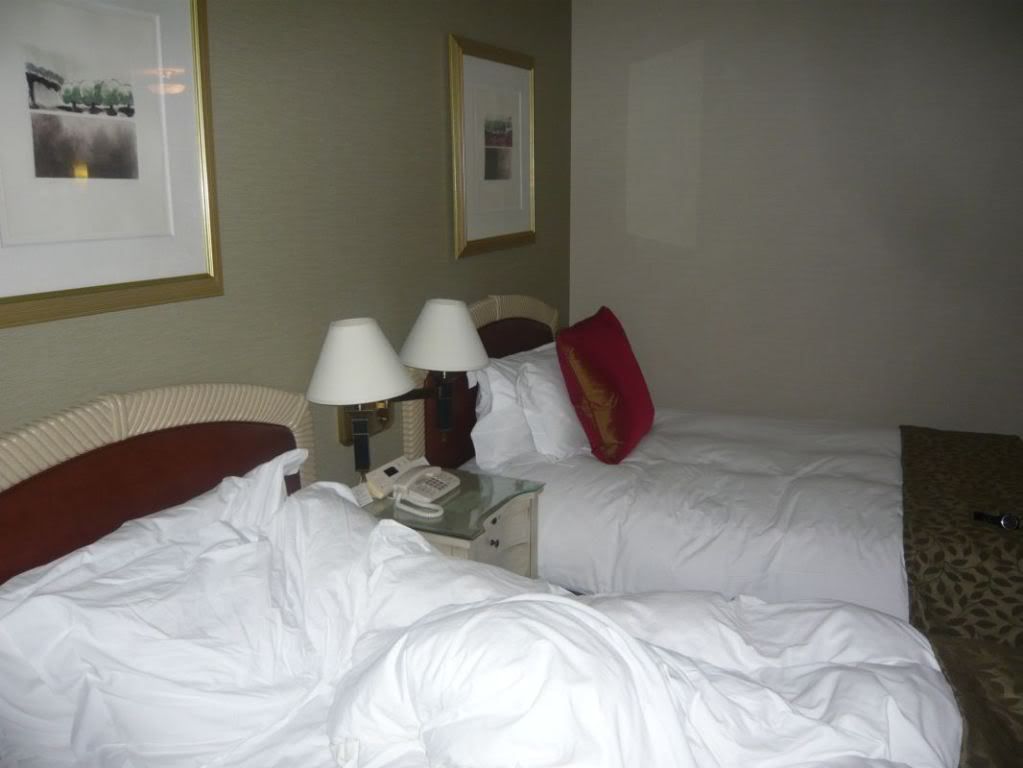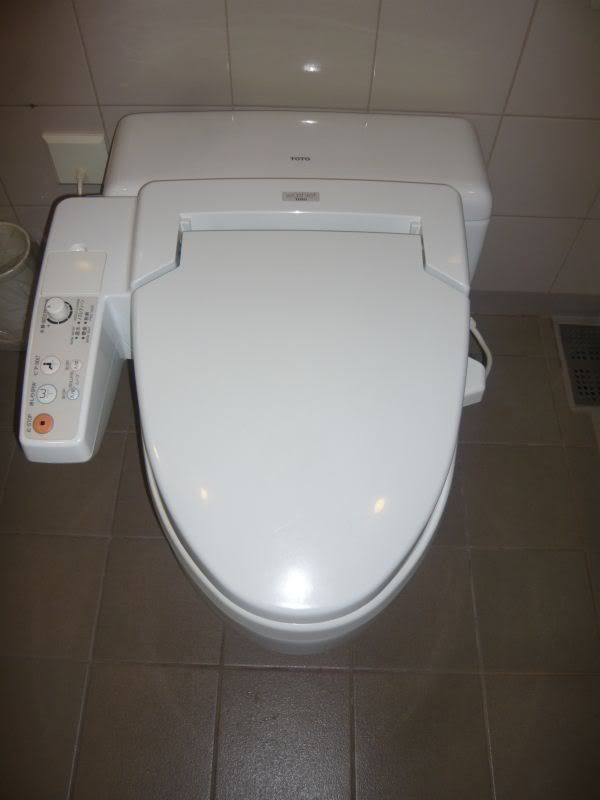 My Room, complete with those Awesome Japanese toilet seats
The next morning I woke up at 2am local time, and began preparing for the trip home. Although wake up wasn't until 3:45am, I took my time, making sure my case was packed nicely and nothing was left behind. There's nothing I hate more than rushing to pack.
Good Morning Tokyo
I took some photos of the hotel and the lobby as I made my way downstairs;
My Room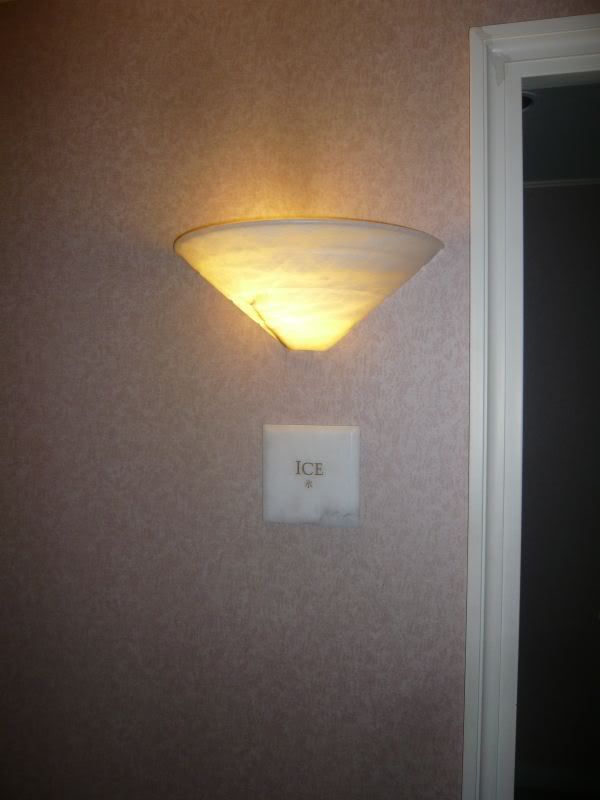 I found everything so nicely decorated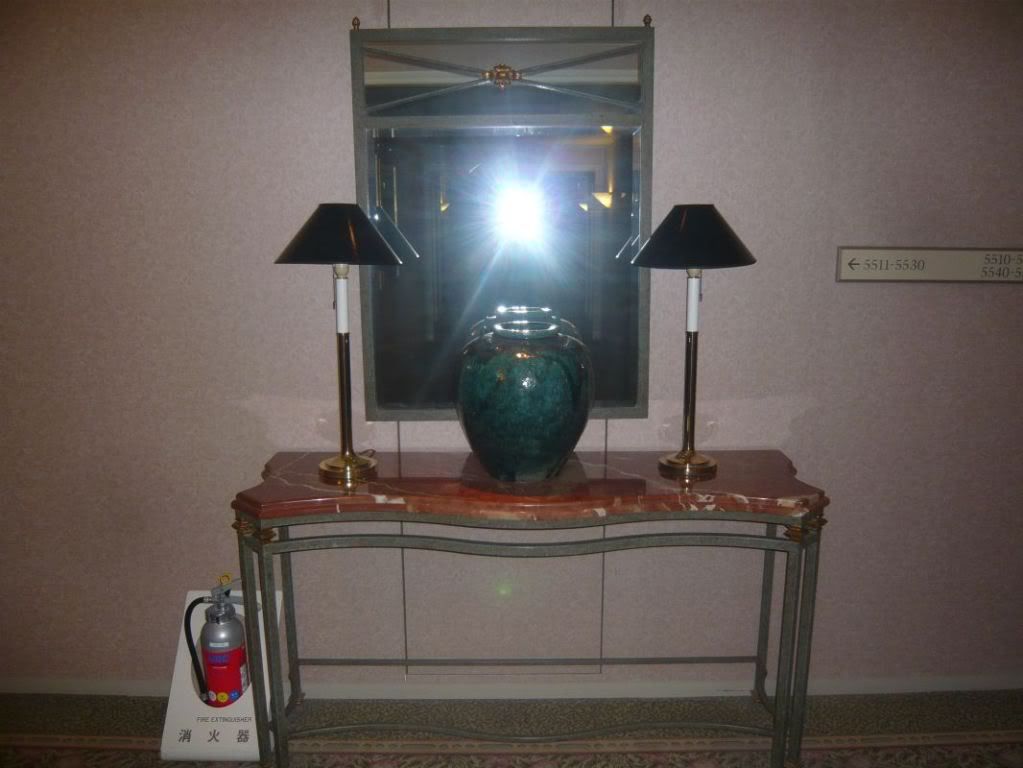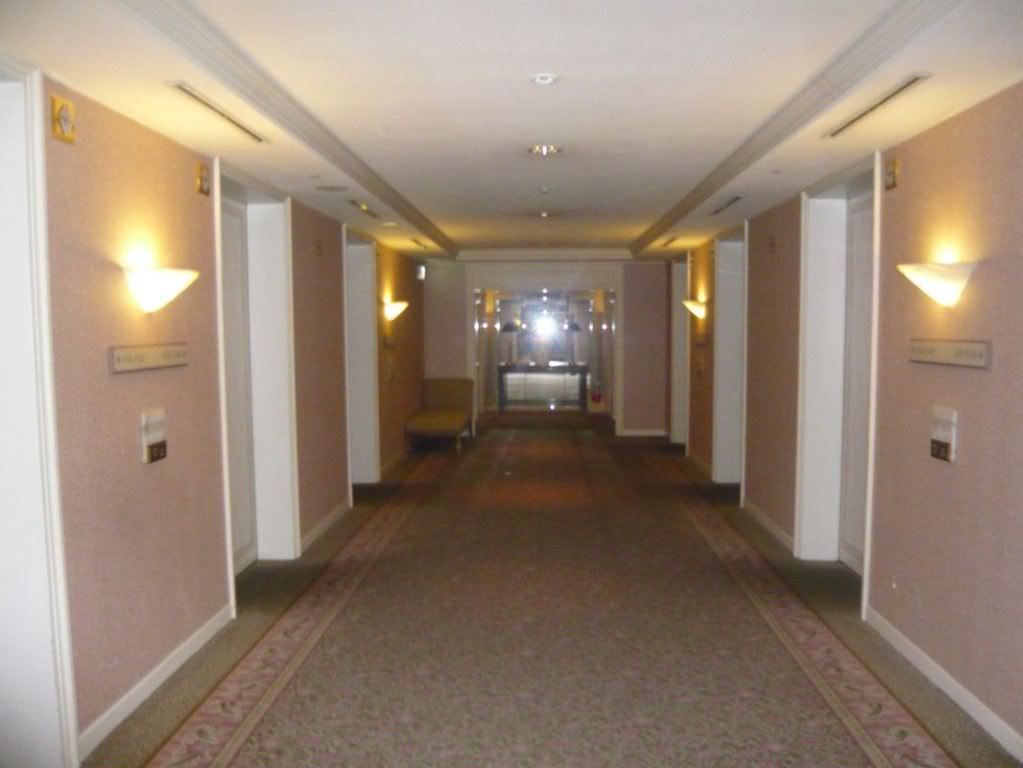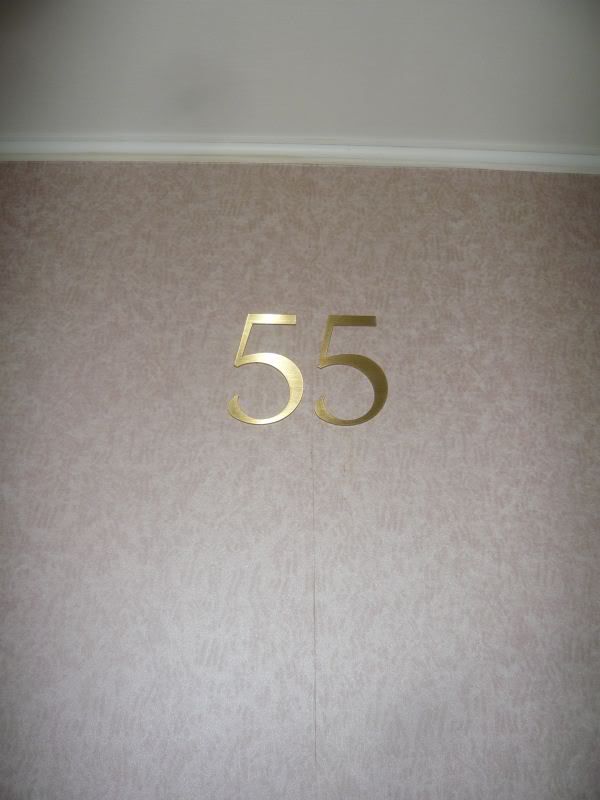 Some decor in the corridors of the 55th Floor
The buttons in the lift all work on sensors so you only have to lightly tap the button to light it up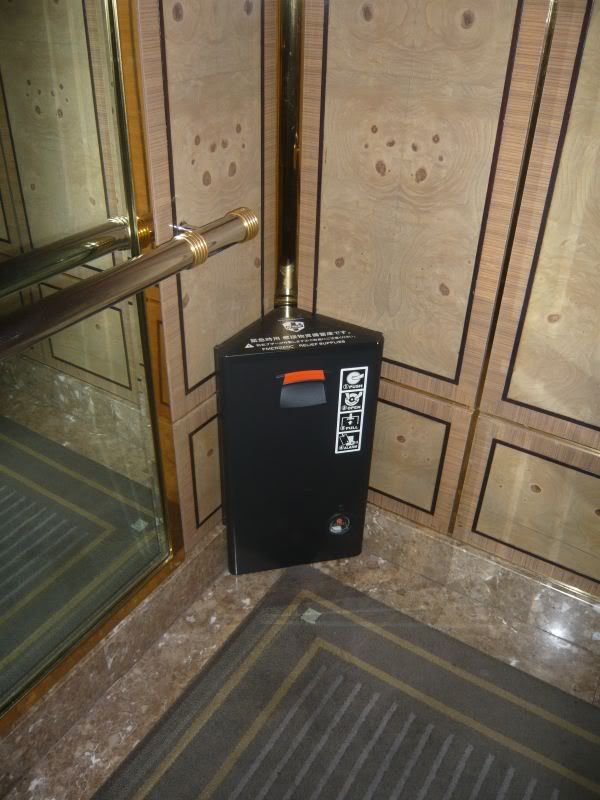 The Emergency Kit in the lift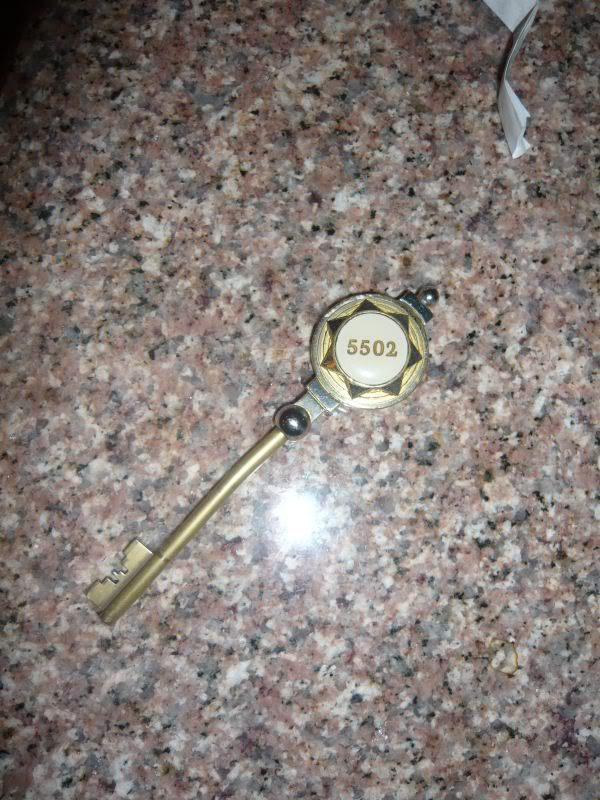 The Key is an actual key, and not an electronic fob
After breakfast, we made our way to Haneda Airport to take Speedbird Eight home to London. I won't report much on that flight as I was working and not much to say other than it was very busy, with 190 customers on board. Not bad for a 226 seater aircraft on a new route!
G-YMMP waiting patiently before taking us home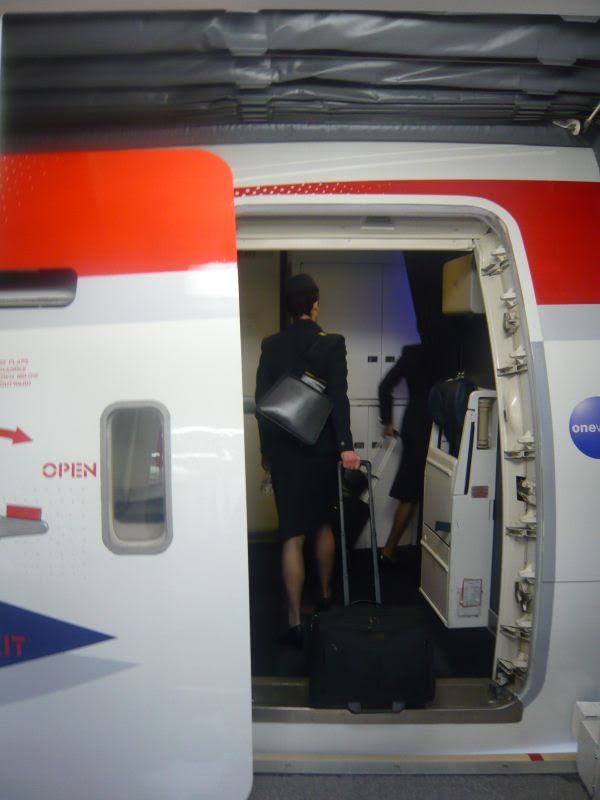 Boarding through 1L
The new Prime First Suites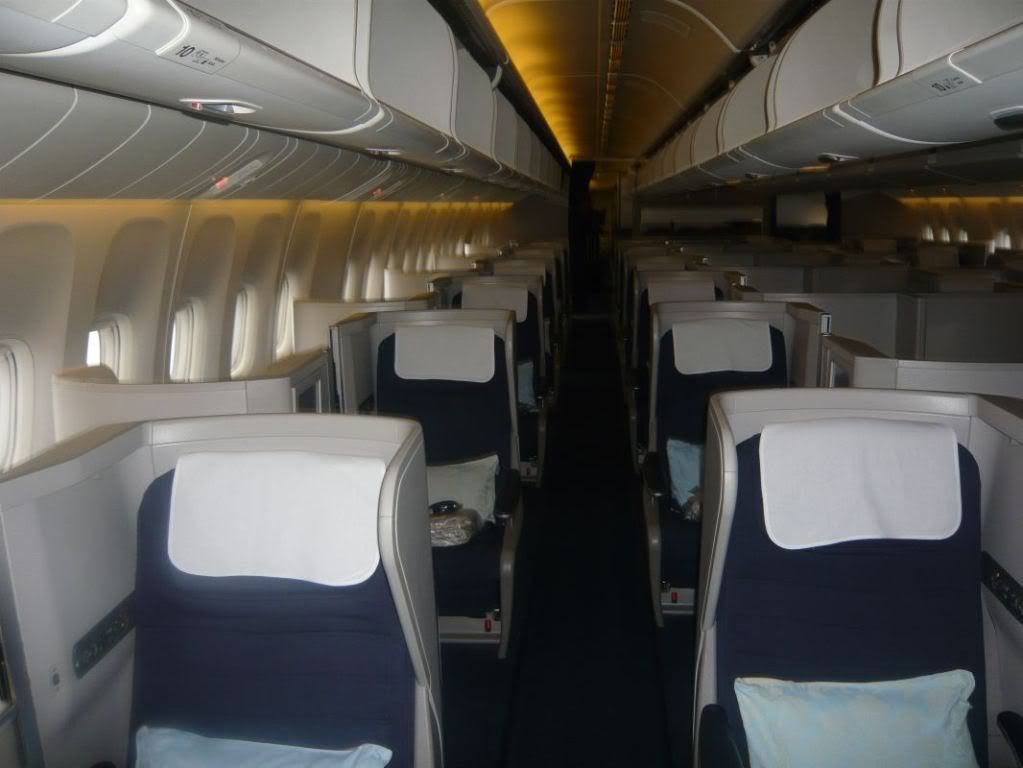 Club World cabin
The Current World Traveller Plus
And the current World Traveller Cabin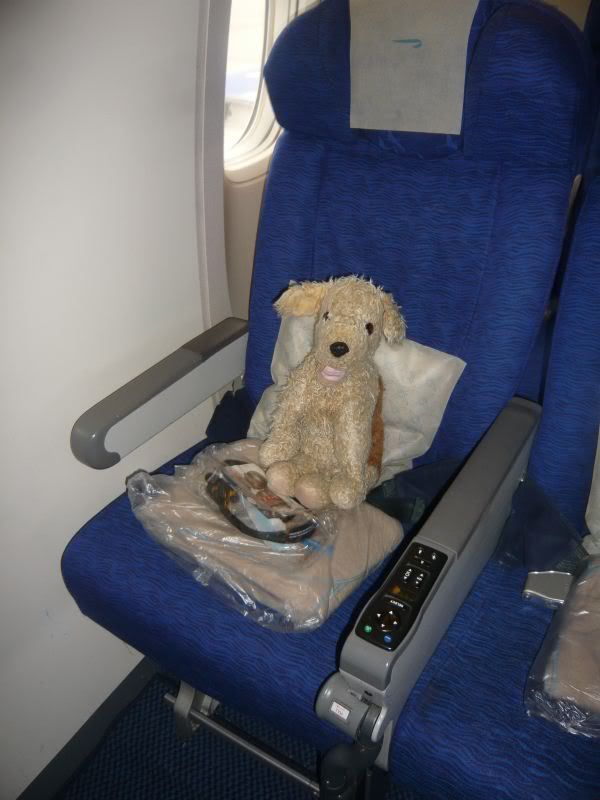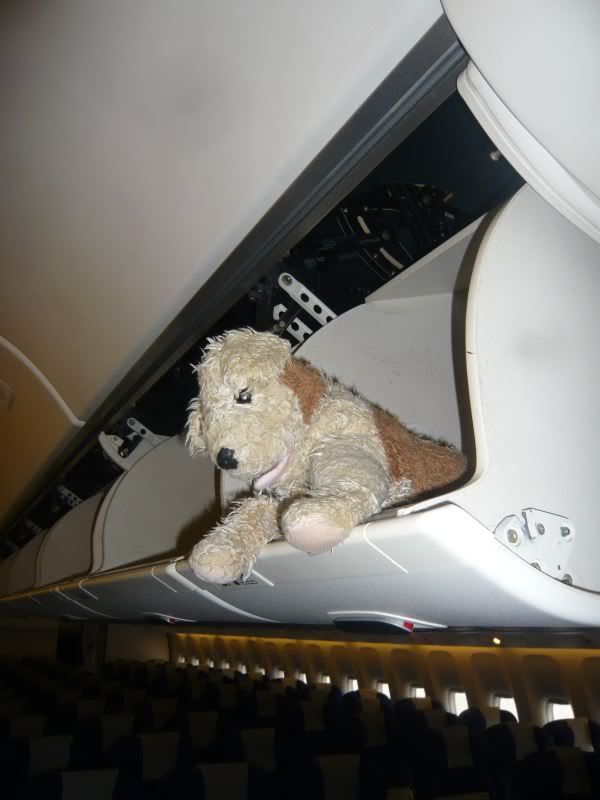 My cuddly dog Toffee - who comes everywhere with me - doing some exploring
11 Hours and 35 minutes after take off, we arrived back in London where I was met by my boyfriend Trent, and my housemate Venesia (a future a.netter and proud member of Mixed Fleet too) and we made our way home!
If you've got this far, thank you for reading. Sorry if the report is a bit photo heavy, those are only about 30% of what I actually took!
Looking forward to hearing your replies and thoughts. And sorry this trip report comes so long after my last!
JG
[Edited 2011-07-11 09:01:48]
[Edited 2011-07-11 09:04:10]