Hi, dear readers!
Welcome to my tripreport on 2 Lufthansa European flights. Purpose of this trip was the A.net tripreporter meet in FRA, and therefore I was in the need of flights to FRA. With not so many options out of AMS, solely being KLM and LH, the latter offered me the best fare and with my FTL card I would be entitled to use their lounges also, which was a nice extra.
I decided to fly out on Friday evening, 8th July, and take a night in an airport-hotel near FRA. Later Dutch a.net members Suryo/Akhmad and Martijn/CrimsonNL decided to join also and took the same outbound flight to FRA. So, our meet started a day early, already in AMS
Lufthansa – the Upgrade, some lounges and the A.net-meet
Check-in was done at home, and pre-info from Martijn learned me that this flight would be close to full. A window seat, last row. I decided to get my boarding pass printed at the airport, since I prefer the 'real ones'. So, on Friday after a quick cupnoodles at home and a fast trip by bus/train to the airport. I arrived there at 18:15hrs, well in time. Check-in for LH flights are at desk 8 in terminal 1, and carried out by groundhandling company Aviapartner. And it was busy!! A lot of people waiting in line for Economy class check-in or baggage drop-off. Lucky me, FTL status gives me a free way to the Business Class desk. I was served immediately by a very friendly girl, a trainee I learned. I checked for a row more forward and got 04F instead, plus, also the boarding pass for next days return. Very kind and professional attitude by her, so she can make it to a great customer service staff when she continues this way!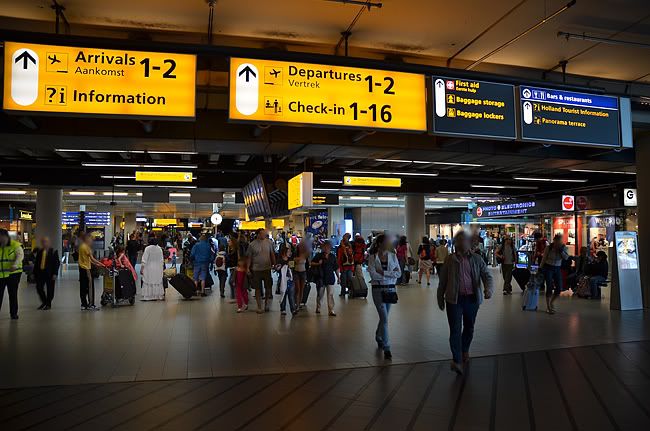 Amsterdam Airport – let's go up to departures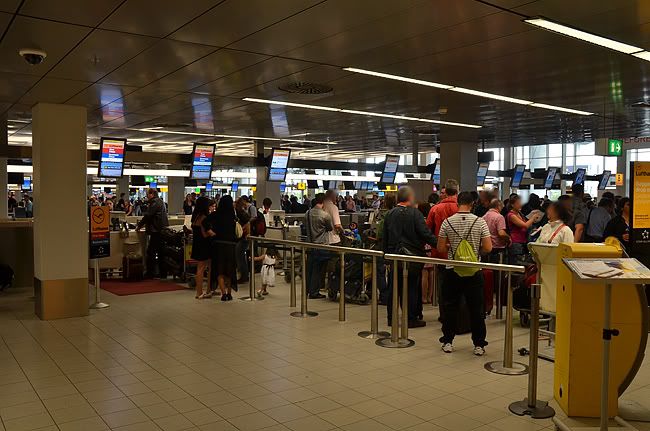 LH check-in desks, see the crowd for Economy!
Now next treat was the security lane. I was able to take the fast lane here, FTL brings me through here as well, although it still took me about 5 minutes. I was not having troubles (this time), although once again I noticed security staff opening notebooks before going through x-ray machines. Hands off! It's not their property and they are even not allowed to touch it, let alone e.g. open the screen. I was prepared for them, and showed my iPad to them before they got the chance to touch it.
After security I went to cash some money from the ATM, there was some left on stock for me, before going to the Business lounge. It's lounge no. 20, Servisair is taking care of it. So confusing, we have Aviapartner doing check-in and groundhandling, but Servisair doing the lounge. And it's not a good one either, LH needs to have a look and take action. Especially since LH is having an eye on the Dutch market and try to catch a lot of traffic (and they do!), but the lounge is a joke.
Amsterdam Airport Schiphol, departure lounge 1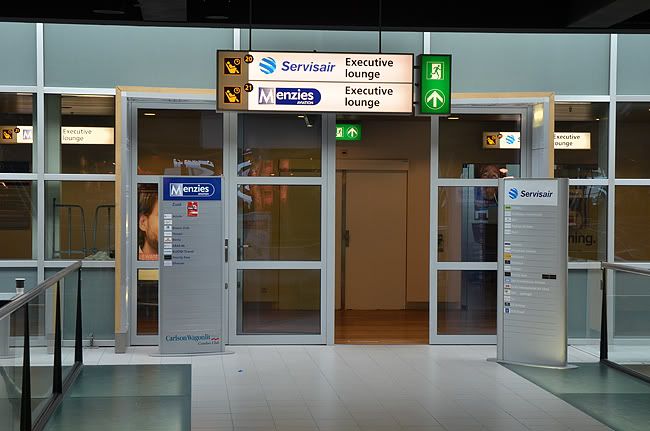 Amsterdam Airport Schiphol, Servisair (LH) Business Lounge
Entrance was offering newspapers, before being greeted by 2 not so interested ladies behind the desk. I was given ok to enter and decided to take one of the few remaining open seats. It was quite busy at this time, not surprised, since they are lounge for 17 airlines at the same time. Let's have a look what is on offer: some wine, white wine not cold (!), beer in the fridge but was luke warm, some salty snacks as food, and… that's it! A poor offering. Also no free WiFi provided, although one can use the 2x 30 minutes free WiFi offered by the airport itself (available to all passengers). The TV screen was turned off, and I found christmas decoration (lights) in one of the plants next to me. And a lot of dust also. The carpet was dirty, and the seat cloths were torn. Even no toilet facility nearby (closest is in the foodcourt behind Burger King). As said, not impressive.
Servisair/Lufthansa lounge – TV off, no magazines/papers, not looking good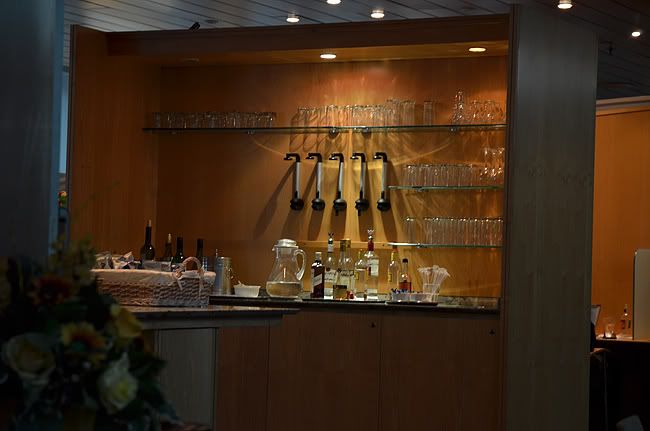 Servisair/Lufthansa lounge – No bottles fixed on the wall? Not the best impression
At least we have some Christmas decoration in the lounge…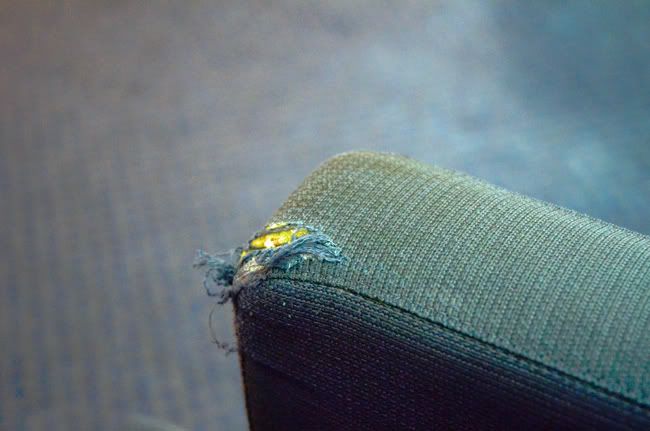 I hope some new furniture is on order also, this does not give me a good impression
Meanwhile Suryo was texting me, as well Martijn did. Both arrived and went to the gate, so did I.
I smile came on my face when Martijn texted me again saying that he was upgraded to Business Class, but I should also come to the counter. So I did, and a new boarding pass was ready, window seat 2A, in Business as well. Specially arranged by our reader Jelle (thanks again!) when Martijn told him about me and Suryo. So, also Suryo was smiling… he got a seat in row 1, and the a.net party was to start on board now!
A320 (D-AIQF) waiting for us to board
We all boarded together, slightly late, caused by the late inbound flight from FRA.
When I entered, I was friendly greeted by 2 of the crew, asked for a Dutch newspaper which was nowhere to be seen, but the crew promised to have a look for me later on. I took my seat in 2A, 2C was occupied by a fellow traveller, middle seat remains vacant in Business class.
AMS-FRA
Flight No.:
LH 999
Date:
08JUL'11
STD:
2015
ATD:
2031
STA:
2120
ATA:
2126
A/C:
Airbus A320-200
Reg No.:
D-AIQF
Seat:
02A (Class: C)
View Large
View Medium


Photo © Ralf Meyermann
Door closed at 20:18hrs, not bad! Crew immediately came by offering my a choice of 2 Dutch newspapers, afternoon paper 'Parool', the local Amsterdam paper, and the 'Telegraaf', not my kind of read but it was ok here. Also international magazines on offer, e.g. Newsweek and the Time magazine. Info from the flightdeck revealed a 10 more minutes wait caused by ATC restrictions (slot). Meanwhile the crew performed their safety demo.
In the end we got our pushback about 15 minutes late, with an estimated flighttime of 50 minutes this would mean a close to ontime arrival. No problems here.
During taxiing, note the ex KLM F100 on the observation deck, looks strange!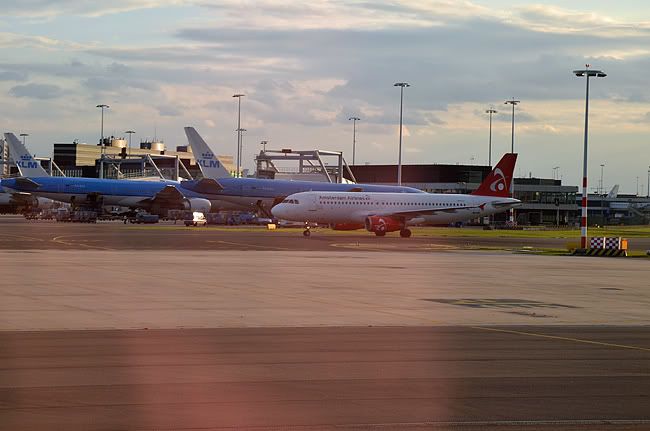 Amsterdam Airlines, I flew it last year to Morocco
Taxiing to runway 18L, busy traffic all around but we took an intersection departure went airborne after the Air One CRJ-900 flight to FLR.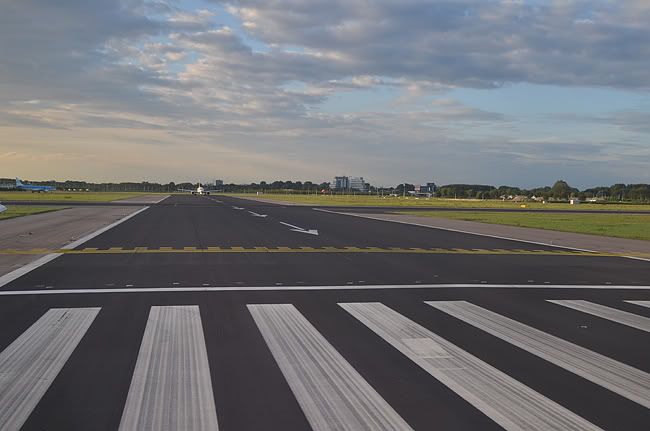 Lining up the runway, in the background a LX A320 for ZRH is waiting
Beautiful light in the summer evening, some good views down. I really enjoyed this takeoff, especially since this was my first flight since 5 months again (can you believe?!).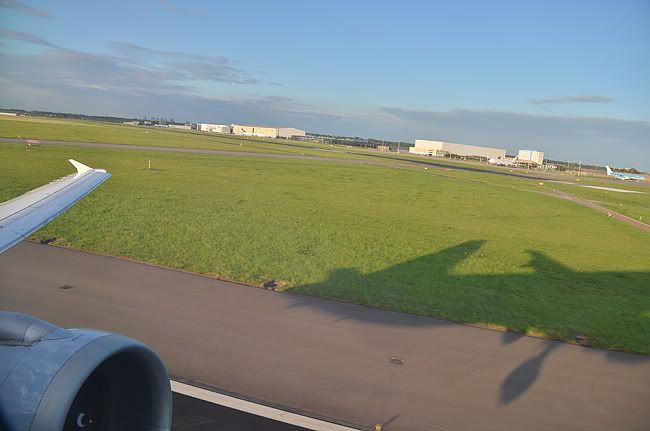 Airborne!
Flying away….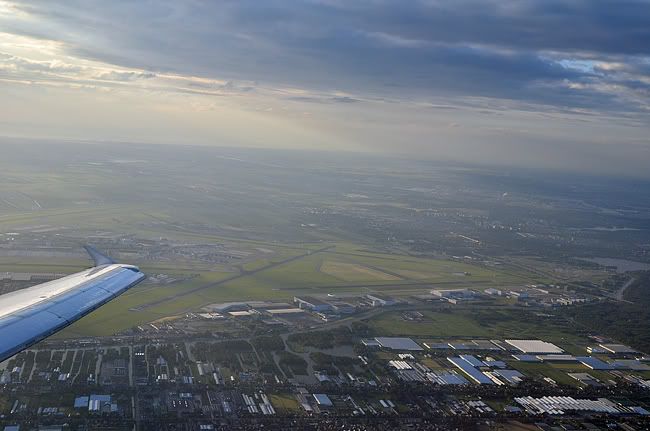 AMS visible in the background… A beautiful evening!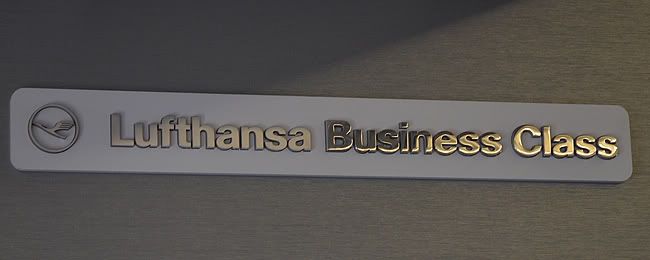 Not long after takeoff the crew came in action and delivered mealtrays. It was a tray called "be invited, by Antoniewicz", really nice and fresh. On offer tonight were Salmon Cannelloni on Bean salad, sundried tomato cottage cheese with grilled vegetables, and a pineapple pastry. Only the sandwich was not my taste, cold and dry. There could be more effort here to make some warm bread onboard.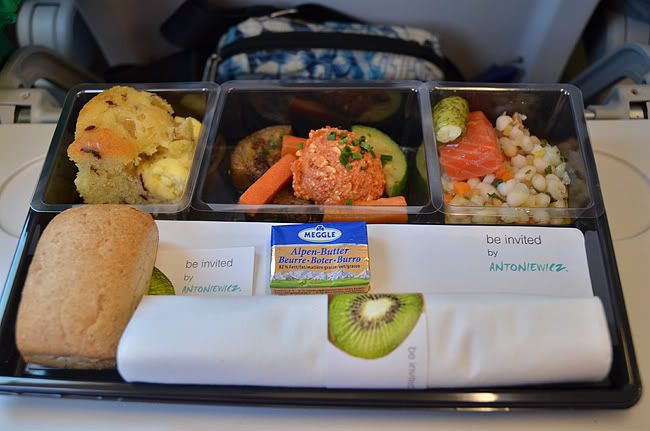 The meal AMS-FRA by Antoniewicz
About Heiko Antoniewicz Lufthansa learns me as follows;
"We would like to invite you to enjoy our new in-flight service on European routes. In sync with the step-by-step launch of our new Europa cabin in modern design, and still more comfortable seats, we have created an enticing new bill of fare. In close cooperation with Heiko Antoniewicz.

The renowned star chef combines classic culinary arts and traditional recipes with the techniques of molecular gastronomy and ranks as a top talent in finger food. Accordingly, we surprise you with our latest menus featuring culinary 'tidbits'. Enjoy!"
Along with the menu comes some white wine which flows away perfectly. After service, crew dissappears into the Economy cabin for a while and on return –when I finished the meal and wine-, offering another drink. Let's go for my favourity, Baileys
I was setting a trend, when my neighbour suddenly said "Hey, that's a good idea, give me one also" LOL. And Martijn in front thought the same also, LH going out of stock here on Baileys. Suryo settled with Whiskey iirc.
My after dinner drink
Now, 50 minutes in the air are gone quickly, you can imagine it was almost time to land.
Beautiful views outside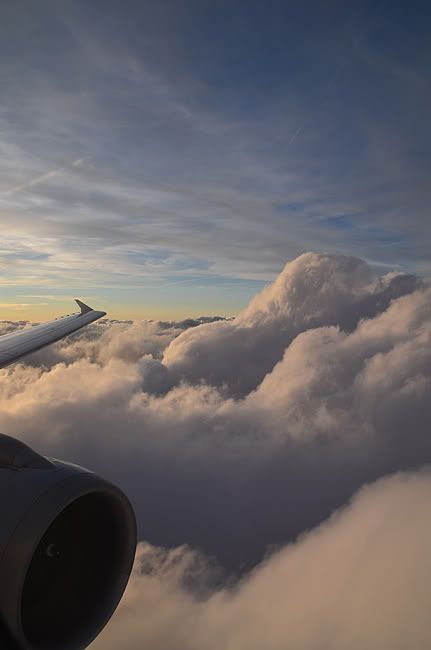 …and some more
A first time landing on the newly designated runway 25C for me, and some taxiing on the busy apron to our gate, A01. Gate A01 is the famous gate where aircraft come in and almost seem to collide with the terminal building when turning into the stand. So, a fingergate here, arriving only a few minutes late. No problems and well done performance.
Landed!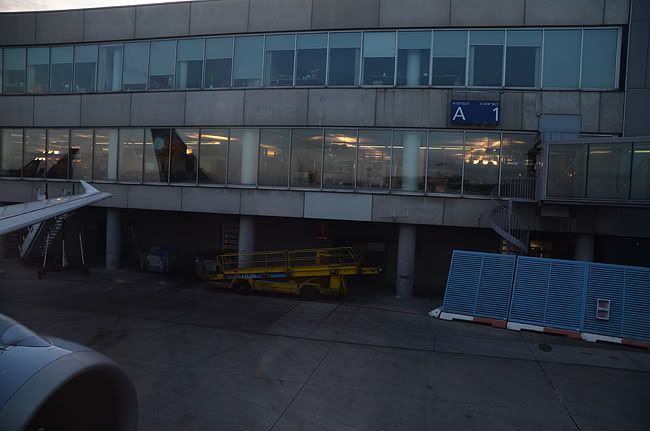 Parking spot/gate A01
A friendly goodbye from the crew when leaving, a great but short LH flight ended too soon!
On Saturday we had an early start for the meet. Markus aka Flieger67 picked me and Martijn up from the hotel and we drove together to the airport. We met the other members in front of the observation deck and enjoyed a great day talking, sunbathing and watching the impressive amount of traffic at this airport. Some pictures from various traffic seen: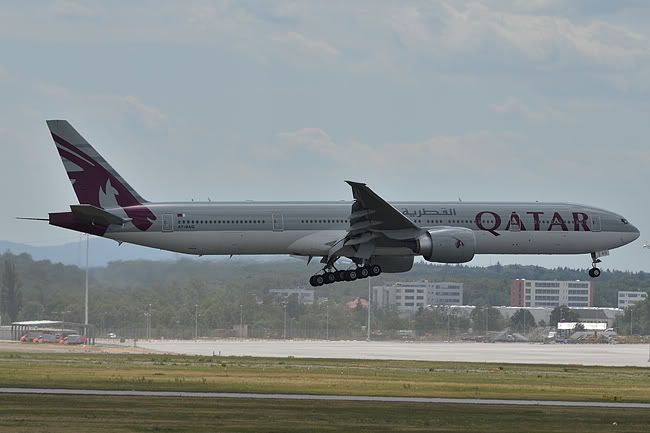 QR 77W, dedicated to Suryo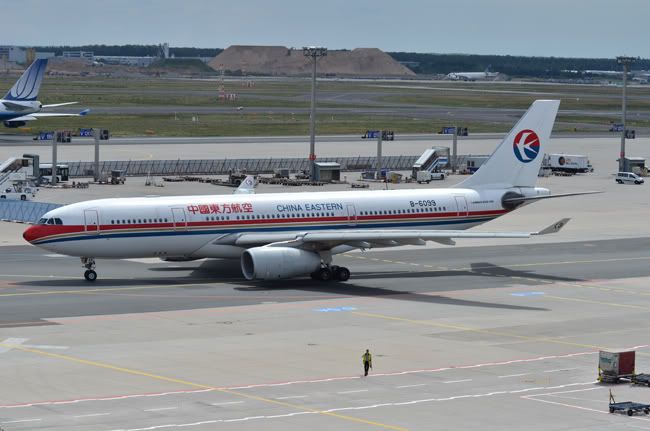 MU A332 taxiing out for departure
The 767 with winglets, dedicated to Martijn!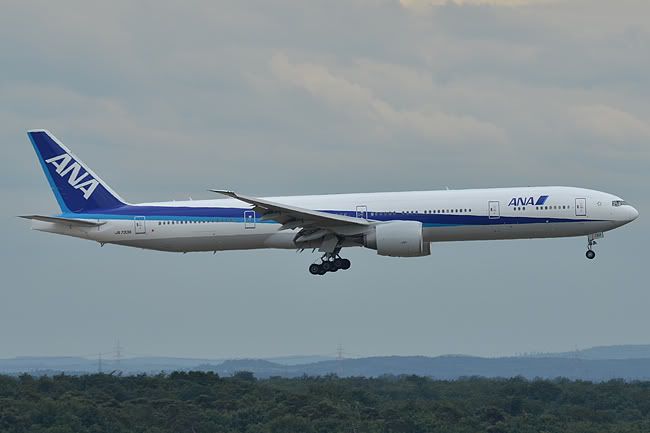 Something big from Japan… ANA B77W, really nice!
---
Together with Martijn we would take the last flight back to AMS, where Suryo left 2 flights earlier since he had to take a long trainride back home after arriving in AMS. We had a quick look in the beautiful LH World Shop before we went through security check. I took the fast lane, Martijn the regular one. He won! I was stopped for an additional check and also my shaver was part of concern. The 'swipe test' had to be done and I had some jokes about it with the friendly security officers. I mean, here these guys were really friendly to me, but somehow I never have these positive experiences in AMS. Martijn was waiting and together we walked into the A-concourse, checked the OPS screen to find out our aircraft would be incoming from VCE, an A320 registered D-AIZI (delivered 20 August 2010), 'older' then we both thought at first.
We tried to get Martijn into the Business lounge, but it wasn't granted since I was only FTL, and the admission fee is EUR25, a bit steep. We split up here since I wanted to see the lounge and offerings of course. Martijn went for some more spotting and exploring the terminal.
The lounge was receiving me in a friendly way, still quiet. After a while the lounge would become more crowded. Still, I had a nice place on a table near the window, great views on the apron and taxiway. I was able to see fellow members PlaneHunter and IberiaA319 leaving on the LAN A340 flight to MAD. Did they see me also?
The lounge itself, modern interior and nice bar with food options. Free WiFi by T-mobile, on courtesy of LH. Lavatories and showers are available also, for the shower you need to get a key at the reception first.
Food option were minestrone soup from Italy, 'kartoffel salad', 'sauerkraut', 'bockwurst' and bread (so make a hotdog yourself), fresh fruits, salty snacks and all kind of drinks. Really nice variaty and refilled constantly by 3 lounge staff. Flightinfo screens available also, but running Windows causing a slight problem apparently. The pics: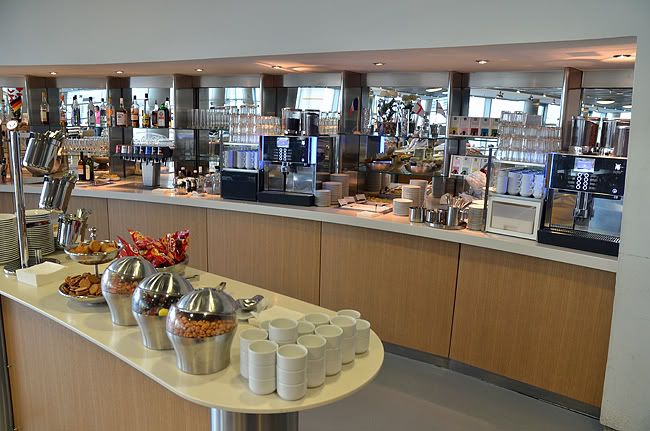 Food/Wine desk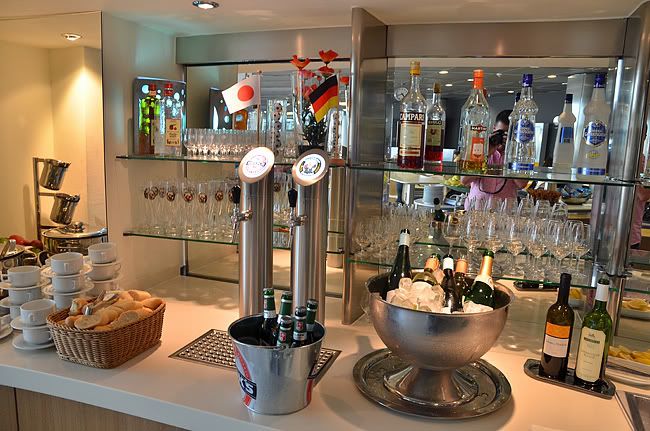 Something more to drink
Lounge overview, big windows with views on the apron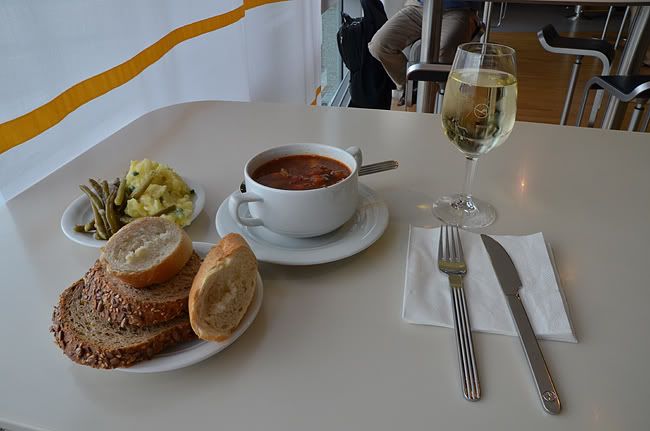 Let's have a light meal before the flight!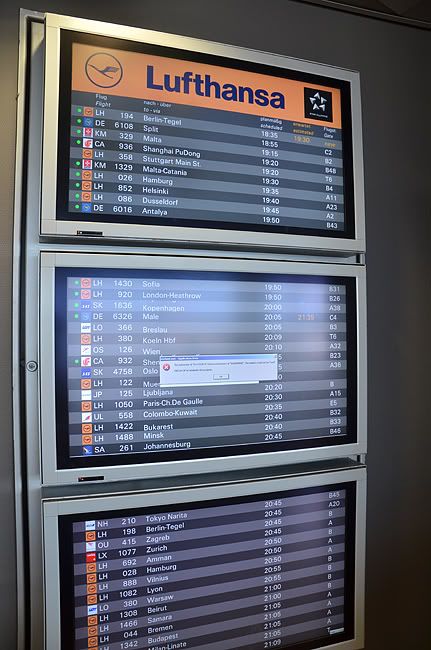 Windows having some issues here?!
At least we have something to read here and the time as well!
I stayed in the lounge for a while, surfing the web and having a light meal. When boarding time came closer I walked to gate A17, most passengers were gone inside already, or was it quiet today? Let me check the cheerful LH staff at the counter, if the seat next to me remains empty. I'll bet it is, she said. Sure? Yes, let me check… Oh sir, you have the whole row for yourself. Nice!
D-AIZI, my A320, waiting at gate A17
Used the barcode scanner to enter the fingergate here, D-AIZI as planned, and greeted in Dutch language by the Dutch purser on this flight. He offered me a copy of the AD newspaper. Really nice!
Doors closed 20:51hrs, reopened again a few minutes later for 2 short connection passengers from BUD. Strange situation maybe, but good that LH accepted them since leaving ahead of schedule wouldn't be too good in this case. I'm almost sure that the baggage had an overnight stay in FRA though
FRA-AMS
Flight No.:
LH 1002
Date:
09JUL'11
STD:
2110
ATD:
2103
STA:
2215
ATA:
2207
A/C:
Airbus A320-200
Reg No.:
D-AIZI
Seat:
06F (Class: Y)
View Large
View Medium


Photo © Mirko Krogmann
Early departure here, I counted 29 passengers in Y, 5 passengers in C (3 of them staff). Not the best load here, but really comfortable for me. Martijn was a few rows behind me, occupying an exit row seat on the left, I was just behind the curtain. The welcome was done in 3 languages by the purser, safety demo in German/English. I was able to understand everything very well, which can't be said on all carriers. Really good impression so far!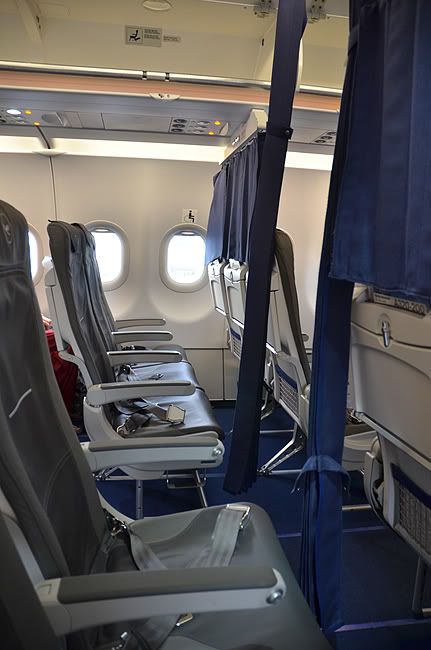 The new Europa-Interior, slimline seats, great legroom
Pushback a few minutes early, and taxiing went quick also. We crossed runway 25C at an intersection and taxied further to 25L for takeoff, which was performed from an intersection also, and without further waiting. Really nice takeoff, beautiful views below us, and some cloud surfing later on during the climb. It was a bit turbulent at some stages, nothing serious for me, but some ladies in the back thought different and did a little scream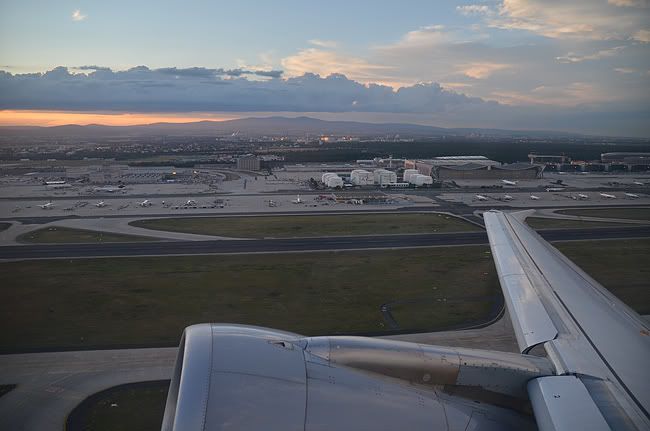 Up in the air!
Another beautiful evening with the setting sun…
Ah, some clouds to encounter…
…but we quickly get to higher levels
The flight was a calm one, crew distributed a interesting Y-class meal: pasta salad with poultry meatballs and crostini. Very original offer in my opinion, and taste was good. I think this is really nice to get, it makes a change from the usual (boring) sandwiches so LH stands out here from the competition! No baileys on offer for me this time in Y, but a white wine and some water is good enough. Service with a smile for sure, I'm impressed once again.
The pasta salad and 2 drinks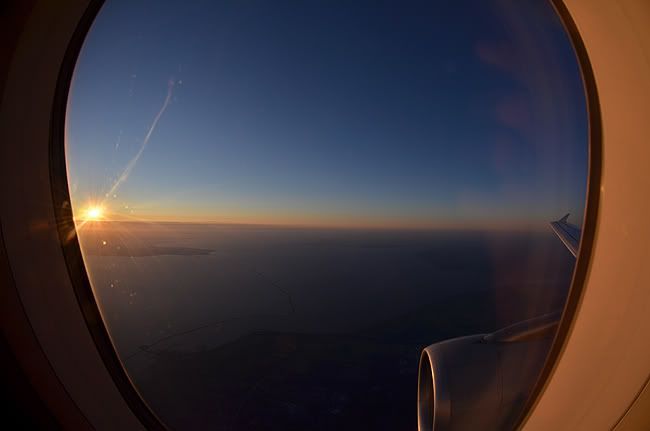 Isn't it just amazing sometimes?! I really enjoy this…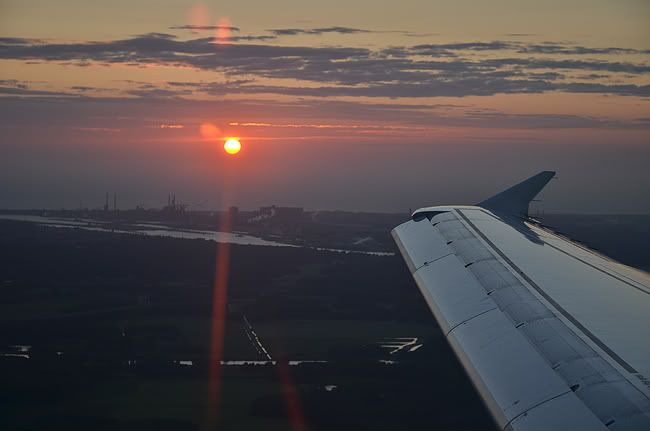 Almost there… finals runway 18R
Decending to AMS was via the Markermeer (lake) and with some turns into runway 18R, the famous 'Polderbaan' , meaning a usual 15 minute taxiing. Not today, our crew wanted to see the hotel probably… we touched the runway 21:58hrs, block-in on gate B31 was 22:07hrs, making up a 9 minute for taxiing. Not bad at all. Arrival was ahead of schedule, and the crew was standing at doorside to wish us a further nice evening.
Together with Martijn I walked to the exit, he took a bus to his apartment, while I was picked up… A great weekend ended here, but I got the spirit of flying back. Soon, more to come now and since I have more time (now only in the need for some more cash), I might book a few more trips in the upcoming weeks/months.
So, all who joined the meeting, thanks for the great time! And all others, thanks for reading. I hope this insight on LH's latest product offering on the European flights gives a good impression also to you. To me, they did… for sure an airline to fly again in the future!
Thanks for your replies or feedback, I would really appreciate it, even if it's just a quick note
Regards
Eric
A small random selection of Trip-Reports on my previous flights:
On Duty To Japan: JAL (C) And KLM (Y) On B777-200s
(by
Airbuseric
Dec 6 2007 in Trip Reports)
The Little Surprise From LH On A Domestic Route
(by
airbuseric
Aug 24 2010 in Trip Reports)
Crossing The Atlantic On BA (Y): AMS-LGW-JFK
(by
Airbuseric
May 3 2009 in Trip Reports)
Royal Air Maroc: Nador - Amsterdam On The B737-400
(by
airbuseric
Jul 23 2010 in Trip Reports)
Amsterdam Airlines – The New Wings From Holland
(by
airbuseric
Jul 8 2010 in Trip Reports)
Riding The ICE To Catch My Cirrus Air Dornier 328
(by
airbuseric
Mar 7 2010 in Trip Reports)
FlyBaboo & The Q400: From The City To GVA + 2 More
(by
Airbuseric
Jan 31 2010 in Trip Reports)
Brussels To London: The American Way & Back To AMS
(by
Airbuseric
Jan 17 2010 in Trip Reports)
Catching Up With The LAN A340 And More ... (+pics)
(by
Airbuseric
Oct 16 2008 in Trip Reports)
My Visit To Berlin Tempelhof, Daytrip On KL+SN+HV
(by
Airbuseric
Oct 12 2008 in Trip Reports)
"Europe Select" On KLM, AMS-ARN-AMS (+pics)
(by
Airbuseric
Jul 30 2008 in Trip Reports)
Flying Flemish, A Dutch Lady Between 2 Harbours…
(by
Airbuseric
May 30 2008 in Trip Reports)
Props Around The UK (12Feb08); Many Pics/videos
(by
Airbuseric
Feb 20 2008 in Trip Reports)
AMS-NRT On JL412 In JAL's C-class + Pics
(by
Airbuseric
Jul 17 2006 in Trip Reports)
A Mad-Dog To Denmark, Bornholm & More On SK/QI/DY
(by
airbuseric
Jun 26 2010 in Trip Reports)
Air Dolomiti & The Embraer 195 Visiting BLQ
(by
airbuseric
May 11 2010 in Trip Reports)
Inaugural Day Of Service: BA Embraer 170 LCY-AMS
(by
Airbuseric
Sep 28 2009 in Trip Reports)
To The Land Of The Rising Sun (JAL In J-class)
(by
Airbuseric
Jul 19 2009 in Trip Reports)
Combination AA + BA Across The Pond: JFK-LHR-AMS
(by
Airbuseric
May 20 2009 in Trip Reports)
Back Home In C-class/Upper Deck On KLM's B747-400
(by
Airbuseric
Feb 19 2009 in Trip Reports)