Introduction
Sometime in late April 2011 some a.net members mainly from here in the Trip Reports forum got this idea about organizing an aviation geek meetup at FRA airport, naturally mostly at the observation deck. Naturally I was interested in attending, so I started to look for a suitably convoluted way to get there. In all honesty, I probably should've gone just for a direct HEL-FRA-HEL on AY which was available for not too much money and used the "half points business class upgrade" offer to get some decent service out of them. But yeah, that's not exactly me and besides I noticed that if I add one new airport to my log on this trip it would bring my total to 200, which was one of my targets for this year, so the challenge was set!
The date was set to Saturday 9th of July. To get there sticking to a budget was not too straightforward as the usual options were rather expensive, it being holiday season and all. For quite a while I thought about flying to TXL or HAM with BT (available for a good price) and then taking a DB night train direct to FRA airport - available for a decent price and that would mitigate the hotel cost for one night. But well, that was a little too hardcore even for me so in the end I booked AB to DUS on Friday for a bit under 90 EUR. A cheap hotel in Düsseldorf and a DB ticket to FRA airport on a pair of ICE trains the next morning completed the outbound journey.
To get back the most logical choice would've been BT FRA-RIX-HEL on Sunday afternoon for around 80 EUR, but no, that wouldn't fulfil my original requirement of a new airport for the log. Other options were again a bit on the pricey side, even the usual FR destinations out of HHN (come to think of it, why didn't I check FKB as I've never flown from there either?). Anyway with Skyscanner I finally found something that represented decent value for money - HHN-STN-VST with FR for a total of 95 EUR. There was a lengthy 4 hour layover at Stansted, but with a couple of lounges there it shouldn't be a problem. So Vesterås was set to become the 200th airport in my log!
Finally to get home from Stockholm (which of course is far, far away from VST) the best option was again with BT, another ARN-RIX-HEL with a pair of Dashes, including the Midnight Dash for only 45 EUR.
The route with some gaps and interestingly no flights in or out of FRA, the main venue of the event: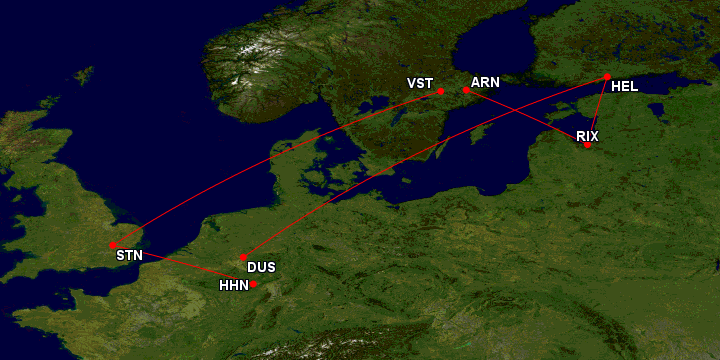 As an icing for the cake I managed to set up another a.net meeting at Vesterås with Jonas or LH4116 who just happens to live nearby.
Friday 8.7.2011
A 16.55 departure and no car at my hands right now means a rather early end to the working day in the middle of the afternoon to catch a pair of trains home, running some errands along the way. A more annoying thing was the fact that I was unable to do OLCI so I had to leave a bit earlier than I originally planned - looks like the AB OLCI application can't handle the simple case where my last name in the ticket has the Scandinavian characters replaced with the regular As and Os but my AY FFP (which was registered with the reservation) has the full thing. The OLCI just wouldn't have none of that, and as an insult to injury there's no way to change the FFP once registered! Tsk, tsk.
Anyway after a stop at my house to pick up the gear I take the bus to the airport - a very funny bus ride as a Turkish family with two sons is on their way to visit family and friends back in the homeland (flying Turkish, of course!) and the sons brought their Finnish girlfriends with them (mind you, just to the airport though, not to Turkey!). They are clearly VERY excited about the prospect of flying, and are trying to hide this by being hyperactive and saying all kind of weird things to impress the girls - good entertainment for rest of us in the bus!
Soon enough I get off at T2, nod in approval as I notice that the Norwegian check in desks seem to be in perfect working order (they moved from T1 to T2 just this week, now this makes me very happy!) and find the Air Berlin ones. There are two ladies there who seem to have some sort of ticketing issues as the agent is yapping loudly on the phone "There are two passengers here who do not exist!" - this causes some laughter so I offer "I can confirm that the ladies do exist, I can see them with my own eyes!" which causes more laughter. Finally they are sent on their way to the ticket office downstairs to sort out the problems and I get my boarding pass without problems, together with the information that the inbound from TXL is a little bit late so there will be a ten minute delay.
T2 is very busy at this time: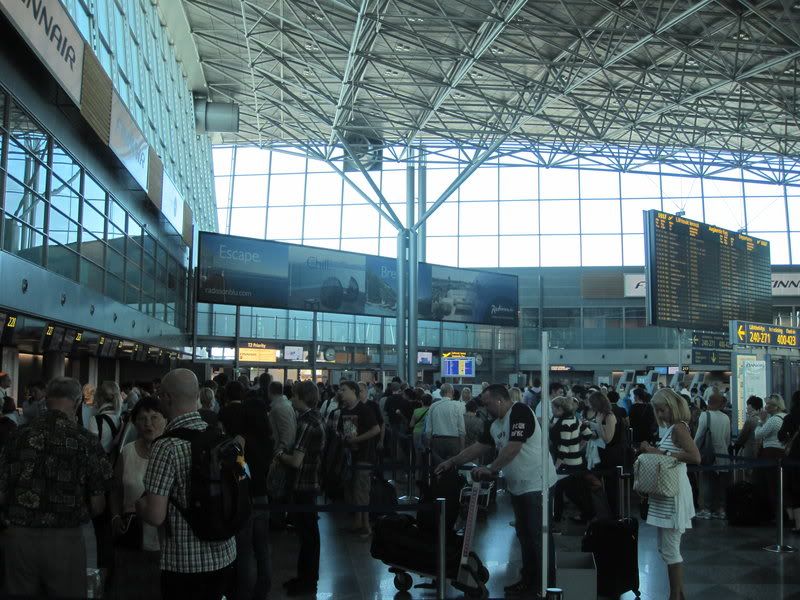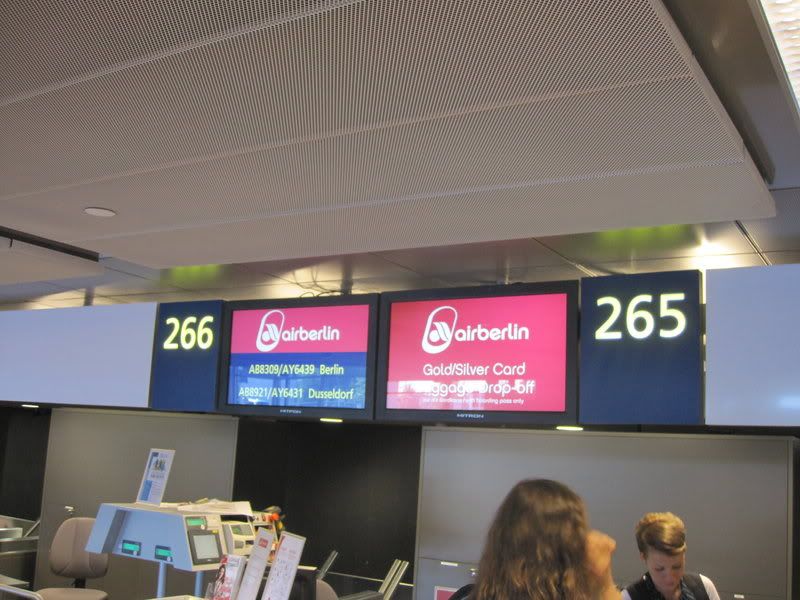 I've got plenty of time now and the weather outside is simply gorgeous, 28 degrees and sunshine so I pop in to the convenience store on the bottom floor, buy a can of beer and head outside for some sunshine, beer and a book.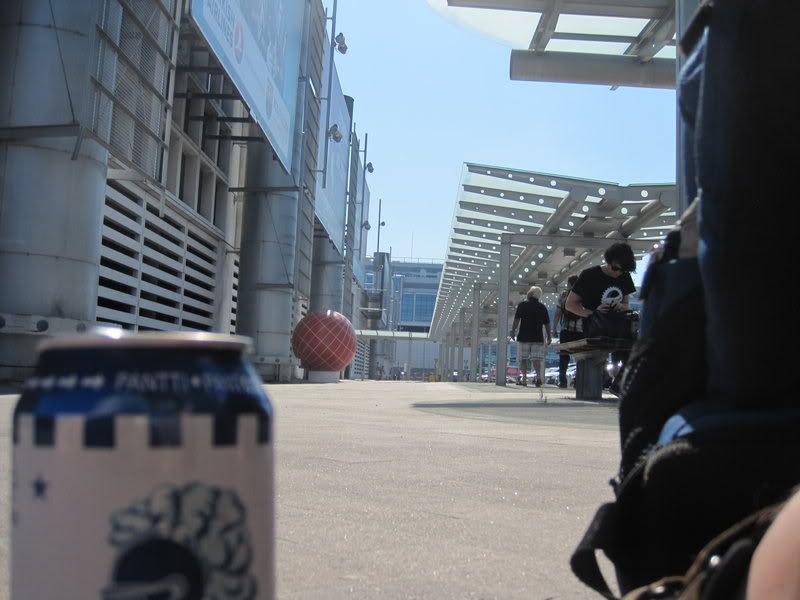 Having done that it is then time to head inside. Now the landside has calmed down a lot, as is the security, but airside is absolutely packed with people. I pick up the requisite bottle of water and decide to give the recently opened upstairs restaurant a go - they have some nice views of the apron - a perfect place for a pint even though the airport wifi seems to be kaputt. Hello, I think I'm expecting you: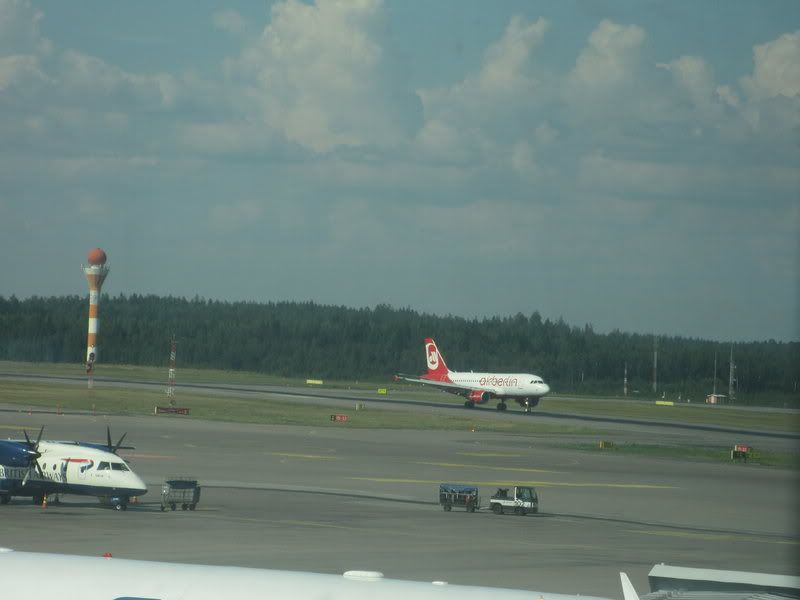 I actually bump into an old university mate of mine who is now working as a FO for Finncomm (or Flybe Nordic or whatever the company will be called in August) - we exchange a few words but unfortunately he and his wife have to hurry to their flight to BUD. I manage to ask whether he could be operating my next week's FC flight (he always tells me to ask the FAs for a cockpit visit if I am aboard on his flights, but so far this hasn't happened!), but alas he is on his summer vacation for the next four weeks, so no chance. Ahhh, maybe I'll get lucky when I fly to Skellefteå in September...
Having finished the pint I head to the gate where boarding is about to start. Hard to catch the registration: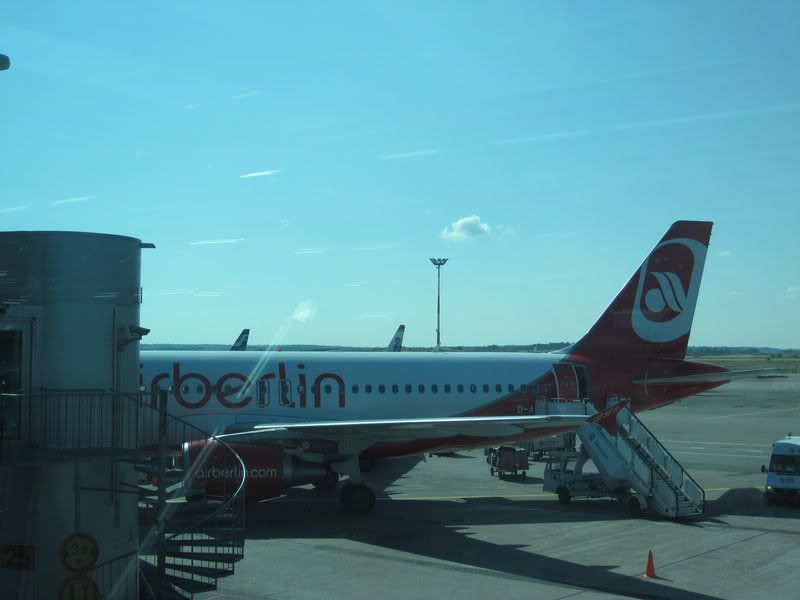 From the other side I see it is the expected A319, D-ABGS, a regular visitor to HEL who I have already flown three times previously. Boarding is called barely 15 minutes after the inbound arrived, looks like they are trying their best to catch up.
HEL - DUS
AB8925
A319 D-ABGS
Seat 6F
17.07 - 18.27
Lots of different newspapers and magazines are spread out on the jetway, too bad all of them are im Deutsch and Playboy is only offered on domestic German routes, so I pass. Two male stewards and one female FA on this service. The load is not that good, only about half full, with a full block of three for me, always appreciated.
The flight time is announced as 2h10mins, with push back only 12 minutes late, well done!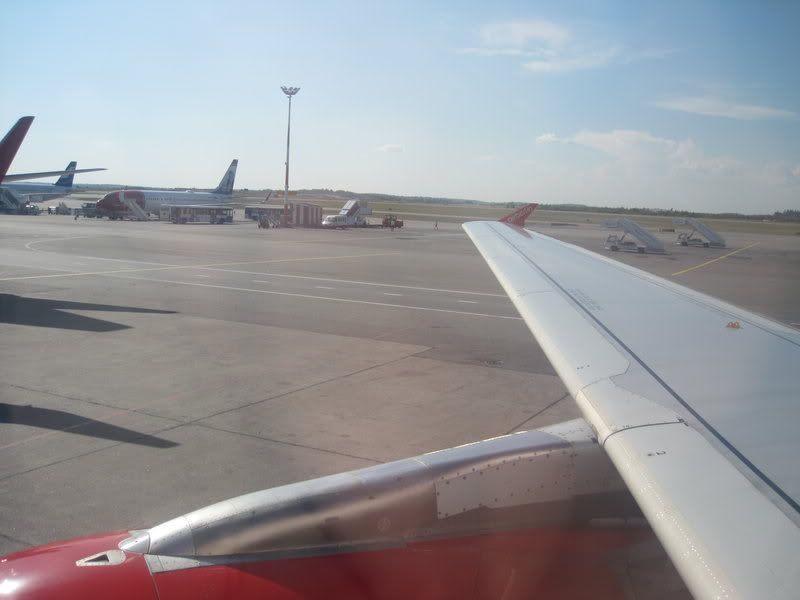 22L/04R is closed for some resurfacing work: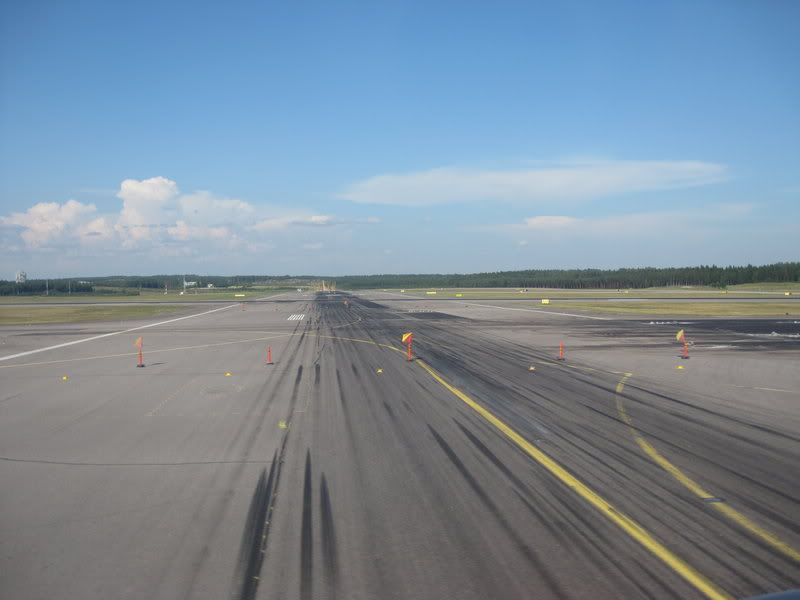 Take off is of course from 22R, taxiing there takes some 15 minutes as there's quite a queue in front of us. I don't mind as I have a good view of landing traffic on 15: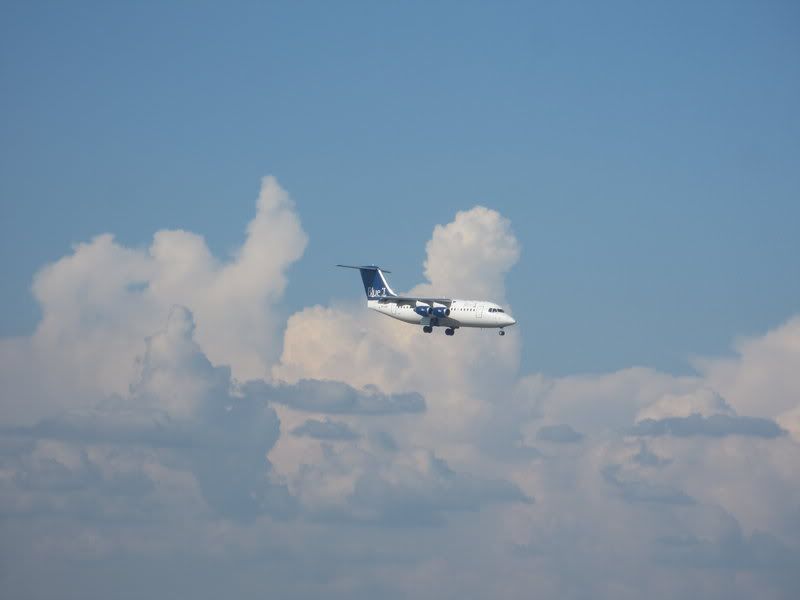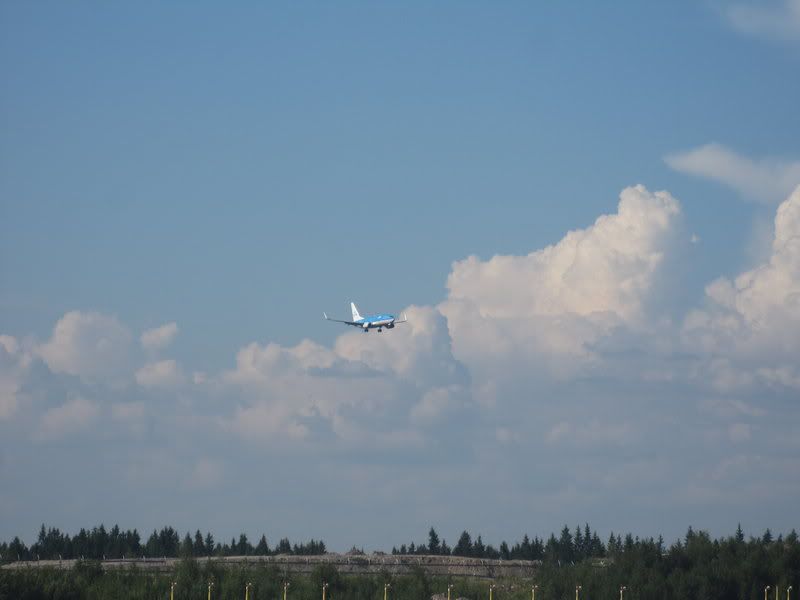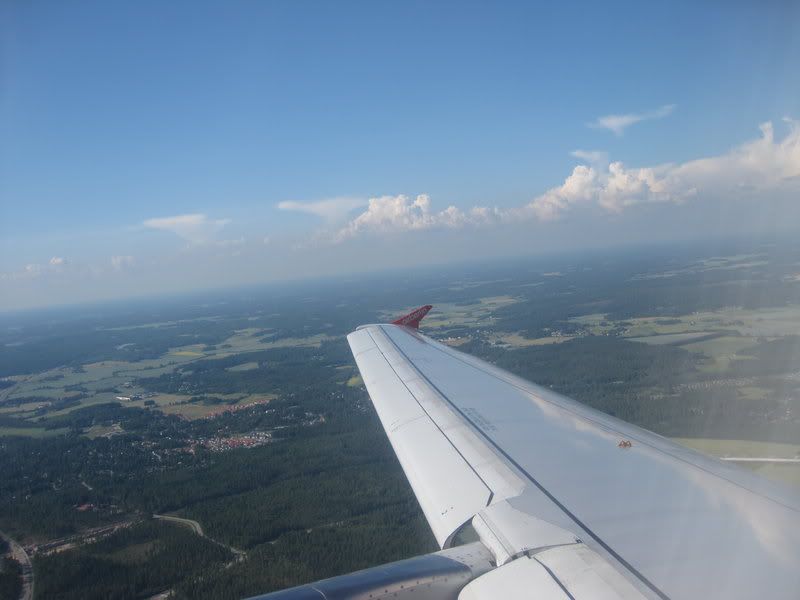 Nice coincidence - here we are overflying the island of Hiuumaa, where I was less than a week prior: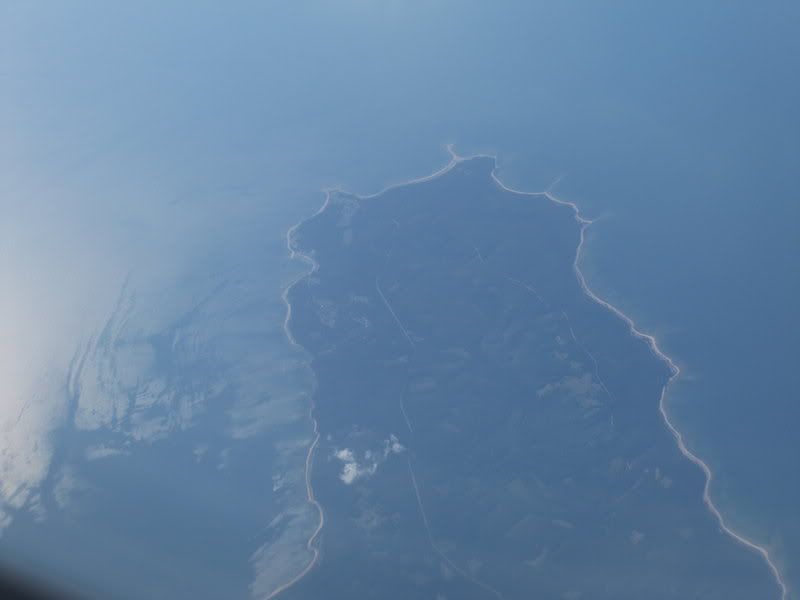 Oh dear, looks like there's been another round of service reductions since I last flew with AB in April - you used to get a choice between a ham (turkey) or cheese sandwich, but now it is "Sweet or salty snack?" instead. The sweet snack is a mini pack of cookies, so I go for the salty one which is two pieces of Wasabröd with some cream cheese fillings: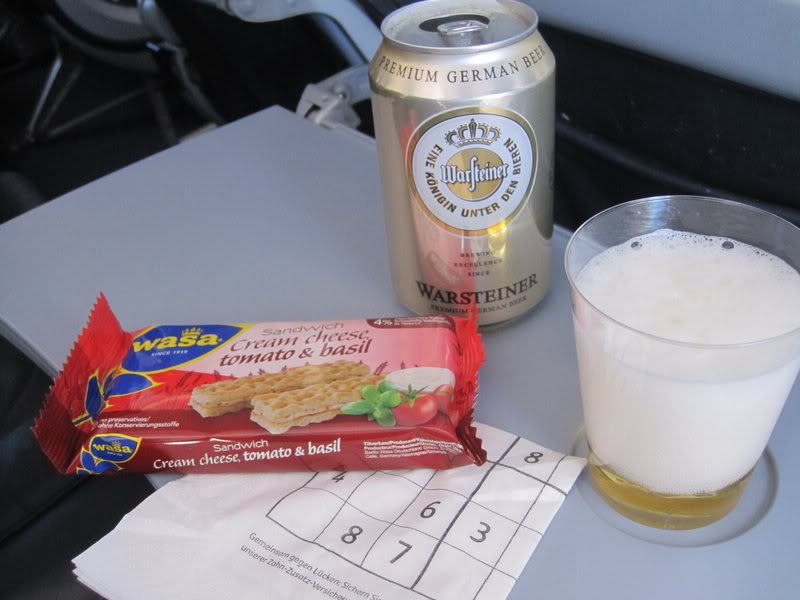 At least the Warsteiner still costs only 3 EUR.
Over the Baltic Sea I get a couple of shocks as some crossing traffic passes really close to us. Couldn't really identify this, but it could be an Estonian Air 737: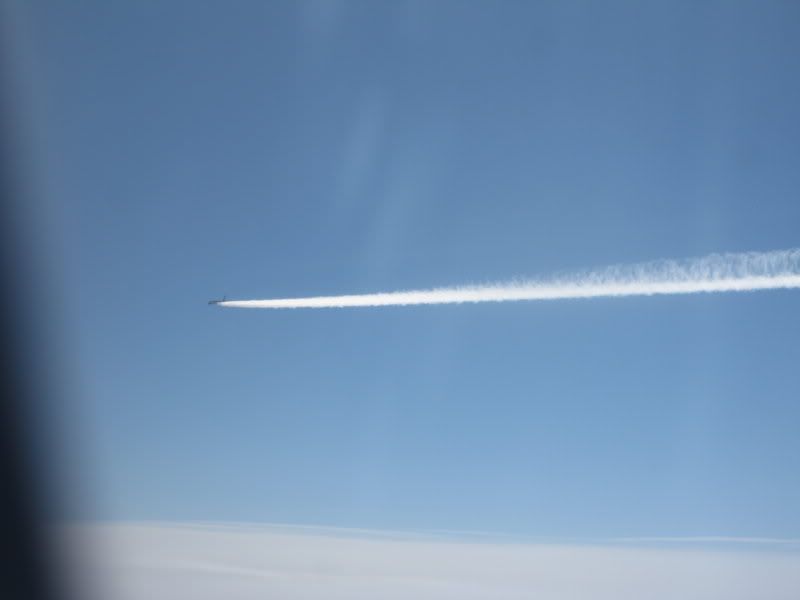 China Eastern A340: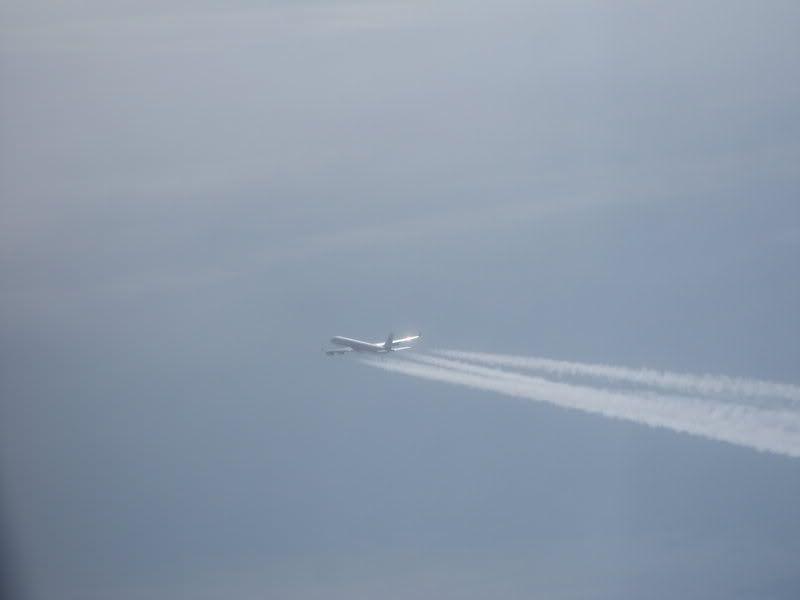 They always show these same cartoons over and over again - I've seen this Donald Duck one maybe 50 times, so no need to bother with the headphones: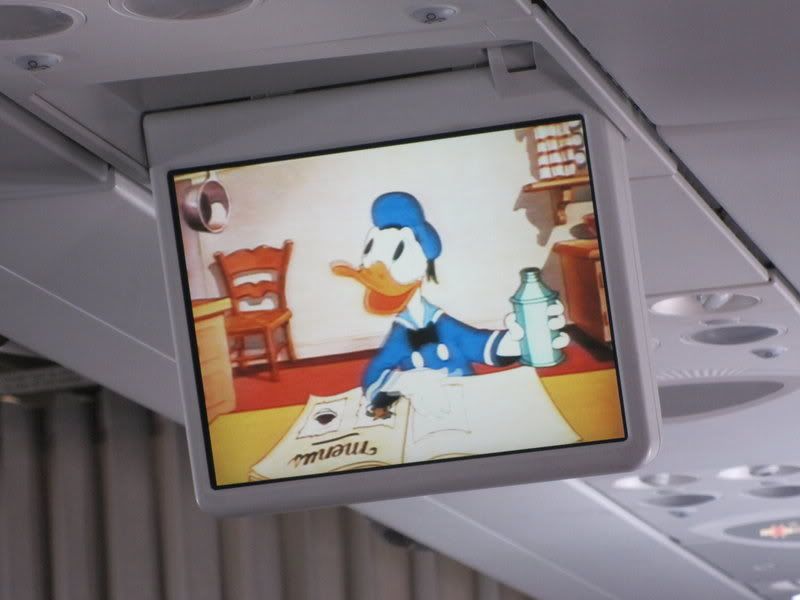 Hallo, Deutschland (yes, the coast is there if you look hard enough):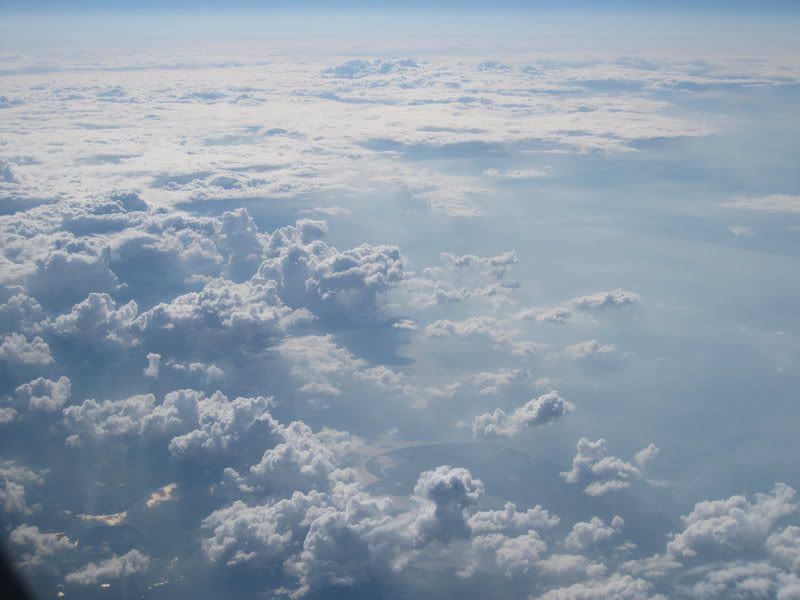 The Elbe and Hamburg: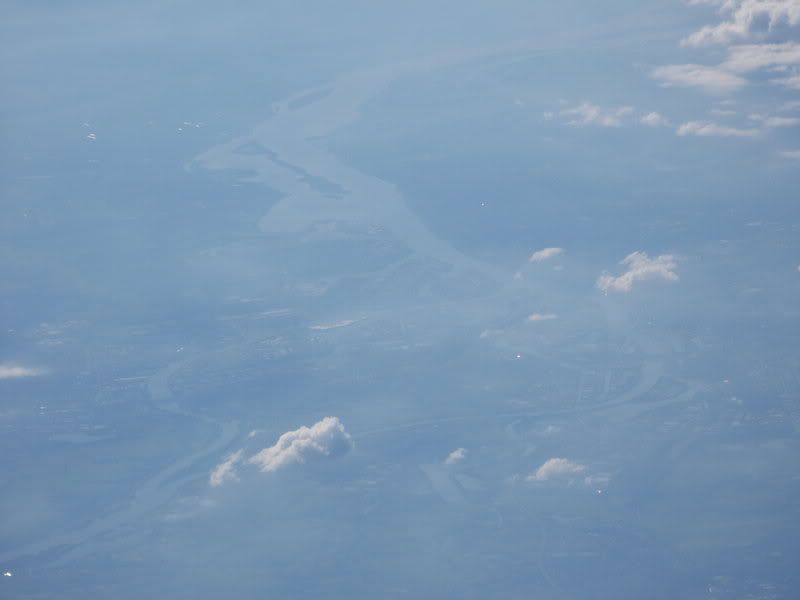 I take a power nap between Hamburg and Dortmund, waking up just as the seat belt sign is switched back on again and we commence our descent for some great views of the Ruhrgebiet.
Are we in Holland - nope, just some channels crossing each other at Datteln: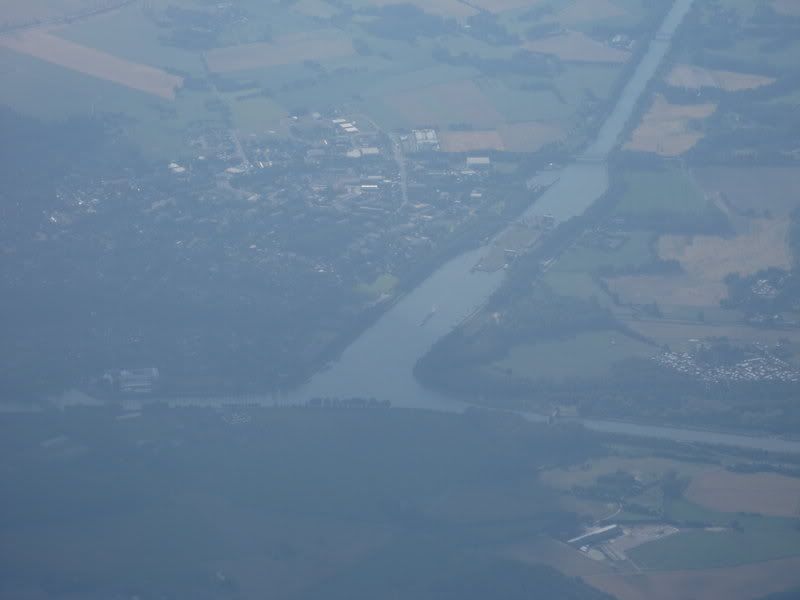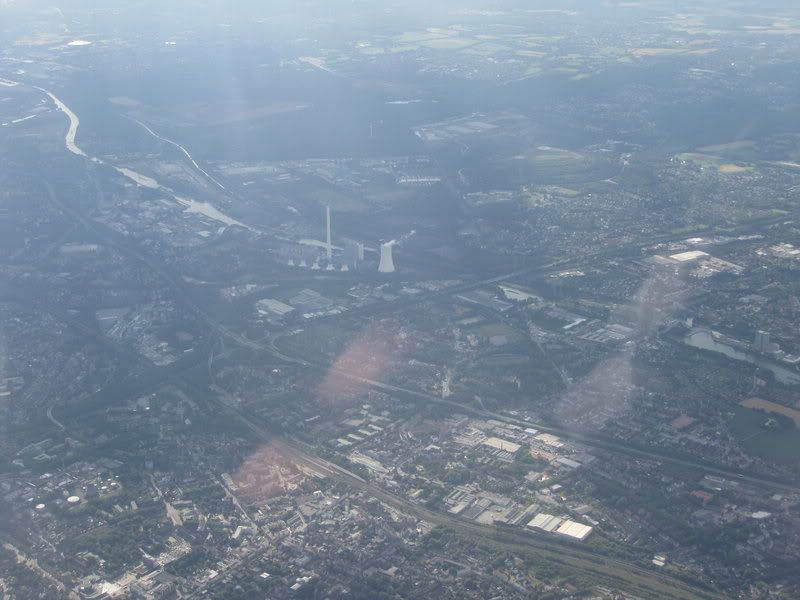 Essen (ja Bitte!):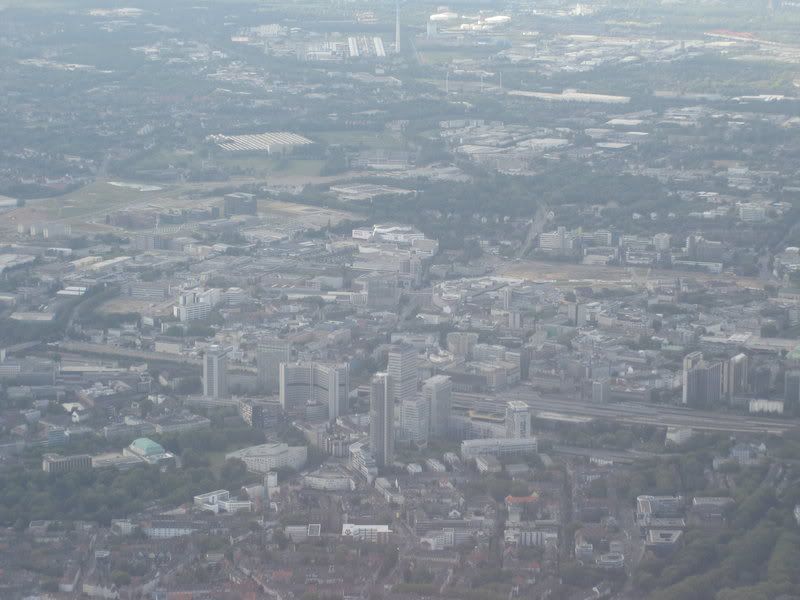 Essen/Mülheim airfield with a Zeppelin: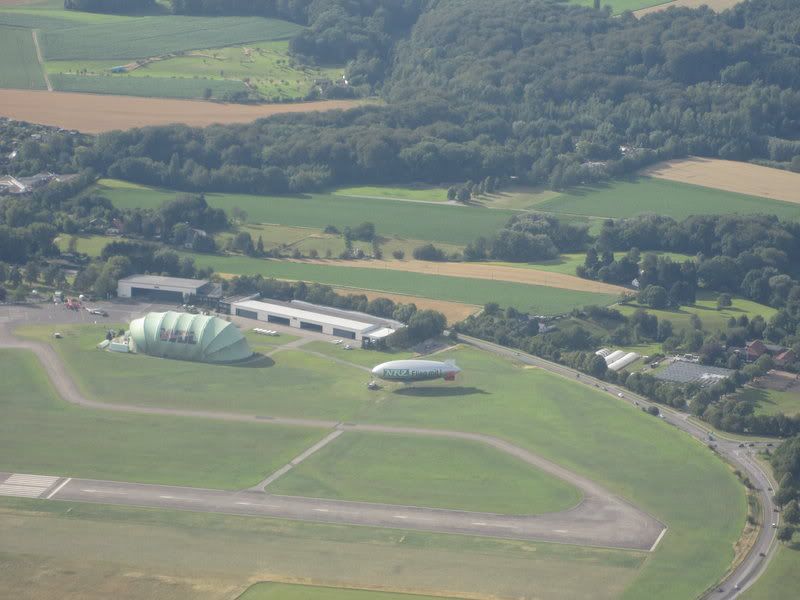 Ruhrtalbrücke carrying the Autobahn 52, the longest steel road bridge in Germany: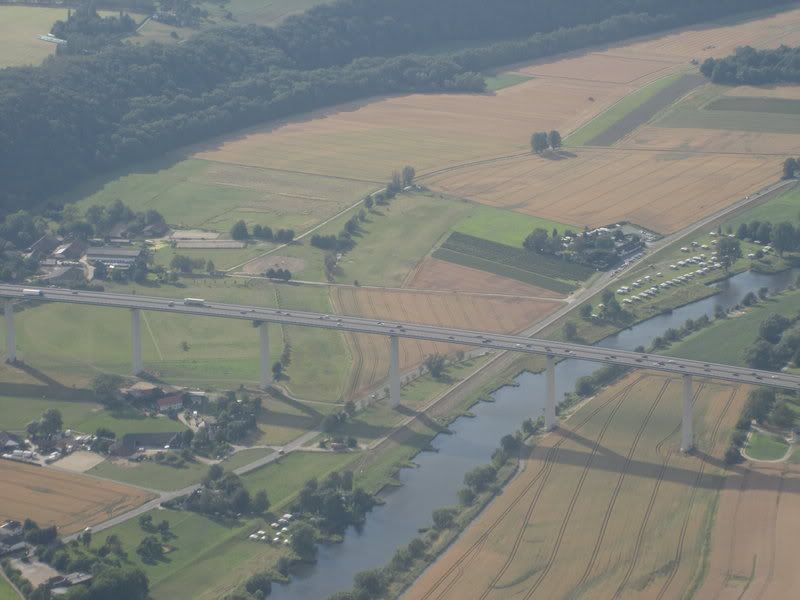 Ein Kreuz - we definitely are in Germany: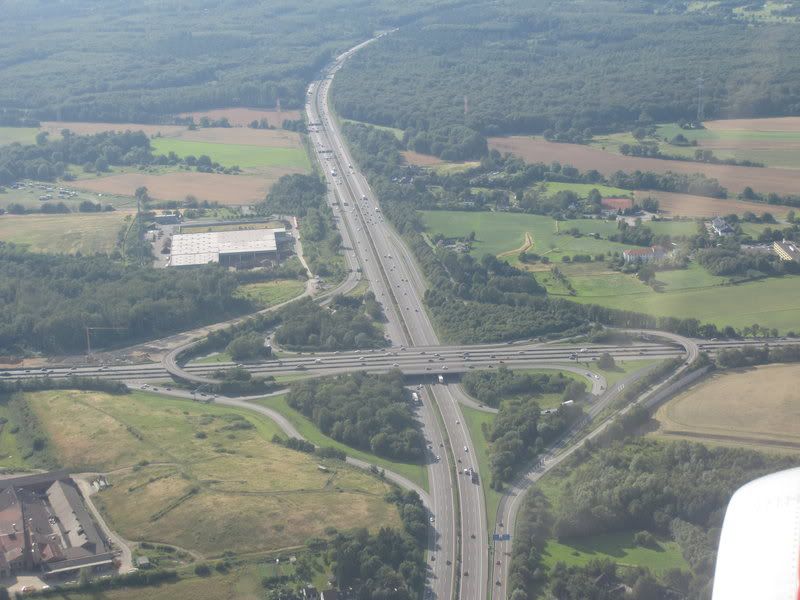 What's the score: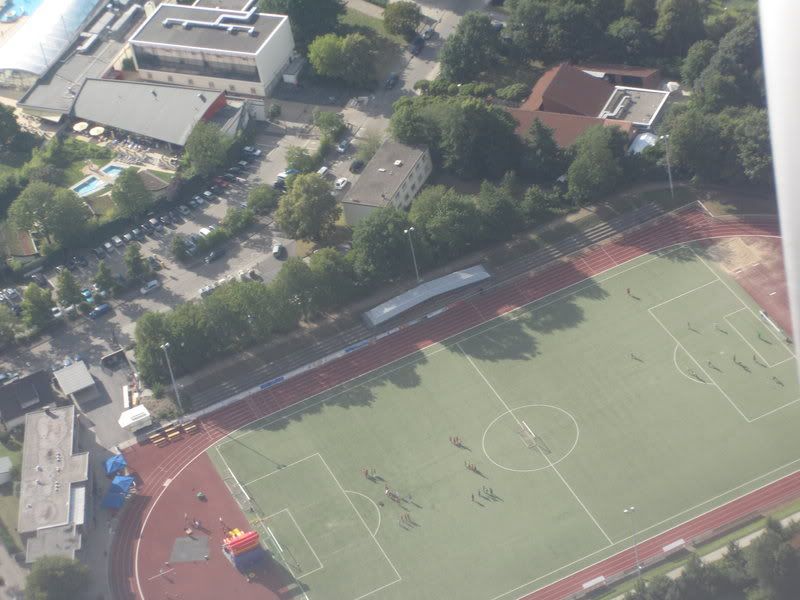 Landing is on runway 23R after a flight time of 2h5mins.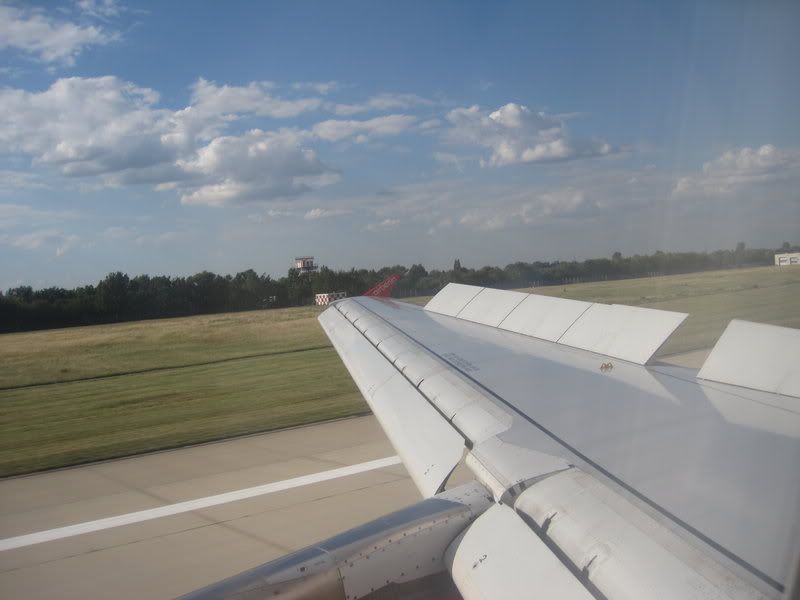 We get an apron parking position, and are bussed in to the terminal.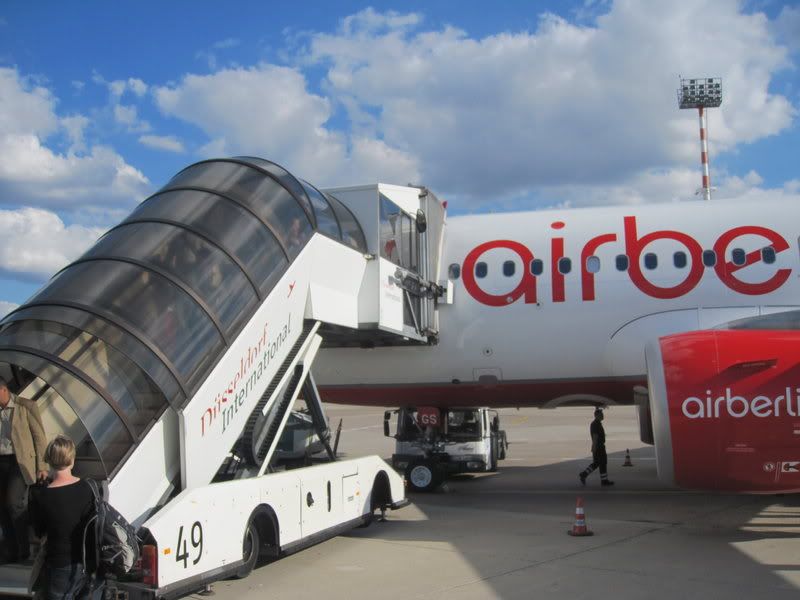 The chocolate hearts are of course handed out at the door, at least they haven't cut down this tradition yet (*touches wood*):
This time there's no mention of the two stops - one for arriving and one for transit passengers they used to do - have they changed the procedures since?
I hurry up and just make the next S-bahn to the city.
Düsseldorf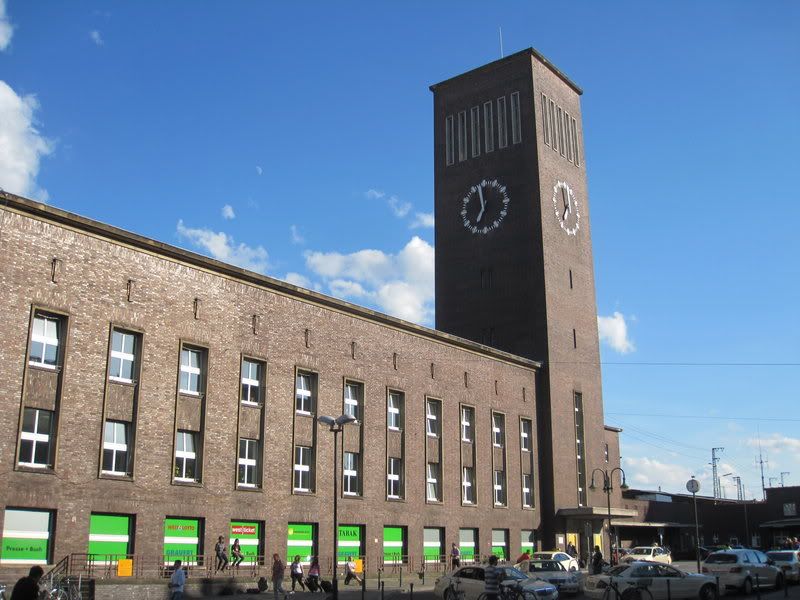 I am on a budget here, so booked a cheap hotel near the train station. That of course means a more or less dodgy area with strip joints, halal shops, kebab restaurants etc. around - but not too dodgy. You can't beat a five minute walk from the station.
This one's for Phil: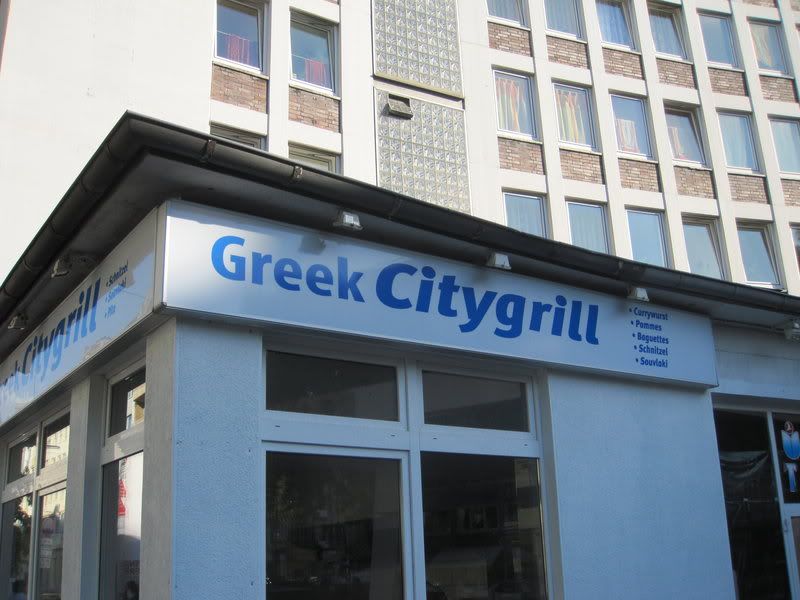 See: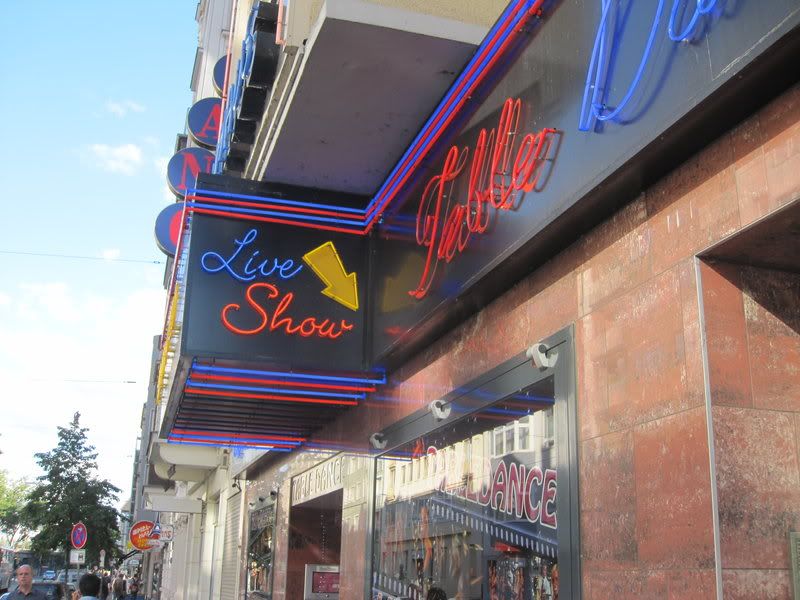 I'm staying at the Bellevue Hotel, very positively surprised considering that the room, including breakfast and free wifi is only 37 EUR! It's only a ten minute walk to the business district and Altstadt, so not bad at all.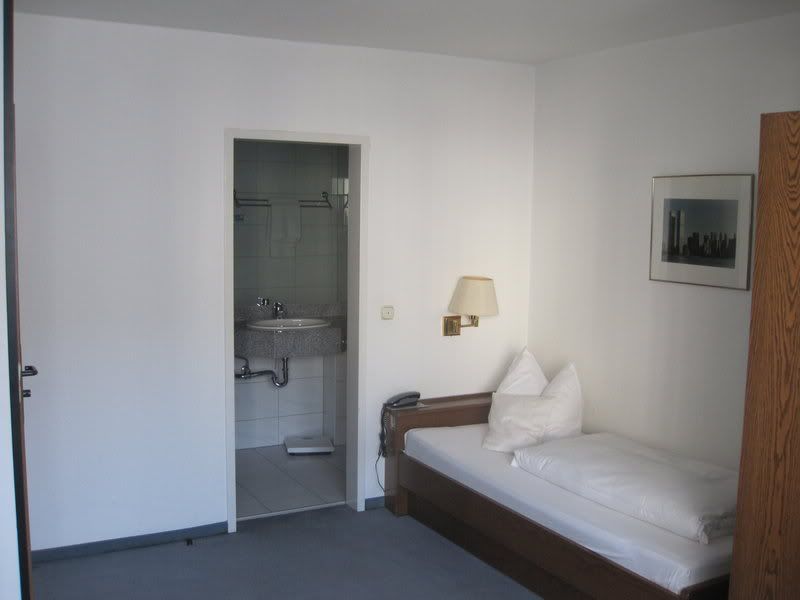 Ok, I have an exit row room - that explains the size: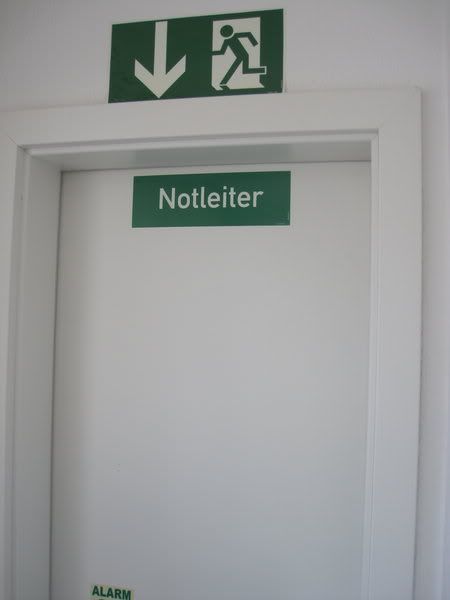 You can see the Rheinturm from the street in front of the hotel: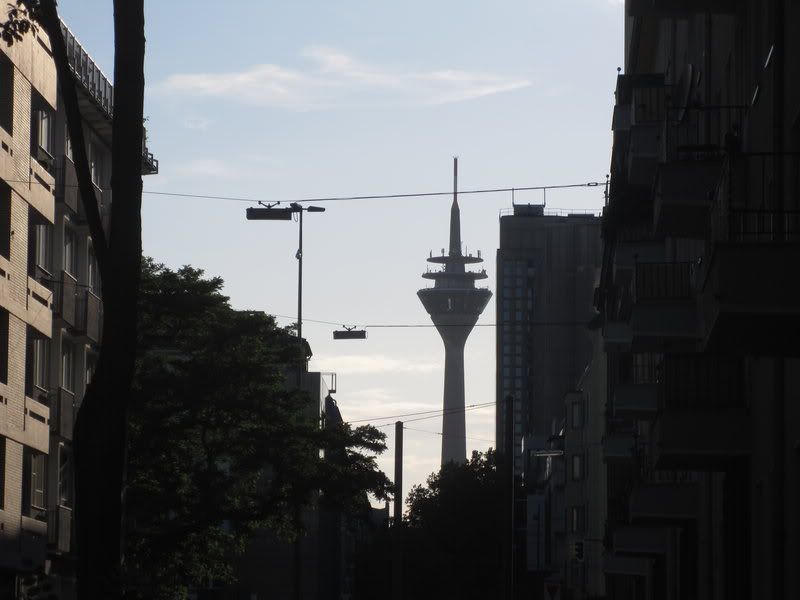 The weather is weird - it was raining here when I left HEL and now it is sunny and quite warm. Not that I complain. I head out for some mediocre dinner and beers (heck, I even found a bar which had Kölsch on tap - interesting considering how the people here love their own Altbier!
).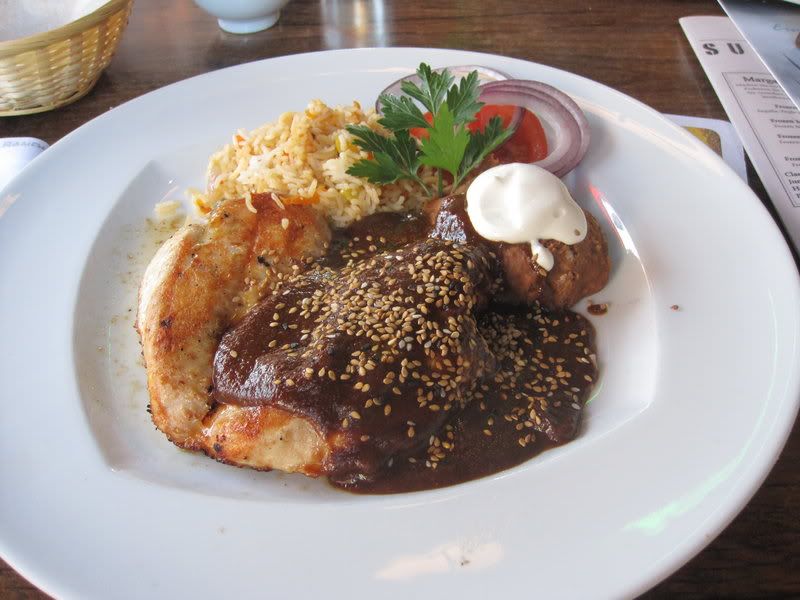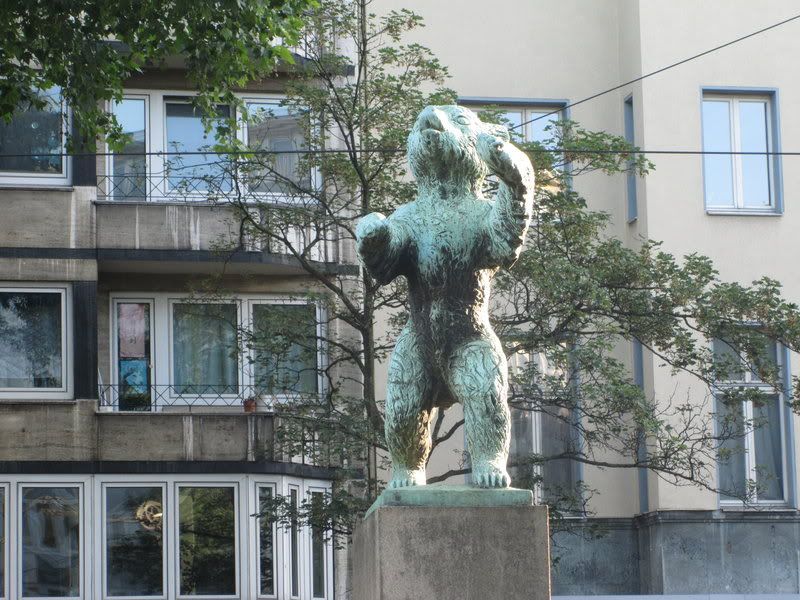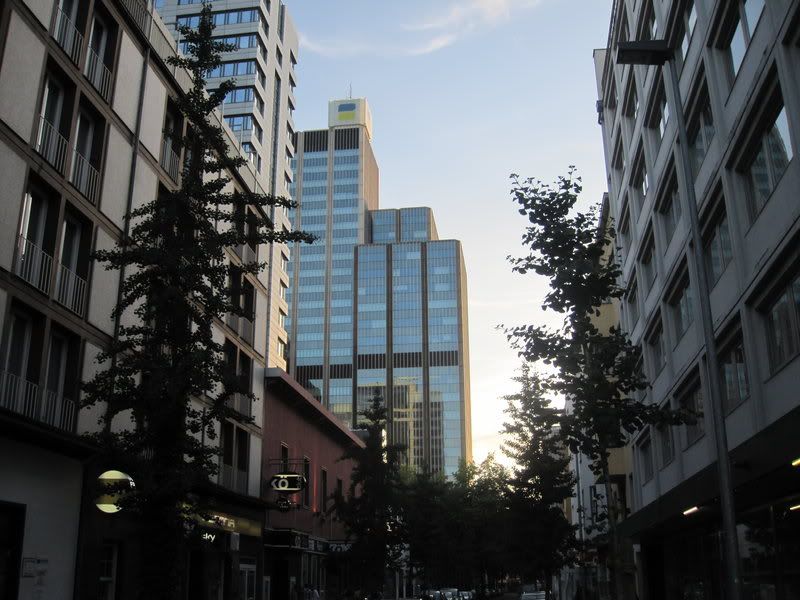 I bet this must be one of the most expensive streets in the German version of Monopoly: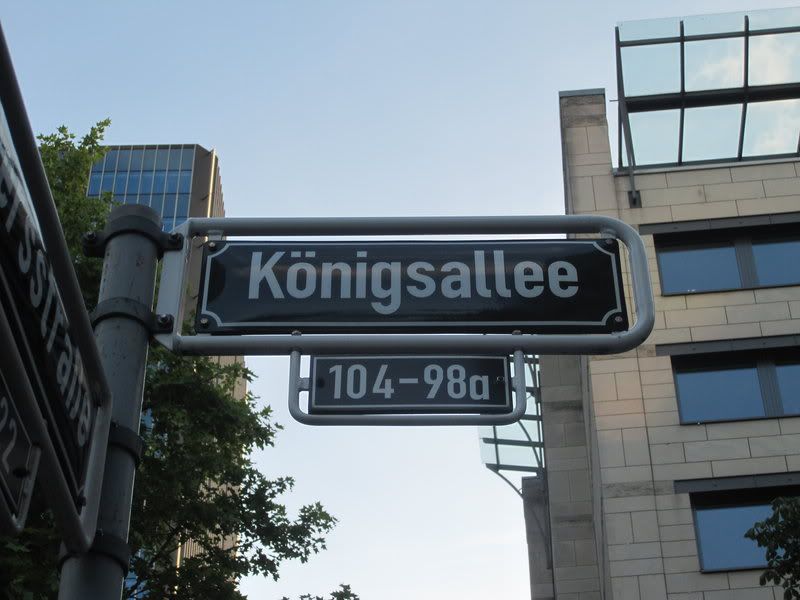 I call it an early night since the next day will inevitably be quite tiring!
Saturday 9.7.2011
I wake up to a coldish and drizzly early morning in Düsseldorf. It's too early to take advantage of the (free) hotel breakfast, so I just throw my trash together, shower up, check out and head for the Hauptbahnhof. On the way I pick up some nice breads from a bakery shop opposite the station to serve as my breakfast to eat while waiting for the train, which surprisingly for DB arrives and leaves bang on time. Interesting, this train seems to be stopping at FRA airport as well: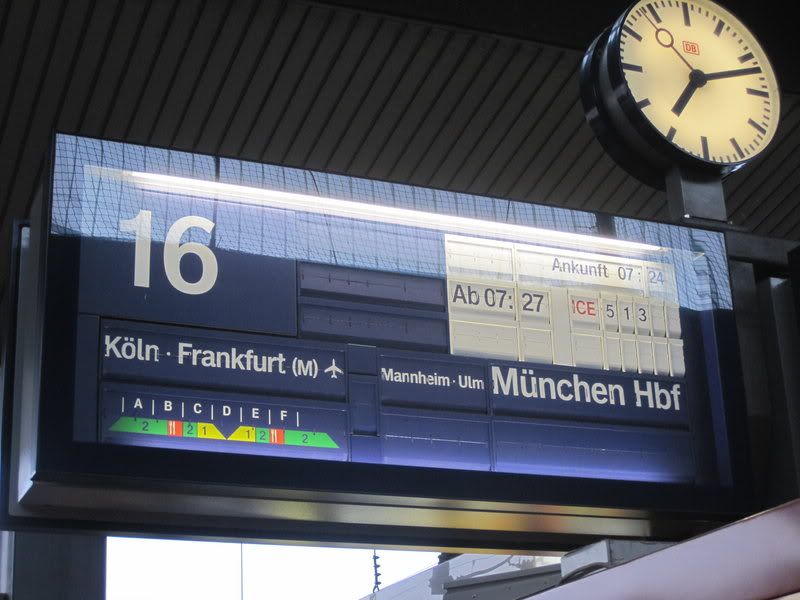 Still the only way to get a cheap ticket out of the DB website was to switch trains to another ICE at Cologne - go figure.
A very quick ride to Köln Hbf follows, apart from the fact that the Hohenzollern Bridge is congested (which is not really a surprise, considering that this is pretty much the busiest bridge in the whole European railway system with over 1200 trains passing over it every day) so we have to wait for a couple of minutes.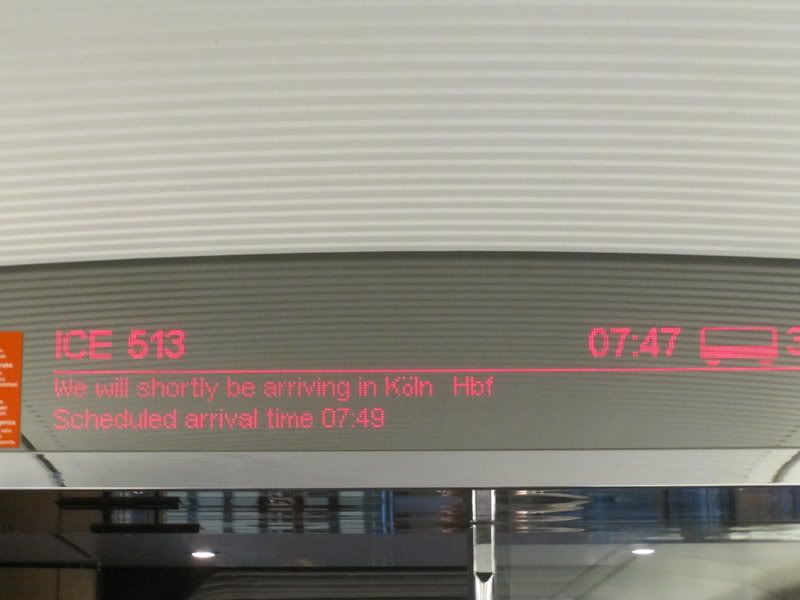 Well, luckily the next ICE is waiting on the next platform, so I spend about 30 seconds transferring from train to train.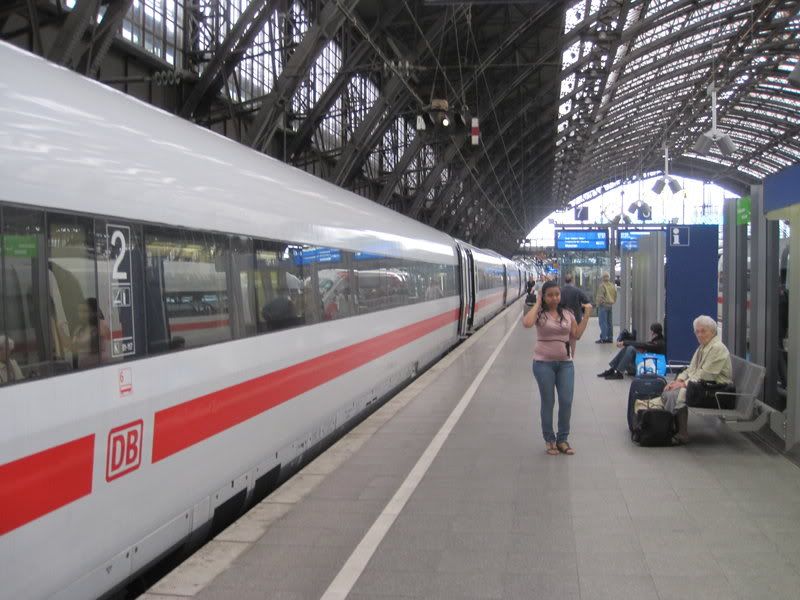 This ride is very scenic once we enter the Rhine Valley - steep hills and wineyards with the occasional village on the other side, the mighty Rhine on the other: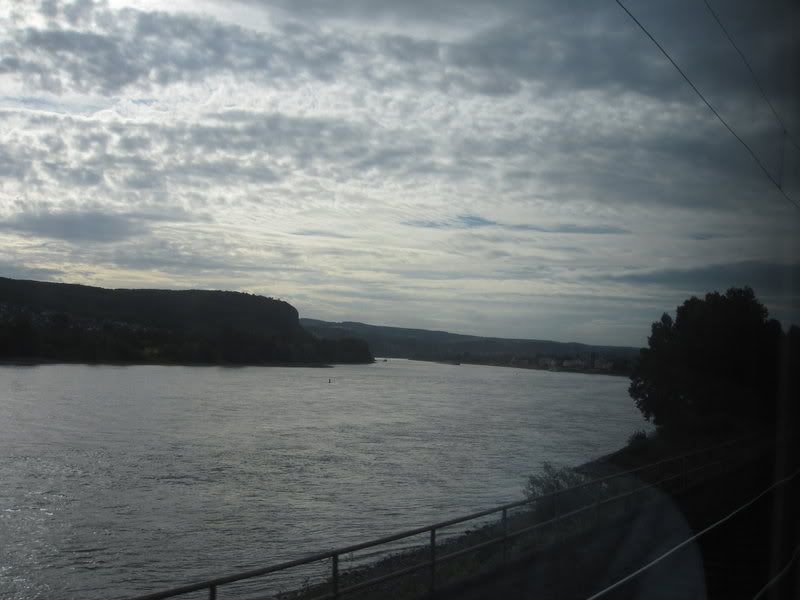 The weather keeps turning better and better the further we travel. The harmony is shattered by the time we pull in to Mainz when a large and noisy bachelor party of young lads boards my car, carrying several beer kegs with them. The groom-to-be is dressed in a pink pig outfit...
Ok, looks like we are nearing FRA:
Frankfurt Airport
The bachelor guys also get out (they are heading to Osnabrück of all places) and it looks like they managed to go through one five liter keg of beer in the 20 minutes that the ride from Mainz Hbf to FRA Fernbahnhof takes...
I really like the architecture in this building: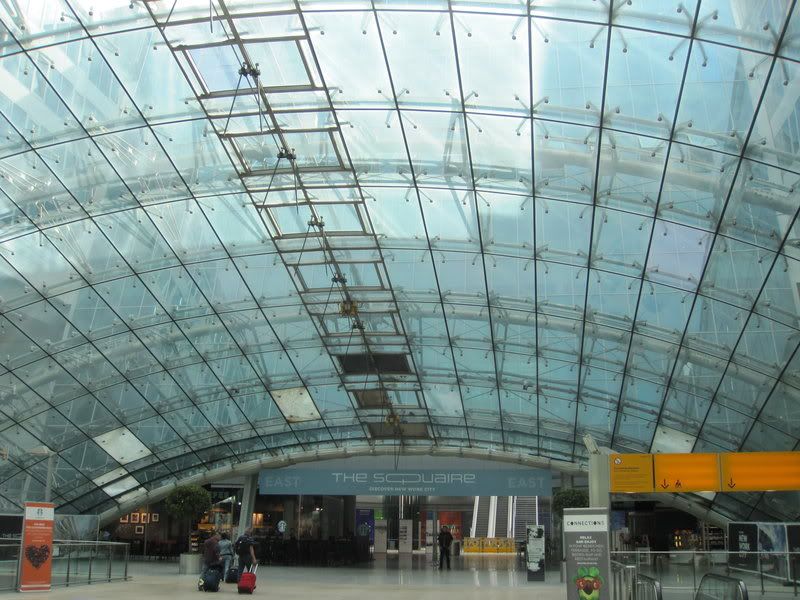 At the station platform I meet with some of the guys, some more upstairs and after even more guys arrive we head towards T2 via the packed and confusing T1: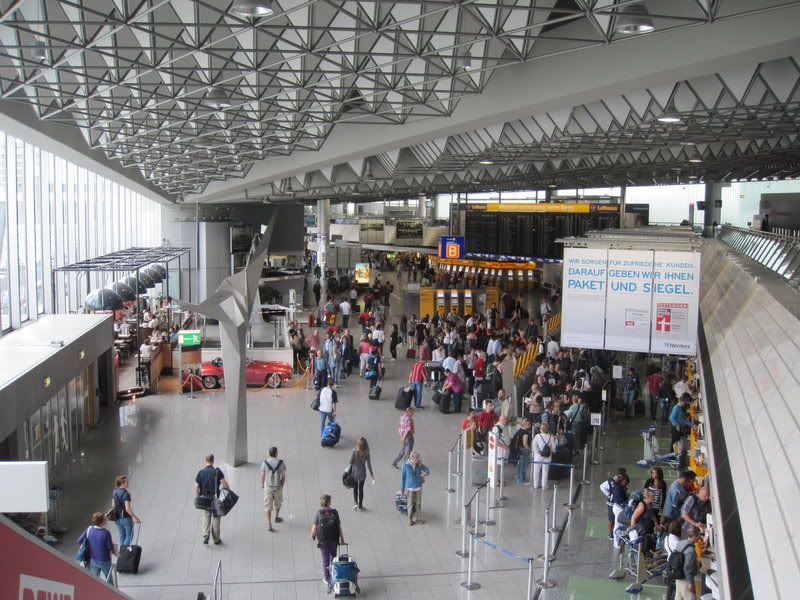 ...and the train thingy which as always is good for some nice plane views: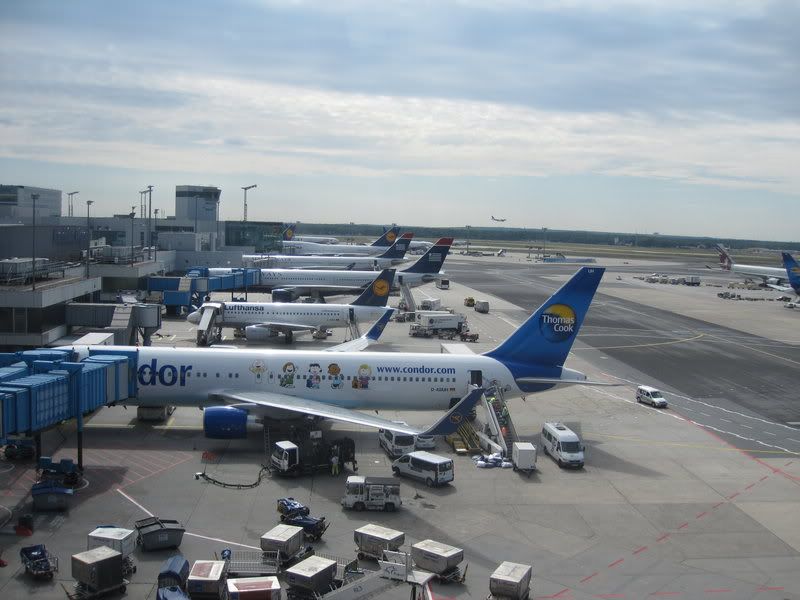 What follows is around eight hours of camradarie, bonding, planes, sweet smell of jet fuel A-1, more planes, chat, interesting people, stories, planes, sunshine and some people getting sunburnt. Oh, and some food and beer thrown in for variety as well. As others have already mentioned - there never was enough time to have a proper chat with all the people, but that's the nature of these kind of things. Anyway it was a blast and the time just flew by!
I don't have a fancy camera, preferring the small "point and shoot" kind of devices instead, so I'll just post a handful of photos. You all know what FRA and its traffic is like, and if you don't, just check somebody else's report about the meet - most of the guys were packing far better camera gear than my tiny Ixus...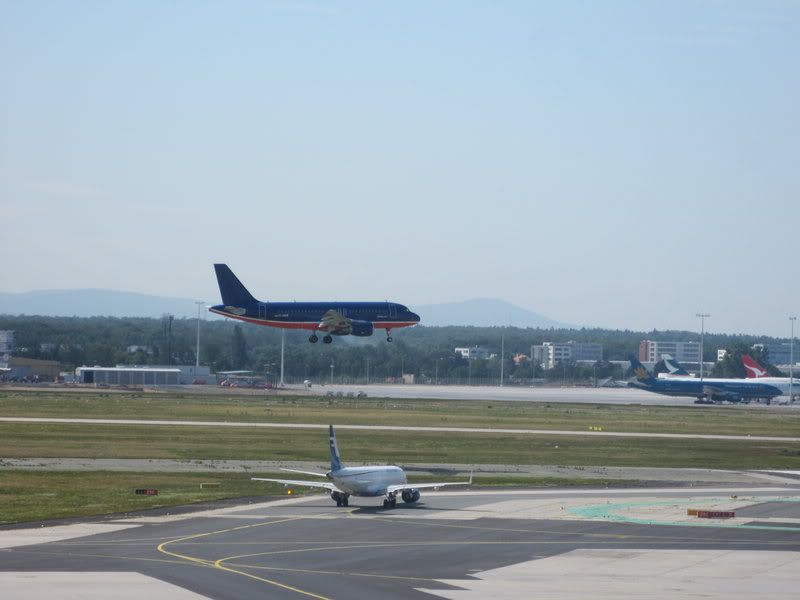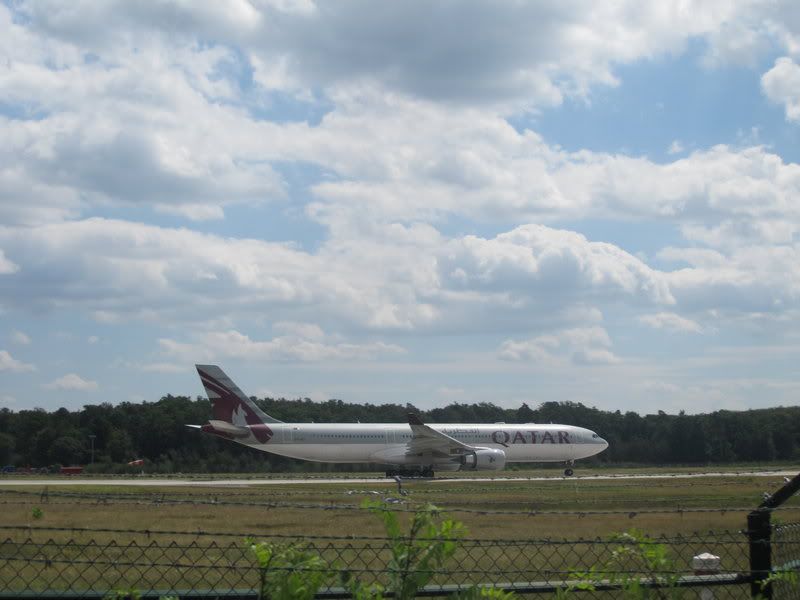 Yep, it is *A land: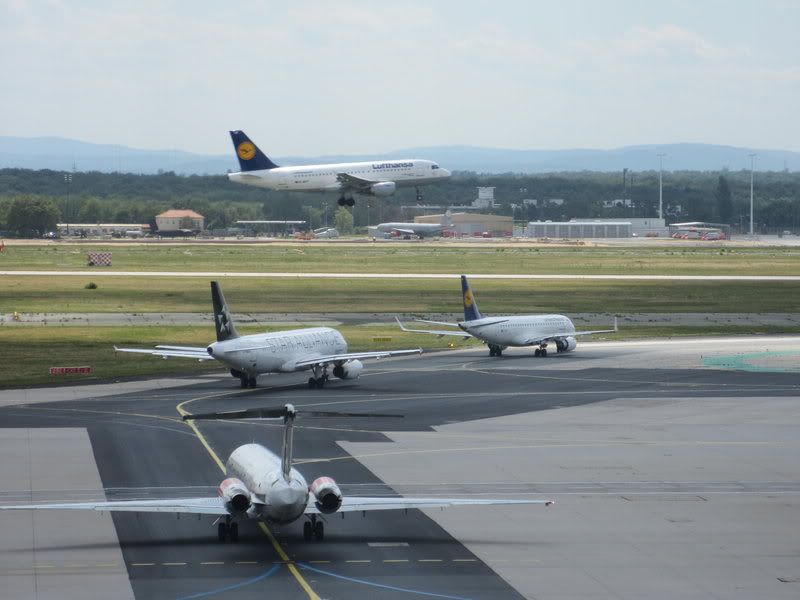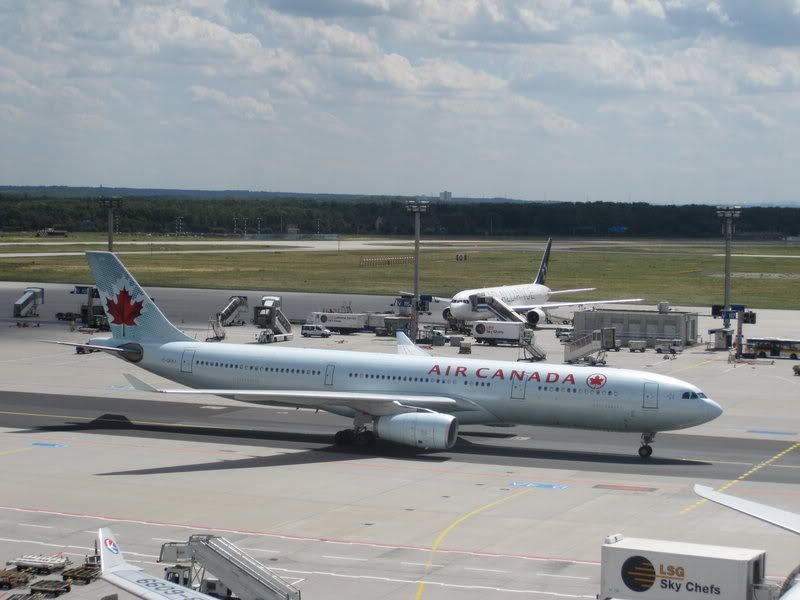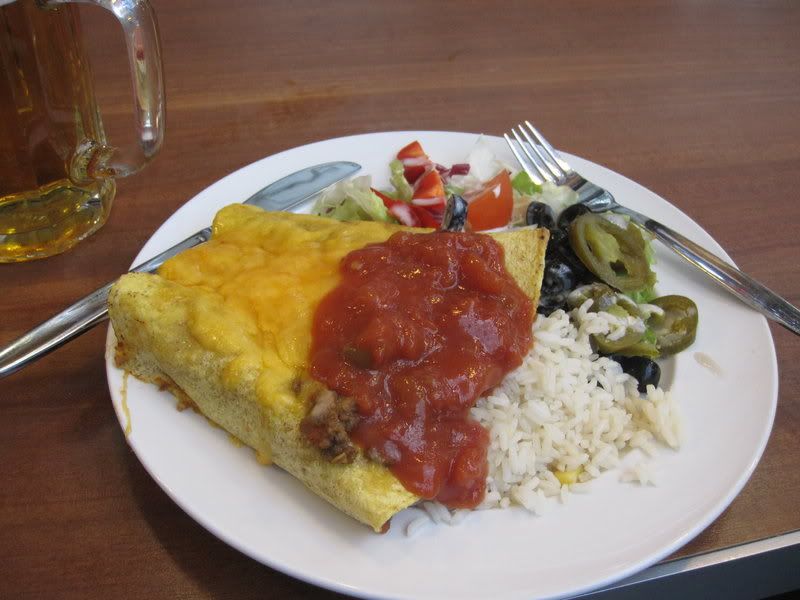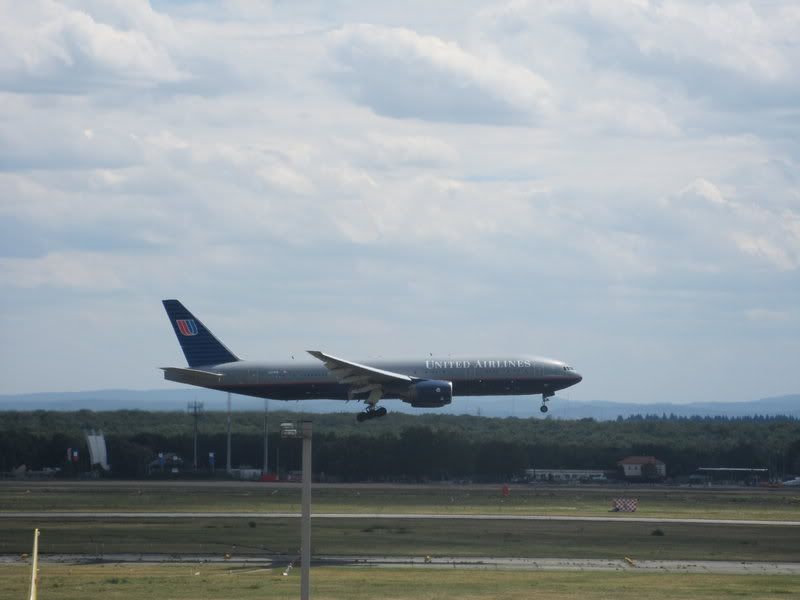 A bump on her forehead: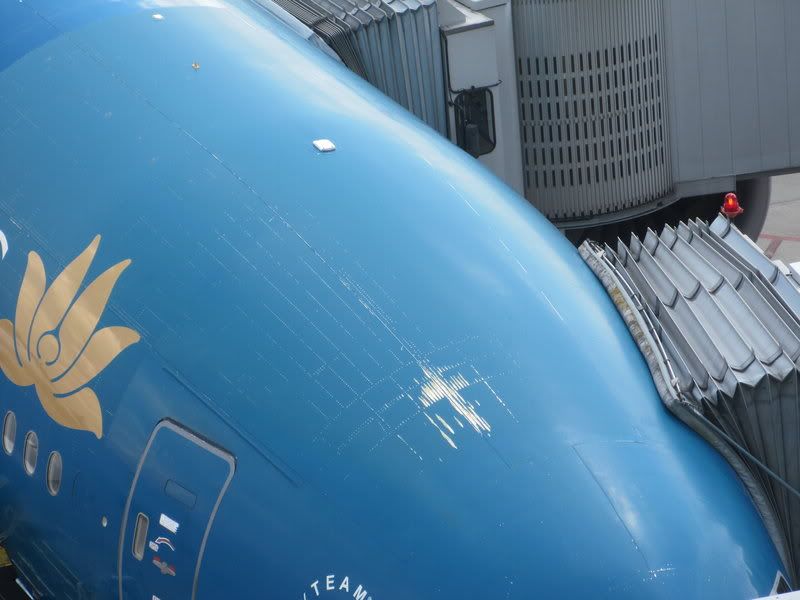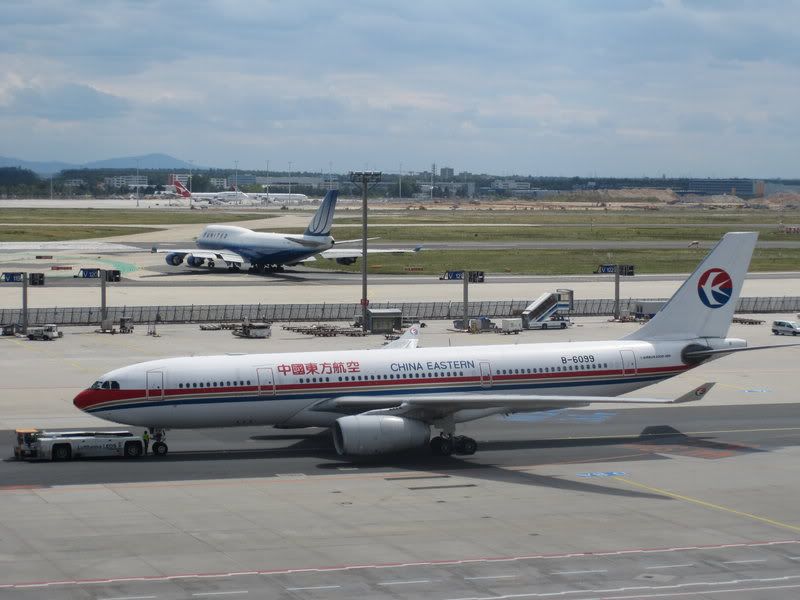 Well, I had to squeeze in one whalejet, didn't I: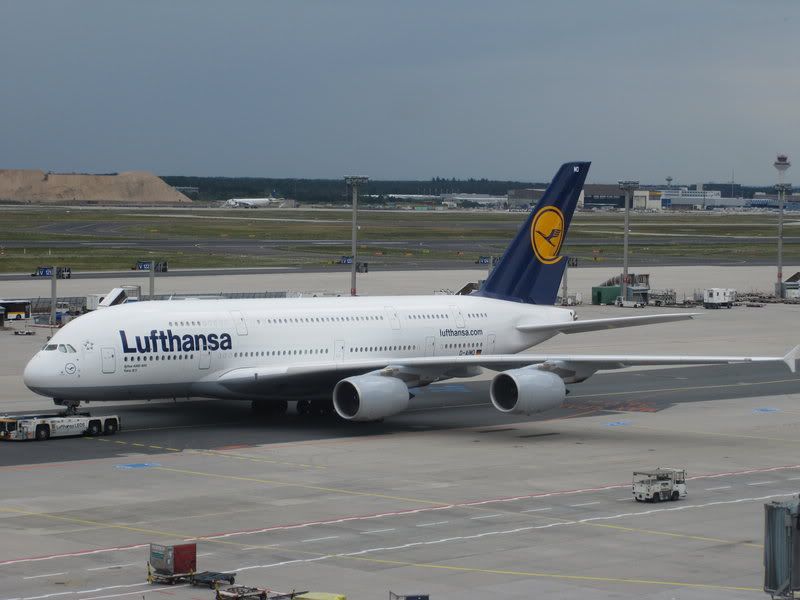 I took this picture because it represents something which I love (HRC) mixed with something I absolutely hate (SAP):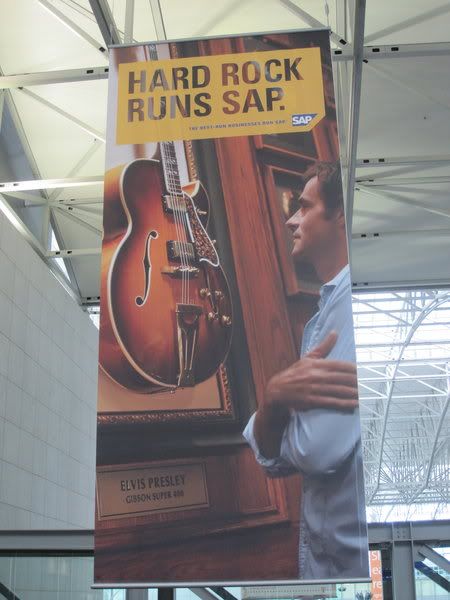 After a tiring, but very nice day it is time to take the 19.00 bus to Hahn airport. There's a bit of confusion as I thought it left from T1 (it did when I took it the previous time!) but nowadays it leaves from T2 instead. This long drive really rubs in just how far from Frankfurt HHN really is! To stay true to my habits I take a small nap during the one and half hour drive.
Hahn Airport
Finally we stop in front of the airport terminal, in the middle of nowhere. Luckily my hotel, the B&B Hotel Hahn is right across the street from the terminal entrance. I buy some pizza slices for supper from the stand in front of the terminal, something to drink from a convenience shop inside and head to the hotel.
For the second time on this trip I'm positively surprised by a cheap hotel! For a price of 48 EUR per night I get a modern and perfectly fine room, free wifi and an unbeatable location (for my needs):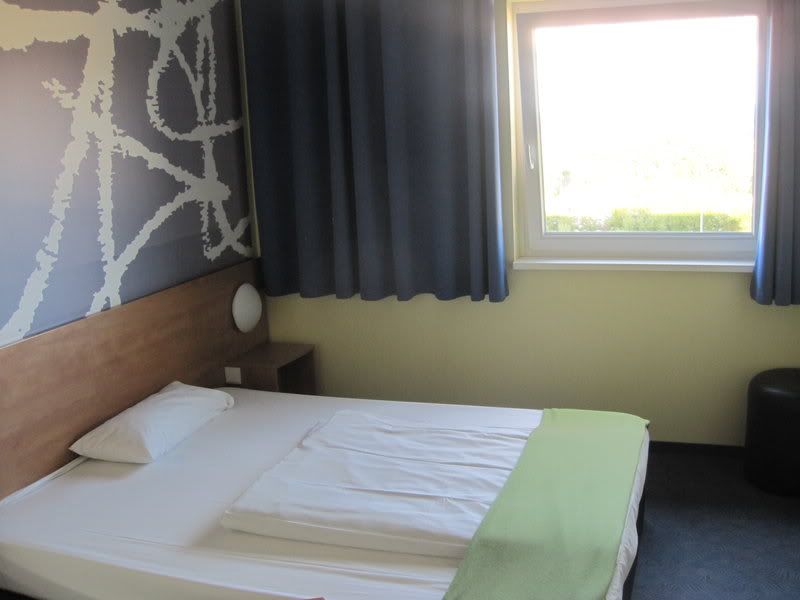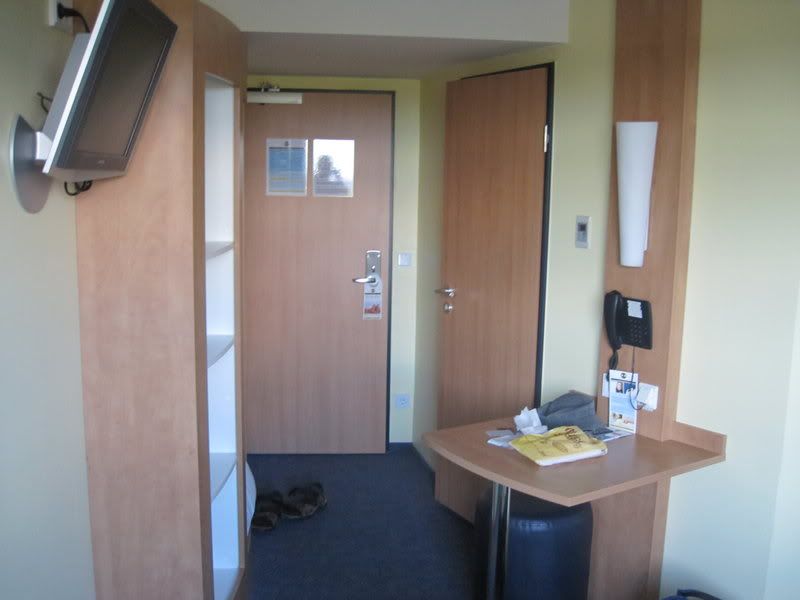 A very appropriate motif on the wall: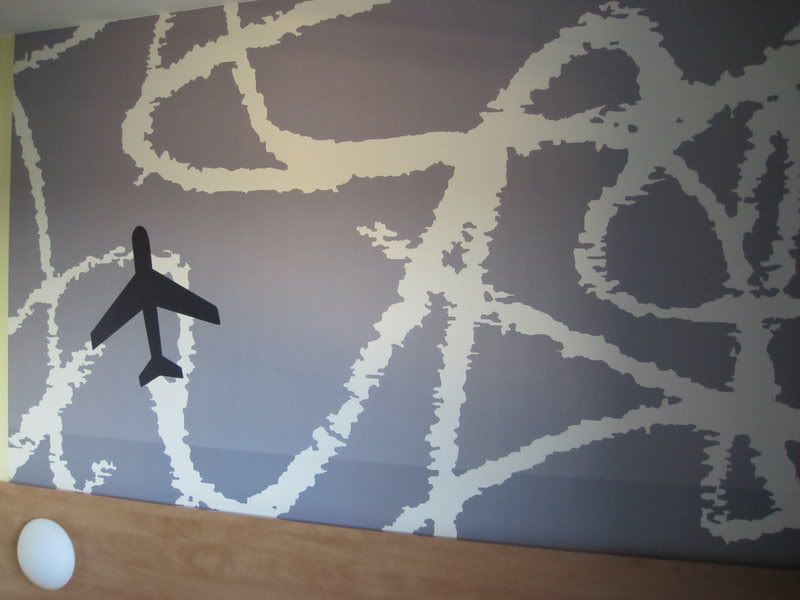 Some quality online time, interesting German TV documentary about syphilis (seriously!) and pizza later it's lights out for me...
Sunday 10.7.2011
Wake up is at five. Just half a minute later I also hear an alarm bell going off in the room next door, so more early travelers there
. The usual morning routines - shower and pack up and to the terminal across the street. There's no need to check out as one pays on arrival and there's no room key - instead your receipt contains an access code for the room door. A nice way to speed things up! And to cut down on staff costs of course as well...
I don't like their logo: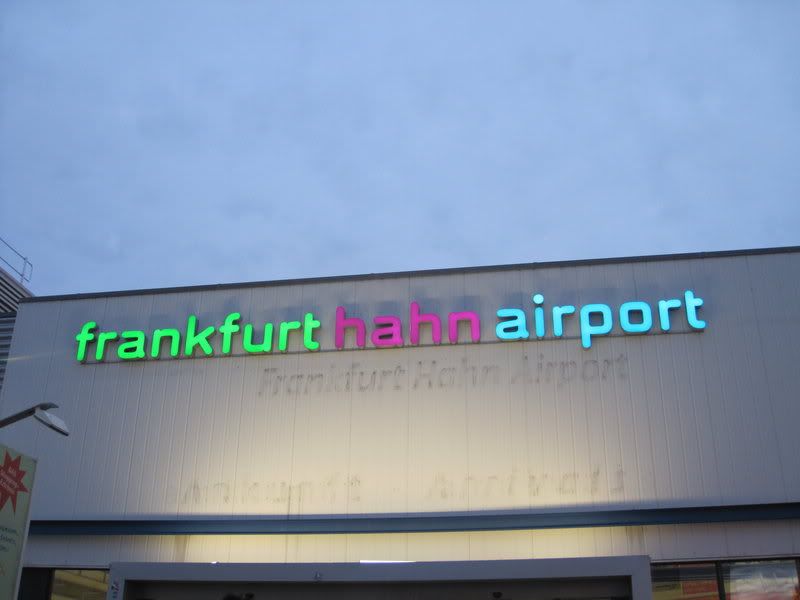 Hahn has two departure areas, A and B which are completely separate. These are the flights from A where my flight is leaving as well:
Not too many people yet at security, but interesting people nevertheless as it looks like half of them have never heard about the liquids ban thingy and get turned away to search for a plastic bag. The heavily made-up Turkish German girl in front of me has tons of potions and stuff in her make up bag - the security agent actually shows her my bag as an example of how things should be done...
Airside - yep, a very Ryanair feel to it: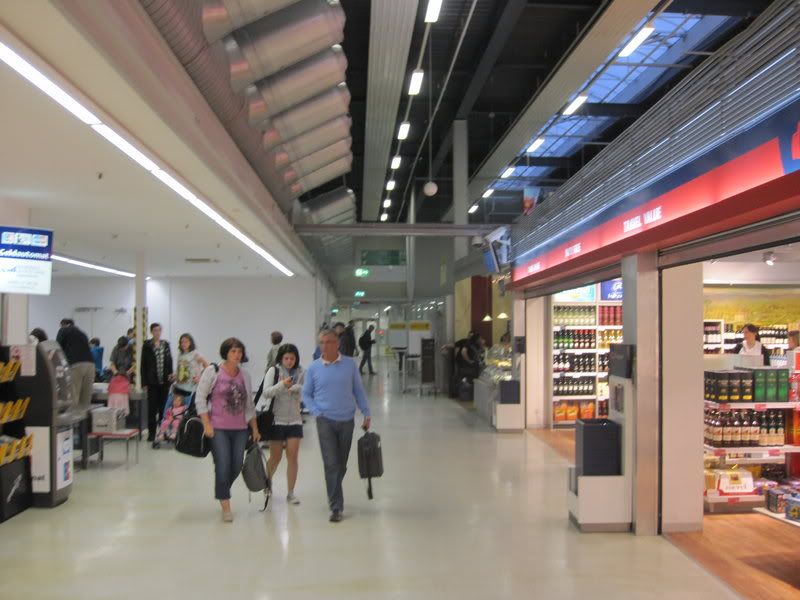 I buy another overpriced bottle of water from the shop, pass through the passport control to the non-Schengen gate area (which BTW doesn't seem to have any amenities, not even a toilet!) and join the general scrum already going on in there. There's no room to make any proper queues for 150+ people, so things are quite disorganized to say in the least...
Priority boarders are ushered into their own holding pen from where they are allowed to board first - I decided not to get priority as it's such a short flight so not really worth it. I like this - they have a display which shows you a map of the parking positions and directs you to the correct plane:
Although I guess it is only use for the first passenger, all the others will just follow the leader
.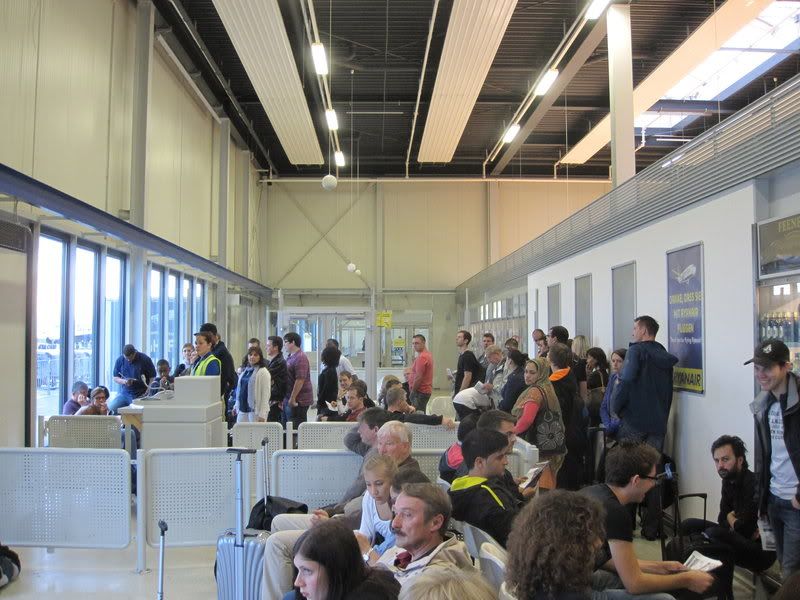 Plenty of Ryan birds around:
EI-ENY will be doing the honors this morning. Another new bird, in service for less than five months: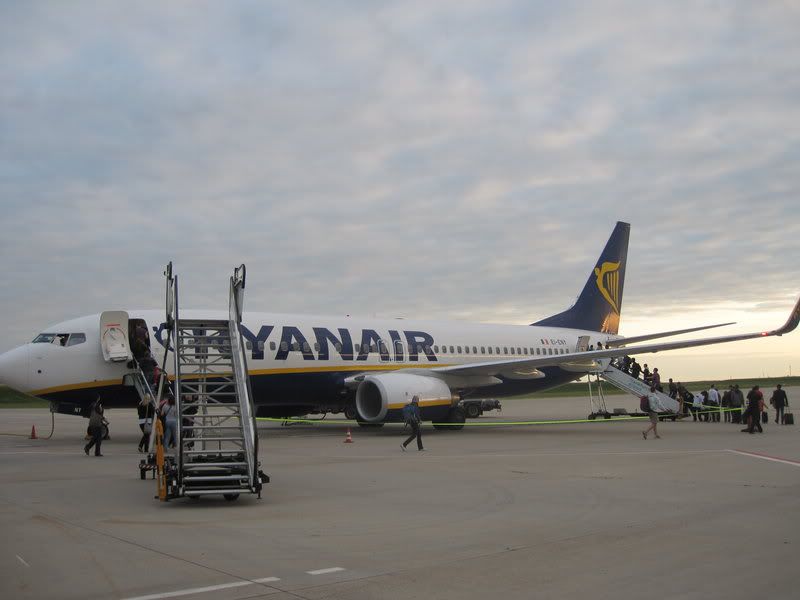 A new one for me, too.
HHN - STN
FR753
B737-800 EI-ENY
Seat 33F
6.30 - 6.29
I board through the back, the Polish male FA waiting there is very friendly. A guy is already sitting in the last row aisle seat, 33D so I figure out that if I grab 33F the middle seat has a very good chance of staying free, which eventually happens despite a very good load factor of 95% or so.
Now they are doing the sales pitch already BEFORE departure, I think that is new as previously they waited until we were airborne... This also happens on my next flight.
The German captain makes an announcement, 1 hour to Stansted, routing via BRU and eleven degrees (brrr...), cloudy with showers at the London area.
Push back is bang on time, but due to a slow taxi speed take off is seven minutes later.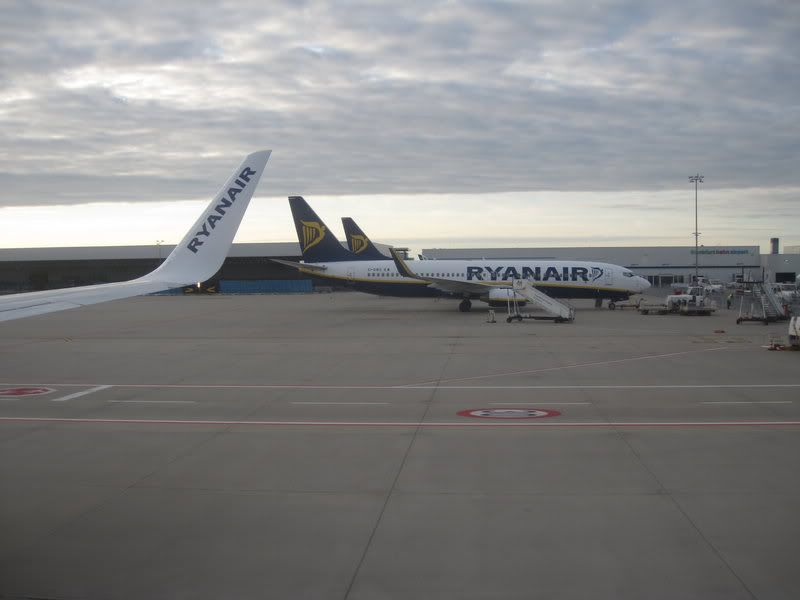 The cargo apron: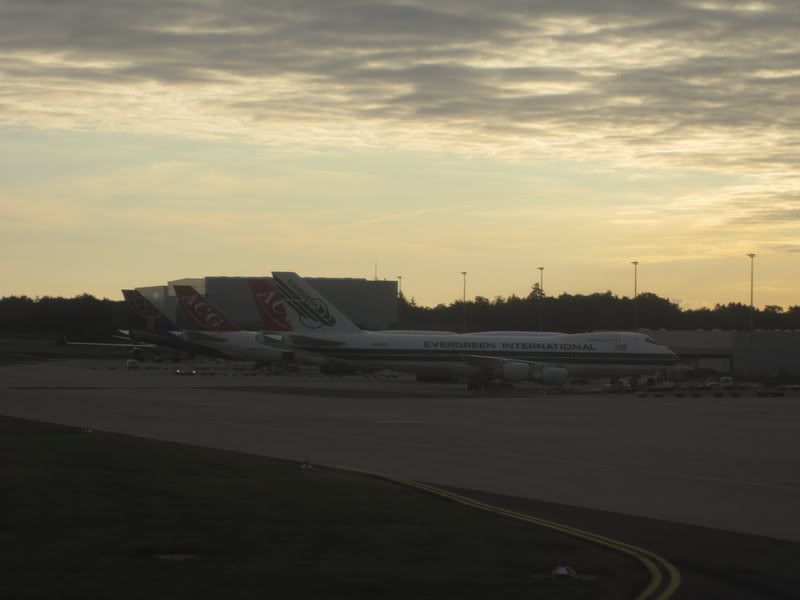 These photos show just how rural and out-of-way Hahn really is: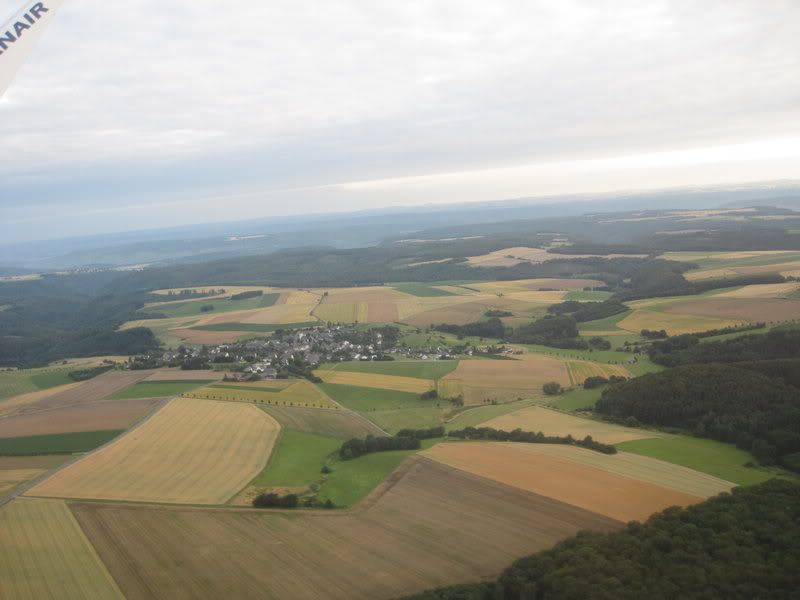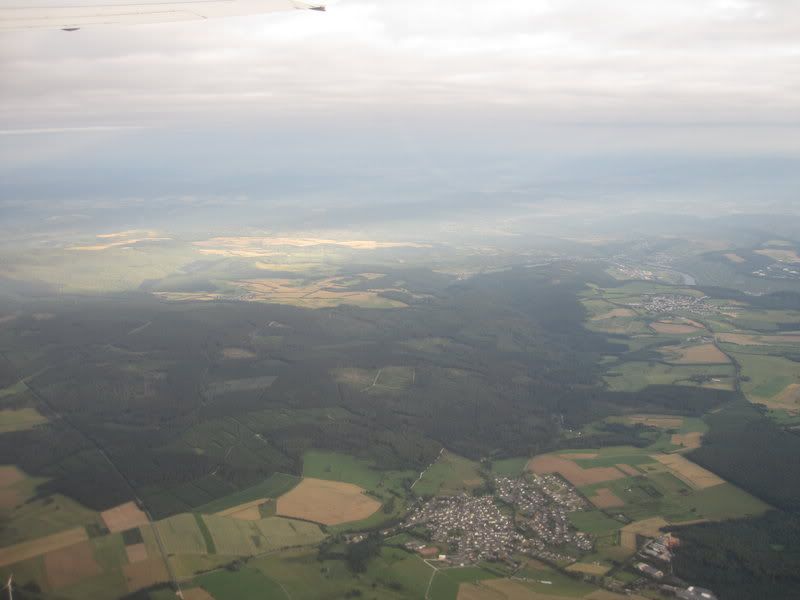 These wind turbines were not turning - they better be when the nuclear plants are shut down (a very stupid idea, IMHO!):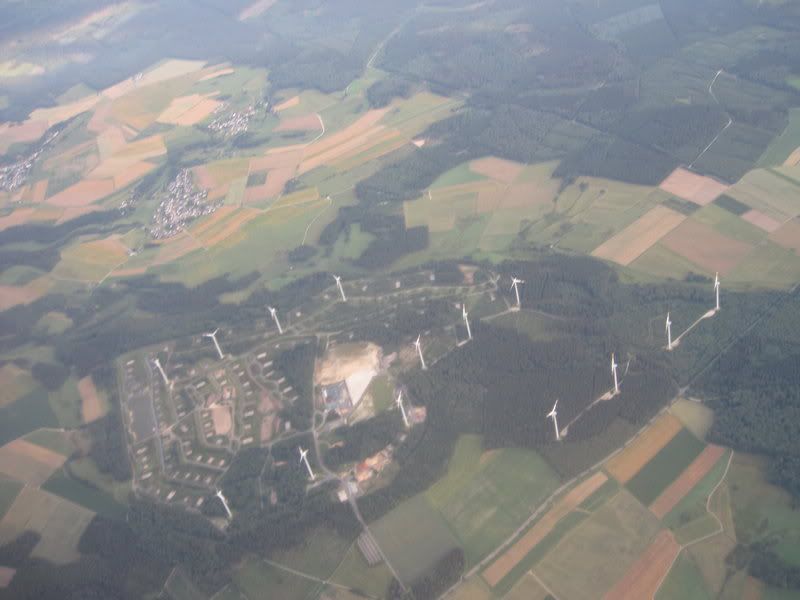 Soon we get above the clouds: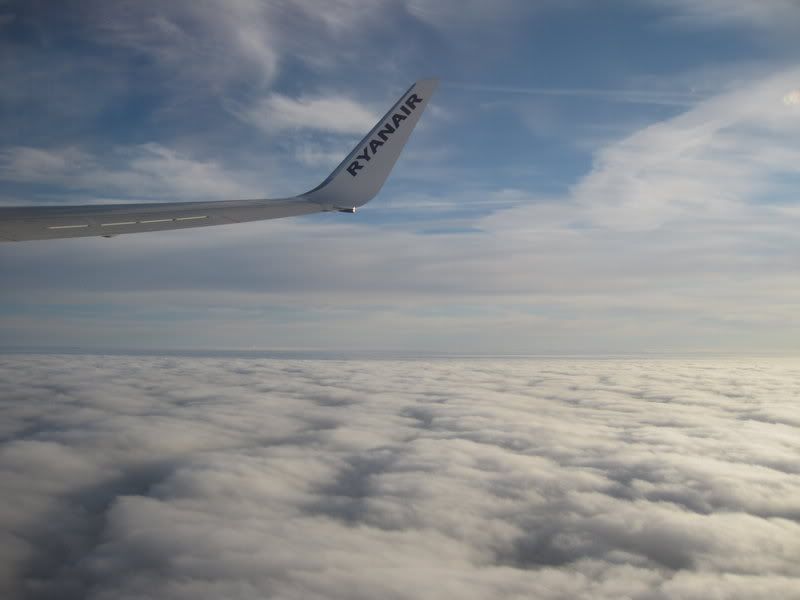 Despite the early hour I don't feel sleepy at all so some music and reading is the thing to do. An appropriate book to read on this flight: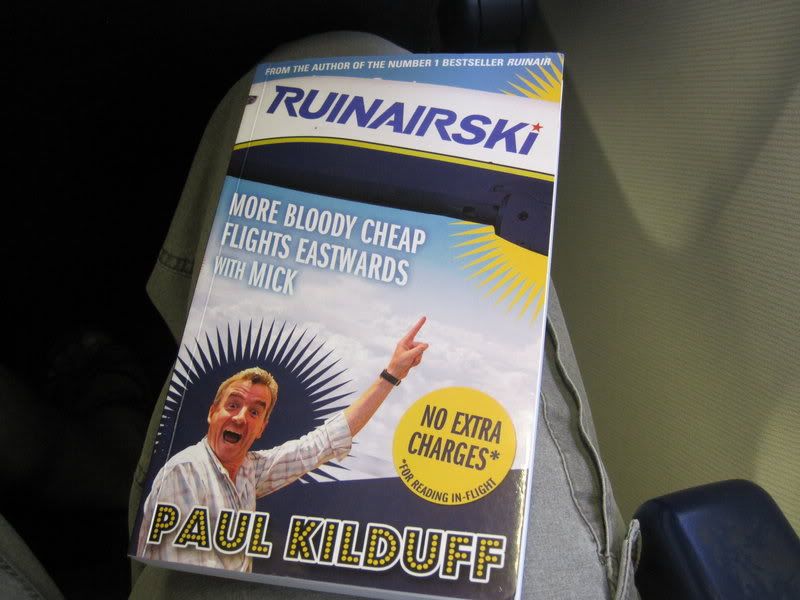 The Scheldt river, Port of Antwerp and Antwerp itself (Hi, Nils!):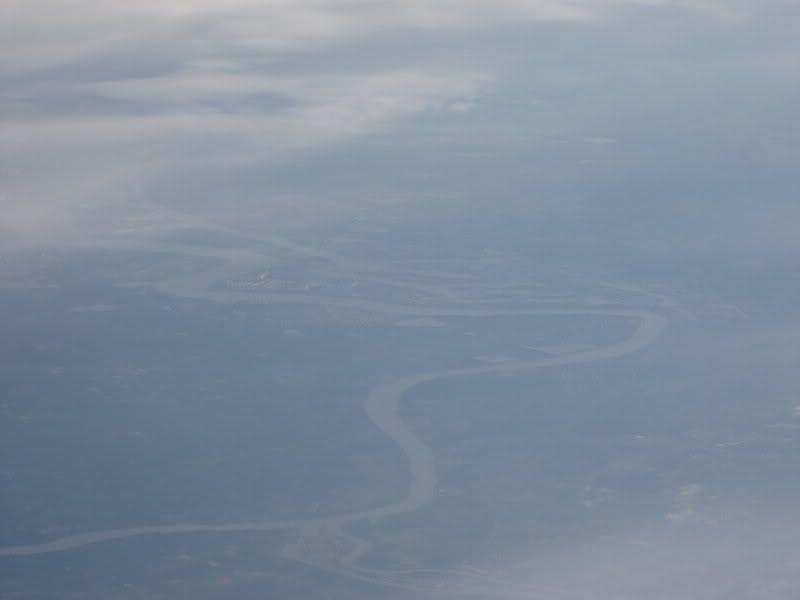 Leaving mainland Europe behind - the Dutch province of Zeeland on the background: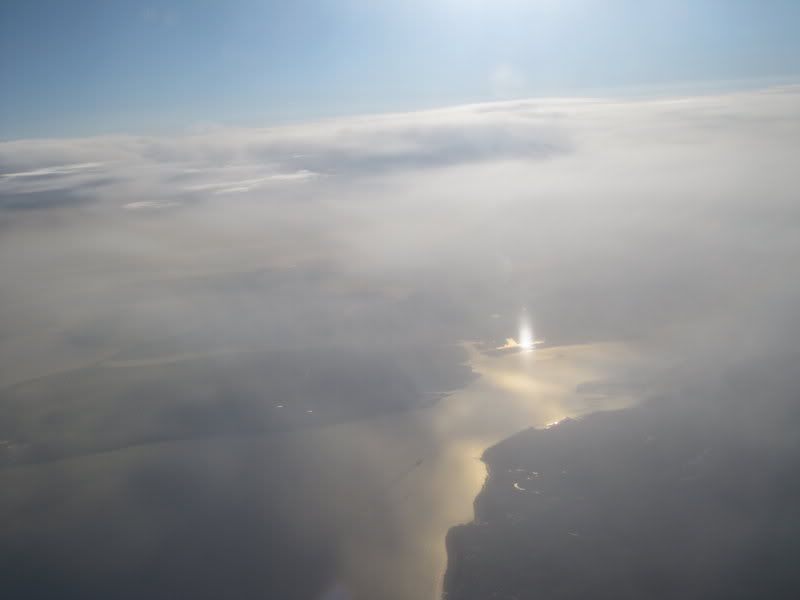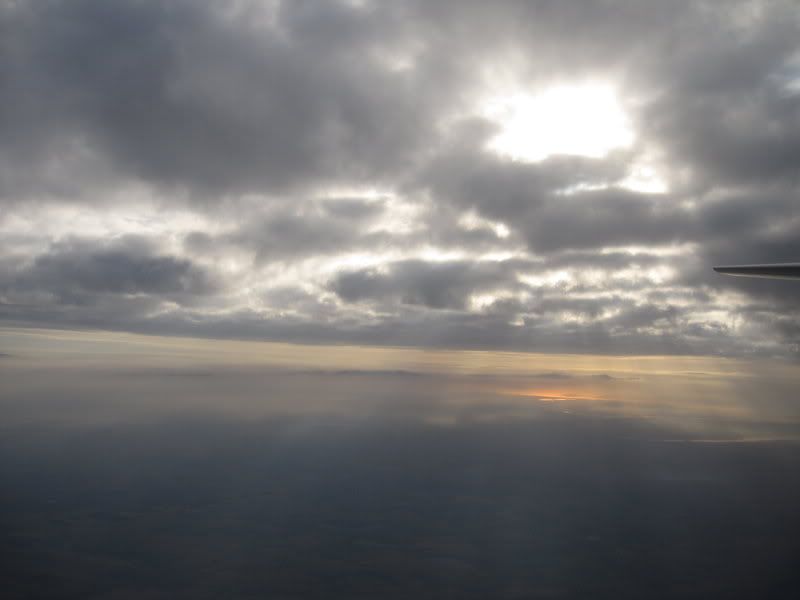 No doubt which country this is: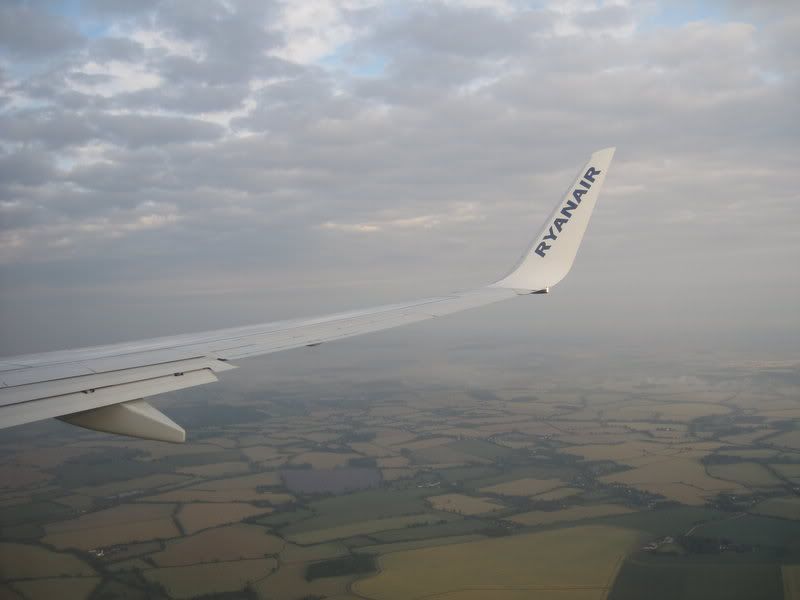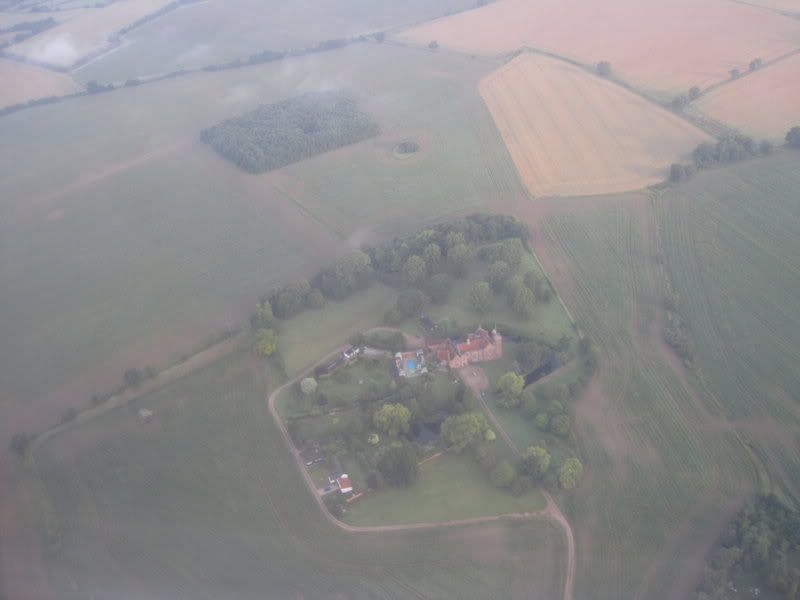 Some early morning fog around Stansted: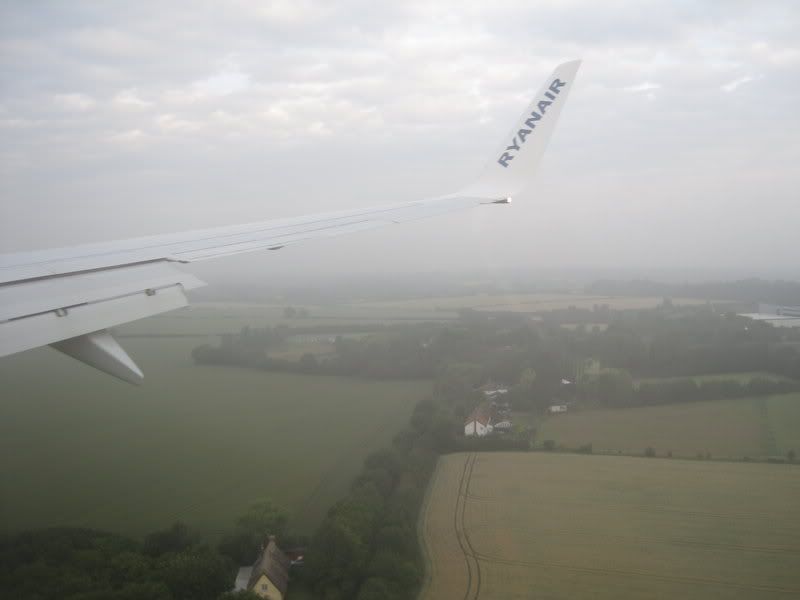 Landing is a good 15 minutes ahead of schedule (then again the paddings are quite ridiculous) on runway 22, after a flight time of 50 minutes.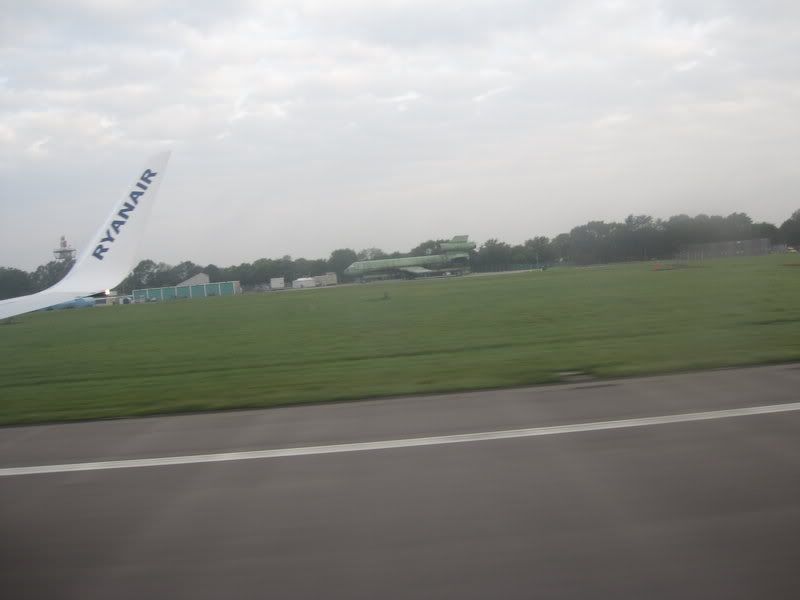 Top