Leg 7: NorCal (or, The Airline Left My Heart in San Francisco) –May 31, 2011
Some photos have been omitted for your convenience. The full album may be found here:Slideshow for Leg 7.
Well, here I am. It's the final installment of the Top Ten series: another trip out west, this time to SFO. Let's get to it!
In case you haven't been following, the previous day saw me at LAX. This would be my second straight day of four flights, and when I woke up, I really felt like staying in bed. It took a little while to gather my resolve for this last trip; thankfully, I found it somewhere during the drive.
All of a sudden, I was ready and raring to go. I went straight to bed after the LAX trip, meaning I had to check in at the airport. That was quick and easy, and I went on my way. Before I go on, however, I want to tell you about a place that you've seen here and there, but without which my trips wouldn't be possible.
I present to you Will Rogers World Airport, the principal commercial airport for the state of Oklahoma. It has seen plenty of change over the years since its start as a military air base. From the early propliners to the advent of the jet age; from the standard of quad-jets, then to tri-jets, then to twinjets. At one point, the biggest names it knew were Boeing, Douglas, and Lockheed. It has since added Airbus, Bombardier, and Embraer to that list, in addition to the myriad bizjet and civil aviation manufacturers.
For a while, the terminal was the only part still stuck in the jet age. The 1960s era concourses were definitely showing their age by the early 2000s. Fast forward to the end of the renovations, and we have a facility I can be proud of, to say nothing of my fellow citizens. According to the 2009 FAA stats, OKC is the second largest small hub airport in the country by enplanements. By the list, it's the 67th busiest American airport. We have daily widebody service—it says FedEx on the side. We have a daily 752 service—it says UPS on the side. A standard day at OKC will see AA Mad Dogs. If you're there early or late enough, you'll see DL's MD-88. If it's a 737 you want, WN has you covered. If you like the A320 family, only UA will oblige, though F9 is rejoining the Airbus party on July 17. After that, you'll see CRJs and ERJs of varying size, all the way up to the E190. You'll also see a Dash 8 here or there. Our long haul flight is provided by United Express with an ERJ-145XR. But enough talk—let's have some pictures.
A picture I took while I was plane spotting one day. I thank WN for providing the 737 for my photo shoot.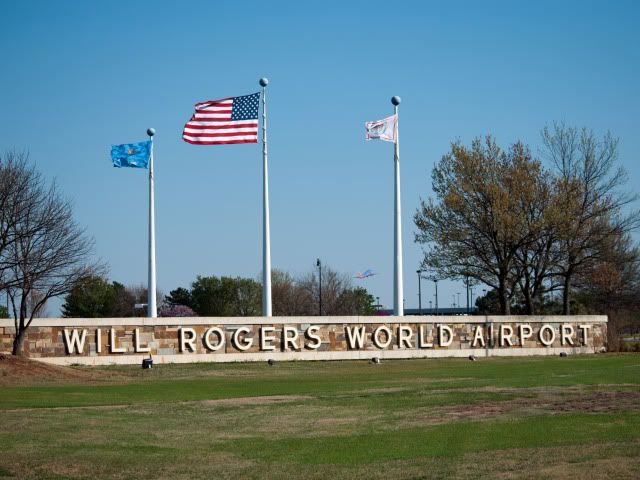 I was on that Airbus nine hours before this picture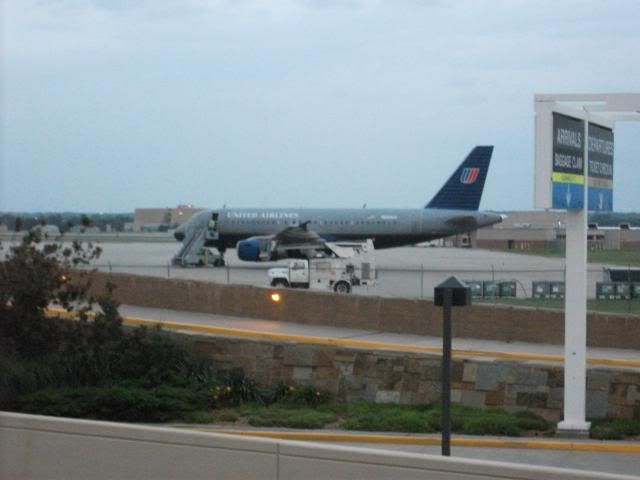 Here you can see most of the departures level from the hourly parking garage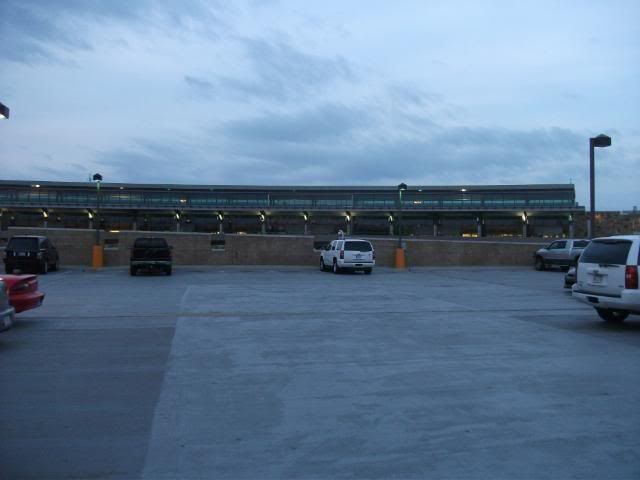 From the parking garages to the terminal tunnel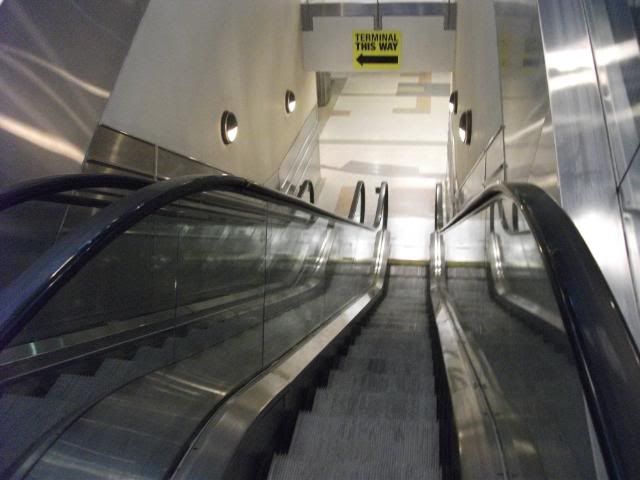 The tunnel goes way back in the other direction, too (in case you were curious)
Up to baggage claim…
And there's some of the baggage claim level
Up to check-in/ticketing…
WN and UA counters; DL is further down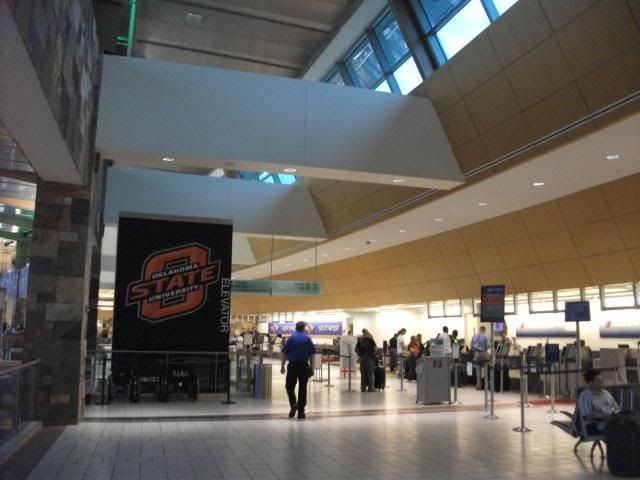 Entrance to west checkpoint
F9 counters; CO is to the left of the shot, still separate from UA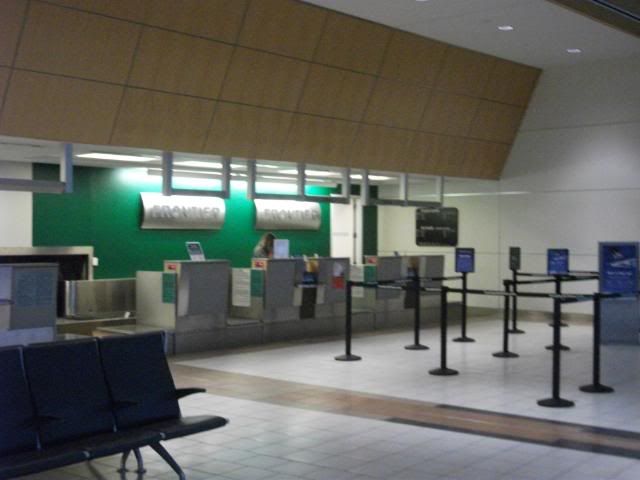 You probably know what that is…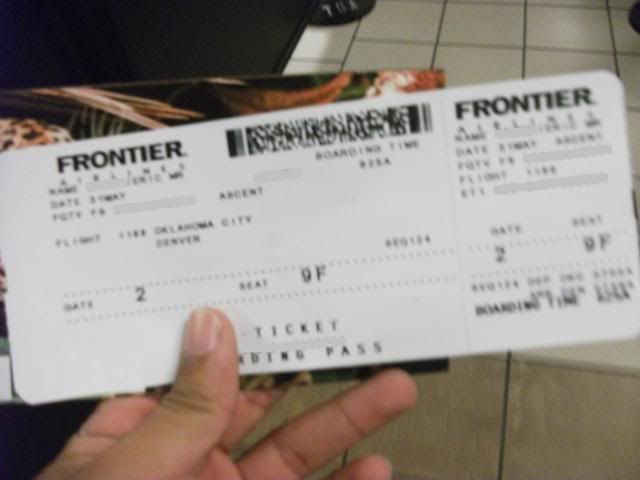 The DL area down there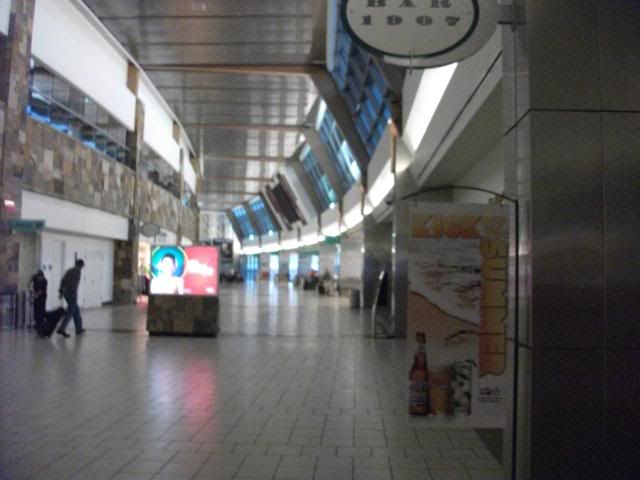 People waiting for WN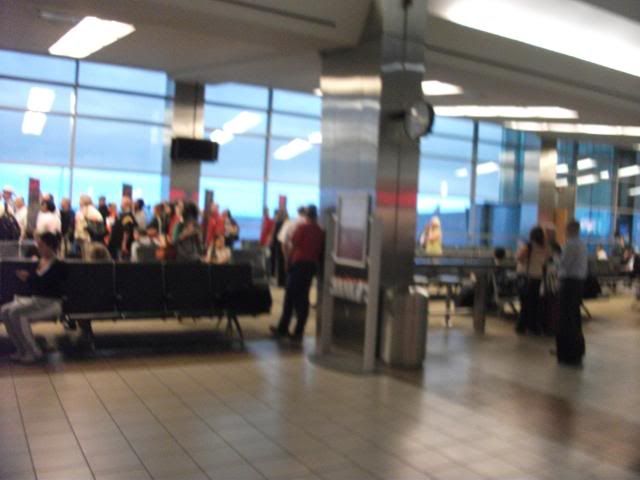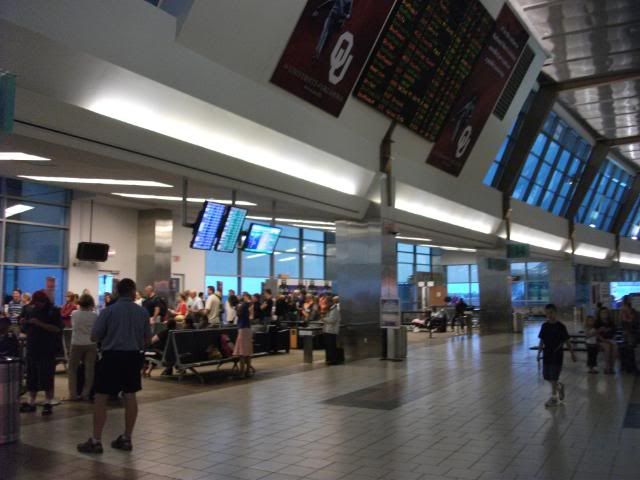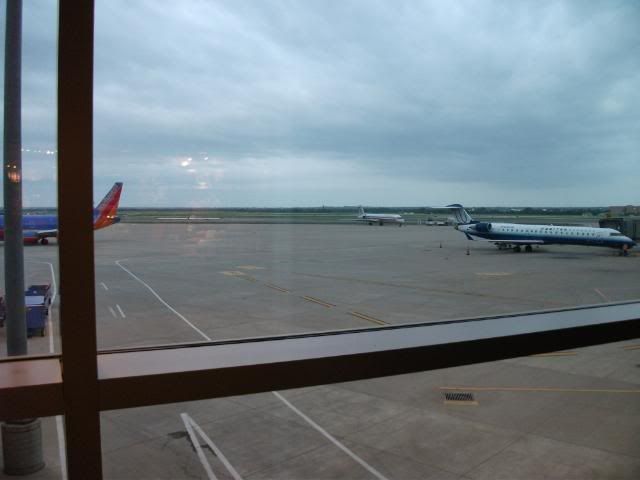 The west end is occupied by AA, F9, and UA/CO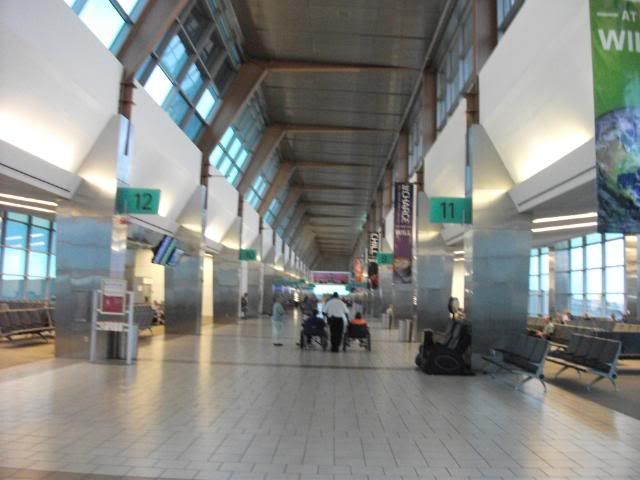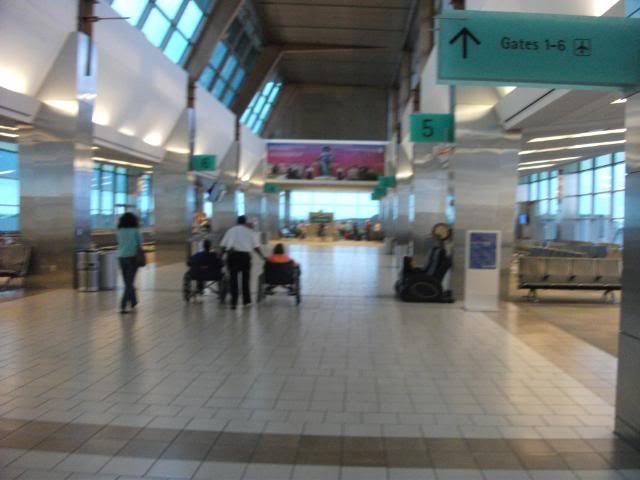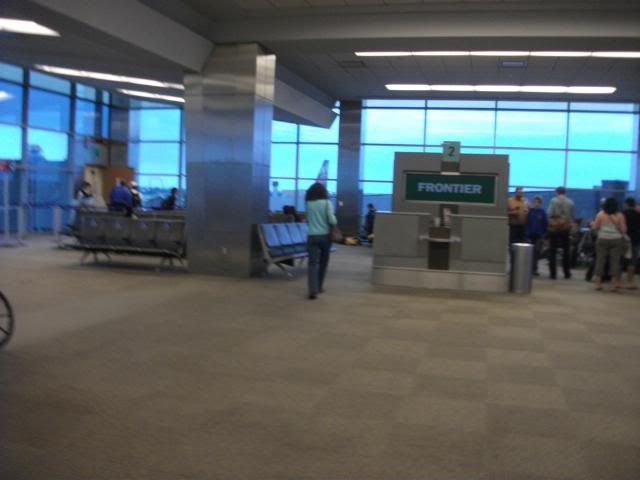 And there's my plane!
Frontier Airlines 1188, operated by Republic Airlines OKC-DEN
Scheduled: 07:00-07:39
Actual: 06:56-07:34
Embraer ERJ-190-100LR [E-190] (N163HQ)
By this point, I was bright-eyed, if not bushy-tailed. The fox would thankfully cover for me.
Legs; welcome to 9F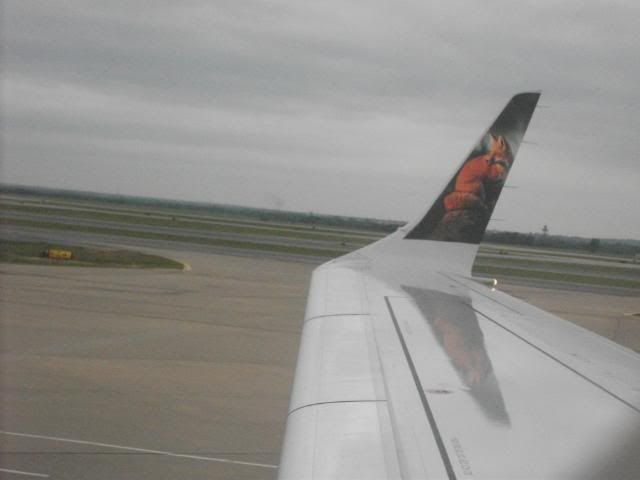 Tiger? You talking to me?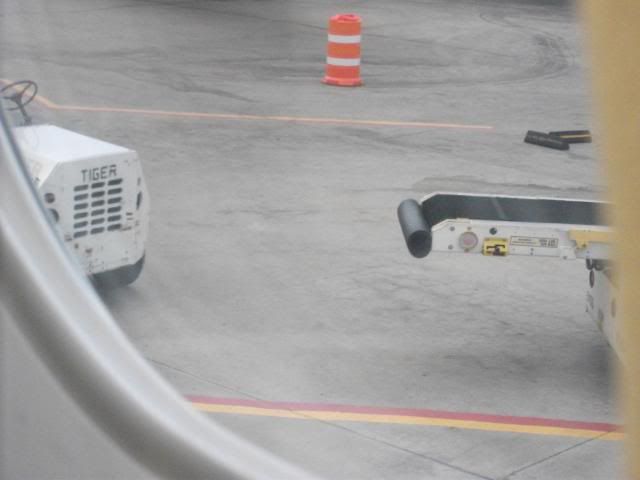 A JPATS Mad Dog, lovingly known as Con Air
G4 has some maintenance done here (as does AS); with the engines being worked on, these are now paperweights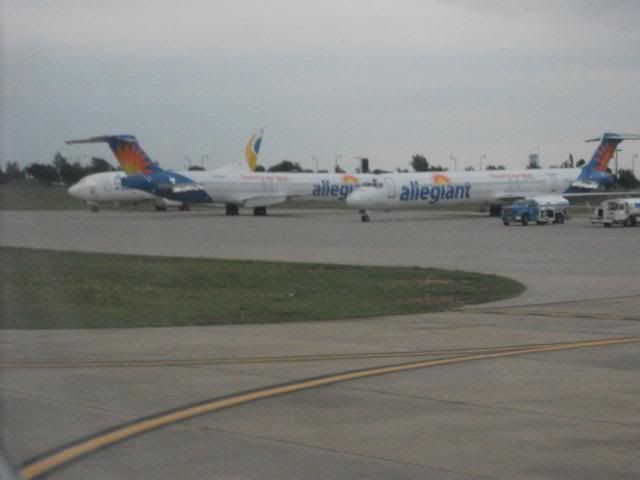 The AA jet is holding for who knows what, so we're going to have to backtaxi a little…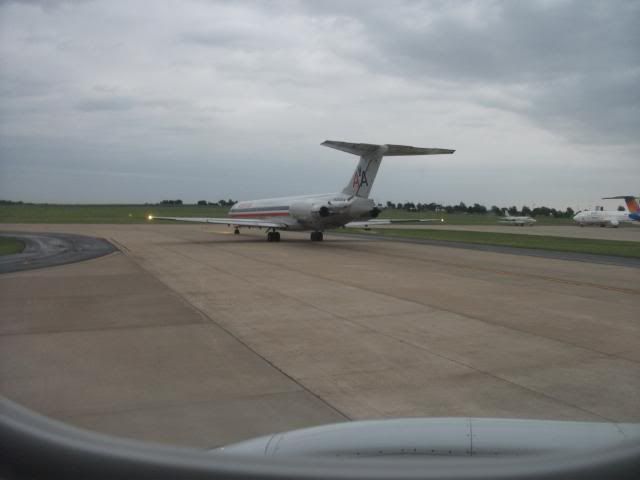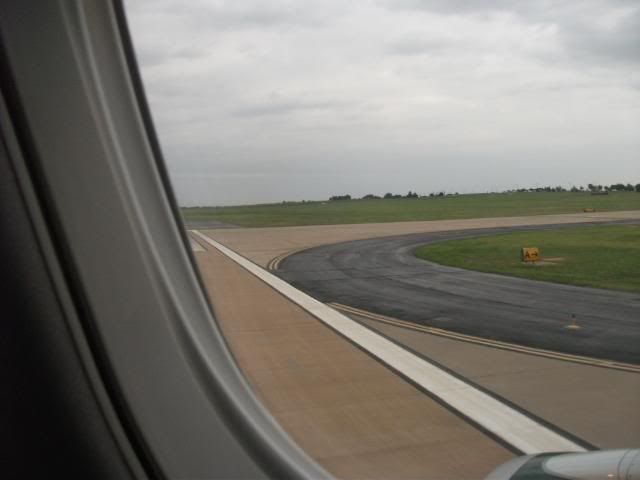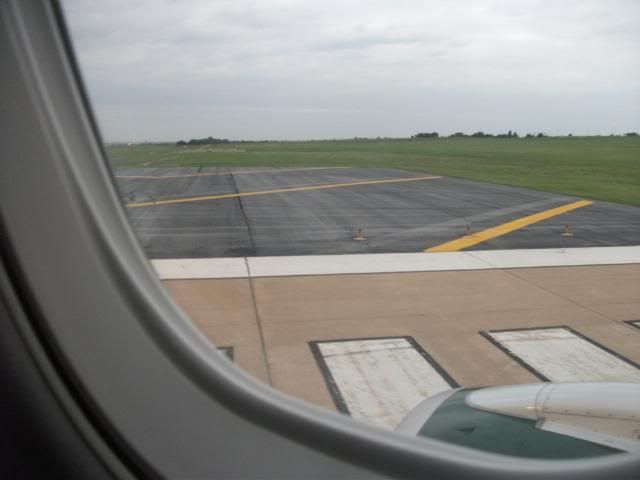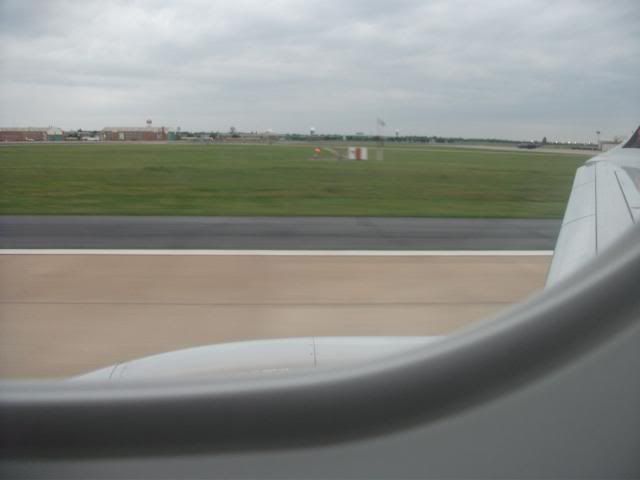 And we're off!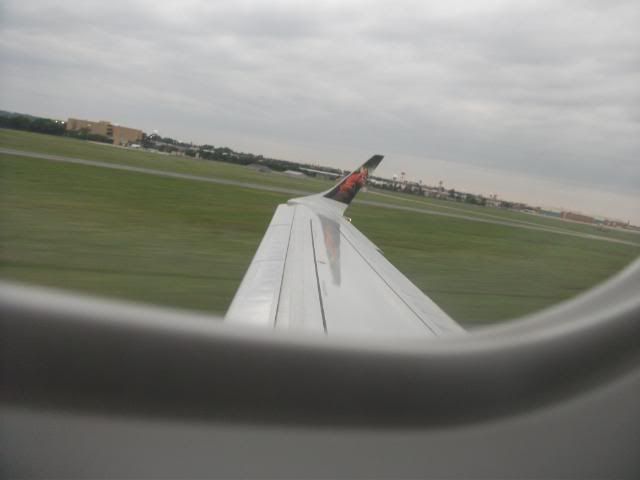 My luck from yesterday's last flight seemed to be holding over—there was nobody in seat 9D. Thus, I could stretch out and enjoy the view:
Fox on the run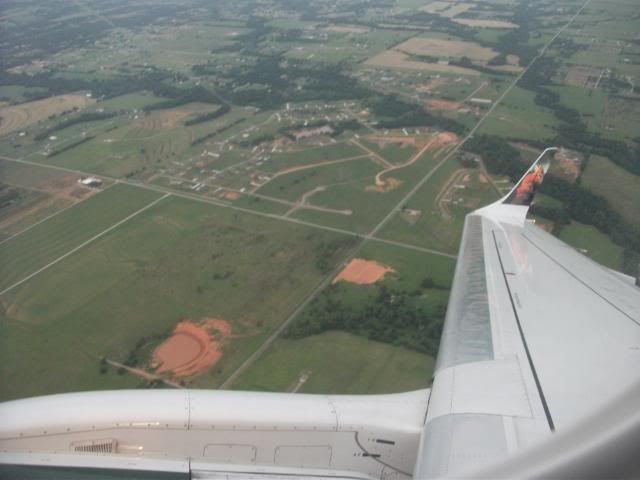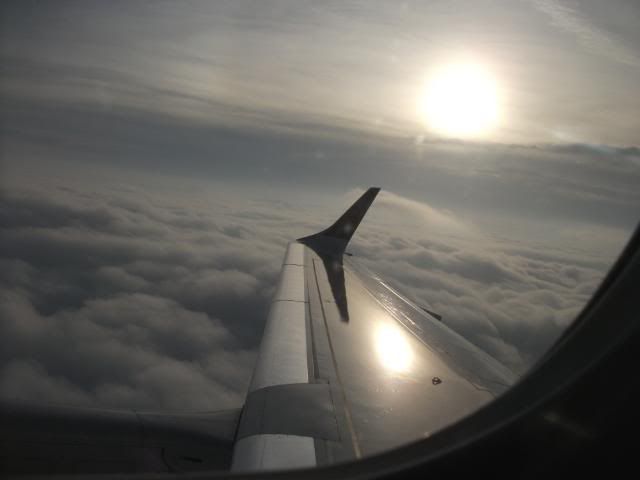 This plane doesn't have an "electronic devices" light. Sweet, I can smoke! (If I actually smoked, anyway…)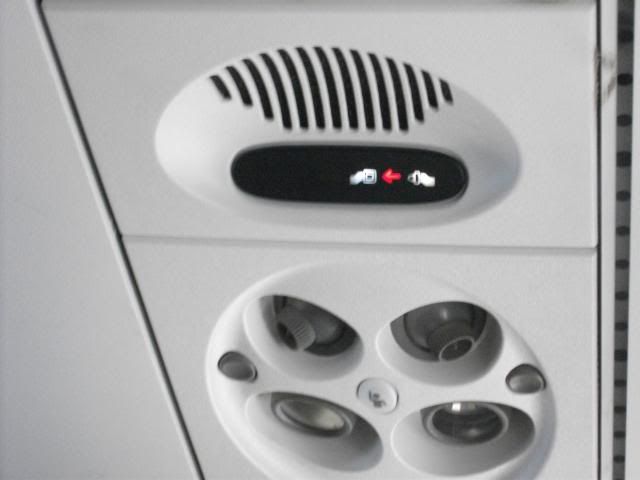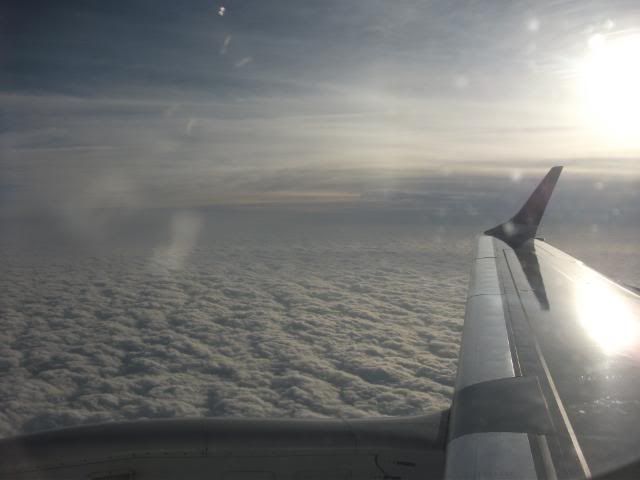 Assorted arrival pictures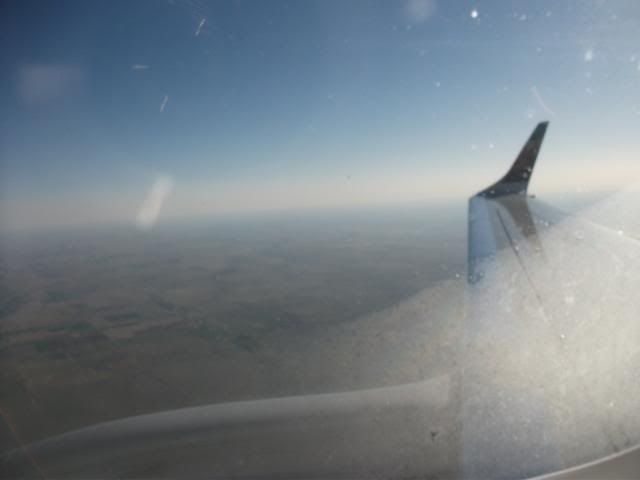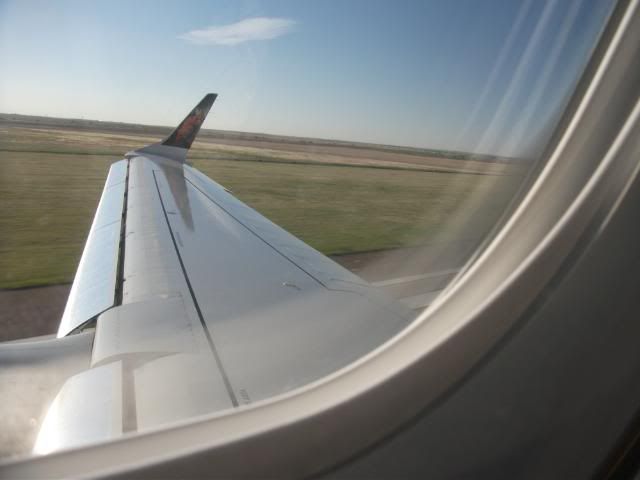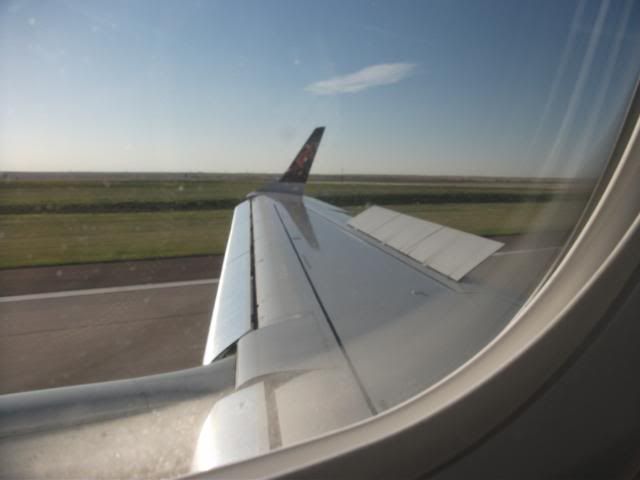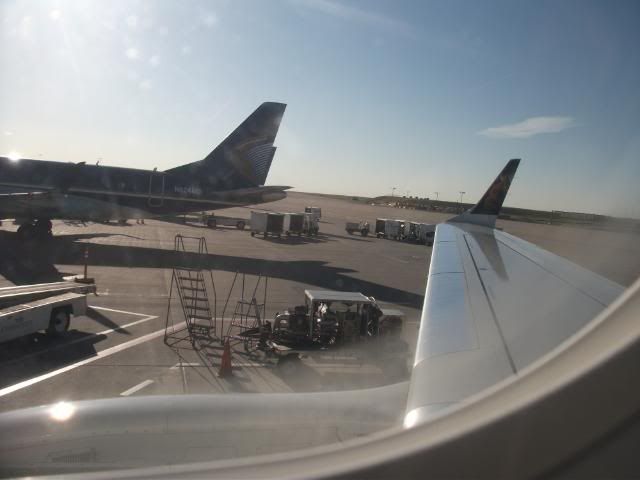 I was in a tiny rush when I got to the airport, so asking to check in for all of my flights escaped me. Hence, I had to find a suitable place to get it done. I paid a visit to a customer service center and got what I wanted.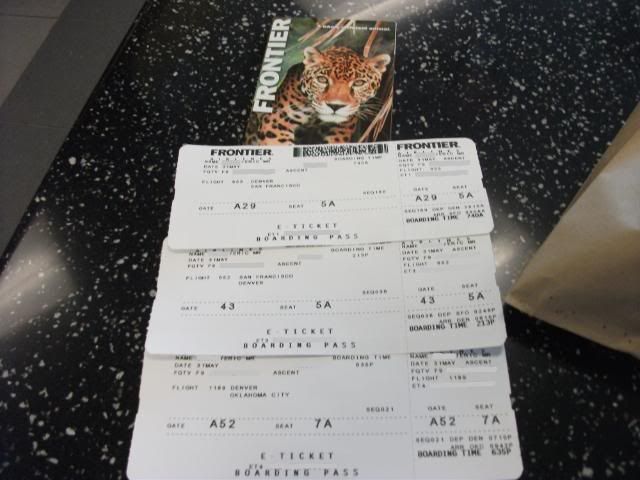 Although my flight had begun the boarding process, I turned around to go and get stuff to eat and drink. Once that was over with, I was ready to go to California—via Montana.
Say hello to my little friend!
Frontier Airlines 653 DEN-SFO
Scheduled: 08:15-09:56
Actual: 08:11-10:19 (Doors closed and wheels up are two entirely different things—see ground hold below.)
Airbus A318-111 (N802FR)
Everything proceeded normally, including the safety demonstration. However, the captain came on afterwards to give us some news. The good news was that we'd be going to SFO. The bad news was the 40 minute ground hold due to spotty weather over there. I expected this might happen; I've heard how much of a crapshoot SFO can be when it comes to these things. If you're keeping score between SFO and LAX, then the latter has taken an early lead. There was some good news to be had again, however. The captain came on a couple of minutes later and told us that we'd be able to go after about 15 minutes. Either way, the delay gave me time to tuck into my muffin.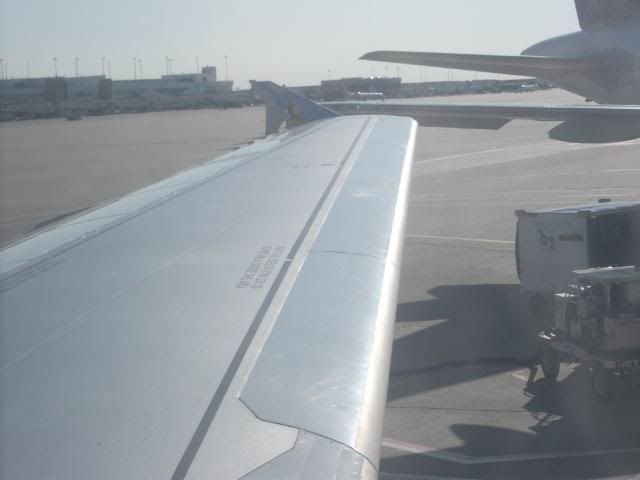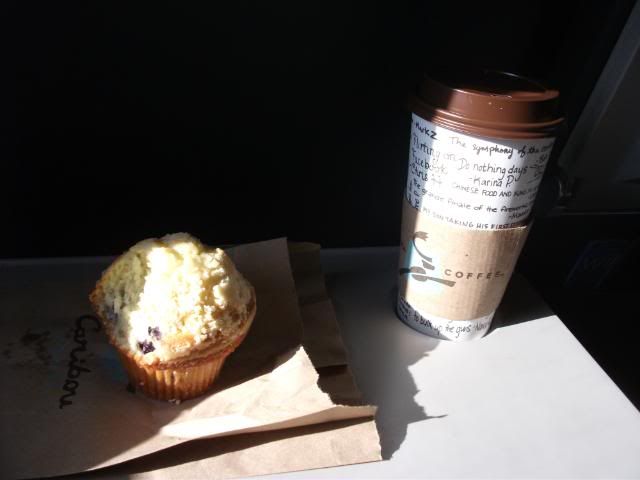 I have no more departure pictures for you. One of the FAs asked me to put my camera in the seat pocket for takeoff, so I obliged. No big deal. Afterwards…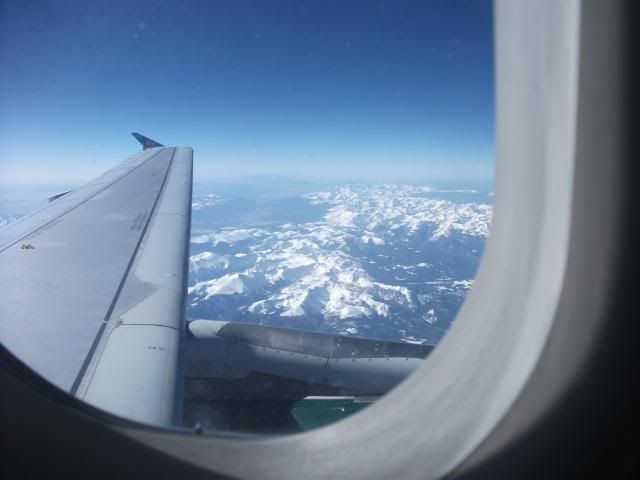 Minimap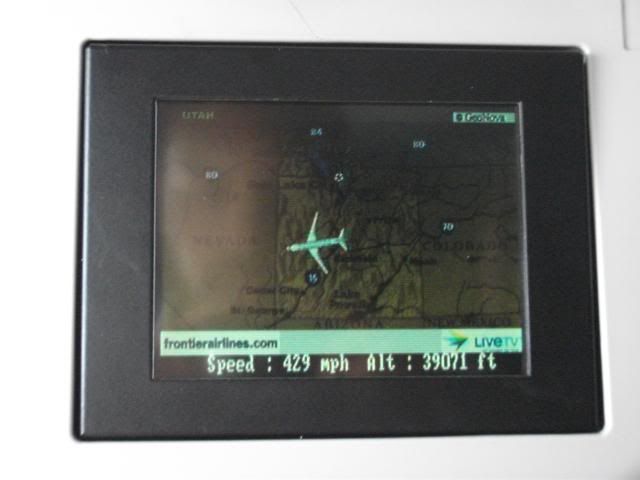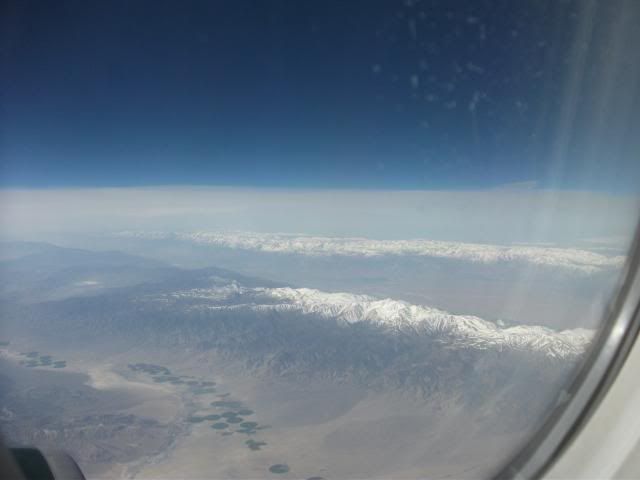 Story time! The picture below is of the former Naval Auxiliary Landing Field at Crows Landing, California, about 78 miles southeast of SFO. It was built in 1942 as a satellite for NAS Alameda. Over the next few decades, it would be the site for training and aircraft flight testing, both military and commercial. The DC-9, Learjet, and F/A-18, among many others, paid visits to Crows Landing. NASA also used the base for flight testing of its own. The Navy ended operations there in the early 1990s, leaving NASA as the sole operator. However, NASA closed the base in 1999 and transferred it to the county; it has been abandoned ever since, save for road courses and exercises by county vehicles. The county apparently desires to restore the airfield and turn it into a business park, but progress has been slow, if there's been any at all. The airfield is listed on the SFO sectional chart as "NASA Crows Landing (Closed)".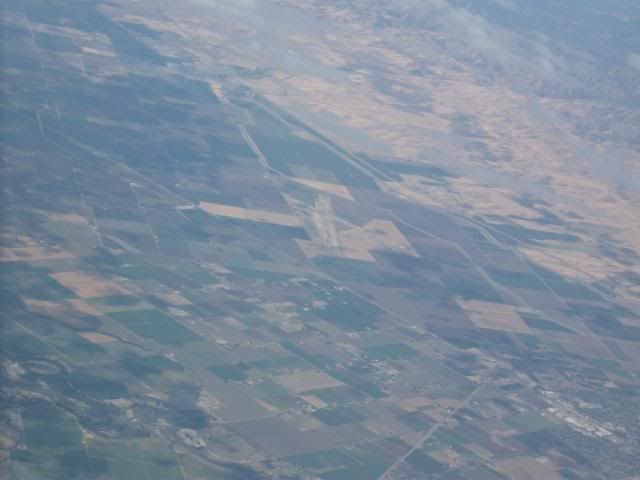 I felt us begin our descent, and I saw that we were almost there. I thought we would break through the clouds and land without any trouble, but we merely danced around for a few minutes. Those low clouds were becoming quite the nuisance, as they apparently like to do at SFO. So we hung out at 9000 feet waiting to get clearance. We eventually did, and here's what it looked like: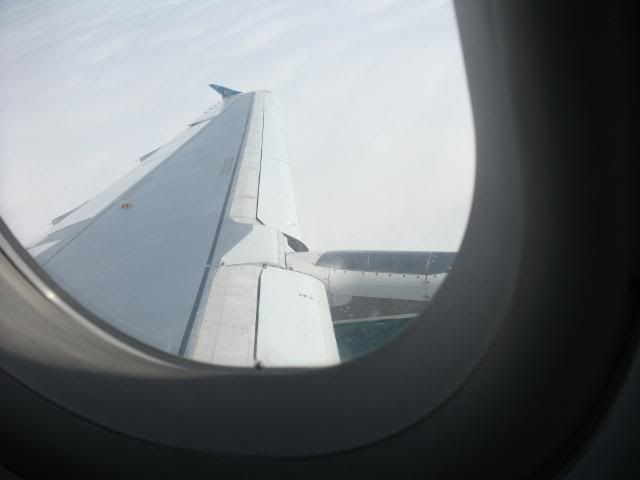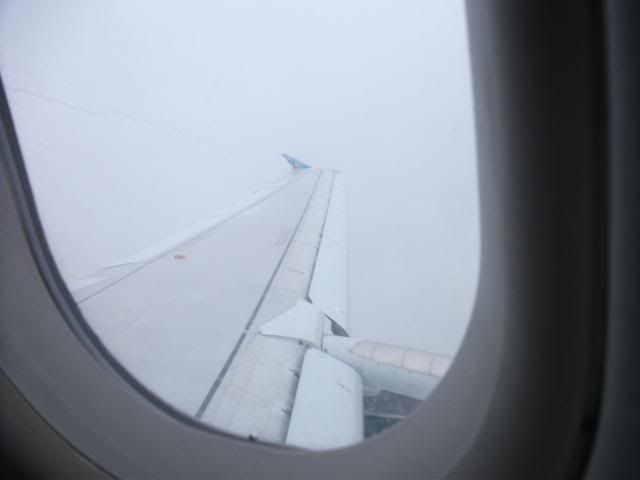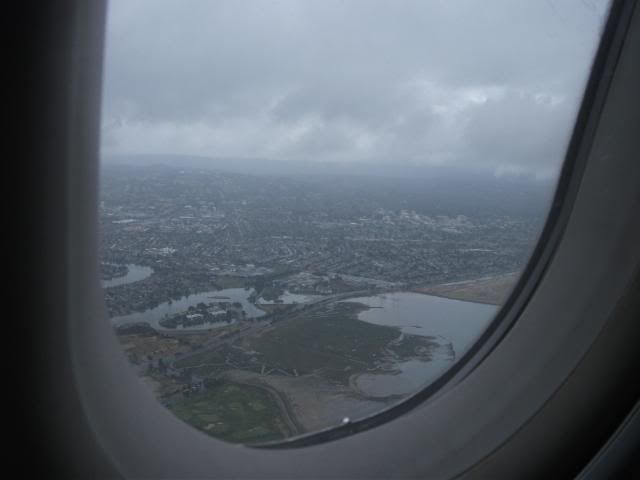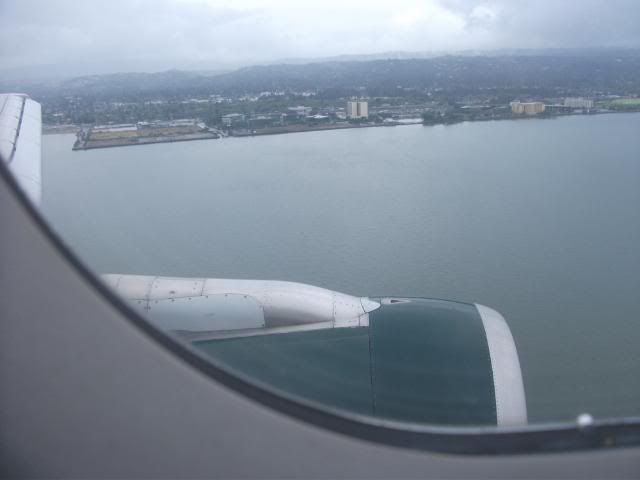 There are Virgins all over the place!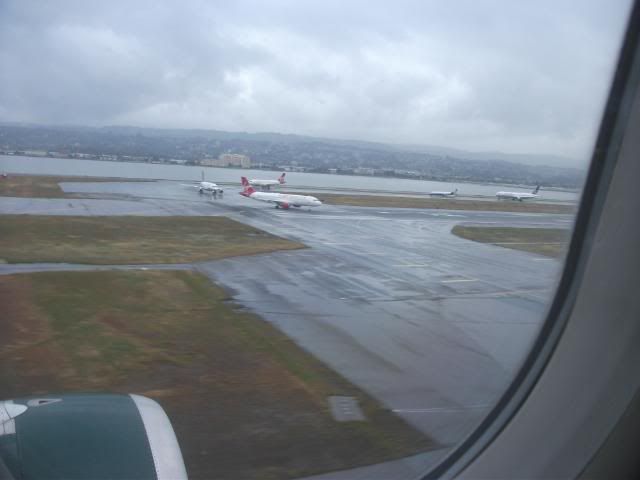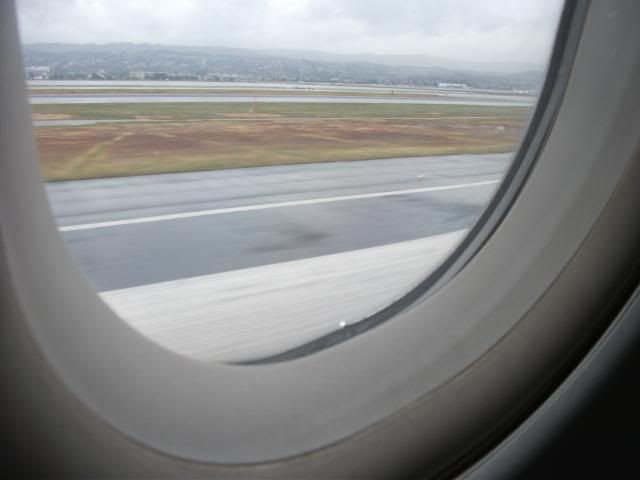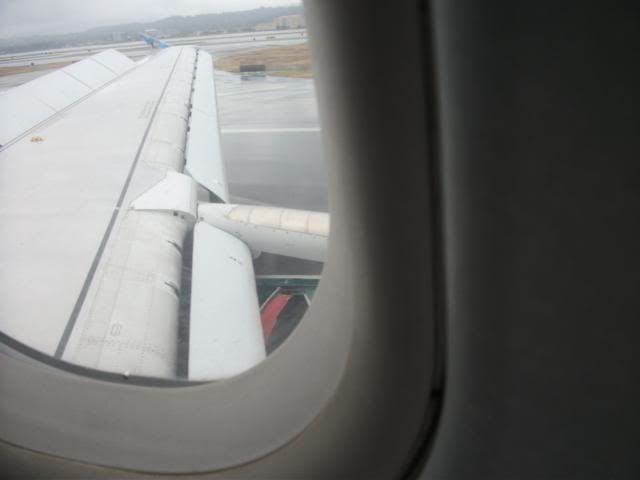 We're on the ground, but we have to wait for the adjacent runway's departures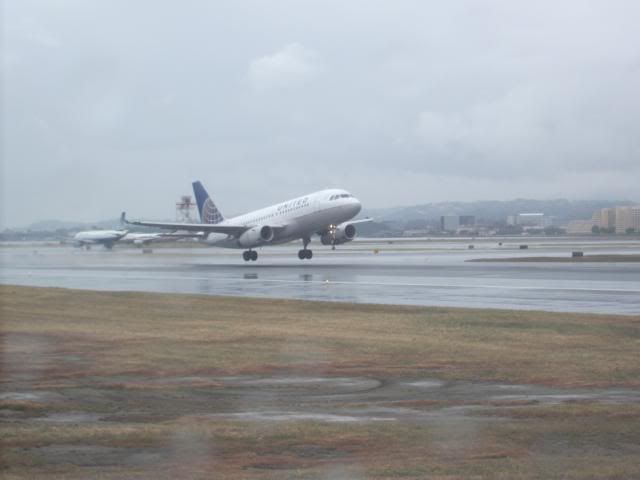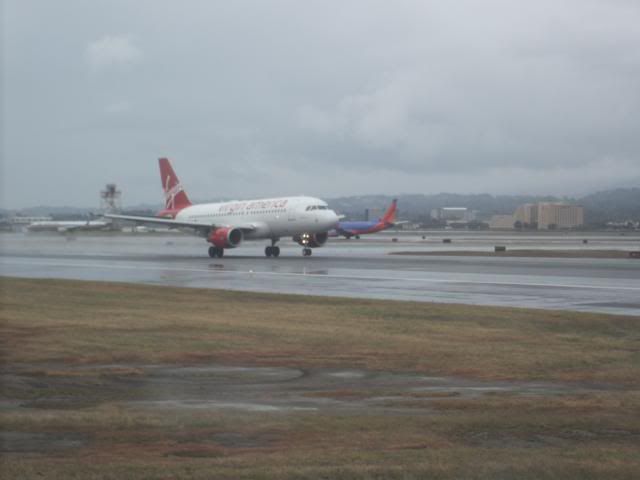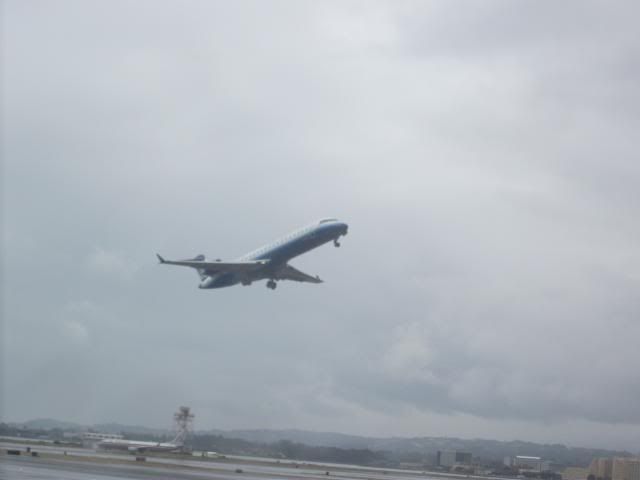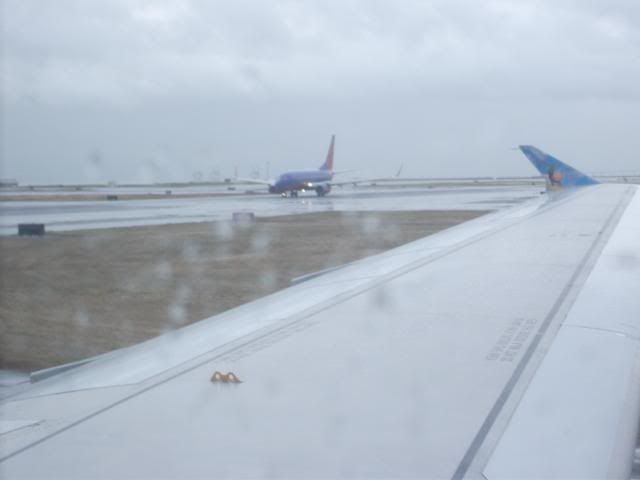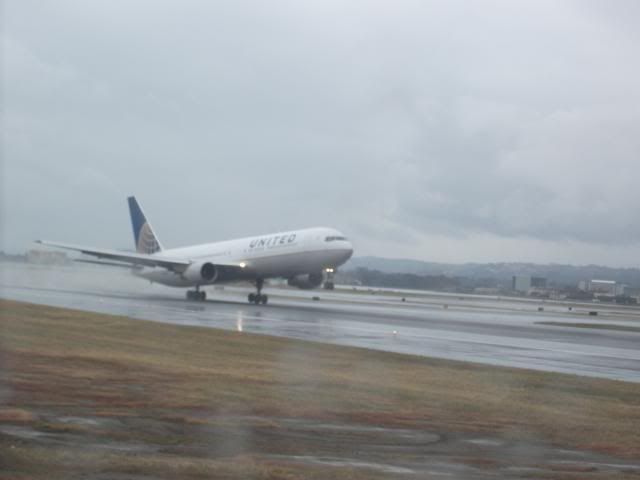 Now we can go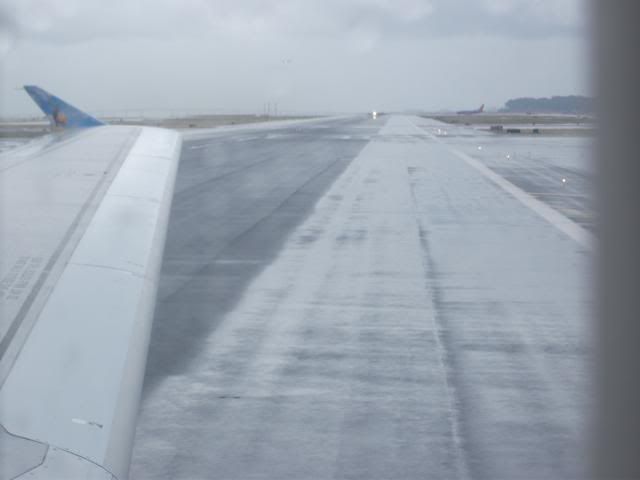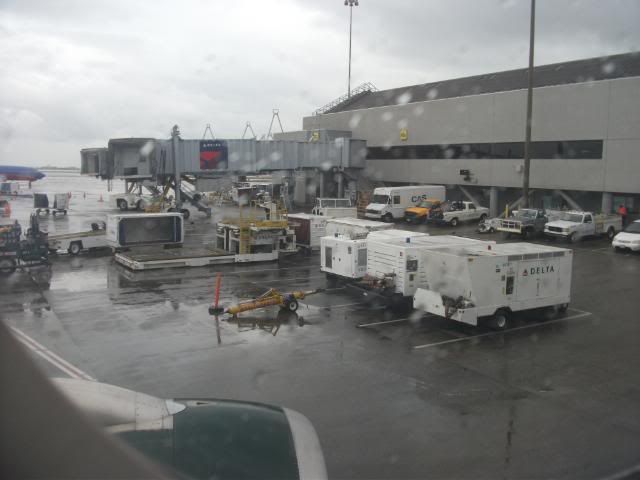 See ya around, Montana!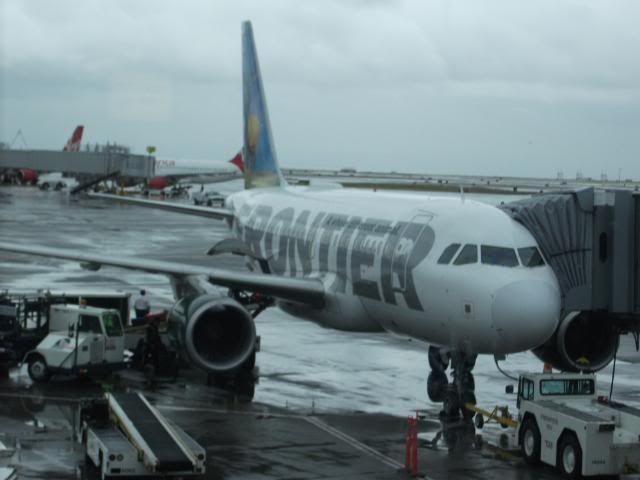 And thus I set out to complete my last conquest: San Francisco International Airport.
A Terminal 1 bathroom. Be lucky I even got that shot.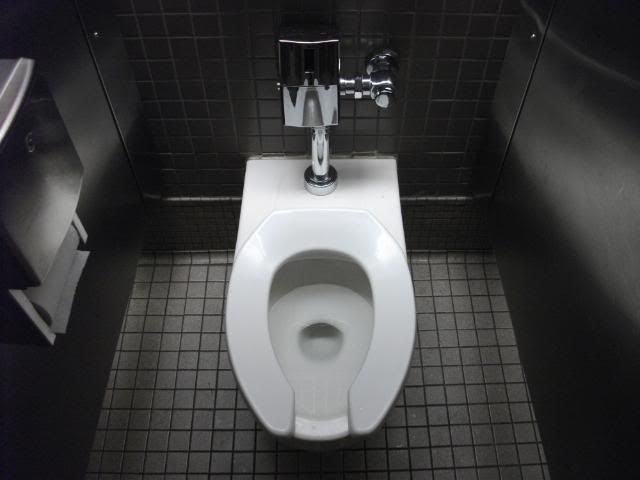 Terminal 1, Gates 40-48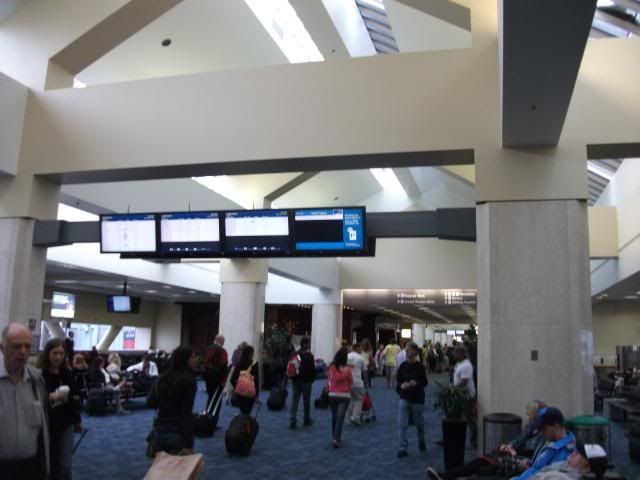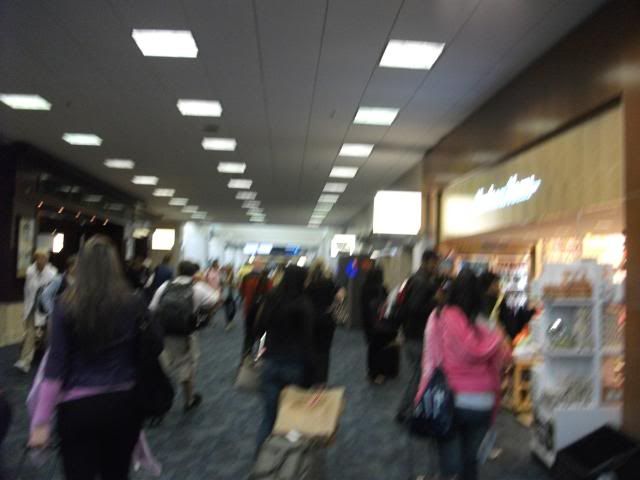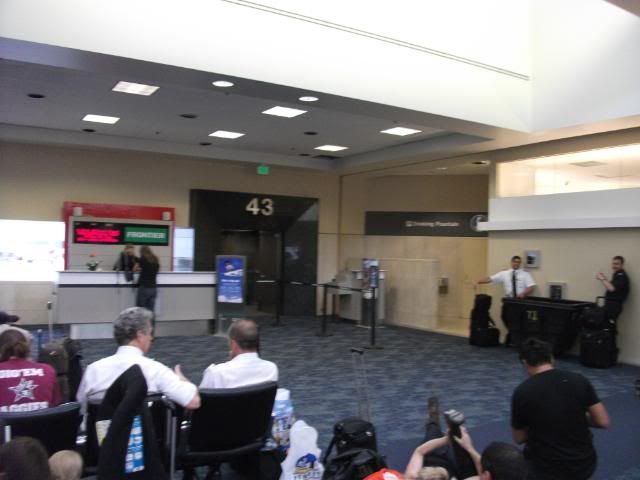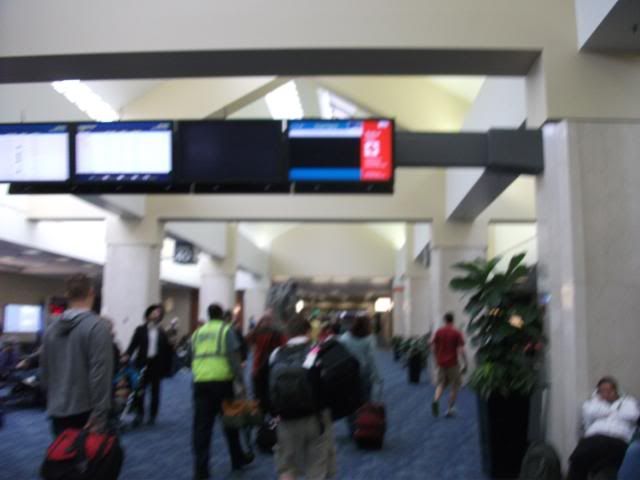 Art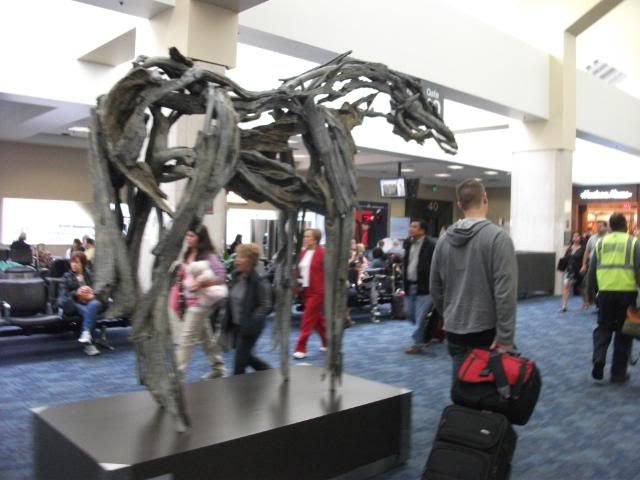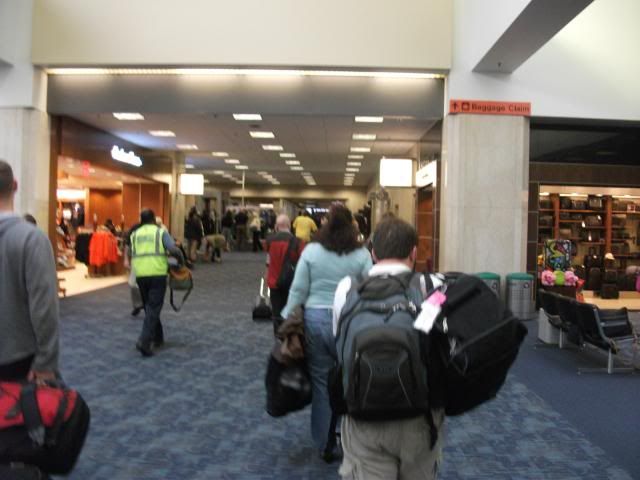 Entrance: T1, 40-48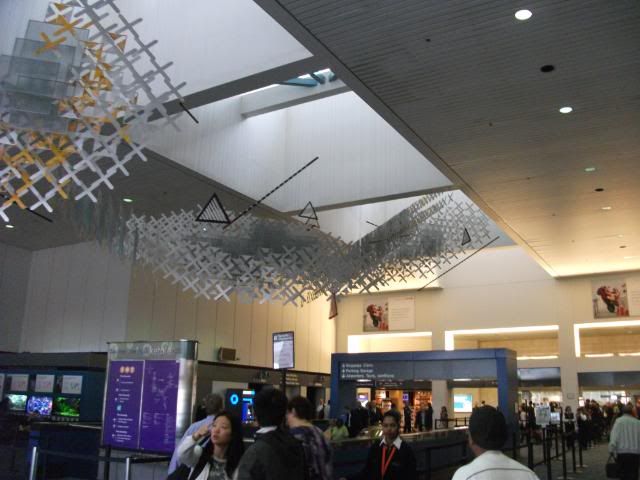 T1 ticketing/check-in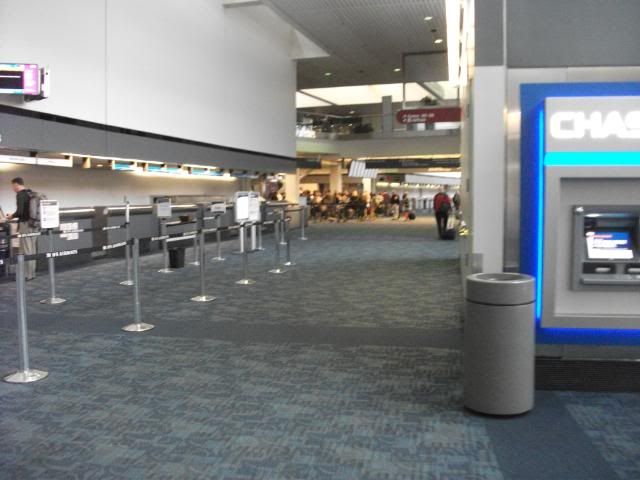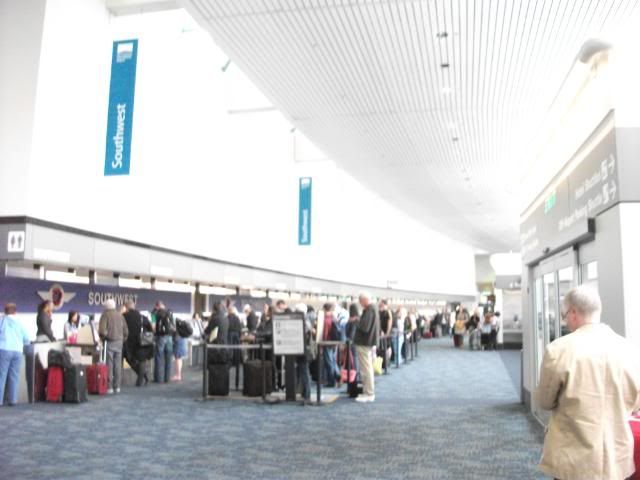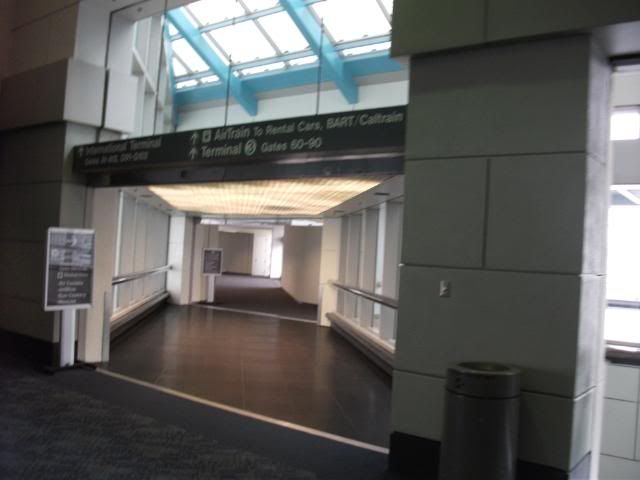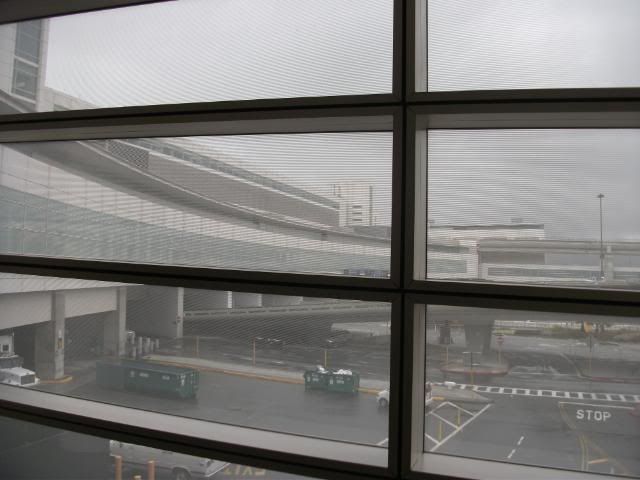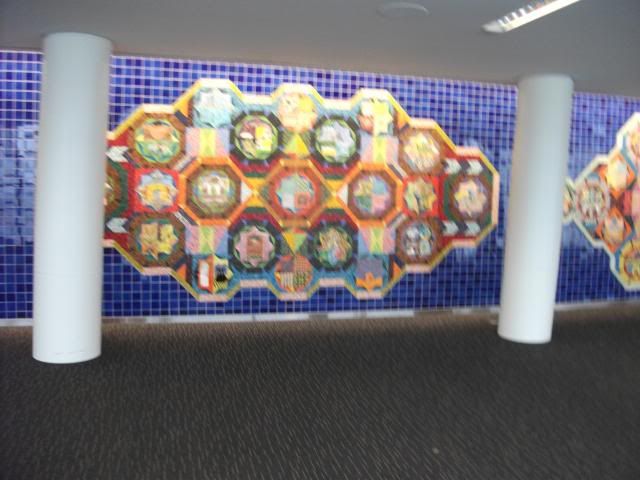 Once again, I was foiled by terminals with separate security checkpoints. Sure I could have booked two different airlines, but I kinda like "figuring it out once I get there". Truth be told, if I was able to stay behind security, I probably wouldn't have exited, and I would have missed out, big time. I did lament that I wasn't able to see Terminal 2 in full, though. On the other hand, I was sufficiently impressed by what I saw of the International Terminal.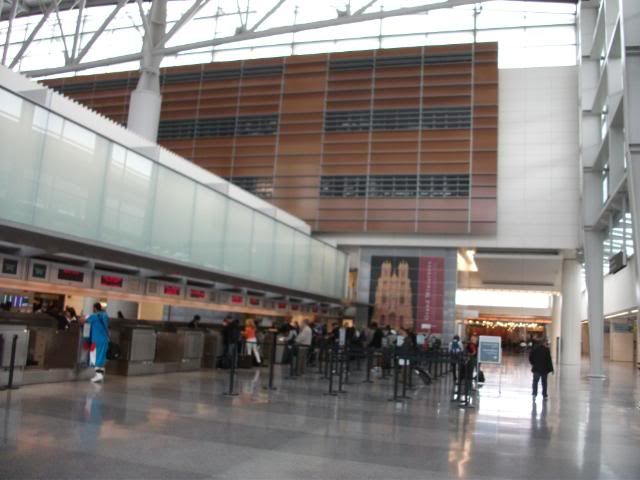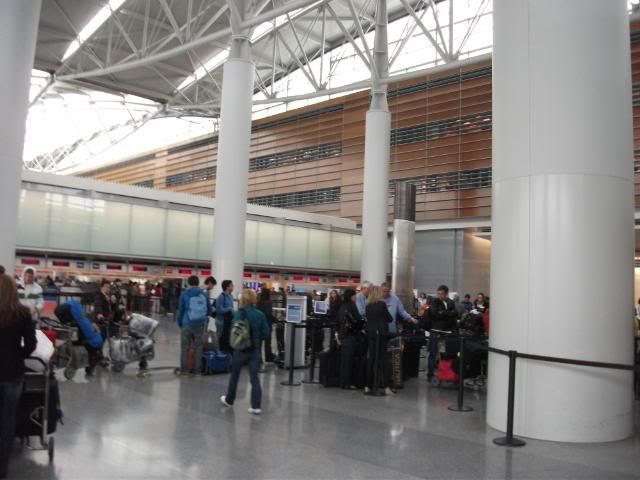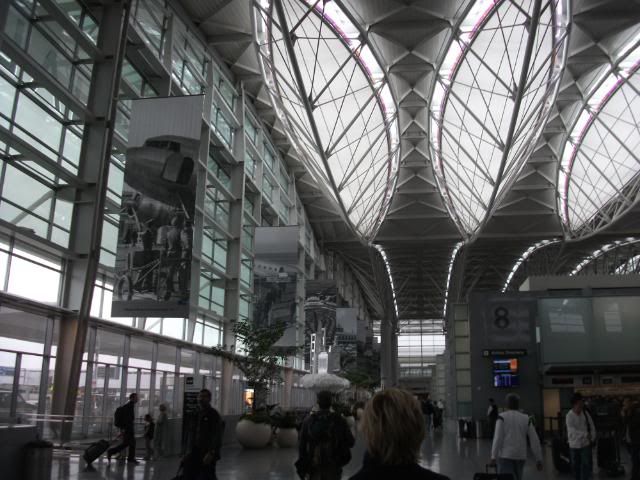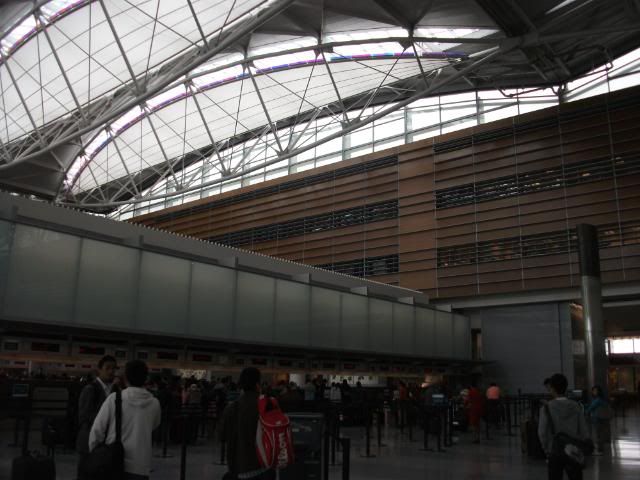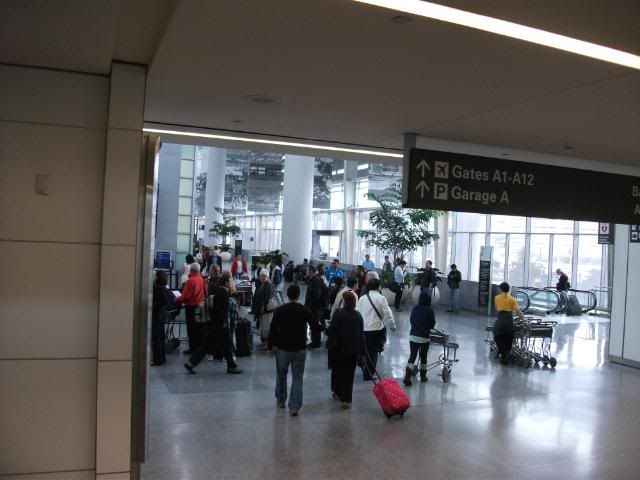 Riding the train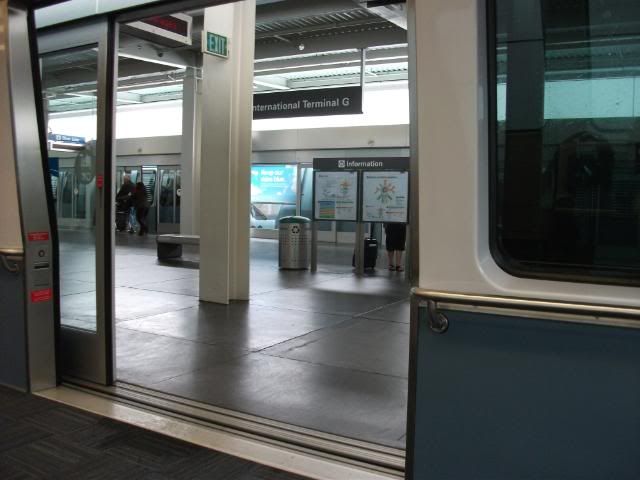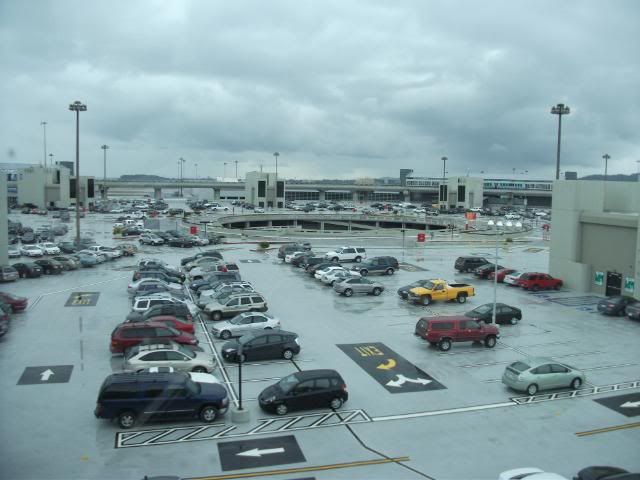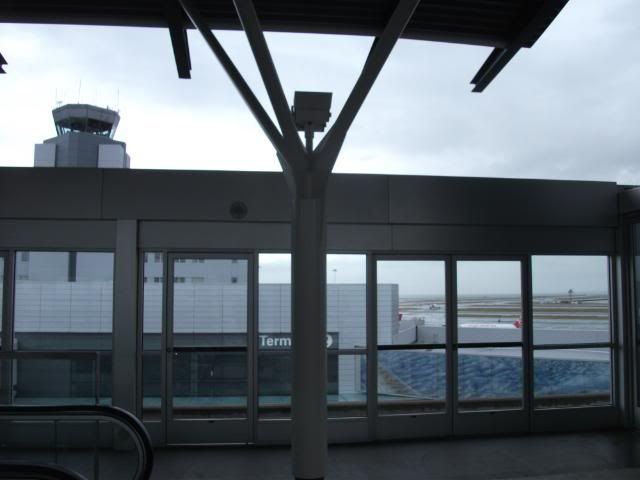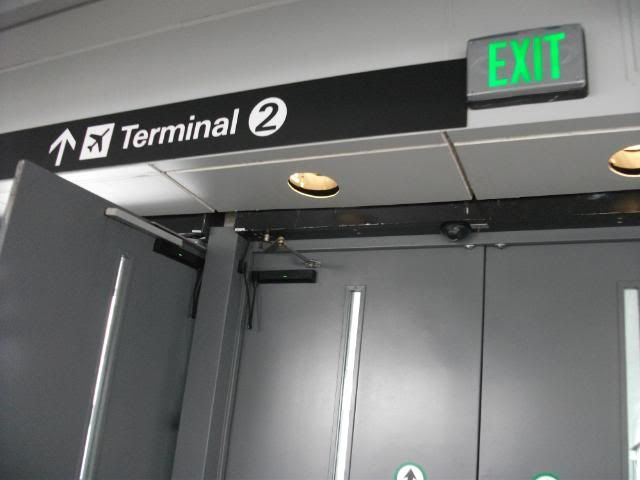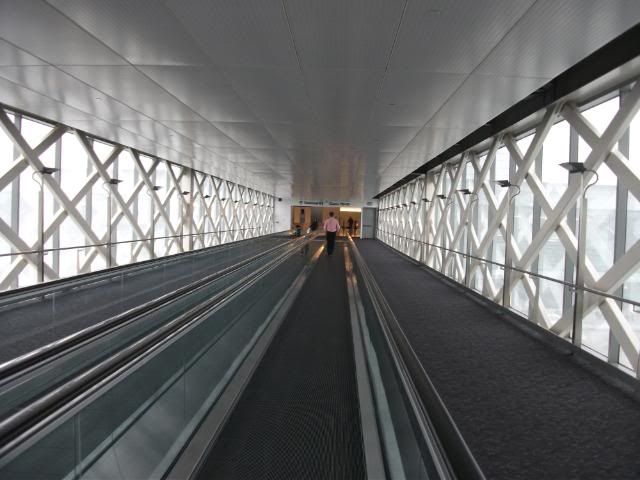 Terminal 2 ticketing/check-in. AA and VX seem to have their acts together here. As far as the latter goes, they
apparently talk a big game, which makes me curious as to their hard product. I've seen a lot of VX—in the air and on the ground—over the past two days. It wasn't completely shocking to see one of those red tails cross my path on the way to LAX, but I was a little surprised to see on cross my path on the way back to OKC. I guess that's an aggressive sales pitch to me. Stay tuned…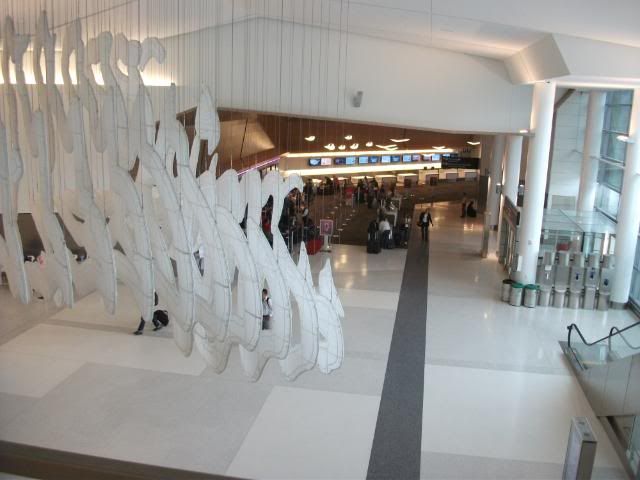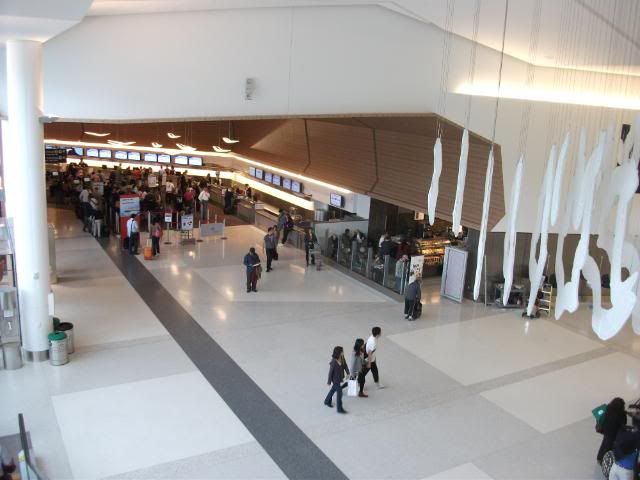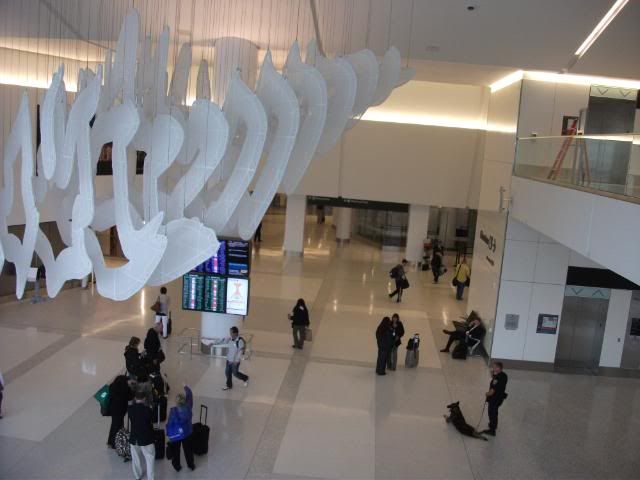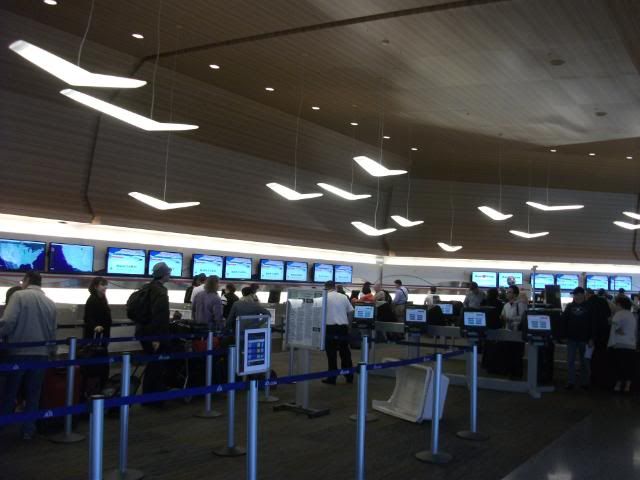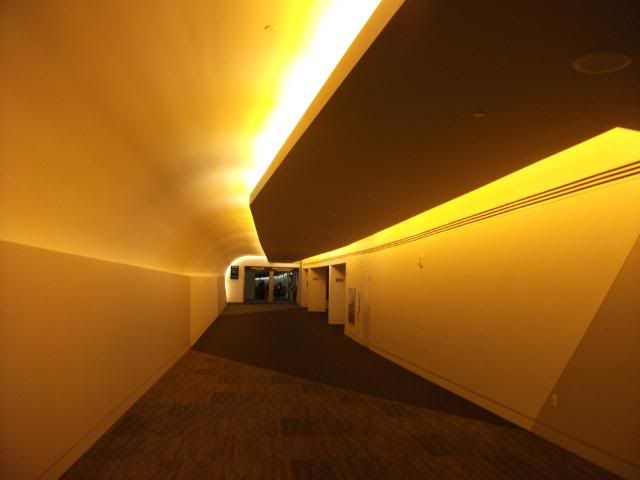 Terminal 3. AA got the heck out of dodge, and I see why.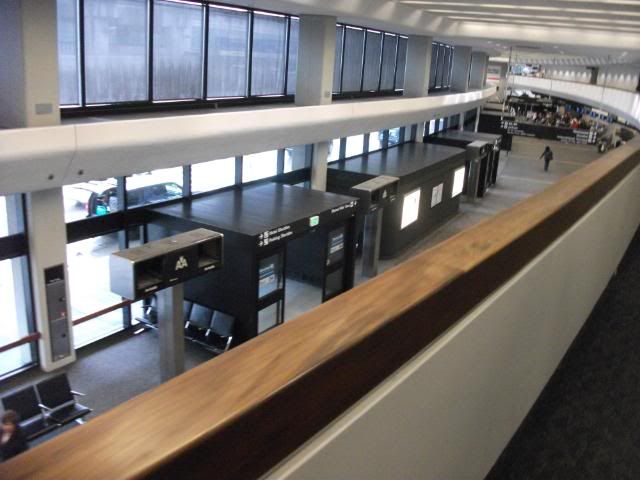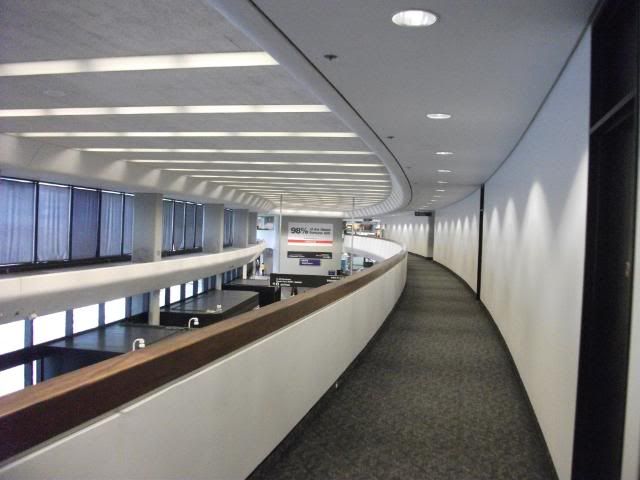 Although I liked what I saw of the International Terminal and T2, I couldn't help feeling a little disappointed. I attribute a part of that to the dreary weather. I remember feeling like that on a similarly dreary day going through PDX. With still a boatload of time to go and seemingly nothing to do, I looked to kill as much of it as possible. Here I am, walking in the cool and the rain: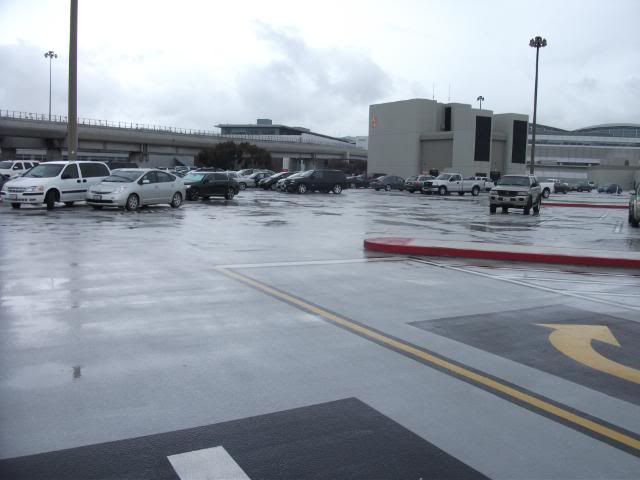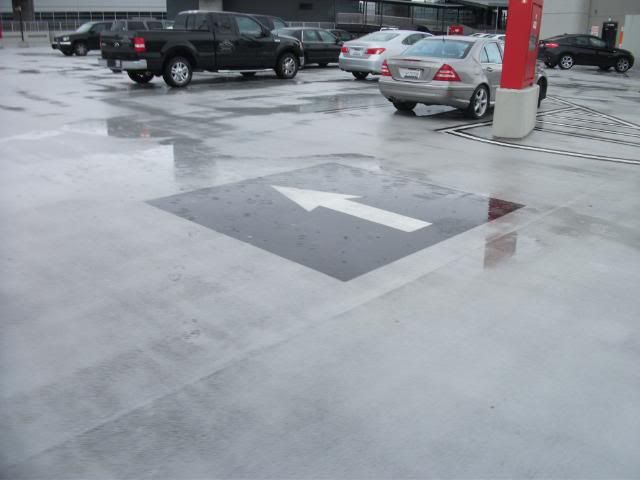 I passed by a place by the name of Just Desserts, where I indulged my sweet tooth. This chocolate fudge cake was apparently rated highly by
The Wall Street Journal
. I would probably rate it highly too if my piece was as fresh as the one given to the judge. That said, it was still good.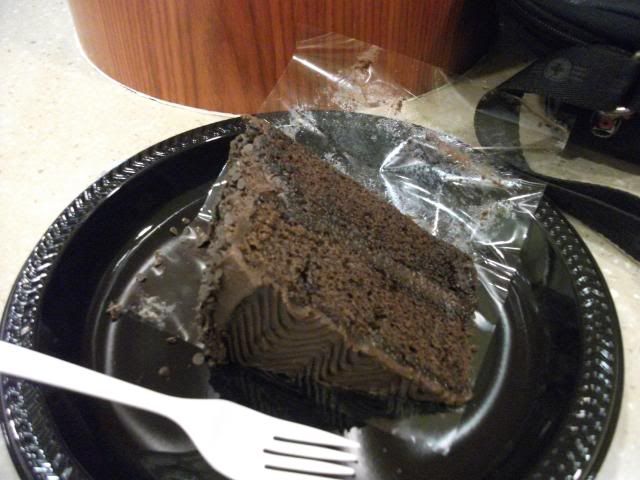 VX counters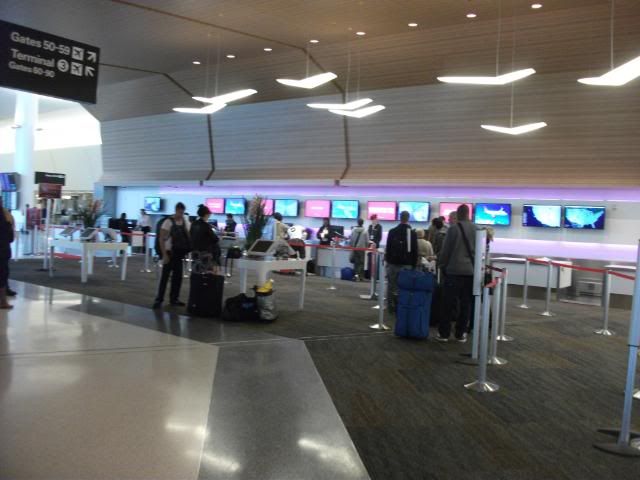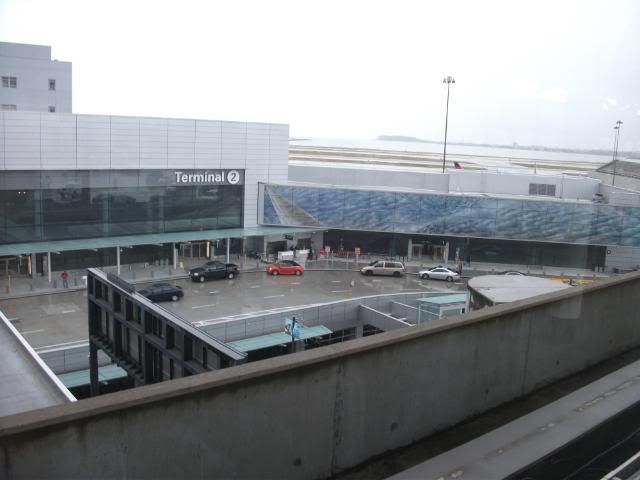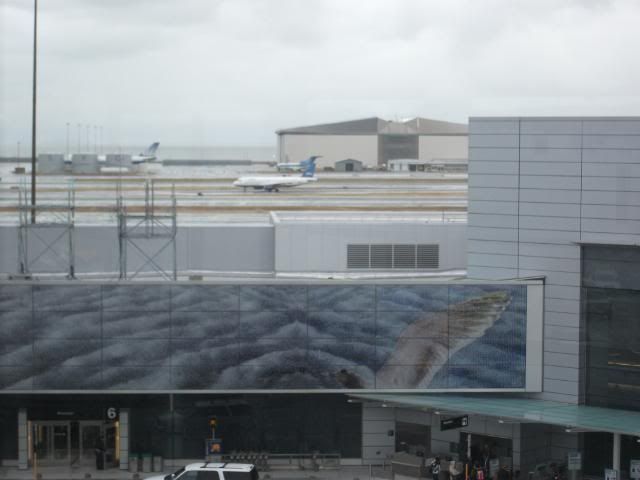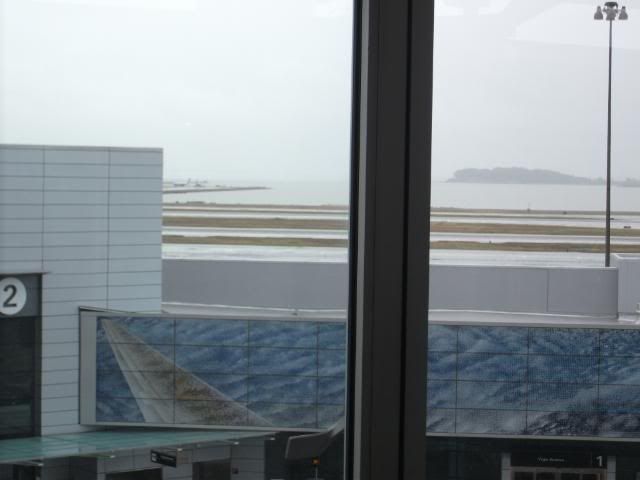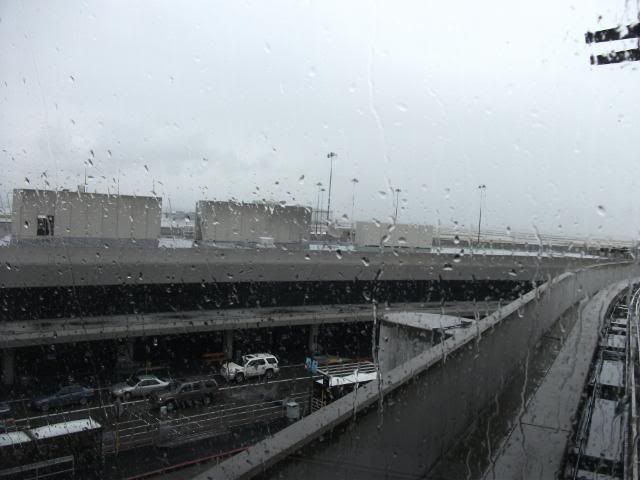 A big lineup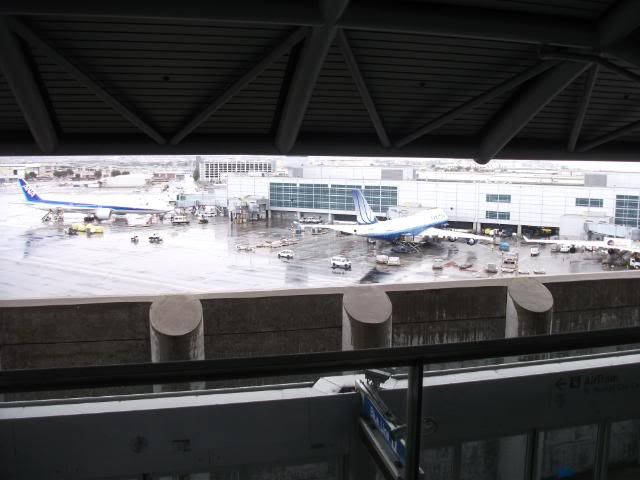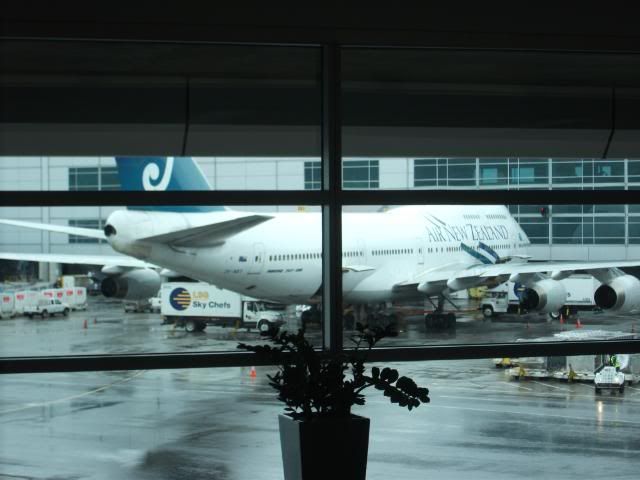 What the heck is that pipsqueak doing there?!?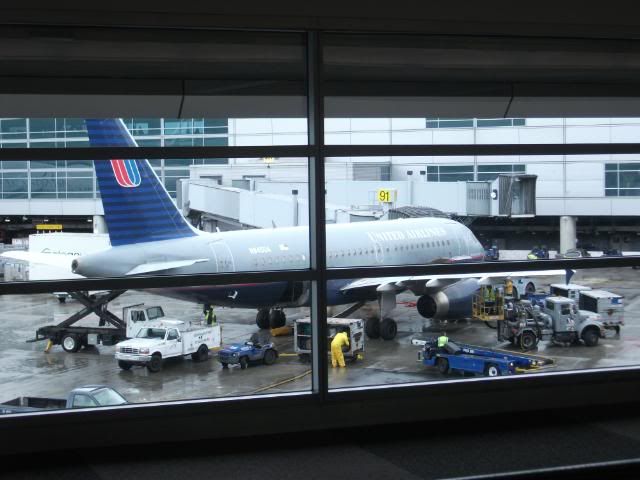 Alrighty, how does OKC get a board with this schedule?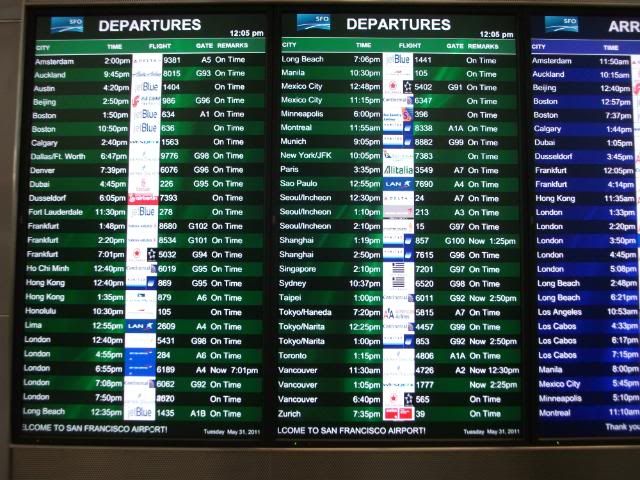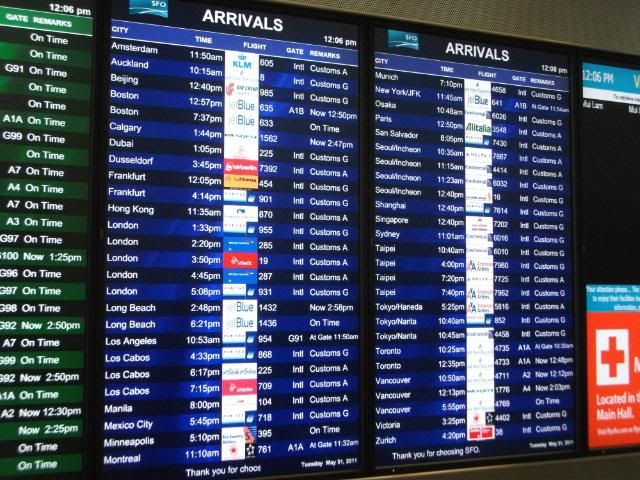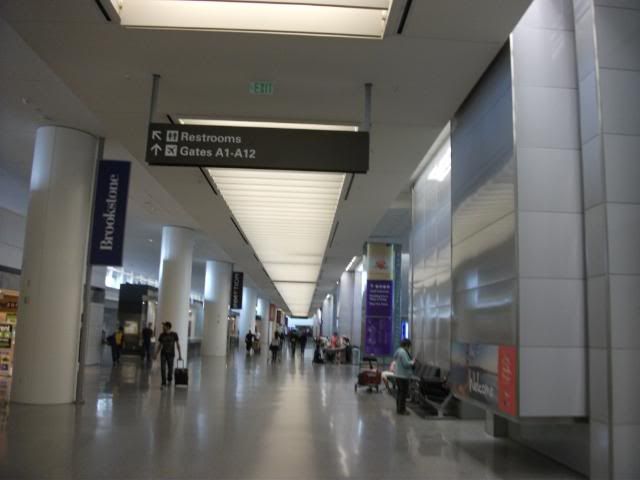 I was about to exit the terminal and go back to my gate, but something caught my eye. As I rode the escalator downward, I saw the museum. Desperate to find something to pass the time, I went back up to see what was inside. On display was an exhibit about the Pacific flying boats, in addition to stuff about SFO and other aviation nuggets. It's housed in a recreation of a previous SFO terminal. I've got to say that I was pretty damn impressed. I was more than happy to take my time and read and look at everything they had there. Looking at the developments of commercial aviation makes you see how cool those old liveries were. I also found out that airlines had slick marketing back in the day as well—plenty of them promoted their Lockheed Electras as "jet-powered". (Technically correct: the best kind of correct.) If you want to see everything they have to offer, you'll just have to go there yourself.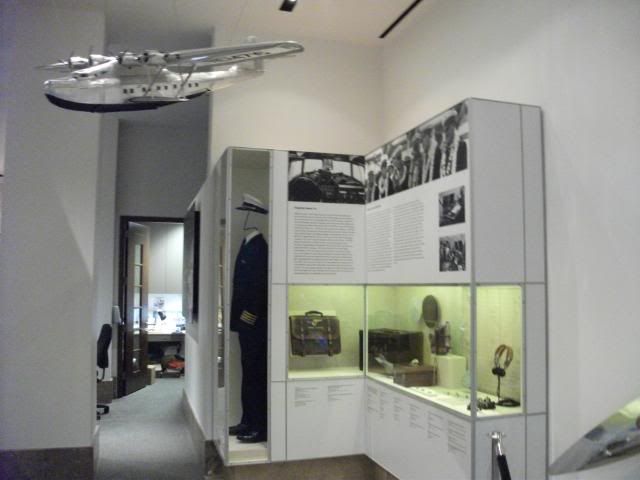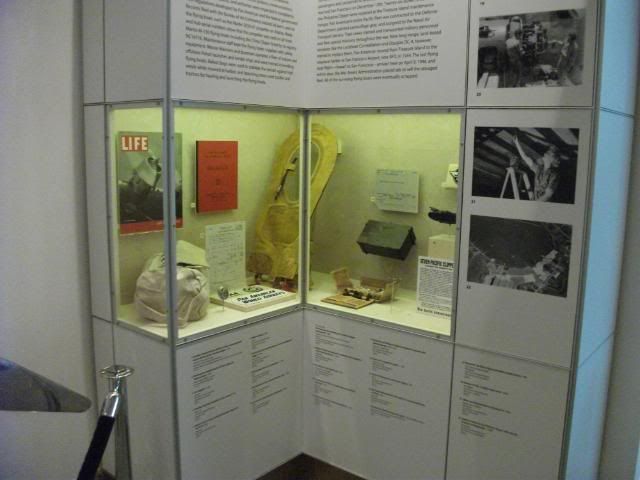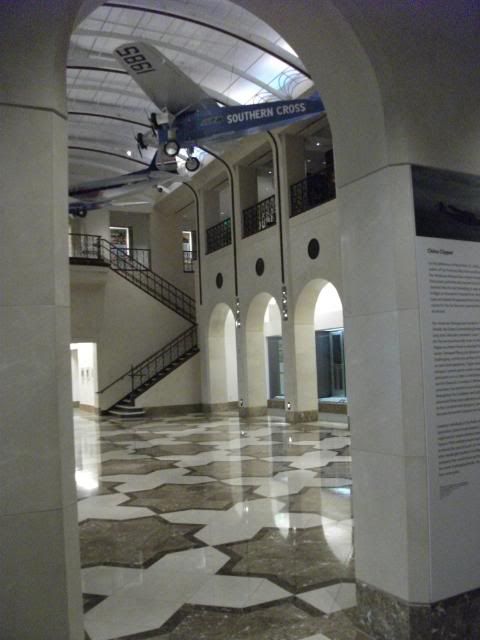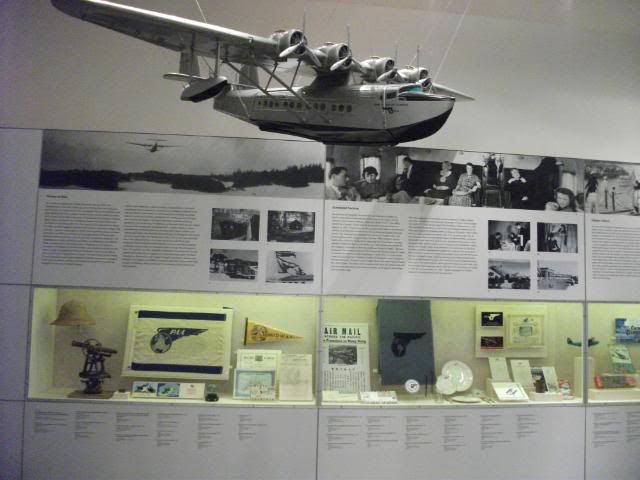 A DL Convair…the American Landor?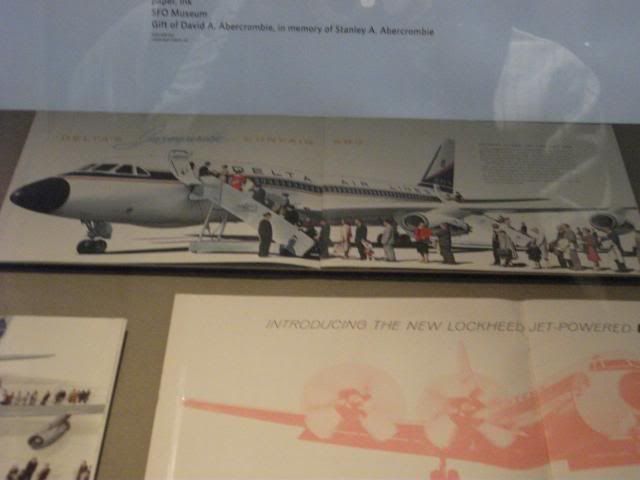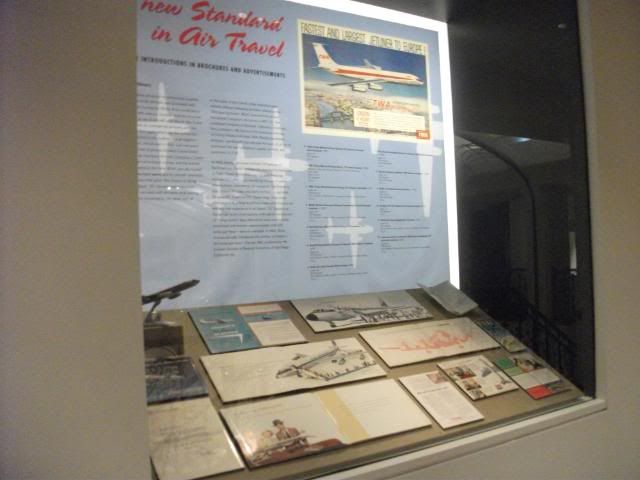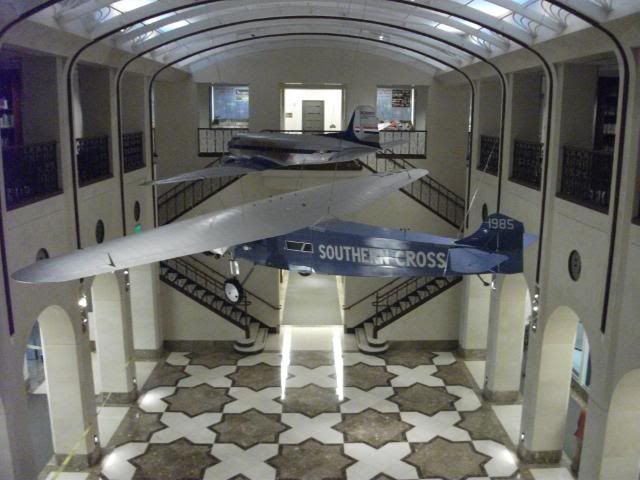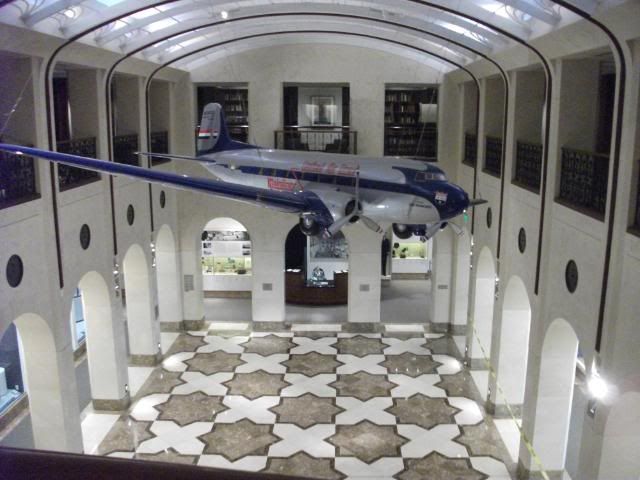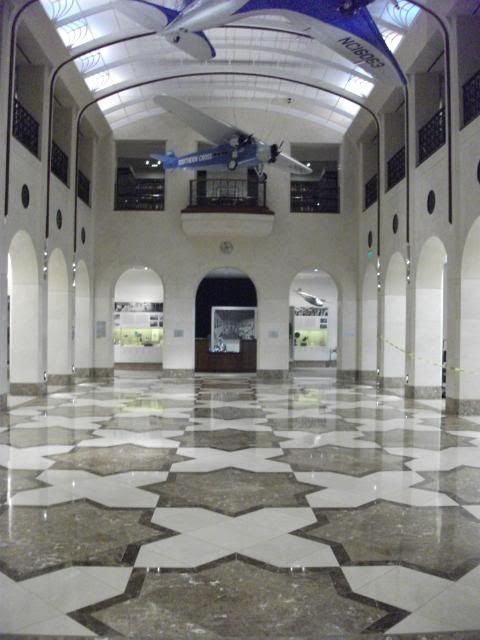 I don't know how much time I spent in there, but I enjoyed every minute of it. Alas, the time came for me to leave—the time for me to wake up again and rejoin the masses snaking their way through the corridors.
As it turns out, there would be a continuation to the theme of bad news. As lucky as we were to have a shortened ground delay in DEN, it appeared that the plane that would be my ride out of SFO wasn't so lucky. That would be the reason for the 45 minute delay I saw on the big board. On the plus side, I actually saw a bit of blue sky around 2:00! I typed away and took pictures of anything else I found interesting. At long last, I saw my plane touch down at 2:54. Soon enough, I was greeted by one of the most recognizable tails in the fleet.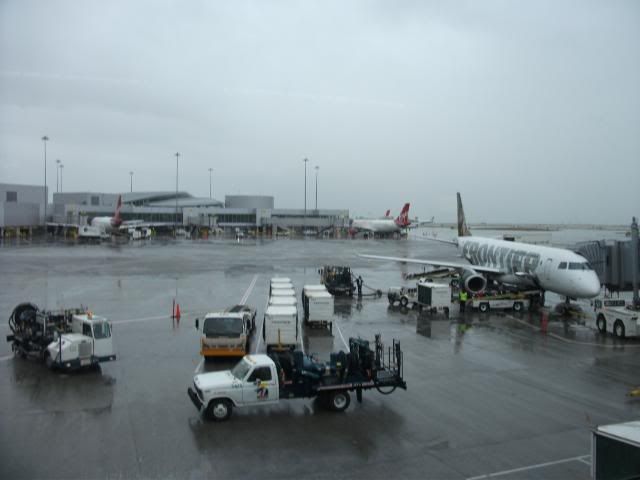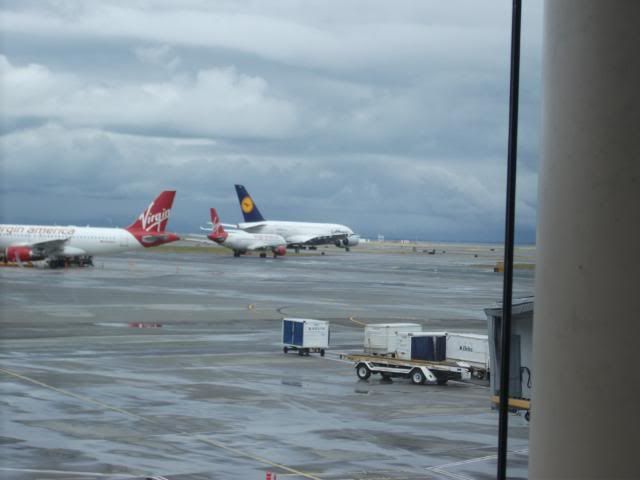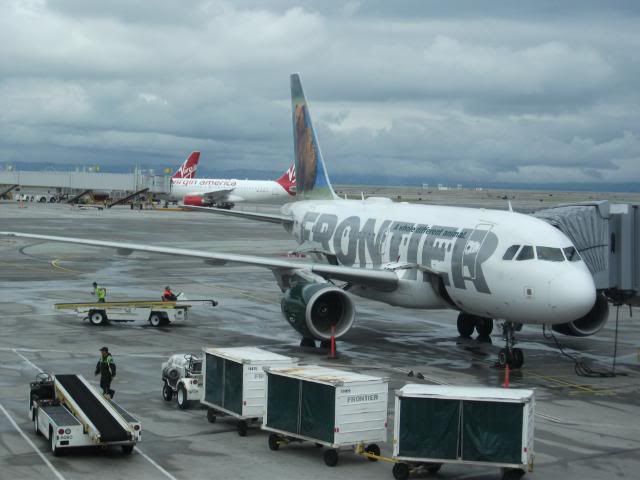 Frontier Airlines 652 SFO-DEN
Scheduled: 14:48-18:15
Actual: 15:35-18:53
Airbus A318-111 (N801FR)
I hope you will forgive me for the dearth of pictures in the following segments. It's not as if anything terrible happened to dampen my mood, but I took the events of the day into stock and decided it would be best for me to take it all in and not worry about much else. Thus, I spent a great deal of time staring through the window, then back at those decades-old words, then through the window again. (If you don't know what I'm talking about, see the beginning of
Leg 1
.) It's still great to know what it's like to fly in a jet.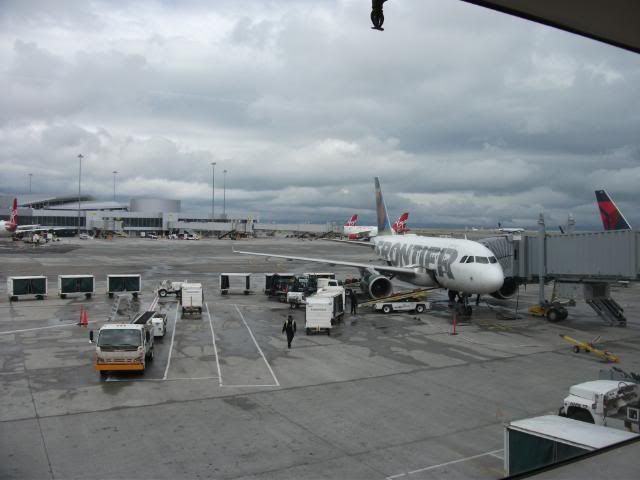 Believe it or not, I really didn't mind anymore that the flight was delayed. Tight connection or not, I was feeling fine about things…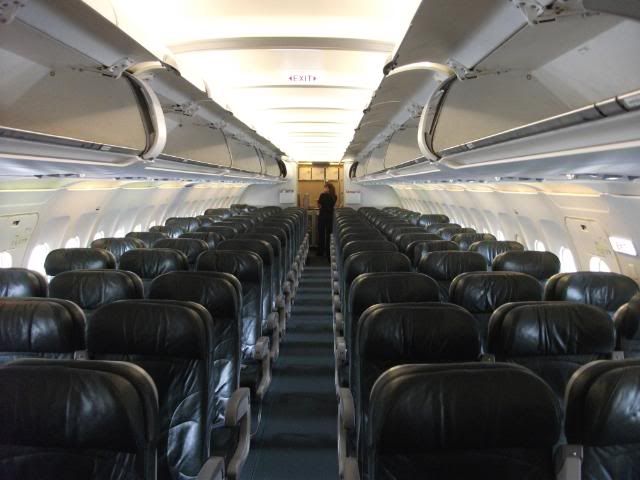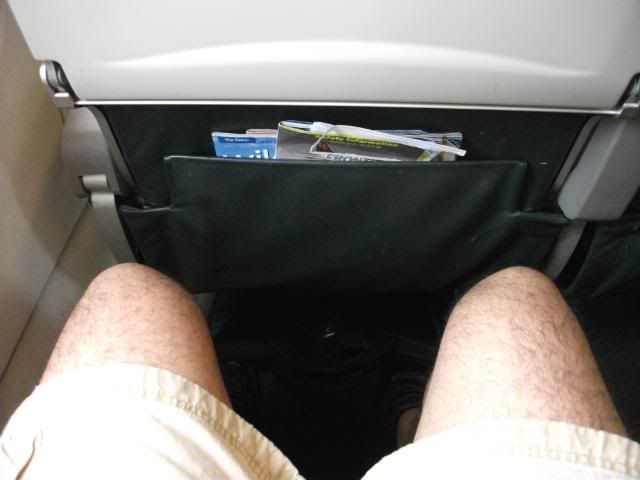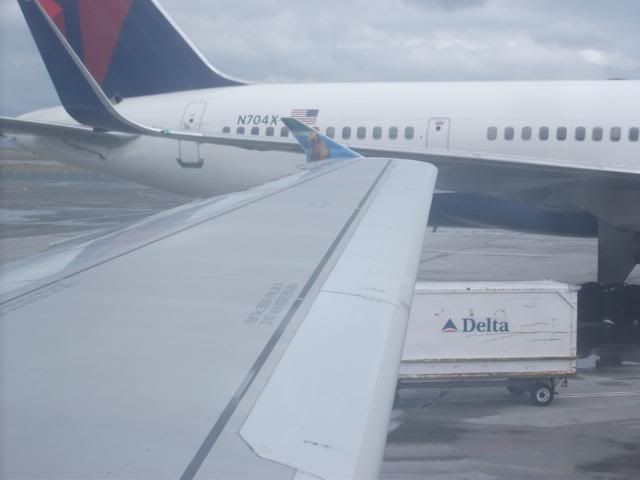 In the end, the delay wasn't quite the factor it once was: we touched down at about 18:45, leaving about 25 minutes (I thought) before my next flight departed. I looked at the departures board for the pertinent info, where I discovered that my flight, in a turnaround from the previous day, was the only one out of the three to OKC that was delayed. I imagine that strong winds were the culprit again, as the board was just as orange with updates as on Monday.
What's going on, Buddy?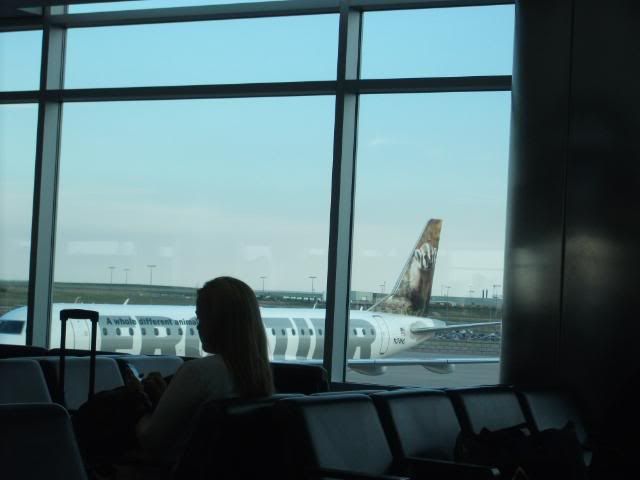 Frontier Airlines 1189, operated by Republic Airlines DEN-OKC
Scheduled: 19:10-21:42
Actual: 19:43-22:03
Embraer ERJ-190-100IGW [E-190] (N174HQ)
This last flight was just fine. The flight attendants performed their jobs quite well and there were no rowdy passengers. There was a father with a small child or two in the row behind me, however. They weren't annoying, but there was a point close to arrival when it smelled like one of them took a trip to the lav in their pants.
Airport Conclusions
SFO: I must start where anyone else might start: operations in less than perfect weather. On the one hand, it's a very busy airport with plenty of flights, both international and domestic. Low ceilings can muck things up in such a situation. On the other hand, my venture to ORD was accomplished in mist and fog. I didn't see the ground until a few seconds before we touched down. We weren't delayed a bit. In fact, we arrived eleven minutes early. Two different airports under different circumstances, I know. But still… As I mentioned before, I couldn't go between terminals behind security, but that's alright. What I did see was pleasing to behold, and the museum was simply outstanding. Subtracting the weather from the equation, SFO is a nice place. If you are a fan of planes of all sizes, this is the place to go. Plenty of 744s to go around, and I saw an A380 in flight for the first time. If they can figure out how to land planes when it gets cloudy, it would be even better.
Now I suppose I'll do the obvious thing and rank the airports on the list. (You might also infer a ranking [probably an imperfect one] from how many pictures were taken of each airport.) The ranking will naturally be based solely on the Top Ten experiences. In the case of DEN, only the days comprising official visits will count. Just because an airport is at or near the bottom of the list doesn't necessarily mean I think it's terrible. It just didn't have the best experience on that day.
10. PHX—it's not the most convenient layout, so plan your time accordingly
9. IAH—I second the above, though the train helps a bunch
8. JFK—to be fair, I was only in T3, and the grass there isn't the greenest
7. LAS—they'll move up when everything else catches up to Terminal D
6. SFO—the only thing holding it back is narrow separation between runways
5. DFW—they're really close on this one; the cosmetic fixes will help a bunch
4. LAX—busy, yet efficient (at least on that day); also, see #5
3. ORD—expecting delays, I got none; good food and eye candy were a plus
2. DEN—"keep it simple, stupid" gets you far; DEN makes it work well
1. ATL—Denver's big brother is similar, but different enough in all the right ways
Thus ends my epic Top Ten trip. Before I go, I'd like to thank whatever power looked out for me by making these trips go as smoothly as they did. (Or perhaps the fact is that the system, on average, isn't nearly as hideous a machine as people make it out to be…) Hakuna matata, dear friends, and stay tuned for my next thrilling adventure, whenever that is!
In case you need to look back at one or all of the previous reports...
The Top Ten (Leg 1/7): Texas Two-Step
Featuring: DFW, IAH
The Top Ten (Leg 2/7): How to Book a Guilt-Free Trip
Featuring: LAS, with SLC
The Top Ten (Leg 3/7): Masochism for Dummies
Featuring: ORD, JFK, ATL, with LGA
The Top Ten (Leg 4/7): Phoenix Rising
Featuring: DEN (A/C), PHX
The Top Ten (Leg 5/7): Dash to the Rockies
Featuring: DEN (B)
The Top Ten (Leg 6/7): SoCal
Featuring: LAX