TRIP REPORT

A340 Switzerland-Germany to meet a.net Trip Reporters
09Jul11

Introduction
For those not interested in reading about the history of this trip, I recommend to skip directly to the flights section of this report. As I personally find it interesting to read about the planning stages of any trips, I will detail my planning (or rather lack of planning this time around) here.
After commenting on a trip report by FLIEGER67, he pointed out that there will be an a.net trip reporters meeting at Frankfurt (FRA/EDDF) on 09Jul11. I played around with the idea of going, as it would be a wonderful way to meet many of the contributors to this forum. Once "government approval" from my wife was obtained, I started to think about how to get there. I did not really have any nice ideas, so I looked through my OAG pocket flight guide to find some options which would not include just a standard Lufthansa (LH/DLH) or Swiss International Air Lines (LX/SWR) flight to FRA. Being the boss of a group of people doing shift work, sometimes I also will take some weekend shifts. During the planning of the July shift roster, I completely forgot about this date and planned myself for a late shift..... I realized this mistake only after the shift plan had been published. Oh well, so I wouldn't be able to go.
Two days later, I was checking some schedules from GVA in the OAG pocket flight guide, when I stumbled over the GVA-FRA entry and saw that KU was now operating on this route regularly. I was aware that KU operated this route, but last summer it was only once per week during high season and the two weekly regular flights used to go from GVA via CDG to Kuwait (KWI/OKBK). I already did the GVA-CDG flight on KU a couple of years ago on the A300-600 (AB6) and it was a nice experience. I always toyed with the idea to also do the GVA-FRA flight on the A340-300 (343) during the peak season when it was operating. Anyway, now I discovered that the regular flights were now via FRA and - even better - there was a flight on Saturday morning, departing 0900 and arriving at FRA at 1005! Also, instead of the twice weekly AB6 which was previously used via CDG, the flights via FRA were now on the 343! Just for the heck of it, I went to check if there were still seats available and what the prices would be. The fare turned out to be very reasonable, and this was only 3 weeks before the date of the flight. Surprisingly to me, the cheapest fare was available on the Kuwait Airways website for only CHF 138.85 (approx. EUR 117 / USD 166). Now I was really feeling bad that I messed up this date by planning myself a late shift! But then I had another idea: I could still book that GVA-FRA flight and turn back immediately on the next available flight to ZRH and still make it on time to start my shift! I was so excited by this idea, that I went to find my wallet to grab my credit card and book this flight! The booking process was straightforward and I had the e-ticket confirmation in my inbox within seconds. Unfortunately, seat selection was not possible on-line.
Back in the office, I tried to swap my late shift with someone else, and indeed it worked out well and I traded this late shift with an early shift on another date. That was great! Now I could not only fly on the KU 343 but also attend the a.net meeting!
Now all I needed to do was find out on how to get to GVA and back from FRA in the evening. Initially, because of the high cost of even a standby staff ticket on the ZRH-GVA route, I thought about getting the train. But for a departure time at 0900 there was no train that fit. So I'd have to take the earliest LX flight from ZRH to GVA. With an arrival at 0745, that would give me enough time to catch the 0900 KU departure. Only it was only standby and it was not clear how the load was going to be. In the worst case, I could have taken the train on the evening before to my parent's home which is halfway between ZRH and GVA, then sleep there and take the train from there to GVA.
For the return flight, I thought about taking a staff ticket on LH or LX directly back to ZRH. But the actual solution presented itself a couple of days later, when I had to find a way to use 10250 Miles and More miles still on my account. Some of these miles would expire by the end of June and I'd fall below the minimum of 10000 miles for any mileage bargains. There were interesting options for flights on LOT Polish Airlines (LO/LOT), Austrian Airlines (OS/AUA) and LX. I was trying to find a possibility to fly 4 Legs on LO, for example to Gdansk (GDN/EPGD) or Rzeszow (RZE/EPRZ) via Warsaw (WAW/EPWA) and then combine it with any WizzAir (W6/WZZ) or Ryanair (FR/RYR) flight. Well, I did not find a suitable date and combination. So in the end, I decided to use the miles to book a FRA-ZRH evening flight on LH, operated by a 735 - but more about that later..... As you can only book return flights, I had to find a flight to FRA before 09Jul which I would actually have to use in order not to lose the FRA-ZRH return flight. Of course I could also have booked a FRA-ZRH-Germany, but then the return flight would be after 09Jul and the "mileage bargain" offer was only valid until mid-July and my calendar was already full. (Well, I could also have just booked any return flight and then just not use it, but that's against my idea of never not using a paid flight!). I still had a nice day off in June, where I could fly ZRH-Germany and then maybe return from there using a standby staff ticket. But suddenly I had another idea: The mileage bargain was good for ZRH-Germany, including a transfer in Germany. So finally, I ended up booking a flight from ZRH to Friedrichshafen (FDH/EDNY), just across Lake Constance, via FRA. From FDH I could then return to ZRH easily by ferry and train. (Since these were rather standard A319 and CRJ 700 flights, I won't write a report about them, but they were pleasant flights and I had 2.5 hours to spend at FRA and do some spotting.)
Two days before my departure from ZRH to GVA, it became obvious that there would be space available on the planned flight to get to GVA. So I was now ready to go.
Flights

Date: 09Jul11
Route: Zurich (ZRH/LSZH) - Geneva (GVA/LSGG)
Flight number: LX 2800
Schedule (local times): ZRH 0700 - GVA 0745
Scheduled block time: 00:45
Airline/Operator: Swiss International Air Lines (LX/SWR)
Aircraft type: Airbus A320-214
Registration: HB-IJU
134th flight on subtype 320, 237th flight on 32S family, 2nd flight on HB-IJU
I went to the airport on my way home from work the evening before to try to check-in for my flight to GVA. Like this, I would know whether I will most likely get on this flight or not. There would still be enough time to activate the back-up plan if necessary. I went to check-in area 3, where there is a convenient parking area free of charge for the first 15 minutes. First, I tried to use the check-in machine, but of course it did not work holding an old-fashioned paper standby ticket. But I'm always hoping they would maybe offer this function.... well, keep on dreaming. There was a queue of about 10 parties before me. After about a 10 minute wait (free parking time ticking away...) it was my turn. The friendly check-in agent issued me a boarding pass with an assigned window seat. So that meant there was space available and I would most likely get on the flight the next morning. Out of curiosity I asked whether she could also check me in for the confirmed KU flight (booked of course separately) from GVA to FRA. After some typing, she produced a boarding pass with a window seat! Now I was surprised and I thanked her profusely.
With check-in already done, I arrived at the airport at around 0600 by car. I went to the bank to get some Euros and to the bakery for a nice (sweet) breakfast. The airport was very busy, because this day was the start of the summer school holidays in many regions of Switzerland.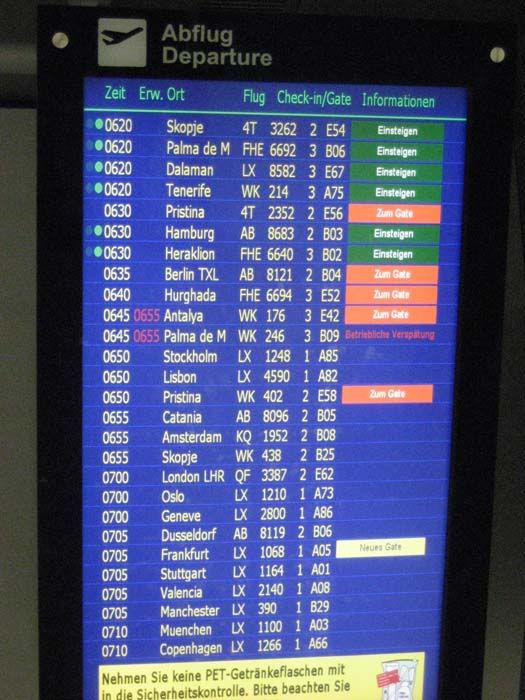 early morning ZRH departures with many flights to Kosovo and Macedonia
crowded LX counters in check-in area 1
I made my way to the passport check to go airside. There were two queues at the manned passport check desks but no queue at the automatic entrance, where a reader scans the bar code on your boarding pass. So I used this one and was in. I then proceeded directly to security, you never know what to expect on such peak season traveling days. But security was painless and I was through in a couple of minutes. My gate was at the very end of ZRH's A-pier, so it was a rather longish walk.
nice bird parked at the A-pier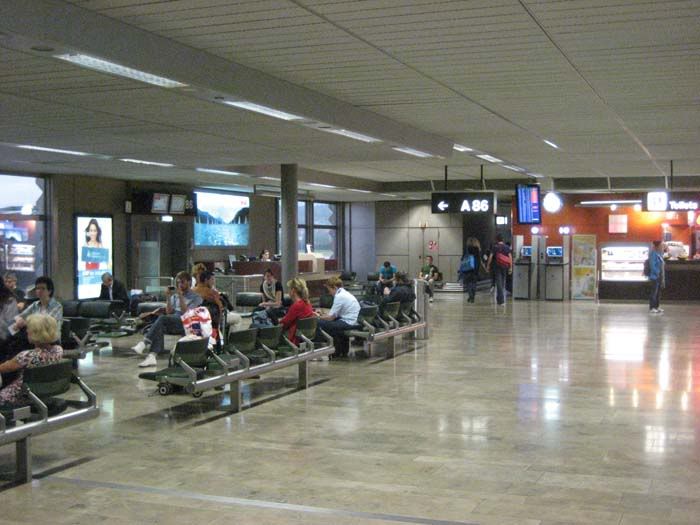 gate A86 at the very end of the pier
My flight was not yet boarding and only a few people were waiting in the vicinity of my gate. So I just sat and watched traffic outside. The actual gate was not in view, but I trusted there would be a boarding call. It seems there wasn't or I missed it, because when I glanced towards the gate a while later, boarding was already in progress - in fact there was even no queue anymore. So I went there and boarded, too. I had a window seat in the back of the plane - it doesn't have to be last row for me, but I prefer something in the back because it allows you to walk the whole length of the aircraft and also you can disembark as the last person and you'll be better able to photograph the (empty) cabin.
my ride HB-IJU waiting for the passengers
I was happy to see HB-IJU operate my flight, one of the three A320's ordered by LX (Crossair) before they were renamed LX (Swiss International Air Lines). Those three aircraft were initially operated by LX under the Swiss Sun brand. Their seats are different from the rest of the fleet, as they are not the slimline seats and they have a dark brown color. After the doors were closed, we taxied to runway 28 for take off.
lining up on runway 28
we were already airborne well before crossing runway 16/34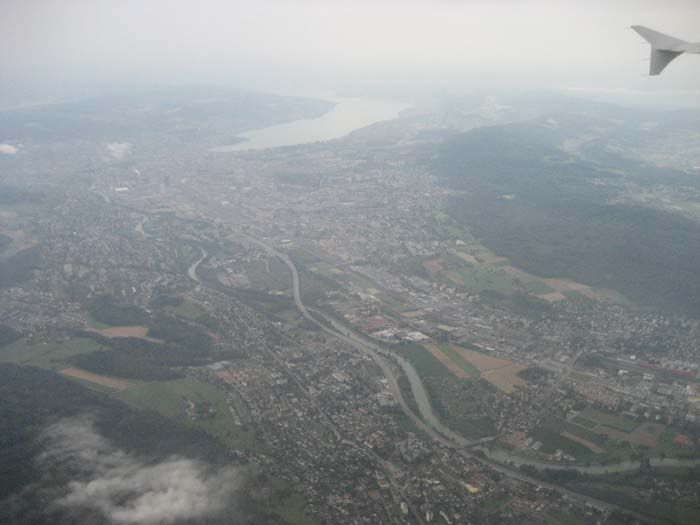 city of ZRH and Lake Zurich under grey skies
medieval town of Bremgarten (Canton of Aarau) on Reuss river
During climb, we flew through many cumulus clouds and there was some strong turbulence. The towering clouds reached up quite high, so high in fact that the Swiss Alps remained invisible even after reaching cruise level.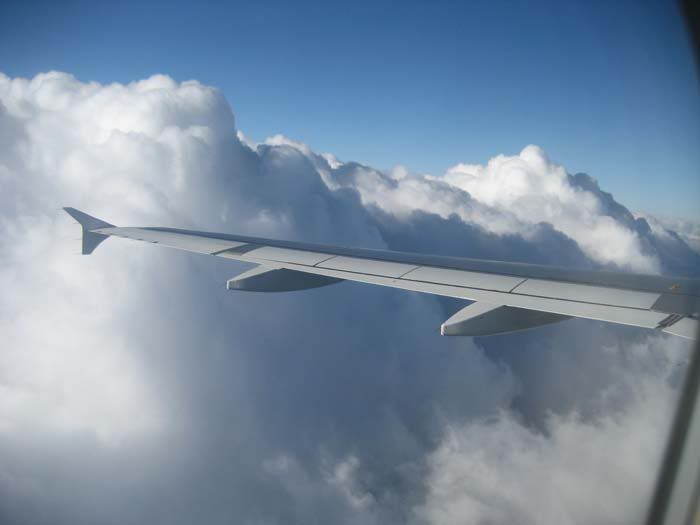 unusually high towering clouds
over Lake Gruyère, which actually is a reservoir (and yes, that's the region where Gruyère cheese comes from)
After about halfway to GVA, the clouds disappeared and the weather became sunny and nice. A 33 ml bottle of still water and a chocolate were distributed during the short flight. Descent was directly over the city of Lausanne and then along the length of Lake Geneva.
cabin in-flight
city of Romont (Canton of Vaud), yet another town with a medieval city centre built on a hill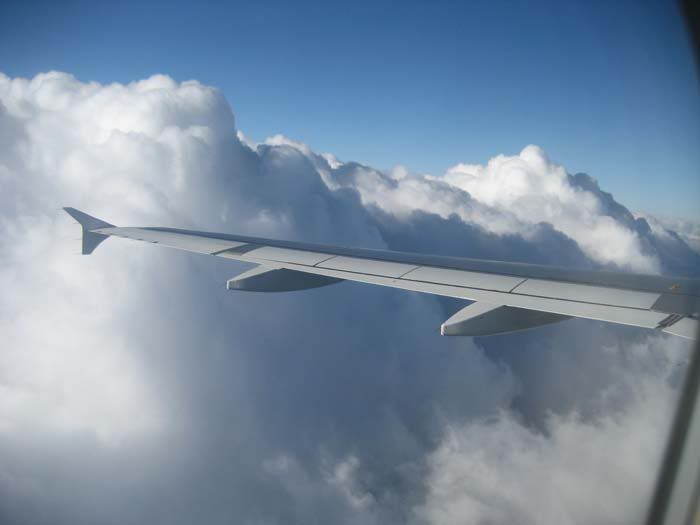 city of Lausanne, seat of the International Olympic Committee (IOC)
Lausanne's small airport (ICAO: LSGL), the runway is just 875 m long
Sitting on the left site, I had a good view of the French shore. We had a straight approach to runway 23.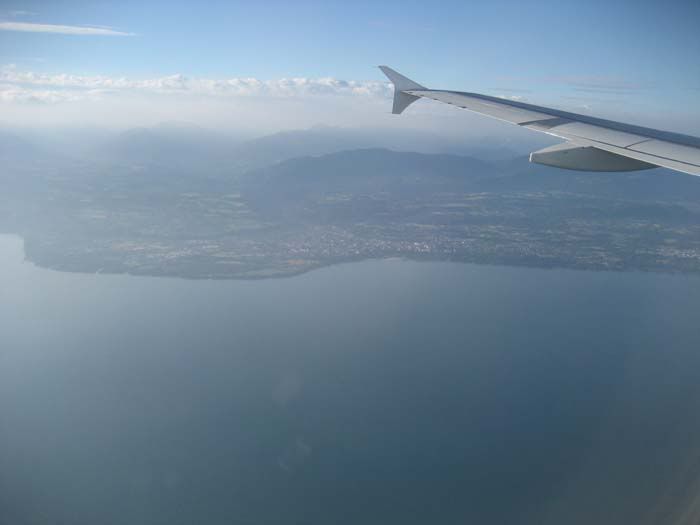 flying along the southern shore of Lake Geneva which belongs to France
French town of Yvoire
now already on the Swiss side
crossing the motorway just before landing
After landing, we taxied to one of the two round satellites used for non-Schengen flights, I guess the reason for that was that this aircraft continued from GVA to Moscow-Domodedovo (DME/UUEE) after our flight. Some interesting aircraft were parked in GVA, among them the Breitling DC-3 (again) and on the active side an Etihad A330, a Qatar A330, an Uzbekistan A310 and of course the Kuwait A340.
the cargo apron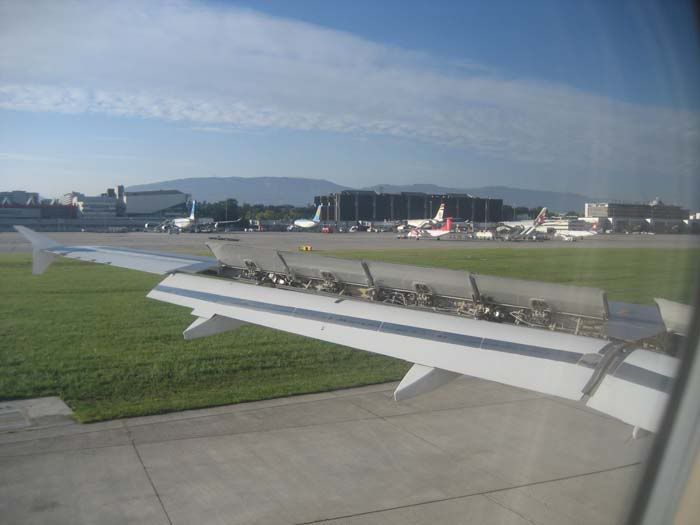 and some interesting heavy and regional metal
non-standard LX seats used on the former Swiss Sun branded A320s
At the satellite where we parked, the PrivatAir 737-300 leased to Gulf Air was parked. Due to the fact that our arrival was a Schengen arrival, we could use the jetway, but then had to board a bus. I did not like that, because it too quite a long time until everybody was on board. The bus brought us directly to the Schengen arrivals in the main terminal.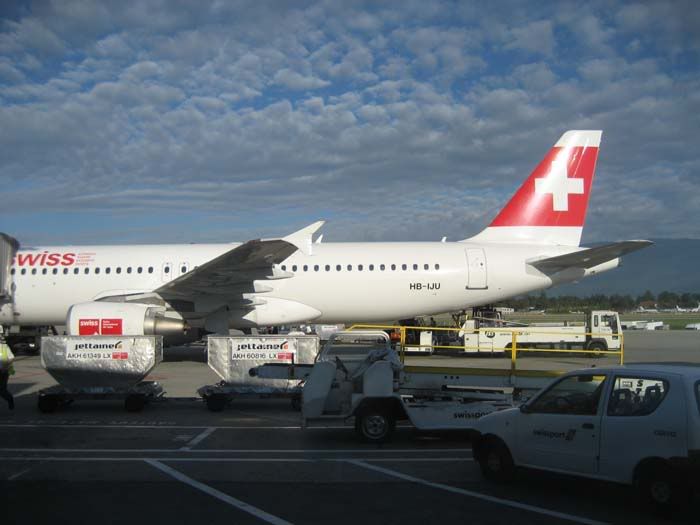 good-bye IJU
GF B737-700 operated by PrivatAir parked at the same satellite
Date: 09Jul11
Route: Geneva (GVA/LSGG) - Frankfurt (FRA/EDDF)
Flight number: KU 178
Schedule (local times): GVA 0900 - FRA 1005
Scheduled block time: 01:05
Airline/Operator: Kuwait Airways (KU/KAC)
Aircraft type: Airbus A340-313
Registration: 9K-ANB
11th flight on subtype 343, 14th flight on 340 family, 1st flight on 9K-ANB
On the monitor, my KU flight to FRA and KWI was shown with an ETD of 0850, ten minutes ahead of the 0900 STD. I took the way for transfers, as I was already checked-in on my connecting flight to FRA. The way lead through some corridors and up a set of stairs which lead directly to one of the duty free shops. It took a while until I found some signs pointing to the different gate areas.
oops, I didn't want to go to a shopping mall..... yes, that's what you see coming up the transfer stairway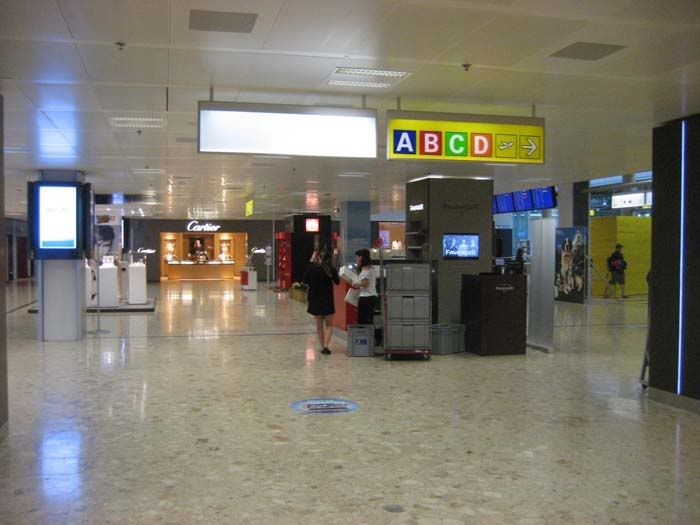 ah, that looks more like an airport.... airside area in GVA airport
my flight does want to depart early
I wanted to buy my favourite newspaper in GVA (the shops in ZRH didn't have them so early), but none of the shops airside seemed to sell any dailies. Well, I then walked to the C gate area, where all the long haul flights are usually handled. As this is a non-Schengen area, there was a passport check. The immigration official asked me whether these were the right gates for me, as I my boarding pass showed FRA. I said yes, it's a Kuwait Airways flight and they let me through. This area looks very bland and old-fashioned and desperately needs an upgrade. The gate for the KU flight was downstairs.
a baby baby bus as seen from the C gate area
C gates, upstairs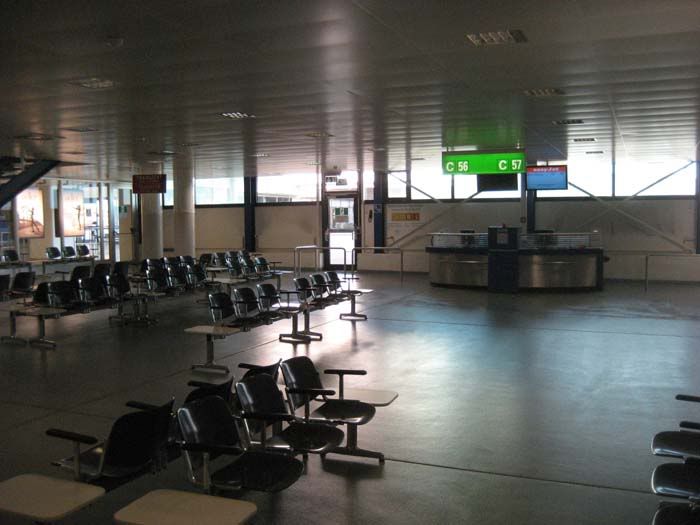 C gates, downstairs, quite bland and outdated, if you ask me
A small group of passengers were waiting in the gate area, many of them in traditional Muslim headscarves and also a couple of women wearing abbayas or niqabs, but also many in western style clothing. Soon the KU local reps arrived and then a slow boarding process began.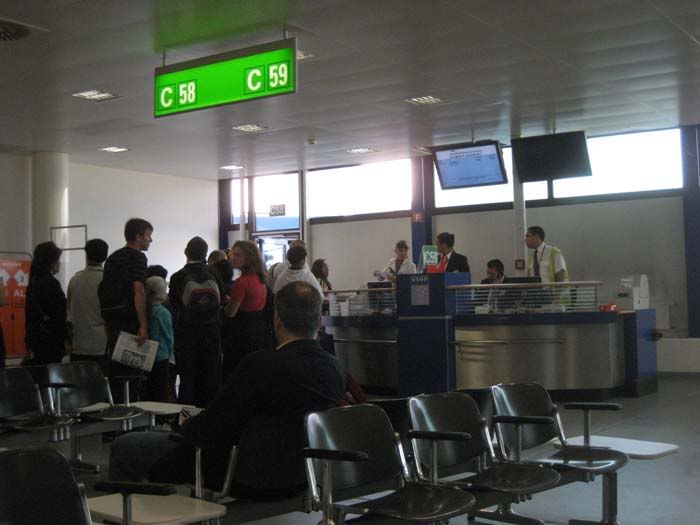 slow boarding, lots of staff (two Swissport, two KU, apparently)
They checked boarding passes and ID's and several times, the boarding process was interrupted by special requests of some passengers. When it was finally my turn, I showed the boarding pass and ID card. "Don't you have a passport?", the gate agent asked me. She did not notice my boarding pass only showing FRA and I had to tell her, after which she let me through so that I could board the bus. The bus was not really full, but people were not moving away from the doors. After some waiting and some discussion with a large family who did not want to board the bus as there was no space near the doors, they must have decided to organise a second bus and our bus was finally let go. We drove the short way to our aircraft where we were let out. Now it is always a most enjoyable moment when you can board such a large aircraft from the ground. I took some pictures before climbing up the stairs.
always a joy to board from tarmac level!
one of the hairdryers
nice Baboo aircraft taxiing by, the brand will disappear soon
My seat was in row 15, which is located in the first Y section of the cabin. It seemed all passengers from GVA were assigned seats in just a few rows in this section while the rest of the aircraft was left empty. My guess would be that there were maybe only 50 to 60 passengers on board. Fortunately, after boarding was completed, the crew let people spread to the empty seats. Around 9 o'clock the doors were closed and we were pushed back. Face towels and head seats were distributed.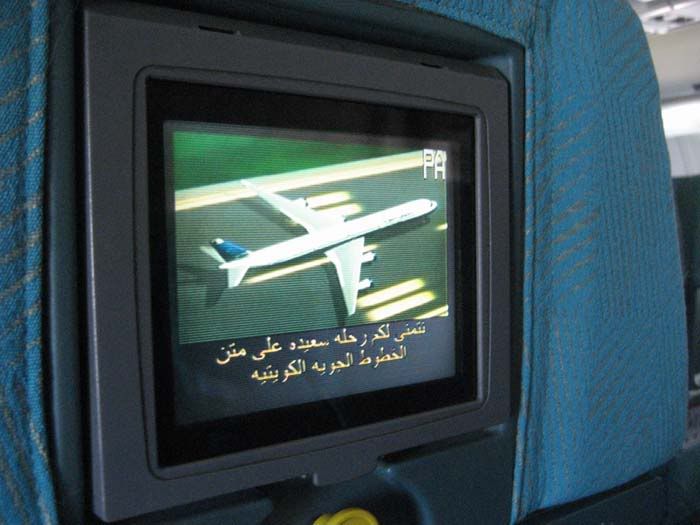 safety video
During taxi to runway 23, I saw two LH Regional CRJ 700 and an Avro RJ100. I had to remind myself how privileged I was to go to Germany in an A340, much better than a CRJ 700!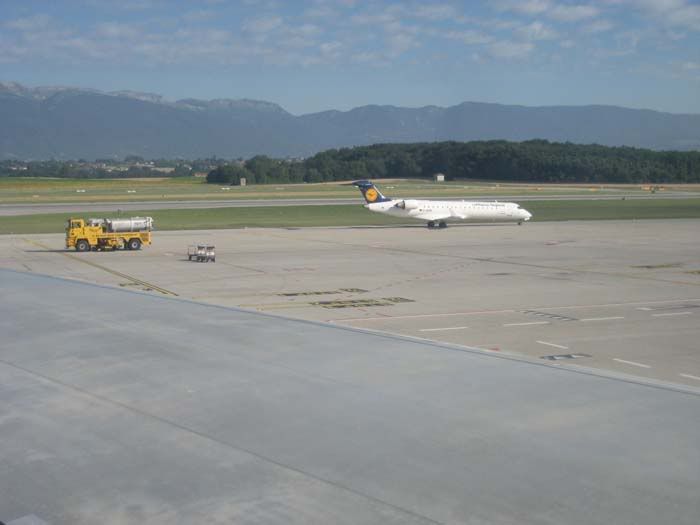 a not so exciting way to get to Germany....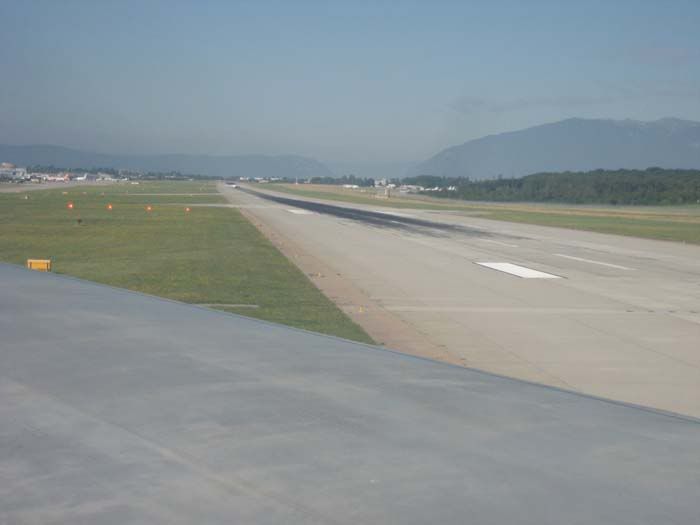 lining up on runway 23
and yet another way to get to Germany.... also doesn't beat a KU A340-300, if you ask me!
After a landing LX AR1, we lined up on the runway and a couple of seconds later take-off began. During climb, we took a left turn, giving me a nice view of GVA city. My seat was directly above the wing, restricting my view straight down.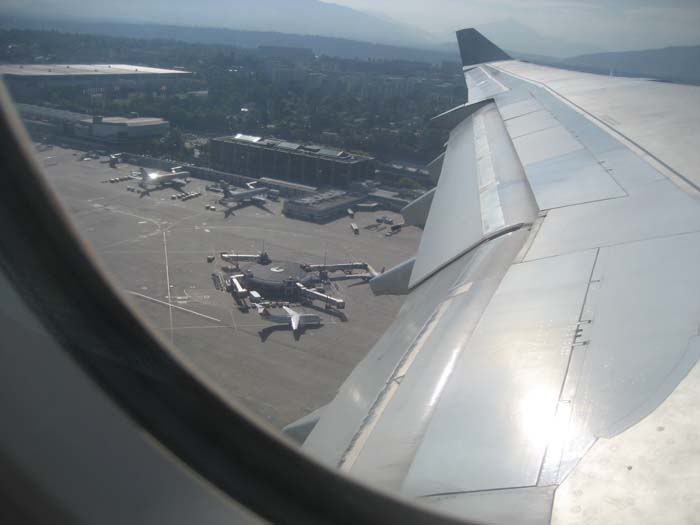 view down to GVA airport, with one of the round satellites visible
GVA airport, city of Geneva and Lake Geneva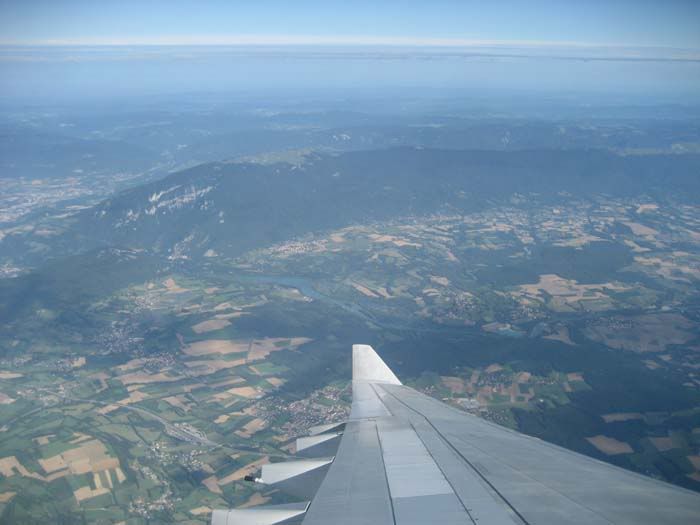 the Rhône River disappearing into France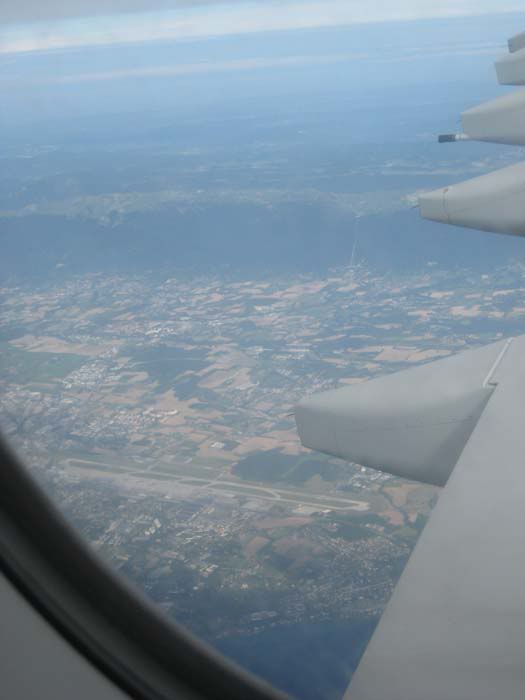 GVA airport
Lake Neuchâtel
I later changed seats again so that I had better visibility just behind the wing. The interior of this aircraft looked a bit old and worn. There were small PTV screens at each seat mounted to the seat backs. The controllers were built in sideways in the armrests and were quite difficult to reach and the could not be removed. In the center section, a couple of old fashioned CRT TV's were hanging from the ceiling. Anyway, there was no real need for IFE on this short flight and except for the safety video, the system was kept off.
cabin view with old fashioned TVs
Y class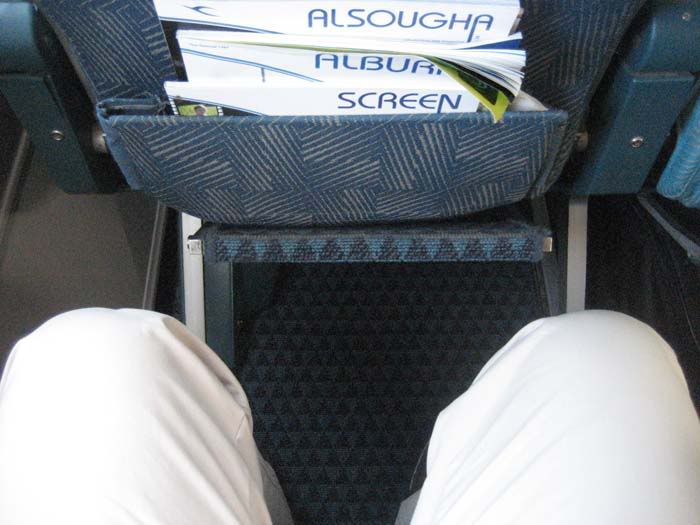 my first legroom shot, plenty of space for me
two pictures for the safety card buffs
After reaching cruising level, service started. It consisted of a tray with a chicken/salad sandwich in plastic cover, a strawberry yoghurt, a small cup of orange juice and an additional drink service. Nothing to compare with the KU AB6 flight I took in 2006 from GVA to CDG, where even metal cutlery was handed out.... well, I guess everyone needs to save costs. A visit to the toiled revealed some KU branded Kleenex packages but I could not find any hand paper towels.
meal tray
can you spot the difference?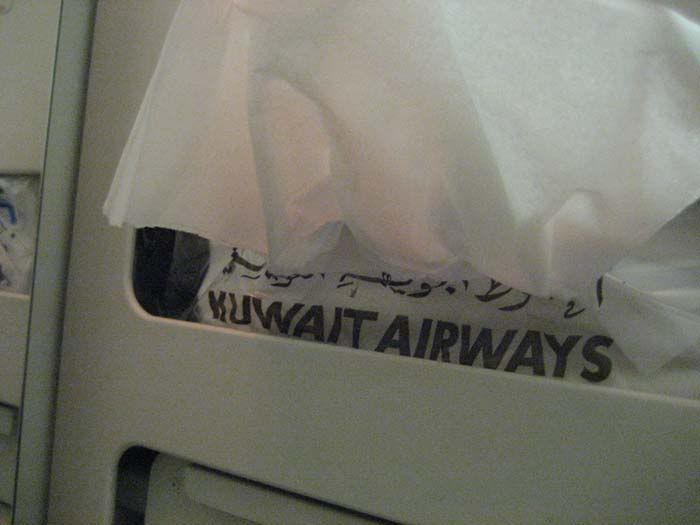 KU branded Kleenex package
back to the cabin
Actual flight time was less than an hour, making this a quite quick experience. I would have loved to stay a bit longer. We descended to FRA all too soon, where we landed on runway 25L after going through some light turbulence.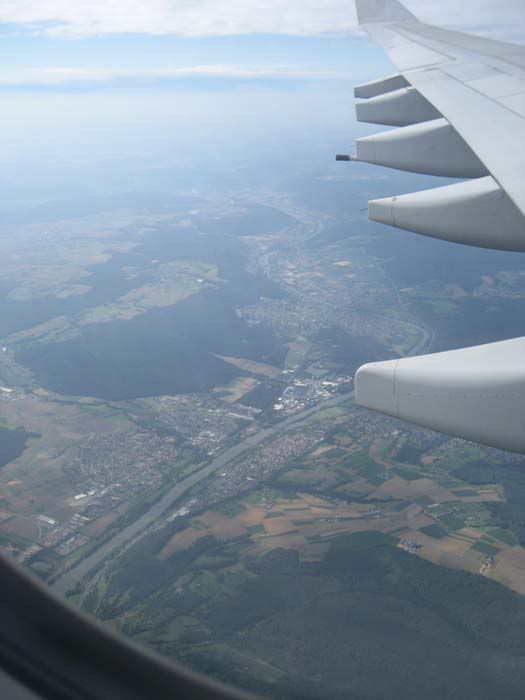 already descending to FRA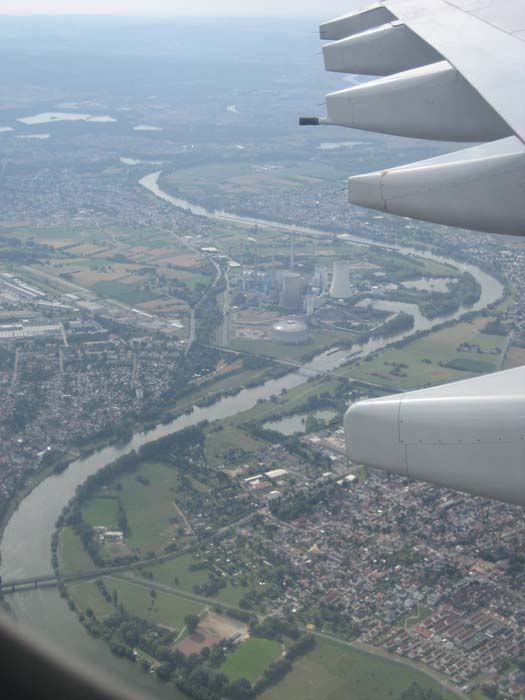 Main River near Hanau
hello FRA
nice fat bird
crossing runway 25C
I was thinking how uneven the runway surface was and the aircraft rumbled accordingly, plus many parts in the cabin were vibrating and contributing to the rumbling. We then taxied back between both runways to terminal 1, where we were parked on the eastern central pier (B gates). The crew informed that passengers leaving the aircraft in FRA would need to show their boarding passes when disembarking. The transit passengers to KWI were asked to remain on board for the one hours stop.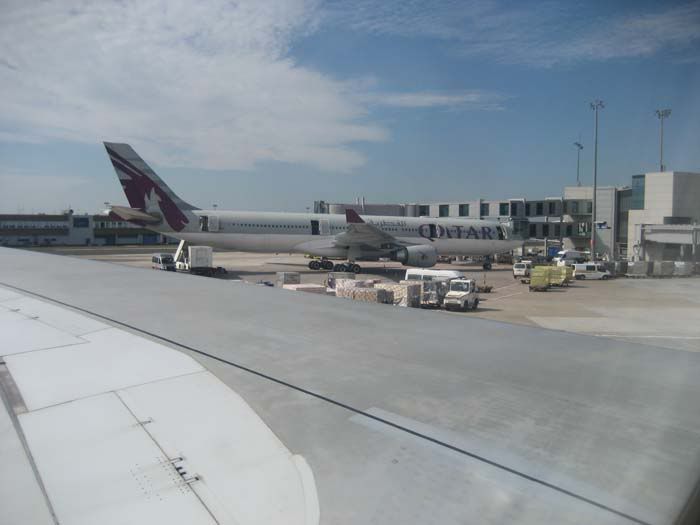 our gate neighbour in FRA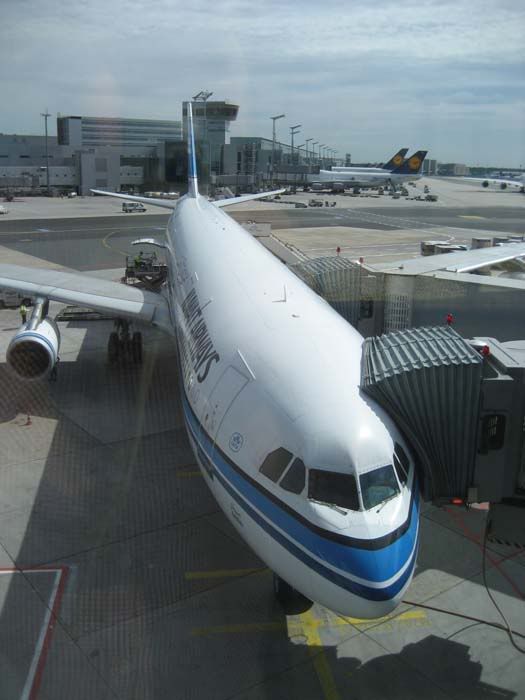 bye and thank you 9K-ANB
After disembarking, I took a couple of pictures of my ride. The way to the exit seemed rather long, as is to be expected on an airport of this size. Once outside, I found the LH check-in area, where I printed a boarding pass for my LH flight back to ZRH in the evening. I had previously reserved a seat in the back by checking in on-line. The seat next to me was still empty, so I decided not to change it.
It was then time to go to terminal 2 using the Sky Line automated train to find the a.net trip reporters group on the viewing deck. The group was quite easy to spot! It was nice to finally meet some of the contributors of the great trip reports section of a.net and I really had a good time sharing flying adventures with the group. After a beer with two of the trip reporters from Finland, it was finally time to say good bye to everybody!
Date: 09Jul11
Route: Frankfurt (FRA/EDDF) - Zurich (ZRH/LSZH)
Flight number: LH 1198
Schedule (local times): FRA 1825 - ZRH 1915
Scheduled block time: 00:50
Airline/Operator: Lufthansa (LH/DLH)
Aircraft type: Boeing 737-330
Registration: D-ABET
32nd flight on subtype 733, 145th flight on 737 family, 1st flight on D-ABET
A short ride later with the Sky Line again and I found myself in the B area of the central (and oldest) terminal in FRA. I checked again my seat assignment in one of the many check-in machines, only to discover that the seats next to me were still empty. I certainly hoped that this would stay like this.
monitor showing my flight to ZRH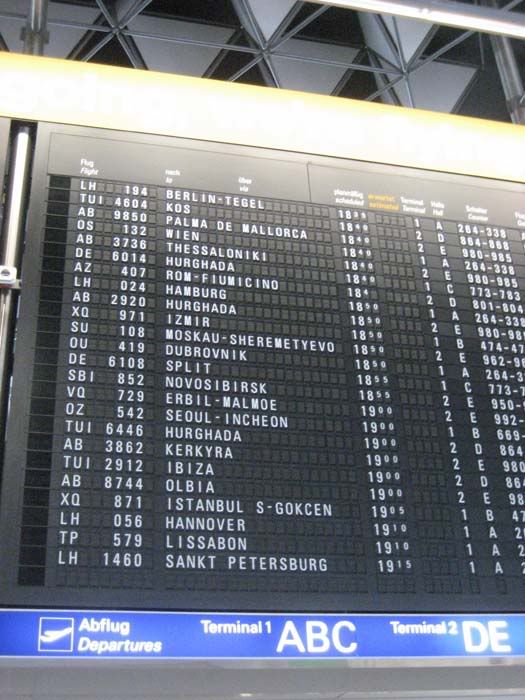 the big board in the central terminal, lot of interesting flights listed. I'd pick the flight to Erbil via Malmo, of course getting off in MMX. (Well, when I last time checked the fares, it was possible to book the FRA-MMX sector, but the fares were bit too high for my taste.)
Around 1:10 before departure, I passed through security. I promptly forgot about a half empty bottle of water in my backpack, which was promptly found. This did not cause much of a problem, I just removed it from the backpack, drank half of what was in there and handed it to the security guy. Surprisingly for Germany, they did not require me to unpack my big camera. I didn't complain. I then made my (long) way to gate A26, just at the end of the original A-pier, where the new section with gates A28 and higher starts. This extension allows great views of the runways and the parallel taxiways. As soon as I arrived at A26 I saw D-ABET, a B737-300, parked at this gate. At first I was hoping that it was still the previous flight, but soon I realized that this would be my aircraft. I was expecting a B737-500, but apparently there had been an equipment change on short notice. Anyway, I was glad they didn't change it to an A319, 320 or 321. All other parking positions on the A-pier were empty except for an Aegean (A3/AEE) A320, which was surprising.
nice Boeing waiting for me
I stocked up on newspapers, which are available free of charge at all gates. I love that! At a newsagents, I bought my favourite Swiss newspaper, as it was not included in the free selection. On the boarding pass, boarding time was shown as 1755. In fact, boarding began only around 1810. The load was light, maybe 65% so boarding was completed quickly and we were ready to go. I was surprised that when entering the aircraft, my favourite Swiss newspaper was offered..... well, had I known, I would not have needed to spend EUR 2.70.....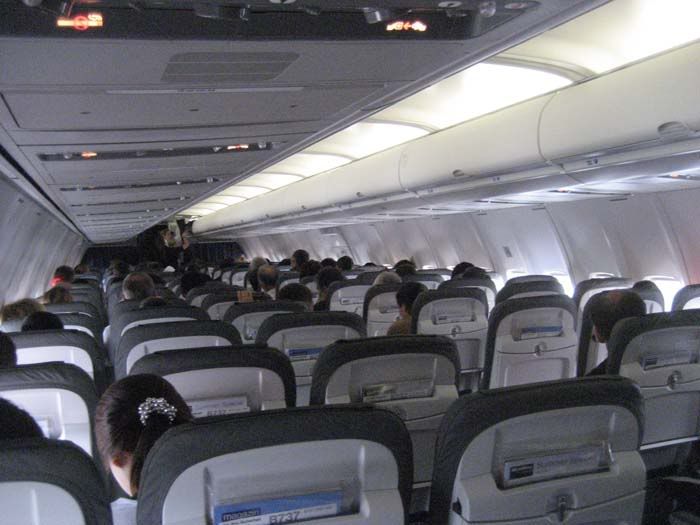 cabin ready to go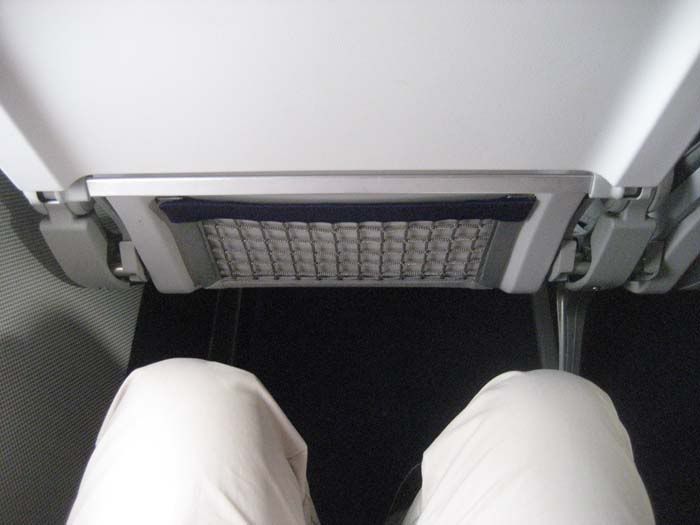 enough legroom on the 737-300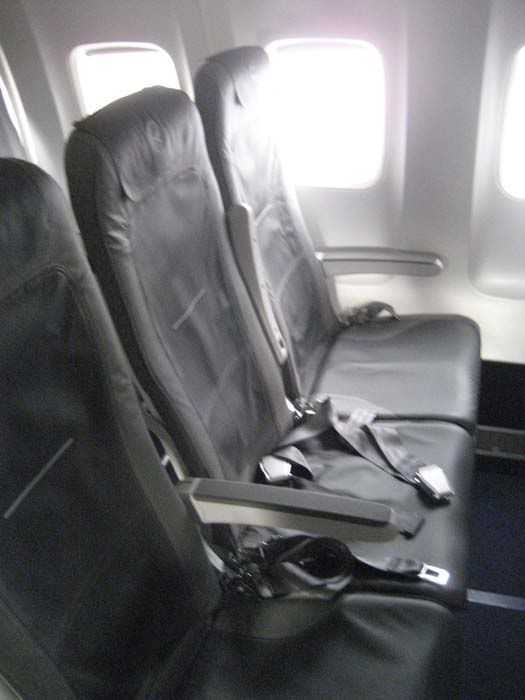 slimline seats
We were pushed back and taxied along the parallel runways to the beginning of runway 18, which is only used for take-offs. During our taxi, I got a good view of a pair of TAM aircraft parked next to each other, a B777 and an A330.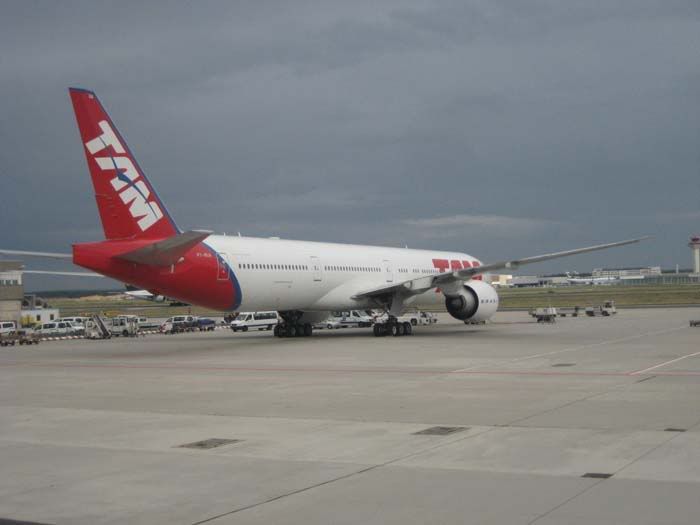 nice TAM sisters, made by B & A
lining up on runway 18
Taxiing was very quick and take-off was almost immediate. I had a nice view of our aircraft's shadow while we were climbing. I spent most of the time reading the different papers I picked up. Service consisted of drinks and a chocolate bar.
nice view of our 737's shadow
bye FRA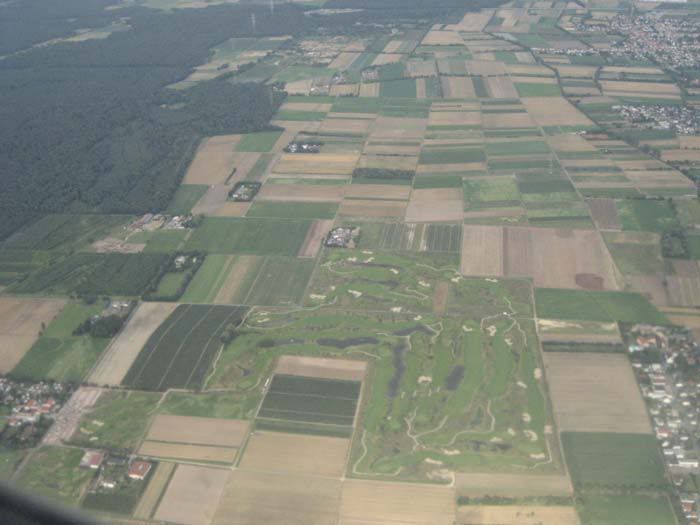 nice golf course just after take-off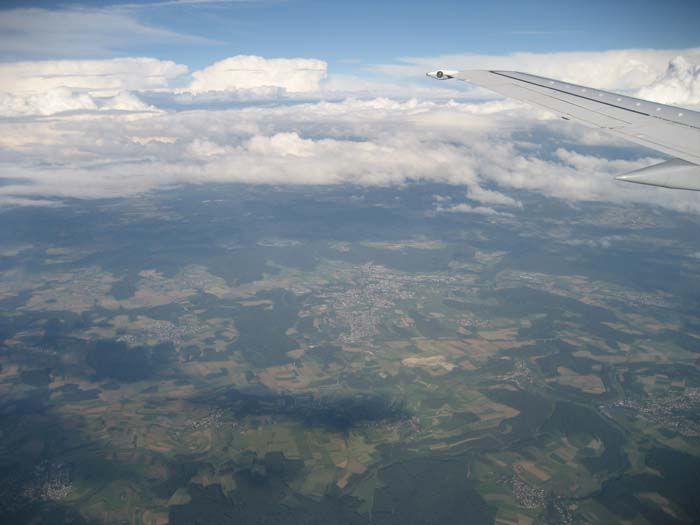 somewhere en-route over Germany