Zadar airport blackout and the Croatia Dash 8-400
Zdravo, dear readers,
a late arrival, as scheduled, the previous day at STR
Upgraded By KL And "Pink" To PRG
(by
FLIEGER67
Jul 3 2011 in Trip Reports)
Now it is my goal to catch something new for this travel day, with the first takeoff not that early as usual for me.
A new departure airport is on duty, you know and something southern side seems also interesting.
Well, Zadar comes in handy with a domestic connection from Zagreb and nice weather conditions, at least till my travel day. Everything ok around Zadar airport, we will see what happens along the way.
Here´s the actual departure airports map
Departure airports
auf einer größeren Karte anzeigen
and the latest routings
Tripreporter´s Flüge
auf einer größeren Karte anzeigen
Now, follow me to Croatia.
Monday, 13.06.2011
.
.
.
.
Service 4U 2976 operated by Germanwings
Scheduled: 11.05 // 12.25
It´s main travel season in southern Germany, like you all know from my previous story.
Not that easy to catch some acceptable fares and nice timings.
This service is booked with Germanwings directly, cheaper this way than on any other website during my fare check.
65.00 Euro´s, ok should be cheaper, but finally ok for me.
The airline offers Web-Check-In from 72 hours prior to departure, no question that I´am at the laptop as soon as possible.
25F is open, the last row window, fixed without any further questions.
A relaxed start, on the way by car at 09.00 am, 10.00 am at the airport well ontime for boarding at 10.35 am, no lounge here, at least till now with Germanwings from STR.
Zagreb top of the board, ok it´s the second page, from gate 124
Close to no time to wait at security this time, sure ok.
124 is a bus gate on the ground floor terminal 1.
Leaving for Croatia needs a passport check, also no time to wait and in the small gate area for my flight to Zagreb.
Carpatair to Timisoara boards also here a couple of minutes later and also Split not an hour thereafter will be from the same gate. So a huge number of pax around and not yet clear how many of them heading with me to Zagreb.
Boarding starts ontime, we will see if there is something interesting on the apron.
Well, it´s the scheduled A319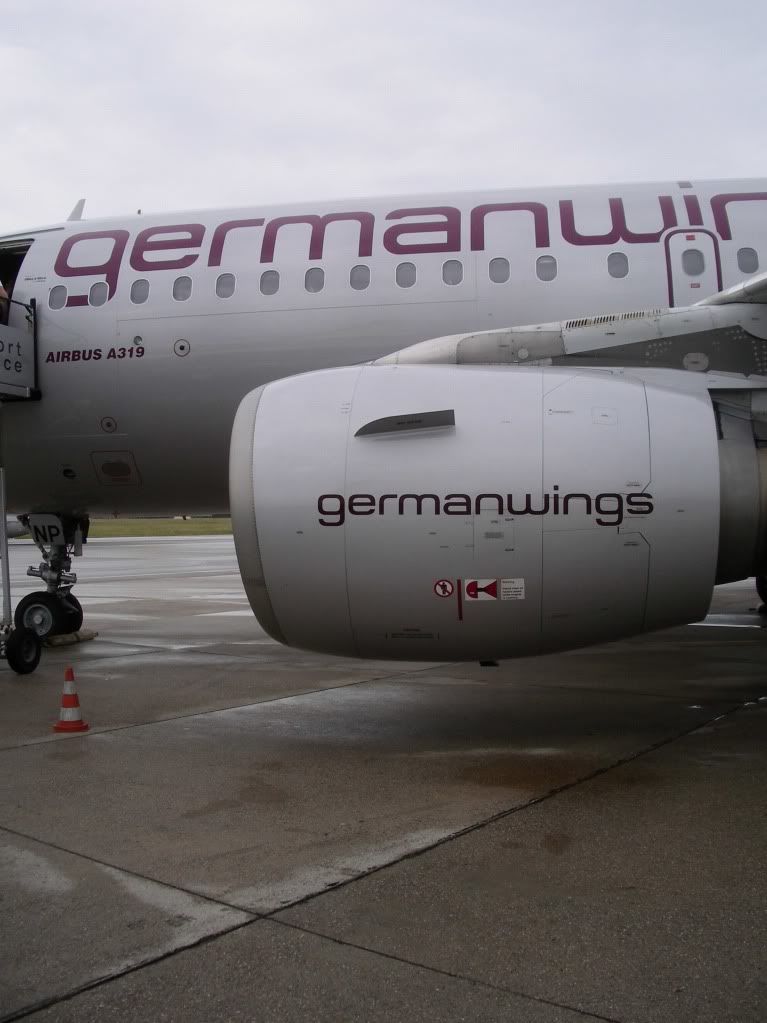 D-AKNP, leg no. 63 on type and my second service on this plane.
Delivered to US Airways at 11.01.2000 and with Germanwings since 01.06.2005.
One of 30 examples in the actual fleet
What about some under the wing pictures, always good for me
The load is some 80%, checked quickly during boarding.
And to my surprise there are three seats for me here in the last row, warm welcomed, recline is also possible.
New seats here on this machine in mixed grey leather, clean so far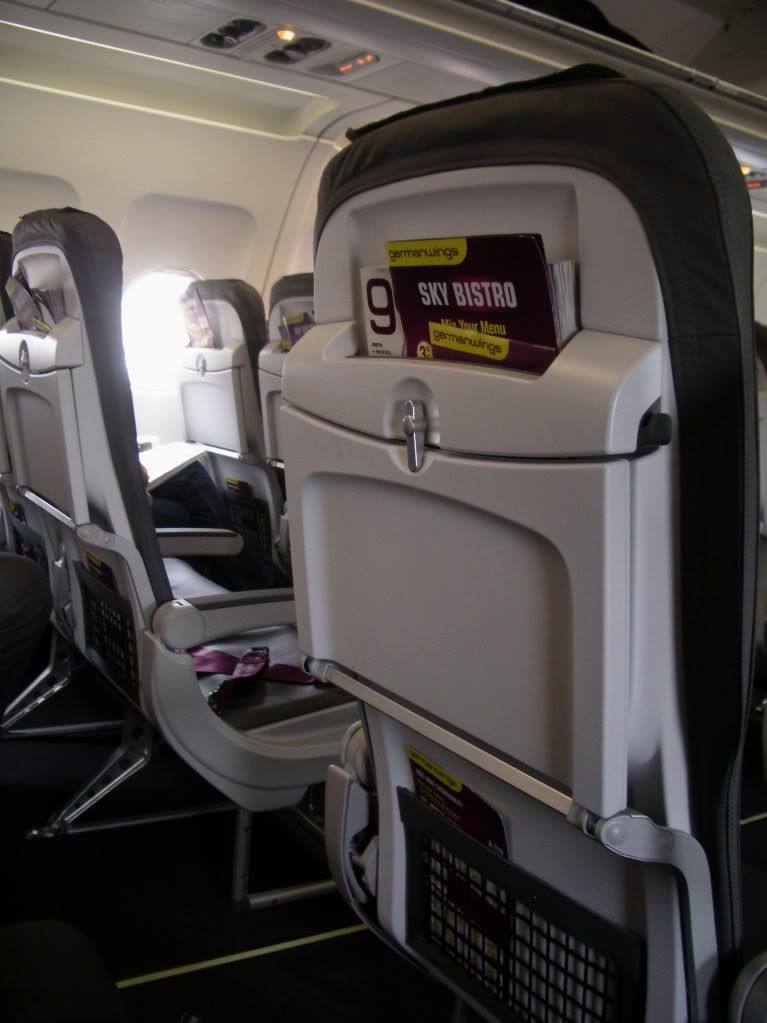 Cockpit crew is from Germany, the captain with a nice welcome during boarding.
It´s 11.10 am, close to ontime, when we leave cloudy and wet STR, what seems the norm these days, from runway 25. The temperature is 14 degrees.
1 hour, 5 minutes to Croatia.
The actual safety card
Cabin crew is one middle aged female, also one middle aged male together with another young male, all ok, but for sure nothing special.
Service is BOB.
Also the legroom is ok here
The new Germanwings magazine
And the well filled cabin today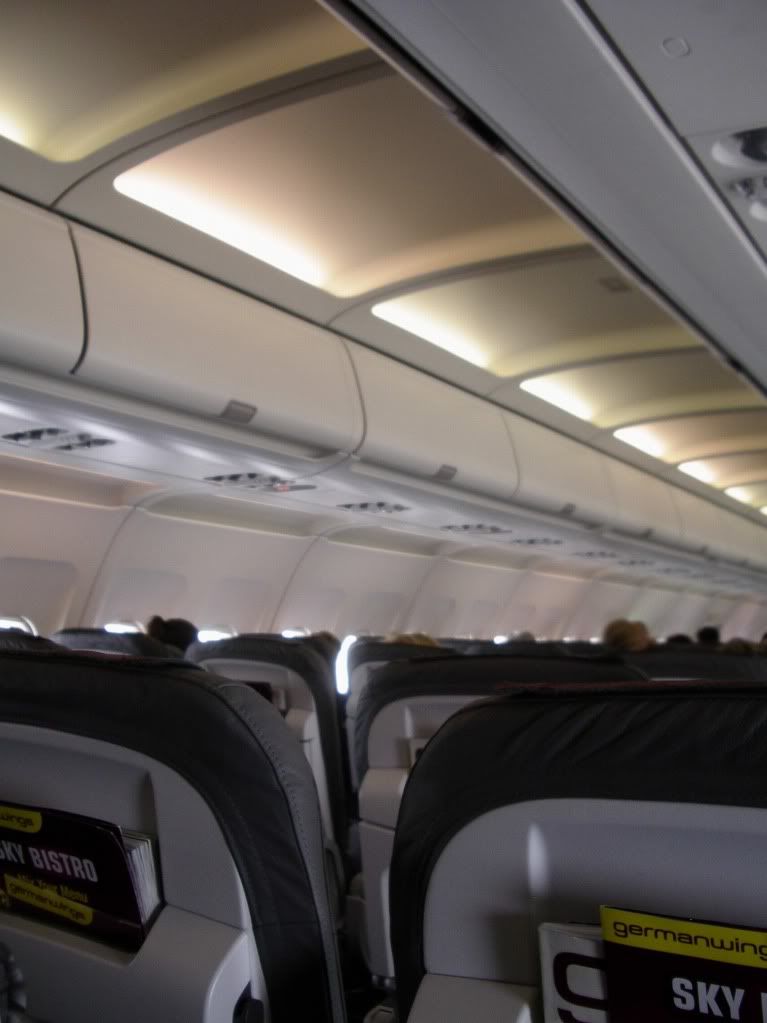 Just above the clouds, the magic moment
The captain is once more on the speakers with quick informations short prior to approach.
We´re cruising at a maximum of 33000 feet above MUC-SZG and KLU.
Some sheepy clouds on approach to ZAG
Touchdown on the 3252 meters runway 05, 12.20 am, short ahead to schedule, partly cloudy and nice 23 degrees.
On the apron, AF by Britair is also here
Some guys and girls from the States on a visit to Croatia
Apron disembarking, sure ok with these nice weather conditions
Bye D-AKNP, may we meet again somedays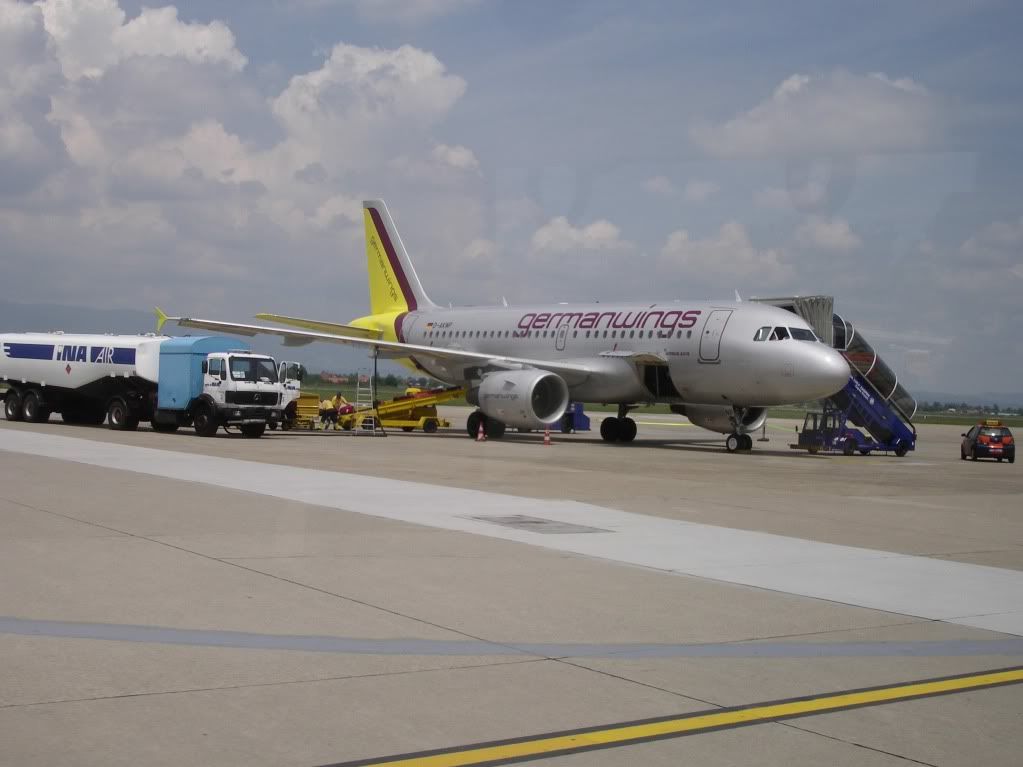 .................................................................